Yosemite National Park is around 748,542 acres. Almost 95% of the park is designated wilderness and it would take days if not weeks to explore every inch of it.
While it would be an amazing adventure, not all of us have the time to do it. Most of us can only spend one day, a weekend or a few days there on a road trip or on a Yosemite tour. With so much to see, this Yosemite itinerary 2 days can help you figure out what to do when you visit the park, what to pack and where to stay.
Many activities depend on the time of year. For example rafting in spring, ice skating in December or camping in August. This itinerary walks you through the most popular things to do at any time of the year.
Before you see off it is important to plan your trip to Yosmite. This itinerary explores granite cliffs, streams, lakes, mountains, meadows, giant sequoia groves and even glaciers. Everything that makes Yosemite one of the most popular national parks in the US.
Yosemite 2 Day Itinerary
Day 1
Mist Trail
One of the most beautiful sights at Yosemite is the waterfalls. In fact, there are twenty-five of them around the park. You can drive to many of them, but you are not going to get the same breathtaking views.
What better way to kick start your itinerary for Yosemite than a beautiful early morning hike to Vernal and Nevada Falls? The Mist Trail is also one of the best hikes in Yosemite National Park. Though it is a difficult hike and not kid-friendly you are rewarded with stunning views and some of the best photo spots in Yosemite.
The trail starts and ends at Happy Isles Trailhead. It is a busy trail and if you are visiting in summer it can get hot. Yosemite in Fall brings cooler weather so it might be a better option or it is a great winter hike.
No matter the time of year, try and get there bright and early, probably before 6 am. The trail is around 11km and takes around four hours. Make sure to bring water and snacks to keep you going.
It is important to bring the right hiking boots for this trail. There are few steep climbs. The first waterfall you come across is Vernal Falls and then a little while later is Nevada Falls. In early spring and summer, the waterfalls are flowing so if you visit around that time you may get wet.
In fact, April in Yosemite is when the waterfalls are at their best.
On your return take the alternative John Muir Trail. It is a longer route, but a bit easier and a chance to see more of the park.
Lower Falls Trail
Yosemite Itinerary 1 Day
Yosemite Falls are one of the largest waterfalls in the world. However, not everyone has the ability to hike the Mist Trail. If that isn't an option for your Yosemite itinerary then check out the Lower Falls Trail. It is less than 2km and takes you to the base of the falls.
The trail starts at Lower Yosemite Fall Trailhead and it is open all year round. This short trail offers stunning views of Upper and Lower Yosemite Falls and even Middle Cascade. In fact, the lower falls are perfect if you are visiting Yosemite with children.
It is best to visit any of the waterfalls in Spring. The paths can be icy in winter and the water is dried up by July. The first half of the trail is suitable for wheelchairs and strollers, but not all of it.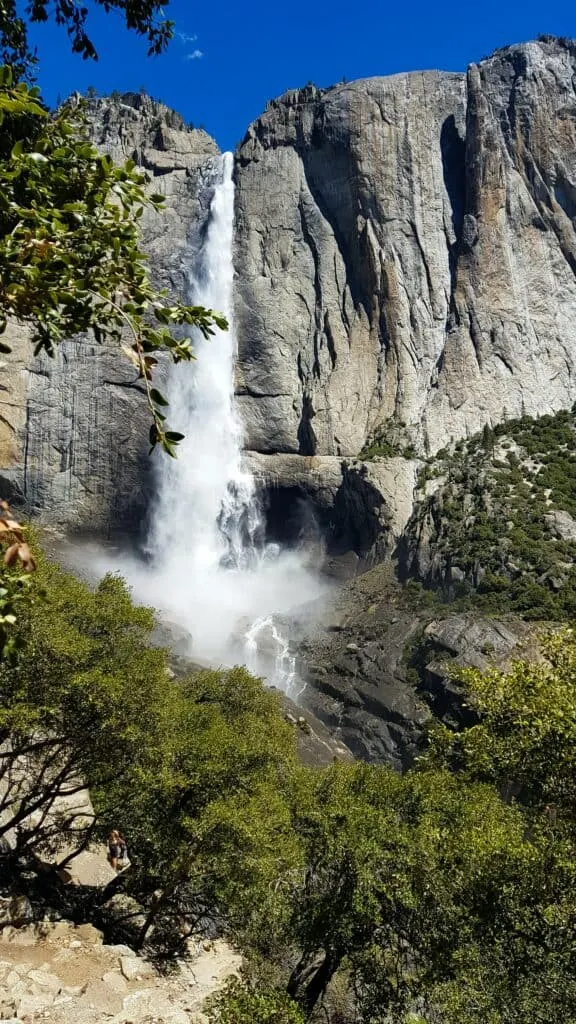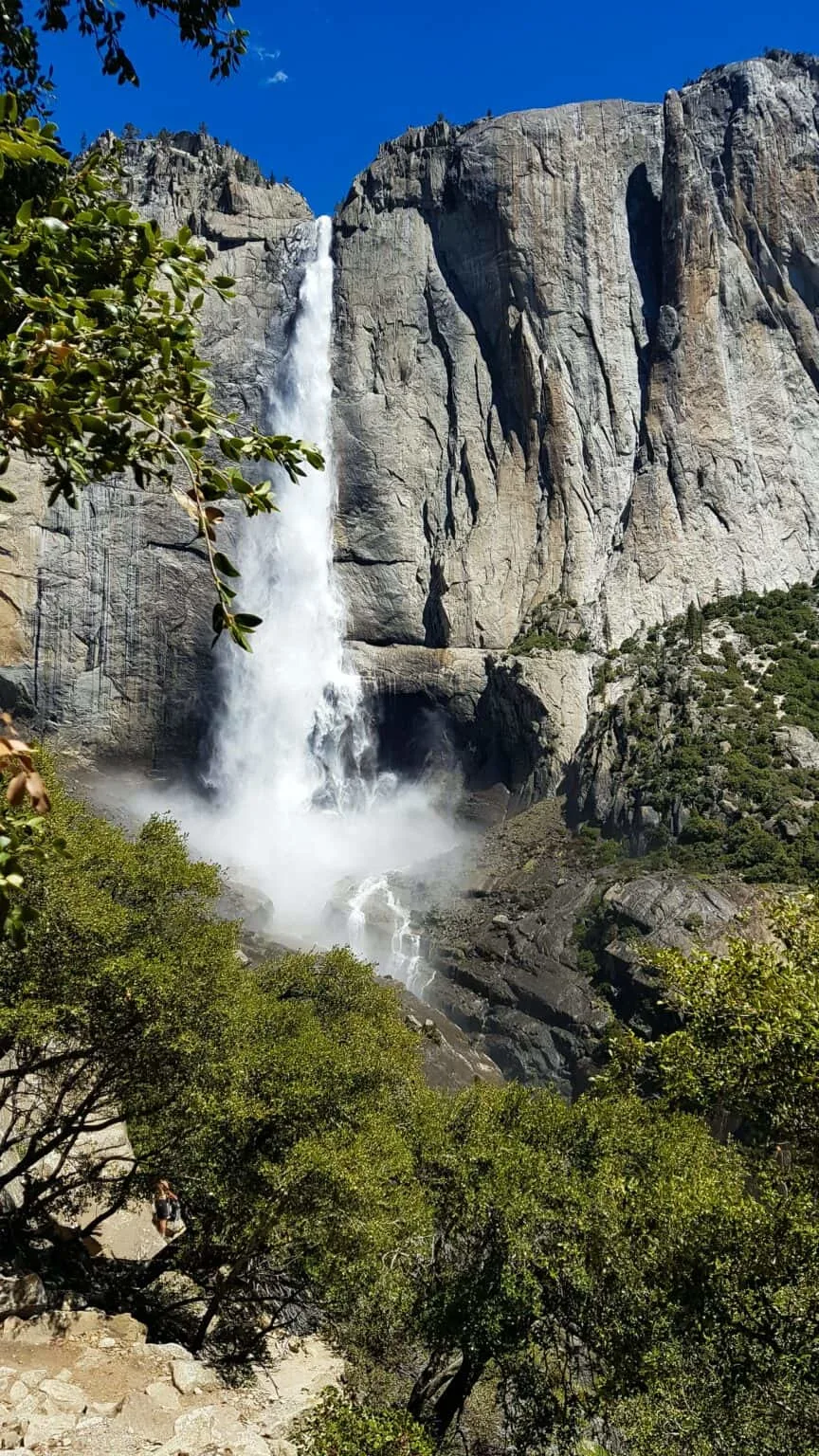 Curry Village
1 Day Yosemite Itinerary:
After your long hike, take the chance to refuel at Curry Village. The village is the best place in the park to pick up a quick bite. There are a few stands selling ice cream and refreshing drinks too.
Curry Village also offers a range of accommodation. It is in a fantastic location as it is close to Half Dome and beneath Glacier point. If you are staying there then you may want to take a quick shower or head back to your accommodation before continuing with your Yosemite National Park itinerary.
Glacier Point
Best Yosemite One Day Itinerary
After a long hike in the morning, you'll be glad to know that you can either drive to Glacier Point or take the free shuttle service. It is an hour's drive from the valley and the best time to visit is between spring and fall.
The road is closed in winter but opens in mid-December for access to Badger Pass Ski Area.
This is a must-see and should be part of your itinerary for Yosemite National Park. It offers the most amazing views of Half Dome, Yosemite Valley, Yosemite Falls and Yosemite's high country. This makes it popular too, so expect a lot of people around.
After admiring the views from 3600 feet, head to Sentinel Dome to watch the sunset. If you are up for it you could hike it. The loop trail is just 3.5km and not too difficult. Otherwise, there is a bus available during the summer or you can drive during other parts of the year.
Take your time on the dome and pick a spot to sit in. The 360-degree views include Half Dome, El Capitan and Yosemite Falls. Be sure to bring a light jacket as it can get chilly when the sun goes down.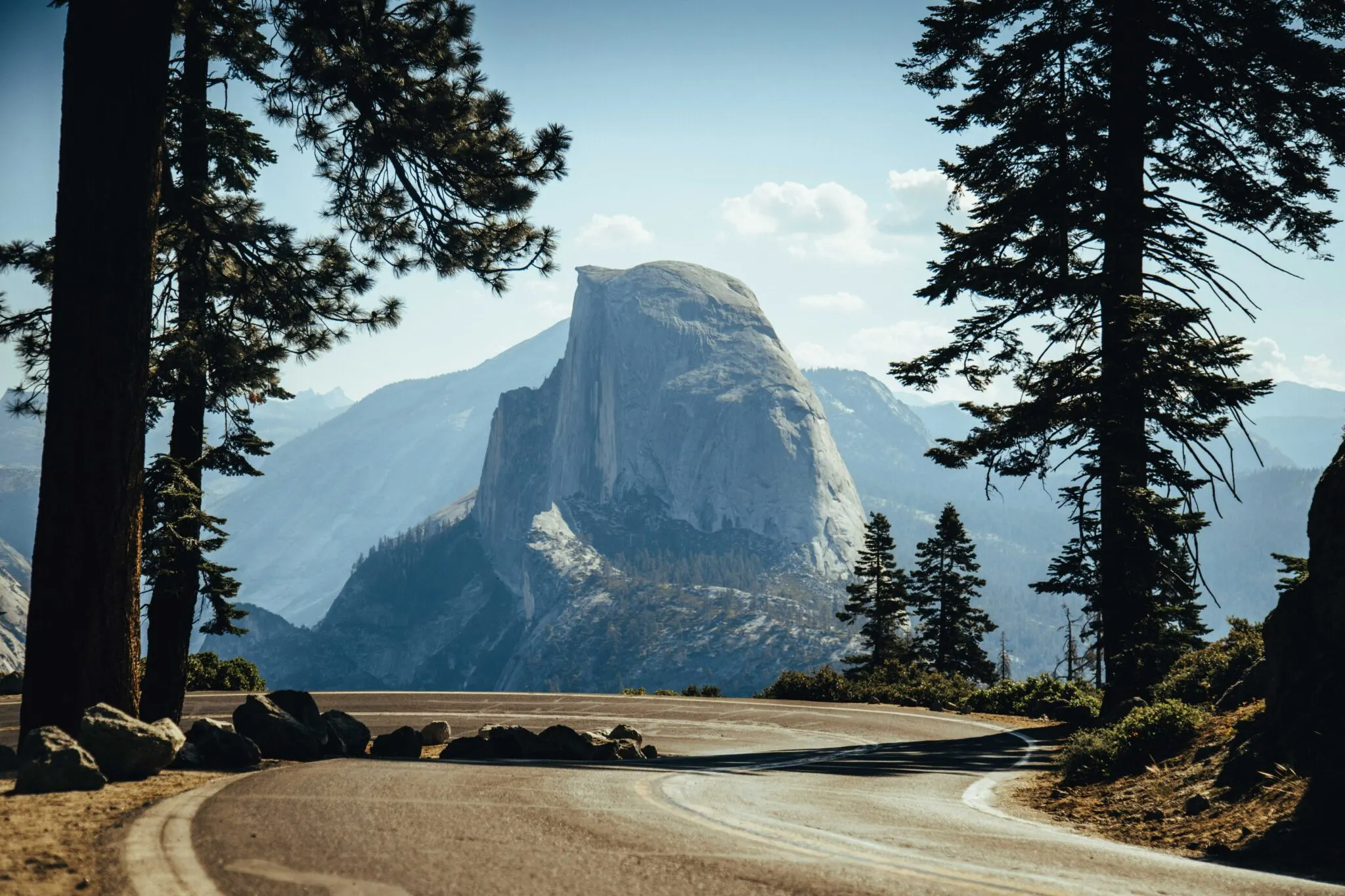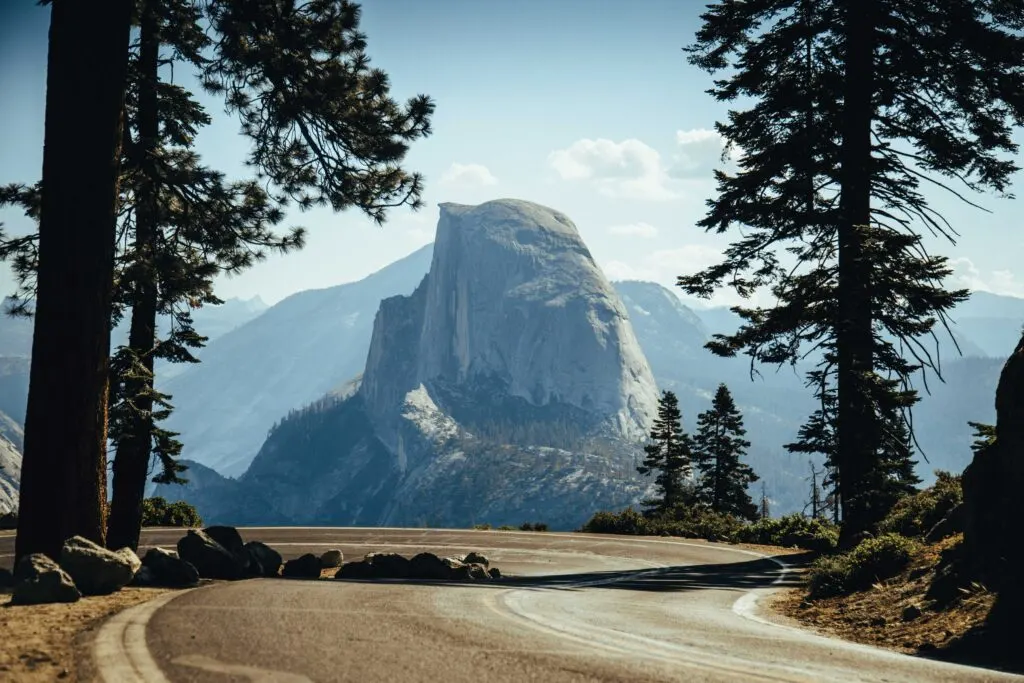 Rest
Yosemite One Day Itinerary
After watching the sunset on Sentinel Dome, head back to your hotel or accommodation to have dinner and get plenty of rest for the next day.
If you are camping or staying in an RV then it is best to plan your trip to Yosemite a few months ahead. There are a few shops in the nearby towns, but the selection is limited and they are usually expensive. Remember to keep food in locked storage containers when camping at Yosemite due to the wildlife.
The surrounding towns El Portal, Mariposa and Jamestown are all within an hour of the park. There are several shops, gas stations and restaurants to choose from. You could also eat in the Valley or bring a picnic with you.
Many of the picnic areas in the Valley have grills and some have potable water too. There are plenty of options to choose from.
Day 2
Tunnel View
Yosemite 2 days Itinerary
If you have seen any photos of Yosemite, chances are they were taken from Tunnel View. The best time to get there is just before sunrise. There is no shade in the area, so later in the day, it is too hot to enjoy the view.
Tunnel View gives a spectacular viewpoint of El Capitan, Half Dome, and Bridalveil Fall. If you are in Yosemite in April or early spring when the waters are gushing due to the melting snow, then it makes the view even better.
Winter also has some breathtaking views. You can expect to see the granite walls covered in snow and mist. Meaning no matter the time of year Tunnel View should be on your Itinerary, Yosemite even if you just have one day.
You don't need to hike to get the view either. It is located on Highway 41 and is just a fifteen-minute drive from the valley. There is a car park and the viewpoint is just a short walk from there.
Mariposa sequoia grove
Yosemite Itinerary 2 days
Yosemite National Park is home to over 500 mature sequoia trees. Some are even over 2000 years old. The grove is famous and attracts many visitors. This means that the trail is often busy. Don't let it put you off. They are so beautiful that and should not be missed.
There are several hikes to choose from but the Mariposa Grove of Giant Sequoias Trail takes you to all of the most famous trees in the grove. Add this to your Yosemite National Park 2-day itinerary and you can expect to see the Grizzly Giant, Fallen Monarch, California Tunnel Tree, Three Graces and the Wawona Tunnel Tree.
It is 10km and takes around two and a half hours to complete. If this is too long there is also the option of a shorter kid-friendly hike.
To get to the trail you need to park at the Mariposa Grove parking lot just north of the Fish Camp entrance. There you can catch a five-minute shuttle to where the trail starts.
It is best to get to the trail as early as possible. As with any long trails, it is best to come prepared so add good hiking shoes, suncream, water and snacks to your packing list.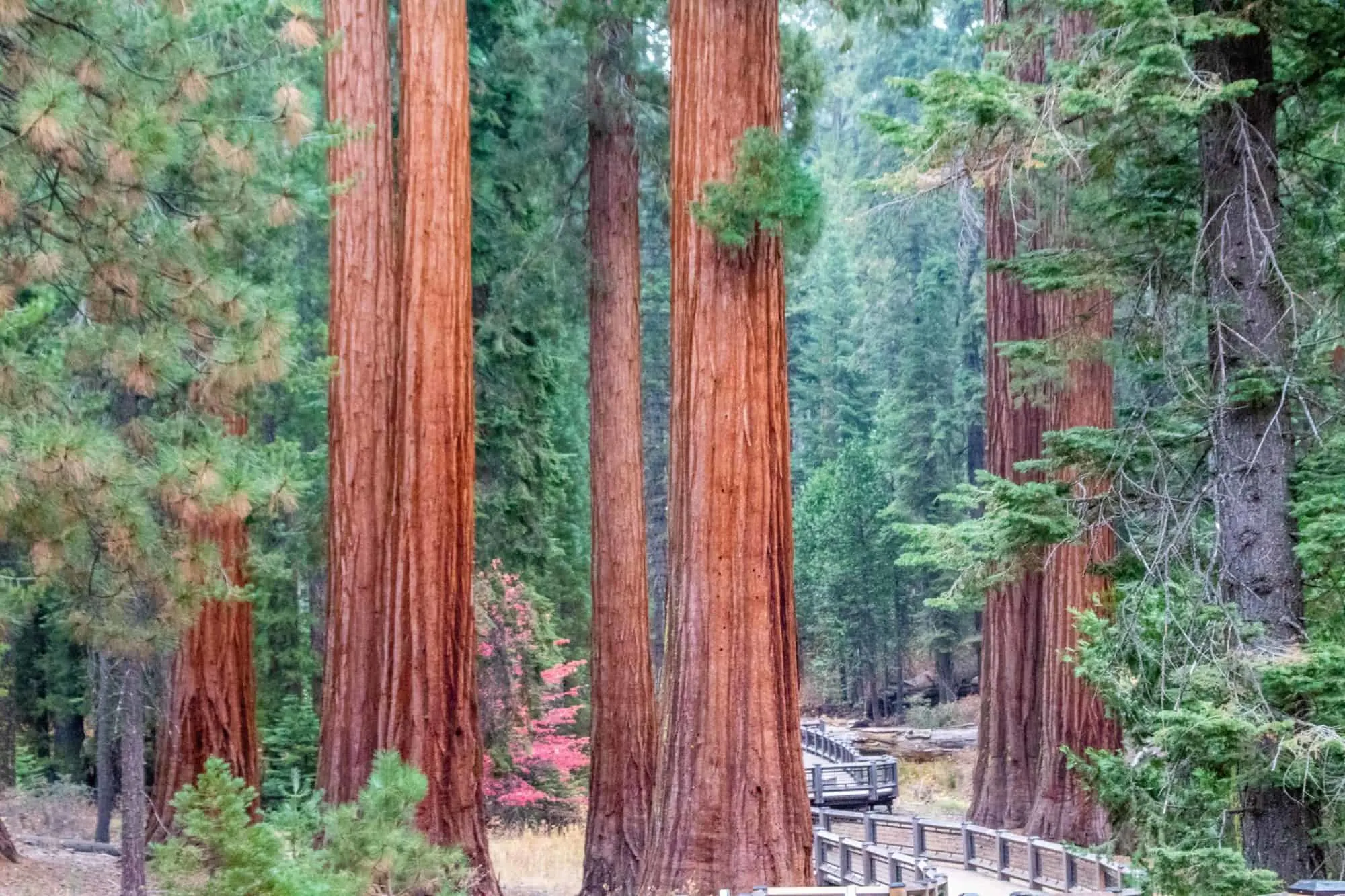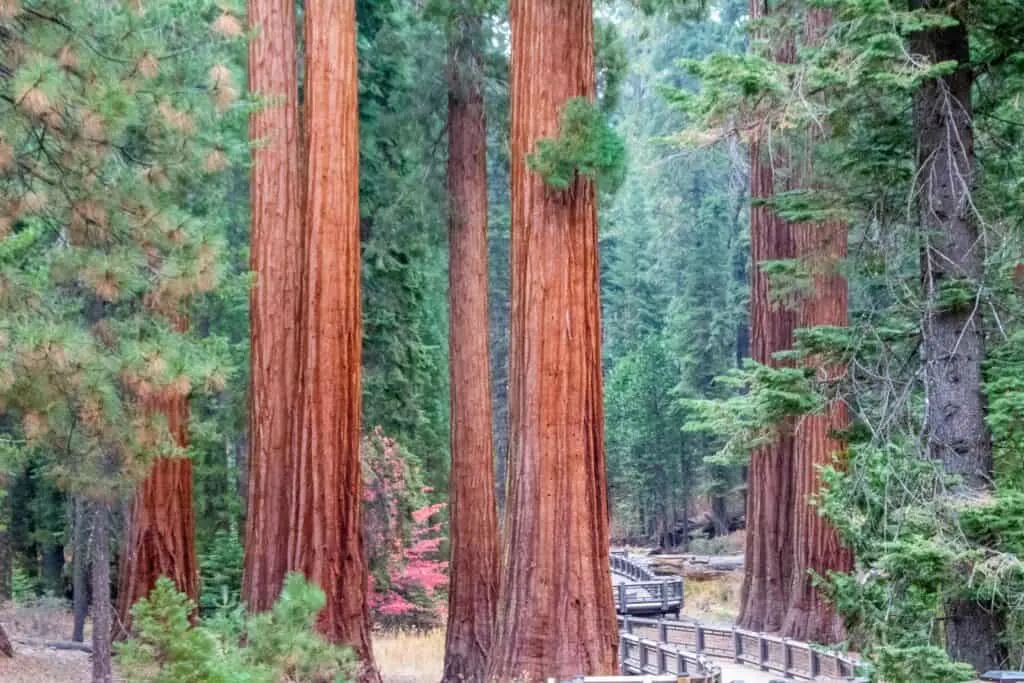 Picnic
Yosemite Two Day Itinerary
Instead of heading back to the valley for a bite to eat, you may want to bring a picnic. There are a few picnic areas near the car park and it is a beautiful place to sit. As it is near the car park, it would be best to leave it in the car instead of trailing it around with you on the hike.
The downside is there are only a couple of tables, but there are grills if you plan on making hot food. Also located nearby are toilets and if you are lucky a few deer.
If the trail is busy, then you could just pack a few sandwiches and eat them as you hike in the grove. There are plenty of pretty places to sit. Just remember to take any litter with you and don't feed any of the wildlife. Not even the squirrels.
Yosemite Museum and Indian Village
Itinerary Yosemite National Park
Not too far from the Mariposa sequoia grove is the Yosemite Museum. It is a great place to learn about the history of the park and the Native Americans who lived there.
Behind the museum is the reconstructed Indian Village of the Ahwahnee. Throughout the year there are many events held there too. Some of the demonstrations include basket-weaving, beadwork, and traditional games.
If it is hot in the park then the museum is also a great place to escape the afternoon heat.
Cook's Meadow Sunset
2 day yosemite Itinerary
Many people head for great vantage points to watch the sunset. It is not the only place to see the sunset. In fact, Cook's Meadow has to be one of the most stunning places in the park.
It is not far from the valley and it is easy to reach using the shuttle service. Simply get off at stop six or eleven. The trail to the Meadow is easy and due to the boardwalks, it is accessible by wheelchairs.
From Sentinel Bridge, there is a great view of Half Dome. there you can watch the sunset and the white granite turns orange and pink. As the trail is under 4km, it is the perfect way to wind down for the evening and the river at the end is a lovely surprise.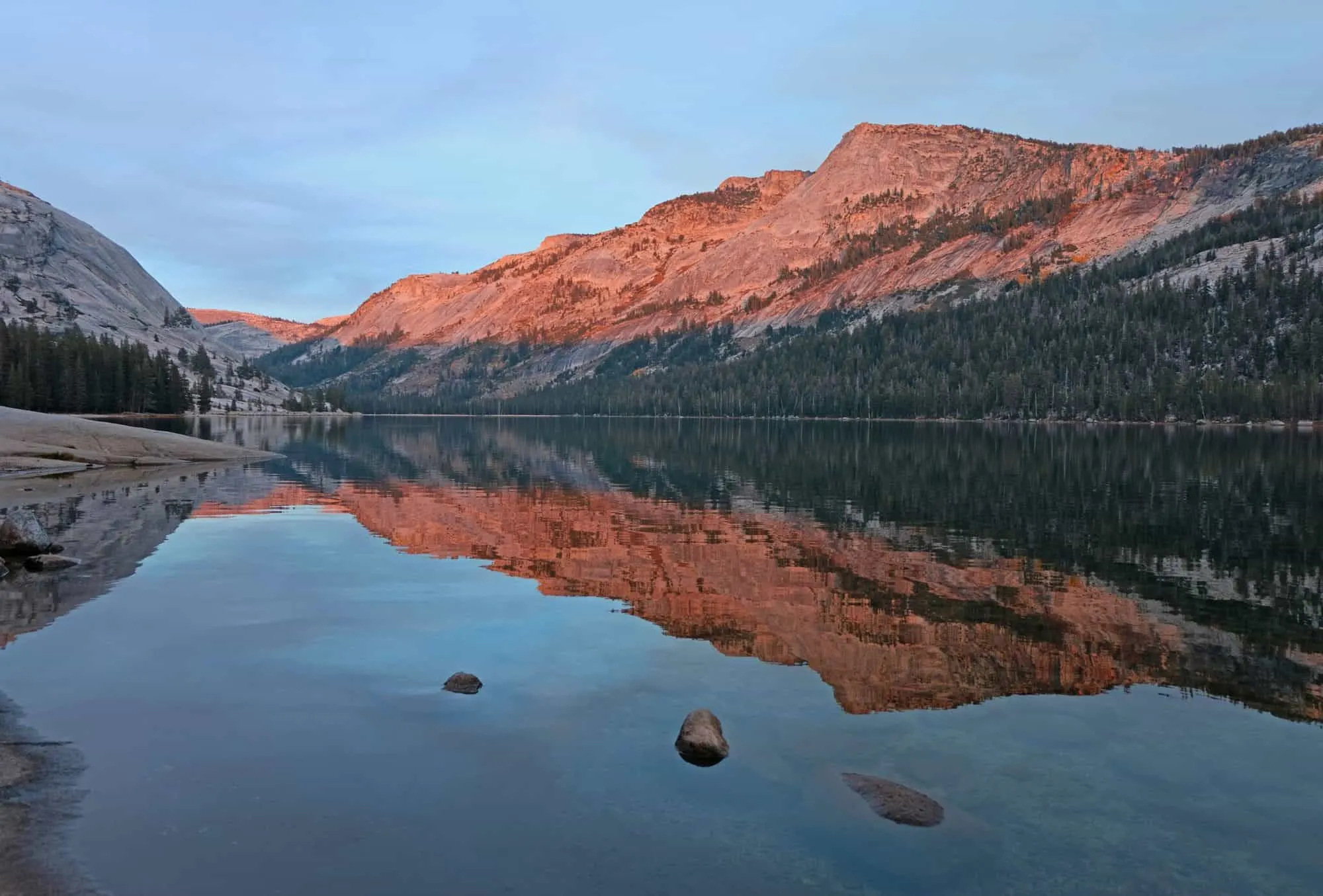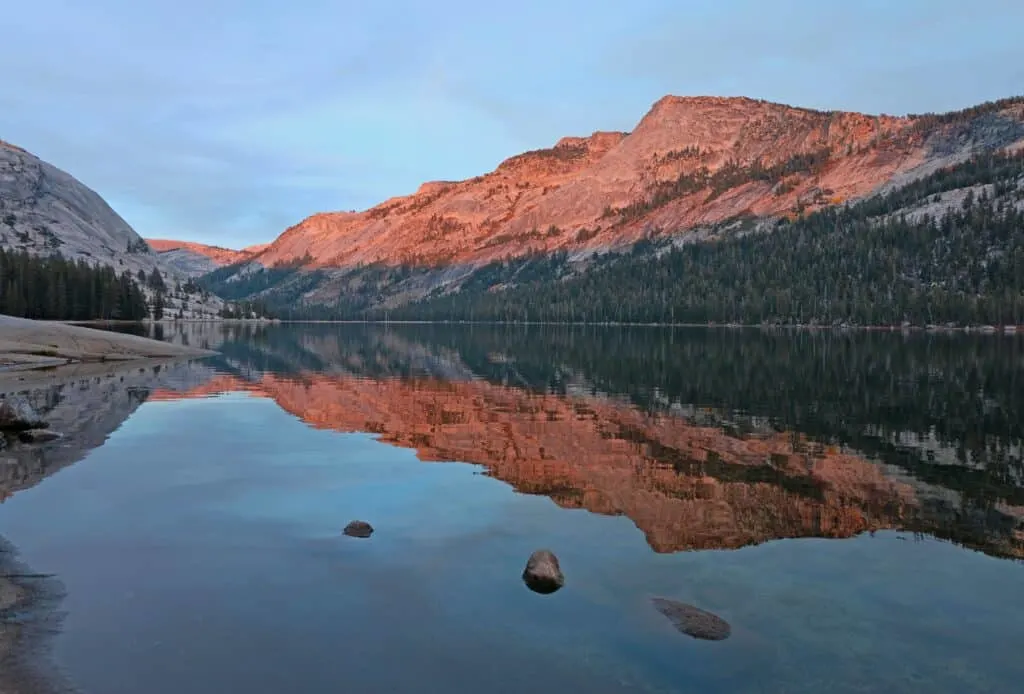 Formal Dinner
Yosemite National Park 2 Day Itinerary
To wrap up your stay at Yosemite, go all out with a formal dinner at The Ahwahnee. It is a bit expensive but the service and food are exceptional. It is open all year round for sit down breakfast and dinner and lunch is available to takeaway.
The ceilings are high which allows for enormous windows. If you are planning to have dinner there, men should pack a suit and tie and women should pack a dress. Formal attire is required so don't arrive wearing shorts or sportswear.
As it is one of the most popular restaurants in the park, it can be very busy. it is always best to make a reservation to avoid disappointment.
Click here to find out more about The Ahwahnee
Other Information
Tours
Two Day Yosemite Itinerary
The itinerary above requires you to make all of the plans and get to all of the places on your own. If you want to take the hassle out of your trip and learn about the places you see from an expert then a guided tour may be right up your street. There are plenty of Yosemite tours to choose from.
One of the most popular tours is the Yosemite Valley, Giant Sequoias and Glacier Point Tour. It is a one day tour that takes you to see the majestic waterfalls and famous viewpoints. The tour then ends with a hike to the towering Giant Sequoias.
The Yosemite National Park: Valley Orientation Tour is also a great trip that allows you to leave your car and at the entrance and then discover the park with a guide. You get to explore Yosemite's most famous sights such as El Capitan and Half Dome. Best of all, you learn about the history and geology of Yosemite National Park from your expert guide.
If you are coming from San Francisco it can take about three to four hours. The Yosemite Lodge 2-Day National Park Tour picks you up from San Fransico and takes you to Yosemite with a small group, professional driver and expert guide. Expect to visit Yosemite Falls, El Capitan, Bridalveil Fall, and Inspiration Point. The trip also includes an overnight stay at Yosemite Lodge.
Camping
Yosemite National Park 2 Days Itinerary
With only two days to explore the park, where you stay in Yosemite is going to have a huge impact on the choices you make. It is best to stay in the park itself and there are a few options. Camping is by far the most popular choice. There are several campgrounds spread out around the park.
If you want to stay right in the middle of the valley then North Pines Campground is the perfect location. It also has some of the most breathtaking views and is close to many of the best hikes in Yosemite.
If you are using a shuttle then it drops you off at the entrance to the campground. There are toilets, drinking water and campfire rings on-site too. Make sure to follow the rules of the campground and store food in the food lockers provided as there are bears in the area.
Click here to make a booking at North Pines Campground.
RVs
2 Day Itinerary Yosemite
There is also the option to stay in an RV. In fact, when we stayed at the park, we camped out in our Jucy Camper van. We would highly recommend it as we could also use the van to explore the park too.
There are plenty of campgrounds that allow RVs. Unfortunately, they do not supply water and electricity, but some sites offer dumping stations.
There are limited spaces and they tend to get booked up pretty quickly.
To make a reservation or for more information about RV camping click here.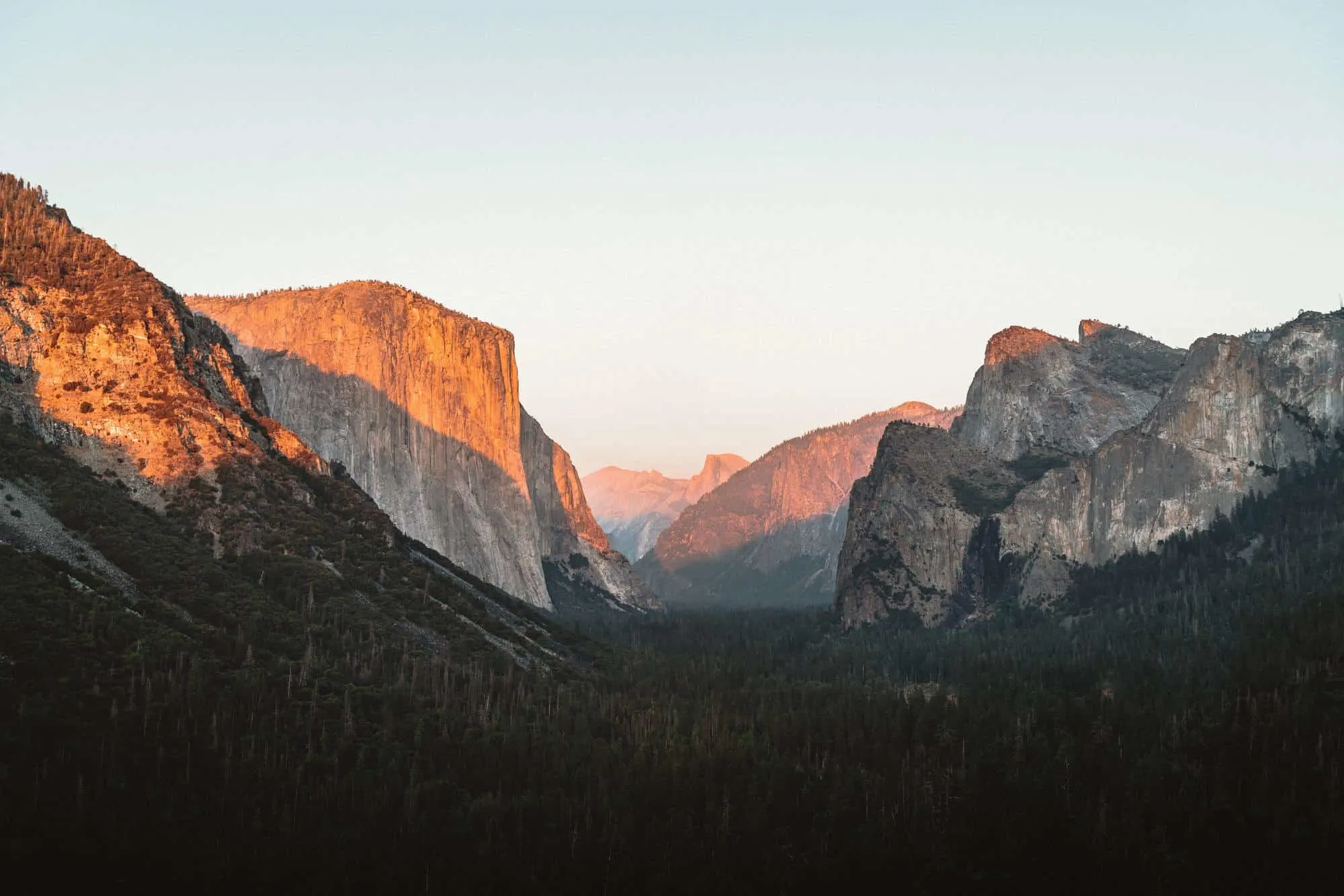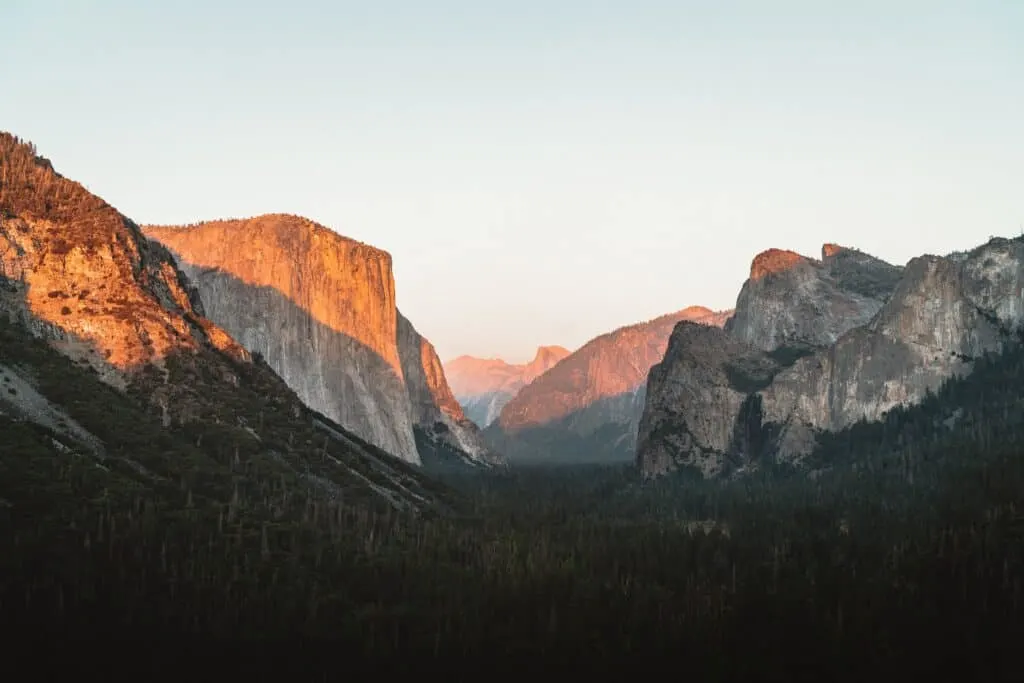 Yosemite Lodges
If you haven't planned months in advance, then you may find the campgrounds full. Don't worry, there are still other options in Yosemite National Park.
Spread around the park are a number of Yosemite Lodges. Many of them are in fantastic locations and have that rustic feel to them. They also have a lot of perks that camping doesn't offer.
These include free internet, fully equipped kitchens and private balconies. The great thing is that they don't cost a fortune and give you some privacy.
To find out more about Lodges in the valley area click here.
Yosemite Holiday Homes
Holiday homes are easy to come by inside Yosemite too. Cozy Bear South-Inside Yosemite National Park is in the west of the park. It is nestled among the tall pine, fir, cedar and oak trees and just a couple of miles from Yosemite Arch Rock Entrance.
The covered stone patio area has a gas barbeque, and comfortable patio furniture. Inside you have everything you need for a fantastic stay in Yosemite. The living room has a stunning stone fireplace. The theme of the cottage takes after the name, so expect to see lots of bears inside.
Book your stay at Cozy Bear South here.
Yosemite Cabins
The word cabin may have you thinking of an old fashioned wooden shack. If that is the case then the Rustic 1Bdr w Loft Cabin- Inside Yosemite National Park is a pleasant surprise. It only has one bedroom, but the living room can sleep two more guests.
It's just over ten miles from the valley, so a great place if you want some seclusion. The cabin is modern and the kitchen is fully equipped with everything you need for a stress-free stay.
The views from the balcony are stunning and it also features a barbecue. If you are staying in winter then the log fire in the living room is a welcome sight.
Find out more about Rustic 1Bdr w Loft Cabin- Inside Yosemite National Park here.
Yosemite El Portal
Depending on the season, it might be difficult to find suitable accommodation inside the park. Luckily there are a few towns located nearby. El Portal is the most popular and it is just ten minutes drive to the park.
Located along the Merced River is Yosemite View Lodge and it is where you can find many places to raft if you are up for the adventure.
Yosemite View Lodge is a more luxurious stay as onsite there are four pools and a hot tub. There is also an onsite restaurant and a nearby convenience store.
As the hotel is by the river, many of the units offer fantastic views. Some of the units come with a kitchenette and a spa bath.
Make a reservation here for Yosemite View Lodge.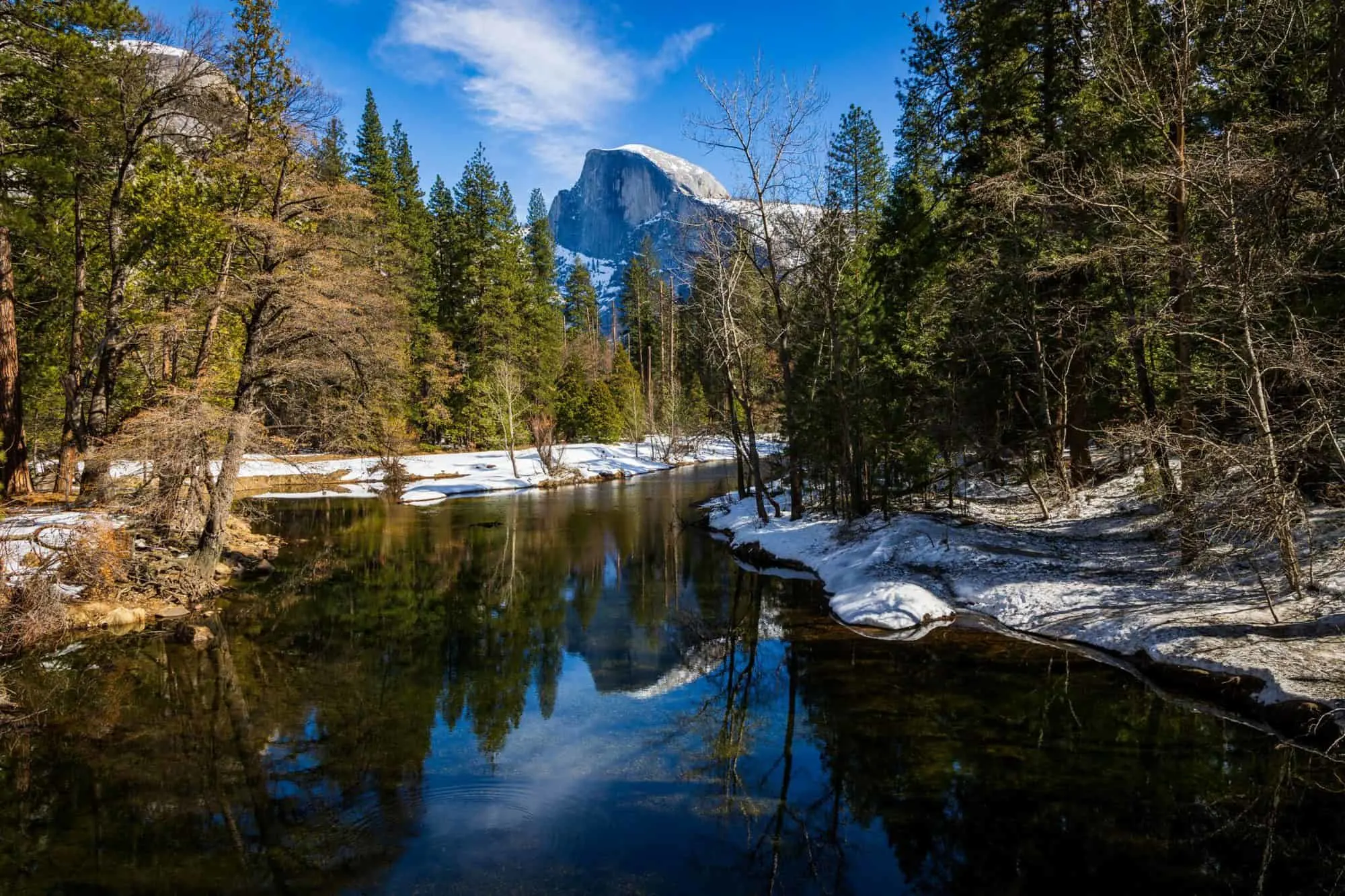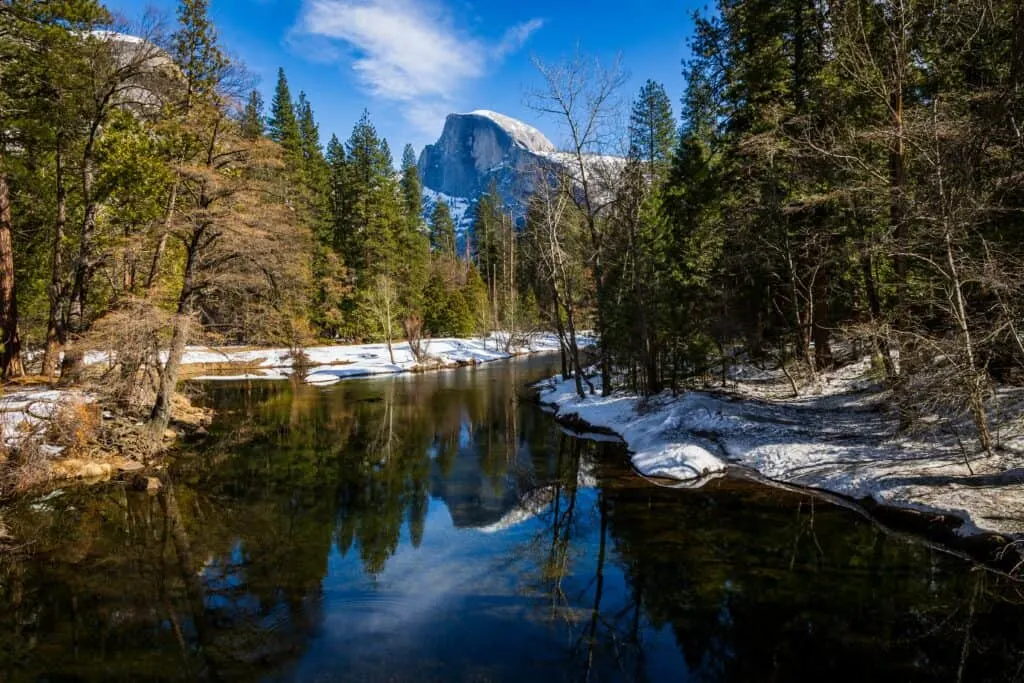 Yosemite El Portal Holiday Home
El Portal also offers holiday homes. Yosemite Gatekeeper's Lodge is a self-catering holiday home that is fully furnished. The property has two bedrooms, but it can sleep up to eight people. This makes it a great option for large parties.
Not only is the location of the park superb but the views are too. The patio has barbecue facilities and a dining area inside and out. The property is accessed by a staircase so it may not be suitable for everyone.
Check out Yosemite Gatekeeper's Lodge here.
Yosemite Packing List
While you are visiting the park, you don't want to be going back and forth to the nearest town to pick up essentials. It is great to know that you have the option, but it is always best to be prepared. Below are a few tips on what to bring on your two day trip to Yosemite.
How to get there
Yosemite Road Trip Itinerary
How you get to Yosemite National Park depends entirely on where you are coming from. Yosemite Park is in a great location as there are many cities just a few hours away.
It is in east-central California which means that San Francisco and Sacramento are to the west, Los Angeles is to the South and Las Vegas is to the Southeast.
Your starting point also determines which of the park's five entrances you can take. There are four located on the western side and the fifth one is a little bit more remote on the eastern side.
If you are coming from San Francisco, then take Highway 140 and enter the park using the Arch Rock Entrance. This is the fastest and most direct route from that direction.
If you are travelling by Highway 120 then you have two choices, Hetch Hetchy Entrance and Big Oak Flat Entrance. While the Big Oak Flat entrance is the most direct entrance, Hetch Hetchy is quieter and might be the better choice if there is a lot of traffic.
The last entrance on the west side is the South Entrance. This is off Highway 41 and the best entrance if you are coming from San Diego or Los Angeles.
Lastly, the Tioga Pass Entrance is the only entrance on the east side of the park. The entrance is only open from May to October, depending on weather conditions. Use this entrance if you are travelling from Lake Tahoe, Death Valley or Las Vegas on Highway 120 during that time.
When to visit Yosemite
Yosemite is beautiful all year round but in winter many areas of the park are closed due to snow and ice. Many people recommend visiting the park in May or September. It is usually quieter and most of the park should be open.
September is great as the temperature is not too hot. Hikes are more comfortable, but if you want to see gushing waterfalls then you are going to be disappointed. As summer has just passed, the waterfalls have dried up.
On the other hand, if you visit in May then the waterfalls are flowing due to the melted snow. The drawbacks about visiting at this time are mainly due to the weather. It is unpredictable. In fact, there could even still be snow on the ground.
The summer months, June, July and August are unsurprisingly busy. If you decide to visit then beware that prices also reflect this. It is also more difficult to find last-minute accommodation and many places are fully booked six months in advance.
The winter months, December, January, February and March are quiet months. it is easy to find accommodation. However, some of the trails and roads are closed. Nevertheless, it is a magical time of year.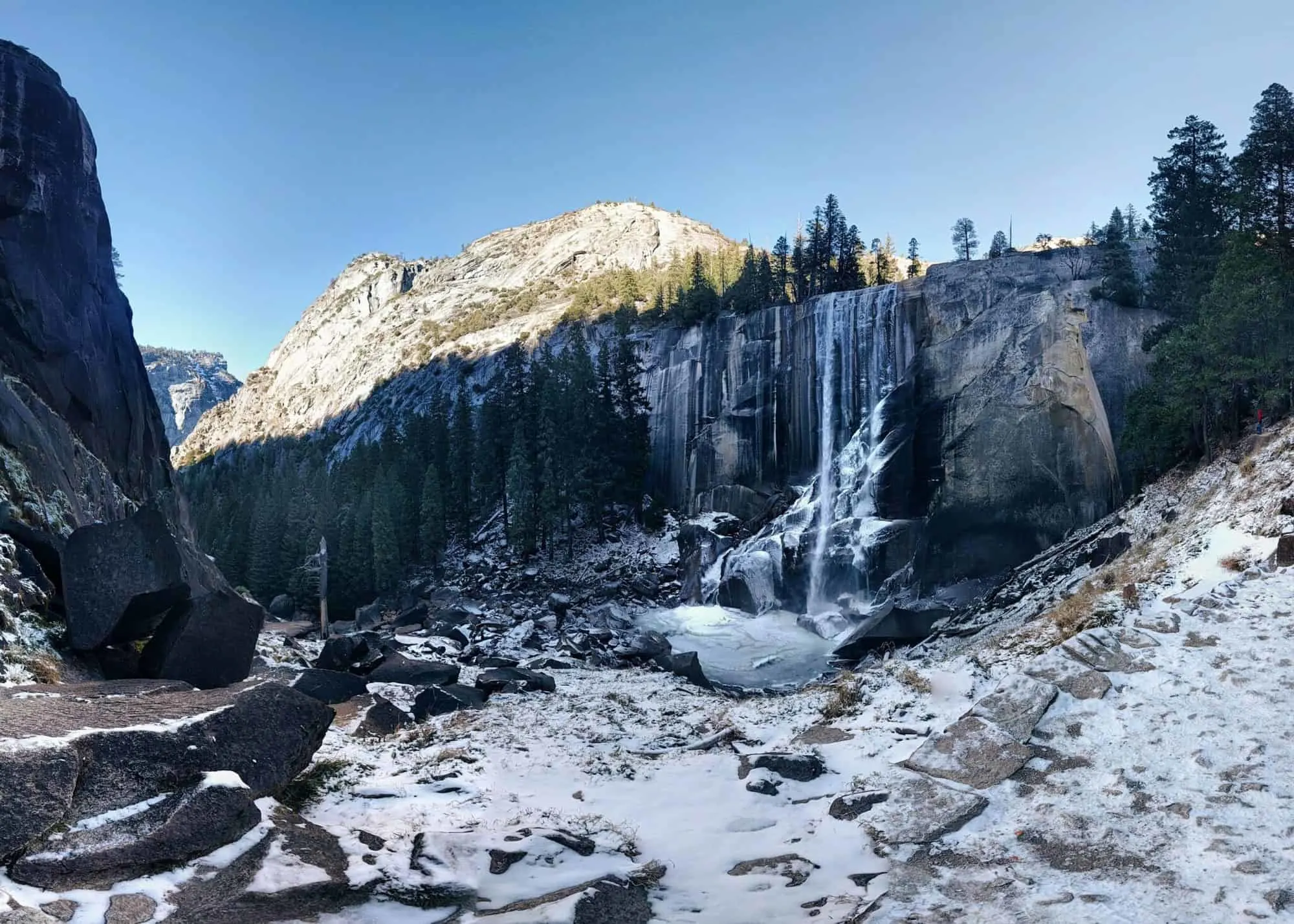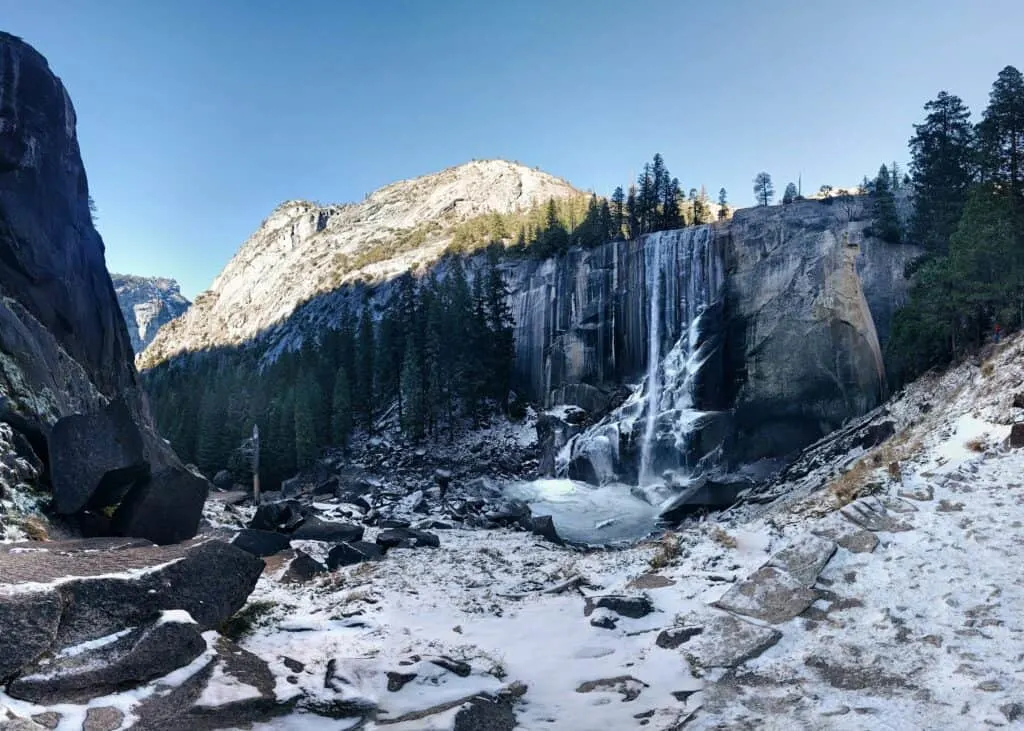 Yosemite Winter Itinerary
If crowds and high prices put you off visiting in summer, then completely dismiss a trip to Yosemite in winter. In fact, the park is beautiful at this time of year. Your itinerary might look a little different but there are plenty of options for you.
Before you visit remember it is cold. The lowest temperature on record was -30 °C (-22 °F). It may not be that cold, but be prepared and pack accordingly. layers are important along with warm winter jackets and snow boots.
Many of the activities at Yosemite during winter are snow-related. There is plenty of opportunity skiing. In fact, many of the trails are open for cross-country skiing. there is also a dedicated ski area at Badger Pass Ski, Tube and Snowboard Area where you can ski and snowboard.
During the winter the park has several ice rinks. There is an outdoor rink under the under Half Dome or covered rinks near the south and west entrances. The more adventurous may want to try sledging and snow tubing at various places in the park.
No matter what you choose to do in winter at Yosemite, you are sure to be stunned by the views of frozen waterfalls and the sunsets across the frozen granite walls.
Resources
Sequoia and Yosemite Itinerary
Yosemite is off-grid, so many people choose to pick up a few books before they head off. There are dozens to choose from. Below is a list of some resources that could help you on hikes and what to see in the park as well as a bit of history and geology threw in.
Top Yosemite Tips
2 Day Itinerary Yosemite National Park
Some last-minute tips to make sure you are fully prepared for your trip to Yosemite National Park.
It costs around $30 to enter the park with a vechicle. If you plan on visiting a few national parks this year or even some of the federal recreational sites across the US, then check out America the Beautiful Pass. it is an annual pass that allows you to visit over 2000 sites including the national parks.
Check the current conditions at the park on the website before you set off. Some trails may be closed due to snow or reconstruction. If any trail or attraction is closed you can make plans before you get there and save time.
Download the APP AllTrails before you arrive. The APP shows the various trails around the park and their difficulty. You can even download many of the trails before you arrive.
If you buy new hiking shoes for the trip, make sure to break them in first. The last thing you need is sore feet.
Expect to be offgrid for the two days you are there. The signal is not great, so make sure you have all of the information you need before you arrive.
Fuel is expensive at the gas stations around the park. Fill up your tank before or it may cost you an arm or a leg.
If you are travelling to Yosemite as a family then you may be looking for other things to do. Check out our post on things to do in Yosemite with kids.
If driving or renting a car are not an option, then consider The Yosemite Area Regional Transportation System. It may take you longer to get there, but there is a year round service from Merced.
With so much to see and do in Yosemite National Park, it would be best to spend four or even five days there. However, you can still see a lot in just two days. In fact, with the right preparation, you should be able to see all of the major attractions and even fit in a few hikes.
You May Also Like:
Things to do in Banff with Kids
Best Things to Do in Redwood National Park with Kids
Olympic National Park with Kids
How to Plan a Trip to Yosemite | April in Yosemite | The Best Hikes in Yosemite National Park | One Day in Yosemite | The Ultimate Yosemite Packing List | Yosemite in Fall | RV Parks Near Yosemite | Rafting in Yosemite | 10 Kid Friendly Hikes in Yosemite | Winter Hikes in Yosemite | The Magic of Yosemite in December | Christmas In Yosemite |Best Photo Spots in Yosemite | Why Yosemite Weather in May Makes it the Best Time to Visit | 10 Reasons to Visit Yosemite in January | The Perfect Guide to Visiting Yosemite in March | 10 Amazing Things to do in Yosemite in February | 10 + Things to Do in Yosemite in June | Pumpkin Farms in Maryland
Best pumpkin farms in Oregon | Flying With A Toddler | Best Pumpkin Farms in Florida | Best Pumpkin Farms In California
Will you be needing travel insurance, flights, rental cars, or hotels for your trip?
Disclaimer: This post may contain affiliate links. By using them it will not cost you any extra, we will receive a small percentage of the sale.