The fall season has arrived! It's time to put on your boots, don your flannel and head straight out to one of the pumpkin farms in Maryland.
Fall brings pumpkin patches, harvest festivals and corn mazes in Maryland. Not to mention, enthusiastic local farmers are on their feet welcoming crowds once again this year.
While you may have a favourite, or a list of other pumpkin farms in Maryland you may want to revisit from your childhood, how about going somewhere a little different to explore new places in search of the Perfect Pumpkin.
From taking a hay ride to getting lost in a corn maze, there are so many things to do during pumpkin festival season for kids and grownups alike.
From Thanksgiving getaways to National Park itineraries, make sure to check out our other guides!
Pumpkin Patches In Maryland
Some of the pumpkin farms in Maryland are spread across huge acres of land filled with rows of pumpkins and bales of hay. Whilst other venues have massive stands piled with pumpkins.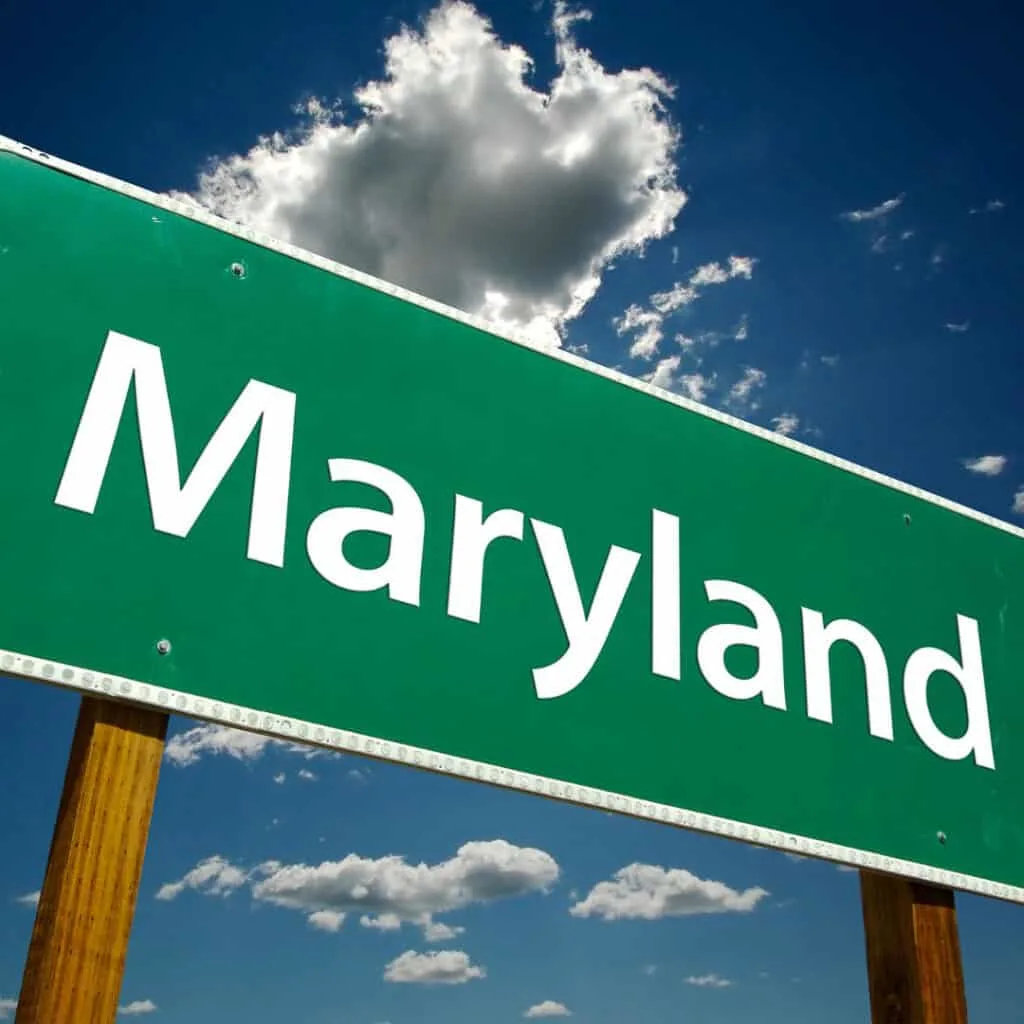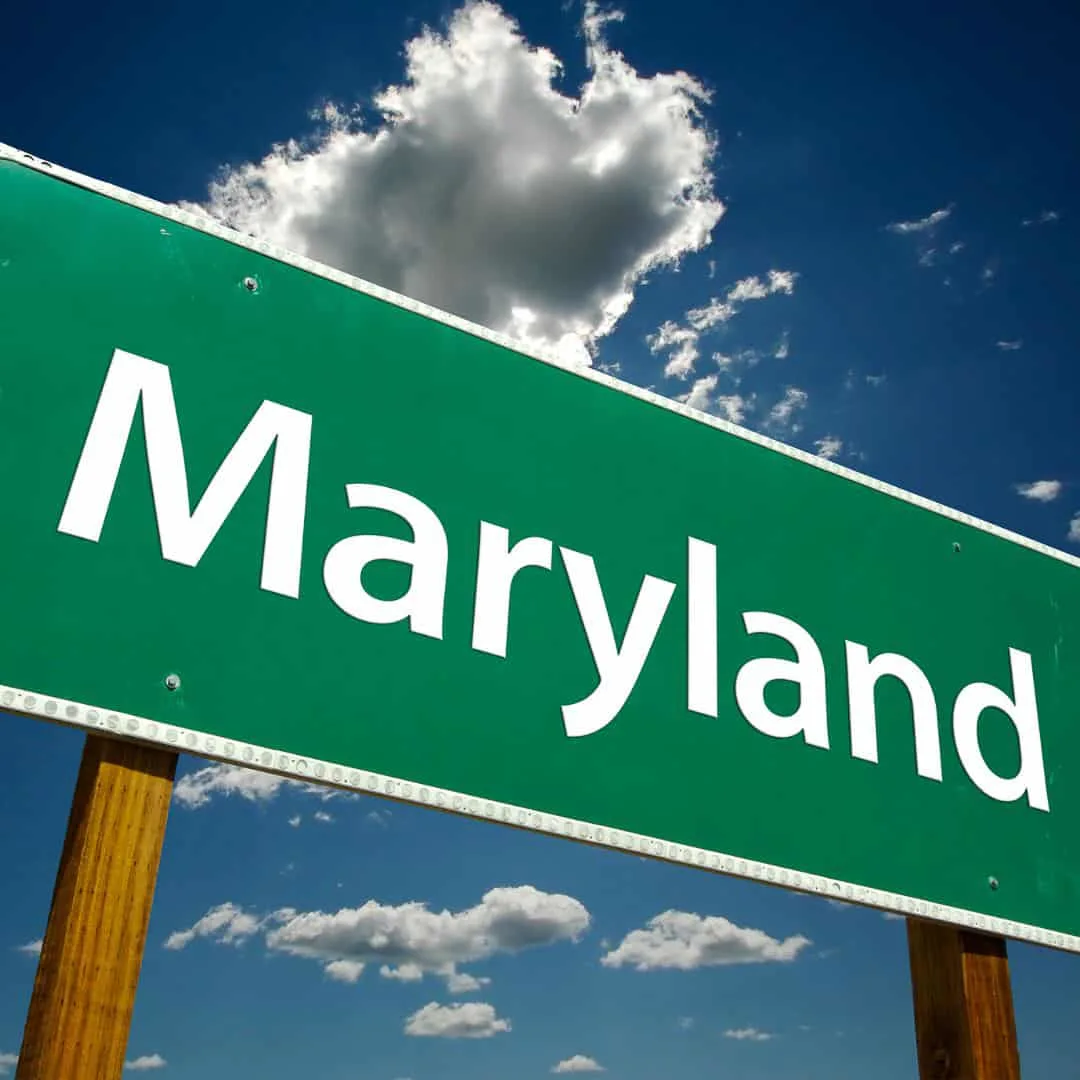 To make it an exciting day for the family, do keep an eye out for the best pumpkin patches in Maryland that have tonnes of activities especially for the little ones like corn mazes, spooky houses and bales of hay.
Usually, visiting these pumpkin farms in Maryland are generally free, however some may charge a small fee for exploring the mazes.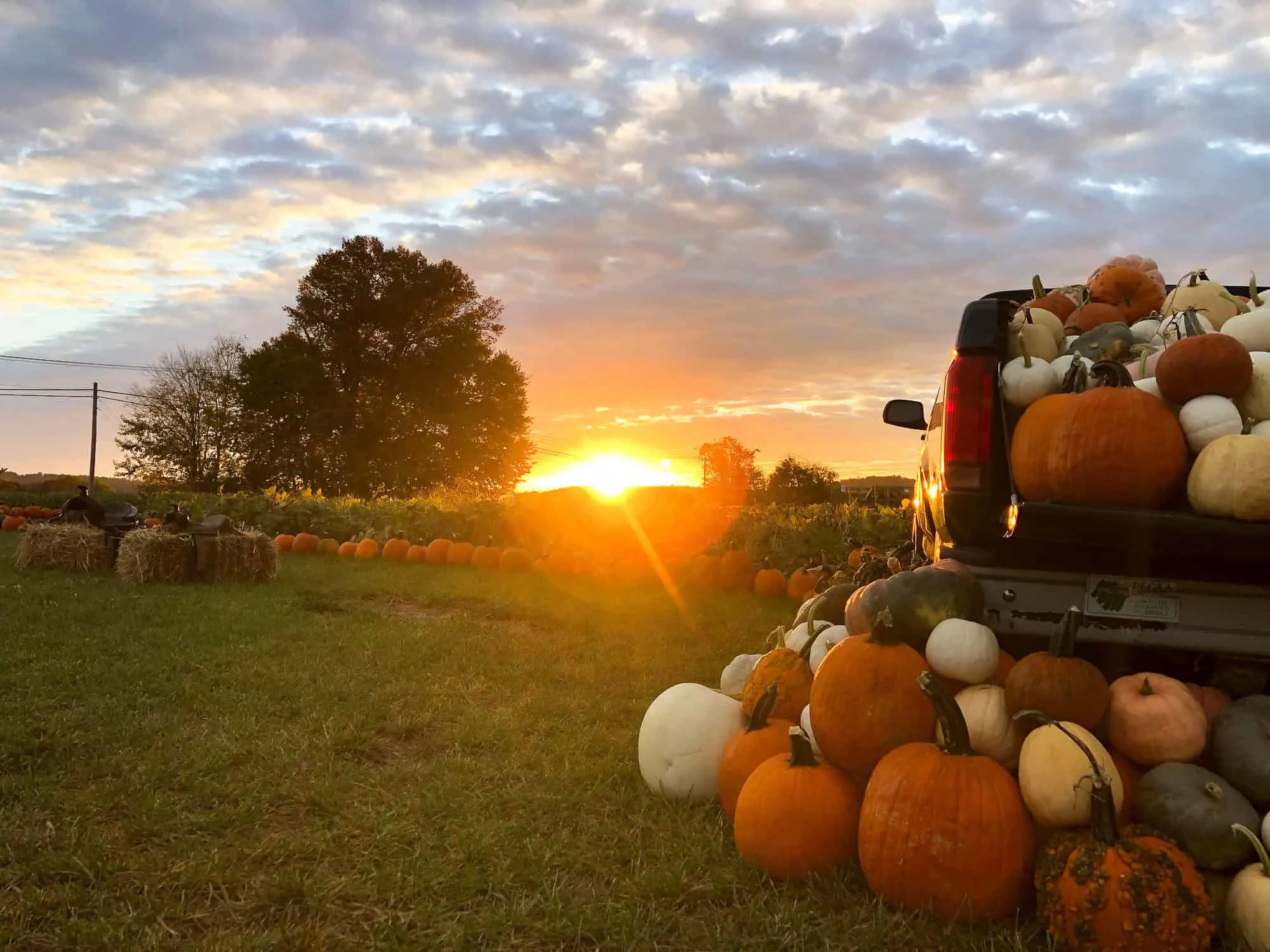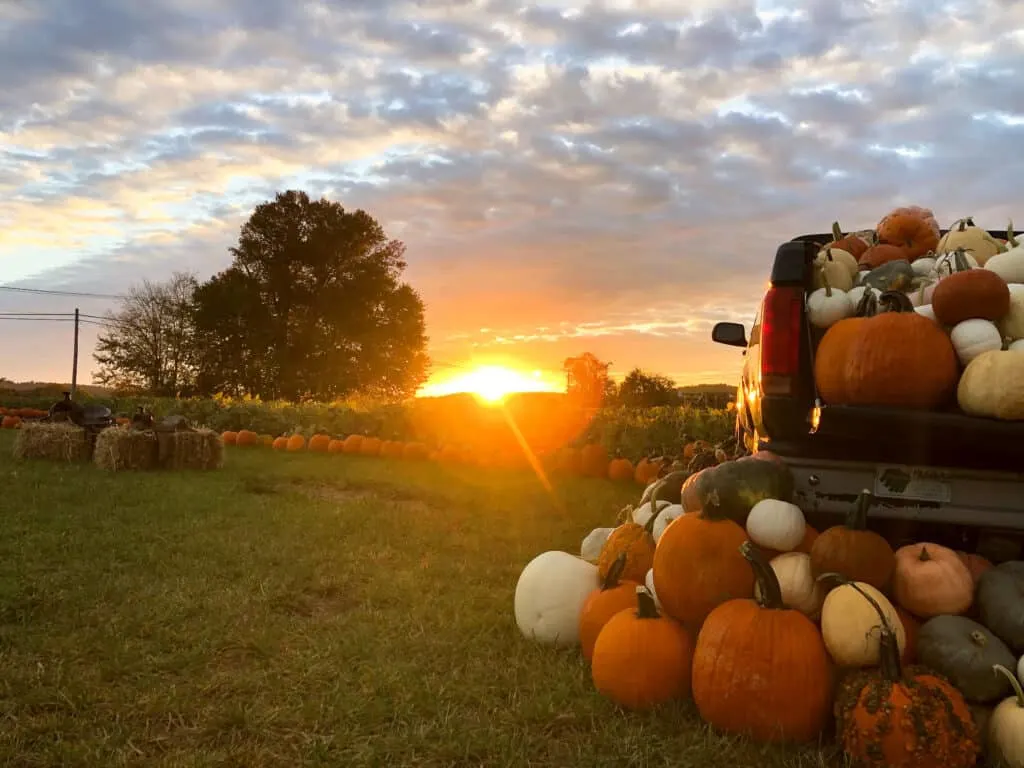 The more elaborate the maze, the more you may be charged. However playing on the hayrides in Maryland farms and mountain slides are usually free.
If you are lucky, you may also find pumpkin patches in Maryland that serve an array of cider doughnuts, caramelized apples and plenty of other nibbles.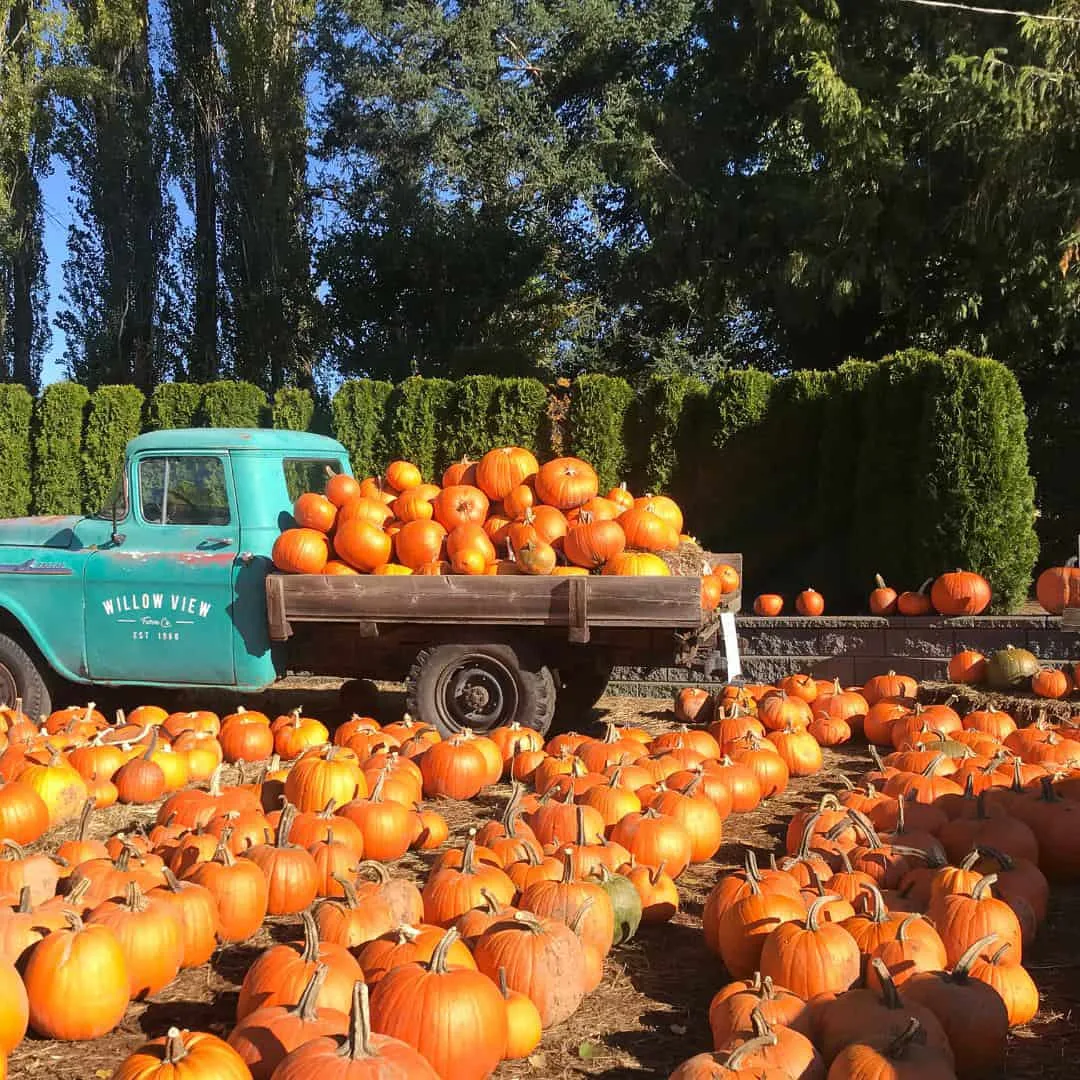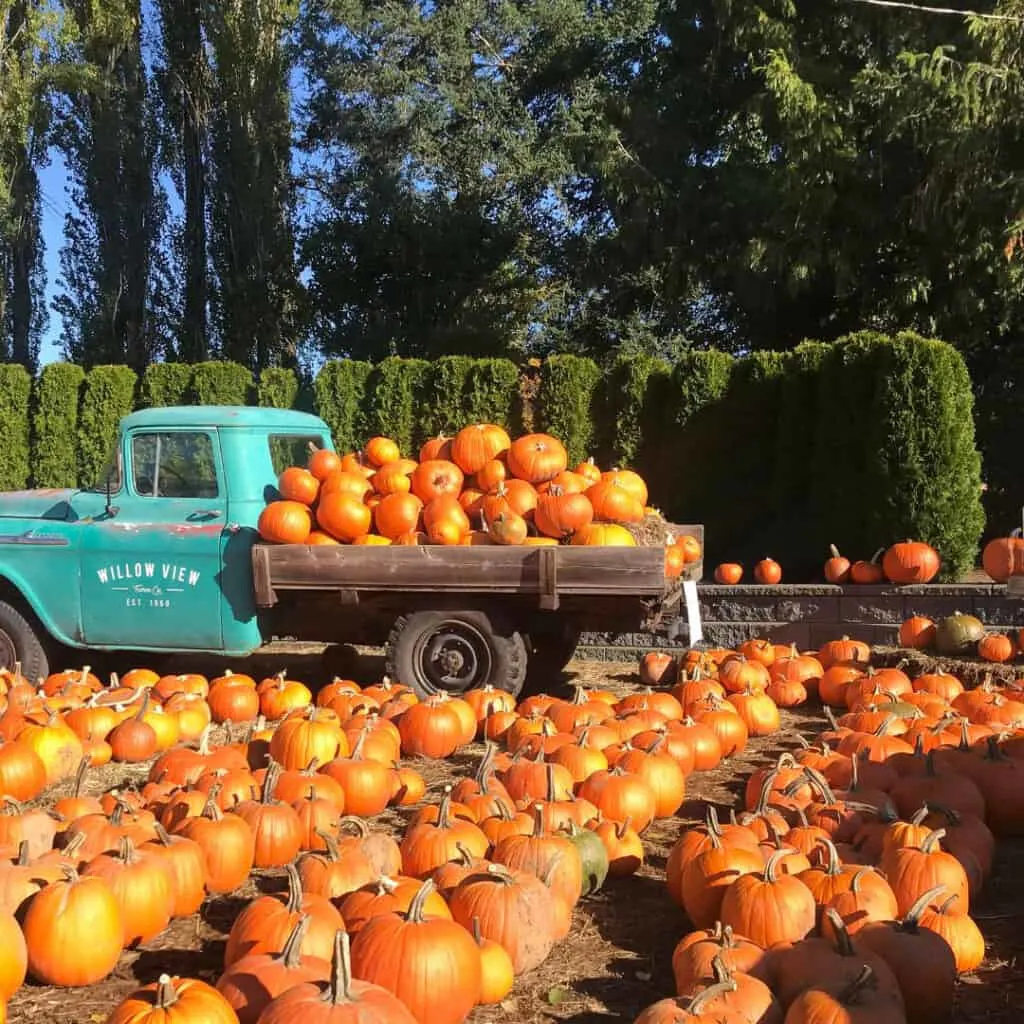 Below is a list of the best pumpkin farms in Maryland that stand out in terms of being so entertaining and fun, I promise you won't be disappointed!
The golden rule however is, call well in advance before visiting the Pumpkin patches to make sure they are open!
Most of the farms are just west of Baltimore where there are lots of fun things to do. Whilst the rest are just east of Washington.
1. Baugher's Orchard
Baugher's Orchard celebrates its Annual Fall Harvest during weekends in October, you can go on a scenic hay wagon ride across the beautiful Carroll County farmland! It will take you to the pumpkin field where you can stay as long as you like.
Baugher's Orchard has arranged lots of fun activities for the kids. Pony rides, face painting and a pumpkin bounce house to name a few.
There is also a petting zoo if you would like to see some of their farm animals. Don't forget the amazing treats that await you on this beautiful Maryland pumpkin patch.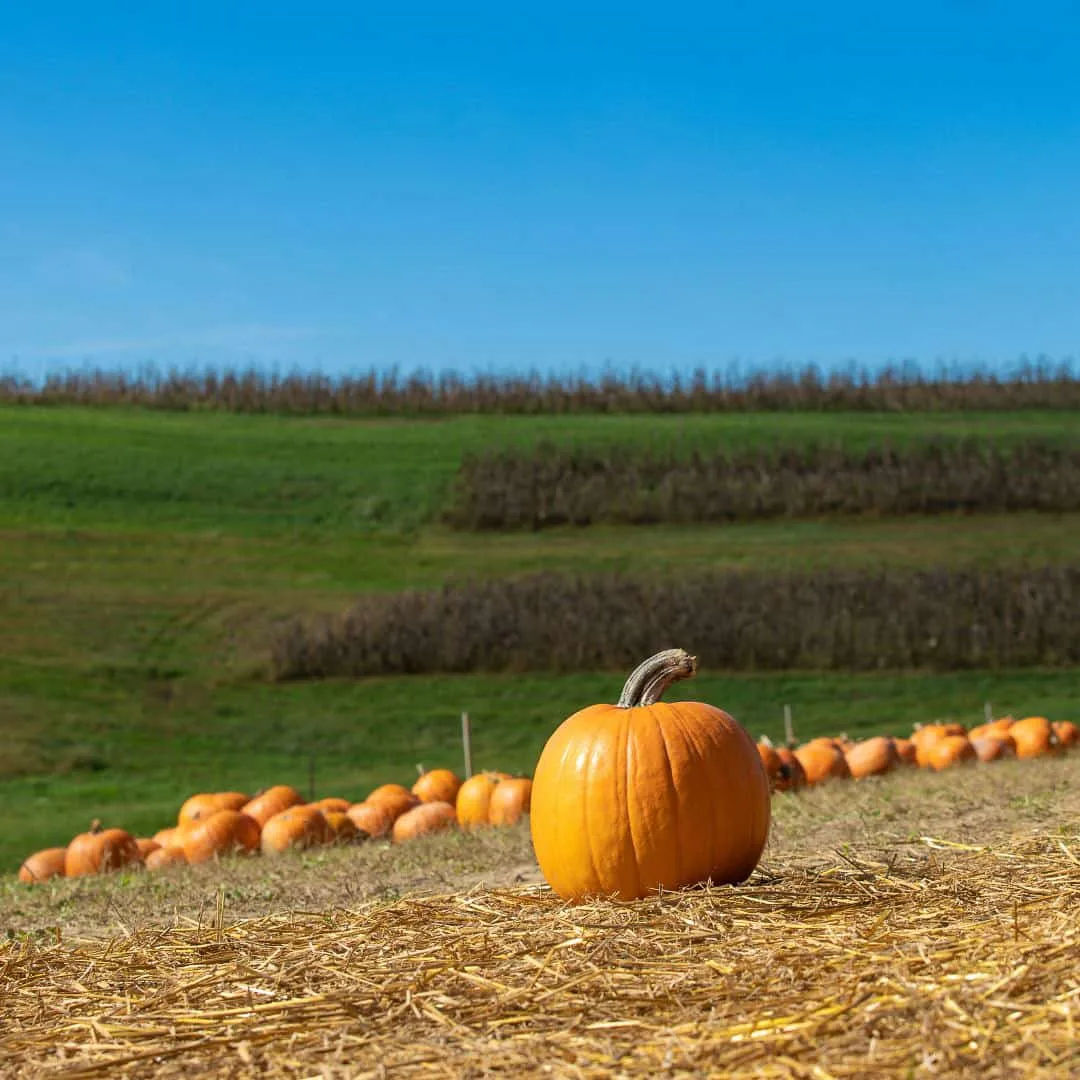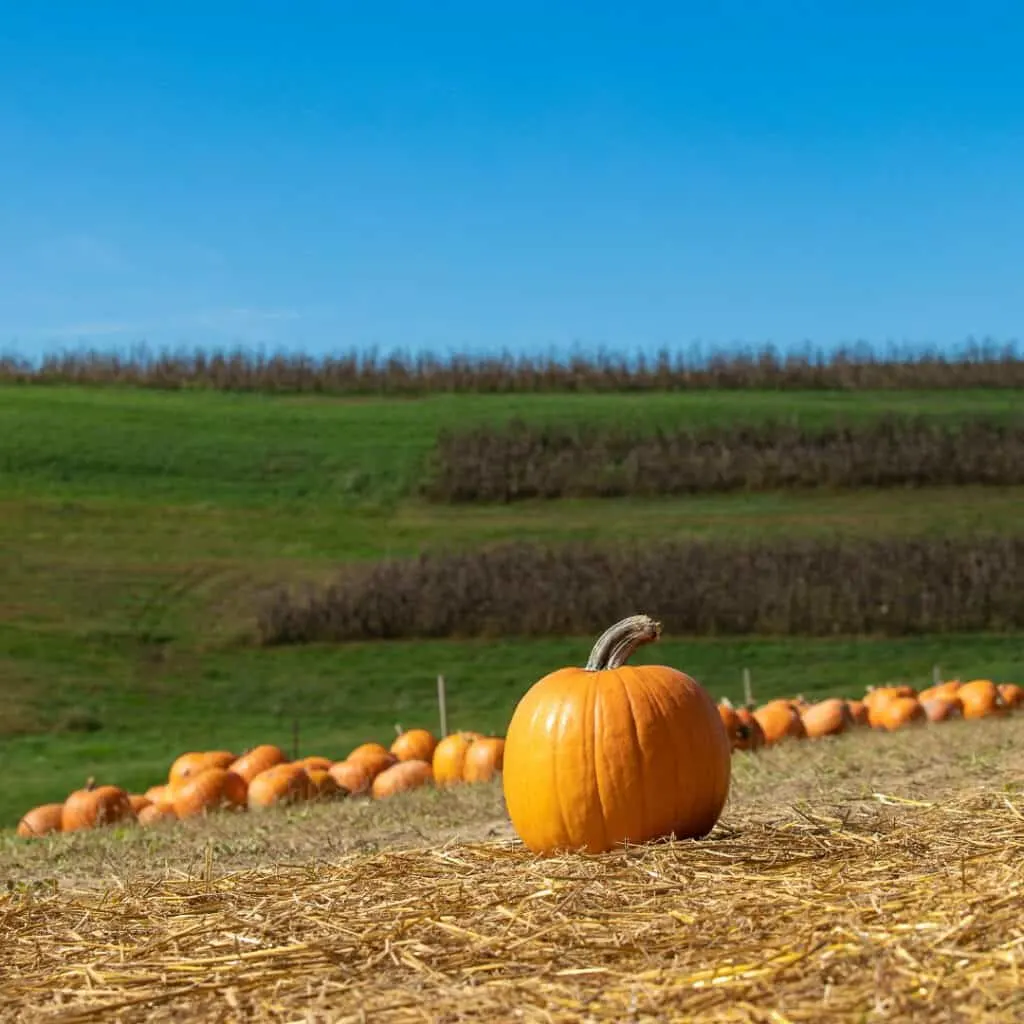 You'll find homemade fudge, a choice of baked goodies and apple treat stands.
After you are done pumpkin picking, you can also visit their country market and stock up on fresh fall apples, pears, squash, apple cider, apples pies and more homemade fudge.
They also have plenty of fall decorations for your home to prepare for Halloween.
Entry fee: Hayrides & wagons to the pumpkin patch are $3.00 (children under 1 are FREE).
Dates: October (weekends only)
Timings: 9am – 5pm (Saturday and Sunday) – October
Location: 1015 Baugher Rd, Westminster, MD 21158, United States
2. Butler's Orchard
Butler's Orchard celebrates its 42nd Annual Pumpkin Festival this year. It's a huge family-run farm in Montgomery County, MD. The pumpkin festival goes on every weekend in October with live music and food vendors.
With so much delectable to choose from, the favourite food choices of visitors here are the quinoa and sweet potato stew, pit BBQ sandwiches with fries and freshly brewed tea. The food choices alone make it one of the best pumpkin farms in Maryland.
The festival admission includes hayrides to the pumpkin patch, giant slides, a playground, corn pits, a ride on farm tractor, straw and corn mazes, rubber duck races and more.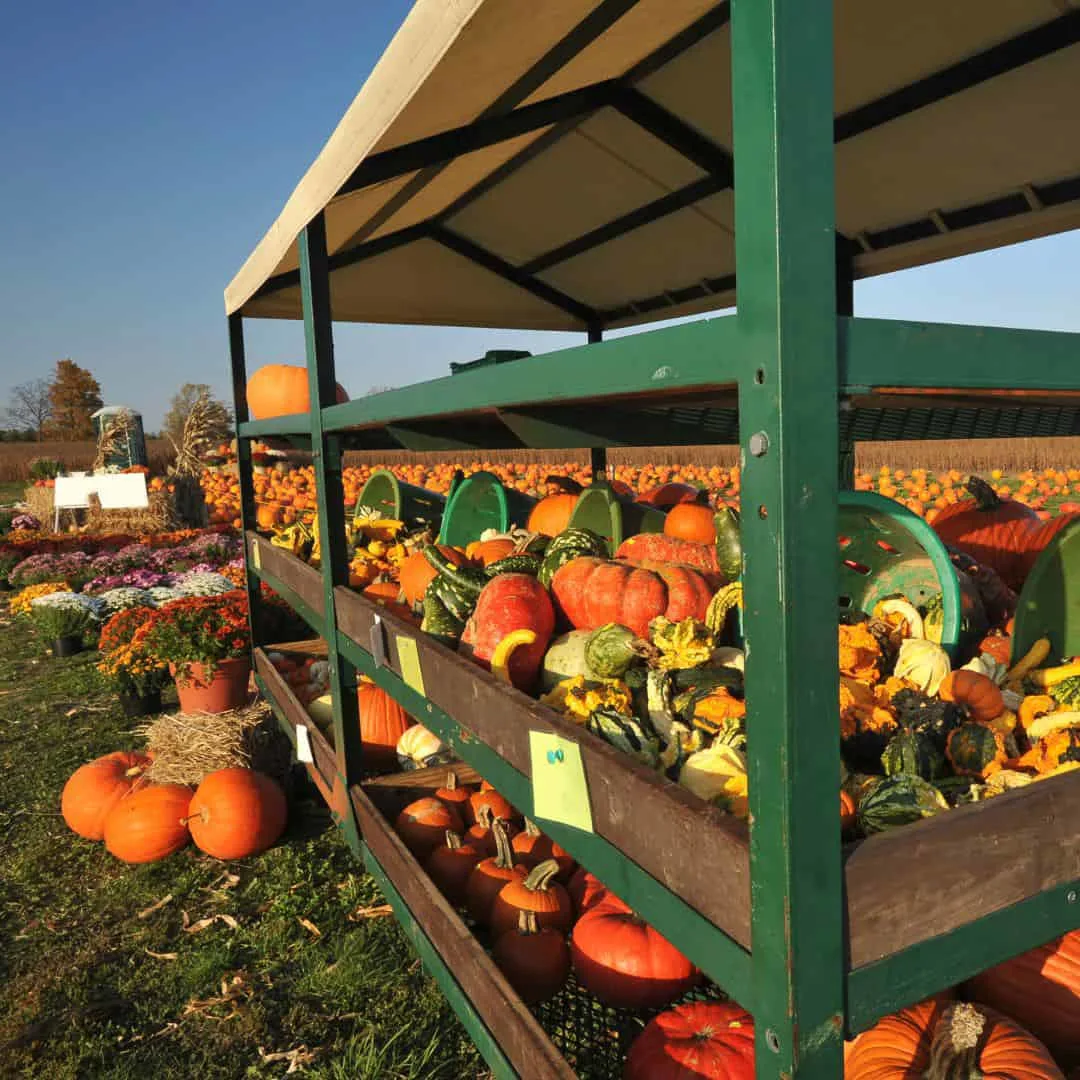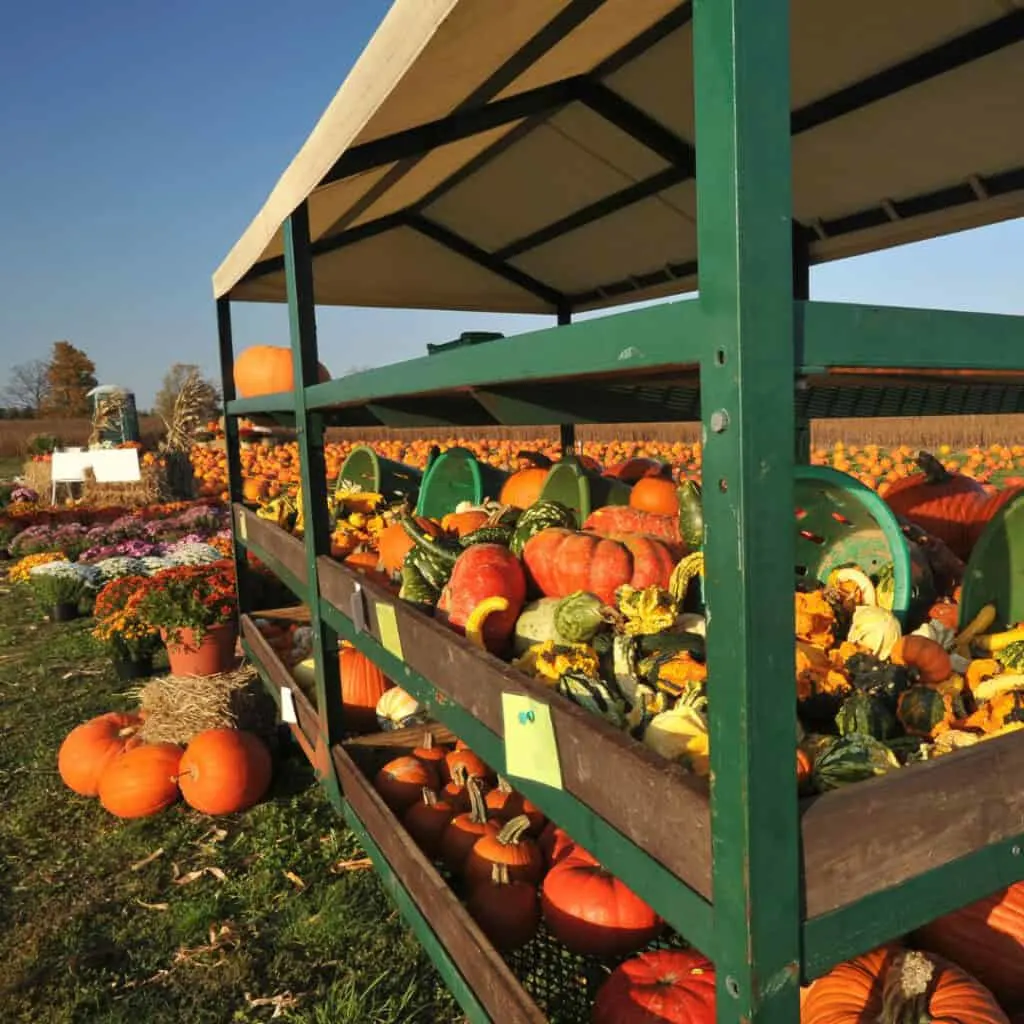 There is so much to do, you may end up spending a good few hours at the Orchard. This year, Butler's Orchards has three options available for you to take home pumpkins after your Festival experience!
You can either Drive to the pumpkin patch, drop by at their festival market or visit the pumpkin yard where you can select from a choice of pre picked pumpkins.
Dates: September 24 – October 30
Timings: Wednesday – Friday: 1 PM – 6 PM (Last entry 4:30 PM)
Saturday – Sunday, and Columbus Day: 9 AM – 6 PM (Last entry 4:30 PM)
Entry Fee: Online pricing: Weekdays @ $10/person, and Weekends @ $15/person
Gate pricing: Weekdays @ $12/person, and Weekends @ $17/person
(Under 24 months old are FREE)
Location: 22222 Davis Mill Rd, Germantown, MD 20876, United States
3. Gaver Farm
Another one of the best pumpkin farms in Maryland has over 45 attractions! Gaver Farm features, hayrides, corn mazes- for both kids and grownups, a giant slide, cow train ( on weekends), a playground, giant tricycles, rubber duck races, corn pits and tons more!
Apple picking is also permitted at an additional cost. If you are unable to find the right pumpkin you can always head to their farm market, which is is fully stocked with speciality pumpkins, apples, squash, gourds, corn stalks, straw and more.
Gaver Farm has a petting zoo with plenty of farm animals. However, note that they have a "no animal" policy in place, where comfort and emotional support animals and other non-service animals (pets), are not permitted.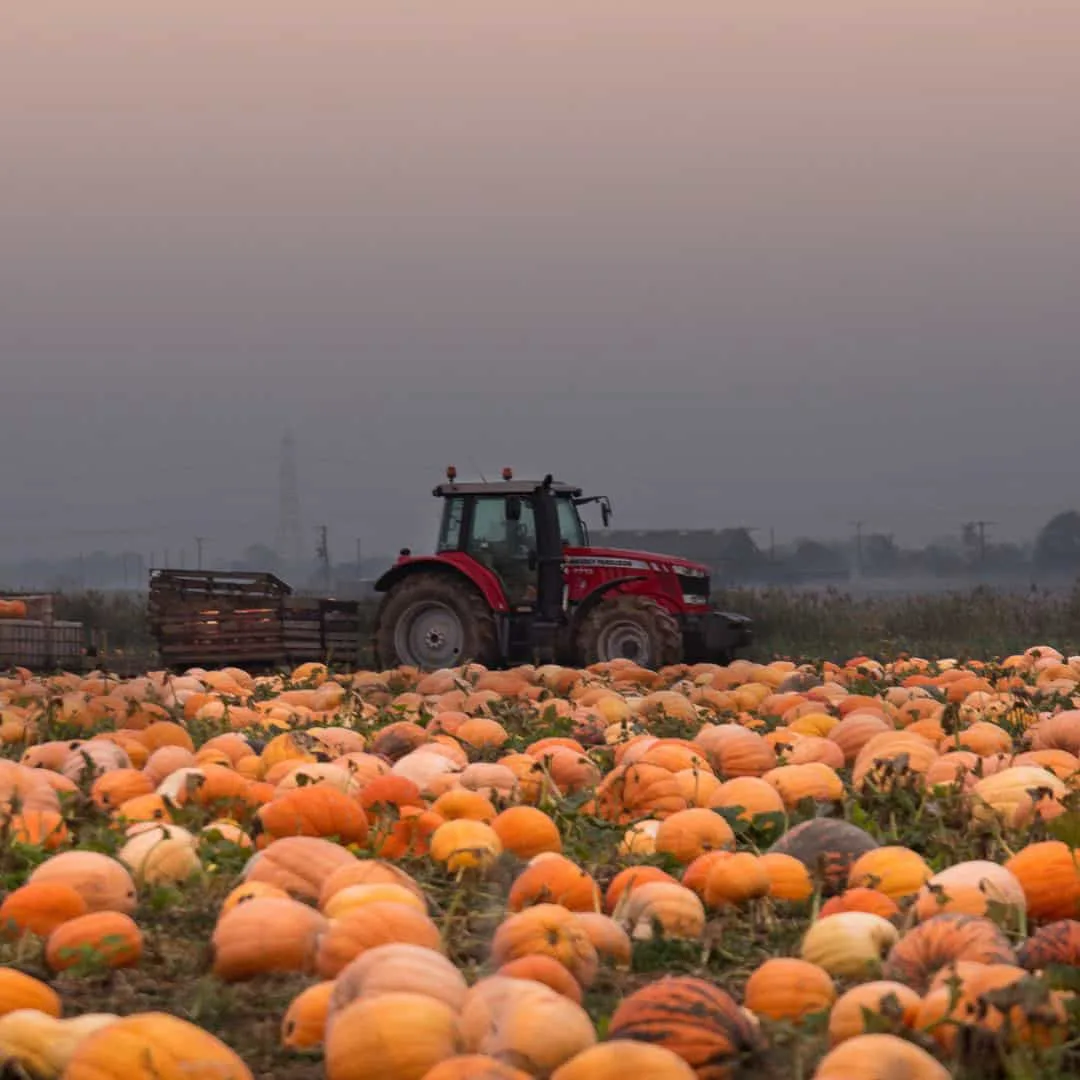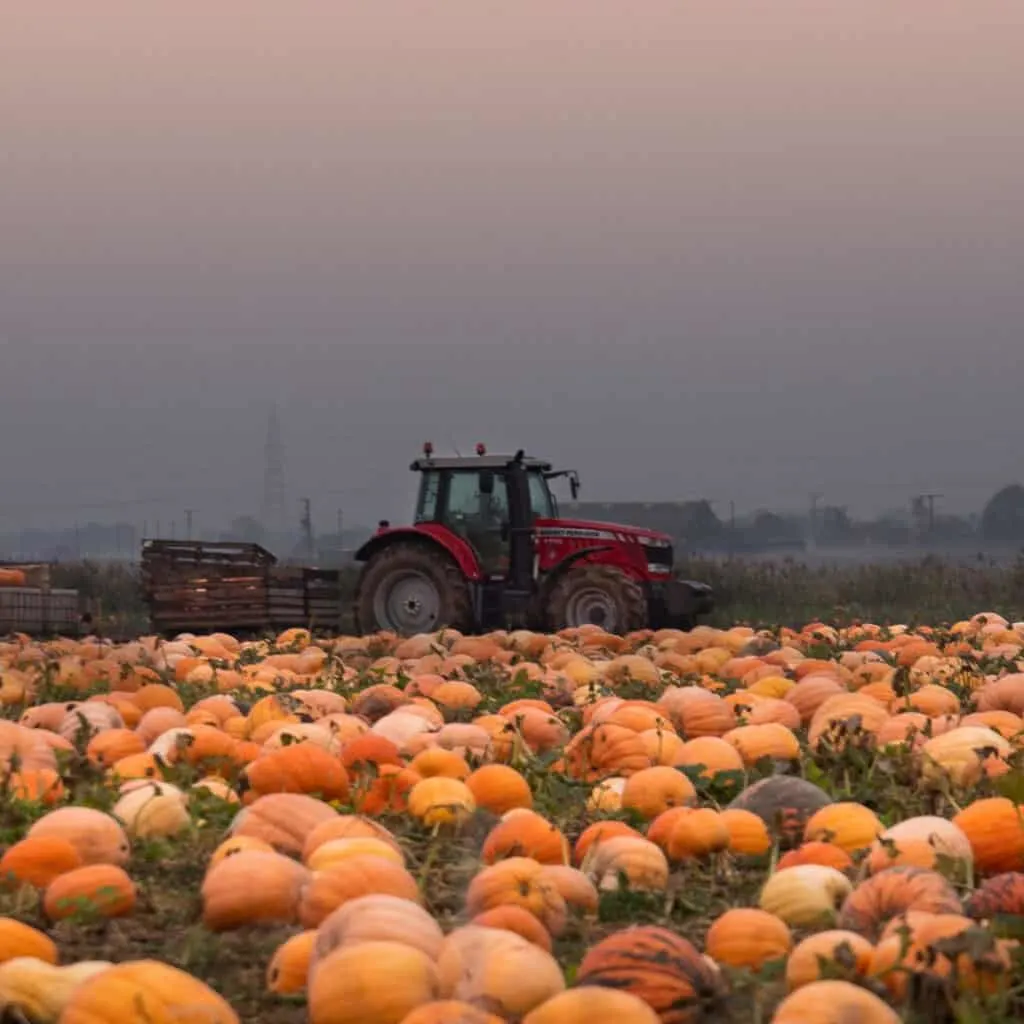 The sheer volume of activities makes it possibly the best pumpkin patch in Maryland.
Dates: September 2 – October 31
Timings: 10am – 6pm (FREE hayrides from 10 am – 6 pm (weather permitting). Hayrides run continuously. The last hayride leaves at 6 pm.)
Entry Fee: September weekends,$17.50 per person
October weekends @ $19.75 per person and $12.50 per person on weekdays.
(Kids under 24 months are free).
Location: 5501 Detrick Rd, Mt Airy, MD 21771, United States
4. Summer's Farm
For more than 26 years, Summers Farm has become the destination for fall fun in Frederick County, Maryland. With a real working farm and a variety of kid-friendly activities, it is perfect for families.
Summer's Farm has organised around 45 different activities for families this year.
They include huge slides, giant bouncing pillows, corn bins, a huge corn maze, animals, apple cannons and even pick your own pumpkins, The wagon is free and the last scheduled ride is at 6 pm daily.
This farm in particular, is known for their variety of home grown pumpkins at their pumpkin farm in Maryland. Some of their larger pumpkins include the Atlantic Giant and the Big Moose.
Their unusually coloured pumpkins include Full Moon, Hooligan, Lumina and World of Color while the more magical pumpkin variety names are Gladiator, Gold Rush, Bumpkin, Fairytale and Speckled Swan.
There is also campfire spots you can rent out for the evening. It can accomodate a group of maximum 50 people who will be treated to a fireworks display towards the end of the night.
Dates: September 17 – October 31
Timing: 1pm – 7pm (Monday to Thursday), 1pm – 9:30pm (Friday), 10am – 9:30pm (Saturday), and 10am – 7pm (Sunday)
Entry Fee: Online Prices @ $12:50 per person (Monday to Friday Afternoon-until 4pm) with Gate Prices @ $15.50 per person and Online Prices @ $17.50 (4pm Friday, Saturday and Sunday) with Gate Prices @ $20.50.
(2 and under get in FREE)
Location: 7503 Hollow Rd, Middletown, MD 21769, United States
5. Jumbo's Pumpkin Patch
Jumbo's Pumpkin Patch is smaller area-wise, compared to other pumpkin farms in Maryland. However it is one of the top-rated pumpkin patches in the whole of United States.
Admission to the Pumpkin farm is FREE! if you are visiting just for the pumpkins, you'll be delighted to know their farm has a large selection of farm-grown pumpkins, fall shopping & a petting zoo.
Some of the fun activities lined up this year for the kids and grownups are, unlimited Hayrides, kids play areas, pick your own pumpkins, 20 acre corn maze, A 3,000 square feet of shopping-with Fall decorations, baked goods, carving kits, and lots more.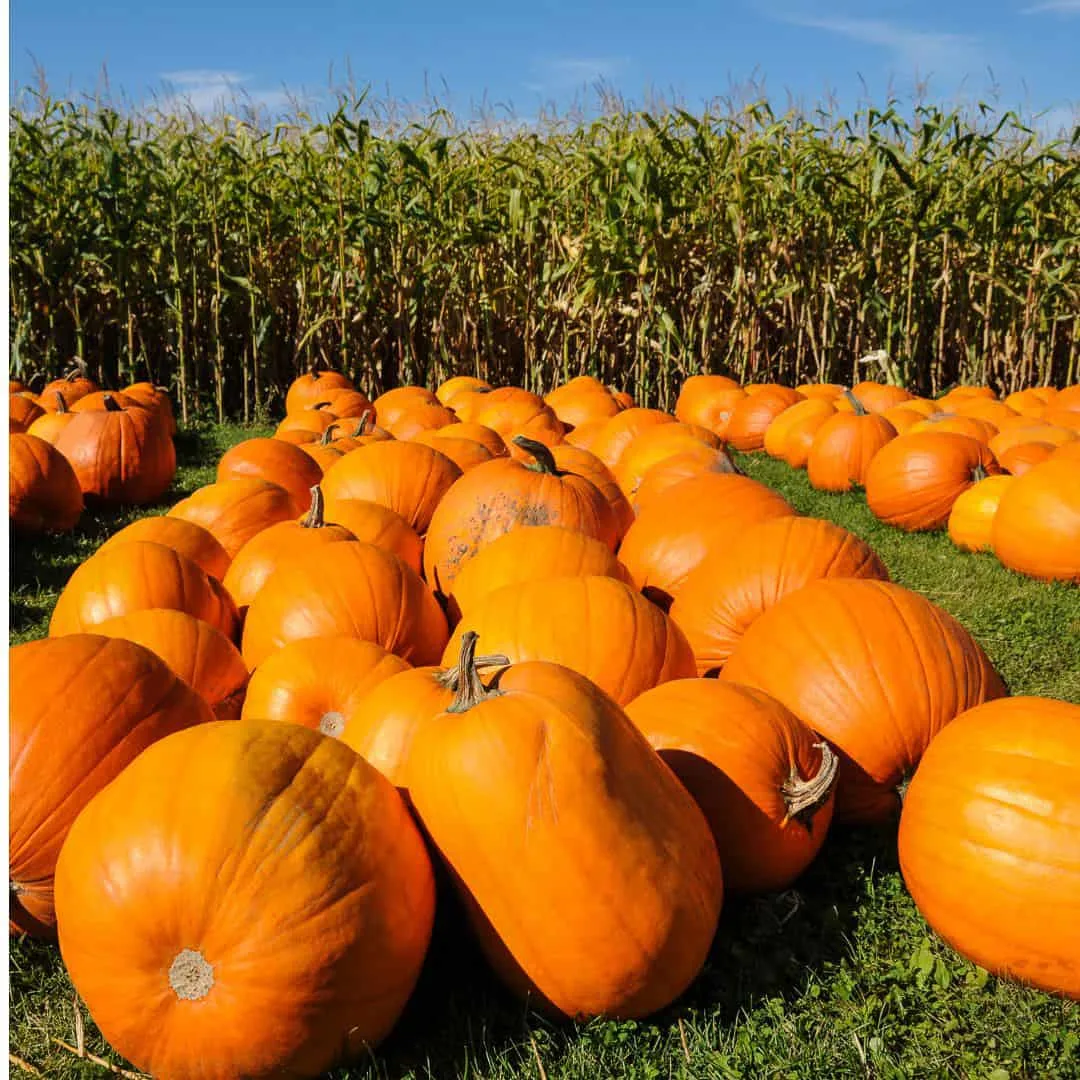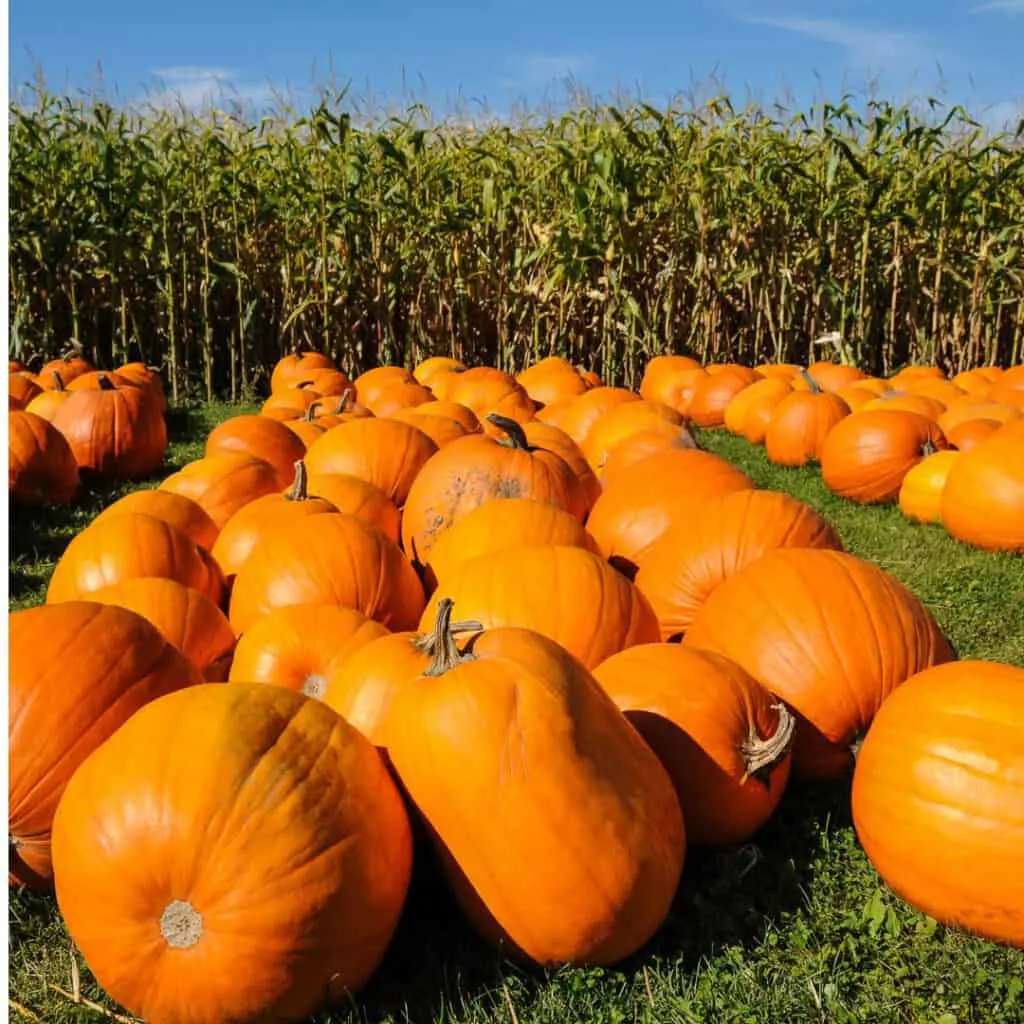 There is also have pony rides, face painting and the corn canon which come at an additional fee.
On weekends, Jumbo's Pumpkin Patch hosts the Farm Festival which includes all the above mentioned activities plus tons of entertainment for all.
Dates: September 24 – October 31
Timing: 10am – 6pm
Entry Fee: Farm Festival Admission $12/person, Military & Seniors 65+ $10/person
(Children 3 & under Free)
Location: 6521 Holter Rd, Middletown, MD 21769, United States
6. Larriland Farm
Larriland Farm is another small pumpkin patch in Maryland with no entrance fee however there is an option of paying for additional activities.
You can take a 20-minute hayride through decorated woods, a straw maze and visit to the haunted barn.
It is important to note the hayrides only run on Saturdays and Sundays for the public.
If you plan to visit with your family or a large group of friends, we would recommend to make a reservation for the hayride during the week.
Hotdogs, apple pies are a few snack options that are served at Red Barn during the weekend at Larriland Farm.
Apart from pumpkins, you can also pick other seasonal fruits and vegetables including berries and apples etc.
Dates: Weekends in October
Time: 9am – 6pm (Tuesday to Friday), 9am – 5pm (Saturday and Sunday), and Monday closed.
Entry Fee: FREE
Location: 2415 Woodbine Rd, Woodbine, MD 21797, United States
7. Homestead Farm
Homestead Farm is an all-year-round working farm where customers from all over Maryland come to pick fresh fruits, vegetables and pick-your-own pumpkins in Fall.
Check their website to find out what fresh produce is available as it varies from year to year. It is also a great spot to go berry picking in Maryland.
They serve refreshments on weekends and kids will have the opportunity to meet the farm animals at their petting zoo.
Dates: September – October 31
Time: 9am – 5pm Everyday
Entry Fee: $3 for Farm Admission, Free entry to Markets.
Location: 15604 Sugarland Rd, Poolesville, MD 20837, United States
8. Queen Anne Farm and Pumpkin Patch
The fun begins with a ride around the Queen Anne farm on a tractor-pulled hay wagon on the quest for the perfect pumpkin!
The pumpkins at Queen Anne Farm range in size from mere two ounces to a whopping 200 pounds.
At the pumpkin patch, you will find the kids running around with excitement while the grownups carefully threading the patch to find the perfect orange coloured pumpkin.
Aside from the big orange pumpkins, the farm also offers six different heirloom varieties. White, grey, and you might find some bumpy and tall varieties which makes this patch home to some of the best pumpkins in Maryland.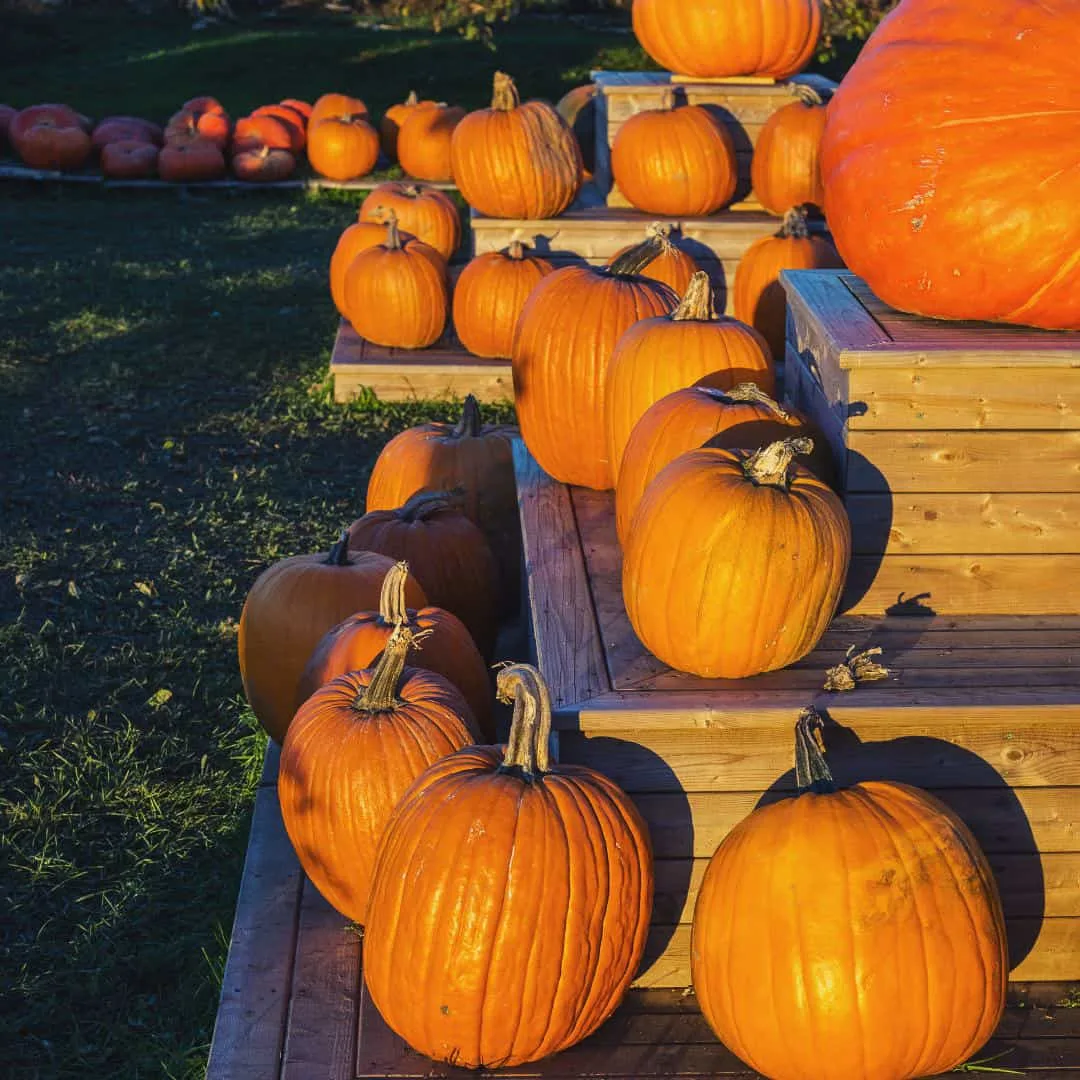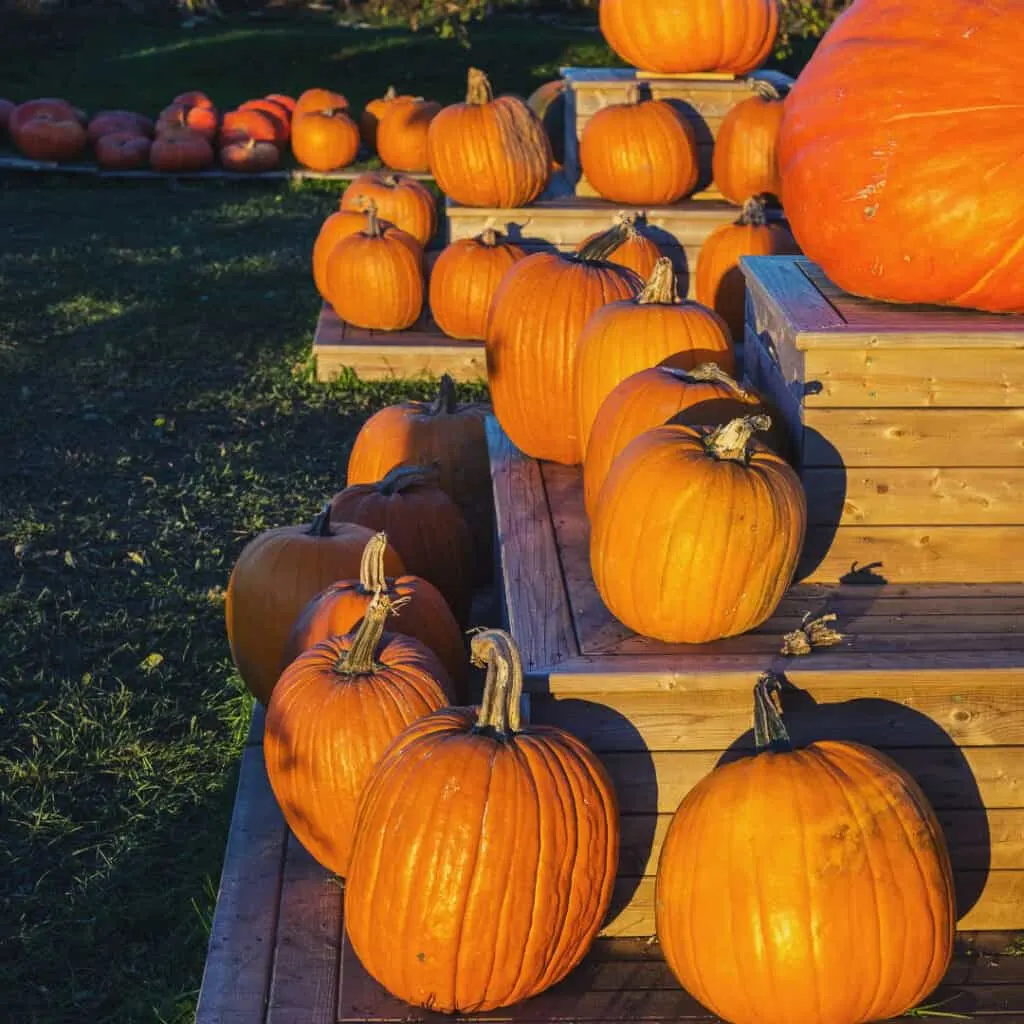 The Queen Anne Farm also features a pumpkin house that is literally huge. Bring your cameras to take family photos in front of the giant critters and straw farm animals at the Pumpkin House.
After you are done posing, you can head over to their relaxed, country store that has every tool you might possibly need
You will also find a variety of fall decorations, including corn shocks, hay bales, Indian Corn, and a vast variety of gourds in all colours and sizes.
Dates: October, Daily
Time: 10am – 5pm
Entry Fee: $10 per vehicle
Location: 18102 Central Ave, Bowie, MD 20716, United States
9. Sharp's At Waterford
It's been a quiet year so far at Sharp's Farm at Waterford and they can't wait to have the kids come back with their smiles and spread happiness.
The farm is operational throughout the year offer hayrides, pumpkin picking, scarecrow making and access to the petting zoo. Not to mention the corn maze, everyone loves a corn maze in Maryland during Fall.
Sharp's at Waterford Farm hosts open houses at the farm throughout the season, however, keep an eye on their website for dates and times the public can join.
There is an educational farm day available for teachers with the history of the pilgrims, basic farming skills and why bees are important to the ecosystem. Children can pick pumpkins and corn right from the fields.
Dates: September 29 onwards
Time: 10am – 4pm (Monday to Saturday) and 12pm – 4pm (Sunday)
Entry Fee: FREE – No admission fee
Location: 4003 Jennings Chapel Rd, Brookeville, MD 20833, United States
10. Councell Farms
Councell Farms believes a trip to the pumpkin patch should be a yearly tradition for families to search for the perfect pumpkin!
Featuring over 20+ farm-related activities, including the corn maze, jumping pillow, combine slide and pumpkin patch, there's something for everyone at Councell Farms' Field of Fun.
Grandparents can visit the Farm for FREE. The pumpkin patch welcomes families to pick their own or your perfect fall display.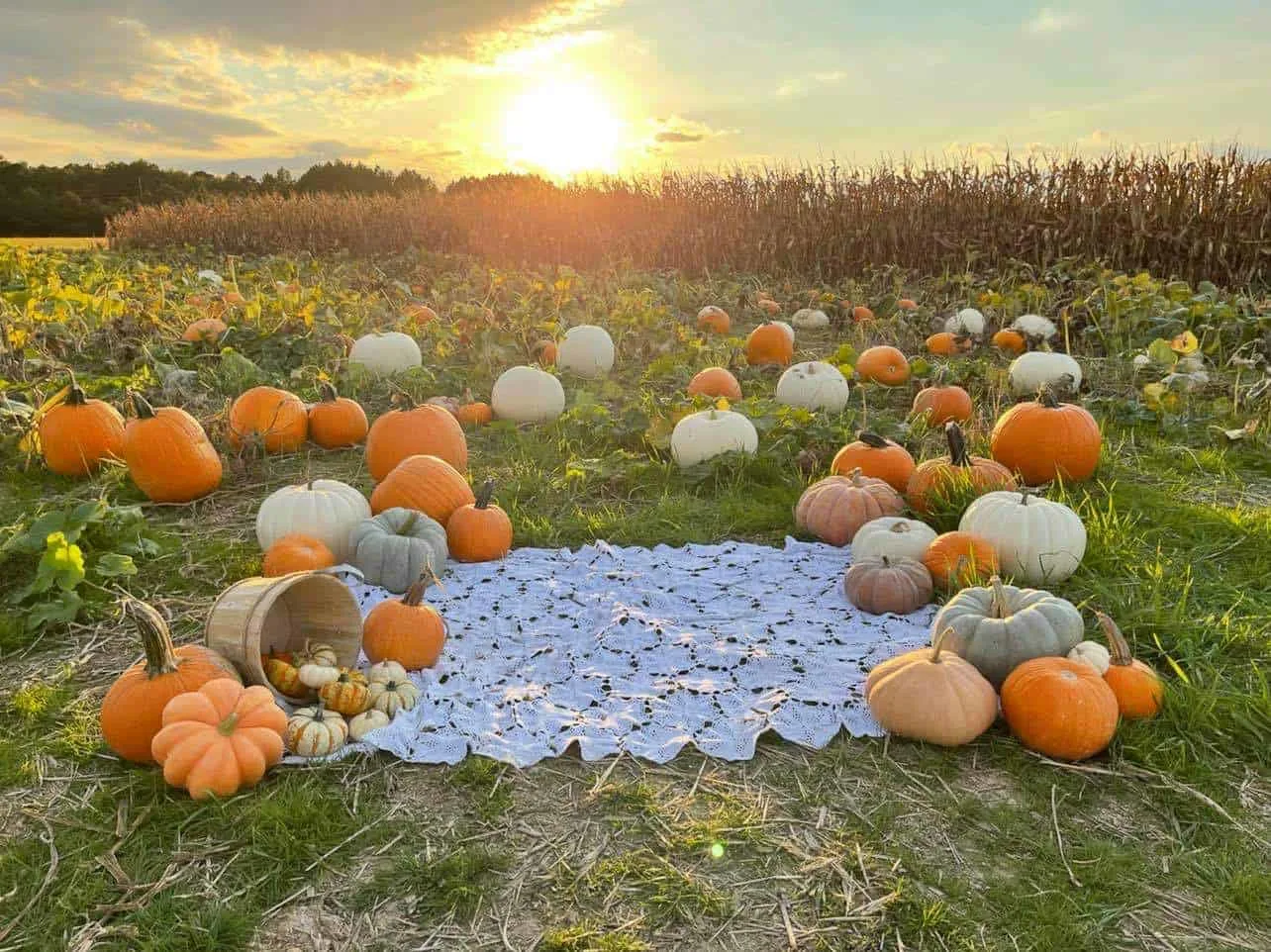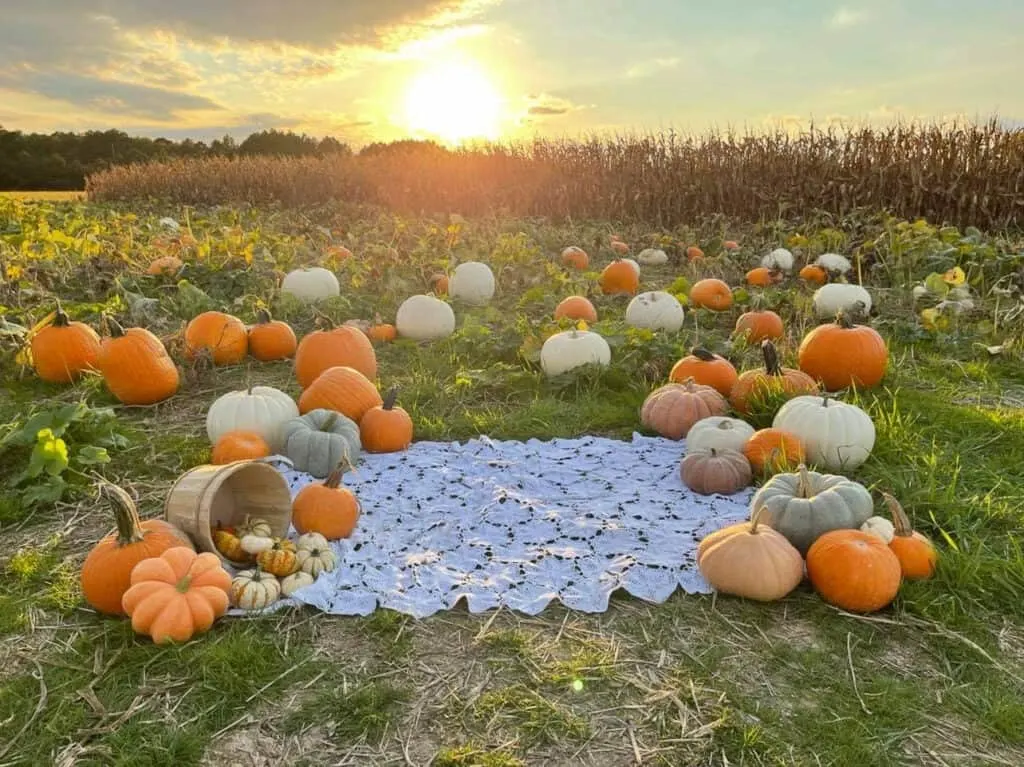 After you picked the chosen have a look around, they have a wide selection of jams, jellies, as well as delicious local apples, apple cider, and fresh apple juice.
Don't forget to check out their Fall decorations, including gourds, Indian corn, straw bales, corn stalks, and mums.
Dates: September – October 31
Time: 9:30am – 5:30pm
Entry Fee: $6 per person, (Grandparents and Children under 2 are FREE)
Location: 11773 Old Skipton Rd, Cordova, MD 21625, United States
11. Strohmer's Farm
Among the activities at Strohmer's Farm are hay rides, pumpkin picking, a corn maze, straw jumps, stick horse corrals, and lassoing a steer.
Special events like exploring the Flashlight corn maze will be held only on Saturdays (October 21th,22nd, 28th & 29th) from 6pm – 10pm.
You can bring your pumpkins to the farm for 'Pumpkin Smashing Days' where you take a trip out to the fields to (you know it) smash your pumpkins!
While you are there, you can have a delicious farm-to-table breakfast and hang out with the farm animals.
After you are done with pumpkin picking, you can head to the barn and take some time to cuddle with goats, while learning all about them.
Dates: October 7 – October 31
Time: 11am – 5pm (Friday, Saturday and Sunday)
Entry Fee: Call 410-790-7248 to book today or email brenda@strohmersfarm.com
Location: 3501 Hernwood Rd, Woodstock, MD 21163, United States
12. Knightongale Farm Pumpkin Patch
At Knightongale Farm there is something FUN for everyone in the family!They have a large selection of pumpkins in a variety of shapes, sizes, and colours available at this pumpkin picking in Maryland farm.
Families can enjoy a variety of free and paid activities at Knightongale Farm. The activities at this Maryland pumpkin patch will sure to keep the kids and young adults busy for hours.
The activities include, pin the tail on the pony, corn boxes, petting the animals & milking the cows, Hay bale roller, tug of war, lasso lassie, moon bounce, John Deere peddle tractors, hoppity hop ball ring, a 3-acre corn maze and plenty more.
Dates: Last weekend of September and October weekends
Time: Call +1 443 510 9784 prior your visit
Entry Fee: $10 per person, $8 for Military, First Responders and Seniors 65 and up
(2 years and under are FREE)
Location: 3924 Solomons Island Rd, Harwood, MD 20776, United States
13. Shlagel Farms
Located Southeast of Washington, DC, this locally-owned farm has pumpkins perfect for jack-o-lanterns this Halloween.
Considering this is a working farm, children must always be accompanied by adults.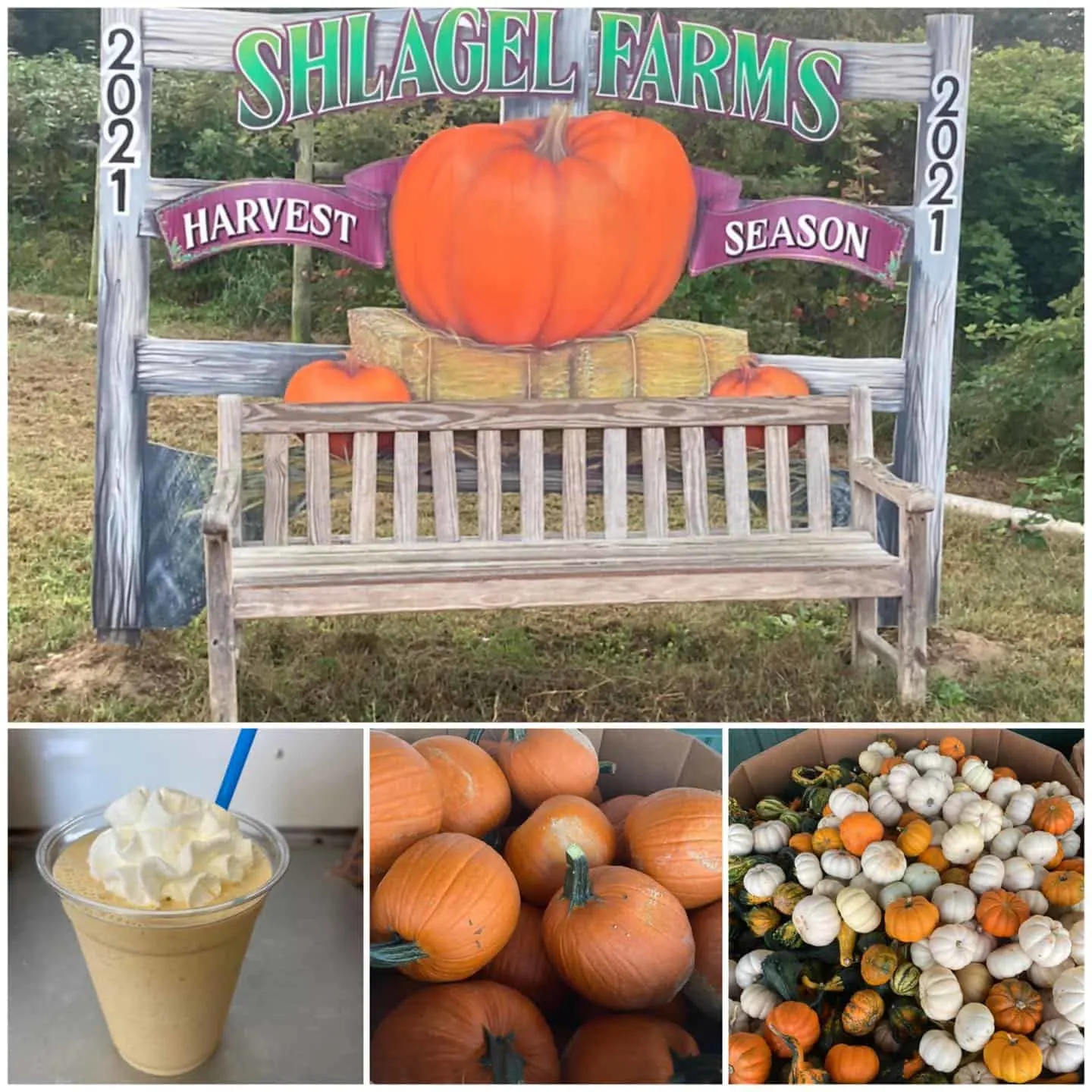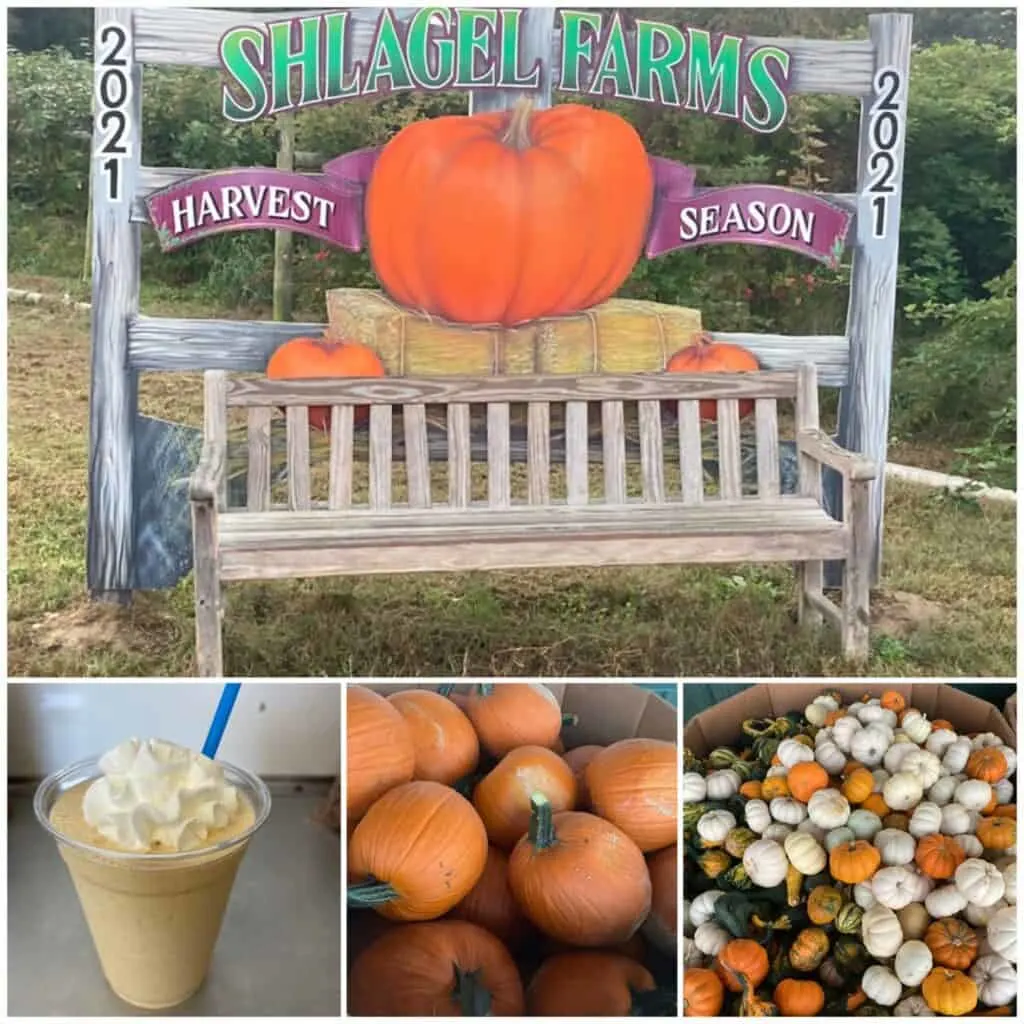 Shlagel Farms has plenty of entertaining and fun activities lined up for all. A Hay ride to the pumpkin patch, petting zoo, corn boxes ,straw maze, baby chick holding and a large sand pile with diggers.
Throw on a pair of your sturdy boots and take a stroll to Shlagel Farms to see what else they have in store.
Dates: October (Only weekends)
Time: 10am – 5pm
Entry Fee: $10 per person (Children under 2 go for FREE)
Location: 12850 Shlagel Rd, Waldorf, MD 20601, United States
14. Montpelier Farms Maryland
Montpelier Farms has plenty to offer! From pumpkin picking to hayrides, as well as a massive interactive 7-acre corn maze.
There is no admission charge if you just want to visit the pumpkin patch. The area is separate from their Fall Festivals and may be entered at your leisure.
In October, you can look forward to the giant hill slides, pedal karts, pumpkin bowling, pumpkin chunkin' and a couple of new attractions this year such as the Interactive scavenger hunt and the scribble square.
The activities for kids and grownups are plentiful which is included in your admission ticket.
Dates: September 17 – November 6
Timings for September: 10am – 9pm (Saturday) and 10am – 6pm (Sunday)
Timings for October: 5pm – 11pm (Friday), 10am -11pm (Saturday), and 10am – 7pm (Sunday)
(Pumpkin Patch closes at 10pm in October)
Timings for November: 10am – 9pm (Saturday), and 10am – 6pm (Sunday)
Entry Fee: $18 (Weekend Fall Festival) $12 (Weekday Playday)
Location: 1720 Crain Hwy, Upper Marlboro, MD 20774, United States
15. Antietam Pumpkins
Antietam Pumpkin Patch is a small family owned farm that has been consistent on providing the best quality pumpkins every Fall.
The atmosphere is very welcoming and access to there is no admission to fee to the farm.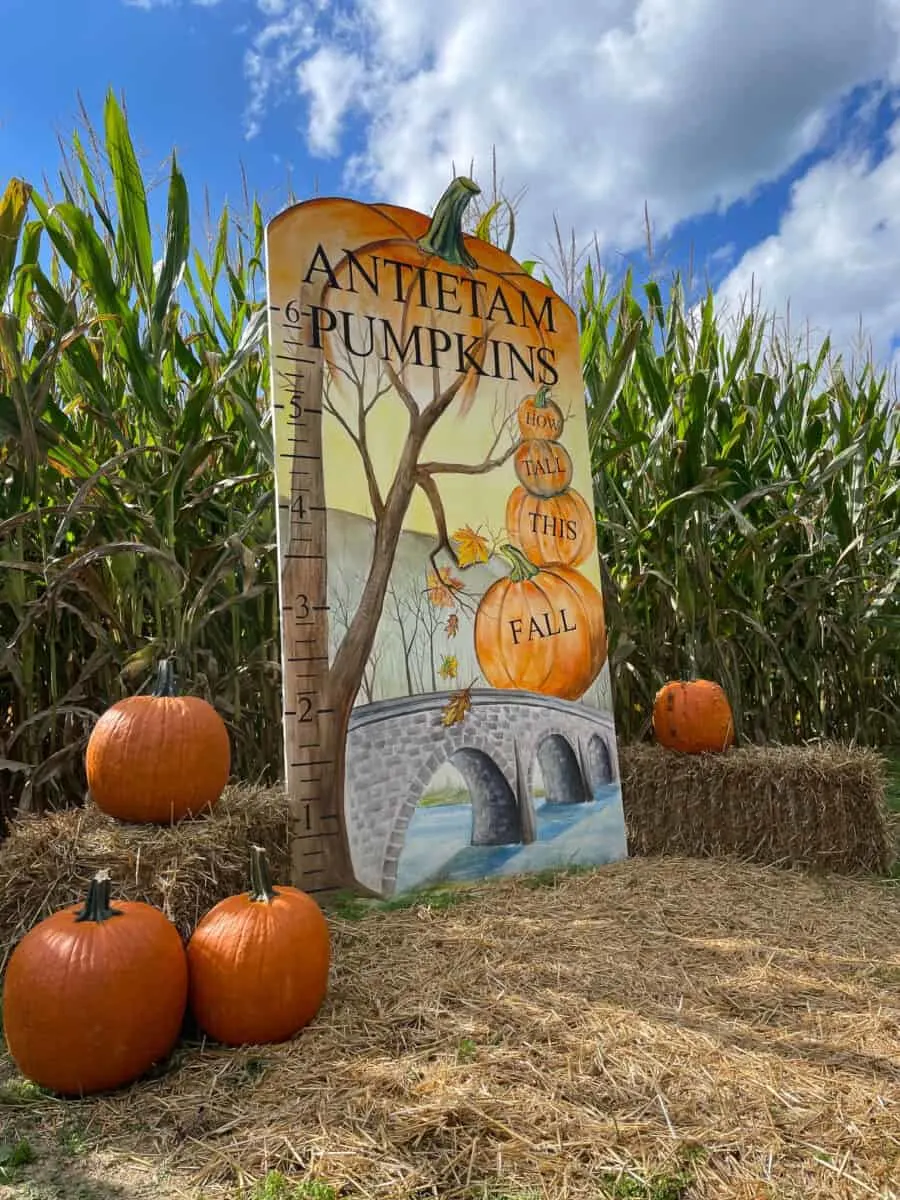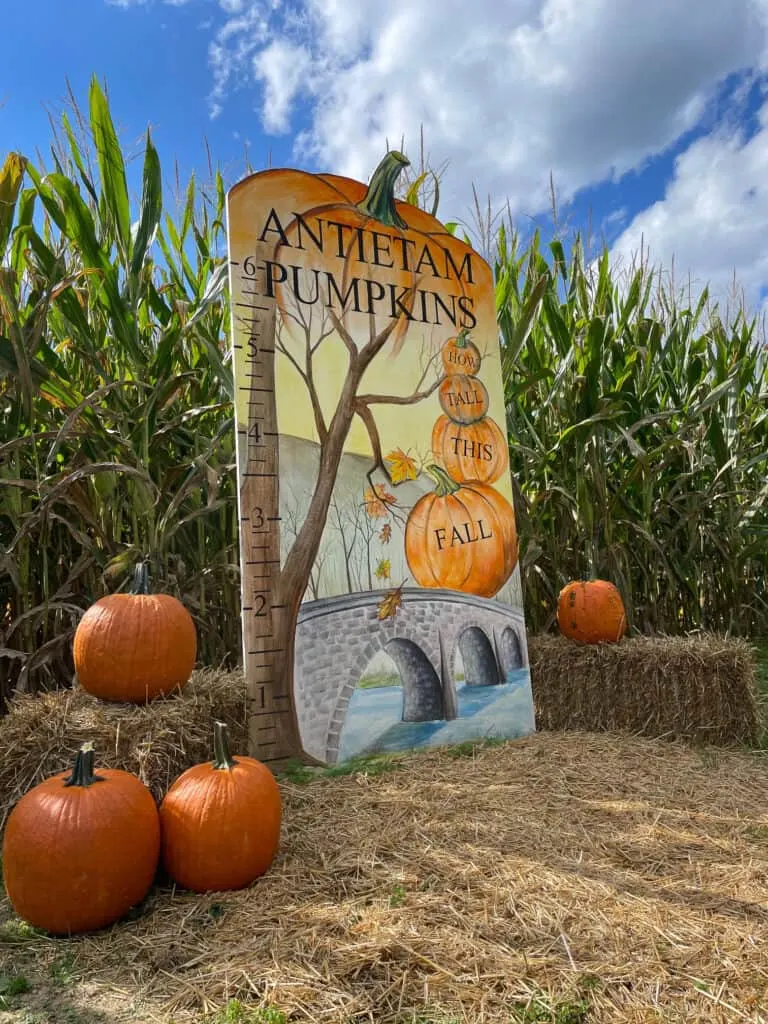 Guests will have the opportunity to view pumpkin fields, sample food trucks and dance to the tunes
Admission fees will be charged only to those attending their Fall Festival celebrations which include plenty of fun-filled interactive activities for all.
Dates: September 24 – October 31
Timings: 1pm – 6pm (Friday), 10am – 5pm (Saturday and Sunday)
Entry Fee: $5 per person (Children under 2 go for FREE)
Location: 4410 Harpers Ferry Rd, Sharpsburg, MD 21782, United States
To Sum Up Pumpkin Farms In Maryland
There is no better way to welcome the Fall season than visiting a pumpkin patch. This is definitely a family affair and a lovely activity to do with a group of friends.
With this elaborate list of pumpkin farms in Maryland, we are sure you will have the most memorable day out filled with loads of exciting stories to tell and memories to last until the next season falls.
A map has also been created so you can plan your visit and head to the nearest best pumpkin patch farms in Maryland.
Maps Of Pumpkin Farms In Maryland
What To Wear Pumpkin Picking?
You will be trotting around the pumpkin farms in Maryland, so be sure to wear your rubber boots and a flannel shirt. If it is raining or a tad too cold, you may want to wear a weatherproof jacket or something that keeps you warm.
What Should I Bring To A Pumpkin Patch?
Layers for unpredictable weather
A camera to capture beautiful memories
Picnic lunch, or cash for snacks and drinks
A wheelbarrow or a large sack to carry the pumpkins back to your vehicle.
Here Are Some Simple Tips For Visiting Maryland Pumpkin Patches
A pumpkin with a deep orange color is always the best choice
You should check that a pumpkin is hollow – it is ripe when it sounds hollow
You should make sure the bottom of the pumpkin isn't mushy or soft
Make sure that the pumpkins stem is secure and firm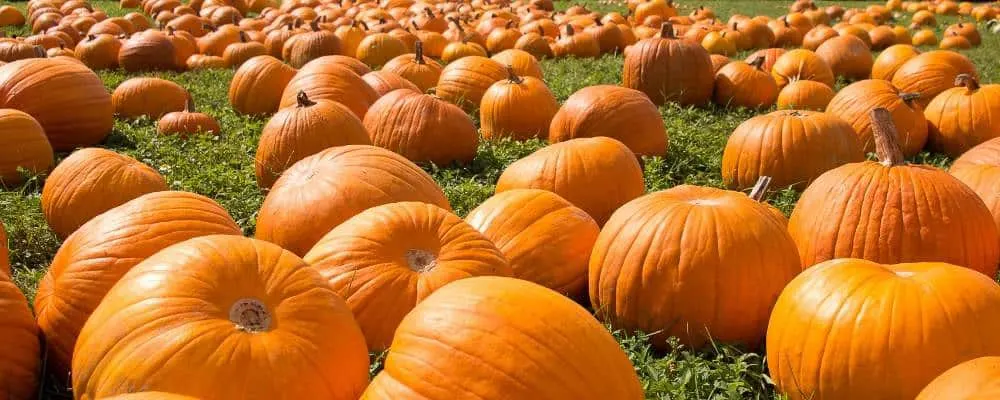 Pumpkin Carving Tips
If you visit one of the pumpkin farms in Maryland and pick up one to carve -soak your pumpkin in water (with two tablespoons of bleach added) for about 10 minutes before carving. It is best to use a sharp knife, a small serrated knife, a metal spoon, and a thumbtack when carving.
With a serrated knife, level the bottom of the pumpkin. If you want to put a candle in your pumpkin, you may want to carve a hole in the bottom and place the pumpkin over it.
Once the top is opened, scoop out the seeds with a metal spoon. If you need to carve tiny details on the pumpkin, use a sawing motion rather than straight cutting.
If you are creating an elaborate design, you should draw it first on paper. Punch holes along the design with a thumbtack after taping the design to the pumpkin. By using this method, the pumpkin will not have visible lines after it has been carved.
To preserve your pumpkin and prevent wrinkling around the cut areas, rub petroleum jelly along the carvings.
Whenever possible, carve your pumpkin on the same day you plan to display it.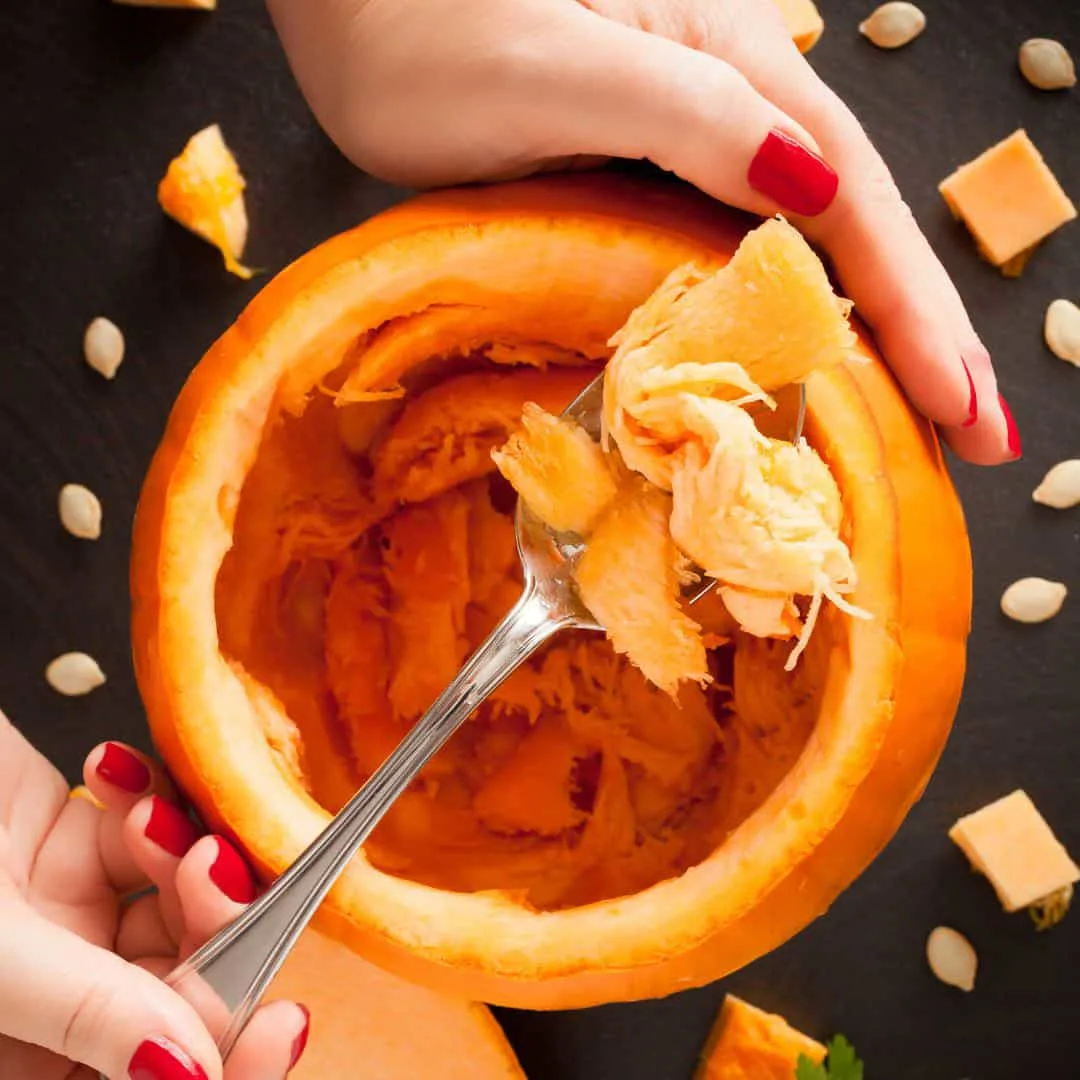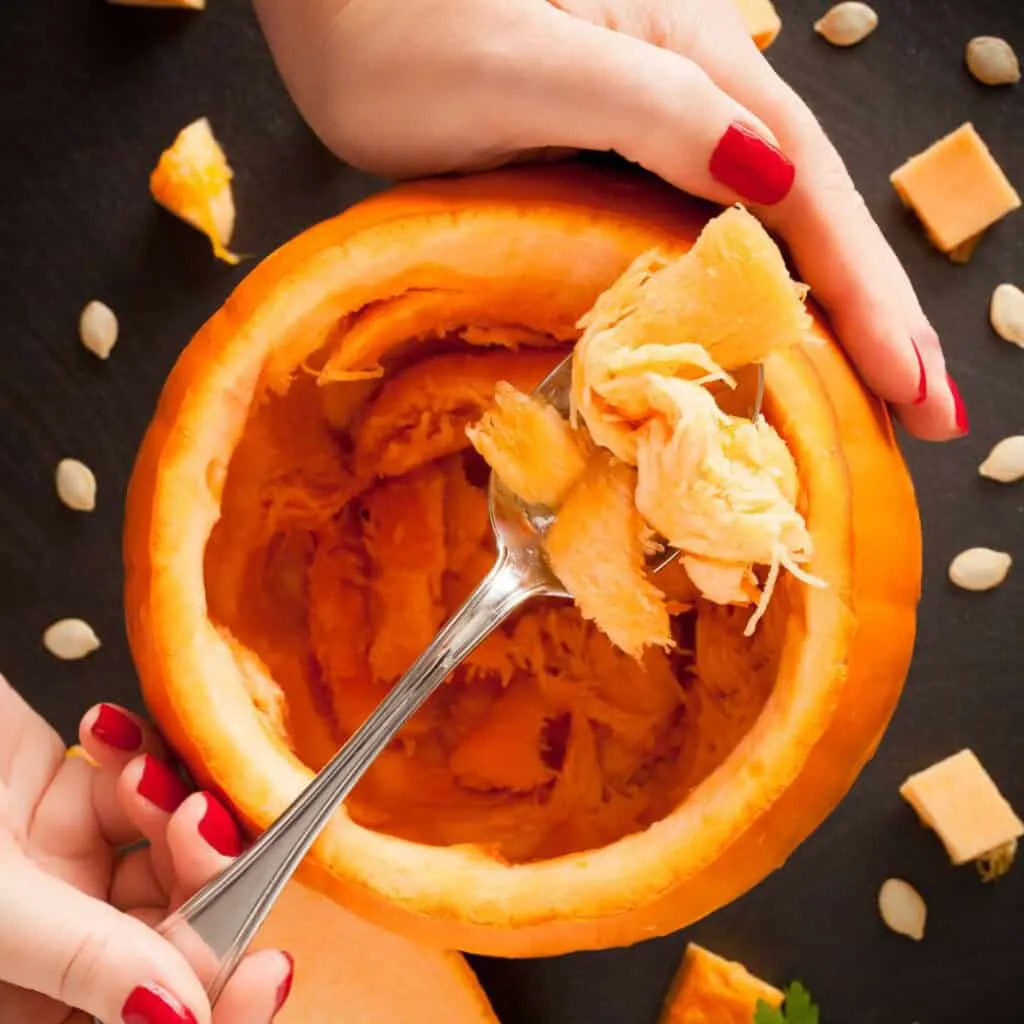 Well if you got to this point, thanks so much for reading this article, we hope it was useful. If you visited one of these pumpkin farms in Maryland, we'd love to hear how it was, leave us a comment below.
Also, If you plan to do an international trip or even a road trip around fall or closer to Christmas with your family, you may also like:
Top tips for flying with kids l Tips for booking trips l Top tips for road trips with kids
Disclaimer: This post may contain affiliate links, by using them, it will not cost you any extra, we will receive a small commission at no extra cost.