Visiting any National Park with children can be a daunting experience. Olympic Park is no exception. With rain forests, lakes, streams, mountains and beaches you are sure to be overwhelmed with choices.
However, this guide to visiting Olympic National Park with Kids can help narrow down your choices to create the perfect itinerary.
It is amazing how diverse the park is. On one side of the park, there are stretches of unspoilt beach. On the western side, there are temperate rainforests making them one of the wettest areas in the United States.
Then right in the centre of the park are the Olympic Mountains that are topped with massive ancient glaciers. Kids and adults are sure to be amazed by every inch of the park and can find a lot to squeeze into their Olympic National Park itinerary.
Olympic National Park for Kids
Olympic National Park has plenty to do for kids of all ages. In fact, there are dedicated activities just for them. The Junior Ranger Program is designed for kids ages 5-13 years old. However, kids of all ages can join in the fun.
Simply pick up a booklet at the visitors centre. Kids complete a range of activities at the park and if they succeed then they are rewarded with a Junior Ranger badge.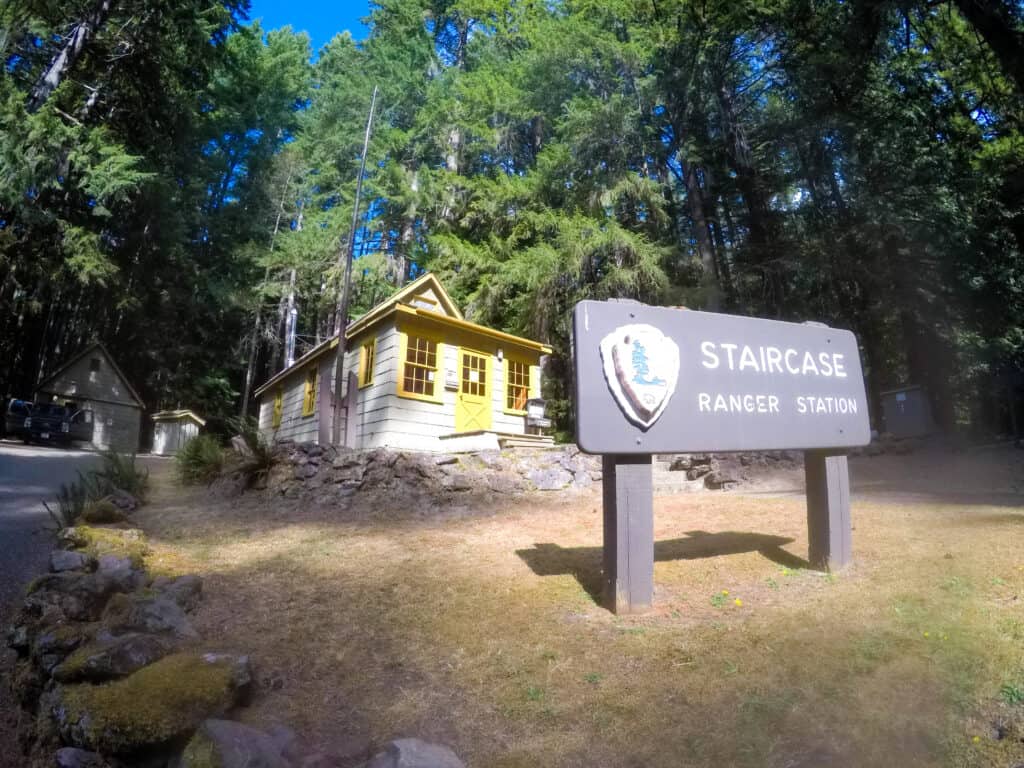 For fours and up there is an Olympic National Park Ocean Stewards Junior Ranger program. Kids become Ocean Stewards and learn about the unique ecosystem at Olympic National Park and how to protect it. After completing the book, kids are given an Ocean Steward Patch.
Olympic National Park with Toddlers
What toddler can resist Olympic National Park beaches? At Rialto beach, there are tons of driftwood and rock formations. Toddlers and older kids will love to climb all over them. There is also lots of room for kids to run around and play.
Second Beach is worth a visit too. The hike from the car park to the beach is around half a mile. To get to the beach visitors need to climb over driftwood and rocks.
So if travelling with a toddler a carrier would be a great choice. However, past the driftwood, there is a beautiful sandy beach.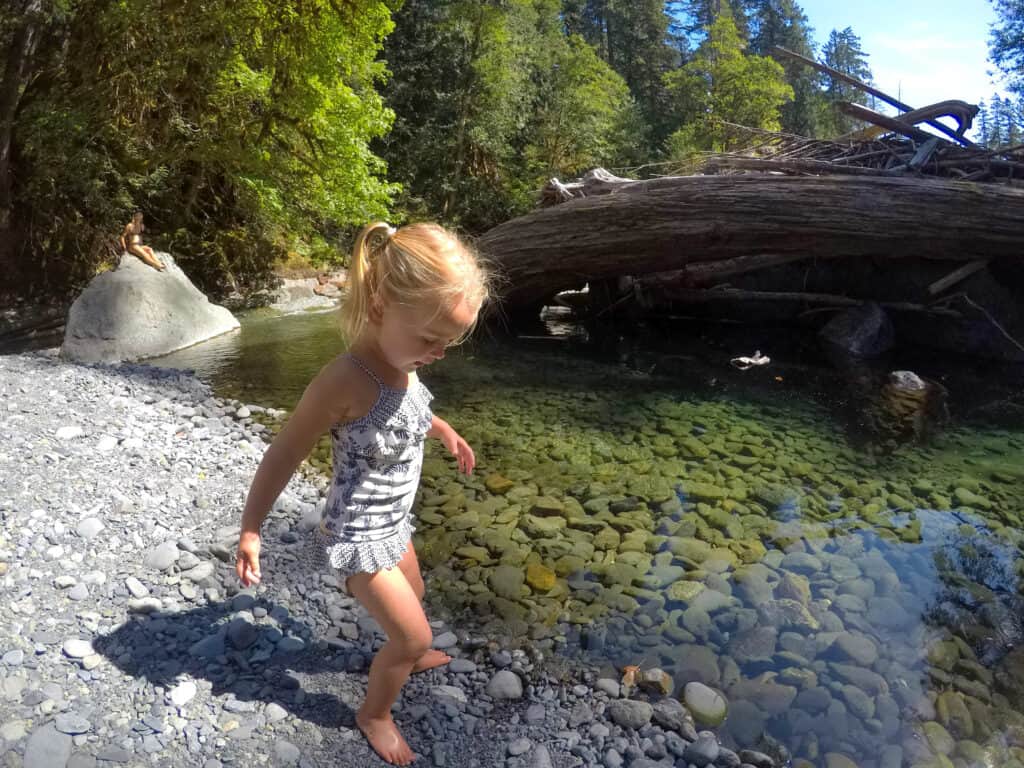 One of the best things about the beach is the tide pools. Kids can find starfish, muscles, crabs and small fish.
Visitors should also keep their eyes peeled for the white and green anemone too. They open up in the water and then close slightly when they surface.
Olympic National Park Kids
The Olympic National Park rainforest is sure to be a big hit. There are four to choose from in the park, but Hoh Rain Forest is the most popular.
There are plenty of trails to choose from including family-friendly ones even if you are travelling with a stroller. It is surely one of the best Olympic National Park hikes.
The rainforest is naturally home to many different types of trees. Guided Ranger Tours can be set up for those wanting to know more about the rainforest.
There are plenty of animals there too. In fact, many visitors spot elk, river otters and even black bears along the way.
We found fresh bear poop and prints very close to us, it was berry season but I always think its important to be safe, bring bear spray and wear ankle bells!
Things to do in Olympic National Park with Kids
One of the most popular places to visit is Olympic National Park Hurricane Ridge. The drive to the summit is around forty-five minutes long. However, the views from up there are breathtaking and definitely worth the drive.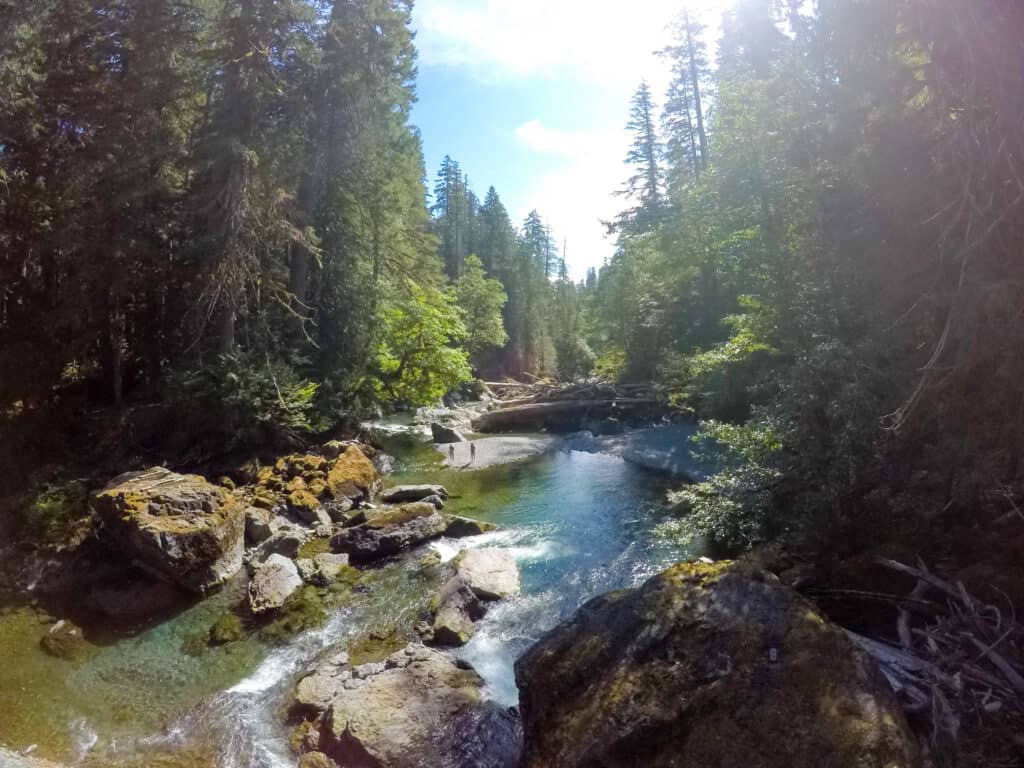 At the top, there is also the Olympic National Park visitor's centre where you can learn about the area and some of the animals.
In fact, marmots can be spotted in the grass just outside the visitor centre too. Some of the best Olympic National Park hikes can be found in the area as well. Many are suitable for families with small kids, strollers and wheelchairs.
Olympic National Park with Baby
Don't write the Olympic National Park Hot Springs off just because you are travelling with a baby.
There are three warm mineral baths and one freshwater pool to choose from. Two of them are suitable for all ages. The others are for kids aged four and up.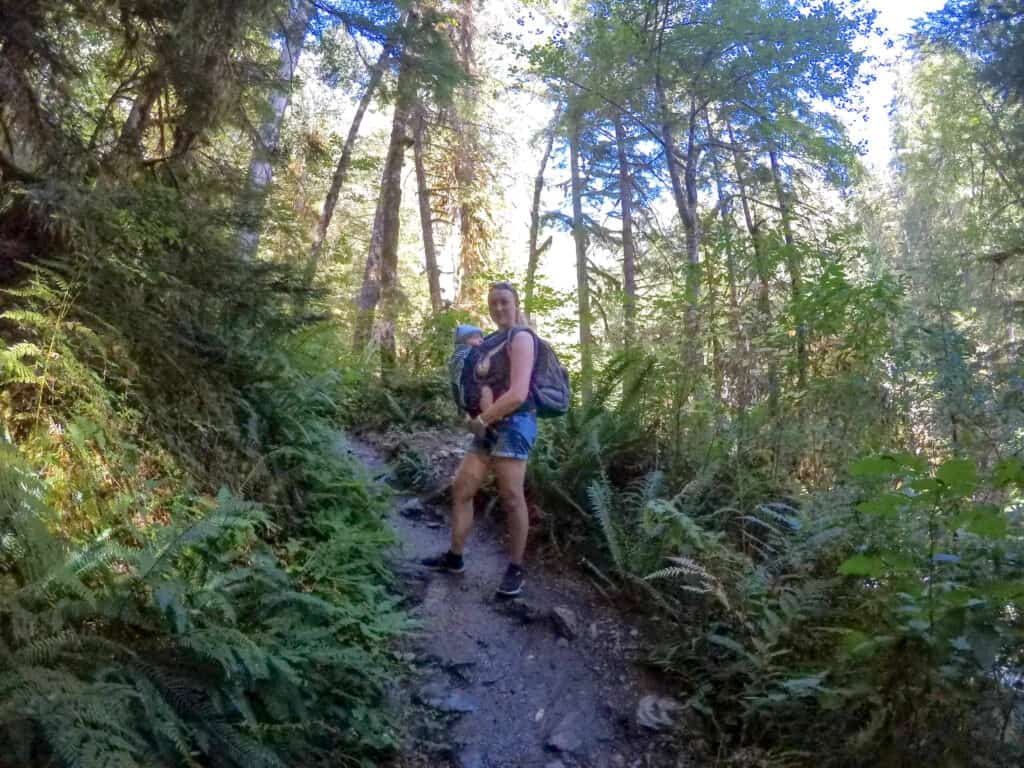 The Sol Duc Hot Springs come highly recommended in many guide books and most visitors try to stop by as part of their Olympic National Park itinerary.
There is a small fee to pay, but kids under three are free.
The pools are great fun, but beware that there is a strong smell of sulphur from them. They can also get quite busy, so visiting late in the evening after a day's hike would be better for families.
Olympic National Park Hikes for Kids
There are many Olympic national park trails, but one of the most popular hikes is Marymere Falls. The hike is around a three and a half-mile round trip, but there are plenty of things to keep little people entertained along the way.
The trail is mostly on flat ground which means that those travelling with a stroller can use it easily. However, there are some stairs to climb to the waterfall.
Along the way expect to see some woods and there is also a creek for kids to search for tadpoles. As it is popular you can expect crowds in the high season.
I always find the All Trails walking app to be the best for finding hikes that are suitable to your energy levels, distance and those that are easy for children.
We did a tonne of different hikes, we just used carriers mostly as it allowed us to explore deeper without needing to stay on paths.
Best Family Hikes in Olympic National Park
If you want to avoid the crowds then choosing one of the less well-known trails is a great idea. Hoh River Mouth Trail is less than a two-mile round trip.
The trail is flat and short which makes it good for families with toddlers. The first part of the trail is through the Hoh rainforest.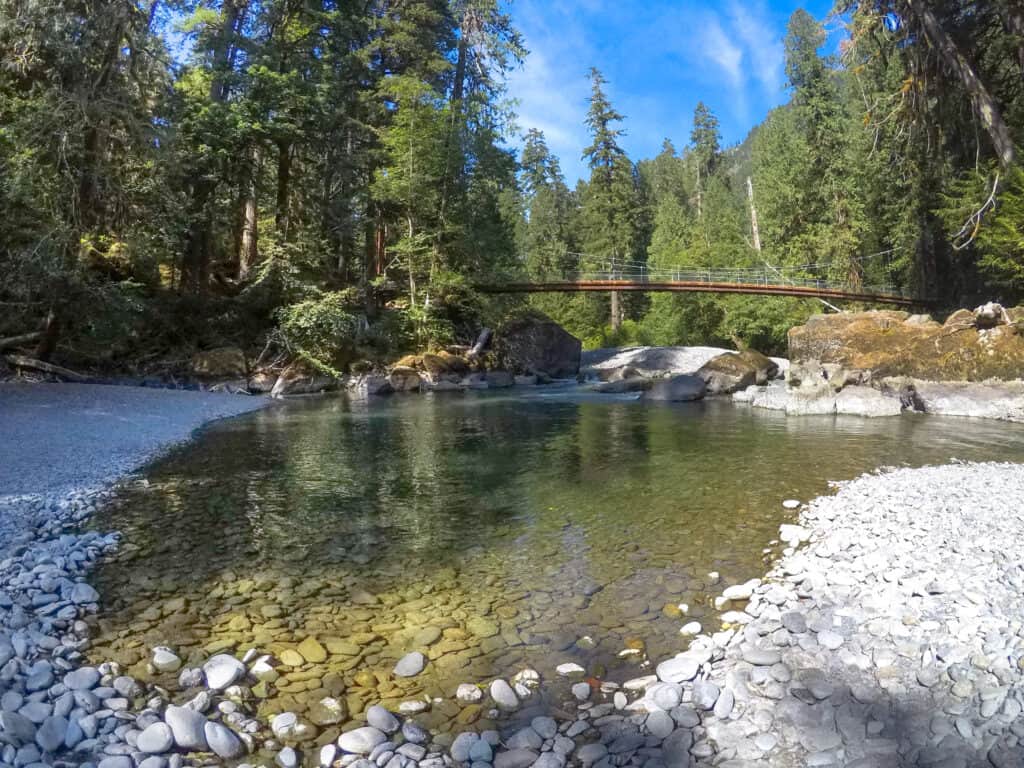 Families encounter beautiful trees and then the trail leads to where the river meets the sea. The backdrop is stunning and it is sure to impress kids of all ages.
Olympic National Park Campsites
There are plenty of campsites to choose from in Olympic National park. Out of them all, Sol Duc Hot Springs remains a favourite with families.
The campsite is not only near the hot springs but also near a restaurant too. Like all of the other Olympic National Park campgrounds expect a fire pit and picnic tables.
What makes this campsite stand out is that it is just one of two sites that offer hookups in the park.
RVs are also welcome to stay here and reservations are welcome along with walk-ins.
To find out more information about places to stay in Olympic national Park click here.
Olympic National Park Hotels for Families
If camping is not your cup of tea, then a hotel near the park might be just what you are looking for. Red Lion Hotel Port Angeles Harbour is just a fifteen-minute drive from the park and in Port Angeles town centre.
The hotel offers comfortable rooms in a great location. There is also an on-site restaurant, swimming pool and lounge area. The rooms all have Wi-Fi and some even have fantastic views of the Strait of Juan de Fuca.
Click here to book or to find out more about Red Lion Hotel Port Angeles.
Olympic National Park Lodges for Families
There is plenty to do at Olympic National Park Lake Quinault Lodge. Not only is it right beside the National Park but there is a range of activities for families to do as well.
Some of the activities include fishing, canoeing and table tennis. Depending on your needs, some of the units include a kitchenette and dining area.
Guests can also eat at the restaurant on-site or relax in the indoor heated pool or dry sauna. They also provide packed lunches, which is great if you plan on hiking in the national park.
Check out more information about Lake Quinault Lodge here.
Olympic National Park Family Friendly Hotels
A little further away in Sequim is the Olympic View Inn. The area has plenty of sights to offer including a lake in Sequim Bay Street Park and there are also plenty of trails in the area for hikes too.
Around the hotel, there are great family restaurants with plenty of choice for the whole family.
There are several different rooms to choose from and two are pet friendly. Therefore you can bring the family dog with you as well. It has Wi-Fi and the rooms are comfortable for families.
Click here to see more information about Olympic View Inn.
Olympic National Park Family Cabins
Olympic National Park cabin rentals are extremely popular with families and it is easy to understand why.
They allow families to distance themselves from others and they also have everything they need. Crescent Beach and RV Park is just a stone's throw away from the National Park in Port Angeles.
The cabins come with sea views and are fully equipped for all of your family needs. They are also spacious and in a beautiful peaceful area. Some cabins come with a firepit outside and there is a private beach for all guests to enjoy.
To book or find out more information about Crescent Beach and RV Park click here.
Family-friendly Towns to stay Near Olympic National Park
Around Olympic National Park there are many family-friendly towns to stay in. When we stayed in the area, we choose to stay in a Union. We stayed in an adorable cottage there and you can read more about it here.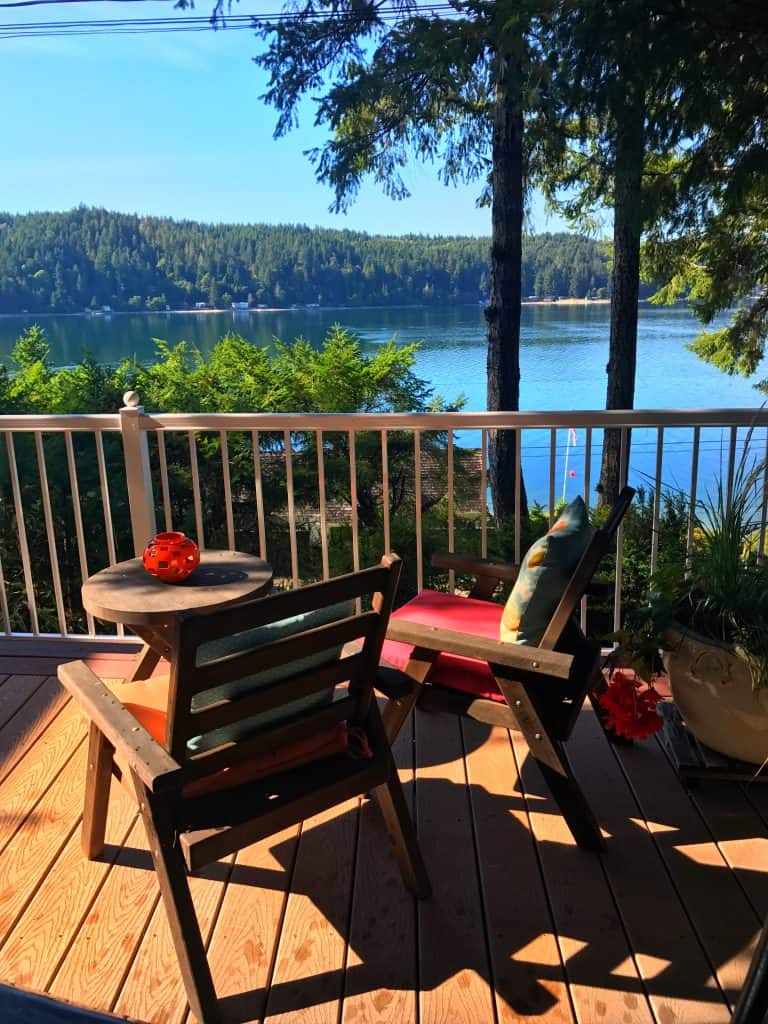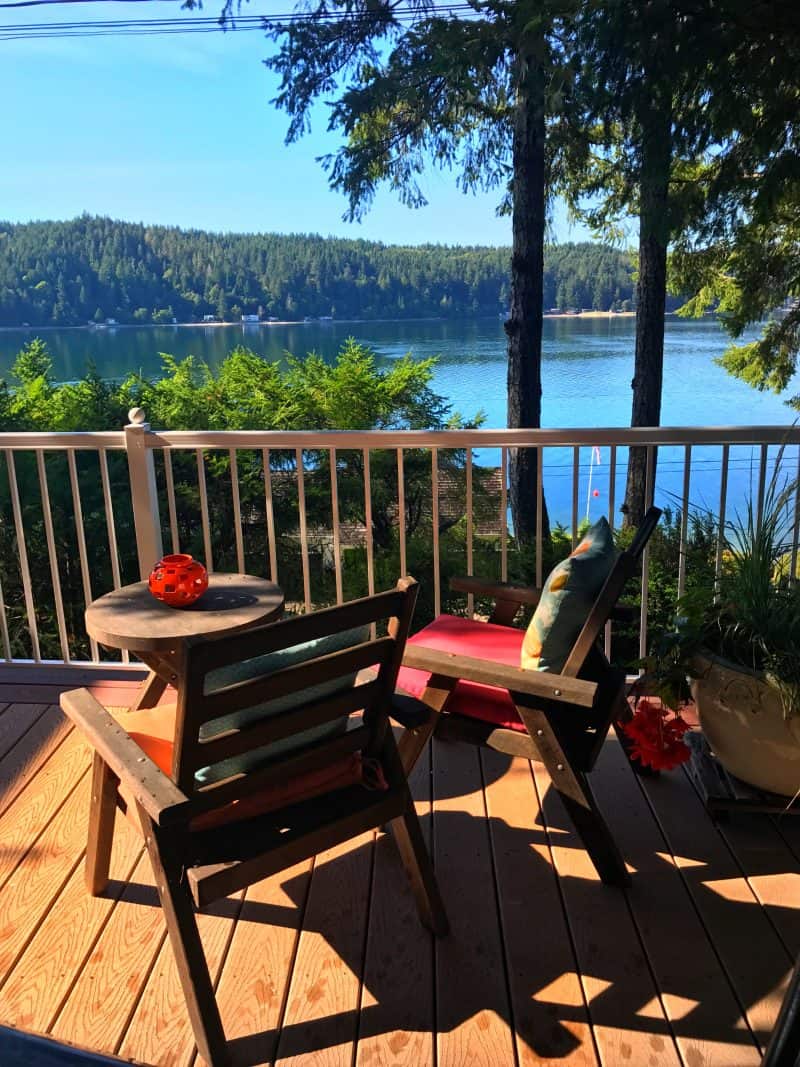 Union was a great base to explore Olympic National Park and the town had everything we needed. One of the most interesting things about it is Hood Canal. It is a saltwater fjord and it is the only one in the lower forty-eight states. It is also where you can expect to see a seal or even a killer whale pop up every once in a while, which is sure to keep the whole family entertained.
Olympic National Park in Washington
Olympic National Park is in the state of Washington. However, there are many entry points to the park. Choosing the best one depends on where you are coming from.
US 101 circles the peninsula and many people choose to drive there in their own vehicle or rent a car.
Port Angeles is around seventeen miles north of the park. Arriving from the north leads directly to Hurricane Ridge and the Visitor Centre.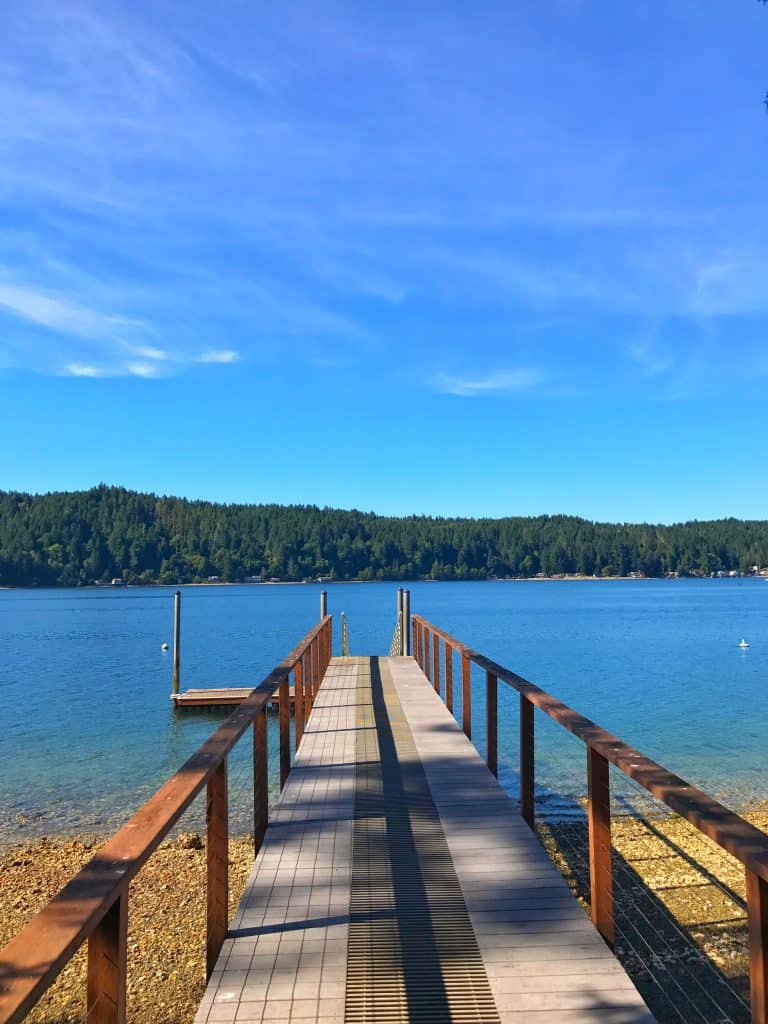 Families coming from Port Angeles can also take the Lake Crescent entrance. This leads to the Hoh Rain Forest area which is near Hot Springs.
Olympic national Park entrances are also on the northern coast. This is where the beaches are found and the Quileute Indian Reservation, which is an area not part of the park.
If you are coming from the south then you may decide to enter the park near Lake Quilete. All of the entrances are off US 101 and the Olympic National Park entrance fee is around $30.
However, if you can also use America the Beautiful Pass to enter the park. In fact, the annual pass allows you to visit over 2000 sites around the US. It is relatively inexpensive and a great investment if you plan on visiting a few federal sites throughout the year.
For more information about America the Beautiful Pass click here.
When is Olympic National Park Open?
The park is open all year round. However, there are some months that are more popular than others. Many people visit Olympic National Park between June and September.
All of the entrances are open all year, weather permitting. Hurricane Ridge entrance only closes on Thanksgiving and Christmas.
The best time to visit the park is in the late spring and summer. This is due to the amount of rainfall that the rainforests experience.
In summer all of the trails should be open and most of the snow has melted. The weather in the park is mild as well around that time of year.
Visiting the park in Autumn and Winter also has its perks. It is less busy so there should be very little crowds. It is beautiful in autumn when the leaves are changing colours and the rivers and waterfalls are full due to the rainfall.
Olympic National Park in winter is the perfect place to ski as well. Hurricane ridge has miles of slopes from the summit to the sea.
Olympic National Park Facts
Kids are always interested in where they are going and they are full of questions.
If you are armed with some interesting facts about the park this might keep the kids entertained on the journey there or on one of the many kid-friendly hikes Olympic National Park has to offer.
Hoh Rainforest gets over 365cm of rain every year.
There are more than 250 glaciers on the mountains.
Banana slugs are vital to the park's ecosystem.
For thousands of years Native Americans have lived in the area and there are still many tribes living there today.
Between April and May and October and November breaching whales migrate and they can sometimes be spotted from the beaches.
Another way to keep them entertained is with a book of their own. Who pooped in the park? Olympic National Park: Scat and Track for Kids. is a fantastic book for kids between 5 and 10. It can educate kids about Olympic National Park animals while keeping them entertained throughout their entire trip.
Olympic National Park : What to Pack
While visiting any National Park there are a few essentials that families should always pack. Here is a list of some things you should add to your list.
You may also like:
Things to do in Banff with Kids
Best Things to Do in Redwood National Park with Kids
Things to do in Yosemite with Kids
The Best Things to do in the Everglades with Kids
An Olympic National Park Itinerary.
guide to pumpkin picking in Florida | Best Pumpkin Farms In California
Will you be needing travel insurance, flights, rental cars, or hotels for your trip?
Disclaimer: This post may contain affiliate links. By using them it will not cost you any extra, we will receive a small percentage of the sale.