People often ask what our motives were for taking two young kids on a family gap year. We always say we want to maximise time together and create adventurous and fun childhood memories.
I feel experiencing nature is a big part of that. The hikes, swimming in rivers, lakes and oceans, the nature trails, in forests and up mountains, are all key components to make this year what we want. To us, it's an education in its own right.
Finding Accommodation
Alongside daily activities, we have to consider accommodation. Everything from a cabin in the wilderness or treehouse in the woods, to camper van's and glamping in far flung destinations are the places we strive to stay over the year.
When Glamping Hub reached out a few months back and asked us to review one of their accommodations, I was immediately excited about the opportunity. I feel our family align with their ethos so well, 'Explore Wildly'.
Pebble Beach Place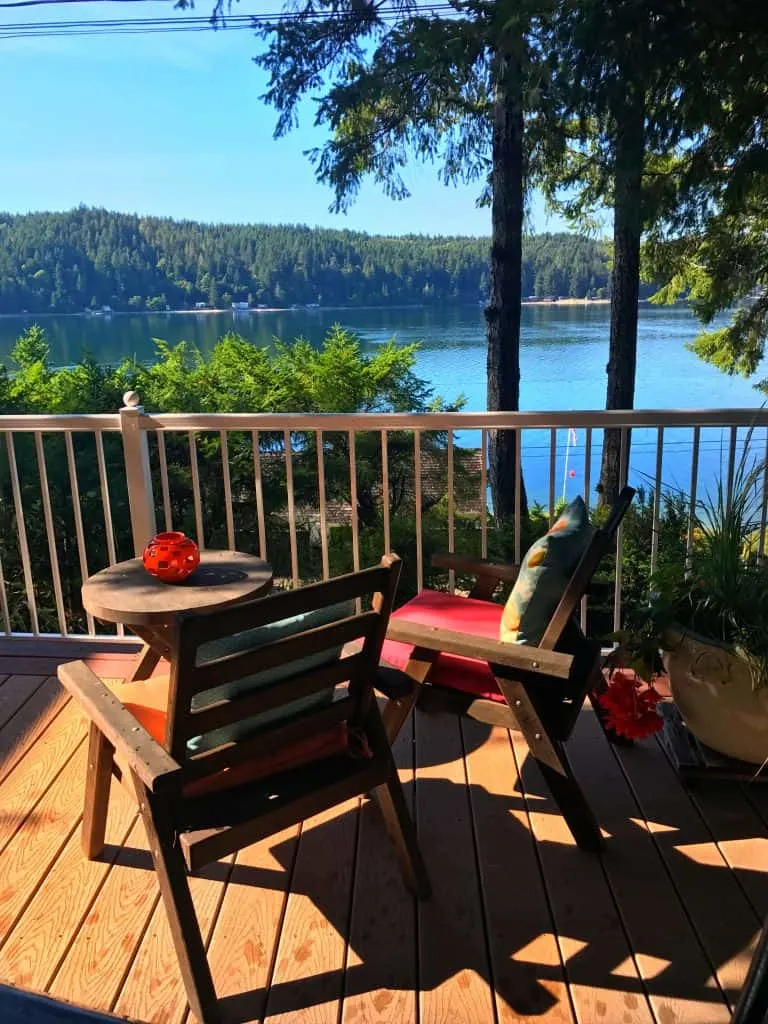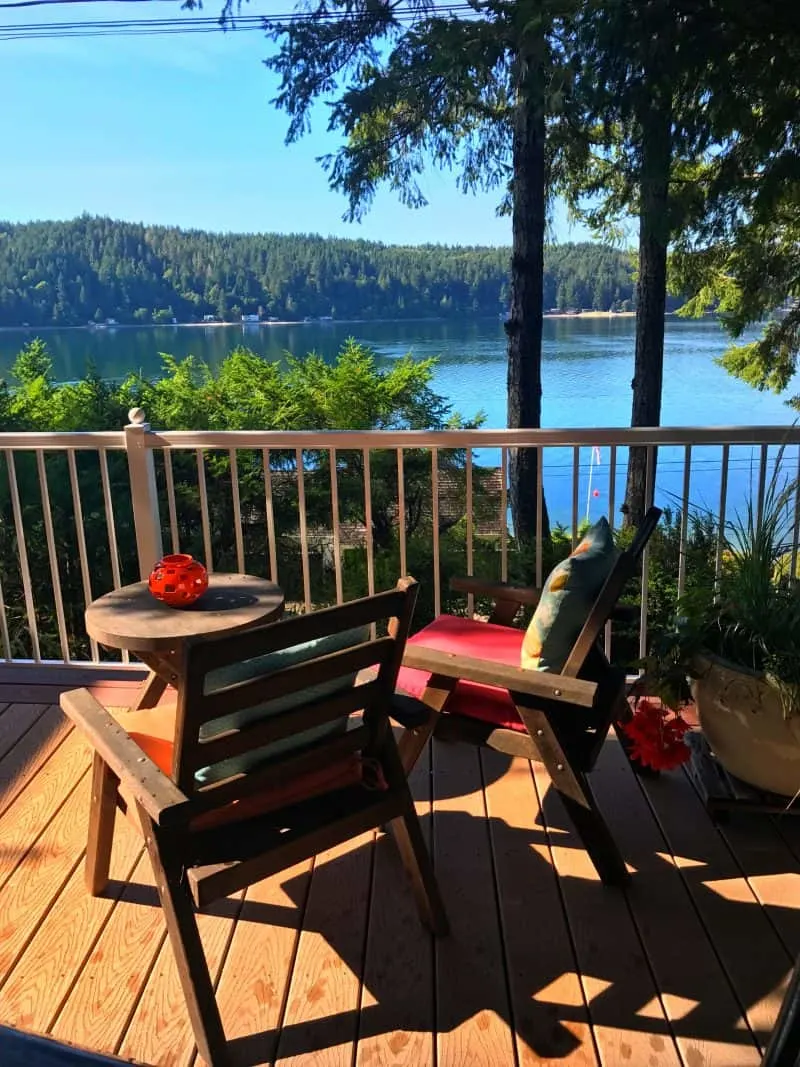 We were looking for a base to explore the Olympic National Park in Washington State and found an adorable cottage in Union. Glamping has become increasingly popular in the last few years and there are places popping up all over the country. From glamping in Texas to the glamping on the west coast.
The cottage, known as Pebble Beach Place is owned by Linda, the most wonderful host who really has an eye for cute detail. Having met Linda and stayed at Pebble Beach Place, I feel her personality imprinted on the property and made it really special.
Pebble Beach Place is on a hill with views of Hood Canal below. Hood Canal is a fjord inlet of Puget Sound from the Pacific Ocean. It's saltwater and is the only true fjord in the lower forty-eight states.
The location of the property is the perfect spot for everything nature! The cottage is fully equipped with all the things that make travelling with little ones easier, a washing machine, dryer, fridge-freezer and an all-important coffee maker (all parents need coffee to survive the day right?).
Toiletries, linen and towels are also provided, they even have robes for guests to use! In my usual format here is my play, sleep and eat review of Pebble Beach, Glamping Hub stay.
The Ultimate Nature Stay with Glamping Hub
Play
Hood Canal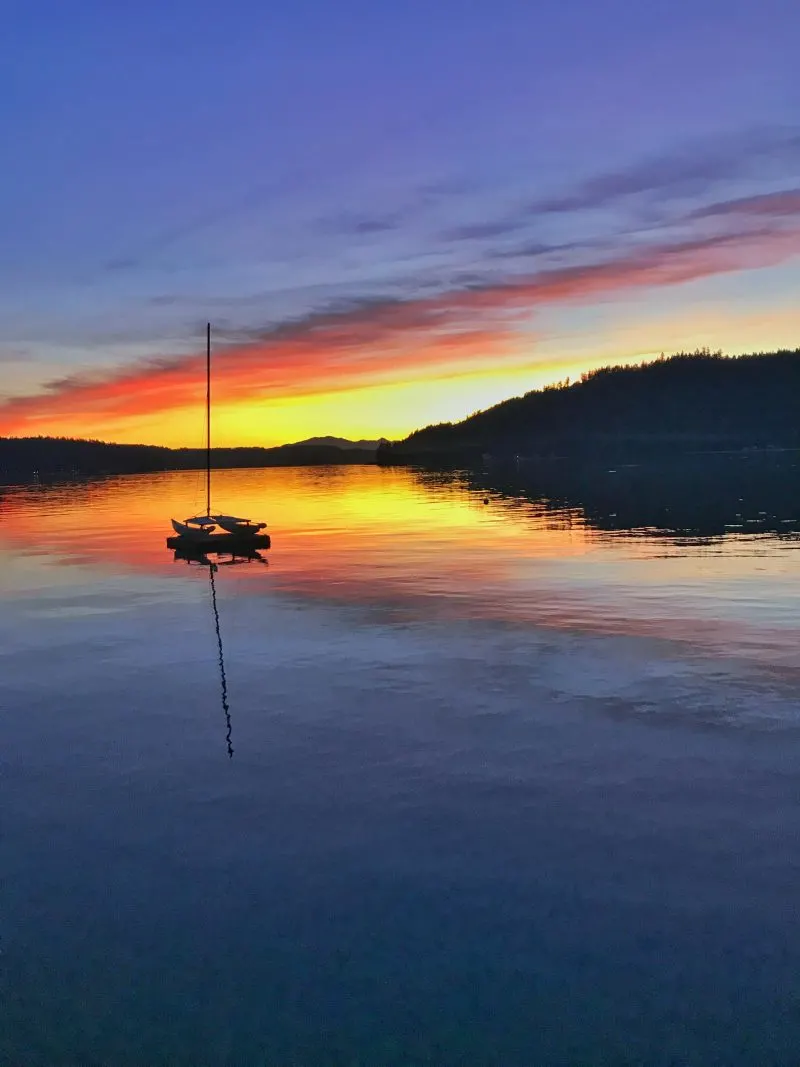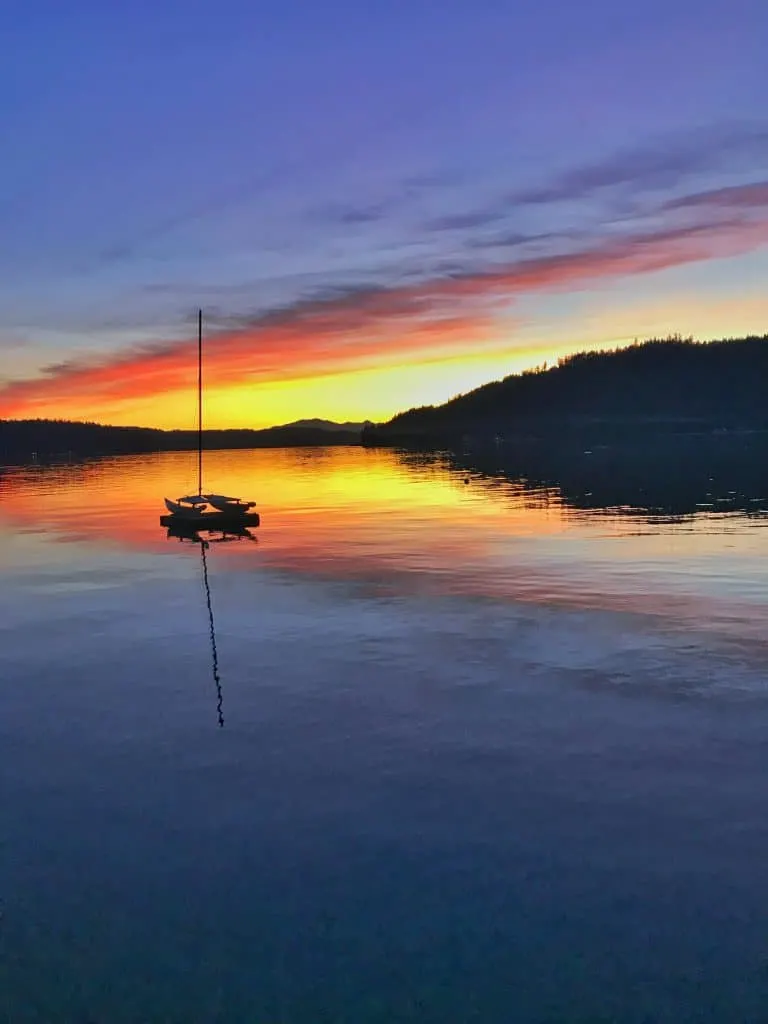 Just across the road from Pebble Beach cottage, there is a private dock on the water that belongs to the property. At 115ft long, the views are impressive. There are table / chairs to use and a private oyster beach. The sun sets at the other side of the water so its quite impressive on a nice evening.
Owner Linda, is happy for guests to take oyster's from the beach and has lots of information about how to cook and prepare the shellfish if you would like to make use of it.
If you spend an evening sitting on the dock you will find the fjord is FULL of life. Every few minutes a seal surfaces, usually with a big fish in his mouth. Linda told us of grey whale and orcas sightings too! Our little girl was so grateful that there were also beach toys, bucket and spades that all guests can borrow.
The Cedar Forest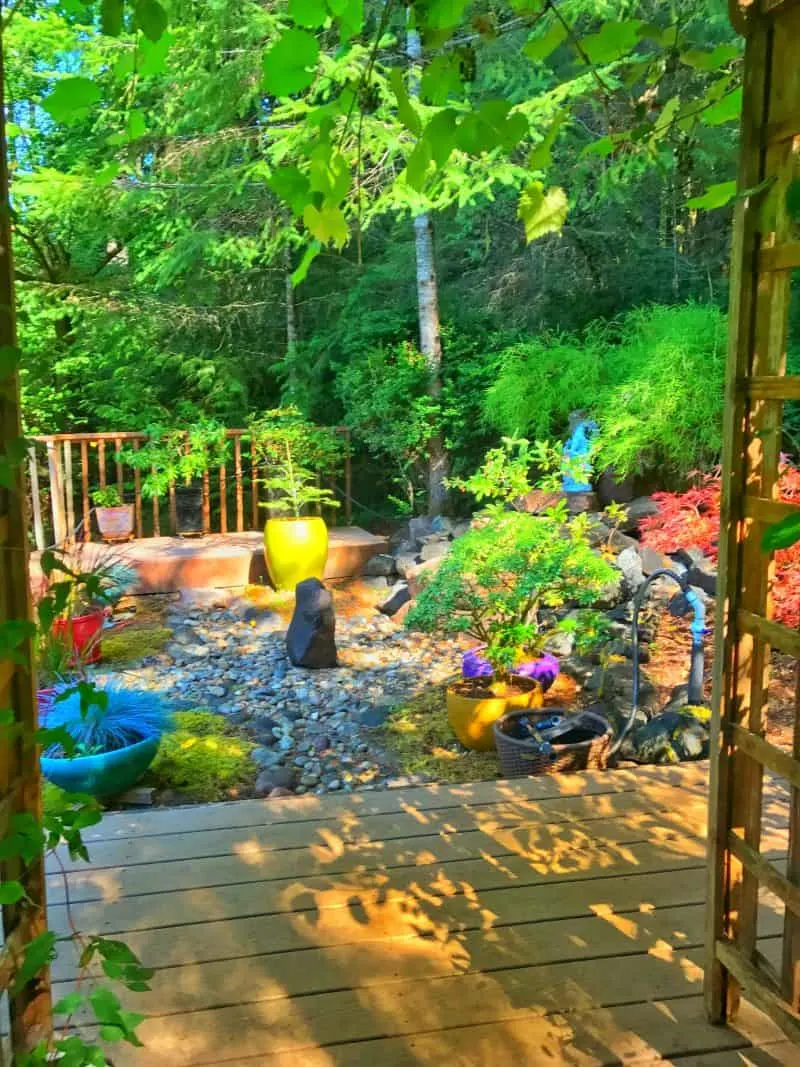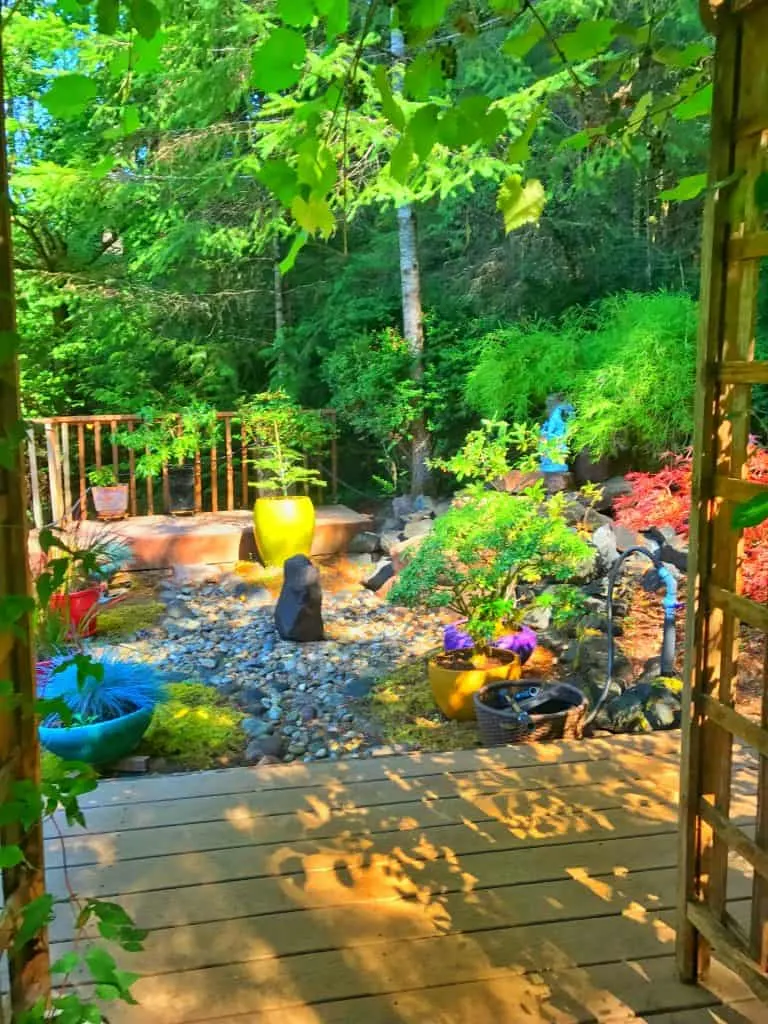 As if the private area on the river wasn't enough, the property also has a meditation garden facing the cedar forest out back. There are yoga mats in the garage that guests can use. Linda said she spent a lot of time looking at the incredible views of the river and made the garden to appreciate the forest. I love her rationale!
There is a short trail through the forest and although we didn't see anything, I understand there are lots of wildlife that can be spotted. Everything from bears to cougars.
Other Chill Out Zones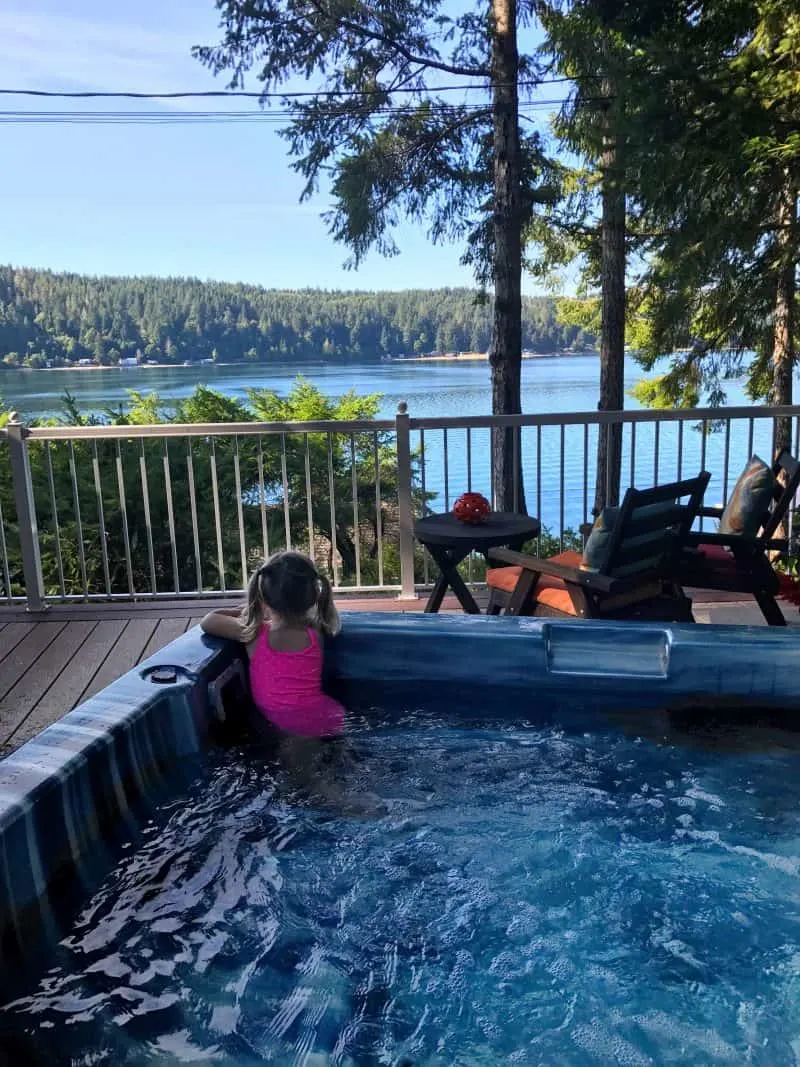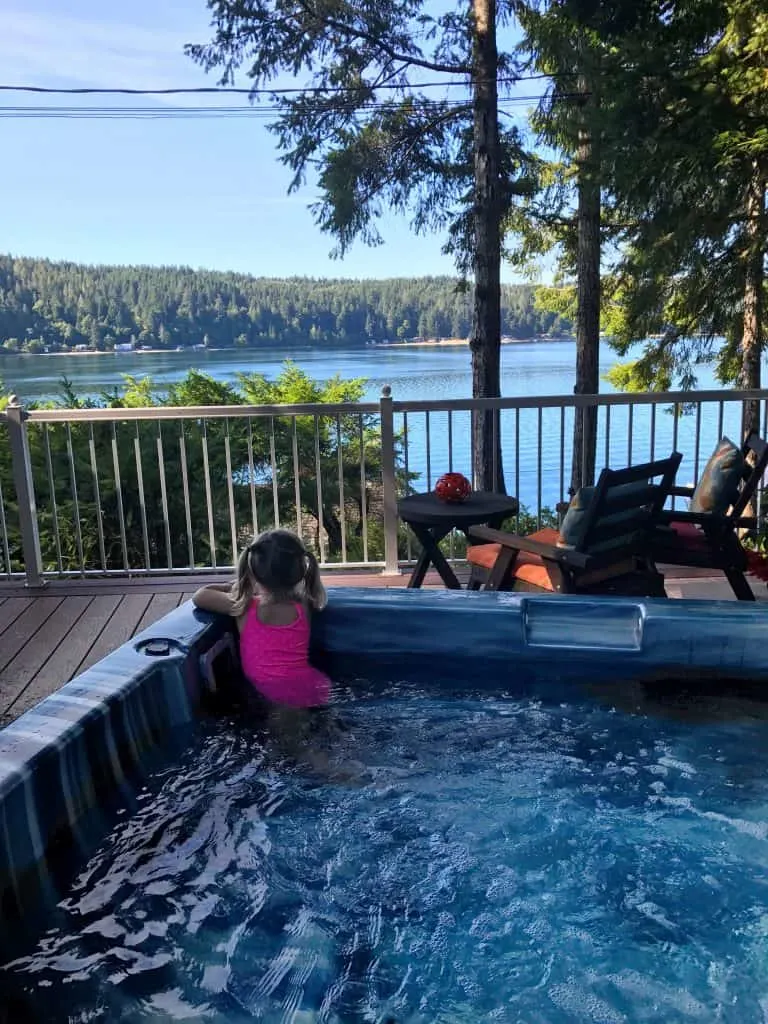 Pebble Beach Place has views from the property deck. I loved sitting out there in the evening watching the sun set after the kids were asleep. It's so incredibly relaxing. There is another bigger space with a sun umbrella, loungers and a hot tub. The elevated views of the river from all angles are jaw dropping!
Sleep
Pebble Beach Place has two bedrooms, one had a purple theme with lots of soft cushions and relaxing mood lighting. I loved the small touches of little chocolate treats on our bedside locker.
The second bedroom is perfect for little ones, especially girls. It has a light pink theme with antiques and a basket full of bedtime stories. Our little girl keeps talking about the princess bedroom!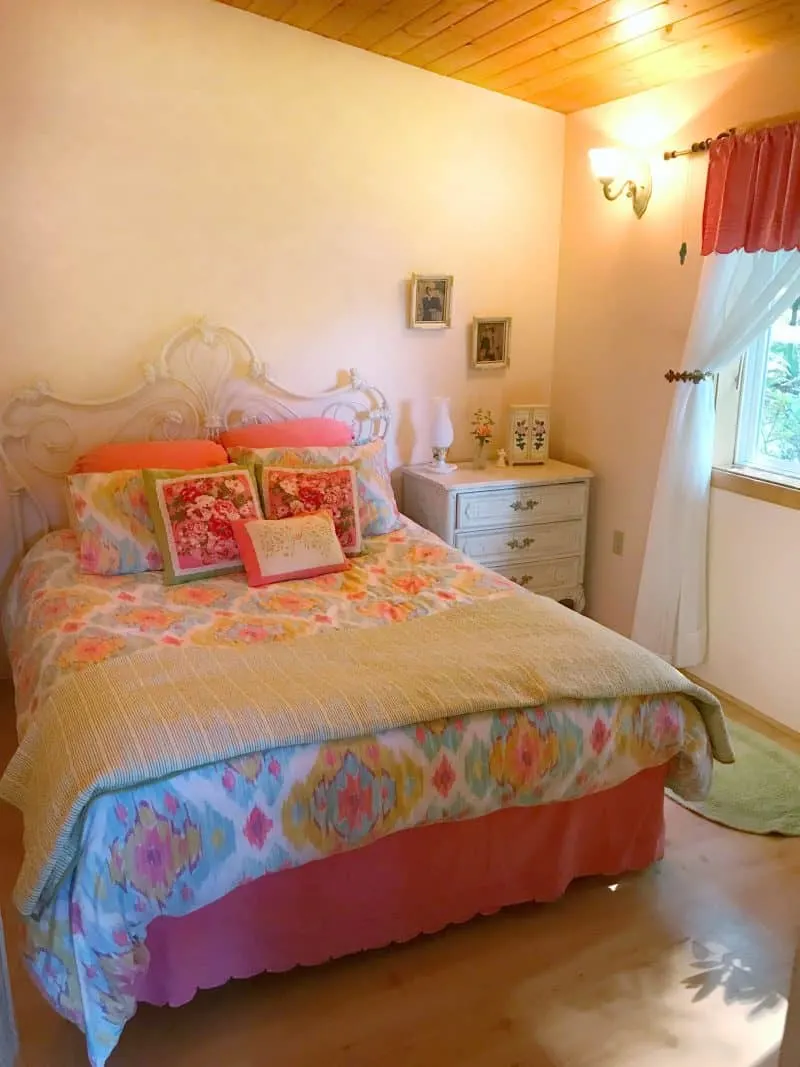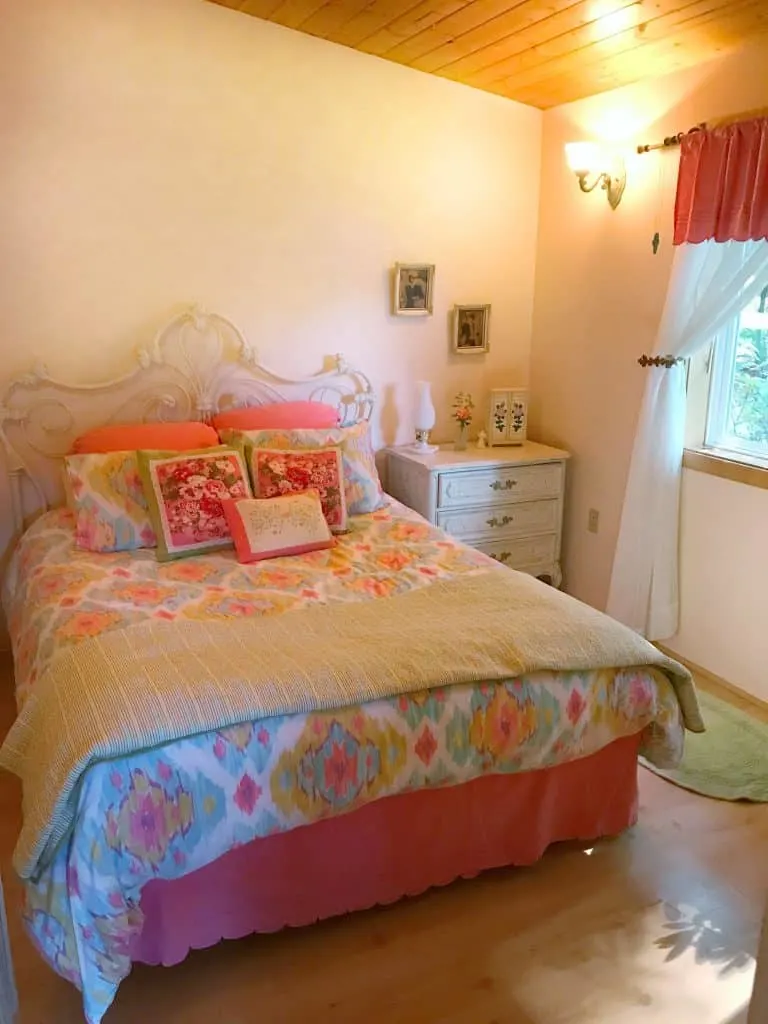 I loved all the details in the bathroom. From pretty decorations with the towels to fresh flowers, it was really homely. Its always nice to feel at home since we don't have one for the next year.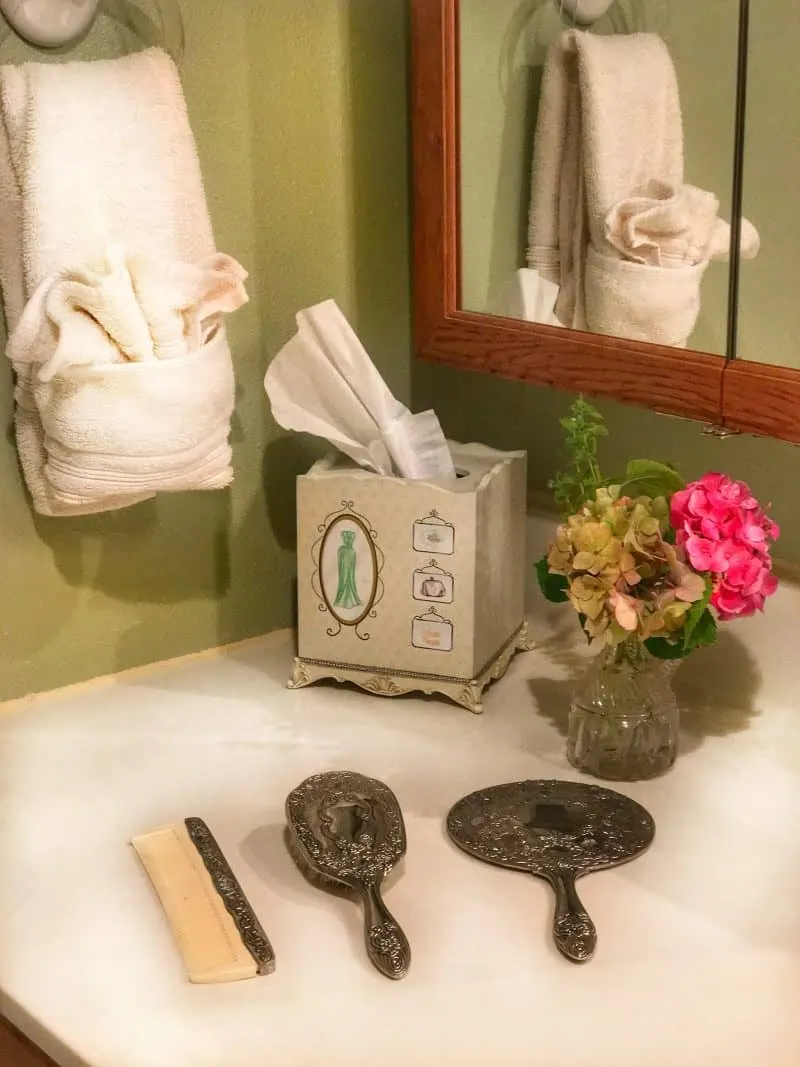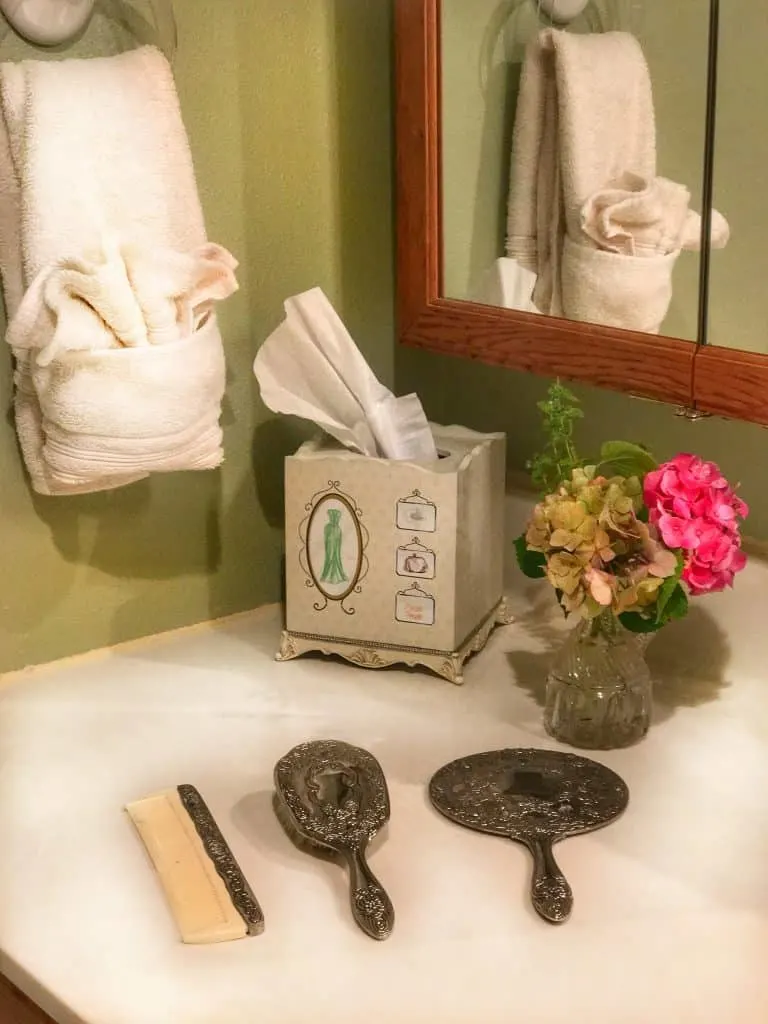 Eat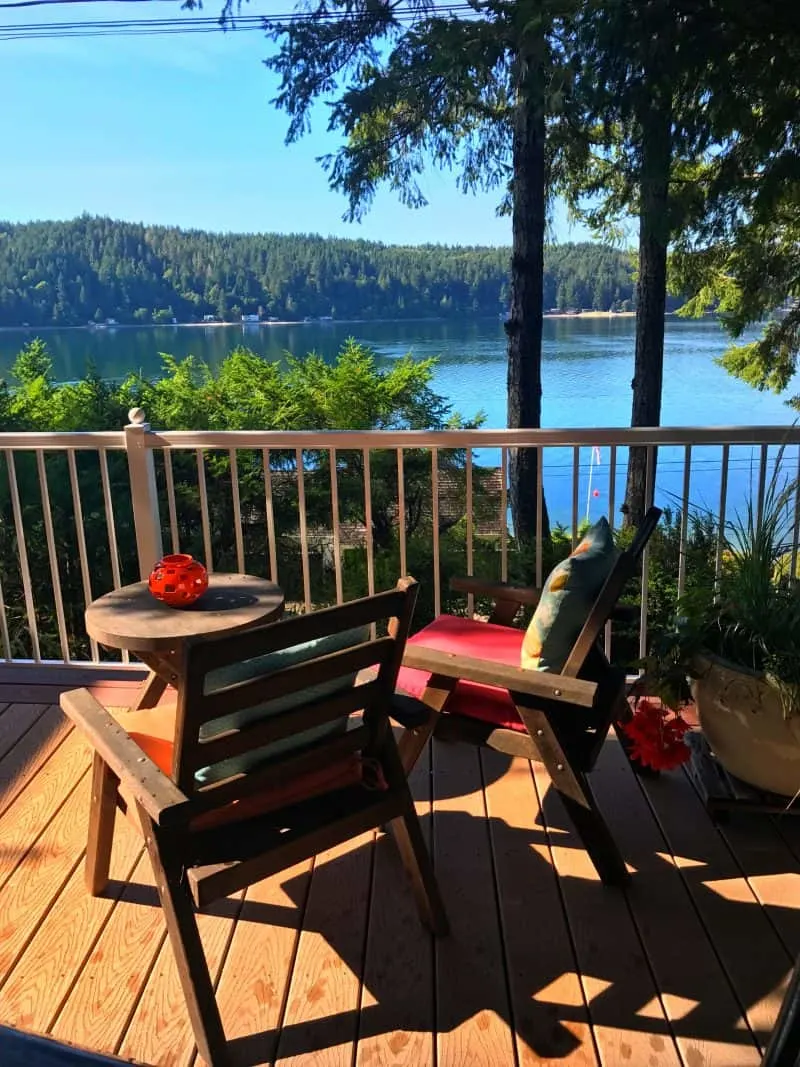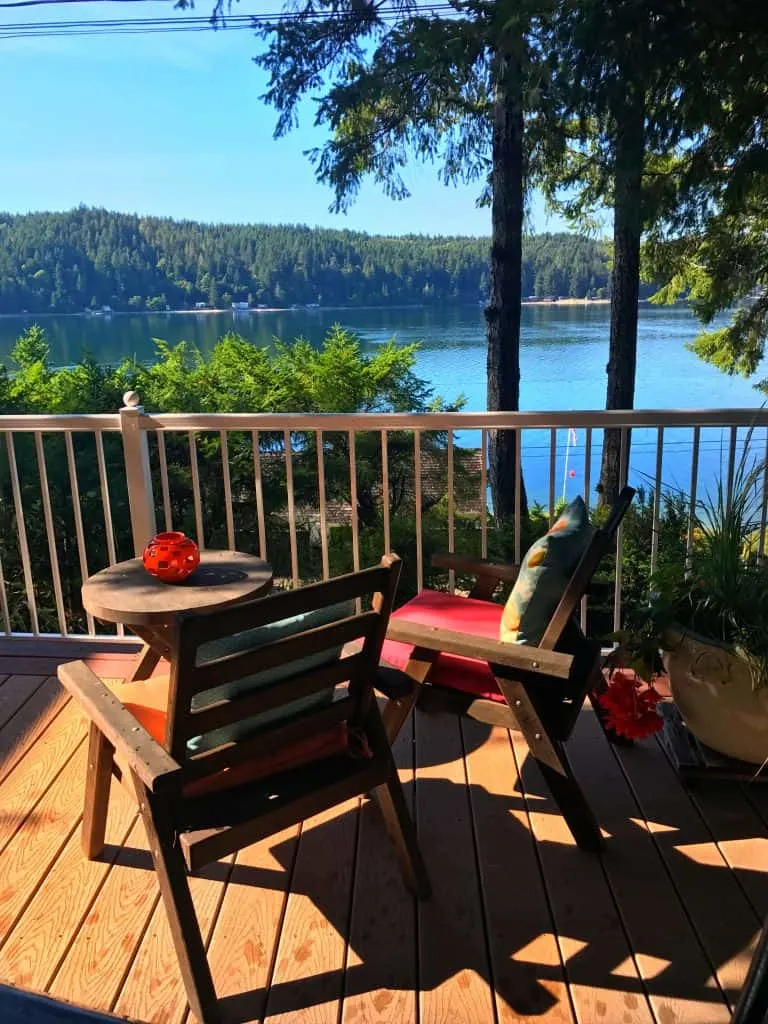 All guests are treated to a hamper on arrival. Filled with tasty chips, cookies, chocolates and organic pink lemonade, we felt totally spoilt. There was a fully stocked pantry with everything from pancake mix to pasta that we could make full use of.
In the fridge, there were eggs, fresh milk, butter, condiments and the biggest juicy peaches from the garden. The kitchen had just about everything to get us going with making meals for ourselves. There was also a BBQ available to use. The fire ban had just been lifted when we arrived.
Nearby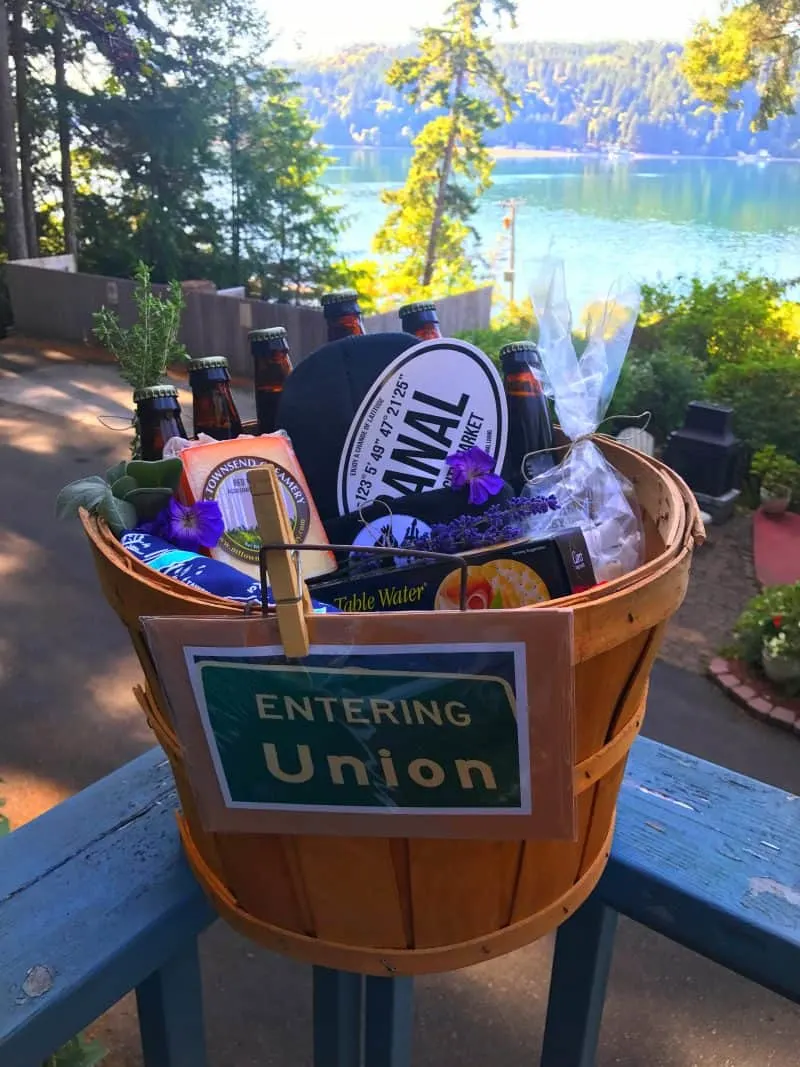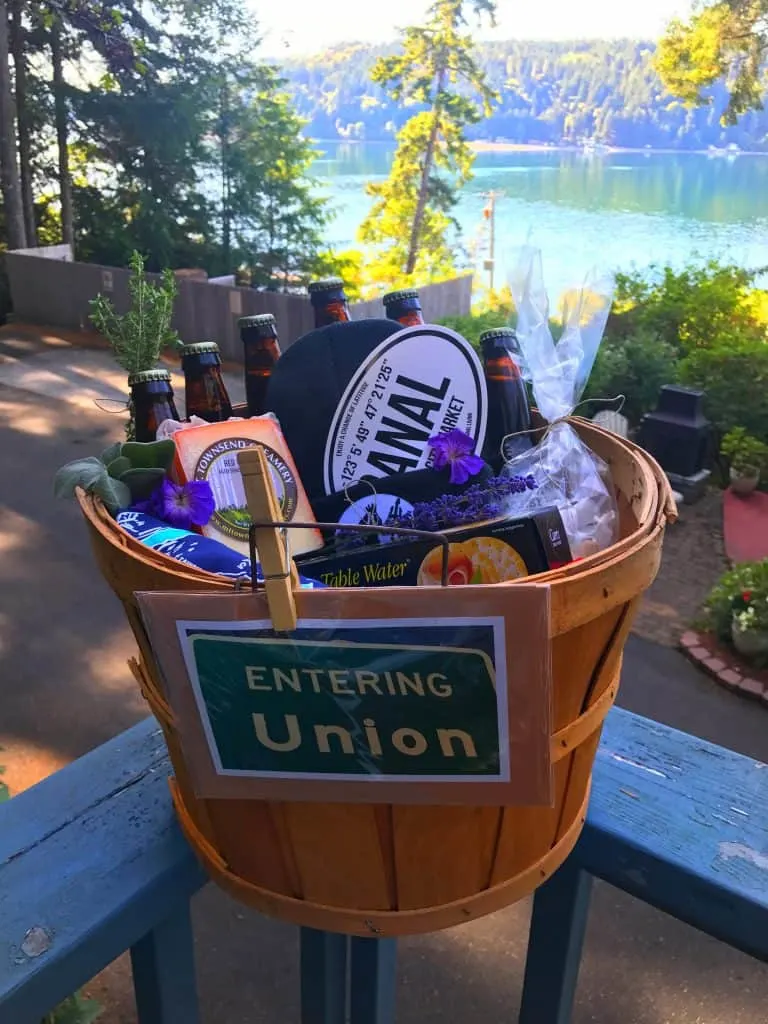 In nearby Union Village, there is a basic market store, a really good Mexican restaurant and the Union Market. The market is stocked full of local produce. Everything from cheese and wine to gifts and beer. It's a must visit in Union.
As I mentioned we were very close to Olympic National Park. There are a number of trails suitable for young families. There is also the town of Hoodsport and other parks in the area that we unfortunately did not have enough time to explore.
Overall, it was such an unforgettable stay at Pebble Beach with Glamping Hub, whilst enjoying the surrounding nature spots.
Related: Are you looking for something else to do in Washington State? Maybe Tacoma?
You may also like:
Disclaimer: Glamping Hub provided a complimentary stay in return for a review. As always, all views expressed our entirely our own.