If you are thinking about camping with a baby, it may seem a little daunting with all the potential extra kit you may need to bring.
However, getting outdoors and disconnecting from day-to-day life is so fulfilling. Not to mention you get some great quality time when you go camping with baby!
We have always had the mindset that regardless of where you are, there are always going to be testing times dealing with a baby, so why not be somewhere beautiful doing something that you enjoy?
We have four children, including twin babies! I have been camping with all of them whilst they were little. The first time was a little overwhelming and I over packed.
Now we have had some practice we have figured out our baby camping essentials! Whether you are planning to go camping with a baby in cold or hot weather or need a camping with a baby checklist, we have all your bases covered with lots of camping with a baby tips.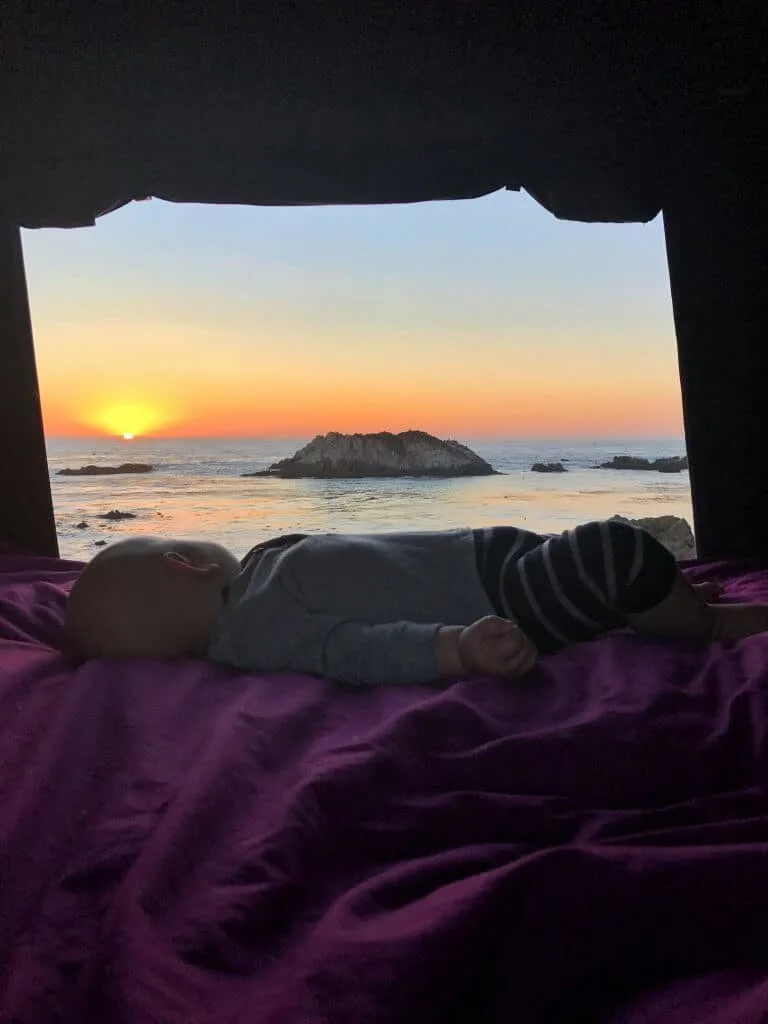 Camping With A Baby
There are so many beautiful spots around the world to go camping. Whether it be in a tent in one of the National Parks or a car roof pop-up tent, the options are endless.
Once you have decided to go on a baby camping adventure you will need to ensure you have access to all the necessary 'camping with baby gear'. The second decision is where to camp.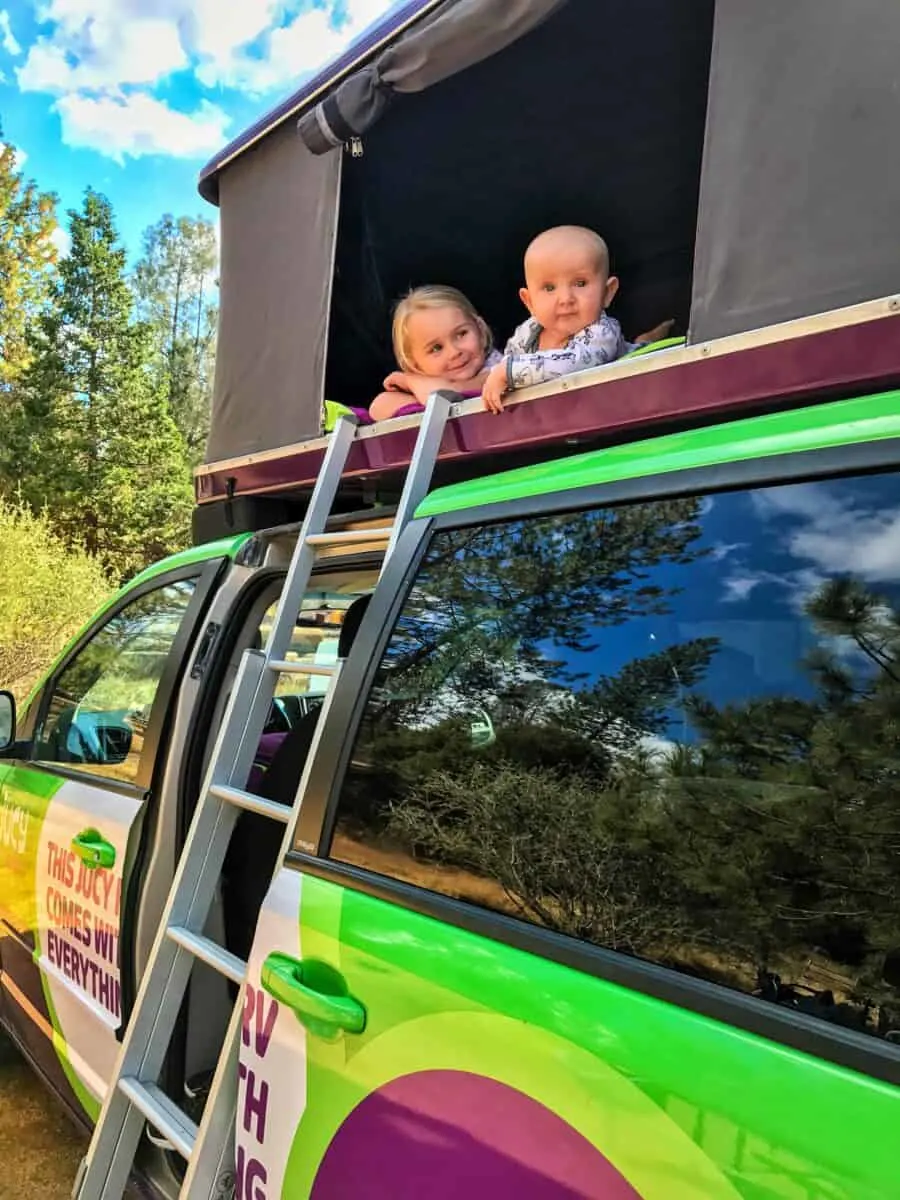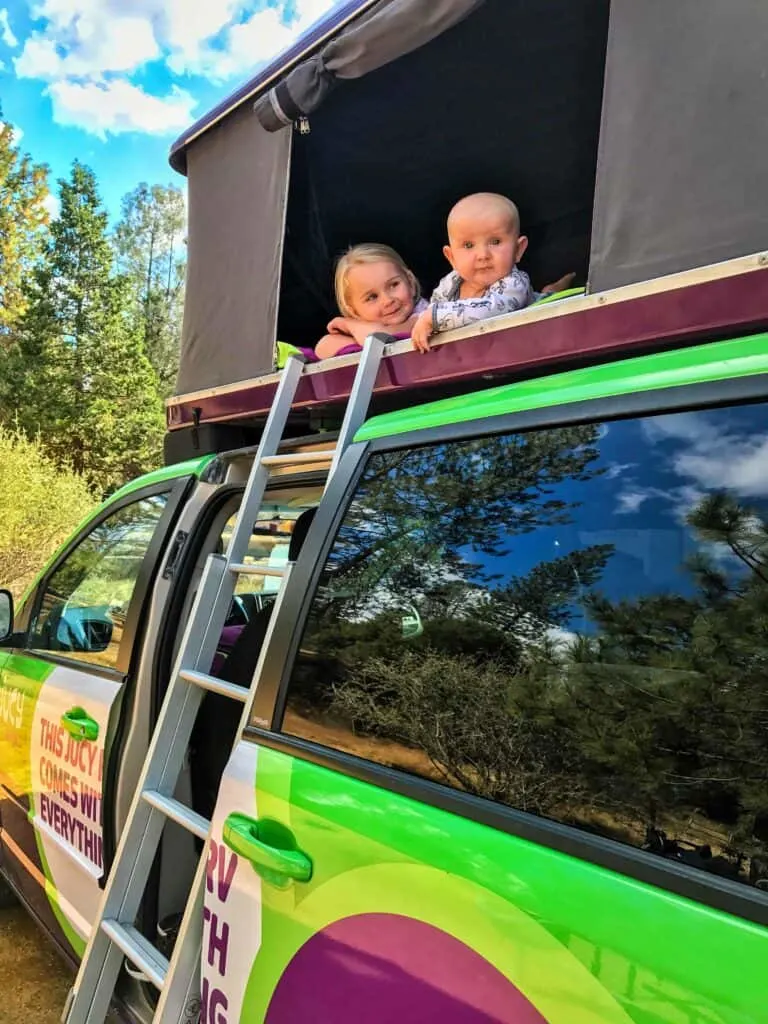 Will the site be serviced (running water and toilets) or non-serviced? Many of the beautiful camping spots on the beachfront may not be serviced. You will need to ensure you have a sufficient water supply, a solar shower and a portable camp toilet if you opt for a non-serviced site.
I am a total wimp when it is raining or windy at night in a tent. However, it is pretty amazing how much battering a good waterproof tent can take.
Here I share with you my top tips for camping with an infant: whether you are family camping in the UK, Campervanning In Switzerland or planning a 2 Day Yosemite itinerary. Everything from planning the trip to ideas for gear you may like to bring with you (and baby) is covered.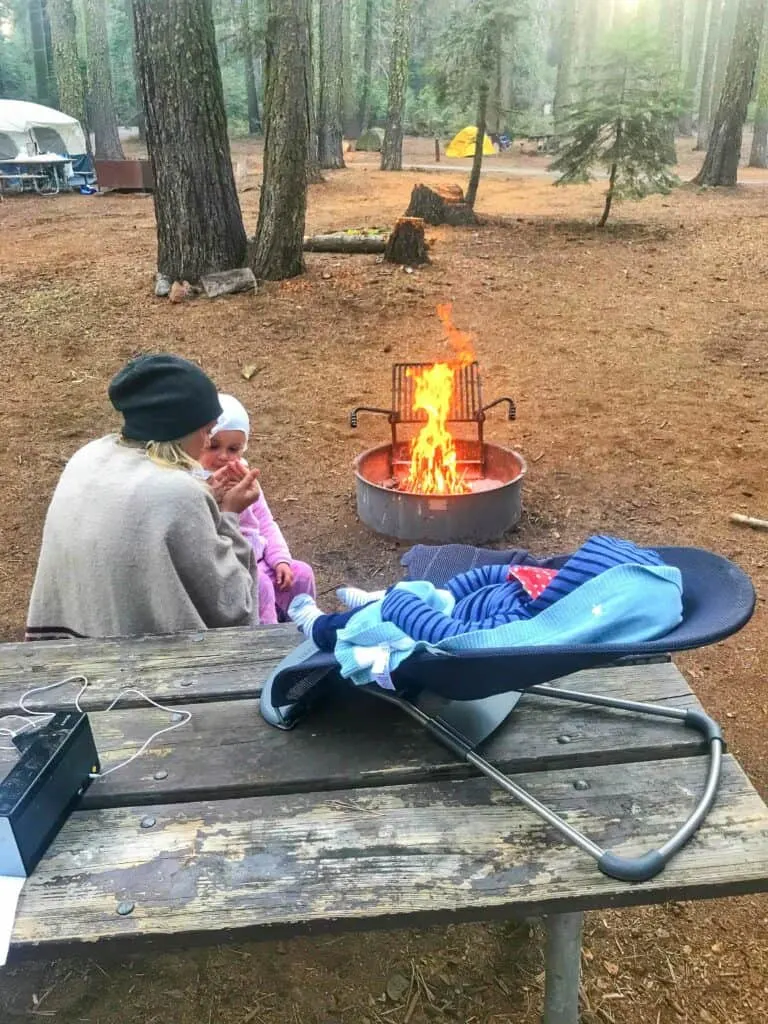 If camping feels too rough for you, you can also check out some of these amazing glamping sites!
You might think choosing a non-serviced pitch might be more difficult with your little one. However, that was not our experience from when we've camped with our little ones as babies.
Realistically all we needed to do was ensure we had the right equipment. There were a couple of other key things to consider, especially if baby is starting to move around. Choosing a pitch for example!
Choosing The Right Camping Spot
When choosing a camping spot (at least for the first trip anyway) try and keep it close to your home and avoid long car journeys with a baby.
A good idea is to time your leave with your babies nap time, this way you can get on the road and onto your destination quickly and as stress free as possible. Arriving at a campsite after a few hours driving with an upset baby isn't fun at all.
Quite often campsites get booked up in advance so it is good to plan ahead if you can, especially if it's one of the National or State parks in America in which case you need to book at least 6 months before your trip.
When choosing a camping spot with a baby, you will be looking ideally for a flat area with no holes or gullies, try to avoid low-lying areas. This might sound obvious, but it is no fun waking up to find your tent in the middle of a pond or small river after a night of rain.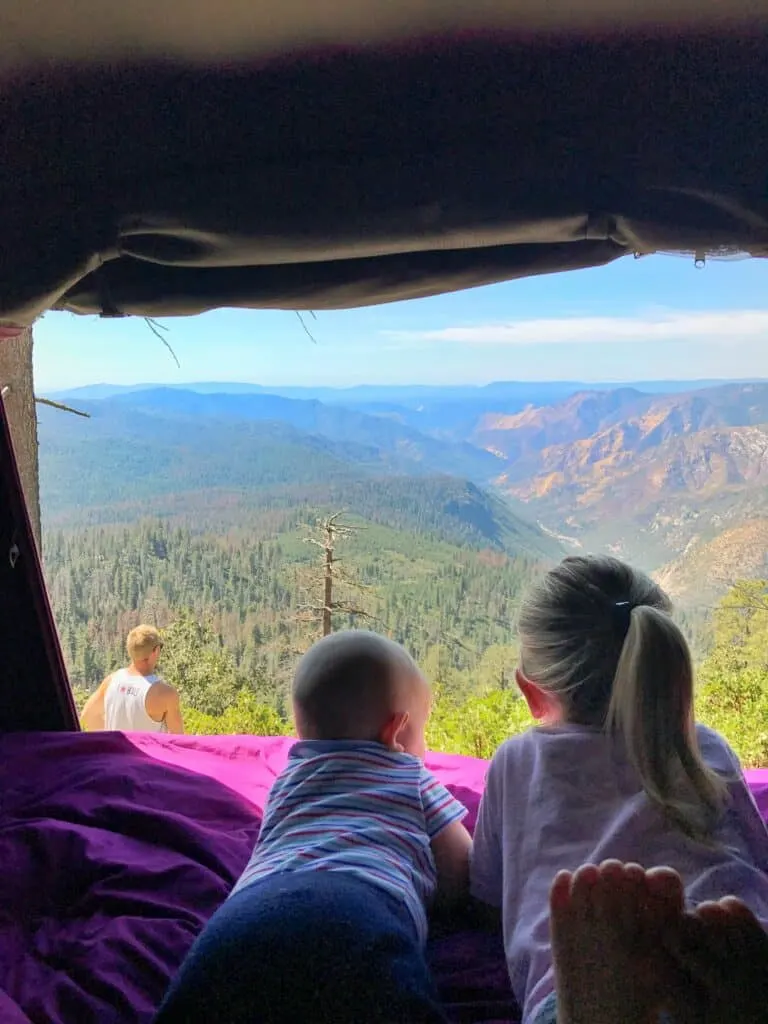 Also if your baby is on the move you don't want to set up camp near a body of water or steep drop-off. I find it is worth asking the ranger for the most appropriate spot with a little one as they will have the best knowledge of the area.
It is also a good idea to think about the type of camping you can manage with your baby, you may have been very adventurous before baby arrived, but now they are here, choosing a spot with amenities with onsite toilets and showers etc can make a world of difference to how enjoyable your time is.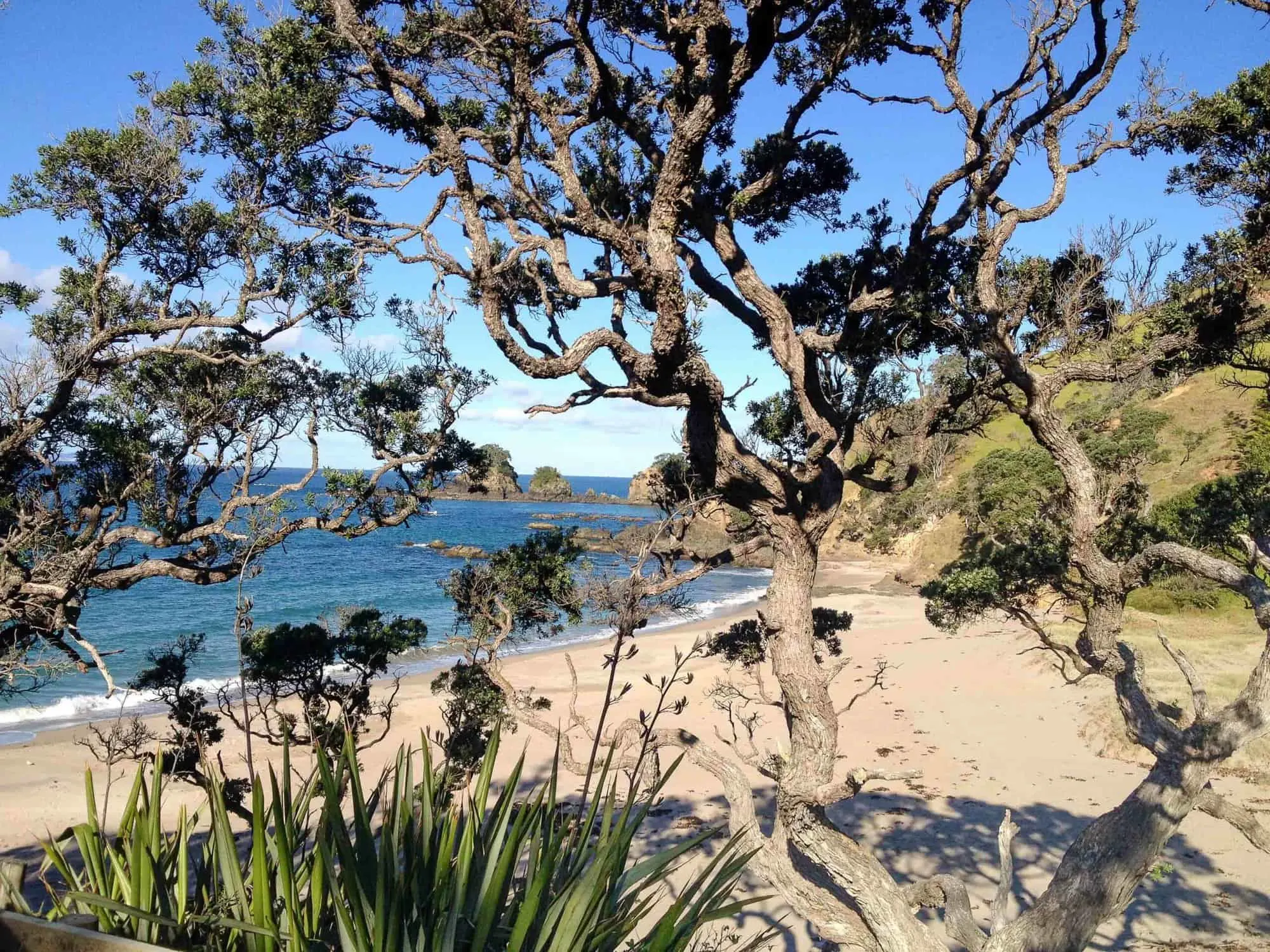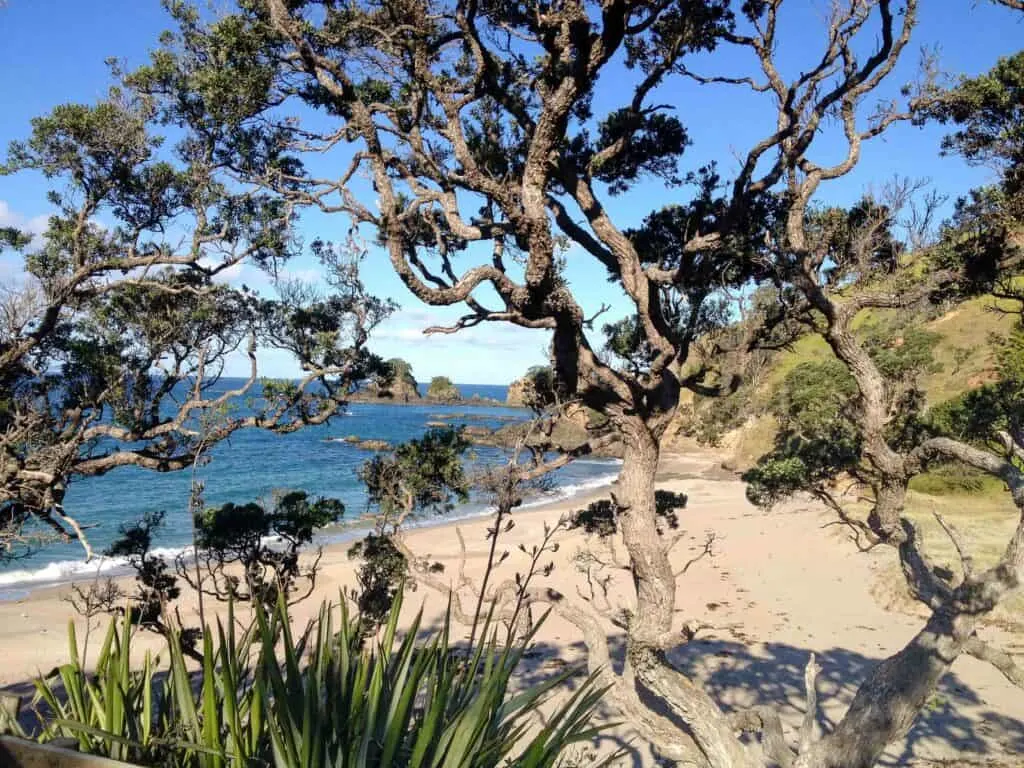 Many campsites have online maps. It can be quite handy to check it out if you do choose to have services. It might be easier to be based nearer the facilities for example and then you can request a spot.
It may not always be possible but choosing a pitch situated away from fellow campers is also recommended, especially if your little one is a screamer during the night.
Most people understand, but it's important to consider others in this situation and remember they may not wish to be disturbed by a crying baby during the day or in the middle of the night.
There are a lot of factors that need to be considered depending on what time of the year you wish to go camping with a baby, camping with a baby in cold weather is a lot different to camping with a baby in hot weather.
Both come with their own challenges, shade can sometimes be an issue when camping with an infant, so we always try to get some natural shade if there are some trees on site.
Tents can get incredibly hot over the day in direct sunlight, so finding some filtered shade from a tree or a gazebo is a good idea for summer camping.
Choosing A Tent
With so much variety of tents on the market today, it can be difficult to find one that will best suit your needs for your family. Choosing the best tent for camping with a baby can be the deciding factor in the success of any camping trip.
Most tents these days are incredibly compact and come in convenient carry bags, saving all important space in the car.
Deciding which size tent to go for depends on your family size and how many camping accessories you may have. Camping with a baby will inevitably result in you bringing more items, so you need to factor this into your decision.
We have found it is best to have a large tent in which you can stand up in rather than hunch over while inside, this also means you have space for items like a portable cot or a play area.
This is even more important while camping with a baby as more time will be spent in the tent than normal, whether changing nappies or getting the baby off to sleep.
Some dome tents are durable in adverse weather conditions as they can bend and flex in the wind. The larger tents also have room separators which are useful to section off baby during nap time from the other living areas of the tent.
The popular pop-up style tents can be assembled in a matter of minutes as they have foldable poles which spring into shape. Just make sure to do your research on this type of tent as some brands prioritise speed of set-up over quality and durability.
If you are new to camping or have just purchased a tent for a trip, make sure to have a test run of setting it up before camping with a baby.
There is nothing more stressful than arriving at a campsite and struggling to assemble your tent due to you being unfamiliar with it, with the added pressure of small children thrown into the mix.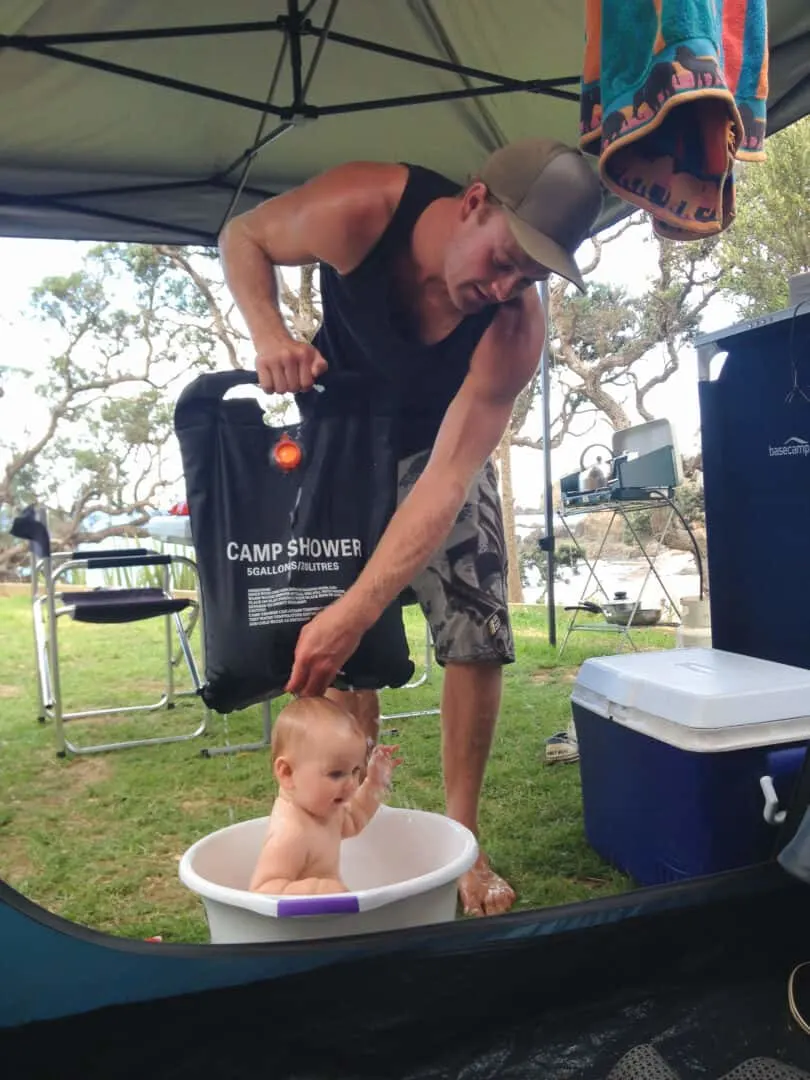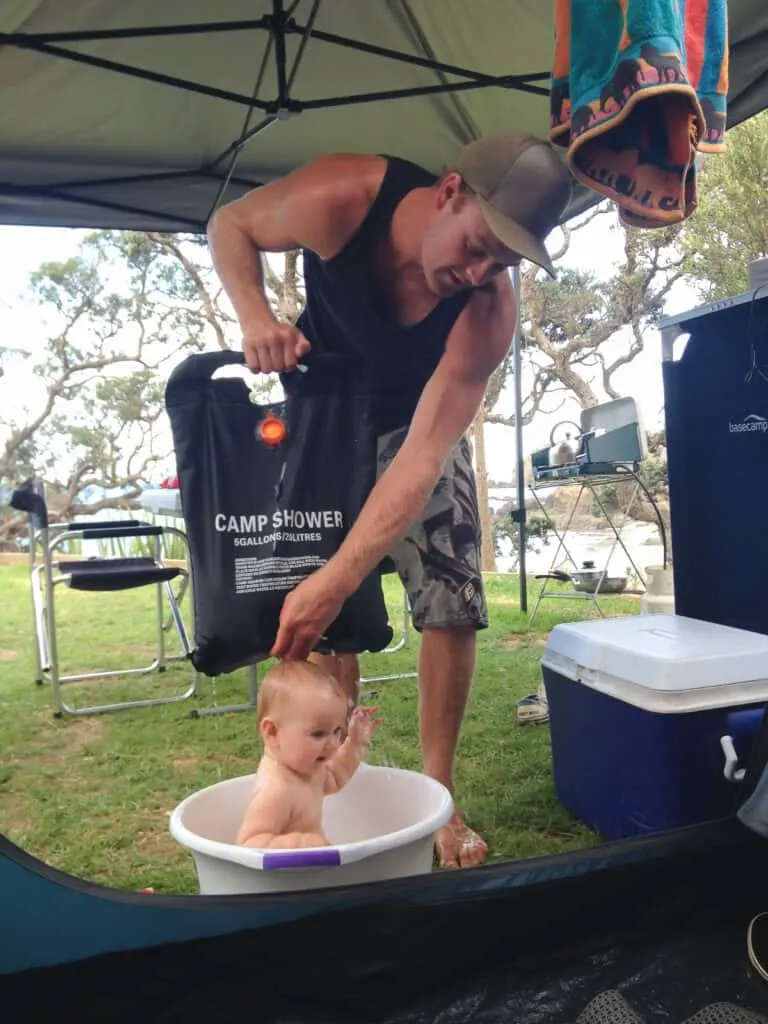 Pop up Roof Tent
As an alternative to traditional tent camping, you may like to consider the Pop up roof tent style camping. This style of camping allows you to use the vehicle as your means of transport and the base for the camping set up.
We have tried this method of camping during an eight day trip exploring Yosemite national Park in a Jucy Camper van and was a huge success.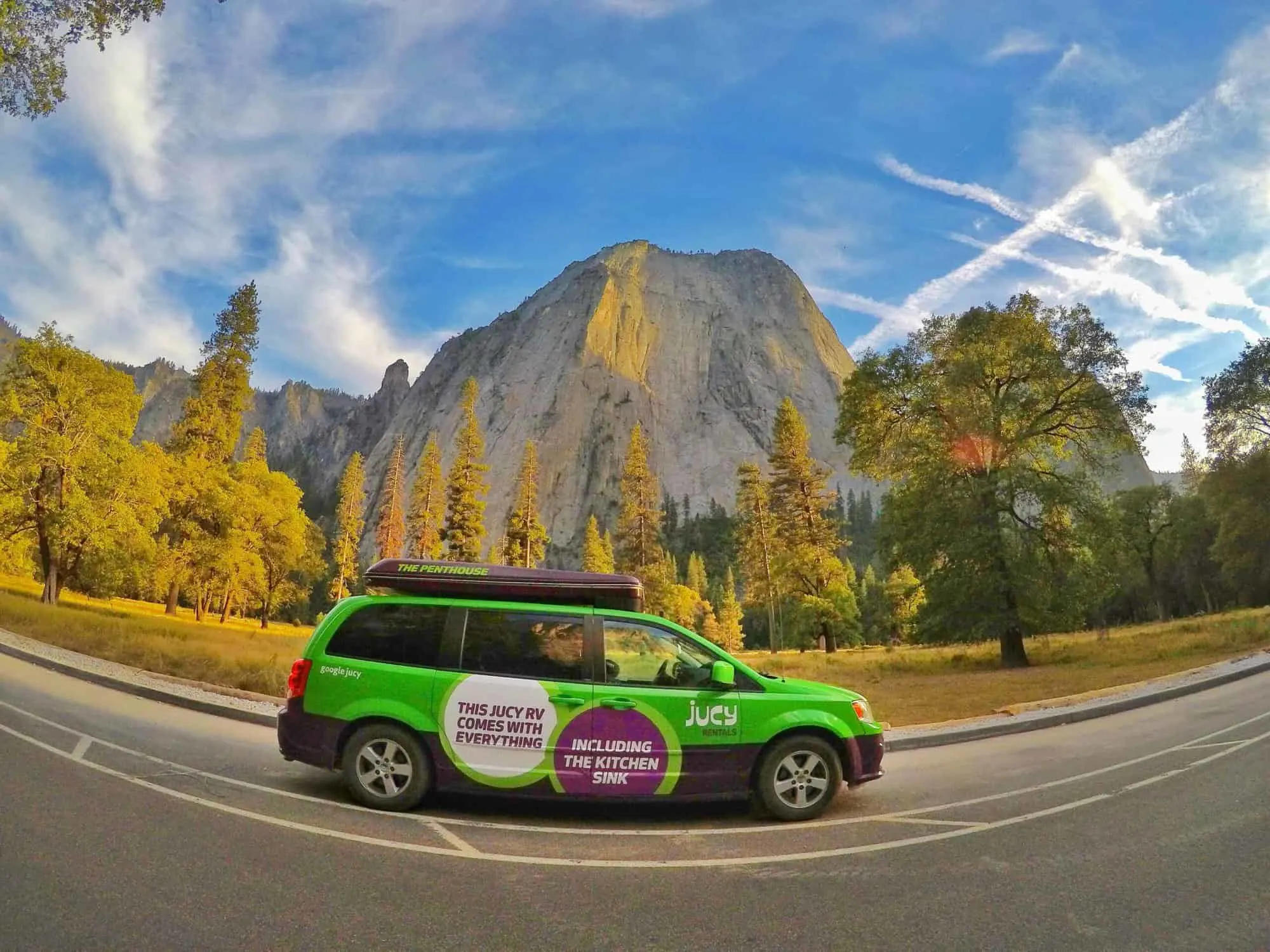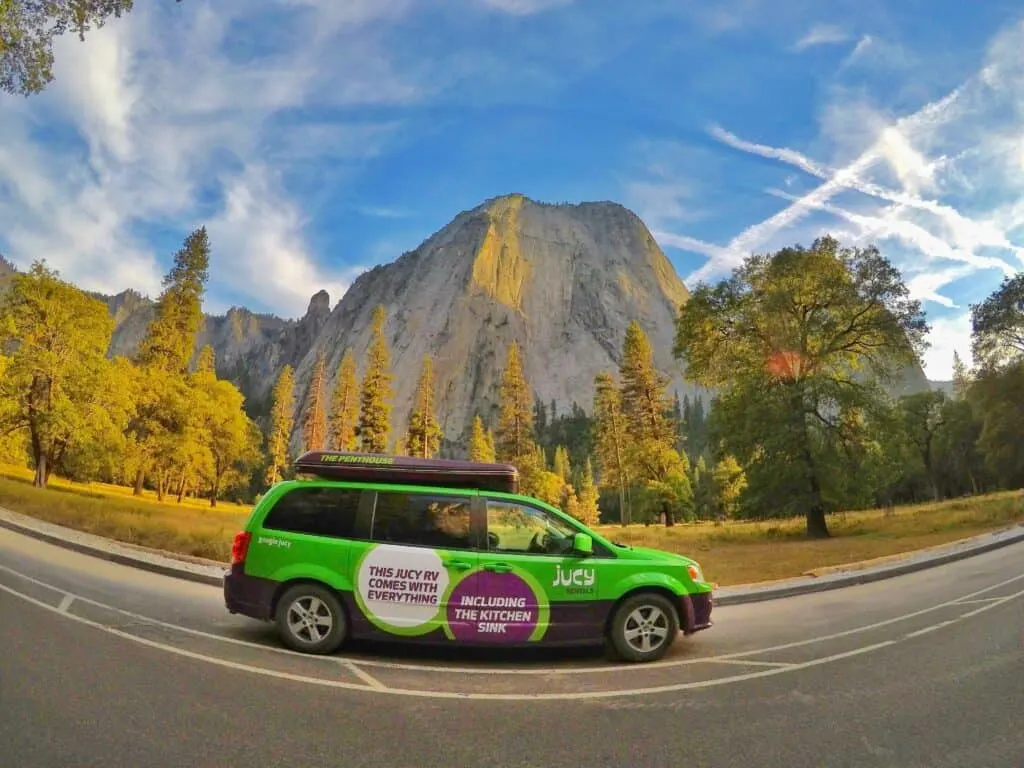 The van has a sleeping pod on the roof which literally is a jack type handle that winds around a few times and POP, the penthouse is up! There is a ladder that is stored inside and can be used to get up and down.
The Pop up roof style camping allows you to be a bit more adventurous in choosing your locations to camp outdoors, as you can explore more off the beaten track destinations compared to normal camping.
This is an easy option to minimise the extra time it takes in setting up a normal tent, as the bedding can be left in the pod and dropped quickly to move onto the next destination.
Extra caution needs to be taken if you are sleeping in the pop up pod with small children or a baby as it is higher off the ground.
As well as everything being attached to a vehicle for extra safety and durability during adverse weather conditions.
For more information on this type of camping make sure to check out our post of the Jucy camper van here.
Setting Up Camp
It is always a good idea to be as organised as you can in the days leading up to the camping adventure. This allows you to arrive at the camping destination earlier in the day giving you the maximum amount of daylight to set up camp.
Putting a tent up in the dark is not the way you want to start a holiday trust me!
One of our top camping with a baby hacks is always bring a tarpaulin to lay on the ground inside the tent. This will prevent baby (and everybody else) from getting cold on the ground at night.
Most tents just have a thin plastic baselining and doubling this up a few times with a tarpaulin or even a mat makes a huge difference to the comfort inside.
During the day it is a good idea to keep the tent well ventilated, this can be achieved by opening the windows and doors to allow fresh air into the tent.
Most tents have a mosquito net built into the tent doors and it is a good idea to keep this zipped up to keep the space insect free. As evening approaches make sure to zip up all the windows and doors to help contain any heat from the day and to keep dry overnight from any rain or dew.
Make an area within the tent for the baby's cot or baby camping bed. It is definitely best to use a portable cot slightly elevated from the ground to prevent the baby from getting cold and allow airflow to reduce the possibility of things getting damp.
This can double as a clean dry and safe play area if the weather turns for the worse.
Moving items such as bedding or bags away from the walls of the tent is also a good tip to stop any leaking or dampness occurring overnight.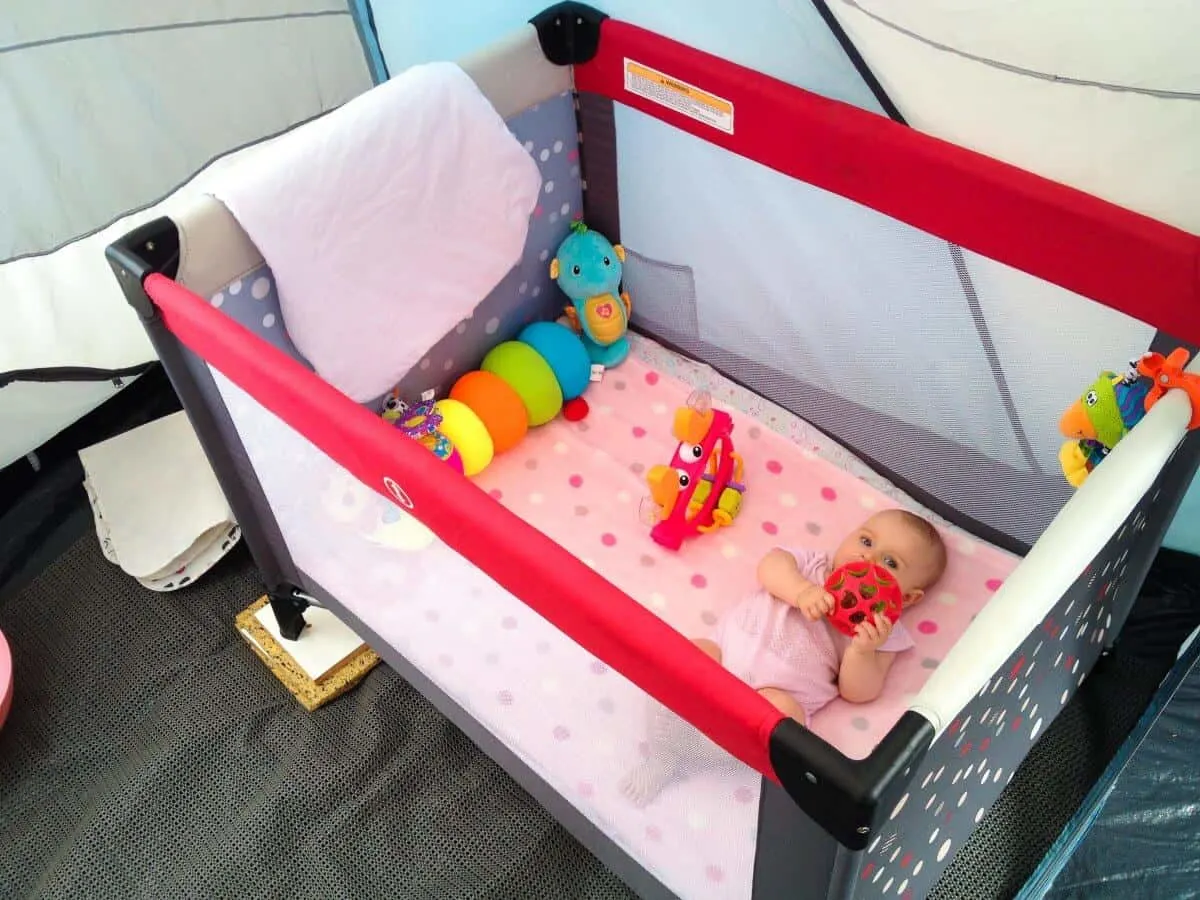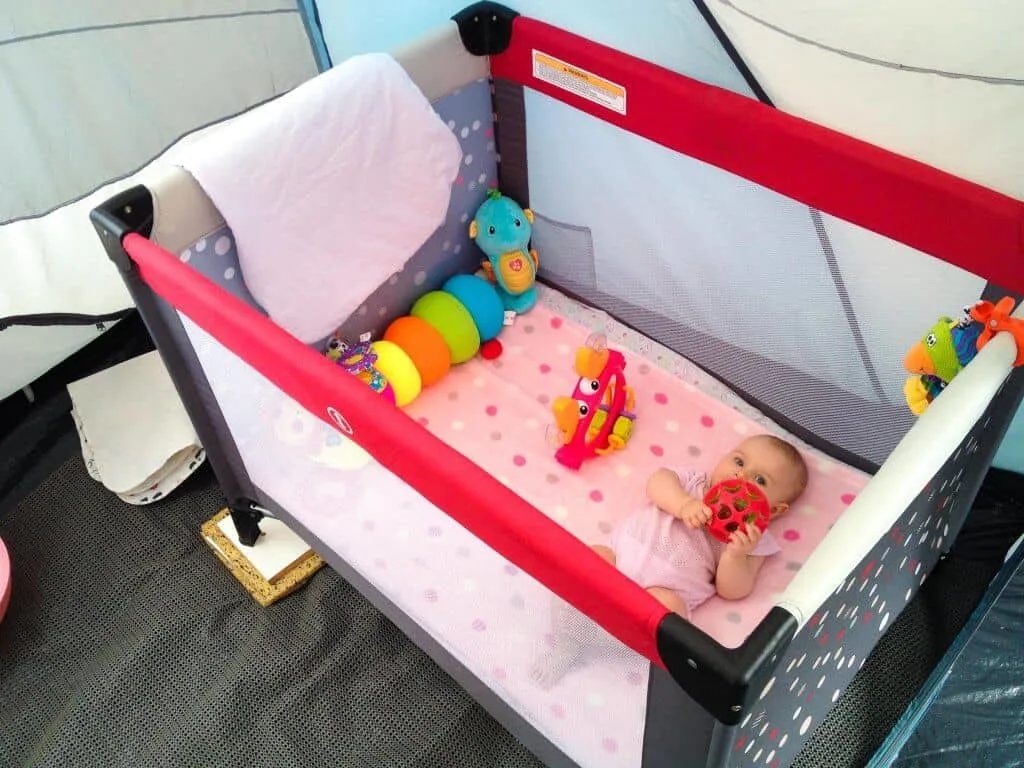 If you have to nurse or feed baby during the night it may be best to have an air bed with regular bedding rather than a camping baby sleeping bag. This will ensure you both stay toasty while feeding.
You may want to section off an area outside the tent for playtime if you are camping with a crawling baby.
Depending on how much equipment you wish to bring, portable baby safety fences or enclosures are available here.
How To Keep Baby Warm While Camping
This is what I worry about most when camping with a baby. When I first took our little girl camping it was summer, and she was seventeen weeks old. After doing some research online we discovered you could get a camping sleeping bag for baby.
At night she wore a vest, a baby onesie, a baby sleeping bag, and a light blanket on top with a hat and mitts. Her little face did feel a bit cool in the middle of the night, but she was otherwise generally a nice warm temperature.
She slept better than most nights, so I presume she was feeling ok! At first, I did not use the hat and mitts, but she felt cold without them.
This amount of layering was only required when our daughter was a newborn. Our boy was always such a hot baby, he never needed it, even in the same temperatures.
If you will be camping with baby in cold weather or winter camping with baby it is best to have a few extra layers just in case, along with considering purchasing one of the many baby sleeping bags for camping available on the market.
Camping With A Baby Gear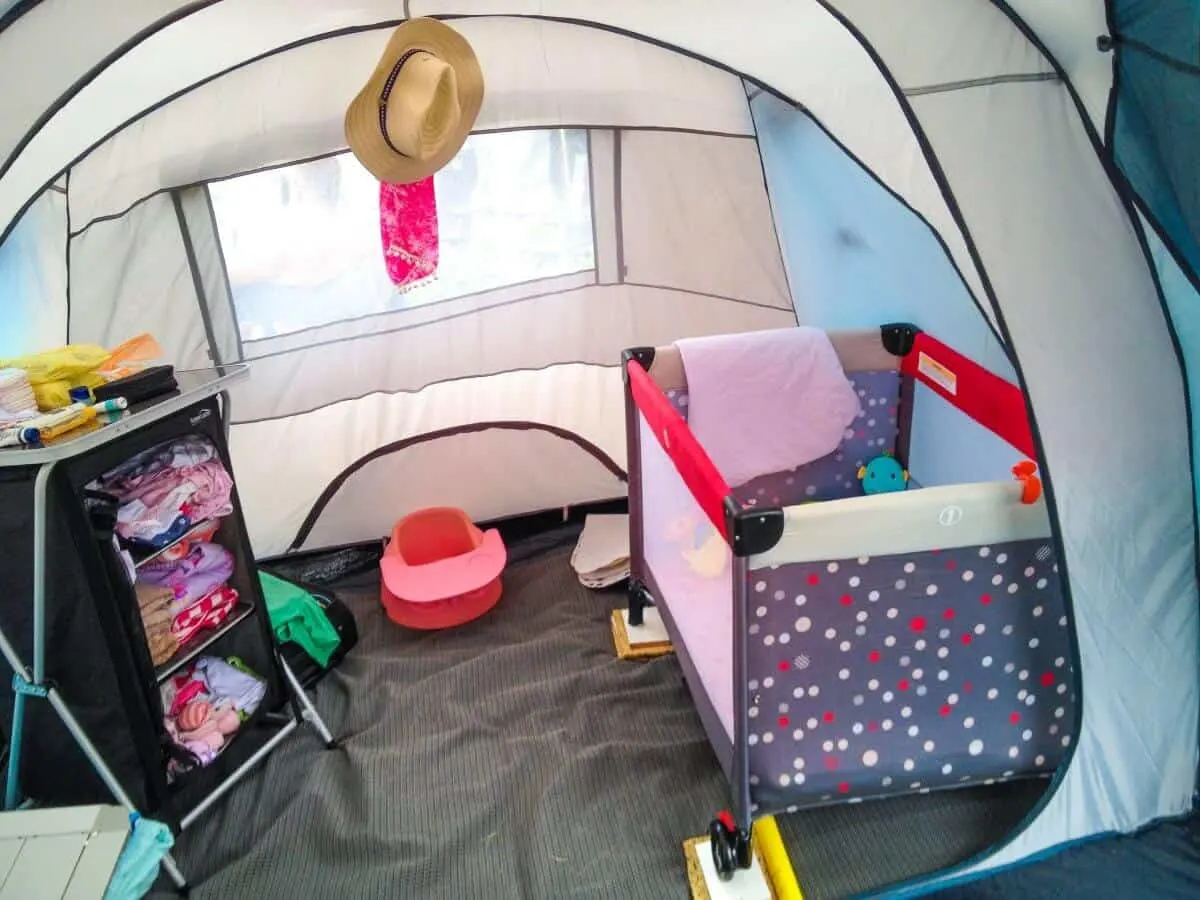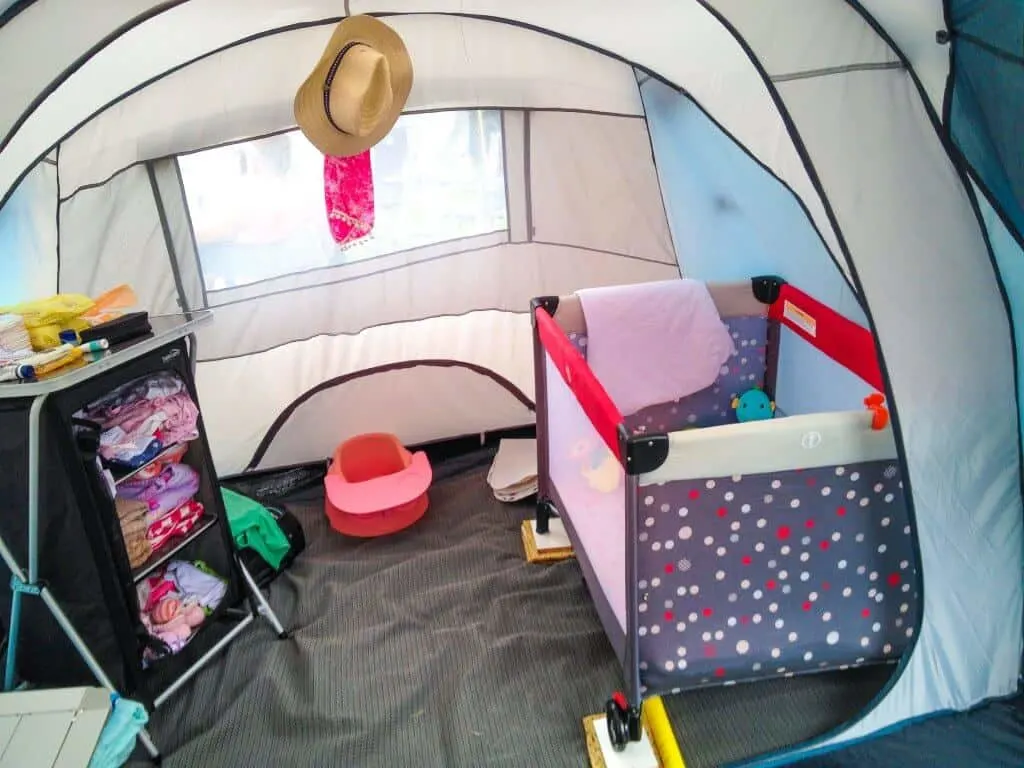 In terms of baby camping gear, there are only a few extra things you need for baby specifically. Items such as a baby camping chair, come in handy at meal times and when you need a break from holding. These are perfect for camping as they can be easily wiped clean after use and very lightweight.
This chair made by Ingenuity is also a good quality option that could be used on a camping trip as it has a sturdy balanced frame and can be used on uneven ground. It also has a remove-able washable seat. This model has adjustable heights for when baby wishes to nap or sit up.
We also bought a basin for bath time. I found it really easy to fill it up with water from the solar shower that we set up every morning.
Otherwise, I bought a few baby camping toys that can be easily cleaned off under a tap, a seat for meals and a mat for the ground so she could play.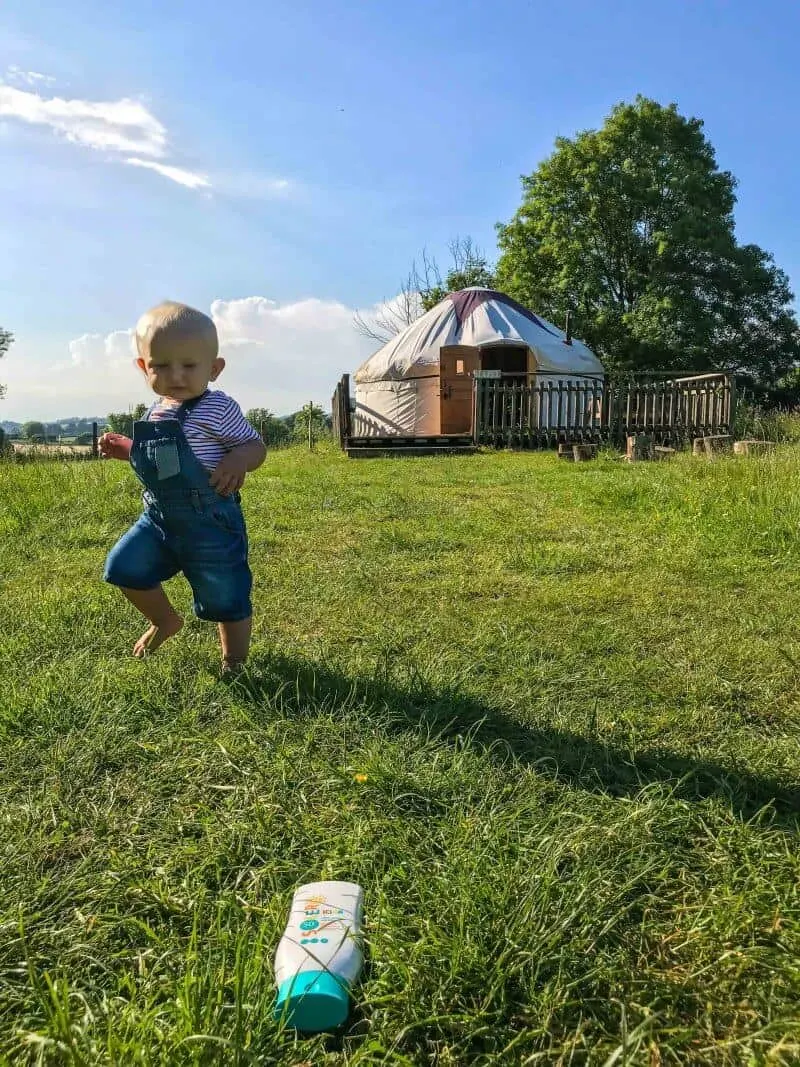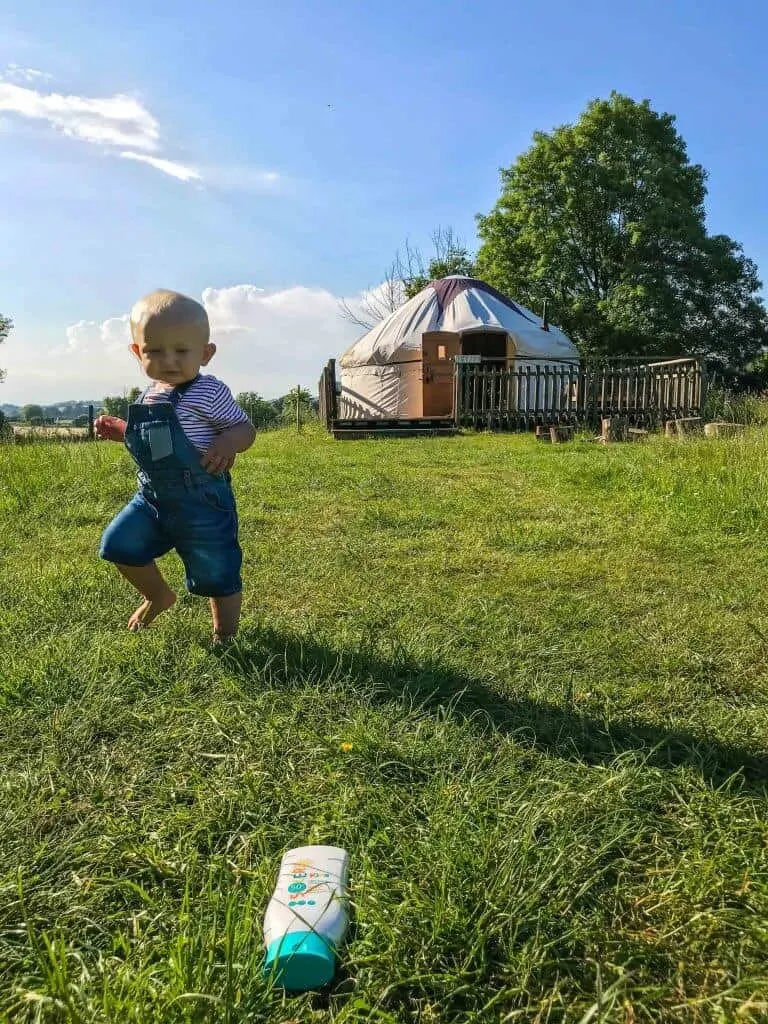 If you need to create shade during the day, bringing a gazebo is probably the best way of doing so! Plenty of sun cream, and a sun hat.
I also brought a mosquito net to put over the top of the portable cot (can you tell mosquitoes love me).
For a new approach to preventing mosquito bites while camping in the outdoors click here.
I always like to bring over-the-counter baby analgesia in case of any teething issues.
A top camping with a baby tip is to bring a head torch, these are invaluable for keeping the handsfree while camping with a baby, as you will most likely spend a lot of time holding baby.
A good quality head torch will be a lifesaver for navigating the campsite and finding items in the dark.
Mosquito Repellant
I am one of those people that get nailed by mosquitos! I find it incredible that I can be in the same area as my husband and kids, but still be the only one that gets bitten.
Mosquito repellent is something that i cannot afford to forget, especially as I have had bites that became severely infected and swollen on several occasions.
We like this Mosquito Repellant the best from Incognito, it has been tried and tested on several occasions. It is DEET free and suitable for babies and children, and seems to have worked the best of all the varieties we have tested.
Stay For More Than One Night
If it is your first time camping with a baby do your best to try and stay for more than one night. Many parents will find the first night probably quite challenging as baby adjusts to their new surroundings. On the second night, things should get easier.
You will have hopefully figured out what works and what doesn't in terms of getting a good night's sleep and being able to enjoy your camping adventure.
Things tend to happen much slower on a camping trip with a baby, so its important to plan a few days at least to truly enjoy your time in the great outdoors.
Camping With A Baby Gear
Meal times, Baby food and sterilising
For mothers that are breastfeeding, in terms of feeding, going camping won't be much adjustment to the normal routine at home, but there are still a few things that need to be considered.
Make sure to bring enough drinking water to keep hydrated while camping with a baby, also if you aren't sure the local source of water is safe to drink. Bring a pot to boil it or purchase one of the many portable water purifiers on the market like this.
It is also a good idea to consider what you wear for breastfeeding while camping, during the day wearing layers that are easy accessible for baby to feed as well as pyjamas during the night.
Especially if camping in colder weather, it is a good idea to wear warm breastfeeding pyjamas to prevent mama getting cold during those middle of the night feeds.
For mums that may require a breast pump when camping if baby isn't feeding as normal these portable pumps are great for camping.
For babies that are on solids, a little more planning is involved before setting of on a camping trip.
I am not personally that keen on sachet/ jar food unless it is fresh with no additives. Equally, my babies have been extremely fussy about food.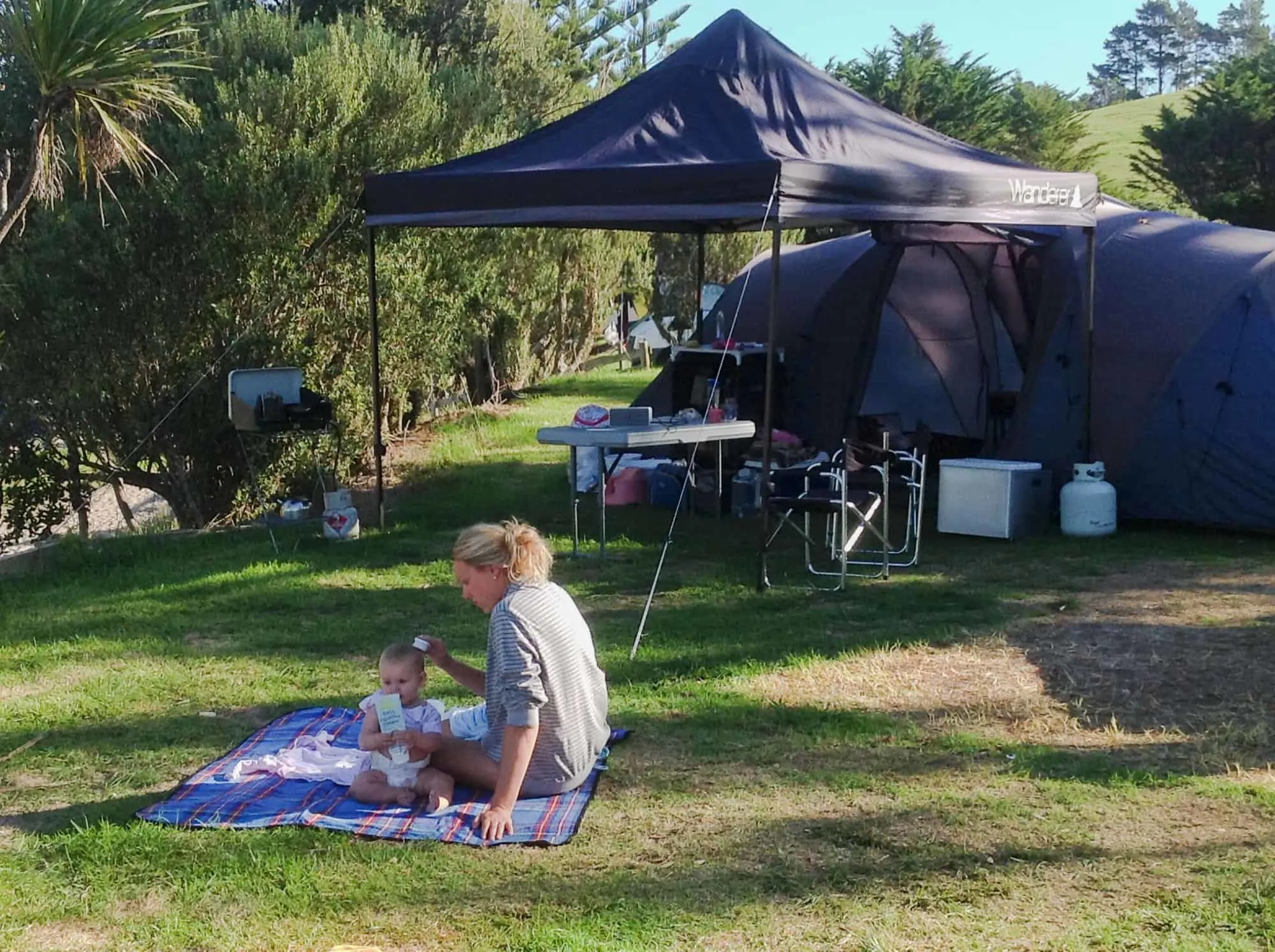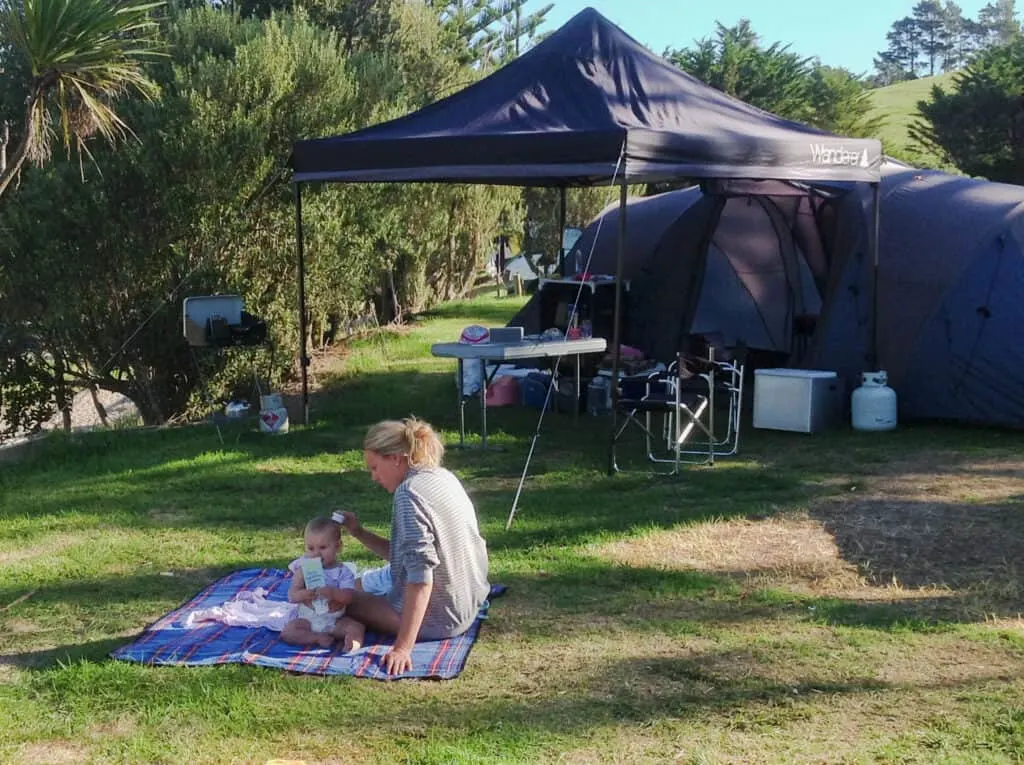 In the past we have used a portable fridge which is ideal for keeping home-cooked food fresh for baby, it was particularly handy as she still had puréed food. I blended quite a bit before and popped it in the fridge to keep fresh.
Some campsites depending on location and availability provide communal fridges for campers to use, it is best to check before if this is something that you require when camping with a baby.
If your baby is in a specific routine pre-camping trip, try to stick with their normal nap, feeding times as much as possible. Choosing a campsite that can provide potable water is also important when it comes to making formula and keeping things clean.
If baby is a bit older you may only need a masher and they can eat what you are cooking ! Make sure to bring a big pot to boil water if you need to sterilise bottles or other baby paraphernalia.
I used a silicone bib and bamboo bowl for meal times as they are so easy to clean with just a wipe.
By the time we took our second baby camping, we were much more relaxed. As all second time round parents are, right? We had a slightly different approach with baby number two as we tried out baby led weaning. It worked really well and made meal times so much easier when camping.
Bring A Baby Carrier
One of the essentials for camping with a baby has to be a baby carrier. A baby carrier is an invaluable piece of equipment on a camping trip as it keeps baby contained and allows you to be hands free.
It will give the freedom to set off on a hike or allow baby to take a nap comfortably (and sometimes even nurse!) without having to take them out or stop what you are doing on the move. If planning on doing a lot of strenuous hiking you may want to consider an actual hiking carrier over a regular carrier.
A hiking carrier usually comes with a metal frame that holds your child higher up then a regular soft carrier and it also usually has much larger pockets.
The metal frame in particular can make hiking much easier because it allows for much better airflow. With a normal carrier, you and your baby will be pressed together which can cause you and baby to overheat quickly in warmer conditions.
There are tonnes of baby carrier brands on the market and sometimes it can be hard to choose which are the best baby carriers for travel and everyday outdoor use. We have written a whole blog on the subject which you can read here.
Stroller
A good quality off road stroller is another must have item on any camping trip with a baby. This will be dependant on the type of camping you are planning on doing obviously.
For example if you are planning quite an adventurous camping expedition amongst some more rugged terrain perhaps a stroller will not be of use and a baby carrier would be more appropriate.
The larger off road strollers do take up more space in the boot of your car so be sure to keep this in mind when trying to fit all of the essentials for your trip. The plus side of this is the larger strollers usually come with more space to store items like nappies, change of clothes and bottles.
This means you may be able to head out for an extended walk or adventure minus the back pack making it more enjoyable and comfortable for the parent.
We have tended to opt for the larger wheeled variety of strollers in the past that have air filled tyres. This way we never run into trouble getting stuck while going on hikes or long walks in the countryside and can be manoeuvred with ease over bumpy terrain or slopes.
If you are camping in an area with a lot of insects or mosquito's be sure to pack a mosquito net that covers the stroller.
A stroller will allow more freedom to explore your surroundings and also help with getting baby off to sleep if needed. The most important factor of all, allow Mum and Dad to have a much deserved break.
Nappies
Make sure to bring plenty of nappies and wipes if you are using disposables. Pack a lot more than you need as there is noting worse than running out and not being able to restock.
If you ordinarily use reusable nappies make sure you have access to a sufficient amount of water that you can boil for sterilising purposes. Choosing a campground with facilities can be important here as you can dispose of dirty nappies easily in the provided waste bins.
If you are using reusables make sure to pack a collapsable bucket, rubber gloves and washing powder decanted into a zip bag to save space. Bring a rope to make a washing line to hang out the nappies to dry in the sun.
Finding a Campsite
We have used many camp booking platforms in the past around the world and some are better than others, for example as mentioned earlier if you are in the United States, many campsites especially in the national parks need to be booked months in advance.
Also booking for the National Parks need to be done via a governmental website.
There are a number of camping booking platforms globally and these can take the stress out of finding a site suitable to your family requirements as they have detailed information of each parks amenities and services.
If you are looking to camp across the United States, a good platform to search and book everything is reserveamerica.com
If you are located in Europe a popular platform for booking camping, glamping, caravans and cabins is camping.info
If you are located in the United Kingdom a useful booking platform for every type of camping is pitch.com
If you are located in Australia and looking for a good campsite booking platform, campstay.com is a popular choice.
If you are located in New Zealand, Campable is an app that you can download on your phone for researching and booking sites depending on your location which is full of useful information.
Camping with a Baby Checklist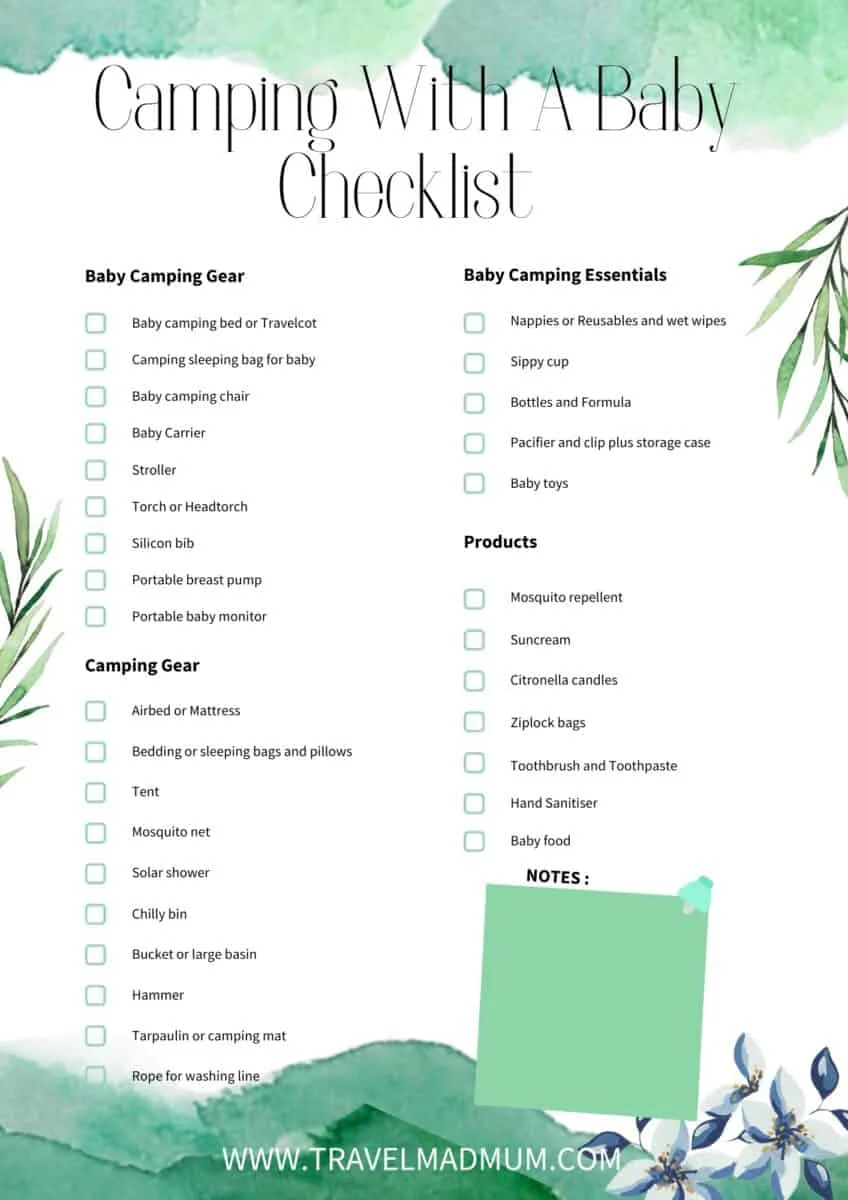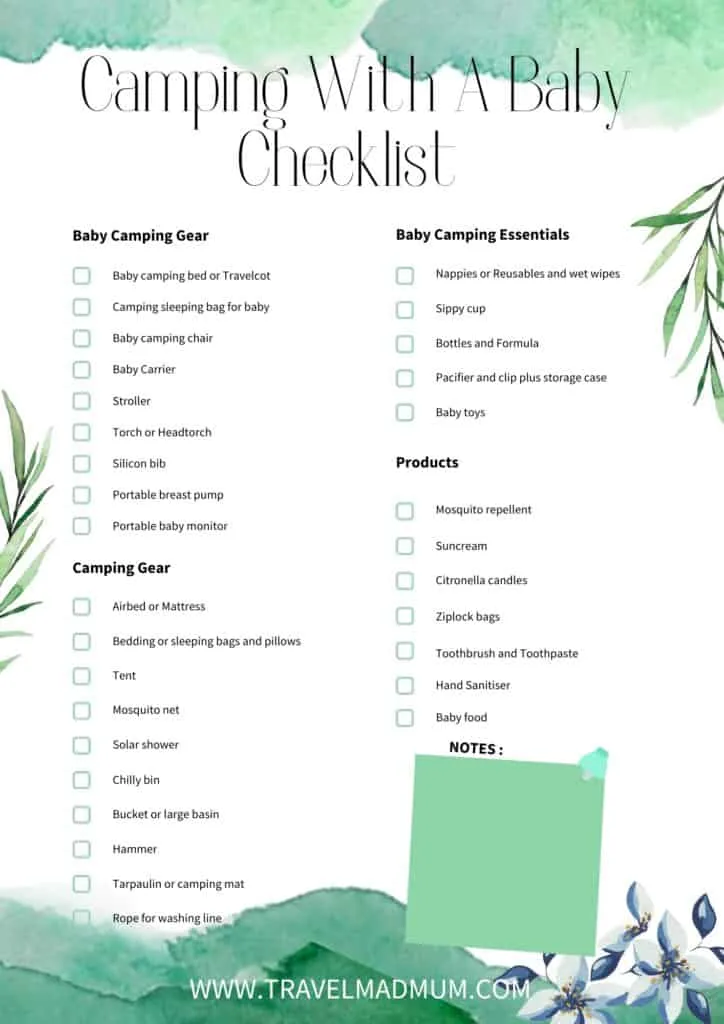 To sum up Camping with a Baby
As a family we have created some of our most treasured memories camping with our children in which we have had the opportunity to stay in some incredible locations around the world. There is something about camping in the outdoors that is hard to compare to other holidays.
Whether it is being out in the fresh air or amongst the sounds and wildlife that you experience sleeping under the stars. The simple pleasures are sometimes the most rewarding when it comes to camping.
The worst case scenario if things aren't going as you have planned or imagined, you can pack up and head home. Theres always next time and camping involves a lot of trial and error especially when little ones are thrown in the mix.
Don't be disheartened by this, you will have learnt what works, what doesn't, and be ready for your next camping trip much the better for it.
We hope to have shared some tried and tested tips and knowledge in which you can use on your next camping trip with a baby, and fingers crossed will make the camping experience a success . Most of all, once you are settled, kick back and relax.
Have you been camping with a baby? Share your tips in the comment box below. I love hearing from you!
You might also like: