How to Camp with a Baby
When my husband suggested we should go camping with baby, our precious newborn, I wasn't too sure of the idea! People even asked me, can you camp with a baby? Well the answer is yes! Read on for our top tips for making camping with your little one comfortable.
Originating from Ireland, where the climate is generally colder, I am not a particularly seasoned camper! However my Kiwi husband and his family camp regularly. In fact it seems the entire population of New Zealand camp regularly.
So I did a little investigating with other mums and they confirmed, yes! It is absolutely fine to go camping with a baby, or even to go camping with a newborn. As my own personal disclaimer, I must point out that the climate in NZ is generally warm and I would only camp with little ones in the summer and autumn months!
Once you have decided to go on a baby camping adventure you will need to ensure you have access to all the necessary 'camping with baby gear'. The second decision is where to camp?
Will the site be serviced (running water and toilets) or non-serviced? Many of the beautiful camping spots on the beachfront may not be serviced. You will need to ensure you have sufficient water supply, a solar shower and a portable camp toilet if you opt for a non-serviced site. I am a total wimp when it is raining or windy at night in the tent. However, it is pretty amazing how much of a battering a good waterproof tent can take.
Here I share with you my top tips for camping with an infant: whether you are family camping in the UK or planning a 2 Day Yosemite itinerary. Everything from planning the trip to ideas for gear you may like to bring with you (and baby) is covered.
If camping feels too rough for you, you can also check out some of these amazing glamping sites!
CAMPING WITH A BABY

Top tips for camping with baby
You might think choosing a non-serviced plot might be more difficult with your little one. However, that was not our experience from when we've camped with our little ones as babies.
Realistically all we needed to do was ensure we had the right equipment. There were a couple of other key things to consider, especially if baby is starting to move around. Choosing a plot for example!
Choosing the right camping spot
Quite often camps gets booked up in advance so its good to plan if you can. Ideally a flat area with space so they can move around. I find its worth asking the ranger for the most appropriate spot with a little one.
Many camp sites have online maps. It can be quite handy to check it out if you do choose to have services. It might be easier to based nearer the facilities for example and then you can request a spot. Likewise shade can sometimes be an issue when camping with an infant. We always try to get some natural shade if there are some trees on the site.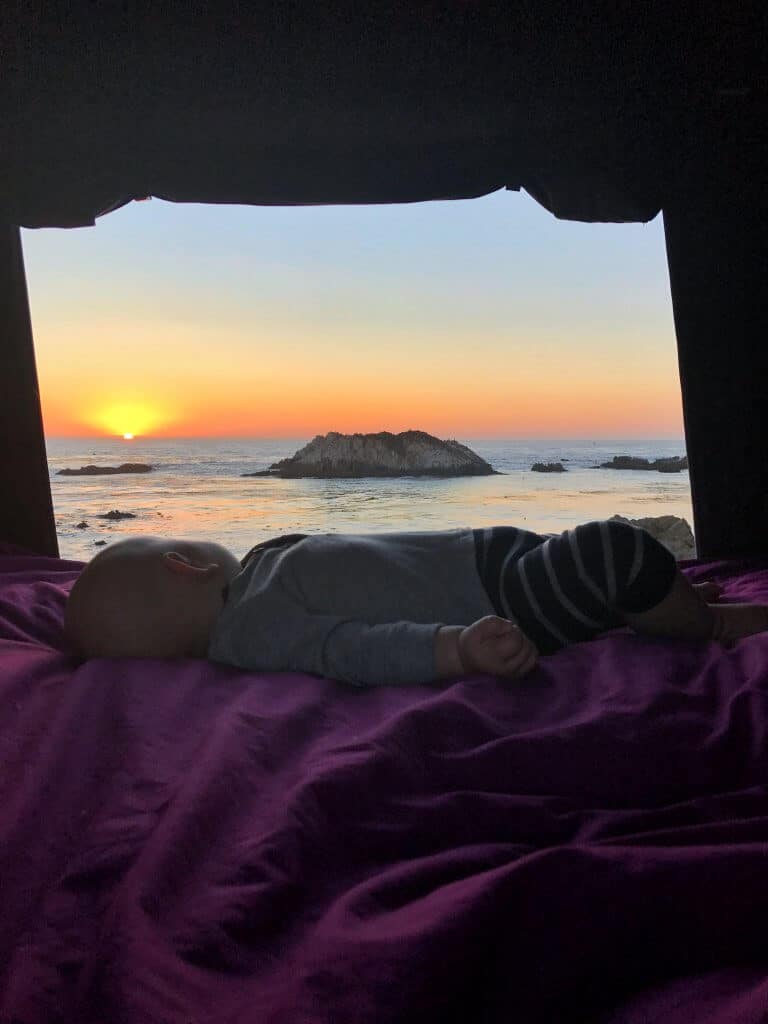 Setting up camp
Bring a tarpaulin to lay on the ground inside the tent. This will prevent baby from getting cold from the ground at night. Make an area within the tent for baby's cot. It is definitely best to use a portable cot that is slightly elevated from the ground to prevent baby from getting cold.
If you have to nurse or feed baby during the night it may be best to have an air bed with regular bedding rather than a sleeping bag. This will ensure you both stay toasty while feeding. If your baby is on the move you will want to section off an area outside the tent for play time.
How to keep baby warm camping
This is what I worried about most when camping with a baby. When I first took our little girl camping it was summer and she was seventeen weeks old. At night she wore a vest, a baby onesie, a baby sleeping bag, a light blanket on top with a hat and mitts. Her little face did feel a bit cool in the middle of the night but she was otherwise generally a nice warm temperature.
She slept better than most nights so I presume she was feeling ok! At first I did not use the hat and mitts but she felt cold without them. I think this amount of layering was only really required when our daughter was a newborn. Our boy was always such a hot baby, he never needed it, even in the same temperatures. Best to have a few extra layers just in case.
CAMPING WITH A BABY GEAR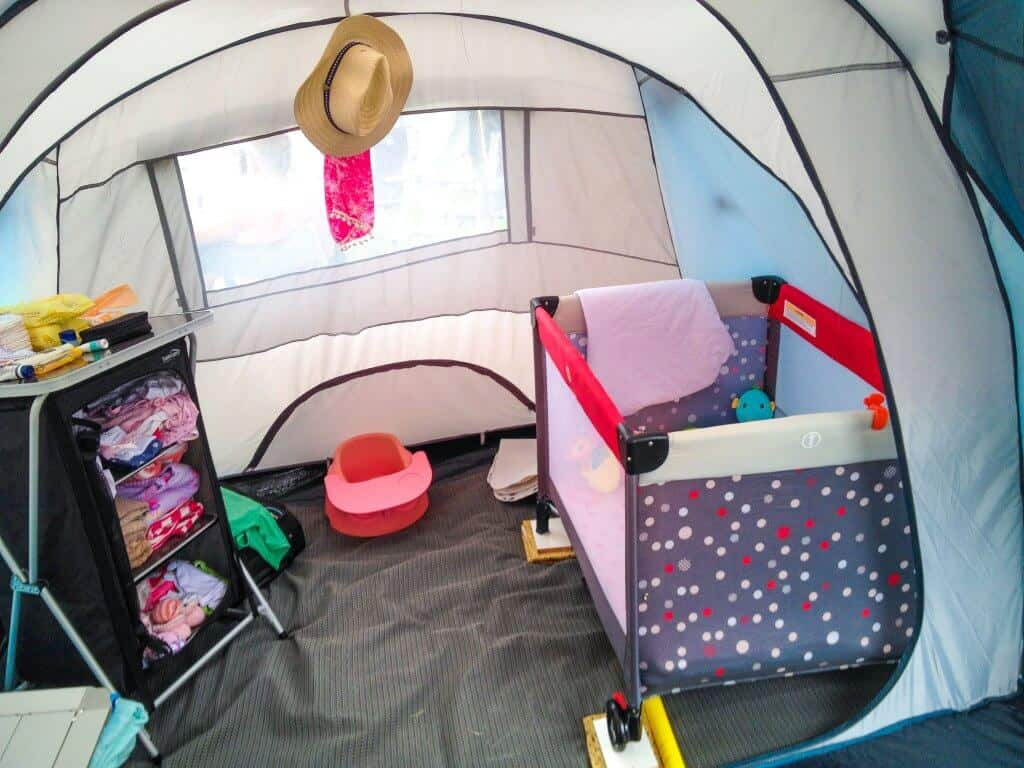 In terms of the actual 'camping' side of things there are only a few extra things you need for baby specifically. I brought a basin for bath time. I found it really easy filling it up with water from our solar shower that we set up every morning. Otherwise, I brought a few toys, a bumbo seat for meals and a mat for the ground so she could play.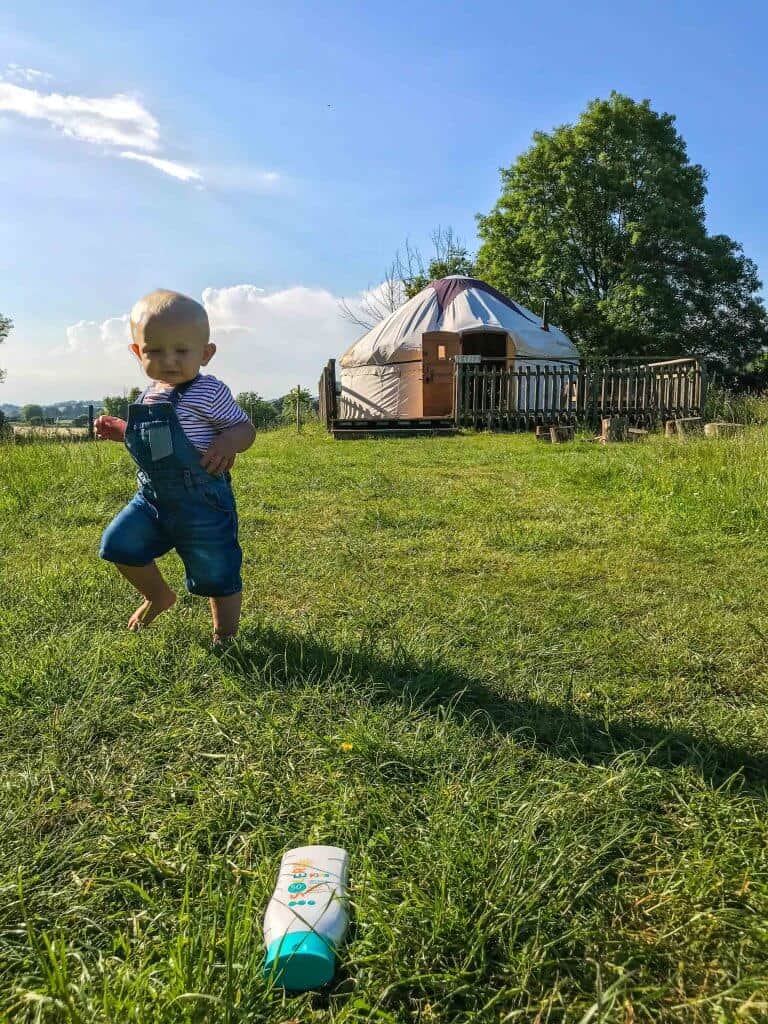 If you need to create shade during the day, bringing a gazebo is probably the best way of doing so! Plenty of sun cream, a sun hat, insect repellent and citronella candles. I also brought a mosquito net to put over the top of the portable cot (can you tell mosquitoes love me). I always like to bring over-the-counter baby analgesia in case of any teething issues.
CAMPING WITH A BABY GEAR
Baby food and sterilising
Luckily on our first camping with a baby expedition we did not have to do food or sterilising as I was exclusively breastfeeding. However the second time we were starting to establish solids. I am not personally that keen on sachet/ jar food unless it is fresh with no additives. Equally, my baby is extremely fussy about food.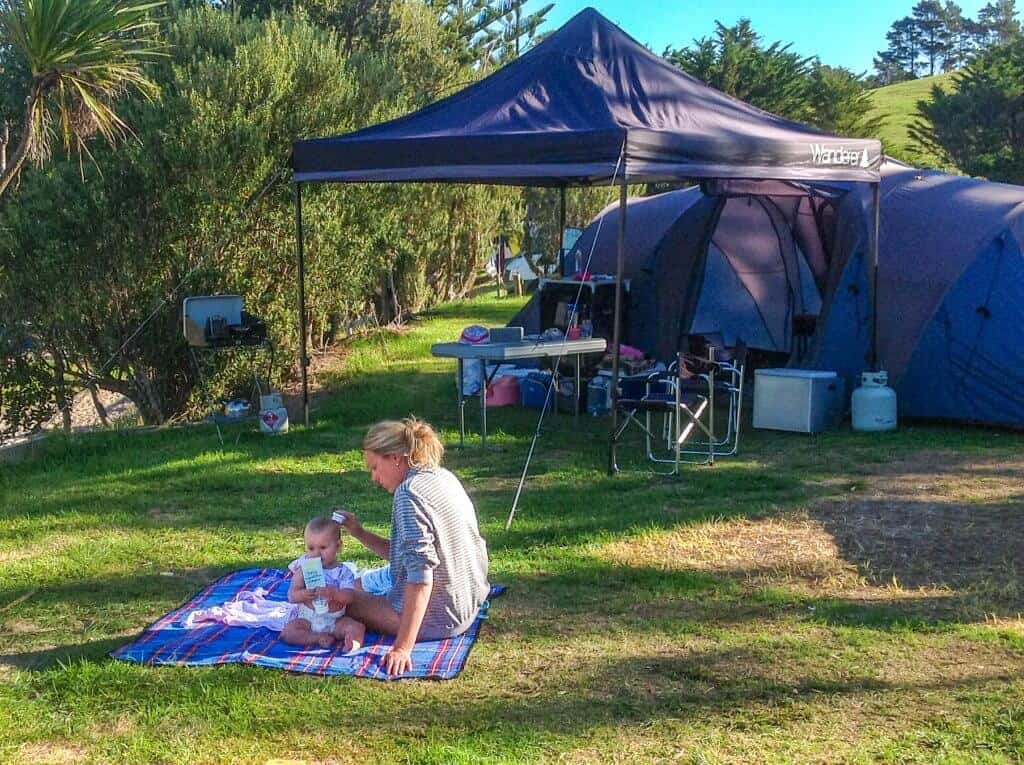 Luckily we had access to a gas fridge which is ideal for keeping home cooked food fresh for baby. It even had a very small freezer section. This was particularly handy as she was still having puréed food. I blended quite a bit before and popped it in the gas freezer.
If baby is a bit older you may only need a masher and they can eat what you are cooking ! Make sure to bring a big pot to boil water if you need to sterilise bottles or other baby paraphernalia. I used a silicone bib and bamboo bowl for meal times as they are so easy to clean with just a wipe.
By the time we took our second baby camping we were much more relaxed. As all second time round parents are, right? We had a slightly different approach with baby number two as we tried out baby led weaning. It worked really well and made meal times so much easier when camping.
Nappies
Make sure to bring plenty of nappies and wipes if you are using disposables. If you ordinarily use reusable nappies make sure you have access to sufficient amount of water that you can boil for sterilising purposes.
Bring a collapsable bucket, rubber gloves and washing powder decanted into a zip bag to save space. Bring a rope to make a washing line to hang out the nappies to dry in the sun
Most of all, once you are settled make sure to kick back and relax!
Coming soon:
Family camping checklist
Have you found this information helpful? We would be so grateful if you could give a small token of appreciation by becoming a patron which you can check out here. What is a patron you may ask? In this digital age there is a demand for immediate information online. Being a patron is a new-age way of giving back for the information, which takes time to put together with no financial return. It's the very same as Go Fund Me.
Have you been camping with a baby? Share your tips in the comment box below. I love hearing from you!
You might also like: