Yosemite National Park is one of the most beautiful places on Earth, and there's no shortage of things to do! Things to do in Yosemite can change by the season.
Whether it is spring, summer, winter or fall there are many activities in Yosemite to choose from and plenty of things to squeeze into a one day, two day or three day itinerary.
Most want to explore the best hikes in the country, wander the grove surrounded by the oldest trees or head for high ground to see the sun go down on the granite cliffs.
Families can find many activities when they are visiting Yosemite with kids. In fact, there are plenty of kid friendly hikes to choose from. Those seeking adventure can choose from back country camping or rafting.
Here are 15 fun things to see in Yosemite. Included is the best time to do it, what to pack and where to stay. Everything needed to make a trip to Yosemite unforgettable.
Things to do at Yosemite in All Seasons
One of the most popular activities in Yosemite is hiking with some trails open all year round!
The trails close to Yosemite Valley are open all year round. These are usually short trails and suitable for all.
The best time to hike in Yosemite is the spring months, April, May and June and the fall months of September, October and November.
Visiting in winter doesn't rule out hiking. There is simply a little more preparation involved. Many of the trails are covered in snow, so snowshoes are a essential.
What to do in Yosemite for Families
Wondering what to do in Yosemite National Park for families? There are plenty of wide-open spaces to explore, gaze in awe at the tall trees and spot wildlife all over the park.
Like all National Parks, the Junior Ranger program is available for kids of all ages. It is a free activity, however, parents need to purchase the book for a small fee.
Kids complete the book before attending a ranger program and pick up trash. Once they have achieved all three they are given a ranger's badge. It is a wonderful way to introduce children to the park!
1. See Yosemite Falls
Yosemite Falls is the tallest waterfall in the park and one of the tallest in the world. It is split into three tiers.
Families visiting Yosemite with kids can head to the bottom tier of the waterfall for a closer look. The trail is short at just 30 minutes on a paved path close to Yosemite Valley.
The Mist Trail is perfect for experienced hikers and goes to the top of Yosemite Falls. Along the way, hikers can see Vernal Falls and Nevada Falls.
This long hike is around 11km and can take around five hours to complete.
The best time to visit Yosemite Falls is when the waterfalls are gushing. The waterfalls are seasonal and happen when the snow melts, usually around April. The waterfalls have the highest flow in May and June!
Anyone on a trail at this time of year should wear waterproof clothing and hiking boots. Be prepared to get splashed!
There are plenty of other places to see Yosemite from a distance. One of the best photo spots in Yosemite is the swinging bridge. It is an amazing place to see Yosemite from top to bottom.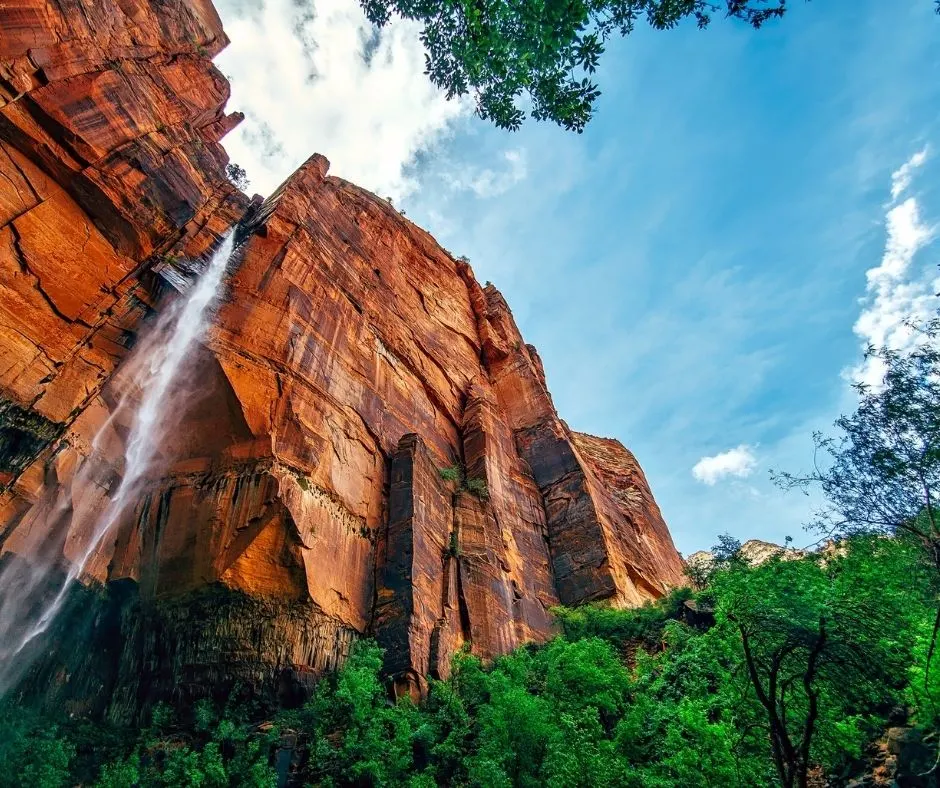 2. Spot Climbers on El Capitan
El Capitan is 3,593 feet and is the world's largest granite monolith. It is one of the most popular landmarks and a must see in Yosemite National Park.
It is thousands of years old and unbelievably there are very few cracks or fractures. Climbers from all over the world come to Yosemite to try and scale the huge wall.
This can take several days to reach the top, so it is a challenge not for the faint-hearted.
Those coming from the bay area are likely to drive past it on the way to the Valley. Many people stop to snap a few photos and try to spot a climber or two.
Right beside El Capitan is a popular place so it is likely to be busy! Anyone wishing to take a few photos of this granite cliff may want to head to a viewpoint to see it from a different angle.
One of the most beautiful places in Yosemite is Valley View. A reflection of El Capitan can be seen on the river. The viewpoint is easy to get to and can be easily missed as it is not marked.
To capture those wonderful reflections try and arrive early on a bright sunny day. it doesn't matter the time of year, the view is stunning.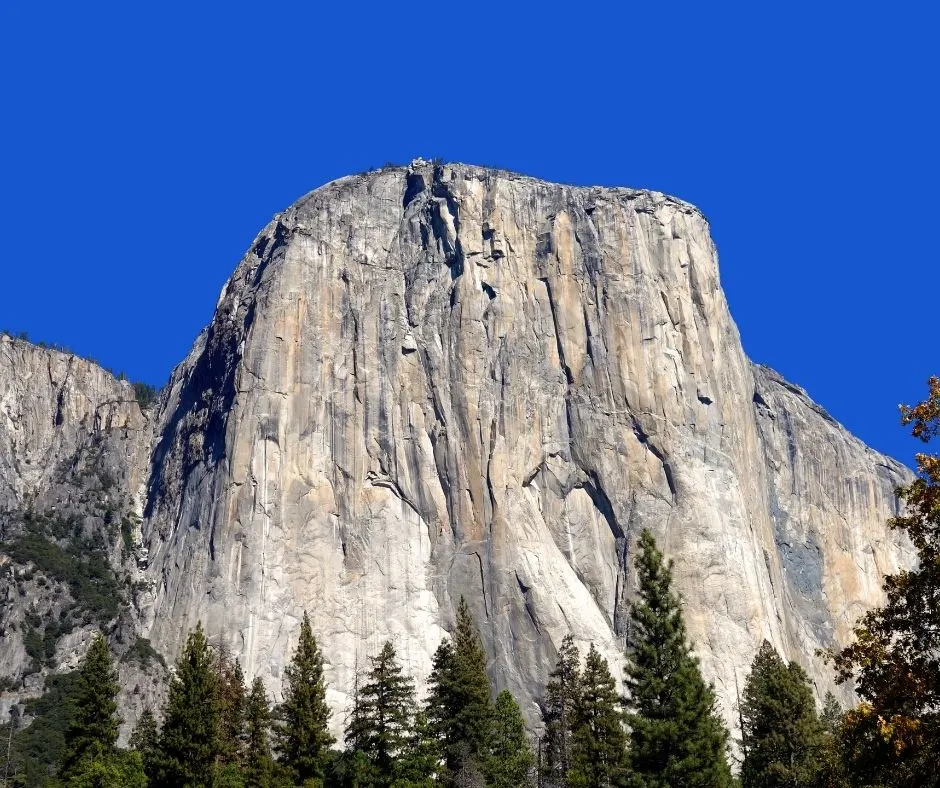 3. Wander Around Mariposa Grove
Drive about an hour from Yosemite Valley towards the South Entrance and discover Mariposa Grove.
It is open all year however, it can be a little tricky to get there in the winter!
In spring, summer and fall, park in the car park to catch the free shuttle to the entrance of the grove. In winter the shuttle doesn't run, however, throw on some snowshoes and hike the two miles to the entrance.
There are several trails to choose from with the most popular being the Giant Sequoias Trail. It goes past the most famous trees in the grove and it is a Yosemite must see.
Kids and adults are impressed by the trees as some are over 3000 years old!
There are not many places to eat near the grove. Most take a packed lunch to have at the picnic benches near the car park.
If it is too busy, throw down a picnic blanket and sit under one of the trees.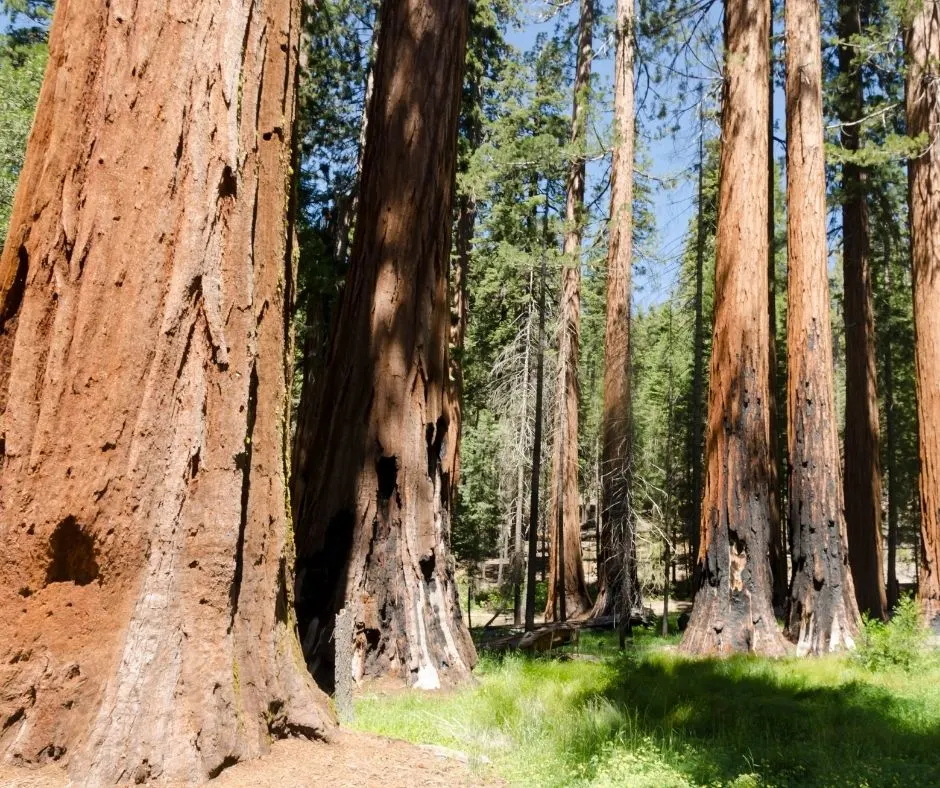 4. Swim in a Lake
With over 2000 lakes in Yosemite, it may be difficult to choose one to visit. May Lake is a popular choice in the summer months. Nearby is a wonderful kid friendly hike!
There are some steep areas in places. However, there are fantastic views of granite peaks, the lake and subalpine forests. Park near the Snow Flat trailhead off Tiago Road.
Beware there are limited spaces and the lake is popular in the summer months.
Not far from May Lake is Tenaya Lake. Tenaya reopens around early June when the Tiago Road opens.
Tenaya lake is perfect for families visiting with kids and it is the largest natural lake in Yosemite.
What makes it so popular is the crystal clear water and the small area of beach. It has breathtaking views of granite peaks.
There can be paddleboarders on the lake and people can swim here. However, due to the elevation, there is sometimes ice on the lake in early summer.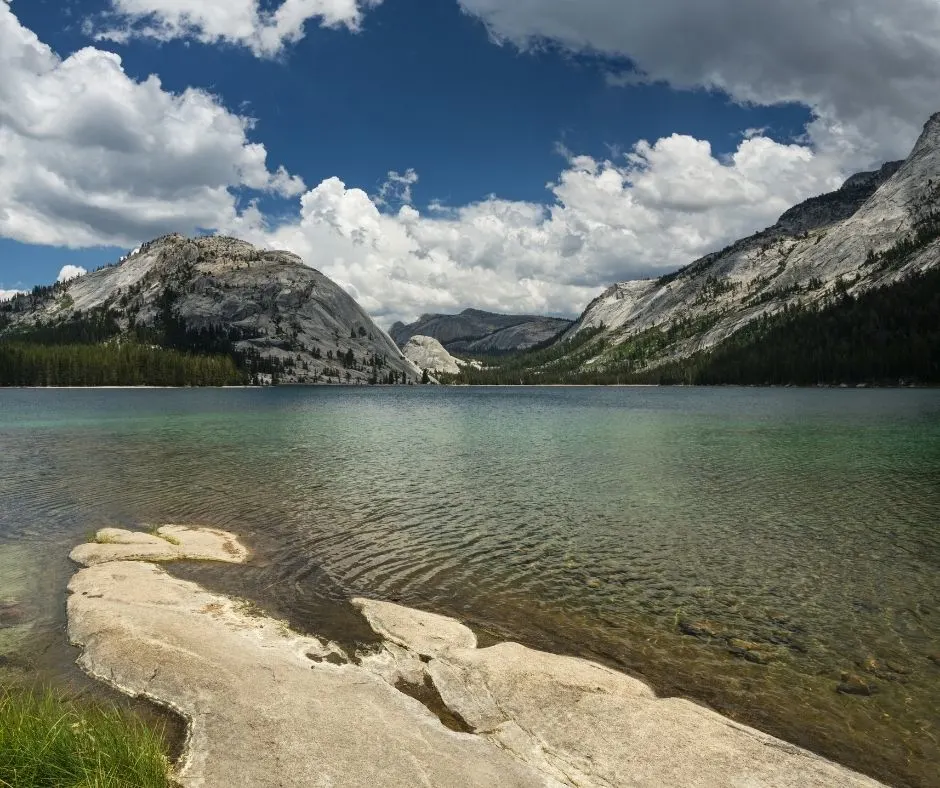 5. Watch the Sunrise at Tunnel View
Sunrise is one of the best times to take a photo in Yosemite!
The soft lighting at sunrise is the perfect time to see Tunnel View. It is one of the most popular viewpoints and ranked as one of the best Yosemite National Park things to do.
It was made famous by Ansel Adams and his photograph of Yosemite clearing storm images. They can be seen at the Ansel Adams Gallery in Yosemite Valley.
The viewpoint is usually jam-packed with photographers and it offers an amazing view of El Capitan, Bridalveil Falls, Cathedral Rocks and Half Dome.
The viewpoint is open all year round and it is a short drive from Yosemite Valley.
To get there, head east on Wawona Road and turn off to the right just after Artist Point Trailhead. it is wise arrive early and find a spot in the late afternoon.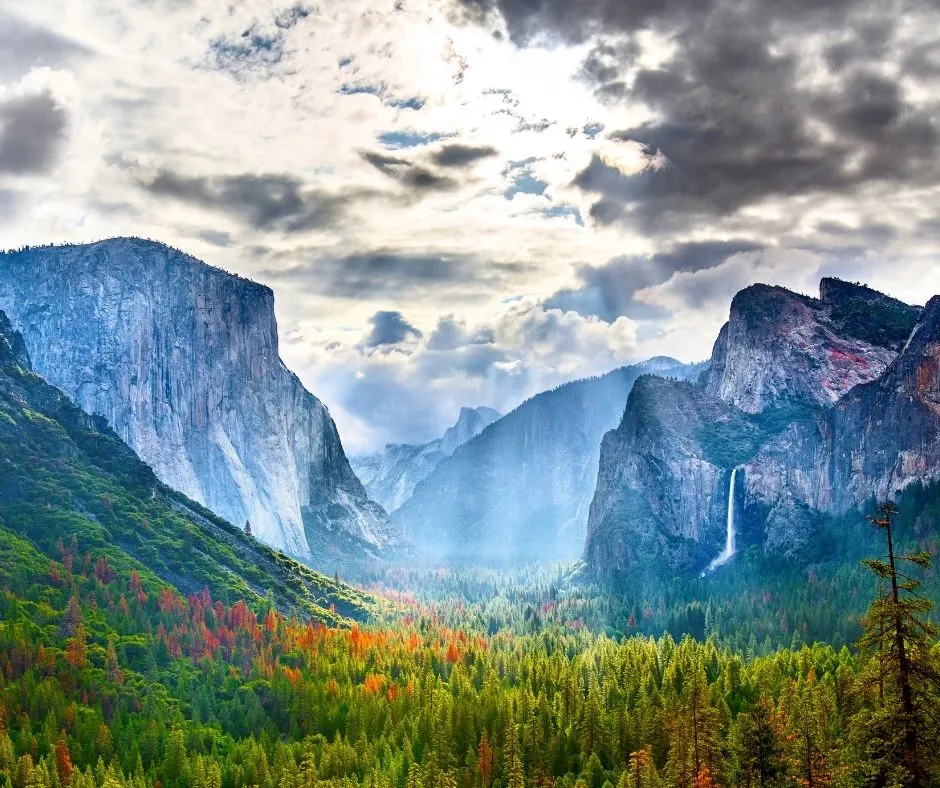 6. Head to the Museum
The museum in Yosemite is open all year round and it is a wonderful place to learn more about the park. In particular about the history an people who lived around the park in the past.
There are often installations some of which are interactive, it is a great place for kids and adults alike.
Right next door to the museum is where the Ansel Adams Gallery is located. It is worth adding to an itinerary for Yosemite National Park.
7. Look at the Wildflowers in Cook's Meadow
The wildflowers in Yosemite bloom in spring through to summer. Cook's Meadow is an amazing place to see them.
It is a wonderful place to watch the sunset and doesn't require any long drive to high ground.
In April, May and June, Yosemite Falls is flowing in the background. However, it is an amazing place to visit all year round.
From the wooden path look in wonder at stunning views of Half Dome, Glacier Point and Sentinel Rock. Deer can often be seen grazing around sunset making it a Yosemite National Park must see.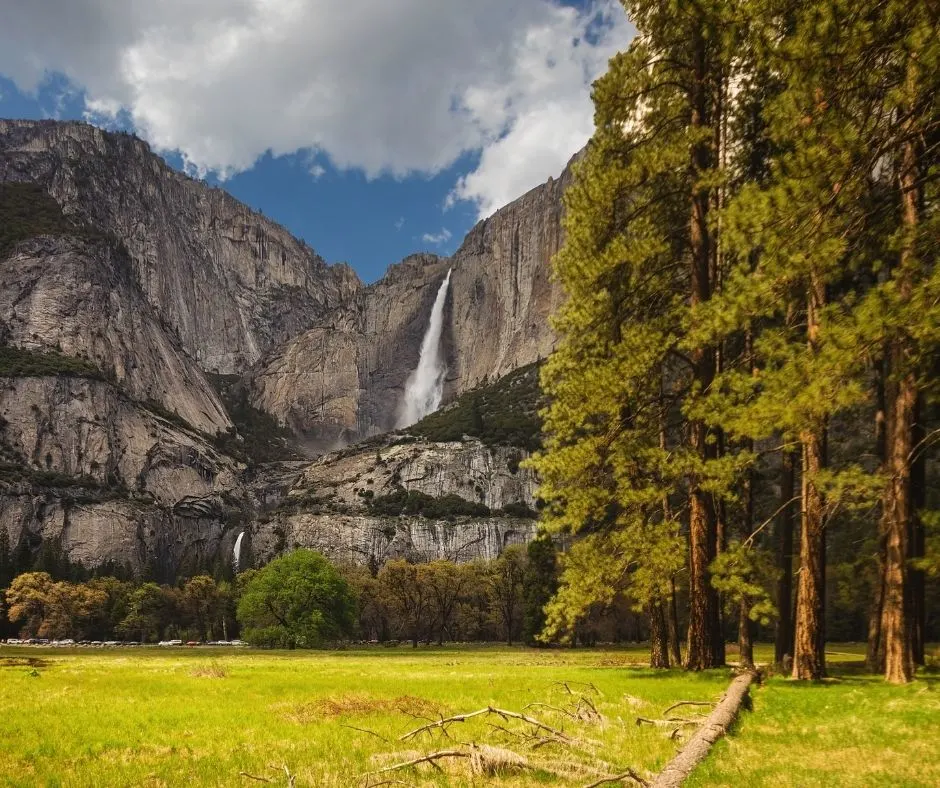 8. Go Rafting on the Merced River
Rafting is not available all year round. Like the waterfalls, it is dependent on the snow melting. The rapids are slower in Yosemite and start to get faster in the outskirts close to El Portal.
In the summer months, the Merced River rapids are a lot slower and it is possible to relax in a raftIn fact, it is the perfect place to try rafting for the first time!
It is difficult to say with certainty how high the rapids will be at any particular time. It is determined by the amount of snowfall, the temperature of the water and the depth of the river.
The season usually runs from late May until late July or sometimes as late as August. Rafts can be rented at Curry Village, however, it is not possible to book in advance. To avoid disappointment, bring a raft along.
The decision to allow rafts on the river is made every day. Make sure to check out the signposts and announcements made by the rangers.
While on the raft, everyone must have a personal flotation device. Kids under the age of 13 must wear one at all times. Anyone over 13 must have the device within arms reach.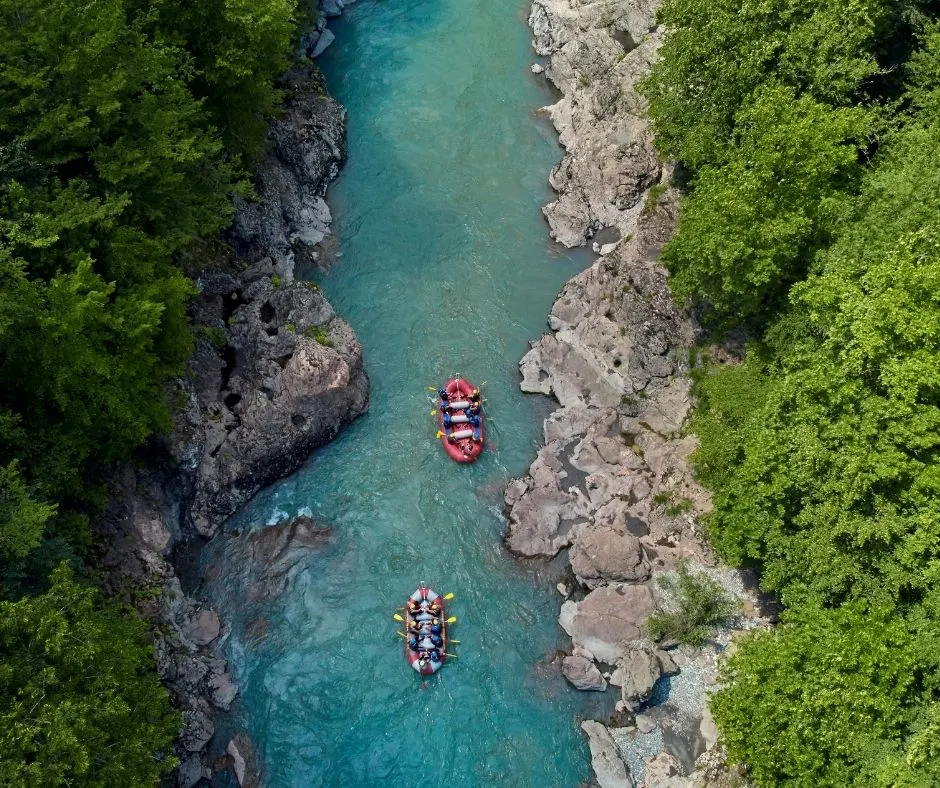 9. Drive to the Best View Points
Glacier Point is one of the best viewpoints in Yosemite closely followed by Sentinel Dome. They are both off the Glacier Point Road.
In 2022 this road is closed due to renovations and there are likely to be restrictions in place in 2023, so it may not be possible to see Yosemite at this angle for a while.
10. Climb a Mountain
Yosemite National Park is home to twenty mountains and some of the peaks exceed 20,000 feet.
Mount Hoffman is one of the most popular and from June to October, many hike to the summit.
It is right at May Lake and is a great addition to a hike. It can be a pretty steep climb and is not for everyone.
However, get to top and the rewards are worth it. There are breathtaking views of Cloud's Rest, Half Dome and of course, May Lake.
The hike is fairly short and can take anywhere between two and fours hours. In fact, it is best to take it slow. The trail is rocky and steep and there are some slippy areas.
11. Hike Half Dome
Nothing is more challenging than hiking Half Dome. The cables to the summit are open around May and hikers from all over the country arrive to attempt to reach the summit.
This trail is not for the fainthearted and is a whopping 26km and takes around 12 hours.
Many agree it is worth it for the breathtaking views. Half Dome is 1463 metres above the valley floors. there are not many places to visit in Yosemite which are able to provide the same view.
The trail starts at the famous Mist Trails taking hikers past Vernal and Nevada Falls. Along the way there are stunning views of Liberty Cap, Yosemite Valley, and the High Sierra.
The hike is difficult. However, the most difficult part of the hike is the Half Dome cables. Some hikers give up at this point and rest on the granite rock. Don't worry there are still beautiful views from this point!
The best views are said to be at the summit at sunrise. This is not a hike to do on a whim. It requires a lot of planning!
Hikers need to carry enough food and water for the duration of the hike. About 6-10 litres is advised, depending on the individual and the weather.
Hydration reservoirs are perfect as they are light and easy to use. Don't forget to take plenty of breaks and nibble on snacks like trail mix or granola bars to keep energy levels up.
There is not much shade at this time of year so expect it to be sunny and warm. Sunglasses, a sun hat and sunscreen are essential for keeping hikers safe on their hike.
It goes without saying a good pair of hiking boots are needed.
Unlike the other trails in Yosemite, a permit is required for the Half Dome hike. Applications must be in by March and applicants are emailed in April about whether they have been successful.
It is a lottery so not everyone who applies secures a reservation.
Anyone who was unsuccessful with the lottery can join a tour group. One amazing tour is a 4 Day Yosemite Backpacking Trip from Glacier Point to Half Dome and there is no need to apply for a permit.
12. See Yosemite from Above
A flight tour of Yosemite offers an aerial vantage point and is a unique way to see the park.
Head to Pine Mountain Lake Airport for take off. The first peek of Yosemite is Tuolumne Canyon followed by Cherry Lake and into the Emigrant wilderness.
The small private plane continues to soar low in the clouds with stunning views of the Sierra Nevada Mountains from above.
Don't worry, the famous landmarks are not forgotten. Be on the lookout for El Capitan, Half Dome, and Yosemite Valley.
This one hour trip is for small groups of up to nine people. It is a once in a lifetime experience and can sell out quickly!
13. Have a Formal Dinner at Ahwanhee Hotel
The Ahwahnee is one of the most popular hotels in Yosemite National Park. It was built in the 1920s and the decor and architecture complement the surroundings.
Over the years, many famous people and presidents have had a formal dinner in the restaurant.
The first thing to notice walking into the restaurant is the high ceilings and enormous windows. The restaurant offer spectacular views right from the table.
In particular, the Ahwahnee offers superb views of Half Dome, Yosemite Falls and Glacier Point!
It serves food year-round and it is known for its excellent service and quality. However, to attend a formal dinner at the restaurant there is a dress code.
Men are expected to wear a suit and women should wear a dress or formal outfit. This rule is strictly adhered to so don't turn up wearing shorts or sportswear!
It is one of the busiest restaurants in Yosemite so it is always best to make a reservation before arriving to avoid disappointment.
Click here to find out more about The Ahwahnee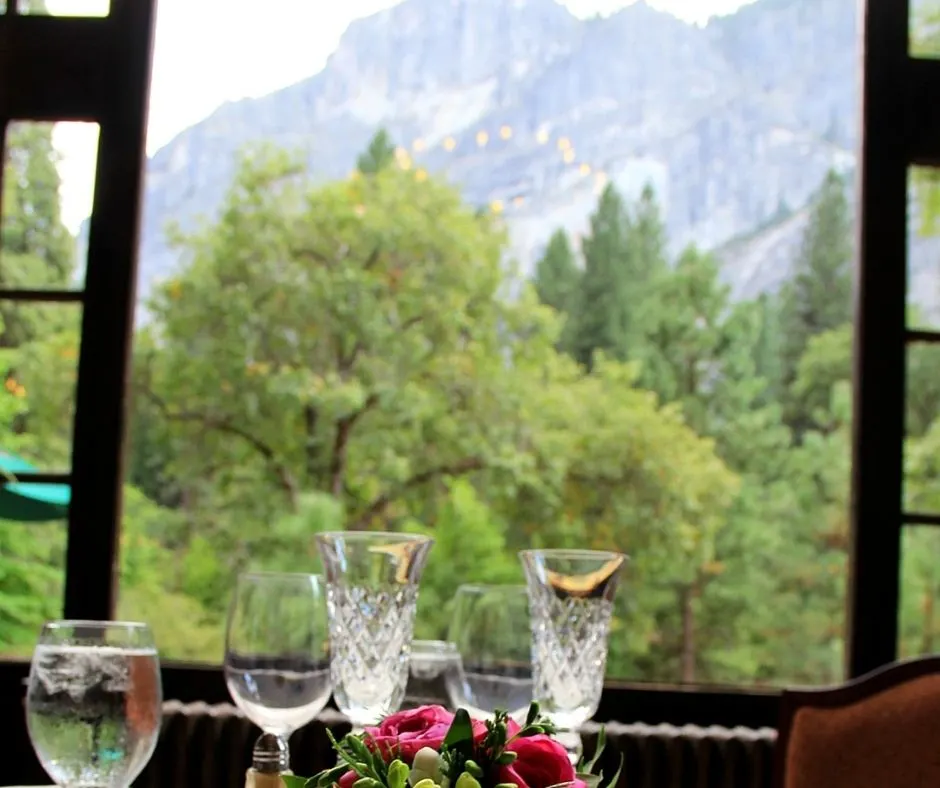 14. Stargazing
Away from the city lights, Yosemite National Park is a wonderful place to see the stars! Some set up tripods for astrophotography while others simply lay back and look above. The only thing needed for a great view of the stars is a cloudless sky.
15. Take a Guided Tour of Yosemite
A Small-Group Tour to Yosemite National Park is perfect for anyone who does not have time to plan. It is an ideal way to see the park as it incorporates all the best parts into one day.
It stops by the best landmarks with guides available to answer any questions.
It leaves San Francisco at 6.30 in the morning. Pick-ups from various areas of the city are included.
First, stop at Great Central Valley for a quick rest or to pick up a few snacks before heading to Yosemite Falls, El Capitan, Half Dome, Bridalveil Falls, Sentinel Dome and many more sites.
There is three or four free hours in Yosemite Valley. This is plenty of time to take a hike or stroll around or even take. a dip in the river.
No lunch is provided on the tour so bring one along. There are many places to have a picnic or choose to eat at one of the many restaurants in Yosemite.
To book a Small Group Tour to Yosemite click here.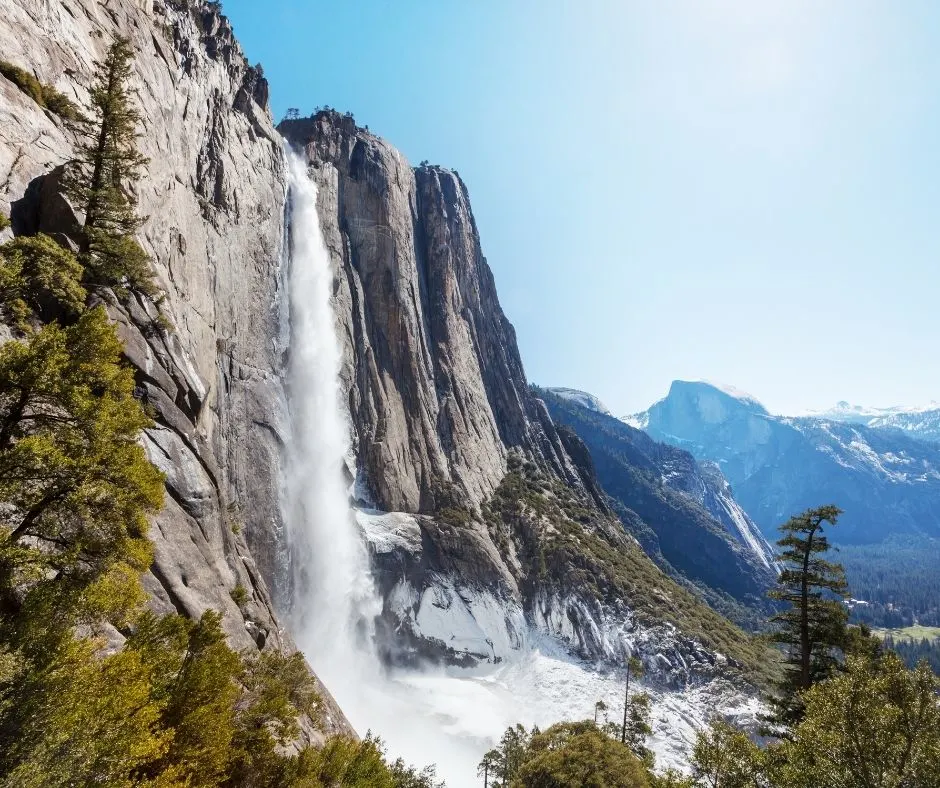 16. Have a Picnic at Mirror Lake
Mirror Lake is not far from the Valley. The hike around the lake is moderate to easy and it is a kid-friendly hike. The trail is 10km and is mostly flat with some steep sections. A lot of it is paved, making it great for bikes and strollers.
Along with stunning views, there are a large variety of animals in the area. Ducks, geese, trout and cayotes can be seen in the winter months.
In the warmer months, bring an insect repellant as there are plenty of bugs.
It is possible to have a picnic in the area all year round. However, it is busiest during summer when many swim in the lake. It is worth a visit in winter as the lake is usually covered in snow and it is a stunning sight.
No matter what time of year, Yosemite is home to many black bears, remember to never leave food unattended, and don't leave anything behind.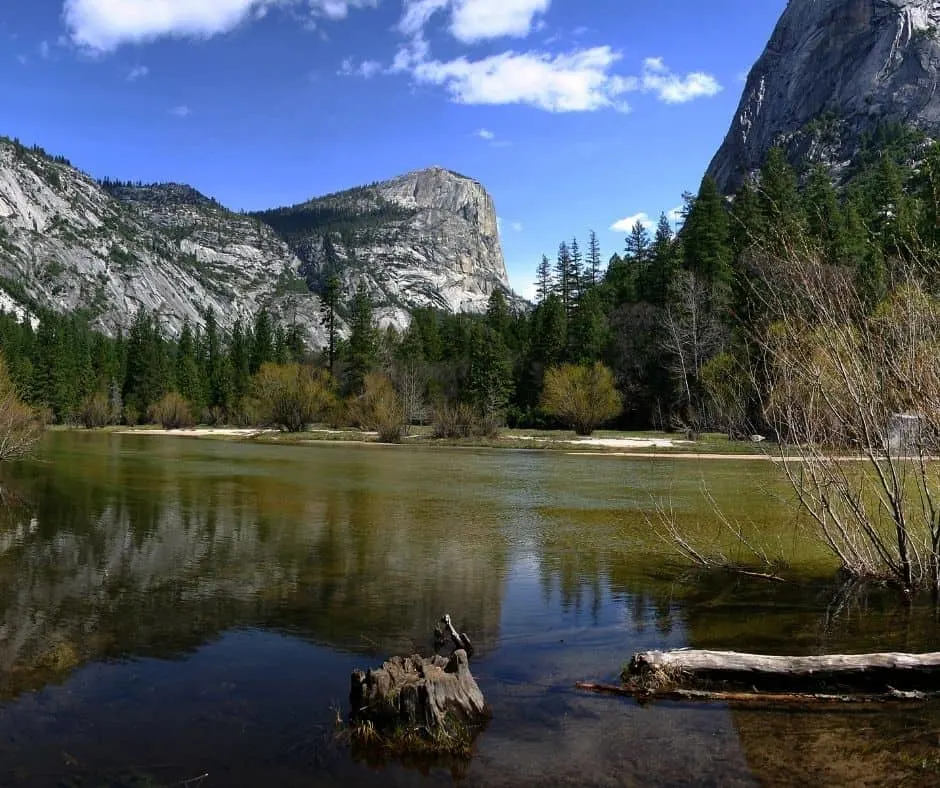 17. Winter Activities in Yosemite
Most Yosemite activities in the Valley are available all year. There are a few requiring snow and only available in the winter months.
In December, January and February there is an ice rink open at Half Dome. The ice rink is considered one of the best in the country as it is has such stunning views.
Skiing is available a Badger Pass and it is suitable for beginners and cross country skiers.
With snowy hills, there are several areas of the park suitable for sledding and tubing. A great activity for all the family to get involved in.
18. Drink Champagne Above the Valley Floor
For anyone wanting to bring a little glamour to Yosemite, a Yosemite Sunset & Champagne Tour begins with a climb to reach 3,200 feet above the valley floor at Sentinel Dome.
Arrive at sunset and sit on the granite mount and watch the colours of the sky change and the sun go down with a glass of champagne in your hand.
Sentinel Dome offers 360-degree views. To the north is Yosemite Valley, including El Capitan and Yosemite Falls.
To the east Nevada Falls, Half Dome and Clouds Rest, and some of High Sierra peaks. Looking west, you can see down Yosemite Valley and even the Merced River canyon. The south, however, doesn't have the same breathtaking views.
After the glass of bubbly and some small bites are finished head back down the dome and back to your vehicle. The tour picks guests up from El Portal and all drinks and snacks are included in the price.
This unique tour is great for couples or friends looking for a lovely evening with fantastic views.
19. Visit the Chapel
Yosemite Valley Chapel is the only church in the park. It is nestled under a few trees and is a beautiful place to visit all year round.
In the winter it is particularly beautiful with snow all-around at the bottom of Half Dome. It is the oldest structure in Yosemite and is listed on the National Register of Historic Places.
Surprisingly it is a busy chapel with wedding ceremonies taking place all year round.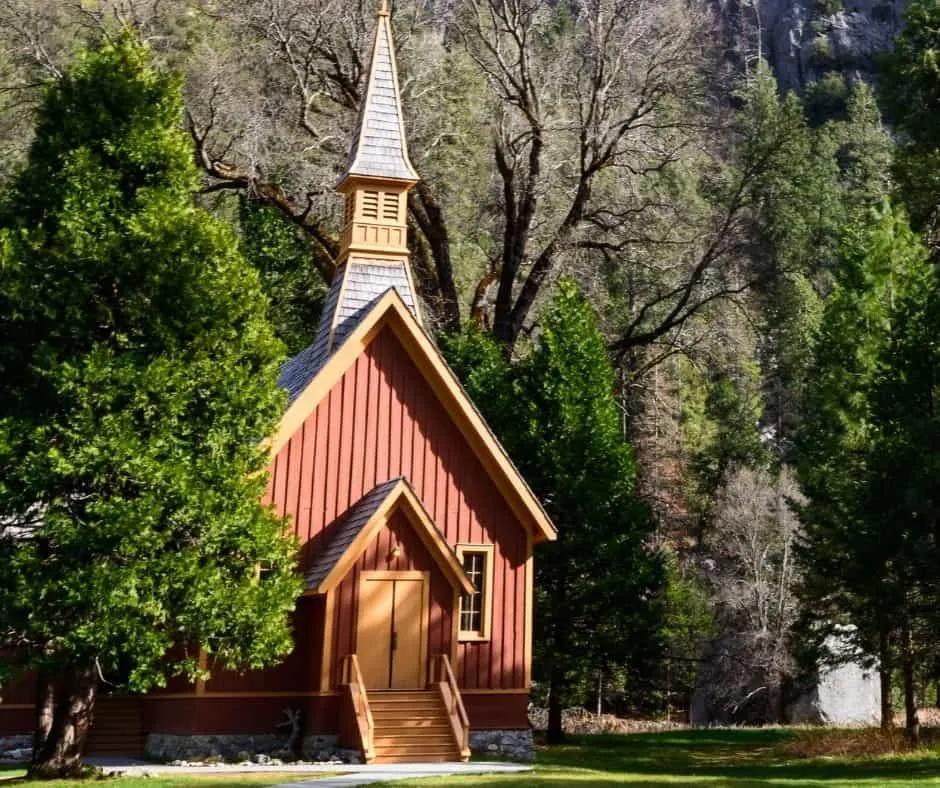 20. See the Firefall in February
Anyone visiting Yosemite in February may be lucky to experience a natural phenomenon occur around the second week of February.
The Firefall occurs when certain conditions are met and it can only be seen for a few days if at all.
It usually happens when the air is crisp and cool. As the sun sets, the light reflects off the snow and ice causing a red glow on the horizon just before sunset.
It has been happening for thousands of years and crowds from all over the country head to the park to try and see it.
It is due to the crowds the only place to see it is the Yosemite Valley Lodge to El Capitan Crossover before sunset. However, these are the best seats in the house.
Seeing the Firefall is hit or miss as things such as the temperature and the amount of snow all have an impact on whether it appears.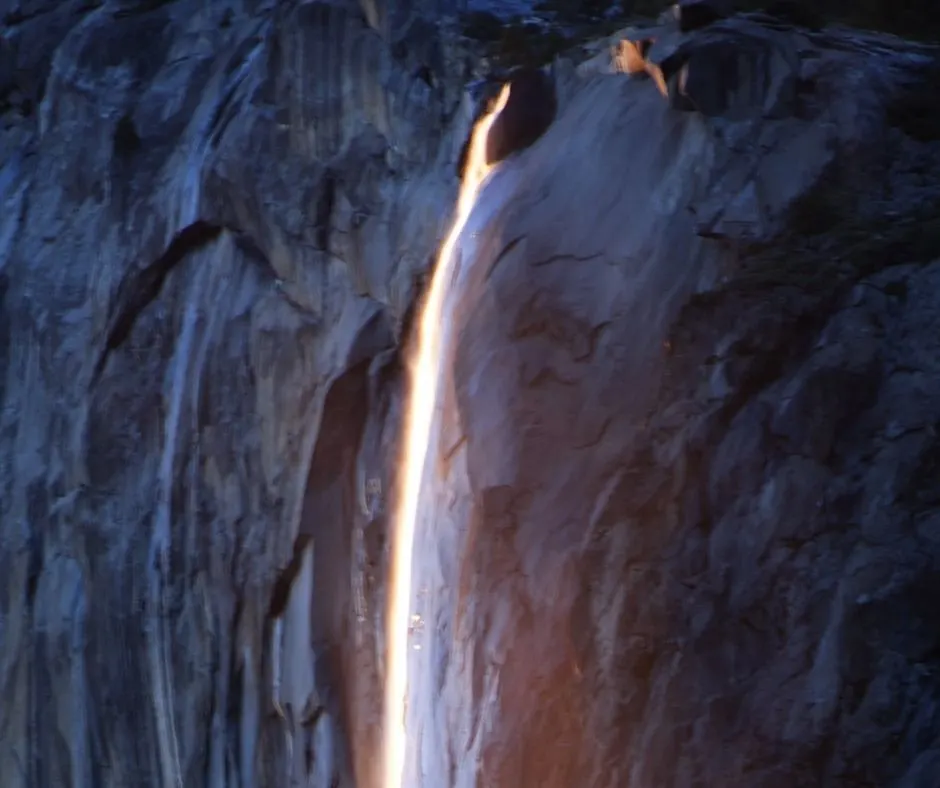 Things to do Near Yosemite
A three-hour drive from Yosemite is Lake Tahoe. The drive may be a little long, however, the views on the way are spectacular.
The lake is known for its breathtaking views and there is plenty to do in the area. It is a great place for hiking and there are plenty of watersports to choose from.
Some of the most popular things to do in the area are to visit the State Park, the museum and the beach. In the winter there are plenty of ski resorts to choose from.
Many love to take a cruise along the lake or see it from the sky in a hot air balloon. As Lake Tahoe is in Nevada state is not surprising there is a casino.
It may be difficult to visit Lake Tahoe in a day, however, it is a great place to see on the way to Yosemite or add to an itinerary.
Combine a Tour with Death Valley
Anyone coming from Las Vegas may consider stopping at another National Park, Death Valley on the way. As it is a long drive, it is a fantastic way to see both parks and kill two birds with one stone.
There is the option of a self-drive tour or a 4-Day Tour of Death Valley, Yosemite & San Francisco. Guests are picked up from Las Vegas and the first stop is Death Valley National Park.
On the first day of the trip, put hiking boots on for treks along Zabriskie Point, Artist's Palette, Badwater Basin Salt flats, Furnace Creek Visitor Center, Devil's Golf Course, and the Mesquite Sand Dunes.
Bring a packed lunch to the park, and set up camp in the old Gold Rush Historic town of Bishop for the night.
Early the next day, the tour heads for Yosemite. The views through Tioga Pass are breathtaking with views of Olmsted Point, Lake Tenaya, Tuolumne Meadows, and Mono lake.
The second day is spent in Yosemite Valley and there is plenty to see and do!
The third day is spent exploring Yosemite National Park. There is the option to explore alone or take part in a guided tour. The guided tour ensures premier panoramas within the park such as Bridalveil Falls, Lower Yosemite Falls, views of Half Dome and El Capitan.
The final day of the tour is a guided tour of the most beautiful city in the world, San Francisco. The tour stops at all of the most famous sights including Fisherman's Wharf, Pier 39, Haight Ashbury, and the Golden Gate Bridge.
Find out more information about the 4-Day Tour of Death Valley, Yosemite & San Francisco here.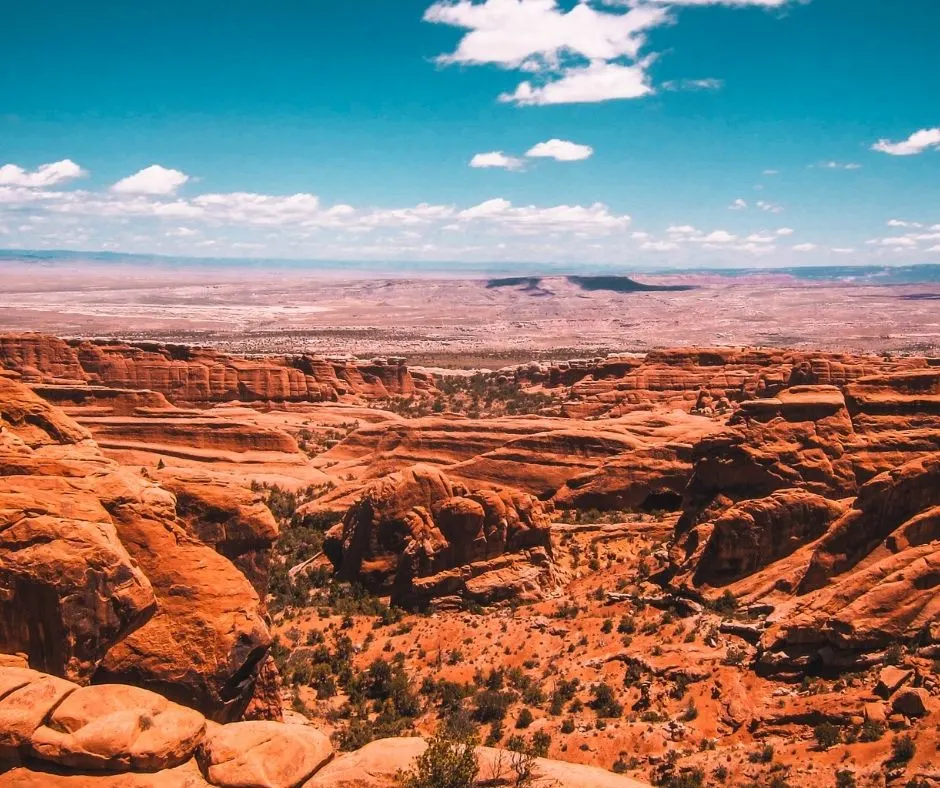 How to Get to Yosemite
Yosemite is open all year round. However, some of the roads close in the winter months.
The Tioga Road on the east side of the park closes around November and reopens again in June. it is highly dependent on the snowfall and weather so it is always best to check the website before setting off.
The other four entrances to the park are open all year round. However, the Hetchy Hetch entrance closes in the evening during the winter months.
This entrance provides a wonderful and usually quiet scenic route to Yosemite and it is great for anyone coming from the bay area.
The other two entrances frequently used by those coming from San Francisco is Big Oak and Arch Rock.
The last entrance is the South and it is used for anyone coming from Los Angeles or San Diego. It is a great alternative to the Tioga Pass in the winter as it is only a couple of hours away.
Most of the year there is no need to make a reservation to visit Yosemite National Park. However, from late May until September all reservations to Yosemite must be made in advance!
All entrances have a toll booth to pay the fee to the park. Tickets purchased at the entrance are around $35. America the Beautiful Pass is accepted at Yosemite. It is very affordable and can be used at over 2000 sites across the US.
If you visit National Parks regularly, this pass is very cost-effective! Just one pass covers the entrance fee for a driver and all passengers. REI also donate 10% of pass sale proceeds to the National Park Foundation.
To find out more about the annual Beautiful National Park pass click here.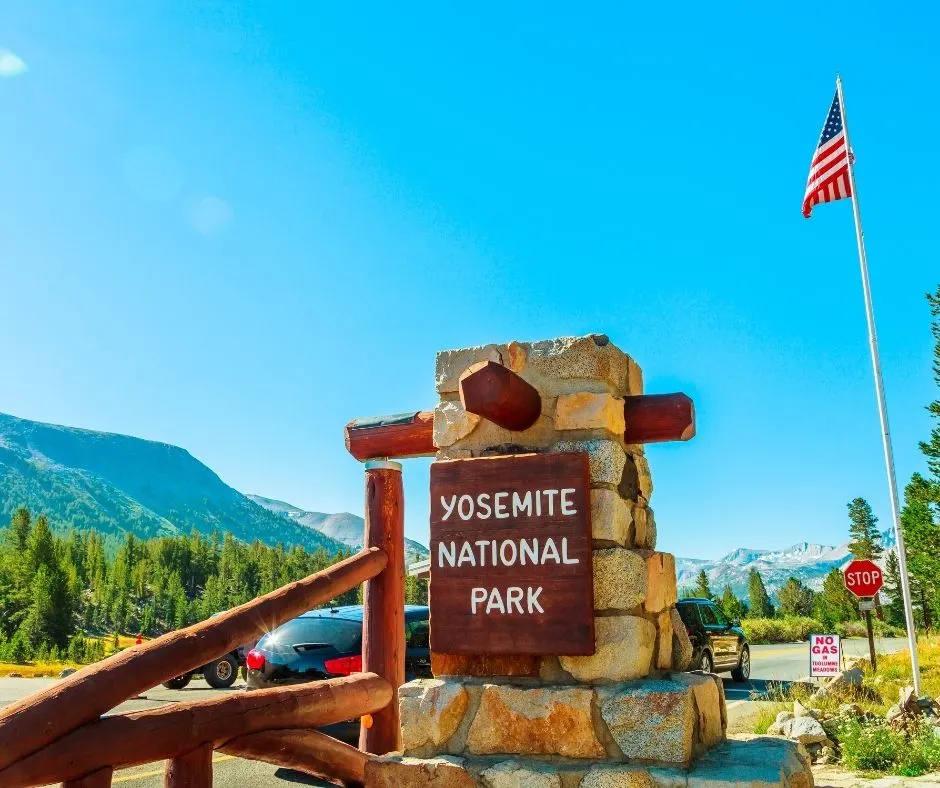 What to Pack for a Trip to Yosemite
A packing list to Yosemite looks different from month to month. Below are some essential items to take along no matter the time of year.
Hiking is likely to be part of a Yosemite itinerary. A good pair of waterproof hiking boots, a head torch, and a backpack are great to take along.
When it comes to clothing, bring light clothes for the warm weather in Yosemite National Park and layer up in the winter months.
Other things to consider are maps or an app like AllTrails to find out where the hiking trails are.
A picnic blanket is perfect to throw down if the picnic benches are full.
Where to Camp in Yosemite
It is advised to stay in Yosemite for a few days. One day is simply not long enough to see the park. There are many options, from hotels to holiday homes however, camping is the most popular choice.
Yosemite has thirteen campgrounds and most require a reservation to be made in advance!
Be aware, making a reservation in the busy months of the year can be stressful.
The spaces can be filled in seconds, months in advance. Reservations open five months in advance on 15th of the month at 7am PST.
Some tips on securing a reservation are to log on to the website a few minutes before the reservations open and fill out the first few steps. As soon as 7 strikes dates can be chosen on the website and the success rate increases.
Anyone unable to secure a reservation can check out the cancellation and lottery system on the website.
The most popular campgrounds are those located near Yosemite Valley. North Pines is highly recommended due to its location and its stunning views.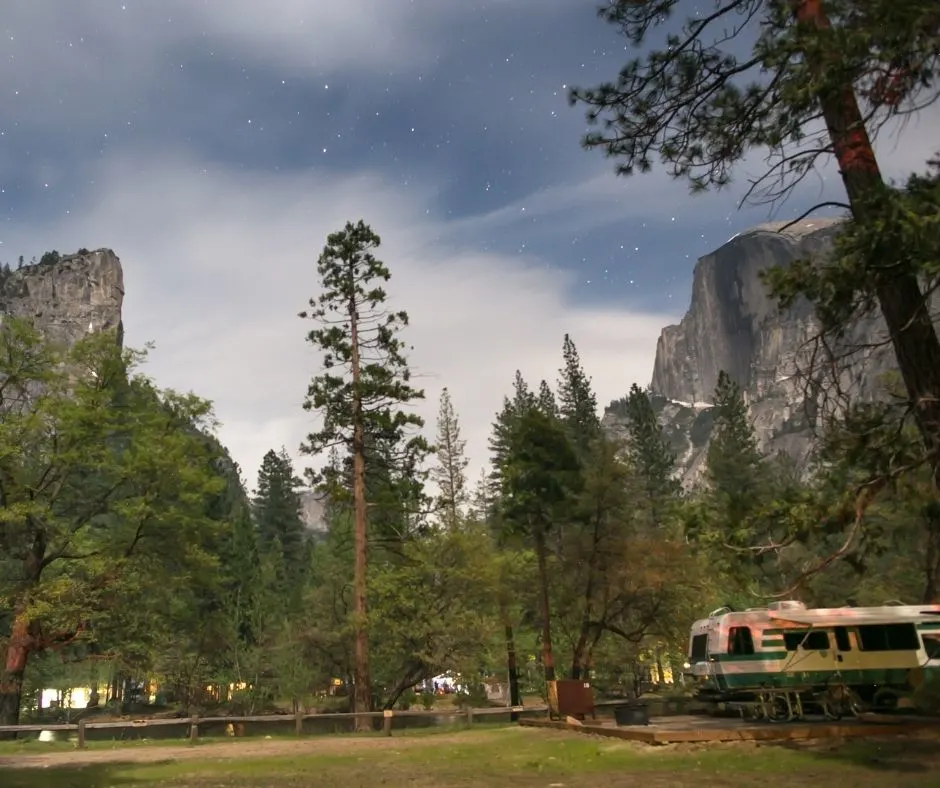 Backpacking in Yosemite in June
Backpacking in Yosemite has gained in popularity over the years. It is a fabulous way to explore parts of the park many don't get to see. With fewer crowds around it offers solitude with nature.
It is possible to backpack all year round. However, in winter it is a little more difficult due to the long hikes involved and the cold weather.
No matter the time of year, a wilderness permit is always required. The park runs a lottery for anyone who applies for the permit. The remaining permits are then offered on a first come first serve basis.
A wilderness permit gives backpackers the right to camp wherever they can hike to. There are very few limitations accept reservations need to be made to stay in the Valley and the designated campgrounds.
There is however, a designated campground for backpackers behind North Pines in the summer and one at Hetchy Hetch in the winter.
They are for backpackers to use the night before or the night after they set off on their hike.
Many like to take the hassle out of backpacking and book at this 5 Day Yosemite Backpacking Trip with Amazing Sunsets.
There are no strenuous hikes and the itinerary is changeable.
Backpackers camp at the base of Mount Hoffman beside May Lake. It is possible to swim in the lake and relax around the shore or hike the four-mile round trip to the top of Mount Hoffman.
Next is Polly Dome Lake! It is surrounded partially by granite and through high alpine meadows. The last place to set up camp is Glen Aulin.
This trip is great for everyone including families and there are plenty of amazing sunsets to see in the wilderness of Yosemite.
Click here to find out about a 5 Day Yosemite Backpacking Trip with Amazing Sunsets.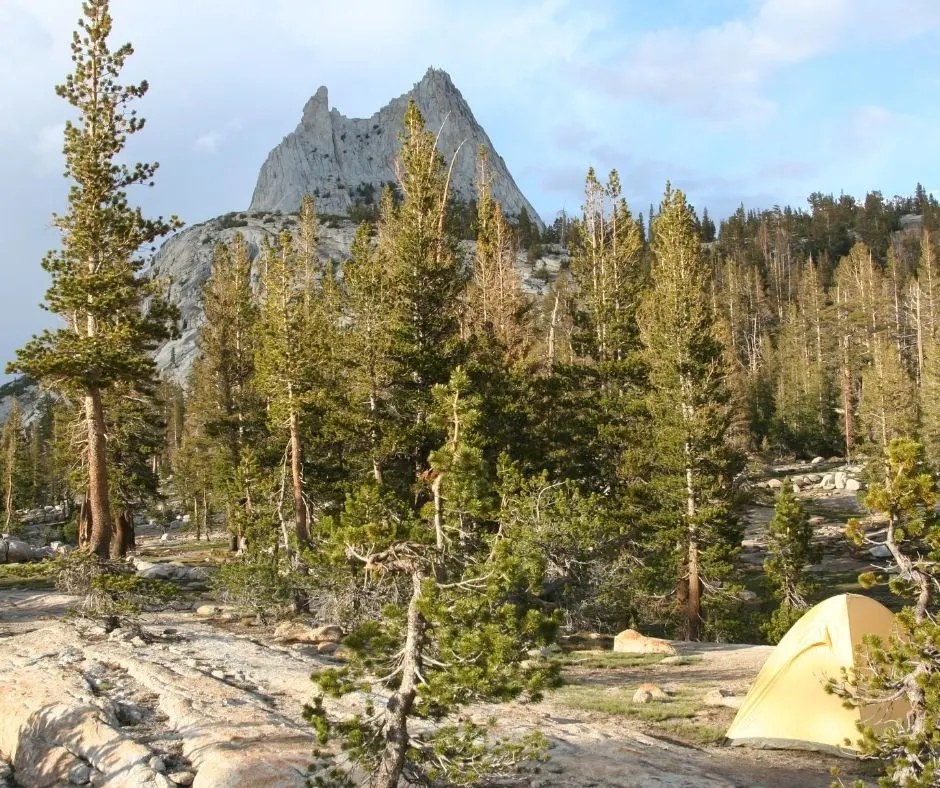 Heated Camping and Cabins in Yosemite
For an alternative to camping, Yosemite has its own glamping area in Curry Village. This is where to find heated tents with comfortable beds.
They sleep up to four so it is perfect for couples and small families.
While the heated tents are comfortable and offer a little extra comfort, they have no private bathrooms. However, there is a shared bathroom on site.
If a private bathroom is a top priority check out the cabins nearby. Similar to the heated tents, the cabins have fantastic views of the mountains.
They are popular and can book up quickly so best to secure one in advance!
To find out more information about Curry Village click here.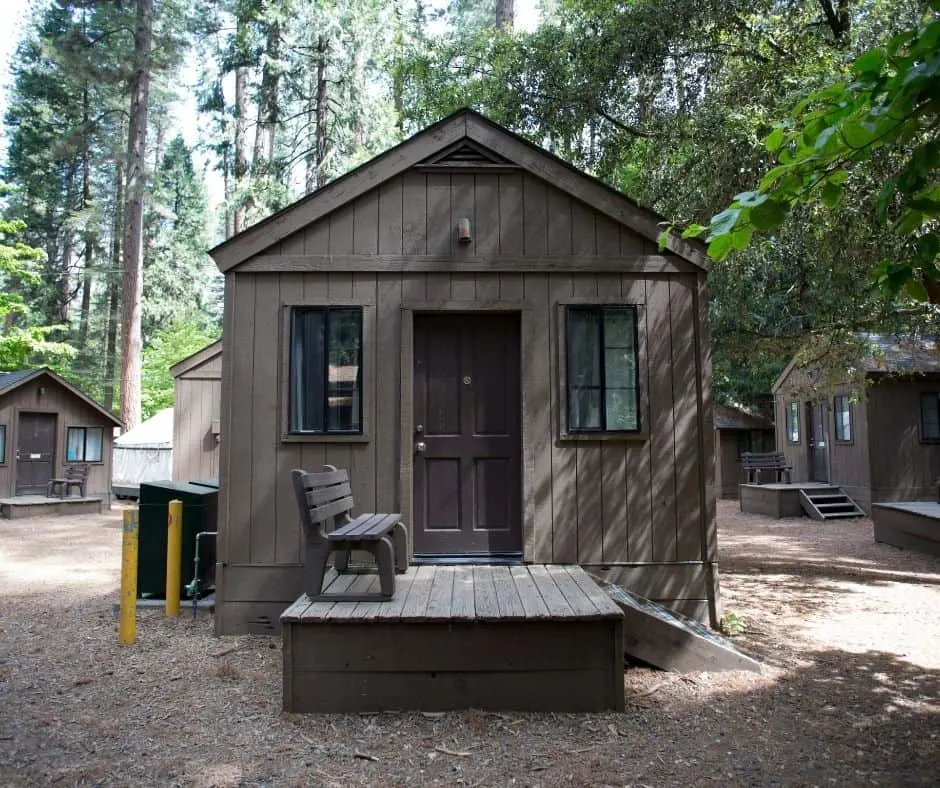 Where to Park an RV in Yosemite
There are ten campgrounds in Yosemite to accommodate RVs. To make a reservation follow the same tips for camping.
The size of the RV determines which campground to book. The website gives specific details about each campground so it is recommended to check before making a reservation.
It is easy to rent an RV for the trip. It is such a great way to experience the park.
Click here to make a reservation at one of the RV Parks in the Valley.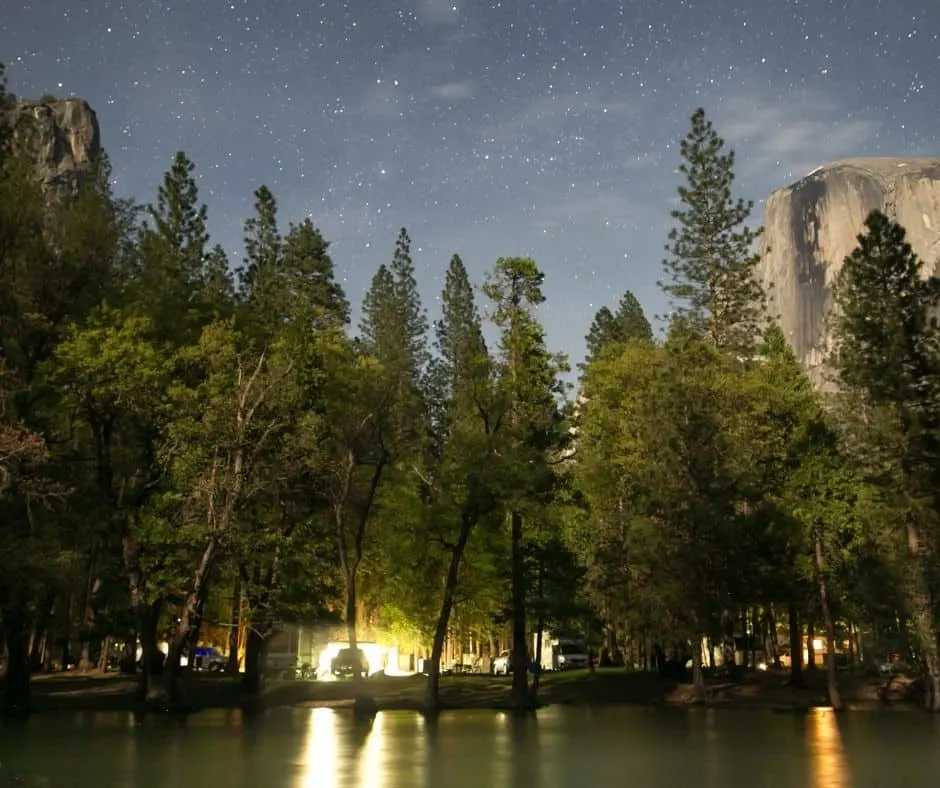 Rented Holiday Homes in Yosemite
On the west side of the park, there are a number of holiday homes and cabins to rent. They have all the necessities for a comfortable stay.
The holiday homes offer some seclusion just a short drive from Yosemite Valley.
They come in all shapes and sizes and can accommodate couples or families.
Some have basic amenities while others have fantastic choices such as hot tubs, wood fires and outdoor eating areas. They can book up quickly so plan ahead and make a reservation online!
To book a vacation rental at Yosemite National Park click here.
Hotels in Yosemite Valley
As mentioned above, Yosemite has a few hotels onsite. Along with the Ahwahnee, Yosemite Valley Lodge is close by and offers spacious rooms with lots of facilities on the premises.
Anyone visiting Yosemite in April, May and June can enjoy the spectacular views of a gushing Yosemite Falls beside the hotel.
Some other facilities the hotel offers are a restaurant on-site and bike rentals. The location is a fantastic base to explore other areas of Yosemite.
There is WiFi, however it can be used for light browsing. Needless to say the hotel is popular so don't delay in making a reservation.
To make a reservation for Yosemite Valley Lodge click here.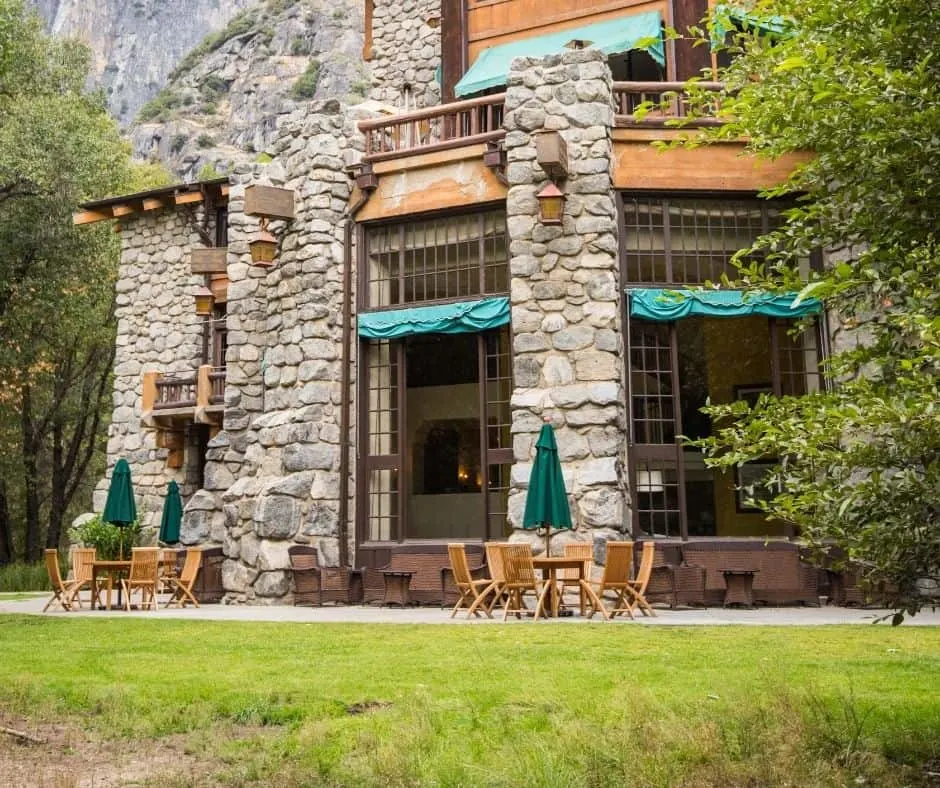 Hotels in El Portal
In the busy summer months, it can be difficult to find accommodation inside Yosemite. El Portal is just a ten-minute drive to the park using the South Entrance and one of the most popular places to stay.
Located along the Merced River is Yosemite View Lodge and it is a little more luxurious than other hotels in the area.
The hotel has four pools and a hot tub, perfect for relaxing after a long day exploring Yosemite.
There is an onsite restaurant and a nearby convenience store. The views along the river are breathtaking and while various room types are available, families may want to opt for one with a kitchenette.
Make a reservation here for Yosemite View Lodge.
Hotels Near Yosemite
Staying in a hotel closer to the northwestern entrances is a better option for anyone from the bay area. The Rush Creek Lodge is at least an hours drive from Yosemite Valley.
There are several room types available for couples or large families. The outdoor pool opens in the summer and the hot tub is great to relax in.
Some other facilities include; a games room, sauna, spa, restaurant and shop onsite. In fact, there are plenty of things to do near Yosemite.
To book a room at the Rush Creek Lodge click here.
Glamping Near Yosemite
AutoCamp Yosemite is in Midpines which is about an hour's drive from the Valley. However, don't let the distance deter a stay. The hotel is a hidden gem and offers unique rooms to allow guests to experience the outdoors at its best.
The AirStreams come with their own kitchen and BBQ area, as well as closeted bathrooms. They sleep up to four people so they are the perfect size for small families.
All rooms have a patio and a beautiful view of the mountains.
To book or find out more about AutoCamp Yosemite click here.
Lodges Near Yosemite National Park
The Evergreen Lodge has 88 cabins and while it is just a mile from Yosemite, the Valley is an hour away. The lodge is in Mather and it is in the middle Stanislaus National Forest. The rooms are basic, but have everything needed for a comfortable stay.
Many want to spend a few days at the lodge as well Yosemite. There is plenty going on there including a game room, kids play areas, nightly activities and therapeutic massage.
The staff know the area well and they are on hand to offer you advise and the lodge offer packed lunches for anyone wanting to take one to the park.
Click here to find out prices and more information about Evergreen Lodge.
When is the Best Time to Visit Yosemite National Park?
While there are plenty of things to do at Yosemite National Park, some are limited to the weather and time of year. Yosemite looks different in the winter compared to the summer!
Before planning a trip, figure out what to see in Yosemite National Park. Write down all of the Yosemite attractions to see and find out the best time of year to see them.
There is no best time to visit, it all depends on your what you desire to see.
For snow and winter activities December, January and February are the best months. The park is quiet at this time of year and prices tend to be cheaper.
May and September are great months for hiking. It's not usually too hot and the majority of the trails are open.
April, May and June are the best months to see the waterfalls at their peak and the park is still absent of summer crowds.
Anyone wanting to raft needs to visit in June, July and August. However, the rapids are highest in late June and early July.
The fall months are great to see the orange and red colours of the park and the weather is cooler at this time of year.
In fact, no matter what time of year visitors head to Yosemite it is sure to be a trip to remember.
You May Also Like:
How to Plan a Trip to Yosemite | April in Yosemite | The Best Hikes in Yosemite National Park | One Day in Yosemite | The Ultimate Yosemite Packing List | Yosemite in Fall | RV Parks Near Yosemite | Rafting in Yosemite | 10 Kid Friendly Hikes in Yosemite | Winter Hikes in Yosemite | The Magic of Yosemite in December | Best Photo Spots in Yosemite | Why Yosemite Weather in May Makes it the Best Time to Visit | 10 Reasons to Visit Yosemite in January | The Perfect Guide to Visiting Yosemite in March | 10 Amazing Things to do in Yosemite in February | 10 + Things to Do in Yosemite in June | Pumpkin Farms in Maryland
Best pumpkin farms in Oregon | Flying With A Toddler | Best Pumpkin Farms in Florida | Best Pumpkin Farms In California
Will you be needing travel insurance, flights, rental cars, or hotels for your trip?
Disclaimer: This post may contain affiliate links. By using them it will not cost you any extra, we will receive a small percentage of the sale.