While you could visit Yosemite any time of year there are many reasons why you should visit Yosemite in Fall. One of the many reasons people visit Yosemite is for the spectacular views.
With its green trees and grasses, Yosemite in fall makes it a wonderful place to plan a trip and be at one with nature. However, visit Yosemite in fall and these views take on a whole new dimension and meaning.
The change of season means the park is at its most beautiful and one day is different from the next.
You can also enjoy activities like hiking or biking in the cooler weather, making it a more enjoyable experience. Visit some of the iconic sights that make Yosemite National Park one of the most popular parks in the United States.
The iconic Half Dome and El Capitan, Yosemite is a major destination for outdoor lovers who want to experience the best hikes. There are even places to take to the water and try out rafting or kayaking.
With fewer people around you can experience some of the delights that the park is known for in peace and quiet. This gives better access to some of the best photo spots in Yosemite.
This guide takes you through what to add to your 2 day or 3 day Yosemite itinerary, where to stay, and some of the best reasons why planning a trip to Yosemite in fall season is worth it.
If you are looking for nearby Pumpkin picking farms in California, check this out.
How to get to Yosemite in Fall
At the start of the season, all of the entrances to the park are open all day. However as the season comes to an end, the weather starts to change. Usually, the snow starts and so do the road closures.
With five entrances to the park, three are open all year round and all day. They are Big Oak Flat Entrance, Arch Rock Entrance and the South Entrance. These are on the west side.
The west entrances are most often used when you are coming from San Francisco and Los Angeles.
The Hetchy Hetch Entrance can be used for those coming from San Francisco too. It is not the most direct route, but the views are amazing.
It is a quieter entrance and in November, December, January, February and March it is usually only open during daylight hours.
This entrance is also likely to be impacted by weather, so check the website before you set off on your trip.
The only entrance on the east side is Tioga Pass Entrance. You would use this entrance if you are coming from Las Vegas or Death Valley.
This road is open until October so if you plan to visit Yosemite in November you may need to take a detour and use the South Entrance.
Depending on the time of year you may need to make a reservation to enter the park. Tickets can be purchased at the entrance for around $35 for all vehicles including RVs.
America the Beautiful Pass is also accepted at Yosemite. It is very affordable and can be used at over 2000 sites across the US.
If you visit National Parks regularly this pass is very cost-effective! Just one pass covers the entrance fee for a driver and all passengers. REI also donate 10% of pass sale proceeds to the National Park Foundation.
To find out more about the annual Beautiful National Park pass click here.
Weather in Yosemite in Fall
As the weather is spread over three months, it is dramatically different from September to November. If you visit Yosemite in September, then expect warmer weather.
However, the nights are likely to be cool.
The highs in September could reach 82F (27C) and the lows around 51F (10C).
In October, it starts to get cooler and you can expect temperatures of around 71F (21C) in the day and 42F (5C) in the evenings.
The weather is still great for hiking but you might need to add warmer clothes to your packing list. Especially coming to the end of the month.
Yosemite in November has temperatures around 56F (13C) and a low of 33F (0.5C)degrees Fahrenheit. Snow usually begins to fall in the Valley in November too.
It might not lie for too long but it is the beginning of the snowfall. If you are planning to explore areas of higher elevations then there most probably will be snow around October.
What to do in Fall at Yosemite
First, let's get the bad news out of the way. if you had hoped to see gushing waterfalls then you are going to be disappointed.
The waterfalls in Yosemite are caused by the melting snowfall and these are likely to have dried up at this time of year.
There are a few that run all year, but they are usually just a trickle. Visit Yosemite in April, May and June to see them in full flow.
That doesn't mean that you should not set off on one of the many trails to the waterfalls. They are still beautiful and there is lots to see.
Visiting Yosemite in fall means that you need to take advantage of the cooler weather and head out on one of the longer hikes.
These trails can be covered in snow in winter months December, January, February and March or you could be hiking in direct sunlight in the summer months, July and August. Fall is a great time as the weather is just right.
There are trails that lead to lakes, meadows and fantastic views so you can see Yosemite as you have never seen it before.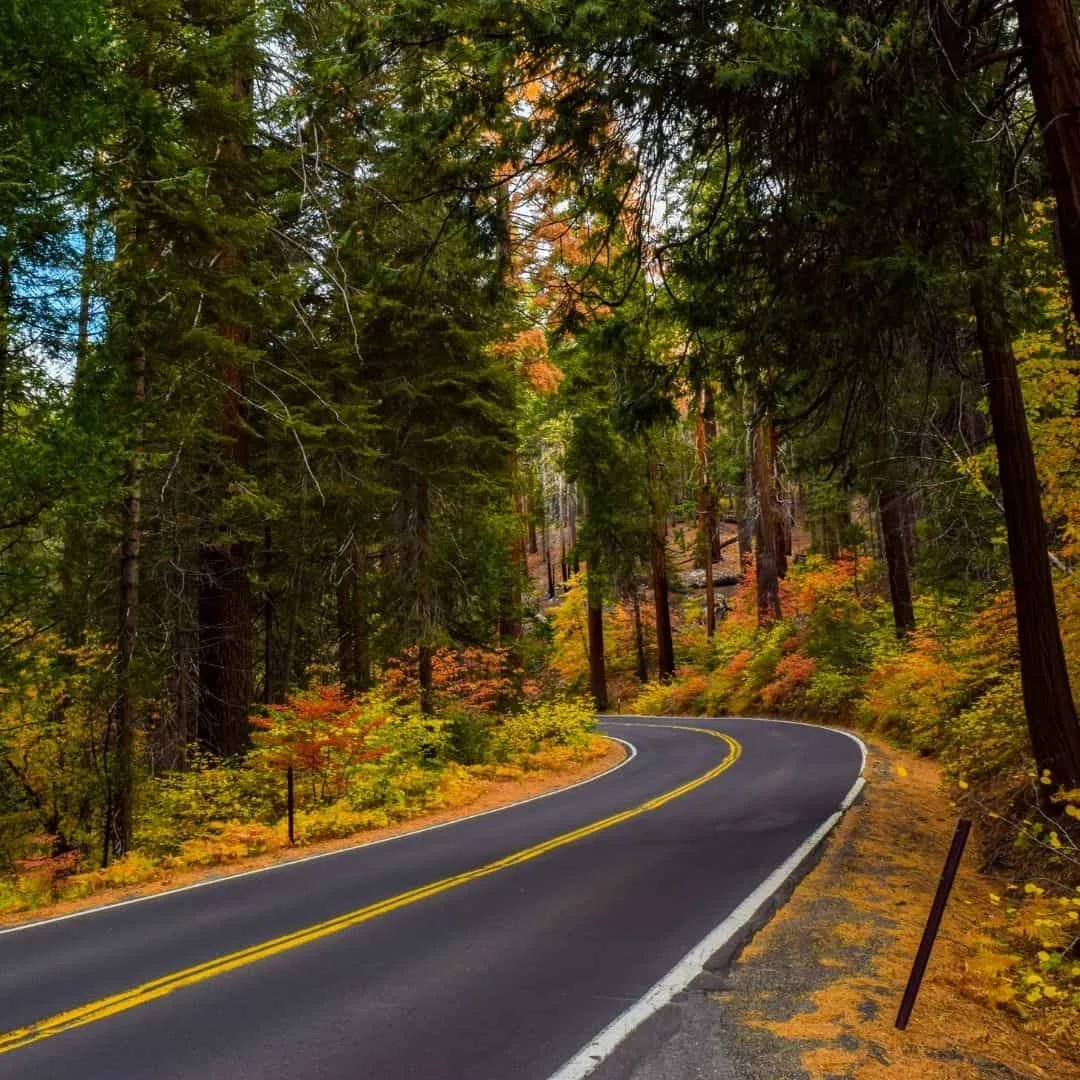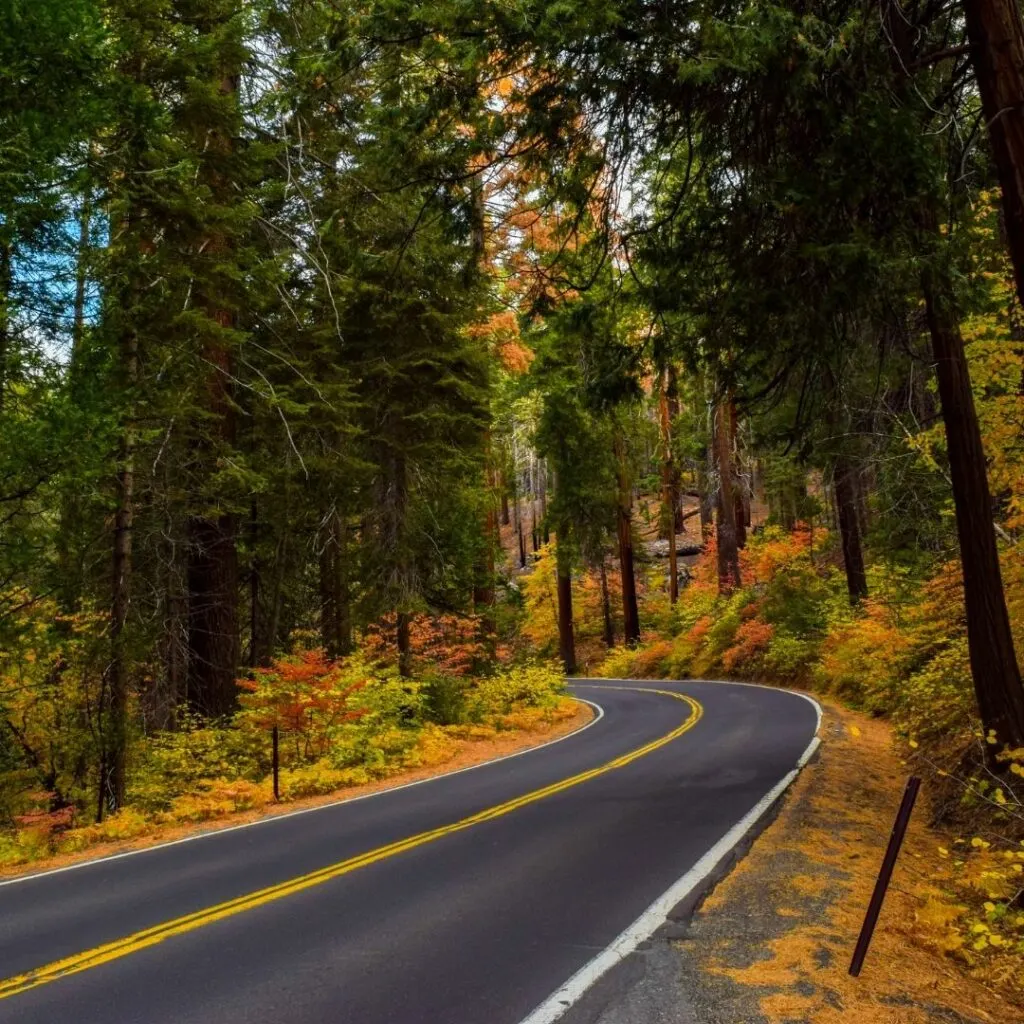 Yosemite Fall Hikes
When you think of fall, what is the first thing that comes to mind? You might think of colours or even trees losing their leaves.
Well, there is no better place to see trees than to stroll among the giants on a Yosemite fall trail in Mariposa Grove.
The grove is very popular as it is home to trees that are 2000 years old. This usually means that the trails are packed and it can take away from their beauty.
Yosemite in the fall tends to be less busy so you can spend your time staring in awe at these majestic beings.
If you want to see some of the most famous trees in the grove then the Giant Sequoias Trail is a fantastic choice.
Some of the trees you come across are the Grizzly Giant, Fallen Monarch, California Tunnel Tree, Three Graces and the Wawona Tunnel Tree.
You can expect this trail to take around two and a half hours to complete as it is 10km. If there is no snow on the ground then you can catch the service bus to the grove.
Otherwise, you have to hike two miles to the trail entrance from the car park.
There are some picnic benches around the car park or you could sit among the trees eating your snacks.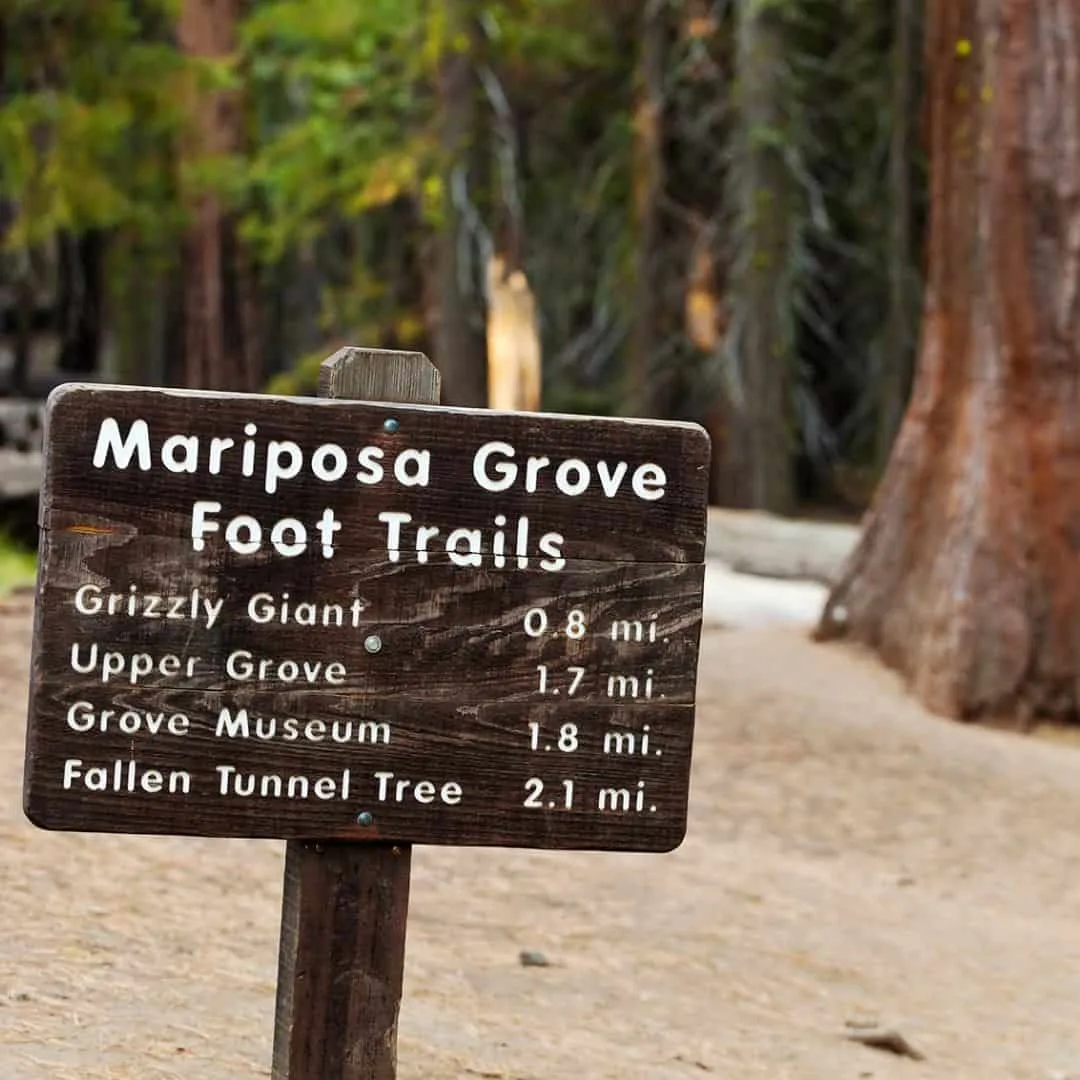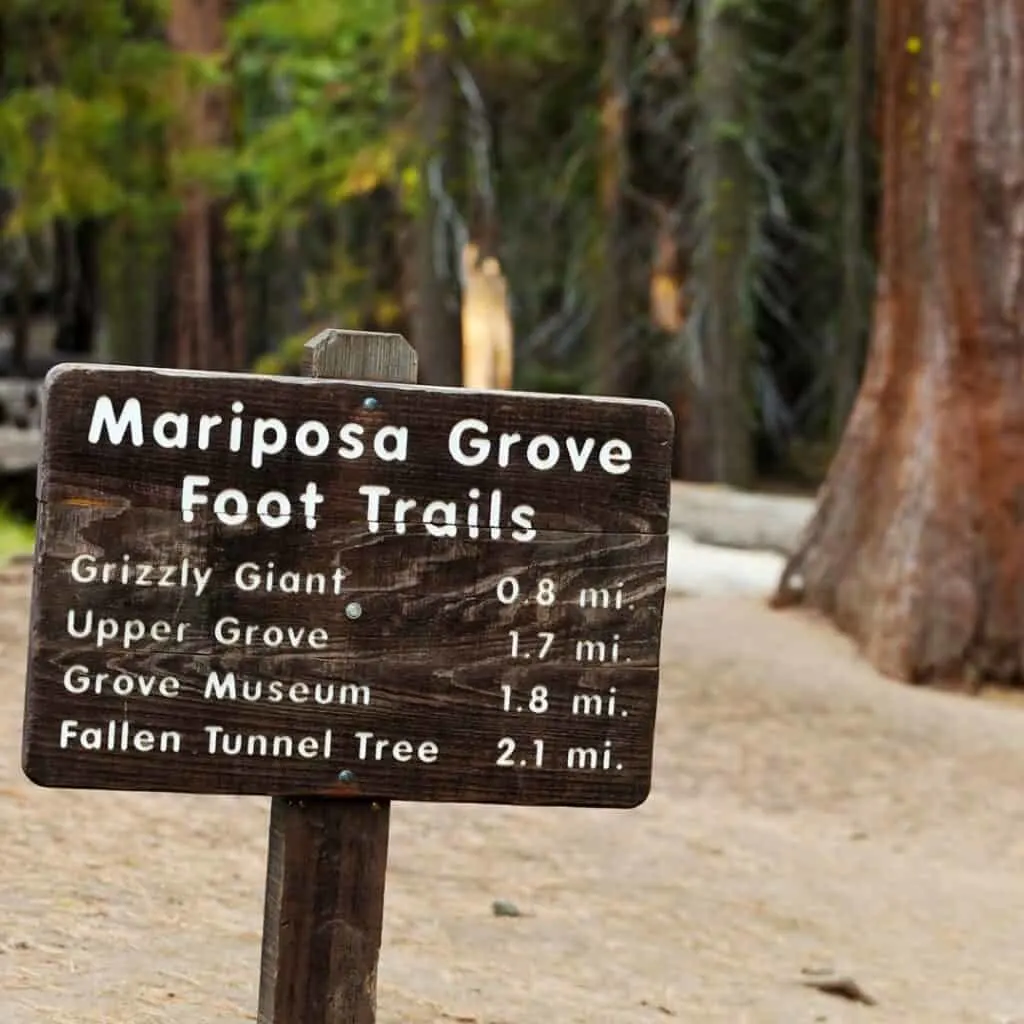 Visit a Lake in Yosemite Autumn
Yosemite has over 2000 lakes. They can be found all over the park and some are at the foot of granite mounds. May Lake is one of the most beautiful lakes in Yosemite.
There is a backpacking camp here, but if you only want to visit for a short hike then you can start at Snow Flat trailhead off Tiago Road. Just beware though that there are limited car parking spaces.
The views here are incredible and really sum up what Yosemite is all about. There are granite peaks, a subalpine forest and then the most stunning lake.
There is a bit of an uphill hike on a rugged path, but it is worth every step.
You could also go a bit further on and visit Tenaya Lake or if you are ambitious hike to the summit of Mount Hoffmann.
The trail to May Lake is short with the hardest part being the incline. However, it would still be a great day out if you are visiting Yosemite with kids.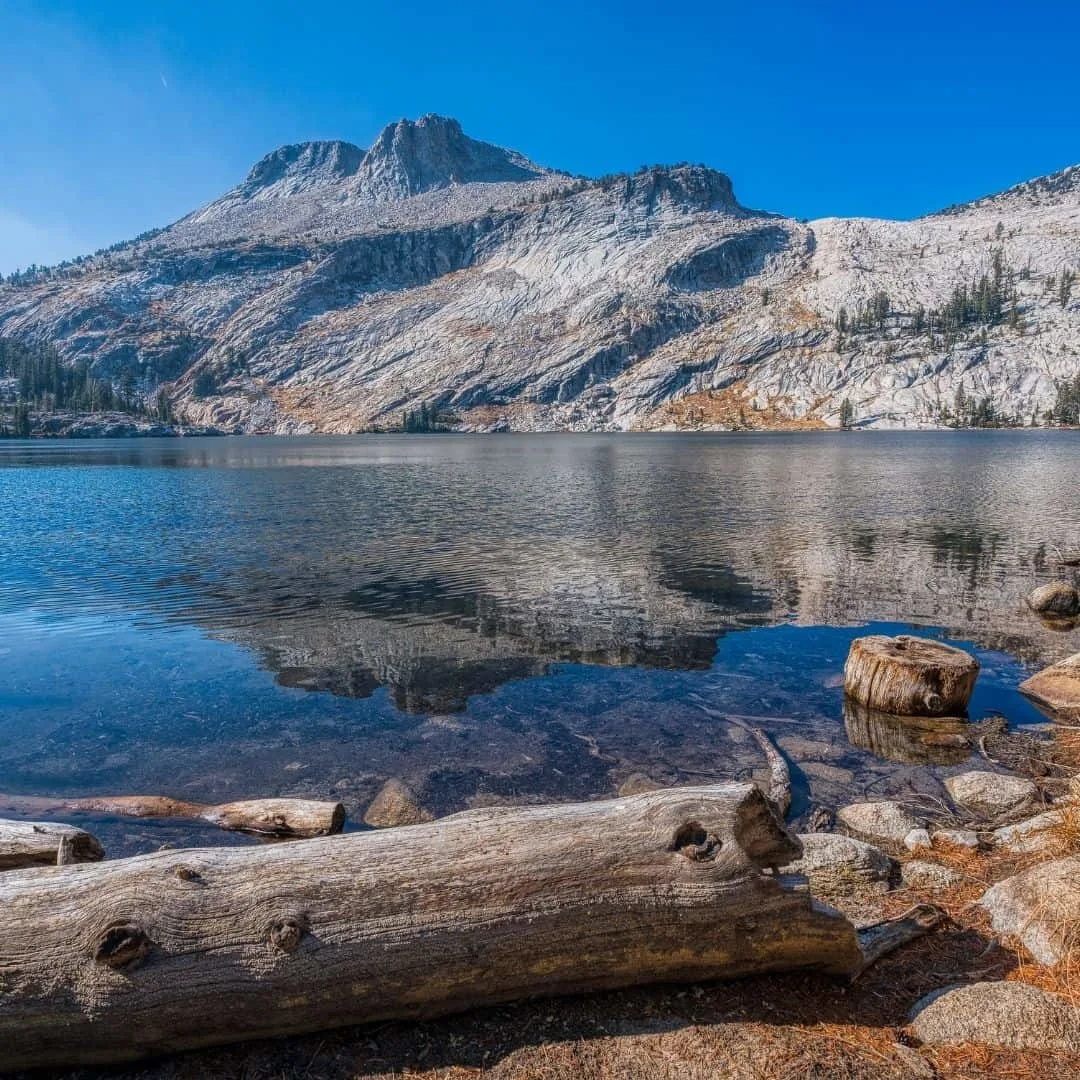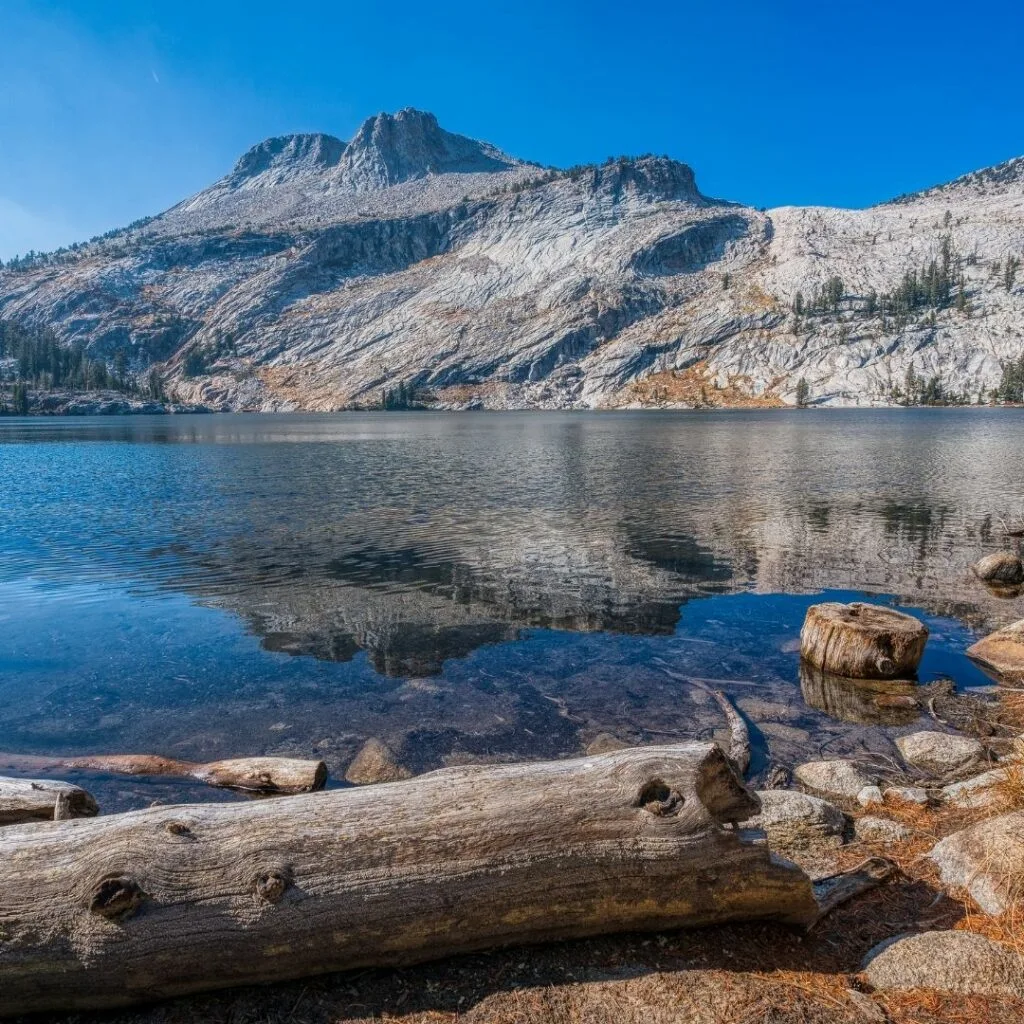 Take a Bike Ride in Yosemite National Park Fall
One of the great things about Yosemite is that many of the most famous sights are close to the valley. In fact, you could fit all of them into your itinerary in just one day in Yosemite.
Some of the most beautiful places to visit near the Valley are El Capital and Tunnel View to name but a few. You could drive to them or even take a tour. However, there is also the option to see them by bike.
If you haven't brought your bike with you, Curry Village and Yosemite Lodge rent them out for the day or longer. There is also a bike share option, depending on the season.
Cycle around the Valley on the twelve miles of paved bike paths. With fewer people around cycling is a lot easier to navigate and the cooler weather is great too.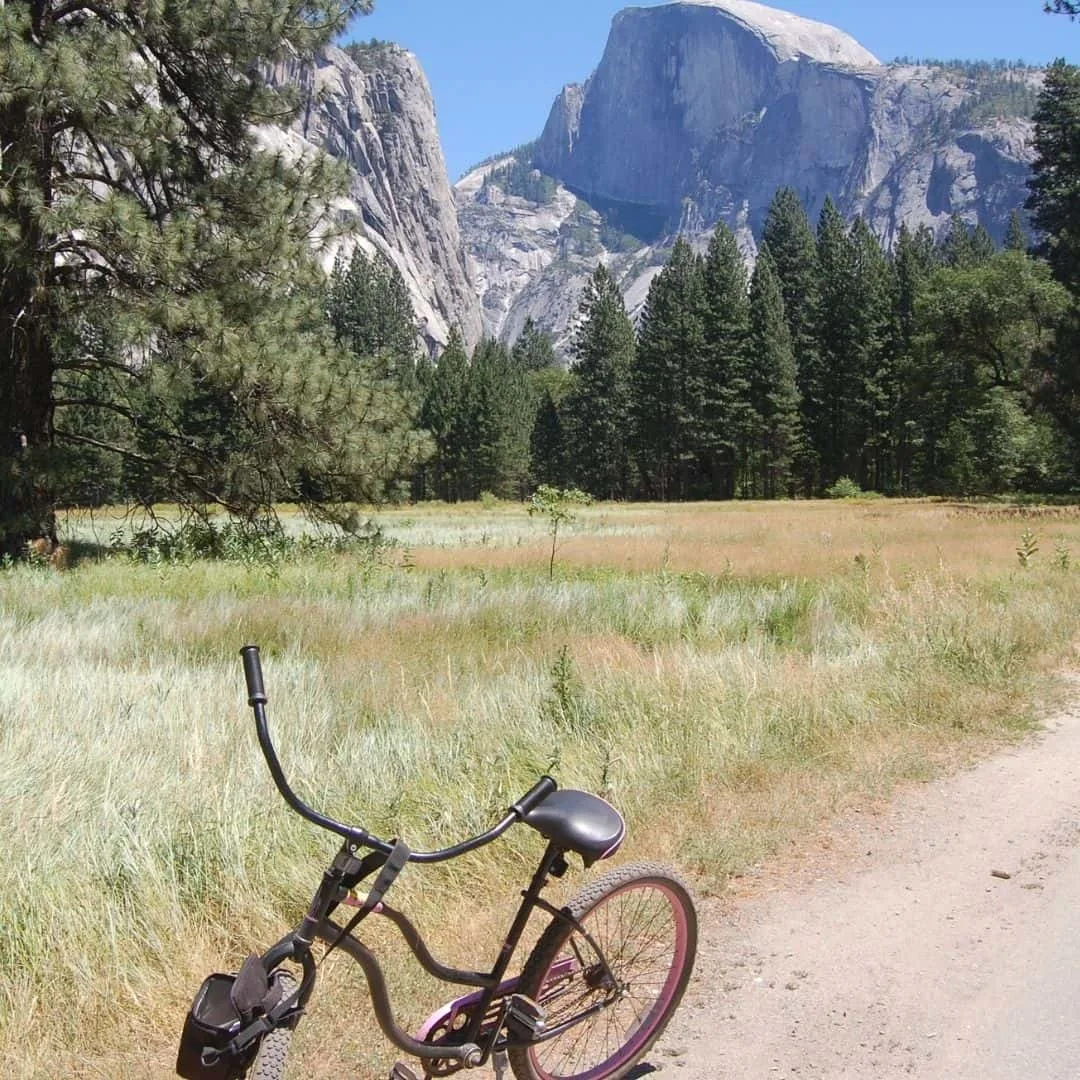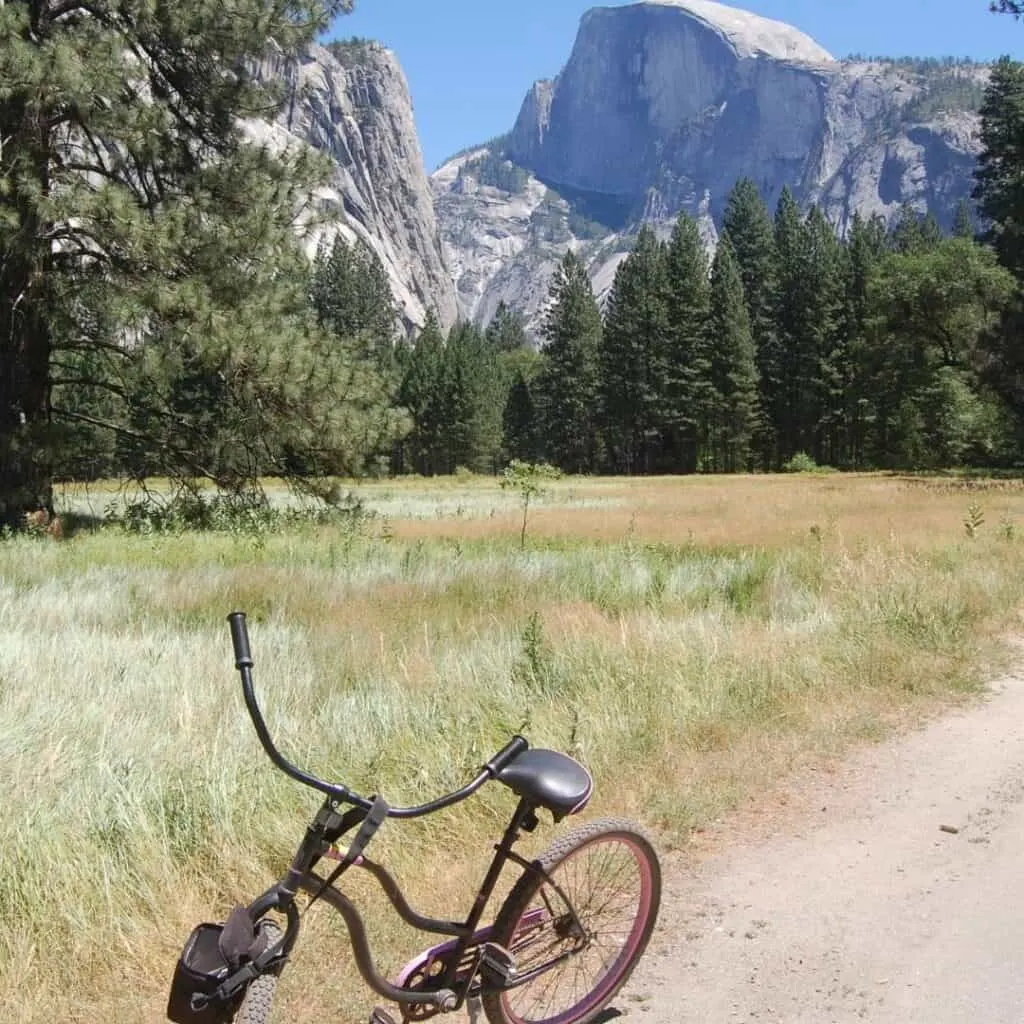 Fantastic Views of Fall in Yosemite National Park
You don't just have to see Yosemite from the ground. There are other ways to see the beautiful fall colors on a Yosemite itinerary.
There are two places to see Yosemite from above. First head to Sentinel Dome 360 degree views of many of the places you visited in the Valley. It has to be one of the best photo spots in Yosemite.
It is 3,200 feet above the valley floor and from here you can see just how enormous Yosemite is.
From Sentinel Dome, there is a short trail to Glacier Point. It also has spectacular views of the Yosemite Valley, Half Dome, and El Capitan.
You don't have to do it this way. In fact, you could plan it the other way around. Either way, it would be best to see Yosemite from this angle around sunset.
Not only can you experience the sights of the park, but you can also see the most stunning sunset over the granite peaks of Yosemite.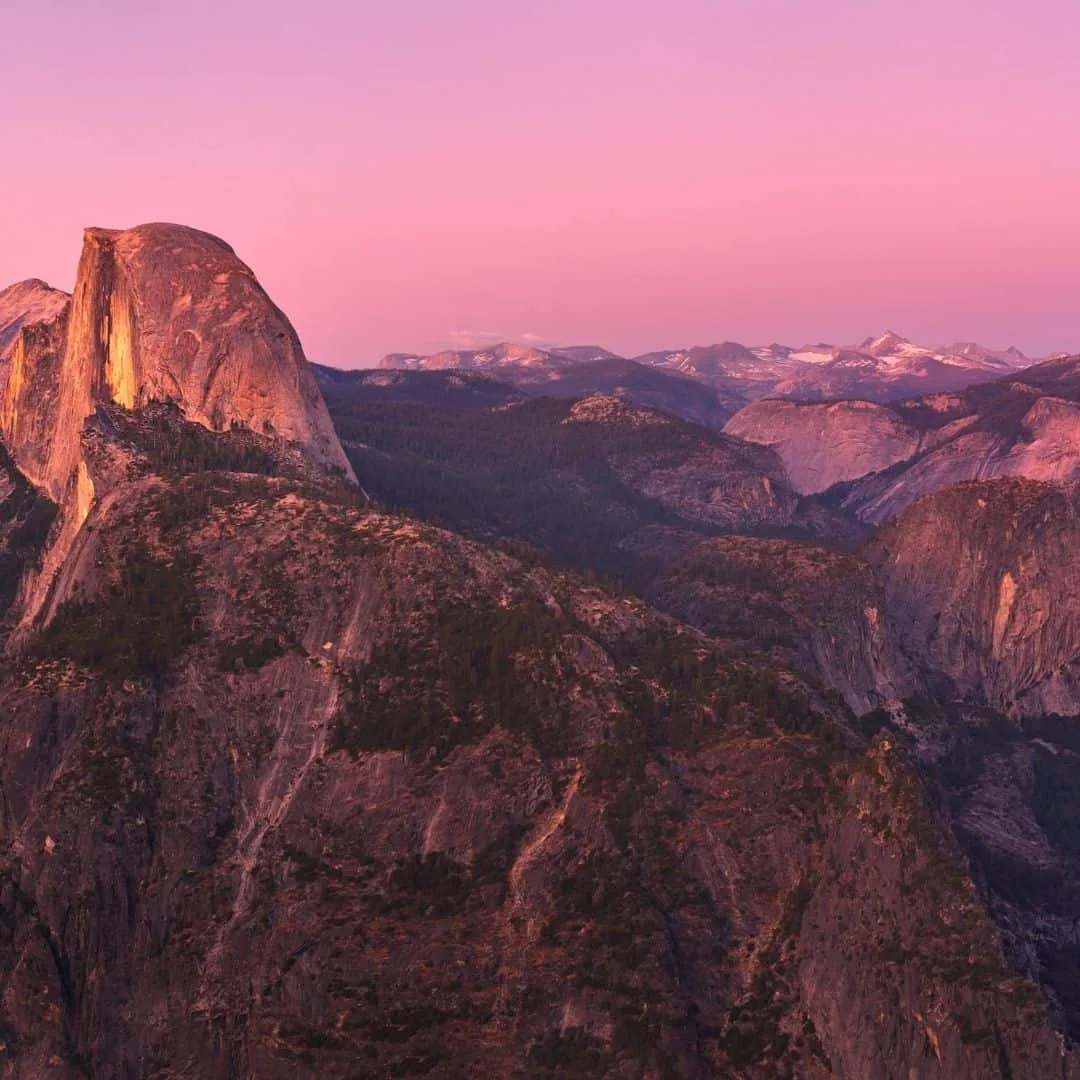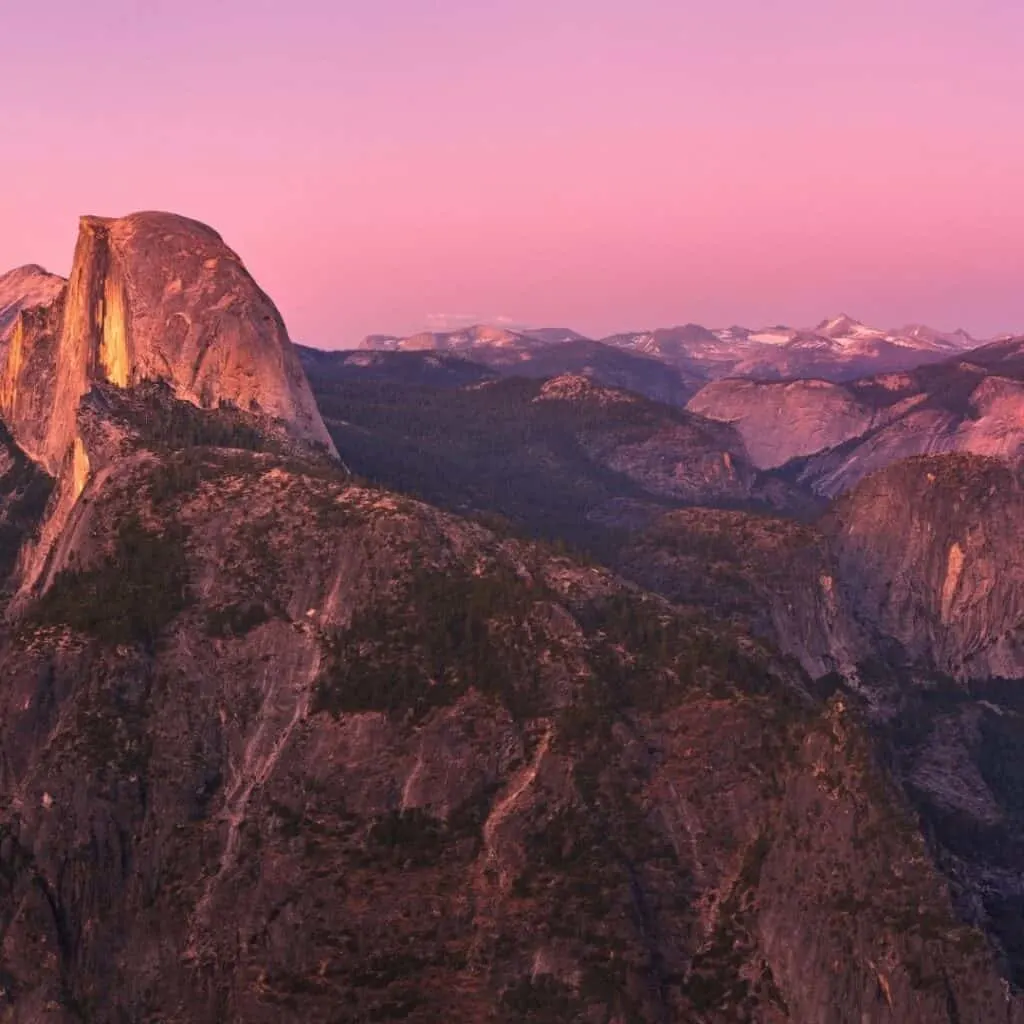 Experiencing the Fall Colors in Yosemite Meadows
Many people associate meadows with green fields and wildflowers. They truly are stunning in April, May and June when the flowers start to bloom.
In fall you won't see the flowers or the green fields, the season brings its own beauty so it is worth adding to your itinerary. Picture burnt oranges and yellows that make it feel like fall has arrived.
Meadow's Cook is in the heart of Yosemite and the Sentinel Meadow Cook's Loop trail is the perfect way to see it. The kid-friendly hike is short but there is a lot to look out for.
In fact, if you have come to Yosemite hoping to see some of its wildlife then head straight here. Many visitors have seen bears, deer, ducks and squirrels on this trail along with a panorama view.
While this is an easy hike, it is not shaded. So if you are visiting at the start of the season it might still be hot.
This is a great hike if you are visiting Yosemite with kids as it is stroller friendly.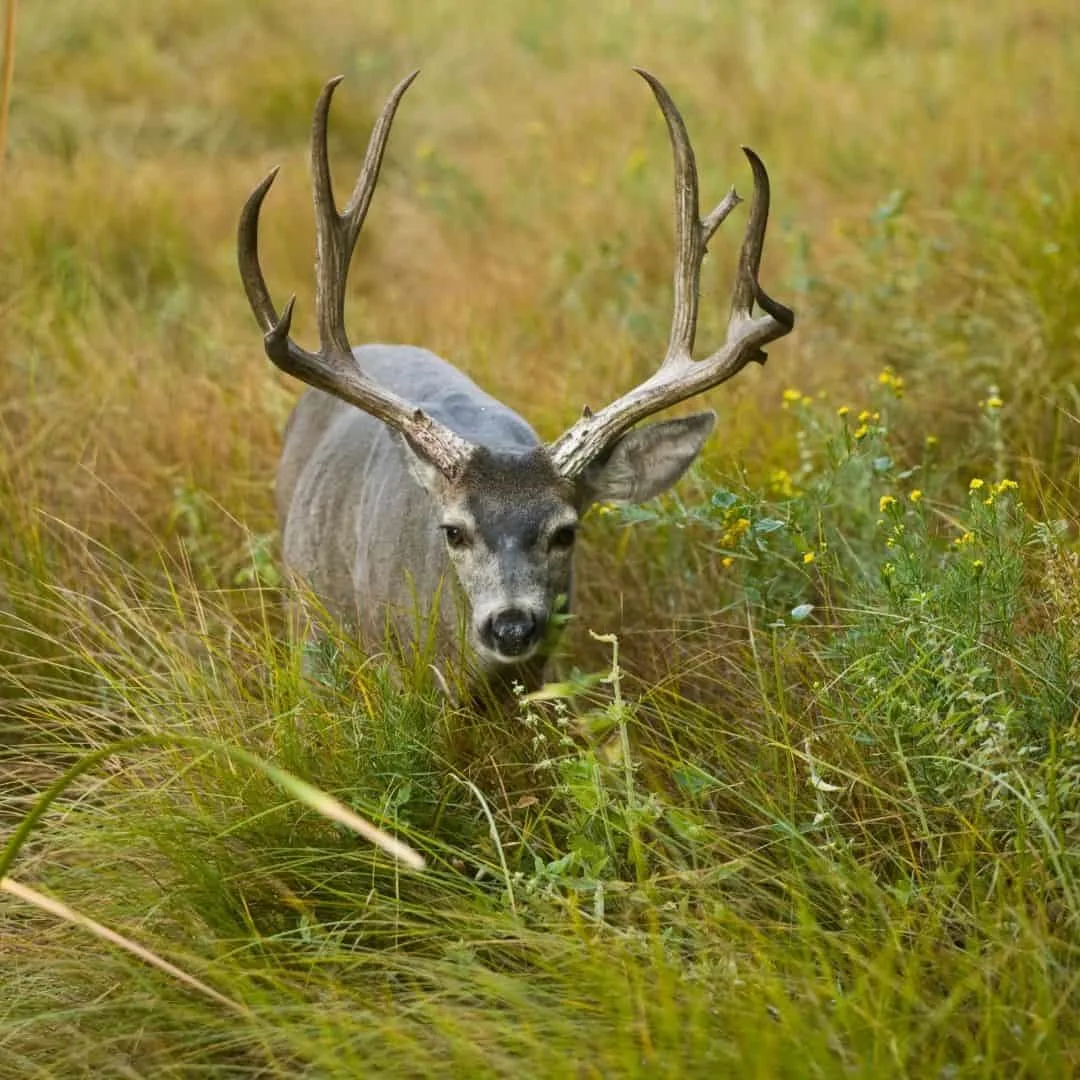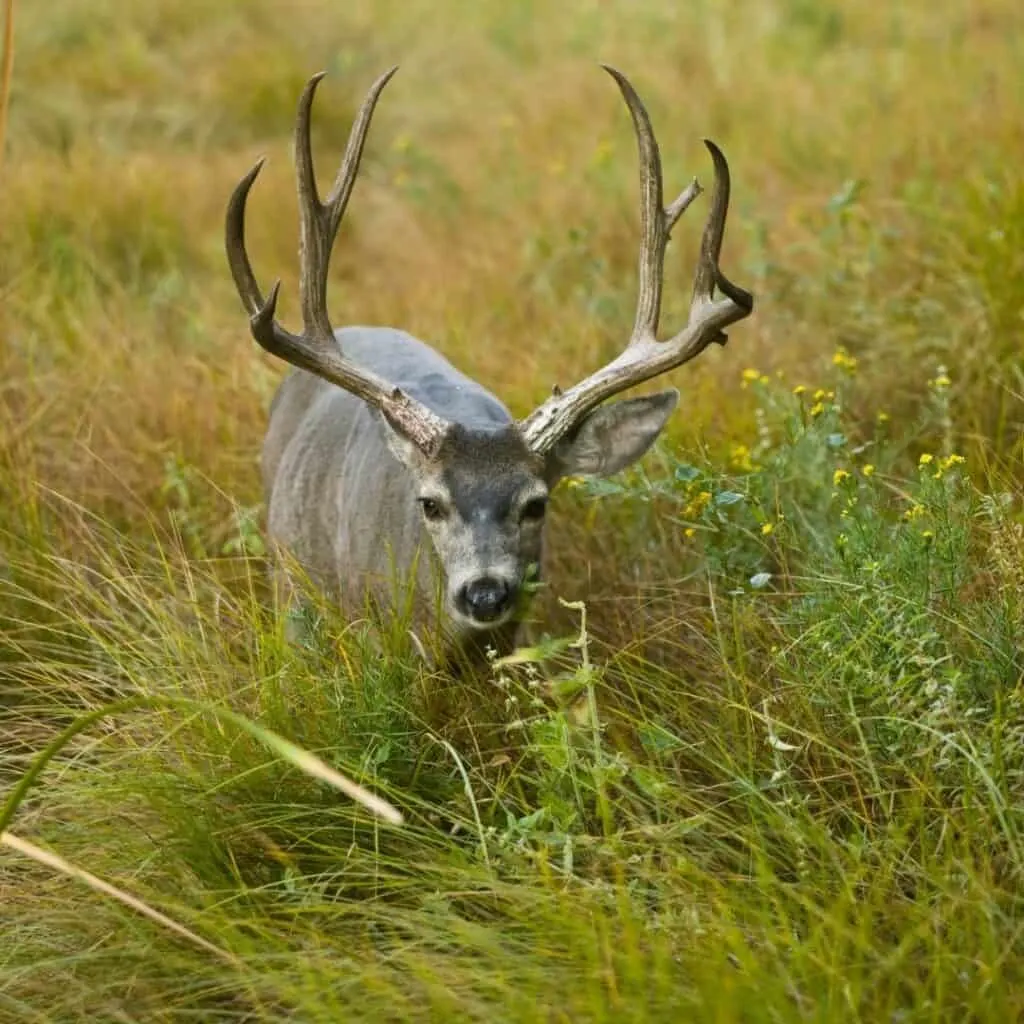 When to See Fall Colors Yosemite
Just like anywhere the fall colors in Yosemite change throughout the season. One of the best times to visit to see them at their peak is in mid to late October. But this is always dependent on the weather.
Yosemite has many evergreen trees, so it is not known for its fall colors. However, there is such a range of colors to see.
From the usual yellows and oranges to dark reds and even purple. To see the purple colors head along the El Portal Road and look out for the poison oak.
Many of Yosemite fall colors can be seen in the Valley too. No matter where you visit in the park you are sure to be blown away by the colors that await you.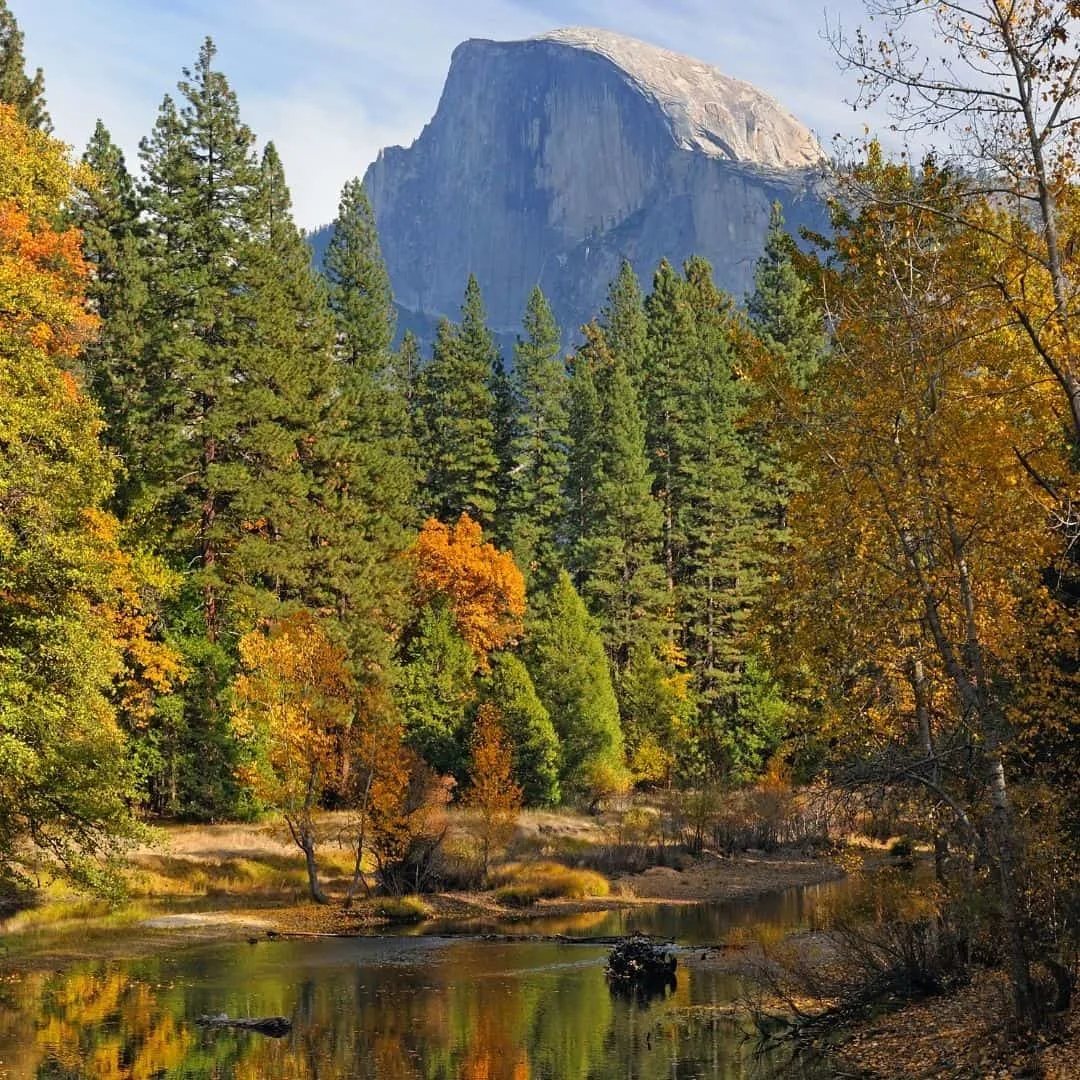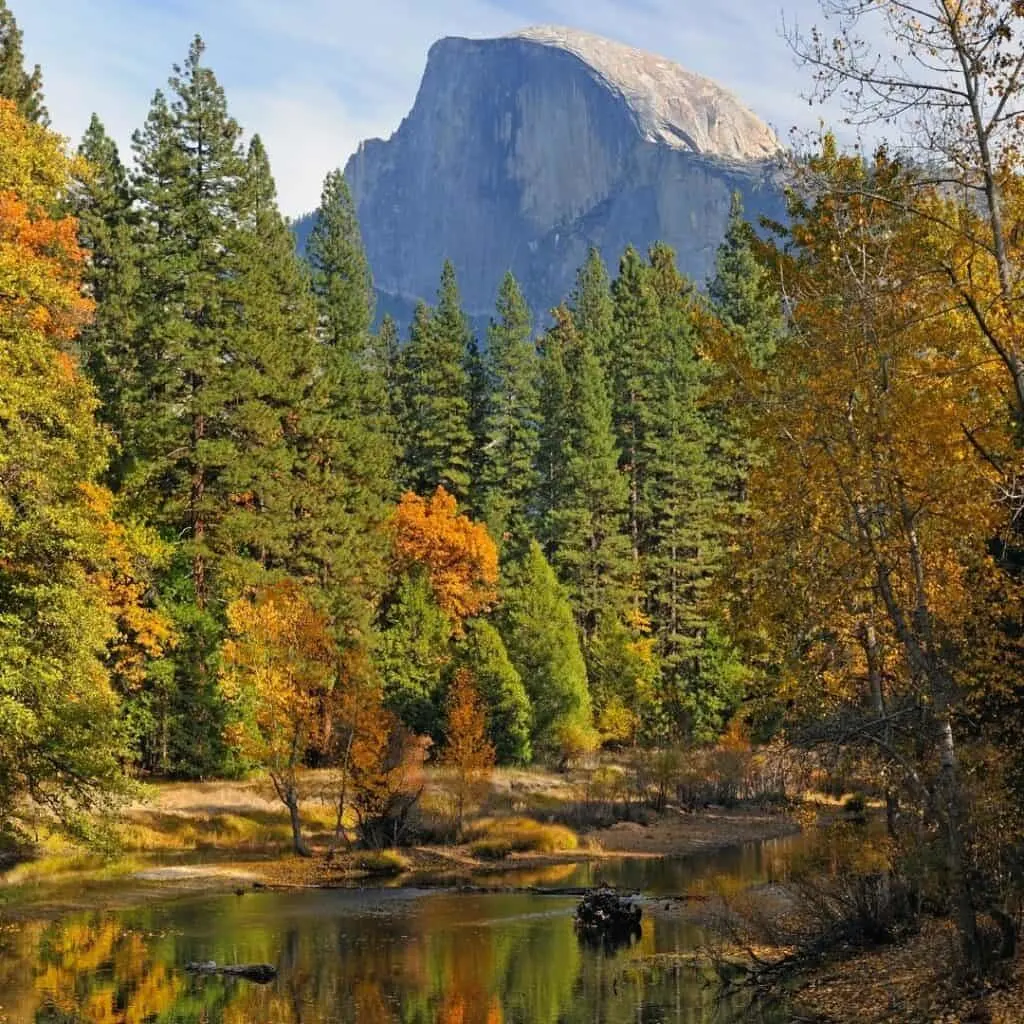 Camping in Yosemite Fall Season
If you plan on camping in Yosemite in Fall, be aware many of the campgrounds close around the end of October. Upper Pines is open all year.
However, as there is only one campground open, booking ahead is essential.
Most campgrounds are close to the Valley and many have gorgeous views of the mountains.
Remember it is cold in the evening so an insulated sleeping bag should be included on your Yosemite packing list.
There are plenty of black bears in the area, so all food must be stored in a food locker. The campgrounds supply them so there is no need to bring one with you
Most of the campgrounds are also set up for RVs. If you don't have one it is possible to rent an RV.
They are a great way to explore the National Park while having a place to cook and sleep.
Click here to rent an RV for your next adventure.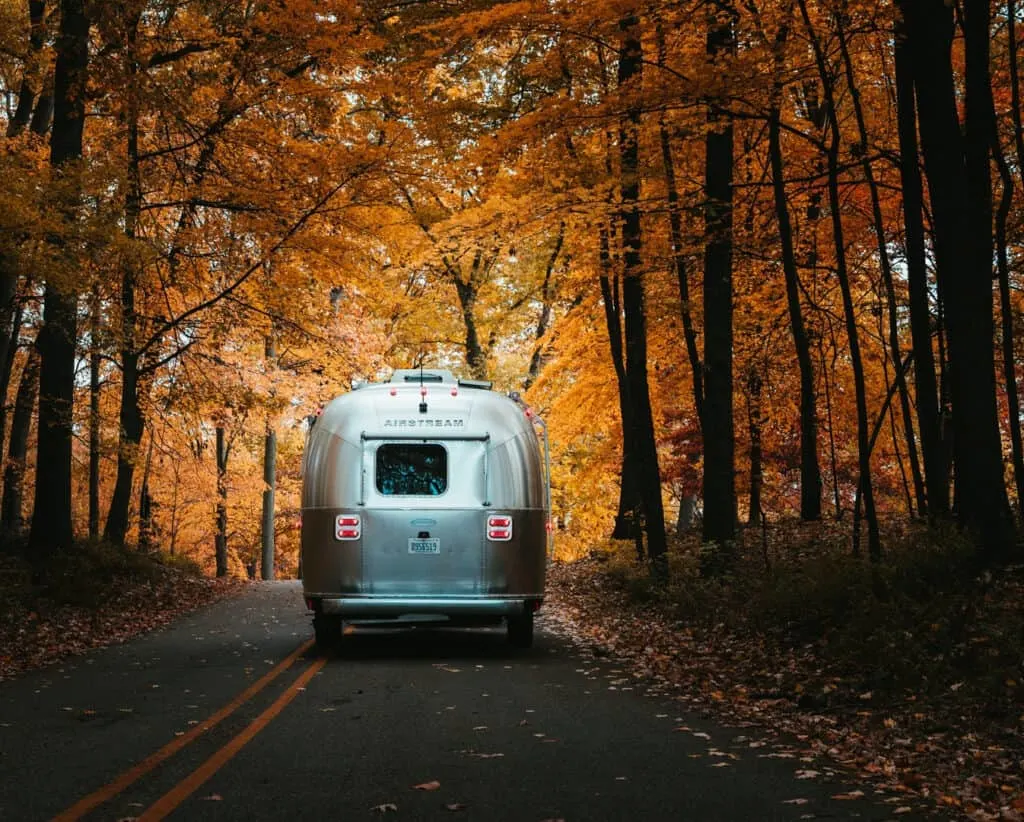 Hotels in Yosemite During Fall
Camping is not for everyone, so when deciding where to stay in Yosemite a hotel may be your first choice. If you are looking for a hotel, there is no better place to stay than in the Valley.
Yosemite Valley Lodge is just a stone's throw away from Yosemite Valley. This makes it a prime location as it is close to many of the main attractions and hiking trails. It is a popular choice, so make sure you make plans in advance.
The rooms are great for both families and couples as the rooms are spacious and also have a minifridge. If you are fed up with picnics and food in the Valley then visit the hotel's restaurant.
There is also a pool, although this may be closed as winter draws closer.
To make a reservation for Yosemite Valley Lodge click here.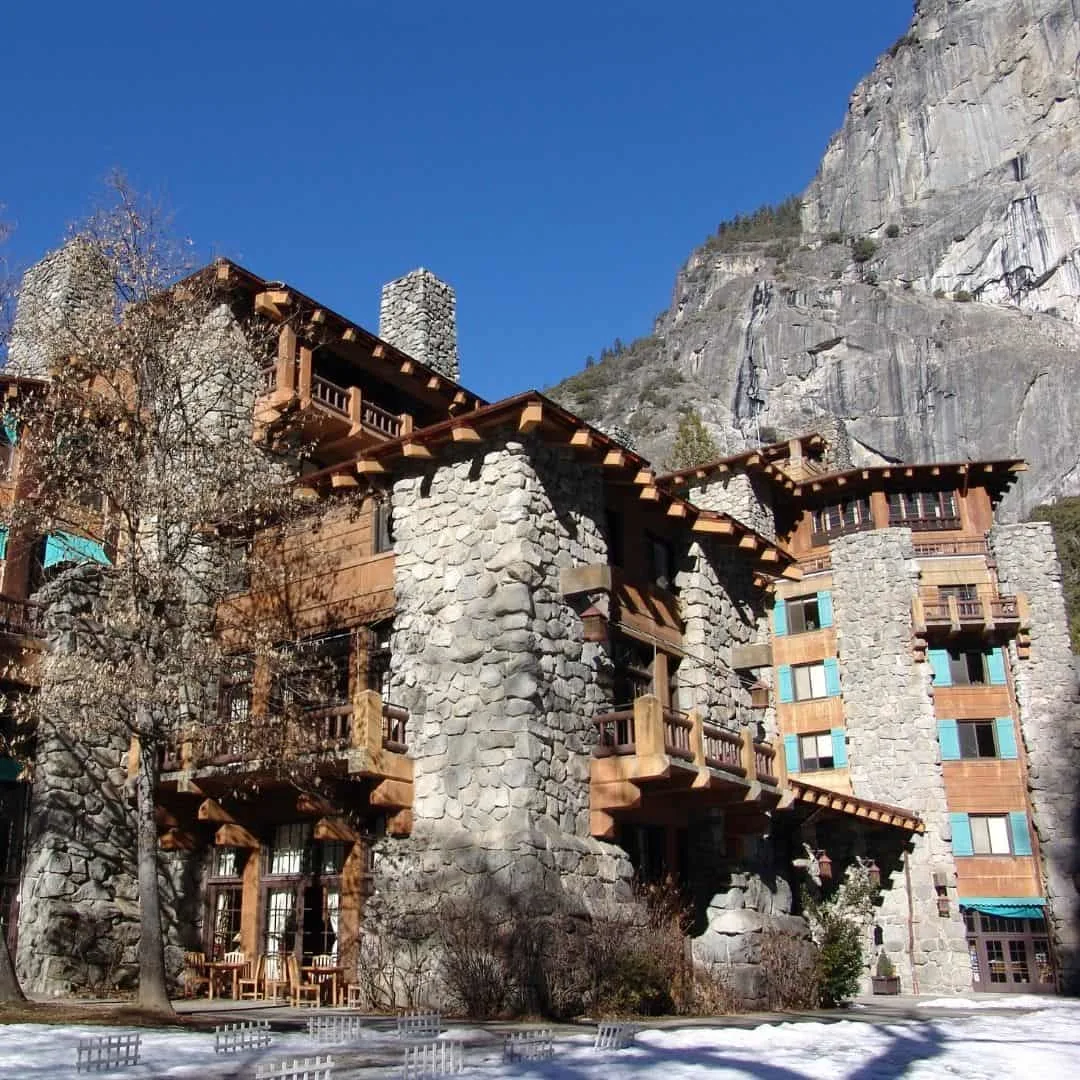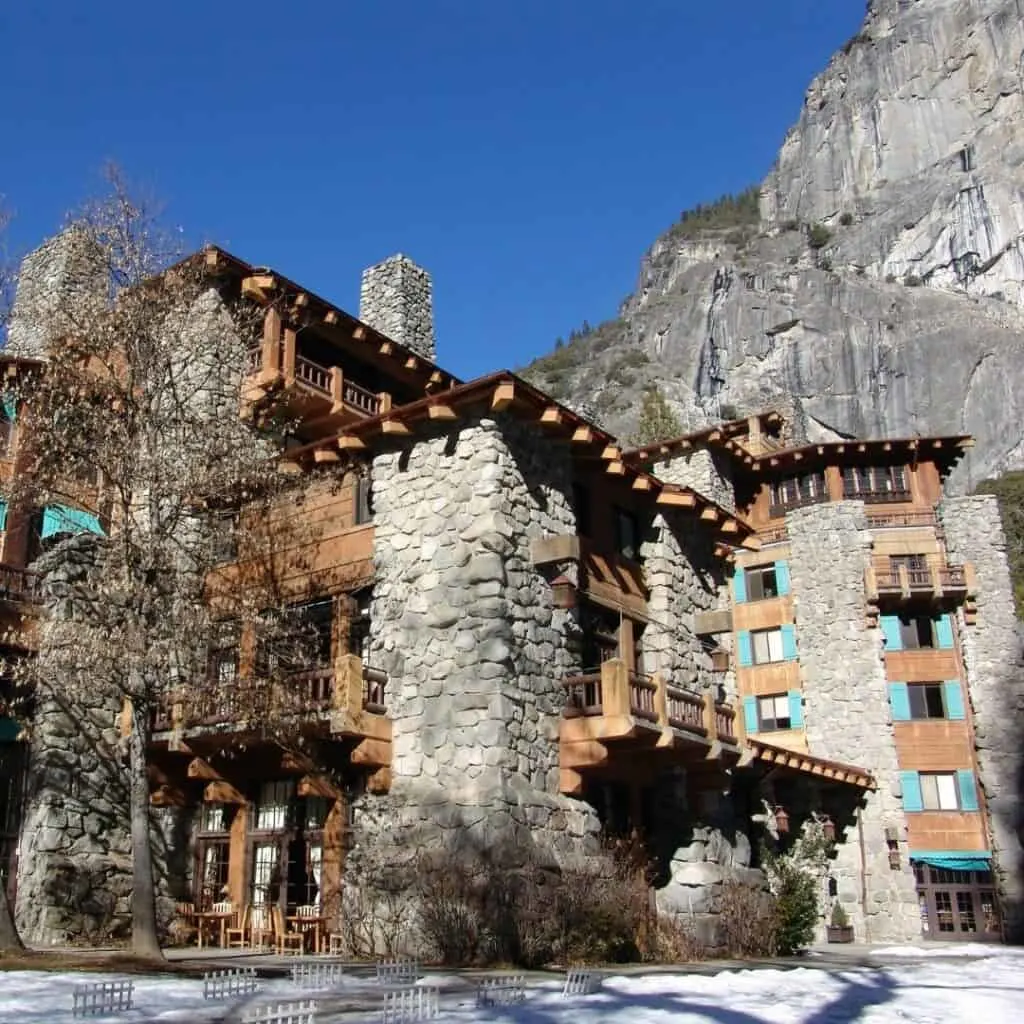 A Cabin Stay In Yosemite in Fall
There are plenty of cabins and lodges to stay in on the west side of the park. They are spread but are still in fantastic locations.
When you think of a cabin, an old wooden house might come to mind. You may be surprised by what is available in Yosemite.
Some of the benefits of staying in a cabin are you have your own space and can keep your packing to a minimum. Most include free internet, fully equipped kitchens and private balconies.
That being said, don't expect your internet to be fast. You could probably use it to send some messages, but watching Netflix might be difficult.
They should all have TVs and satellites if you want to watch something. Or you could always head to the terrace or deck and take in the views.
Who knows, you may even spot a few deer or chipmunks.
To find out more about Lodges around the Valley area click here.
Hotels Near Yosemite in Fall
If you have left your booking to the last minute or if you are visiting Yosemite on a whim, then you may find all of the campgrounds, hotels, cabins and lodges are full.
One of the closest towns to Yosemite is El Portal and luckily there are usually a few places to stay. It is just a short ten-minute drive to Yosemite and it is right on the Merced River where rafting is popular.
Yosemite View Lodge is a fantastic choice. Not only does it have four pools but it also has a hot tub onsite. You can have dinner at the restaurant and pack up on essentials at the nearby convenience store.
If you wanted more of a self-catering type getaway then request a unit with a kitchenette and cook for yourself.
Make a reservation here for Yosemite View Lodge.
What to Pack for Your Trip to Yosemite in Fall
Visiting Yosemite in fall means that your packing list will more than likely be for hiking. Take a look below at some of the items you should add to your list.
Good hiking shoes are essential not just for long hikes, but consider the terrain you are walking on. If you are buyin them for the trip, then wear them a few times before you arrive to break them in

.

Clothing should conssist of both long and short sleves. If you are visitng at the start of season then more short sleves are advisable. Remember to pack layers and a maybe a few sweaters for the cold evenings.

Depending on where you are hiking

poles

may come in handy. They are especially great from coming downhill.

Hydration reservoirs

are a great alternative to bottles. You can fill them up easily and they are light to carry. This also mean you can carry a lot more water with you on those long hikes.

As mentioned above, the service in Yosemite is not great. ALLTRAILS is a great app that has maps of Yosemite. You could downlad the trails before you set off or you could bring a paper map instead.
If you are planning any long hikes especially as the nights start to get darker earlier in fall. If you find yourself coming back late then a headlamp could help show you the way.
Yosemite is a popular choice for families, couples and even groups of friends. While most people flock here in the summer months, July and August, there are many reasons why you should delay your trip until the fall.
Yosemite in fall offers the chance to see the park without crowds in a more manageable climate.
Most of the main attractions are open and there are plenty of ways to explore both on foot and by bike.
Yosemite in fall lets you see all of the magic of this great park with the added bonus of stunning fall colors.
You may also like:
How to Plan a Trip to Yosemite | April in Yosemite | The Best Hikes in Yosemite National Park | One Day in Yosemite | The Ultimate Yosemite Packing List | Yosemite in Fall | RV Parks Near Yosemite | Rafting in Yosemite | 10 Kid-Friendly Hikes in Yosemite | Winter Hikes in Yosemite | The Magic of Yosemite in December | Christmas In Yosemite | Best Photo Spots in Yosemite | Why Yosemite Weather in May Makes it the Best Time to Visit | 10 Reasons to Visit Yosemite in January | The Perfect Guide to Visiting Yosemite in March | 10 Amazing Things to do in Yosemite in February | 10 + Things to Do in Yosemite in June | Pumpkin Farms in Maryland
Best pumpkin farms in Oregon | Flying With A Toddler | Best Pumpkin Farms in Florida | Best Pumpkin Farms In California
Will you be needing travel insurance, flights, rental cars, or hotels for your trip?
Disclaimer: This post may contain affiliate links. By using them it will not cost you any extra, we will receive a small percentage of the sale.