With road closures and winter weather, visiting Yosemite in March may not appeal. However, with fewer visitors than summer months, July and August, it is like having this incredible place all to yourself!
Yosemite National Park has around twenty thousand visitors every day. Winter in Yosemite includes November, and December including Christmas, January, February and March, so visiting Yosemite in March gives visitors the chance to see the park as it should be seen and get closer to nature.
This is the perfect time of year to head to the best photo spots in the park as the lighting is great. Waterfalls and high vantage points may be off the itinerary, however, visitors have plenty of other activities to squeeze into one day or maybe a three day trip to Yosemite.
This guide is all you need to know about planning a visit to Yosemite in March. Including what weather to expect, how to get there, the best hikes, where to stay, and what to pack.
Yosemite Weather in March
The first question to pop up when searching for Yosemite weather in March is – is there snow in Yosemite in March? The truth is while Yosemite in March is not the snowiest month of the year, there is usually still a little on the ground.
Yosemite late March usually sees the snow beginning to melt. On average there are around nine days in March with snow or rain.
Even though there is less snow on the ground, be prepared for ice and freezing temperatures. The lowest is around 34 degrees Fahrenheit or 1 degree Celsius and the highest temperature is around 58 Fahrenheit or 14 degrees Celsius.
Which Entrances
Many visitors ask is Yosemite open in March? Luckily the park is open all year round. However, March Yosemite means not all of the entrances are open.
The Tiago Pass entrance is closed from around October until late May or June. This is due to snow on the road so the exact opening and closing times are unknown. Don't despair, there are still four other entrances to use.
The Tiago Pass entrance is handy for those arriving from Death Valley or Las Vegas. Visitors coming from the west can still visit the park by using the South Entrance.
It does add a couple of hours onto the journey so factor it in before setting off. The South Entrance is used by visitors from Los Angeles and San Diego.
The other three entrances are used by visitors from San Francisco. They have a choice of using Hetchy Hetch, Big Oak or Arch Rock.
Many choose to use Arch Rock or Big Oak as these are the quickest. Hetchy Hetch on the other hand can take a little longer. However, it is a quieter entrance and more scenic.
When entering the park using the Hetchy Hetch Entrance it is worth noting it's only open during daylight hours in winter.
All entrances have a toll booth to pay the entrance fee to the park. Tickets purchased at the entrance are around $35. However, America the Beautiful Pass is accepted at Yosemite. It is very affordable and can be used at over 2000 sites across the US.
If you visit National Parks regularly, this pass is very cost-effective! Just one pass covers the entrance fee for a driver and all passengers. REI also donate 10% of pass sale proceeds to the National Park Foundation.
To find out more about the annual Beautiful National Park pass click here.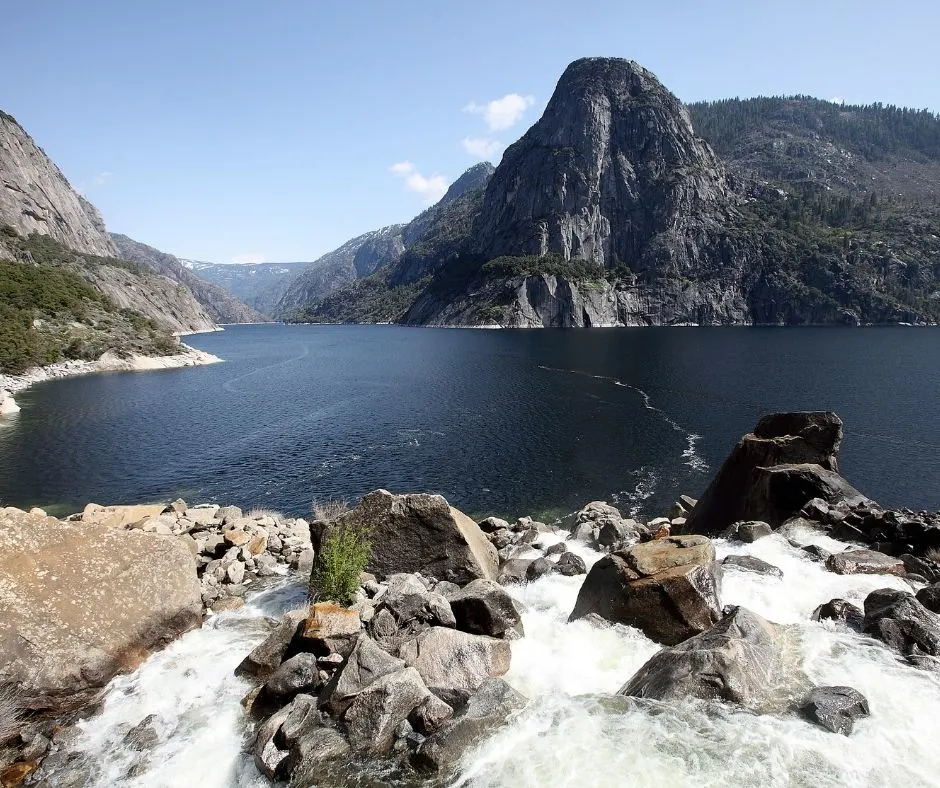 What to Pack
One of the most important things visitors can do before visiting Yosemite in March is to pack the right clothes and belongings. Coming unprepared for the cold weather can ruin any trip. While there are a number of items to recommend below is a list of some items visitors shouldn't leave home without.
Bringing clothes to keep warm is essential for March weather in Yosemite. Visitors are likely to understand they need a warm hat, gloves and a warm jacket.
It is good to dress in layers so clothes can be worn or taken off easily. If you plan on hiking or playing in the snow, salopettes are waterproof and thermal so they can keep visitors warm and dry.
Snowboots can help keep feet warm and help walk in the snow easily if they plan on hiking Yosemite in March. In some areas of the park, the snowfall is heavy and may require snowshoes or crampons.
With the early nights, a small torch or head torch can help see in the dark or find their way back if their hike runs later than planned.
Sale
Where to Take the Best Photos
The roads to Glacier Point and Sentinel Dome are closed due to March Yosemite Weather. While these places are worth seeing, there are many places in the Valley not to be missed.
There are many photo spots in Yosemite, Tunnel View being the most infamous. It is near the Valley meaning it is open in the winter. The lighting is perfect in March with fewer crowds.
Visitors can head to Tunnel View at any time, however, sunrise or sunset is the most popular time. Seeing the colours on the granite cliffs is a spectacular sight.
One other place in the Valley is Sentinel Bridge where it is possible to take a photo of Half Dome, Yosemite Falls and the Merced River. The bridge offers the best vantage point and it is popular with photographers.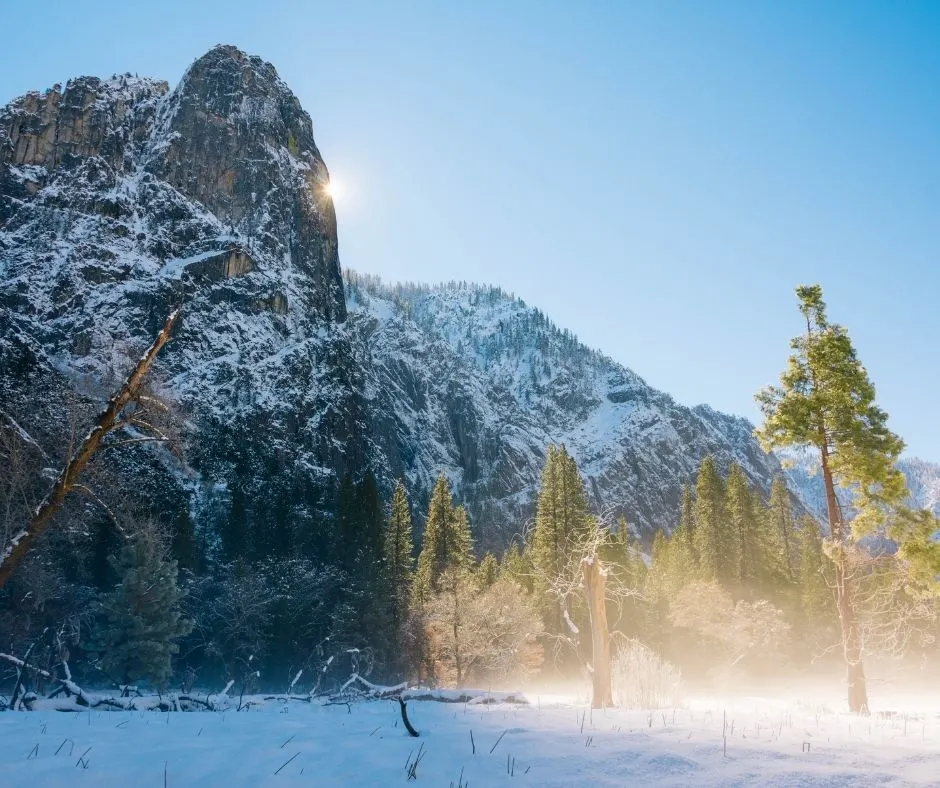 Hiking Trails Open in March
Don't think hiking is off the itinerary when visiting Yosemite in March weather. Even with snow on the ground, there are many trails open in March.
Some of the most popular are Lower Falls, Cook's Meadow and Mirror Lake. Families visiting with small children should note they are all kid friendly.
Lower Falls is a short walk to the bottom of Yosemite Falls. The path is paved until the end of the trail.
While Yosemite Falls are unlikely to be roaring in March, there may be a trickle. It is caused by melting ice so this is dependent on the weather.
Cook's Meadow is a short distance from the Valley and is on a wooden path. There are stunning views all around the walk. It is best to visit close to sunset as some of the deer in Yosemite are visible in the evening.
Mirror Lake is the longest of the three hikes at nearly 10km. Expect to see something new every kilometre. This is one of the trails where snowshoes are recommended. There is usually plenty of snow on the ground here so they can make it easier to navigate.
The hikes are perfect to squeeze into a one day or two-day itinerary.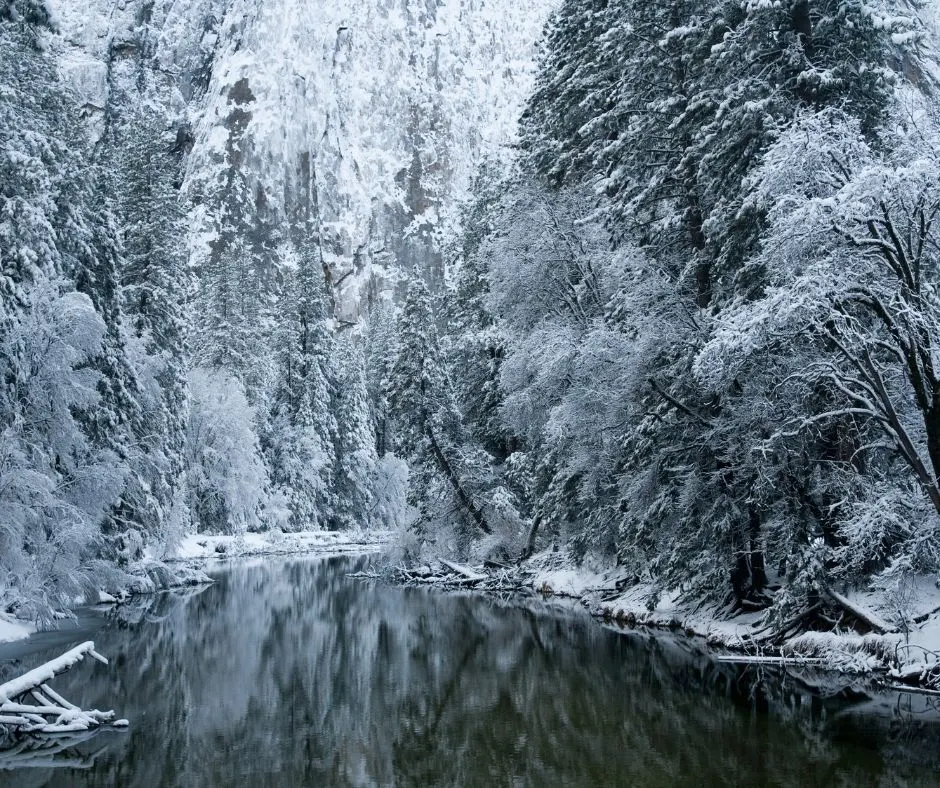 View Points Open in March
Clark Point is open in winter, hiking in Yosemite in March can be quite treacherous with ice on the ground and the trail is no exception. Crampons and hiking poles would be quite useful!
The trail to Clark Point is the winter trail of the famous Mist Trail. Part of the Mist Trail is closed in the winter and an alternative route is opened. It is best to be prepared for this hike. It states it is only 7km long, however, with detours it may be longer.
It's important to take it slow and expect it to take a lot longer to complete due to the weather in Yosemite in March. The views from Clark Point are stunning!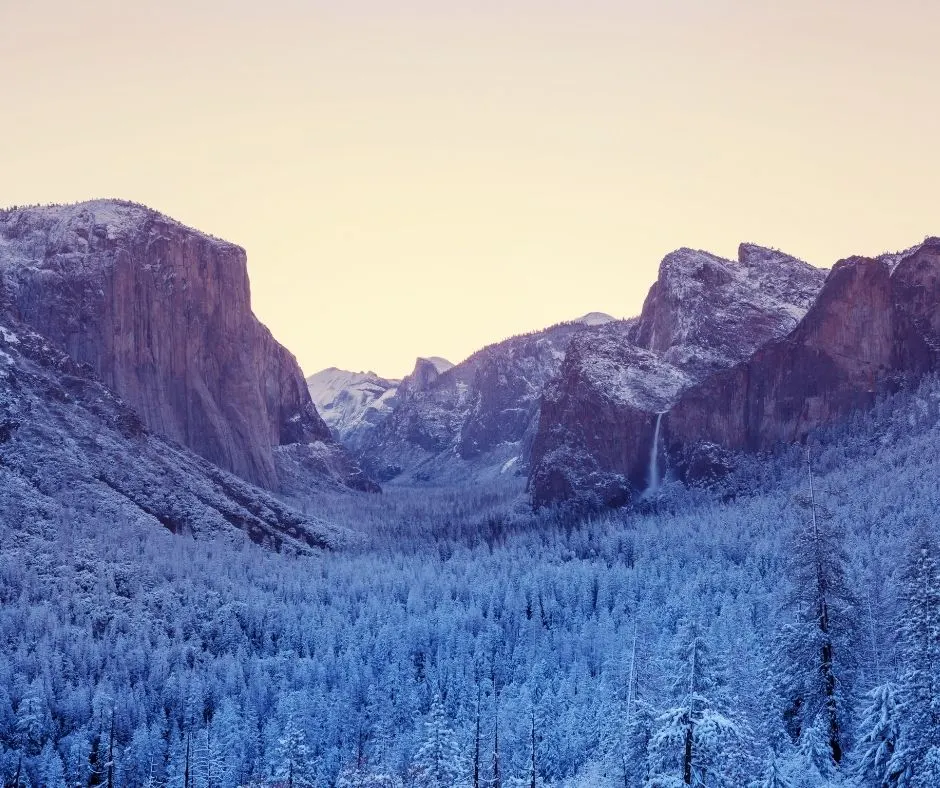 Visit the Famous Attractions
No matter the time of year at Yosemite, many of the famous attractions are still available to visit. One of the most famous is El Capitan.
While most people don't climb up the massive rock, it is still impressive to see close up. It's easy to spot climbers from time to time.
Merced River is a beautiful sight and should be running at a gentle pace in Yosemite National Park in March. Some other things to look out for are Half Dome and Sentinel Dome. It's easy to spot these two sites walking around.
The rock formations are beautiful to look at! However, they are more stunning when the sun rises or sets and causes shades of reds and oranges to appear.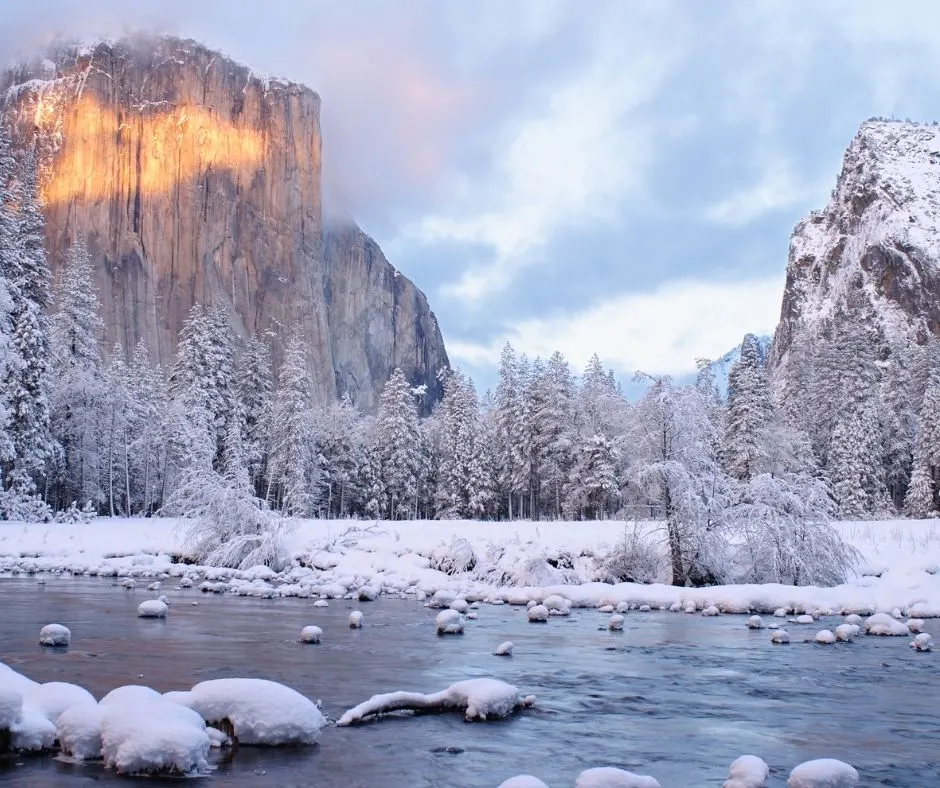 The Mariposa Grove
Mariposa Grove is home to over 500 sequoia trees. Some are over 2000 years old. It is a little bit of a drive from Yosemite Valley, however, it is totally worth it!
One downfall to winter is the road is closed to vehicles due to Yosemite National Park Weather in March, February and January. However, it is easy to strap on a pair of snowshoes and hike the two miles to the entrance. Start on the Mariposa Grove of Giant Sequoias Trail to see the trees.
The trail is 10km however it is flat, hence a good choice for families. While it is expected to take two and a half hours to complete. Realistically it is going to take a lot longer in the winter, especially with kids.
Visitors are walking slower and may want to take advantage of the many rest stops available. It would be advised to carry a packed lunch on this trip.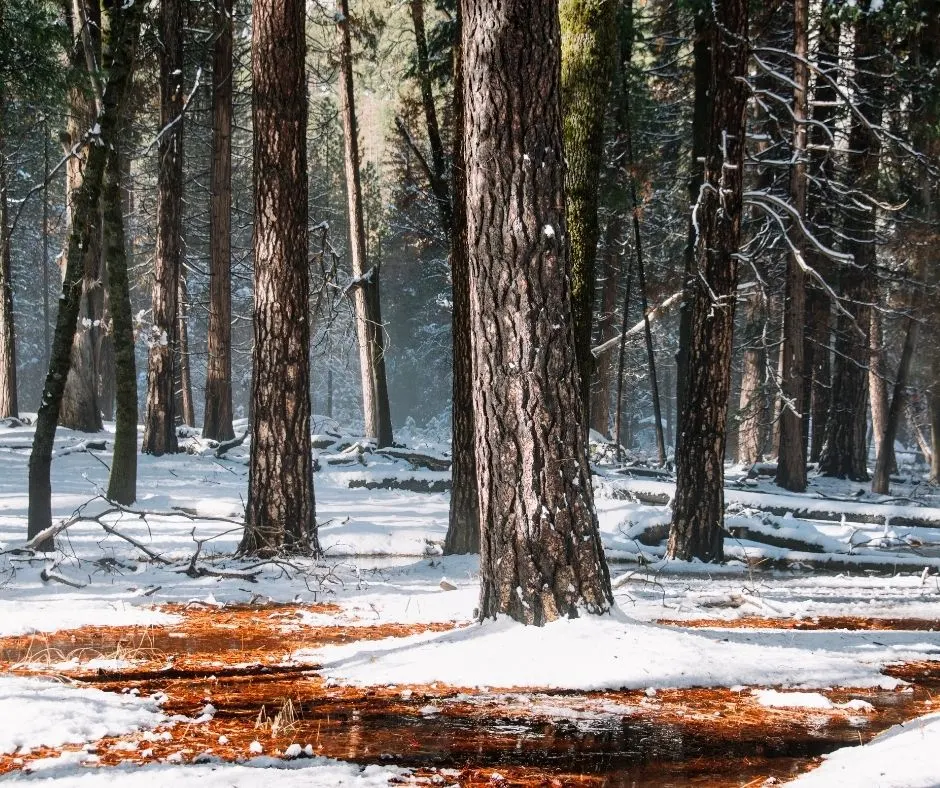 Visit the Chapel
Yosemite Valley Chapel can be used as a wedding venue and is situated at the bottom of Half Dome. It is the oldest structure in Yosemite and is listed on the National Register of Historic Places.
The architecture is simple and it is the only church in the park. The chapel is usually covered in snow and set under a few trees it is a wonderful contrast in March in Yosemite National Park.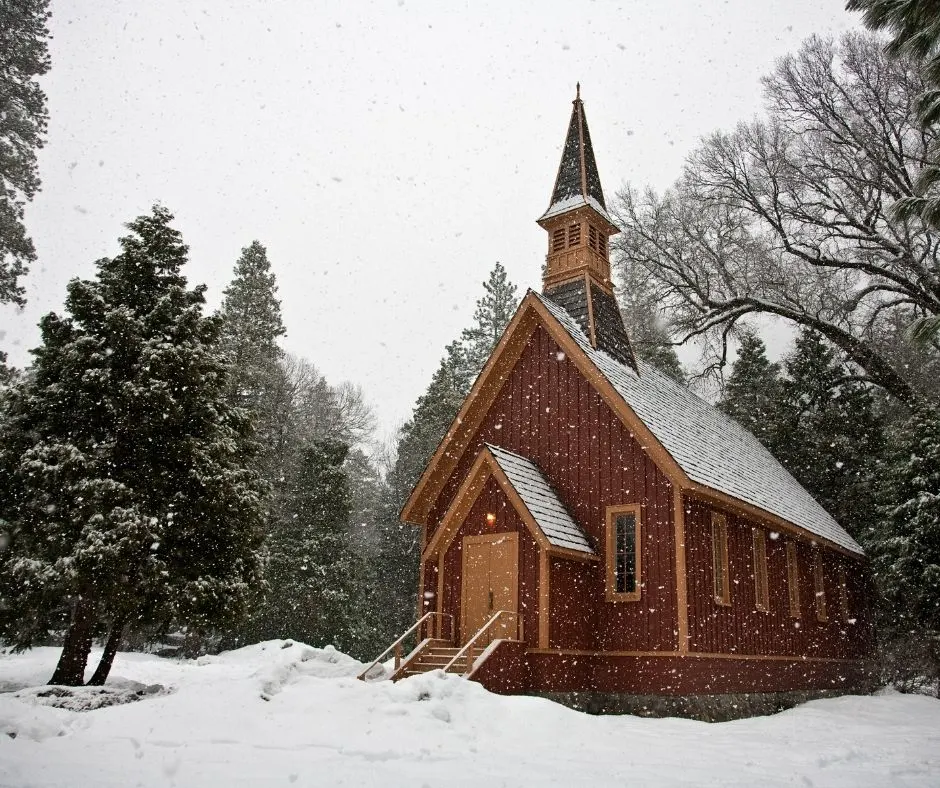 See the Waterfalls
Yosemite Falls is one of the tallest waterfalls in the world. There are twenty-five waterfalls around the park. The waterfalls do not flow all year round as they are reliant on melting snow.
To see the waterfalls in their full glory, it is best to visit in April, May or June. If visitors are in Yosemite in early March there is usually snow still on the ground.
However, Yosemite end of March time is more likely to see the waterfalls start to trickle. It is a wonderful experience watching the snow and ice melt and the first drops of the waterfall begin.
The Yosemite Falls is easy to see at the end of the Lower Falls trail. If visitors decided to take the hike up to Clark Point, they could stop to admire Vernal Falls.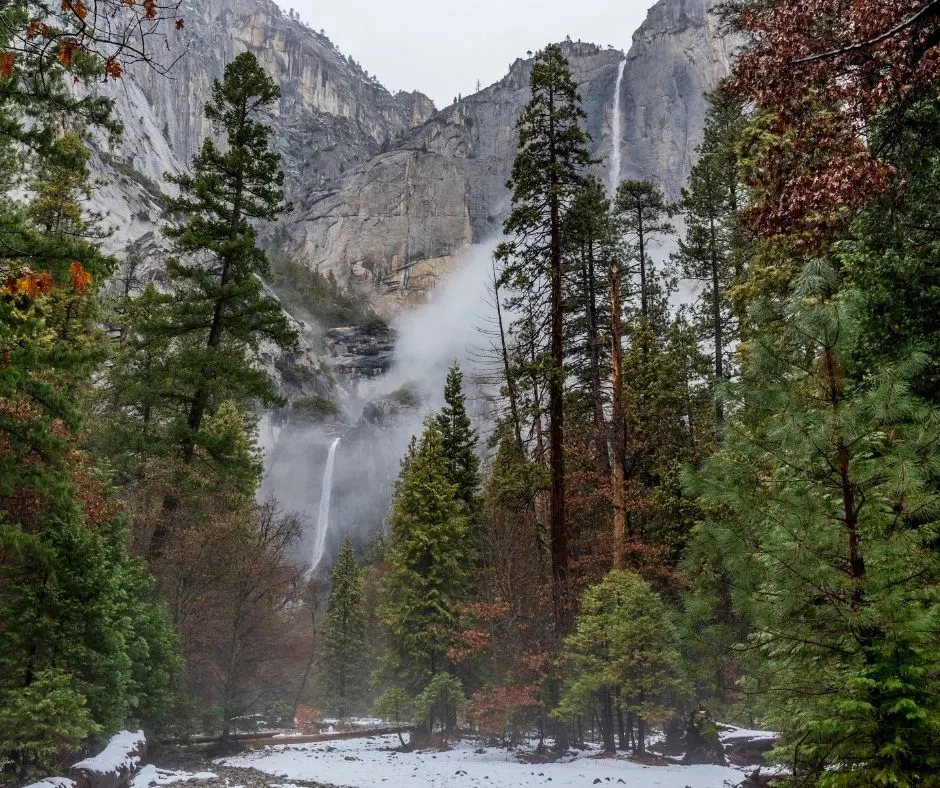 Winter Wildlife in Yosemite
Yosemite is famous for its black bears, deer and coyotes. While winter in Yosemite can offer solitude, visitors should be aware they are not completely alone.
Many of the bears are hibernating in the winter months, however, there are lots of other creatures running around in Yosemite in March. Some visitors have seen black-tailed deer, Douglas squirrels, chickadees, and coyotes.
For visitors who like bird watching; ravens and Steller jays may be spotted making tracks in the snow!
If visitors do see tracks in the snow or an animal they can identify, they should fill out a Wildlife Observation Card. They can be picked up at the park and dropped off at any visitor centre or entrance.
These observations cards can help the staff learn more about the wildlife who call Yosemite home. It may be a fun activity for kids as they hike in Yosemite.
Top Tips When Visiting Yosemite in March
The weather can change quite quickly in Yosemite. This sudden change can cause road and trails closures. The service is not great in Yosemite, however, if anything changes the rangers are always on hand to ask.
Tire chains may need to be used on the roads. They are likely to be snowy with plenty of icy patches. Even though there are fewer cars drivers should take care. There is still a danger of animals running out and there are some sharp turns.
The shuttle service runs all year round, however, there are limited routes due to road closures. Visitors should still fill up their tanks before arriving in case they decide to drive to many places in the park.
Visitors worried about driving should consider visiting Yosemite in Late March. the weather is likely to be better at this time of year making driving conditions better.
Sit Around the Fire in the Evening
There are many things to do in Yosemite in March in the evenings. The cold evenings mean many of the fire pits in Curry Village are lit and if visitors are camping Yosemite in March they could light their own fire.
This is the perfect time to unwind and gaze at the stars. Away from the city lights, the sky is lit up with thousands of stars. In fact, many astrophotographers head to Yosemite to capture the enchanting night sky. Pack a smores kit and enjoy toasting marshmallows well into the night.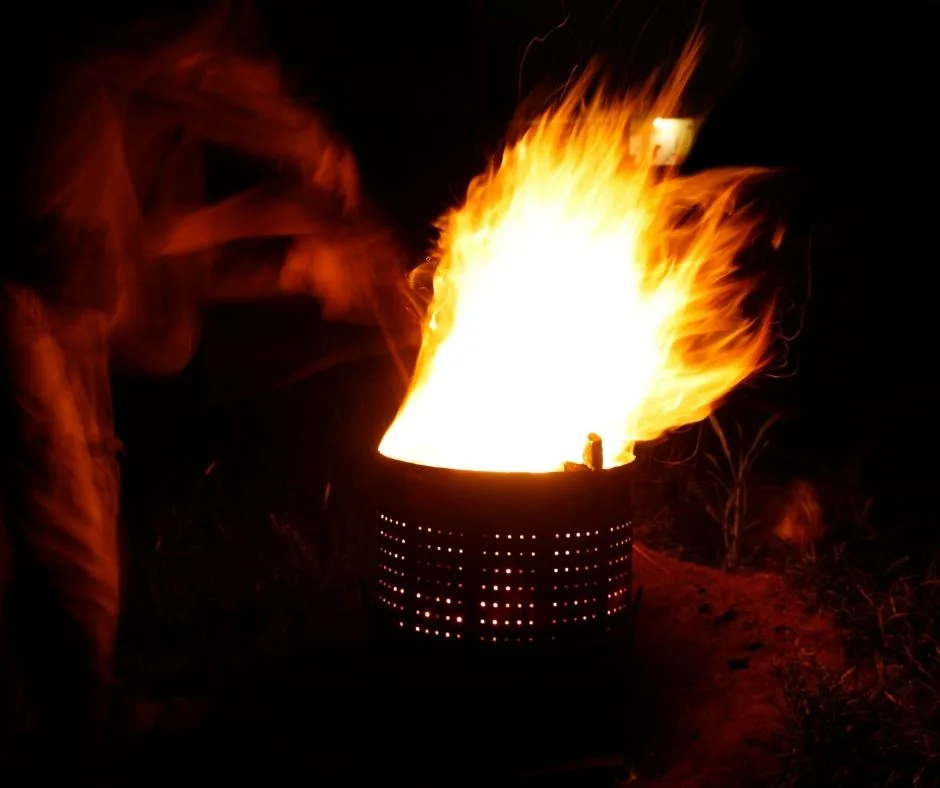 Is March a Good Time to Visit Yosemite?
You may be wondering is March a good time to visit Yosemite and the answer is yes! There are rumours Yosemite National Park may be limited visiting time in the summer.
The National Park wanted to limit crowds due to COVID19 and required all visitors to book in advance. There are many construction projects happening in the park. A one-day visitation restriction can keep the crowds controlled.
This is understandable and a great way to keep the park open while essential work is carried out.
However, it is difficult to squeeze everything Yosemite has to offer into one day. To see the best of Yosemite a two or three-day itinerary is best.
Look Out for Signs of Spring
Believe it or not, March is considered winter in Yosemite. Visitors in the park in late March may, however, start to see the first signs of Spring.
There are unlikely to be wildflowers as these usually appear in June and July. One flower to look out for are California Poppies. These golden flowers start to appear when the snow melts so they can be seen near the end of the month.
Heated Camping or Glamping
Yosemite temperature in March can be off-putting for camping. Luckily, Yosemite has its own glamping area in Curry Village. The heated tents are great for visitors who want to camp in style. As they can sleep up to four in each tent, they are perfect for couples or small families.
The tents are comfortable, however, there are no private bathrooms. There are shared bathroom on site.
Right outside guests can enjoy the breathtaking views of the mountains. Both the heated tents and the cabins are popular and book up early.
To find out more information about Curry Village click here.
Camping Yosemite in March
Camping Yosemite in March is an authentic experience and a popular choice. The nights are cold in Yosemite Valley in March so if visitors want to camp it is important to bring the right sleeping bag.
There are campgrounds all over the park. North Pines is one of the most popular and it is near the Valley. The tents are spread offering plenty of privacy.
Bears generally hibernate in winter and some may still be wandering the park. The bear storage containers must be used to store all food, drinks and toiletries in the evenings.
The rangers are actively monitoring the campgrounds so don't be surprised to hear loud banging as the rangers scare the bears off.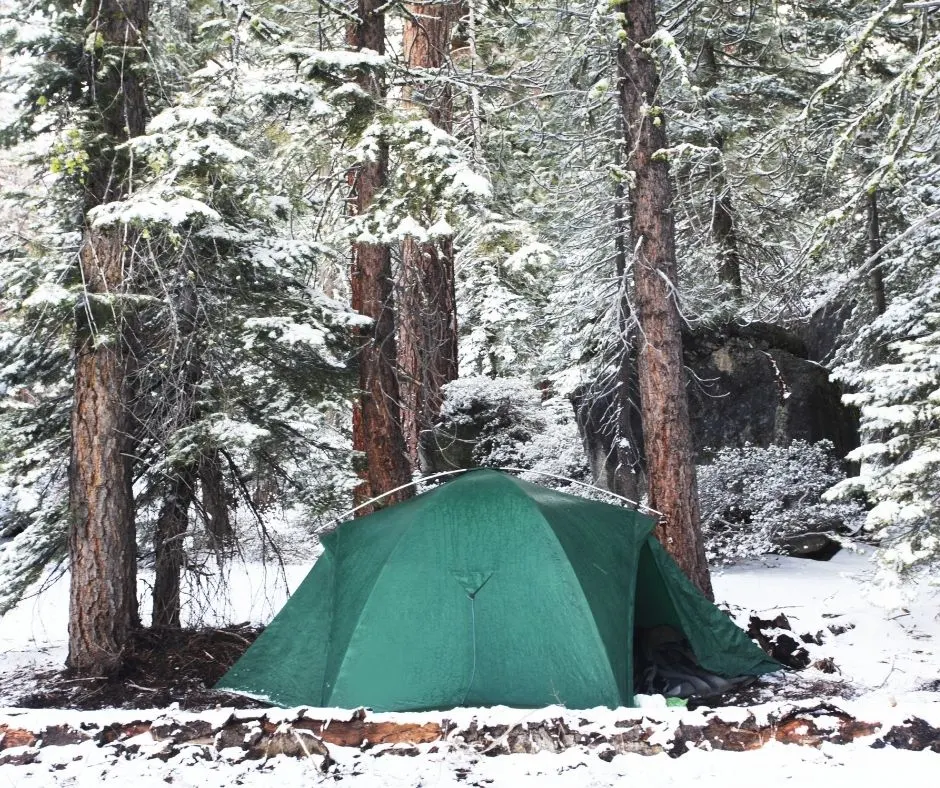 Stay at an RV Park
RV Parks in Yosemite are combined with many of the campgrounds. Most sites have toilets and some have dump stations. However, none have electric hookups.
If a stay in an RV sounds appealing, it is easy to rent an RV for the trip. It is such a great way to experience Yosemite Park in March.
Click here to make a reservation at one of the RV Parks in the Valley.
Holiday Homes in Yosemite
On the west side of the park, there are a number of holiday homes and cabins to rent. They offer all of the comforts of a home away from home and a little solitude.
Most are just a short drive from the Valley so they are close enough to the trails and far away from the crowds.
There are many to choose from, all offer their own facilities. Visitors can choose from hot tubs and wood fires. Perfect for weather in Yosemite National Park in March. Some are large and can accommodate families or groups. Others are small, a perfect size for couples.
To book a vacation rental at Yosemite National Park click here.
Hotels in Yosemite Valley
For those who enjoy the luxury of hotel stays, Yosemite Valley Lodge offers spacious rooms and lots of facilities on the premises.
There is a restaurant on-site and the location is right next to the main attractions. Yosemite Falls is right beside the hotel and guests are treated to stunning views in Yosemite Park March.
One thing to mention is while it states there is WiFI, it is only for checking emails and some light browsing. If visitors wish to stay at the hotel, they must book ahead.
To make a reservation for Yosemite Valley Lodge click here.
Luxury Hotels Near Yosemite
Visiting Yosemite in March it is more likely to get a reservation at either a campground or hotel. The Rush Creek Lodge is a little while away from Yosemite Valley and is one of the luxury options.
There are several room types available for couples to large families. The outdoor pool may not be open, however, the hot tub is so nice on the colder evening. Some other facilities include; a games room, sauna, spa, restaurant and shop onsite.
To book a room at the Rush Creek Lodge click here.
Backpacking in Yosemite in Winter
Backpacking is not out of the question in Yosemite in March. The Tuolumne Meadows Ski Hut, Snow Creek Cabin, and Ostrander Ski Hut remain closed this winter. Due to weather conditions, it is always best to check the website for more information.
The only backpacking areas open in the winter involve hikes on snowshoes or skis. The winter trails are well marked and don't follow the winter trails.
Backpacking in Yosemite in March is different from other months of the year. There are more hazards to be aware of and it is not a trip for beginners. Visitors are not able to make a reservation for a wilderness permit in the winter. they can pick one up the day before at various points around the park.
The permit should be collected at the starting point. While backpacking in March is not popular, due to the limited amount of places reservations can fill up quickly.
Backpackers should be well prepared for their trip and have good knowledge of what to do in an emergency. There are many guidelines to follow. The guidelines are there to protect backpackers, wildlife and the park. It is a good idea to be aware of them before setting off.
Visiting Yosemite in March can have its challenges. With weather changes and road closures, it is certainly not a walk in the park. It takes preparation however, visiting at this time of year offers sights not seen at other times.
The melting snow makes it the best of the winter months. As the waterfalls begin to trickle the sounds of Yosemite also begin and the park starts to come to life.
Whether visitors decide to take a hike, visit the waterfalls, see the sunset over the granite cliffs or simply star gaze in the evening, Yosemite in March is the time to do it.
You May Also Like:
How to Plan a Trip to Yosemite | April in Yosemite | The Best Hikes in Yosemite National Park | One Day in Yosemite | The Ultimate Yosemite Packing List | Yosemite in Fall | RV Parks Near Yosemite | Rafting in Yosemite | 10 Kid Friendly Hikes in Yosemite | Winter Hikes in Yosemite | The Magic of Yosemite in December | Best Photo Spots in Yosemite | Why Yosemite Weather in May Makes it the Best Time to Visit | 10 Reasons to Visit Yosemite in January | The Perfect Guide to Visiting Yosemite in March | 10 Amazing Things to do in Yosemite in February | 10 + Things to Do in Yosemite in June | Pumpkin Farms in Maryland
Best pumpkin farms in Oregon | Flying With A Toddler | Best Pumpkin Farms in Florida | Best Pumpkin Farms In California
Will you be needing travel insurance, flights, rental cars, or hotels for your trip?
Disclaimer: This post may contain affiliate links. By using them it will not cost you any extra, we will receive a small percentage of the sale.
Last update on 2023-11-30 / Affiliate links / Images from Amazon Product Advertising API