Yosemite has some of the most breathtaking scenery in the world. The best photo spots in Yosemite include the most famous places in the park, however, there are many locations not known to visitors. Some give a different perspective.
Yosemite National Park is home to some of the most beautiful landscapes. It's one of the most popular national parks in the United States, drawing around 4 – 5 million visitors per year.
The gorgeous scenery attracts many photographers who spend days capturing photos of the park with an abundance of locations to capture the cascading waterfalls, granite cliffs or burnt orange sunsets.
With many famous landmarks close to the Valley, most visitors drive in a car, RV or take a short kid friendly hike.
This is a great advantage if visitors are travelling with kids. However, there are a few locations where visitors need to plan an itinerary and hike for some stunning photos.
In fact, the park has got an extensive amount of photo spots which can be found in nearly every corner of the park. The only downside is the photo locations can get very crowded and it becomes difficult to get a good spot.
To help visitors leave Yosemite with the best photos, this guide includes where to go, what to bring and the best time to go so they can come up with a great itinerary.
Yosemite Photo Spots
Tunnel View
Tunnel View is a viewpoint in Yosemite National Park, California. It is one of the most iconic views in Yosemite National Park, especially for Instagrammer's who want to take pictures while standing in front of the El Capitan rock formation and Half Dome.
There are plenty of Yosemite photo spots, however, Yosemite's Tunnel View may just be the most photographed scene in the world. It is one of the most recognisable views as it is the site of some of the most famous Yosemite photographs.
This includes Ansel Adams' Yosemite clearing storm images. Visitors can see more of his work at the Ansel Adams Gallery in Yosemite Valley.
As visitors stand at the viewpoint in front of the Tunnel View parking lot, to the left is El Capitan and to the right is Bridalveil Falls, Cathedral Rocks and Half Dome. It doesn't get more beautiful than this?
The great thing about Tunnel View is how accessible it is and visitors don't have to hike there. Most head to Tunnel View from Yosemite Valley. It is just a short fifteen-minute drive. Head east on Wawona Road and turn off to the right just after Artist Point Trailhead.
It is open all year round and there is plenty of speculation about the best time of year to capture a photograph. The lighting at Golden Hour in late spring and early summer is perfect, likewise, the lighting in winter is stunning.
No matter what time of year, it is best to head to Tunnel View in the late afternoon. Visitors want to get there at sunset. Hang around a little while, the soft light and extraordinary colours are amazing.
If you are a budding photographer, a flexible tripod is a great option to keep luggage light and capture great angles.
Photographing Yosemite El Capitan
The El Capitan is a granite monolith in Yosemite National Park. The rock towers at 3,593 feet and is the world's largest granite monolith. The Granite forms under volcanoes when it is molten red hot rock, then as it cools slowly it forms big strong crystals.
This makes granite the perfect material to create giant cliff faces. However, it is not something seen every day. In fact, El Capitan was a big part of why President Abraham Lincoln declared Yosemite a National Park and a place to be preserved in 1964.
El Capitan is thousands of years old and unbelievably there are very few cracks or fractures. Climbers from all over the world come to Yosemite to try and scale the huge wall. For many, it can take several days to reach the top, so many come for the challenge.
Visitors may see a few climbers when visiting the rock and snapping a photo right underneath is an option. Visitors can also take one from the road but it may be difficult to get a good one, as this area is usually very busy.
There are several other places to take a photo of El Capitan. If visitors went to Tunnel View, El Capitan can be seen from this viewpoint.
However, there are other places where El Capitan takes centre stage. One of the most beautiful places in Yosemite is Valley View. A reflection of El Capitan can be seen on the river, this viewpoint is easy to get to and it can be easily missed as it is not marked.
To capture those wonderful reflections try and arrive early on a bright sunny day. Any time of year is possible to take a breathtaking photo.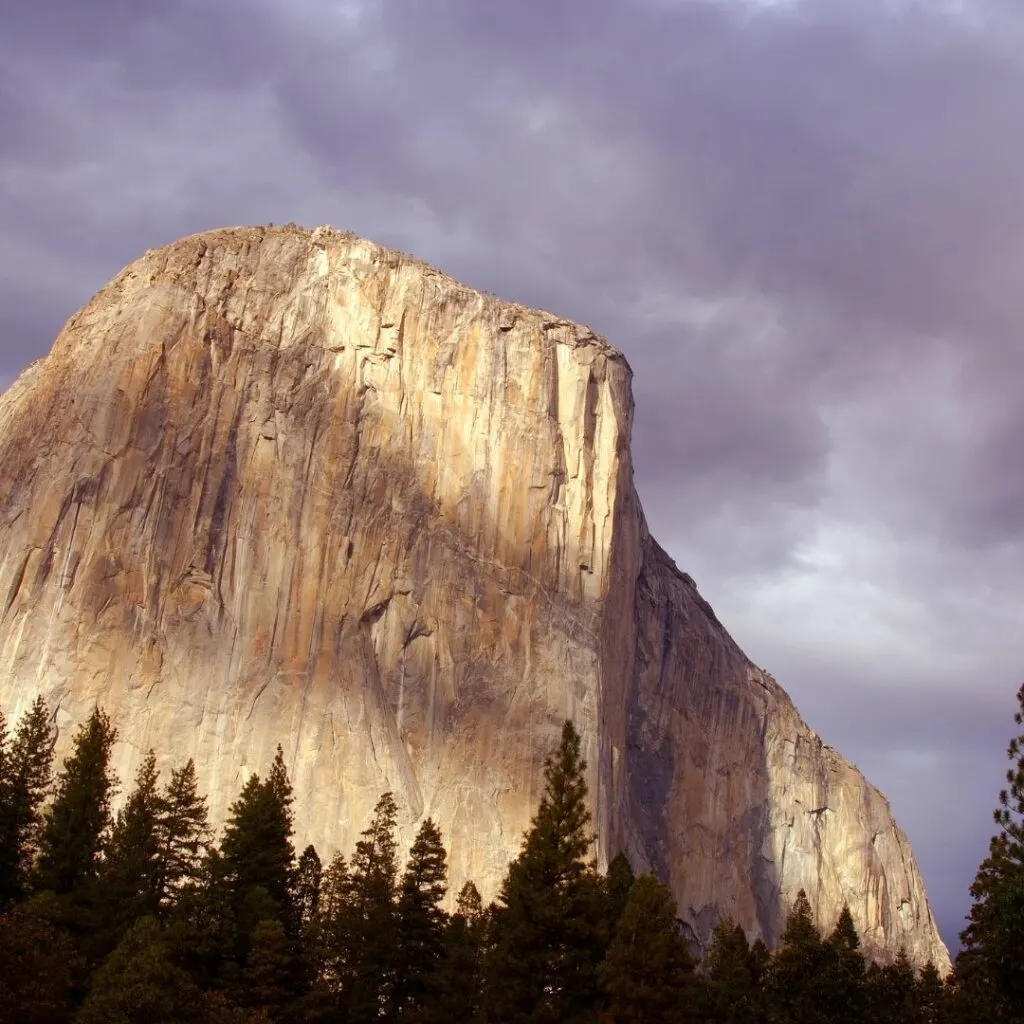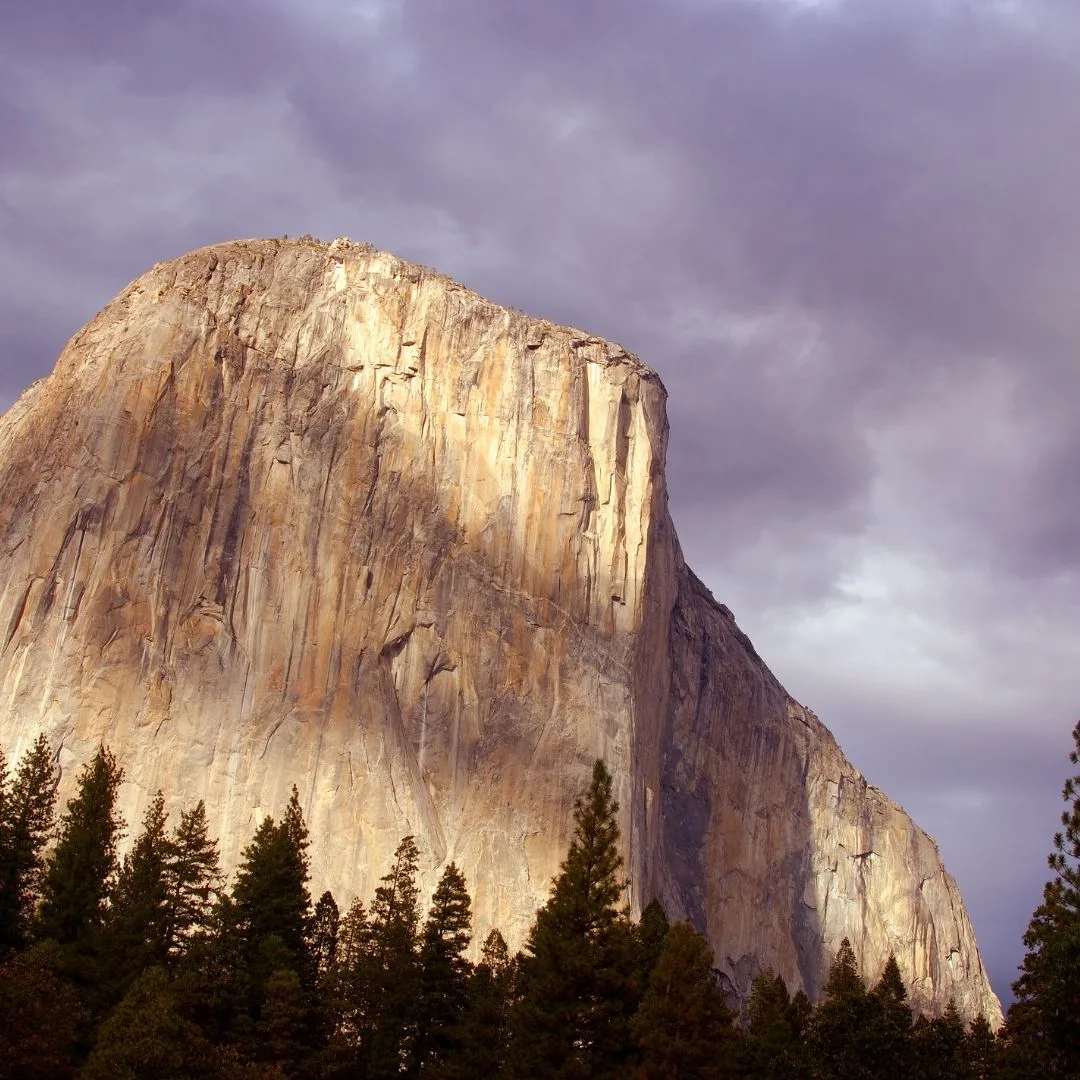 Best Photography Spots in Yosemite Falls
Yosemite Falls is a waterfall located in the Yosemite Valley of California. It is the 2nd tallest waterfall in North America, it ranks as one of the most powerful waterfalls in the world. It is a major tourist spot due to its sheer size and beauty, making it a popular location for photographers.
Before diving into where to take the best photo, it is worth noting Yosemite Falls does not flow all year round. The flying water is caused by the snow melting around April. It is gushing in spring and starts to dry up in July to August.
Most visitors want a photo of the water overflowing, so visiting around late April, May or June is the perfect time of year. It mostly depends on the amount of snowfall, it's worth checking the weather to avoid disappointment.
To capture the Lower Falls, head along the trail. There is no need to get too close. In fact, standing a little further back gives a more picturesque shot.
To take a photo of Upper Falls, go to the Ansel Adams Gallery in Yosemite Valley. The Upper Falls have a few angles to get a great photo.
Visitors can take a photo any time of day. The best time to visit Lower Falls is in spring between 7 and 8 am. At this time is may be possible to see a rainbow in the mist.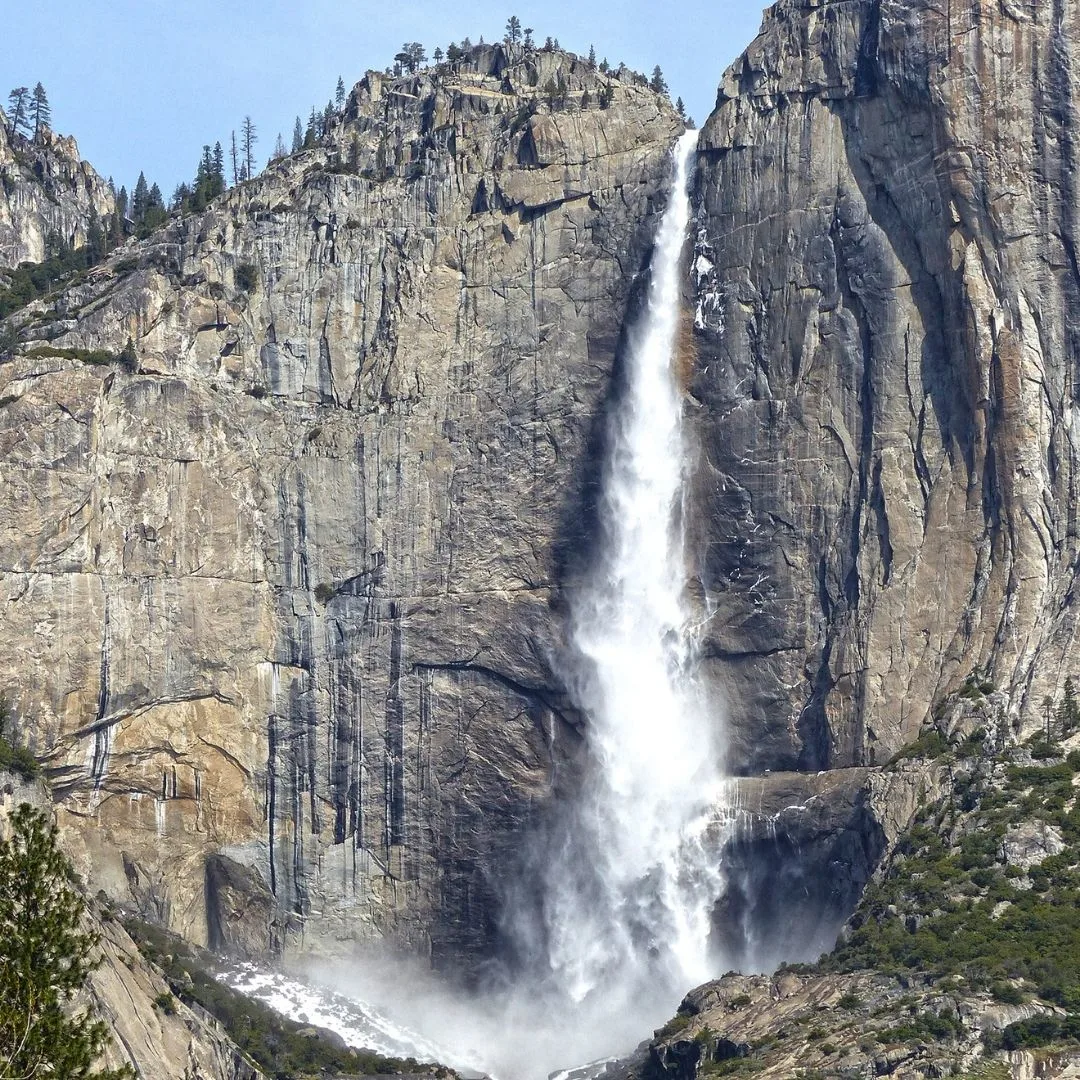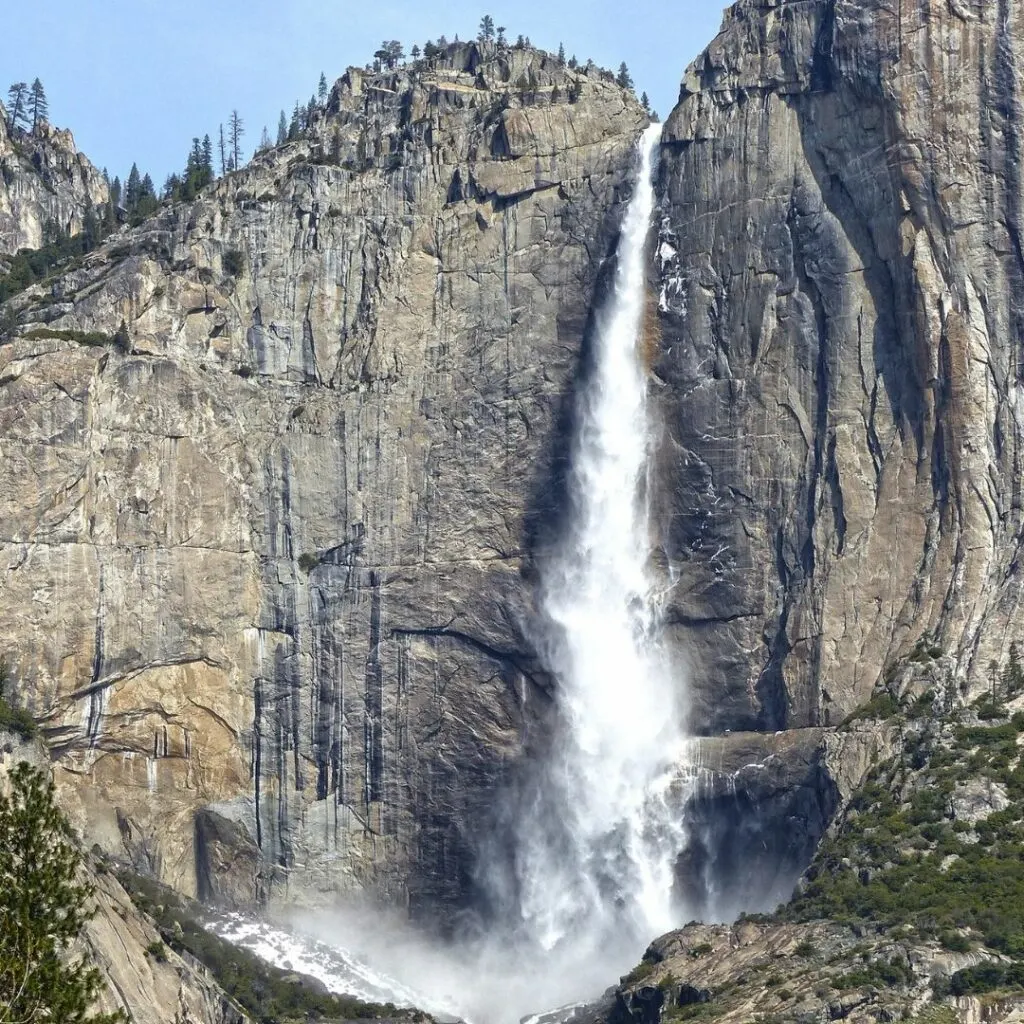 Best Photo Spots in Yosemite's Sentinel Bridge
Sentinel Bridge is a popular attraction, as it is one of the best photo spots in Yosemite National Park. From the bridge, there are fantastic views of Half Dome and if visitors are lucky there may be a reflection in the Merced River below. It is located in Yosemite Valley making it easy to get to and is at shuttle #11 near Cook's Meadow.
Like many photo spots in Yosemite, sunrise and sunset are the best time to go. This is due to the soft lighting and the colours reflected on the granite cliffs. Sentinel Bridge is no different.
It is open all year round, it can get quite busy. Setting a camera up on a tripod is a great way to get a good shot amongst the crowds.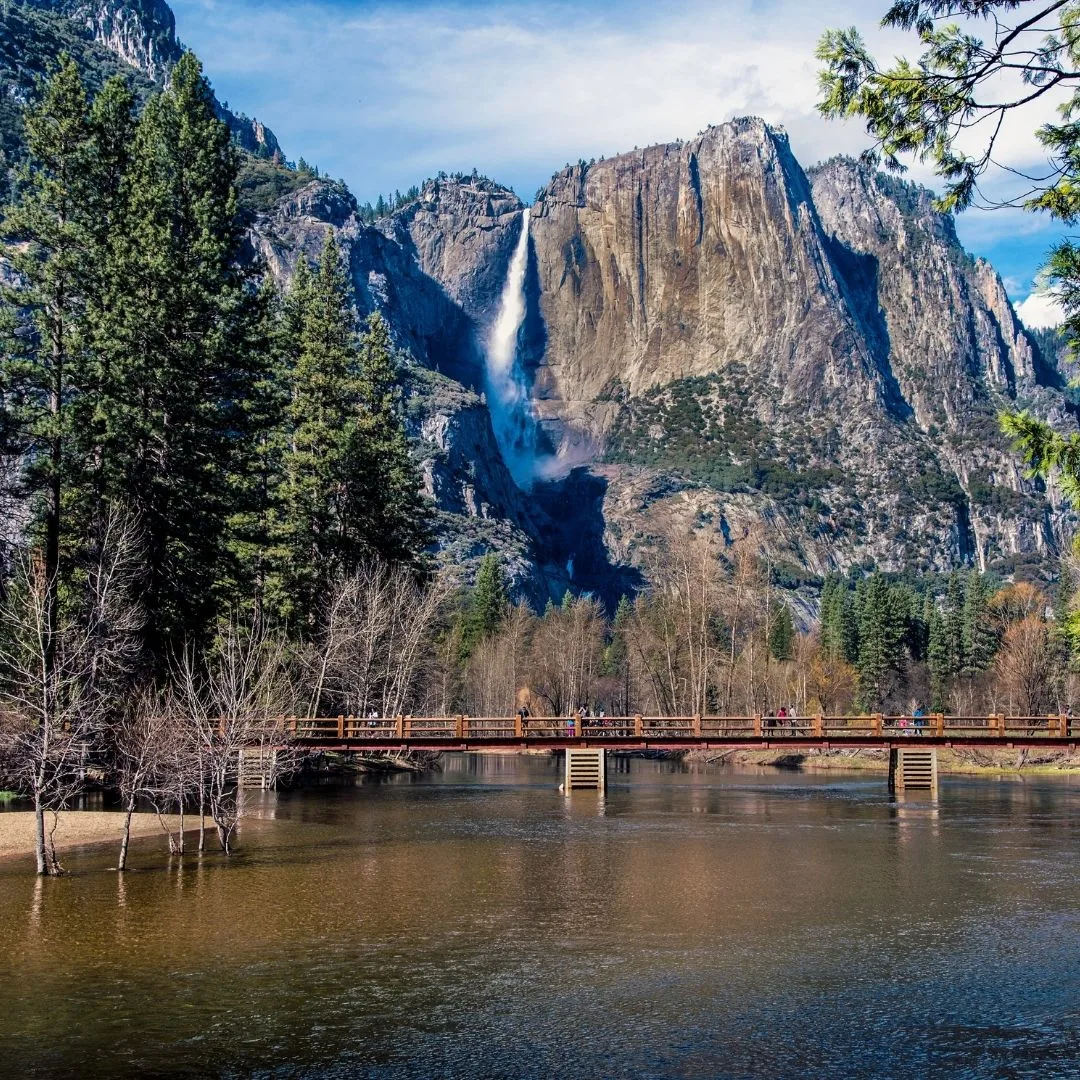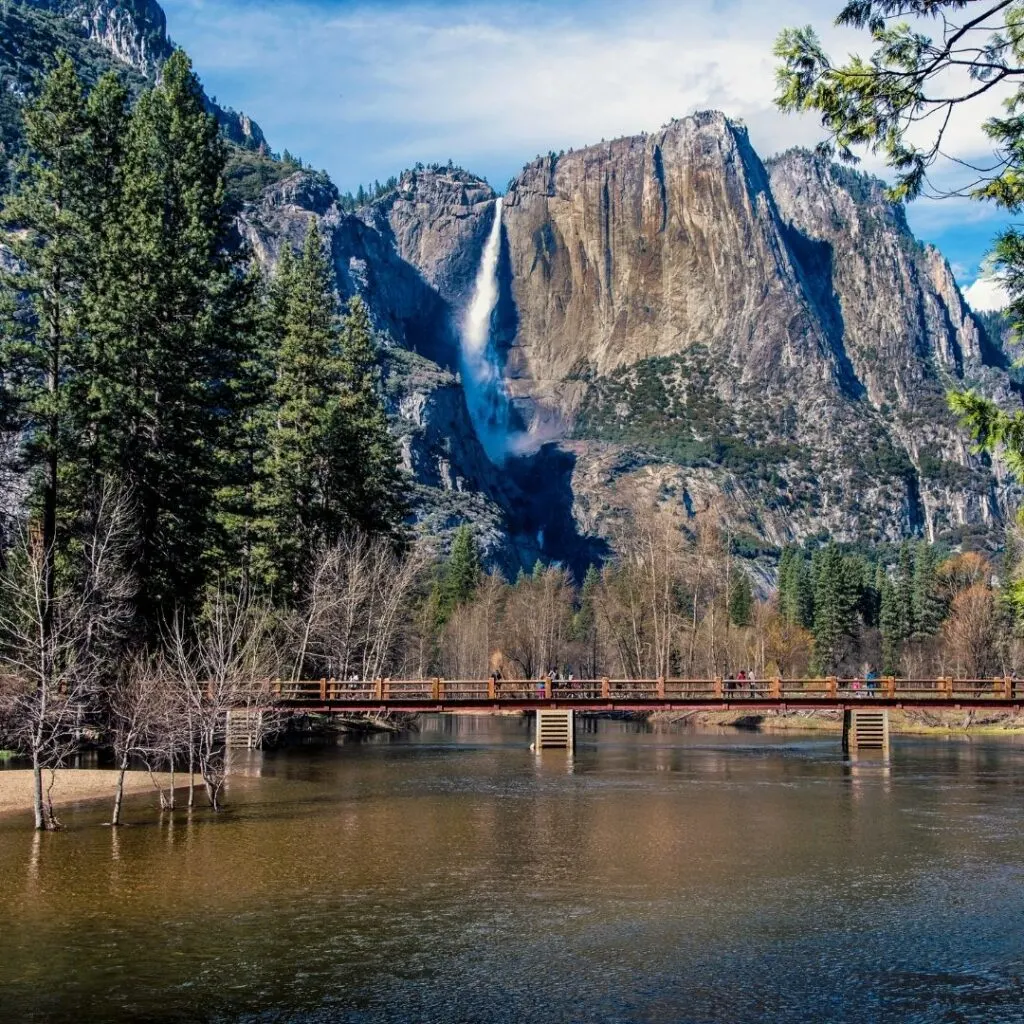 Yosemite Photography Spots in Cook's Meadow
Every year, millions of people visit Yosemite. One of the most popular reasons to visit is to see Cook's Meadow and its many trees. Cook's Meadow is a beautiful and iconic part of Yosemite National Park.
The kid friendly hike gives visitors stunning views of Yosemite Falls, Half Dome, Glacier Point, and Sentinel Rock. The colours of the grass and surrounding trees are a beautiful contrast to the sheer cliff faces.
If visitors want to get wildflowers along with Yosemite Falls roaring in the background, visit in Spring. There are plenty of deer in the area. At sunset, the deer are more active and the lighting is perfect for photos.
Cook's Meadow is near Yosemite Valley Visitor Center at shuttle stop #5 or #9. If visitors are coming from Sentinel Bridge the trailhead begins at shuttle stop #11.
The trail has a pathway through the meadow. While it can be tempting to walk on the meadow to get a good angle, it is important to stay on the trail and not disturb the wildlife.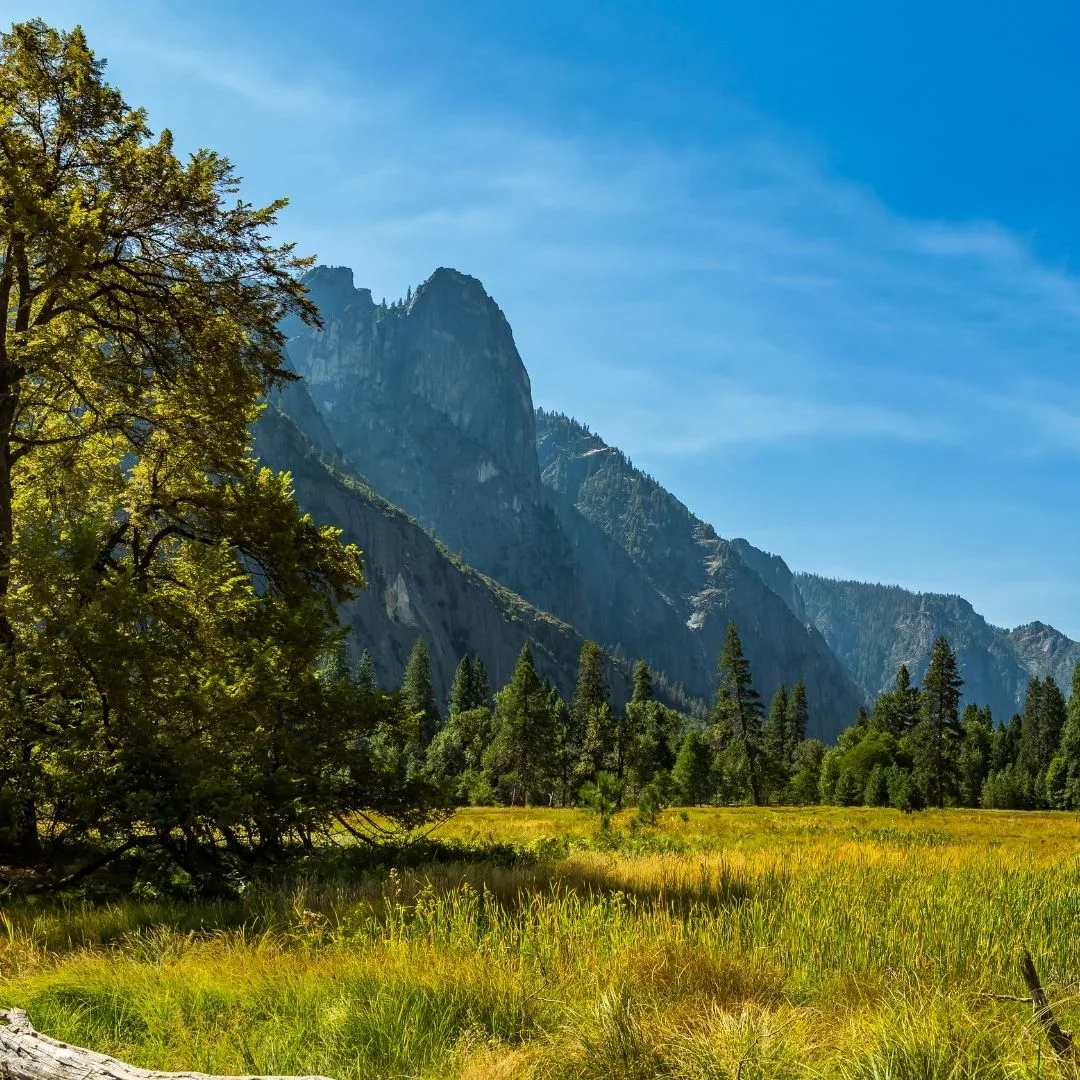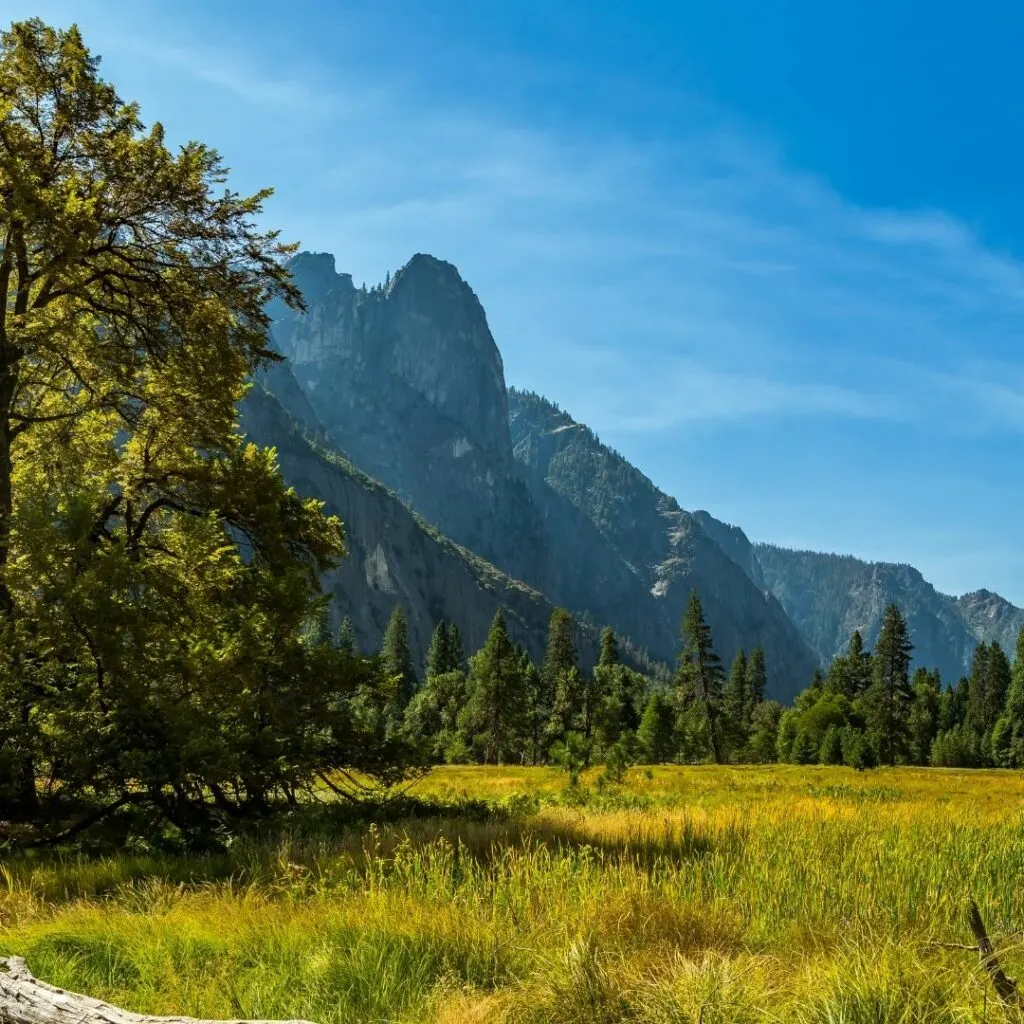 Yosemite Sunrise Photo Locations at Sentinel Dome
Some people hike Sentinel Dome as it's a steep climb to the top and it offers stunning views of Yosemite Valley and Half Dome. Others are attracted to the geology, including the domes made from granite that have eroded into an amphitheatre shape.
Photographers visit due to the 360-degree views and it is one of the best photography spots in Yosemite. There are plenty of opportunities for stunning photographs.
Yosemite Valley, including El Capitan and Yosemite Falls into the north. Nevada Falls, Half Dome, Clouds Rest, and some of the High Sierra peaks are to the East. Over to the West, visitors can see down Yosemite Valley and the Merced River canyon.
The only downside to Sentinel Dome is the location. It is off Glacier Point Road and closed in winter. Visitors wishing to visit at this time need to hike to the top.
If arriving in fall or spring, it is possible to drive to the car park any time of day. In summer it is recommended to take the free shuttle bus between 10 am and 4.30 pm. This is due to limited spaces in the car park.
Arriving at sunset or just after is ideal for photographs. Many photographers arrive in the evening as it is a great place for astrophotography. While the car park is just a short walk away, it may be better to have a torch or headlamp.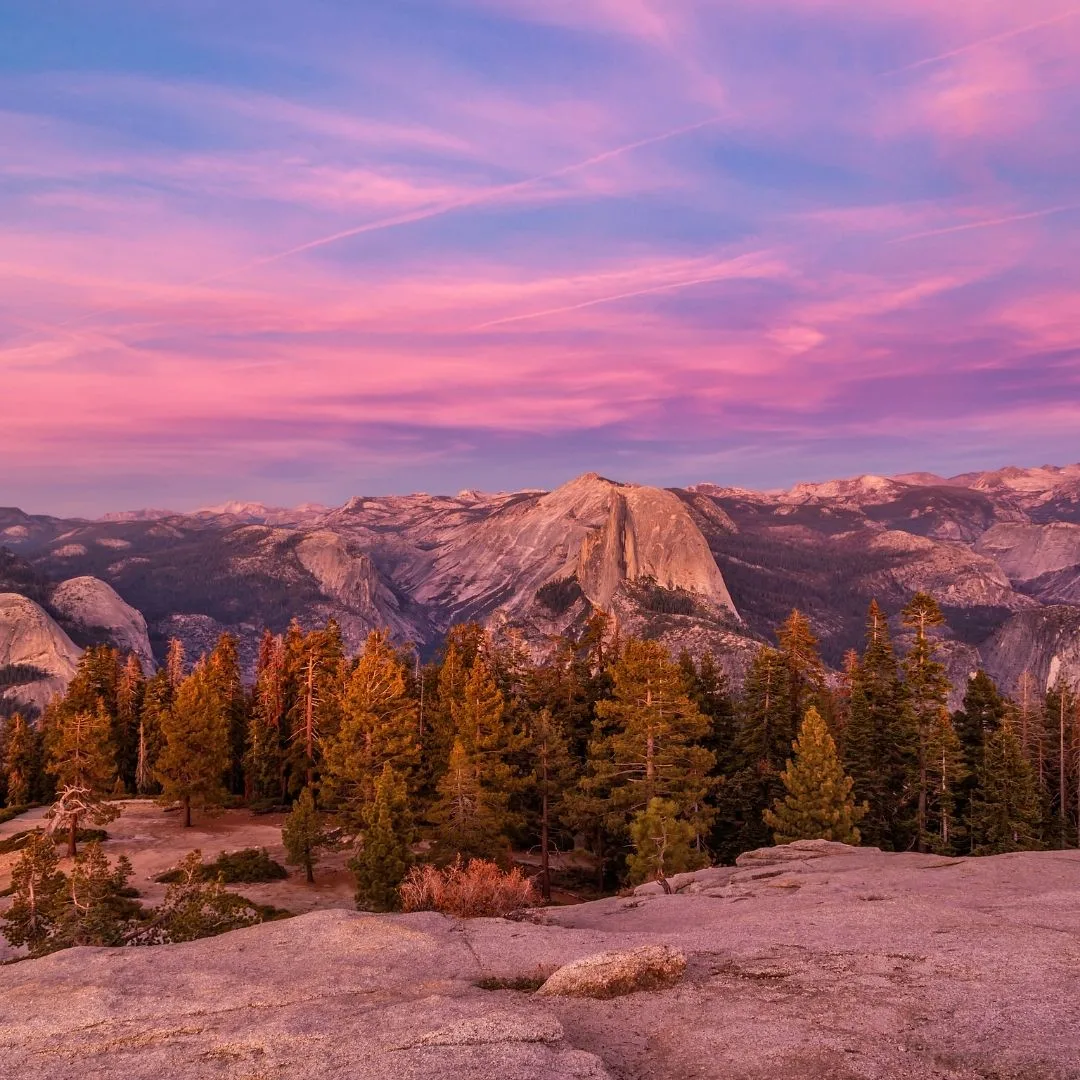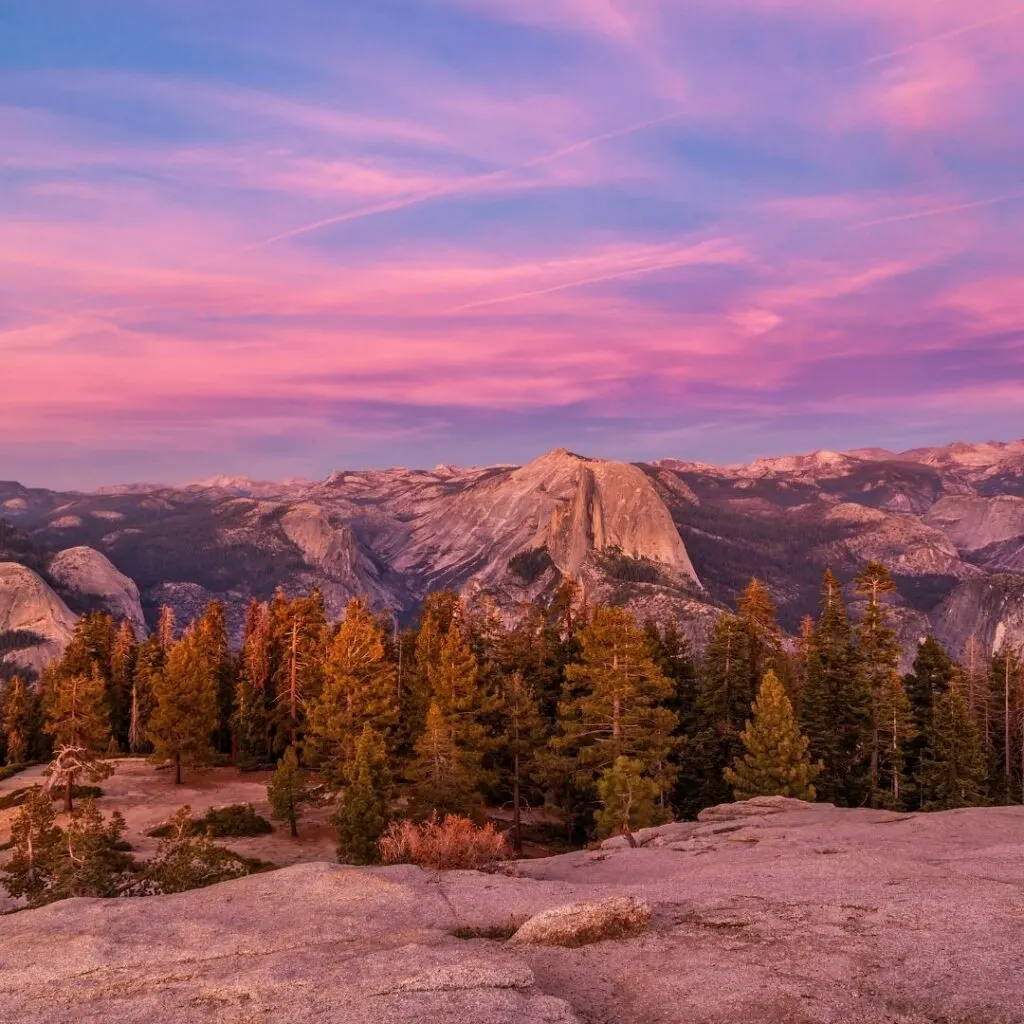 Yosemite Photograph Tour of Nevada and Vernal Falls
If visitors are not convinced about the beauty of Yosemite National Park, Nevada and Vernal Falls should do the trick. Both are iconic waterfalls and beautiful to look at and a perfect stops during a Yosemite photography tour.
When visitors visit the falls it is easy to understand what has drawn people back to Yosemite year after year since 1855 when John Muir first discovered it!
The best way to get to Nevada and Vernal Falls is the Mist Trail. It is one of the best hikes in Yosemite so expect there to be a lot of people around. It can be a moderate hike and difficult in some places.
With spray coming from the falls, it can get slippery in places so it is best to wear good hiking shoes. The spray can make equipment wet, Rain covers can be used or have wipes on hand to keep the lens dry.
The trail starts and ends at Happy Isles Trailhead. Again with any trip to see the waterfalls, arrive after the snow melts and before summer to see the water overflowing and maybe capture a rainbow in the mist. The best months are May and June.
This trail is around 11km and takes around four hours. The trail is closed in the winter months of December, January, February and March due to ice and snow. Visitors have the option of taking the John Muir Trail, it is a lot more difficult in the snow and the waterfalls are not flowing.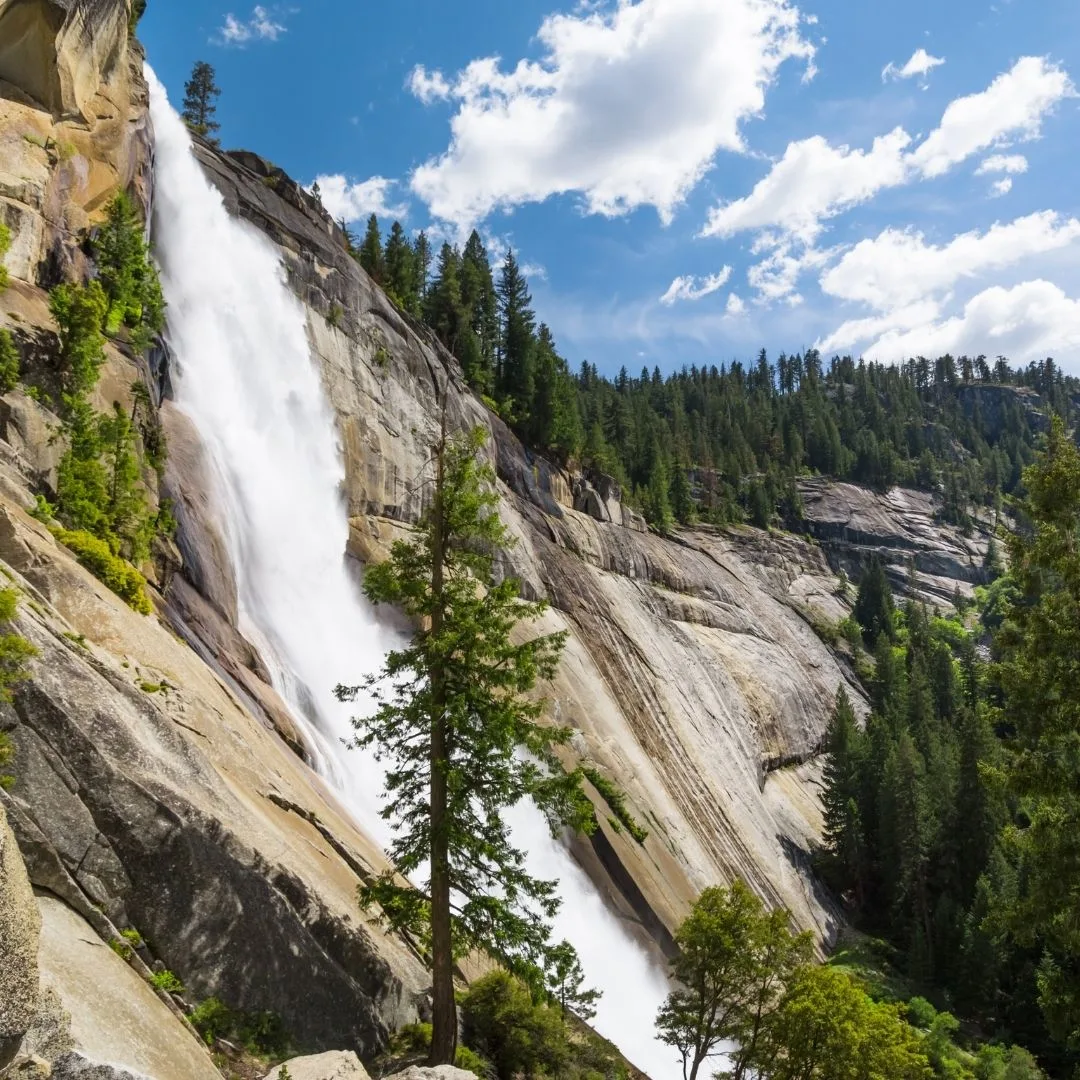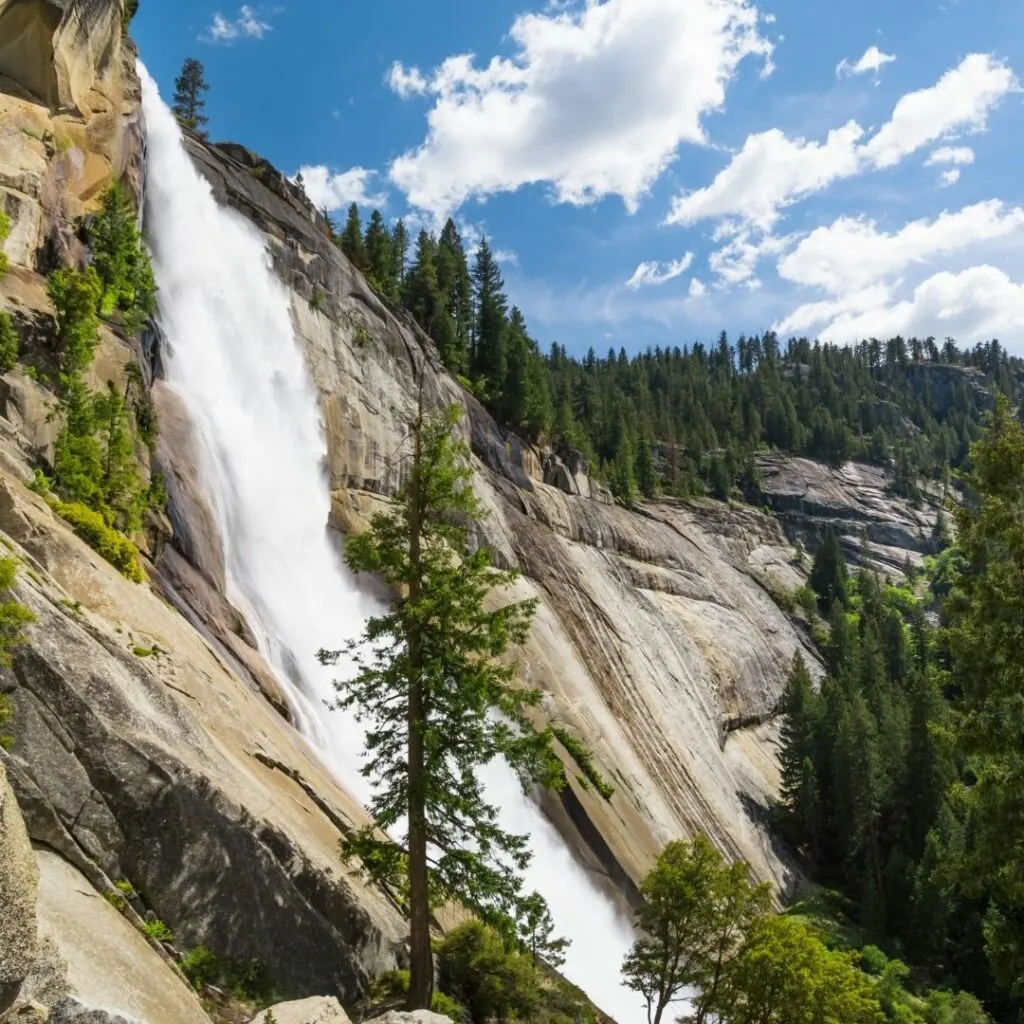 Yosemite Winter Photography at Mirror Lake
Mirror Lake is a beautiful lake in the national park of Yosemite. Many photographers arrive in spring to capture the reflection of Half Dome in the lake. While this is a beautiful time to visit, the winter months January, February and March are spectacular for the contrasting colours.
If visitors go around sunrise, the white snow on the ground with the green trees in the background mixed with the burnt orange reflection of the sun on Half Dome is striking. It makes breathtaking Yosemite winter photography.
The area is known for its wildlife. There won't be any bears in winter, however visitors could get lucky and capture a fox or coyote in the shot.
It is easy to get to being just a stone's throw from Yosemite Valley. The trailhead starts near shuttle #11. Visitors may want to add some snowshoes to their packing list to help navigate the snow on the trail.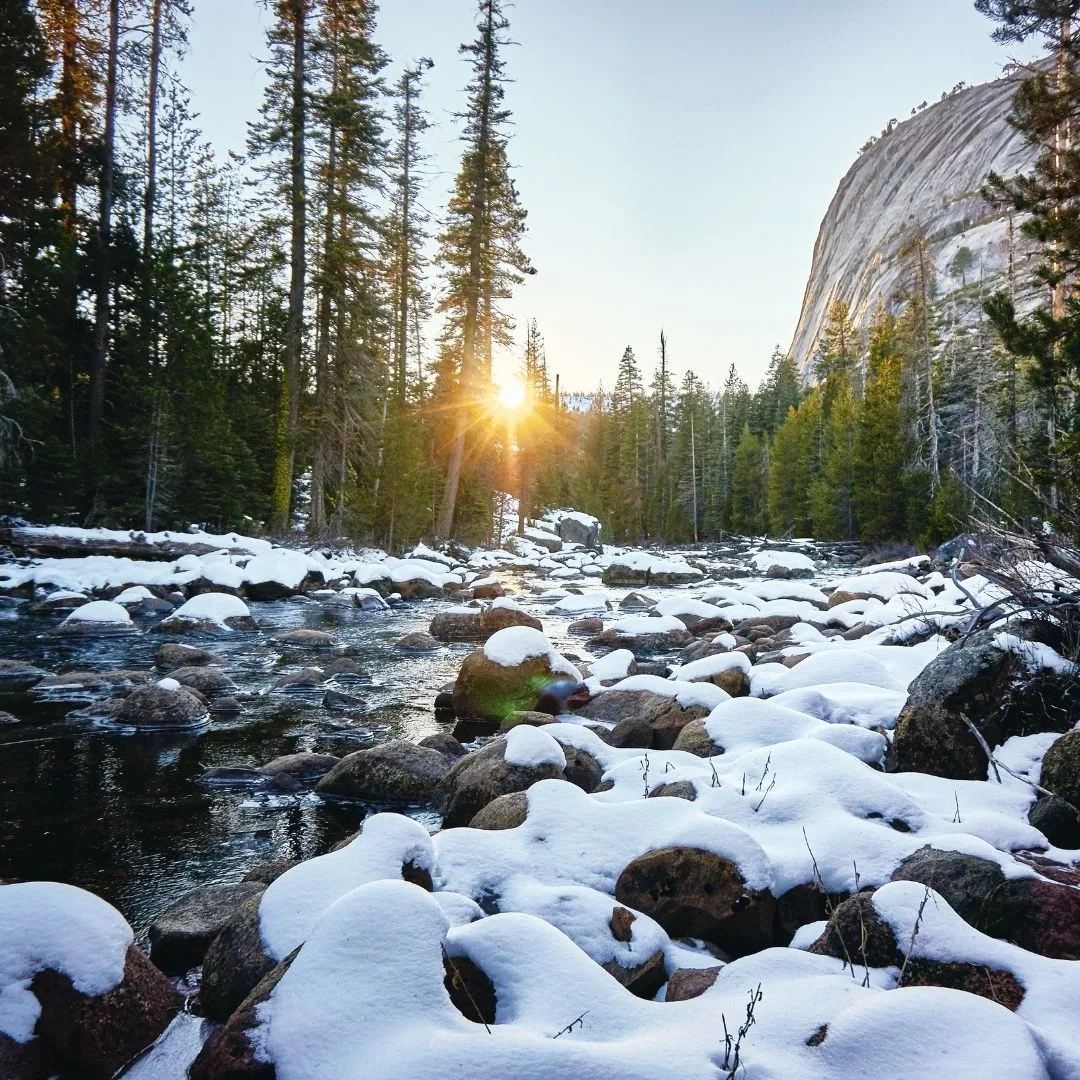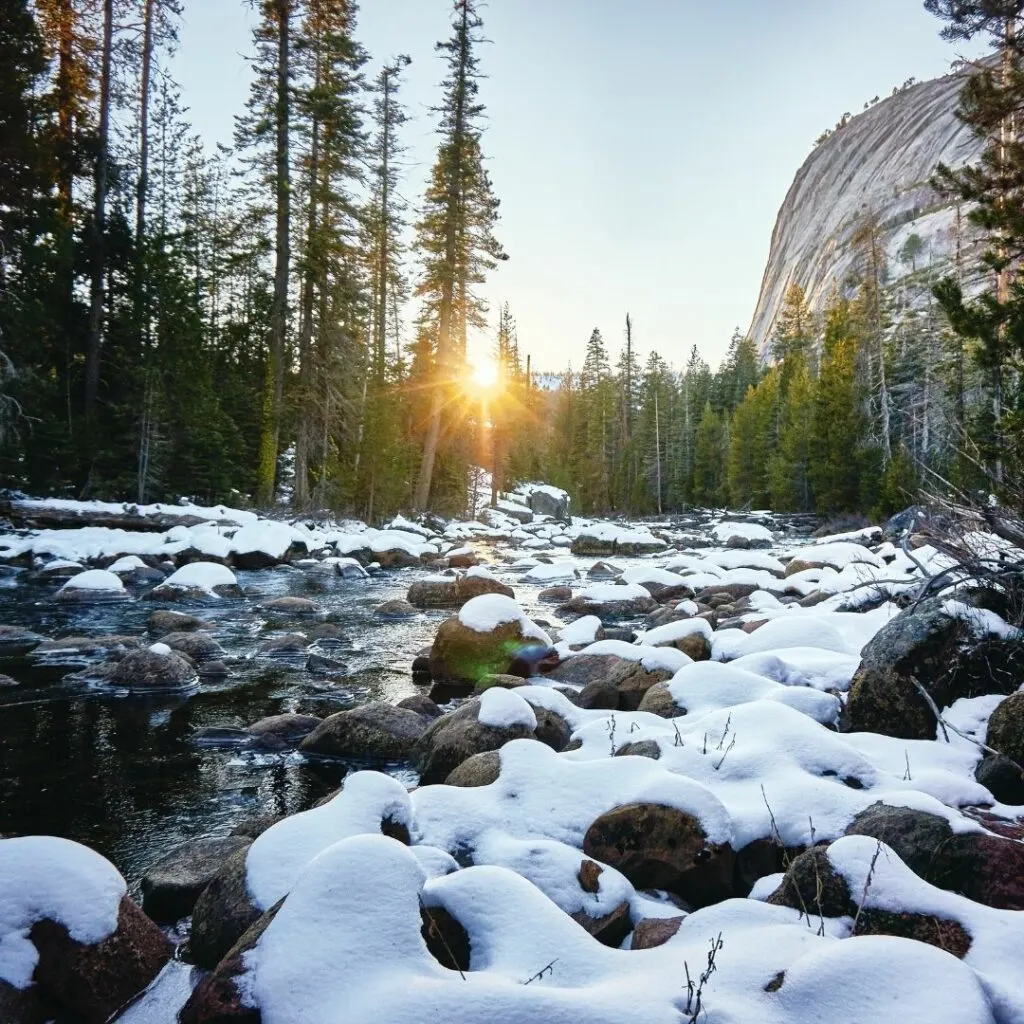 Yosemite Photography Locations at Glacier Point
Glacier Point in Yosemite is an iconic landmark, and one a must see for any itinerary. It's located on the southwest edge of Yosemite Valley, 800 feet above ground. The panoramic view includes Half Dome, North Dome, Cathedral Rocks, El Capitan and Bridalveil Fall.
Glacier Point is the destination for visitors who want to get away from Yosemite Valley crowds and explore nature on their own terms. The overlook is at 7200 ft elevation and there is no need for a steep climb. It is an hour's drive from Yosemite Valley, along the way, visitors may spot a bear or other wildlife!
The roads are steep and windy so first time visitors should take it slow driving on the roads. There is a car park near the viewpoint and it is just a short flat walk.
The road to Glacier Point closes for winter due to snow, although it is possible to hike to Glacier Point from the Valley. It is around 4 miles and a strenuous hike!
There are many Yosemite sunrise photo locations and it is a toss-up on whether to visit Glacier Point for sunrise or sunset. In fact, many visitors are in disagreement. No matter the time, take a light jacket as it can get quite chilly before the sun comes up or after it goes down.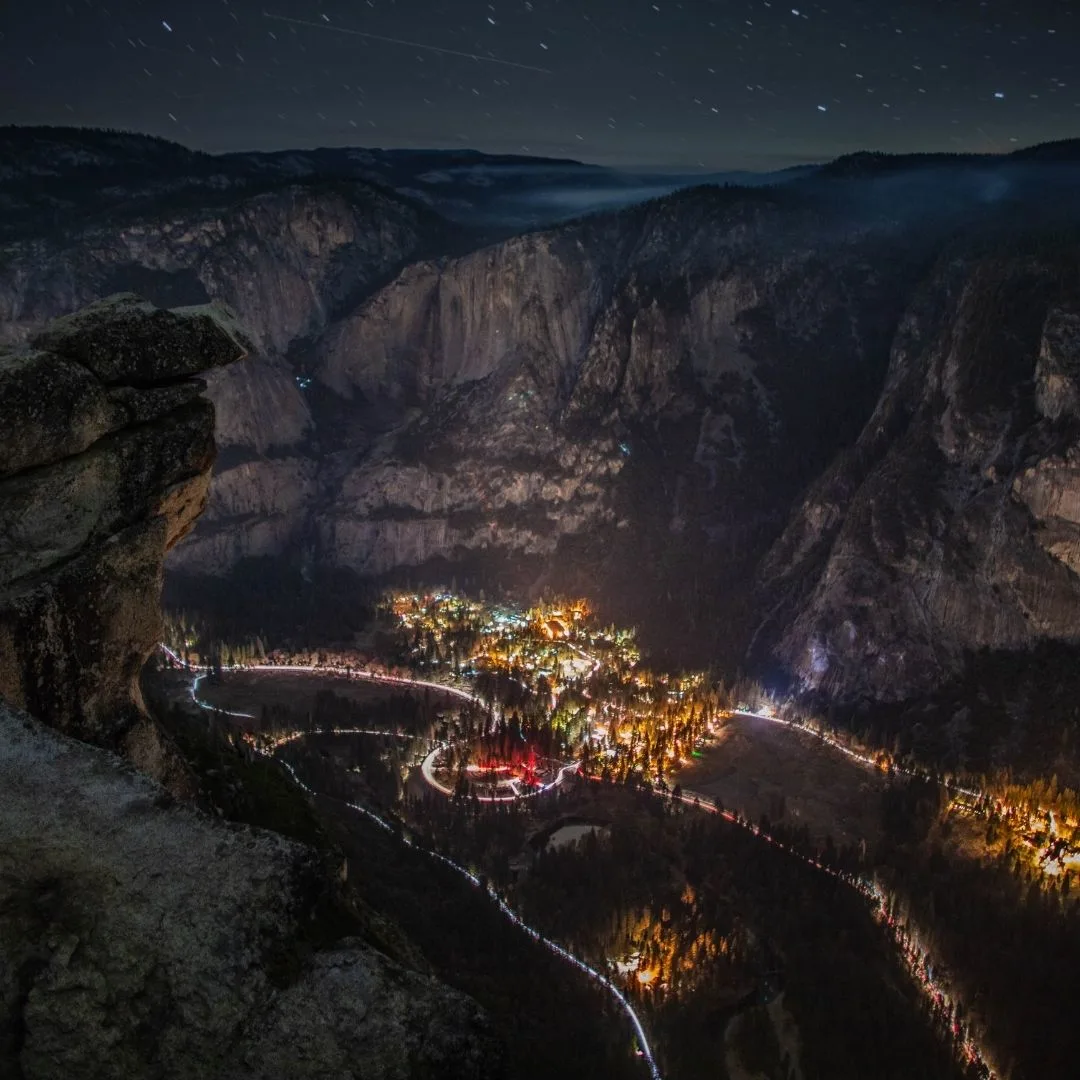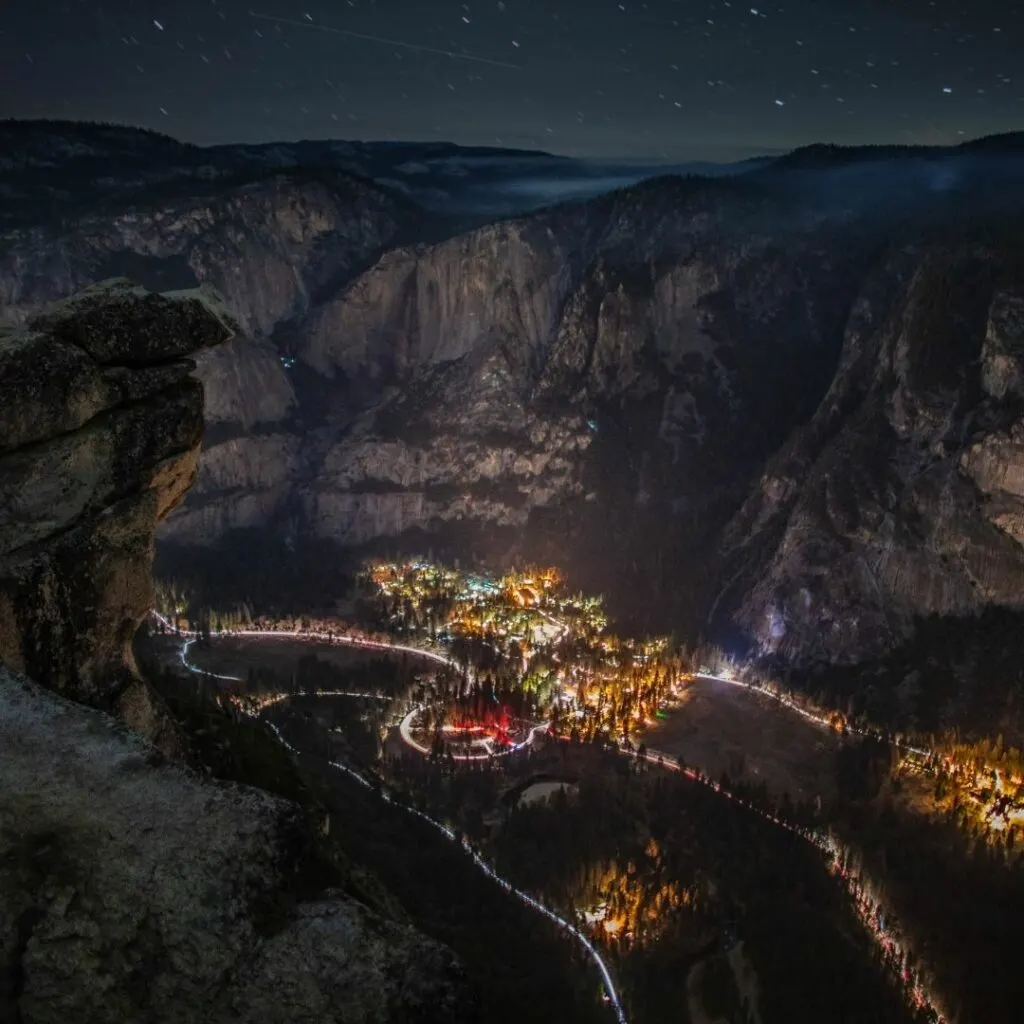 Best Photo Spots in Yosemite at Half Dome
A favourite hike of many is to the top of Half Dome in Yosemite National Park. The hike from the valley floor to the summit is a strenuous 8-mile round trip and can take up to 10 hours. The cables provide a route along the steep granite slope, however, this hike is not for everyone.
Those who may not want to hike to the summit can get a fantastic view of Half Dome in various locations throughout Yosemite.
It is difficult to narrow the choices down. However, the view of Half Dome from Glacier Point Road is simply stunning and there is no hiking necessary. Visitors need to park at Glacier Point car park and walk five minutes uphill. There is a fantastic view of Half Dome approaching the bend on the road.
It is best to go around sunrise as the colours on the granite rock are striking at this time. The road closes in winter, generally around November and reopens in late May or June. However, this is not set in stone as it depends on the weather.
If visitors do intend on capturing a photo at Glacier Point Road, it is worth noting the road is busy and it is located on a bend. Be careful of cars and there is a steep drop, so do not get too close to the edge.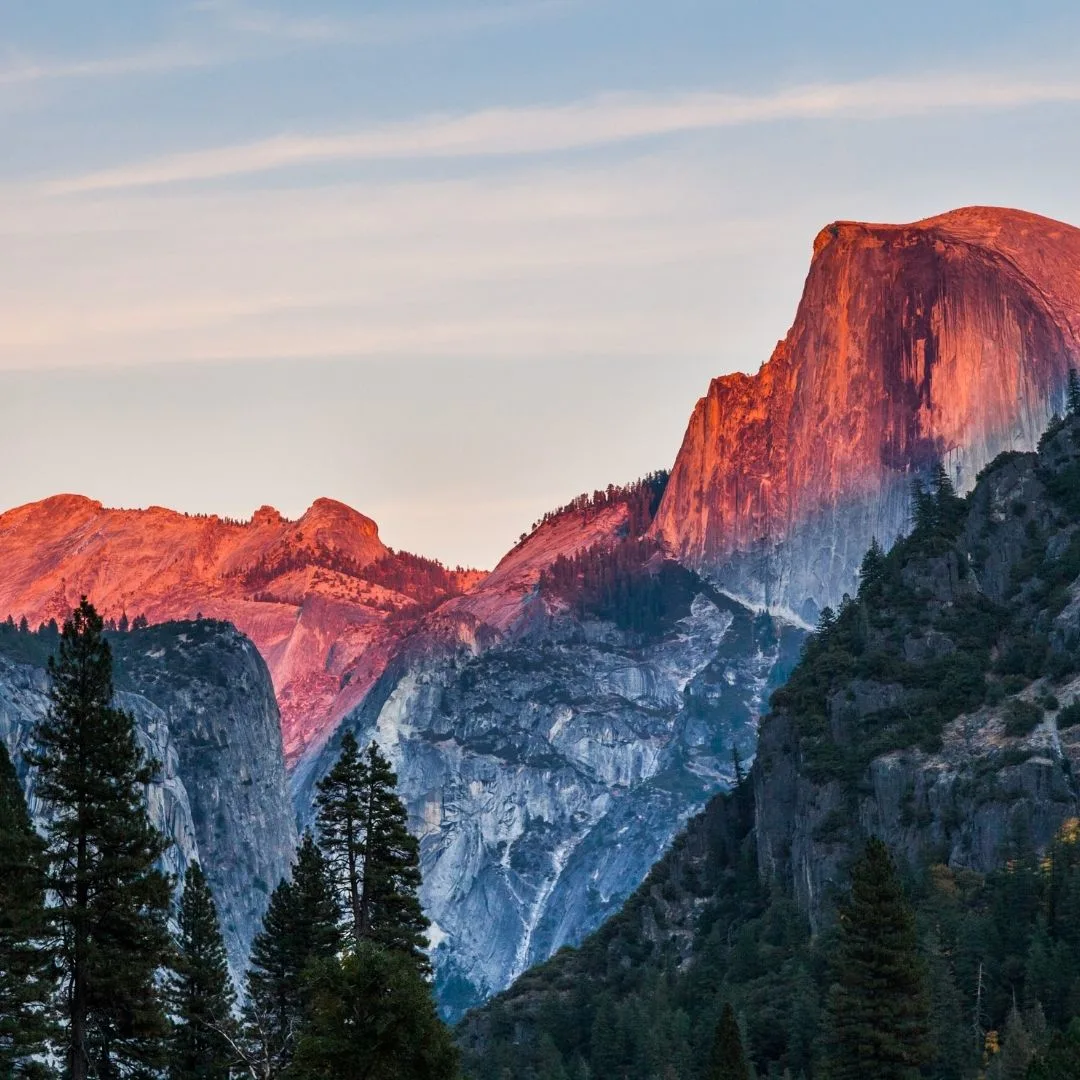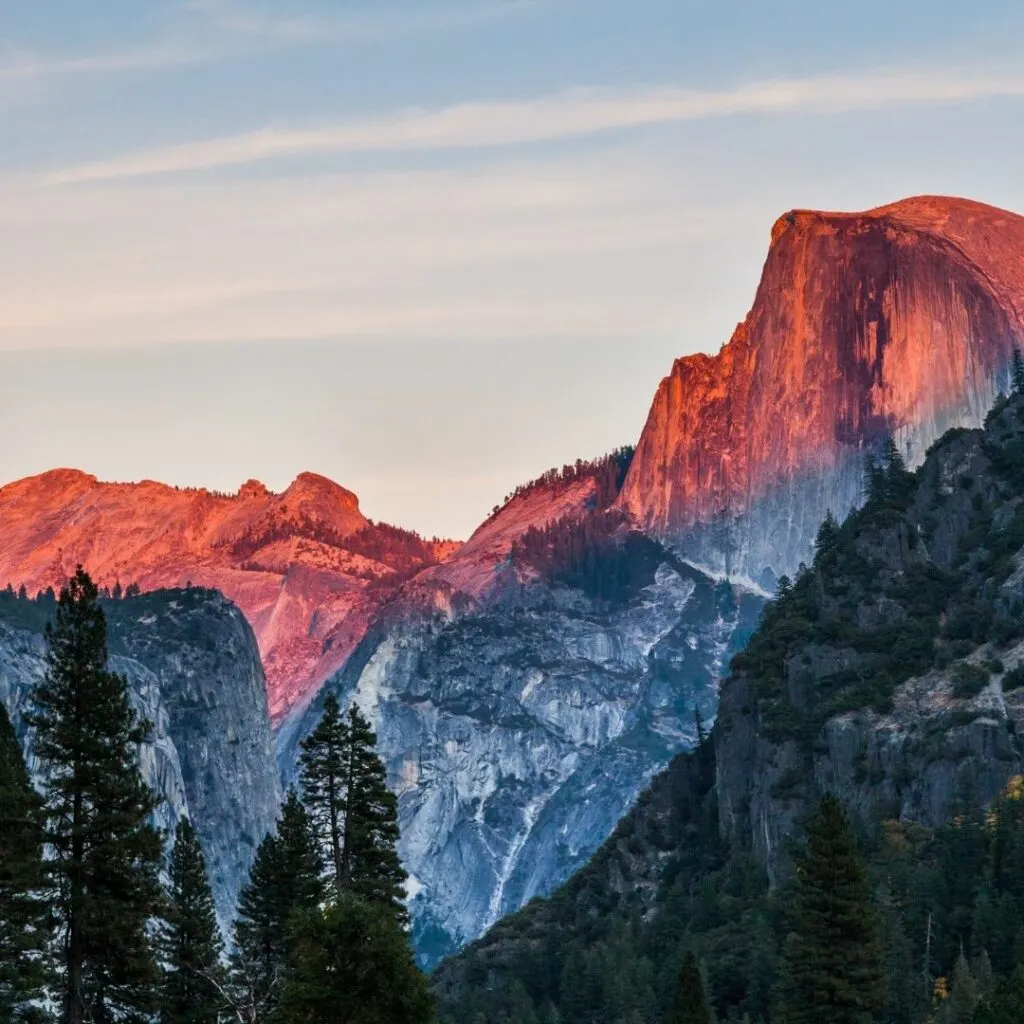 Amazing Yosemite Photo Spots at Taft Point
Many people travel to Yosemite National Park to take in the spectacular views and hike the marvellous trails. One of the best photo spots in Yosemite is Taft Point. It provides an amazing view of the entire park.
Taft Point is located just a short distance from Glacier Point and shares a car park for Sentinel Dome.
It's not a well-kept secret and is a popular Yosemite photography spot, so expect plenty of people. There should be enough room to get a good shot. Many people rush to the top near the railed viewpoint and can be extremely busy around sunset.
It is the best time to take photos however, it is not the only time. Arriving at sunrise or before heading to Sentinel Dome or Glacier Point.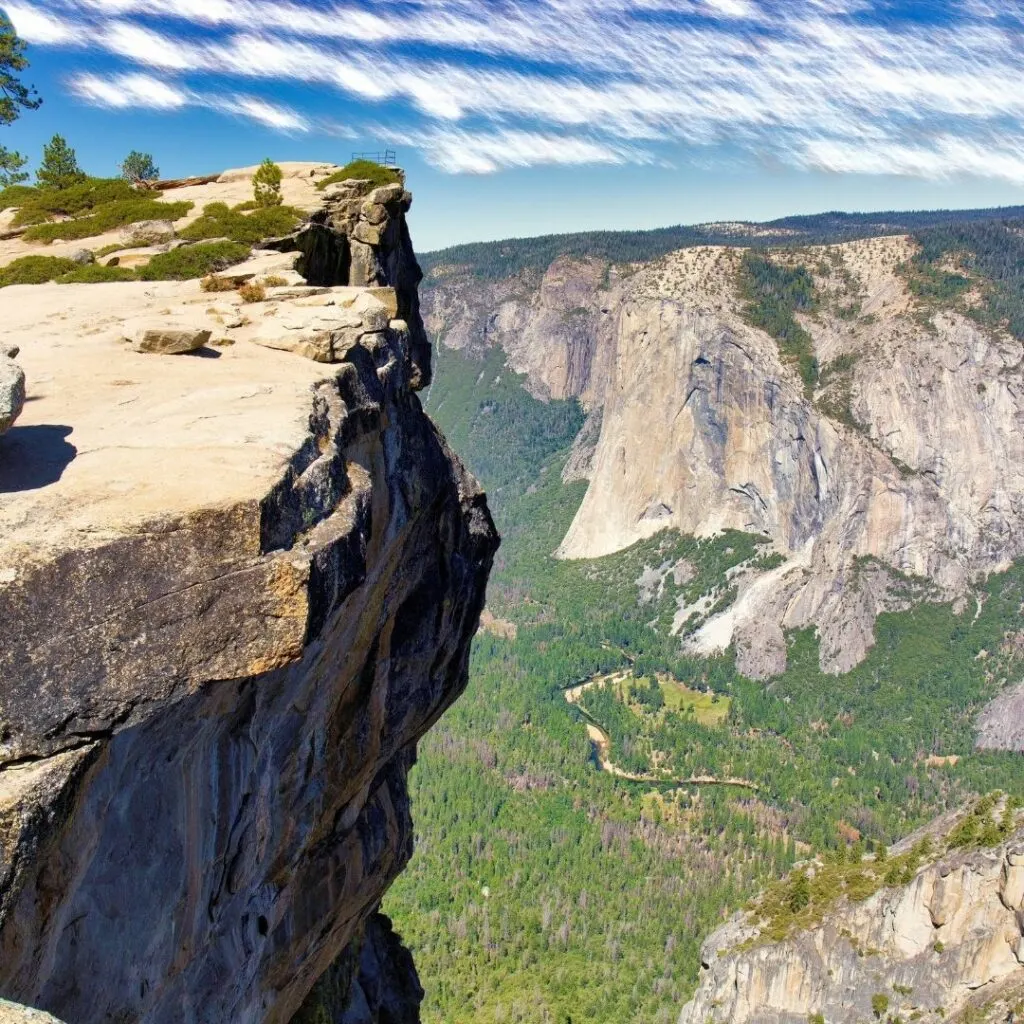 The Best Photo Spots in Yosemite at Inspiration Point
The Inspiration Point in Yosemite National Park is a perfect destination for anyone who wants to see a different perspective of the national park.
At first, it may look a little like Tunnel View, however, it is different. In fact, Inspiration Point is not far from Tunnel View and is a good alternative. Tunnel View is popular and can get extremely crowded especially if visitors arrive at the same time as the tour buses.
The trail to Inspiration Point is about a mile from the Tunnel View car park and it is a steep climb. It is open all year round. However, in winter, there may be a lot of snow on the ground. This could make the hike a lot more difficult.
If visitors still want to hike it, poles and snowshoes would come in handy at this time of year.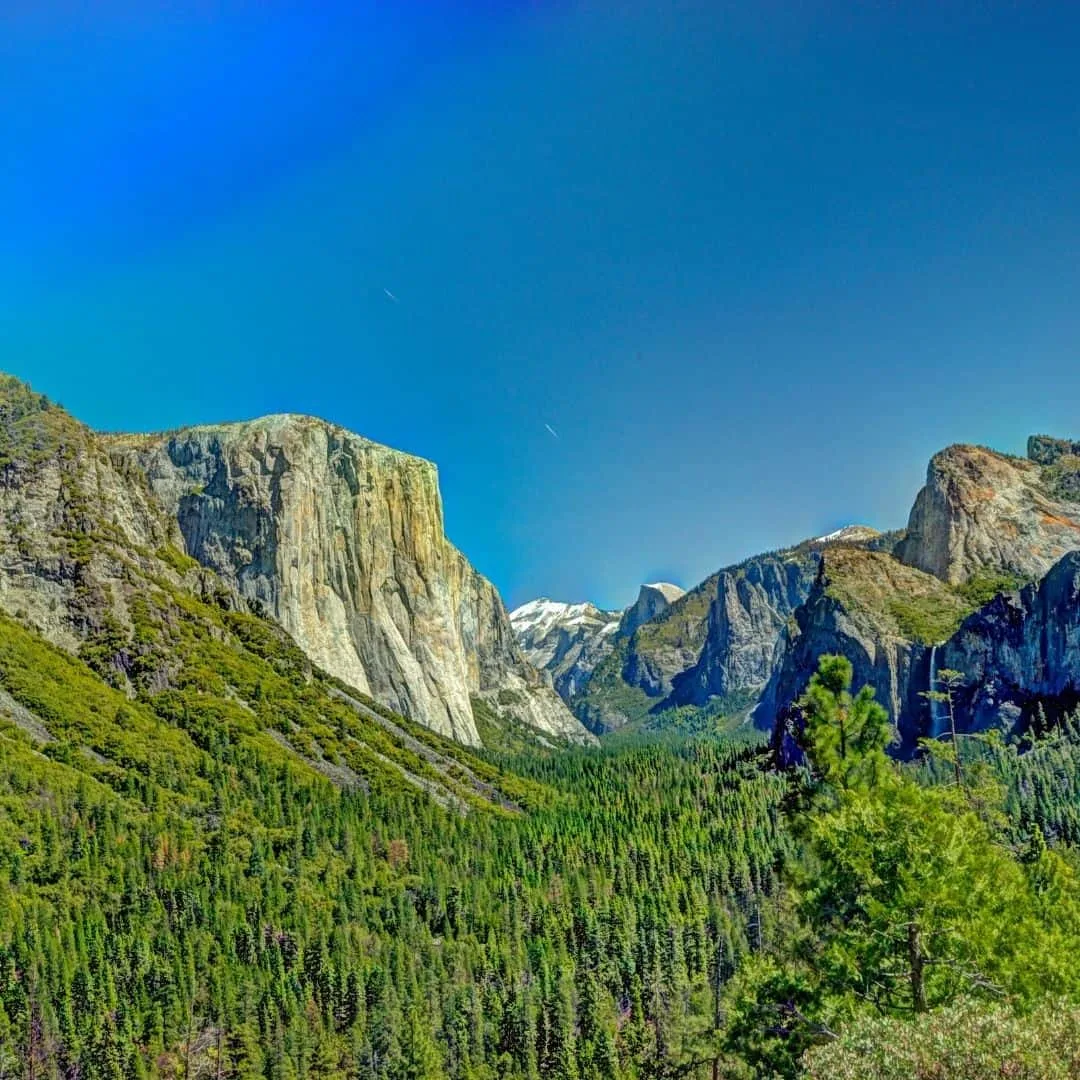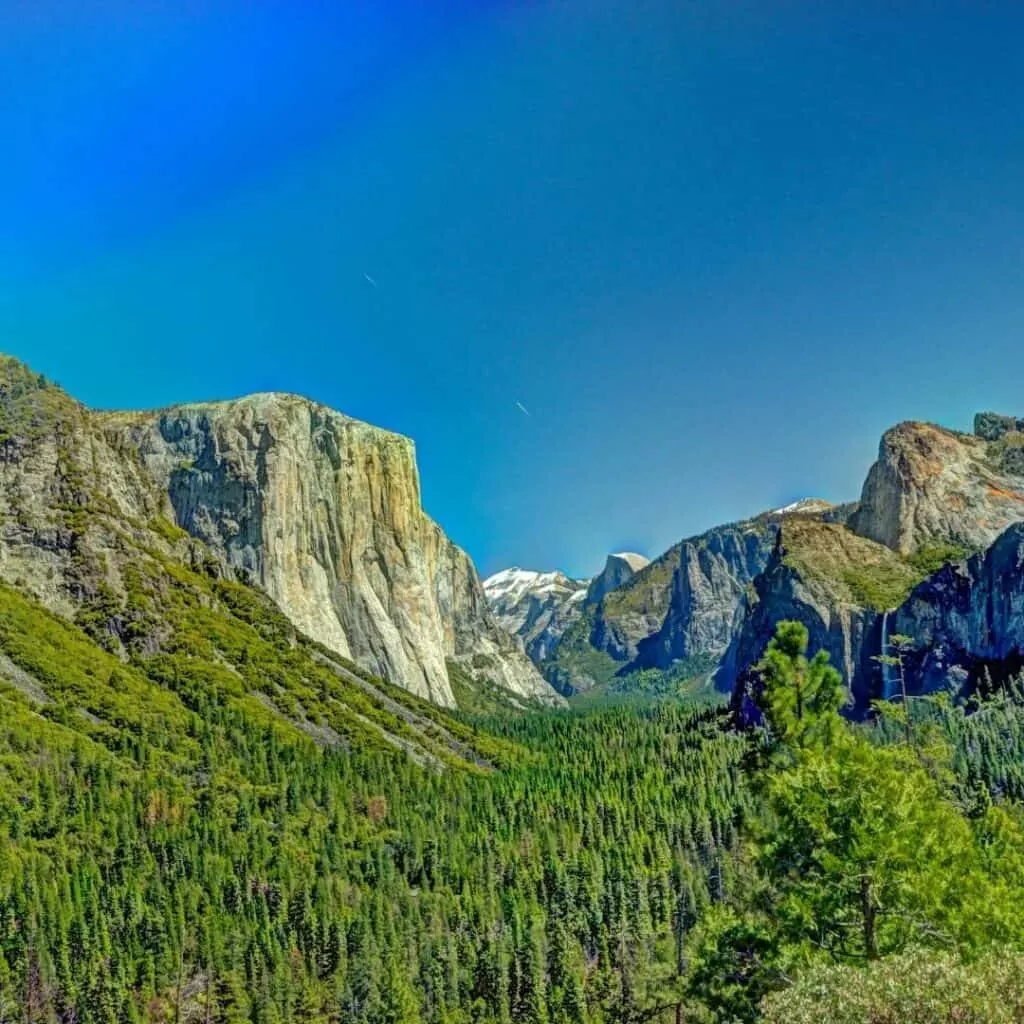 Yosemite Instagram Spots at Clouds Rest
There are many good reasons to visit Clouds Rest in Yosemite. One is the spectacular view of the valley floor and its famous landmarks like Half Dome and El Capitan can be enjoyed.
If visitors want to take a stunning photo at Cloud's Rest, there is a 14-mile hike to be completed. Despite the length, it is a busy trail and there are plenty of rewards at the end.
Start at Sunrise Lakes trailhead on the Tioga Road near Tenaya Lake. The whole hike should take between four and five hours. However, it depends on how long the views at Cloud's Rest keep visitors captivated.
While the best lighting is at sunrise, it is unlikely many make it to the summit. No matter, what time of day, the views are mesmerizing. Before reaching the summit, there are sharp drop-offs and it's a scramble to the top, so use extreme caution.
As the trail is located on Tiago Road, it is not open all year round. It closes in winter and reopens sometime in late spring or early July.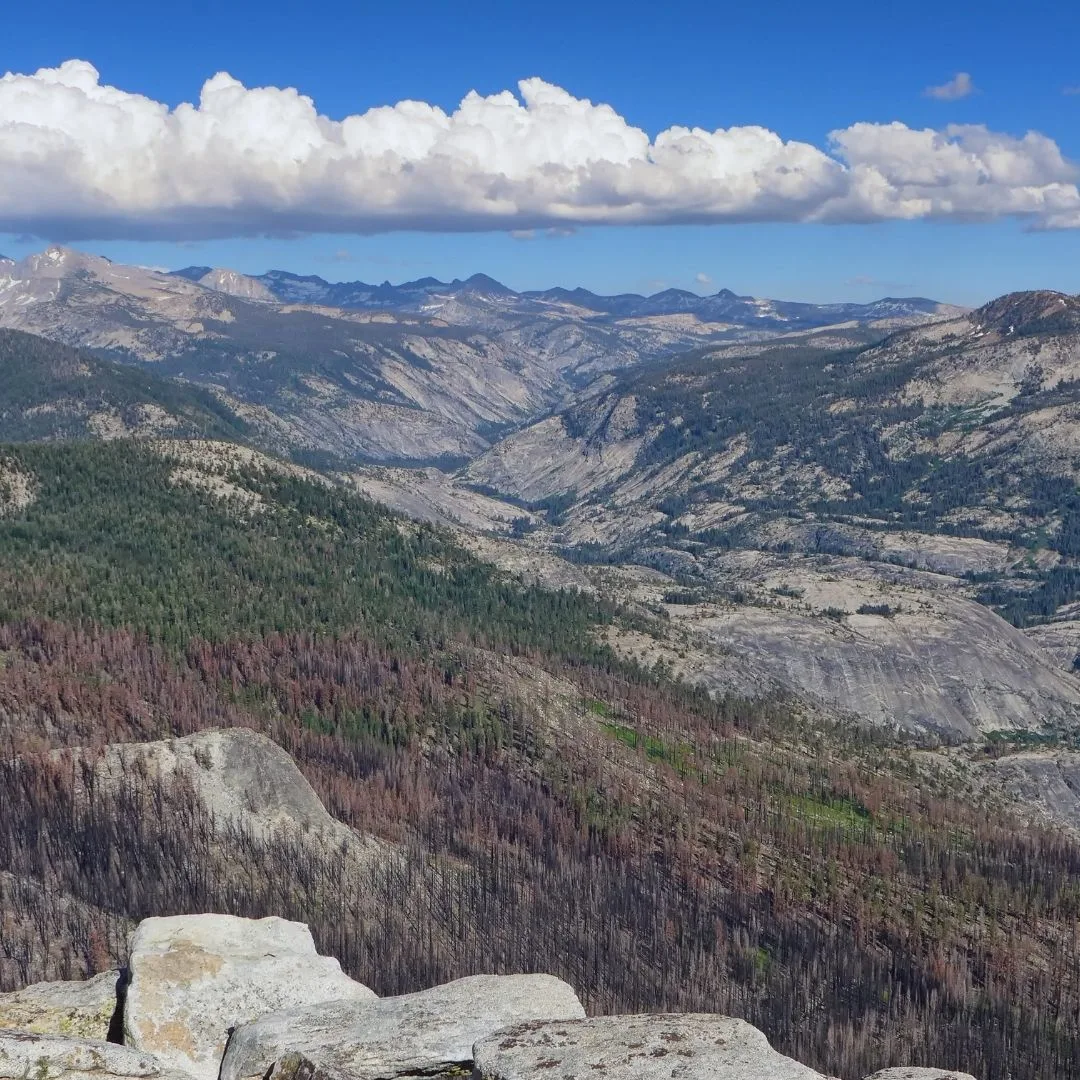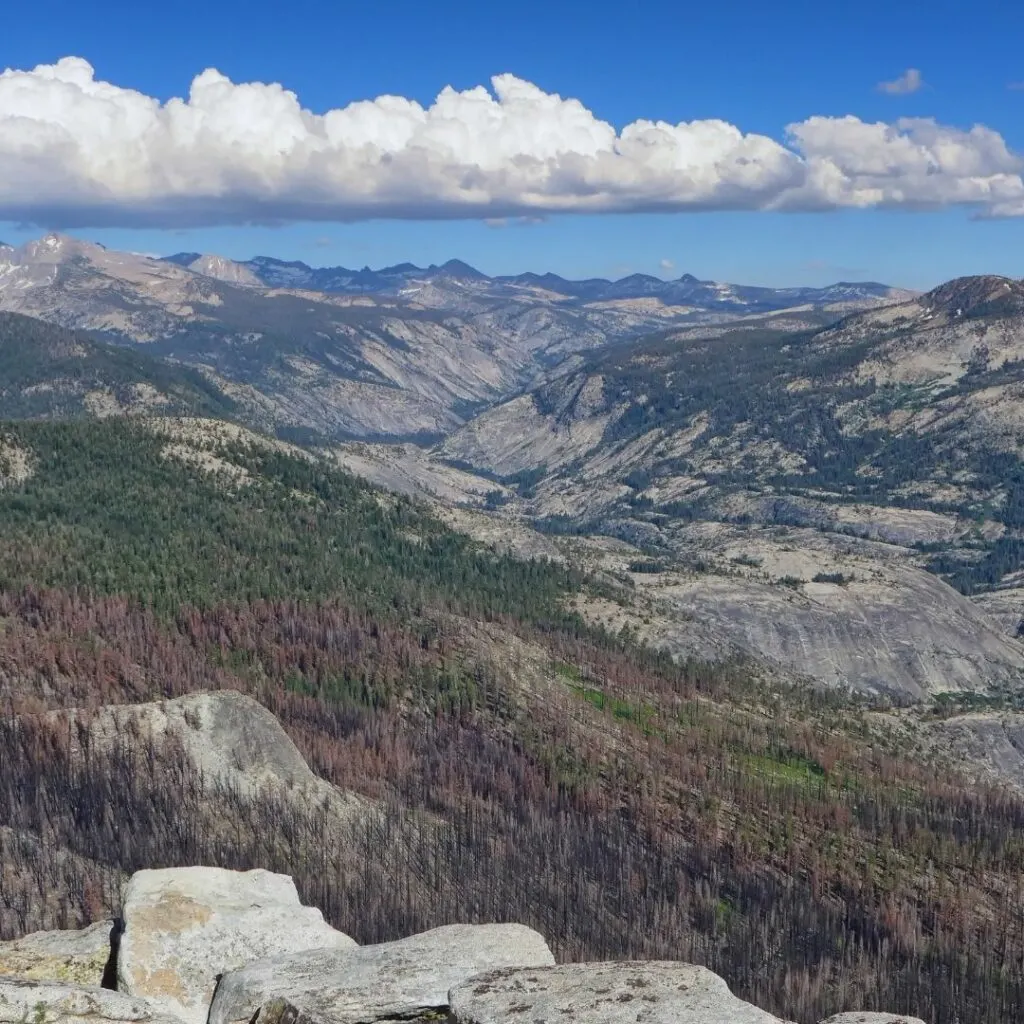 Yosemite Instagram Spots at Half Dome Cables
If visitors are looking for an Instagram photo to take people's breath away, look no further than Half Dome cables. Be warned it is not for the faint-hearted.
Experienced hikers love the challenge of climbing 1463 metres above the Valley floor. Those brave enough to hike it are rewarded with views of Vernal and Nevada Falls, Liberty Cap, the Yosemite Valley and the High Sierra at the summit.
There are a few obstacles before setting off. A permit is required and visitors must apply for the permit in March and applicants are emailed in April. It is only possible to hike Half Dome when the cables are up between May and October. It is a lottery so not everyone gets a permit either.
If visitors are determined to hike Half Dome and don't manage to get a permit, consider hiking it as part of a Yosemite tour as the permit is included. The hike starts on the Mist Trail so hikers go past Vernal and Nevada Falls. This offers the chance to combine a few of the best photo spots in Yosemite.
This is a busy trail, so it is unlikely to get a photo of the cables empty. However, having people hike the cables makes for a more interesting shot.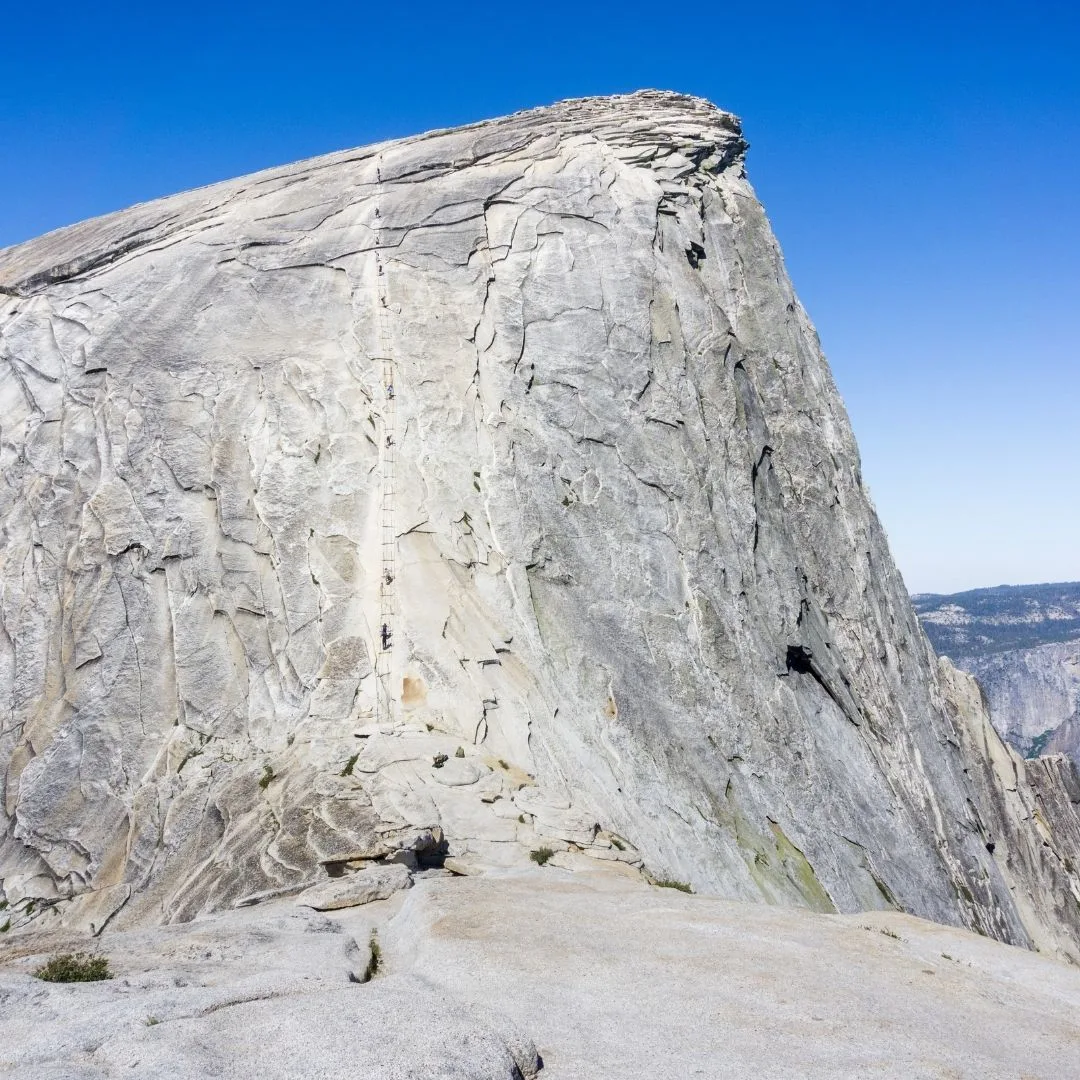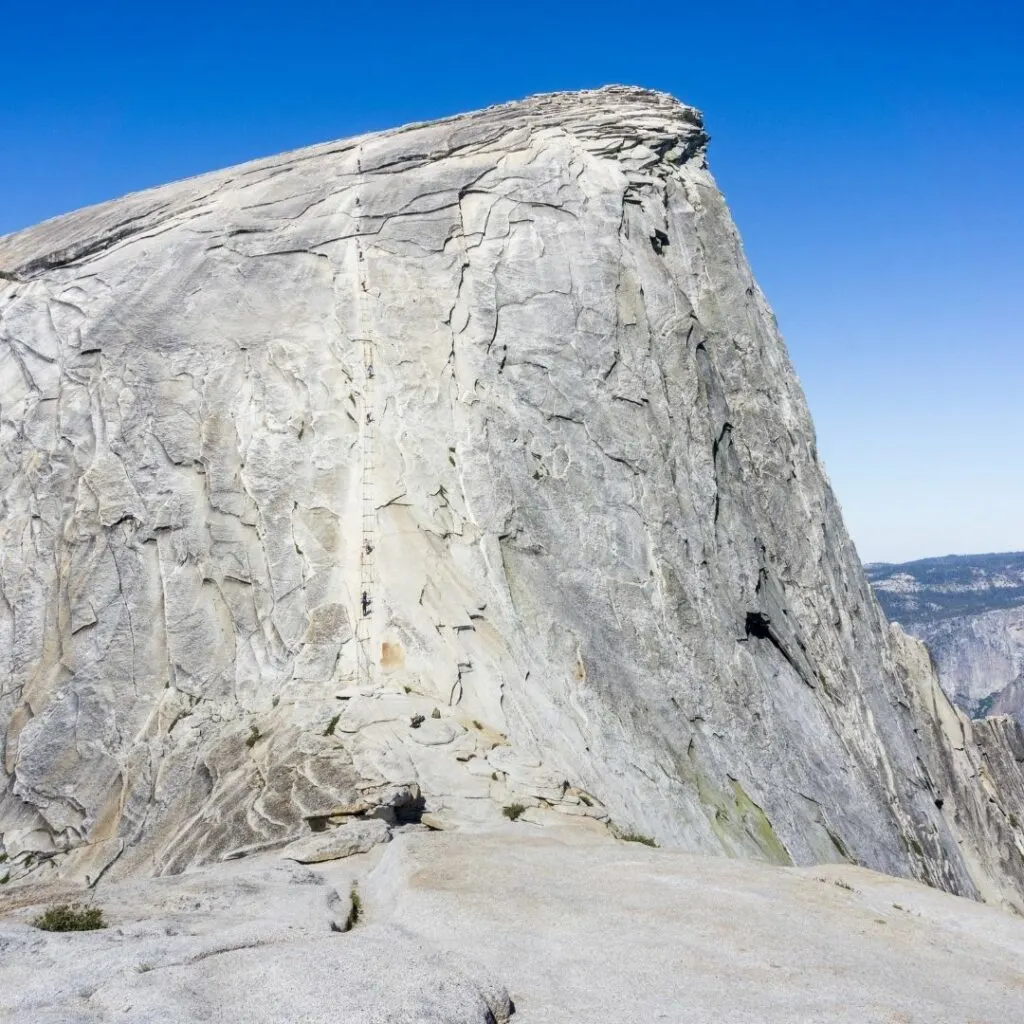 How to Fit the Best Photo Spots in Yosemite into an Itinerary
It is unlikely visitors manage to fit all of the best photo spots in Yosemite into a one day or two day itinerary. However, it should be easy to capture a lot if hiking is not involved.
Most of the locations are in the Valley with a few more on Glacier Point Road. The best way to squeeze all these amazing locations into a short trip is to start at Inspiration Point or Tunnel View.
After, take a short drive to Valley View to capture El Capitan. Cook's Meadow and Sentinel Bridge are close by and next on the itinerary.
There are several places nearby to snap photos of Yosemite Falls. The last place in Yosemite Valley is Mirror Lake. Just before sunrise, head to Glacier Point Road to capture a couple more stunning photos.
Right next to each other are Glacier Point, Sentinel Dome and Taft Point with a great viewpoint of Half Dome. To do this tour of the best photo spots in Yosemite, you would have to visit the park around the end of May or early June as the waterfalls should still be flowing at this time with all roads in the park open.
However, if waterfalls are not important, visit the park when there are fewer people around. Yosemite is magical in December and the colours in Fall are beautiful.
What to Take to the Best Photo Spots in Yosemite
There are a lot places to take photos in Yosemite National Park. Many are located in the Valley. However, to get those amazing vantage points, it requires travelling.
If visitors want to take amazing pictures at Yosemite, they need the perfect camera. One which is able to capture the vastness and all the different colours. One that comes recommended is a DSLR camera. A DSLR has interchangeable lenses and can help get the perfect shot.
To take good pictures, the aperture needs to be open wide and the shutter speed needs to be fast so visitors can capture everything happening in front of the lens.
Another great choice is a GoPro camera. These cameras are loved by vloggers and travellers and allow amateur photographers to get a good photo. If visitors just take photos on a smartphone, they are going to be stunning.
You may have to wait a while for the perfect shot so a tripod is a great item to have. The camera can be set up for the shot and there is no need to hold it for hours. Many places are busy so it is always a good idea to arrive a little early and get set up before the crowds.
It is no secret drones can take some amazing images from above. Many visitors to Yosemite may be tempted to bring one along. However, the use of Unmanned Aircraft Systems, in other words, drones, are prohibited within park boundaries.
Tips when Taking Photos at the Best Photo Spots in Yosemite
No matter where visitors are in the park, it is always wise to be aware of their surroundings. There have been several incidents of visitors falling from steep cliffs. Many have been climbers, but a few years ago it was someone trying to get a good photo beyond the safe boundary area.
Visitors should watch where they step and not just look through the camera lens. A lot of the viewpoints don't have railings and there are steep drops all around. Anyone visiting the park with kids should keep them away from the edge and keep an eye or hold them at all times.
Where possible, try to walk or take the free shuttle. This reduces the traffic on the roads in Yosemite and allows more space in the car parks. This is especially important in busy periods such as summer.
It can be difficult to park cars never mind RVs at this time of year. The free shuttle is a great way to get around Yosemite and it takes the stress out of parking. The service runs all year and it is more frequent in summer.
There are so many beautiful locations to take photos in Yosemite, from the iconic Half Dome to the waterfalls and the tree-covered mountains.
In fact, visitors don't have to spend a lot of time looking for spots to take photos in Yosemite because there's just so much beauty everywhere!
You may also like:
How to Plan a Trip to Yosemite
The Best Hikes in Yosemite National Park
The Best Yosemite Tours From San Francisco
Why Yosemite Weather in May Makes it the Best Time to Visit
10 Reasons to Visit Yosemite in January
The Perfect Guide to Visiting Yosemite in March
10 Amazing Things to do in Yosemite in February
10 + Things to Do in Yosemite in June
15+ Of The Best Things to do at Yosemite in July
Best pumpkin farms in Oregon | Best Pumpkin Farms In California
Will you be needing travel insurance, flights, rental cars, or hotels for your trip?
Disclaimer: This post may contain affiliate links. By using them it will not cost you any extra, we will receive a small percentage of the sale.