Rafting in Yosemite may not be the first thing that comes to mind when planning a visit. However, there are plenty of places to try it out for people of all levels.
While most visitors to Yosemite come to see the stunning waterfalls or take photos of the breathtaking views on one of Yosemite's many hiking trails, there is still an array of other experiences that many may not be aware of!
Rafting in Yosemite is a great experience for any age, background, or fitness level. In fact, it is fun and exciting for all types of people. Rafting in Yosemite can be arranged through many different companies or even on your own.
It's easy to find the right trip or tour to suit each visitor even if it is only for one day. The most popular rivers are the Tuolumne River and the Merced River.
They are both in stunning locations with rapids that are perfect for anyone adventurous and many visitors choose to stay nearby. In fact, there are plenty of hotels and RV parks nearby.
The Tuolumne River flows through scenic meadows, waterfalls, steep granite cliffs and offers panoramic views of Half Dome, Cathedral Peak and Cloud's Rest.
The Merced River on the other hand has an easier river grade with small rapids that can be navigated by anyone who has not rafted before.
These rivers produce amazing memories that will last a lifetime. In fact, rafting in Yosemite should be added to everyone's itinerary even if it is for 3 days. This guide runs through the best places to raft, what to pack, the best time to visit and whether they are kid-friendly.
Yosemite Rafting: Best Time to Raft
It is not possible to go rafting in Yosemite all year round, the best time is in April May June and July. This is because rapids are caused by the snowfall melting. Just like the waterfalls when the snow melts at the end of winter, the rivers are flowing.
When the snow melts at the start of the season, the rivers run fast and the rapids are high. As the months go on the rapids start to decrease. There are still a few rapids in July, but as it gets closer to fall the rivers start to calm down.
To give a better idea of the kind of rapids to expect, the Merced River is Class III-IV. The classes decrease as the snowmelt decreases.
That being said, this information is just a guide as it all depends on the amount of snowfall and the weather. Always check before setting off.
The Tulhome River is Class IV all season. This is the river guests should head for if they have a bit of experience under their belt. If they want to test the waters then the Merced River is the better choice.
The Merced River is also a great choice for those that want to combine rafting with their trip to Yosemite.
Rafting at Yosemite Valley
One of the most popular places to raft is in Yosemite Valley. It is possible to rent a raft at Curry Village right by the river.
At the moment it is not possible to reserve a raft online or over the phone. All reservations must be made in person. Due to this and the demand, many visitors can be disappointed.
To avoid this bring your own raft and then there are no reservations needed. Before putting in your raft, there are a few things to remember.
First, all rafts must be put in at Stoneman Bridge and taken out at Sentinel Beach, as it is not possible to do this anywhere in between.
The gauge height is taken at Pohono Bridge every day and it dictates whether or not the river will be open for boating. If the level is below 7 feet at 8 am then the river is open.
Another point to remember is always have a personal flotation device. These must always be nearby but worn if the gauge height at Pohono Bridge is above 4 feet at 8 am. All kids under the age of 13 must wear one at all times.
If visitors are travelling to Yosemite with kids, note that this activity is not suitable for small children.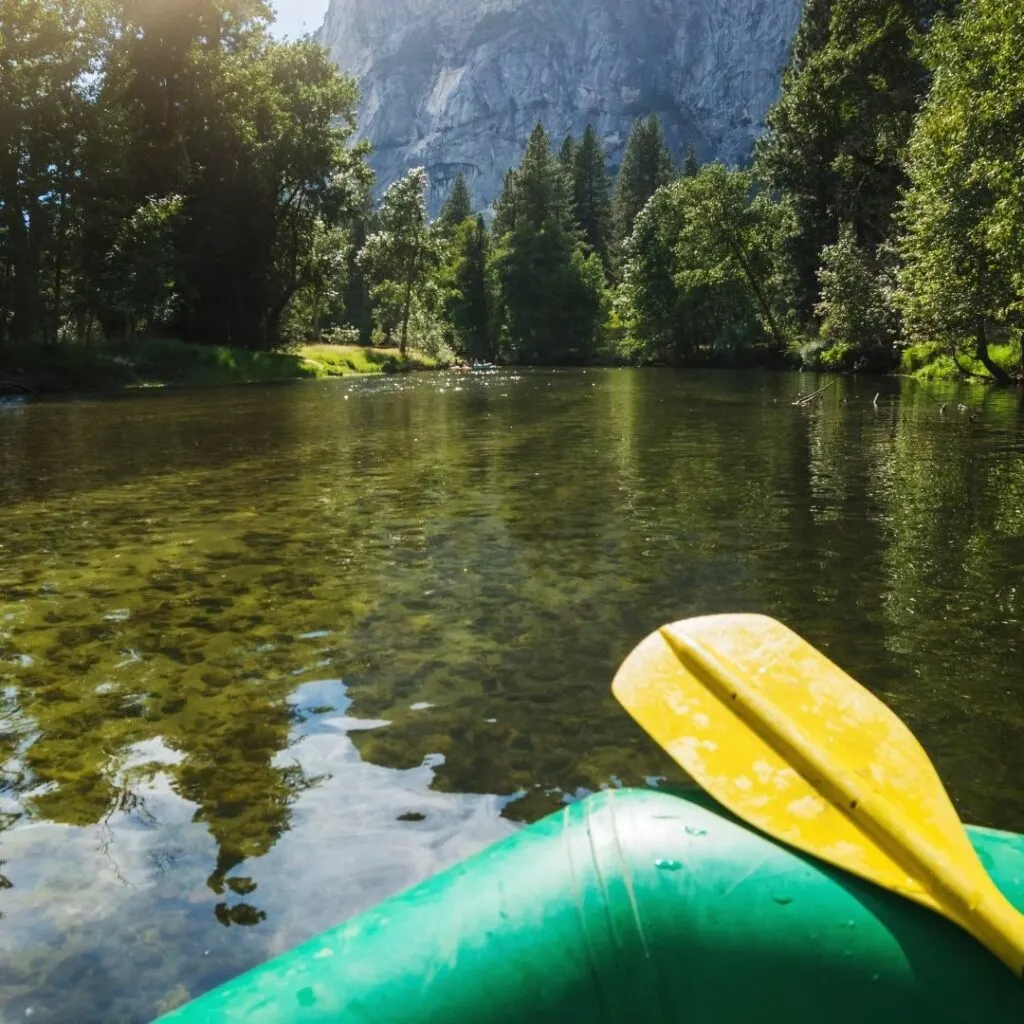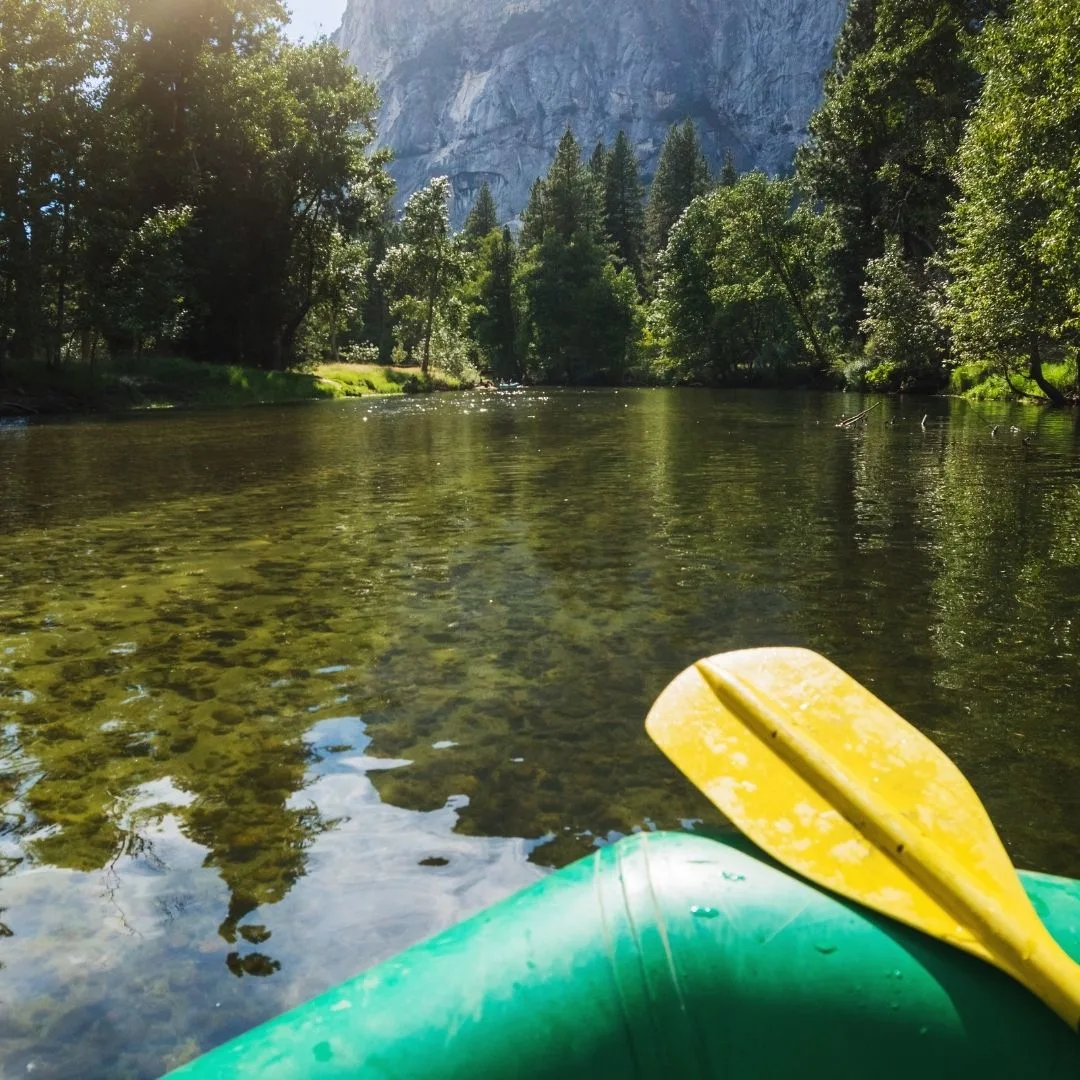 White Water Rafting Yosemite
As the Merced River leaves the Valley, the rapids start to increase. This makes it great for some white water rafting.
Just over an hour from the Valley are plenty of places to hop on a raft and head out on an adventure on the Merced River. Many of the tours leave from El Portal or close by.
Zephyr Whitewater Expeditions is one of the oldest and most popular places. There are several tours to choose from including a full day, morning half-day and also an afternoon half day of rafting in Yosemite.
All of the tours include wetsuits, helmets and life jackets. The full-day trip includes lunch. Older kids can join, however, it is not considered kid-friendly as there are age restrictions depending on water levels. As a guide, kids as young as seven may be able to participate.
For more information on tours at Zephyr Whitewater Expeditions click here.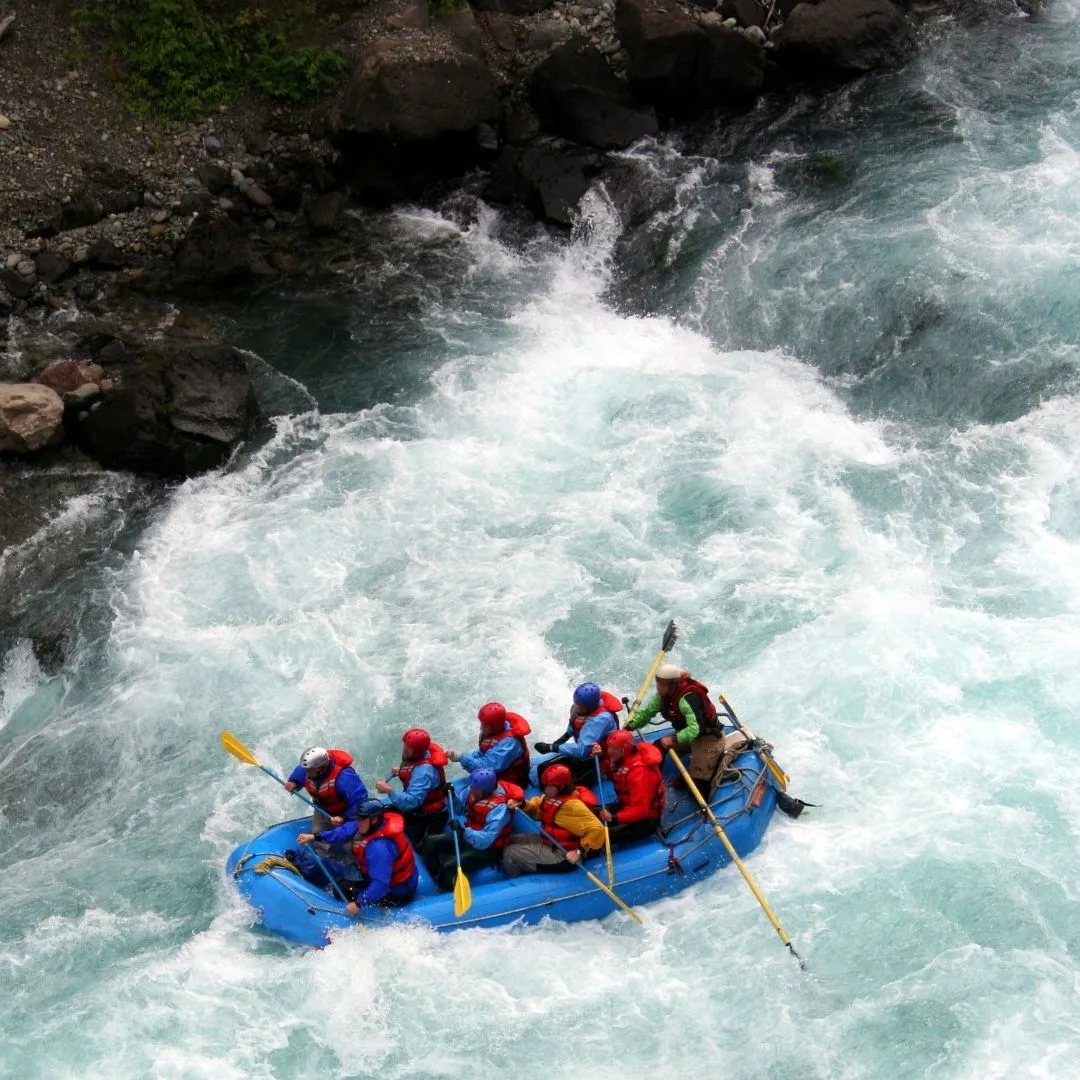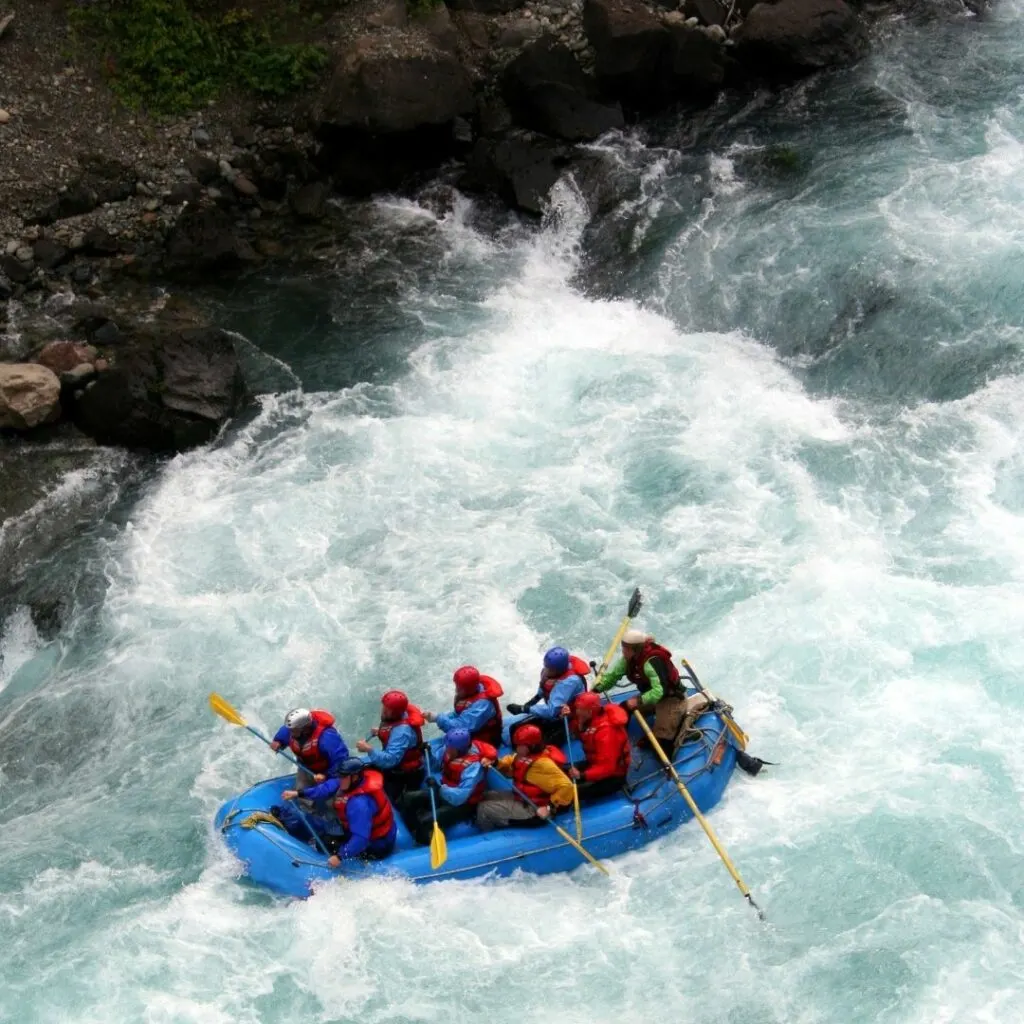 Rafting Yosemite
One spot on the Merced River to try rafting is with Sierra Mac River Trips. It is about an hour and a half from Yosemite Valley and around 11 miles east of Mariposa, California. This makes it a great choice for visitors to Yosemite.
Again, there are three types of trips to choose from. Full-day or half-day, morning or afternoon. No matter the type of trip, a safety talk is given on arrival. After guests put on their wetsuits, the shuttle takes them to the river.
On a full-day trip guests raft for 16 miles, with a stop for lunch in the middle. For half-day trips guests raft between 5 miles and 11 miles, depending on the time of year. Trips at the start of the season being the longest.
The age restrictions are the same and the minimum age is 10 years old in the spring. This lowers to age 7 in summer as the water drops.
To book a trip with Sierra Mac River Trips click here.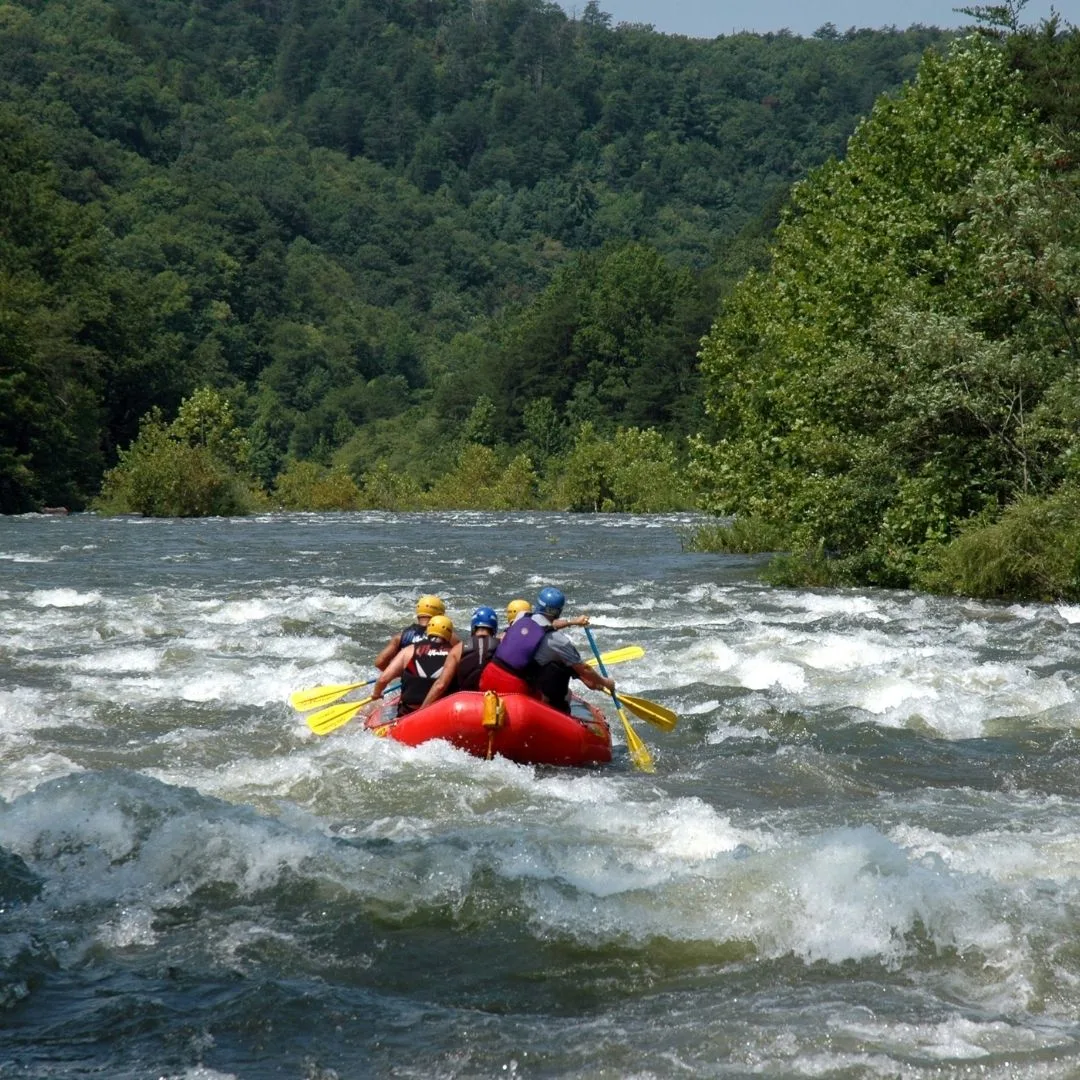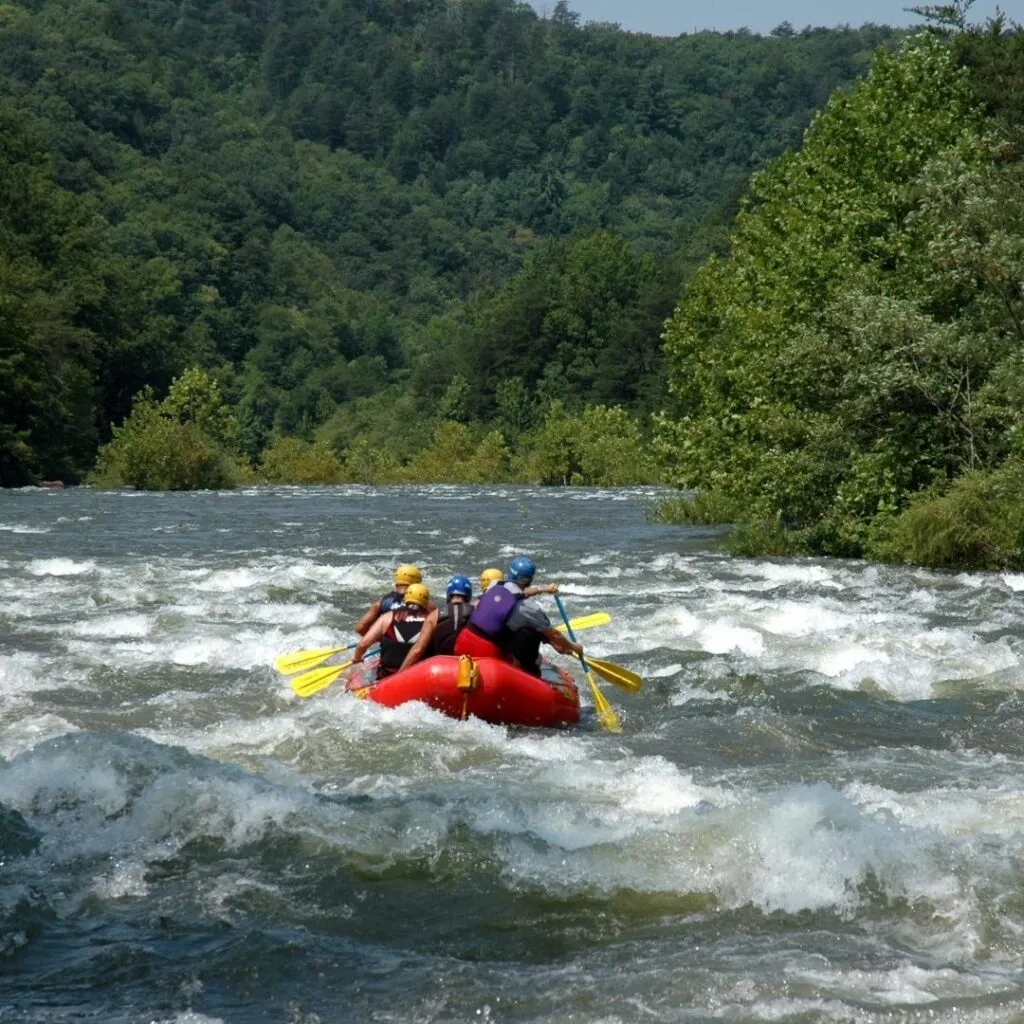 River Rafting in Yosemite
A trip with Oars promises to be a thrilling experience when rafting in Yosemite. The trip starts at The Cedar Lodge, which is located just outside Arch Rock Entrance in El Portal.
Guests raft for nearly 18 miles and there are some beautiful spots to see along the way. Right at the start of the trip, at The South Fork, there is a beautiful display of wildflowers.
As guest manoeuvre their rafts along the river, the rapids change from Class IV to Class II (in April and May) at various intervals. This gives guests plenty of chance to catch their breath throughout.
Guests also stop for a picnic lunch on a sandy riverside beach. Wetsuits need to be worn at the start of the season as the water is very cold. However, add it to a packing list as they are not included on the trip.
The age restrictions are slightly different on this trip. In high water, only kids aged twelve and over are allowed and kids as young as 9 can join in when the water level drops.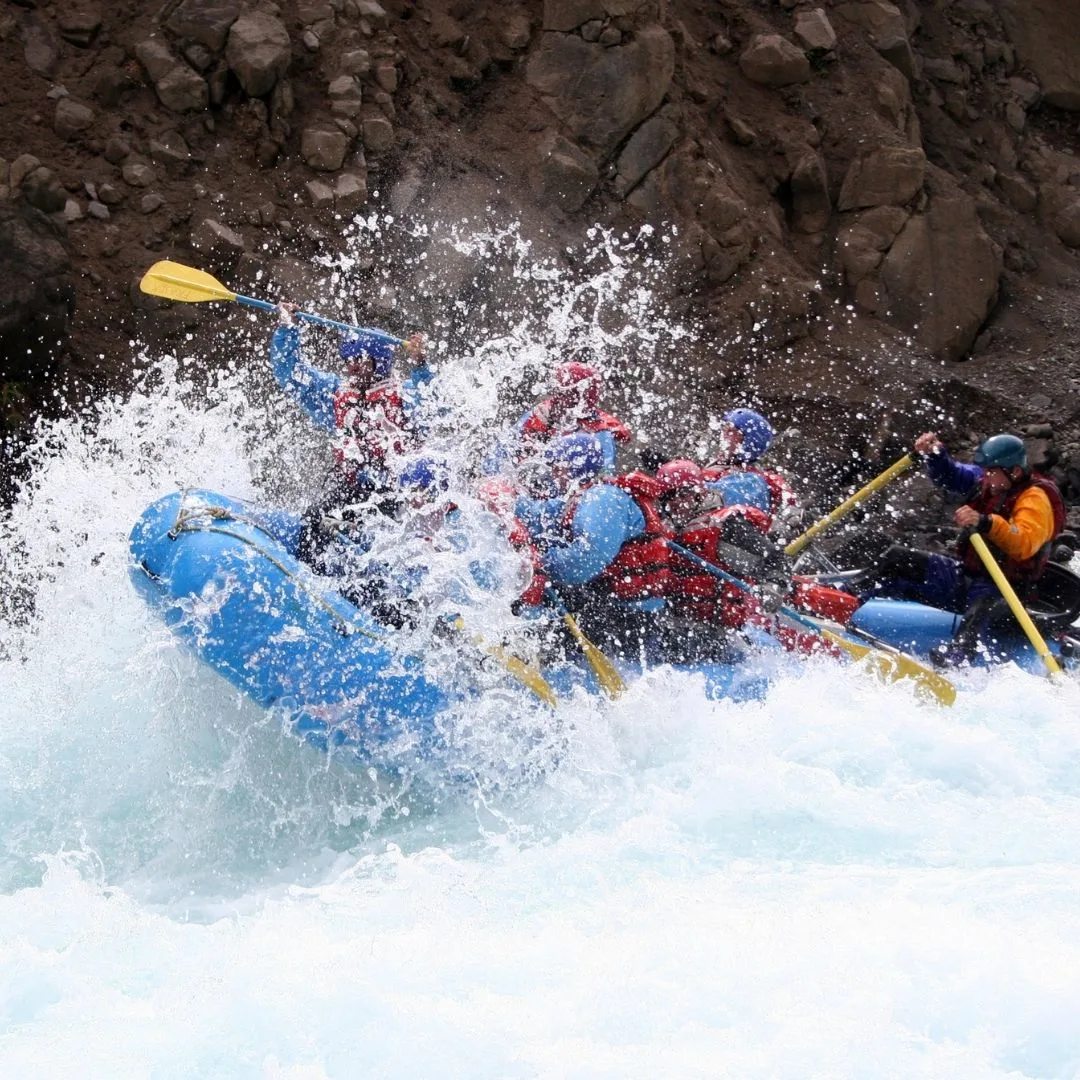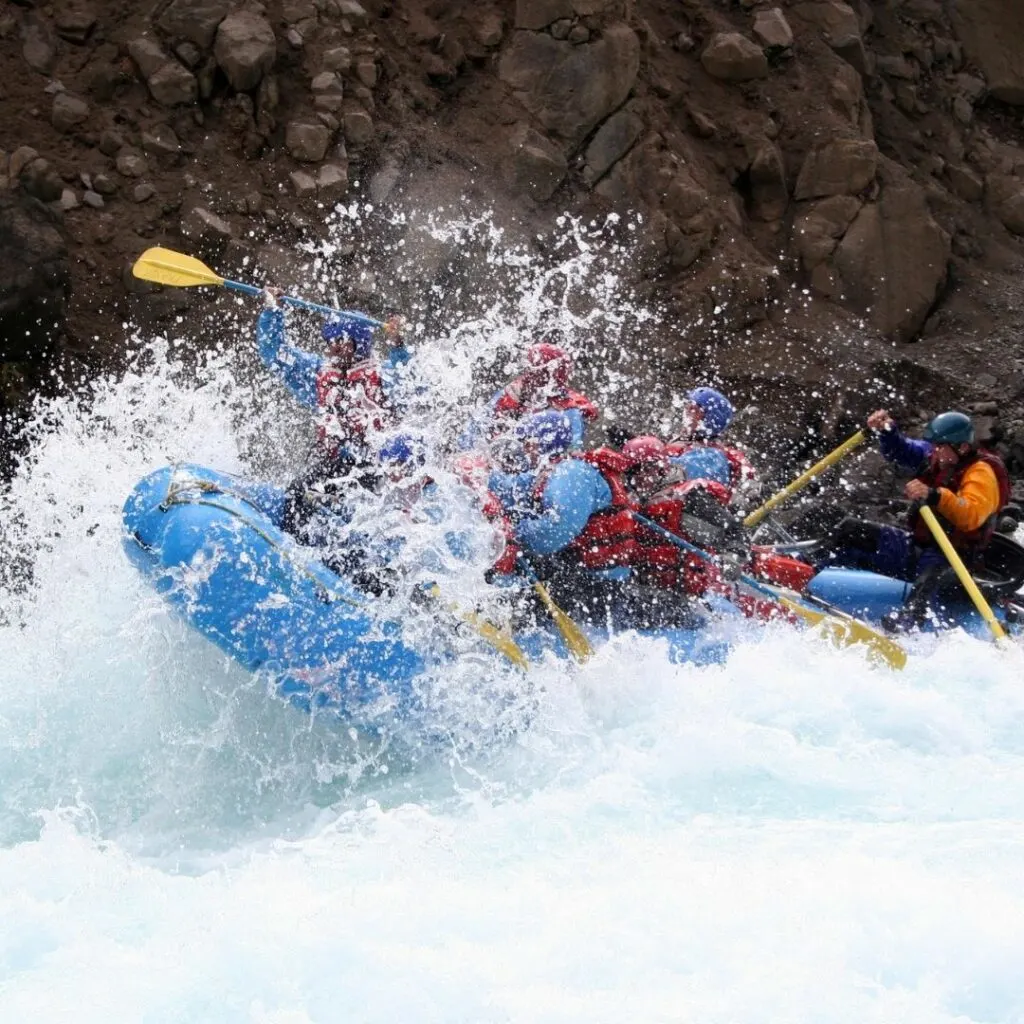 Yosemite Kayaking
If rafting seems too adventurous then kayaking might be a more suitable activity for an itinerary. Kayaking is available on the Merced River and Tenaya Lake. Currently, there is nowhere to rent kayaks in Yosemite, visitors must bring their own kayak.
Just like rafting, the starting point on the Merced River is Stoneman Bridge in Curry Village. Visitors also finish at Sentinel Point Beach. This is a great place to finish as there is a beautiful picnic area nearby.
Bring a packed lunch along to end the trip along the river. If the park is busy, it might also be a good idea to bring a picnic blanket in case all the seats are occupied.
The Merced River is a great place for rafting in Yosemite but if visitors are looking for somewhere a little more peaceful, then head to Tenaya Lake. The lake is usually quiet and offers some stunning views.
Kayaking is usually available until September, but this is again dependent on the weather and snowfall.
Before jumping into a kayak, always make sure that it is safe to do so. There can be times when the river is too dangerous. Have a look around for signs, or ask a ranger.
Anyone who uses a kayak whether it is on the Merced River or Tenaya Lake must wear a life jacket.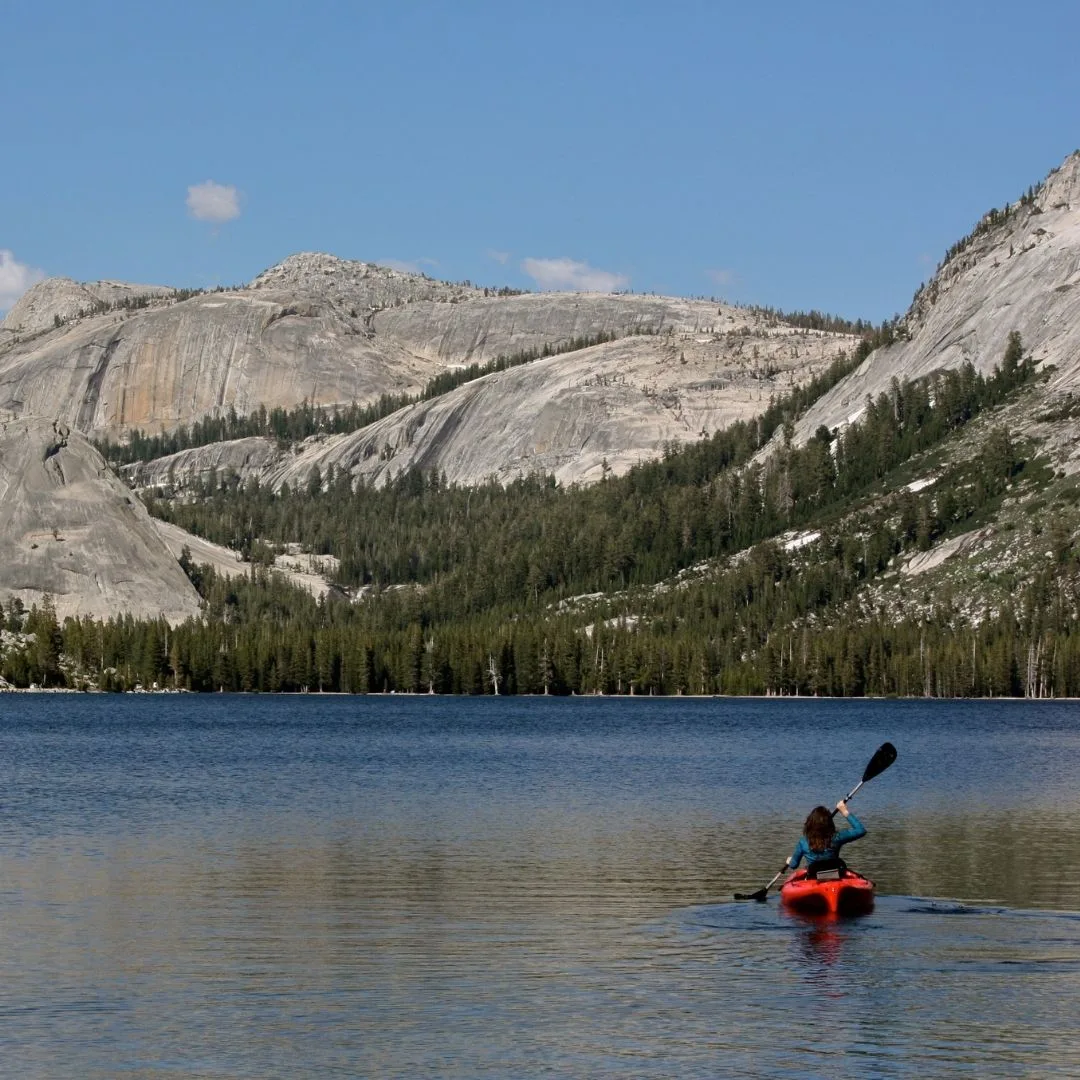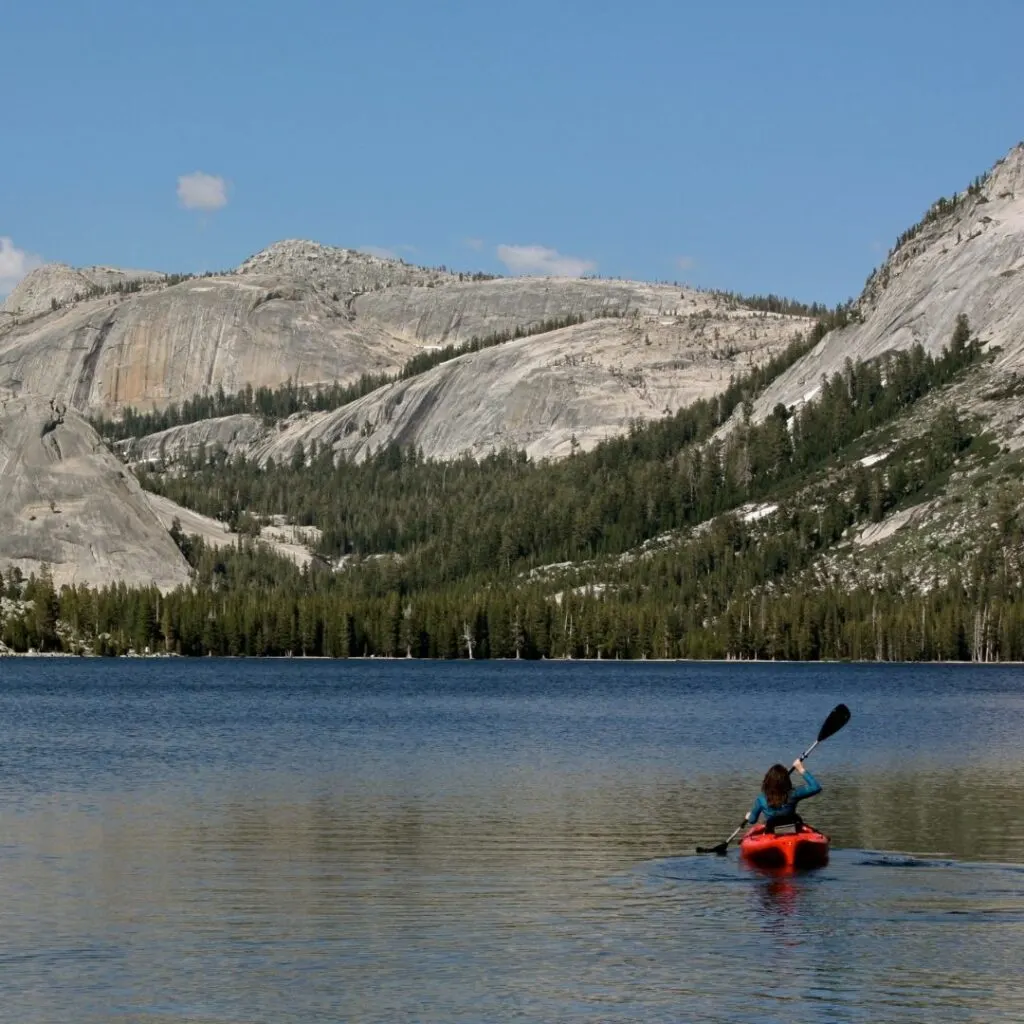 River Rafting Near Yosemite
If visitors would like to take their adventure to the next level when rafting in Yosemite, they can choose to raft on a Class IV river. A trip on the Tuolumne River gives visitors the choice of turning their one day trip into two or even three days.
As well as an exciting day on the river, visitors can add on hikes to nearby waterfalls or a craft beer tasting session. Trips with Oars start 8 miles east of Groveland and many run from march until early fall.
Whitewater rafting on the Tuolumne River is not for the faint-hearted. While the majority of the season the river is Class IV, at times it can reach Class V.
Children aged 14 and over are welcome to join, however, if the water levels are high then it is only suitable for those aged 16 and over.
Check out the range of trips available on the Tuolumne River here.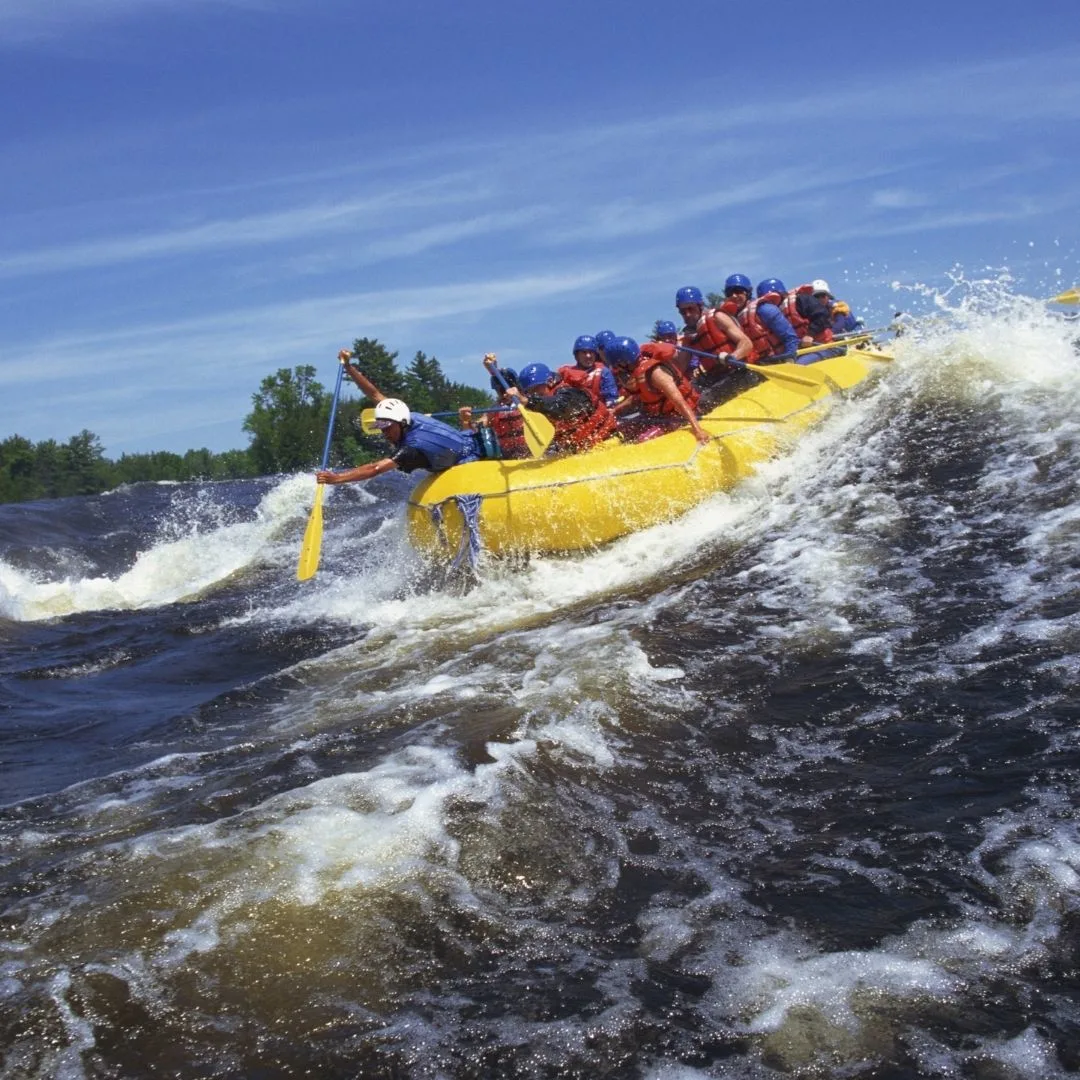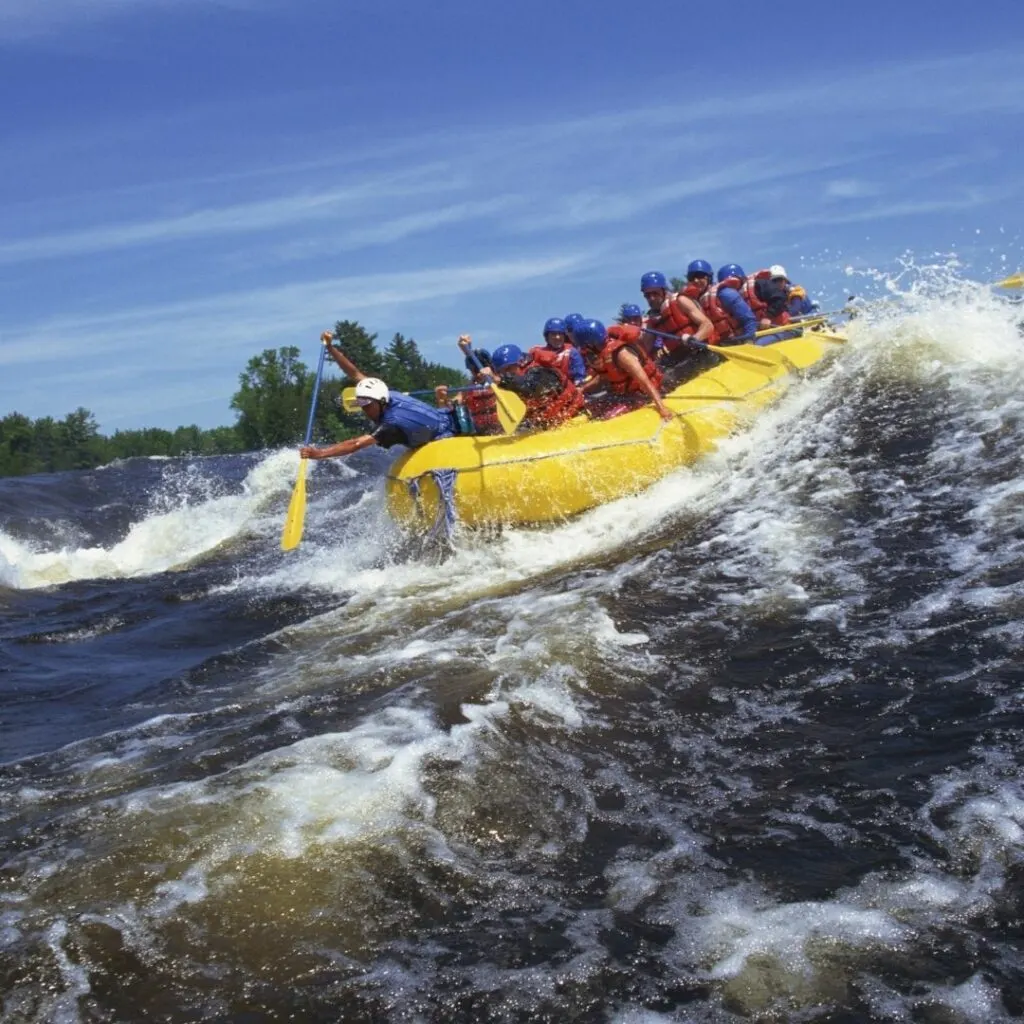 Yosemite Valley Rafting & More
Rafting in Yosemite is just one of the many activities visitors can enjoy when visiting. As the summer months, July and August can be very hot, there are plenty of places to cool off in Yosemite.
Many visitors either dip their feet in the river or go for a swim. Throughout the park and around the Valley are many beaches and swimming holes.
While it is possible to swim in many places, there are a few exceptions. Check out the website for a list or keep an eye out for signs.
In fact, it is important to always be aware of signs as the rivers can change day to day and maybe dangerous at times.
When the water levels are less than 6.5 feet at Sentinel Bridge, it is possible to float down the Merced River on an inner tube float.
With the water at this level, it can be very relaxing and it is popular with families. It is possible to rent a raft or bring an inner tube float along.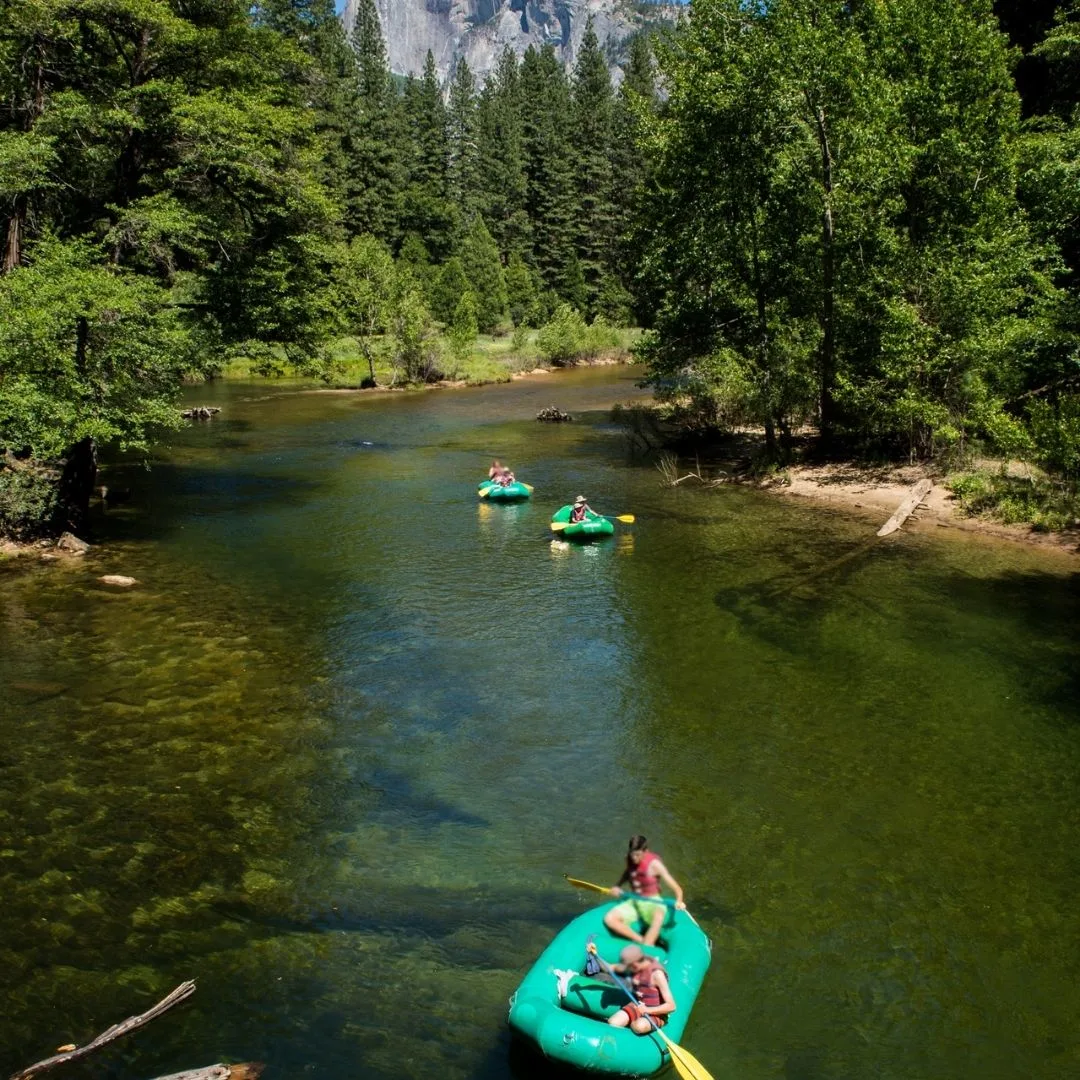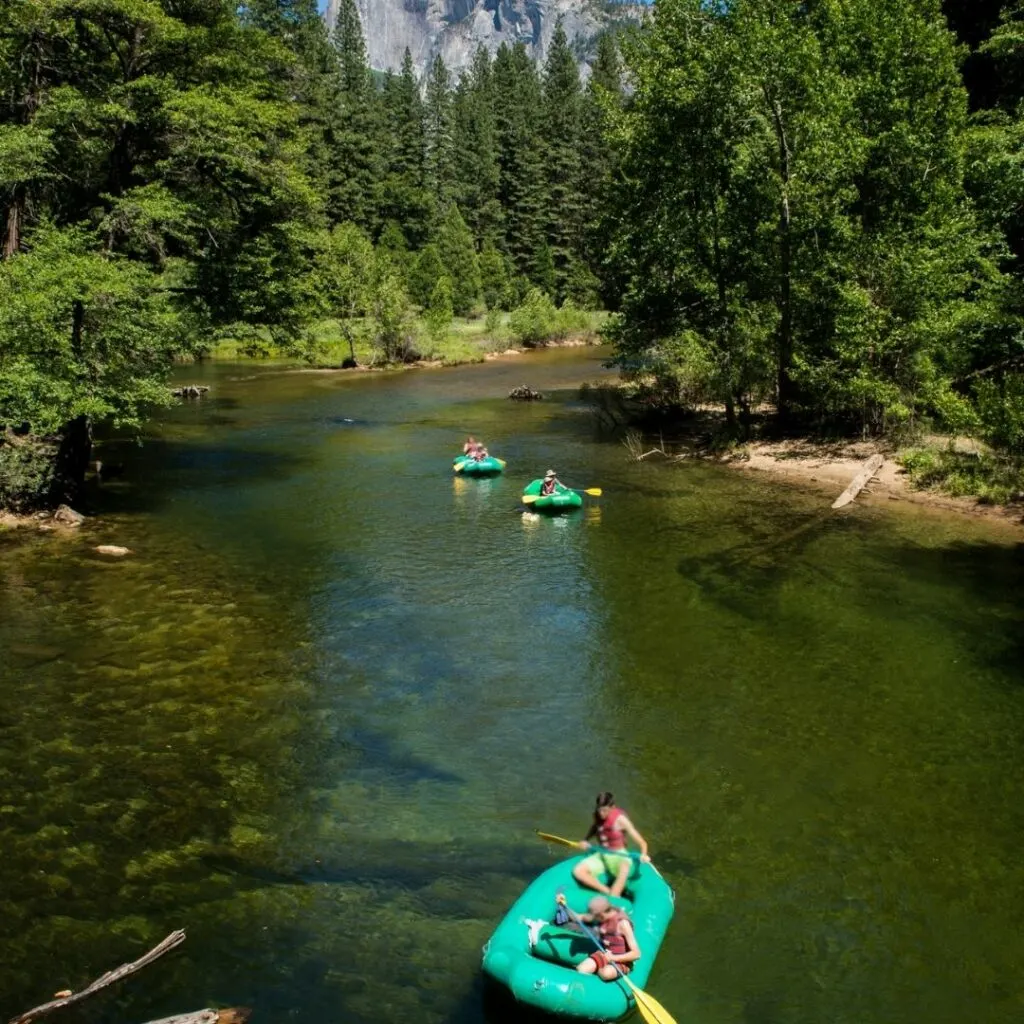 Near Yosemite National Park Kayaking & Paddle Boarding
A few hours from Yosemite Valley is Lake Tahoe. This area is very popular and many people add kayaking and paddleboarding to their Lake Tahoe 3 day itinerary. Unlike Yosemite, there are plenty of places to rent a kayak.
Paddleboarding is another option and it has become increasingly popular in the last few years. It is easy to learn and visitors can rent a paddleboard in Lake Tahoe.
Complete beginners might want a helping hand and to learn the ropes from a professional. Lake Tahoe Kayaking or Paddleboarding Tour is the perfect choice.
After the lesson, take a tour of Lake Tahoe's pristine coastline. A professional guide is with visitors at all times to offer paddling tips as well as discussing the scenery on the crystal-clear waters. With the Sierra Mountain range in the background, it is the perfect spot to try out a new skill.
To find out more about a kayaking or paddle boarding tour click here.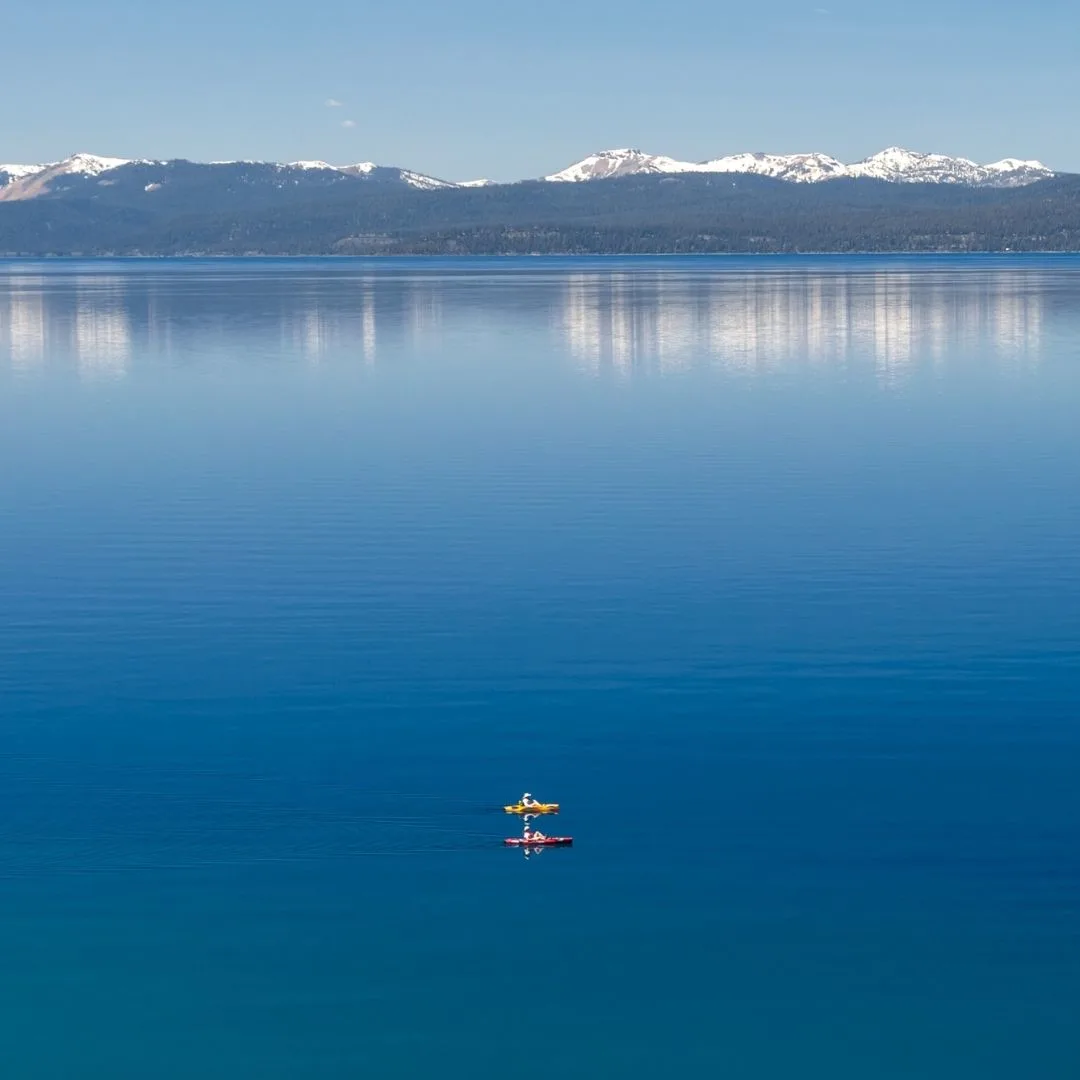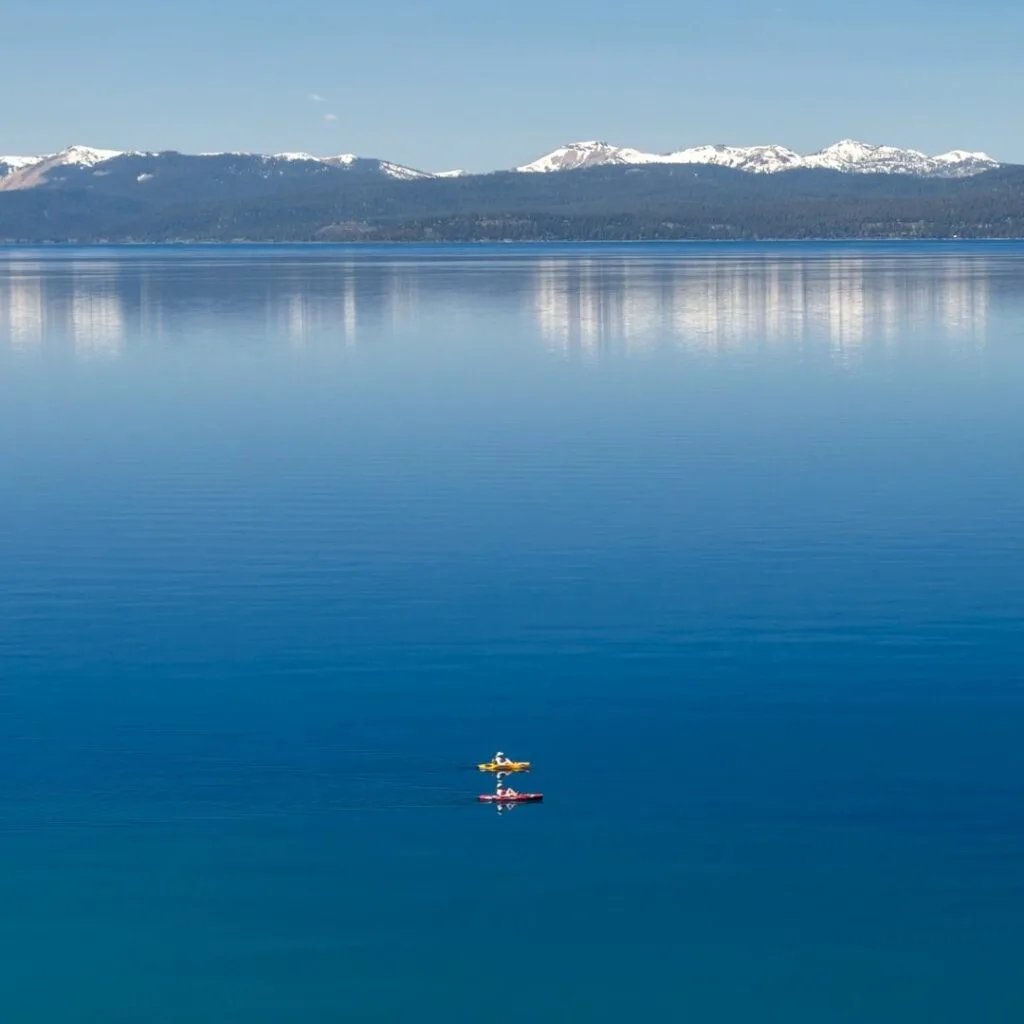 River Rafting Near Yosemite
Yosemite is not the only place in the area where rafting can be enjoyed. The American River is north of Yosemite and is a fantastic tour from San Francisco.
This all-day adventure lasts 10 hours and it picks guests up from San Francisco at 7 am and takes them to the American River for the trip of a lifetime. This river rafting adventure is 8-10-miles and is full of twists and turns along the way.
This River Rafting trip has class III rapids. This means that no experience is needed and it is suitable for kids aged eight and over. Wetsuits, lunch, snacks and bottled water are all included in the trip.
Click here to read more about this Thrilling Whitewater Rafting Outdoor Adventure.
Camping When Rafting in Yosemite
Most visitors to Yosemite choose to camp or stay in an RV park. As this is the most popular option, it is difficult to make a reservation. However, there are a few campgrounds that allow walkins, perfect for a one day trip.
Staying around Yosemite Valley is a great option when rafting in Yosemite. North Pines Campground is one of the most popular places to stay.
It has breathtaking views and the location is perfect for hopping on and off the shuttle. The Merced River isn't too far away either.
Click here to make a booking at North Pines Campground.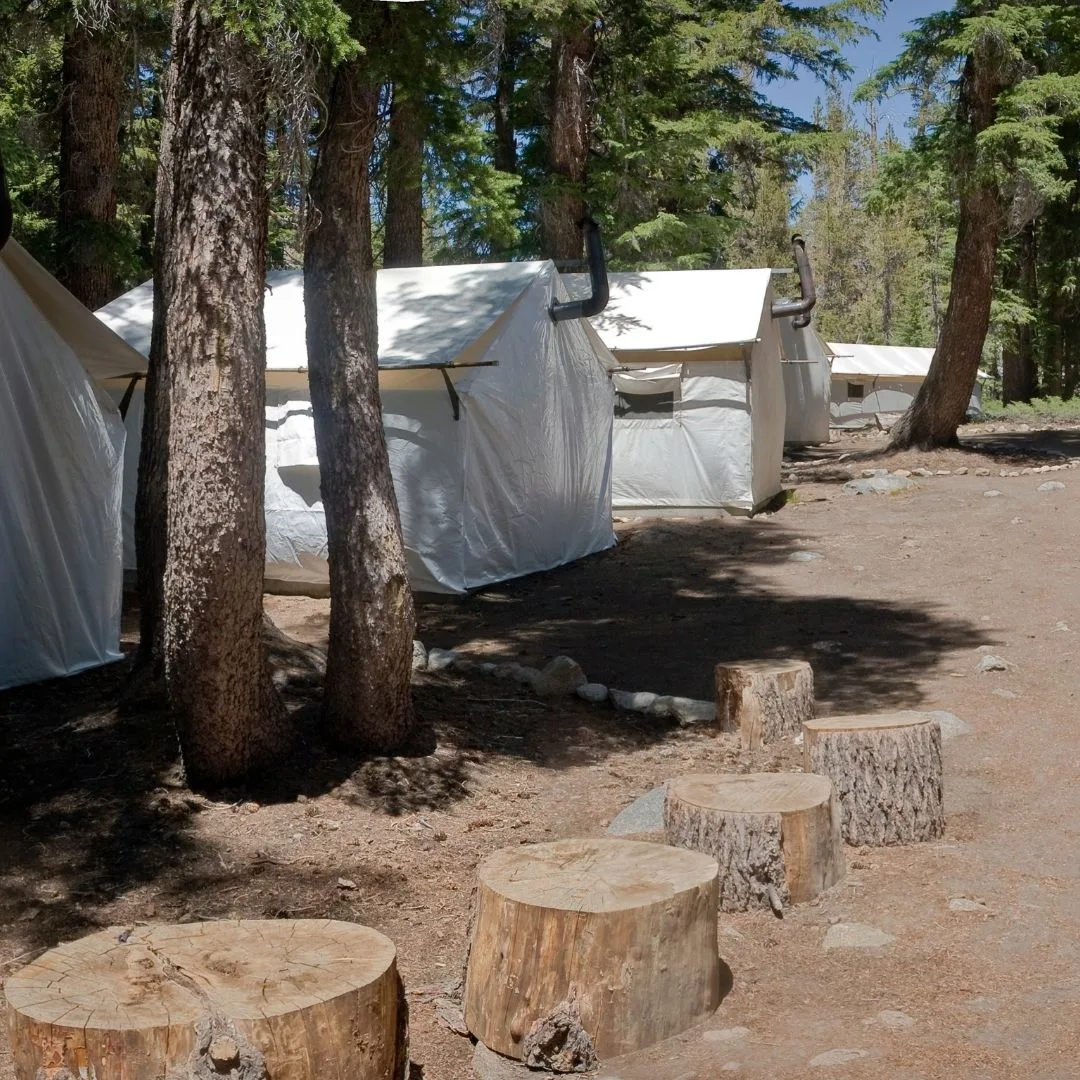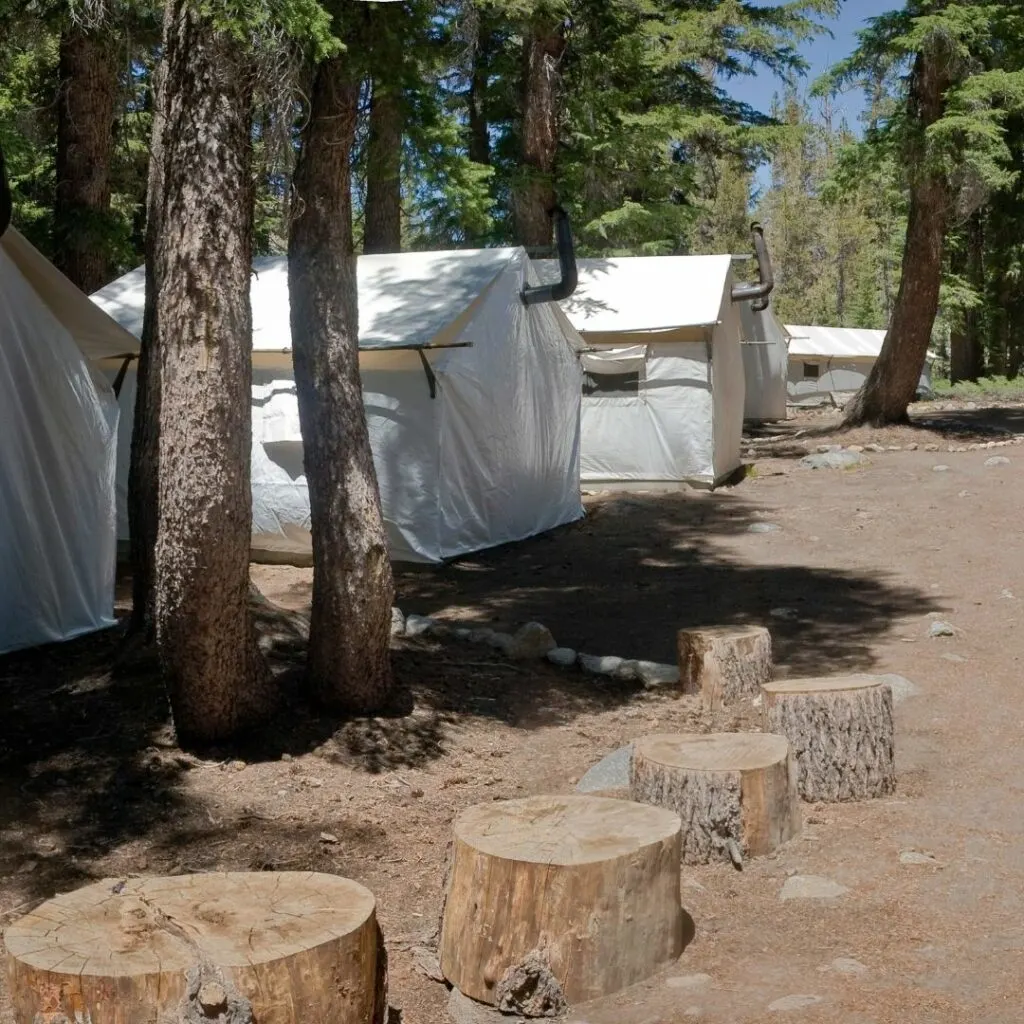 Hotel When Rafting in Yosemite
Yosemite Valley Lodge is 750 yards from Yosemite Valley. This makes it a great base to head to if visitors plan on spending a lot of time rafting on the Merced River.
The hotel also offers spacious rooms and a restaurant on site. If visitors are rafting in Yosemite then it is also the best time to see the waterfalls.
Yosemite Falls is right beside the hotel and guests can enjoy spectacular views. The hotel is in high demand so make a reservation early.
To make a reservation for Yosemite Valley Lodge click here.
Rafting Near Yosemite National Park
For those who want to go rafting near Yosemite then consider staying in El Portal. The Merced River runs through the town and many of the private tours start nearby.
Yosemite View Lodge has four pools and even a hot tub on site to relieve those tired muscles after rafting in Yosemite.
Many of the rooms have fantastic views of the river and it is only a ten-minute drive to Yosemite National Park.
Make a reservation here for Yosemite View Lodge.
Things to Know Before Rafting in Yosemite
Rafting in Yosemite can be a fun and exhilarating experience. However, before setting off there are a few points to consider.
In Yosemite, it is important to always read the signs. The water levels are measured every morning and the rangers make decisions about whether rafting or kayaking is allowed. If for any reason visitors are unsure of whether to go in the water, ask a ranger.
A life jacket is required for everyone when rafting in Yosemite. While it can be sitting beside visitors in the raft, it should be worn at all times for children under the age of thirteen.
If visitors decide on a tour they should be aware of the meeting point. Phone coverage is not good in the area, so it is best to know where to go before hitting the road.
The information is usually sent out with the ticket confirmation so it is important to scan this before leaving.
This is due to the fact that the meeting point is not always at the office so please be sure where to go before leaving. If visitors are unsure, then contact the tour company a few days before.
Unfortunately, it is very common for visitors to go to the wrong place when rafting in Yosemite and this then leads them to miss their tour. If this happens then the company will not offer any refunds.
Even if the plan is just to go rafting in Yosemite, visitors still need to pay an entrance fee when they enter the park.
Prices vary at different times of the year. However, the entrance price remains the same. It costs around $35 to enter the park with a vehicle. The America the Beautiful Pass is also accepted at the park.
In fact, this annual pass allows holders to visit over 2000 sites around the US. It is relatively inexpensive and a great investment as it can be used to visit federal sites and national parks throughout the year.
For more information about America the Beautiful Pass click here.
When people hear of white water rafting, most think of the rapids and the thrill it provides. Just remember that if rivers are divided into classes; the higher the class the more rapids to expect.
While it is a thrilling experience, there are many other reasons to give it a try especially in Yosemite.
White water rafting in Yosemite is a very popular thing to do for many reasons. Unsurprisingly, the scenery is awesome.
There are plenty of beautiful views and incredible natural landmarks that visitors can catch glimpse of as they go past on their raft.
Many of the visitors to the park have seen these landmarks before. However, when they hop on a raft, visitors can experience these from a different perspective.
This makes them even more interesting, compared with the usual views from one of the trails.
In fact, visitors might see something new or appreciated the view even more from the raft when rafting in Yosemite.
Even if whitewater rafting is not suitable, there is always the option of kayaking or paddleboarding. If visitors have ever wanted to try these then Yosemite is the place to do it.
They may not have the thrill of whitewater rafting as it is a lot slower. However, it gives visitors the chance to go at their pace and stop and start without having to worry about what is around the corner.
As long as visitors to the park follow the safety rules and are prepared before their visit, then rafting in Yosemite is sure to be an experience that will stay with them forever.
You may also like:
How to Plan a Trip to Yosemite | April in Yosemite | The Best Hikes in Yosemite National Park | One Day in Yosemite | The Ultimate Yosemite Packing List | Yosemite in Fall | RV Parks Near Yosemite | Rafting in Yosemite | 10 Kid Friendly Hikes in Yosemite | Winter Hikes in Yosemite | The Magic of Yosemite in December | Christmas In Yosemite | Best Photo Spots in Yosemite | Why Yosemite Weather in May Makes it the Best Time to Visit | 10 Reasons to Visit Yosemite in January | The Perfect Guide to Visiting Yosemite in March | 10 Amazing Things to do in Yosemite in February | 10 + Things to Do in Yosemite in June | Pumpkin Farms in Maryland
Best pumpkin farms in Oregon | Flying With A Toddler | Best Pumpkin Farms in Florida | Best Pumpkin Farms In California
Will you be needing travel insurance, flights, rental cars, or hotels for your trip?
Disclaimer: This post may contain affiliate links. By using them it will not cost you any extra, we will receive a small percentage of the sale.