Yosemite attracts around five million visitors every year. The majority visit in the summer months, July and August, however, there are a few who head to Yosemite in December.
This stunning park is a natural treasure in California. The landscape of Yosemite is breathtaking and there are many photo spots to capture some inspiring scenery. Its beauty can be admired on trails through mountains or to one of the many waterfalls.
In December, hikes can be more difficult however the snow-covered peaks towering above the park dazzle visitors make it worth the extra effort.
There are many activities in the snow and one day is sure to be different than the next. In fact, if visitors pack the right items and wrap up warm, visiting Yosemite in December can be a truly magical experience especially if visiting with kids.
It is good to remember Yosemite in December is not all sunshine and rainbows. This is mostly due to the weather conditions, however, at this time of year, a little planning can make the trip of a lifetime.
Below is a comprehensive guide to help visitors start their trip off on the right foot. It covers what to expect when visiting Yosemite in December. Included is everything from which entrance to take, where to stay and an adventure-filled itinerary be it two days or three. Check out Christmas in Yosemite here.
Yosemite December Entrances
If you haven't been to Yosemite in winter, it is good to know there are five entrances to the park. However as fall comes to an end, the weather starts to change and snow may start to fall. This can lead to road closures.
This won't affect all visitors as there are three entrances open all year round and all day. The entrances located on the west side of the park are Big Oak Flat Entrance, Arch Rock Entrance and the South Entrance.
Visitors coming from San Francisco and Los Angeles use the west side entrances the most so there is less chance to experience any issues.
The Hetchy Hetch Entrance is another entrance open only during daylight hours. This is a great entrance to take if visitors are coming from San Francisco.
It may not be the most direct route, nevertheless, visitors are blown away by the amazing views. In fact, it is usually quieter than the other entrances and could potentially be quicker.
No matter which entrance visitors take it is important to check the website for road conditions before setting off.
On the east side of the park is the Tioga Pass Entrance. This is the only entrance on the east and is used by visitors coming from Las Vegas or Death Valley. This entrance is closed in December and it does not reopen until May or even as late as June.
If visitors from the west side plan on visiting Yosemite in December, there may be the need to take a detour. This means driving around the park to the South Entrance.
No matter which entrance is used, an entrance fee is required however, there is no need to make a reservation unless staying at Yosemite. Tickets can be purchased at the entrance for around $35 for all vehicles including RVs.
America the Beautiful Pass is accepted at Yosemite. It is very affordable and can be used at over 2000 sites across the US.
If visitors go to National Parks regularly this pass is very cost-effective! Just one pass covers the entrance fee for a driver and all passengers. REI donate 10% of pass sale proceeds to the National Park Foundation.
To find out more about the annual Beautiful National Park pass click here.
The Weather at Yosemite National Park in December
As many would already realise it is cold and snowy in Yosemite in December. However, what may be surprising is there are often sunny days, although it is still chilly. Despite the weather, Yosemite is known as one of the best winter vacations in the US.
The weather in Yosemite in December is generally mild and dry with some occasional rain, keep in mind it does get very chilly at night. The average high temperature in December is about 47°F (8°C) while the average low temperature is about 28°F (-2°C).
Keep in mind this is the temperature for Yosemite Valley. Head to higher ground and the temperature drops again.
Why Visit Yosemite in December
The winter in Yosemite Valley is a time of serene and peaceful beauty. There's a whole different feel to the place in winter.
It is easy to see why the Ansel Adams Gallery is hosting an exhibit called "Yosemite Winter: The Frozen Landscape" it features not just his stunning black-and-white photographs of the valley as well as paintings by other artists inspired by this special season.
Winter brings snow and ice dramatically changing the landscape. Visitors who don't mind cold temperatures are rewarded with Yosemite's best views.
Many visitors head to Yosemite as it is a great place to get back to nature. However, visit in the summer months and this is not always a possibility.
There are more trails open and activities such as rafting and kayaking are available, although this time of year brings crowds and visitors may not get the tranquillity Yosemite is known for!
If visitors want any peace and quiet, they have to wake up at the crack of dawn to try and go hiking alone. Even then there is a very good chance they will run into someone and the trails start to become crowded as the day goes on.
In winter months December, January, February and March, there is less chance of crowded trails. This gives visitors the chance to take in the scenery. If visitors are into photography, the lighting in winter is perfect and even more reason to visit.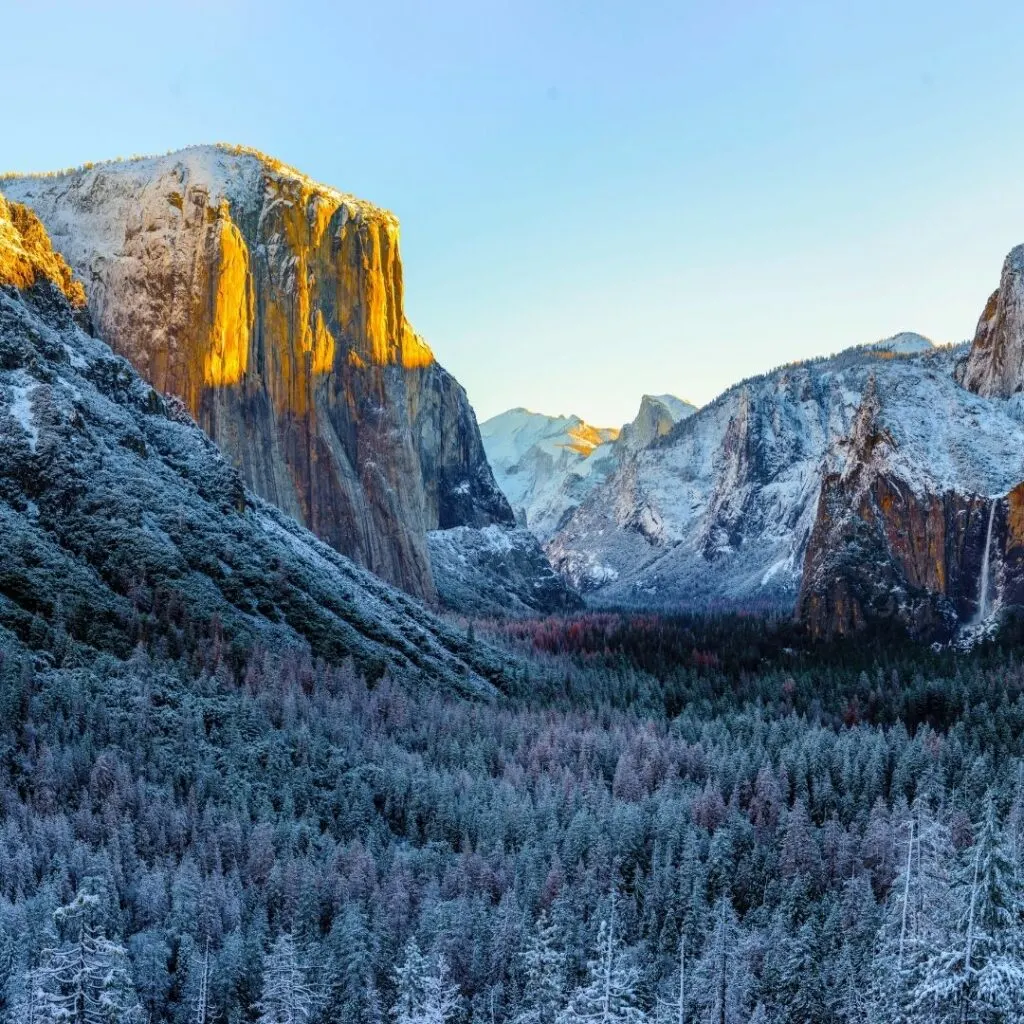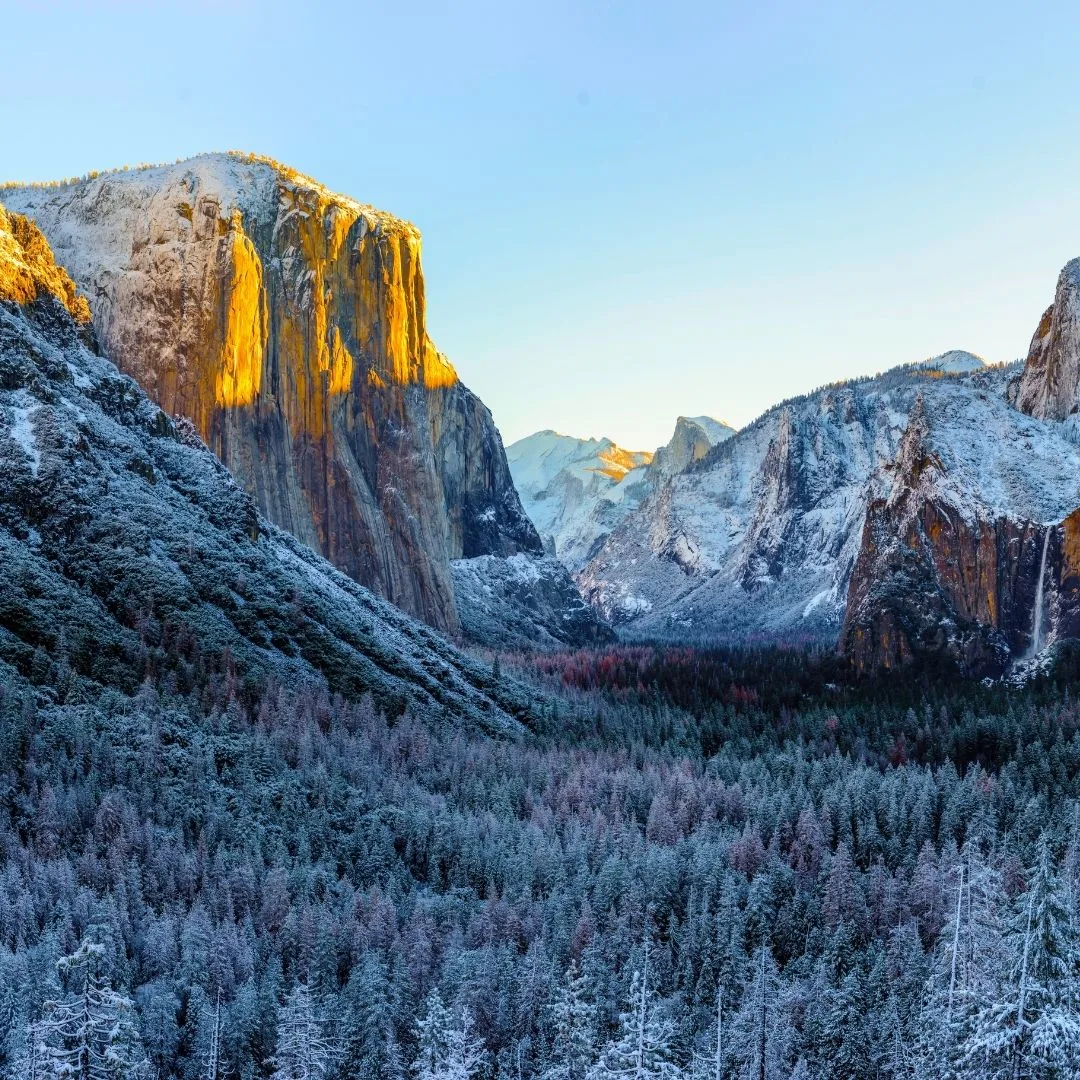 Things to do in Yosemite in December
Visitors may be fooled into believing their activities are limited in Yosemite in December. Surprisingly there is still a ton of things to do despite the weather. In fact, many of the activities are centred around the snow and ice.
While visitors won't be able to see any of the roaring waterfalls Yosemite is famous for, there is everything from skiing to ice-skating near Half Dome.
Not to mention they could simply go for hikes and watch the wildlife in the park. There is something to suit everyone, old to young. Even if the weather is cold, there are a few things to do inside and give visitors the chance to warm up.
In Yosemite Valley, visitors can walk around The Ansel Adams Gallery and admire the stunning photographs. Many of the photographs are recognizable and visitors can enjoy Yosemite's famous views.
Another great indoor venue is the Yosemite Museum where visitors can learn more about the park from the exhibits.
This historic building was the first building constructed as a museum in the national park system. The educational initiatives served as a model for parks nationwide. The exhibits change often so check the website before visiting to see what is on.
Visiting Yosemite in December to Ski
Yosemite National Park spans the eastern portions of Tuolumne County and the western portions of Mariposa County in Northern California.
The park is mostly within the state's Central Valley region, with smaller portions extending into the Sierra Nevada range. Many of the regions get plenty of snowfall and this makes Yosemite National Park a popular winter destination for skiers.
There are more than 2,500 miles of groomed ski trails for all skill levels, as well as other activities such as snow tubing and snowshoeing.
It is one of the best places to ski in winter as it has some of the tallest mountains which are close to sea level. This means more snowfall than in many other mountainous regions.
Badger Pass Ski Area opens around mid-December when the Glacier Point Road is ploughed. There skiers can enjoy the challenge of the steep mountain terrain.
The resorts offer an average of 600 inches of snow per year and attract world-class athletes who train in the area's high-altitude conditions.
Badger Pass Ski Area has everything including backcountry skiing tours, cross country skiing and snow tubing. It is a great place for beginners and experienced skiers.
There is the option to rent any of the equipment or visitors can bring their own ski gear. If visitors have never skied before or need to brush up on a few skills, lessons are available.
Season Passes start at around $430 for adults, there are discounts for students, military and first responders.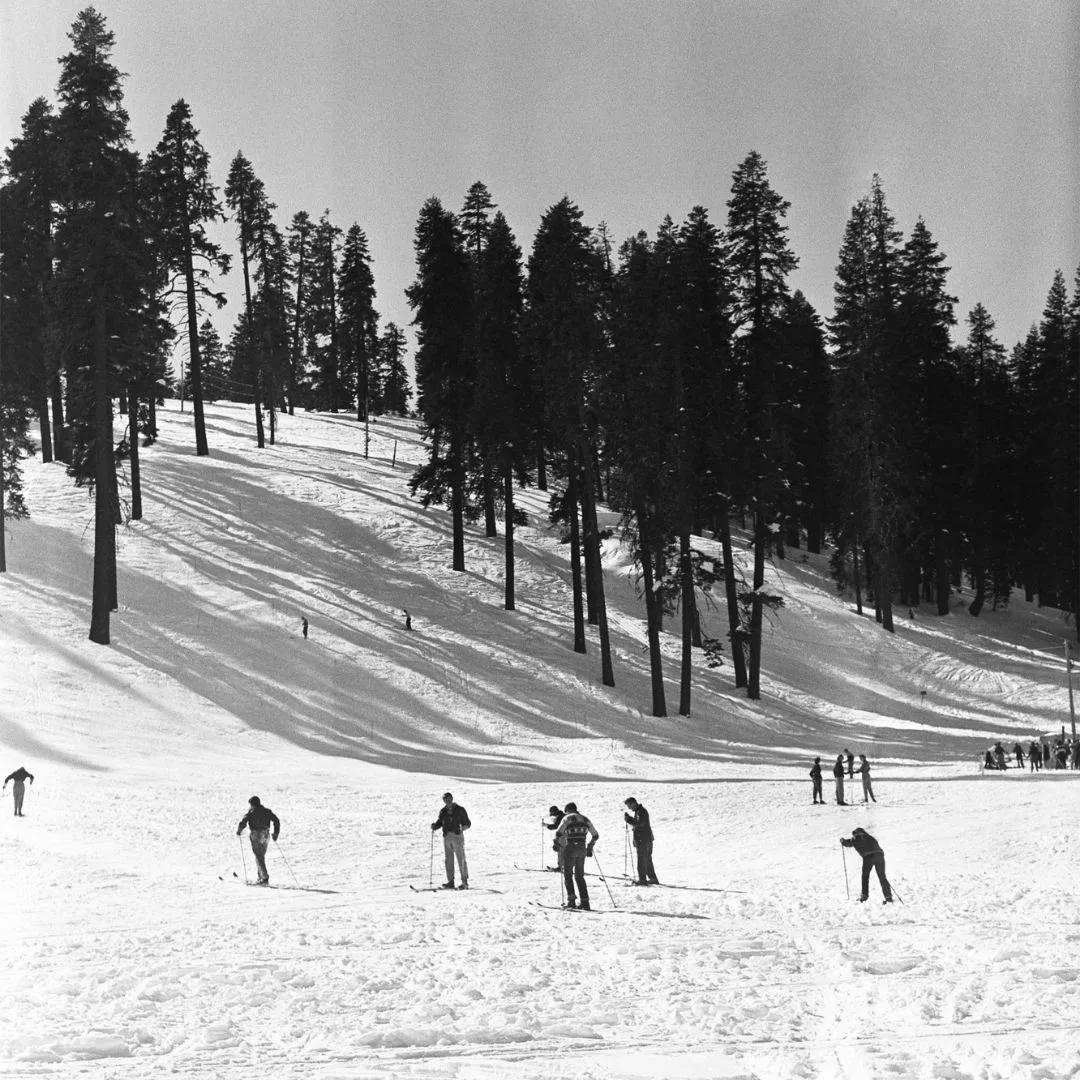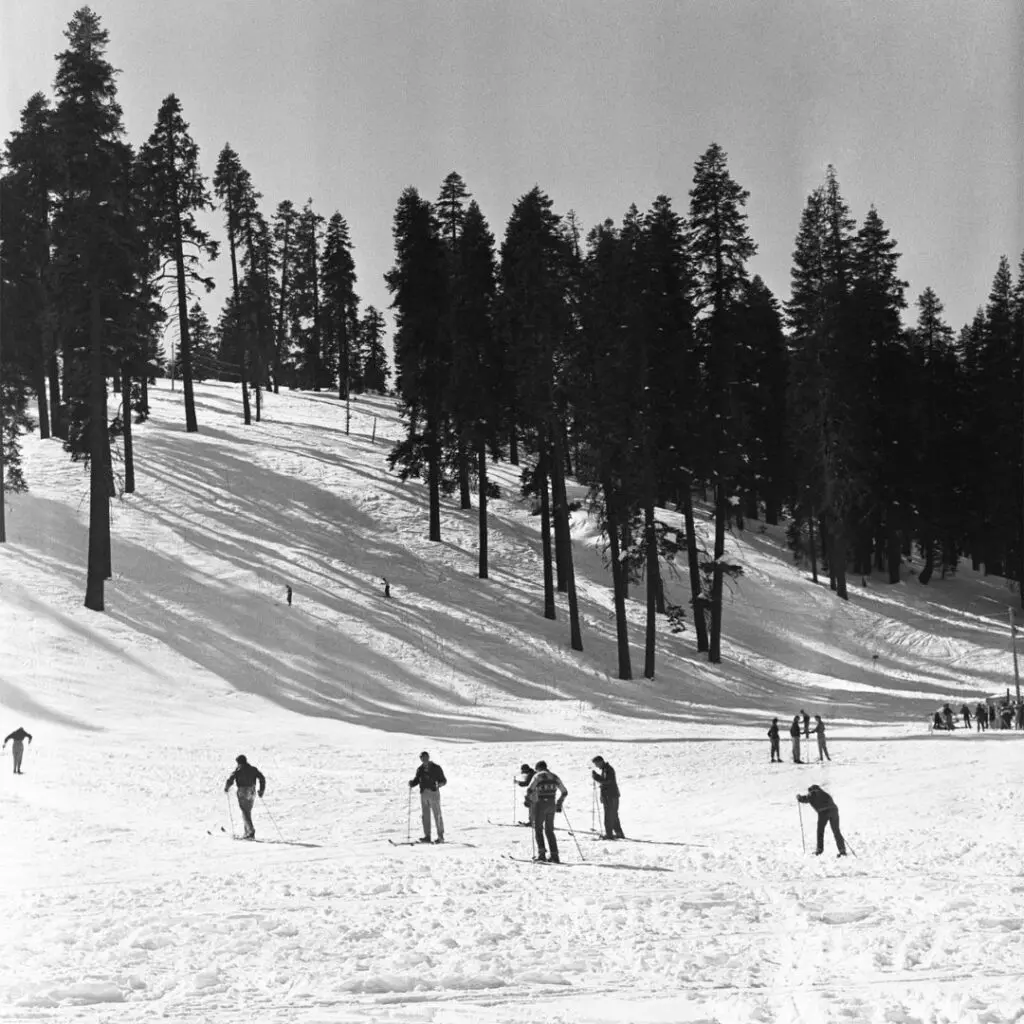 Ice Skating in Yosemite Valley in December
On a beautiful winter's day, there is nothing like ice skating in the fresh air. Many people do this at Christmas markets or even in the pop-up ice rinks in the city centre during the winter months of December, January, February and March.
However, imagine ice skating in Yosemite Valley with the views of Half Dome and other views of nature all around. In fact, the ice rink at Curry Village is considered one of the best ice rinks in the country.
The ice rink opens in November and it is open at various times throughout the day. As it is busier at weekend, the opening hours are extended.
There is no need to make a reservation as they are sold on a first come first serve basis at the ticket Curry Village Tour & Activity Desk. If it is busy at the park, it is worth noting the stand opens fifteen minutes before the session begins.
It costs around $14 and then around $5 to rent a pair of skates. Helmets are free. After skating around the rink, warm up near one of the cosy fire-pits with a hot drink purchased in Curry Village.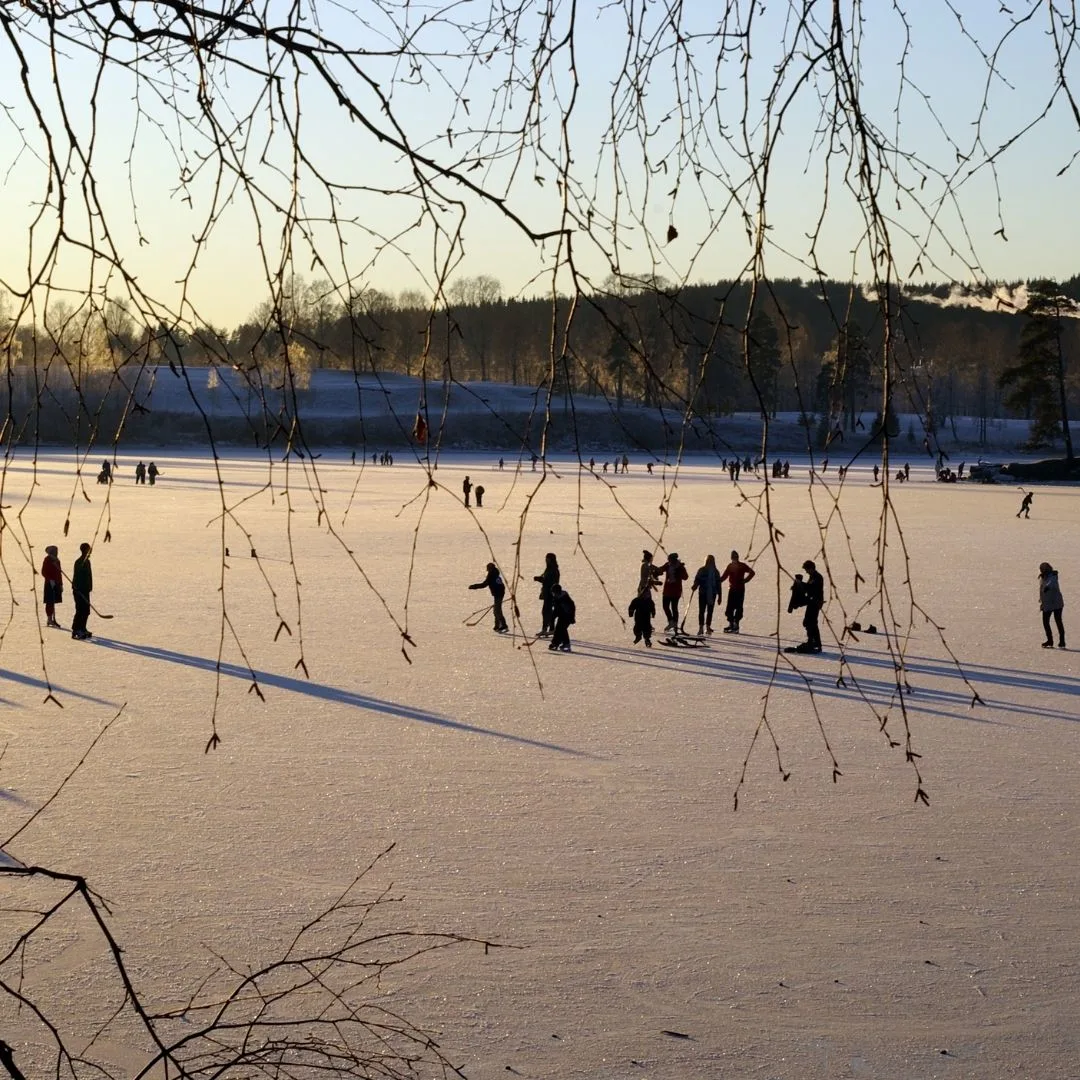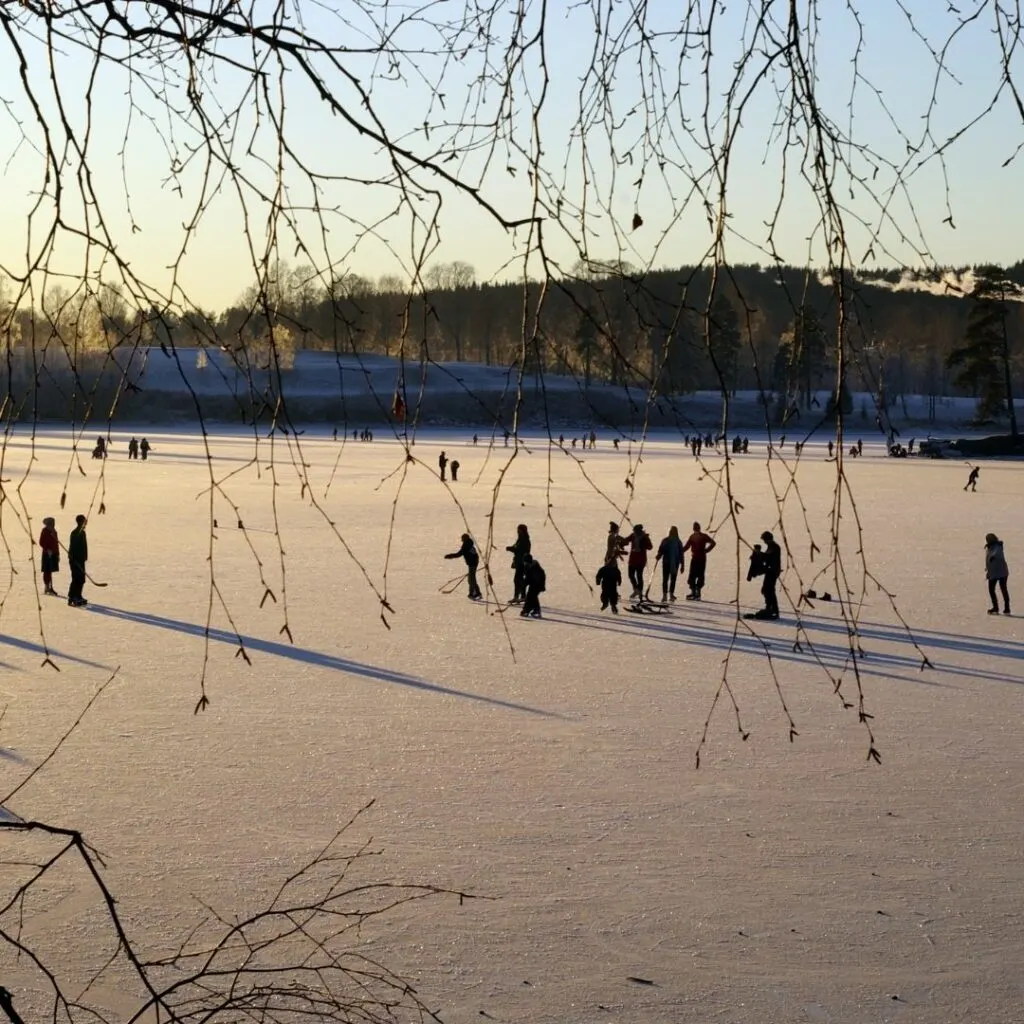 Winter Sunsets in Yosemite Park in December
One of the most magical things to do in Yosemite is to watch the sunset over the granite cliffs. Many visitors head for higher ground to do this as it gives stunning views over the park. In December this can be a little tricky as a lot of the roads to many of the vantage points are closed.
There is always the option to hike to the top, if visitors are not experienced or travelling with kids, this is not always possible. Don't worry there is another wonderful place to watch the sunset not far from the valley. Tunnel View is a magical place and it should be on every itinerary. It is one of the best photo spots in Yosemite.
The idea behind the name Tunnel View is visitors stand at the end of a tunnel and look out over the valley. It is one of the most famous landmarks in the United States.
It is on the edge of Yosemite National Park, on Wawona Road (California Highway 41) near El Portal and it was created when an old logging road was replaced with a paved highway in 1933.
This viewpoint became popular after it was mentioned by Ansel Adams. If visitors visited the gallery, they are sure to recognize it in many of his photos.
The lighting as the sun goes down is perfect and the burnt orange colour over the granite cliffs is truly breathtaking!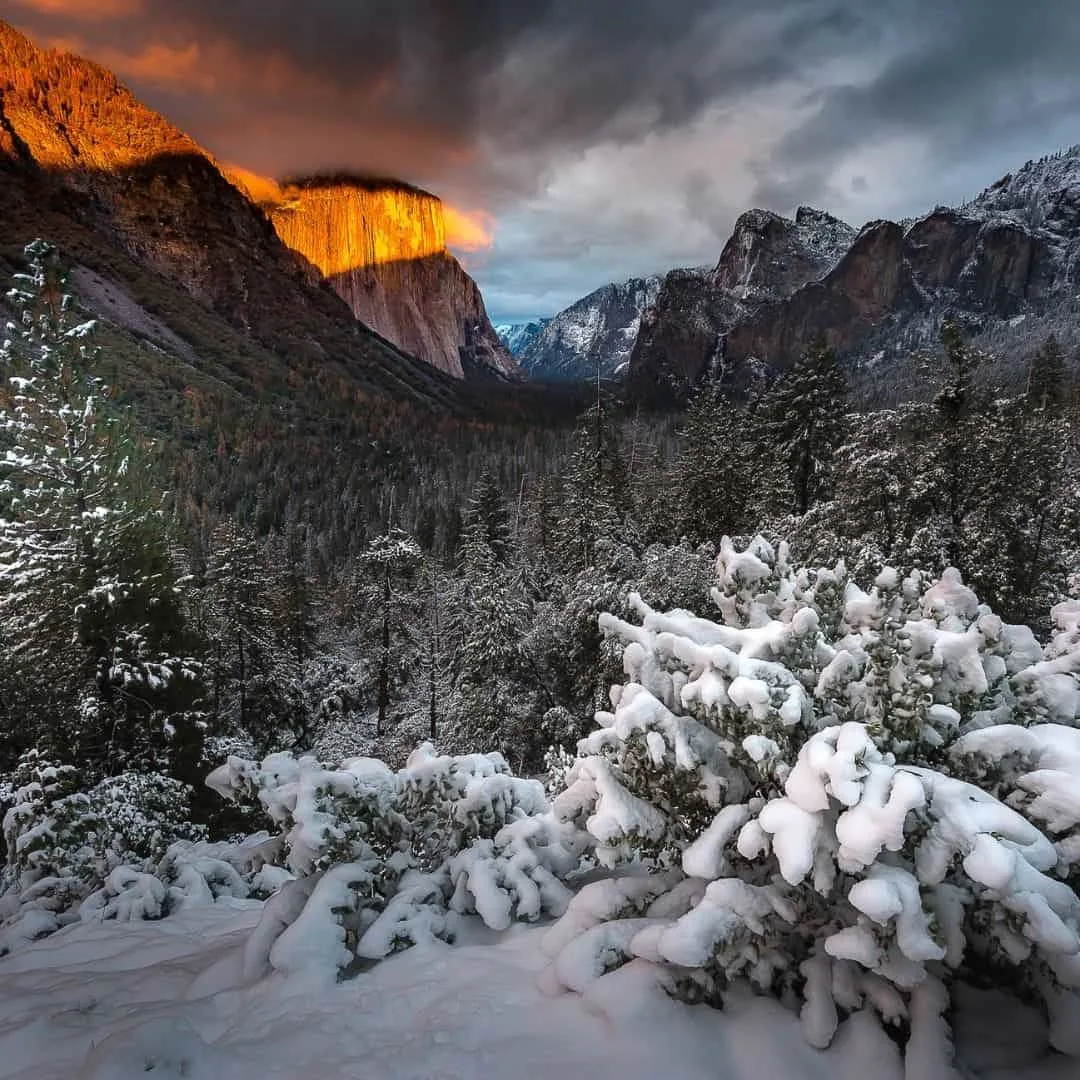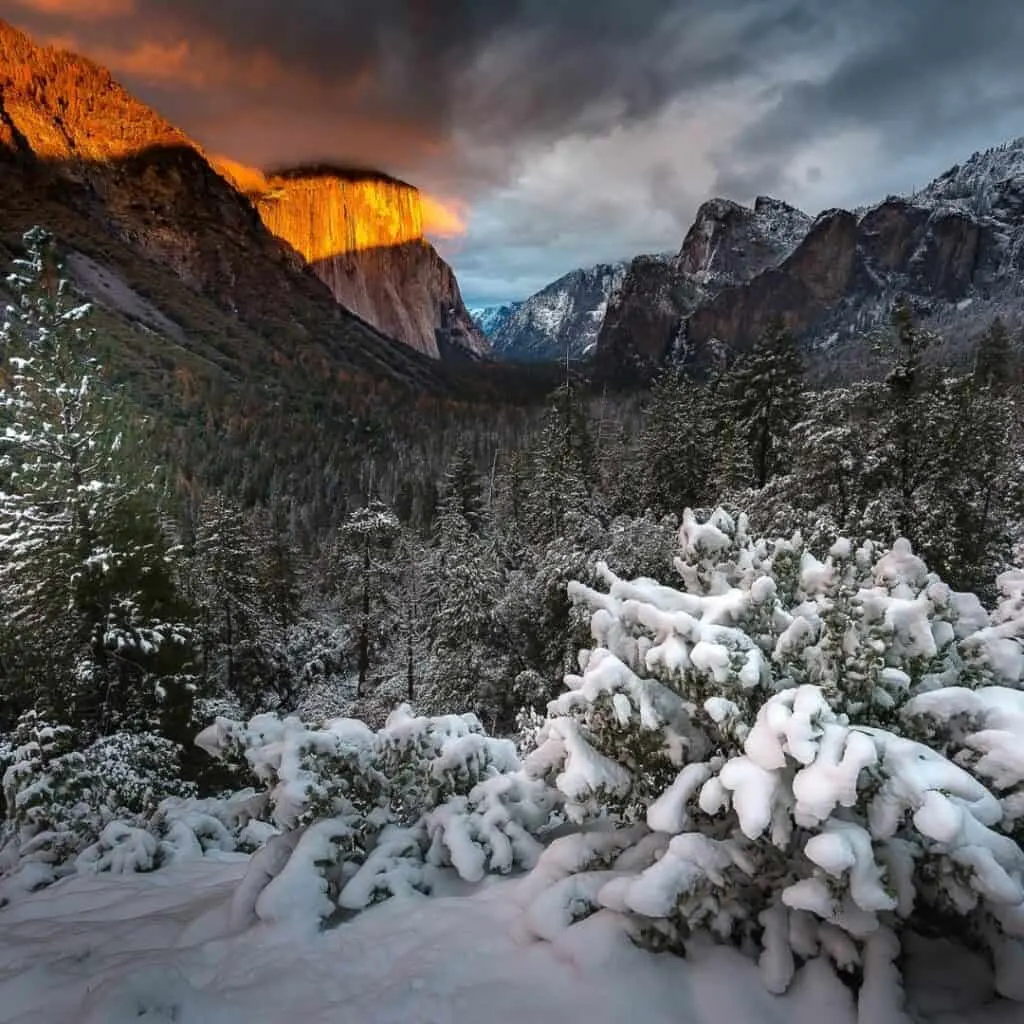 Yosemite Hikes in December
Many of the hikes in Yosemite are in and around Yosemite Valley. It is the heart of the park and in winter there are many hikes still accessible. One hike in particular is Valley Loop Trail, is great to give visitors the chance to take in their surroundings and get a feel for Yosemite.
It is the perfect chance to take out the camera visitors packed as along the trail there are many of Yosemite's famous landmarks to keep an eye out for.
This trail takes the same route as the shuttle bus so if it is cold or visitors get tired, it is easy to hop on the shuttle to finish. In fact, visitors can start at any of the shuttle stops.
There is so much to see including El Capitan, the Merced River and a few snow-covered meadows. It is pretty flat yet it is 9km.
As well as stopping the trail early, there is the option to add on a few extra trails. The Lower Falls hike is one which can easily be added to the Valley Loop trail. It is a short and sweet walk to the base of Yosemite Falls.
Sadly, the Falls is not going to be overflowing with water like it is after April, still, it is worth the walk. The views are breathtaking and some deer are often spotted in the area so be on the lookout!
It starts at shuttle stop #6 and it is just thirty minutes long. The walk is beautiful any time of year however with snow on the ground, it really is magical!
If visitors have come to Yosemite to find out more about it then a Private Valley Tour is perfect. The tour allows visitors to customize where they want to go and what they want to see.
It is based on their interests and it is organized on the day with the guide. The whole tour is four hours long and there is a choice of easy to moderate hikes so it is for all skill levels.
Click here to find out more about a private Valley Tour.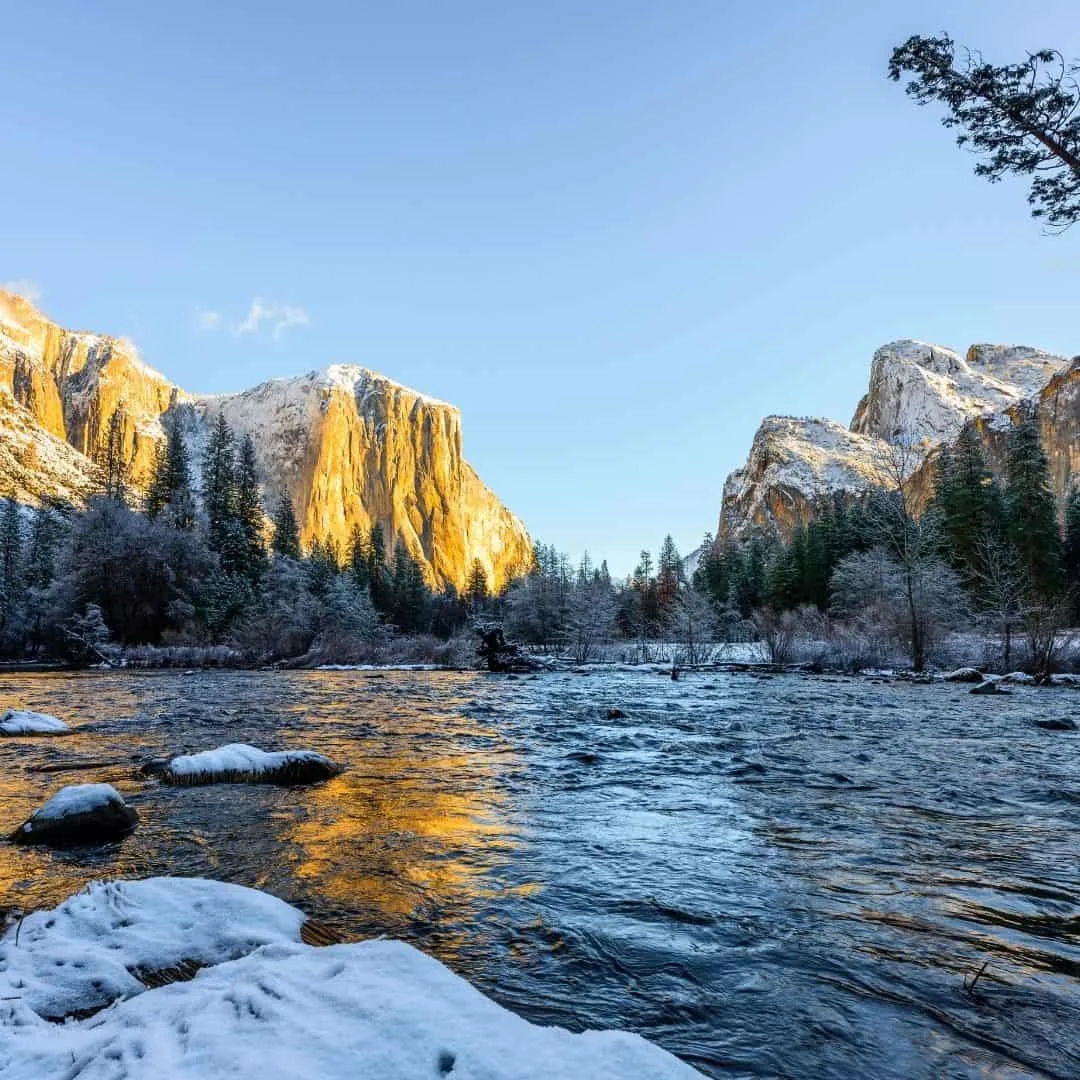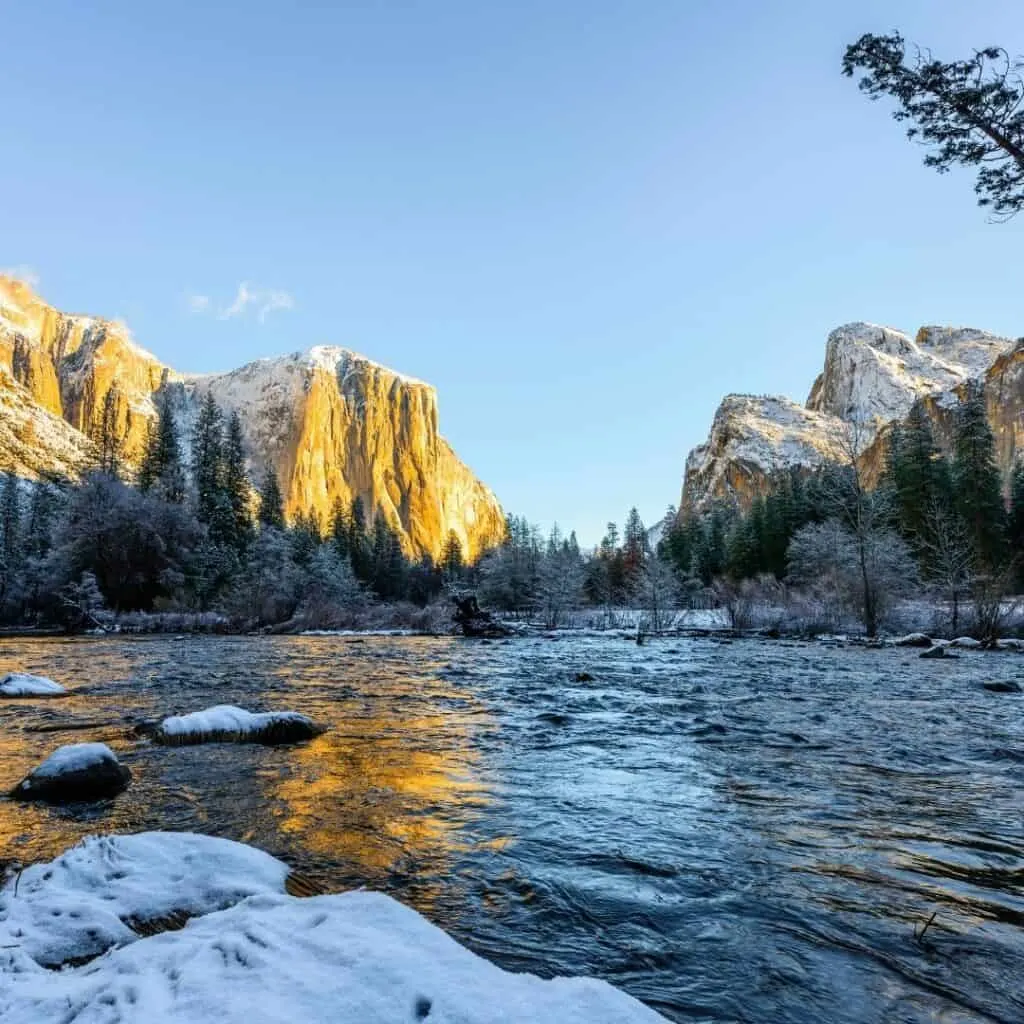 Hike Yosemite in December
If visitors have carried out a little research on Yosemite, they will know the Mariposa Grove is a must-see attraction to any itinerary. The grove is home to over 500 mature sequoia trees with some older than 2000 years old.
It is easy to see why it is so popular when visitors are surrounded by Giants! If visitors head there in summer, July and August, the trails are packed and it is difficult to take in the magic and wonder which is all around.
However, in winter the road to the grove is closed meaning it is usually quiet so there is time and space to experience the grove.
Even though the road is closed, visitors are still able to walk around the giant trees quite easily. Instead of driving to the trailhead, visitors have to walk two miles to the start.
It'a not a difficult hike, although the snow on the ground means it can take a little longer. In fact, it would be wise to put on a pair of snowshoes to make the walk a little easier.
When guests arrive at the trailhead, there are several hikes starting there! If visitors want to see all of Mariposa Grove, the Giant Sequoias Trail takes visitors to the Grizzly Giant, Fallen Monarch, California Tunnel Tree, Three Graces and the Wawona Tunnel Tree.
Those are the most famous trees in the grove. Normally it takes around two and a half hours, however with so much to see and with visitors probably taking it a little slower in the snow, it would take closer to three and a half hours in winter.
It is 10km long so make sure to bring plenty of water and snacks for the trek. There are picnic benches at the entrance for visitors to eat lunch and plenty of places to sit along the trail.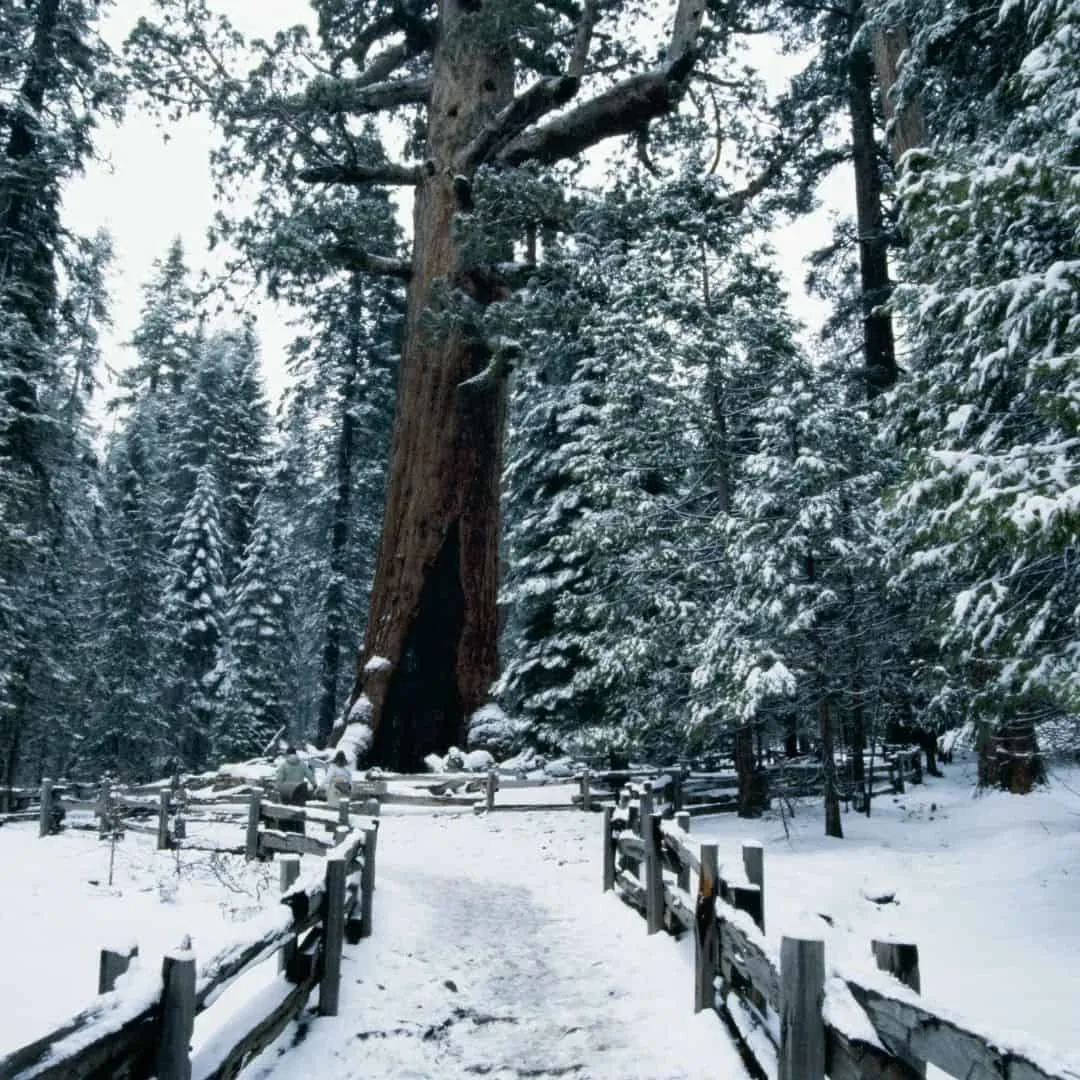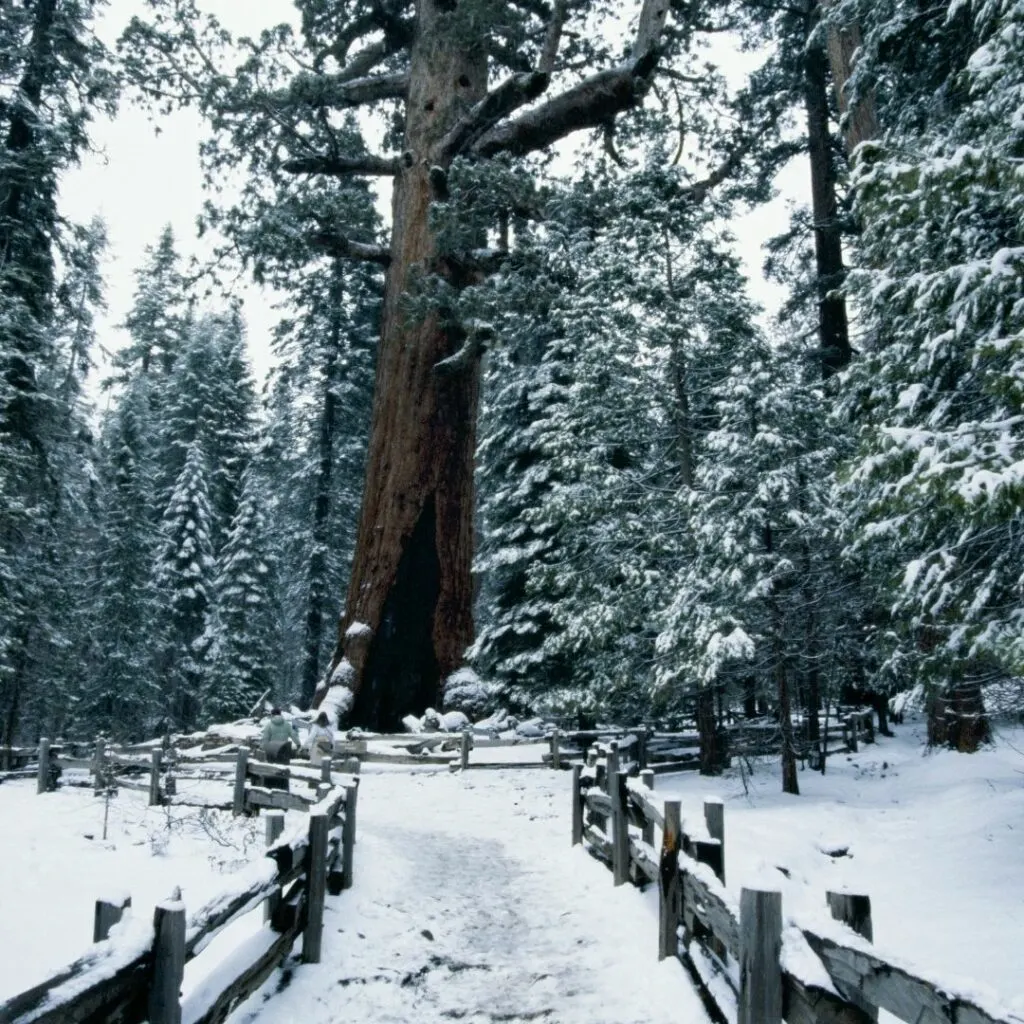 Yosemite December Hiking Tours
If visitors only have one day to explore Yosemite, they want to see all of the best places. In winter, combine Tunnel View, with a trip to the Valley and a hike in Mariposa Grove.
This may seem like an impossible task alone, however, a Yosemite Valley and Giant Sequoias Snowshoe Tour could be the answer.Guests are picked up from hotels and then they head into the park on a private vehicle together.
The tour is limited to ten people so it is a great chance to get to know more about Yosemite. The guide is there to talk about the history and share some insights about the park.
The tour starts at the iconic Tunnel View. Here visitors can get out of the private vehicle and look out on a snow-topped Yosemite Valley. There are sure to be many photo opportunities so take a camera along.
The tour of the park lasts around 4 hours and guests are dropped off at their hotels again in the evening.
To book a Yosemite Valley and Giant Sequoias Tour click here.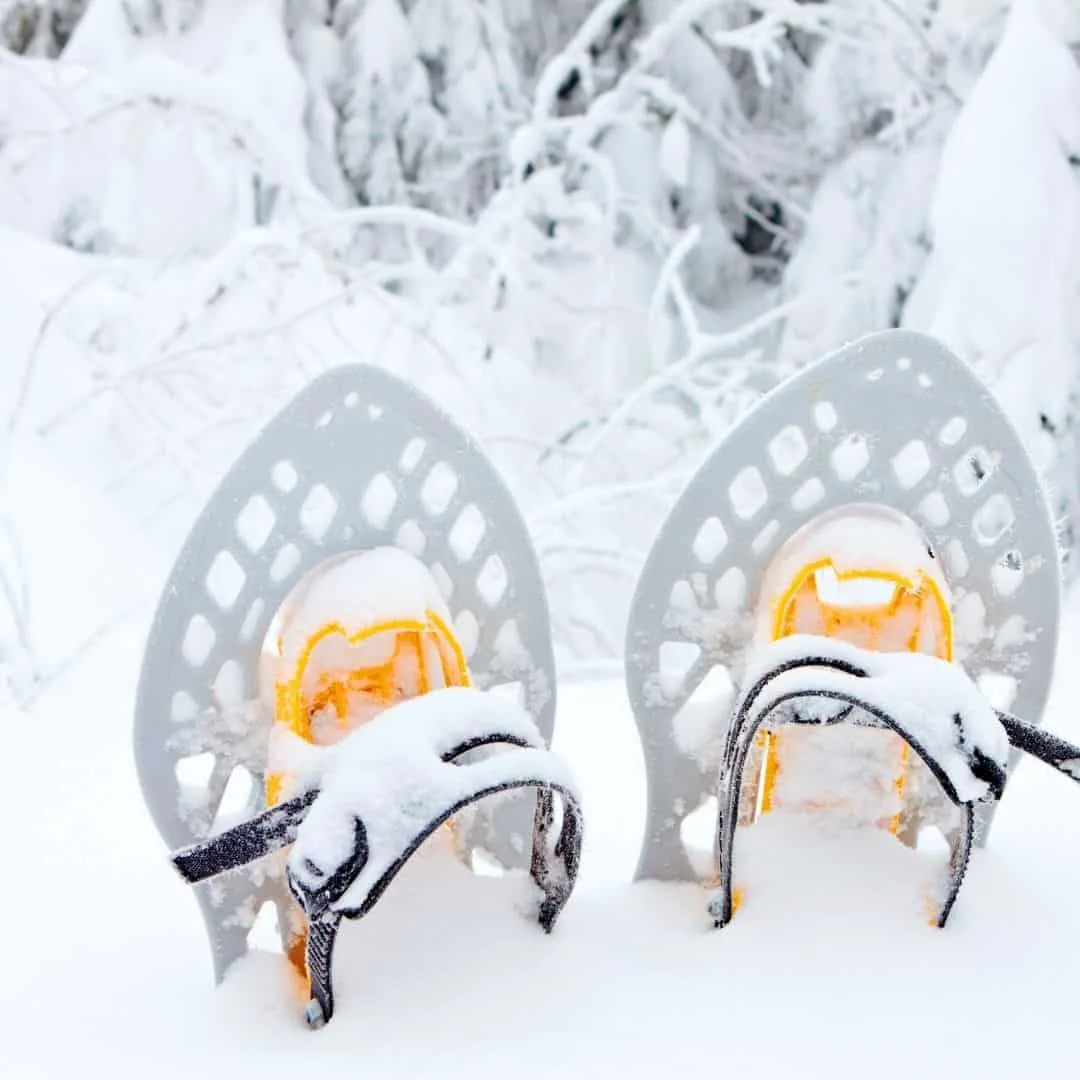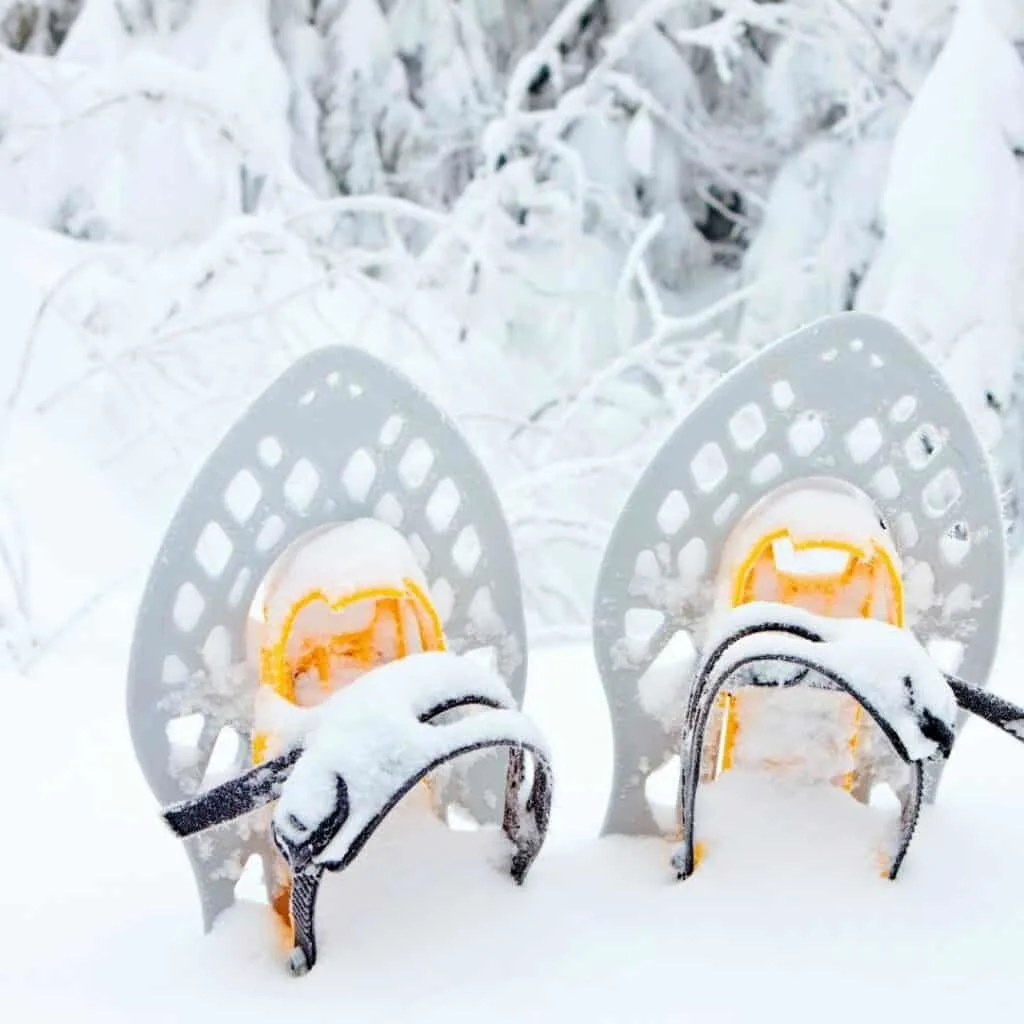 Camping in Yosemite in December
Surprisingly there are a few campgrounds open all year round in Yosemite. One of the most popular is North Pines. it is located in Yosemite Valley and has fantastic views of the park.
If visitors are planning to camp, beware of how cold it is at night. It is essential to bring the right items along. One of the most important items is a sleeping bag. It should be warm enough for the season.
Another option and a warmer one is to stay in an RV. Luckily the campgrounds have space for RVs. However, don't expect lots of amenities. Hook-ups are not available however the location is what attracts so many visitors.
If a stay in an RV sounds appealing, it is easy to rent an RV for the trip. It is such a great way to experiment before purchasing one.
Click here to make a reservation at one of the RV Parks in the Valley.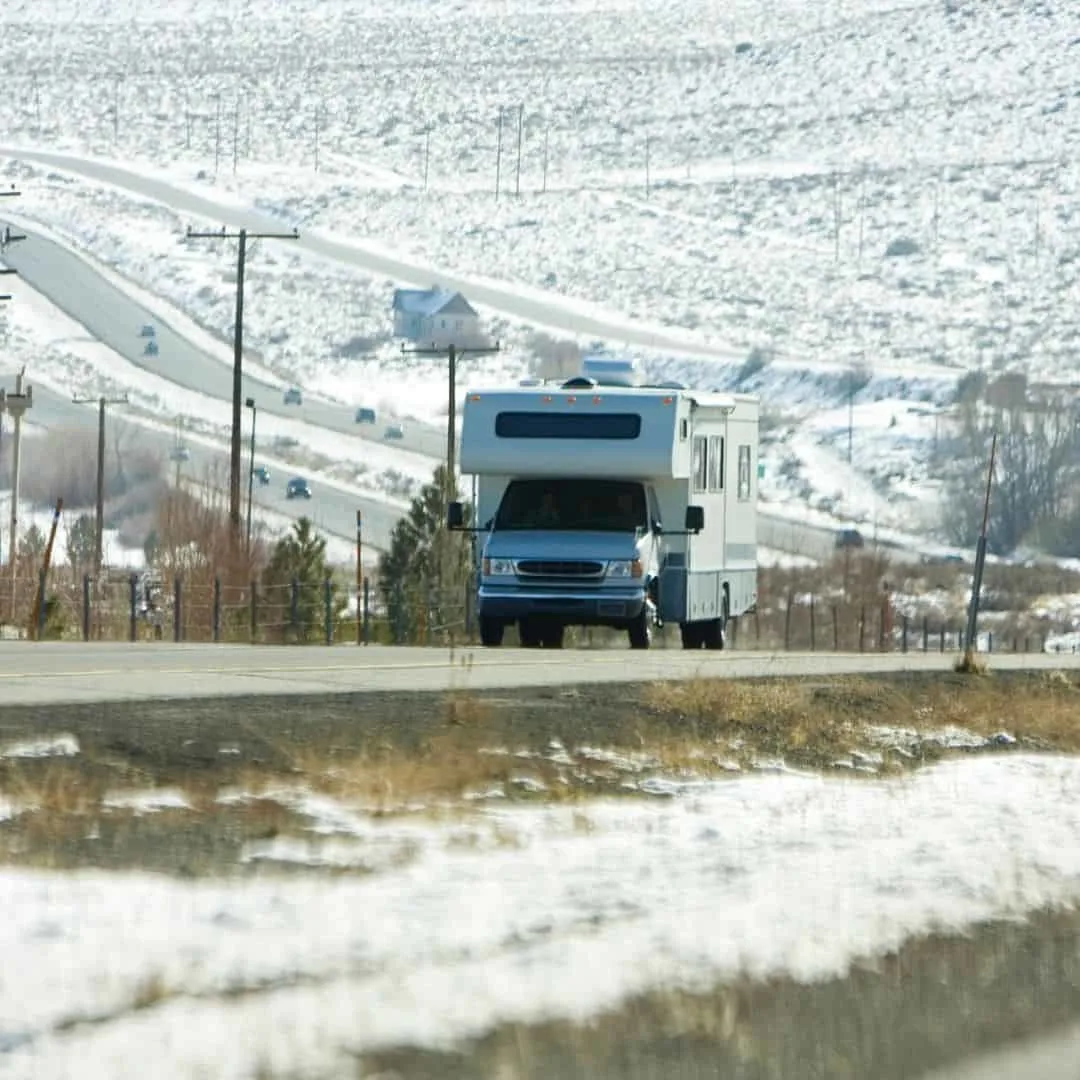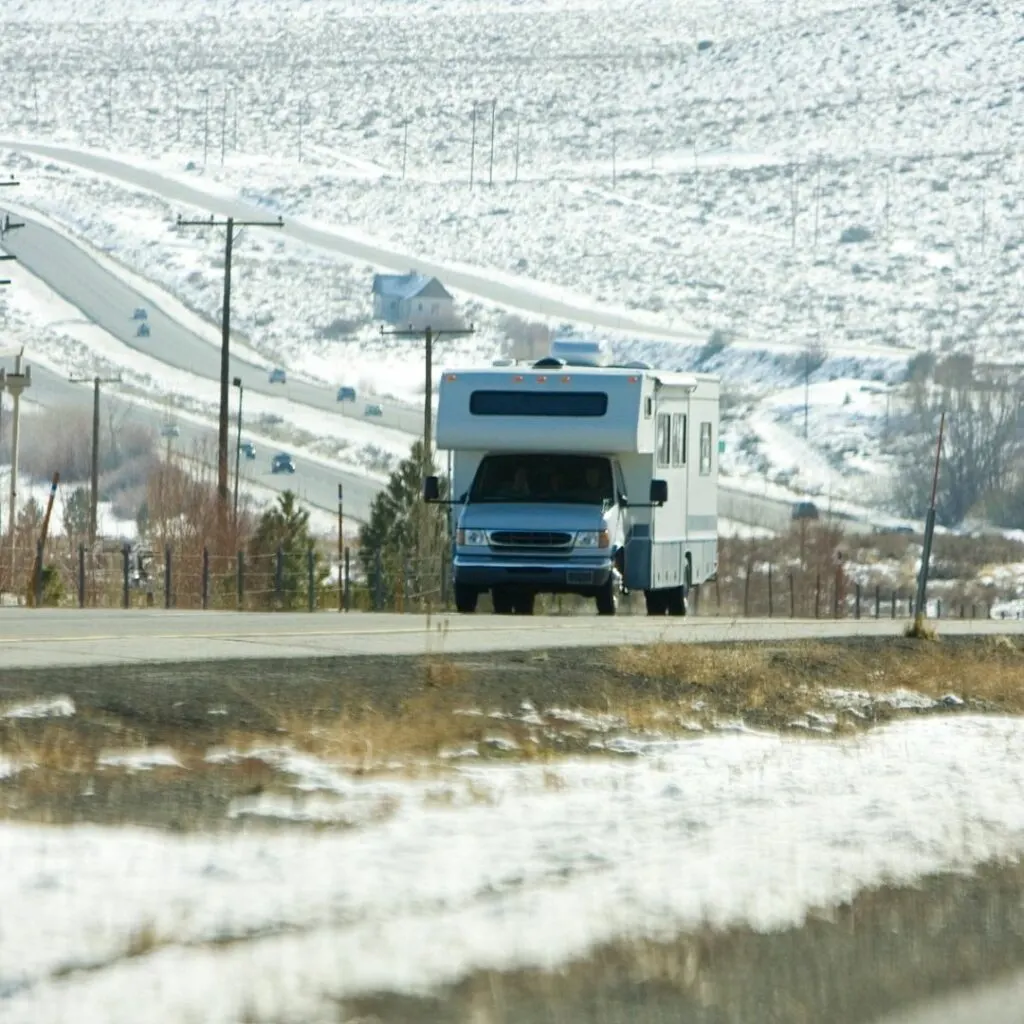 Staying in Yosemite Valley December
If visitors want to stay in the Valley and want a little bit of comfort, there are three hotels right in the hub of Yosemite. One of the most popular is Yosemite Valley Lodge.
Not only is it 750 yards from the Valley, it is right beside Yosemite Falls. Although in December it won't be flowing, it is still stunning to look at! This location is near many trails and just a stone's throw away from Half Dome and El Capitan.
The hotel itself is perfect for both couples and families. The rooms are spacious and there are plenty of amenities on-site including a restaurant. It is easy to see why this hotel is so popular as visitors can explore the park easily while enjoying some home comforts.
If visitors want to stay at the hotel, they need to be quick and make a reservation in advance.
To make a reservation for Yosemite Valley Lodge click here.
Holiday Homes in Yosemite in December
Holiday homes have become increasingly popular in the last year or so and Yosemite has plenty to choose from.
They are the perfect choice if visitors want to get away from the hustle and bustle of the Valley. While there are plenty of holiday homes in Yosemite National Park, they are spread out so visitors have their own space.
The majority are found on the west side of the park and close to hiking trails as well as famous landmarks.
With the cold weather, visitors may enjoy staying in a log cabin with a fire or even splash out on a holiday home with a hot tub. Even if visitors are on a budget, they could opt to stay in a simple studio. In fact, there are homes to suit all.
One of the reasons the homes are popular is they have all of the amenities needed while they are at the park. The holiday homes are fully furnished and have a fully equipped kitchen. This means visitors can relax a little and not overpack their cars.
To book a vacation rental at Yosemite National Park click here.
Hotels Near Yosemite in December
If visitors don't manage to nab a reservation in Yosemite, there are a few towns nearby with hotels. Due to road conditions, visitors want to stay as close to the park as possible. With less travel time, they have more time to explore.
El Portal is the closest and just a ten-minute drive from the entrance of the park. This is the place to come if visitors need to stock up on any essential items.
There are a few hotels to choose from however Yosemite View Lodge is one of the most popular. It is right along the Merced River and views from the window, it can still feel like visitors haven't left the park.
This hotel offers a little bit of luxury with a hot tub to relax in after a tiring day exploring Yosemite. If visitors still want to cook their own meals there are kitchenettes.
Make a reservation here for Yosemite View Lodge.
What to Know Before Going to Yosemite in December
The weather in Yosemite is unpredictable at the best of times and a trip to Yosemite in December looks a little different than fall or even April. Luckily Yosemite has webcams all around the park. Before heading off, it is easy to see the conditions Yosemite is experiencing before arriving.
This way visitors know what to bring along. However, no doubt they should bring a winter wardrobe. Even if there is no snow on the ground a warm hat, gloves and a warm jacket are sure to be essential items.
When checking the weather, pay attention to the road conditions. In winter it is not usual for tire chains to be needed for icy conditions. They can be stored in a vehicle in case they are needed later. Check how they are fitted before arriving at the park!
There are a few hiking trails around Yosemite Valley which may require snowshoes. This is dependent on the snowfall, however, they can make hikes a lot easier so it is a great item to pack.
A trip to Yosemite in December can make this month even more special. The holidays add a special vibe to the park during December. There are so many great family-friendly activities happening throughout the month making it such a magical time of year.
The Yosemite Valley floor gets about 16 feet of snow each winter so if visitors have previously come in summer or spring they may feel they have walked into a different national park. The rich variety of plants and animals, the stunning mountain views and the clean air make Yosemite a wonderful place to visit any time of year.
However, those who have the chance to visit Yosemite in December are bowled over by the stunning scenery, abundance of activities and cosy places to stay.
You may also like:
How to Plan a Trip to Yosemite
The Best Hikes in Yosemite National Park
The Best Yosemite Tours From San Francisco
Why Yosemite Weather in May Makes it the Best Time to Visit
10 Reasons to Visit Yosemite in January
The Perfect Guide to Visiting Yosemite in March
10 Amazing Things to do in Yosemite in February
10 + Things to Do in Yosemite in June
15+ Of The Best Things to do at Yosemite in July
Pumpkin Farms in Maryland | Best pumpkin farms in Oregon | Best Pumpkin Farms In California
Will you be needing travel insurance, flights, rental cars, or hotels for your trip?
Disclaimer: This post may contain affiliate links. By using them it will not cost you any extra, we will receive a small percentage of the sale.