When travelling to Yosemite with kids, the first thing families try to find out is which kid friendly hikes in Yosemite are suitable. There are plenty! In fact, there are hikes to suit all ages and all abilities and even a few for strollers.
Yosemite is over 3000 square miles meaning there are hundreds of trails to explore. While it is possible to see many of the well-known sights by car, on foot has to be the best way to experience the park.
Planning a trip to Yosemite doesn't have to be a headache when kids are involved. While it's true that some of the most famous hikes are not suitable for little ones, there are still plenty of trails to choose from.
These kid friendly hikes in Yosemite vary in length and ability however families can choose to walk by gushing waterfalls in May and June, around stunning lakes, surround themselves with giant sequoias, or even to breathtaking views in December.
One day in Yosemite is never the same as the next. In fact, any Yosemite itinerary Be it two days or three, can change based on whether visitors arrive in April or Fall.
This guide walks families (no pun intended) through each hike, what to pack, and what families can expect to see along the way.
As a bonus, there are also a few places to stay from hotels to RV parks, and some other tours and excursions like rafting, so families make the most of their trip at Yosemite National Park.
1. Lower Yosemite Falls – Kid Friendly Yosemite Hikes
Lower Yosemite Falls is probably one of the most popular kid-friendly hikes in Yosemite. It is a short and sweet walk that takes visitors to the base of Yosemite Falls and to one of the best photo spots in Yosemite.
The whole trail is just thirty minutes and less than 2km. It is an easy walk to the foot of the falls and most of the year, no special footwear is needed. The trail is paved so it is accessible to wheelchairs and strollers.
However, having a stroller such as the Mountain Buggy is great as it works well on and off-road.
However, there are a few things to note before setting off. Even though Yosemite Falls is the second-highest waterfall in North America, it doesn't flow all year round. This is because it is caused by the melted snow.
To see the waterfalls at their most stunning, it is best to visit between spring and early summer. They are usually down to just a trickle by July and August. In the winter months of January, February and March, the trail can be icy so shoes with a good grip are advised.
That being said, the trail is still beautiful any time of year. Sometimes there can be fog around that makes it magical or there may be a few deer drinking up the last few pools of water.
The rock formations are also amazing and as the trail is not too far from Yosemite Valley it is easy to get to. The Lower Yosemite Fall Trailhead is close to Yosemite Lodge or hop off at shuttle stop #6.
Suitable for strollers
2. Glacier Point Trail – Easy Hikes in Yosemite National Park
Visitors shouldn't leave the park without checking out one of the fantastic viewpoints. Glacier Point is one of the most popular.
In fact, from here visitors can see both Upper and Lower Yosemite Falls, Yosemite Valley, Clouds Rest, Half Dome, Vernal and Nevada Falls.
It is possible to hike all the way there, but it is 21 miles and would be difficult with little ones in tow. Instead, families can drive to the car park and walk along the paved path with 270-degree views.
Many visitors choose to start or end their day there. It is one of the most beautiful places to watch the sunrise or the sunset. However, it can get chilly quickly, so don't forget to bring a light jacket.
Unfortunately, the road to Glacier Point is closed in the winter months of January, February and March due to road conditions and there is no shuttle service to the trailhead.
There are however many private tours available which are great for those who don't want to make the drive or are staying in a hotel close to the park.
A Sunset Tour to Glacier Point includes pick-up, dinner and bottled water. Guests are free to bring their own beverages along too. It takes guests to 7214 feet or 2199 meters to see Yosemite from a spectacular view.
To book a Glacier Point Sunset Tour or for more information click here.
Suitable for strollers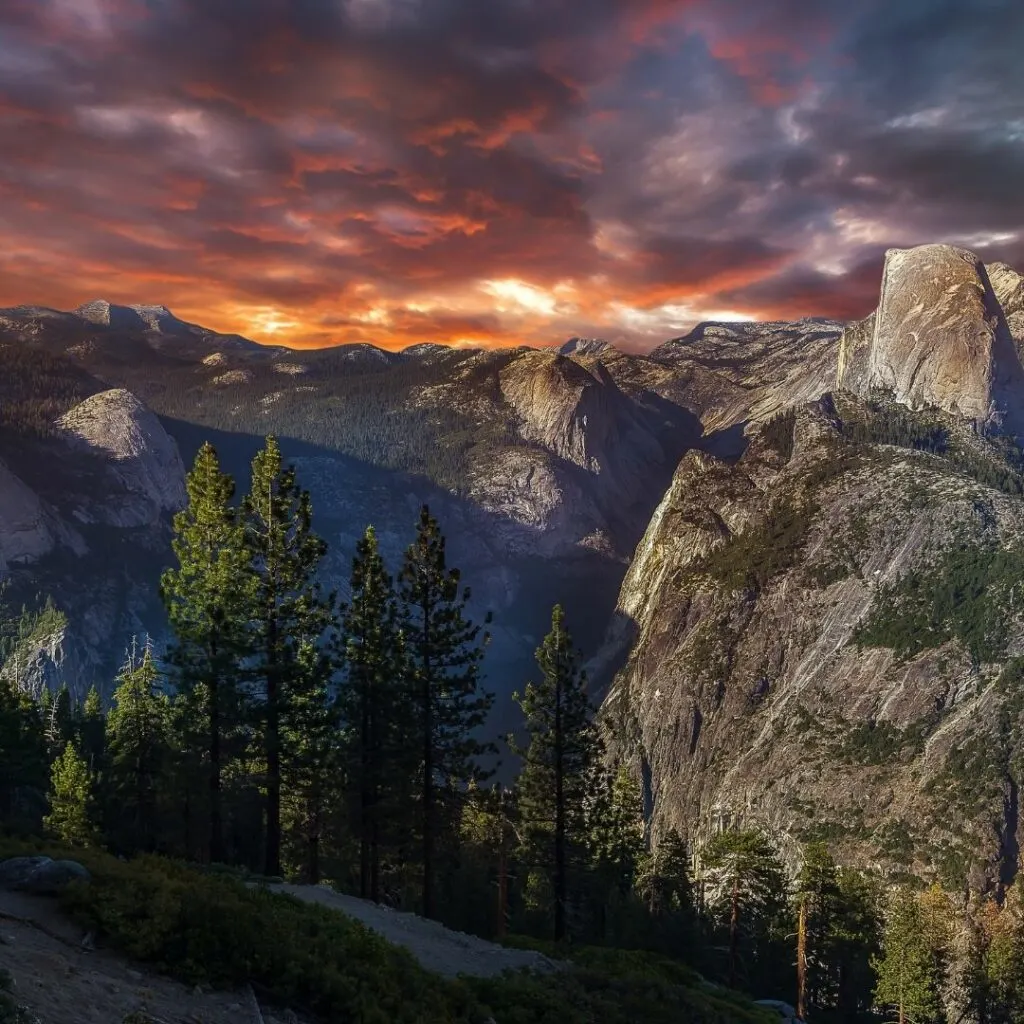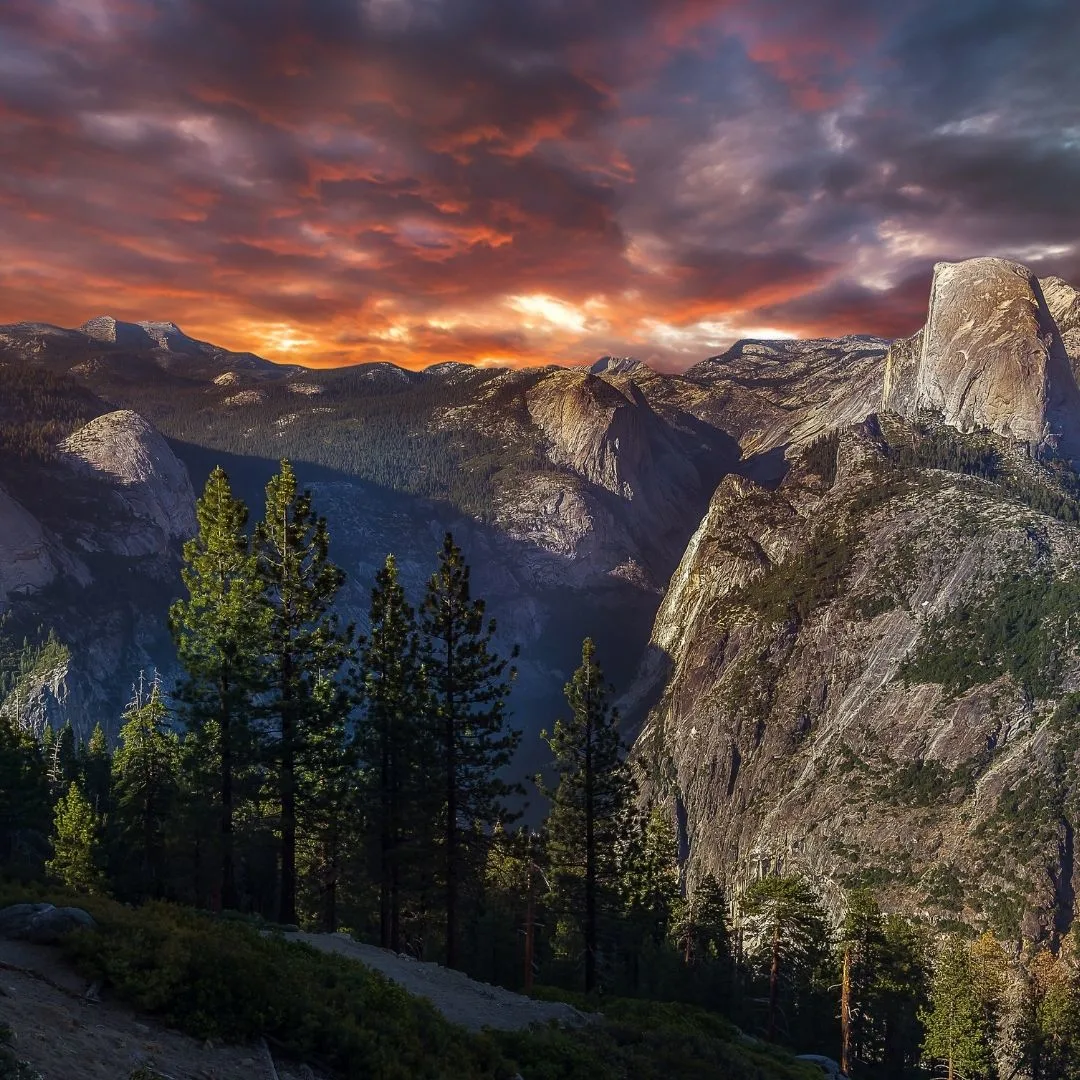 3. Mariposa Grove of Giant Sequoias Trail – Hikes in Yosemite for Families
Mariposa Grove is one of those places sure to impress kids and adults alike. These giant sequoias are impressive not just because of their size, but also their age.
If visitors want to see all of the famous trees in the grove, the Mariposa Grove of Giant Sequoias Trail is a perfect choice.
It is 10km and takes just over three hours to complete. However, sprinkle in snack breaks and lunch it is probably closer to five hours.
As visitors walk along the trail they can find plenty of places to stop for a rest. There are also a few picnic benches at the car park for visitors to have lunch. Bring along a picnic blanket as benches can get busy.
This trail is very long and while it is pretty easy, it may not be suitable for little feet. It isn't suitable for strollers either, so a baby carrier is perfect for carrying babies or tired toddlers.
If families are looking for shorter kid friendly hikes in Yosemite, opt for the Grizzy Giant Loop Trail.
It is just over 3km and takes visitors to the largest of the sequoia tree's in the park, known as the Grizzly Giant. Along the way, visitors can also spot the California Tunnel Tree.
It is easy to drive to the trailhead but the road to the grove closes in fall until spring and the shuttle is also not running. It's possible to visit at this time of year but it is a two-mile hike.
While is it is easy enough, there might be snow on the road that makes it tougher. In winter many visitors use snowshoes to make the trek easier.
Not suitable for strollers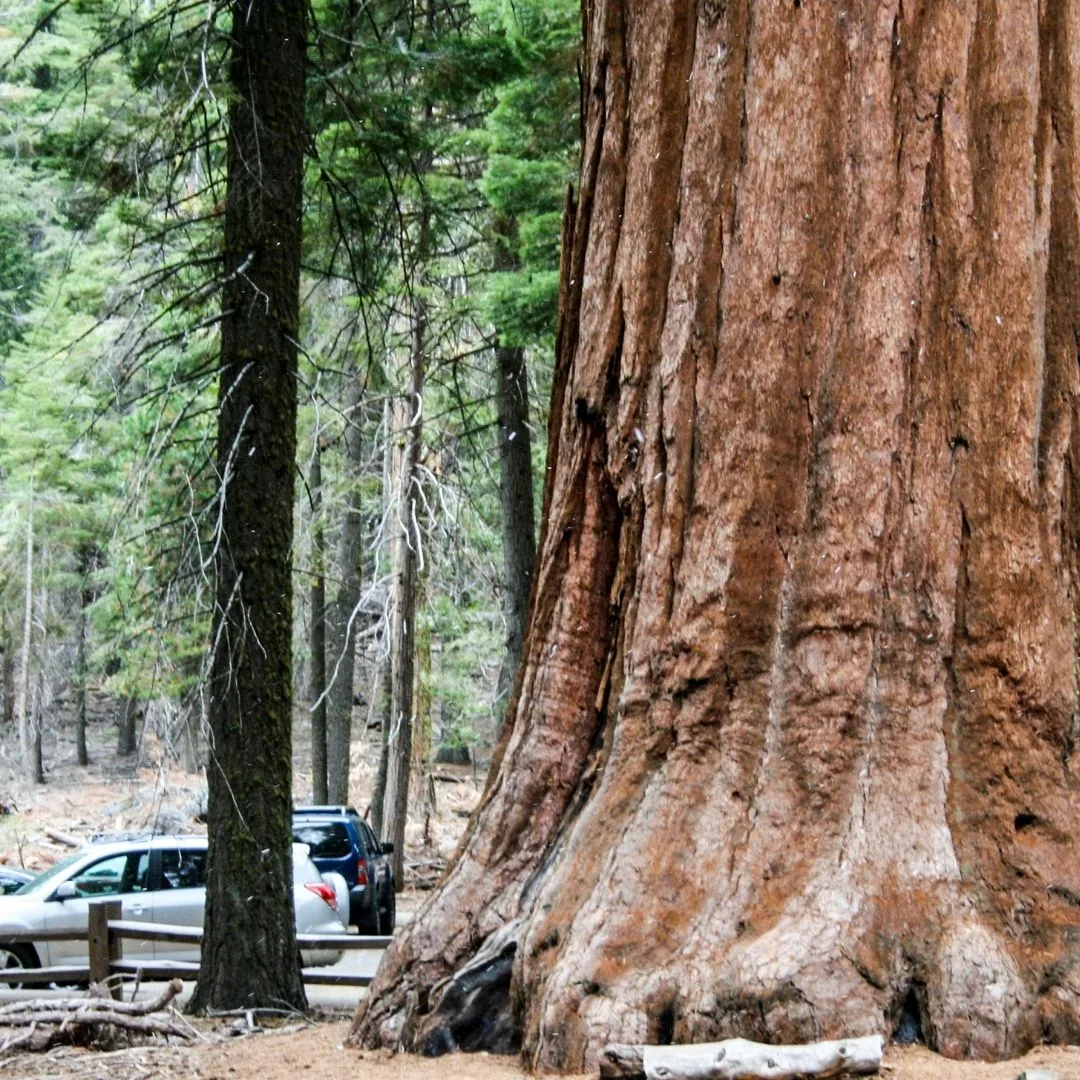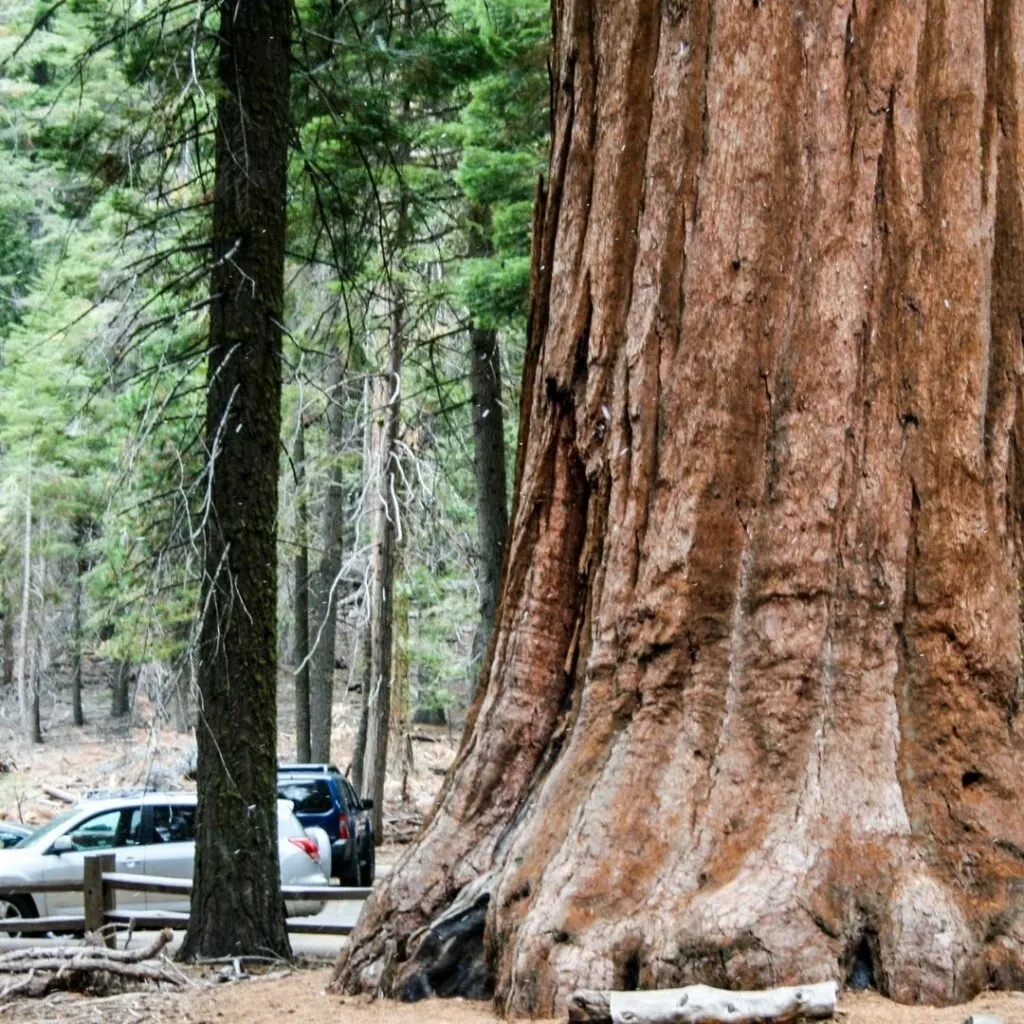 4. Mirror Lake Paved Trail – Yosemite Hikes with Toddlers
Mirror Lake spans from Tenaya Creek and has a small waterfall coming from the top of it. The lake is seasonal but surprisingly it is the last remnant of a large glacial lake that once filled the entire Yosemite Valley.
It is also popular as visitors can see a large variety of animals including ducks, geese, and trout fish.
It is definitely worth walking around the lake for a better view of its beauty. The lake is stunning all year round. In the summer months, July and August, when the weather is warm it is perfect for swimming.
While it might be too cold to swim in winter, Mirror Lake becomes covered in snow which makes it very beautiful. In autumn and spring, the colours are stunning.
As the trail is paved, it is perfect for strollers. Most of the trail is flat however be aware, it does get steeper as it goes on.
Get off at shuttle stop #17 for the start of the trailhead or there is a car park as well for visitors to use. If toddlers are used to hiking or families want to hike a little longer, there is the option to extend the trail to include the Valley Loop.
It is just under 10km and it is a moderate hike. The paved trail for part of the way gives toddlers a chance to rest in a stroller and a baby carrier could be used for the rest of the hike.
In summer and early fall, there are plenty of bugs around. Be sure to pack an insect repellant. It is not unusual to see bears in this area too.
Yosemite is home to many black bears and bear spray is not allowed to be used in the park. If visitors do come across a bear it is helpful to know what to do in these situations.
Rangers recommend visitors keep their distance if they spot a bear in an undeveloped area. However, if it is in a developed area, then it is recommended to make loud noises to scare it away. This is also the advice if it approaches.
The lake is a great place to have a picnic, but just be sure to keep food within arms reach and never leave it unattended.
The paved trail around the lake is suitable for strollers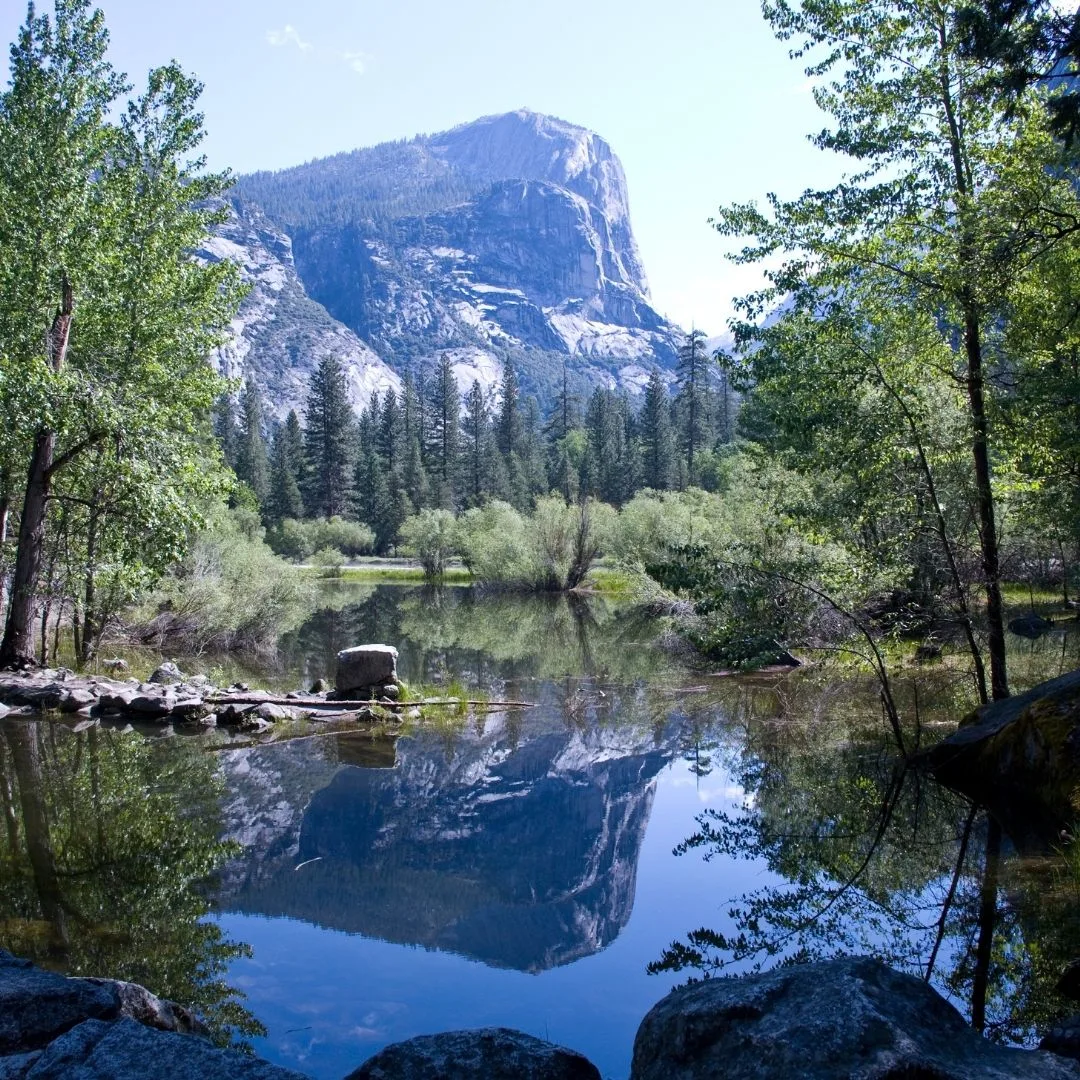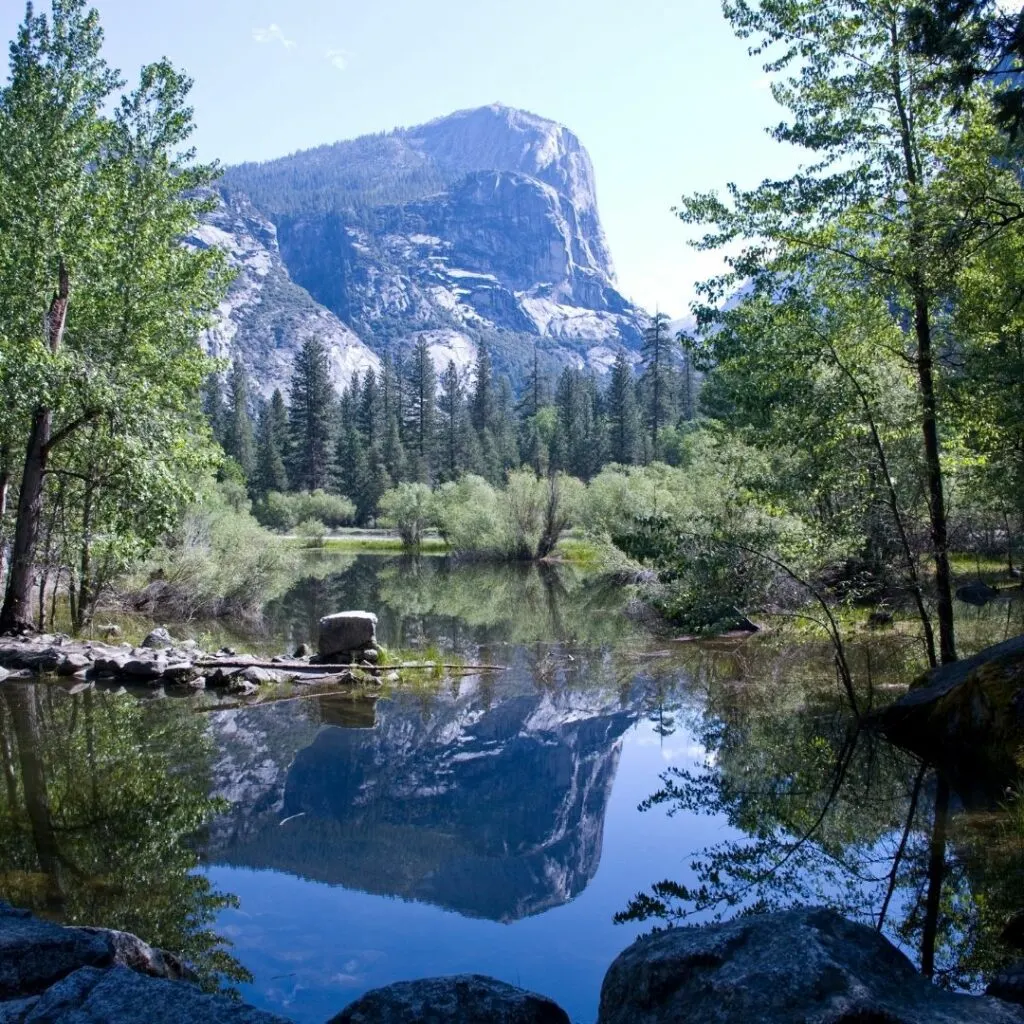 5. Sentinel Meadow Cook's Meadow Loop Trail – Easy Hikes in Yosemite Valley
Another great trail for strollers is the Sentinel Meadow Cook's Meadow Loop trail. It is a flat trail around 3.7km on a boardwalk. Making it a great option for kid friendly hikes in Yosemite on your itinerary.
This hike across the meadow has superb views of Half Dome, Yosemite Falls, Glacier Point, and Sentinel Rock. If visitors arrive at sunset they are sure to be mesmerised when the white granite of Half Dome turns pink and orange as the sun goes down.
There is no shade on the trail so it can get very hot in summer, late spring and early fall. As it isn't too long, it is a doable hike as long as visitors wear sunscreen and hats. Kids could also take shade in a stroller.
The river at the end is a great way to cool down.
Along the way, there are plenty of rest stops if little legs need to rest or just take in the sights. Visitors may even catch a glimpse of a few animals grazing in the meadow.
However, it is important to note visitors must stay on the path. No one should walk on the meadow as it causes trampling and damages the ecosystem.
Again this trail isn't far from Yosemite Valley and is easy to reach by shuttle. Get off at shuttle stop #11 or park at Sentinel Bridge.
Suitable for strollers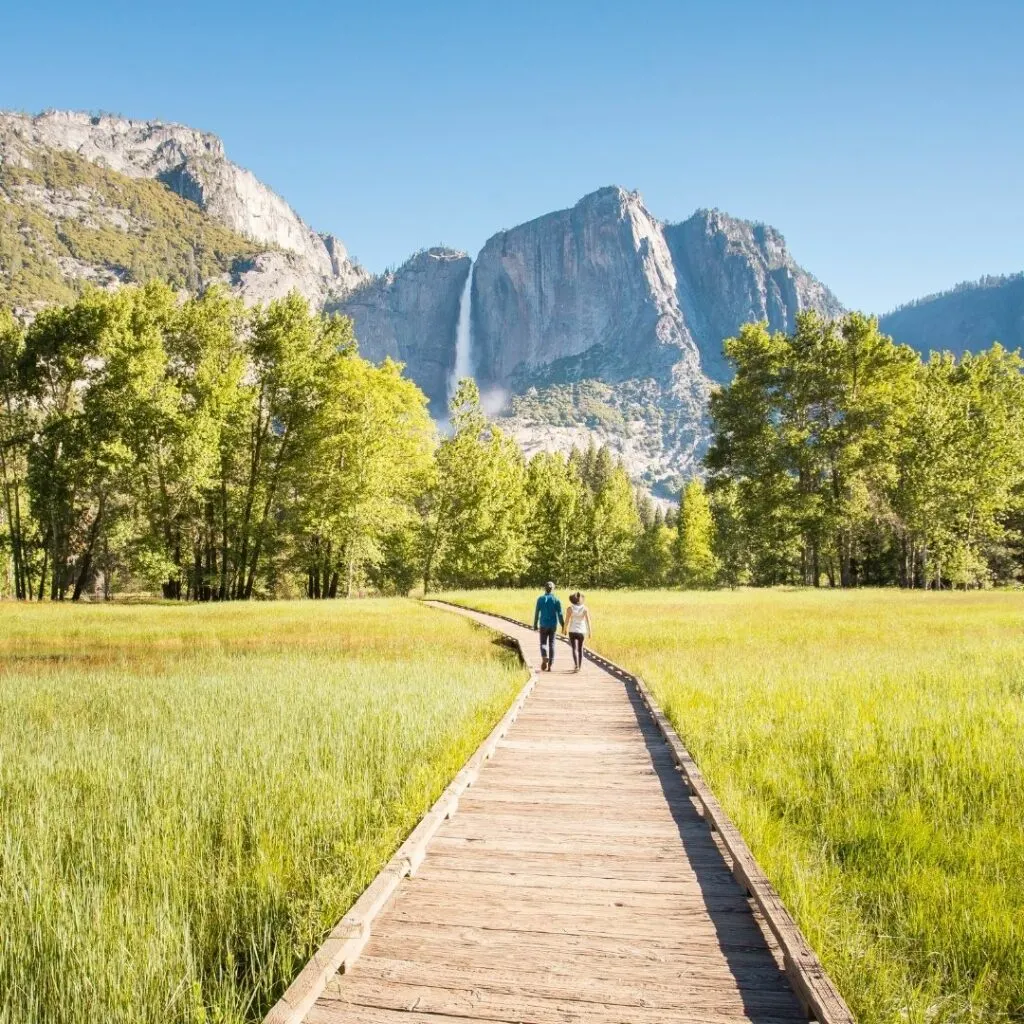 6. Tenaya Lake Trail – Easy Trails Yosemite
Tenaya Lake in Yosemite is an idyllic lake surrounded by granite peaks. It is one of the most sought after lakes in the park and the hike is easy at just 5.5km.
It is possible to complete the trail in less than two hours. However, with plenty of opportunities to stop and take photos or just relax beside the lake, it is sure to take longer.
Tenaya Lake is a great way of escaping the crowds of Yosemite Valley while still being able to enjoy some of its breathtaking scenery.
One of the great things about this kid friendly hikes in Yosemite is it's mostly shaded and it doesn't obstruct the views of the lake. The trail is usually peaceful and there are plenty of cutouts from the trail to the lake itself.
Walk around the lake to the beach access and jump into the cool water to cool down in summer. Some visitors even bring their own kayak or paddleboard after April time.
It is a great place to have a picnic, so bring along a packed lunch and a blanket. There are a few bugs here too so bug spray is also recommended.
Not suitable for strollers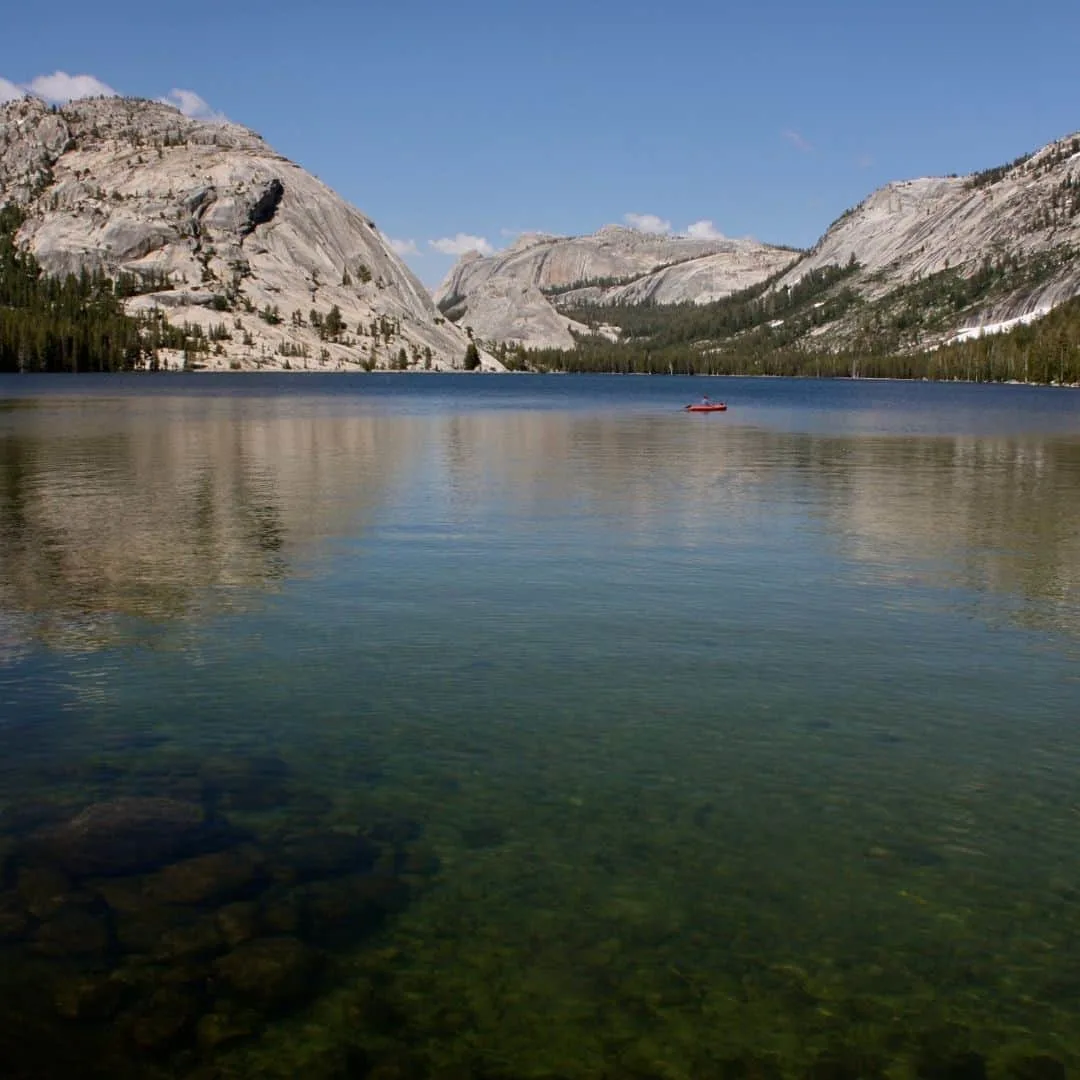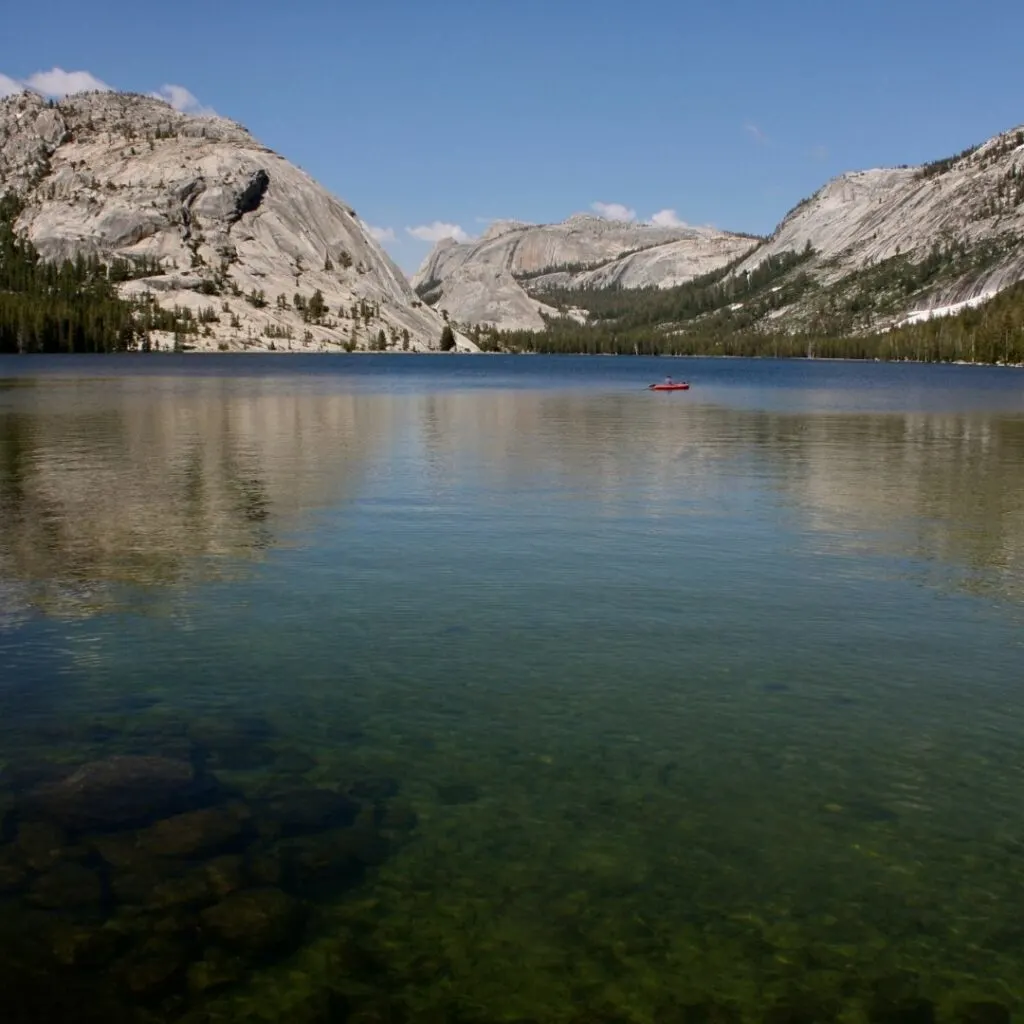 7. Taft Point and The Fissures -Yosemite with Young Kids
Taft Point gives the best views of the valley! It is no wonder many people consider it one of the best photo spots in Yosemite. The Fissures are a short hike away from Taft point with some immense rock formations worth checking out.
There are two viewing areas at Taft Point. Visitors can take in the dramatic vistas of Yosemite Valley, Half Dome and other landmarks from the first viewing area. The second viewing area provides an even better vantage point for photographs.
The Fissures is a series of fins that rise up over 1,000 feet (300 meters) from the valley floor to the top of El Capitan's eastern buttress. This hike is under 4km and takes approximately one hour as round-trip and offers wonderful views of El Capitan along the way.
The great thing is even though it is short, the scenery is always changing. There is a short forest walk, wonderful wildflowers and then a stunning view.
Be aware, at the top no railings surround Taft Point. Parents need to keep a watchful eye on children and be careful in icy or slippery conditions.
There is no need to be right at the edge to enjoy the views though. Even people with a fear of heights can stay back and enjoy the phenomenal sights.
As Taft point is a vantage point so expect a few areas to be steep. However, the trail is mostly easy as visitors drive to the trailhead.
This is a busy trail, so it is best to do it early in the morning to beat the crowds. That way, families can take in the scenery, enjoy the wonderful nature trail and watch the sun rising.
Not suitable for strollers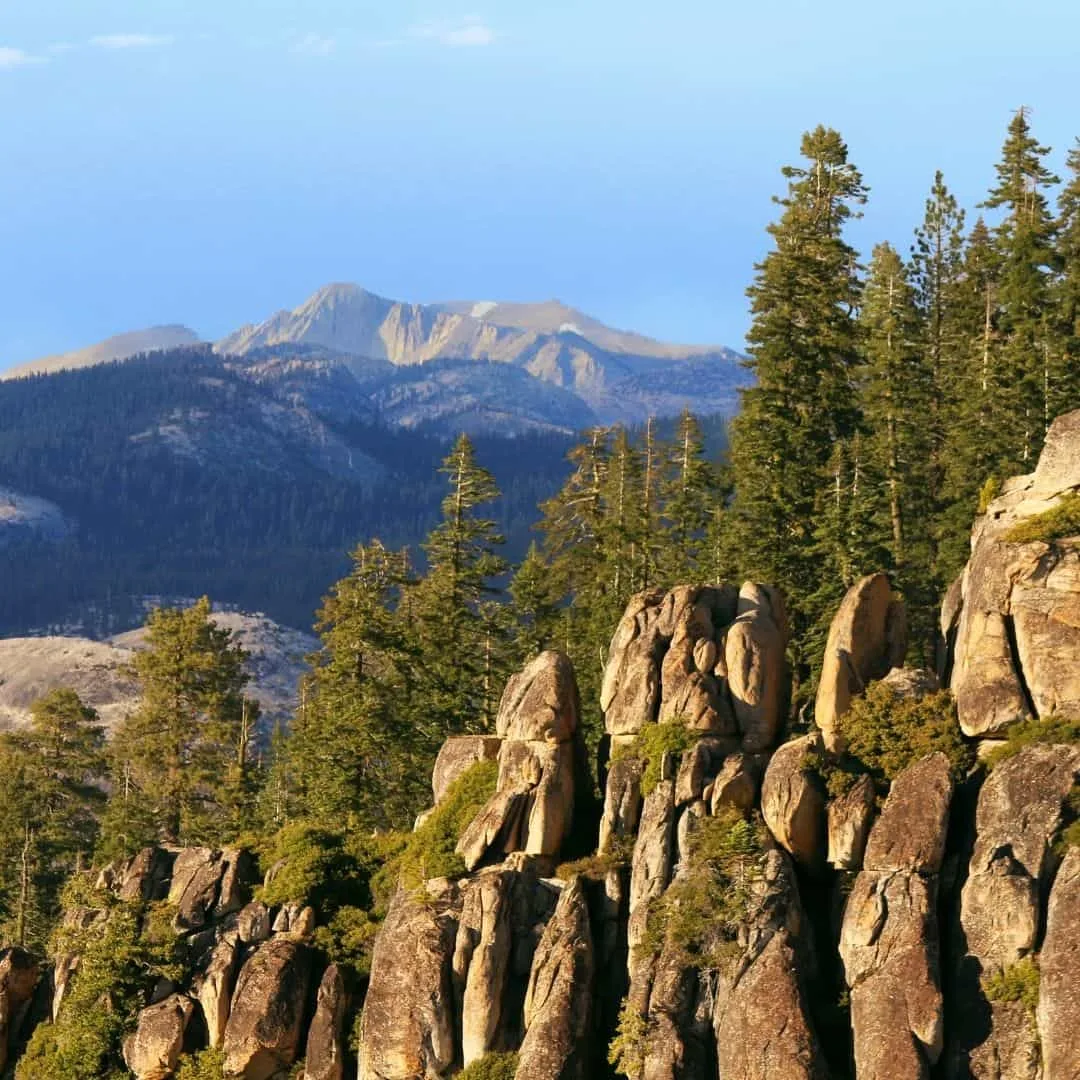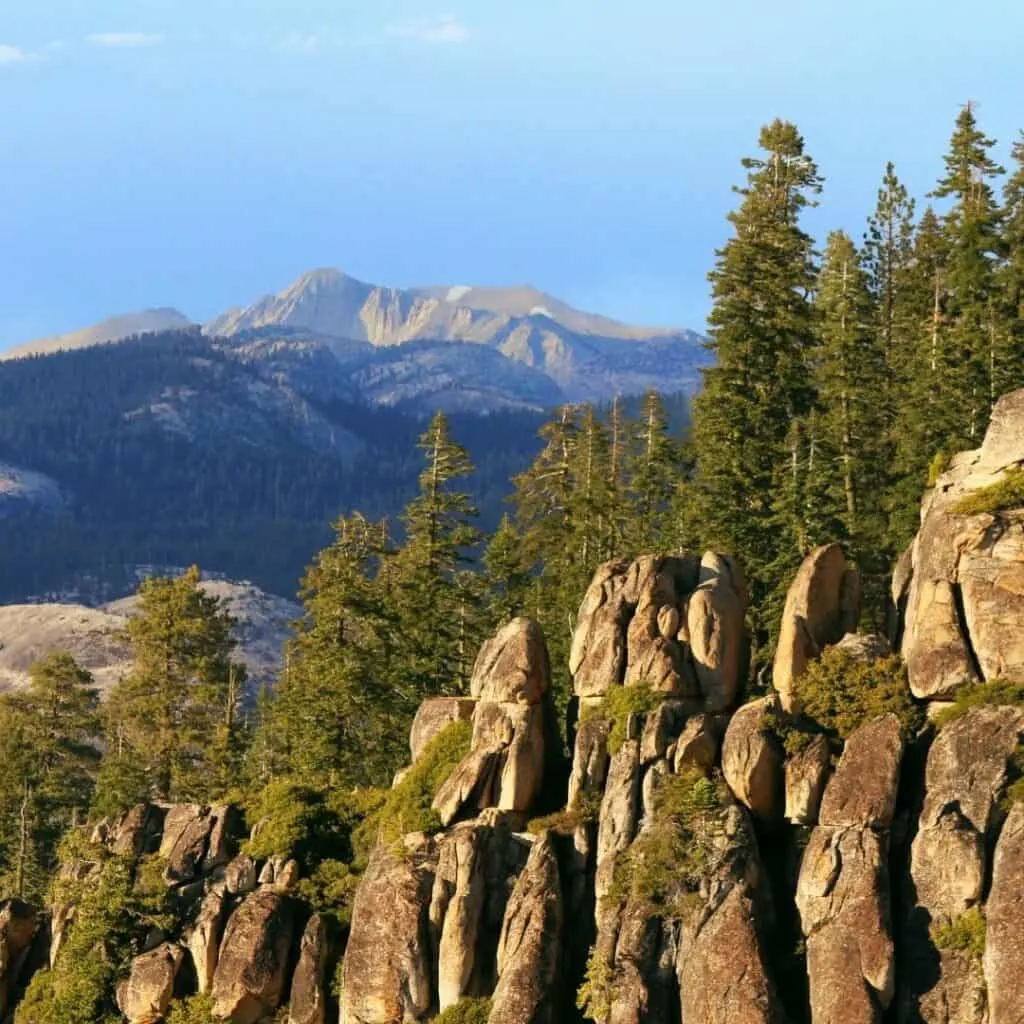 8. Wapama Falls Trail -Best Hikes in Yosemite for Families
Wapama Falls in Yosemite National Park, California is a 638 feet high waterfall. The waterfalls are located on the southwest side of the park close to Hetch Hetchy and it is one of the major attractions for visitors.
The stream which feeds Wapama Falls starts from a lake near Mirror Lake. It spills into a small ravine that ending up in Yosemite Valley. Just like many of the other waterfalls in the park, May and June are the best months to see them.
This trail takes visitors around a lake but it is rated moderate due to the incline. Along the way expect to see breathtaking views of Hetch Hetchy Dome. The trail is 7.4km and with not much shade, it is best to set off early. The road opens at 8am and closes at 5pm. In the summertime, it is very hot!
Be sure to bring plenty of water, suncream and sun hats for this trail. The trail is also rocky so good hiking shoes too.
If the falls are overflowing then expect to get wet. A lightweight towel is perfect for drying off and maybe a spare pair of clothes for the kids should be added to a backpack.
There are a couple of parking lots, however, the parking lot closest to the dam is best for this trail. Be mindful of bears and snakes have been spotted in the area occasionally!
Not suitable for strollers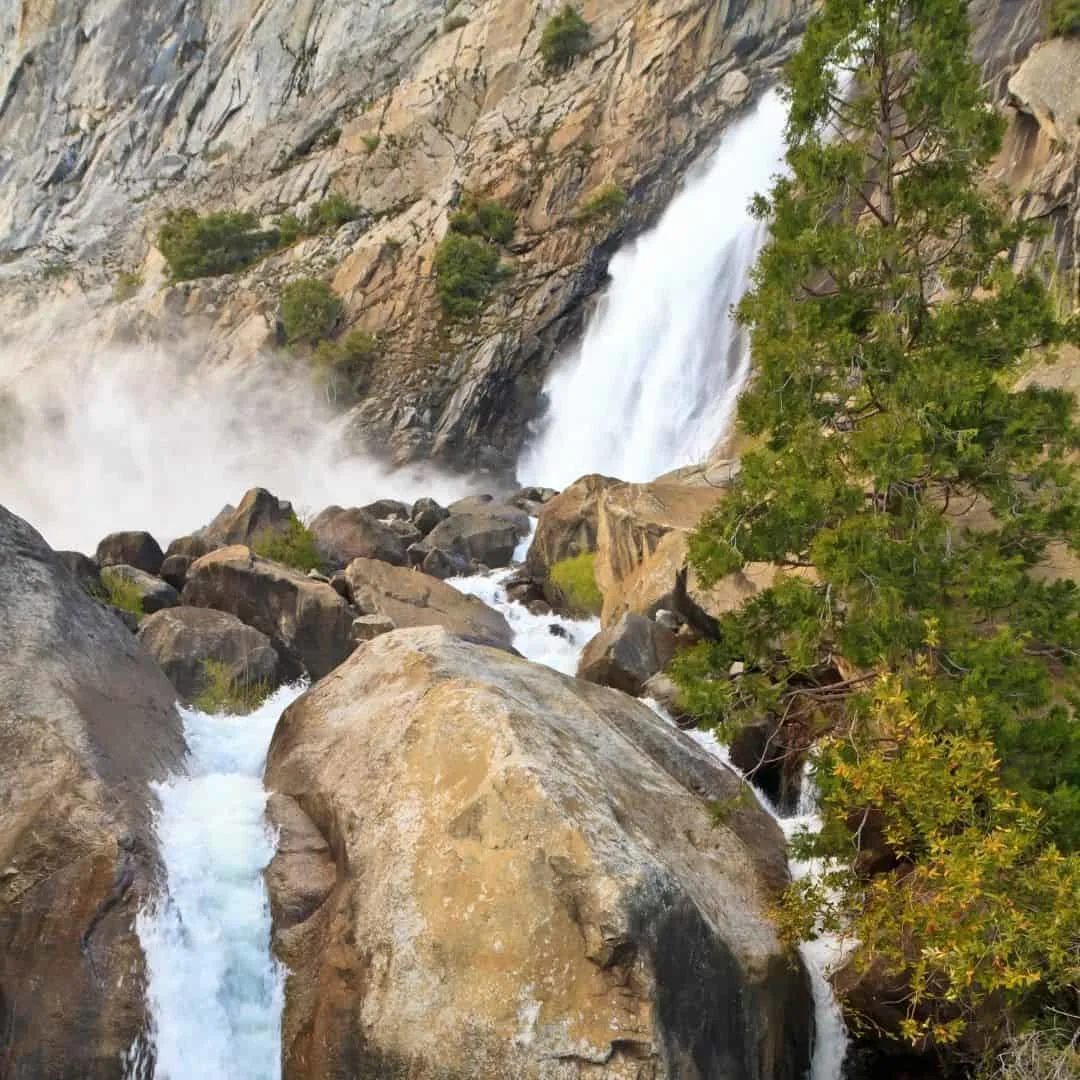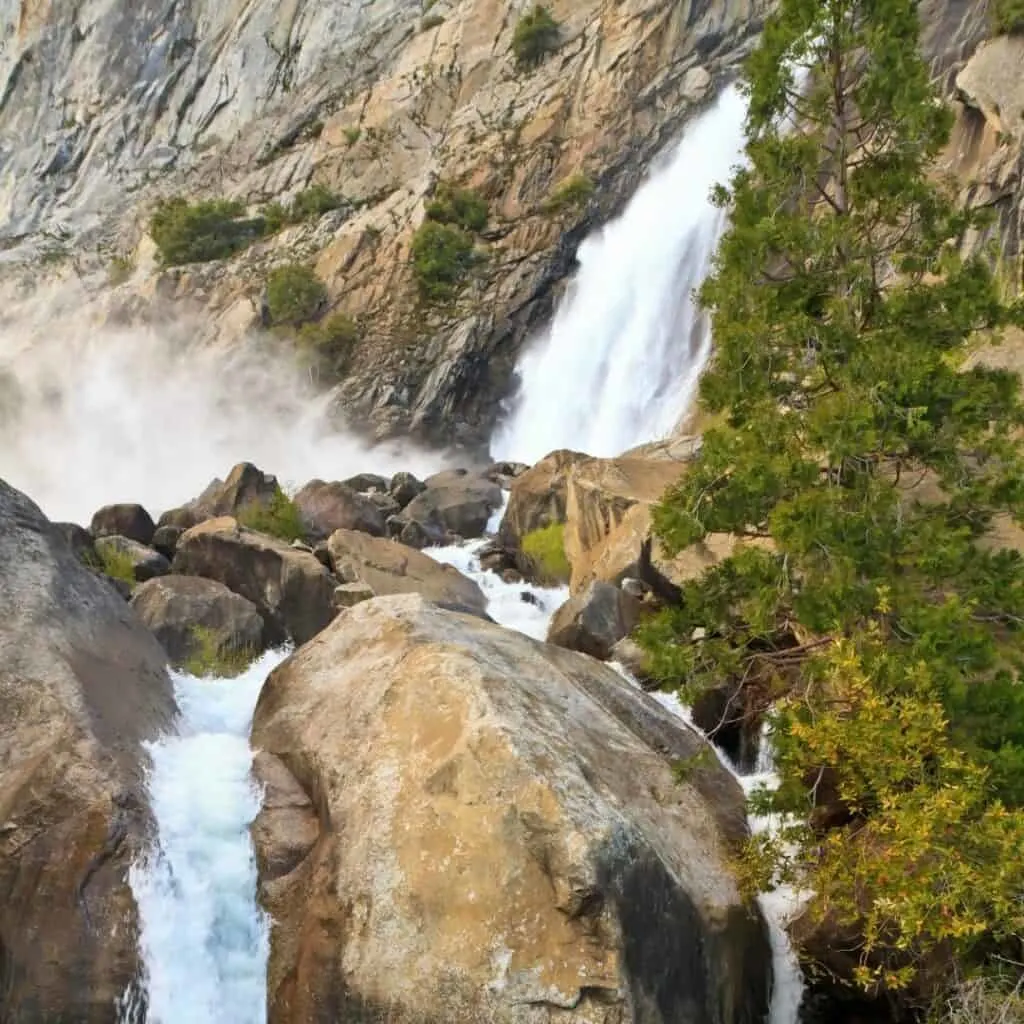 9. May Lake – Yosemite Trails for Kids
For a place to relax and explore nature, May Lake is idyllic. The lake was formed as a result of glacial activity. There are plenty of opportunities to spot animals such as deer and California newts in this area too.
While Yosemite has over 2000 lakes, May Lake is one of the most beautiful lakes in Yosemite. There is a backpacking camp here for those interesting in backcountry camping. It is also perfect for a short hike. The trailhead starts at Snow Flat off Tiago Pass Road.
It can get quite busy here meaning spaces fill up fast. If visitors do manage to nab a space, the views are incredible. With granite peaks, a subalpine forest and the lake, the scenery certainly attracts so many visitors.
The trail is around 3.7km. Unfortunately, there is an incline right off the bat so little ones might be better in a baby carrier at the start. However, have a look behind and it is all worth it.
At the top of the hill, take a moment to stop for a snack and check out the views. After that, the trail to the lake is pretty much flat.
If the kids still have some energy then it is possible to go a bit further on and visit Tenaya Lake. Hiking to the summit of Mount Hoffmann is possible from here too, but not with little ones. However, older kids might enjoy the challenge.
While it might be tempting to go for a swim in the lake, unfortunately, it is not allowed here. Again with water and trees, it is a good idea to take an insect repellent along.
Not suitable for strollers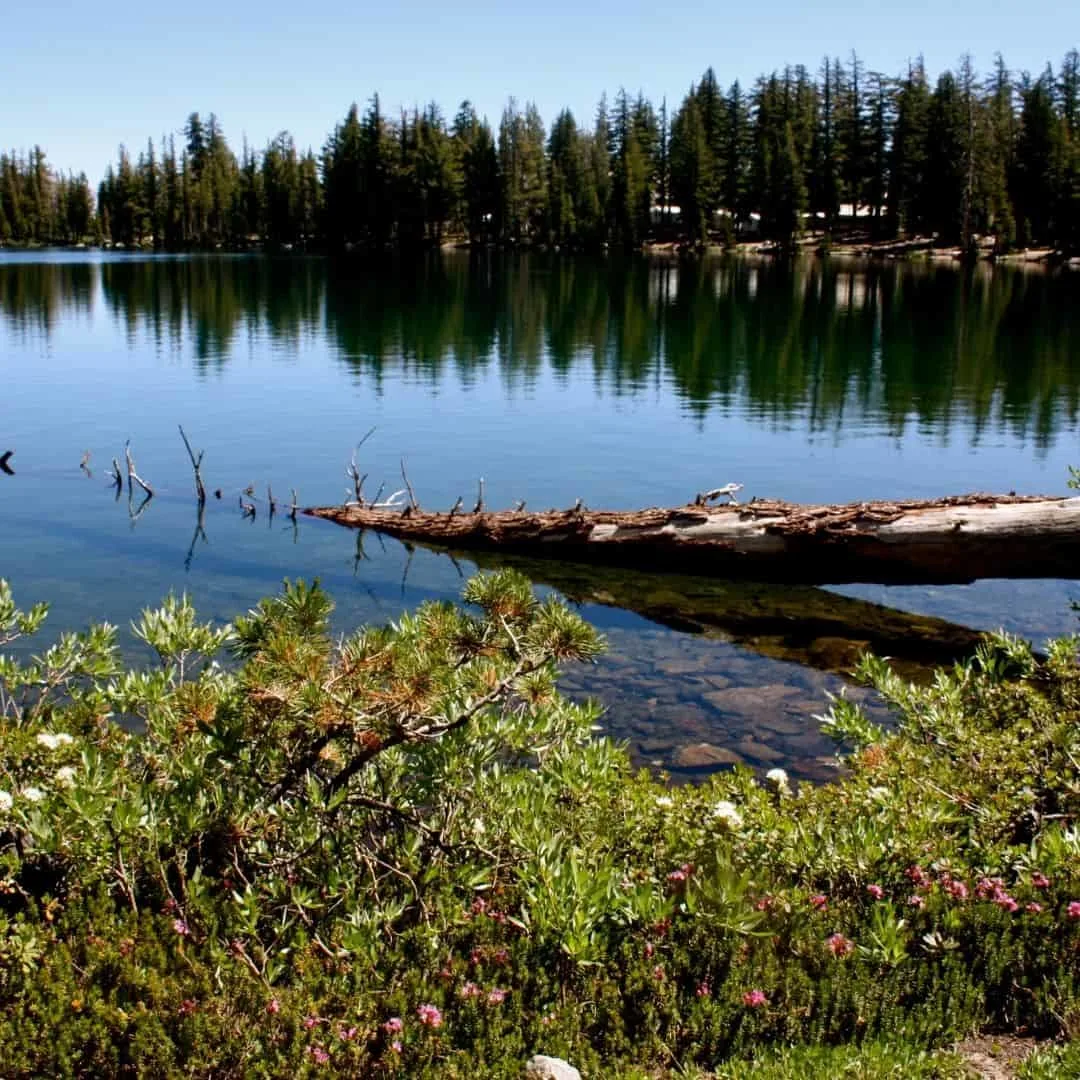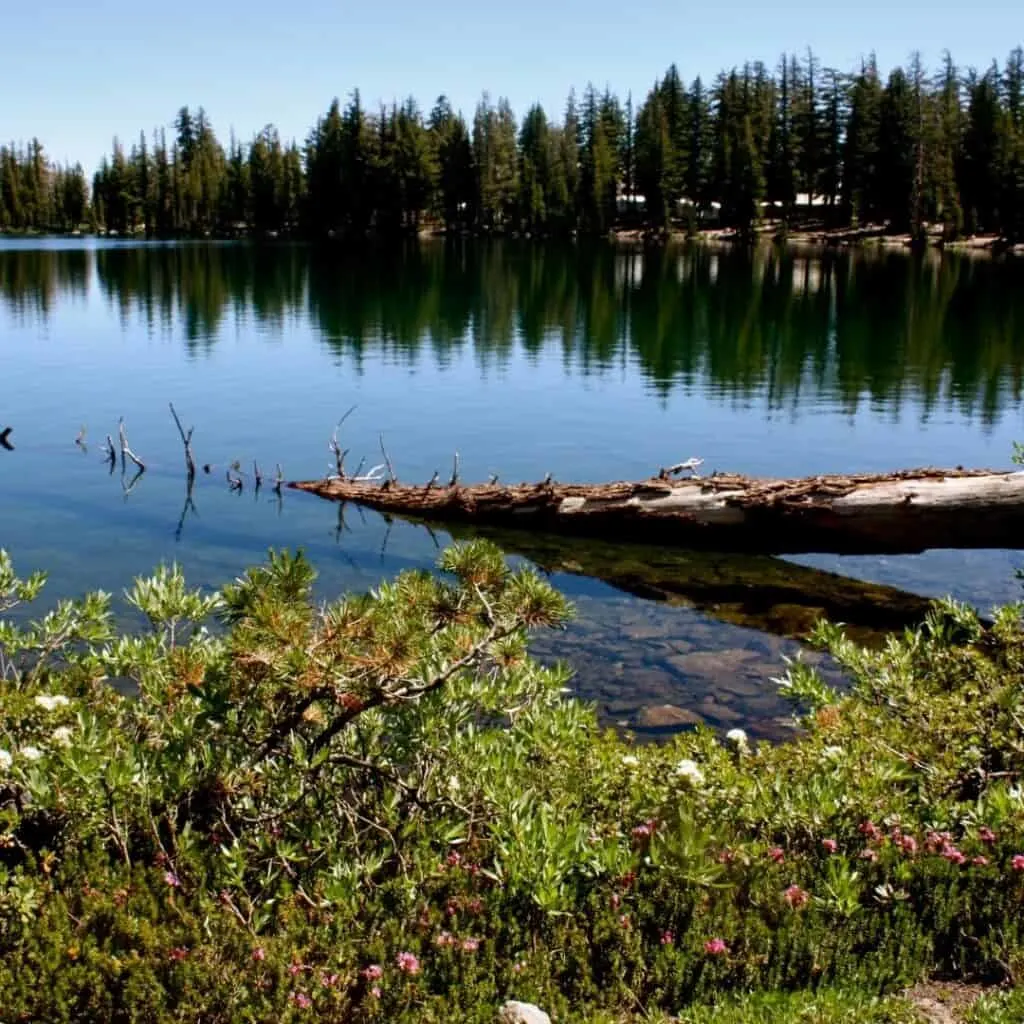 10. Olmsted Point Nature Trail -Easy Yosemite Trails
Olmsted Point Nature Trail is a must-see attraction in the Yosemite National Park. The trail is located on the west side of Yosemite Valley and it's one of the most scenic spots in the valley. Visitors can enjoy views of Half Dome, Vernal Falls, Nevada Falls, and Bridalveil Falls from this location.
The area offers beautiful scenery and opportunities for photography. In fact, due to its location, it offers a different viewpoint and many of the views might not be as easy recognisable from here.
This walk is just 0.6km so the perfect wind-down to a hectic day at the park. The educational centre here is great for kids to learn more about the park too. The trailhead is just off Tiago Pass Road and there are toilets in the area too.
As with many of these viewpoints, sunrise and sunset are the best time to go. There are no railings here so be careful especially with young kids.
Not suitable for strollers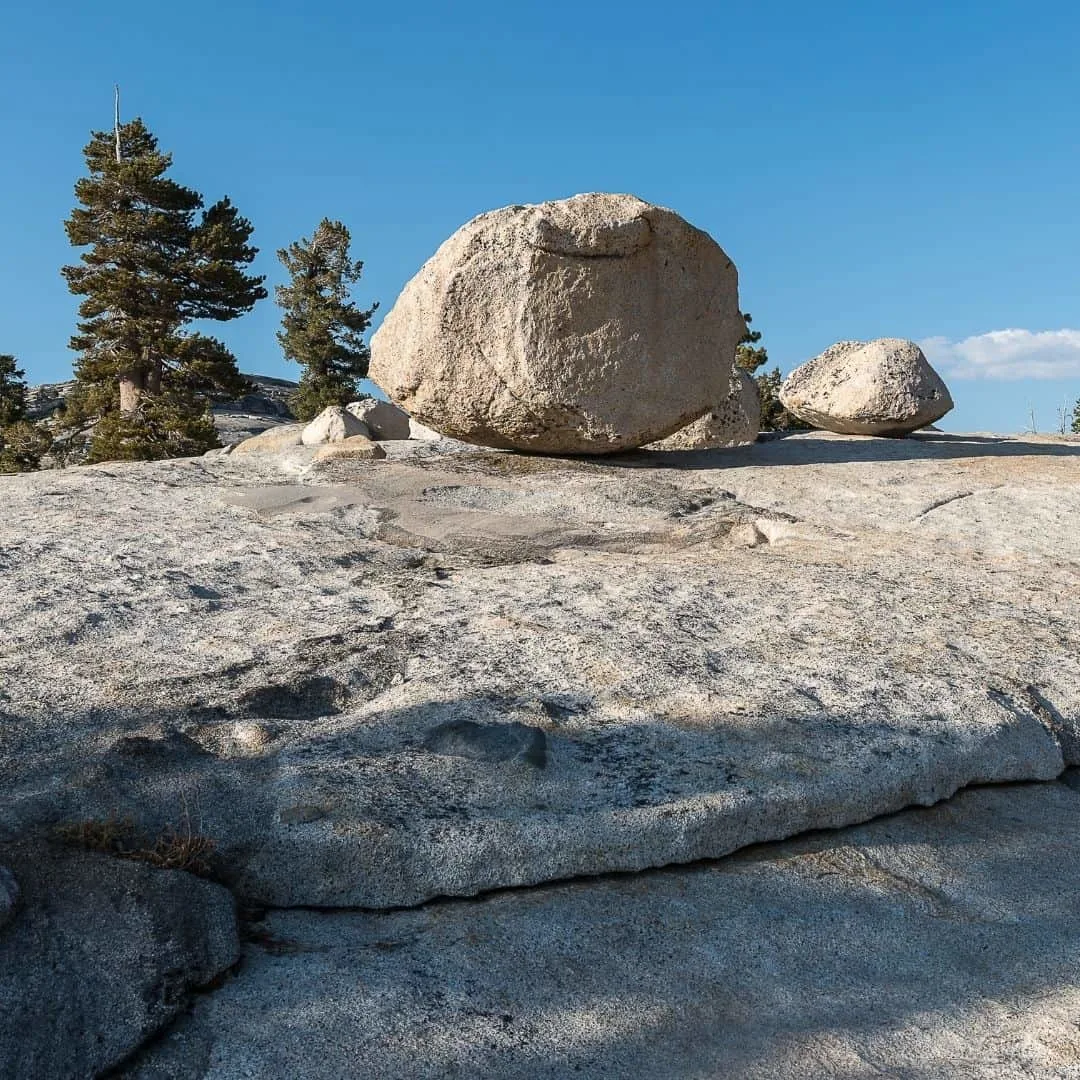 Yosemite Activities for Toddlers
Toddlers are sure to fall in love with Yosemite as there is something new around every corner. Even the hikes have a range of activities for little ones to enjoy. However, there are a few more activities to add to the list.
Like all of the national parks, there is a Junior Ranger program for kids. It is suitable for kids of all ages but younger kids might need a helping hand with the activities.
It is a free activity, parents need to purchase the book for a small fee. First, kids complete the book then they attend a ranger program and finally, they pick up trash. Once they have achieved all three they are given a ranger's badge.
It is a great way for kids to learn about the park as well as having fun. One thing most toddlers love is to spot animals while they are walking. Yosemite is a great place to do this and they are likely to see many animals that both delight and fascinate them.
This is a fantastic activity to keep kids engaged on a hike. To turn up the fun then add a pair of binoculars to take with them on longer hikes.
There is also a great book called Who Pooped in the Park? that introduces young kids to the wildlife that call Yosemite National Park their home.
Family Things to do in Yosemite
With not much signal in the park, it is the perfect excuse to switch off devices and have some quality time together.
If families are visiting in winter then a few of the hikes may be closed due to the road conditions. In that case, families may enjoy ice skating at Half Dome which opens in December.
Unfortunately, it is not open all day however it is open longer hours at the weekend. Another popular activity for families in Yosemite is to head out on a raft on the Merced River. There aren't too many rapids, especially in the summer so it can be very peaceful.
It is also a great way to see Yosemite from a different point of view. It is easy to rent rafts at Yosemite Village, however, they are rented on a first come first serve basis. To avoid disappointment bring one along or another floating device. Just don't forget about lifejackets!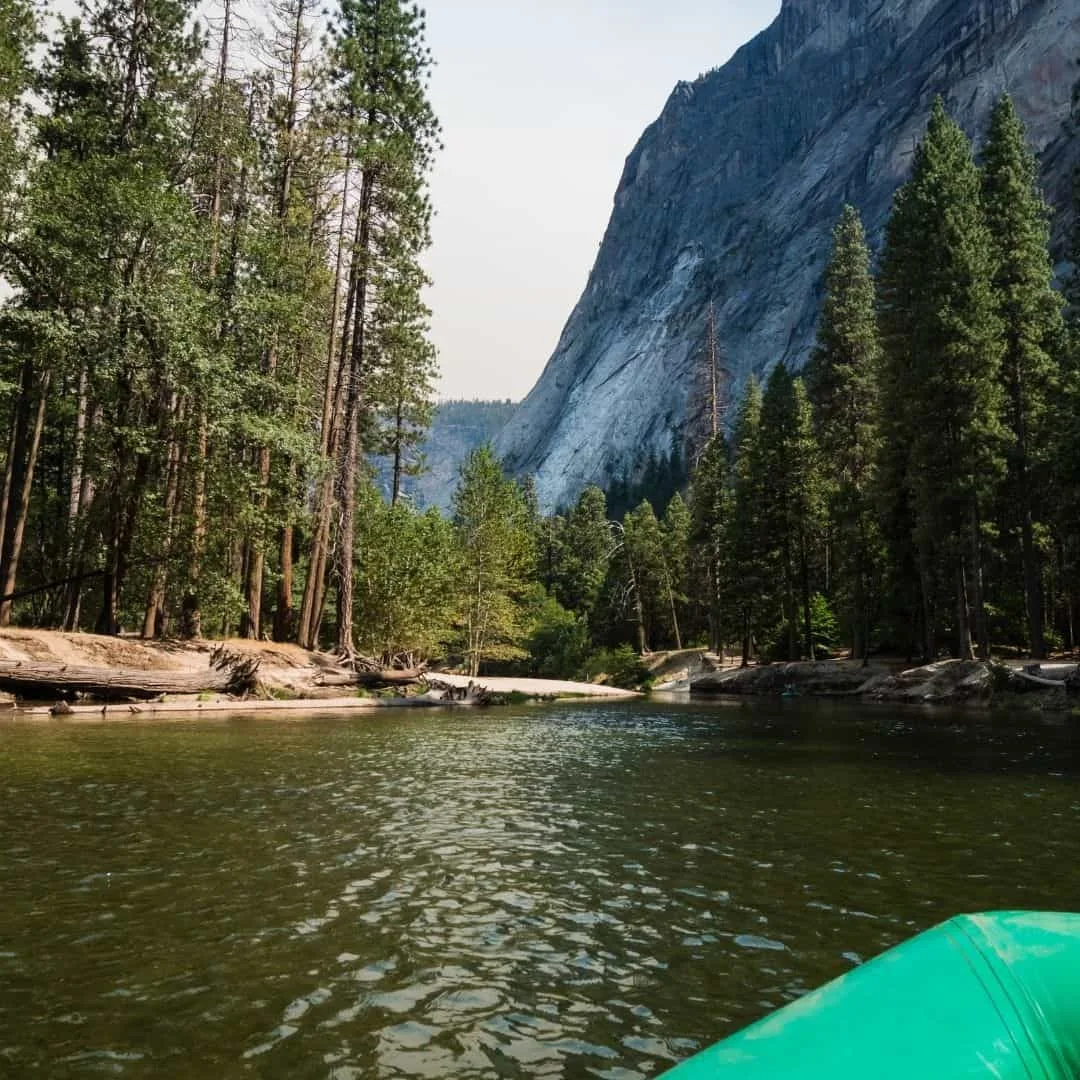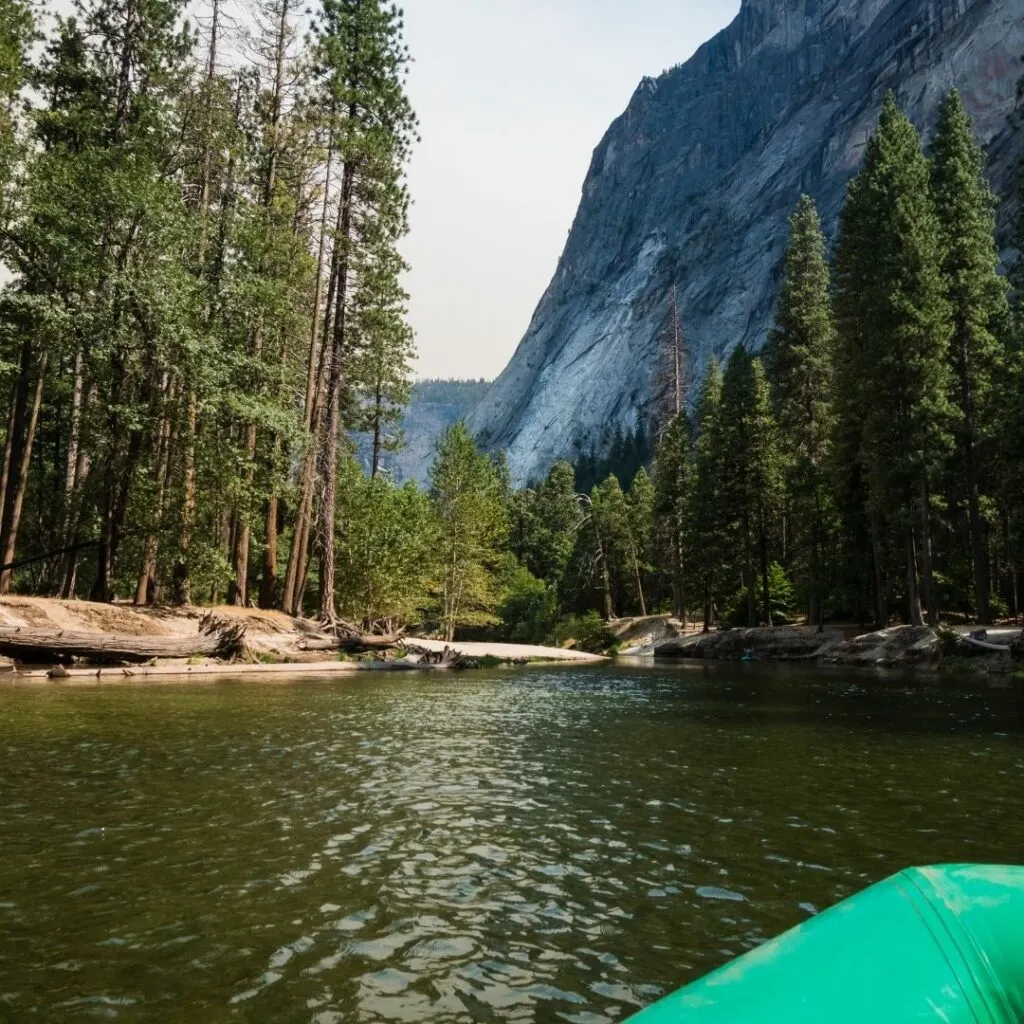 Camping in Yosemite Park with Toddler and Kids
From reading the above it is obvious the majority of kid friendly hikes in Yosemite are around the Valley. This also means that the Valley is the best place and most popular place to stay.
There are a few campgrounds and RV parks in the area. One of the most popular campgrounds is North Pines Campground. This is due to the stunning views and it is just a stone's throw from the Valley.
The location gives visitors the chance to hop on the free shuttle and avoid traffic and parking dilemmas.
RVs are welcome here too and families can find drinking water and campfire rings on-site as well as toilets. Make sure to follow the rules of the campsite and store any food in one of the lockers near the tent to keep bears away.
The only problem is campsites can be booked months in advance. In fact, it can be a pain trying to snag a place. Reservations are released five months in advance on the 15th of each month at 7:00 a.m. (PST) so be online a few minutes before to make a reservation.
Click here to make a booking at North Pines Campground.
Hotels Near Kid Friendly Hikes in Yosemite
If a hotel is more appealing then 750 yards from Yosemite Valley is Yosemite Valley Lodge. It is a great base for families as it is near the main attractions and has plenty of places to grab a bite to eat nearby.
There is also a restaurant on-site and a swimming pool open in the warmer months. Families will love the spacious rooms and the mini-fridge to store cold drinks and snacks.
At the right time of year, there are fantastic views of Yosemite Falls too. Again due to its location, it is a very popular place to stay, so it is recommended to book in advance.
To make a reservation for Yosemite Valley Lodge click here.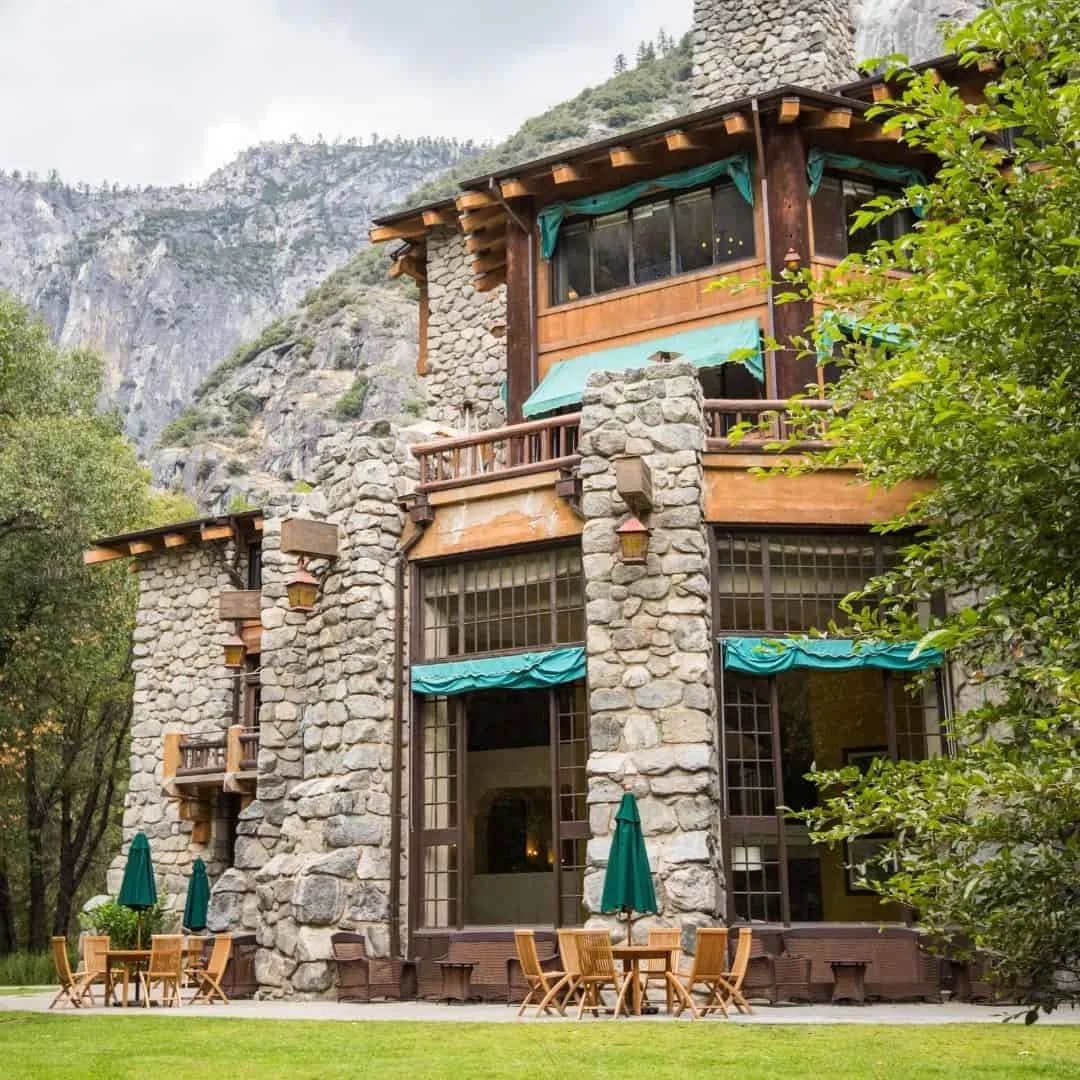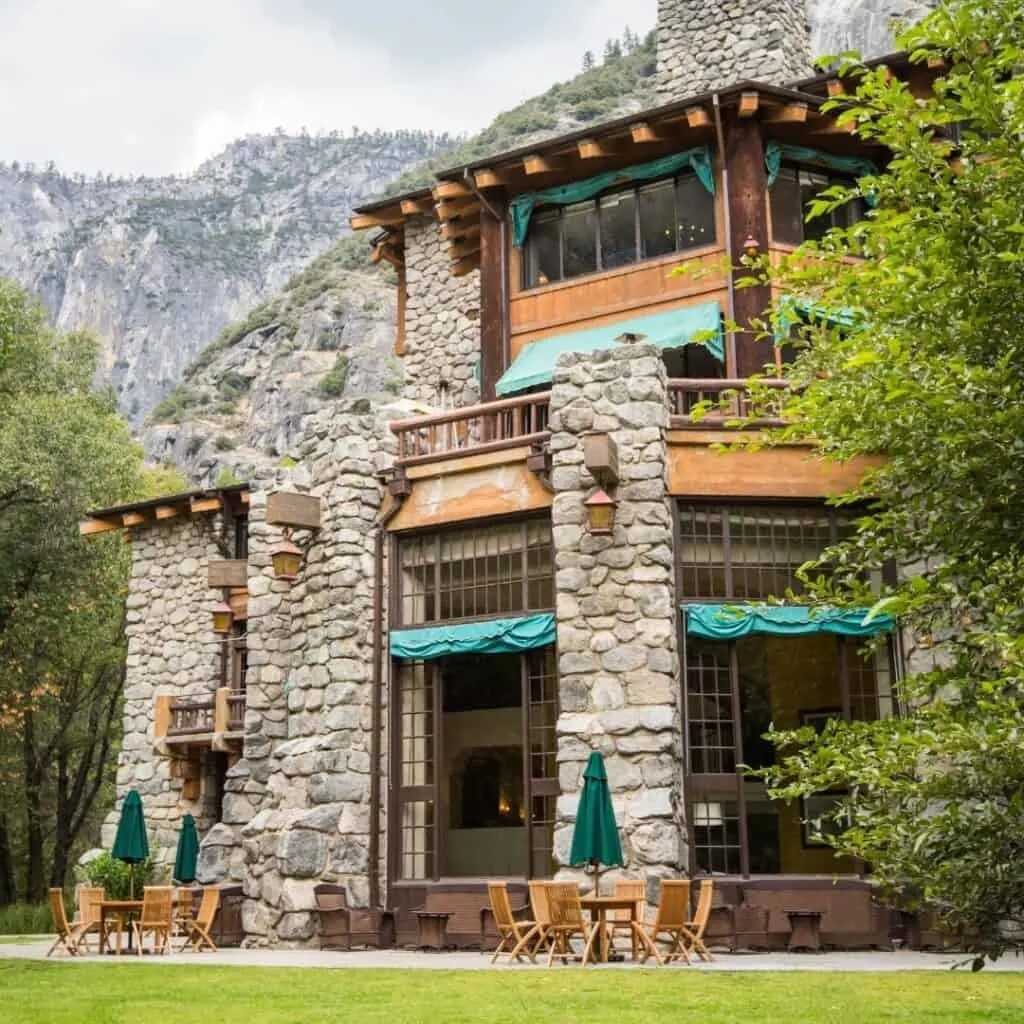 Holiday Rental Close to Kid Friendly Hikes in Yosemite
Chances are if families are booking at the last minute or want to stay more than one day, the campgrounds and hotels in Yosemite National Park are likely to be full. In that case, check out the holiday homes in Yosemite National Park.
There are plenty to choose from and they come in all shapes and sizes. The minimum time families can spend in a holiday home is two days and they are mainly on the west side of the park.
Some are luxury homes with log fires and hot tubs, while others can be studios with just the basic amenities. No matter what families are looking for, there is sure to be something for everyone's taste.
To book a vacation rental at Yosemite National Park click here.
Towns Close to Kid Friendly Hikes in Yosemite
The other option is to stay just outside the park. Families don't want to stray too far as it cuts down the amount of time they can spend in Yosemite.
Many visitors end up staying in El Portal as it is just a ten-minute drive from Yosemite Entrance. The Merced River runs through the town and there are many companies that have rafting sites in the area too. Yosemite View Lodge is along it too and it is a beautiful hotel near Yosemite.
In fact, the hotel has four pools and a hot tub. There is also a restaurant and a nearby convenience store. If families plan on cooking their meals there are rooms with a kitchenette.
Make a reservation here for Yosemite View Lodge.
Visiting Yosemite National Park with kids especially for the first time can be very overwhelming. There is so much to see and do! After reading all about the kid friendly hikes in Yosemite you should be well prepared with the little ones in tow!
There are some fantastic sights at Yosemite that can't be seen anywhere else in the world.
You might also like:
How to Plan a Trip to Yosemite | April in Yosemite | The Best Hikes in Yosemite National Park | One Day in Yosemite | The Ultimate Yosemite Packing List | Yosemite in Fall | RV Parks Near Yosemite | Rafting in Yosemite | 10 Kid Friendly Hikes in Yosemite | Winter Hikes in Yosemite | The Magic of Yosemite in December | Yosemite At Christmas | Best Photo Spots in Yosemite | Why Yosemite Weather in May Makes it the Best Time to Visit | 10 Reasons to Visit Yosemite in January | The Perfect Guide to Visiting Yosemite in March | 10 Amazing Things to do in Yosemite in February | 10 + Things to Do in Yosemite in June | Pumpkin Farms in Maryland
Best pumpkin farms in Oregon | Flying With A Toddler | Best Pumpkin Farms in Florida | Best Pumpkin Farms In California
Will you be needing travel insurance, flights, rental cars, or hotels for your trip?
Disclaimer: This post may contain affiliate links. By using them it will not cost you any extra, we will receive a small percentage of the sale.