After deciding to visit Yosemite National Park, the next question you may ask is when? While the park is beautiful all year round, April in Yosemite is particularly stunning.
What Yosemite is most famous for is its gushing waterfalls. If you want to see them in all their glory then April is a great time to come. The snow should have melted and they should be overflowing. In fact, many head to the best photo spots to capture them.
With the cooler weather in April, it is great to hike in Yosemite and there are plenty of kid friendly hikes for families.
Spring is such a beautiful time of year. The colours and the sights in Yosemite bring the place to life and with fewer crowds, it gives you the perfect chance to stop and take it all in even if you only have one day in Yosemite.
While one April won't be the same as the next, this guide hopes to give you a comprehensive view of what you can see and do in April in Yosemite and help you plan your trip to Yosemite. This includes where to stay from hotels to campgrounds and RV parks, what to add to your packing list and some of the Yosemite tours available to add to an itinerary.
Visiting Yosemite April Time
Yosemite is open all year round. The park has around four million visitors a year. The summer months, June, July and August are crowded while winter months, December, January, February and March are less busy.
In Springtime and Fall the park crowds are beginning to pick up again, but visiting Yosemite in April can give you the chance to experience it differently.
In fact, there are a few unique sightings that you can only experience in April in Yosemite. For example, April is the start of rafting season.
Unfortunately, it is not all sunshine and roses. There are a few cons at this time of year too. These are mostly down to visiting Yosemite in April weather.
Some of the trails and entrances may be closed at this time of year due to snow. However, with a little preparation, you can still make it a magical experience and add a lot to your itinerary. Here's what we cover in this article:
Yosemite Weather April
Generally speaking April weather in Yosemite is nice. In fact, the weather can be great for hiking and exploring the many trails. The average temperature in Yosemite in April can be as high as 18°C/64°F.
The lows are around 3°C/36°F. As expected it is cooler in the early mornings and the evenings so bring a light jacket with you. That said the weather in Yosemite in April can be unpredictable as well.
Don't expect all the snow to be melted either. The high country still has snow at this time of year, but the valley should be clear. However, April has about six snow days so there is still a chance it could snow too. You may want to take a pair of snow boots along, just to be safe.
Rain is another possibility in April in Yosemite. While most rainfall happens between November and March, you still can't rule it out. You may not be bothered by a bit of rain, but it can make the trails muddy.
If you feel the weather would hinder your experience, then consider visiting Yosemite in late April. There is less chance of snow and rain then. It is also a great time to see the wildflowers.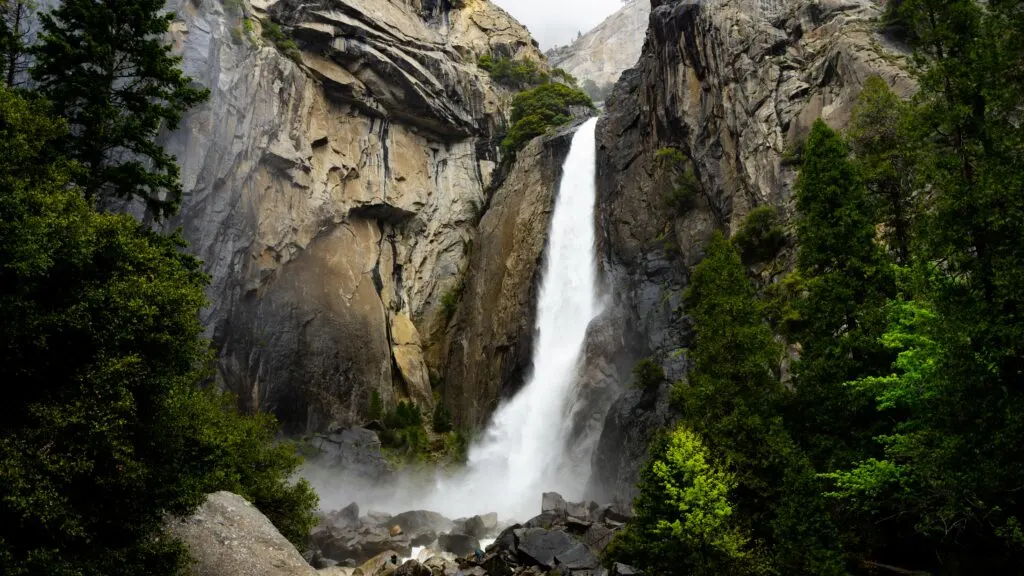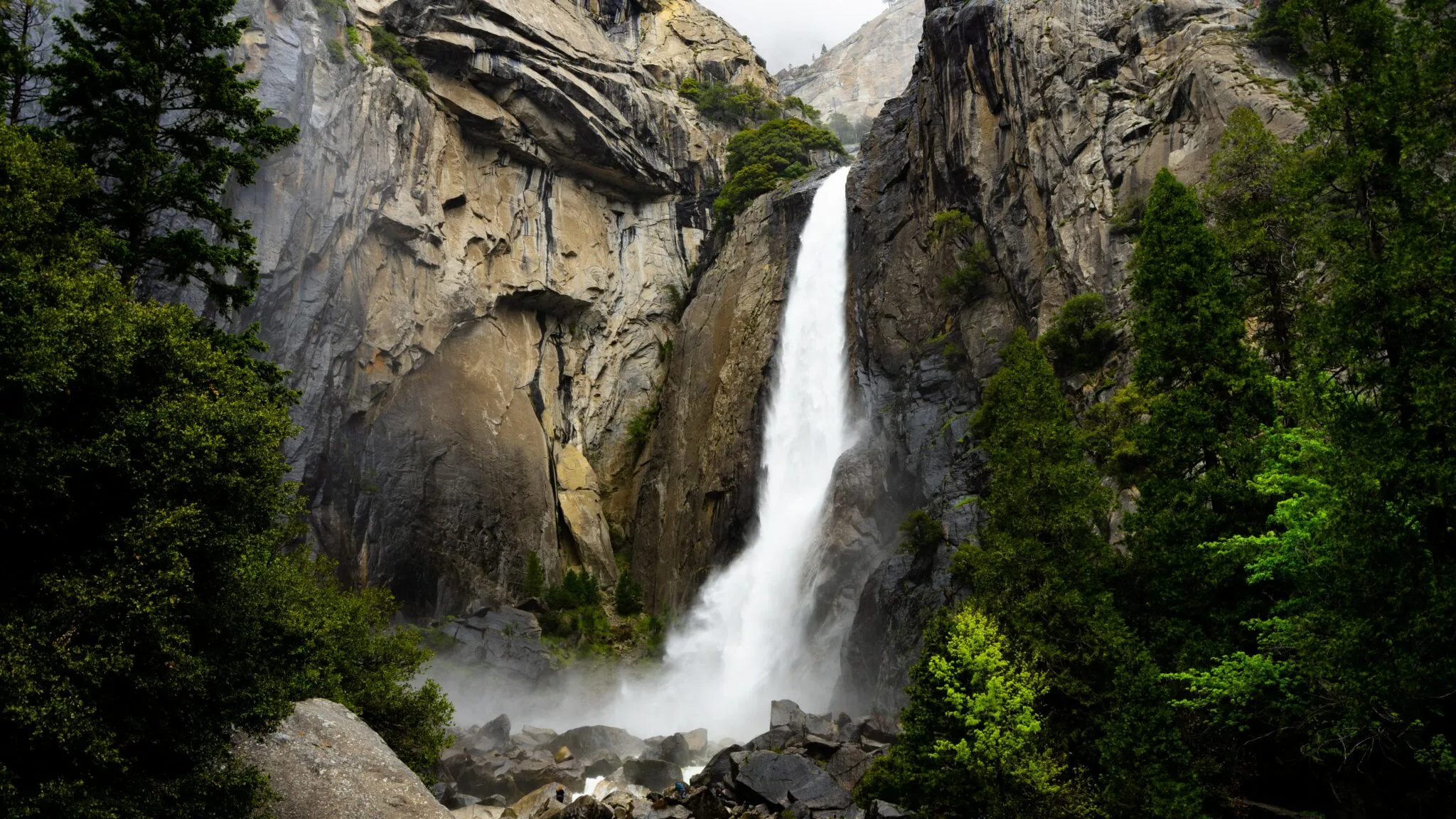 Which Entrance to take to Yosemite in April?
Most of the entrances to Yosemite National Park are open in April. From the west side of the park, you can enter using Highways 41, 140, and 120. Hetchy Hetch Road is the furthest entrance to the north and it is also open all year round.
This means that visitors arriving from San Fransico, Los Angeles and San Diego will have no problem entering the park. Unfortunately, it is another story for those visiting from Death Valley and Las Vegas.
The Tioga Pass Entrance is the only entrance to the east of the park. It is closed from November until May or early June. If you do plan on arriving from that direction, then the shortest route would be to take the South entrance on Highway 41.
The great thing about visiting the park in April is that you don't need to make a reservation. Tickets can be purchased at the entrance for around $35.
America the Beautiful Pass is also accepted at Yosemite. It is $79.99 but it can be used at over 2000 sites across the US. If you visit National Parks regularly this pass is very cost-effective! Just one pass covers the entrance fee for a driver and all passengers. REI also donate 10% of pass sale proceeds to the National Park Foundation.
To find out more about the annual Beautiful National Park pass click here.
What is Open in Yosemite National Park in April?
Despite the snow, there are several trails and attractions open in April. The Valley is the most popular area of the park as it is where visitors can see Yosemite and Bridalveil Falls, and various rock formations, such as Half Dome and El Capitan.
Mariposa Grove is also open although the road may not be accessible with vehicles. The road closes in December and usually opens in April in Yosemite but again it depends on the weather. The road there is just two miles, so it is easy enough to walk. Just don't forget to bring snowshoes.
Yosemite weather in April means that some roads are closed. Glacier Point Road closes in winter months January, February and March and it usually opens sometime in May or June which means that you are unable to drive to Glacier Point until then. If you are desperate to see it and a great hiker then all hope is not lost.
There are a few trails that lead up to Glacier Point. They are strenuous hikes and long, around 18 miles. Be prepared for ice and snow at the top too. In fact, these trails are only suitable for experienced hikers itinerary.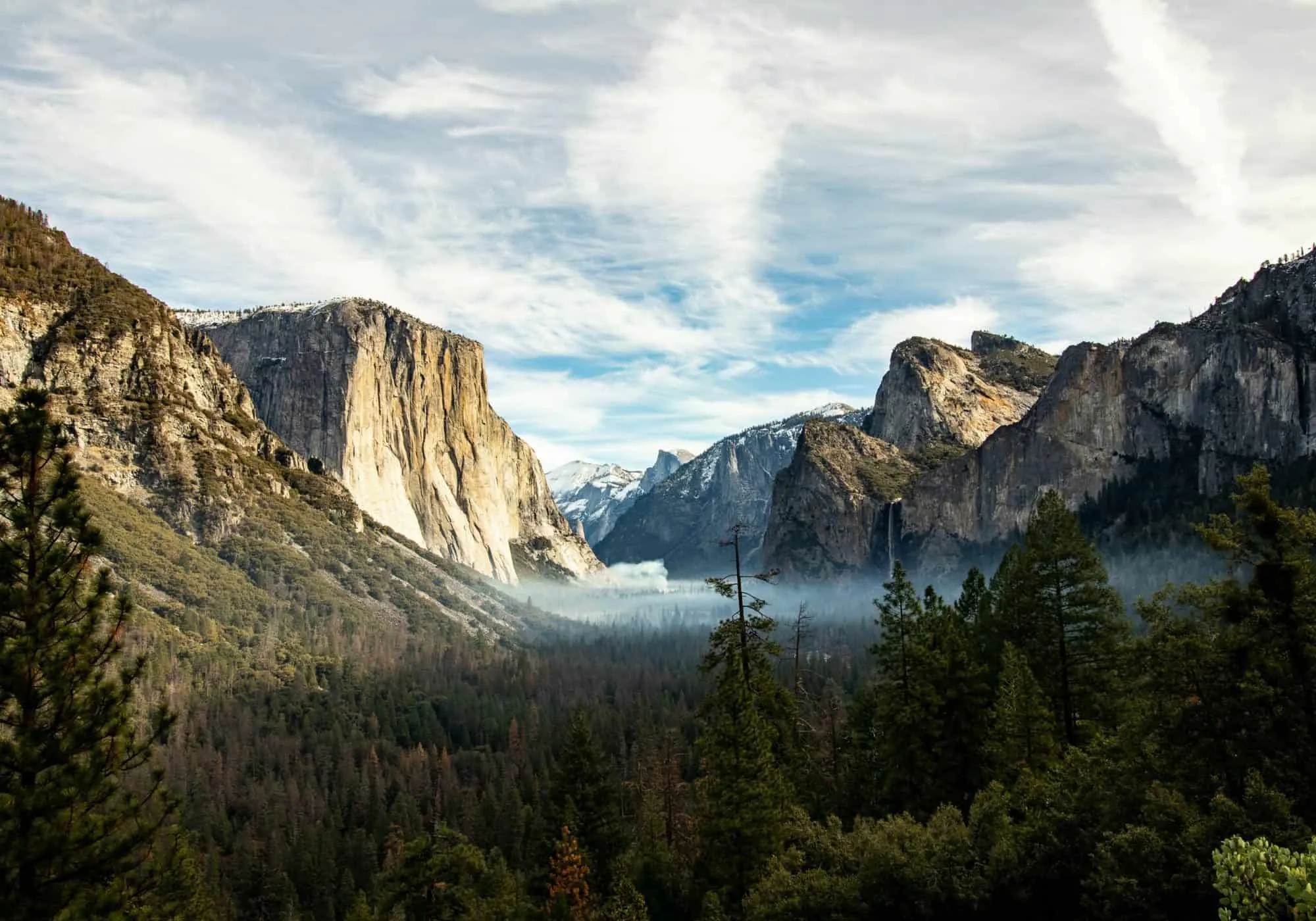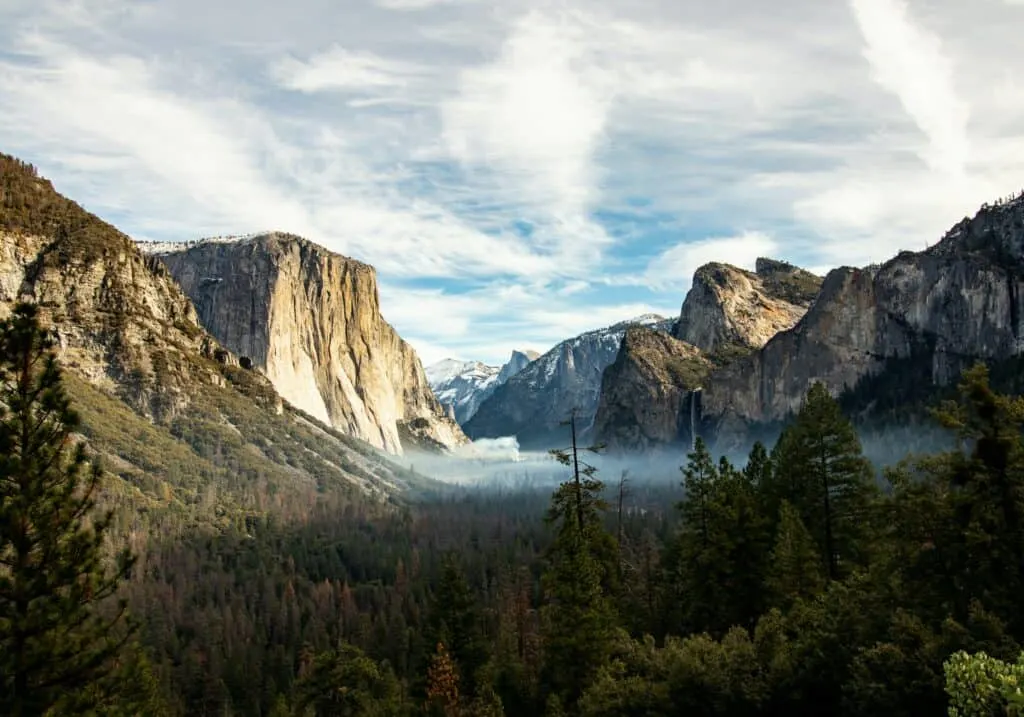 Hotels Open at Yosemite National Park, April
Figuring out where to stay in Yosemite leaves you with quite a few options. With fewer crowds visiting Yosemite in April means that prices are not as high as in the summer months, July and August. That being said, it is important to make a reservation in advance as many of the hotels in Yosemite fill up fast.
Yosemite Valley Lodge is close to the Valley and many of the main attractions and hiking trails. The rooms have a minifridge and there is a restaurant on site. The hotel also has a swimming pool but due to the temperature in Yosemite in April, it is closed at this time of year.
To make a reservation for Yosemite Valley Lodge click here.
Where to Stay When you Visit Yosemite in April
There are many holiday homes scattered around Yosemite. Most of them are located in the west of the park and away from the hustle and bustle of the valley. They all come fully equipped with a kitchen and utensils.
Many have outdoor seating areas and barbeque facilities. There are lofts for couples and larger properties for parties of six. As the Yosemite temperature in April drops in the evening have a look for properties with log fires and hot tubs.
These properties are also the most popular so plan ahead to avoid disappointment.
Click here for more information on the Holiday Homes in April in Yosemite.
Where to Stay in April in Yosemite
If you haven't planned ahead, you may find that all of the hotels in Yosemite are fully booked. Don't worry as there are a few towns nearby that have great accommodation. The closest town is El Portal. In fact, it is just a ten-minute drive to the park.
It isn't a big town but there are a few choices to stay. The Merced River also runs through El Portal meaning that many of the properties have great views and is close to many rafting companies if you decide on an adventure.
You can choose to stay in luxury accommodation or a holiday home. The town is also the perfect spot to pick up essentials you forgot to bring with you.
Find out about the accommodation in El Portal here.
Camping Yosemite April
Camping is still possible despite Yosemite National Park weather in April. In fact, many of the campsites and RV parks fill up quickly. If you turn up on the day spaces are usually limited or nonexistent. If you are planning on staying for a few nights then you may have to move from campsite to campsite if you haven't booked.
There are plenty of choices for camping in Yosemite in April. The Pines Campgrounds in the Valley are the most popular. They have toilets and campfire rings available. Most accommodate RVs too.
If you are camping, be sure to bring the right camping gear with you for the weather.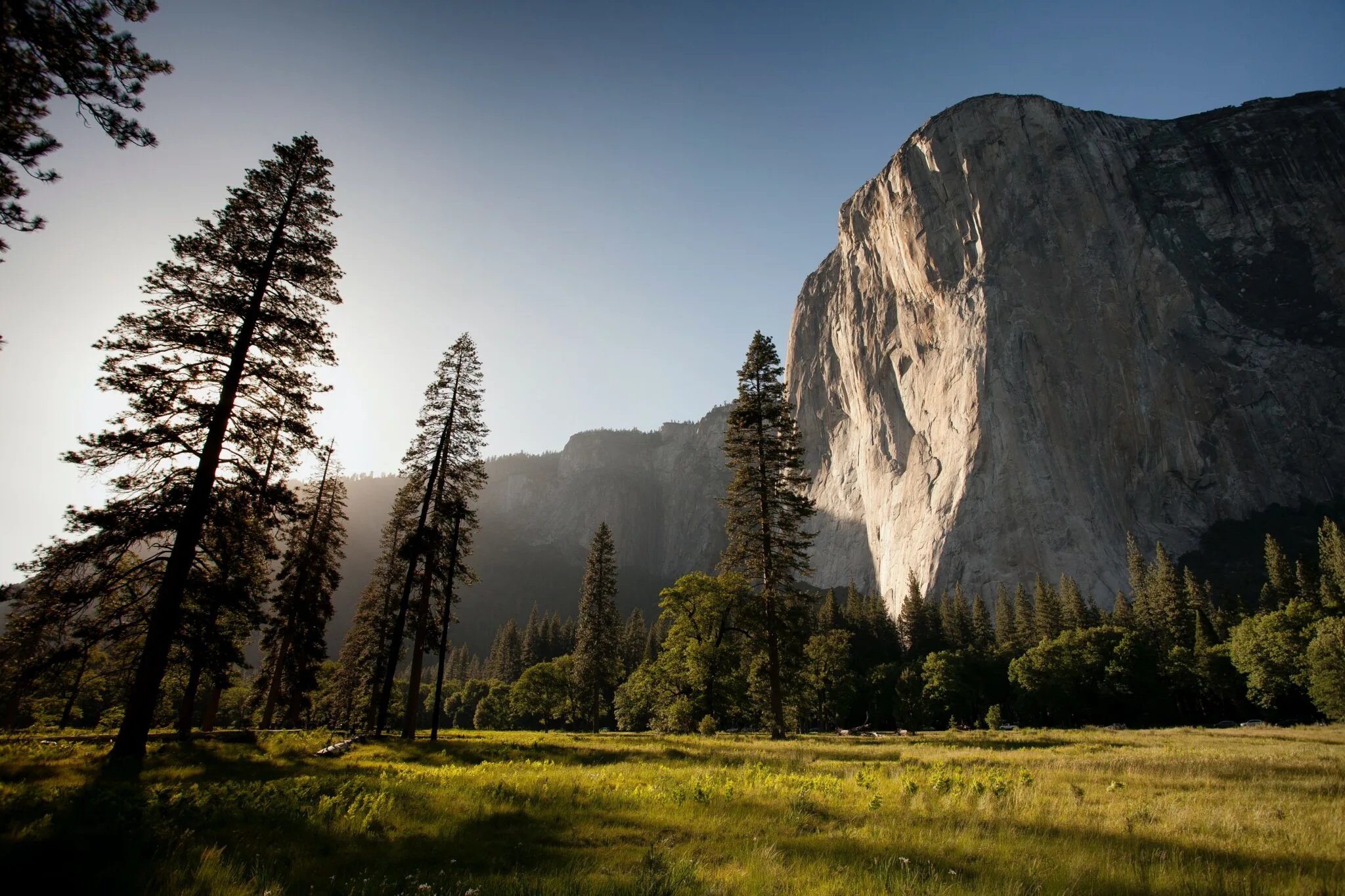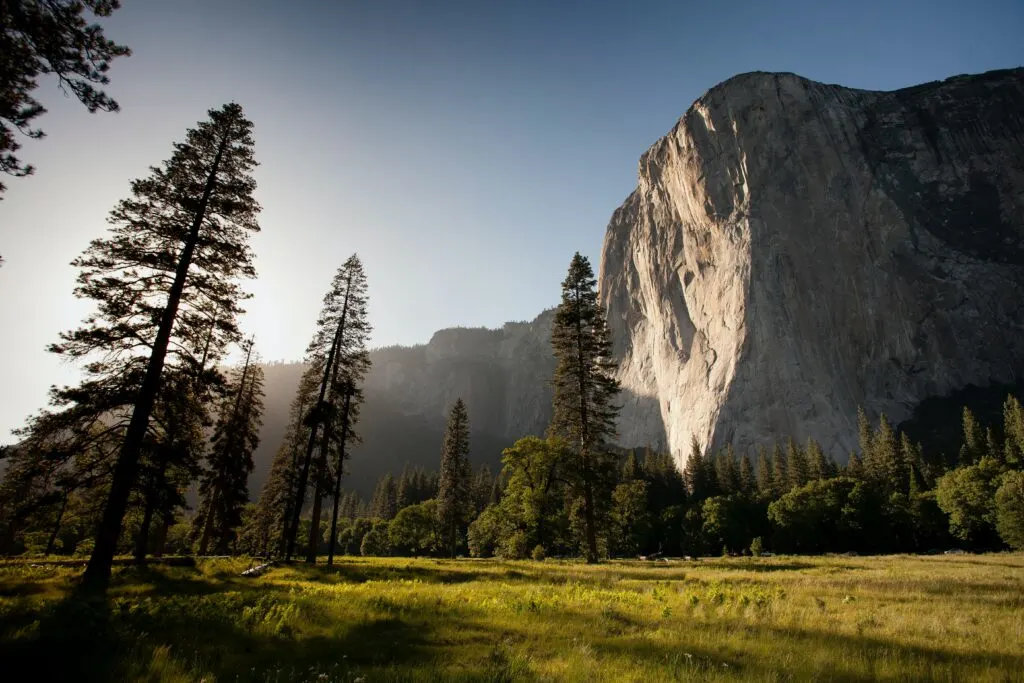 Is Hiking Yosemite in April Possible?
It is no doubt that there are hundreds of hikes in Yosemite. As most of the snow in the Valley should be melted, many of the best trails in April in Yosemite are around that area. The Mirror Lake trail is an easy trail to complete in one day.
It is a moderate 10km loop trail. Although it is long, it is a kid-friendly hike as there is a pathway part of the way for strollers.
As you walk around the pathway take in the spectacular reflection of Half Dome in the lake.
It is easy to get to the trail from Curry Village and it is well signposted. The trail is also great for bicycles. It is not one of the busiest trails which gives you plenty of space and time to see the stunning nature. In fact, you may be lucky to see the wildflowers starting to bloom depending on the April weather, Yosemite.
Best Trails for Hiking in Yosemite in April
Another great place to hike in April is the Wapama Falls trail. It is around 8km and a moderate hike. It takes you past the base of Wapama Falls and also two other small falls that you can only see in April in Yosemite.
As it has spectacular views, it is a busy trail in April. Make sure to arrive early and expect to get wet. Even in April in Yosemite, it can get warm and there is not a lot of shade on the trail, so bring plenty of water.
Why Visit the Waterfalls at Yosemite park in April?
Three of the world's tallest waterfalls are located in Yosemite National Park. Yosemite Falls is the largest at 739 metres. It is not possible to hike to the top at this time of year, but the Lower Falls trail is open and offers a great place for a photo of the falls. It is also the perfect trail if you are visiting Yosemite with kids.
Whether you visit Lower Yosemite Falls, Upper Yosemite Falls, Chilnualna Falls, Bridalveil Falls, Nevada Falls, or the seasonal Staircase and Ribbon Falls keep your eyes open for a rainbow.
It is not in the sky though. You are looking for a waterfall rainbow. You can spot them any time of year as long as the water is flowing. However, in April in Yosemite, the waterfalls are exploding so your chances are higher.
Unfortunately in late Summer and Fall most of the water has dried up. This is because the water from the falls is from melted snow. This makes spring, especially April an amazing time to visit and try to catch a glimpse of a rainbow in one of the many falls darted around the park.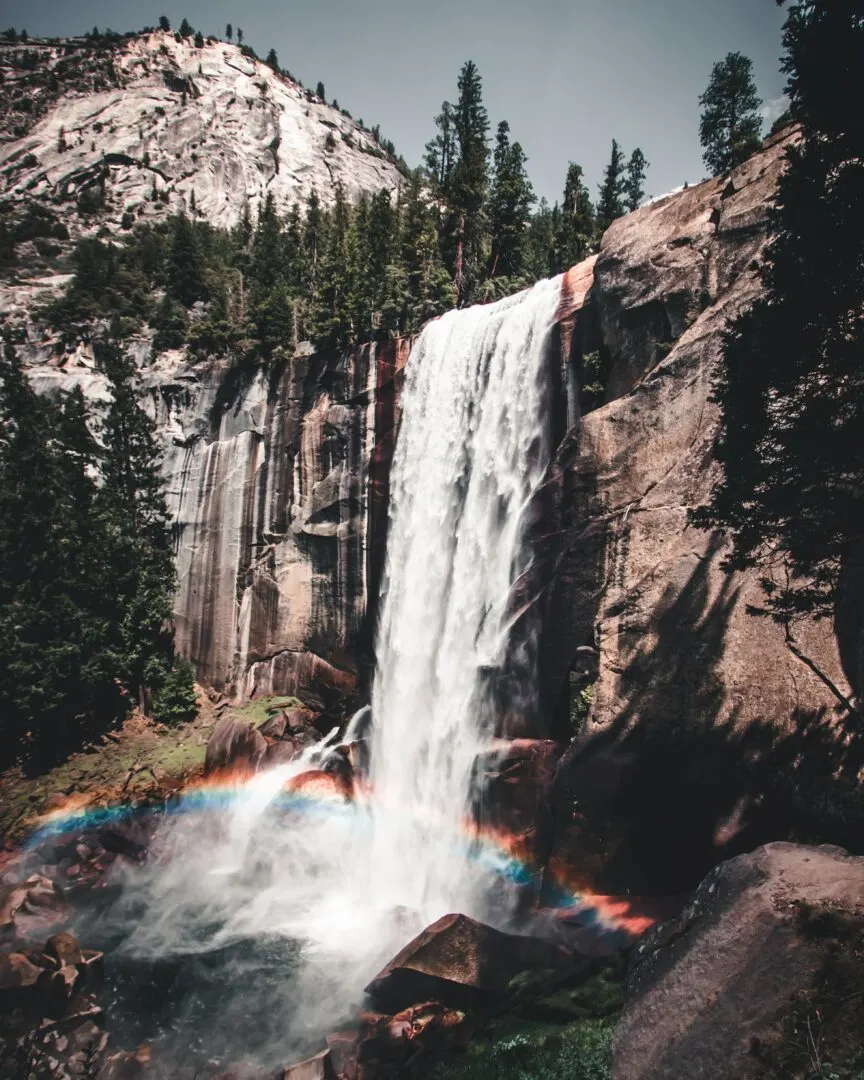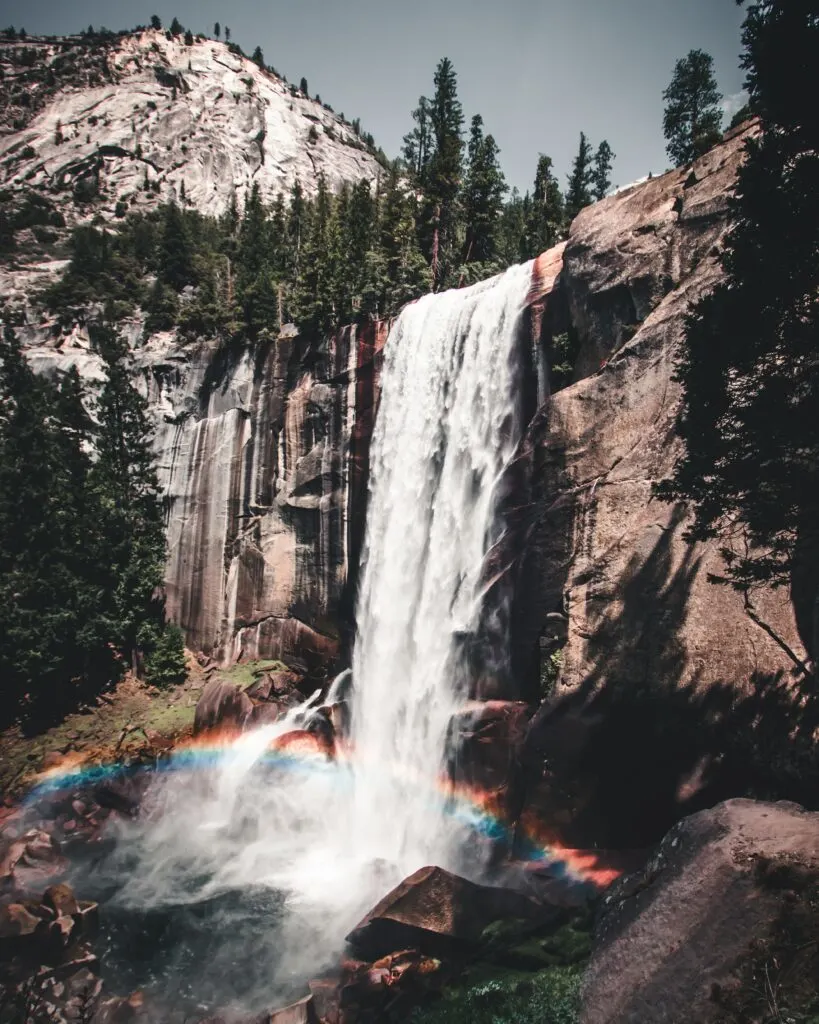 Things to do in Yosemite in April
If you love adventure then you may want to add white water rafting at the Merced River to your itinerary. There are many different points along the river to try it depending on your experience. However, this activity is only available in Spring and early summer.
Don't worry if white rafting is not for you. There is still plenty to do from in Yosemite Valley in April. Head to Tunnel view at sunrise to see the colours and most popular views of Yosemite. You also have spectacular views of El Captian and Half Dome.
There are a ton of Yosemite tours at this time of year too. Some leave from San Francisco and others start in the park itself. They are quite popular, so it is best to book in advance.
What to pack for April Weather Yosemite?
Now for the tricky part. What to take with you on your trip to Yosemite in April. Preparation is key so below is a list of some of the essentials for your packing list that could make your trip go smoothly.
Seeing one of the many waterfalls at the park should be at the top of your to-do list. This means that the right shoes are important. Getting up close to the falls increases the likelihood of your feet getting wet. Bring along some waterproof hiking shoes to keep your feet dry.
If you plan on hiking any of the trails with snow on the ground, then don't leave without your snowshoes. They give you the grip you need to navigate on the ice and the snow.
You are likely to set off on hikes early in the morning when it is colder. A light rain jacket is perfect as it keeps you warm but it is also easy to carry when you take it off later as the temperature rises.
You need to keep yourself hydrated on hikes. Your backpack can get heavy carrying so many bottles. Hydration reservoirs are a great alternative. Most are around 3 litres and they are easy to use.
Be prepared on your hikes and make sure your day packs have everything you need. Stock up on trail mix and snacks to keep you going.
April in Yosemite Top Tips
Yosemite National Park is massive, 748,542 acres. Making it much bigger than other national parks such as Redwood National Park and Olympic National Park. There is no way you can explore it all. You can however fit in many of the attractions and sights into a 2 Day itinerary.
The weather can also change in an instant. Make sure to check the website before you visit. This gives you all the important information you need before you visit the park including road and trail closures.
Overall, April in Yosemite offers some amazing sights and sounds that you wouldn't find at other times of the year. The waterfalls are the main highlight, but the pleasant weather also gives you the opportunity to explore and take your time absorbing the natural beauty all around you.
You May Also Like:
Things to do in Banff with Kids
Best Things to Do in Redwood National Park with Kids
Olympic National Park with Kids
How to Plan a Trip to Yosemite | April in Yosemite | The Best Hikes in Yosemite National Park | One Day in Yosemite | The Ultimate Yosemite Packing List | Yosemite in Fall | RV Parks Near Yosemite | Rafting in Yosemite | 10 Kid Friendly Hikes in Yosemite | Winter Hikes in Yosemite | The Magic of Yosemite in December | Best Photo Spots in Yosemite | Why Yosemite Weather in May Makes it the Best Time to Visit | 10 Reasons to Visit Yosemite in January | The Perfect Guide to Visiting Yosemite in March | 10 Amazing Things to do in Yosemite in February | 10 + Things to Do in Yosemite in June | Pumpkin Farms in Maryland
Best pumpkin farms in Oregon | Flying With A Toddler | Best Pumpkin Farms in Florida | Best Pumpkin Farms In California
Will you be needing travel insurance, flights, reliable internet, rental cars, or hotels for your trip?
Disclaimer: This post may contain affiliate links. By using them it will not cost you any extra, we will receive a small percentage of the sale.