Banff is Canada's first National Park. It is located in Alberta in the Rocky Mountains. It is the perfect place to escape and get back to nature.
Banff National Park is famous for its beautifully coloured lakes, striking mountains and adventure. One of the best reasons to visit as a family is that there are tons of things to do in Banff with kids.
If your kids love the great outdoors, then Banff is the ideal place. It is home to Lake Louise, Johnston Canyon, Sunshine Village, and Moraine Lake. It would take at least five days to explore this magical place at your own leisure. This article highlights just some of the must-see places to visit.
The great thing about Banff is that there is something for everyone. There are many things to do in Banff for kids of all ages. As well as activities, there are plenty of options for accommodation.
From campsites and RV stops to luxury hotels. The town itself has a great range of restaurants and you can stock up on essentials there too.
Banff For Kids
1. Lake Louise
Banff National Park is a popular tourist destination and Lake Lousie is one of the hot spots. It can get very busy, especially in summer.
To avoid the crowds it is recommended to get there early. The car park can also close without warning if it is overcrowded.
However, despite the crowds of tourists around the edge, it simply cannot be missed. The water is exactly as it is in the photos, a stunning emerald green colour. Coupled with the backdrop of the snow-capped mountains, it is like something out of a postcard.
Hike The Big Beehive At Lake Louis – Banff With Kids
There are a few hikes around the lake. The 10-kilometre hike around the edge of the Beehive has stunning aerial views of Lake Louise.
It is a relatively difficult hike if you are visiting Banff National Park with older kids. But along the way, there is the mirror lake and at the top and a teahouse where you can rest and grab a quick bite before coming back down. Just remember to take cash with you as they don't take cards.
With kids in tow, a short 5-kilometre hike is an excellent alternative to conquering the complete Beehive Hiking Trail in Banff.
Canoe At Lake Louise
There are also canoes to rent for half an hour. While the price is steep at CAD 135 for 30 minutes, it is worth every penny. The lake is incredibly peaceful and the photos are incredible.
Cost: CAD 135
When: June to October
Location: Improvement District No. 9, AB, Canada
2. Explore The Johnston Canyon – Banff Family Activities
Exploring the Johnston Canyon is just one of the many family things to do in Banff. There are many hikes available to see several parts of the canyon.
The hike to the lower and upper falls is short and perfect for little feet. The artificial walkway is safe and it is easy to see where kids are at all times.
The hike leads to gushing waterfalls with beautiful sights of rock erosion along the way. The hike takes around 1.5 hours. Again though, it can get very busy around peak times. It was much quieter in the early morning and in the evening. In fact, it is the perfect time to snap a few photos.
Be on the lookout for a 'hidden cave'. It is not signposted and not listed in many of the major travel books.
The cave opens up to a massive rock on a pinnacle. Unfortunately, it is illegal to walk through the area as it is somewhere endangered birds lay their eggs. However, as it is hidden kids might enjoy trying to find it.
Location: Canada, Improvement District No. 9, AB T1L 1K2, Canada
3. Stroll Through Sunshine Village – Family Activities Banff
Sunshine Village is just a short fifteen-minute drive from downtown Banff. It is located high in the Rocky Mountains. While the drive there itself is breathtaking, nothing can prepare you for the views and scenery at the top.
Sunshine Village Ski Resort
As Sunshine Village is a ski resort in Winter there is a twenty-minute cable car ride to the top. The resort is busy in winter, but in summer there are very few tourists and no crowds, unlike other parts of Banff.
The cable car drops you off at an incredible viewpoint. Apparently, it's the highest lift access for sightseeing in Banff. It looks over Larynx, Grizzly and Rock Isle Lakes. It is also the start of several trails suitable for younger kids.
No matter which trail you choose, don't forget to bring your best camera with you. There are bright pink and red coloured flowers scattered throughout the green grass.
The winding paths overlook lakes and there are plenty of pine trees dotted along the way. With the rolling blue mountains in the distance, it is like you stepped into a painting.
Location: 1 Sunshine access Rd, Banff, AB T1L 1J5, Canada
4. Golden Hour At Moraine Lake – Family Activities in Banff
You can't go to Banff and not visit Moraine Lake. However, it is another place you need to see early in the morning. In fact, arrive after 8 am and the 10 km road is likely to be closed. To get to the lake after then, tourists have to park miles away and pay to get the shuttle bus.
Many people arrive early so that they don't miss 'Golden Hour'. It is when the sun rises and the sunlight slowly lights up the snow-dusted mountains. It reveals the impeccable blue water of the lake.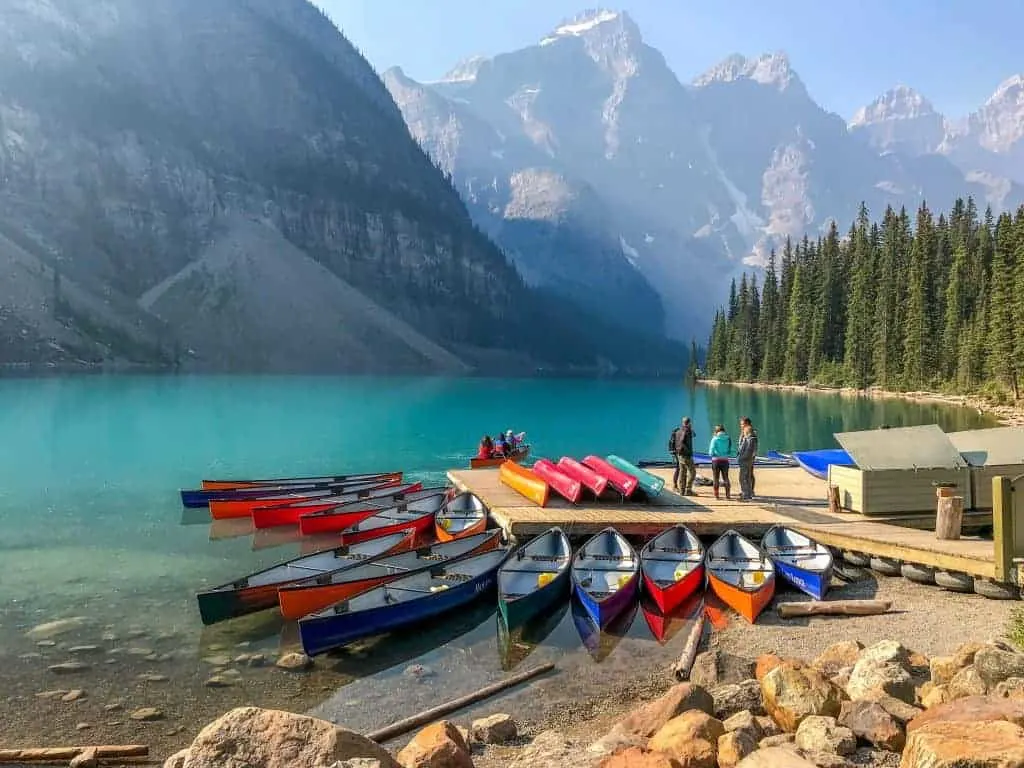 There are several trails around the lake. However, one of the most popular trails is a short loop trail to the 'rock pile'. It offers the best views of the entire lake. This unique vantage point allows you to see the reflection of the pine trees and mountains, along with the colourful canoes.
While the 'rock pile' is the place to be, it is not the best place for young kids. However, as it is a short walk they could be carried easily in baby carriers.
We recommend booking a tour for groups or large families to cover more ground and have more time to soak in the mesmerizing views. Also, since these tours can be customized, they are suitable for families travelling to Banff with kids.
Get a taste of Lake Louise and Moraine Lake with a walking tour.
Meeting Point: 138 Banff Ave, Banff, AB T1L 1A7, Canada ( Bus pickup At Mount Royal Hotel)
5. Make Your Way To Downtown Banff – Things To Do With Kids In Banff
Downtown Banff is a unique little town that is full of restaurants, cafes, bars and boutique shops. It can get quite busy, but it is a wonderful place to stroll around. The town is nestled in the mountains with beautiful views all around.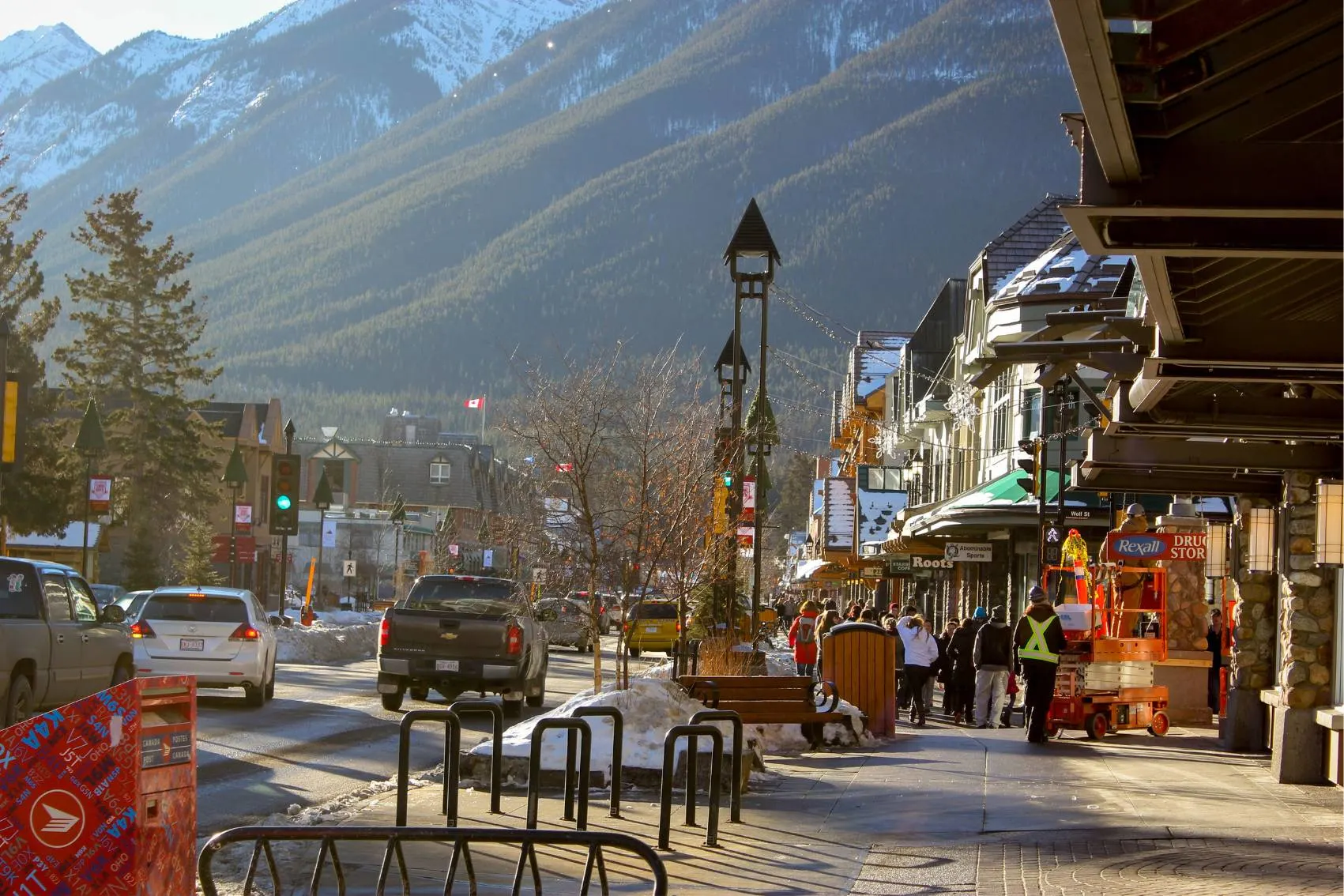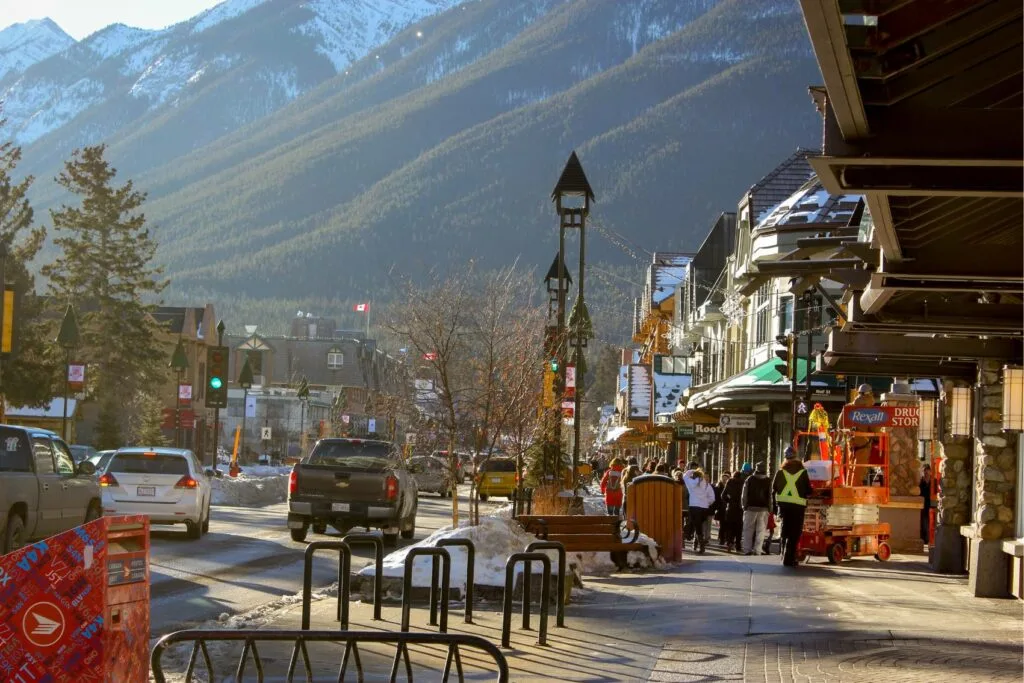 Don't worry, if shopping isn't your thing. There are also many museums where you can learn about the town's history. The museums have everything from paintings to artefacts.
There are plenty of things for kids to do in Banff as well. In fact, it is the starting point of many of the guided tours in the area. The Evening Wildlife Safari Tour is an amazing opportunity to see Banff's wildlife as well as the landscape that surrounds it. Kids get to hear about the challenges they face and how to protect them.
6. Hike The Rockies And Spot Wildlife
Tunnel Mountain Trail
Needless to say, Banff National Park is overflowing with hikes. One trail that is close to the town is the Tunnel Mountain trail. It is around 5 km and it is a great trail to get kids used to hiking in the Rockies.
The views from the trail overlook downtown Banff. It is the easiest mountain climb in the area, but there are a few steep inclines. Once at the top of the mountain, catch your breath by sitting on a few rocks to see the spectacular views of glacier lakes, Sulphur Mountain and Mount Rundle.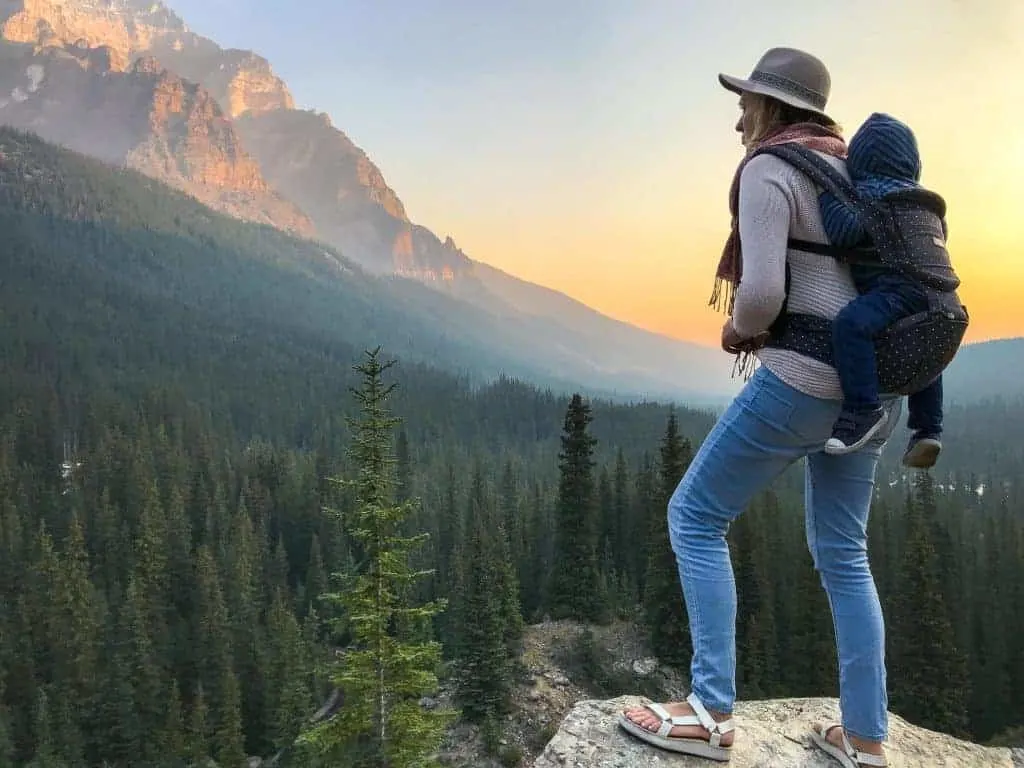 With trees on either side, there is also the chance to catch a glimpse of some of the wildlife. Many people spot chipmunks and foxes on the trail. It is very popular so it can get quite busy, but the trail is wide and there is plenty of space.
Location: Improvement District No. 9, AB, Canada
Hoodoos Trail
The Hoodoos are a distinct geographical feature in Banff National Park. The viewpoint is a great place to take in the views and learn about how the formations evolved naturally over millions of years.
If time is of the essence, we recommend parking near the Hoodoos Viewpoint on Tunnel Mountain Road.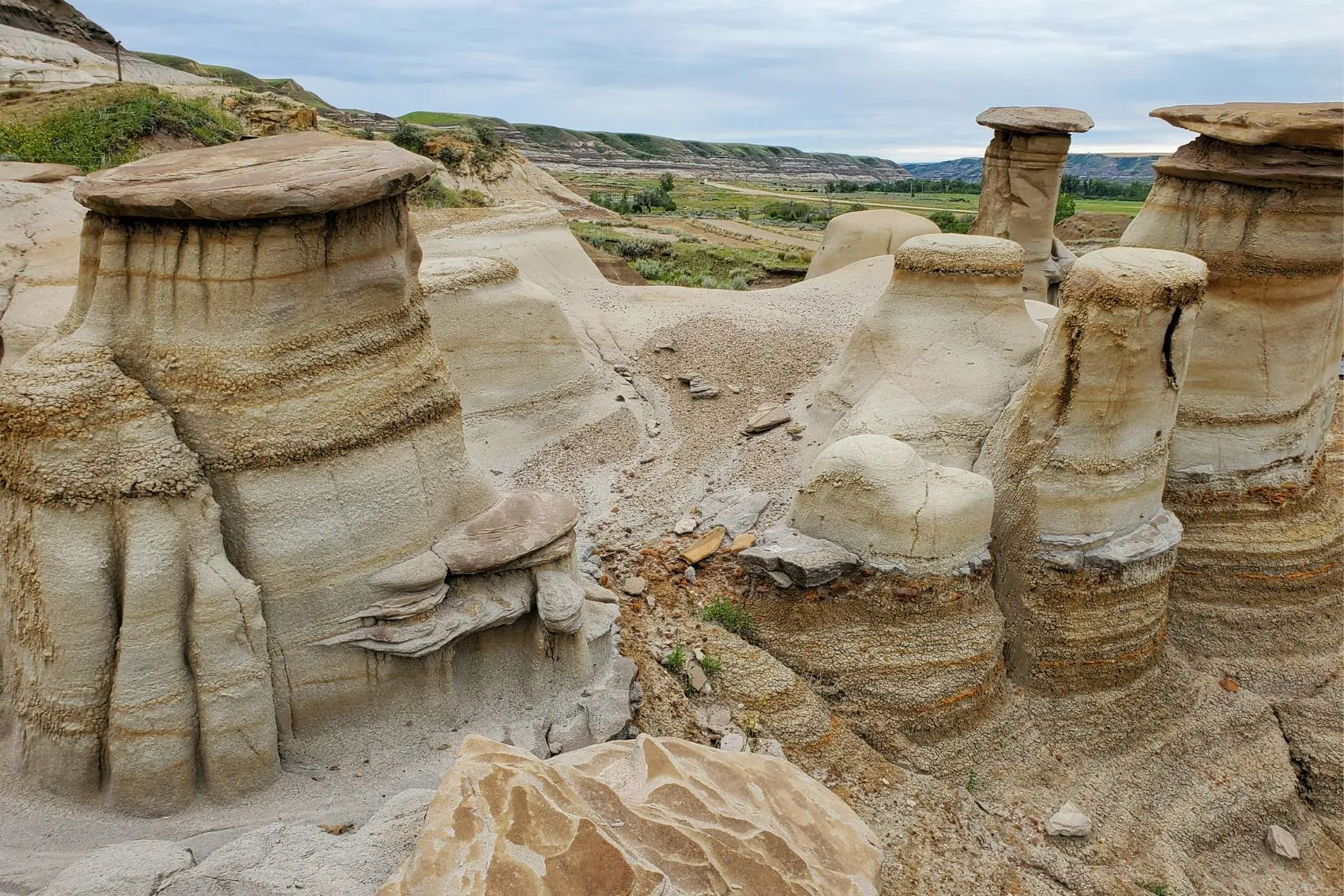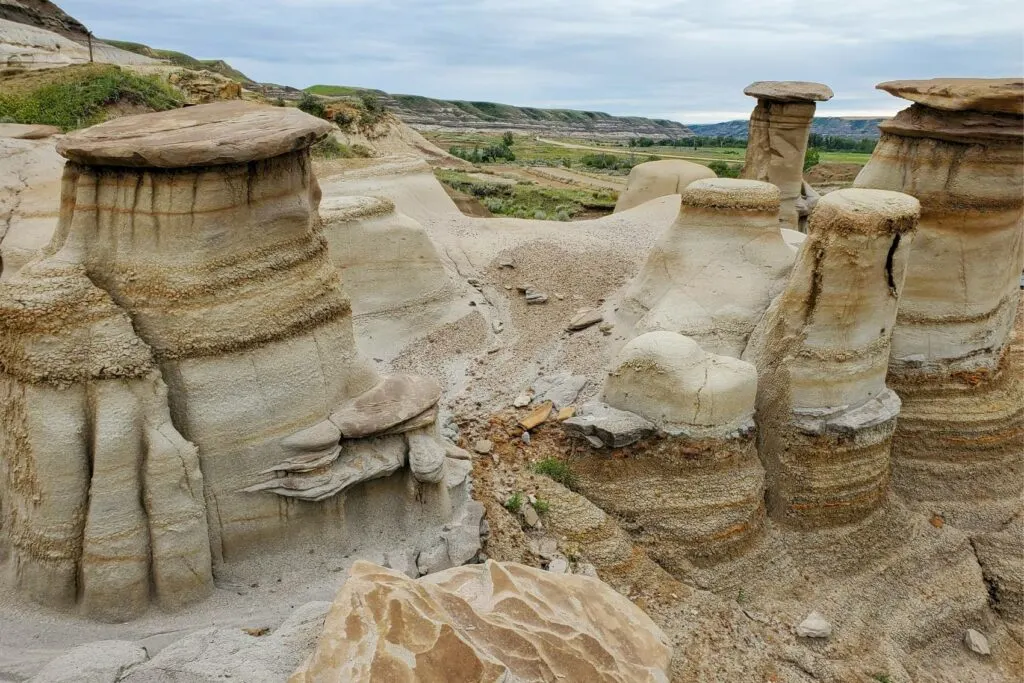 It is an easy and safe 4-mile trail for families of all ages and fitness levels and has a convenient location near the Tunnel Mountain campground.
The Hoodoos Trail descends through the forest and leads along the path of the Bow River, showcasing Mount Rundle to the left and the cliffs of Tunnel Mountains to the right. The short climb up to the ridge is worth it, rewarding families with an even better view of the landscape.
Location: Improvement District No. 9, AB T0L 2C0, Canada
Two Jack Lake Trail
The Two Jack Lake trail is relatively easy, with only a few gentle slopes and small creek crossings. The area has some of the prettiest views of the lake, and the trail is well-marked and easy to follow.
As a bonus, it is also a helpful way to teach kids about respecting the environment and nature.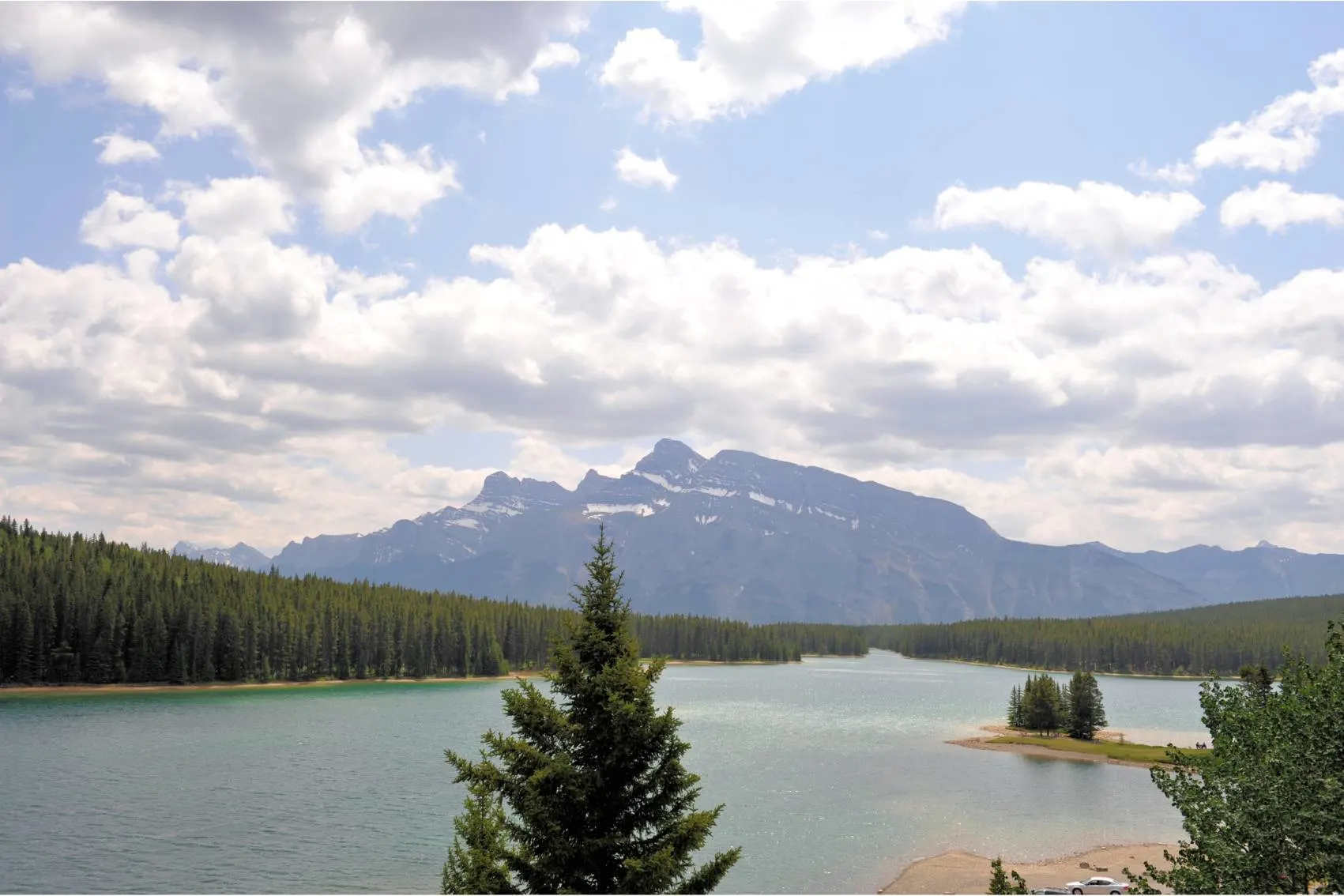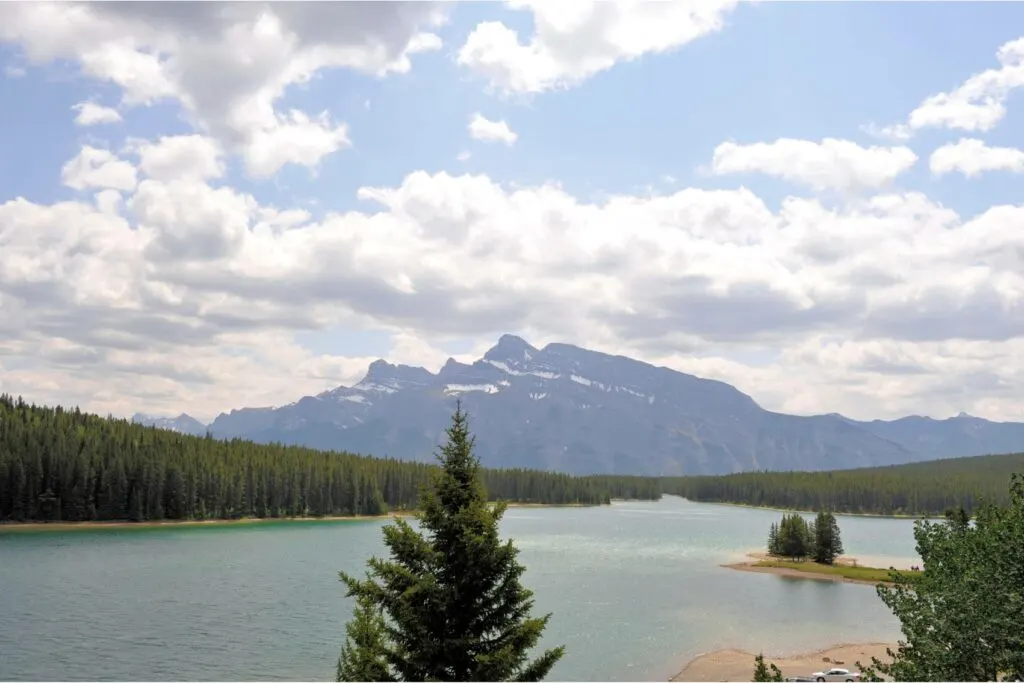 To get the most out of your hiking experience, it is best to stay on the path closest to the shoreline and take in the views when walking past the campground for Two Jack Lake, as well as the outflow canal that runs alongside the trail.
Location: Improvement District No. 9, AB, Canada
Sundance Canyon Trail
The Sundance Canyon loop is an enjoyable mix of a mountain bike ride and a leisurely walk.
It is easy for grown-ups and kids alike to be amazed by the majestic Bow River as well as the impressive mountain silhouettes along the 3.7-kilometre one-way route to Sundance Canyon.
The trail is suitable for families, with the exception of the brief canyon climb, which is quite steep and challenging.
There are a number of sights along the route, including the Bow River, mountain ranges, as well as some small streams.
Location: Improvement District No. 9, AB T0L 2C0, Canada
Cascade Ponds Trail – Picnic Area With The Family In Banff
Cascade Ponds is a picturesque day-use area with fire pits, picnic tables, and restrooms. Usually, there is wood for a fire, but that is only sometimes the case.
Having a picnic around the pond is a pleasant way to spend time with family and friends.
In case of rain, there are two shelters, but they are first come, first served. Additionally, the area offers a variety of activities for all ages.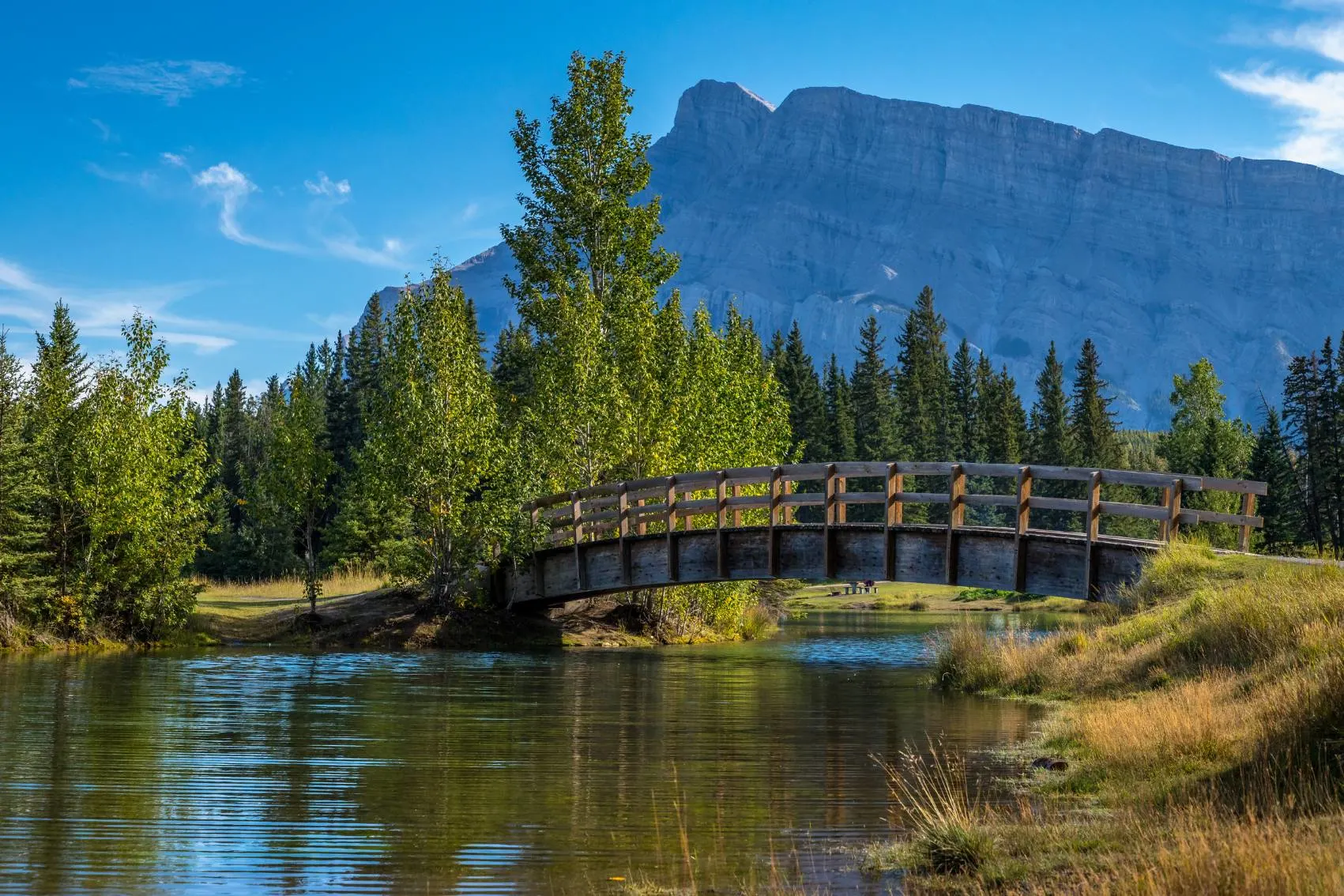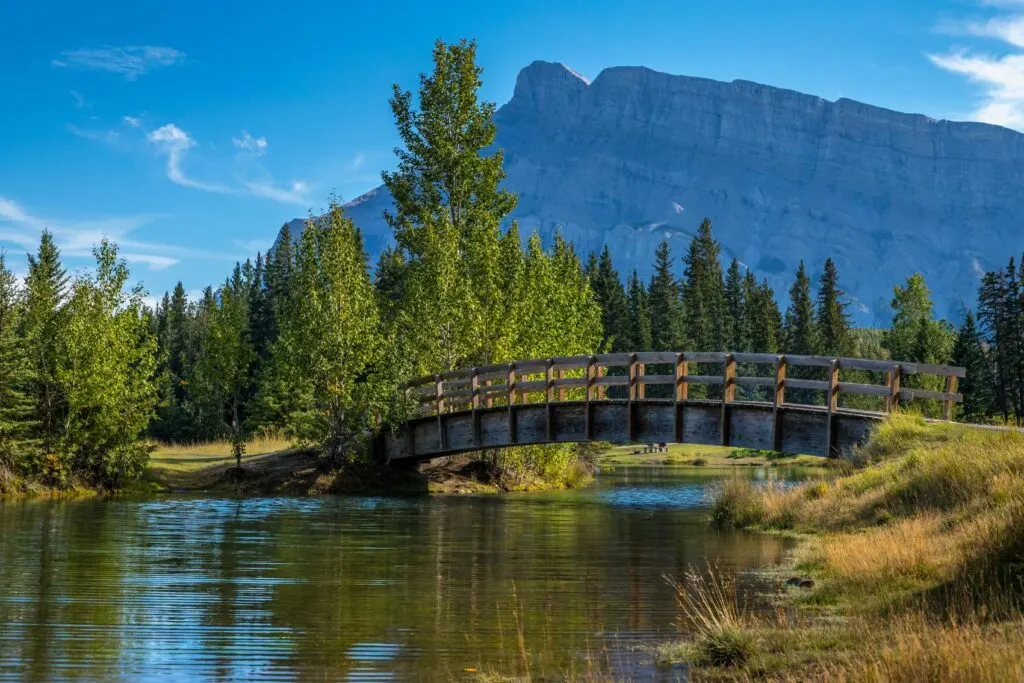 The kid-friendly 1.5-kilometre hike at Cascade Ponds is along boardwalks and muddy trails between the ponds and offers gorgeous views of the Cascade mountains and the ponds. There are also biking trails and a playground for the kids.
Besides having a variety of wildlife, the pond also has a wide range of birds, making it one of the most popular spots for bird-watching.
Location: Lake Minnewanka Scenic Drive, 110 Bear St, Banff, AB T1L 1A1, Canada
Fenlands Loop Trailhead
With a prime location just outside the town of Banff, this mainly flat trail makes it an ideal place for families with small children and strollers, as the lack of elevation makes it easy to navigate with strollers along the edge of Forty Mile Creek.
The loop splitting into two also adds an element of exploration for the kids, creating a maze-like experience.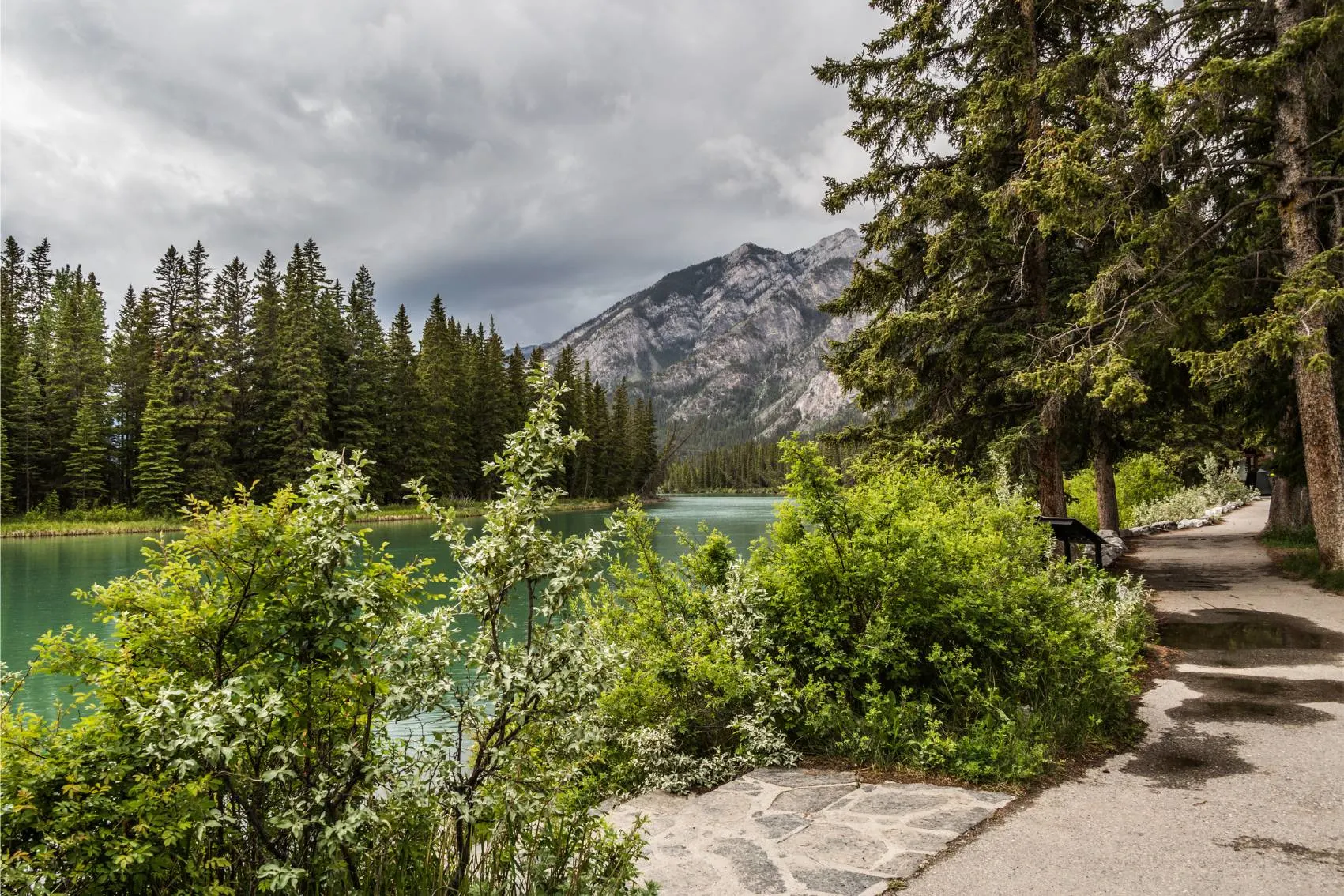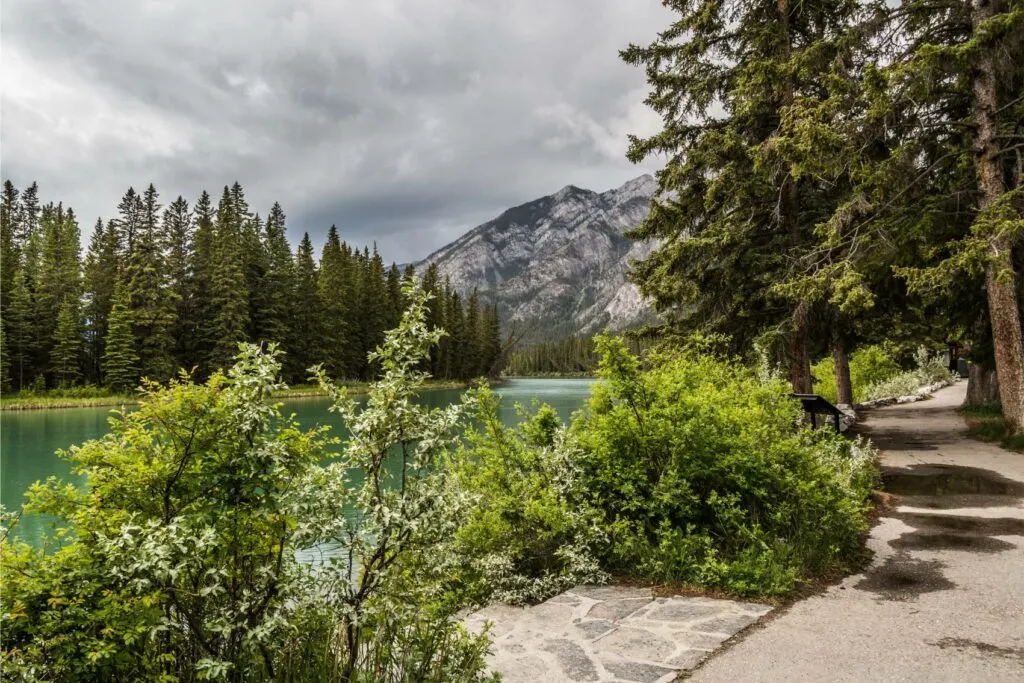 Aside from offering some peace and quiet, the loop is also a great place to admire Vermillion Lakes' crystal clear water and enjoy a bit of bird-watching.
Eventually, the path climbs to Surprise Corner, which offers classic views of Bow Falls.
Location: Improvement District No. 9, AB T1L 1K2, Canada
Hiking In Banff National Park With Kids: Tips
No matter what trail you choose, there are a few rules that you must stick to in the park. Parks Canada is very strict so it is worth going over the rules with kids a few times on your trip.
To protect the wildlife and landscape, you must always stay on the path. Flowers are also not allowed to be picked. The park is home to both Grizzly and Black bears.
While it is rare to come face to face with one, bear safety is important to keep in mind. That said we did come face-to-face with bears on our trip!
Kids love to wander off, but when walking in the park they need to stay close. Parks Canada also recommends making some noise when you are coming towards streams or dense vegetation.
If you do encounter a bear, pick up small children and remain calm. You should never turn your back or run from a bear. Bear spray can also be carried with you. However, it should only be used as a last resort.
7. Banff Upper Hot Springs At Sulphur Mountains – Banff With Kids
At the top of Sulphur Mountain is the Upper Hot Springs, around 4 km south of downtown Banff. The water is heated geothermally (Around 102°F or 39°C) and the water at the top has not seen the surface for hundreds of years.
The Springs are open all year round and they are a great place to soothe tired bodies.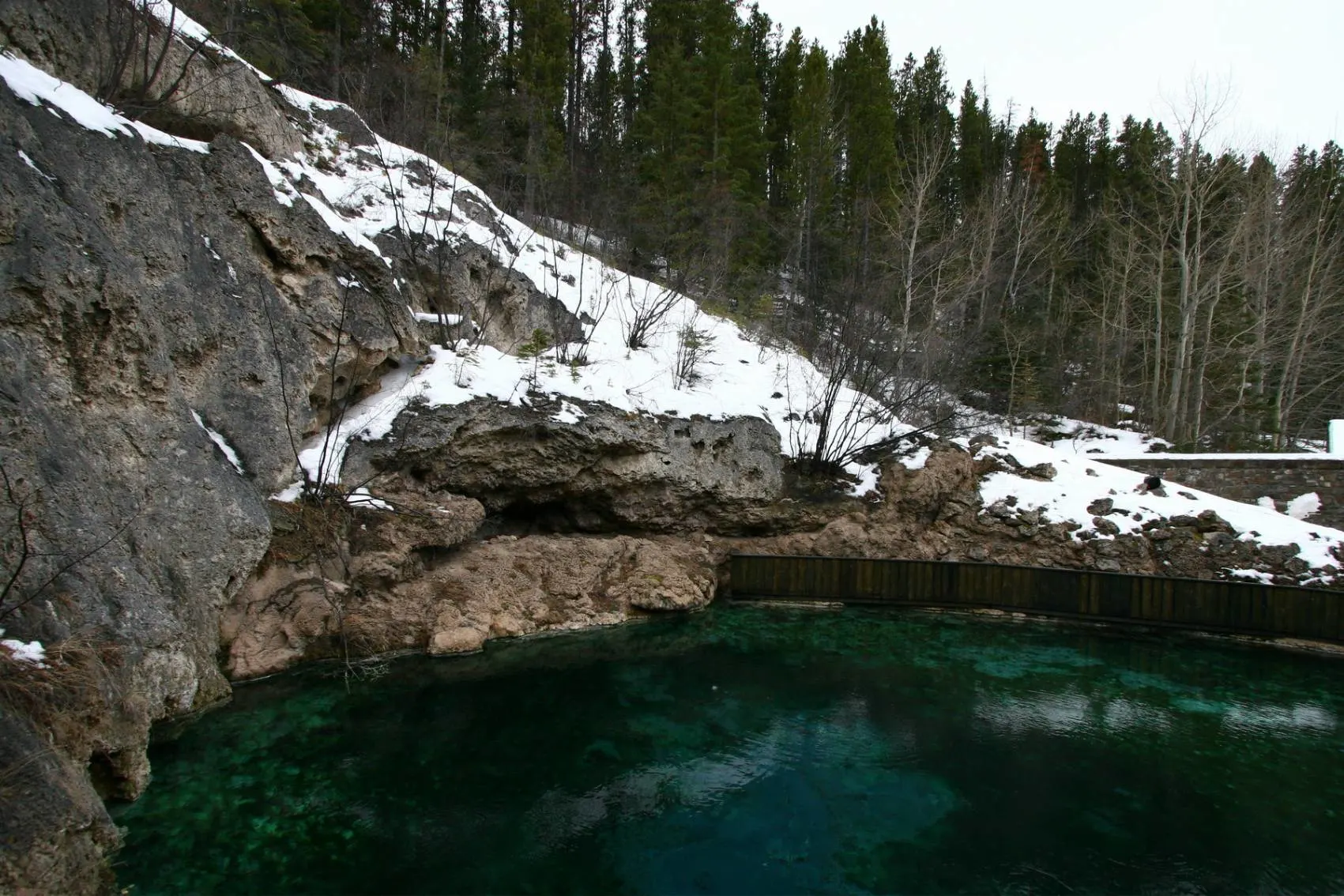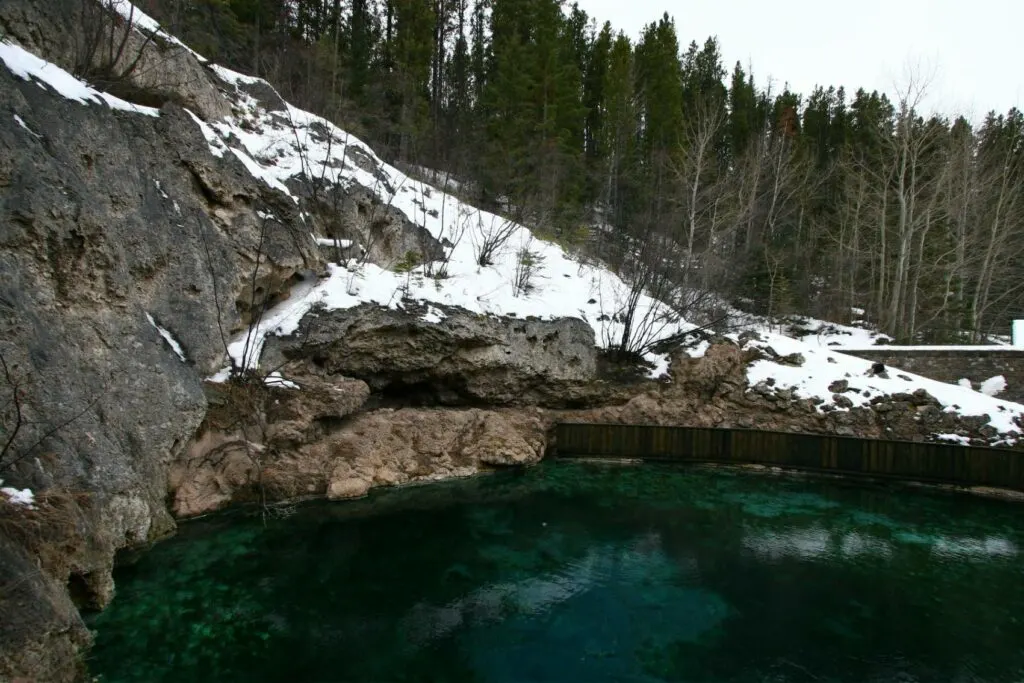 The tickets are relatively cheap and there is the option to buy a thermal pass. This allows you to soak in the Hot Springs and includes entry to the Cave and Basin National Historic Site. There you can learn about the history of the Springs and the Indigenous people.
For more information and tickets to Banff Upper Hot Springs.
Cost: Adults (18 to 64) pay $16.50 for a single entry.
Youths (3 to 17) and Seniors (65+) pay $14.25 for a single entry.
Children under three enter for free.
Families pay $53 for a single entry
Winter Hours Of Operation: 10 AM to 10 PM (Last entry at 9:30 PM)
Location: 1 Mountain Ave, Banff, AB T1L 1K2, Canada
8. Hop Aboard The Banff Gondola
The Banff Gondola Ride offers a unique national park experience with its 360-degree views of six mountain ranges and rivers from the top of the peak.
Featuring large windows and comfortable seating, the modern Alpine transport provides plenty of space for up to four guests to take in the sights and relax during the trip.
Plus, the ridge line boardwalk is an excellent way to stretch your legs and explore the area at the summit.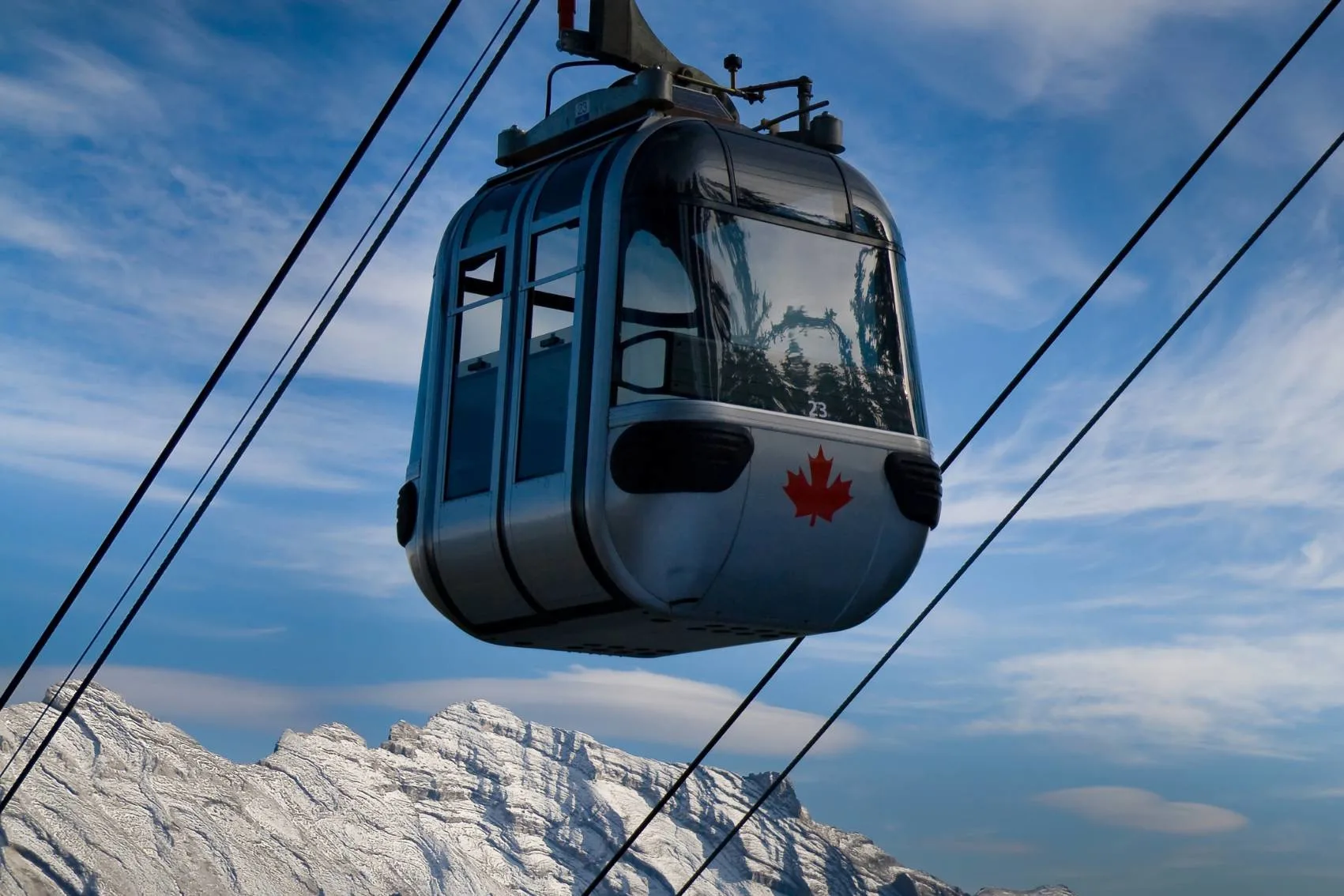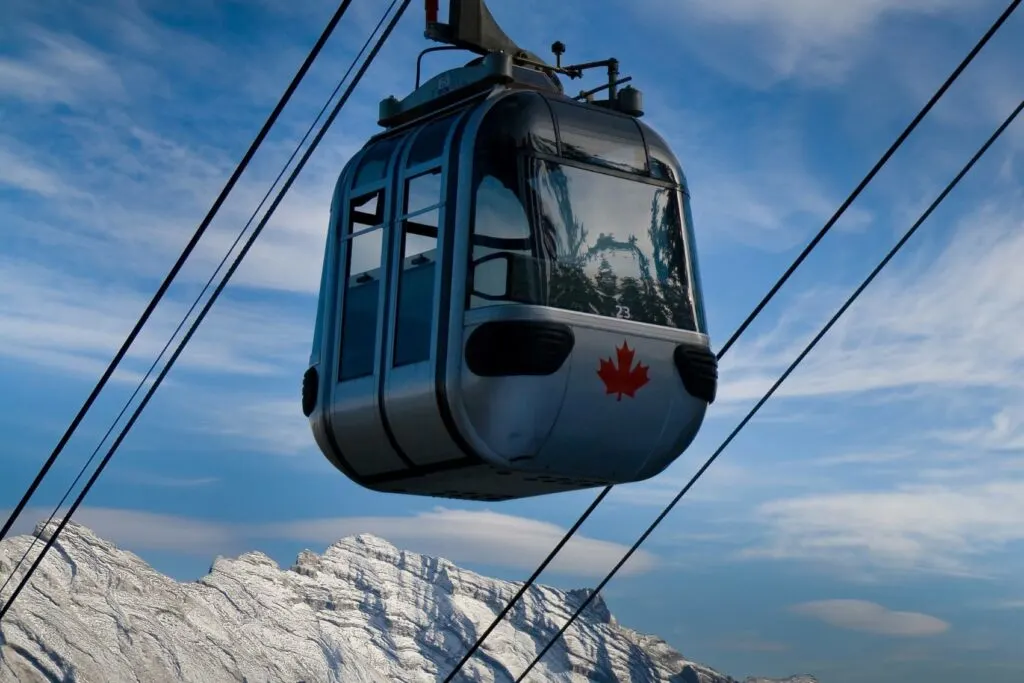 The gondola ride is ideal if you're in search of fun things to do in Banff with kids. It lasts about two hours and is a great addition to your itinerary.
For more information and Banff Gondola Boookings.
Timings: 10 AM to 8 PM (Monday to Sunday)
9. Banff National Park Big Canoe Tour
The Big Canoe tour is a fun, interactive way to see Banff National Park as a group and a short walk (only five minutes) from Downtown Banff.
After donning life jackets and a brief paddle technique training, hop on the 12-seater canoe and gently sail along the Bow River.
At the same time, the guide explains the history of the area, from the Indigenous people who lived there for centuries to the fur traders who helped shape the region.
Grab the opportunity to see some of the local wildlife, such as beavers, elk, and bears, along the shoreline before finishing the tour with an assortment of light refreshments.
The entire journey lasts about an hour and a half and is a worthwhile addition to your itinerary of things to do in Banff with kids.
For River Explorer Tour Bookings.
Meeting Point: Banff Canoe Club – Corner of Bow Ave and, Wolf St, Banff, AB T1L 1A8, Canada
10. Banff Food Tour At The Castle
Did you know that the majestic Fairmont Banff Springs Hotel is a UNESCO World Heritage Site and one of the world's most iconic hotels?
Nicknamed the "Castle in the Rockies", the Banff Food Tour is sure to excite everyone, especially the foodies!
Sample traditional Canadian dishes and local specialities prepared by award-winning chefs while exploring the stunning Fairmont Banff Springs Hotel.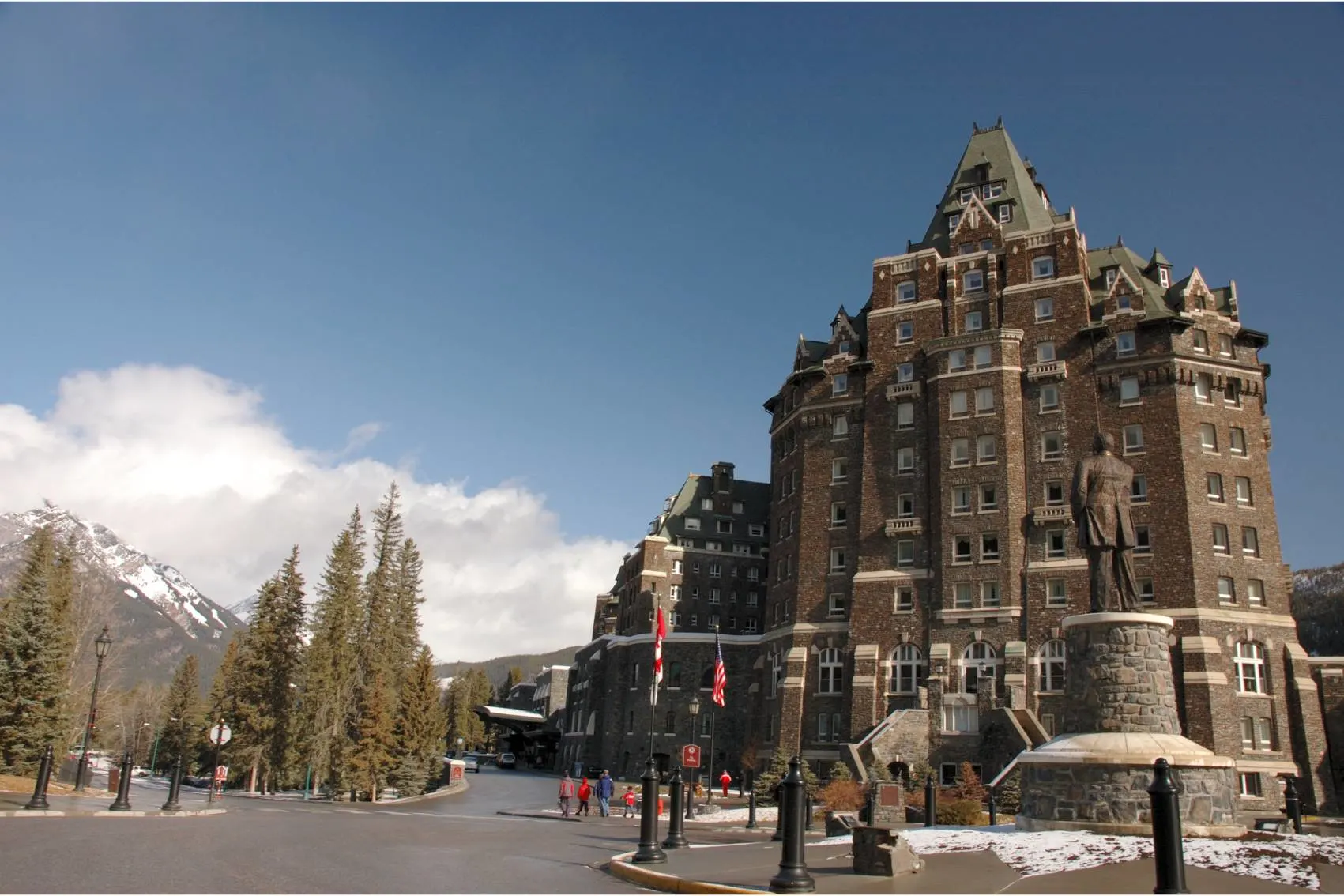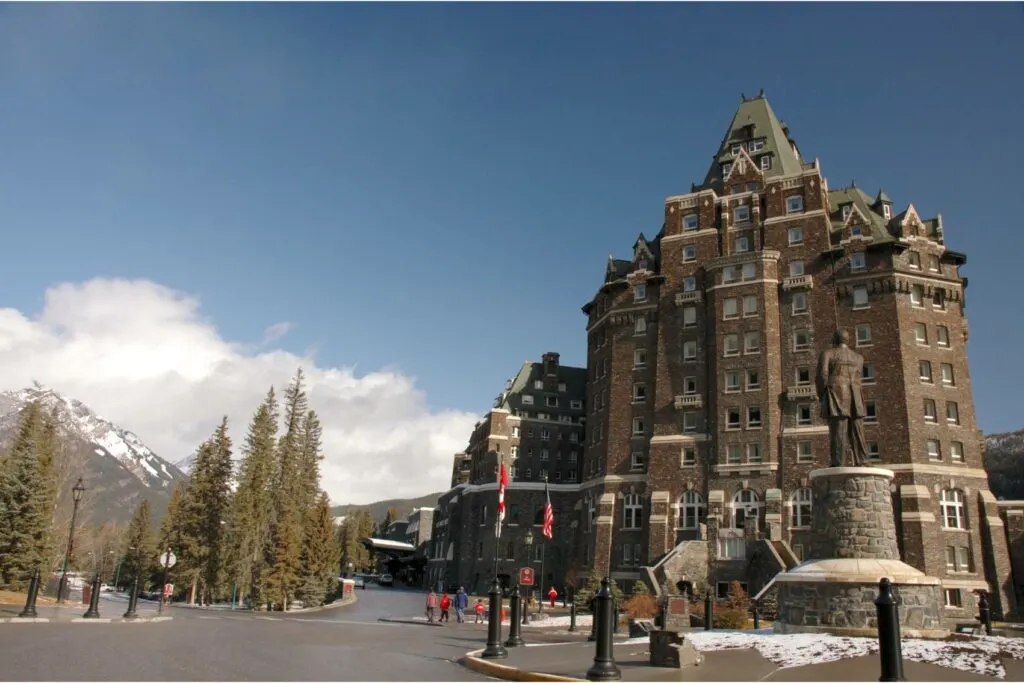 Adults can seize the opportunity to enjoy delicious hand-crafted cocktails, beer, and wine carefully selected to pair perfectly with the food on the visit to four locations within the sprawling complex, including the Vermillion Room and the 1888 Chop House for "fork and knife" tastings.
Overall, a fascinating experience while learning about the hotel's unique culture and history from the guide.
Book an exclusive Banff food tour experience for your family.
Start Time: 3 PM
Meeting Point: Stock Food and Drink (Hotel Lobby) – 405 Spray Ave, Banff, AB T1L 1J4, Canada
11. Hop-On Hop-Off Banff Bus Tours
The Hop-On Hop-Off Bus Tour provides flexibility and convenience for those who wish to explore the amazing sightseeing spots in the area without having to book a full-day tour.
Passengers can personalise their adventure and spend as much time as they want at each stop before continuing the loop and returning to the starting point.
An important thing to note is the earlier in the day you start your tour, the more of the area you will be able to see and appreciate.
The English-speaking host on board the bus will be able to provide information about the sights as the bus zooms past and assist you in booking additional activities or making dinner reservations for a memorable experience.
Visit the picturesque Upper and Lower Falls at Johnston Canyon or hike to the famous Ink Pots.
Experience the most stunning views of Lake Louise by gondola or chairlift (skip the lines and get your lift pass directly onboard your HopOnBanff bus).
Other points of interest include,
The breathtaking plain of six glaciers
The buses are school bus style and can seat up to 48 passengers. With such large windows, capturing memories of Banff with kids will be no problem.
For Hop-On Hop-Off Bus Tour bookings.
Timings : 7:45 AM/ 9:30 AM/ 12:15 PM – Departing the Moose Hotel and Suites on Banff Avenue, (or)
7:50 AM/ 9:35 AM/ 12:15 PM – Banff Train Station
Meeting Point: Moose Hotel and Suites or Banff Train Station
12. Standup Paddle Boarding At Johnson Lake
Regardless of whether you're an experienced paddle boarder or a beginner, paddle boarding is a must-try activity for families visiting Banff National Park with teens or older children.
The unique experience allows paddle boarding enthusiasts to explore stunning Johnson Lake with immense views of the Cascade mountains and Mount Rundle.
Beginners on the course are guided through the basics of water safety and even general skills for manoeuvring the paddleboard.
Getting on a paddle board is easy and fun. Get a breathtaking view of the mountains while having fun exploring Banff in a different yet exciting way.
Book a Paddle Boarding session at Banff National Park.
Tour Duration: 1.5 hours
Meeting Point: Johnson Lake Rd, Improvement District No. 9, AB T0L, Canada
14. Snowshoeing Adventure At Banff National Park With Kids
The snowshoeing adventure tour provides a unique way to explore the pristine beauty of winter, from frozen lakes to snow-covered forests, while getting some exercise in the fresh outdoors.
The experienced guides are happy to assist and ensure families make the most of their time in the mountains and experience the wonders of the Canadian Rockies.
By providing helpful advice and tips on the best routes to take, they also have access to the best snowshoeing equipment.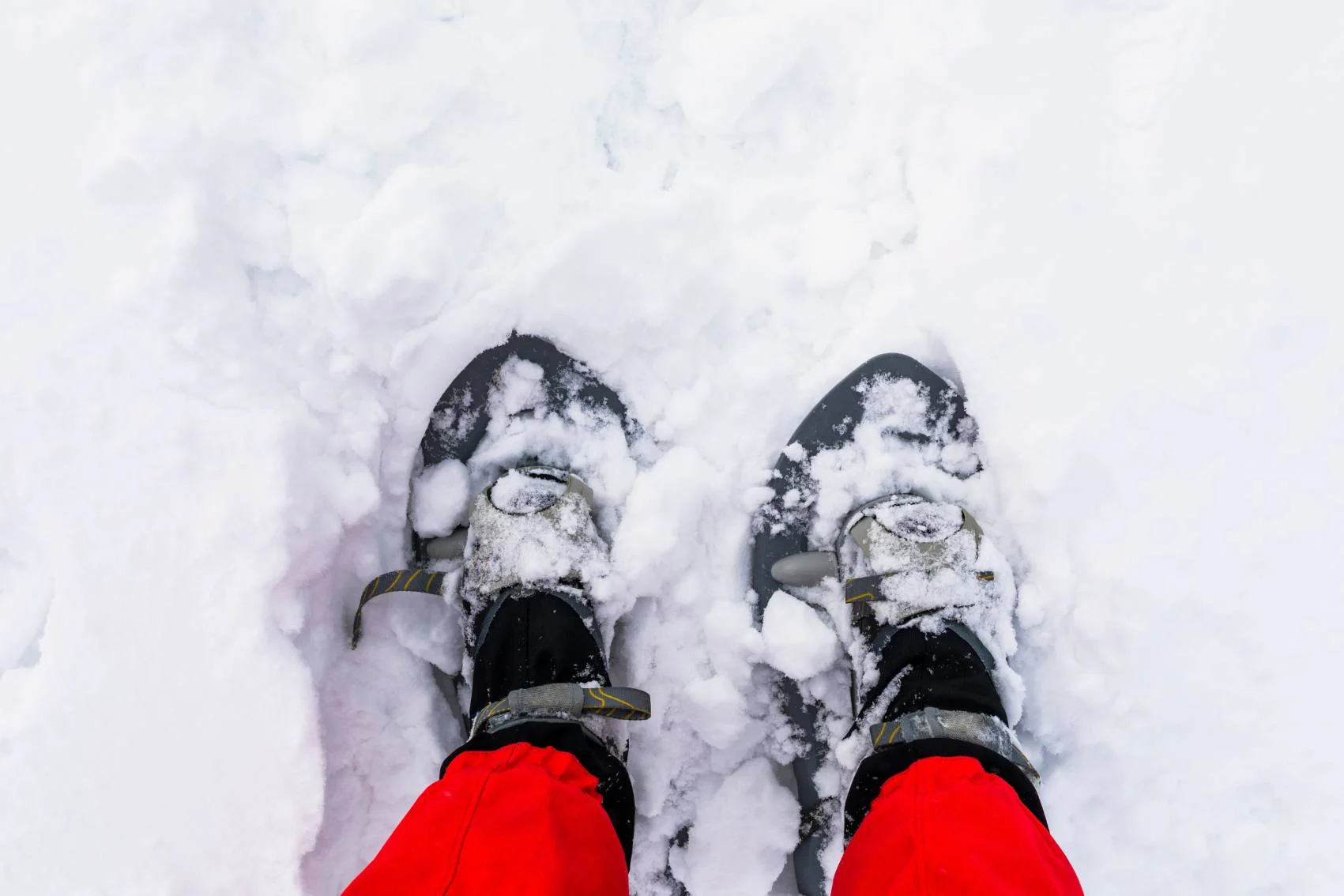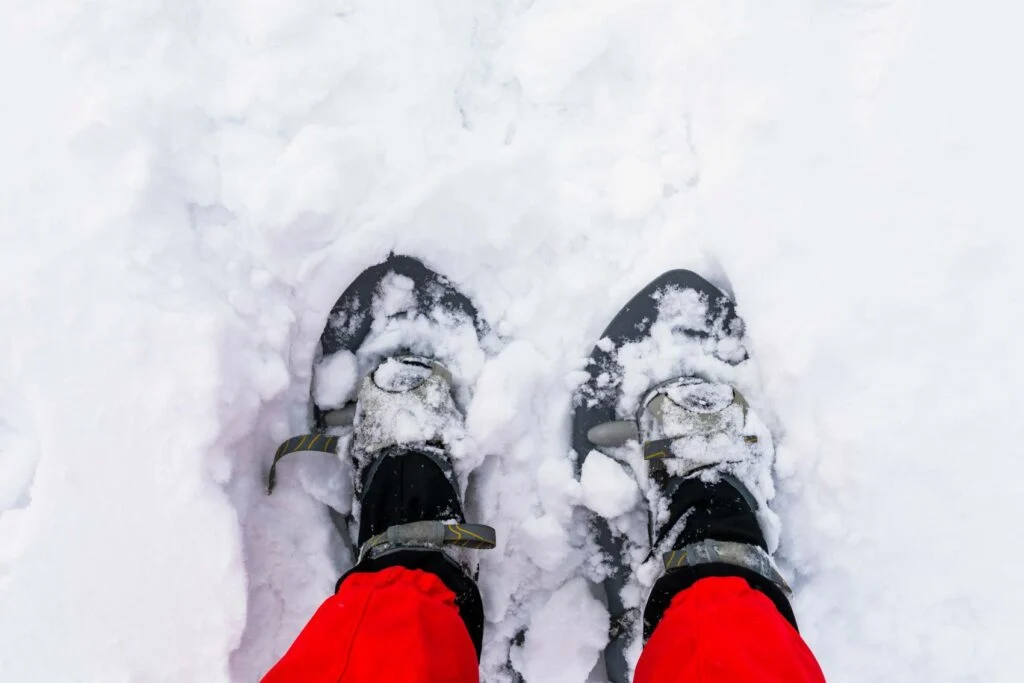 The snowshoe experience is a low-impact activity that's easy to learn. Since it uses the same motions as walking, there is no need for any special equipment or training – so there is no need to worry!
After a short briefing, the tour explores the crisp winter playground of the Banffs hiking through canyons, forests and mountain passes.
Remember to have a great time along the way. Grab your kids and engage in fun winter activities like a snowball fight or even compete in building a snowman in the quickest time.
The guide will make sure everyone gets adequate rest throughout the adventure. So sit back and catch a break while soaking in the views of the snow-clad mountains in a serene and peaceful setting.
For Banff National Park snowshoeing adventure bookings.
Tour Duration: Approximately 3 hours
Meeting Point: Banff Train Station, Banff, AB T1L, Canada
15. Banff Sunset And Stargazing Tour
Another addition to the itinerary of things to do in Banff with kids is witnessing the sunset and stargazing at Banff National Park.
With its slower pace and lack of crowds, night hikes can be rewarding – a great way to enjoy the beauty of nature and observe wildlife in their natural habitats.
Enjoy the tranquility of the night while exploring nature's wonders with a knowledgeable guide, with the safety of proper equipment and even bear spray.
The best bit is there is no pressure to carry gear except for your winter jacket (if need be), as the tour provides all the essentials, from headlamps to lanterns to ice cleats. Be in awe as the first stars appear and the occasional sighting of the Northern Lights.
For bookings of the Banff Sunset and Stargazing Tour.
Tour Duration: Approximately 2 hours
Meeting Point: Cave and Basin National Historic Site – 311 Cave Ave, Banff, AB T1L 1K2, Canada
16. Day Trip To Yoho National Park
Yoho National Park is just a 49-minute drive from Banff, so why not take advantage of your time in Banff and explore it for a day?
Yoho National Park is one of the smaller parks in the Canadian Rockies, from sprawling meadows to towering mountains to its pristine lakes.
Offering a wide range of outdoor activities and attractions, hikers, climbers, and nature lovers can take advantage of the park's unique geography and abundance of wildlife.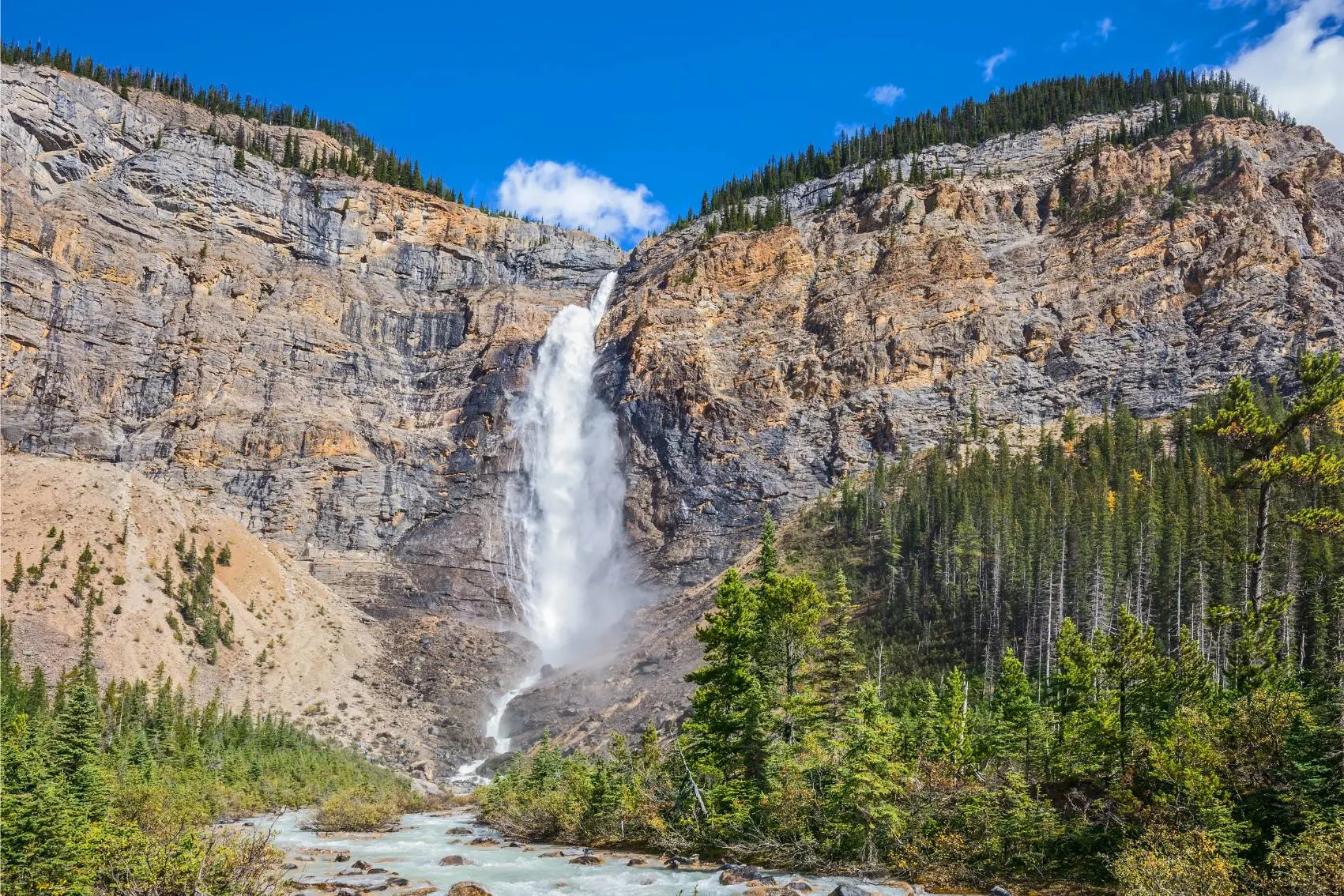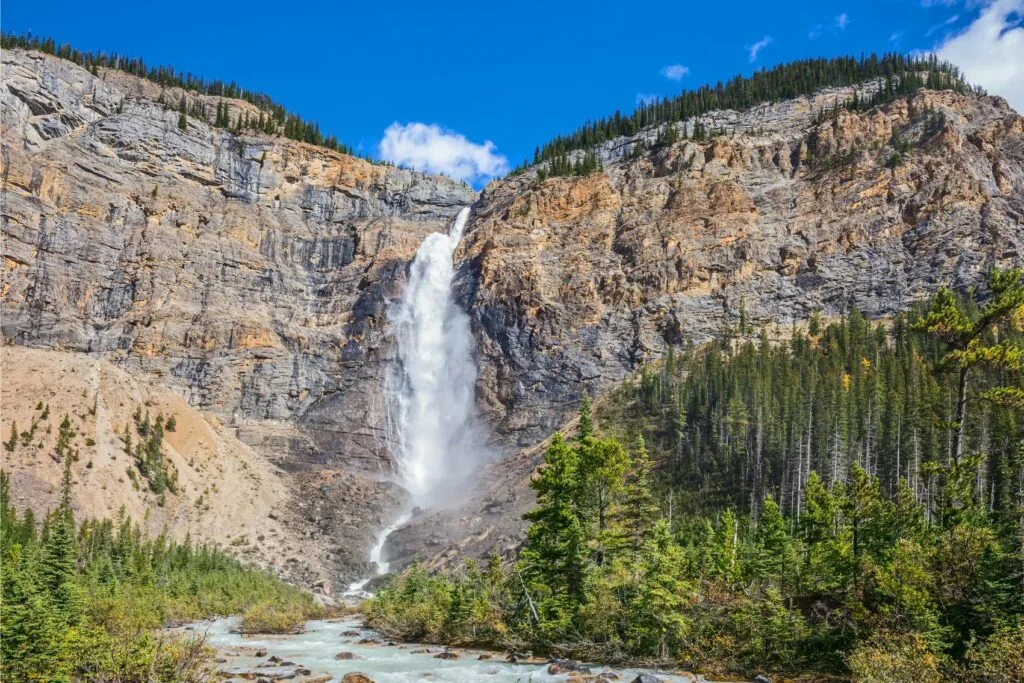 The popular National Park is known for its untouched wilderness and picturesque landscapes, and its proximity to the tourist-filled towns of Lake Louise and Banff makes it a viable option for those looking to elude the hustle and bustle of crowds and enjoy nature in its purest form, especially during the peak season (summer).
By taking into account all of the local factors, such as the weather and bus tour schedules, the guide ensures that each tour is as smooth and stress-free as possible.
Furthermore, the fun exclusive family tour includes a few secret stops that offer unparalleled views and experiences.
Among the areas of interest are,
It's a perfect addition to the itinerary of things to do in Banff with kids!
Book a full-day adventure at Yoho National Park with your family.
Tour Duration: Approximately 8 hours
Start Time: 8:30 AM
Meeting Point: Outside Samesun Hostel – 433 Banff Ave, Banff, AB T1L 1B4, Canada (or)
Peaks Hotel & Suites – 218 Lynx St, Banff, AB T1L 1K5, Canada
Things to do in Banff with Toddlers
17. Visit Calgary – Prince's Island Park
Calgary is just an hour and a half from Banff and a fantastic city to visit. In fact, this may be where you start your journey if you are arriving internationally.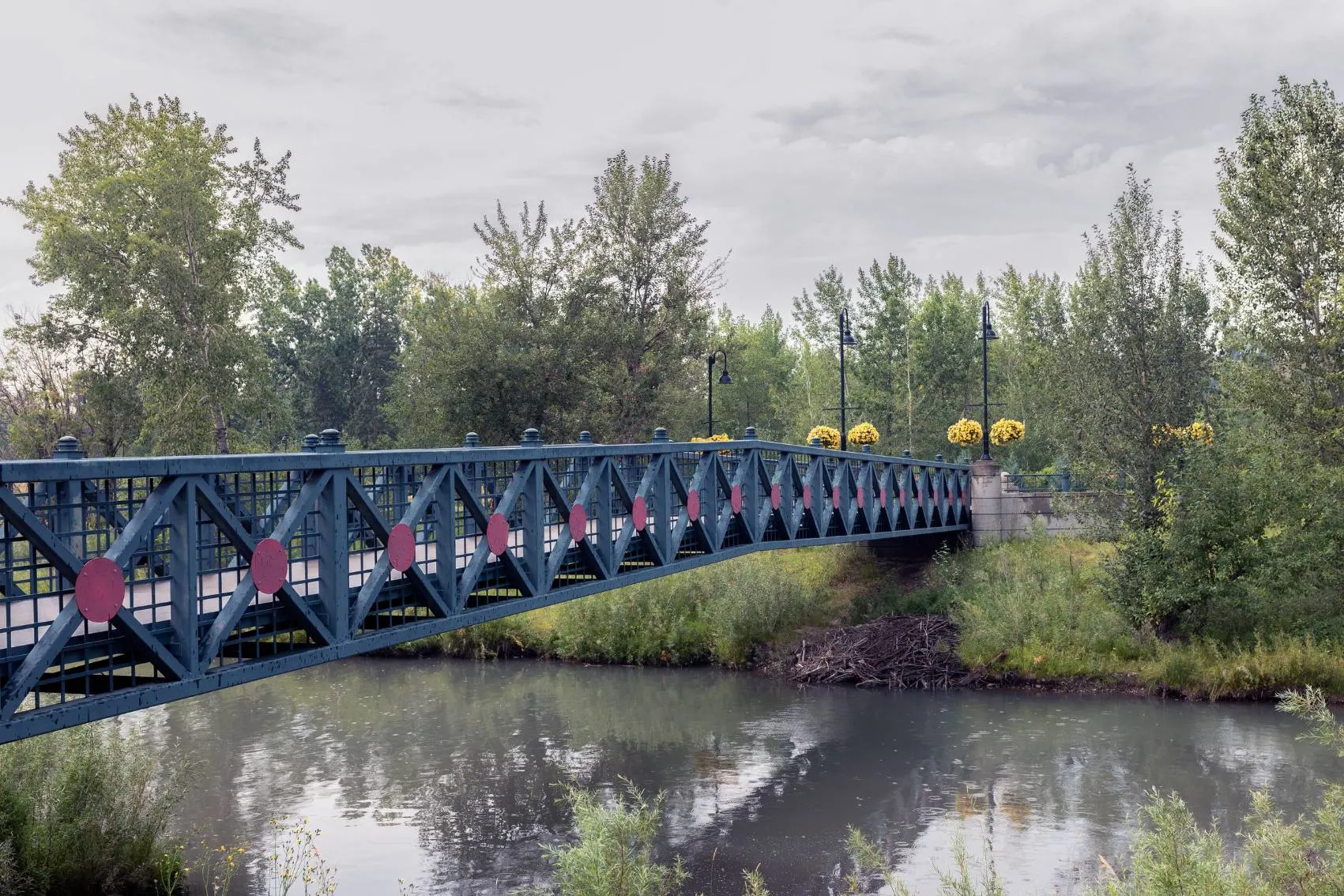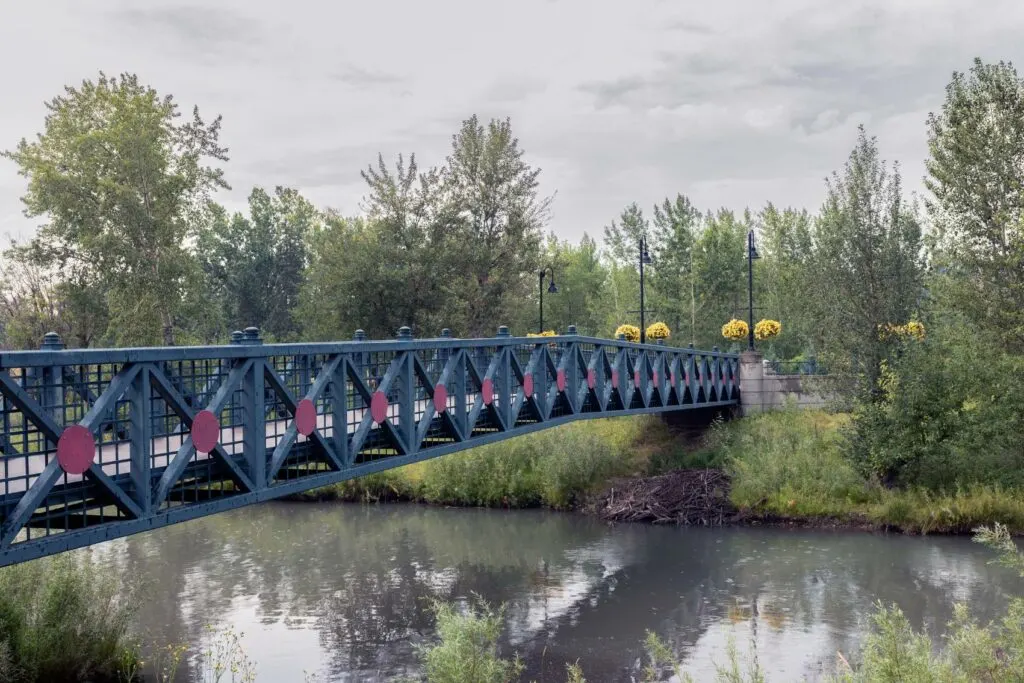 It is jam-packed with things to do. However, it is not too big which makes it easy to get around with a toddler. Prince's Island Park is a great place for kids to run around. It is also centrally located.
Timings: 5 AM to 11 PM (Monday to Sunday)
Location: 698 Eau Claire Ave SW, Calgary, AB T2P 5N4, Canada
18. Drop By At Saskatoon Berry Farm
Saskatoon Berry Farm is excellent for toddlers too. It is on the outskirts of Calgary. There you can take a walk around the gardens where sunflowers are growing amongst old vintage rusted cars. Little ones can also meet the tortoises that live on the farm.
Timings: 9 AM to 5 PM (Monday to Sunday)
Location: 80181 338 Ave E #20, Foothills County, AB T1S 4S3, Canada
19. Views From The Calgary Skytowers
If you are looking for views of the city, then visiting the Calgary Skytowers is a must. On your way up in the lift, it shows the skyline during the day. On the way down, it shows a view of the sky at night.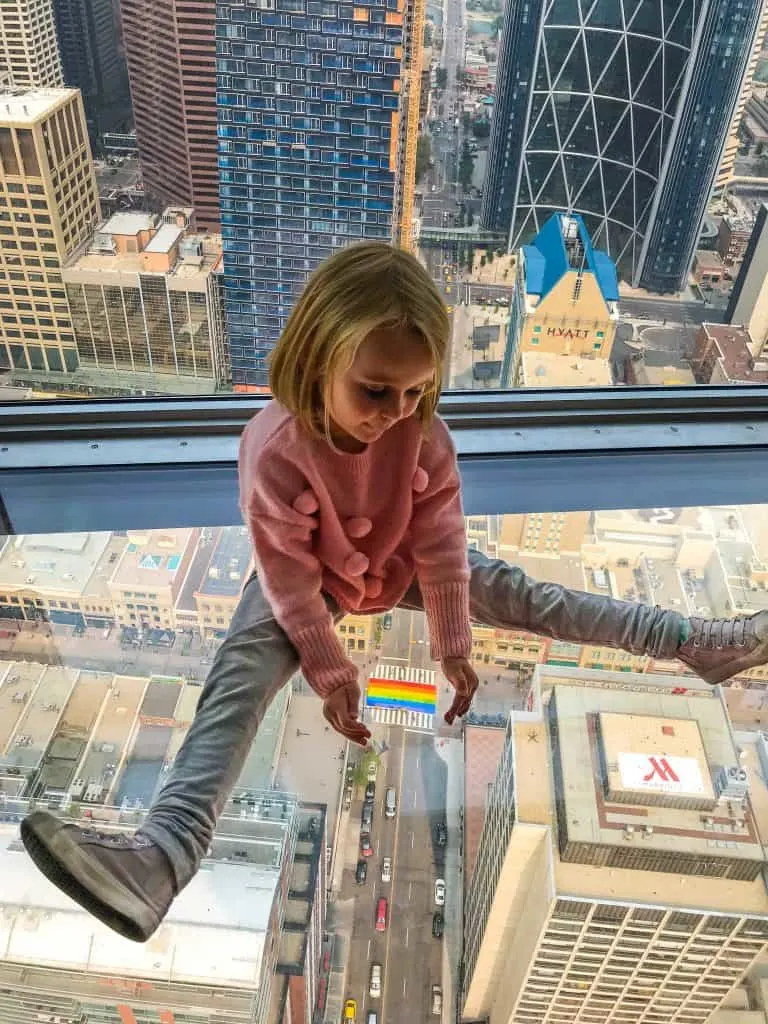 It really does feel like you are looking outside and it is also super quick. At the top kid's can see the tiny cars and the people crossing the LGBTQ+ rainbow pedestrian crossing below.
For more information and tickets.
Cost of admission: $21 for general admission
$19 for Seniors (65+)
Children ages 4-12 are $10
Ages 3 and under enter for free
Timings: 10 AM to 9 PM (Wednesday to Sunday)
3 PM to 9 PM (Monday and Tuesday)
10 AM to 10 PM (June to August)
Location: 101 9 Ave SW, Calgary, AB T2P 1J9, Canada
Where To Stay In Banff With Kids
Mount Royal Hotel – Family Hotel in Banff
Many families choose to stay in downtown Banff. It is a central location and there are many hotels in the area. If you are looking for the best place to stay in Banff with kids then check out Mount Royal Hotel.
It offers spacious rooms and many on-site activities. Not only that but the hotel has got fantastic views. One reason is it so popular is due to the outdoor hot tub. The hotel also has a restaurant and a bar for guests to use. Many of the attractions are nearby too.
To find out more information about Mount Royal Hotel click here.
Moose Hotel And Suites – Best Banff Hotels for Kids
There are many places to stay in Banff with kids. Moose Hotel and Suites is just a minute's walk from the heart of Banff. The hotel has a spa and a swimming pool for guests. It also has several treatment rooms to choose from.
On the rooftop take a dip in the hot pools that have beautiful views of the Canadian Rockies. The rooms have plenty of room and they each wifi. Each fridge has a mini-fridge. Guests have the option to dine at the friendly Italian restaurant as well.
Check out the availability of Moose Hotel and Suites here.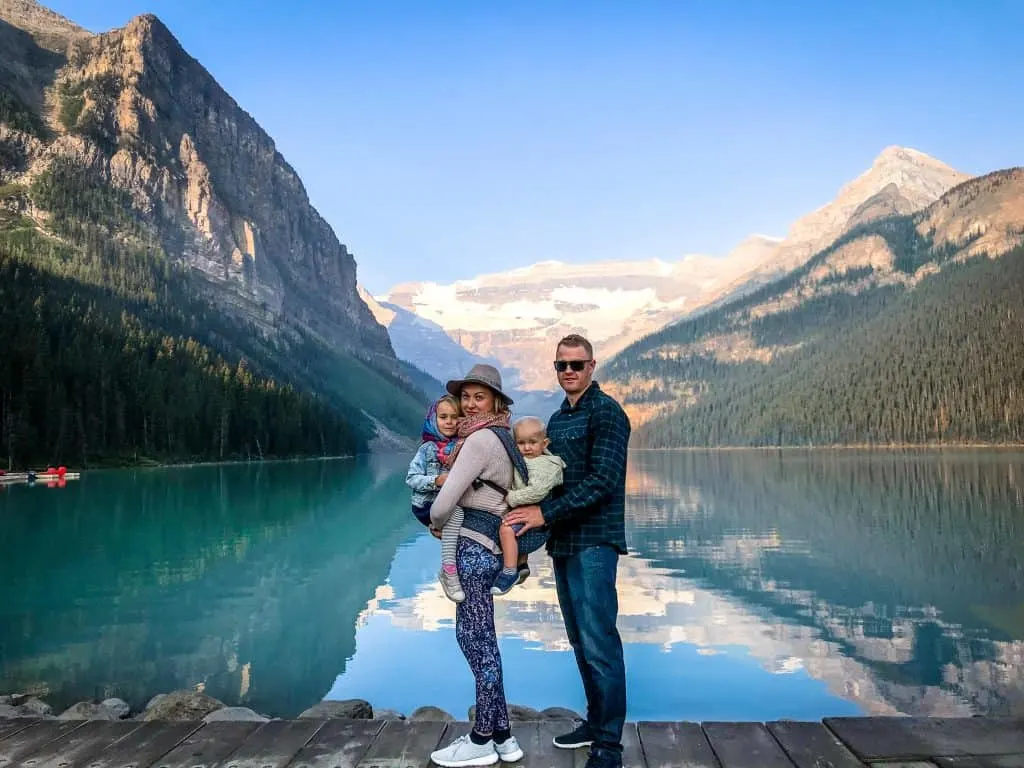 Lake Louise Inn – Best Hotel in Banff for Kids
About a thirty-minute drive from Banff town is Lake Louise Inn. If you are in Banff to ski, then the hotel has a free shuttle service to the slopes.
The hotel offers views of the surrounding mountains and it is in a great location. If you want to explore the area by bike, the hotel has complimentary bike rentals.
The mountain retreat serves breakfast, lunch and dinner. There is also family dining available at Timberland Pizza and Pasta Cafe.
The rooms all have great facilities and there are apartments available to stay in with a fully equipped kitchenette.
Click here to read more about Lake Louise Inn.
The Hidden Ridge – Best Hotels in Banff for Kids
If you are looking for an apartment-style property, then The Hidden Ridge is right up your street. It is around a ten-minute drive to the town and it is nestled in a secluded area of Tunel Mountain. There is a wading pool outside and apartments come with wood-burning fireplaces.
The property offers a free shuttle service to the town. If families wish to eat at the property, each apartment has a fully equipped kitchen. There is also the option to use the barbecue facilities outside.
Check the availability and prices for The Hidden Ridge here.
Rent An RV – Where to Stay in Banff with Kids
One way to stay in Banff with kids is by renting an RV. Outside of the town, there are plenty of parking places.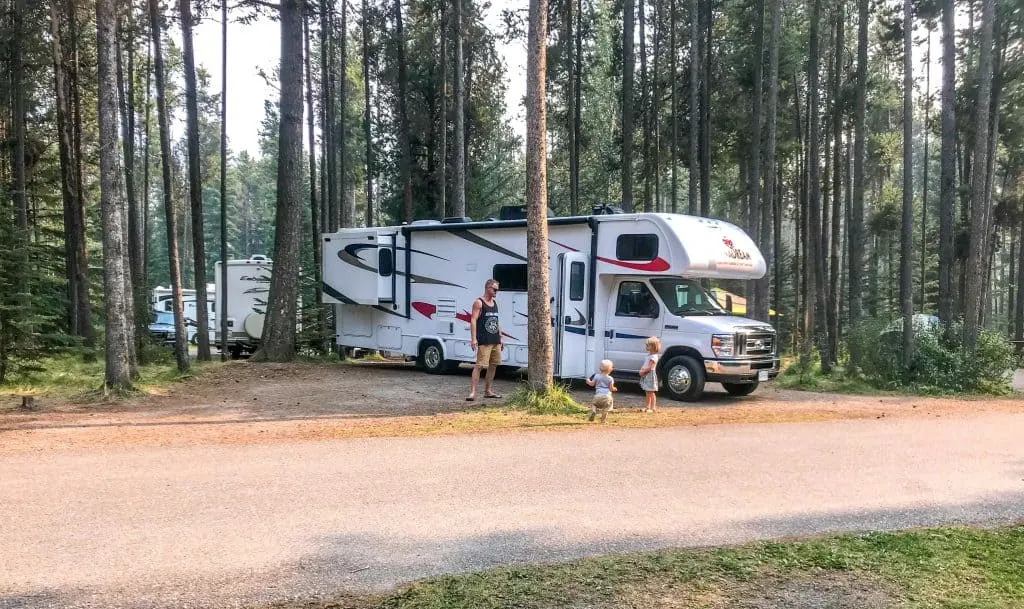 There are also campgrounds that cater for RVs as well. One of the advantages of staying in an RV is that it gives you a lot of flexibility when visiting attractions. It is easy to get to the likes of Lake Louise and Moraine Lake early. Kids can easily sleep in the back and they can be woken up when it is time to go.
Click here to find out more about renting an RV.
Stay At Campgrounds At Banff National Park
Camping is also a great option. There are designated areas to camp in the national park. Tunnel Mountain Village is a great location and it has amazing views from Tunnel Mountain. Camping is available from May to October and Parks Canada has great information about where you can camp and the facilities on each of the campgrounds.
The website also offers some great safety advice if you do decide to camp or stay in an RV. All food and food-related items must be properly stored in an RV, vehicle or wildlife proof lockers.
Firewood must be purchased locally and only burned in the fire pits provided. Firewood must also not be moved to other campgrounds. Pest can be transported and they can destroy forests.
Kids' Summer Activities In Banff
Summer is one of the best times to visit Banff with kids. The snow should have melted and all of the hikes and attractions are open. If your kids are over five years old and looking for a bit of adventure, then check out this White Water Rafting tour.
Families can experience the beauty of the Rockies from the Kananaskis River. The tour lasts four hours and it is suitable for families and beginners.
What To Pack For Summer In Banff With Kids
Here are a few suggestions on what to pack for summer:
The weather is sunny in summer, so shorts and t-shirts essential. However, as soon as the sun goes down the temperature drops, so don't forget to pack a lightweight jacket for kids and adults.
Kids are always falling down, so a travel first aid kit is essential on any trip.
Winter In Banff With Kids
If you have decided to visit Banff in the winter, then be prepared for snow. While some trails may be closed, there are plenty of other activities to keep families busy.
There is a wide choice of ski resorts to choose from, but Banff also has a number of places to skate, snowshoe and sledge.
Don't worry if you didn't bring your own, the town has many places to rent toboggans and sledges.
What To Pack For Winter In Banff With Kids
Your packing list is slightly different for winter :
With temperatures in the minus twenty range, each member of the family needs a warm ski jacket.
Kids should wear layers to make sure they are nice and snug. Some thermal underwear is a great place to start.
One thing most people forget to pack on a winter holiday is lip balm. Lips can get chapped quickly so don't forget to add it to your luggage.
Banff National Park Fun Facts
In 1885, Banff National Park became Canada's first national park. Furthermore, it led to the development of Canada's vast national park system.
As part of the UNESCO World Heritage Site, Banff National Park consists of four national parks (Banff, Yoho, Jasper, and Kootenay) and three British Columbia provincial parks (Mount Robson, Mount Assiniboine, and Hamber).
Banff National Park boasts 1,600 kilometres (over 900 miles) of well-maintained hiking trails. A wide range of hikes is available, ranging from easy to moderate to extreme, all with scenic vistas of the Rocky Mountains as a backdrop.
Snowfall is a common occurrence in the Canadian Rockies. For example, there is snowfall in Banff National Park as early as September, and by November, there is a dense layer of powdery snow throughout Banff.
Banff is home to almost a thousand species of shrubs, flowers, and trees that make up this breathtaking national park.
Over 5 million visitors visit Banff National Park every year, making it a popular spot for tourists.
There is a high possibility of seeing the Northern Lights on a clear night in Banff National Park. Night hikes in August and September are a great way to witness this spectacular display of lights.
Things To Do In Banff With Kids – FAQs
How many days should you spend in Banff when visiting with kids?
There is no doubt that a visit to Banff is one of the bucket list items that should be checked off. A stay of 4 to 5 days in Banff National Park is reasonable, but we recommend spending a minimum of 5 days in the park to get the most out of what Banff offers.
Is there a Downtown in Banff?
Yes, there is. Downtown Banff is full of shops, restaurants, and entertainment areas, making it a great place to spend time and explore. The picturesque mountain views, clean air, and friendly people make Banff a beloved destination for locals and visitors.
Is Banff easily accessible by foot?
As the Banff townsite is only 4.77 square kilometres, there is a limited amount of traffic, and it is easy to get around. People in Banff prefer to walk and cycle everywhere.
The public transit system is also very efficient, providing an easy and reliable way to get around town.
Is it possible to see the Northern Lights in Banff?
The Vermillion Lakes provide a stunning backdrop to the northern lights, and the mountains in the distance can appear illuminated by the light.
Additionally, it is a relatively easy place to access, so it can be a convenient spot for tourists to enjoy the lights without having to travel too far.
Visiting Banff National Park in August and September is a great way to witness the magical Northern Lights.
Can you enter Banff National Park without a reservation?
All 37 National Parks in Canada require a permit available for purchase at the entrance.
For those who wish to camp at Banff National Park must plan ahead and have a reservation in place, especially during the peak season from Mid-June to Mid-September.
Is there a bus shuttle service between Banff and Lake Louise Ski Resort?
Visitors to Banff and the Lake Louise ski resort can enjoy complimentary round-trip transportation in the winter months (November to May).
All buses depart daily from convenient, easy-access locations.
To learn more about complimentary round-trip shuttle buses.
You May Also Like:
Best Things to Do in Redwood National Park with Kids
Olympic National Park with Kids
Things to do in Yosemite with Kids
The Best Things to do in the Everglades with Kids
Things to do in Dublin with kids
Will you be needing travel insurance, flights, reliable internet, rental cars, or hotels for your trip?
Disclaimer: This post on the best things to do in Banff with kids may contain affiliate links. By using them it will not cost you any extra, we will receive a small percentage of the sale.