Banff is Canada's first National Park. It is located in Alberta in the Rocky Mountains. It is the perfect place to escape and get back to nature. Banff National Park is famous for its beautifully coloured lakes, striking mountains and adventure. One of the best reasons to visit as a family is that there are tons of things to do in Banff with kids.
If your kids love the great outdoors, then Banff is the ideal place. It is home to Lake Louise, Johnston Canyon, Sunshine Village, and Moraine Lake. It would take at least five days to explore this magical place at your own leisure. This article highlights just some of the must-see places to visit.
The great thing about Banff is that there is something for everyone. There are many things to do in Banff for kids of all ages. As well as activities, there are plenty of options for accommodation.
From campsites and RV stops to luxury hotels. The town itself has a great range of restaurants and you can stock up on essentials there too.
Banff with Kids: Lake Louise
Banff National Park is a popular tourist destination and Lake Lousie is one of the hot spots. It can get very busy especially in summer. To avoid the crowds it is recommended to get there early. The car park can also close without warning if it is overcrowded.
However, despite the crowds of tourists around the edge, it simply cannot be missed. The water is exactly as it is in the photos, a stunning emerald green colour. Coupled with the backdrop of the snow-capped mountains, it is like something out of a postcard.
There are a few hikes around the lake. The 5km hike around the edge to the Beehive has stunning aerial views of Lake Louise. It is a relatively difficult hike if you are visiting Banff National Park with kids. But along the way, there is the mirror lake and at the top and a teahouse where you can rest and grab a quick bite before coming back down. Just remember to take cash with you as they don't take cards.
There are also canoes to rent for half an hour. While the price is steep at 125 CAD for 30 minutes, it is worth every penny. The lake is incredibly peaceful and the photos are incredible.
Banff Family Activities: Johnston Canyon
Johnston Canyon is just one of the many family things to do in Banff. There are many hikes available to see several parts of the canyon. The hike to the lower and upper falls is short and perfect for little feet. The man-made walkaway is safe and it is easy to see where kids are at all times.
The hike leads to gushing waterfalls with beautiful sights of rock erosion along the way. The hike takes around 1.5 hours. Again though, it can get very busy around peak times. It was much quieter in the early morning and in the evening. In fact, it is the perfect time to snap a few photos.
Be on the lookout for a 'hidden cave'. It is not signposted and not listed in many of the major travel books. The cave opens up to a massive rock on a pinnacle. Unfortunately, it is illegal to walk through the area as it is somewhere endangered birds lay their eggs. However, as it is hidden kids might enjoy trying to find it.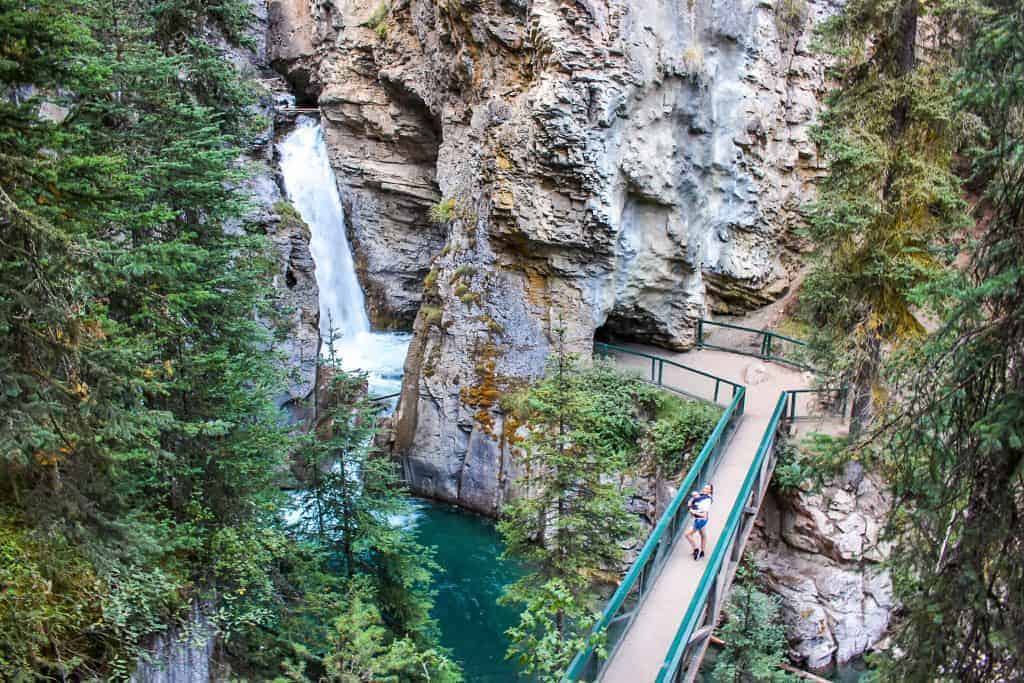 Family Activities Banff: Sunshine Village
Sunshine Village is just a short fifteen-minute drive from downtown Banff. It is located high in the Rocky Mountains. While the drive there itself is breathtaking, nothing can prepare you for the views and scenery at the top.
As Sunshine Village is a ski resort in Winter there is a twenty-minute cable car ride to the top. The resort is busy in winter, but in summer there are very few tourists and no crowds unlike other parts of Banff.
The cable car drops you off at an incredible viewpoint. Apparently, it's the highest lift access for sightseeing in Banff. It looks over Larynx, Grizzly and Rock Isle Lakes. It is also the start of several trails suitable for younger kids.
No matter which trail you choose, don't forget to bring your best camera with you. There are bright pink and red coloured flowers scattered throughout the green grass. The winding paths overlook lakes and there are plenty of pine trees dotted along the way. With the rolling blue mountains in the distance, it is like you stepped into a painting.
Family Activities in Banff: Moraine Lake
You can't go to Banff and not visit Moraine Lake. However, it is another place you need to see early in the morning. In fact, arrive after 8 am and the 10 km road is likely to be closed. To get to the lake after then, tourists have to park miles away and pay to get the shuttle bus.
Many people arrive early so that they don't miss 'Golden Hour'. It is when the sun rises and the sunlight slowly lights up the snow-dusted mountains. It reveals the impeccable blue water of the lake.
There are several trails around the lake. However, one of the most popular trails is a short loop trail to the 'rock pile'. It offers the best views of the entire lake. This unique vantage point allows you to see the reflection of the pine trees and mountains, along with the colourful canoes.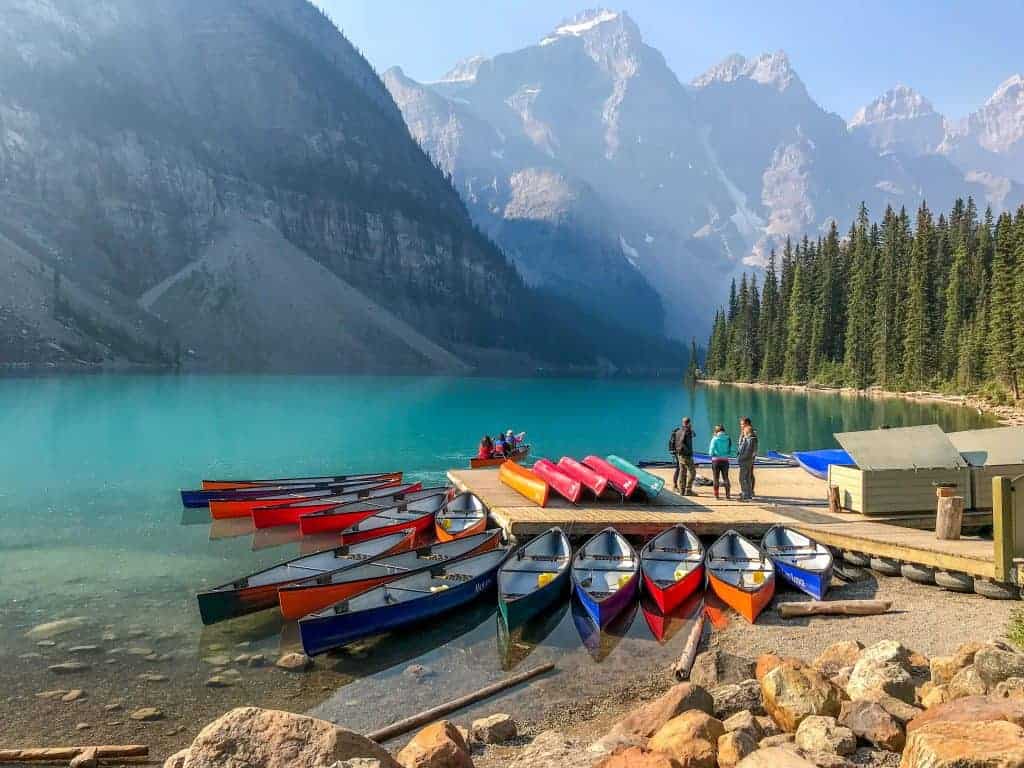 While the 'rock pile' is the place to be, it is not the best place for young kids. However, as it is a short walk they could be carried easily in baby carriers.
Things to do with Kids in Banff: Downtown Banff
Downtown Banff is a unique little town that is full of restaurants, cafes, bars and boutique shops. It can get quite busy, but it is a wonderful place to stroll around. The town is nestled in the mountains with beautiful views all around.
Don't worry, if shopping isn't your thing. There are also many museums where you can learn about the town's history. The museums have everything from paintings to artefacts.
There are plenty of things for kids to do in Banff as well. In fact, it is the starting point of many of the guided tours in the area. The Evening Wildlife Safari Tour is an amazing opportunity to see Banff's wildlife as well as the landscape that surrounds it. Kids get to hear about the challenges they face and how to protect them.
What to do in Banff with Kids: Hikes and Wildlife Spotting
Needless to say, Banff National Park is overflowing with hikes. One trail that is close to the town is the Tunnel Mountain trail. It is around 5 km and it is a great trail to get kids used to hiking in the Rockies.
The views from the trail overlook downtown Banff. It is the easiest mountain climb in the area, but there are a few steep inclines. Once at the top of the mountain, catch your breath by sitting on a few rocks to see the spectacular views of glacier lakes, Sulphur Mountain and Mount Rundle.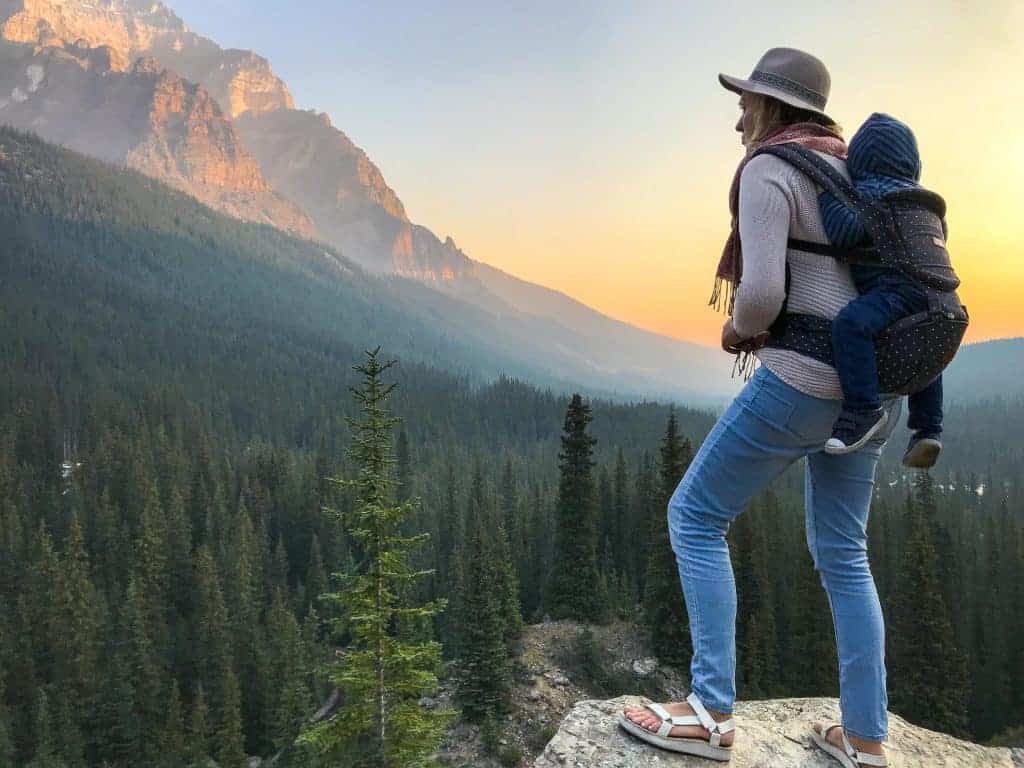 With trees on either side, there is also the chance to catch a glimpse of some of the wildlife. Many people spot chipmunks and foxes on the trail. It is very popular so it can get quite busy, but the trail is wide and there is plenty of space.
No matter what trail you choose, there are a few rules that you must stick to in the park. Parks Canada are very strict so it is worth going over the rules with kids a few times on your trip.
To protect the wildlife and landscape, you must always stay on the path. Flowers are also not allowed to be picked. The park is home to both Grizzly and Black bears. While it is rare to come face to face with one, bear safety is important to keep in mind. That said we did come face to face with bears on our trip!
Kids love to wander off, but when walking in the park they need to stay close. Parks Canada also recommend making some noise when you are coming towards streams or dense vegetation.
If you do encounter a bear, pick up small children and remain calm. You should never turn your back or run from a bear. Bear spray can also be carried with you. However, it should only be used as a last resort.
What to do with kids in Banff: Hot Springs
At the top of Sulphur Mountain is the Upper Hot Springs, around 4 km south of downtown Banff. The water is heated geothermally and the water at the top has not seen the surface for hundreds of years. The Springs are open all year round and they are a great place to soothe tired bodies.
The tickets are relatively cheap and there is the option to buy a thermal pass. This allows you to soak in the Hot Springs and includes entry to the Cave and Basin National Historic Site. There you can learn about the history of the Springs and the Indigenous people.
Things to do in Banff with Toddlers: Calgary
Calgary is just an hour and a half from Banff and a fantastic city to visit. In fact this may be where you start your journey if you are arriving internationaly. It is jam-packed with things to do. However, it is not too big which makes it easy to get around with a toddler. Prince's Island Park is a great place for kids to run around. It is also centrally located.
Saskatoon Berry farm is excellent for toddlers too. It is on the outskirts of Calgary. There you can take a walk around the gardens where sunflowers are growing amongst old vintage rusted cars. Little ones can also meet the tortoises that live on the farm.
If you are looking for views of the city, then visiting the Skytowers is a must. On your way up in the lift, it shows the skyline during the day. On the way down, it shows a view of the sky at night. It really does feel like you are looking outside and it is also super quick. At the top kids can see the tiny cars and the people crossing the LGBTQ+ rainbow pedestrian crossing below.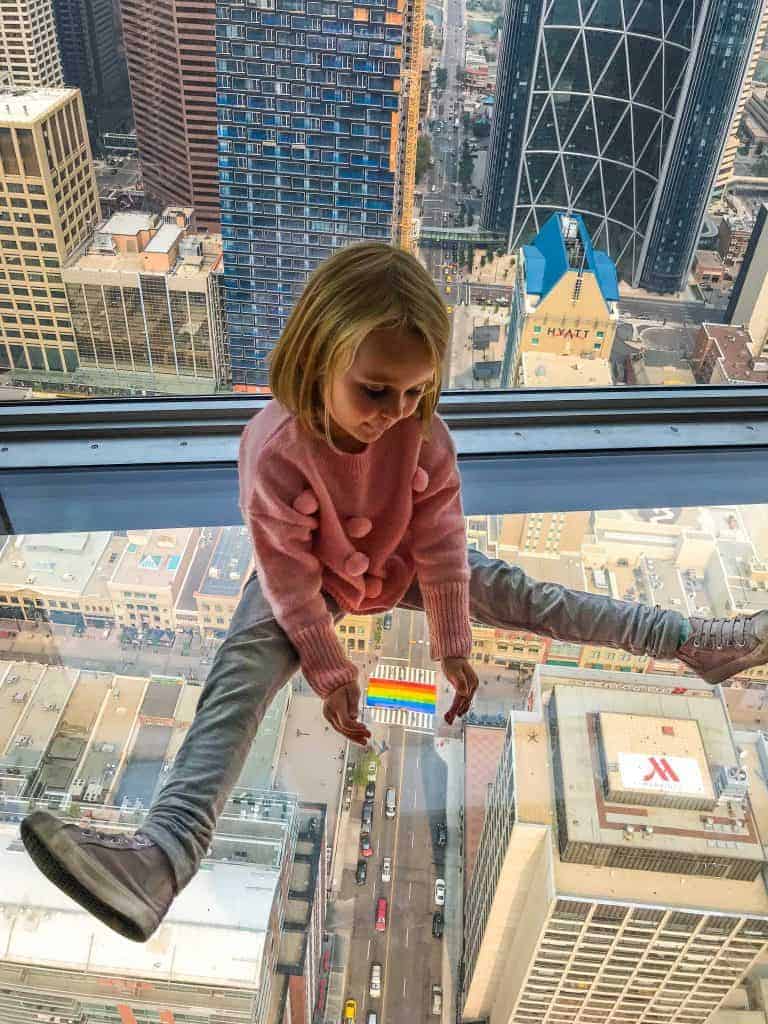 Family Hotels in Banff
Many families choose to stay in downtown Banff. It is a central location and there are many hotels in the area. If you are looking for the best place to stay in Banff with kids then check out Mount Royal Hotel.
It offers spacious rooms and many on-site activities. Not only that but the hotel has got fantastic views. One reason is it so popular is due to the outdoor hot tub. The hotel also has a restaurant and a bar for guests to use. Many of the attractions are nearby too.
To find out more information about Mount Royal Hotel click here.
Best Banff Hotels for Kids
There are many places to stay in Banff with kids. Moose Hotel and Suites is just a minute walk from the heart of Banff. The hotel has a spa and a swimming pool for guests. It also has several treatment rooms to choose from.
On the rooftop take a dip in the hot pools that have beautiful views of the Candian Rockies. The rooms have plenty of room and they each wifi. Each fridge has a minifridge. Guests have the option to dine at the friendly Italian restaurant as well.
Check out the availability of Moose Hotel and Suites here.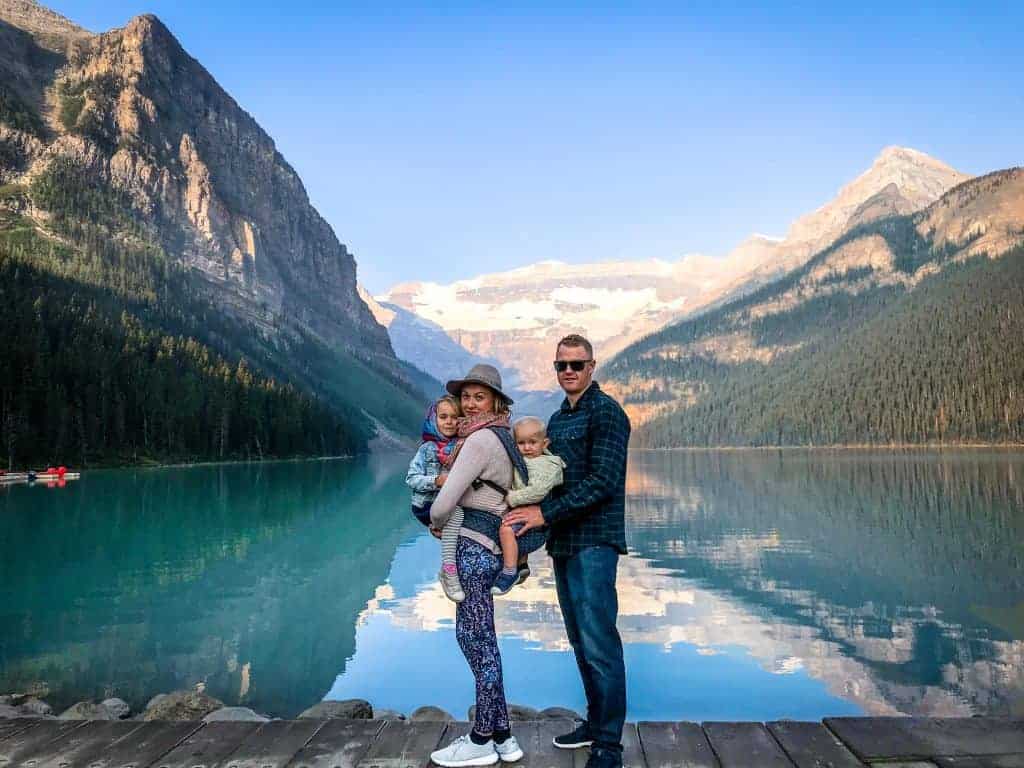 Best Hotel in Banff for Kids
About a thirty-minute drive from Banff town is Lake Louise Inn. If you are in Banff to ski, then the hotel has a free shuttle service to the slopes. The hotel offers views of the surrounding mountains and it is in a great location. If you want to explore the area by bike, the hotel has complimentary bike rentals.
The mountain retreat serves breakfast, lunch and dinner. There is also family dining available at Timberland Pizza and Pasta Cafe. The rooms all have great facilities and there are apartments available to stay in with a fully equipped kitchen.
Click here to read more about Lake Louise Inn.
Best Hotels in Banff for Kids
If you are looking for an apartment-style property, then The Hidden Ridge is right up your street. It is around a ten-minute drive to the town and it is nestled in a secluded area of Tunel Mountain. There is a wading pool outside and apartments come with wood-burning fireplaces.
The property offers a free shuttle service to the town. If families wish to eat at the property, each apartment has a fully equipped kitchen. There is also the option to use the barbecue facilities outside.
Check the availability and prices for The Hidden Ridge here.
Where to Stay in Banff with Kids
One way to stay in Banff with kids is by renting an RV. Outside of the town, there are plenty of parking places. There are also campgrounds that cater for RVs as well. One of the advantages of staying in an RV is that it gives you a lot of flexibility when visiting the attractions. It is easy to get to the likes of Lake Louise and Moraine Lake early. Kids can easily sleep in the back and they can be woken up when it is time to go.
Click here to find out more about renting an RV.
Camping is also a great option. There are designated areas to camp in the national park. Tunnel Mountain Village is a great location and it has amazing views from Tunnel Mountain. Camping is available from May to October and Parks Canada has great information about where you can camp and the facilities on each of the campgrounds.
The website also offers some great safety advice if you do decide to camp or stay in an RV. All food and food-related items must be properly stored in an RV, vehicle or wildlife proof lockers. Firewood must be purchased locally and only burned in the fire pits provided. Firewood must also not be moved to other campgrounds. Pest can be transported and they can destroy forests.
What to do in Banff in the Summer with Kids
Summer is one of the best times to visit Banff with kids. The snow should have melted and all of the hikes and attractions are open. If your kids are over five years old and looking for a bit of adventure, then check out this White Water Rafting tour. Families can experience the beauty of the Rockies from the Kananaskis River. The tour lasts four hours and it is suitable for families and beginners.
Here are a few suggestions on what to pack for summer:
The weather is sunny in summer, so shorts and t-shirts essential. However, as soon as the sun goes down the temperature drops, so don't forget to pack a lightweight jacket for kids and adults.
Kids are always falling down, so a travel first aid kit is essential on any trip.
Banff with kids in Winter
If you have decided to visit Banff in the winter, then be prepared for snow. While some trails may be closed, there are plenty of other activities to keep families busy. There is a wide choice of ski resorts to choose from, but Banff also has a number of places to skate and sledge. Don't worry if you didn't bring your own, the town has many places to rent toboggans and sledges.
Your packing list is slightly different for winter :
With temperatures in the minus twenty range, each member of the family needs a warm ski jacket.
Kids should wear layers to make sure they are nice and snug. Some thermal underwear is a great place to start.
One thing most people forget to pack on a winter holiday is lip balm. Lips can get chapped quickly so don't forget to add it to your luggage.
You May Also Like:
Best Things to Do in Redwood National Park with Kids
Olympic National Park with Kids
Things to do in Yosemite with Kids
The Best Things to do in the Everglades with Kids
Things to do in Dublin with kids
Will you be needing travel insurance, flights, reliable internet, rental cars, or hotels for your trip?
Disclaimer: This post may contain affiliate links. By using them it will not cost you any extra, we will receive a small percentage of the sale.