Redwood National Park is situated in Northern California. Around half a million visitors arrive every year to see the home of some of the tallest trees in the world!
Visiting the Redwoods with kids is super fun! Aside from the mesmerising tall trees there is also tidal pools and beaches to explore.
The Fern Canyon where Jurassic Park II was filmed is one of the most infamous spots in the park and maybe recognisable for some children.
As families wander around the 131,983 acres of the Redwoods, it is easy to feel dwarfed by the trees on every side.
It is a great place to get close to nature and take time out. Whether you visit Redwood National Park with Kids for a day or a weekend, there is plenty to keep the kids amused. They may not even want to leave!
Redwood Forest For Kids
Like many of the National Parks spread across the US, Redwood National Park has activities just for kids. One of the most popular national programs is the Junior Ranger Program.
It is the perfect way for kids to learn more about the park while keeping them engaged.
Before leaving, print out the booklet at home or pick one up at the information centre at the park. The booklet is jam packed with activities about safety, things to see at the park and so much more.
Depending on age, kids have to complete a required amount of activities to earn a certificate and a badge. Let's jump into the best things to do in Redwood National Park with kids!
Make sure to read on to discover campgrounds, cabins and hotels suitable for families. Not to mention items to pack for a family.
Tabe Of Contents
1. Hyperion Grove
On arrival at Redwood National Park, many visitors want to make beeline for Hyperion, the tallest tree. This is where things can get a little complicated!
Hyperion is in Tall Trees Grove, however, to gain access to the trail, the lock combination is needed.
It is free to get and quite a simple process. Just apply online about two or seven days before you plan on hiking there. The lock combination is sent, then you are free to hike the trail and see the world's tallest trees.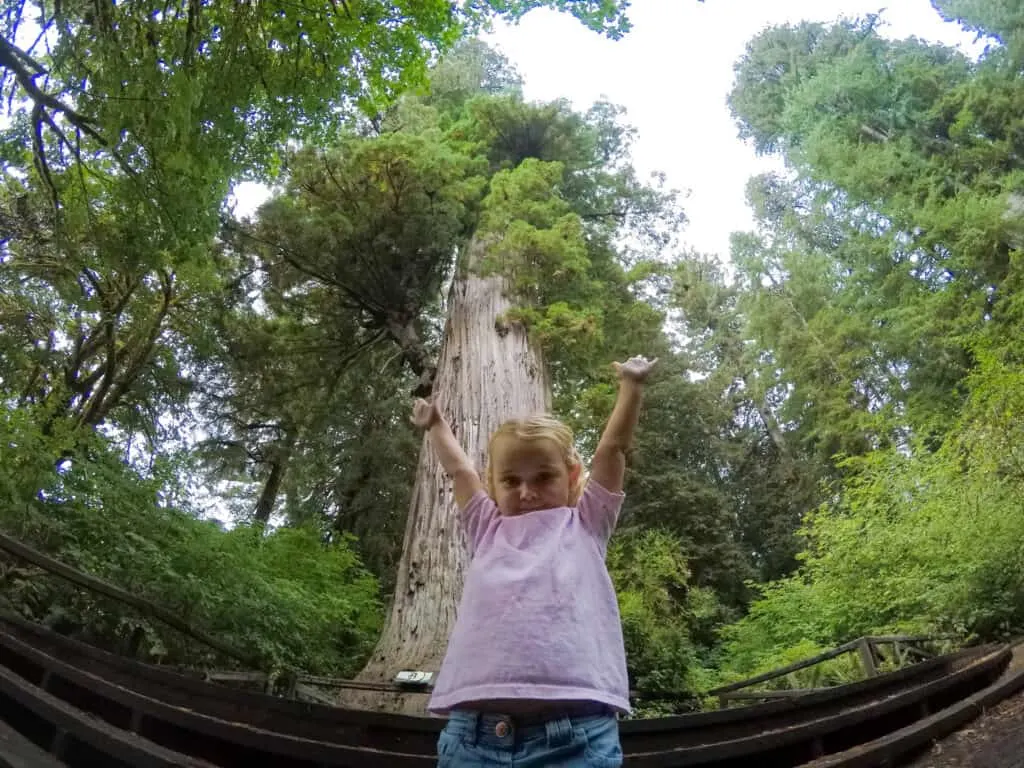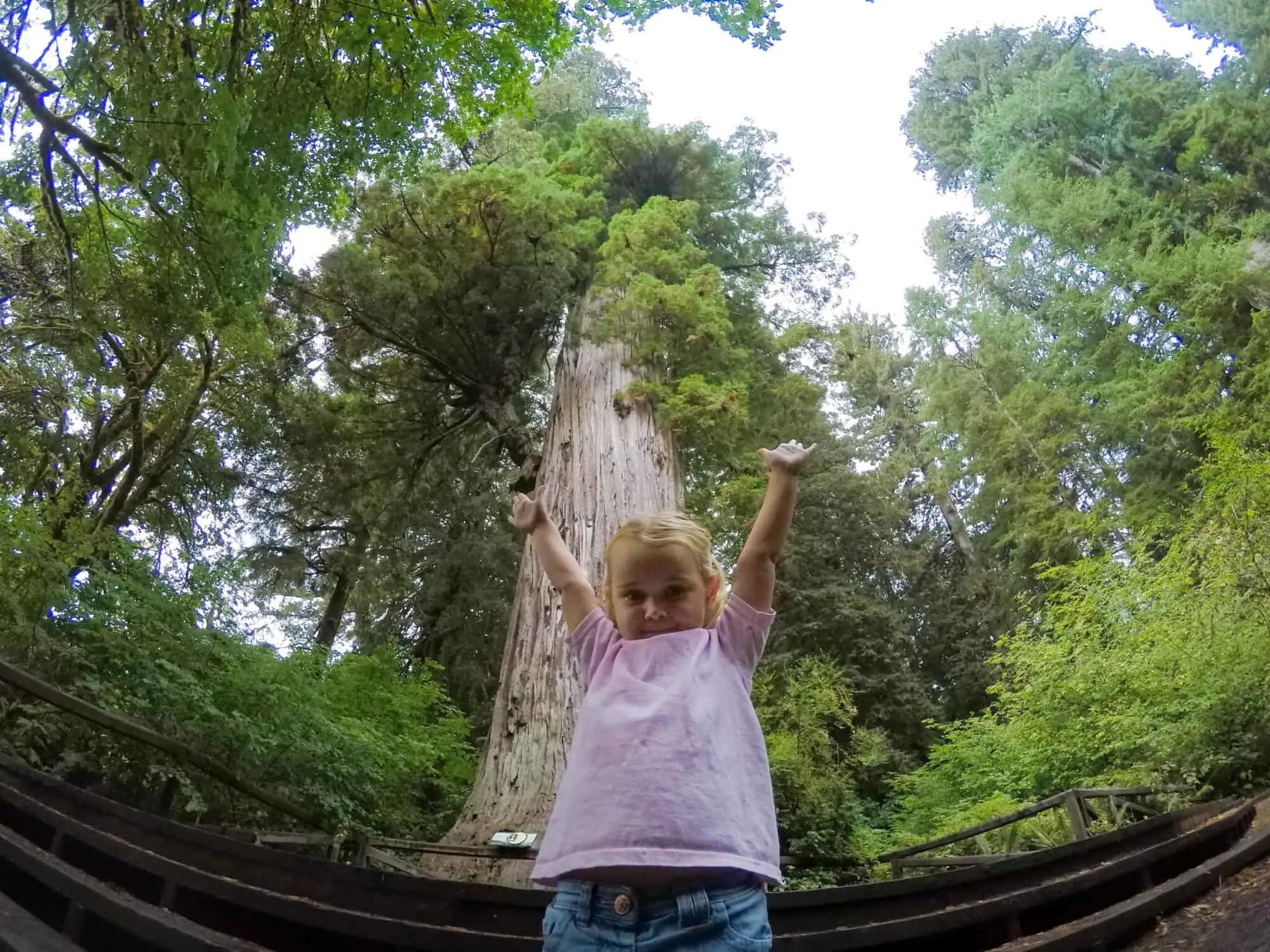 The trail is moderate and it is a 5km loop with an incline at the end. However, due to the permits needed, it is a very quiet trail and has plenty of benches for kids and adults to rest.
Babies and toddlers would need to be worn in a carrier as it is not suitable for a stroller, but it should be doable for kids.
So whereabout is the tallest tree in the world? It is in the grove, but the location is kept secret. In order to protect the tree, there are no signposts. Don't be disappointed as kids can find it fun trying to guess which one it is!
2. Stout Grove
It is easy to be left gobsmacked by the trees in Redwood National Park. One of the best places to see them in all their glory is Stout Grove.
It may not have the tallest trees or even the widest trees in the park, but it is definitely one of the most spectacular and magical places to see them.
Stout Grove is usually quiet and the ground is flat. This makes it a great place for families to explore. There are plenty of fallen trees to see as well.
As you enter Stout Grove, there is a trail directly to the grove's biggest tree, the Stout Tree. Due to damage, a viewing platform was added for visitors to keep their distance.
If visiting in summer, it is best to visit Stout Grove in the late afternoon. It is around this time sunlight peeks through the darkness of the forest and lights up the trees with breathtaking colours.
It only lasts a couple of hours, so don't miss out. One word of warning about Stout Grove is the mosquitoes. There are lots of them about, so take a good insect repellent along.
3. Chandelier Tree & Klamath Tree
There are plenty of trails to explore the different parts of the park. Don't be surprised if a tree has fallen down on the path. It is usually not removed from the path. In fact, what usually happens is the rangers cut a hole through it.
There are even a few tourist attractions that allow cars to drive through the inside of the redwood trees.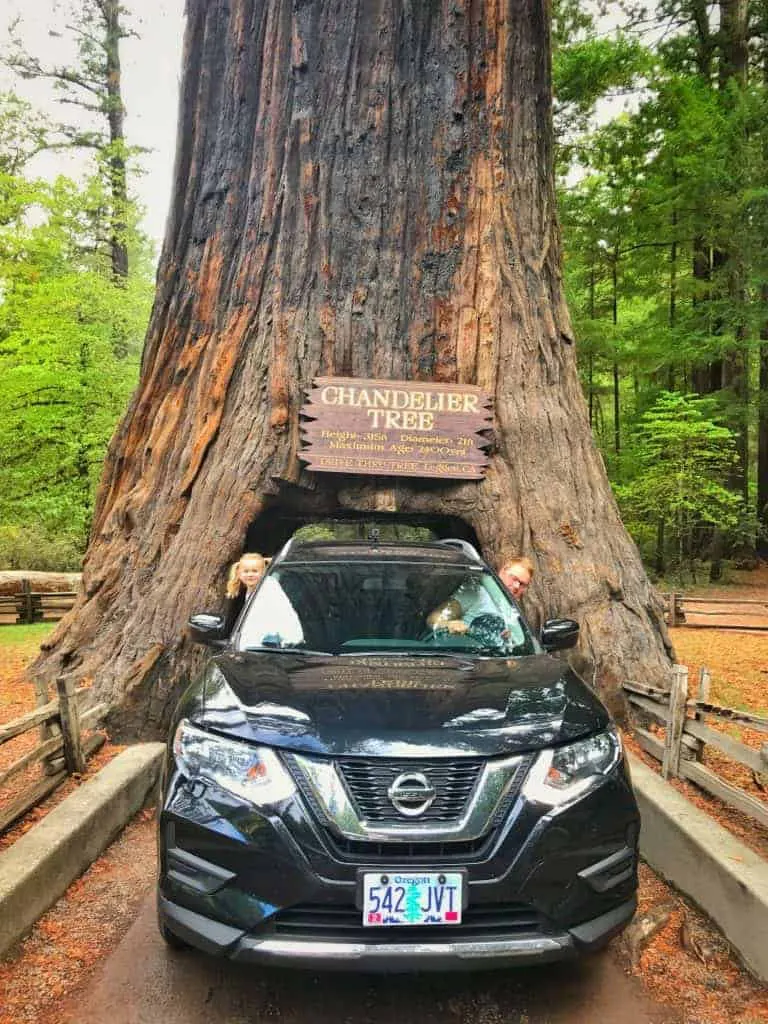 There are three in total but the most famous ones are the Chandelier Tree and the Klamath Tree. While they are technically not in the park, they are pretty close.
Both trees are open all year and it is a one-off opportunity to drive through a redwood tree. In fact, it is the perfect opportunity for a photo, so don't forget your camera!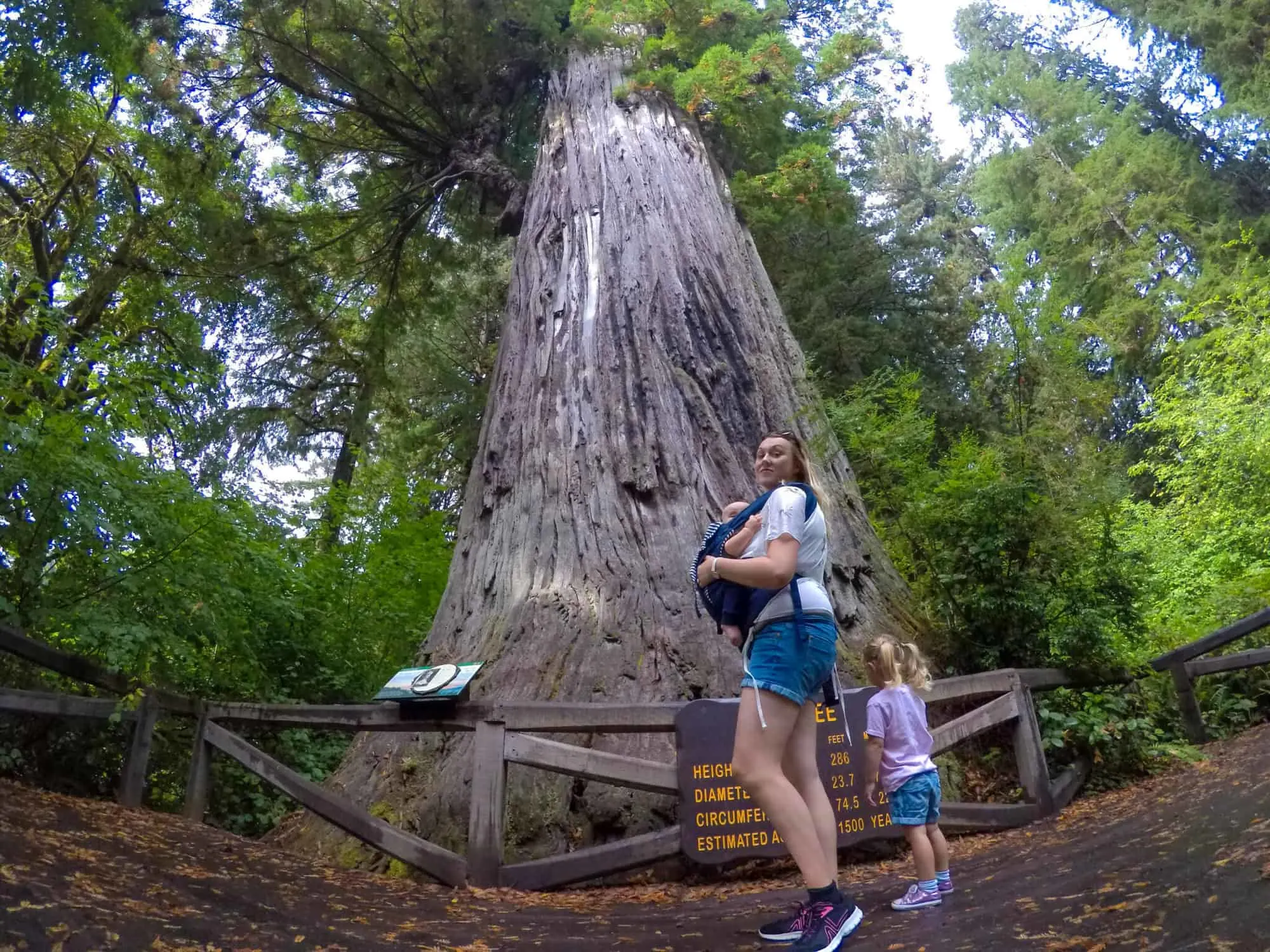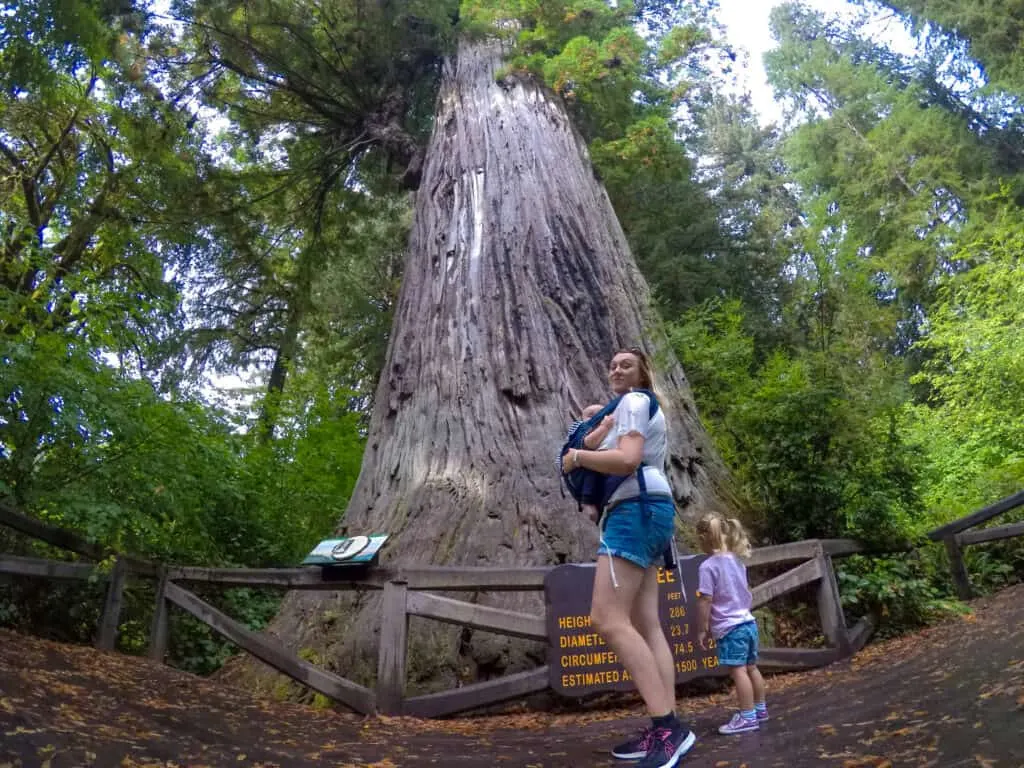 4. Fern Loop Canyon Trail
The Fern Loop Canyon Trail is a busy trail. It is just under 2km which makes it short and sweet. It is a must-see when visiting with kids.
Parts of the film Jurassic Park II were filmed along the trail as well as the BBC series Walking with Dinosaurs.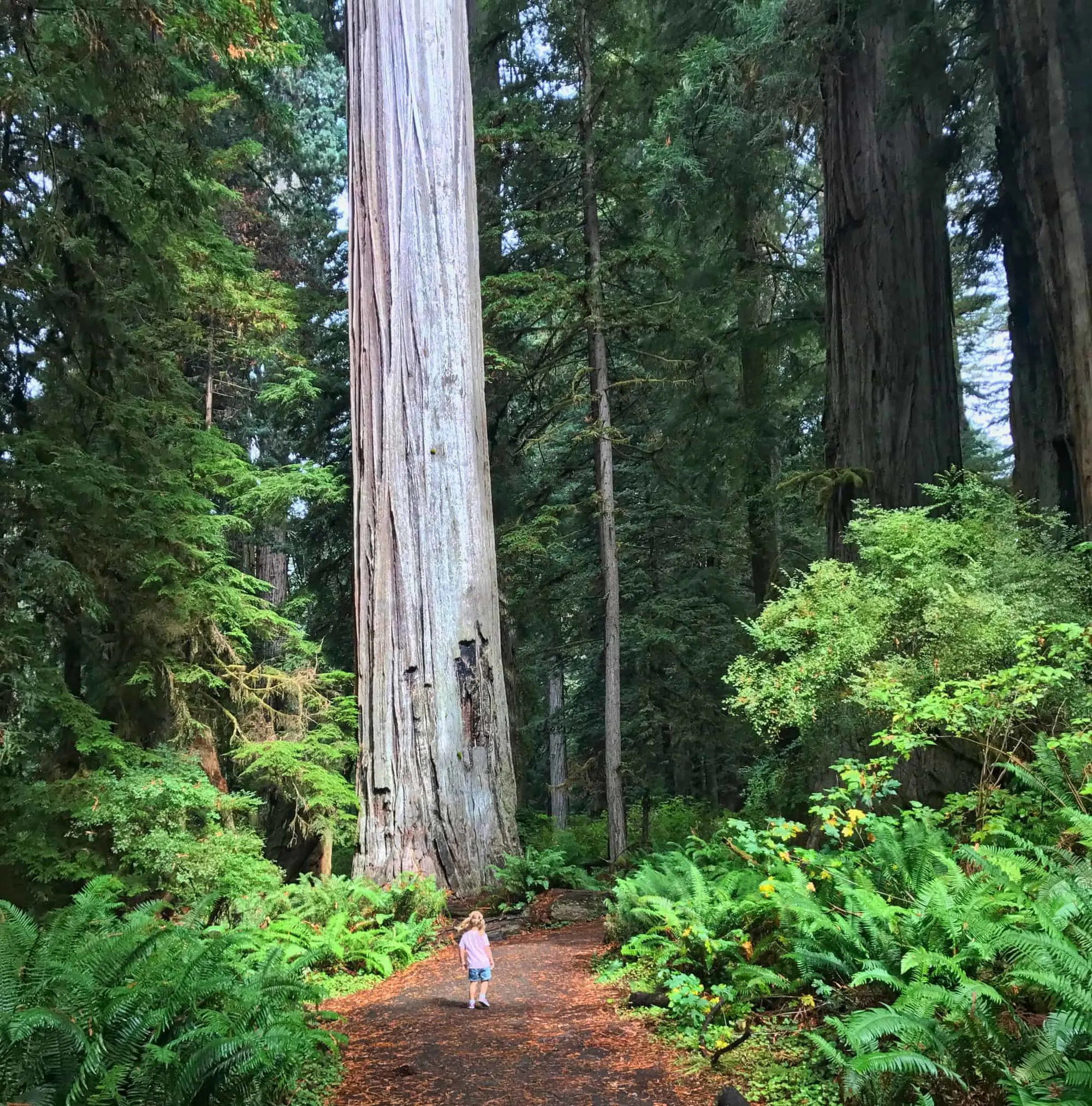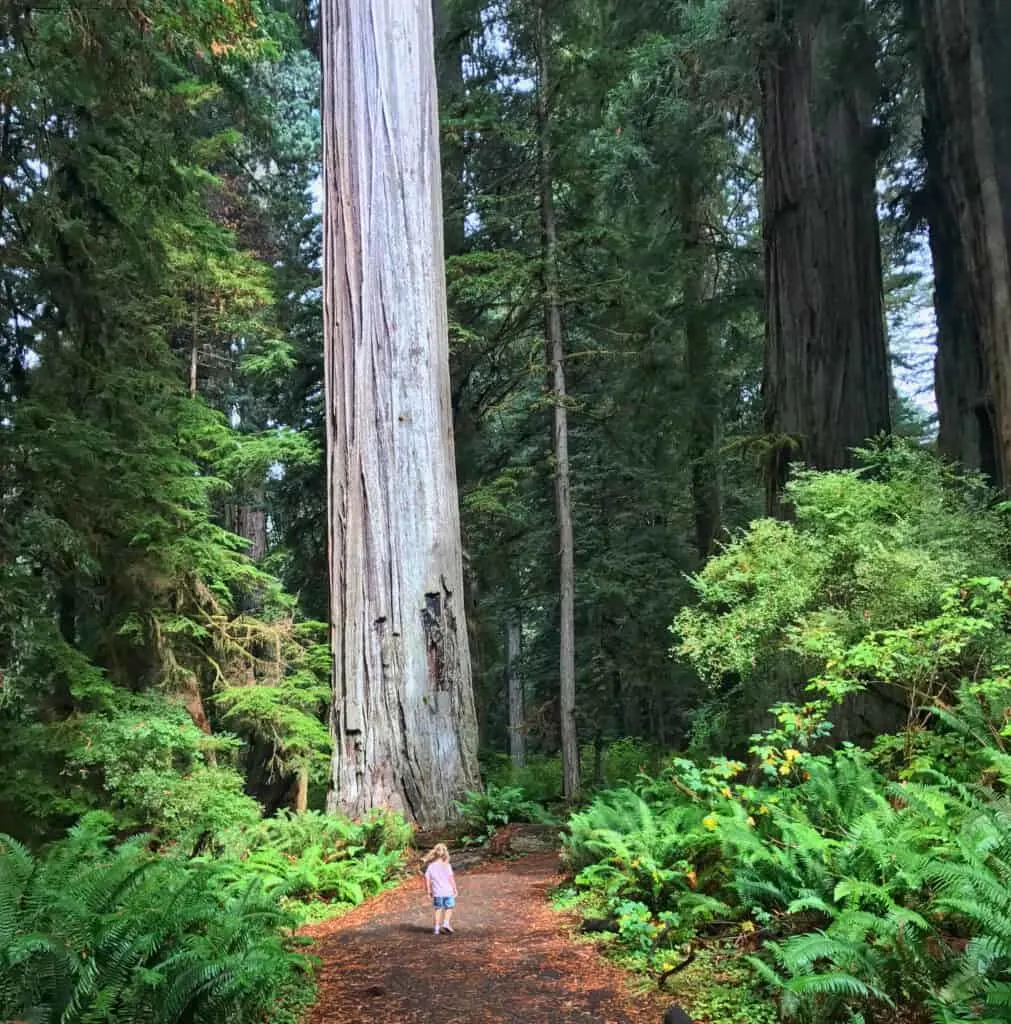 Expect to see ferns all around, a flowing river and a creek bed. It really is a unique place kids love!
Make sure to wear waterproof shoes as there are plenty of opportunities to get your feet wet. In fact, be prepared to climb over logs and see some animals along the way.
The trail is located in Prairie Creek Redwoods State Park and there is a small charge to enter the park. However, it is worth it.
The park is accessible by car too, be careful as the roads are narrow and there are a few blind corners along the way.
5. Lady Bird Johnson Grove Trail
The Ladybird Johnson Grove Trail is another perfect choice for kids. The loop trail is just 2km and is definitely kid-friendly.
Areas with older trees and growth generally offer more protection for wildlife, and Park Rangers want to ensure visitors get to experience the best the park offers.
Along the trail, it can incline a little, but nothing little feet can't handle. It is a great place to see not only trees, but birds and flowers too. One of the best things about the trail is there are a few big trees for kids to go inside and check out.
The only downside to the trail is it's not great for strollers. While the ground is pretty flat, there are a few places with a lot of mud that might make it difficult.
However, as it is short babies and toddlers can be carried in a carrier easily.
6. Cathedral Trees Trail
A part of the Cathedral Trail Loop, the Cathedral Trees Trail offers explicitly a unique opportunity to see the redwood forest's incredible scale.
Prepare to hike through a mixture of old growth forests, second-growth forests, and the majestic Cathedral Trees.
The moderate length of the trail makes it accessible to a wide range of ages and abilities, making it an ideal choice for family trips.
With its serene atmosphere, lush greenery, and unforgettable vistas, is one of the most memorable for the whole family and a must-see when visiting Redwood National Park with kids.
7. Circle Trail
The Circle trail is perfect for families who want to experience the park's beauty without taking a long hike. It is easy to find, and the views along the way are stunning. Plus, it is a great way to get close to the famous Big Tree.
For those looking for an awe-inspiring experience with minimal effort, this trail is the ideal choice.
8. Prairie Creek Redwoods
The Prairie Creek Trail is a 3.5-mile loop along the banks of Prairie Creek, and past the famous Corkscrew Tree!
It's a redwood tree with a twisted trunk that has been standing for over 600 years!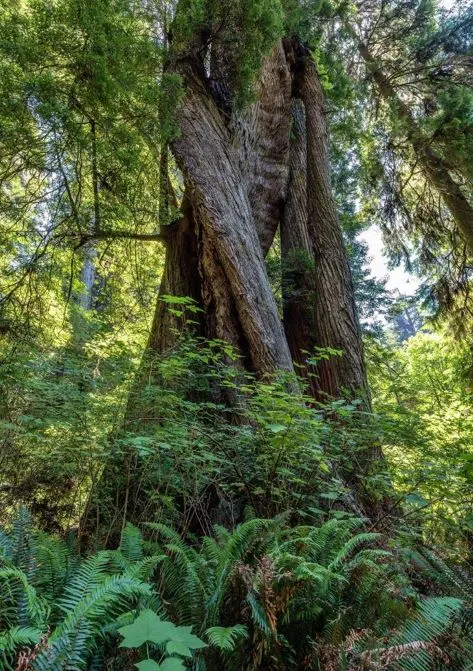 Along the way, nature enthusiasts can observe a unique blend of wildlife and nature, including Roosevelt elk, Pacific giant salamanders, and ospreys.
8. Foothills Trail
The Foothills Trail runs through the Redwood National and State Parks of Northern California. This trail has everything from old-growth redwood groves to wildflowers and ferns lining the route.
It is a relatively easy yet rewarding 2.2-mile hike with a few moderate inclines through lush redwood forests.
9. Trillium Falls Trail
The Trillium Falls Trail is a picturesque 2.5-mile hike suitable for all levels of experience, especially when visiting Redwood National Park with kids. The trail is easy to follow and relatively flat, making it a practical route for families.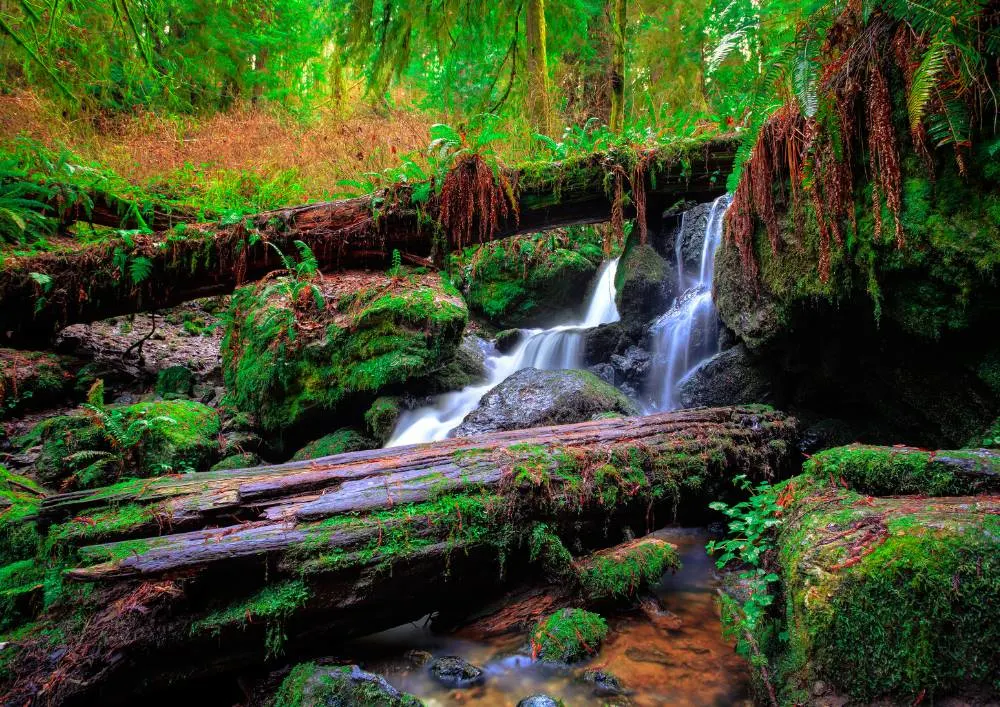 Along the way, hikers can take in the beauty of the lush forest and the scent of redwood trees. The highlight of the trail is Trillium Falls – a mere 10-foot waterfall. Kids love waterfalls right?
10. The Miner's Ridge Trail
The Miner's Ridge Trail is located in California's Big Basin Redwoods State Park and is a moderate loop trail.
This trail is well-known for its breathtaking views and historical significance. It follows the same path of the gold miners used to takein the 1800s.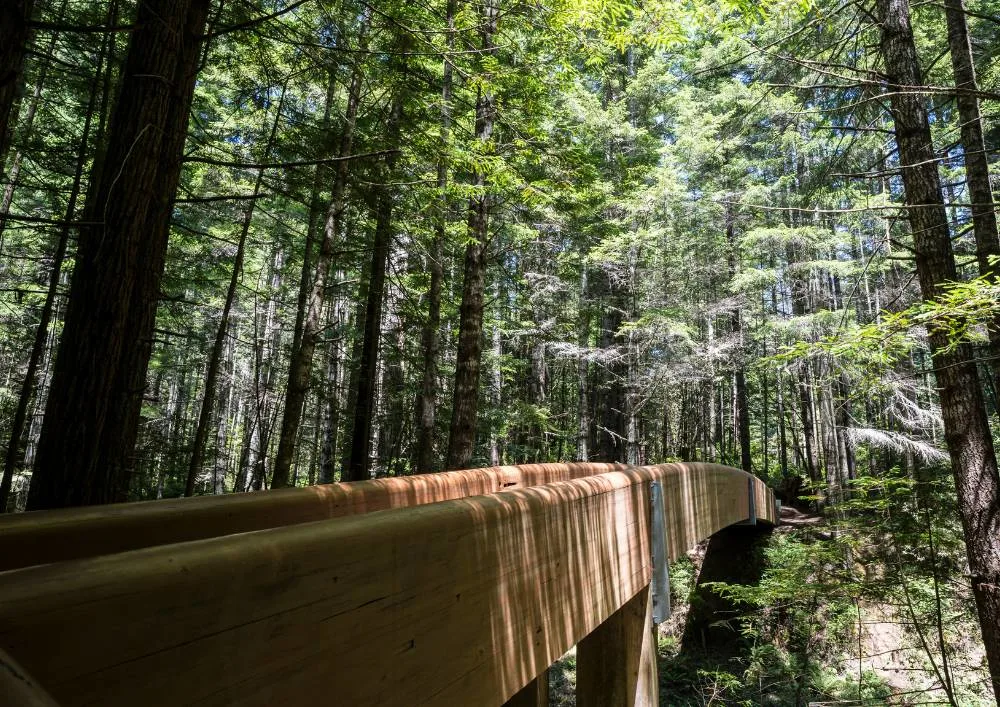 From the lush forests of Elk Prairie to the sandy beaches of Gold Bluffs Beach, the Miners Ridge Trail offers an unparalleled opportunity to explore the unique beauty of northern California.
The trail is accessible from the Fern Canyon and Prairie Creek Visitor Center, making it perfect for day hikes or overnight trips.
With the combination of stunning scenery and a unique cultural experience, the trail is a must-visit.
Hikes for Older Kids
11. Tall Trees Grove
Tall Trees Grove Hike is a challenging 4-mile trek looping through the Redwood Forest. It is a great way to escape the busy city life and take in the breathtaking views of the redwood trees lining the trail.
This trail makes it an excellent choice for people looking for a challenging hike with limited crowds.
However, it is crucial to note the elevation gain of 800 feet also adds to the difficulty, prepare in advance for some steep sections and be in good physical condition.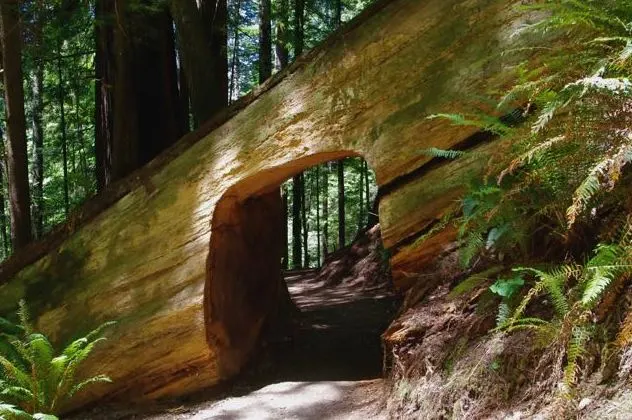 Along with stunning vistas, expect a sense of adventure through the winding pathways, diverse wildlife, and unexpected turns of the Tall Trees Grove Hike.
If this challenge sounds appealing, obtain a permit from the visitor center and plan for extra time to access the trailhead!
12. Rhododendron Trail
The Rhododendron Trail is a popular destination for nature lovers. It is a winding trail through the park's lush forest lined with beautiful, fragrant rhododendron blossoms.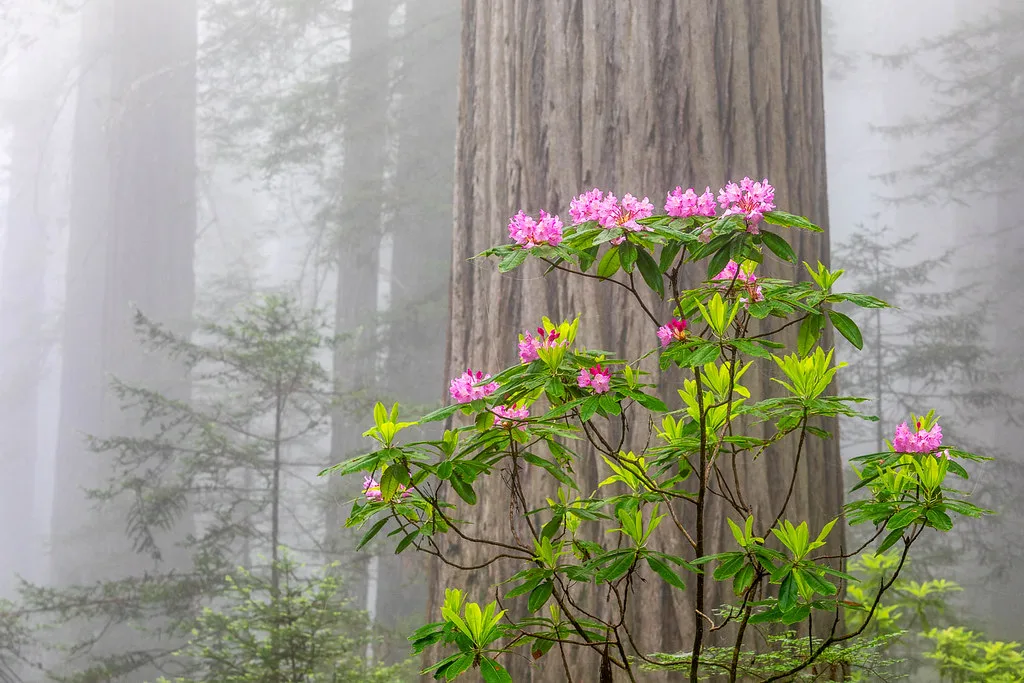 This 6.3-mile trail is a great way to take in the beauty and serenity of Redwood National Park. Being a long trail it is only suitable for teenagers or kids physically capable of long distances.
13. Emerald Ridge Trail
The Emerald Ridge hike is a beautiful way to experience the serenity of Redwoods. It follows the same route as the Tall Trees Grove hike but adds a pleasant break along Redwood Creek.
The creek is usually shallow enough for wading in the summer and early fall months, making it a great way to cool off and explore the area.
Redwood Creek's gravel creekbed, typical of rivers in Humboldt County, is the result of logging.
Much like Prairie Creek, erosion and floods have reshaped the stream, which once ran in a narrow channel shaded by maple trees.
Rocky banks along Emerald Ridge offer a unique view of the surroundings, with a variety of different plants and wildlife to observe.
The vast flat expanse of the river provides a nice change of pace from the typical hiking trails, allowing for a more leisurely pace.
14. Last Chance California Coastal Trail
Redwood National Park with kids is not all about trees. Walk along the Last Chance California Coastal Trail and it leads to a secluded beach.
There are plenty of tide-pools to keep older kids amazed. The hike is just over 2km with breathtaking views of the ocean and cliffs.
At the end of the trail, there are two forks. One is to the beach and the other is to Creek Side Trail. That part of the trail is a little overgrown and there may be some fallen trees along the way. However, that just adds to the adventure.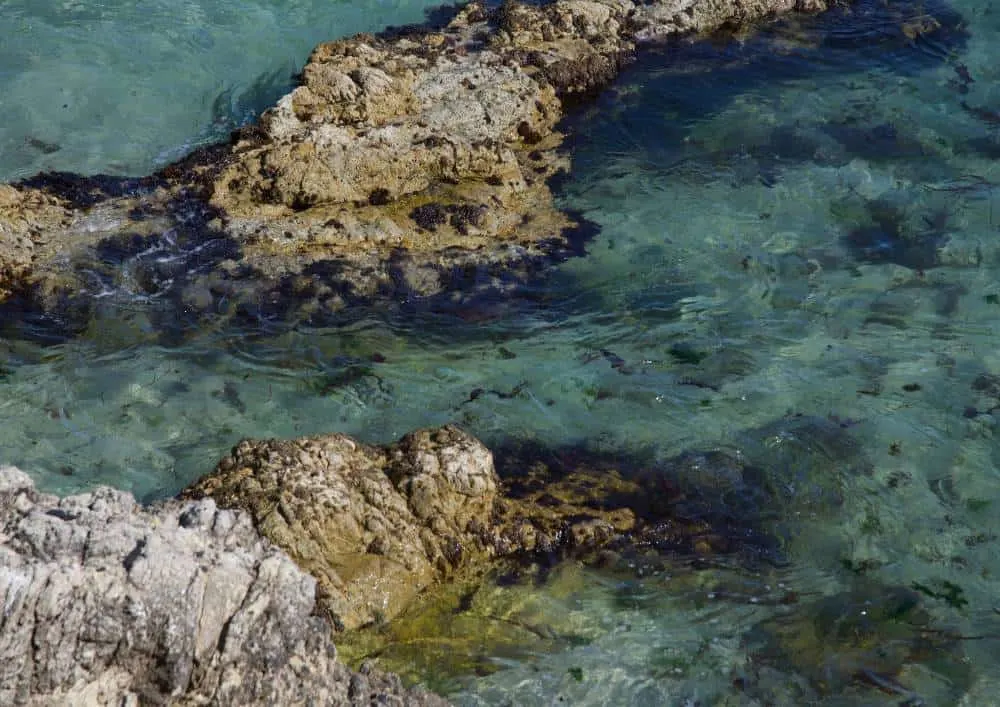 To take advantage of the tidepools, visit the beach during low tide. Check out the tidepools a little further south as they tend to be the most interesting.
The trail and the beach are usually relatively quiet, which means plenty of opportunities to explore.
15. Klamath Jet Boat Tours
The Klamath River is home to a wide variety of wildlife, making it an ideal spot for wildlife viewing. Not to mention a haven for photographers wanting to channel their inner David Attenborough.
There is a chance to see a variety of native species, such as Black-tailed deer, Bears, Otters, Elks, soaring Ospreys, Eagles, Hawks, and Minks strolling the riverbanks.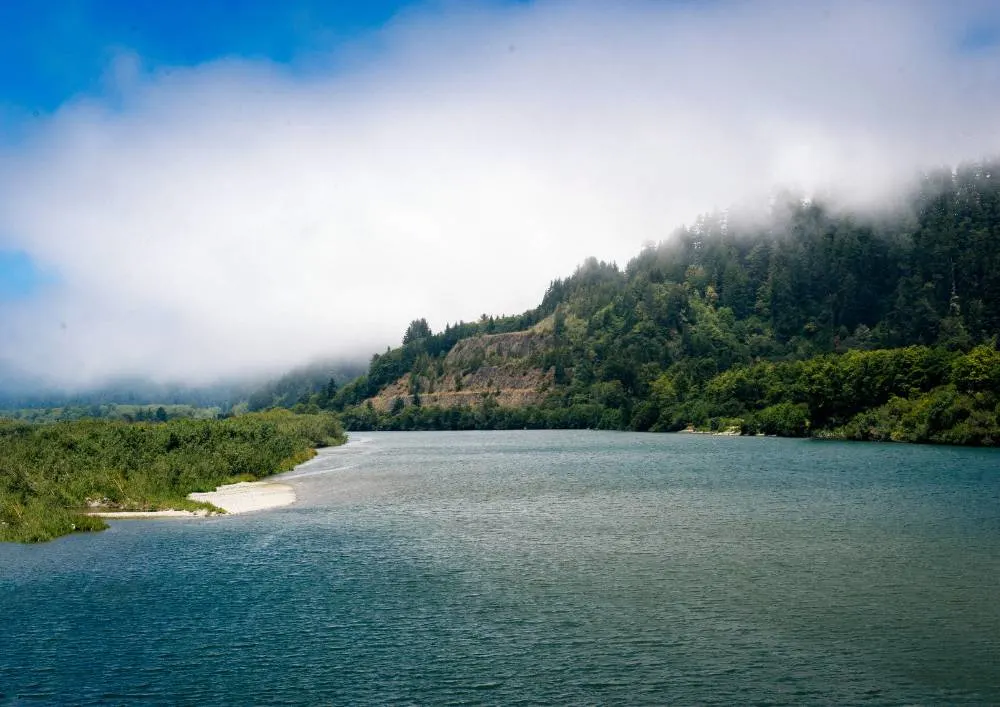 Klamath Jet Boat Tours provides an opportunity to experience the river's full beauty while the captain and narrator of the cruise share light on the rich history of the river and the local Native American culture.
To learn more on Klamath Jet Boat Tours
16. Trees Of Mystery SkyTrail
When visiting the Redwood National park with kids, there are several interpretive trails to explore before reaching Brotherhood Station where a gondola is available. Shuttle services are available to get to the station for those facing difficulty hiking up the trail.
The SkyTrail gondola provides a unique way to see the forest, especially the redwoods from above.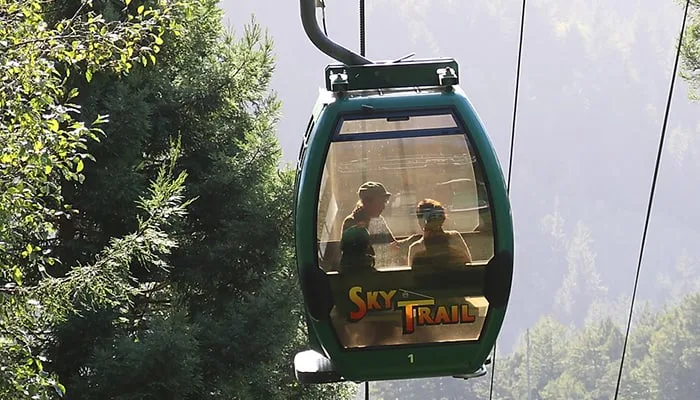 Riding the gondola is peaceful and relaxing. Each gondola is capable of holding six passengers, so it's possible for up to 48 people to make the trip up the 1570-foot mountain each day.
The ride lasts approximately 10 minutes and costs $20. It is advised to allow 2 hours to ride on the gondala to the top of Teds Ridge and explore the trails.
SkyTrail tickets and information for Trees Of Mystery.
Best Campgrounds At Redwood National Park With Kids
Redwood National Park is home to four campgrounds:
Jedediah Smith Campground
Gold Bluffs Beach Campground
While the campgrounds at Redwood National and State Parks are incredibly popular all year round. During the summer months, the parks experience an influx of visitors from July to October, and the campgrounds are often full.
Therefore, booking ahead of time ensures a space to stay while visiting the parks.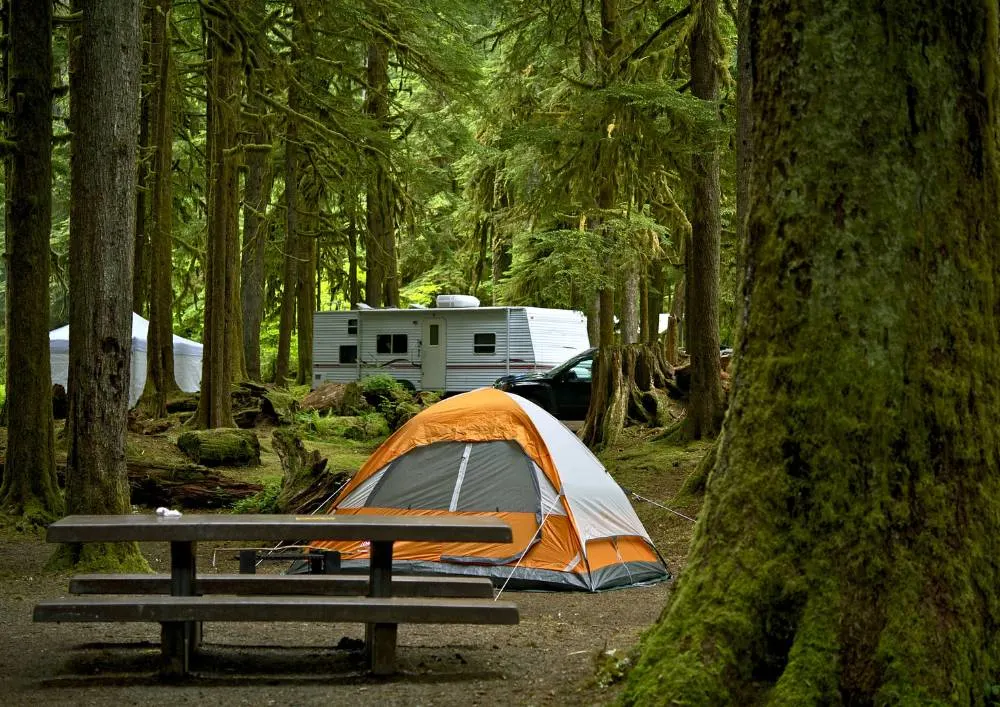 Furthermore, RV set-up is allowed and encouraged for those who prefer the comforts of home while camping.
In order to make reservations for the four campgrounds, visit Reserve California, the booking system used by California State Parks.
Mill Creek Campground
Mill Creek Campground is the largest campground at the State park and is open only during the summer months (July to early October). It is a particularly good spot for families visiting Redwood National Park with kids.
It is not far from Highway 101 and is only 9 miles from Crescent City. The Mill Creek Campground provides visitors with amenities ideal for those who want to camp and explore the redwoods of Del Norte Coast.
Over 145 campsites are available in a lush redwood forest, with 22 designated tent-only campsites. The remaining sites can accommodate 28-foot RVs, 24-foot trailers, and tents.
The camping options make Mill Creek Campground the perfect destination for lots of campers including families.
For campers who prefer the simple pleasures of a tent in the woods or those with an RV.
The majority of campsites have a variety of amenities, such as hot showers, ADA-accessible restrooms, dump stations, picnic tables, food lockers, fire pits and barbeques, trash receptacles, and campfire centres.
For more information and reservations at Mill Creek Campground.
Jedediah Smith Redwoods State Park Campground
Over 87 drive-in campgrounds and four cabins are available at the Jedediah Smith Campground.
This popular Campground is nestled in a picturesque valley in the midst of towering redwoods. A prime location offering six biking or hiking options, ranging from easy to challenging, with magnificent views.
Regular cars, 21-foot trailers and 25-foot RVs can easily access the campground. However, anything larger can make navigating the narrow roads and tight bends challenging.
Every campsite at Jedediah Smith comes with a picnic table, a fire pit and a food storage locker.
North Coast Redwood Parks have stringent rules about food storage.
Every crumb of food must be stored in a locker unless eaten to prevent wildlife from getting used to human food and becoming a nuisance or even a danger.
Food lockers protect food from damage or destruction by animals or natural elements.
Jedediah Smith Campground Showers
In regards to showering and bathroom facilities, the newer bathrooms have modern features such as hot water, ample space, and updated showers.
On the other hand, older washrooms may need more water pressure and better lighting and could be more spacious.
Click here for prices and reservations at Jedediah Smith Redwoods State Park Campgrounds.
Elk Prairie Campground
Elk Prairie Campground area consists of leafy hardwood trees. Its proximity to Prairie Creek's visitor center and the main trailhead gives campers convenient access to an amazing selection of ancient redwood forests.
With over 75 tent and RV campsites, this campground is ideal for campers looking for a more rustic camping experience.
However, it is important to note, RVs and trailers are subject to length restrictions. RVs must not exceed 27 feet, and trailers cannot exceed 24 feet.
Campers have access to amenities such as hot showers, accessible restrooms and cabins, and basic amenities such as picnic tables and fire pits.
The lack of hook-up sites means campers have to rely on their own resources for electricity and other utilities.
A limited number of campsites at Elk Prairie Campground are set aside for hikers and bicycle riders and are not for campers arriving by any motorised vehicle.
For more information and reservations at Elk Prairie Campground.
Gold Bluffs Beach Campground
The Gold Bluffs Beach Campground is about a five-mile drive from Highway 101 along a dirt road.
It is very rustic and remote, and there are no hookups for RVs.
This popular campground is on an open grassy plain, making it ideal for campers who want to relax and take in the scenery while listening to the waves crashing against the shoreline.
Redwood trees atop the bluffs make for a beautiful backdrop against the sky.
While the main attraction is the vast, deserted beach, a few yards in the opposite direction, campers can find the old-growth Miners' Ridge Trail and, a mile up the road, the Fern Canyon.
Those arriving in RVs must take note to park parallel to the loop road in small pullouts. The reason is campsites are too small to accommodate larger vehicles, and they can be hazardous if parked on the loop road.
The overflow lot allows those with RVs at more than 24 feet in length to park still and access the campground. Gold Bluffs Campground does not permit trailers.
Housing over 26 camping sites, the site features the best of the basic amenities. Including wind shelters, picnic tables, fire pits and barbecues, food lockers, trash receptacles and a small building with bathrooms and showers.
Visitors to the resort are welcome to use the showers at no charge. The showers have no gas or electricity and work on solar instead, making it an environmentally friendly option.
However, the water can be cold due to the often-cloudy weather in the area.
For more information and reservations at Gold Bluffs Beach Campground.
Campgrounds
Mystic Forest RV Park
Another campground near Redwood National park with kids is Mystic Forest RV Park. It is right in the middle, which makes it one of the most convenient places to stay.
Tents and RVs are welcome and there are a lot of facilities onsite too. This campground is also right beside Trees of Mystery.
The attraction is not part of Redwood National Park, but it is jam-packed with family activities. It not only has its own trails and a museum, but SkyTrail gives visitors a gondola ride through the forest treetops with amazing views.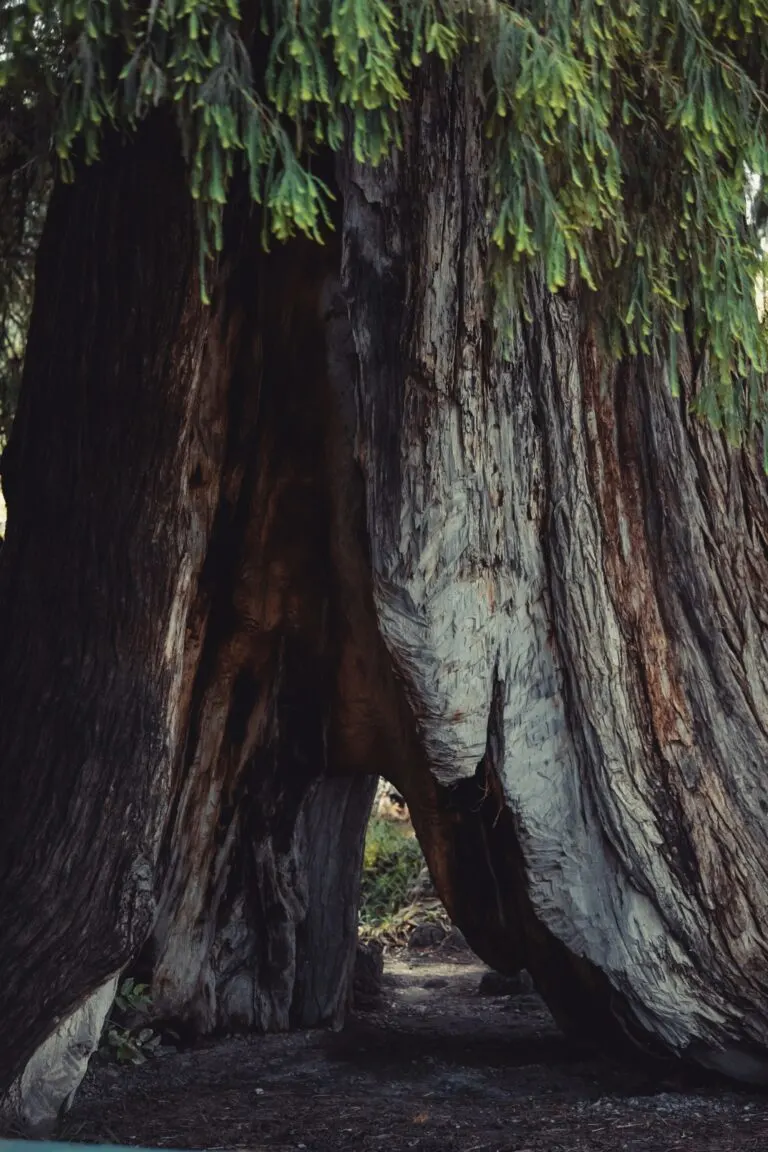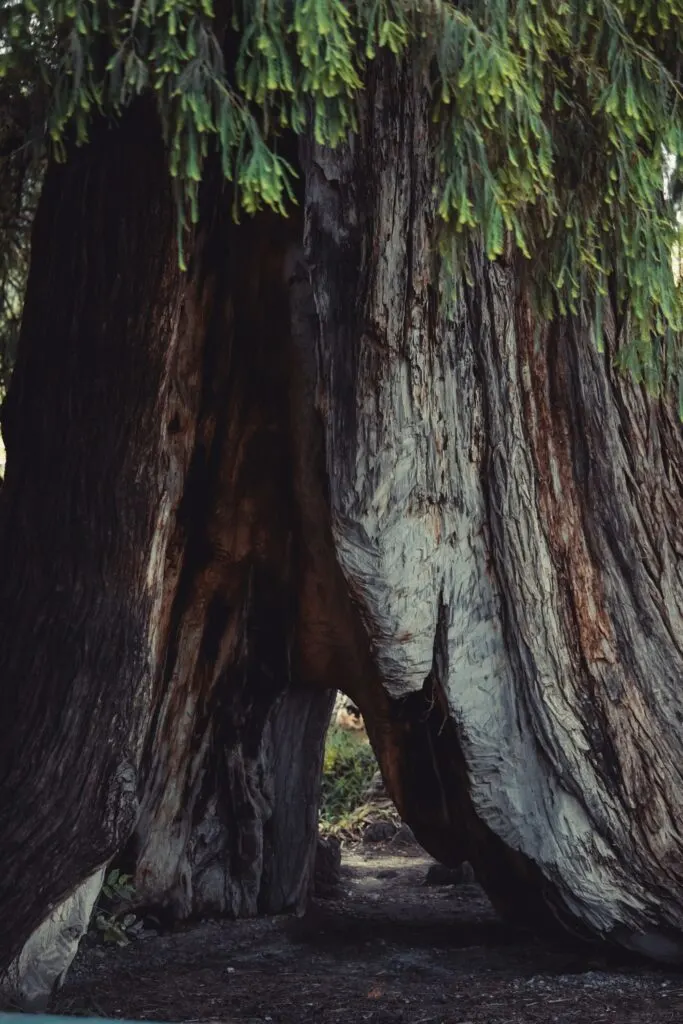 Redwood Coast Cabins and RV Resort
Many campgrounds get booked up quickly. if the trip is spur of the moment, looking a bit further afield might help.
Redwood Coast Cabins and RV Resort is located about an hour away in a town called Eureka.
The site offers a place for RVs, and camping and also has log cabins onsite.
There is plenty to do for kids including, an outdoor swimming pool, mini-golf, and a playground.
Adults can take advantage of the hot tub. There is a dog park as well!
Click here for prices and availability at Redwood Coast Cabins and RV Resort.
Holiday Homes
Orick Getaway Three-Bedroom Home
A little further north from the park is Orick. It sits right on the banks of Redwood Creek and it is only a short drive to the park.
There are a few holiday homes in the area and Orick Getaway is one of them. The three-bedroom home has everything families need as well as mountain views.
The decor is inviting and it has a private patio overlooking the forest. There are plenty of trails in the area or hop on the free bikes.
The house has a fully equipped kitchen, however, there are also a few restaurants in the nearby seaside town, Trinidad.
Check availability and prices for Orick Getaway here.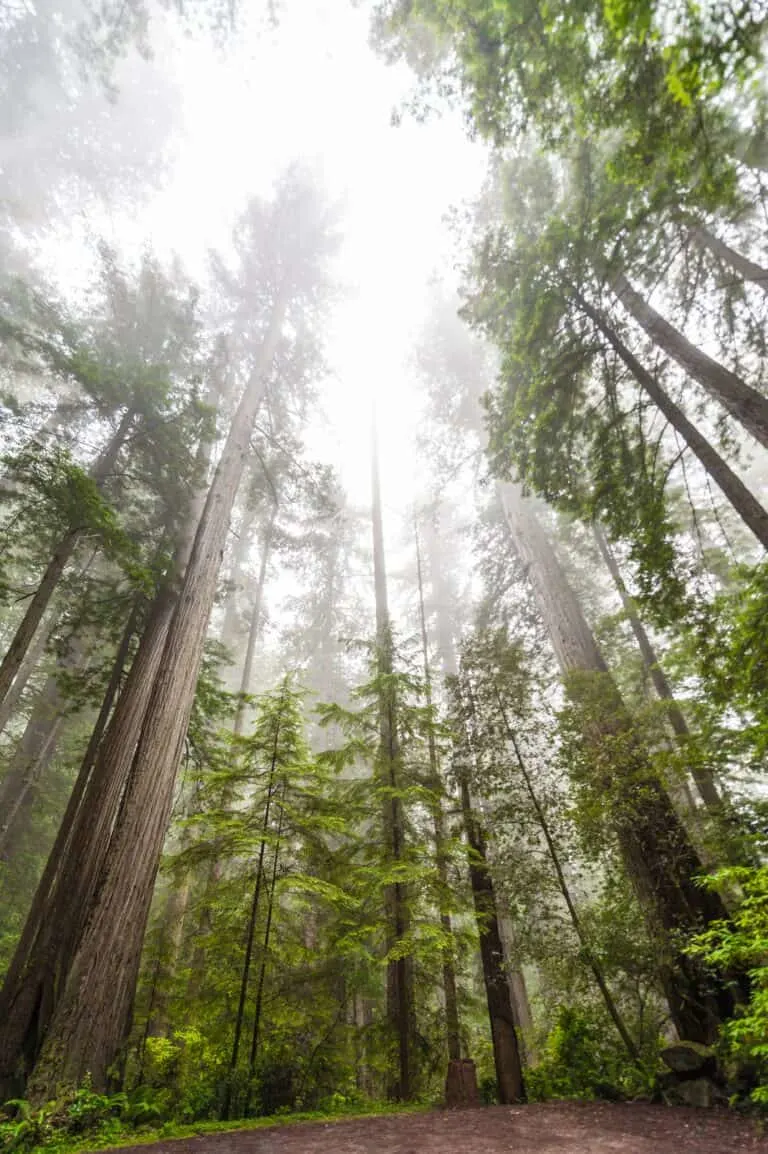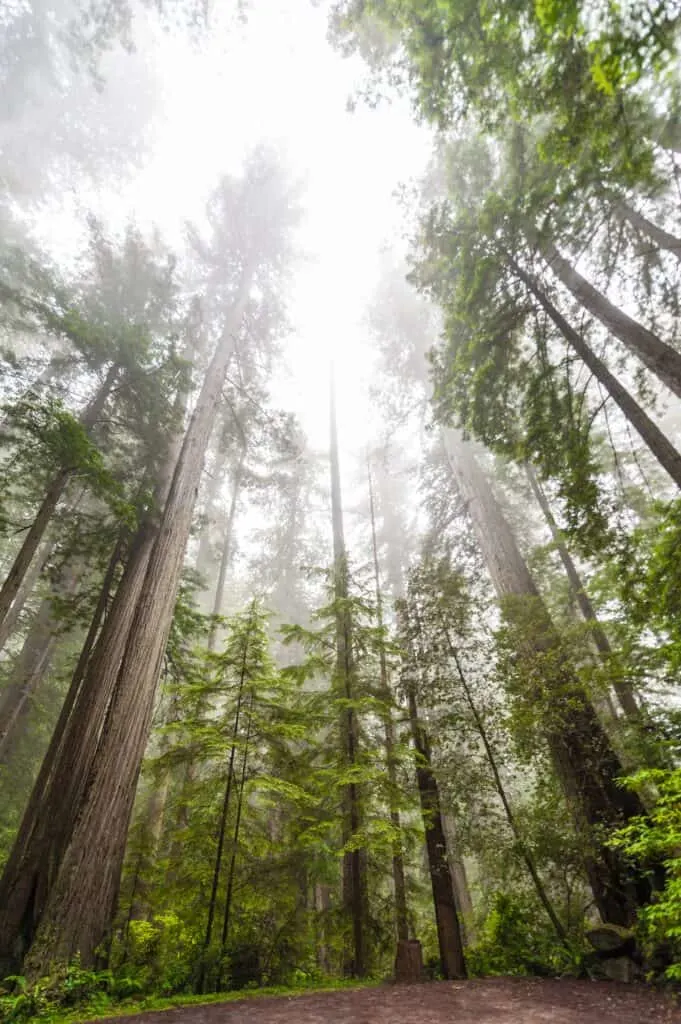 Cabins
Stylish Cabin
Cabins are a great choice when visiting the park. There are a few located in Orick and one cabin that stands out from the rest is Stylish Cabin.
This getaway is perfect for families as it is secluded, yet comfortable and close to the town centre.
The cabin is fully equipped and some of the features include a wood-burning fireplace in the living room and a fire pit to toast marshmallows in the private garden.
With jaw-dropping views and just a short drive to the beach, it's an ideal choice for families..
Click here to find out prices and availability for Stylish Cabin.
Family Hotels
Holiday Inn Express, Klamath, Redwood National Park Area
Right on the edge of Redwoods National Park is the Holiday Inn Express. The hotel is in a unique position as it is only a few minutes' drive from the park itself.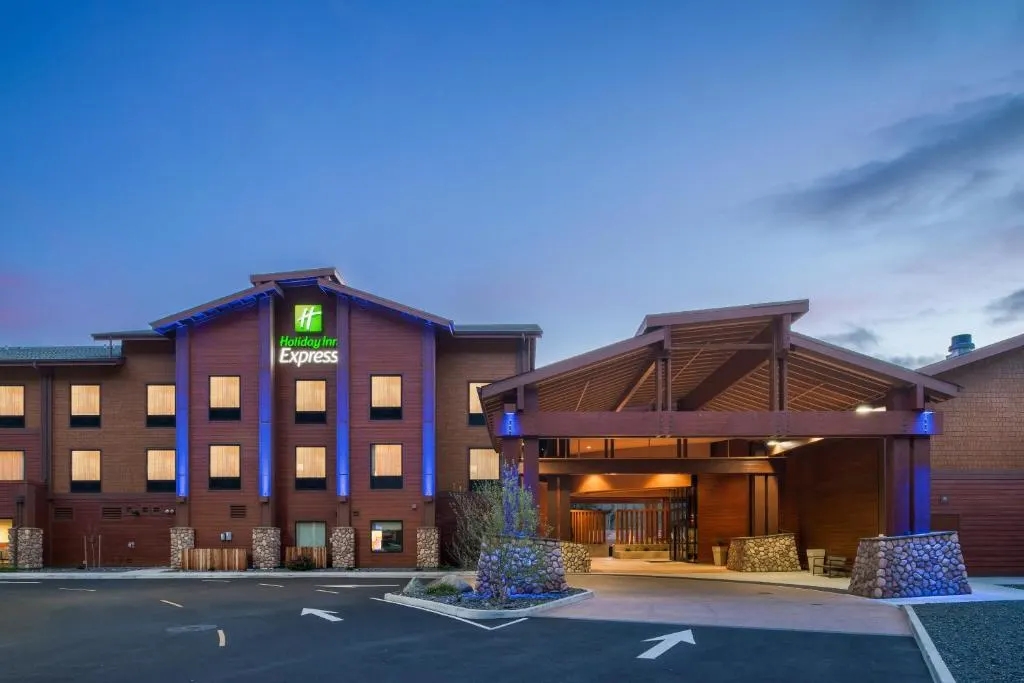 Boarding comes with breakfast, and there are tea and coffee facilities in the room. There is also free parking on-site, and it is not far from Klamath city centre.
Klamath River Jet Boat Tours is just a few minutes away.
To find out more about the Holiday Inn Express, click here.
View Crest Lodge, Trinidad, CA
View Crest Lodge ensures a comfortable stay with its family-friendly amenities, making guests feel right at home.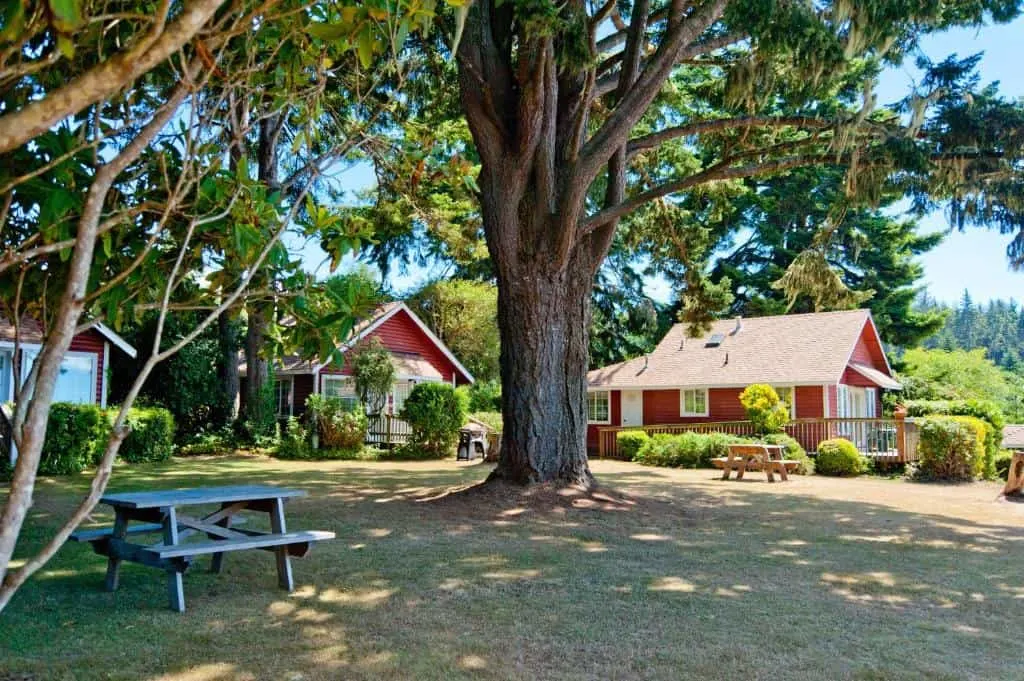 Some amenities include a flat-screen TV, a refrigerator, a kitchenette and a complimentary Wi-Fi connection.
Other amenities include a picnic area, a hot tub, complimentary breakfast, free car parking and express check-in and check-out for an even more pleasant stay.
Within a mile of the property, visitors can visit Patrick's Point State Park, another popular attraction in Trinidad.
For more information on View Crest Lodge.
Hampton Inn And Suites Arcata, CA
The Hampton Inn and Suites Arcata have a prime location off Highway 101 and Giuntoli Lane in the heart of Redwood Country.
Arcata-Eureka Airport, Humboldt State University, and Arcata's Marsh and Wildlife Sanctuary are all within minutes of this convenient location.
A few miles down the road, visitors can explore the Pacific Ocean State Park and the city of Eureka.
All of the above places are within easy reach, making Hampton Inn and Suites the ideal location Redwood National Park is approximately 20 miles away so ideal for those wanting to explore other nearby destinations.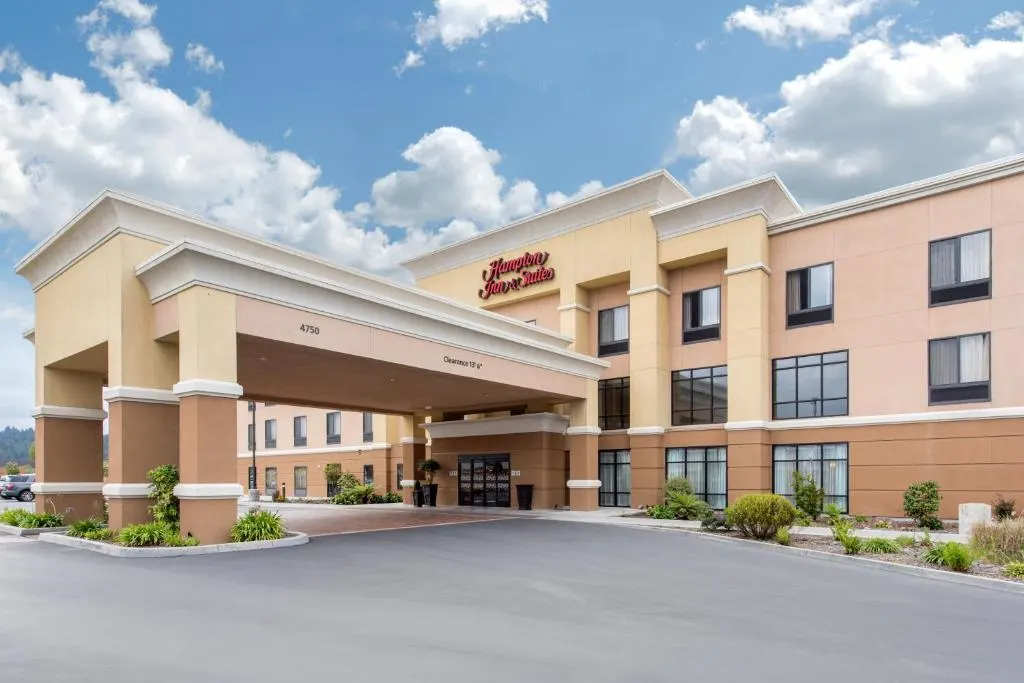 Complimentary breakfast, free car parking, a fitness centre, free WiFi, and an indoor pool are some of the amenities available perfect for families visiting Redwood National Park With Kids.
Book a stay at Hampton Inn and Suites Arcata.
Redwood Forest, Crescent City, CA
About an hour and a half north of Redwood National Park is Crescent City. It is just off Highway 101 and is the perfect place to stay if you are combining the park with a road trip.
The town has plenty of restaurants and places to explore.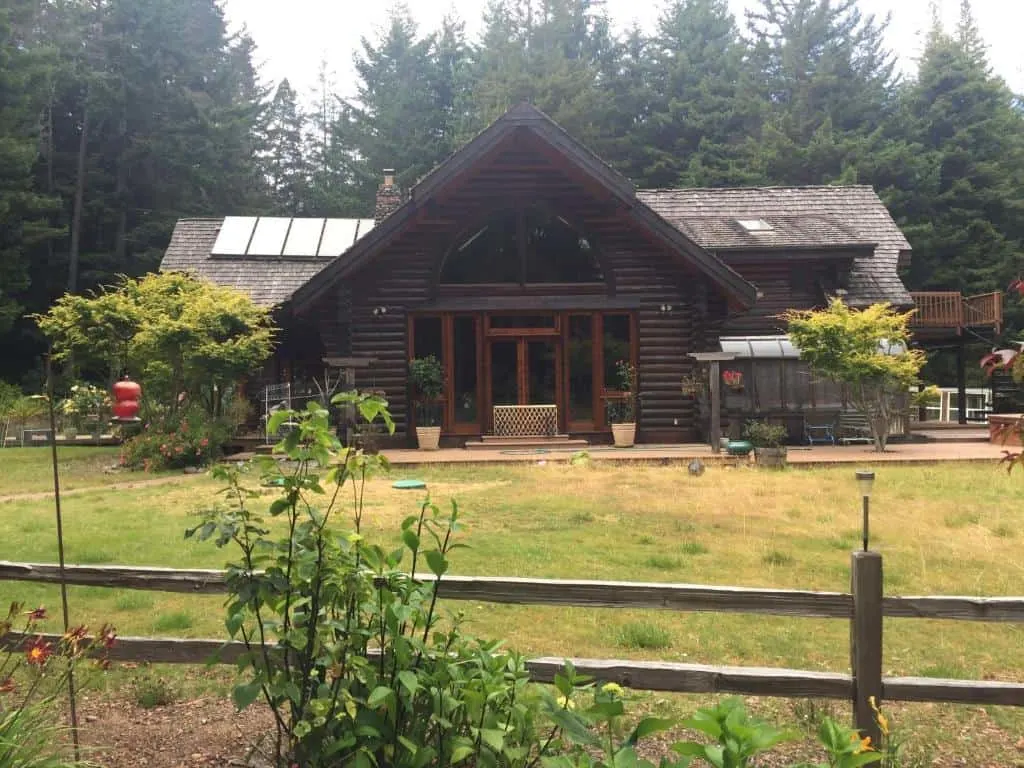 Redwood Forest has a garden for the kids to run around as well as a restaurant. It is about a mile from the beach and the city centre. Each room has a balcony and some have a view of the mountains.
To book or find out more about Redwood Forest click here.
How to get to Redwood National Park with Kids
Redwood National Park is located in Northern California. However, it is quite far away from many of the major cities.
It is around six hours from San Fransico and seven hours from Portland in Oregon. It might sound like a long journey, but no matter where you are coming from the park is spectacular.
Americans tend to drive in their own car or many tourists rent. It is located between Orick and Crescent City off Highway 101.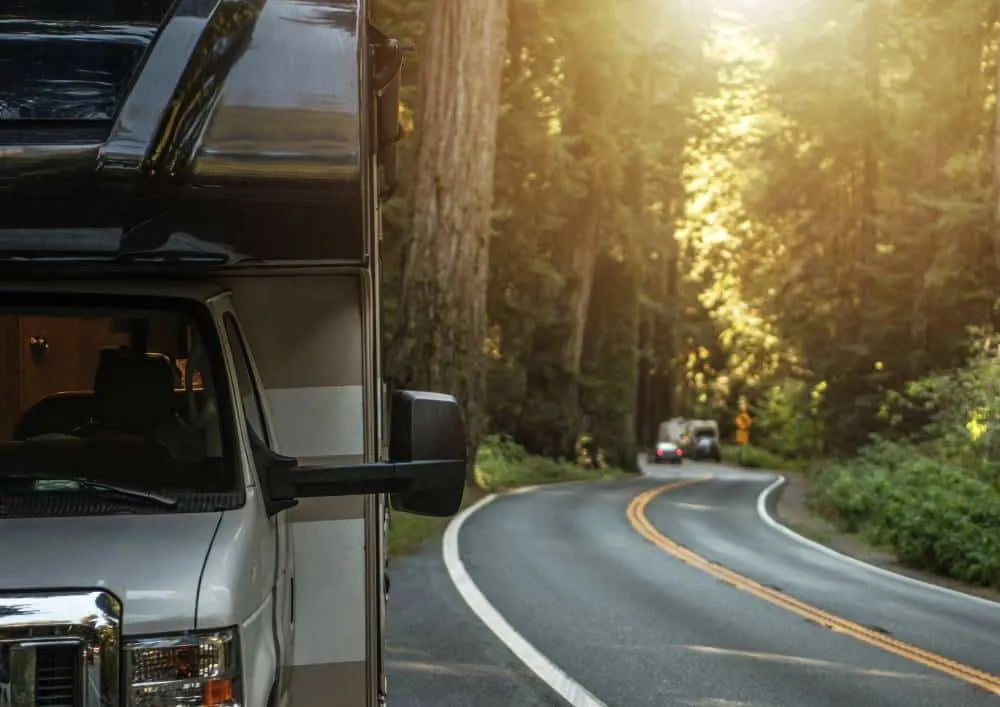 If the drive seems like a chore, then check out this private tour from San Fransico instead. It could be a great way of getting to see the Redwood National Park with kids.
The closest airports to Redwood National Park are Cresent City Airport and Eureka-Arcata Airport.
When to visit Redwood National Park
The park is open all year round. There are perks to visiting the park at different times of the year. However, summer is probably the best time to visit Redwood National Park with kids.
Summer is when many of the activities and tours run. So, if you want to take advantage of a private tour or the Ranger Program, plan to visit in June, July or August.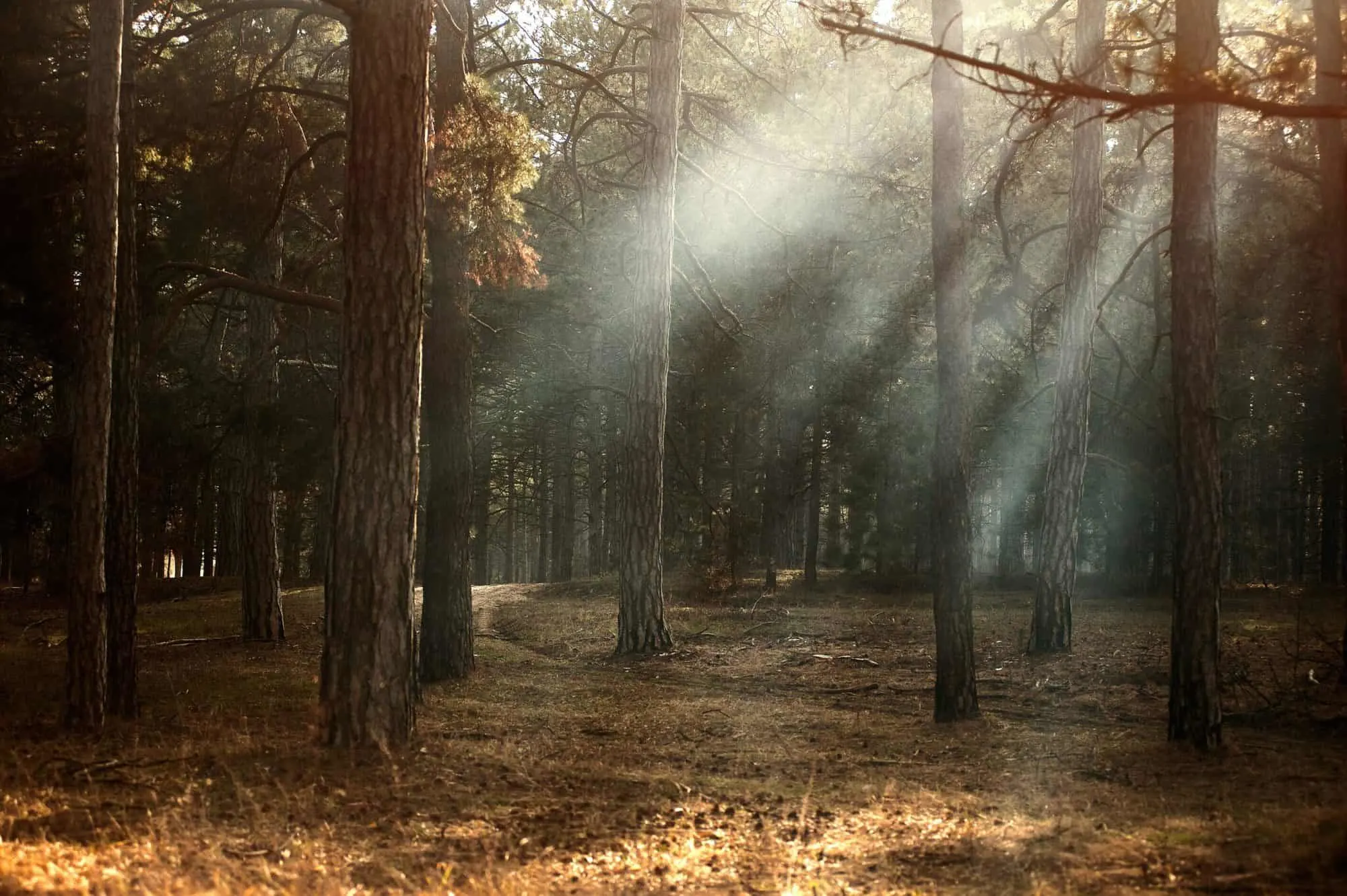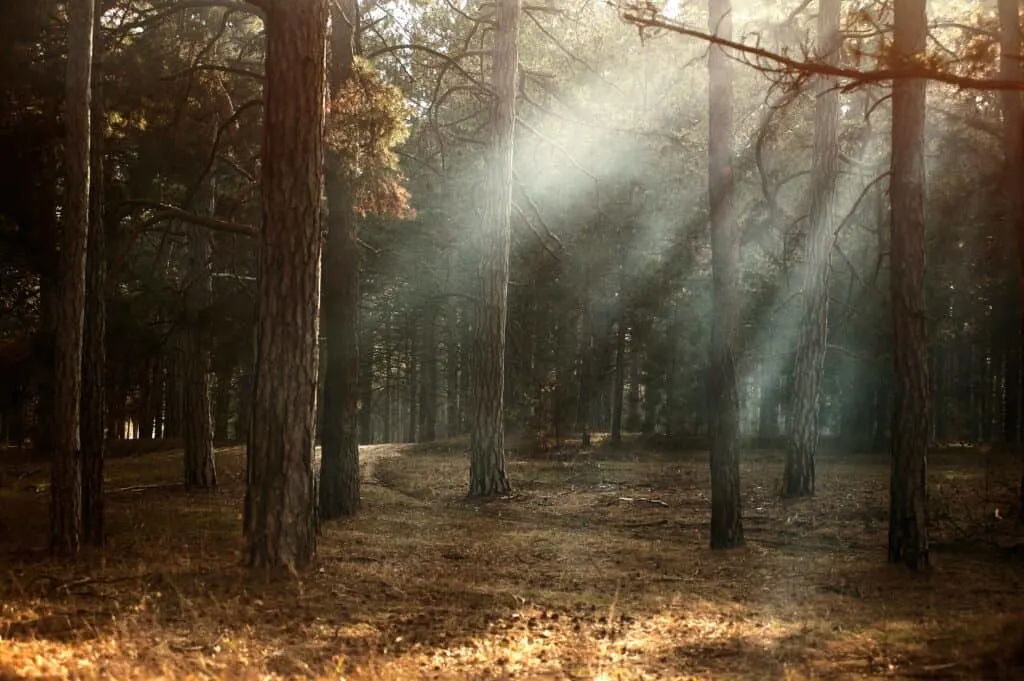 The weather in summer is warm, but not too hot. It is a great time to go hiking too. The campgrounds and hotels in the area book up quickly. It is best to book a few months in advance to avoid disappointment.
In spring and autumn, the weather is a lot cooler. So, warm jackets are needed. There are also fewer crowds.
Winter is when the park is quietest. There is plenty of storms and rainfall which makes it less appealing to visitors. However, prices are at their lowest so it's great for those on a budget.
What to Know Before you Arrive at Redwood National Park With Kids
Redwood National Park is one of the least visited national parks in the US. Possible because it is a little far from some of the major cities.
While many people refer to it as Redwood National Park, this usually includes the state parks too.
The Redwood National Park and State parks are made up of Redwood National Park, Jedediah Smith Redwoods, Del Norte Coast Redwoods, and Prairie Creek Redwoods State Parks.
All of these parks joined together to protect the Redwood trees in the area that make up over half of the world's growth.
Unlike many other national parks, Redwood does not operate a shuttle service. This means that the only way to get around is by car.
If you are renting a car to visit Redwood National Park with kids opt for an SUV or 4WD car. They are slightly higher up and can help to cross flooded areas if it rains. We rented an SUV here!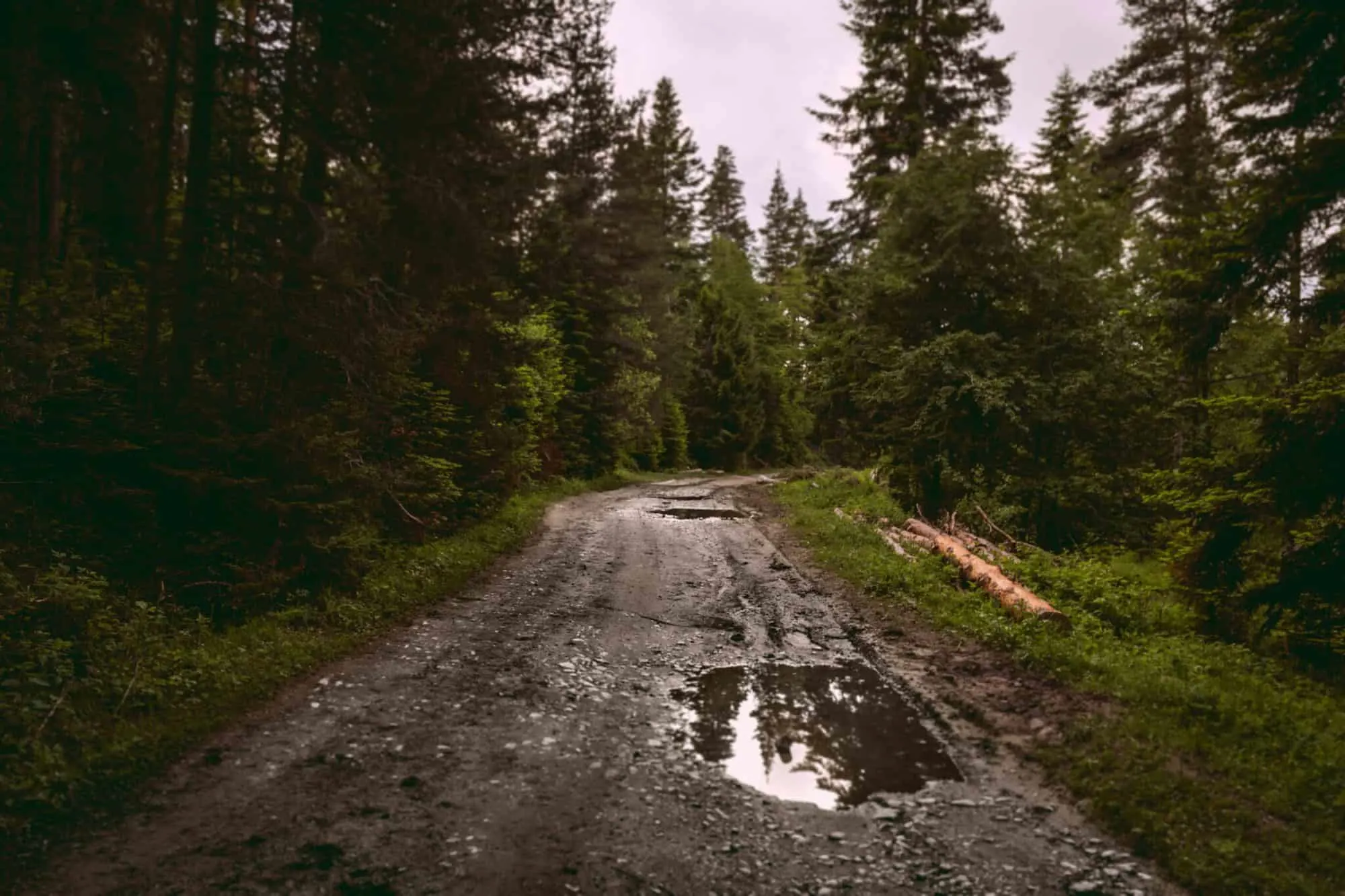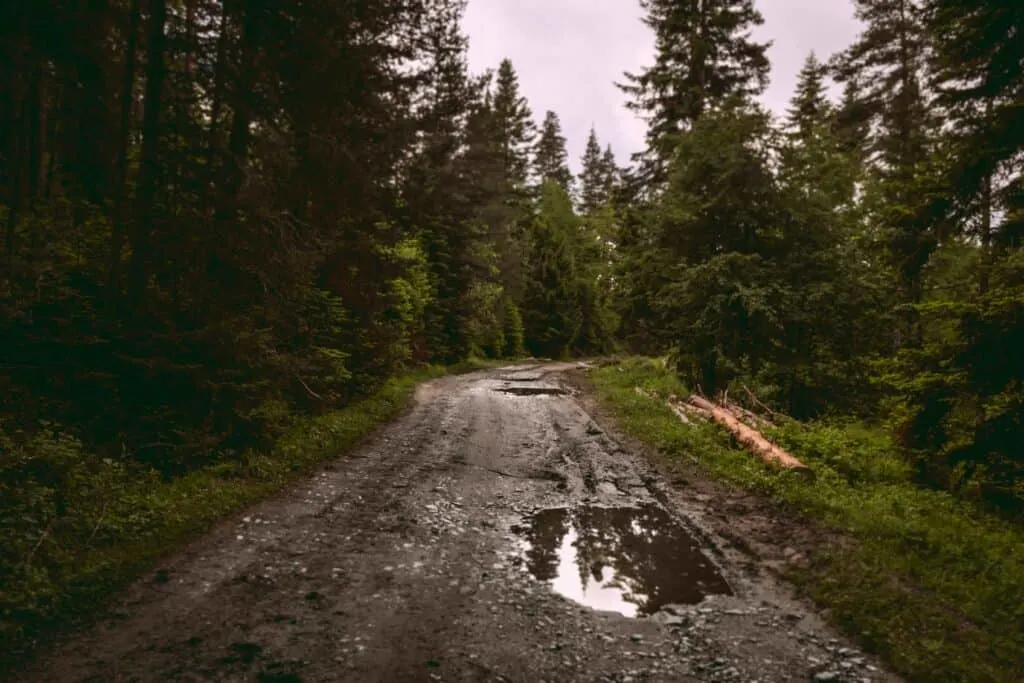 There are no restaurants at Redwood National Park. Before visiting, stock up on snacks and any food you might need.
The closest restaurants and shops are in Eureka and Crescent City, which are both about a forty-minute drive away which may not be ideal when visiting Redwood National Park with kids.
How Much does it Cost to Visit Redwood National Park with Kids?
There is no entrance fee to visit Redwood National Park with kids. However, there are fees to use the campgrounds.
Backcountry camping is free, yet it requires a permit. To visit the state parks, there is a $5 charge for the day. Fern Canyon charges an $8 entrance fee on top of this.
America the Beautiful Pass is accepted at Redwood. In fact, the annual pass allows you to visit over 2000 sites around the US. It is relatively inexpensive and a great investment if you plan on visiting a few federal sites throughout the year.
For more information about America the Beautiful Pass click here.
What to Pack When you Visit Redwood National Park with Kids
When planning for a trip to Redwood National Park with kids it is always best to be prepared. On top of the usual items, there are a few things to take.
Sale
A cooler bag is essential when travelling to the park. As there is nowhere to buy food and drinks inside.
Sale
Babyganics Insect Spray, 6oz, 2 pack, Made with Plant and Essential Oils, Packaging May Vary
Made without parabens, sulfates, phthalates, synthetic fragrances or dyes
Made with plant & essential oils of citronella, peppermint, rosemary, lemongrass and geranium
Plant and essential oils help keep mosquitoes away
Sale
The area tends to get a lot of rainfall, so it would be foolish to leave raincoats behind.
Redwood National Park with Kids Facts
California's climate is warm and dry, which is ideal for the Redwood Trees. The tannin in their bark is a natural insect repellent.
Redwood trees are able to withstand extreme temperatures and intense heat. This is due to the thick, rough bark acting as an insulator, trapping the heat and preventing it from reaching inside the tree- keeping it alive even amid a raging fire.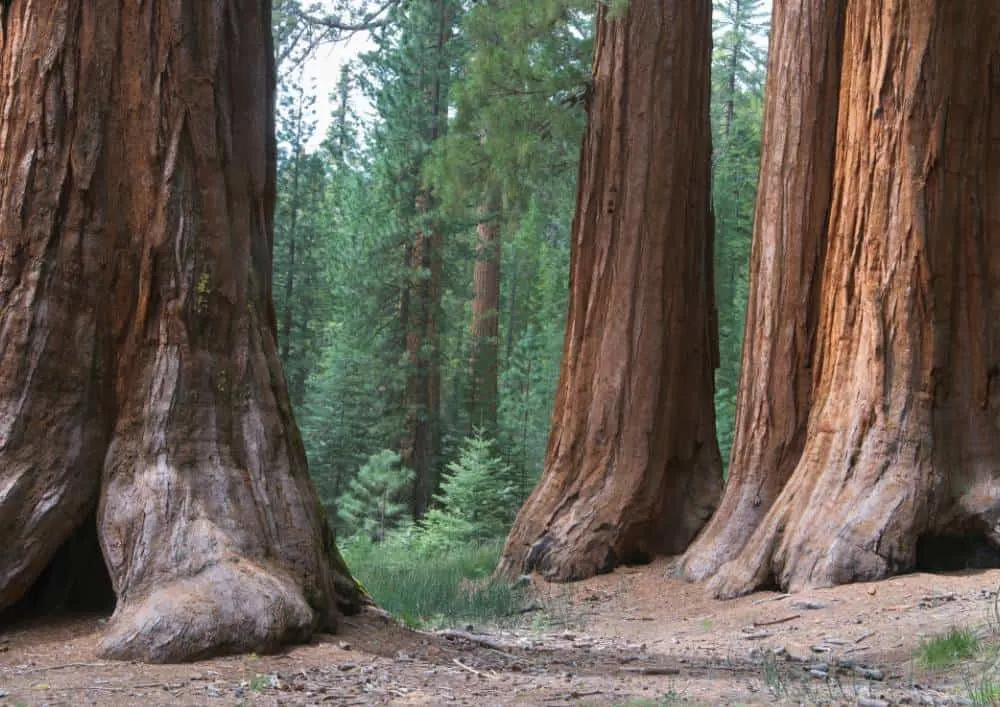 Redwoods live for about 600 years. However, some can live until 2000 years old. They are almost as old as dinosaurs.
Over 40 species of mammal have been spotted in the park, including bears, otters, elk and bobcats.
Several endangered species, like the bald eagle and the tidewater goby, are protected in the area.
One unusual creature living in the park is the banana slug. It got its name as it looks like a ripe banana.
Descendants of the American Indians still live on and off the reservations in the redwood area.
According to records, the tallest Californian redwood on record is 379 feet high.
Frequently Asked Questions On Redwood National Park With Kids
Can you recommend a redwoods park that kids will enjoy?
Redwood National and State Parks offers plenty of activities for kids of all ages. Some popular activities include picnicking, camping, exploring trails, and visiting the park's visitor centers.
The park offers ranger-led programs and educational activities that can help kids learn about the park's ecology and wildlife.
The Prairie Creek Redwoods State Park within Redwood National Park offers over 70 miles of trails, most of which are suitable for families.
What is the minimum number of days to spend at the Redwood National Park with kids ?
An overnight trip to the Redwood National and State Parks is ideal for a weekend getaway or a two-day excursion. However, those wanting to hike longer distances should plan for at least three days.
Considering the parks cover quite a large area, getting from place to place may take some time.
Plan an itinerary to ensure they get to experience all the Redwood National and State Parks have to offer.
Precisely what is Redwood National Park?
Redwood National and State Parks consists of four parks.
One National Park and Three State Parks (Del Norte Coast Redwoods, Prairie Creek Redwoods and Jedediah Smith Redwoods) located along the coast of northern California.
It is home to the tallest trees on Earth, the coast redwood (Sequoia sempervirens), covering an area of 172 square miles.
How come Redwood National Park and the three Redwood State Parks don't merge into one park?
The rationale is they are not adjacent to each other. For instance, the State Parks lie south of Crescent City, while Redwood National Park sits to the North, separated by a stretch of private land.
Also, state parks belong to the states where they are situated, not the federal government.
What time do the Redwood National Parks close?
The Redwood National Park is always open. In summer, visitor centres are open from 9 am to 5 pm each day.
In autumn and spring, they are available from 9 am to 4 pm and remain closed on Thanksgiving, December 25 and January 1.
Where can I find campgrounds at Redwoods?
Redwood National and State Parks comprise four campgrounds accessible all year round.
Mill Creek Campground (open in Summer Months from July to early October)
Jedediah Smith Campground
Elk Prairie Campground, and
Gold Bluffs Beach Campground
To make reservations for the four campgrounds, please visit Reserve California.
Do redwood trees still get harvested today?
The old-growth redwood forests have been harvested extensively over the years, leaving only a fraction remaining.
Young redwood trees are easier to harvest and are more plentiful, making them a preferred choice for many woodworking projects.
Does the redwood tree grow outside of the U.S.?
Redwood trees are native to the coastal regions of North America.
In the past few years, new populations of the species have made their way to the Whakarewarewa Forest region of New Zealand, where their growth has been remarkable.
Other areas include countries such as Australia, Portugal, South Africa and the United Kingdom, to name a few.
Is there a reason why redwood trees require fire to reproduce?
The heat of the fire creates an ideal environment for the seeds to germinate, and the clearings made by the fire provide an open area with plenty of sunlight and nutrients for the young seedlings.
Its ashes also help to fertilize the soil, further promoting the growth of the seedlings.
How often do California Redwood trees topple over during storms and when the soil is wet?
Redwood trees have shallow root systems, allowing them to sway in strong winds and thick bark, which protects them from extreme temperatures.
They are even resistant to pests and diseases, making them well-suited to weather events.
What is the difference between redwood trees and cedar trees?
Redwoods are part of the cypress family, which is why they don't produce cones like cedar trees (conifers).
The aroma of cedar trees is unique. It comes from the tree's essential oils, which are released when chopping and serve a variety of purposes, including a natural insect repellent.
Moreover, cedar wood has a high resistance to rot and decay, making it an excellent choice for outdoor projects.
To Sum Up Redwoods National Park With Kids
Redwood National Park might be a journey to get to, but once there visitors are met with spectacular views, great trails, enormous trees and the infamous Fern Canyon.
You May Also Like:
Things to do in Banff with Kids
Olympic National Park with Kids
Things to do in Yosemite with Kids
The Best Things to do in the Everglades with Kids
Pumpkin Farms in Maryland | Best pumpkin farms in Oregon | pumpkin picking in Florida | Best Pumpkin Farms In California
Will you be needing travel insurance, flights, rental cars, or hotels for your trip?
Disclaimer: This post on Redwood National Park with kids may contain affiliate links. By using them it will not cost you any extra, we will receive a small percentage of the sale.
Last update on 2023-11-30 / Affiliate links / Images from Amazon Product Advertising API