Redwood National Park is in Northern California. Around half a million visitors arrive every year to see the home of the tallest trees in the world. While there is plenty to do for everyone, let's look at the best things to do in Redwood National Park with kids.
There is no doubt that the park is filled with tall trees. In fact, there is even a drive-thru tree. However, that's not all there is. It is surprising to know that there is also a beach filled with tidepools. If that doesn't impress the kids, then the Fern Canyon where Jurassic Park II was filmed, might just do the trick.
As families wander around the 131,983 acres of the Redwoods, it is easy to feel dwarfed by the trees on every side. Many of the visitors at the park are families. It is a great place to get close to nature and take time out. Whether you visit Redwood National Park with Kids for a day or a weekend, there is plenty to keep the kids amused. They may not even want to leave!
Redwood National Park With Kids
On arrival at Redwood National Park, you might want to make a beeline for Hyperion, the tallest tree. This is where things get a little complicated. Hyperion is in the Tall Trees Grove, but to gain access to the trail, the lock combination is needed.
It is free to get and quite a simple process. Just apply online about two or seven days before you plan on hiking there. The lock combination is sent, then you are free to hike the trail and see the world's tallest trees.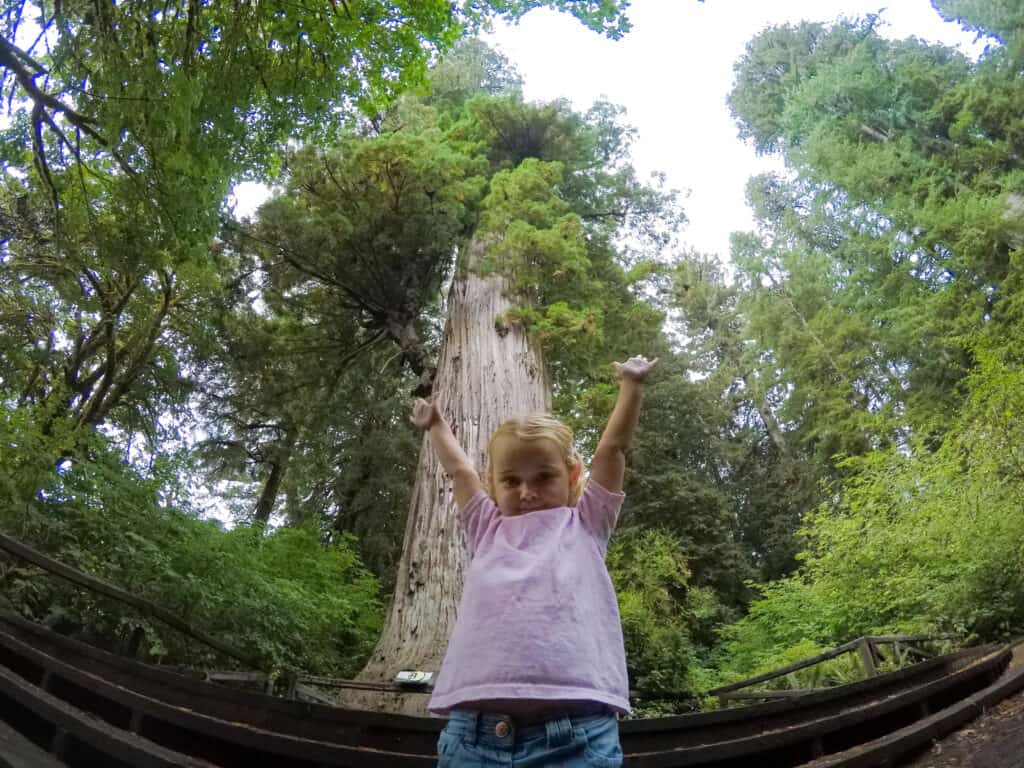 The trail is moderate and it is a 5km loop with an incline at the end. However, due to the permits needed it is a very quiet trail and has plenty of benches for kids and adults to have a rest. Babies and toddlers would need to be worn in a carrier as it is not suitable for a stroller, but it should be doable for kids.
So whereabouts is the tallest tree in the world? It is in the grove, but the location is kept secret. In order to protect the tree, there are no sign posts. Don't be disappointed as kids can find it fun trying to guess which one it is!
Things to do in Redwood National Park With Kids
Like many of the National Parks spread across the US, Redwood National Park has activities just for kids. One of the most popular national programs is the Junior Ranger Program. It is the perfect way for kids to learn more about the park while keeping them engaged.
Before leaving, print out the booklet at home or pick one up at the information centre at the park. The booklet is jam packed with activities about safety, things to see at the park and so much more. Depending on age, kids have to complete a required amount of activities to earn a certificate and a badge.
Redwood Forest with Kids
It is easy to be left gobsmacked by the trees in Redwood National Park. One of the best places to see them in all their glory is Stout Grove. It may not have the tallest trees or even the widest trees in the park, but it is definitely one of the most spectacular and magical places to see them.
The grove is usually quiet and the ground is flat. This makes it a great place for families to explore. There are plenty of fallen trees to see as well. As you enter the grove, there is a trail that leads directly to the grove's biggest tree, the Stout Tree. Due to damage, a viewing platform was added for visitors to keep their distance.
If visiting in summer, it is best to visit the grove in the late afternoon. It is around this time that the sunlight peeks through the darkness of the forest. Around that time the sunlight lights up the trees with breathtaking colours. It only lasts a couple of hours, so don't miss out.
One word of warning about Stout Grove is the mosquitoes. There are lots of them about, so take a good insect repellent along.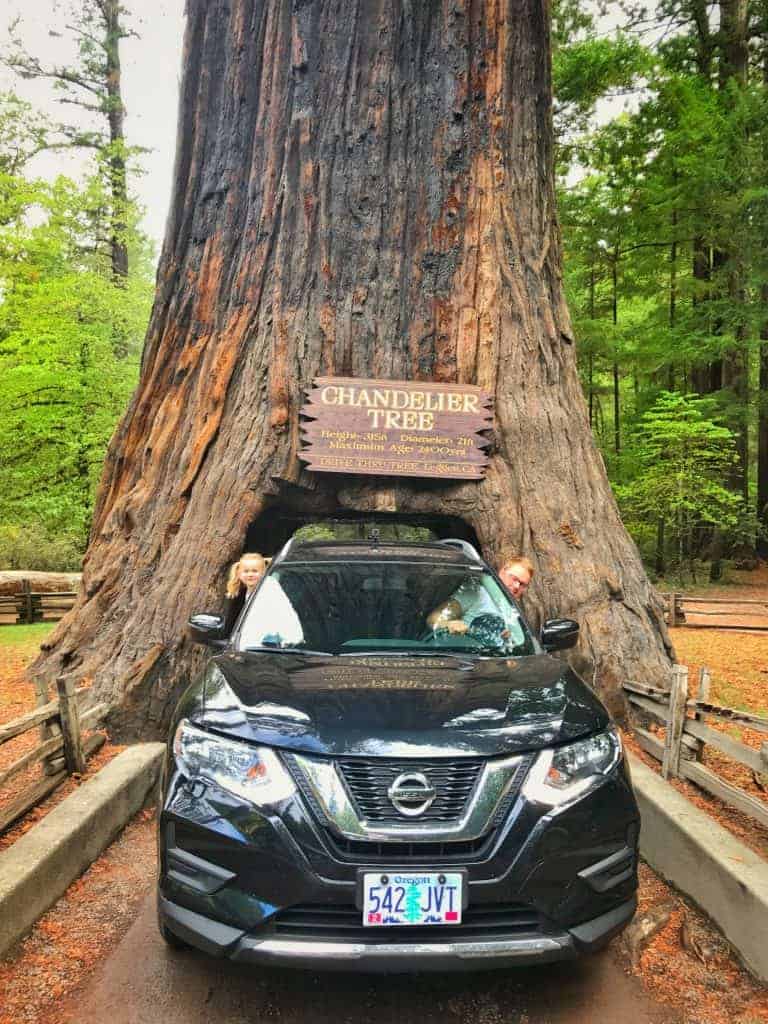 Things to do With Kids Near Redwood National Park
There are plenty of trails to explore the different parts of the park. Don't be surprised if a tree has fallen down on the path. It is usually not removed from the path. In fact, what usually happens is the rangers cut a hole through it.
Now there are even a few tourist attractions that allow cars to drive through the inside of the redwood trees. There are three in total but the most famous ones are the Chandelier Tree and the Klamath Tree. While they are technically not in the park, they are pretty close.
Both trees are open all year and it is a once in a lifetime opportunity to drive through a redwood tree. In fact, it is the perfect opportunity for a photo, so don't forget your camera!
Best Family Hikes, Redwood National Park With Kids
It is no secret, that little ones get bored and tired easily. This can make choosing a hike difficult. It needs to be short, easy and plenty to see and do along the way. The Ladybird Johnson Grove Trail is a perfect choice. The loop trail is just 2km and definitely kid-friendly.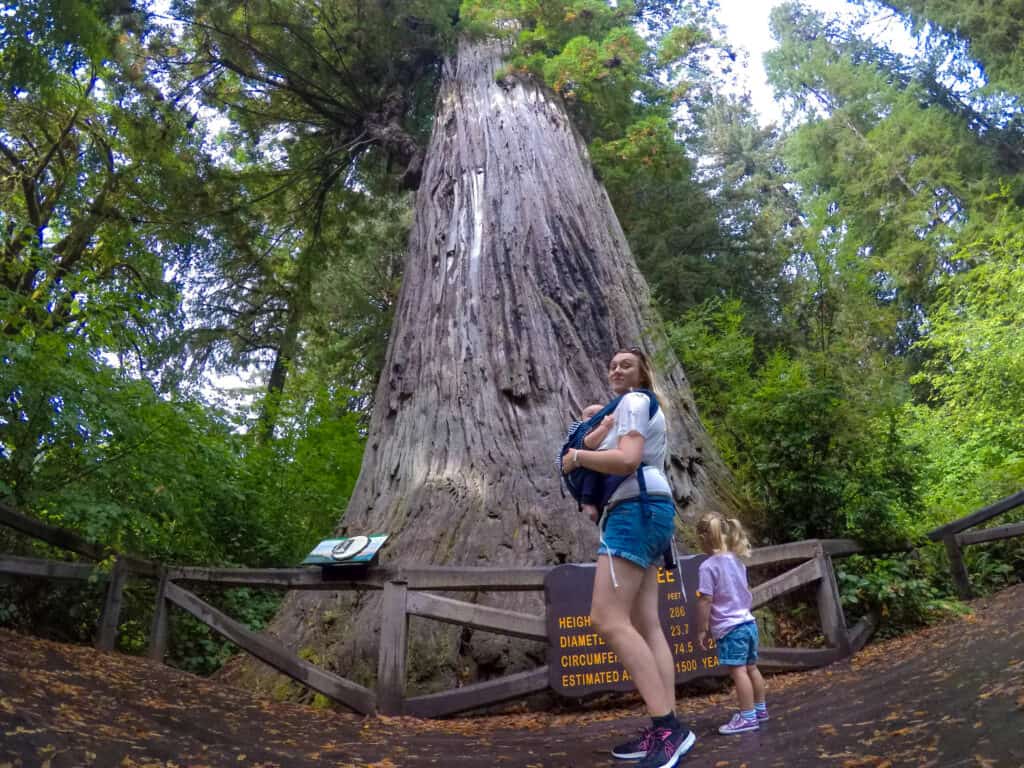 Along the trail, it can incline a little, but nothing little feet can't handle. It is a great place to see not only trees, but birds and flowers too. One of the best things about the trail is there are a few big trees for kids to go inside and check out.
The only downside to the trail is that it is not great for strollers. While the ground is pretty flat, there are a few places with a lot of mud that might make it difficult. However, as it is short babies and toddlers can be carried in a carrier easily.
Kid-Friendly Trails, Redwood National Park With Kids
The Fern Loop Canyon Trail is a busy trail. It is just under 2km which makes it short and sweet. It is a must-see when visiting with kids. As it is here that parts of the film Jurassic Park II were filmed and the BBC series Walking with Dinosaurs.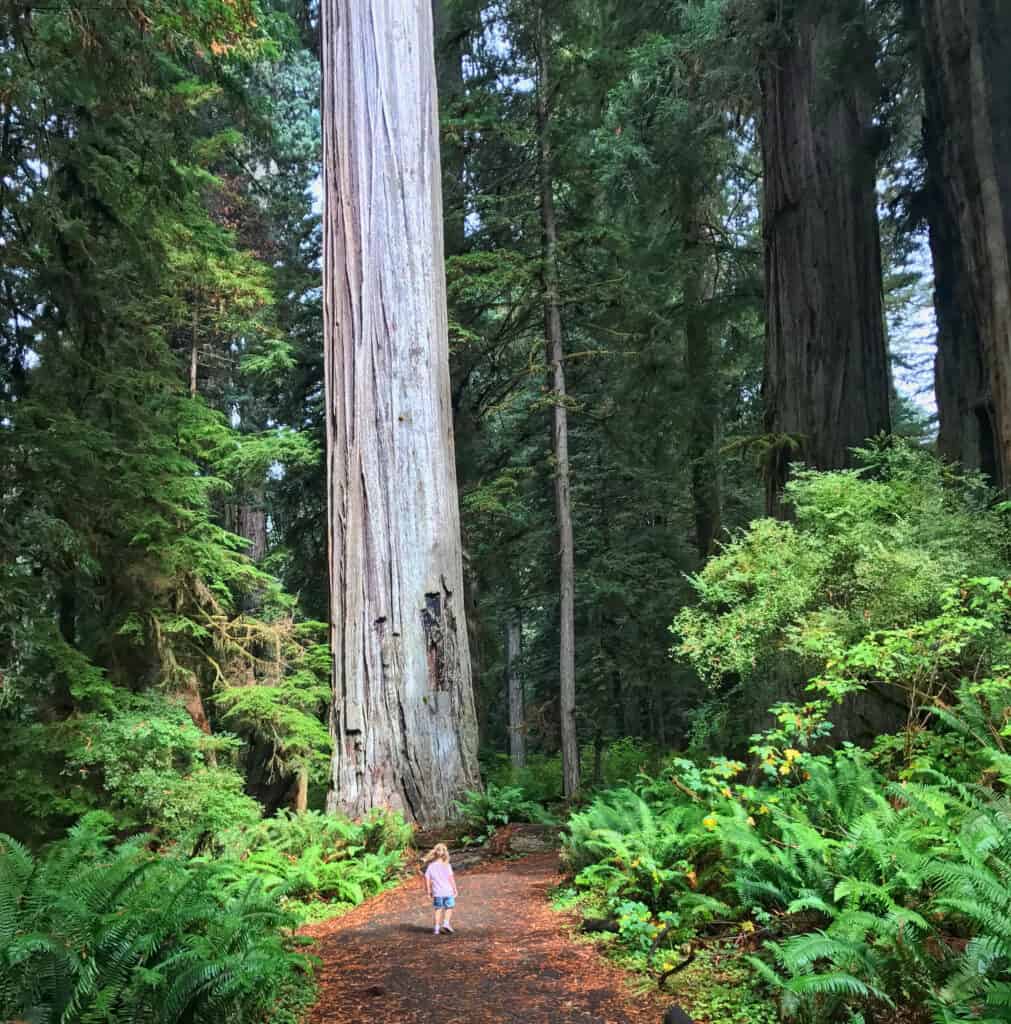 Expect to see ferns all around, a flowing river and creek bed. It really is a unique place that is sure to delight kids of all ages. Make sure to wear waterproof shoes as there are plenty of opportunities to get your feet wet. In fact, be prepared to climb over logs and see some animals along the way.
The trail is located in Prairie Creek Redwoods State Park and there is a small charge to enter the park. However, it is worth it. The park is accessible by car too, but be careful as the roads are narrow and there are a few blind corners.
Hikes for Older Kids, Redwood National Park With Kids
Redwood National Park with Kids doesn't have to be all about trees. Walk along the Last Chance California Coastal Trail and it leads to a secluded beach. There are plenty of tide-pools to keep older kids amazed.
The hike is just over 2km with breathtaking views of the ocean and cliffs. At the end of the trail, there are two forks. One is to the beach and the other is for a Creed side trail. That part of the trail is a little overgrown and there may be some fallen trees along the way. However, that just adds to the adventure.
To take advantage of the tidepools, visit the beach during low tide. Check out the tidepools a little further south as they tend to be the most interesting. The trail and the beach are usually relatively quiet which means plenty of opportunities to explore.
Best Campgrounds, Redwood National Park With Kids
Redwood National Park has campgrounds scattered throughout. There are also places to set up RVs too. The largest campground is Mill Creek campground. It is not far from Highway 101 and it can accommodate both camping and RVs.
It is in the north, but a great location to explore all of the parks. The only downside is the campground is only open in summer.
Another campground is Mystic Forest RV Park. It is right in the middle, which makes it one of the most convenient places to stay. Tents and RVs are both welcome and there are a lot of facilities onsite too. This campground is also right beside Trees of Mystery.
The attraction is not part of Redwood National Park, but it is jam-packed with family activities. It not only has its own trails and a museum, but SkyTrail gives visitors a gondola ride through the forest treetops with amazing views.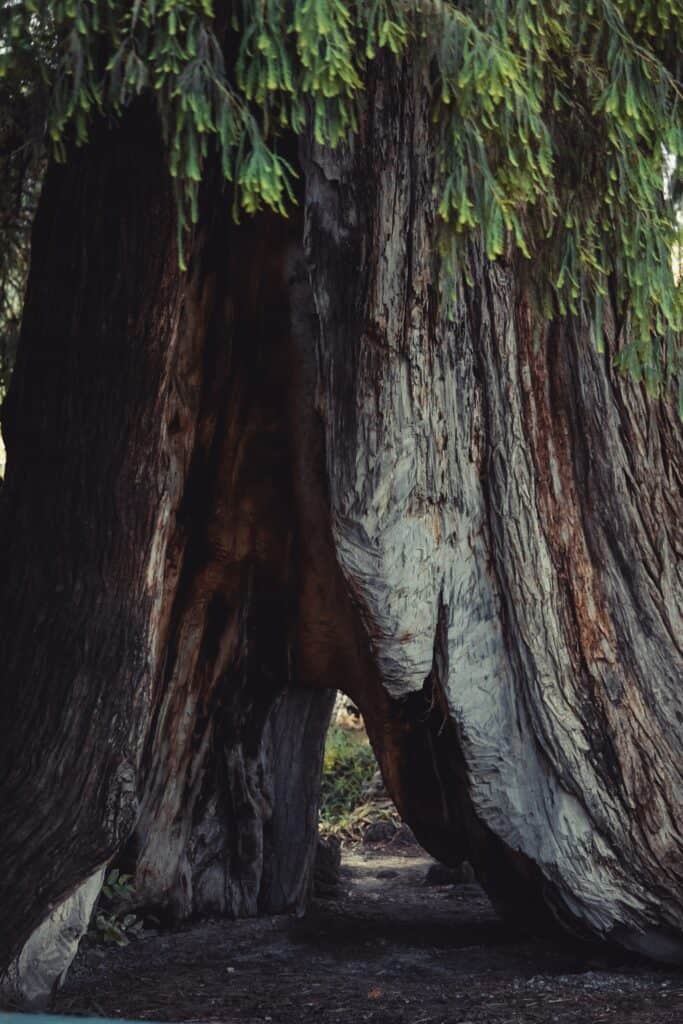 Campgrounds Near Redwood National Park With Kids
Many campgrounds onsite can get booked up quickly, if the trip is spur of the moment then looking a bit further afield might help. Redwood Coast Cabins and RV Resort is located about an hour away in a town called Eureka.
The site offers a place for RVs, camping and even log cabins. There is plenty to do for kids onsite including, an outdoor swimming pool, mini-golf, and a playground. Adults can take advantage of the hot tub too. There is even a dog park for the family pet.
Click here for prices and availability at Redwood Coast Cabins and RV Resort.
Where to Stay at Redwood National Park With Kids
A little further north from the park is Orick. It sits right on the banks of Redwood Creek and it is only a short drive to the park. There are a few holiday homes in the area and Orick Getaway is one of them. The three-bedroom home has everything families need as well as mountain views.
The decor is inviting and it has a private patio overlooking the forest. There are plenty of trails in the area or hop on the free bikes. The house has a fully-equipped kitchen, however there are also a few restaurants in the nearby seaside town, Trinidad.
Check availability and prices for Orick Getaway here.
Family Hotels Near Redwood National Park
Right on the edge of Redwoods National Park is the Holiday Inn Express. The hotel is in a unique position as it is only a few minutes drive from the park itself. It has comfy beds to relax in after a long day hiking in the park.
Boarding comes with breakfast and there are tea and coffee facilities in the room. There is also free parking on-site and it is not far from Klamath city centre. Klamath River Jet Boat Tours is just a few minutes drive away.
To find out more about the Holiday Inn Express click here.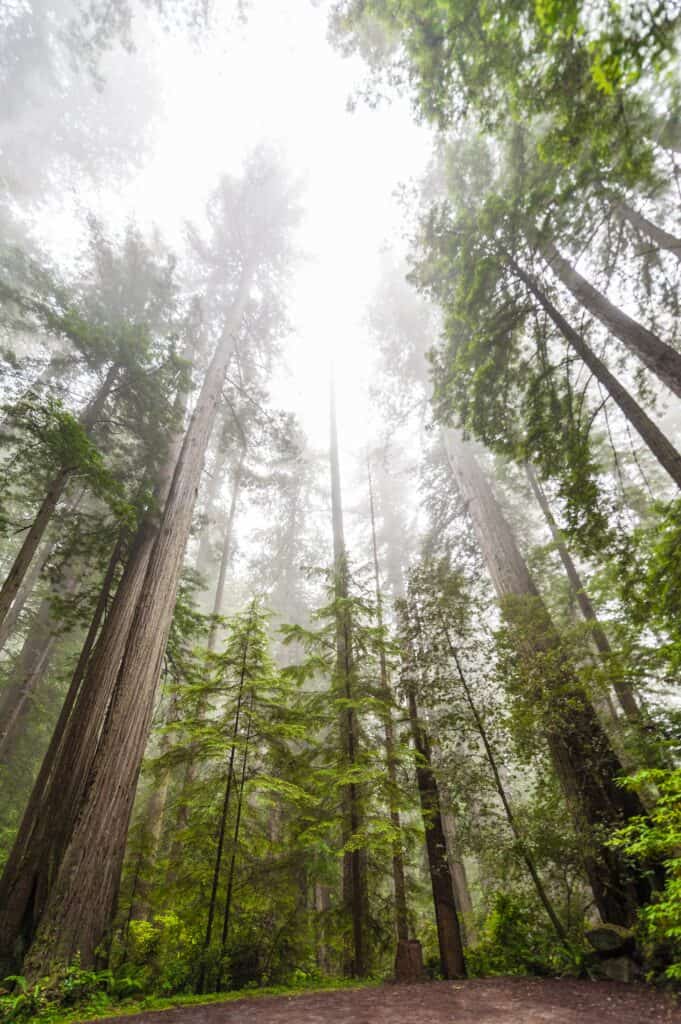 Cabins Near Redwood National Park with Kids
Cabins are a great choice when visiting the park. There are a few located in Orick and one cabin that stands out from the rest is Stylish Cabin. This getaway is perfect for families as it is secluded, yet comfortable and close to the town centre.
The cabin is fully equipped and some of the features include a wood-burning fireplace in the living room and a fire pit to toast marshmallows in the private garden. With jaw-dropping views and just a short drive to the beach, what more could you ask for?
Click here to find out prices and availability for Stylish Cabin.
Towns North of Redwood National Park with Kids
About an hour and a half north of Redwood National Park is Crescent City. It is just off Highway 101 and is the perfect place to stay if you are combining the park with a road trip. the town has plenty of restaurants and places to explore.
Redwood Forest has a garden for the kids to run around in and a restaurant for guests. It is about a mile from the beach and the city centre. Each room has a balcony and some even have a view of the mountains.
To book or find out more about Redwood Forest click here.
How to get to Redwood National Park with Kids
Redwood National Park is located in Northern California. However, it is quite far away from many of the major cities. It is around six hours from San Fransico and seven hours from Portland in Oregon. It might sound like a long journey, but no matter where you are coming from the views are spectacular.
Many people choose to make their own way in their own car or rent one. It is conveniently located between Orick and Crescent City off Highway 101. This means that it is easy to find and easy to get to. However, if the drive seems like a chore, then check out this private tour from San Fransico instead.
The closest airports to Redwood National Park are Cresent City Airport and Eureka-Arcata airport. They are small airports, so it might not be possible to land there. However, there are regular flights from the San Fransico Airport and Portland Airport.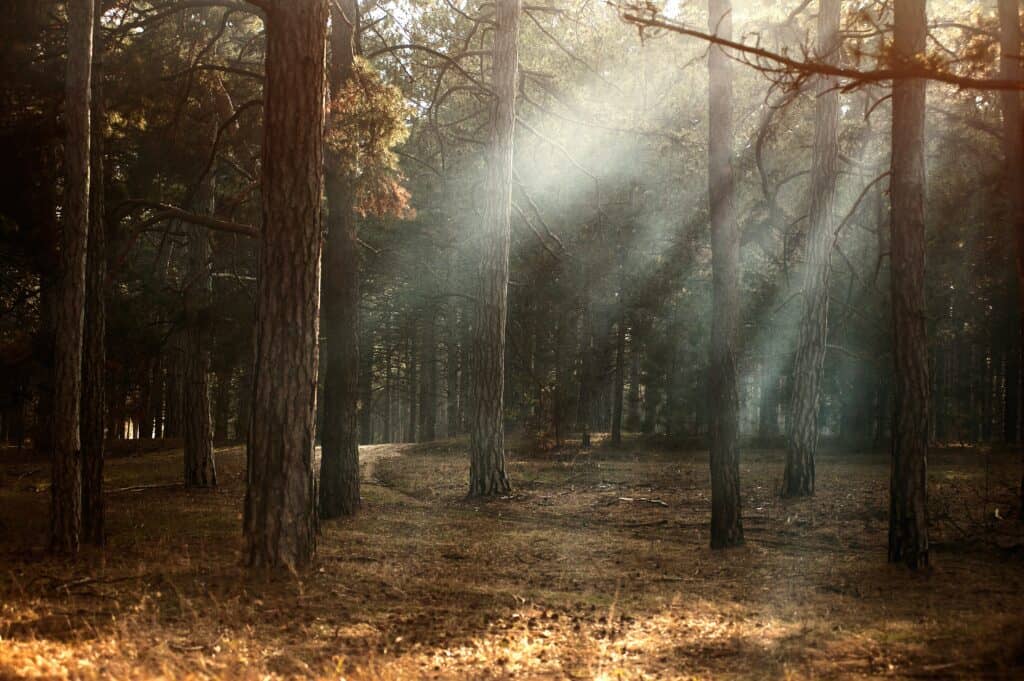 When to visit Redwood National Park
The park is open all year round. There are perks to visiting the park at different times of the year. However, summer is probably the best time for many reasons. Summer is also the time of year when many of the activities and tours run. So, if you want to take advantage of a private tour or the Ranger Program, then plan to visit in June, July or August.
The weather in summer is warm, but not too hot. It is a great time to go hiking too. The campgrounds and hotels in the area book up quickly at this time. So, it is best to book a few months in advance to avoid disappointment.
In spring and autumn, the weather is a lot cooler. So, warm jackets are needed this time of year. There are also fewer crowds. People tend to visit at this time of year to take on a few of the more challenging hikes located across the park.
Winter is when the park is quietest. There is plenty of storms and rainfall at this time of year, which makes it less appealing to visitors. However, prices are at their lowest so it's great for those on a budget.
What to Know Before you Arrive at Redwood National Park With Kids
Redwood National Park is one of the least visited national parks in the US. It is probably due to its location as there is plenty to do and see there. While many people refer to it as Redwood National Park, this usually includes the state parks too.
The Redwood National Park and State parks are made up of Redwood National Park, Jedediah Smith Redwoods, Del Norte Coast Redwoods, and Prairie Creek Redwoods State Parks. All of these parks joined together to protect the Redwood trees in the area that makeup over half of the world's growth.
Unlike many other national parks, Redwood does not operate a shuttle service. This means that the only way to get around is by car. If you are renting a car then opt for an SUV or 4WD car. They are slightly higher up and can help to cross flooded areas if it rains. We rented an SUV here!
There are no restaurants at Redwood National Park. Before visiting stock up on snacks and any food you might need. The closest restaurants and shops are in Eureaka and Crescent City which are both about a forty-minute drive away.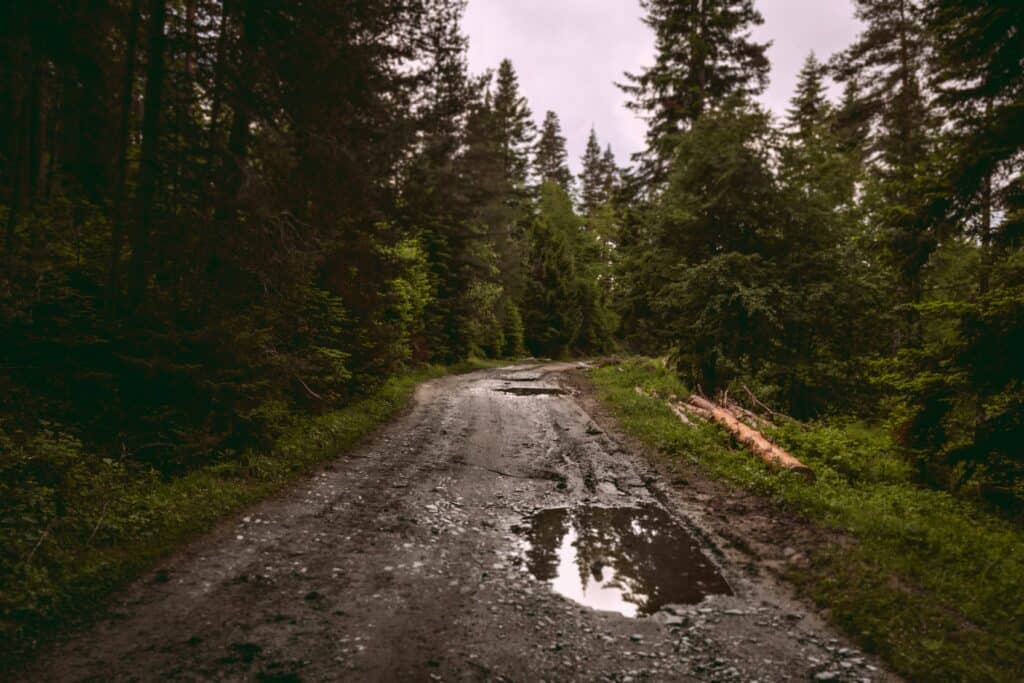 How Much does it Cost to Visit Redwood National Park with Kids?
There is no entrance fee to visit Redwood National Park. However, there are fees to use the campgrounds. Backcountry camping is free, yet it requires a permit. To visit the state parks, there is a $5 charge for the day. Fern Canyon charges an $8 entrance fee on top of this.
America the Beautiful Pass is accepted at Redwood. In fact, the annual pass allows you to visit over 2000 sites around the US. It is relatively inexpensive and a great investment if you plan on visiting a few federal sites throughout the year.
For more information about America the Beautiful Pass click here.
What to Pack When you Visit Redwood National Park with Kids
When planning for a trip to Redwood National Park with kids it is always best to be prepared. On top of the usual items, there are a few things that visitors should pack when they visit.
Redwood National Park with Kids Facts
Want to impress your kids with some jaw-dropping facts about Redwood National Park? Then keep reading.
Redwoods live for about 600 years, however, some can live until 2000 years old
Over 40 species of mammal have been spotted in the park, including bears, otters, elk and bobcats
Several endangered species, like the bald eagle and the tidewater goby, are protected in the area
One unusual creature that lives in the park is the banana slug. It got its name as it looks like a ripe banana
Descendants of the American Indians still live on and off the reservations in the redwood area
Redwood National Park might be a journey to get to, but once there visitors are met with spectacular views, great trails, enormous trees and even a famous canyon. It is a park not to be missed with lots to keep little ones and older kids engaged.
You May Also Like:
Things to do in Banff with Kids
Olympic National Park with Kids
Things to do in Yosemite with Kids
The Best Things to do in the Everglades with Kids
Pumpkin Farms in Maryland | Best pumpkin farms in Oregon | pumpkin picking in Florida | Best Pumpkin Farms In California
Will you be needing travel insurance, flights, rental cars, or hotels for your trip?
Disclaimer: This post may contain affiliate links. By using them it will not cost you any extra, we will receive a small percentage of the sale.