Yellowstone National Park, the perfect Wyoming vacation is often a bucket list destination! People have heard about, read about or seen in a nature documentary.
It is often put on a bucket list for when the kids have flown the nest. I'm here to tell you that you shouldn't do that because Yellowstone with kids can be awesome.
I haven't visited anywhere you can experience the raw nature of earth while combining it with wildlife in stunningly beautiful landscapes.
Nowhere else can you see wildlife treading carefully and negotiating their way around hot springs and erupting geysers. There are not many other places you need to stop your car along a river to let a herd of bison cross.
3 Day Itinerary In Yellowstone For Kids
Yellowstone is somewhere you simply have to visit to appreciate. And you need to visit Yellowstone park with your kids.
How much time you spend in Yellowstone Park very much depends on whether you want to visit Yellowstone itself, or incorporate it into a USA road trip. Why do one, when you can do both?
And that's exactly what my husband and I did last year with our then three-year-old son. We took on a two-week USA road trip visiting Yellowstone, parts of Montana and Portland.
We spent three and a half days exploring all the wonders of Yellowstone and in this post, I'm going to tell you how you can see the best of Yellowstone with kids in three days. Note that this itinerary starts each day from the West Yellowstone Gate in Montana.
Exploring The Geysers On Day One
Yellowstone National Park is most famous for one thing, its geysers, and there's none more famous than the Old Faithful. The Geyser Basin was the first area we headed to once we entered the park and it is just one of the best things to see in Yellowstone National Park.
Coming from West Yellowstone, you drove along the Madison River and turn right at Madison Junction to head South along Firehole River.
The three geyser basins are located along this road within 17 miles of the junction. It is worth stopping along the river to stretch your legs and let the kids throw stones into the water, as the scenery is just stunning.
There will be no stone-throwing in the next places you stop. Although the Lower Geyser Basin is the first one you meet along this road, I would suggest getting into the park early and going to the Midway Geyser Basin first for two reasons.
1. The Midway Geyser Basin
Firstly, this is where the famous Grand Prismatic Hot Spring is located and secondly, it has a very small car park. We drove past this basin on our first afternoon in Yellowstone and there was no parking available in the car park.
It was also so busy that cars were parked along either side of the road for a mile or two in both directions. This is understandable as it is one of the most popular things to see in Yellowstone.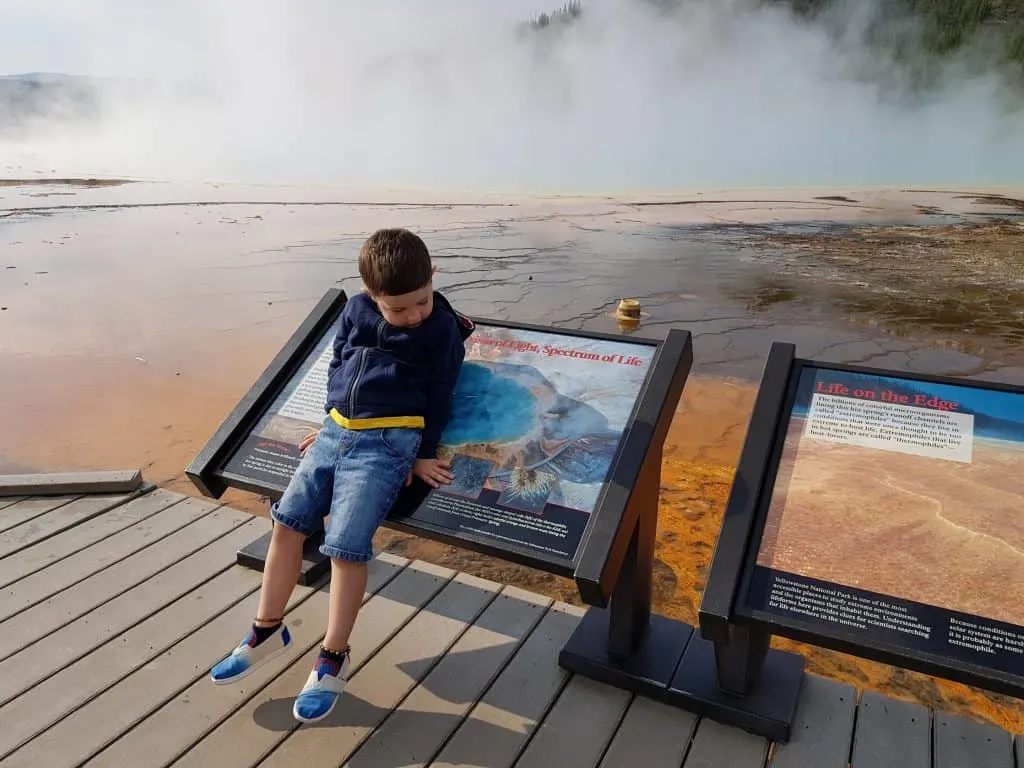 We arrived there before 9 AM the next morning and found plenty of parking. Exiting the car, the smell of sulphur hits you straight away and it's a smell you'll become accustomed to while visiting Yellowstone National Park. Our son was certainly not a fan saying, "yuck mummy I don't like it".
As well as the Grand Prismatic Hot Spring, you can also see the Opal and Turquoise pools and the Excelsior Geyser whose runoff flows into the Firehole River below. Your visit to the Midway Geyser Basin should last about an hour to an hour and a half.
Our son was fascinated by the boardwalk and the colours we could see at the edge of the Prismatic Spring. After visiting this area, I'd suggest doubling back a few miles and visiting the Lower Geyser Basin. Although this area also has a small car park we had no trouble finding a spot.
2. Lower Geyser Basin
At the Lower Geyser Basin, you'll find a great mixture of thermal features including mud pots, fumaroles, springs and geysers spaced out across nearly 12 square miles. The Fountain Paint Pot is a beautiful pool with the most turquoise deep blue colour in its lower half and is one you should get your camera out for.
The steam coming from some of the fumaroles caught our son's attention when we told him it was from a dragon. From then on, steam meant dragons. And it meant he never got bored.
There are several geysers located in this location with one at almost constant eruption, the Clepsydra Geyser. You also have a good chance of seeing the Jet Geyser erupting during your visit here.
Your visit to this geyser basin will take between 30 and 60 minutes depending on little legs and whether a geyser starts erupting during your visit. And just be aware that you may get sprayed with water from the eruptions. While this is not harmful to us, you might want to ensure you clean any water and deposit on your camera lenses and glasses as they can leave deposits which are impossible to remove once dry.
Our son just couldn't understand why the water was shooting up into the sky and where it was coming from. But it didn't stop him from stopping and staring at the geysers for what seemed like ages.
3. Upper Geyser Basin
Next on your Yellowstone itinerary will be the Upper Geyser Basin where you will find Old Faithful. While there are no less than four other geysers in this basin, Old Faithful is the one everyone wants to see.
And it will even amaze kids. It is the most predictable erupting geyser in Yellowstone, with its eruptions lasting between 1.5 and 5 minutes on a cycle of between 60 and 90 minutes. The time between eruptions depends on the length of the previous eruption.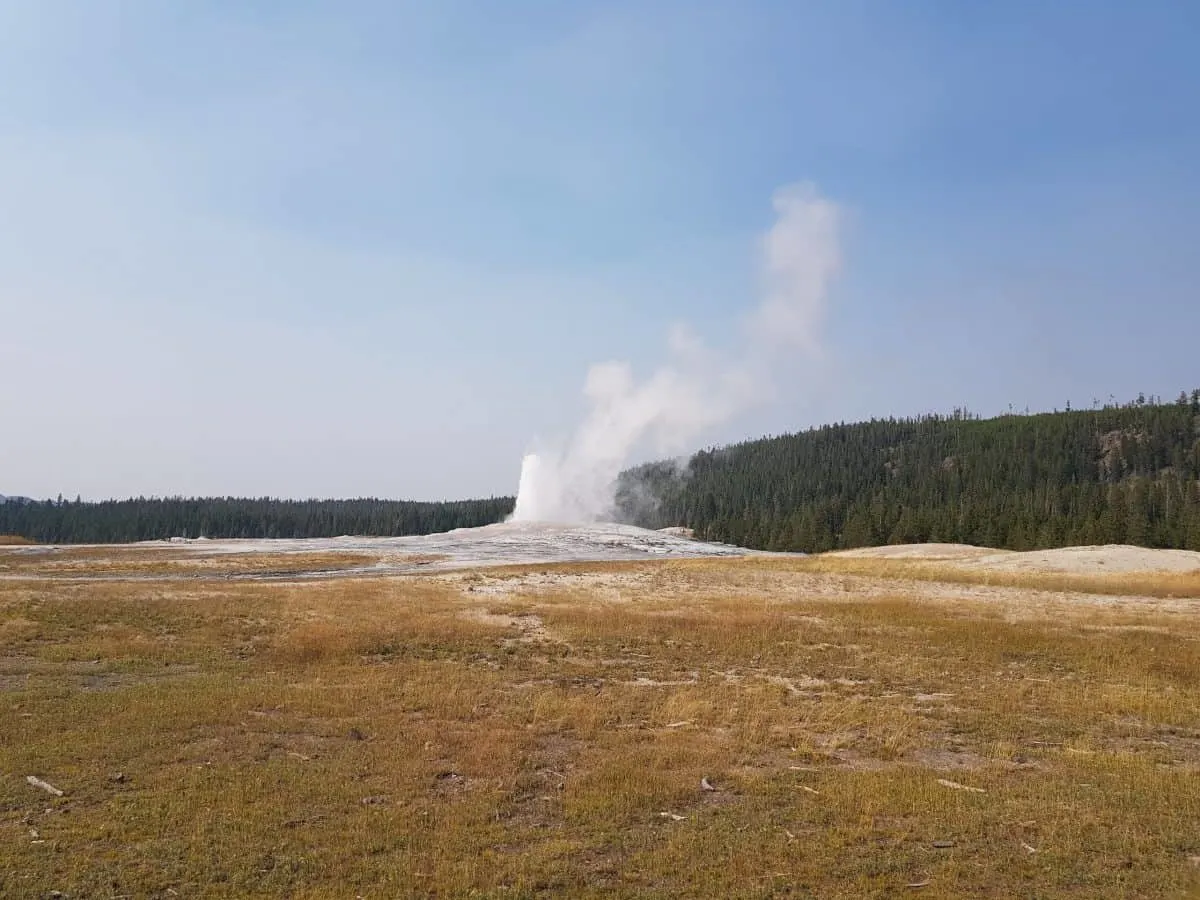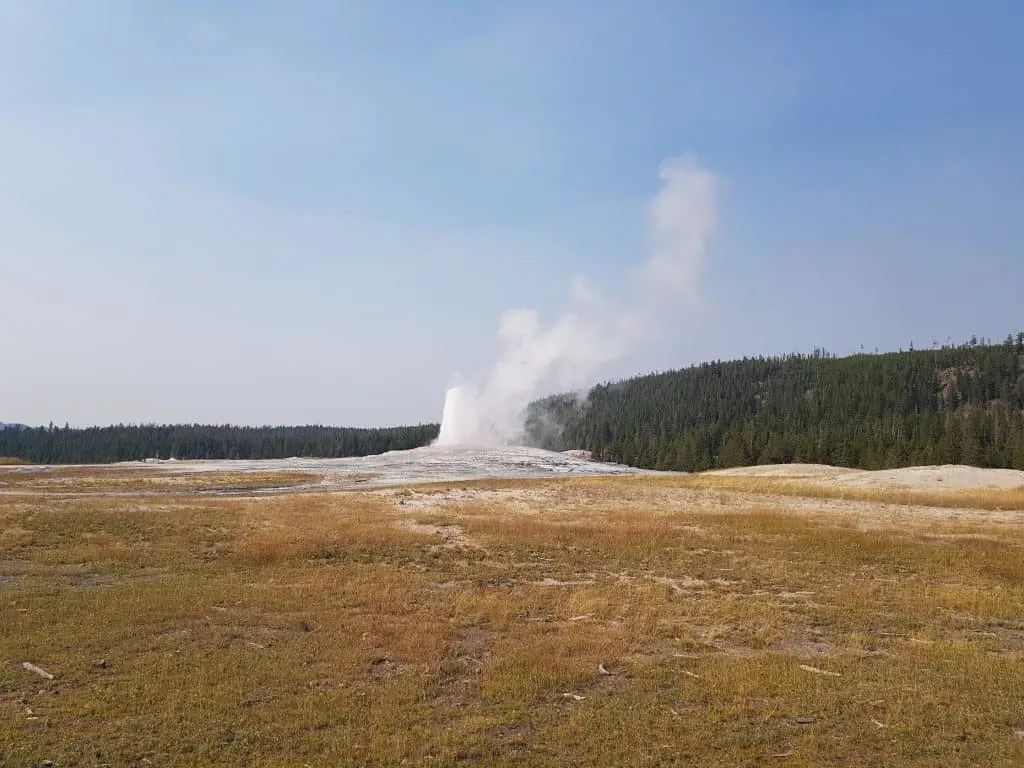 The car park at the Upper Geyser Basin is one of the largest in Yellowstone National Park, and although it will always be busy, we found a parking spot easily enough as someone was leaving.
We had just missed one eruption as we were arriving, so elected to have lunch in the Old Faithful Lodge while we waited for the next eruption as I knew our son wasn't going to sit on a bench for potentially 90 minutes.
4. Old Faithful Visitor's Centre
There is also a Visitor's Centre located in this area, and trails to walk which will lead you towards the other geysers if you need to kill some time. Your stay in this area will be anything from an hour to a couple of hours depending on whether you catch an eruption as soon as you arrive.
And whether you want to visit some of the other geysers, walk a trail, and whether your husband wants to browse the gift shops in the Old Faithful and Snow Lodge, like mine! And when Old Faithful finally erupted, it stopped our son dead in his tracks who became entranced for a few minutes by the erupting water.
5. West Thumb Geyser Basin
From Old Faithful and the Upper Geyser Basin, and depending on the time of day, you could drive across the road to visit the Lone Star Geyser, or carry on towards the West Thumb Geyser Basin, just a few miles east of Old Faithful. We only briefly visited the West Thumb Geyser Basin, which lies on the edge of Yellowstone Lake. Note, that all of the Geyser Basins have wooden boardwalks which take you around the areas.
Many do not have rails or barriers, so keep a tight hold of young kids. We chose to use preschool reins with our son to ensure we had a hold of him at all times, but still allowing him a bit of freedom. You can cover some of the top 10 things to see in Yellowstone on day one and tick off the must-see geysers of Yellowstone before changing focus for day two.
Our son was never bored at any of the geyser basins, and in some cases, we piqued his imagination by making a game of things and telling him steam from the ground was a dragon's breath coming from a cave.
Explore The Wilderness On Day Two
6. Drive The Grand Loop
One thing we wanted to do on the Yellowstone National Park itinerary was to drive the Grand Loop. This is the road that loops around Yellowstone in a circle over 142 miles, hence its name. We chose to split it across two days and did the Lower Loop first.
From the Madison Junction, we followed it south past the Geyser Basins, past West Thumb and Lake Village, and onto Canyon Village. From here we drove west towards Norris and completed our loop back at Madison Junction.
7. Sightseeing Enroute Canyon Village
Once you leave the main geyser basins and drive past West Thumb, you will follow the road along the edge of Yellowstone Lake, the largest body of water in Yellowstone. It's worth taking a small detour at Lake Village to the Fishing Bridge.
We stopped here for a short time to enjoy the view, walk along the river and let our son throw stones into the water. Stones and rivers/lakes go hand in hand, don't they? Afterwards, we had tea and cakes in the Lake Lodge before carrying on north towards Canyon Village.
Along the way, there is another thermal area which is home to the Mud Volcano, the Dragon's Cauldron, the Sour Lake and the Dragon's Mouth Spring. For our son who loves dragons and going dragon hunting in castles, this area was probably his favourite thermal, springs area. Of all the geothermal areas we visited in Yellowstone, this one had the strongest "rotten egg" smell.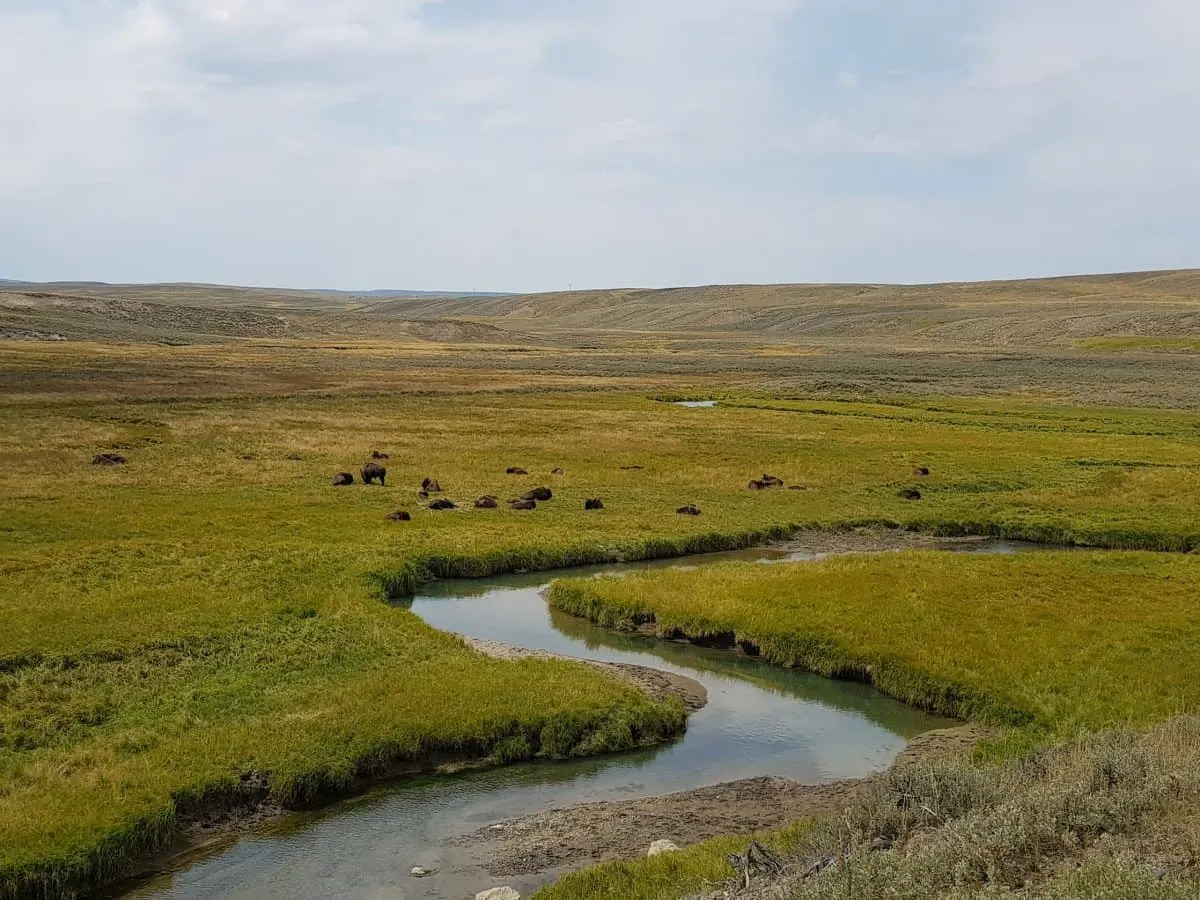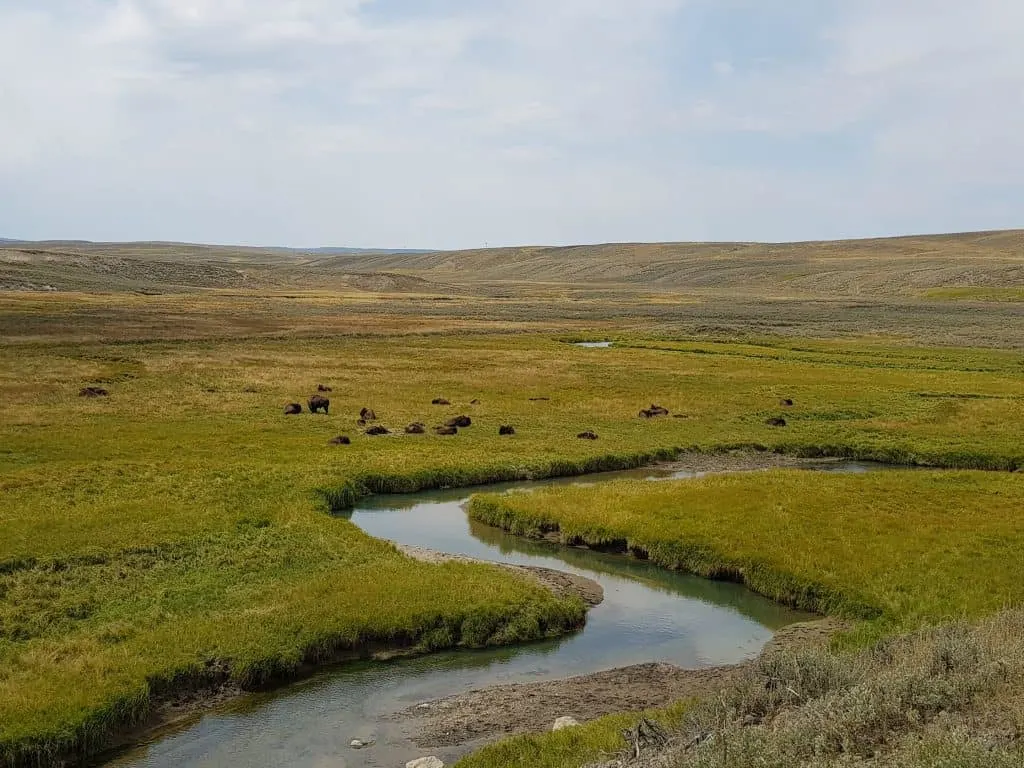 We discovered halfway up the steep boardwalk that by going clockwise, instead of anticlockwise, there was a gentler upwards walk to discover this area. So, my advice to you is to go left from the car park, past the Mud Cauldron and Mud Geyser.
After leaving here you follow the Yellowstone river along the Hayden Valley, a stunning lowland area where you are sure to spot bison. If you see cars stopping ahead of you or pulling in, you can be sure it's because of bison. We stopped a few times along the road to catch a glimpse of some small herds of bison. Our son was fascinated by them and bison became the new word of the day as we spotted more and more of them.
Waterfalls – Yellowstone Family Vacation
Your last stop along the lower half of Grand Loop Drive will be the Canyon Village. Why should you stop here? To show the kids two of Yellowstone's amazing waterfalls.
8. Upper Falls
The Upper Falls is the first one you will meet, and it can be viewed from above at the Brink of the Upper Falls or from the viewpoint.
Unfortunately, at the time of our visit, the viewpoint was closed for maintenance, so we could only view the Upper Falls from on top. That said, the rush of water and noise alone makes it worth seeing.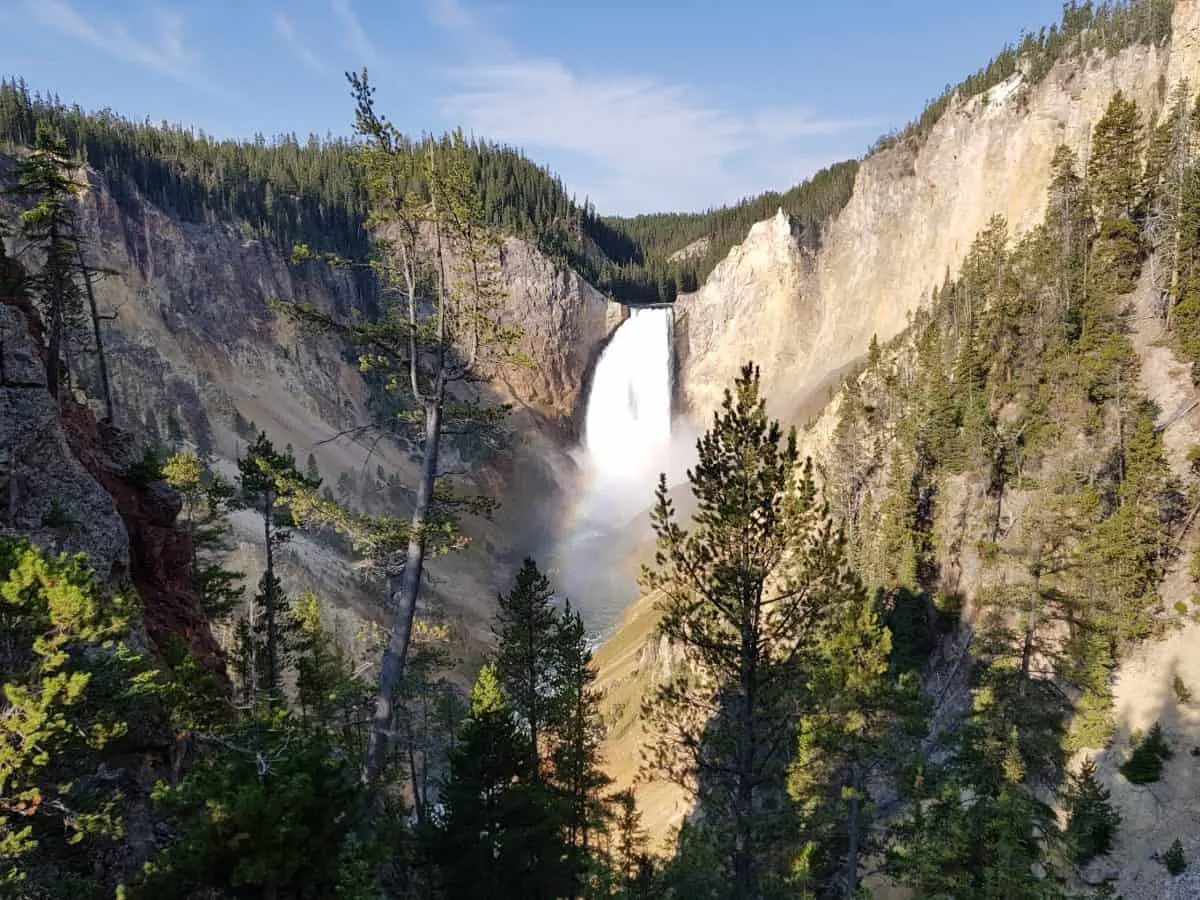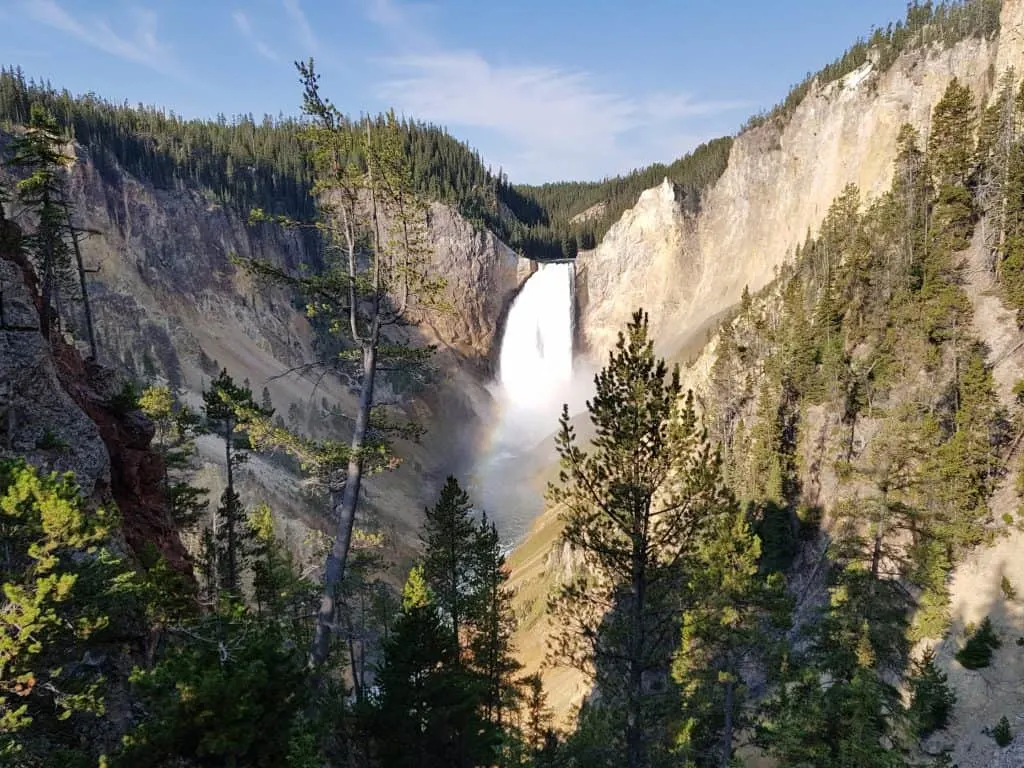 Further along the road, you will come across the lookout point for the Lower Falls. These, in my opinion, are the most spectacular waterfalls in Yellowstone and can be viewed from upper and lower viewing points. The upper viewing point is probably the best one to visit with young kids, as while the walk down to the lower viewing point is fine, the trek back up the trail is tough, even for adults.
That said, I saw and passed a few families with young kids on this trail. If you think your kids can handle it, or you are prepared to carry them back up a steep incline, then the lower viewpoint is the best place to see the Lower Falls from.
9. Lower Falls
This waterfall is spectacular, an amazing sight to see and is another one of the top ten things to see in Yellowstone with kids. Your final stop within the Canyon Village area will be to catch a glimpse of the Grand Canyon of Yellowstone, a deep raven which snakes the Yellowstone River.
However, a word of warning. If you are asking someone to take a family photo of you with the canyon behind you, and you want the canyon in the background, tell them! We weren't specific enough and, while we got a nice family photo, you cannot see the canyon as we're hiding it.
So, if you're handing over your camera or phone, tell the person you want the canyon in the background as well. So, here's day two of your three-day itinerary for Yellowstone, a day in which you can combine raw mother nature, with stunning landscapes and two of the best waterfalls in the park.
Fort Yellowstone And A Cookout On Day Three
10. Gibbon Falls
During the last day of our visit to Yellowstone National Park, we drove the upper half of the Grand Loop Drive. We drove from Madison Junction towards Norris and stopped to take in another of Yellowstone's waterfalls, Gibbon Falls. Although the Lower Falls are spectacular, my favourite was Gibbon Falls. We were there shortly after 8 AM and had the place to ourselves.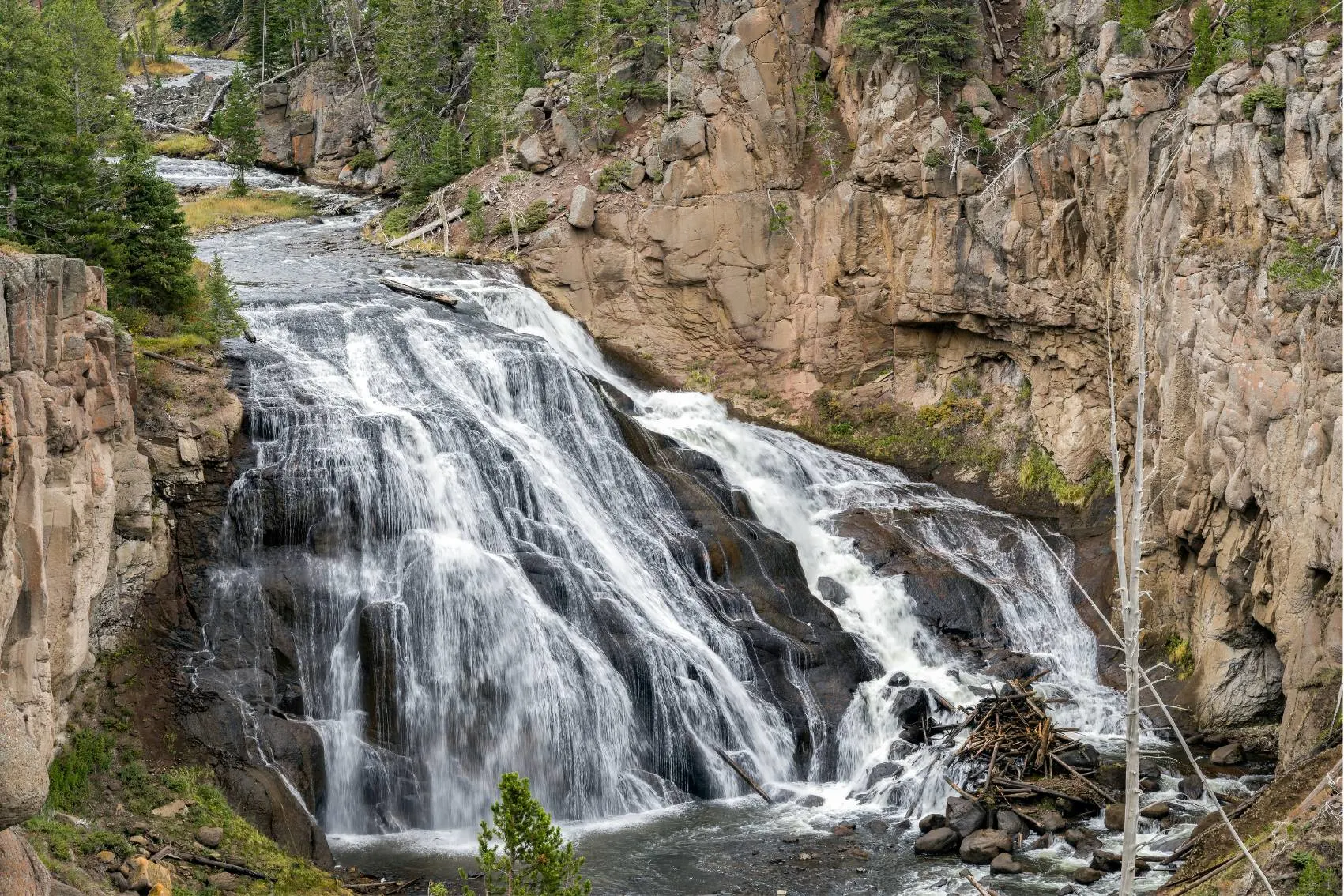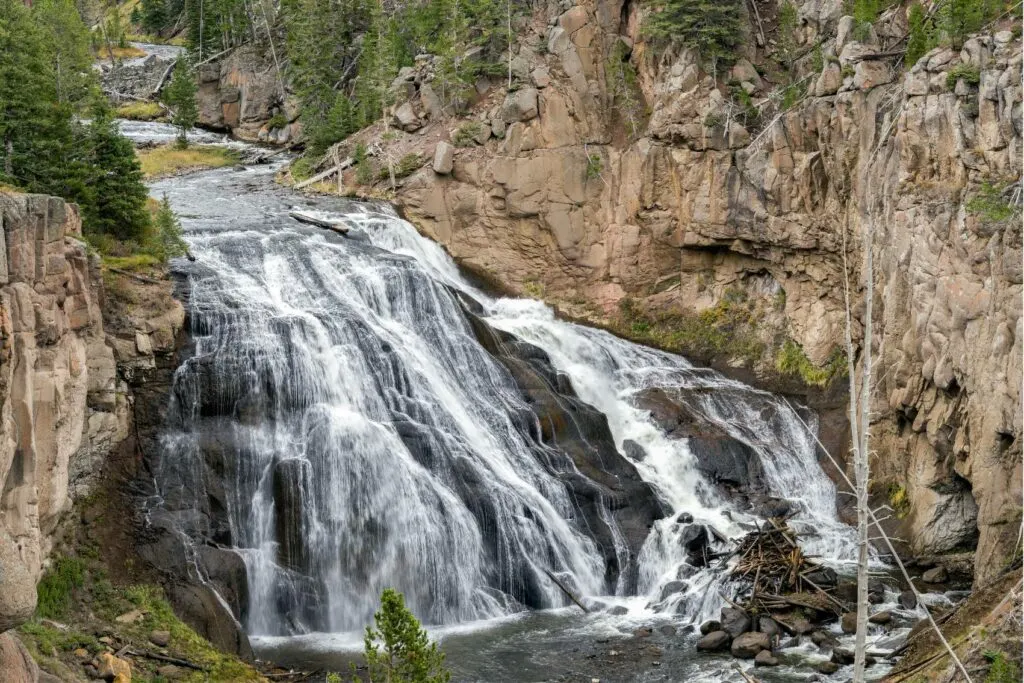 It was peaceful and very beautiful. Again, the car park here wasn't very big but was empty early in the morning. From Gibbon Falls you can head east towards Canyon Village before turning north to head towards Roosevelt Lodge. This route takes in some mountain drives and the views from the road are breathtaking. You can stop at Tower Falls, another waterfall, but we didn't, choosing to carry on.
11. Pitstop At Roosevelt Lodge
At Roosevelt Lodge, you can stop for tea/coffee and snacks which can be bought from the Yellowstone General stores. This is a good pit stop for a toilet break before driving out of the Lamar Valley.
Precise Location: WH7M+27 Tower Junction, WY 82190, United States
12. Lamar Valley
My husband was hoping we might spot some wolves. The Lamar Valley is where the highest concentration of wolves can be found in Yellowstone National Park.
However, we later learned you need to be in that area before dawn to have any hope of seeing or hearing them. That said, the Lamar Valley was where we saw the largest herb of bison on our visit. We even had to stop the car to allow about 30 bison to cross the road. Imagine a small boy's delight at seeing them in front of the car!
13. Albright Visitor Centre
Yellowstone and Mammoth Hot Springs is home to Park Rangers and the Albright Visitor Centre. They are places worth popping into! It was there I learned more about the expeditions that discovered Yellowstone, and also about the decimation of the bison population within 10 years in the late 1880s.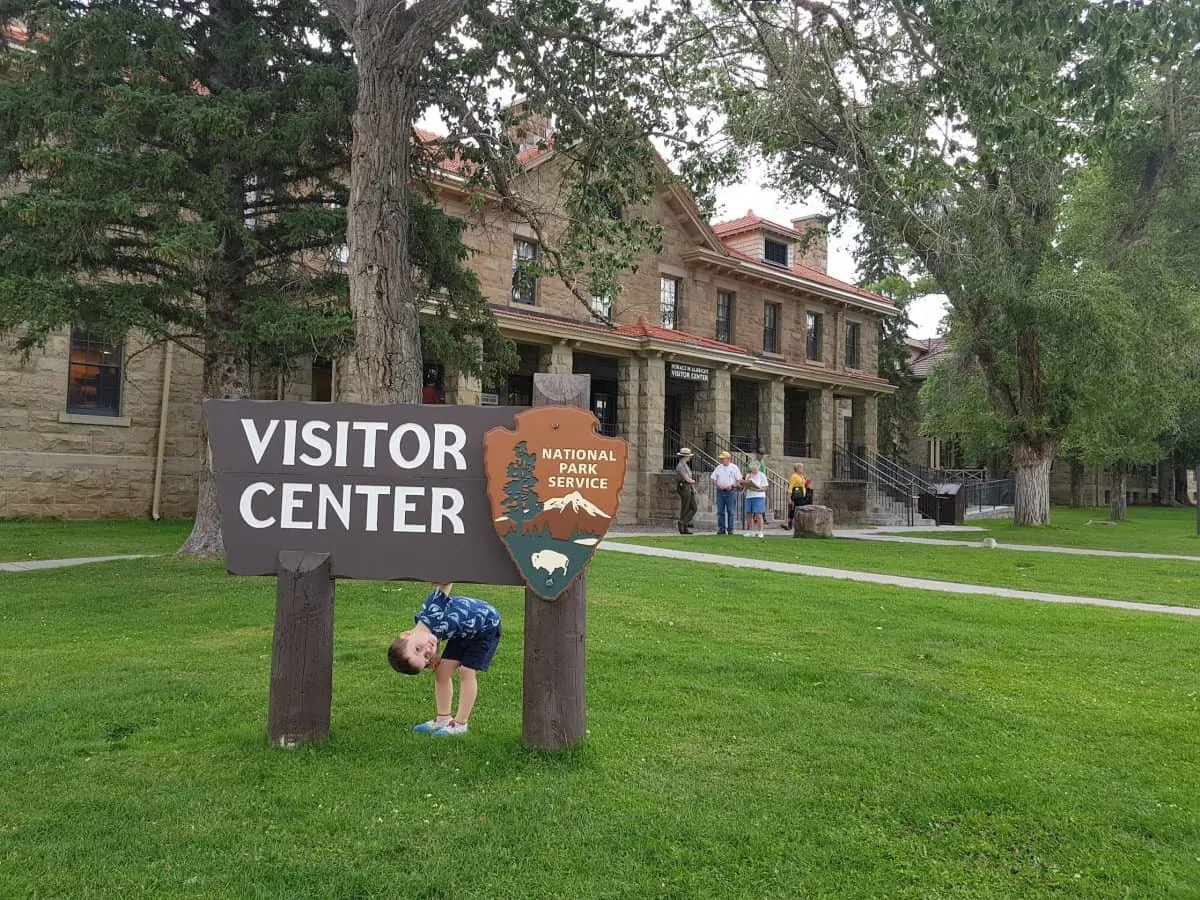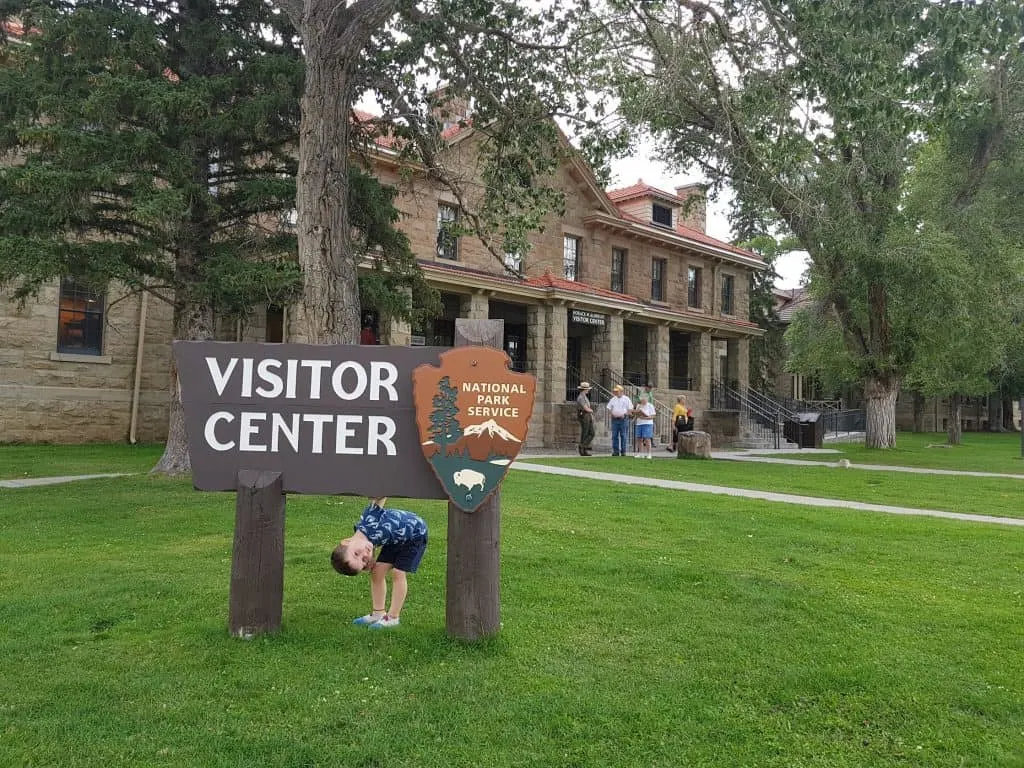 It is also a great place for a picnic, with a grassy area outside the Visitor's Centre where kids can run around and let off steam. Just be careful of some potholes hidden in the grass.
I've been told there is a good place to get ice creams there too, although we never looked for it.
14. Mammoth Hot Springs
At Mammoth Hot Spring you can visit the spring terraces if you haven't had enough thermal features and you can even drive around the upper terraces if you're feeling lazy. After about two hours at Fort Yellowstone, we headed back to Roosevelt Lodge for something special.
15. The Old West Dinner Cookout
This something special is something you simply must do if visiting Yellowstone. It was recommended to us during the planning of our visit and is one I'm so glad we opted to do. What is it I hear you say? The Old West Dinner Cookout. It is a dining experience with a difference.
While it is slightly on the expensive side, it is worth every dollar.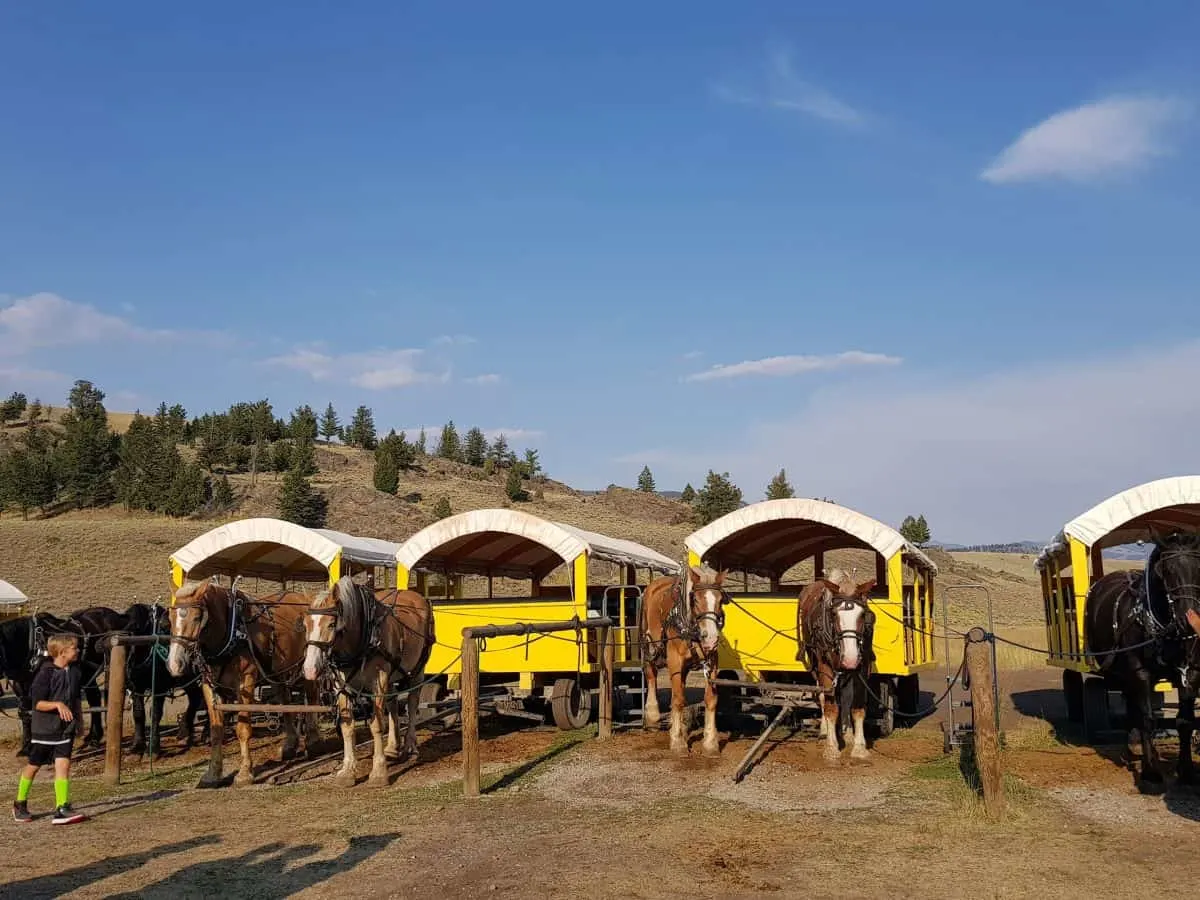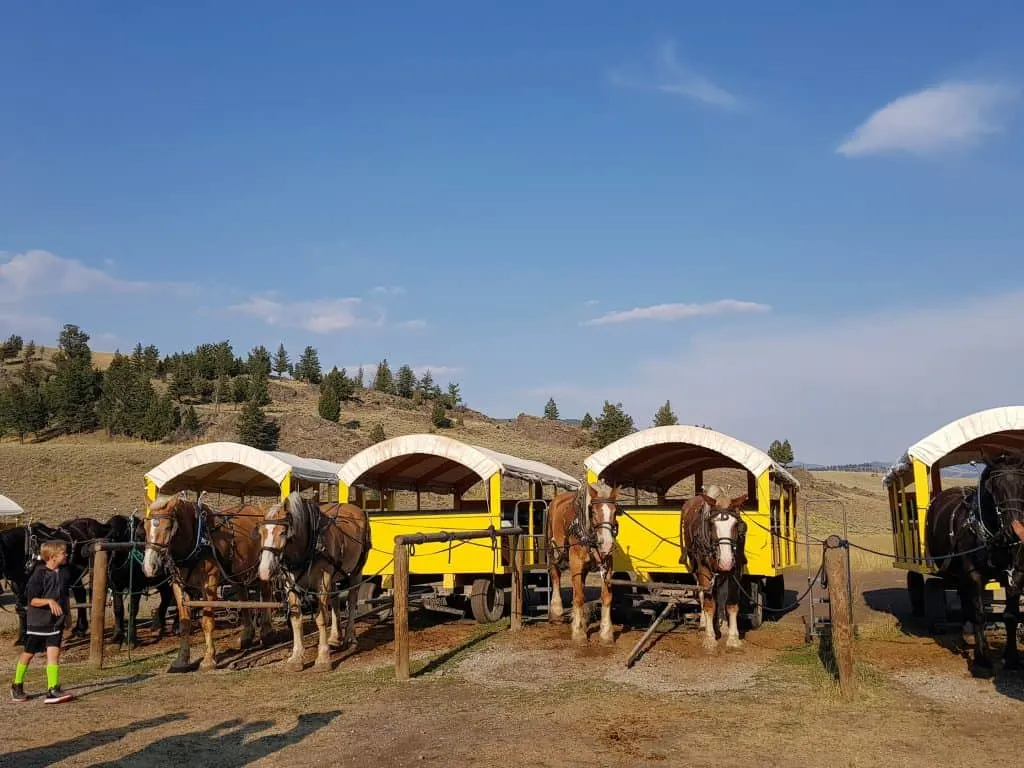 We met a group of real-life cowboys at Roosevelt Lodge. First, we boarded wagons which took us out into the "old west" country. We saw the site of the very first hotel in Yellowstone, although it is no longer standing. The cowboy dinner of steak with sides, while being entertained with music and stories around the campfire was so authentic.
Not to mention enjoying a strong cowboy coffee, served by the cowboy himself. We had the chance to meet the horses which pull the wagon. It is simply THE best way to end your visit to Yellowstone with kids. Our son thoroughly enjoyed this experience, as did we.
The driver of our wagon was the main man. We were joined by a woman who told us stories of how she became a cowgirl. She was an inspirational woman I can tell you.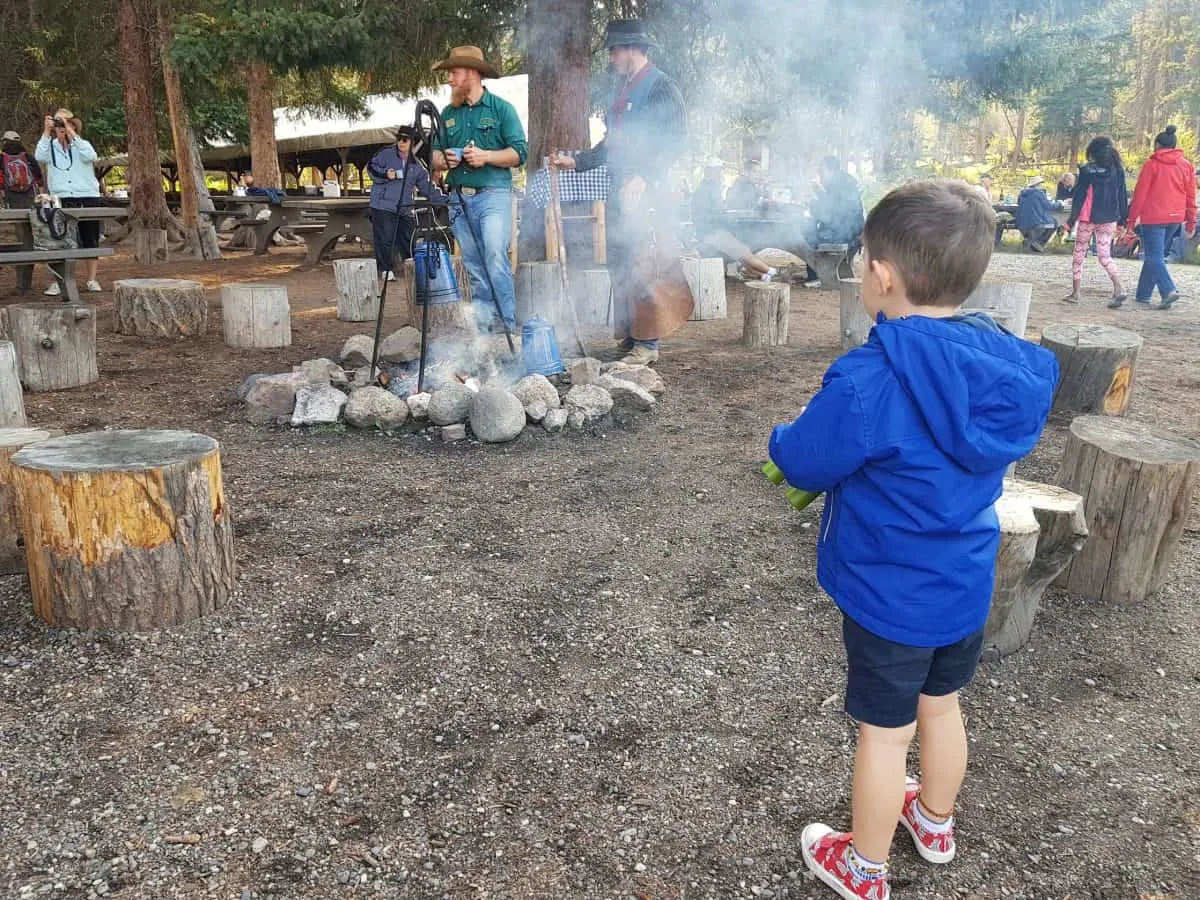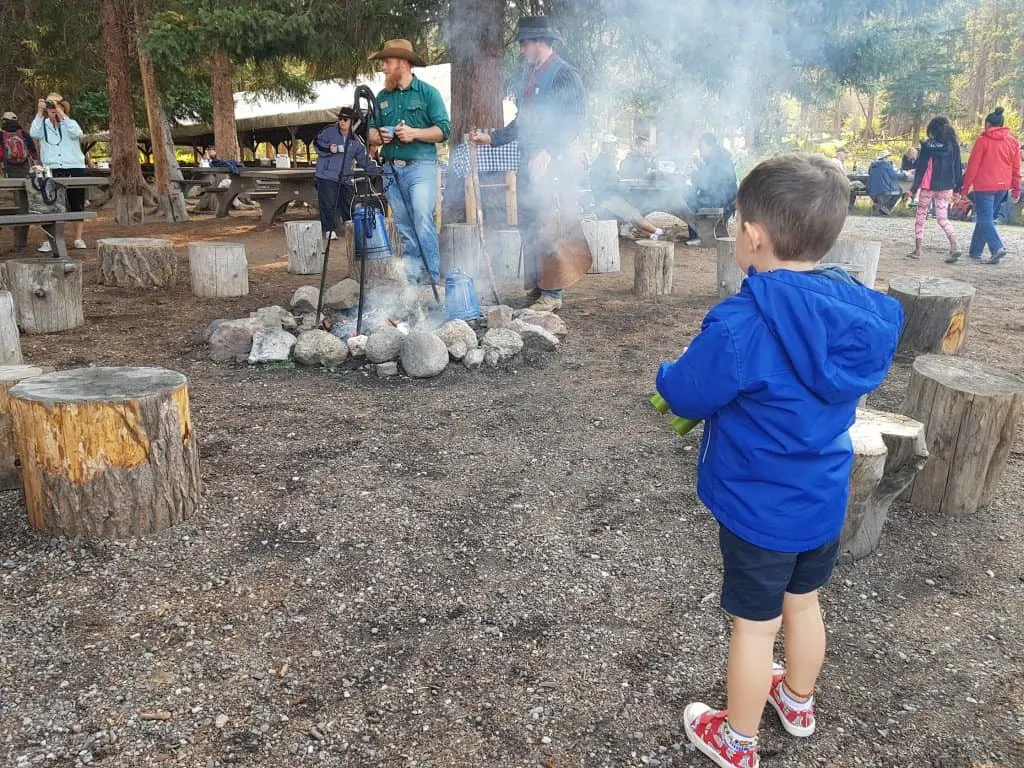 The Old West Dinner Cookout lasts approximately two to two and a half hours. It is something we will never forget about our time in the park. It is high on our top ten things to do in Yellowstone.
After returning to Roosevelt, we headed back to Mammoth Hot Springs.
To Sum Up Our Three Day Yellowstone With Kids Itinerary
To finish off our time in Yellowstone, we drove along the River Drive. It follows the Madison River towards the West Gate. We were treated to a stunning pink sky as sunset fell. It was the final goodbye to an awesome visit to one of the most amazing places on earth.
Once you've been to Yellowstone make sure to check off the rest of the national park bucket list!
Other Things To Do In Yellowstone With Kids
16. Take A Dip In The Boiling River
Boiling River is one of the two places in Yellowstone National Park that allows swimming, the other being Firehole Canyon.
The River is unique because it's one of the few places in the park where you can find naturally warm water. The hot springs feed into the River, warming the water to a comfortable temperature and making it an excellent spot for swimming, relaxing, and taking a break from the road.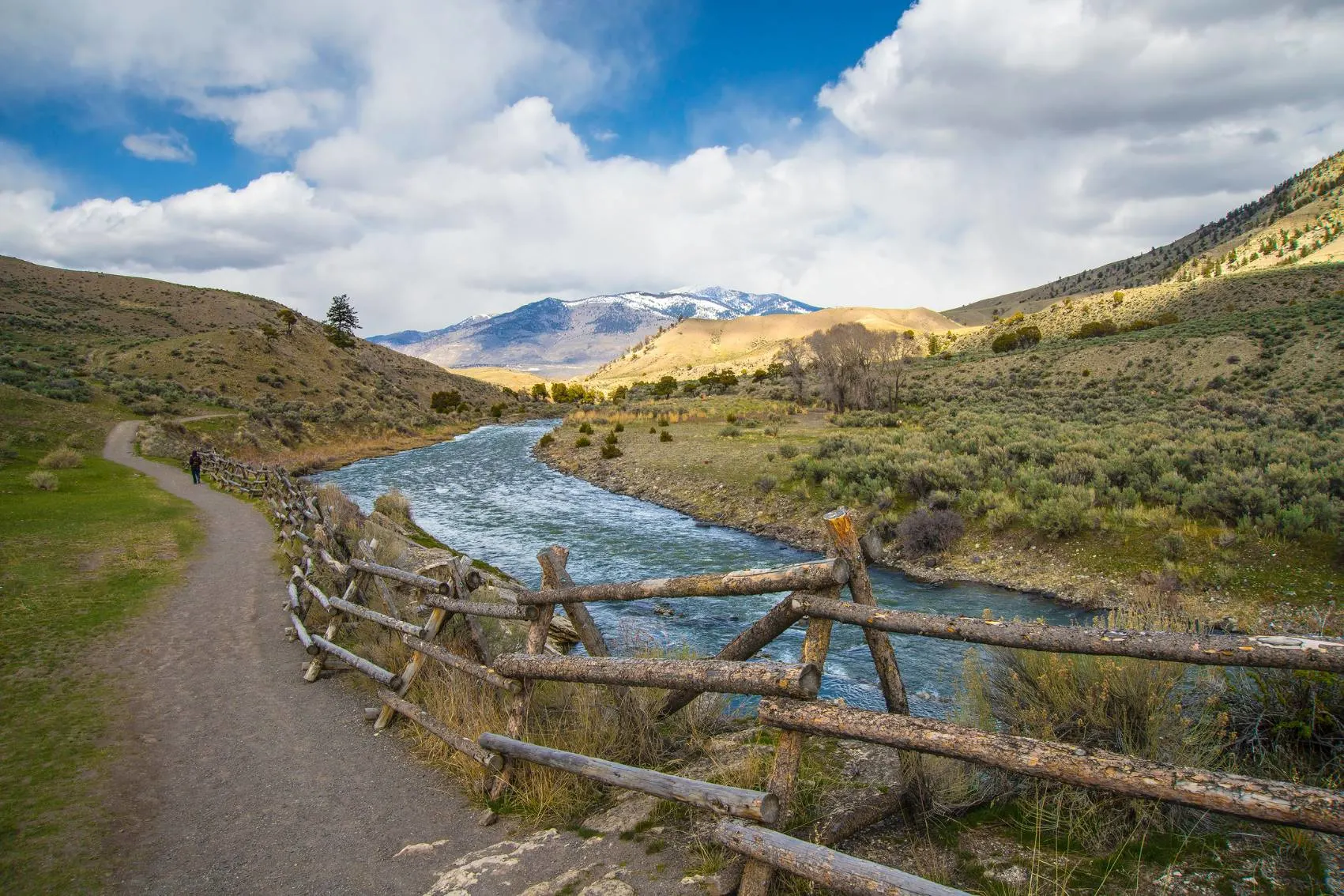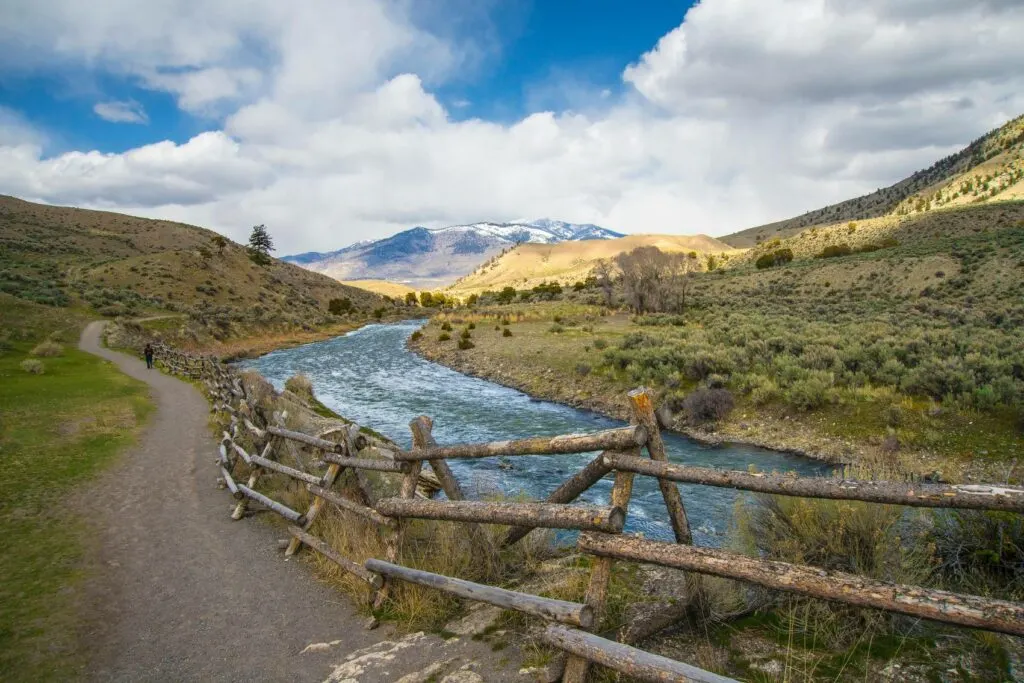 Considering it is a few minutes (about two miles) to the north of Mammoth Hot Springs (as mentioned earlier) and 2.9 miles from the park's entrance, it is worthwhile to visit both attractions when exploring Yellowstone with kids.
Check the current conditions before visiting, as the River is sometimes closed to swimmers as a result of the water levels, especially in May and June.
The ideal time to visit: Late Fall through winter.
17. Kayak The Yellowstone Lake – Family Vacation Yellowstone
Kayak along Yellowstone Lake's shore at twilight, North America's largest high Alpine lake. In total, the journey stretches over a distance of four to five miles.
Check out the West Thumb Geyser Basin and gaze in awe at the smoke rising from the geysers before exploring Yellowstone Lake's shoreline.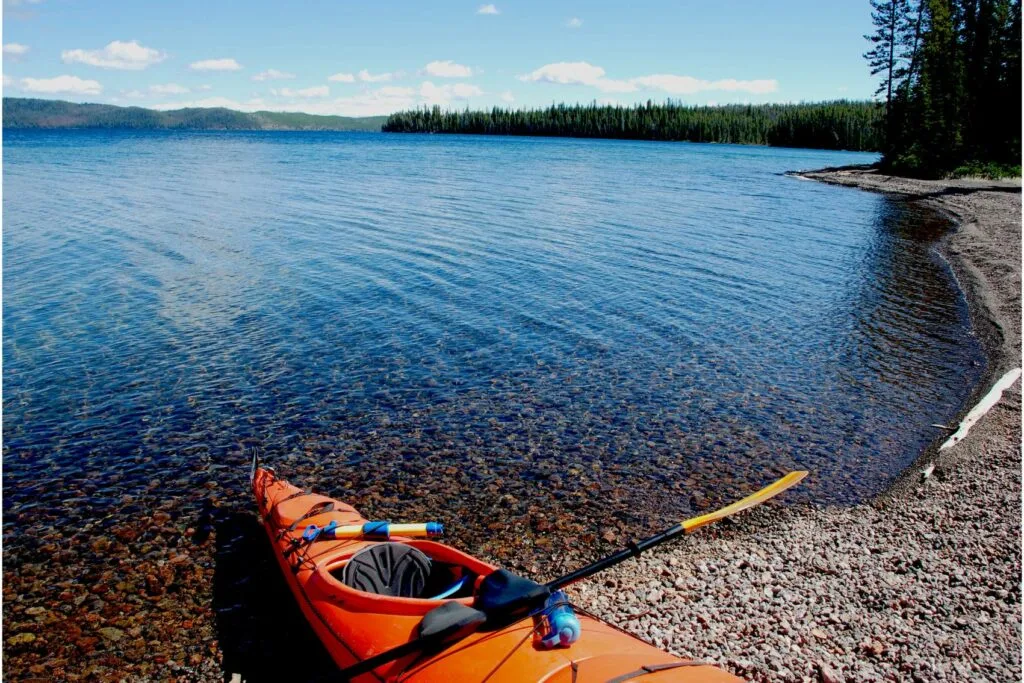 The duration of the tour will depend on the amount of time spent exploring the features, taking photos, and stopping to enjoy refreshments.
Furthermore, the time of year can also have a substantial effect on the time the sun sets and thus the length of the tour.
Book Yellowstone Lake's Kayaking Twilight Tour when visiting Yellowstone with kids.
Meeting Point: Grant Marina Rd, Yellowstone National Park, WY 82190, USA
18. Tour the Yellowstone National Park On E-Bikes
The E-Bike Tours of Yellowstone National Park are suitable for families traveling with older kids.
Experience what this park has to offer – from the majestic mountain peaks to the deep canyons and the volcanic landscapes.
Get off the beaten path and explore moderately challenging backcountry trails and remote viewpoints while spotting wildlife around Swan Lake Flats.
Plus, take a moment and admire the breathtaking views of Golden Gate Canyon and pedal around Bunsen Peak.
Book your E-Bike Tour in Yellowstone National Park.
Timings: 9 AM to 5 PM
19. Explore The Hidden Gems Of Yellowstone
Families signing up for the Hidden Gems Tour stroll through the roads less travelled that stay well hidden within Yellowstone National Park – A spot-on activity when visiting Yellowstone with kids.
The tour doesn't lead to popular sites such as Old Faithful and other popular sites.
Instead, the tour guide will lead the group to hidden waterfalls, secluded lakes, scenic vistas, hidden geysers, mud pots, and hot springs.
Keep an eye out as you may come across quite a bit of wildlife that calls Yellowstone home.
A secluded picnic-style lunch break in a scenic location awaits everyone on tour before exploring more and returning to the site.
For Hidden Gems Yellowstone National Park Tour.
Timings: 7 AM to 4 PM (Sunday and Monday)
7 AM to 3:30 PM (Tuesday and Wednesday)
7 AM to 4:30 PM (Thursday to Saturday)
20. Spot Wildlife In Hayden Valley
The valley's landscape consists of lush grasslands surrounded by thick forests, making it an ideal habitat for many species of animals.
Once a lake bed, Hayden Valley is known for its abundant wildlife and breathtaking views, so being vigilant and aware of your surroundings is essential to ensuring a safe and enjoyable driving experience.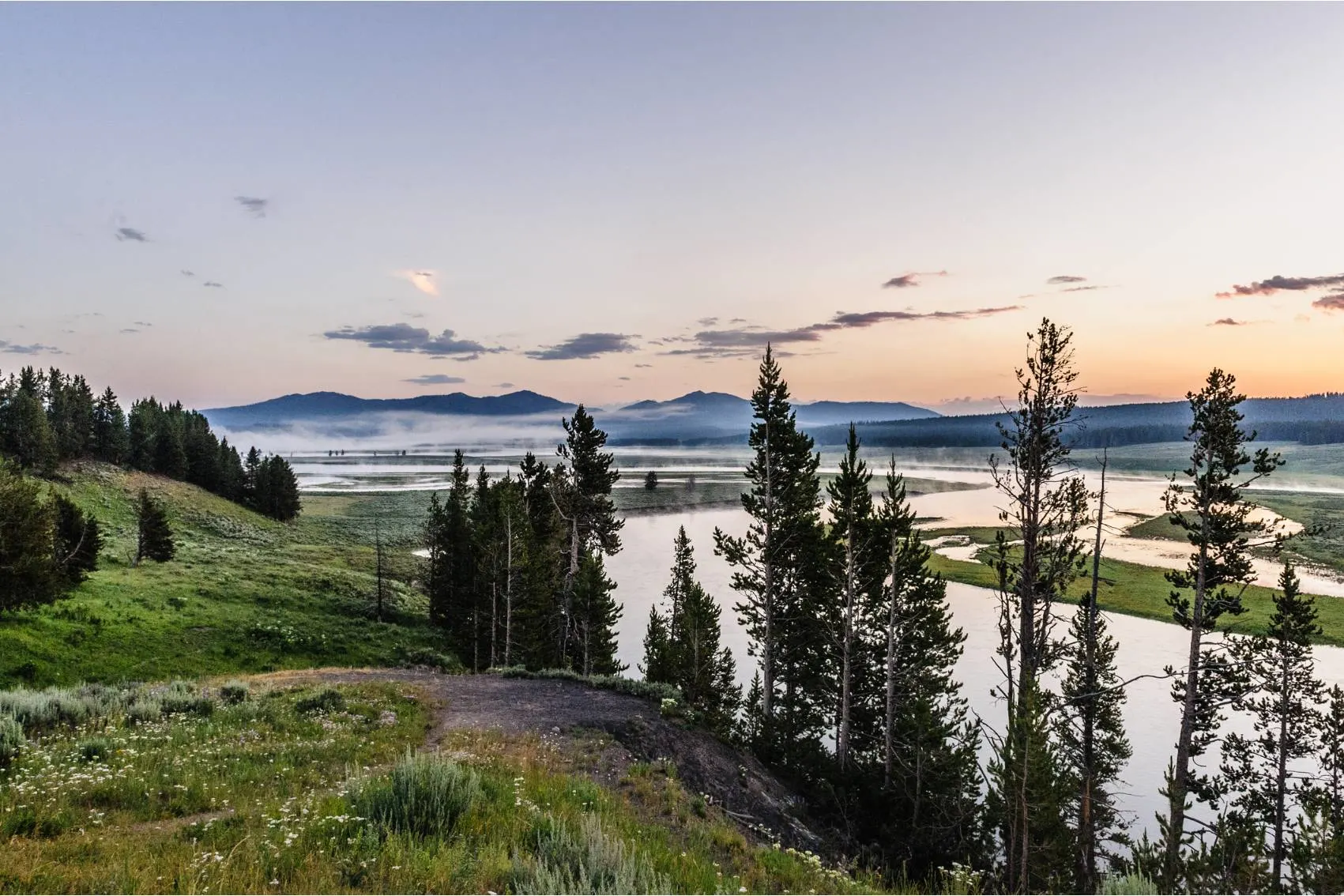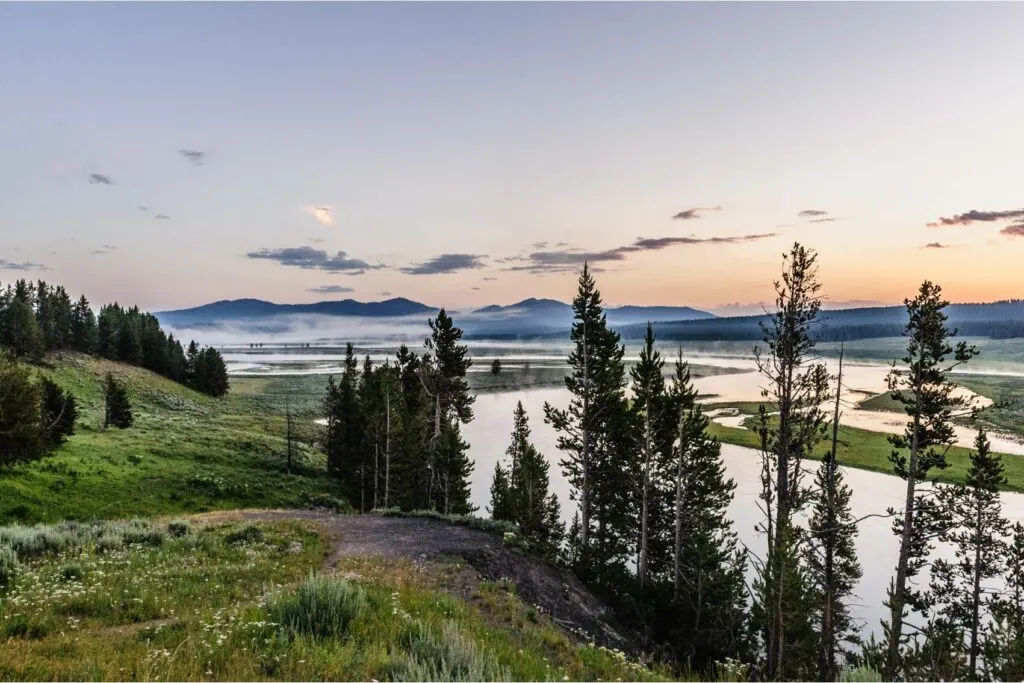 Make this journey exciting by asking kids to be on the lookout for herds of elk, bison and the occasional sighting of grizzly bears.
Standing south of Canyon Village, taking advantage of the pull-outs to observe the scenic vistas makes this route an unforgettable experience.
21. Swim In A Natural Swimming Hole At Firehole Canyon
Unlike the Boiling River, Firehole Canyon River is a cool (literally) swimming spot located just behind Madison Junction.
The Firehole Swimming Area does not have a parking lot, but there are several places to park on the side of the road.
Before climbing down wooden stairs to the rocky beach area of the Firehole Canyon River, use the changing rooms along the side of the road.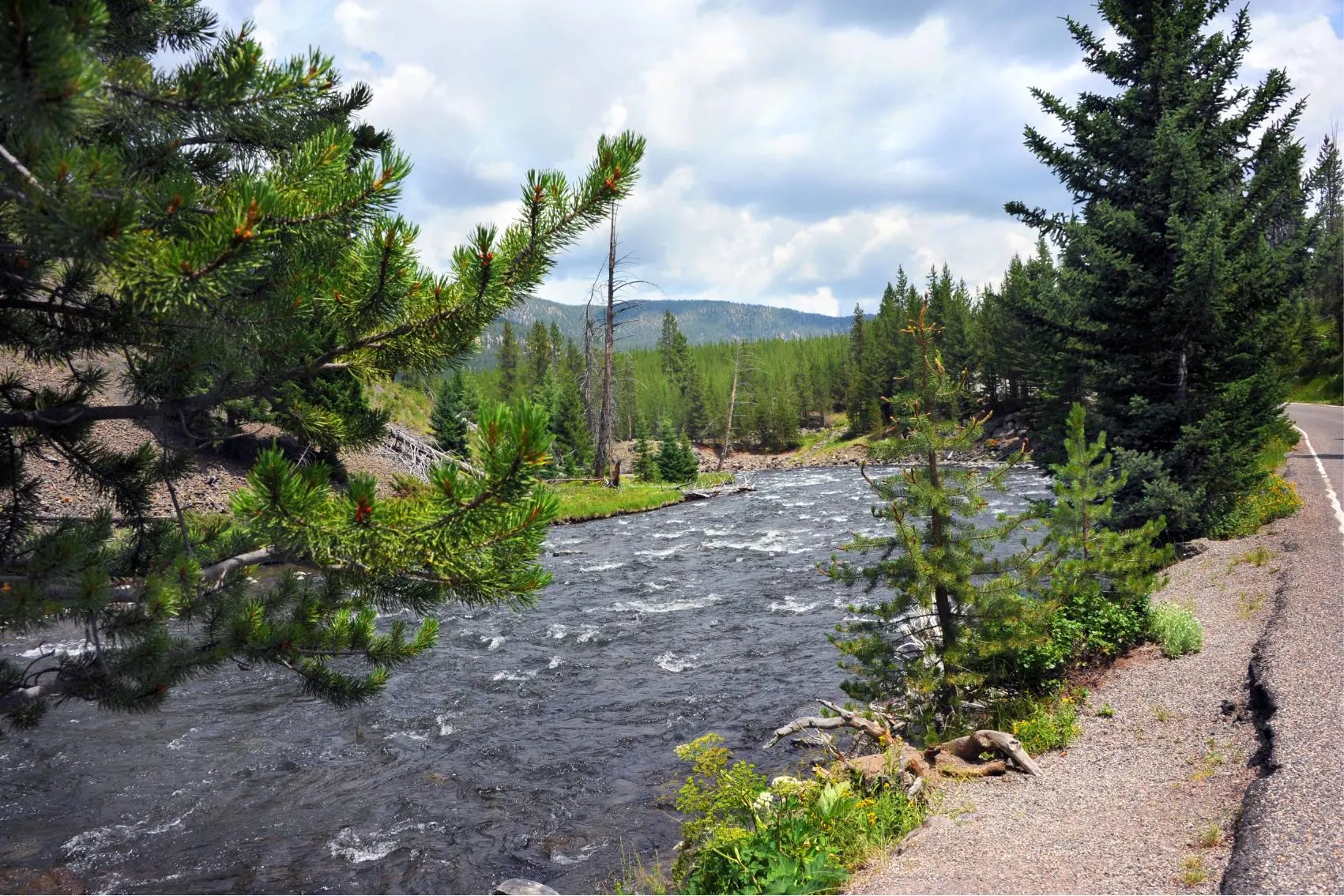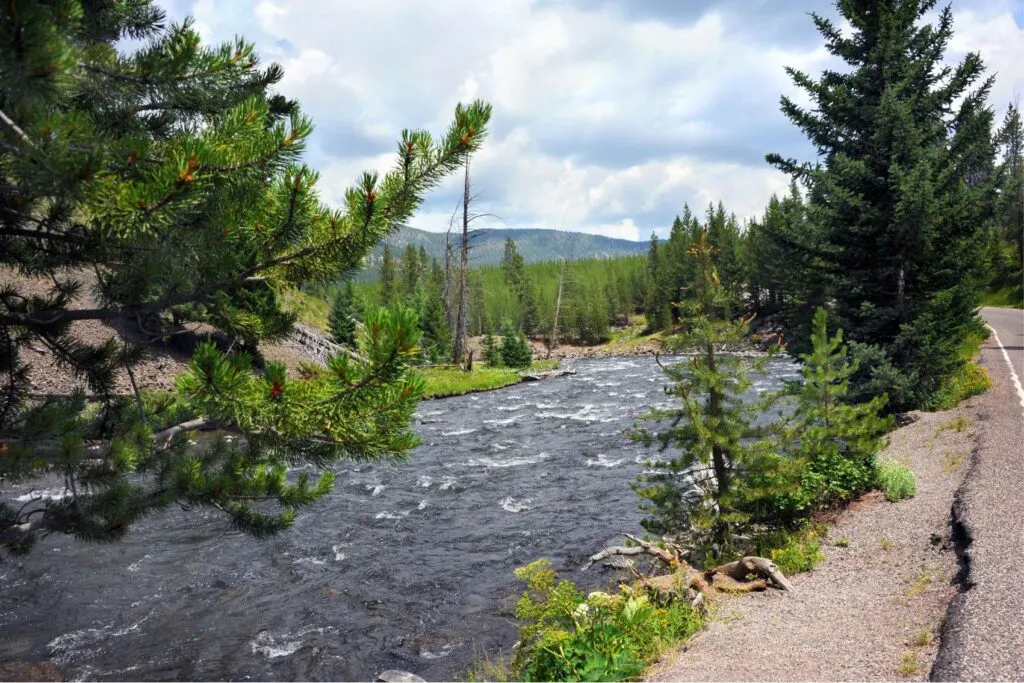 The beach area is relatively calm, safe, and spacious for those who want to chill and watch the swimmers.
Visitors can tread several areas of the Firehole Canyon River; however, be aware of small boulders and rocks.
It is exciting for adults, but be sure the kids are wearing appropriate footwear while wading the river.
22. Grizzly And Wolf Discovery Center
Visiting the Grizzly and Wolf Discovery Center is a must-visit when exploring Yellowstone National Park with kids.
With a prime location just outside the park. It is home to a variety of bears and wolves, who for various reasons cannot be released into the wild. There are three wolf habitats and one for bears into which they rotate the bears. There are also some bird aviaries too.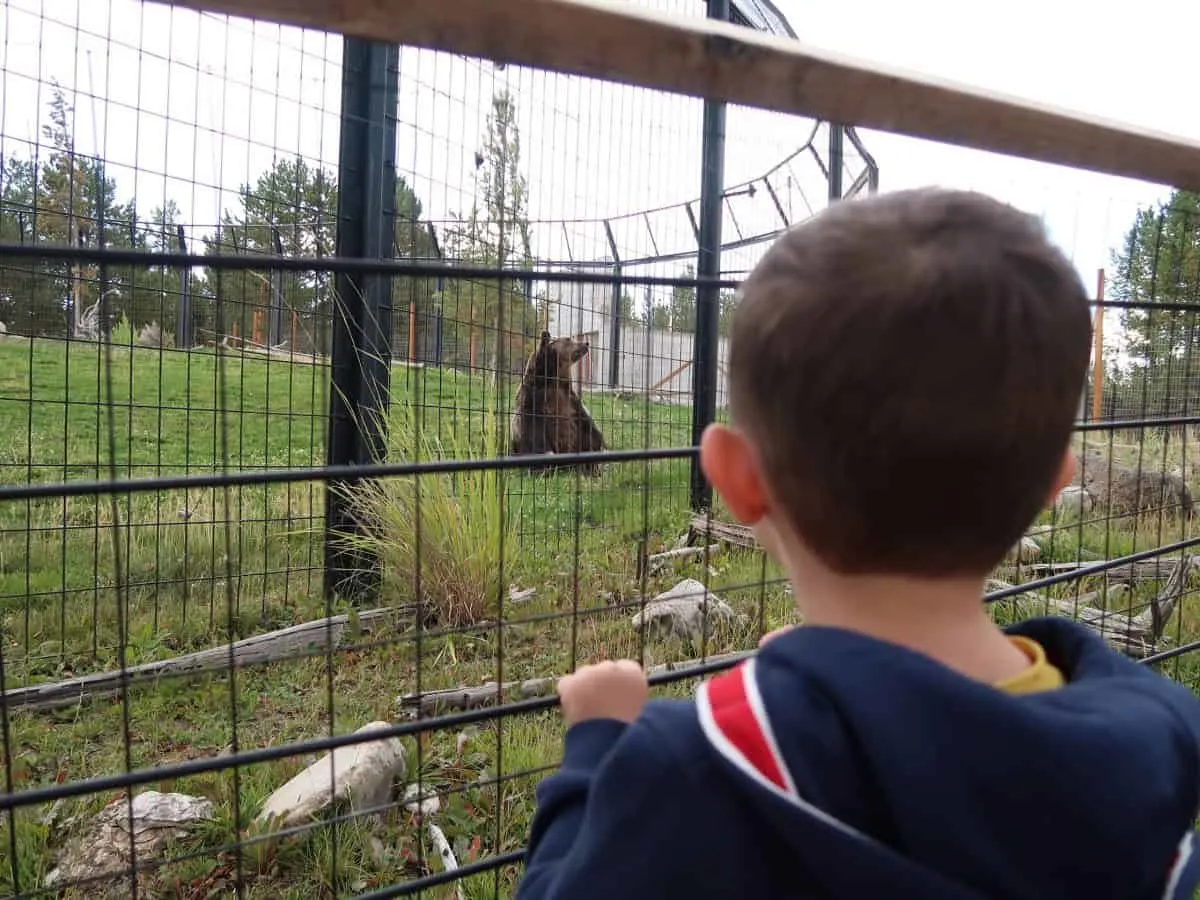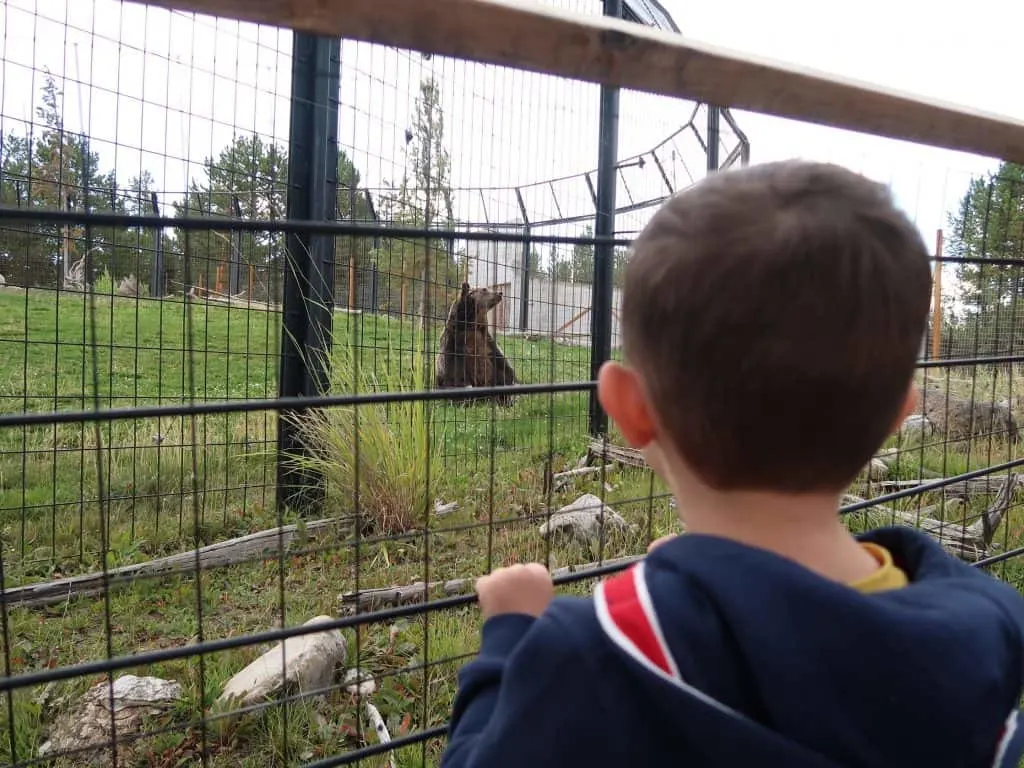 The Grizzly and Wolf Discovery Centre has an exhibition about the wildlife of the area and animal enclosures. There is an area where you can see the destruction bears cause to containers when they are looking for food.
The Center nurtures and provides the animals with food, shelter, and medical care for the rest of their lives.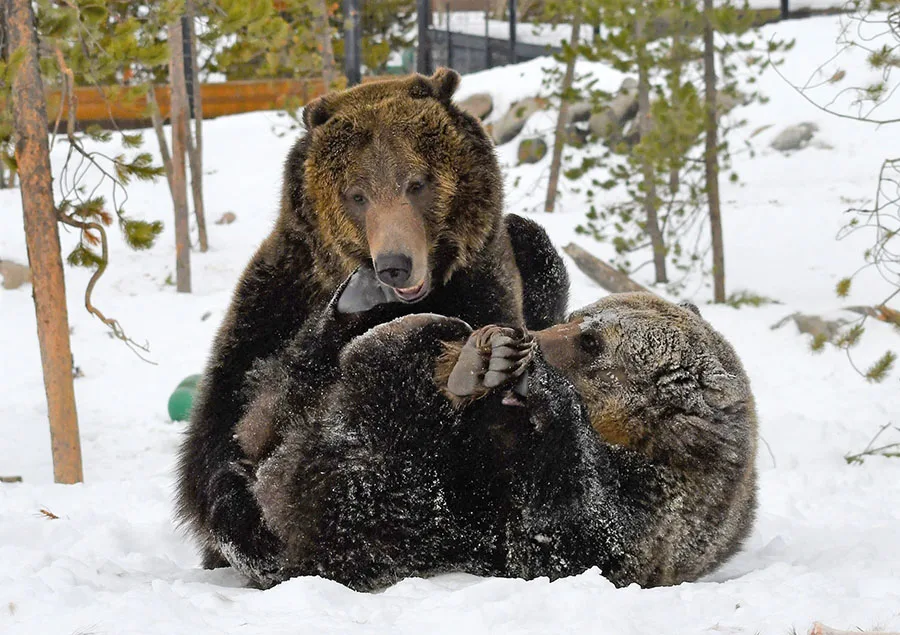 Visiting the Discovery Center is a fun and educational experience for children and adults alike.
The presentations and ranger talks provide an opportunity to learn more about Grizzly Bears and Gray Wolves, while the activity booklet helps to engage visitors with the animals in a meaningful way.
The centre also has a playground which our son thoroughly enjoyed. It's a great place to let kids have some fun after a day driving around and exploring Yellowstone National Park. Plus, your ticket allows you to re-enter on the day after your first visit.
We took full advantage of it whilst my husband went to a local gun range. There are definitely plenty of things to do on a Wyoming vacation.
To make a donation to Grizzly Bear and Wolf Discovery Center.
Cost: $15 for general admission (Ages 13 and up)
$14 for seniors (Ages 62+)
$10 for children (Ages 5 to 12)
Children under 4 enter for free
Timings: 9 AM to 4 PM (Monday to Sunday)
Location: 201 S Canyon St, West Yellowstone, MT 59758, United States
24. Explore the Old Faithful Inn
Staying the night at the historic Old Faithful Inn is a bucket list item for many who visit Yellowstone with kids.
Its iconic design and rustic feel have made it a popular destination for visitors from all over the world looking to experience the beauty of Yellowstone National Park.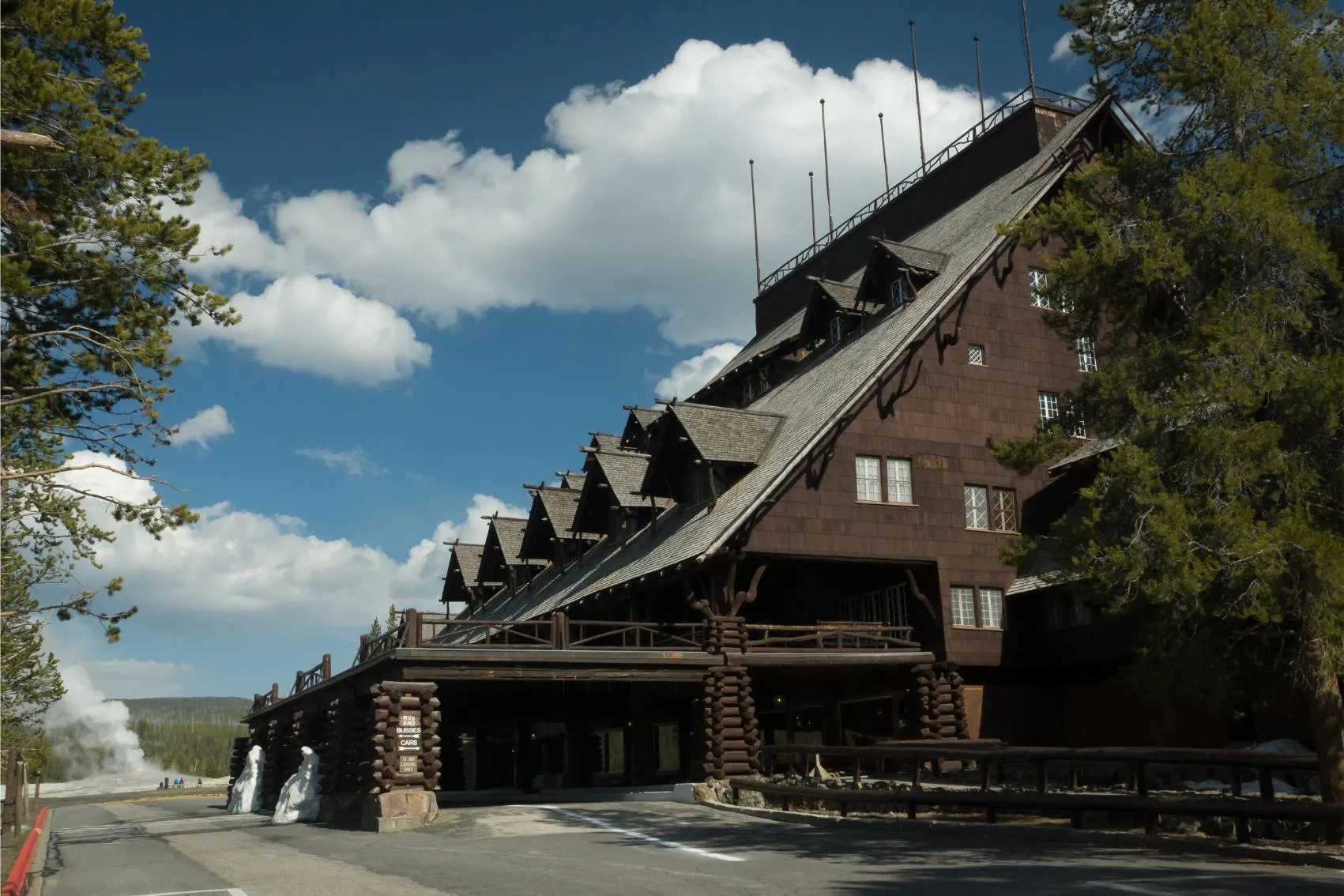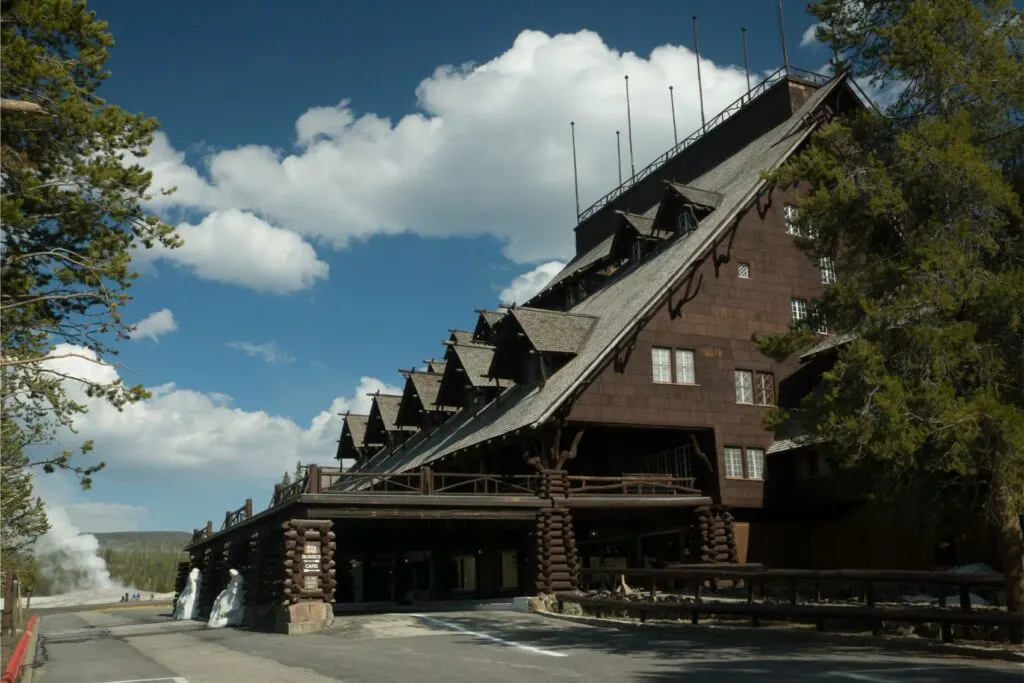 The Inn holds the distinction of being recognized as the largest log structure in the world. An elegant copper and wrought iron clock handcrafted from wood and a massive stone fireplace stand out in the lobby.
Old Faithful Inn welcomes families with children to stay the night, stroll around the lobby, and even explore the terrace that offers a mesmerizing view of the Old Faithful Geyser.
Operating Dates; May to October
Location: Old Faithful Inn, 3200 Old Faithful Inn Rd, Yellowstone National Park, WY 82190
25. Play Area For Kids In Yellowstone
Within Yellowstone, we did not find any playgrounds for kids. That said, there are areas around Fort Yellowstone which are safe for kids to run around and play in.
The area along the Yellowstone River at the Fishing Bridge is ideal for dipping your toes in the water. One of the best places for our son to enjoy some play time was in West Yellowstone.
An alternate area is the play area for kids at the Grizzly Bear and Wolf Discovery Center that we spoke of above.
26. Half-Day Rafting Adventure With Family
With the guidance of an expert instructor, take on the Class II and III rapids while also soaking in the breathtaking views of the Gallatin National Forest and discovering the rugged views of Yankee Jim Canyon.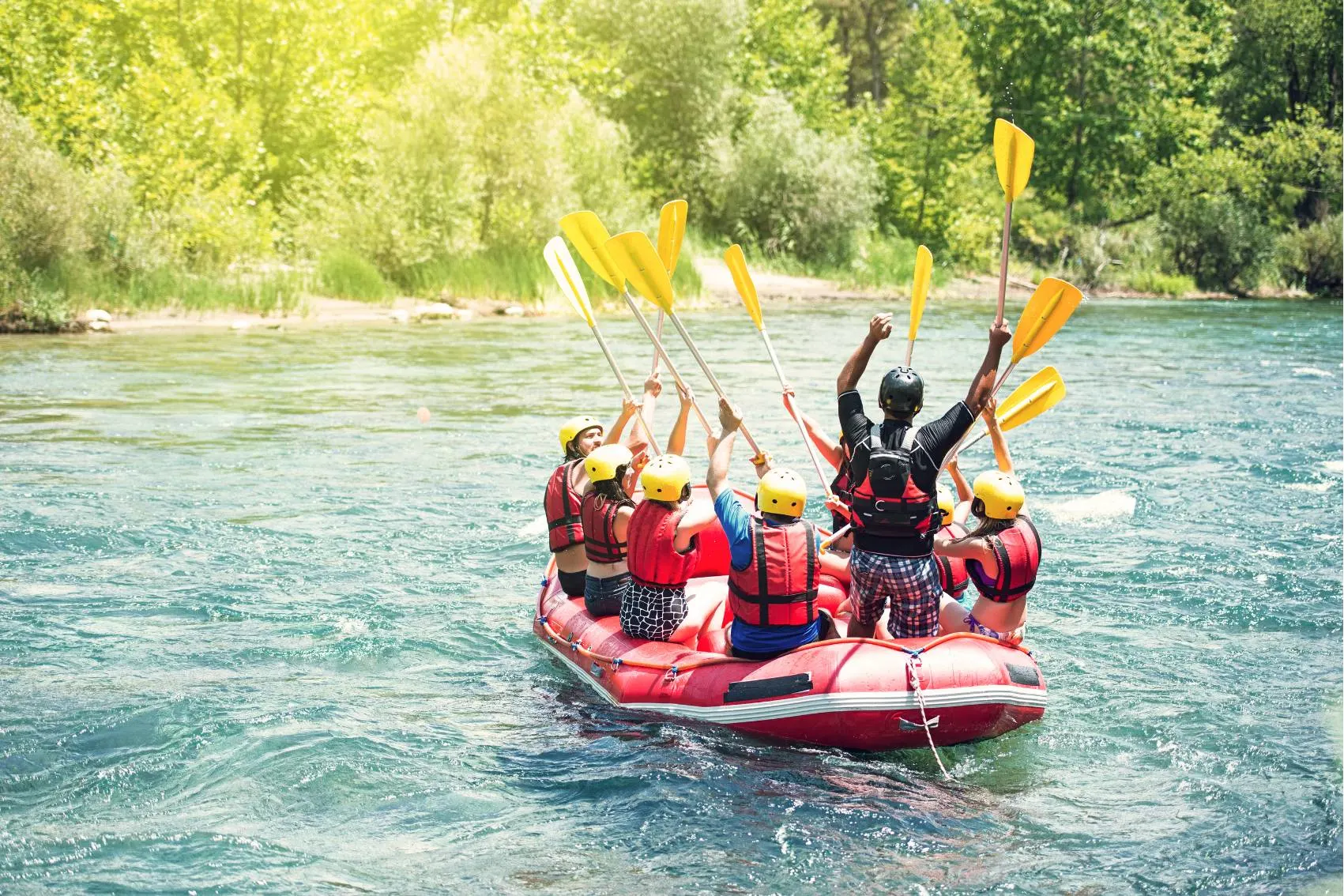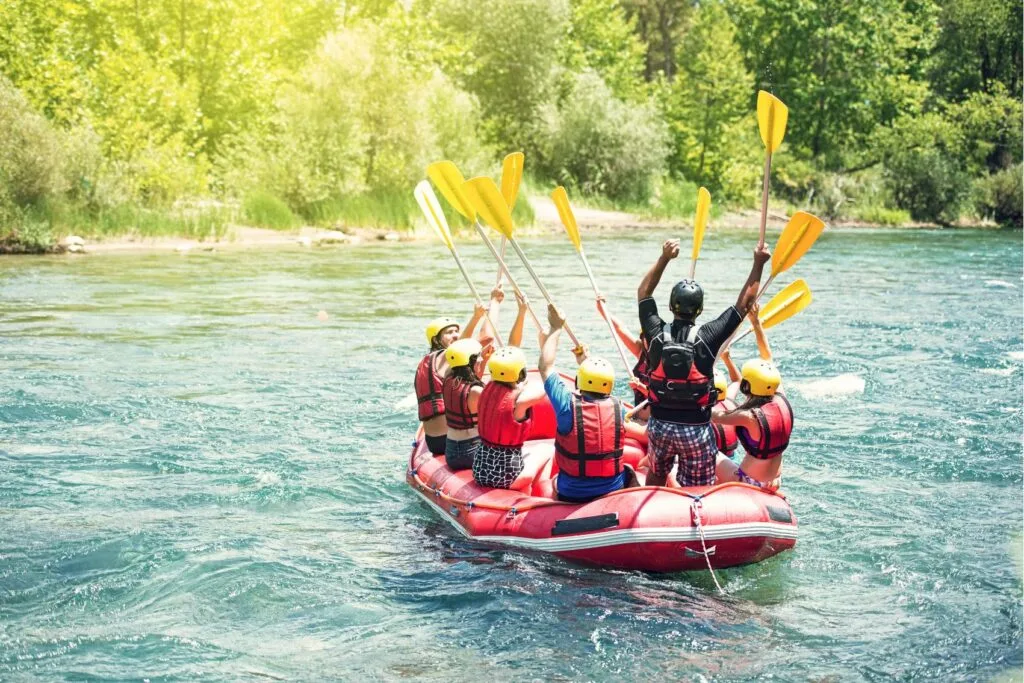 View wildlife along the riverbanks, such as Elk, Pronghorns, and Bald Eagles, while enjoying the midway picnic lunch- an excellent way to re-energize and refresh before taking on more paddling.
With photos taken by a professional photographer, families can take home a lasting memory of their visit to Yellowstone with kids.
Book a Half-Day Family Rafting Adventure at Yellowstone National Park.
Starting Time: 10 AM
Meeting Point: 202 Main St, Gardiner, MT 59030, USA
27. Fairy Falls Day Hike Tour
The Fairy Falls Day Hike Tour is a memorable way to experience Yellowstone's natural beauty and wildlife. An ideal choice of adventure when visiting Yellowstone with kids – older kids, of course.
Get a closer view with the park's lesser-known Imperial Geyser, the iconic Grand Prismatic Springs (the world's third-largest hot spring), and a few waterfalls along the backcountry trails.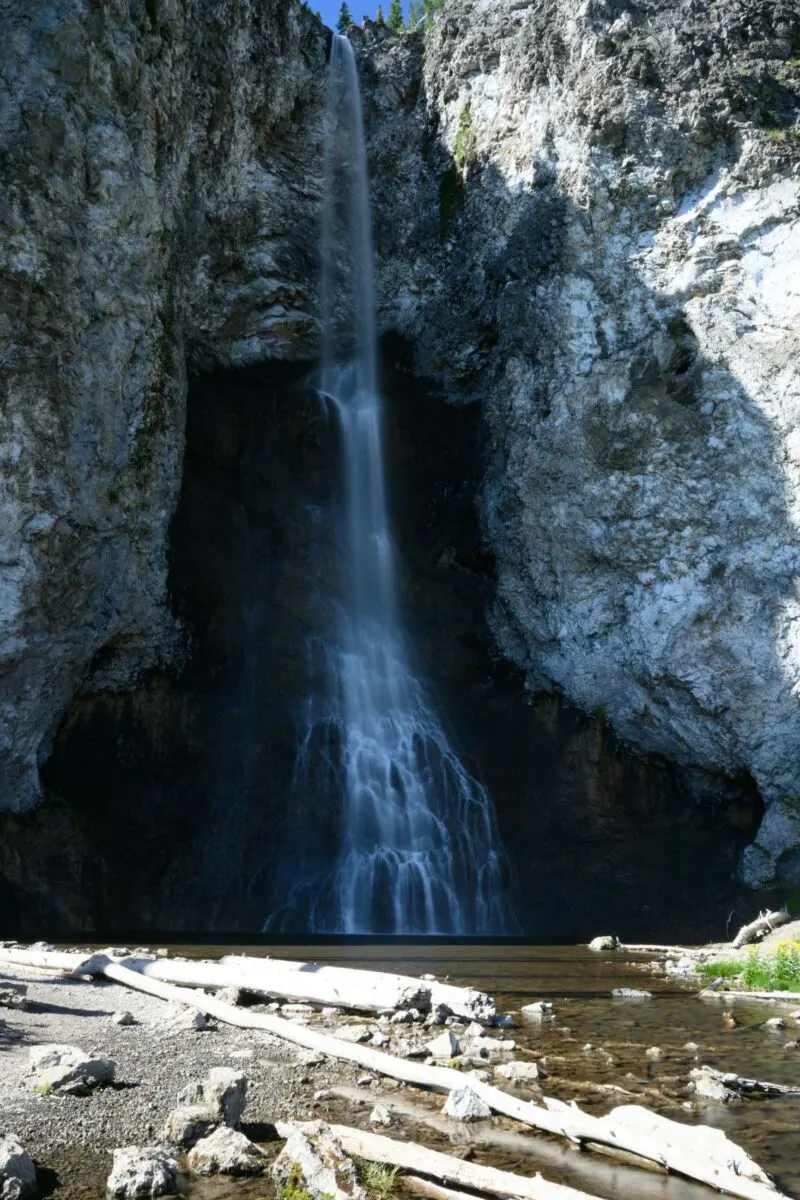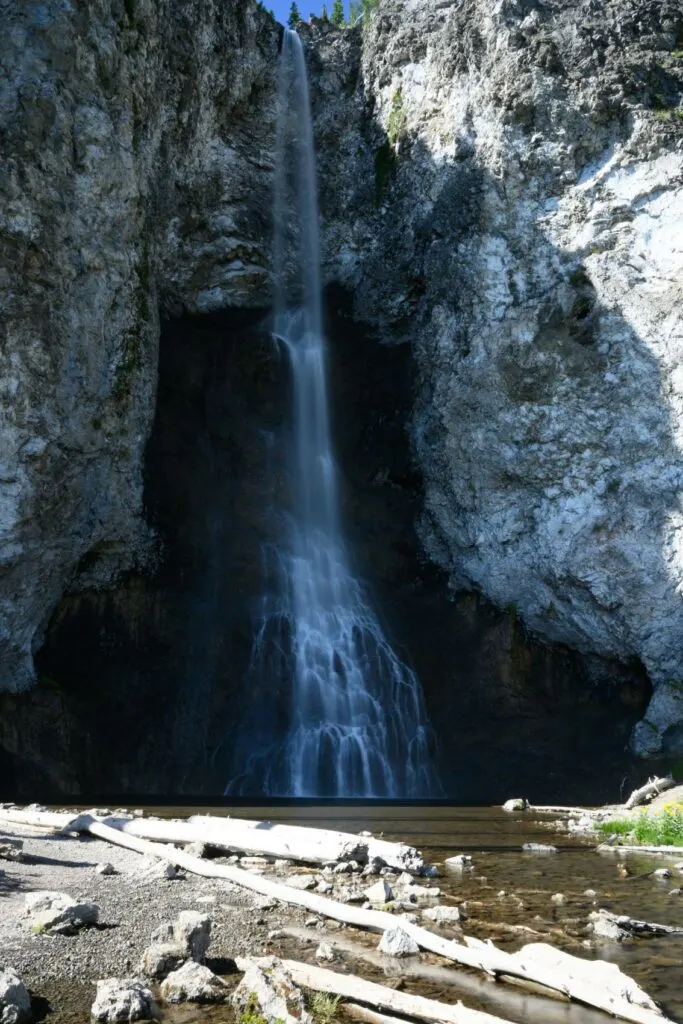 Embrace the breathtaking views from high cliffs while the 200-foot Fairy Falls waterfall plunges off a pine-studded cliff.
As a bonus, enjoy a hearty picnic lunch to help keep energy levels up for the hike through the forests and meadows to the trailhead.
For Fairy Falls Day Hike Tour booking.
Opening Hours: 6 AM to 8 AM (Monday to Sunday)
Meeting Point: Old Faithful Visitor and Education Center
Make Your Way To Yellowstone National Park
To get to Yellowstone you can fly to a nearby airport or drive there. Visitors can opt for self-guided or go with a tour. I highly recommend your own transport, especially if visiting Yellowstone with kids.
The nearest airports to Yellowstone are Bozeman in Montana and Jackson Hole.
There is also Yellowstone Regional Airport in Cody, Wyoming. To connect to these airports, you will most likely have to do a transfer at Salt Lake City.
We flew into Portland, Oregon, before picking up a rental car and driving to Yellowstone. Within Yellowstone, you need your own transport as there are no public services such as buses.
If you want to make this part of a larger national park road trip, you can check out this Grand Teton to Yellowstone Road Trip Itinerary.
it costs around $35 to enter the park. However, America the Beautiful Pass is also accepted there and at over 2000 sites across the US. It is relatively inexpensive and a great investment.
Check out America the Beautiful Pass here.
Yellowstone with Kids
Where To Stay In Yellowstone National Park With Kids
Island Park Lodge, Island Park
There are a few hotels, lodges and campsites in Yellowstone, depending on both your accommodation preference and budget.
Personally, we found the hotels and lodges outside our budget. Instead so chose to stay at the Island Park Lodge outside Yellowstone. The area is called Island Park, Idaho and is a twenty-six minute drive from the West Yellowstone Gate.
The layout at Island Park Lodge is fairly simple.
A spacious double room with two large queen beds and air conditioning offers all the necessary amenities, such as a microwave, toiletries, heating systems, a television, and even free parking.
A 22-mile (35 km) drive will lead to the Yellowstone Historic Center Museum and National Geographic IMAX Theater. At the same time, Yellowstone Airport is just 20 miles (32 km) away.
The accommodation at Island Park Lodge is ideal for families travelling to Yellowstone with kids looking to explore the area and its attractions.
Book a family stay at Island Park Lodge.
Location: 4149 N Big Springs Loop Rd, Island Park, ID 83429, United States
The Cody Hotel, Cody
With a prime location just 45 minutes from Yellowstone National Park, The Cody Hotel is a family favourite, especially when traveling with little ones.
Every room at the hotel comes with the right amenities for a pleasant stay. The amenities include a refrigerator, a microwave, a flat-screen TV with a DVD player (pretty old school) and even balconies for families opting for the deluxe rooms.
Other recreational facilities include a fitness centre, a hot tub, 24-hour front desk service and even a business centre.
Are you planning to stay for a few days?
Grab some breakfast at the hotel and explore the attractions within the hotel's 0.6 miles (1 km) radius; the Cody Rodeo Ground, Cody Old Trail Town and Whitney Gallery of Western art, just over two miles away.
Book a staycation at The Cody Hotel.
Location: 232 W Yellowstone Ave, Cody, WY 82414, United States
Faithful Street Inn, West Yellowstone
Faithful Street Inn is conveniently located in West Yellowstone, close to popular attractions in Yellowstone, such as the Grizzly & Wolf Discovery Center and the Yellowstone Historic Center Museum, making it a great choice for visitors looking to explore the area.
The Inn offers free WiFi, allowing guests to stay connected while they are away from home; the kitchen comes equipped with all the necessary appliances so families can easily prepare meals and snacks.
Faithful Street Inn's living area provides a comfortable space to relax and watch TV or a movie, while the private bathrooms come with a hairdryer for added convenience.
Free private parking is available onsite.
Aside from all the amenities, the holiday home is in a convenient location for activities such as skiing and fishing. It is also conveniently close to the Yellowstone Giant Screen Theater, only 700 metres away.
Book a stay at Faithful Street Inn, West Yellowstone.
Location: Office, 120 N Faithful St, West Yellowstone, MT 59758, United States
Yellowstone Lodge, West Yellowstone
The pet-friendly Yellowstone Lodge is just a 10-minute drive from Yellowstone National Park, offering family rooms, comfortable for a few days when exploring the park.
Families opting to stay here can enjoy their stay with all the comforts of home, such as a microwave, tea and coffee and a small fridge.
With free Wi-Fi, adults can easily research and look up reviews of nearby attractions in order to plan the most efficient itinerary for their visit.
While on vacation, the laundromat is a convenient option for washing dirty clothing, and the indoor pools provide a fun activity for the kids.
Families staying at Yellowstone Lodge can also enjoy the Yellowstone Giant Screen, the Grizzly and Wolf Discovery Center, and other attractions previously mentioned.
For a bit more adventure, Grand Teton National Park is also an hour and 40 minutes drive away.
For Yellowstone Lodge bookings.
Location: 251 S Electric St, West Yellowstone, MT 59758, United States
Dining Options At Yellowstone With Kids
All the lodges serve hot and cold food within Yellowstone park. However, I'll be honest and say we weren't impressed by the food. After our first day, we bought groceries in West Yellowstone and brought a picnic with us each day. It meant we always had something to eat in the car and could choose where we wanted to stop.
That said, we did enjoy tea and cakes in the Lake Lodge and snacks from the Store at Roosevelt Lodge. We enjoyed two meals in West Yellowstone itself. One of which was a great pizza place on the main street. And of course, I must mention the Old West Dinner Cookout again, an experience not to be missed.
Yellowstone With Kids FAQs
Is Yellowstone family friendly?
The park has plenty of family-oriented activities, such as the Yellowstone Junior Ranger Program, where kids can earn a badge for learning about the park's geology and wildlife. There are also plenty of family-friendly outdoor activities, such as fishing, hiking, and rafting.
Several of the highlights of the National Park feature stroller-friendly boardwalks.
When visiting Yellowstone with kids, how many days should we plan to spend there?
Yellowstone National Park is vast, and it can take a while to get between places. To get a good feel for the area, we recommend spending at least three days as we did.
Most hikes and outdoor activities are weather-dependent, so if time is not a concern, 3 to 5 days should suffice.
Which entry point is most suitable for families?
The entrance at Gardiner is the only entrance open all year round. It is plowed and maintained during the winter, allowing for safety and easy access for visitors.
Its proximity to the park's most popular attractions makes it the most convenient option for visitors from the Pacific Northwest.
When is the least crowded time of day to visit Yellowstone?
During the summer season, many people love to head outdoors, increasing visitors to Yellowstone National Park.
Visiting during the busier hours, such as 9 AM to 3 PM, can make it difficult to find parking and navigate the area.
However, arriving early morning or late afternoon can help to avoid large crowds.
How long does it take for a geyser to erupt?
The size of the geyser determines how often it erupts. Smaller geysers may take a few minutes to erupt, while larger geysers take a few days.
One of the most iconic geysers in Yellowstone National Park, Old Faithful erupts every 50-100 minutes.
Our Guest writer
Guest writer Cath is an Irish expat who now lives in Portugal with her husband and son. A former scientist, she gave up working when they emigrated south from the UK. She is a family travel and lifestyle blogger and hopes that, through her blog, they will inspire more families to travel, especially with toddlers in tow. As a family, they love travelling and have started working their way through their family travel bucket list. Cath writes about their family travels and experiences on her blog Passports and Adventures.
You May Also Like:
Things to do in Banff with Kids
Olympic National Park with Kids
Things to do in Yosemite with Kids
The Best Things to do in the Everglades with Kids
guide to pumpkin picking in Florida.