After visiting Bali three years ago, with our then baby girl, we have been longing to come back. It fulfilled all of our expectations of a trip and more. Despite it being a haven for tourists, Bali has so much culture, great food, incredible landscapes and the warmest most welcoming people.
When we initially visited we couldn't get over how much attention our daughter got off the local Balinese people. We've visited more than 40 countries with children and no where can top Bali when it comes to welcomeness of children. Likewise from the moment we arrived at HOLIDAY-INN RESORT BARUNA, Bali with our now, two children it's been amazing!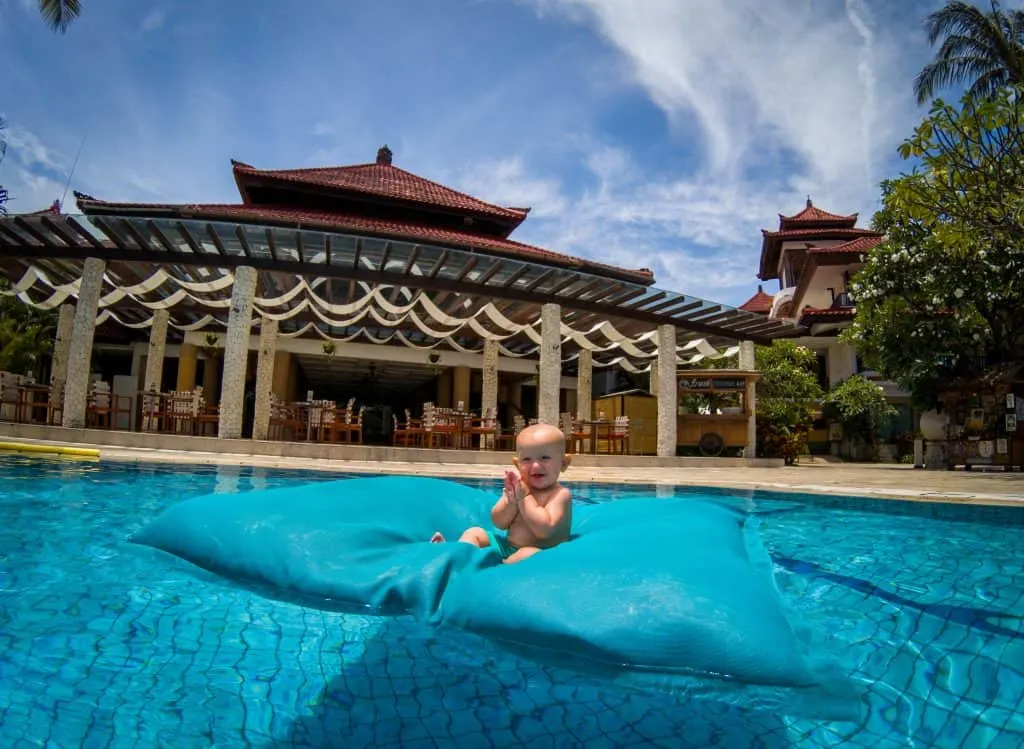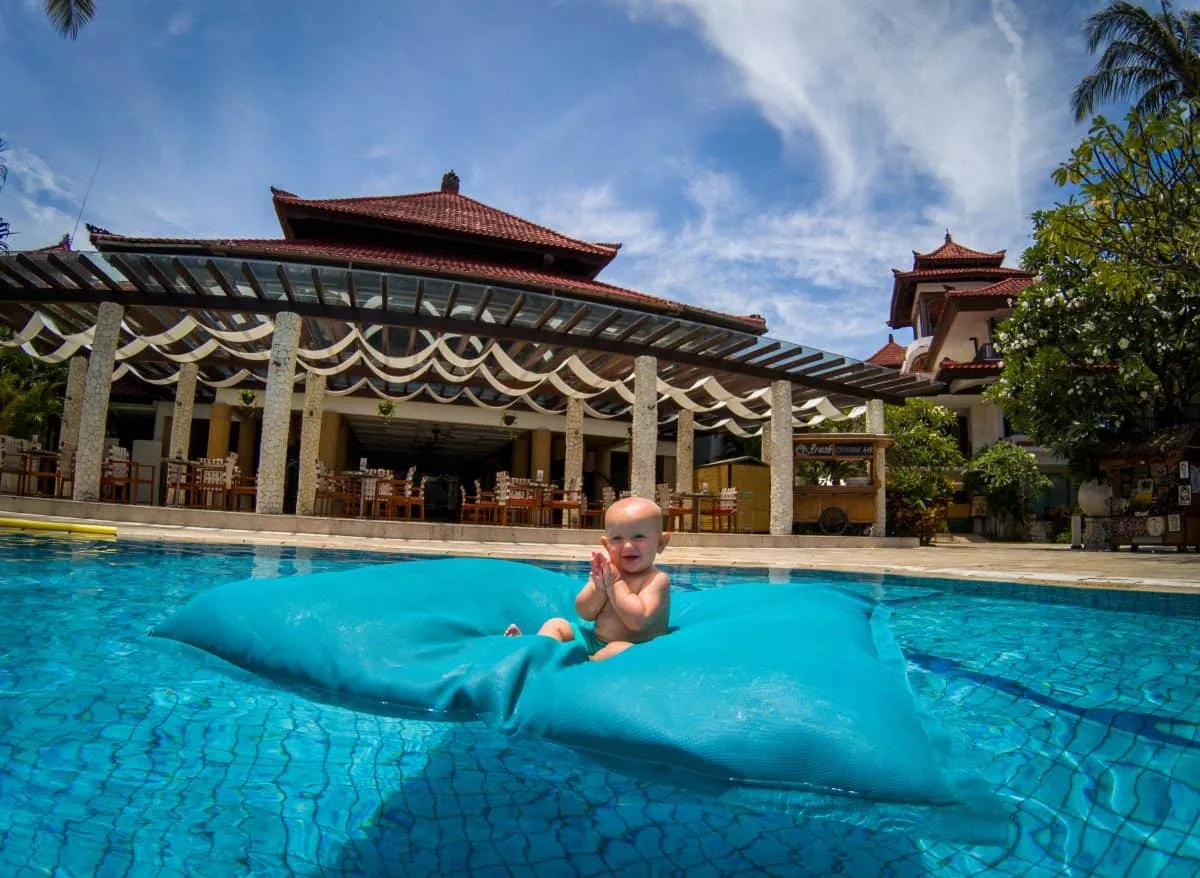 We've been travelling a lot of late and were looking for something special for the kids. Not to mention we were arriving so late at the airport, our first stop needed to be nearby.
We couldn't have began our month long tour of Bali any better than starting off at The Holiday Inn, Barunda. Just ten minutes from Denpasar airport, our children both thoroughly enjoyed themselves and the focus of this hotel is very much on the family. Here are five reasons to take the kids there!
HOLIDAY-INN RESORT BARUNA, BALI
KIDS BREAKFAST & MEALS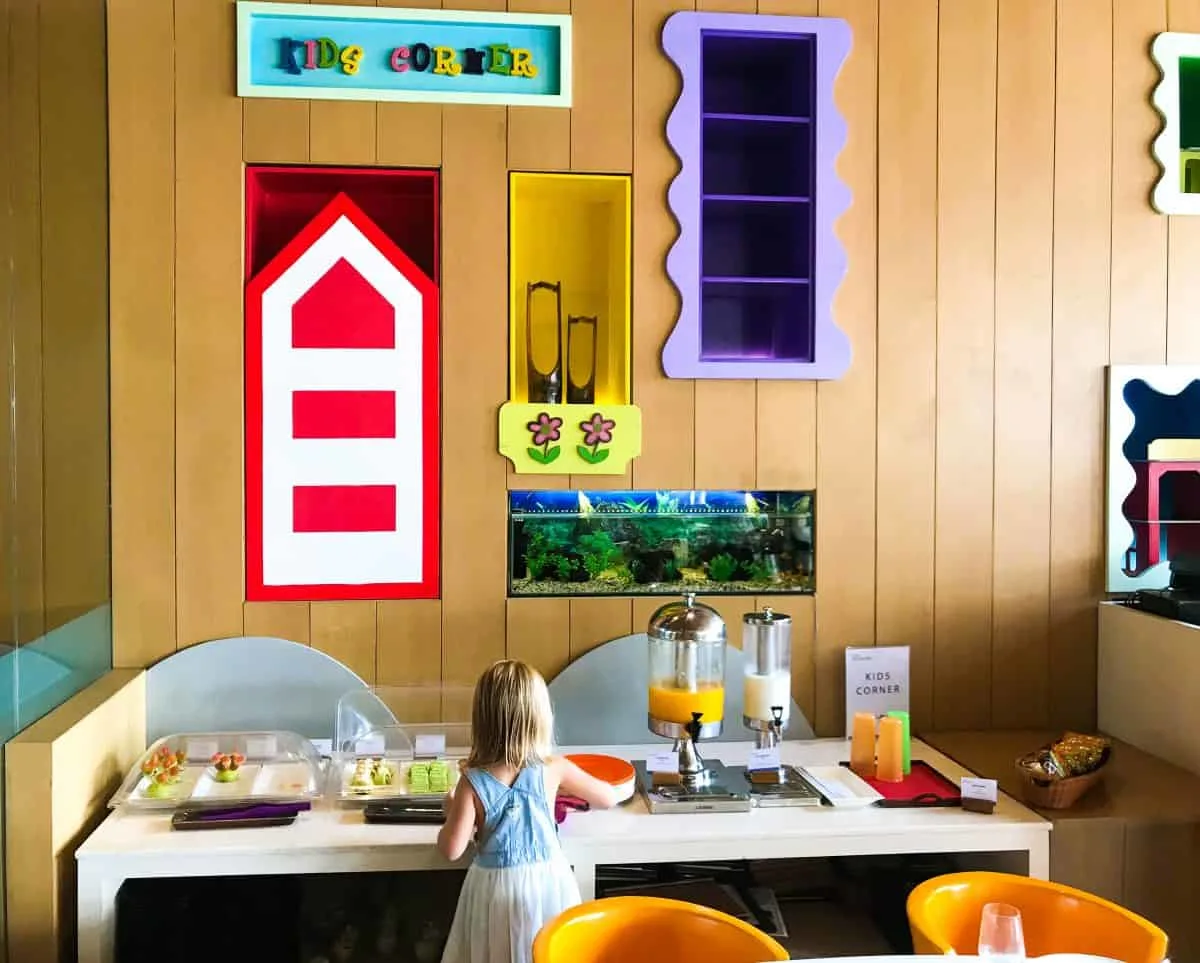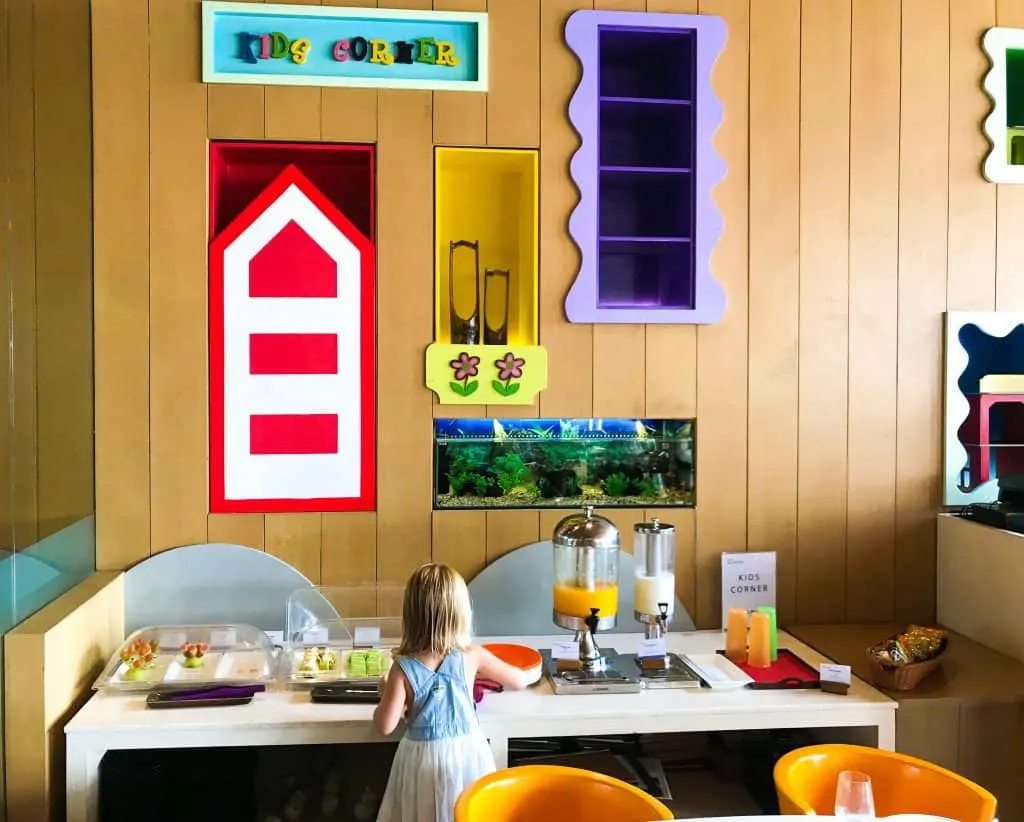 We arrived late on our first night, so we went straight to bed and literally fell into a coma sleep. When we woke up we realised we hadn't really checked out our surroundings. We rolled out of bed for our morning coffee fix at breakfast.
Usually buffet breakfasts are busy for us as parents. We sort the kids out first, then ourselves. Its a constant too and fro and we hardly sit down together before one person is finished. That's why I was immediately taken back by the awesome self-service kids buffet breakfast!
Whoever thought this up is a genius. We have been to hundreds of hotels and never seen this as a feature for kids. The bar with platters of yumminess is at a lower level for kids so they can help themselves. All of the cutlery and cups are plastic so they can't break anything.
Complete with juice, fruit, pancakes and cold water, its great to give little ones some independence and choice. This was my personal favourite and a reason Esme wanted to get to breakfast quickly in the mornings.
KIDS CLUB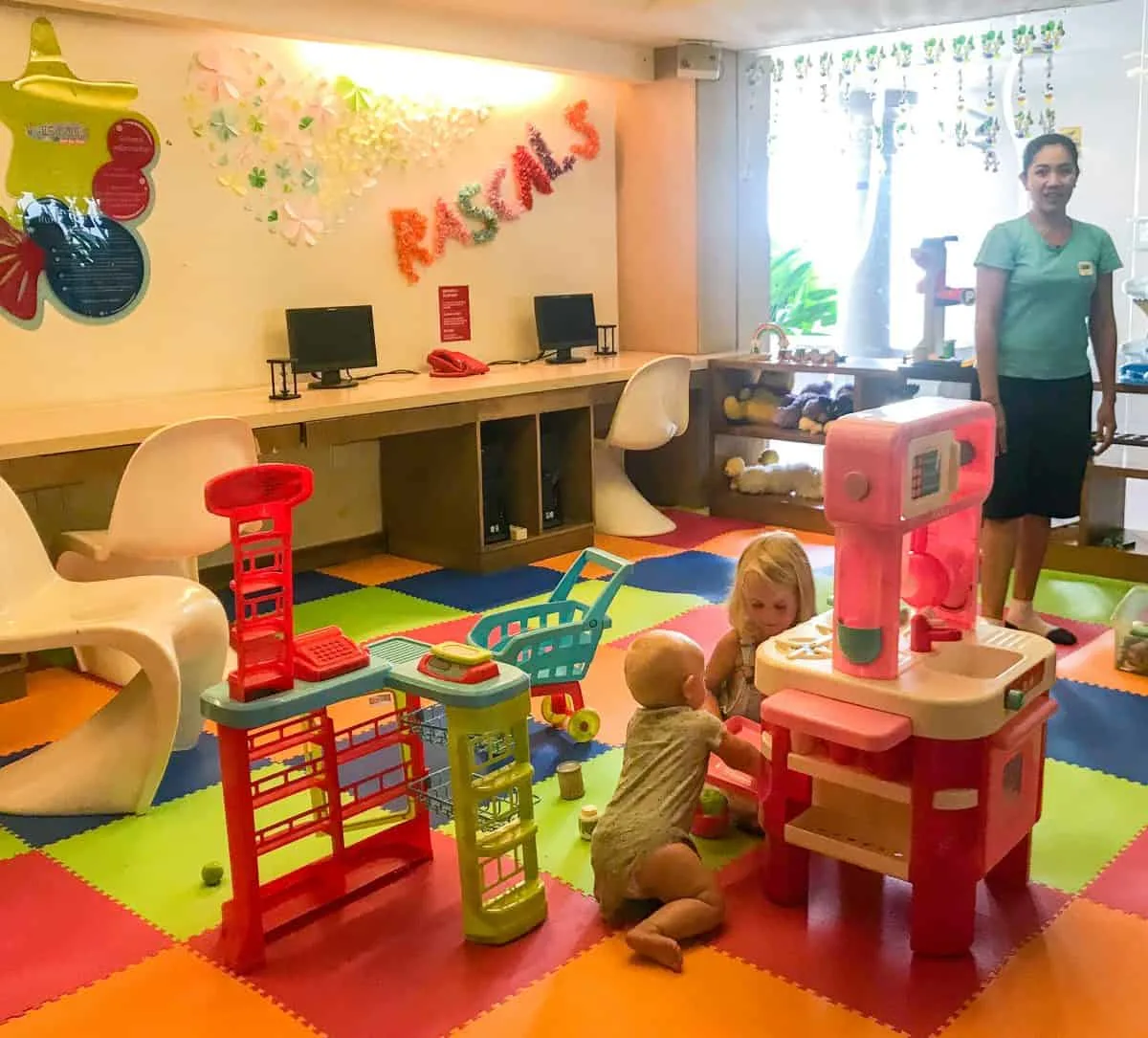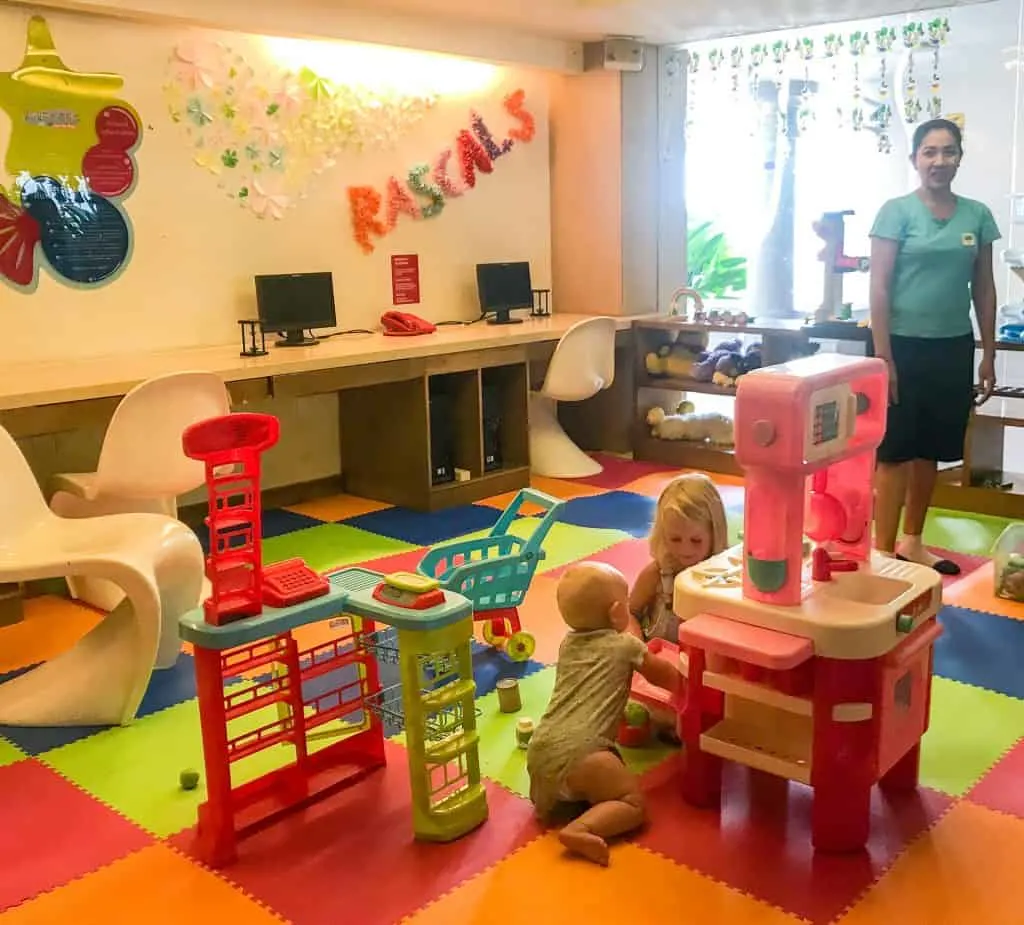 Kids Club at every place is always our toddlers most memorable part of the trip. Although Holiday-Inn are currently renovating their usual location, they have it well set up in another part of the hotel. The area is air-conditioned and has several staff members on hand to help out and play with the children.
There are so many toys and different games and I have to say the staff were amazing at engaging the children in the games. They ask parents of children under four years old to stay. However those older can be there without their oldies, giving parents a break for a massage or maybe a meal.
I was watching the staff teach the kids an Indonesian game, it was so cool I wanted to get involved myself. They do lots of other things like painting and art. Our little girl loved it and it was a nice break from the intense heat outside at the pool.
SWIMMING POOL & GAMES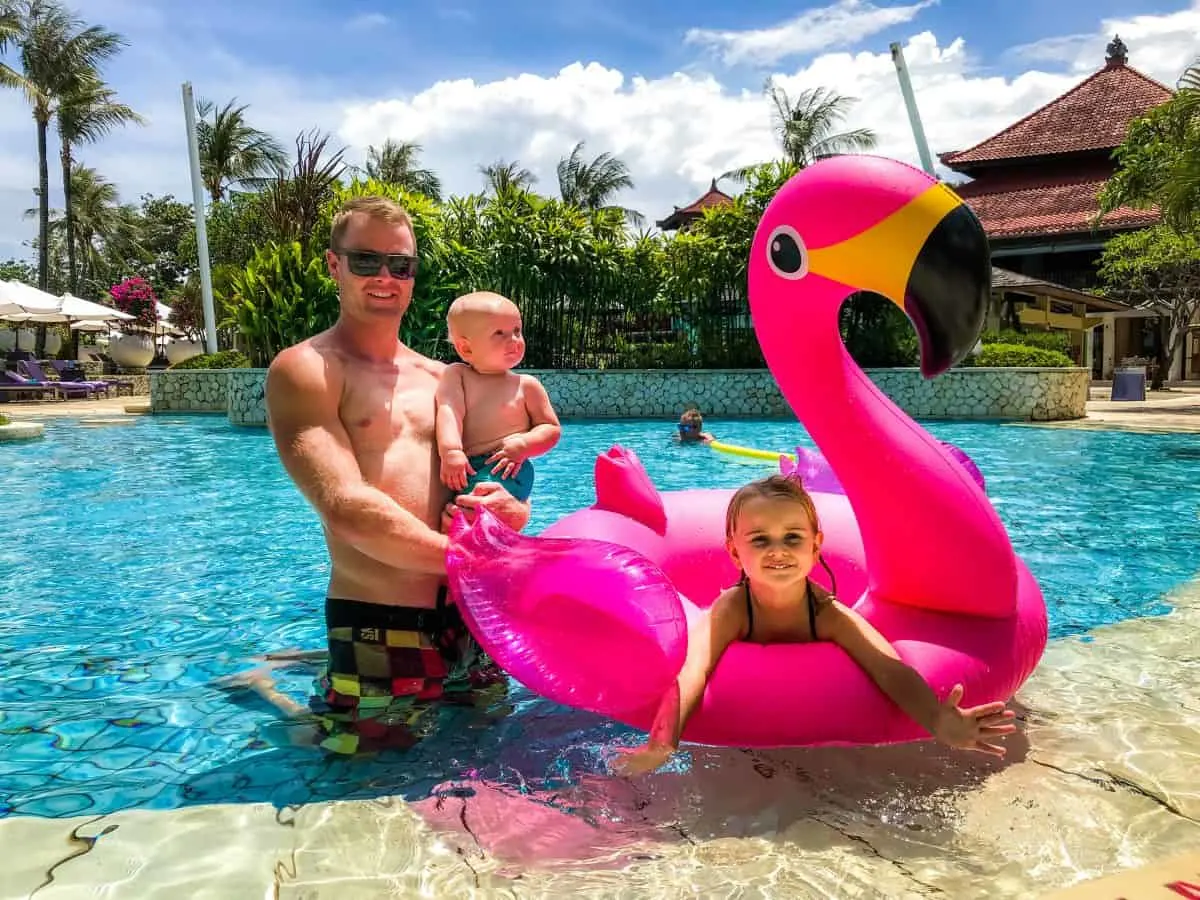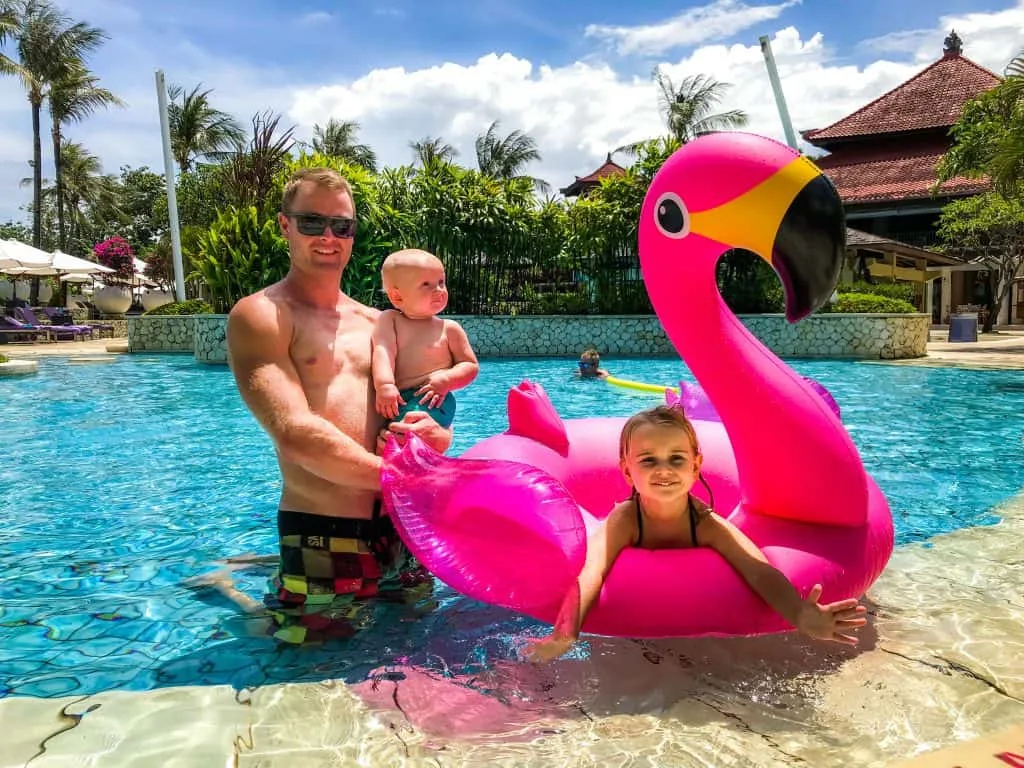 The swimming pool area is absolutely perfect for little children. There are two large shallow areas, great for toddlers and less confident swimmers to splash and have a play. There are giant floating cushions to relax on in the pool, not to mention basketball and water polo set up for those interested in having a game.
Besides from the pool, there are plenty of other games around the hotel. We saw giant chess, table tennis and many other things suitable for different ages. Every day they have different activities available to book for little ones. We loved the look of the Balinese fancy dress and the t-shirt painting. The shaded pirate ship themed playground was another favourite with our little girl.
FAMILY SPA TREATMENTS
HOLIDAY-INN RESORT BARUNA, BALI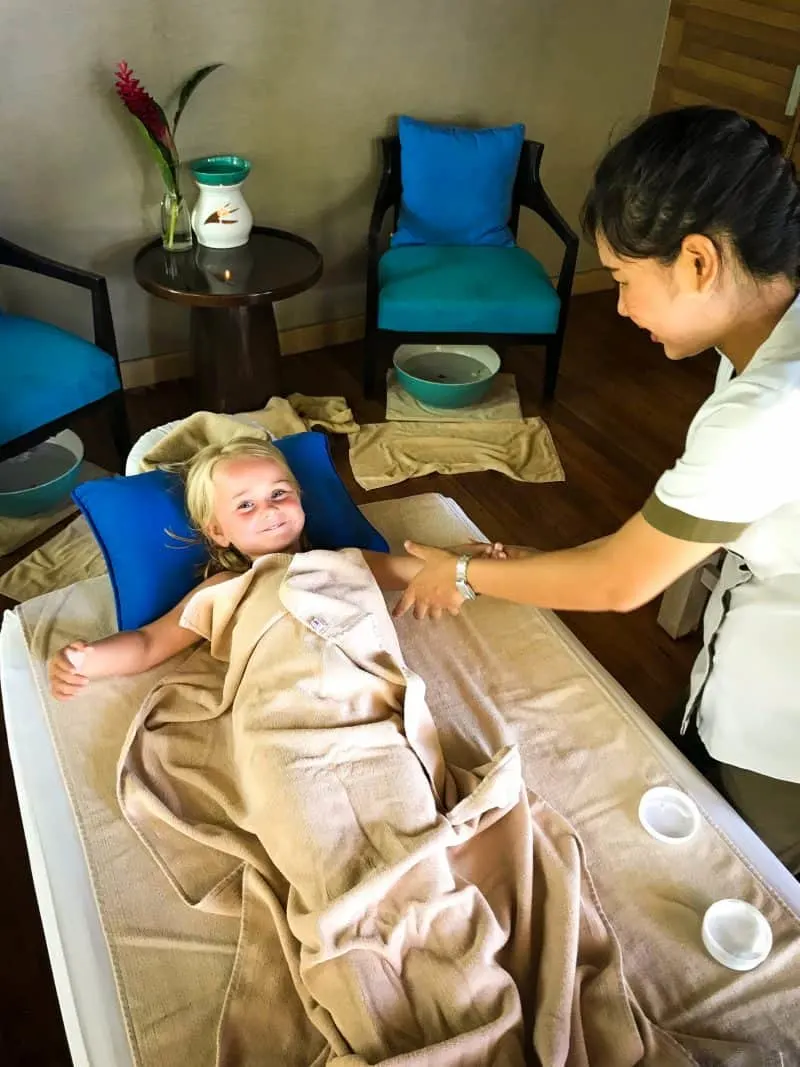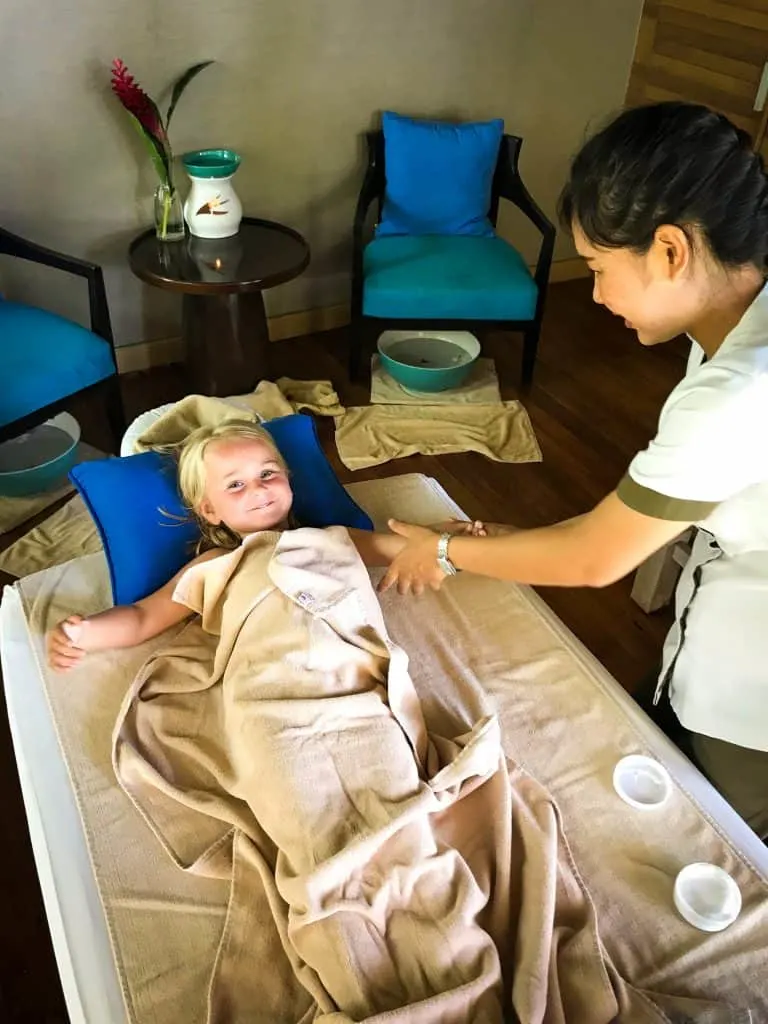 There is a first time for everything and a family spa treatment was one of them. At Holiday-Inn Resort Baruna, Bali they offer mummy and daughter, as well as daddy and son treatments. Obviously with our baby being too young to engage in it, they were so awesome and flexible at adapting the treatment to us as a family.
We all pitched up to the Tea Tree Spa onsite, jumped into our robes and had a massage. They were great, I even breastfed baby to sleep whilst having my massage. I love their inclusive attitude, no one batted an eye lid. Our toddler loved her treatment and splashed around in the bath next to us whilst mummy and daddy were having their turn. It was fabulous.
HAPPY PARENTS HAPPY KIDS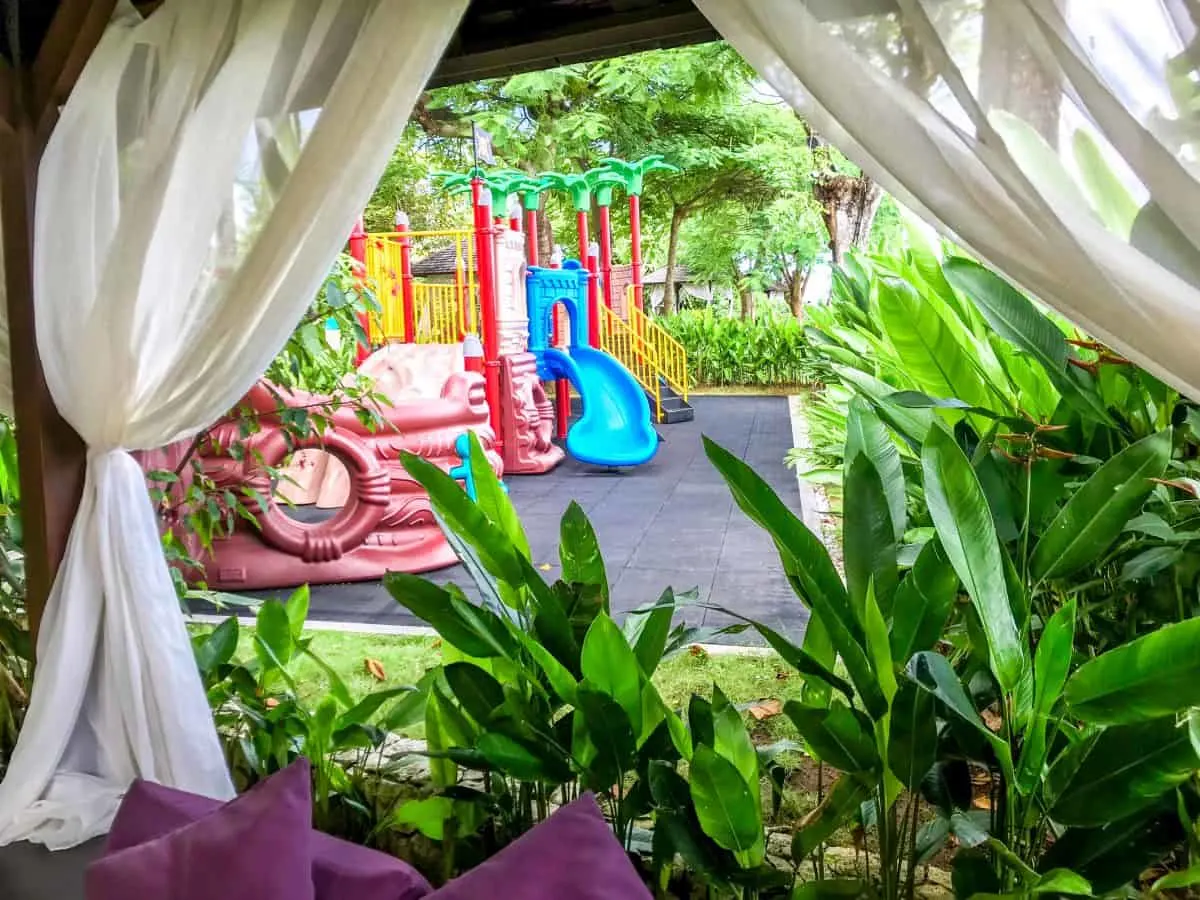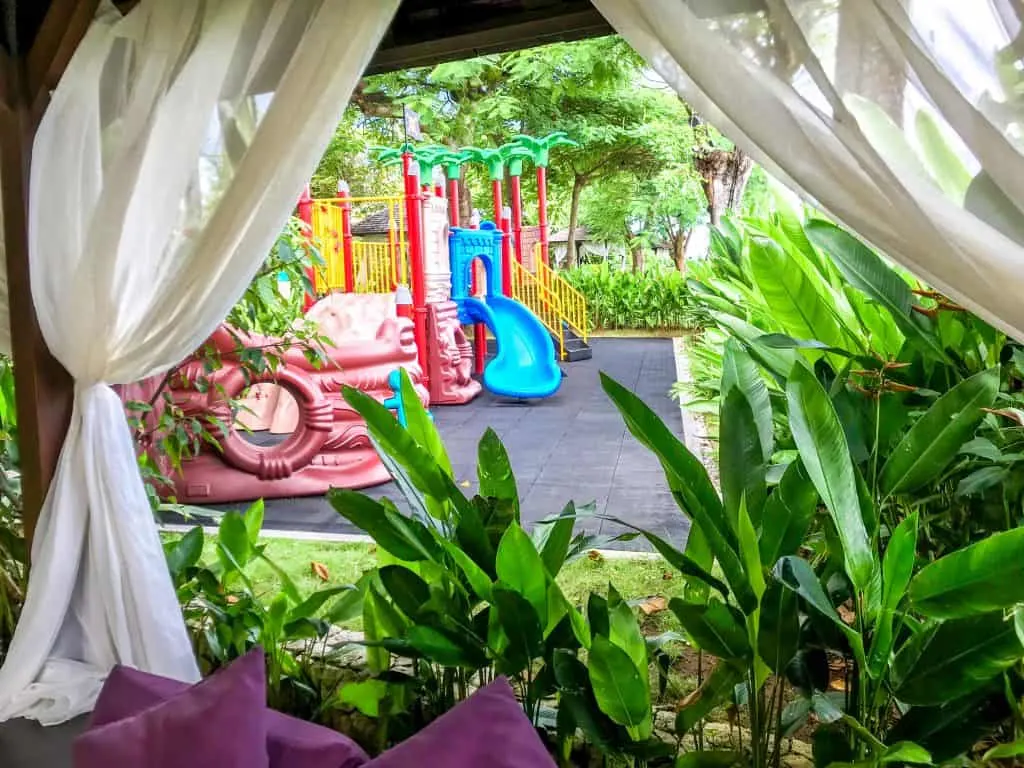 I'm sure we've all heard the saying, happy mum, happy child. Well, that definitely applies to our stay at Holiday-Inn Resort Baruna! An amazing example of this is the giant bed under a veranda with white net curtains blowing in the wind.
Oh and it's facing the playground so we could keep an eye on the kids complete with its own service flag to alert staff to any of our needs. I absolutely love the balance it offers the entire family. Of course there was endless fresh and cold coconuts, great food and cocktails.
Being on holiday, there is always a worry of blowing the budget. I love the fact its such an affordable place to stay. Not to mention kids eat for free at the Palms Restaurant on site. So we really could relax and just get whatever we needed without watching the pennies.
We really loved their onsite restaurant Envy. Its all outdoors facing the ocean so its the best place to be at sunset. The menu is fab with lots of western and Indonesian options. Not to mention the ambiance. We had live musicians singing and playing guitar whilst we sat at our candle lit table. The kids were in a trance which was great for us to relax and unwind.
Have you found this post about Holiday-Inn Baruna Resort, Bali helpful? Leave a comment, we would love to hear from you. If we've helped you in some way, we would love if you could help us too. In this digital age there is a demand for immediate information online.
Being a patron is a new-age way of giving a small token of appreciation for this information, which takes time to put together, with no financial return. We offer exclusive access to blog posts before they are published as a thank you. We also offer travel advice and consultancy at different payment tiers. You can sign up to our Patron program here.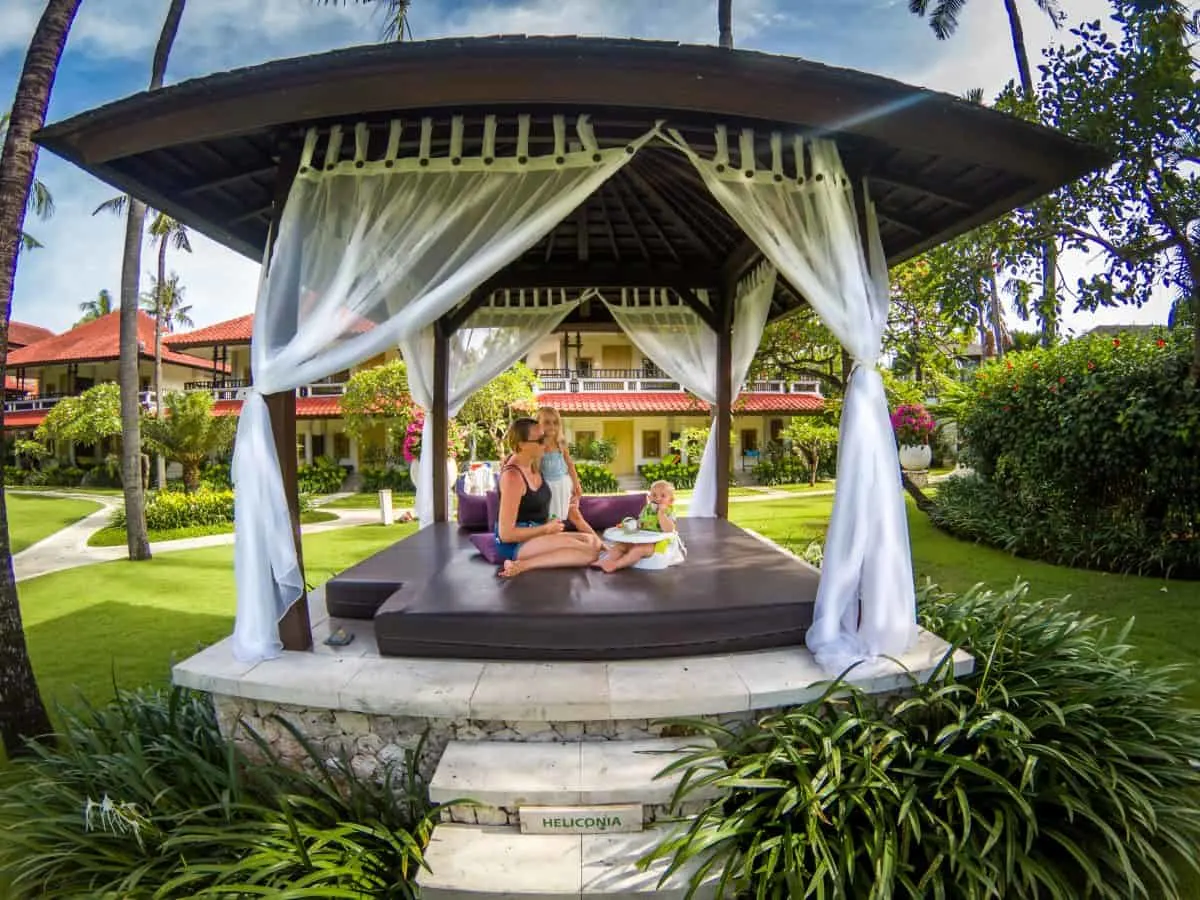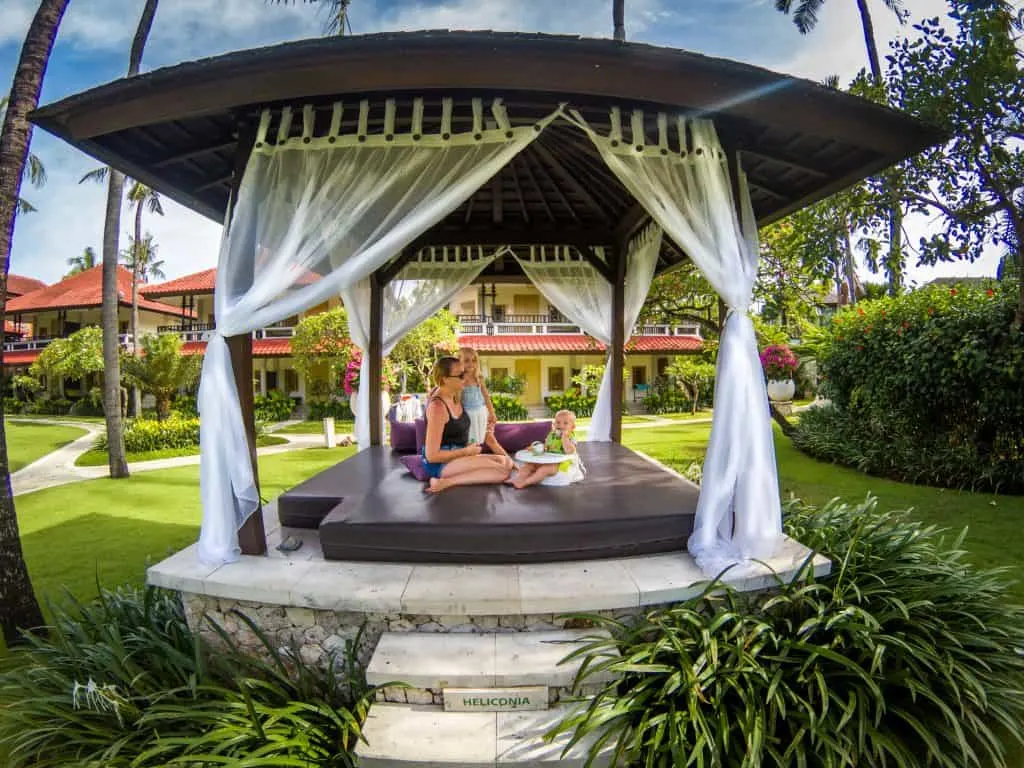 You may also like:
THE ULTIMATE GUIDE TO BALI WITH KIDS
Disclaimer: This post about HOLIDAY-INN. RESORT BARUNA BALI has affiliate links. Some of our stay was complimentary in return for an honest review. As always all views expressed are entirely my own.