Bali is an island with lush jungles, rice terraces, tropical beaches, coral reef, bustling towns bursting with character and the most sincere people you'll meet. Going to Bali with baby may seem a little daunting, but I promise you, it is the trip of a lifetime.
The Balinese love children, so you will find help no matter where you go!When I had my first baby I spent one whole month of my maternity leave exploring the island with my little one in tow.
She was 9 months at the time. We enjoyed the quality family time we had so much, we decided to use my second maternity leave with our youngest in Bali too!
The reason we loved our Bali family holidays was because of the friendless of the local people. They are always so willing to lend a hand, not to mention the array of baby-friendly hotels in Bali.
Our other reasons were the cost of day to day living, exploring, activities, etc is so affordable in Bali.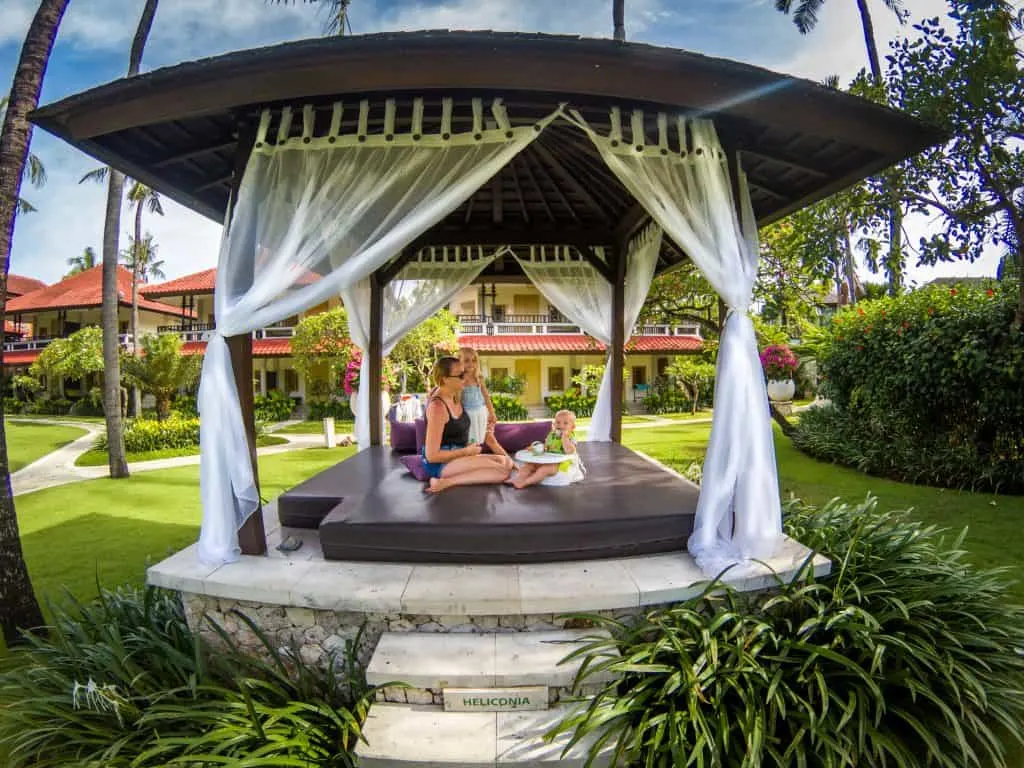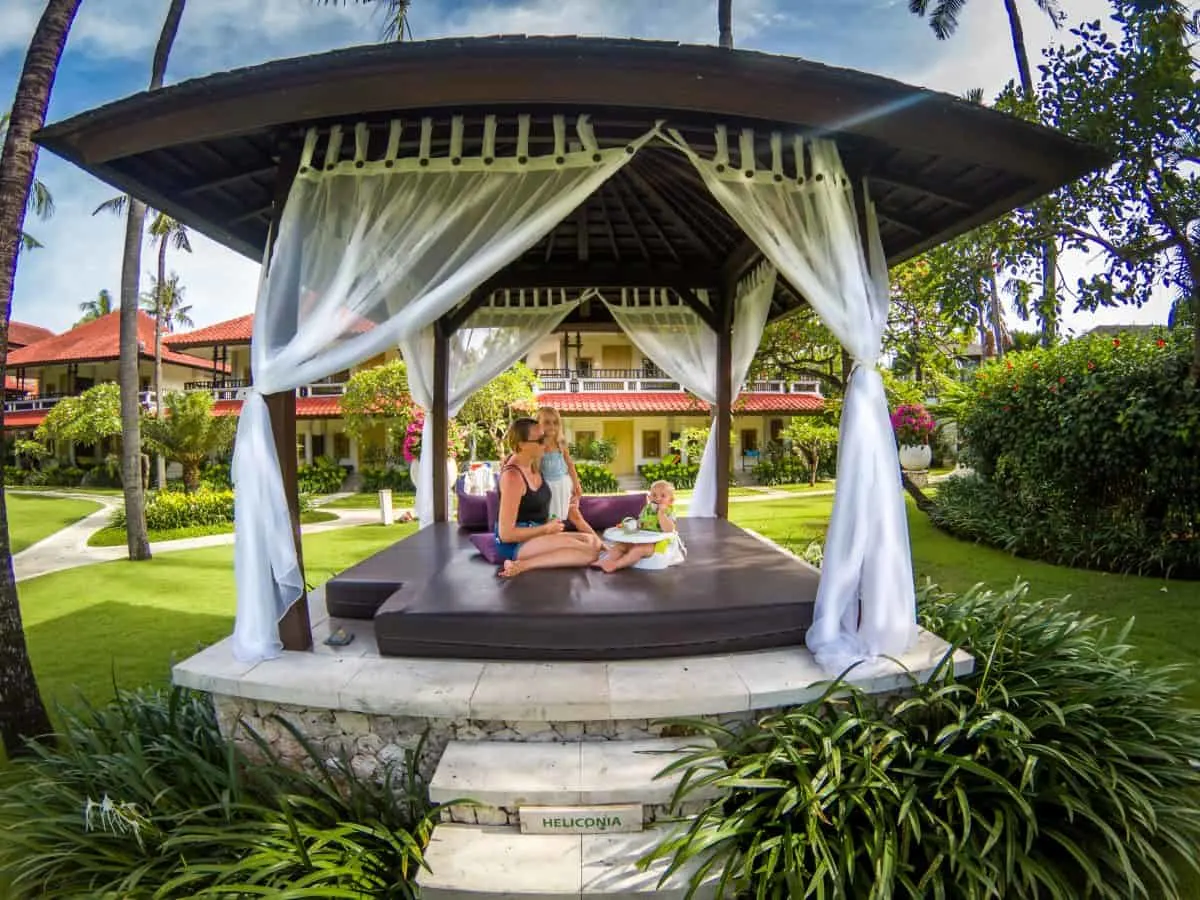 We have recently returned to Bali with both Esmé and Quinn so we have written many more articles on things to do in Bali with kids. In this guide, you'll find the best things to do in Bali with a baby!
We initially stayed in Jimbaran before moving onto Legian, Ubud and finally Nusa Lembongan Island. There are many other places in Bali that we have not yet explored and looking forward to doing so in the future!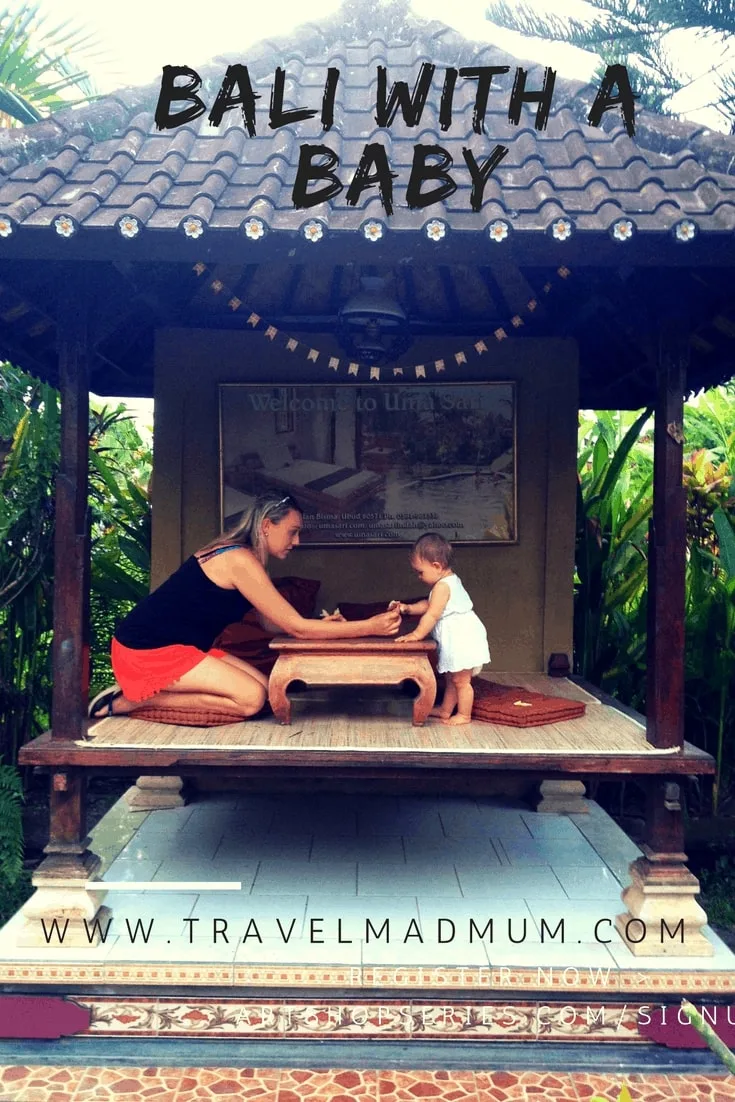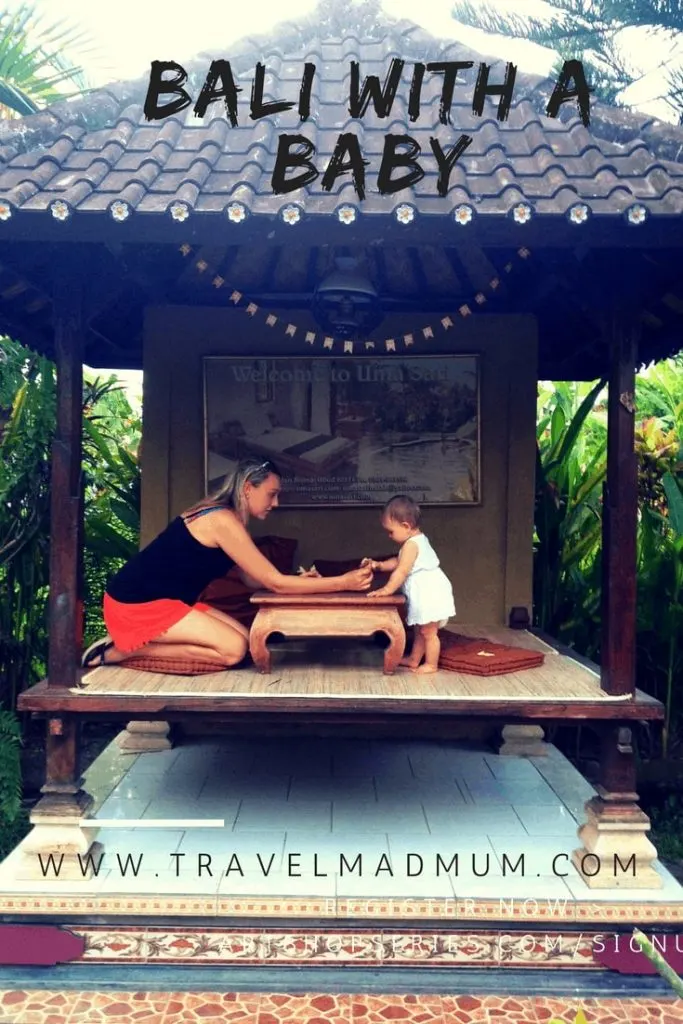 In this article, I will cover info on each area we visited. I also cover visas and where to find the 'all important' baby products!
If you want to organize a tour for any part of your trip we highly recommend checking out the vast array of tours offered by Get Your Guide!
DO YOU WANT £25 TOWARDS YOUR FIRST AIRBNB STAY?
Travelling to Bali With a Baby
Travel to a far flung island might sound like a daunting trip to make with a baby (depending on where you live, the flight time alone can seem a challenge but read our best flying with a baby tips to make it easier!).
We have found on each of our visits that a Bali trip is one of the best destinations for family travel, and even for travel with toddlers or babies.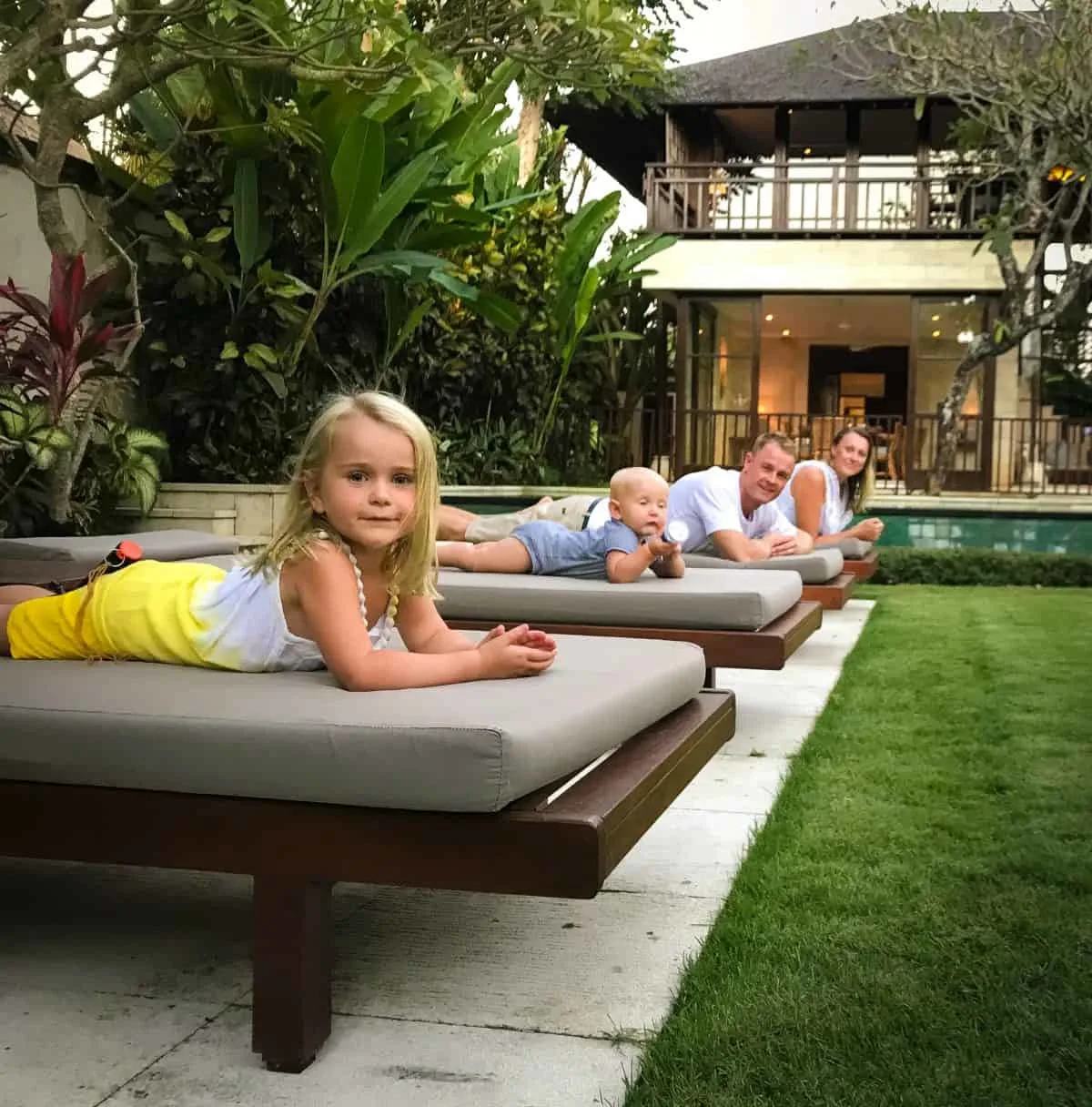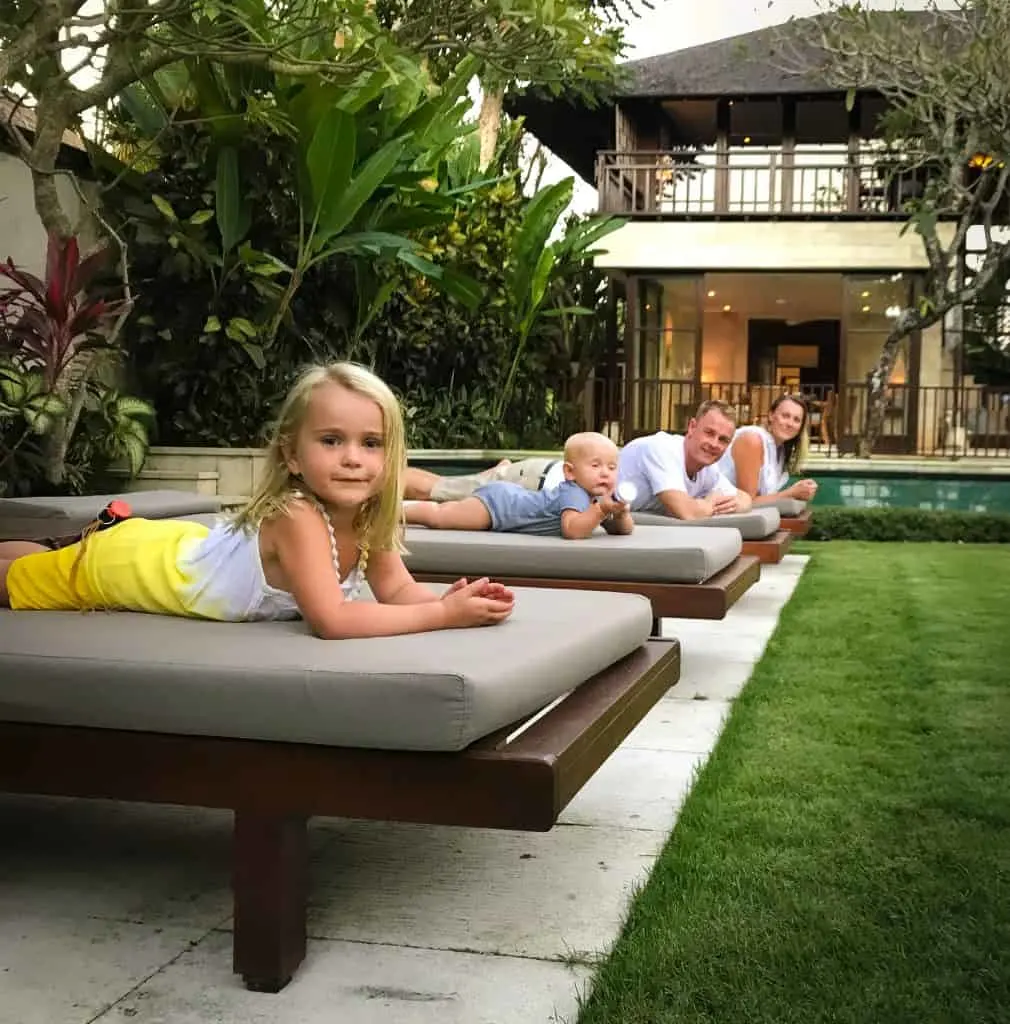 From the friendly locals, to beautiful Bali family resorts, you are never short of options and help to make the most of your trip to Bali with a baby.
Read the second half of this guide for tips on what to do and where to stay in Bali as a family!
General Info for Travelling to Bali With Baby
Is It Safe to Travel to Bali With a Baby?
It is safe to travel to Bali with a baby! The main concern when it comes to safety usually involves whether or not you can give your baby the shots that are recommended for the trip.
I am not a doctor and I am legally unable to give you medical advise, so I highly recommend checking with your GP or pediatrician to advise you. I can tell you what we did, but this should not be interpreted as medical advise.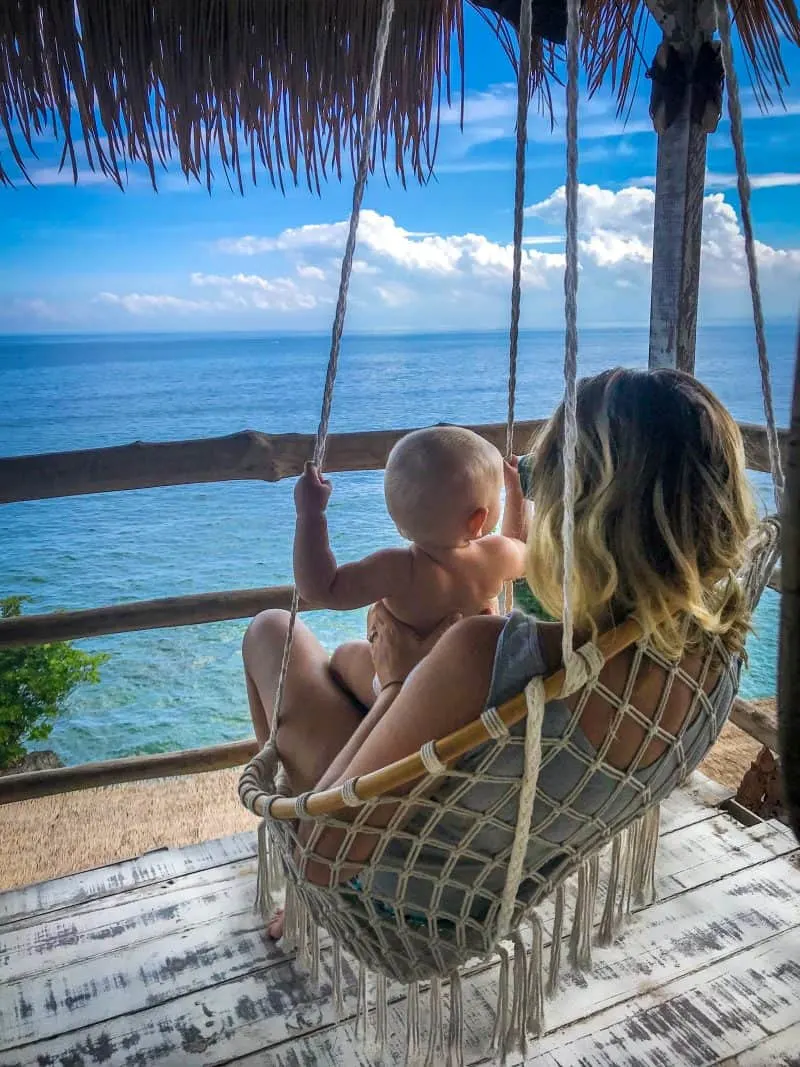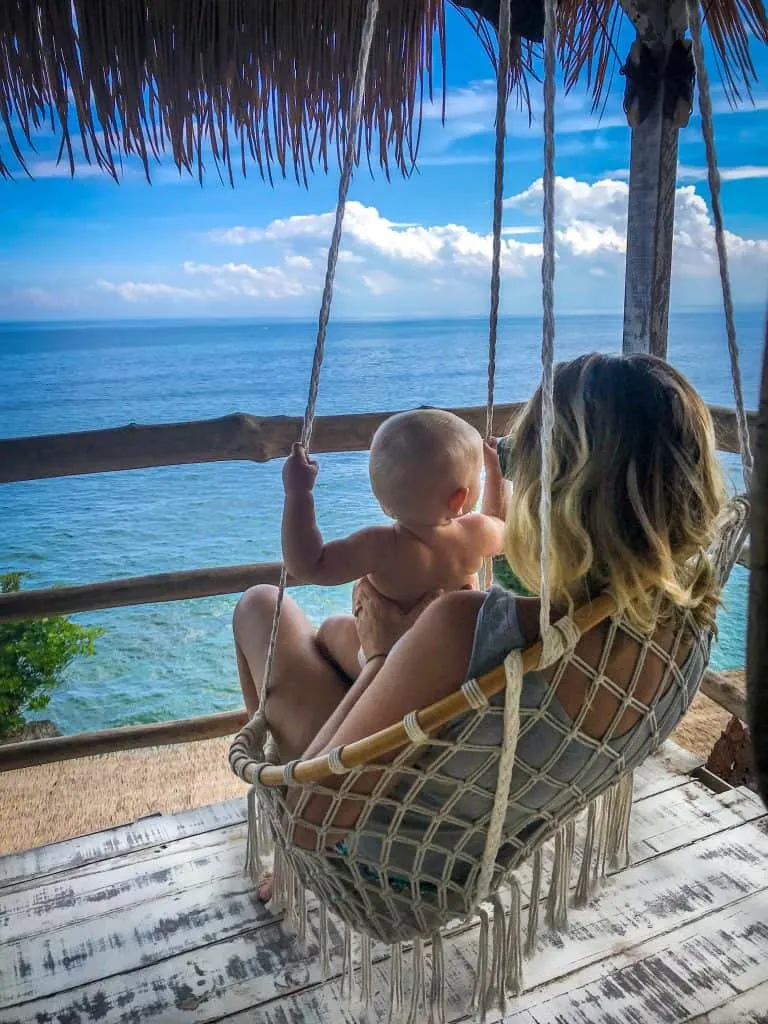 When we went to Bali, we made sure that our daughter was up to date with all the regular childhood vaccines. Our doctor had told us we couldn't give her any of the travel specific vaccines until she turned one.
In order to give her as much protection as possible, I made sure we only stayed in nice places, only ate at places where the food was definitely clean and I brought some food pouches with us.
I also only gave her fruit that had skins on them so I could peel them, only gave bottled water and brought along sterilizing tablets. We also gave her some probiotics from time to time.
If you prefer not to use bottled water for environmental reasons, now there is a really amazing sterilizing pen which will clean water for you. You can read more about it here.
I also breastfed, which I hoped would pass along some immunity. If you are worried about breastfeeding while travelling, check out this post.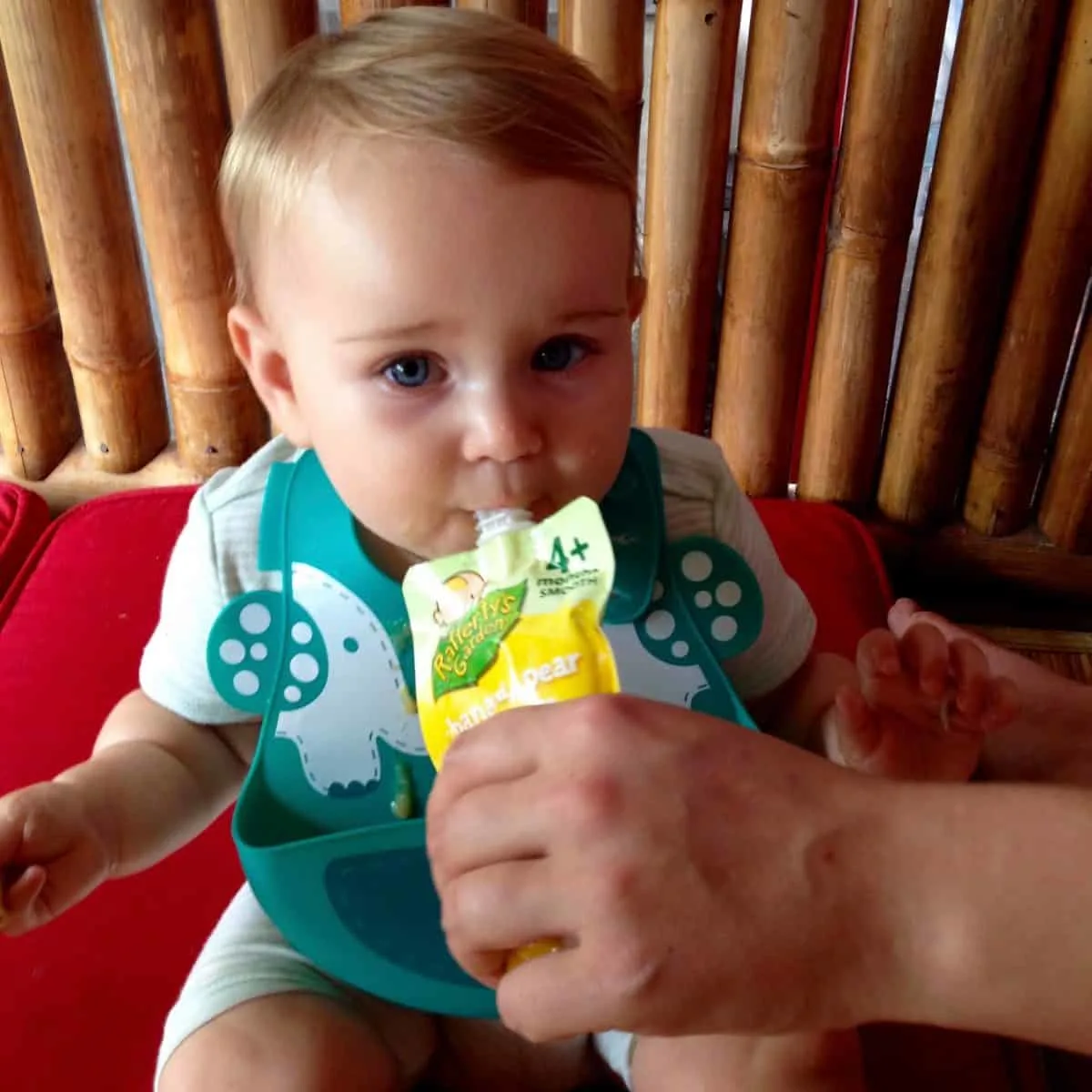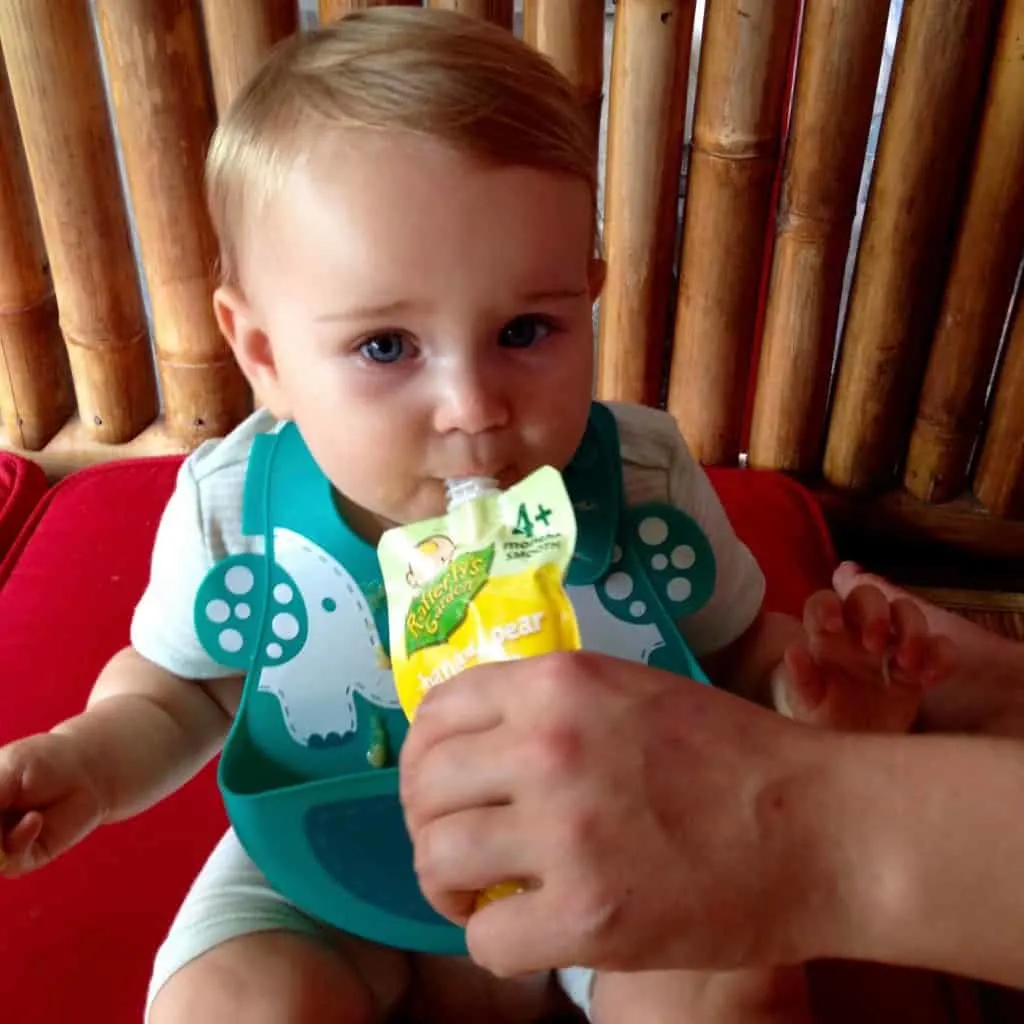 We made sure to bring along a good, child safe mosquito repellent and we put her in long sleeve shirts if we were ever worried about the area we were in. You can also get mosquito netting to put around beds.
The most important thing, in my mind, is to always have good travel health insurance. No matter where you travel, things can happen and you don't want to be stuck without insurance. We always use World Nomads health insurance when we travel, you can get a price quote here.
There are good western medicine hospitals in Bali if need be, but obviously it's better to come prepared and not need it.
Arriving in Bali: Visas, Taxis and Luggage
Many travellers now have to buy a visa on arrival (New Zealand passport holders remain free). It can be paid by card but I got the impression they prefer cash. The cost is 35 USD for all age groups.
If you check in a buggy, expect for it to take a while to show up. They wheel oversize baggage through little by little from the plane on a trolley and its a big enough airport!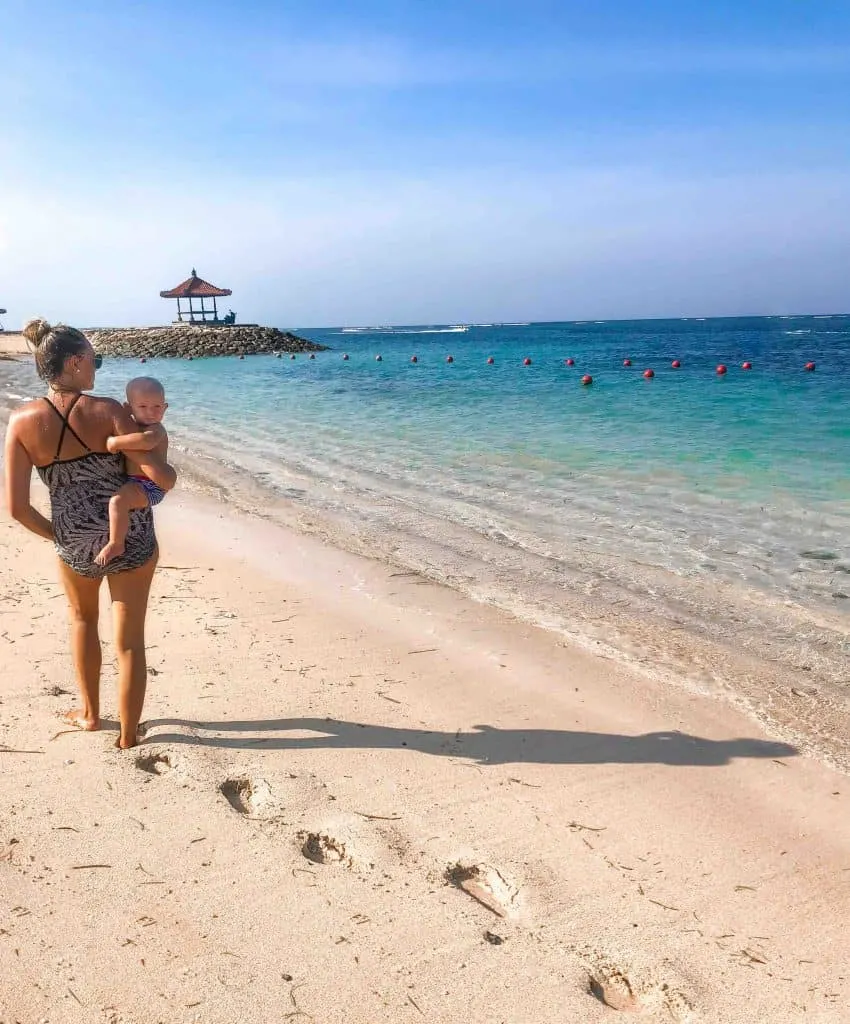 If you bring baby food with you expect it to take longer to get through the 'goods to declare' exit.
There are plenty of taxi drivers outside. They will try you for a fairly high price, don't be afraid to barter. For example a fare to Ubud should be no more than 300,000rp and Jimbaran 50,000rp.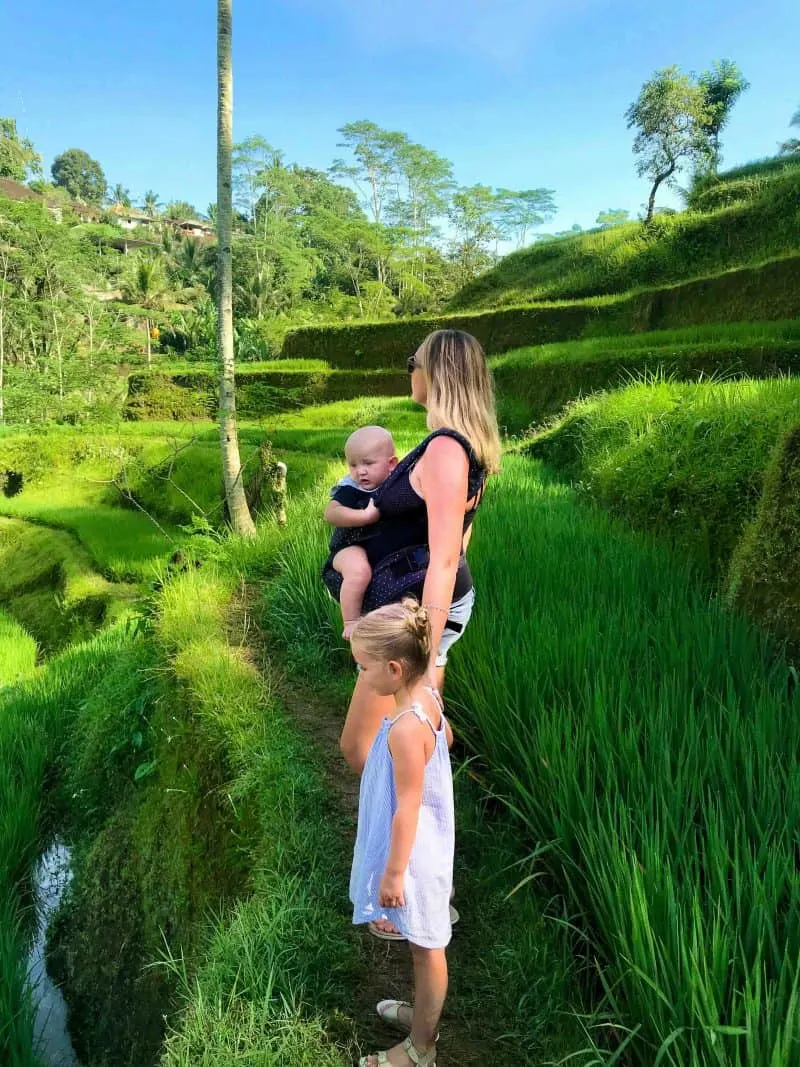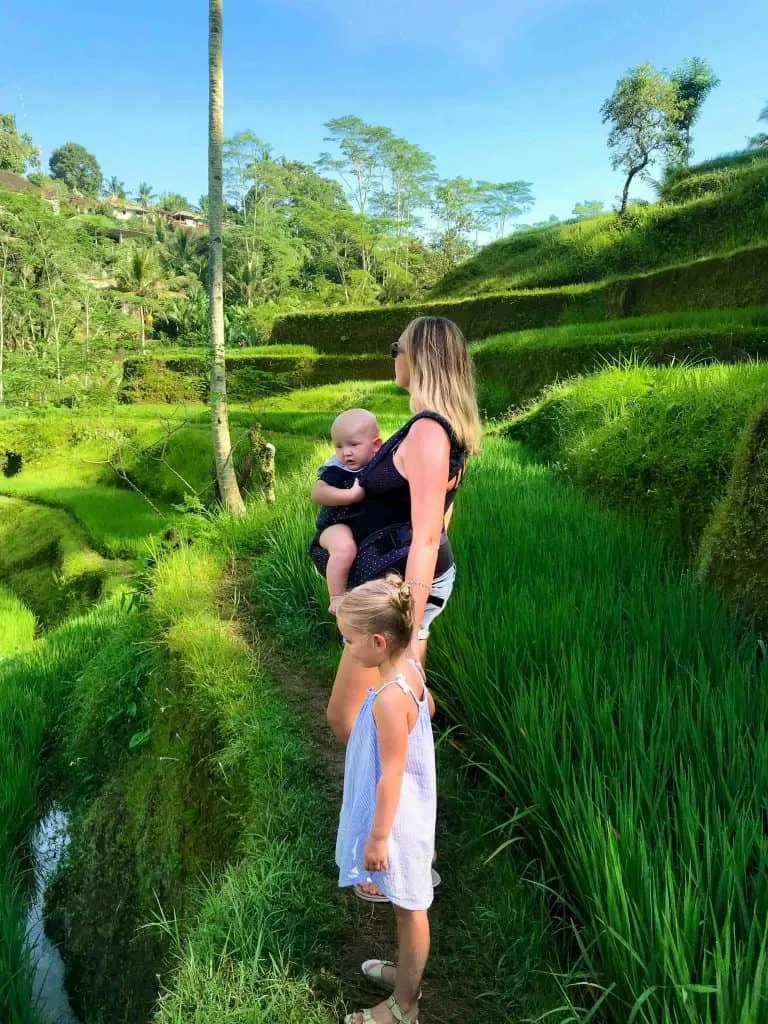 Beware of porters trying to wheel your luggage as you exit the arrivals, they will expect payment and are a little careless. We learnt that when our empty car seat toppled onto the road and in perfect position for a bus to back up over it!
The Locals
The Balinese people are extremely friendly and absolutely love children. We often felt like celebrities walking down the street. They were always waving at Esme and trying to get her attention.
It seems like they just want to help. Every time we were in a restaurant the staff wanted to take her for a walk around allowing us a little time to eat once she was finished. This was definitely a welcomed break.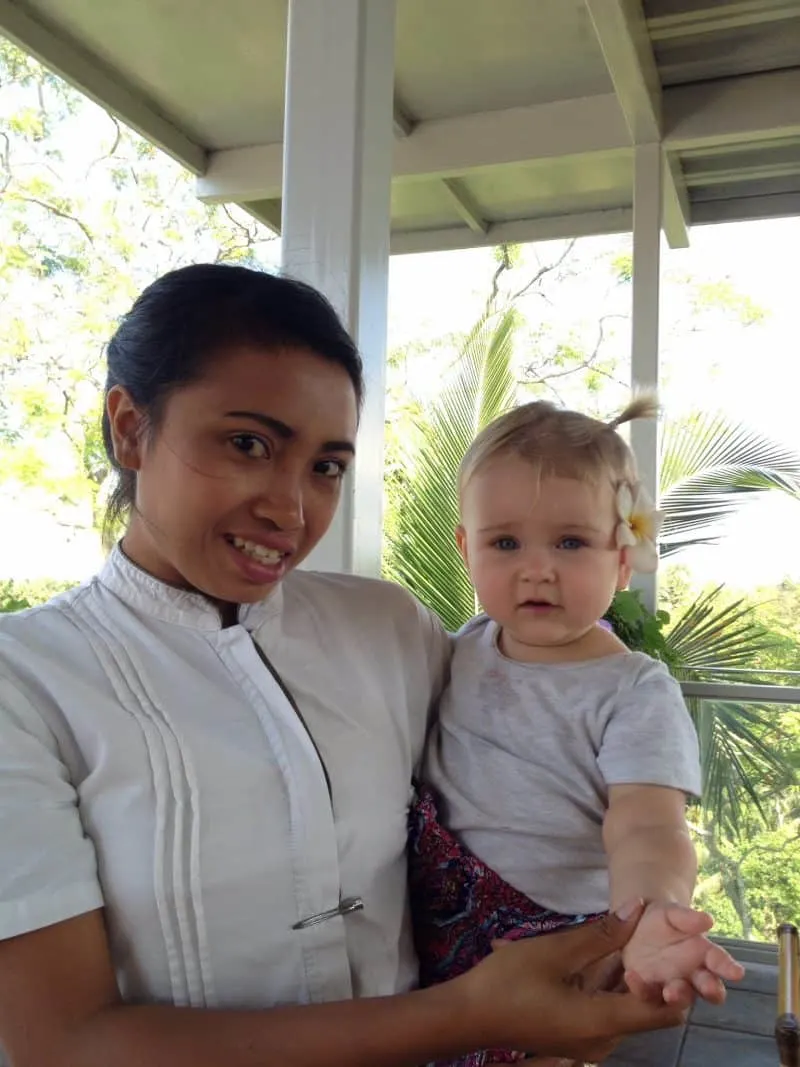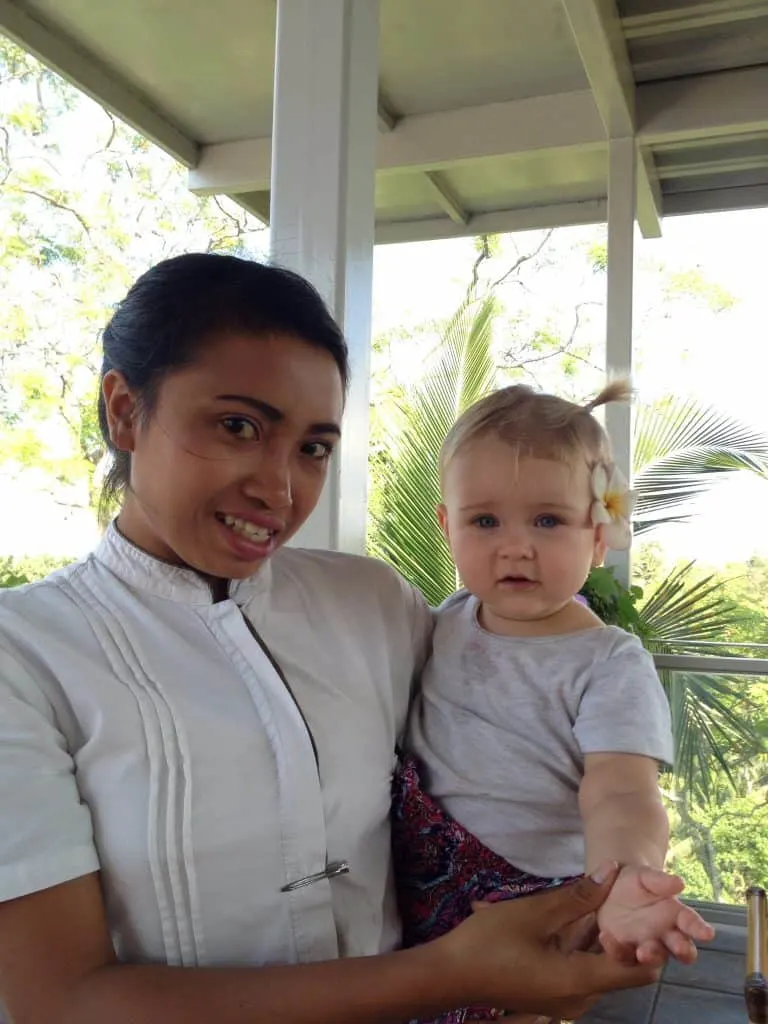 Otherwise you sometimes have to wolf your food down and go which isn't that enjoyable. On countless occasions they came and just rocked her to sleep.
Don't be offended if you have a little girl and they refer to her as a boy. We had that regularly, even when she was wearing a dress. I came to the understanding later they pierce little girls ears quite early to identify their sex.
Babysitting Services and Nannies in Bali
We didn't utilize any babysitting services but I feel I could have trusted them. One of the ones that come highly recommended is Bali Best Babysitting & Nanny Service.
Baby Supplies
There are mini-markets almost everywhere. In all of them you can find nappies and wipes.
There are also two large supermarket chains on mainland Bali; Hypermarket and Carrefour. They have a lot more nappy options.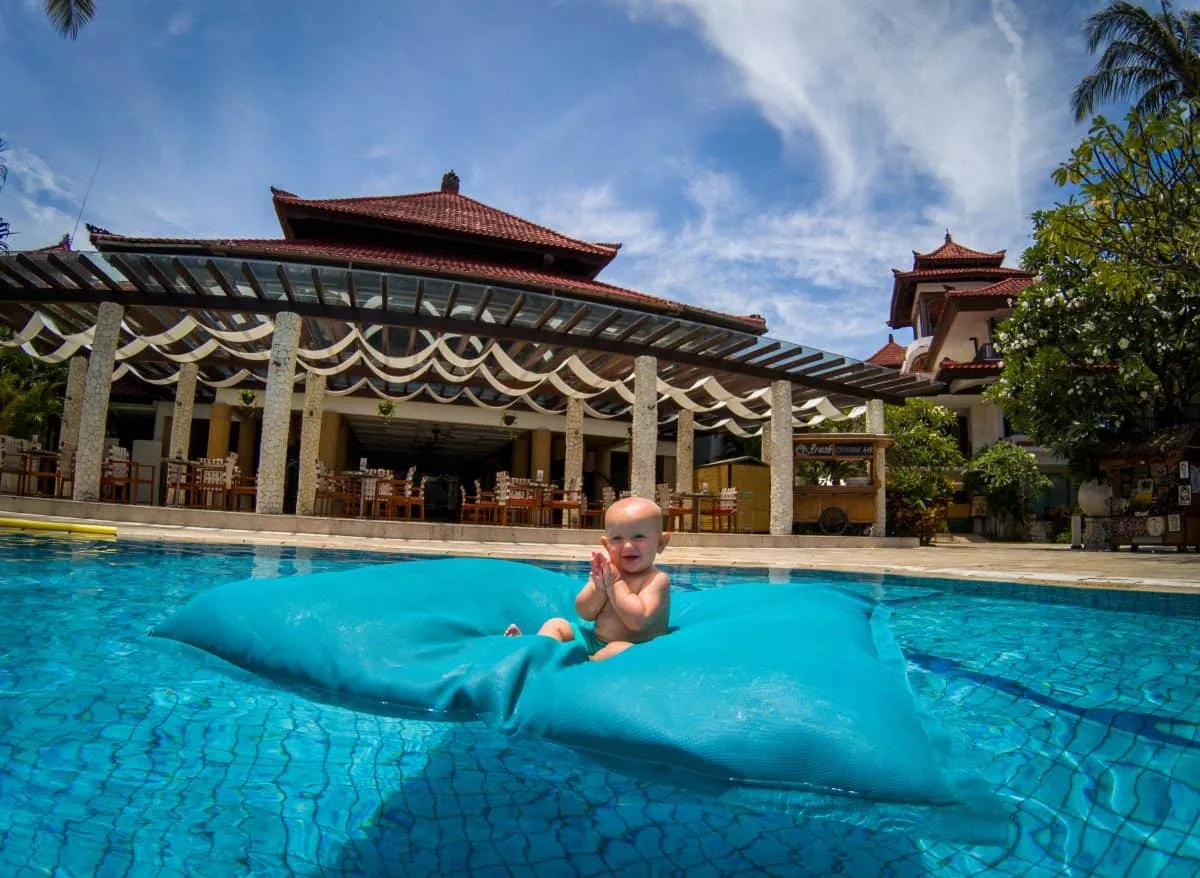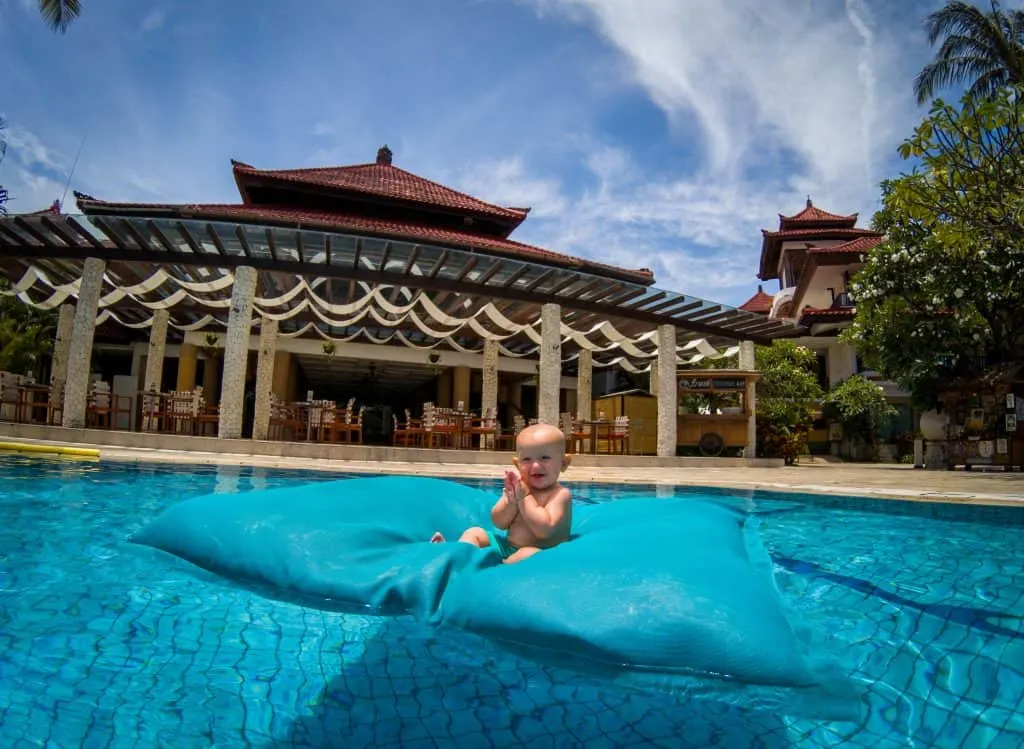 Bali Baby Food
They also have some baby specific foods. I did not see much more than the glass jars of Heinz food and rice crackers. If you prefer to use something different it may be worth bringing it with you.
Bali Baby Hire
There is more then one company out there now from which you can hire baby supplies for your trip. One of the most recommended being Bali Baby Hire. Most of these companies will deliver the products you choose to rent, to wherever you are staying so that it's ready for you when you arrive.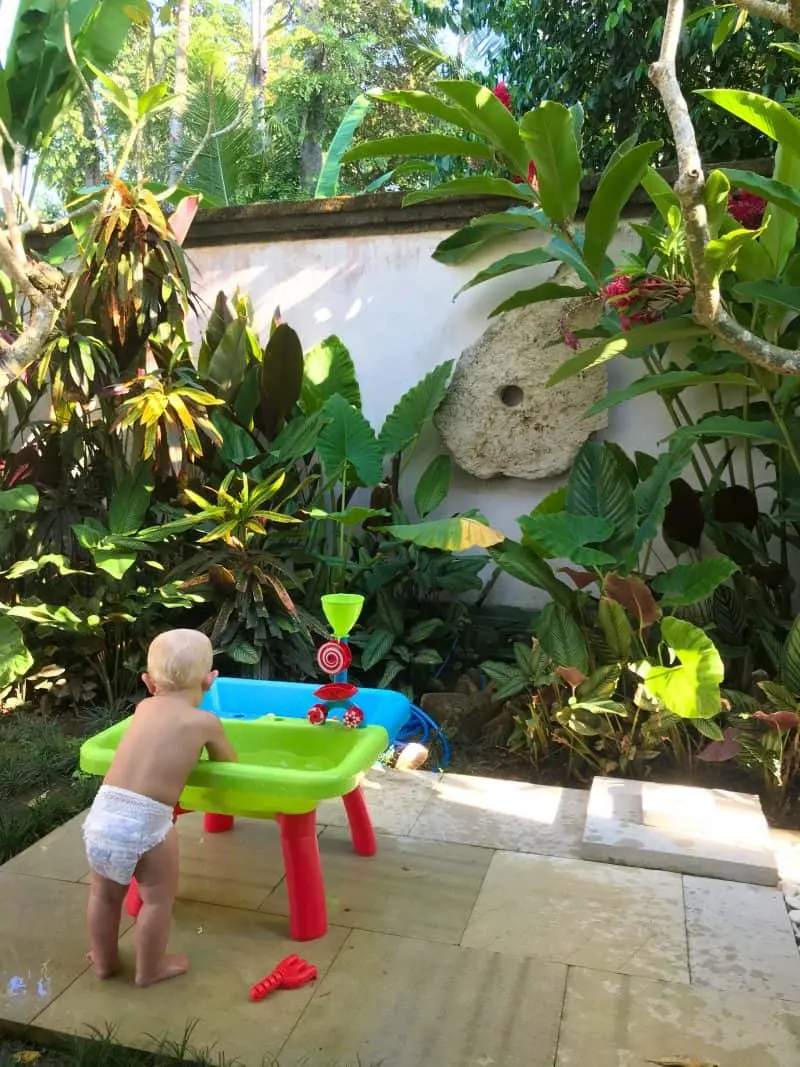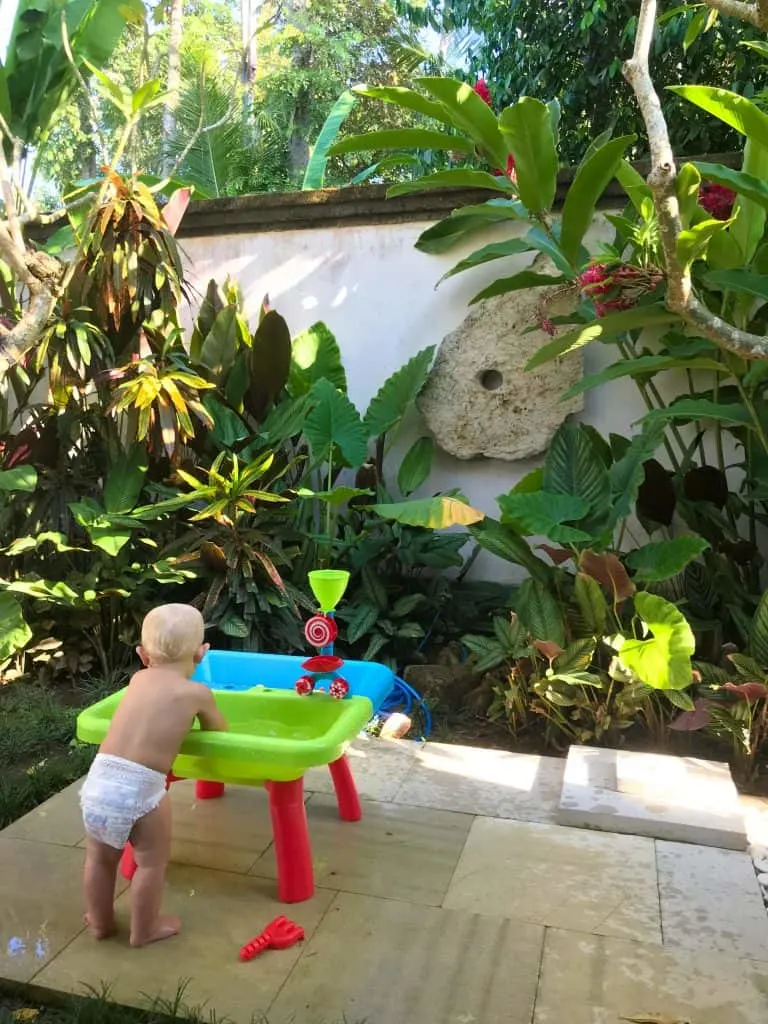 You can rent anything from strollers and car seats to baby monitors, toys and much more. If you prefer to bring your own stroller, here is a guide to choosing the best travel stroller.
Where to go in Bali with Baby
There are loads of fabulous family friendly destinations within Bali, so you may find choosing just one a challenge. Each city and island has it's own personality and unique things to do.
Here are some of our favorite places we visited in Bali with a baby so you can decide where to stay in Bali for families, depending on your personal preferences!
Our personal favorite destination was Jimbaran. We loved it there and felt it had a fantastic laid back vibe that was perfect for taking a baby on holiday.
It also had, what we felt, was one of the best family resorts. Bali has lots of great options but the Intercontinental Bali Resort it was an all around amazing experience.
They have a fantastic kids club, multiple beautiful pools, a playground, and just all around felt like an indulgent, luxury stay. You can check out prices and availability for the Intercontinental here or read more about Jimbaran below!
Jimbaran with a baby
We kicked off at Jimbaran, a short journey from the airport, particularly helpful if you've had a long flight.
Jimbaran is a great, low key first stop. It's main draw is the beautiful beaches which are a lot less crowded then some of the more well known beaches in Bali.
It also has loads of beautiful family friendly resorts. Bali is filled with beautiful destinations but if you are looking for long walks on the beach, stunning sunsets and fantastic hotels with killer pools, Jimbaran should definitely be on your list.
Check out the best hotels in Jimbaran here!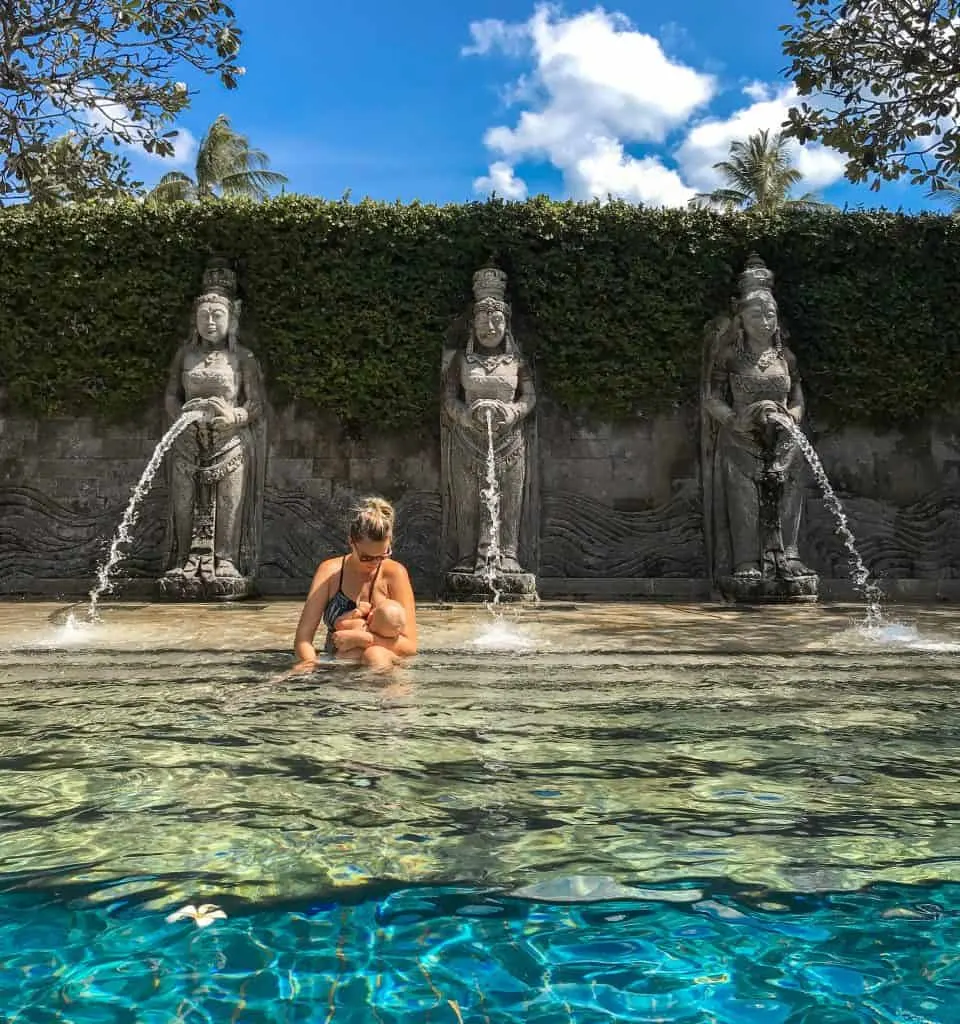 We arrived in the evening and made our way to the beach for dinner. It was dark by the time we got there but the entire beach was glowing with candles on the hundreds of dining tables perched in the sand.
Dining on the beach with chill out tunes and a beer puts you into that automatic holiday mode! It's all fairly mellow so felt okay to be in that atmosphere with a baby.
There are a number of restaurants to choose from, seafood seeming to be most popular. There are also a number of mobile stalls cooking street food on the beach, my personal favourite was the BBQ'd corn on the cob.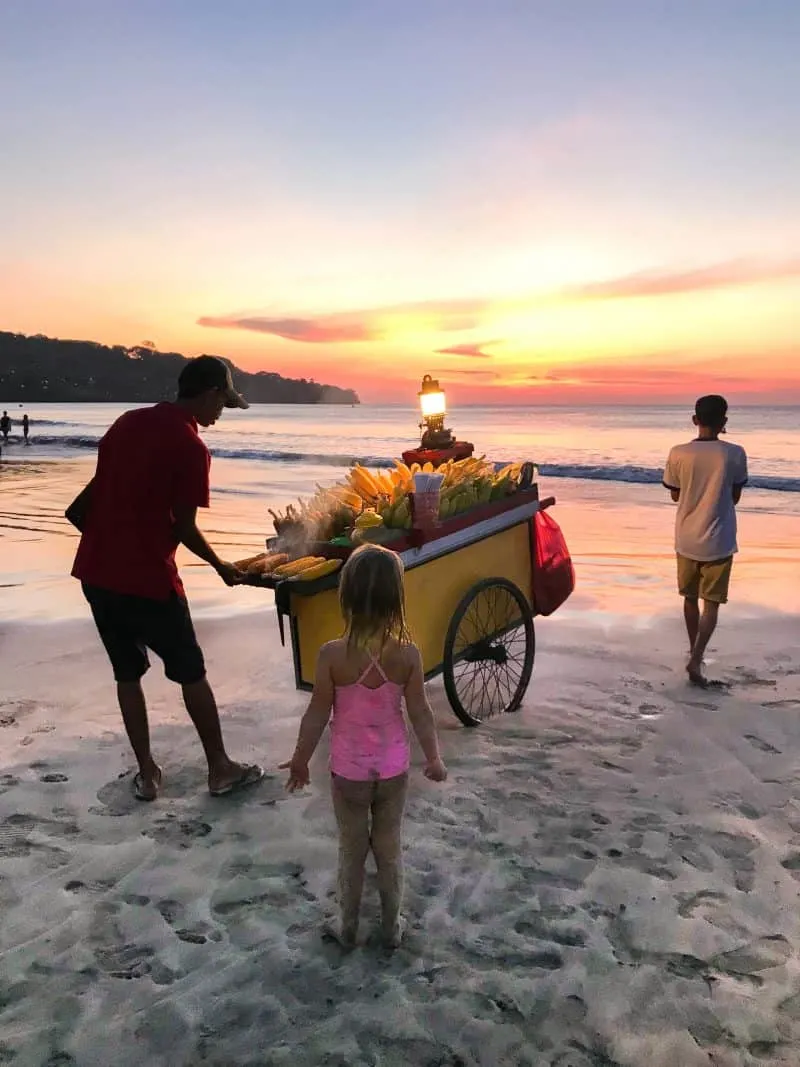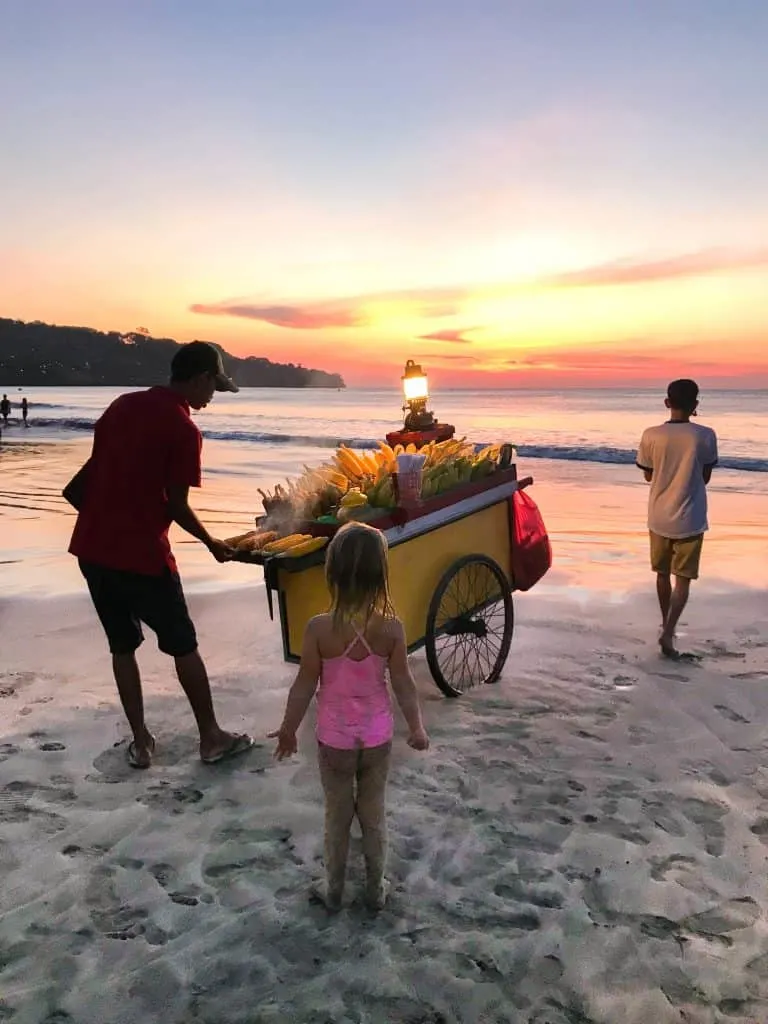 You can smell the cooking aromas a mile away making you feel more hungry by the second! Like everywhere in Bali, food and drinks are extremely reasonable.
Average price for a main course is £2 GBP. I was definitely feeling nervous about what Esmé would eat, particularly after hearing the saying 'Bali belly' and the fact the food is quite different.
The Balinese were extremely accommodating wherever we went, clean fresh fruit was readily available and she was surprisingly willing to try non-spicy local cuisine. I am happy to report none of us got Bali belly.
We ventured back to Jimbaran recently, and stayed in what we felt was the best kids resort, Bali. You can check it out in our Jimbaran with kids article here.
Things to do in Legian, Bali
On day two of our trip, we hooked up with my brother in-law who treated us to a luxury stay at the incredible Padma Resort.
Not a bad gift for Travel Mad Dad's 30th birthday! It's one of those places you find it hard to leave rather than exploring the local area. From the moment we rocked into reception, we were treated like royalty!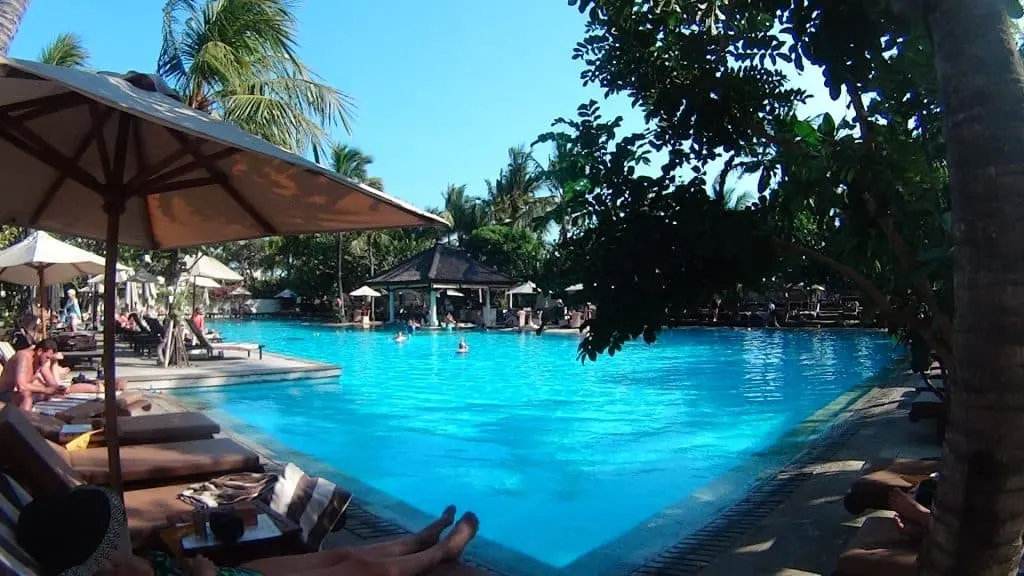 Fresh cold face cloths to cool us down and a fancy mocktail juice. The rooms are SUPER luxury! There are several swimming pools and a bar that faces the beach. It is a family-friendly Bali holiday resort and they were more than accommodating with our little one.
Check out rates and availability at the Padma resort here.
Where to Eat in Legian with a Baby
If you stay in Legian, I highly recommend checking out Kunti Sushi Bar. The sushi was really, really tasty. It's probably the nicest sushi I've ever had.
Kuta Beach
Legian is in the same area as the notorious Kuta beach, most popular among the surfers by day and the partiers by night. I had a lot of preconceived ideas about Kuta, but actually it was quite pleasant being on the beach.
I wouldn't spend a great deal of time there as it's probably the most destroyed place in Bali in terms of mass tourism. However if you are after surf lessons it is a good place to start. Surf board rental costs £3 for the entire day and are found anywhere along the beach.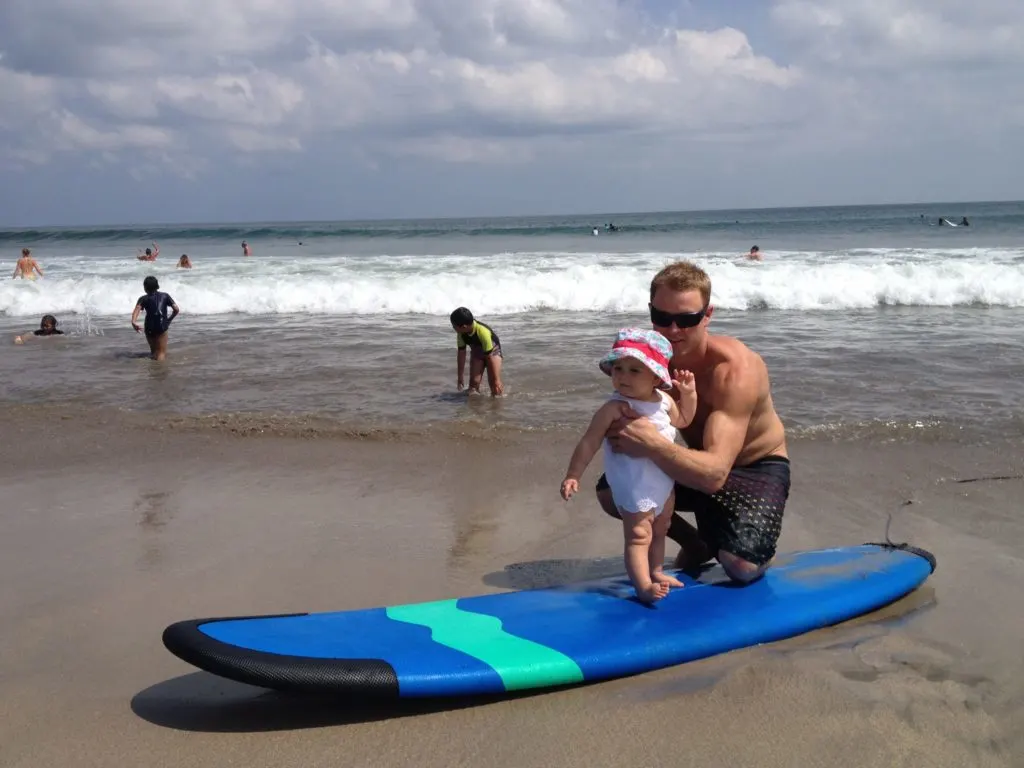 There are plenty of spots on the beach where you can grab some shade for little ones. The waves weren't too dumpy in the shallows so it was a good stop for baby to have a dip.
The sunset is amazing on Kuta beach! Look out for the baby bats that can be easily mistaken for swallows that litter the sky at dusk.
Pasar Seni Kuta
This is a great marketplace to hit up if you are in the area. Markets tend to be fascinating for babies, with all the hustle and bustle, not to mention smells and colours for them to take in. Plus, you might find some great souvenirs to take home!
Ubud, Bali, Travel with a baby
We spent four days in Ubud, central Bali. I absolutely loved everything about it! Its quite a busy little town surrounded by jungle and the most beautiful rice terraces, making it easy to escape from the craziness.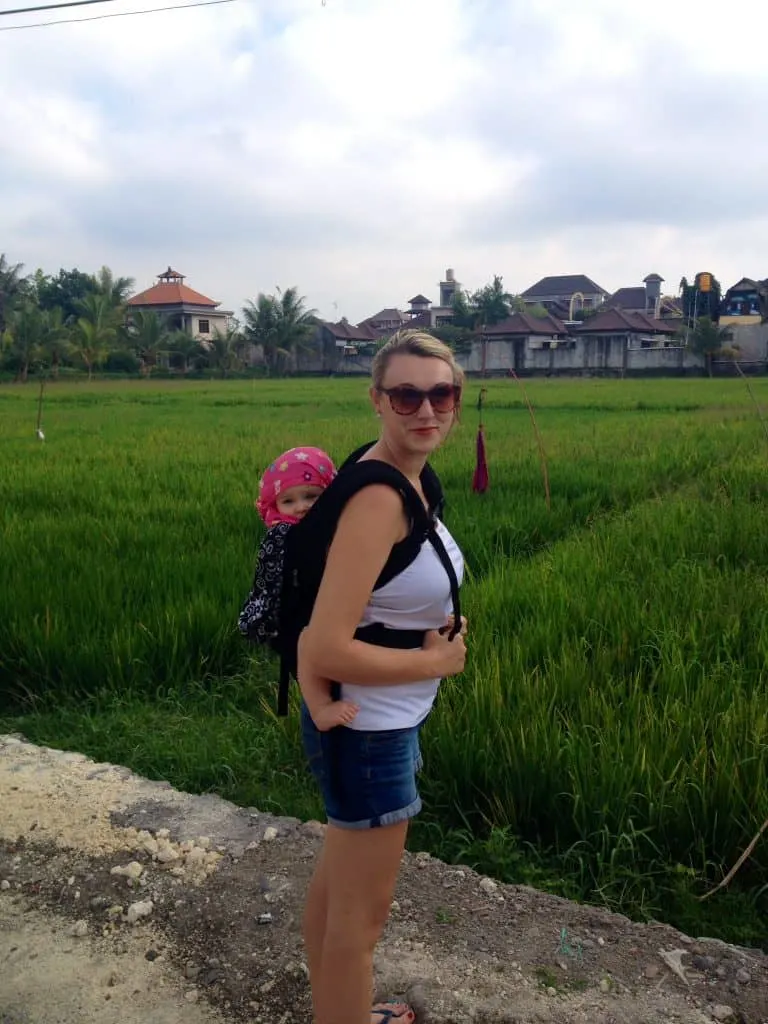 It also is filled with amazing Bali family villas and some of the best family hotels in Bali. We stayed off the main road in Uma Sari cottages. Such a cute little place and in a great location which has a few more cafes, quiet small restaurants and other accommodation options along that road.
We found also found an incredible hotel called Bisma 8. The infinity pool dropping off into the jungle was out of this world. We spent a day or two hanging out there.
Check out prices on the Uma Sari cottages and Bisma 8.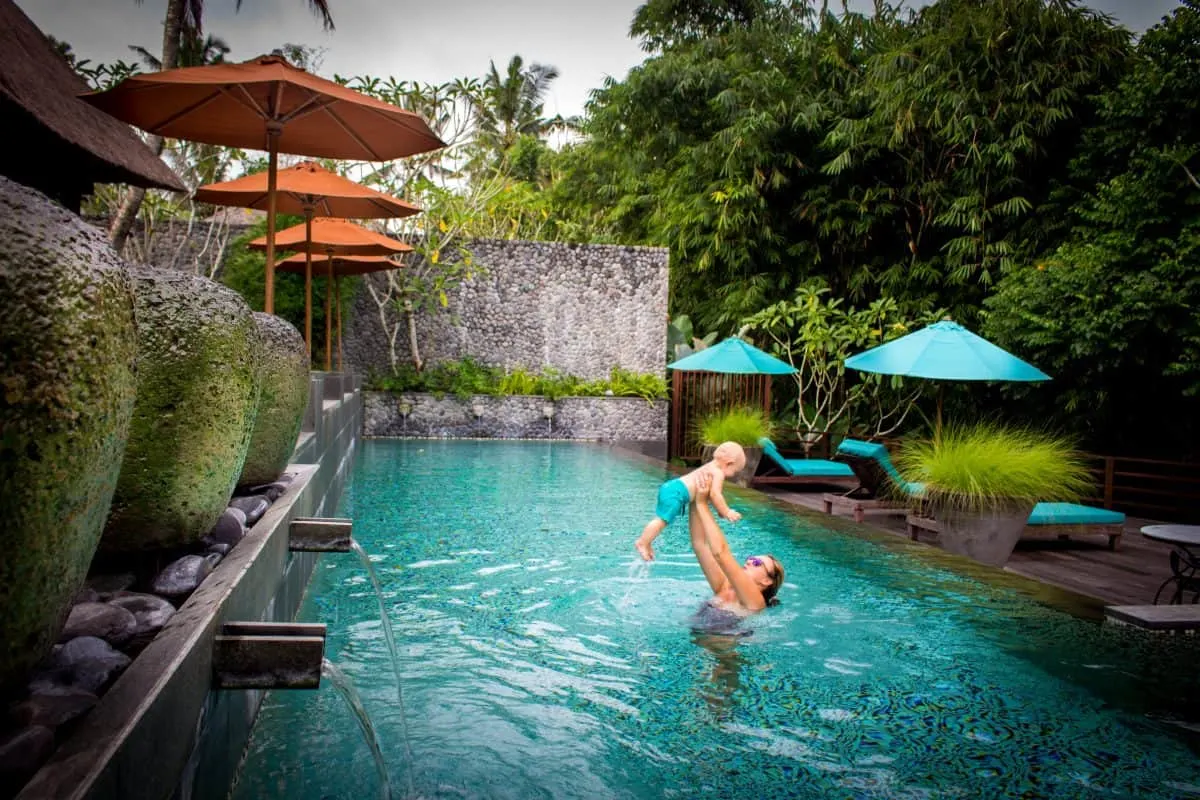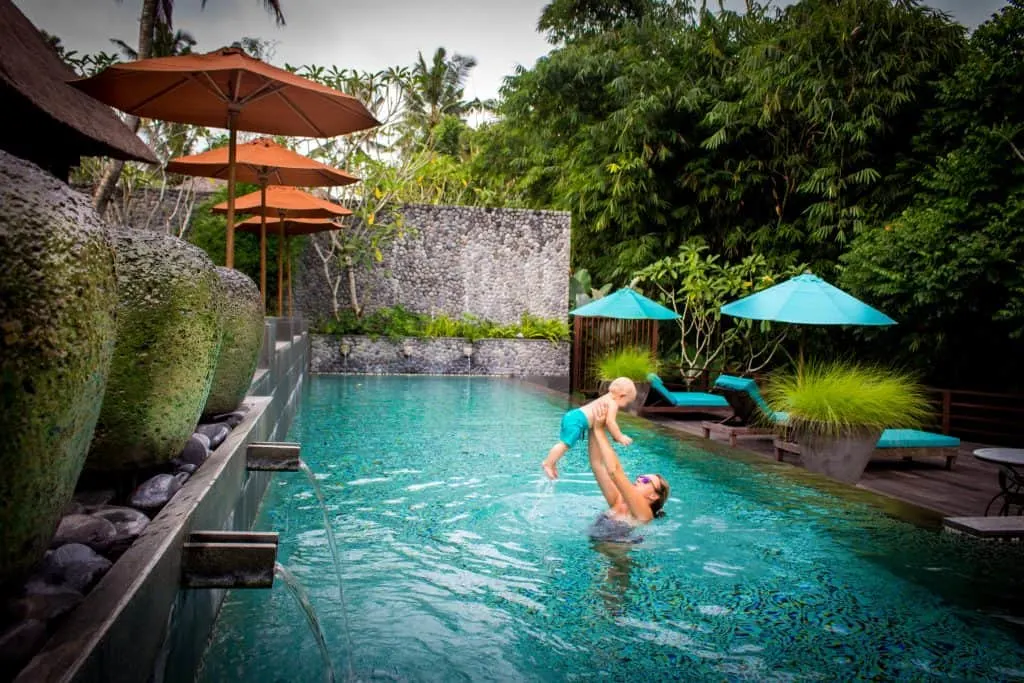 When we first arrived in Ubud, we thought four nights might be too much but every day we discovered something new and amazing. To check out more about our trip to Ubud and the great things to do there, click here.
Things to do in Ubud with a Baby
There is tons to do in Ubud. Below are a few of my favorites, but if you want to see more of what Ubud has to offer, check out my post about Ubud with kids here.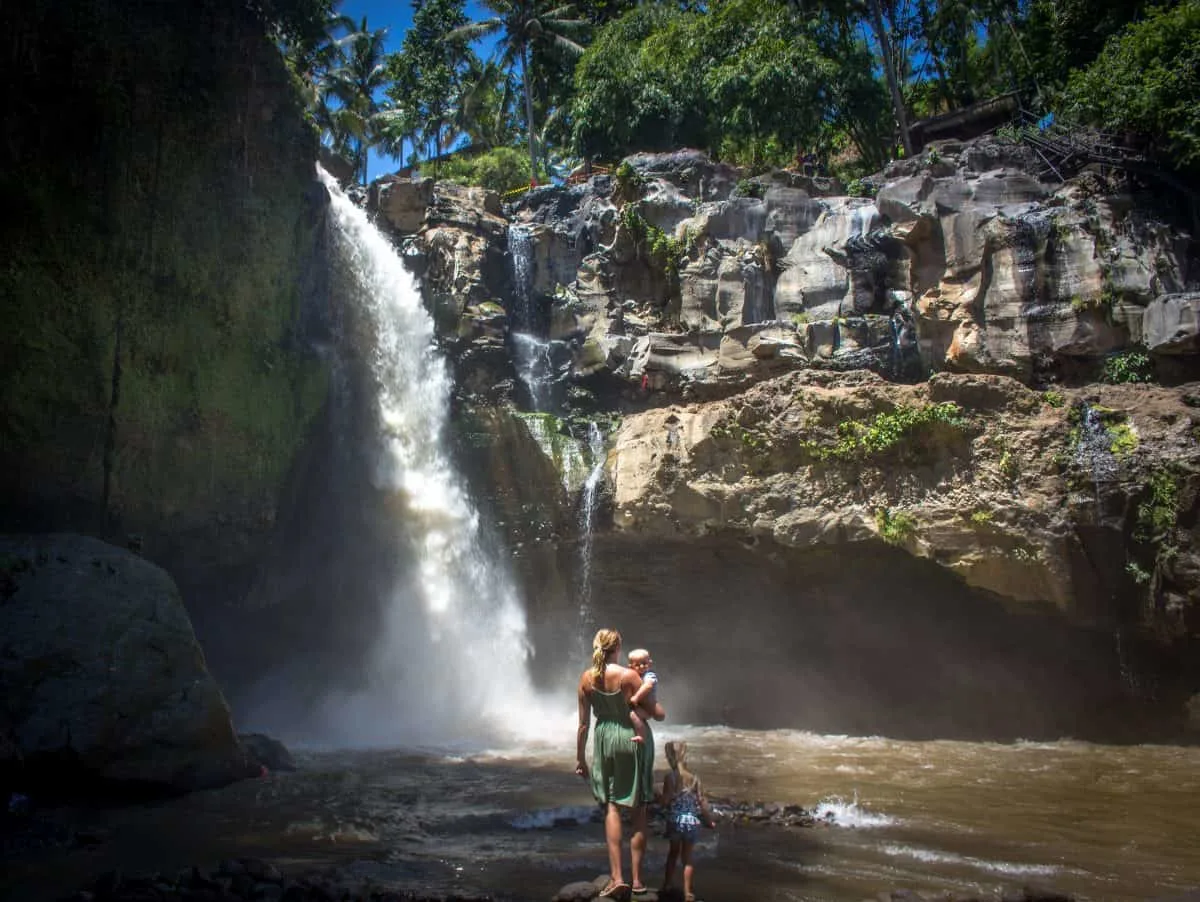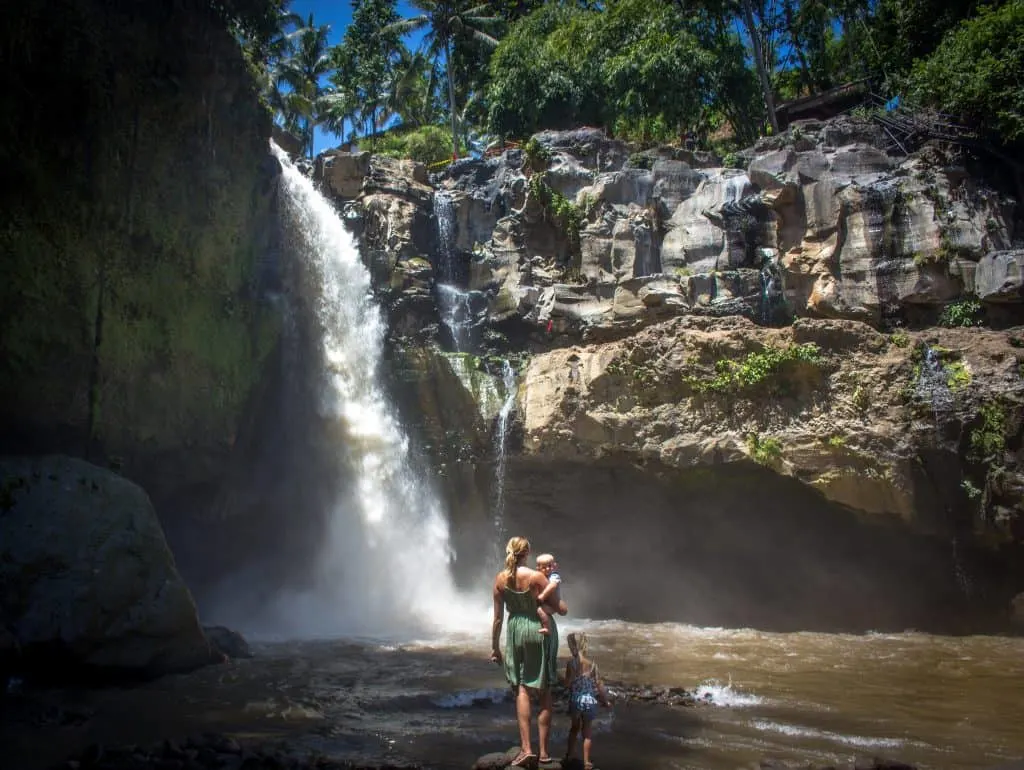 Balinese Massage
Ubud has hundreds of very reasonably priced spa and massage parlors. I think it's safe to say most places wouldn't like you to bring a baby with you.
However, we found if you go out in the morning, when there are not many other customers, they were happy to have us. We had cheeky foot massages for a half an hour while bubba had her morning nap.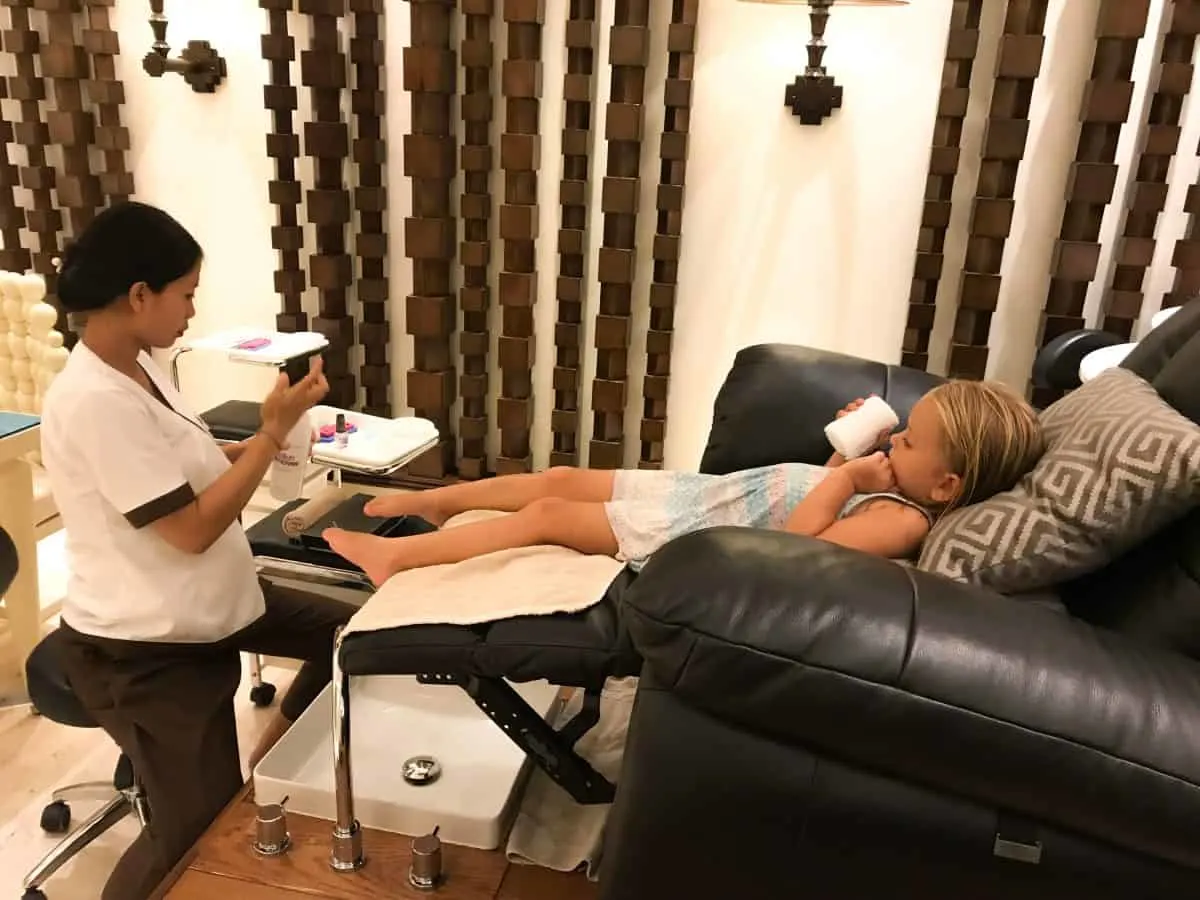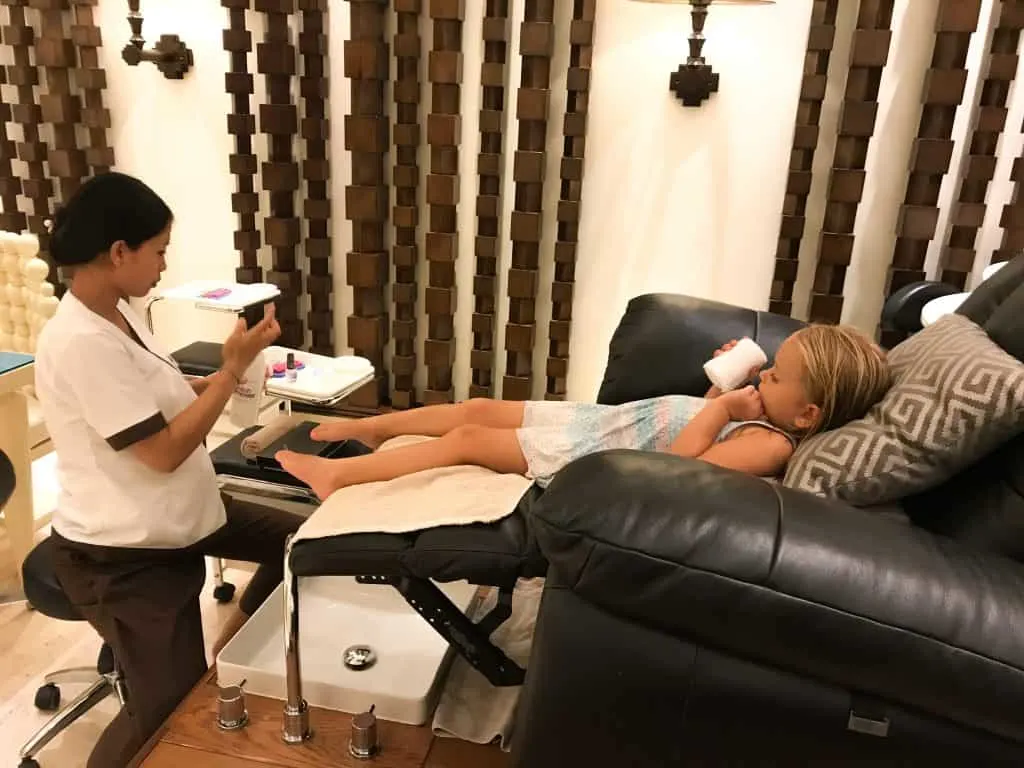 Monkey Forest
You haven't been to Ubud until you've visited Monkey Forest! This place is absolutely beautiful, but I am not sure you can take it all in at the time, for fear of being jumped on by one of the monkeys.
They are literally everywhere running around, some making the next generation of monkeys whilst others having a punch-up.
You can take bananas with you to feed them but there are some quite strict rules that make you paranoid to move.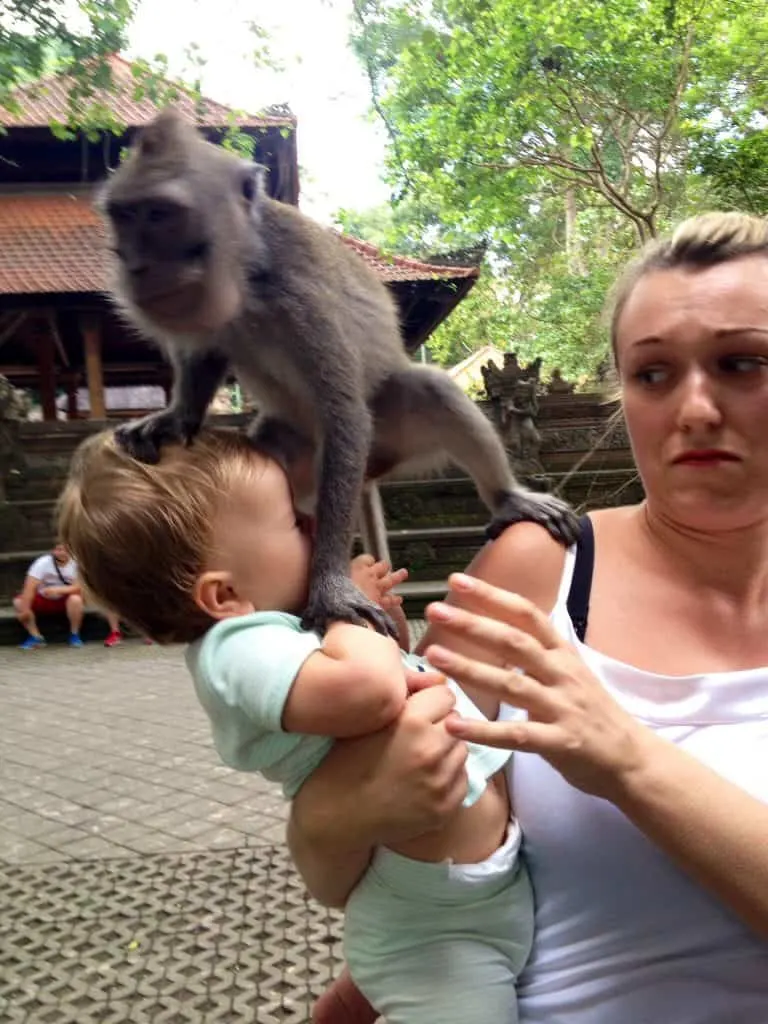 From what I could see the monkeys were only jumping on those with bananas so I got baby out of the buggy to have a look. I really wasn't expecting to have one with his boy bits on her face a few minutes later.
I was desperately trying to remember the rules I read on the way in – "don't look him in the eye… Don't bloody move or panic if one jumps on you". You just gotta laugh at these situations!
Visit the Rice Terraces
There are several different walks through the rice terraces behind the bustling streets of Ubud. In my opinion, the best one is the one starting from the furthest north easterly point of the main road.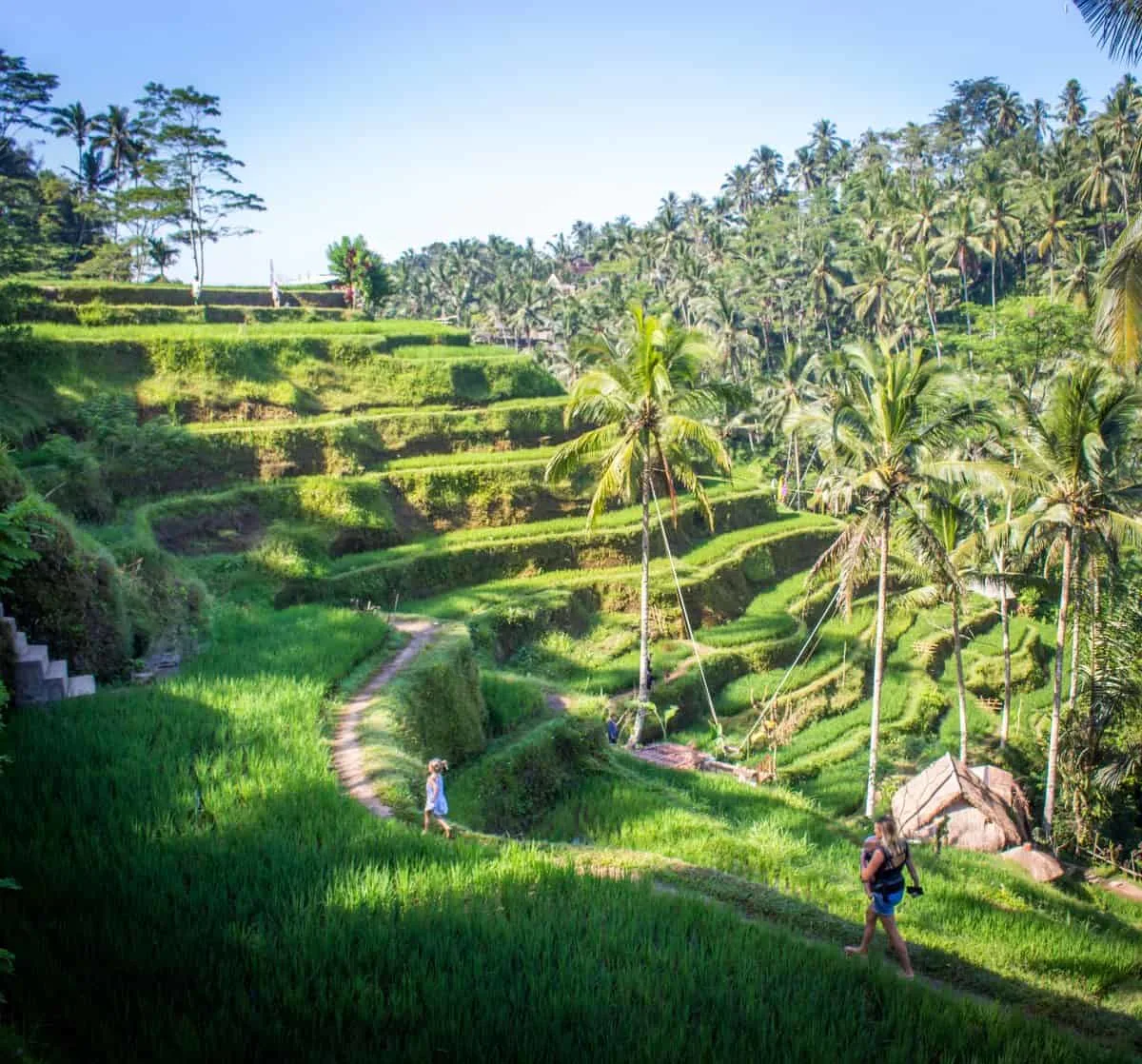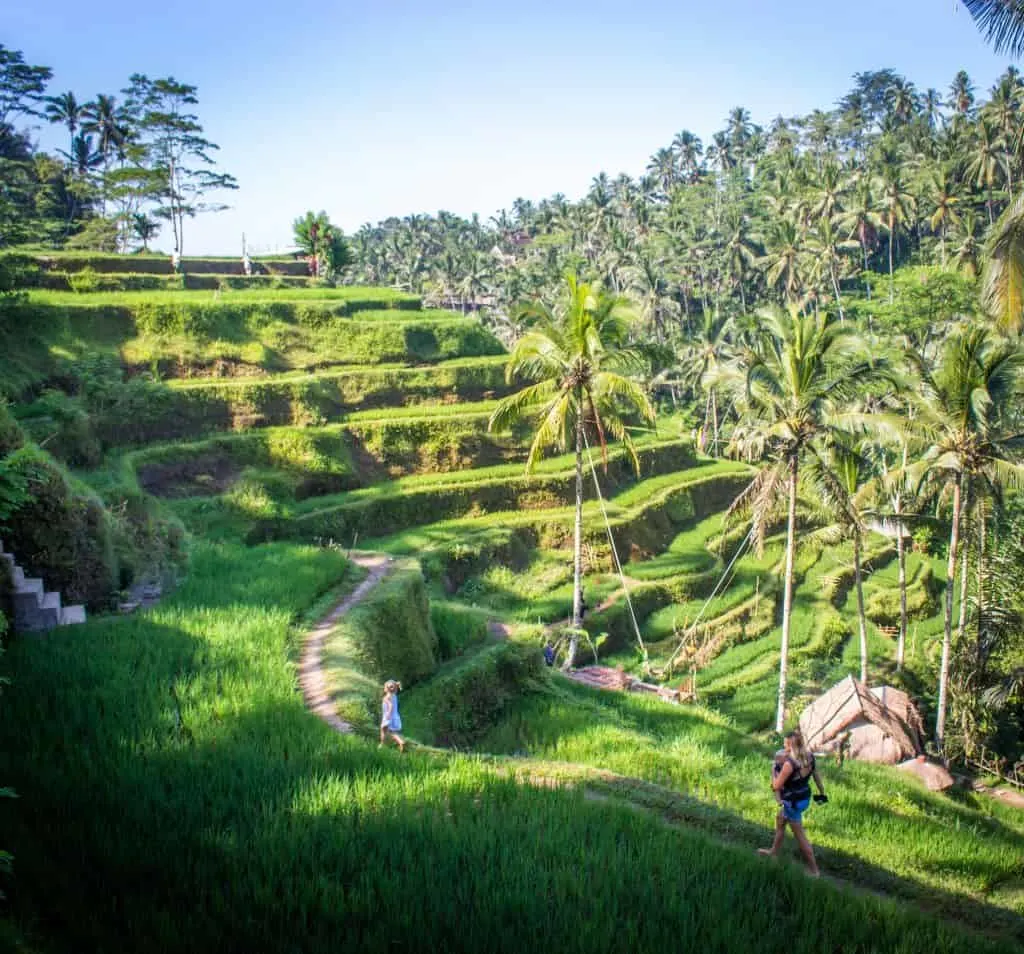 There are many huts along the track selling food, drinks, art and crafts. It is such a chilled and tranquil place with only the odd person passing through once in a while.
The track is narrow and uneven, like much of Ubud so you definitely want your baby carrier rather than a buggy.
See a Dance Show
Ubud Palace has a renowned Balinese performance most nights throughout the week. Featuring elaborate costumes, intriguing performances and fire spitting, right on sunset. It is a really nice way to round the perfect day off in Bali.
Our kids always love these kind of theatrical shows, and the colors, costumes and music are really stimulating and interesting for babies. It's really easy to get tickets as so many people are selling them outside the palace throughout the day.
Where to Eat in Ubud – Baby Friendly Bali
Ubud attracts lots of yogis because of the many retreats that take place there. Subsequently there are lots of lovely little cafes and juice bars selling healthy shakes, raw foods with many vegan and veggie options.
Our favorite places to eat were Kafe Ubud and the Matta Restaurant. Kafe Ubud is a really great place to grab cold fresh pressed juices, coffees and shakes.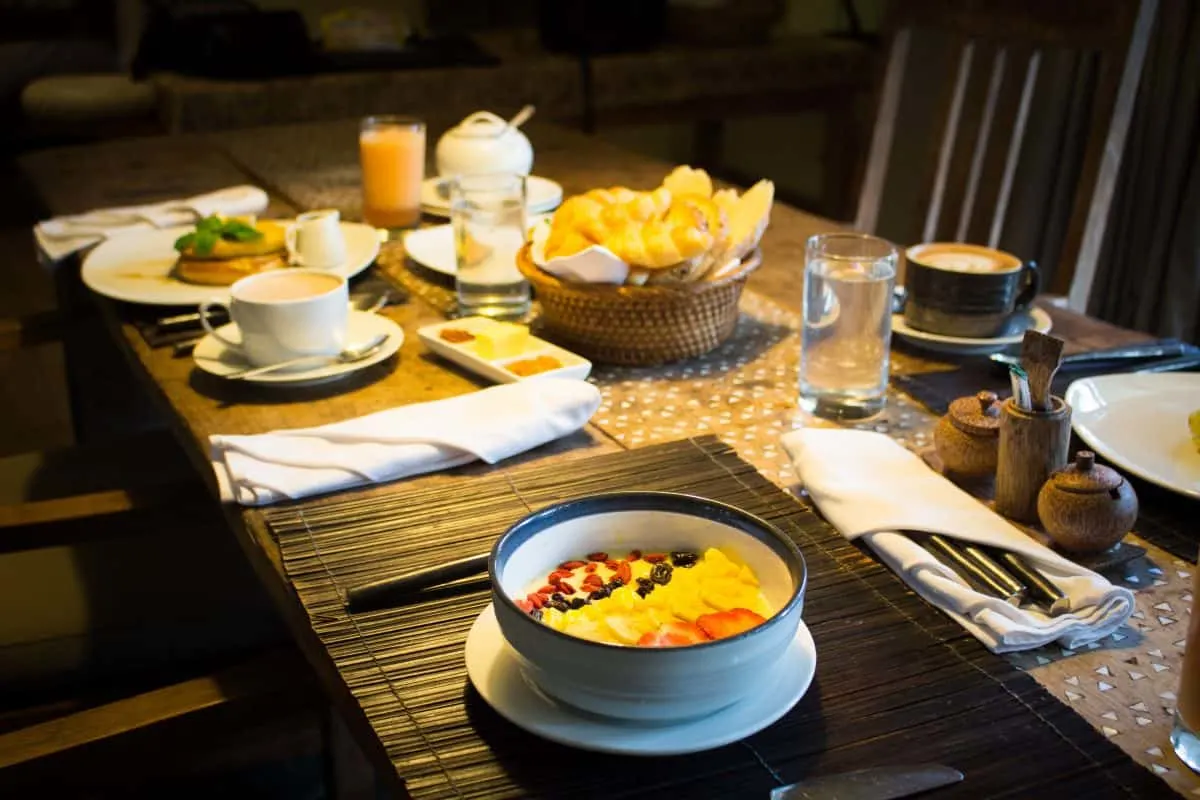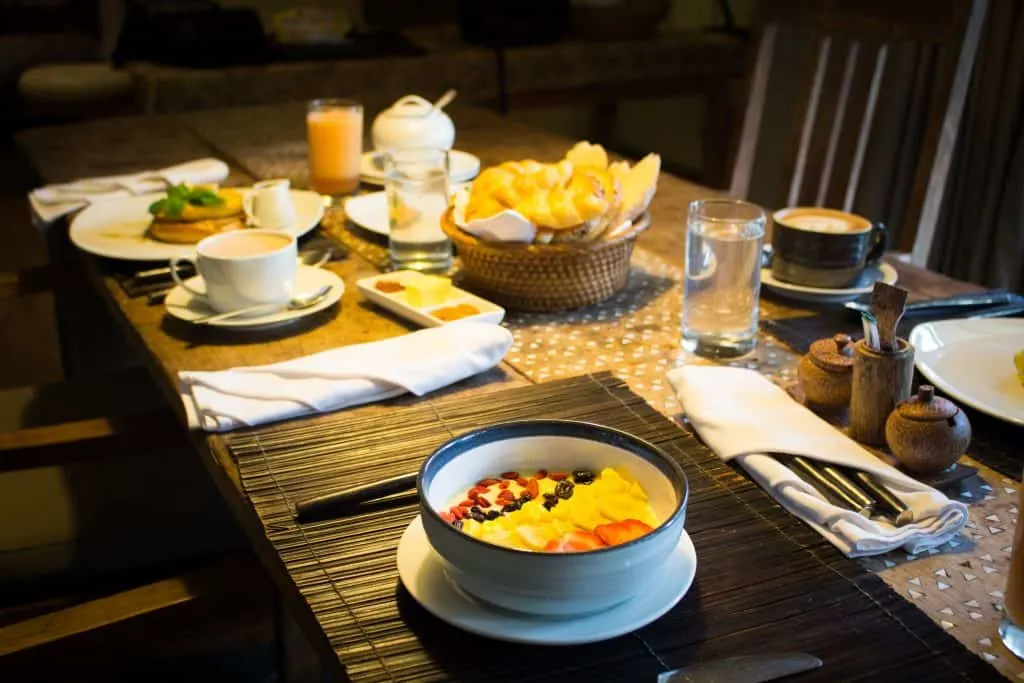 Nusa Lembongan With a Baby
For the last few days of our holiday in Bali with a baby, we jumped across to Nusa Lembongon, a small island 45 minutes by fast boat from the mainland. The pace of life is much slower than Bali. I would say it is the perfect place for young families.
We stayed at the Bay Shore Huts. Although a little bit of a drive from the main area, the huts were out of this world. They had a giant bed with a net hanging from the roof draped around it. You can check rates and availability, here.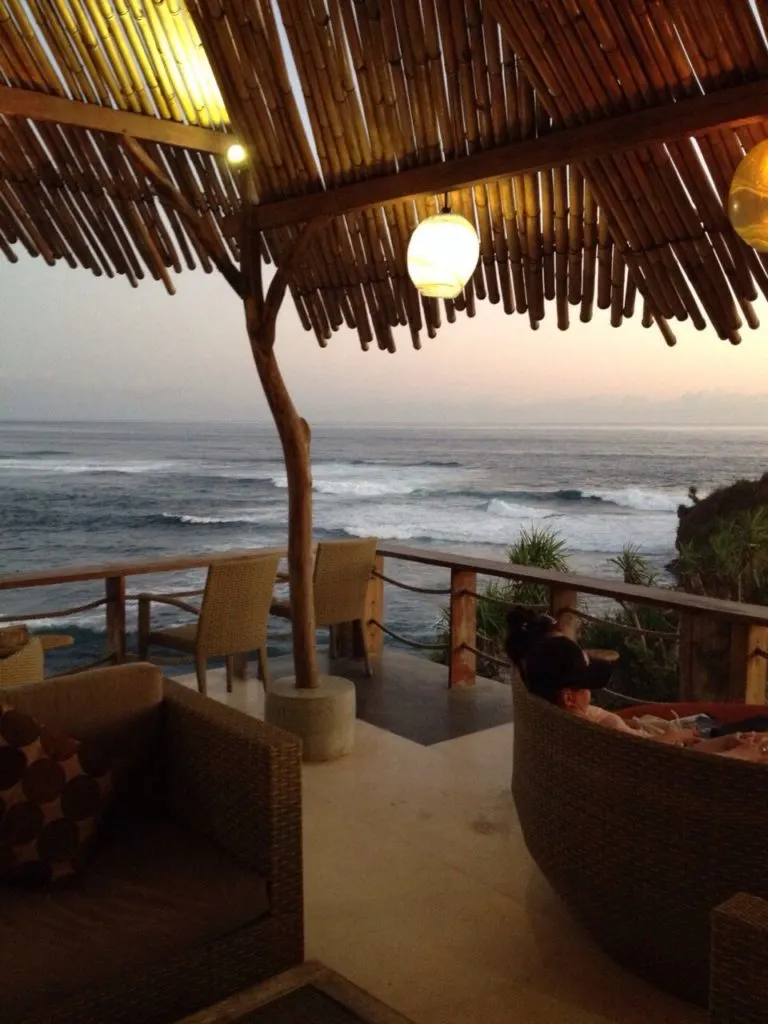 The porch at the foot of the bed had a deck and views of the sea. The private outdoor bathroom was at the back of the hut. Seriously, we were in heaven. Our little girl loved it just as much as we did.
Mushroom Bay
Mushroom Bay is a really beautiful place to hang out on Lembongan. The water is crystal clear and there are some nice bars and restaurants along the beach. Hai restaurant being our favourite!
The sunset is probably one of the best I've ever seen. Definitely worth a visit.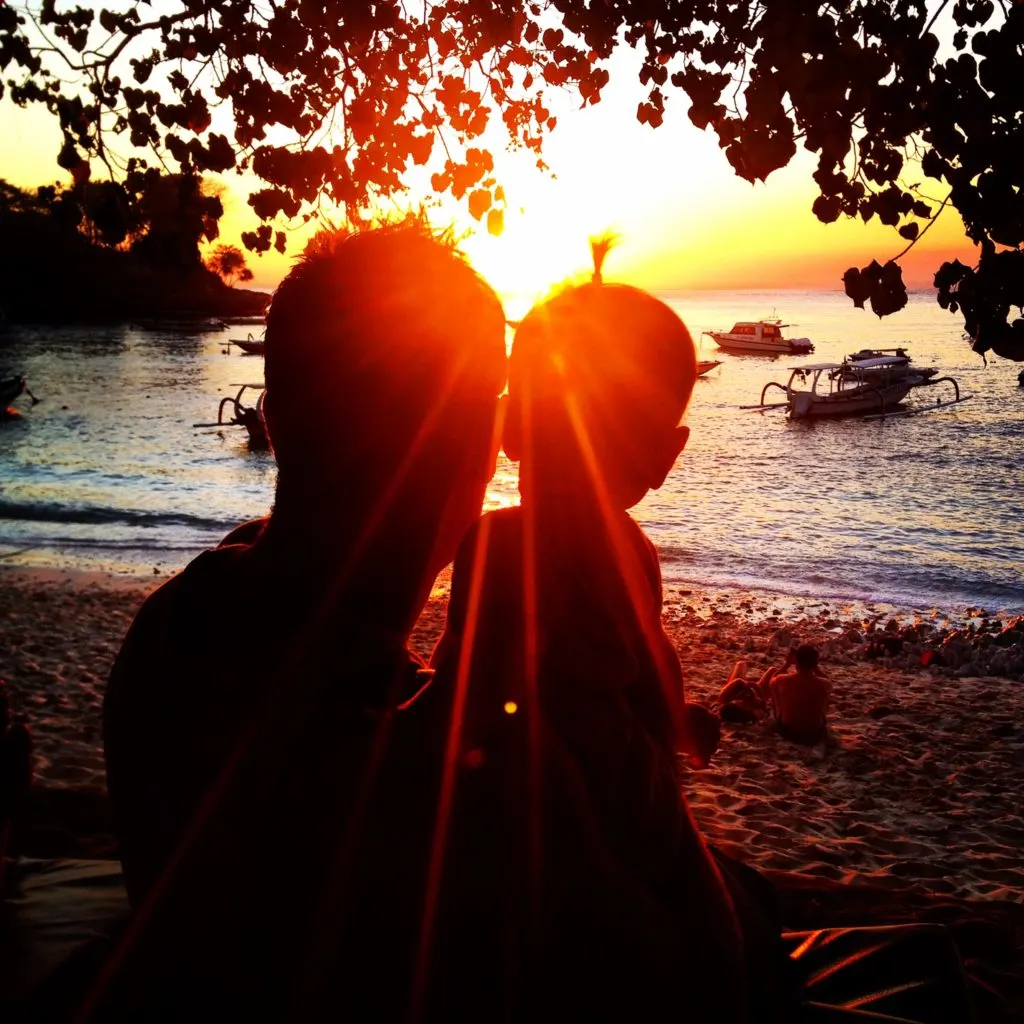 Snorkeling Nusa Lembongan with a Baby
Most people visit Lembongan Island for its renowned surfing, diving and snorkeling. There are many chartered trips you can do but this wouldn't fit in with a baby and they are also a Iittle expensive.
We found a guy with a nice boat on the beach to take us to a good snorkeling spot. He brought all of the equipment for us and was willing to give us as much time as possible. It was perfect having it to ourselves so we could control when we returned.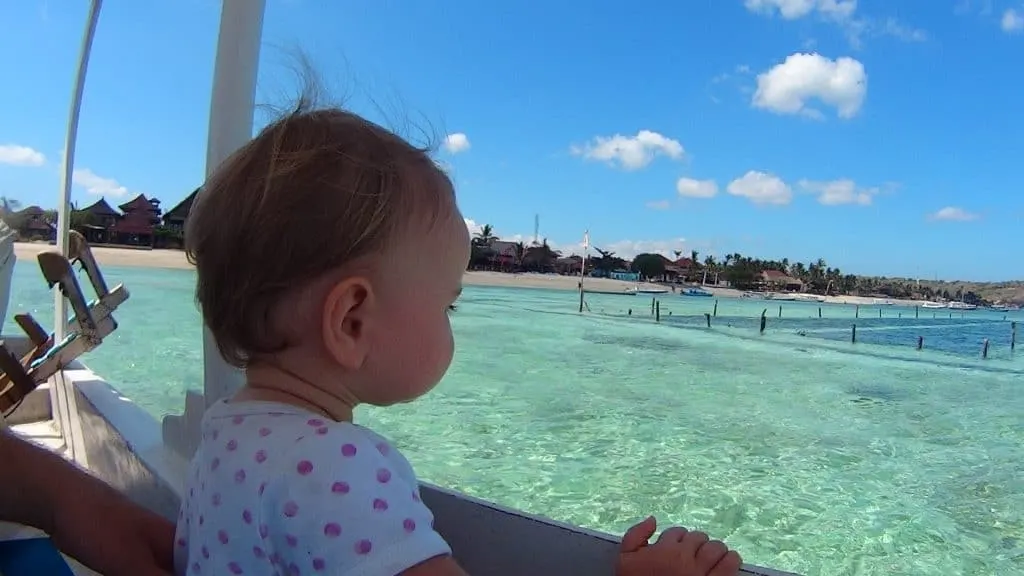 My husband and I took turns snorkelling whilst the other was on baby duties. She was happy enough playing with a bucket and spade on board.
I later learnt that where we snorkelled is part of the 'coral triangle' which has over 500 species of sea life. We were both quite impressed with what we saw.
Where to Eat in Nusa Lemongan with a Baby
Our favorite place for a meal in the evening was Hai Bar. It's got a slightly posher vibe and the food is amazing, but it's still affordable. It's also a great place to enjoy the sunset with a drink.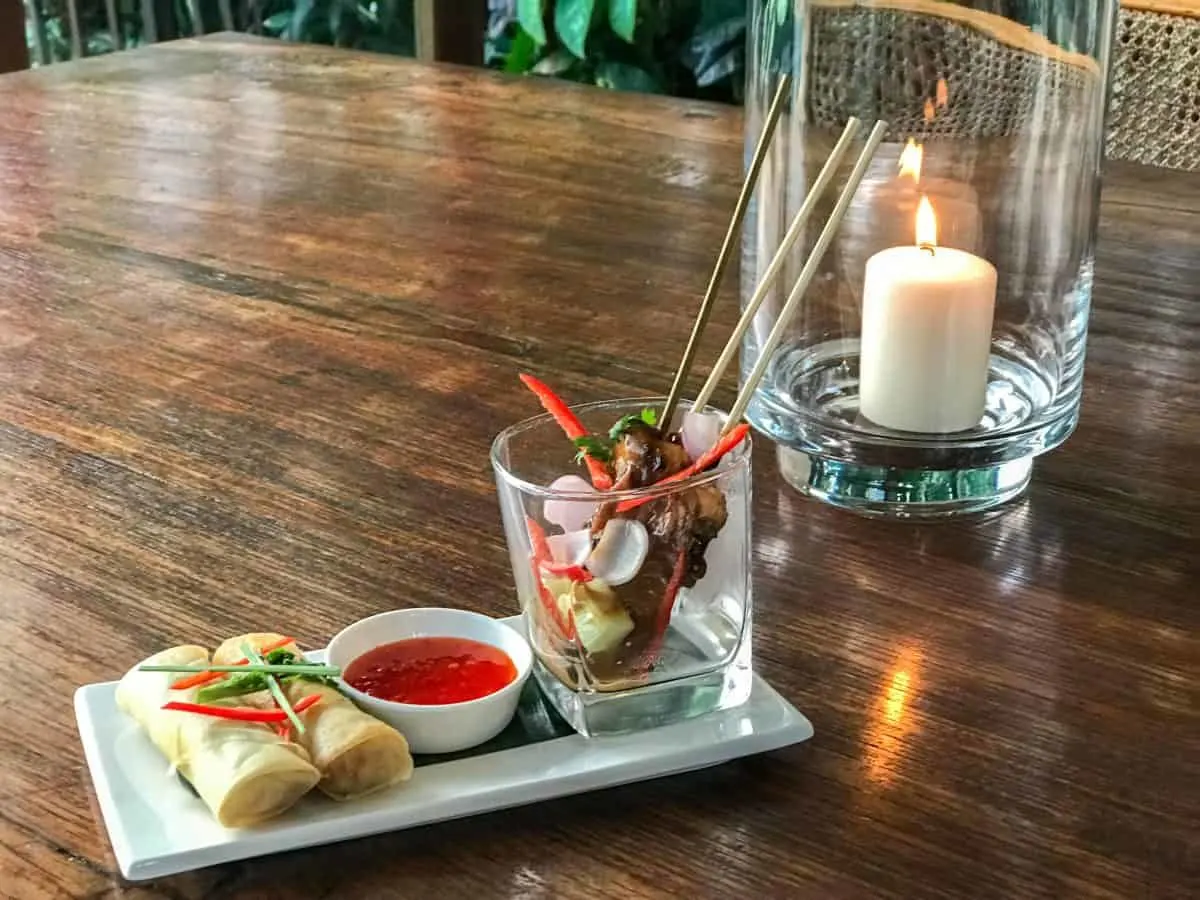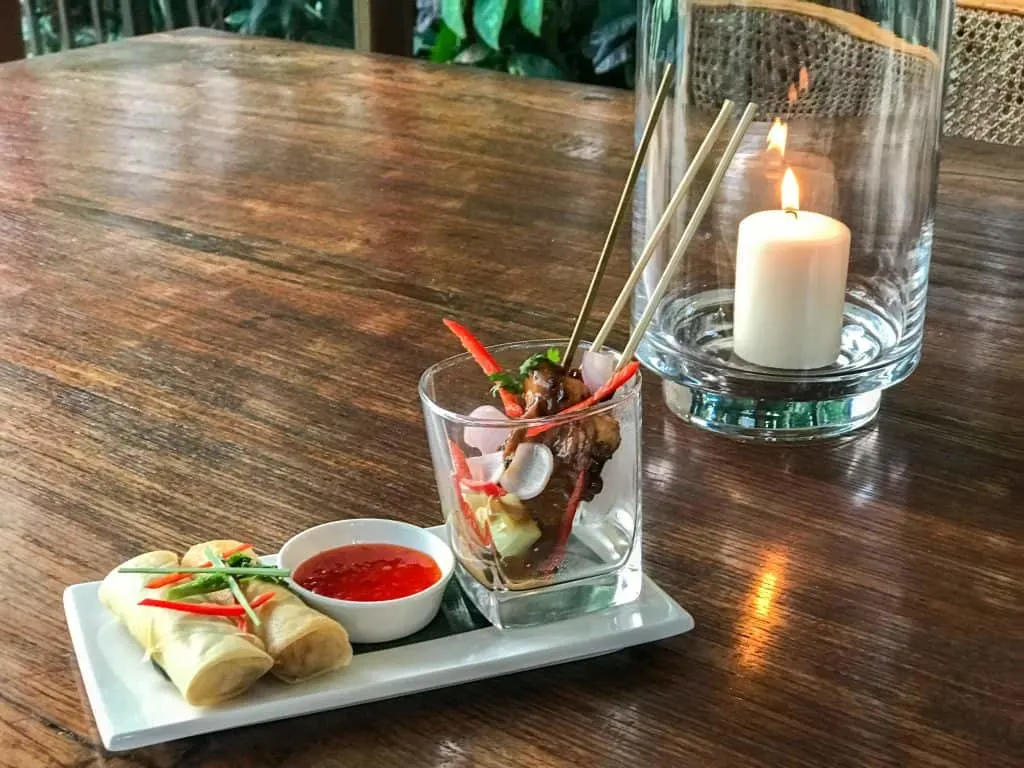 The other restaurant we really loved was Warung 99. It had, hands down, the best Mi Goreng we've tried. It's also very conveniently located by the ferry port so you can have a bite before you head back to the mainland.
Getting Around Nusa Lembongan
One issue with Lembongan is that there were no proper roads on the island. All of the tourists got around by scooter as there were no cars on the island and yes, I've seen many scoot around with their baby.
There is another option, to hire a golf cart which is probably the safest option with little ones. Many of the restaurants also offer a pick-up service if you book a table for dinner or lunch.
Kuta with a baby
Kuta often gets some bad press when it comes to the beaches and tourism. Whilst it is one of the most built up and westernized places in Bali, we welcomed some of the familiar shops in the mall.
We could get everything from a Starbucks coffee, to clothes from Mothercare for our little man! We don't ordinarily seek those kind of places out. However, after travelling for ten months, we were in need of replenishing baby essentials such as onesies.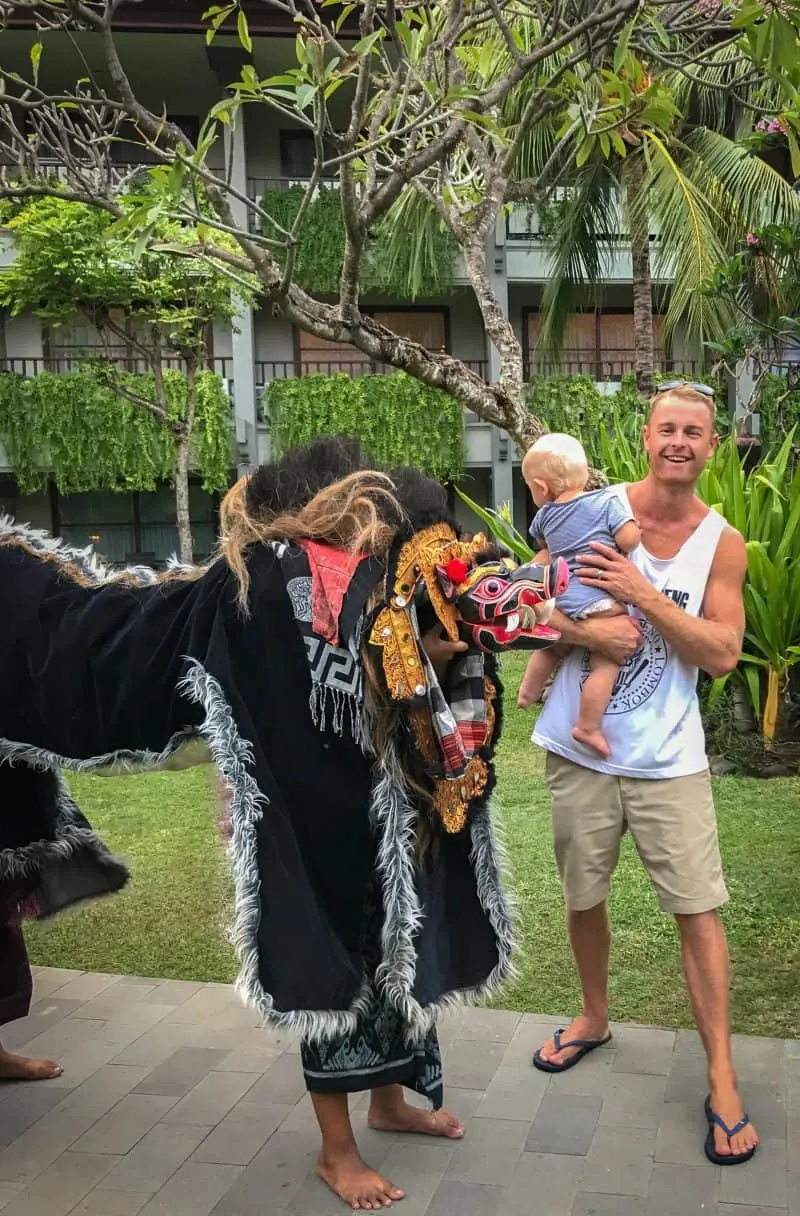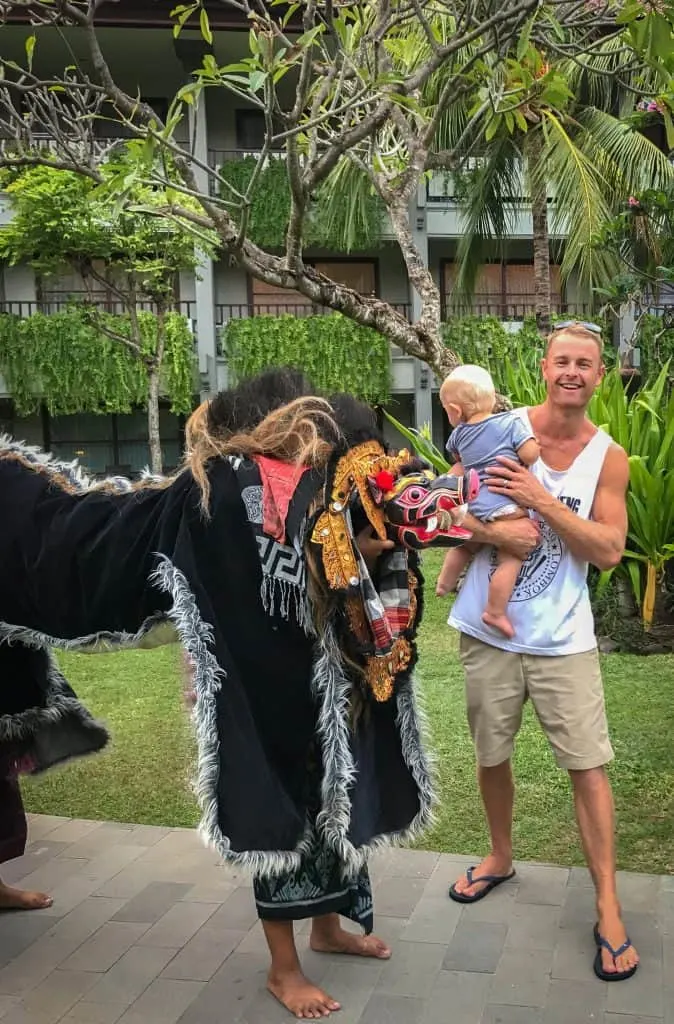 Although we prefer to stay in less tourisy parts of Bali, Kuta is a really handy location for the airport. It's literally moments away and it has got some nice resorts and family hotels.
Bali Dynasty, Bali – Where to Stay in Bali for Families
We stayed at Bali Dynasty for our last two nights before our 7am flight our of Denpasar Airport.
It's a particularly great hotel in Bali for families. It has a special water splash park for little ones and a great kids club with different age appropriate toys and games.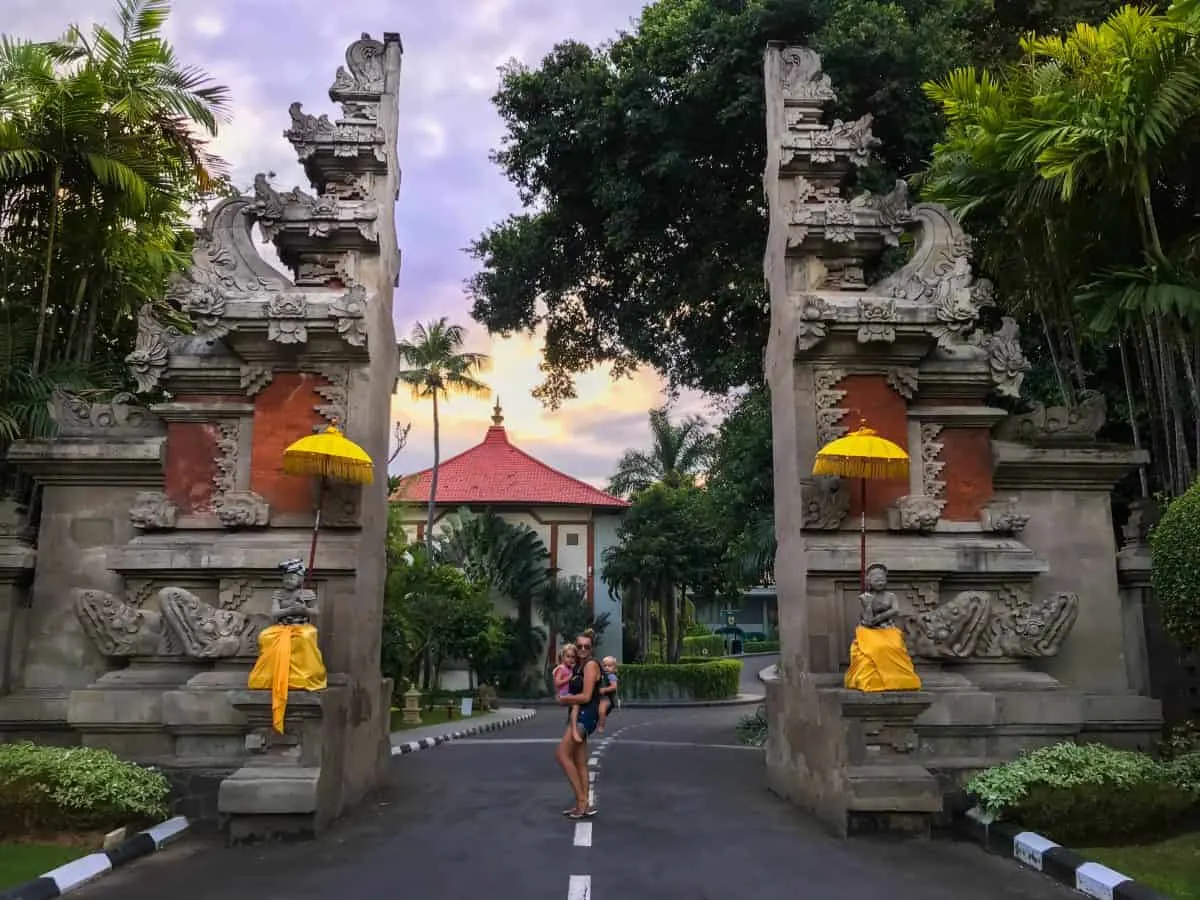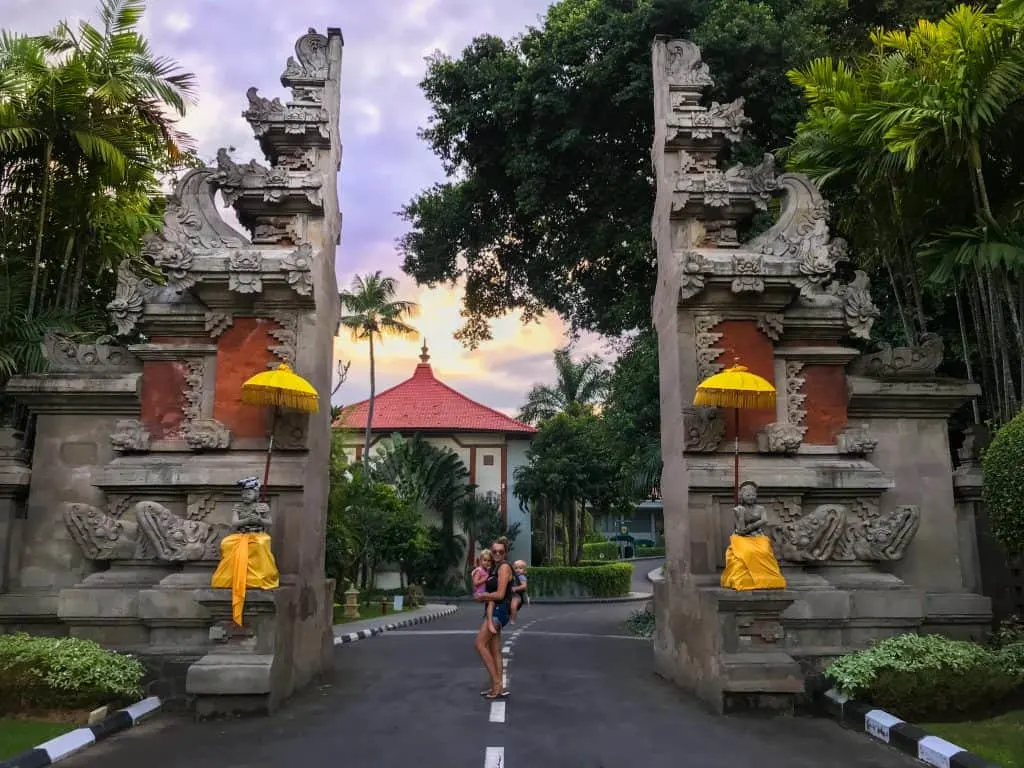 The restaurants onsite are very accommodating with all sorts of food for little ones. From nibbles to baby puree, they had all the bases covered.
Its just a stones throw from a really nice and quiet part of the beach. Such a great spot for sunsets! Check rates and availability here.
Canggu with a Baby
Canggu is a popular town based on Bali's west coast.There is a large expat community living there so the area is filled with hip cafes, restaurants, beach clubs and so on. Because of this, it loses some of the Bali feel but that said, it was absolutely fabulous for the kids because of the infrastructure of activities available for them.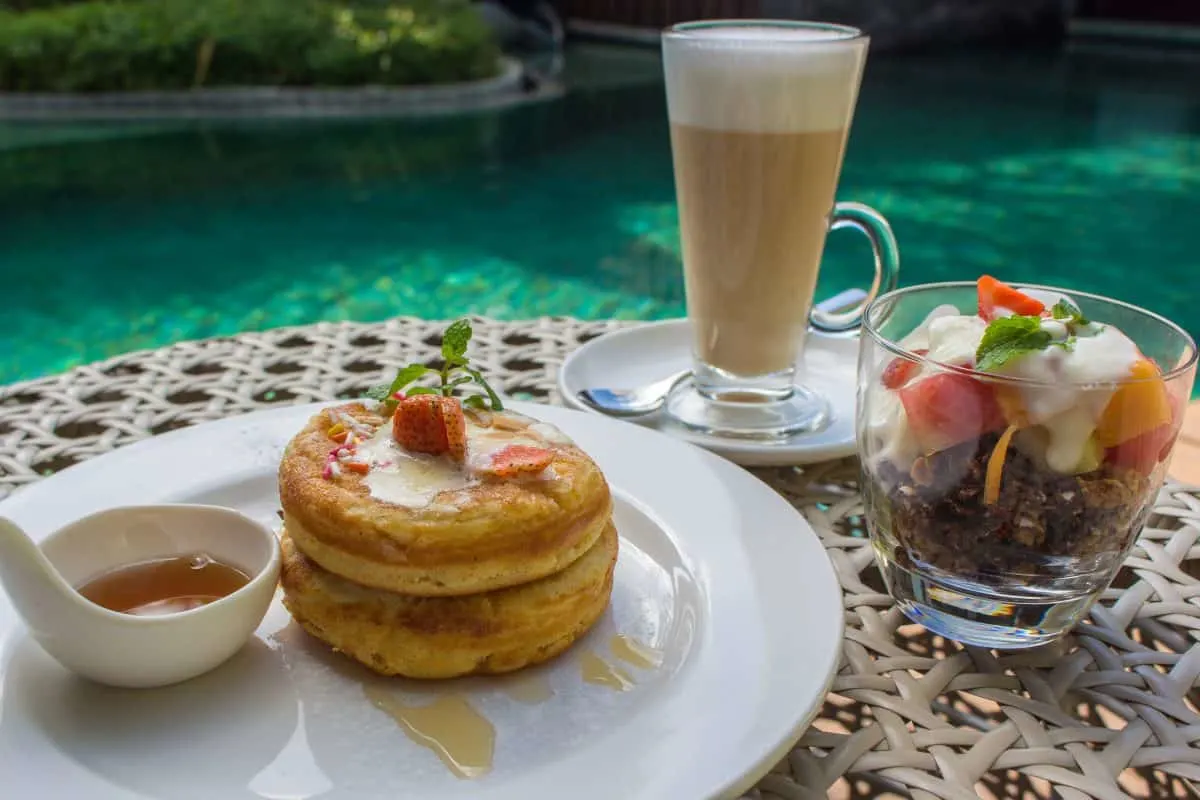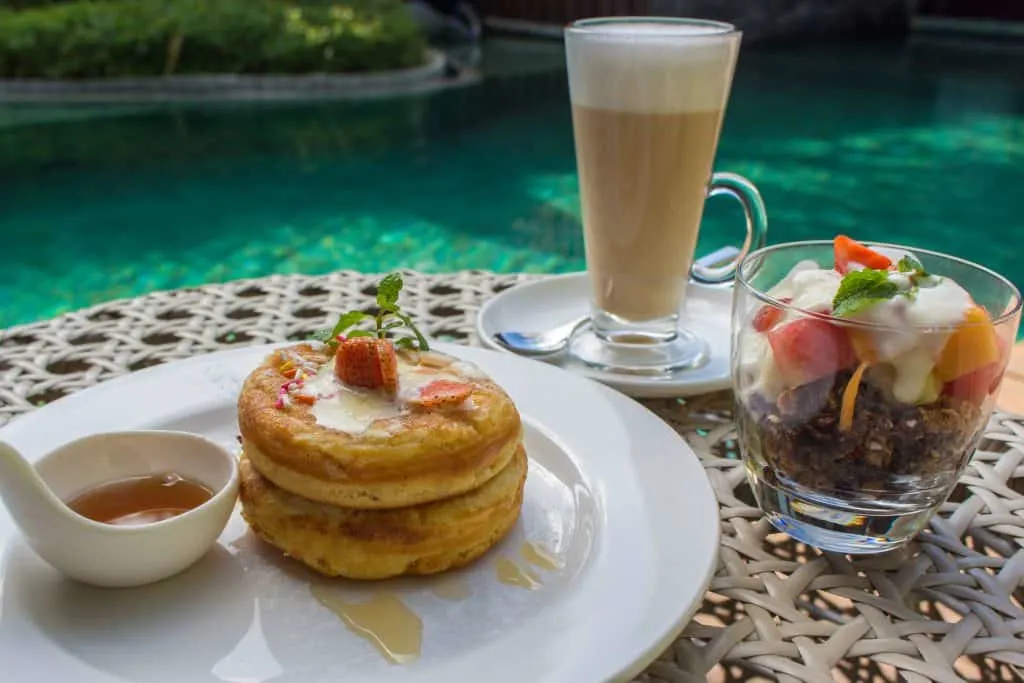 The Santai – Family Accommodation Bali
We stayed at The Santai which is about ten minutes drive out of town. The hotel has several very beautiful private villas.
We had a two bedroom pool villa. It was modern and chic to say the least. All of the interior was high-end and quite modern, not to mention incredibly comfortable.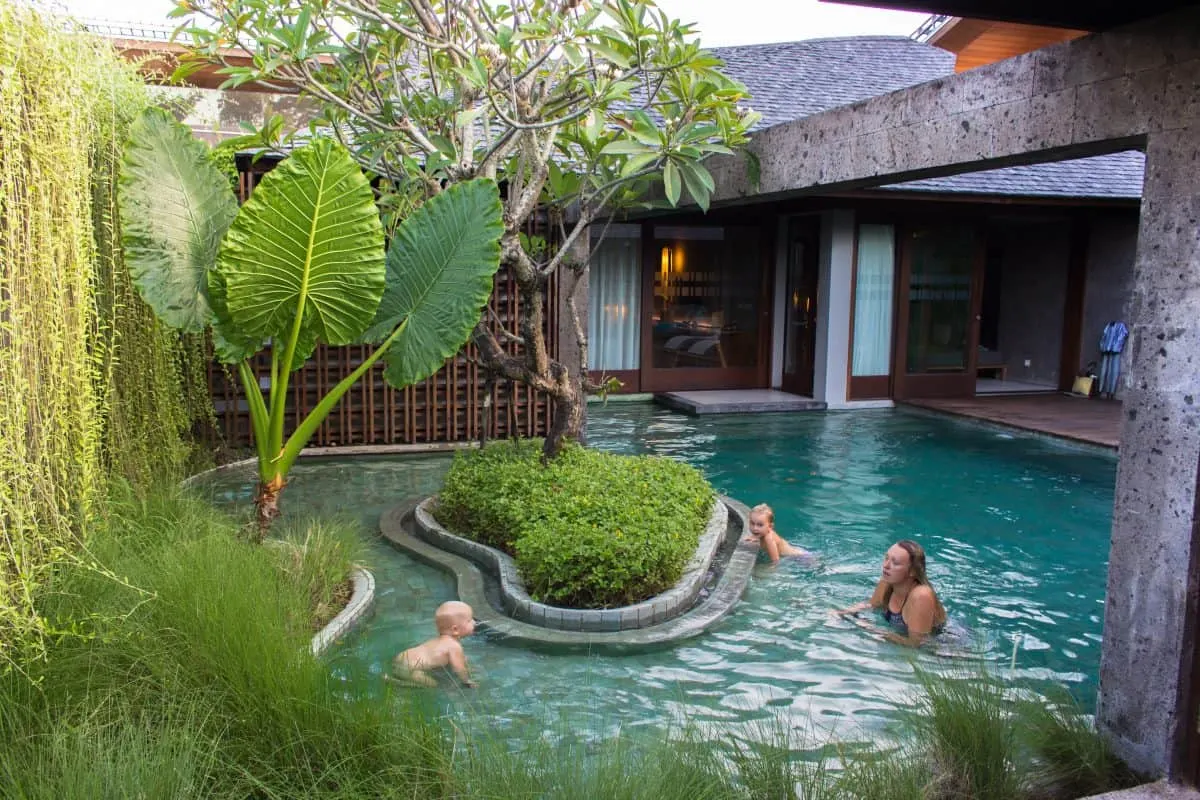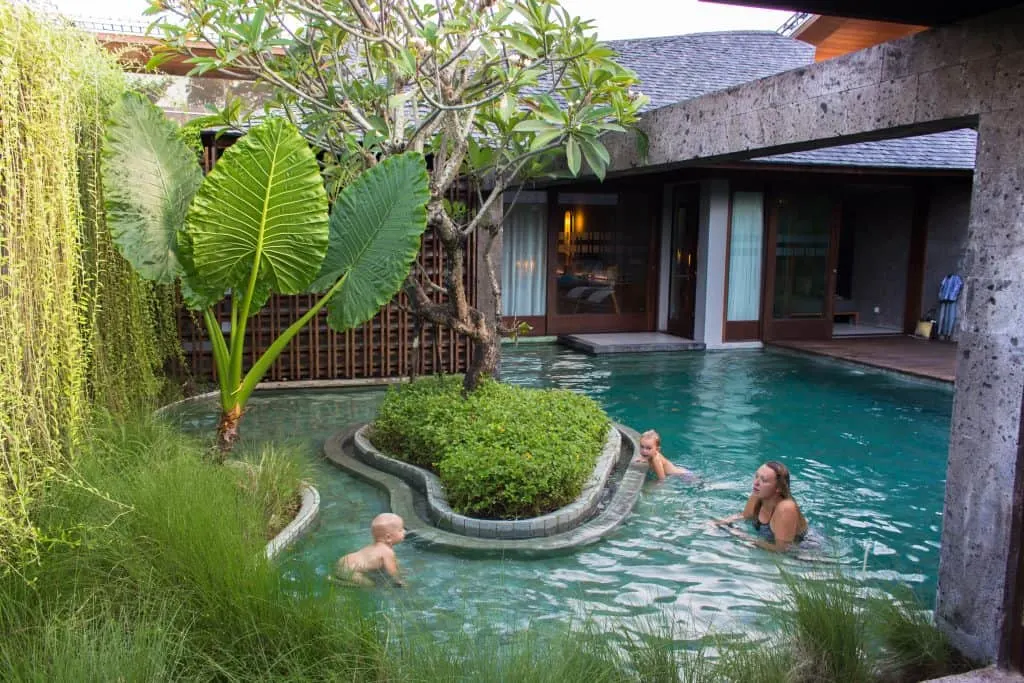 We spent three nights at The Santai and it was perfect with little ones. They had endless fun in the private pool. There was steps into it. The deepest part was 1.5metres.
We loved the little lazy river through the garden. That was perfect for our baby to sit, splash, crawl and practice floating! He loved it.
They also have lots of complimentary activities for little ones and they deliver breakfast to your villa in the morning. Check out prices on the Santai here or read more about our stay here.
Things to do in Canggu with a Baby
There is lots of things to do in Canggu. It is one of the few places in Bali where you can explore rice paddies and visit the beach.
Between beach time, pool time, hotel activities, exploring rice paddies and enjoying the town, you won't necessarily have time for anything more. But, if you are feeling restless and want to head out to somewhere new, here are a couple of fun places to head to.
The Garden
The Garden Bali is an early learning centre that has an hourly kids club for those over two years old. Younger children are welcome with a parent or babysitter that will stay with them. They are open on the weekends as well which is an added bonus.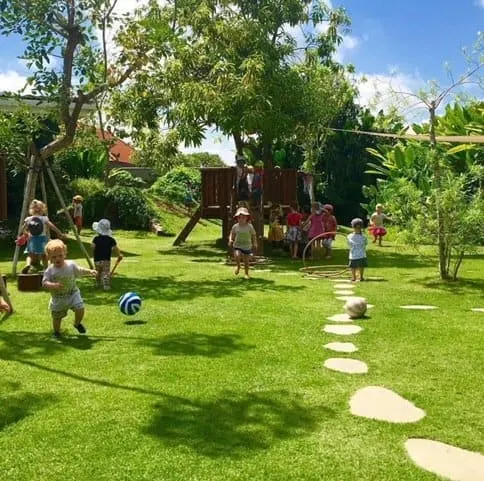 They have a lovely indoor air-conditioned room with lots of nice toys, crafts and areas for the kids to relax. The garden was also a lovely space with tunnels, climbing and a slide.
There is also some resident animals. I spotted some rabbits which our little one was raving about. I also loved the fact they have weekly baby sensory classes. They are at 8:45 AM twice a week. Sometimes everything can be about keeping the toddler happy, so, its nice to be able to something especially for baby.
Visit the Pura Tanah Lot
The nice thing about travelling with a young baby is that you can throw them into the carrier and take them almost anywhere. (If you need a recommendation for a good carrier, check out this guide.)
While not geared towards babies specifically, the Pura Tanah Lot is a beautiful Balinese temple in Canggu that is really worth a visit. It's a stunning place to visit to enjoy the sunset and people watch the tourists and locals.
Where to Eat in Canggu with a Baby
We didn't eat out a lot whilst in Canggu. That said, we loved the restaurant next door to The Garden, Bali. Sprout has a really lovely healthy menu. With lots of vegan and gluten free options too.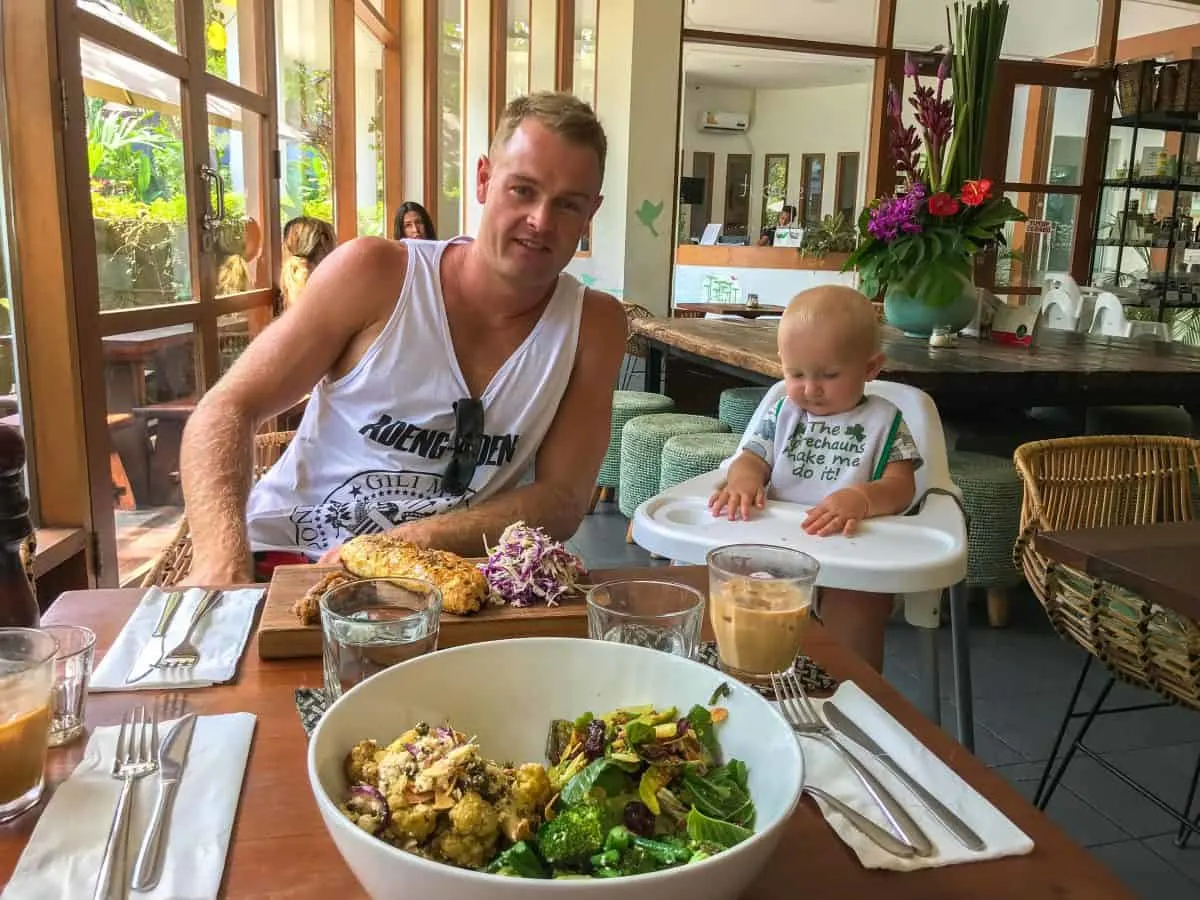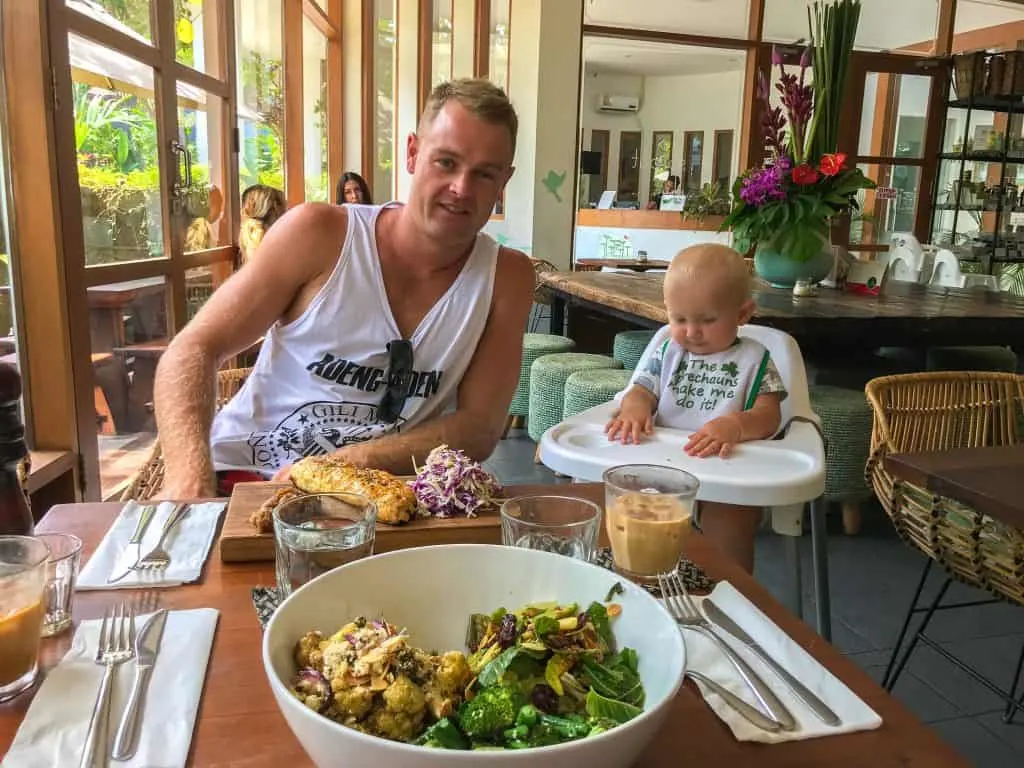 I loved the fact they have a 'little sprouts' menu. Its not often you come across a restaurant that makes pureed baby food.
Ready to book? Find great deals on flights, travel insurance, hotels, reliable internet, and rental cars!
You might also like:
Disclaimer: This post contains affiliate links. If you book using the link, you will not be charged more but we will receive a small referral fee for our travel piggy bank. Thank you for your support!