If you follow the blog you know we try very hard to minimize our impact on the environment. Being a travelling family we do rack up quite a few air miles but we try to do road trips as much as possible and to balance out our footprint by eating sustainably and going plastic free as much as we can.
We try to choose eco friendly toiletries and eco friendly travel accessories as much as possible.
When you go out and see the amazing world we live in and then see the effect we are having on it, you start to understand the importance of living and travelling whilst making as small an environmental footprint as you can manage.
Lucky for us the awareness of the environment has caused an amazing amount of eco friendly travel gear to pop up.
From eco friendly luggage to eco friendly travel mugs we've got you covered. We've collected a list of our top 15 favorite eco friendly travel products for 2023!
15 ECO FRIENDLY TRAVEL PRODUCTS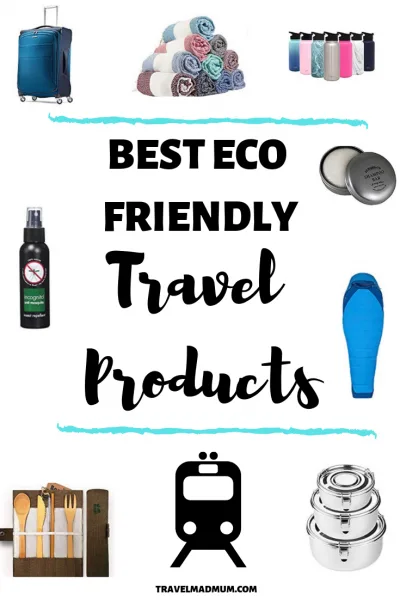 SAMSONITE ECO FRIENDLY LUGGAGE
Three cheers for Samsonite on coming up with eco friendly suitcases! Their suitcases are made from recycled plastic and factory waste materials that would have otherwise gone to the landfill.
The suitcases are very durable; we've already put ours through the mill and they have held up great! They are also very easy to push which is always a great thing in a suitcase.
They are a little bit on the pricey side but they are definitely worth the investment as they seem like they will last a very long time. We have the hardside luggage but they also have other options of eco friendly travel bags.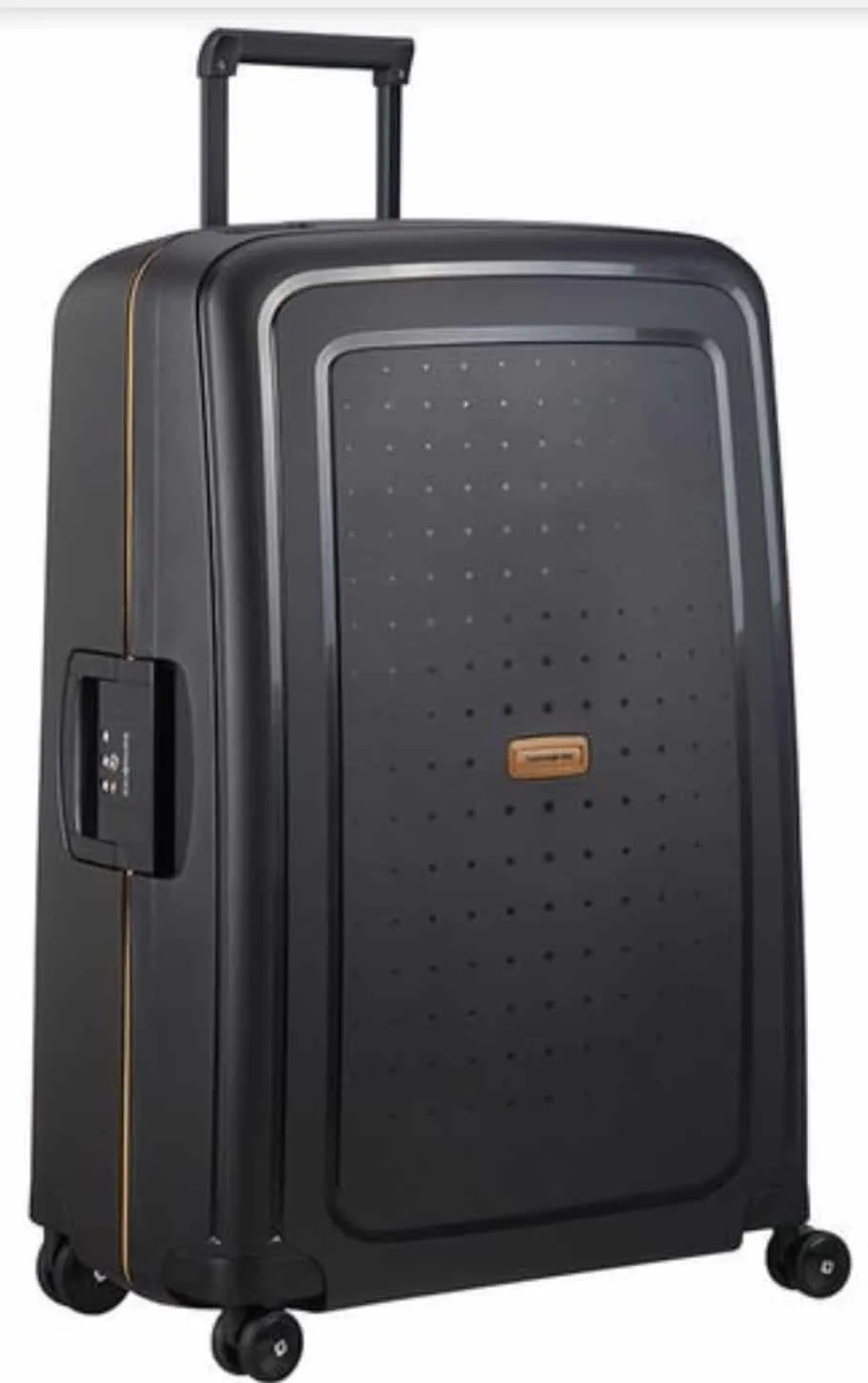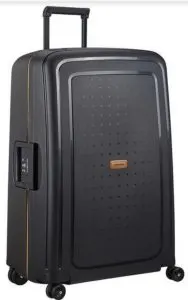 If your prefer a softer suitcase, Samsonite also has this this eco friendly luggage option
.
HAMMAM TOWELS
Hammam towels
are great for travelling and the environment! Because they are so lightweight and take up such little space they are easy to pack up and bring along where ever you go.
Their compact nature is also why they are environmentally friendly. It takes less water and energy to wash and dry them than an ordinary, bulky towel.
This eco friendly travel accessory is also just great for so many different uses. We mainly love to use ours as a picnic blanket or beach towel.
It absorbs water fast and dries quickly, so it's really just a fantastic thing to have. If that's not enough motivation, I think they are also prettier than ordinary towels!
ECO FRIENDLY REUSABLE WATER BOTTLES
We always like to travel with eco friendly reusable water bottles
. A huge number of water bottles end up in landfills every year. I also, in general, try to avoid plastic whenever possible, especially when it comes to things that go in my body.
Even BPA free isn't fantastic for you and there are so many beautiful stainless steel and bamboo eco water bottle options on the market in adult
and kid size
! More recently I've been considering buying a water purifier, so I asked my friend Ellie for some recommendations. See below!
WATER FILTER
We (Ellie & Ravi from Soul Travel blog) have tried and tested quite a few options for filtering water on our travels – across India, Iran, central America and other countries in between.
With a bit of preparation (and the right equipment) it is possible to travel all over the world – even to places where you can't drink the tap water – and not have to buy bottled water. Not only does that save a lot of money, but it also avoids adding to the global plastic problem.
There are two products we recommend above all the others:
First we recommend the Water to Go 75cl Water Bottle
. Water to Go is a UK company that uses technology developed for NASA to filter water (how fancy does that sound). The end result is a simple water bottle which filters out all biological contaminants, chemical contaminants, heavy metals, strips out odors and bad taste and leaves you with clean, pure good tasting water! It even removes fluoride which no other travel water filter that we've found does. The filters are even zero waste (they can be fully recycled) and last longer than most. You can easily stock up on the small filters
before heading out on a long trip.
Secondly, and as more of a backup, we recommend the SteriPen Adventurer
. We've used our Steripen all over Asia and wouldn't be without it – we've not yet had an upset stomach, either. This eco friendly gadget is ideal for families, too as it's so small to carry and you can use it with any refillable bottle, glass, cup, or any water container.
The Steripen is not a water filter; it's a UV pen which (literally) zaps the water and kills all biological contaminants. It's super handy for situations where you may be with local people who offer you water which you're not sure is safe to drink – rather than offend by declining, you can give your water a quick zap with the Steripen to make sure it's safe! Make sure to stock up on batteries before you go as they're a size not commonly found.
ECO FRIENDLY SHAMPOO BARS
Travel sized hygiene products seemed like the greatest thing, until you start to think about the environmental impact of all those little plastic bottles! While some people like to buy refillable bottles to bring their favorite products in we think eco friendly shampoo bars are an even better option.
There are many options on the market now but our favorite is the D.R.Harris
one. The bars are made with natural, eco friendly materials and I just generally feel like it works great for my hair.
The eco friendly soap packaging is a nice aluminium tin that is perfect for travel and you can keep reusing it so there is no waste! As far as eco friendly toiletries go – this is one is one of the best.

SOLAR PHONE CHARGER
When you travel you won't always have access to a charger so loads of people bring portable chargers. We like to bring this solar charger
.
This one is especially great because it holds a huge amount of charge (it can charge most phones 7 times!) and also because if you don't have access to the sun it can be wall charged. You can even plug your phone into charge while the solar panels are charging!

ECO PACKING CUBES
Who doesn't love packing cubes! If you don't love them then you haven't tried them yet. Packing cubes are so amazing for saving space and keeping things organized in your suitcase.
A company called Florious has just made this even better by making their packing cubes from recycled materials. This product has unfortunately not made it to the UK yet but I'm waiting for it!
MOSQUITO REPELLENT
Since we first tried out the incognito line we are converts. Incognito
was started in order to create a mosquito repellent that was not toxic to the environment, but equally powerful.
As someone who gets bitten by every mosquito in existence, wherever I go, I can tell you this works! It is better for our bodies, the environment and keeps us bite free.
Incognito has a whole line of products that have mosquito repellent incorporated into it. You can get classic repellent
, sunscreen, body lotion
, soap
, incense sticks
and many more options.
SOLAR POWERED LANTERN
No need to waste precious batteries when this amazing solar powered lantern
is on the market. Not only does it save energy but it also saves space!
As opposed to a traditional lantern, this one can be deflated and stored in a much smaller form when you are not using it. Just set it in sunlight during the day and when it's fully charged it will provide up to 12 hours of light.

COLLAPSIBLE CONTAINERS
When we travel we bring loads of snacks. We like to bring stackable stainless steel containers
that way once the foods gone we can save some space. These are great for airplanes and for once you get to your destination.
Having containers on hand means that we have an easy way to bring health snacks along when we are out and about rather than being at the mercy of whichever prepackaged snack is nearest when the kids tummy's start rumbling!

BAMBOO CAMPING CUTLERY
You can say no to the plastic cutlery in restaurants, on a plane or anywhere else. Having your own to hand is a necessity for any eco-travelling family. We love this bamboo cutlery set
as a great environmentally friendly option.
Bamboo is super durable and resilient but when it finally outlives its use, it's compostable. This specific set comes with a handy roll up pouch which makes it easy to take on the go!
BIODEGRADABLE SANDWICH BAGS
Sometimes a large container just wont do it. If you need to bring along sandwich bags look no further. These biodegradable sandwich bags are made from recycled material and when you are done they can be composted.
There are different brands that make them depending on where you live. If you are in the UK you can find them here. If you are in the USA you can even find ones that are resealable here.
ECO FRIENDLY TRAVEL MUGS
While it may seem like the innocuous paper coffee cup is not a problem, most coffee cups end up in the landfill and not recycled because they are coated in polyurethane. Loads of these paper coffee cups get thrown out every day and it's easily preventable.
A lightweight eco friendly travel mug
doesn't take up much space but can save many a coffee cup on your next trip!
ECO FRIENDLY MENSTRUAL PRODUCTS
When I was travelling through The America's, I got super fed up of looking for tampons every month. I bought a menstrual cup
and it has literally been the most life changing personal care item I have ever purchased.
An article by The Huffington Post, stated we can use around 9120 tampons in a lifetime. Multiply that by the millions of women around the world and it works out to be a lot of unnecessary waste.
I have had lots of questions about menstrual cups, They are not difficult to insert, they are actually ten times more hygienic in my opinion.
Likewise, they don't leak if you get the right fit and they are all round life changing, I can't stress that point enough, not to mention, they save money.
ECO SLEEPING BAG
If you are on the hunt for a new sleeping bag, we highly recommend trying this one out. It is made from, you guessed it, recycled materials. It is an ultra-light sleeping bag which makes it great for hikers and backpackers.
These are our favorite eco friendly travel products on the market right now! Do you know of another one that belongs on the list? Let us know in the comments below!
This post contains affiliate links, by using them it does not cost you any extra, we get a small commission to keep us writing helpful information :)