Going as plastic free as possible has been on my mind for a while. I've been making conscious changes since meeting one of my best friends Cindy in New Zealand. Being a true ocean lover, dive master, yogi and general lover of nature, she has been spreading the word for years.
A long time before it became a very hot topic in the media and online. I've felt even more of a push having seen first hand the devastating impact on the world. Snorkelling around a beautiful coral reef with my three year old daughter in Indonesia, we were both collecting pieces of plastic and putting them inside our swimming togs to take back to shore.
It's not right and I want my kids and their kids to be able to see many of the beautiful things I've seen. We haven't been at home for some time, but now that we are back, I'm really starting to unpick things.
It's phenomenal just how much our one household is producing. That comes from someone that is making a half arsed effort, I hate to think of those that are not educated about the issues, or worse still, don't care.
Be sure to also check out our favorite eco friendly travel products here!
MY PLASTIC FREE JOURNEY
In terms of food and trying to be as plastic free as possible, there are many things I have been trying in a bid to reduce waste. First of all bringing food with us wherever we go.
Fast food and snacks from the shop inherently produce a shit load of plastic, even if it's pieces of fruit cut up. Albeit healthy, it's not so great for the environment.
There are three raw materials that are much better for the environment and as a family we are trying to ensure that we buy items made of bamboo / wood, stainless steel and glass. That goes for toys, lunch boxes and everything else you can think of.
Going plastic free is an investment. It takes time and money to weave mindless one-use plastic out of our lives.
I feel agitated because I have all these plans in my mind but I can't do it right away as I need to buy quite a few bits and pieces to be truly plastic-free as possible. I've split this post into three sections.
Food, personal care and household to tell you about what I have been putting into practice and some of my plans.
MY PLASTIC FREE JOURNEY
PERSONAL CARE
As you may know, we often travel long-term. One of the bulkiest things can be the toiletry bag, so I am always looking for ways of reducing it. I use to decant all of my shampoo's and conditioners into small pouches but recently came across all natural shampoo bars
that have been nothing short of amazing.
They store away in a cute little tin and take up hardly any space. We do the same for shower gel but unfortunately I'm yet to find a conditioning bar that I actually like. That said, any effort is good right? I'm just in the process of using everything up at home and we will convert to the bars long term. The same goes, for soap around the house, we've always used the dispenser sort, I'm just phasing that out.
Check out prices and reviews about our favorite natural shampoo bars here.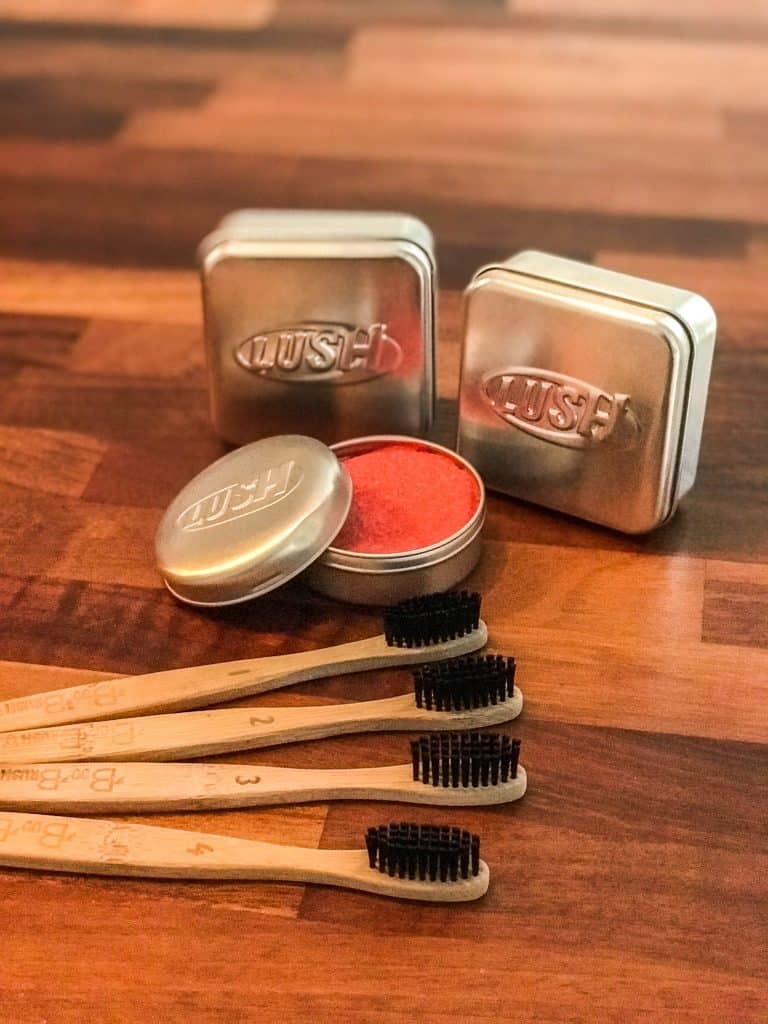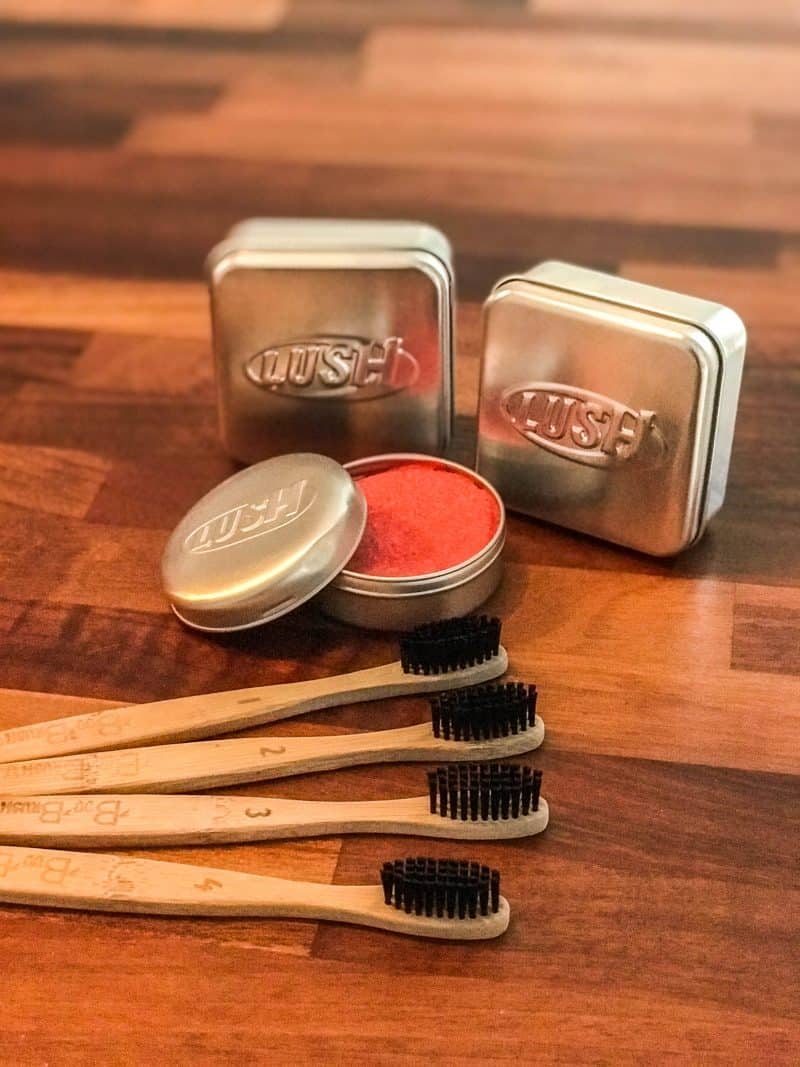 When I was travelling through The America's, I got super fed up of looking for tampons every month. I bought a Menstrual Cup
and it has literally been the most life changing personal care item I have ever purchased.
An article by The Huffington Post, stated we can use around 9120 tampons in a lifetime. Multiply that by the millions of women around the world and it works out to be a lot of unnecessary waste. I have had lots of questions about menstrual cups.
They are not difficult to insert, they are actually ten times more hygienic in my opinion. Likewise, they don't leak if you get the right fit and they are all round life changing, I can't stress that point enough, not to mention, they save money.
I have used reusable nappies with our daughter but I quickly fell off the band wagon when we were travelling full-time. I thought it really wasn't possible to do it. In a constant state of guilt and wanting to make the switch back to reusables
, I decided to make myself the ultimate public challenge.
For some reason proving it to my followers spurs me along somewhat. I decided to implement reusable nappies on a long haul flight and then use them whilst in a camper van off-grid for a week!!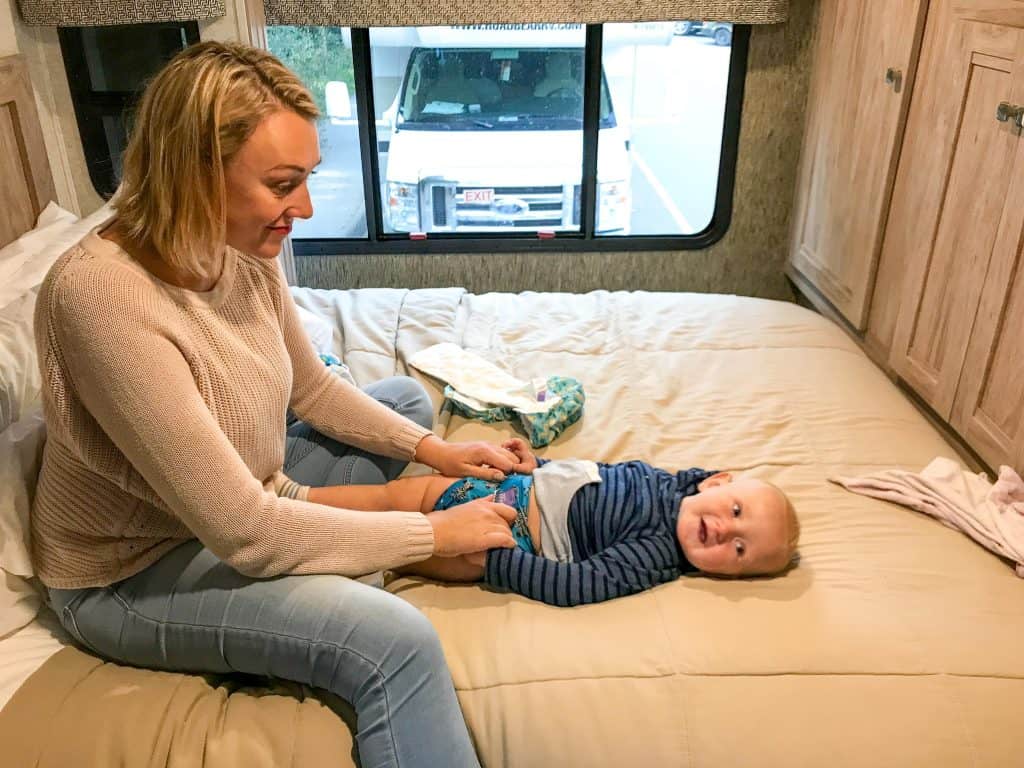 To be honest the first time I had them, they weren't an amazing brand, they leaked a lot and it was often off-putting. I asked a few other mums for recommendations and nearly everyone suggested the Bambino Mio
brand. I started off with a bunch of their cute printed reusables, with extra inners and of course liners.
So I guess you're wondering how I got on? On the whole, it went really well. There were no leaks, they washed up nicely and dried quickly. On the first day, I hand washed all of them with hot water and some special nappy washing powder. I soon realised four was not enough and I probably needed closer to eight on the road.
Whilst in the RV, I washed them every other day when we hit a town with a Laundromat. The absolute key ingredient in reusable nappies is the liner. I seriously can't be scrubbing poo, I need to be able to easily discard that part, quickly and easily, especially as a travelling family.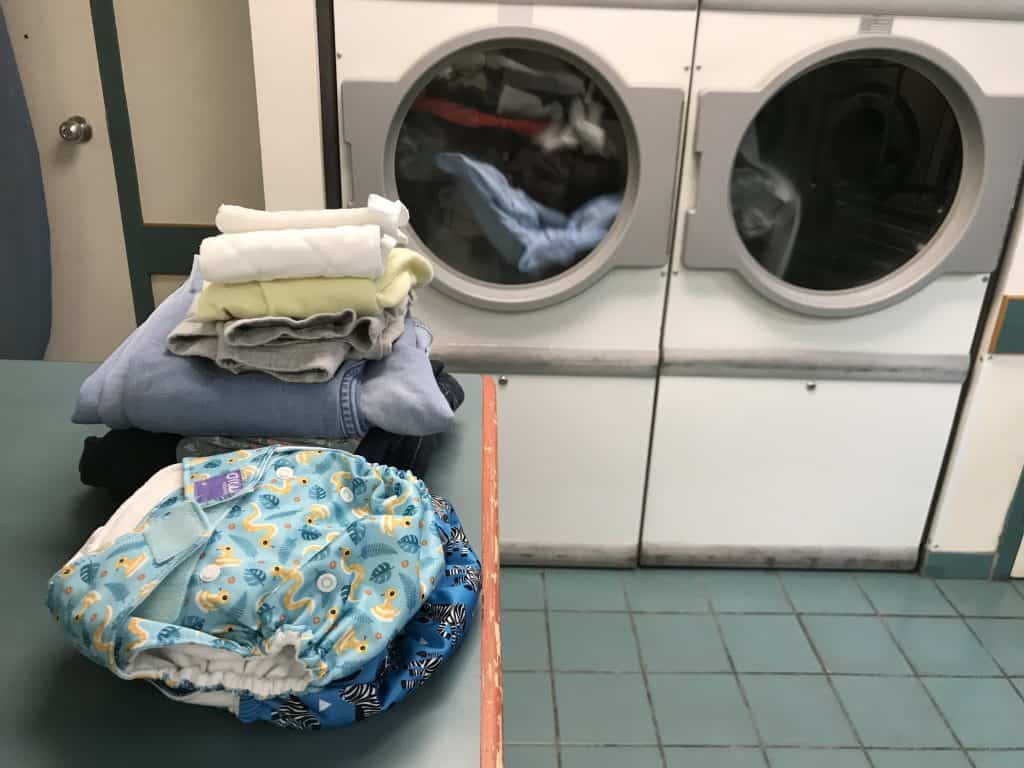 Not that toilet paper is plastic but it does contribute to the bigger picture of trying to be 'sustainable'. My sister told me about this cool company and appropriately named 'Who Gives a Crap'. They do big boxes of bulk toilet rolls made of bamboo. There is no plastic packaging and you can either subscribe to a regular delivery, or just make a one off order.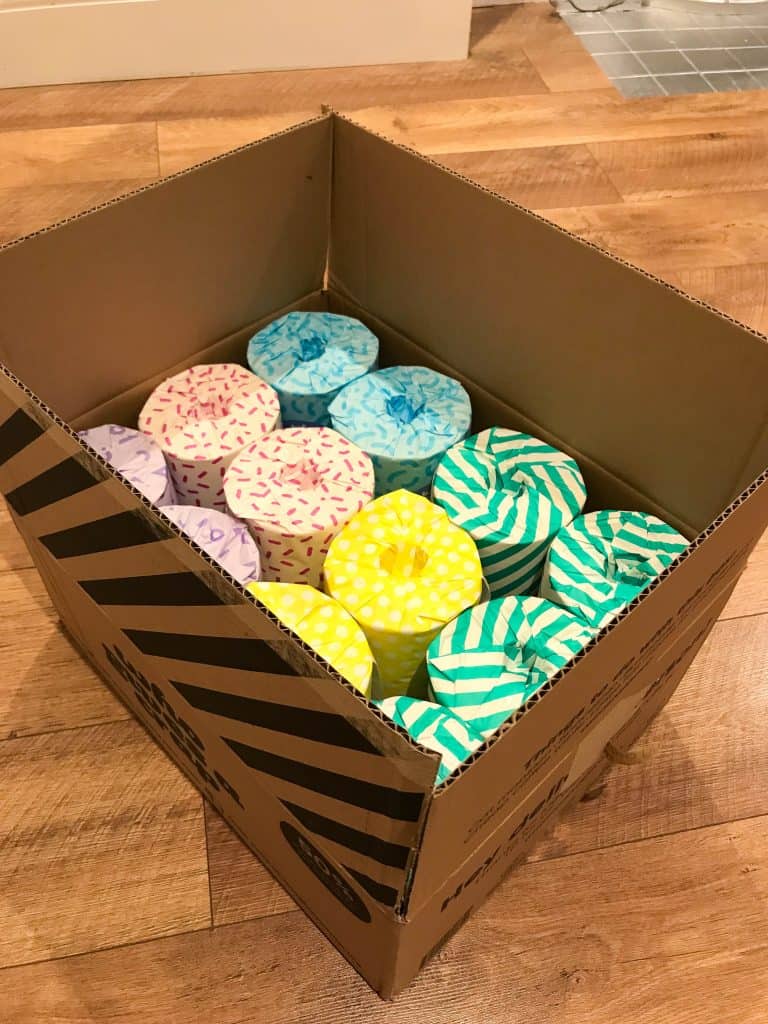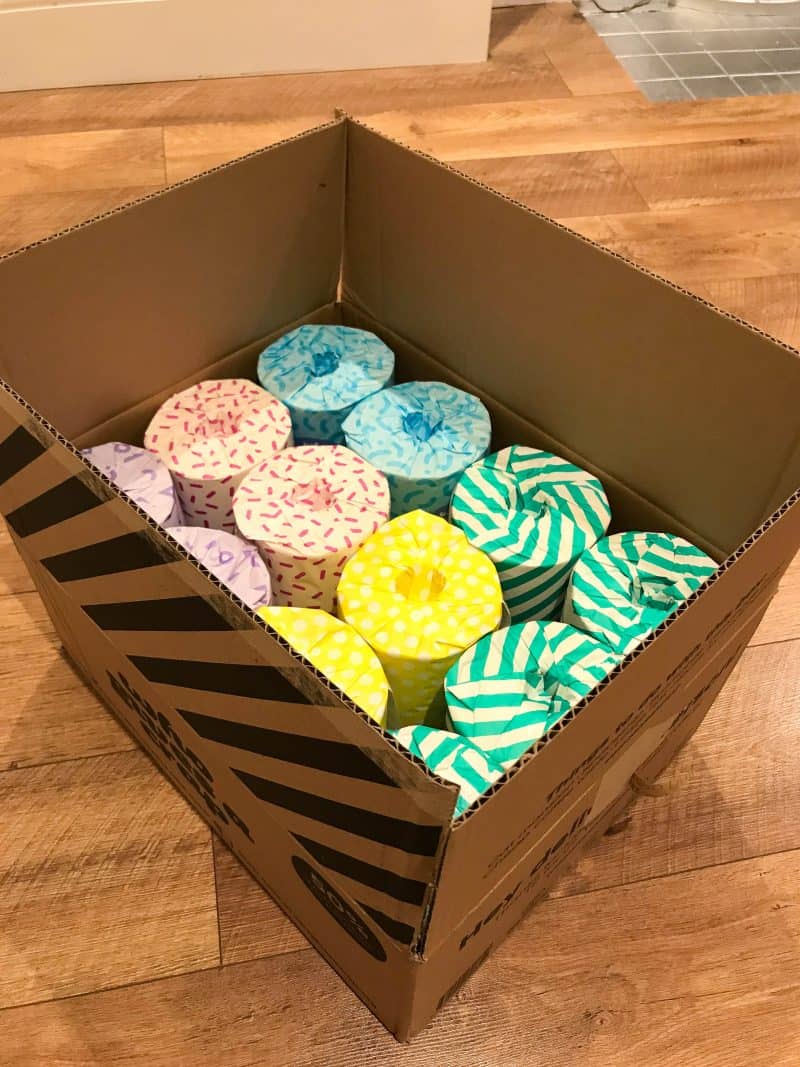 PLASTIC FREE ORAL HEALTH
Similar to straws, toothbrushes contribute to landfill and ocean issues. It's estimated 850 million toothbrushes are discarded every year in the the US. It's such a shame considering there is a really sustainable and effective alternative – a bamboo toothbrush
!
A lot of people are starting to use them which is amazing. They have activated charcoal bristles and the stick can be planted upside down when it's finished with. I love this idea! There are a few toothpastes on the market sold in glass jars
. I'm working on finding one I like. Everything in this journey has been baby steps.
PLASTIC FREE
FOOD
We really have a long way to go on the food side of things. The first thing I need to get right is portions and appetite of my kids. Not that they eat too much, they both eat really well now that we are home.
I must admit we probably let the side down a little when we were travelling with food. Other than the odd bit of cheese here and there, they are having a plant-based diet. Yesterday I made snacks to take on a day trip. Before we'd even got half way, they'd eaten most of them and were saying they were hungry when we arrived.
Such a fail on my behalf because I ended up in Waitrose straight away buying packaged fruits, packaged veggie sausages and so on. Note to self, pack double what you think!
DITCH THE CLING-FILM
We use to always use tin foil and cling-film to cover our food, wrap our sandwiches and so on. This is one of the first things I ditched on my return home and replaced it with food grade cloth covers
.
We just wrap everything up in them now and it's definitely saving money in the long run. They can be put in the fridge or in a lunch box, they are so good and such an obvious thing to use instead of mindless one-use sandwich bags and cling-film.
STICK TO STAINLESS
As I mentioned bringing snacks from home helps to reduce waste and cost significantly. Rather than buying plastic lunch boxes, we try to use stainless. That goes for our water bottles, sippy cups and anything else we may need. Albeit a plastic lunch box is not one-use, it will still end up in landfill at some point or another.
Buying nesting lunch boxes
is super useful for travelling and containing the bulk when you are not using them. Likewise, having some stainless straws
in your handbag for when you're eating out, or smoothies at home. Straws cause a significant problem in terms of waste and something so easy to replace.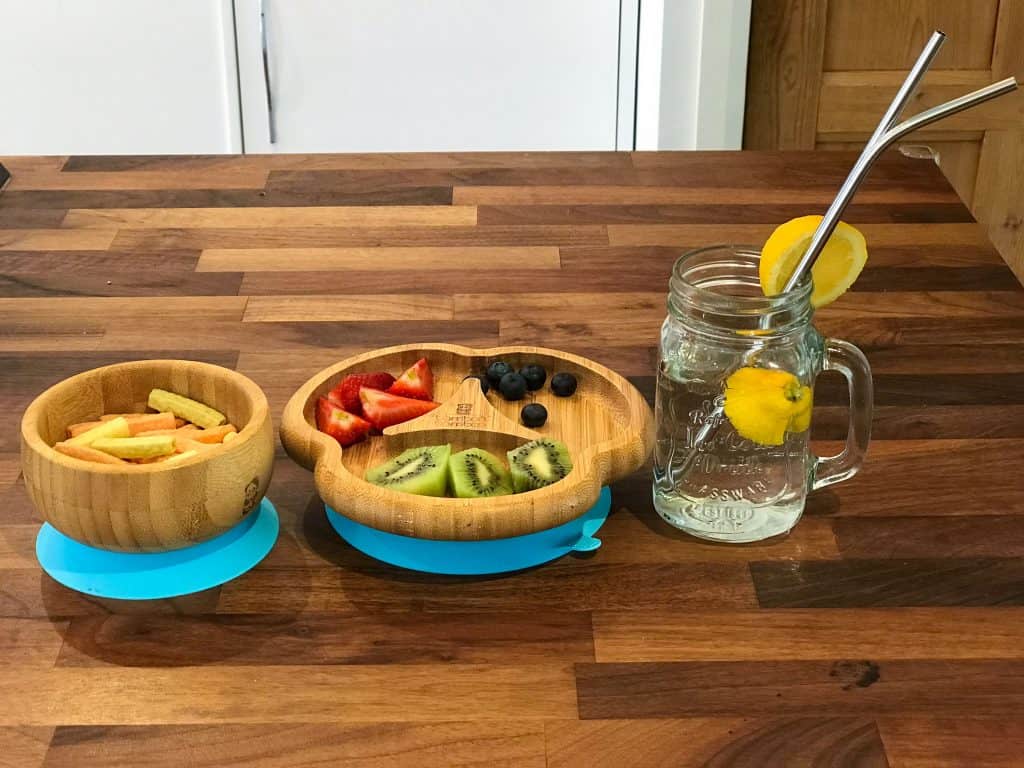 SCAN YOUR RECYCLING BIN
I was chatting to the guys at Greenpeace recently about their plastic free campaign. One very useful piece of advice they gave me was to scan our waste. What is creating the biggest problem from our household? Funnily enough it was milk cartons and nappies.
Myself and the kids don't use dairy milk, we use oat milk. We must go through it like the clappers because there is so much of it in the bin.
I decided to buy some glass milk bottles
and give it a whirl with making my own. All you need is water, rolled oats and a blender.
There are plenty of recipes out there and it's so easy! We usually spend £1.50 GBP per carton. With a bag of rolled oats for £2.00 GBP we can make the equivelant of 6 cartons. A few people were asking me about the taste and it was totally fine. Our little ones didn't complain.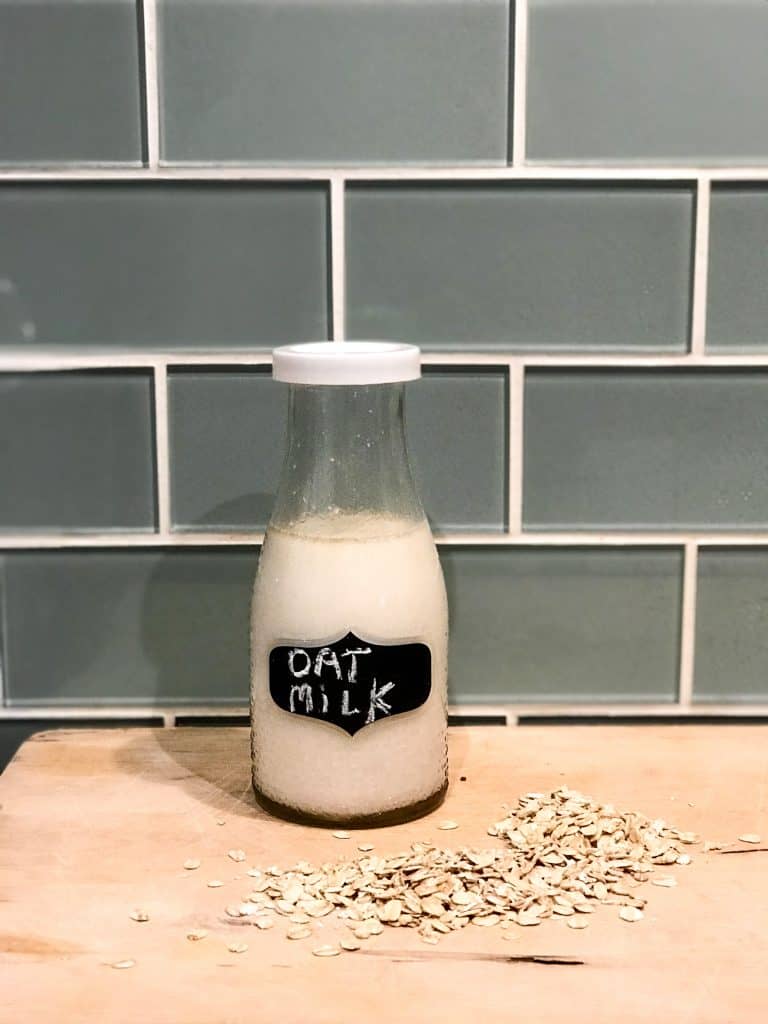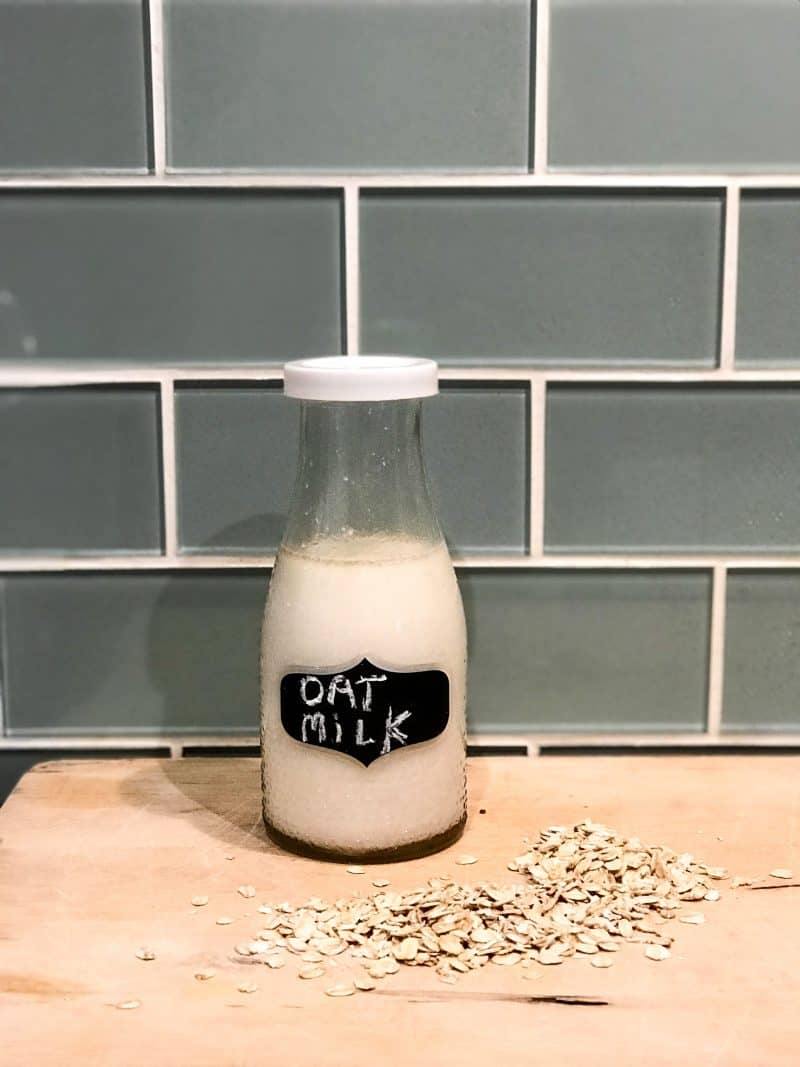 Talking of glass bottles, we try to hold on to jam jars and anything else that might be useful for storing food. They are a great alternative to plastic. Likewise, I'm trying to ensure I choose glass instead of plastic, say for example if I'm buying ketchup or something like that.
PLASTIC FREE SHOPPING
If you are still reading this post, the chances are you know it's the food shopping that is the biggest issue. Why the hell are cucumbers wrapped in plastic? Strawberries in containers? It's mindless, unnecessary use of plastic. That said, it's really hard to escape.
As a family, we generally do our food shopping on the internet. I work full time as a nurse, we are running a very busy blog, as well as doing renovations. We simply don't have the time to go to the shop once a week and spend an hour walking around.
It's generally fruit and veg that really gets me. I found a really lovely ethical online grocer, that delivers (almost everything) in brown paper bags and cardboard boxes. When we do go to the shop, I try to remember my canvas shopping bags. I literally kick myself when I forget!
My sister lives in Surrey and is really good at growing her own vegetables, foraging for berries and going to the market for food. These are some of my goals but with our travel lifestyle its hard to maintain a garden. I planted cabbage a couple of years ago and it looked like a giant blue cactus due to neglect. Needless to say, I don't have green fingers!
PLASTIC FREE HOUSEHOLD
The household part of my 'plastic-free journey' is still a working progress. There are a number of things I am figuring out, especially when it comes to cleaning products. It seems baking soda, white vinegar and lemons in a variety of concoctions could be the answer to some homemade stuff, I will keep you posted. However there are a few things I have put in place that have made a notable difference so far!
I bought a nice compost bin
to sit on the kitchen worktop. We use to keep a big industrial size one in the back garden, but in truth I would often get lazy and just put everything in the normal bin. Having something there all of the time means we are using it so much more.
Putting food in the regular bin creates methane, a greenhouse gas that contributes to climate change. Some statistics show 36% of household waste is food that could be turned into compost if put into a caddy
. It's totally worth it and if you have green fingers, you could use the compost in your own garden.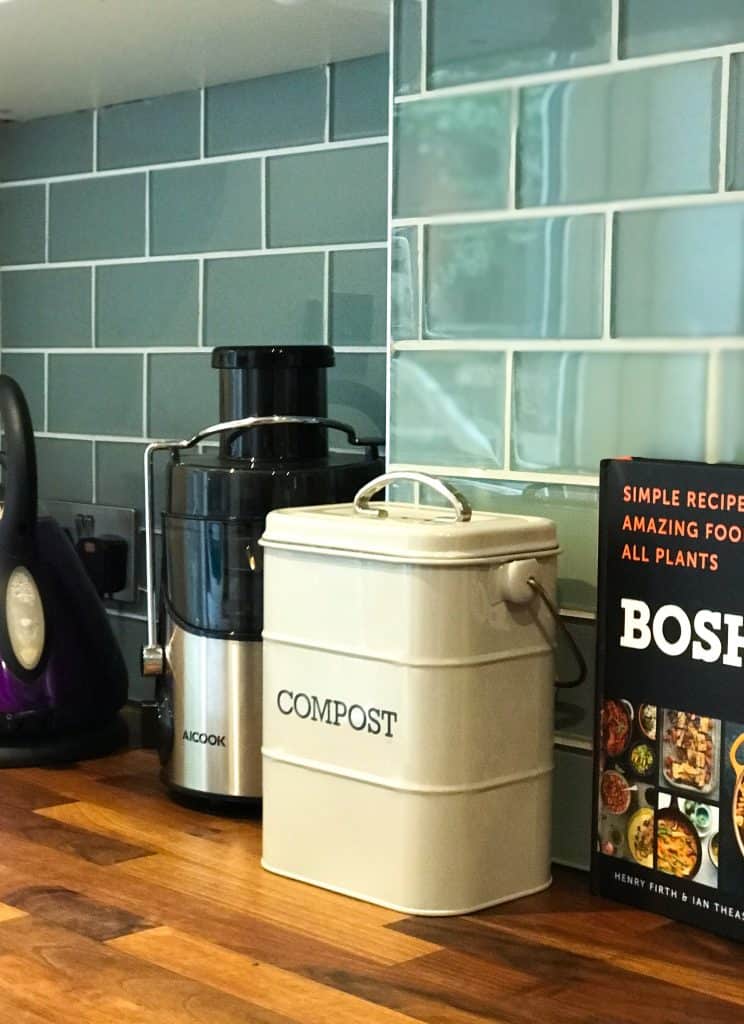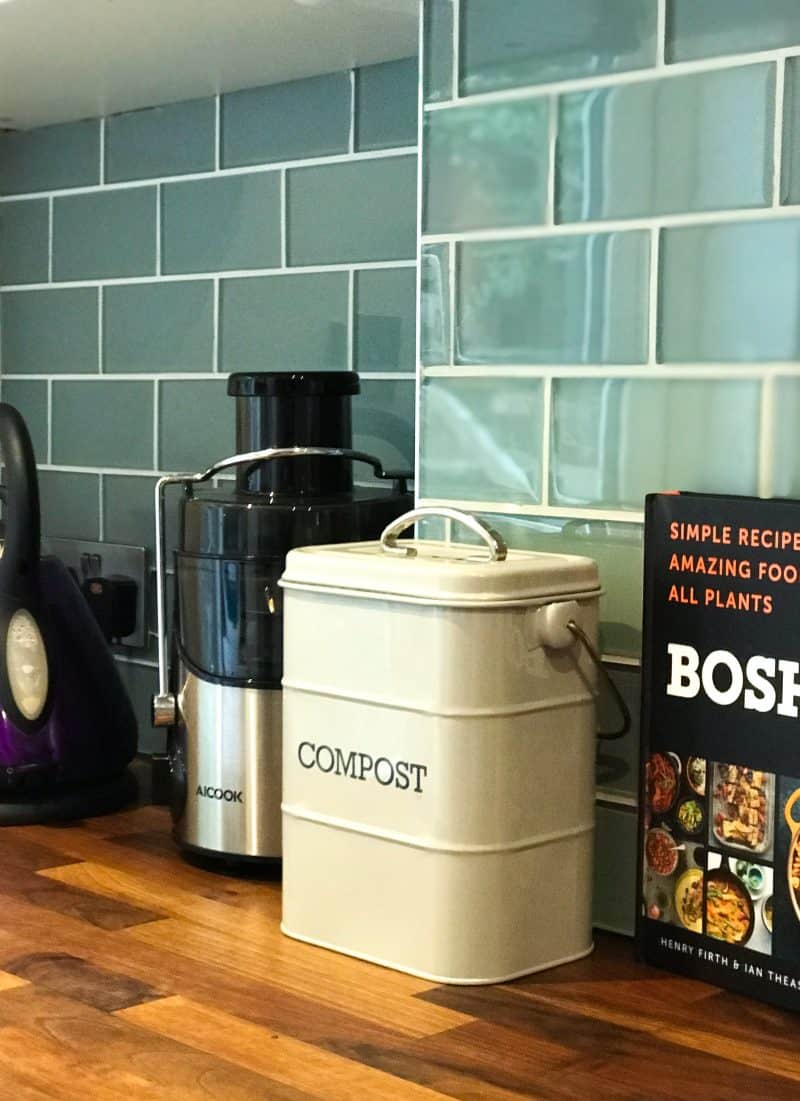 RECYCLING BEHAVIOURS
I grew up with parents that had a bin for just about everything. Even the different coloured glass were separated at home. Dad made compost that he used in the garden and they use to flip the lid (no pun intended) if we put anything in the wrong bin. We were well trained! I've always tried my best to carry on good recycling behaviour.
I'm keen to teach the kids more and more. Esme is already pretty good but I think we can even get Quinn involved at this early age of 1! I have been thinking of making something fun to cover the tops of the bins and make a bit of a game for the kids so they can put the recycling in the right bin. I will keep you posted on how this goes :)
LAUNDRY
I bought a laundry egg
recently. If you don't know what they are, it's a container filled with lots of little balls and apparently it can do up to 1000 washes. I've read a few people saying they are really good along with a couple of drops of essential oils
to give a fresh smell to the clothes. So far, I feel they are ok as long as there are no heavy duty stains clothing.
Find more details about the laundry egg here.
PLASTIC FREE TOYS
We have a lot of toys in our house. It's always so disheartening when new gifts get pushed to the side and replaced with a pile of rocks and a stick that provide endless entertainment. I am not sure about you, but my kids are SO HAPPY when they are just playing with things in the garden. It's so random and I try to remind myself before splurging at Christmas or birthdays.
So many toys are made of plastic, but there are so many wooden alternatives that are more eco-friendly. We just bought Esme wooden kitchen
, with wooden pots and pans
. Even the pretend food is wooden. So far it's gone down well and both kids are getting good use out of it.
Toys are a hard thing to manage. Especially when friends and family very kindly give the kids gifts. Likewise, they may see something they want. I guess what I'm saying is I am trying to look for the eco option.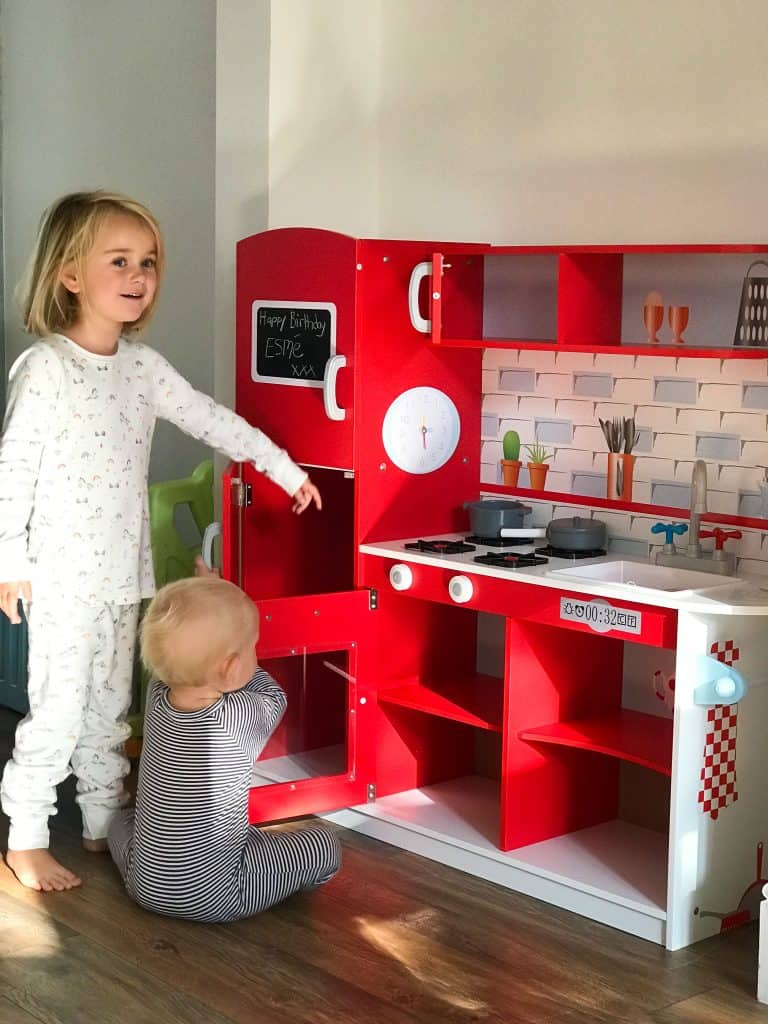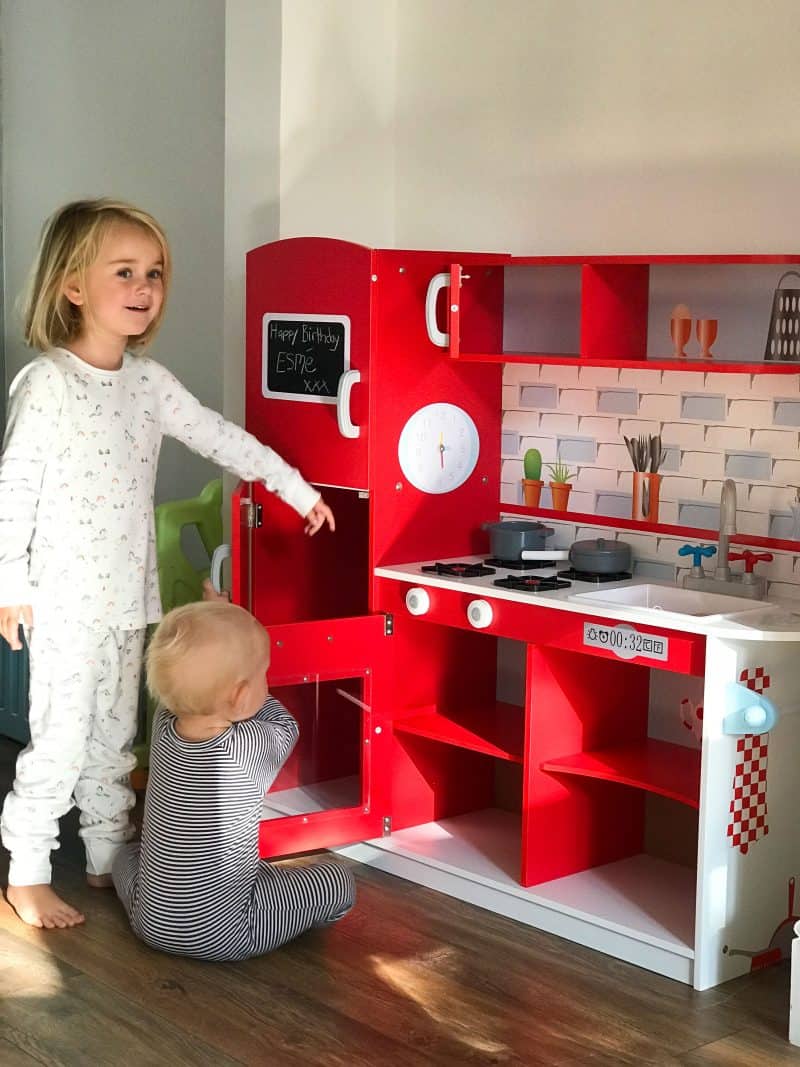 PLASTIC FREE CAMPAIGNS TO FOLLOW AND SUPPORT
I have learned a lot from the many amazing social media influencers and organisations doing good. I particularly like 4 0CEAN. They are removing trash from the water one pound at a time. The organisation was set up by two surfers who were saddened at the amount of plastic in the ocean.
They took it upon themselves to fundraise and get trawlers out to sea, organise beach clean ups and today they are supported by hundreds of thousands of people for their hard working efforts to save the oceans.
GREENPEACE PLASTIC FREE CAMPAIGN
What I love about Greenpeace is the ideas, they think much bigger scale than what we can do individually at home and in our own lives. They do huge clean-ups and then look into what brands are causing the greatest destruction and call them out on social media! I think this is a genius idea, making brands consider their environmental impact.
TAKE 3 FOR THE SEA
Take Three for the Sea is one of the first orgs I heard of when it comes to plastic pollution. They ask everyone to pick up three pieces of trash when they leave the beach, or waterway, and bin it! It's such a simple concept and something easy to remember.
I hope I've given you some inspiration. If you have any other ideas, I would love to hear from you in the comments.
Don't forget to SHARE this post if you care about the environment! ;)
You May Also Like:
15 Eco Friendly Travel Products for 2019
This post in NOT an ad, it's just a topic I am passionate about going plastic free. However I have included some affiliate links. By using them, it will not cost you any extra, I get a very teeny commission that supports us writing this content.