We have been in Bali for almost a month now. Its our second trip and we've visited all the typical spots. From Ubud, to Jimbaran, and everywhere in between! I love Bali but it can be quite touristy at times. That said, I am happy to report there are still some less discovered parts. Some people have described Amed, Bali with kids on the East Coast as 'how Bali use to be'.
I have always been the sort of person to go to less discovered places, but Bali always calls me back. There is something magical about the place. Amed with kids was the perfect compromise to be honest. It's not built up, has lots of traditional warungs and there are not so many tourists around.
At just over a couple of hours from Ubud, and a quick boat ride to the Gili Islands direct, its quite easy to incorporate Amed into a Bali tour. Nestled on the coast and surrounded by lush green mountains, there are some really beautiful landscapes.
Its most famous for diving amongst the beautiful coral reef just off the beach and of course the few shipwrecks. We spent three days in Amed with our two kids. I have to admit, its quite a relaxed vibe so we were kind of lazy. That said, here is our guide to Amed, Bali with kids.
Read more about Bali in our Ultimate Guide to Bali with Kids!
AMED, BALI WITH KIDS
SLEEP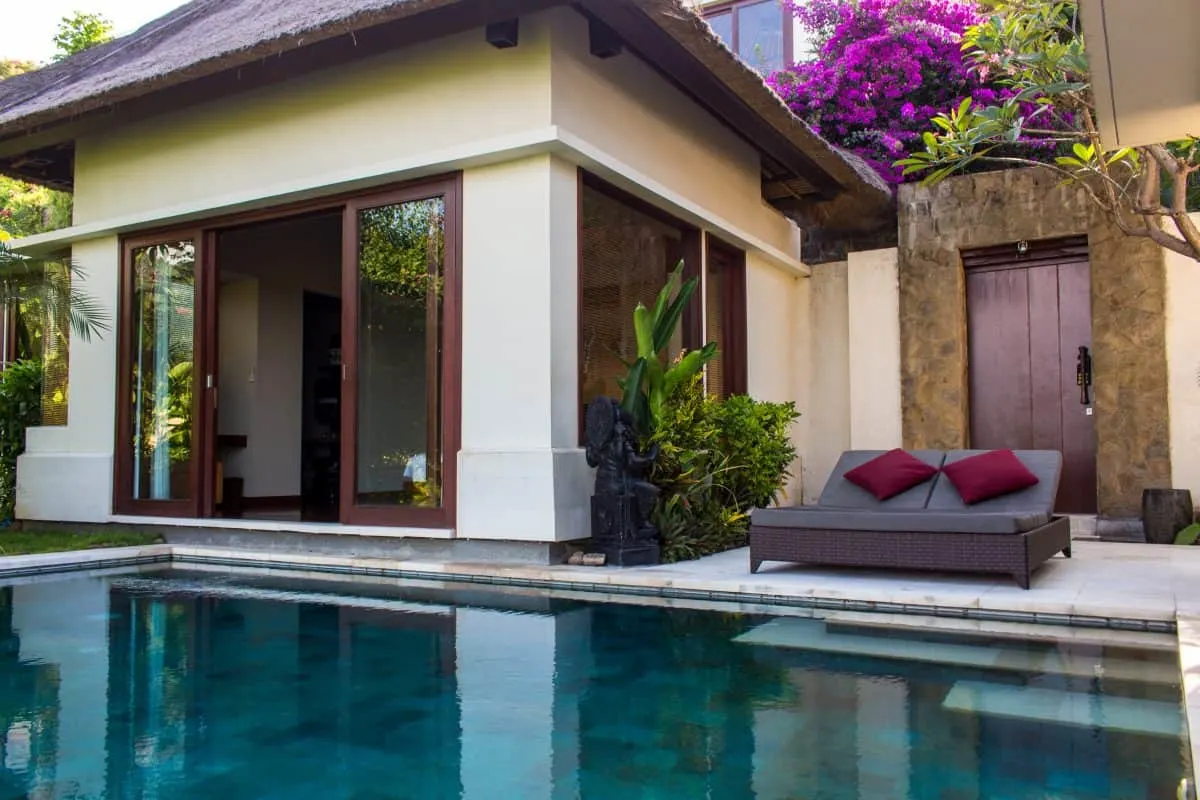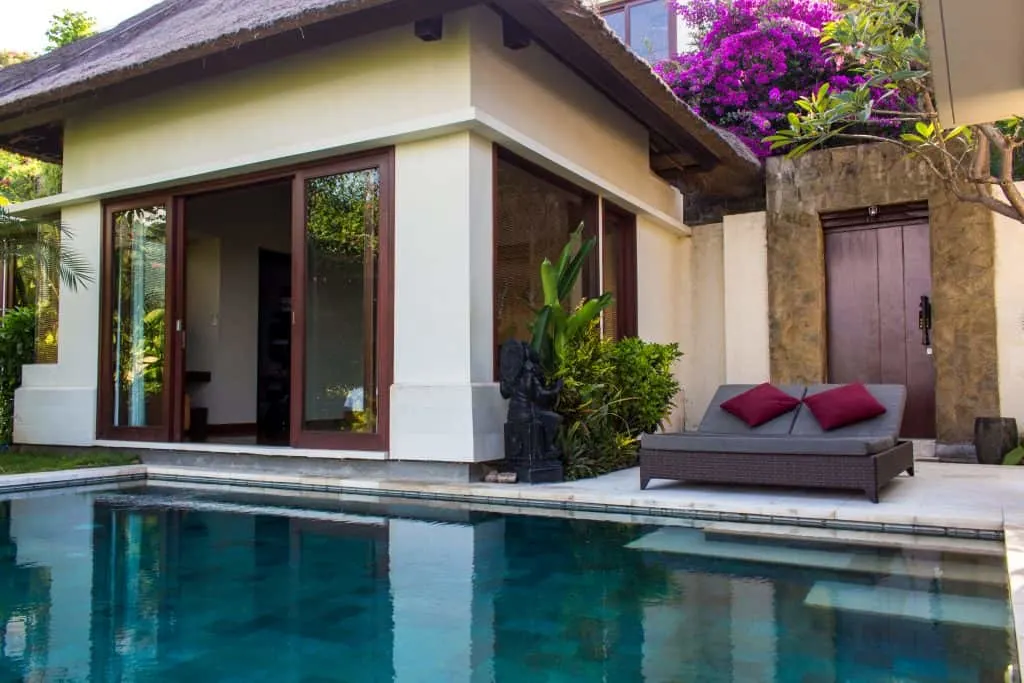 We stayed at The Griya Villas and Spa. Only 4km out of town, its perched on a hill side with some spectacular views of the Indian Ocean! The property consists of 14 private villas, an onsite spa, an upscale restaurant as well as a health cafe and a roof top bar.
Like you would expect of a beautiful private villa, we wanted to spend most of our time there. It was hard to leave. Our beautiful villa was all about the pool. Edge to edge we could literally hop out of bed, open the sliding door and jump right into the swimming pool. That said, its probably best if kids are able to swim.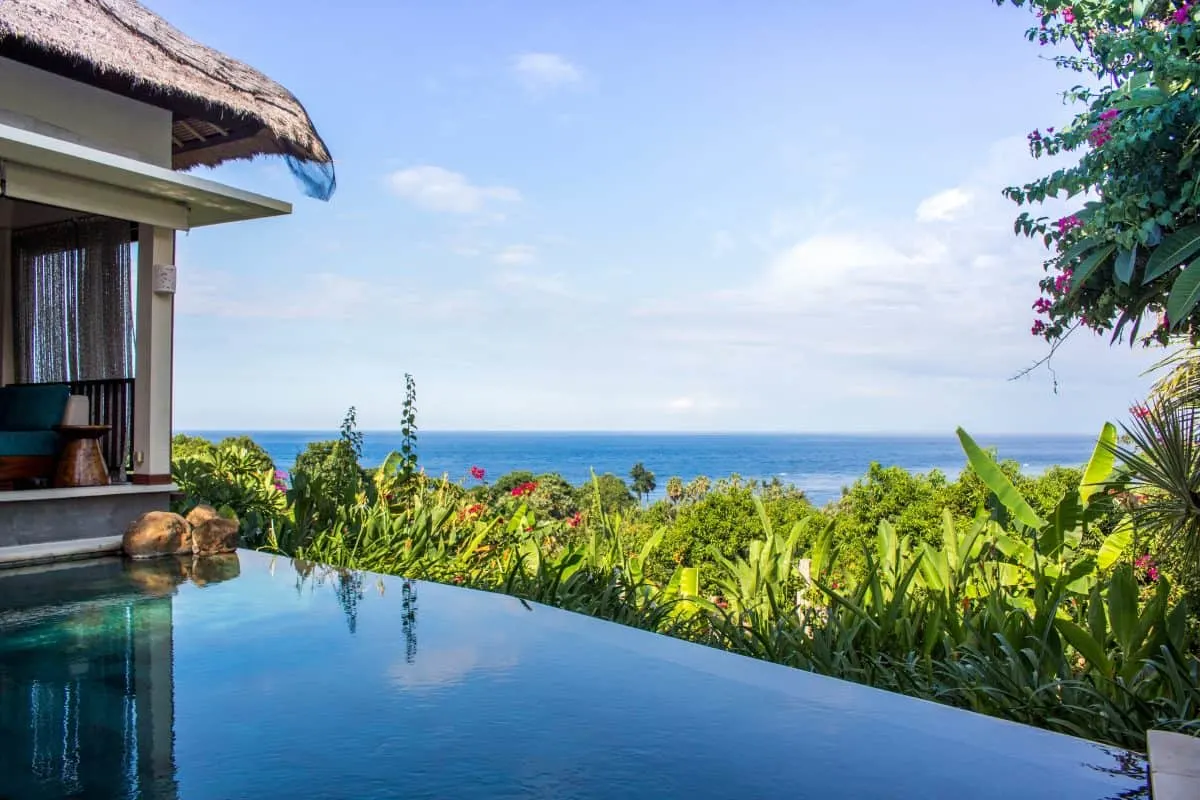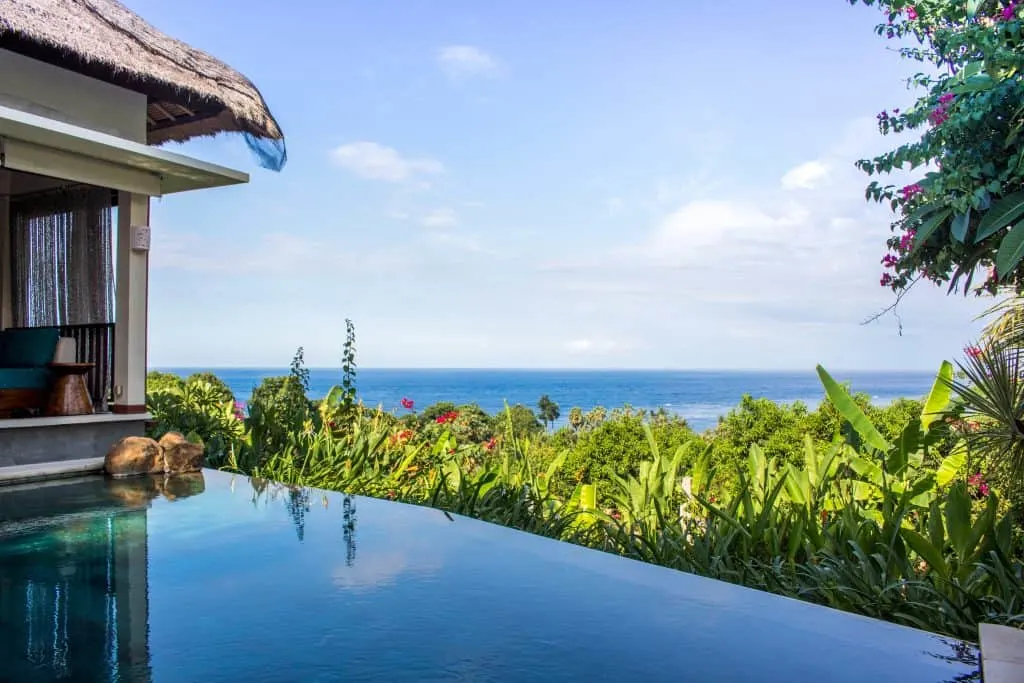 On the other side of the pool was an open lounge area with a smart TV, cozy sofas and a separate kitchen with a dining area. Everything was literally on the edge of the swimming pool. The views of the Indian Ocean from all angles, were out of this world. It was perfect at sunrise or sunset.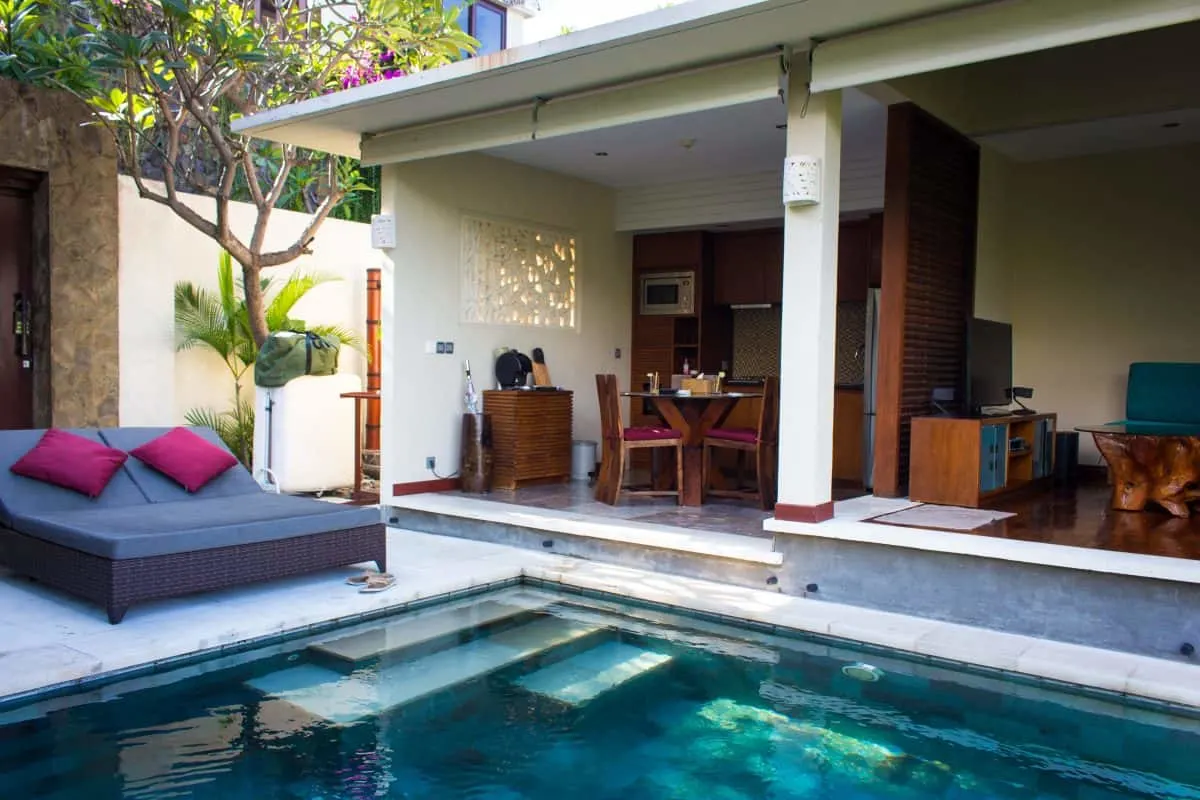 I always love a hotel that is genuinely eco friendly! So many claim they are, but really they are not. I am very happy to report The Griya have a water filter in every villa and glass bottles that can be used to refill. Likewise all their products are in reusable dispensers rather than a small disposable bottle. And my personal favourite, they use bamboo straws in all drinks! Well done The Griya!
MORNINGS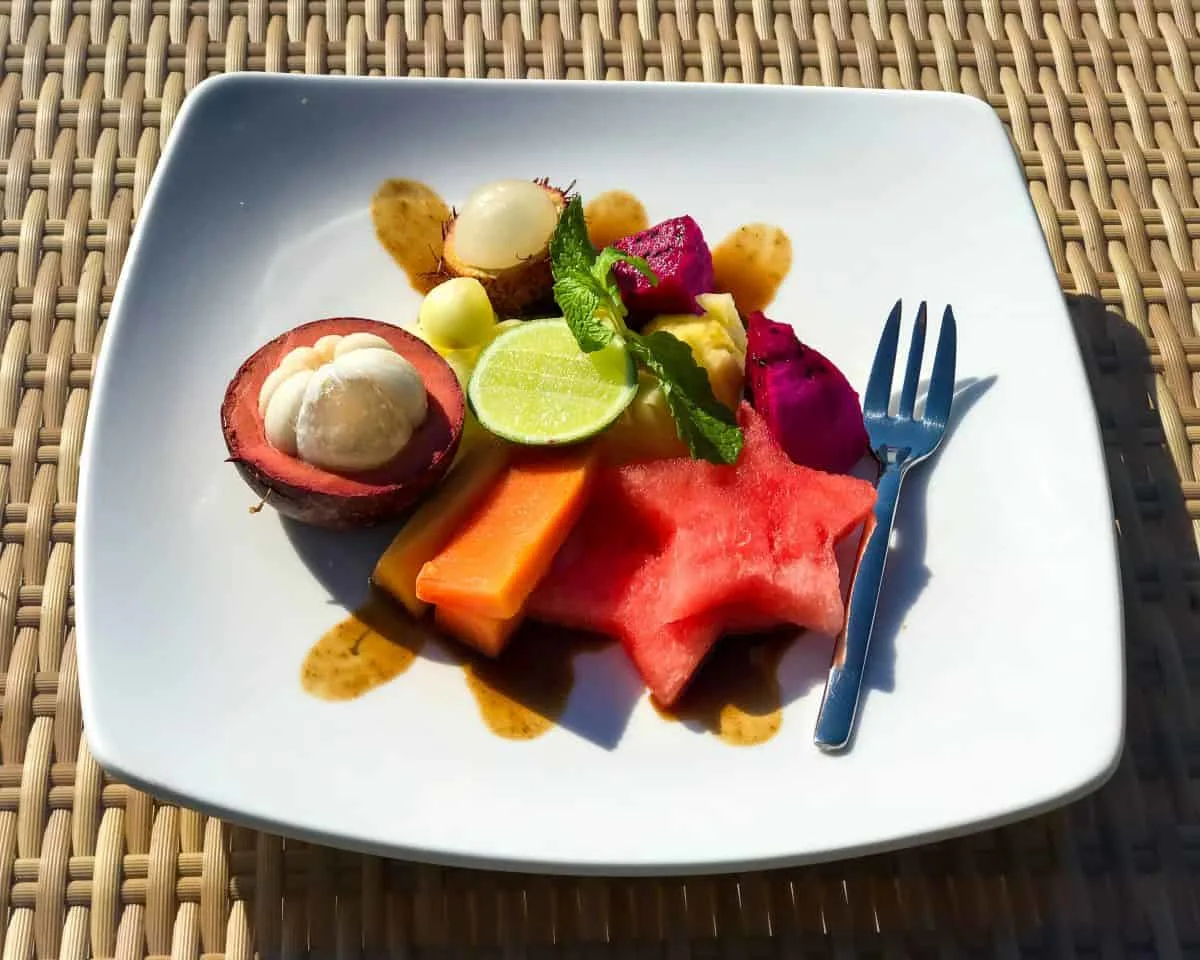 We had our morning routine of opening the curtains, making a coffee with the espresso machine, watching the sunrise before jumping in the pool. They have villa service but we loved going to the restaurant for breakfast. Once we had shower in the gorgeous outdoor bathroom, we went to the restaurant for the scrumptious breakfast.
They had some really great choices. I am usually relatively health conscious at breakfast, so I loved the fruit platter and banana porridge topped with cinnamon and cacao nibs. Our kids loved the pancakes, whilst hubby is always a fan of the more hearty option. Bacon, sausage and toast of course.
The restaurant is set next to another gorgeous pool with plenty of shade and the staff are all incredibly adorable and helpful with the kids. They were always on hand with a high chair, so useful for little man.
AFTERNOONS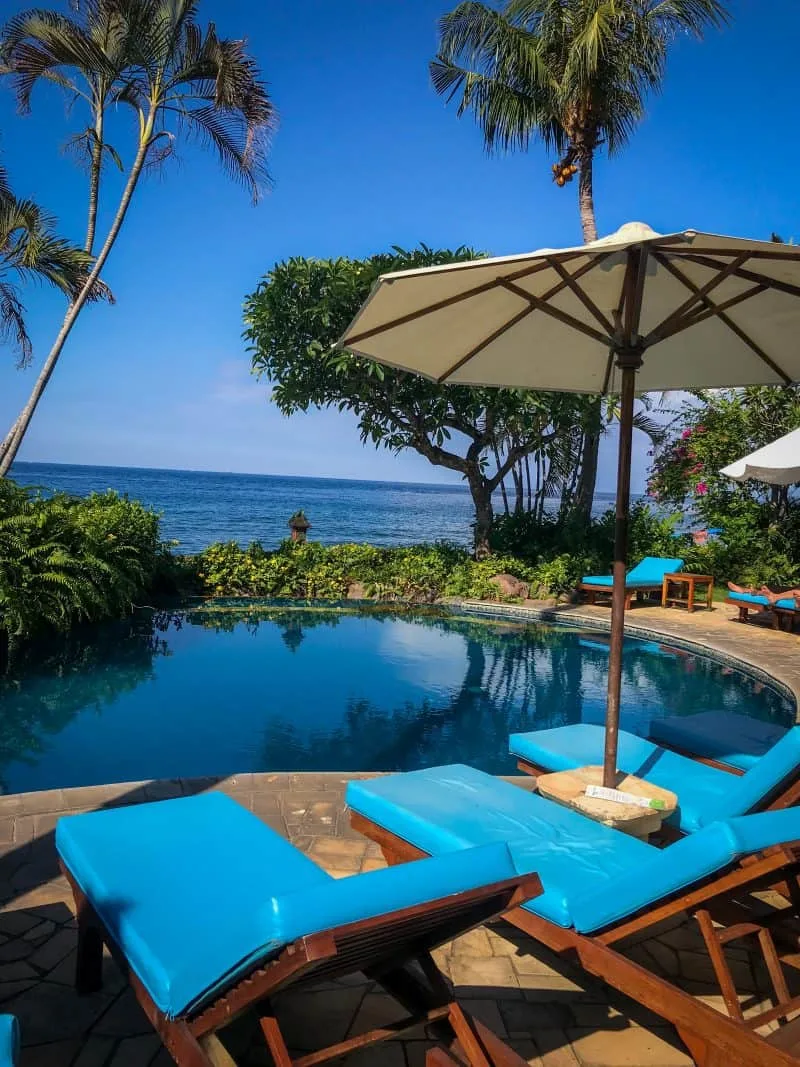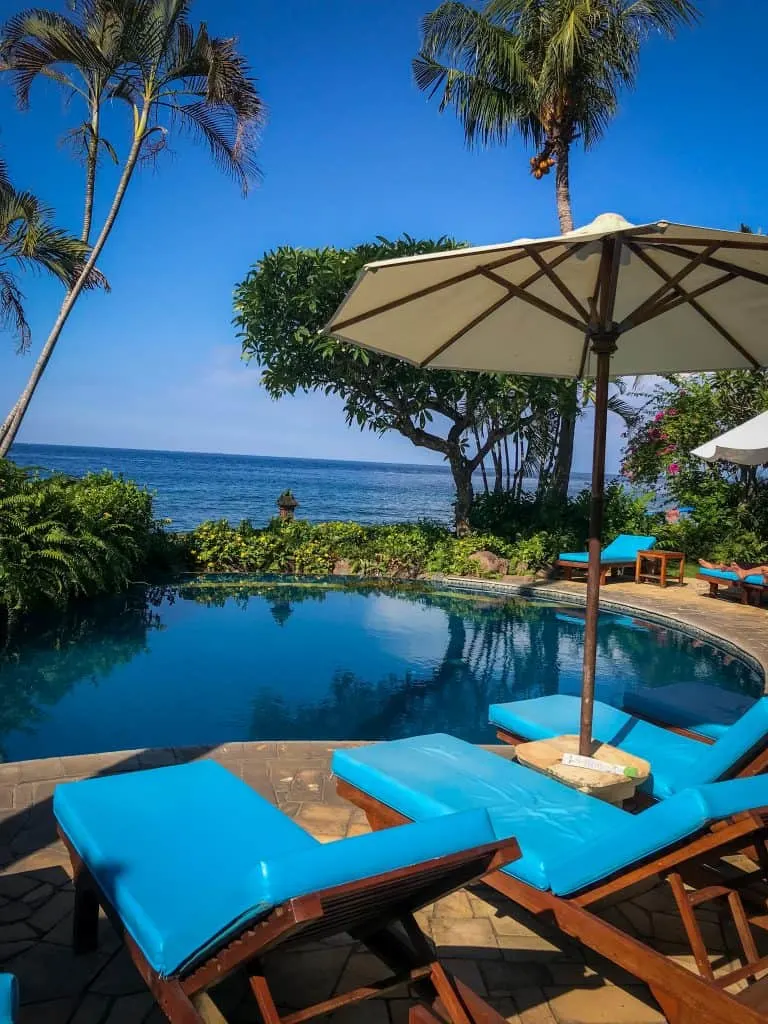 We spent our afternoons lunching out and about or exploring the local area. Amed is in the perfect location for visiting some attractions that are less known in Bali. For example the Water Palace, Temples, and of course snorkelling around some of the shipwrecks.
We spent one of our afternoons at Santai Hotel. Right on the beachfront, its the perfect place to have lunch, followed by a swim in the pool and a snorkel in the ocean. The food is really good with Indonesian, European and Mexican options at a very reasonable price.
Amed, Bali with kids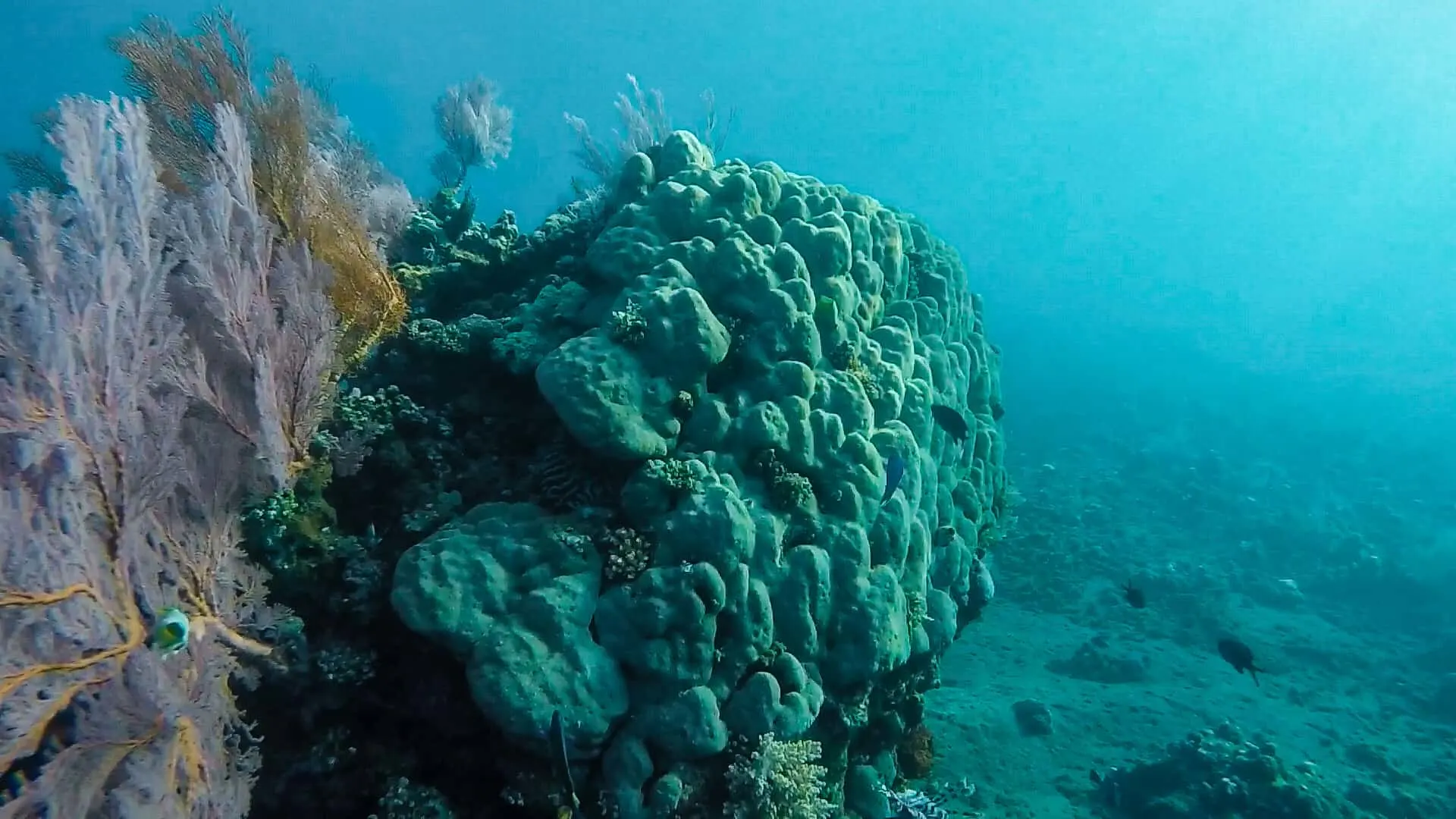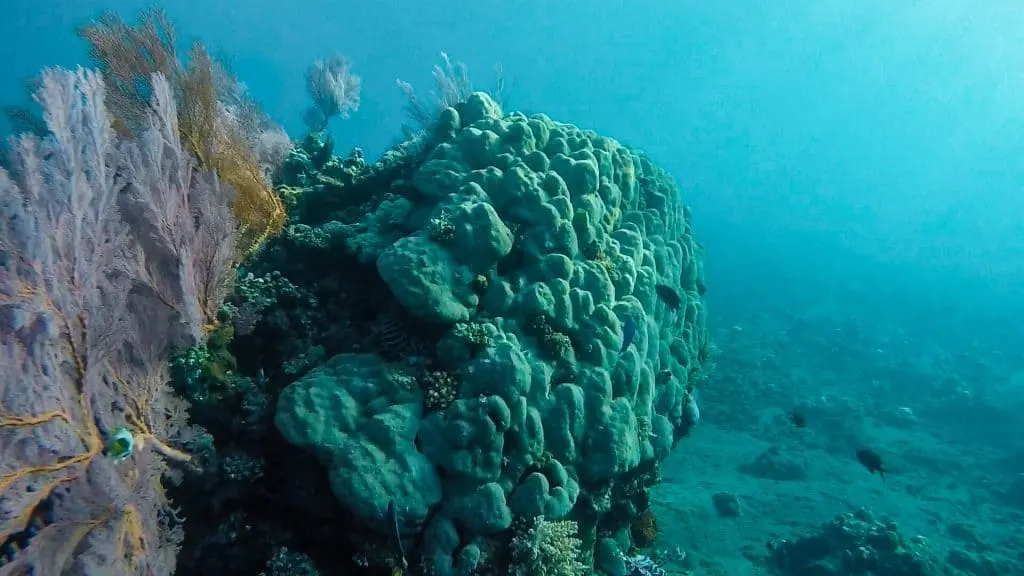 They have snorkelling equipment that can be rented out. My husband got some amazing footage of sting rays and colourful fish just metres from Santai. The beach is made of rocks so it's not that comfortable for chilling out. Santai pool is therefore the perfect place to hang between lunch and fun.
Our little one loved the swing hanging from the tree at Santai, it was such an awesome afternoon. If you prefer to stay near the beach, Santai have some lovely cottages. Obviously The Griya is lovely but its not within walking distance to a beach.

WATER PALACE & TEMPLES
The water palace otherwise known as Tirta Gangga is an awesome afternoon adventure. The many water fountains, surrounded by beautiful gardens, and stone carvings is a great place to run around and burn off some energy. It's only a short drive form Amed. Mount Agung can be seen in the distance. Sadly the palace was destroyed by an eruption some time ago but has since been made into this pretty attraction.
BEACHES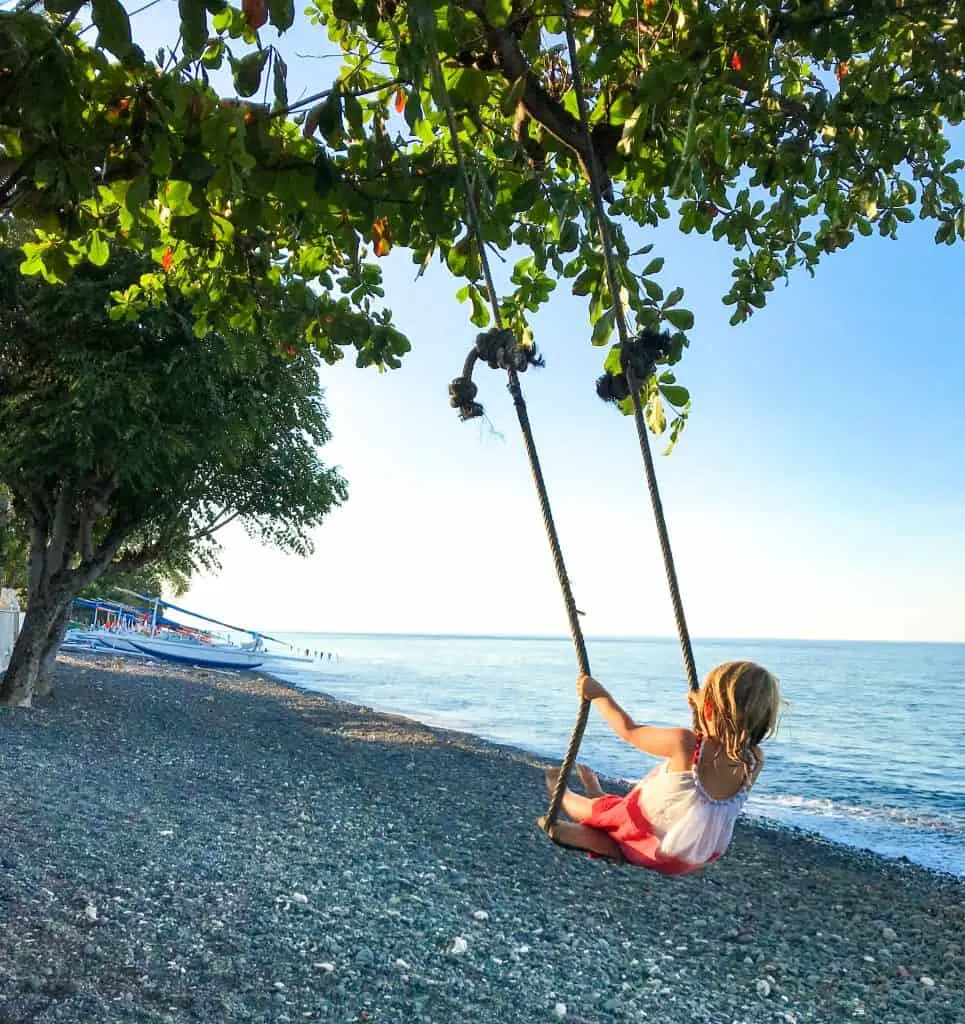 Like I mentioned the main beach in Amed is full of rocks so not great for making castles with the kids. There is however, a white sand beach about an hour and ten minutes away. Bias Tugel Beach is accessible by a short trek. Locals await with umbrellas, cold drinks and some snacks. It has shallow water and is pristine aqua blue water with white sand. It's the perfect place for young kids.
EVENINGS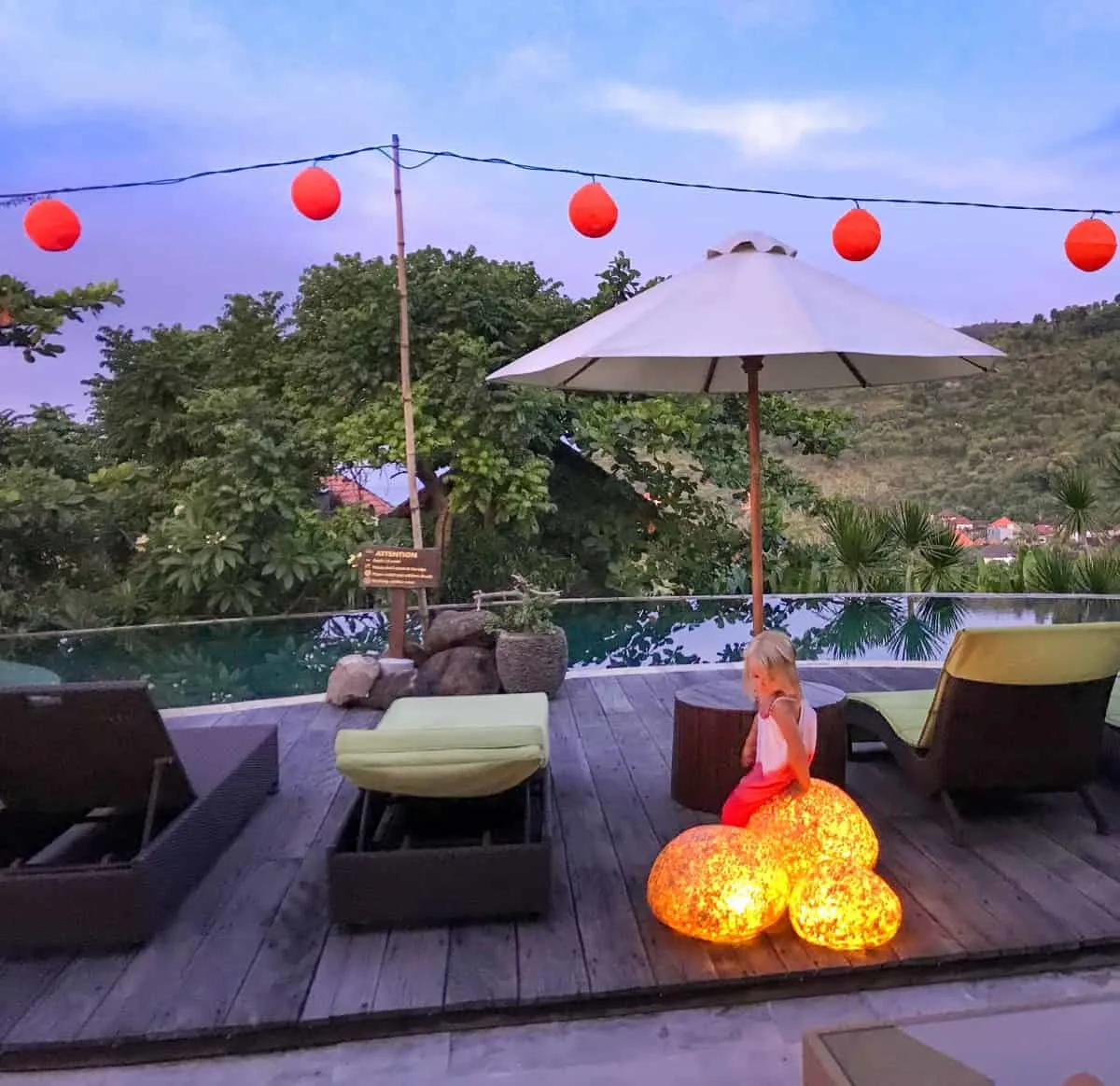 We generally spent our evenings watching the sunset from The Griya roof top bar. They had a tapas menu which was perfect for keeping the kids entertained with snacks whilst we chilled with a cold drink. The massive lounge sofas were ideal.
By that point, our little ones were generally getting quite tired so we ordered dinner from the onsite restaurant to the villa. It is such great quality food for a good price. For example a vegetarian nasi goreng was only about £3! Once dinner was settled we had outdoor baths, before cuddling up in bed with a book!
We always love the extra space a villa offers. As parents, hotel rooms can be confining and generally means an earlier bed time for all of us. Having the extra space at The Griya meant we could enjoy our evenings after the kids went to bed.
You may also like:
THE ULTIMATE GUIDE TO BALI WITH KIDS
Luxury private villas in Sanur
Disclaimer: This post Amed, Bali with kids has affiliate links. Some of our stay was complimentary in return for an honest review. As always all views expressed are entirely my own.