If you are visiting Bali, there is a good chance you will want to get out to some of the smaller islands, like Gili Meno with kids. Gili Islands are an hour from the North East coast of Bali by fast boat. Gili Meno is sandwiched between Gili Trawangan and Gili Air. An aerial view of the three tropical islands shows a typical paradise!
An aqua blue rim of water, encapsulating pristine white sand and lush palm trees in the centre. Life on Gili is very different from mainland Bali. Poverty is more notable and its certainly rustic. It seems the main mode of transport on the island is by horse and cart. I was surprised to find it wasn't like Nusa Lemboagan, where they predominantly use golf carts and scooters to get around.
Gili Meno is the smallest of the three islands and attracts a different sort of traveller than the others. Its more relaxed and romantic, whereas the other two have a party buzz about them. We arrived into Gili Trawangan on a morning boat from Amed and we were met by our hotel at the port. They whisked us away on a glass bottom boat to Adeng Adeng just ten minutes away.
Unlike a resort or a posh boutique hotel, Adeng Adeng is quite different. It has several parts spread along the beach starting from the restaurant where guests arrive. We got checked in before walking just a few minutes along the beach to the cottages that are set back in a private and secluded location. We spent three days on the island. Here is what we got up to on Gil Meno with kids.
GILI MENO WITH KIDS
PLAY
RENT BICYCLES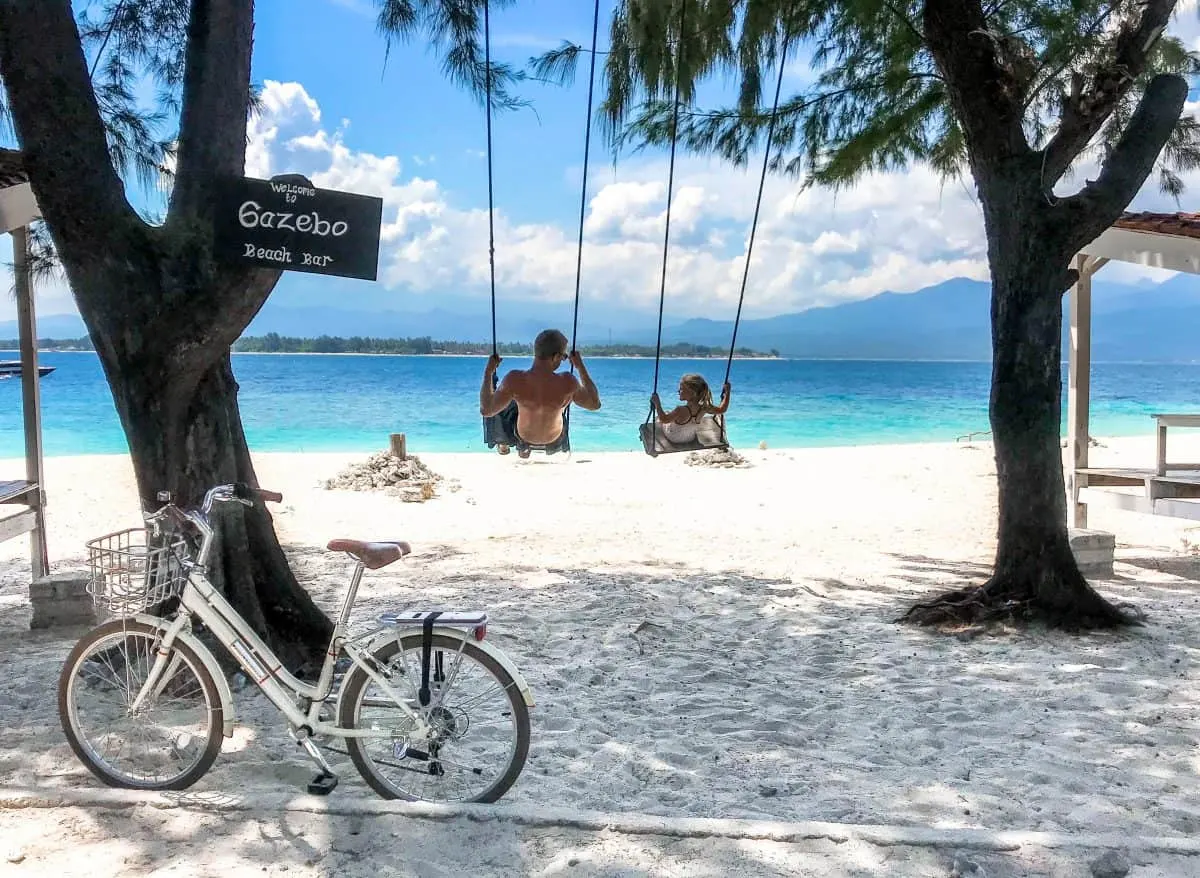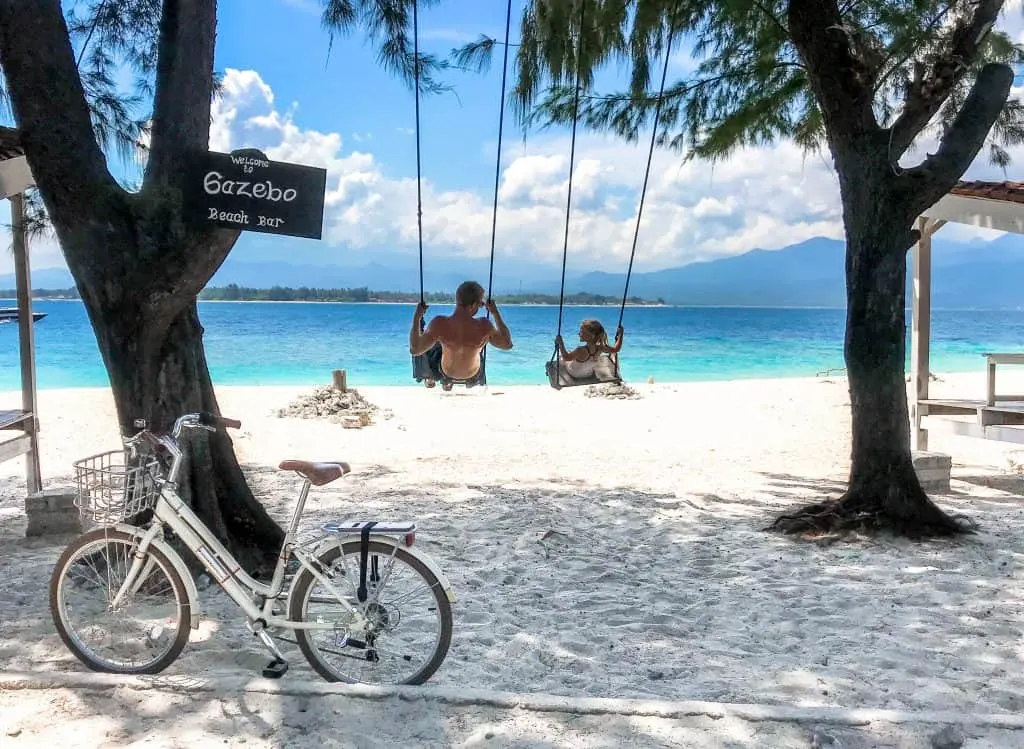 The island is small enough to walk or bike around. We rented bikes from nearby and did a lap of the island. Our kids were in baby carriers on our backs. There are absolutely no vehicles on the island so we weren't at risk from that perspective.
We didn't notice anywhere with kiddie bike seats, but like all travel situations in the developing world, we improvised. As its so hot on the island the best time to do the cycle is early morning or early evening. There are many coconut plantations and picture perfect places to see on the ride.
SNORKEL
Like one of my followers said, The Gili's are 'turtle tastic'. Just metres off the beach is an impressive coral reef and marine eco systems. You haven't visited the Gili's until you've snorkelled! You are guaranteed to find nemo and all his colourful friends.
We brought a life jacket for our little girl so she could come snorkelling with us easily. She prefers to use her goggles and she goes into a trance when she sees the beauty of the underwater world.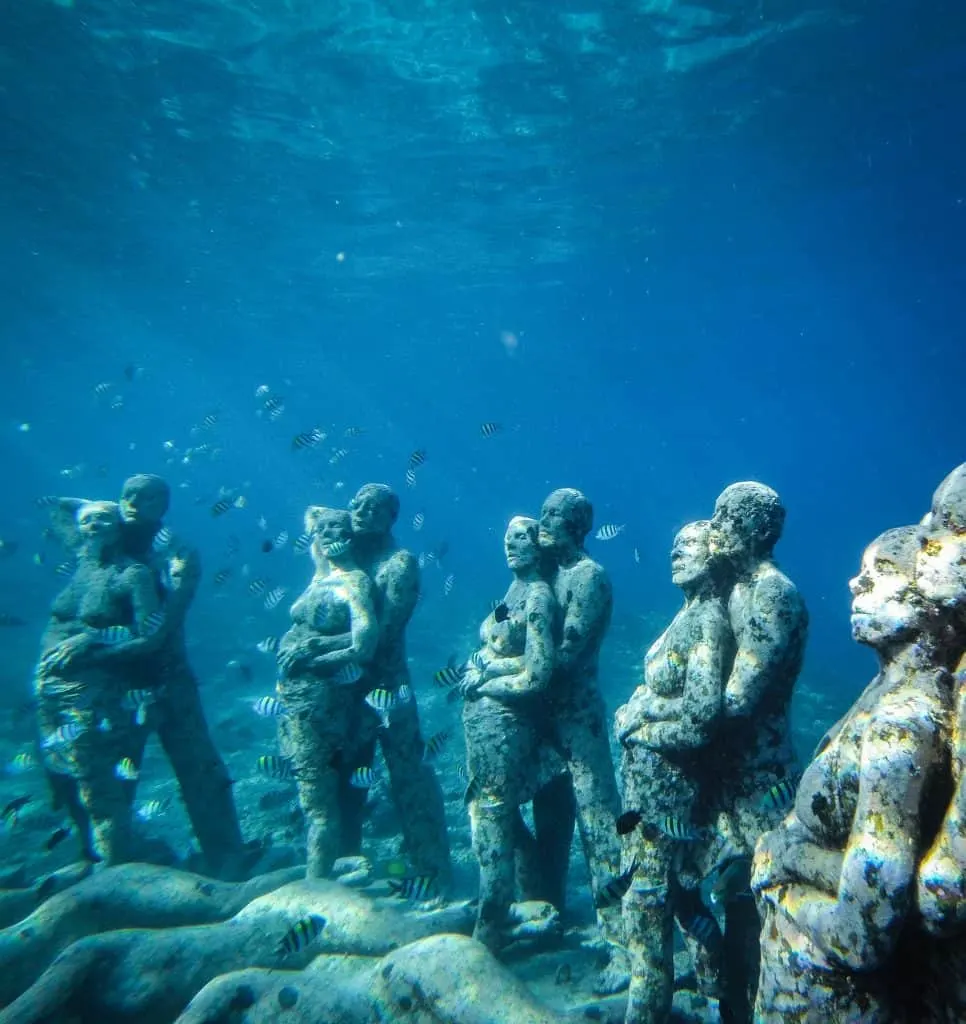 A new and pretty amazing feature is the 48 life size statues that are anchored underwater. The idea behind them is to regenerate coral. They see lots of visitors throughout the day with tourists boats stopping regularly. It's not far off the beach, so if you go early you will miss the crowds. They were designed by a well known British artist who has made many of these incredible pieces of art around the world.
GILI MENO WITH KIDS
CINEMA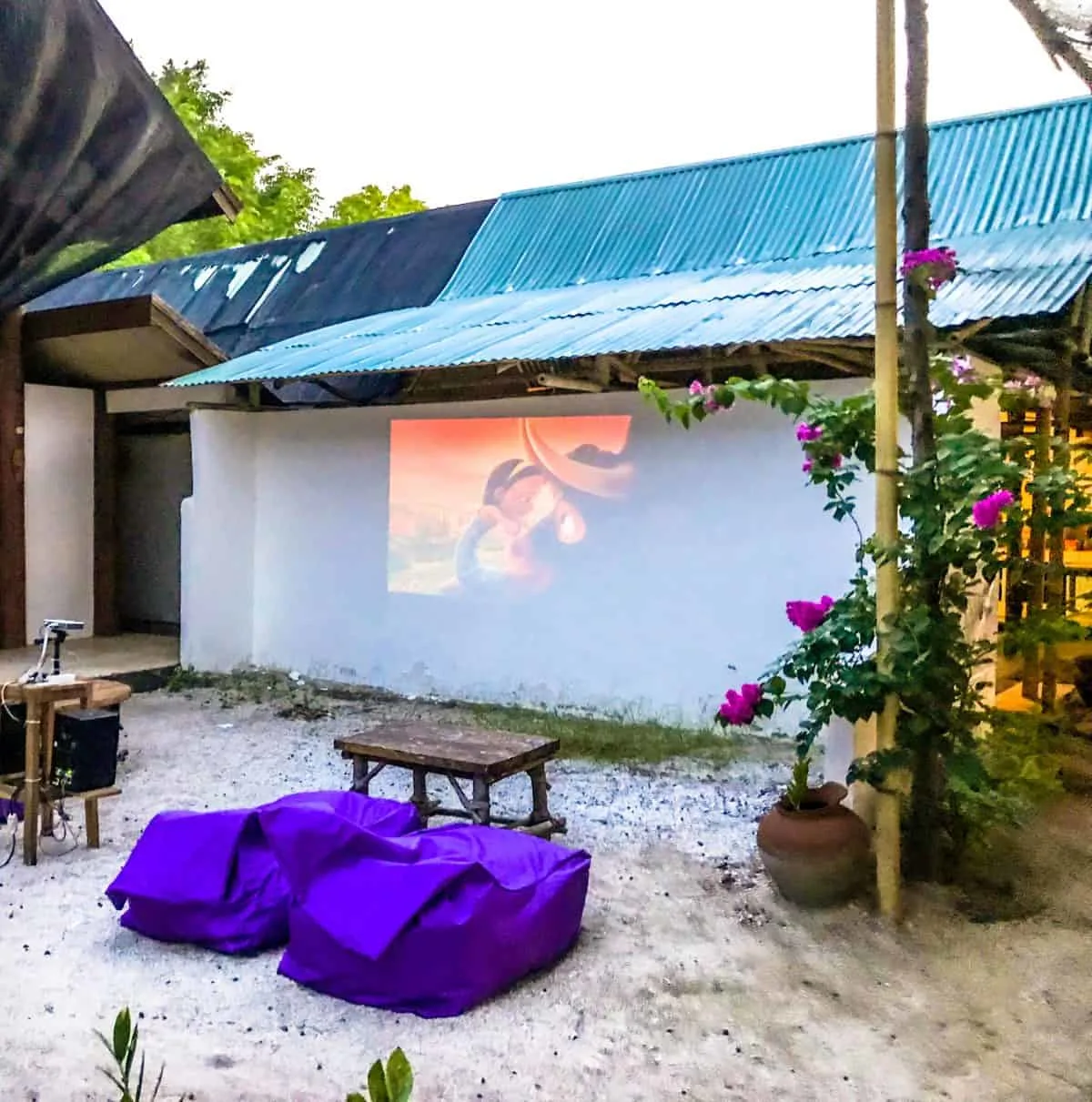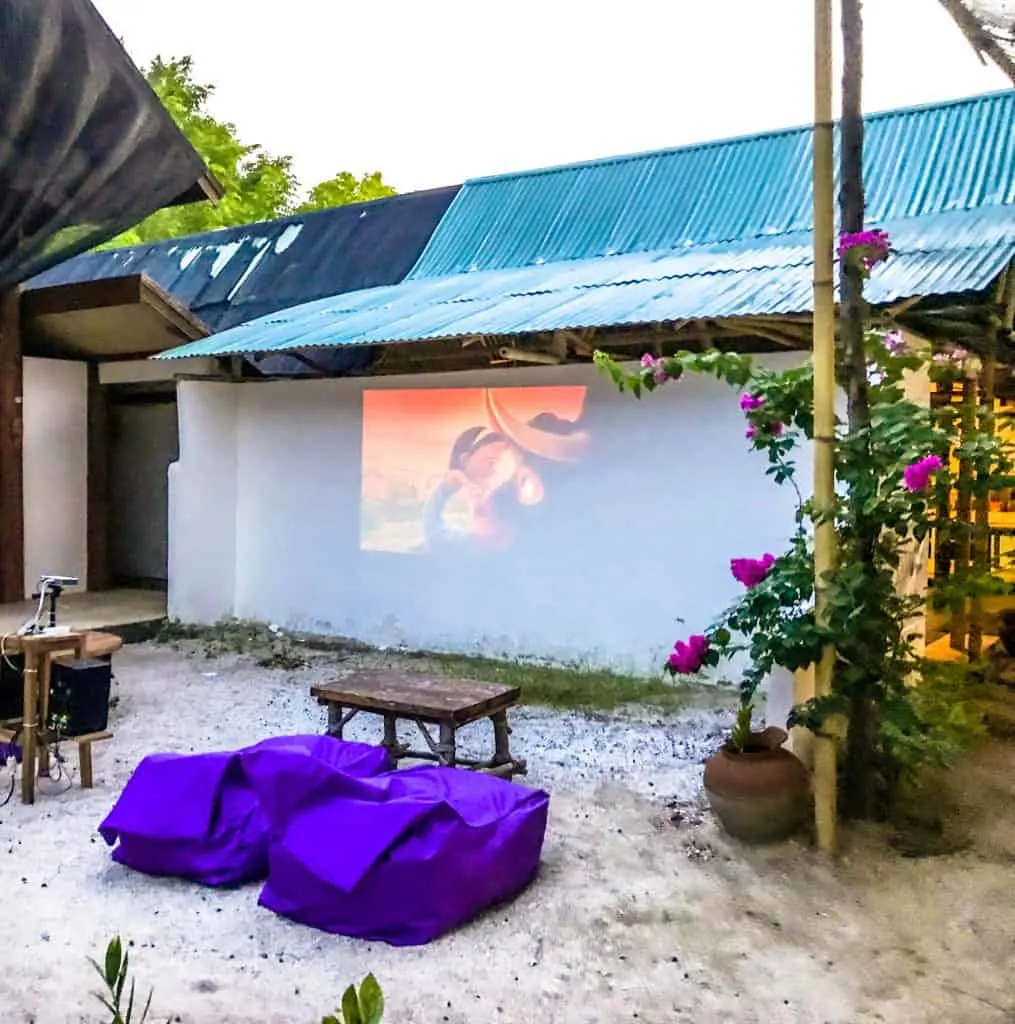 Tropical paradise and cinema don't really go hand in hand right? That is until the clever owner of Adeng Adeng, who I have to say is quite tech savvy, sets up an outdoor, fully open air cinema! Its just behind the main bar and is projected onto the wall.
They have a good selection of movies aired every evening with some bean bags. If you are at a loose end after sunset on Gili Meno, its the ideal way of relaxing for the evening.
GLASS BOTTOM BOAT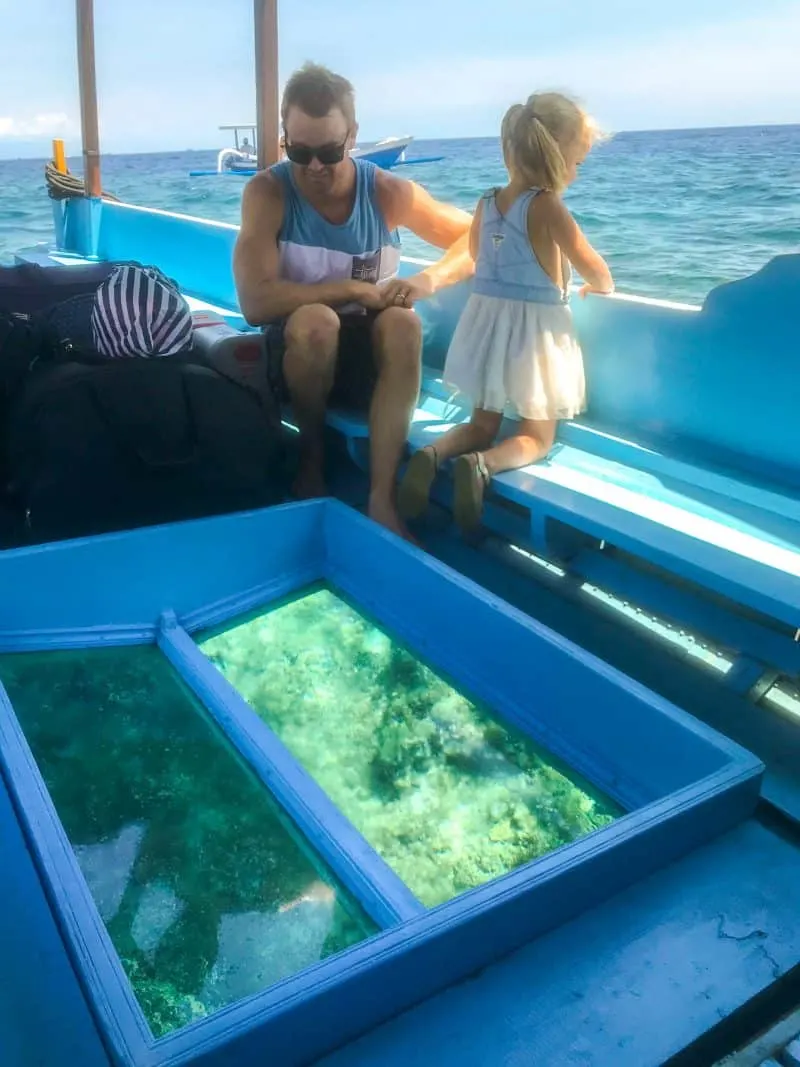 Adeng Adeng have their very own glass bottom boat that they pick guests up in from Gili T. Its only a short journey so if you prefer to have a more in-depth look at the marine life from the comfort of a boat, the glass bottom is a great way of doing it.
Of course snorkelling won't be for every little one so it would be a nice way of doing it for the kids. Its possible to see so deep into the water because of the visibility. We were so amazed and absolutely loved it.
SLEEP
GILI MENO WITH KIDS
We stayed in the Adeng Adeng Cottages. Once a swamp, now renovated and turned into a tropical landscaped garden, with waterways and coconut trees are these hidden, rustic and homely cottages. They have quite a unique design from other cottages we've stayed in.
With high ceilings, a tree trunk in the centre, made into clever shelving, it sounds like it might be too rustic for kids. In all honesty it was perfect. There was lots of space for the kids to move around.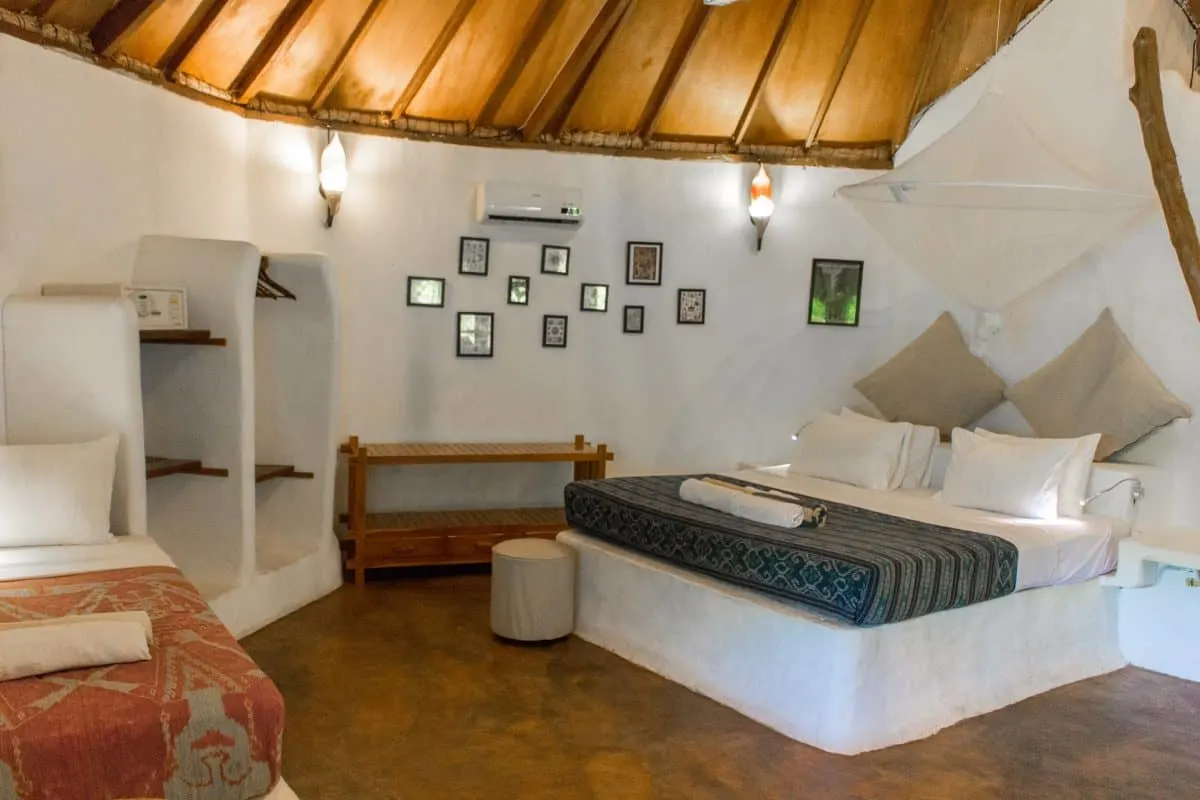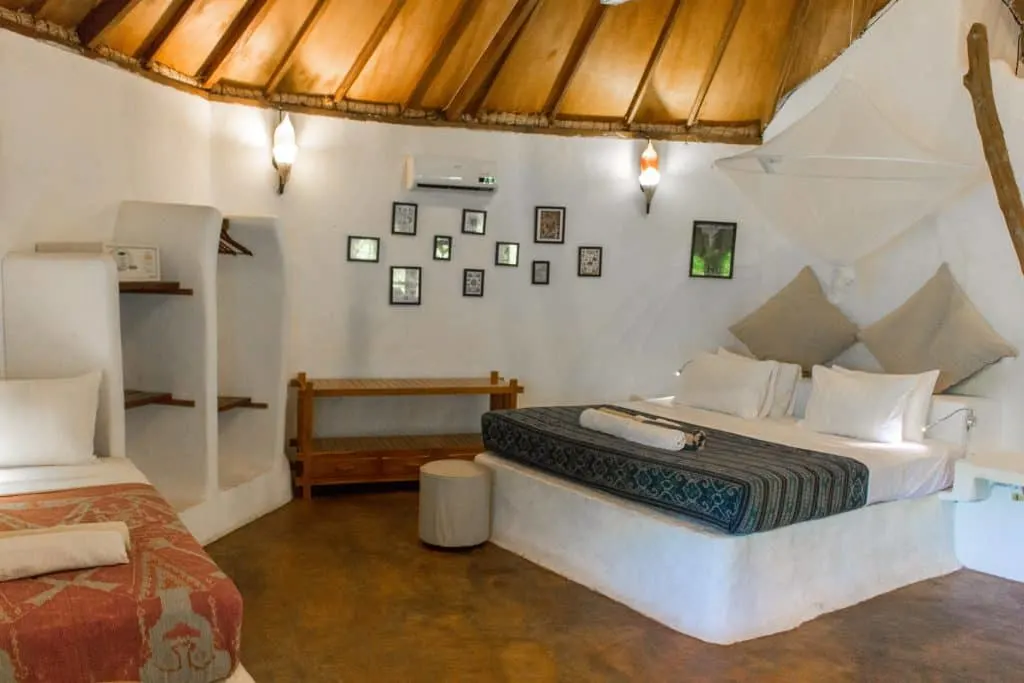 We had one massive king bed and two singles. If you are staying at Adeng Adeng, maybe the outdoor movie is too late for little ones. Rest assured they have all the bases covered with a projector and hundreds of movies in the cottage. In one way it was awesome, but in another it was a challenge to get our nearly four year old to the glorious tropical beach.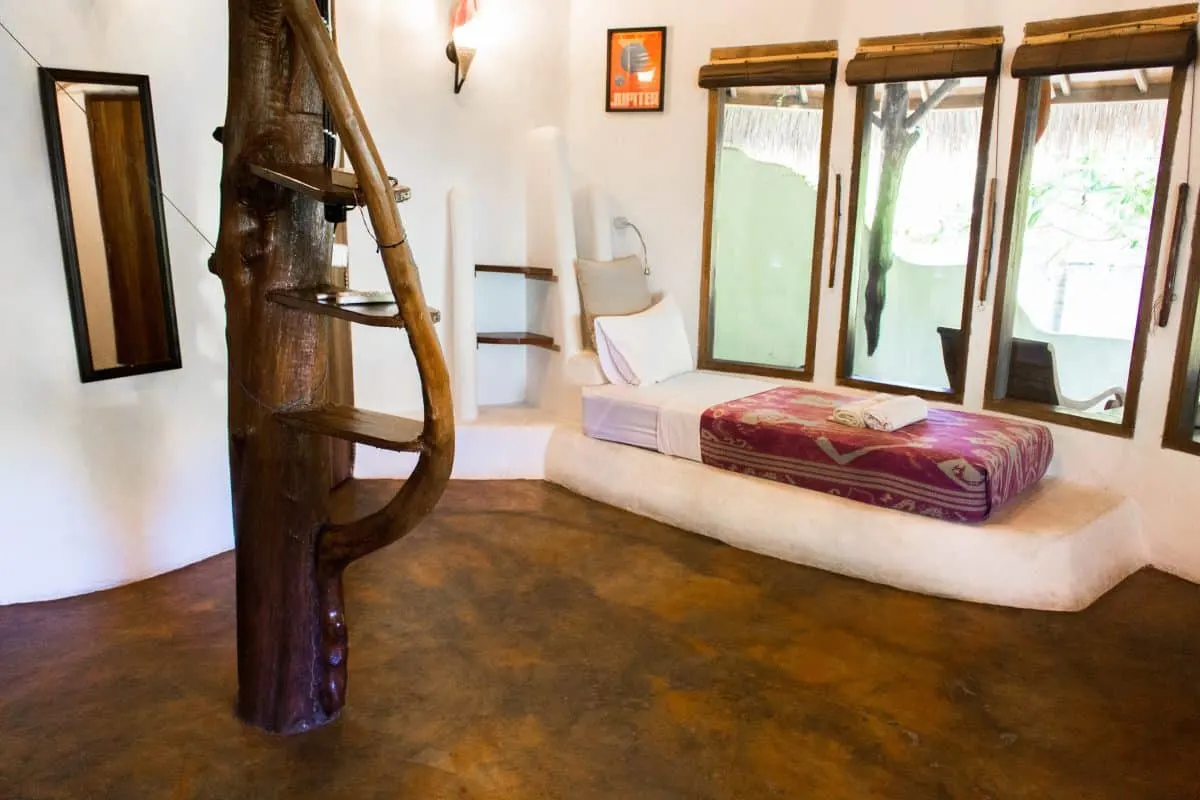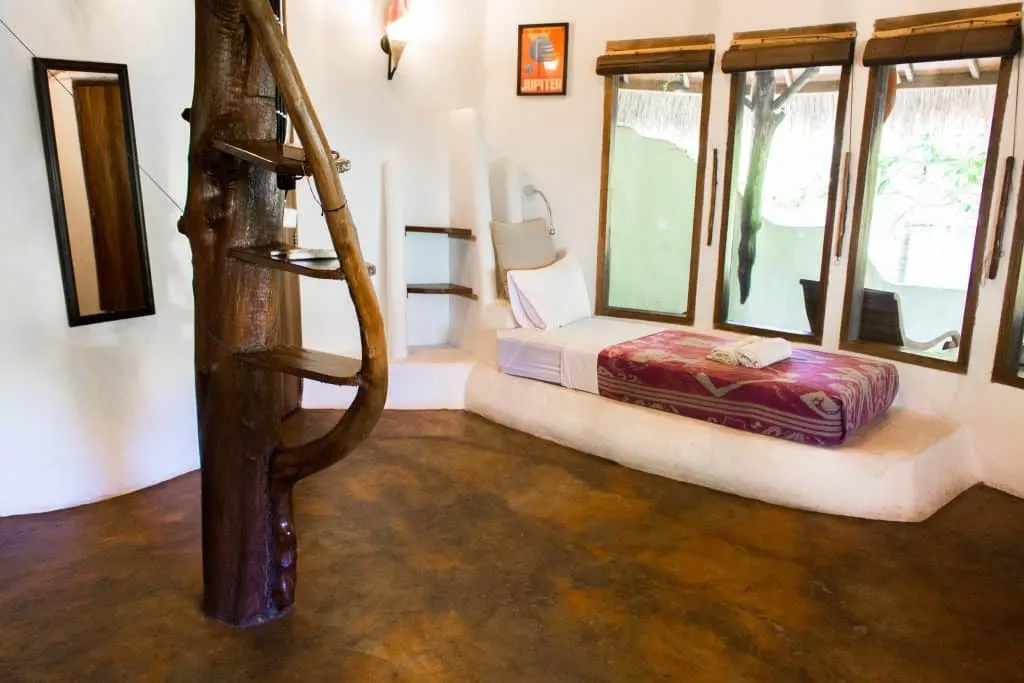 We have been travelling for a long time so the novelty of having a movie screen in the bedroom was great for her. She had lots of up to date, appropriate choices like Moana and Kung Fu Panda. On the massive bed, they also had giant cushions to prop us up nicely and settle into a sleep inducing relaxing evening.
GILI MENO WITH KIDS
When the kids drifted off, we spent the rest of the evening on the outdoor veranda. Complete with two bean bags and the most stocked mini bar I've ever seen in my life, we got some work done or chilled.
We loved the outdoor bathroom vibes. Especially the plunge pool. Given the nature of the environment, there are quite a few mosquito's around. That said, I wrote a post about a new way of preventing mosquito bites here and I came away with little or no bites.
EAT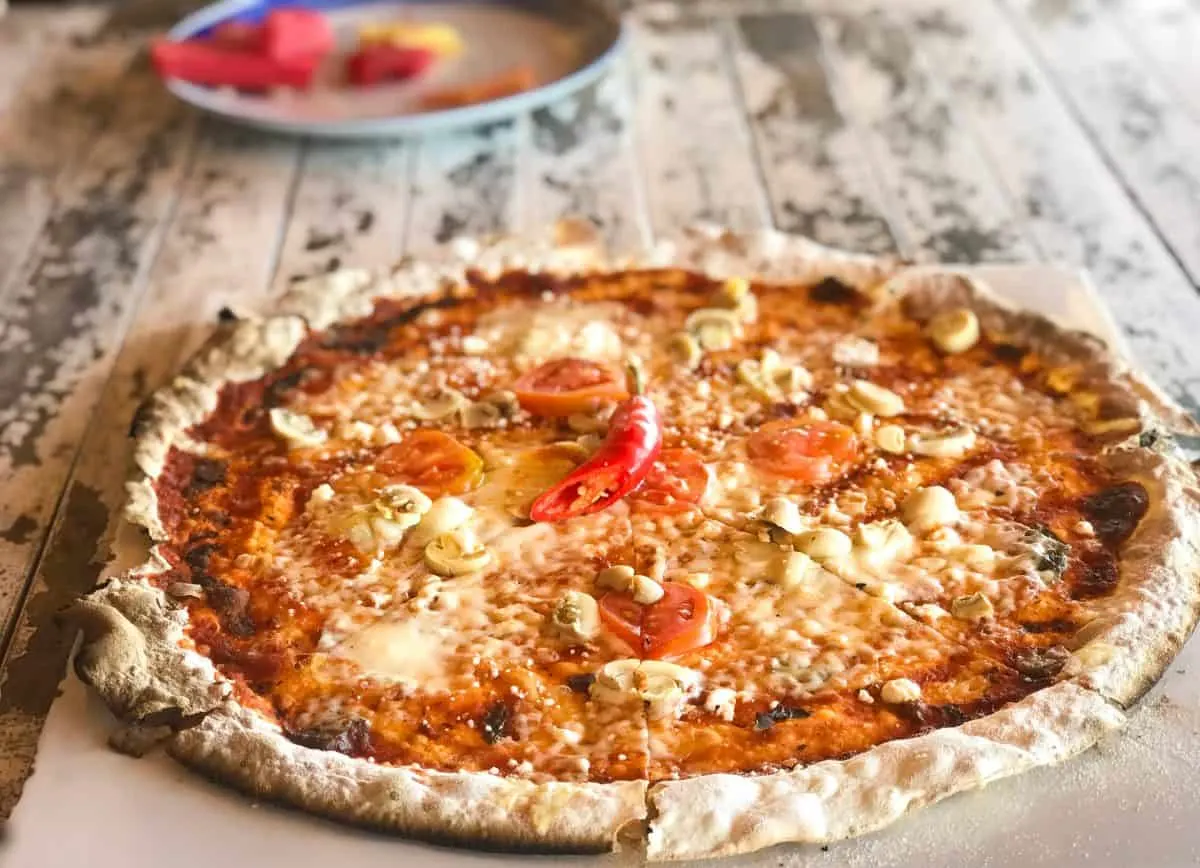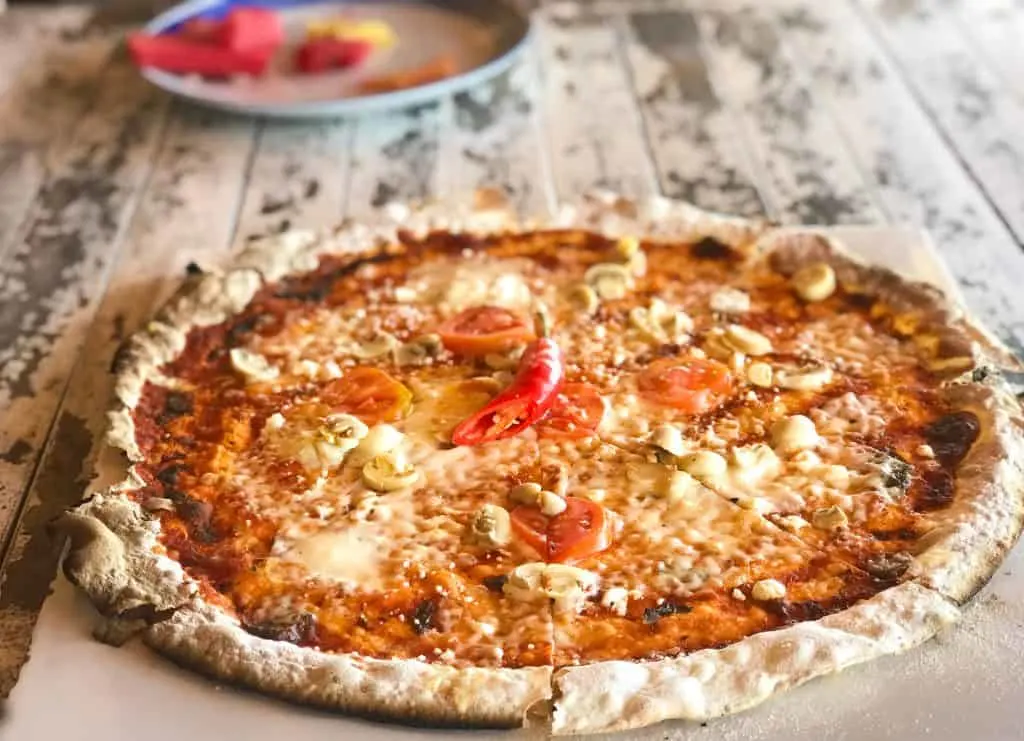 We had all of our meals at Adeng Adeng whilst on Gili Meno. So if you are not staying there but looking for something nice to eat, you have to go to the beach at sunset and order one for their amazing pizzas.
This is not an understatement, but I genuinely believe it could be the best pizza I have ever had. Yes, I've been to Italy, America and some of the, apparently 'number one' pizza places in London. So far nothing beats the Adeng Adeng pizza.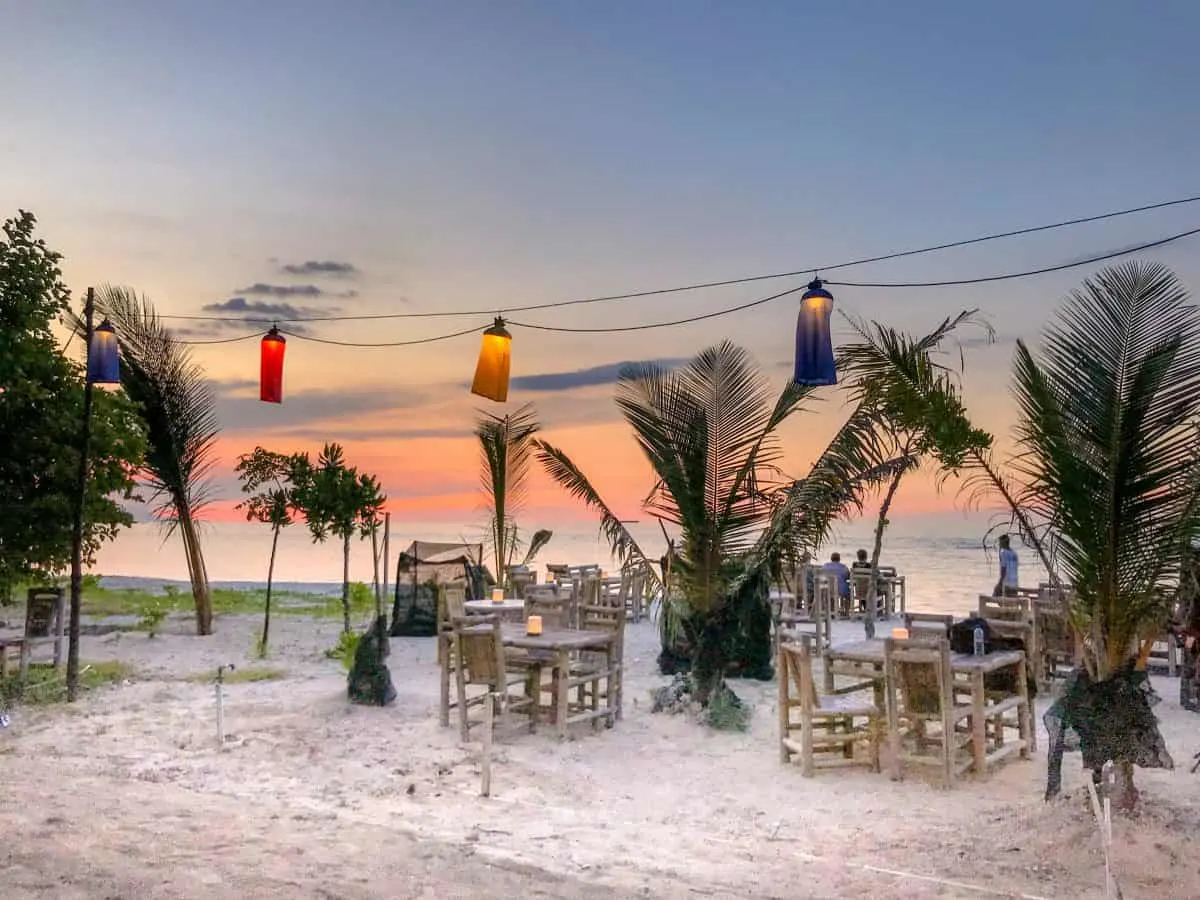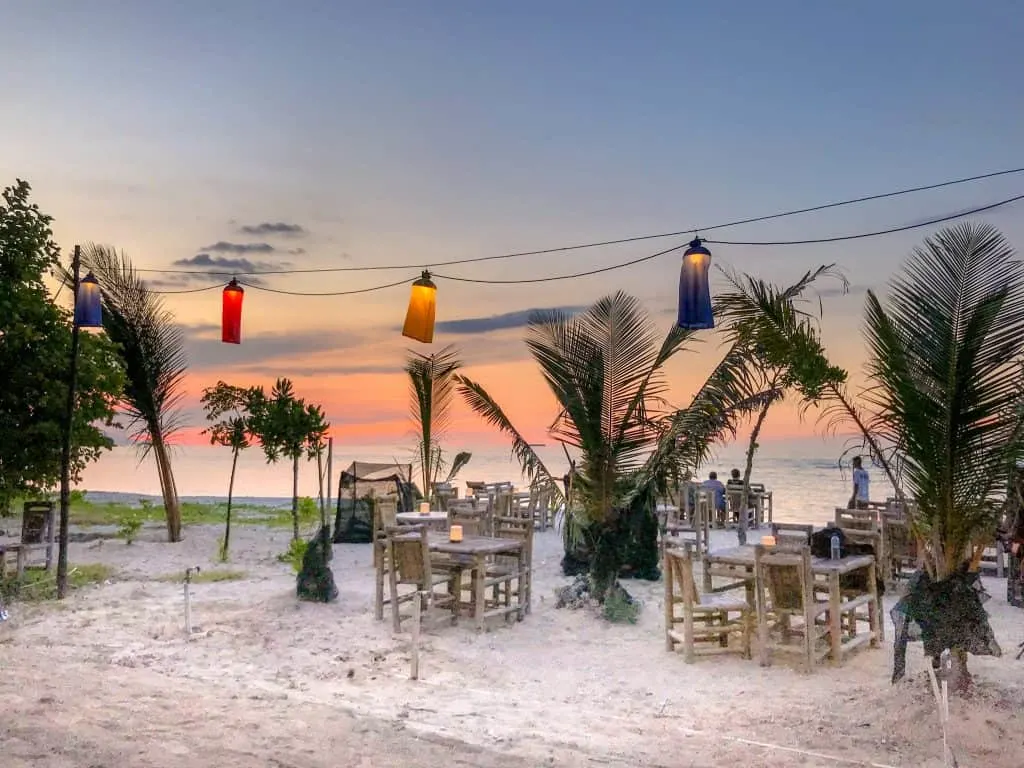 They are served on a massive wooden board. The base is freshly made, its quite thin, soft in the middle with a crispy edge. We noticed many people visiting for sunset pizzas, couples as well as families. If you are not a pizza fan, they have plenty of other dishes on the menu.
Everything from burgers to Thai food, and of course my personal choice is vegetarian food. The vegetarian dipping platter was really good, with crunchy cold vegetables and a warm mushroom dish, it was a welcomed change from my month long nasi goreng intake.
HOW YOU CAN HELP
Have you found Gili Meno with Kids helpful? Leave a comment, we would love to hear from you. If we've helped you in some way, we would love if you could help us too. In this digital age there is a demand for immediate information online.
Being a patron is a new-age way of giving a small token of appreciation for this information, which takes time to put together, with no financial return. We offer exclusive access to blog posts before they are published as a thank you. We also offer travel advice and consultancy at different payment tiers. You can sign up to our Patron program here.
You may also like:
THE ULTIMATE GUIDE TO BALI WITH KIDS
Holiday Inn Baruna ( kid friendly resorty next to Denpasar Airport)
Luxury private villas in Sanur
Disclaimer: This post Gili Meno with kids has affiliate links. Some of our stay was complimentary in return for an honest review. As always all views expressed are entirely my own.