Community post by Jane ~ Bailiffscourt Hotel and Spa Review – Bailiffscourt is a family friendly haven located less than an hour away from London's Gatwick Airport on the West Sussex coast. The hotel is a collection of medieval style buildings housing 39 luxury bedrooms situated in stunning grounds, right on the Sussex coast.
We stayed for a night in April and can honestly say we left wishing we had stayed longer. The spa is a standout attraction because the indoor, outdoor pools and jacuzzis are stunning.
BAILIFFSCOURT HOTEL AND SPA REVIEW
STAY
Bailiffscourt Hotel and Spa prides itself on its sumptuous decor and lavish decoration. The hotel is not as old as it first appears. On first inspection you would think it has been there for centuries, I certainly did. However, it was commissioned by Lord Moyne, previous Walter Guinness of the brewing family, in the late 1920s to entertain and hold parties.
Many of the features in the hotel have been reclaimed from previous Tudor buildings which were once in decline or decay. Inside the hotel is cozy and welcoming with plenty of nooks and crannies to explore.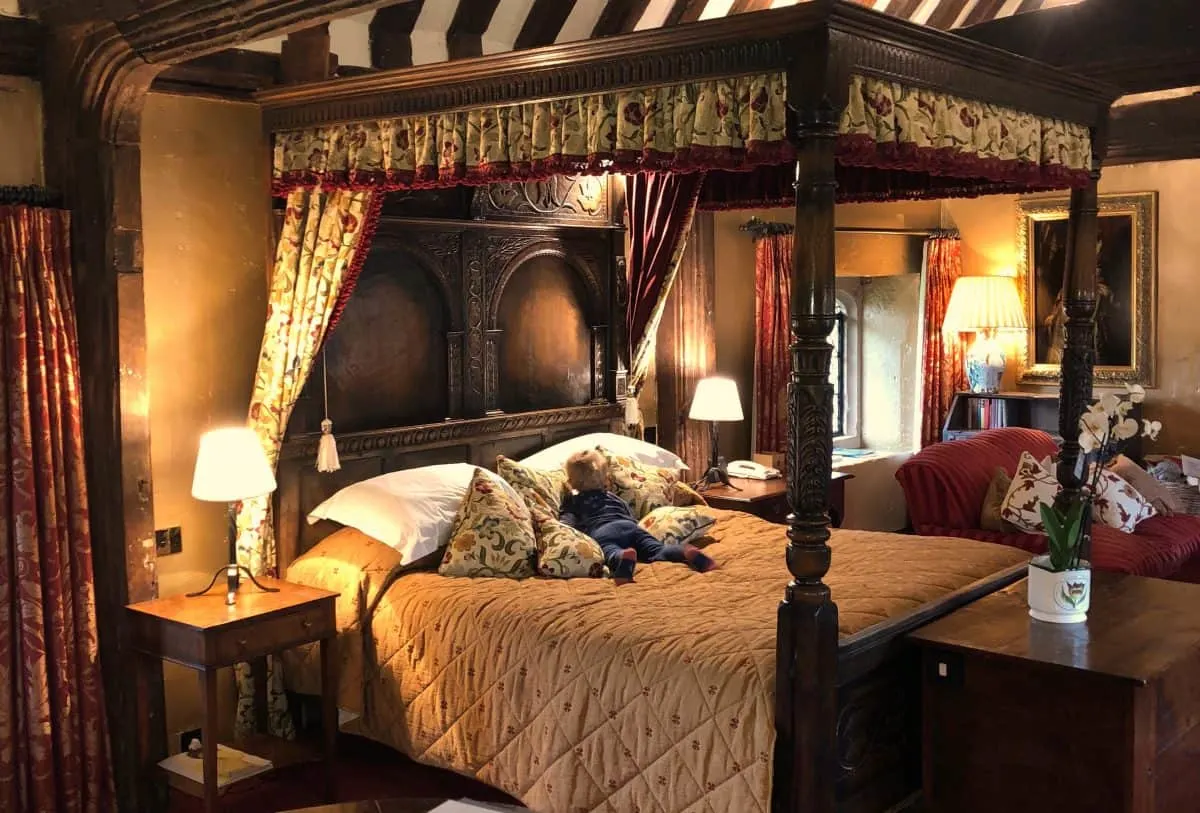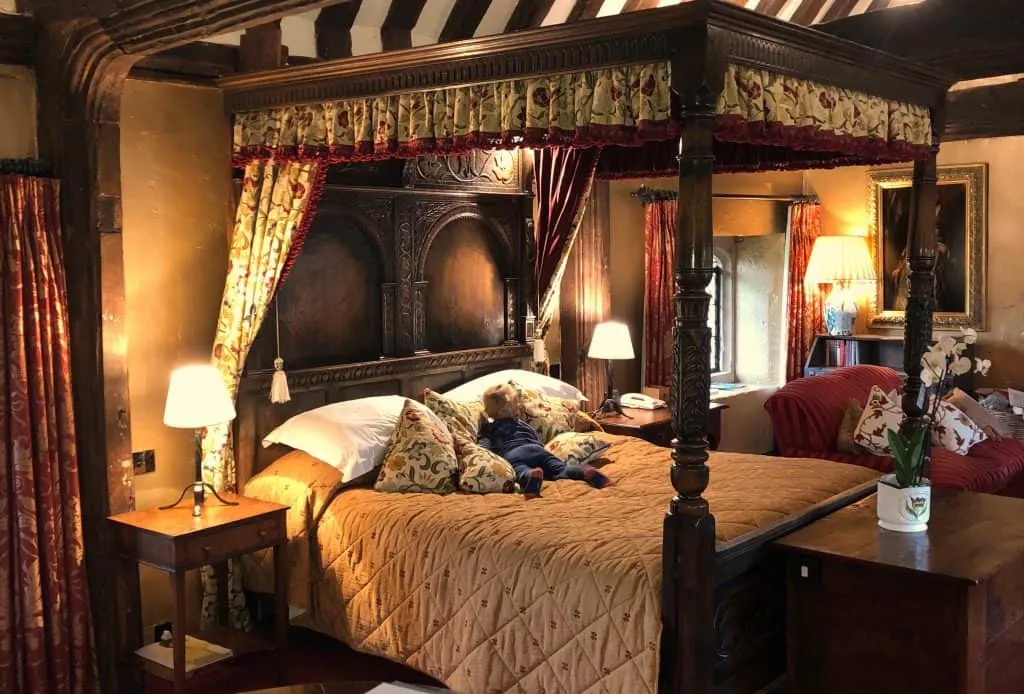 We stayed in their signature bedroom, Baylies, in the main house. With its vaulted ceiling, wood burning stove and four poster bed it certainly has the wow factor. The room is vast with two living areas either side of the huge bed.
My son Bruno was fascinated with the TV which was concealed in a chest at the end of the bed. I lost count of how many times Bruno pushed the button on the side of the chest to reveal the TV. There was a games corner in the room with board games and toys which would be great for older kids.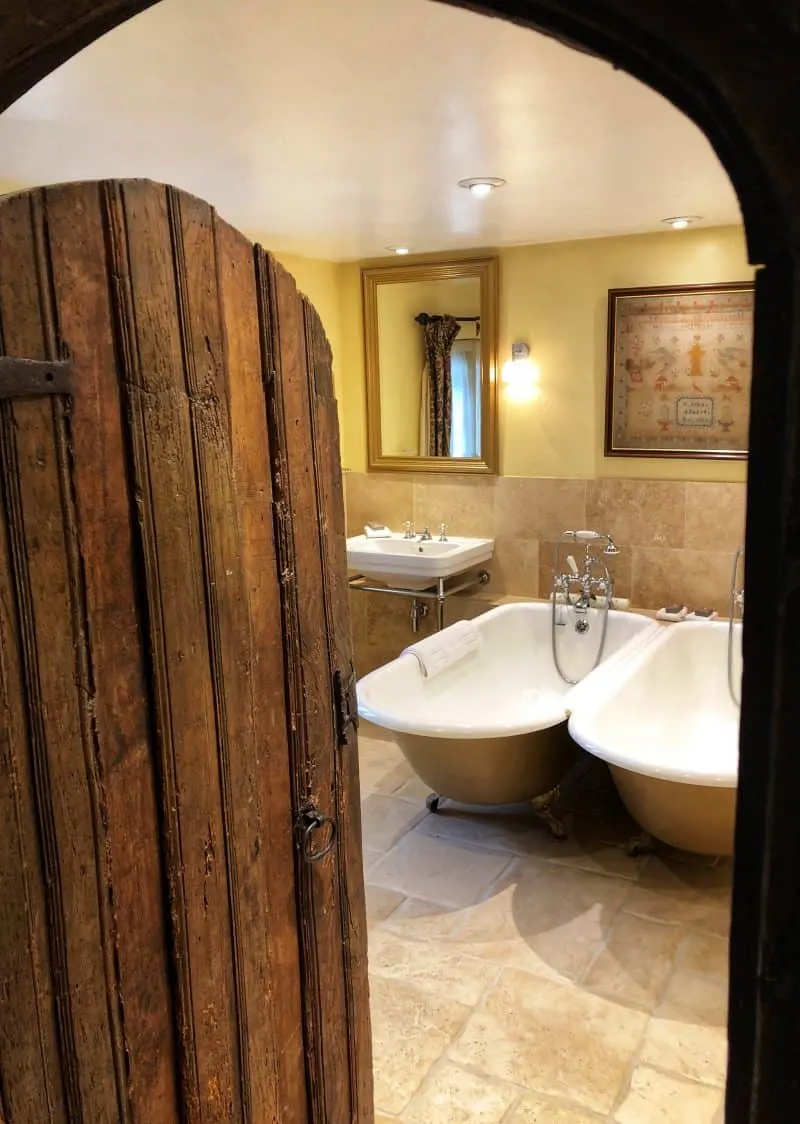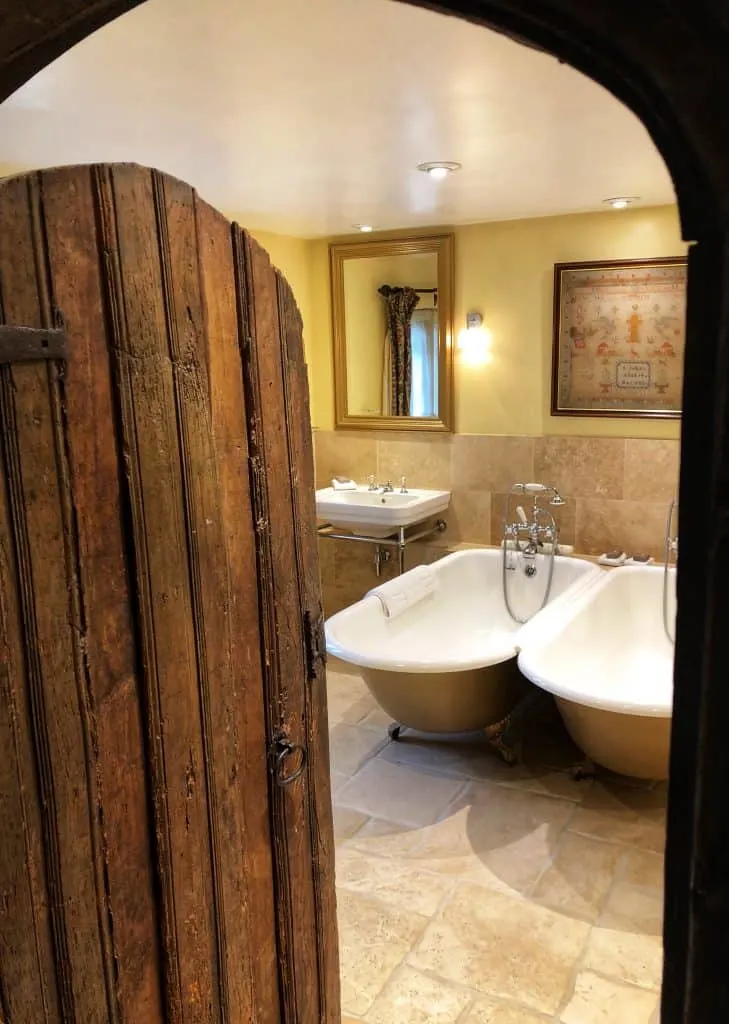 The bathroom was also beautiful and it was really novel to have two bath tubs. There were plenty of Temple Spa goodies in there too which were much needed after a session on the beach.
Check out their current rates here.
BAILIFFSCOURT HOTEL AND SPA REVIEW
PLAY
There is plenty to do at Bailiffscourt to entertain both kids and adults. Families are certainly made to feel welcome with a variety of activities to take part in. We made a bee line for the spa as the pools, both indoor and outdoor, looked amazing.
There are two designated family swimming times which is pretty standard at Spa's. Both times we went there were only a few other families in with us so it was far from crowded. The water, especially in the outdoor pool, is very warm making it really comfortable with little ones.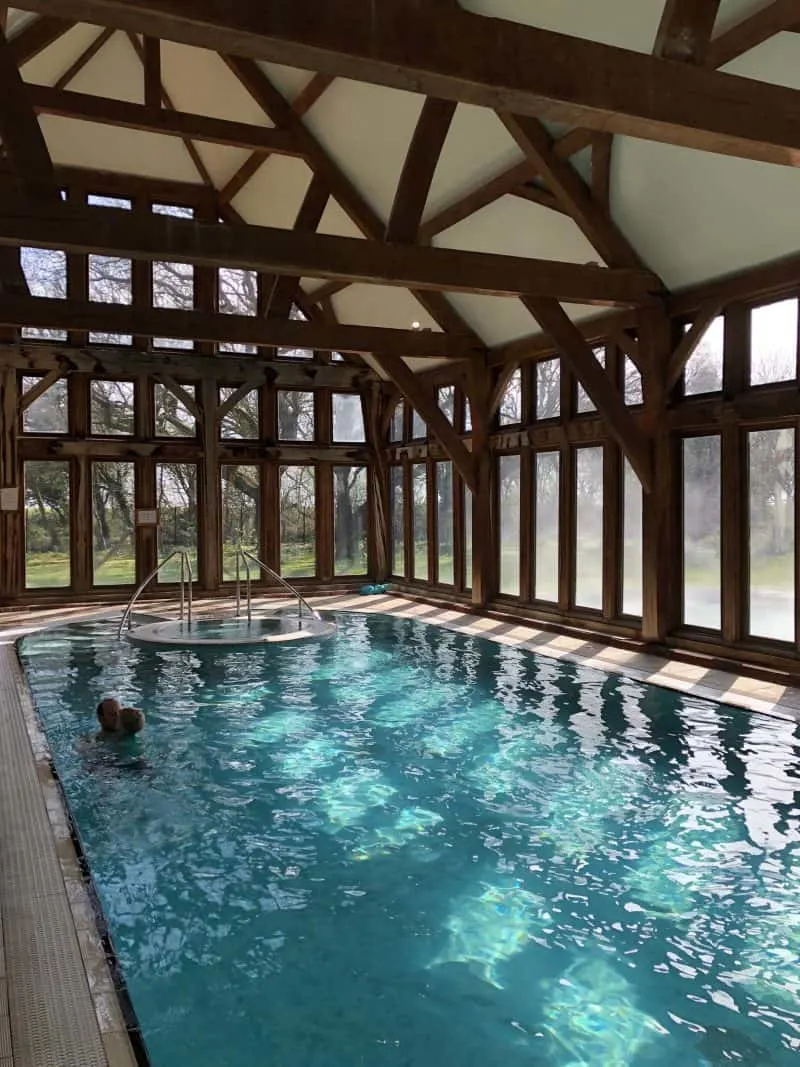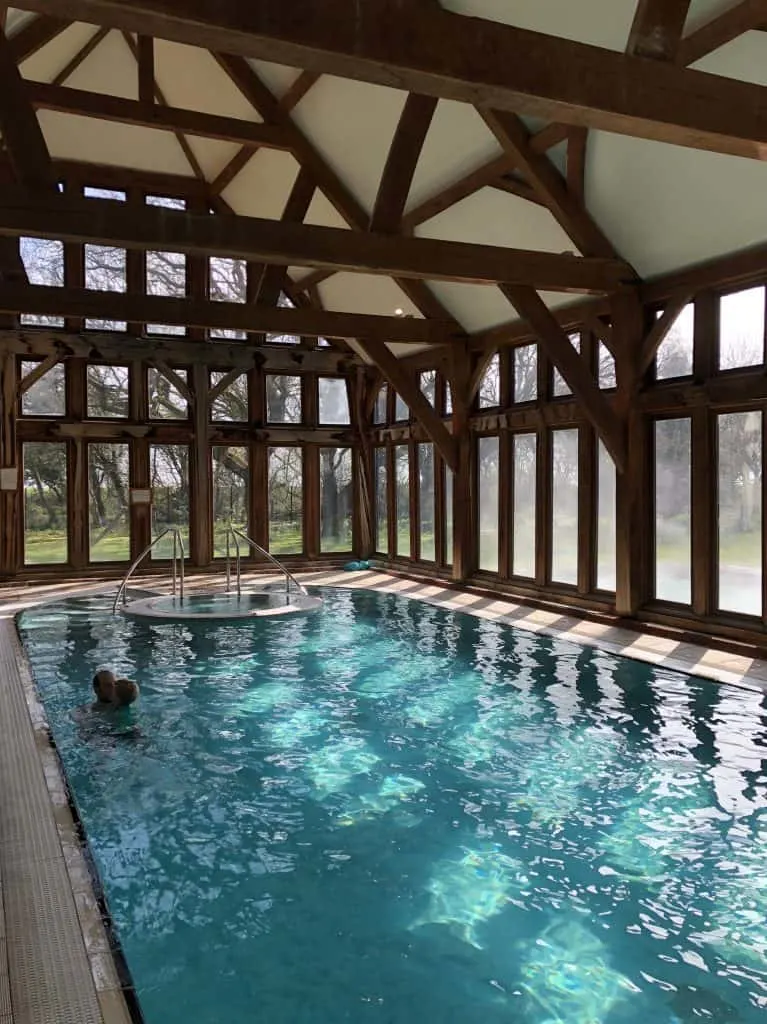 Whilst the boys were playing in the pools, I was treated to the most amazing spa treatment called a Mediterranean Float. My explanation of this signature treatment would not do it justice, all I can say was that I was utterly pampered for 90 minutes. The spa had some really interesting treatments and I will certainly be back to have another one soon!
A 5 minute walk from the property lands you on Climping Beach. Its a pebble beach, however, there is plenty of sand exposed at low tide. The hotel has loads of buckets and spades available to borrow and my son Bruno happily played in the sand for well over an hour.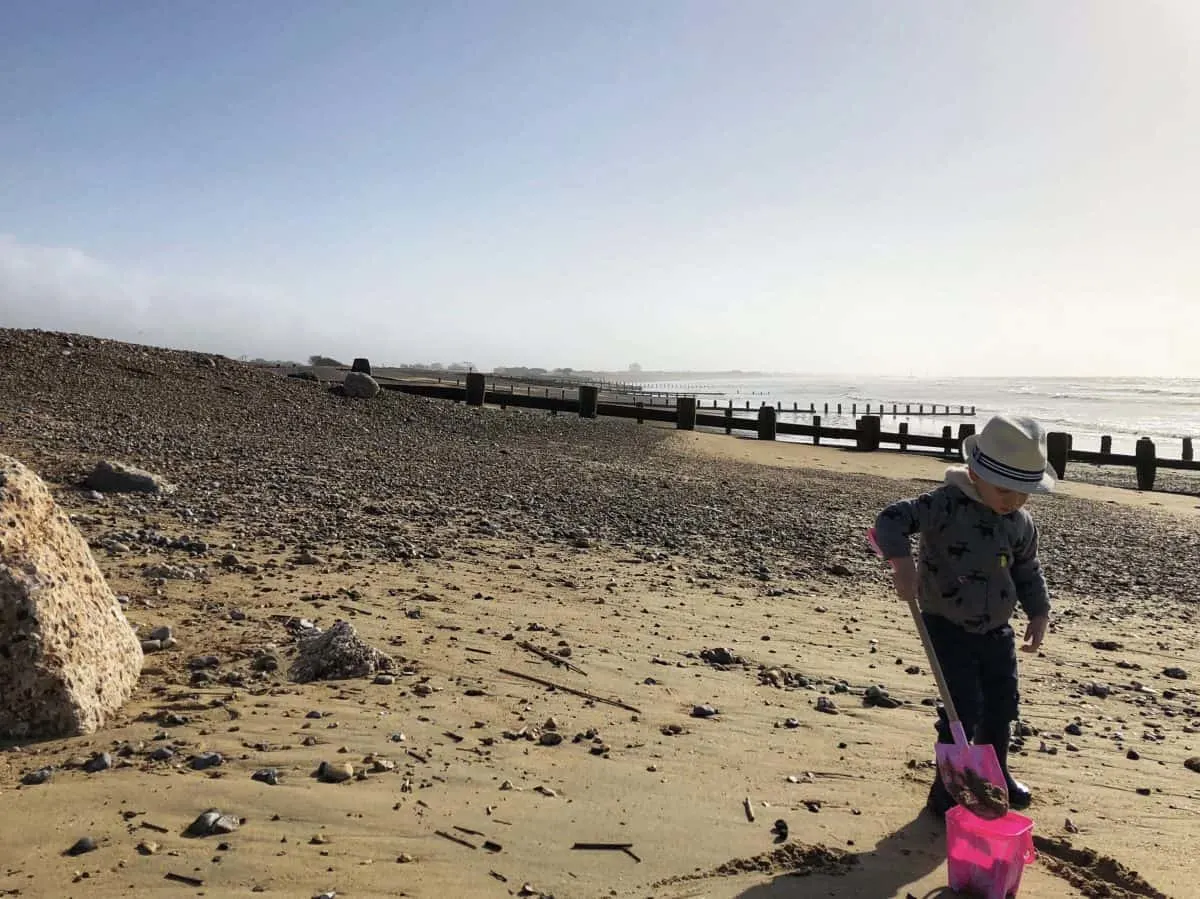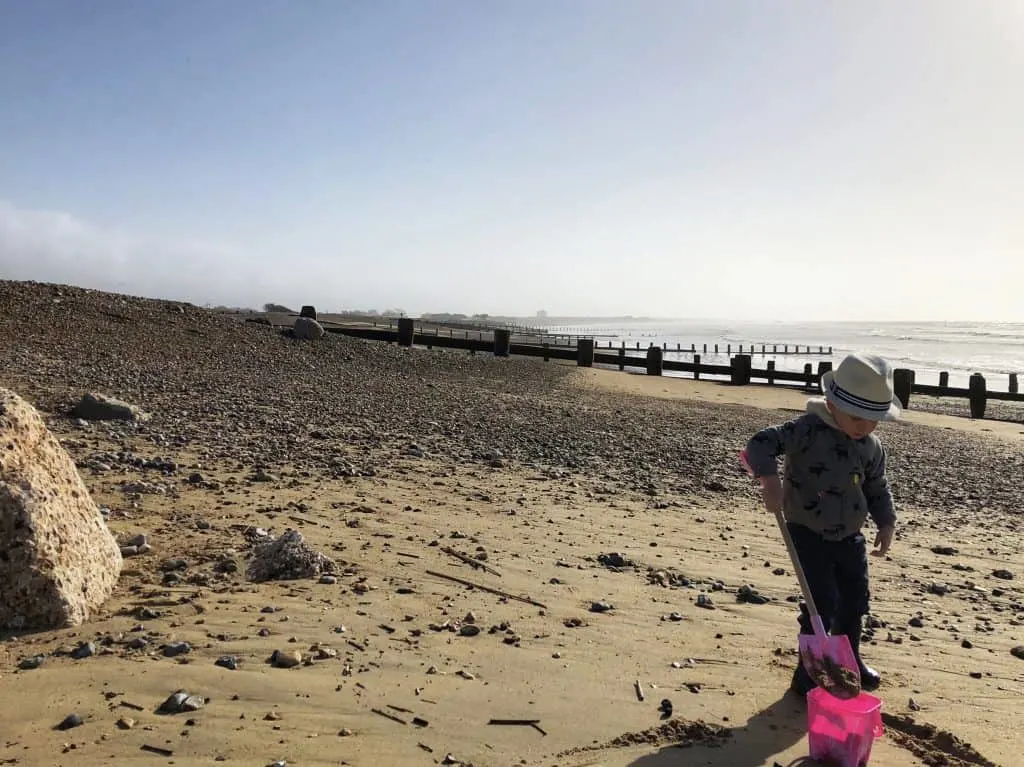 BAILIFFSCOURT HOTEL AND SPA REVIEW
EAT
The food at Bailiffscourt is absolutely amazing. What I really liked was that they did a kids menu which was served late afternoon/early evening in the lounges. This was perfect for Bruno because he normally eats his dinner around 5ish yet the formal dining room did not open until 7pm.
They were more than happy for Bruno to eat with us in their dining room, there were quite a few kids in there when we ate later. However, this worked really well for us. Bruno tucked into their local sausages and potato wedges and was thrilled when his dessert arrived!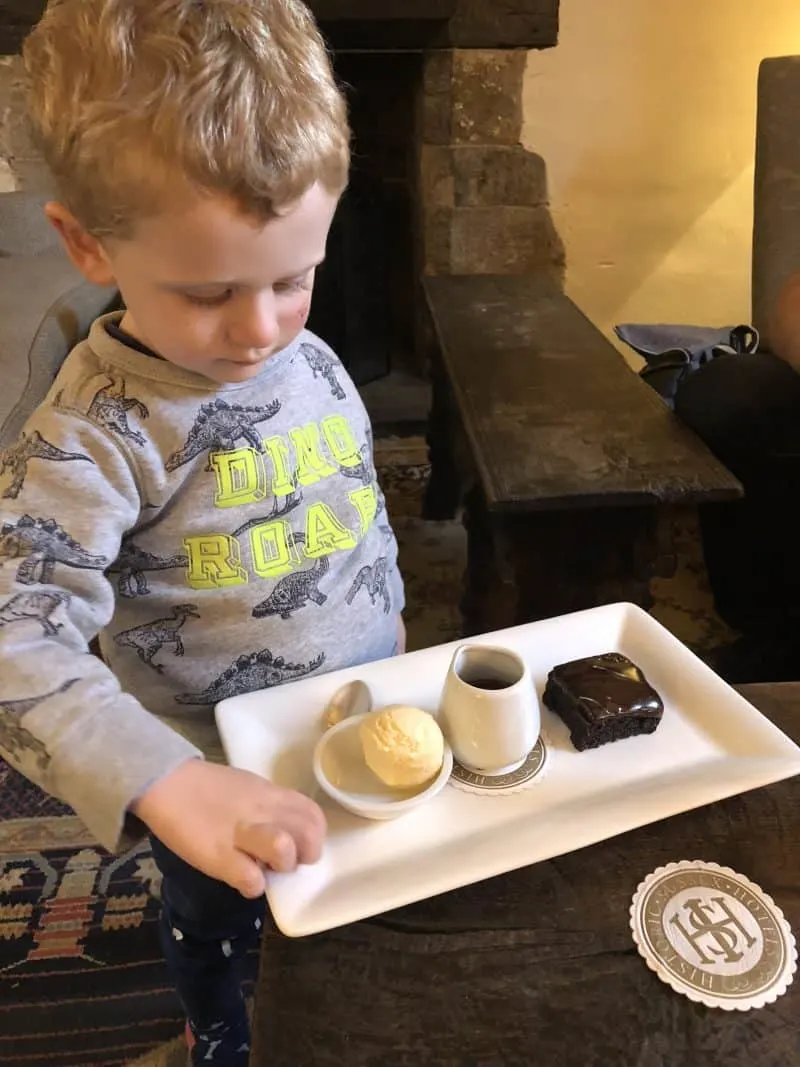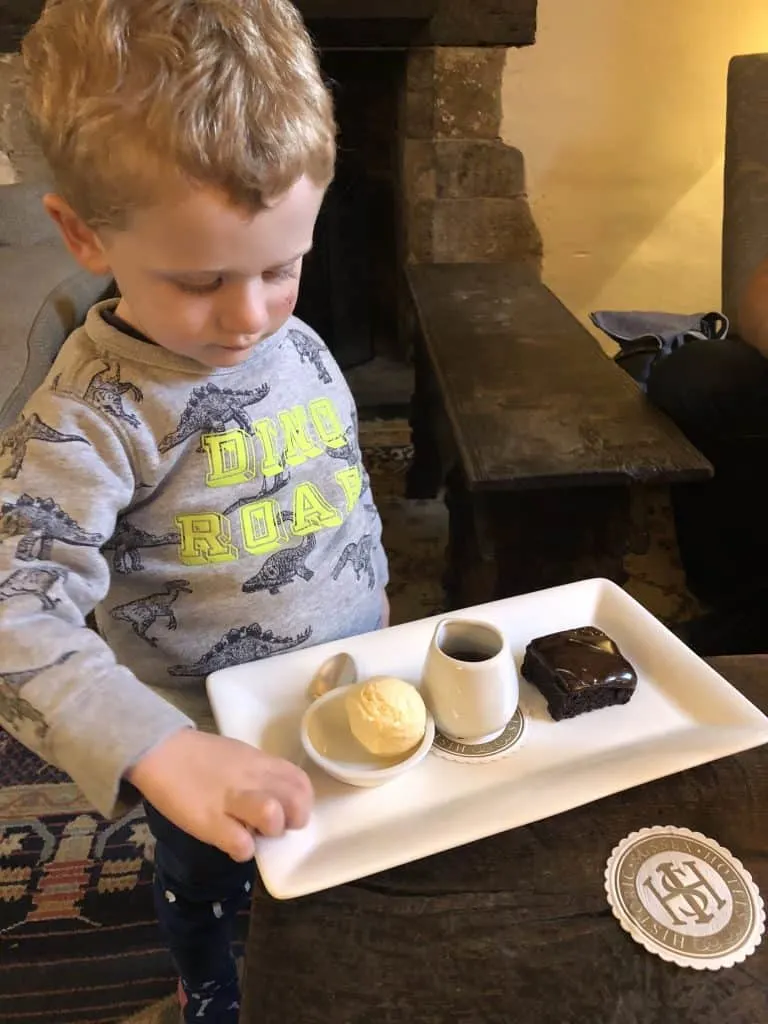 The hotel do not offer a formal listening service, however, we were more than welcome to bring our baby monitor. There is no guarantee that the monitor would reach but our room was right above the restaurant and we had full reception. This was perfect as we could enjoy our meal in the safe knowledge that we were listening into Bruno right above us.
Unsurprisingly after such an active day, he crashed out and quickly fell asleep. Bailiffscourt have set menus starting from £53 for 3 courses. Whilst this is not the cheapest meal, the quality and service were top notch and the food was delicious.
I started with local scallops, followed by the turbot whilst my husband had Grav Lax and the lamb. The desserts were delicious, I recommend you give them a go as they clearly have a talented chef. The restaurant is clearly very popular as we dined on a Sunday evening and it was packed.
Breakfast
Breakfast is included in the room rate and there was a huge choice of both hot and cold options. The buffet section has a variety of fresh food, cheeses, cereals etc, whilst the fresh options were equally tempting.
Bruno was very impressed with his fresh Belgian waffle which he devoured along with a huge bowl of fresh fruit. I could have chosen from a Full English breakfast, Kippers or smoked haddock, but I stuck to fruit and toast. I was still so full from our amazing diner the night before.
To sum up my review of Bailiffscourt Hotel and Spa…
This is a beautiful hotel in an equally lovely setting. It is expensive to stay and dine here, however, I would highly recommend it for a special occasion or if you fancy splashing out. Kids are made to feel very welcome allowing the grown ups to do indulge in some serious luxury.
Disclaimer: Jane's stay at Bailiffscourt was complimentary in return for a written review. As always, all views express our entirely our own.
Fancy staying somewhere similar in the Cotswolds? Check out my review of Calcot Manor here.