I am one of those people that get nailed by mosquitos! I find it incredible that I can be in the same area as my husband and kids, but still be the only one that gets bitten. Mosquito repellent is something that i can not afford to forget, especially as I have had bites that became severely infected and swollen on several occasions.
I feel lucky that my kids don't get them so bad, but at the same time I don't like to take chances in tropical places, so they always have a layer of repellent. Even though I have always been quite good at lathering myself for the sake of preventing mosquito bites, I still find I get them if I miss a tiny spot on my skin. It's so annoying!
We tend to avoid travelling to high risk malarial areas. It hasn't restricted us at all, there are plenty of places to explore without the risk. Take Vietnam for example, all of the coastal area is low risk, whereas inland is considered high risk for malaria contraction. In recent years I'm finding there are a whole host of other considerations with Zika and Dengue prevalent in so many places.
Unlike malaria, there are no prophylactic medications. Therefore preventing in non-medical ways, such as repellent is all the more important. Dengue can result in the need for hospitalisation and even a blood transfusion. As a nurse, I've seen some really unwell patients after contracting dengue, so it's something that is at the forefront of my mind.
As I say, the traditional spray and splash of citronella around the room hasn't worked for me, so I had to come up with a different approach. Not to mention I am really into natural products that we can use as a family. I've heard so many mixed reviews about DEET (an ingredient found in many repellents) to be toxic. It's one of those things I'd prefer not to take the risk, if I don't have to!
We like to travel light and products always take up the most amount of space. Therefore multi-purpose is key to our minimalist lifestyle. We were in New Zealand a few weeks ago and I mean I get bitten everywhere, but NZ is particularly bad for me. Yes, even worse than the depths of the Central American jungle!
PREVENTING MOSQUITO BITES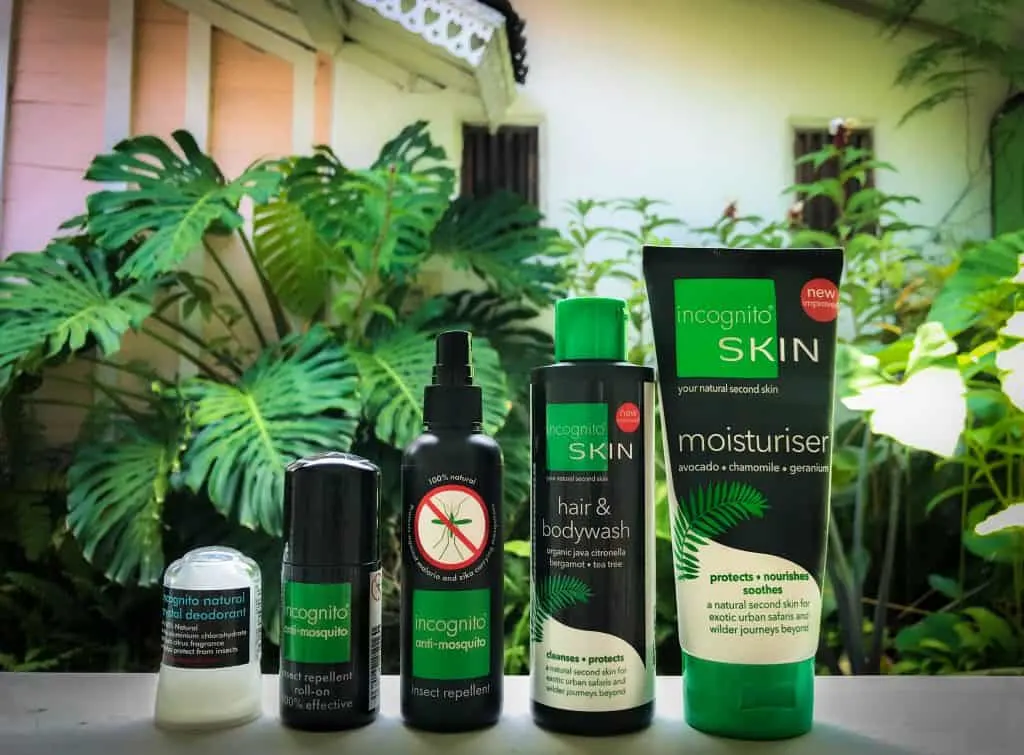 Incognito
got in contact with me and asked if I would like to trial their insect repellent. Given I have been on the hunt for one that really does work, even if I miss a teeny spot, I was definitely interested. Luckily my in-laws could receive the package for us, as we haven't had an address for a long time.
When I opened the parcel and saw there was so much more than just traditional spray repellent, I thought this could be the answer. Why haven't I thought of something like this before? It made me realise incognito
have an entirely different approach to preventing mosquito bites.
They have cleverly weaved the repellent aspect into several every day products. It really leaves little to be unprotected. From the deodorant
to the sun screen, there is a whole range of ways to protect. Used together, it gives very little chance for bites. Most of the products are travel sized and are all natural.
Incognito is made with oil of lemon eucalyptus (PMD) and is safe for use on pregnant women and babies over three months. Whats more, it is considered to be effective against deadly conditions such as Zika and malaria, approved by Public Health England!
The face of travel has changed significantly over the last two years. Pregnant women and families are choosing zika-free destinations after horrendous stories surfaced in the media of newborn deformity.
Obviously everyone wants to stay safe and none of us know the next destination that may have Zika. As a mother-to-be who has travelled, I was very nervous about what I was putting on my skin and where I was travelling to. I wish I had of known about this product sooner.
PREVENTING MOSQUITO BITES
Over the last few weeks, whilst in New Zealand, Australia and now Bali, I have been trying out multiple products from the Incognito range. Of course the question is, would I want to use the products if they didn't have the repellent as part of the product? Here is what I think.
INCOGNITO SUN CREAM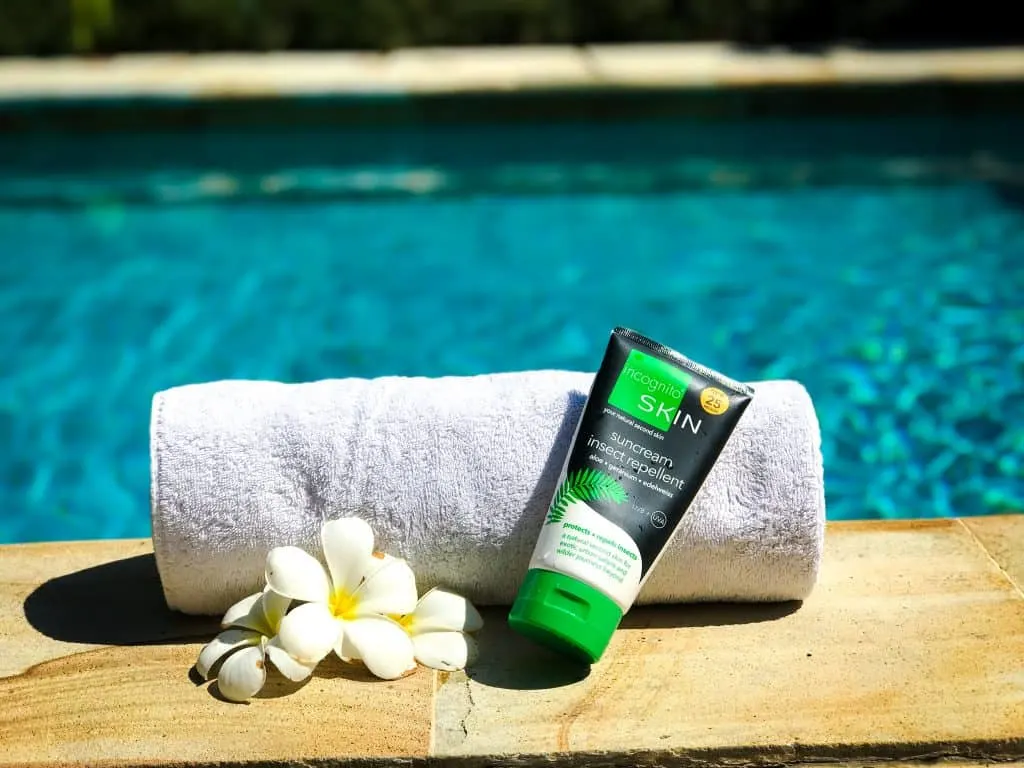 Its always worried me when I have to put suncream on and then spray with a repellent. Would the spray remove the SPF? Not to mention its such a faff having to do both. I was therefore really happy this product has both SPF25 and repellent. Made with aloe, geranium and edelweiss, it's a really nice product on the skin. It is a little bit thick to rub in but it doesn't leave white marks once fully dried which is the main thing.
We are in Bali at the moment and whilst SPF 25 is totally fine for me, its not quite sufficient for the little ones. They need SPF 50. I really love this for myself, so will definitely be using it all up! They are planning to bring out the higher SPF 30 at some point in the summer. Like I mentioned before, I am Irish, so my skin is quite fair. I'm happy to say, even with the blazing sun, I did not get burnt or bitten whilst I had it on.
INCOGNITO HAIR & BODYWASH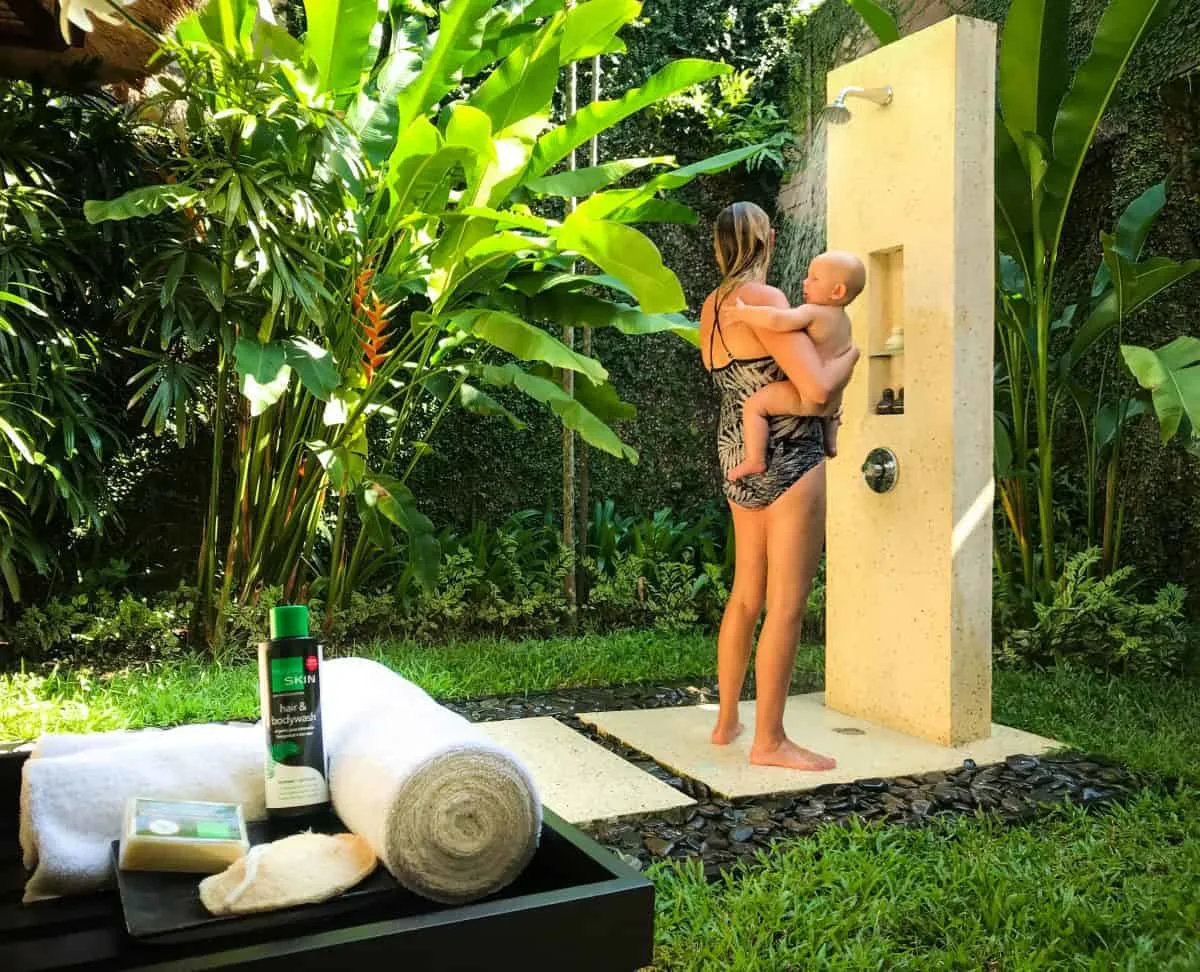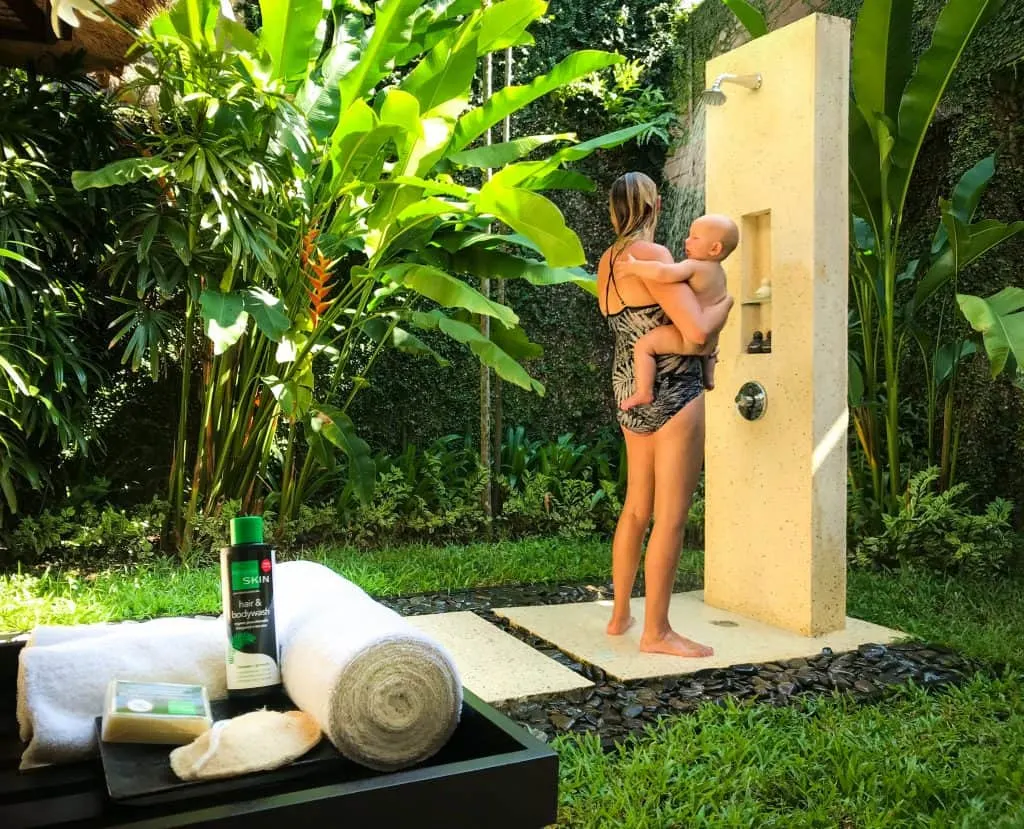 My main concern with using a shampoo is, will it dry my hair out? 'm very fussy about shampoo, especially in warmer weather with constant exposure to the sun, salt water and the pool. I tried the Incognito hair and body wash
and it was surprisingly moisturising.
I did use my own conditioner but my hair still felts great. The hair and body wash contains citronella, bergamot and tea tree. I absolutely love tea tree and the tingling fresh feeling on my skin. Especially in the warmer weather.
I really like the idea of the body wash. Just in case I forget to put the insect repellent spray on or if I'm feeling lazy, at least I'm covered with something. This product definitely ensures its a multi-pronged approach to the little buggers.
INCOGNITO DEODRANT
The deodorant is the perfect size for travelling. I am sorry to taint your view of Travel Mad Mum but I am definitely a sweaty Betty, so, I am skeptical of deodorants that are not heavy duty. I mean I carry two kids around the world, usually in a carrier hanging off my front and one my back. I'm allowed heavy duty deodorant right?
Anyway, the little stick, is the size of the palm of my hand and is ideal for the handbag. That said, I don't feel it stopped me from perspiring. Its fantastic that it can assist in preventing mosquito bites, but this product was the only one from the selection that wasn't for me.
INCOGNITO MOSITURISER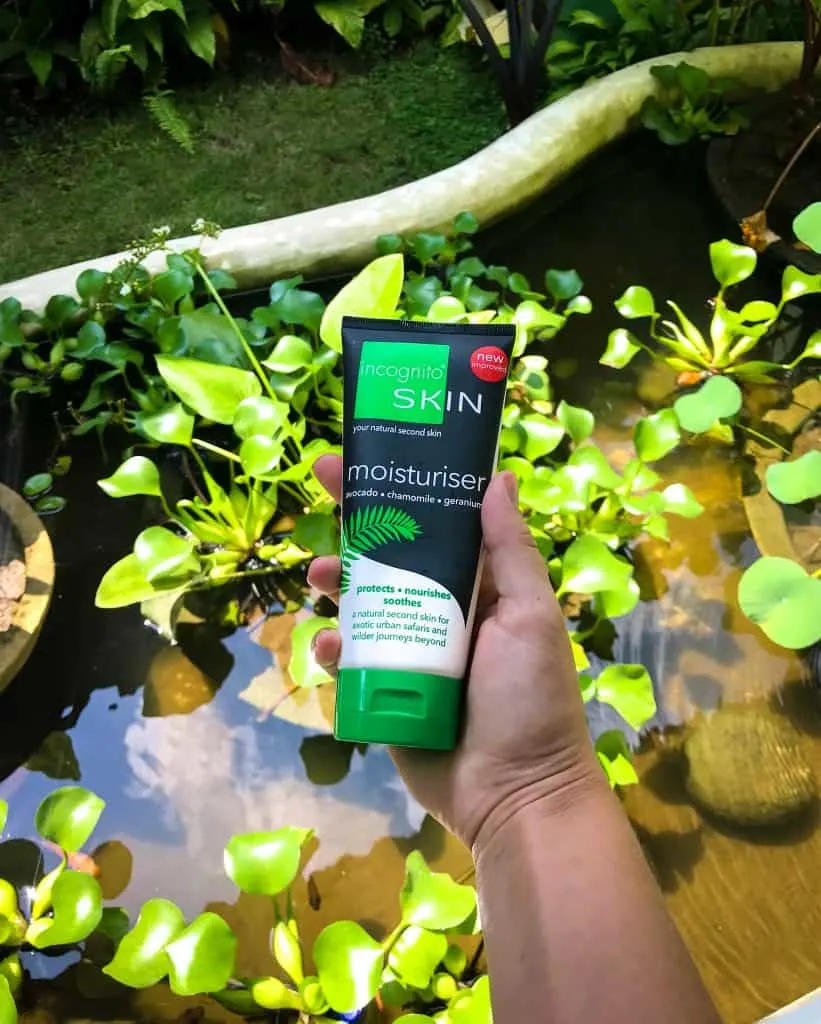 I am not using general moisturizer
so much during the day at the moment but I do after a shower in the evening. Mostly because I am using the sun cream. I genuinely really liked the moisturiser.
Its a nice silky consistency and rubs in very easily. My skin felt lovely after using it. I also used it on baby rather than the spray at night time after his bath. It contains avocado, chamomile and geranium. They are all such kind ingredients, not to mention calming effect of chamomile.
PREVENTING MOSQUITO BITES
INCOGNITO REPELLENT
Obviously some people may prefer to use insect repellent by itself. As I say, I really like the idea of having multiple ways of taking precaution weaved into every day use, without any extra hassle. That said, I would always want a repellent to hand. Especially at sunset when they come out to feast (literally). It comes in both a roll on and spray.
Like all of the products they are completely natural. I personally like the spray because it provides better coverage. The roll on is nice and small for the handbag and I prefer to use it on the kids. I'm happy to say, I haven't had any bites when I've used it. It dries quickly and doesn't leave any marks on the clothes or skin.
ZAP EASE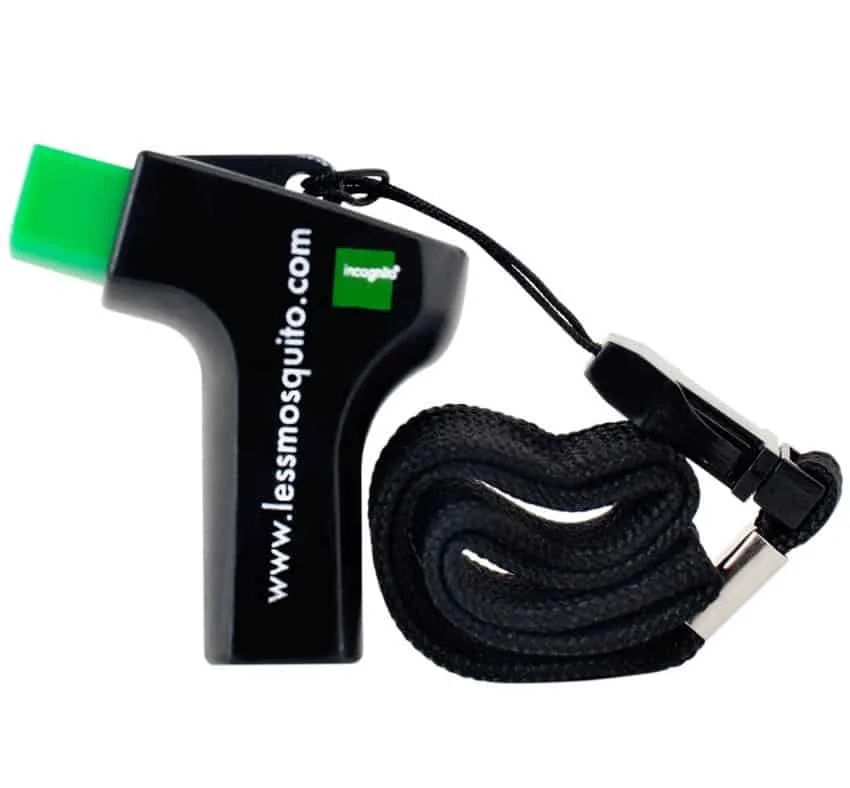 When I first arrived in New Zealand and opened up my incognito delivery, I had already been bitten badly a number of times the evening before. I pulled out this funny contraption and wondered how a piece of plastic on a lanyard could help ease my bites? With two massive swollen red and angry bites on my leg, I thought it was worth a go!
Essentially directions for use is to hold the zapper on the bite
, and click it a few times. The idea is it sends a small electrical impulse, inhibiting histamine release and itching. It doesn't clear the bite up, it just provides some relief. It can also work for a jellyfish stings. I definitely got some short term relief from the zapper.
It may seem like a very simple solution. However it has been approved by the London School of Hygiene and Tropical Medicine. I have lots of respect for the school as I did some of my nurse training at their inpatient ward in University College London Hospital.
They are really at the forefront of tropical medicine. if they say it works scientifically, I really believe them. Not only have they tested the zap ease, but they've also tested and approved repellent spray and roll on from incognito.
NON-PERSONAL PRODUCTS FOR PREVENTING MOSQUITO BITES
Incognito
has a number of other products for around the house, or long term travel. From incense sticks to room refreshers, and high concentration citronella. There are a lot of other things that can be used in your space, wether it's a hotel room or your house.
I haven't personally needed to use the incense or room refresher yet. However we are off to the jungle in a few days time and I know we will use both then. When we were in the Belizean jungle a few months back, I got nailed at night time, even with mosquito nets.
I've always dabbed citronella around the room when in areas where there are lots of mosquitos. I love Incognito's idea of putting a drop into laundry as a more long term solution. I hadn't thought of that before.
So the big question is, what would I buy from this line? I would definitely use the body wash, sun cream, moisturiser, repellent and zap ease. We use them pretty much every day when travelling. I am just hoping they will last until we get home as we don't have a delivery address at the moment.
WOULD YOU THINK OF PREVENTING MOSQUITO BITES WITH A MULTI-PRONGED APPROACH? Do you have your own rituals? I would love to hear from you. Leave a comment below.
You may also like:
This post about preventing mosquito bites is sponsored by incognito. As always, all views expressed are entirely our own. Please note, this post is not intended as medical advice.