Being a nurse, with a diabetic traveling husband and egg allergic baby I take family travel health seriously. There is nothing worse than your trip being wasted on feeling unwell! Diarrhoea and vomiting is only one issue you need to ensure to protect yourself against. Especially when you consider tropical countries where you can contract malaria, dengue and typhoid.
This is even more important when you have your most prized procession with you – your child. My thought is, with careful planning and meticulous research it is very possible to explore the world with your little one.
Getting ready to fly with your baby? Read more here.
Family travel health
Travel health issues that you should consider include:
Planning the trip
Travel vaccinations
Travel insurance
Breastfeeding
Water and Hydration
Probiotics
Insects
First aid and medical supplies
Road safety
Planning the trip
When I was single I was game for going anywhere. Now… I am willing to take my baby to many different places but I like to know the risks involved in going to certain destinations so I can decide how to travel safely with children.
The best resource I have found for family travel health to date is the Fit for Travel website. I have noticed medical professionals in both the UK and New Zealand using it when advising patients about travel health. You can use the website to research the country you are visiting. I used it to choose non-malarial countries or parts of a country.
For example, the coastal area in Vietnam is low risk for malaria whereas the inland area is high risk. Maps of each destination are provided so you can plan your trip safely. I found this really helpful. We chose to avoid malarial areas because I could not find enough evidence or information about giving anti-malarial medication to babies. There are enough places in each country that could be explored where malaria risk was low. I suggest doing this kind of research as a starting point.
Travel vaccinations
Routine childhood immunisation programmes will cover against a number of diseases. However they will not cover many of the infectious diseases found in tropical countries. Again, the Fit for Travel website is an excellent resource to research your destination and know which vaccinations you may need. Where you are staying and how you are travelling will affect your exposure to infectious diseases and subsequent risk. When we discussed our route with our travel nurse, she made suggestions of some vaccines which we may not require and we took an informed decision. As Esmé was so young when we were travelling, she could not have any of the travel specific vaccinations. We took other precautions to protect Esmé which I will discuss later.
Shaun and I both had some travel vaccines or boosters and oral cholera vaccines. The doctor was fully aware I was breastfeeding which is important information to disclose.
Travel vaccinations can be costly so it is worth factoring this into your overall budget.
When? It is best to seek advice at least 6-8 weeks before your trip
Where? See your GP or a specialist travel health doctor
Travel insurance
Make sure to take out a decent policy. With all of our chopping and changing of addresses this became complex for us. Many insurers will only cover a maximum of thirty days away in any one time on an annual policy. Once you have chosen your policy, make sure you download a copy to your phone. This is pivotal in ensuring adequate family travel health and cover abroad. We generally use World Nomads.
Breastfeeding
Recently when I interviewed Dr. Sarah Logan, she explained how the best time to travel is when baby is being exclusively breastfed. This minimises the risk of baby contracting any water or food borne diseases.
As I had been vaccinated, Dr Logan explained how my immunity would be passed onto Esmé through breast milk. She also explained how immunity will depend on when the vaccinations were taken so this is worth considering and discussing with your travel health advisor. It is so important to disclose you are breastfeeding before having vaccinations.
Here's some more info if you'd like to read more about breastfeeding while travelling.
Water and hydration
Keeping yourself and little ones well-hydrated goes without saying.
Make sure to bring adult and child dose over the counter re-hydration sachets. They could be used for fluid replacement in cases of diarrhoea or when you or your little one is a little dehydrated.
Keep an eye that your little one is wetting nappies often enough in hot environments and keep them shaded as much as possible to prevent dehydration and sun burn.
Probiotics
I initially felt really uncomfortable taking Esmé to the tropics without her own travel vaccinations. Having since learned that she would have got a lot of my immunity from my breast milk, I feel a lot better about it. At the time, I was looking for anything I could do protect her. Probiotics are a great way of protecting the gut from travel related stomach upsets. We commenced Esmé on an infant's dose of travel specific probiotics a few weeks in advance of our trip to ensure she had maximum cover. We continued using them throughout our trip.
Insects
Besides water, insect bites are right up there with how to contract a tropical disease! Invest in a really good insect repellent. I don't know why, but I personally get nailed by mosquitoes all the time. I therefore go all out with every possible way of keeping these little shits at bay!
Mosquito net – for bed time and buggy
Citronella incense
Citronella tea lights
Long sleeved t-shirts for little ones in the evenings.
Our favourite insect repellent for all of us is incognito.
First aid and emergency medical supplies
Make sure to bring a decent first aid bag and some over the counter medicines for all eventualities. This is key to good family travel health.
Here is a list of what I usually bring: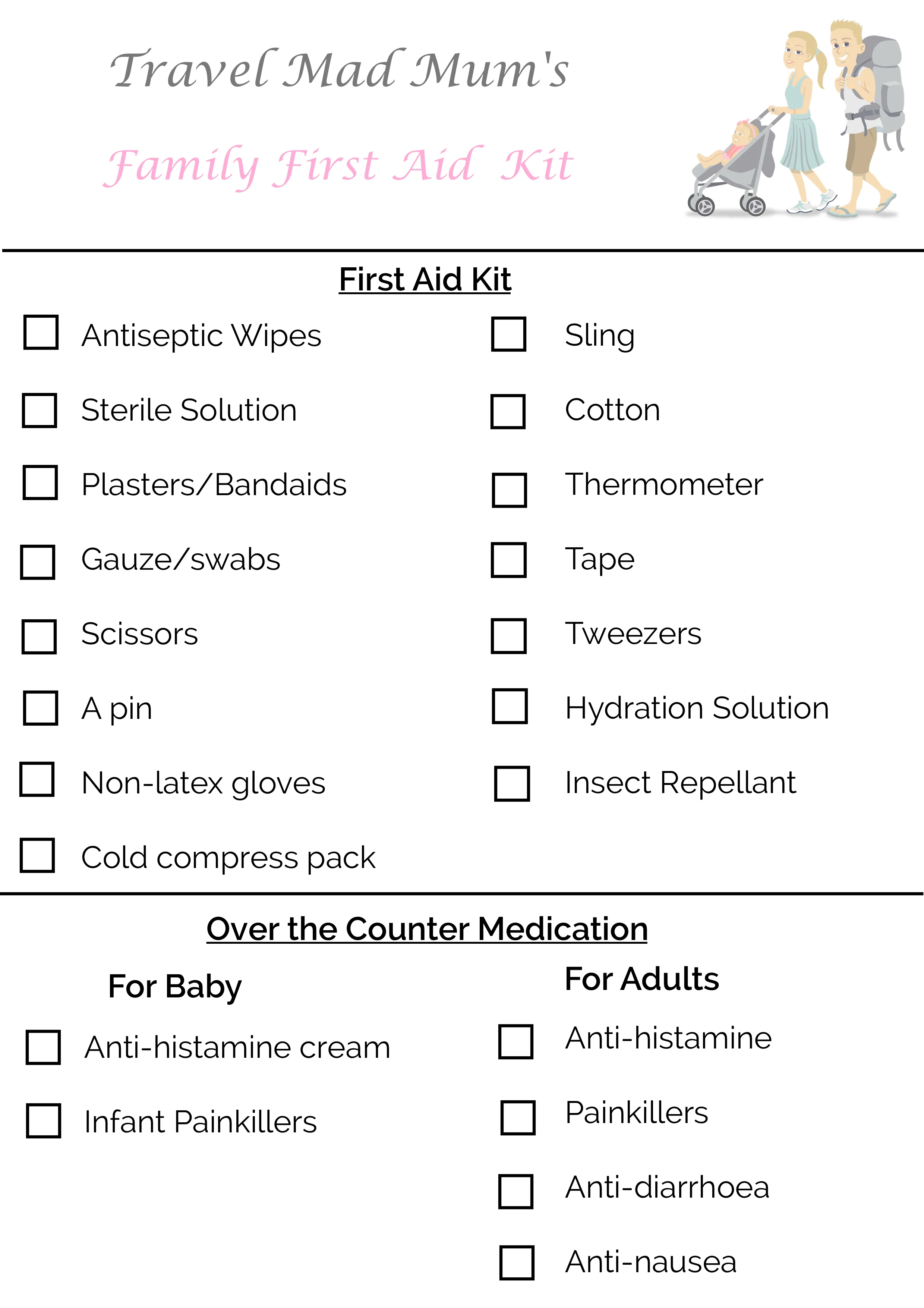 Road safety
When I recently interviewed Dr. Sarah Logan, a specialist in infectious diseases, about family travel health, she explained how road safety poses a bigger threat than tropical diseases when travelling. She explained how travel health advisors have realised this is a leading cause of holiday-related issues. Many such advisors are now ensuring that they include this as part of their consultations with patients.
As parents, we are always faced with the question: should I bring the car seat? I feel that following my conversation with Dr. Logan I will be more likely to bring it. I know it's a pain in the ass lugging around this heavy contraption; so I guess only bring it if you will be travelling in cars. For us we don't always travel in cars, so we bring it accordingly.
Find the best deals on travel insurance, rental cars, and hotels for your upcoming trip.
Disclaimer
Please note this page is not intended as medical advice. Ensure to see your GP or nearest travel doctor for advice and information.
You May Also Like:
SHOULD I TAKE MY CAR SEAT ON HOLIDAY?