Travelling with toddlers on a plane who are so energetic, not to mention emotionally charged pint-sized little people can be exhausting.
Two children, 80+ countries across six continents, including two years of full-time travel, I feel I have the flying with a toddler tips nailed!
I mean, I'm over here just trying to survive the day without any epic meltdowns about toast being cut the wrong way, never mind bundling into a closed space with hundreds of strangers for hours on end.
I cannot tell you how many people email me DAILY asking for tips on flying with a toddler! For some reason, it makes us parents so nervous, almost to the point of putting fun travel and adventures on hold for a few years. I'm here to tell you, don't worry, I have lots of tips!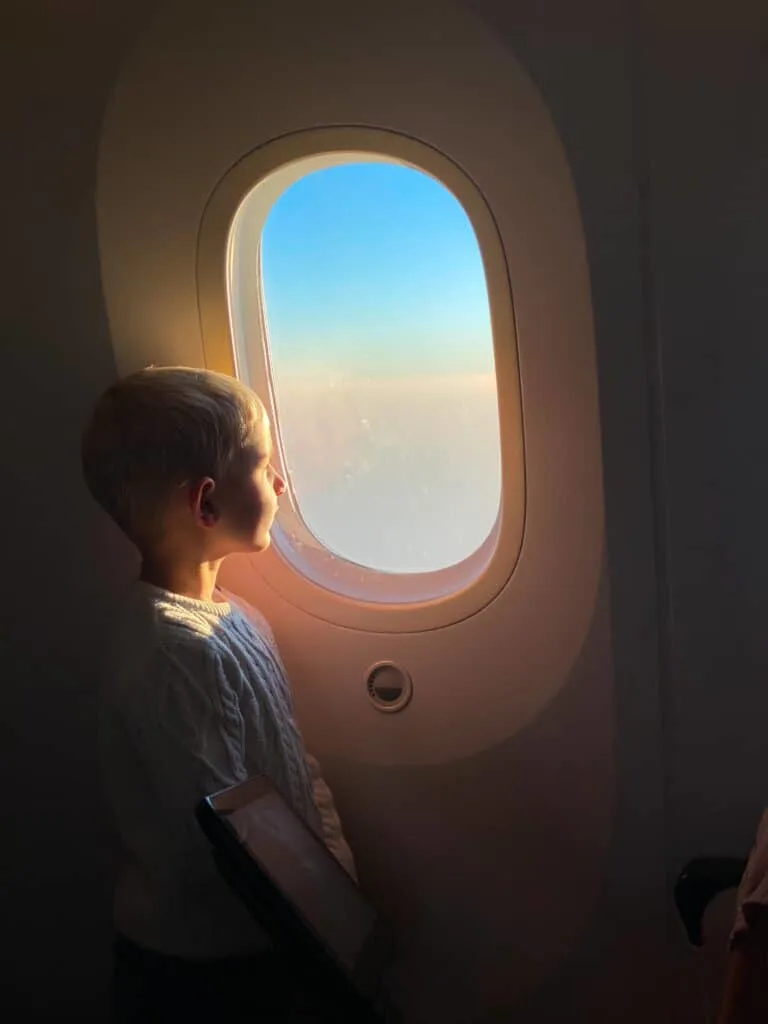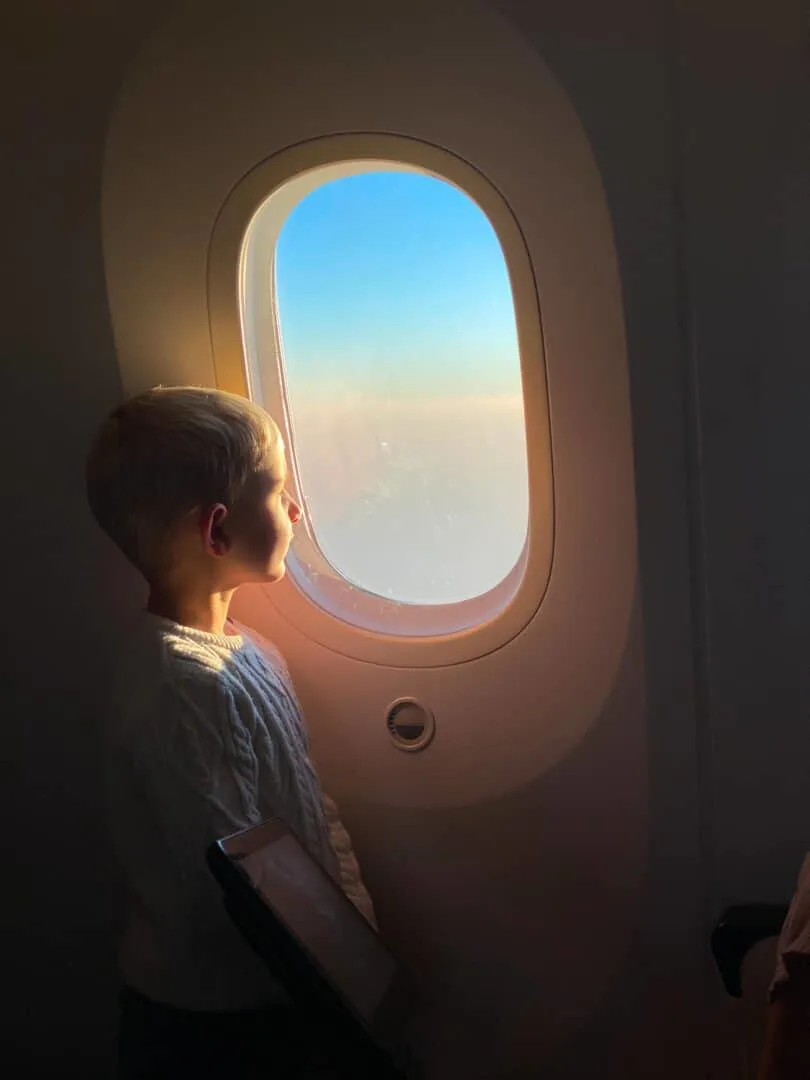 I've taken my kids everywhere and the thought of giving up travelling for the sake of a long flight with a very energetic toddler is not an option. The end reward of a new destination is what it's all about!
As a family, we have so many fond memories of our little ones experiencing new sights, smells and sounds in a foreign country, making it totally worth every minute on a flight. So with all the positive vibes in the world, I've tackled the best way to execute the task head on!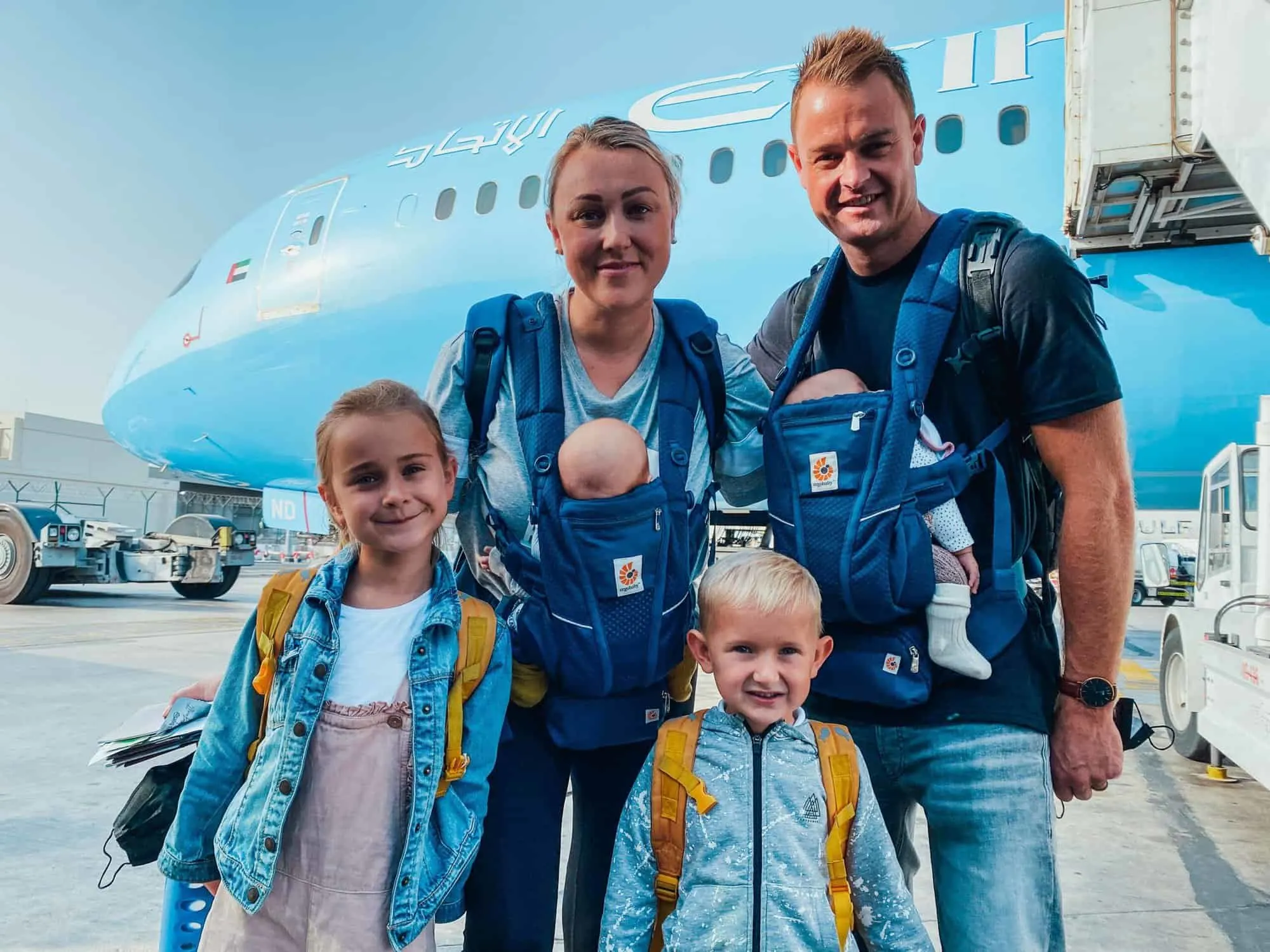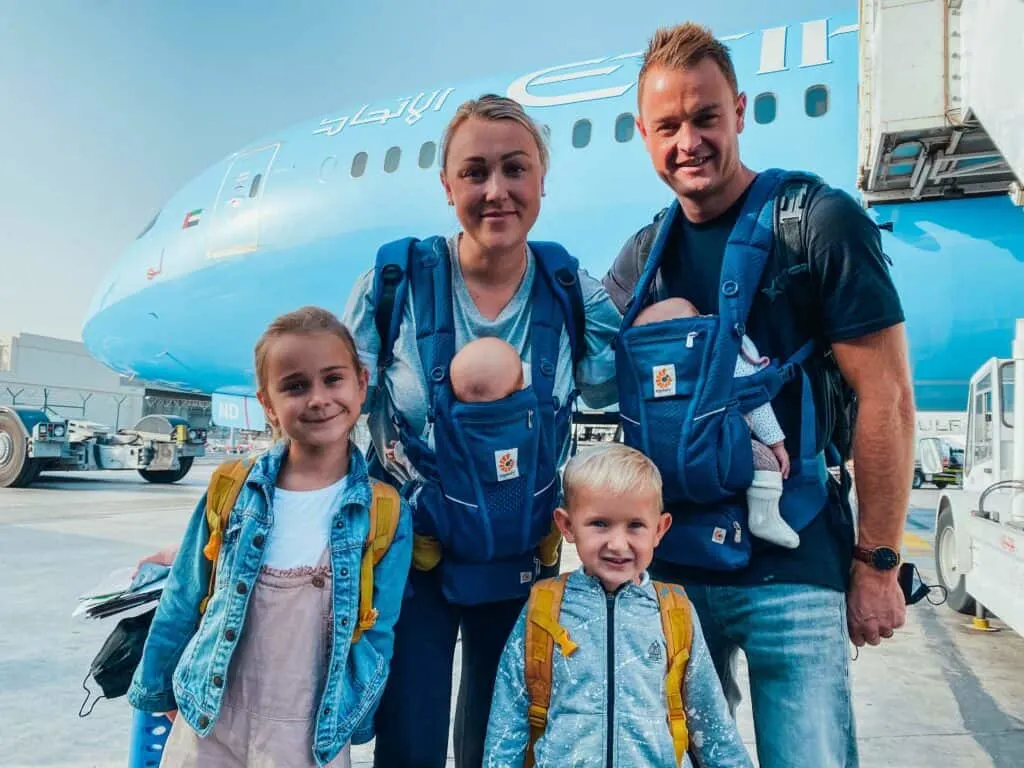 With plenty of preparation, it's totally possible to execute my flying with a toddler tips successfully. Of course, they may be a little tired or grouchy at times and that's where my tried and tested tips come to play.
I must point out flying with a baby or flying with older kids is a lot different than flying with a toddler, dare I say a little easier, but like I mentioned preparation is everything.
You can also check out our full toddler carry on travel essentials post here or our favourite travel toys for toddlers here!
Don't forget to get travel insurance! This is so important when you travel, especially with kids! We like World Nomads.
Table of Contents
Tips For Flying With A Toddler
I love the acronym S.A.S, it stands for snacks, activities and sleep aids. These are the three things that are going to save your ass with keeping your flying toddler entertained and contained to the best of your ability. I will go into this in detail below but keep this little easy reminder in the back of your mind!
Airplane Snacks
Out of all the fights we have taken with our kids, the most successful ones have been when we bring tonnes of their favourite snacks and meals with us!
Yes, it can be annoying bringing an entire extra bag of food, but if their tummies are satisfied and they're chewing, they are quiet! This has to be one of the best tips for traveling with a toddler I was ever given.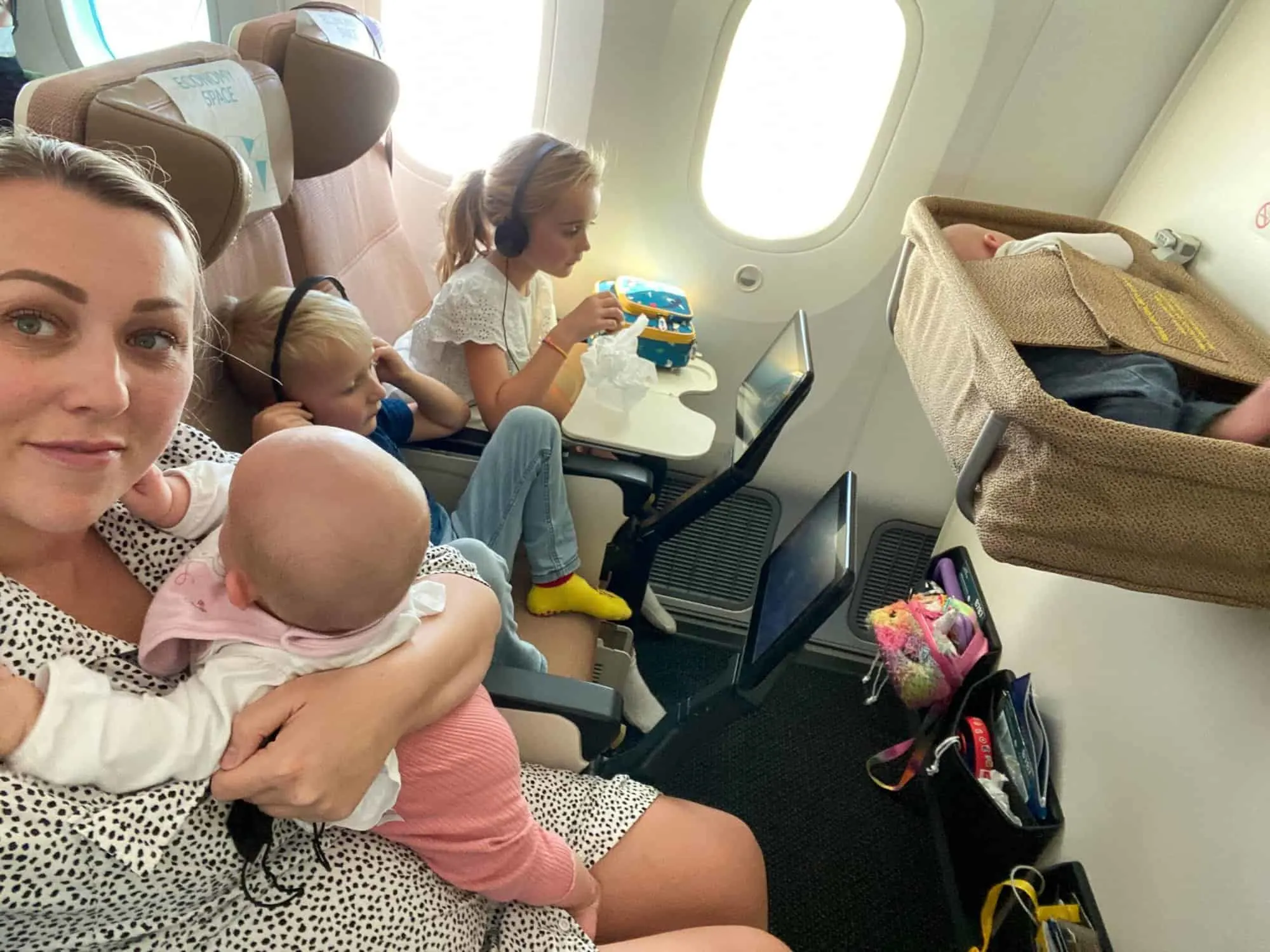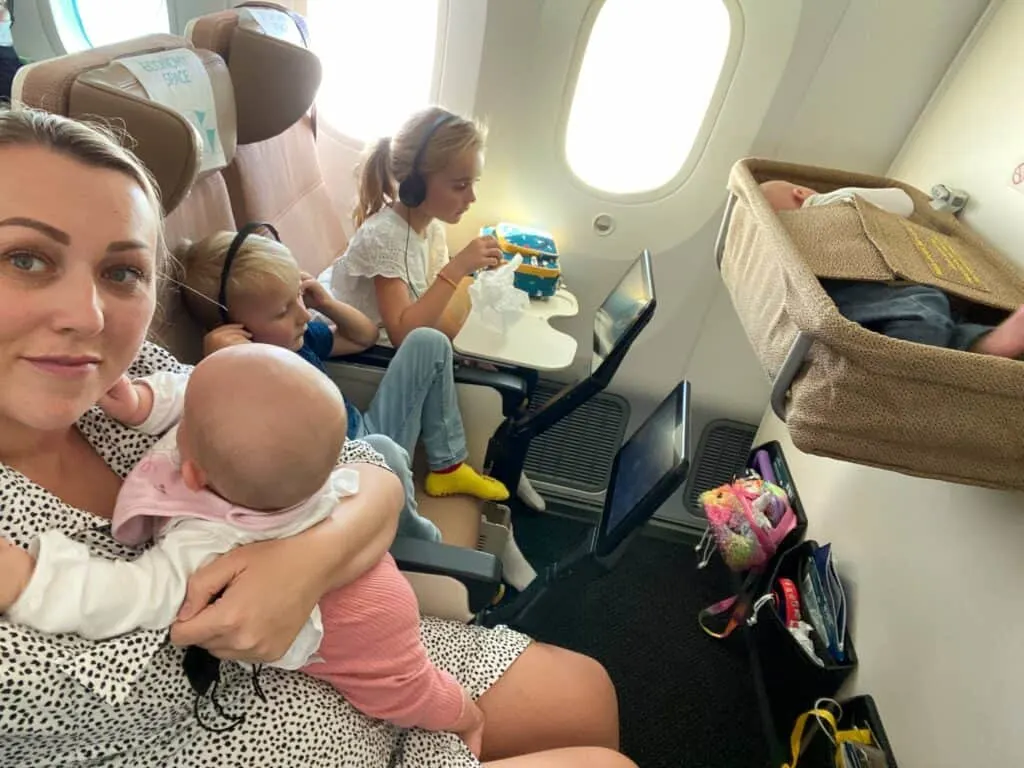 I try to be as realistic as possible with what I bring in terms of mess. Small dry foods are obviously best, but may not sustain an entire flight. I tend to make sandwiches wrapped in reusable food wrap rather than lunch boxes for space.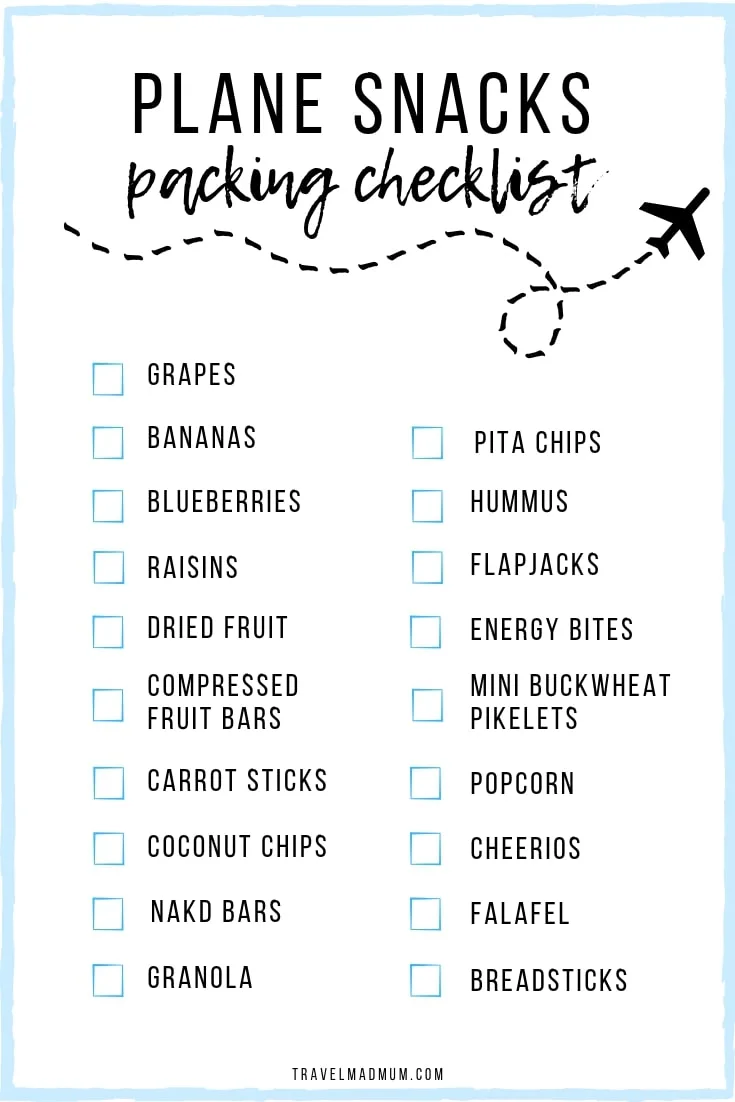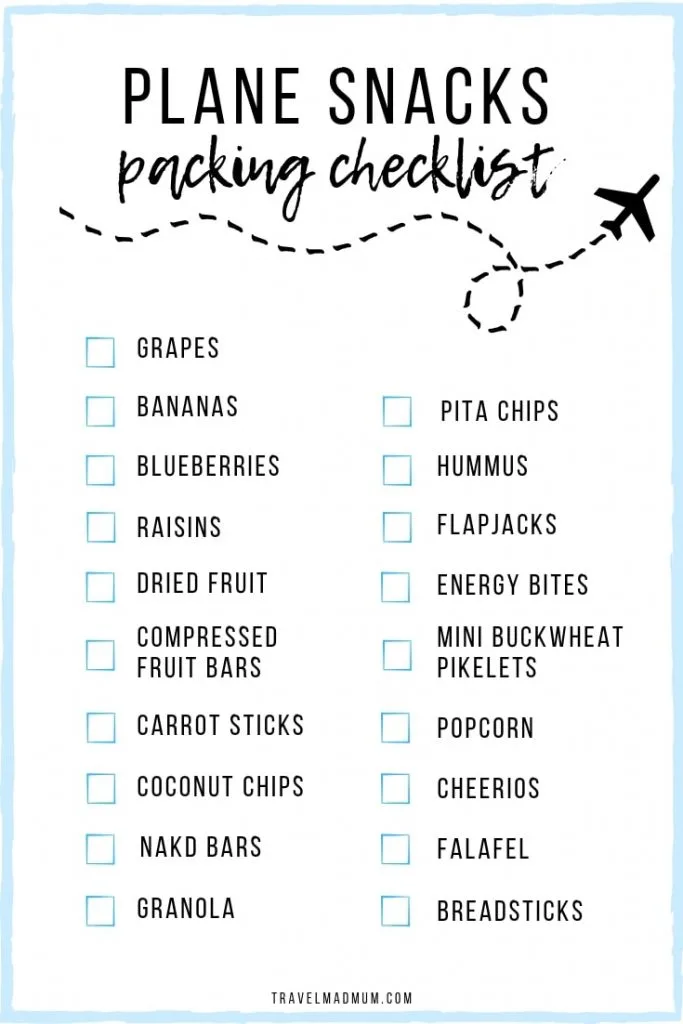 I always bring bananas as it's such a good filling food. Equally cut up grapes, dried raisins and compressed fruit bars are an amazing snack. I always bring their stainless water sippy cup to keep it cool and it is super easy to fill up in the airport to reduce waste.
Cabin crew are always helpful when it comes to assisting with warming drinks if needed, providing additional snacks and so on. And don't forget to order a 'toddler meal' in advance! It's a requirement for almost every airline and they will not have a toddler specific meal unless it is ordered beforehand.
Check out prices on reusable food grade cloth, compressed fruit bars, and stainless water sippy cups.
Be Prepared with New Travel Toys for Toddlers On Airplanes
Having new and engaging activities are key for 2-year-olds that find it hard to sit still. Every child is different when it comes to their interests but throwing just about everything at the situation to ensure success is the best way forward.
I am a big fan of the Keep em Quiet bags, produced in the UK. They are specifically designed to keep little ones of all ages entertained on a flight.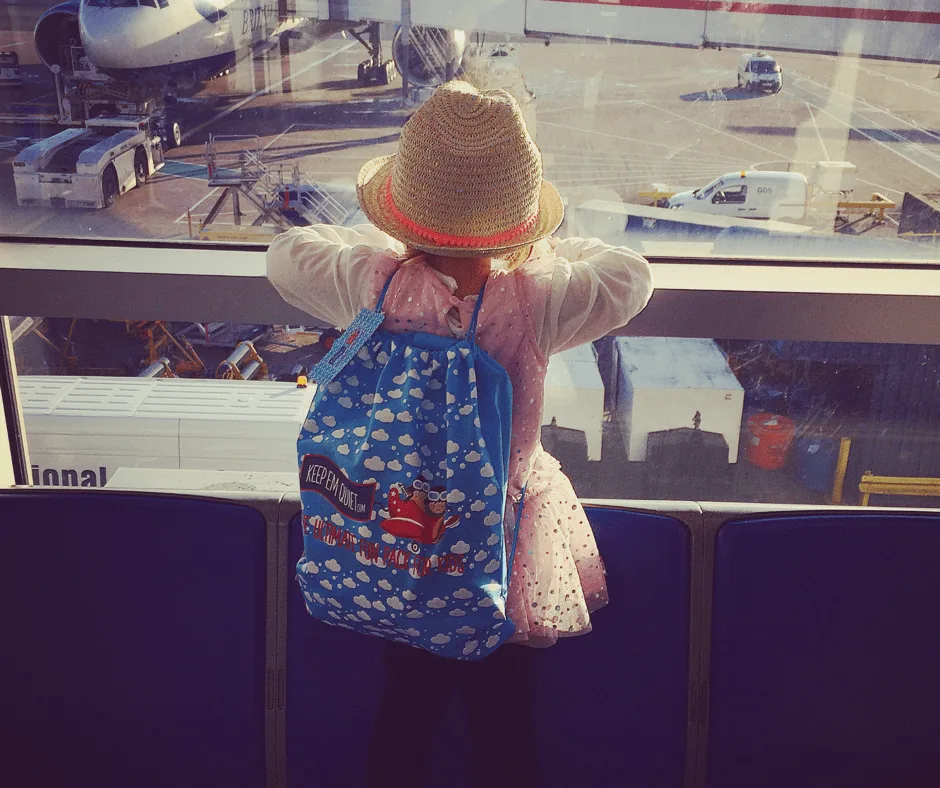 They come in different age groups, gender (also gender-neutral available), as well as the length of trip. If you are going away for a weekend they can be smaller and obviously a little cheaper in price.
They are stuffed full of activities such as mess-free painting, 3D puzzles, snacks, special colouring in and so on. This is definitely one of my top tips for flying with toddlers.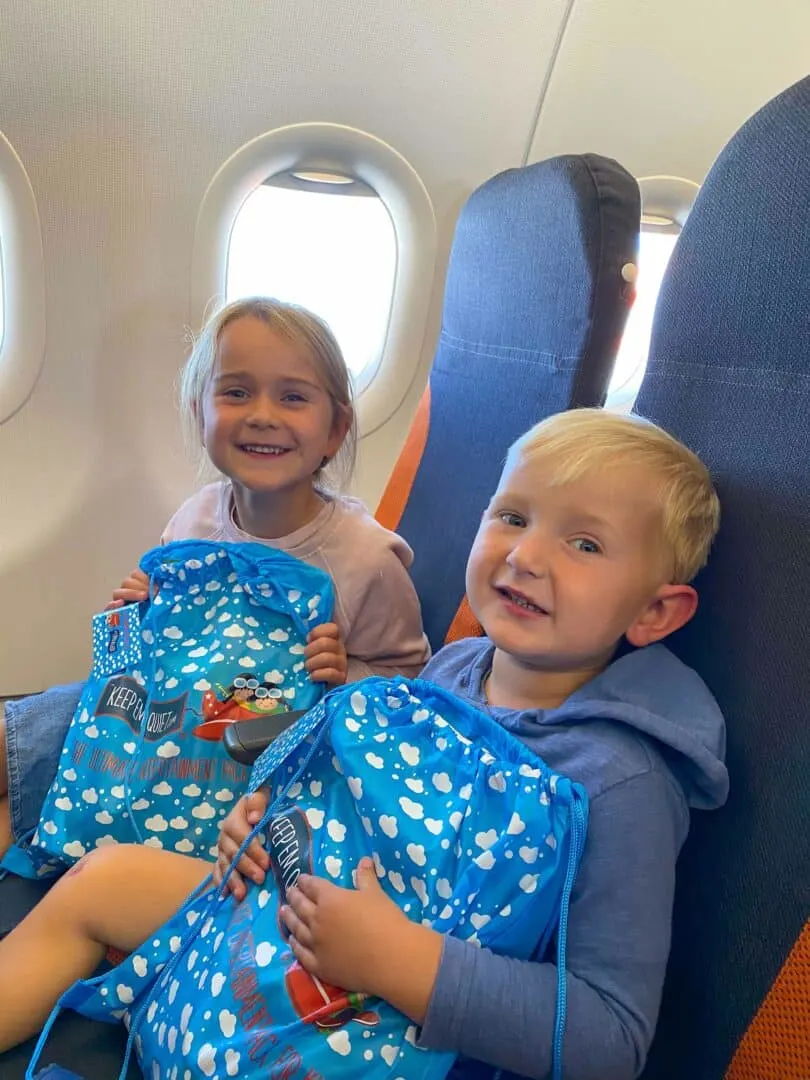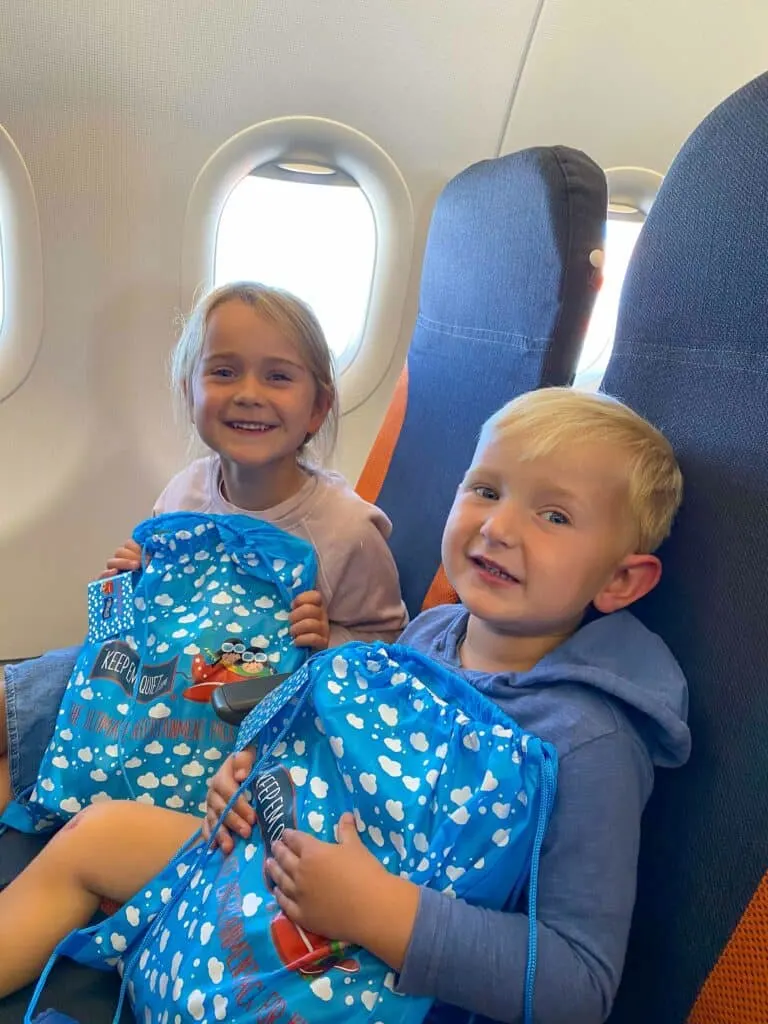 Find out more about Keep em Quiet bags here!
Pre Made Activity Packs
There are some similar travel-specific activity packs in Australia called Busy Bags worth checking out. They are ideal for travelling with toddlers on long haul flights. Likewise in the US, there is one made by Penguin Travel.
You can check out the US version here! My only criticism with these packs is related to the waste, although many things are reusable such as the re-stickable stickers etc, the Keep Em Quiet bags do produce a lot of plastic waste.
We have also recently discovered these great little globe packs which are designed with your destination in mind. They contain a passport with the country's flag, and activities designed to introduce your child to the country you will be visiting!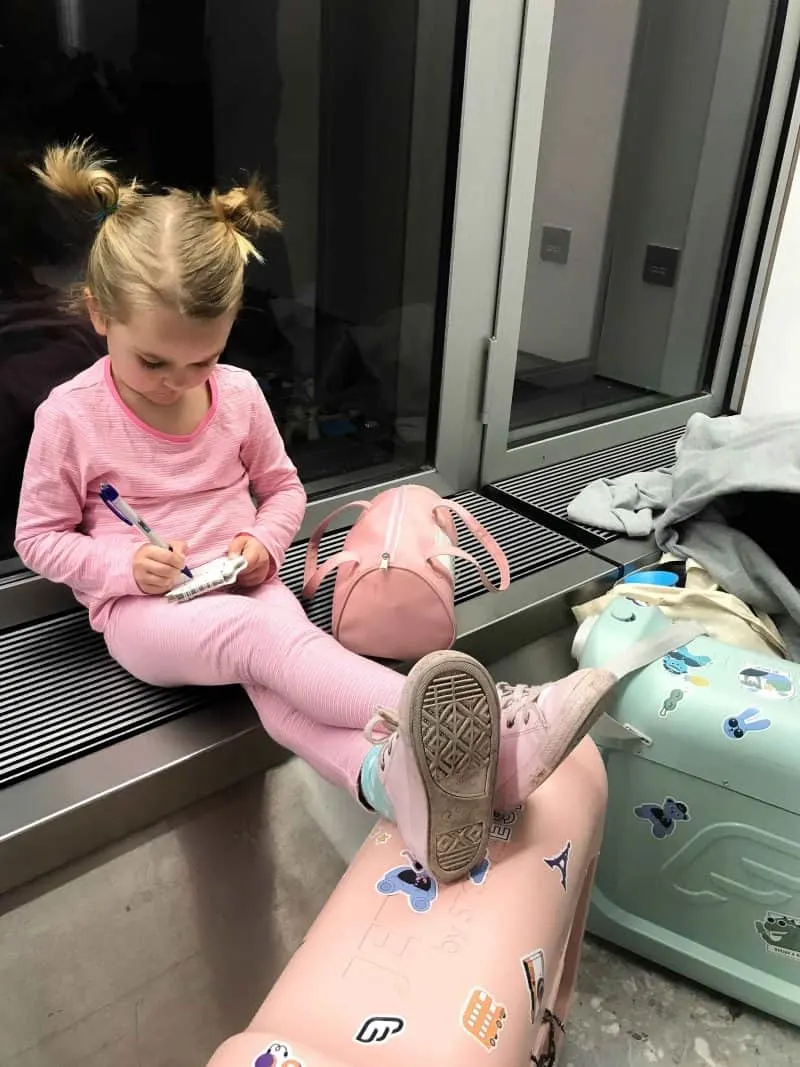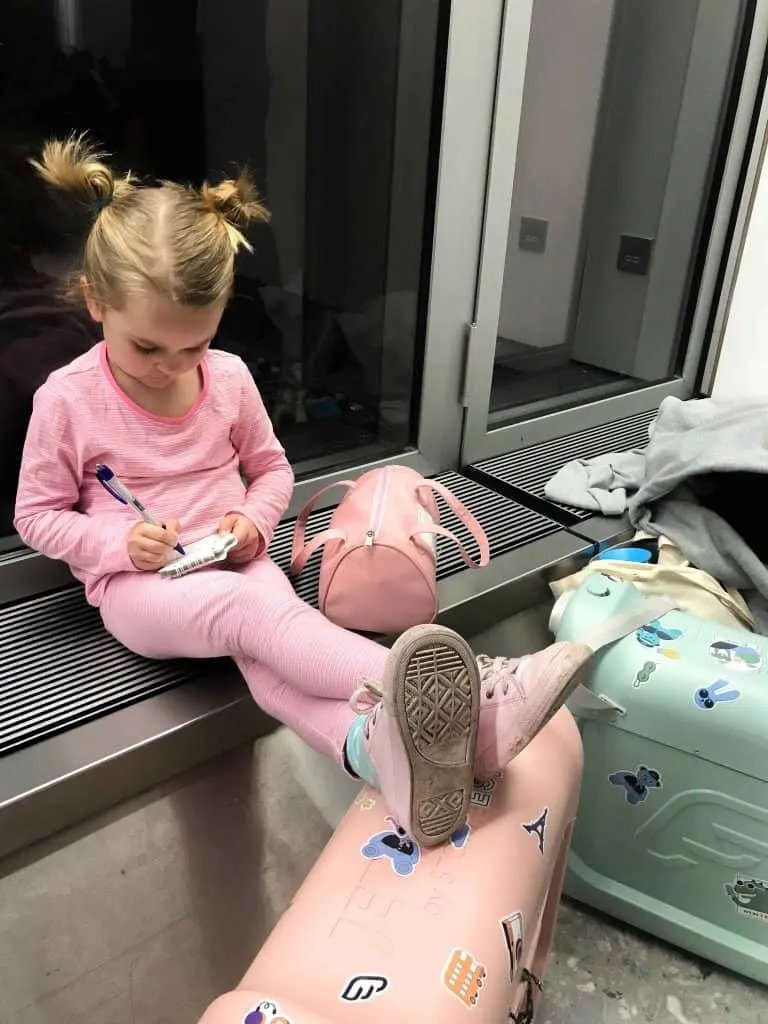 Making your Own Activity Packs
If you don't have access to one of the travel-specific activity bags, a simple trip to your local pound/ dollar /euro shop to buy a few low-cost items to make up your own activity bag is always an option.
Playdough is a great and cheap toy to bring along and it is easy to make your own. It is extremely versatile and toddlers could spend hours playing with it. A favourite game to pass the time onboard is to bring smaller toys along and hide them inside.
Siblings can play this together which gives you a few minutes of breathing room.
You can also hit up Amazon for some amazing toddler plane toys. Only give them to the kids when they are on board so they will be a novelty. We've rounded up a list of our favourite travel toys for toddlers here.
Don't be afraid to be creative either. There is sure to be something around you to use for entertainment. A blanket can be used for a peek a boo or even letting a toddler button and unbutton a cardigan can keep them busy for a while or used as a distraction.
AMAZON FIRE TABLET
The whole idea is to reduce screen time which I love. However, we do bring an Amazon Fire tablet with us as a last resort, it can be quite handy to get our little ones to snuggle down to sleep, especially on a long haul flight with toddlers.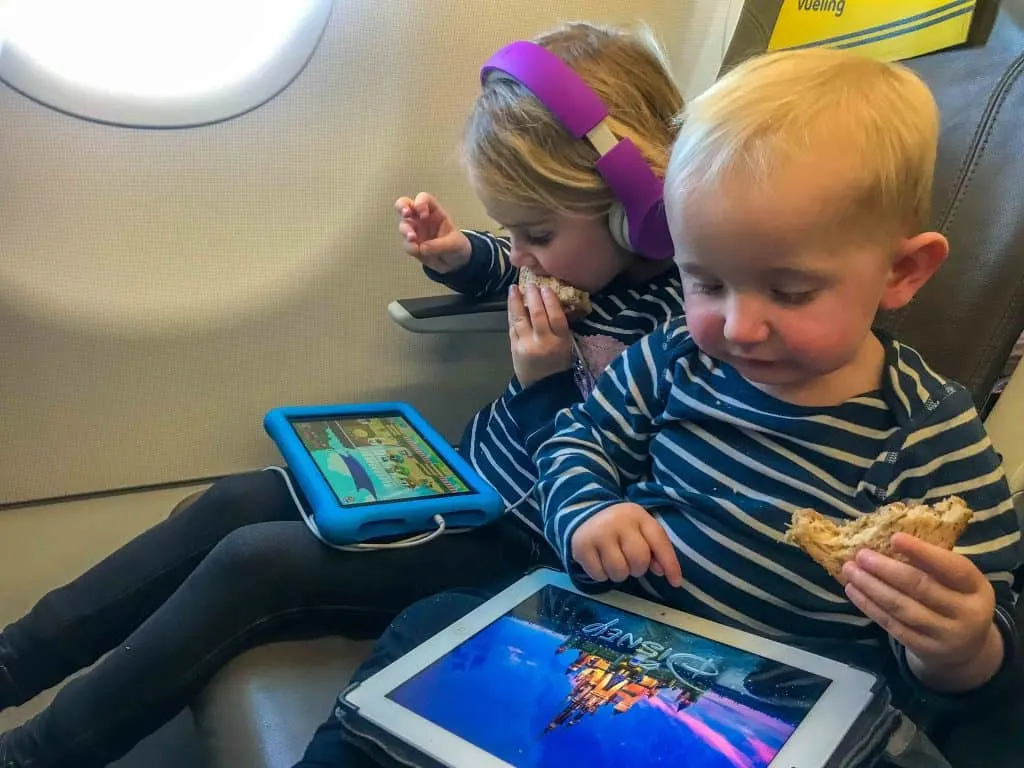 The reason I specifically love the Amazon Fire tablet is because it can be controlled by parents, with very specific child-friendly and educative apps.
We can also download movies before our trip which has saved the day a few times. If your toddler can't sit through a whole film then download a few episodes from their favourite series.
You can check out prices on Amazon Fire tablets here.
Don't forget to bring headphones along so you don't disturb the other passengers. Bluetooth headphones are great as they can move around without the fear of the wire coming out.
Make Sure to Pack In Flight Sleep Aids
So now that we've dealt with snacks and activities, let's move on to sleeping aids. Getting a toddler asleep on a plane can be a challenge at the best of times.
We all know comfort and minimal stimulation is key when it comes to getting our little ones to have sweet dreams. For most of us, if it's 'sleepy sleepy' time on a flight, it can often be the most agonising time for us as parents.
I've often paced up and down, stroked my little ones head to no avail. From the bright lights, people chatting and just being in a new environment can be so tough. Having a sleeping aid is key and really helpful if your little one has their own seat.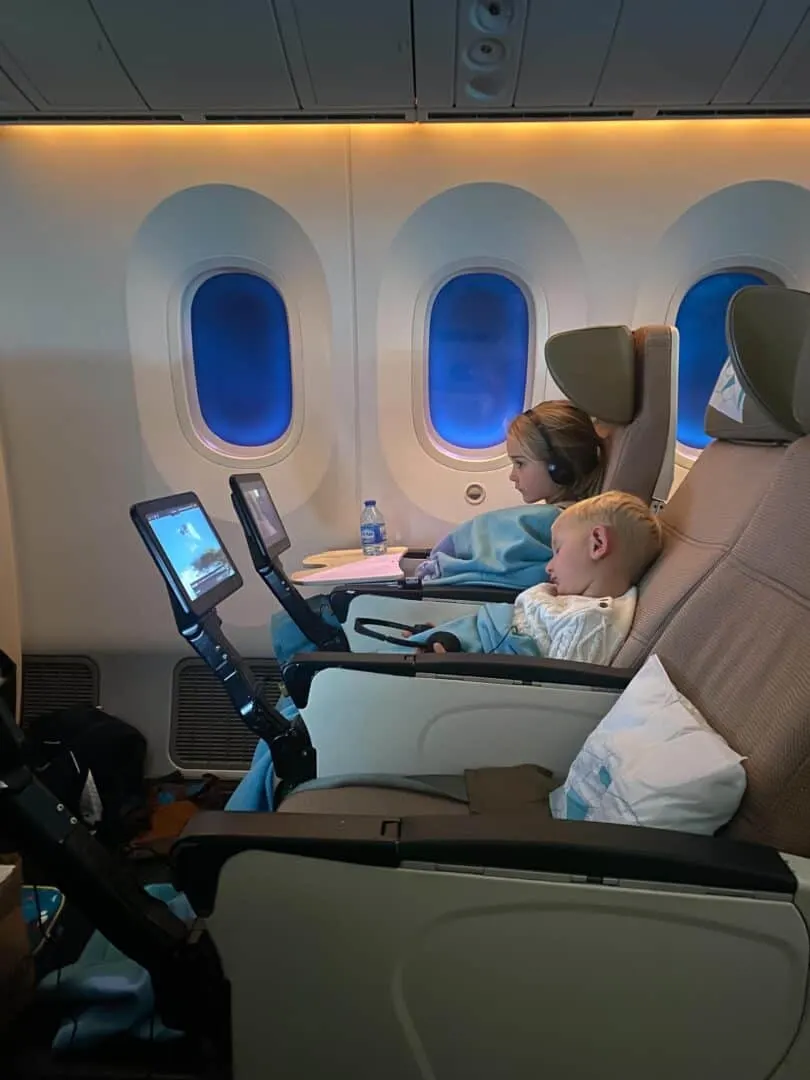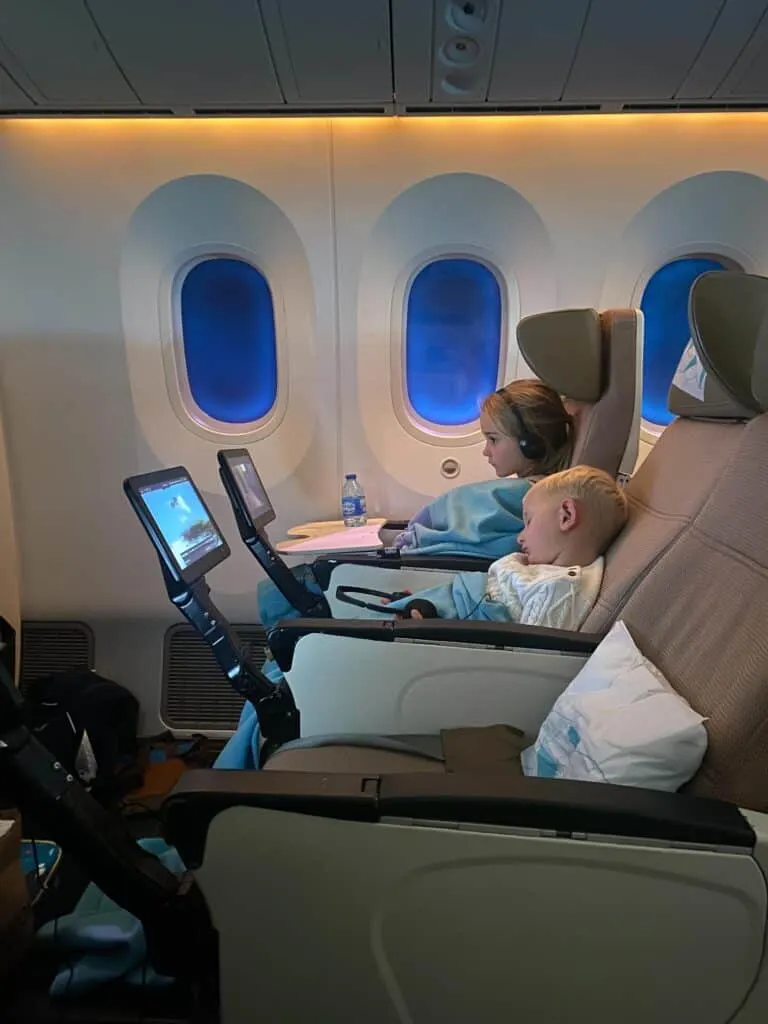 Check out this post for some of the best travel bassinets for newborns and toddlers.
Additionally, if you are taking a long flight, it may be better to opt for an overnight flight. Not only is there more chance your little one will drift off, but the lights on the plane are usually dimmed. This encourages other passengers to speak in hushed voices and creates a better sleep environment.
If it is a short flight then it may not matter as much, however, if your toddler sticks to their nap schedule consider a flight around nap time. However, don't stress if they don't go down as we all know how hard it is to sleep on a plane.
A few other tricks you could try are having little one dressed in pyjamas or putting them on while you are on the plane. If you read a book before sleep time, then bring their favourite book along. The trick is trying to keep to the same routine. It may not always work, but anything is worth a shot.
Plane Pal For Flying with a Toddler
I have tried out both the Plane Pal and the JetKids BedBox. They are both fantastic options to create a first-class bed for your toddler on a long haul flight. Many airlines accept them, however, there are a handful that do not allow it, so it's worth checking before investing.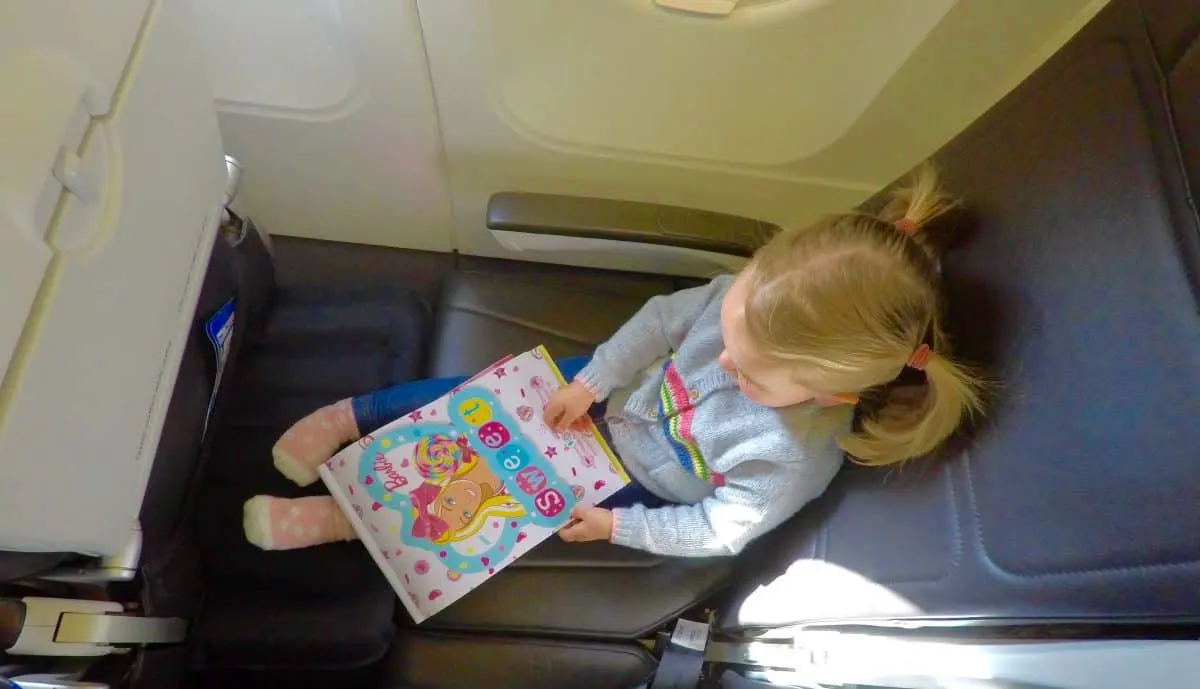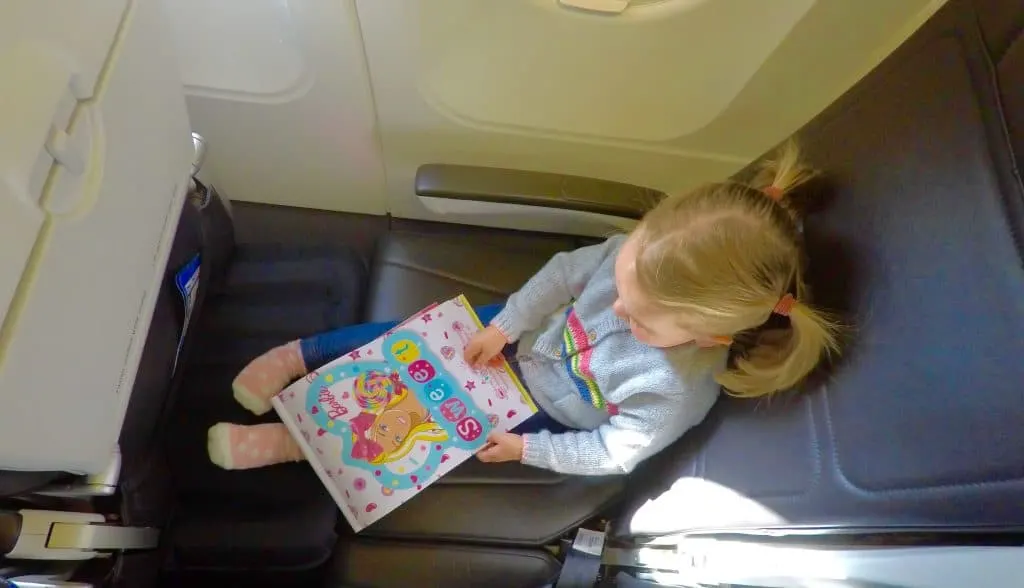 Plane Pal is a toddler travel pillow for the airplane that fills the legroom space in front of the seat and creates a flat surface for your little one to stretch out. It packs away nicely and is not too big to carry around.
Jet Kid BedBox For Flying with a Toddler
The JetKids BedBox is quite a different product!! It is a mini wheelie suitcase that also acts as a scooter and is an amazing way of getting through the airport if your little one has the stability to sit on it.
There is space inside that can be used to store an activity bag, some snacks and a change of clothing.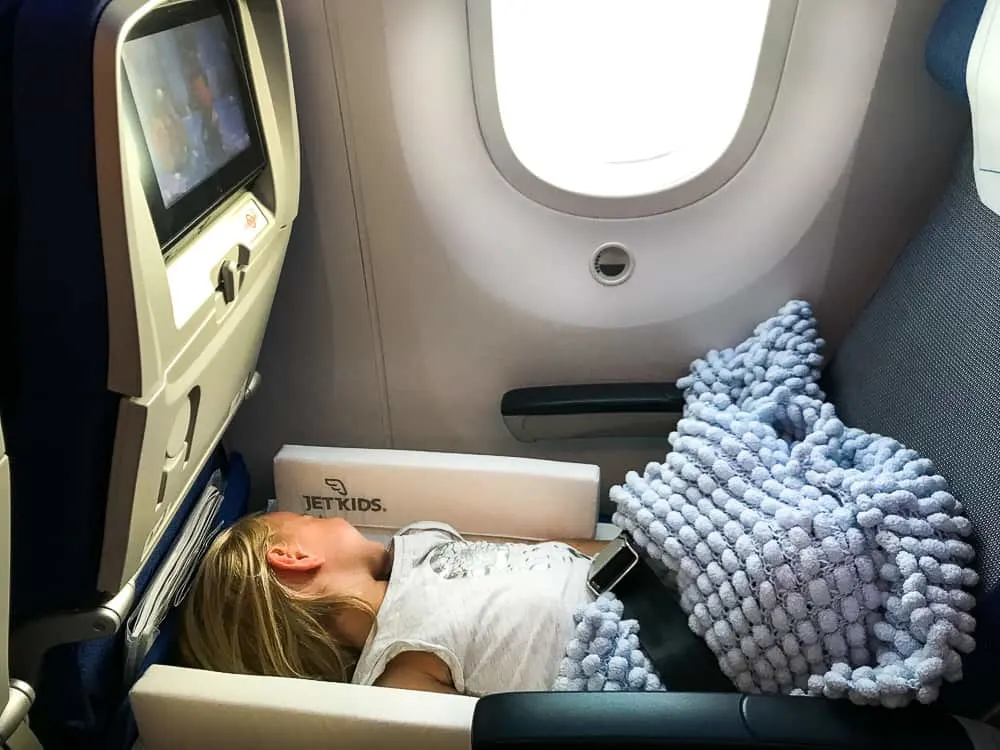 When on board the suitcase has a third function, again, filling the legroom space in front of the seat and creating a flat surface for little ones to stretch out.
This product is quite expensive, however, if you travel often I think it's worth every penny. Here is my full review of the Jet Kids Bed Box.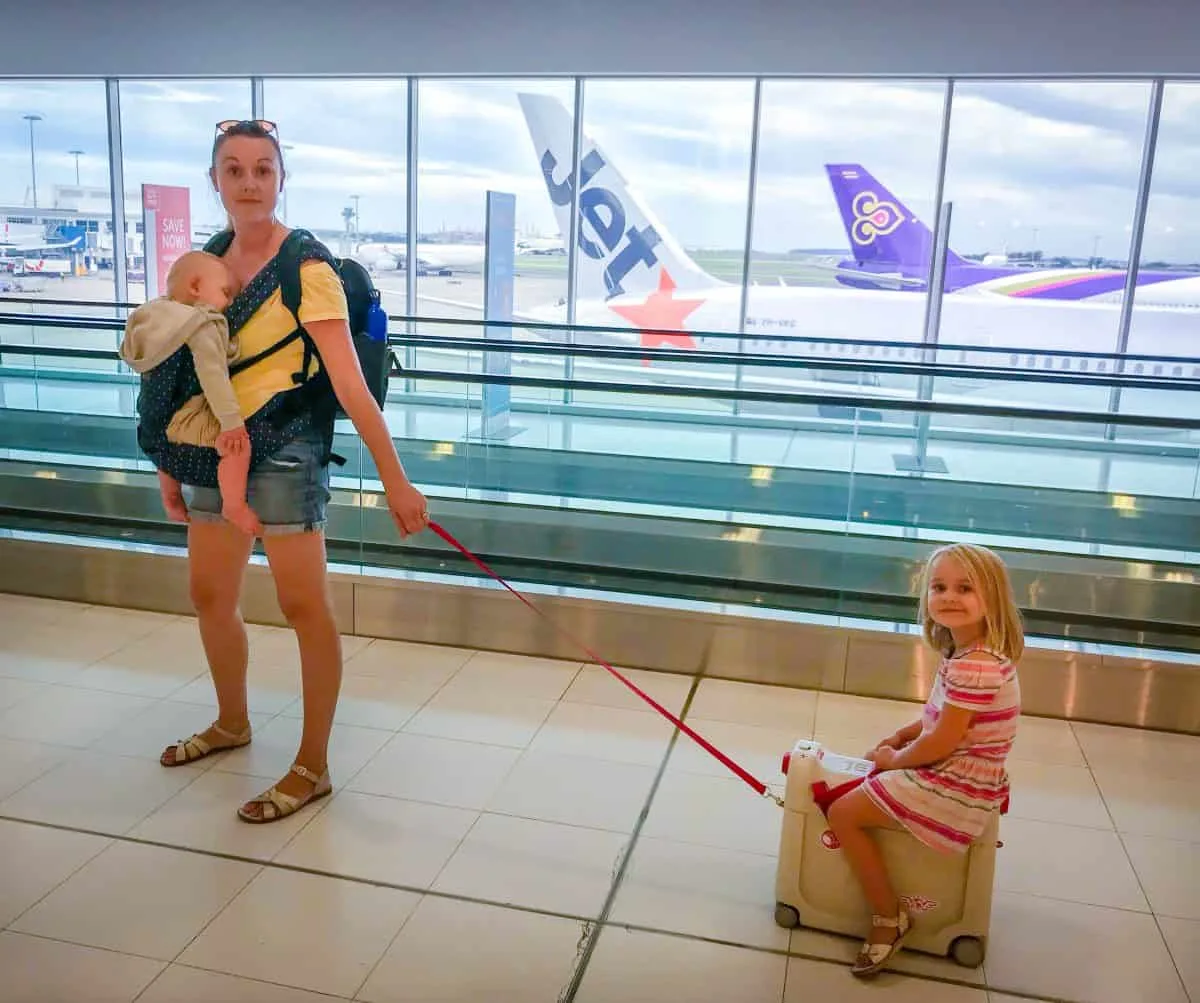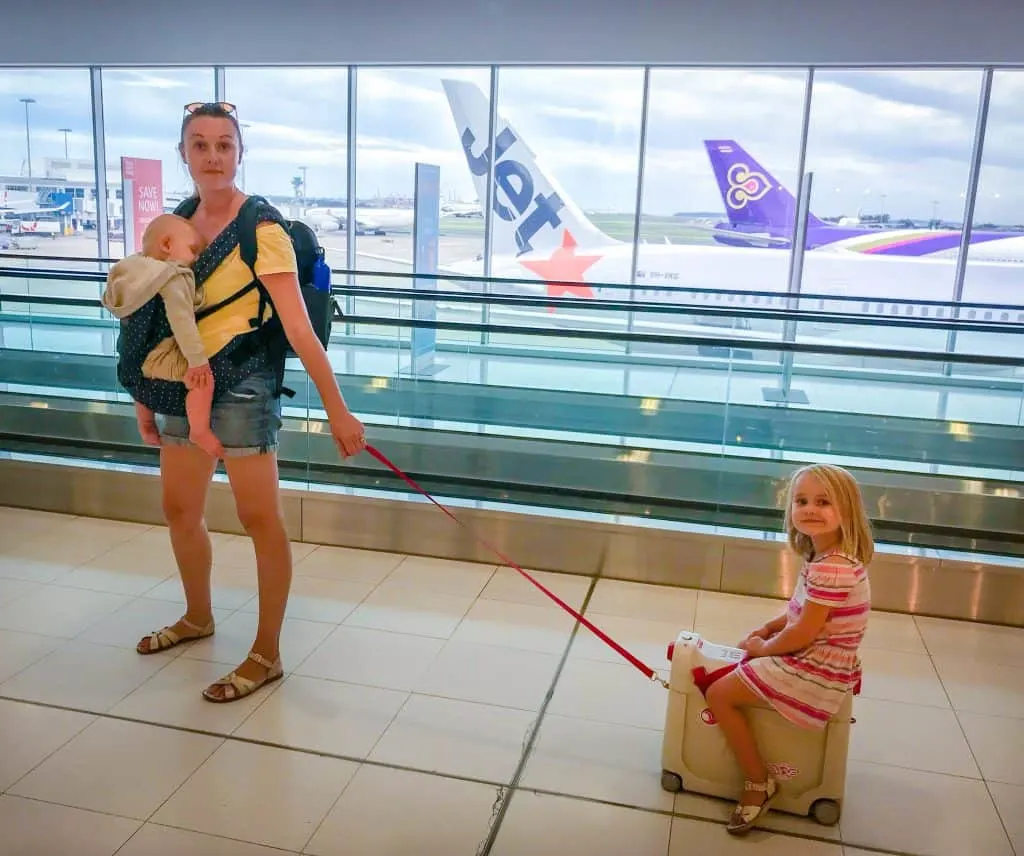 Bassinet Shade For Travelling with a Toddler on a Plane
If your toddler is under two, you may be lucky enough to bag a bassinet seat. Priority is generally given to younger babies. Likewise, if your kids are anything like my tall kids they may not fit in the bassinet.
The best airline for a toddler bassinet solution is British Airways. They have a reclined seat option as opposed to the box and is literally perfect for kids ages around one to 18 months roughly.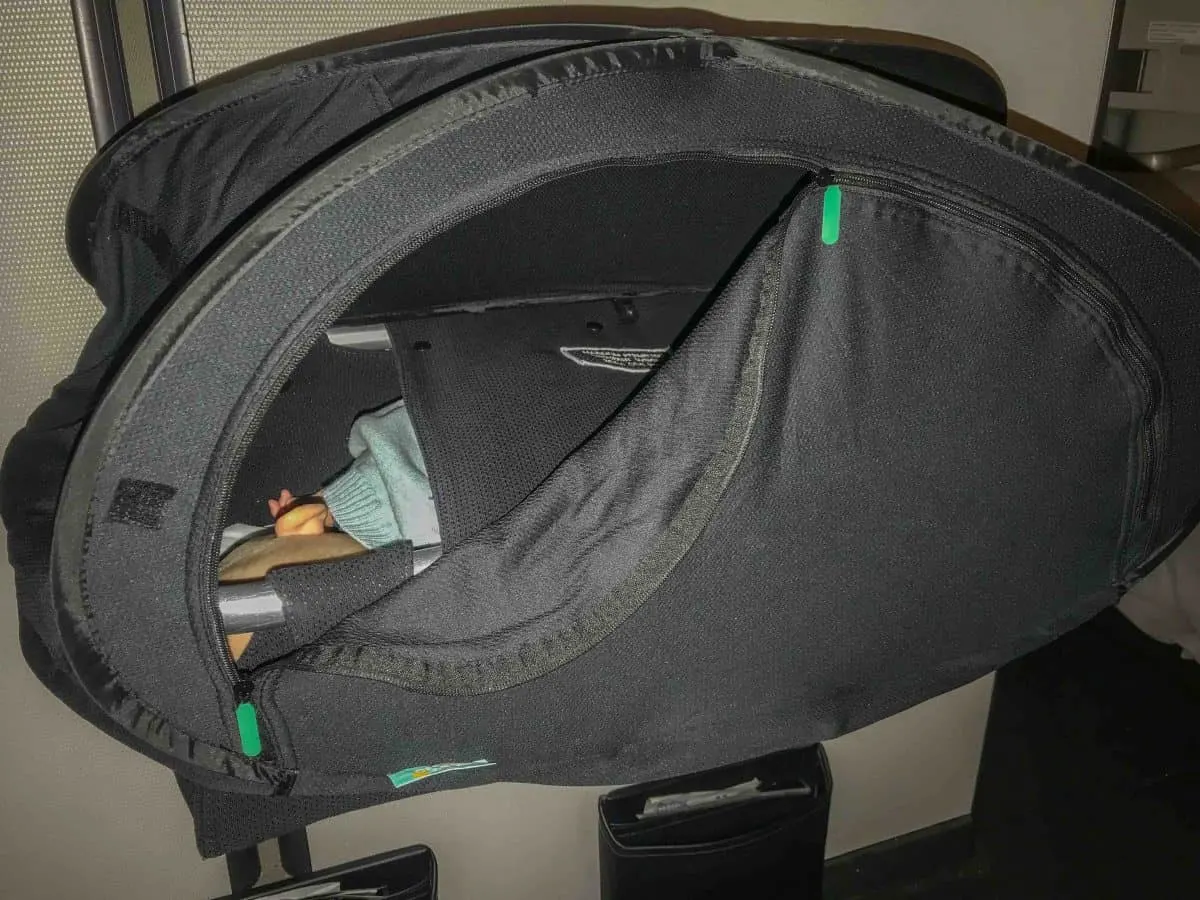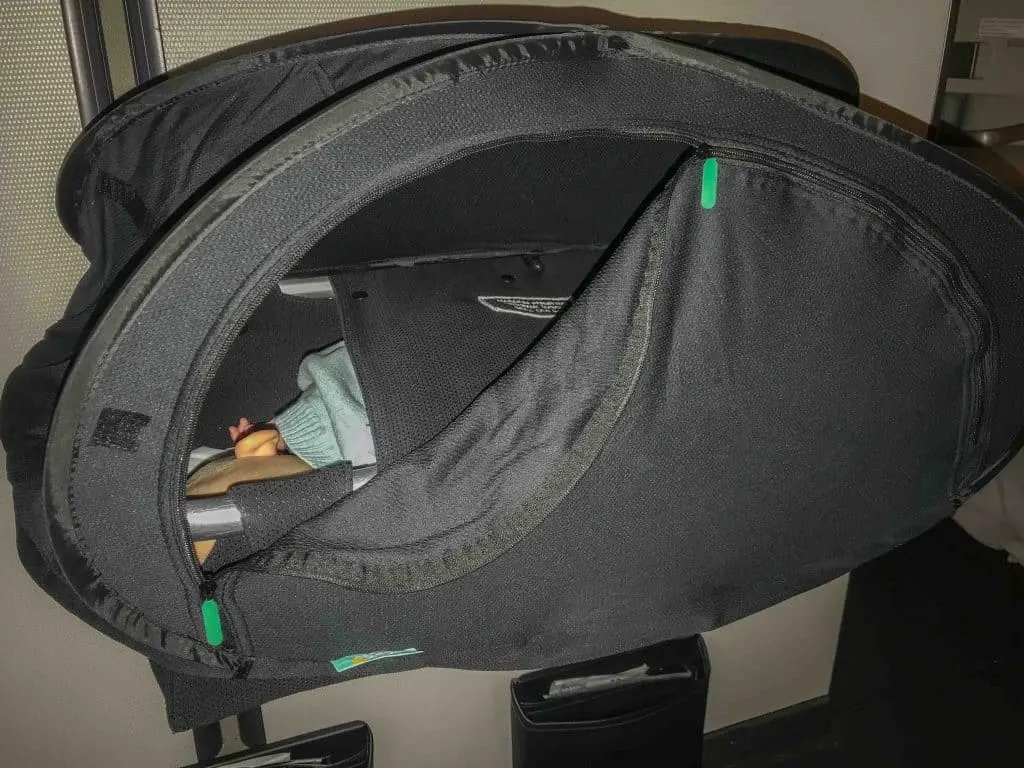 Another great product is the Cozigo which has a double function! It can cover a stroller as a sun and light protection but can also pop up over a bassinet on a flight.
Keeping those hideously bright lights on a flight is the hardest part and Cozigo is a great option to shade your toddler or baby. I have a full review of the product here.
Is Booking An Extra Seat worth it When Flying with a Toddler?
Any flight with a toddler is going to be made easier if they sleep. If your toddler is under two years old you may be tempted to have them in your lap. This is great at cutting costs for short-haul flights.
However, for long haul flights, the extra space is worth the money. In fact, children still get a discount on most seat prices.
Domestic flights can sometimes have a 50% discount so it is worth checking before you make a hasty decision.
Having an extra seat onboard not only gives you additional space, you will also need it if you are using a JetKids BedBox or toddler travel pillow. As well as setting up a bed on board, they can also prevent toys and other items from falling on the floor and having to be sanitised again.
Post-pandemic there are many other reasons to purchase an extra seat. In your row of three seats, you only want to be sitting beside family.
If you are travelling as a family of three and your toddler is on your lap, there may be another passenger in the empty seat.
You may get lucky and have an extra seat free of charge, however, this is not guaranteed. Paying for the extra seat gives you and your family a little extra privacy.
As soon as you board, disinfect the trays and armrests to give you some peace of mind. If you have the row to yourselves you won't have to keep reaching for the hand sanitiser.
Passengers are only permitted to walk up and down the aisle to use the toilets. No more walking the aisle to keep your toddler entertained. This extra space is also ideal for your toddler to stretch their legs and provide a little more breathing space.
Familiar Toys and Blankets
Don't forget the all-important familiar cuddly toys and a lightweight but warm blanket. Those familiar smells and comforts from home are always a winner. I find a fleece toddler blanket really good at compacting down into my hand luggage without taking up too much space.
Travel pillows are a great choice if you are unable to purchase a JetKids BedBox or inflatable bed. We all know how uncomfortable it can be to sleep on an airplane.
A little extra chin and neck support can go a long way. They are also easy to hook on to your hand luggage and incredibly light. Choose one that is breathable and designed for toddlers to use.
How To Navigate The Airport with a Toddler
So now that you've made the all-important preparations at home for the flight, there are quite a few things you can do once you arrive at the airport.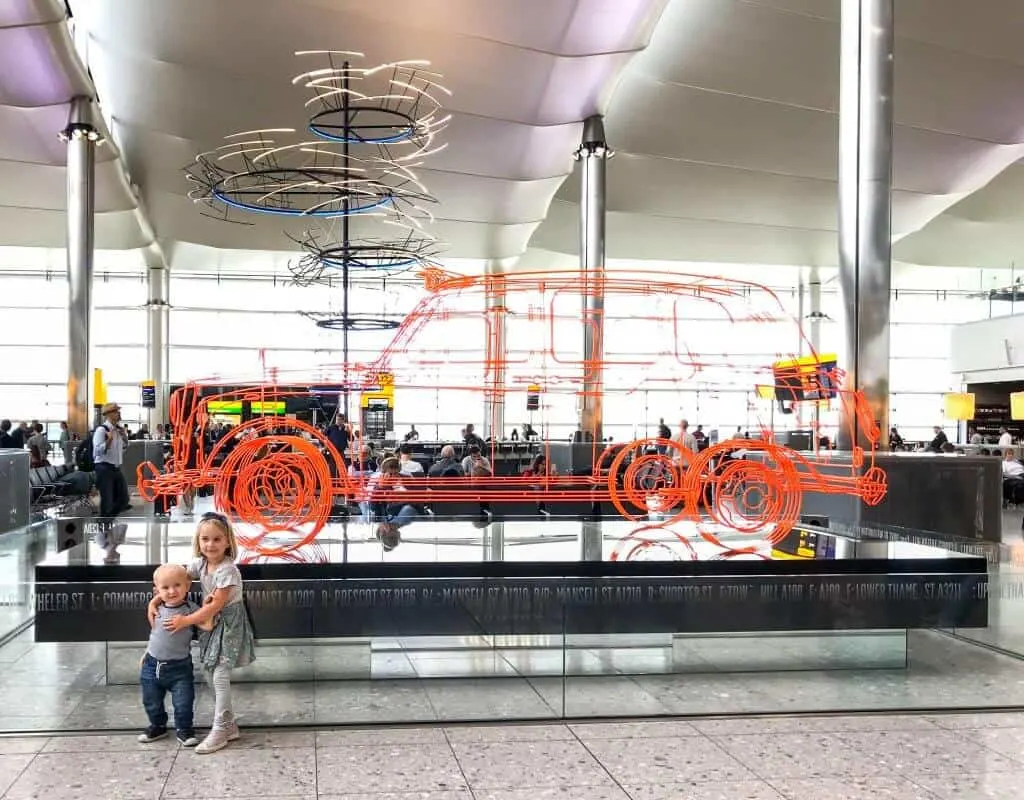 From scoring an extra seat at check-in, to making the most of free time before the flight, I have you covered! Make sure to arrive with plenty of time to clear security, have something to eat and play before boarding.
FLYING WITH A TODDLER CAR SEAT
Most airlines provide a seat belt for lap infants babies and toddlers under 2. All flying toddlers over 2 must be in their own seats.
Many of the Northern American Airlines do not provide the seat belt, however, they are available online and could be an alternate option to flying with toddler car seats. You can buy a seat belt here.
Some parents choose to take a car seat when flying with a toddler on board. They purchase a seat and install them just like a car seat. The idea is it gives the child the same protection as a car journey. However, this is not a requirement (at the time of writing this).
BEST CAR SEAT FOR TRAVELLING
Having recently flown to London from Abu Dhabi with four kids, as you can imagine, we were laden down with a lot of luggage. The majority of it being child travel accessories that always seem to be the bulkiest and most difficult of items to travel with.
This journey we had the chance to test out the new RyRy Scallop portable car seat. It is a very compact child car seat suitable for children up to 105cm in height and 18kg in weight. This cleverly designed car seat actually folds up nicely and can be converted into a backpack to keep your hands free which is always a bonus when travelling with children.
Weighing 9kg, the backpack is comfortable to wear and comes with a cover to keep it clean on the journey. The straps connect/disconnect with a turn and clip action, and can be packed away neatly inside the cover ready to be checked in as were doing an international flight.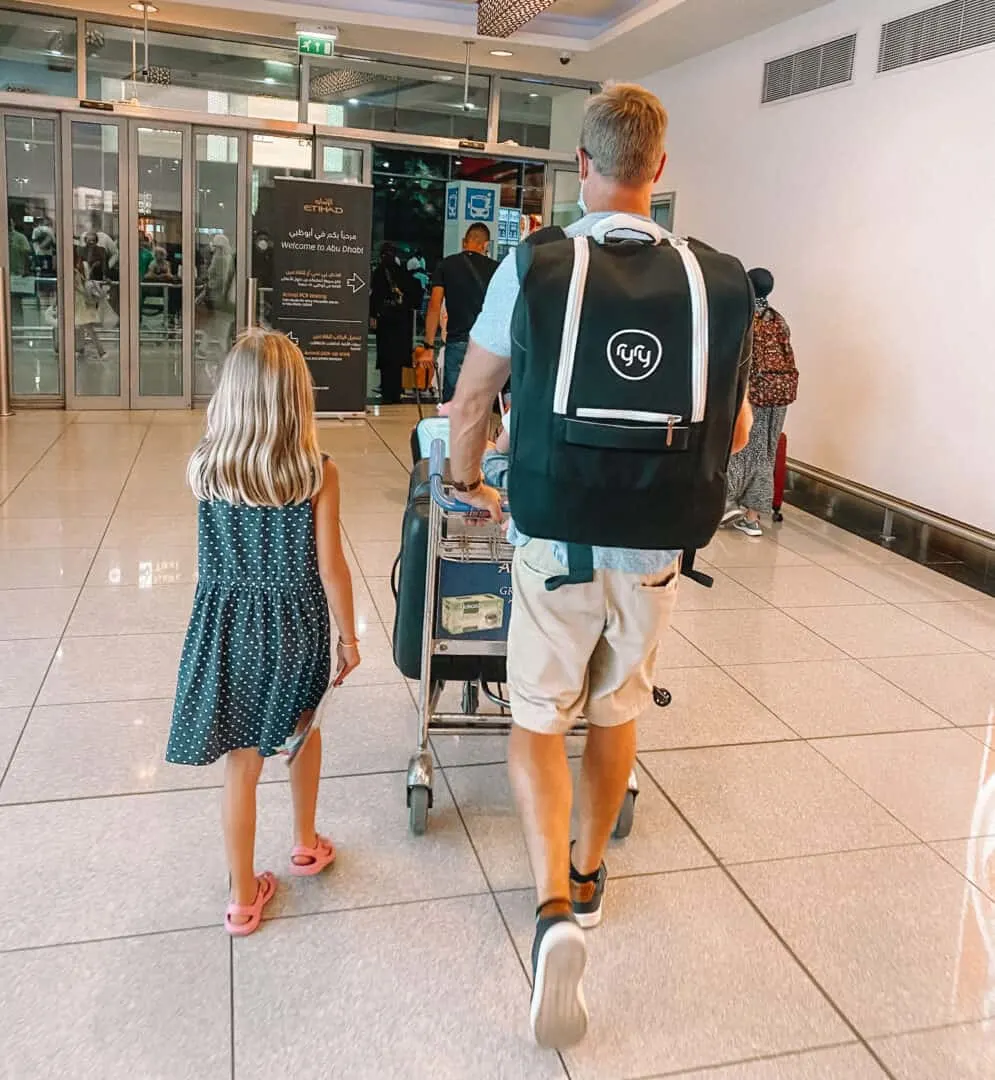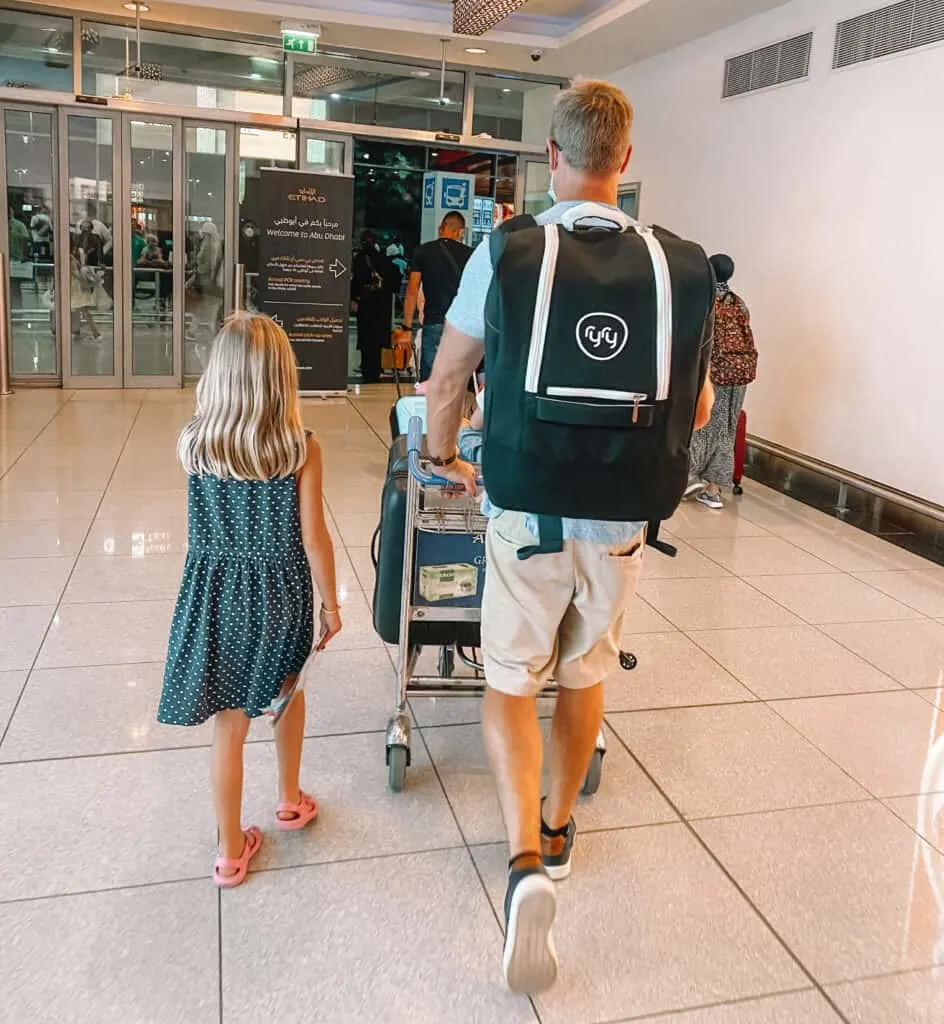 Our little boy found the seat very comfortable to sit in and fell asleep on the journey to and from the airport. We also found the seat easy to fix into the car as it can be fitted with the isofix connections and also the standard seatbelt harness.
Overall, we found the seat to be really compact, comfortable to sit in and transport on your back when on the move with children.
We have taken our car seats away if we happen to be renting a car for example, but we haven't installed them onboard. Every airline I have ever been on, allowed us to check our car seats in for free. If you are not sure whether you want to bring your car seat on holiday, check out this post.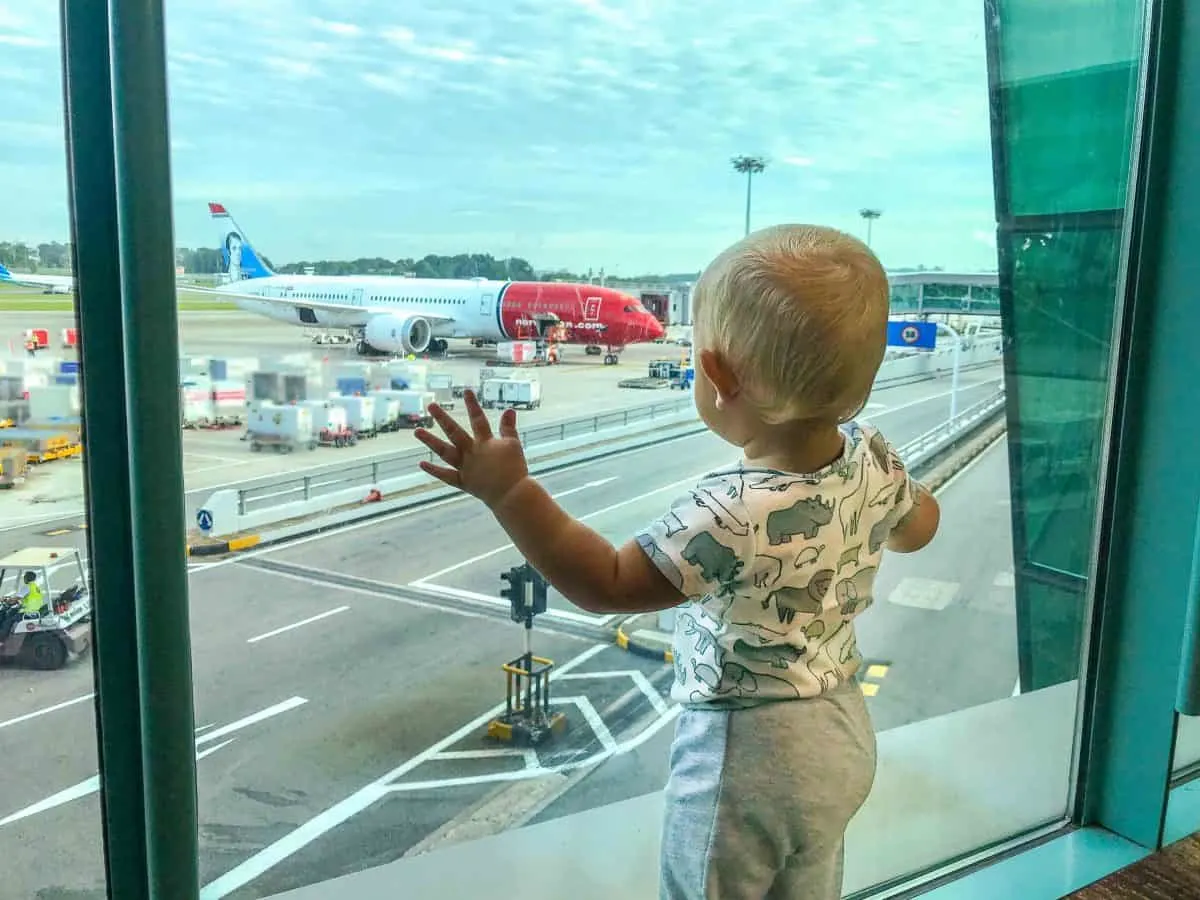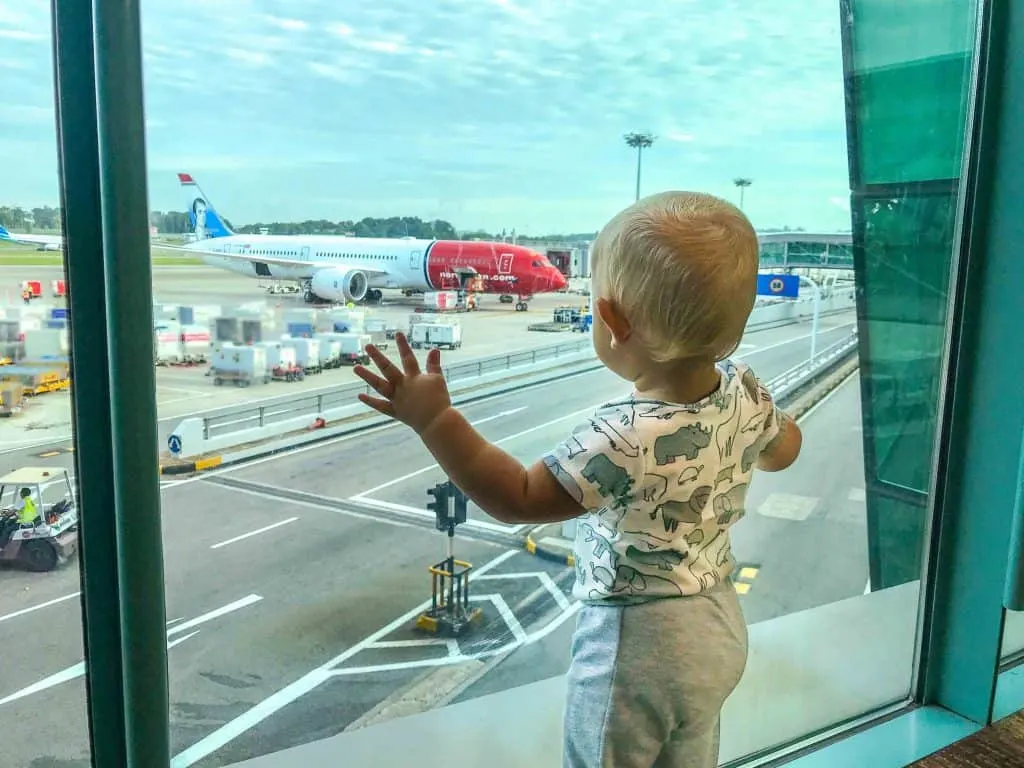 I prefer to hold my toddler on my lap with the seat belt, especially useful when I need to breastfeed on take-off and landing for his ears to relieve the pressure.
I do understand those parents that prefer to bring the car seat on board for flying with a toddler. Car seats can offer that extra protection, and, well, I guess being in their own seat contains them somewhat.
If you are checking your car seat in, be sure to place it in a protective travel bag. We have all seen how our suitcases are thrown around. The last thing any parent needs is a broken car seat.
A protective travel bag can help soften some of the blows your car seat is sure to face when it is being loaded and off loaded on the plane.
TRAVEL STROLLER AIRPLANE ADVICE
We tend to always bring a travel stroller with us. Depending on our mood, and if our toddler is sleeping or not, we make a call at the check-in desk whether we will take it with us to the gate.
I find it quite handy, especially if I am travelling solo. I throw my hand luggage in there whilst my toddler is walking. If you are flying with twins, having a double stroller will make things much easier.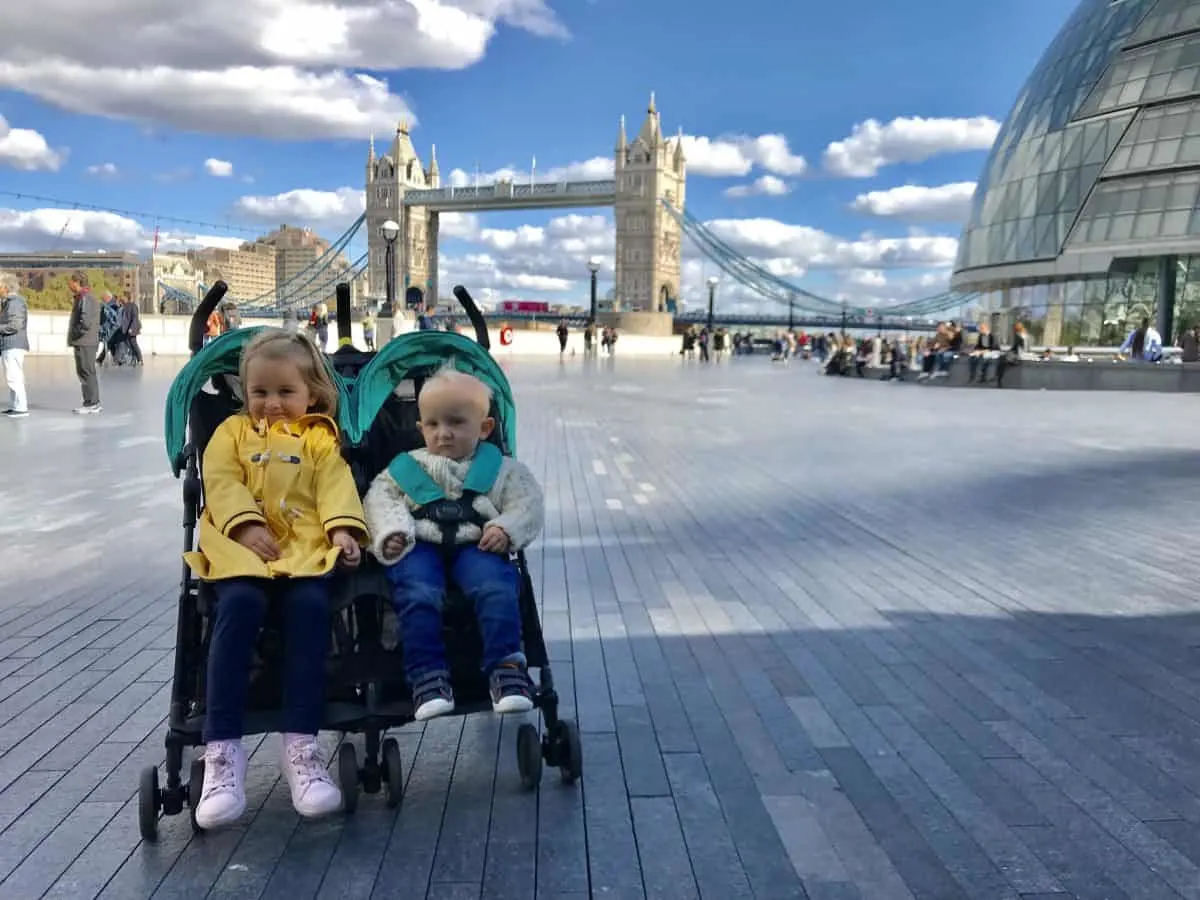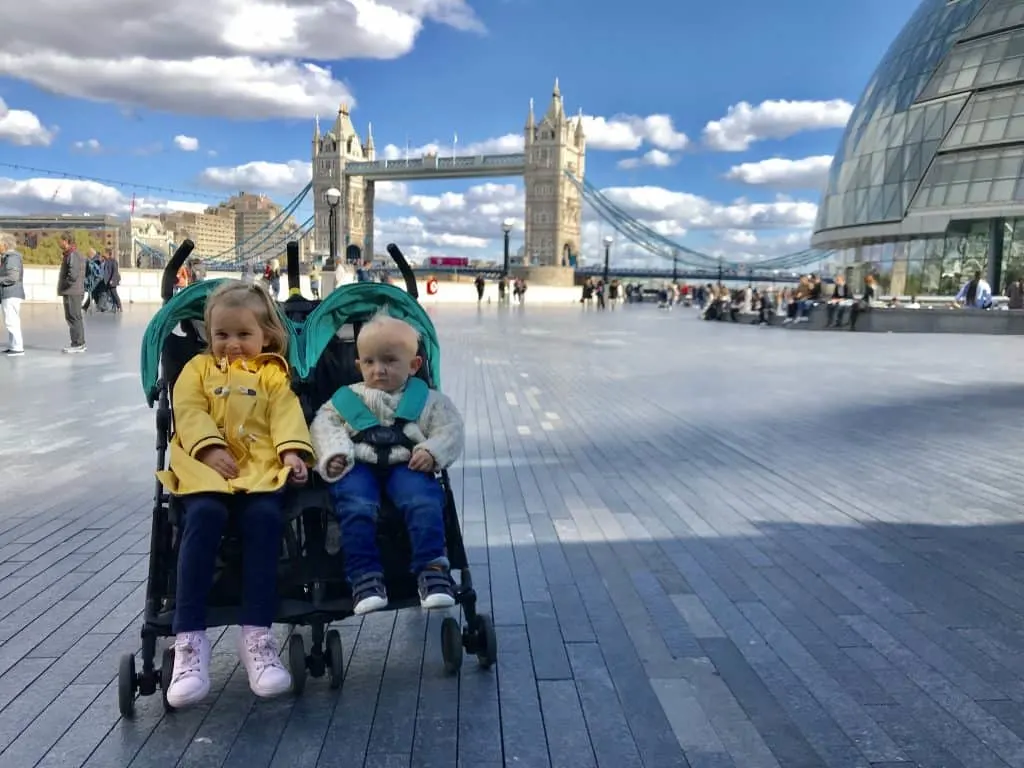 I check it in if I don't have too much hand luggage. If I have a tonne of stuff, it's just handy to have wheels to help. The less I have with me, and the more hands-free I'm going to be, the more likely I am to check it in at the desk.
It is wise to remember it may not be returned to you when you disembark. It depends on the airport. If you feel you will need it when you get off the plane right away, ask at the check-in desk.
Sometimes they can put in a special request. Otherwise, you often have to collect it with the rest of your luggage or even from the oversized luggage station.
Some airports used to provide rentals, however, due to the pandemic, this is no longer possible.
One of my favourite things on the market right now is the GB Pocket Stroller. It folds up so small and can be taken onboard. I find that feature really handy, especially if you'll have a connecting flight and a potentially long walk through a terminal to your next gate. It really is tiny when folded up!
For more information on the GB Pocket Stroller, click here.
If this is a little out of your price range take a look at the Baby Joy lightweight travel stroller. It doesn't fold down as small as the GB Pocket Stroller however it is light and compact.
It meets the airline requirements for carry on luggage so it can be taken on board. Most importantly it reclines for sleeping toddlers.
For more information on the Baby Joy lightweight travel stroller click here.
Dream on Me has released a new innovative stroller which has won a few awards. It is a budget stroller and has a host of features. In fact, it is a stroller, scooter, and rider all in one.
It is compact and easy to fold down and can be attached to another stroller or even a shopping cart.
Check out the Dream on Me Stroller here.
CHECK-IN DESK REQUESTS
Like I mentioned about the sleeping aids, the ideal scenario when flying with a toddler is to have their own seat. Airplane travel with toddlers can be stifling at the best of times.
You know how it is with them clambering all over you. I never bought a seat for my kids when they were under 2. However, I always asked if they had a spare seat at check in.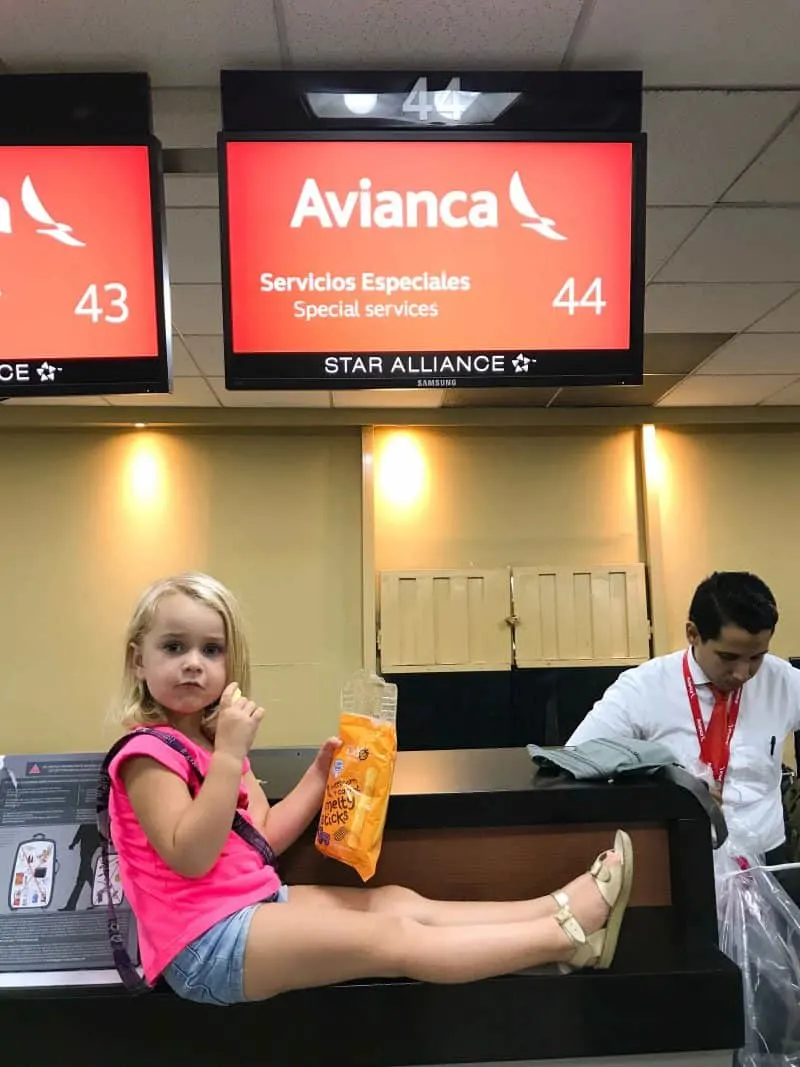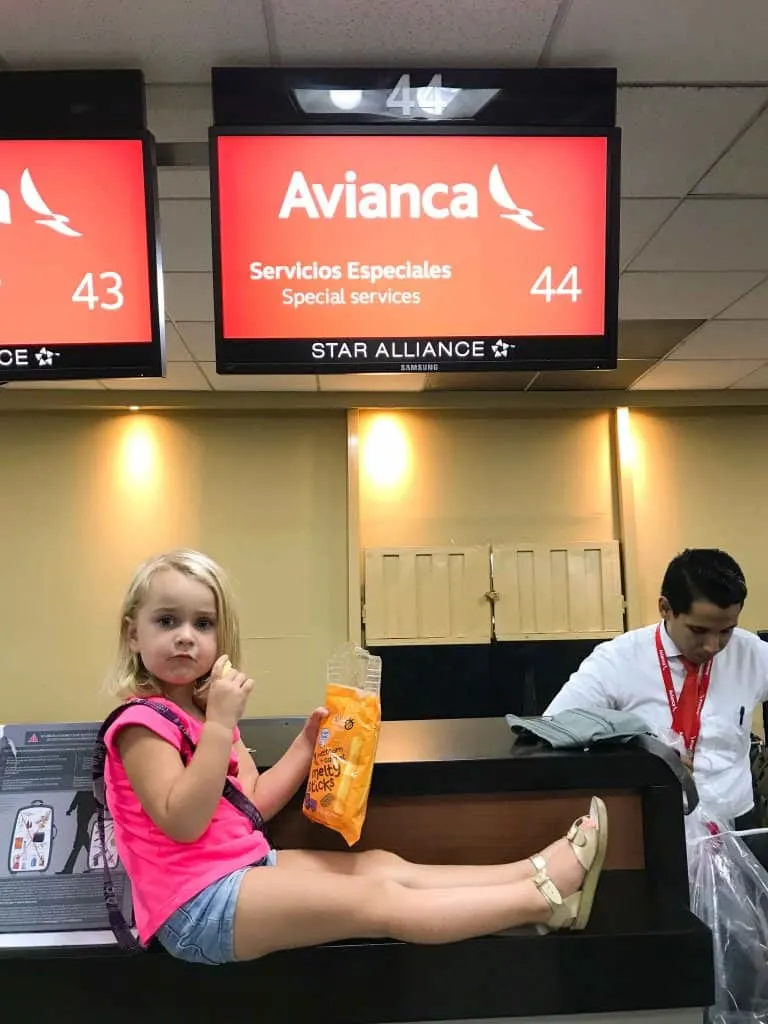 When flying with a toddler, most of the time we were lucky enough to score the spare seat on board and so we could make sure our little one was comfortable and had space.
For the few times, we were not so lucky, I had my baby carrier to hand to help get little one to sleep. Obviously, an entire night flight is not so comfortable with a toddler on your front but the baby carrier definitely made it easier.
When it comes to bulk head seats you may be able to reserve them before you arrive at the airport. If you haven't then the seats in the front row usually have a little extra legroom. If they are not available then consider asking for the seats at the back of the plane.
They are closer to the toilets and could be great if you need to make a run for it. Other than that, request a window seat for your toddler. You may not need to as most airlines try to keep families together. However, it doesn't do any harm to confirm at check-in.
Window seats can offer a few minutes of distraction, especially when taking off and landing when you are trying to keep them in their seats.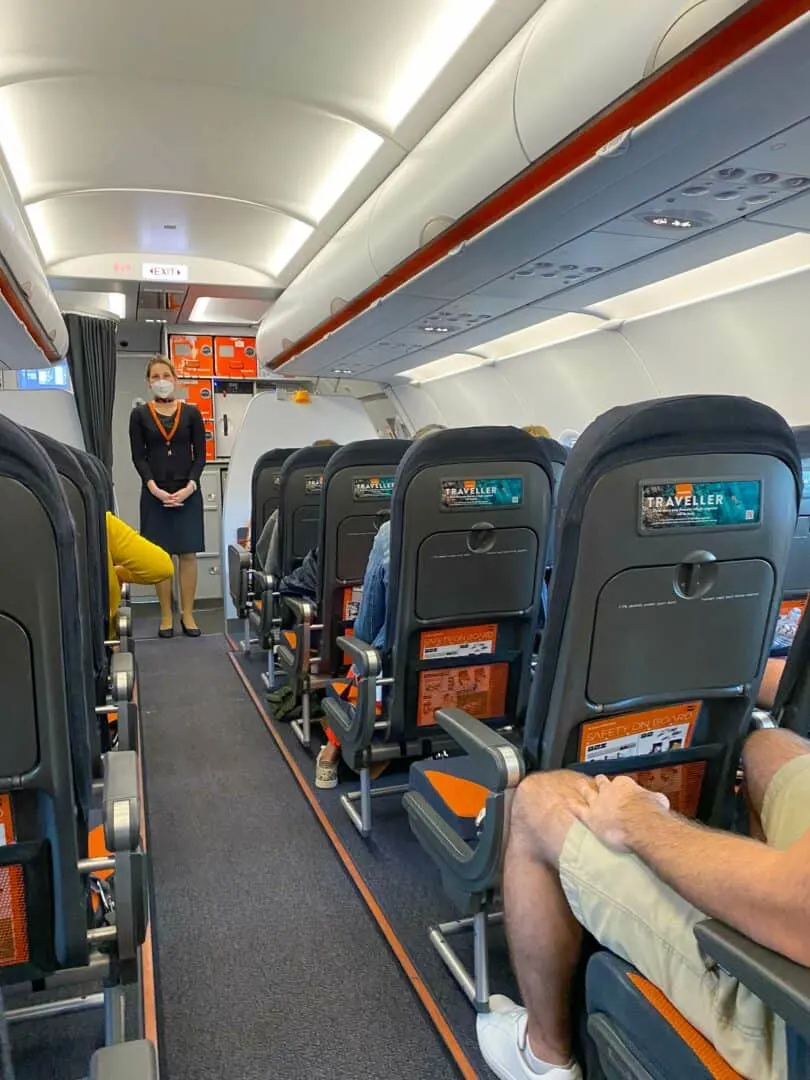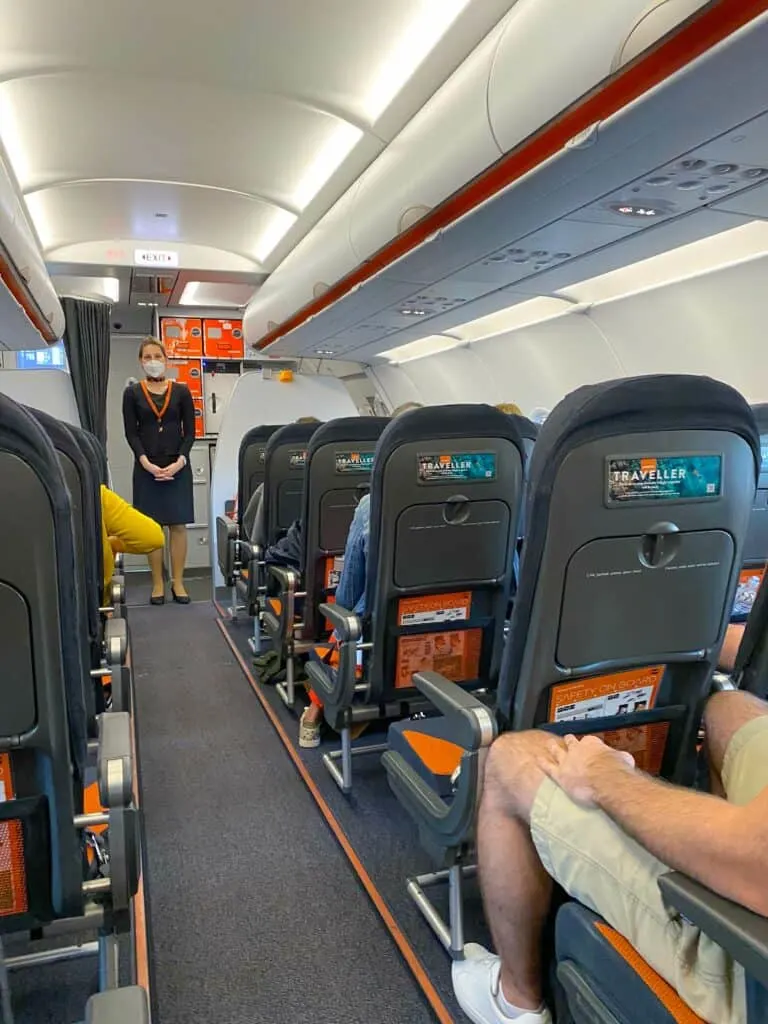 You may also be allowed to check-in any extra hand luggage. You are going to want to keep your backpack, however, if your partner has a bag then that can be checked in for no additional charge.
This is not true for every airline, however, if the flight is full then there may not be enough room in the overhead lockers for passengers bags. Even if it is not, many airline staff understand the need for parents to be as hands-free as possible.
Getting Through Airport Security with a Toddler
Family security lines can be amazing. I recently travelled through Barcelona Airport where they had a playpen right at the security line.
In Barcelona airport, they also had a low-level machine to push everything, from our buggy and suitcase through for scanning. It made it so easy for us.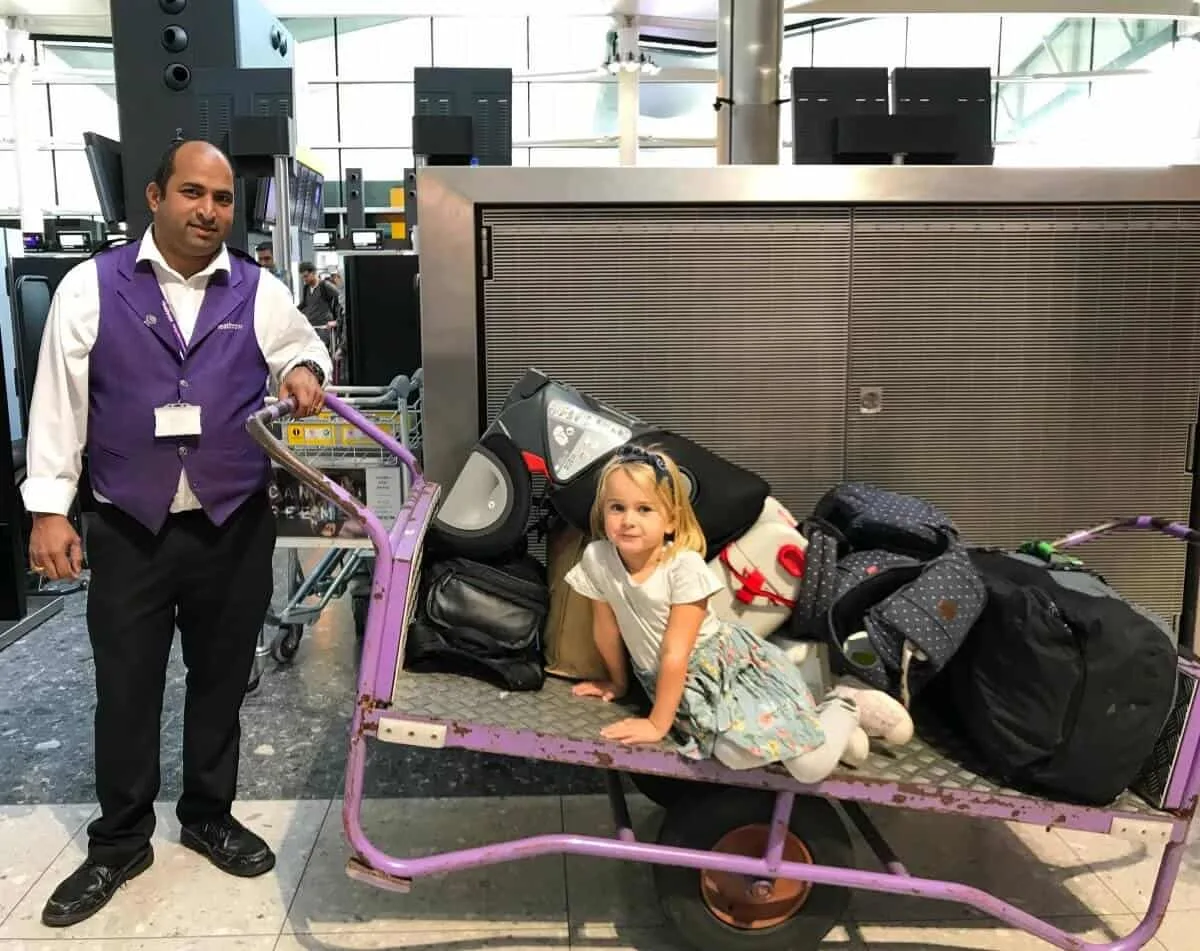 However, in some airports, the family security lines are not always the quickest. Have a look around to see which line is moving and head there.
If there is no family security line, there may be a fast queue. Most passengers have to pay an additional charge. Airport security can be very helpful. Many times they allow families to use the fast queue.
If your toddler is being a little impatient or you are running late, there is no harm in asking. The worst they can say is no.
Gatwick Airport can be hit and miss, sometimes the line is so busy with families it ends up taking longer. The best thing to do is assess each time and see if the better option is to take the regular queue.
PREPARING FOR INSPECTION AT AIRPORT SECURITY
Try to avoid extra hassle at security and get the long flight with a toddler off to the best start! Liquids will be tested if they are your little one's food and drink for the journey. I always forget at least one thing at the bottom of the bag!
Electronics have to be removed and put in their own tray. If you have a tablet in each bag, this is going to be a hassle. Try to have them altogether so they can be easily taken out and easily put back in.
Don't forget to consider your outfit carefully.
Wear things you are not going to have to take off, this is not fun whilst chasing a toddler.
For example, I try not to wear boots and a belt because I know I have to take them off! I keep my passport hanging around my neck in one of those special zip pouches. Again having everything to hand is really helpful.
Being organised before you hit security is key to a smooth transfer. Along with liquids in clear plastic bags, all electronics must go through separately too. Having your tablets and laptops together makes it easier to put them all in the tray and repack them after they have been scanned.
If your toddler still drinks formula or you are carrying breast milk then there is no limit for children under the age of two. This also applies to food and water.
They may ask to test the formula or breastmilk before letting you go through with it. Some airports may allow water to be taken through for children over two. It is not guaranteed though.
There may be a place to fill up bottles on the other side.
LOOK FOR FAMILY FACILITIES WHEN FLYING WITH TODDLERS
Most airports have an area for kids to play. Look at the information screens to find them when traveling with toddlers. Some are better than others, Dubai Airport is a favourite of ours as well as the soft play at Heathrow Terminal 2.
I find so many of the western airports go the extra mile during school breaks. For example in Heathrow in some restaurants, kids eat free at some restaurants in the terminal.
I prefer to eat a good meal before boarding the plane. As strict vegans, the food options are not always that good so we always have our big bag of snacks to fall back on.
If there are no play areas available then simply walking around the airport can keep your little one entertained and help burn off some energy.
Navigating the Airport with a Toddler
Airports are busy places. There is a lot going on and they can be a difficult place to navigate with a toddler. Parents can have a difficult time with toddlers who don't want to sit in a stroller. Toddlers are not great at keeping up and are very easily distracted.
The gates can also be far away. Sometimes you can even expect to walk around twenty minutes to arrive at the gate. If your toddler is one who refuses a carrier or stroller there are a few things on the market which may help those little legs.
A case with wheels allows kids to sit on it and is a great way to keep things light hearted when you are in a rush at the airport. The case allows enough space for kids to pack some of their favourite toys and activities as well as room for a spare change of clothes.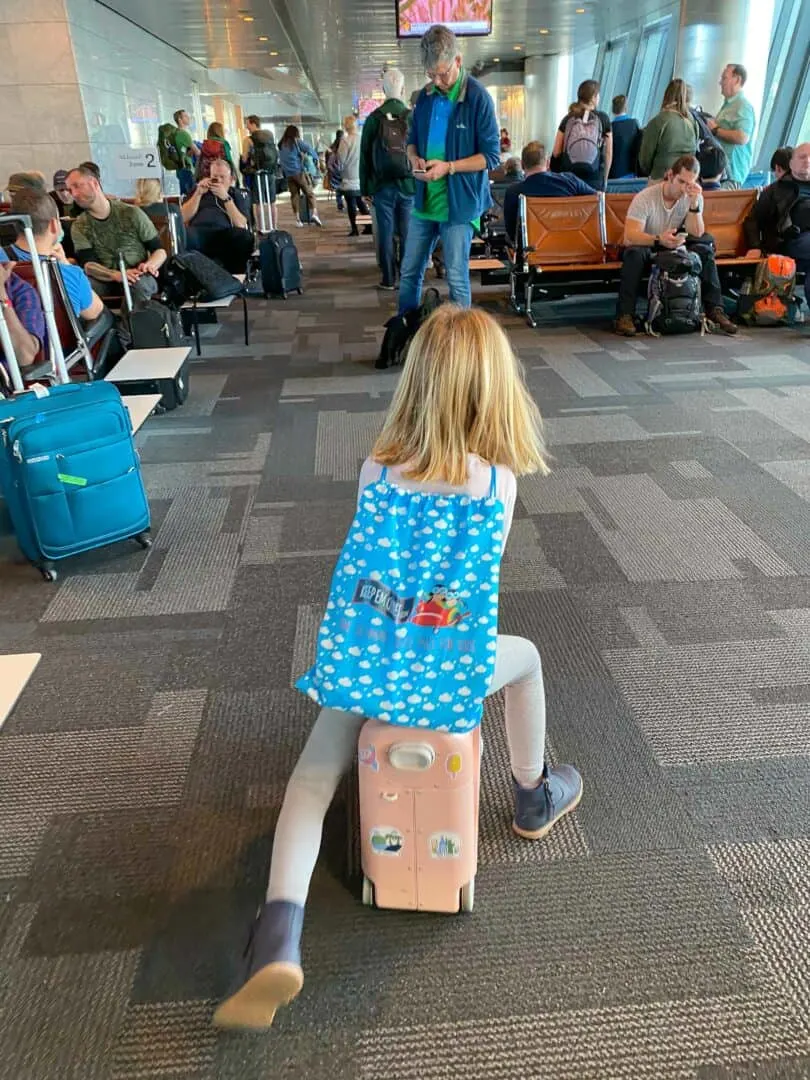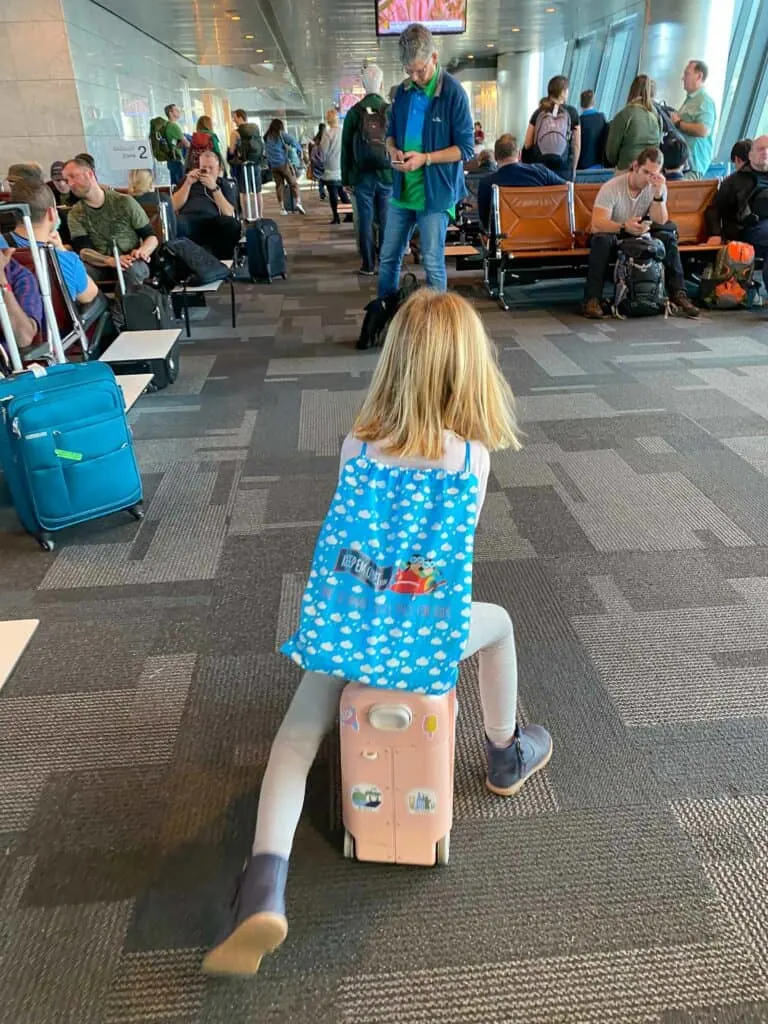 Toddlers can sit on it and use their legs to push it along. However, as parents, we know this won't last. The case has another feature where kids can put their feet up and parents can pull them along. For safety, there is also a strap which goes around the back to prevent falling.
There are two different sizes available. The smaller size, 20 inches, is accepted on many airlines. However, always check their regulations before flying.
Check out this ride along suitcase with wheels here.
If your toddler loves scooters then they may enjoy taking one along to the airport. This ride-on suitcase looks like any other carry on from the front. At the back, there is a fold-down wheel which transforms this luggage into a scooter.
There are many different designs to choose from and there are some led lights on the wheels. The telescoping handle means it can be adjusted to suit toddlers of all heights.
The case doesn't hold a lot. However, there would be enough room for a few toys and a change of clothes.
Click here to see the Ride-On Suitcase Scooter.
BEST TIME TO BOARD A LONG FLIGHT WITH TODDLER
Airlines always prioritise young families to board, however that's not always helpful! I find letting our kids run around the terminal and burn their energy off is a better starting point to get them to sit down and put their belt on.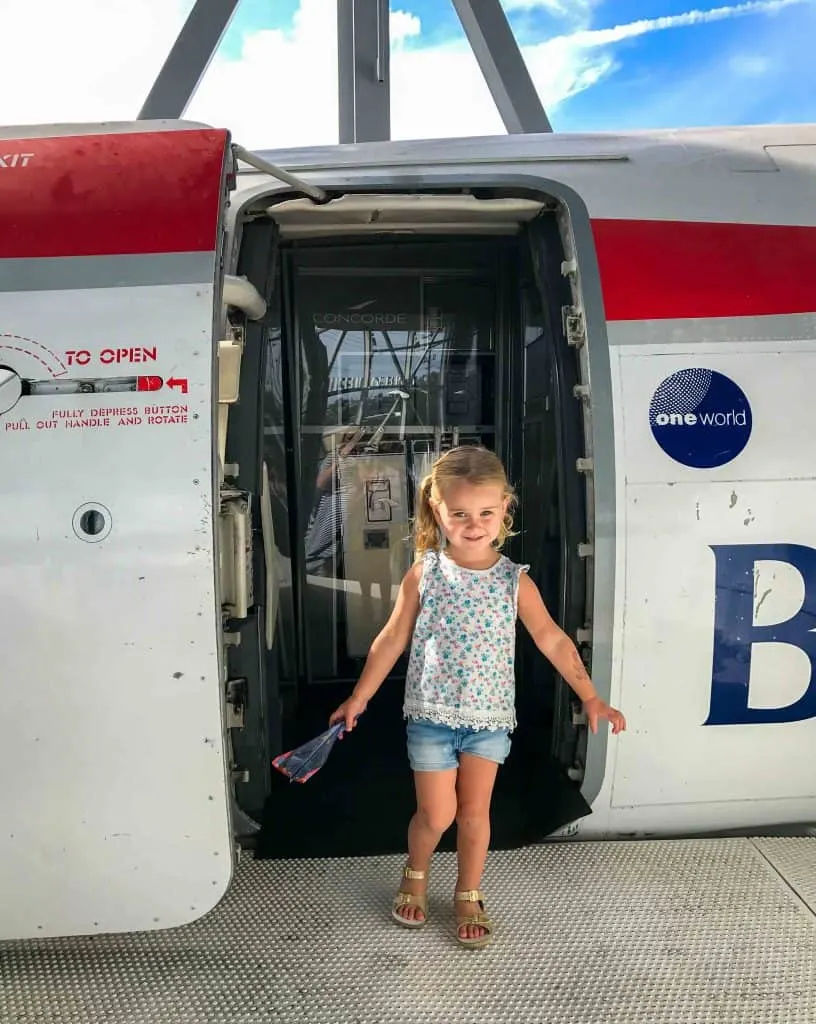 Having that extra time whilst everyone else boards can be tricky in my opinion, so this is always our default approach. In some cases, if our toddler is on the verge of falling asleep, we board early and make the most of settling in peacefully.
Some families split up at the gate. One parent takes all the luggage on while the other plays with the toddler at the gate. This is a great idea if you are planning to wipe down the armrests and trays with cleaning and disinfectant wipes.
Use this time to take your toddler to the toilet as well. The toilets are out of use until the plane has taken off and the seat belt signs are off. This means there may be a long wait if they have to go as soon as they board.
ON BOARD A FLIGHT WITH A TODDLER
Don't be afraid to ask the crew for help if you are flying with kids! If they see you are flying with a toddler, they will normally give you a kiddie pack, if they forget just ask because it can usually kill at least half an hour.
I try to prepare my little ones for wearing their seat belt and provide all the distractions possible during that time. In reality, it's only during take-off, landing and turbulence that we really need our toddler to conform so distraction is key.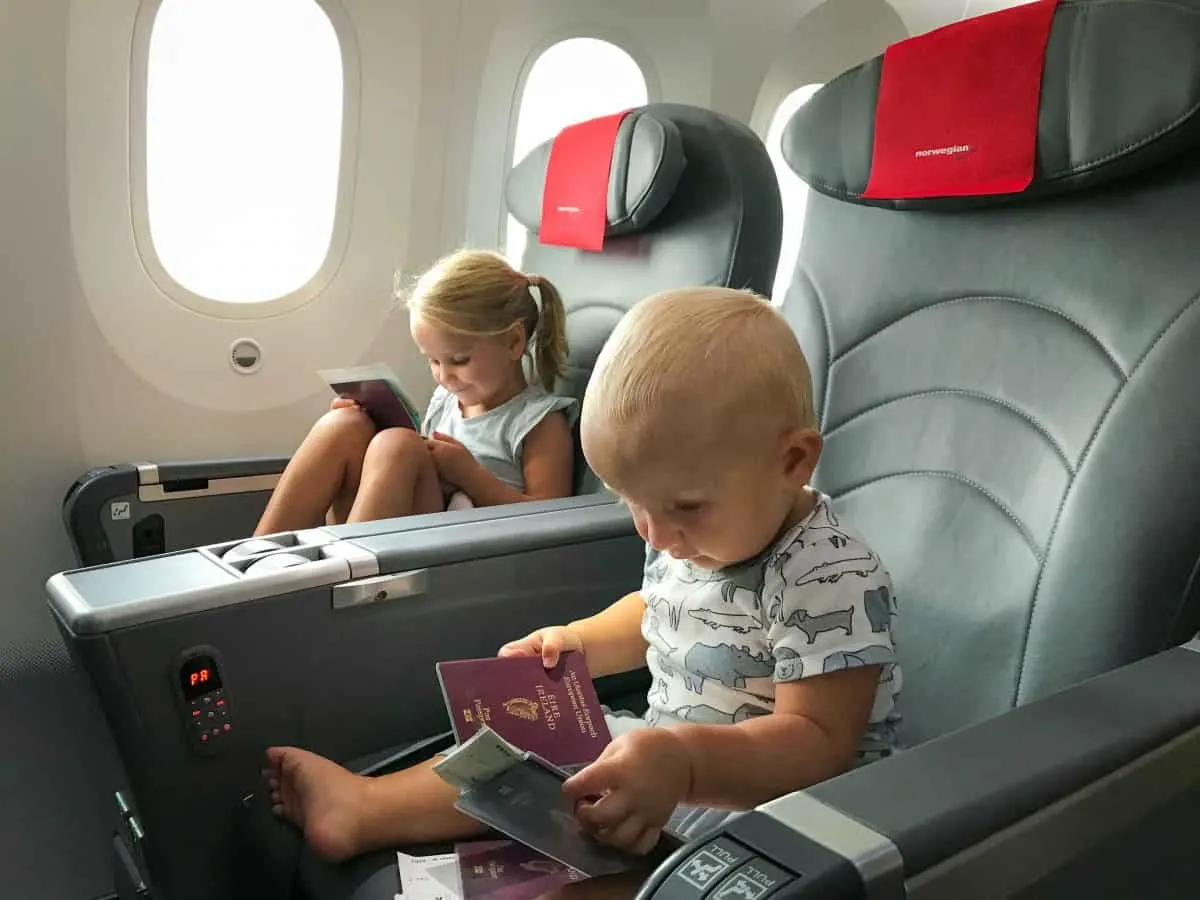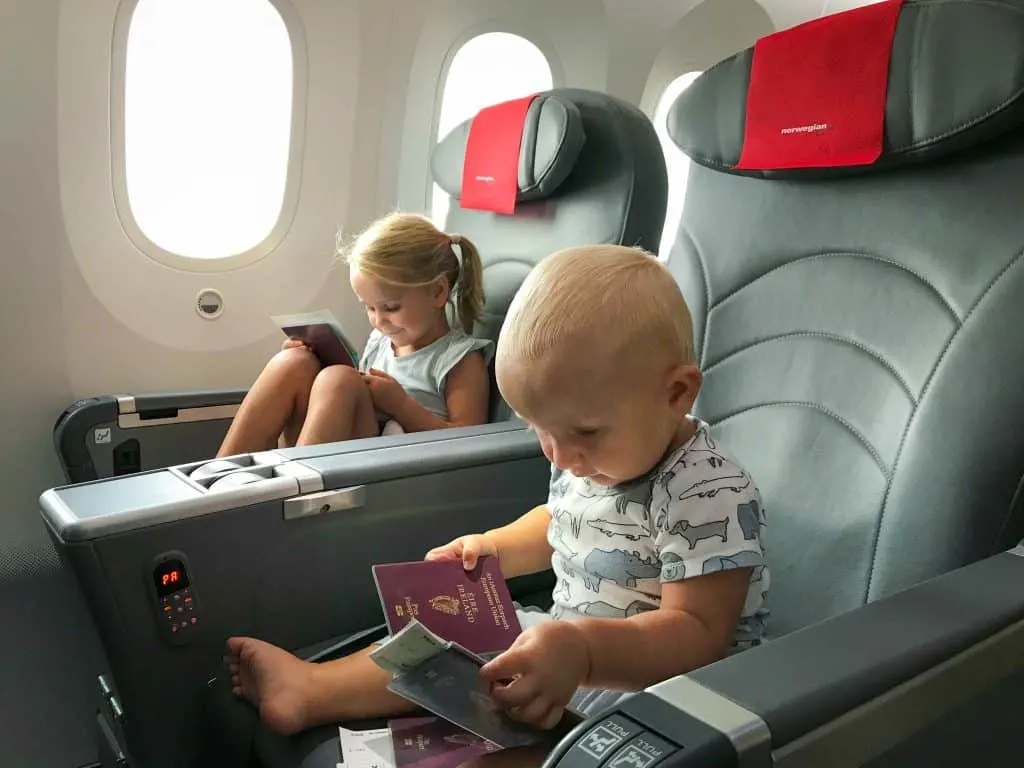 If my kids want to walk up and down I let them. Trying to contain them is really challenging and can be harder doing that than simply letting them stretch their legs.
It's nicer for everyone involved, people prefer to see a happy child zooming past as opposed to a contained upset toddler in the seat behind. Drip feed snacks and activities throughout the flight, one by one.
Likewise, keep everyone hydrated with water and make sure to have enough diapers and change of clothes for any accidents. don't forget to include a change of clothes for yourself either.
Leaving the Plane with a Toddler
Before kids, you may have been that person who stood up first and tried to get off the airplane as quickly as possible. However, after kids, you are more than likely going to want to wait until most of the passengers have disembarked.
This is because it can be quite stressful trying to get all your luggage from the overhead lockers with a toddler while impatient passengers stand behind you.
You are also going to want to keep your distance as well, so take a break while everyone else gets off the plane.
Depending on where you are going and the airport, you may have to get a bus to the terminal. If you were able to carry on your stroller then this can be a great help. If not, a carrier is perfect to pop your toddler in while you hold the luggage on the bus.
Family-Friendly Airlines when Flying with a Toddler
Some airlines are more family-friendly than others. This is due not just for the facilities onboard the plane, but also luggage allowance.
This may surprise you however, some airlines charge for parents to take a stroller or even a car seat with them. Some allow you to take both free of charge and there are a few which allow a travel cot to also be included.
Most major airlines give parents the choice of two extra pieces of luggage at check-in.
If you have opted to have your toddler on your lap, then check if they are allowed their own luggage allowance. It should be easy to find this information from the airline's website. However, if you are at all unsure give them a quick call to ask.
Additionally, some airlines provide some activities for children, while others don't. You are probably going to be loaded with activities and this may not be an important factor, however, airlines which provide them are more likely to have other perks for families.
Paperwork you Need When Flying with a Toddler
Many parents are unsure whether their toddler needs to have a passport when they fly. If you are flying internationally then all passengers need to have their own passport.
If you are from the US and flying domestically, a birth certificate may be enough for all children under the age of 18. Be aware though some airlines may still ask for a passport.
It is always a good idea to carry your child's birth certificate when flying. This is especially important if you and your toddler have a different surname.
Parents who are flying solo may also need a notarized permission to fly documents from the other partner. These are very common in South America, Europe and South Africa.
Flying nowadays requires more documents than ever. Before it was just passports and tickets. Now there are PCR tests, proof of vaccinations and even locator forms.
You may also need to show your travel insurance at the check-in desk. Many countries will only allow entry to foreign citizens if they have adequate travel insurance COVID cover.
If you are not sure what documents you require, be sure to call the airline at least a week before you fly. This should give you enough time to get everything together.
Having these documents all in one place can make check in and passport control go smoothly.
OTHER ESSENTIAL ITEMS WHEN FLYING WITH A TODDLER
As stated above, preparation is key for any flight with a toddler. As parents we have to prepare for every scenario while trying to fit it all into our hand luggage and staying under that 100ml limit.
A backpack is most parents preferred choice as it allows them to keep their hands free. Having one with lots of storage compartments is perfect for keeping yourself organized.
Use your backpack to store all of your essential items. The items which you may need to get to right away. Any other non-essential items can be stored in another carry on if needed.
Carry a few wet bags with you in case of any accidents. These are also great if you are cloth diapering and don't want to switch to disposables on your trips.
The trays on an airplane can be a little too high for toddlers. This can make activities a little difficult and may even lead to tantrums. A great item to carry on is a kids travel tray.
The tray has tons of pockets and colouring pencils and books can be stored there too. Along with cup holders, and there is a place for a tablet. In fact, there is more than enough room for all the activities you brought with you.
It is easy to fold down, easy to carry and most importantly waterproof. They are great for airplanes and can also be used on long car trips too.
For toddlers new to potty training this may be their first experience using public restrooms. It can be a daunting experience for them as the toilets are considerably larger than the small potty they use at home.
Some parents opt to use nappies or diapers for the journey, while others carry a folding potty seat with them. It is best to try it out at home for a few weeks for toddlers to get comfortable with it.
If your child takes any medication make sure to carry it in your hand luggage and have the prescriptions with you, just in case. The last thing you need is your luggage not making it to the other side and having to try and find the right medication in a foreign country.
A small first aid kit is a great item to have. There are limits to what you can pack. Scissors and liquids over 100ml have to go in hold luggage. However, a few plasters and a small bottle of kids paracetamol could come in handy.
These are great for your trip as well. Landing in a foreign country and trying to find the nearest pharmacy can be daunting. Throwing in a foreign language and trying to make sense of instructions can turn into a headache.
Having a few essential medicines can prevent this and leave you with one less thing to worry about.
HOW TO HANDLE DELAYS WHEN FLYING WITH A TODDLER
There is nothing worse than arriving at the airport and discovering your flight is delayed. Twenty or thirty minutes is tolerable, however, a few hours delay with a toddler can feel like your whole world is crashing down.
You are worried you will run out of snacks or worse yet activities for the journey.
This can be difficult to navigate, however, there are a few tricks to help you get through it. The first thing you want to do is eat at the airport and keep the snacks for the plane. Many airlines offer a free food and drink voucher for delays so make the most of it.
Try and use the facilities at the airport as much as you can. You want the activities to be used on the airplane. However, if this is not possible try and stretch them out. Don't forget about the simple things either. Some toddlers might enjoy watching the planes on the runway, while others might want to look at the toys in the toy shop.
All the sights and sounds found in the airport are new and exciting for many toddlers, so take advantage of your surroundings and let them explore.
Flying with a Toddler During the Covid Pandemic
The COVID pandemic has made travelling with little ones more stressful for parents. It is a perfectly natural reaction as we want to keep our children safe.
Whether your toddler has to wear a mask onboard is dependent on age. The WHO recommends all children under the age of two should not wear a mask at any time.
There are many reasons for this including the size of the airways and the risk of suffocation. If your toddler is over two they may not have to wear a mask on board. Some airlines recommend children over six wear them, while others prefer children over two to wear a mask while they are on board.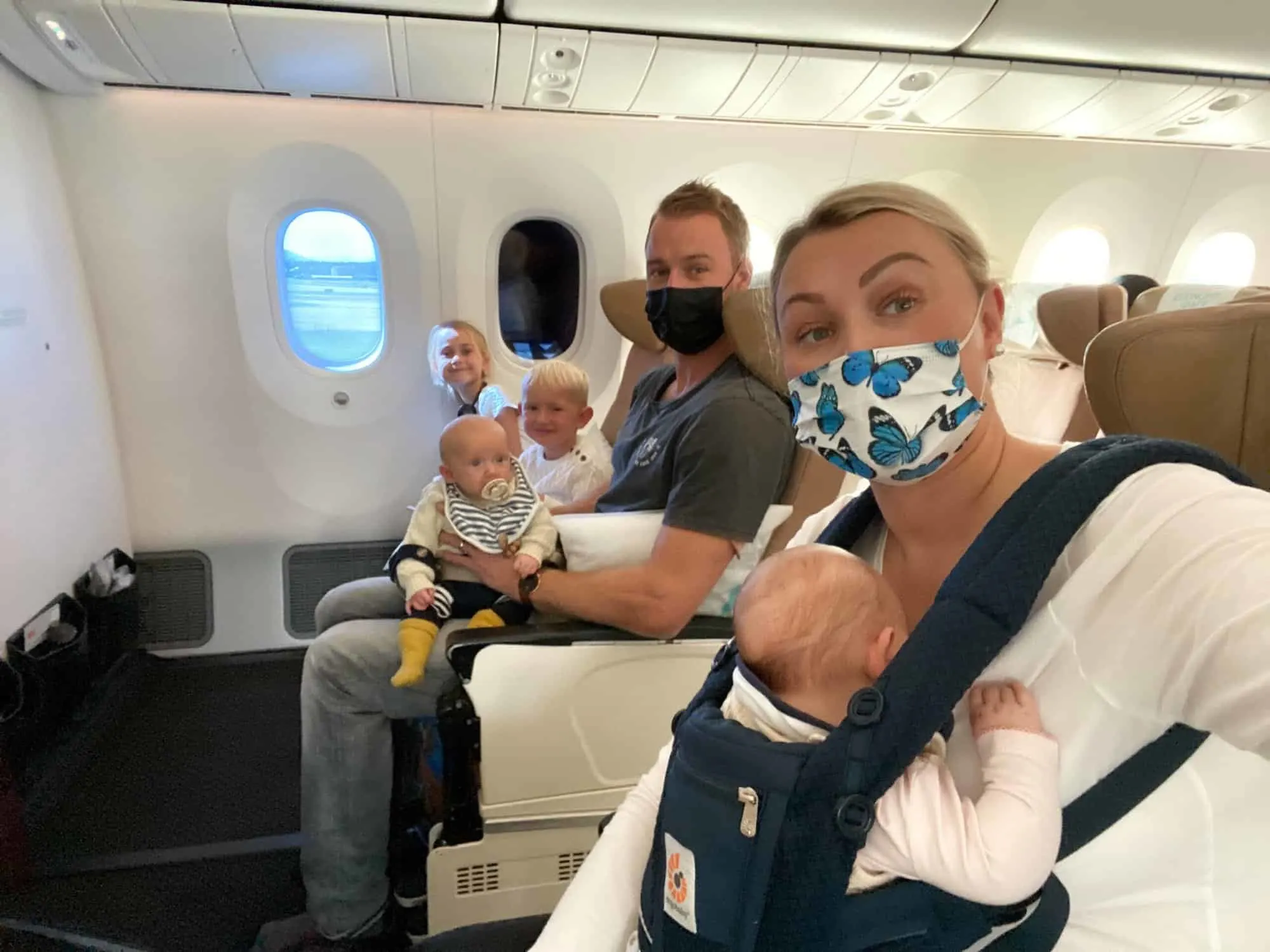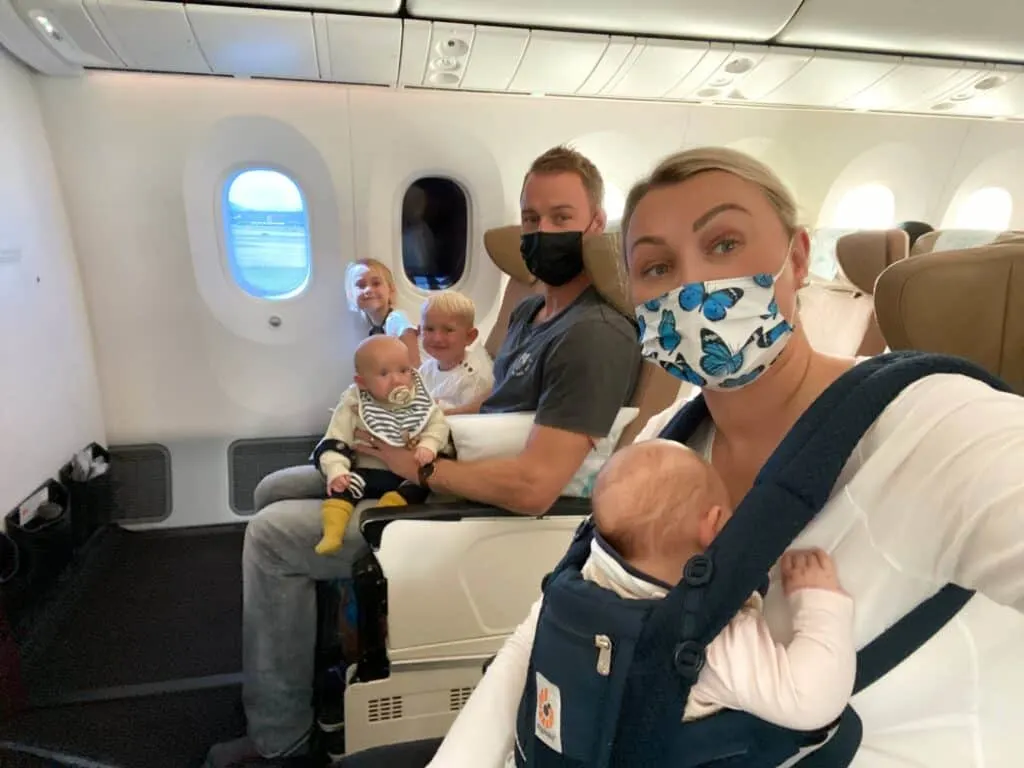 As the rules are at the airline's discretion then it is best to check with them at the check-in desk or in their terms and conditions.
The best thing parents can do is to keep their hands and their children's hands clean. This is simple to do with soap and water, however, it is not always convenient to find handwashing facilities.
Carrying some hand sanitiser is great for using after security and check-in. To always make sure it is on hand, have one which attaches to your bag so it is easy to use.
Cleaning and disinfectant wipes can be used to disinfect the seating area and trays. The airline has more than likely done this before you boarded, however, there is no harm in doing it again.
Have the wipes to hand when visiting the toilets to give the area a quick wipe down or when using the changing facilities.
There is also a great technique to use to ensure you are wiping the area correctly. The trick is to start at the furthest corner and wipe in an S pattern. The reason for this is to ensure you never wipe over the same spot.
You may want to also sanitise your toddler's toys and dummies before boarding. In fact, it is best to keep them separate and to carry a few extra dummies or pacifiers as they are sure to fall on the ground.
The window seat is considered to be the safest seat on a plane so it may be an idea to have your toddler sitting there. Sitting in the window seat limits your toddler's exposure to others. If they were sitting in the aisle seat they would be across from a stranger and the crew coming by with snacks.
Even though your toddler is not vaccinated, there is usually no need for PCR tests or even quarantine if they are travelling with vaccinated parents or parents with a negative PCR test.
Check the entry requirements for the country you are visiting before setting off.
TIPS FOR SELF CARE WHEN TRAVELING WITH TODDLERS
Make sure you don't forget about yourself when travelling with a toddler on a plane.
Stay well hydrated, take time for lots of leg movements to prevent blood clots and try to get your head down for a sleep while your little one is. Or, if not a sleep, then have a glass of wine, relax and watch a movie.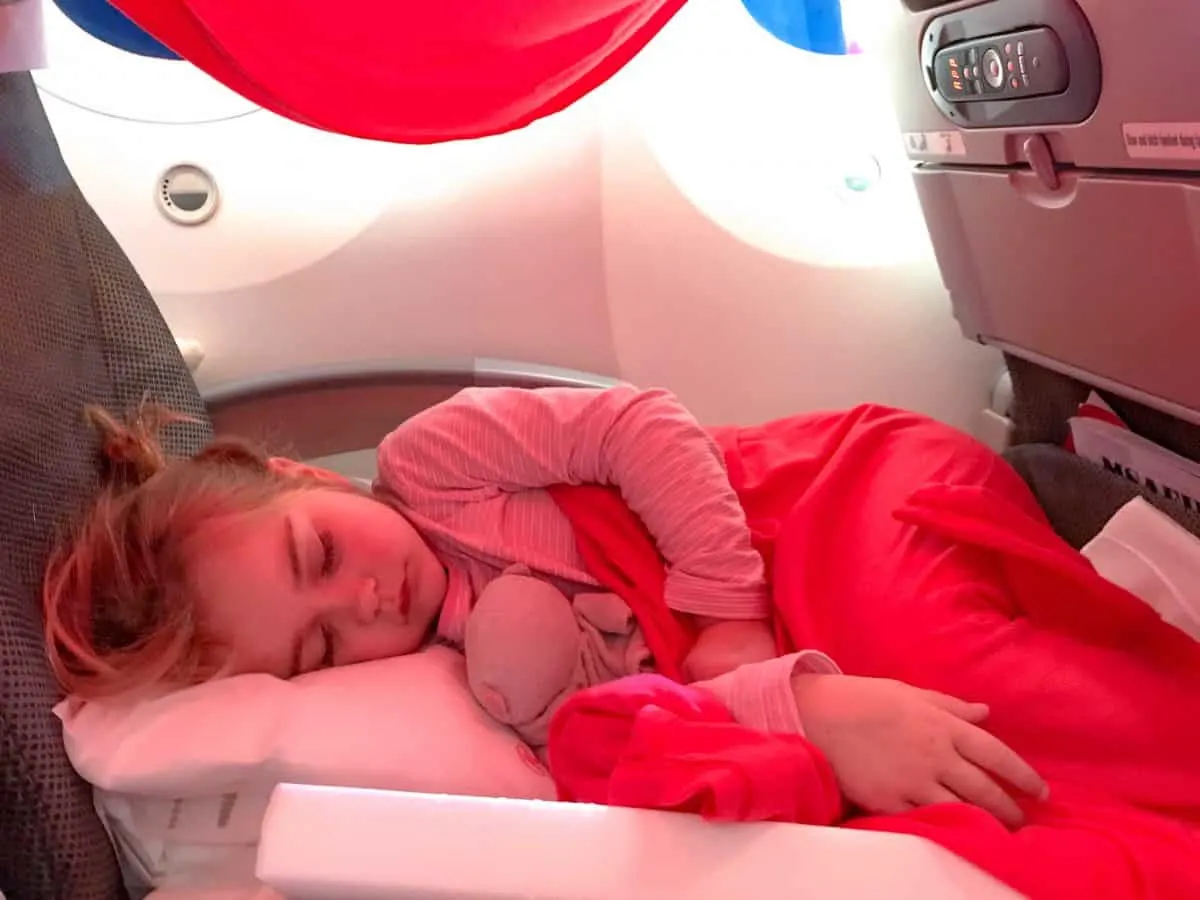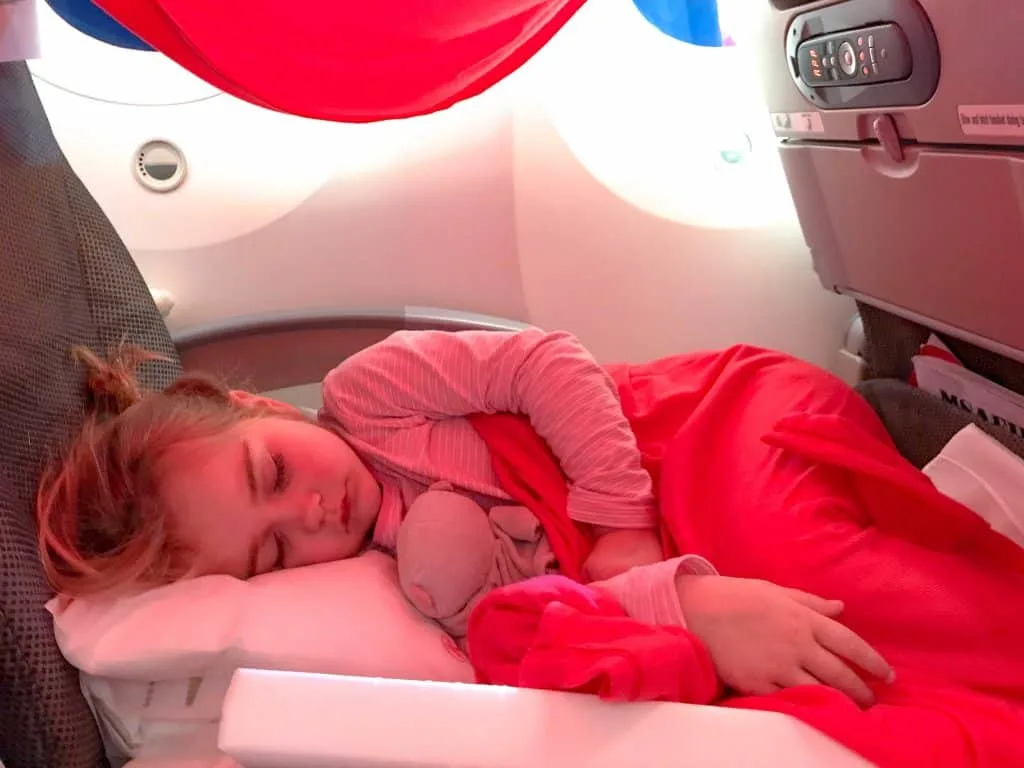 If you are flying with someone else, take turns. This is the best advice I can give to you having taken my two kids around the world a number of times.
I find that the most draining part about flying with a toddler is the amount of energy you have to put into the entertainment. We rarely have too many tears or tantrums onboard if we make the necessary effort.
If things don't run as smoothly as you would like, try not to worry about everyone else on board. The most stressful thing about flying with a toddler is trying to make sure they don't disturb others. However, this is not always possible.
We can only do our best, hopefully with the tips above your flight is a little less stressful and you feel a little more prepared.
Do you need tips about breastfeeding or flying with formula or dealing with jet lag?
FLYING WITH A TODDLER CHECKLIST
Here is a Flying With A Toddler Checklist that you can print off!!
Would you add anything else to our flying with a toddler checklist? Let me know in the comments.
Ready to book? Find great deals on flights, travel insurance, hotels, reliable internet, and rental cars!
You may also like:
Car seat flying with toddler tips
Toddler hand luggage essentials
Dealing with Jet Lag in Babies, Toddlers and Kids
Disclaimer: This post may contain affiliate links. By using them it will not cost you any extra, we will receive a small percentage of the sale.