People regularly ask me what to bring on plane for toddler, and we've learned by travelling with our two year-old Esmé. The main aim of the game is to keep her entertained for the entire flight / train or car journey and prevent any public melt downs!
The second goal is to ensure she is as comfortable as possible. Being a minimalist, I also try to ensure we only bring what is necessary.
Not too difficult, right? Having tried and tested just about everything on our many travel expeditions, I have come up with this list of toddler travel essentials for hand luggage.
You can find our full guide to flying with a toddler here, as well as our favorite carrier to take whilst travelling and the best travel strollers.
Don't forget to get travel insurance! This is so important when you travel, especially with kids! We like World Nomads.
Toddler Hand Luggage
Busy bag
For a long time, I had been going to the £ shop and making my own busy bag up for trips. It was amazing to discover Keep Em Quiet, a company dedicated to making entertainment bags for kids travelling.
We used one of the bags on a recent 7 hour flight and it kept our daughter entertained for the entire time. The bags are made according to age, sex / unisex and length of trip. You can also find a USA and Australian versions here!
Our last bag contained, crayons, colouring books, stickers, non-perishable snacks, play-dough, flash cards, a doll, a book and bracelets. It came in a compact blue bag that Esmé could carry on her back.
Gel stickers
Although the Keep Em Quiet bag has lots of stickers, I always like to bring gel window stickers. We gain lots of entertainment time out of putting them on and off the window on planes, trains or cars.

Books
It has only been a few months since Esmé has finally started showing an interest in books. Much to my delight because there are many thin books that are compact enough to take in hand luggage.

Apps and favourite programmes
We have a number of apps on our iPad
that are used when all else fails. You can also try an Amazon Fire tablet
for a cheaper option.
Some of Esmé's favourites are art apps where she can draw / paint. She also has a Peppa Pig app which has lots of art activities and scene building.
We downloaded a video recording app. It can record You Tube videos, they can be saved to the I-pad. This is particularly useful when there is no Wifi!
Be sure to check out our full list of travel toys for toddlers here!
Comfort
Plane pal
We recently got a Plane Pal, after seeing them circulate the internet, we were keen to give it a try. Plane Pal is a square shaped blow up cushion that uses the wasted leg room space in front of a child's seat.
It creates a flat surface so they can lie down or stretch out their legs. It creates a business class seat in economy for little ones.
Up until we got Plane Pal Esmé stretched out across my husband and I. We enjoy having our reclaimed space! It comes in a small package that can easily fit into hand luggage.
Another great option is the Jet Kids Bedbox which serves the same purpose of turning their seat space into a bed but also serves as a carry on they can ride through the airport and store their toys in. See our full review of the JetKids BedBox here.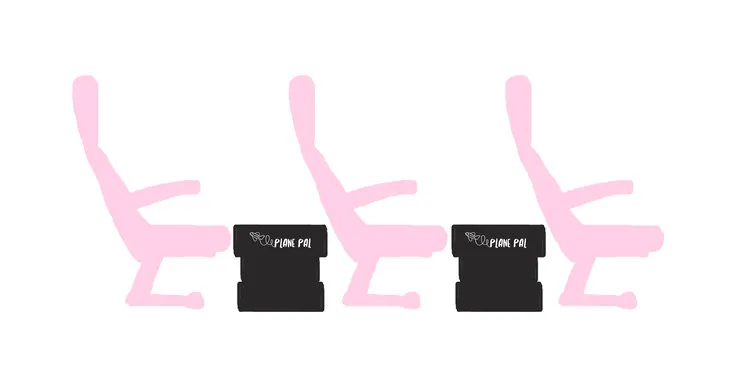 Change of clothes and wipes
A change of clothes are a given for any toddler in case of accidents. It's also nice to change them after a long flight so they feel fresh.
Seriously, we go through so many wipes when we are travelling. I do not know were we would be without them! It's also worth bringing a change of clothes for yourself if you are travelling with a toddler. I always seem to leave a flight worse off than the toddler.
We have been trying the potty training thing for a while now with no luck so far. My biggest fear of leaving her in pants is a code brown on the plane. I have been thinking about this a lot and decided it would be best to bring a travel potty.
As I've mentioned before, we are minimalists when it comes to packing. However there is no point regressing on potty training for the sake of one extra item of hand luggage. I like this small compact lady bird potty!
Check out prices on travel potties here!
Analgesia, vaseline and decongestants
We always bring a bottle of children's paracetamol/Tylenol
. Every single tooth Esmé has, cut whilst we have been abroad. So typical!
Make sure you have it in a clear bag at security. I find Esmé gets a dry nose when we fly. I tend to bring Olbas decongestant
and some Vaseline
for her lips and around the nostrils.
Snacks
Many airlines give an option to order a children's meal. However I always forget to order.
Otherwise, I always bring a variety of snack as our little on is ridiculously fussy. I tend to bring compressed fruit health bars
, crackers, raisins and so on.
Drinks after security
It's really good to have a drink to hand for take off and landing. It will help to relieve pressure within the ear. Cabin crew may not be able to give you a drink right away so it's best to have your own.
I also find flying can be quite dehydrating so it's really good to keep the whole family well topped up. You can bring your own stainless water sippy cup
to fill once you get past security.
Comfort cuddly & Layers
We always bring Esmé's favourite comfort toy. We have been unlucky enough to loose it a few times now. What we have learnt is it's best to have two, especially as she is so attached to it.
She unfortunately threw her last one in amongst the elephants on safari. That night was difficult given we didn't have another.
When travelling, we also bring a light fleece toddler blanket
that is quite compact and a little cardigan for layering. It can get chilly mid-flight.
Extras: toddler hand luggage essentials for long haul flights
I can pack all of the above into a normal sized day backpack. Obviously the potty would be an extra if you needed it.
DO YOU WANT £25 TOWARDS YOUR FIRST AIR BNB STAY?
You may also like:
Ready to book? Find great deals on travel insurance, hotels, and rental cars!
Do you have any other toddler travel essentials? Please leave a comment and share.
Last update on 2023-12-03 / Affiliate links / Images from Amazon Product Advertising API