Bruges is a quaint medieval city encapsulated with a full-circle canal. Quite similar to Amsterdam in many ways, but with more charm and history in my opinion.
On the large cobbled market square, the tall bell tower and colourful gingerbread-like houses really made us feel like we had been transported back to medieval times.
There are so many activities, from chocolate indulging to tandem biking and exploring windmills to fun parks which makes a weekend in Bruges with kids lots of fun.
There are quite a few options to combine Eurostar train and hotel in Bruges into a package. However, it is fairly easy to book the trip separately as well.
That being said, it may be a good deal to buy a combined trip including the train depending on where you are travelling from.
We travelled on the Eurostar from London to Bruges with kids. It's so much easier than flying if it's an option.
However, it's important to note if you are travelling to Bruges you have to change trains in Brussels. The main train station in Bruges is just a fifteen-minute walk from the centre.
If you are travelling with a stroller and a backpack it could be a good way to stretch your legs after the journey if you plan to stay centrally.
Many of the streets are cobbled. If you have small wheels on your buggy, it may be a little more difficult to push it on that type of surface.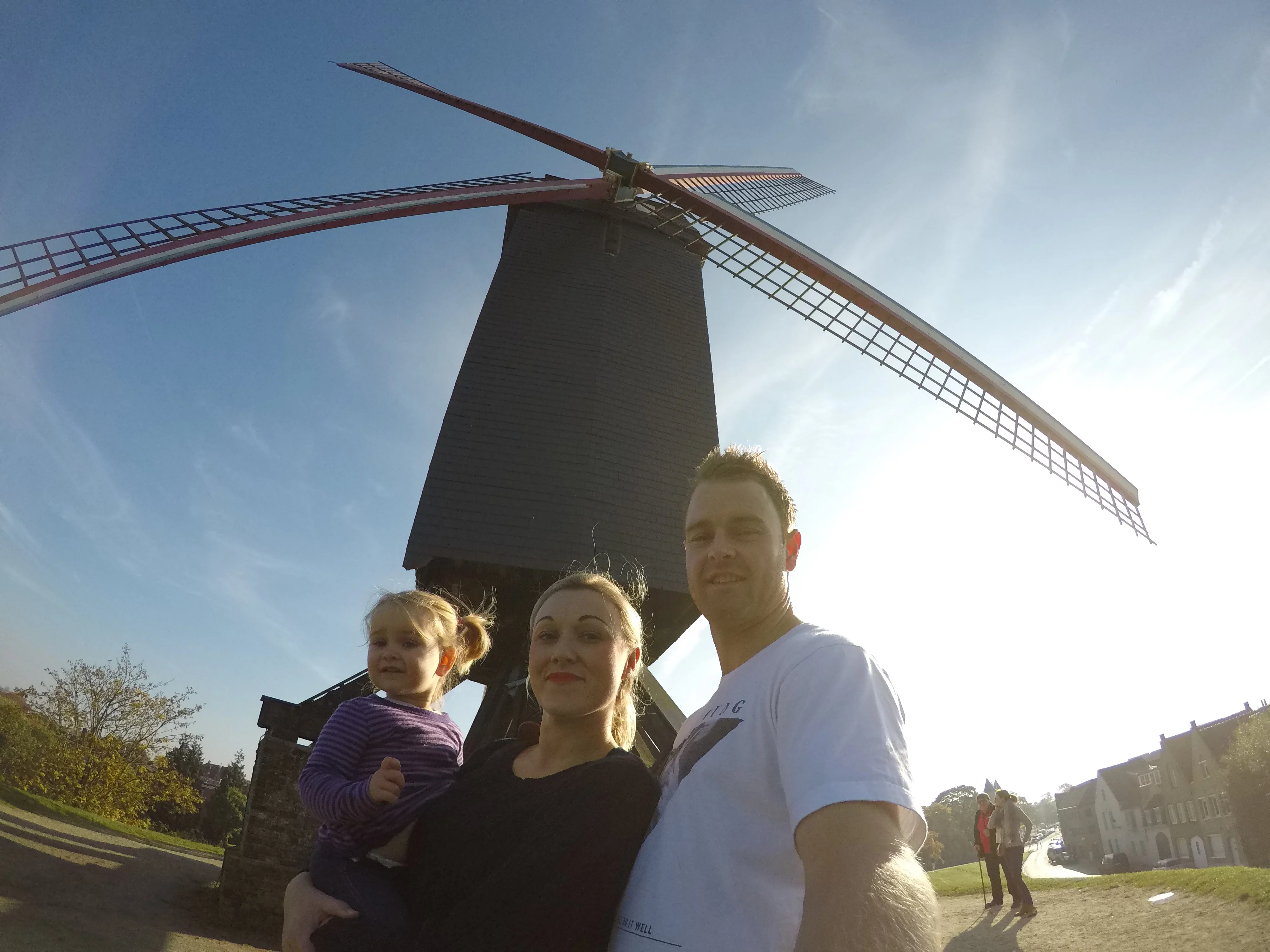 Bruges Kids Activites
In this post we cover things to do in Bruges with kids, places to stay and nice places to eat!
Where To Stay In Brugges With Kids
Hotel Navarra
We stayed at Hotel Navarra just off the main square. It was in a great location with everything just steps away from the front door.
The hotel is four stars and the family rooms are really big with plenty of space to park the buggy up or for a toddler to run around.
I just loved the swimming pool in the basement. It was like a cave and lit up with a load of colourful lights. Having a swimming pool is always a big plus for us as it's one of Esmé's favourite activities.
The hotel is set on a quiet street which makes for a good night's sleep. The breakfast was perfect with an array of warm foods, croissants, fresh slices of bread and fruits. The coffee was great and they were really accommodating and helpful with our little one.
Book a family stay at Hotel Navarra.
1. Hot Air-Ballooning
We went on the Bruges-Ballooning tour on our first day with owner Christophe. What a way to kick off our weekend, it was truly amazing. We were picked up from our hotel and brought to our take-off spot.
We all got involved in the process of making up the balloon. It was educational and enjoyable, to say the least.
They were really accommodating of Esmé on board providing her with a little platform so she was just tall enough to see over the edge.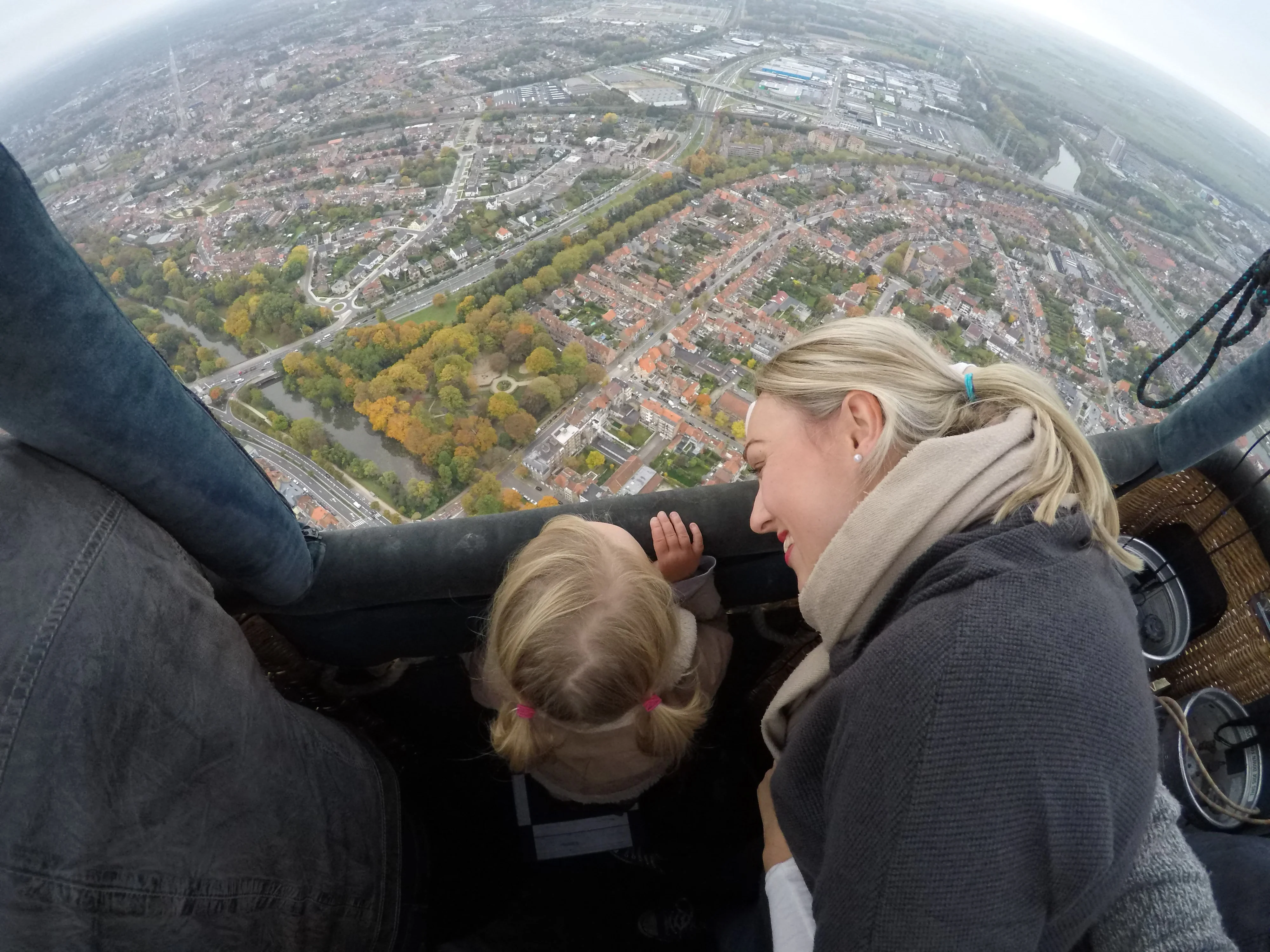 Esmé got so much out of it naming everything she could see below. In the end, when we landed at a random farm, we had champagne, orange juice and Belgian waffles to reflect on our experience.
It was one of those travel moments I will never forget. He took us all around Bruges flying at different heights for different perspectives. My favourite was when we were literally above the clouds.
2. Tandem biking
Cycling is a great way to see the city. In our usual adventurous style, we had to take it to the next level by getting a tandem bike for all three of us. Well, it was an interesting test of our communication!
Foot timing and balance were everything. Despite our inability to time our peddling, it was super cool to cycle along the canals and see the very pretty windmills.
Our toddler loved the trip and was happily taking in the sights from her secure bike seat in the back. It cost us 15 euros for two hours which was plenty of time.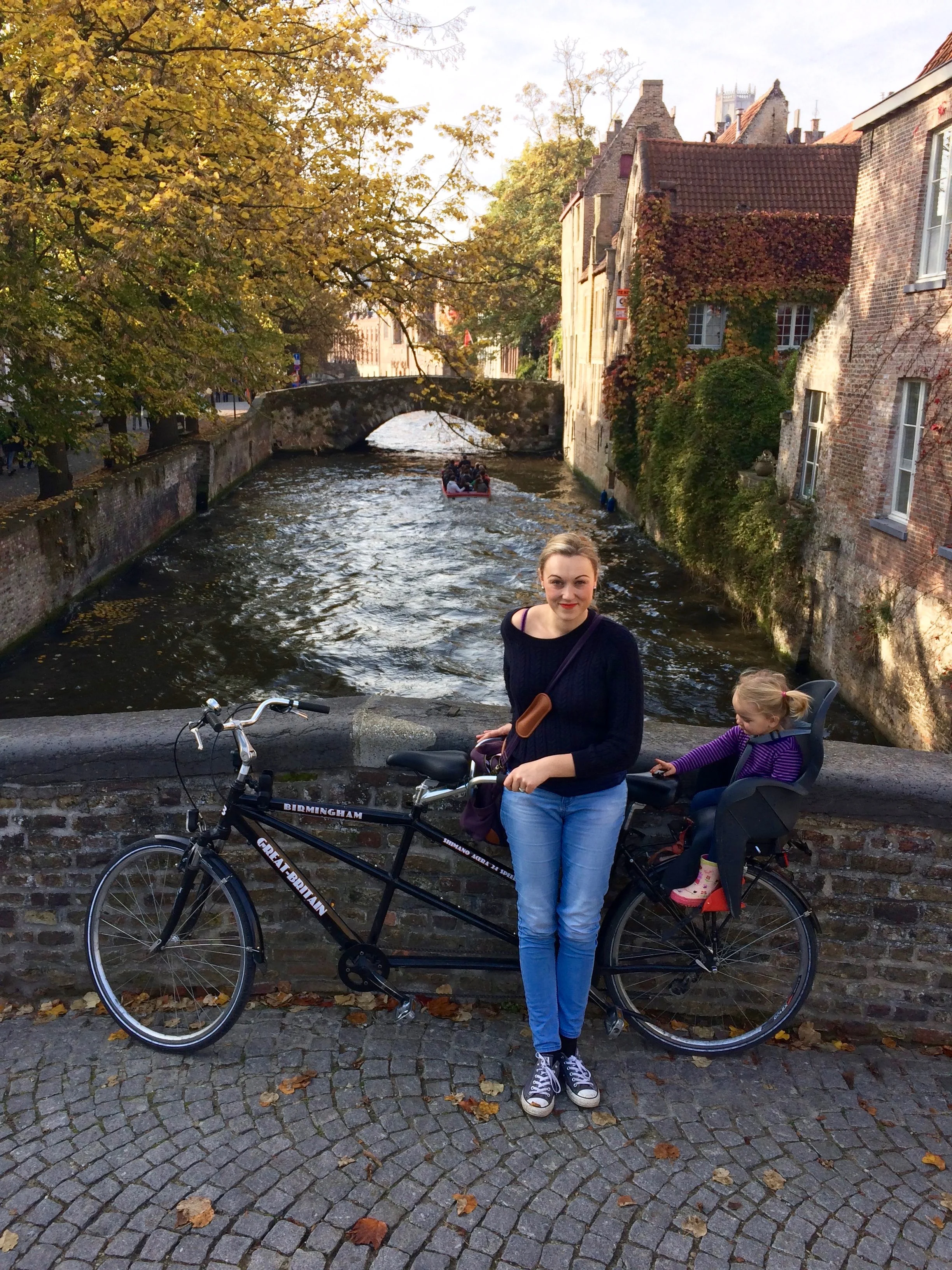 3. Take A Canal Boat
Canal boats are incredibly popular in Bruges and can be seen just about everywhere in the city.
It is another great way to explore. Many of the canal trips include a partial walking tour which covers lots of the city. In fact, most sites can be covered by booking a canal tour.
Check out this Bruges canal tour.
4. Scavenger Hunt
Make the walks around Bruges with kids interesting with the interactive scavenger hunt self-guided walking tour.
Explore the city in an engaging and exciting way, making it more enjoyable for little ones. My kids often get fed up walking, however, they love scavenger hunts, it keeps them going for so much longer!
Once you have downloaded the scavenger hunt tour to your smartphone (via the link and login credentials provided upon booking), walk to ten of Bruges using the integrated maps and mobile app.
Families have to use their imagination and work out clues to determine the next destination.
The flexibility to pause the game at any time is perfect for a pitstop lunch or cheeky chocolate shop visit.
For interactive scavenger hunt self-guided walking tour.
Meeting Point: Jan van Eyckplein, 8000 Brugge, Belgium
4. Visit the Gruuthuse Museum
The Gruuthuse Museum is a beautiful example of the rich cultural history of Bruges.
It has an extensive collection of artwork showcasing various eras, from the Middle Ages to the present day. It is a fantastic way to understand the city's history and culture.
Based on centuries of trading and mercantile activities in the city, this insight examines the various crafts practised since then.
Some findings include wooden sculptures, Chinese porcelain, Burgundian manuscripts and historic lace.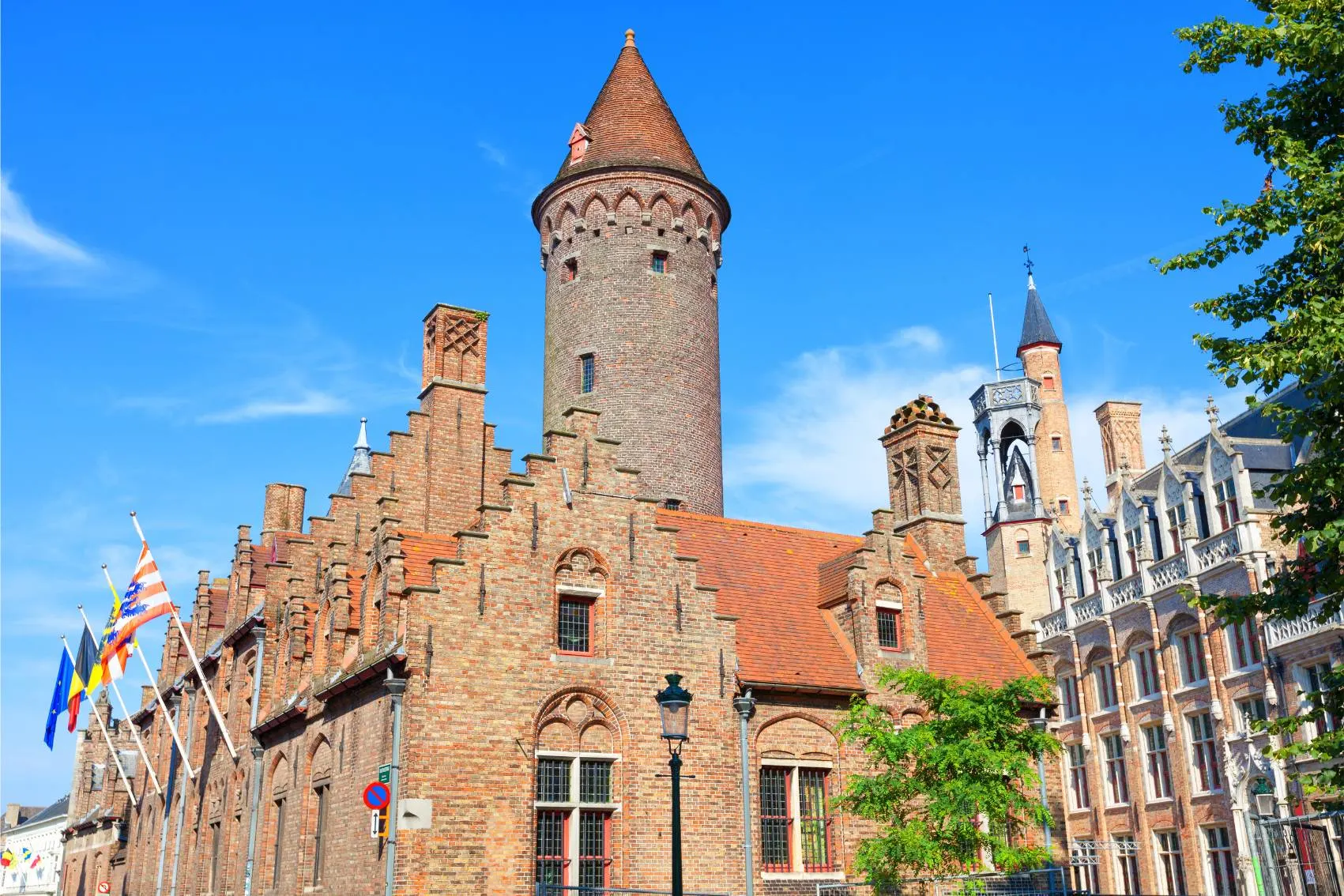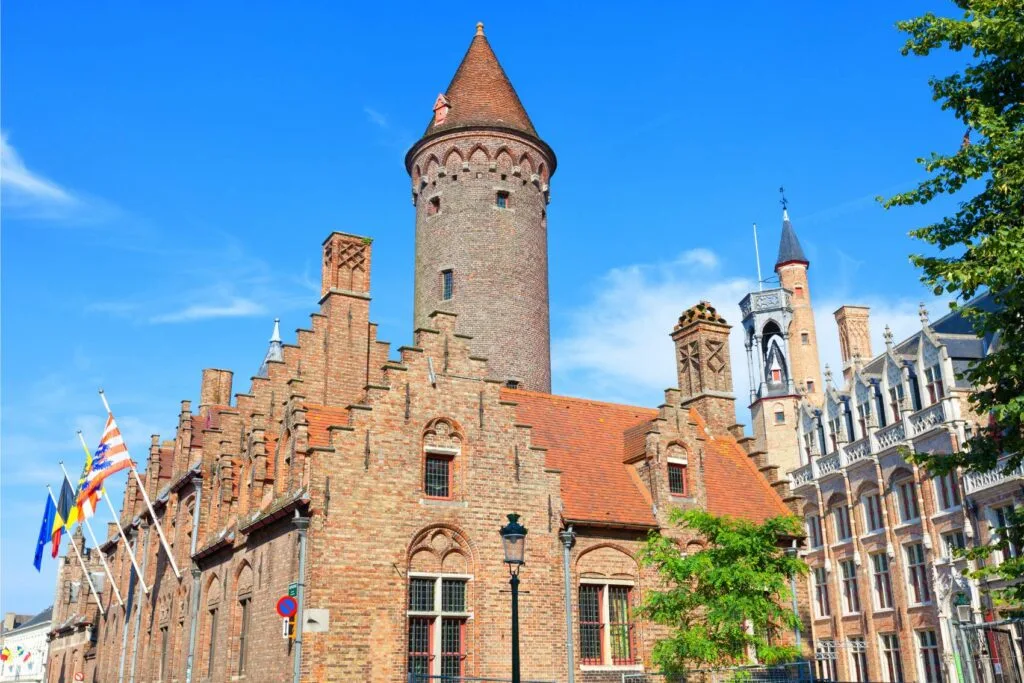 The 15th-century basilica is an incredibly unique feature of the museum.
Its intricate and well-preserved architecture connects the palace to the Church of Our Lady with a view of the Gothic chancel of the church.
Cost: €14 for adults and seniors
€12 for children overages 12 to 25.
Children below 12 enter for free
Timings: 9:30 AM to 5 PM (Tuesday to Sunday)
Closed on Mondays
Location: Dijver 17, 8000 Brugge, Belgium
5. Hiking Trails At De Fonteintjes
Created initially as extra protection against flooding, Fonteintjes (The Fountains) evolved into natural dune valleys as a result of artificial inlays from the 15th century.
Take a leisure stroll with the family along the coastal trail of the Fountains. The kids will love to see the rabbits, water rails, green frogs and deer that have made the fountains home.
The flora inhabiting the land is extensive and includes five species of orchids in full bloom in May and June.
The walking path offers a picturesque view of the area. Spring is the perfect time to visit for a hike. A variety of rare and vulnerable plants colour the humid dune grasslands.
Many kinds of reed birds provide a musical backdrop, with the occasional sighting of rare sightings.
Timings: Open 24 hours
Location: Kustlaan 268, 8380 Brugge, Belgium
6. Conquer Stairs At The Belfry Tower Of Bruges
Belfry Tower of Bruges is a medieval bell tower in the centre of Bruges.As one of the city's most prominent symbols, the Belfry once housed a Treasury and archives and an observation post to spot fires.
It has become a UNESCO World Heritage Site and is one of the most frequented sites in Belgium.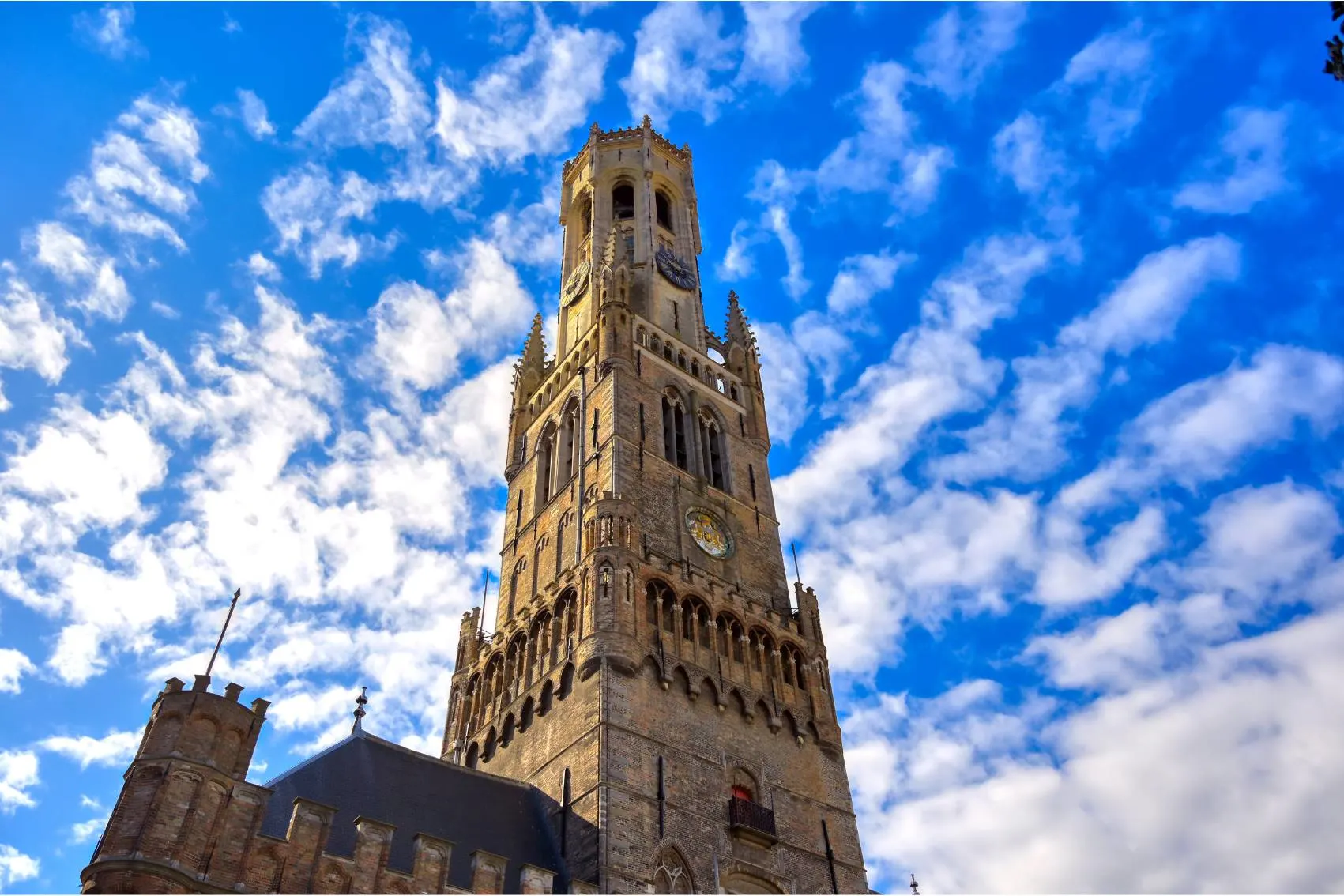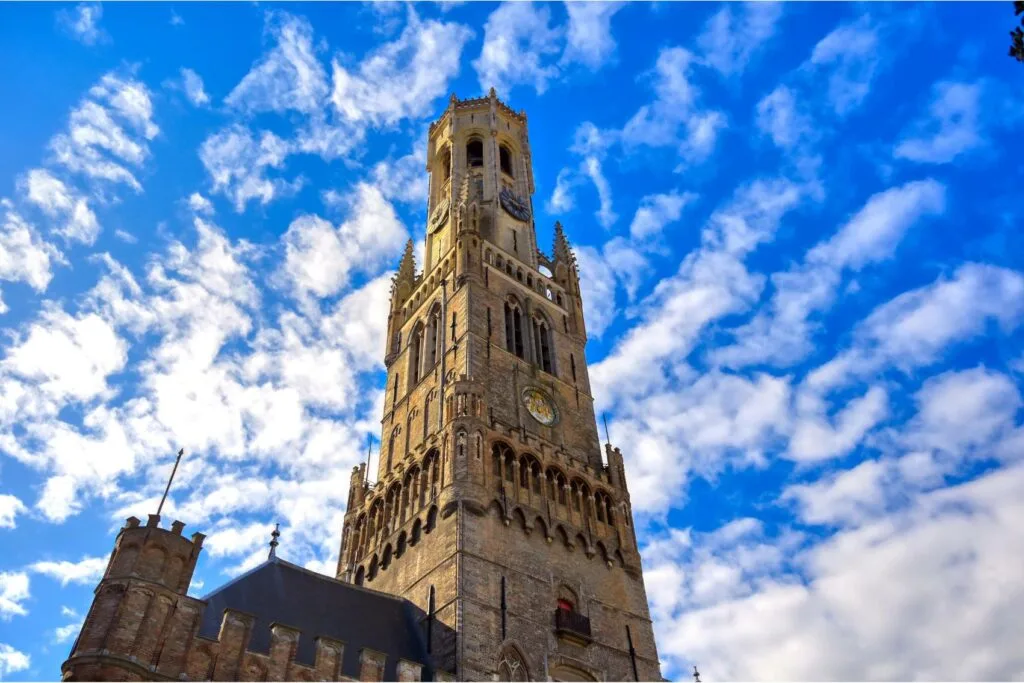 The tower is a symbol of civic freedom, as it was built and paid for by local citizens rather than a monarch or church.
Nicknamed the Leaning tower of Bruges, challenge yourself and conquer the 366 steps leading to the top of the 272 feet high tower, promising views stretching for miles. It is doable with kids!
For tickets and more information.
Timings: 10 AM to 6 PM (Sunday to Friday)
9 AM to 8 PM (Saturday)
Location: Markt 7, 8000 Brugge, Belgium
7. Explore The Choco-Story Museum
Belgium has some of the most famous and renowned chocolatiers in the world and is known for its high-quality chocolate.
Belgium has some of the most famous and renowned chocolatiers in the world and is known for its high-quality chocolate.
Exploring the Chocolate Museum consists of three parts: the origins and evolution of chocolate, the revelation of how chocolate comes into being, concentrating on the variety of raw ingredients and production processes, and finally, the demonstration centre where the secrets of delicious silky chocolate unfold.
After watching the chocolate-making process, visitors can taste various samples of delicious chocolate – Yummm!
Apart from the above journey, families can consult a vast library containing works on cocoa and chocolate and even talk about chocolate with experts.
Grab tickets to the Choco-Story Museum.
Timings: 10 AM to 5 PM (Monday to Sunday)
Location: Wijnzakstraat 2, 8000 Brugge, Belgium
8. Playgrounds In Bruges
I spotted at least three outdoor playgrounds on my way around the city. If you are travelling to Bruges with kids, make sure to check one of the playgrounds out.
Koningin Astridpark
Koningin Astridpark is a peaceful oasis quite central within Bruges. Its abundance of trees provides a natural respite from the busy streets, and its pond and fountain create a calming atmosphere.
It's possible to rent boats and paddle around the large pond enjoying the park from a different perspective.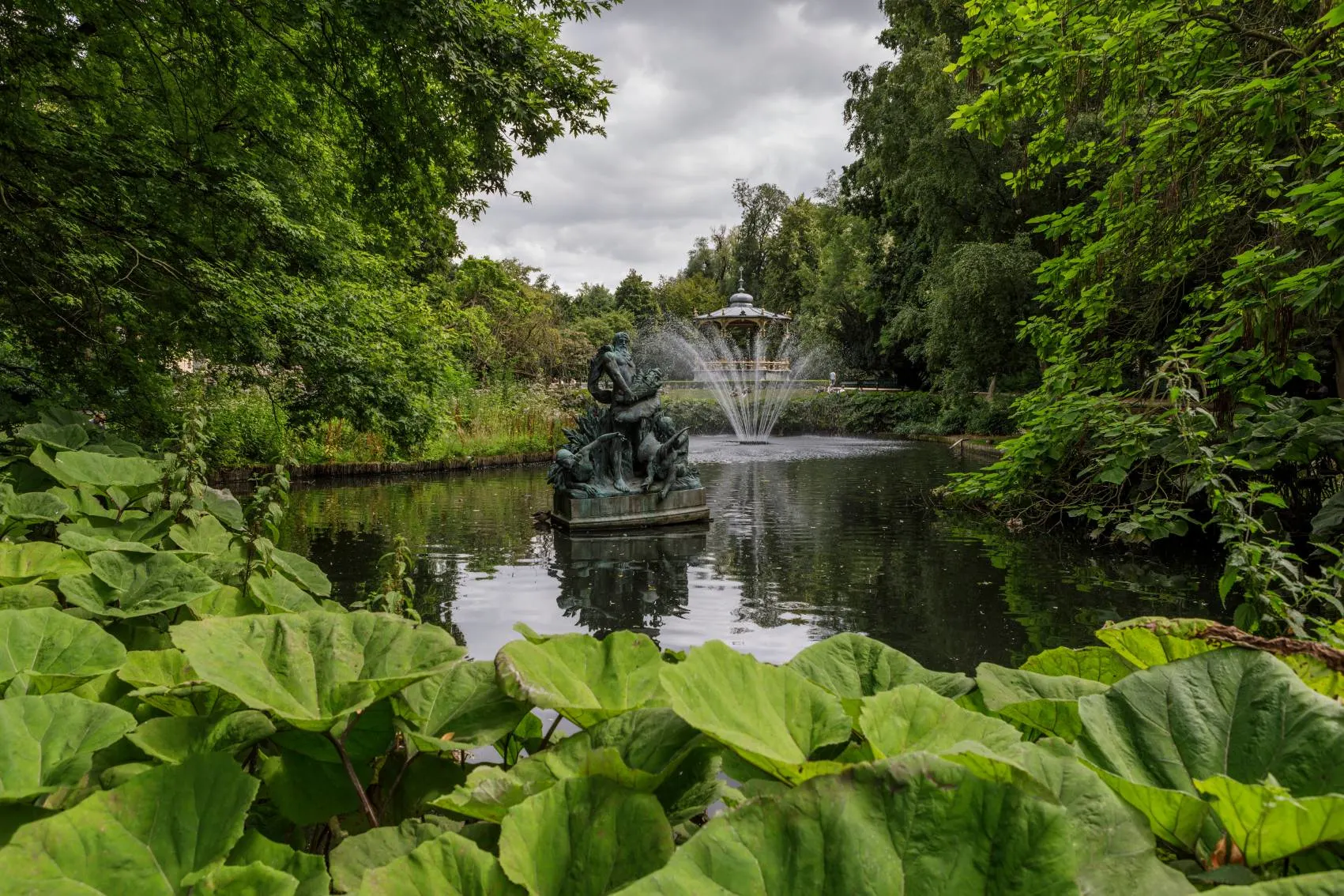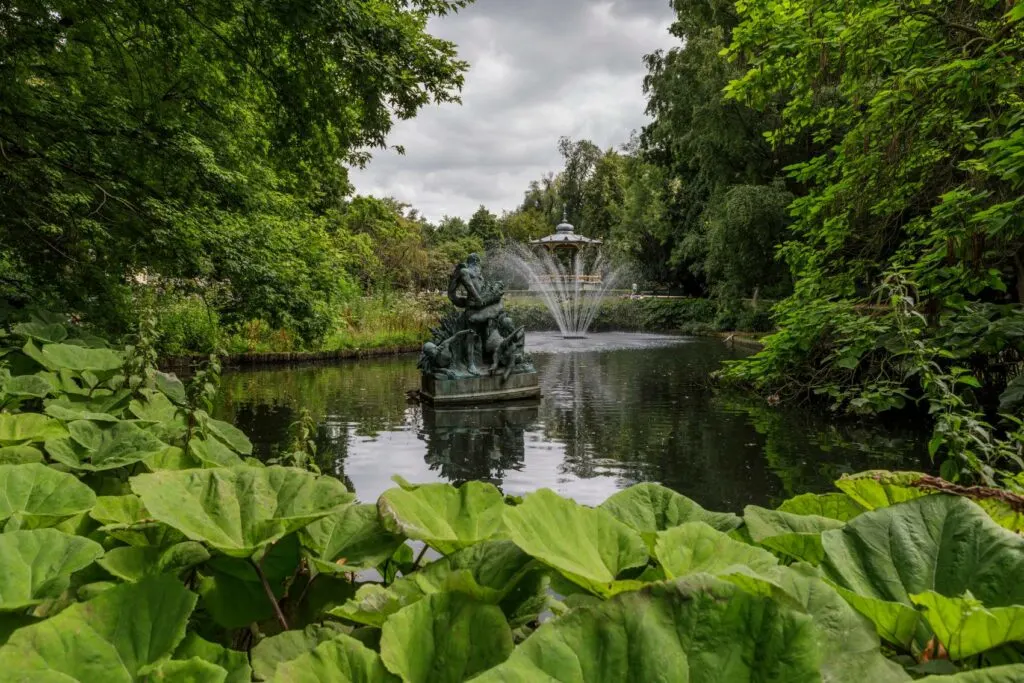 The park has plenty of benches perfect for a picnic or takeaway from one of the many cute cafes in Bruges. There are some nice playgrounds in the park with slides, swings and climbing frames to enjoy.
When the flowers bloom in the spring and summer months, the park is a popular location for people to relax and enjoy their surroundings.
In the summer months, there are often events such as concerts so it is worth checking out the schedule.
Timings: Open 24 hours
Location: Park, 8000 Brugge, Belgium
Minnewaterpark
The Minnewaterpark is an iconic landmark of the city and has been the inspiration for many romantic poems and stories.
With a prime location, south of the historic centre between the green Ramparts and the delicate Lake of Love, the park offers stunning views of the water and nearby castles.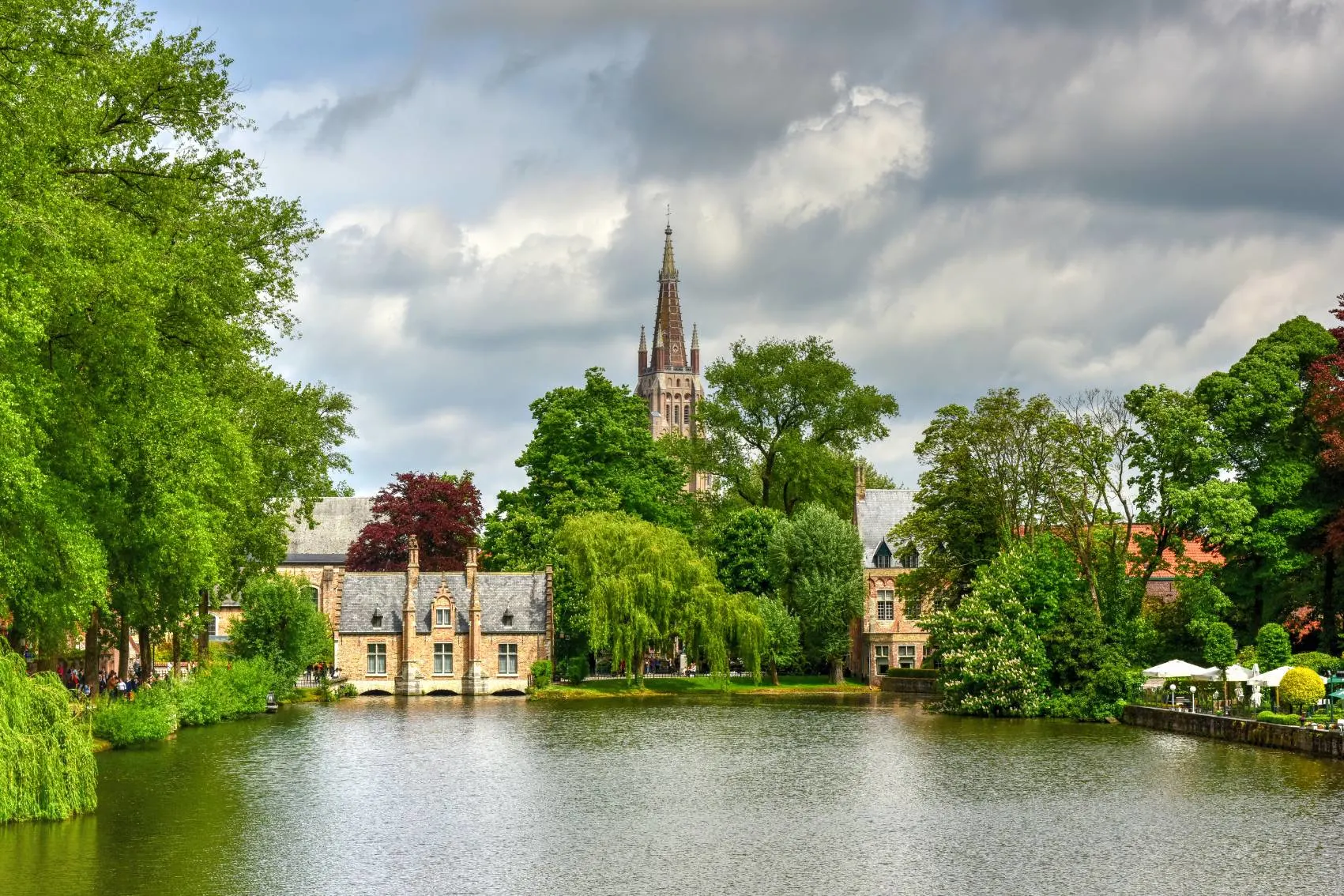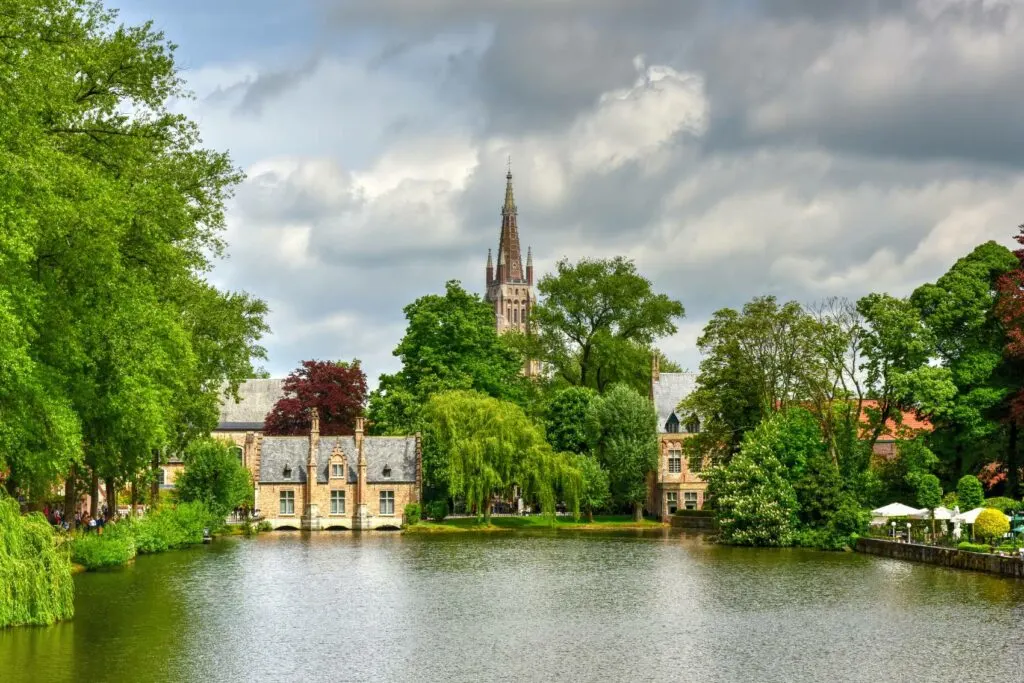 It is a popular spot for couples to take wedding photos and for families to enjoy an evening stroll.
There are cycling paths and walkways to explore and of course the playground has swings and slides for kids to enjoy.
Timings: Open 24 hours.
Location: 8000 Bruges, Belgium
Koning Albert I-Park
Koning Albert I-Park is a testament to the city's heritage, as it follows the track of the old railway station, which was a significant part of the city's history.
It has water features at either end and houses the spectacular Concertgebouw Brugge (Concert Hall).
The park is a reflection of the city's evolution. It is a symbol of modernity, providing a tranquil space for locals and families visiting to relax and enjoy the scenery.
Aside from the playground, there is a miniature train ride in the summer months.
Timings: Open 24 hours.
Location: Koning Albert I-laan 118 , Brugge, Belgium
Baron Ruzette Park
Baron Ruzette Park creates a sense of contemplation and peacefulness in a previously overlooked and underutilised space.
The installation of the maze of columns has also been a great way to draw attention to the park and encourage people to use it for recreation, making it an invaluable part of the city's public space.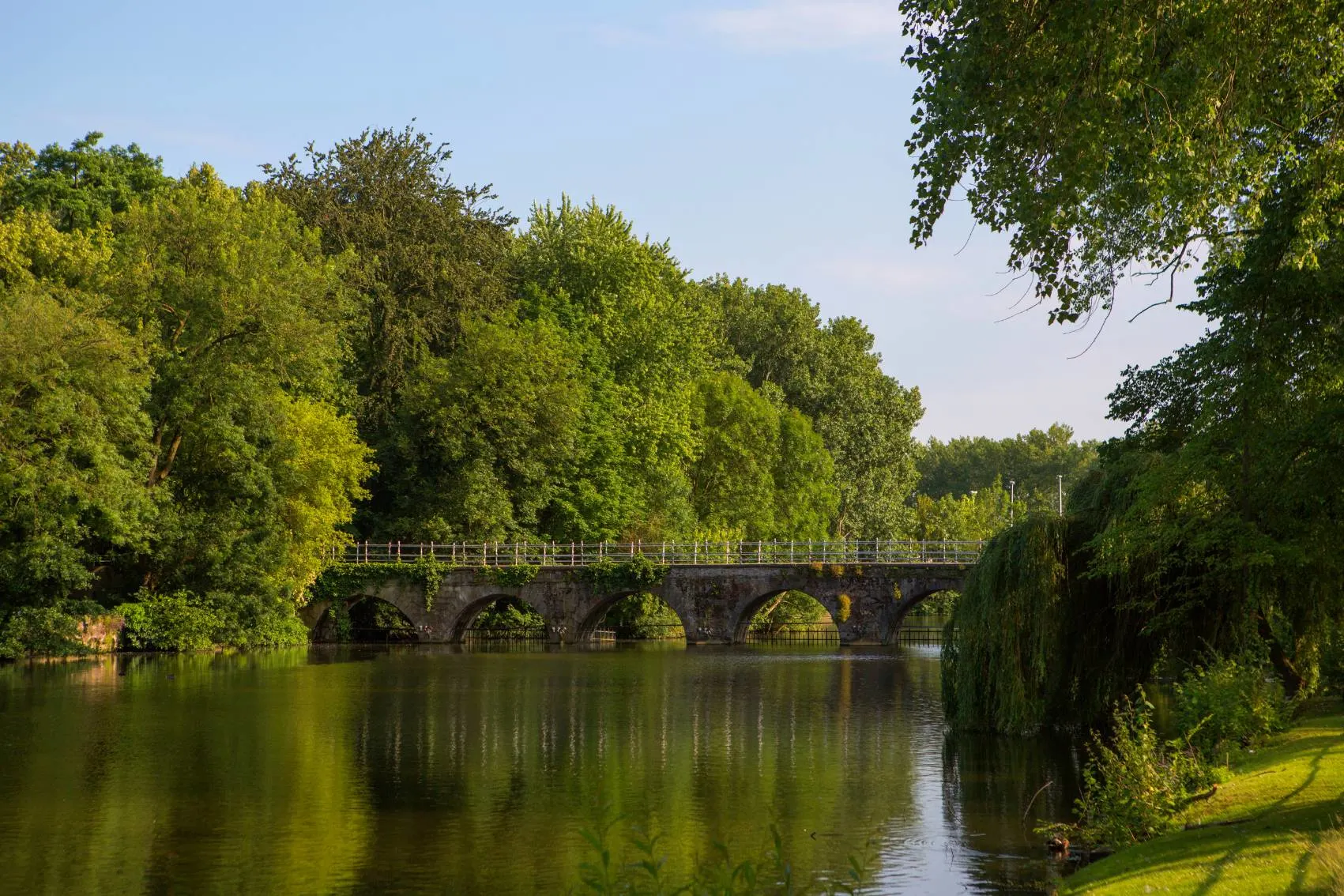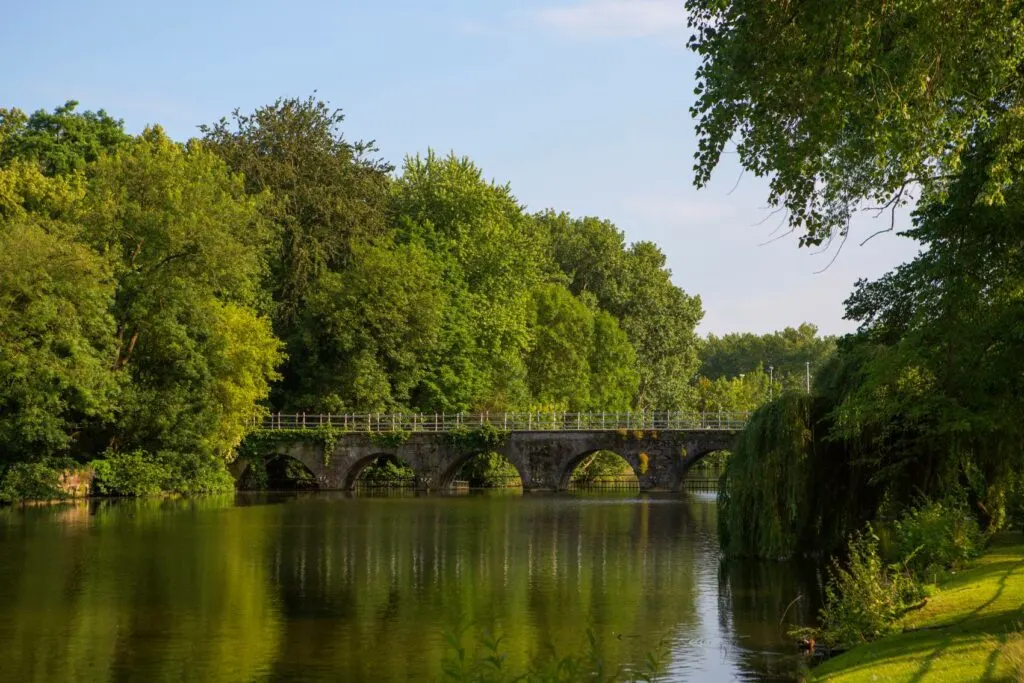 The beauty of this park is that it still contains rail sleepers once served as shunting stations, while the public barbecue provides a great place to relax, enjoy the outdoors and savour the aroma of barbecued food among the trees and parks of Vlotkom.
If you are visiting Bruges with kids, the playground is large with lots to explore in a stunning location.
Timings: Open 24 hours
Location: 8000 Bruges, Belgium
De Toverplaneet Indoor Playground
With a space theme, De Toverplaneet is a large and well-maintained indoor playground that can accommodate a large number of children at the same time.
Like most parts of Europe, it can be cold in Bruges during the winter months, so an indoor play might be a welcome break.
Magic Planet offers a wide range of activities and attractions to explore, including a climbing wall, slides, and interactive games.
There are also reading areas and a party room where children can celebrate birthdays.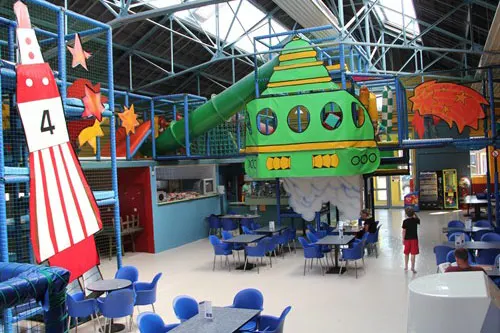 Numerous slides offer a wide variety of fun opportunities for all ages. The climbing towers, ball pools, tunnels and the 100m2 bouncy castle provide an exciting, interactive experience.
The unique light effects create an enchanting atmosphere. There is a designated play area, baby-changing facilities, as well as an adapted children's toilet at De Toverplaneet.
For more information and reservations at De Toverplaneet.
Cost: €11 per child from ages 2 to 15
Children under two years and adults enter for free
School Year Timings: 1 PM to 6 PM (Wednesday)
10:30 AM to 6 PM (Saturday and Sunday)
School Holiday Timings: 10:30 AM to 6 PM (Monday to Sunday)
Location: Legeweg 88, 8200 Brugge, Belgium
9. Tours In Bruges With Kids
Private Tour Of Bruges With A Local
Bruges' Gothic architecture, cobbled alleys, & charming canals make it a great place to explore and learn about the history along the way. There's also a vibrant nightlife and plenty of shops, cafes & restaurants.
On this private tour of Bruges, the guide tailors the time to each family's needs which is ideal for little ones.
Some of the points of interest include:
The historic centre of Bruge
Belfort, an observation post for spotting fires and other dangers, and
De Halve Maan Brewery, a family-run brewery
Book a private tour of Bruges with a local.
Meeting Point: Historium Bruges, Markt 1, 8000 Brugge, Belgium
Belgian Chocolate Workshop
The Belgian chocolate making workshop is a fun and interactive activity when visiting Bruges with kids.
During the workshop, go through the elaborate process of making chocolate from start to finish, including tempering and decorating the chocolate.
Create delicious chocolate treats and masterpieces, including pralines, mendiant chocolate and hot chocolate with a professional finish.
As a bonus, take home creations (about 35 pieces) to enjoy later, although i know my kids would want to eat them all!
Book a spot in the Belgian Chocolate Workshop.
Meeting Point: Ezelstraat 98, 8000 Brugge, Belgium
Private Food Tour In Bruges With Kids
On this private food tour, prepare yourself and your stomach to sample the freshest local produce and discover the secrets behind beloved dishes like Belgian mussels, chocolate, and cheese.
Explore the city's old-world markets and charming cafes and experience the culture of the city through its food.
With a knowledgeable guide showcasing the city's top spots, learn to dine like a local and taste the finest of what Bruges has to offer.
The tour accommodates dietary restrictions, and vegetarian options are also available.
Book a private food tour in Bruges.
Meeting Point: Markt 18, 8000 Brugge, Belgium
10. What To Eat When In Bruges With Kids
Belgian chocolate
It is well-known fact Belgium has some of the best chocolate in the world, so even if you have only got 24 hours to visit Bruges, you should try it!
Literally, every second shop in the centre is an unusual establishment with an array of handmade chocolates. Some have fountains in action and live production.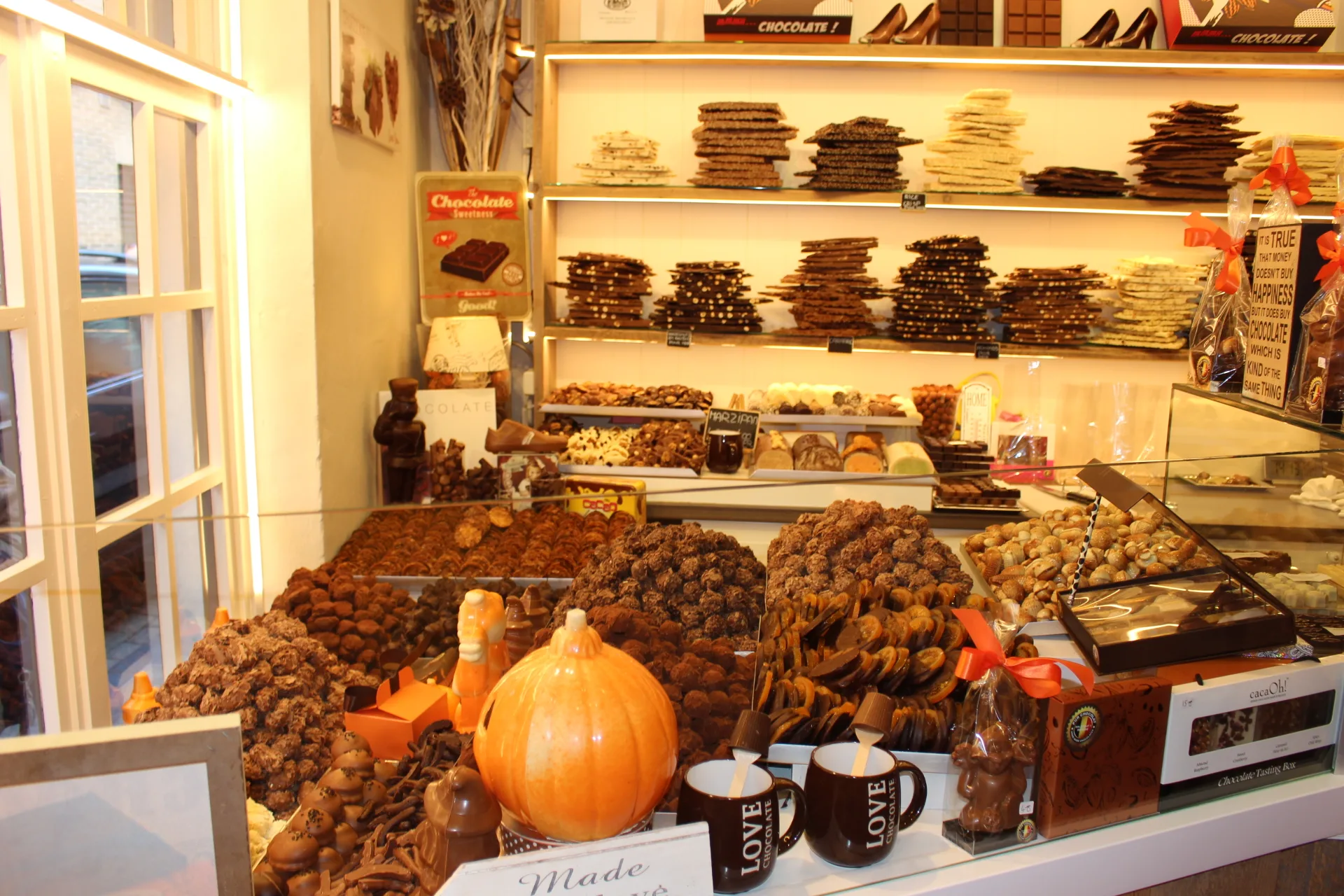 Belgian waffles
I can highly recommend Lizzie's Wafels just off the main market square. They do ginormous waffles. In reality, we just needed one for the three of us. They also do really yummy hot chocolates.
Beer tasting
Much to Travel Mad Dad's delight Bruges is also very popular with beer lovers. It is possible to take a full beer tour, however, if you are in Bruges with kids, that's probably not viable.
We opted for a well-reviewed beer-tasting cafe called Brugsch Bieratelier.
You can get a taste of three beers of your choice for 8 euros. Beware some are as strong as 8% so three is plenty for light weights!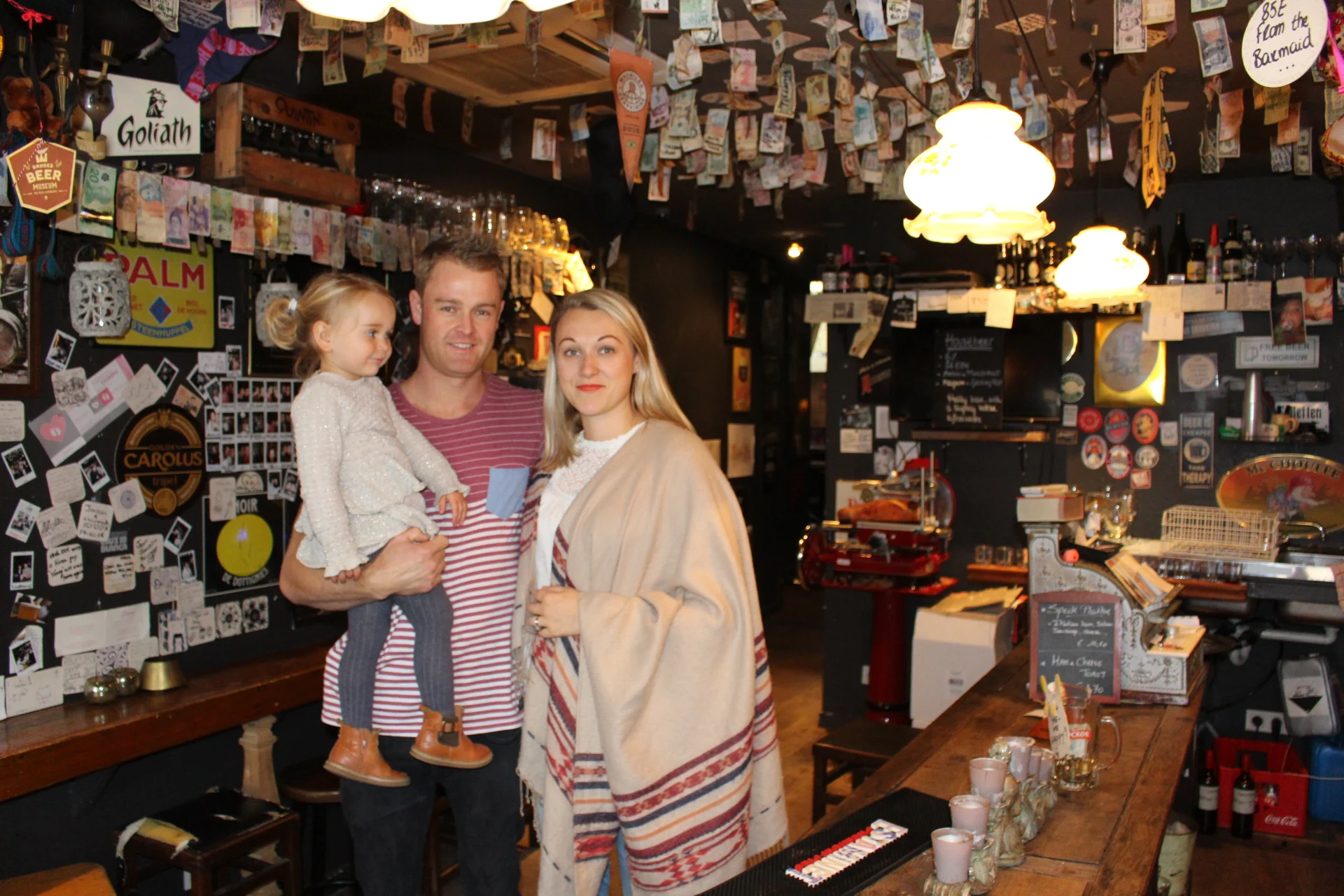 Additional Hotel Options
Rosenburg Hotel Brugge
Rosenburg hotel is close to the attractions, providing easy access to the city centre and nearby historical sites when visiting Bruges with kids.
Staying at the Rosenburg Hotel is an ideal hotel for a family weekend away.
The canal offers a peaceful and tranquil setting with plenty of opportunities for relaxation and exploration. Not to mention the great views of the city.
The hotel features a 24-hour front desk, room service, private parking, free WiFi, family rooms, and a delicious breakfast buffet in the Orangerie.
There is an in-house bar to try Belgian beer with distinct and unique flavours. Obviously, this will depend on the kids.
Book a staycation at The Rosenburg Hotel, Brugge.
Crowne Plaza Hotel Brugge
Crowne Plaza Hotel Brugge is conveniently situated in the heart of Bruges, giving guests access to the city's many attractions.
On-site amenities include The Plaza Café, free WiFI and complimentary access to the indoor swimming pool, fitness centre and sauna.
At the same time, the hotel's family rooms feature cable TV, a minibar, a tea and coffee maker, as well as a private bathroom.
The hotel stands on the ruins of the ancient city where a cellar was left untouched. It allows visitors to get a glimpse into the past and see the remains of the 12th venture Sint-Donaas church and 1000-year-old city wall.
The Gruuthuse Museum, The Halve Maan Brewery and the Beguinage, are in close proximity to the hotel.
Book a stay at Crowne Plaza Hotel when visiting Bruge with kids.
Bruges With Kids Fun Facts
The number of castles per square inch in Belgium is higher than anywhere else in the world. The city of Bruges is home to about 50 of the 470 castles found in the Flanders region.
Frites or French fries are believed to have been introduced to the world by Belgians. There is no food more iconic or local to Bruges and Belgium than the combination of French fries and mayonnaise.
Bruges' nickname 'The Venice of the North is a testament to the city's striking resemblance to Venice, Italy, also known as the 'City of Bridges' due to its over 400 bridges across the city's canals. Bruges' 80+ bridges, in comparison, make it a worthwhile destination for anyone looking for a smaller version of Venice.
Bruges has a 12-meter-tall whale made from over 5 tons of plastic waste pulled out of the ocean. The project hopes to raise awareness about the environmental impact of human activities – a powerful statement made by Lesley Chang and Jason Klimoski of StudioKCA.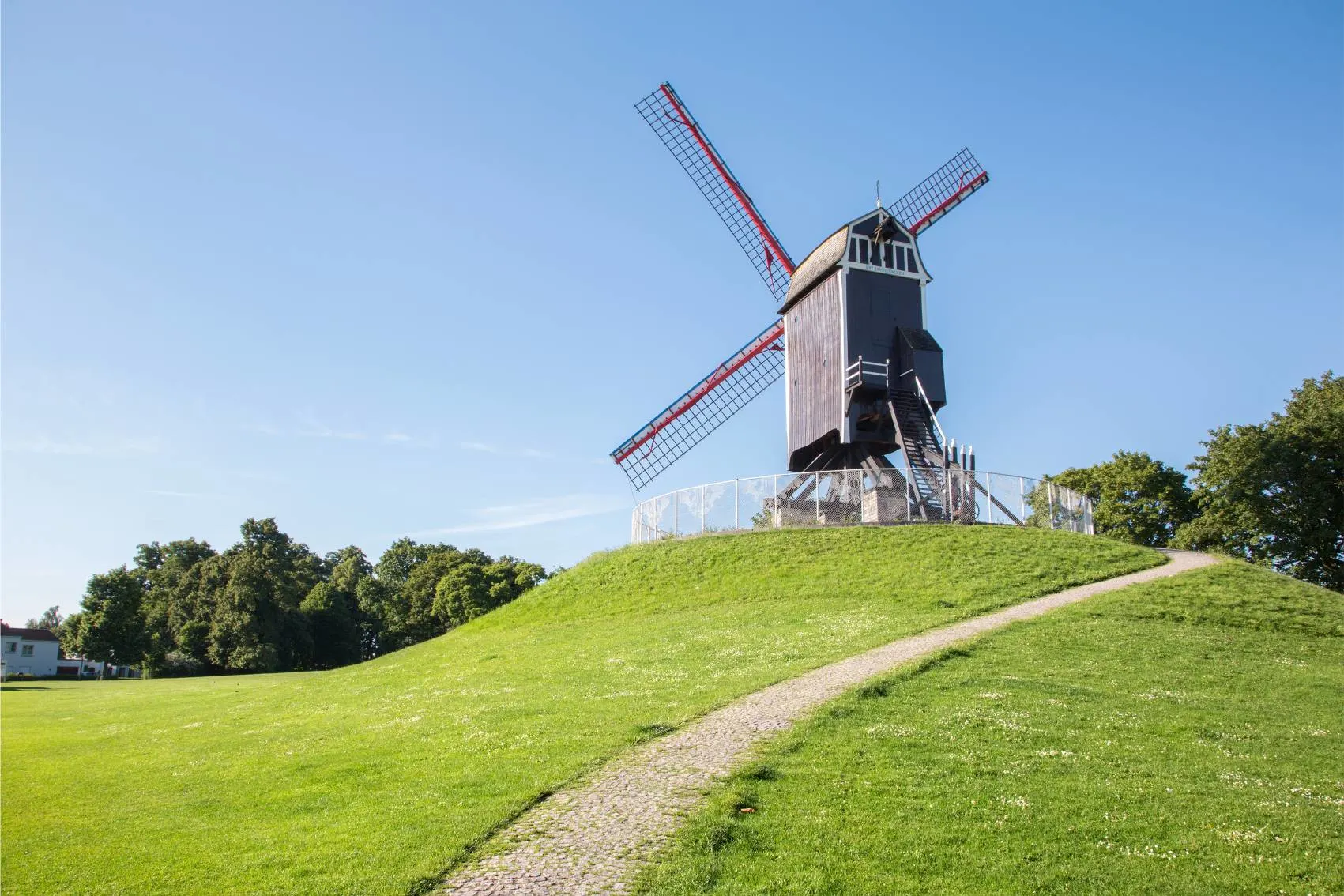 When visiting Bruges with kids, it is imperative to remember most of the shops and other businesses remain closed on Sunday.
The Sint-Janshuismill windmill is an iconic landmark in the city, and its long history is a testament to its craftsmanship. Seeing that it is still open to the public and functioning makes it an interesting and valuable destination for tourists and locals alike.
Belgian's superhighway system is so large and made up of such bright lights it is easily recognizable from space. In fact, it is the only man-made structure visible from the moon.
Bruges With Kids – FAQs
Which time of year is best for visiting Bruges with kids?
The city of Bruges is beautiful all year round, but May and September are great times to visit because the town is less crowded than it is during the peak of summer.
Visitors can have a more peaceful and enjoyable experience. The weather is still warm enough to explore the city without having to worry about it being too cold.
Can you drive in Bruges?
Driving is legal in Bruges, but at certain times of the day, several shopping streets are car-free or low-traffic.
Travelling in Bruges with kids is a breeze thanks to the proximity of popular tourist spots and easy access to public transportation.
However, if you are driving, we suggest parking the car outside the city centre. In fact, riding a bike is the best way to get around.
What is Bruges famous for?
Bruges is known for its intricate lace designs, made by hand using a centuries-old technique of looping threads through a patterned mesh.
The lace-making tradition in Bruges has been going on for over 500 years, and the craft has become synonymous with the city and its culture.
How many days would you recommend when visiting Bruges with kids?
Bruges is a small city with a lot of history, culture, and charm. Four nights and three full days allow you to explore the old town with kids, take a boat ride on the canals, visit the local breweries, and try some famous Belgian chocolates.
Ghent is another large city with historical buildings, parks, and great restaurants.
Spending an extra night in Ghent is another fantastic option.
To Sum Up Bruges With Kids
Visiting Bruges with kids is a wonderful experience that offers a wide range of family-friendly activities.
From exploring the historic city centre to enjoying the many canals, parks and bridges, there is something everyone can enjoy.
There are plenty of kid-friendly places to eat and museums and galleries to explore. So, if you're looking for a fun, family-friendly holiday destination, Bruges is the perfect place.
Looking for great tour options in Bruges? Check out the vast array of tours offered by Get Your Guide!
Have you been to Bruges with kids? If so we'd love to hear from you li
Ready to book? Find great deals on flights, travel insurance, hotels, reliable internet, and rental cars!
See also:
Disclaimer: This post about Bruges with kids contains affiliate links, using them will not cost you any extra, and we will receive a small commission to keep us writing.