Sri Lanka is an incredible country often described as the pearl of the Indian Ocean. It has long been on my bucket list to explore!
With vast forests, incredible wildlife and steep mountains covered in tea plantations, not to mention historic towns and surf beaches, there is a lot to see for all types of travellers.
Sri Lanka has two monsoon seasons. The teardrop-shaped island has microclimates across the country.
For example, the best time to visit the South West Coast is December through March. Whereas the far North and East Coast of Sri Lanka is best from April to September.
Sri Lanka can be a year-round destination with the right itinerary to avoid the monsoon.
Our perfect Sri Lanka 8 day itinerary was curated by Audley Travel, a company that specializes in tailor-made trips around the world. We travelled the route in February which was a good time to see the destinations listed.
We've previously travelled to Kenya, Tanzania and Zanzibar with Audley Travel and have always been blown away by their attention to detail and fantastic choices of activities and accommodation taking into consideration each member of our family.
Each trip can be tailored to interests should it be culture, adventure, history, food or a little bit of everything!
Sri Lanka Itinerary 8 Days
An ideal amount of time in Sri Lanka would be around two weeks, however, plenty can be achieved in 8 days.
We started off in Negombo on our first night, followed by the Sigirya Damballa area. Next was Kandy and we finished off in Ella! If you decide to head south first check out this Galle post.
From stunning temples to a safari drive and hiking, to a tea factory tour, this Sri Lanka 8 day itinerary has a variety of experiences perfect for families, couples or singletons.
Day 1 Negombo
For many, a trip to Sri Lanka may have involved a long flight. Negombo is a lovely town just north of Colombo and only 15 minutes from Bandaranaike International Airport, it's the ideal first stop on a Sri Lanka 8 day itinerary.
Negombo is influenced by the Dutch era, based on the coast, there is a lagoon lined with colourful fishing boats which feed into a canal. Strolling around the lagoon or along Negombo Beach is the perfect first-day introduction to Sri Lanka.
Another potential attraction is Angurukaramulla Temple where a 6-metre colourful buddha lies!
We are big fans of visiting temples on full moon day since it is an opportunity to witness Buddhist traditions and customs in full swing. It is best to visit with a tour guide to understand all of the beautiful practices at a temple.
If you are not visiting on a full moon day, it is still perfectly lovely to visit at any point. We have always found temples so welcoming and embracing of our interest and inquisitiveness in the religion.
Where to Stay In Negombo
On day 1 of our trip we stayed at The Wallawwa, a restored colonial manor house set amongst lush gardens and vegetation.
The Wallawwa is part of the sustainability conscious Tear Drop Hotels collection and is the perfect respite on arrival.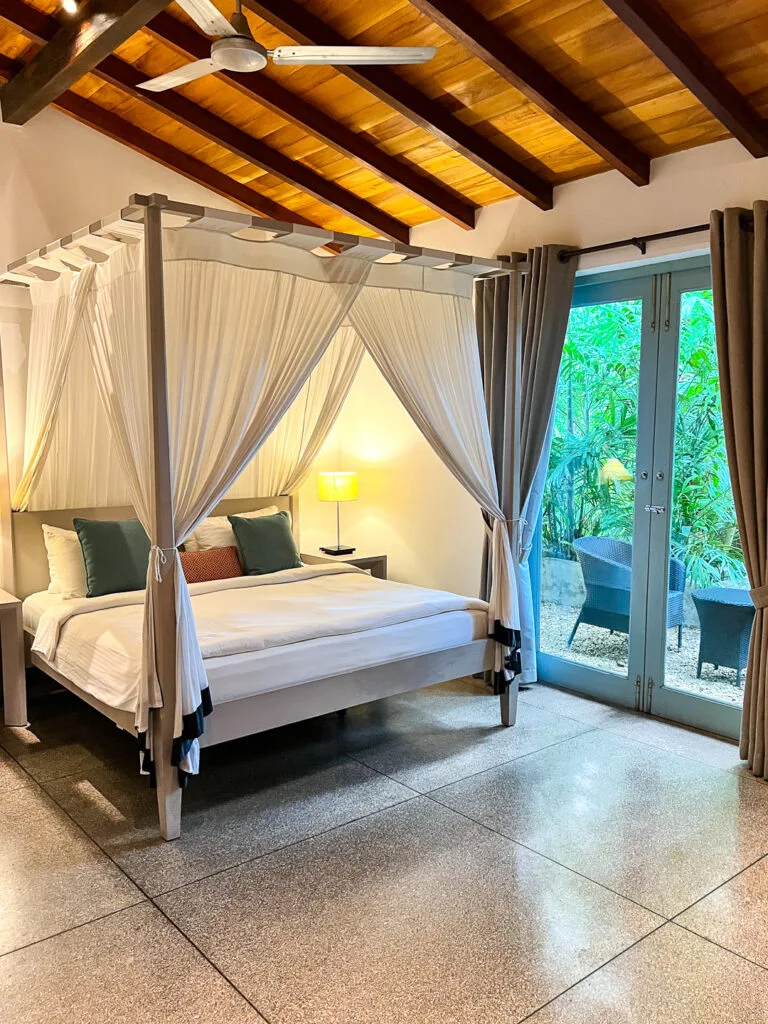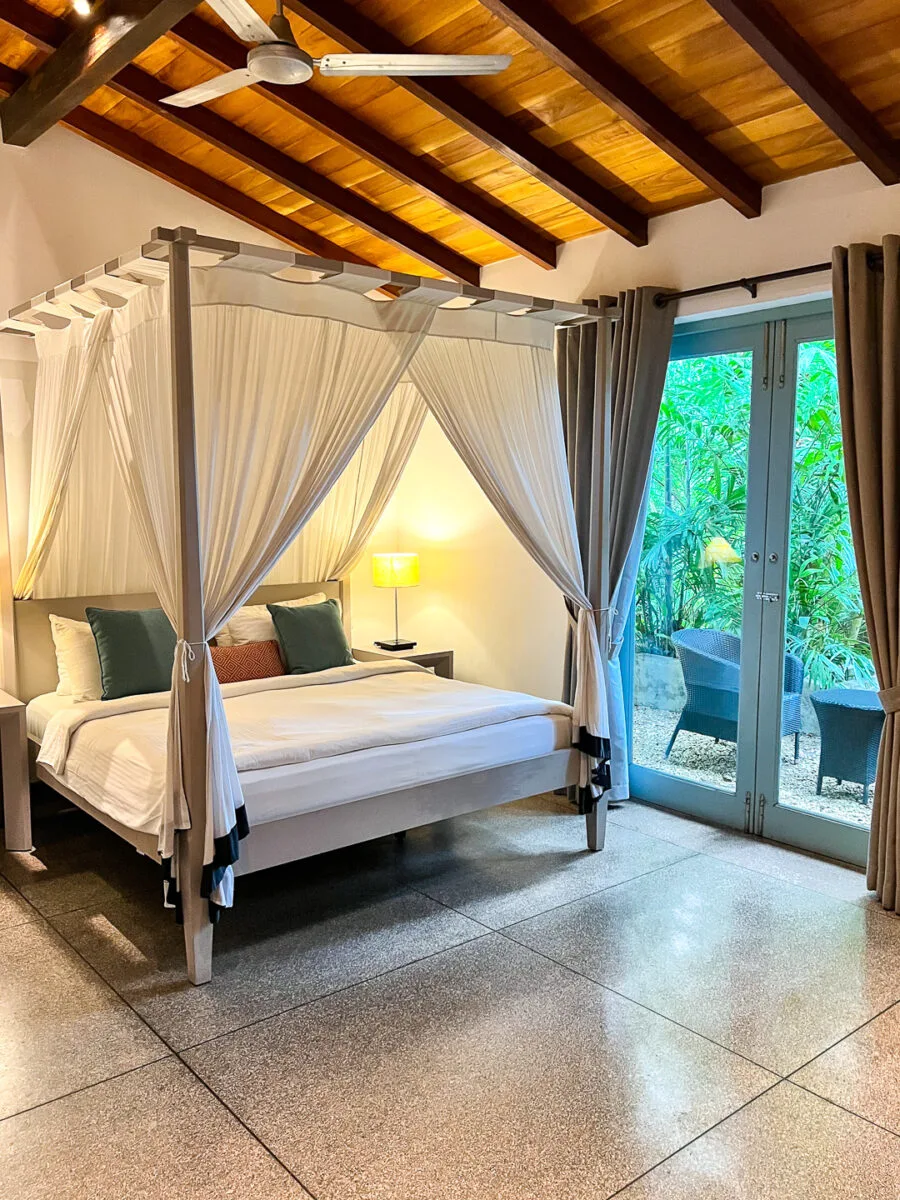 After checking into the beautiful family suite with interconnecting rooms, we had a tour of the onsite farm garden growing everything from pineapples to chillis, and bananas to local herbs!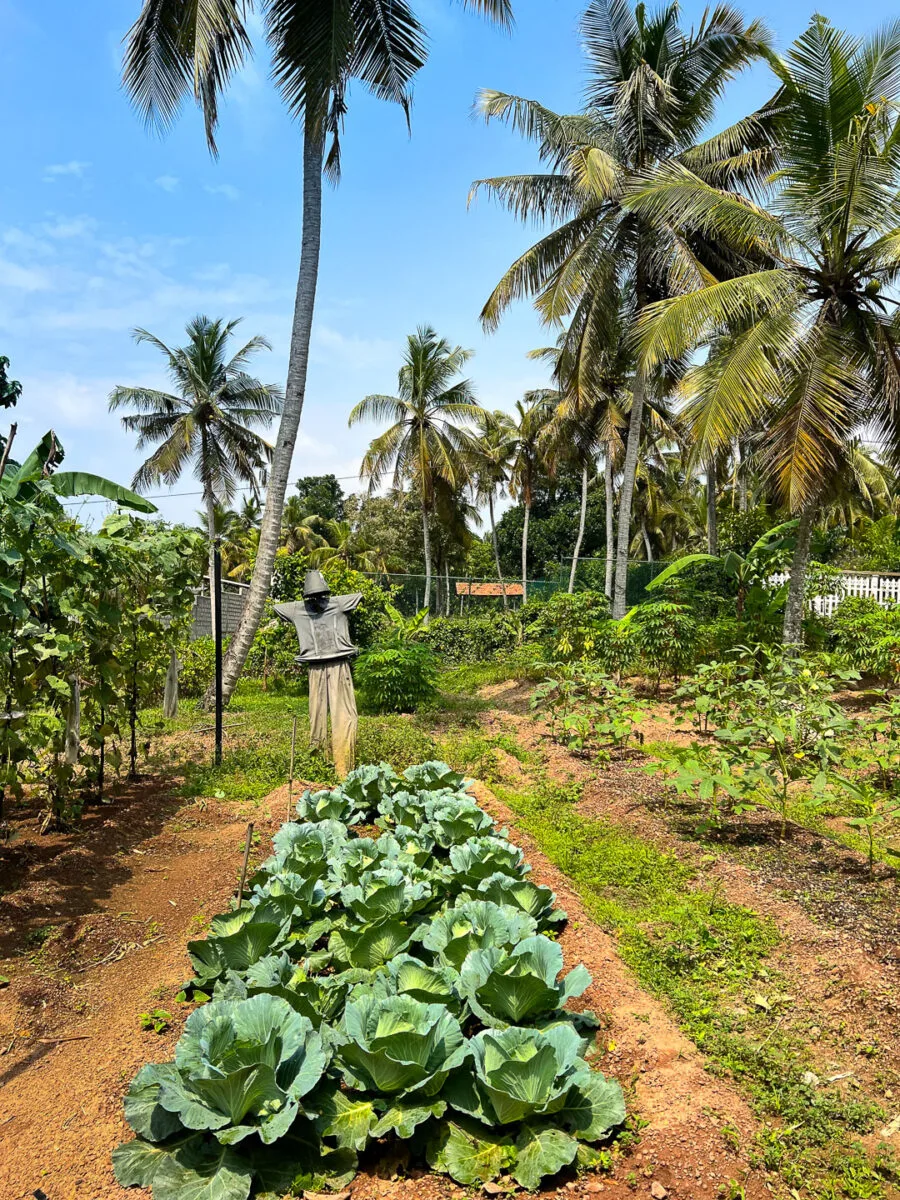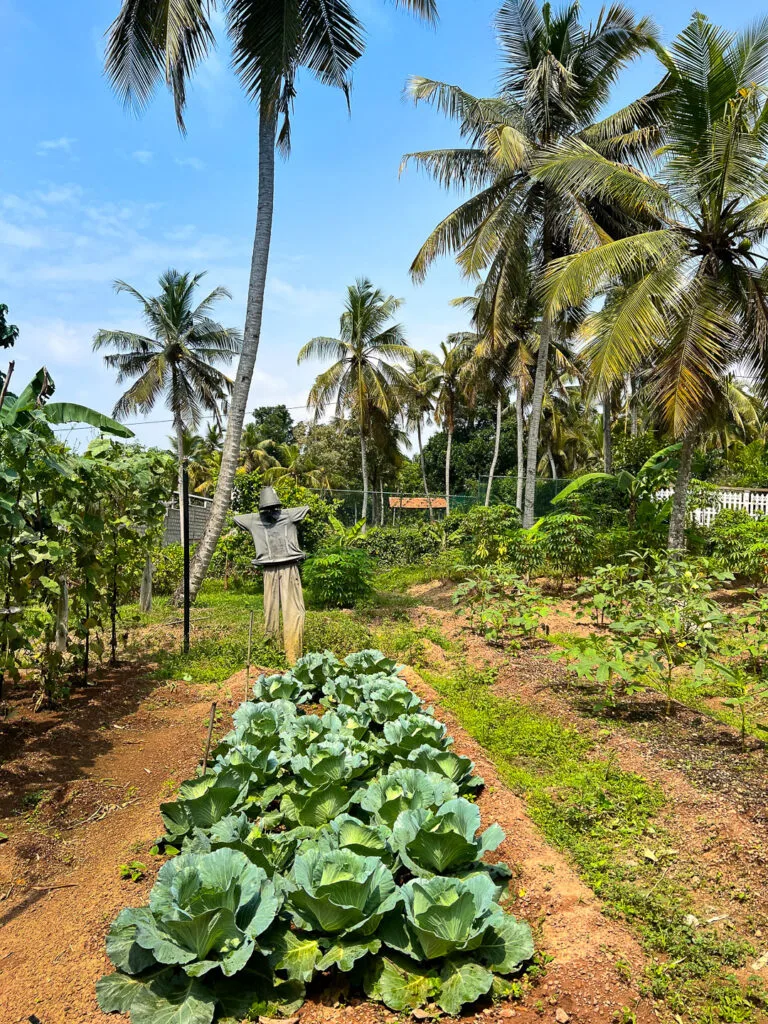 The tour was a lovely introduction to Sri Lankan cuisine especially knowing many of the produce growing were later going to be on our plate!
There are some of the cutest resident goats on the farm with the biggest floppiest ears I have ever seen! They are very docile pets and not used for milk or any other produce.
The jungle pool was a huge hit with our kids, especially as they could ring a bell for unlimited sorbet whenever they wanted!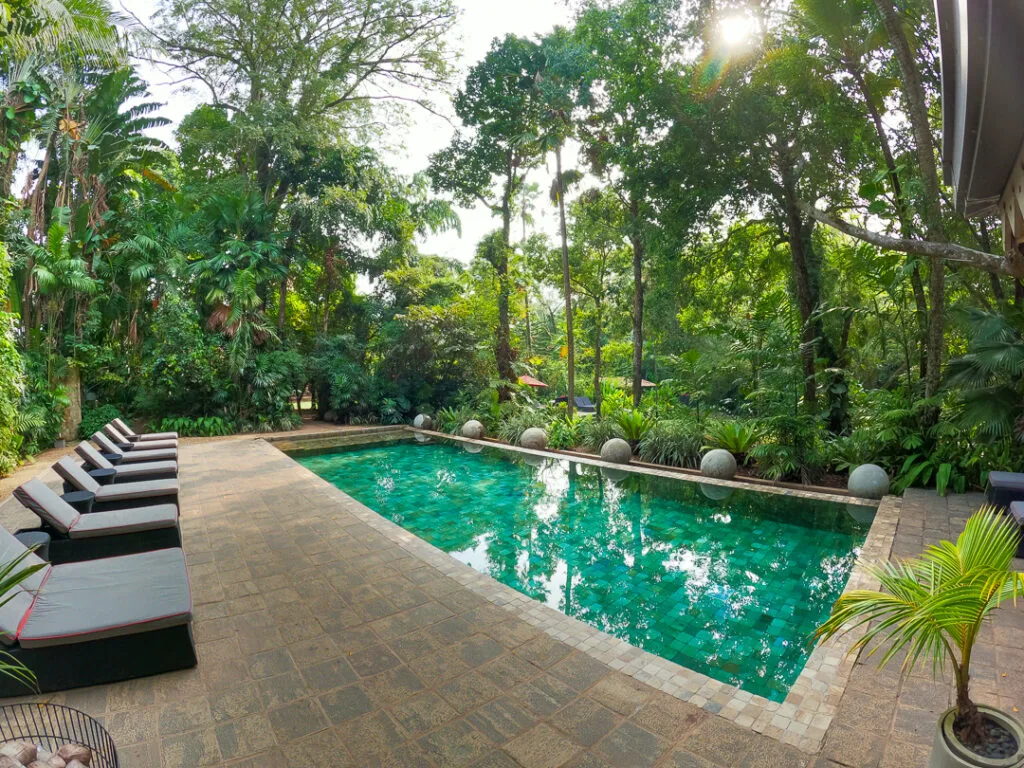 The pool is hidden behind tall palm trees making it the perfect escape from the warm sun.
The restaurant onsite serves up the freshest local and international cuisine and faces out onto lawned gardens strewn with pretty colourful flowers.
The Sri Lankan curry is a must-try! Served in multiple small plates are tonnes of different variations of curried vegetables, the food was amazing!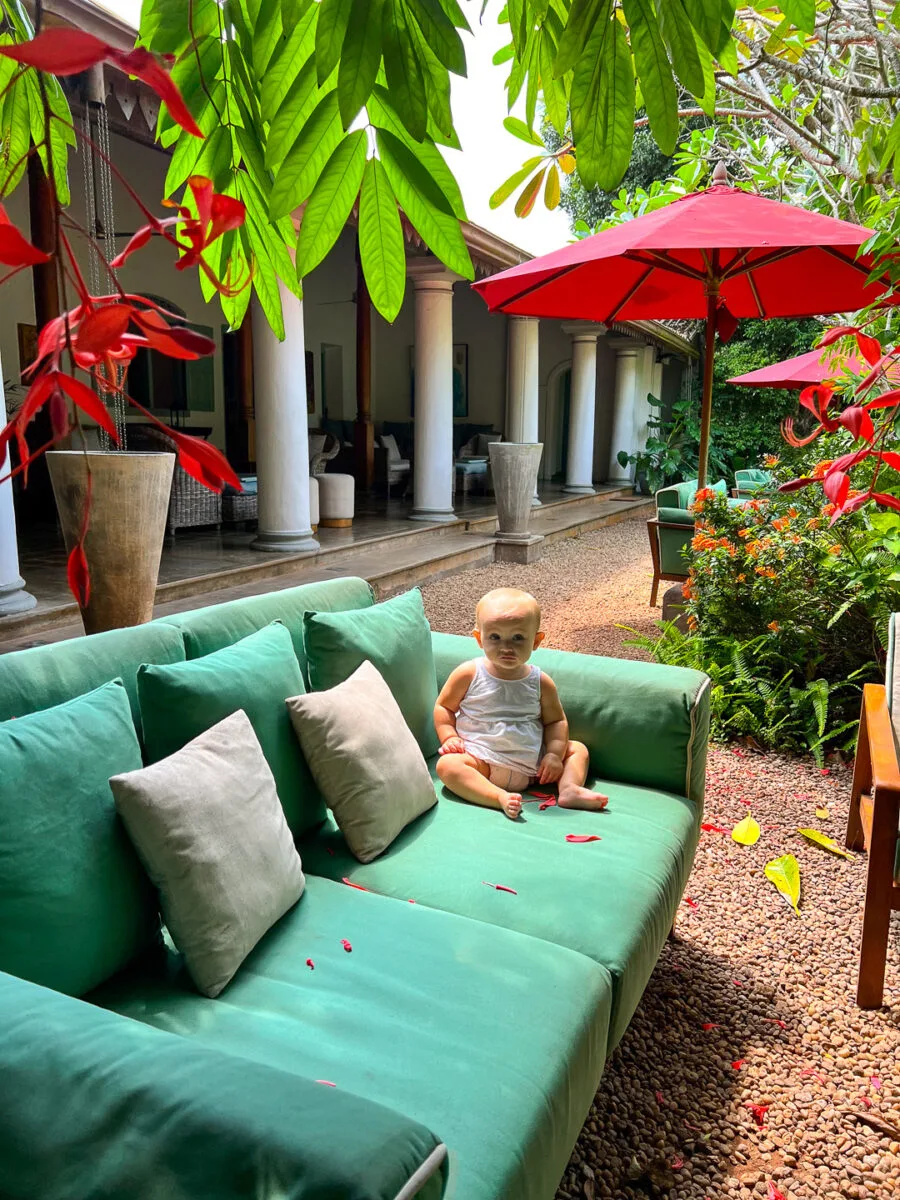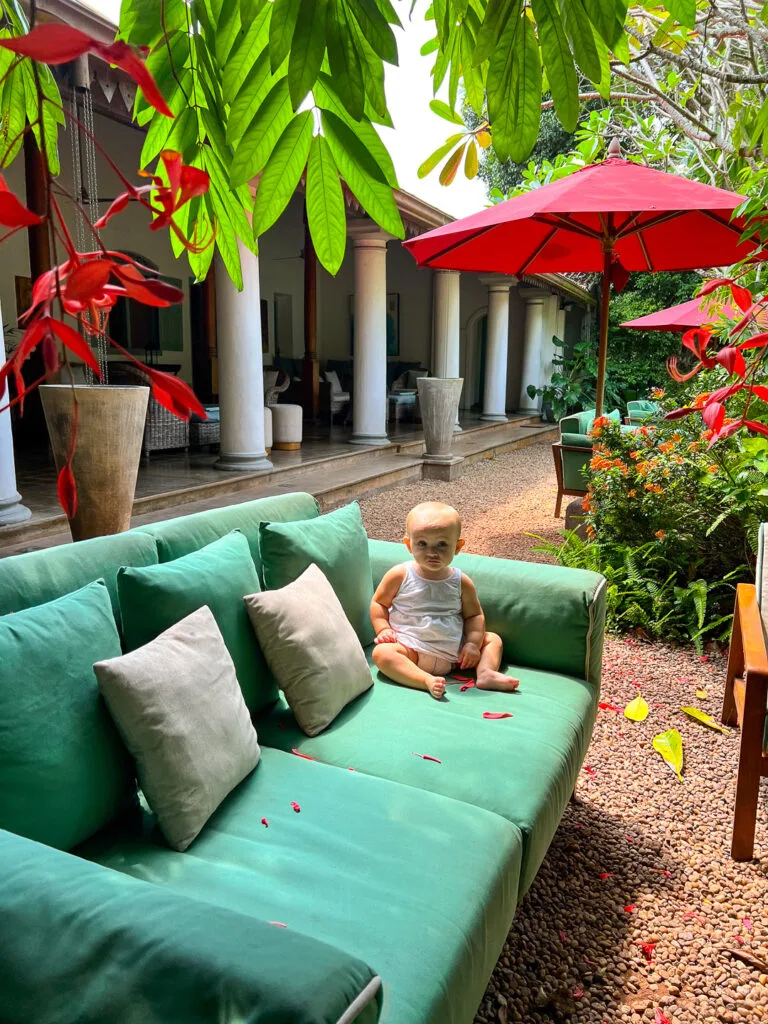 There is a trampoline for kids, not to mention lawn games including a cricket set for all to enjoy. As we all know Sri Lankans love cricket!
We loved lounging in comfy chairs on the terrace learning how to play Daam a Sri Lankan game loved by locals.
Our favourite spot to relax had to be under the Amherstia Nobilis tree. It offered so much shade and the colourful flowers hanging from it were just beautiful.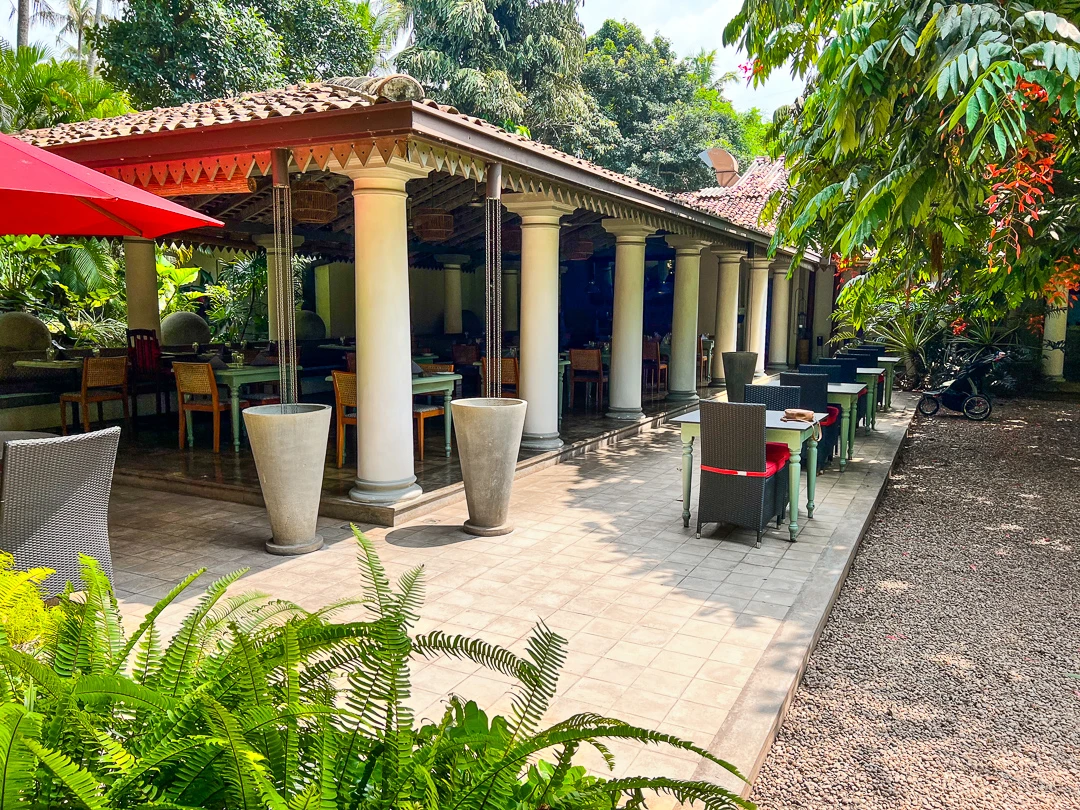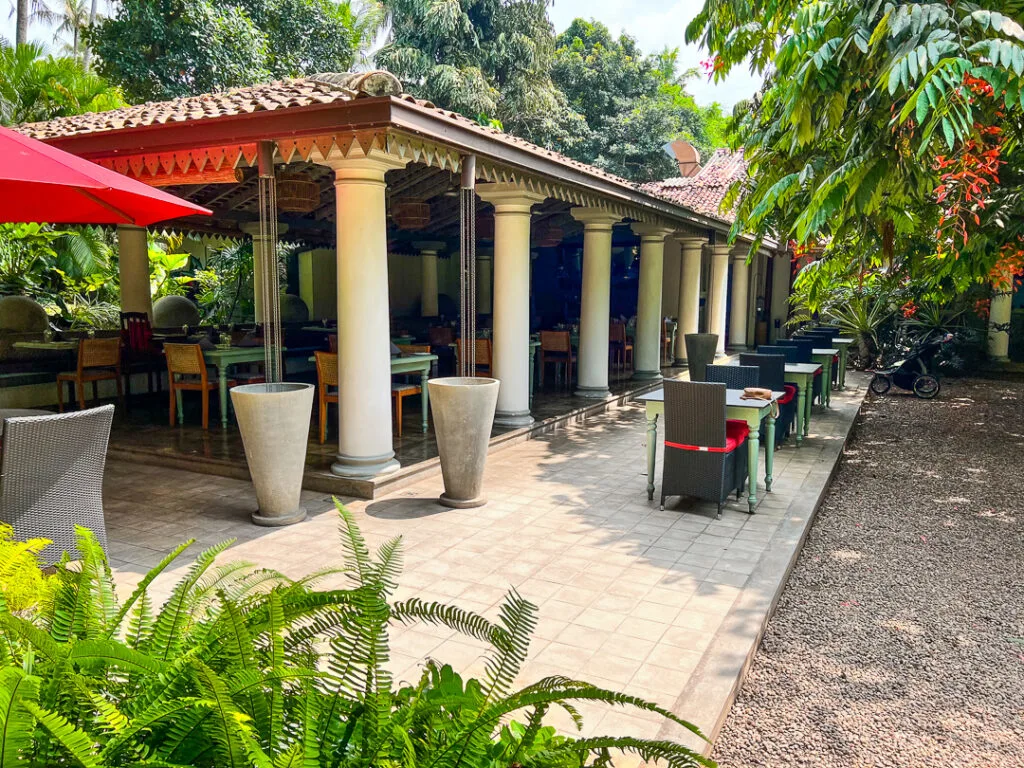 Day 2 Drive to Sigiriya
On day 2 we headed towards Dambulla and stayed in Water Garden Sigiriya for the next three nights, more about the hotel in a moment. Dambulla and Sigiriya are just 30 minutes apart by car.
It was really interesting driving from Negombo. It took about three hours and the roads weren't too windy like other parts of the trip. Amazingly our Audley Travel transfer had Wifi throughout the trip which was fantastic.
About halfway through, the vegetation changed from a wet to a dry zone. With the dry zone, the trees change and it generally looks and feels totally different from the tropical parts of Sri Lanka.
Along the route, we saw rubber coconut and mango plantations. Vendors selling colourful fruits and coconuts could be seen every 100 metres.
Our guide pointed out some rock formations which looked like a sitting elephant and kept the trip entertaining for everyone.
Coconut husk mounds line pathways since they are a fantastic recyclable material for locals. Vendors were also grilling corn and the smell wafted past every once in a while making us ready for lunch!
It truly was a lovely drive through the Sri Lankan countryside, especially seeing wild sunflowers every once in a while.
Day 2 Dambulla Cave
Depending on whether you'd prefer to rest after the drive, the Dambulla Rock Cave Temple and Golden Temple are must-visits in the area on a Sri Lanka 8 day itinerary.
The temple is a world heritage site inside a rock cave. The well-preserved monastery has five cave sanctuaries of worship and dates back to the 3rd century BC. Each sanctuary has a different look and feel with some incredible Buddhist sculptures.
The detail of carvings and paintings are perfectly illuminated with low mood lighting making each sanctuary feel incredibly peaceful and serene.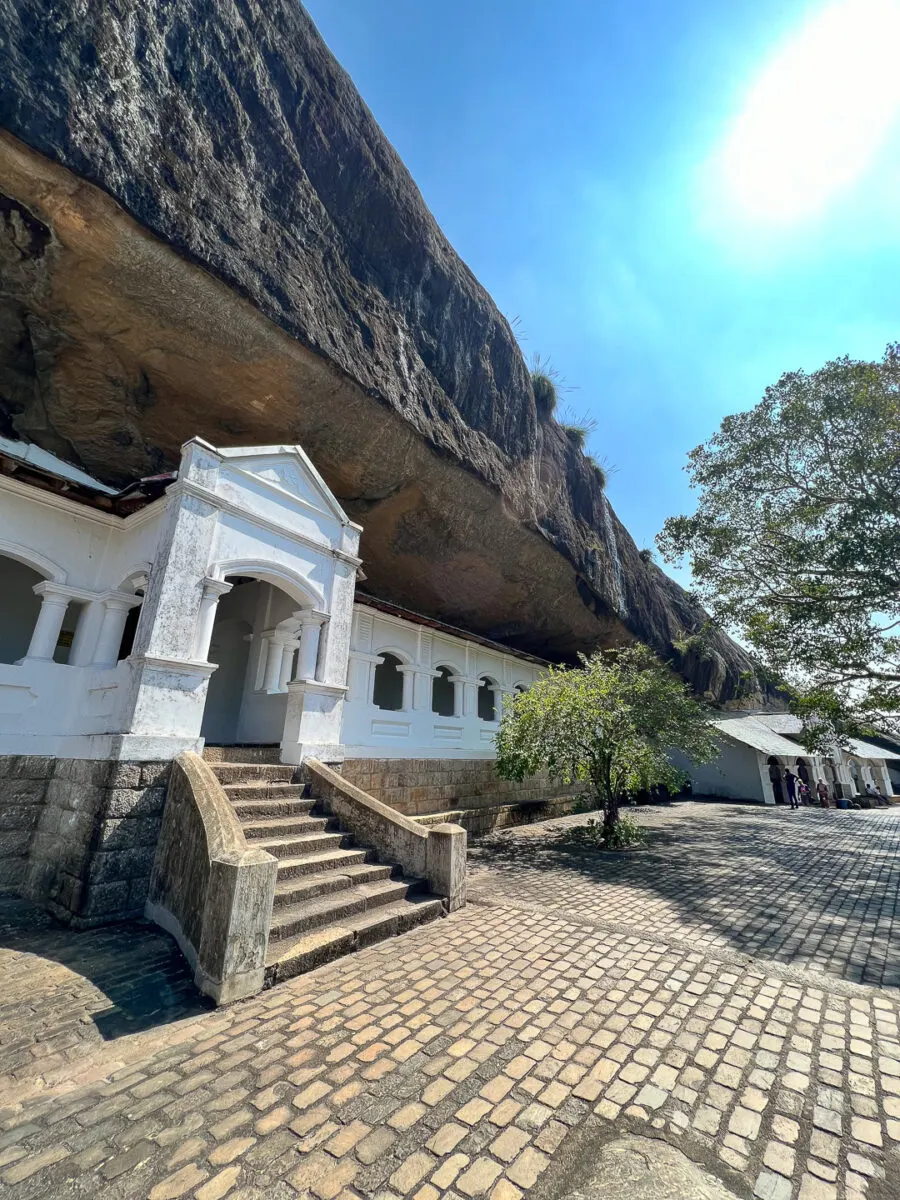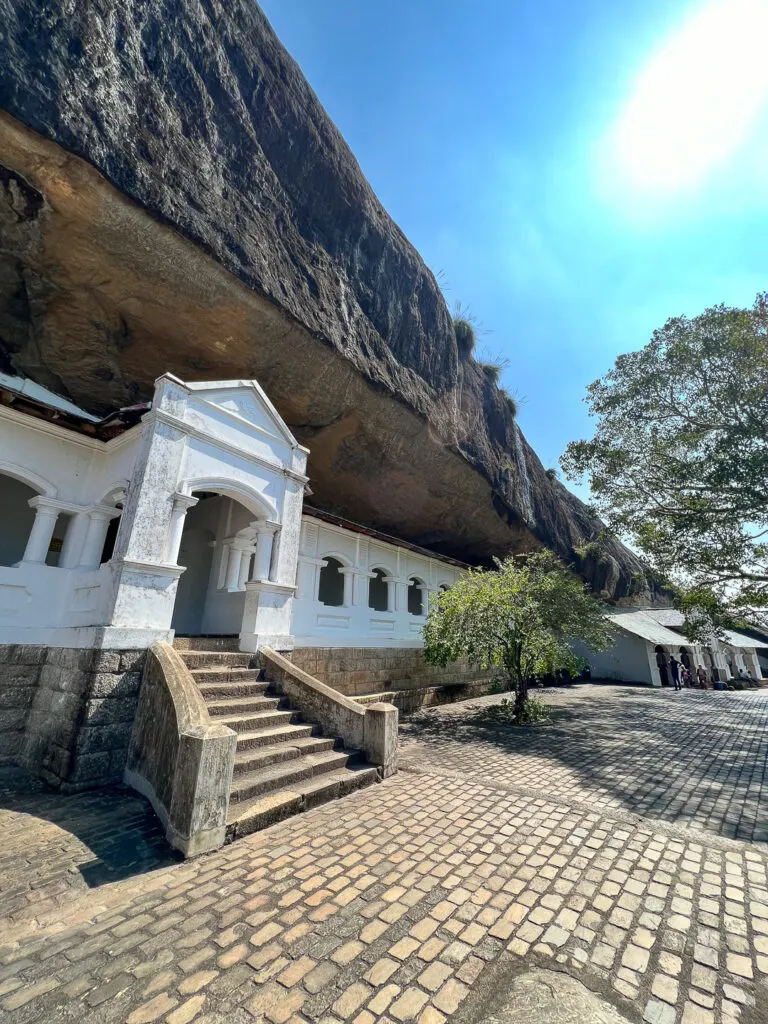 Depending on when you visit, there are times throughout the day when the sanctuaries are closed for ten minutes whilst the monks perform ritual offerings. It's lovely to witness the monks walking through the temple in the bright orange Kasaya.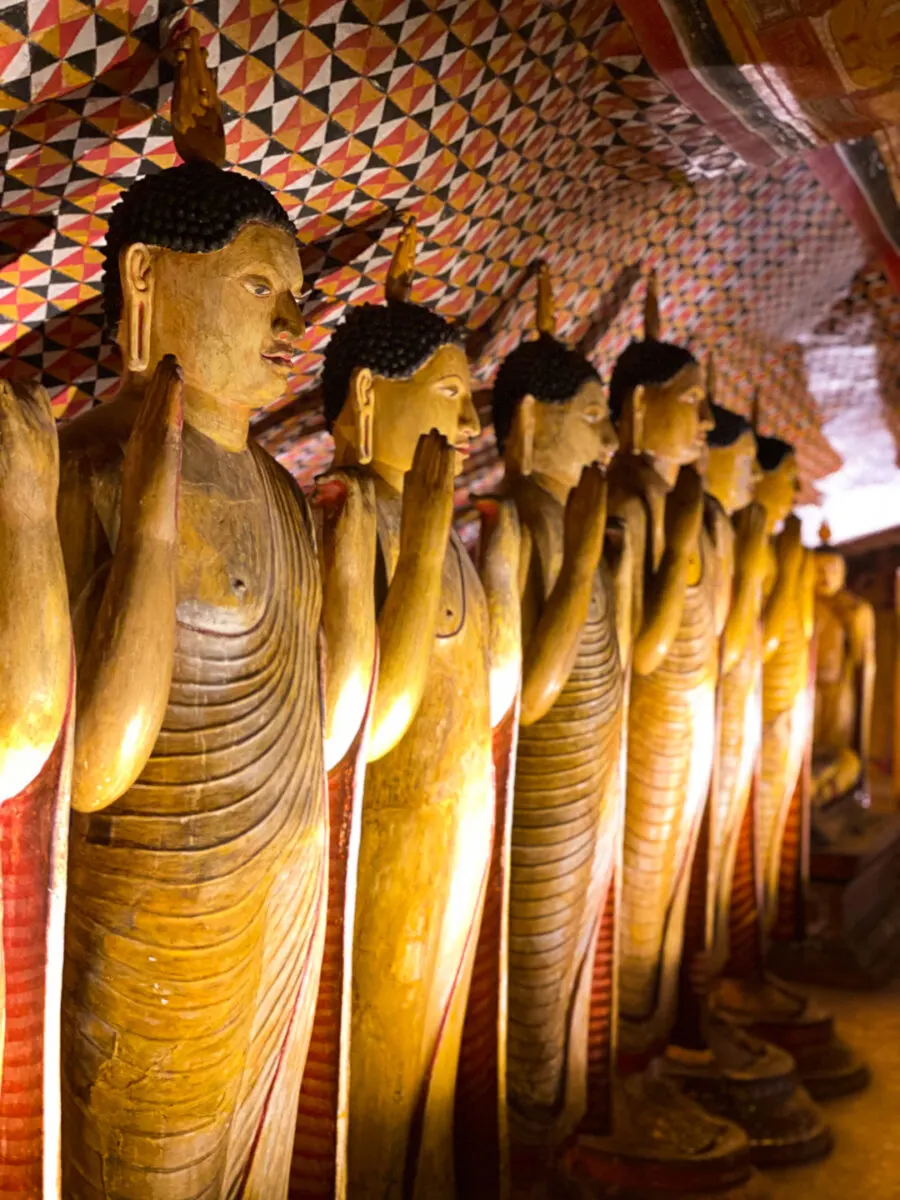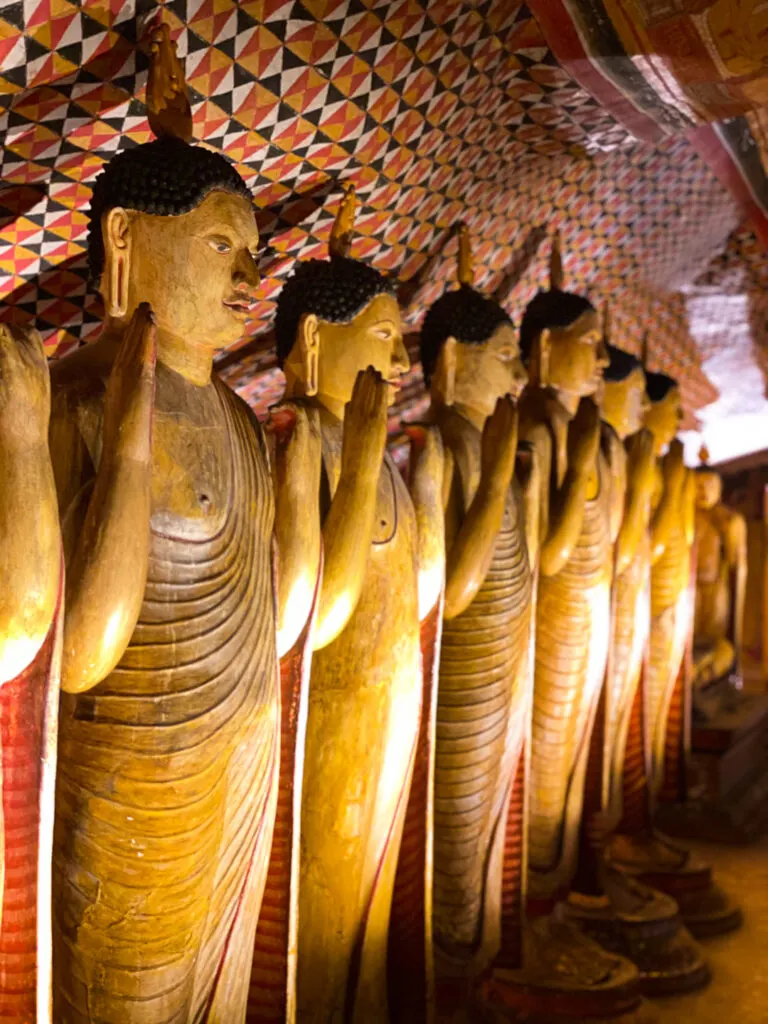 The walk up to the temple is quite steep and takes around ten minutes. The views along the way over the Dambulla region are stunning.
Most of the time, there are toque monkies around the area. In fact, apparently, there is a documentary entirely about the monkies at the Dambulla Rock Temple.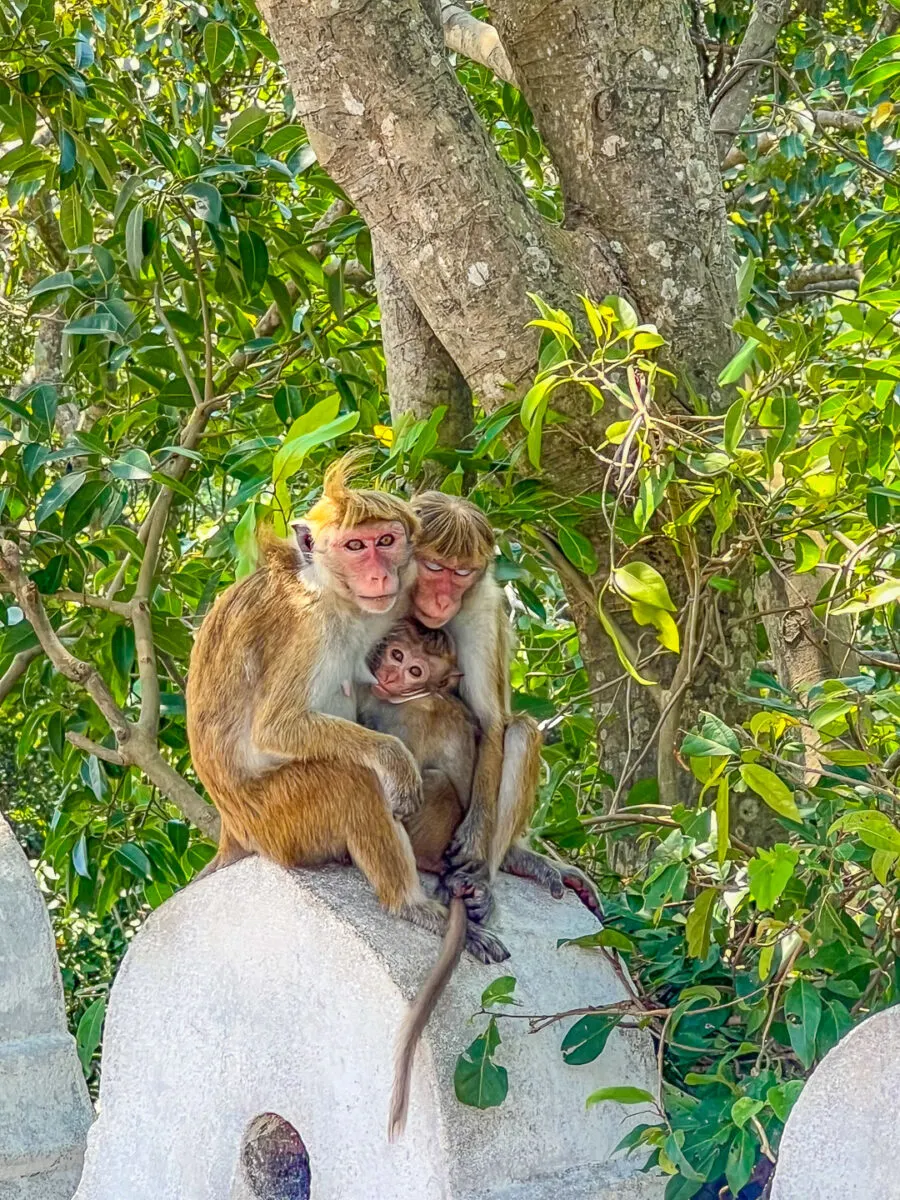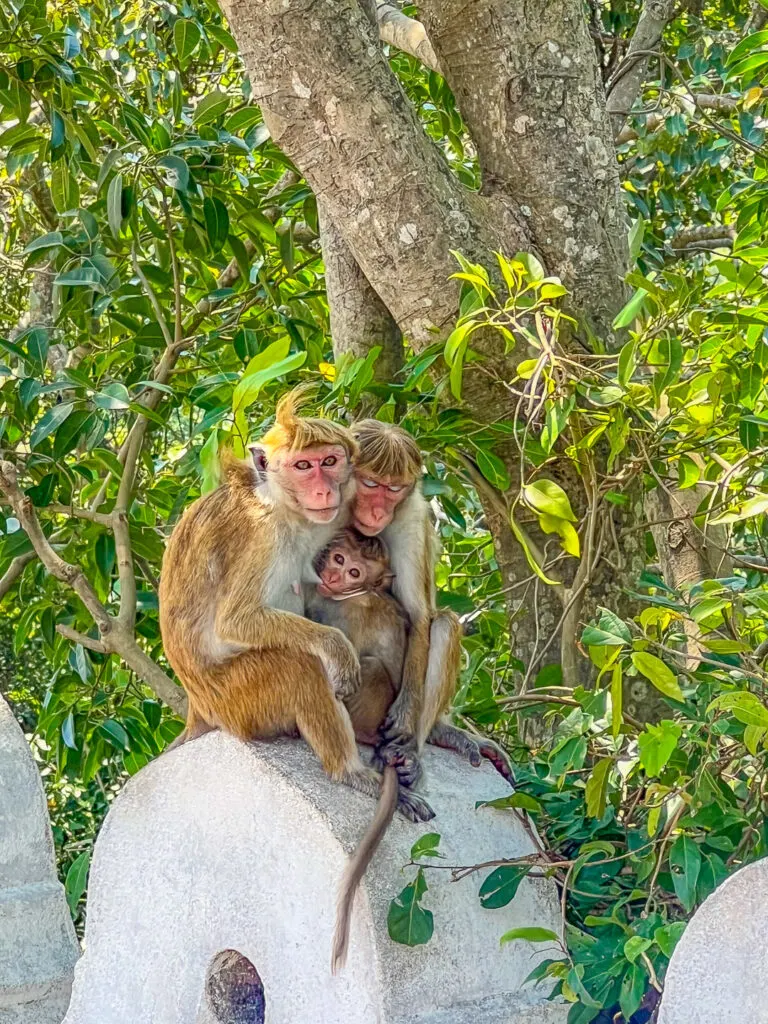 They have the funkiest hairstyles well worth taking a photo of! Be careful with any food or drinks since they can be quite mischievous and clever enough to steal!
Like all temples, you must be barefoot and shoulders covered. There is shoe storage at the front of the temple for a small price.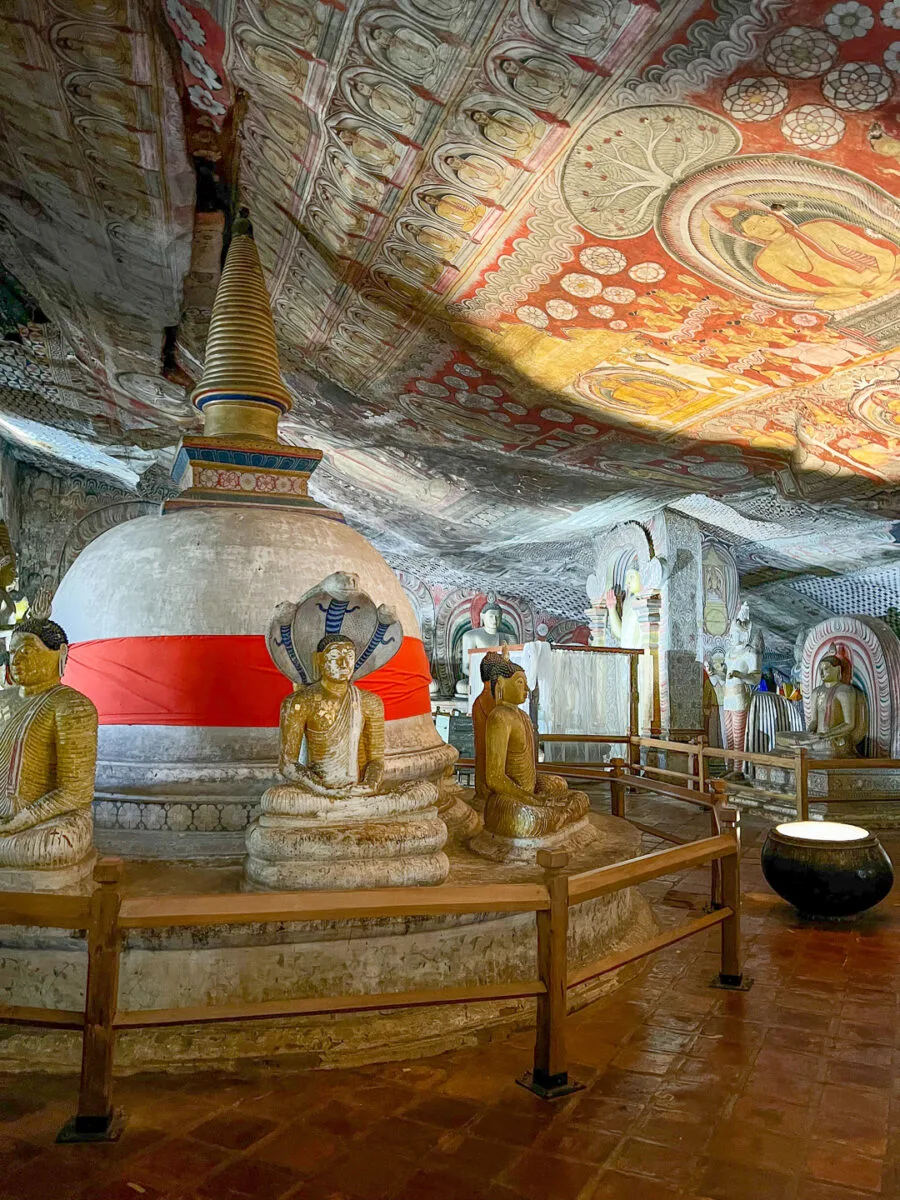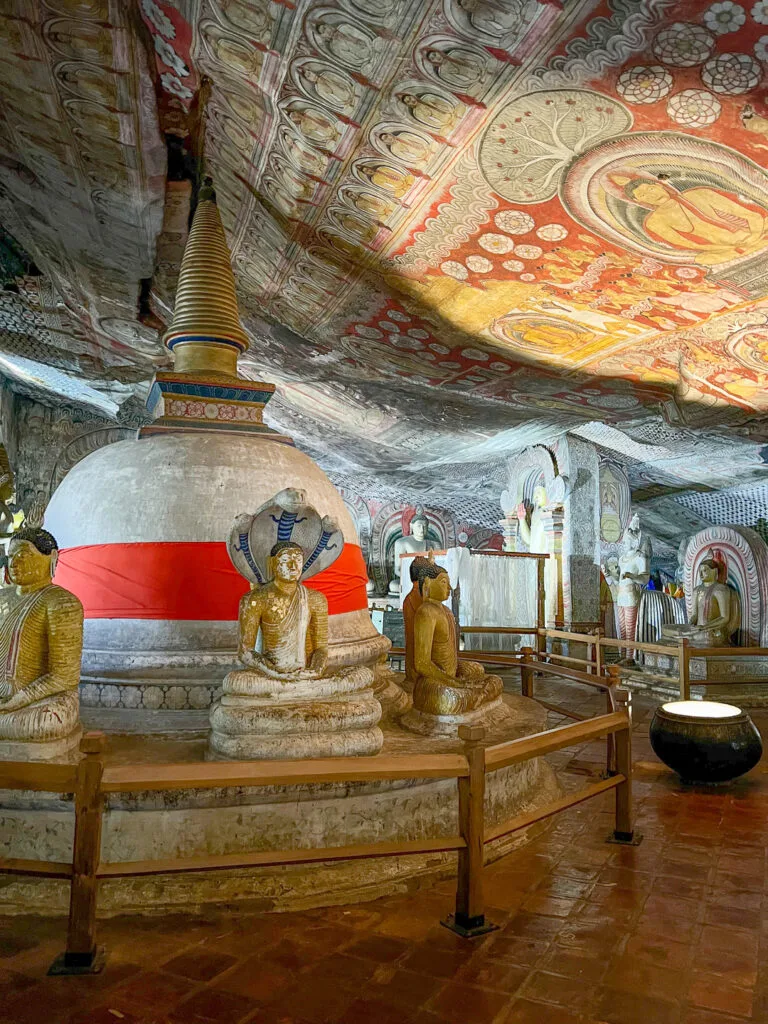 After visiting the caves, just a couple of minutes away from the foot of the hill is the giant golden buddha which is also worth visiting. It looks and feels totally different from the rock cave temple up the hill, however, it is officially part of it.
Steps lead into what looks like the mouth of a dragon or Raskha Mask. The giant golden buddha sits on top of the mouth.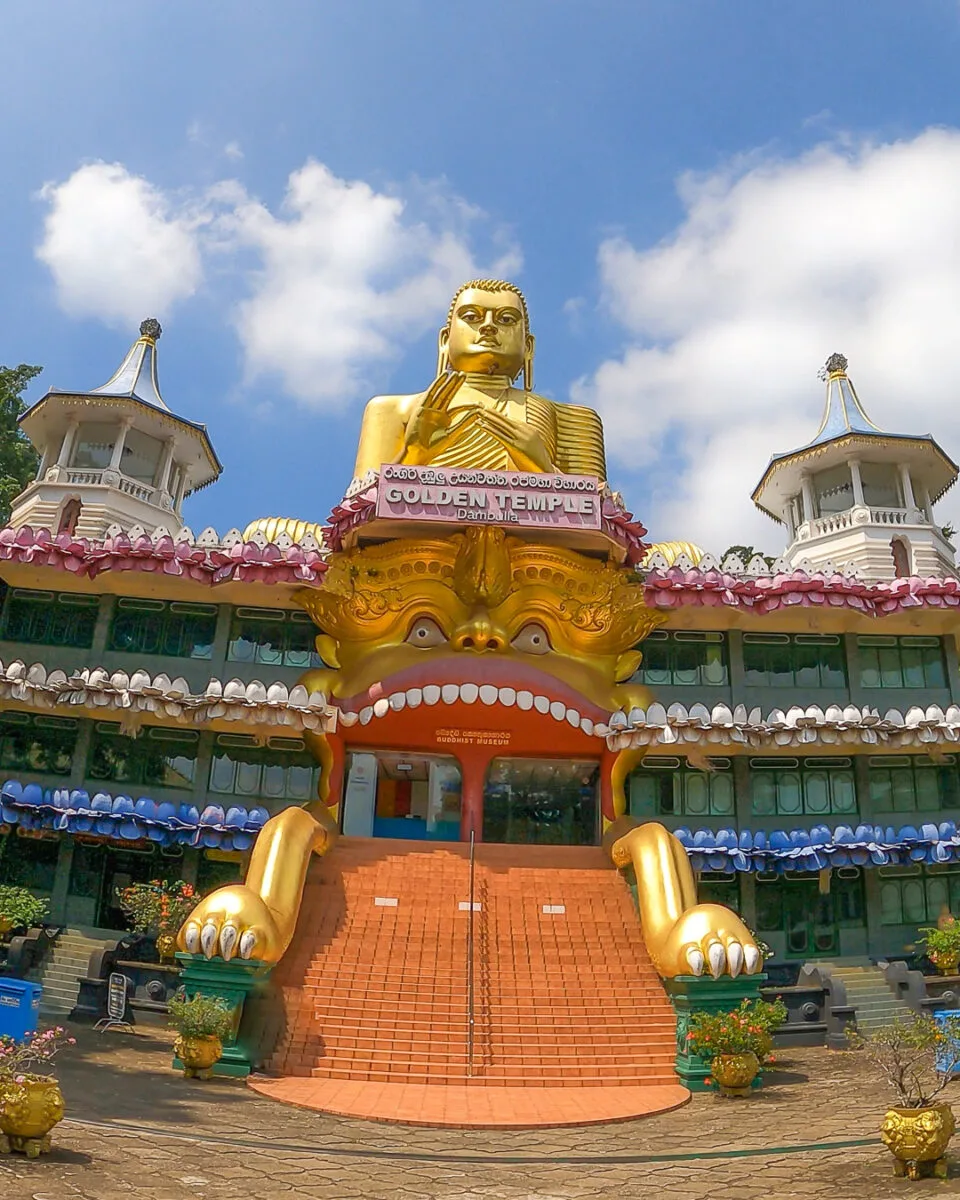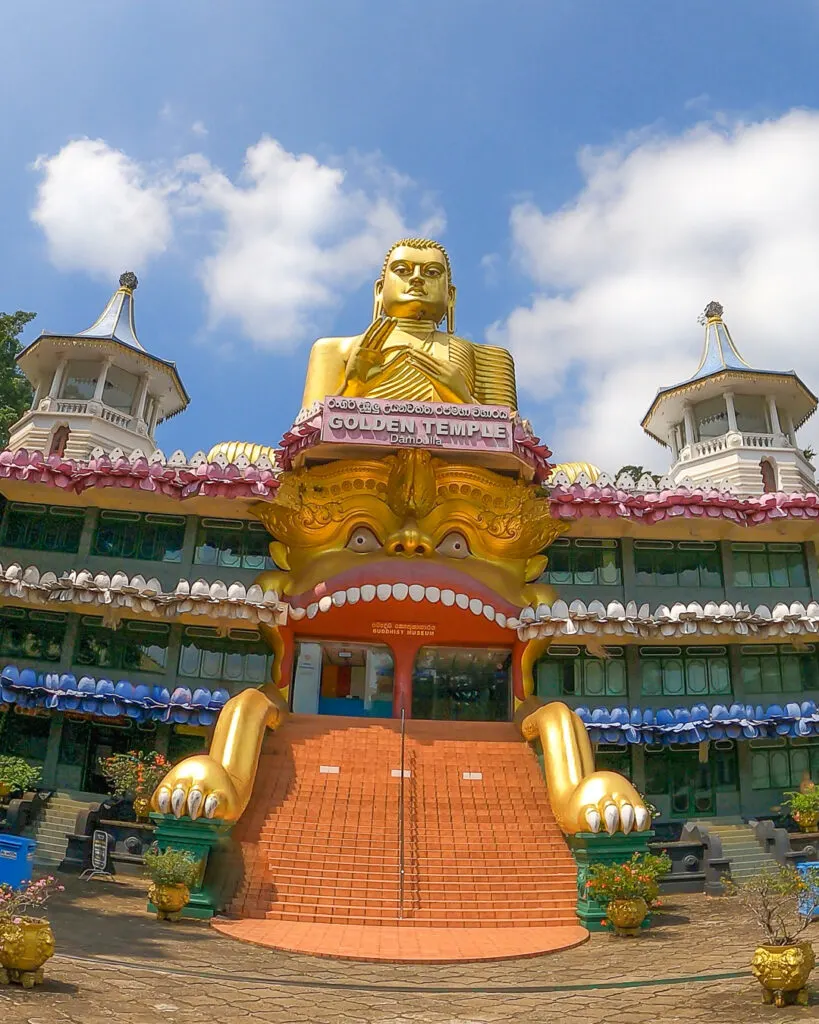 The area around the temple has some really interesting sculptures! To the right is a hill attached to the temple which has tens of monk sculptures which look like they are walking to the temple. At first glance it could be real people.
Having a tour guide with us from Audley Travel was incredible to gain an understanding of the history, culture & traditions, we learned so much!
Where to Stay Near Dambulla & Sigiriya
We stayed at Water Gardens Sigiriya for three nights. It was in a great location to visit the temple, go on a safari drive and visit the Sigiriya Rock fortress, all within easy reach.
The beautiful grounds of the resort are so cleverly designed to perfectly frame the infamous Sigiriya Rock at the end of the long pathways.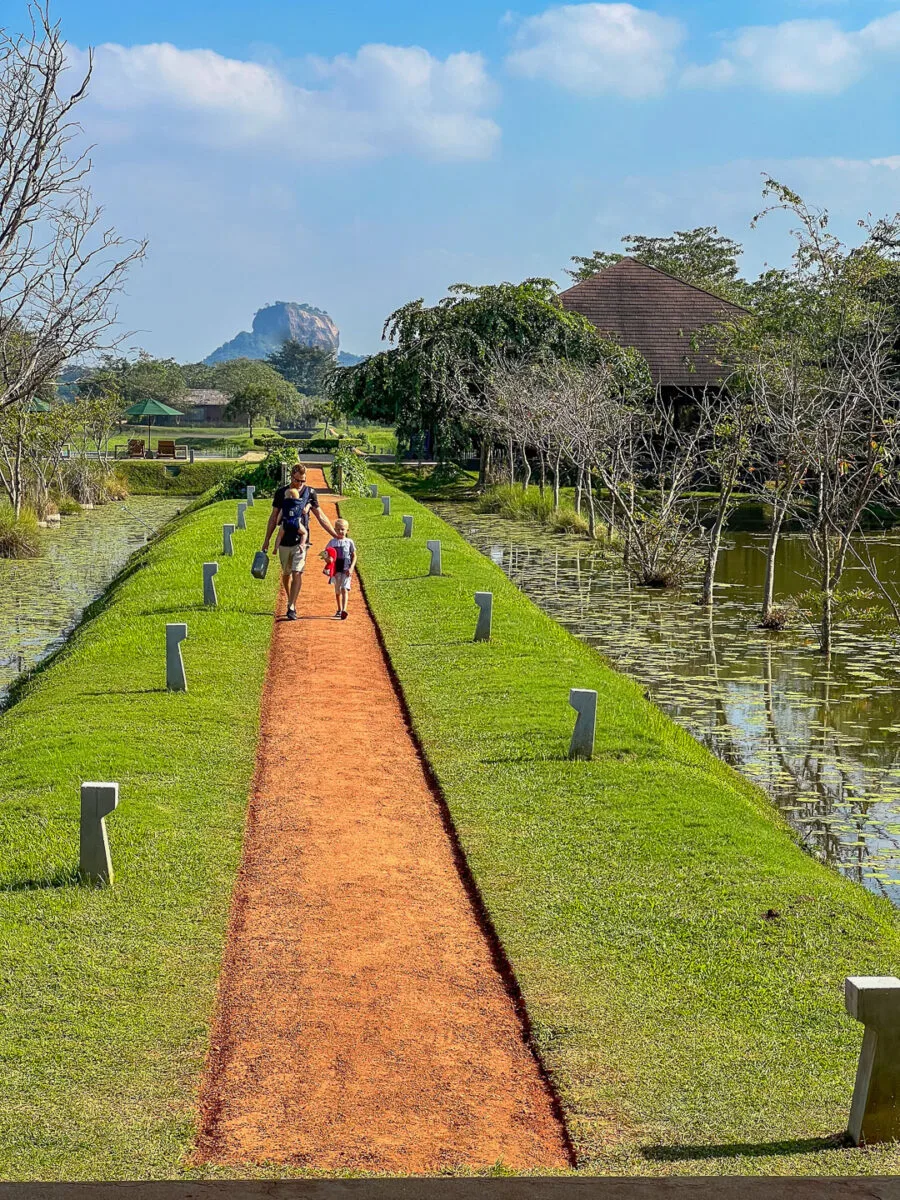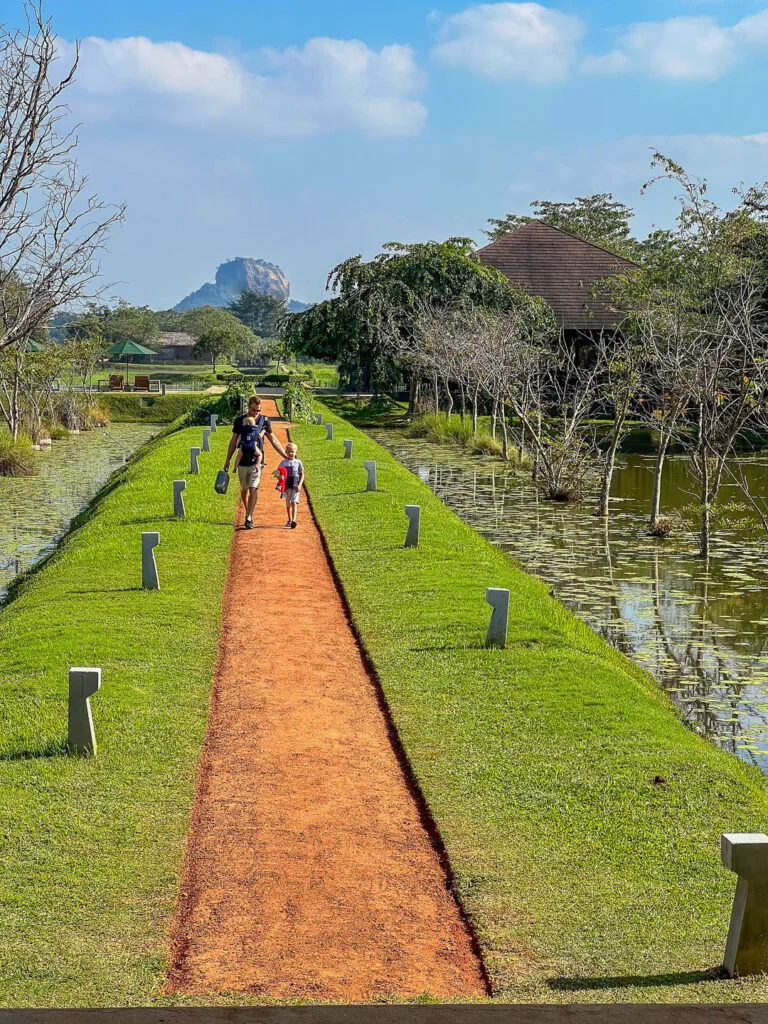 The thin long line was a particular colour which makes it look like it was actually attached to the rock, even though it was in fact 5 km away. On a clear day, it looked so much closer!
Water Garden Sigiriya was once an abandoned rice paddy field, it has now been transformed into a natural haven for wildlife and a stunning resort for tourists.
The old rice fields have become beautiful ponds with fish and giant lily pads. There are walkways all around. The centrepiece most certainly has to be a very large infinity pool with a view of the rock.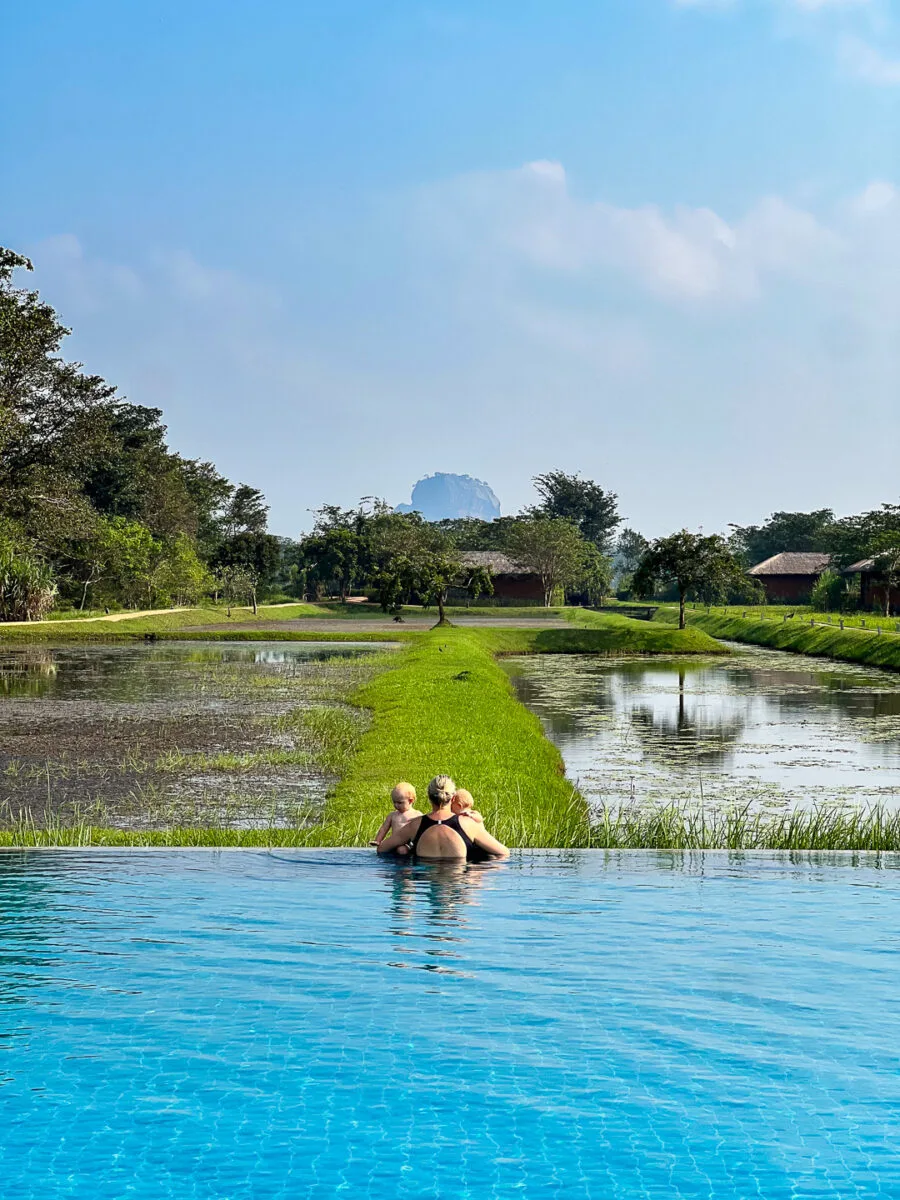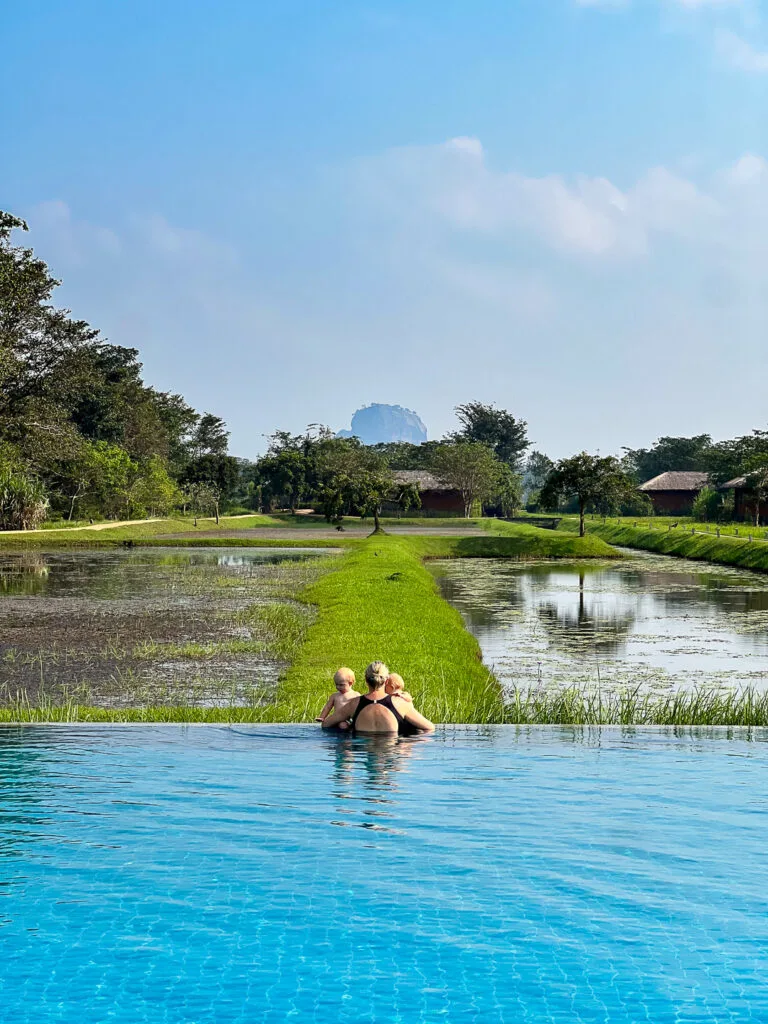 Over 200 bird species can be seen within the resort, not to mention the nocturnal Loris.
There is a naturalist on site doing everything from loris watching to Sri Lankan craft activities with the kids. He is a beacon of knowledge and was so amazing at explaining the history of the resort.
Within the resort are three types of accommodation. Deluxe villas, superior deluxe villas with a plunge pool and duplex twin villas with a plunge pool which are ideal for families.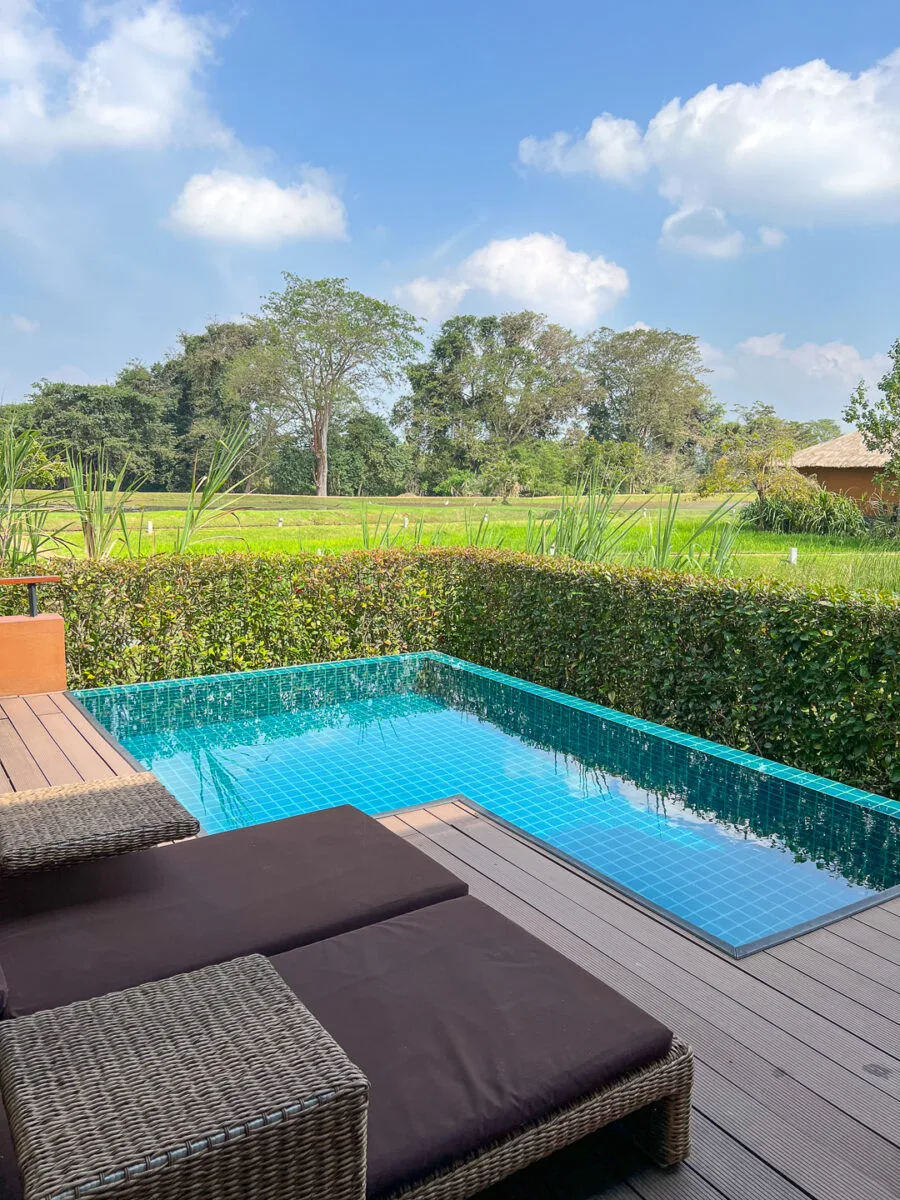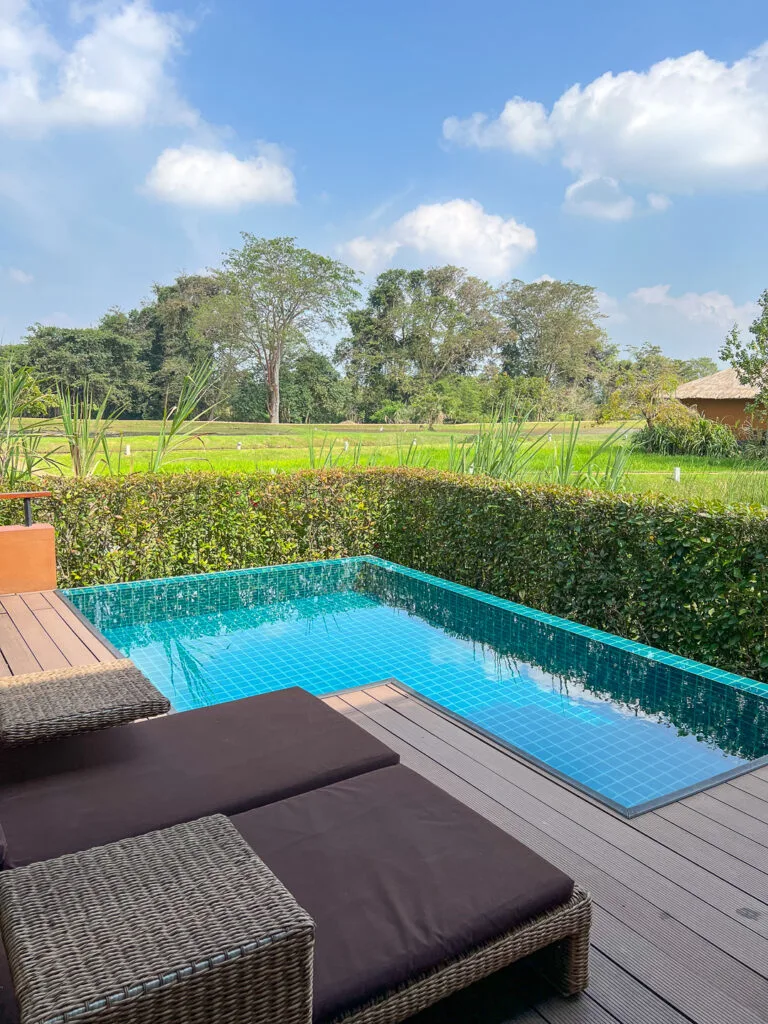 We stayed in a twin deluxe villa and it had an amazing feeling of a home away from home. The villa is spread across two floors and has a spacious living area to relax. The plunge pool is perfect to cool down although we did love swimming in the main pool as well.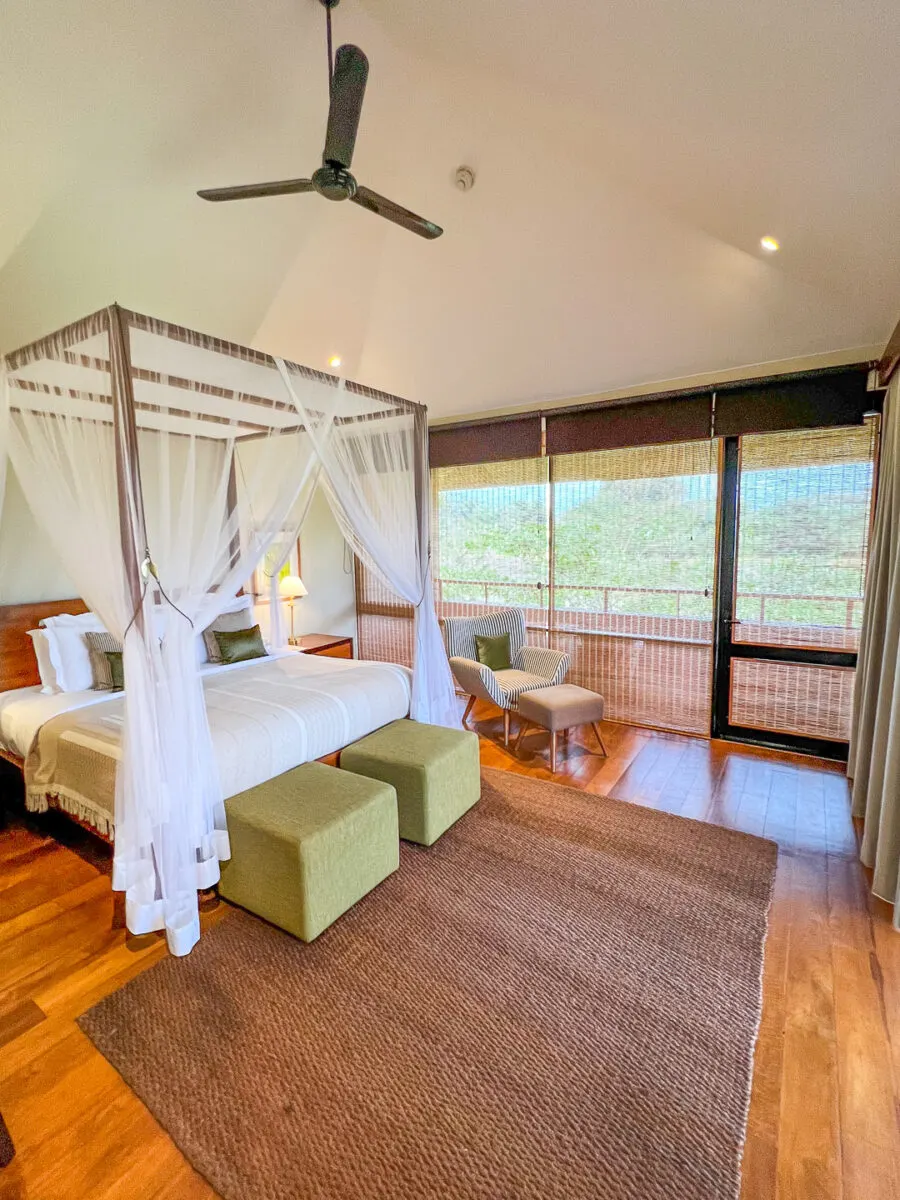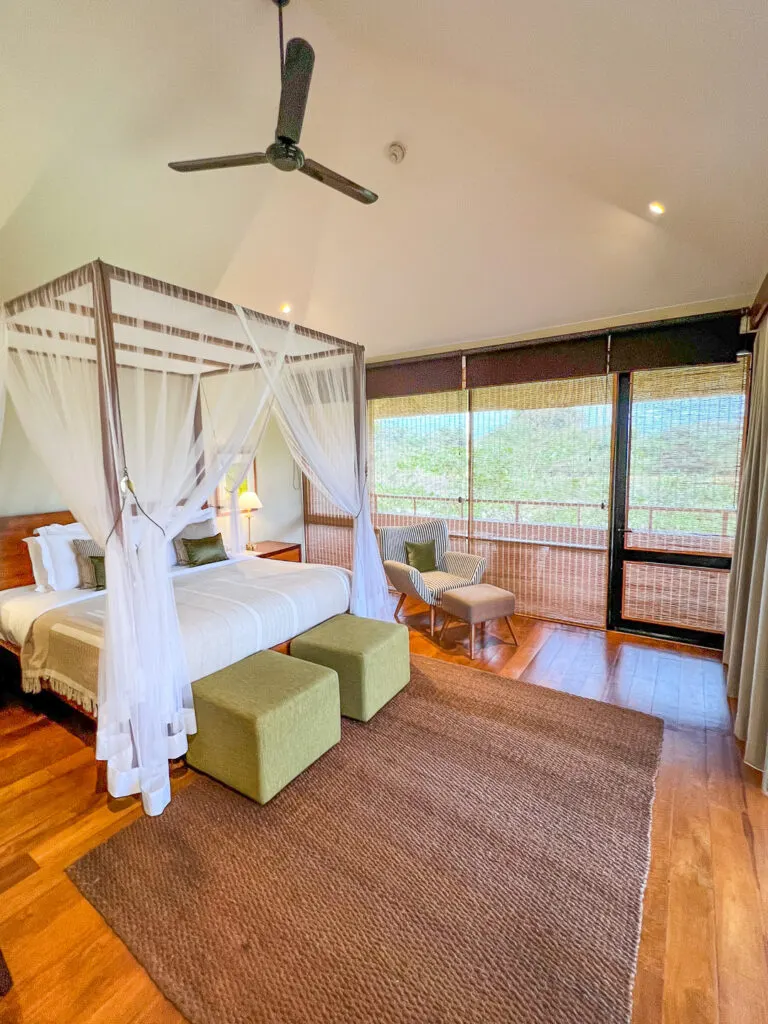 The restaurant had a wide variety of local and international food, however, the local curry was by far our favourite. Another favourite was sitting in the twin-level bar watching the sunset. The colours were incredible and the wildlife was teeming.
Since it's possible to spend a few days in the area, some nice relaxing activities onsite include a spa with Balinese therapists and free bicycles to explore the resort.
Our kids absolutely loved movie night set up with giant bean bags and popcorn. They also had a chance to do a cookery workshop with the head chef dressed up with a chef hat and apron! Afterwards, we enjoyed the food they cooked in the restaurant, they felt so proud!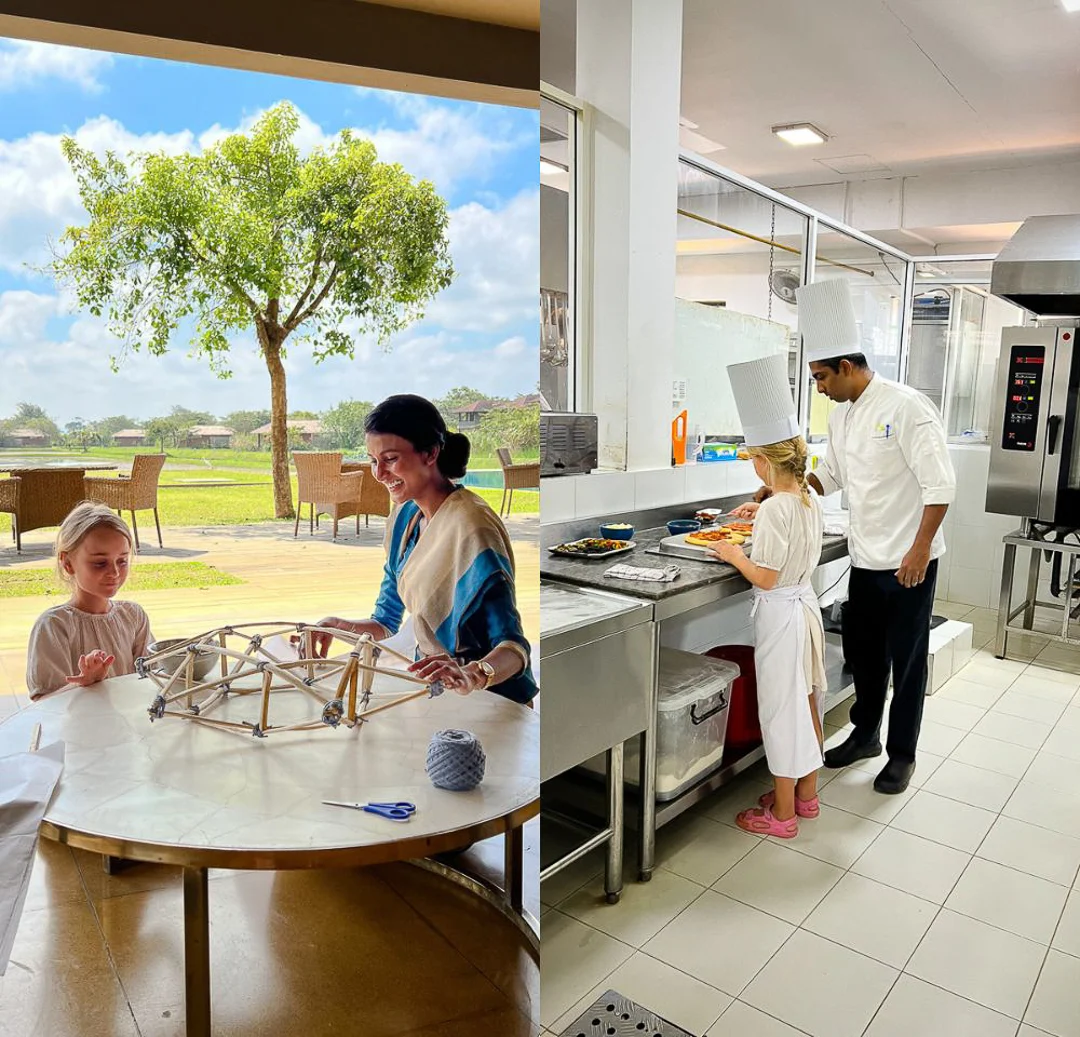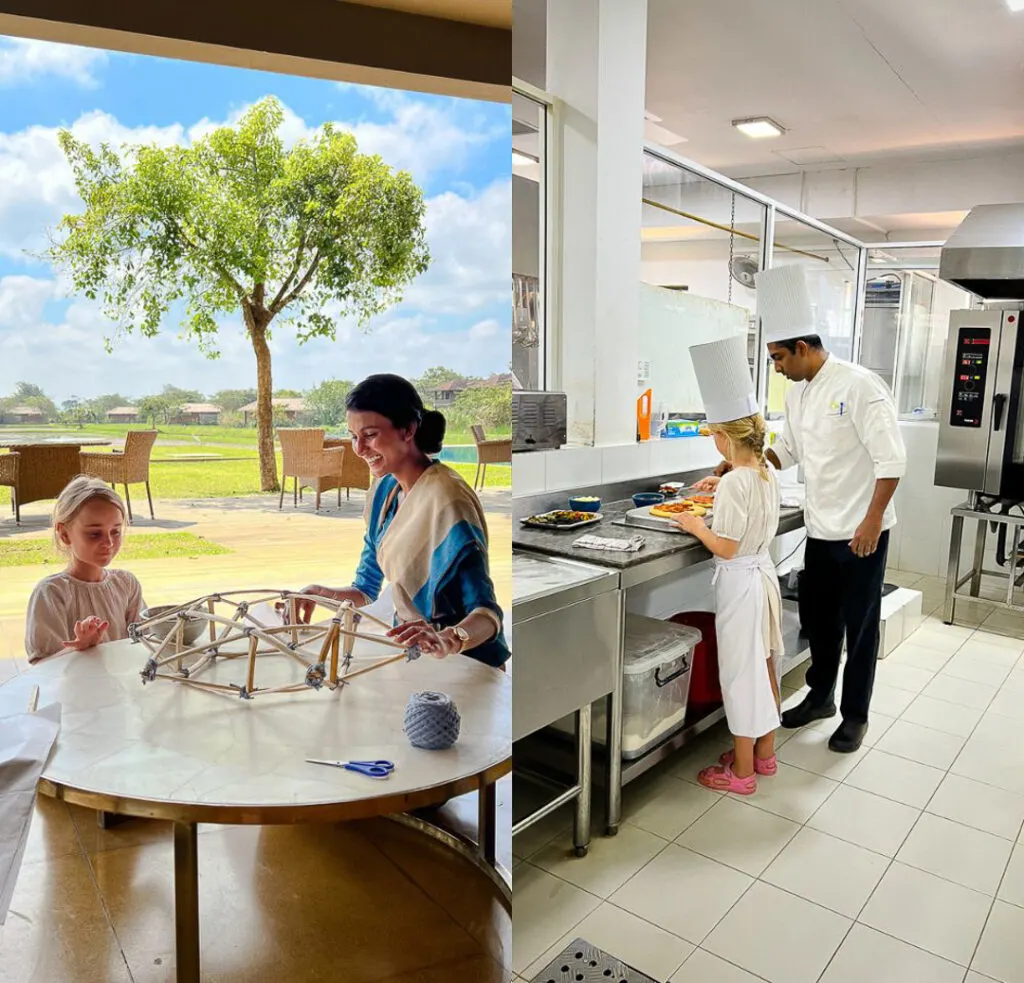 Another amazing activity was lantern-making with the resident naturalist and gardener. The lanterns are usually made by Buddhists in the month of May. Using just bamboo sticks, crepe paper and glue made from flour, our daughter absolutely loved her creation.
The amazing activities in the comfort of the resort really helped break up the Sri Lanka 8 day itinerary.
Day 3 Sigiriya Safari
There are quite a few national parks near Sigirya which I hadn't realised until Audley Travel prepared our Sri Lanka 8 day itinerary.
There are three parks to choose from namely Minneriya National Park, Kadulla National Park and Eco National Park. As the elephants can move between the parks, a safari guide will decide on the day where best to visit.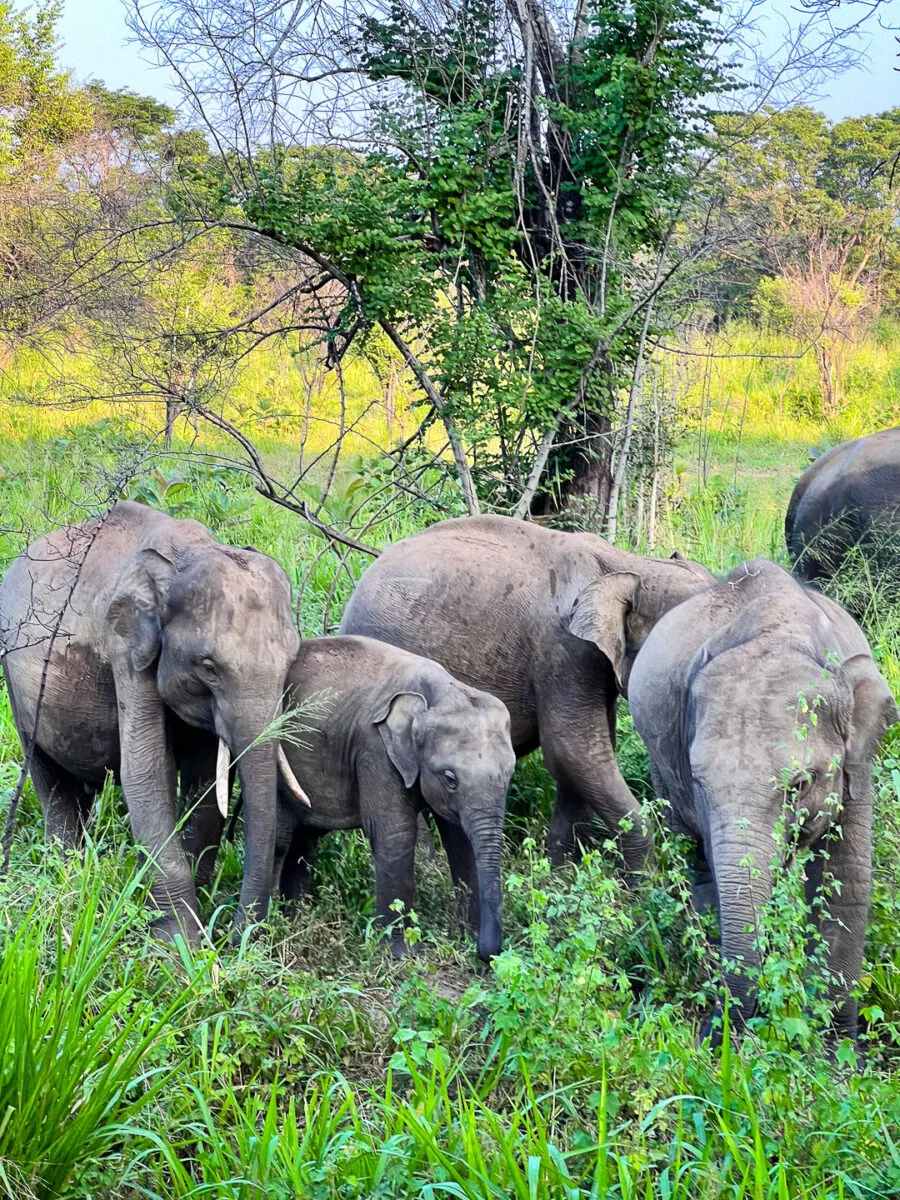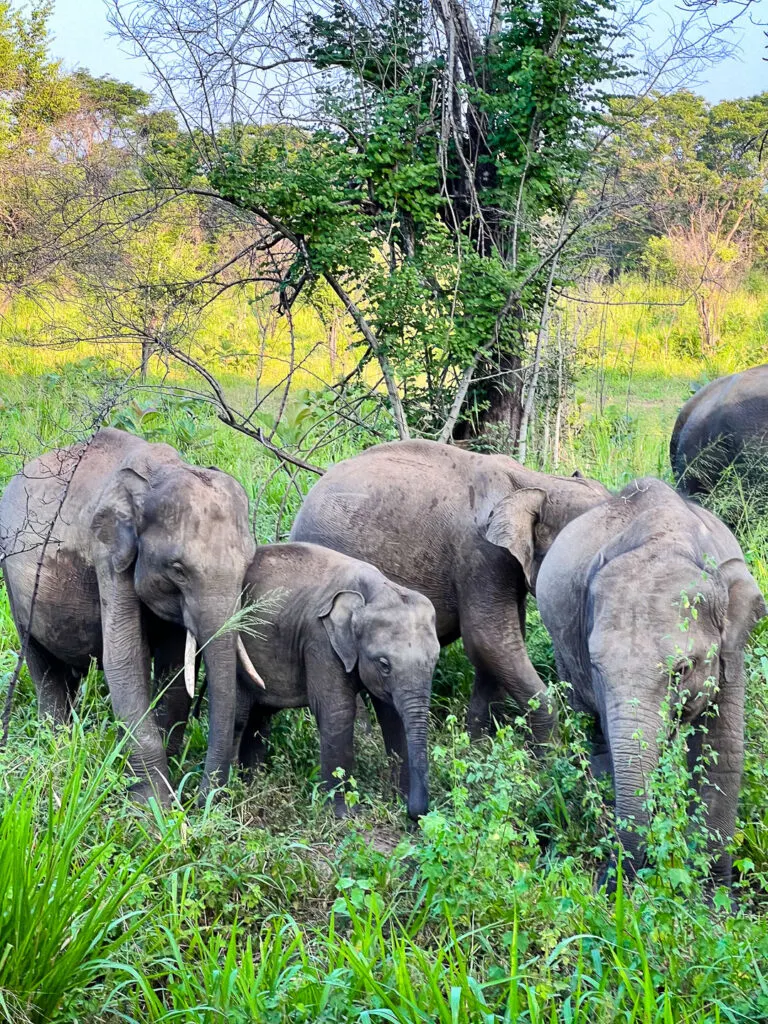 We visited Eco National Park since that is where the elephants were on the day. Usually, tours are held in the morning or late afternoons since it is in an open-top safari jeep and it would otherwise be too hot during the day.
The trip into the park is pretty quick and in no time we were surrounded by elephants which is great with kids as they can be impatient on safari.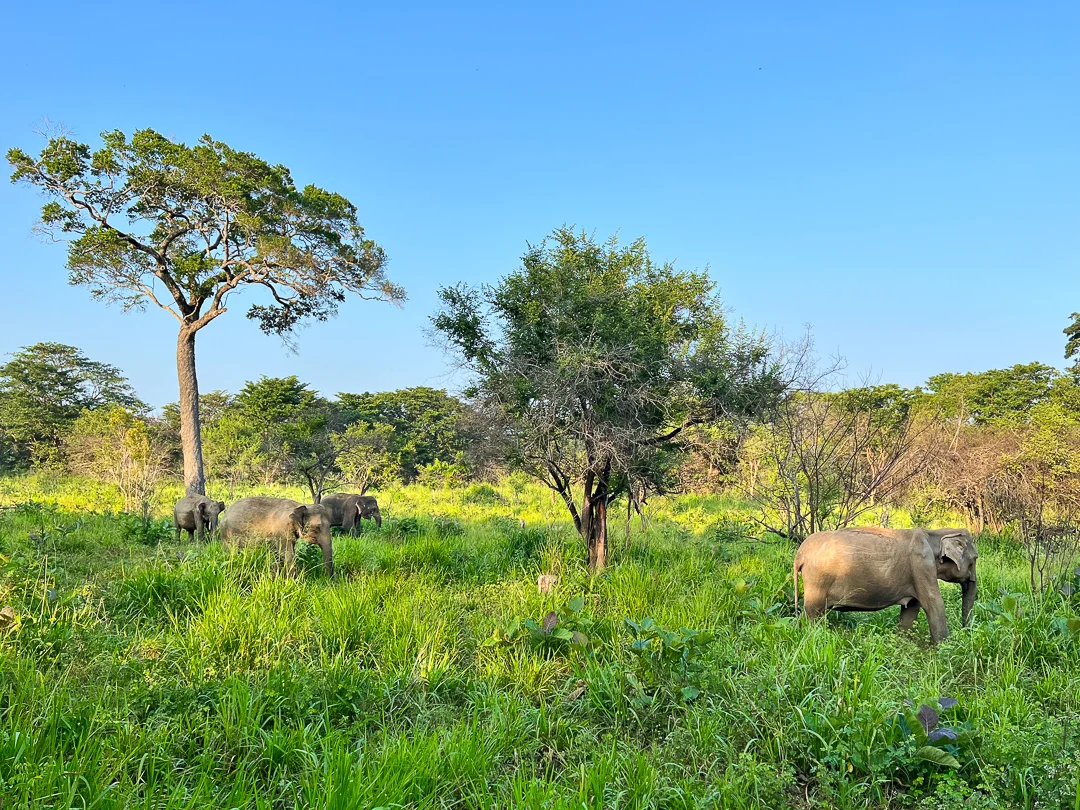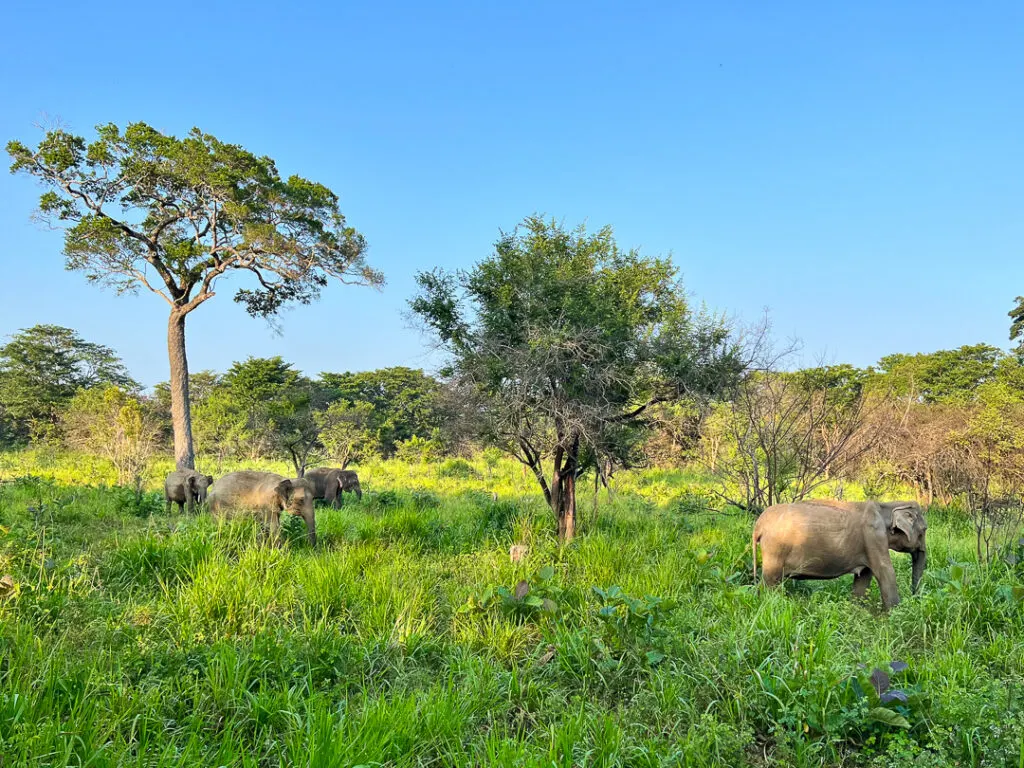 We saw a large family of Asian elephants and watched them for some time before heading back to Water Garden Sigiriya. It was amazing to witness their movements and of course, we saw lots of birdlife as well!
On our way back a large elephant bull blocked our path so we needed to do a little detour to make sure we made it back to the road before sunset. It was an adventure, to say the least!
Day 4 Sigiriya Rock Fortress & Cultural Tour
We woke up super early on day 4 to climb the infamous Sigiriya Rock. We brought our kids with us and we were totally surprised they made it to the top quite easily.
The rock is an ancient archaeological site. At 1145ft high, the rock can be seen for miles within the area. In 477 AD King Kashyapa chose the rock to build his new palace and named the area the new capital.
The gateway looks like the feet of a lion and is a truly elaborate feature. The stairs winding around the rock are not for the faint-hearted.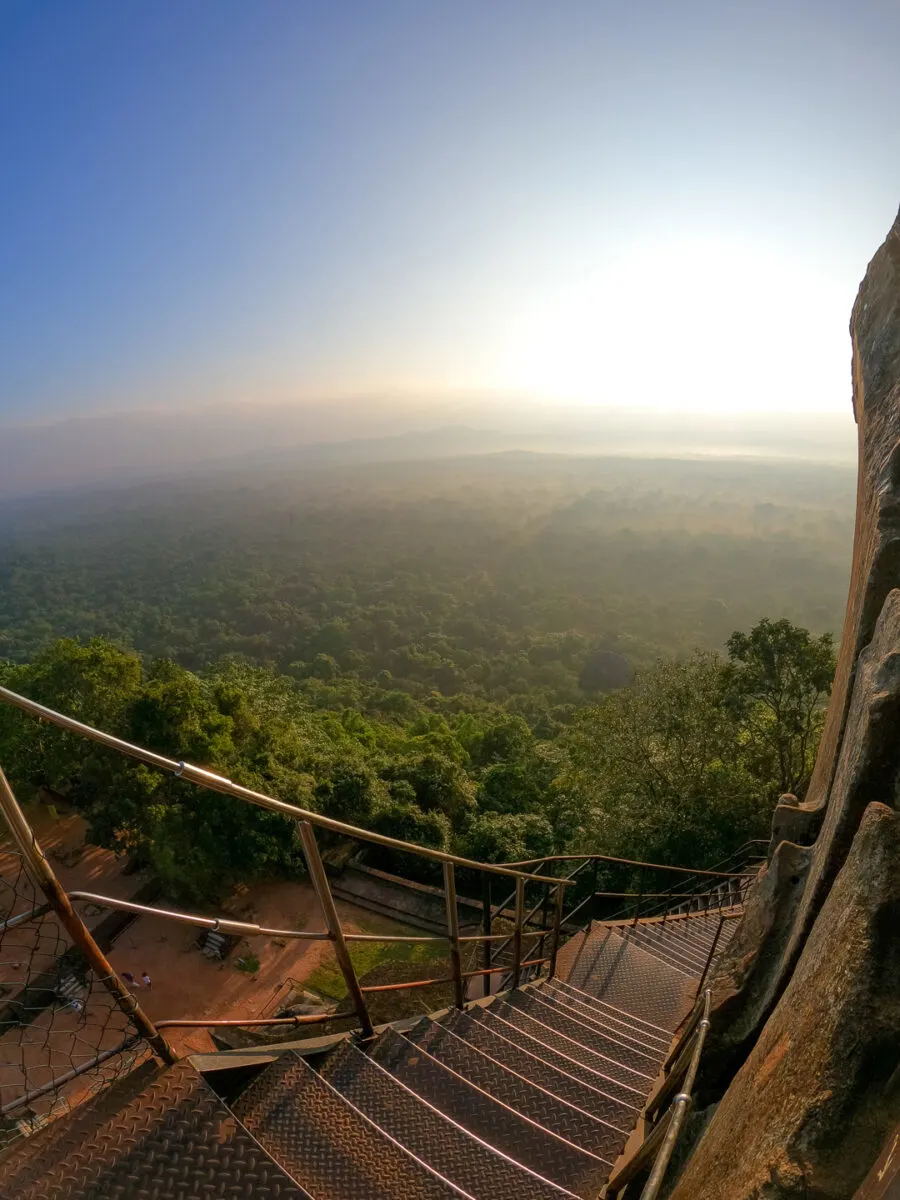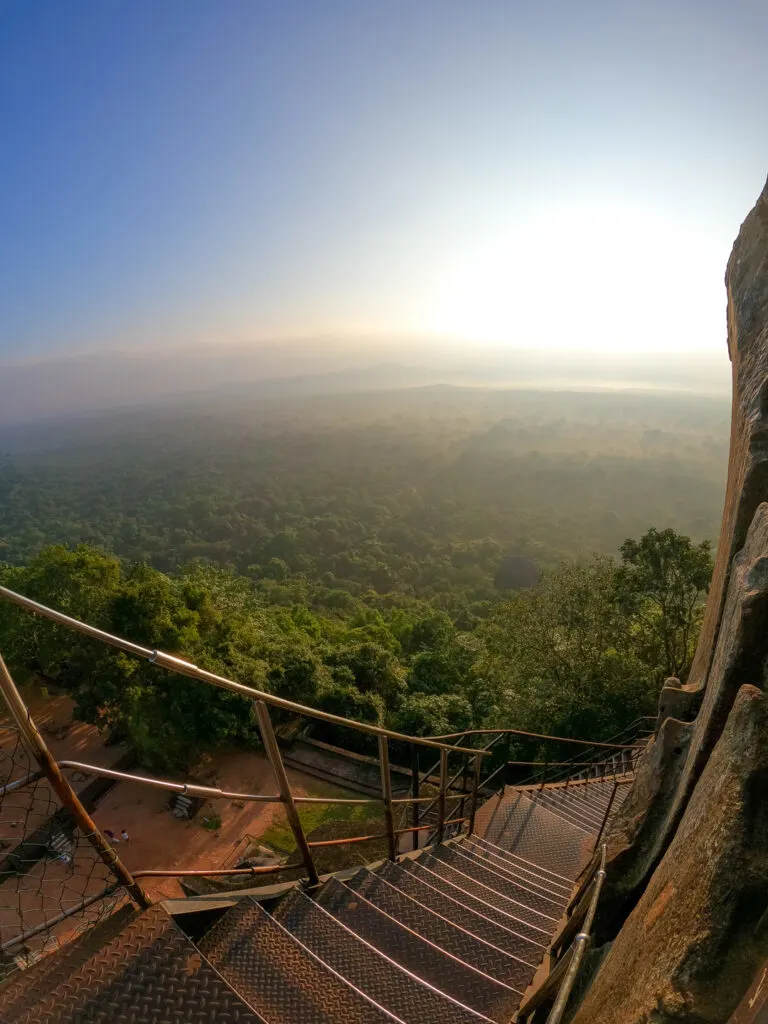 In fact, there are many official helpers to get people to the top which we gratefully accepted to hold our kid's hands. It is an incredibly steep climb, however, the views from the top are worth every bead of sweat.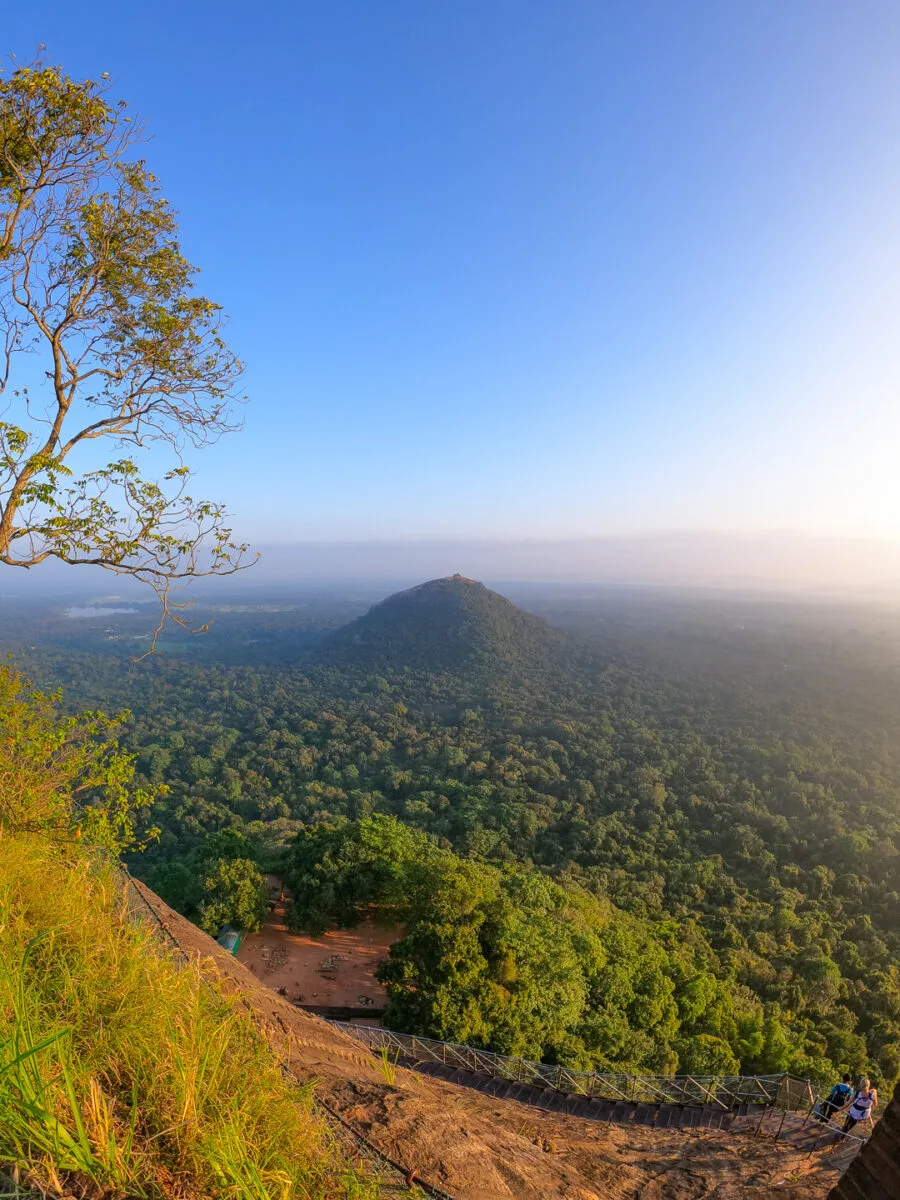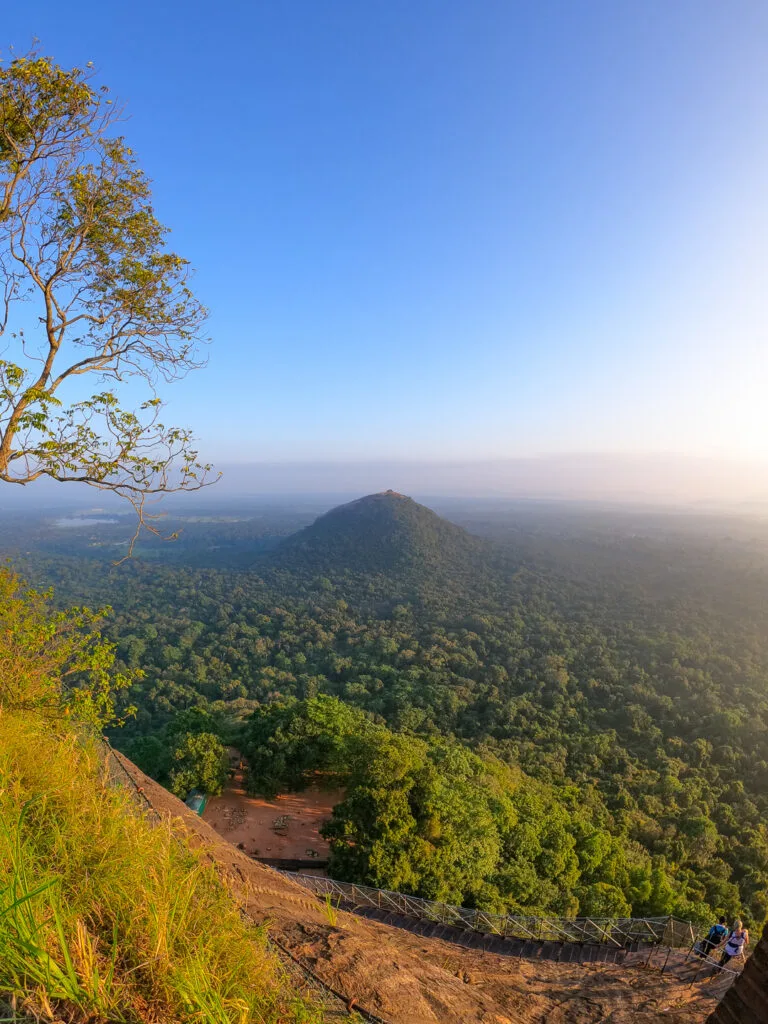 Sunrise was magical and with only a few people at the top, it was an ideal time to visit. It is worth noting, weekends and public holidays are notoriously busy so it really is worth going early to beat the crowds.
Once at the top of the rock, exploring the ruins and learning about the layout of the palace was super interesting.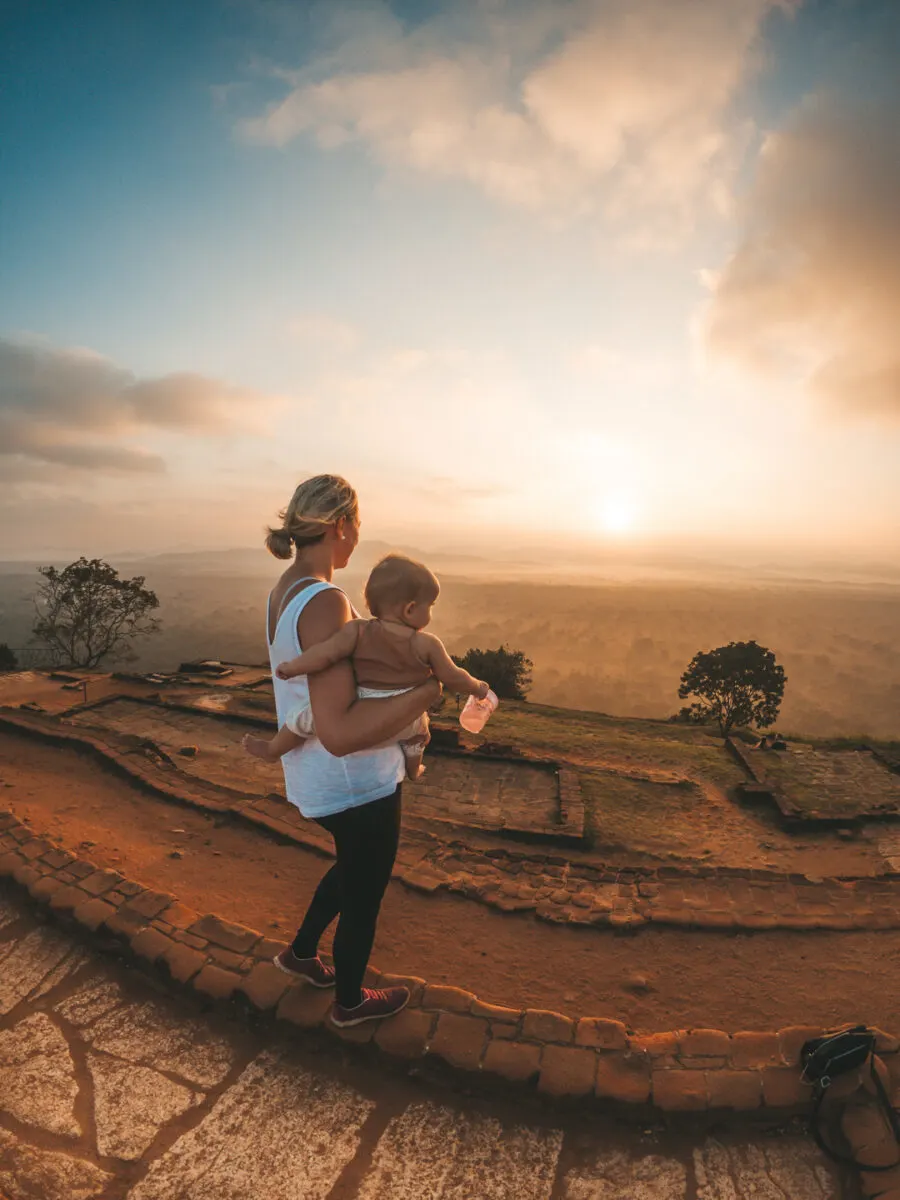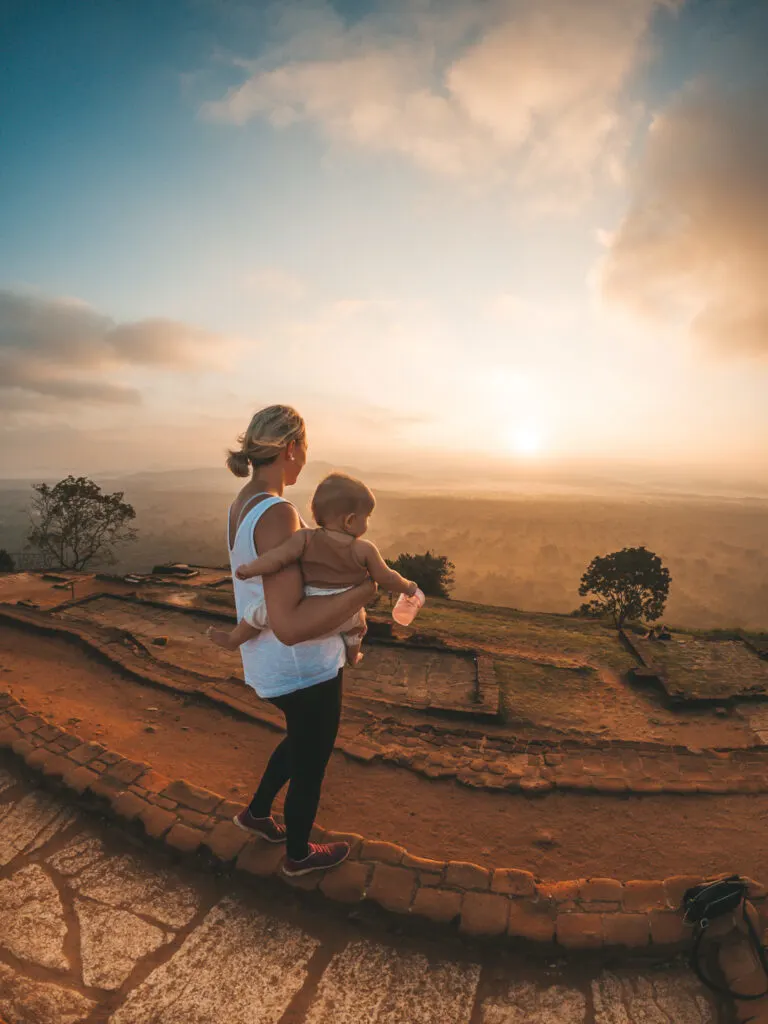 There is a lot more to see such as a cave with elaborate paintings on the way back down.
There are water gardens as well which provide a stunning view back to the rock. I loved looking at the rock from this angle since it really felt like an achievement.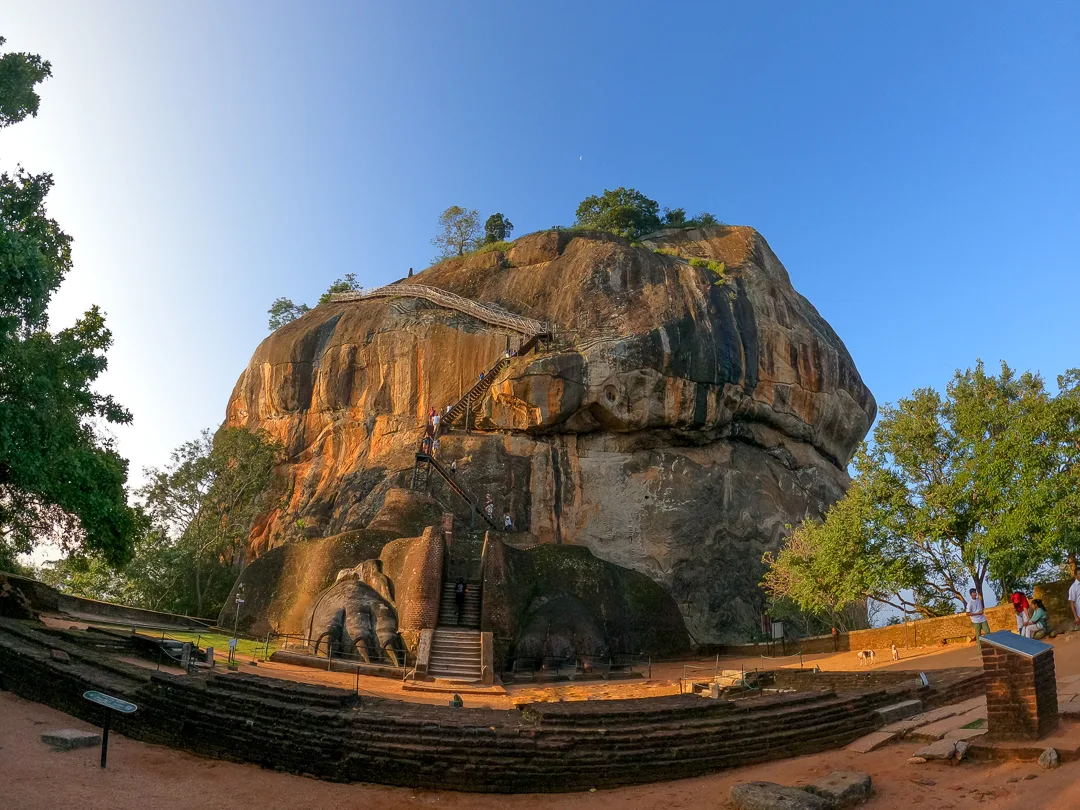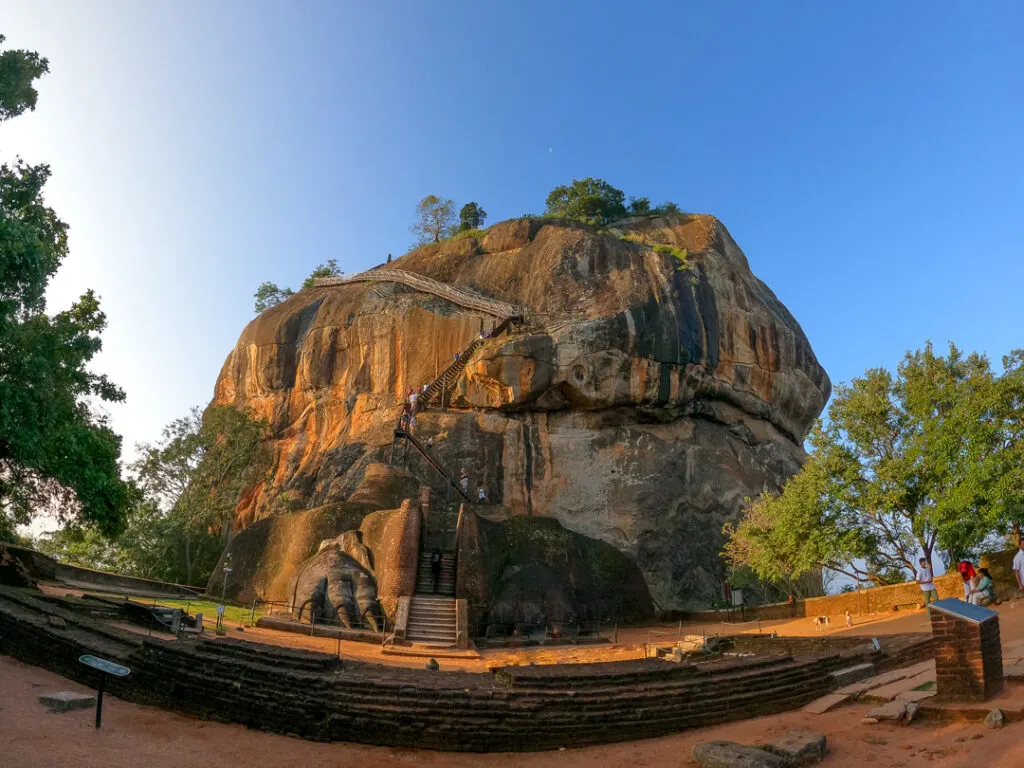 The sun rays slowly coming over the rock in the early morning lighting up the gardens were magical.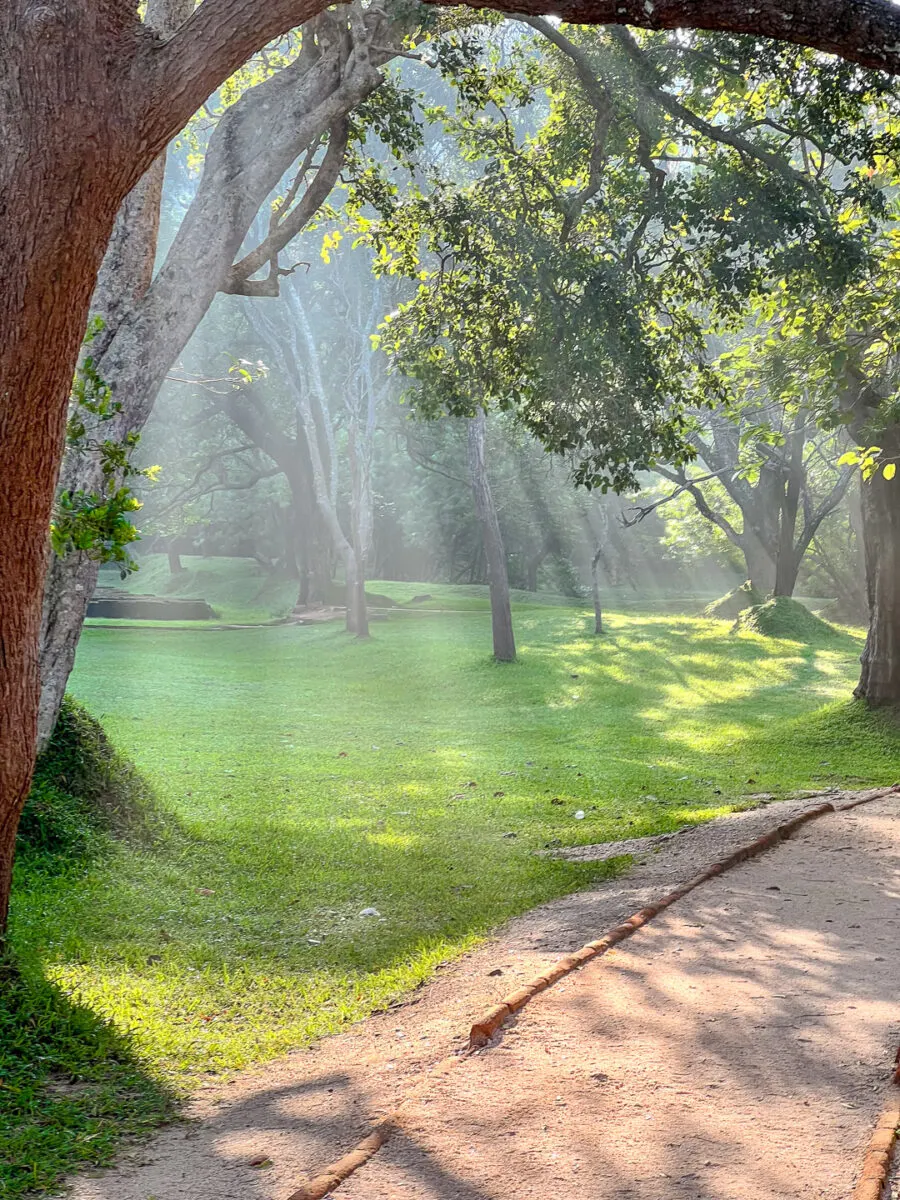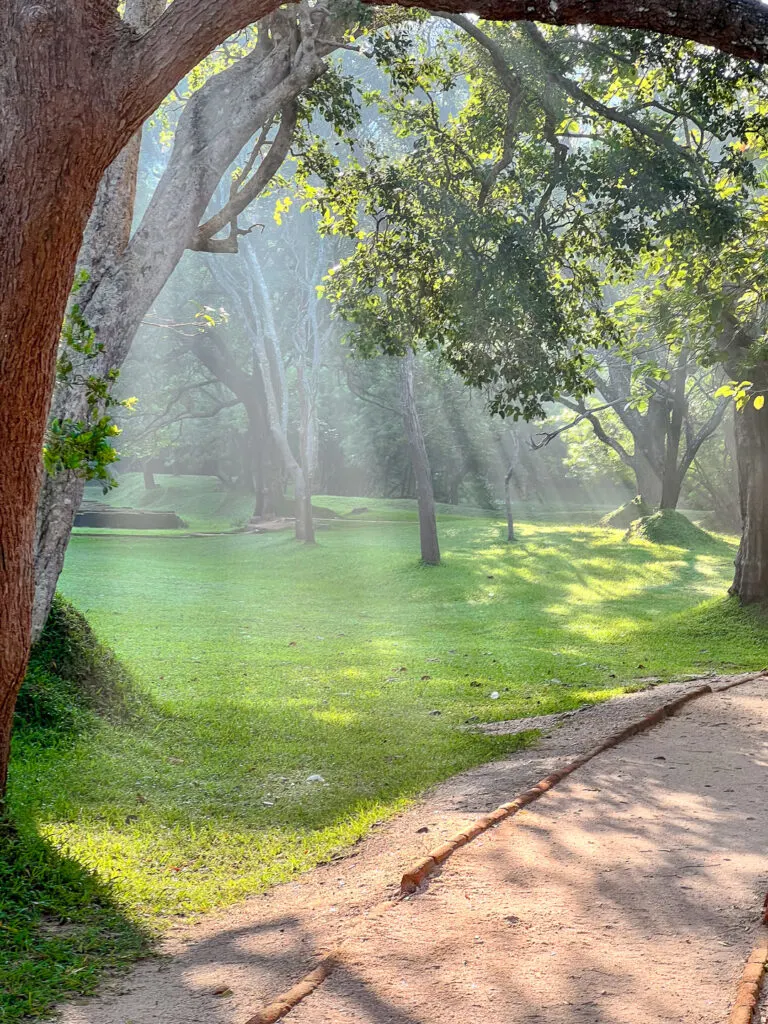 Since visiting the rock fortress was an early morning adventure we had plenty of time in the day for another activity. My husband went on a cultural tour of a local village with our son.
Part of the trip involved exploring a lake which was teeming with wildlife. Our son was mesmerised by how the guide made a hat out of a lily pad to provide shade, not to mention the lily necklace with a simple trick of folding the stem!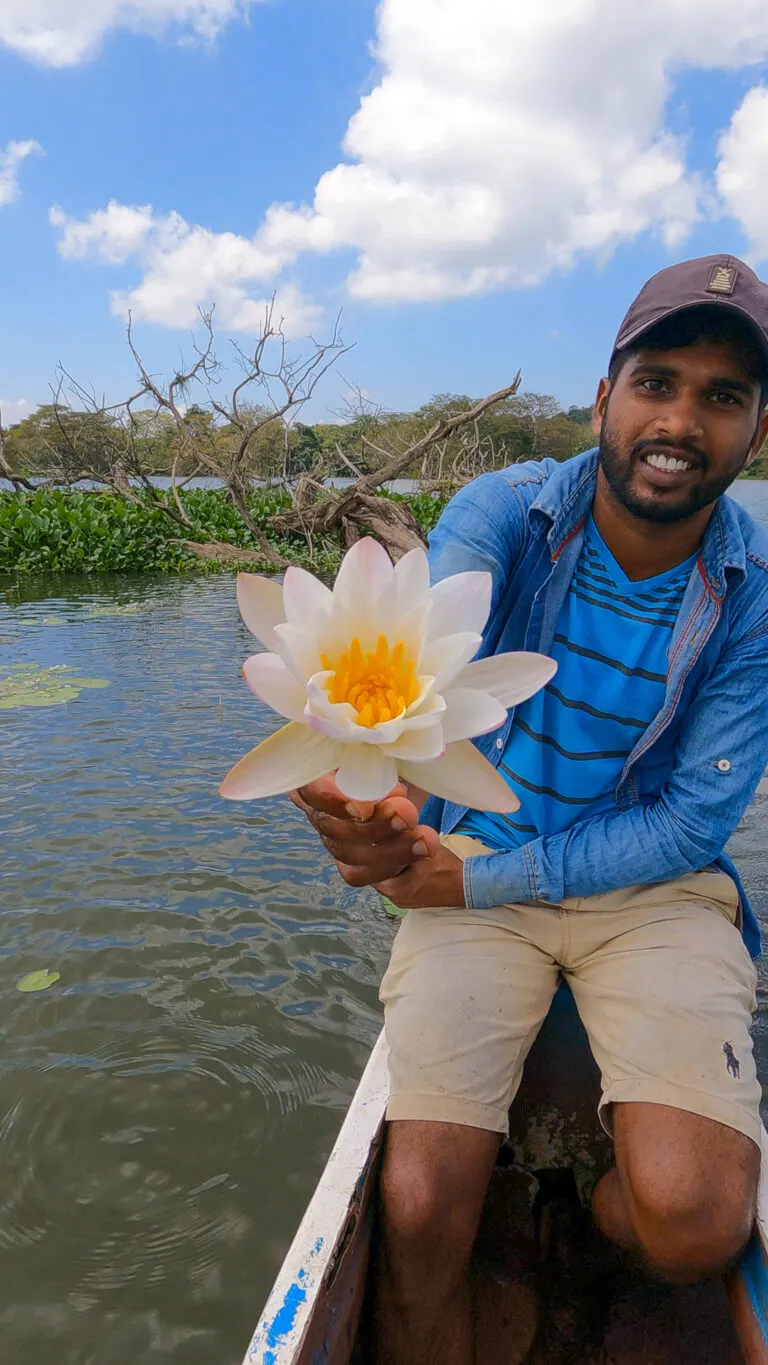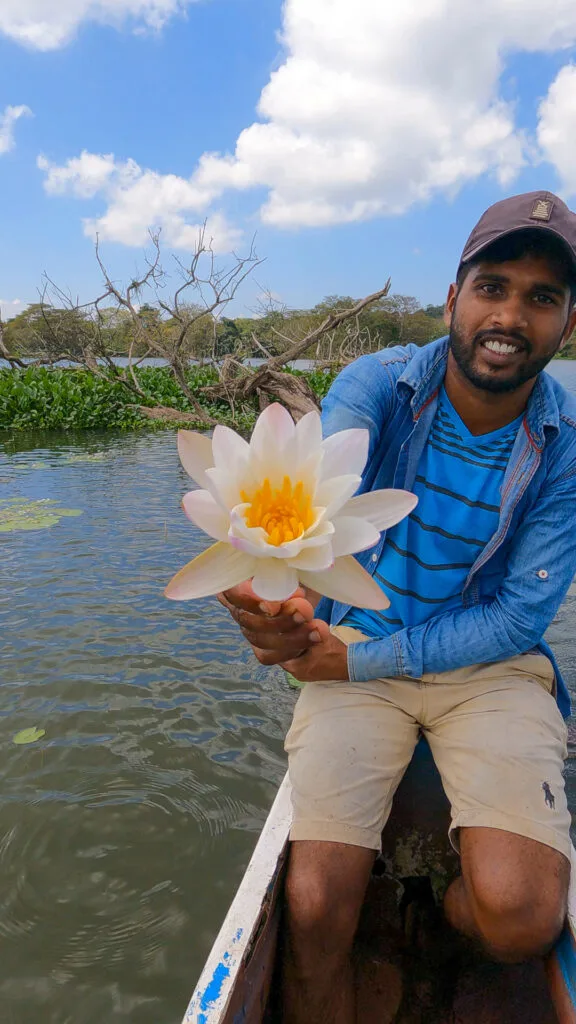 Day 5 Kandy Temple Of The Tooth
On day 5 we hit the road again on route to Kandy. The road started to get windier as the terrain became more mountainous. Kandy is wetter and cooler than other parts of the country since it is elevated.
The scenic journey from Sigiriya takes approximately 3 hours. We first checked in to Jetwings Kandy Galleria to have lunch before heading to the Temple Of The Tooth for the afternoon. More about the hotel later!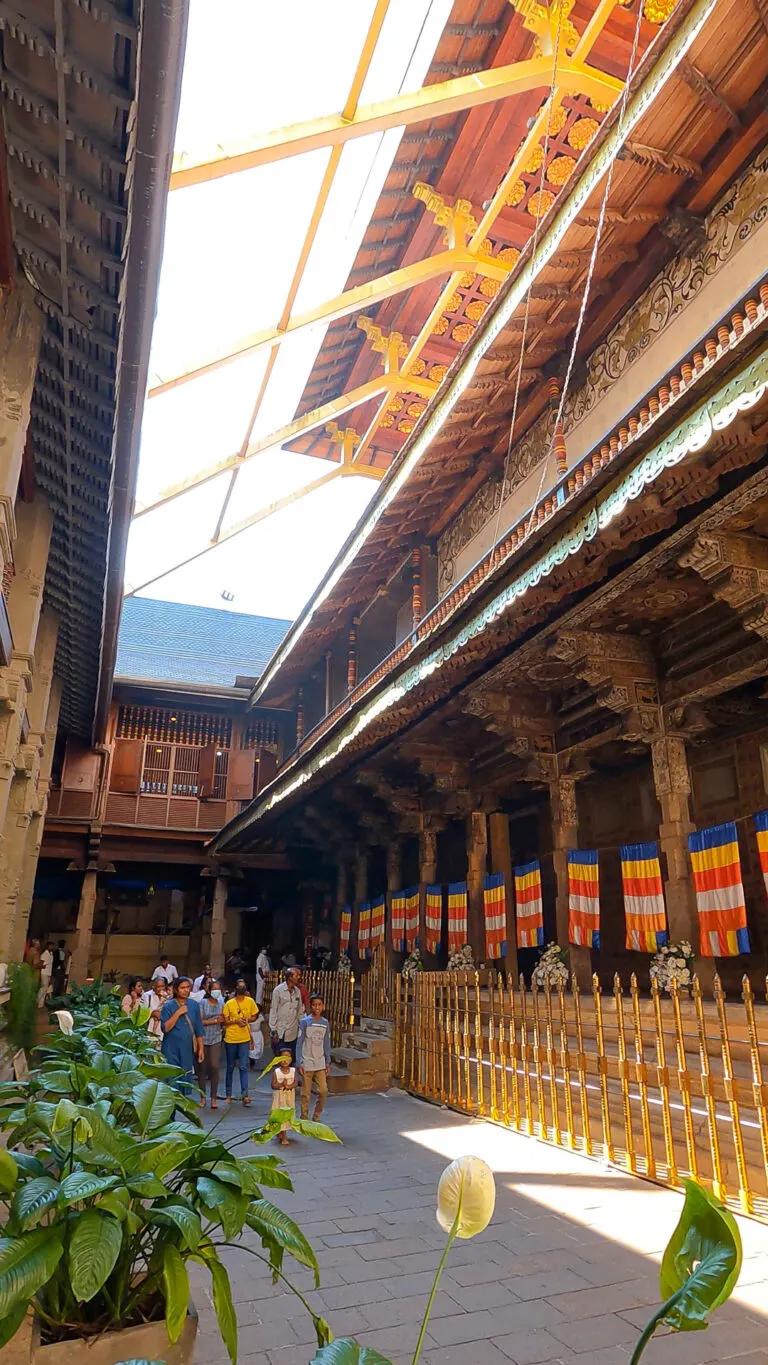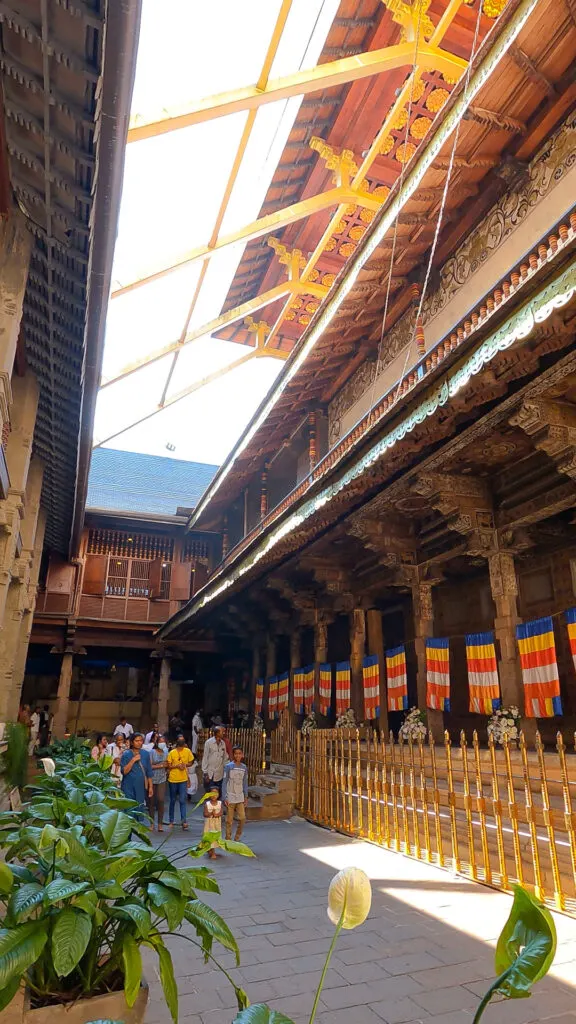 The Temple of the Tooth is one of the most significant sites in Buddhism throughout the world. The tooth relic has held significant importance in the country for centuries.
It is believed whoever is in possession of the relic governs the country. If you plan to visit Kandy, it is a 'must see' on any Sri Lanka 8 day itinerary.
The tooth relic is believed to be from Buddha himself. The temple is on the banks of Lake Kandy positioned on the grounds of the ancient royal palace. It is worth noting modesty is strictly enforced. Men must cover their legs and shoulders as should women.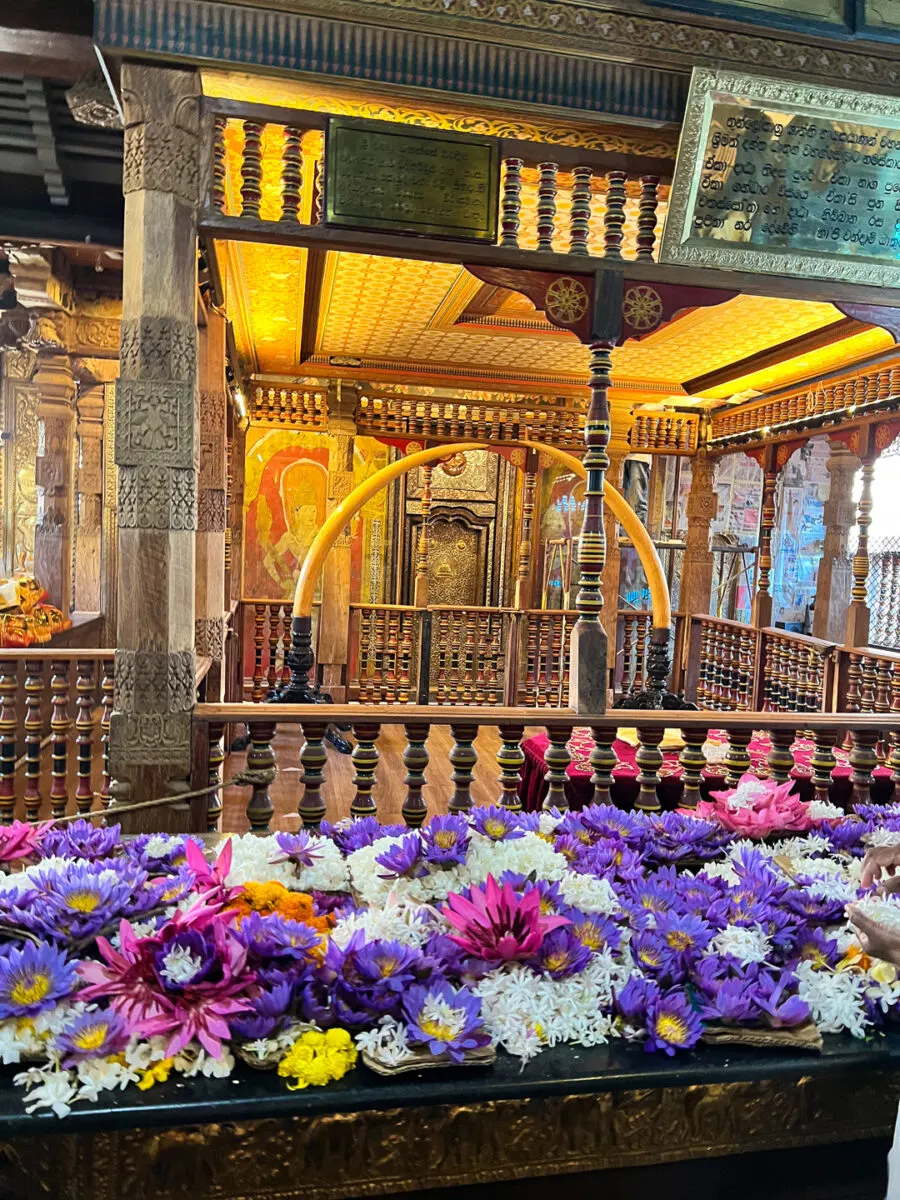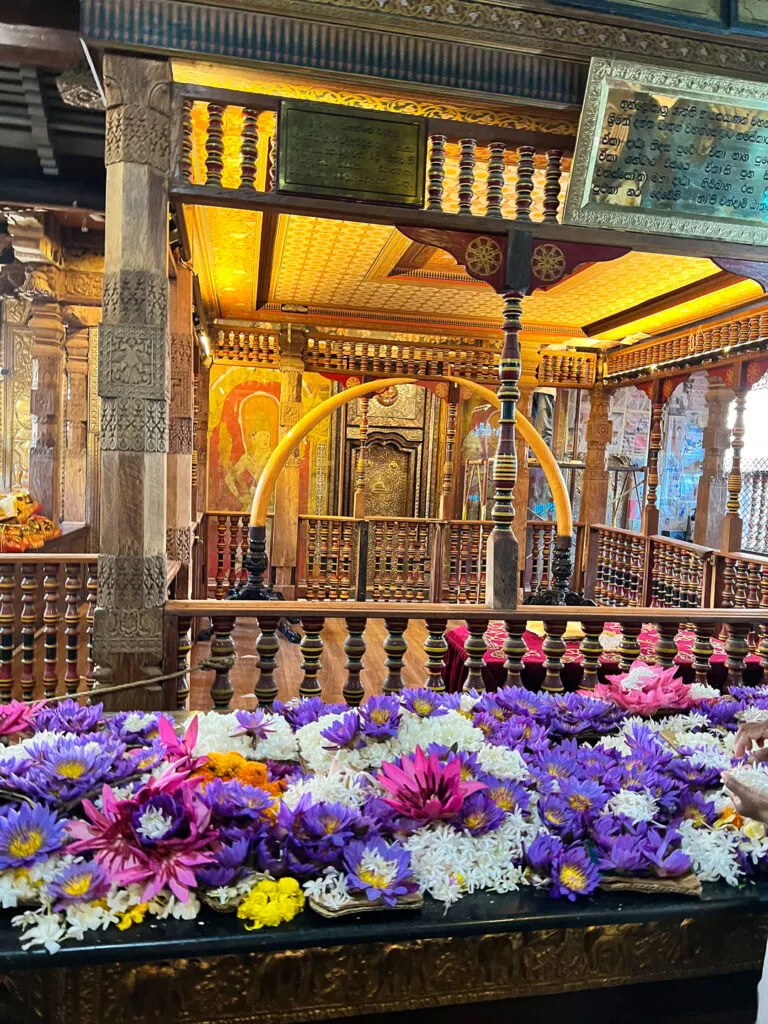 There have been previous bomb attacks on the temple in the 1980's and since then security is taken very seriously.
Nonetheless, it is an incredible spiritual experience exploring the temple. It gets busier throughout the day with many pilgrimages and group visits.
The streets surrounding the temple are lined with vendors selling bright colourful flower arrangements used as offerings by Buddhists and tourists alike.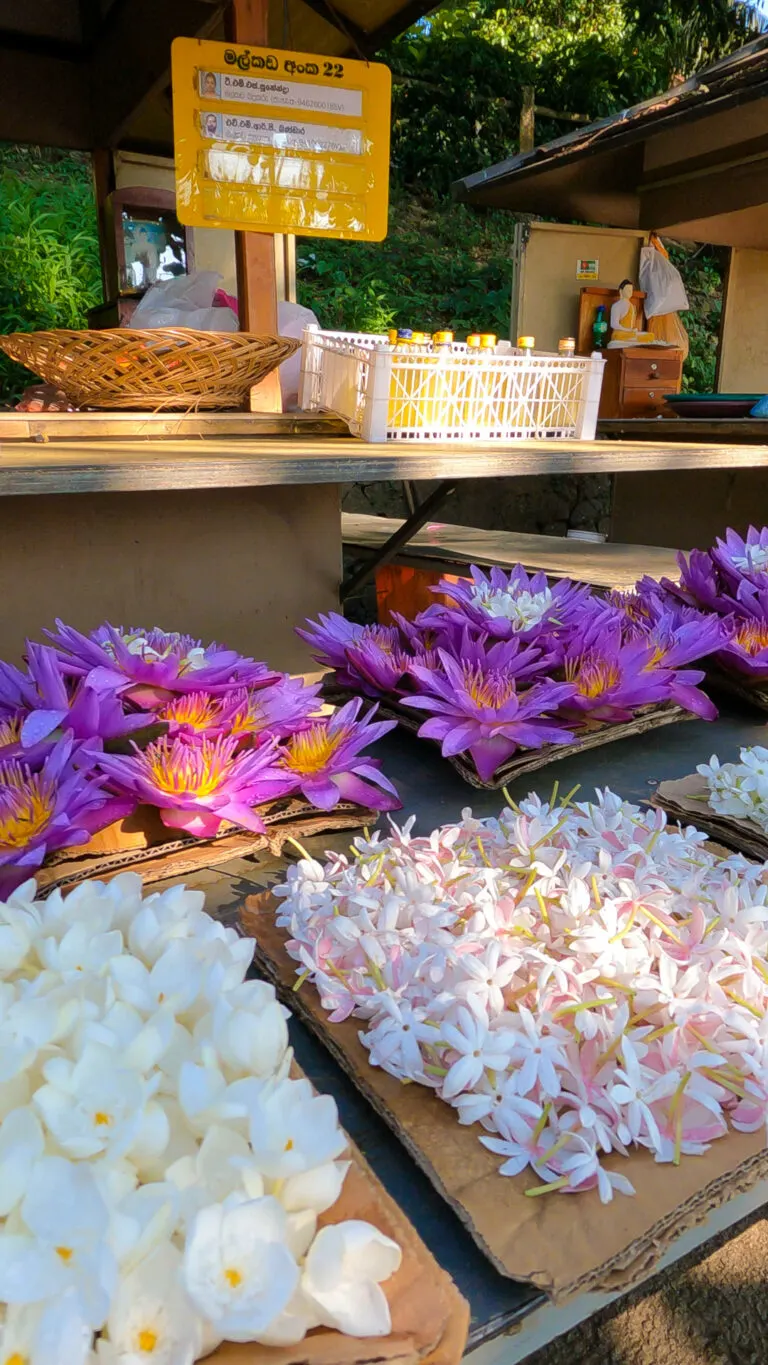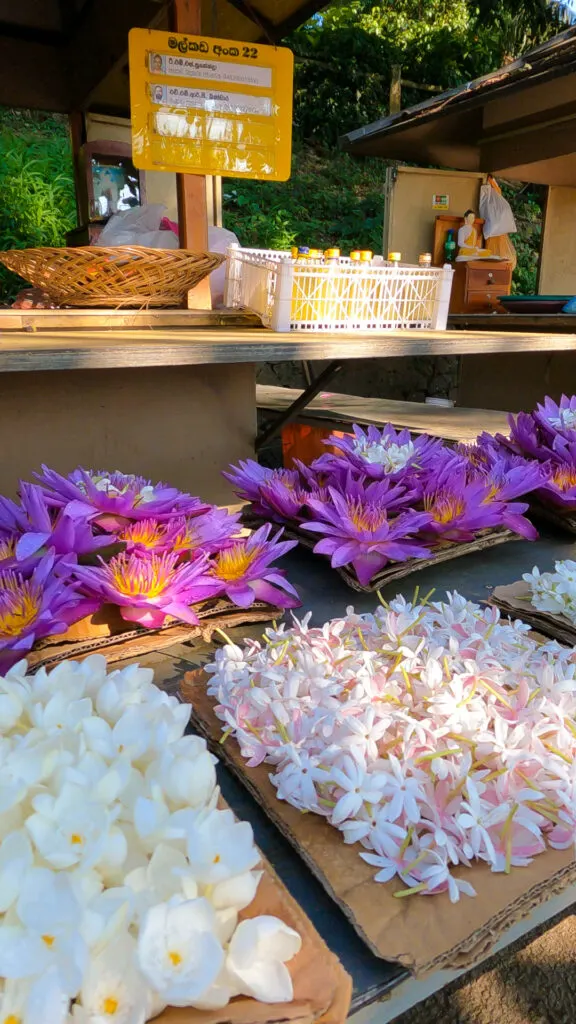 The relic is housed inside an elaborate ancient chamber structure where resident monks are said to perfrom ritual offerings.
This happens three times at day at 530am, 930am and 630pm. Visiting at one of these times is a spiritual experience, however the first offering at 530 am just before sunrise is truly special.
Visiting during busy hours, you automatically end up moving with the crowd throughout. The bustle of the temple is a wonderful experience in itself witnessing the traditions and customs as well as worshippers in deep thought.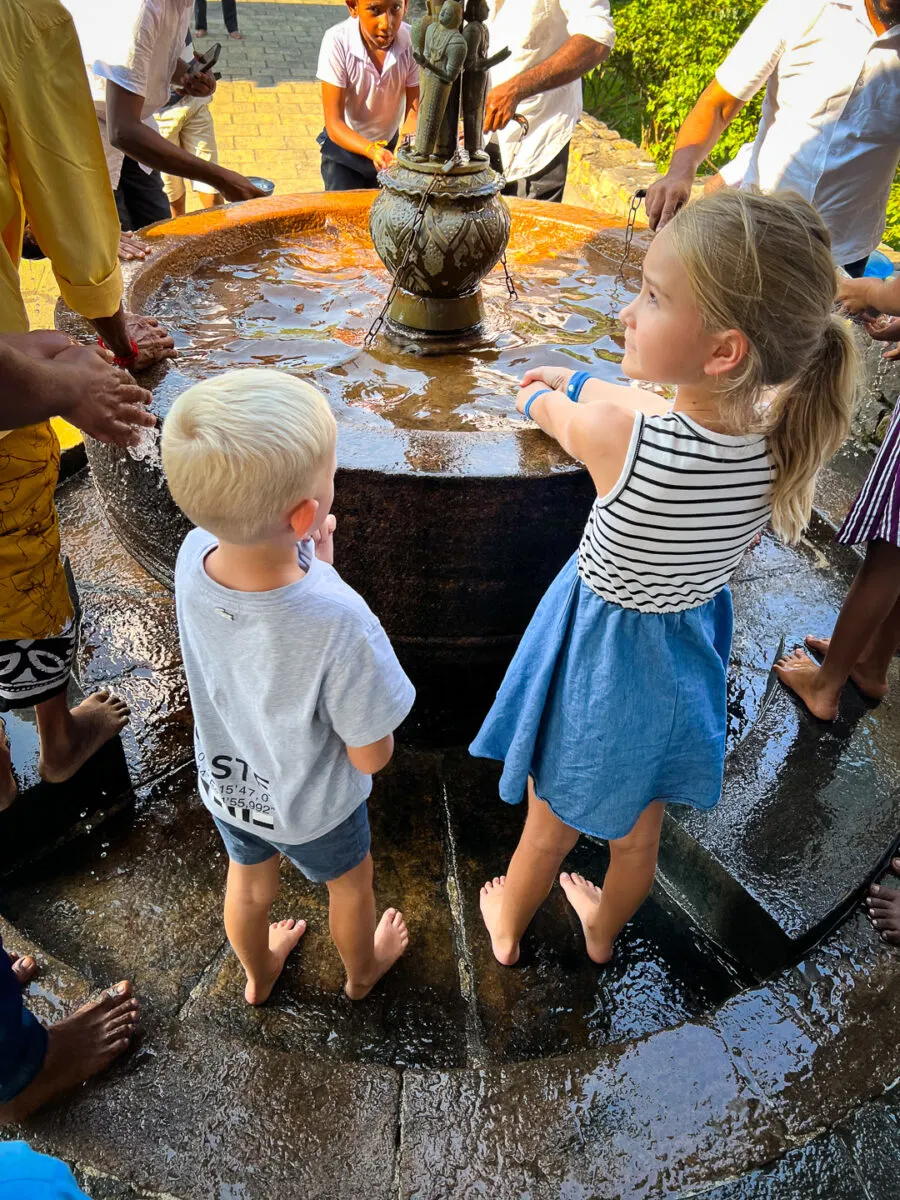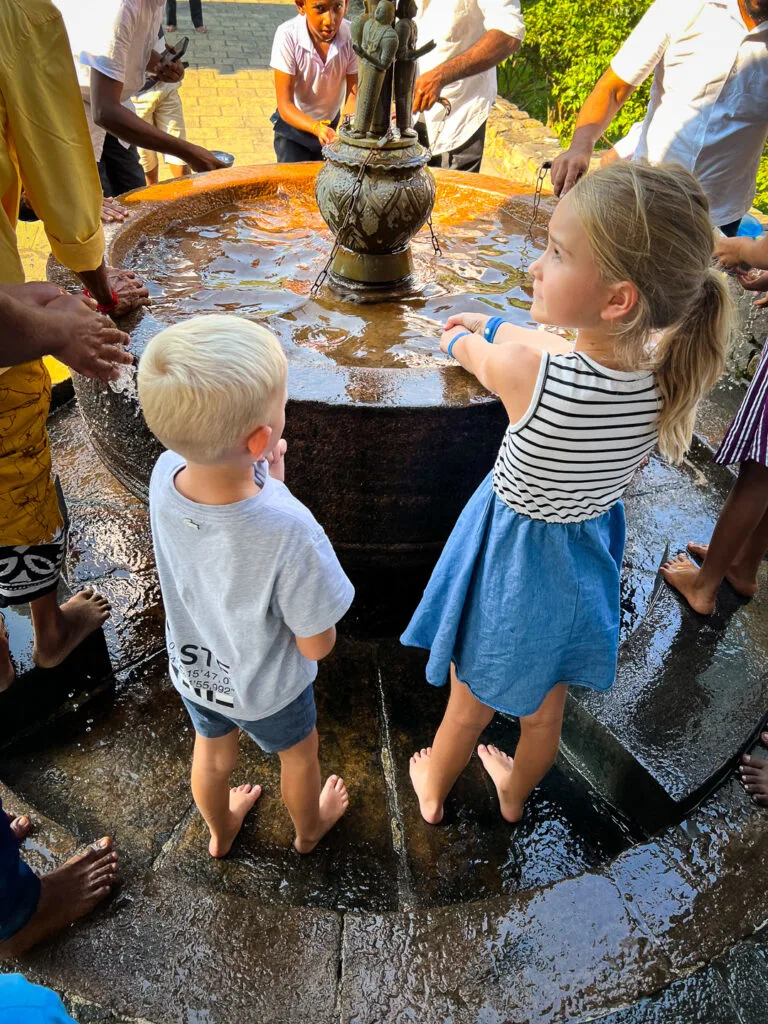 Worshippers can be seen using a well outside to wash their feet. Our kids loved joining in on the tradition.
There are a couple of different areas to explore. One is the Audience Hall where there is a collection of buddha statues gifted from other Buddhist countries around the world.
The large bell in the courtyard is also very interesting to see. It is used to mark special events and can be heard all around the area.
Where To Stay In Kandy
Jetwings Kandy Gallery is a beautiful serene location on the banks of Mahaweli Ganga which is the longest river in Sri Lanka. The hotel is a few kilometres out of Kandy surrounded by nature.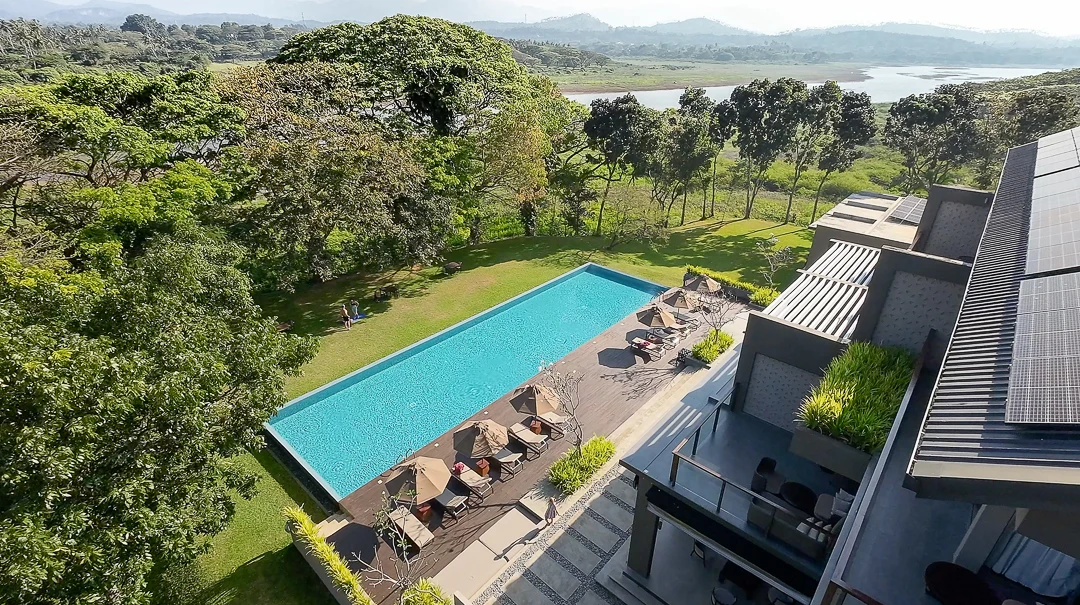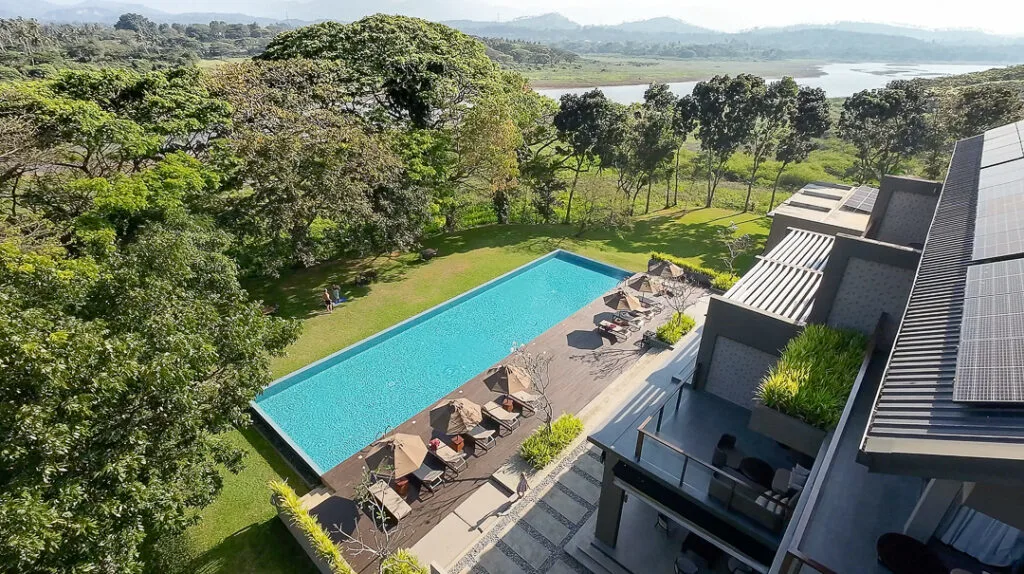 The spiritual retreat encapsulates hospitality traditions with a warm welcome. Staff play a drum and sing on arrival which can be enjoyed over cool drinks made with produce from the land along with local sweet treats.
There are four types of accommodation, we stayed in a Kandyan Suite which had interconnecting rooms for our kids.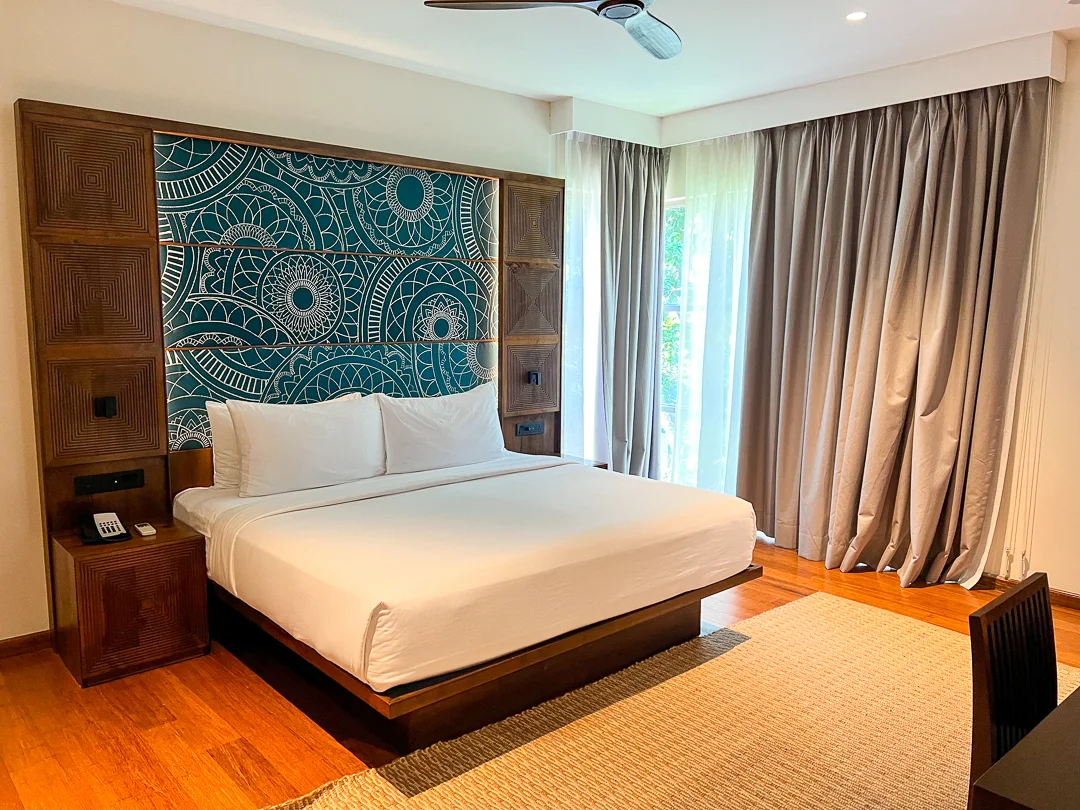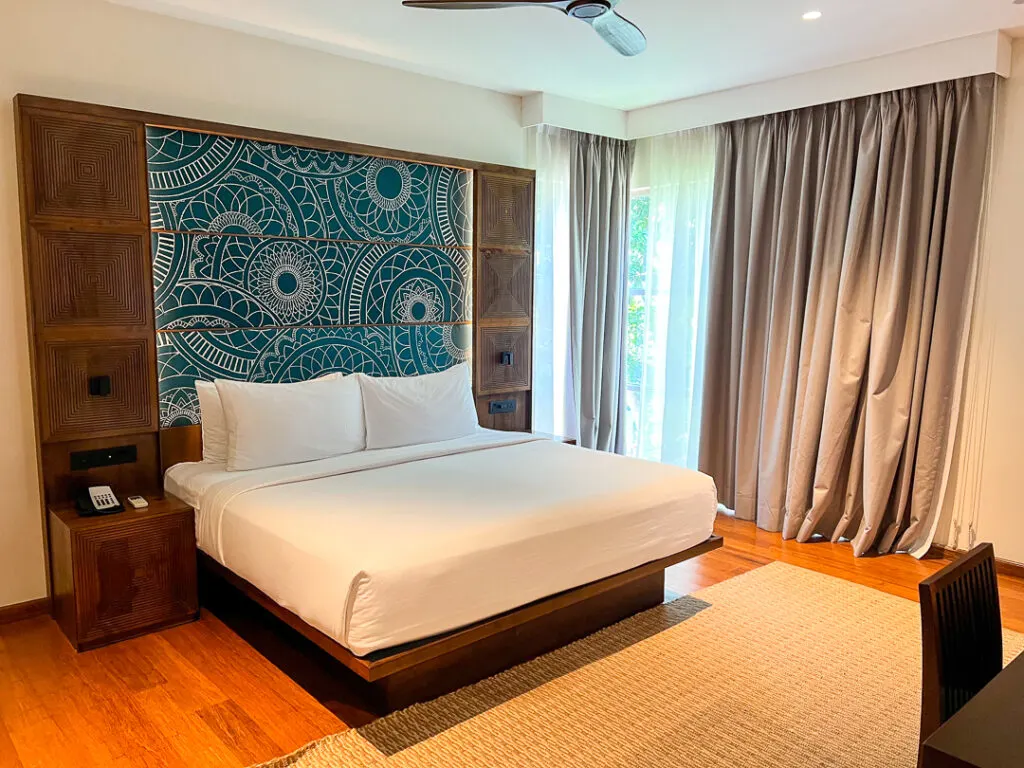 Featuring a living space to relax and a beautiful balcony overlooking the gardens, not to mention an enormous bathtub, it was a haven of luxury!
Guests are provided with a phone to contact their personal butler. We found the service hugely helpful travelling with four young children. We could order meals whilst we were out in time for our arrival.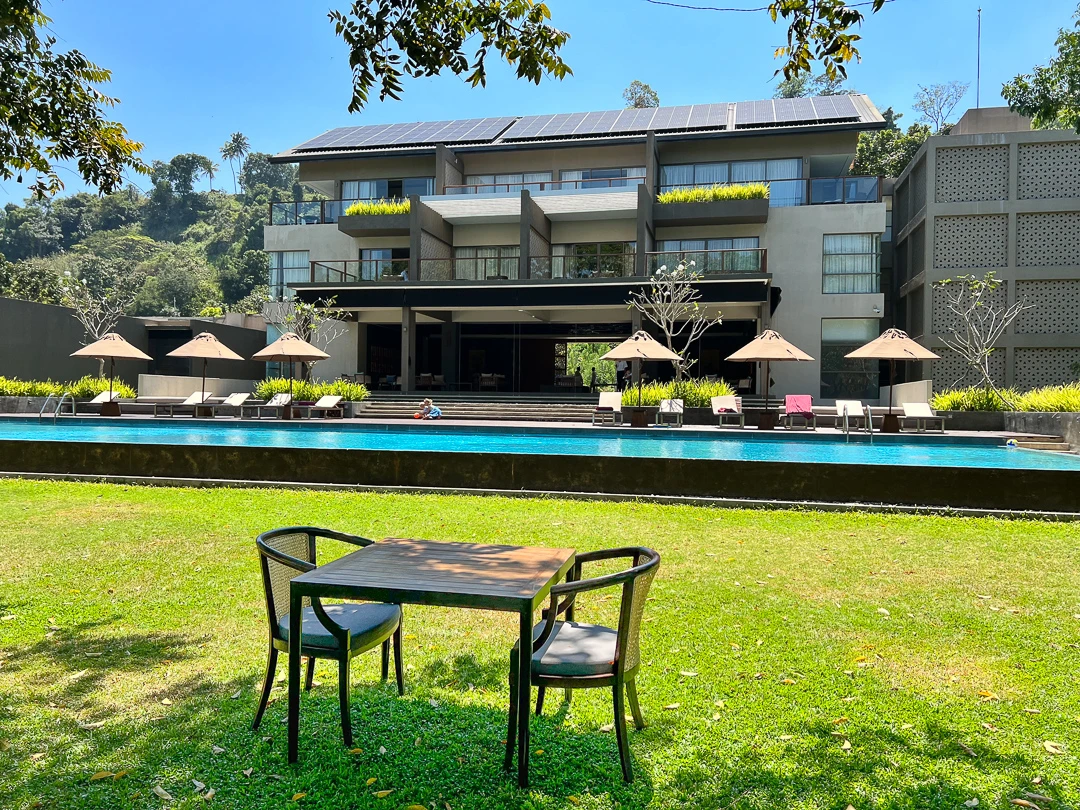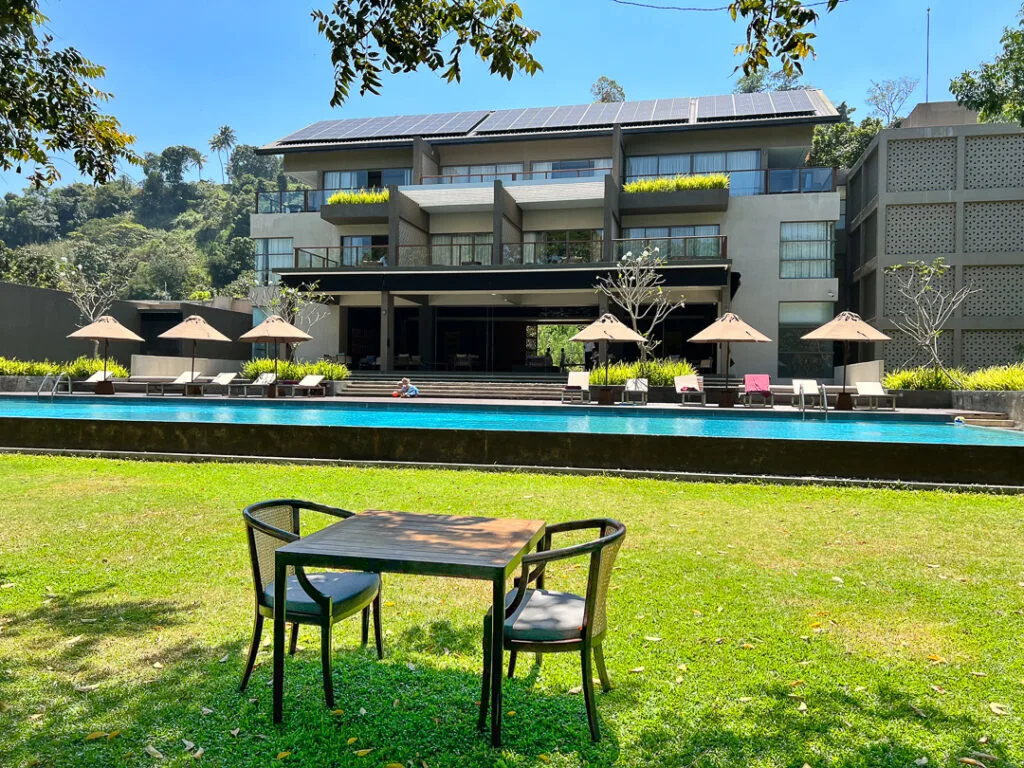 Our butler got to know us and knew exactly what we needed for the kids which was really helpful.
In the evenings there was a turndown service when glass bottled water and such was replenished. The hotel has a strong focus on sustainability.
We particularly loved the tour of the onsite garden discovering herbs, fruit and vegetables growing. Our kids picked starfruit which the staff made into a juice while they enjoyed activities with the hotel's own landscaper.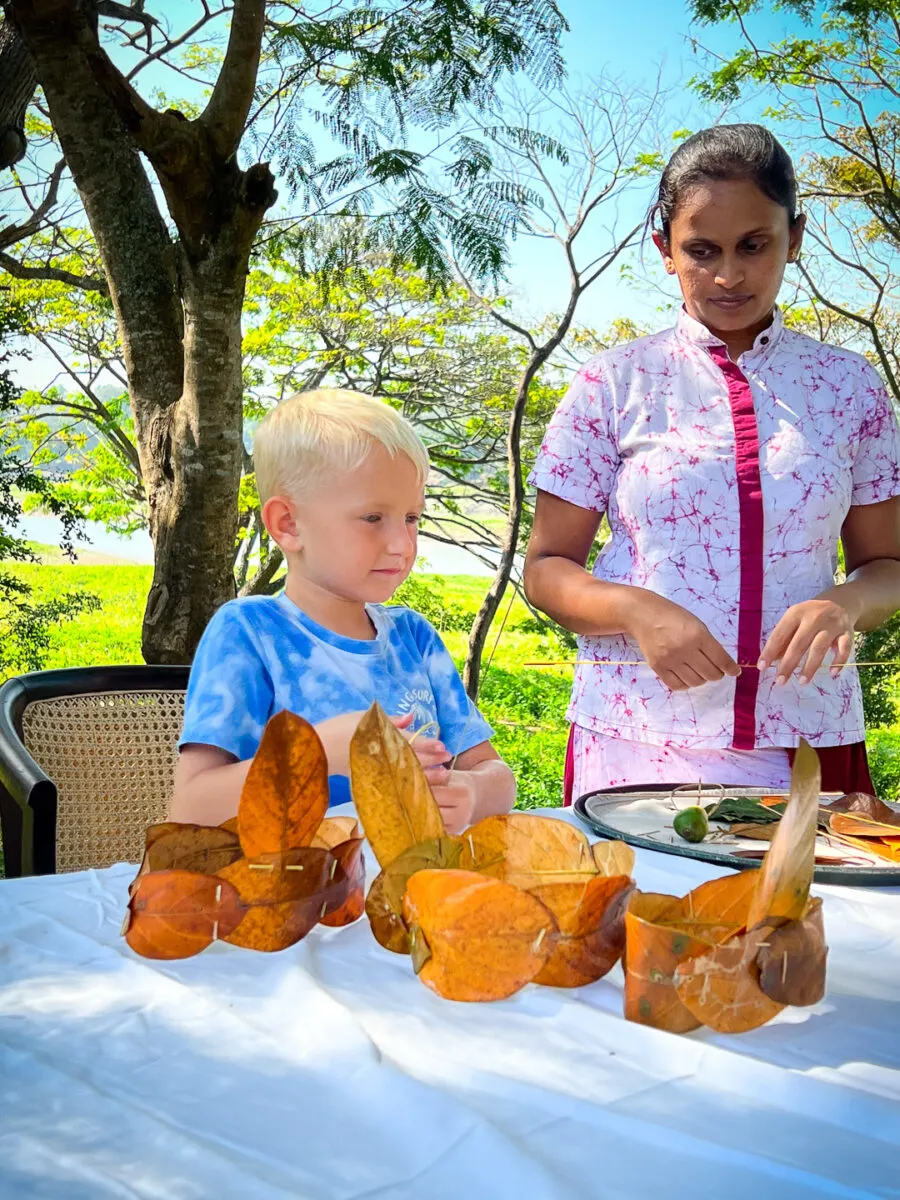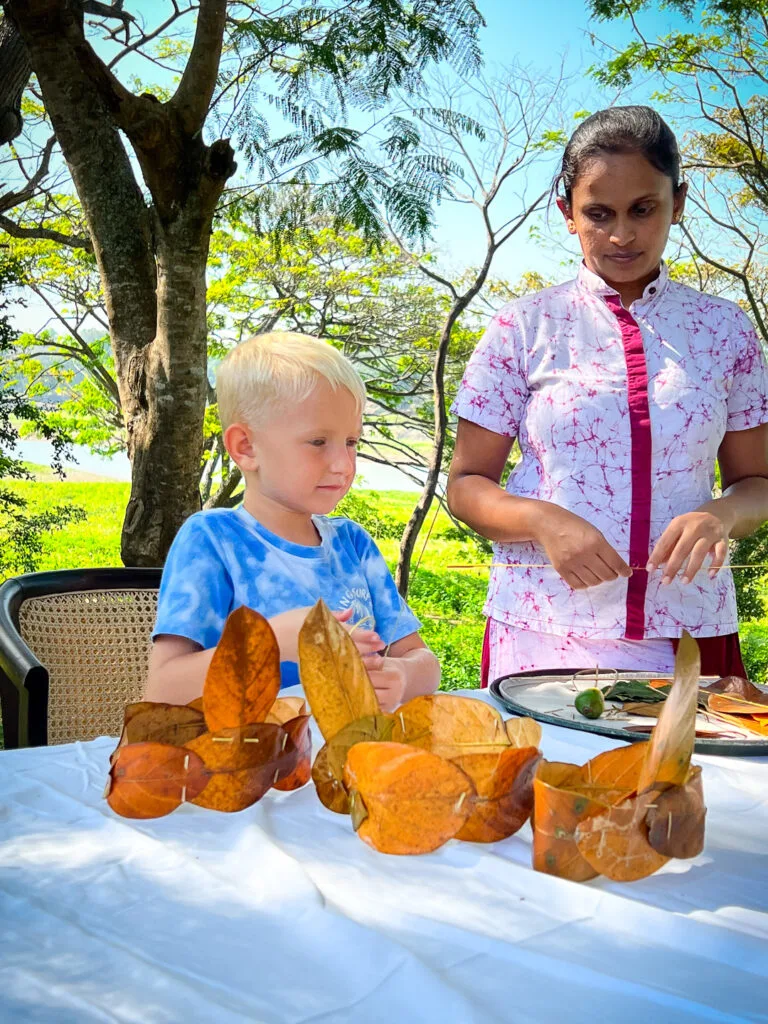 Our kids learned how to make jackfruit leaf crowns and coconut 'sewing machines' both of which are quite common things local children make. They totally loved the experience!
There was an option for a 3-hour cooking class to learn all about local cuisine which looked ideal for those without young kids.
The pool was beautiful and our kids loved playing on the nature swing in the garden. We loved looking down towards the river in the evenings.
We'd often see animals wander up the banks and local fishermen in canoes on the water during sunset with the view of knuckle mountain in the distance being truly beautiful.
Day 6 Kandy Royal Botanical Gardens
The Royal Botanical Garden is another fantastic place to visit in Kandy. Kandy has so many British influences from horse racing tracks to tennis courts and the botanical gardens really reminded me of Kew Gardens in London.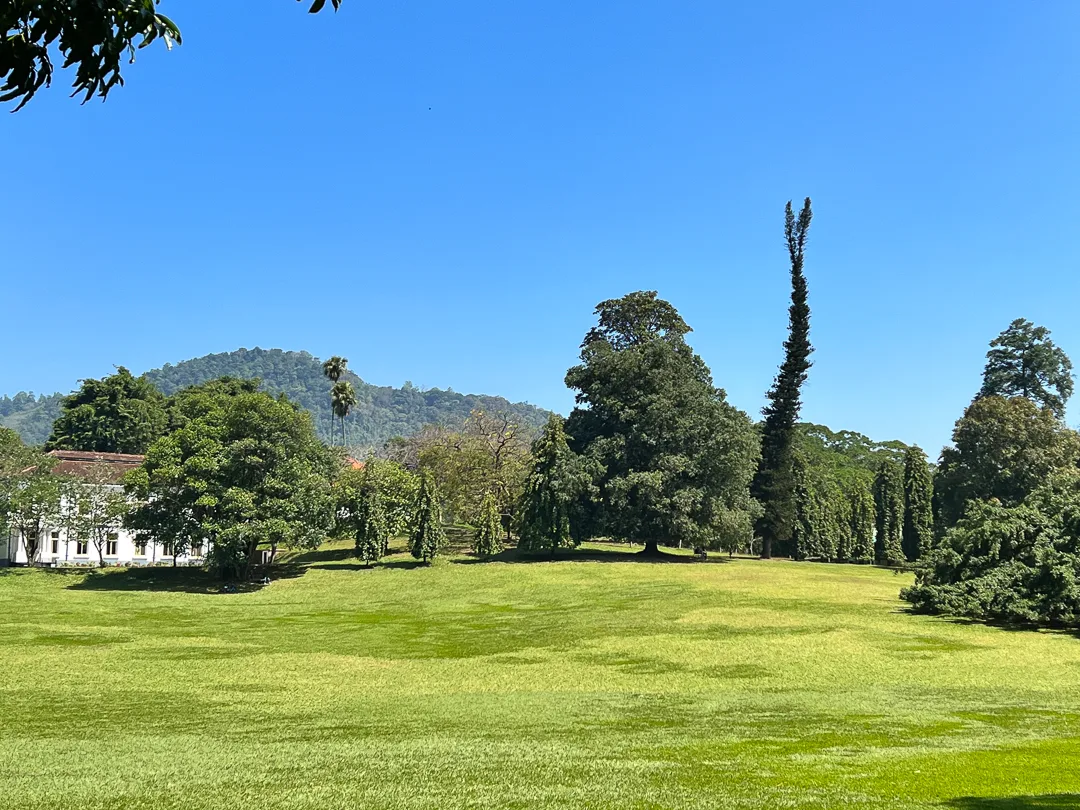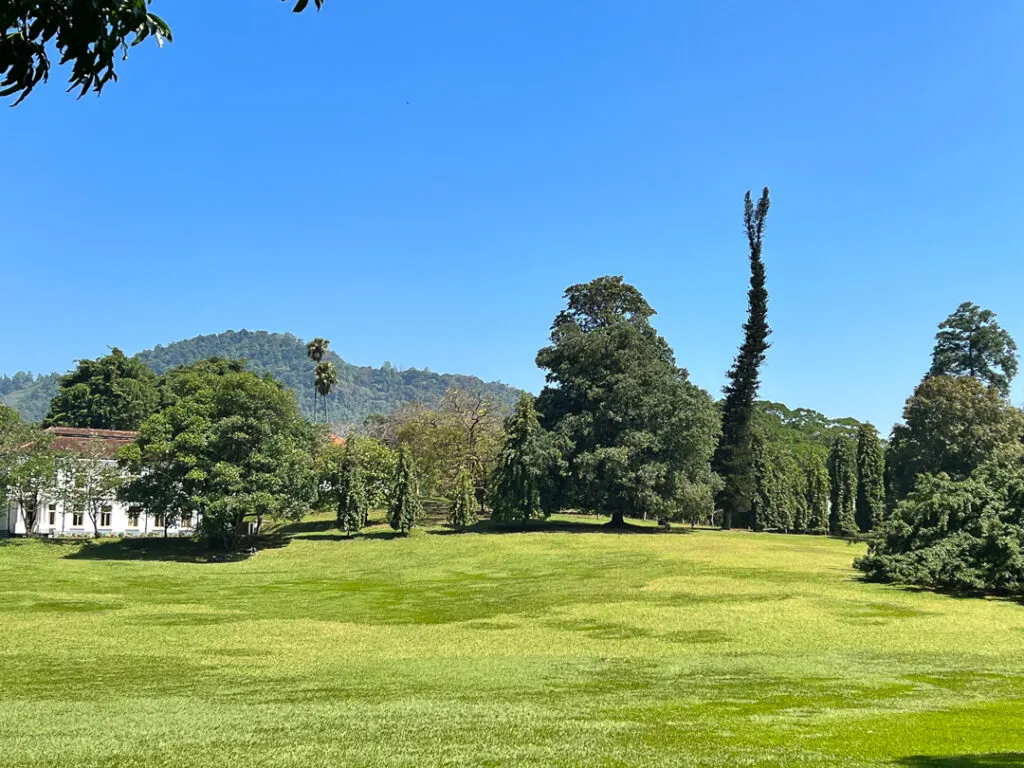 Featuring over 4000 species of plants, manicured lawns, bush sculptures and some of the tallest most fast growing bamboo in the world, it was a unique experience. I certainly saw plenty of quirky species I have never seen before!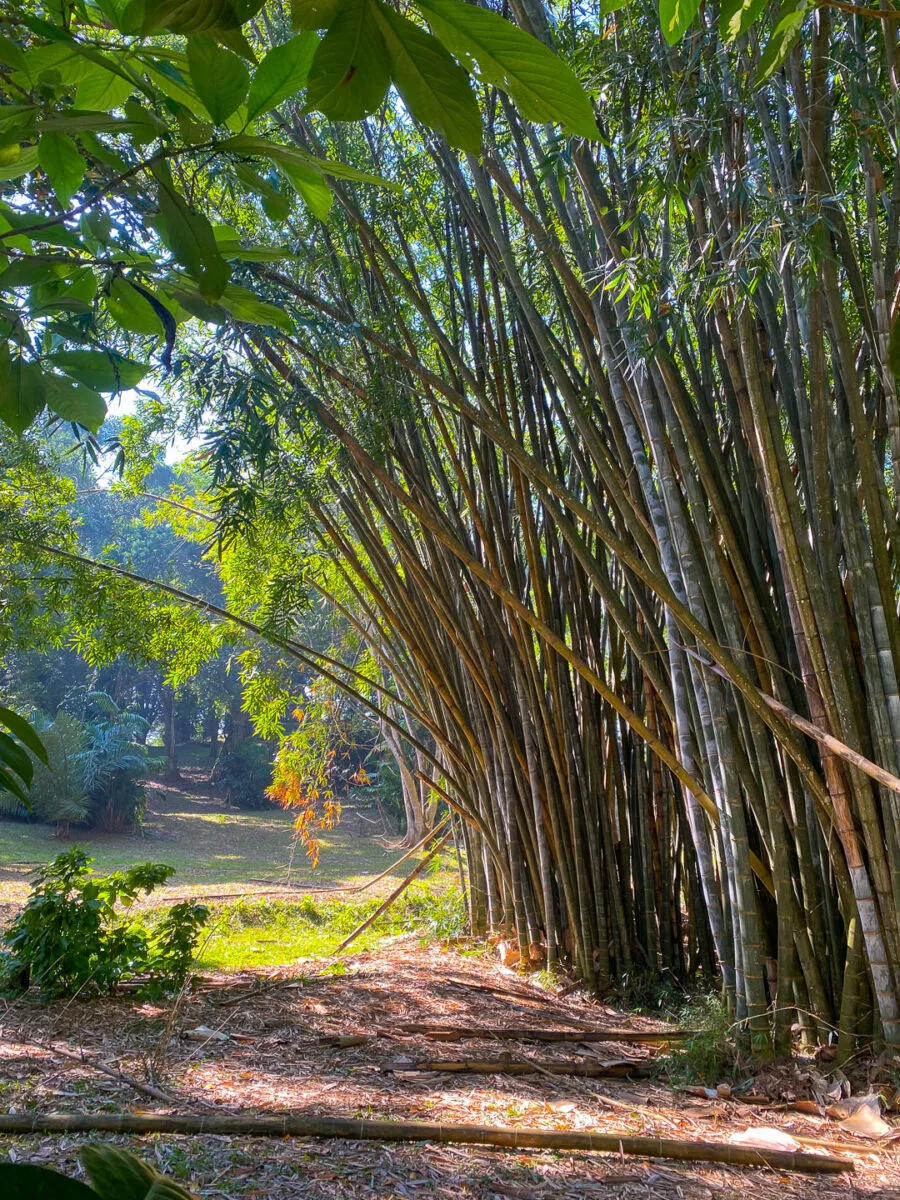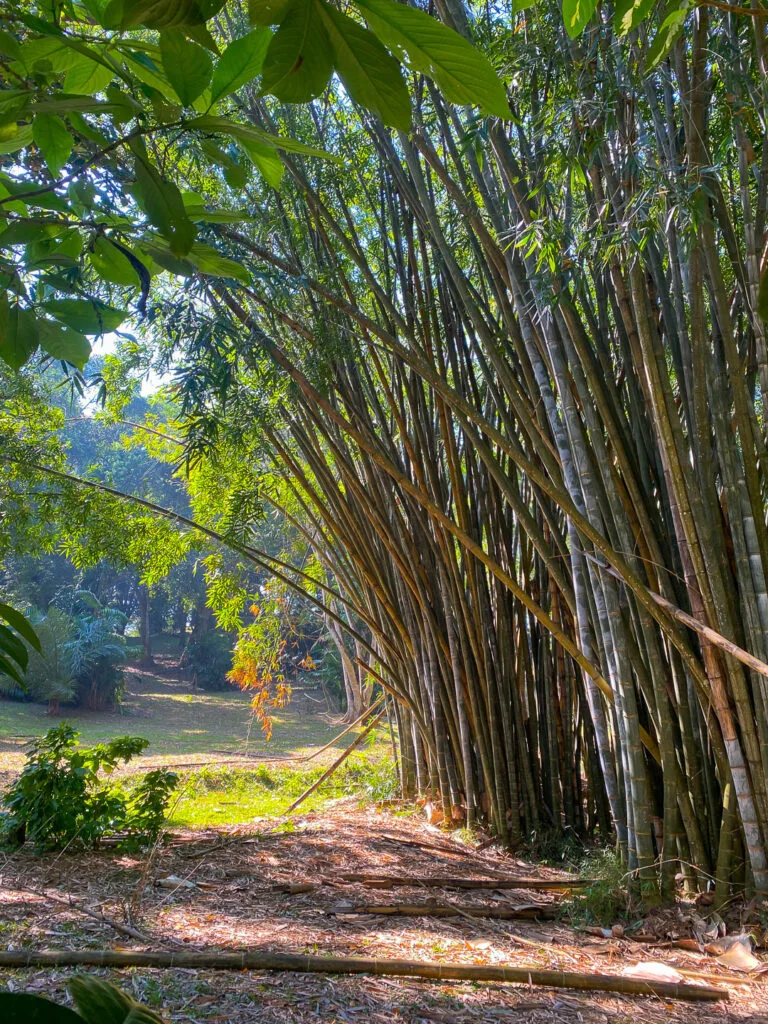 For example a candle tree and cabbage palms which are incredibly tall and line a pathway within the gardens. To explore the garden allow a minimum of two hours.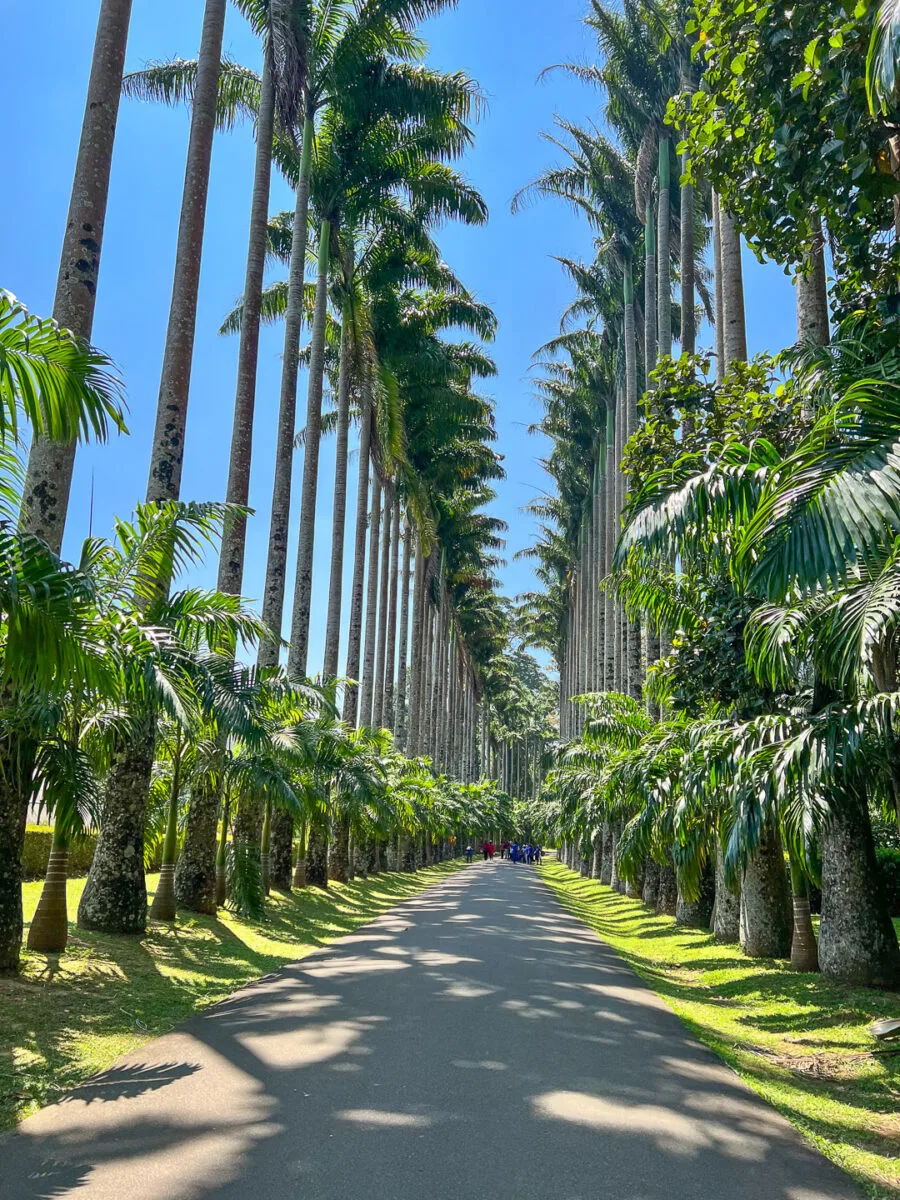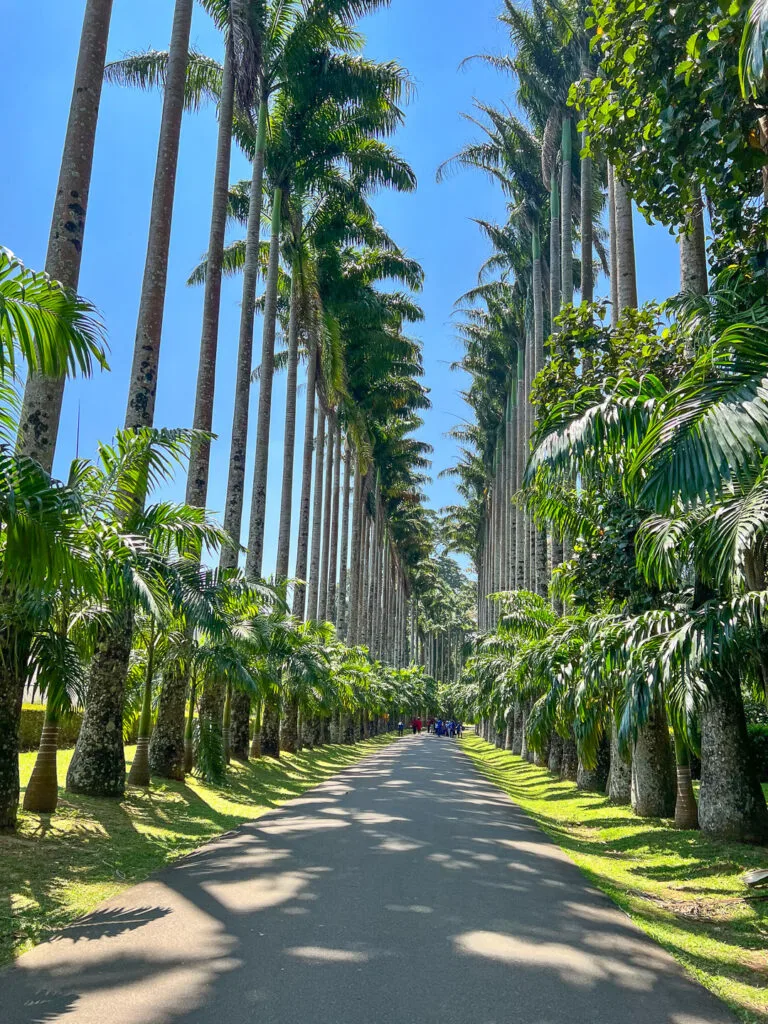 It is best to visit first thing in the morning mid-week to avoid crowds and escape the heat. Be aware there are a lot of mischievous toque monkies in the gardens. Make sure any food or lose items are in a backpack.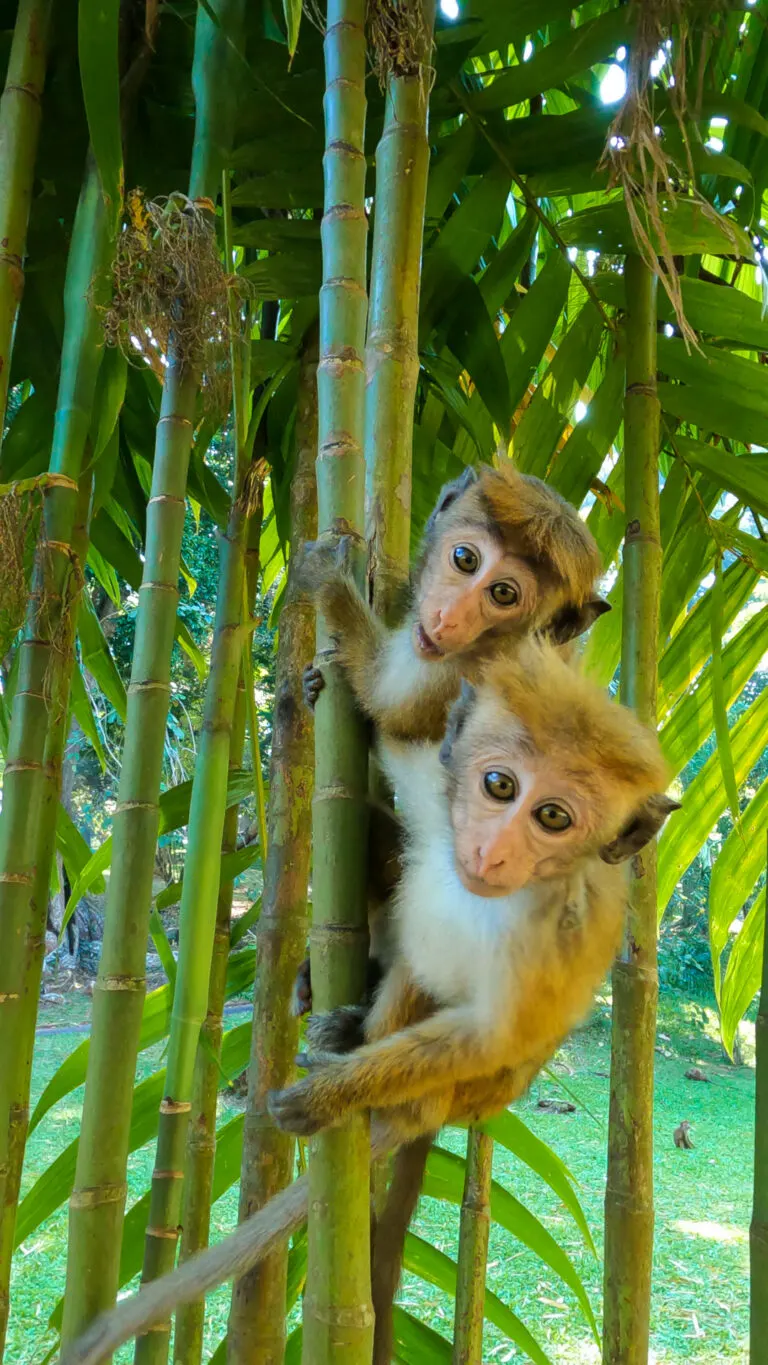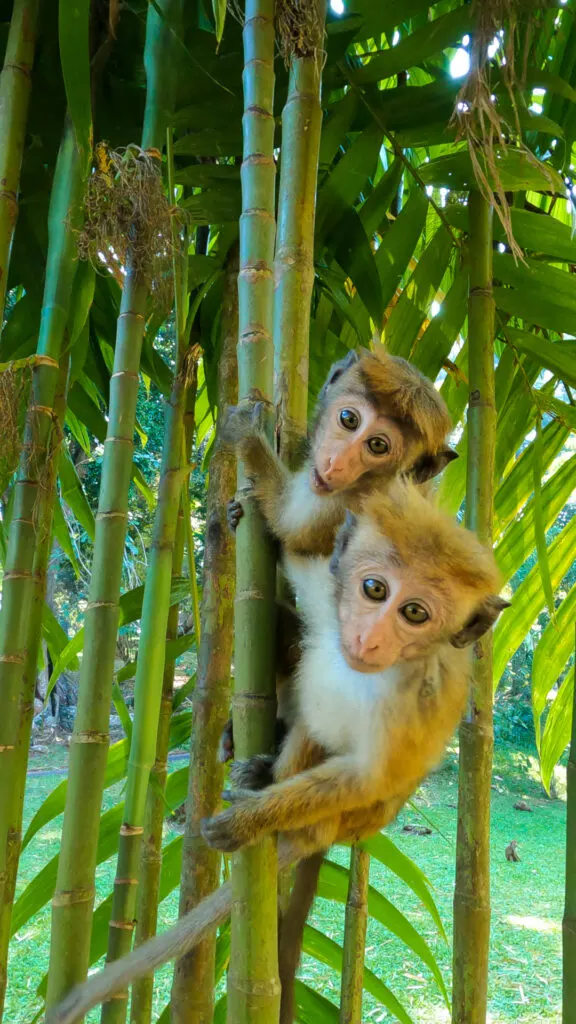 Day 7 Trip From Kandy To Demadora
Truth be told we were not looking forward to the last leg of the journey between Kandy and Demadora.
The journey on a train is over seven hours through tea country mountains. Whilst it would have been beautiful to do the whole trip on the train it can be severely delayed.
Audley Travel planned for us to do the first half with our guide in a vehicle and the second half on the train from Nuwara Eliya to break the trip up. The roads from Kandy to Nuwara Eliya are steep climbs back and forth along mountains.
It is well worth taking motion sickness medication in advance if you struggle with such journeys.
The perfect pitstop for lunch at Nuwara Eliya was the Grand Hotel. They have a great menu and some fabulous gardens to relax and unwind in before the second leg of the trip.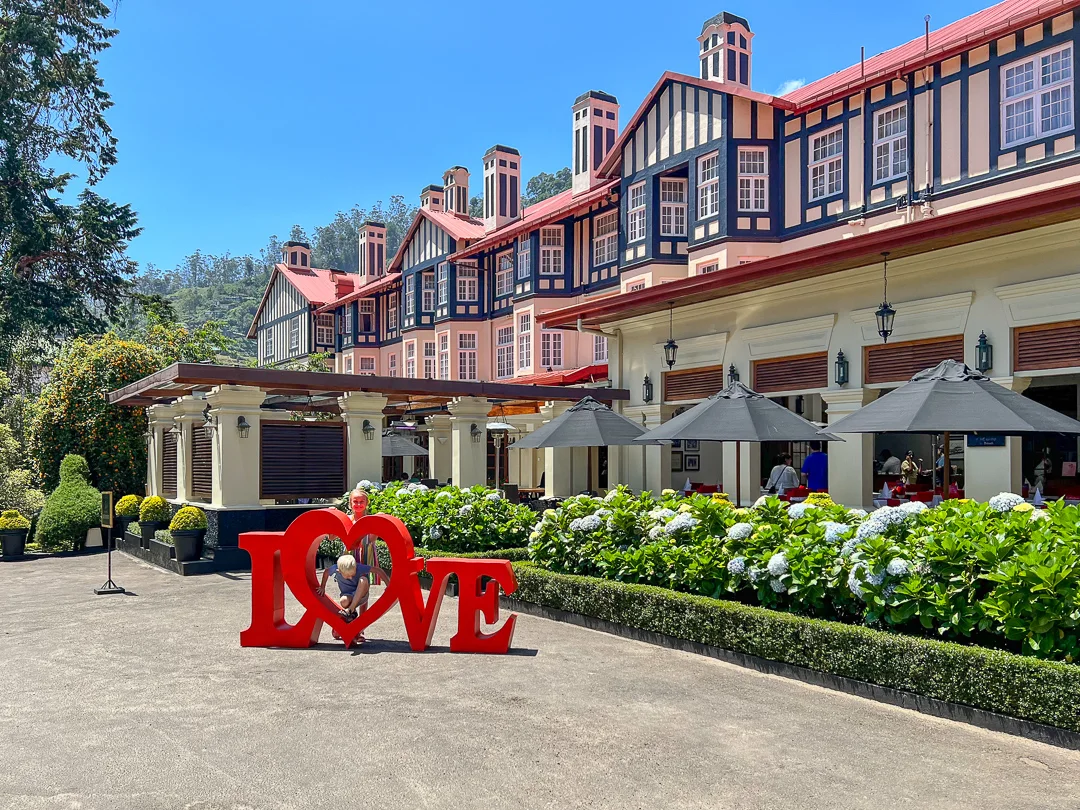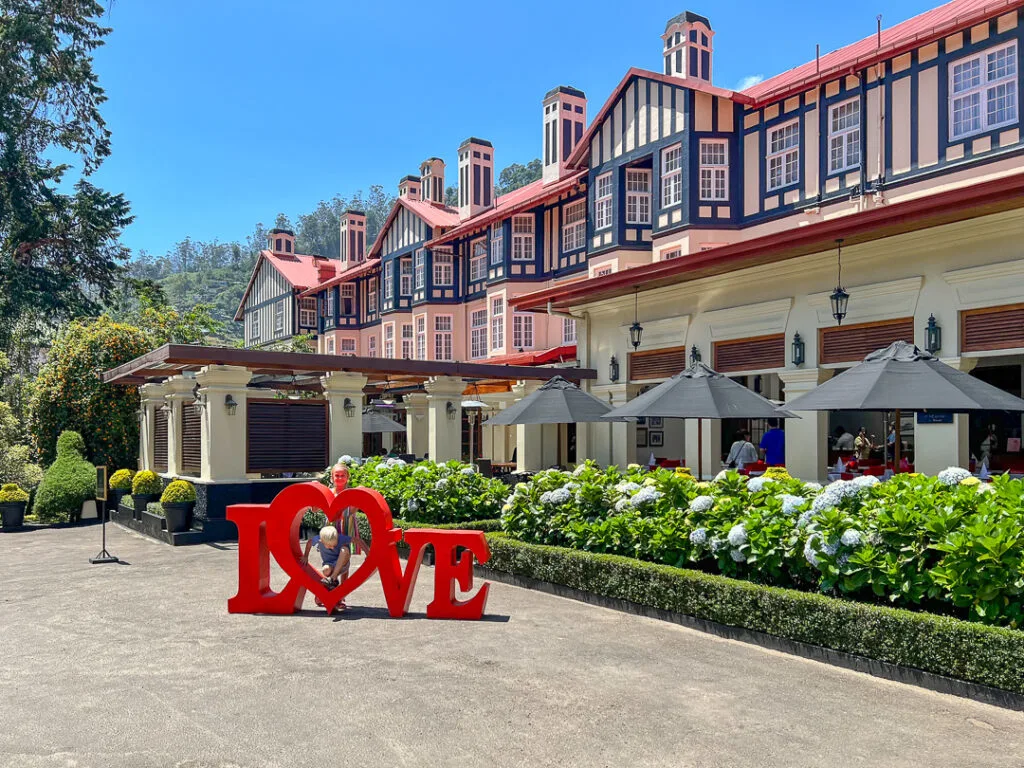 Featuring a playground, indoor play, a tree house and typical British food it was a great place for our kids to decompress and run around after three hours of driving.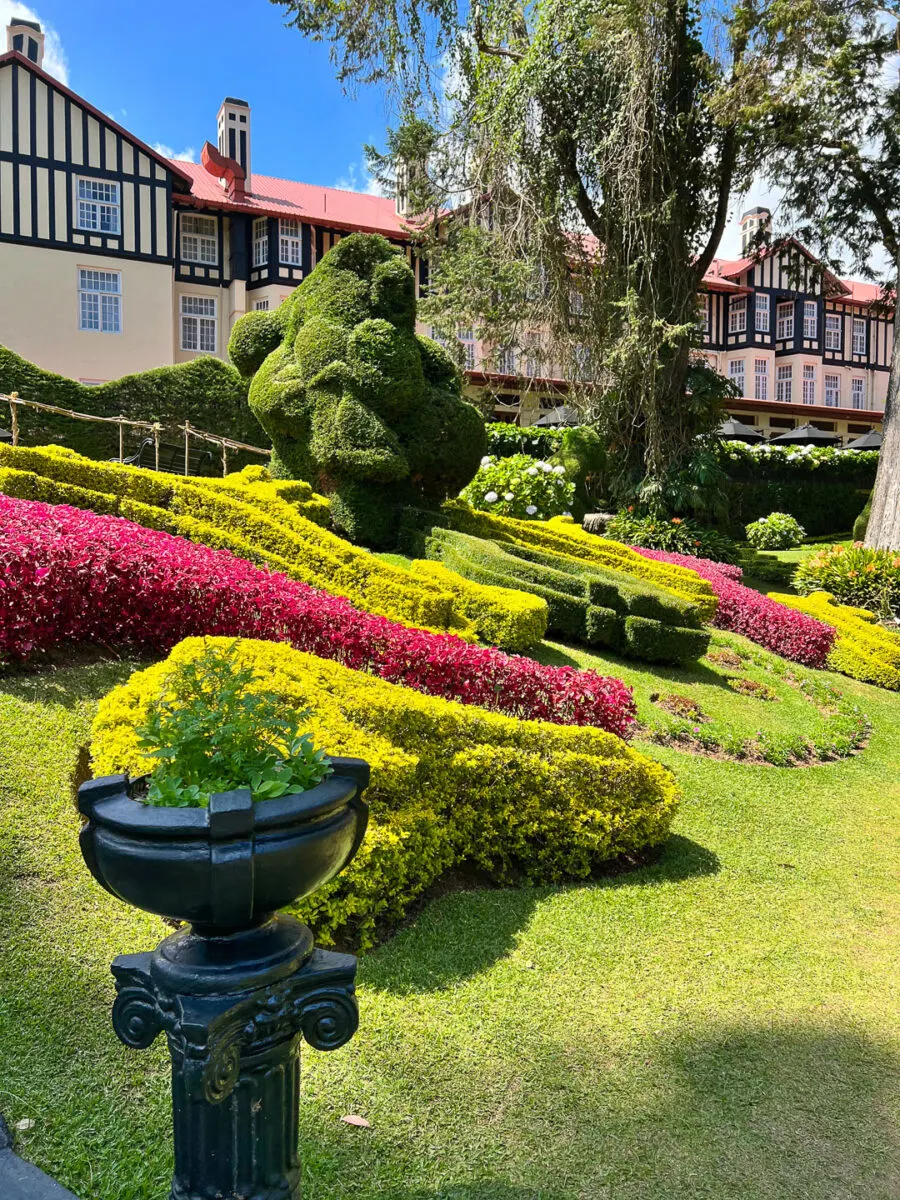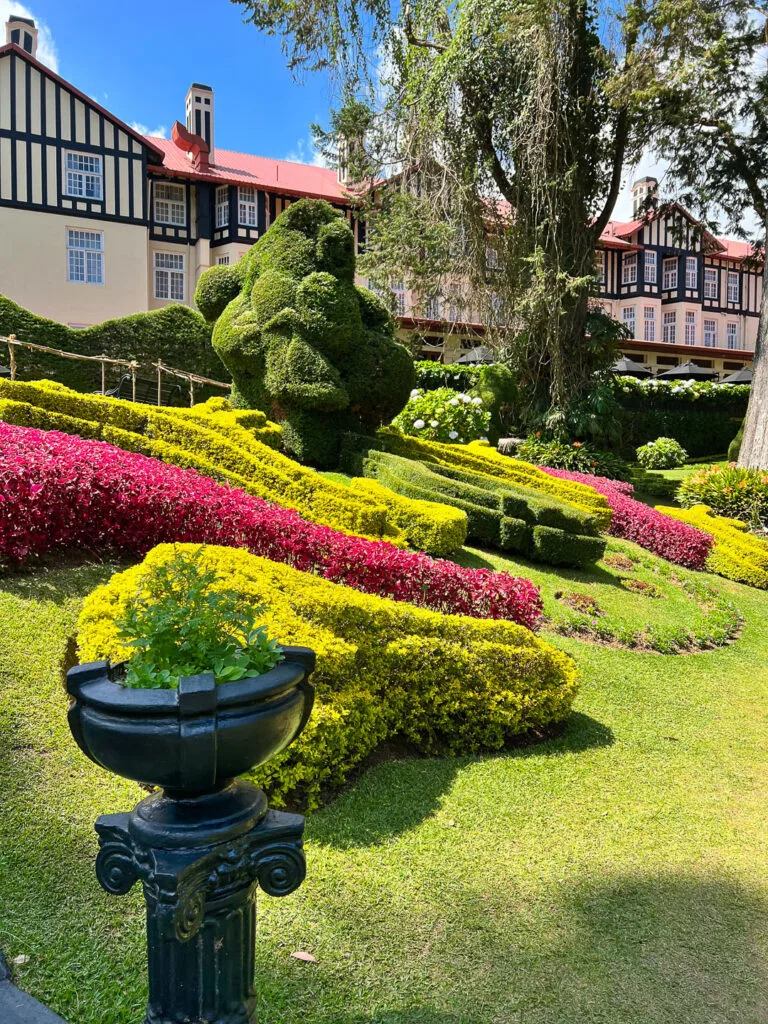 We headed to the train station after a nice relaxation only to find it was delayed initially by one hour but then the time just kept getting longer and longer.
We realised we would arrive pretty late with the kids if we were to wait any longer. Luckily our Audley Travel guide was still with us and we all agreed it would be better to continue in the car.
We were gutted to miss out on the infamous train ride through the tea plantations. However, we knew it just wasn't going to work with our twin babies. We felt so relieved to be able to continue in the car and arrive at a reasonable time.
The train is infamously late so it is well worth considering this before booking. We did think staying 1 night at the Grand Hotel could have been a fabulous way to break up the journey as it was a pretty long day.
Where To Stay In Demadora
We arrived at Nine Skies in Demadora just in time for sunset. We were tired from the long day of travel however those feelings quickly faded when we saw the view from Nine Skies. We were blown away!
Nine Skies is another property owned by Tear Drop Hotels. It's a small boutique hotel once a tea planters home. Featuring only 5 rooms with butler service, it is a small intimate yet luxurious affair.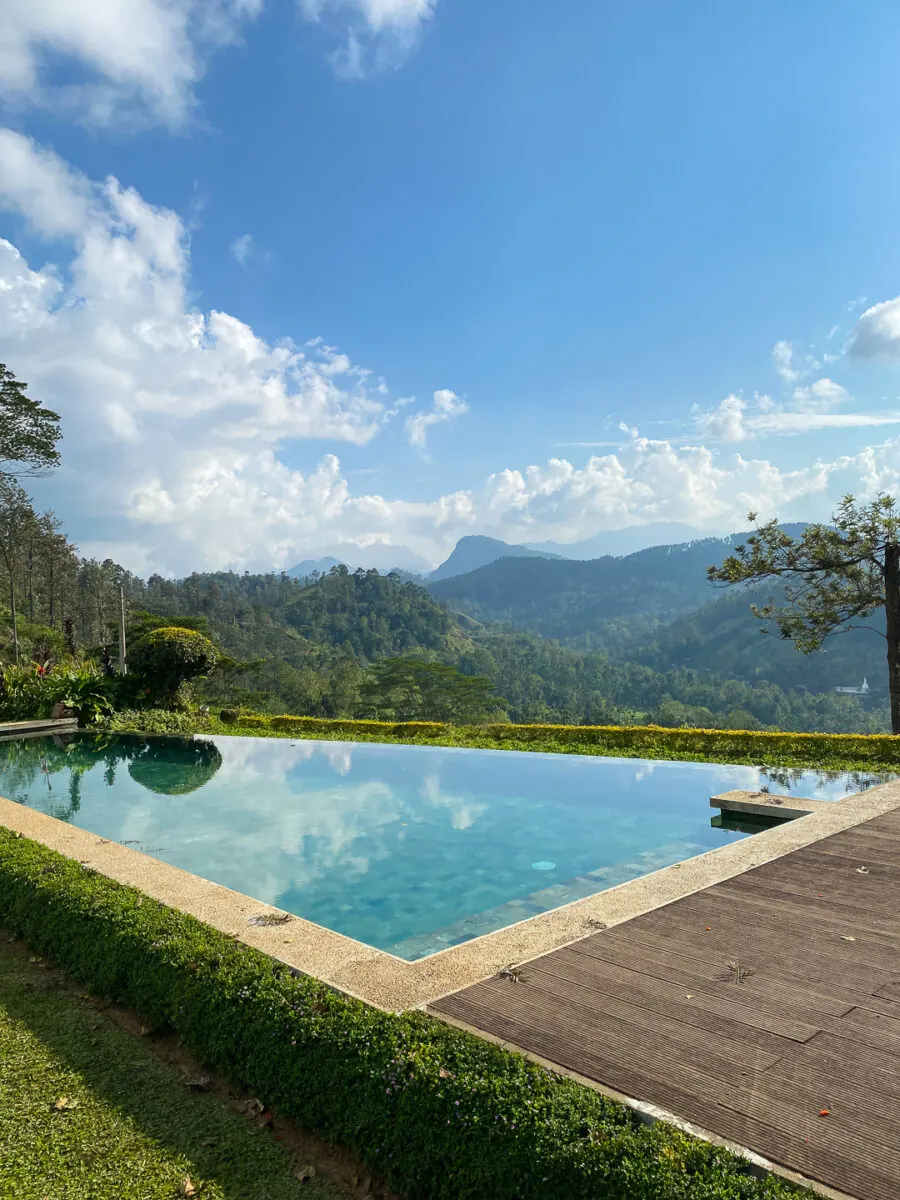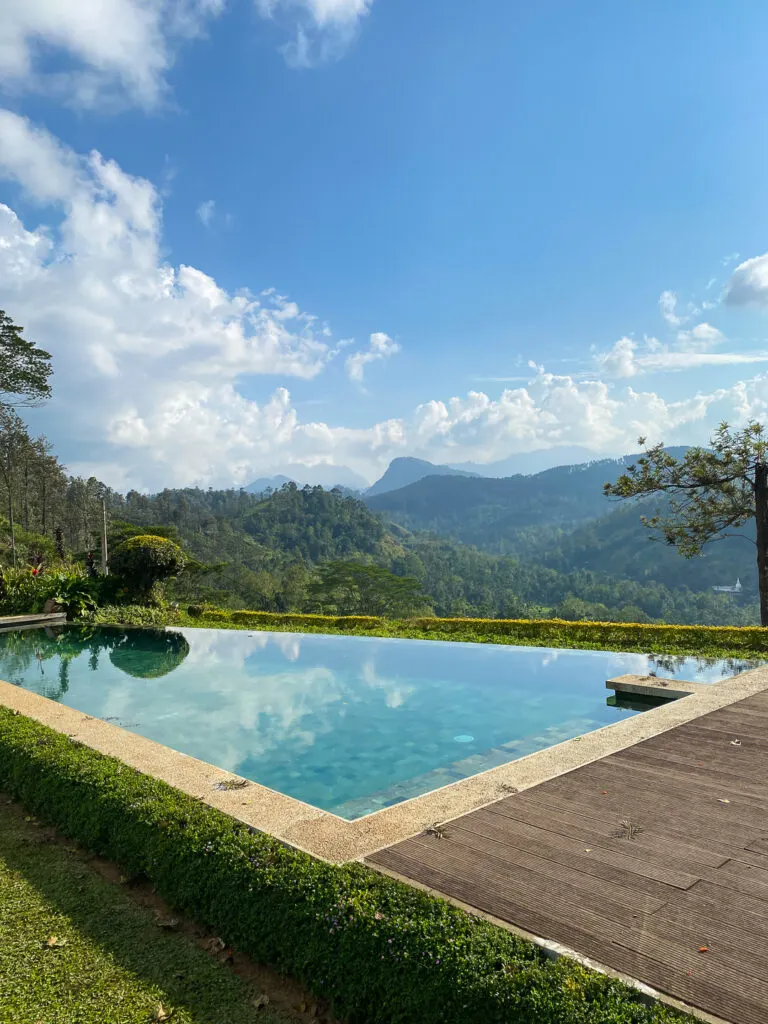 Two of the bedrooms are interconnected so it's perfect for families. The property features a relaxing living room with cosy armchairs, board games and a fireplace for cold evenings.
Guests can dine on an outdoor terrace overlooking the swimming pool with the most incredible views of the mountainous landscape.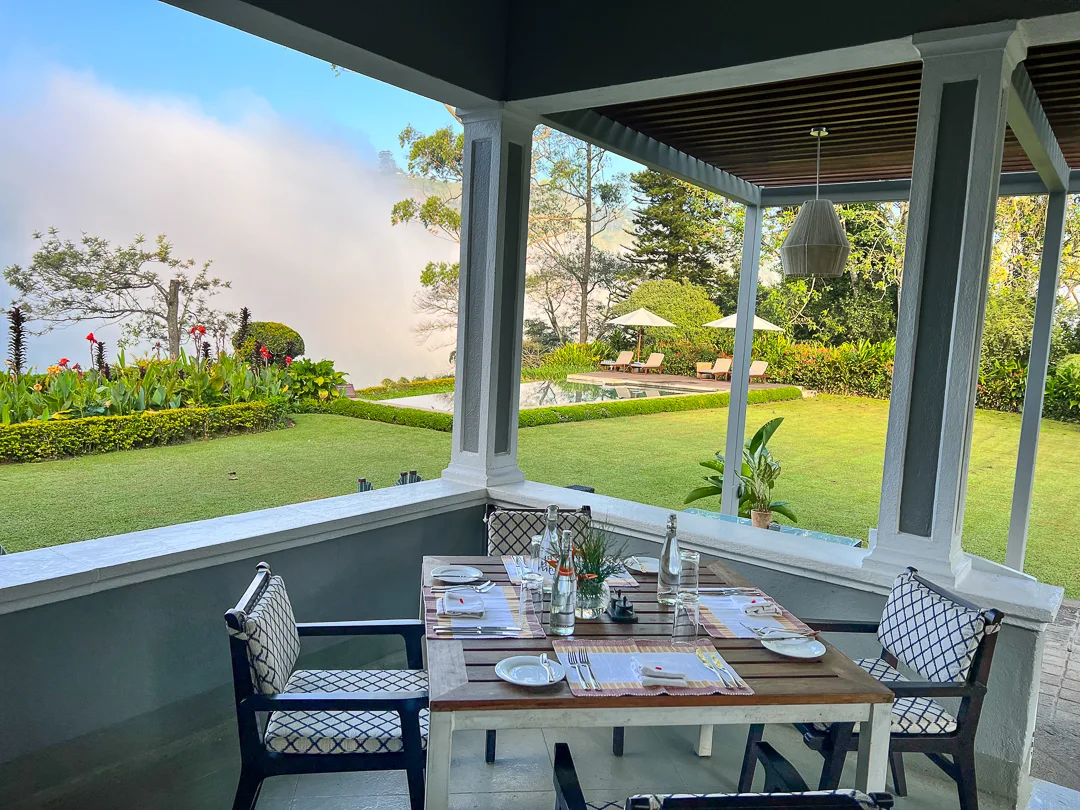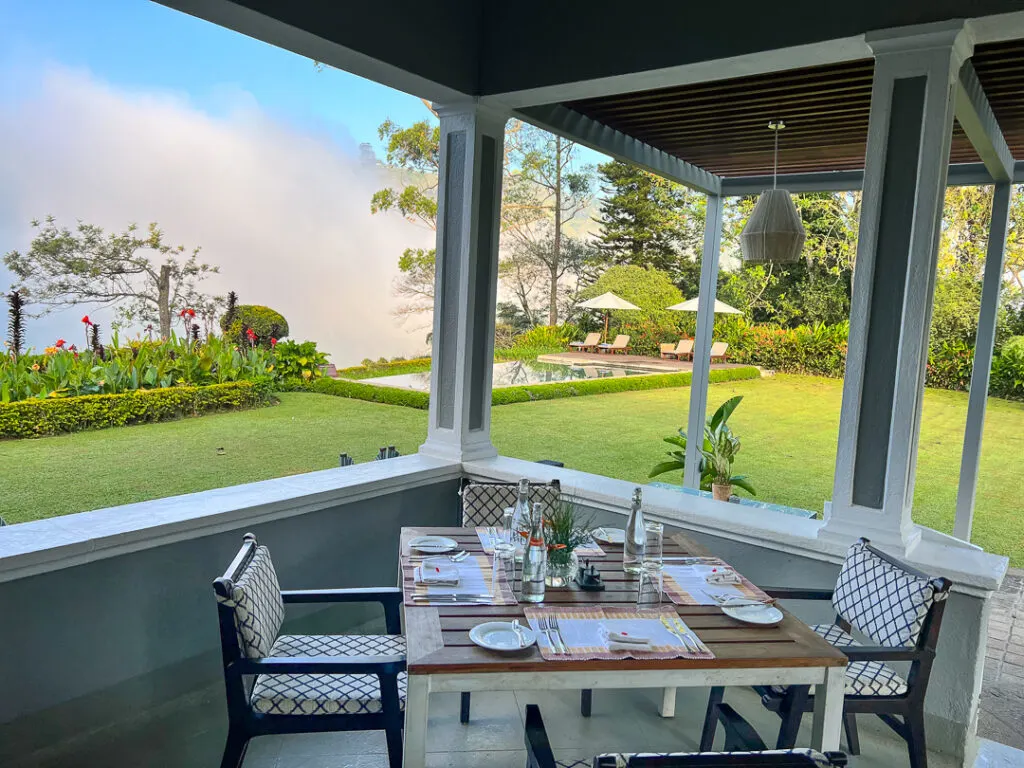 Seeing the clouds roll in at sunset and out in the mornings was an experience in itself. It all happens so fast, a reminder of how high up the property is!
Every room has a small private terrace looking out onto the gardens, perfect for reading a book and unwinding after a day of visiting the local sites.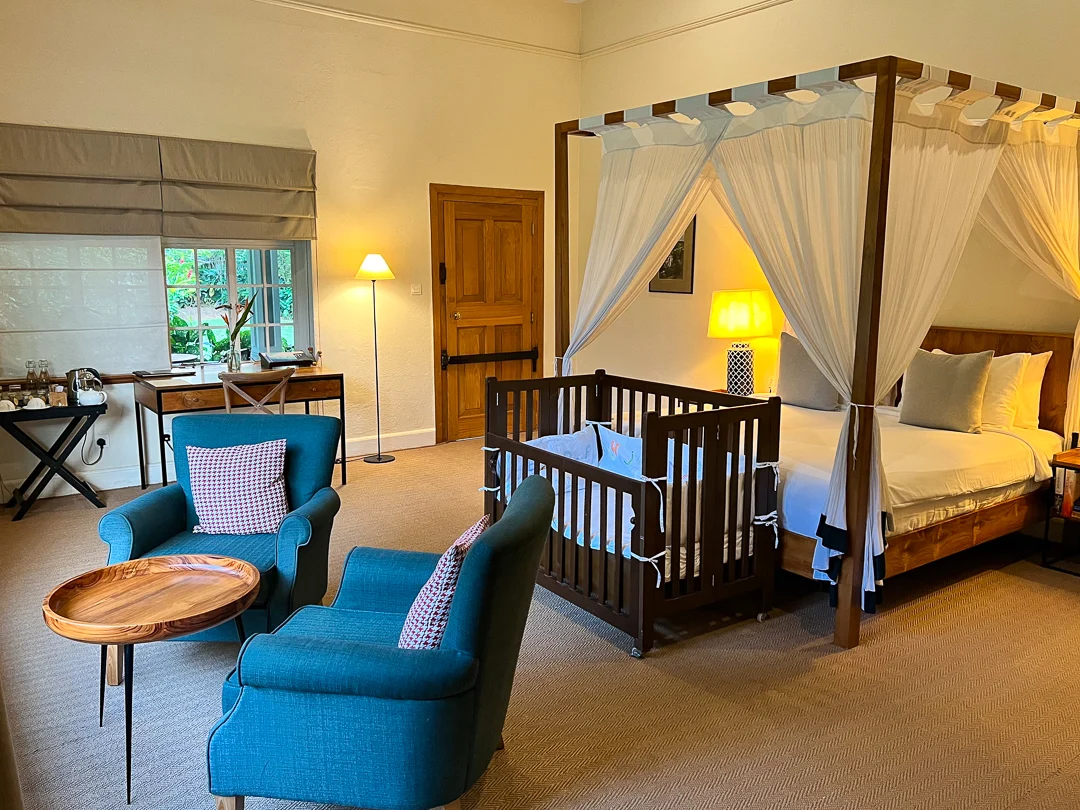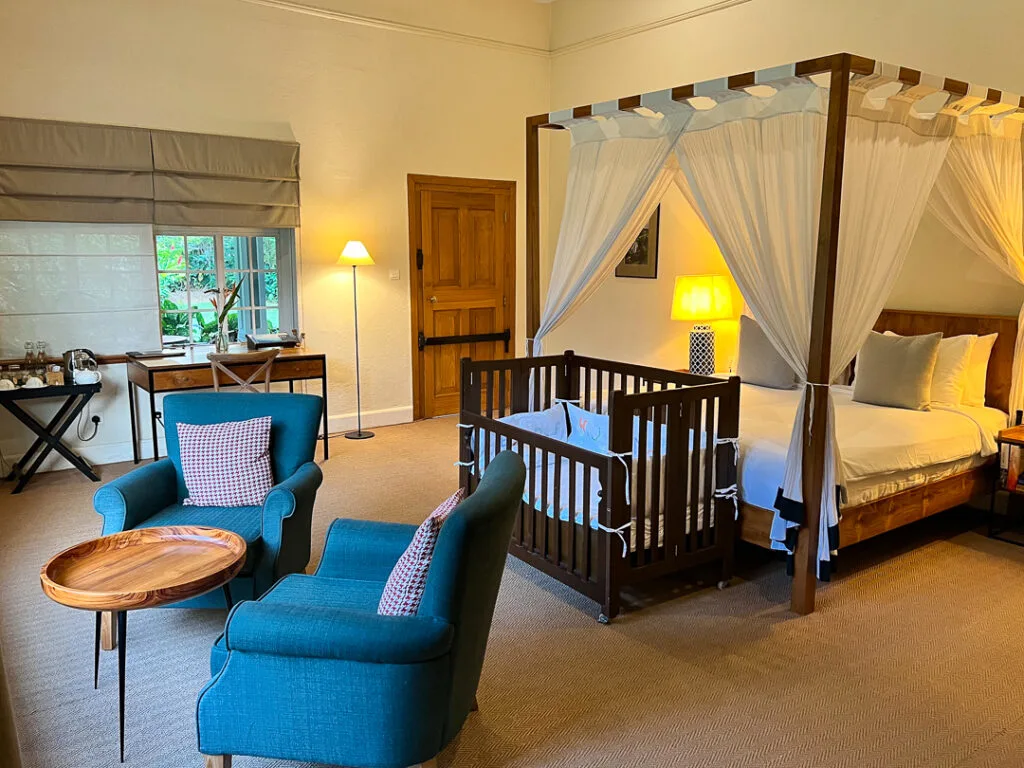 The kids loved playing board games and sitting on the lawn. Meals are included in the price of the hotel. It is best to look at the menu ahead of time and give the staff the order since everything is freshly made.
The food is impeccable and the staff are so attentive. This was my favourite property mainly due to the views and the homely feeling.
Day 8 Nine Arch Bridge & Tea Factory
On our second last day, Nine Skies arranged a tuk-tuk driver to take us to the picturesque Nine Arch Bridge which is commonly seen on social media. The Nine Arch Bridge is curved and connects to rail tunnels weaving through the mountains.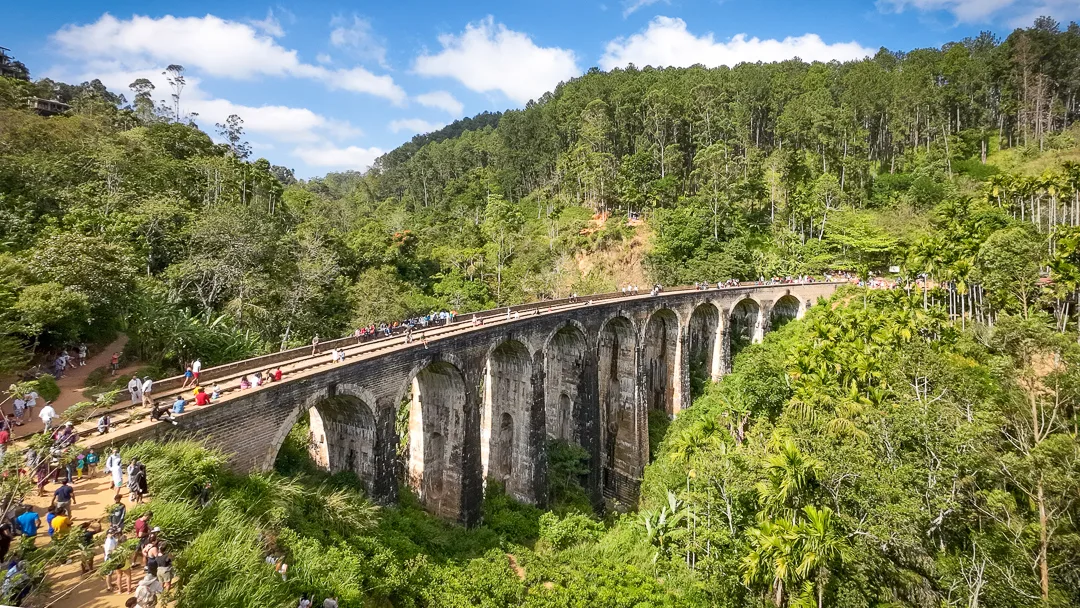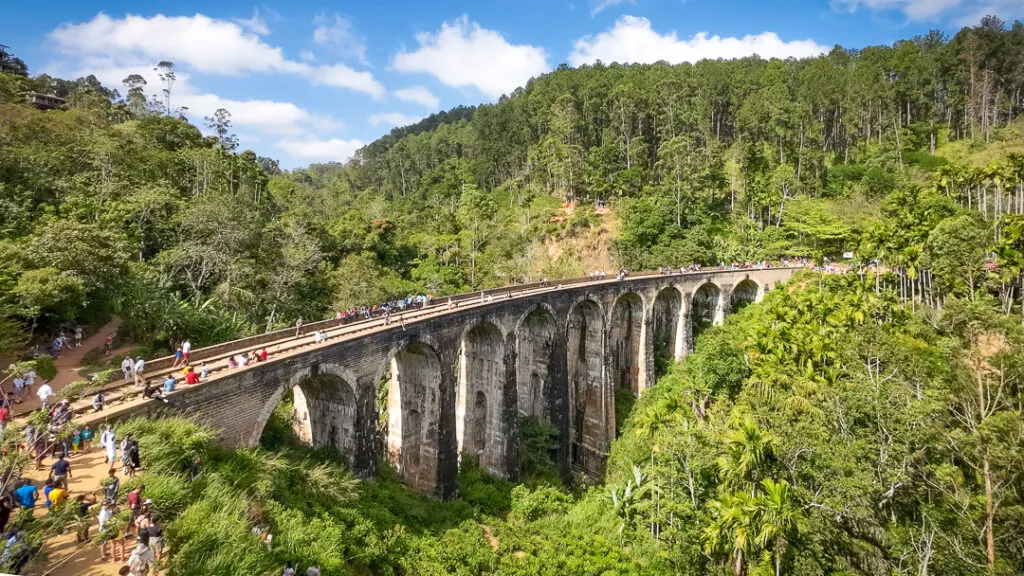 It is not uncommon to see locals walking on the tracks and my heart was racing wondering if they would stand out of the way on time before the train passed by. We stayed for a while to take photos and watch the train pass through and luckily everyone was safely out of the way.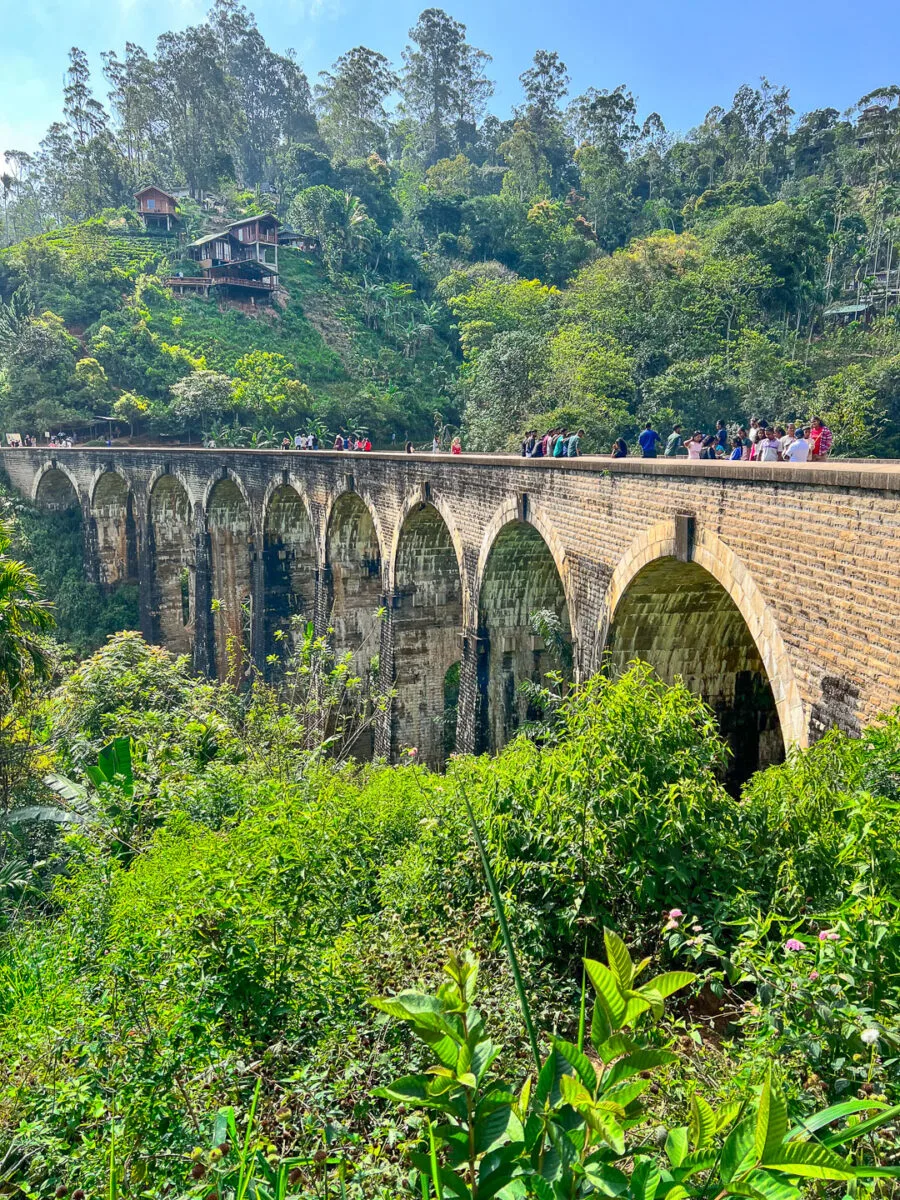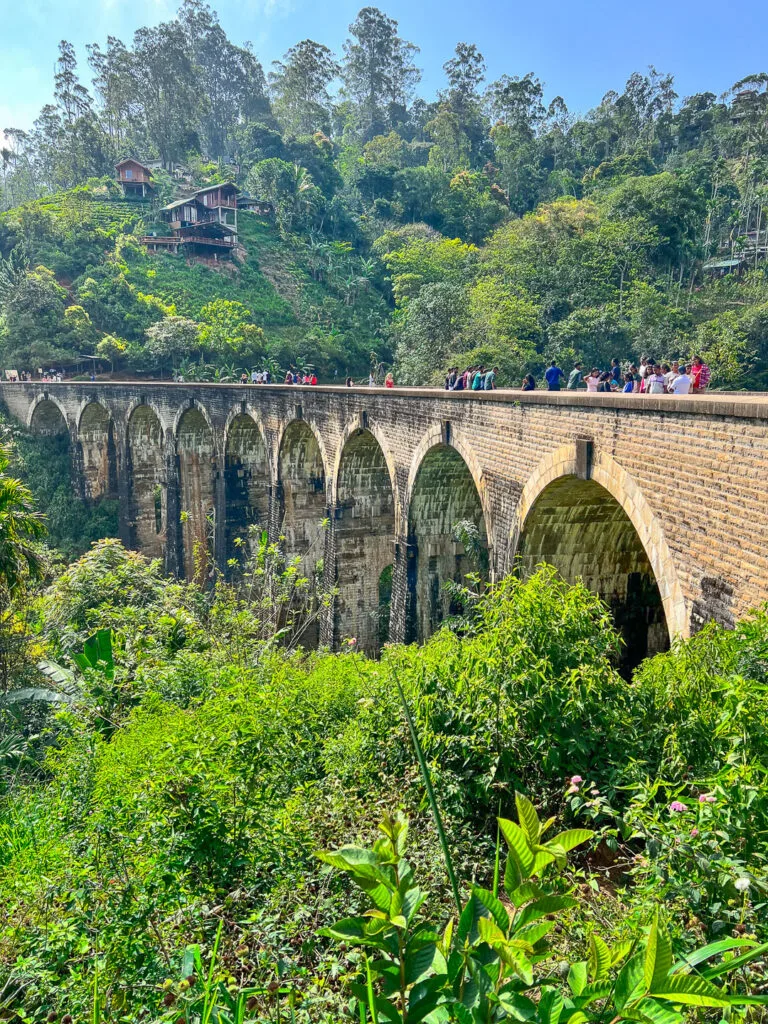 The best time to photograph the bridge is mid-week in the morning since it is less likely to be crowded. The tuk-tuk ride to get to the bridge is similar to most places in the region. Steep climbs and winding roads, however, it does feel a lot more tolerable in a tuk-tuk since it is a lot more breezy.
The next stop on our second to last day was at the Uwa Halpewatta Tea Factory. I had no idea what to expect. On arrival, our tuk-tuk driver guided us through the factory. It was a weekend so it was not in production.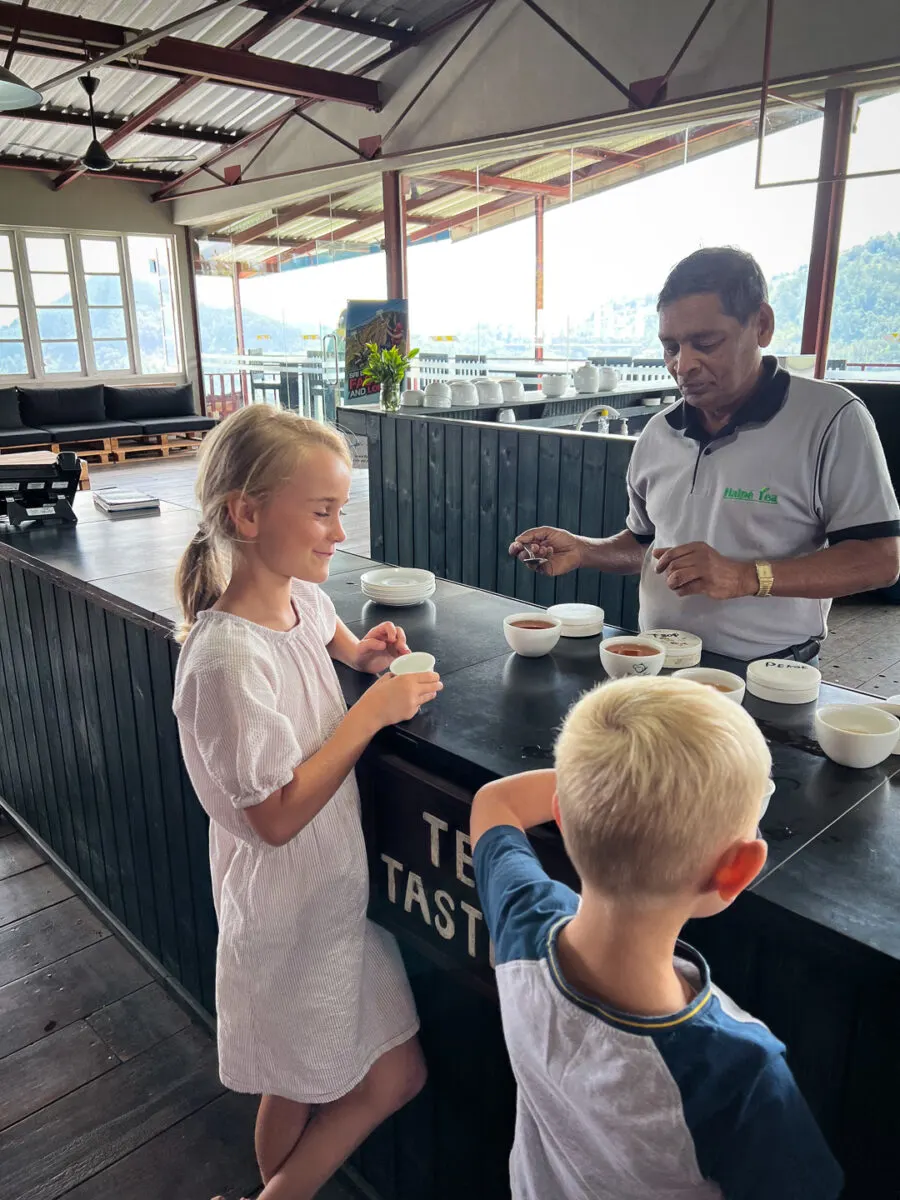 Weaving in and out the different stages of the factory machinery, and up several sets of stairs, we finally emerged at a cafe on the rooftop with spectacular views across the tea country.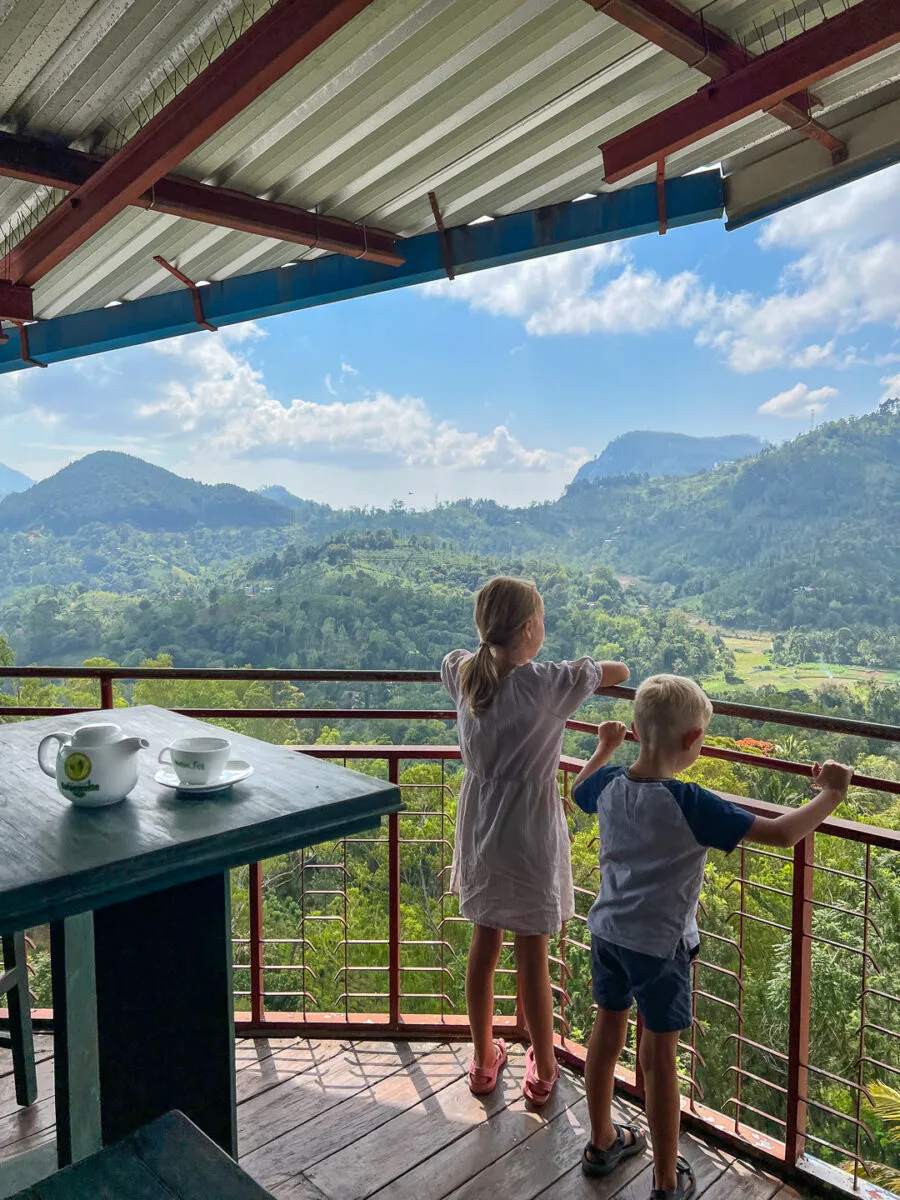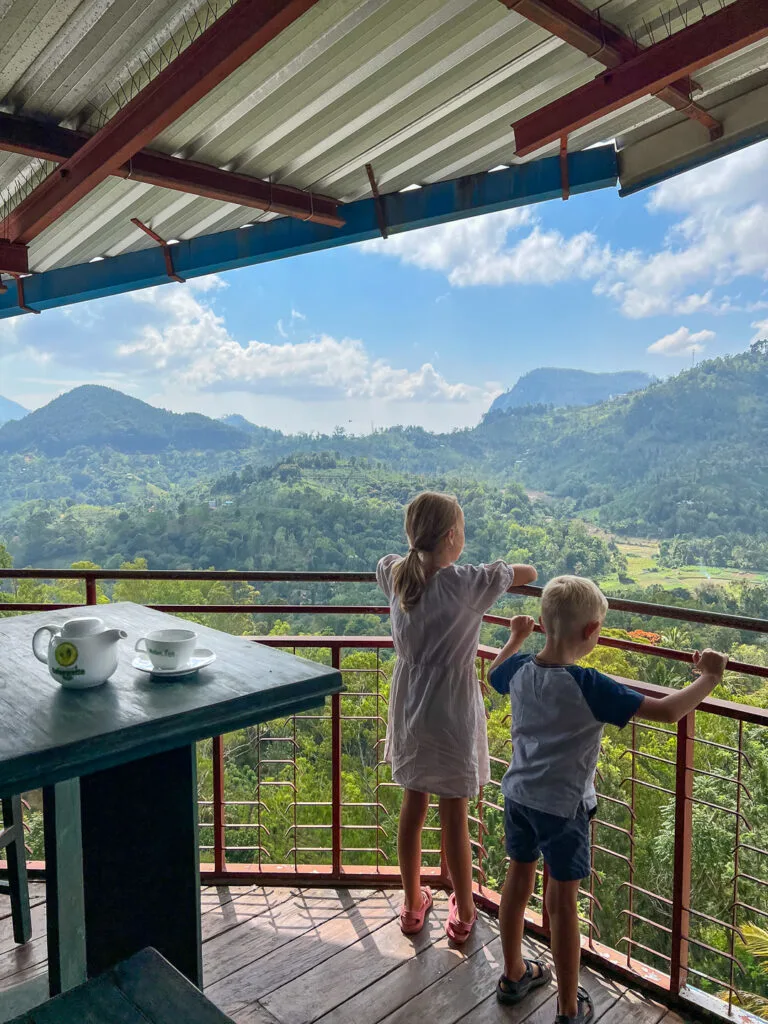 There we met a staff member who took us on a private tour of the factory explaining each step of production. Afterwards, we did a tasting in the cafe, it was all super interesting and short enough to hold the attention of children.
Since it was our last afternoon, we spent the rest of the day relaxing at Nine Skies, eating a delicious lunch and taking in the views.
Day 9 Little Adams Peak, Ella
We had planned to leave Demadora late morning of day nine. In our adventurous spirit, we got up super early for an early morning hike nearby Little Adams Peak in Ella.
We were clearly using every moment we had to explore. It was only a 30-minute drive to reach the foot of the peak from Demadora so we had time to return for breakfast afterwards.
It was a super rainy morning and it was dark but we still managed to climb. The rain eased as it brightened up and just as we made it to the top, the clouds started to dissipate.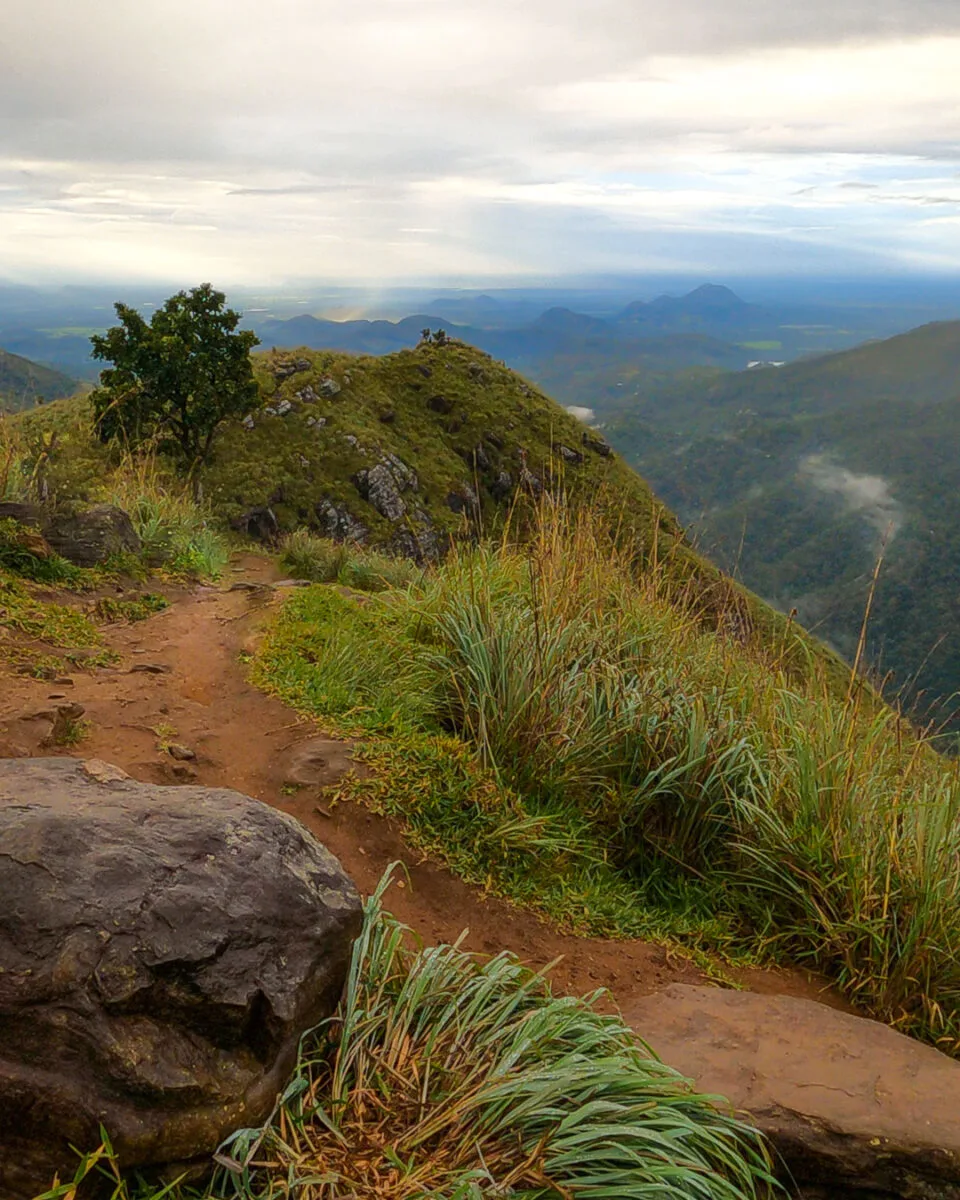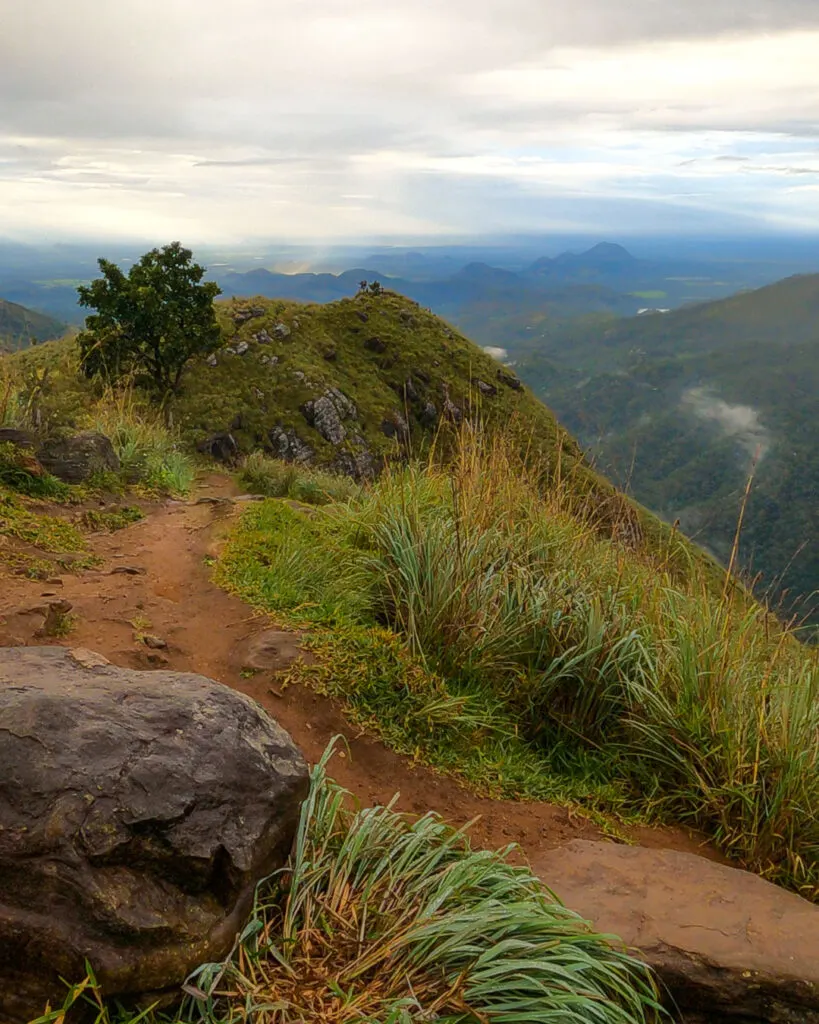 The walk is predominately a paved pathway through tea plantations. It is not too difficult and the view at the end is rewarding. There is only a small section towards the top which is not paved but is still easy to walk along.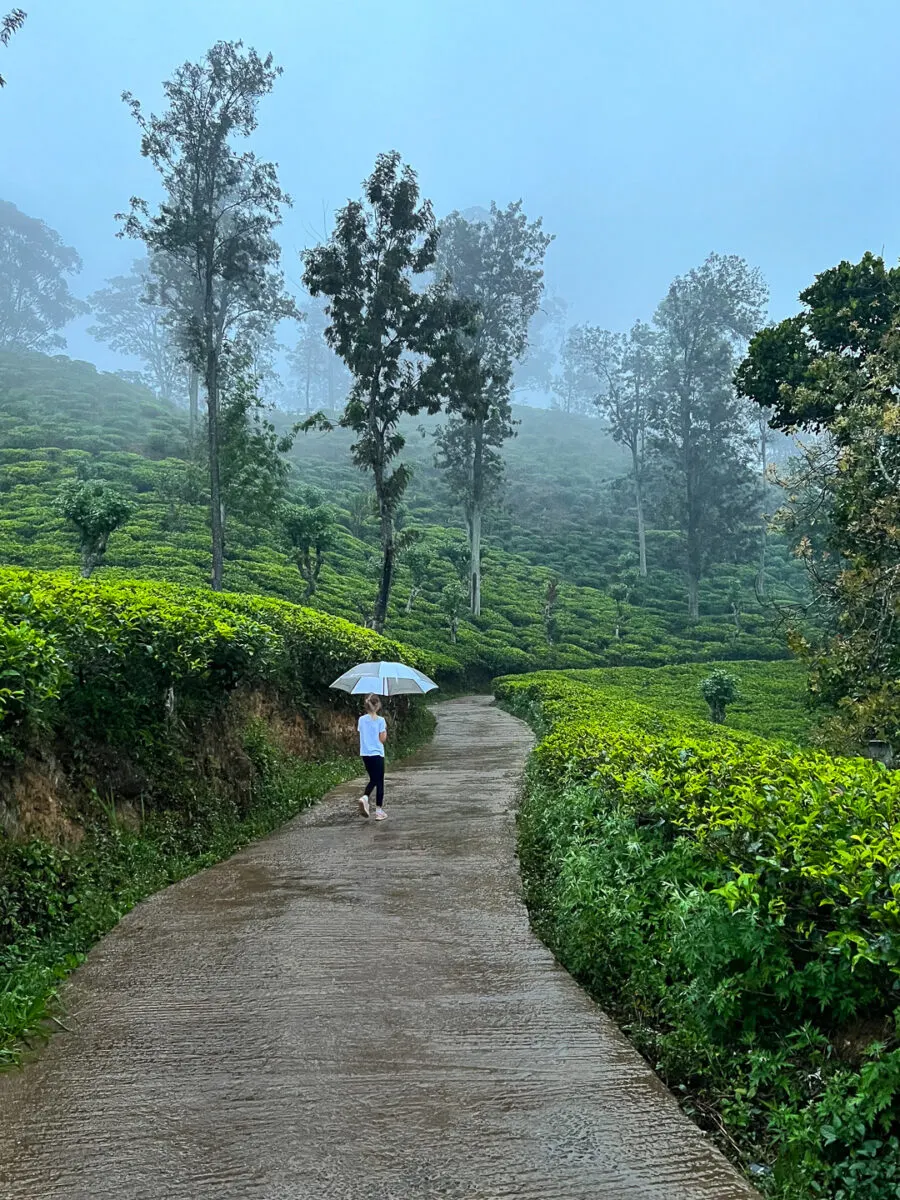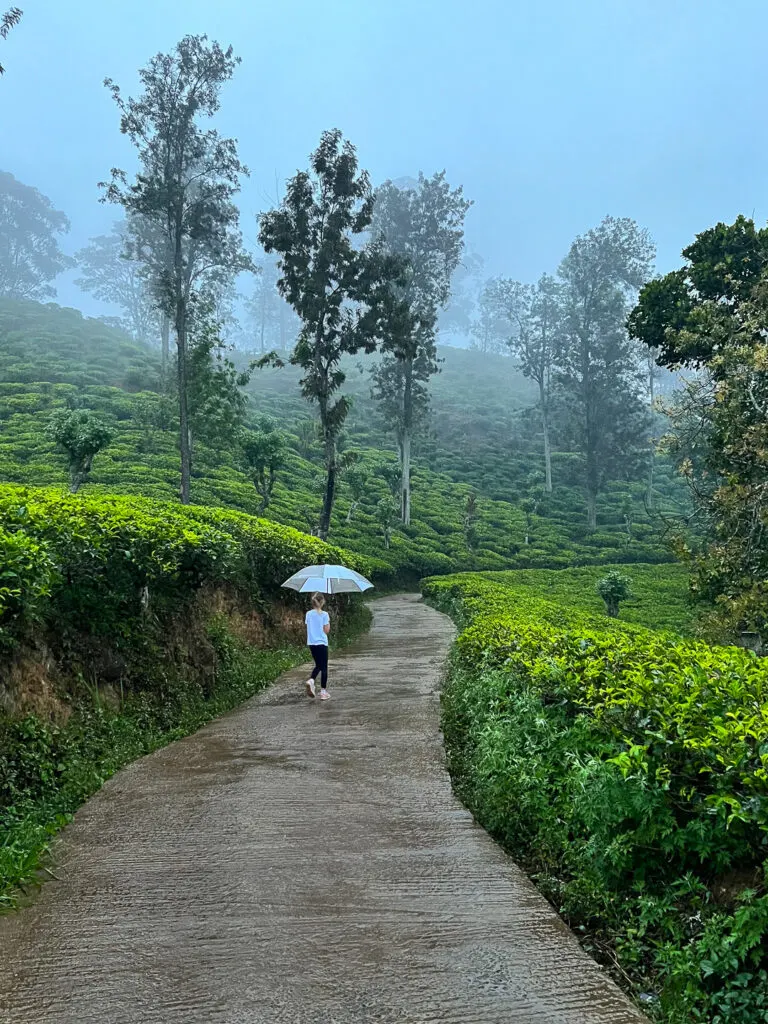 Afterwards, it was lovely passing through Ella town back to our hotel. It is a popular town loved by locals and tourists alike with lots of quirky cafes and restaurants.
Finally, we showered had breakfast and hit the road! We pit-stopped for a few minutes at Ravana Falls on the way out of Ella. It is well worth a stop although it can be busy. it is viewable from the road so there is no need to hike.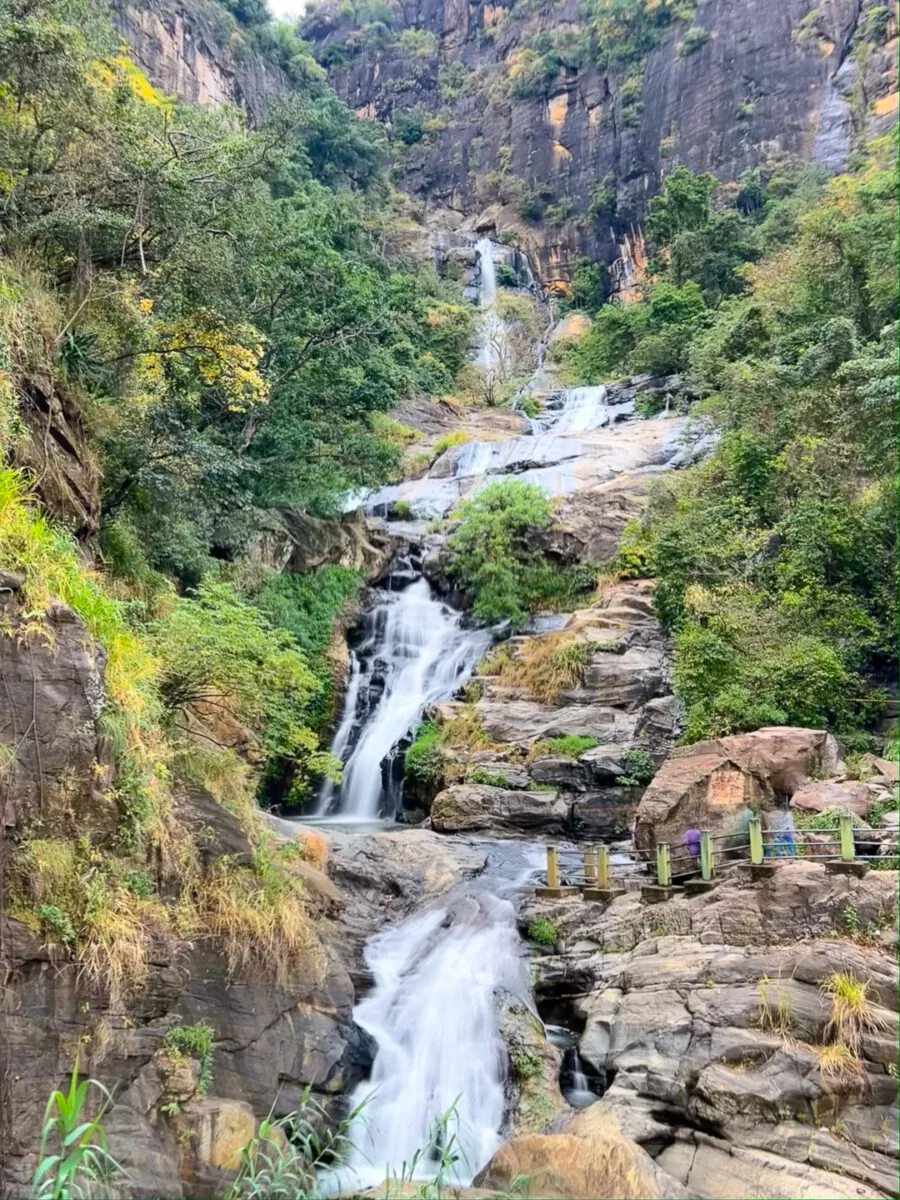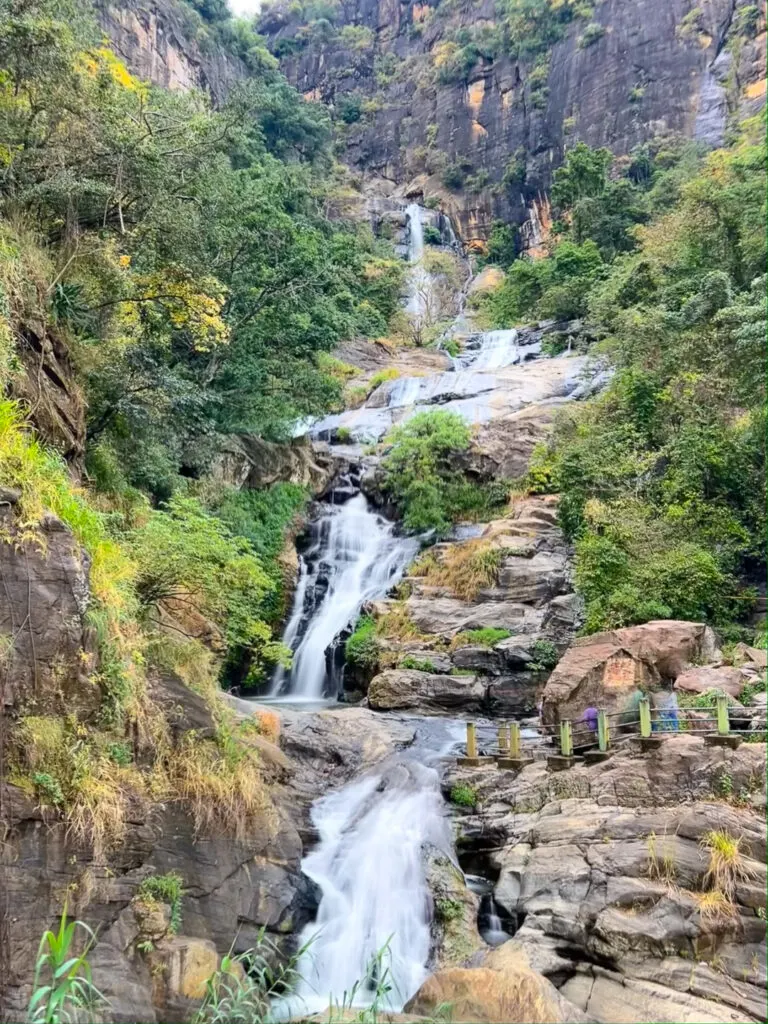 Top Tips For Visiting Sri Lanka
Having small notes to hand for tips and paying for anything is a good idea. 5000 rupees may not be alot to many of us, however, it is quite a lot locally and often getting change from a big note can be difficult.
Having 1000 rupee notes is probably the best denominator. Tips for locals go a long way, 10% of the bill is a reasonable amount.
No matter where you go in Sri Lanka, there are mosquitos around. It is worth having plenty of repellents. Check out this article with different mosquito repellents.
It is also important to speak to a travel health advisor since some vaccines may be required to travel to Sri Lanka.
Don't forget to plan your trip around monsoon season and remember it is a year-round destination. You just need to choose the part of the island you want to explore!
Having a tour guide is an incredible learning experience. Booking with Audley Travel and having that one person drive us everywhere and take care of us was really amazing to make it a comfortable trip.
Factor in that weekends is often very busy at popular sites with local day trippers.
In Summary
Sri Lanka is an incredible destination with attentive hospitality, interesting and unique cuisine, beautiful temples, stunning landscapes and intriguing wildlife.
The country has faced tough times over recent years but they are ready and waiting to share their country with tourists again!
This Sri Lanka 8-day itinerary covers some incredible highlights including safari, hiking, sacred temples, cultural experiences and tea plantations. We hope you loved reading about our adventure.
There is so much to discover and this trip only covered part of Sri Lanka.
Another place to consider could be the South West region to tag a beach stay onto your trip depending on when you travel. We love Hiriketiya Beach. Alternatively, the east coast is also beautiful from April through to September.
A two-week tailor-made family trip to Sri Lanka with Audley Travel costs from £3,995 per person (based on a family of four travelling). The price includes international economy flights, transfers, accommodation and excursions. Some hotel-based activities at Watergarden Sigirya & Jetwings Kandy Gallery come at an additional cost. +441993 838335 / www.audleytravel.com/sri-lanka
Disclaimer: This post about the perfect Sri Lanka 8 Day Itinerary was sponsored by Audley Travel. We were gifted a trip around Sri Lanka in return for an honest review of the individually tailored tours. All views expressed are entirely our own.