Thinking about going to Zanzibar with kids? We took our two children to mainland Tanzania for 5 full days of adventure and thrill. We had such a great time but always knew we would be tired by the end. What better to do than finish the trip by relaxing in Zanzibar with kids, an island with coconut lined white sand beaches and aqua blue clear water!
Zanzibar is a tropical archipelago off the East Coast of Africa and one of the most desirable destinations in the world! Aside from a stunning coral reef and beautiful beaches, the island has a great deal of significant history and culture of its own.
Zanzibar Family Holidays
Our entire trip including the safari and Zanzibar beach stay was arranged by Audley Travel. They specialise in tailor made trips for families. We just told them what kind of things we like to do and they came up with the most amazing 10 day itinerary.
With the first part of the trip being filled with adventure, we definitely wanted the second part to be utter relaxation, whilst also keeping the kids happy. Tagging Zanzibar onto safari is so easy, especially as it's an internal flight. There is not as much hassle at the airport with visas and queues. Of course, you could just do Zanzibar solo too.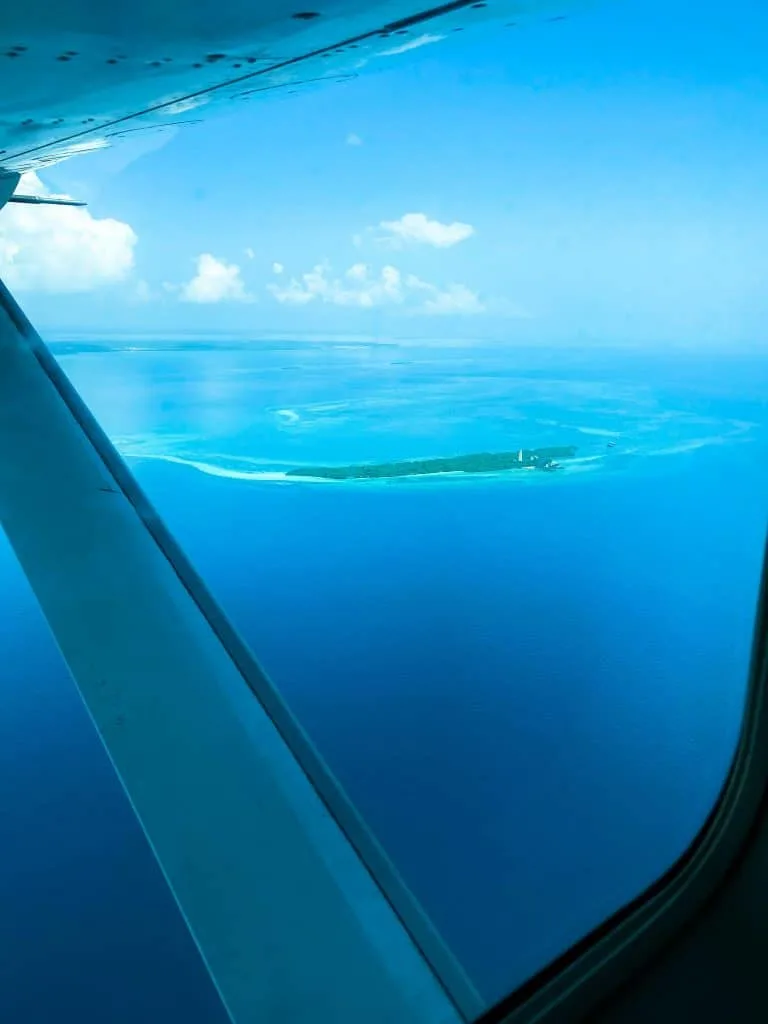 We stayed on the South East Coast of Zanzibar, this is the most stunning part of the island when it comes to postcard, picture perfect beaches! The Baraza Resort & Spa is part of The Zanzibar Collection and has to be one of the most luxurious yet family-friendly places we have ever stayed.
The Hotel
The Baraza Resort & Spa is an all inclusive 5 star hotel and has been featured in Condé Nast as one of the best hotels in the world. Condé Nast also included the beach which Baraza is on as one of the best beaches in the world.
Featuring only 30 villas, this hotel is sprawled along the shores of Bweju-Paje Beach. The villas and resort facilities are intertwined with stunning manicured gardens and soaring coconut trees.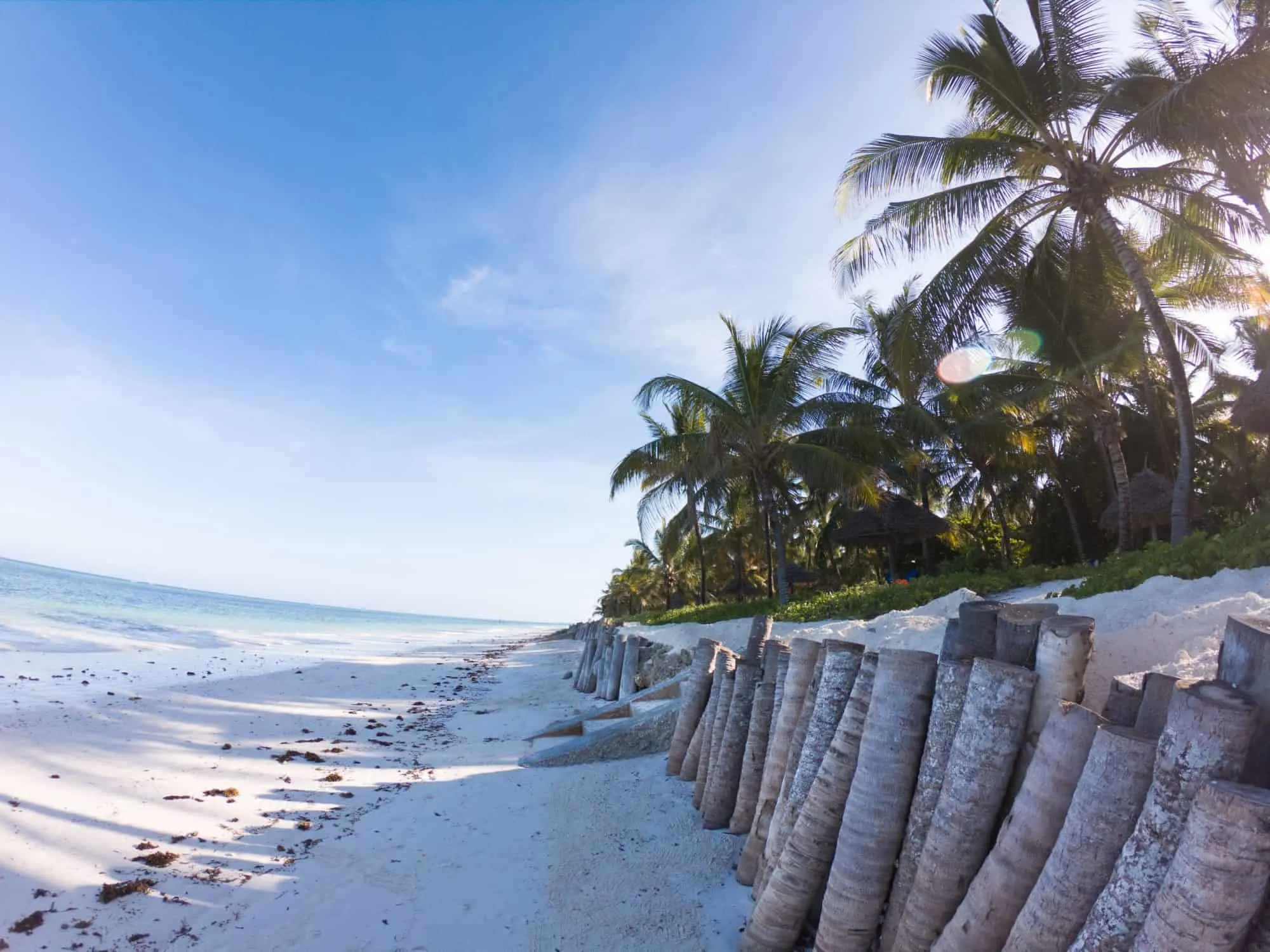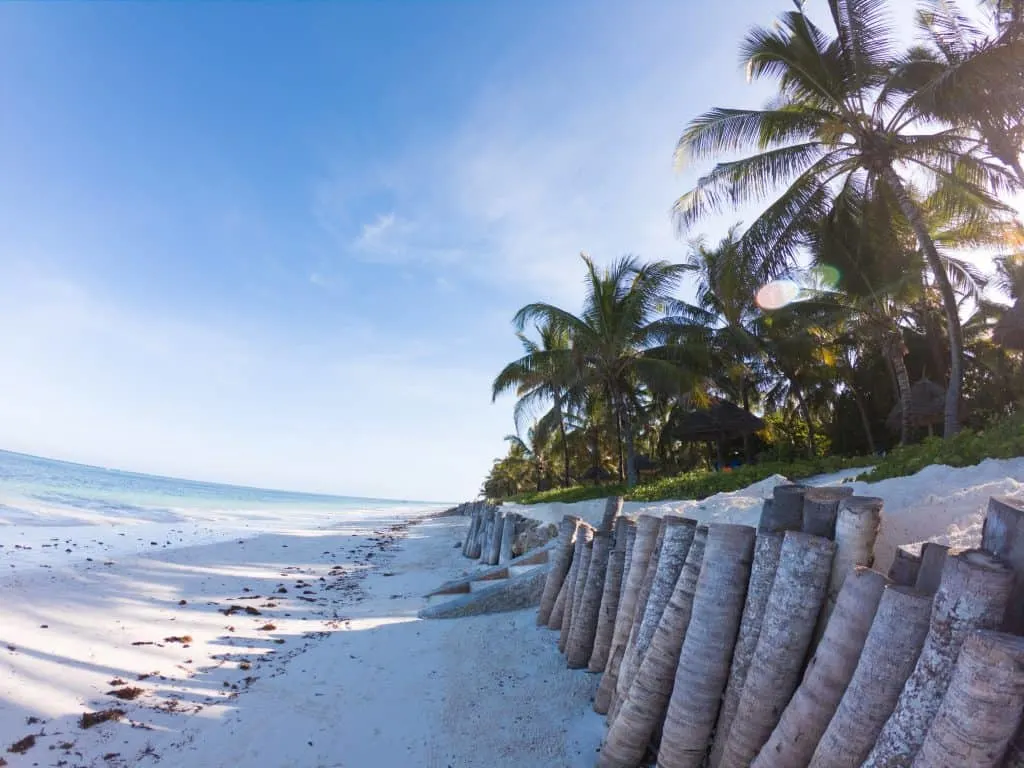 The hotel design and architecture is just incredible and hones in on Zanzibar's history and culture. What struck us the most about Zanzibar, despite it being part of Tanzania, is the fusion of cultures. Arabic, Indian and Swahili influences can be felt around every corner of Baraza Resort.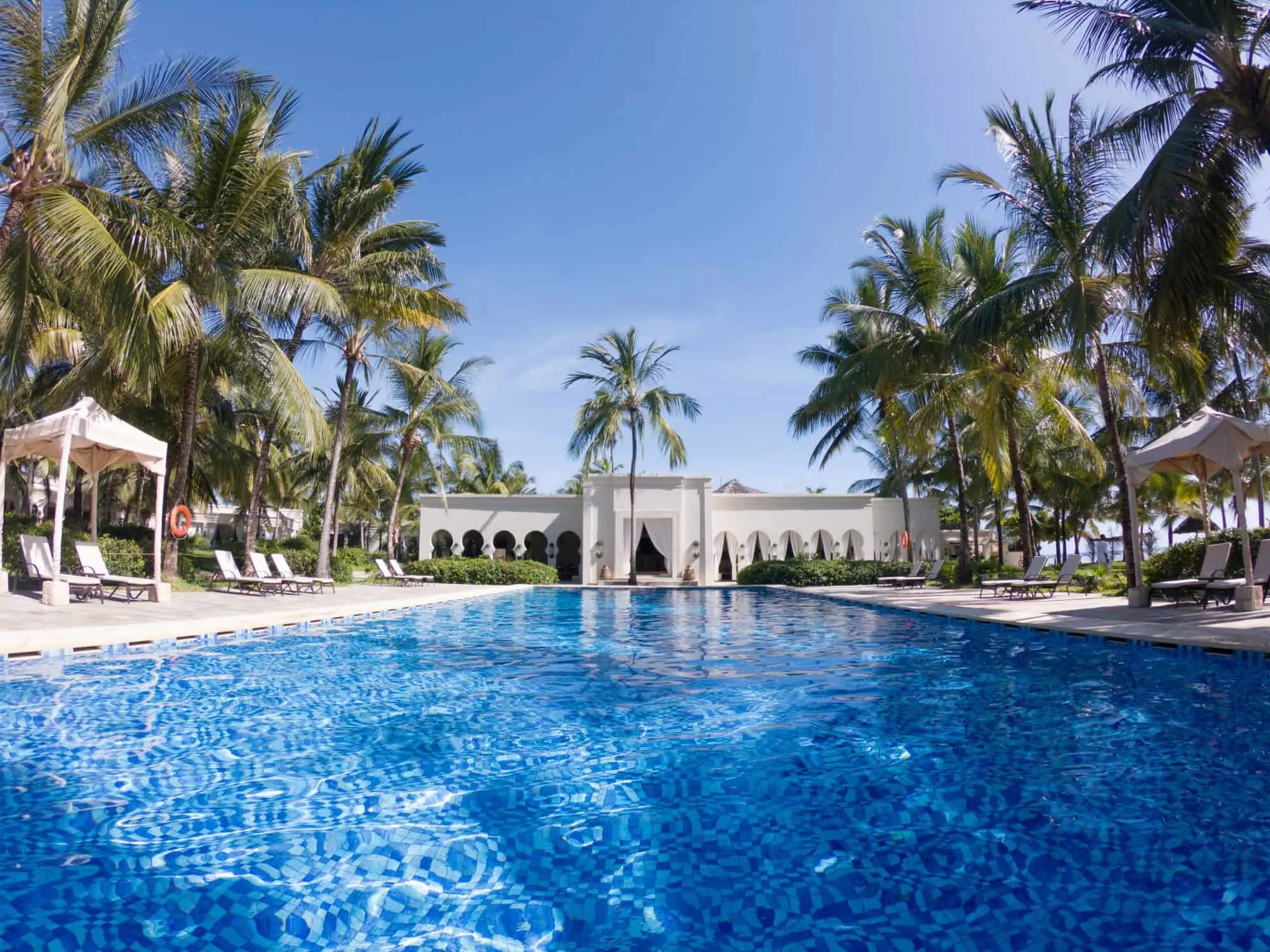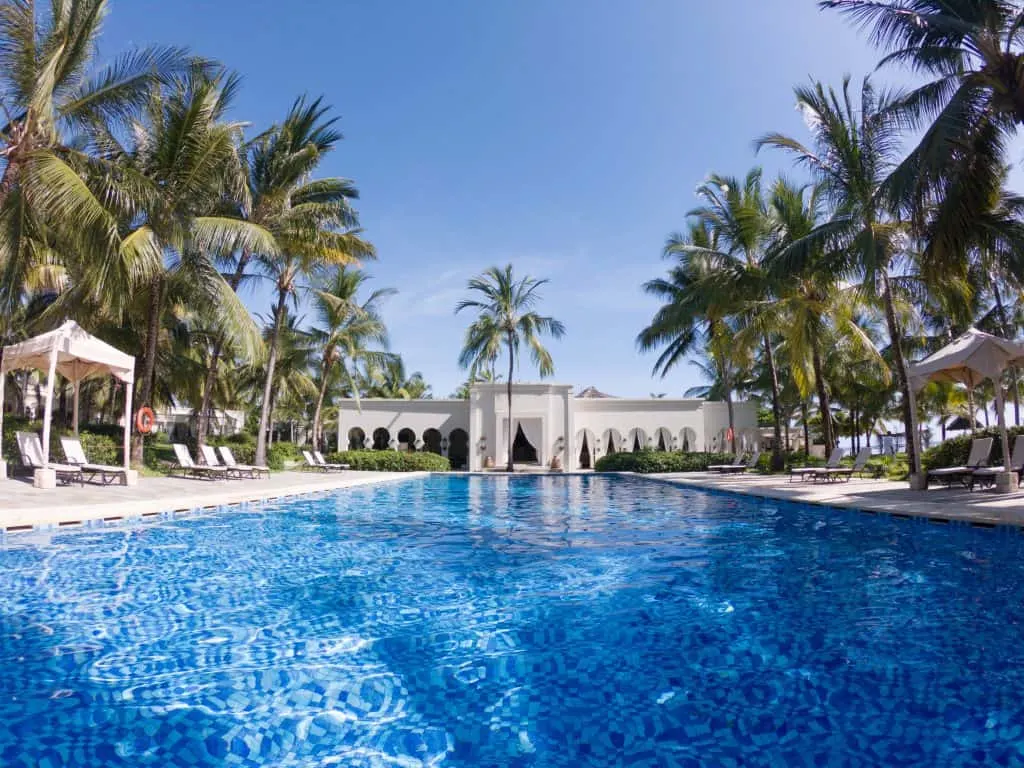 We were really In love with the decor, the arches, the brass ornaments, hand carved furniture and meticulously matched soft furnishings. It really was the ultimate luxury immersion in the culture.
The Villa
Each villa at Baraza Resort & Spa feels secluded and private. We stayed in a 2 bedroom sultan villa, it had tonnes of space for the four of us! Featuring a plunge pool, outdoor terrace, walk-in dress room, free standing bath, a sultan lounge and a living area, we were spoilt for room.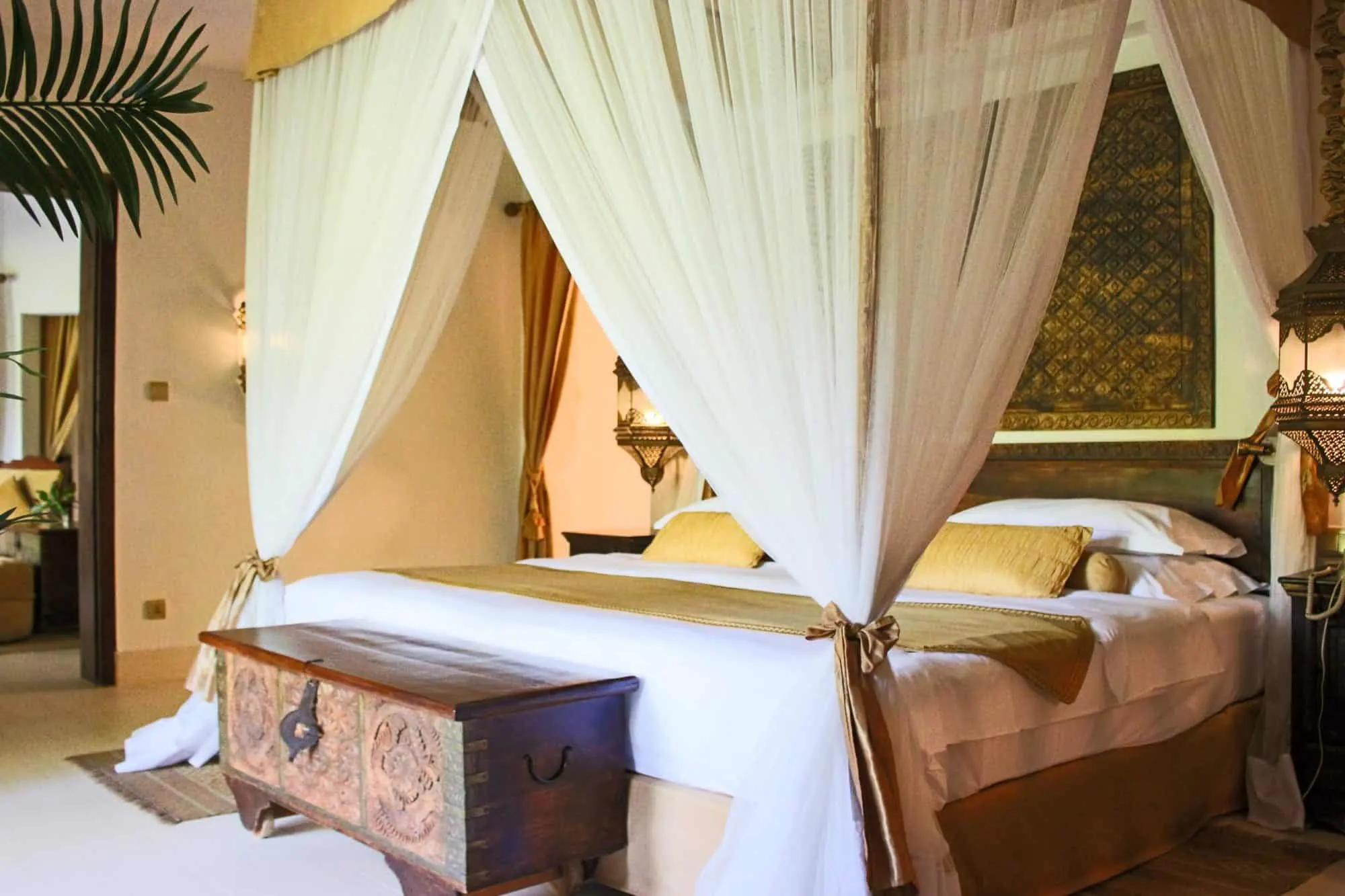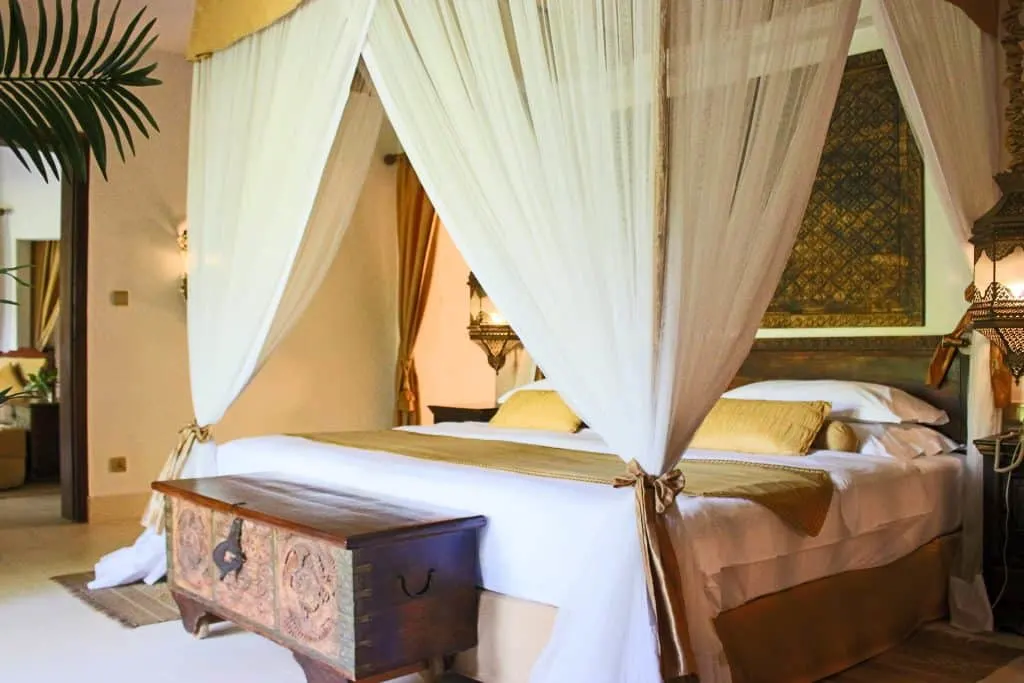 The mini bar was well stocked with plenty of items that were part of the all-inclusive rate. Our kids absolutely loved hanging out on the sultan bed, it was there 'go to' place when they just wanted to chill.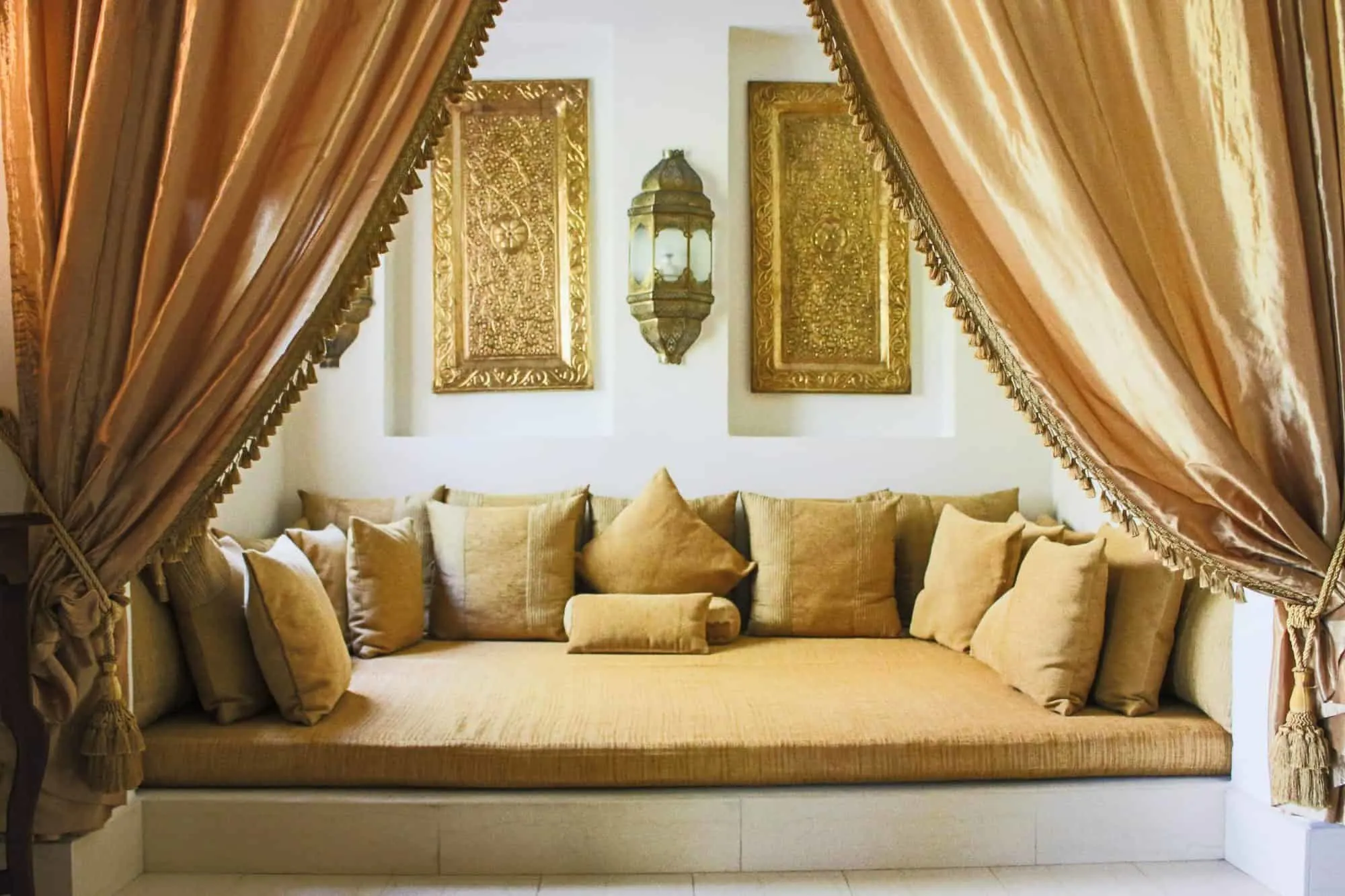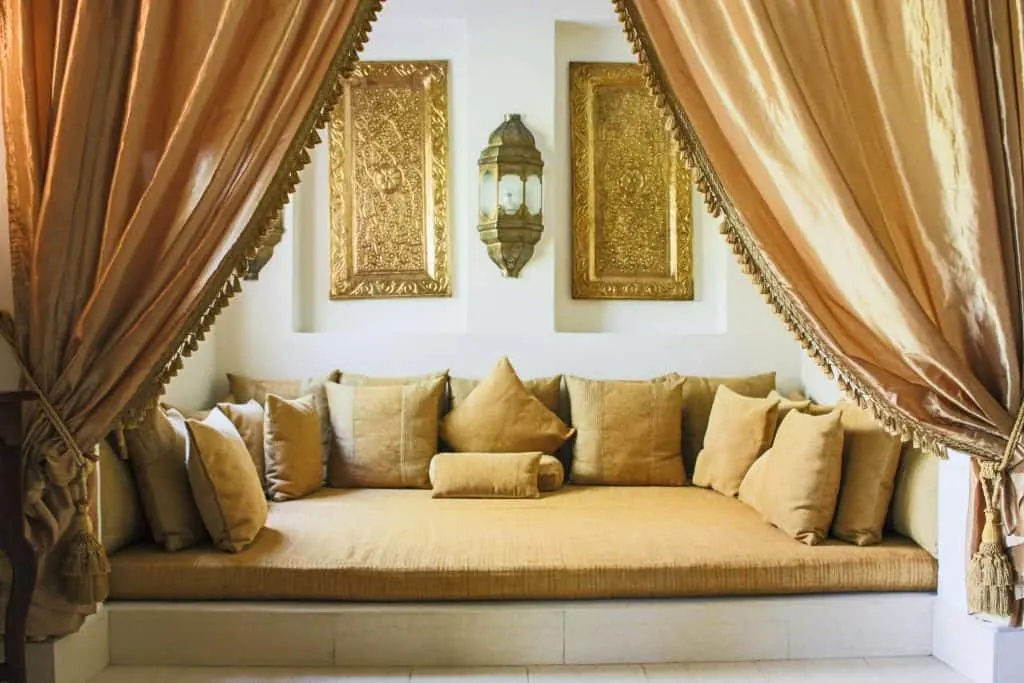 The bathroom was serious interior goals, with walk in shower, freestanding bath and double sinks, it was a family affair each evening before dinner!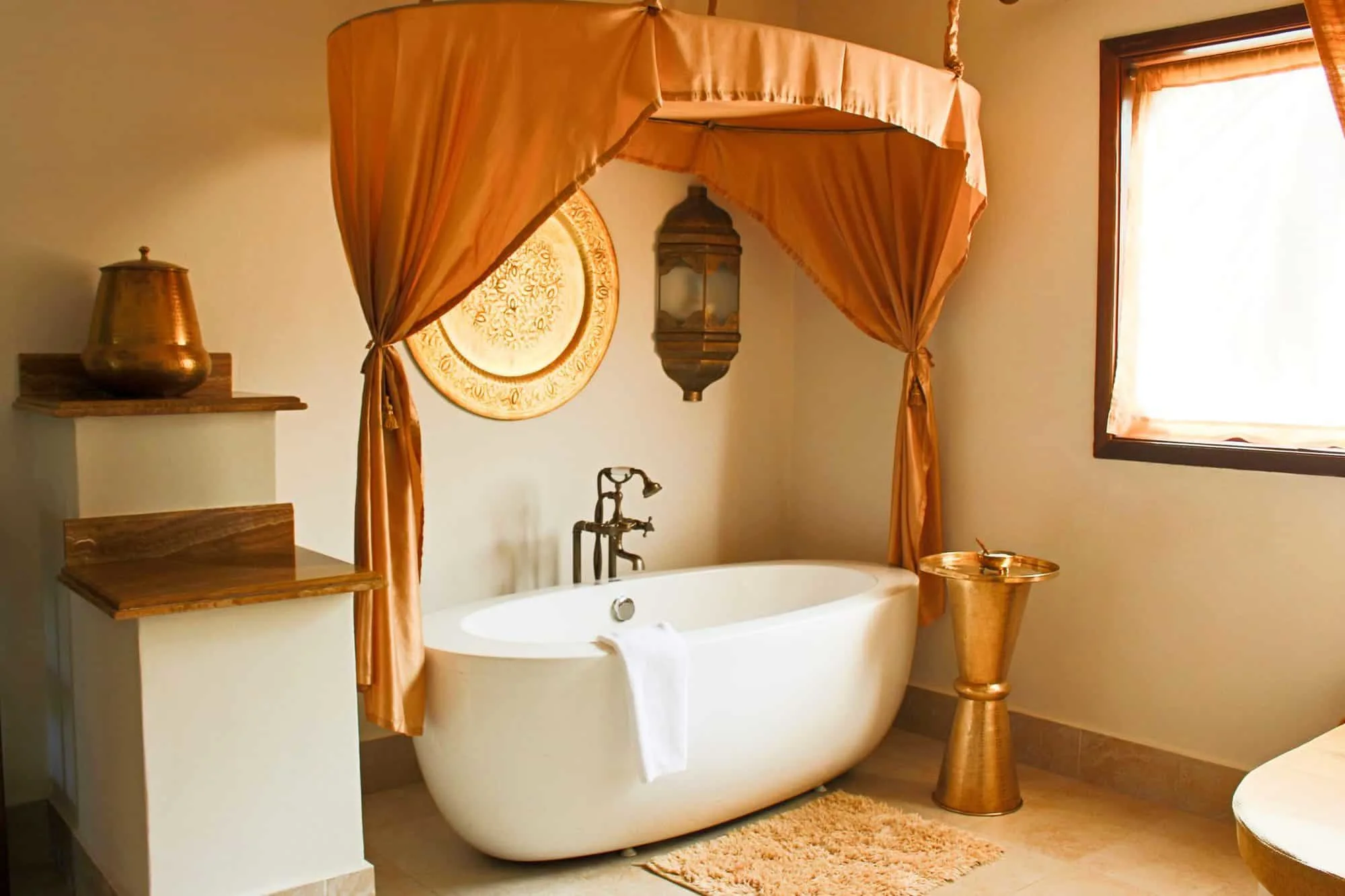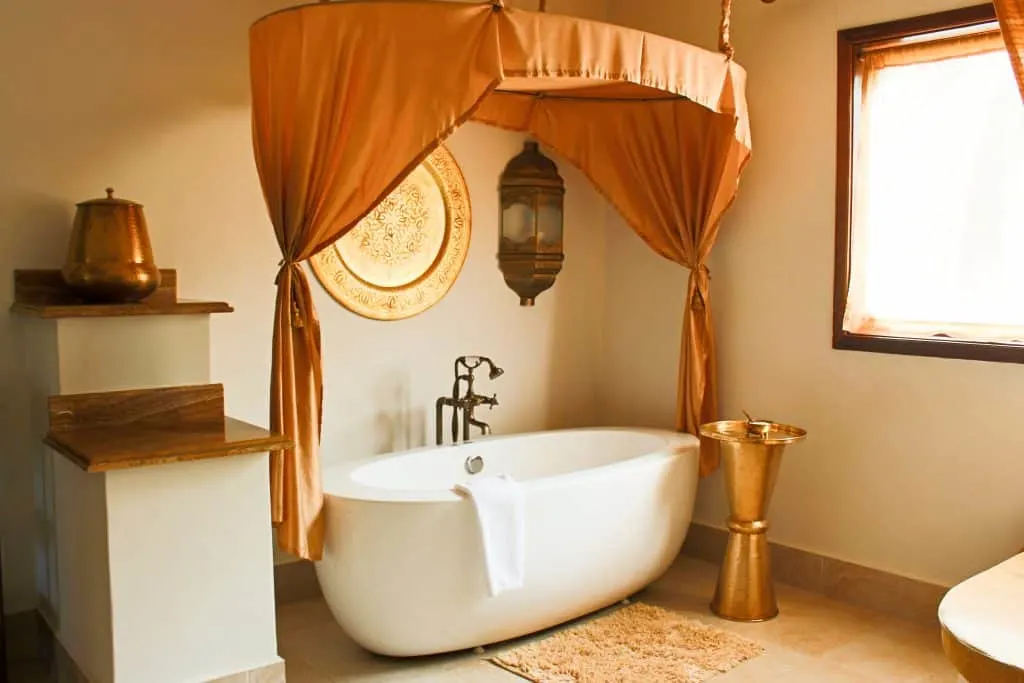 Restaurants & Dining at Baraza Resort & Spa
The resort had several different dining areas, one for breakfast, another for lunch and a third for dinner. We were never bored with the setting, that's fo sure. In the mornings there was an array of pastries. Not to mention fresh bread, warm breakfast items, yoghurts and so much more, we were spoilt for choice.
I felt like we all ate a lot at Baraza!! Our kids can be fussy! We are also vegan but we were spoilt for choice, that is rarely the case for us and it was so nice!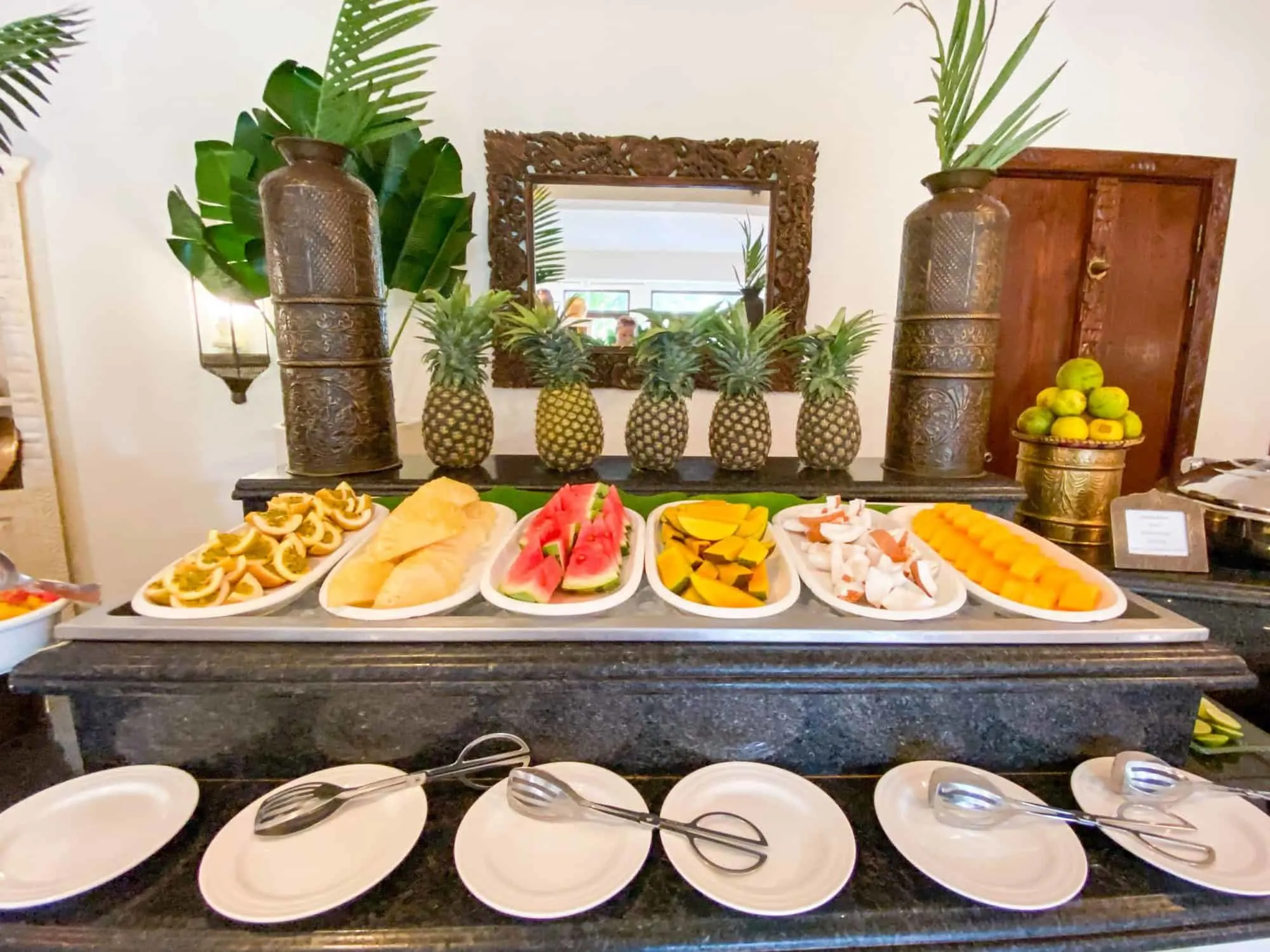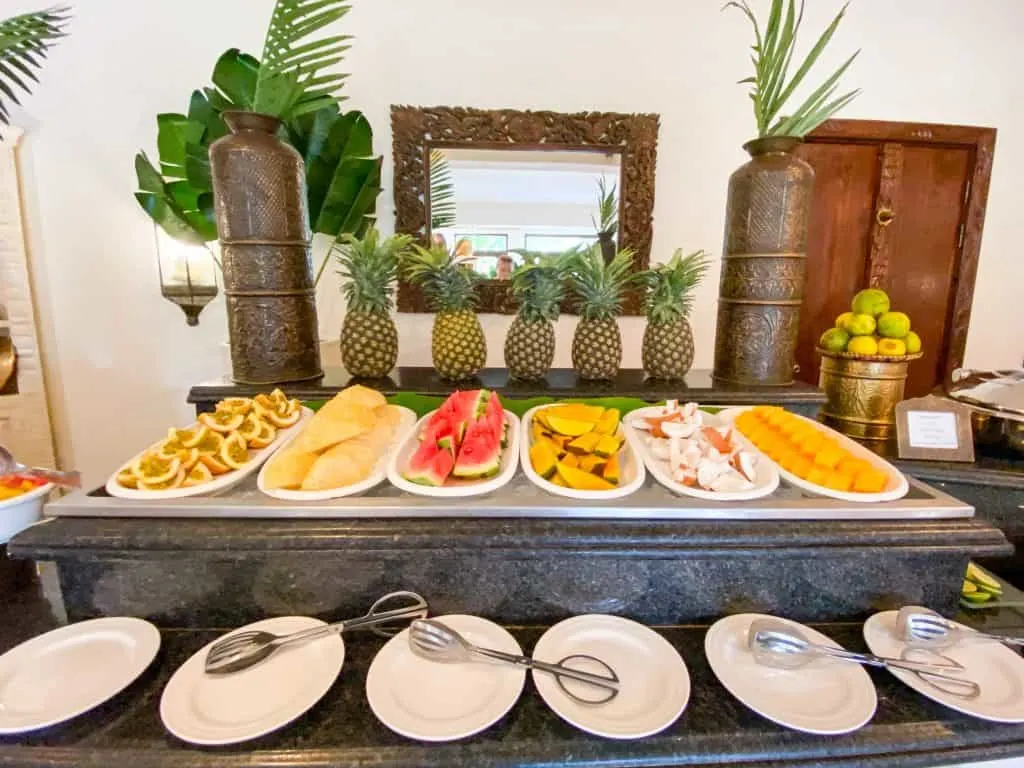 Lunch was also buffet and again with plenty of choice. I loved the Middle Eastern vibes, of fresh hummus, babagnoush, warm flat bread and amazing salad.
In the evenings we generally headed straight to the cocktail lounge for a sundowner before our evening meal. We loved the evenings, it was always different.
From 5 course meals one night, to an amazing Asian inspired buffet of sushi, pad Thai, spring rolls, curries and so on, we were always excited for dinner. Did I mention my kids are fussy? One thing for certain is they always found oodles of things they loved.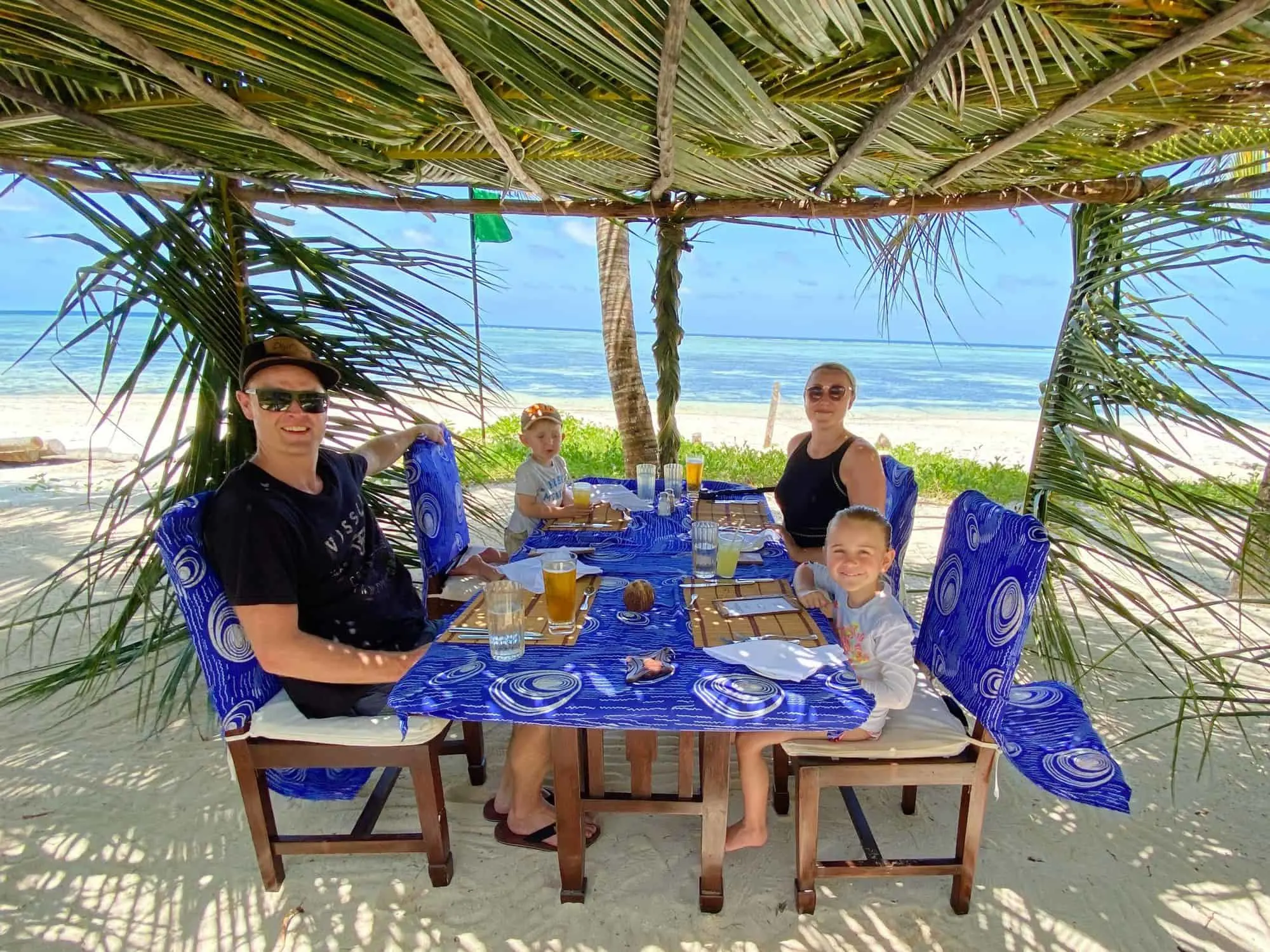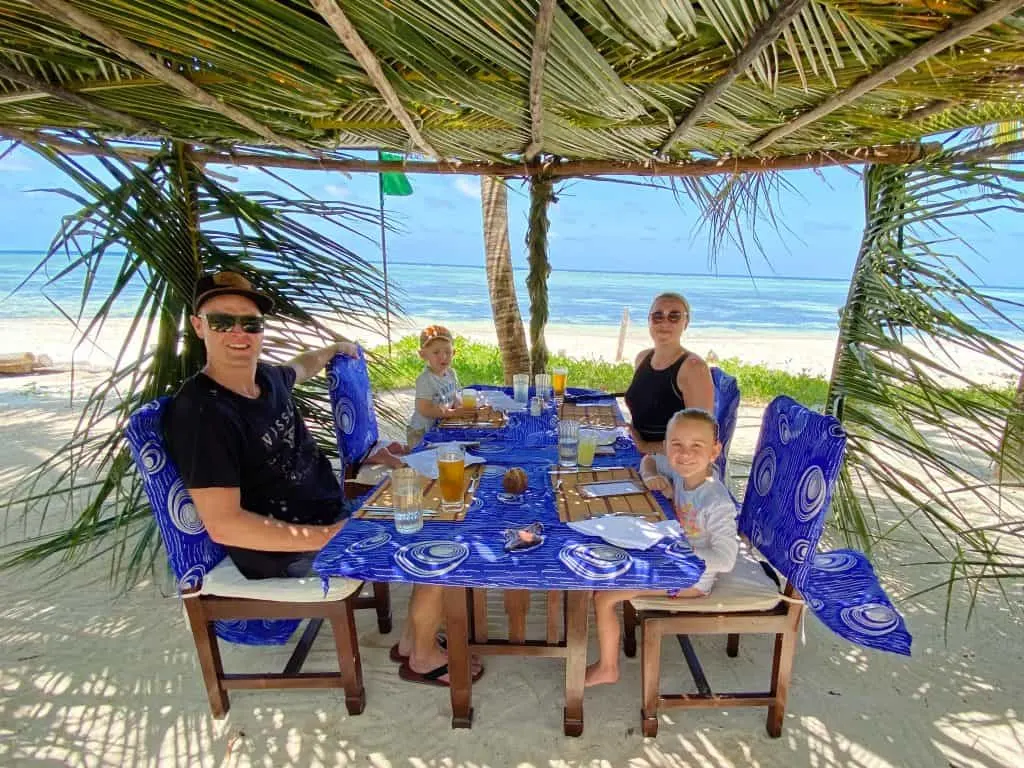 Facilites
There was so much going on in the resort. From tennis courts, to world class spa facilities, we hardly wanted to leave! There was a gym too that I would love to say I spent lots of time! However that would be a lie! Damn it, I always have such good intentions when I find a hotel gym.
Most of our time was spent hanging out by the main pool just footsteps away from the beach. We visited during half term! There were quite a few other families, our kids loved playing with all the other children.
It was lush lazing on the double day beds which were so ideal for our toddler to nap. All whilst his big sister was living it up with her friends! The beach was perfect for long walks, especially when the tide was out.
Zanzibar is an incredibly tidal island, which comes with beautiful coral reef. This creates the chance to have a unique walk on the beach. We discovered rock pools, finding beautiful shells and so much more.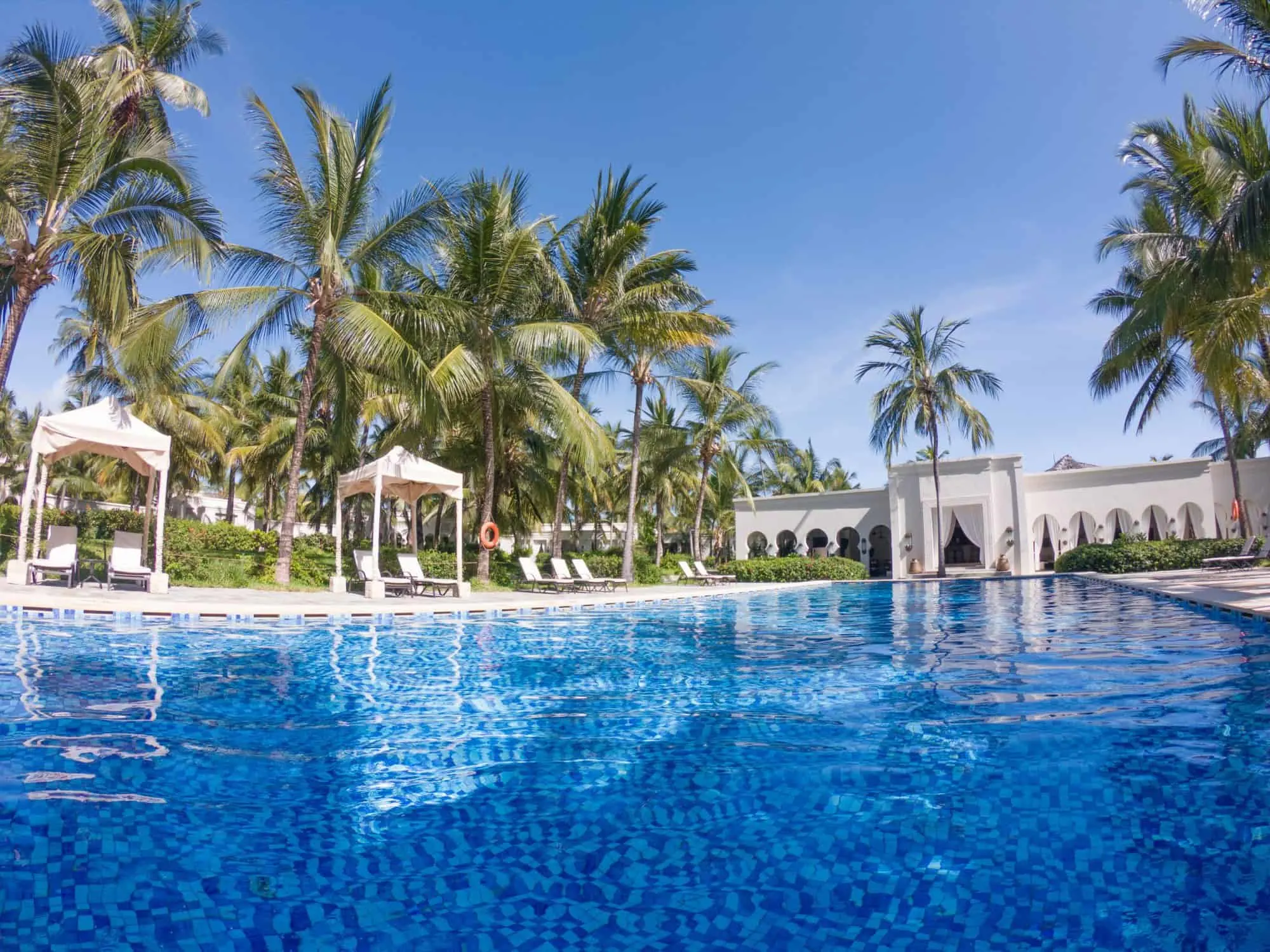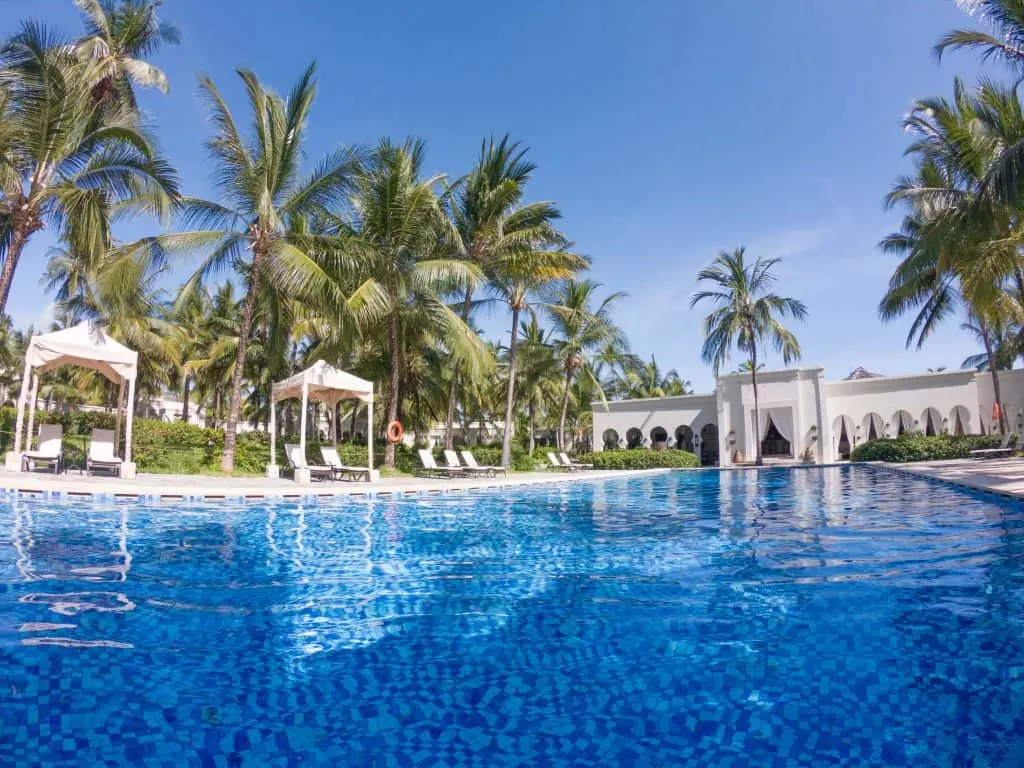 Massage
On the first evening we arrived, my hubby and I took turns having a massage at the incredible Frangipani Spa. Such a heavenly place with an internal swimming pool, sultan inspired rooms, lemon tea and refreshing cold flannels, I was immediately in heaven. The massage was incredible, literally the perfect start to our stay.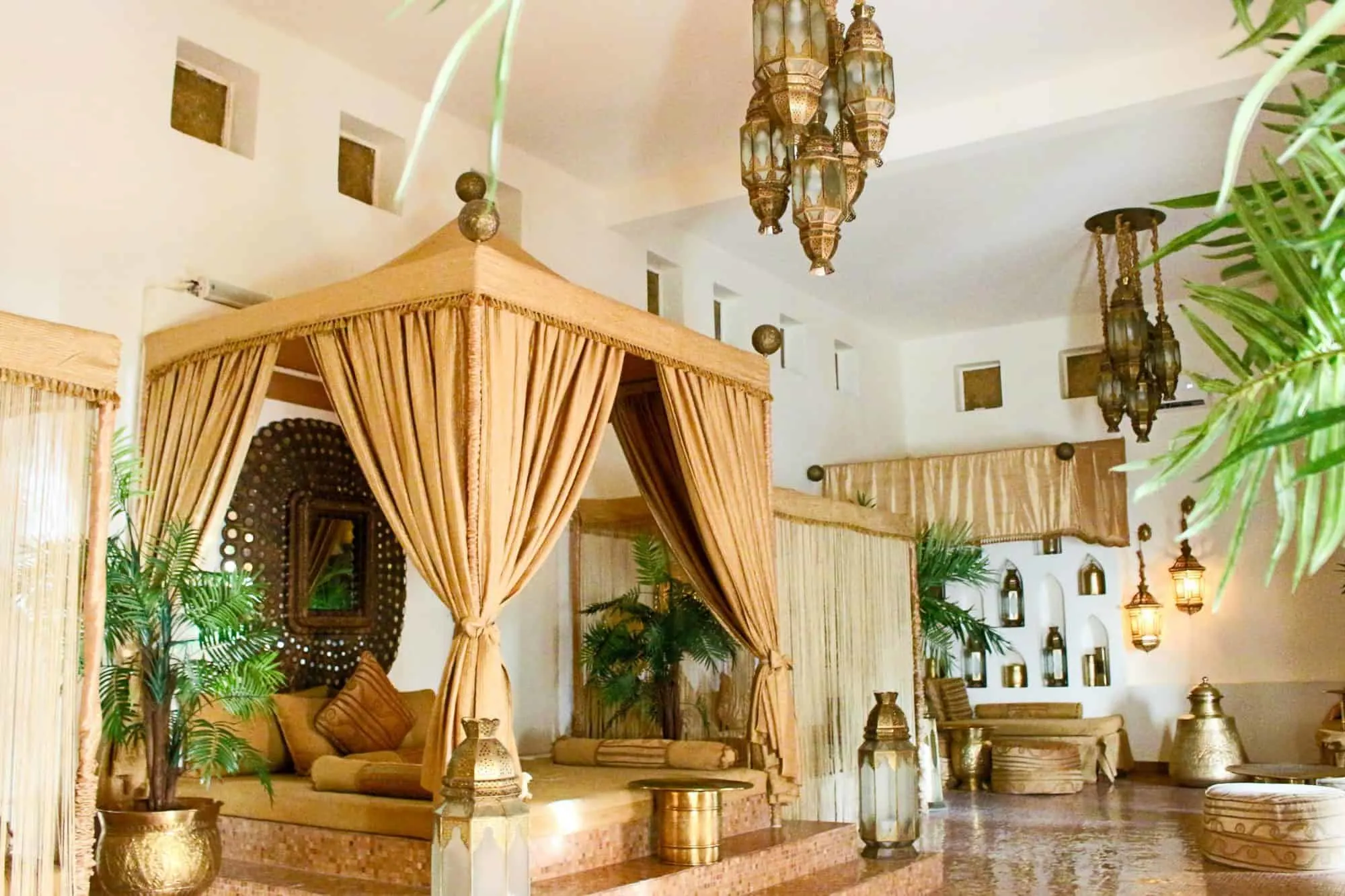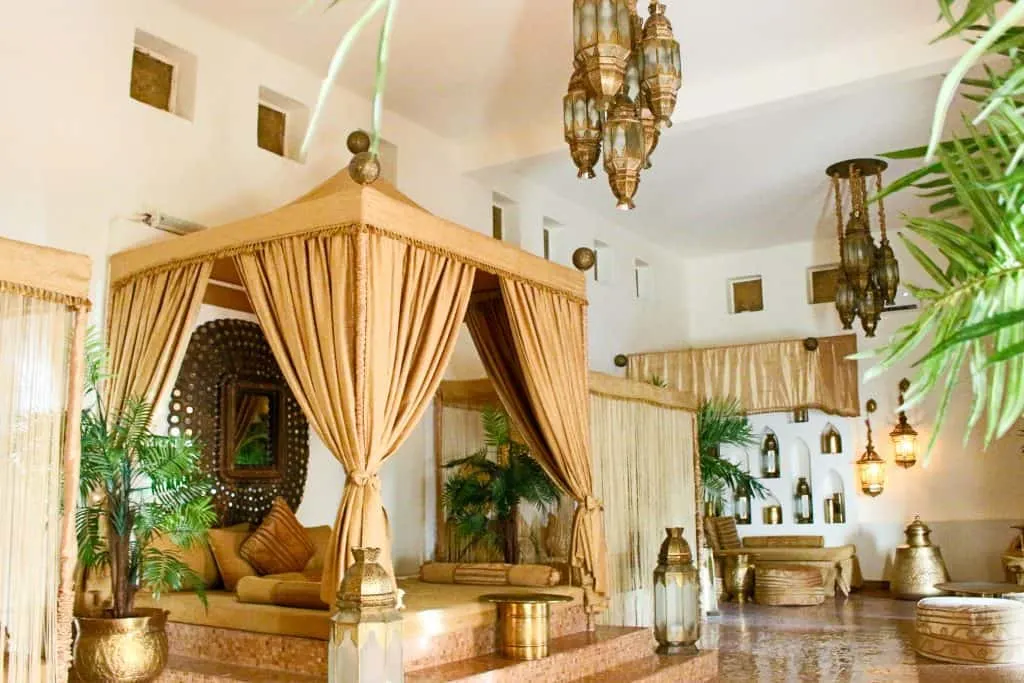 Whilst the adults were loving the spa, our little ones really enjoyed the kids club. The amount of toys and games was extensive, they could have played in there for hours.
It was the perfect antidote when I was struggling to get them out of the pool for a break from the sun. Offering to go to the kids club was the only thing they were willing to leave the pool for!
Excursions & Activities
Baraza Resort & Spa was amazing at arranging in-house activities. Our little girl loved the palm weaving session with the hotels gardener. He set up an area with towels right next to the beach where he taught her how to weave a bag with palm leaves.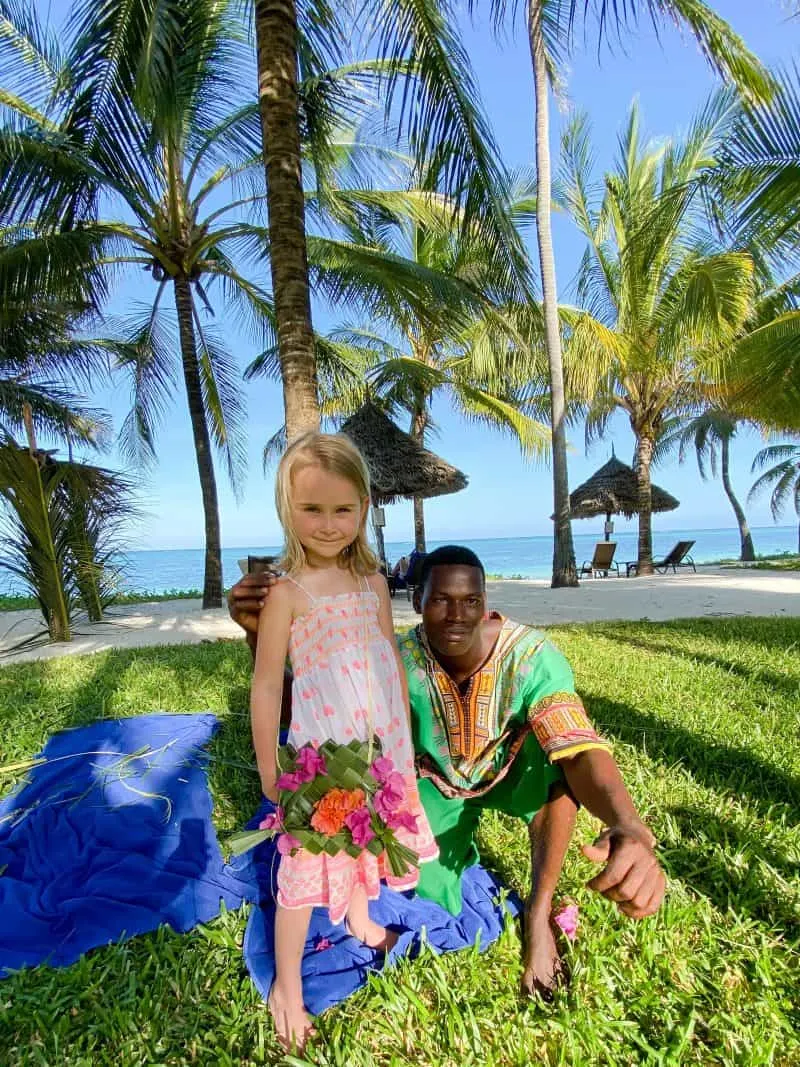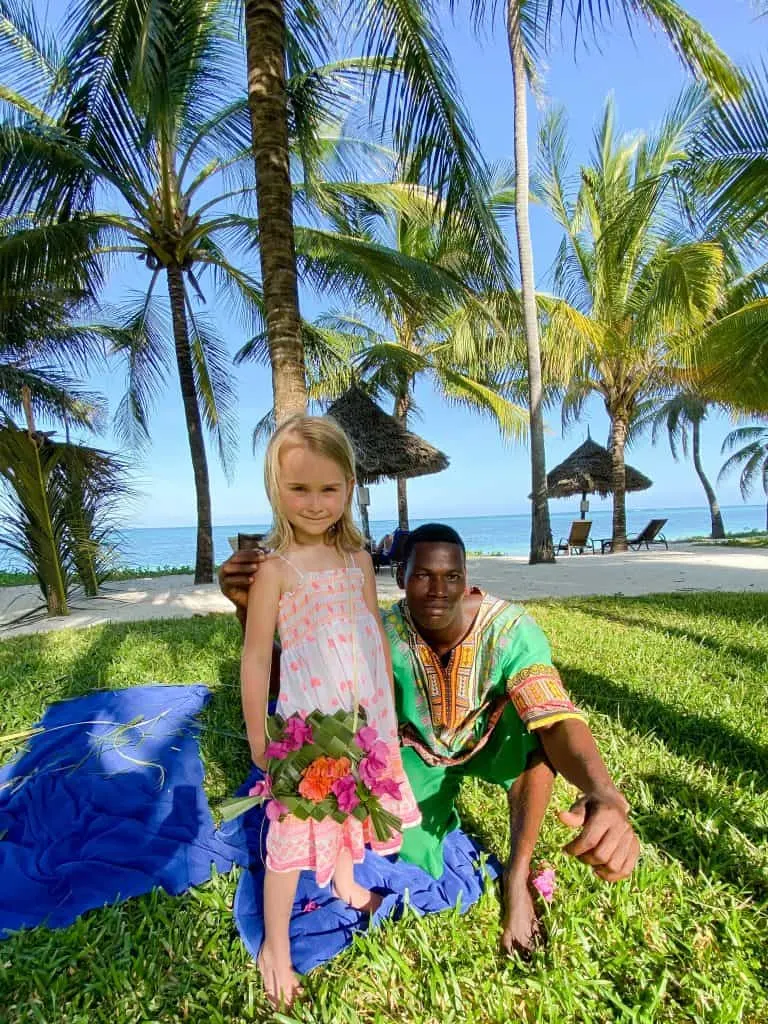 The guy even taught her how to count to 10 in Swahili. She really loved the session and I thought it was such a nice way to experience. She dipped into the culture with a local without having to go far.
Baraza Resort & Spa also has its very own catamaran. We went out around 3pm when it was full tide, we only had to get ourselves to the beach. The guide was amazing and taught us a little about sailing. Our kids were almost asleep from how relaxing it was!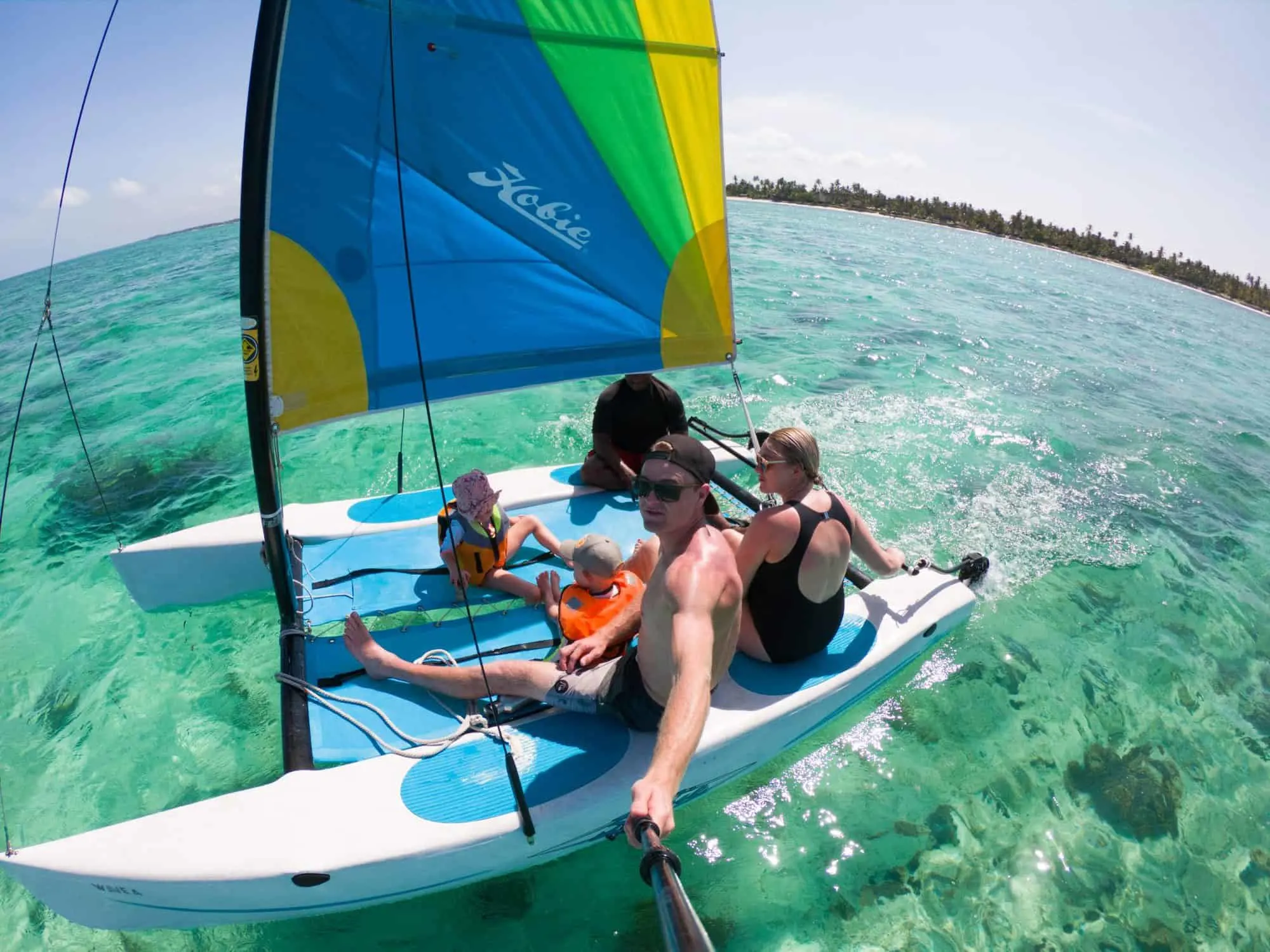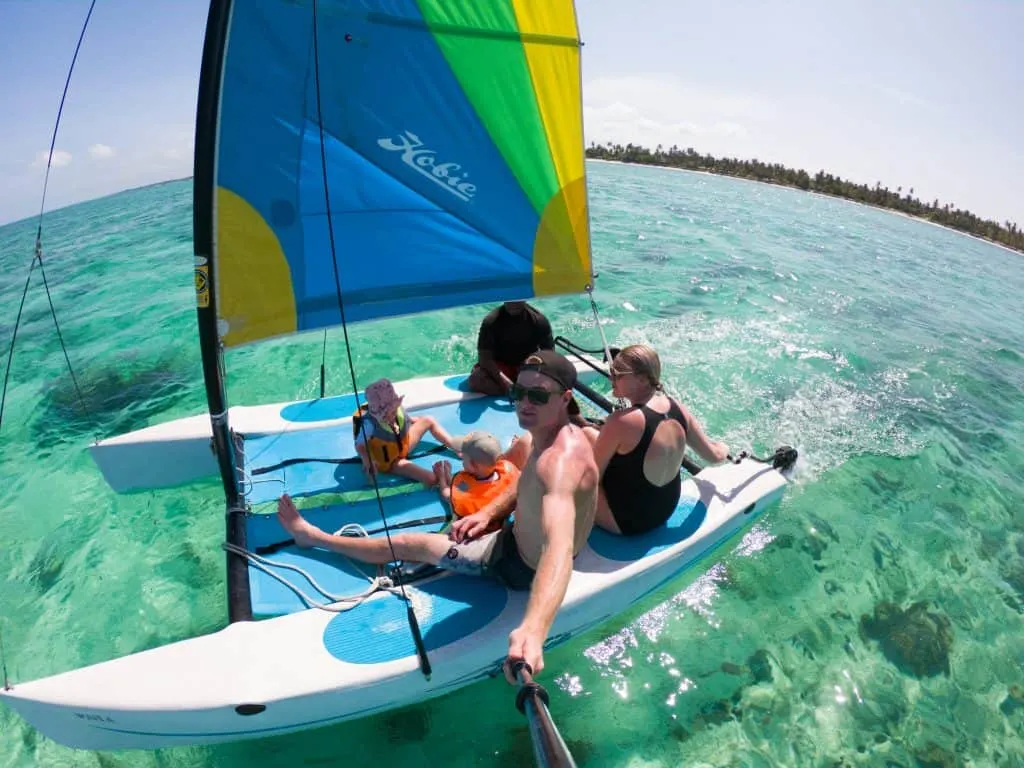 The water in Tanzania is like a bath, it is so warm, no wonder they were nearly asleep. The catamaran trip lasted around 40 minutes and we got to see a bit of the SE coastline. It was such a lovely afternoon activity.
If you prefer to be in the water rather than on a catamaran, Baraza Resort & Spa also offer a morning snorkelling excursion. They took us about 5 minutes away where there is a famous 'blue hole'. Needless to say the water was an incredible colour and the coral reef was pretty spectacular too.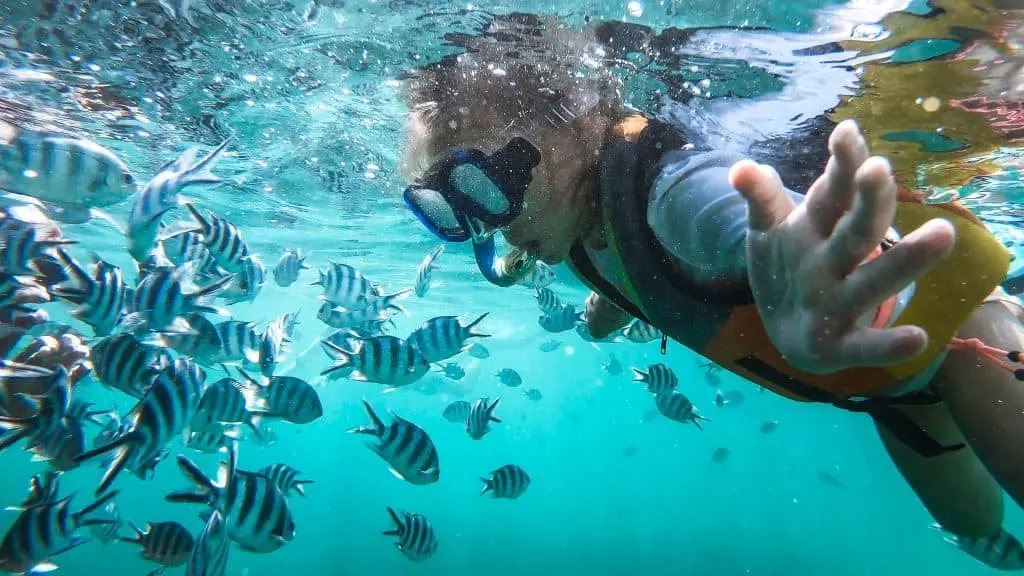 Snorkelling in Zanzibar
Our little girl loved the experience. They have all the gear for little ones, snorkels, flippers and life jackets, she simply couldn't get enough of it. The water wasn't too rough, so it was perfect for her to see the beautiful fish.
Although there was plenty of fish for her to see, Zanzibar marine life is being damaged from over fishing. We loved the fact Baraza Resort & Spa have their very own marine biologist. She is working with locals in trying to protect the reef and sea life.
If you like to dive they also offer diving excursions. With the kiddies, the snorkelling trip was perfect as it was just a couple of hours. They gave them a snack box of fresh cold fruits for the boat ride back! The staff think of absolutely everything to make It an enjoyable experience.
Another great in house activity was a cooking class with the chef. Again, Baraza were so thoughtful, they altered a local dish to a vegan alternative for Esmé to make. I definitely learned a thing or two as well! We spent a little while with the chef, learning how to make vegetable Kachori, a local dish.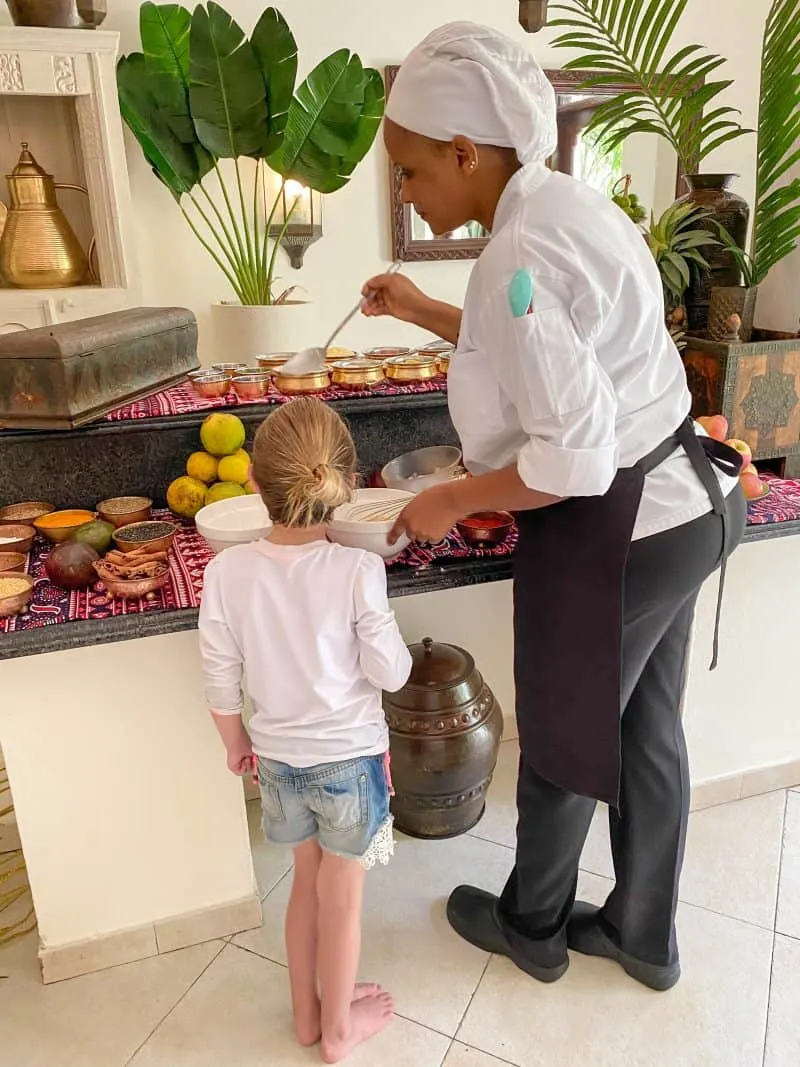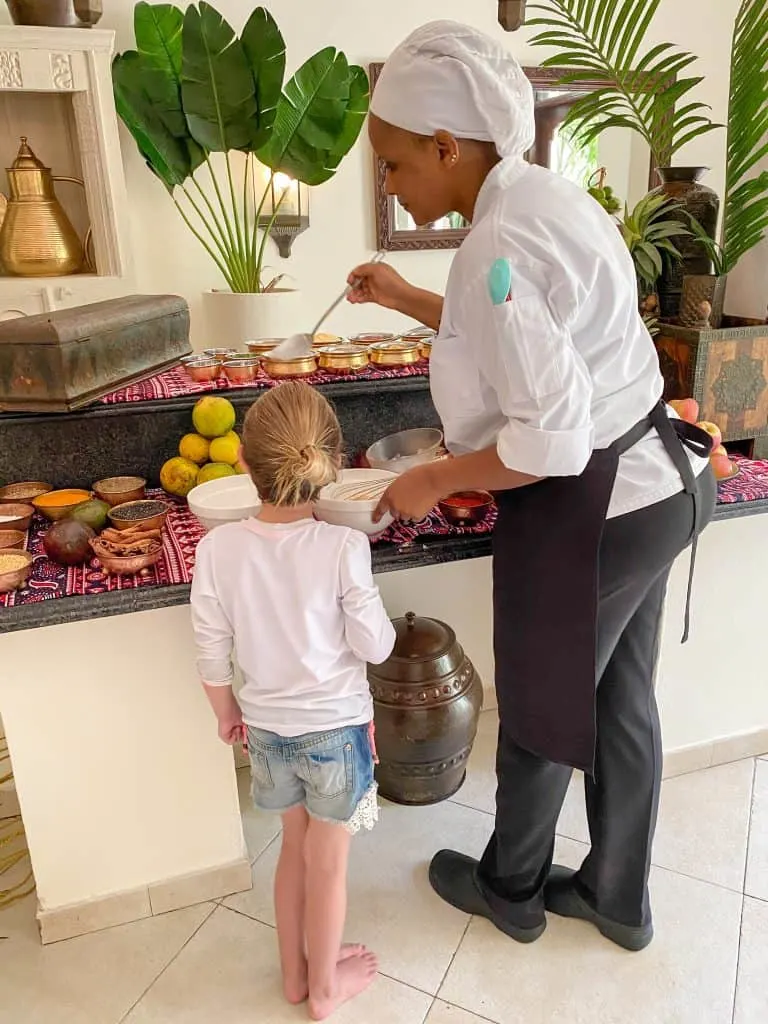 Zanzibar is well known as being the island where you can find every spice in the world. Needless to say Kachori had lots of flavour, it was lovely to discover so many flavours. They left the chilli out for the kids. They really enjoyed them as well, Esmé was proud of her master piece!
Stone Town
We couldn't leave Zanzibar without doing something other than living it up in the resort. Stone Town is the old part of Zanzibar City. Needless to say it has a great deal of history and culture. Audley Travel arranged our tour. It can also be tagged onto a morning at a spice farm to make it a full day excursion.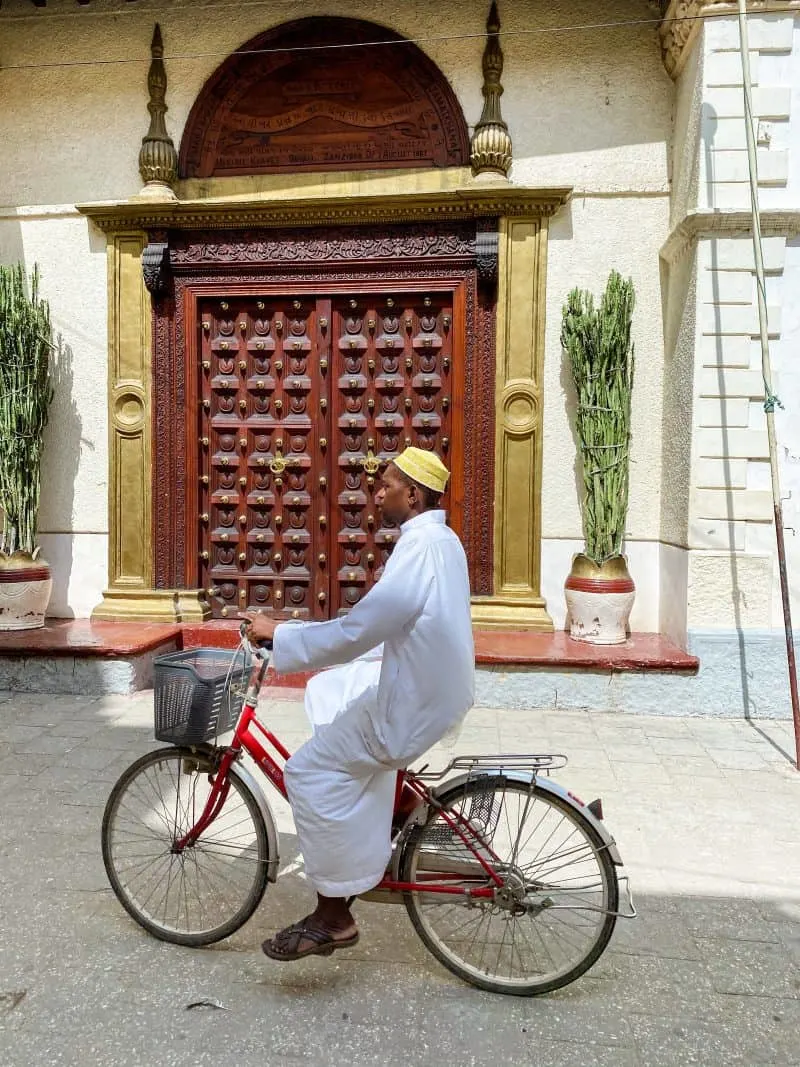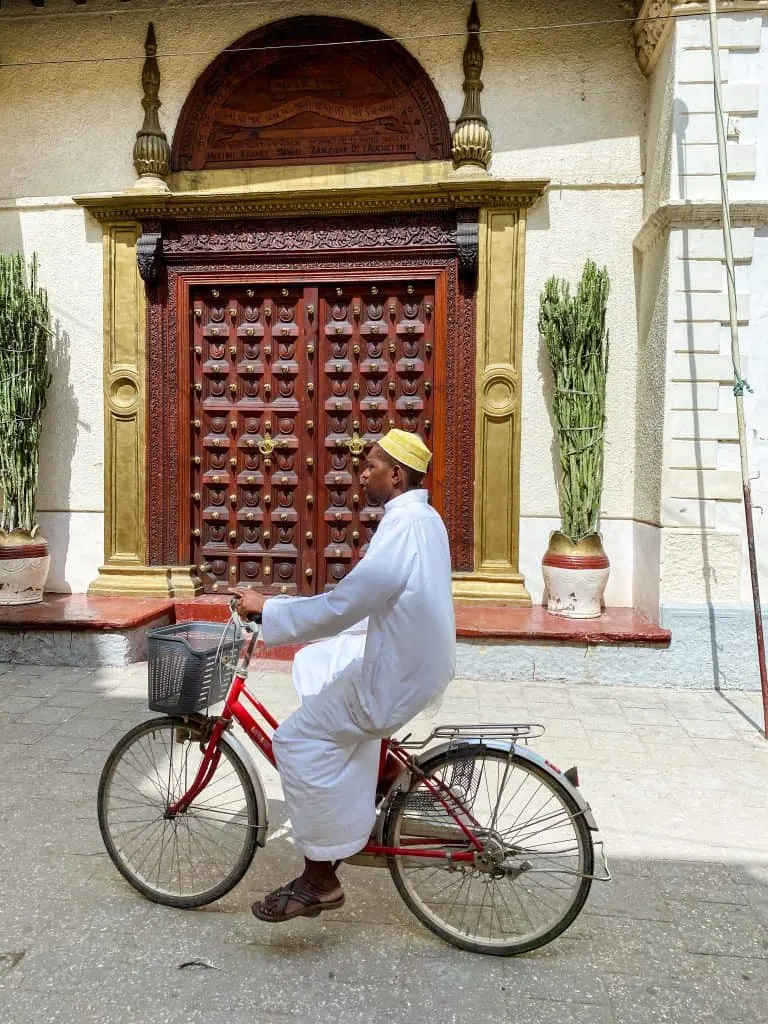 Stone Town is an interesting place and was previously colonised by the Omani' and Portuguese. There is also Indian, Germans and British influences before Tanganyika and Zanzibar became Tanzania.
With so many influences, Zanzibar is a melting pot of cultures, customs and traditions. We loved how you could read a lot from the doors around Stone Town. Our guide showed us how to identify Arab, Indian & Swahili homes, not to mention their social status, religion and profession.
Main City
Zanzibar was at the epicentre of slave trade until 1873 when its Slavery Market (now a museum) was shut down. It was a place where captive men, women and children who had walked thousands of miles chained together were sold off from caves.
We visited the museum with our kids and it was an eye opening sombre experience to say the least. After walking through and reading the history, we walked away with a final poignant point about modern day slavery and how prevalent it remains.
There is a lot more information and depth to the history that comes with the guided tour but the informaiton is an article in its own right. All I can say is our visit had a lasting effect on us and opened up conversations we haven't had with our kids before.
After the museum, we meandered through the streets admiring the beautiful art work, textiles, fabrics and so much more. We came across the house where Freddy Mercury was born, not to mention The House of Wonders, The Zanzibar Fort and the beautiful spice market.
Our guide took us to the roof top of Maru Maru hotel where we stopped for a cold drink in the shade. We got some stunning views over the city and could also see the port.
Overall, I can not recommend Zanzibar in general highly enough. We loved Baraza Resort and Spa. It is more on the pricey side but it's all inclusive meaning you don't need to spend a lot more once you are actually there.
If you have any questions, feel free to pop them in the comment below.
This post is sponsored by Audley Travel & The Zanzibar Collection.