We are big fans of adventure style travel, in particular, we absolutely love going on safari as a family. Over the last few years, we've been on several safari trips. From a self-drive in South Africa to a tailor-made trip to Kenya, we are so addicted! This time, we decided to do a Tanzania safari with kids.
We traveled to Tanzania with Audley Travel, they specialise in tailor-made trips for families.
We told them exactly what kind of things we like to do and this article is all about what they organised for us in Tanzania with kids.
Tanzania is the Mecca of safari with the vast planes of Serengeti, Mount Kilimanjaro National Park, Ngorongoro Crater (in the Ngorongoro conservation area) and so much more.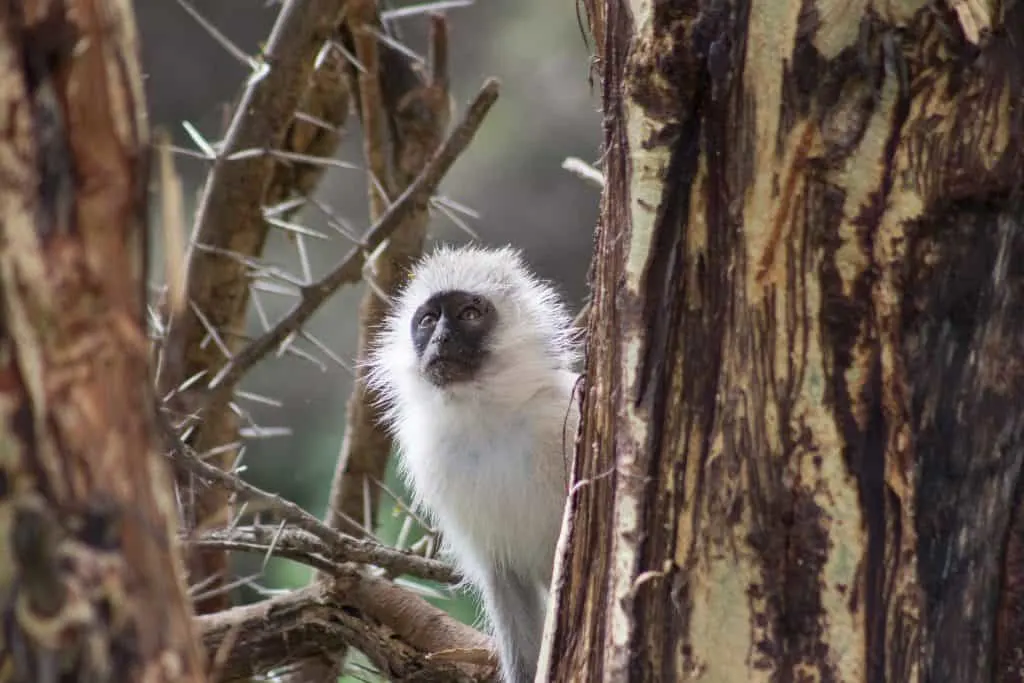 Tanzania For Kids
Wildlife is most densely populated in Tanzania compared to other African countries and the rest of the world – all the more reason to visit!
Situated in the East of the continent, Tanzania is home to Africa's largest mountain, Mt Kilimanjaro and the tropical haven, Zanzibar!
We spent 5 nights on safari across three areas in Tanzania with our two little ones.
Starting off in Arusha, we moved onto Manyara Lake National Park and Ngorongoro Crater Park. After a busy few days we flew onto Zanzibar in the Indian Ocean for some rest and relaxation.
We had so many incredible experiences, from getting up close with elephants and giraffe, to exploring banana plantations and markets, there is so many fun and enjoyable things to do.
Our guides from Wayo Africa were fabulous and took such great care of us, especially awesome with the kids.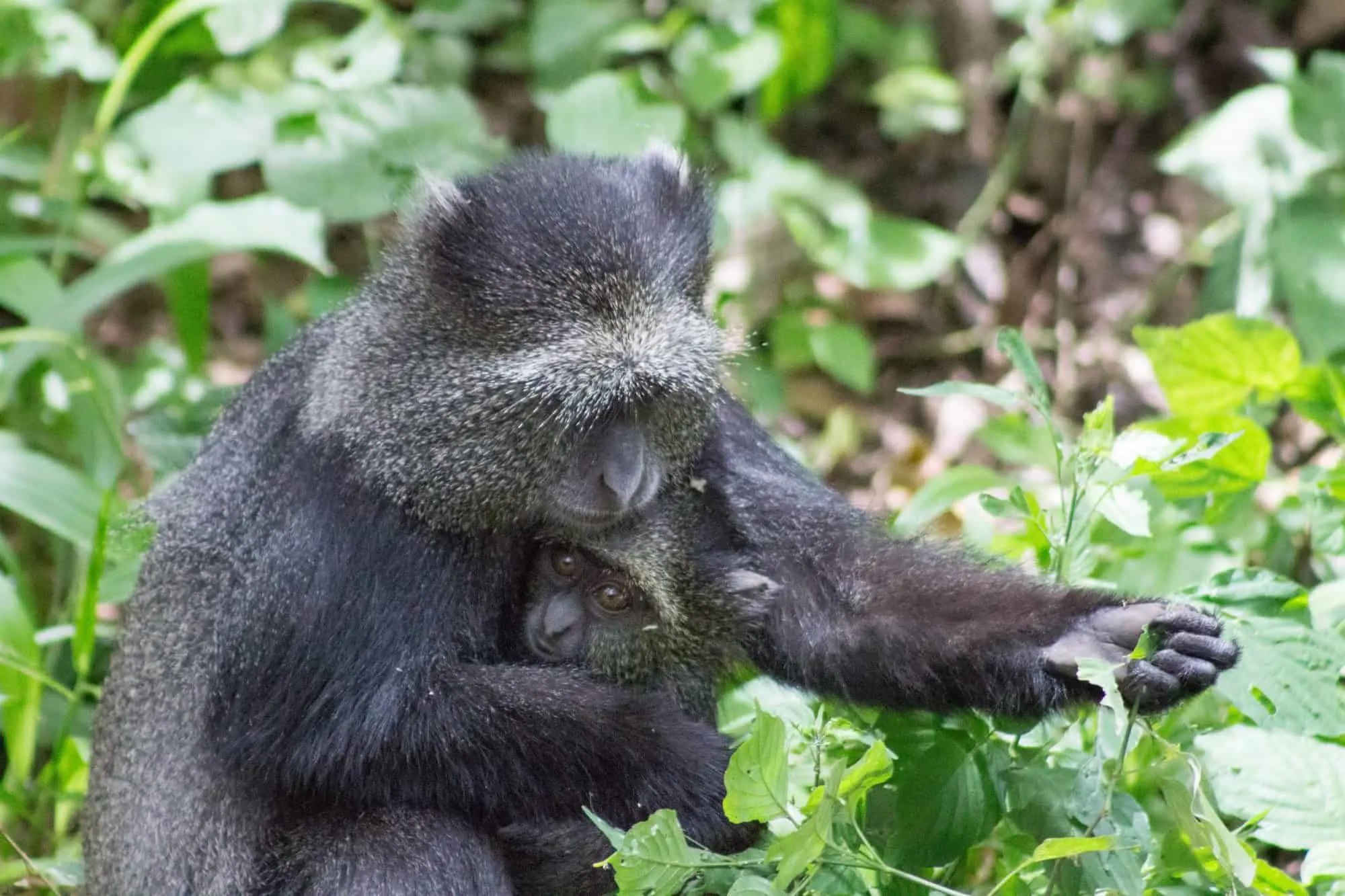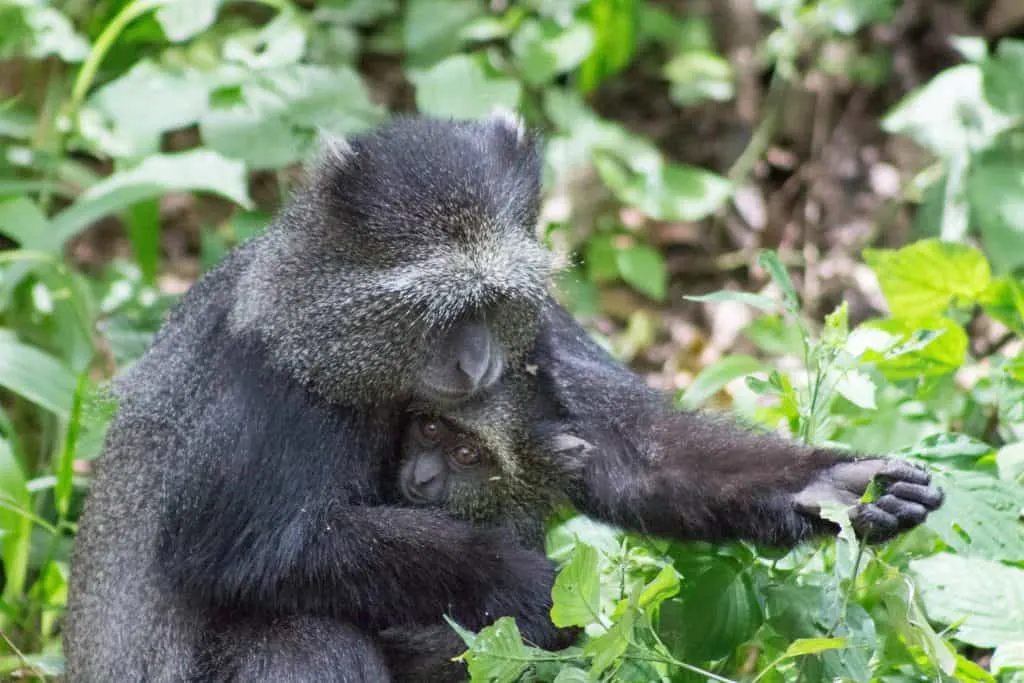 They were so considerate with their needs and we played everything hour by hour depending on how the kids were feeling. This was so helpful when it came to their enjoyment.
I do get a lot of people asking me if we really enjoy doing safari with kids and I have to say we love it. People also ask us what an appropriate age is for doing safari with little ones, as so many places don't accept younger families.
In my honest opinion this depends on the child and how much they are interested in wildlife. Our youngest Quinn is only 2 and a half and he absolutely loved it. It's all about setting yourself up on safari so they are kept interested.
This is why we loved Audley Travel and Wayo Africa, they planned the trip perfectly when it came to drive times, excursions, meals and so on. We were given a detailed itinerary with step by step information, down to finer details of things, such as how to quickly get a visa in the airport.
Is there anything worse than standing in a visa queue at an airport after a long journey? They gave us great tips such as advising us to sit close to the front of the plane on the inbound to Mt Kilamanjaro.
This allowed us to arrive at the visa desk first, cutting down what would have otherwise been a really long wait with two young kids. This is just one of many tips they gave us which really contributed to the whole trip running smoothly.
Here is a day by day overview of what we got up to on this incredible trip to Tanzania with kids!
Tanzania With Kids Itinerary
Day 1 – Arusha
We arrived from Doha to Mt Kilimanjaro International Airport which is ideally located as a gateway to the parks. It's safe to say we were tired after an overnight flight so were happy to see our guide from Wayo Africa waiting for us!
We were booked to stay in nearby Arusha for the night which was perfect after the overnight flight. It allowed us to adjust and prepare for our onward trip.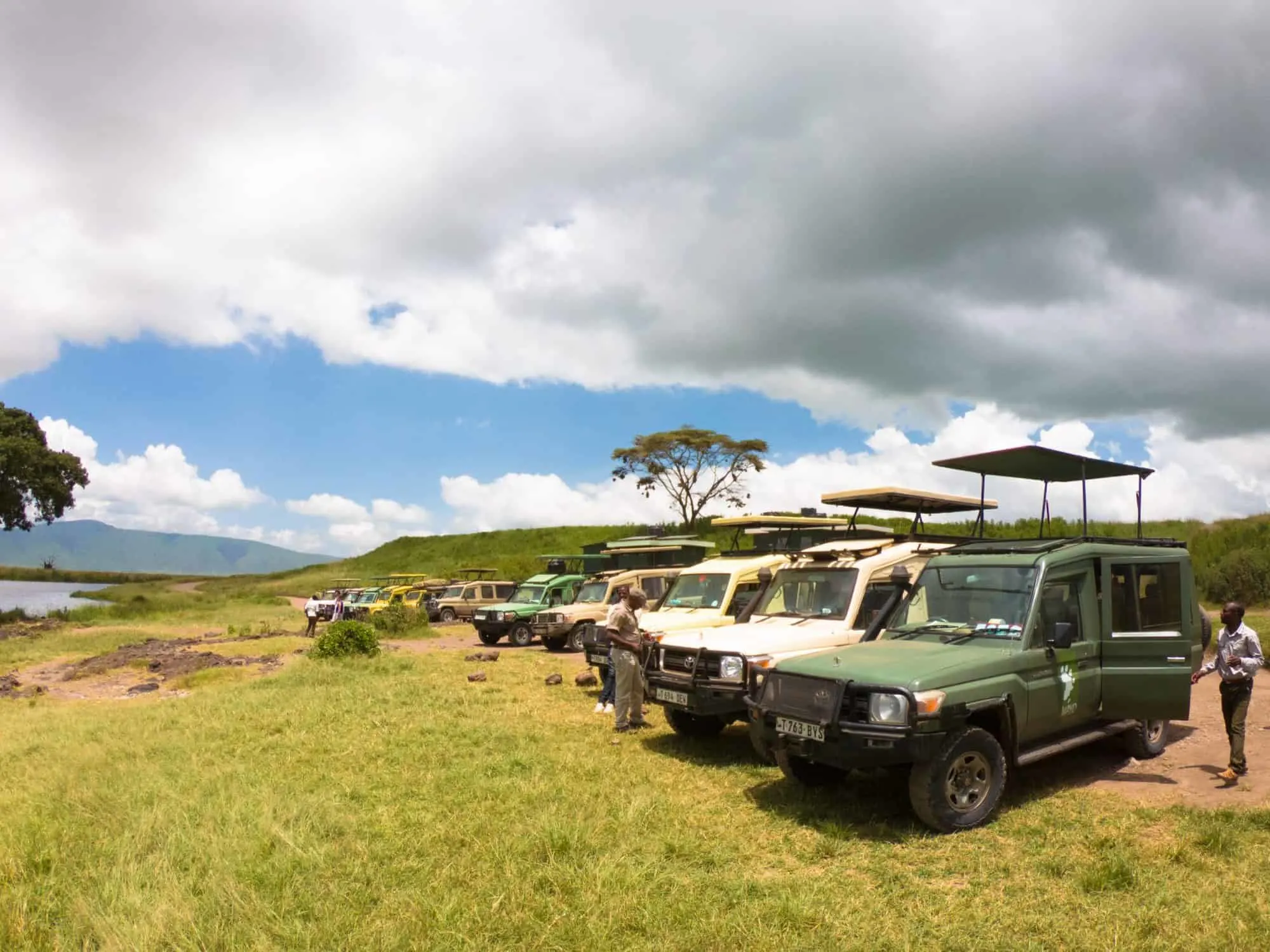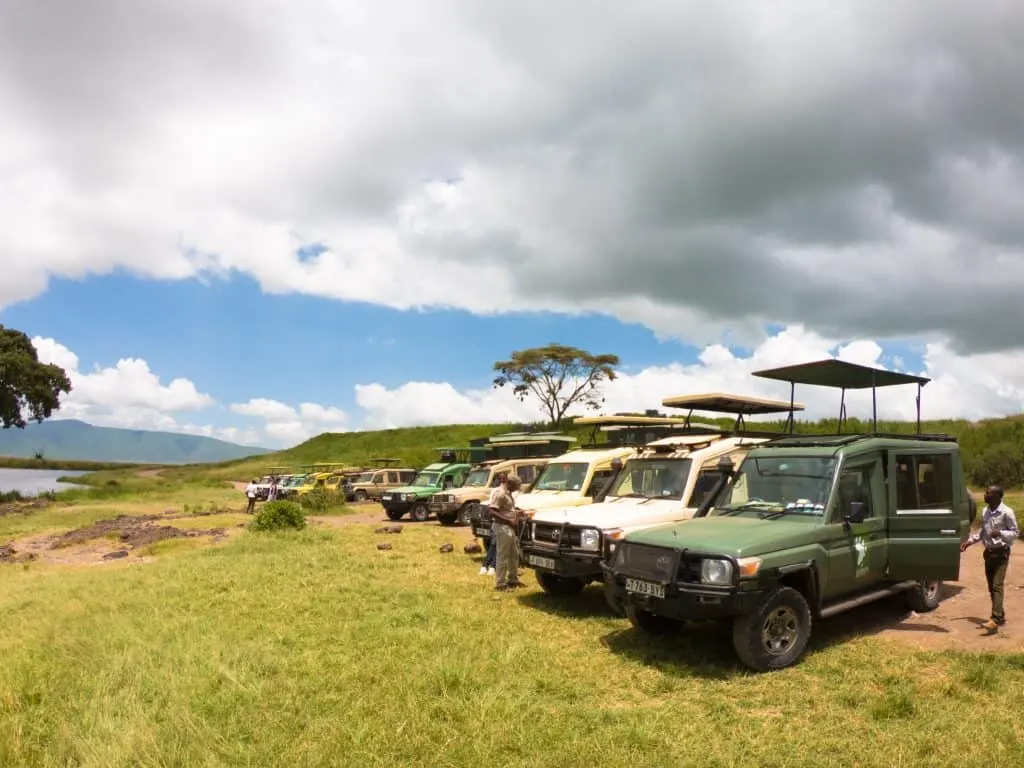 We stayed at Twiga Lodge, a colonial house owned by a British couple Erica and Paul. They were so welcoming and friendly and the entire experience was so personable.
The gardens were surrounded by hedges and could be viewed from the deck as well as the balcony of our room. Our kids loved running around jumping on the trampoline in the garden and taking turns on the swings hanging from the massive baobab tree.
It was so chilled sitting having a beer and letting the kids enjoy our first day in Tanzania freely! That evening, Erica made us a home cooked dinner, we all sat and ate together as if we were at a friends house.
They told us stories of their experience of living in Tanzania and shared so many awesome tales of wildlife passing through their garden, we were in awe!
We loved the personal touch and the family friendliness of the place, it was simply the perfect start to the trip. My personal favourite was our bedroom balcony with views of Mt Meru!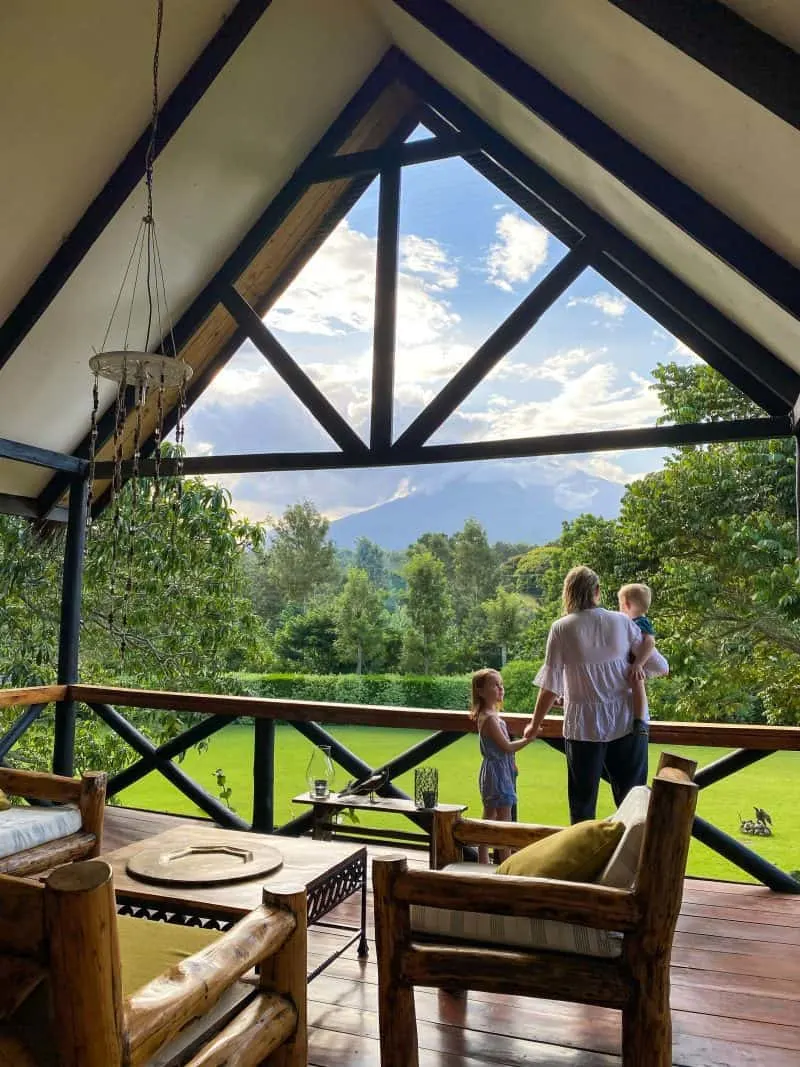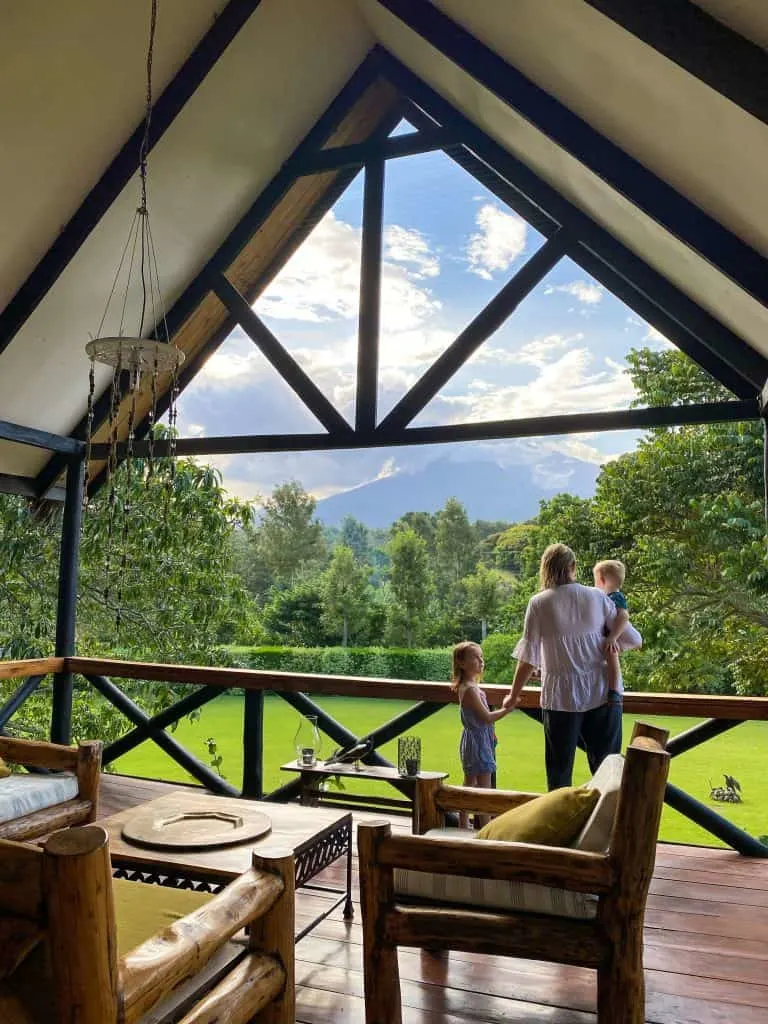 It was perfectly framed with the exposed beams of the roof, I could have sat there for hours watching the kids play and listening to the birds chirping and the monkeys howling.
Our ensuite room in the main house had bunk beds and a double bed across two floors, ideal for a young family. If you prefer to stay on at your first destination a little bit longer, Arusha National Park is close by for a game drive.
Tanzania Family Safari
Day 2 – Lake Manyara National Park
The next day we packed up our things, had a yummy breakfast of fresh fruits and home baked bread with avocado, oh and seriously amazing local coffee! Our guide from Wayo Africa (Ben) who was with us for five days was waiting for us.
We set off to Lake Manyara National Park. The drive from Rivertrees is around 2.5hrs to reach the entrance of the park, however we passed through such amazing and unique landscapes, we hardly felt the drive.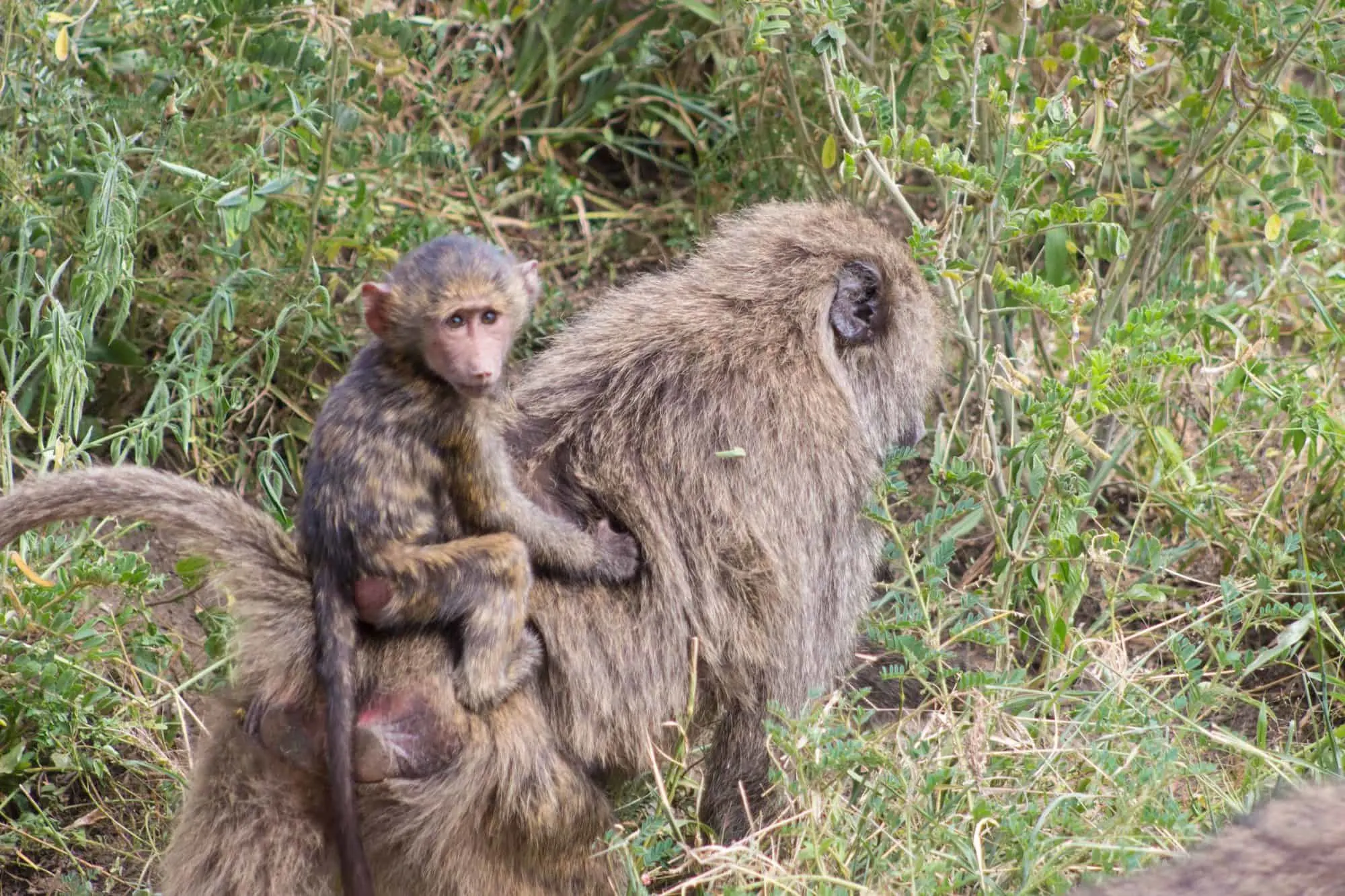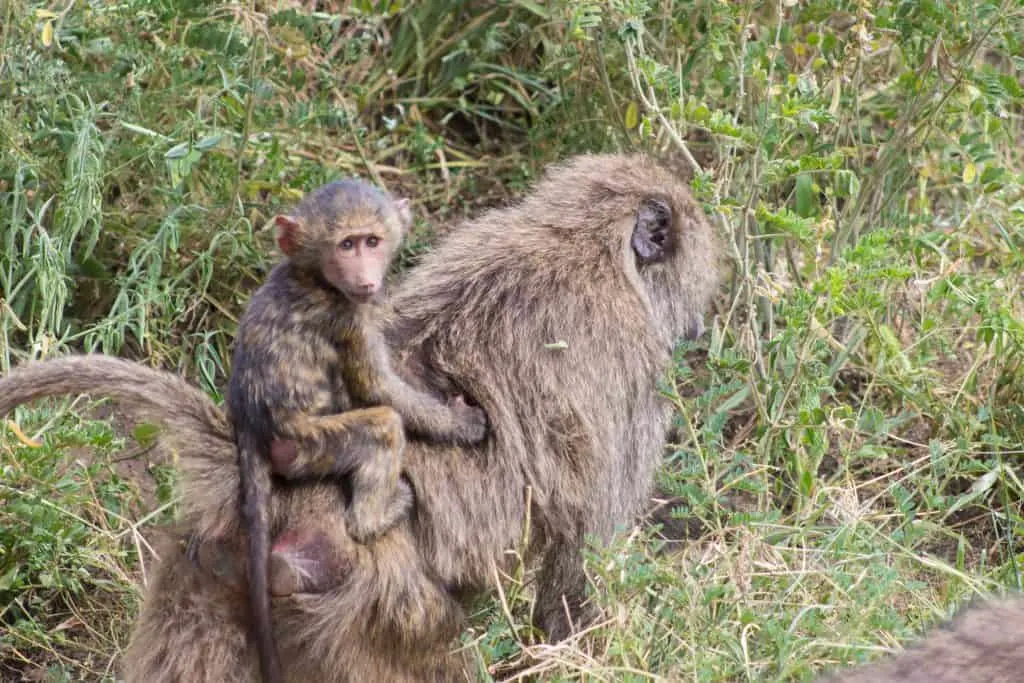 Our Wayo Africa safari truck was comfortable, it had a fridge and charging points for devices, phones and cameras and plenty of snacks too.
On the drive, we past through colourful towns with vibrant life, Maasai settlements and so much more. The great thing about having a guide was the fact we built up a relationship with Ben over the 5 days, he was fantastics and the kids loved him.
He was also super knowledgeable so we all learned a tonne from him. He got to know what we were interested in and could tailor all of his information to what we wanted.
When we arrived at Lake Manyara National Park our guide was arranging entry whilst we were watching the baboons swinging in the trees nearby. Our camp for the night was about an hours drive into the park, but of course we saw so much wildlife from the minute we got inside the gate, we were happy to delay things!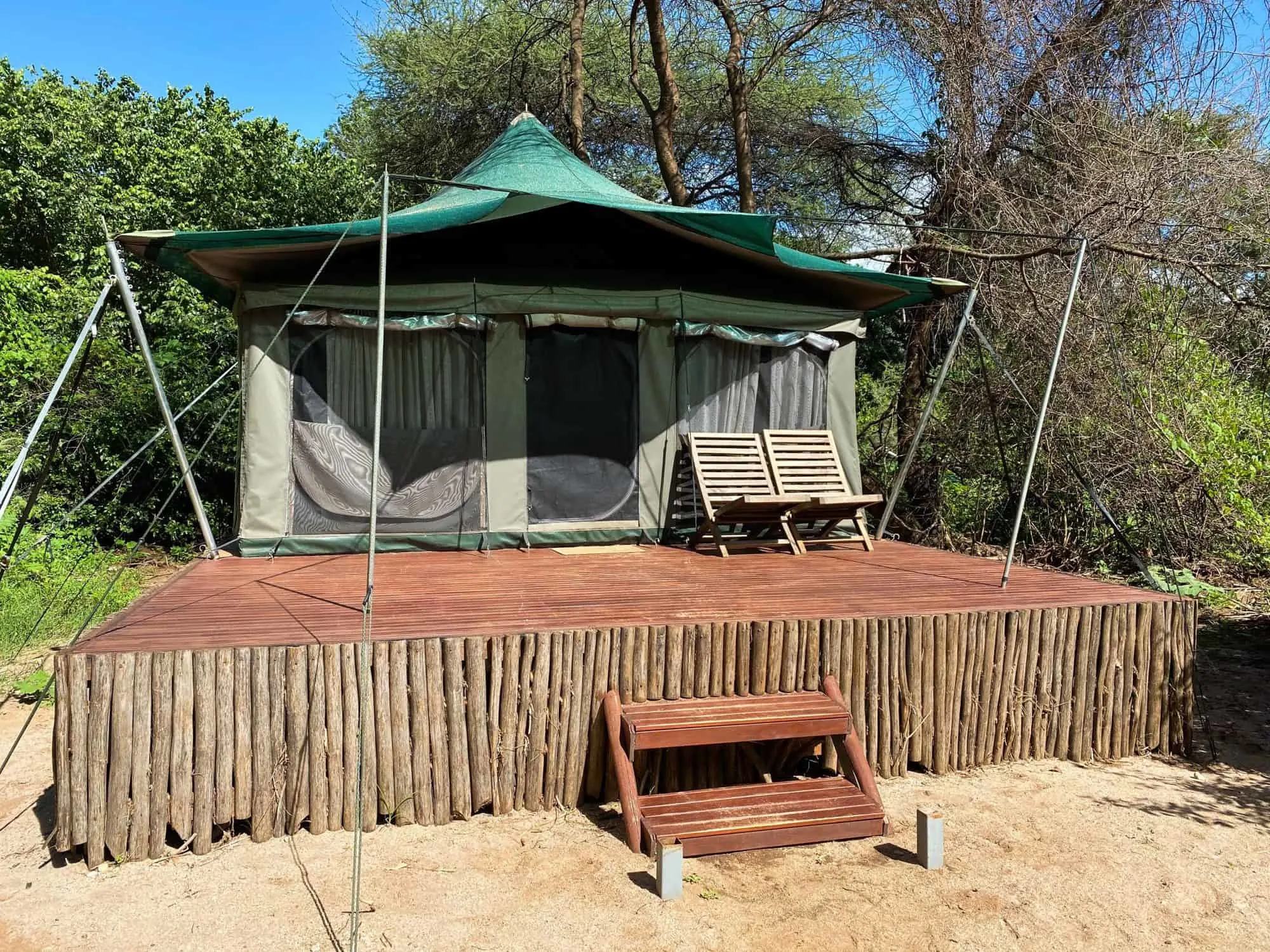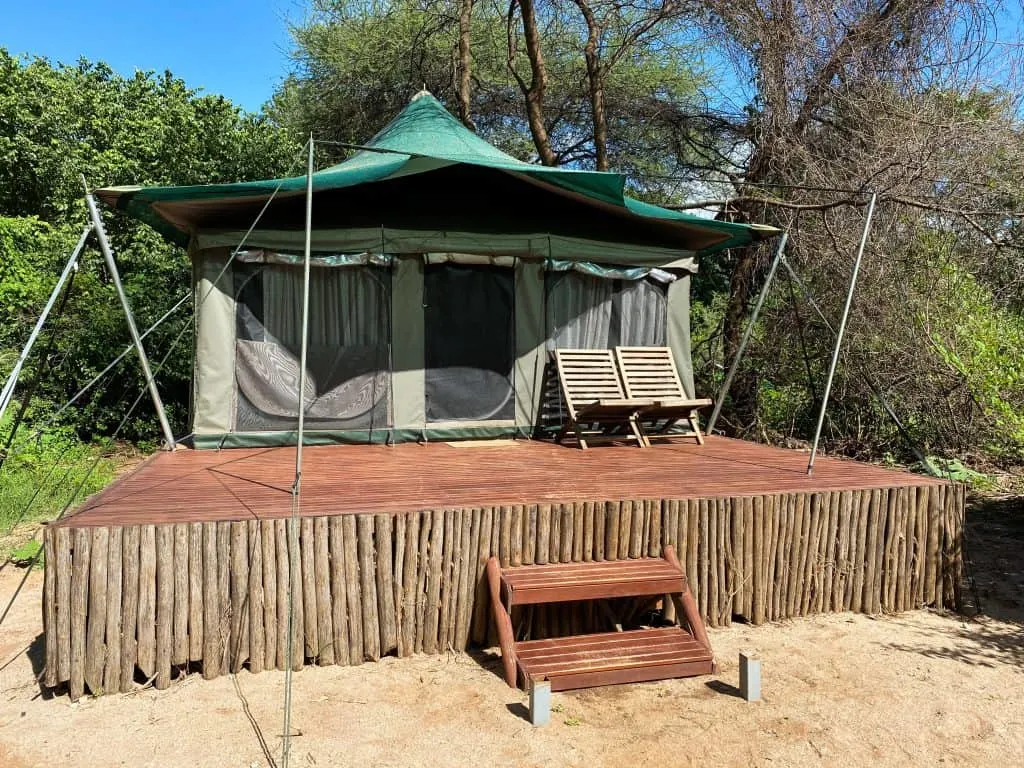 When you first arrive into the park, it's like a tropical forest, the landscape slowly changes as you drive through to bush where you are more likely to see different animals. Just on passing through to the camp, we saw a herd of elephants, giraffe, zebra, dik diks, buffalo and wilder-beast.
We stayed at The Green Camp in Manyara, it's owned by Wayo Africa who was also our guide for the trip. The camp is based on the banks of the river that runs through the park.
The camp is completely eco, everything is solar powered, they have a no plastic policy and water is used responsibly. I couldn't get over the location, how close it is to a beautiful waterfall where you can watch wildlife quench their thirst, bath, swim and play.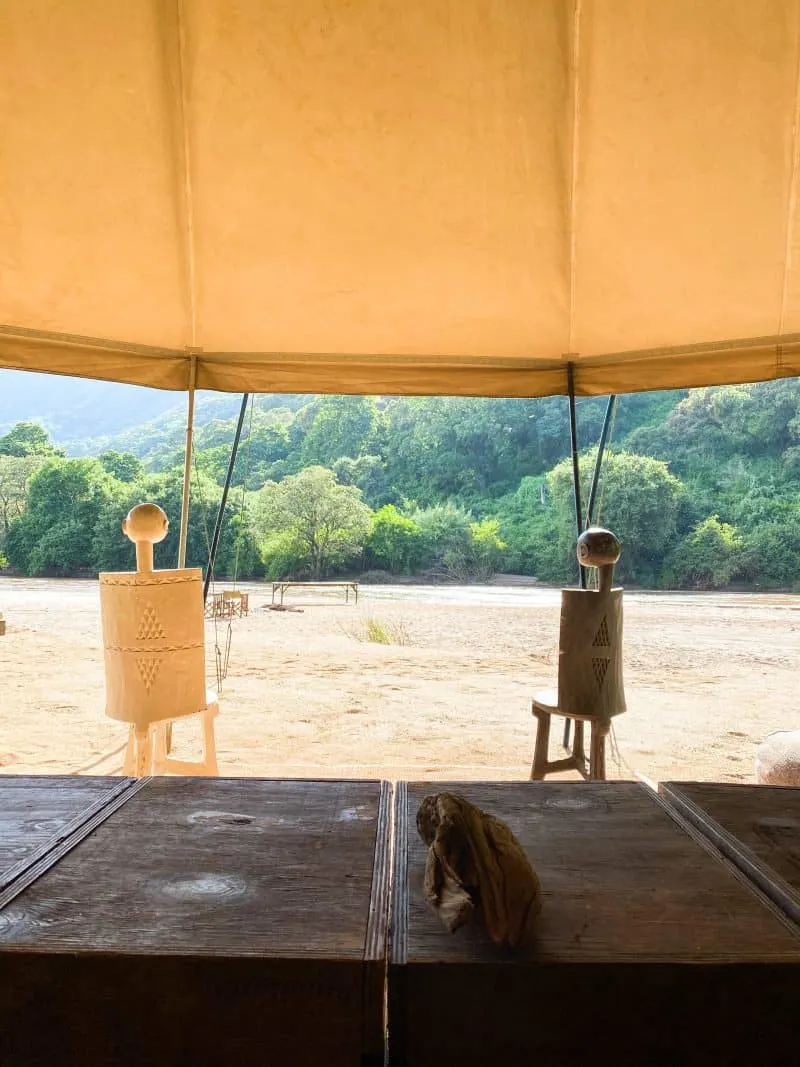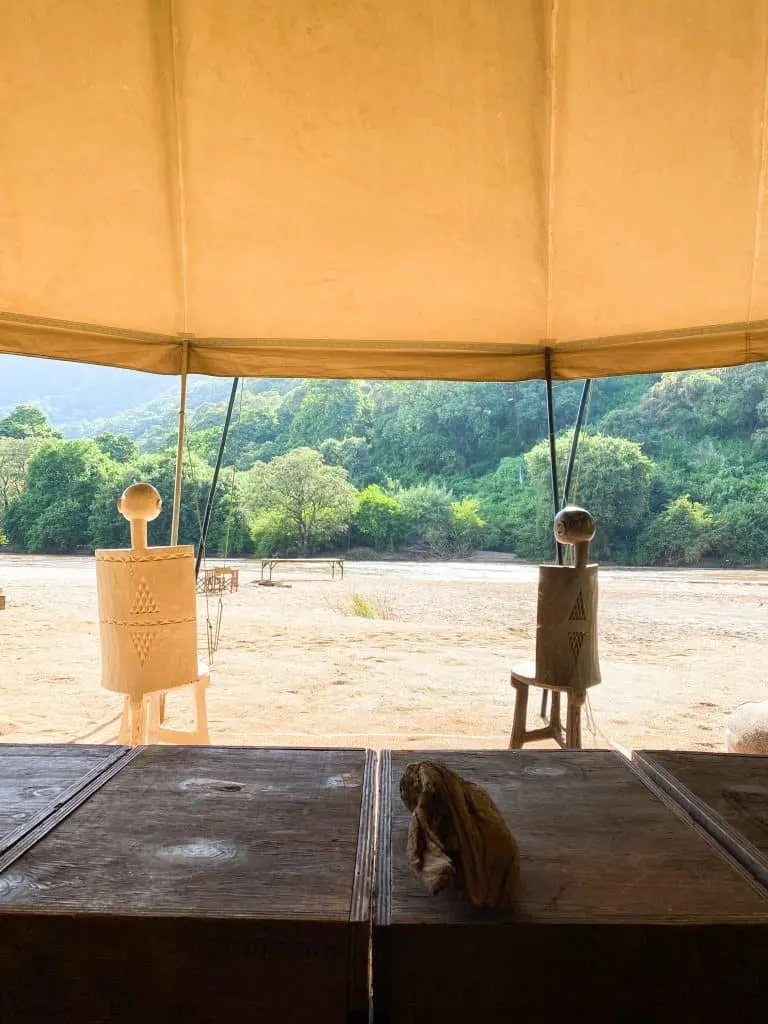 The food at the camp was incredible, the staff always set out to make the experience special.
From candle lit dinner right next to the river under the galaxy and amazing lunches, they were so hospitable.
They have a family tent onsite but the standard sized tents are also a pretty good size. Complete with a super king bed, wardrobes, lockers, arm chairs and an outdoor bathroom of dreams, it was the ultimate glamping experience.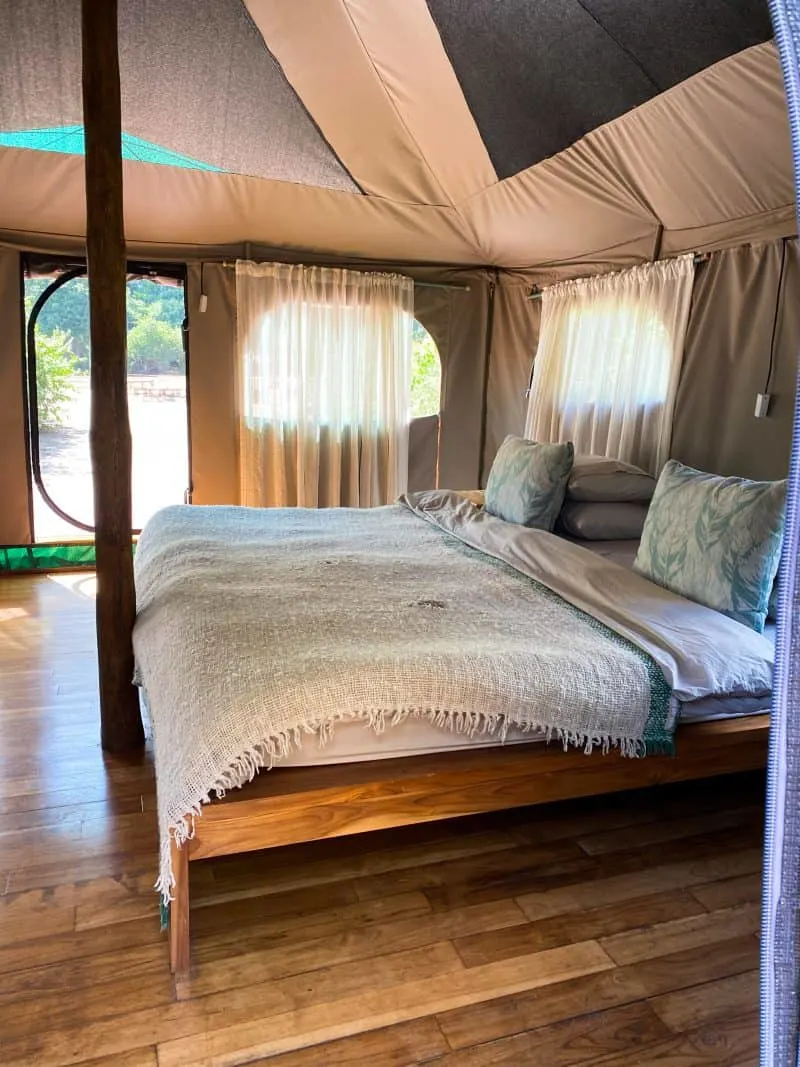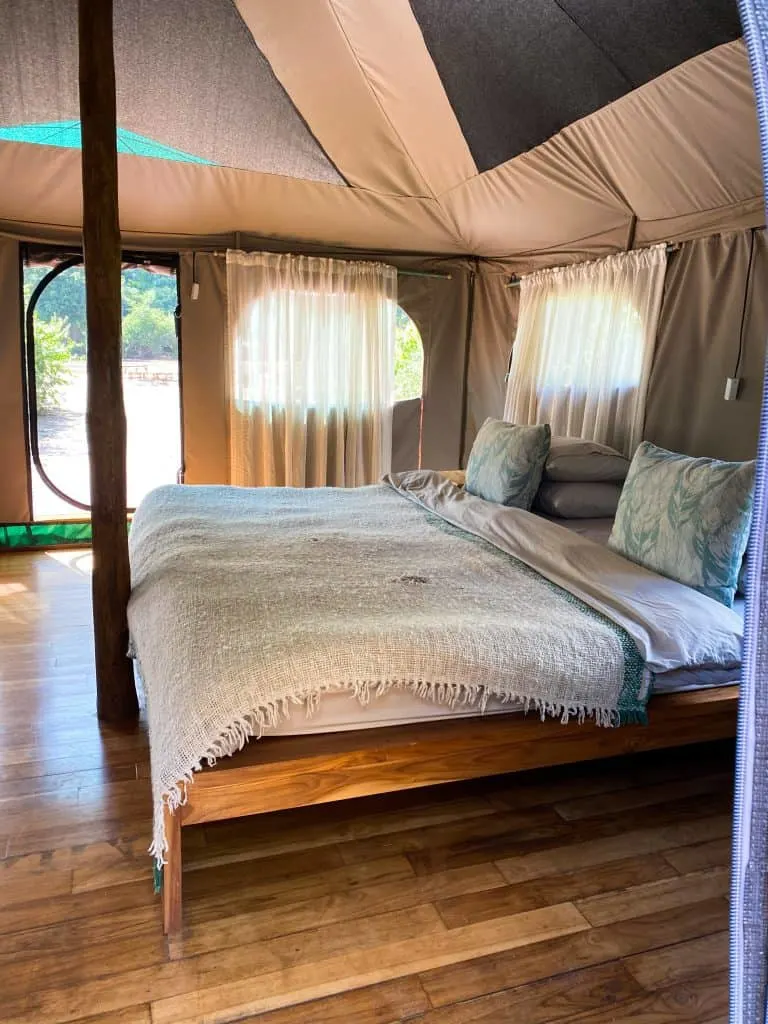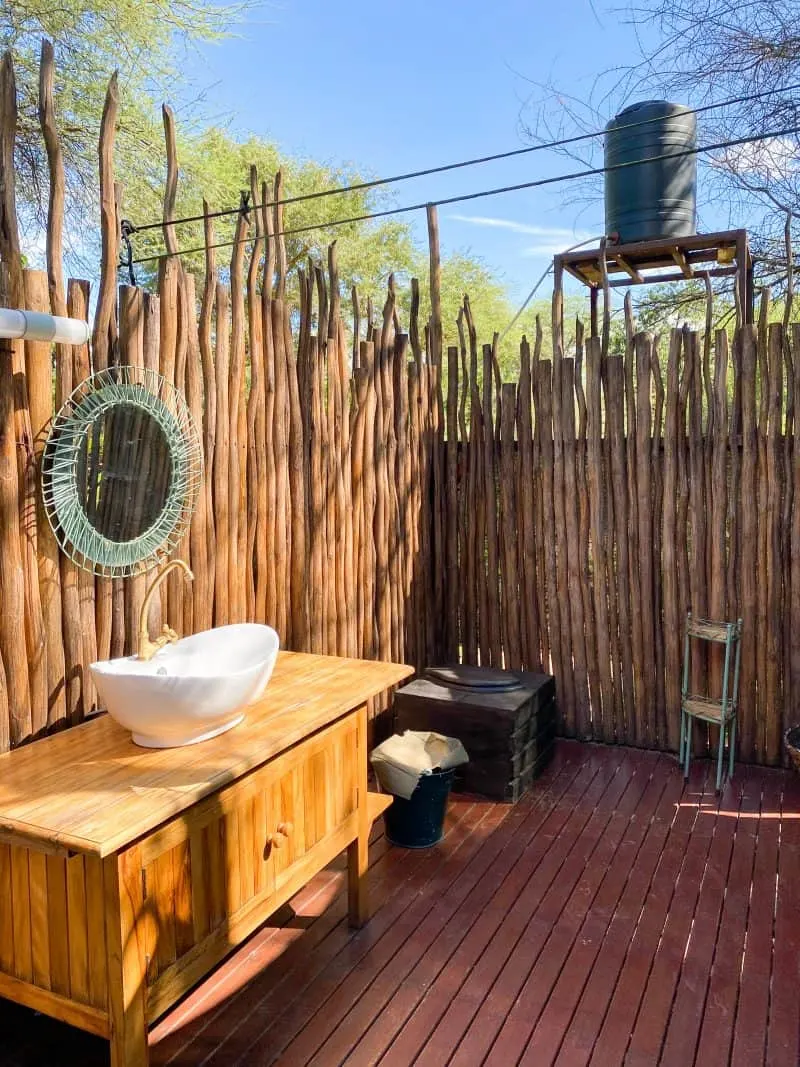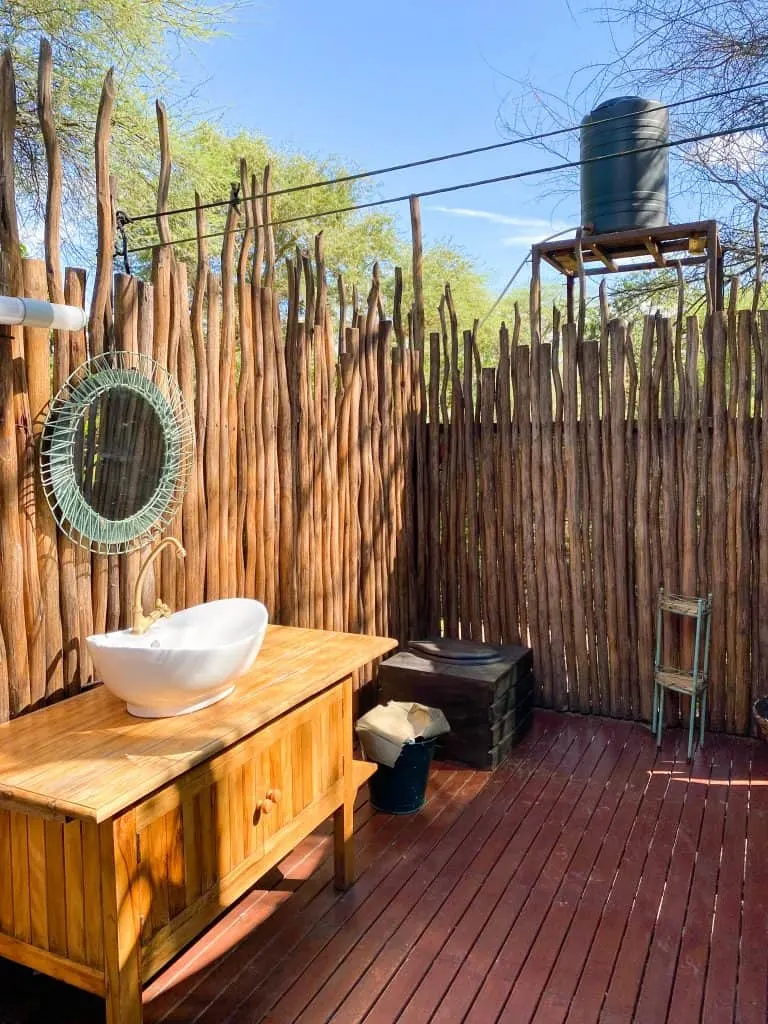 Day 3 Lake Manyara National Park
On our third morning in Tanzania, we woke up to the sound of a gushing waterfall, birds chirping and baboons playing in the river. We had breakfast from the comfort of the main tent where guests could chill on massive lounge sofas and bean bags.
After a big mug of coffee and an array of tropical fruits for breakfast ( literally the best mango I've ever eaten) we set off to the lake for a morning of canoeing.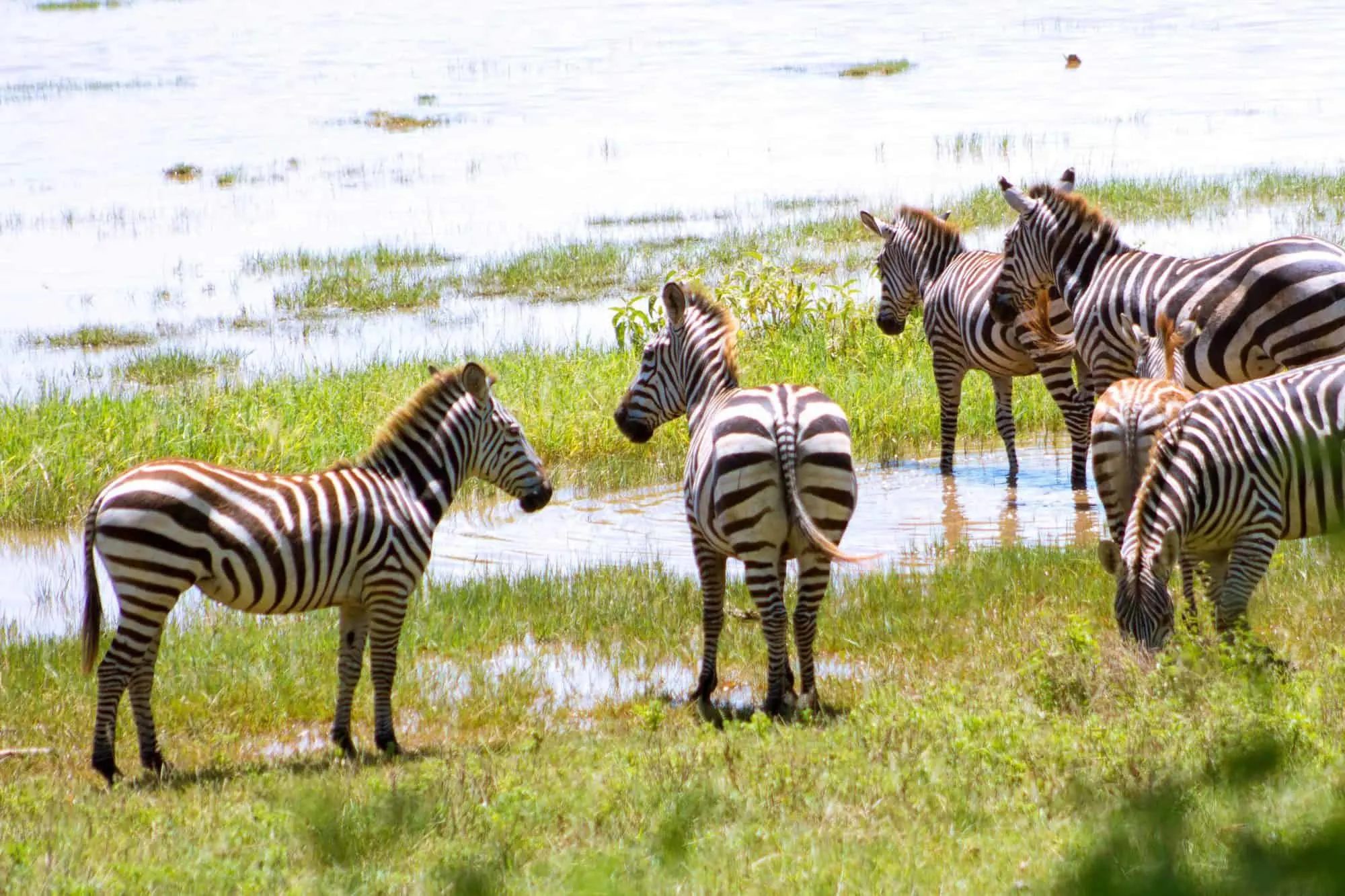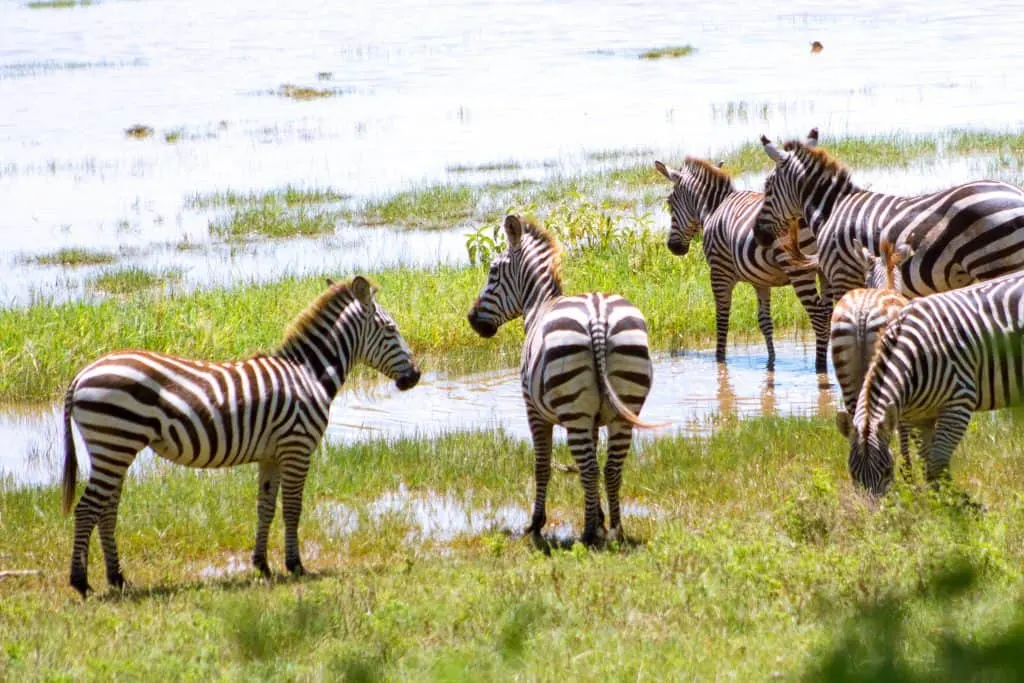 Lake Manyara National Park is 630km sq but 220km of that is the lake. The canoe trip is organised by Wayo Africa and was super relaxing. Both or our kids almost fell asleep. It's best to set out early so the sun is not too hot, there is no shade on the lake.
The great thing about the canoe trip is you get a unique view of animals coming to the water. We loved seeing a herd of water buffalo chilling at the water edge and the reflection of zebra drinking.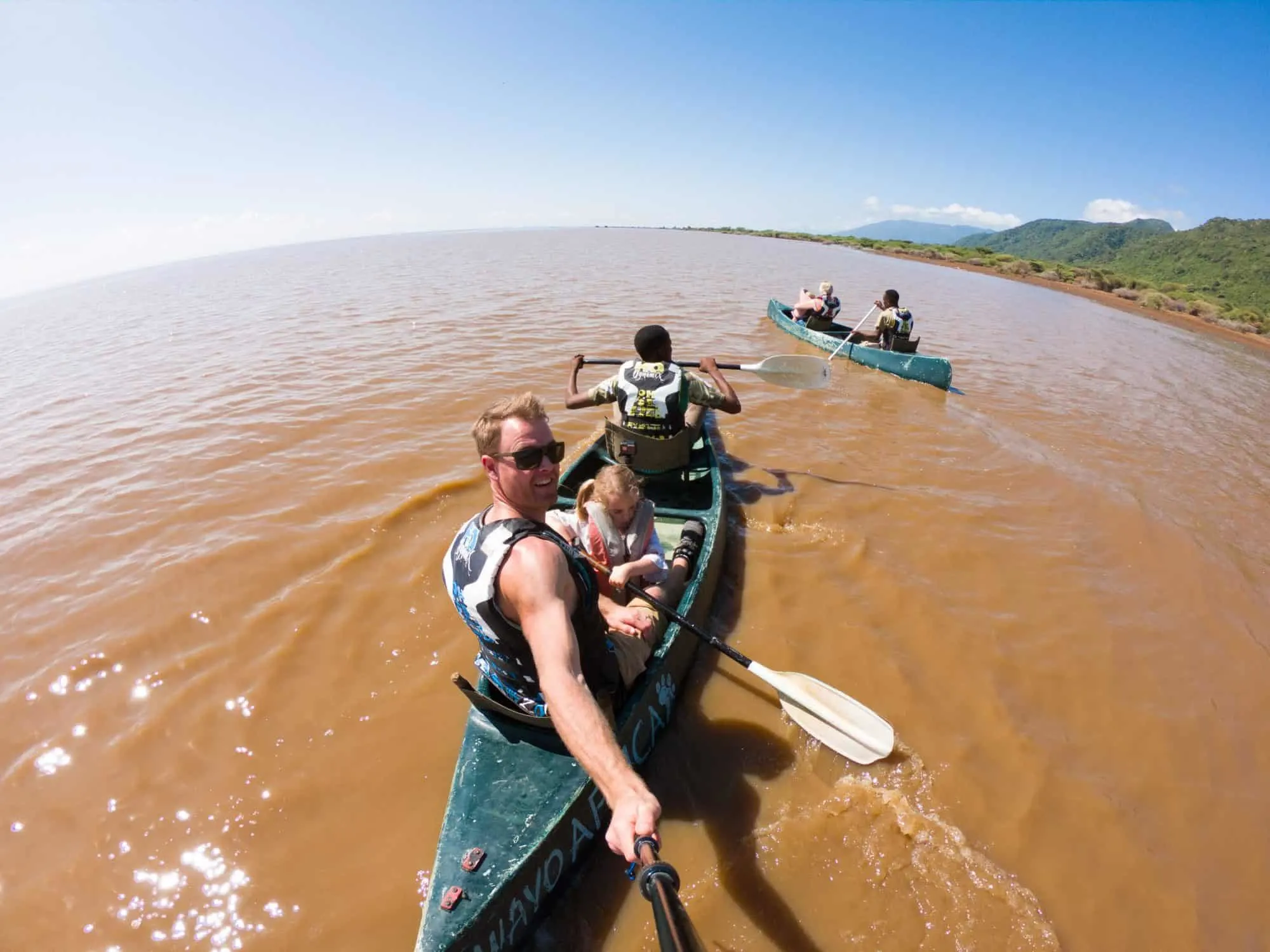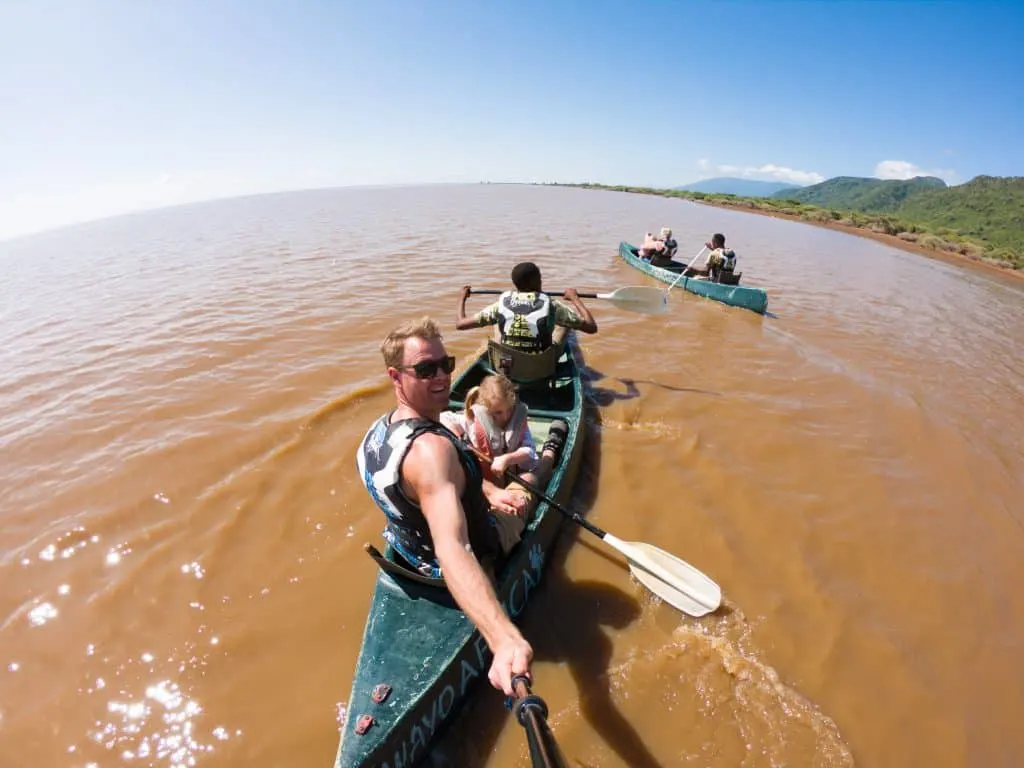 There are no crocs in Lake Manyara but there are hippos. Needless to say our guide kept us well away from the hippos.
On our way to the lake and back we again got to see elephants, giraffe and wilder beast. It was an incredible morning before heading back to Green Camp for lunch.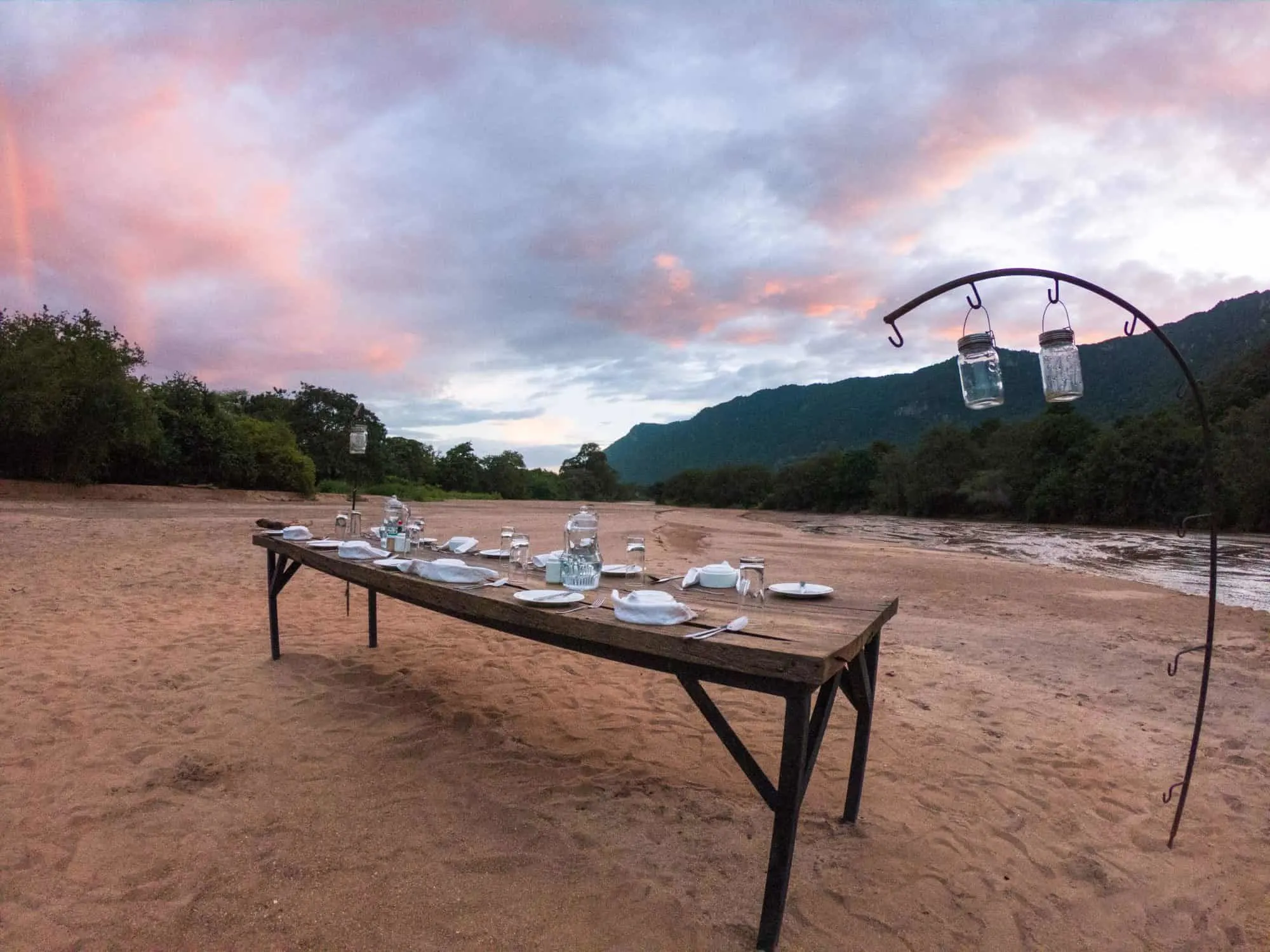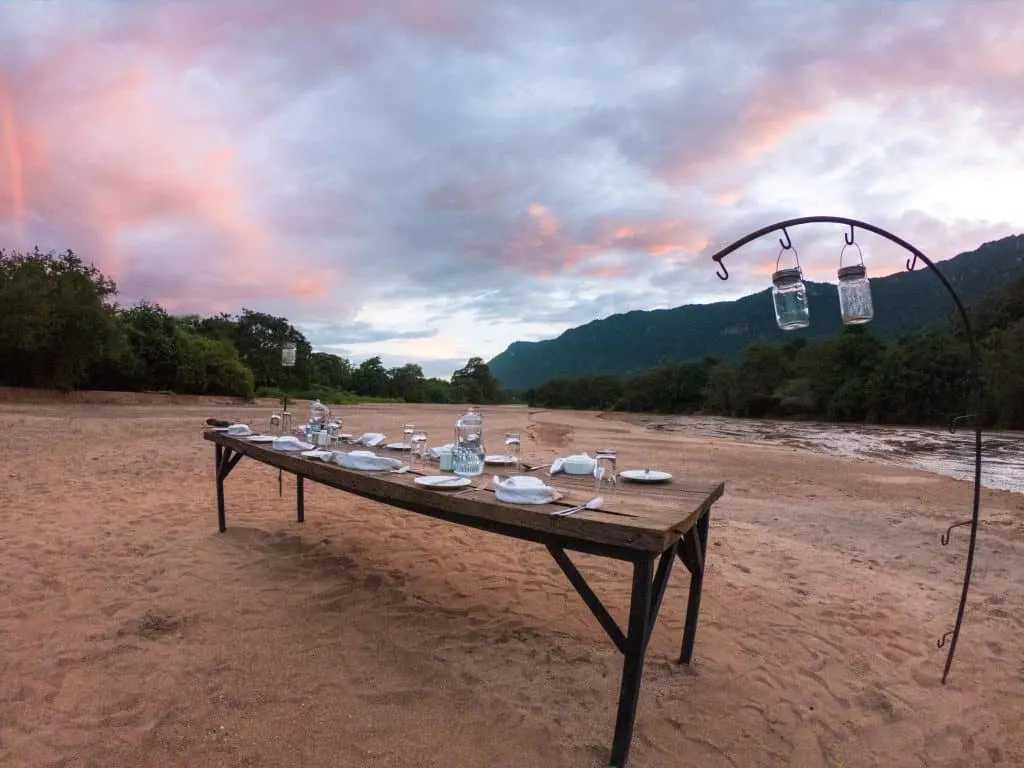 Tanzania
We had lunch under the waterfall, it was a unique special experience that our kids and us loved. The food was amazing with fresh salads, tropical fruits, chapati veg wraps and cold beers, we couldn't ask for much more.
Top tip: Make sure to bring insect repellent if you are staying at Green Camp. You may also want to consider the NHS advice about wading in fresh water, there is always a risk associated with this in the East Africa region.
We did enter the water, however on reflection we overlooked the advice on the NHS website and probably shouldn't have.
The lunch experience they offer at Green Camp should not be missed so if you are willing to bring flatpack wellies. This way you stay safe and don't miss out on once in a life time opportunities.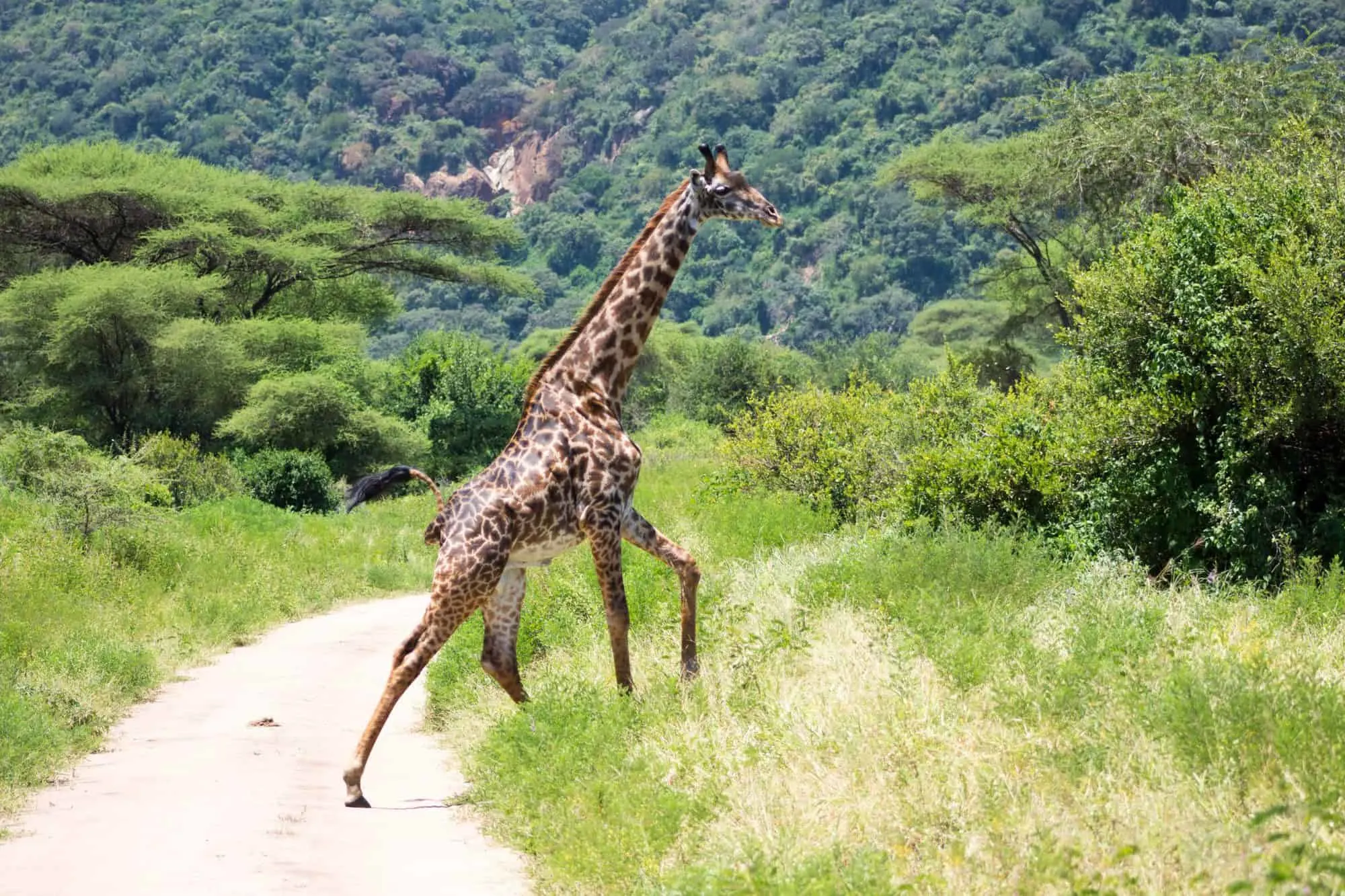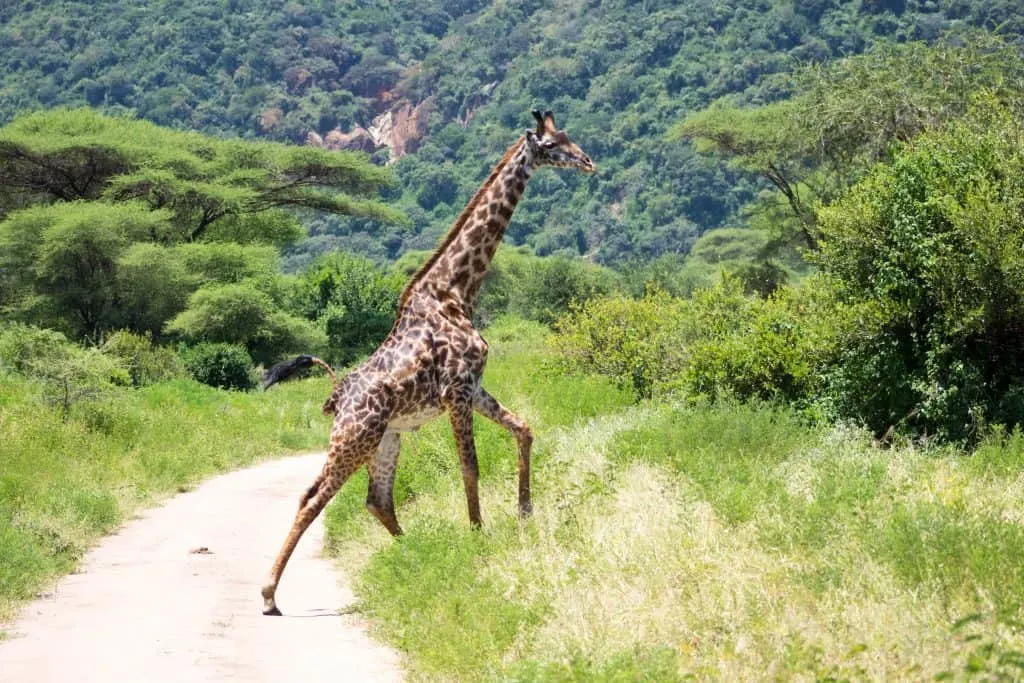 Day 4 – Mto Wa Mbu
We were sad to leave the stunning riverside location at Green Camp but were equally excited to explore somewhere new. We had the most amazing wildlife encounter on leaving the park. Manyara is famous for tree climbing lions! It's one of a few places where the lions hang out in a tree.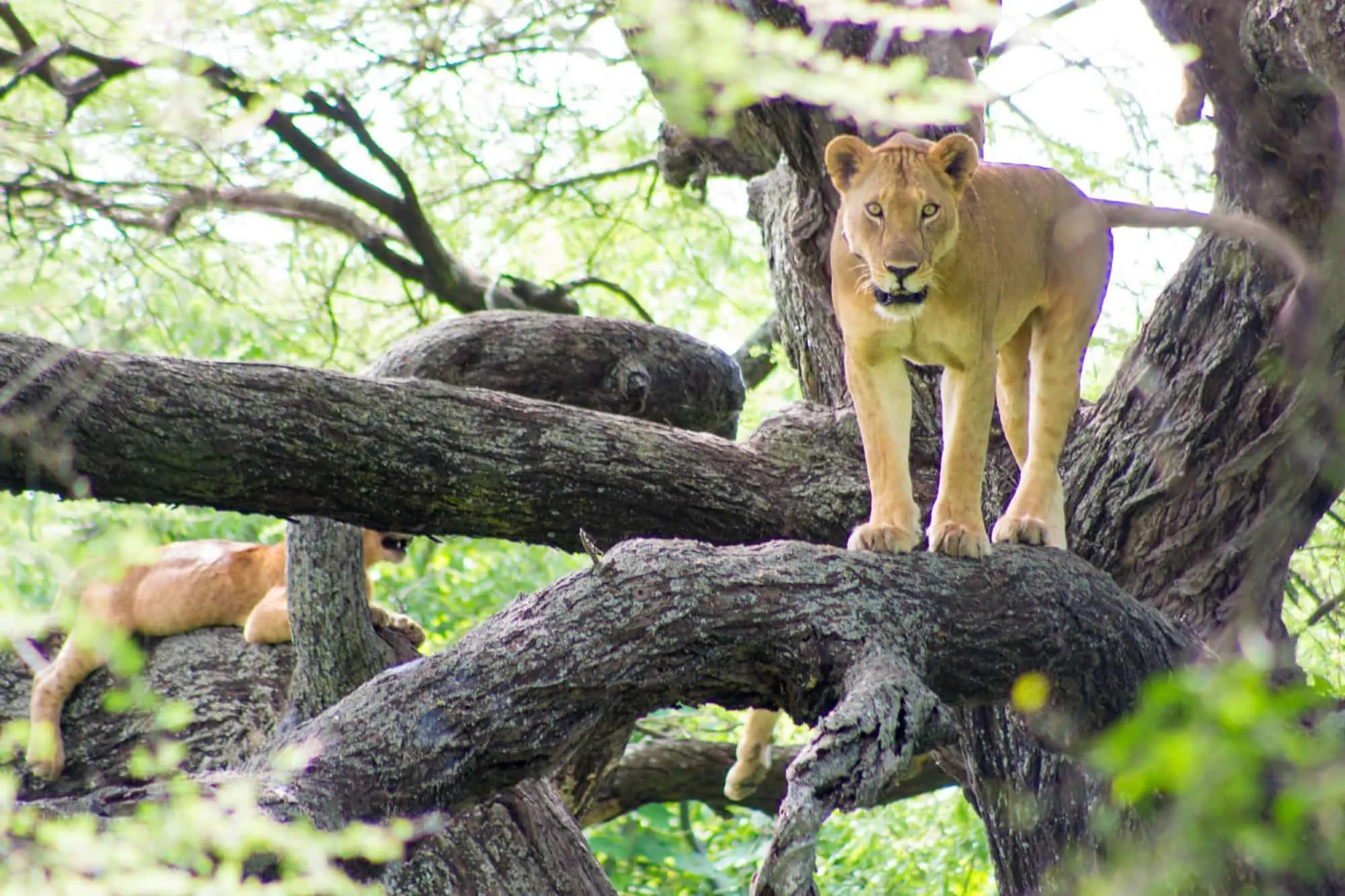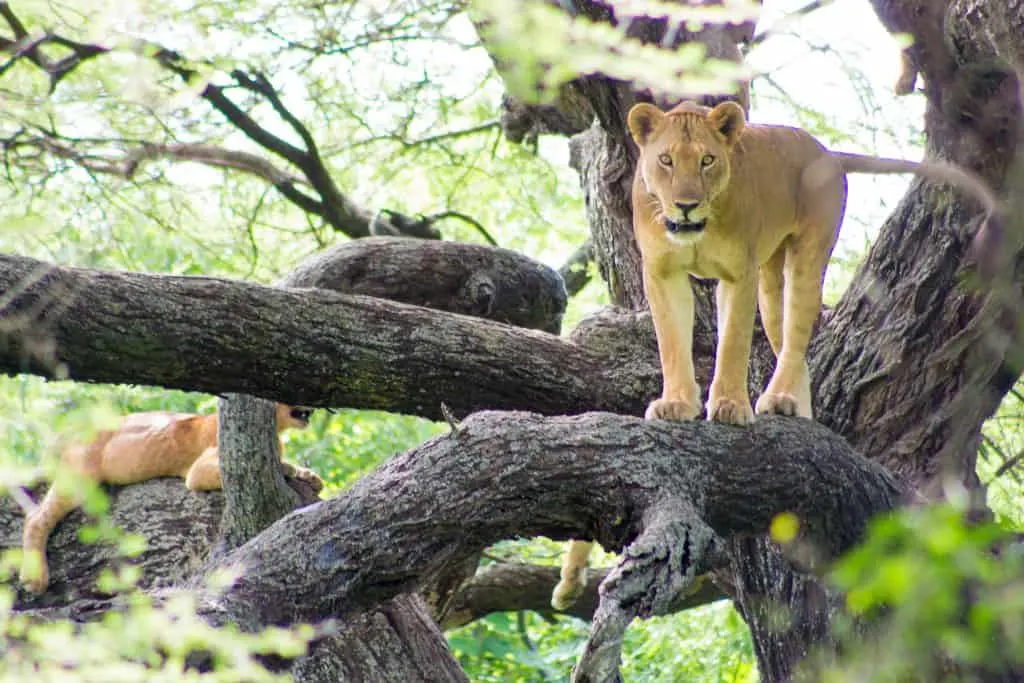 The reason for this is due to the landscape of Manyara, its bushy and typically more difficult for them to prey. The acacia tree is the prefect height for them to climb and watch what's going on below.
We saw a pride of 7 female lions chilling in an acacia tree. It was truly the perfect ending to our time in Lake Manyara National Park.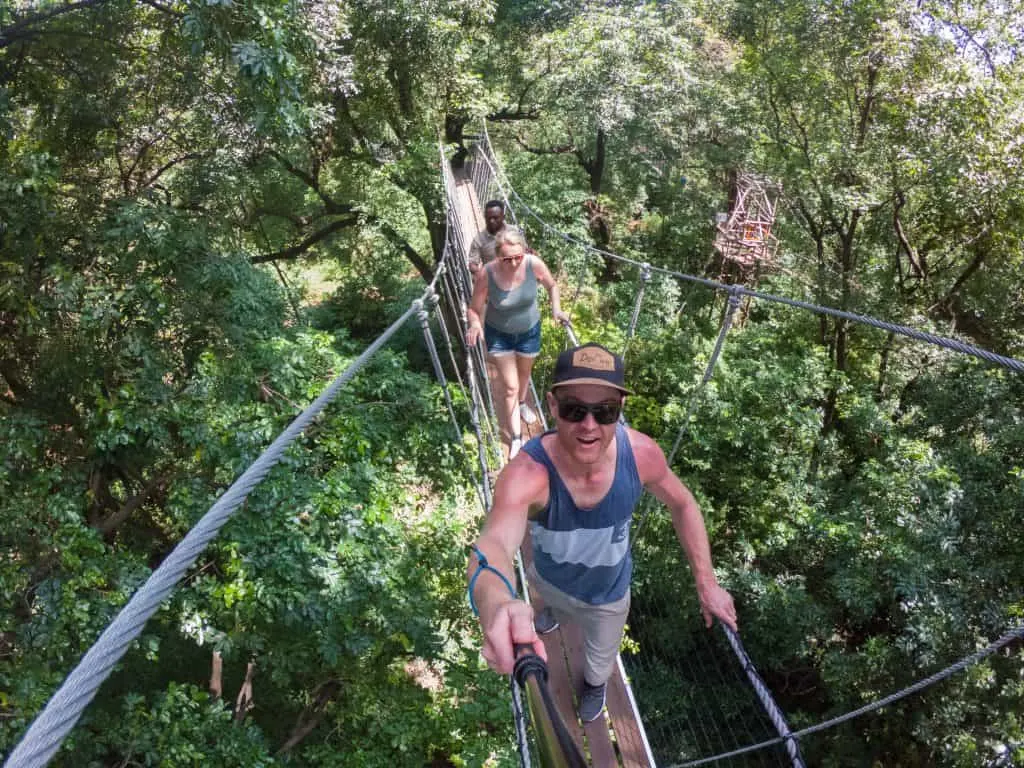 When we arrived at the exit our guide surprised us with a visit to the tree top walk. This activity is right at the edge of the park and such a different view of the forest. The structure looked incredibly well built and we felt safe doing it with our kids.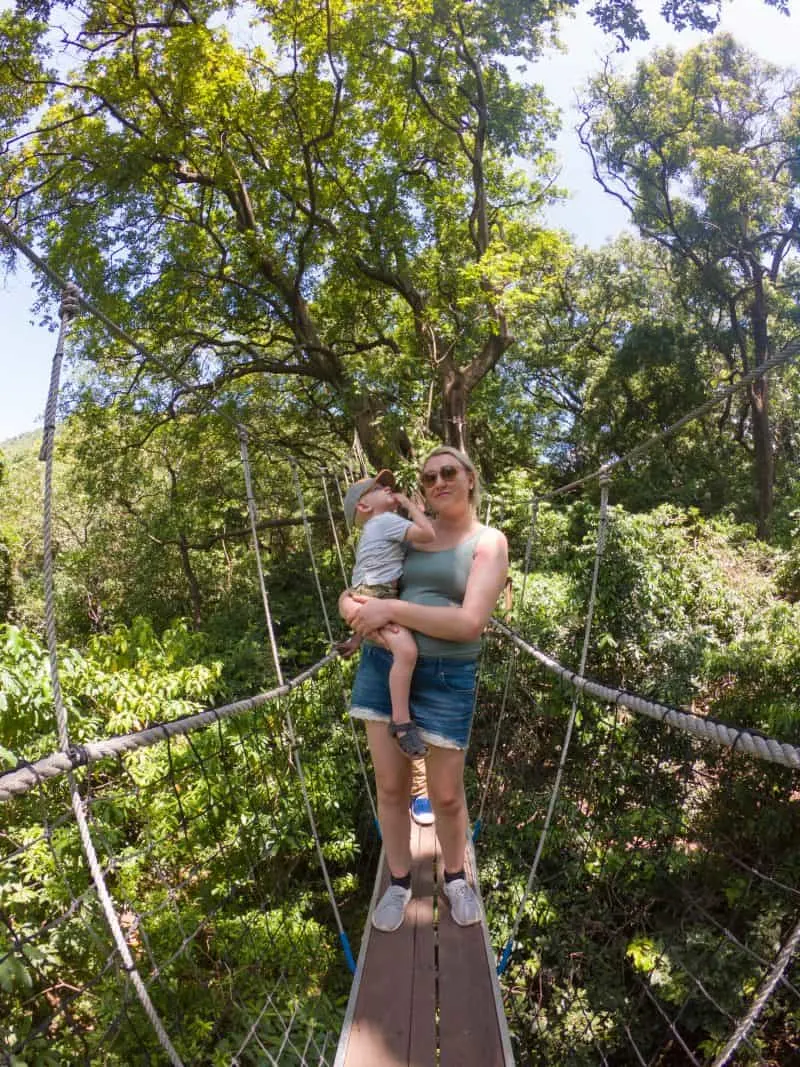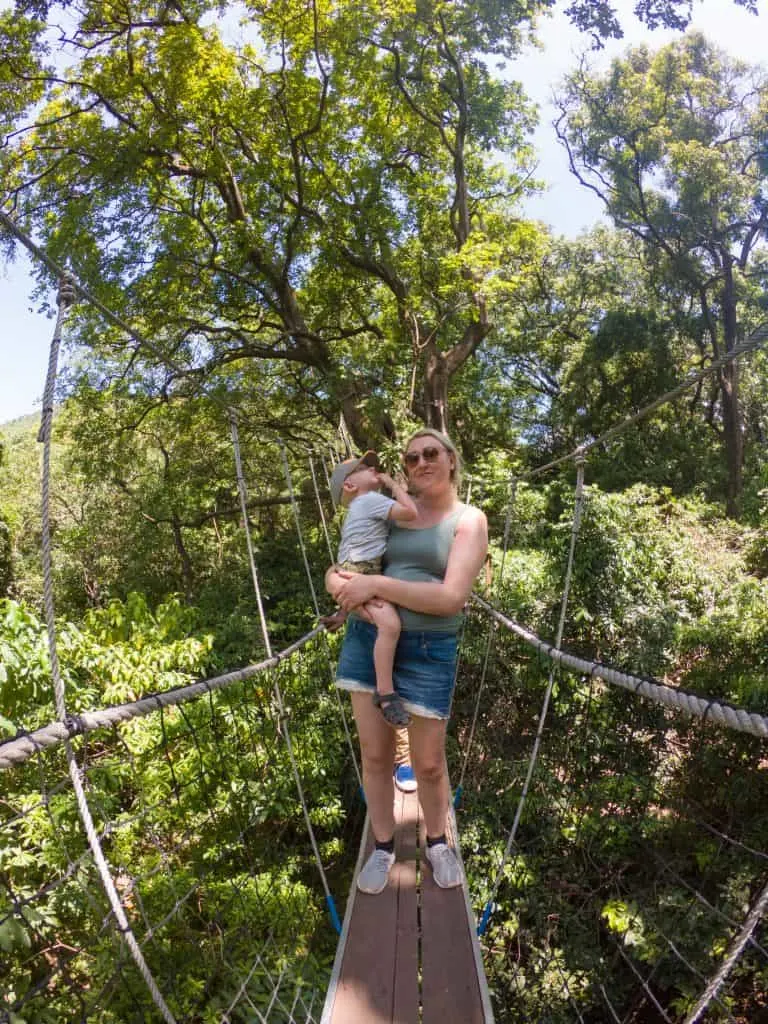 In fact our kids were even more brave than us crossing the rope bridges some 20 metres in above the ground weaving from tree to tree. The course has a total of 9 bridges and is not for the faint hearted but we do love a thrilling experience.
The tree top experience is right near some banana plantations and our guide explained the monkeys usually hang out of the bridges. However during our visit they were probably off picking bananas somewhere!
Mto Wa Mbu Village
With banana's in mind, we next hit the village right next to Manyara called Mto Wa Mbu for a guided tour. On a personal level the tour of village was a massive highlight.
There are over 120 tribes in Tanzania! Mto Wa Mbu is one of the only places in the country where you find so many different tribes. The reason for this is because of the rich natural sources such as soil and water.
Beneath Manyara there is underground water which is in constant supply to locals. Crops grow well in this region due to the quality of the soil so it attracts people to settle in the area. Everyone lives in harmony despite their vastly different customs and beliefs.
We kicked off our tour at the banana plantation which is just behind the village. Meandering through, we learned how locals use bananas in so many different ways.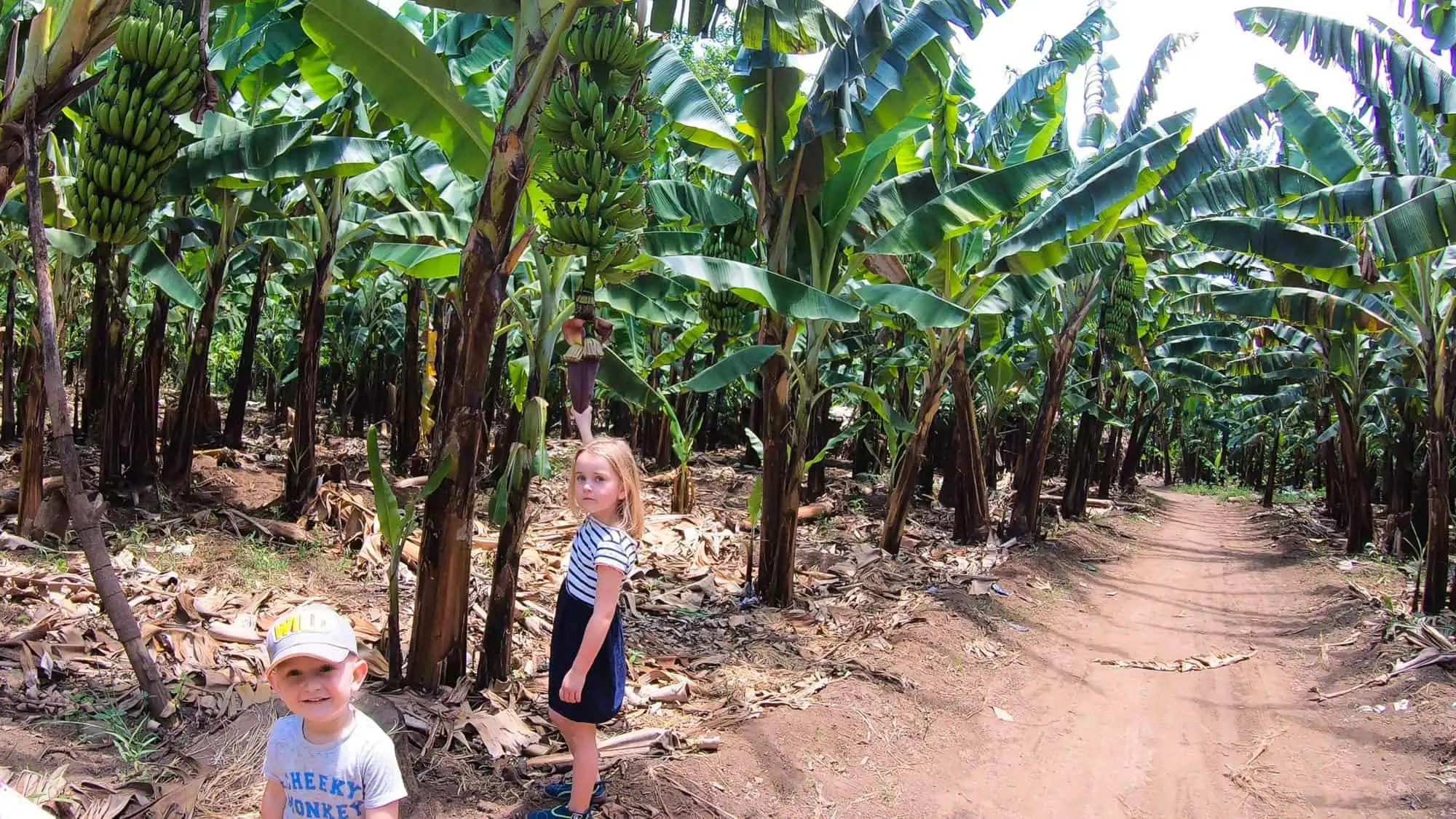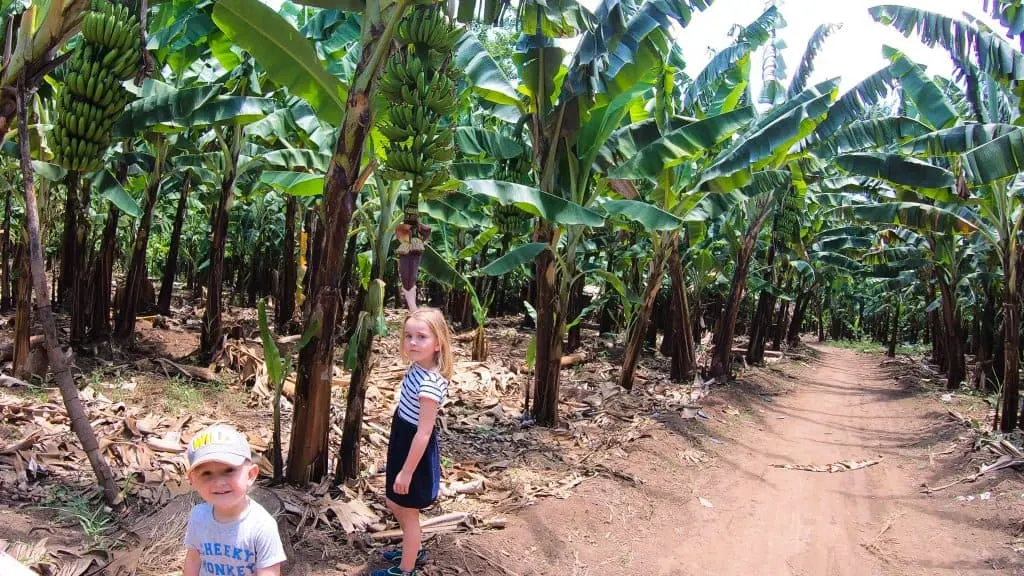 Banana Tree Plantation
Under the shade of the giant banana leaves we got to see the different stages of the growing process, our kids were fascinated, it was such a great learning experience for them.
What I was most surprised by is the amount of life amongst the plantations. Locals cycling through, small houses and we had lunch at a unique restaurant amongst the banana trees. The food at lunch was so tasty and fresh, we also got to visit the kitchen to see the local cooking methods, it was lots of fun.
The tour guide Lotha was incredible with the kids and so animated he made it really interesting for them. After lunch, he took us to the local market where you can find all kind of things, from spices, to kitchen utensils and herbs to souvenirs.
I loved the market it was really chilled and not too crazy. No one was pushy with trying to sell us something and everyone just loved interacting with our kids.
Rhotia Valley
Our next stop for the night was Rhotia Valley Tented Lodge, it was just a 40 minute car journey from Mto Wa Mbu. This lodge was stunning and was the perfect place to hangout after a long day of exploring.
Rhotia Valley Tented Lodge was set up by a Dutch retired couple who were doctors. It's a non profit organisation that funds the children's orphanage close by. We just loved the story behind this place.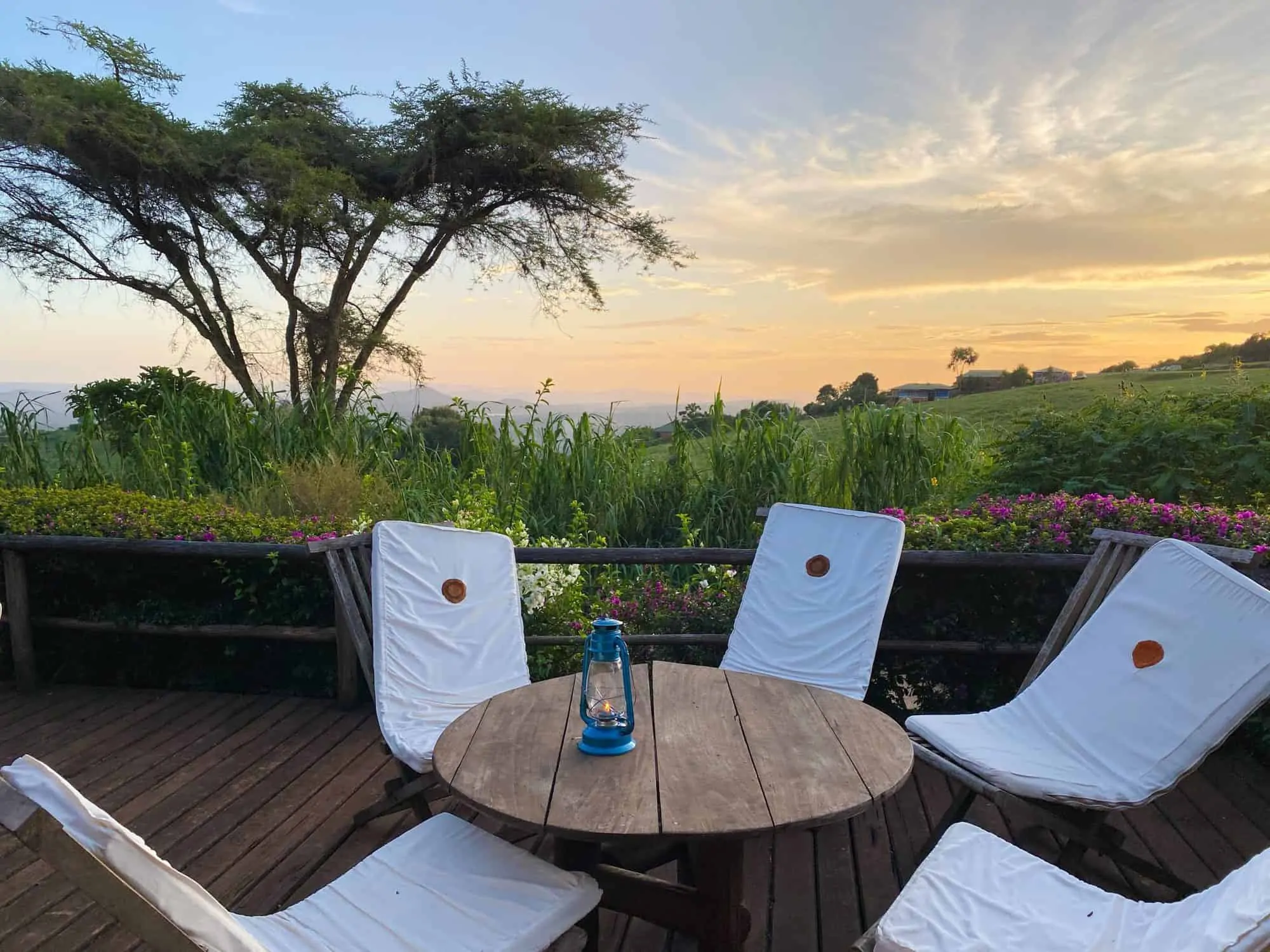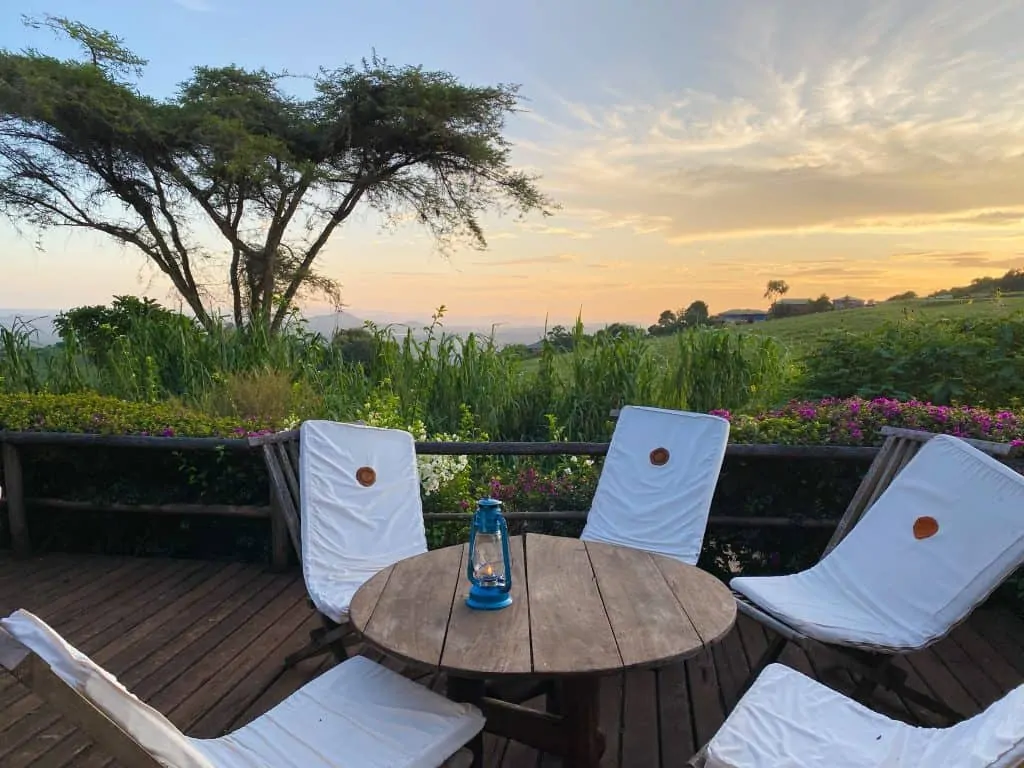 The lodge was luxurious with stunning views over the valley framed with baobab trees! The main tent had a beautiful veranda with lazy chairs, perfect for sundowners. The kids loved the swimming pool after a day of exploring and we just loved the tents.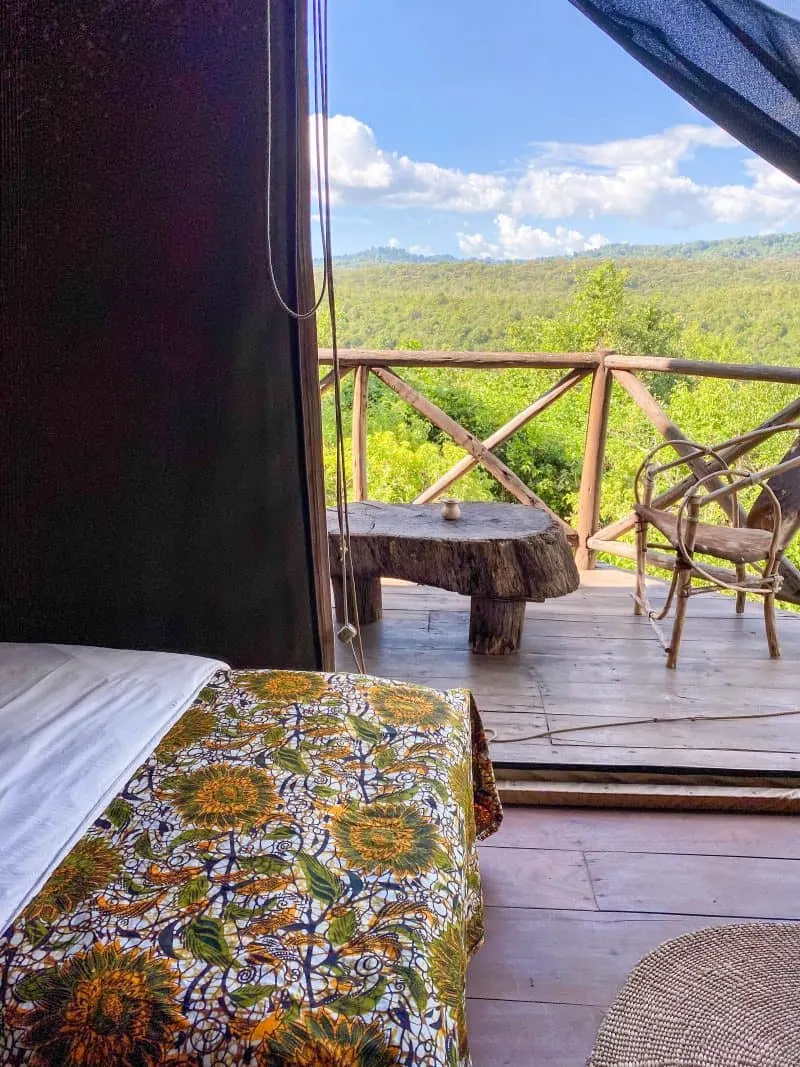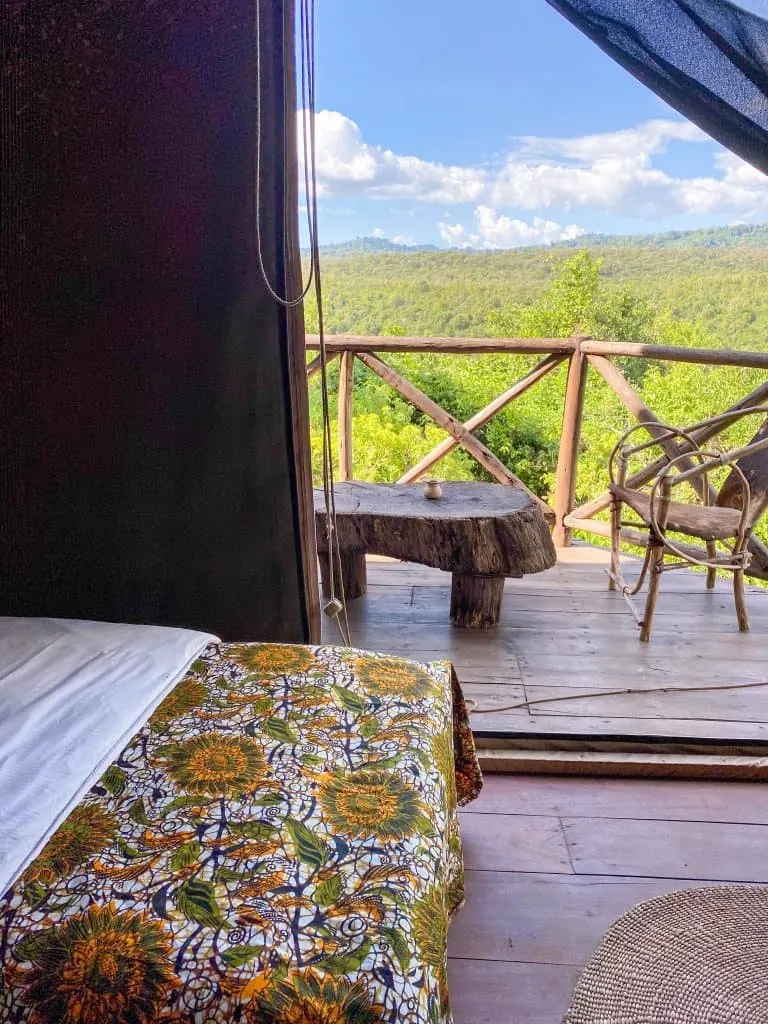 Complete with a separate bathroom, a massive double and two singles, we could see sunrise every morning from the comfort of our bed. They gave us hot water bottles the night before so we could leave the window open for sunrise, it was so beautiful!
Day 5 – Ngorongoro Crater
On our last day of safari we set off early in the morning to Ngorongoro Crater (part of the Ngorongoro Conservation Area). It was around an hour and a half drive from Rhotia Valley. This park was quite different, first of all it's inside the crater of an inactive volcano, not to mention the land is vast and open.
The landscape makes sightings really easy due to it's openness. The drive to the top of the crater is quite a long and bumpy road but when you finally get to the viewing point of the crater, it makes it all worth it.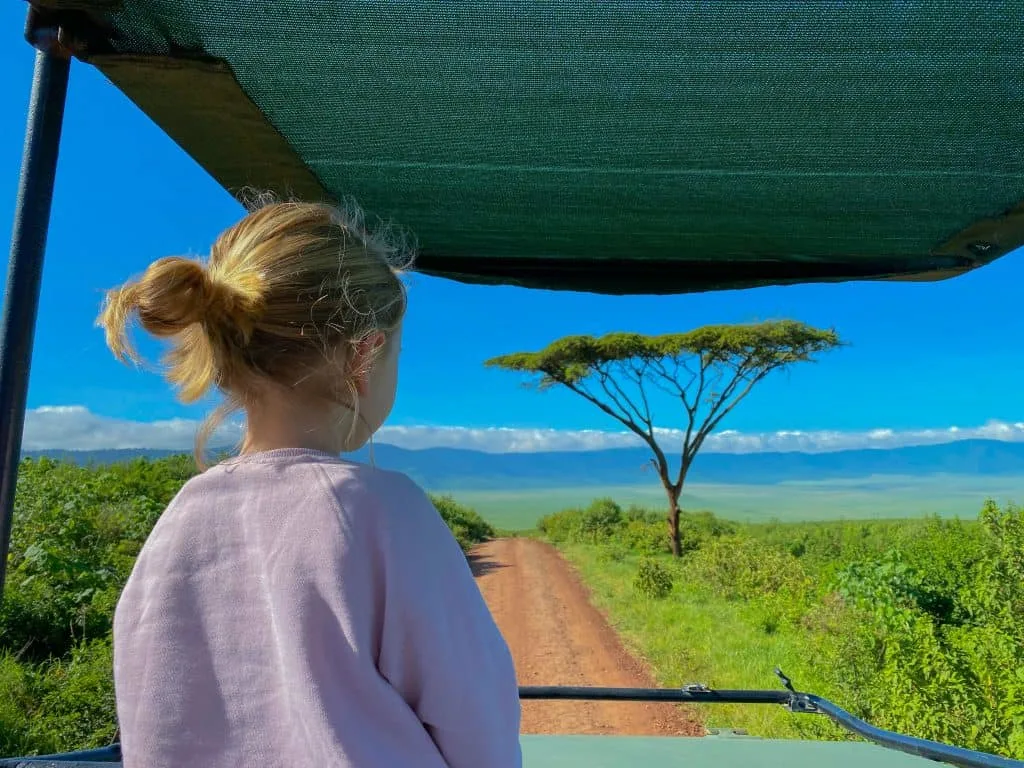 Looking down into the crater from above you can see animals from quite far away. The views are just stunning! The nature of the landscape can make the crater quite susceptible to floods.
We wanted to take the shortcut road out which meant we needed to 4WD our way out of flooded roads. We actually loved the adventure of it all adding to the experience. Wayo Africa were pros at taking on the terrain.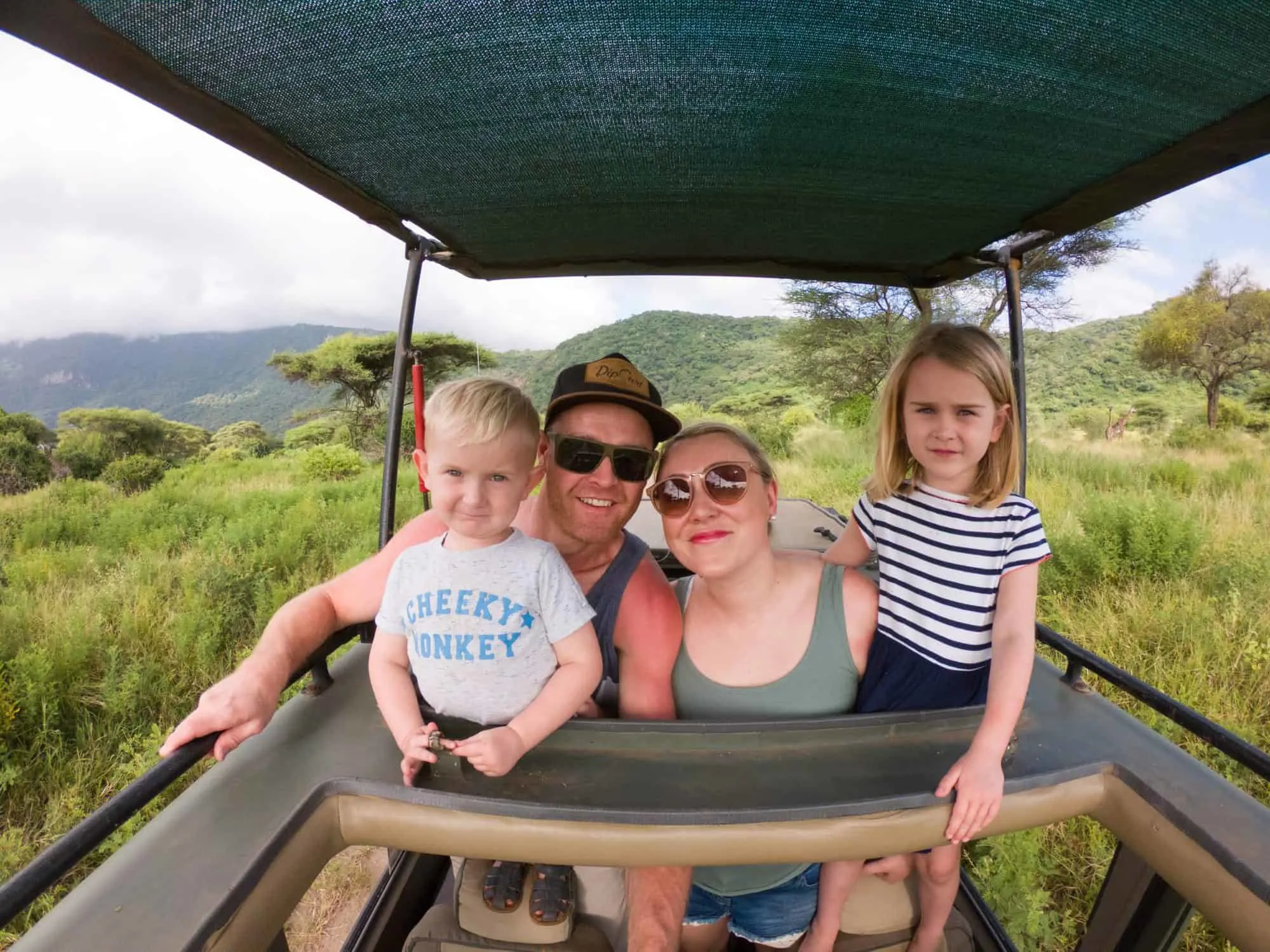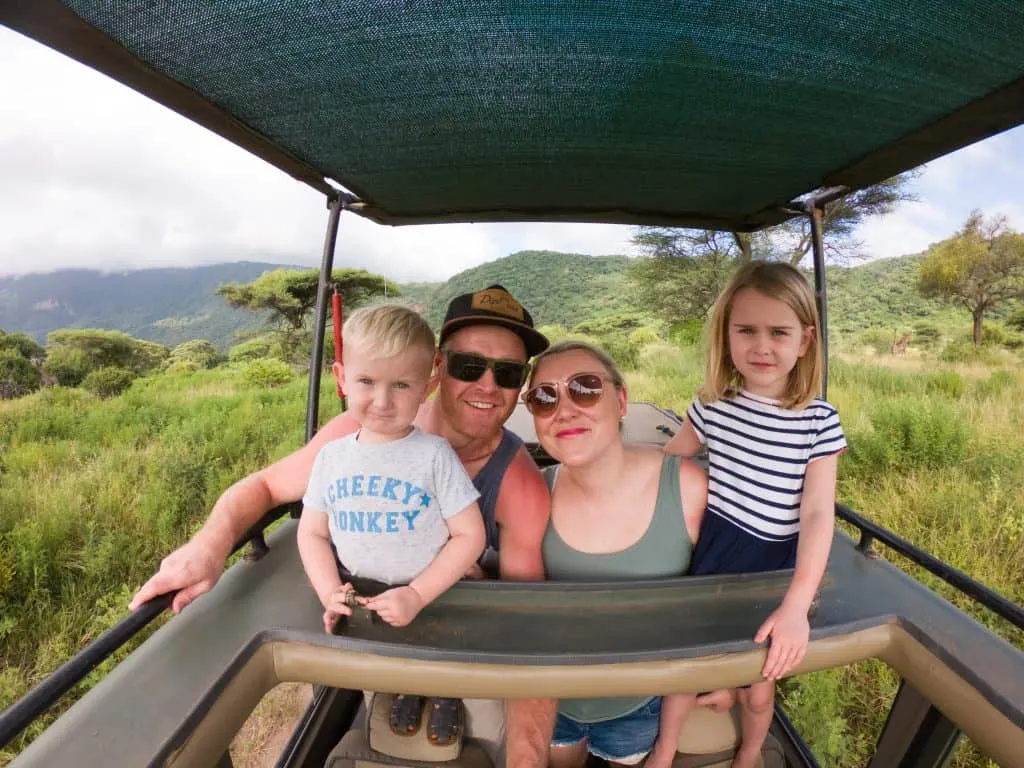 We spent our last night at Rhotia Valley where we again chilled out by swimming in the pool with sundowners taking in the view over the valley.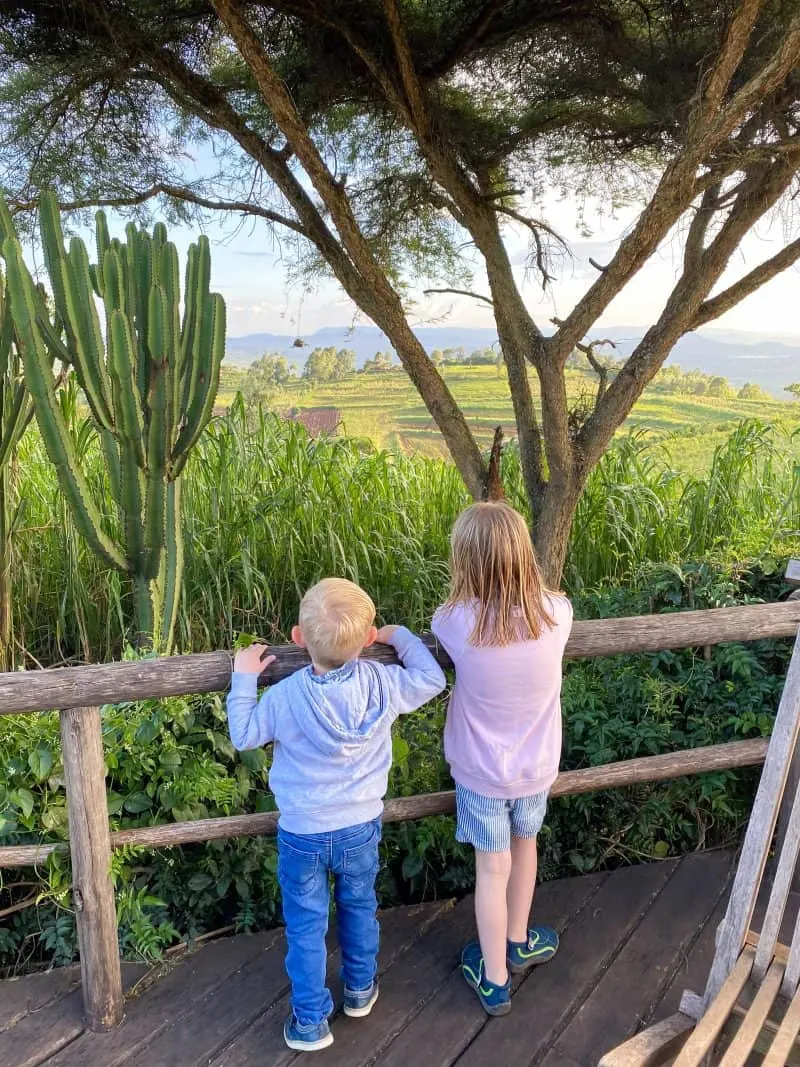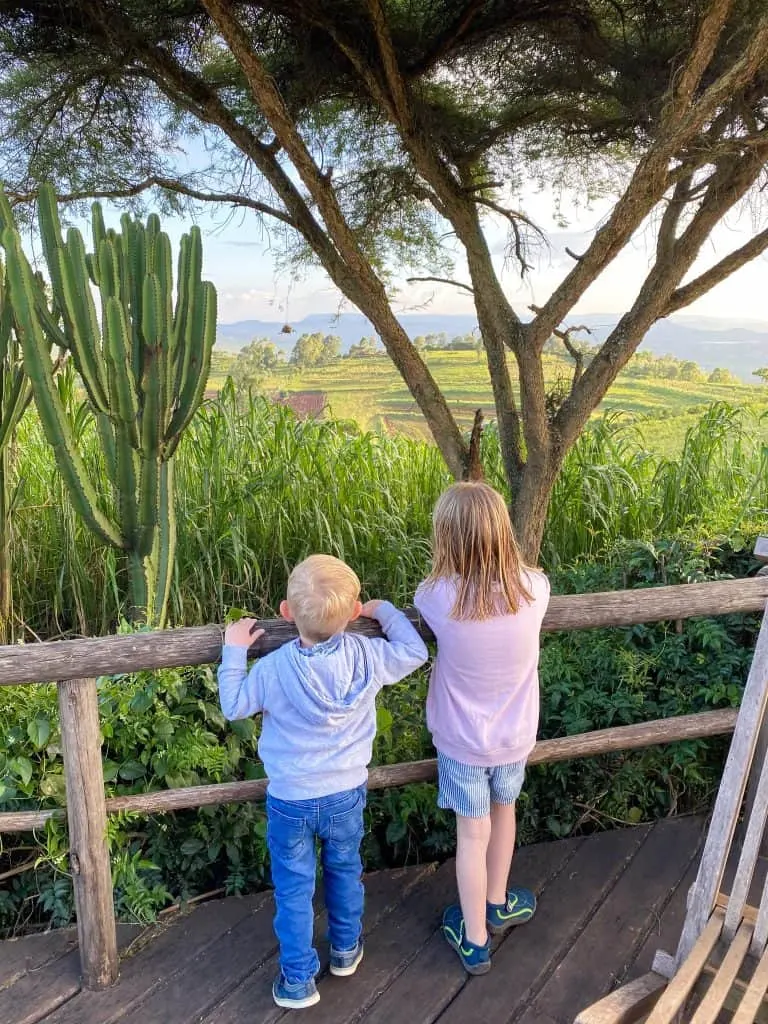 Day 6 – Back to Arusha
On our final morning, Ben dropped us back to Arusha airport where we hopped on a direct flight to Zanzibar. We spent the rest of the trip chilling on the beach. It was the perfect way to end our trip to South Africa with kids.
Top Tips For Visiting Tanzania With Kids
Make sure to speak to your doctor about travelling to Tanzania so you can get the necessary shots and medication for the trip. I always use the Fit For Travel website to assess what might be needed. it's best to do this 8 weeks in advance.
January through to March are generally the nicest moment to travel. The wet season starts at the end of March through to early June. We travelled to Tanzania in mid February.
Make sure to pack plenty of high factor sun cream and good insect repellent for the trip.
As mentioned, if you are arriving into Mt Kilamanjaro Airport, it's worth sitting towards the front of the plane so you can disembark and join the visa queue quickly. For some reason the queue for those who did not have a pre-arranged visa moved much faster. Remember to bring USD to pay for the visas, its $50 pp and you can also bring USD for tipping purposes.
As a general guide, Audley suggest tipping guides and hotel staff around 10 US per day.
Safari can be dusty at times so bring a couple of extra outfits to allow for this. Some areas are more conservative than others due to a muslim influence. Audley advise travellers to dress in conversative / casual wear.
Plastic bags are prohibited in Tanzania so bring a couple of cloth bags instead.
If you plan to go onto Zanzibar or take any internal flights in a light aircraft, you'll need to have smaller soft bags so they can fit in the hold. Harder big suitcases are not suitable.
Bring some entertainment for car rides between the parks / sites. We love Keep Em Quiet for this!
Our guide always had snacks for us but I also brought some familiar snacks from home as kids are always happy when they have snacks and something to do, it makes the car rides bearable.
Why not let your kids take photos themselves on a kids camera or an old phone? We did this so we can make a scrapbook later. You mays also want to bring binoculars for yourself and the kids.
Learn a few words of Swahili and teach them to your kids too. The locals really appreciate it.
Interesting Facts About Tanzania For Kids
The official language of Tanzania is Swahili
There are more than 120 tribes in Tanzania with diverse cultural practices and beliefs.
You can see giant land turtles off the coast of Tanzania, the only place in Africa where they exist.
Tanzania is the most densely populated country when it comes to wildlife.
Tanzania is home to Africa's tallest mountain, Mt Kilimanjaro.
Freddy Mercury was born on Tanzania's tropical island of Zanzibar!
Manyara National Park became famous due to it's tree climbing lions.
Disclaimer: This post is sponsored by Audley Travel and Wayo Africa. As always, all views expressed are entirely my own.