If you are looking for the best things to do in Galle, Sri Lanka, you have come to the right place! We are lucky enough to call Galle our home.
In December 2022, we randomly pinpointed Galle and have been playing tourist in our home town ever since. There are so many things to do in Galle. It is rich and diverse in landscape and culture.
Galle is one of 25 districts in Sri Lanka and is situated in the country's southwest. It extends from Bentota, which is the most northerly part of the district, all the way to Ahangama in the south, which is known for its beautiful surfing spots.
When it comes to things to do in Galle, there are incredible temples, the most stunning coastline with palm trees galore and a river network teeming with wildlife, not to mention the fortress town which makes Galle so famous!
Many beautiful beaches throughout Galle have small surf towns with lovely communities, cafes & restaurants. Whilst others are still quite isolated and untouched.
Throughout Galle, there are many villages where a true insight into the life of locals is easy to witness.
We lived in Dadalla Village for five months, and during that time, we often saw locals looking for firewood as gas and electricity were too expensive to run. Not to mention the village shared a well to wash since, again, water was too expensive.
Sri Lankans have faced some tough times but are ready and waiting to welcome tourists.
Our neighbours also grew and harvested cinnamon. It was amazing seeing it come to fruition throughout our stay. Our garden had jackfruit, coconuts, curry leaves, starfruit and bananas growing.
Not to mention the wildlife, we had resident peacocks, mongoose and monkeys who frequented our garden daily. It was so special, and this is just a little insight into the diversity of this one district in Sri Lanka.
Galle is built into many itineraries for Sri Lanka and is certainly a spot not to be missed. It's also a great base to stay and day trip from, be it a safari or a river cruise.
If you plan to visit other parts of the country, check out this 8-day Sri Lanka itinerary. Places like Sigiriya and Ella are worth visiting.
The east coast itinerary can be found here. Check out this guide if you are travelling to Sri Lanka with kids.
Follow us on @travelmadmum to see the highlights of things to do in Galle.
Let's jump in and discover the best things to do in the Galle district. Be prepared to experience serious wanderlust!
Things To Do Galle Sri Lanka
Galle Fort
Galle Fort has to be one of the most popular spots in southwest Sri Lanka and is spread across a 130-acre area on a peninsula surrounded by the Indian Ocean.
The town has so many different influences. It was originally built by the Portuguese in the 16th century and later fortified by the Dutch, who used it as a trading port.
During the British colonial period in the 18th century, the fortress became an administrative centre rather than a military stronghold. The British added the existing lighthouse that stands today.
In 1988, Galle Fort was declared a UNESCO World Heritage site. Today, it features bastions, a lighthouse, cobbled streets with colonial houses, churches, mosques, unique souvenir shops, fantastic restaurants, cafes, bars and galleries.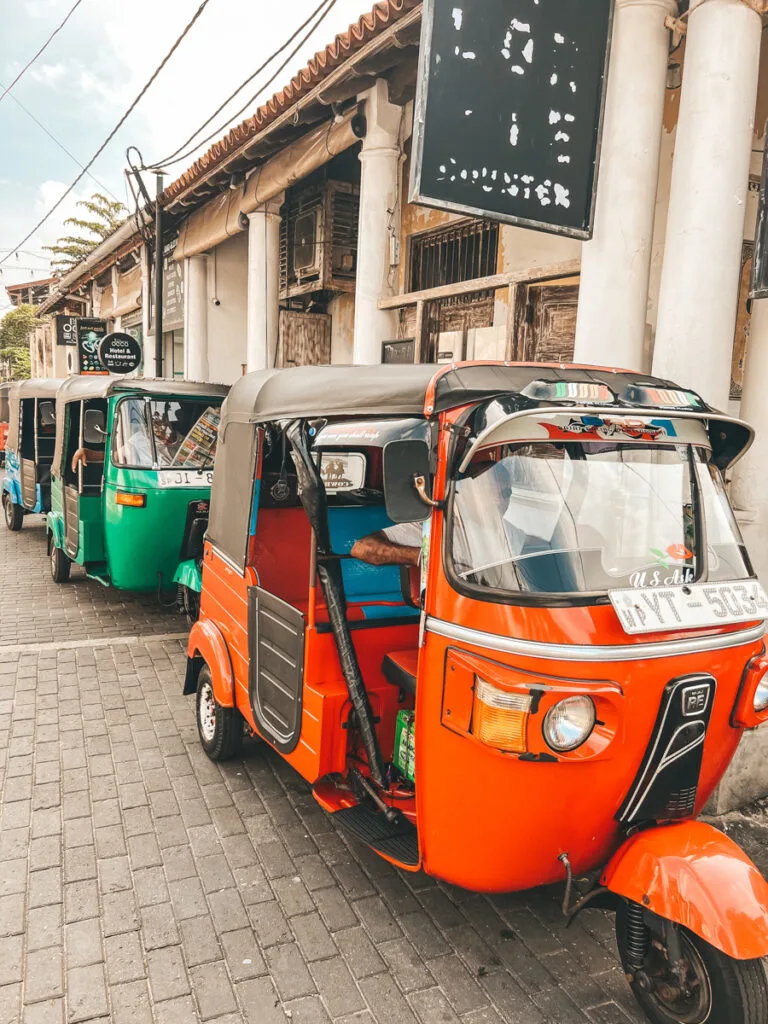 It is a beautiful place to explore, with so many hidden gems. Visiting the fort is one of the best things to do in Galle.
I love the colour and vibrancy of the fortress, from the red, blue and green tuk-tuks chugging through the centre to the locals playing board games on the side of the street. It very much reminds me of Hoi-an in Vietnam.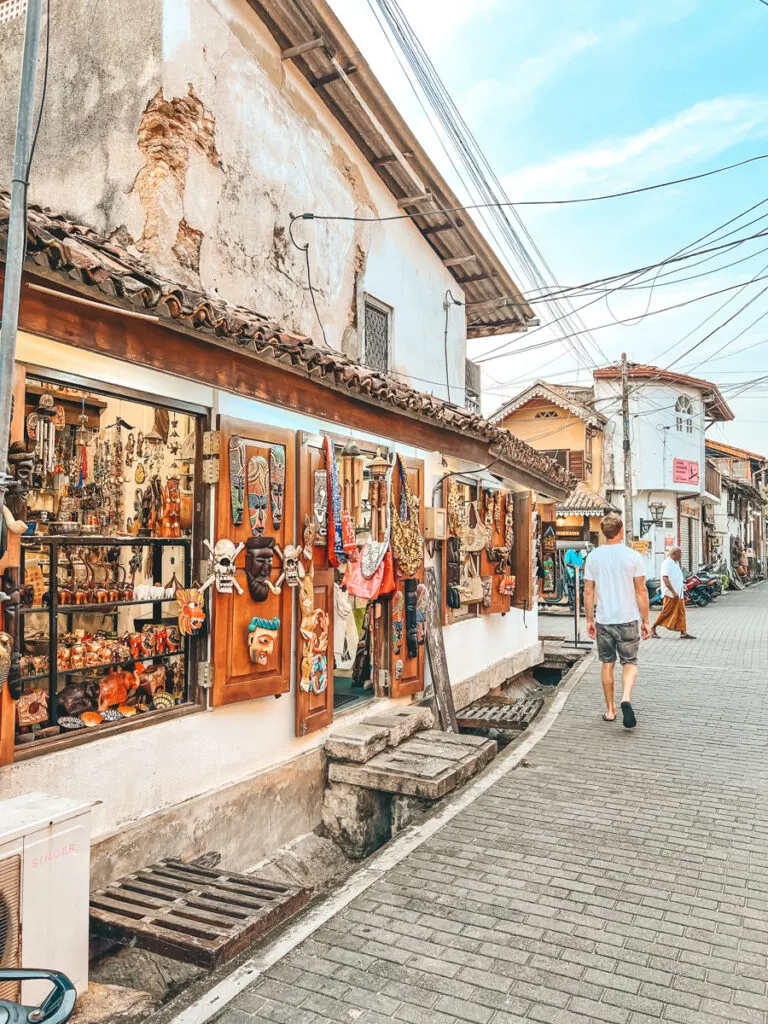 Not to mention the crumbling paint and historical road signage on buildings. It feels like a very special place. There are schools within the fortress, and children in bright white uniforms fill the streets come the afternoon.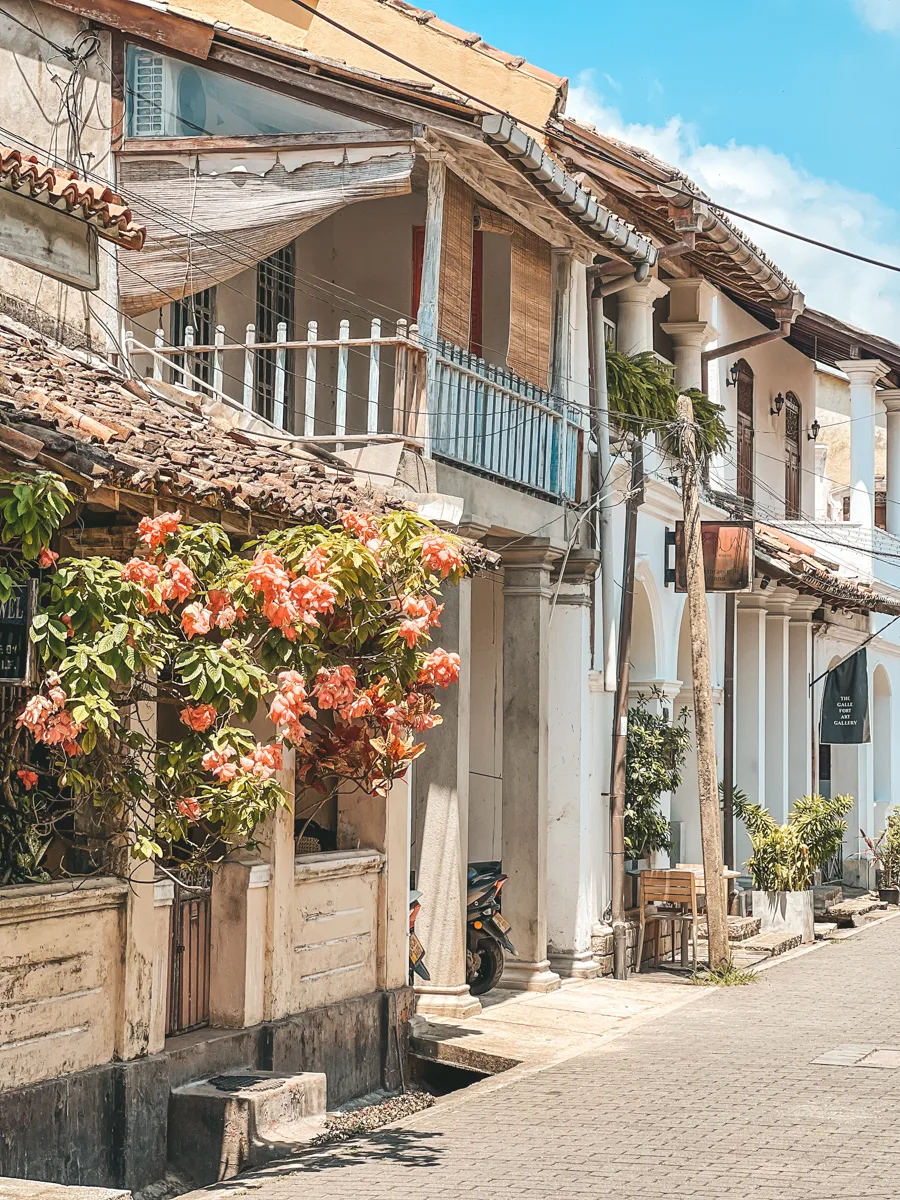 Although the fortress is a tourist hot spot, it is lovely to see the locals are still a part of the vibe. Unlike other parts of Sri Lanka, real estate owners have not sold much of the fortress's interior, which means it's held onto its charm and authenticity.
I love how the fortress is home to many religions and ethnicities, housing temples, mosques and churches.
So many quirks about the fortress are not listed in guidebooks or blog posts. The only way to discover these interesting gems is by walking through and chatting with the locals.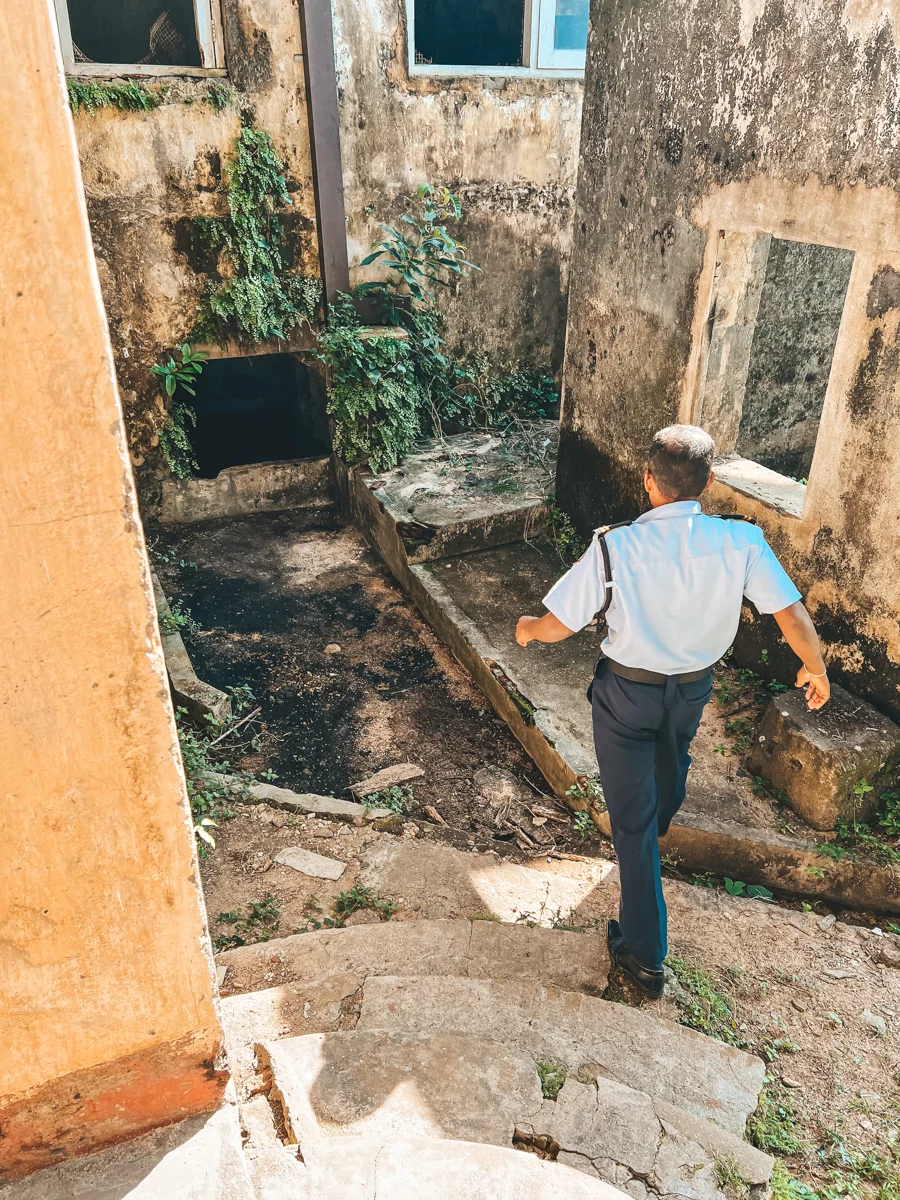 We've been shown derelict buildings with tunnels to the ocean, which was once used as a passage of trade. The history is mesmerising.
Walk Along The Fortress Wall
No trip to the fortress is complete without walking along the wall, and it has to be added to every list of things to do in Galle. There are several staircases throughout the fort where it is possible to get to the top.
Most of the wall is walkable, weaving around the coastline where the views are stunning of the Indian Ocean. It is certainly one of the most picturesque things to do in Galle.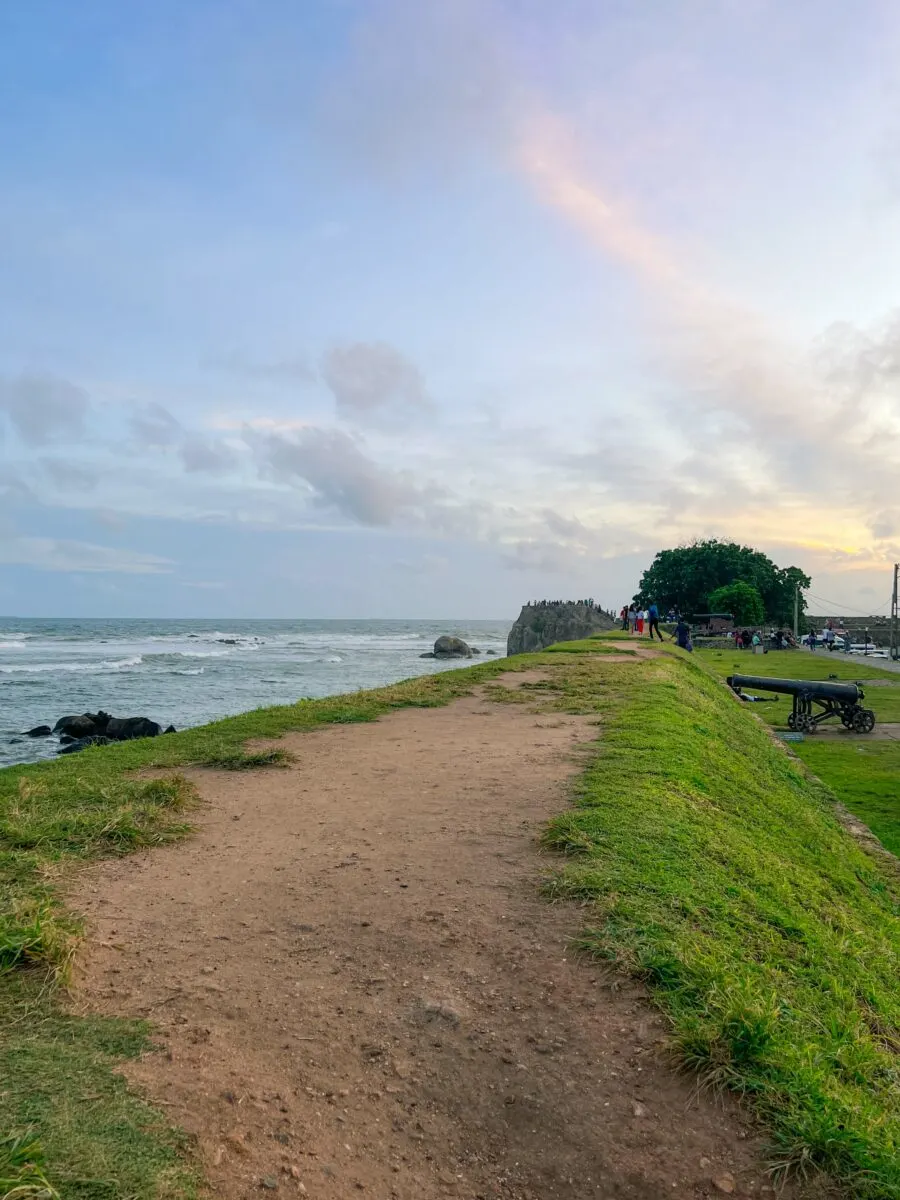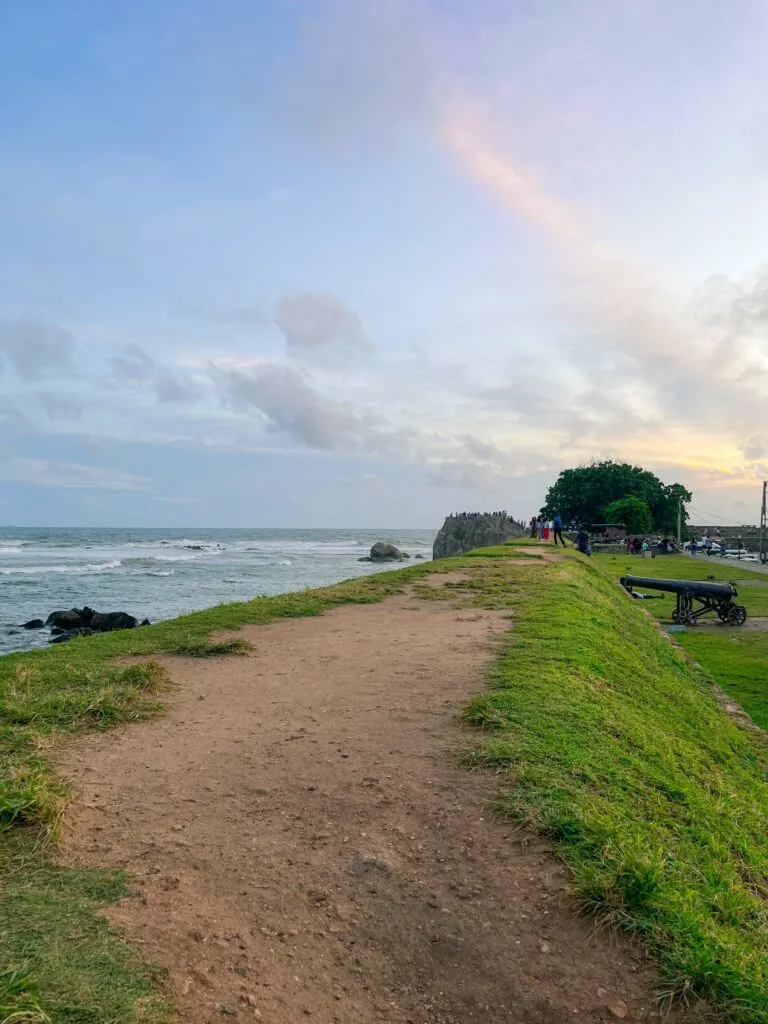 The best time to walk along the fortress wall in Galle is just before sunset. It has no shade, so it is quite hot during the day. Not to mention, it is wonderful when the sun is setting.
There are two entrances to the fortress. The one closest to the cricket stadium is a good spot to start walking along the fortress wall and take in all the main points of interest, including the clock tower and the lighthouse.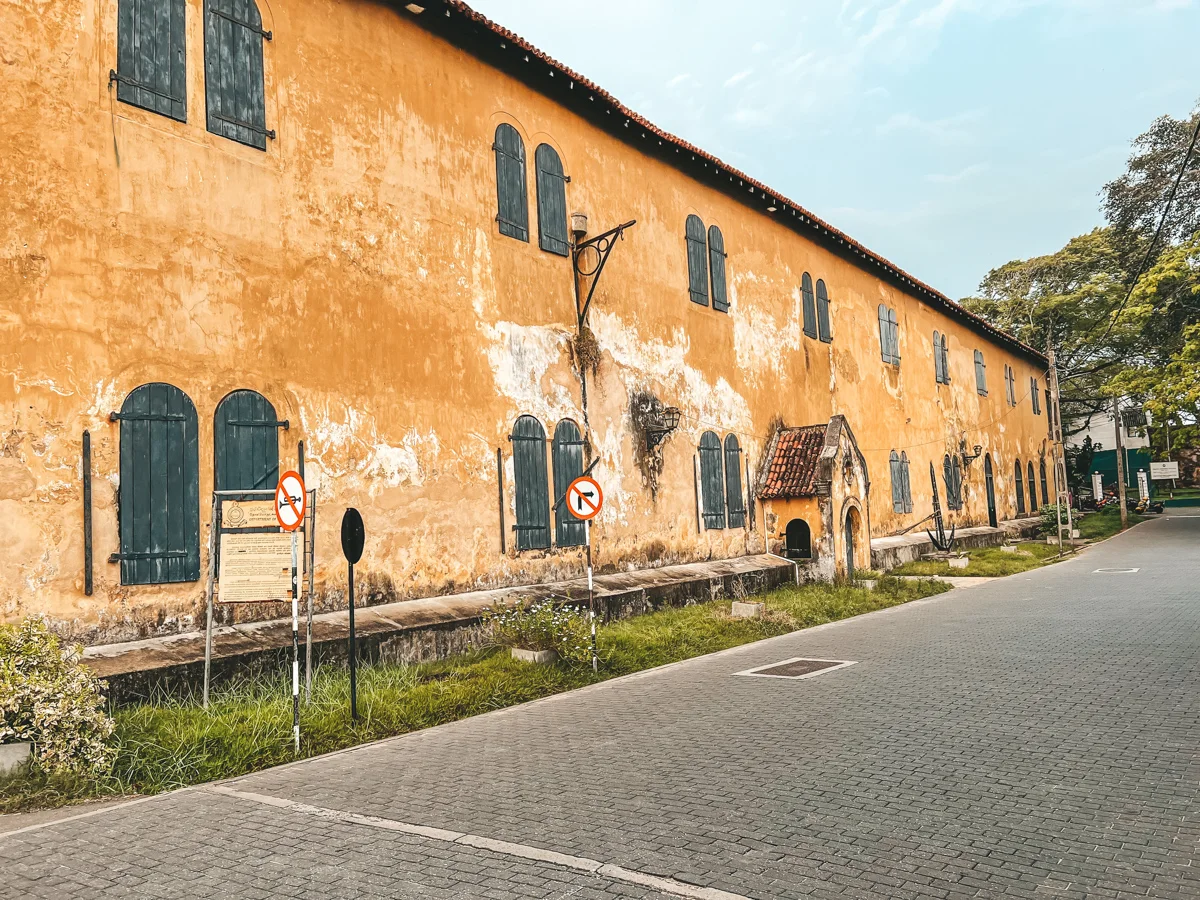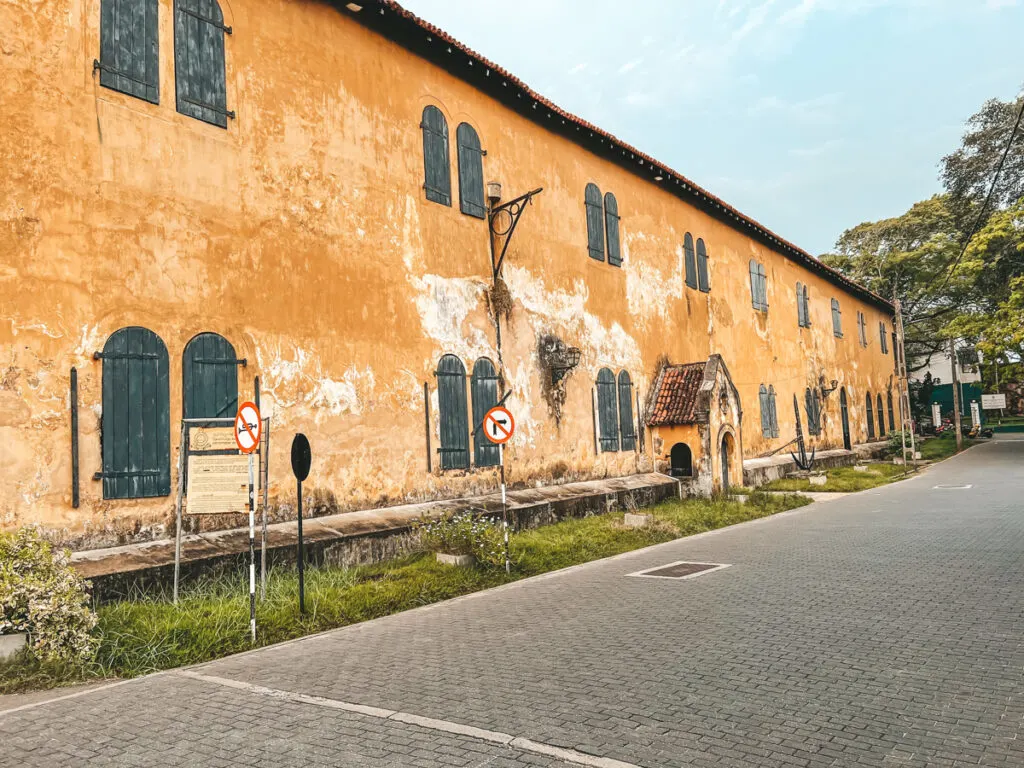 The stairs can be found just inside the wall to the left. Walking along the wall, you'll see the cutest fishing harbour with colourful boats, ancient buildings and the most stunning coastline.
My favourite entrance to the fortress is closer to the small harbour. It is considered the Old Gate. The arch on the wall is framed with vine-like trees and crumbling painted walls. There is also an emblem above the entrance from the Dutch era.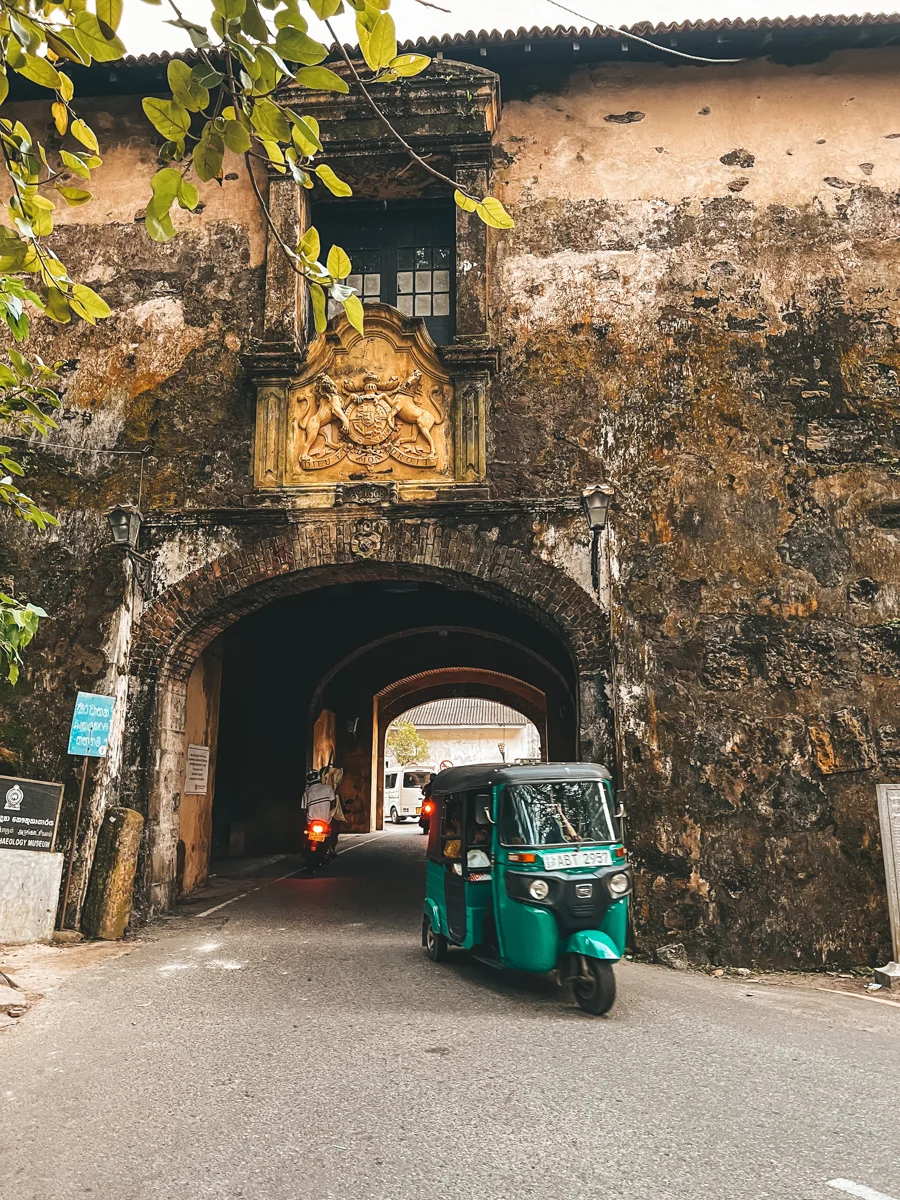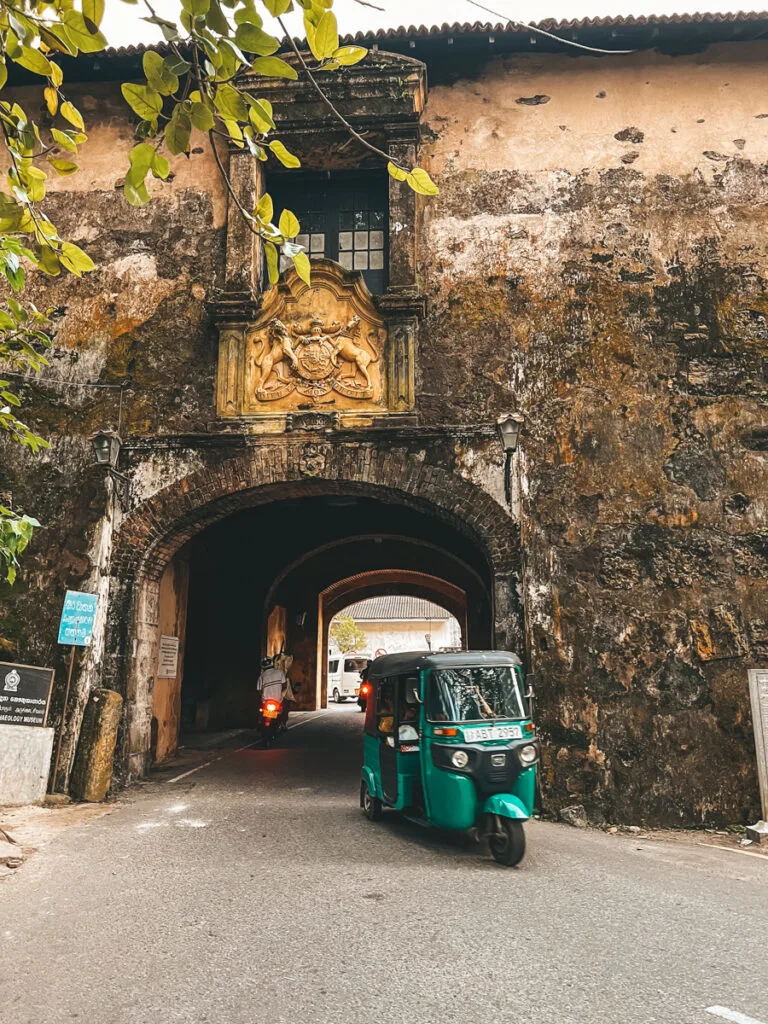 The arch beneath is bustling with locals and tourists passing into the fort on tuks tuks, bicycles or foot. Passing through the arch provides insight into the depth of the fortified wall!
Visit The Lighthouse
Pointe De Galle Lighthouse stands 26 metres tall and is one of the most iconic spots of the fortress. Many a postcard in Sri Lanka pictures the Galle lighthouse!
It was originally built in the mid-1800s. However, it was destroyed in a fire in 1936 and was rebuilt three years later.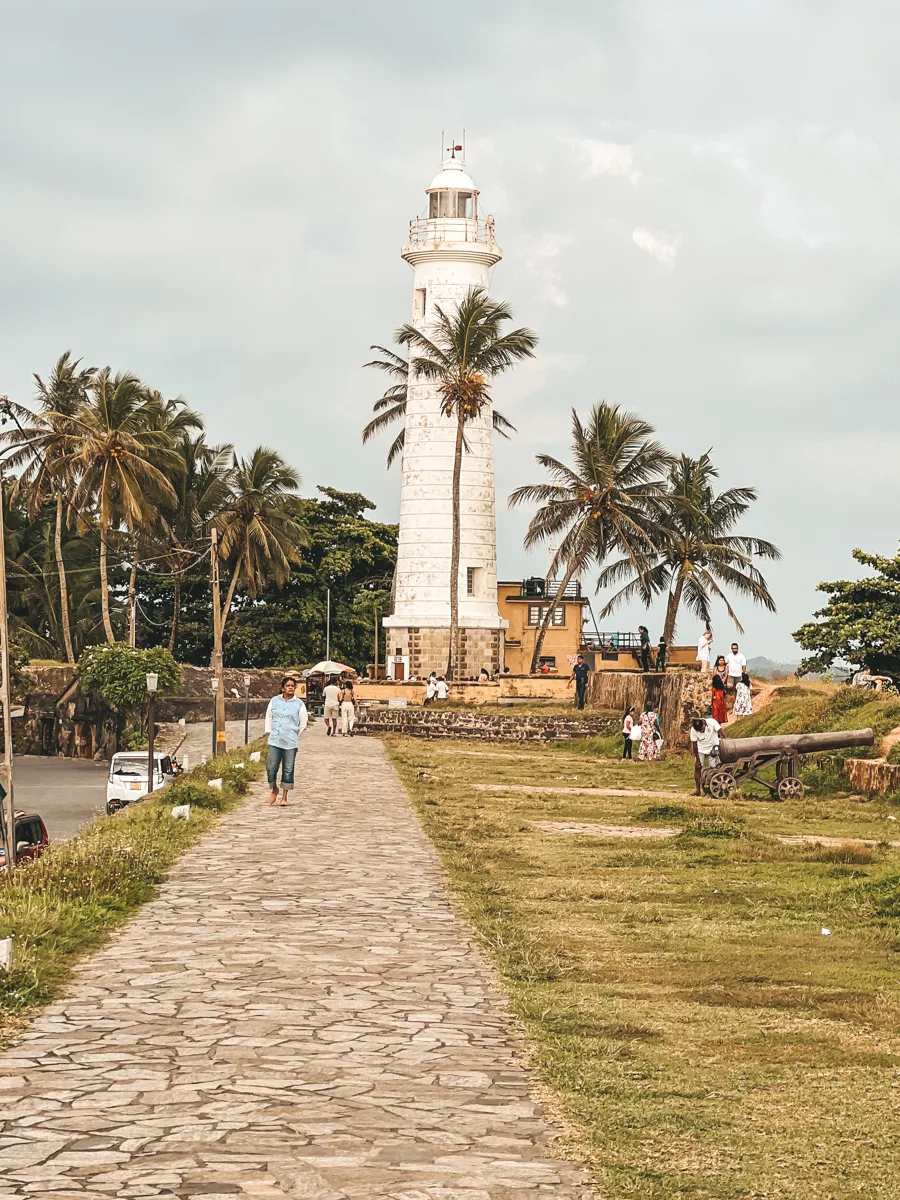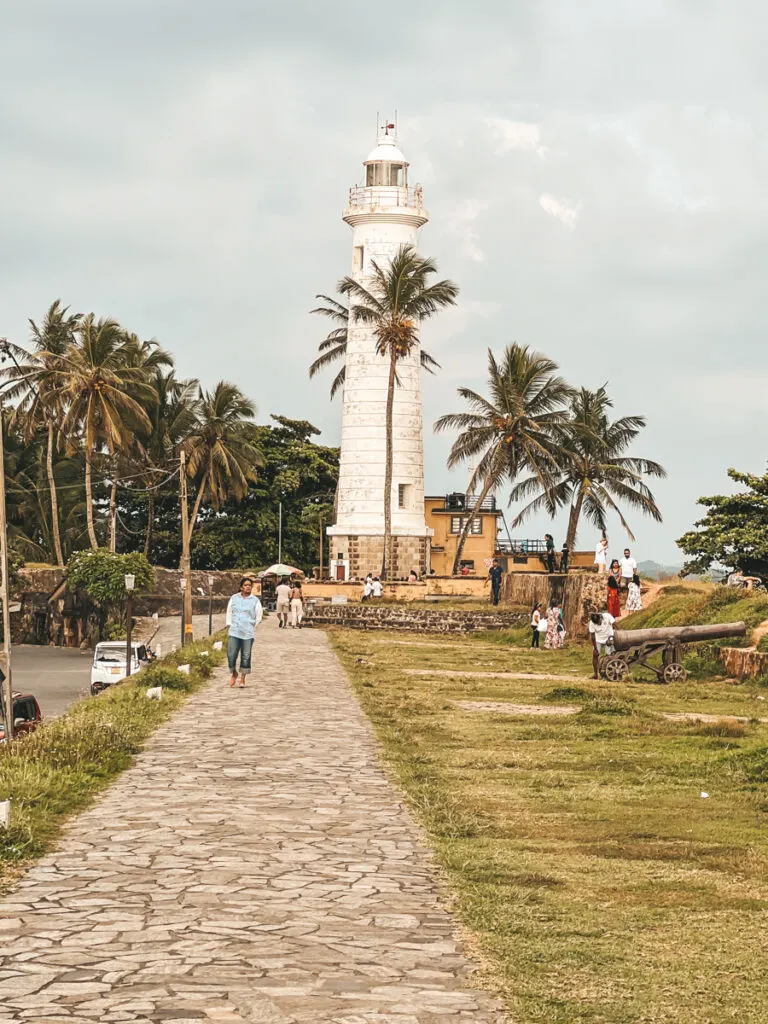 While it is not open to the public to climb to the top, the lighthouse is beautiful, especially from the fortress wall. It makes a beautiful photo.
There is lots of life beneath the lighthouse, with street vendors selling everything from coconuts to Sri Lankan street food, making it a lovely place to explore when it comes to things to do in Galle.
Wander The Streets Of The Fortress
If you don't fancy walking through the entire fortress wall, the lighthouse is a good spot to descend to the streets below.
Meander through and explore, or take a formal tour to get all the information and history about the fortress.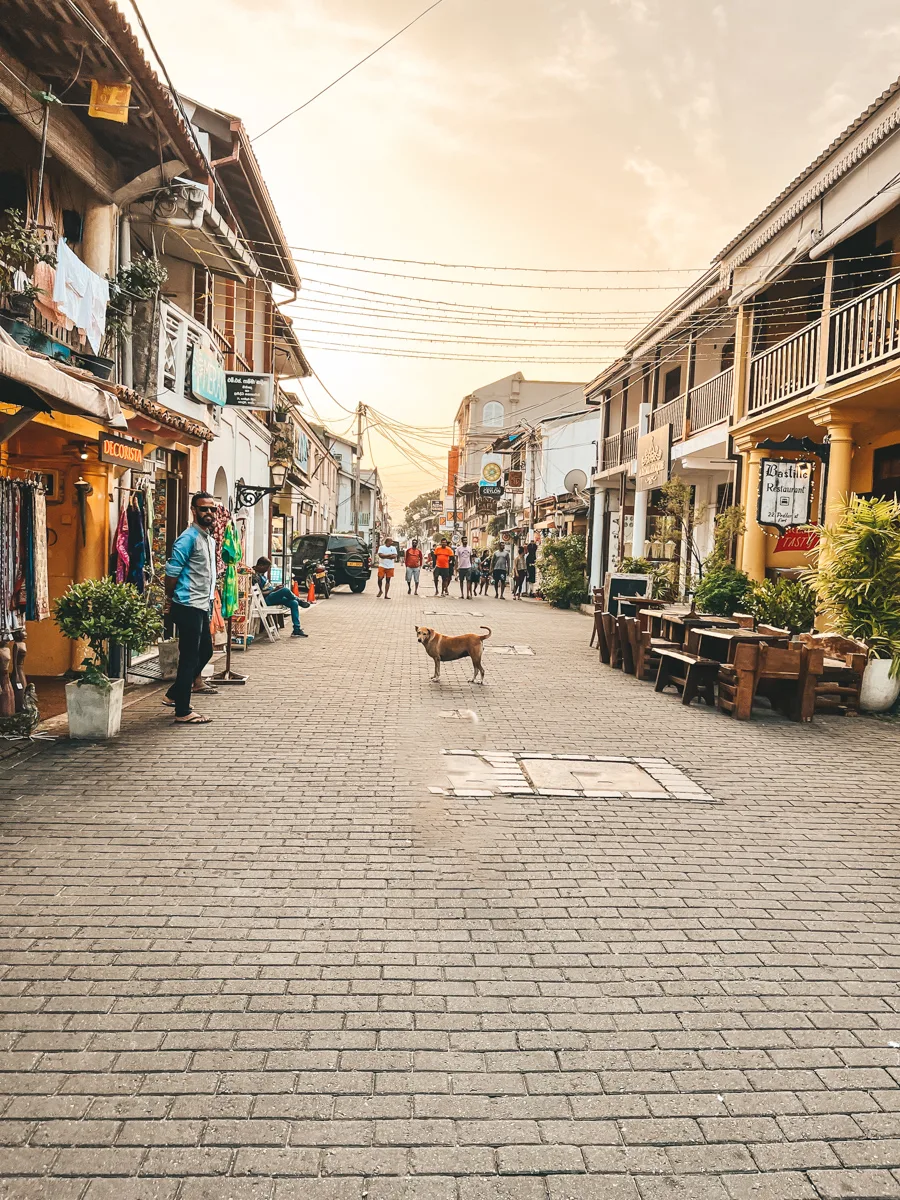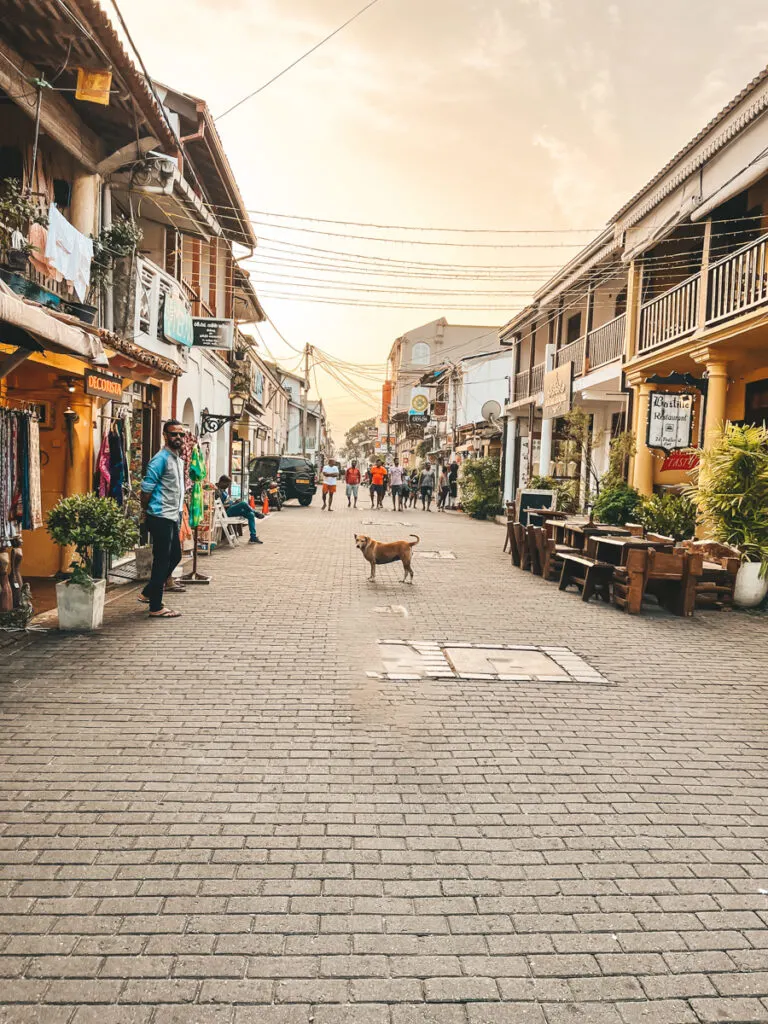 There is plenty to explore, including Court Square, which has some incredible ancient trees. Every time I go to the fortress, I feel like we discover a new street, even though I must have seen it all by now.
Some of the most iconic streets include Church Street and Pedlar Street, considered the centre.
Throughout the streets of the fort, you'll find some beautiful pieces of art and lots of stores selling gems. The craft stores are beautiful to explore.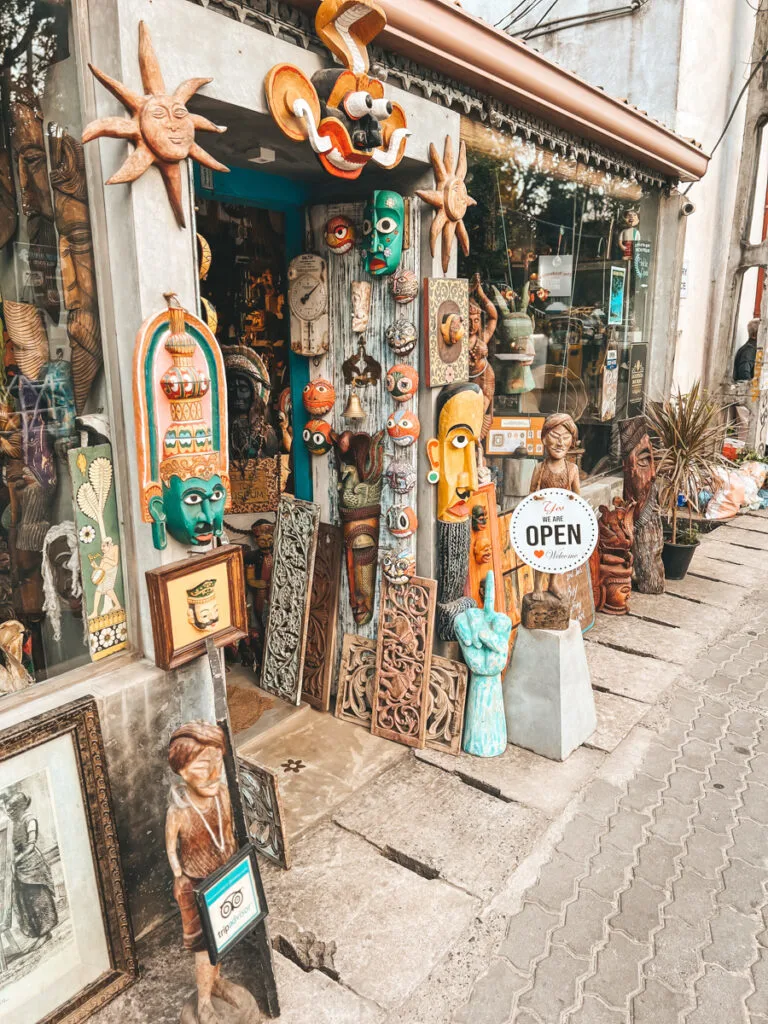 There are many great places to enjoy a coffee, sundowner, or a bite to eat. Some of our favourite places to eat include the Fort Bazaar. They have a fantastic menu in a beautiful luxurious setting. We pretty much go there once a week!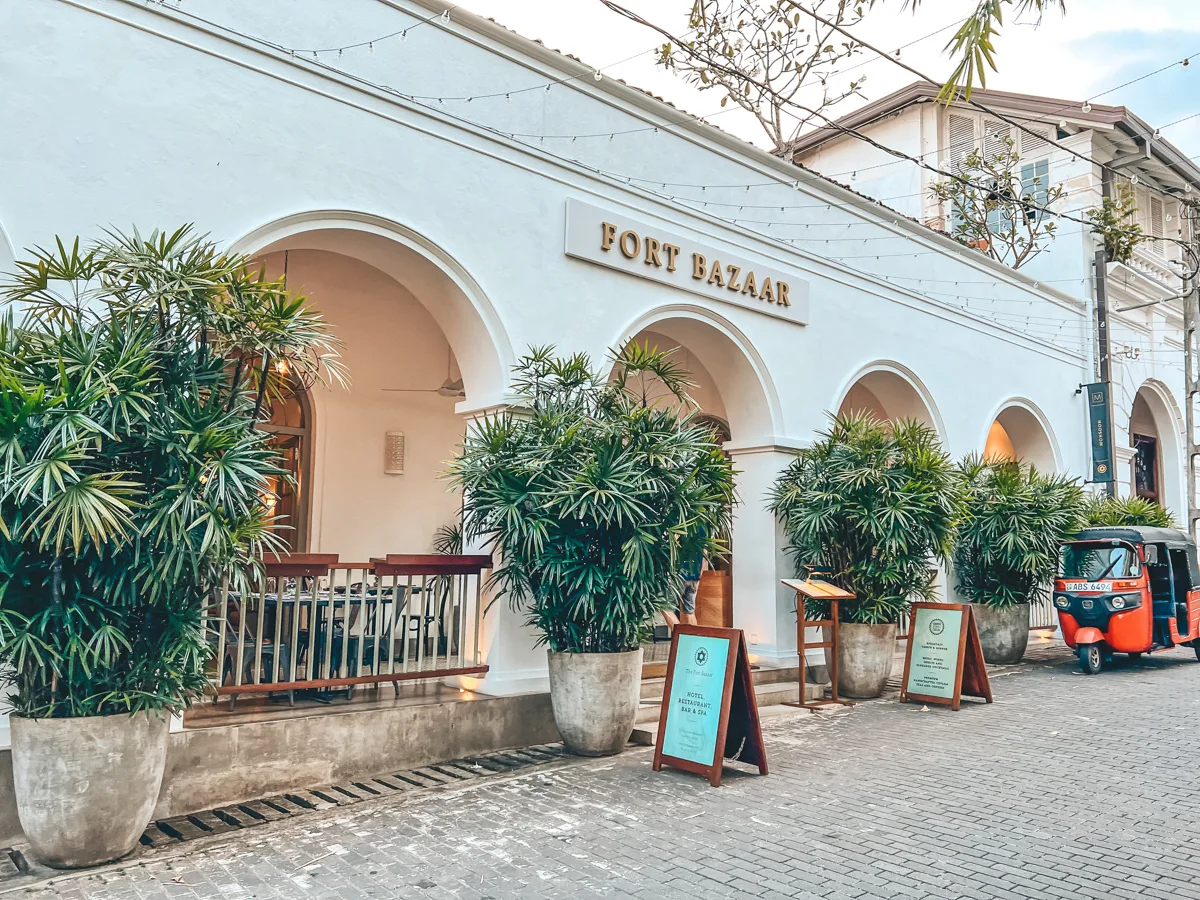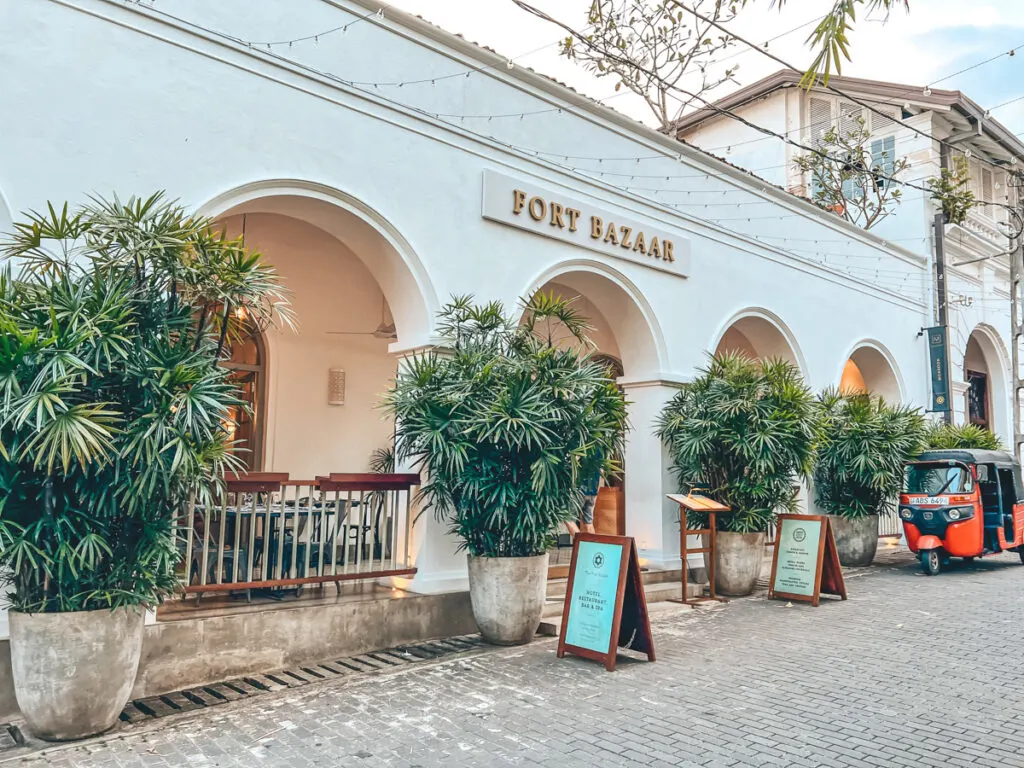 We also love Secret Garden on Pedlar Street, run by the most beautiful and hospitable Sri Lankan couple. It's super affordable and great food.
In terms of shopping, one of the most incredible shops I've ever seen (in the world) is KKC Boutique on Pedlar Street.
The store is based inside a colonial building with many architectural surprises. Aside from the beautiful apparel and crafts on sale, the setting is just stunning, making it a 'must visit' for things to do in Galle.
One building leads to another through corridors filled with beautiful pieces of art. The grand finale is a beautiful aqua-blue swimming pool set in a colonial-style courtyard surrounded by clothing rails.
It is a magical place to see even if you are not planning to buy something.
Impressive Buildings Inside The Fort

Inside the Galle Fort, several notable buildings are worth visiting. There are also walking tours with a private guide who can chart the fortress's history and culture with tickets available here.
The Dutch Reformed Church, also known as Groote Kerk, is an iconic building within the fort. Constructed in 1755, it showcases Dutch colonial architecture and is still an active place of worship.
As previously mentioned, the Old Gate is the main entrance to the Galle Fort and is a significant landmark.
The National Maritime Museum is a former Dutch warehouse and provides an understanding of the maritime history of Sri Lanka. There are many artefacts and displays to discover.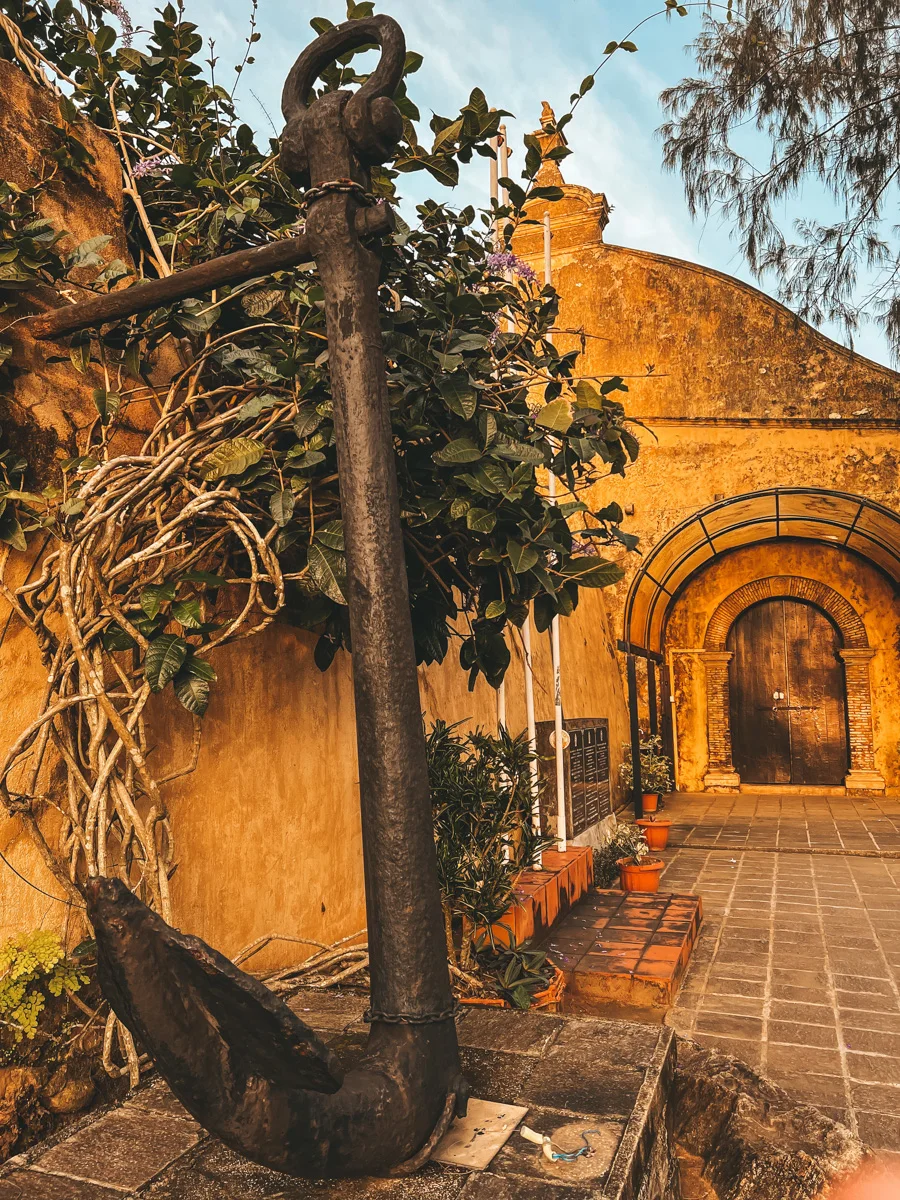 All Saints Anglican Church is another prominent building within the fortress. It was built during the British colonial era. It has Gothic architecture and is known for its beautiful stained glass windows. It is still an active place of worship and holds regular services.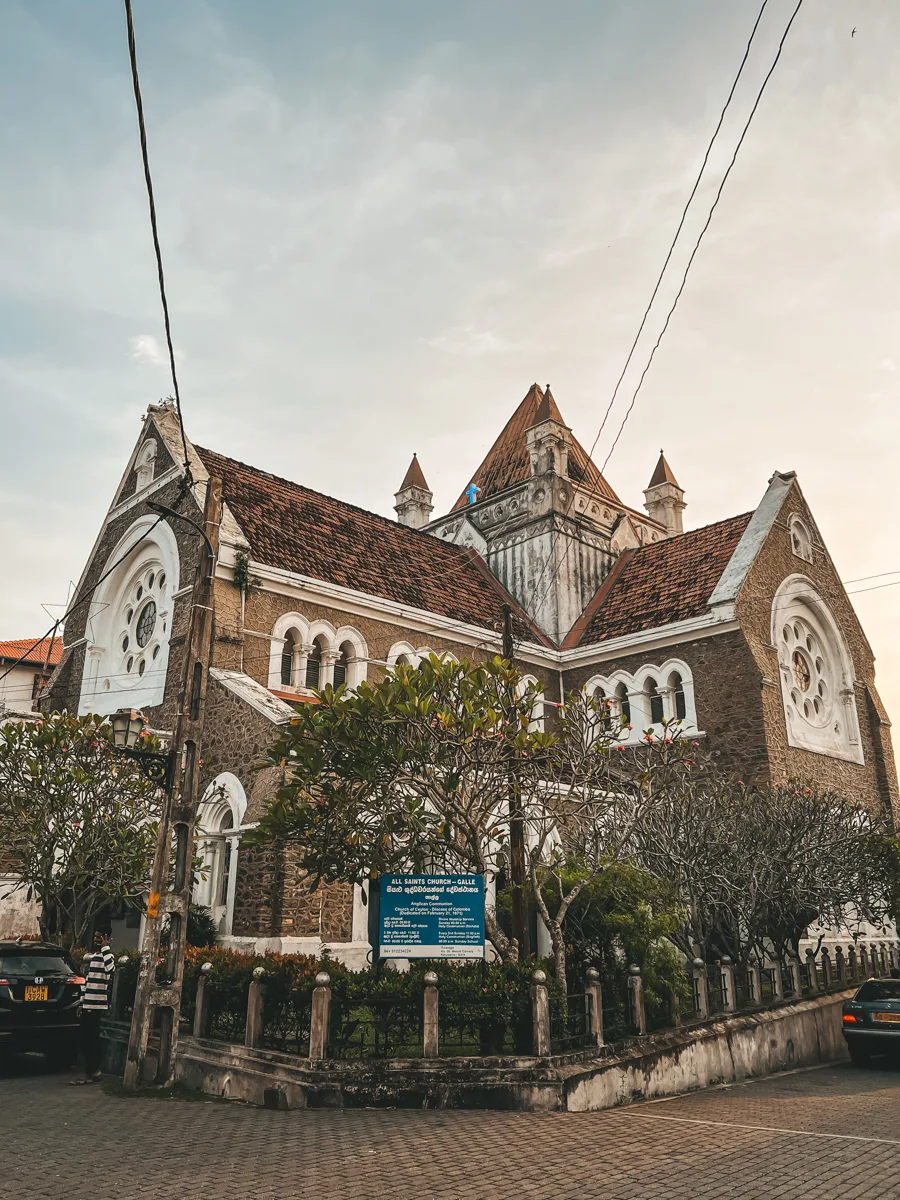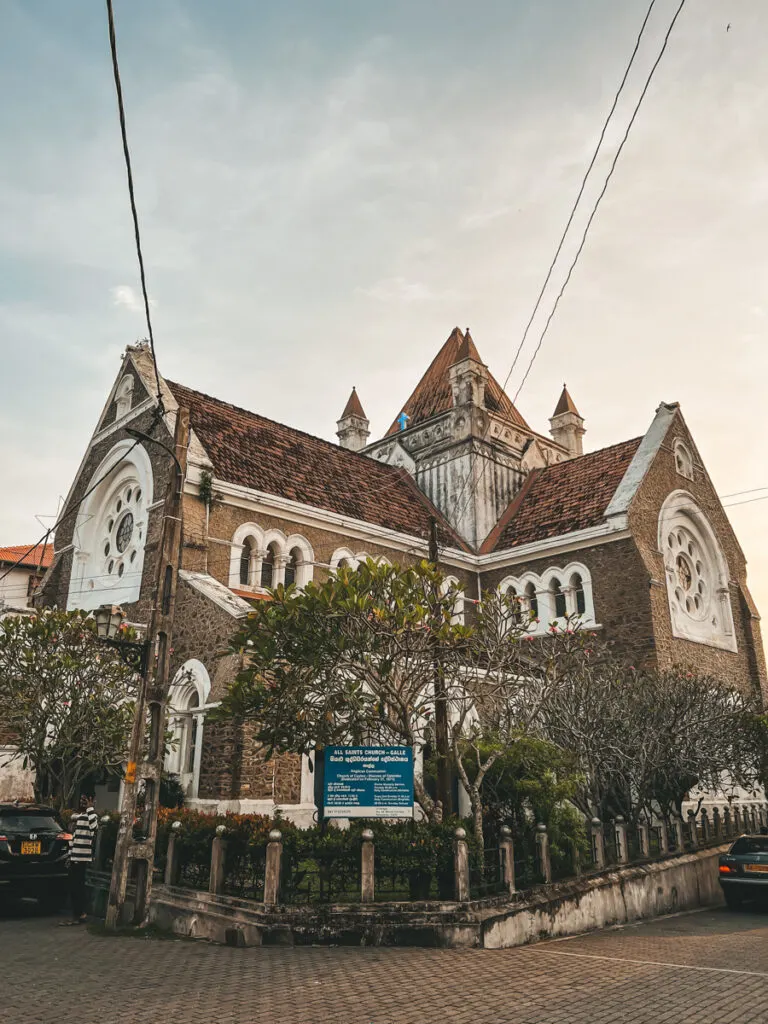 The Old Dutch Hospital dates back to the 17th century and has been restored and transformed into a vibrant shopping and dining precinct. It now houses stylish boutiques, art galleries, cafes, and restaurants. It is on the waterfront, so an ideal place to enjoy a coffee.
Meeran Mosque is quite close to the lighthouse and is another place with a stunning exterior. It has a mix of Victorian and Baroque architecture.
It was built in the early 1900s, supposedly where the mosque was previously located in the 1700s before Portuguese rule. Many residents of the fort are Muslim and can be seen on their way to pray in the evenings.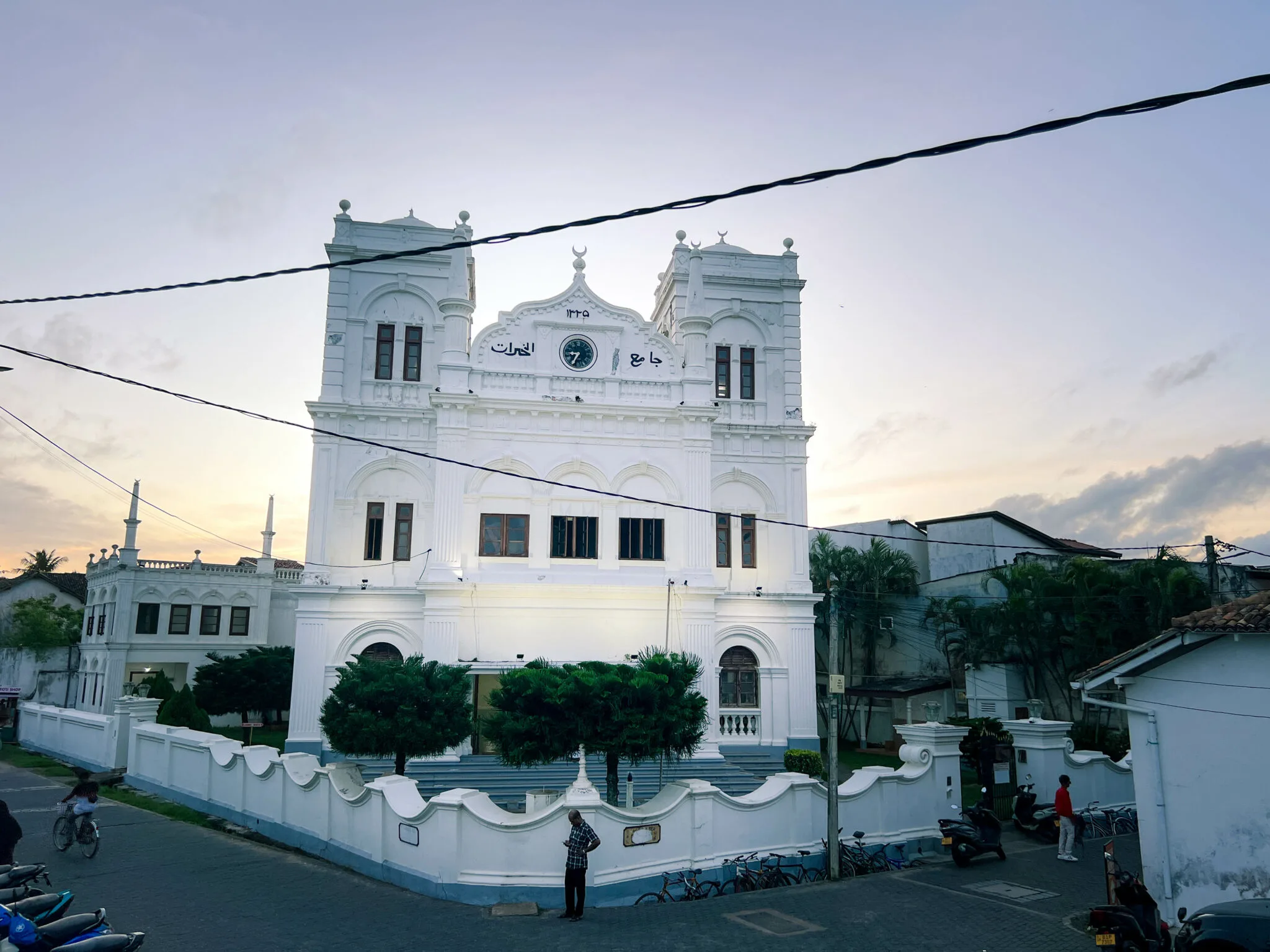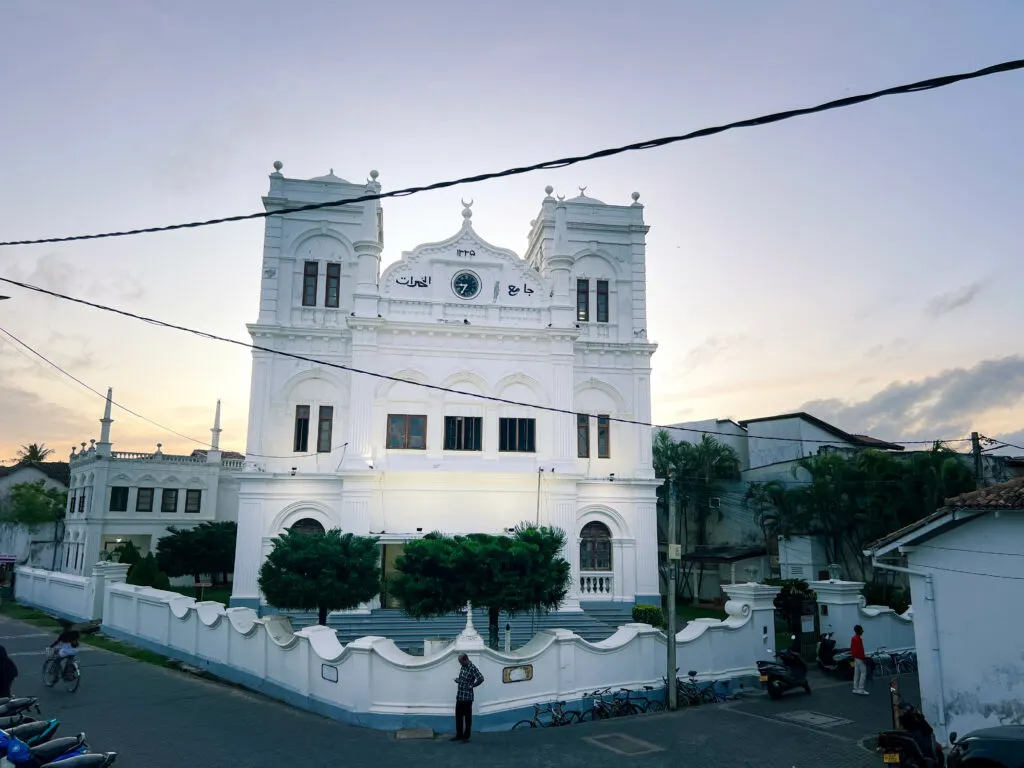 There is also a cycling tour of the fort if you don't wish to walk and tickets can be booked here.
Watch A Cricket Match
Galle is home to Sri Lanka's international cricket stadium, the country's most beloved sport. I don't think any Sri Lankans don't love cricket.
When we venture into villages, we see locals playing cricket in every corner of Sri Lanka. In fact, the country won the cricket world cup in 1996.
The international stadium is right outside the fortress wall and many spectators actually perch on top of the wall for a cheeky free view of the match. Many locals do the same. Needless to say when Sri Lanka is playing, the atmosphere is electric.
Tickets to a game can be purchased on this cricket site.
Visit The Markets
There are tonnes of incredible markets all around Galle. Some are on specific days, whilst others run all week. Some sell fresh produce, and others sell crafts, clothing and souvenirs.
One of my favourite places is the fruit market since it is so colourful and vibrant. Vendors offer to 'try before you buy'. There is nothing better than sampling the freshest bananas, papaya and watermelons!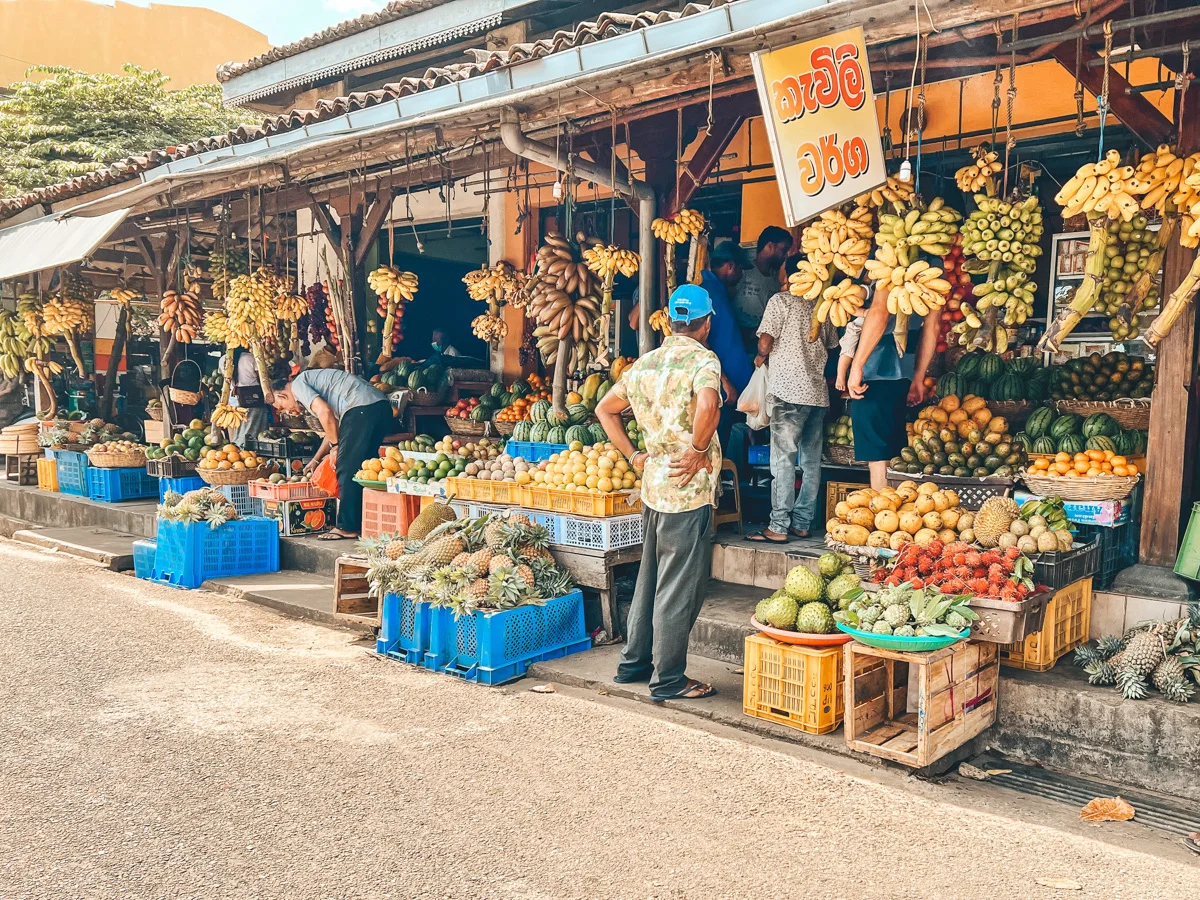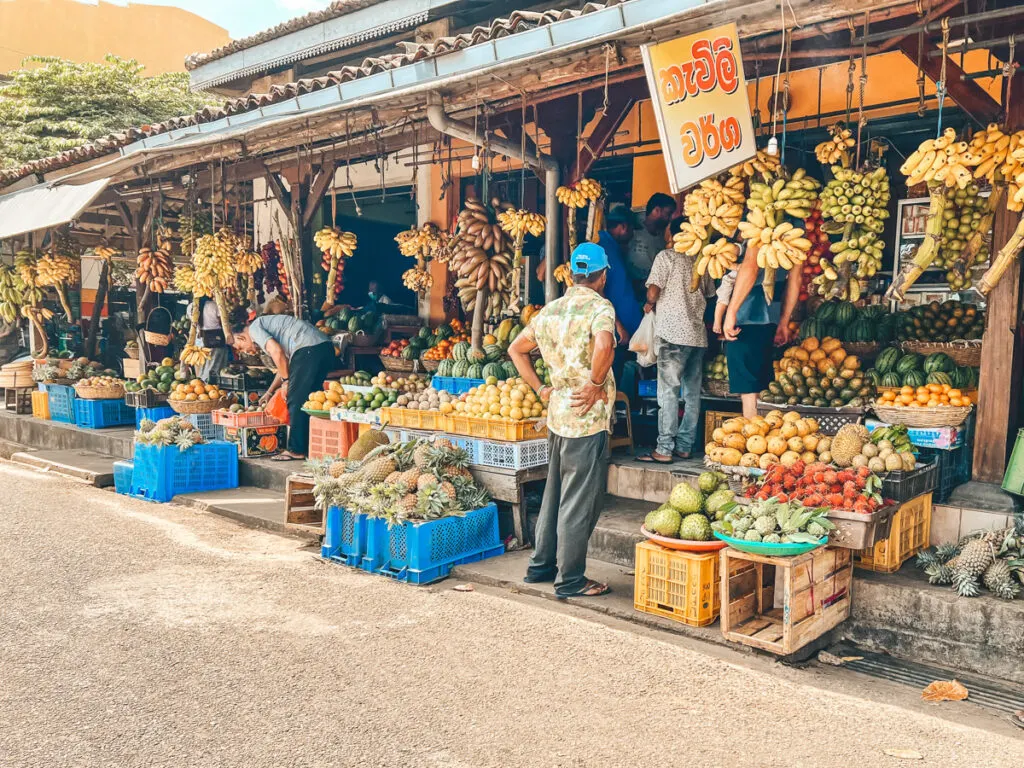 Galle Fruit Market is based on Sea Street, exactly as it says, it is on the road between Galle Fort and Unawatuna which runs along the coast.
Not only is the fruit bright, colourful and vibrant, it's also presented and arranged beautifully! Make sure to stop by if you are passing for a photo and pick up some of the best fresh produce Sri Lanka has to offer.
Visiting markets is a great way to see the daily life of locals making it an authentic experience when it comes to things to do in Galle.
Have A Beach Day
There are many beautiful beaches in Galle. However, those closest to the fortress are not the nicest ones.
Some of the best beaches in the district of Galle are Bentota, Balapatiya, Hikkaduwa, Thalpe and Ahangama. These spots are most certainly the place to be when it comes to relaxing things to do in Galle.
Bentota is a well-known beach that offers surfing, and watersports and is relatively safe. Balapaitya has wild beaches which are less explored and provide the ultimate hideaway in paradise.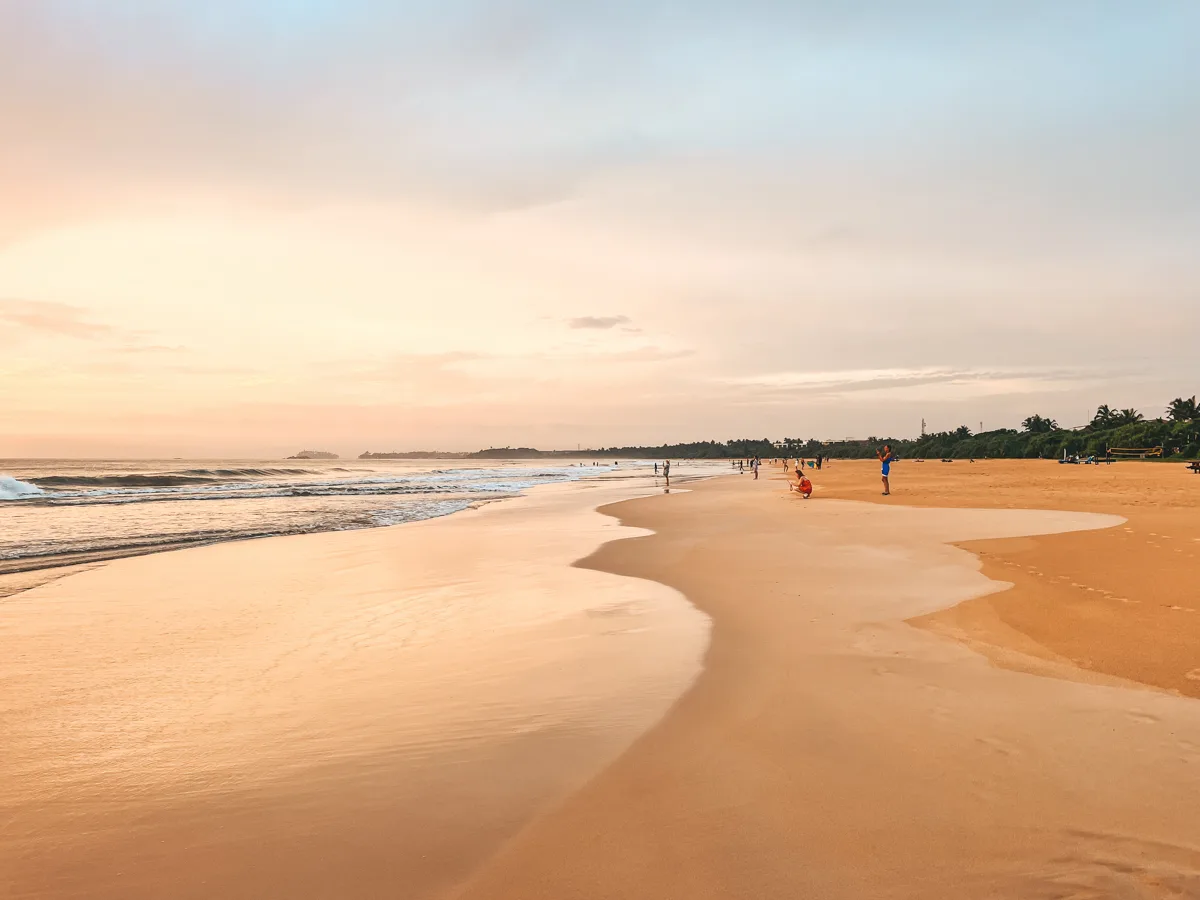 Hikkaduwa is a popular surfing beach with reasonably sized waves and has a section where it's possible to snorkel with turtles. There are many cafes and restaurants set back from the beach. One of our all-time favourites is Salty Swamis!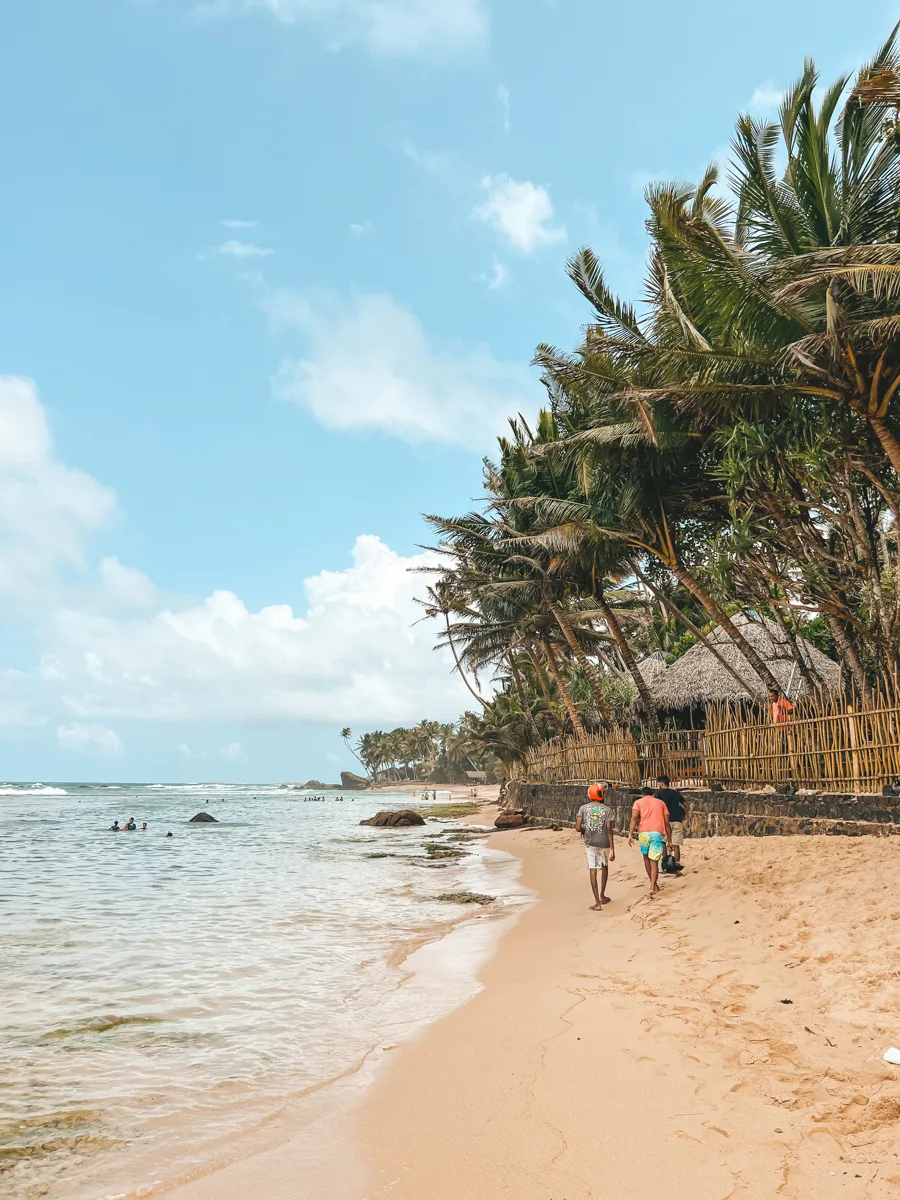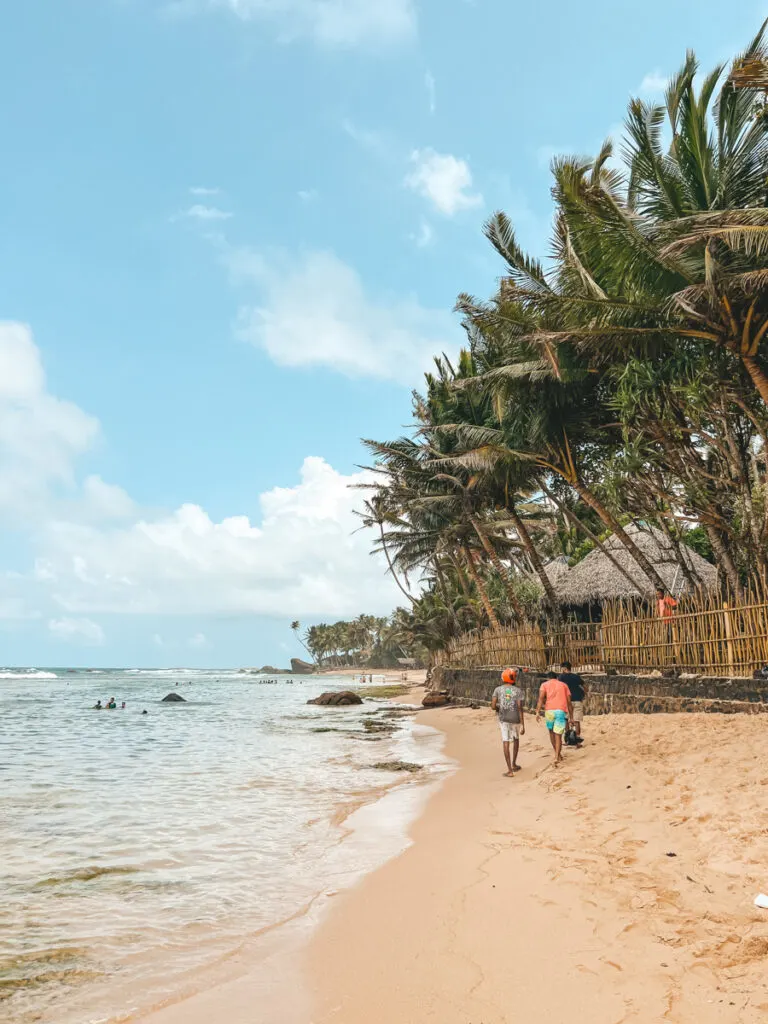 It may be an unpopular opinion but I suggest bypassing the popular Unawatuna Beach. It is quite steep and overcrowded with tourists. I kind of see it like the Kuta of Bali.
Wijaya Beach is a little further south, has a lovely lagoon and is completely protected from the surf. There are huge turtles in the lagoon and the water is crystal clear. The beach gets quite busy high season so it's worth going earlier to enjoy it in peace.
Thalpe is known for its natural rock pools which is a unique experience. There are some lovely stretches of sandy beaches in Ahangama.
Ahangama is becoming more and more popular and is becoming the surf town of choice for many. The beach is beautiful and has many surf breaks and again plenty of cafes to enjoy in the area.
One of the nicest cafes is The Cactus which is also beachfront.
When it comes to the best things to do in Galle, watching the sunset from any of the beaches is incredibly picturesque.
The colour palate of the sunsets is wonderful and the shadows of the sloping palm trees make it truly Sri Lankan and beautiful.
If you fancy venturing further afield, check out this post on Hiriketiya Beach.
See The Stilt Fishermen
The stilt fishermen in Sri Lanka are iconic to the south and are featured on many postcards, travel books and guides.
This traditional technique involves fishermen perched on wooden stilts planted in the shallow waters along the coastline, waiting to catch a fish.
The practice is thought to have originated during World War II when there was a shortage of fishing equipment. Since then, it has become an iconic part of Sri Lankan culture.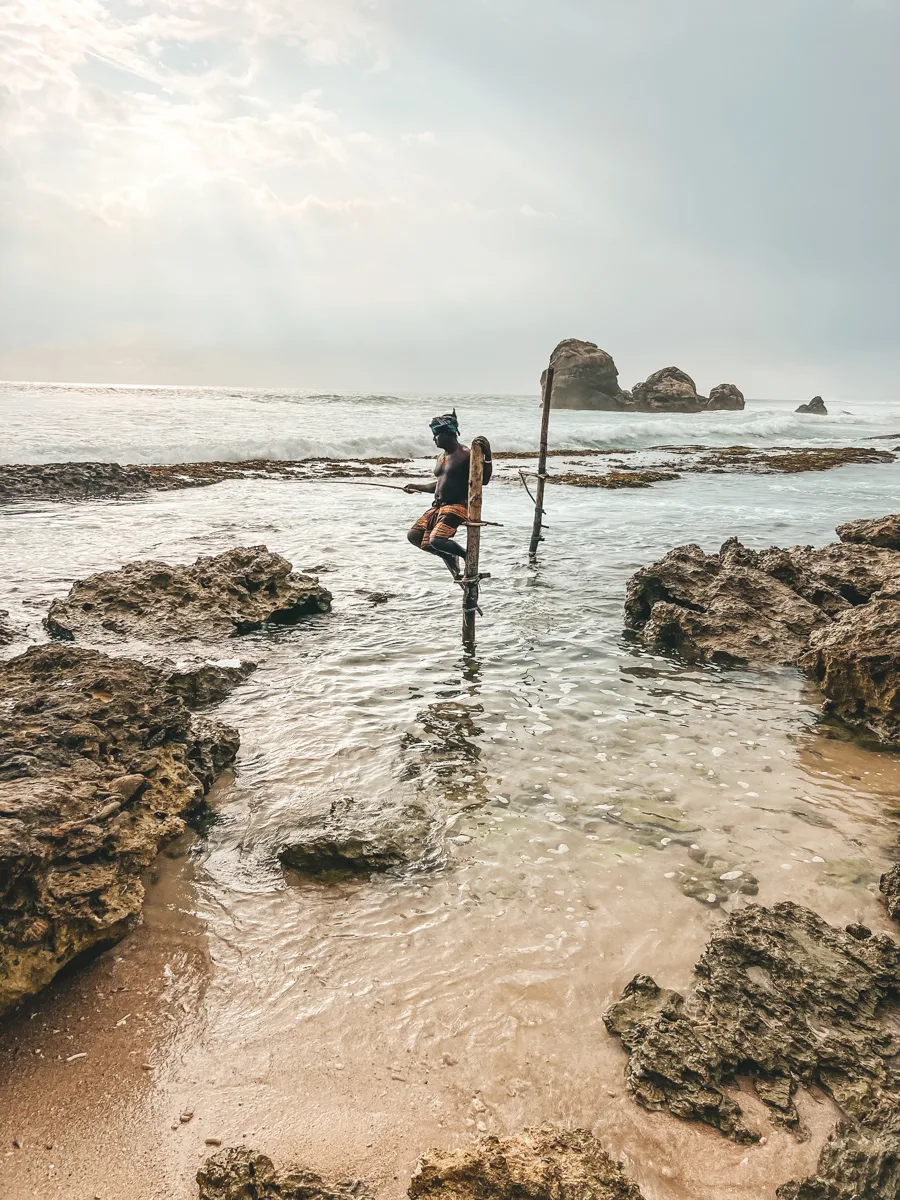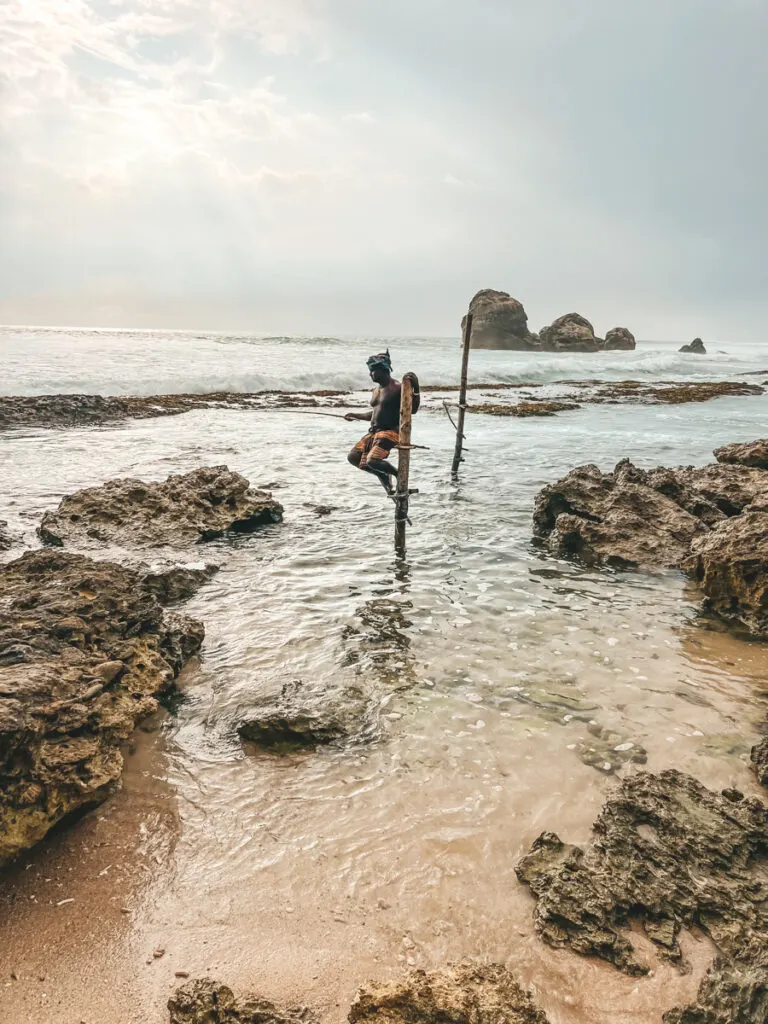 Koggala is one of the most well-known spots to see the stilt fishermen. These fishermen will give you an opportunity to pose for a photo like a local, or they are happy to pose for you for a tip. Either way, they will want payment. Generally, they are happy with 500rps.
Whether the actual practice continues to this day is questionable. Nonetheless, it is still possible to snap the unique shot along the coast.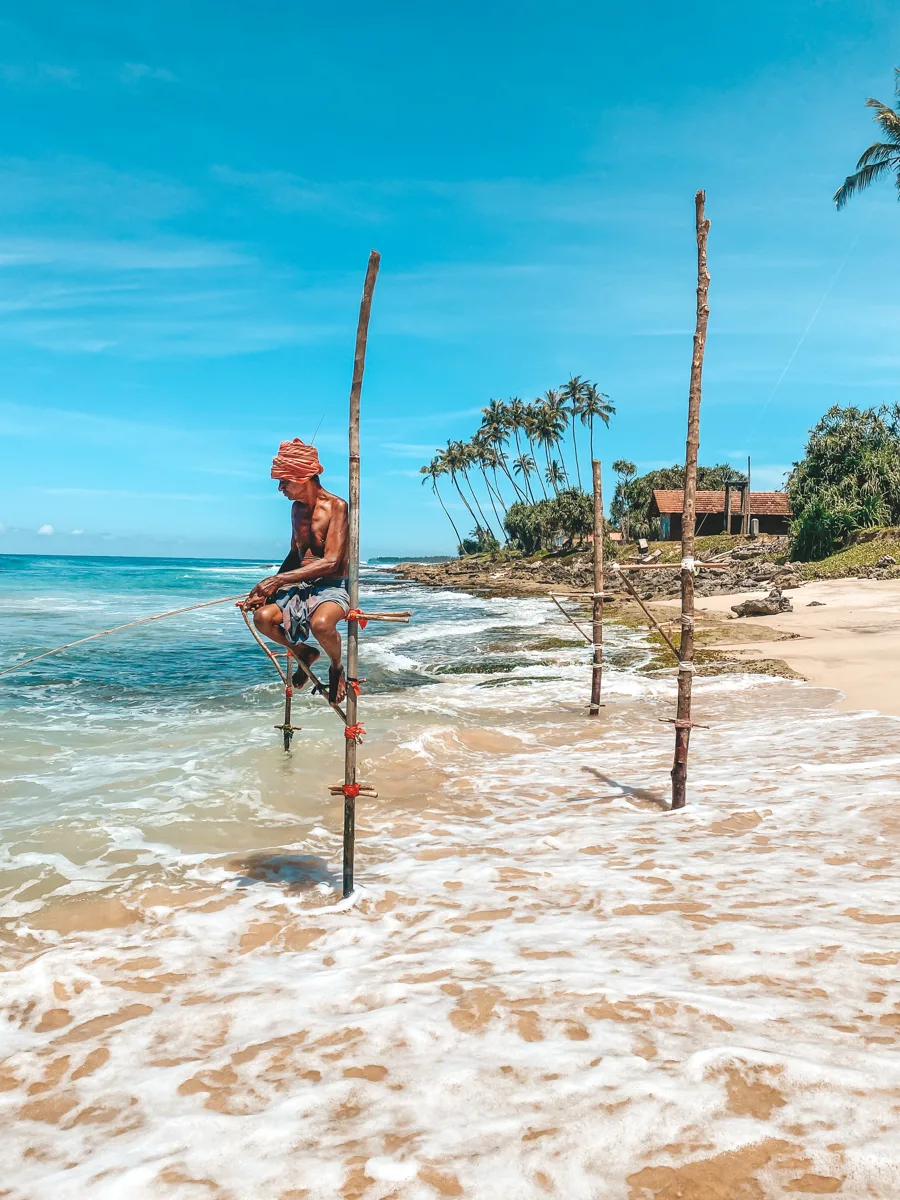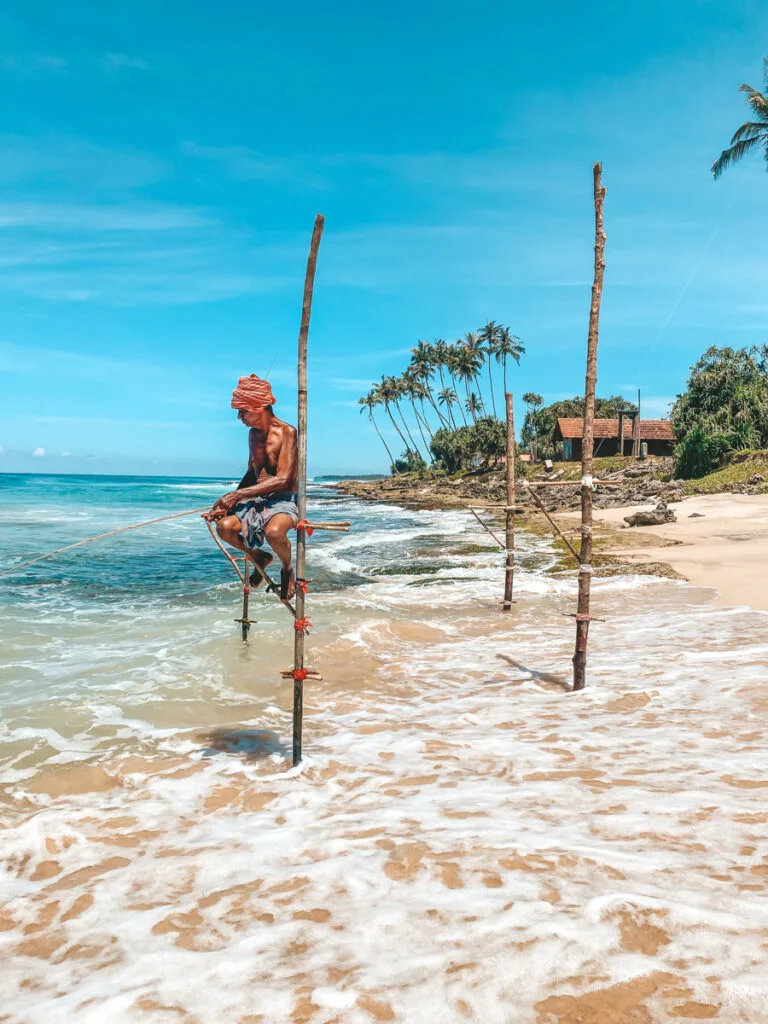 I can certainly say my dad had lots of fun climbing the stilt for a photo making it one of the more hilarious things to do in Galle.
Learn Sri Lankan Cooking Methods
One of the most lasting memories for many who visit Sri Lanka has to be the food. It's incredible. I had expected the cuisine to be similar to Indian food but it is very different and a lot lighter.
A typical Sri Lankan curry served in many restaurants will feature rice, dhal, popadoms and small portions of multiple curries and vegetables.
Some of the flavours include coconut, cinnamon, tamarind, turmeric and curry leaves are often added to the food whole.
The methods are unique and such a lovely skill to take home and influence your cooking. There are many different lessons around Galle.
Many experiences include a trip to the markets to pick up the ingredients before cooking with an instructor making it one of the best things to do in Galle.
Check out this incredible cooking lesson here.
Visit A Temple
There are many beautiful temples throughout Sri Lanka. Some of our favourites in Galle is the Kande Viharaya Temple in Bentota.
This temple features a 180-foot giant pink Buddha sitting crossed-legged on the top of a hill. The grounds of the temple are extensive.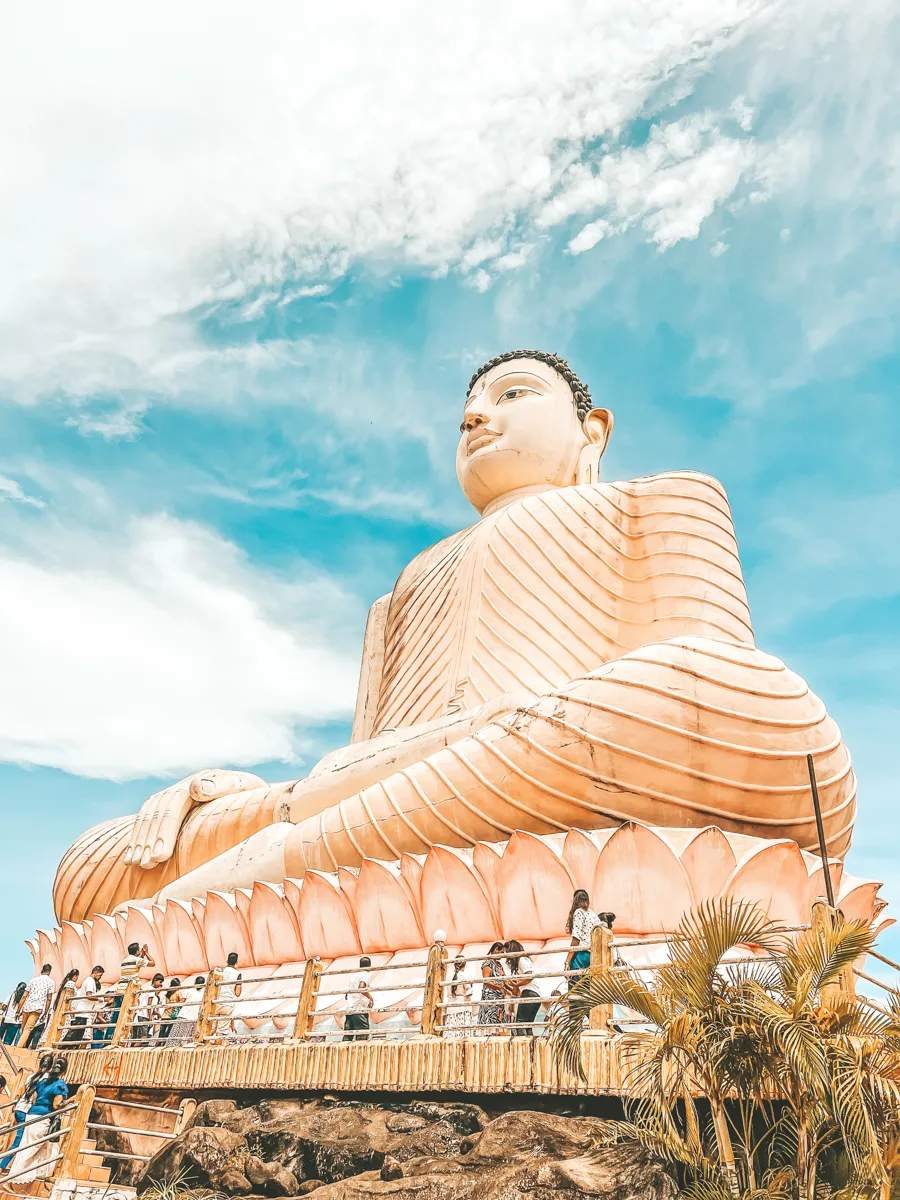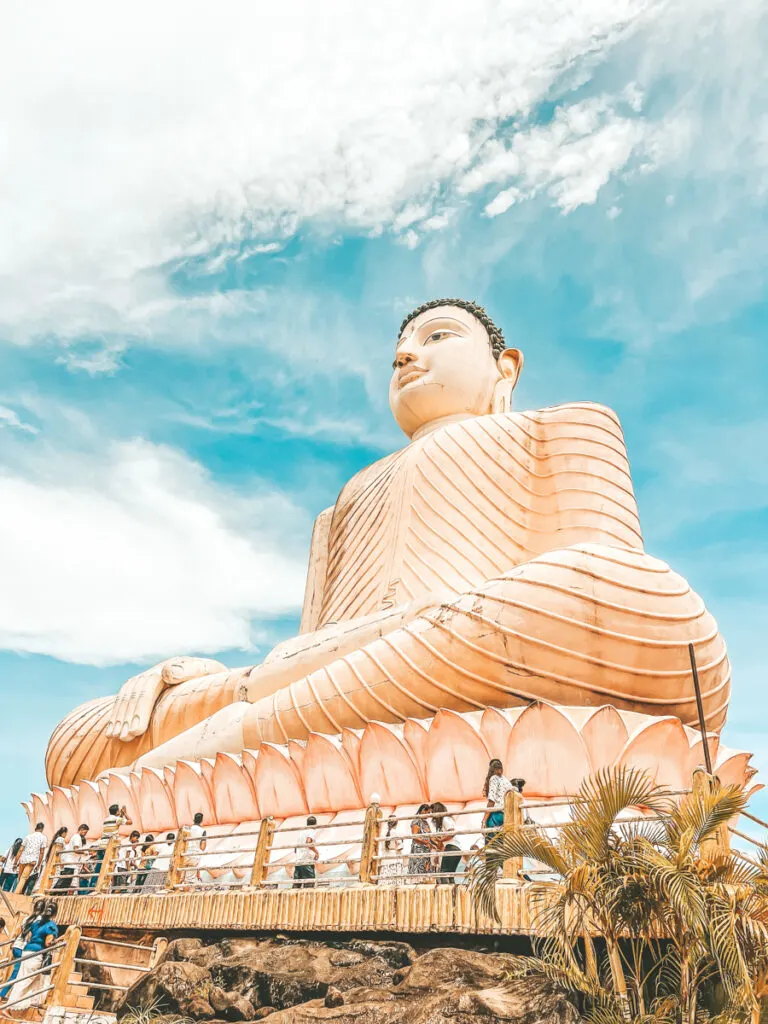 Within the temple, there is a 300-year-old Bodhi Tree where Buddhist worshippers can be seen watering the tree. Not to mention a beautiful stupa, a relic chamber and two other temples.
If you are lucky enough to visit Poya, a full moon holiday in Buddhism, it is a fantastic time to witness the practices within the temple.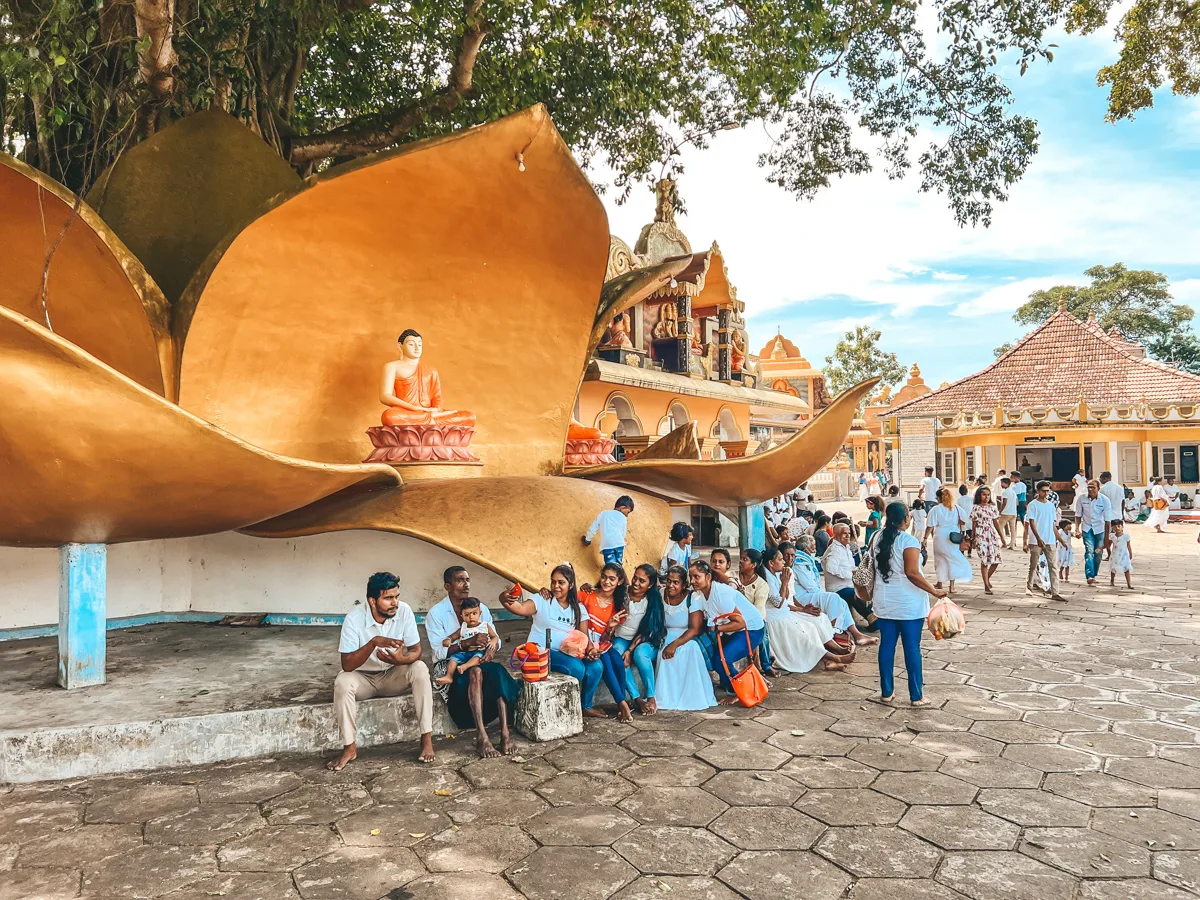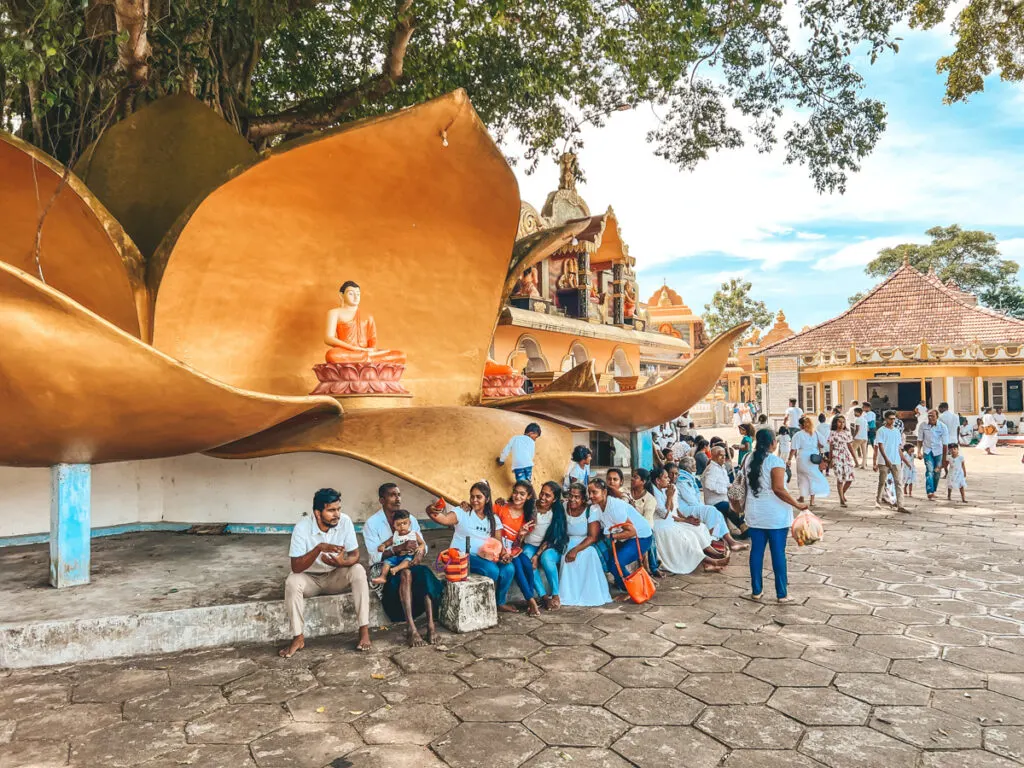 Another lovely temple which is a lot smaller is in Hikkaduwa. A giant orange-coloured Buddha stands next to a staircase overlooking the train line beneath.
It has an interesting design which has influences from the Portuguese and Dutch colonisation. Some of the paintings within the interior of the temple date back to the 18th century.
Within the chamber, guests can pass through a corridor of incredible paintings before finding Buddha in a lying position surrounded by flowers and guarded by a giant cobra snake sculpture.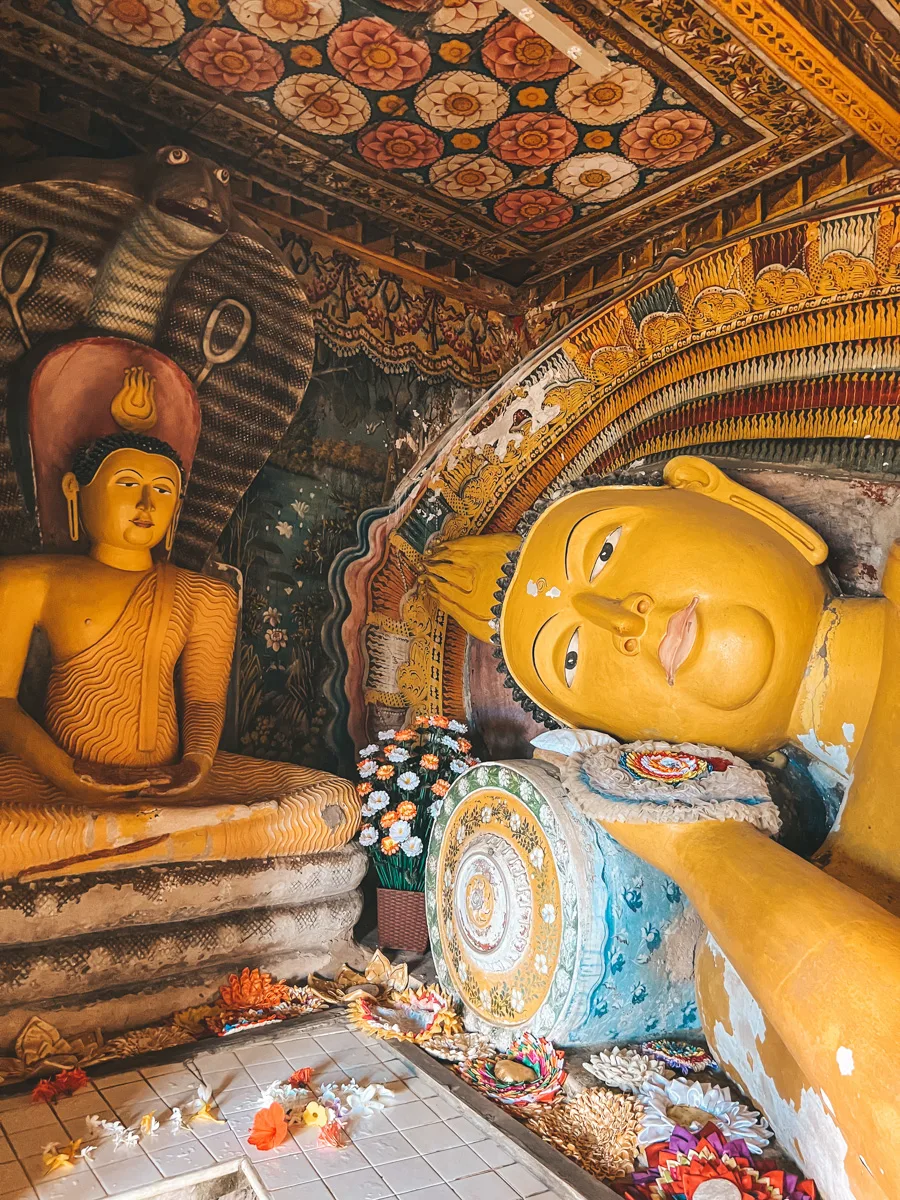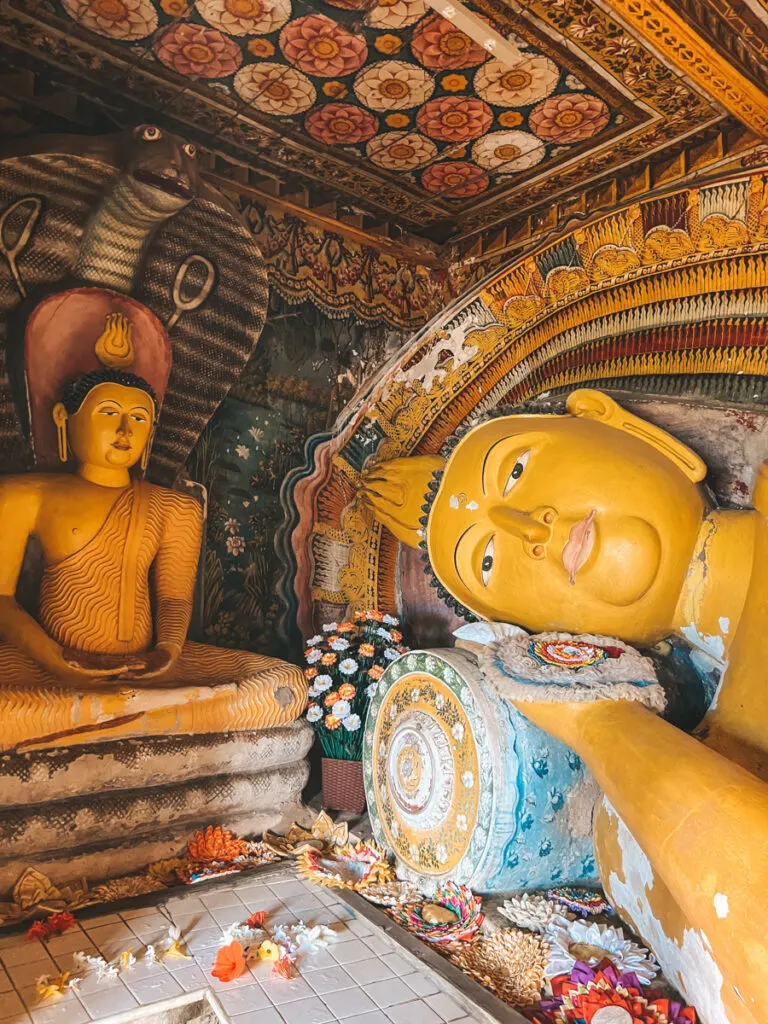 The resident monks at this particular temple are ever so welcoming. We've visited with friends and family multiple times and they have always been good enough to show our guests around and explain how the temple works.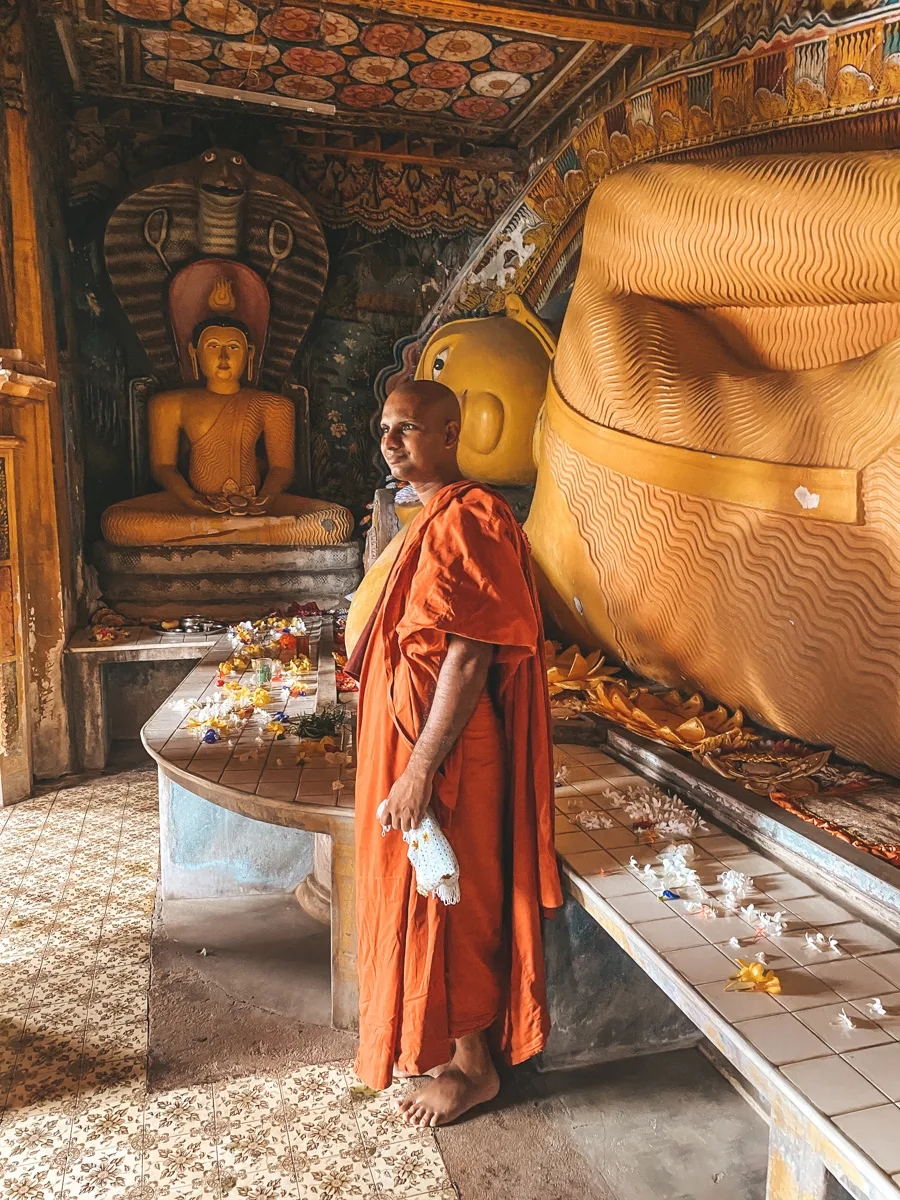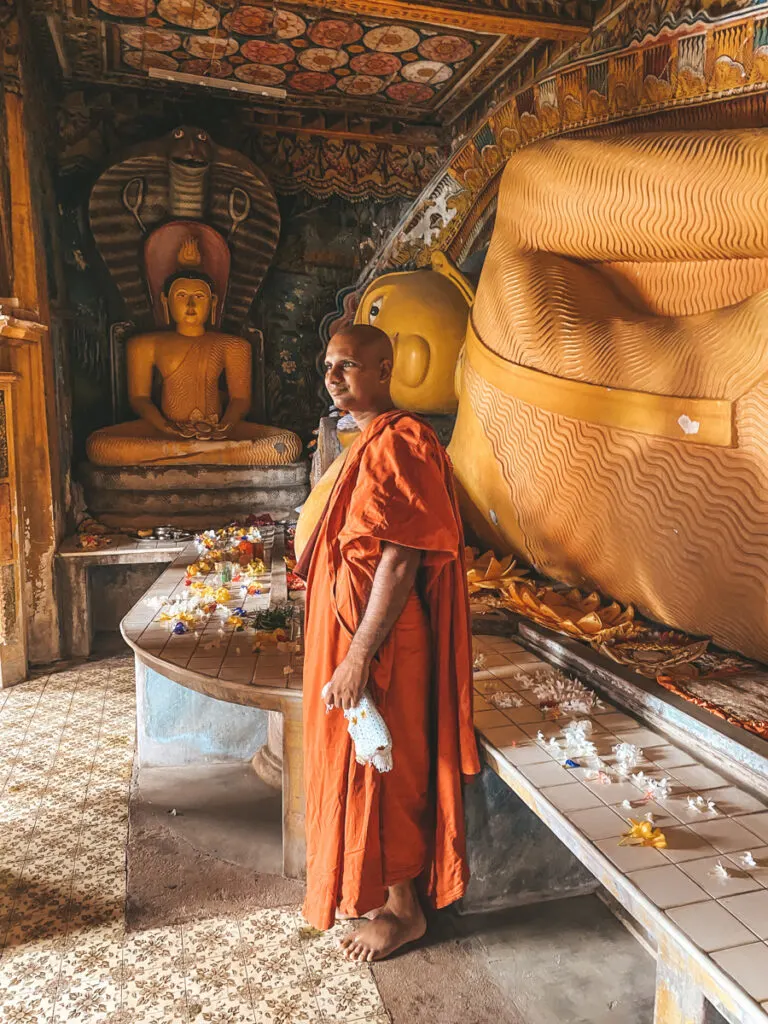 There are many temples to explore. However, these are our favourites. Visiting a temple is one of the best things to do in Galle.
Explore Geoffrey Bawas Home
Geoffrey Bawa was one of the most influential architects of his time throughout Asia and of course, Sri Lanka. He was born in Colombo and died in 2003.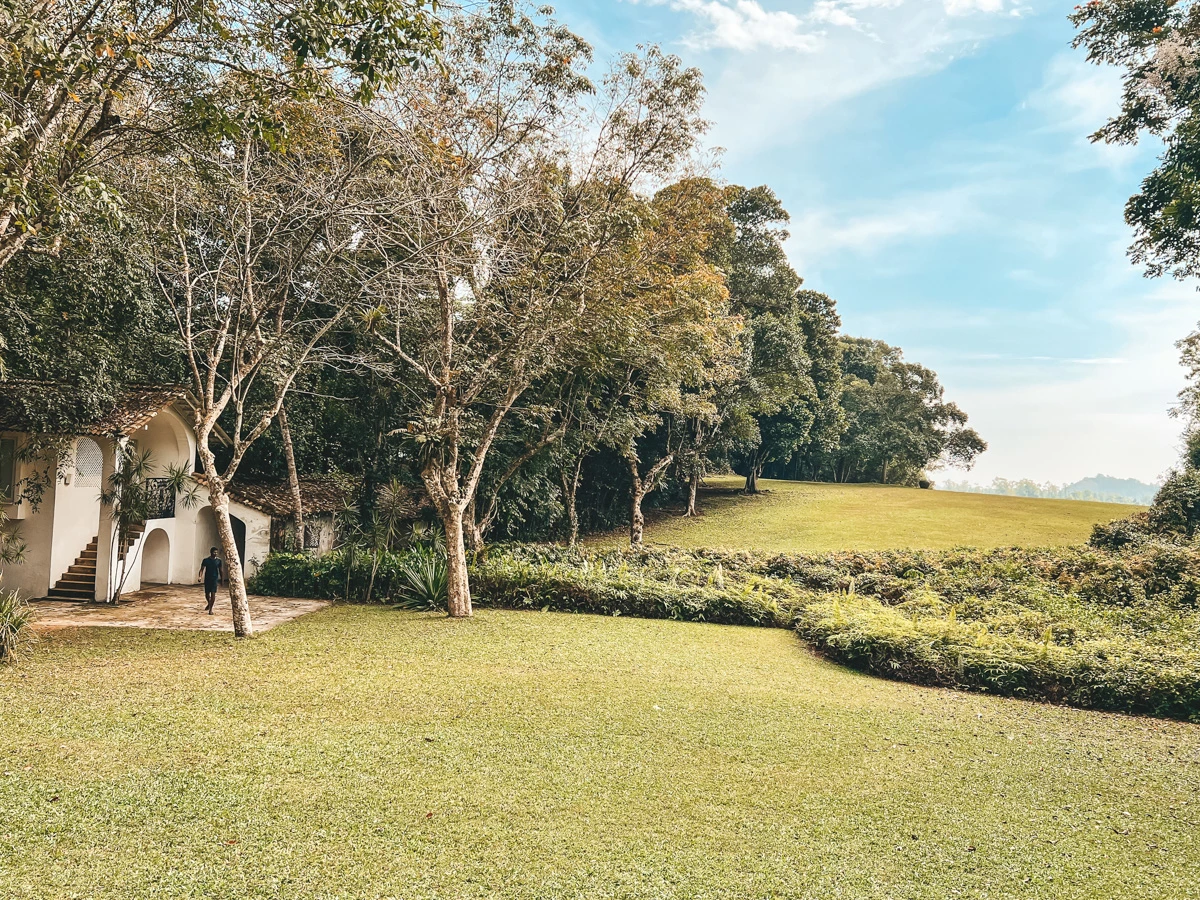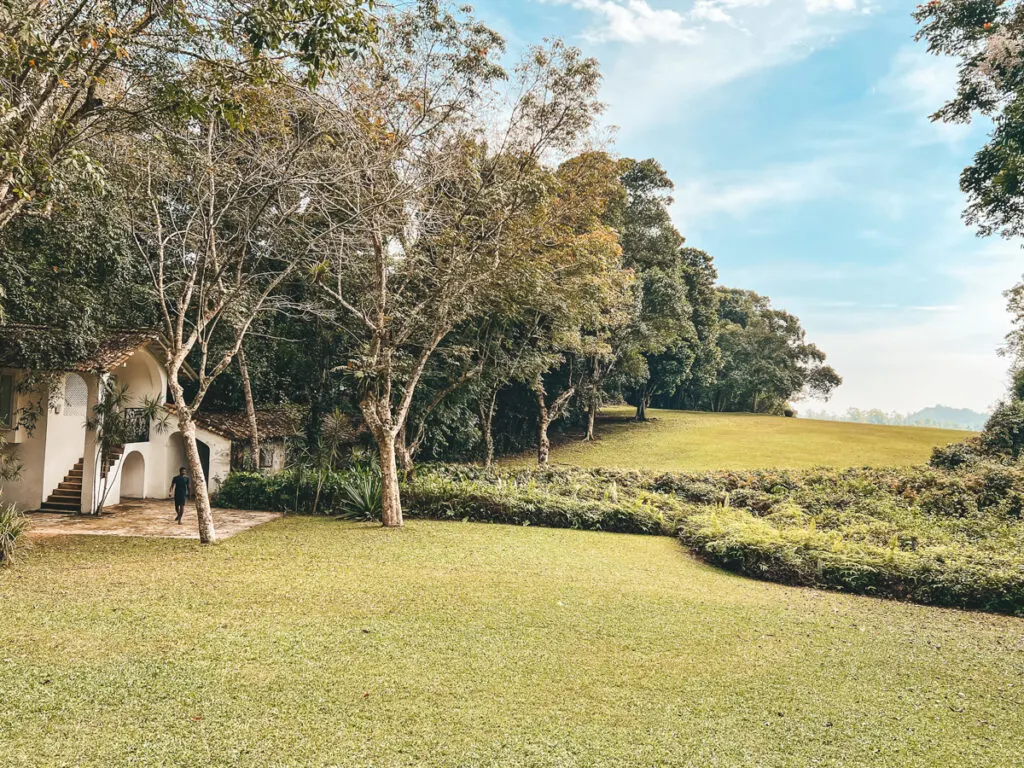 It is possible to visit his former residence, close to Bentota. The architecture dates back to 1958 and has been beautifully preserved, it's a stunning place to explore. Tours go at a specific time, and it is possible to book Geoffrey Baway tours online here.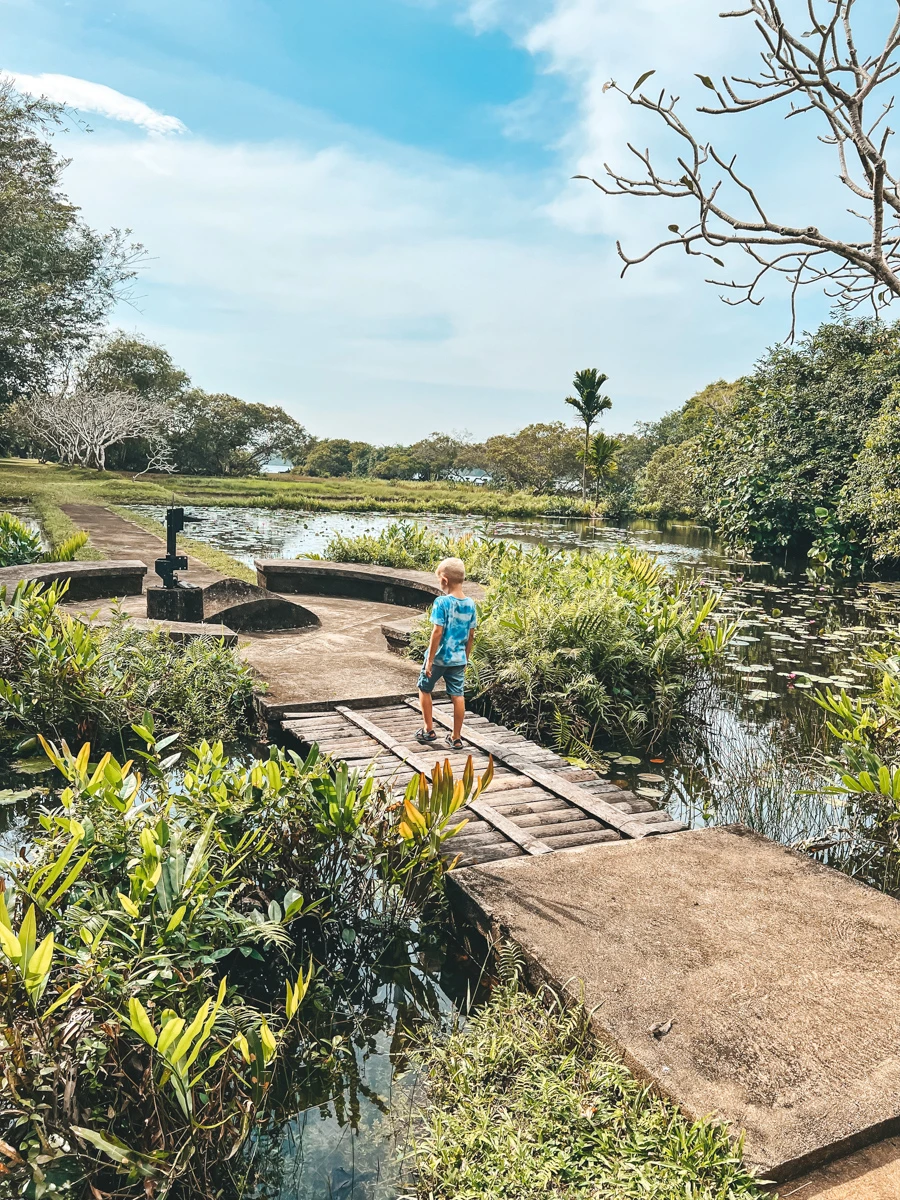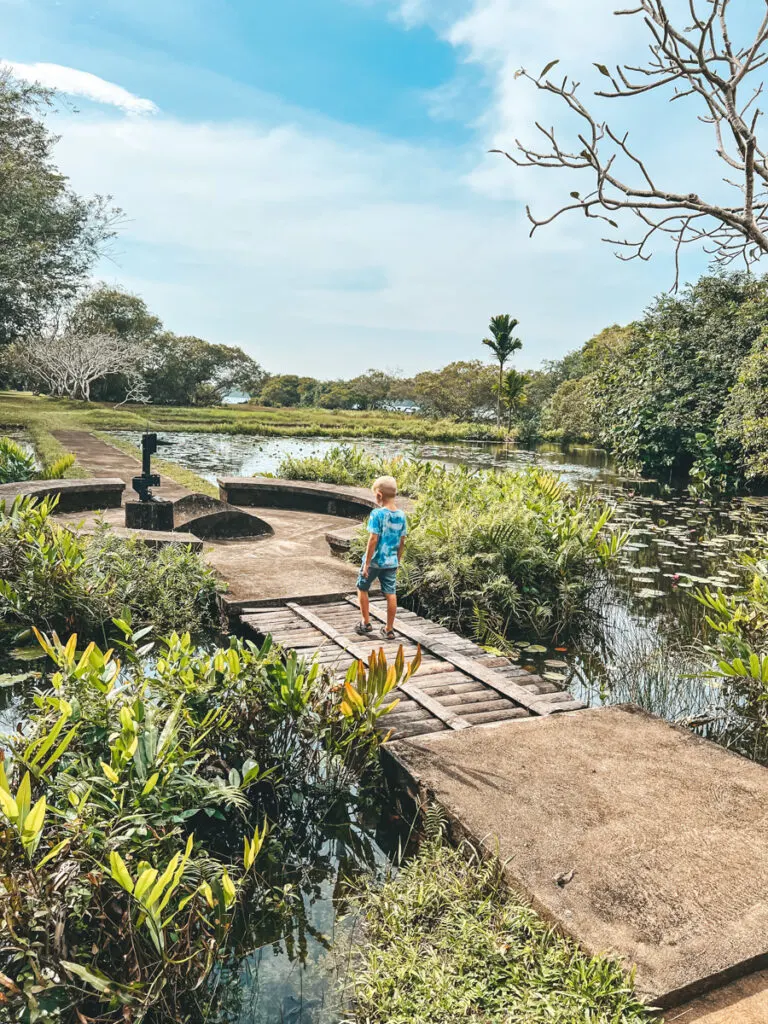 Teardrop Hotels manage the grounds and it is possible to stay at The Lunuganga Estate in one of the many rooms and villas.
The 15-acre estate is a fantastic place to spend an afternoon, featuring sprawling gardens, a lake and many quirks, making it one of the best things to do in Galle.
Go Snorkelling or Diving
Galle experiences monsoons from May through September. The best time to visit is from November through April.
When it comes to snorkelling and diving, the seas can be quite rough, so the best time to go is IN season.
There are plenty of spots to go snorkelling independently or on tour. The district has several places where giant turtles reside quite close to the water's edge. Snorkelling with turtles is one of the top things to do in Galle.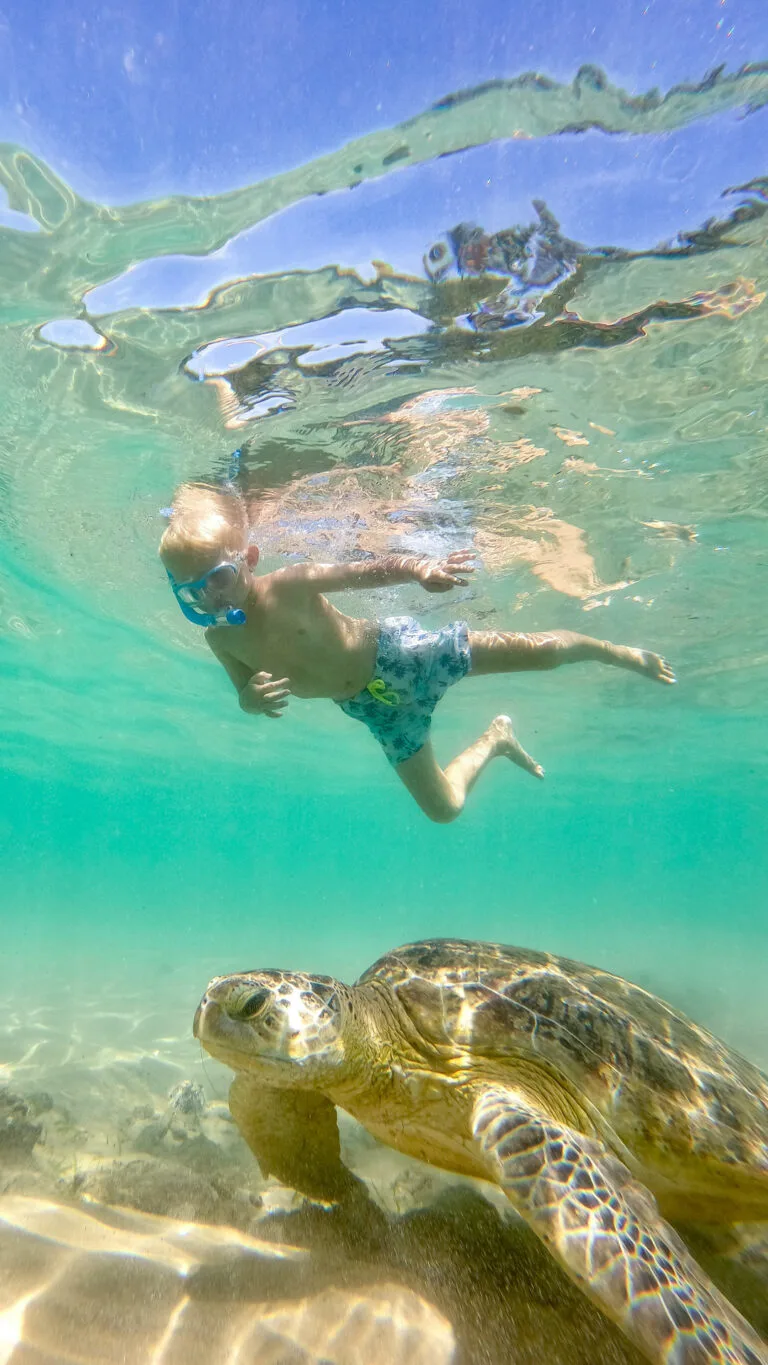 Turtle Beach in Hikkaduwa and the lagoon at Wijaya Beach are great spots to snorkel with turtles.
When it comes to diving, there are several sites in Unawatuna, including wreck dives, rock dives, and reef dives, with some reaching depths of 18 metres. Quite a few companies offer PADI certification and include the dive to see the sites as part of the training.
Take A Surfing Lesson
There are many fantastic places to take a surf lesson and it is certainly one of the more adventurous things to do in Galle.
Some places have bigger, more aggressive waves than others, so where you learn will depend on your confidence.
However, Sahana Beach is where our children learn, and we always see adults there learning as well.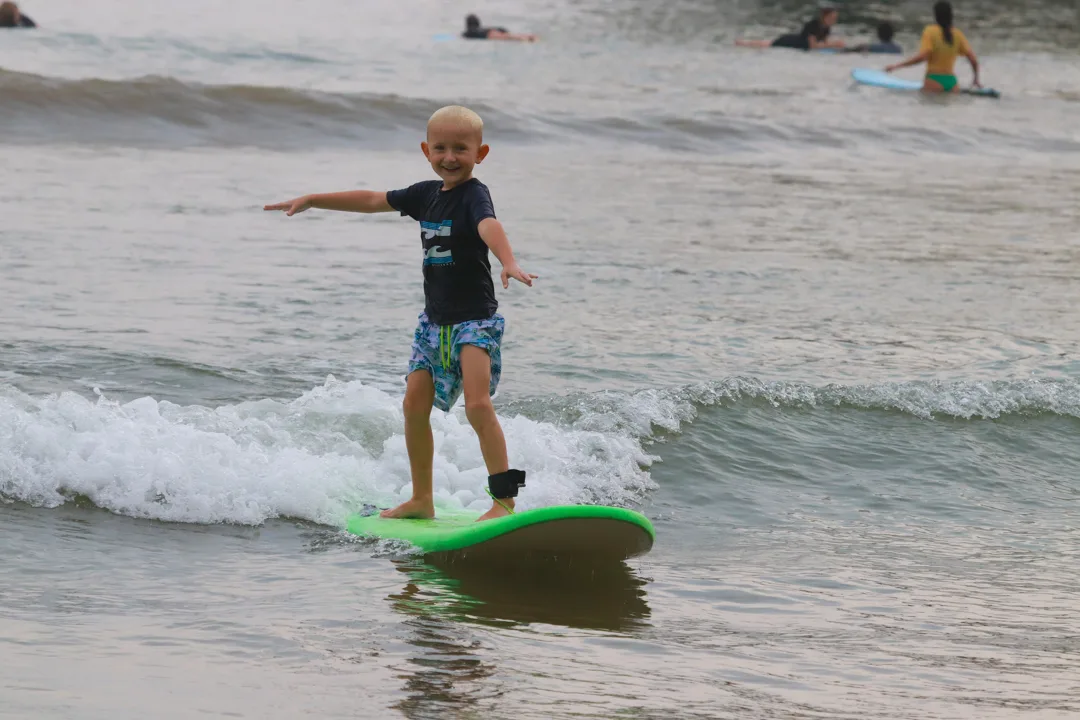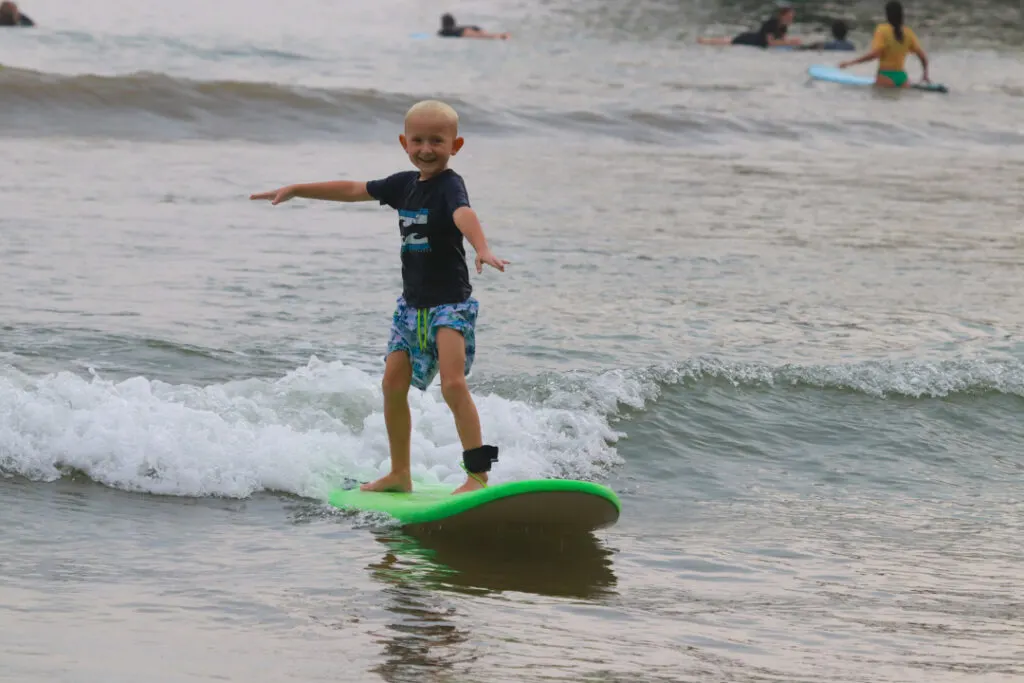 The gradient of the beach changes quite a bit from one end to the other. The nicer end of the beach is most certainly the northerly end. If you head to Palm Cafe, they have instructors and surfboards to rent.
Day Trip To Mirissa For Whale Watching
As previously mentioned, Galle is a great base for day trips. Mirissa is a little under an hour's drive from the fortress and is the port where all of the tours going to whale watch depart.
There are some incredible whale species off the coast of Mirissa in season, making it a fantastic activity.
Some tour operators provide group whale-watching trips, whilst others are private and allow guests to snorkel with some of the whales.
These include sperm whales, killer whales, right whales, whale sharks, fin whales, Bryde's whales, and most of all, blue whales.
It is a fantastic day out, a word of note, it is an early start with many boats departing by 7 am.
Book a whale-watching trip here.
Go on Safari Day Trip
Safari is a 'must do' for every visit to Sri Lanka. Galle is around a 2-hour drive from Udawalawe and 2.5-hour drive from Yala National Park.
Yala National Park is home to a wide variety of animals, including leopards, elephants, water buffalo, sloths, crocodiles, antelope and wild boar, to name a few.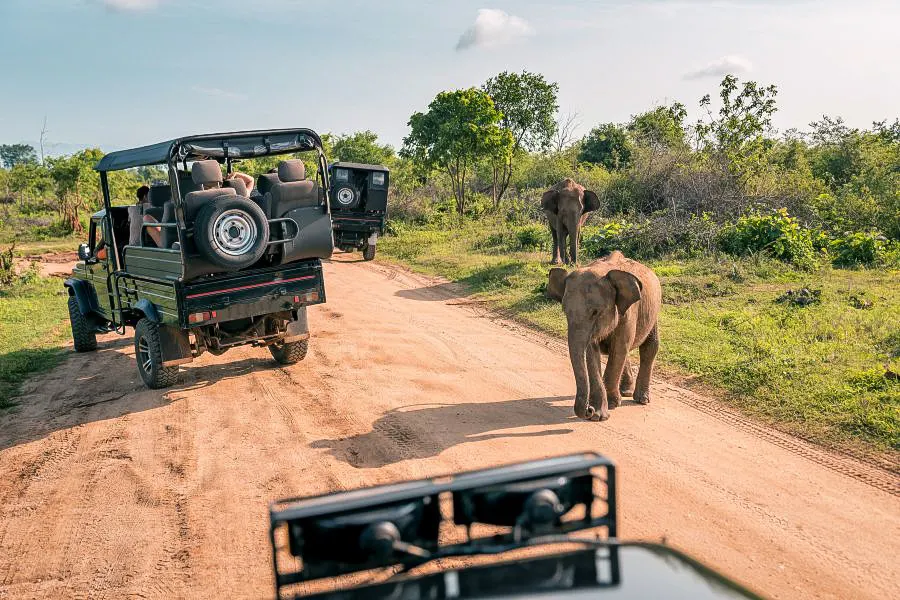 It can be busy in high season with safari trucks and Udalwalawe is not so crazy, however, it does not have leopards.
It is a long day trip but worth every minute for the once-in-a-lifetime opportunity to see the majestic animals.
Enjoy A River Safari
Madu River is a beautiful stretch of water which leads to Madu Ganga Lake. There are many tour operators who take guests for a river safari cruise along the waters.
Most tours start in the small town of Balapatiya. The tour is incredible and weaves through dense mangroves, where fishermen can be seen canoeing through on colourful boats. Some tours stop at a cinnamon island where guests have a chance to see the making process.
The authentic experience most certainly makes it one of the best things to do in Galle.
Tours also include a trip to an island temple and along the way so much wildlife can be spotted.
If you happen to be in Balapatiya for the river cruise, make sure to visit the souvenir mask store in the centre, it's very unique!
As previously mentioned, some of the most beautiful untouched beaches in the Galle district are in this area. Head to the beach after your adventure to enjoy the wild coastline and occasionally be the only person there.
Book a river safari trip here.
Explore The Countryside On A Bike Tour

A lovely way to explore the villages and biodiversity of Galle is on a countryside bike tour. Guests are provided with a mountain bike and are guided by an English speaker through the picturesque landscapes.
The route, includes scenic roads, lush tea plantations, tropical palms and paddy fields. The finale is visiting a charming village where guests are treated to a lunch prepared by locals.
Book a countryside bike tour here.
Best Places To Eat In Galle
Regarding food in Sri Lanka, there is no shortage of incredible places to enjoy local and international cuisine, especially in Galle.
We have had a lot of time to discover all of the best restaurants and cafes, be it for brunch, lunch or dinner.
One of our favourite things in Galle is heading out for dinner and discovering the food scene. It's worth noting, some of our recommendations are only open in season so make sure to check before visiting.
Here are my top picks!
Church St, Fort Bazaar
One of my favourite spots inside the fort is Church Street, the restaurant in Fort Bazaar. It has beautiful decor, I absolutely love the patio with patterned tiles, comfortable seating and arched windows.
It is particularly beautiful in the evening when the fairy lights come on out on the street. The food at Church St features local and international cuisine. It is one of the slower places when it comes to food preparation.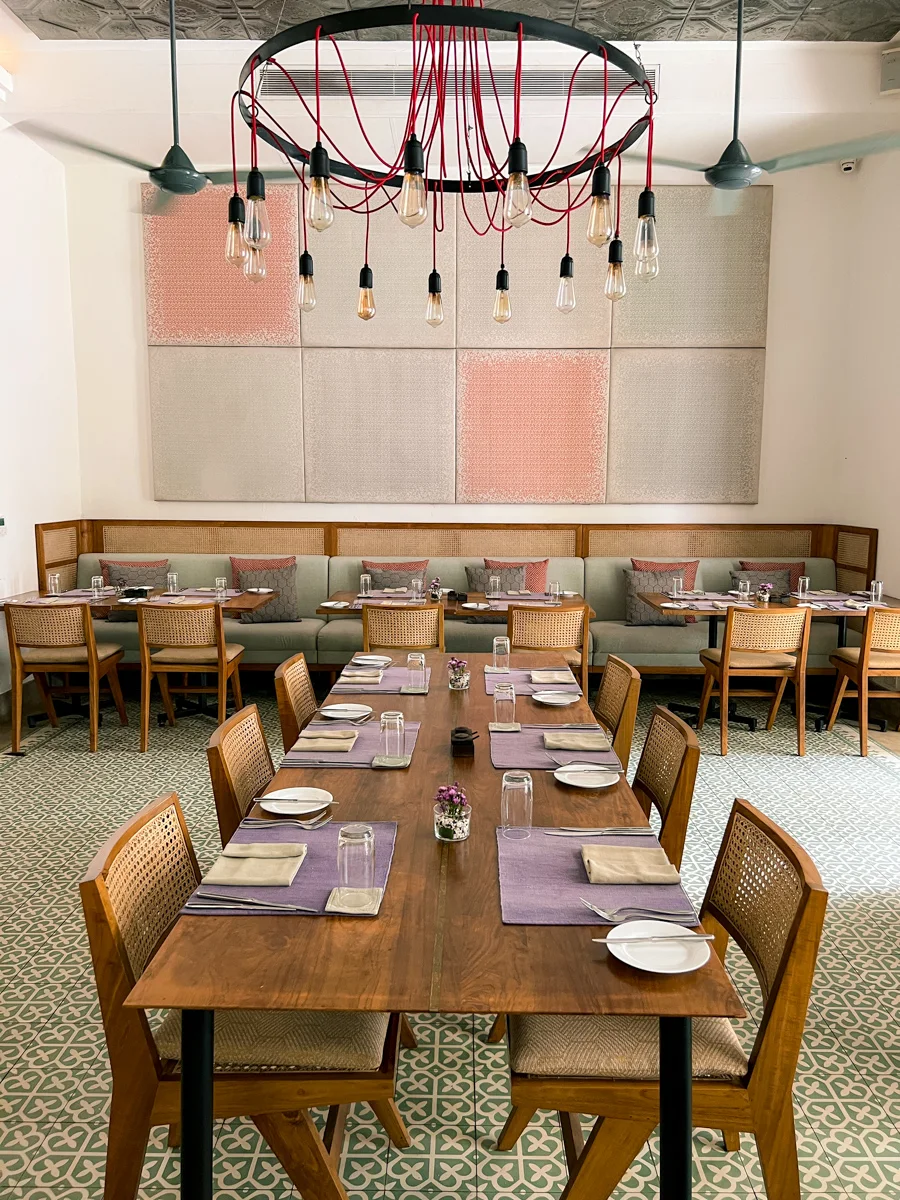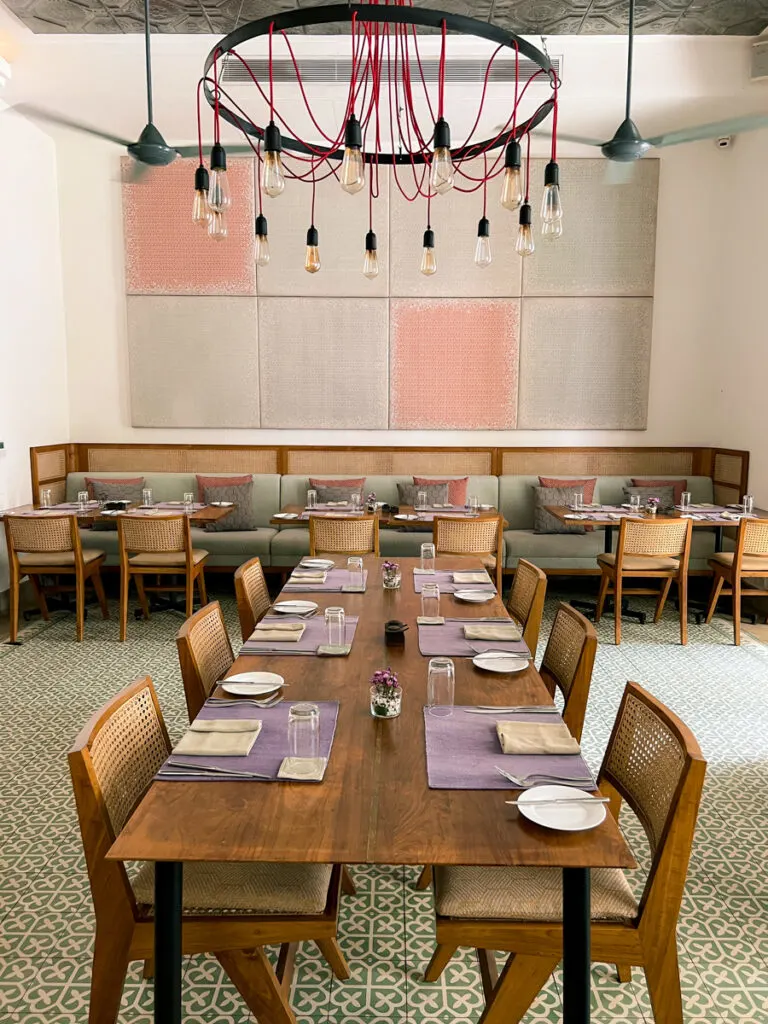 This is not uncommon in Sri Lanka as most of the food is made fresh in some of the better places.
The local dishes are incredible at Church St and they have a pretty good kids menu. They also have a selection of burgers, sandwiches and pizza.
I regularly order the pea and cashew curry. It is next-level delicious and features several Sri Lankan delicacies in small bowls. It is served similarly to thali.
Not to mention the cocktails are particularly good, my personal favourite is the Gin Ricky! If you are travelling to Sri Lanka with kids, it is one of the few restaurants with good highchairs.
Skinny Toms, Unawatuna
Skinny Toms is one of our latest finds, it is on one of the main streets leading to Unawatuna Beach. The area can get quite busy in high season, so it is not my favourite area, however, Skinny Toms has some lovely food, especially for lunch.
It's a modern spot with everything from avo toast to burgers and salads. It's a vegan-friendly deli and the coffee is particularly good. In terms of service, it is one of the quicker spots in the area if you are in a hurry.
The restaurant has a patio out front, great for people-watching. Or the garden is serene and peaceful at the back of the building.
Some of the juices are super tasty. Make sure to try the coconut, passion fruit and ginger – it's delicious.
Wild & The Sage, Unawatuna
Wild and The Sage is another spot in Unawatuna, it is on the main road, which is quite handy as it is not congested like the streets close to the beach.
It's a lovely book store come cafe with a relaxing reader's garden and indoor seating for those wanting to escape the heat.
This cafe is quite popular with residents as they hold many community events such as book club, art lessons and kids' story time.
They have great coffee and a lovely selection of cakes. The menu is simple, with soups, sandwiches and Sri Lankan options like jackfruit roti. Some dishes come as a sharing platter ideal for two people.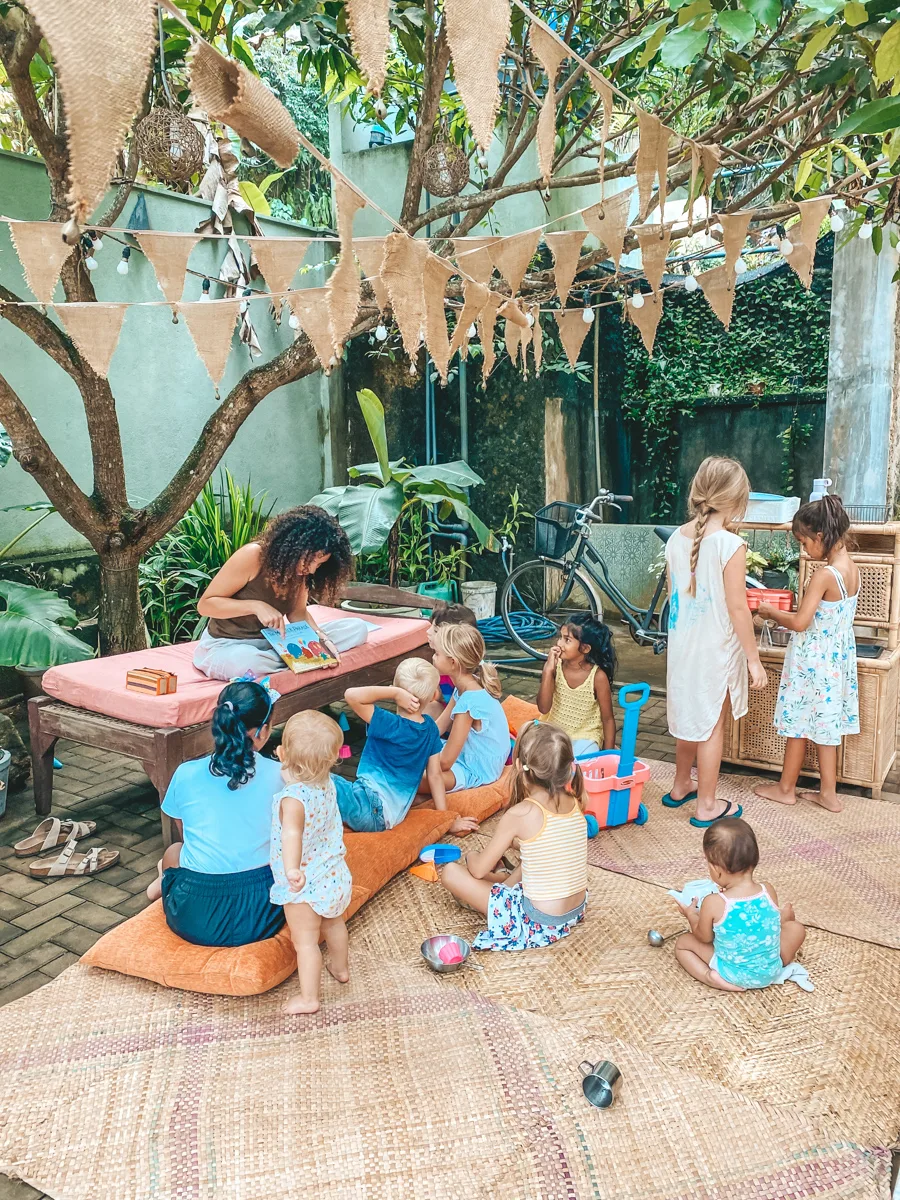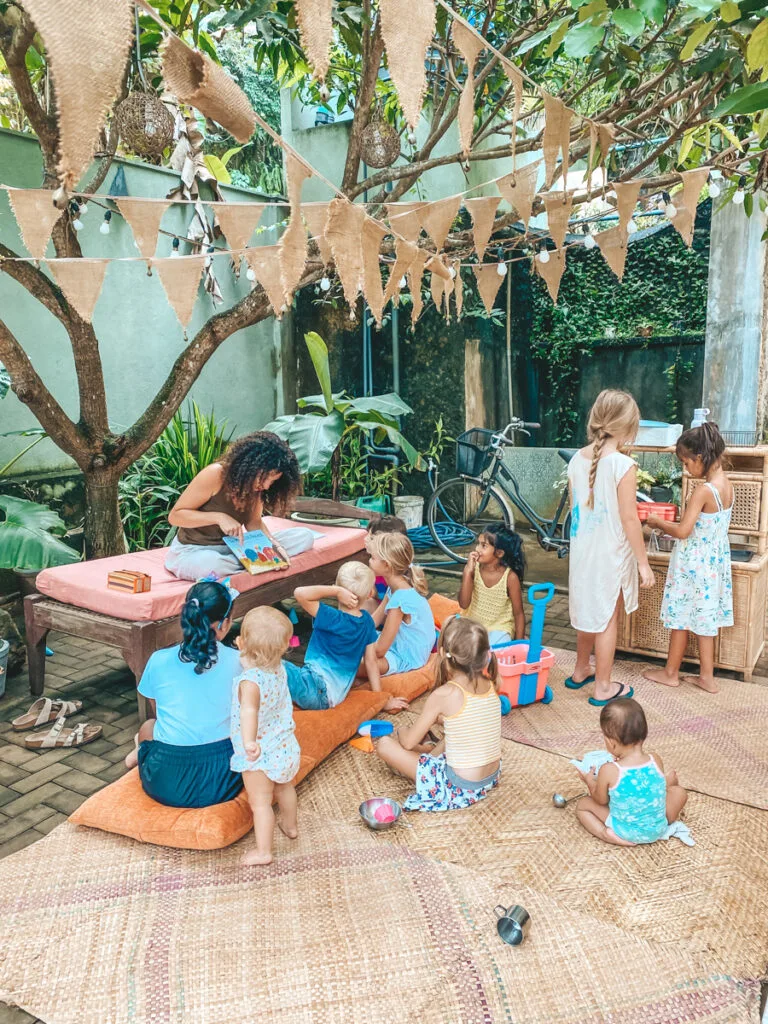 All of the international dishes have a sprinkle of Sri Lankan flavour for good measure like the avo toast is sprinkled in coconut sambol!
The owners are very active in the community, which is lovely to see and have been involved in arranging the Galle Literary Festival.
Chambers, Galle Fort
Chambers is a Middle Eastern-inspired restaurant on Church St within the fortress. It has some really delicious hummus, fatoush, kebabs and all things falafel! The food is really good and it is the spot we go to for a quick meal in the fortress.
There is no alcohol served in this restaurant in case you are hoping for a Lion beer.
Persian Kitchen & BBQ, Thalpe
Persian Kitchen & BBQ is a beachfront restaurant not far from Thalpe. It has stunning views of the ocean and is such a relaxing spot.
The menu is small but I can attest they do everything impeccably well. There are both vegan and non-vegan options. The dishes are a selection of kebabs or a falafel wrap/bowl.
It comes with a BBQ baked potato packed full of flavour, a side salad and homemade chilli sauce that will blow your socks off!
Persian Kitchen is the perfect spot for an early evening dinner whilst watching the sunset in the distance.
Cactus, Ahangama
Cactus is another beachfront restaurant a little further south in Ahangama. The views are again stunning over the Indian Ocean, and the food matches this spot's ambience.
It's the ideal place for a morning coffee, lunch or brunch. The food served feels healthy and wholesome, featuring a daily specials board,d fresh salads, paninis, vegan pancakes, and so much more. Make sure to try the iced coffees, which are pretty good!
Salty Swamis, Hikkaduwa
Salty Swamis is a beachfront surf cafe with indoor and outdoor seating in Hikkaduwa. They have my vote for the best avo toast in the whole area. It comes topped with mushrooms, fresh herbs and pickled onion. It is simply delicious!
Other really good options include smoothie bowls and burgers for those who've built up an appetite. As with all of our top recommendations, Salty Swamis make amazing coffee! It's a great spot for brunch or lunch.
Where To Stay In Galle
There are so many fantastic choices for accommodation in Galle to suit every budget. Not to mention the location can vary according to preference, from surf huts to jungle villas and fortress boutique hotels to homestays.
We've hand-selected a few renowned spots for every budget, which are also in a good location when travelling to the different things to do in Galle.
Luxury
Fort Bazaar is already mentioned under the 'where to eat' section. The hotel is inside the fortress on Church St and is part of the Teardrop Hotels collection, which has places in Negombo, Balapatiya and in the tea country.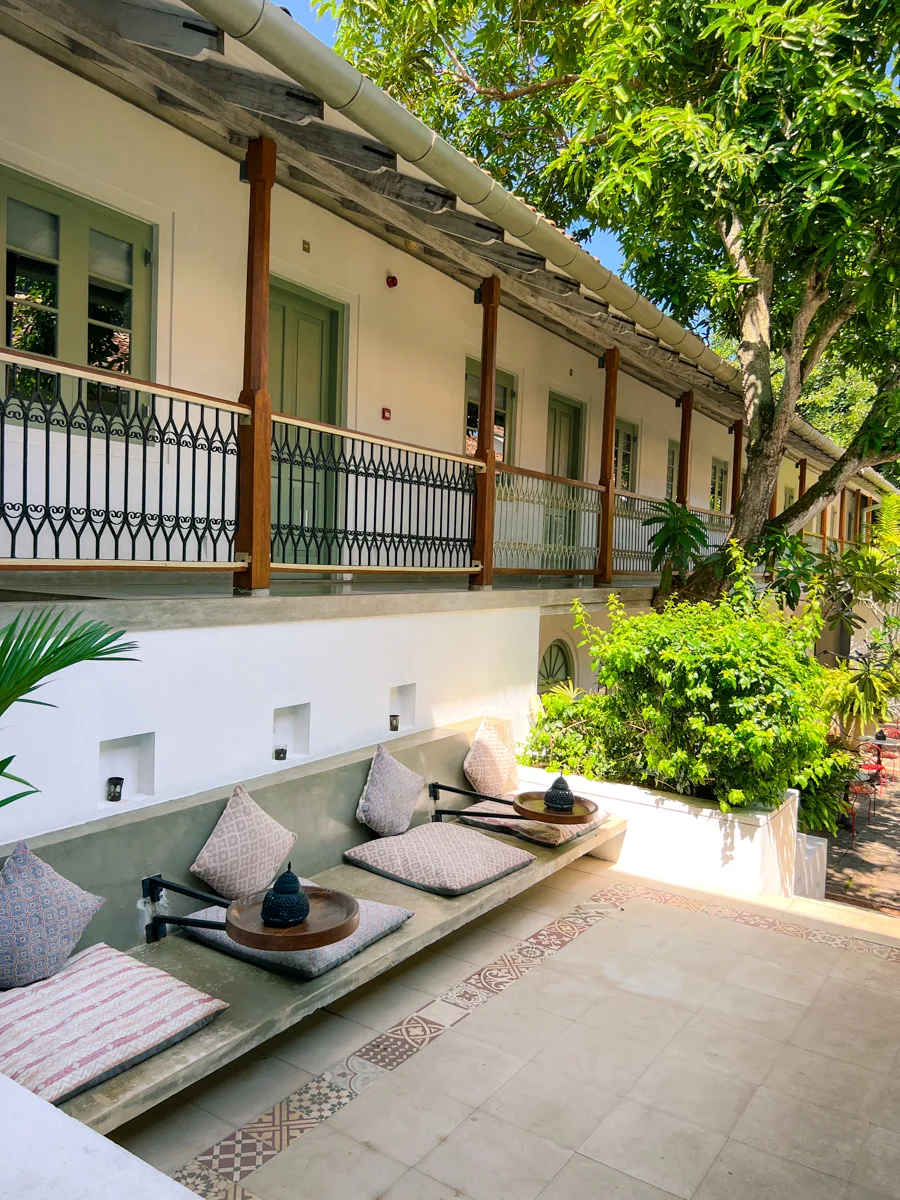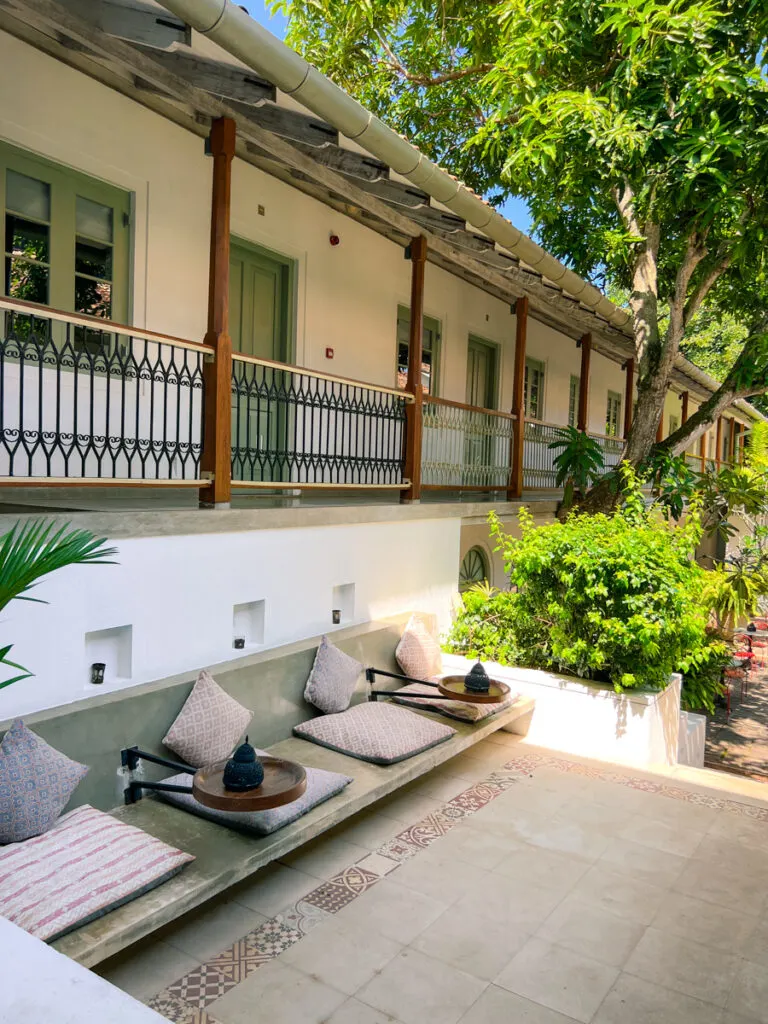 The building is just stunning, with beautiful tiles and a courtyard with frangipani trees, and the rooms are comfortable and decorated with luxurious furnishings.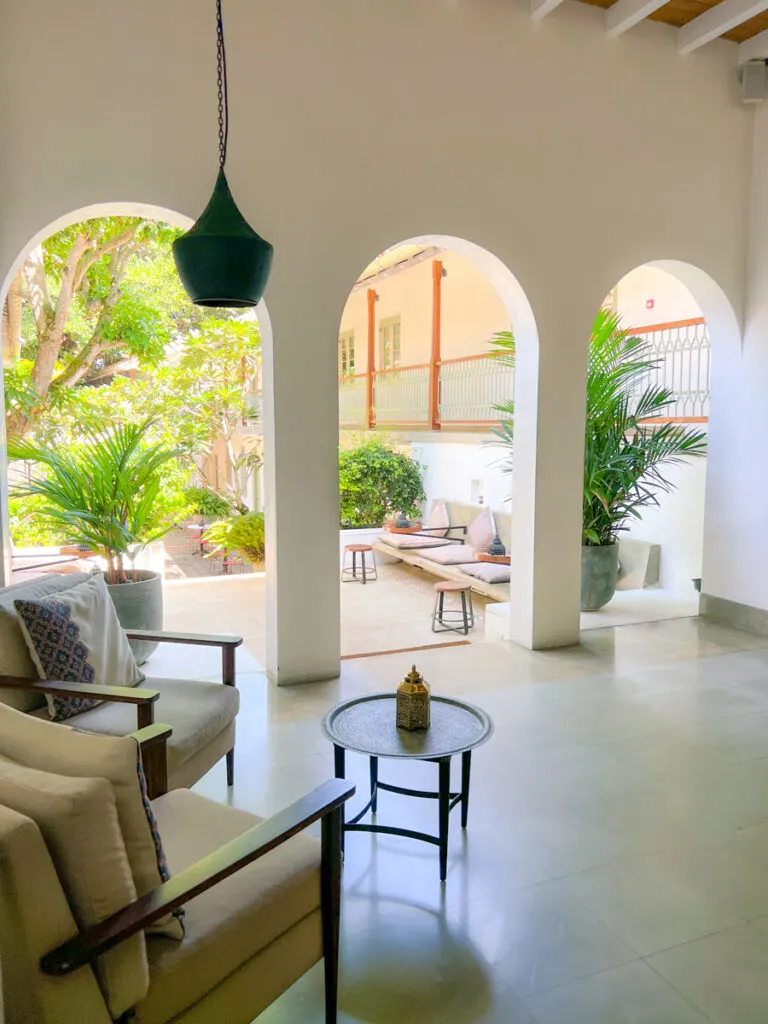 The hotel offers an array of experiences from its spa to cooking with the chef. It's in the perfect location and offers utter comfort for the perfect stay in Galle.
The Postcard is another high-end luxury boutique hotel with branches in India as well. It is based around a 15-minute drive north of the fortress and sits on the banks of a lagoon.
It's a quaint, well-preserved building with beautiful frangipani trees, and a stunning pool, and some of the rooms include a hot tub or a private pool.
The grounds ooze Sri Lankan charm and luxury, and it is a lovely spot away from the hustle but close enough to reach the best things to do in Galle with just a short journey.
Mid Range
The Fort Printers is another place right in the heart of the fortress on Pedlar Street and is a fantastic mid-range option for accommodation in the historic city.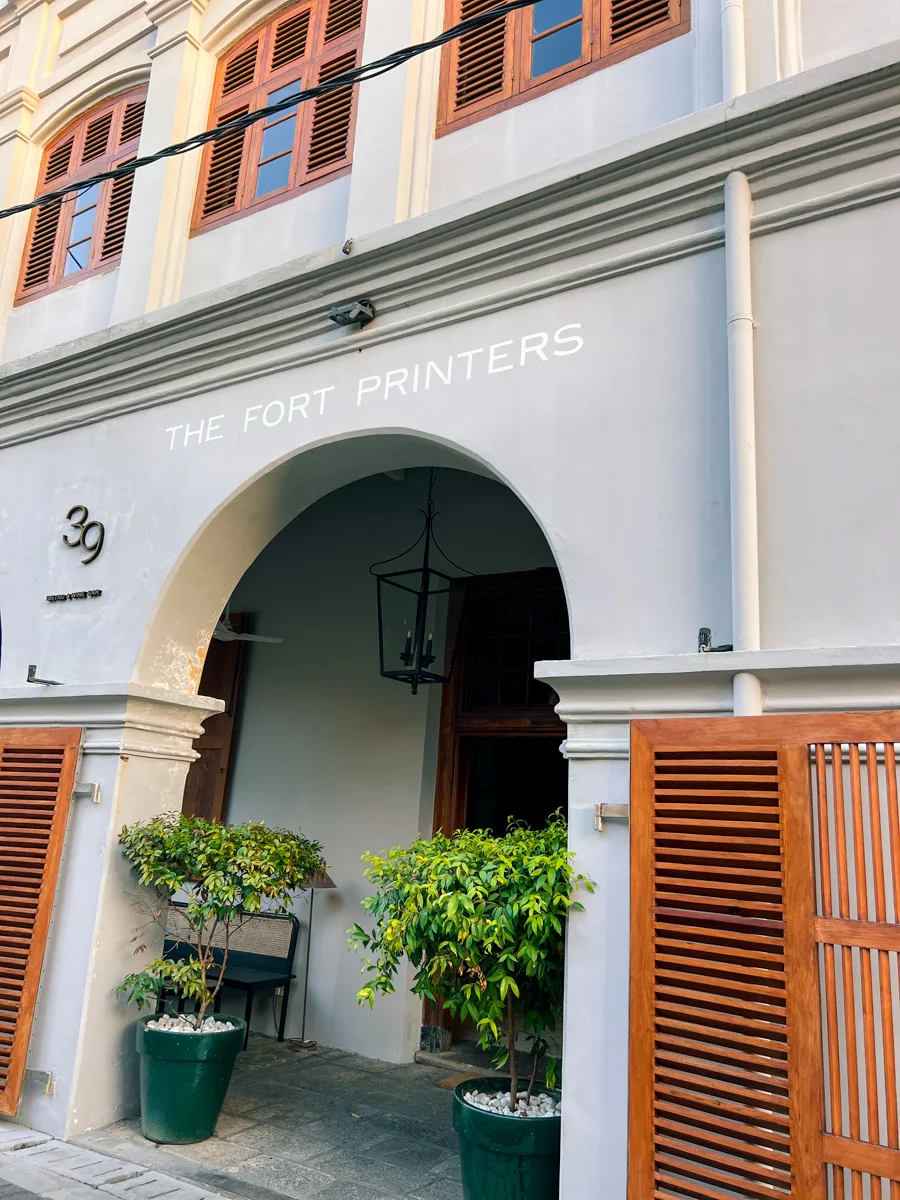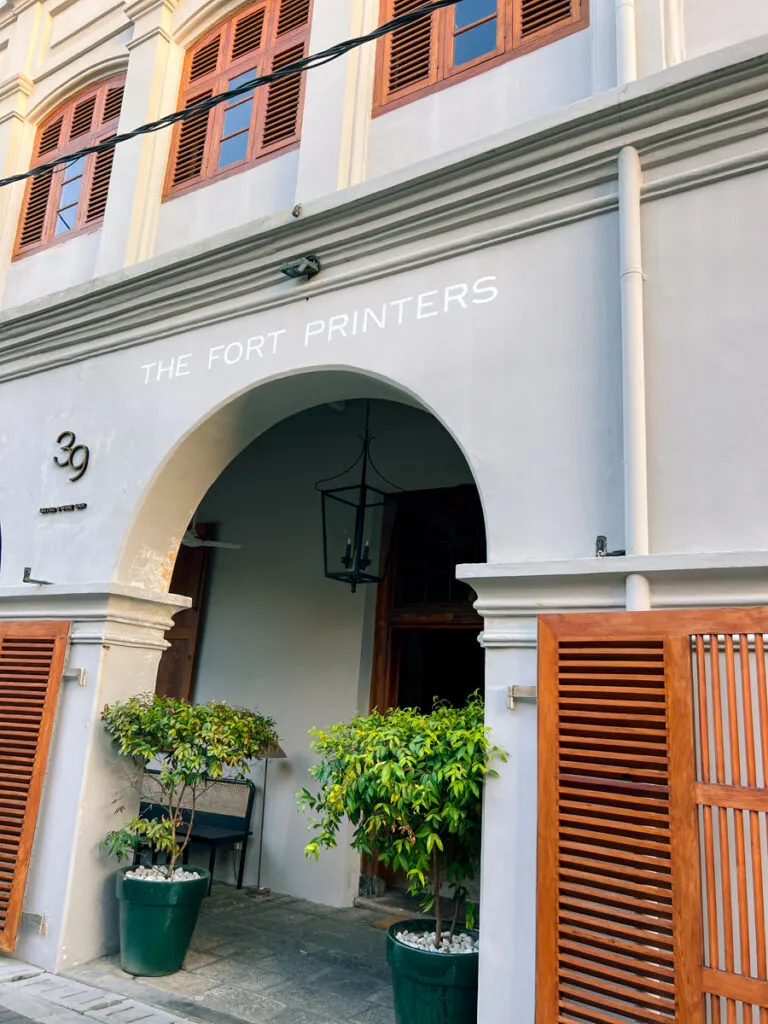 The property features lovely rooms with modern amenities, blending contemporary comforts with colonial architecture. Unwind in the courtyard or take a dip in the pool.
Budget
Secret Garden is based within the fortress. We mentioned it earlier as a nice place to eat local food. The same place has a handful of ensuite clean and tidy rooms. It is based in the heart of the fortress.
The couple who run Secret Garden is hospitable lovely people. It is an ideal spot to explore the surrounding area. The stairs to the rooms are a little tricky, so they are not ideal for younger children but overall ideal for young couples or those on a budget.
When To Visit Galle

The best time to visit Galle is during the dry season, which runs from December to April. It can start to get quite hot by late April.
However, otherwise, the weather is generally sunny during this period, with lower chances of rain and more favourable conditions for outdoor activities and beach visits.
The temperatures range from around 25 to 30 degrees Celsius (77 to 86 degrees Fahrenheit).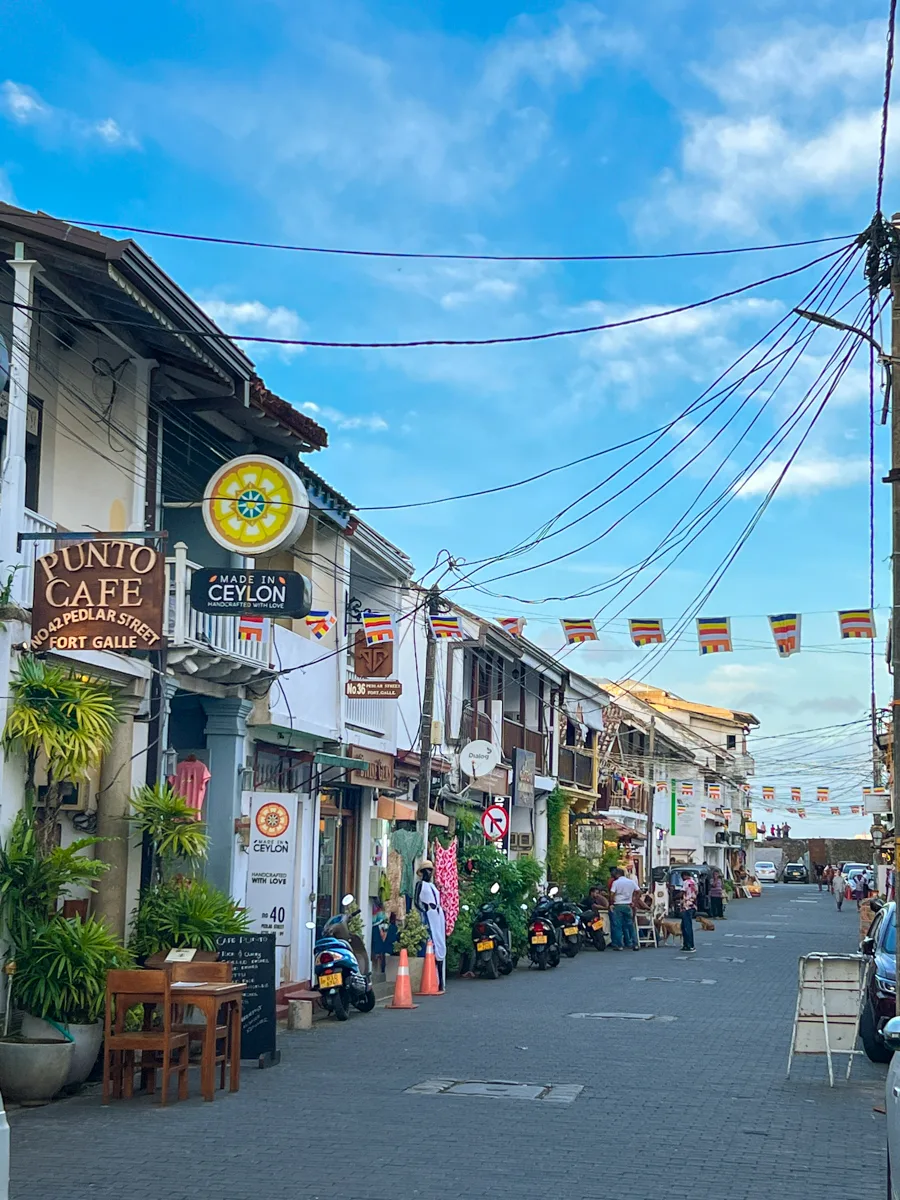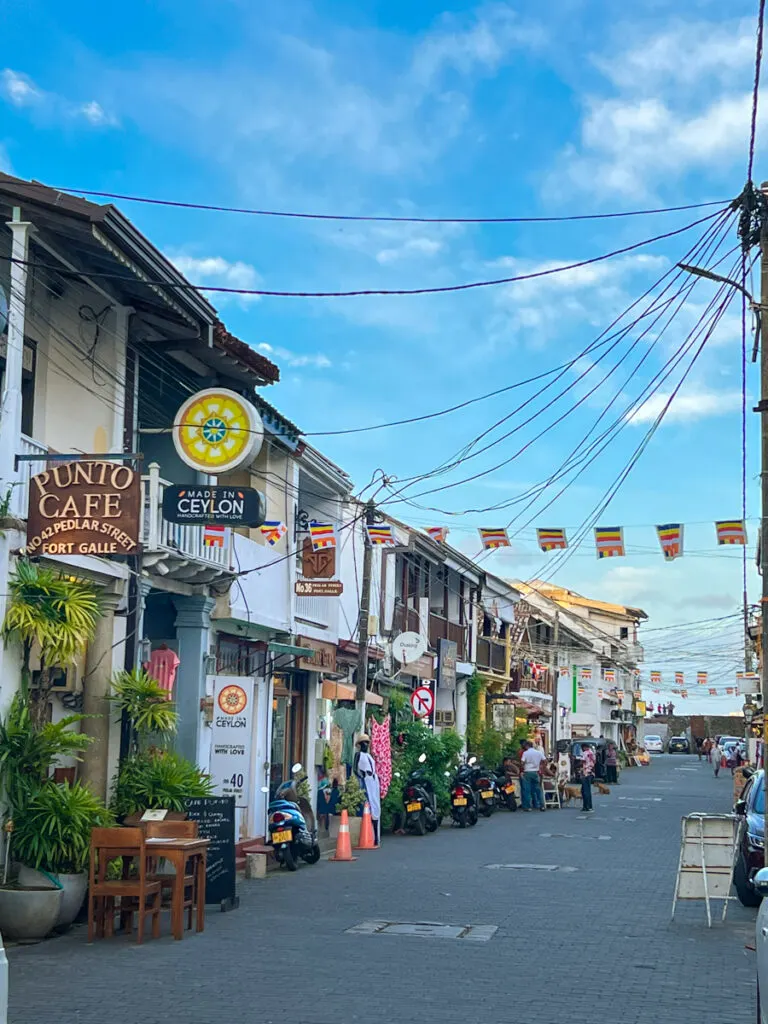 However, Galle can be visited throughout the year as it has a tropical climate. The months of April and September can also be good times to visit. They fall within the inter-monsoon periods and offer a mix of sunny days and occasional showers.
It's important to note that the southwest monsoon season in Sri Lanka occurs from May to September, which brings higher rainfall to the region.
During this time, Galle experiences more frequent rain showers and the sea can be rough. If you don't mind the occasional rain shower and prefer a quieter atmosphere with fewer tourists, visiting during this off-peak season can still be enjoyable.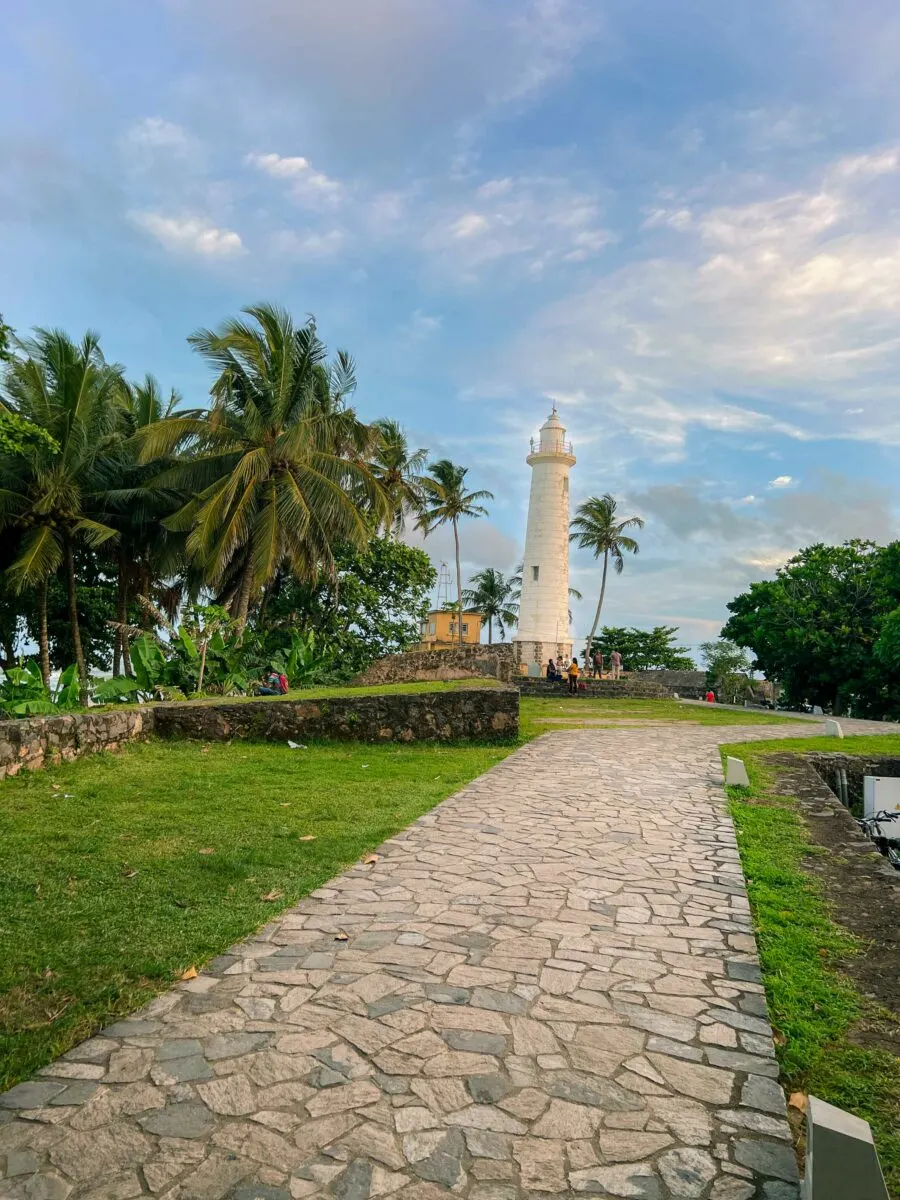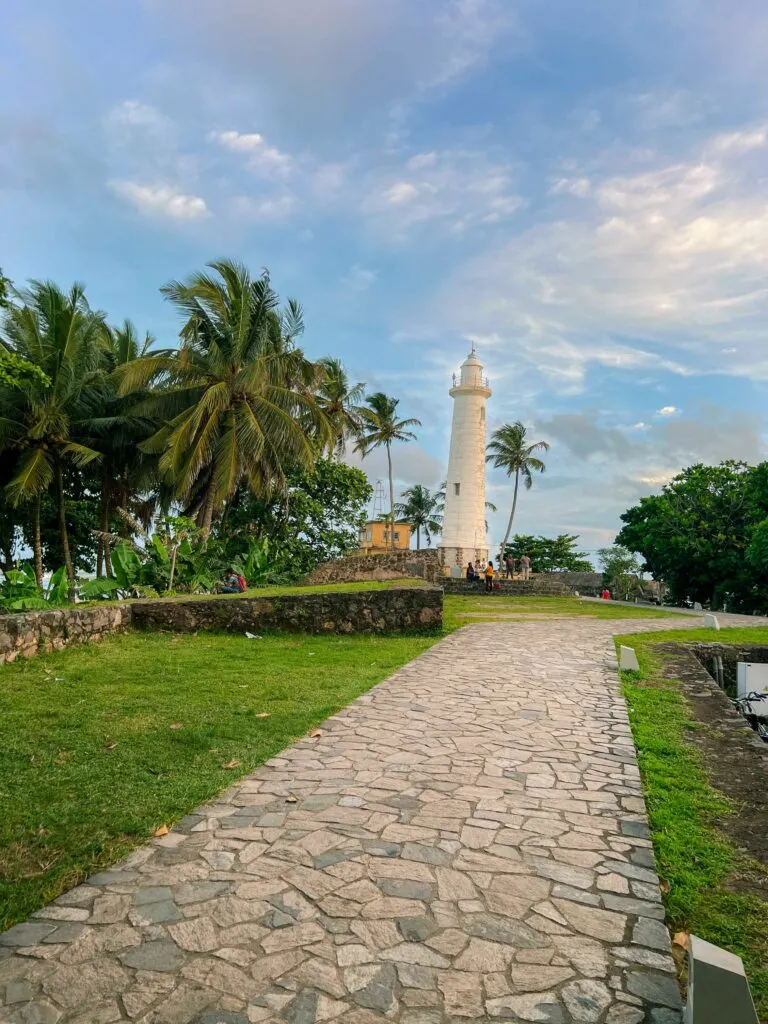 As previously mentioned, some places close down out of season. However, there are still many restaurants and cafes to enjoy.
Sometimes weather patterns can change, and we did experience quite a bit of rain even in what was supposed to be a dry season.
As long as you have an umbrella to hand this shouldn't impact on the things to do in Galle too much.
Getting To Galle
Galle is very well connected to Sri Lanka by trains and buses. It is also on the motorway, which runs from Colombo south, making it very accessible from the airport.
Depending on budget, having a driver to get around is a pretty comfortable way to travel to Galle, whether coming from the airport or another destination.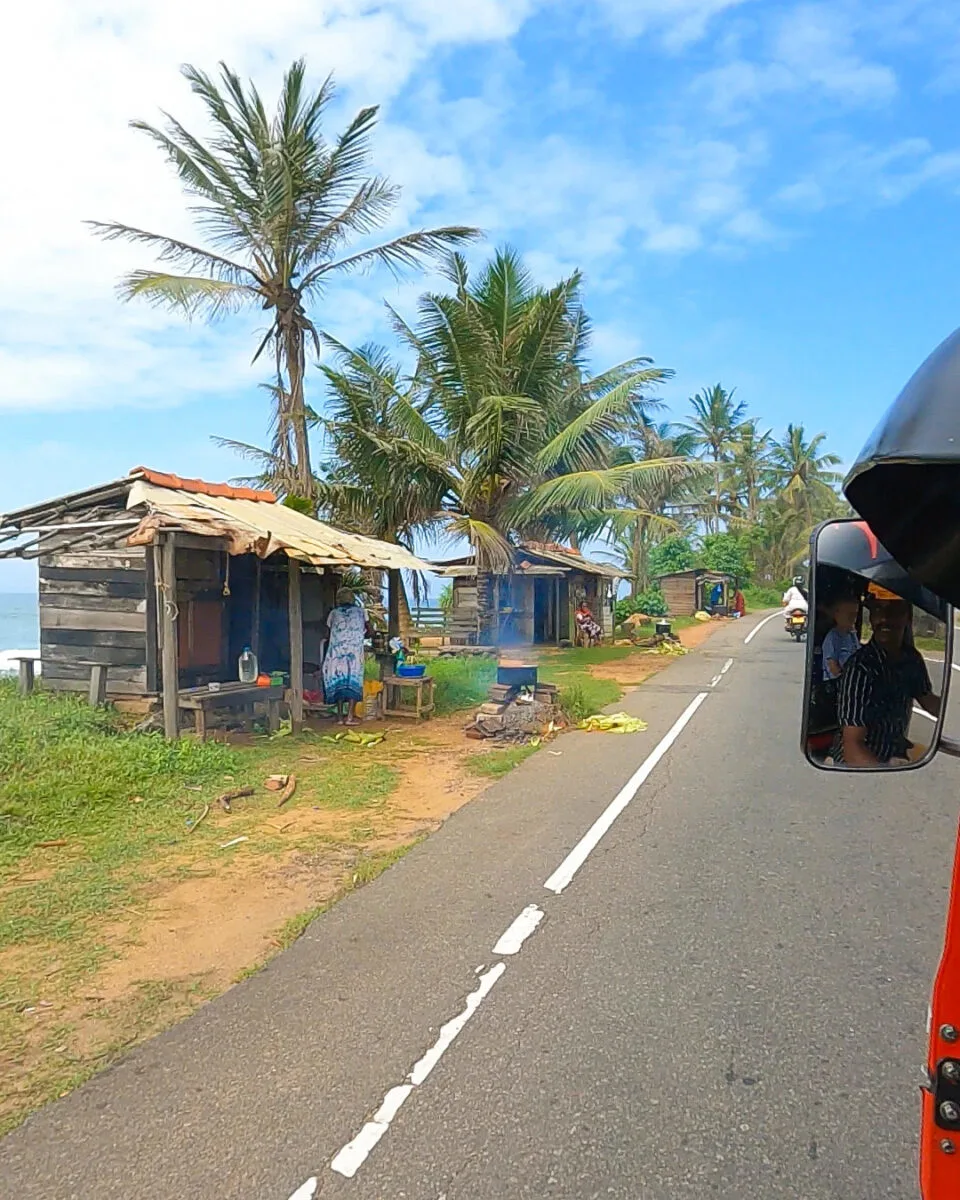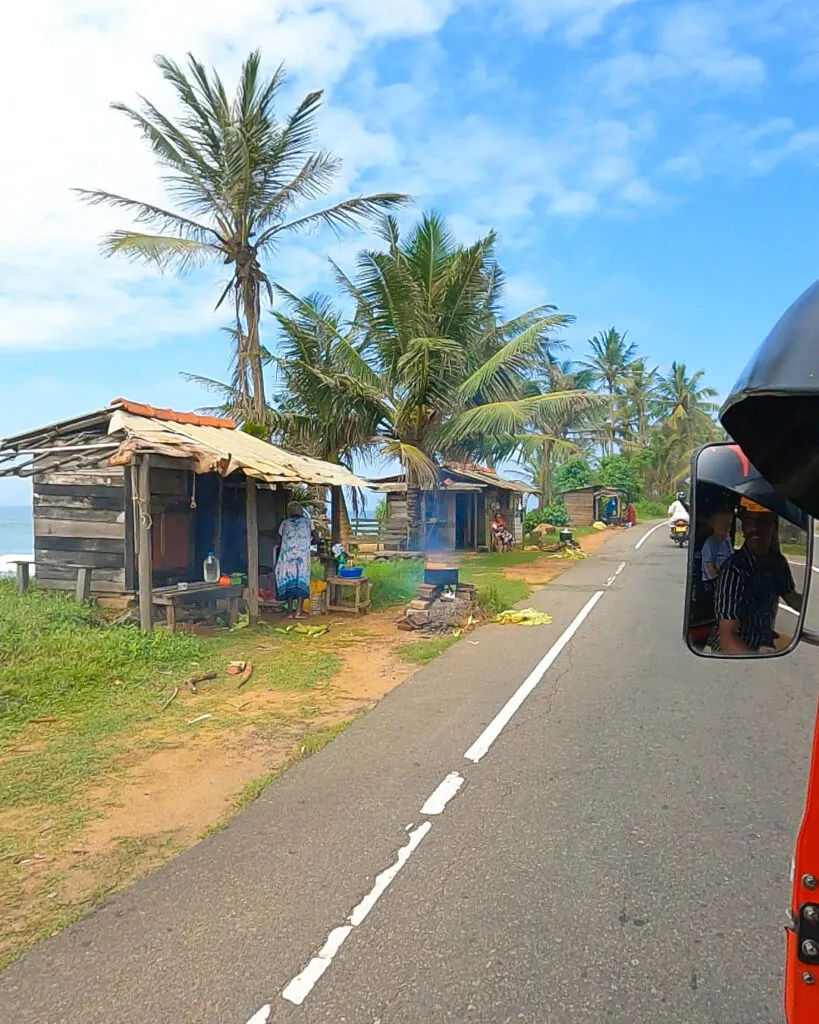 If you'd like the contact details of a driver covering the entire island, I recommend Jeewaka, who has a Toyota Prius modern car with working AC. He speaks good English and is very friendly. I always use Jeewaka for long transfers within Sri Lanka. His number is +94762986233 and he is available on Whatsapp.
Train travel is very affordable and can be booked in advance, first-class tickets are as few as a couple of USD for a trip from Colombo to Galle. There are quite a few stops throughout Galle, and the line pretty much runs the length of the district.
Sometimes trains are not reliable and can be late. However, if you're carefree and don't need to rush, it's a lovely way to travel. The train station in Galle town itself is a stone's throw from the fortress.
Getting Around Galle
Once in Galle, tuk-tuks are widely available and are an easy way to get around. Trips up to around 45 minutes are manageable, so in theory, you could explore quite a large proportion of Galle in a tuk-tuk.
To understand prices, use the PICK ME app to gauge what a journey should cost. Understandably, local drivers tend to hike the price for tourists.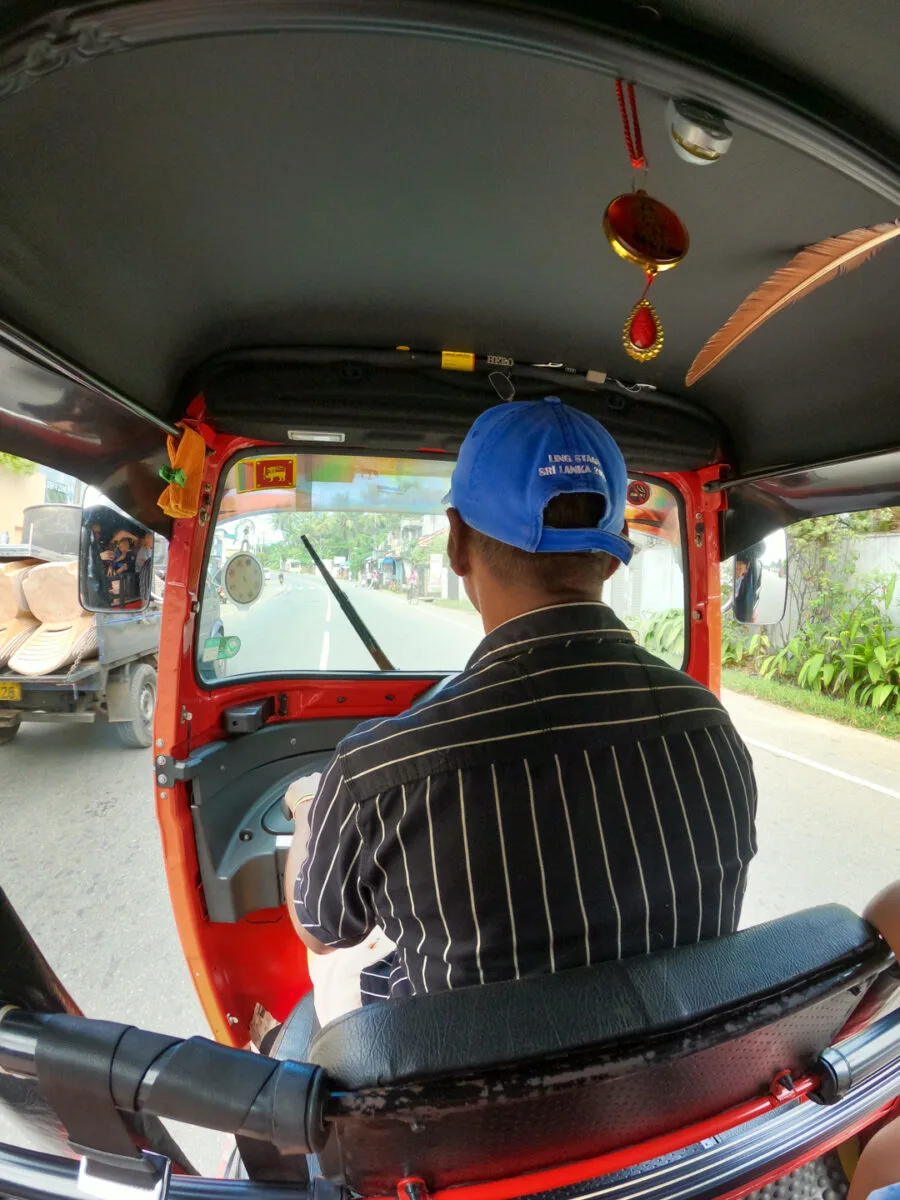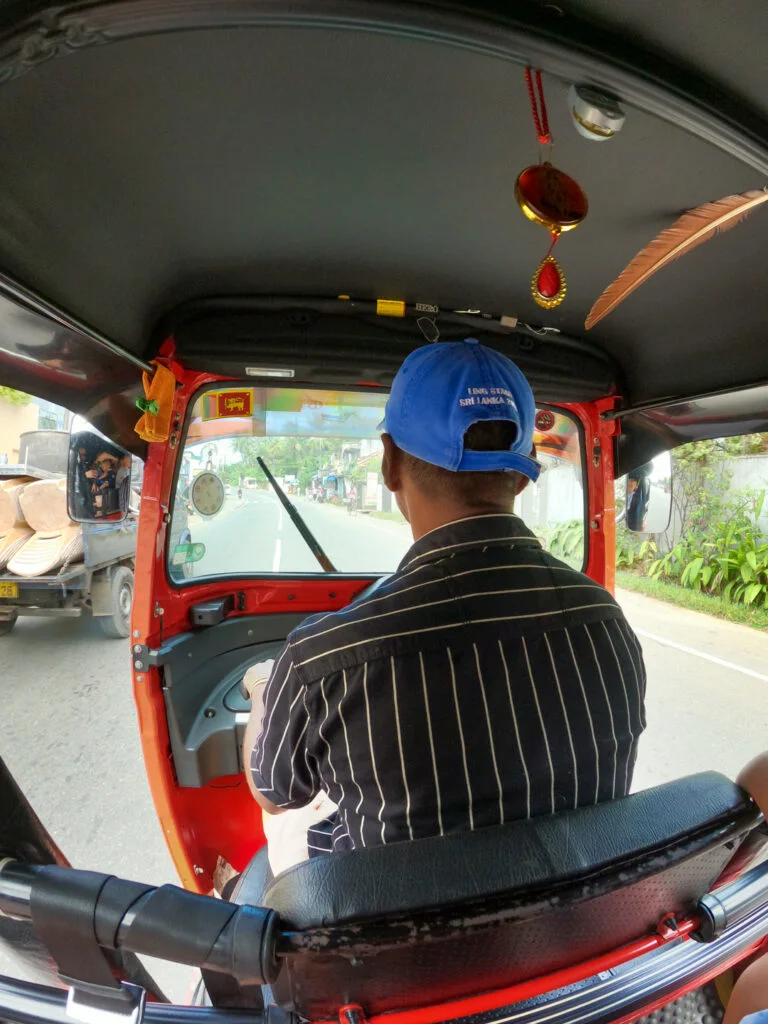 Buses are another option, and they connect with many parts of the island. However, bus drivers are a little unhinged in Sri Lanka and drive like maniacs, so I do not recommend using buses. It is easy to get to all the nice things to do in Galle without using buses.
Other Things To Consider When Visiting Galle
Now that we've discussed all the fun things to do in Galle, places to stay and where to eat, let's jump into some of the other things to consider to make your trip as smooth as possible.
Packing List
You may be wondering what to pack for your trip to Galle. Here are a few things to consider packing.
Pack light, breathable clothing suitable for the tropical climate. Opt for loose-fitting cotton or linen tops, shorts, skirts, and dresses. Long-sleeved shirts and pants can provide protection from the sun and insects during outdoor activities.
Don't forget to pack your swimsuit, as Galle has beautiful beaches where you can relax and swim. Pack a beach towel or mat for your beach outings.
Bring sunscreen with a high SPF, sunglasses, and a wide-brimmed hat to protect yourself from the strong tropical sun. Consider packing a sunshade or umbrella for extra shade during walks or beach visits.
Mosquitoes can be present, especially during the evenings. Pack an effective insect repellent to protect yourself from bites.
Galle involves a fair amount of walking, so bring comfortable shoes or sandals for exploring the fort and its narrow streets. If you plan on hiking or participating in outdoor activities, consider packing sturdy walking shoes or sneakers.
Having a small umbrella for shade and occasional rain showers is a good idea. Whilst more frequent during monsoons, they occasionally happen in dry season too.
Bring any necessary medications and basic toiletries such as a toothbrush, toothpaste, shampoo, and soap. A basic first aid kit for minor injuries or ailments is also advisable.
Sri Lanka uses Type D and Type G electrical outlets. If your devices use a different plug type, bring a suitable adapter to charge your electronics.
Sri Lanka has a huge issue with plastic so pack a reusable water bottle to refill throughout your trip.
Don't forget to carry your passport, visa (if required), travel insurance, and any other necessary documents. Most hotels require a passport to check-in.
Carry sufficient cash in the local currency (Sri Lankan Rupees) for small purchases such as tuk tuk rides. Keep notes of 100, 500 and 1000 rupees. Try not to carry too many 5000 notes as they are harder to break for small items.
Travel Health & Insurance

Don't forget to speak to a travel health advisor before visiting Sri Lanka. It is a tropical destination, and with that comes a potential need for additional vaccine protection, depending on your opinion.
Having good travel insurance is essential when visiting anywhere in Sri Lanka. It provides financial protection and peace of mind in case of unexpected events or medical emergencies.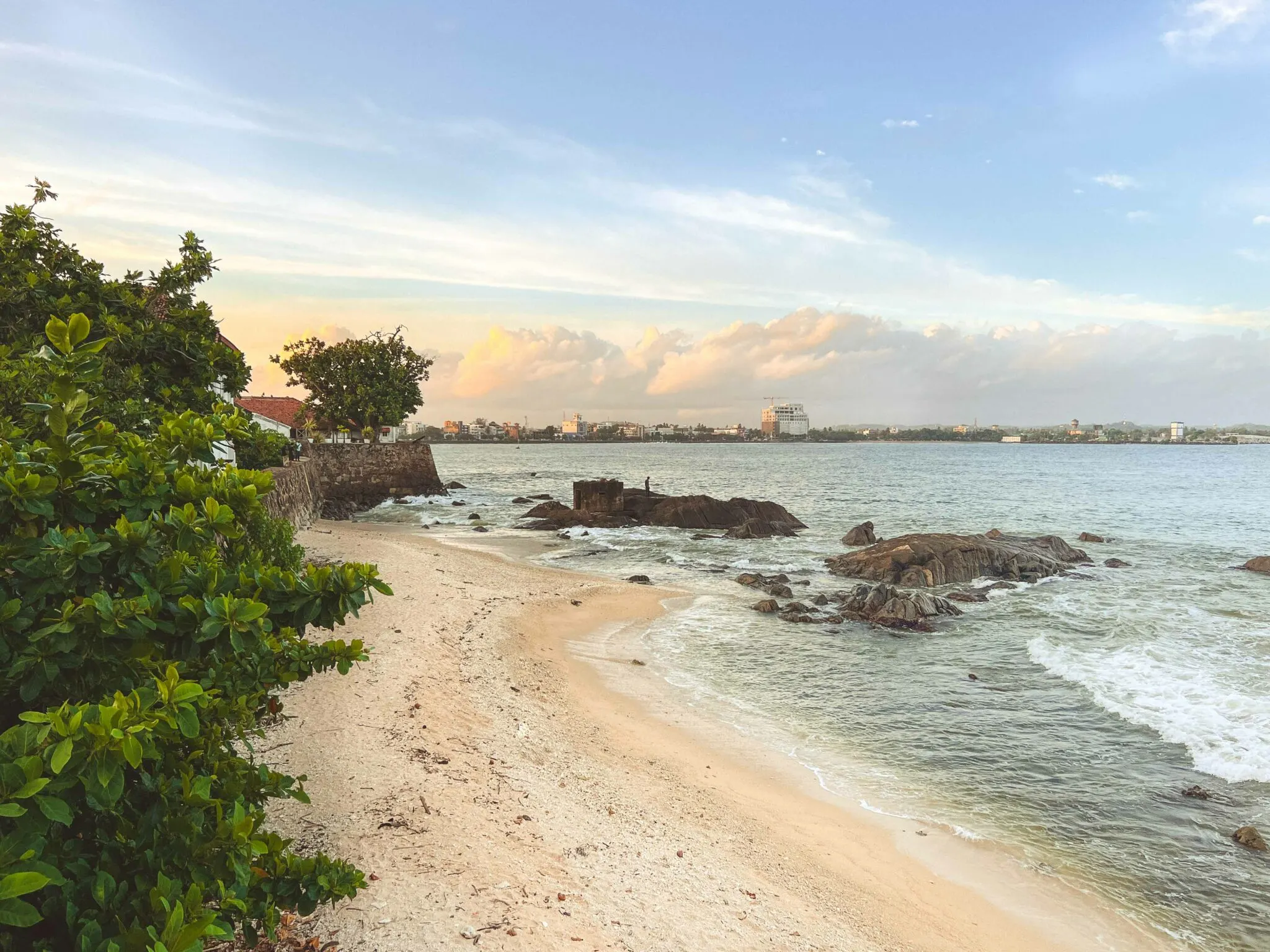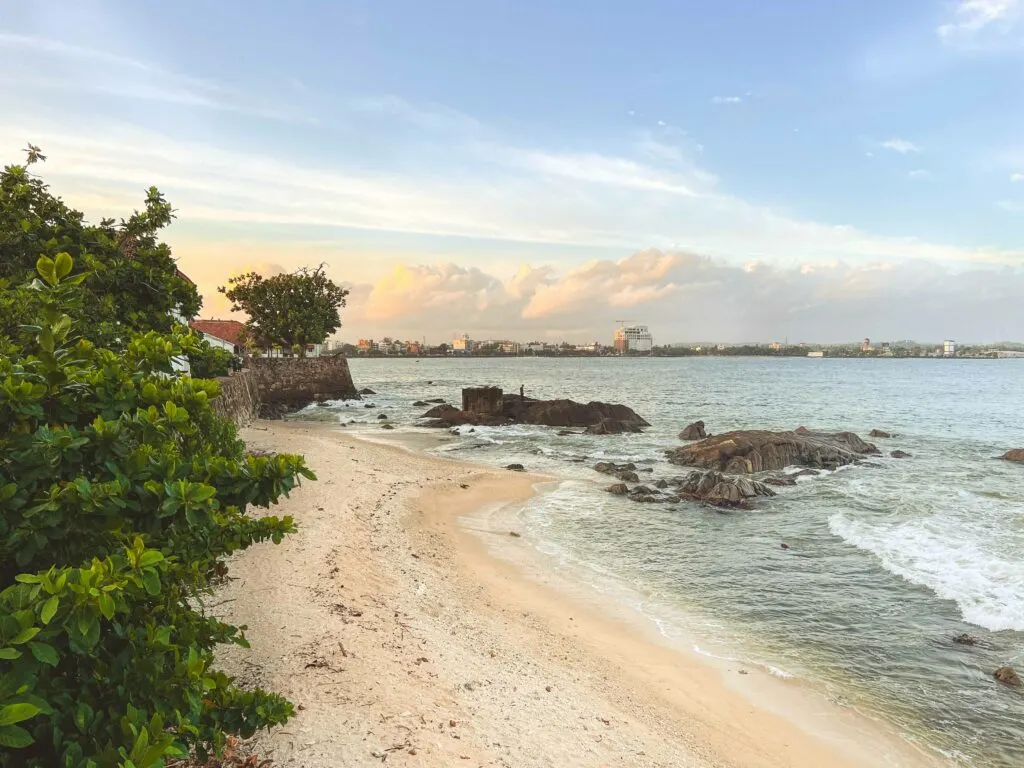 Travel insurance can cover medical expenses in case you require medical attention during your trip. In Galle, there are healthcare facilities, clinics, and hospitals that provide a range of medical services to both locals and tourists.
Galle has several healthcare facilities, including government-run hospitals and private medical clinics. The quality of healthcare services can vary, with private hospitals generally offering higher standards of care and English-speaking staff.
Asiri in central Galle is the best option if you need basic medical care. For more serious issues, it is best to go to the Ruhunu government hospital.
WiFi
WiFi is generally available in most restaurants and hotels. We always travel with our Netgear Nighthawk Router and pop a local sim in on arrival. Pick up a Dialogue sim in the airport. Data comes at a very reasonable price, depending on the exchange rate. It can be as little as 7 USD for 100 GB.
Sri Lanka does experience power cuts, so if you need something 100% reliable, it is best to have your own router or sim to stay connected.
Safety
There is no doubt there have been tough times for Sri Lankans in recent years with its economy in turmoil. 2018 was one of the best years for Sri Lanka. It was the absolute peak of tourism.
I remember my Instagram feed being full of people on the famous train ride over the nine arch bridge.
More recently, this has not been the case in Sri Lanka. Tourism took a huge hit following a trail of issues, and the economy was dismayed.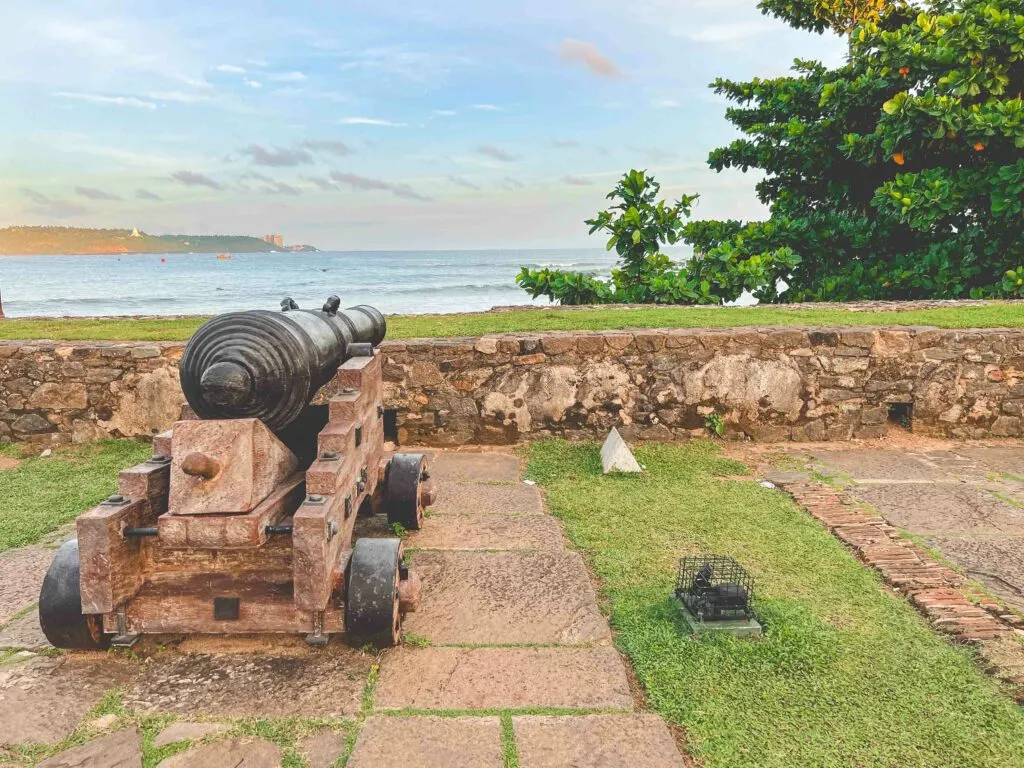 Having lived here for several months, I get asked regularly on my Instagram and Facebook accounts if I feel safe here. The honest answer is yes. We feel safe and have not witnessed anything to worry about in terms of political unrest.
We exercise the same caution as every other country. We don't leave belongings lying around and we don't travel around late at night.
My biggest issue when it comes to safety in Sri Lanka is the roads. The bus drivers are crazy, to say the least. However, this is no different from many neighbouring countries.
Sri Lankan Bank Holidays
It is worth noting, Sri Lanka has some different holidays in their calendar. Full moon day also known as Poya is a holiday once a month. Liquor stores are closed and alcohol is not served in any hotels, restaurants, shops or bars.
There is also the Sri Lankan New Year (Avurudu) which is one of the most significant cultural celebrations in Sri Lanka, usually occurring in mid-April.
According to the Sinhala and Tamil calendars, it marks the beginning of the new year. Families come together, play traditional games, prepare special meals, and go to the temple.
Vesak, also known as Buddha Purnima, commemorates the birth, enlightenment, and passing away of Lord Buddha.
It is a major Buddhist festival celebrated with vibrant decorations, lanterns, and religious observances. Vesak usually takes place in May and includes activities such as visiting the temple, engaging in acts of charity, and lighting oil lamps.
The streets are filled with businesses giving out complimentary food to the people of Sri Lanka. Many businesses close, and liquor is never sold anywhere during the holiday.
If you are looking for things to do in Galle during this period, the holiday will most likely affect how things operate with many places closing. However, it's equally an amazing time to visit to get a feel for the religion and culture.
Local holidays will offer different things to do in Galle. For example, in Vesak, many giant lantern displays are beautiful. They line many streets, and locals tend to walk along and see all of the different pieces of art.
I hope you enjoyed reading about the best things to do in Galle. If you have any questions, please feel free to reach out via email or social media @travelmadmum. We are so proud to call Galle home for now!
Disclaimer: This post about things to do in Galle contains affiliate links. By using them, it will not cost you any extra, we may receive a small commission to keep us writing.