Ella is an iconic town nestled in the tea highlands of Sri Lanka. It's famed for its beautiful train ride through mountainous terrain with some of the most incredible views, hence its popularity.
Ella is in a valley surrounded by rolling hills, beautiful tea plantations, and gushing waterfalls. It was once a sleepy village that has become a destination with modern amenities blended with old-age charm.
The town is located in Badulla, one of the 25 districts of Sri Lanka and is in the country's centre, around 200 km from Colombo.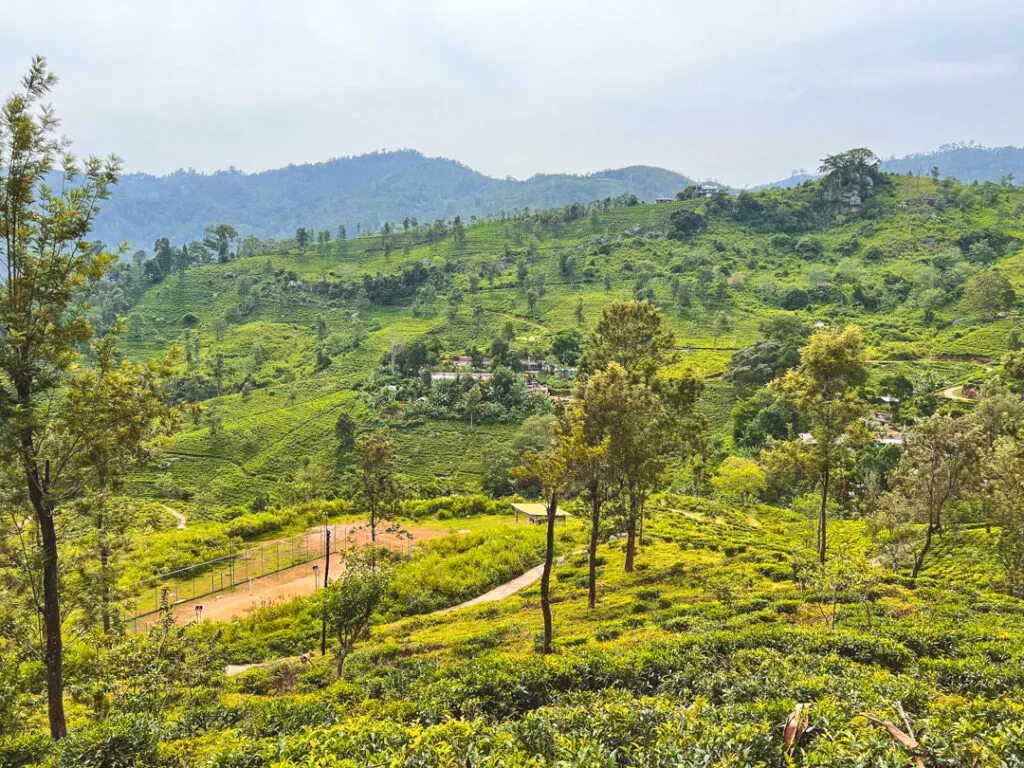 Situated at around 1,041 meters above sea level, Ella has much milder temperatures throughout the year than other parts of Sri Lanka, such as Galle in the south.
This creates the perfect location to explore the outdoors through various activities, whether hiking or ziplining across a valley!
The landscape surrounding Ella is one of my favourite places in the country. Lush greenery and verdant tea estates carpet the hills as far as the eye can see.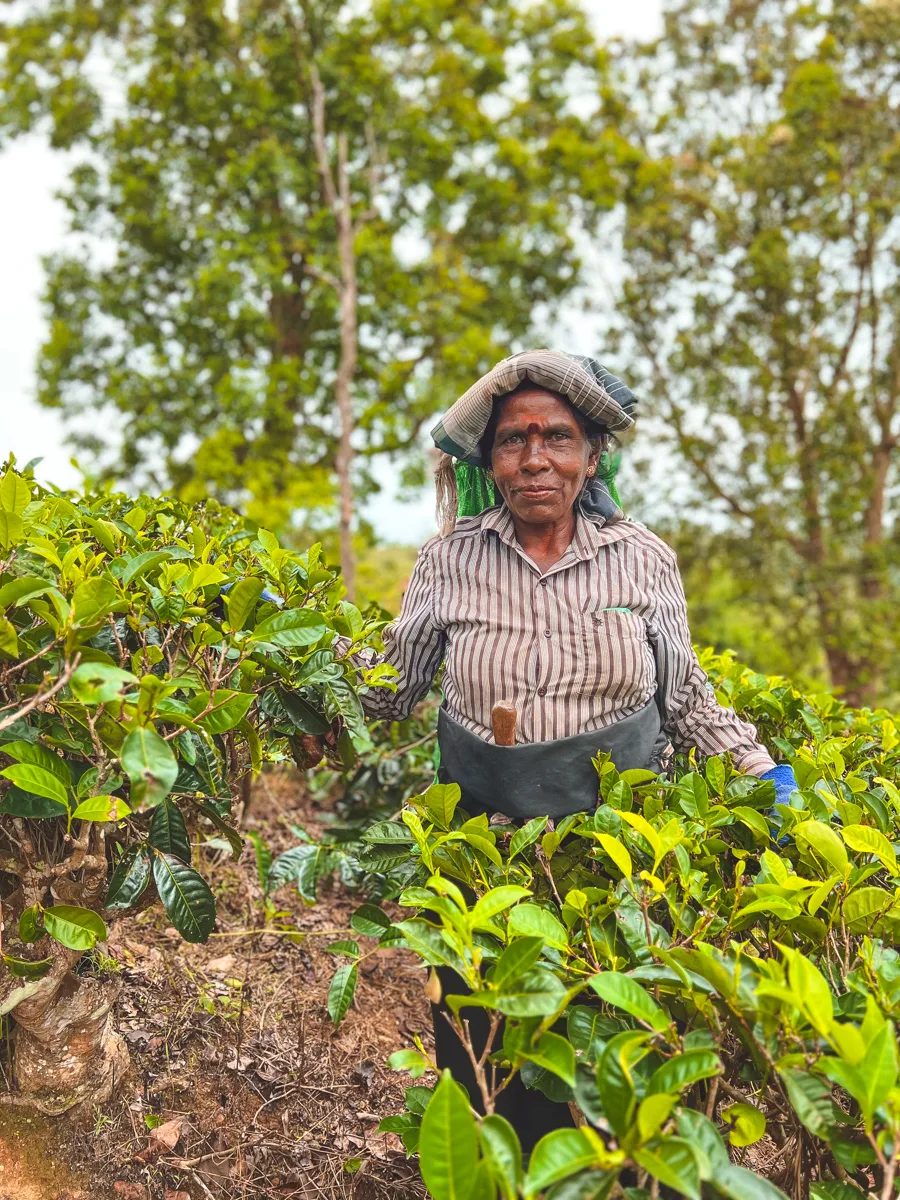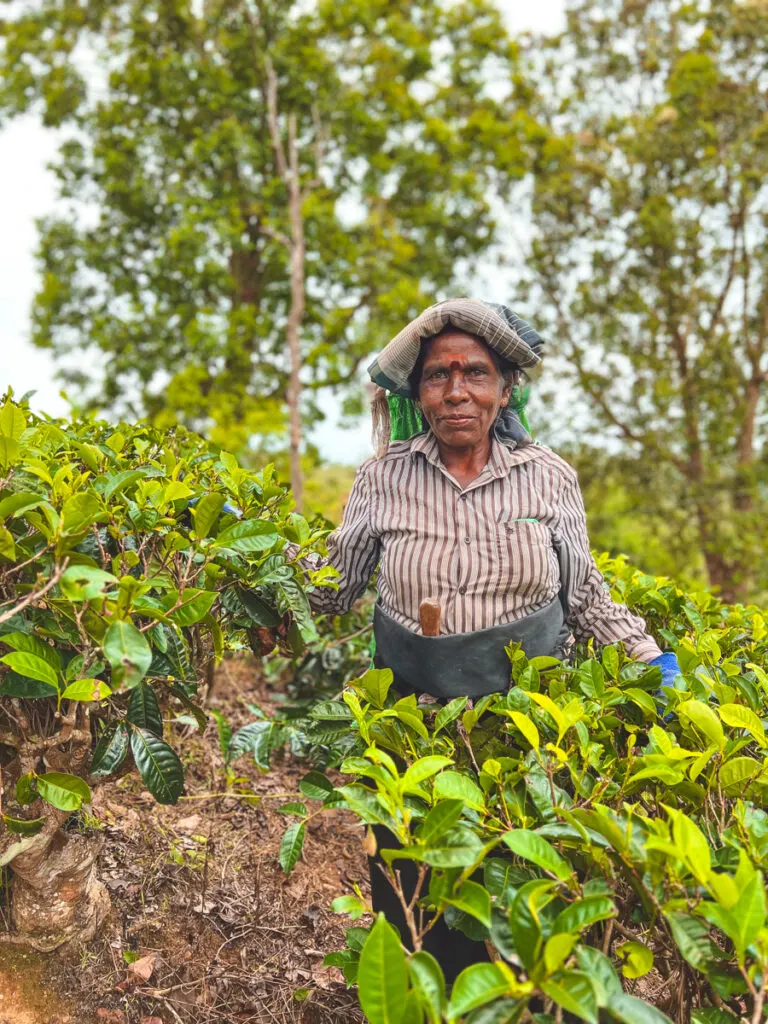 Throughout the day, clouds roll around the hills like a thick blanket adding to the magic of Ella.
In recent years, Ella has witnessed a surge in popularity among travellers. This newfound attention has led to significant infrastructure changes and amenities.
Once a hidden gem known mainly to intrepid adventurers, Ella now has an array of accommodation options, restaurants, and shops catering to the needs of its growing visitors.
Despite these developments, escaping the tourist hotspots to small local villages and less well-known hiking trails is easy.
There are so many buildings in Ella which embrace sustainable practices, which helps the town hold onto its charm. We saw some incredible bamboo structures that reminded us of Ubud in Bali. Cafe Chill is one example!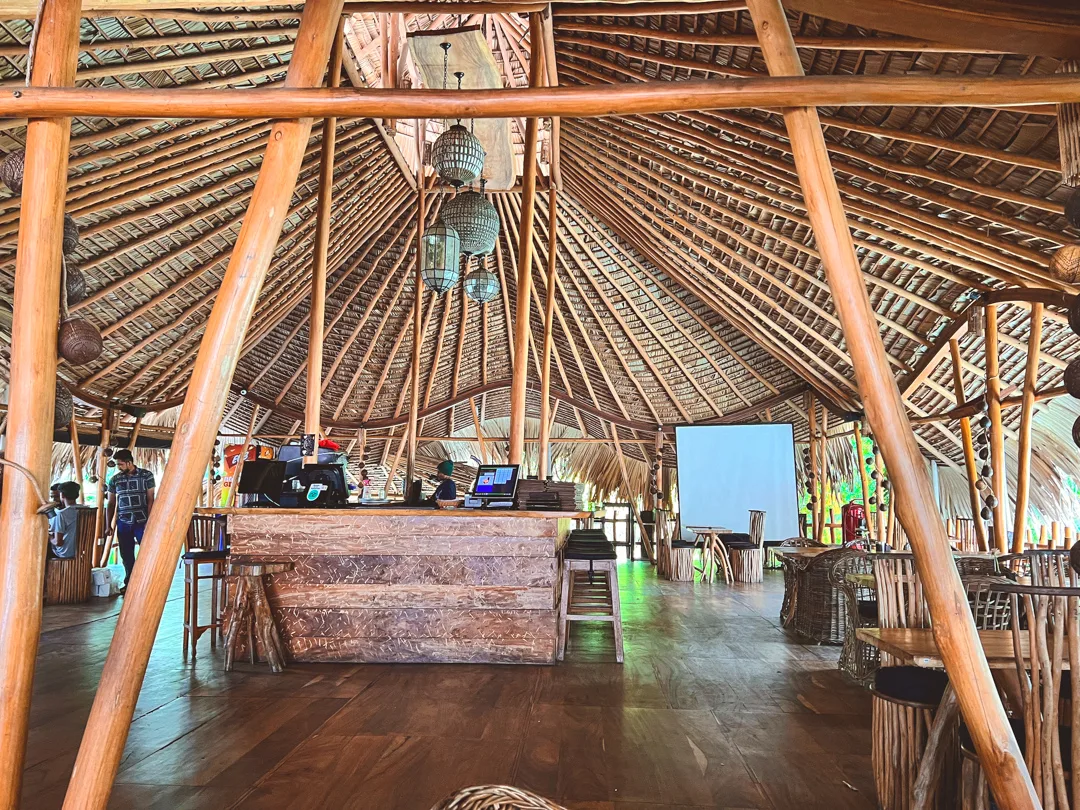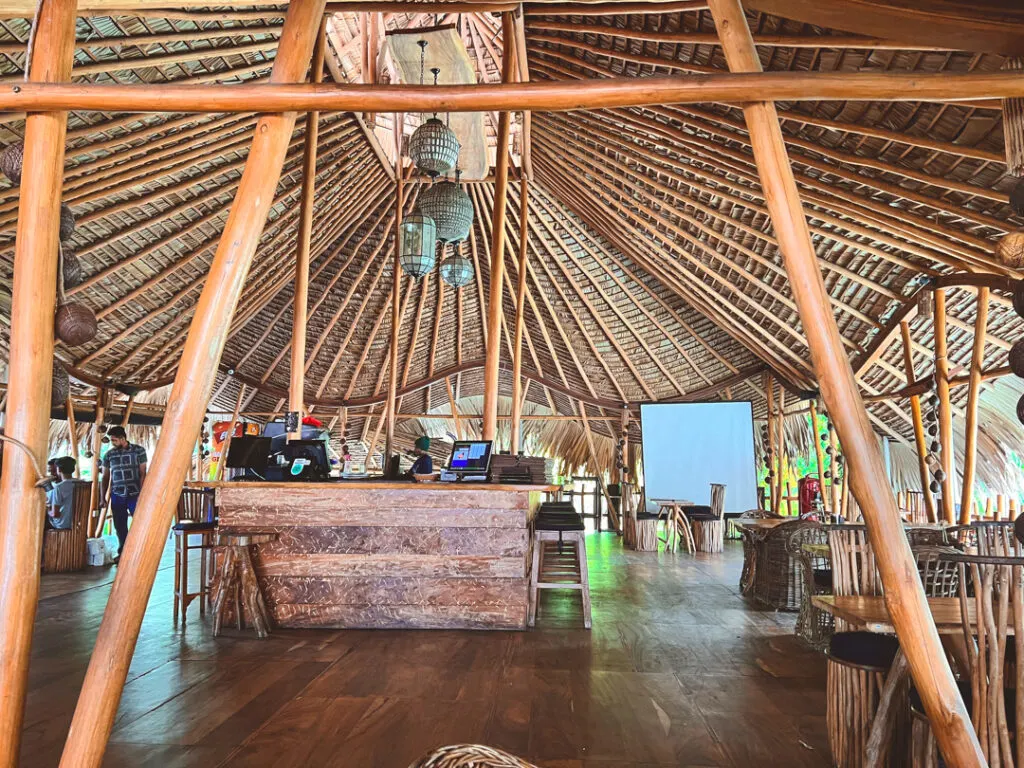 This post covers all the best things to do in Ella, including various attractions, activities, and hidden gems. Also included are some recommendations on places to stay and some of the best places to eat that we enjoyed!
Ella is a must visiting destination on every Sri Lanka itinerary. Whether visiting Sri Lanka with kids, solo, with friends or as a couple, there is something for everyone.
It does not matter the time of year when you visit or if you plan to incorporate the east coast or the South. Ella is lovely any time of year, with some light showers here and there.
Ella Sri Lanka Things To Do
1. Take A Train Ride
While some tourists approach Ella from Galle in the south, most take a train from Kandy or Nuwara Eliya to Ella.
It'a not only a means of transportation but also an incredible experience. The train route, often regarded as one of the most scenic rides in the world, attracts many travellers each year.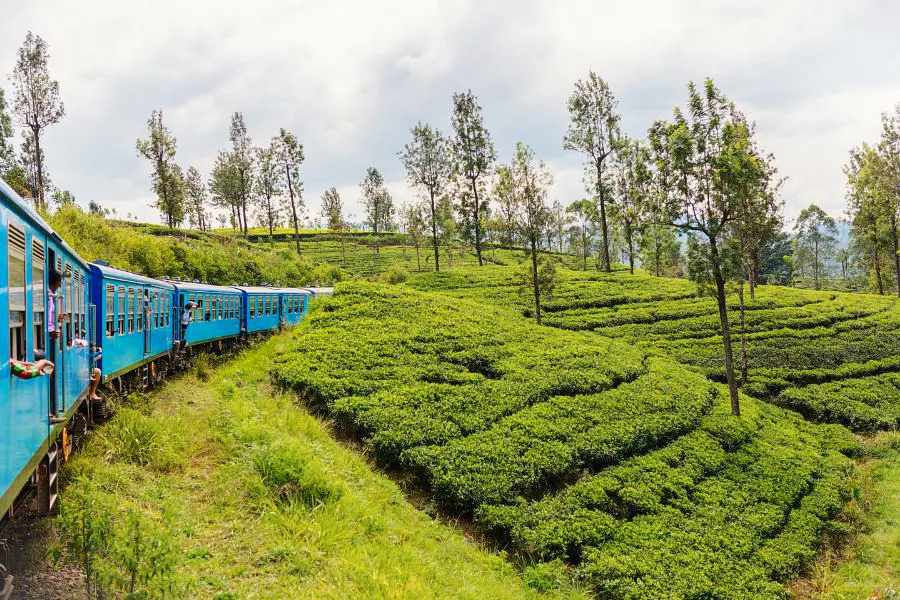 It is undoubtedly considered one of the best things to do in Ella (or at least on route) in or out of the town.
Thousands of visitors enjoy the most breathtaking views of vistas, lush tea plantations, and dramatic mountain ranges that characterize the area.
While the train journey from Kandy to Ella is longer and offers a more diverse range of landscapes, the route from Nuwara Eliya is shorter and equally picturesque.
Regardless of the starting point, it's possible to witness iconic railway bridges and pass through rural villages.
Due to the popularity of the train journey, especially among international tourists, it is advisable to book first-class tickets in advance. These tickets often sell out months before.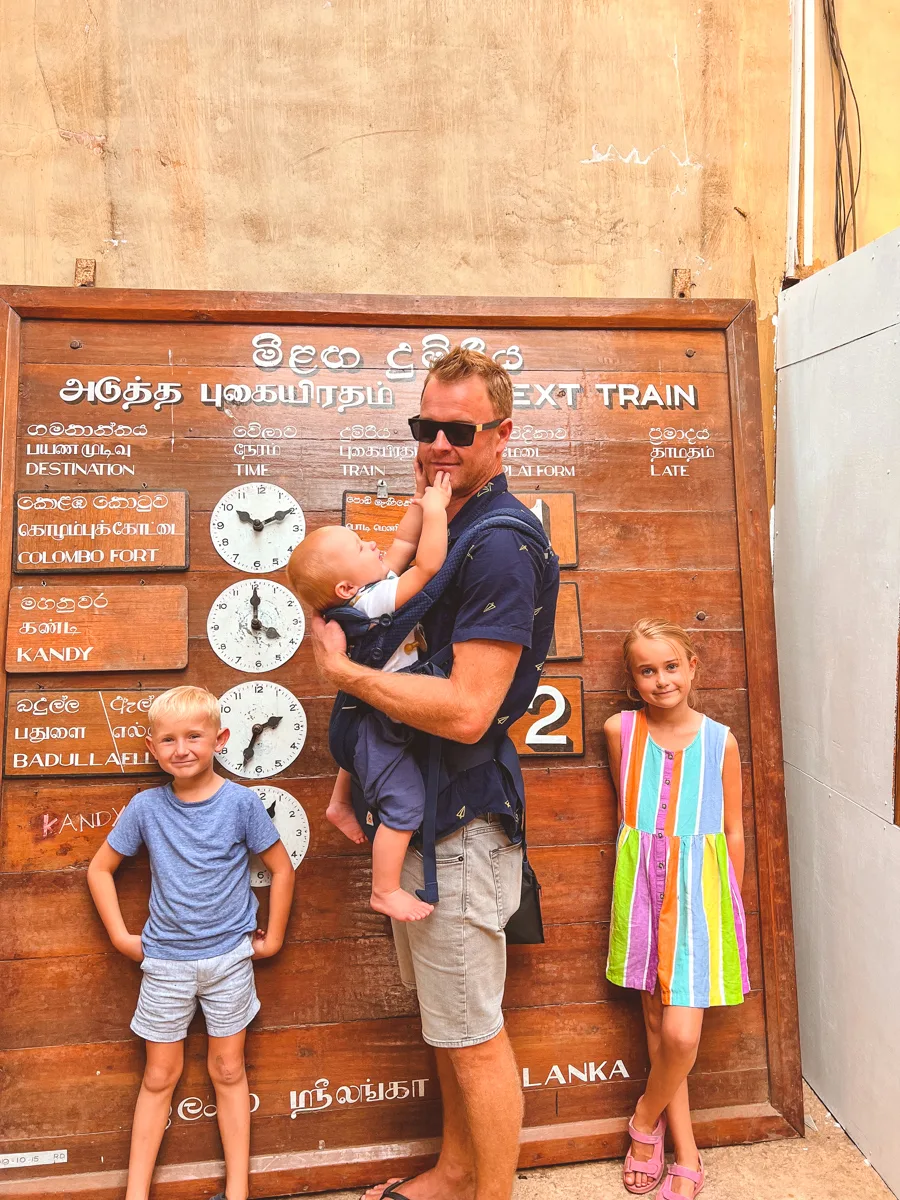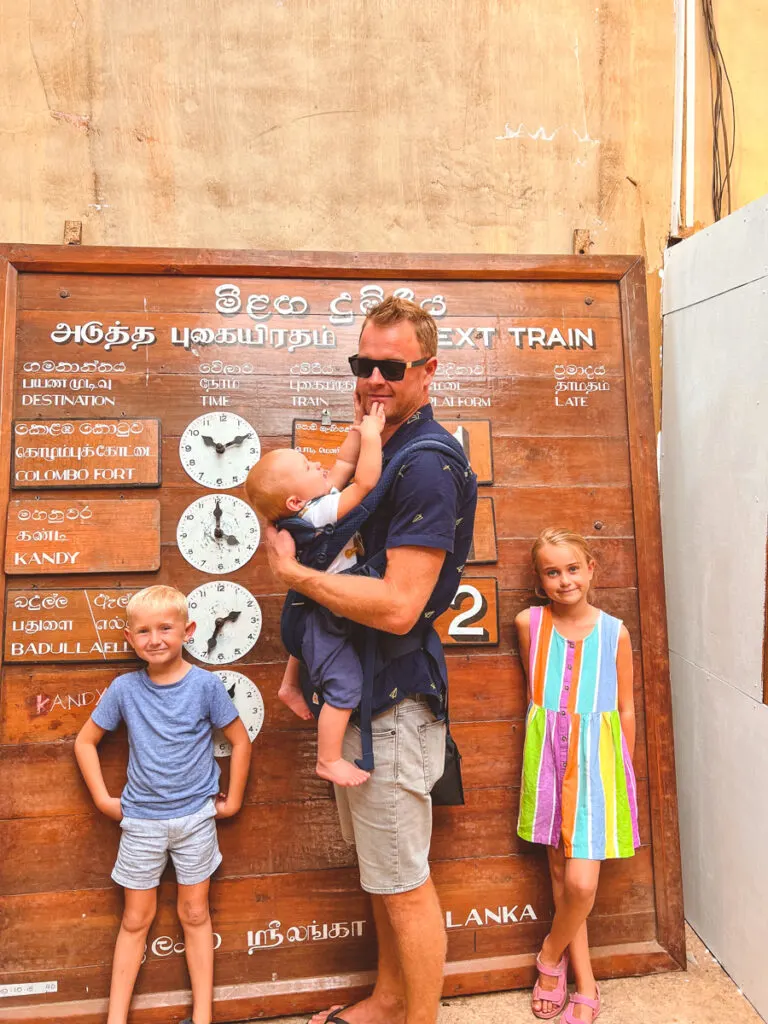 Despite the high demand, first-class tickets remain affordable, considering the duration of the train ride and the incredible scenery along the way.
First class offers a higher level of comfort with spacious seating, large windows for panoramic views, and air conditioning. If first-class seats are unavailable, second-class is still quite comfortable.
Booking tickets in advance guarantees a seat reservation and reduces the stress of finding a place to sit on crowded carriages.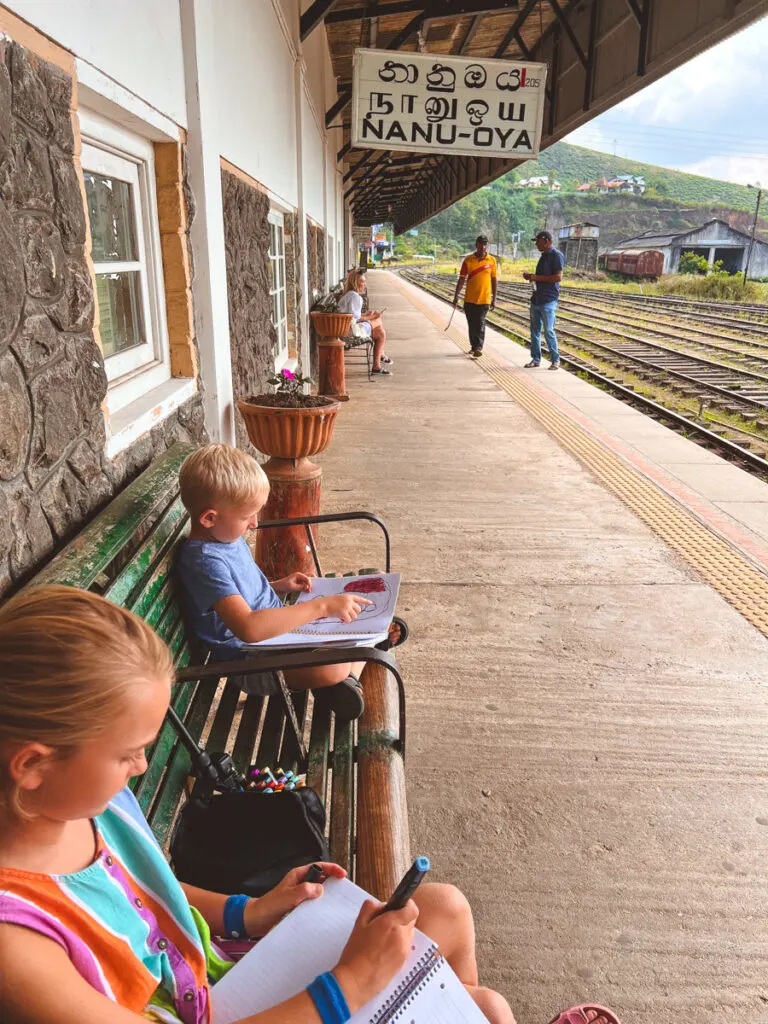 One thing to note is the trains are not incredibly reliable regarding timeliness. They can sometimes be delayed for hours which may not suit everyone. It's best to be prepared with a book and snacks for a potential wait.
However, a departure delay is worth waiting for the incredible journey for many!
2. Nine Arch Bridge
One of the most iconic things to do in Ella visits the most recognizable landmark in the region, the Nine Arch Bridge.
It is a bit outside Ella, accessible by tuk-tuk and close to Demadora village. It is a marvel of engineering built in 1921. The bridge is a testament to Sri Lanka's colonial past and is sometimes called the 'bridge in the sky'.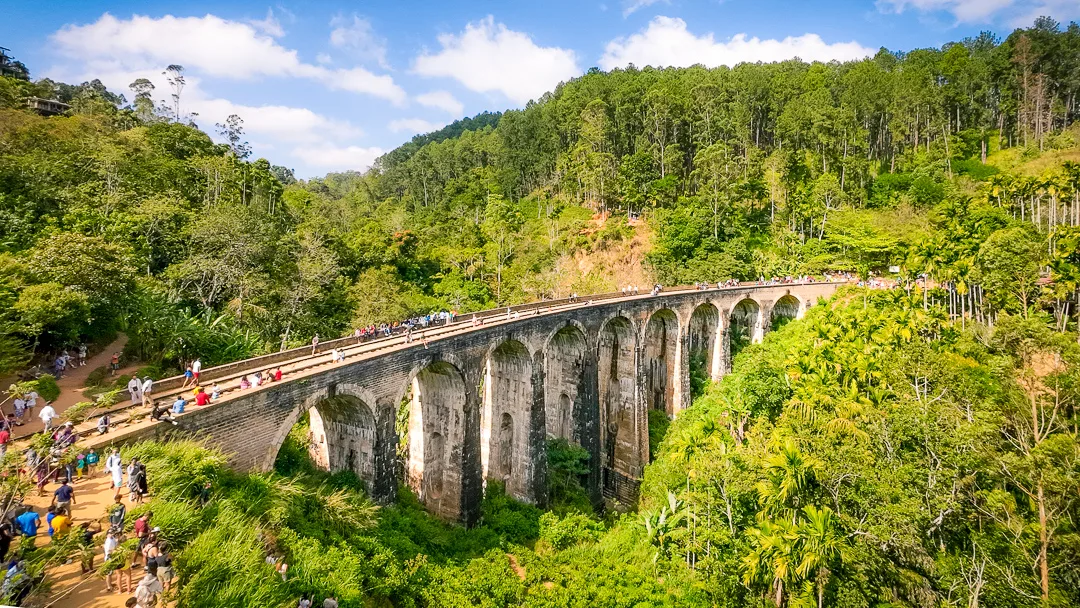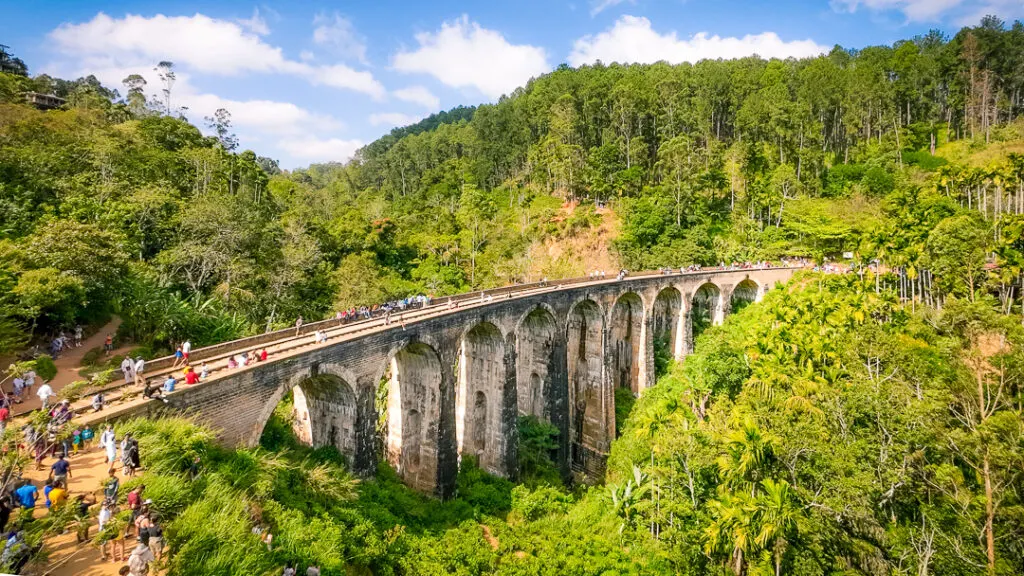 It features impressive arches and stone foundations which blend into the lush greenery and natural surroundings.
When planning a visit to the Nine Arch Bridge, choosing a weekday rather than a weekend is a good idea.
On weekends, especially when a train is scheduled to pass over the bridge, it draws larger crowds of tourists and locals.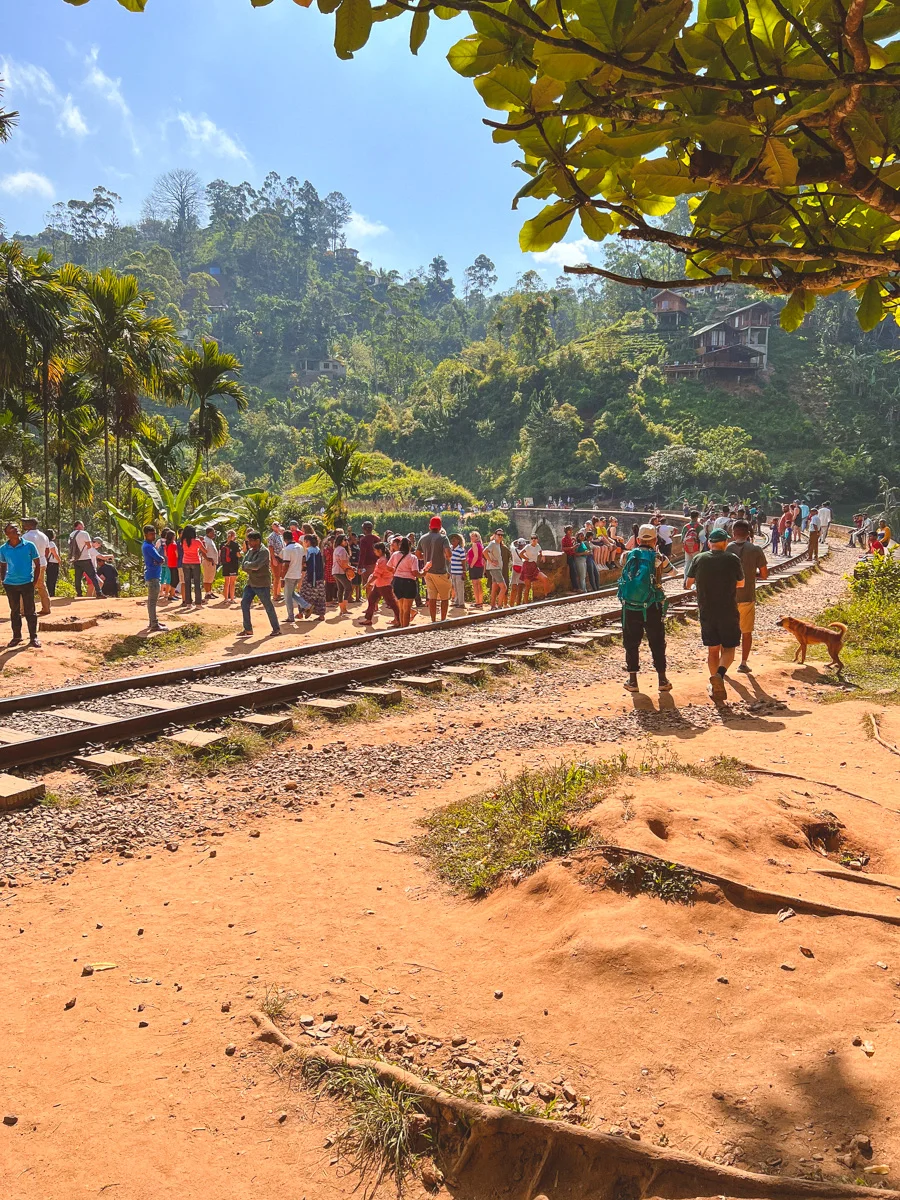 By visiting midweek, you'll have a better chance of enjoying the stunning location in peace.
To capture the best photos of the bridge, it's recommended to avoid the arrival of a train. While the sight of a train crossing the bridge is beautiful, it also attracts crowds, making it challenging to find an excellent spot to capture that perfect shot.
Once at the bridge, you can either stand atop the hill on one side or descend the hill to get a closer look and capture the intricate details of the bridge's architecture.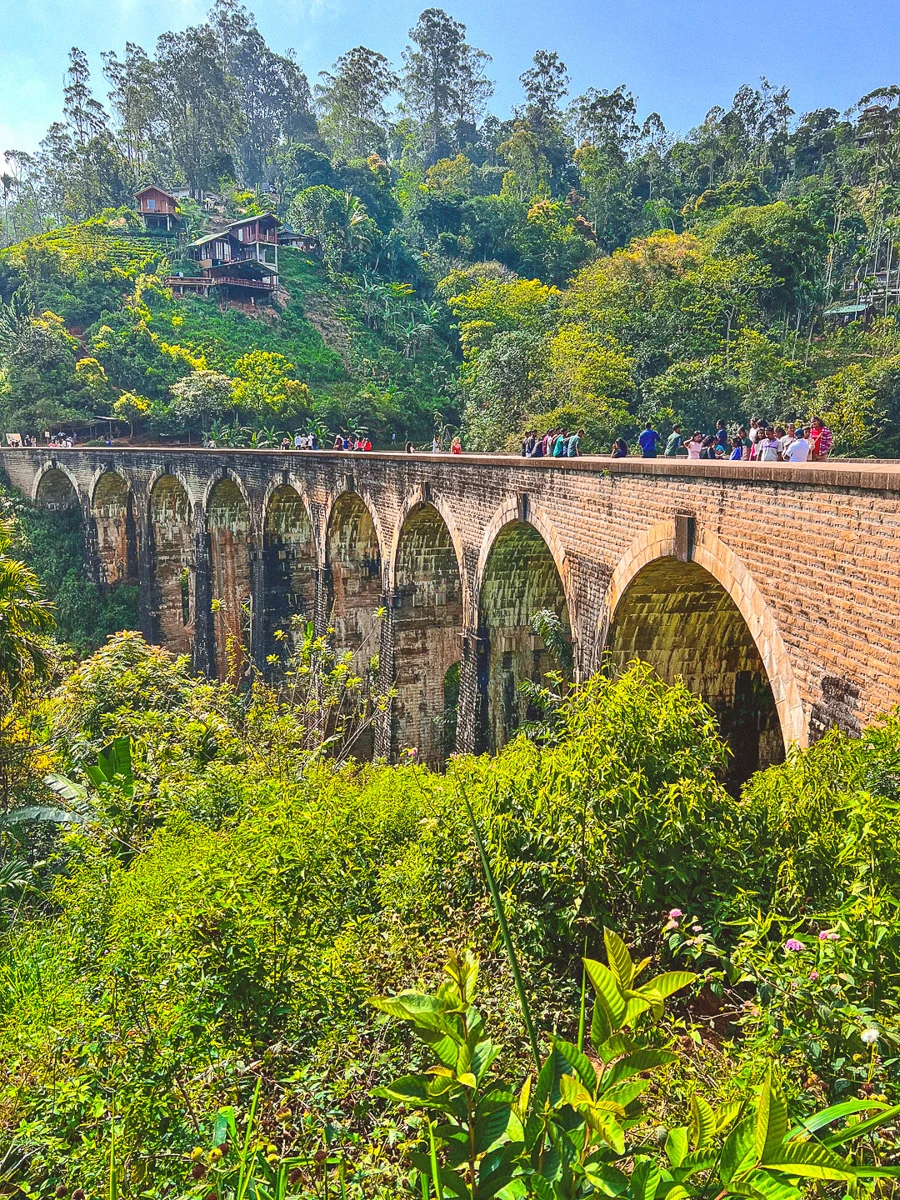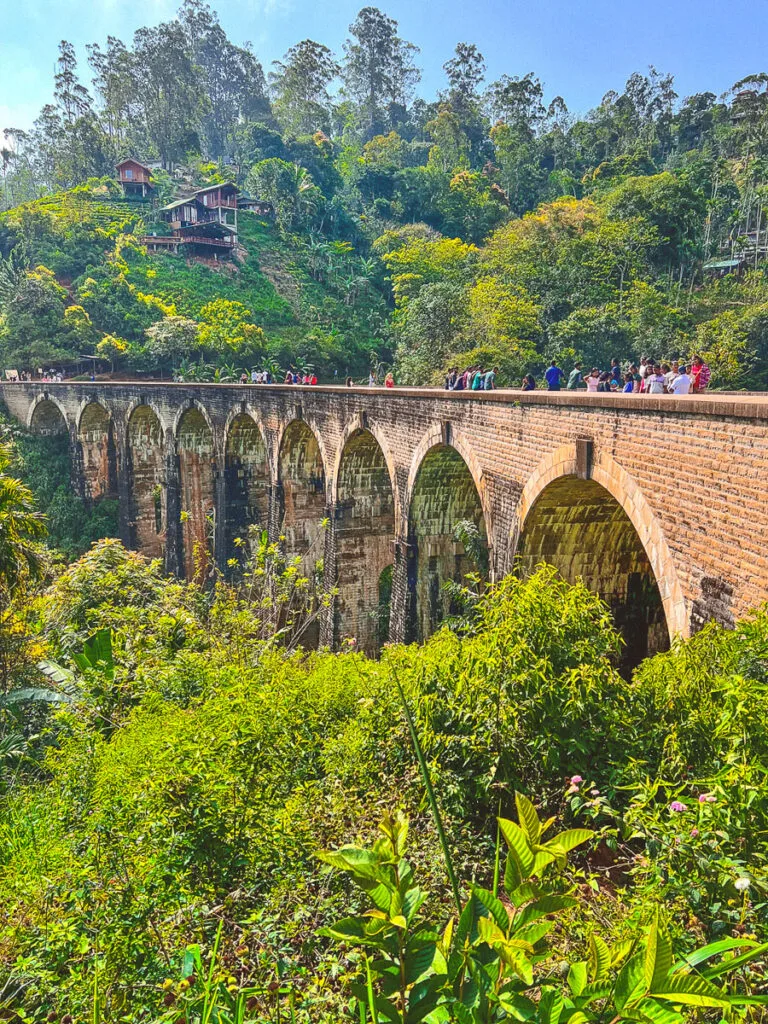 The verdant tea plantations and rolling hills in the backdrop create a picturesque setting. It's a place where you can marvel at the ingenuity of the construction.
Check out this tour of the Nine Arch Bridge, which also takes guests to Little Adams Peak. These are must-do activities when planning the best things to do in Ella.
3. Visit A Tea Factory
Our visit to the Uva Halpewatte Tea Factory was one of our favourite things to do in Ella. The setting is just stunning. We visited on a weekend when the factory was not in operation.
However, the staff told us if you visit during the week, it's usually in operation, with tea pickers delivering sacks of their hard-earned work.
It is close to the Nine Arch Bridge, so seeing both on the same day is perfect. I distinctly remember climbing what felt like vertical stairs and going through different factory parts to get to the top, which feels like a secret spot.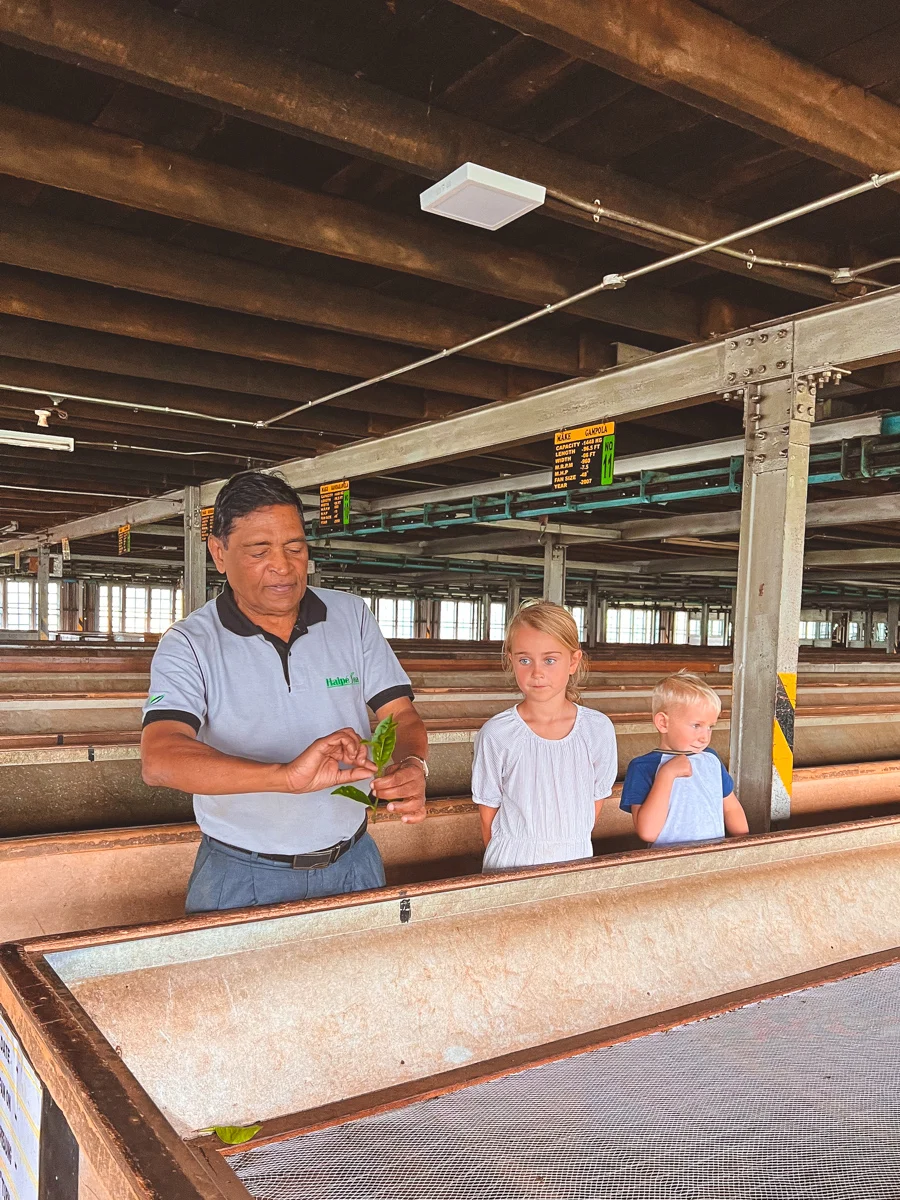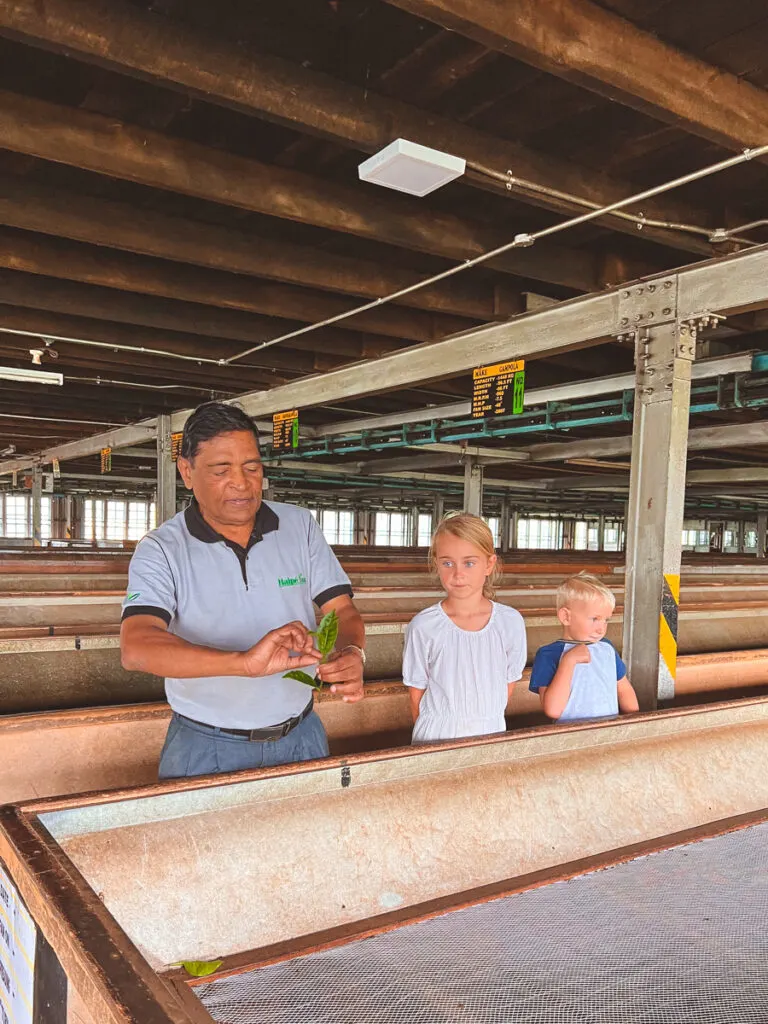 It's a tea shop where visitors also have the chance to do tea testing and where all of the official tours start.
Not to mention the incredible balcony, which overlooks the nearby landscape, it's the ideal spot for photos.
We were taken around by one of the staff who had perfect English and told us about each stage of the process. He also showed us the different parts of the leaves, what makes good quality tea and so on.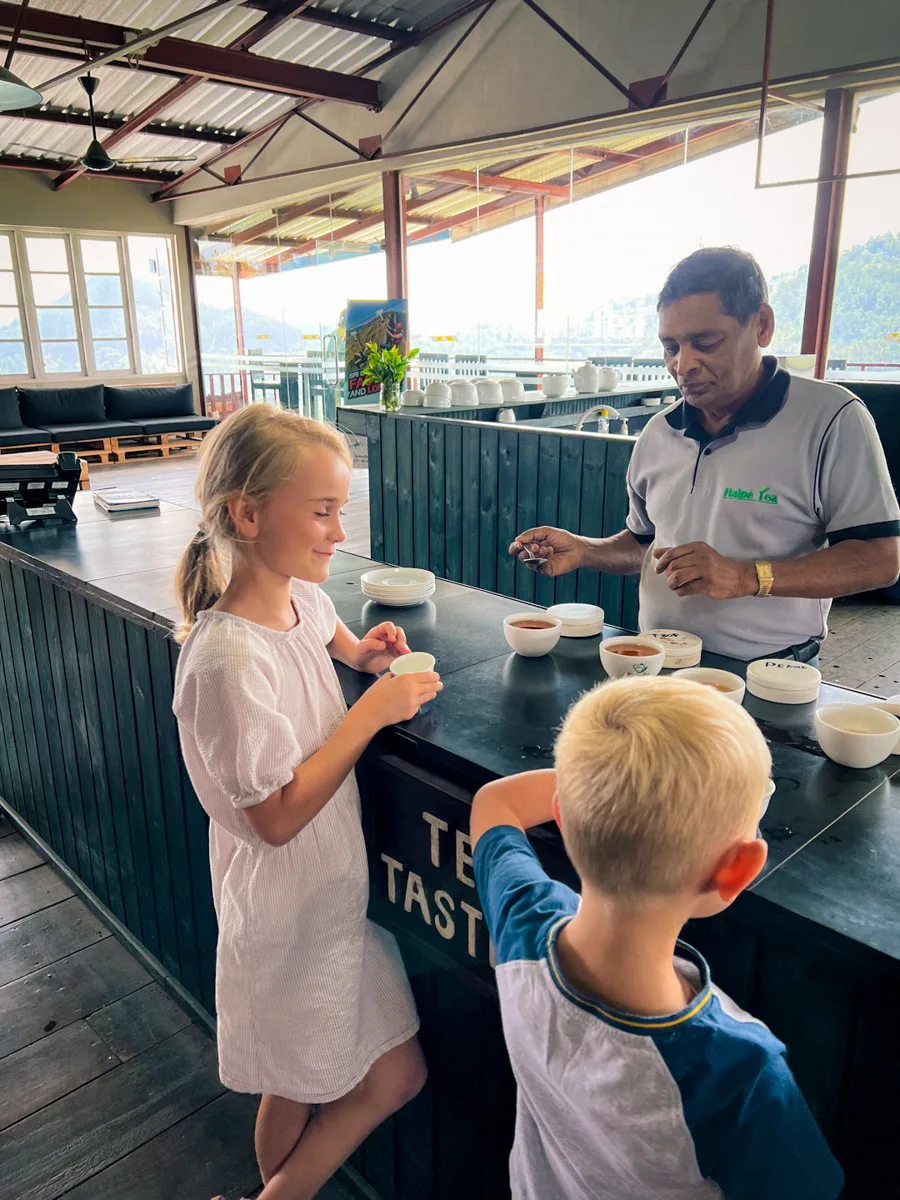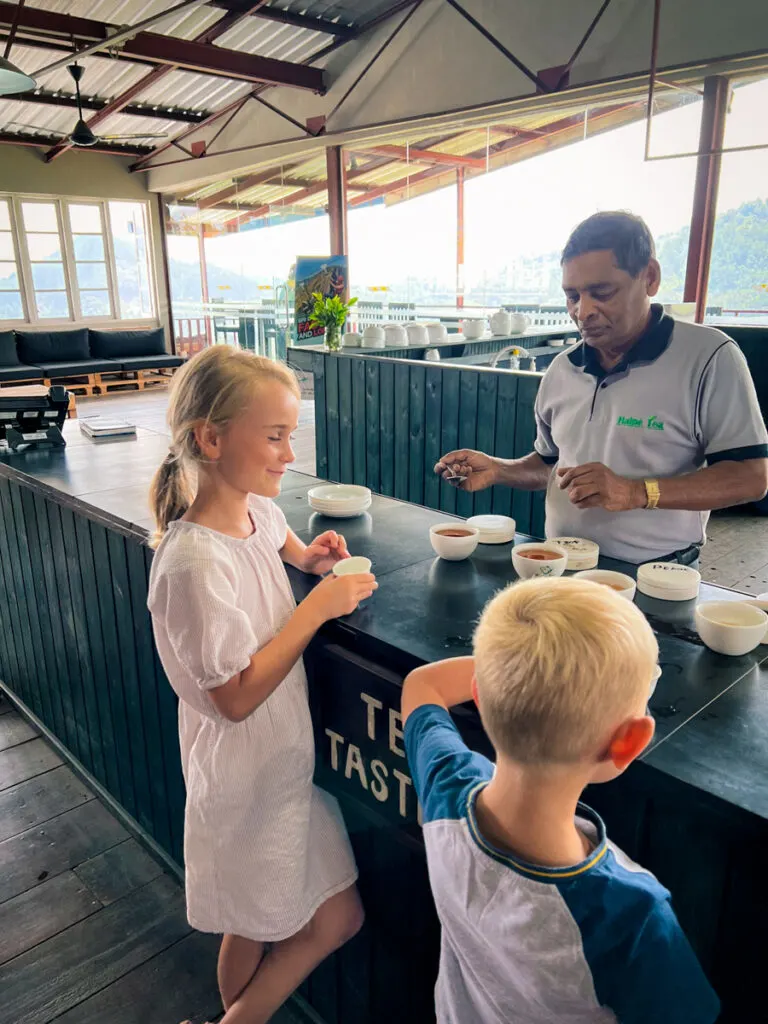 We asked for a shortened tour version as we were with our four children. However, we were surprised at how much our two older children loved the experience.
There is so much history to learn from the knowledgeable staff. It's safe to say every time I drink a cup of tea now, I think back to this tour and remember the women picking leaves nearby and the process that goes into its production. It is truly fascinating.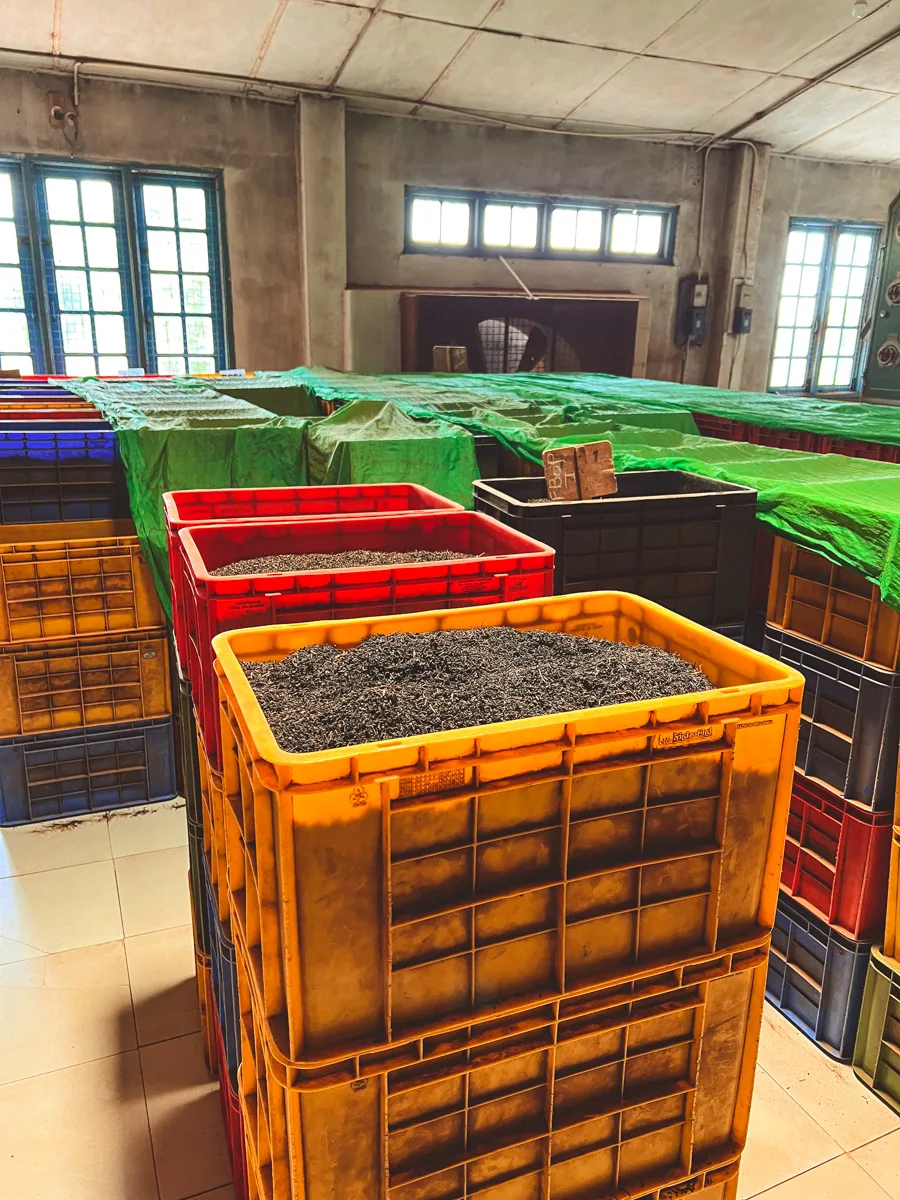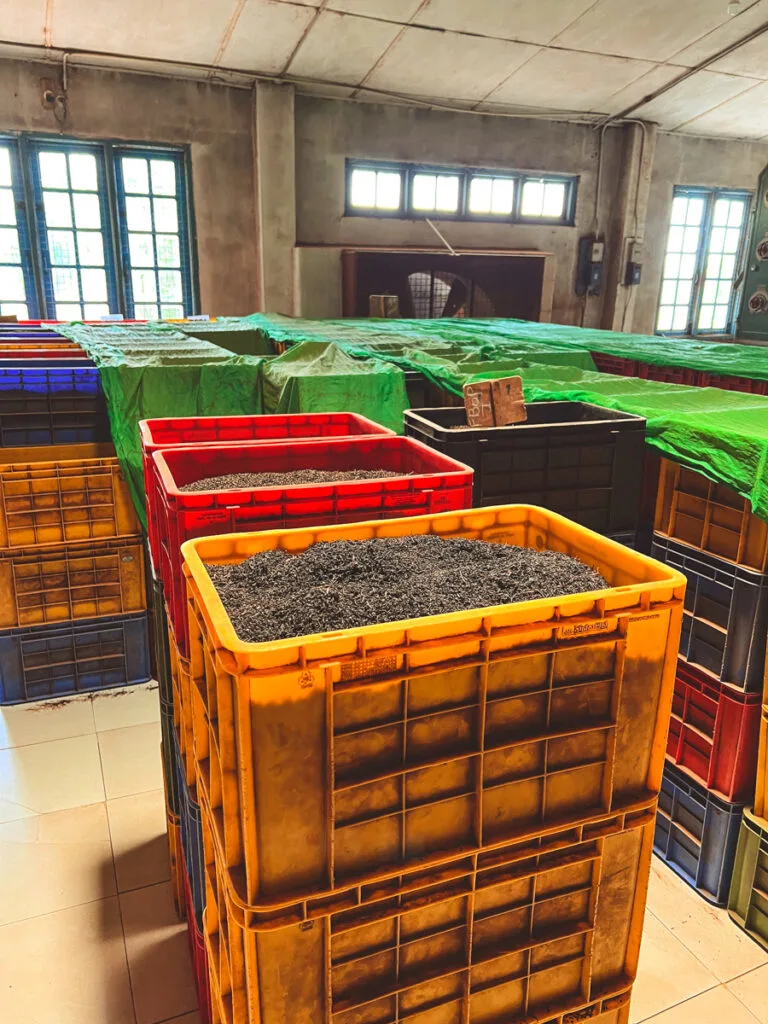 Tea makes up at least 17% of Sri Lanka's exports. It has a great deal of significance within the local economy.
After walking around the various areas of the factory, we returned to the shop for the taste of Ceylon-brewed tea before relaxing on the balcony for a little while and taking in the stunning views.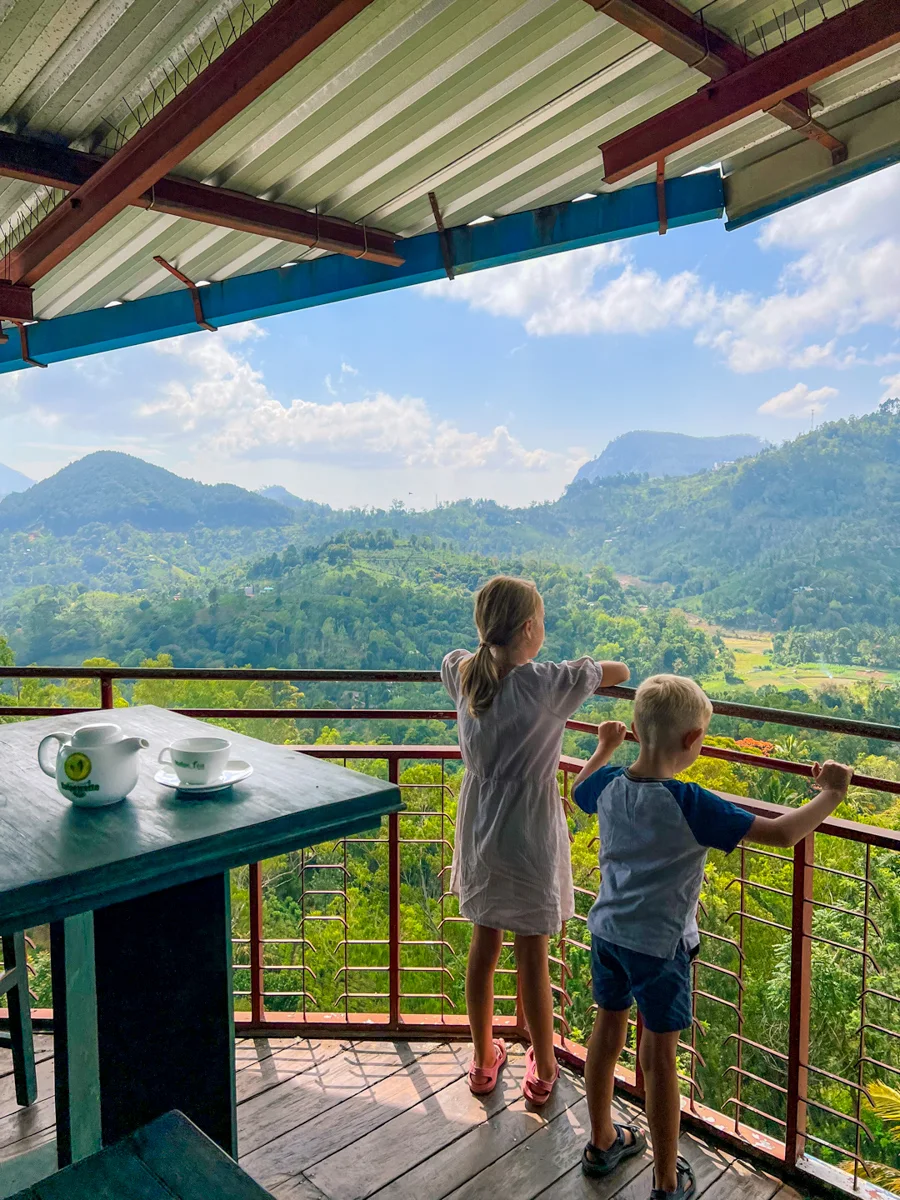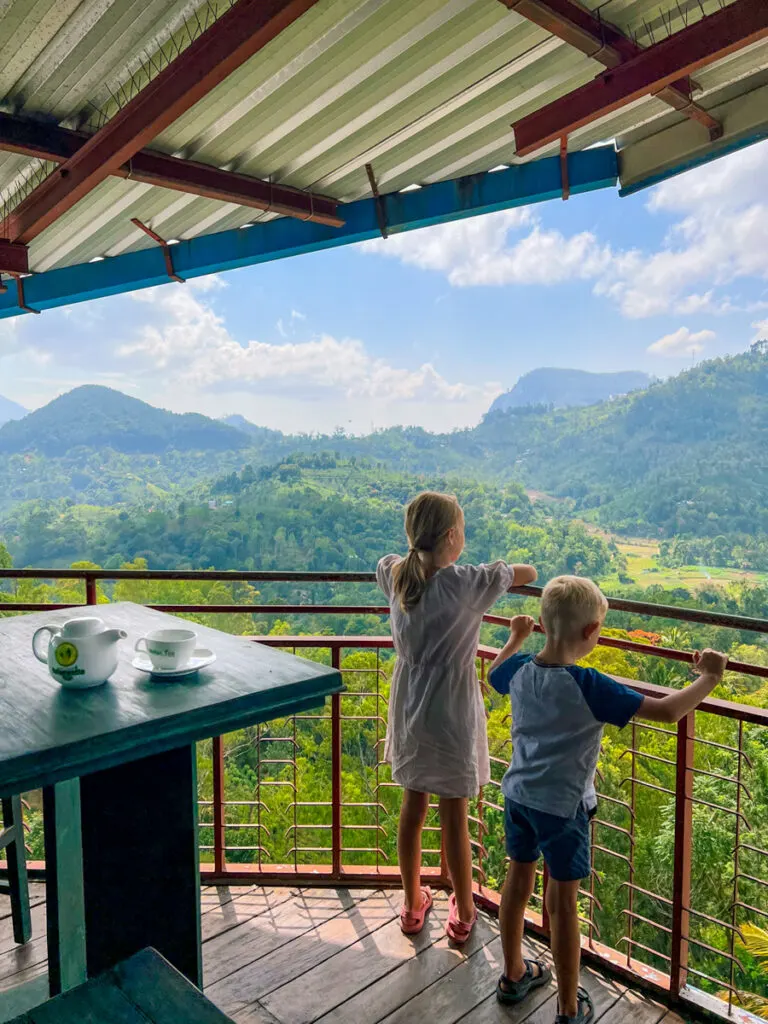 To make the most of your visit to the tea factory, check the opening hours and ensure no public holidays will impact your visit. Allow sufficient time for the tour and tasting. If you feel it may be too long, the staff are flexible and happy to shorten the experience.
There are many tea factories to choose from in the region. However, the Uva Halpewatte Tea Factory has some of the best reviews of its tour and entire educational experience.
Check out the tea factory tour here one of the best things to do in Ella.
4. Little Adams Peak
One of the most accessible hiking trails in Ella is Little Adam's Peak. It's a scenic track with incredible views along the way. The tea plantation-lined pathways make it extra unique.
Since it is an easy enough hike paved most of the way, it is ideal for families looking for things to do in Ella.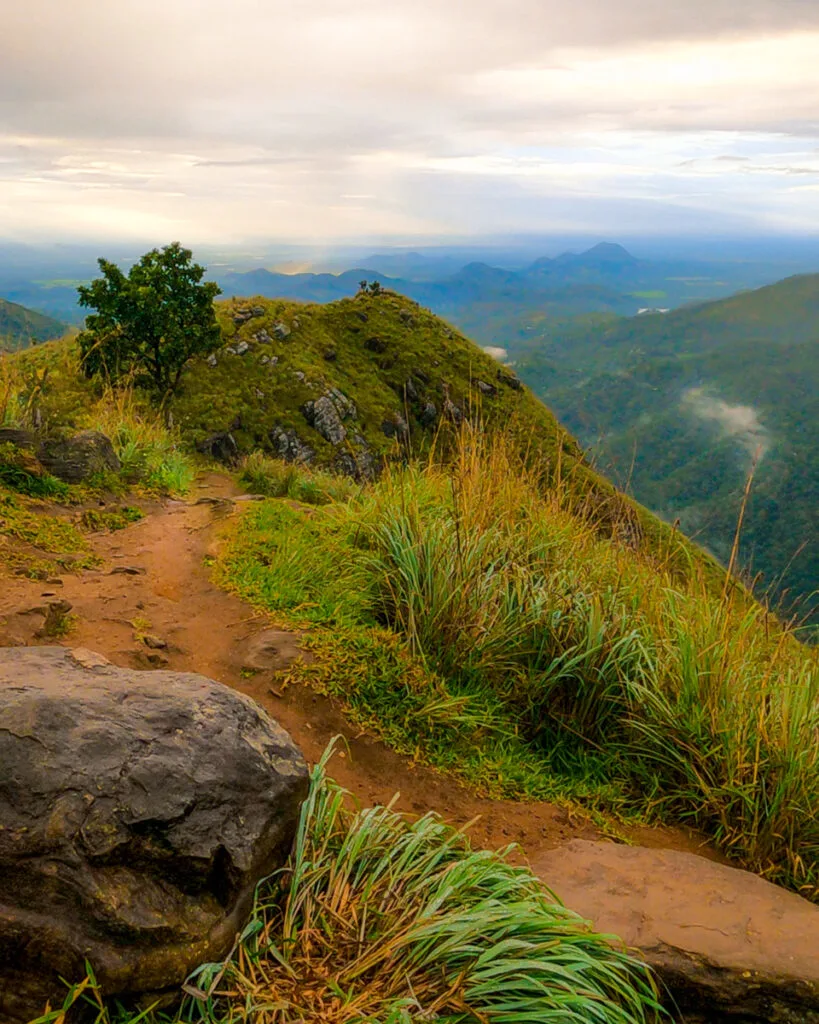 There is just a tiny proportion of the hike which is not paved. The paved path is a comfortable and steady ascent.
The trail passes several adventure activities, such as the Ravana Zipline and the tremendous big swing, which goes over the tea plantations. These are ideal activities after the hike for those with some preserved adrenaline.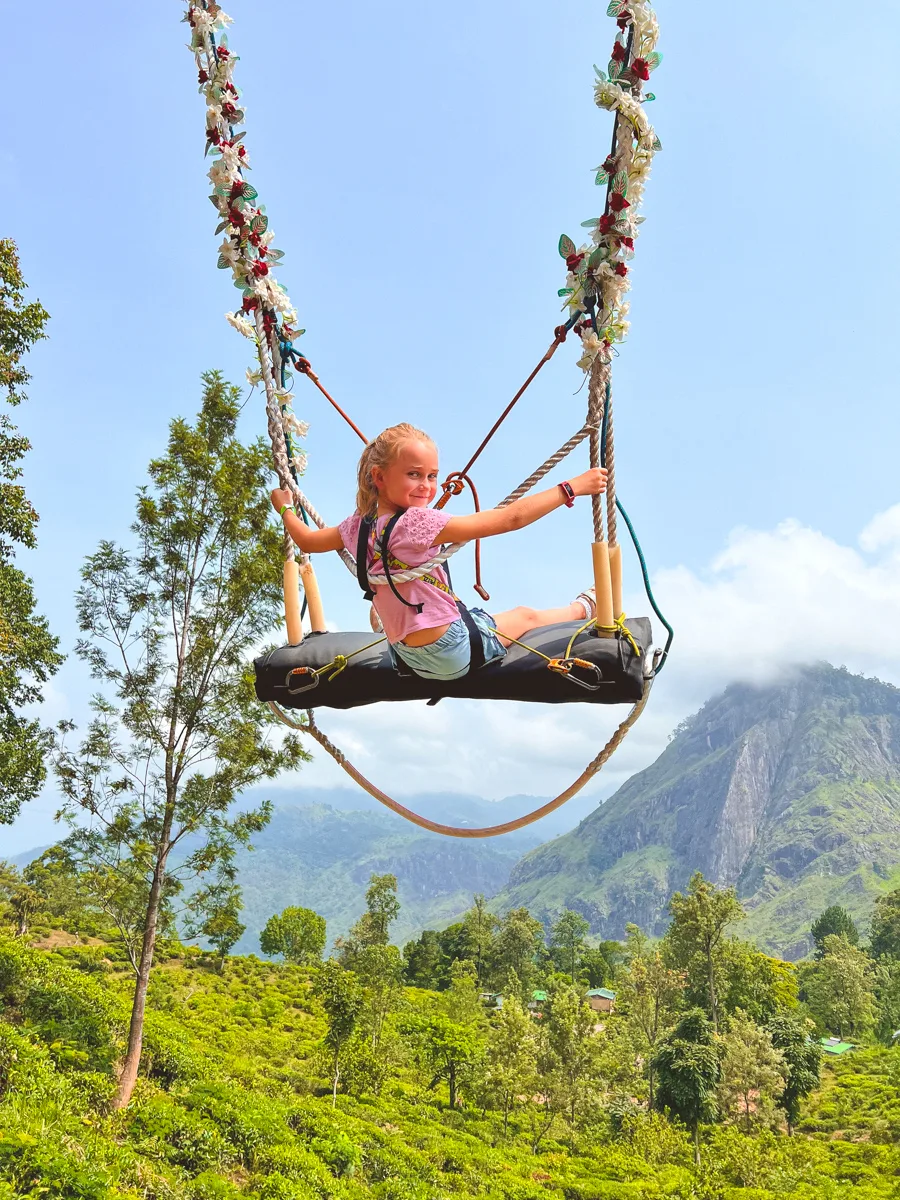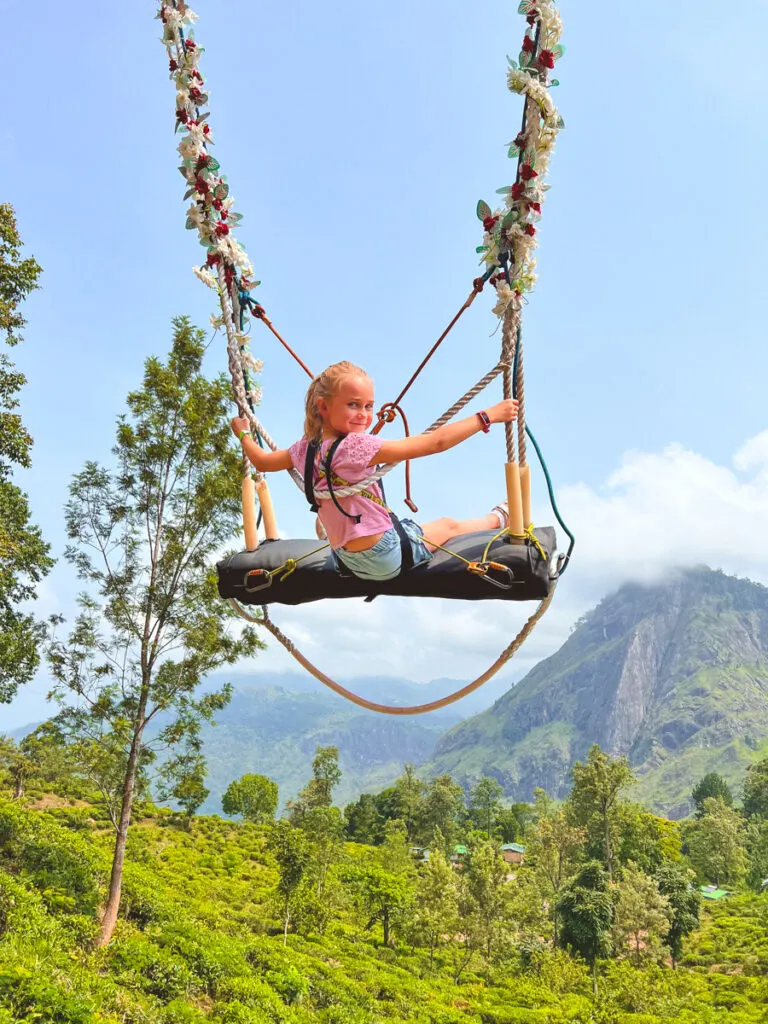 Once at the summit of Little Adams Peak, the panoramic views are incredible, making it one of the most scenic things to do in Ella.
We hiked up for sunset on a drizzly morning, adding to the magic of seeing the storm clear away and reveal the mountains.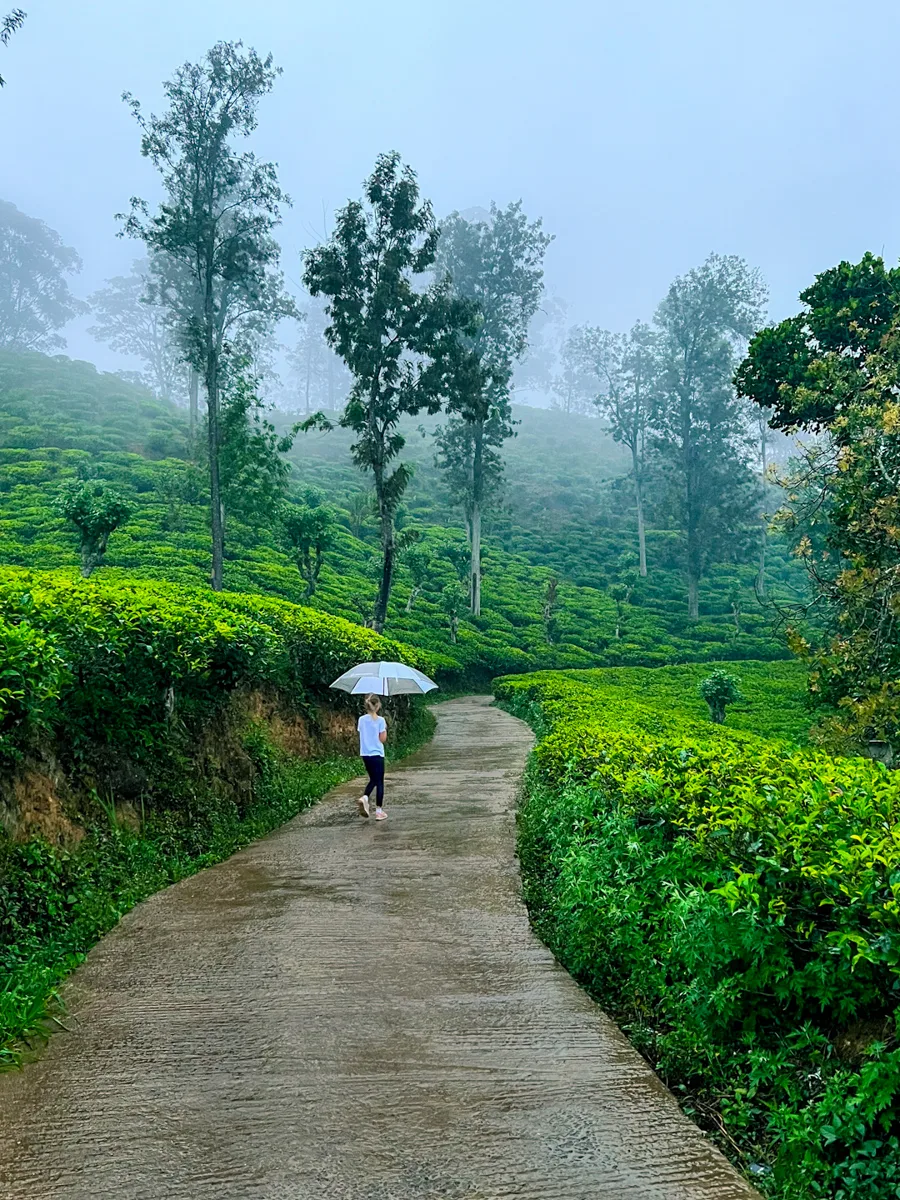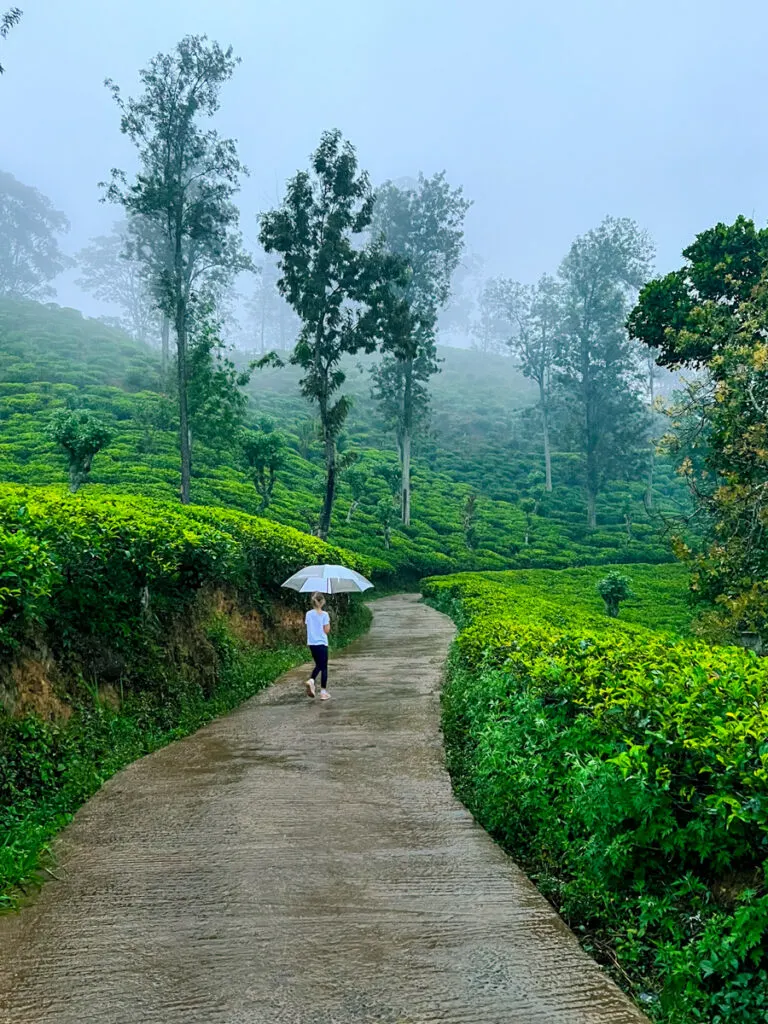 Since it's a fairly easy trail, it can attract crowds as the day goes on, so sunrise is the best time to go. Some cute cafes are at the foot of the trail to grab some caffeine before the hike.
Another point is weekends tend to be more busy with local tourists and residents, so if there is an opportunity to go mid-week, take it. Regardless it is still one of the best things to do in Ella.
Rest your weary feet after the hike at Ravana Pool Club, close to the bottom of the track. More about that in a moment!
5. Zipline Over The Valley
As previously mentioned, there is a zipline along the route leading up to Little Adam's Peak called 'Flying Ravana'.
This is the perfect activity for thrill seekers looking for things to do in Ella. The European Rope Course Society accredits it, so by international standards it is considered safe.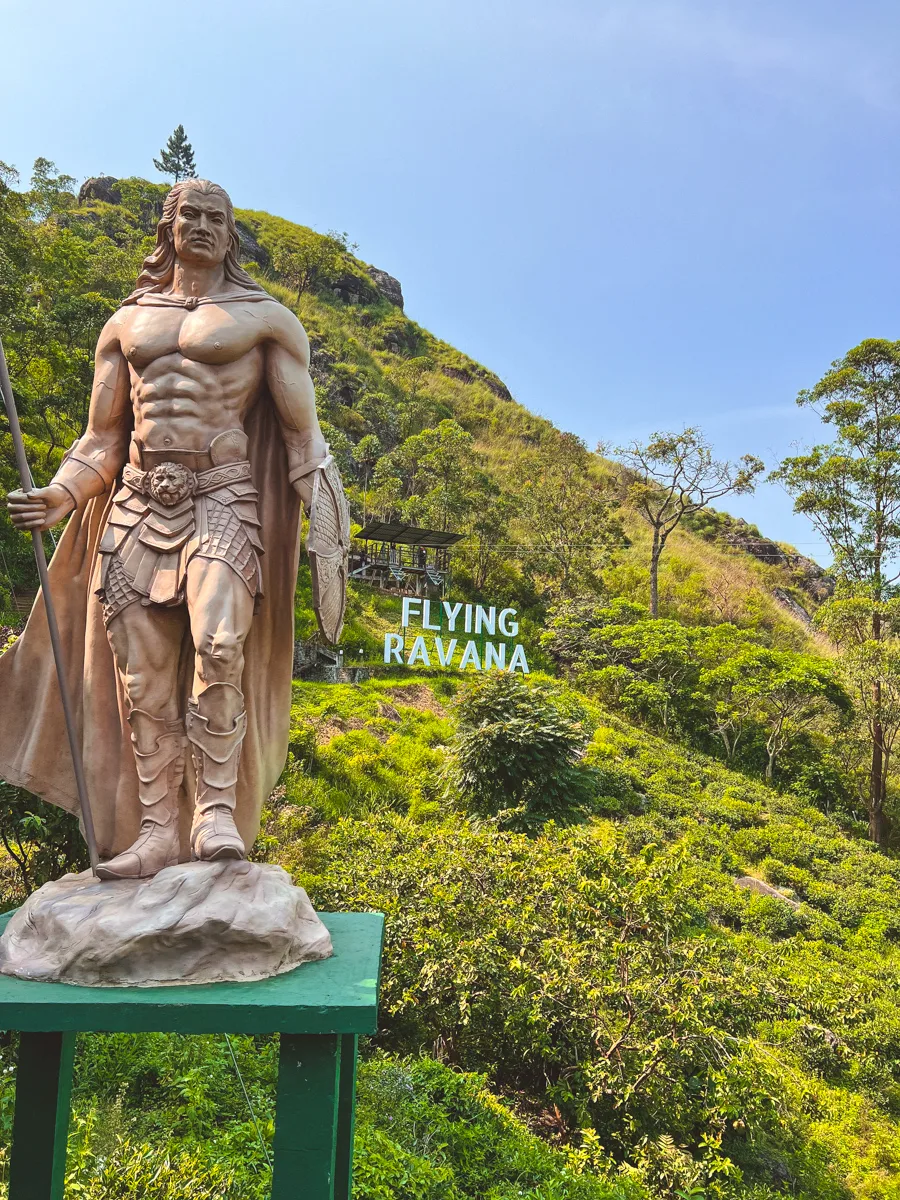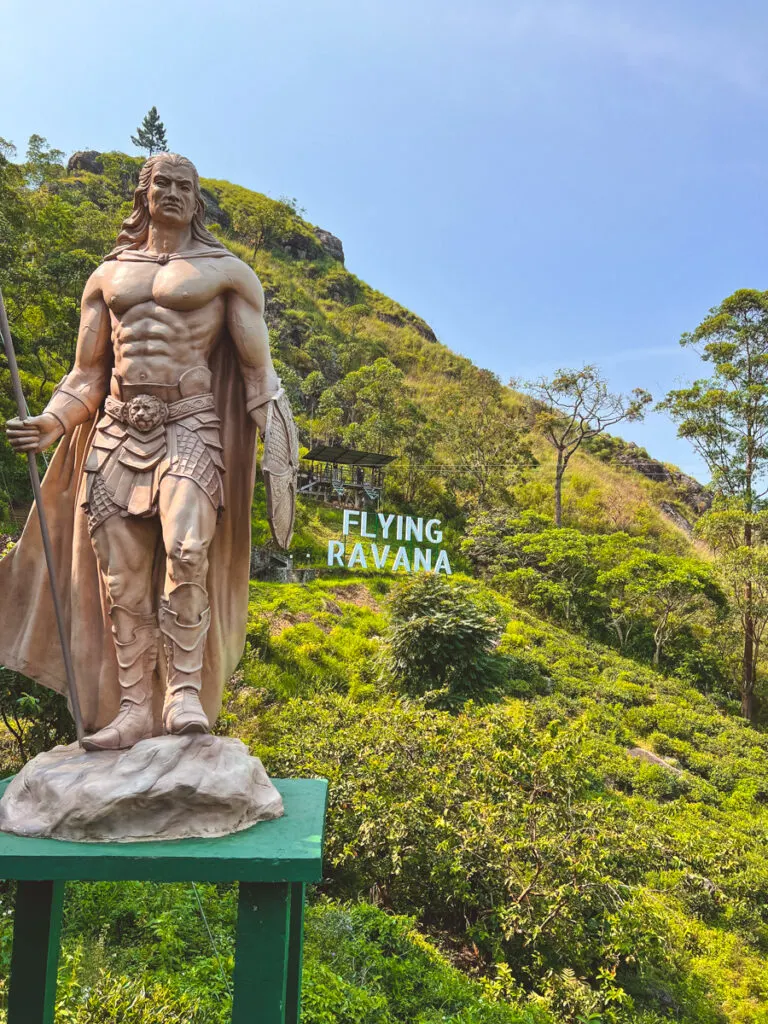 A few other activities include a climbing wall, archery, and abseiling. Booking the zipline online is perfect for getting all the admin done online before arriving.
Otherwise, it can take some time before reaching the launch with all the necessary gear.
Nonetheless, it's a fantastic experience to zip right across the valley. The two wires stretch over 1/2 a kilometre and can reach 80 km/hr speeds.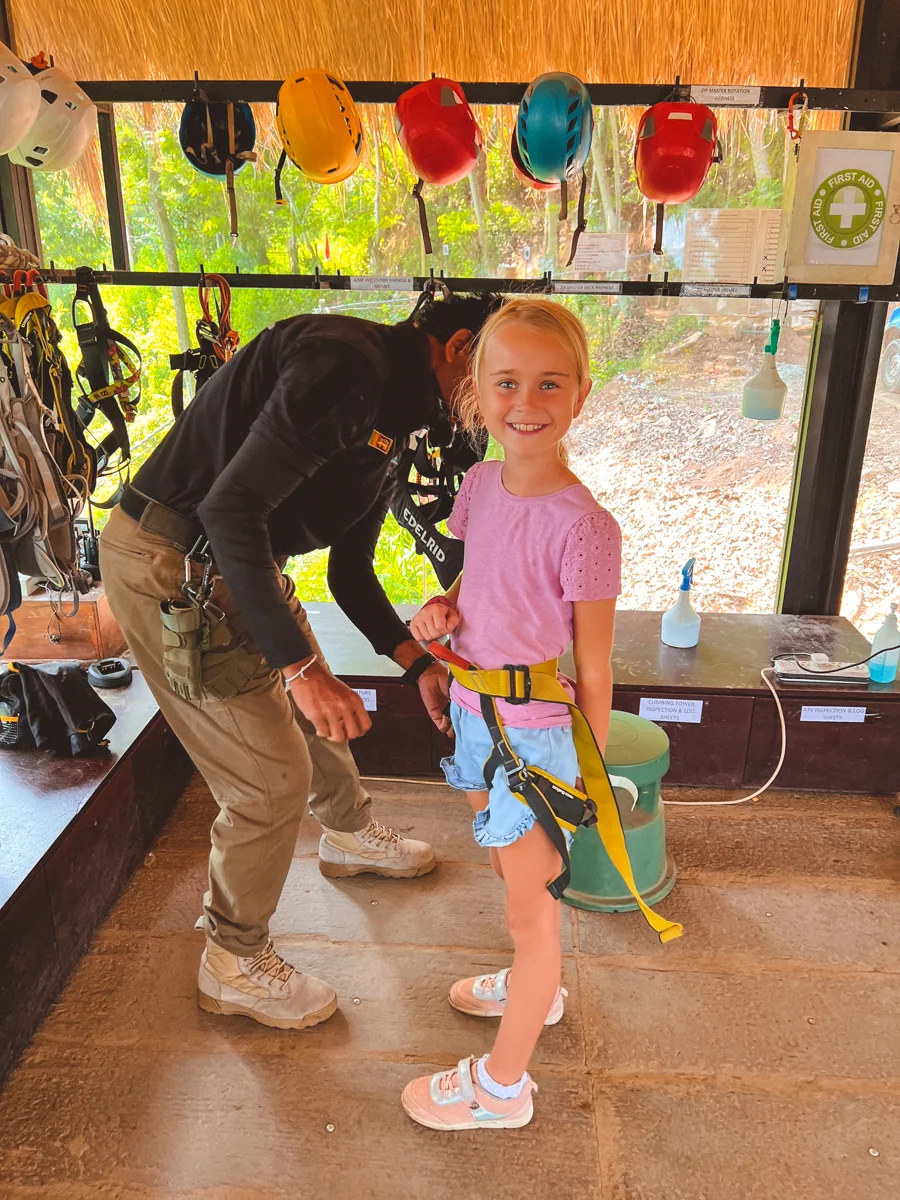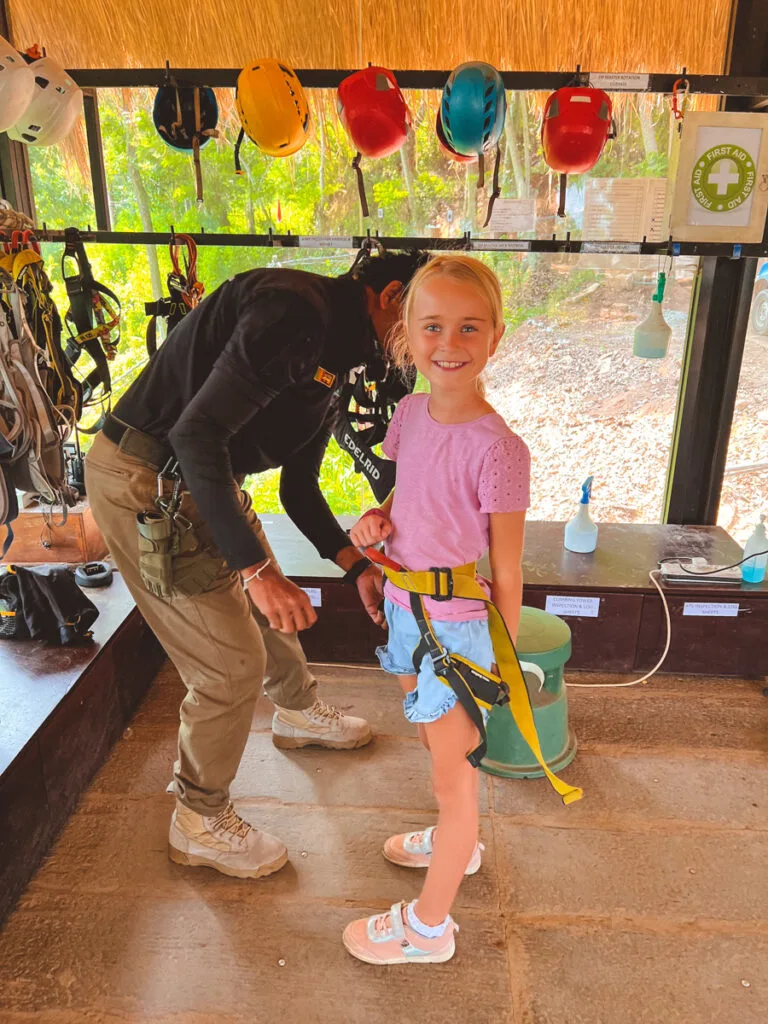 Whilst it is quite a quick journey across, the views of the luscious green estates are incredible.
Remember to wear comfortable clothing with trainers. It is worth noting that children need to be at least 30kg and a minimum of 90 cm and above to enjoy this activity. The maximum weight is 100kg, and a height restriction of 195 cm.
For those 20kg and above, the climbing wall is an alternative, fun and adrenaline-fuelled activity.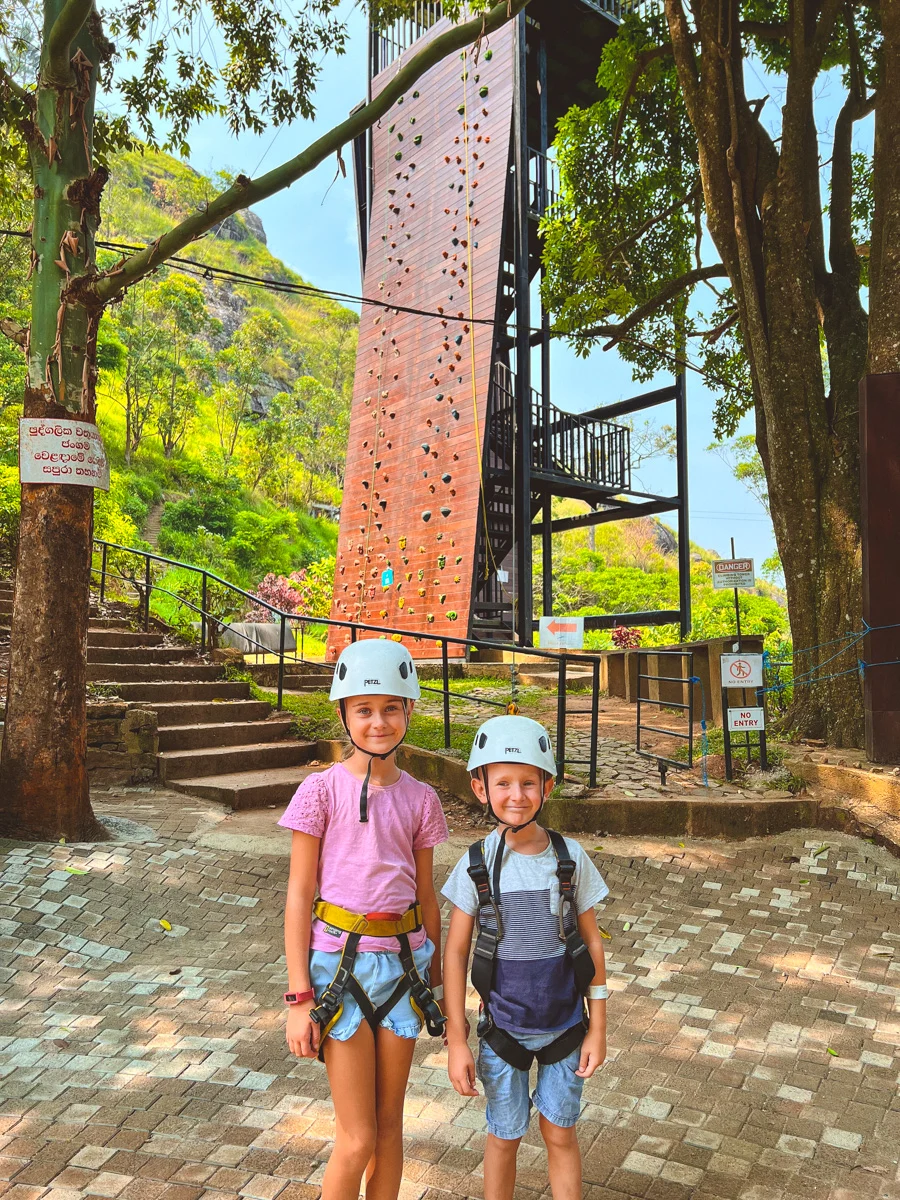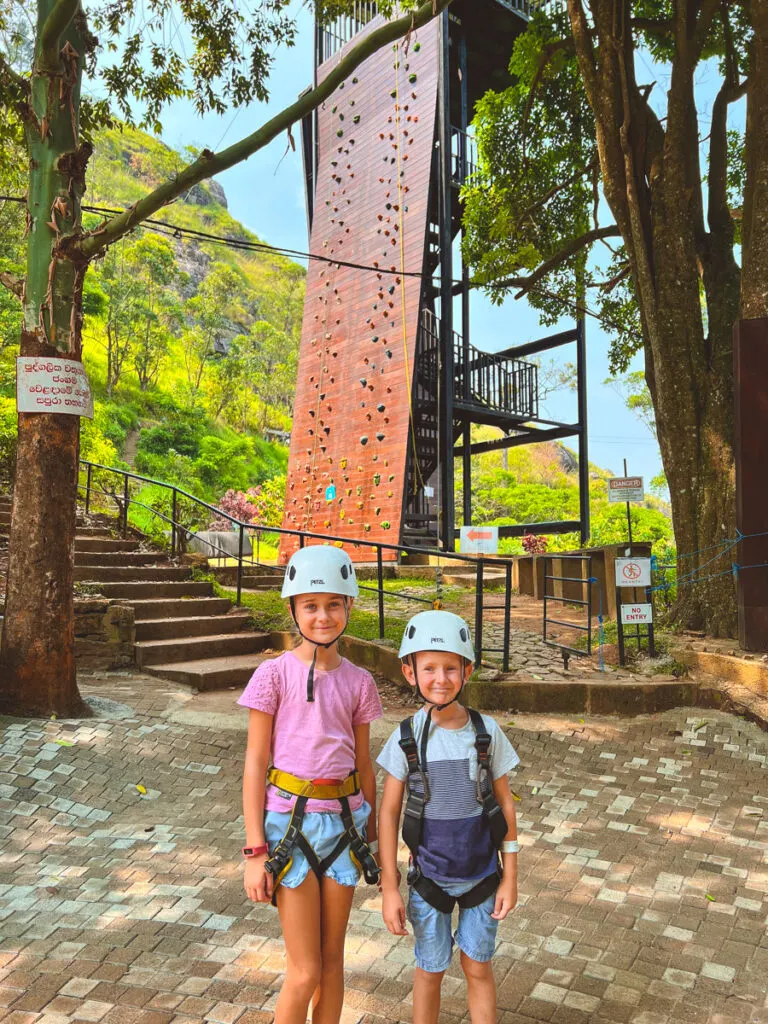 Other adventure activities include quad bike riding and air riffling.
Book the zipline here. It is one of the most adventurous things to do in Ella.
6. Relax At Ravana Pool Club

The Ravana Pool Club is a beautiful bamboo structure with a pool and the most incredible views of the Ellas Gap. It is strategically placed close to the bottom of the Little Adams Peak trail.
Bring swimming togs in your bag if you plan to stop here. Towels are provided as part of the package, and changing facilities are available.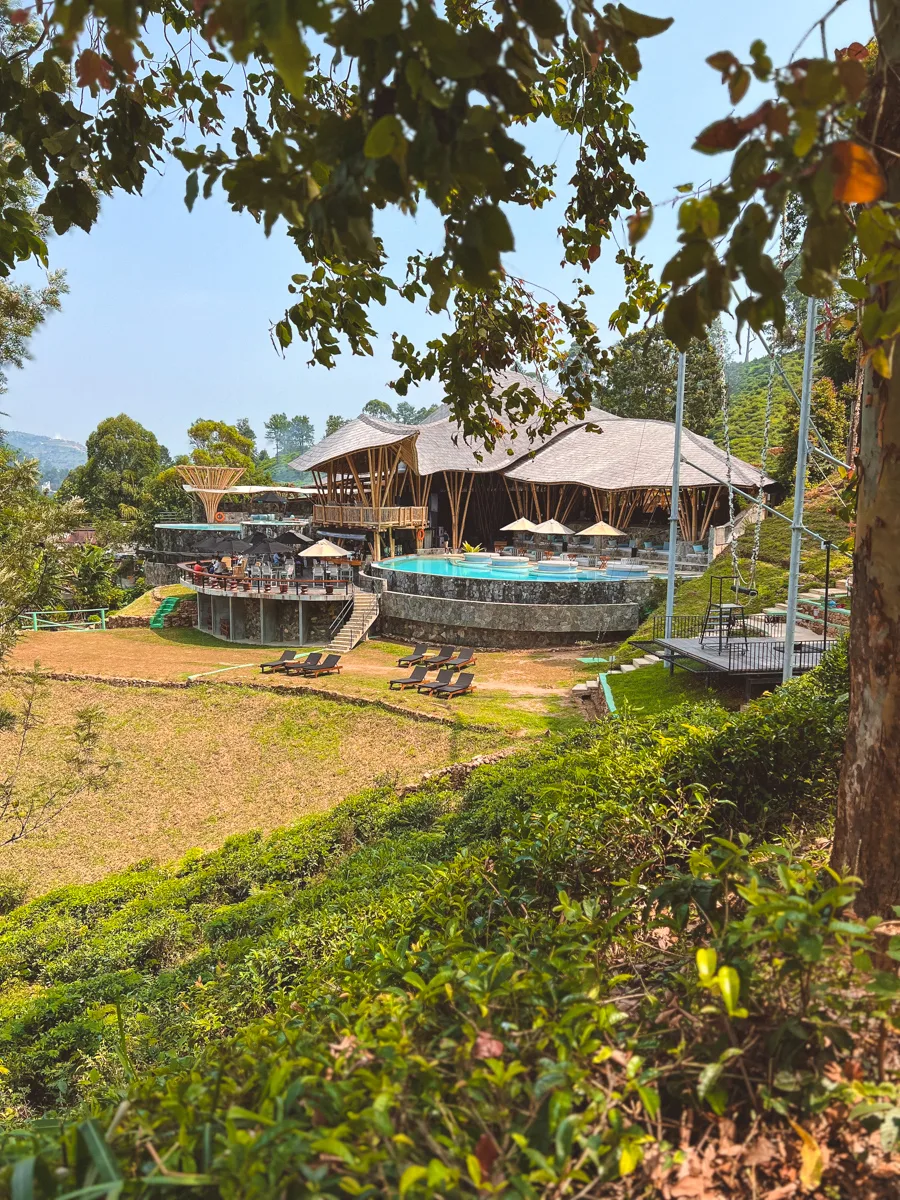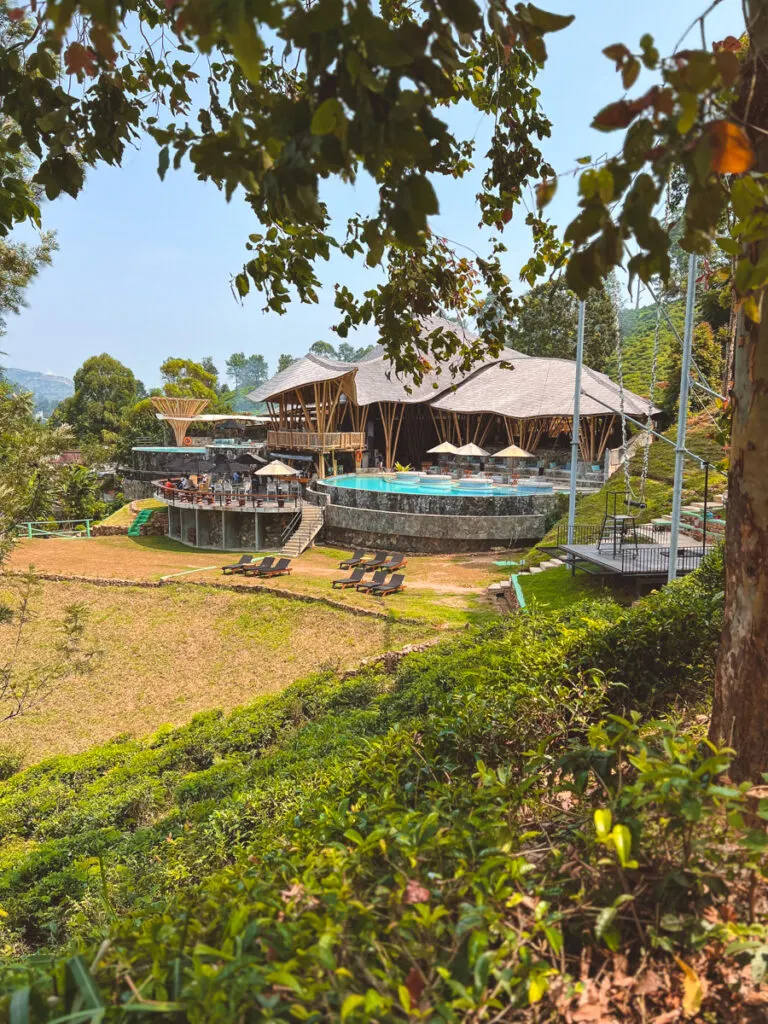 From what we could tell, the mood and feel of the pool club is very different from morning to evening, with more of a party vibe later in the day. In the mornings, it is tranquil, ideal for those with kids or who want a relaxing experience after hiking.
There is a reasonable menu of food and beverages. There was a couple of vegan options, although limited. The pool is nice and cool, with a swim-up bar.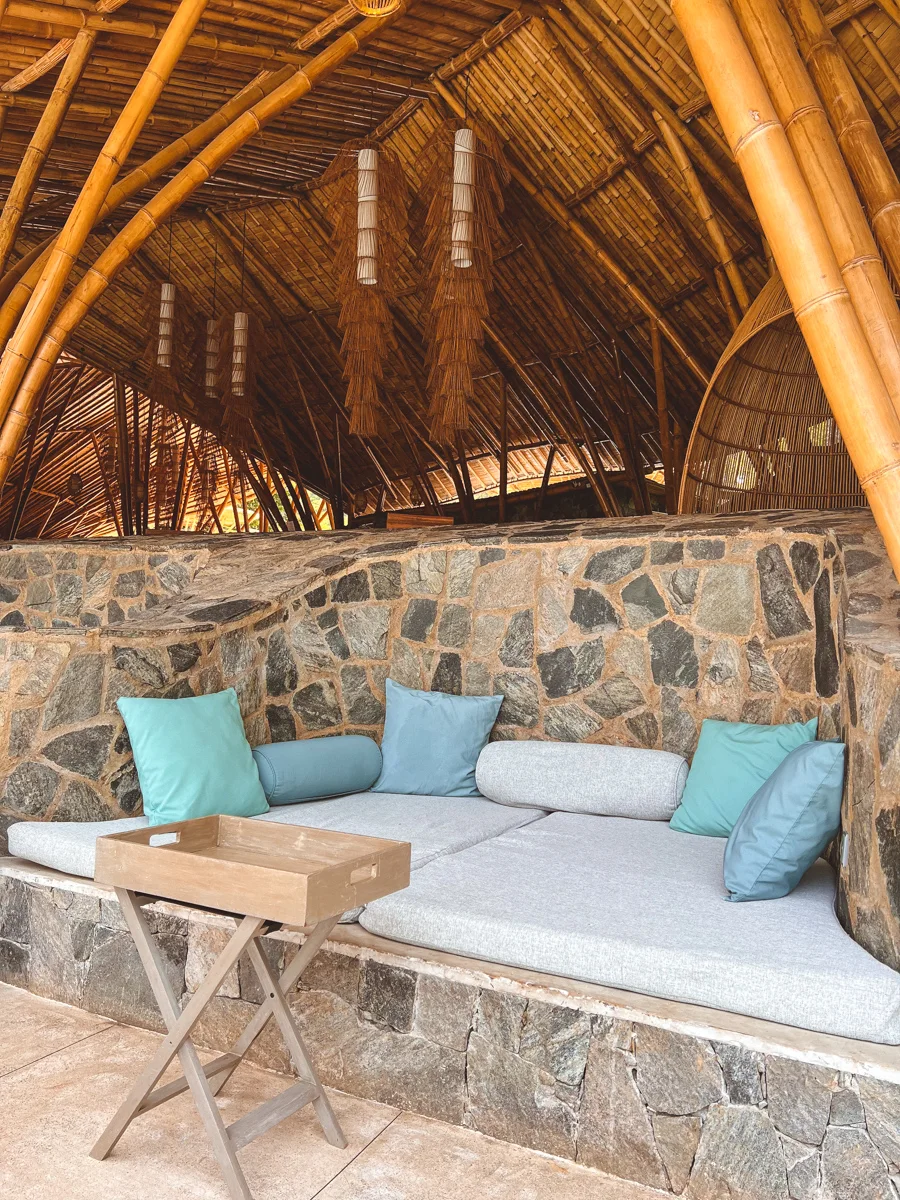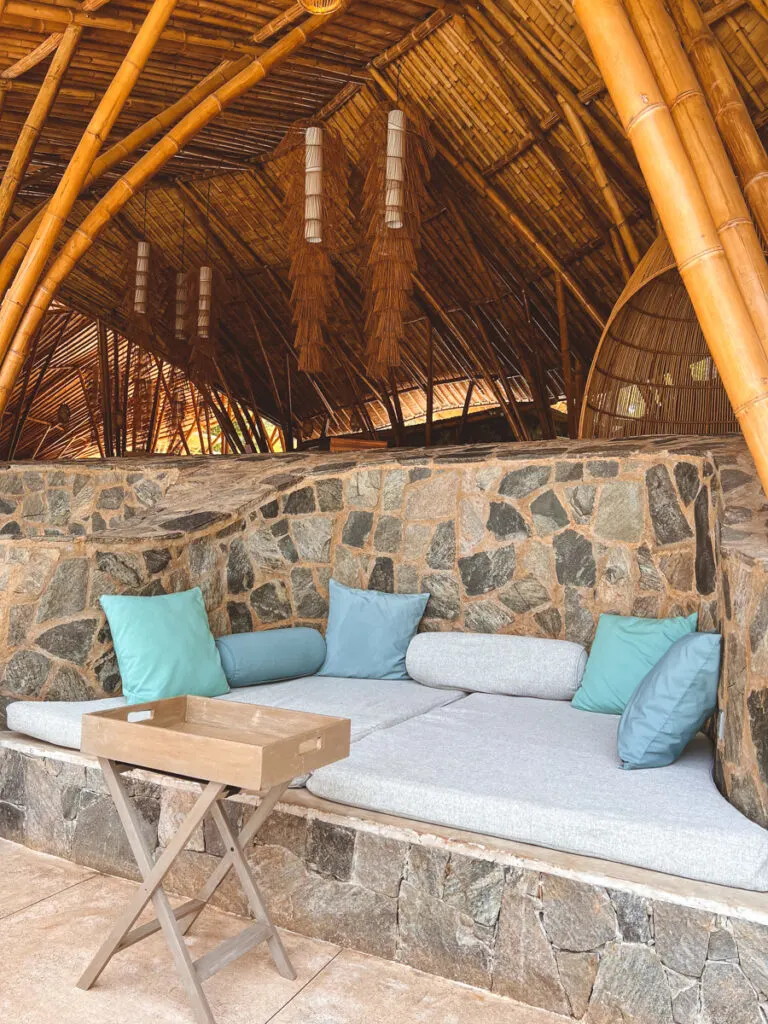 Not to mention several dry areas to chill out, including the bar, with a great view of the Ravana Swing.
We loved the relaxing double beds with soft furnishing, ideal for a nap or chill out.
There are a variety of packages for this location, with VIP access on offer. The standard pool access entitles guests of up to 4 people on one entry, towels and a sun bed, and pool use.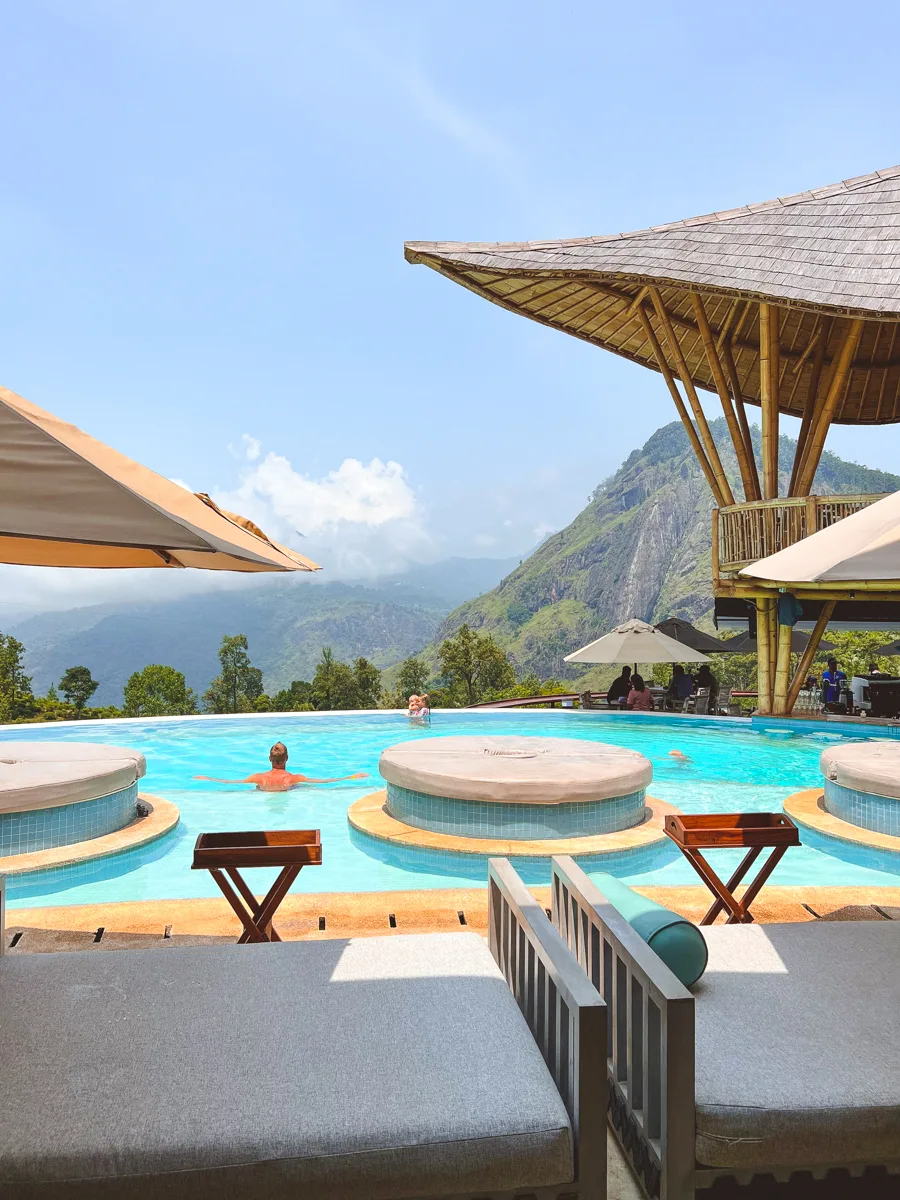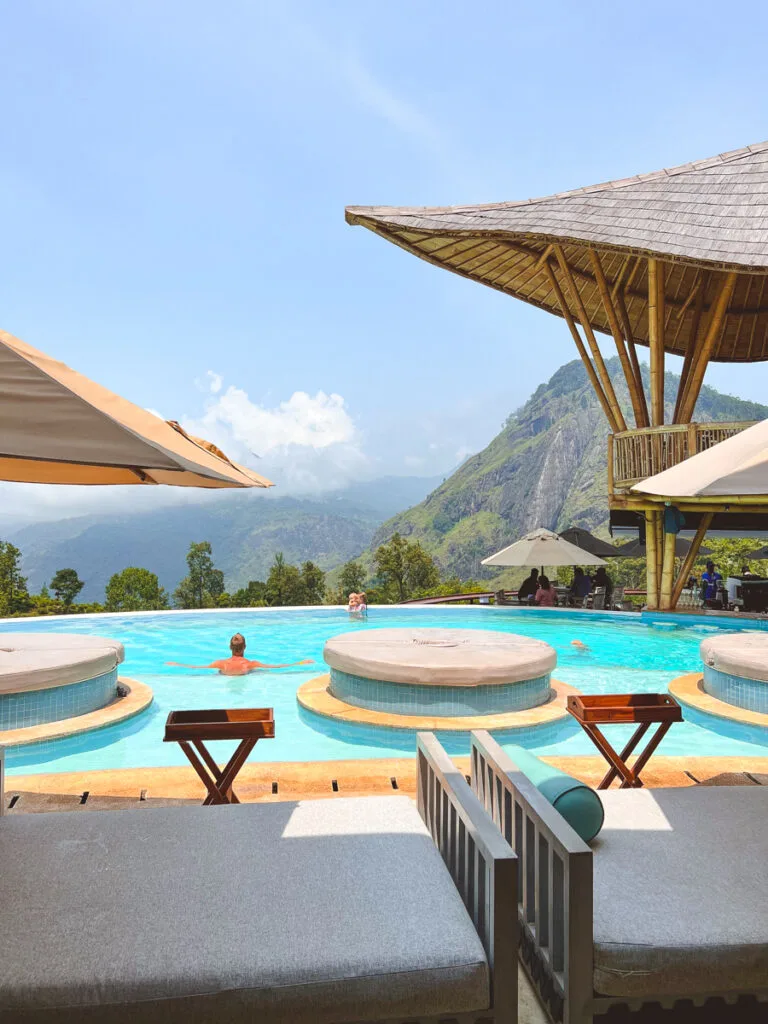 This package seems a little expensive for those travelling solo, so it is a good idea to have a few people to make the most of it.
There is no doubt visiting the Ravana Pool Club is one of the most relaxing things to do in Ella.
7. Climb Ellas Rock
Climbing Ella's Rock is certainly an adventure with moderate difficulty. It is around 3.3 miles long and takes approximately 2 hours to hike. Nonetheless, it is one of the best things to do in Ella.
Like so many in the region, this hike offers breathtaking views of the surrounding landscapes. Seeing Ella from a different perspective and experiencing a sense of accomplishment after conquering the rocky summit is lovely.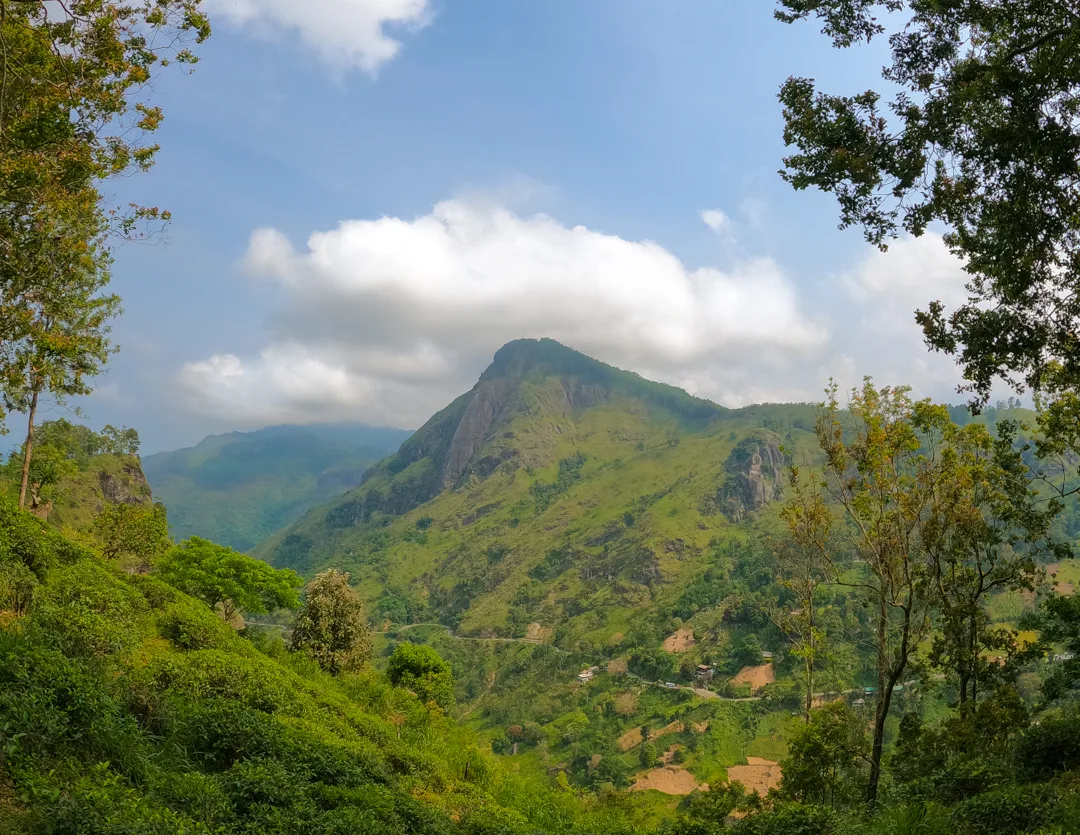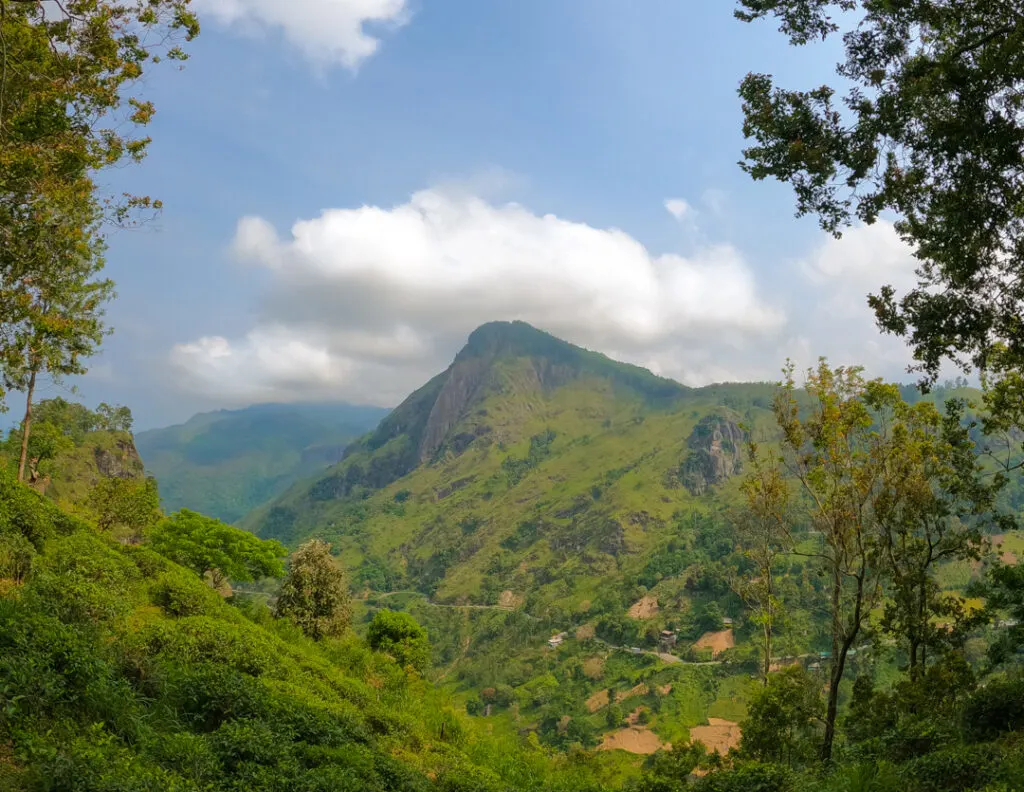 The trail begins near the Ella Railway Station and gradually ascends through lush tea plantations, dense forests, and rugged terrains.
Along the way, steep sections and uneven paths require moderate physical fitness. Whilst it is more difficult than Little Adams Peak, the trail still attracts a reasonable number of hikers as the day progresses since it is one of the best things to do in Ella.
Heading up around sunrise is a good time to start the ascend. Remember to have good footwear, snacks and water for the journey. Although Ella is a cooler destination, remember sun cream and insect repellent.
The dense vegetation occasionally opens up throughout the ascent, revealing the surrounding hills, valleys, and tea plantations.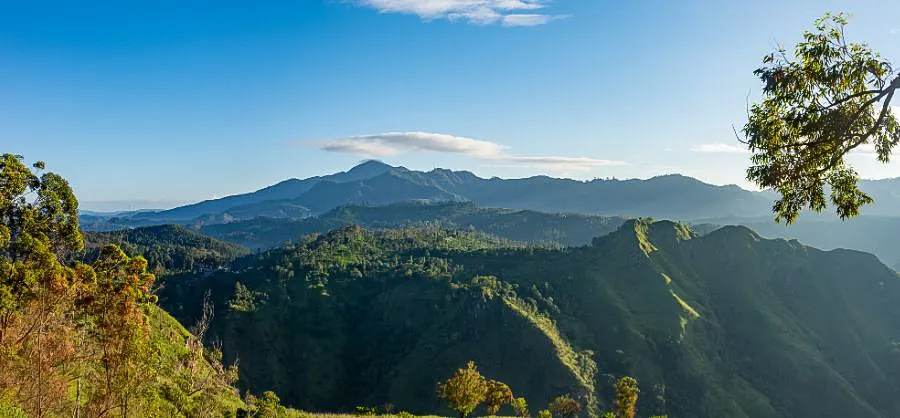 We loved the sight of Ella Gap, with its valleys and mist-shrouded peaks. If you are doing the hike with kids, a sturdy carrier will be required for little ones.
Walking kids need a reasonable fitness level and awareness of narrow pathways to be safe.
Once you reach the top of Ellas Rock, the panoramic views are out of this world and make for some incredible photos. Climbing Ellas Rock is a worthy contender for one of the best things to do in Ella.
8. Day Trip To Udawalawe Safari Park
Udawalawe is the closest national park to Ella, making it an ideal day trip from your base. If you intend to travel south as part of an itinerary, you could also do Udawalawe on the route.
No trip to Sri Lanka is complete without doing a safari to see the majestic animals in their natural habitat. It takes around 2 hours to drive from Ella to Udawalawe.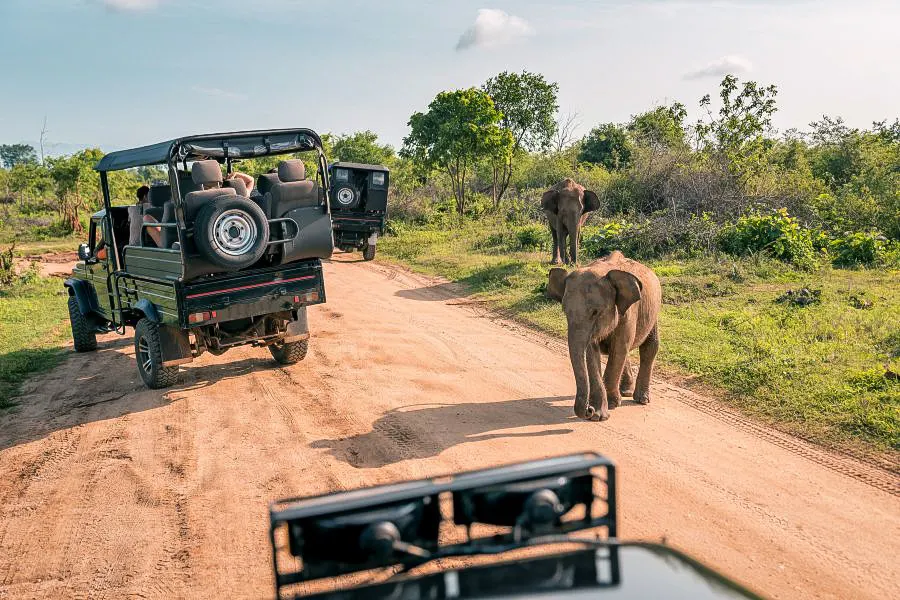 It is renowned for its diverse wildlife and has an impressive number of elephants. Everyone wants to see on a Sri Lankan safari!
Safari drives usually set off early morning for a sunrise arrival. Or some set off in the early afternoon for sunset. This, in part, is to make the temperatures more manageable.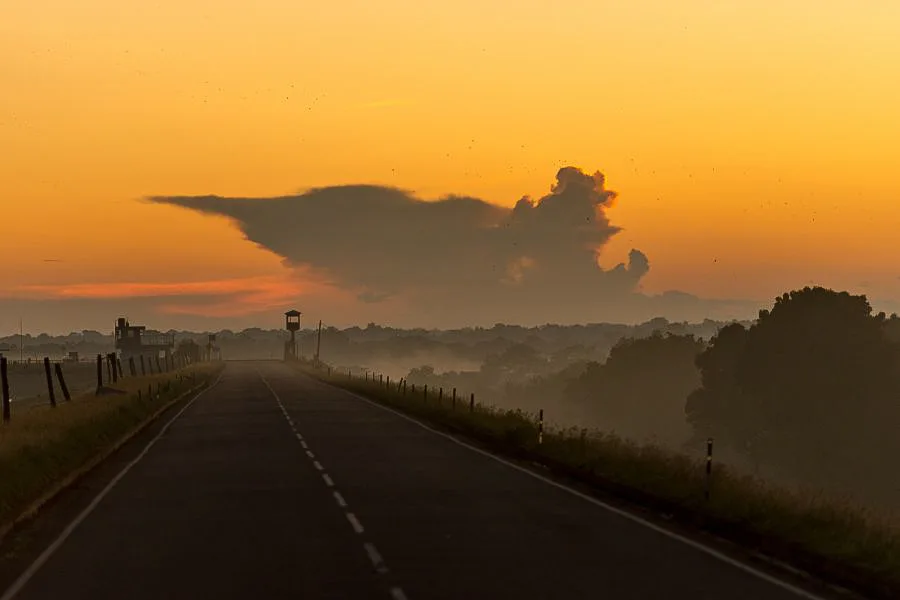 The journey out of Ella is a little windy. However, the road quickly becomes fairly straight to Udawalawe along the A23, which makes for a comfortable journey through lush greenery, quaint villages and picturesque landscape.
Once you arrive at the entry to the park, if you've pre-arranged a safari tour, you'll meet your driver, who most likely will have purchased tickets to enter. Next, it's time to board the safari jeep truck before heading into the park.
Journeying through the park can sometimes be bumpy, especially if it's raining. Nonetheless, it's an incredible experience to keep a watchful eye out for all sorts of resident animals.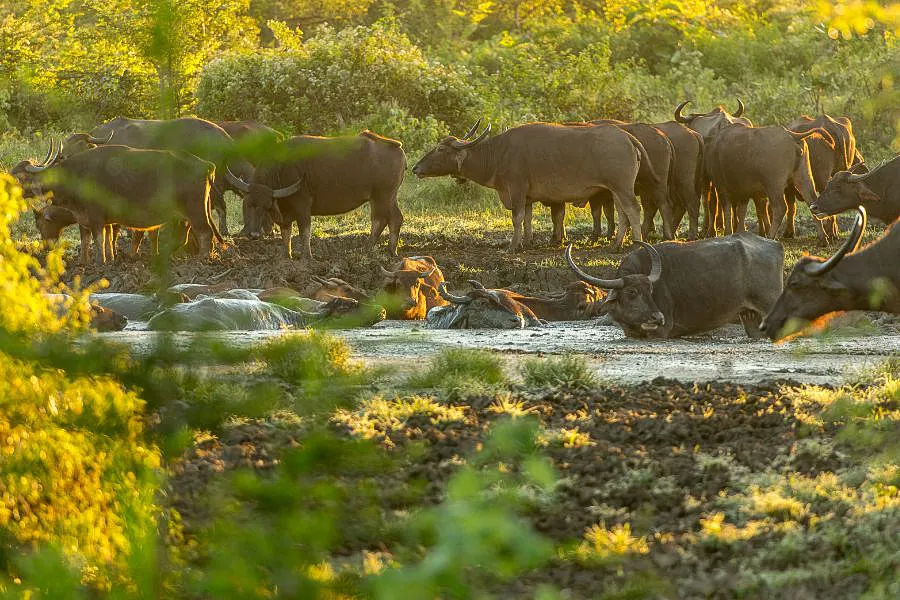 Some animals that can be spotted at Udawalawe are boars, deer, wild buffalo, crocodiles, and many different bird species.
The landscape is equally impressive, with beautiful grasslands, shimmering lakes and dense forest.
Whilst the boar, deer, crocodile and so on are incredible, nothing beats seeing a herd of wild elephants. It is just mesmerising to see these majestic giants roaming freely.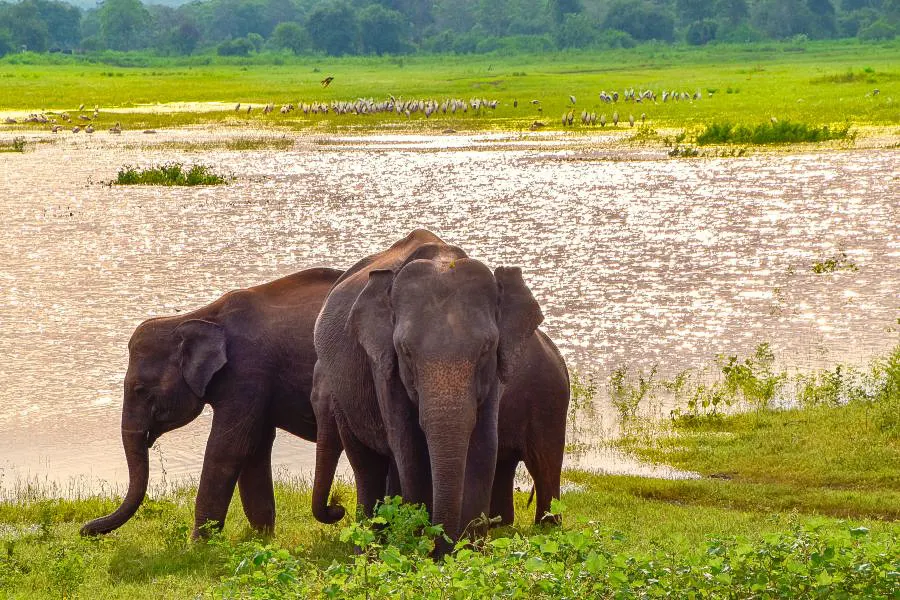 Generally speaking, safari guides are always amazing with their gems of information, making it an educational experience.
Bring a battery pack for your phone so you don't miss any photo opportunities, plenty of water and some snacks. The restaurant options on the outskirts of Udawalawe are not great, so it's best to be organized.
Needless to say, everyone will probably sleep on the journey back to Ella!
Check out this incredible tour to Udwalawe National Park from Ella. It's fully refundable if you cancel within 24 hours of the trip.
This makes it perfect for planning things to do in Ella and the surrounding area with some flexibility.
9. Hike To Ravana Cave & Temple
If you fancy a fairly quick hike to see some epic views, Ravana Cave offers just that! It is quite a steep set of stairs with 700 steps to the ancient cave, but it doesn't take too long.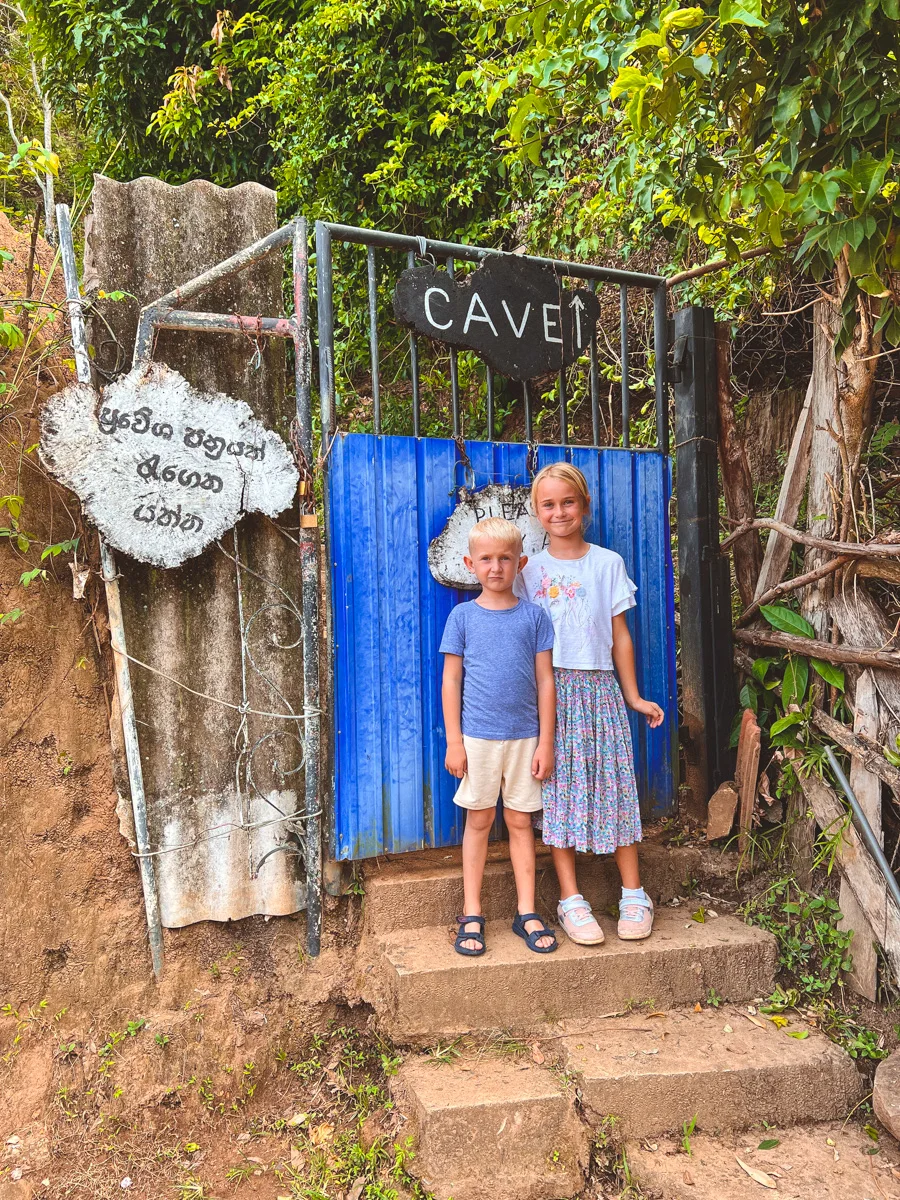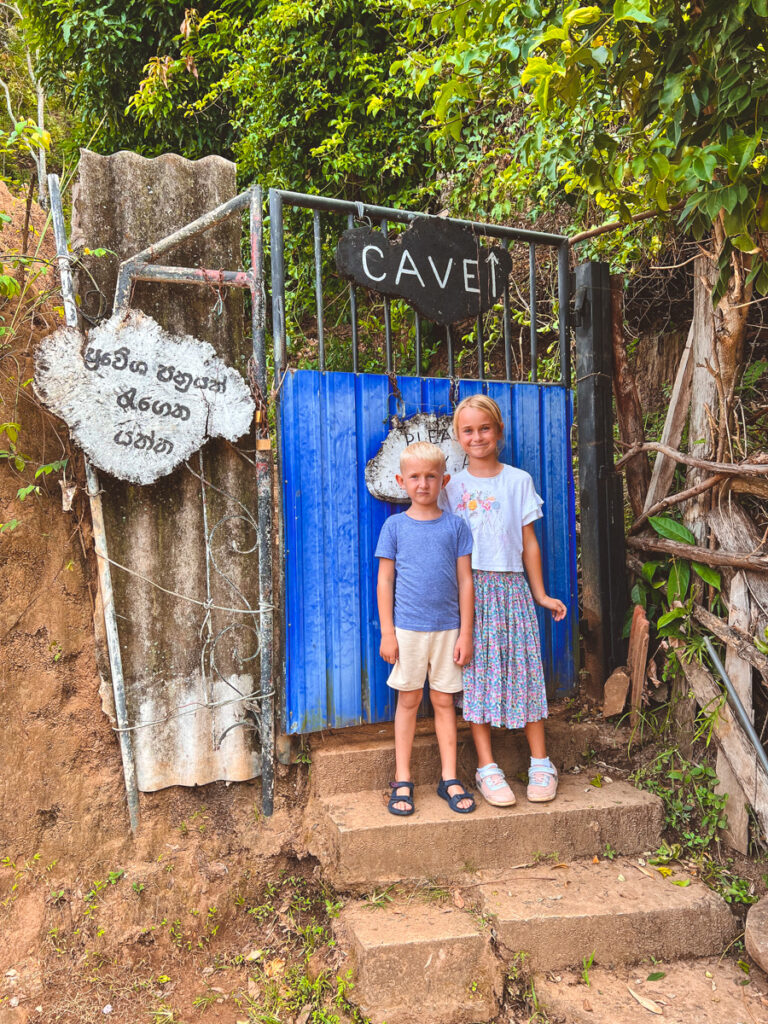 It's just a short journey out of Ella, accessible by tuk-tuk. There is a small fee to climb to the cave, payable at the foot of the stairs.
The cave didn't have the 'wow' factor we were expecting. However, the views on the way up were incredible.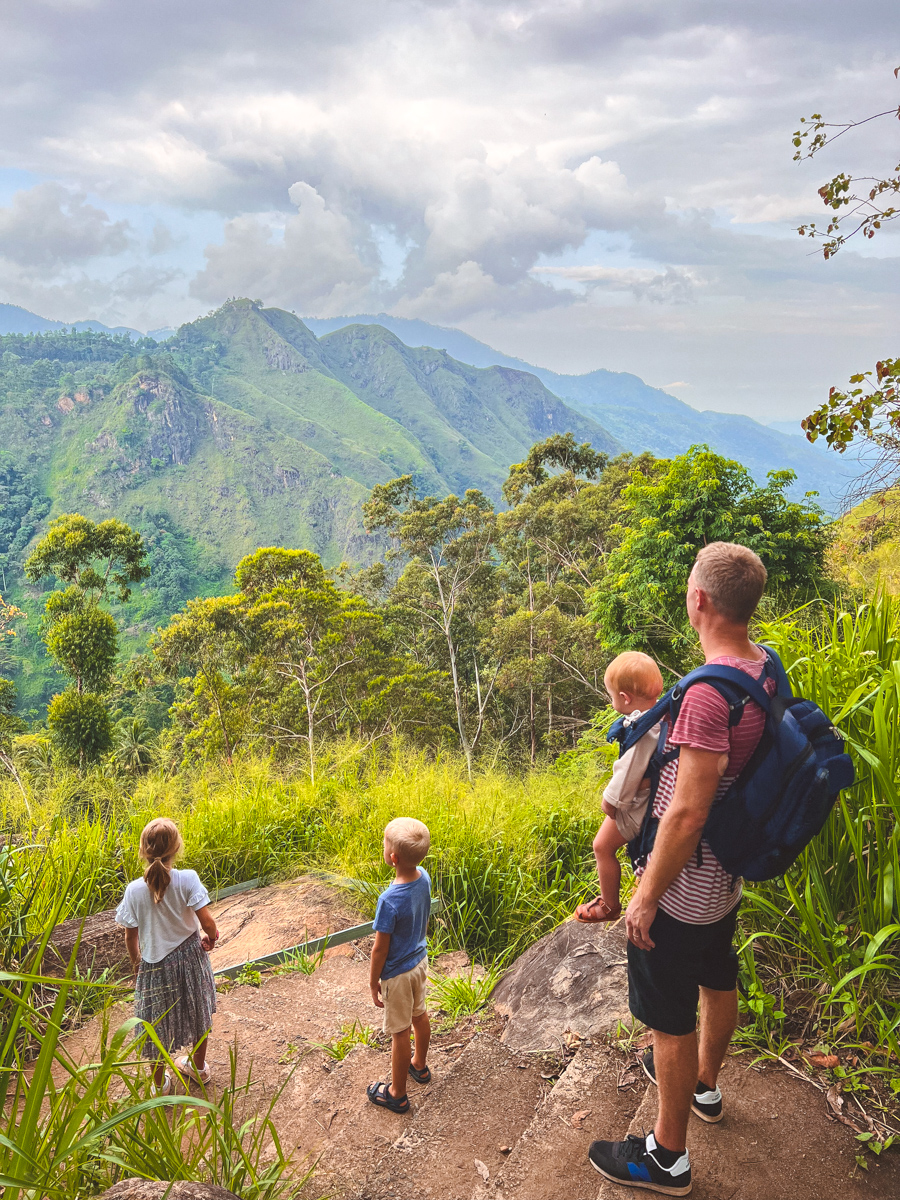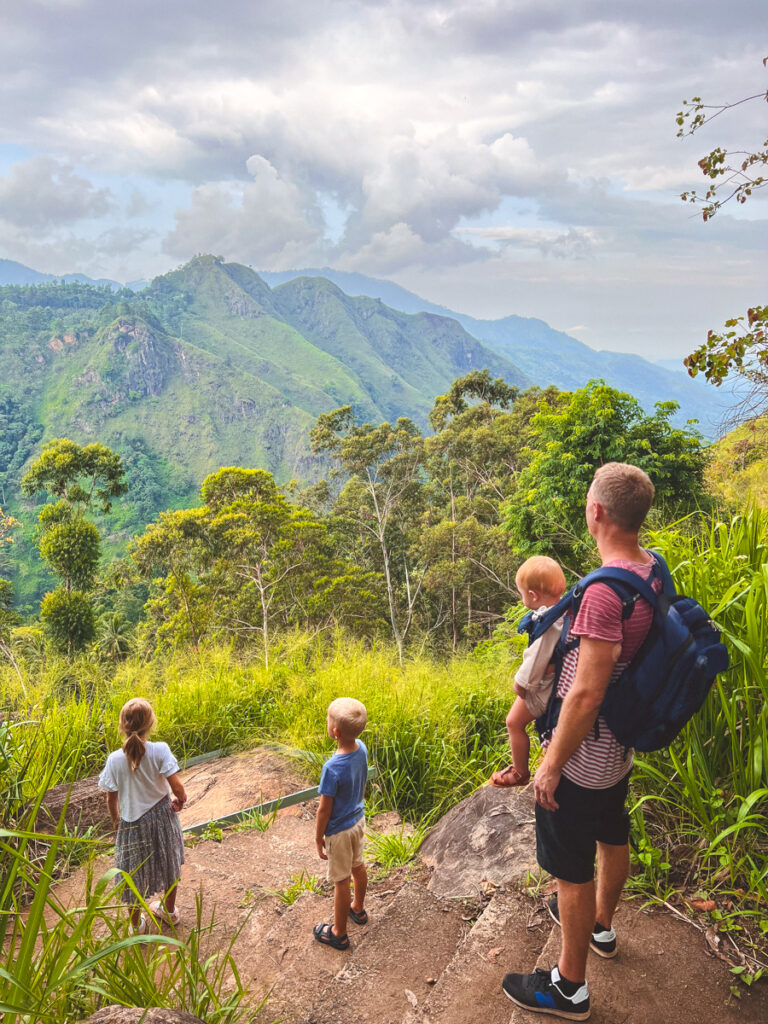 There were some stairs into the cave, but it was too dark to see anything, although we could hear the thousand' of bats supposedly inside. The views of the rolling hills, green valleys and distant peaks are beautiful!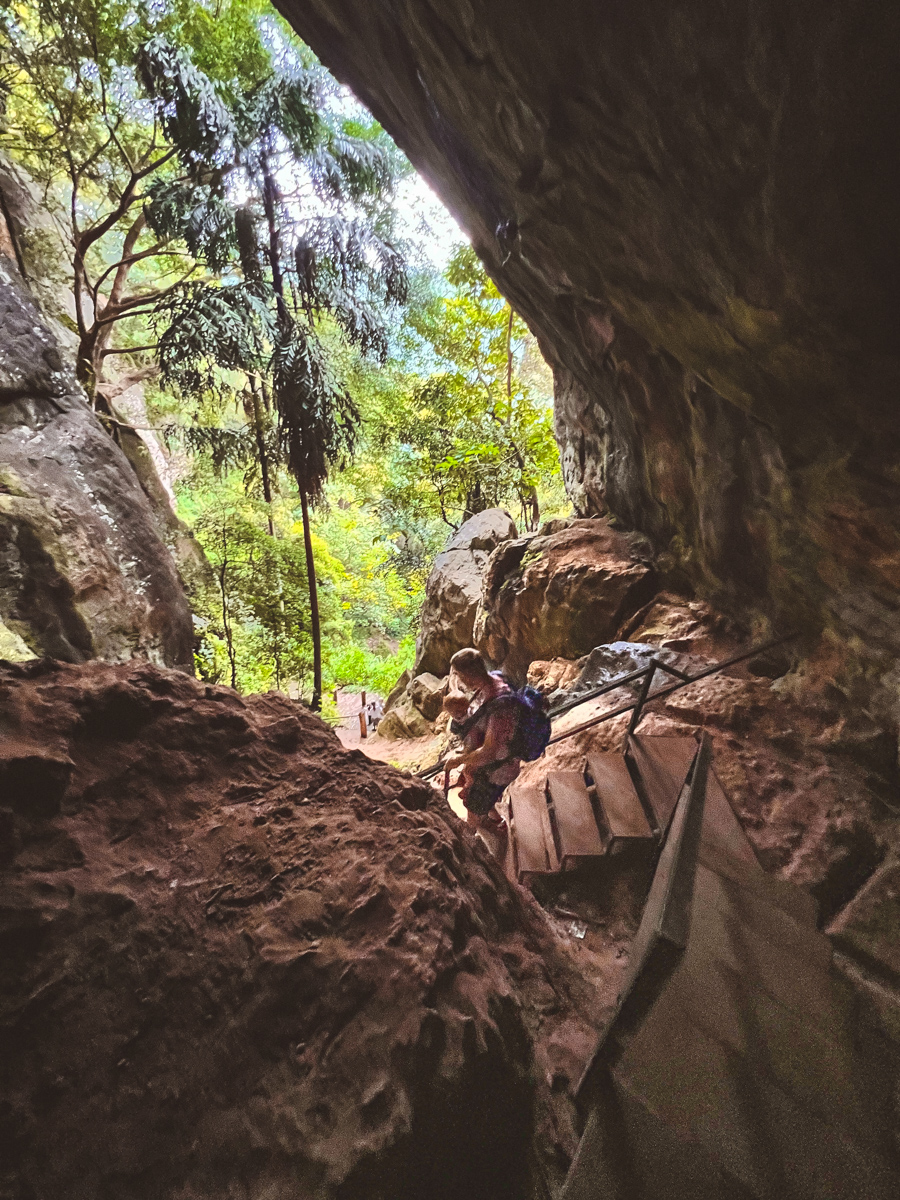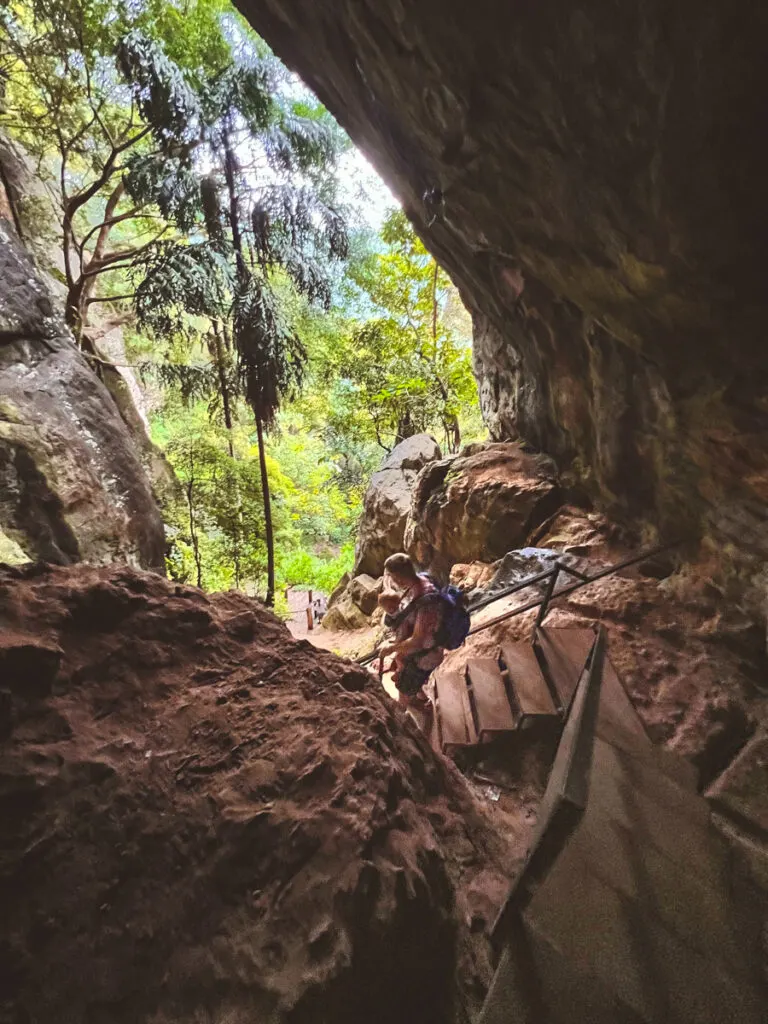 As you descend from the cave, you'll have the opportunity to visit the temple at the foot of the hike. It's small, but the ancient interior painted ceiling is beautiful to see on a quick visit.
10. Visit Dhowa Rocyou'llle
The Dhowa Rock Temple is beautiful and oozes charm throughout. It's a short drive out of the main part of Ella, around 7kms distance. It is on Badulla-Bandarawela main road.
It's also known as Dowa Rajamaha Viharaya and is most famous for its 38-foot Buddha Statue, meticulously carved out of a granite boulder. It is thought to have been crafted by King Walagama.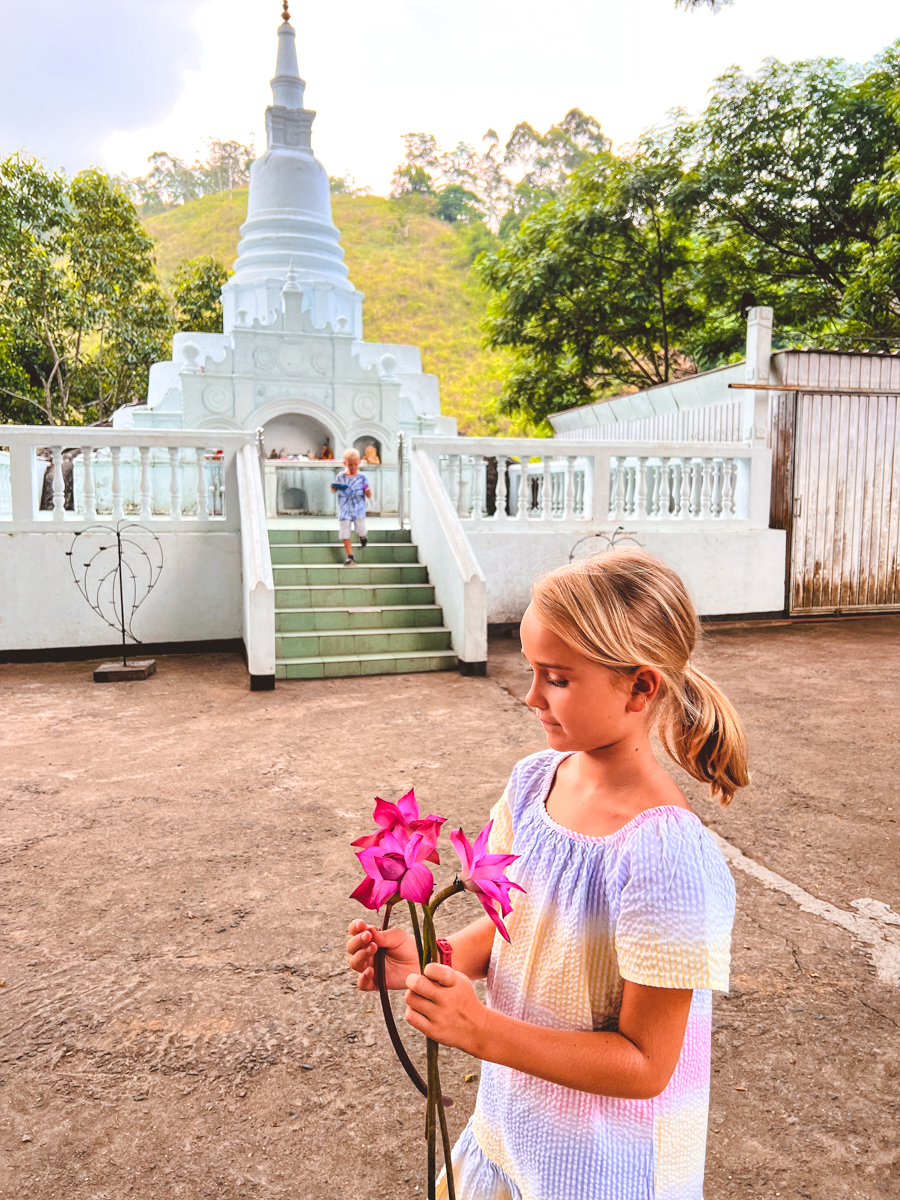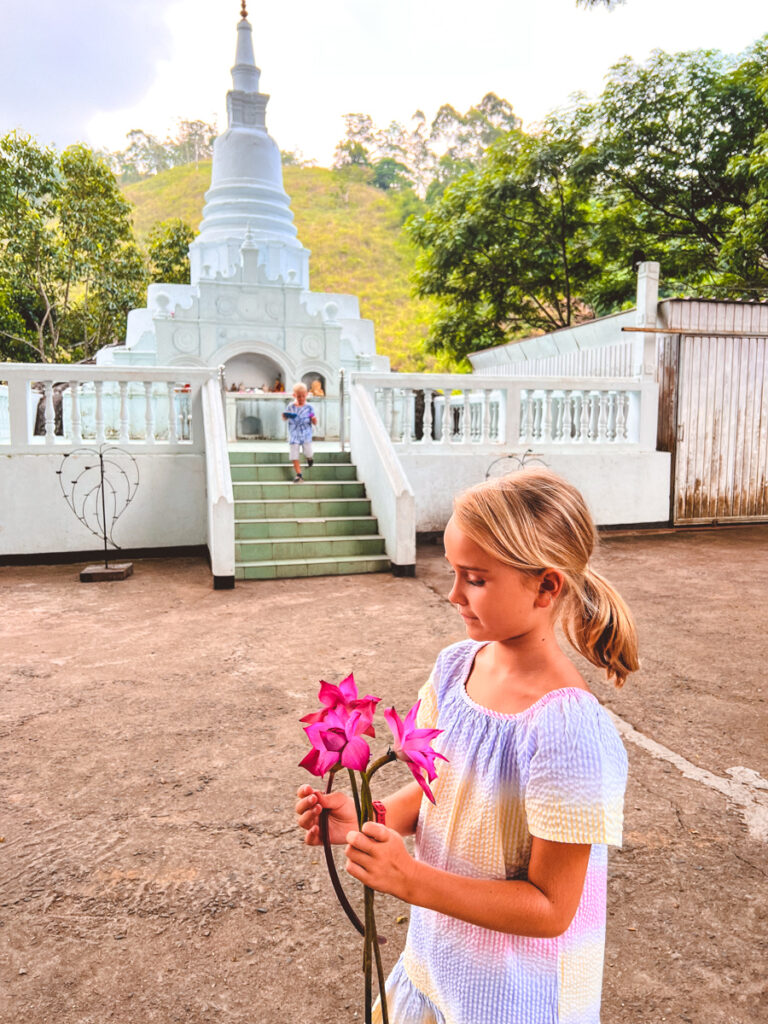 This particular temple was declared an archaeological monument in 1996, which is no surprise considering its history dates back to the first century BC when the kind sought refuge in the region.
He was exiled from Anuradhapura after he invaded India. It is said that during this time, the king commenced the construction of the Dhowa Rock Temple as a sanctuary and place of worship.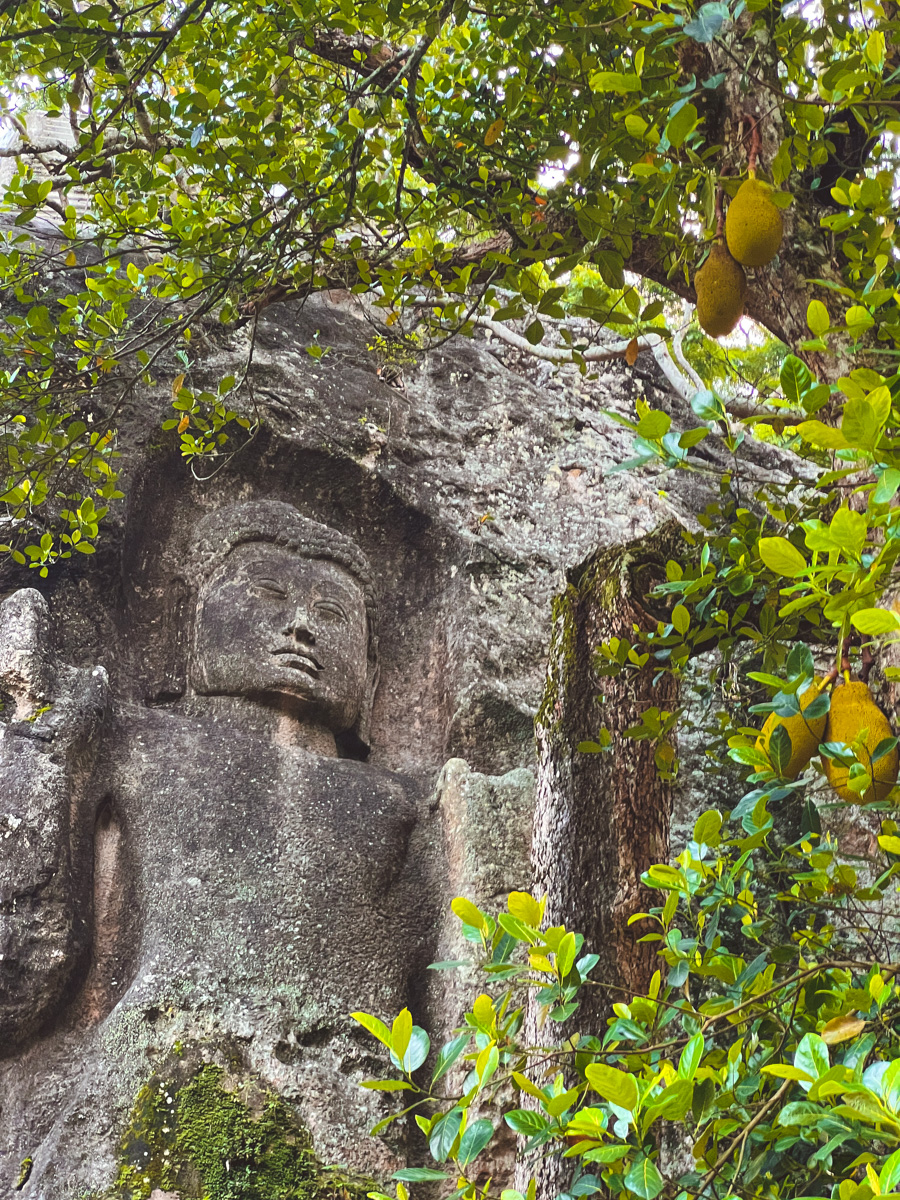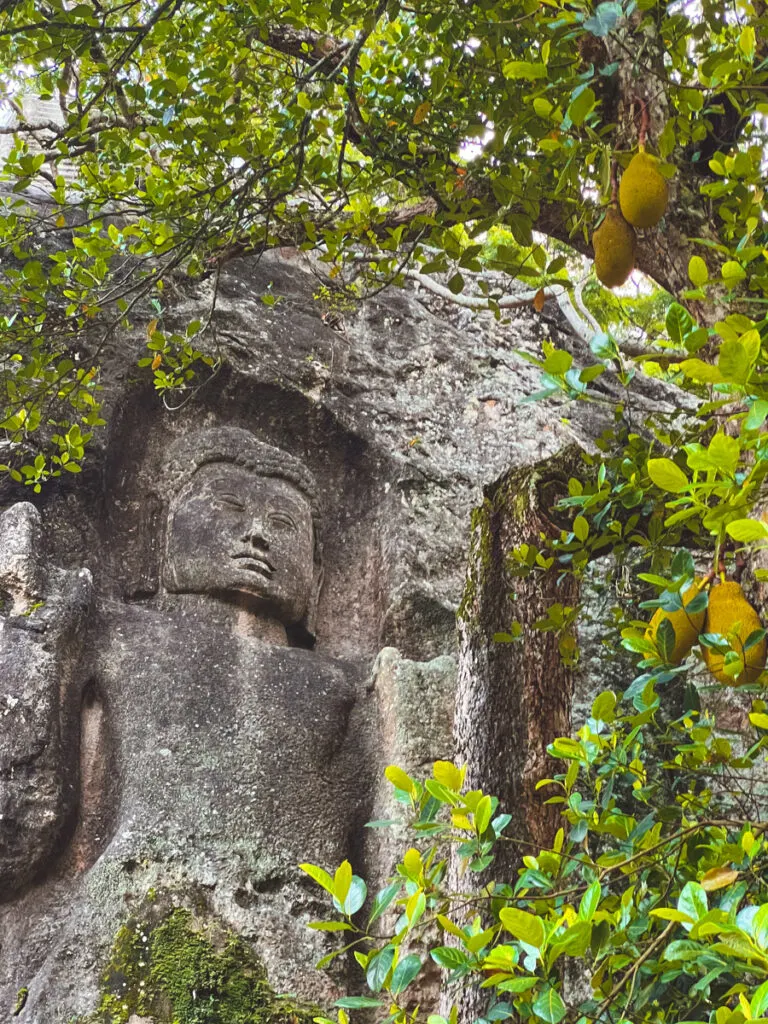 The remarkable Buddha statue displays elements of Mahayana iconography. It is a testament to the king's devotion and artistic talent.
We just loved how nature and spirituality blend in this particular temple. Wandering through, a nearby river can be heard trickling along. Jataka stories adorn the walls of the Image House and shrine room.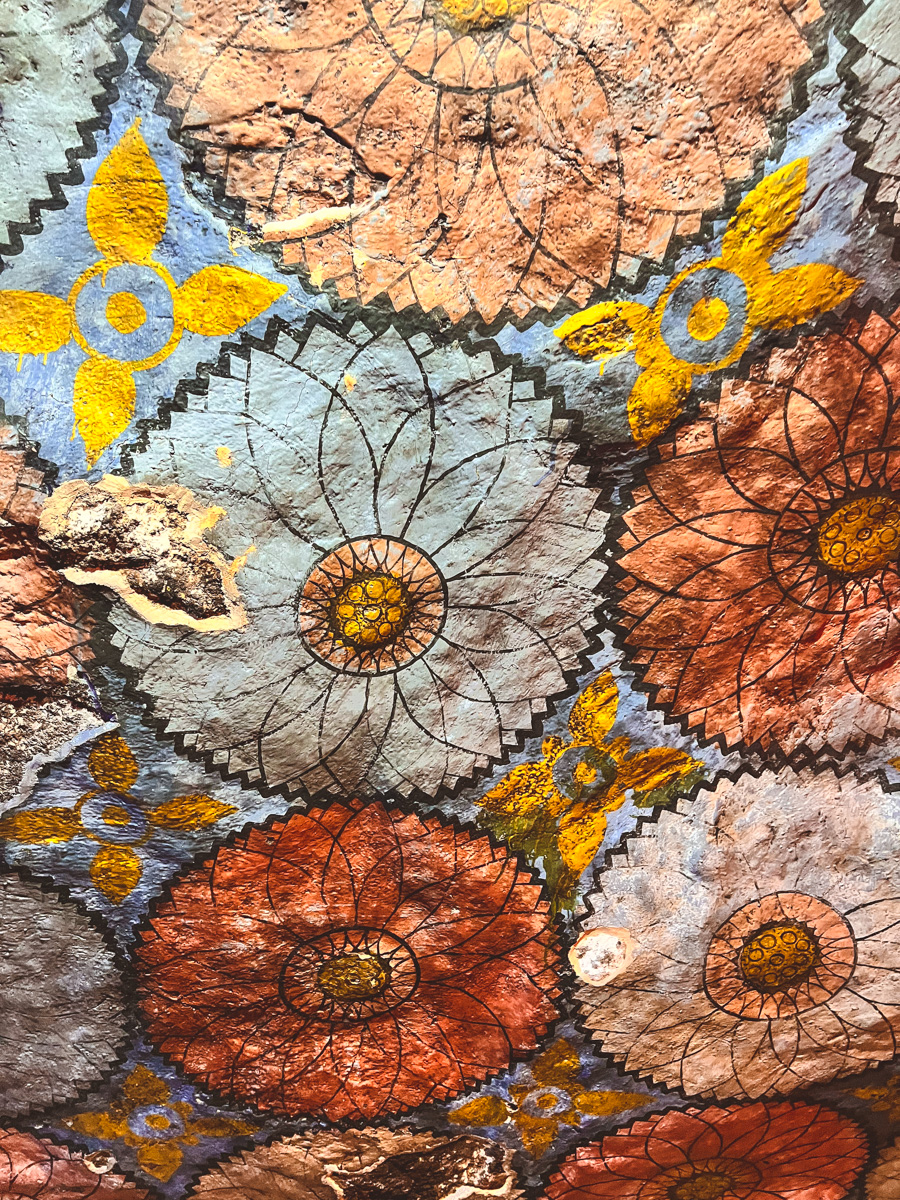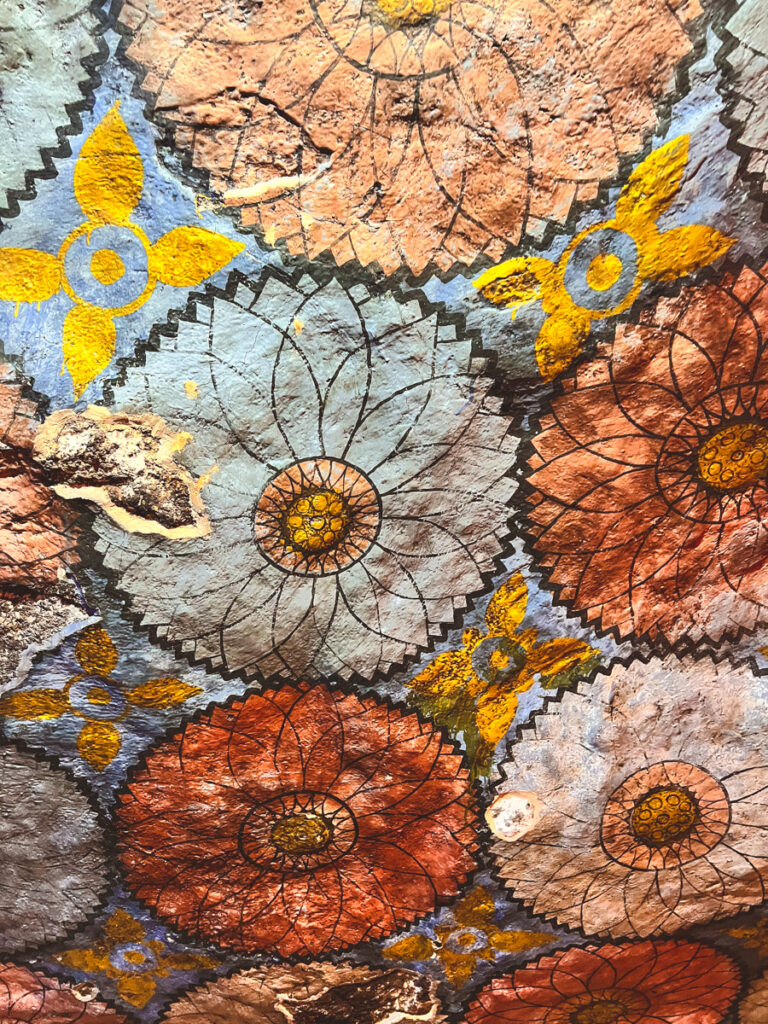 A small stupa lies within the cave, where the shrine room is integrated, and an 11-kilometre tunnel called Ravana Guhawa extends mysteriously.
Although the entrance to the tunnel has been sealed off due to vandalism, many people speak of its significance as an escape route for King Walagamba before the completion of the Buddha statue.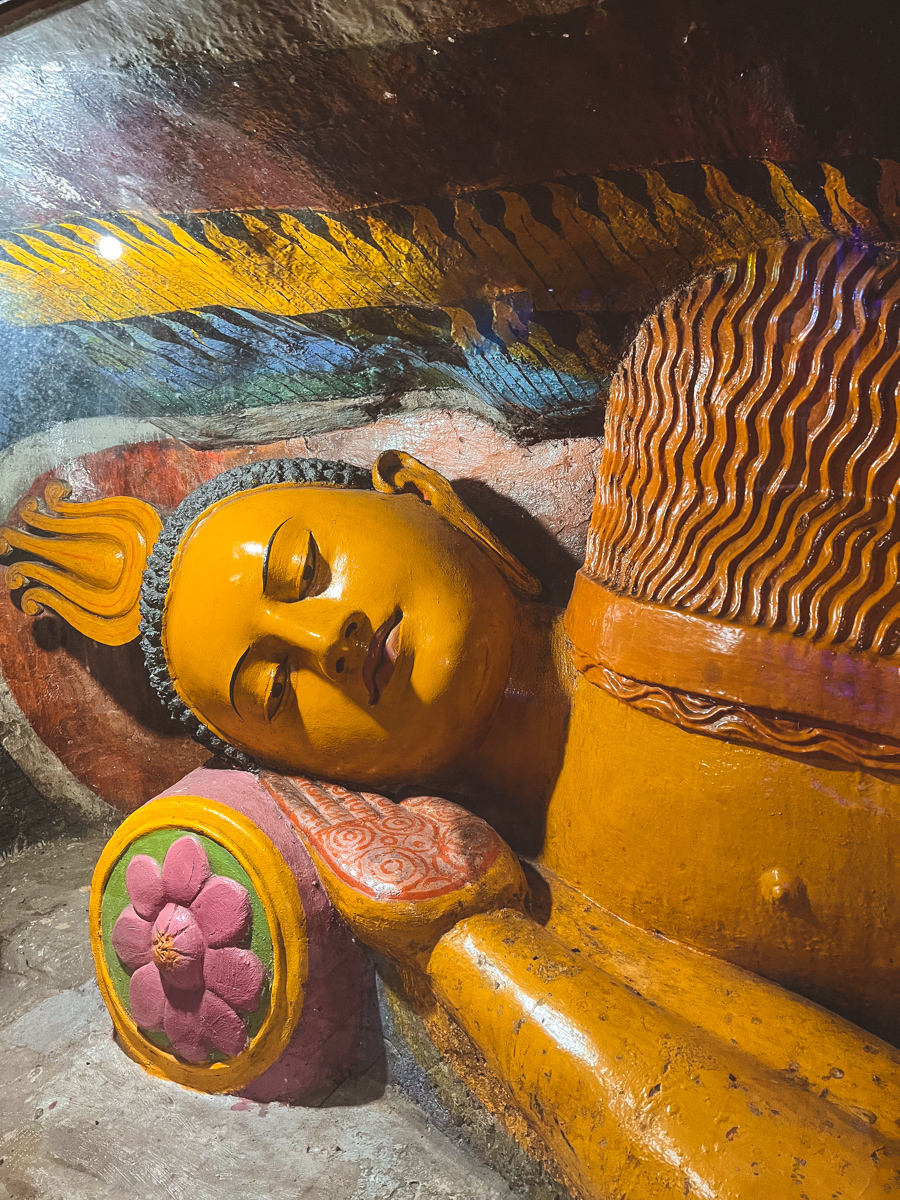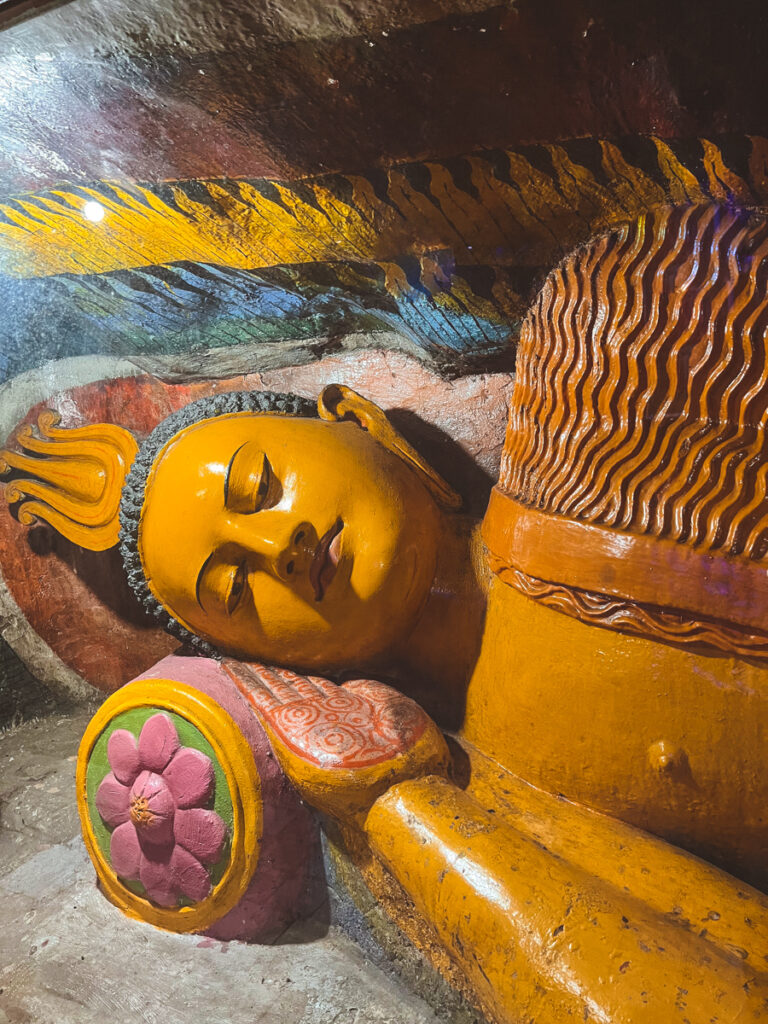 A visit to the Dhowa Rock Temple is an ideal opportunity to understand the region's ancient history and see the craftsmanship of the Buddha statue. It is one of the most culturally insightful things to do in Ella.
11. Sit On Lipton Seat
One of Ella's most iconic points in the region is Lipton Seat. Perched at an elevation of 1,970 meters above sea level, the Lipton Seat offers breathtaking panoramic views of the Ellas' tea plantations, valleys, and distant mountain ranges.
While it can be seen from various vantage points in Ella, reaching the Lipton Seat involves a journey worth every step.
The history of the Lipton Seat dates back to the early 20th century when Sir Thomas Lipton, a Scottish tea magnate, established his tea empire in Sri Lanka.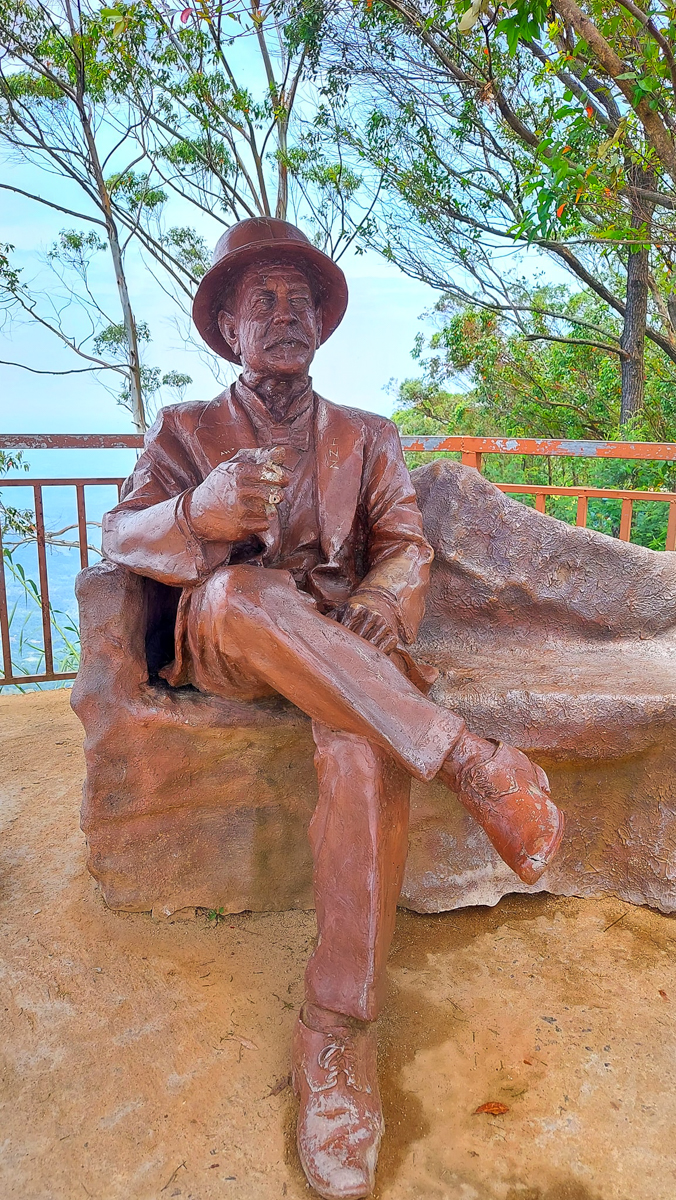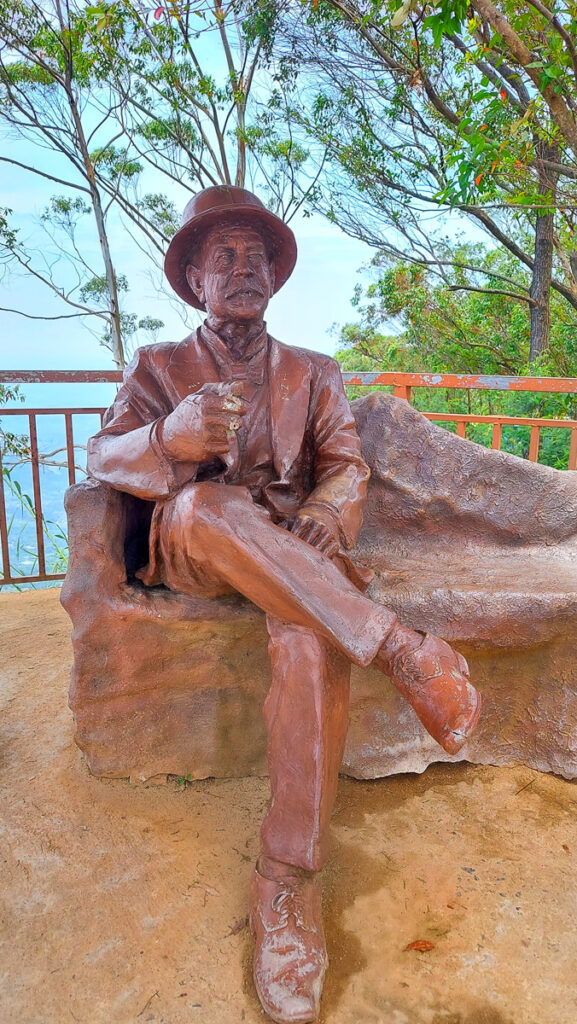 He often visited the viewpoint to survey his vast tea plantations and enjoy the mesmerizing scenery. Today, the Lipton Seat is named in his honour and remains a testament to his contributions to the country's tea industry.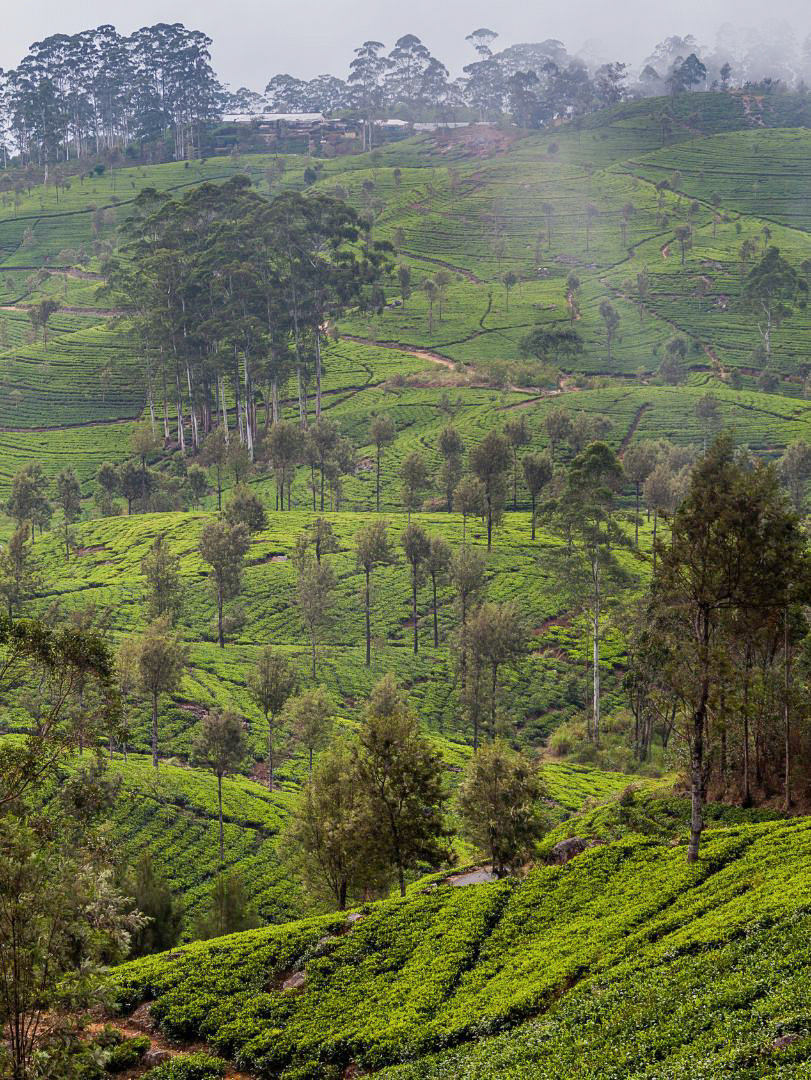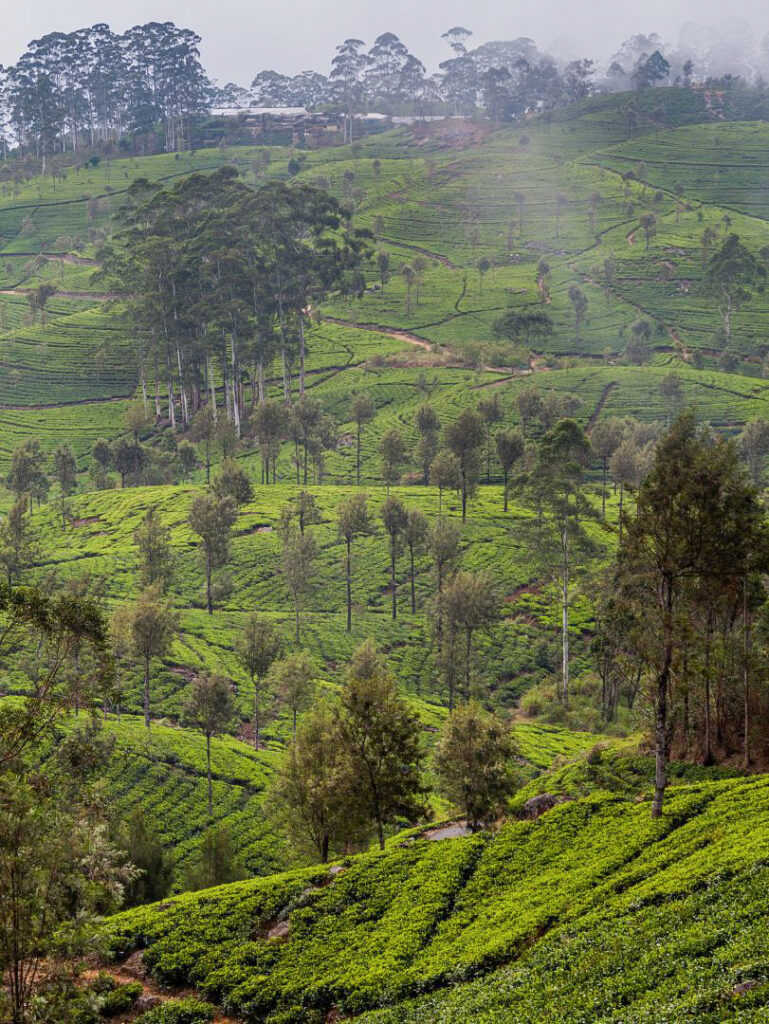 You'll need to embark on a challenging journey to reach the Lipton Seat. The route involves a combination of road travel and a hike through tea estates and the countryside.
It takes approximately two hours by vehicle to reach the hike's starting point. The hiking trail is approximately 7 kilometres long and can take two to three hours, depending on the pace.
The hike to the Lipton Seat is considered moderate to difficult due to the steep inclines and uneven terrain.
It is recommended to wear comfortable hiking shoes, carry sufficient water, and be prepared for the physical journey.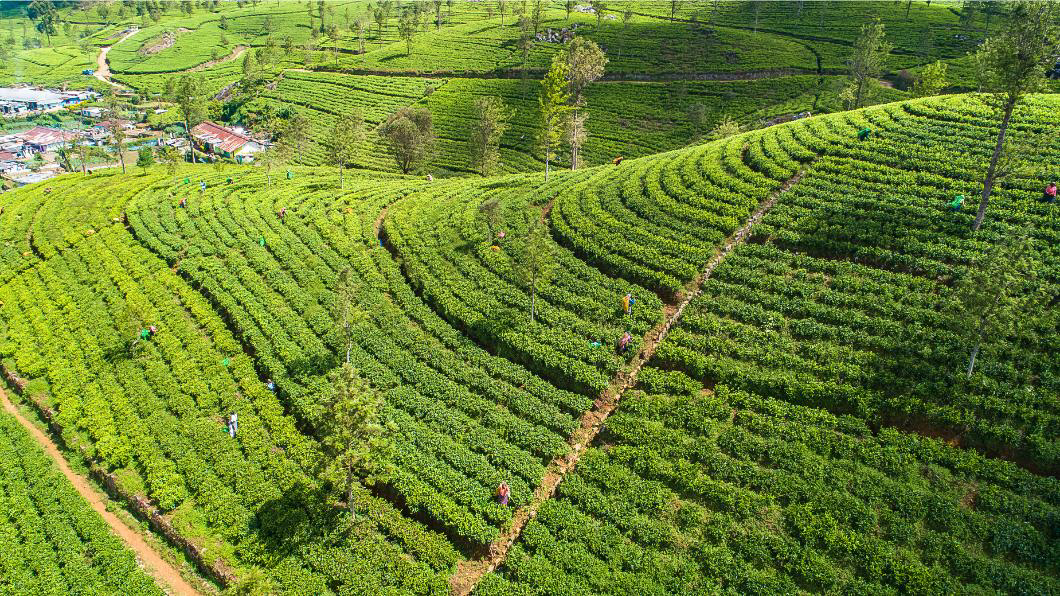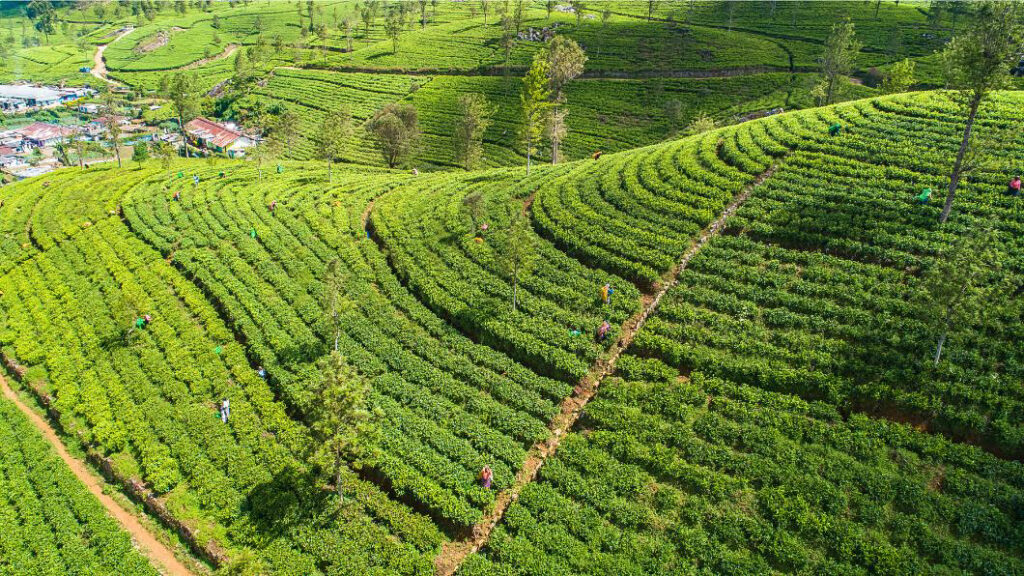 However, the effort is well worth it once you reach the top and are rewarded with breathtaking views that stretch as far as the eye can see.
Upon arriving at the Lipton Seat, you'll find a simple yet beautiful viewpoint. Take a moment to absorb the fresh mountain air, and marvel at the vast expanse of tea-covered hills cascading down into the valleys below.
Check out this fantastic tour to Lipton Seat from Ella. It's a private tour in a tuk-tuk. Free cancellation is possible no later than 24 hours in advance.
It's another great activity to plan with some flexibility when looking for things to do in Ella.
12. Ravana Falls
If you are headed south, you can leave Ravana Fall until you leave Ella. It's perfectly positioned just at the edge of the road leading out. Even if you don't have time to stop for too long, pulling up and taking a photo from the car is quite easy.
It's also one of the first sites on the way from the south, making it a lovely welcome to the area. The cascading waterfalls are so picturesque.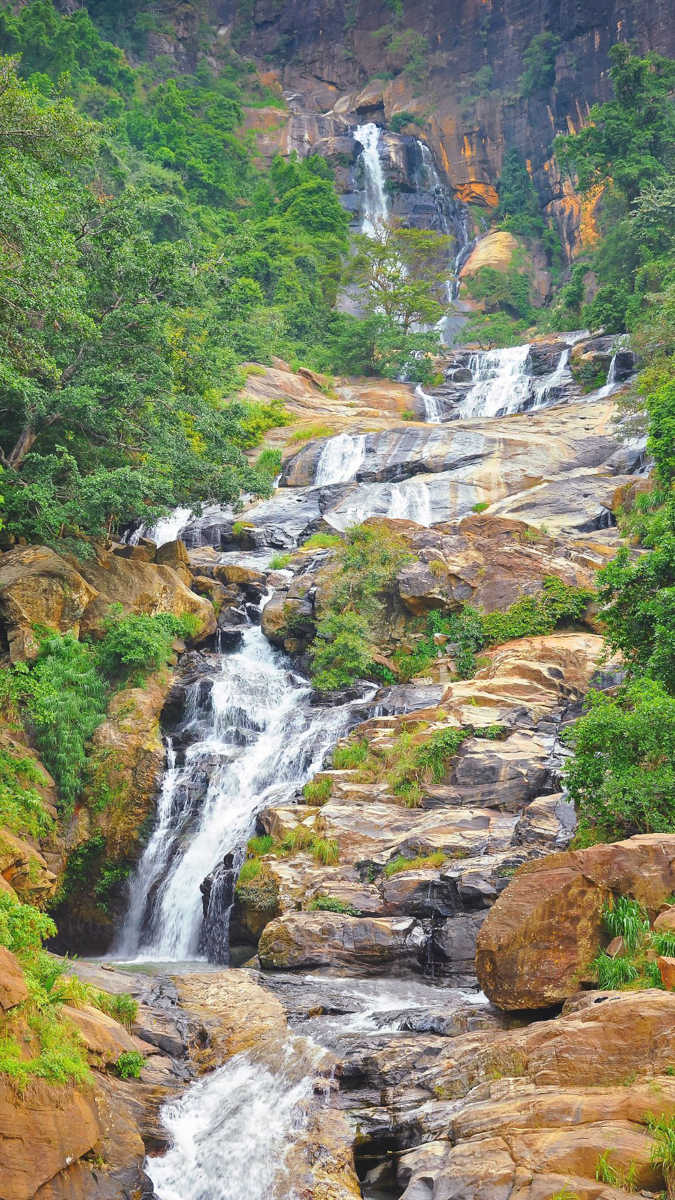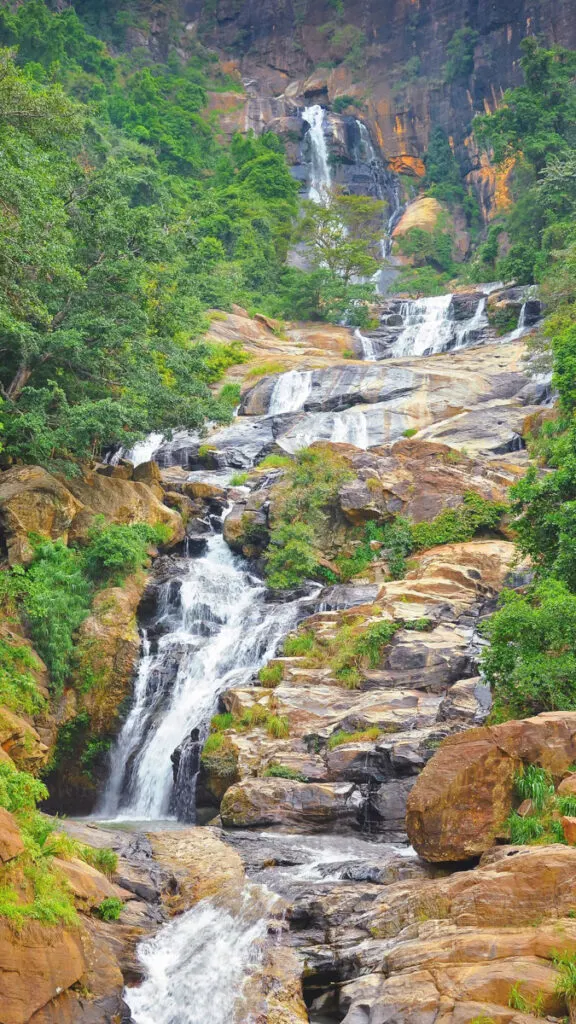 Water rushes down from a height of approximately 25 meters and glistens under the sunlight. The surrounding lush greenery and rocky cliffs are a reminder of the surrounding landscape.
The falls derive their name from the mythological tale of the Ramayana, where Ravana, the king of Lanka, is believed to have hidden Princess Sita in the caves behind the waterfall.
Many vendors line the street to the waterfall, selling bbq corn, fresh coconuts and souvenirs, making it a bustling environment.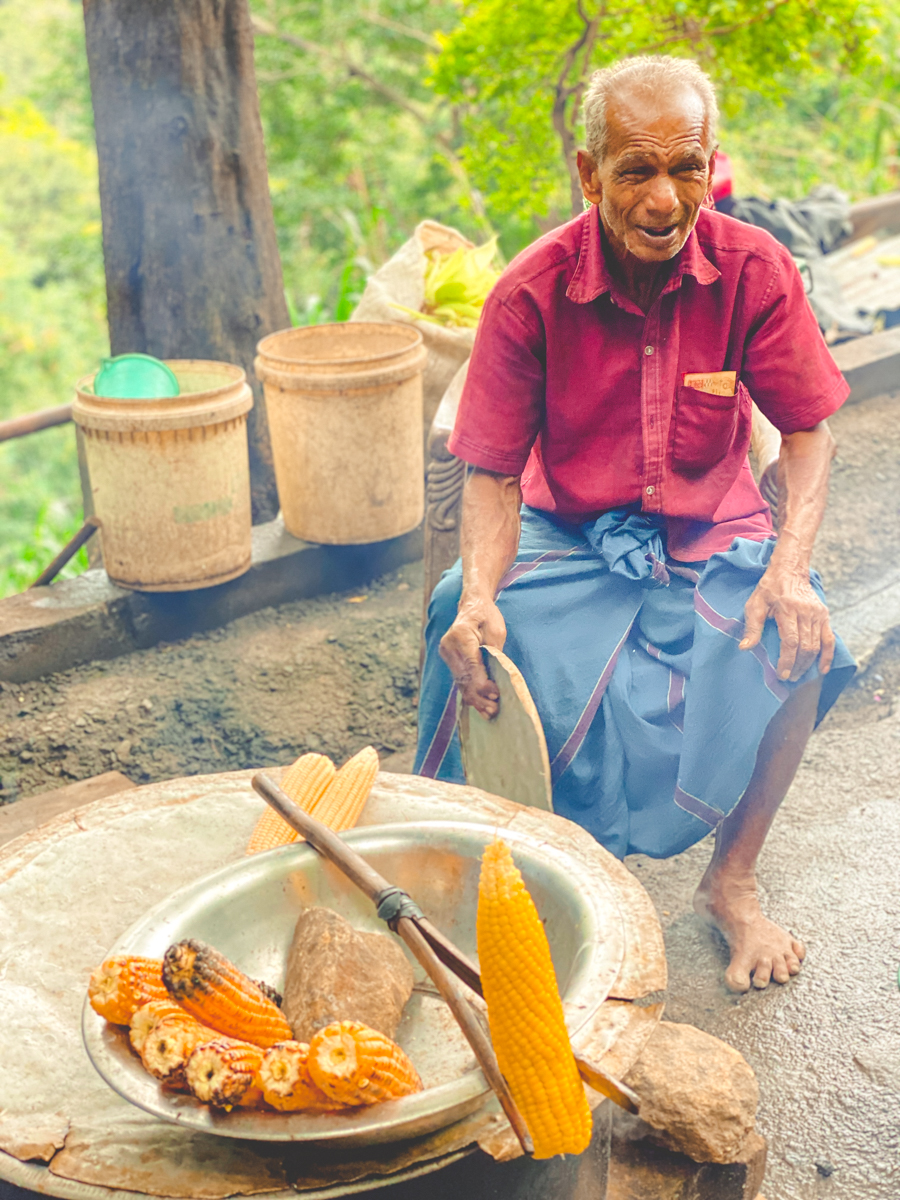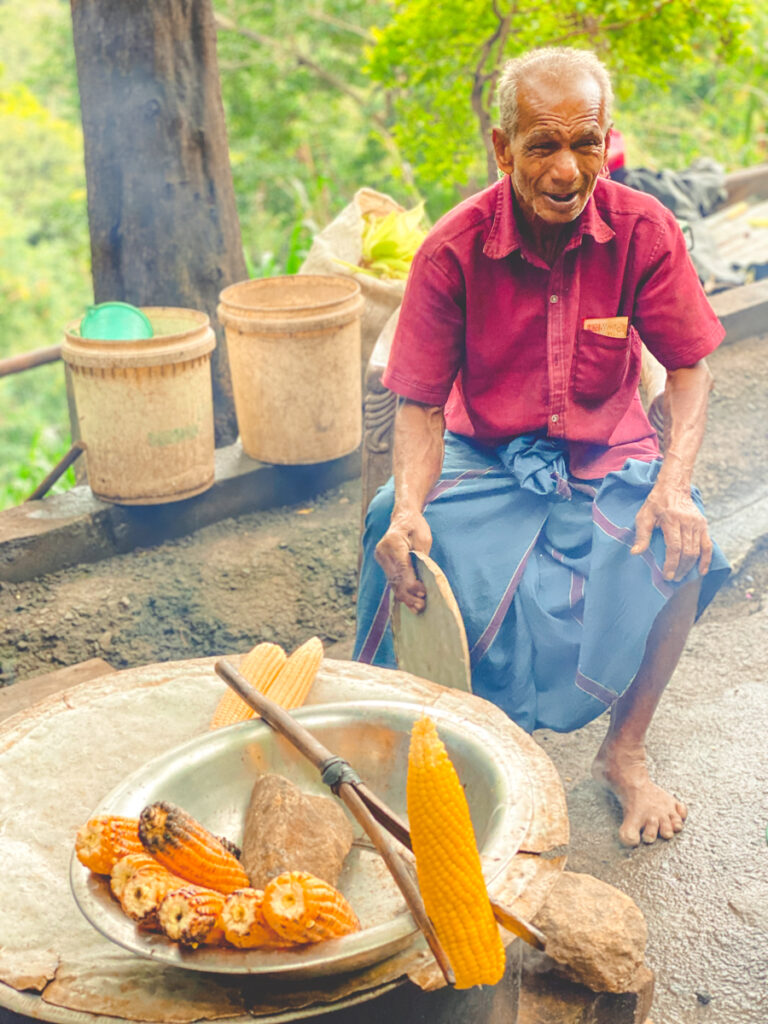 It does tend to be particularly busy on weekends and as the day goes on. It is a good idea to visit early morning to enjoy the waterfalls without the crowds and enjoy one of the best things to do in Ella.
13. Eat Delicious Food

I was blown away by the incredible food we enjoyed in Ella. There are tonnes of places to enjoy local food. Some offer Western classics as well as healthy food options.
Sampling the food is an activity in itself when looking for things to do in Ella.
Most of the good places are along the main street. However, there are a few tucked away.
As a vegan, I was so excited to discover so many options and a relatively good understanding of veganism amongst the waiting staff. It was refreshing compared to other parts of Sri Lanka. Let's dive in and look at some of the best options we found.
Rainbow Cafe is one of our top recommendations. We must have eaten at Rainbow Cafe at least three times during our stay in Ella, the food is exceptional.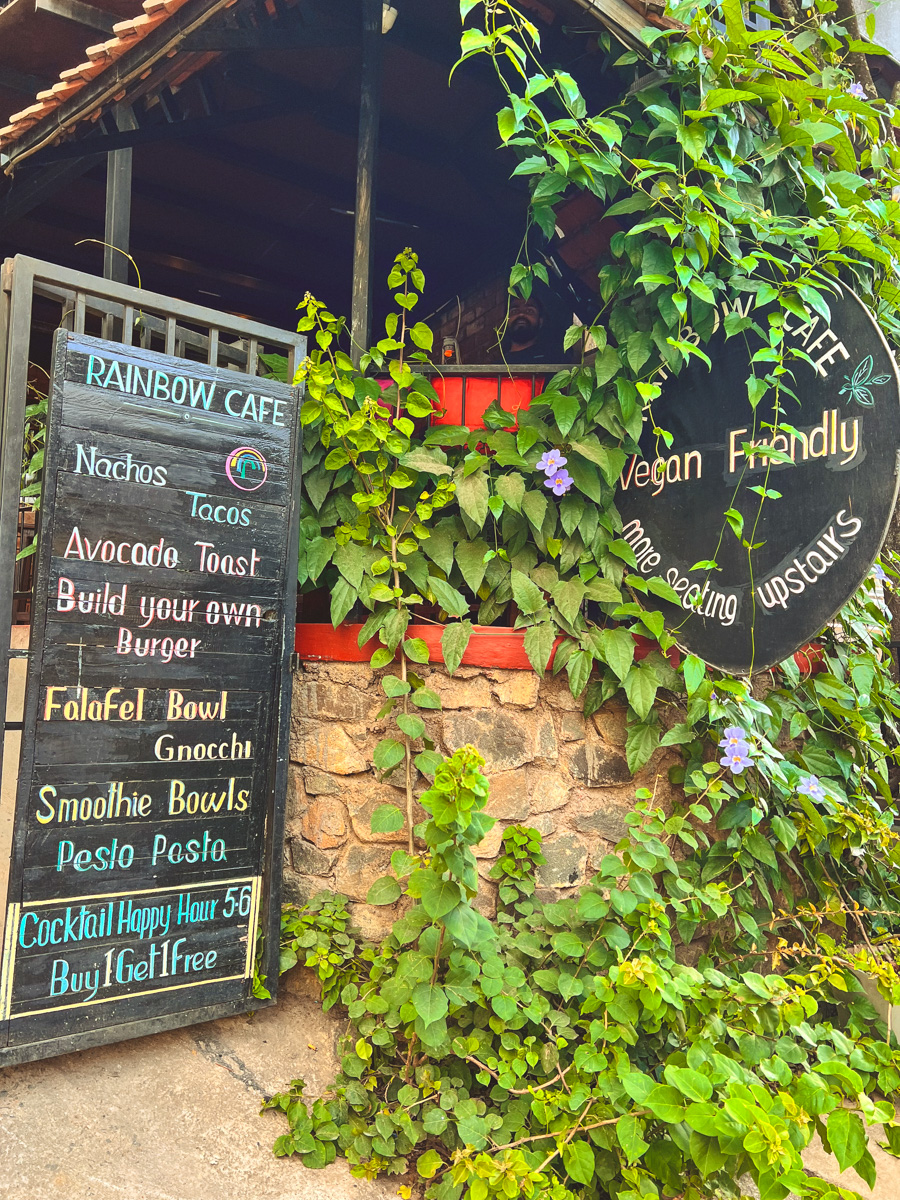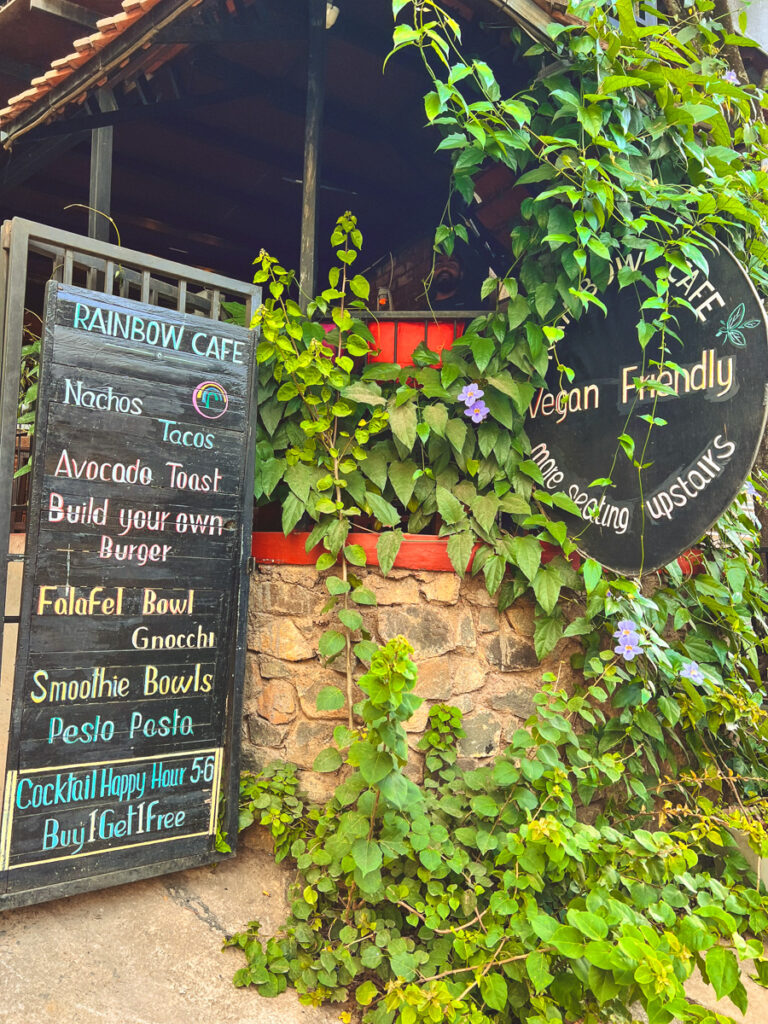 There is a heavy focus on veganism with delicious smoothie bowls, vegan omelettes, oatmeal vegan pancakes, and so much more. The coffee is pretty good. It goes without saying since it is Ella, there are plenty of tea options.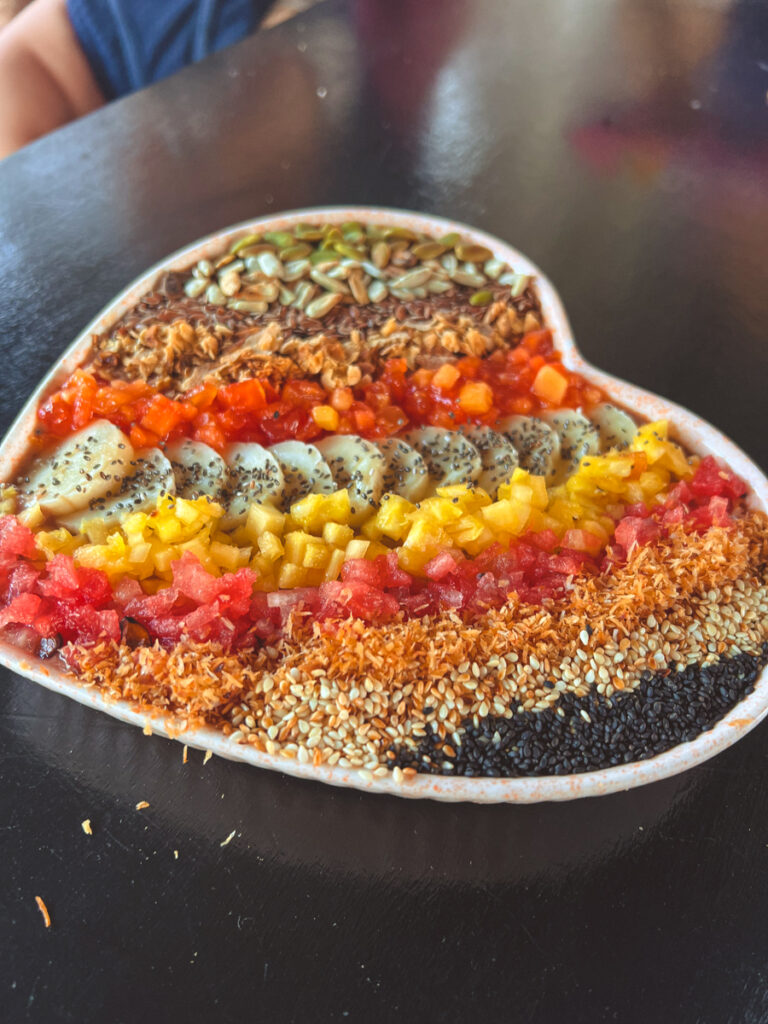 Since it is a mountainous location, the stairs to the seating area are a little difficult and steep for children. However, the elevated area gets a little cross breeze, perfect for lunchtime hours.
Chill Cafe is another top recommendation with an impressive bamboo structure, as mentioned previously. This particular cafe gets super busy at meal times. However, it's not an issue as it's spacious with lots of tables and loads of staff to match the demand.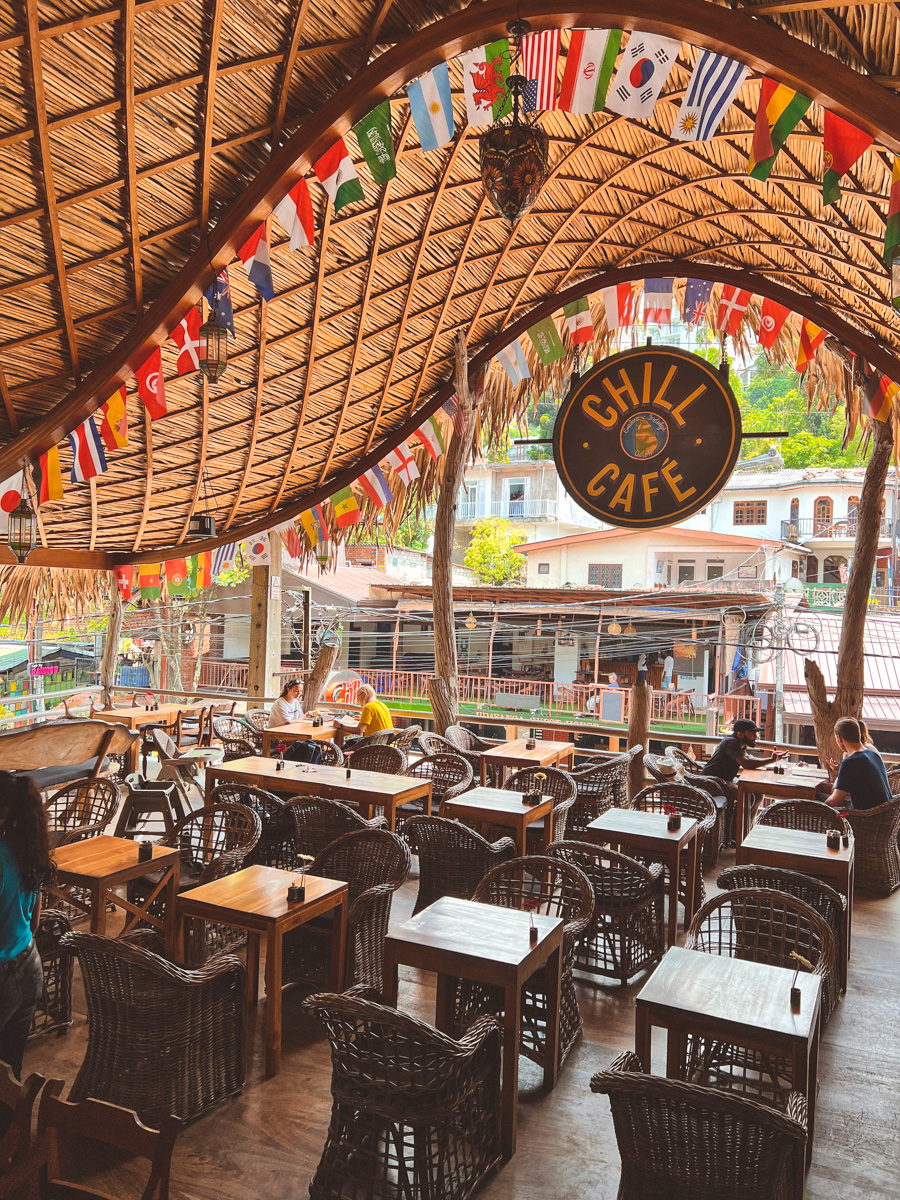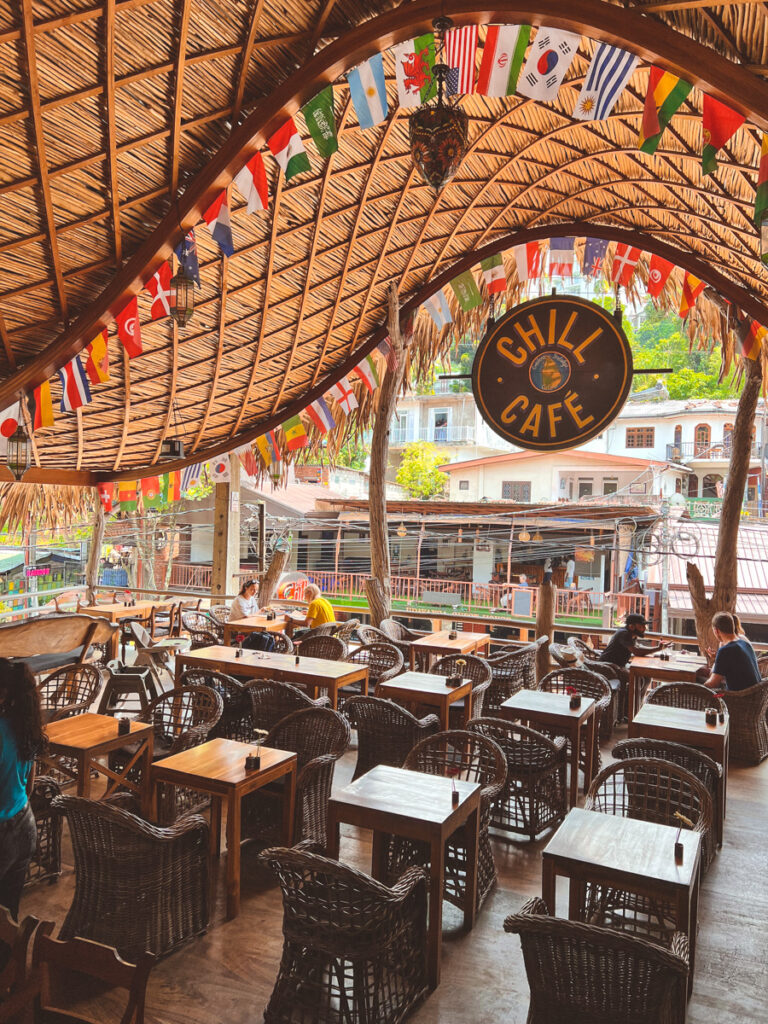 The menu includes light snacks and soups to Sri Lankan cuisine and burgers. They also have high chairs, which are hard to find around Ella for parents travelling with young kids.
Rocky Ella is a highly rated, centrally located restaurant. It is not quite as big as the other restaurants but has a nice menu and a relaxing atmosphere.
The smoothie bowls at Ella are amazing. The mains include poke bowls, fajitas, Sri Lankan kottu and pasta, to name a few options.
Accommodation In Ella
Regarding accommodation in Ella, there are several options to suit different budgets and preferences. Here are a few recommendations across various price ranges.
Nine Skies in Demadora is a fantastic luxury option, just a few km from Ella, close to Nine Arch Bridge. It's a beautiful tea planters bungalow with just a handful of rooms which is pretty much in its original form in terms of layout.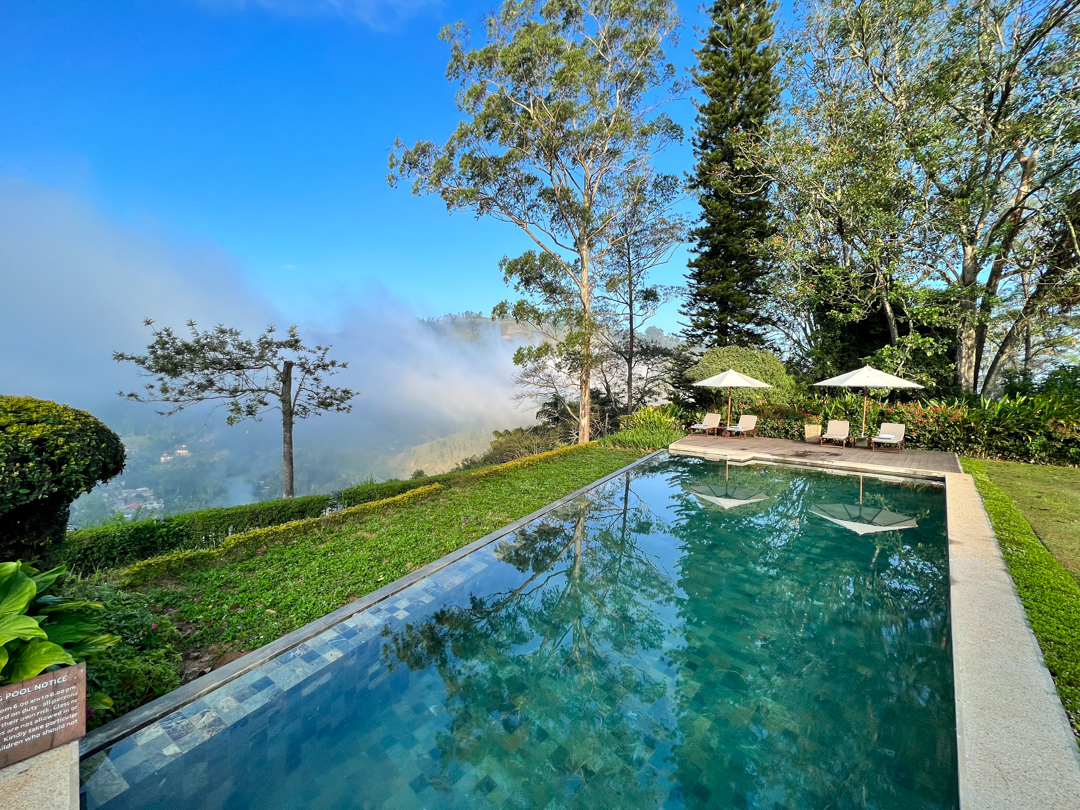 The main difference is it's a fully luxury boutique hotel nowadays. It features a beautiful lawned area and a pool with the most stunning views of the rolling hills as far as the eye can see.
The bungalow has five bedrooms, one of which can interconnect for families or a bigger group.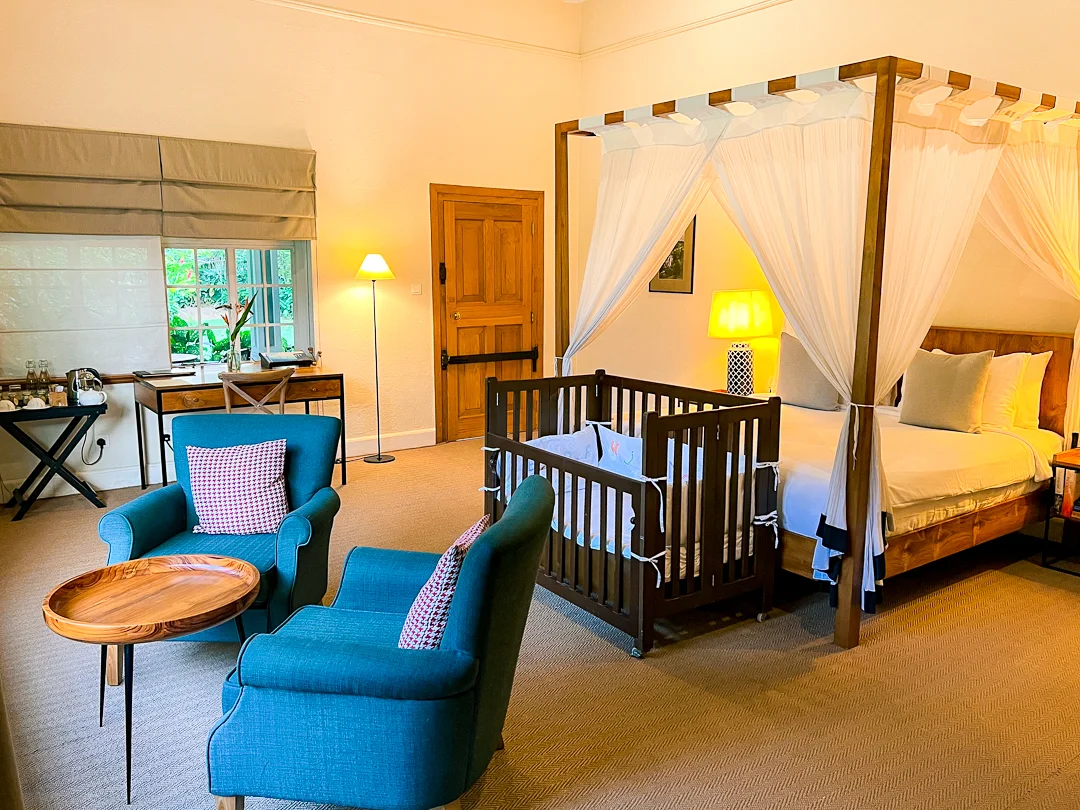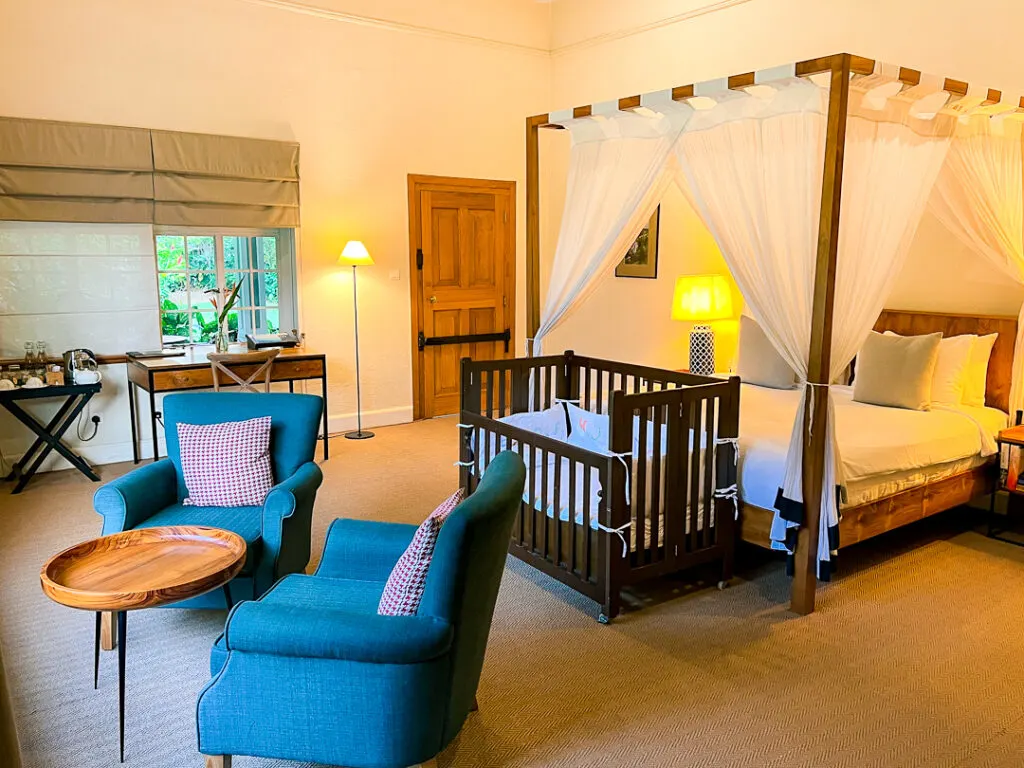 The sitting room was cosy, with an open fire, comfortable seating and traditional games. It was a lovely place to sit and read a book, watching the clouds roll in and out of view.
Nine Skies rate includes full board meals making it a truly lovely experience. They are very supportive and helpful with arranging tours and exploring the area with their in-house naturalist.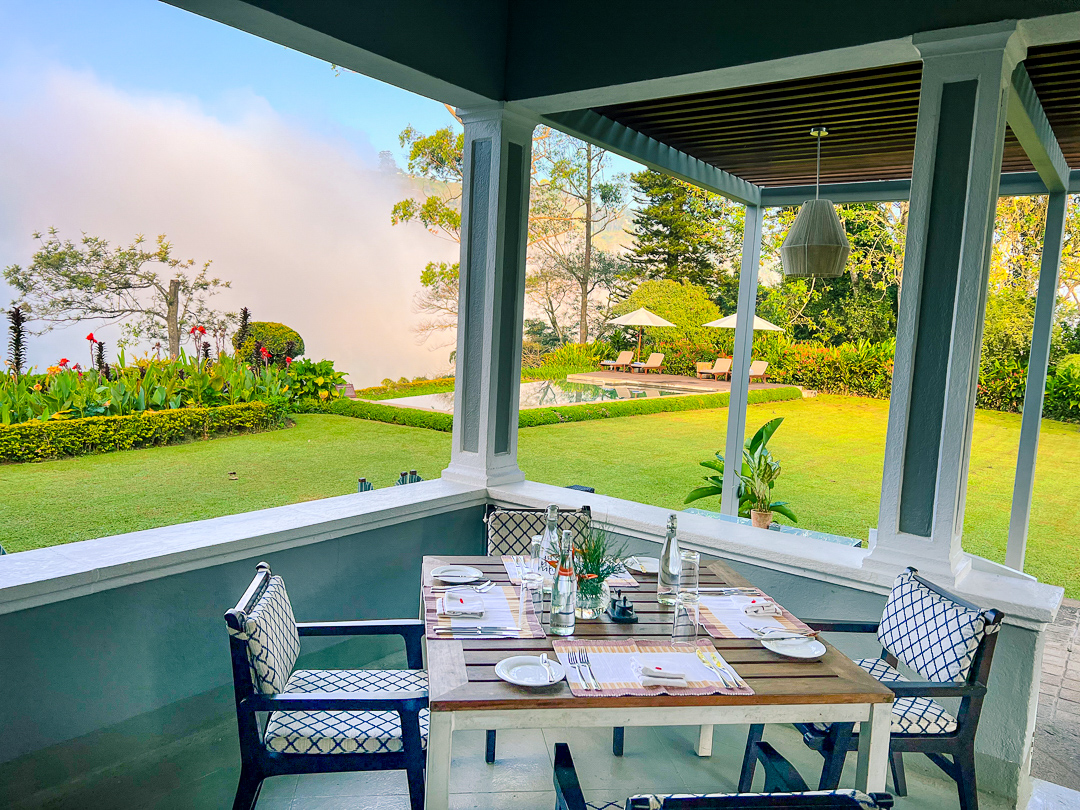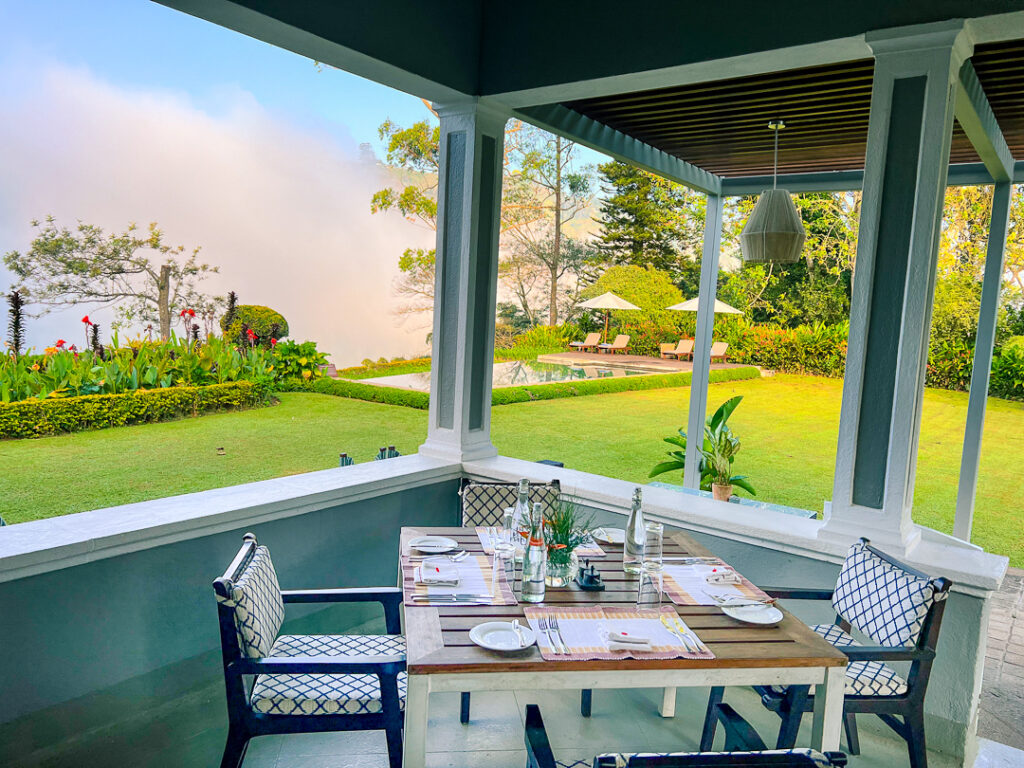 We also stayed at Ravana Heights on our second visit to Ella. It is more centrally located and within a different price bracket.
This is essentially a homestay with a lovely Sri Lankan man and his daughter. It's a huge property with several rooms, and all have incredible views of the landscape.
It's within walking distance to town, just a matter of minutes away, making all of the activities easily accessible when travelling to the best things to do in Ella.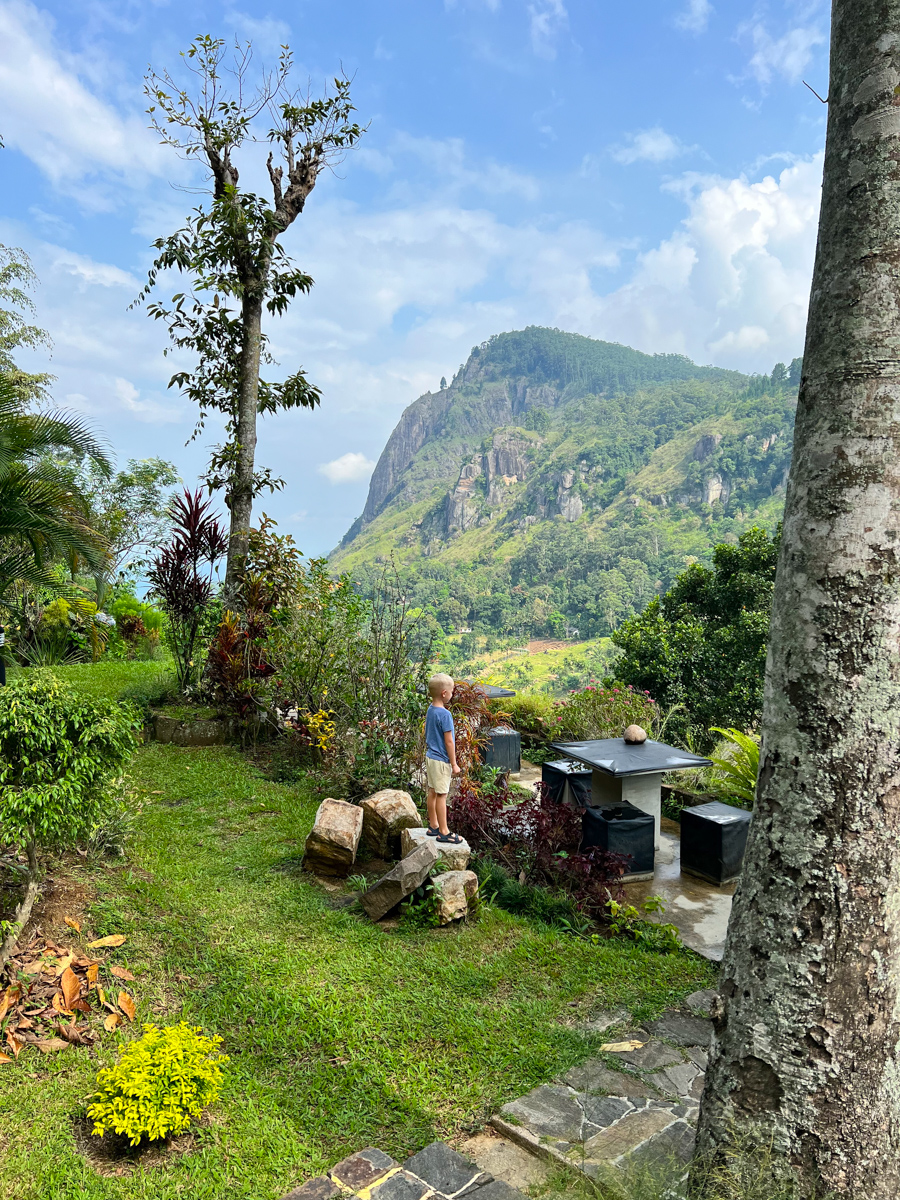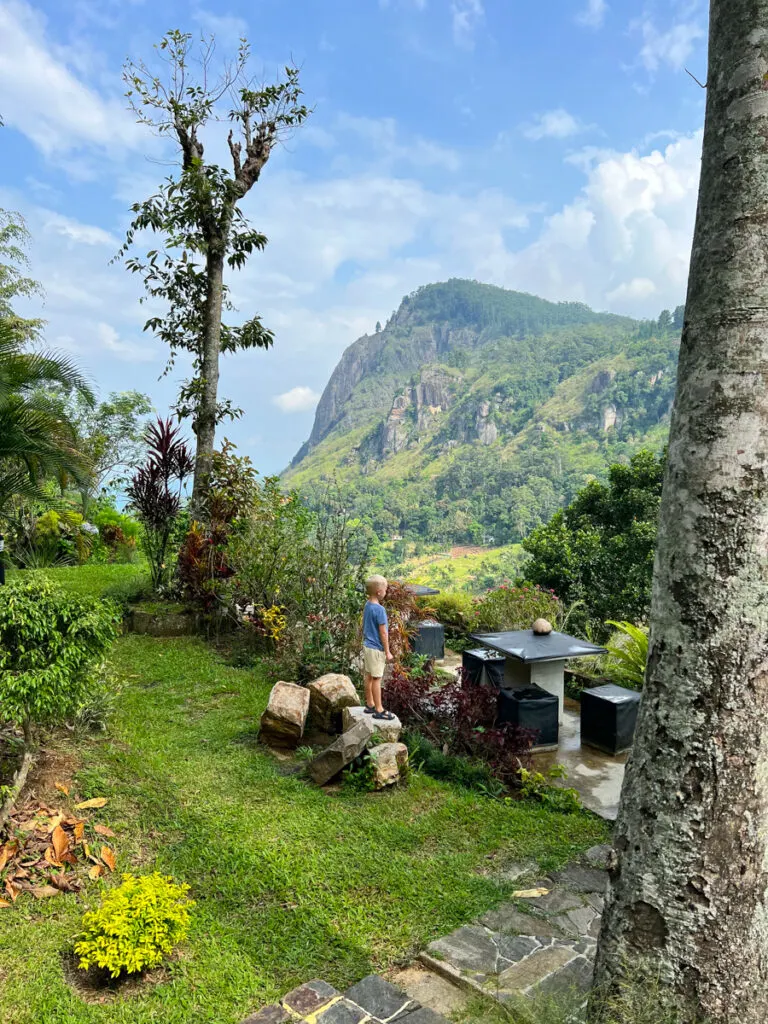 The family are so incredibly hospitable and foodies at heart. They were so eager to cook us something different for breakfast each morning.
There are a variety of rooms available. Some are suitable for families with two king beds. The rooms have big cosy armchairs to sit and relax, taking in the views.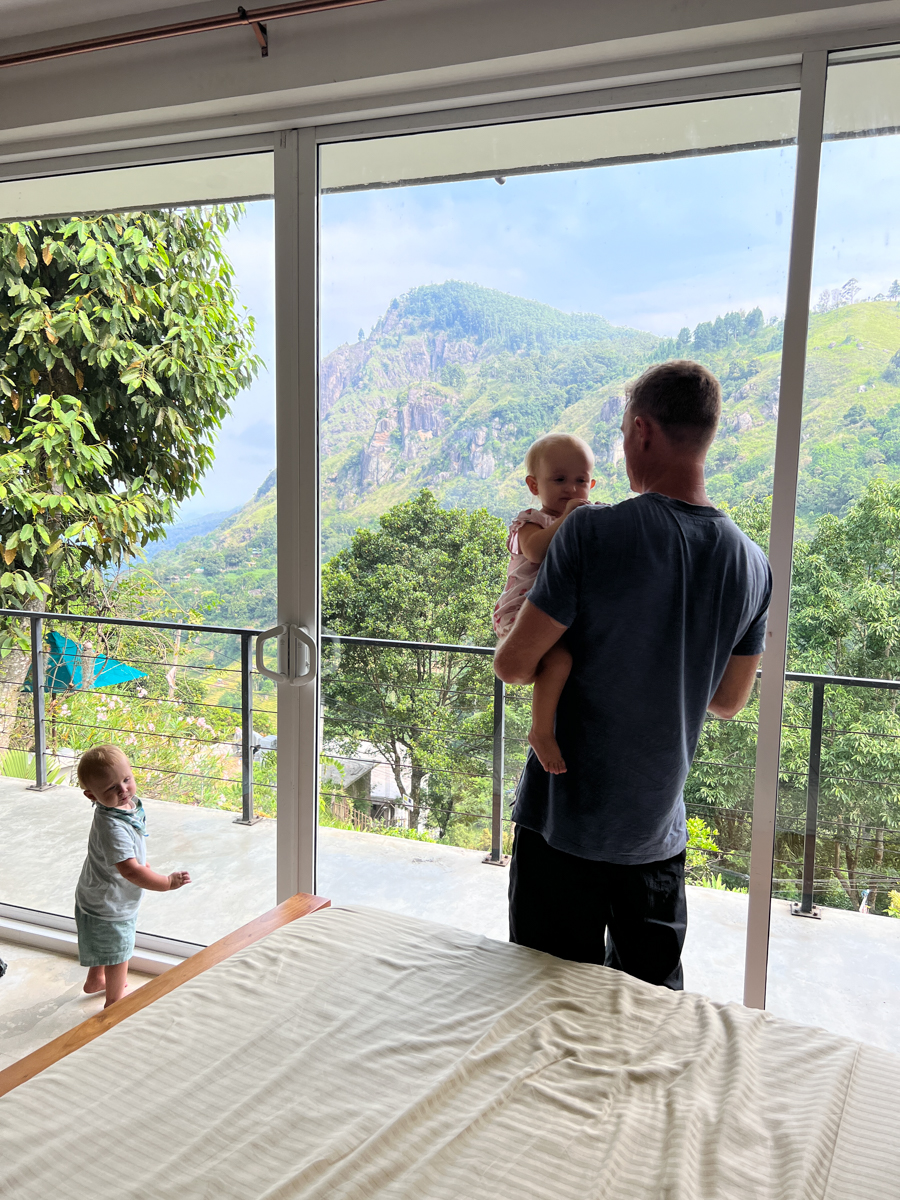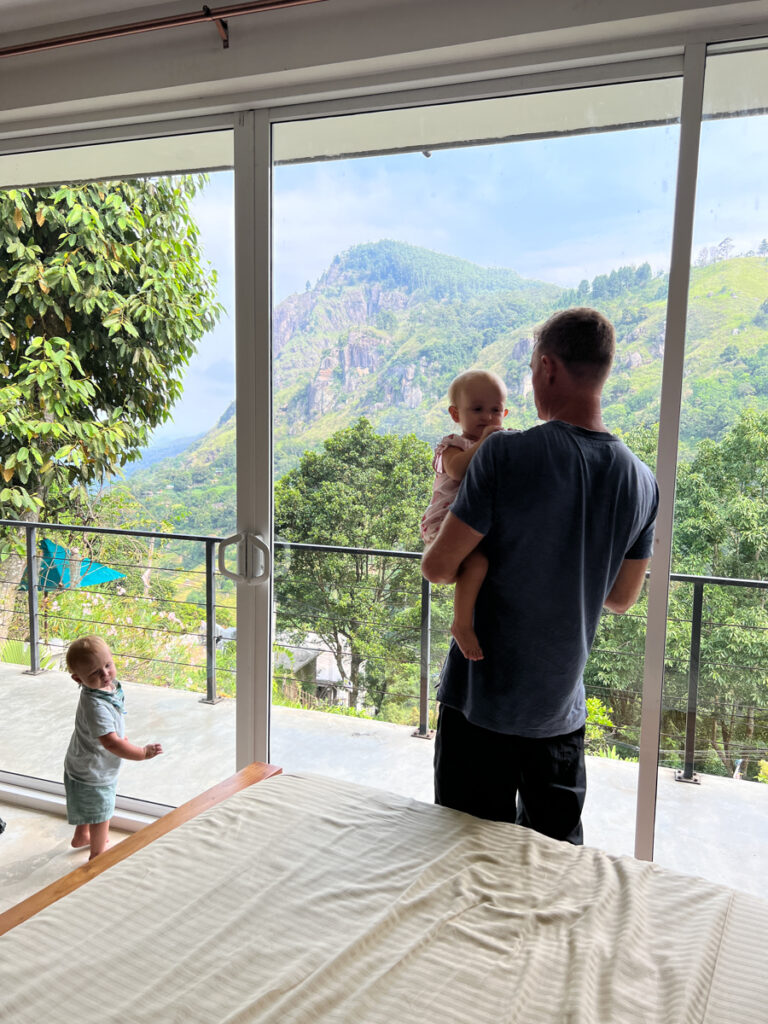 We found everyone helpful in arranging tuk-tuks and tours to different places. The only issue with the accommodation is it has a lot of steps with little space for younger children to run around safely. However, it is perfectly fine for older children who can be careful.
For a budget-friendly option, Ella's Edge Resort provides a comfortable and affordable stay. This guesthouse offers clean and cosy rooms with basic amenities.
The property features a garden and a terrace where guests can relax and enjoy the scenic views. It's a great option for those seeking budget-friendly accommodation close to Ella's main attractions and restaurants.
Whether you choose a luxurious retreat, a mid-range guesthouse, or a budget-friendly option, the hospitality at the above-mentioned options is always warm and helpful.
All the staff and owners are most helpful when planning an itinerary of things to do in Ella with their valuable insider advice.
How To Get To Ella
There are a few ways to get to Ella, however, it will depend on which direction you are travelling from.
As mentioned, the train ride from Colombo or Kandy to Ella offers mesmerizing views of tea plantations, rolling hills, and charming villages.
The journey takes approximately 9 hours from Colombo and up to 9 from Kandy. Nuara Eliya is approximately 4 hours by train.
It is advisable to book train tickets in advance, especially if you prefer a first-class experience. Ella's train station is conveniently located in the town centre, making it easy to reach nearby accommodation.
There is an option to take a private taxi. As a rough estimate, Galle is approximately a 3.5 hr journey by car and Hiriketiya Beach is around 3 hours. Whilst Colombo is approximately a 6 hour journey.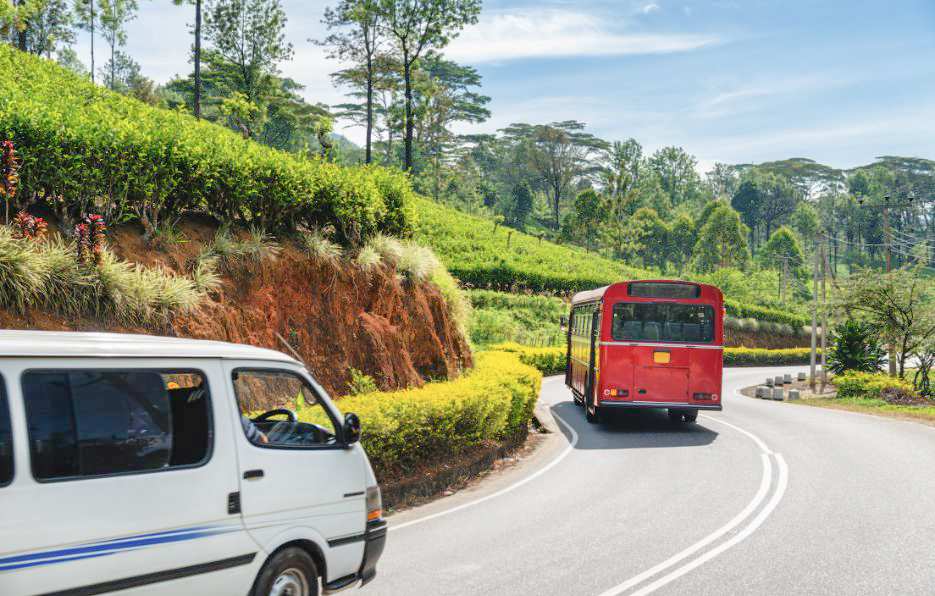 From Kandy by road, officially on Google Maps it takes approximately 3hrs 20, however, we found this journey to be much longer due to the winding nature of the road through mountainous terrain.
Hiring a driver is probably one of the easiest and most reliable ways of getting to Ella. Truth be told, we ditched the train on one occasion as we had already driven several hours and could not wait for the delay with our small children.
Having a driver may be the best option for those with small kids. However, word of note, the roads are windy, especially from Kandy. Remember to have anti-sickness bands to hand, just in case.
For those feeling super adventurous, hiring a tuk-tuk to get around is a possibility.
Tuk-tuks are three-wheeled vehicles in Sri Lanka, known for their manoeuvrability and ability to navigate narrow roads.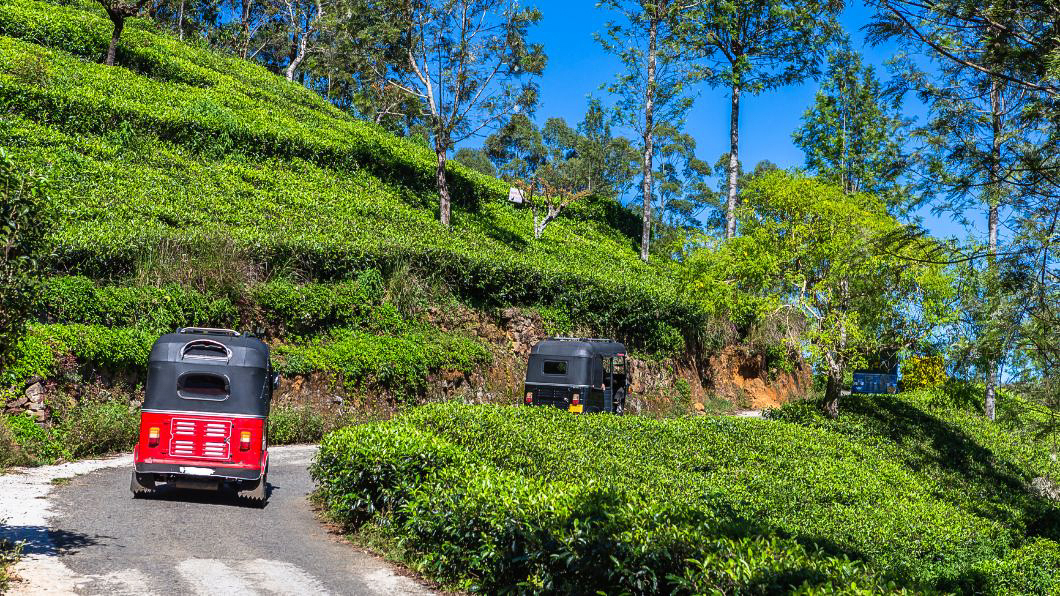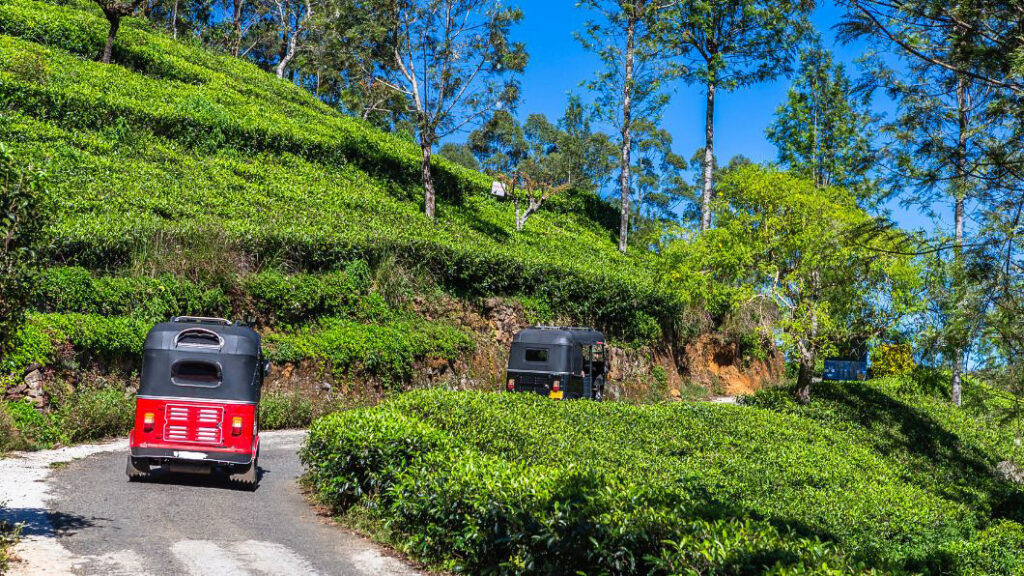 You can hire a tuk-tuk for a shorter distance or explore nearby attractions. Just remember, the hills, in some cases, are particularly difficult, so it is important to feel confident in driving a tuk-tuk.
While buses are a common mode of transportation in Sri Lanka, we have found bus drivers insanely dangerous.
Buses often navigate winding mountain roads at higher speeds. If you prefer a safer mode of transport, opt for trains, private transportation, or tuk-tuks.
The Best Time To Visit Ella
Since Ella is in the highlands, it experiences cooler temperatures year-round compared to other parts of the country. Visitors who come to Sri Lanka from December through April will most likely visit the south and may incorporate Ella within that journey.
Those visiting Sri Lanka from May through November will likely head to the island's east side and may incorporate Ella into the trip.
The weather is generally pleasant throughout the year. Temperatures typically range from 58°F to 82°F (14°C to 28°C), with the warmest month being May and the coolest month being January.
The best time to visit Ella Town for warm-weather activities is from early January to early April. During this period, temperatures are comfortable and a lower chance of rain.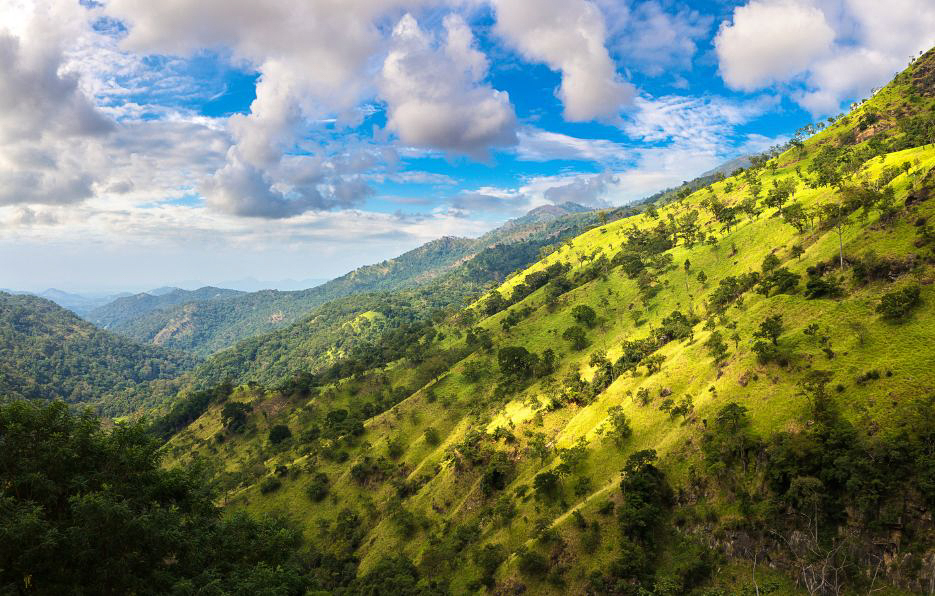 While Ella Town experiences some rainfall, it's not too bad, and the weather can quickly change.
The region's lush greenery and beautiful landscapes owe much to the rainfall. Embrace the rain as it contributes to the natural beauty of the area.
There is a higher chance of rain during the wetter season, which lasts from April to December.
The month with the most rain is November, with an average of 7.6 inches (19.3 cm). However, there are still plenty of clear and partly cloudy days even during this period.
Cloud cover in Ella Town varies throughout the year. The clearer part of the year extends from December to April, with February being the clearest month.
During this time, it is mostly clear or partly cloudy skies approximately 40% of the time. The cloudier part of the year lasts from April to December, with July being the cloudiest month.
Overall, Ella Town offers a pleasant climate with warm temperatures ( still an escape from hotter parts of Sri Lanka) and occasional rainfall.
What To Pack For Ella
Clothing
Considering all of the best things to do in Ella are a mix of adventure and relaxation (with a splash of rain for good measure), here is a packing list of essentials.
In terms of clothing, bring light, breathable clothing ideal for hiking and adventure activities. T-shirts, shorts and tank tops are a good option.
It is also worth bringing a light layer for evenings as the temperatures drop and the mosquitos come out. If you plan an early morning hike, it is worth having an extra layer until the sun rises.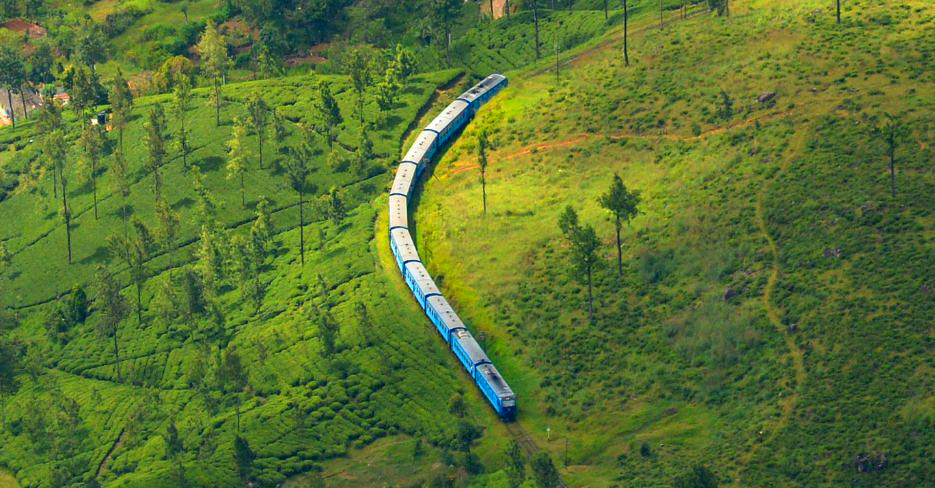 Make sure to pack good shoes for hiking, and, of course, sandals for more relaxed days.
A few of the hotels have swimming pools, and of course, Ravana Pool Club is worth a visit, so make sure to bring swimwear. Don't forget a compact raincoat or poncho or an umbrella.
Even though the weather is cooler, it is worth having a hat as it can still burn during the day, especially when on hikes.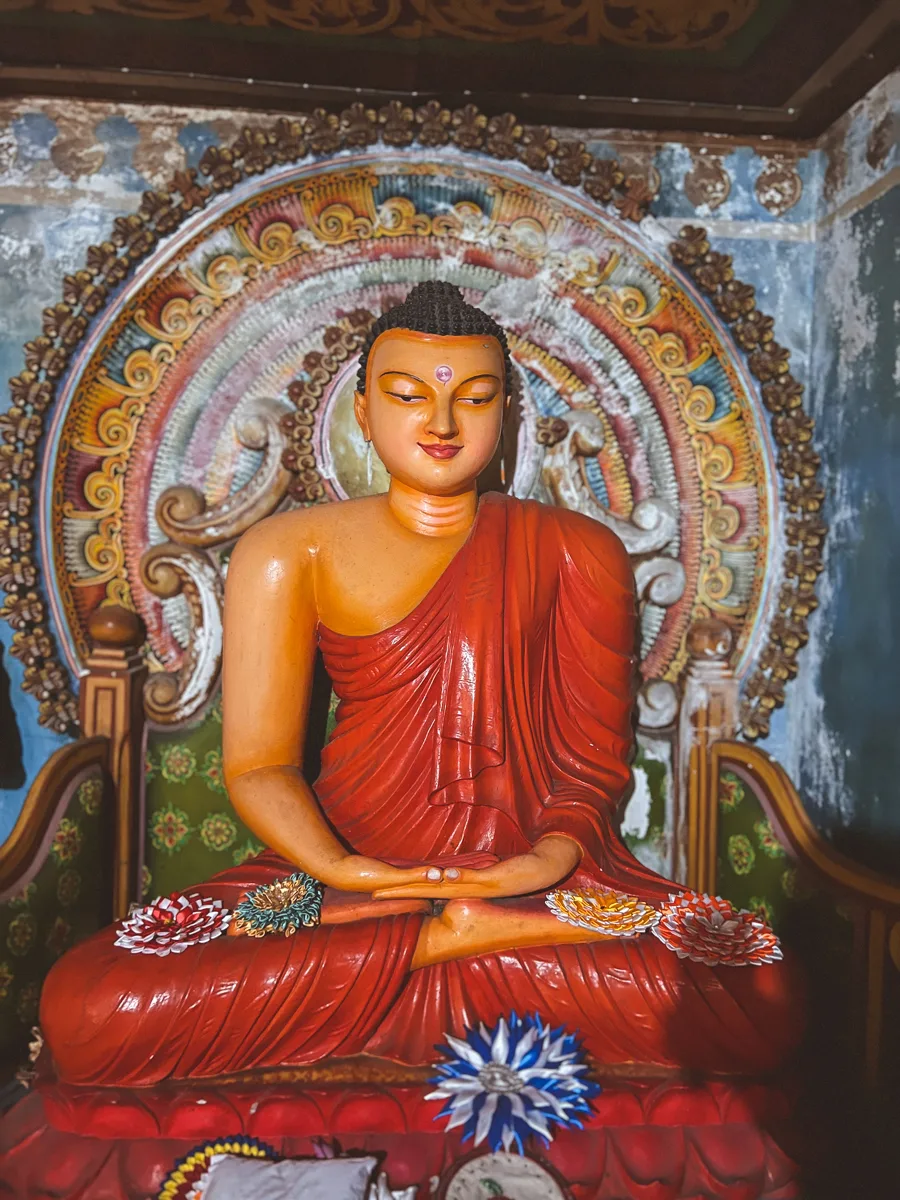 If you intend to visit the temples, it's important to dress modestly to respect the religion and culture. Make sure to cover the knees and shoulders with a shall, for example.
Essential
Sunscreen and insect repellent are definitely essentials. There are quite a few mosquitos in Ella once the sun begins to set.
Sri Lanka uses Type D and Type G electrical outlets. Make sure to pack a travel adapter if needed.
It is worth having a portable charger to take out on hikes. There is nothing worse than running out of battery at amazing photo opportunities.
We always travel with our Netgear Night Hawk, which is perfect for staying connected to Wi-Fi. Pick up a Dialogue Sim at the airport. Data packages are incredibly affordable.
Don't forget all your travel documents such as train tickets, booking information for hotels and most importantly travel insurance.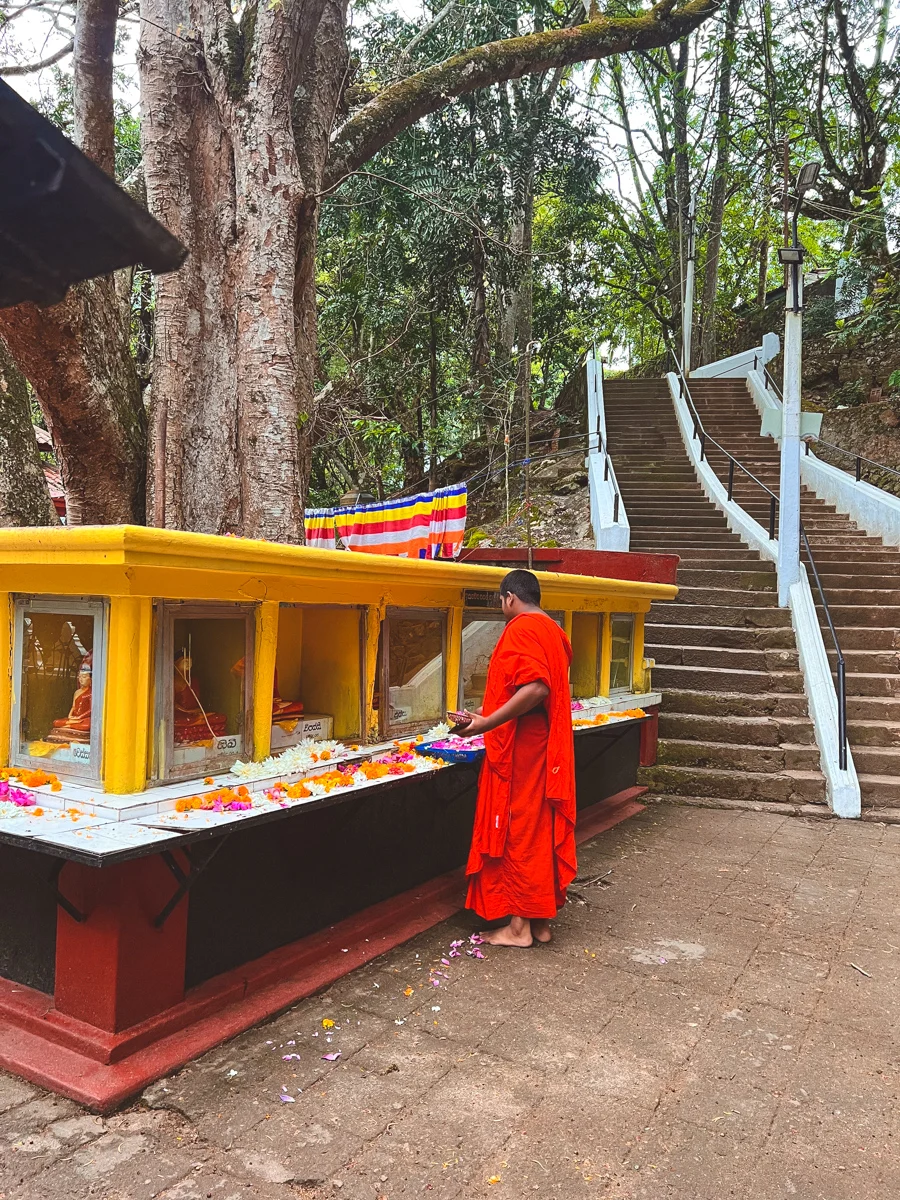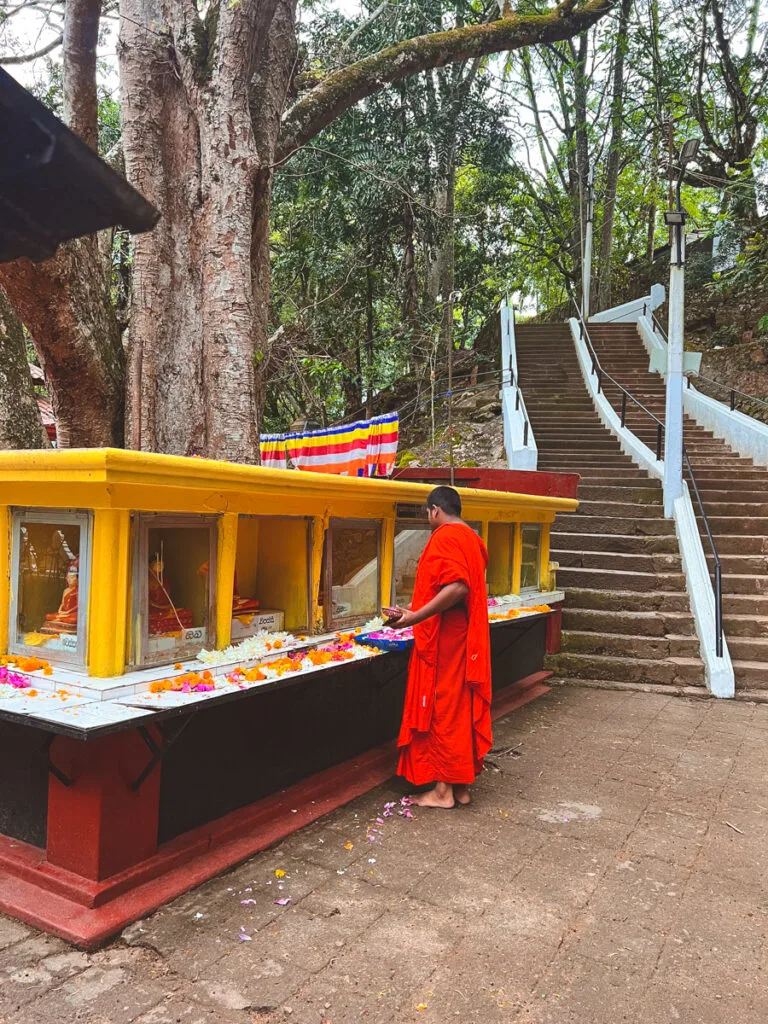 Remember to carry a reasonable amount of cash since it will be required, especially for tuk-tuk rides and local small businesses. Many of the larger businesses will accept card.
It is good to have a variety of notes, including 100 rps, and 1000 rps and try to keep anything bigger than that to a minimum. Split notes in advance.
It is always worth bringing a reusable water bottle. It is fairly easy to fill it up on the go.
A small compact first aid kit is always advisable for little cuts or grazes.
Bring a sturdy bag to carry essentials during day trips and hikes.
There are several places to pick up snacks in Ella, however, for those energy-style bars, it is worth bringing a few from home for those longer hikes.
Safety In Sri Lanka
There is no doubt there have been tough times for Sri Lankans in recent years with its economy in turmoil. 2018 was one of the best years for Sri Lanka, it was the peak of tourism.
I remember my Instagram feed being full of people on the famous train ride over the Nine Arch Bridge.
More recently, this has not been the case in Sri Lanka. Tourism took a huge hit following a trail of issues; subsequently, the economy was dismayed.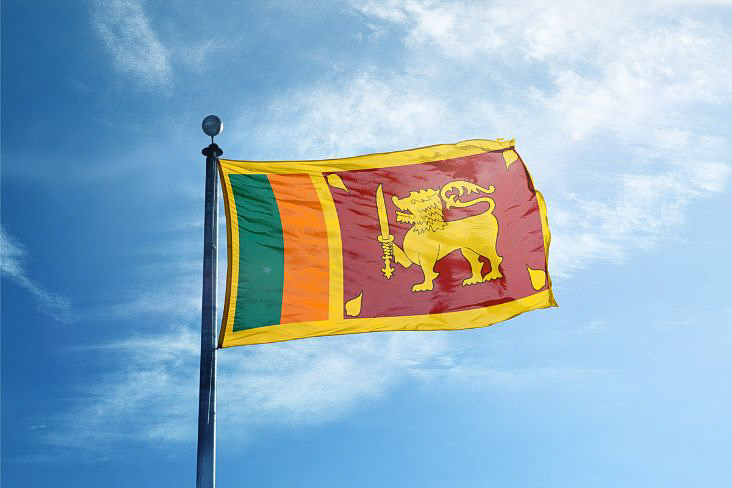 Having lived here for several months, I get asked regularly on my Instagram and Facebook accounts if I feel safe here. The honest answer is yes, we feel safe and have not witnessed anything to worry about in terms of political unrest.
We exercise the same caution as every other country. We don't leave belongings lying around, and we don't travel around late at night.
My biggest issue when it comes to safety in Sri Lanka is the roads. The bus drivers are crazy, to say the least. However, this is no different from many neighbouring countries.
Travel Health In Sri Lanka
Before visiting Sri Lanka, you must visit a travel health clinic or healthcare professional to advise on any potential vaccines or precautions.
Please be aware the below is not intended as medical advice. Make sure to check with the necessary professionals.
Sri Lanka is a tropical destination and with that comes some unwanted nasties that have the potential to ruin a trip.
I use the Fit For Travel website for up-to-date information. As it stands, there is no malaria in Sri Lanka. There is risk of dengue and Japanese encephalitis. Both of which come from mosquito bites.
A tetanus booster, typhoid vaccine, hep A, hep B and rabies vaccine may be required depending on the advice you receive from a professional.
We are meticulous every day with repellent and go through bottles of it every week.
It is best to be very well prepared when visiting Sri Lanka.
Make sure to research restaurants and ensure it is clean and reputable.
Only drink bottled water and plenty of it to keep well hydrated in Sri Lanka.
Ensure to have mosquito repellent on day and night and apply regularly. There are a lot of mosquitos in some regions of Sri Lanka, and those with dengue bite during the day.
Stay in clean, reputable hotels with a good ratings.
Interesting Facts About Ella
Ella holds great historical significance due to its geographical location between two kingdoms. Namely Ruhuna and Kandy.
Due to its location, the region witnessed several battles and conflicts in ancient times. The area is well known for its ancient rock carvings dating back thousands of years.
These carvings depict various symbols, figures, and inscriptions. Dhow Rock Temple is a good example.
Like the rest of Sri Lanka, Ella was under British colonial rule from the early 19th century until independence in 1948.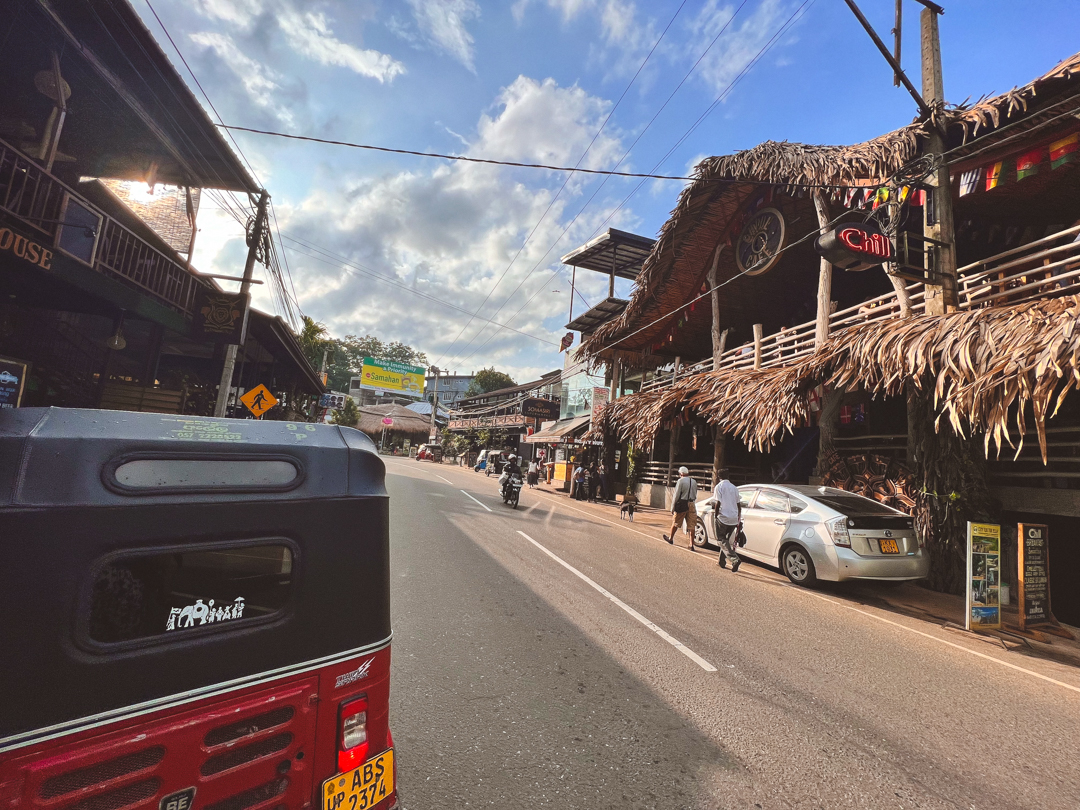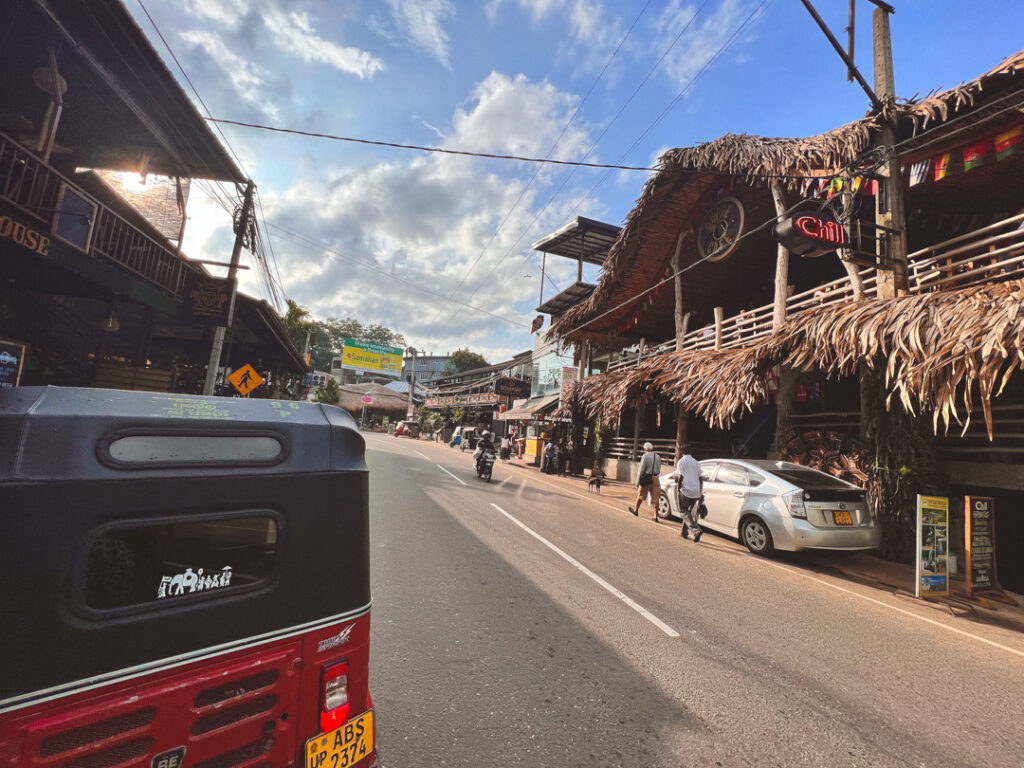 The British impacted the region's administration, infrastructure, and tea plantations.
They introduced tea cultivation and constructed a railway line through Ella. The tea plantation and the railway transformed the landscape, making it a significant industry in the region.
Ella played a significant role in the British colonial administration. The region was important for transportation and communication between the highlands and the coastal areas.
Not to mention, Ella was situated along ancient trade routes that connected the coastal areas with the inland regions.
These trade routes facilitated the exchange of goods, culture, and ideas between different parts of Sri Lanka.
Conflicts arose later on in Ella's history when local people advocated for self-governance during the British rule.
Needless to say the history of Ella is truly fascinating
Have you visited Ella? We would love to hear if you did any of the listed things to do in Ella. Leave a comment. We love to hear from you.
If you feel this post has been helpful and you'd like to buy me a virtual coffee, you can do so here – thank you!
Disclaimer: This post about things to do in Ella contains affiliate links. By using them, it will not cost you any extra. We will receive a small commission to keep us writing.