When we visited Bali with our baby in 2015, Ubud left such a warm feeling in our hearts and a large part of the reason for us wanting to return. Ubud with kids was so much fun, and despite it being our second time, we discovered new things every day with our nearly four and one year old.
Based in the heart of the Balinese jungle, the bustling town is surrounded by beautiful landscapes. From the infamous rice terraces, to waterfalls, at least a week is required to see everything comfortably with some relaxation in between.
Some people say that Ubud is incredibly touristy. Yes, there are many things that make it attractive to tourists. The endless array of very affordable, yet high quality restaurants. The ridiculously reasonable market with everything you can imagine. Balinese colourful home textiles, women, men and kids apparel, as well as the tastiest street food!
The central streets and attractions are busy with tourists. However we found it very easy to escape, by winding down the backstreets and staying a little outside town.
There are many apps that can be used to book a taxi online. However it's worth noting, Uber, Grab and JetGo have not been accepted by the local Balinese. This is a particular issue in Ubud, where I've heard local taxi men will try to stop any Uber or Grab drivers from collecting customers. In my opinion the ideal situation is to rent a car to get around comfortably and easily at ones leisure. Being Irish, I find the heat in Bali intense!
Ubud was a welcome escape from the sea level temperatures. As Ubud is elevated, it was definitely cooler and nicer for the kids. Walking around and exploring was a lot more tolerable. If you read our content regularly, you will know we love writing guides especially for the family. In our usual play, sleep and eat format, here is a guide to Ubud with kids!
Read more about our adventures in Bali with Kids!
UBUD WITH KIDS – Top things to do for family travel in Ubud, Bali
Things to do in Ubud with Kids
Elephant Cave
Just a short hop skip and a jump from Monkey Forest, is Goa Gajah also known as Elephant Cave. The archeological site with impressive carvings has a central cave. Visitors can walk through the mouth of the carving disappearing into the dark cave.
It's a hot spot for photos but it's also a cool place for kids to explore. Besides from the carvings, there is a nice walk around the bathing pools, a central pond with giant Lilly pads, and lots of tree vines hanging from above.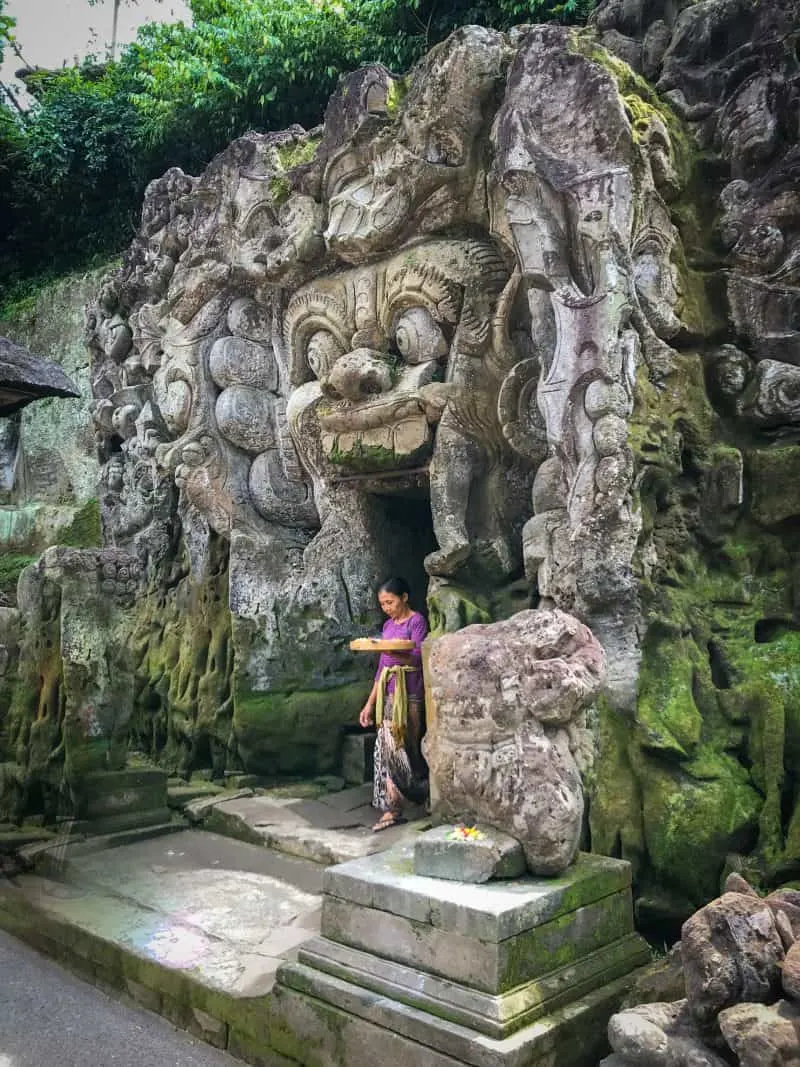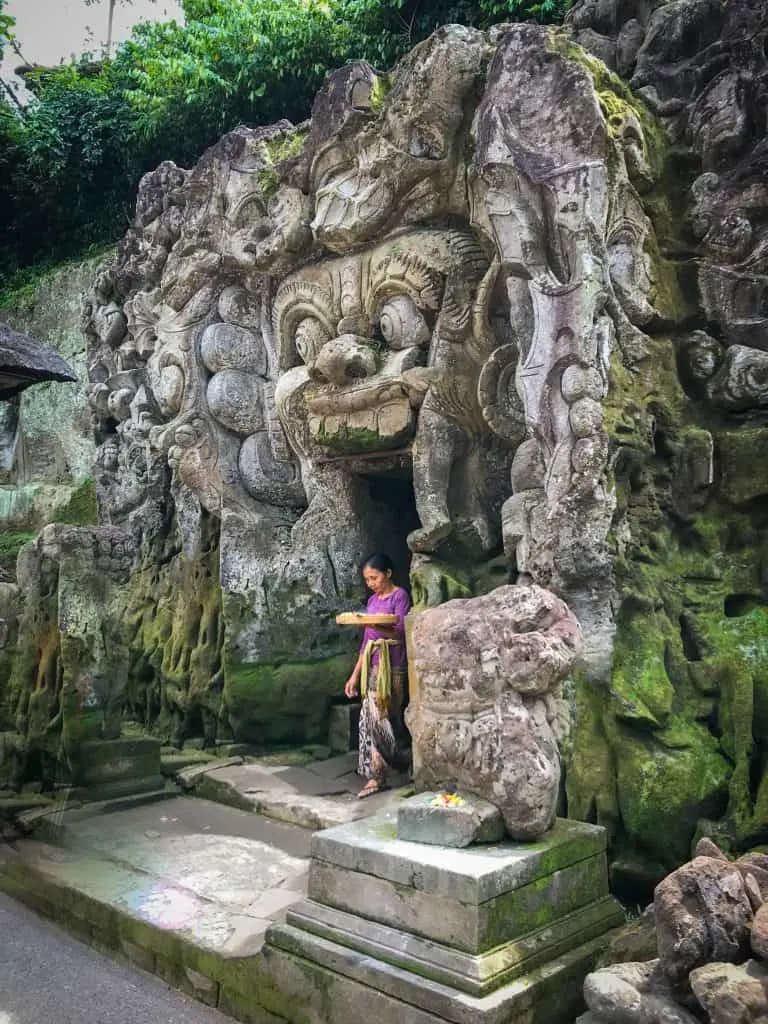 It was an incredibly pretty place best visited in the morning before it gets too busy. There are lots of stalls inside selling fresh cold coconuts, they were so refreshing and delicious. Its also worth nothing there are a lot of steps in or around the site, so a baby carrier is advisable if you have little ones that get tired legs.
Tegunungan Waterfall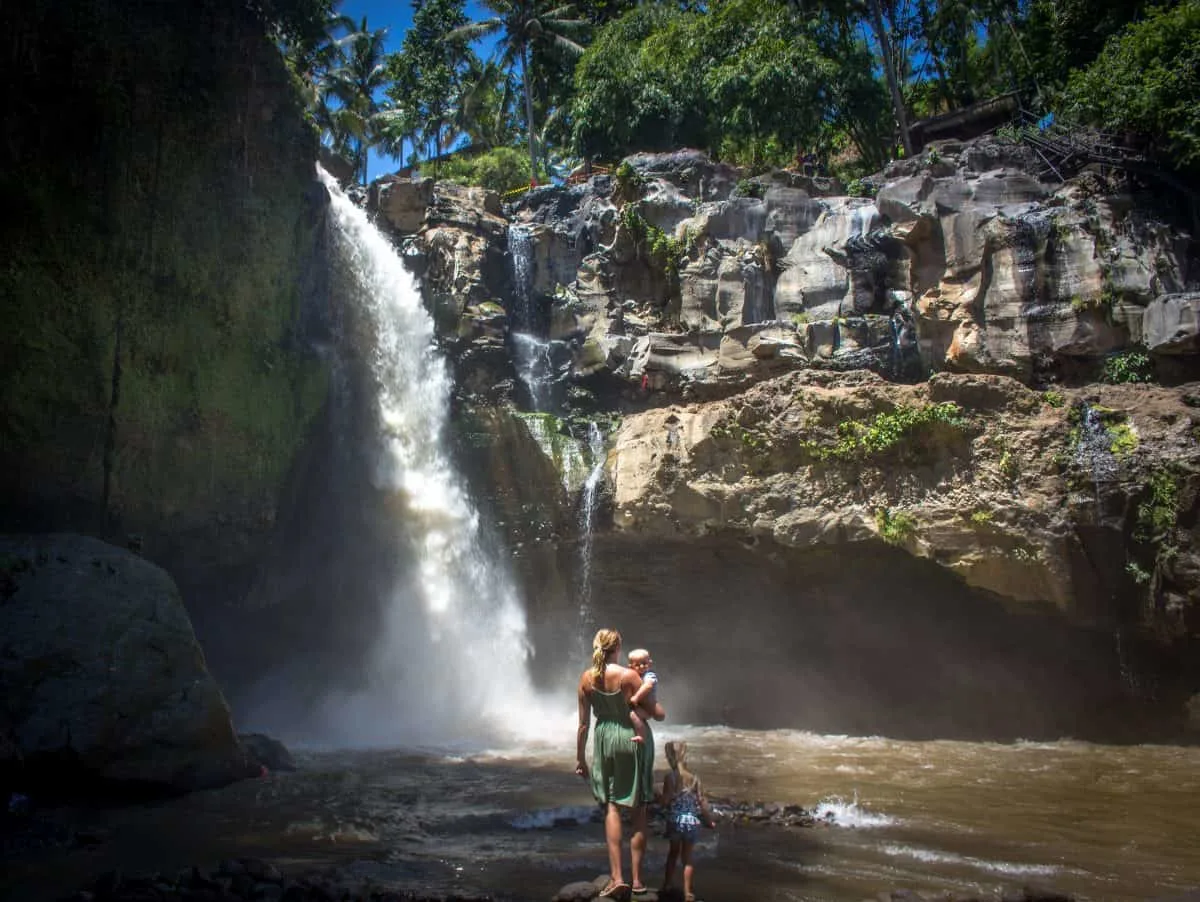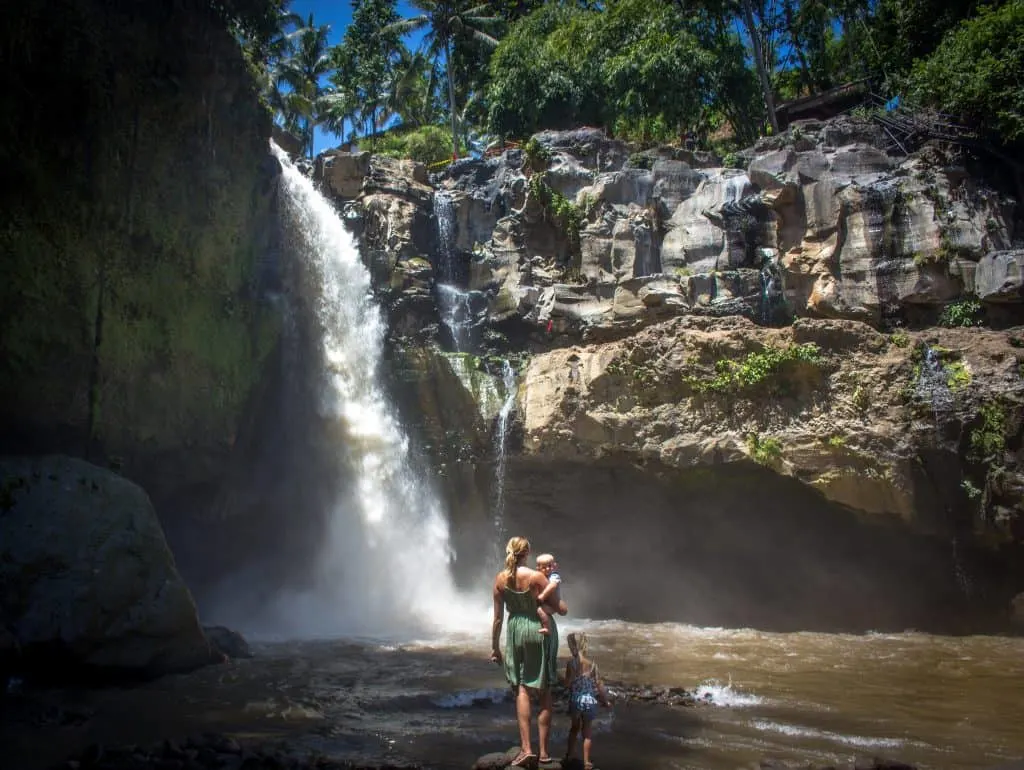 Tegunungan Waterfall has become an incredibly popular back drop for many. Rightfully so. It's such a beautiful one where visitors can stand right in front of it. It has a ferocious and thundering flow over the edge of a sheer rock face.
We visited on a Monday and were surprised to find it was less crowded than many other popular Ubud attractions. It's another area that will requires little ones to be in a carrier if they get tired.
There are many steps to get down to the waterfall. Rock shoes would be ideal as there are some uneven slippy areas. Our four year old managed most of it independently and only needed a little help on the way back up.
The water is quite crazy at the larger waterfall but there is a little area on the way down with a smaller waterfall. We nipped in to cool down before heading home. There are plenty of restaurants at the entrance and some seriously good homemade ice-creams that our kids loved.
If infinity pools are more up your street, Udud has some amazing infinity pools you can get day passes to.
Tirta Empul
I have been wanting to visit Tirta Empul for as long as I can remember. I wasn't sure if it was right to bring our kids, given it's a place of worship and prayer. However when we arrived there were so many young Indonesian kids having fun and enjoying it. I explained how it worked to our four year old.
Obviously it's not a swimming pool where she would be diving in and swimming underneath! This sounds awful but I worried the water might be dirty because of the amount of people that get into the holy spring. It was anything but dirty! The water was so refreshing, clean and certainly on the colder side. Maybe thats because it comes from a nearby mountain?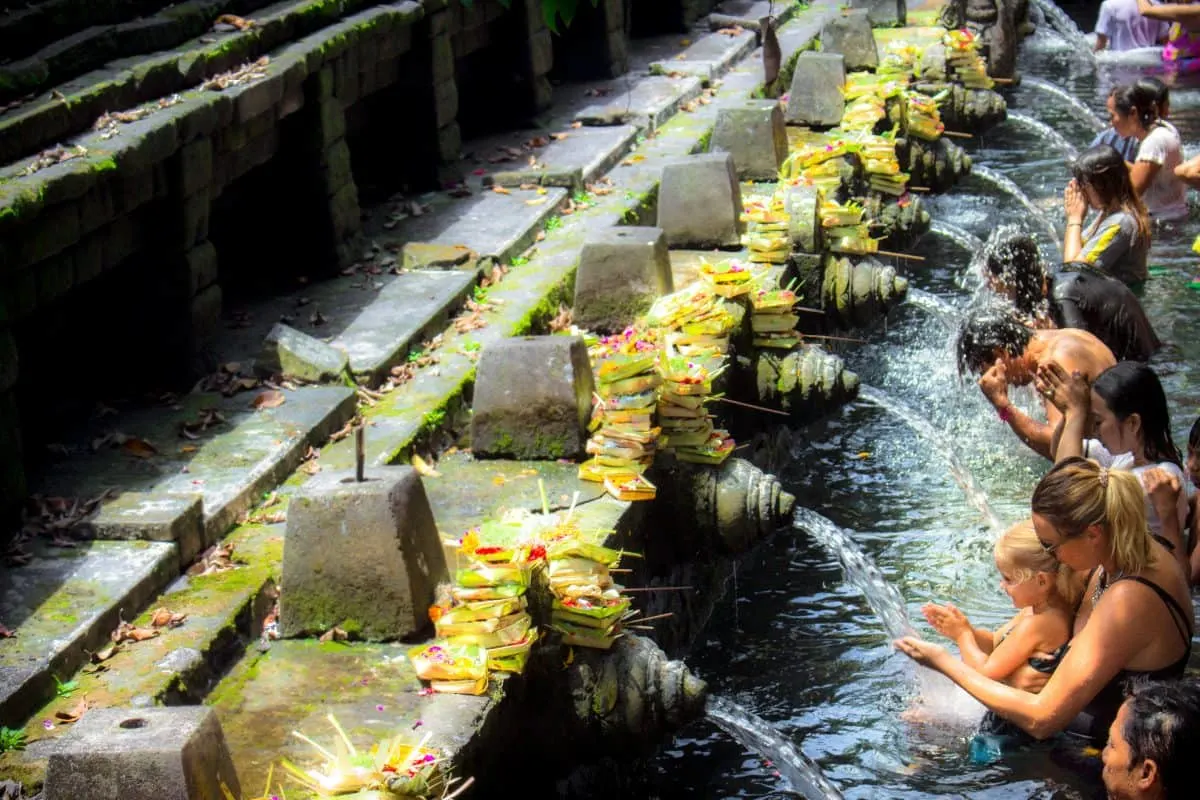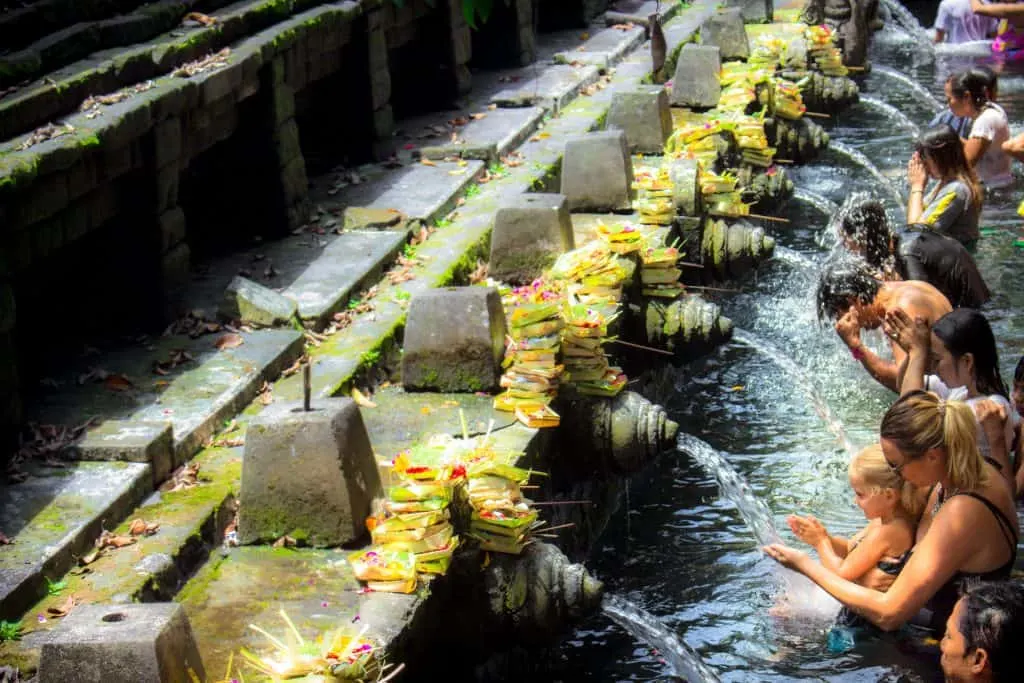 There is a certain etiquette and expectation when visiting. Of course you will need your kids on board with it. Our four year old loved the novelty of wearing the supplied sarong.
Women and men are expected to cover the legs. Likewise they shouldn't change near the holy spring so it's best to turn up prepared with swimming togs under a dress or t-shirt. Bringing some light weight towels to change back at the car or put down on the seat of a taxi is also a good idea.
I must admit I found the experience incredibly spiritual, something we won't forget. Each water spout has a different meaning. Queuing at the one furthest to the left is where to start.
I watched how the locals do it and it seems they say a prayer and wet their head. They work through each of the water supplies, leaving out the last two, as they are for the dead. If you ask anyone I'm sure they would be happy to help.
Rice Terraces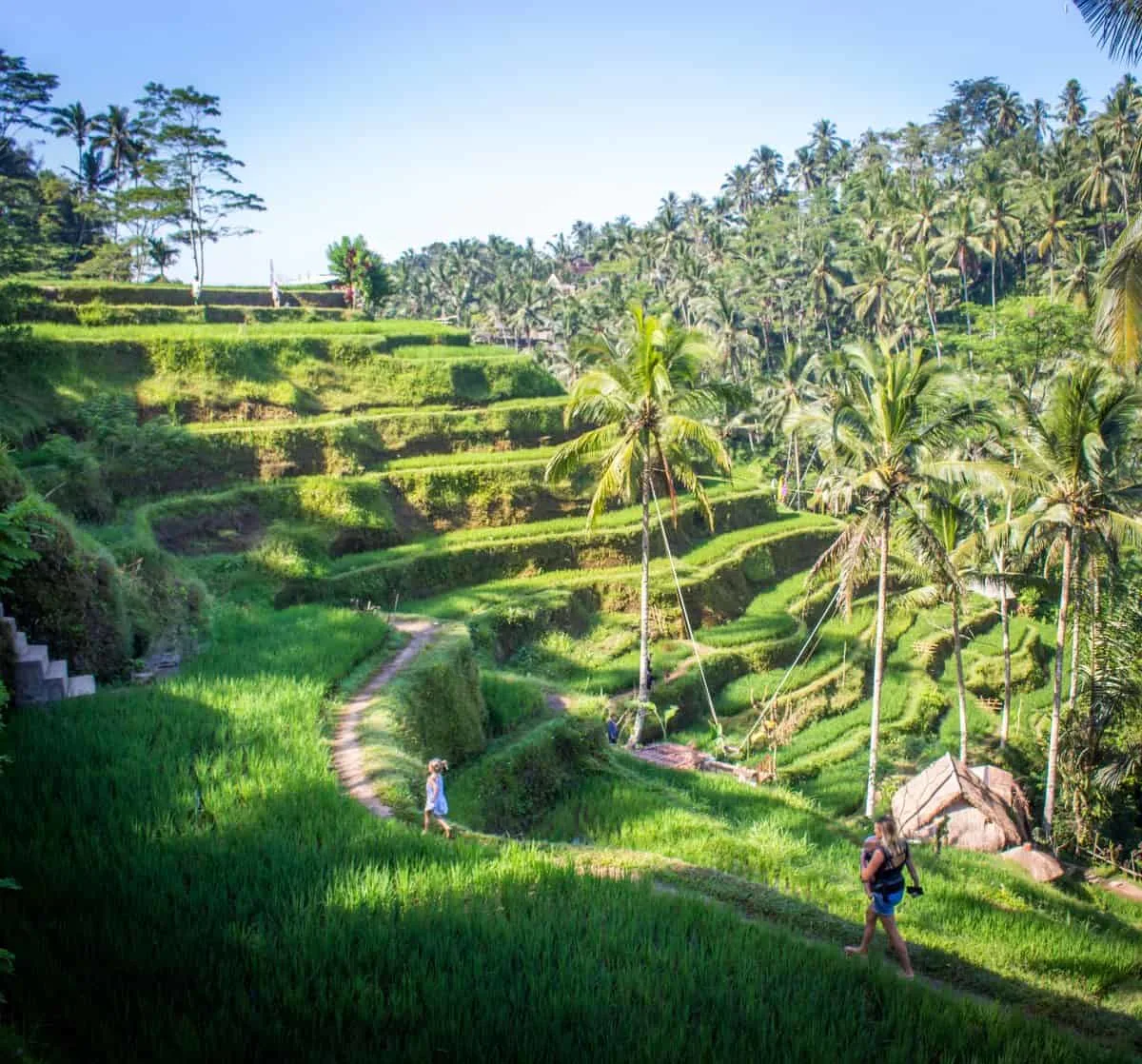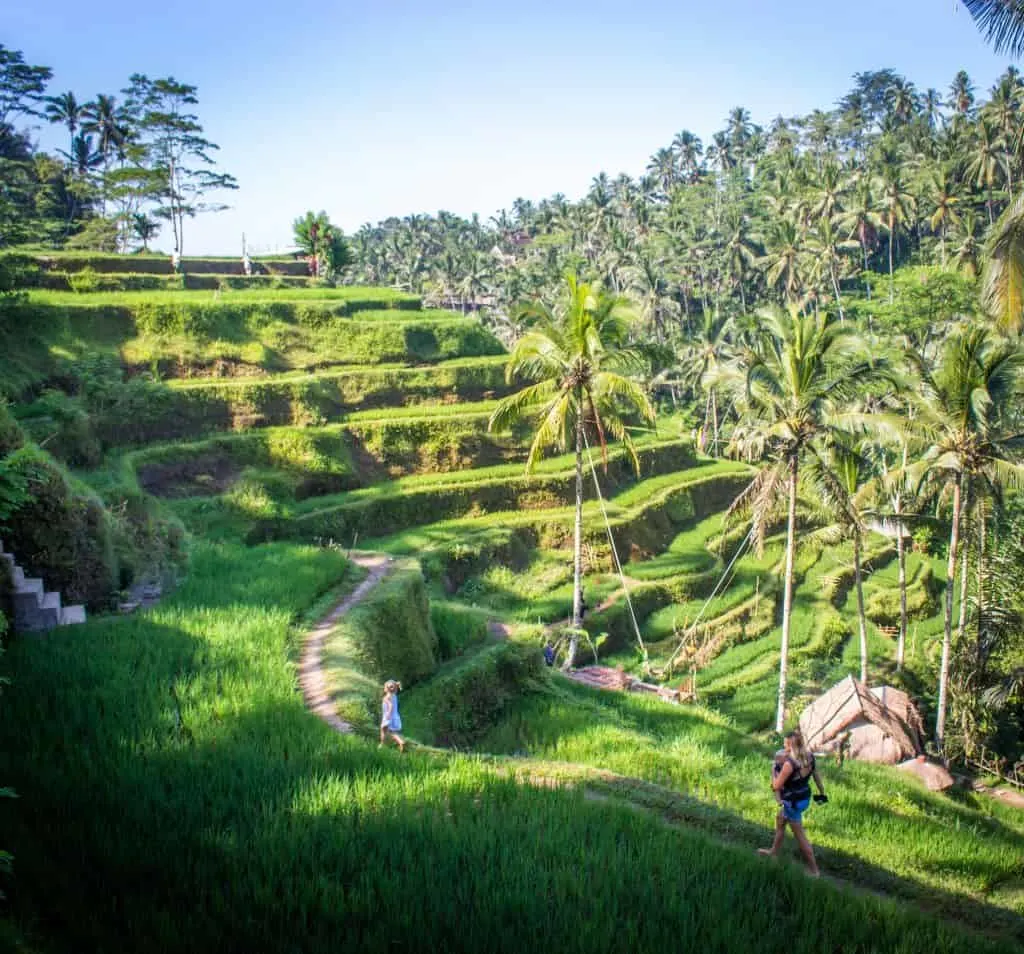 The Tegallalang Rice Terraces have to be one of the most iconic landmarks in all of Indonesia. Stacked along the side of the hill are the perfectly formed steps with rice growing. Being one of the most popular places, it's another one best visited in the morning.
The walk around is beautiful and again a carrier is required for little ones. I lost my shoe and half my leg due to the narrow pathways into one of the terraces. Word of warning you might be shocked at the number of young women in fabulous dresses with a photographer entourage. It's a hot spot for Instagrammers.
UBUD WITH KIDS
The Palace
Every evening at the Palace in the centre of Ubud, there is a traditional Balinese performance. Women and men are dressed in colourful cultural dress and their faces are painted. From dancing with fire, to group orchestrated performances, it's a really nice way to end the day, especially for the kids. They become really engrossed in it!
Monkey Forest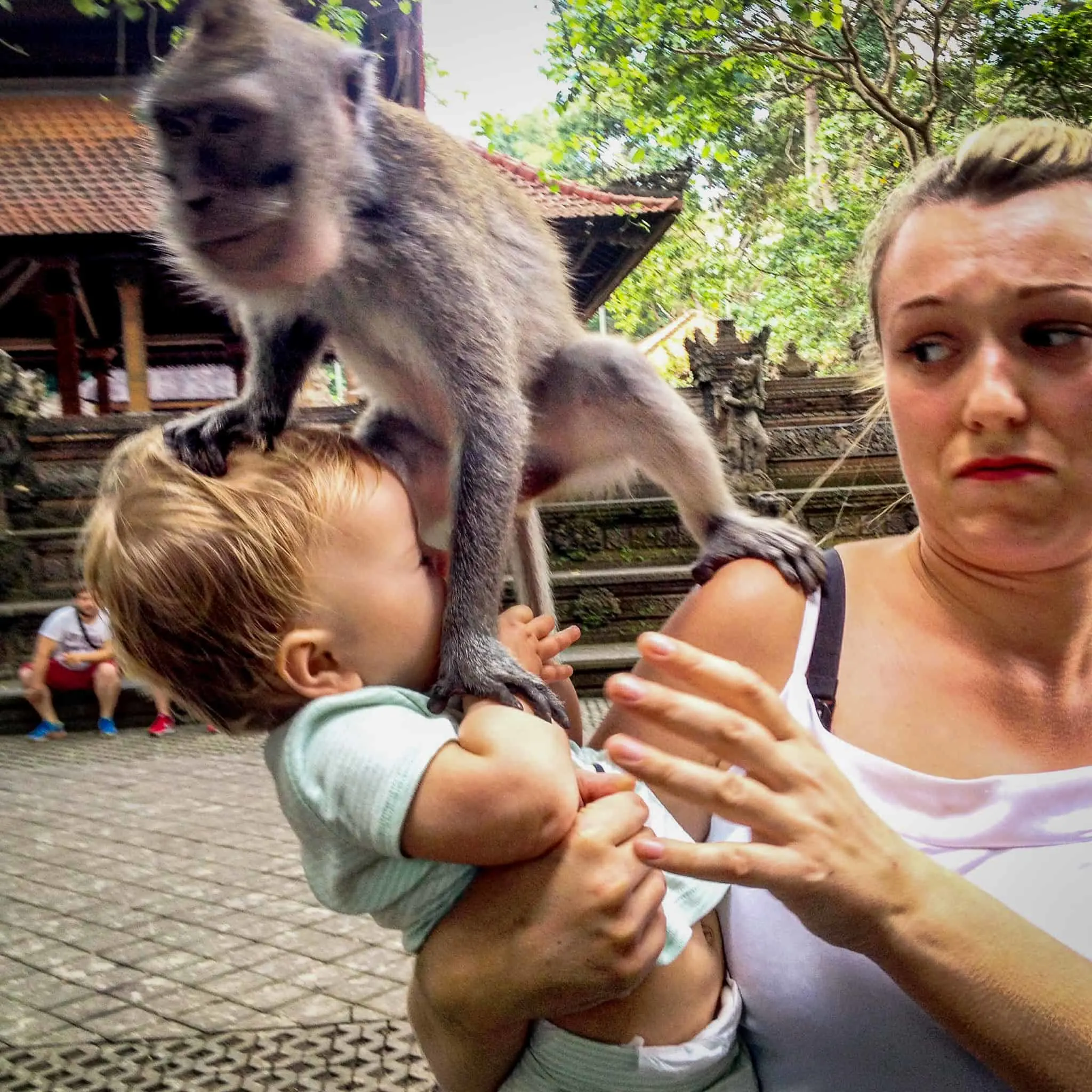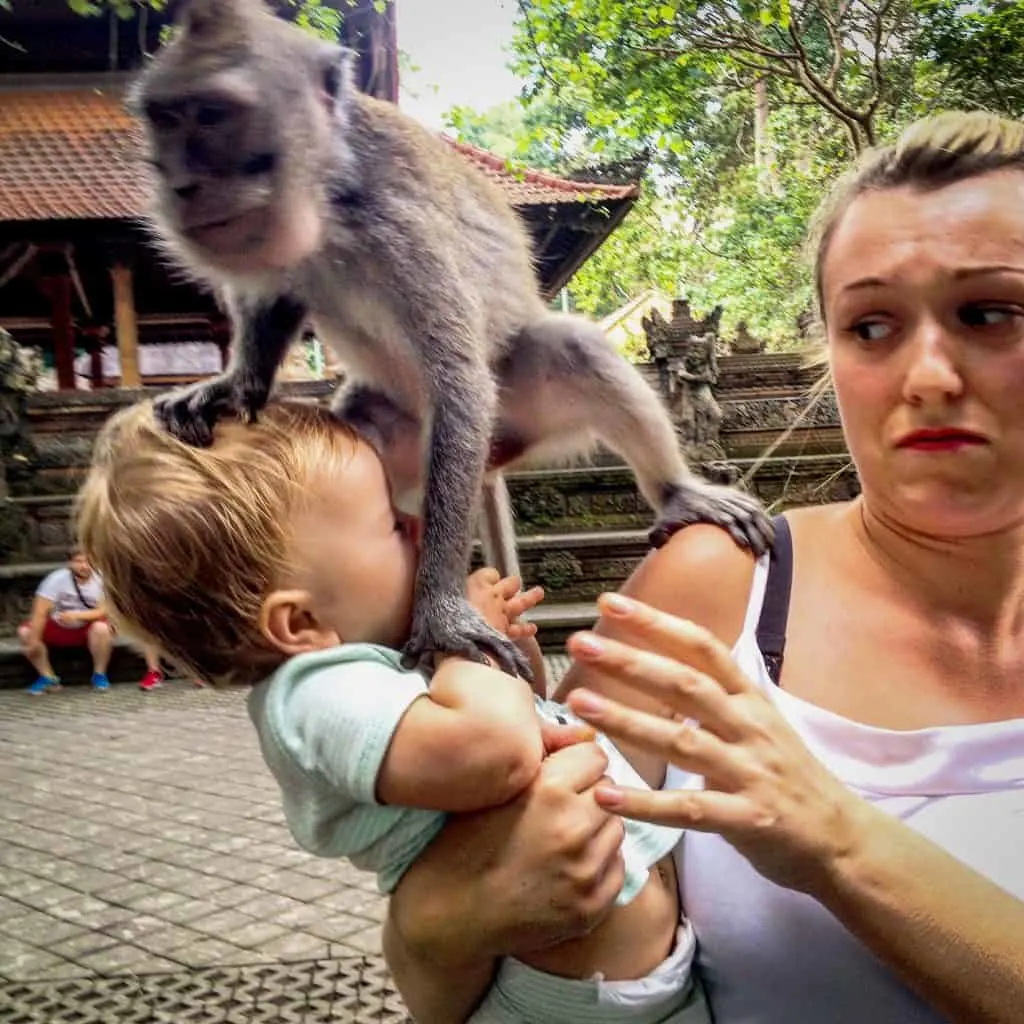 It's worth mentioning Monkey Forest as it's very central in Ubud and a popular place to visit. That said, we did not visit a second time. On our first visit, a monkey unpredictably jumped on our then 9 month olds face. No joke his boy bits were in her face.
We weren't holding any food so it was a bit of a surprise. It's a nice walk around inside but they have been known to bite or grab things. I have had a couple of bad experiences with monkeys so I do not recommend it in a Bali itinerary with little kids..
Where to Stay in Ubud with Kids
We stayed a little outside of town at the fabulous Purist Villas. They are high end private properties with a beautiful pool. The interior design is out of this world. There are some really beautiful tribal antiques from all around Indonesia.
As a mum I am always happy to be staying at a beautiful property that is relatively indestructible. Luckily that is the case at Purist Villas. Our villa had a large lounge with two comfy sofas and a smart TV.
It was perfect for witching hour when we just needed to settle the kids. The bed was absolutely huge so ideal for when the little ones climbed into mum and dads bed in the middle of night.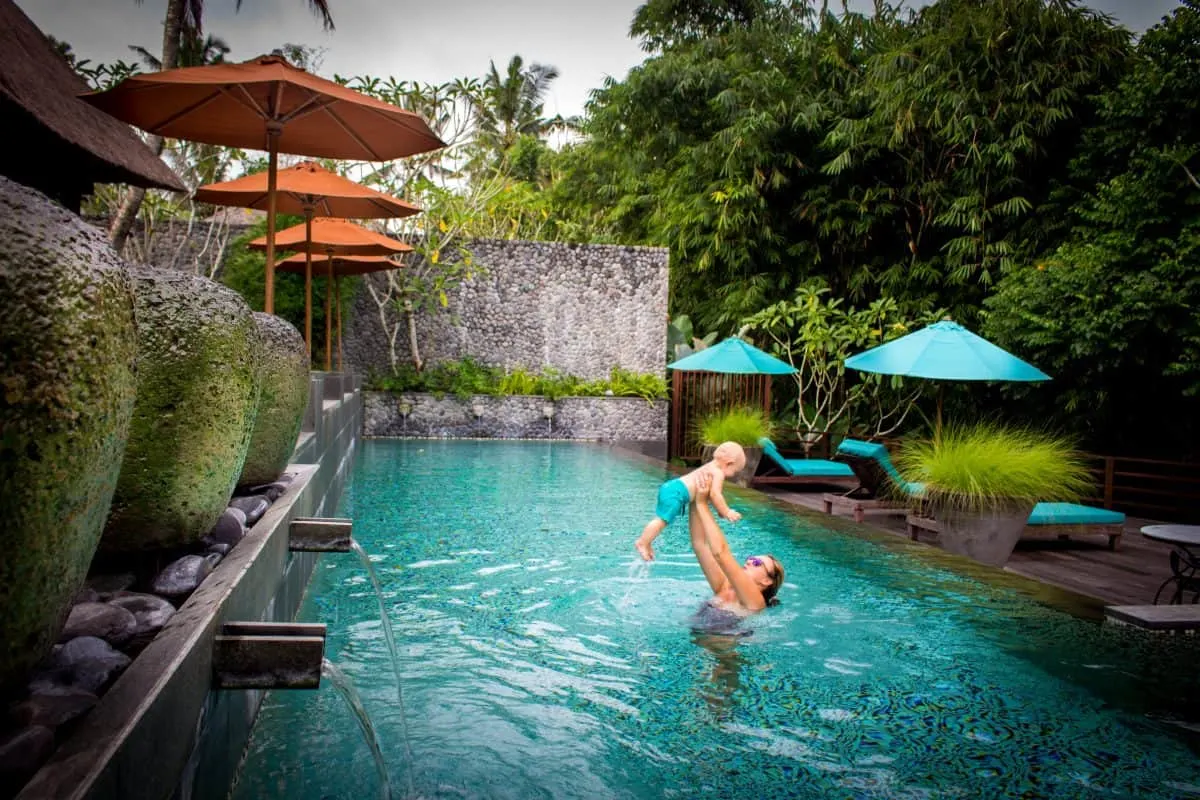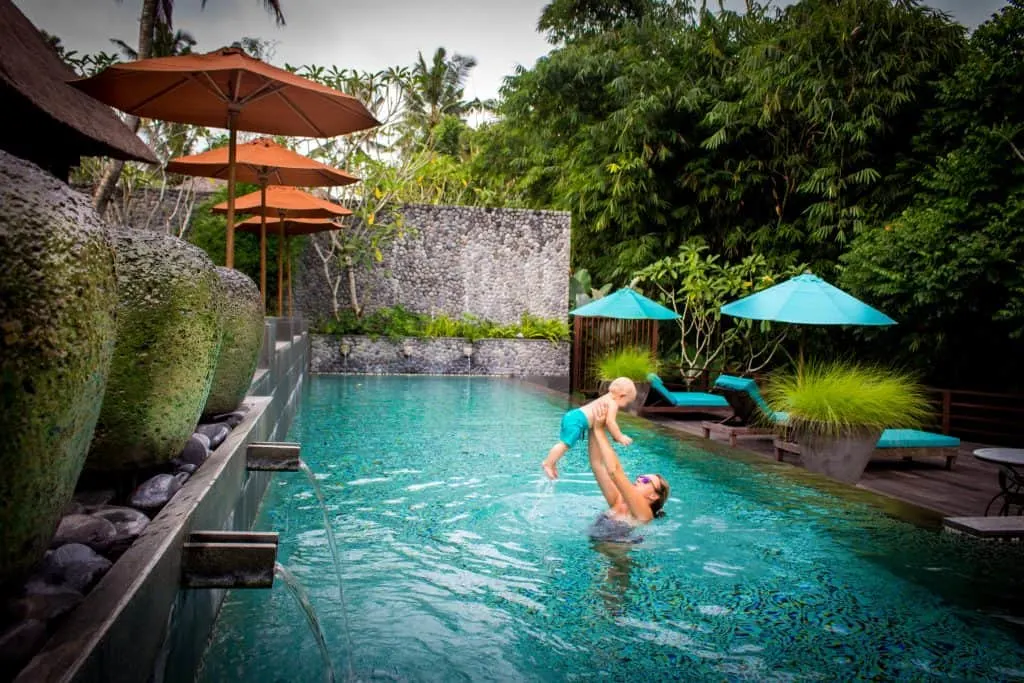 There was also a portacot for baby complete with mosquito net. The bathrooms were insane with a large deep bath, two walk in showers and lots of really nice products.
We spent hours and hours in our long private swimming pool. It's always so nice to have it at the doorstep with little ones, rather than having them under your arm bundled in towels.
Like some of the other villas we've stayed at in Bali, Purist Villa provide afternoon tea. A little sweet treat and a hot cup of coffee was part of our afternoon routine. We usually sat at the restaurant and went for a dip in the much bigger main pool afterwards.
The grounds around the villas are so pretty. With lush jungles as the backdrop, the gardens are manicured to perfection. My personal favourite was the giant outdoor wooden lampshades.
The Purist Villas rates and availability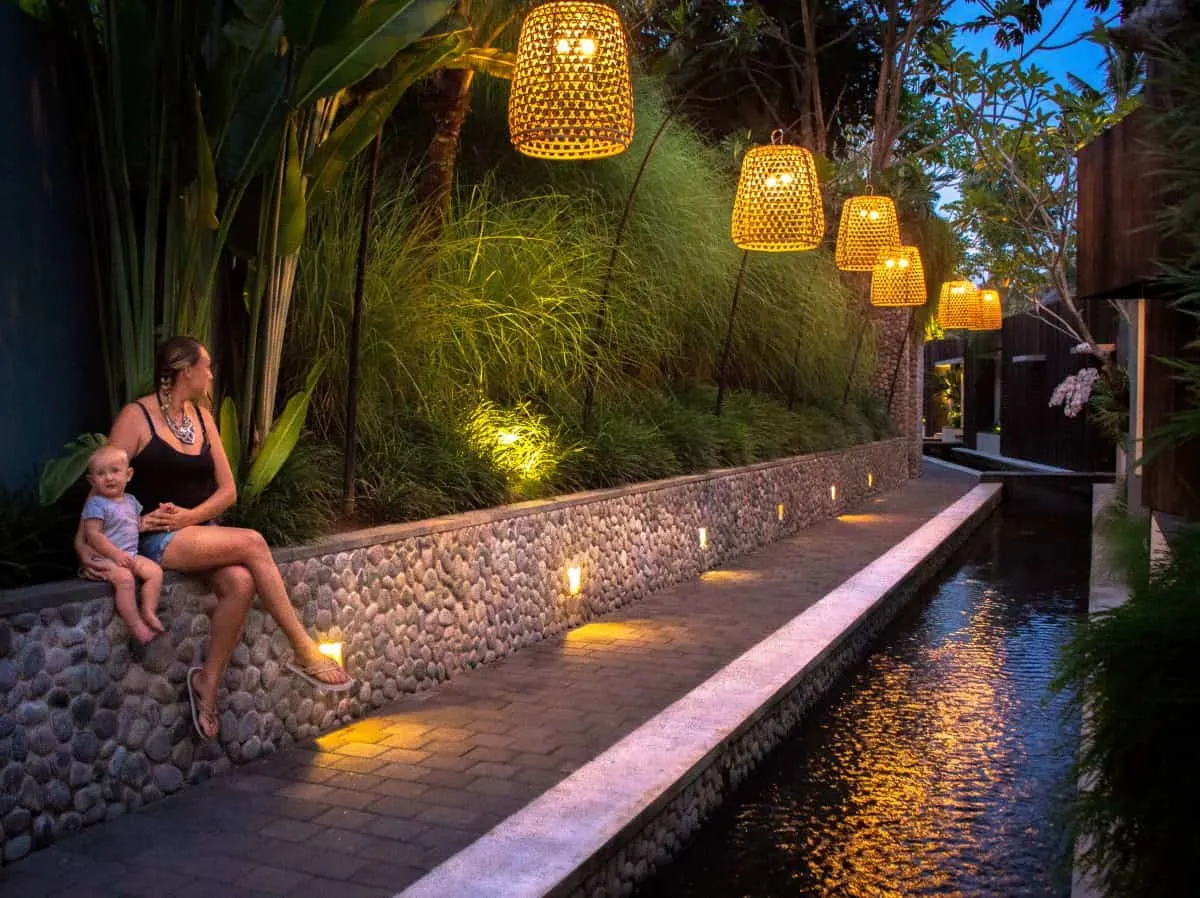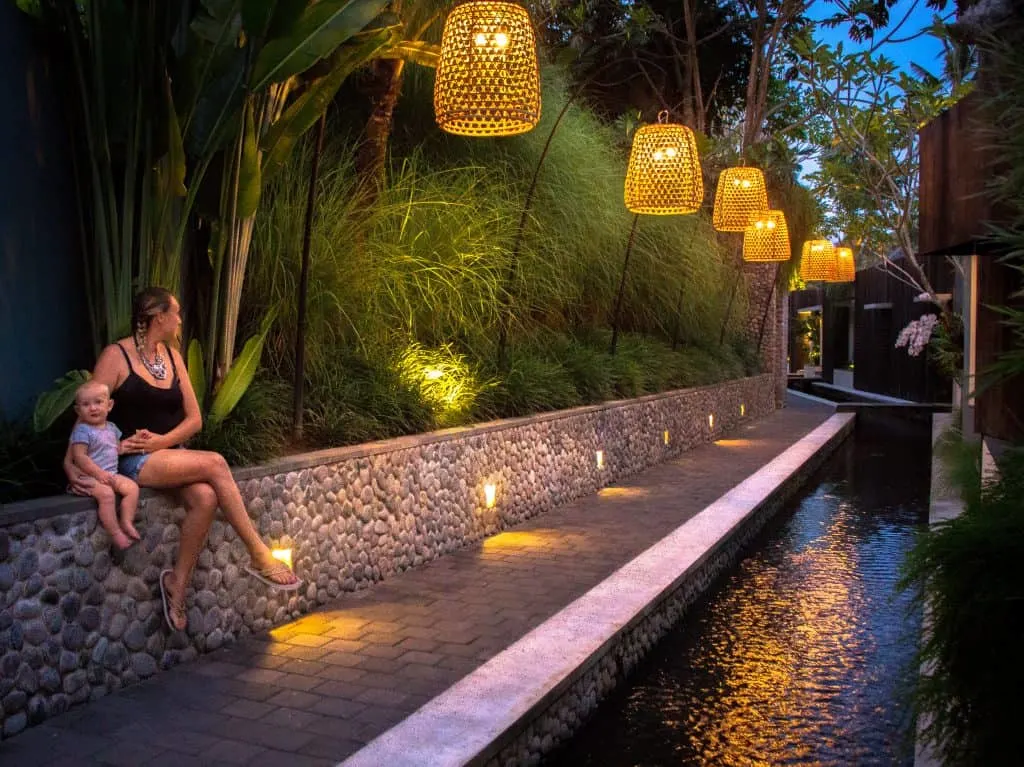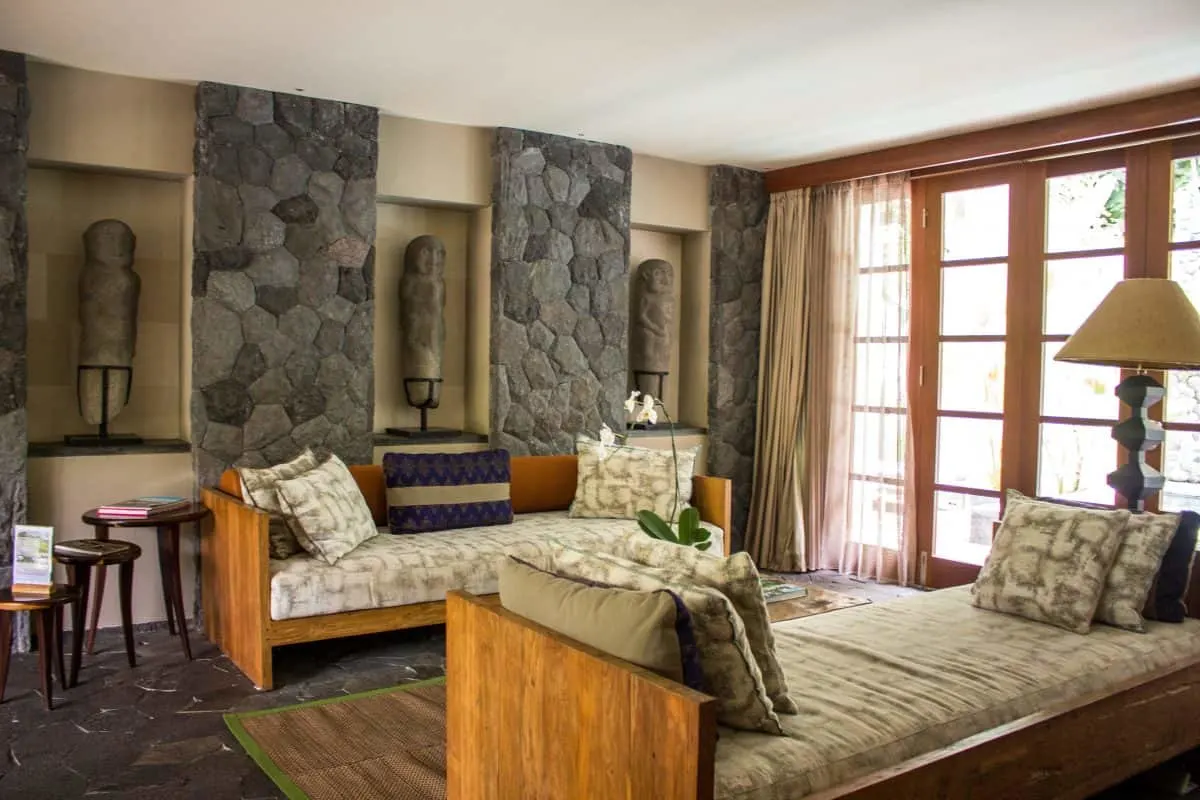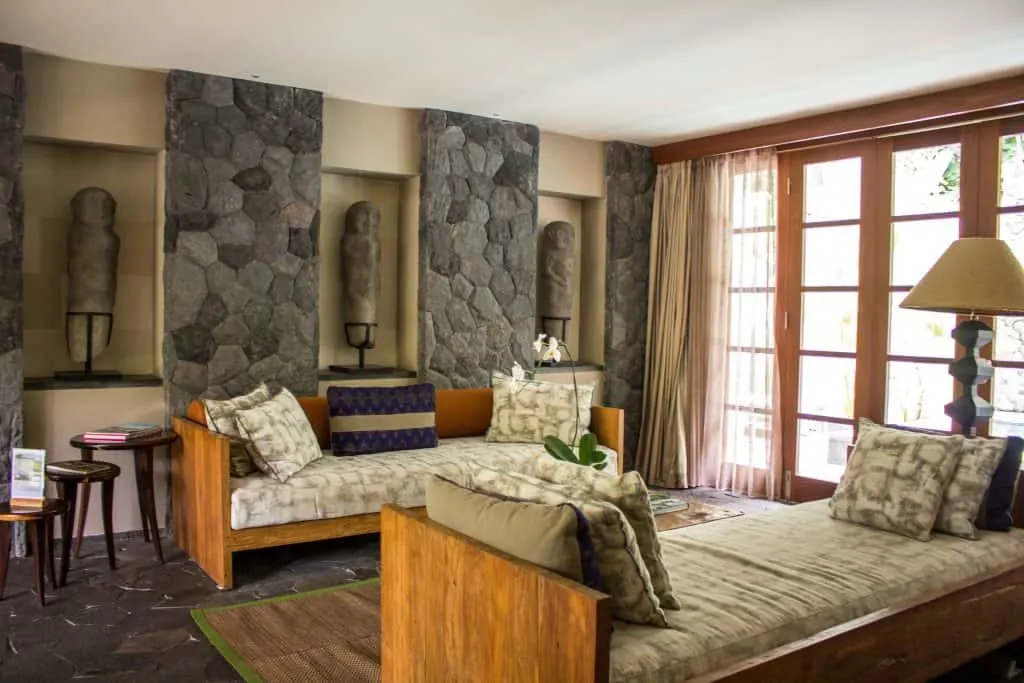 UBUD WITH KIDS
Where to Eat in Ubud with Kids
Our favourite place to eat with the kids in Ubud is Maha Restaurant. We visited many times when Esmé was a baby and again on our second visit. It has the ideal setup with lowered tables on a sheltered deck, everyone can sit on the floor to eat.
The food is really great and has lots of western and Indonesian options. The vegan burgers and veggie pad thai is the best in my opinion. Inside the garden courtyard is great for little kids to run around. There are even a few resident bunnies hopping around that are loved by customers.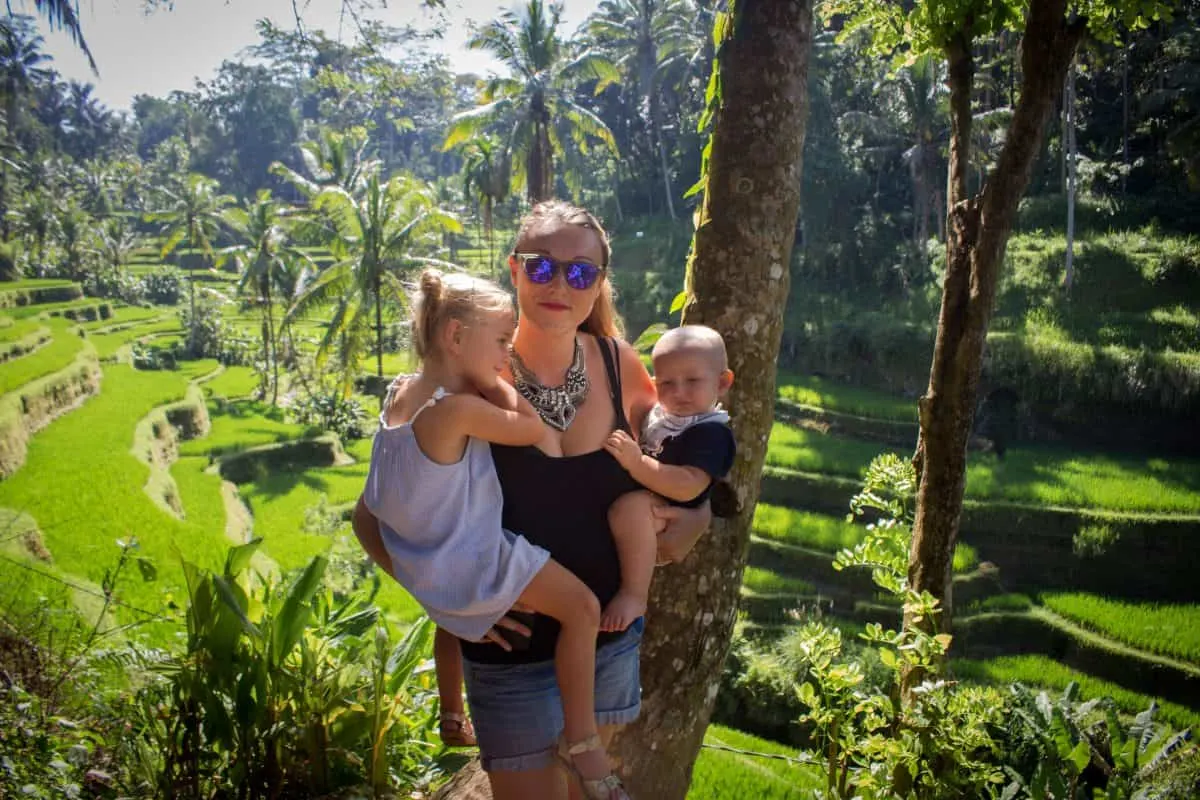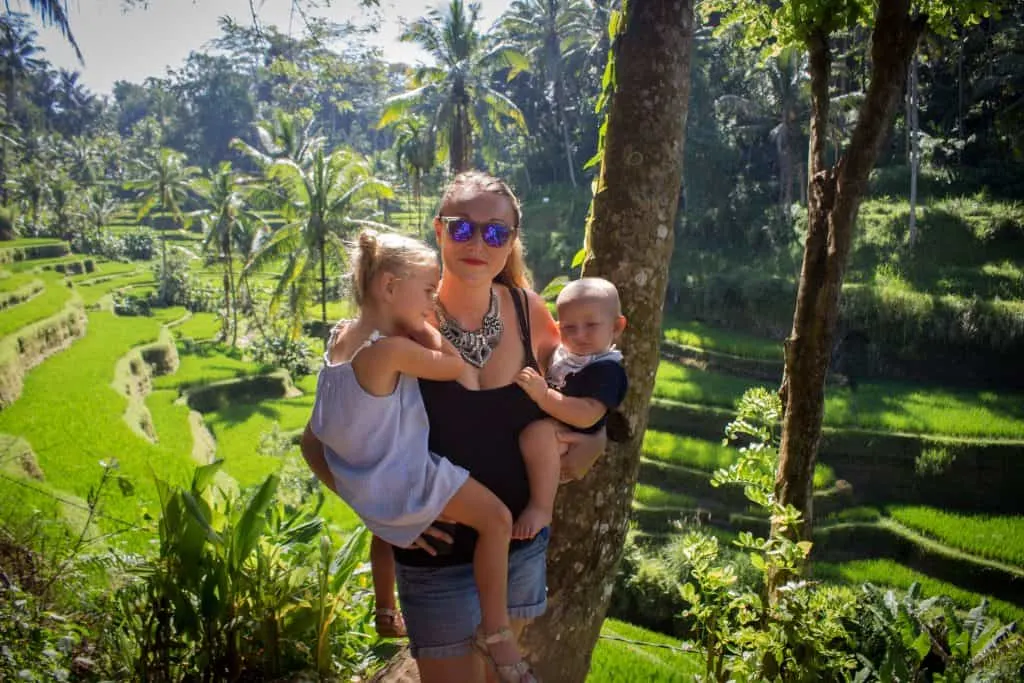 UBUD WITH KIDS
How you can help
Have you found Ubud with Kids helpful? Leave a comment, we would love to hear from you. If we've helped you in some way, we would love if you could help us too. In this digital age there is a demand for immediate information online.
Being a patron is a new-age way of giving a small token of appreciation for this information, which takes time to put together, with no financial return. We offer exclusive access to blog posts before they are published as a thank you. We also offer travel advice and consultancy at different payment tiers. You can sign up to our Patron program here.
You may also like:
THE ULTIMATE GUIDE TO BALI WITH KIDS
Luxury private villas in Sanur
Disclaimer: This post Ubud with kids has affiliate links. Some of our stay was complimentary in return for an honest review. As always all views expressed are entirely my own.