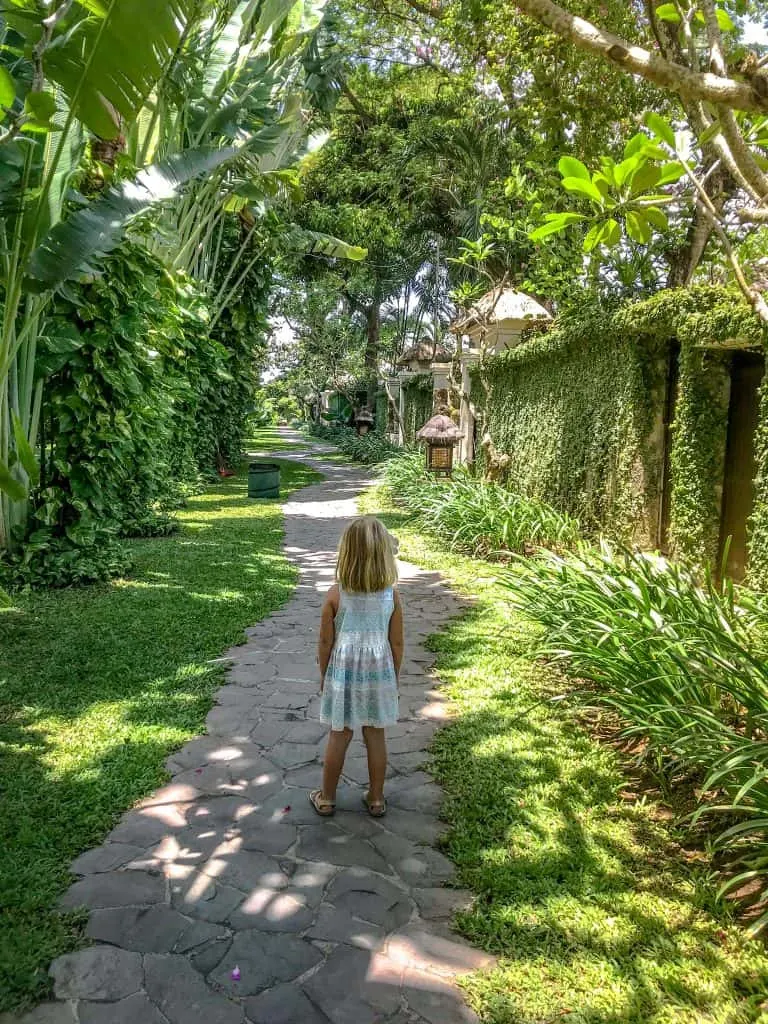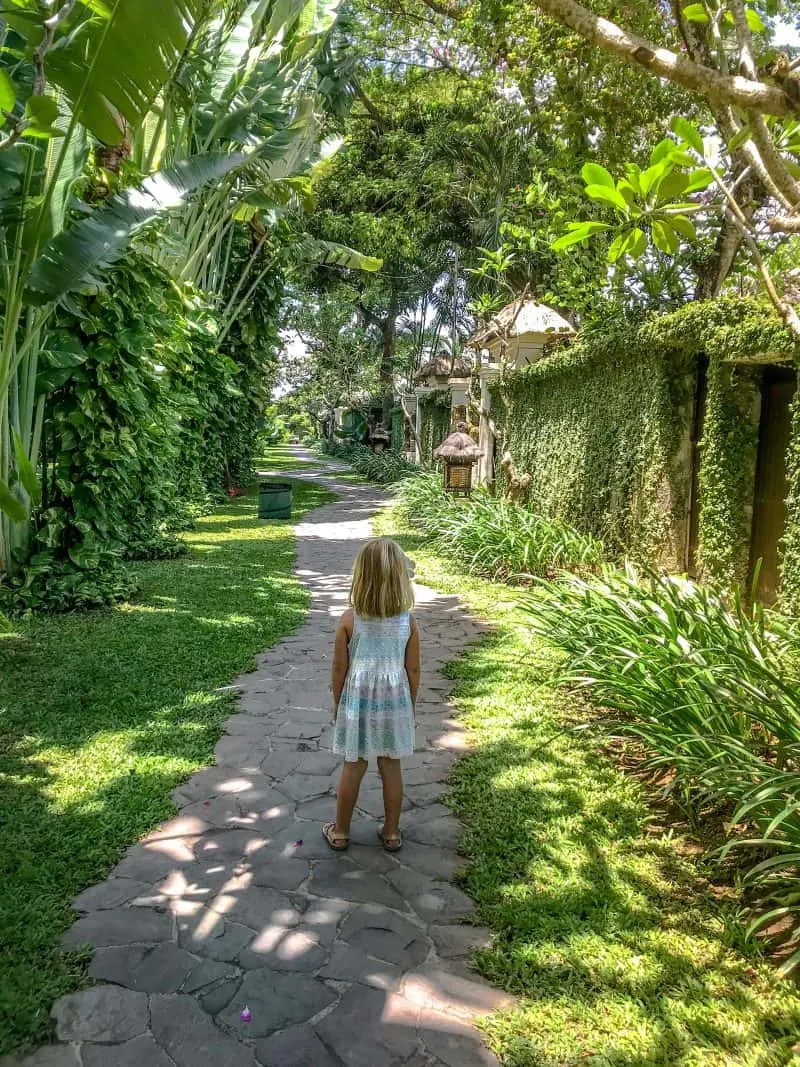 After three years, we have returned to Bali with kids! This time we are exploring the culture rich, interesting island a lot more extensively. We fell in love with the Balinese people, the landscapes and utter welcomeness last time. On our recent visit to the East coast, we stayed in one of the luxury private villas in Sanur.
Tucked away behind a tiny door, is a vast area of 11 high end villas in the Kayumanis Resort and Spa. It's the ultimate hideaway destination with ample private space and personalised butler services. Sanur is one of Bali's more hidden secrets. Places like Ubud, Cangu and Seminyak are much more touristy. Sanur is the perfect place to experience culture without the crowds.
I love that we could experience so much of the culture inside the Kayumanis Resort. All of the staff are locals, wear traditional attire and practice their usual customs and traditions. Every morning we saw the staff placing offerings around with burning incense.
Likewise they address guests with a formal Indonesian name, which is quite respectful in their culture. They always put their hand to prayer and bowed their heads when greeting us which we found so endearing.
Kayumanis is the perfect escape from distractions. When I say distractions, I mean really focusing on quality time together as a family or couple. The privacy is second to none, with large outdoor spaces, we were together, having fun, from early in the morning, until late in the evening.
We didn't want to leave because of the comfort and service on our doorstep whenever we needed it. Hubby and I often lounged in the big comfortable outdoor sofas watching the outdoor TV! Straight after eating we'd all jump back into the pool to cool down.
LUXURY PRIVATE VILLAS IN SANUR, BALI
PLAY
One might ask what to do in a private villa all day? Our kids were completely entertained for the entire two days that we locked ourselves away. I can't tell you how much time they spent in the amazing private pool. They absolutely loved it and so did we. It's so much easier when its right on the doorstep rather than walking through a resort. There was a shallow area for our baby and toddler.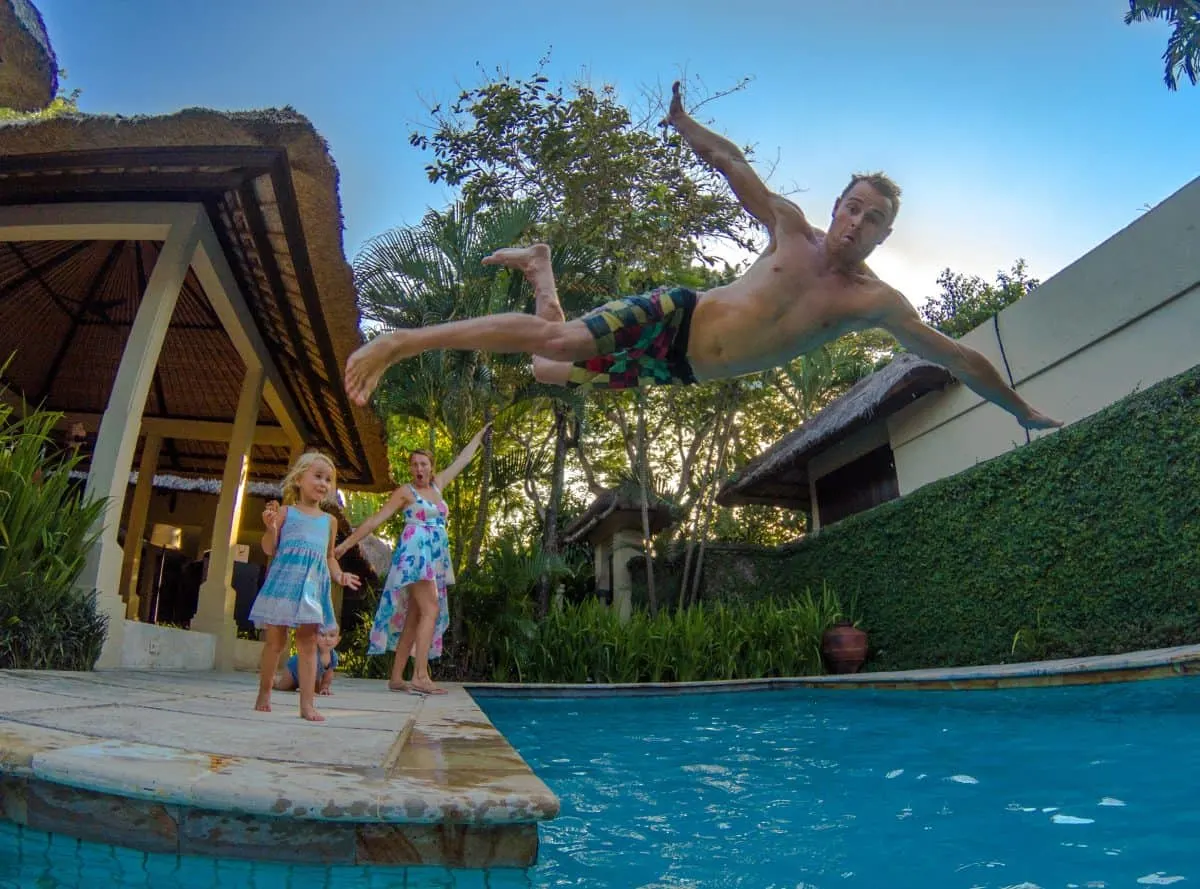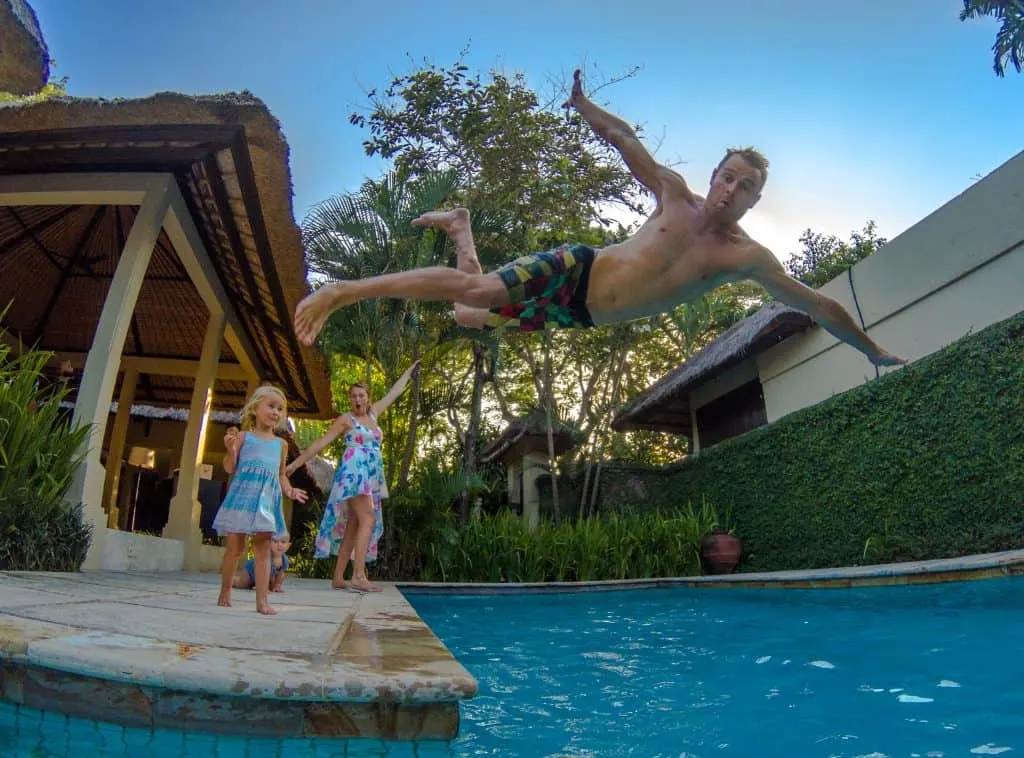 Inside the Kayumanis Resort, there is also a spa. It's so dreamy with its very own swimming pool in the centre, Balinese design and music, making it such a tranquil and relaxing environment. Both hubby and I took turns going for a massage. We both opted for the thirty minute foot massage and it was literally heaven.
Kayumanis offer day tours to nearby attractions. They have a really nice air-conditioned shuttle that takes guests around to places like, the rice fields in Ubud and some pretty waterfalls. As we've spent so much time in Bali already, we didn't go on any of the tours.
We just tried to make the most of the villa. If you don't want to venture too far and would like to lap up some of the beautiful Sanur sea breeze, Kayumanis have their very own beach club. The area on Sanur beach is a nice part with deck chairs, umbrellas and towels. They happily take guests to and from the exclusive area.
LUXURY PRIVATE VILLAS IN SANUR, BALI
SLEEP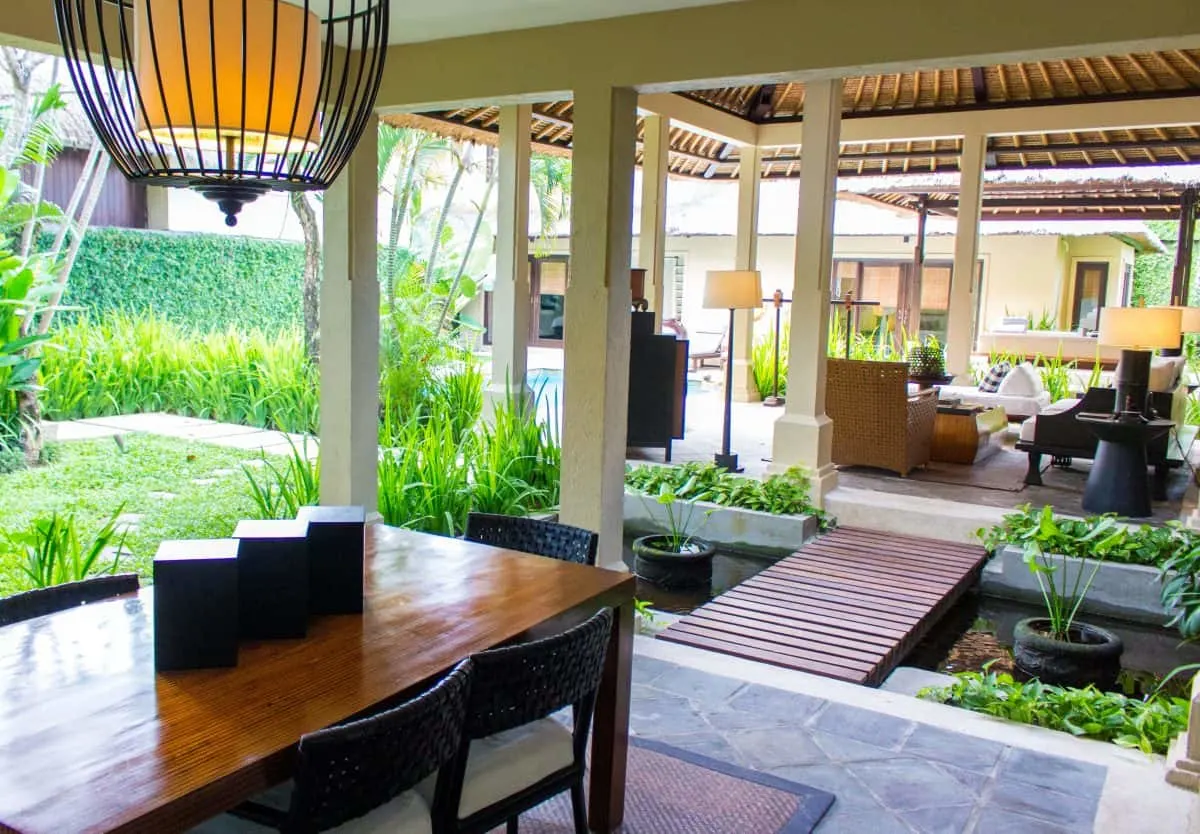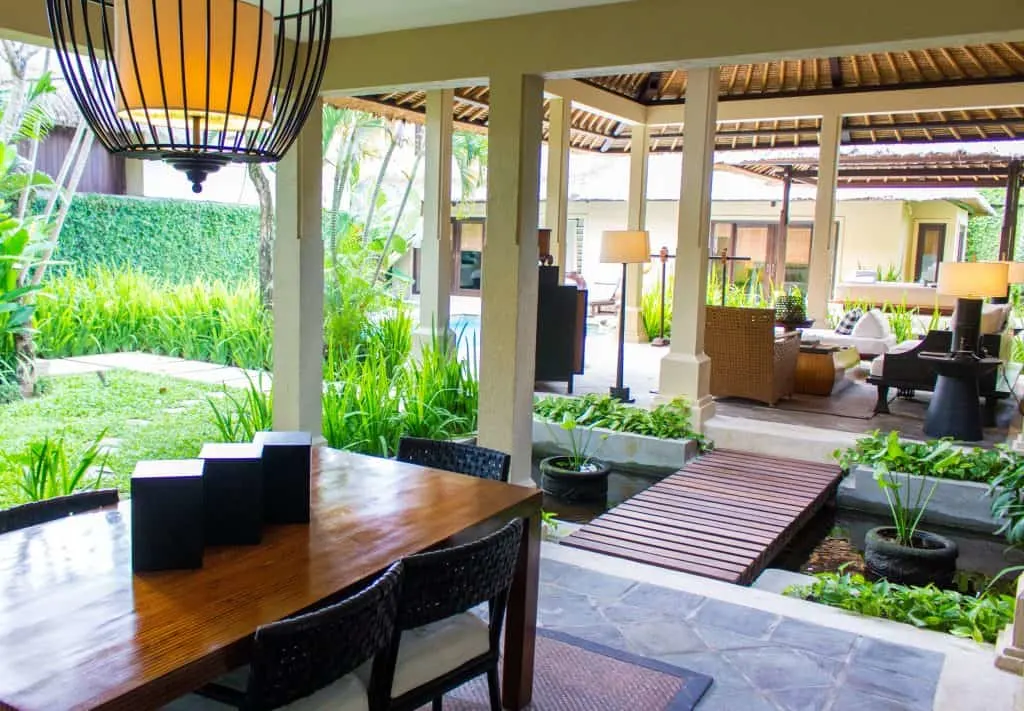 We stayed in 'Bebende'. Each villa has its own name of significance, rather than a number. Through a black door, surrounded by Balinese carvings was our two bedroom home for a few days.
The first view is the pool and the villa itself. To the side is a large double bed sized lounger with a traditional thatched veranda. As well as the living area with TV, there was a dining area and an outdoor kitchen.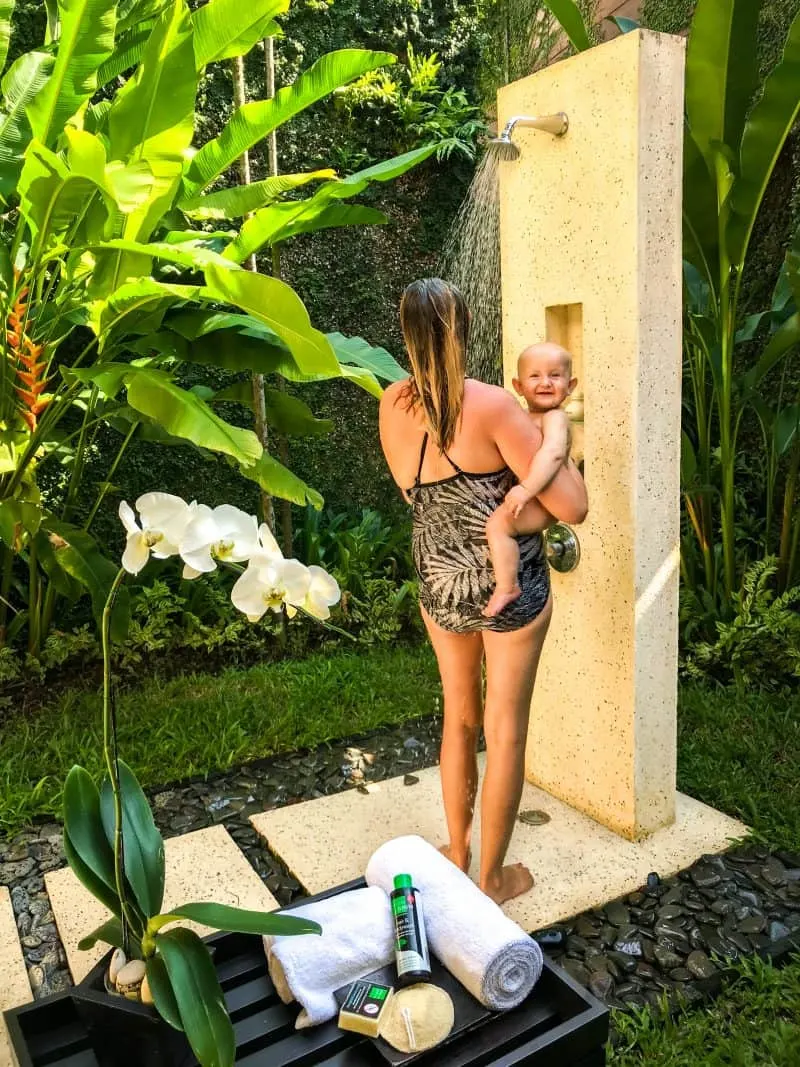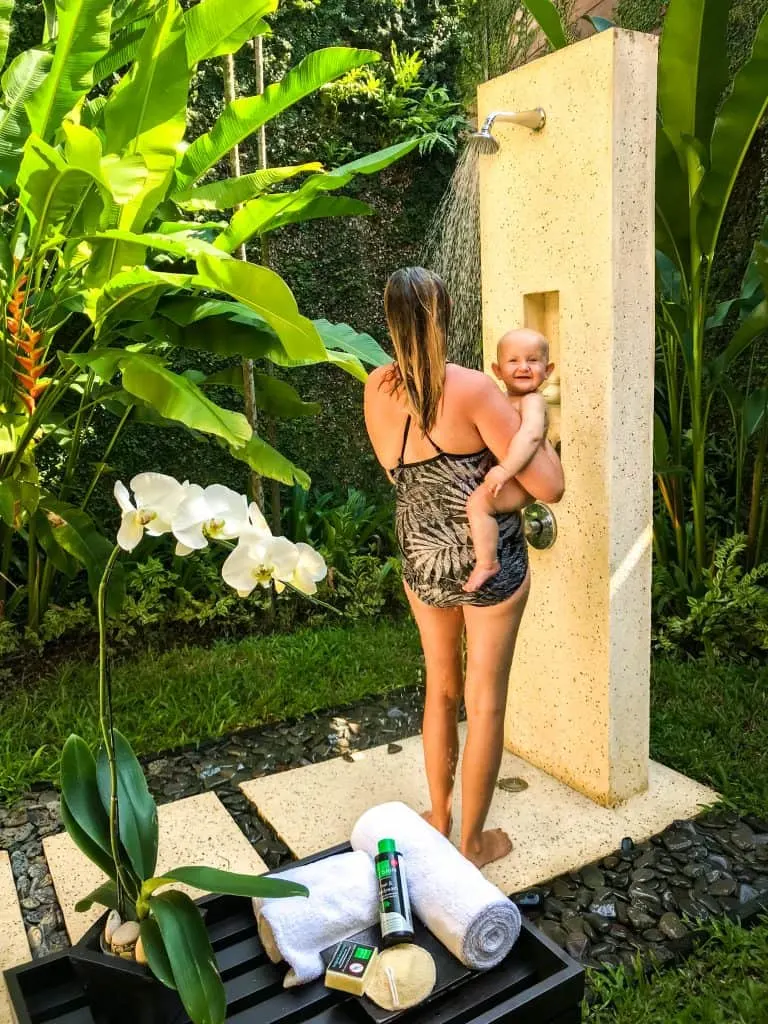 Within the villa there is plenty of landscaped garden space, giving the area a tropical jungle feel. Not to mention the outdoor bathroom which was my absolute favourite. Both bedrooms had a completely private outdoor shower and bath.
It was truly amazing and we spent lots of extra time in the bathroom than normal. With greenery climbing the wall, lush plants and perfectly placed pebbles on the ground, it felt like heaven.
I love the fact all of the products, shampoo, conditioner bath gel and body lotion included were in ceramic pots. All too often hotels claim they are eco-friendly, when really they are not! Kayumanis is incredibly eco-friendly when it comes to plastic. Bamboo straws, glass bottled water and all of the products being in ceramic pots is so much better!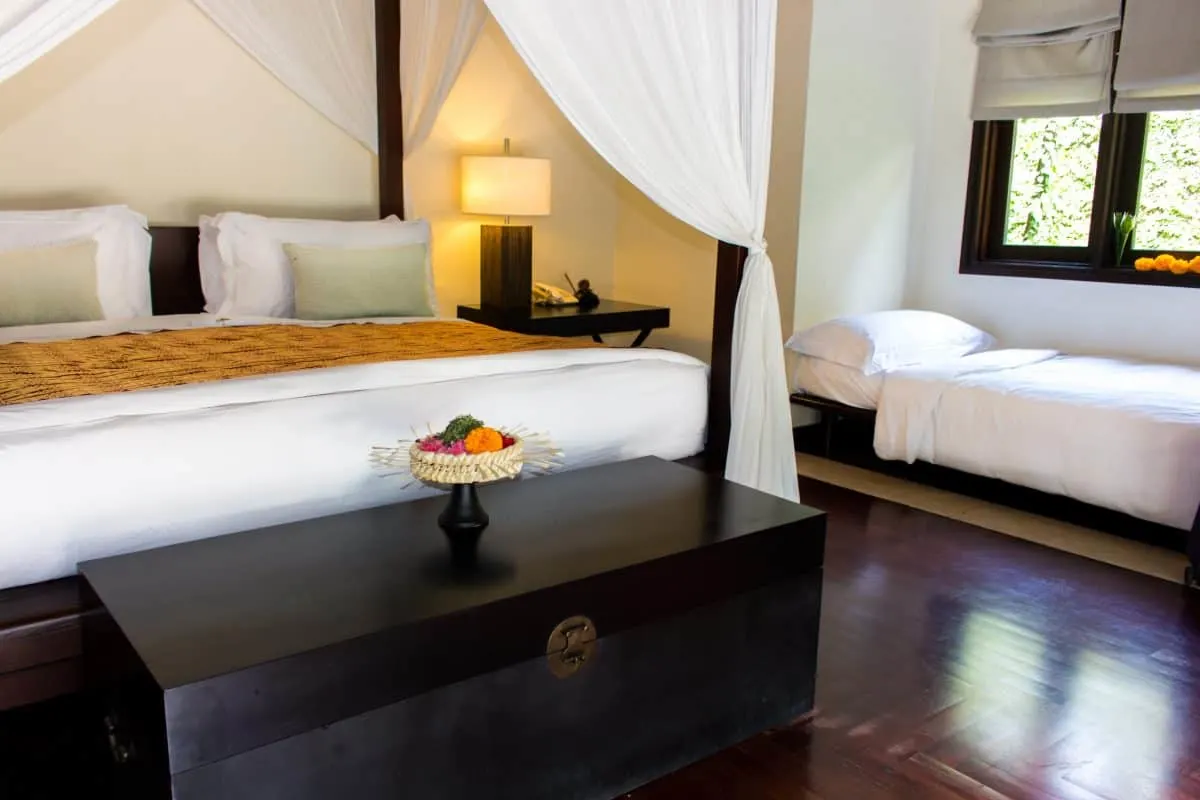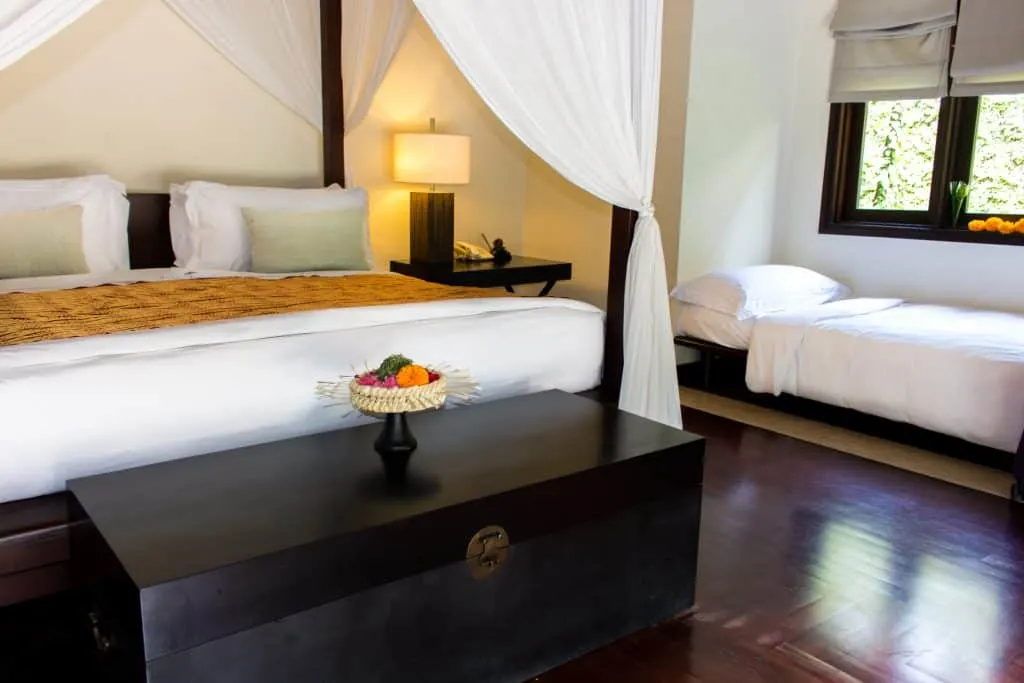 As for our massive four posted bed, complete with pretty white drapes acting as a mosquito net, it was so comfortable! Although we had two rooms, we didn't really need it, as our little girl slept in a single bed in our room. With having little ones, the bedrooms are quite separate so it was better that we stayed all together.
LUXURY PRIVATE VILLAS IN SANUR, BALI
EAT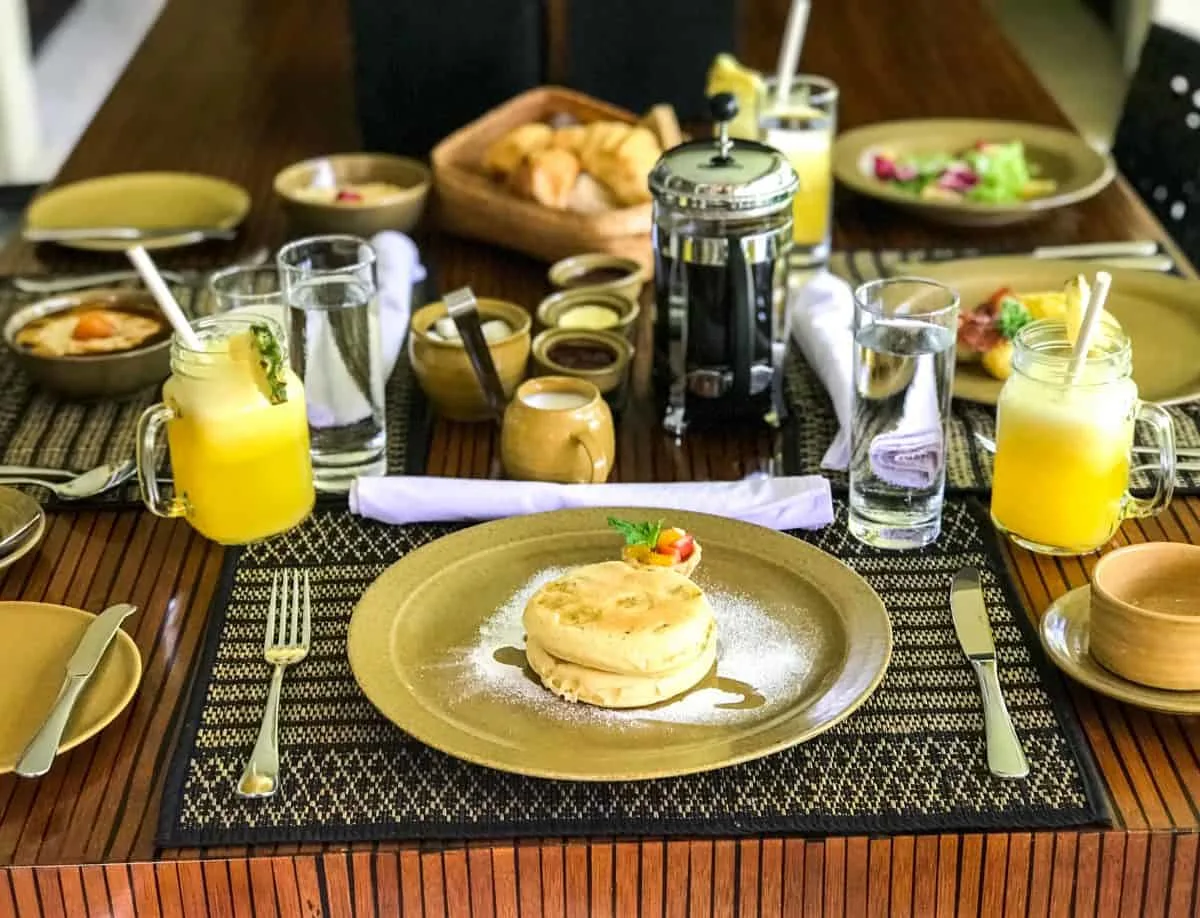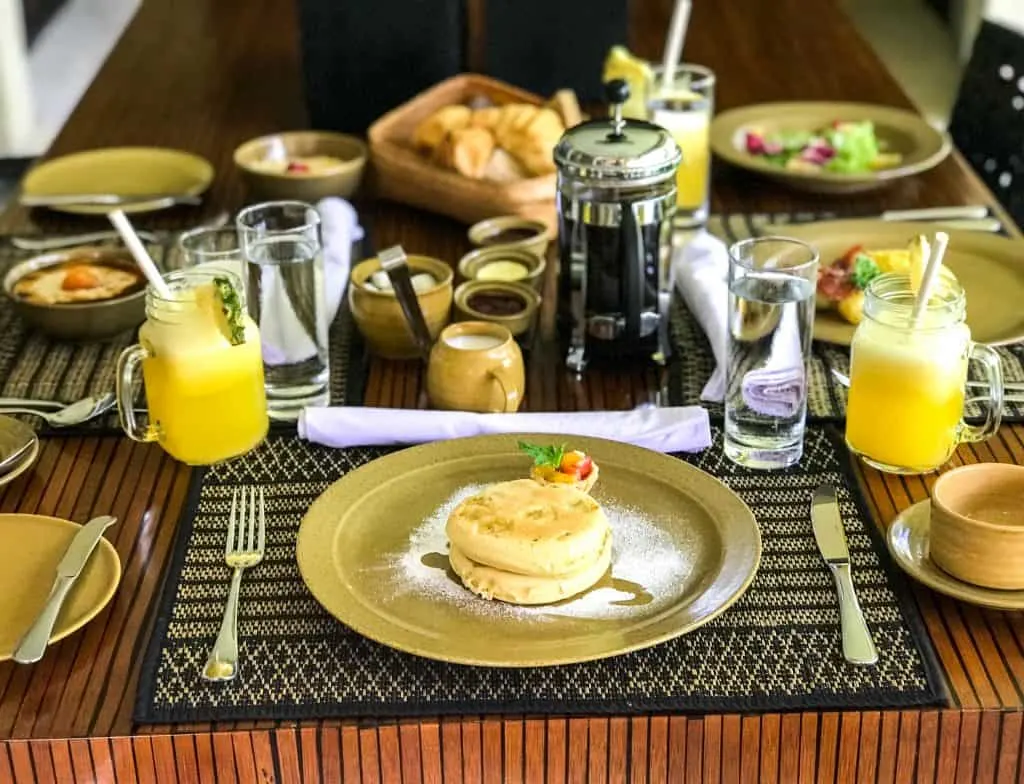 There is no doubt the food at Kayumanis is pretty special! We only had breakfast, predominantly because I was really loving having an outdoor kitchen and preparing our own lunch and dinner. They were really good with asking about our diets at check-in and remembered every morning that I am pure vegetarian. The personal touch from the butler service was so good.
The breakfast choices were delicious! I had the continental each morning, whilst our little one had the Kayumanis special pancakes. It came with a pot of fresh coffee, chopped fruits, juice, and a pastry basket with spreads. We love having breakfast given to us, as quite often in hotels we find the too and fro at a buffet can be quite time consuming, and we hardly sit together as we take turns.
Besides from our mouth watering breakfast, we also had a complimentary fruit basket and afternoon high tea each day. The afternoon tea was a selection of pretty cakes, sandwiches and biscuits, along with coffee or tea. It was such a nice treat and felt like a tradition from back home in the UK. Another complimentary serve is the mini bar which is re-stocked daily.
BALI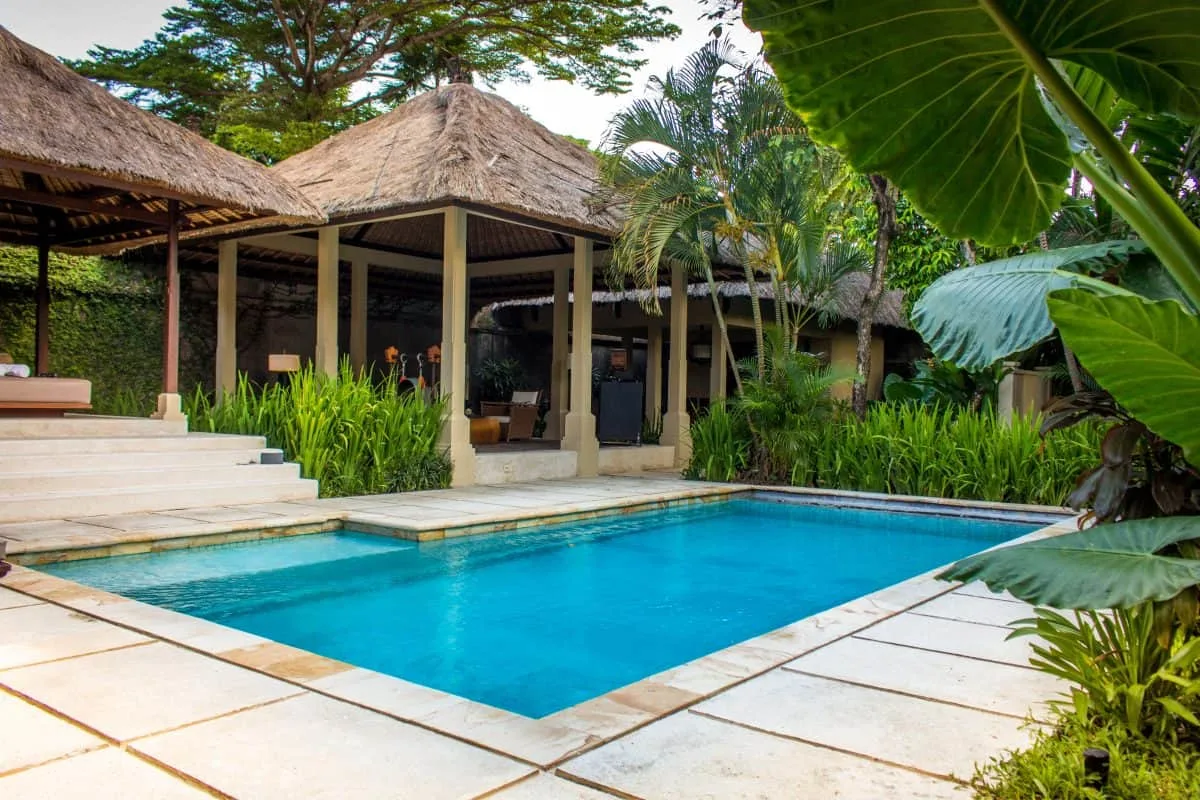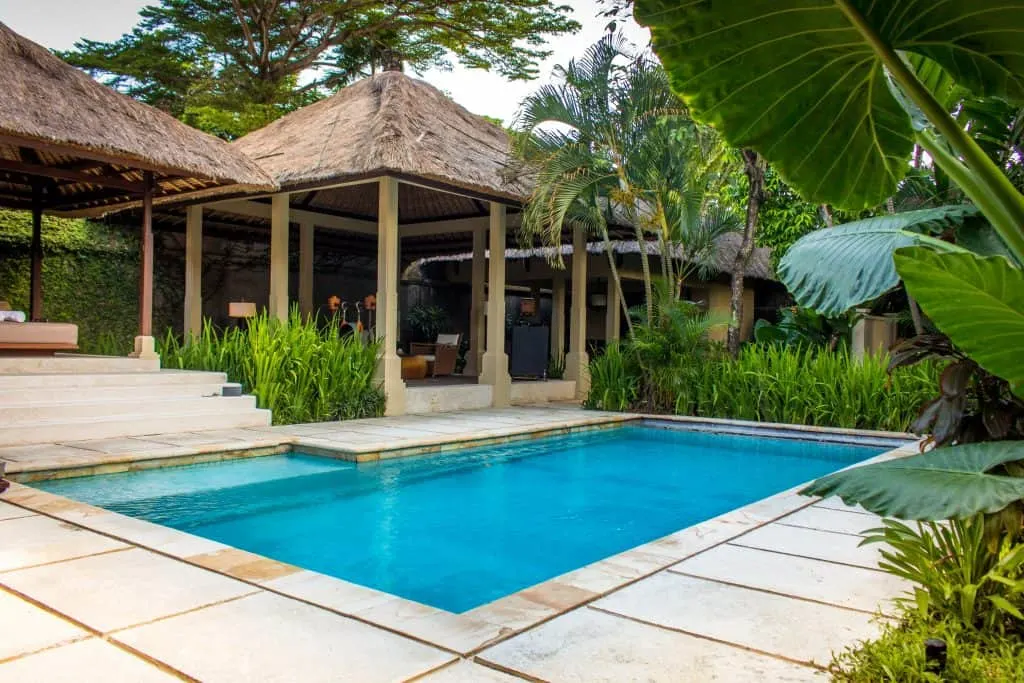 If you visit Kayumanis and decide to explore a little more, Bali is an island filled with many geographical wonders. From the waterfalls, to the coral reef and of course the volcanos.
Many people may of heard of Mount Agung, some 75km away from Sanur it's unlikely to ever effect the town. However, businesses are feeling the knock on effect from the media storm about its eruption some months ago. We had no problems during our trip.
You may also like:
THE ULTIMATE GUIDE TO BALI WITH KIDS
This post is sponsored by the luxury private villas in Sanur, Kayumanis Resort and Spa. Our stay was complimentary in return for an honest review. As always, all views expressed our entirely our own.