Visiting the Maldives with kids appeared to be quite a surprise to some of my followers on Instagram. It's crazy how many people think the Maldives is predominately for couples on honeymoon.
There are tonnes and tonnes of fantastic resorts and hotels in the Maldives with kids club, not to mention many activities which are family-friendly.
Needless to say, it can be a trip which can work out quite costly, so for many, it is the perfect ending for a trip to nearby countries such as Sri Lanka or India.
Some resorts have age restrictions for children with some not accepting babies or even toddlers.
There are quite a few things to consider especially if you want to stay in a water bungalow. Many resorts have beach villas which may be more suited to families with younger children.
Similarly, nearly all of the resorts and hotels are either boat trips or seaplane journeys from the airport. Some transfers are costly, especially where a seaplane is required.
Not to mention, some boat transfers can take over an hour which may not be ideal after a long flight. This may dictate your choice of resort, especially if the trip is just a few days.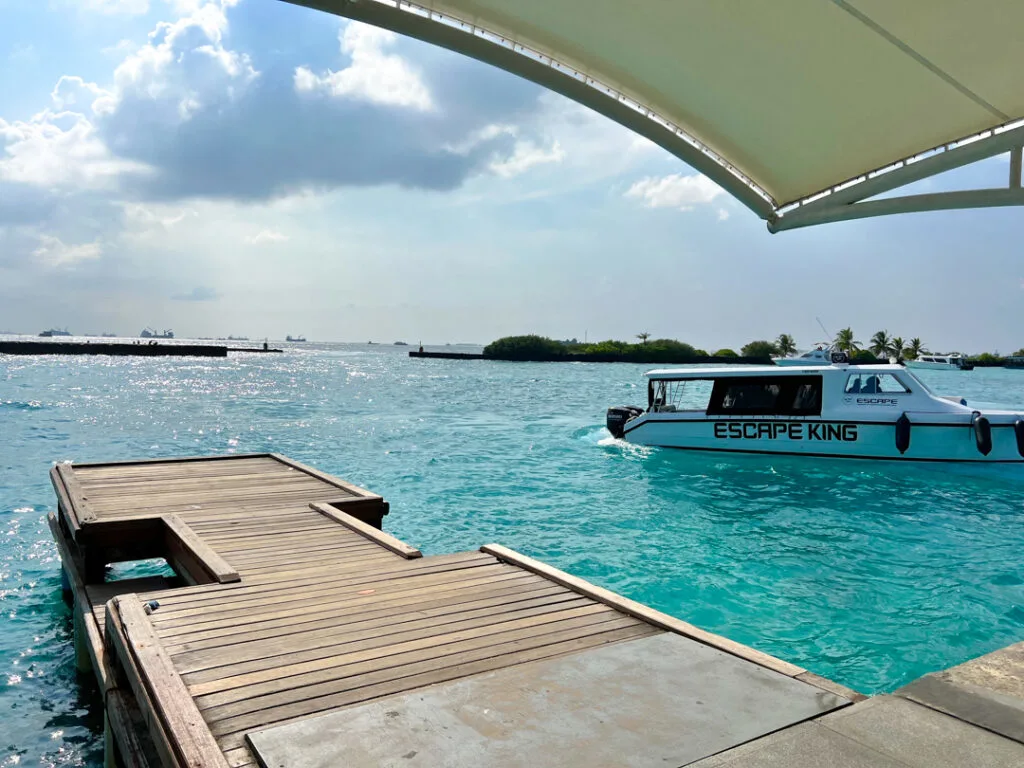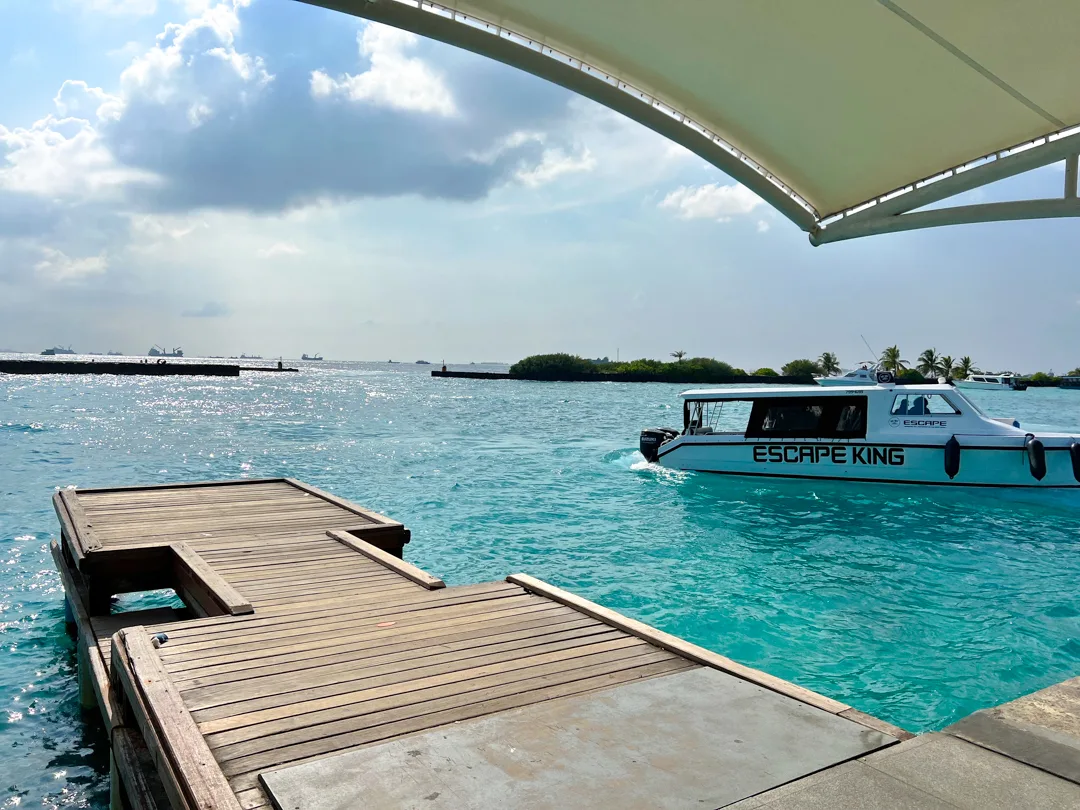 There are some incredible resorts in North Mali which is, for the most part, only a 15-minute boat transfer from the airport. Some resorts offer the transfer for free which is an added bonus.
You may think the islands close to the airport are not as nice, however, this is not the case at all. The islands nearby are exactly what you'd expect of the Maldives with white sand and aqua blue crystal clear water and palm tress galore.
Maldives For Kids
Male Airport
There are a couple of international airports to choose from, however, we flew into Male Airport. It's a small airport which is pretty quick to pass through. Remember to fill out the landing forms for each passenger before arrival.
Once you've collected your bags and passed through to the arrivals hall, pretty much all resorts and hotels have a stationary desk within arrivals. They are also hovering with signs for their respective resorts right at the exit.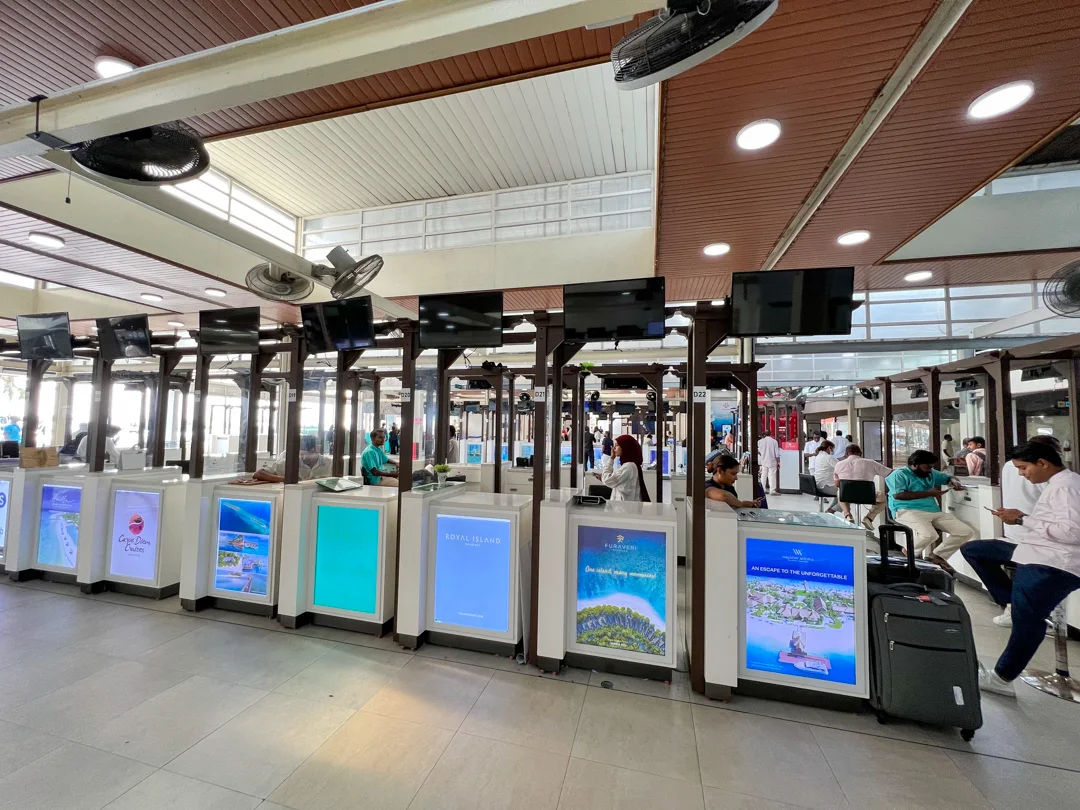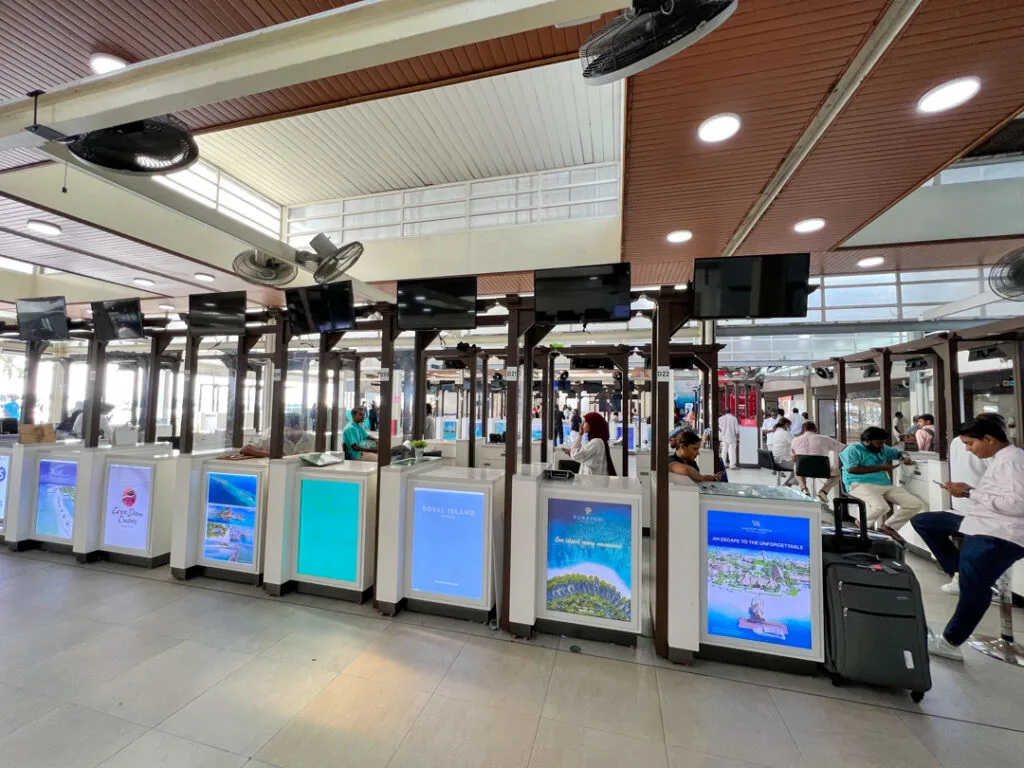 They will escort you to the desk to start the check-in process for the transfer. Sometimes there may be a wait for the transfer with some lasting up to 90 minutes. There is an air-conditioned food court with seating to wait in.
We only had to wait around 30 minutes before boarding the boat from the dock right in front of the airport.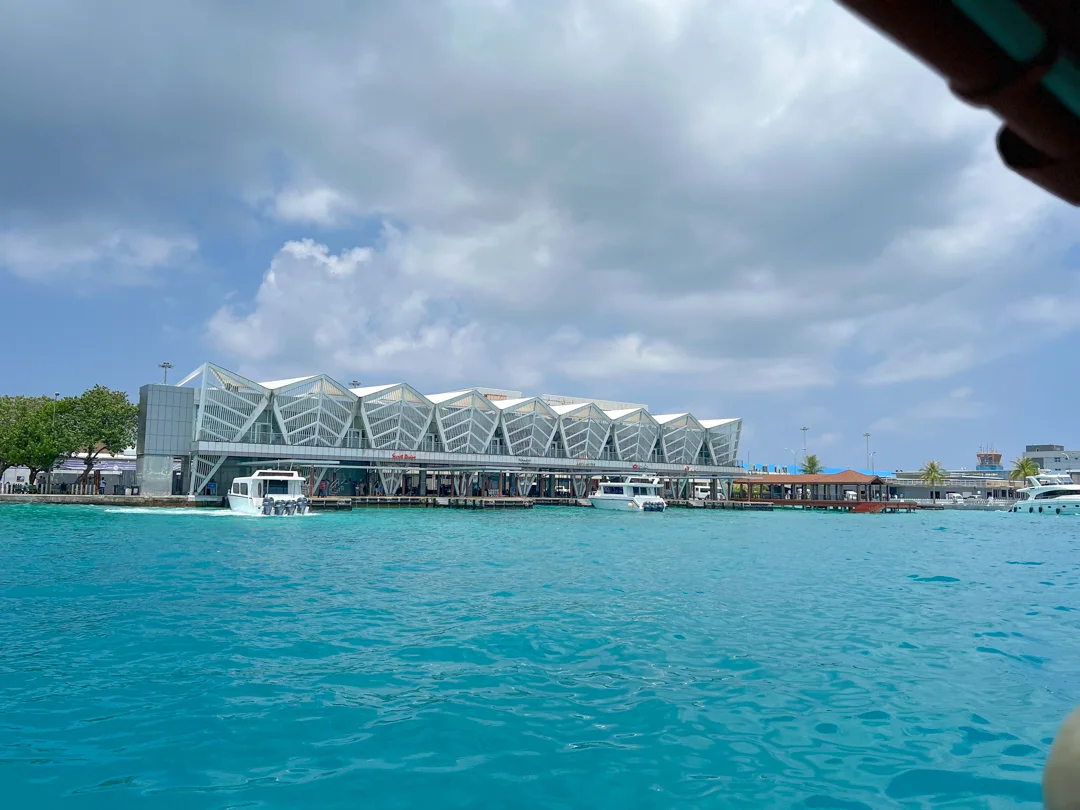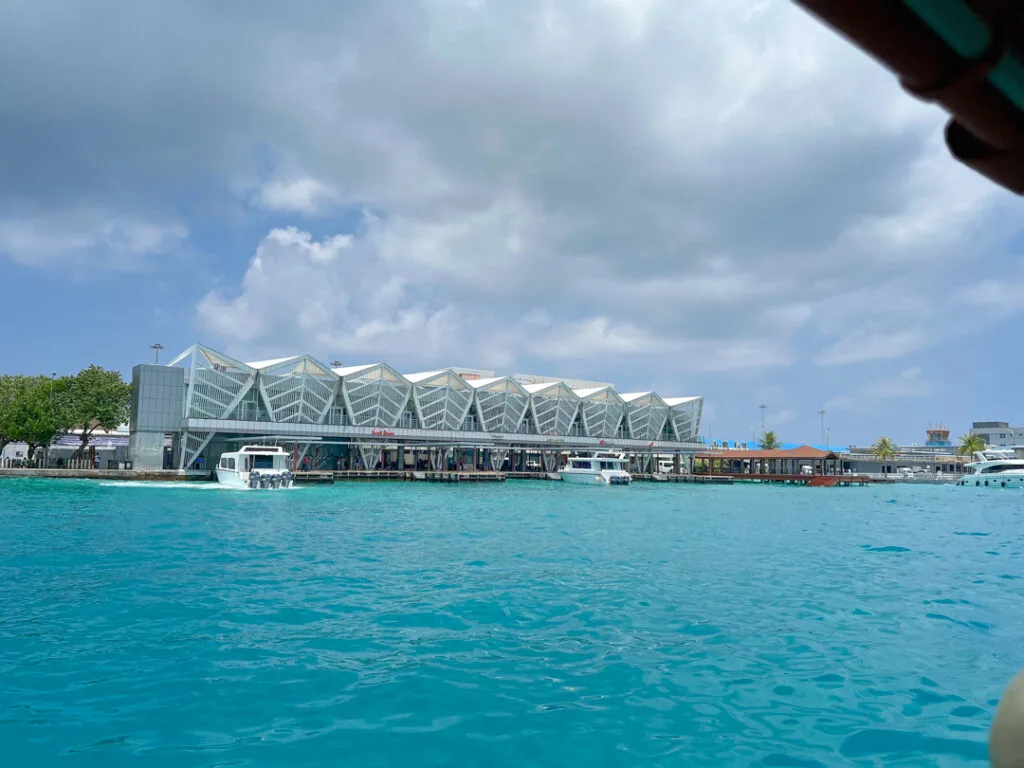 Our transfer across the water to Oblu Fushi Experience Resort was only around 15 minutes. More about the resort in a moment!
It is a good idea to get a local sim card in the airport if you want really good Wifi as we found it to be very slow and patchy at our resort.
Check out flights to the Maldives here.
Where To Stay In The Maldives With Kids
There are so many options when it comes to visiting the Maldives with kids and the choice may be dictated by budget!
Some resorts can cost thousands and thousands of dollars, whilst local islands can cost just a few hundred dollars for a whole week for a family!
We stayed in what I would describe as a mid-range resort when it comes to budget. However, it really ticked a lot of boxes of what I'd expect of a high-end resort (without the huge price tag).
We chose Oblu Experience Experience in North Mali for quite a few reasons. It appeared to be one of the best Maldives resorts for kids. Here is why!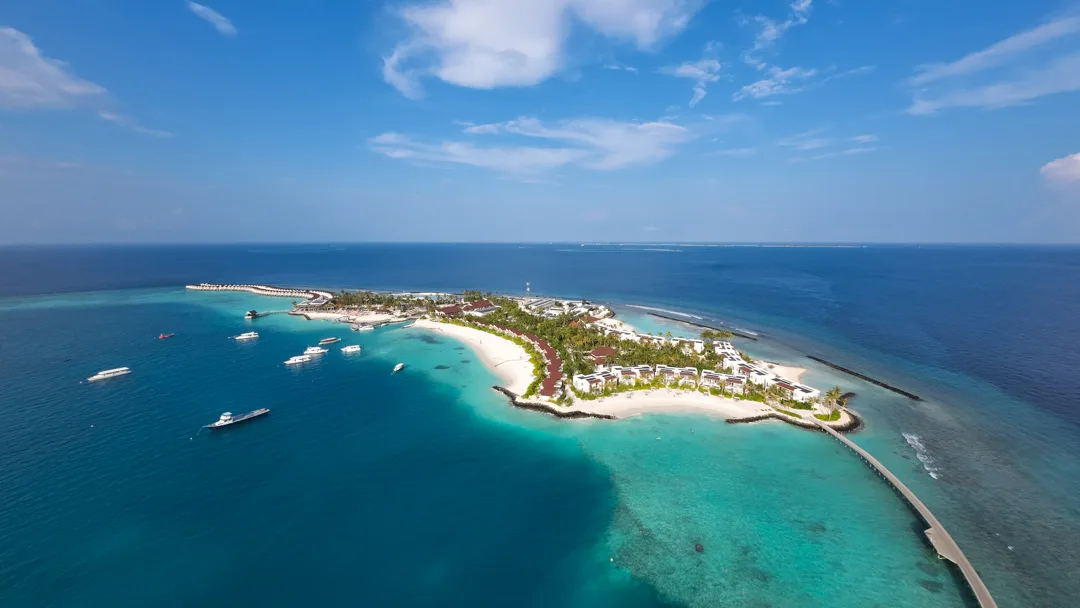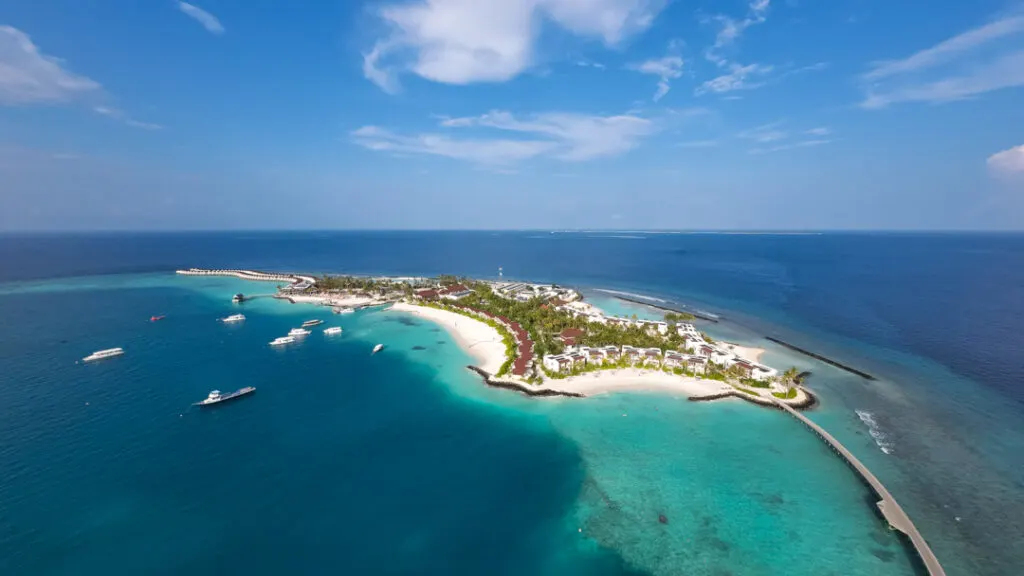 Location & Cost Of Oblu Fushi Experience
Oblu Experience is based in North Male which is only 15 minutes by boat from the main airport. This is the perfect distance for those coming off a long flight to the Maldives with kids.
Similarly, the resort offers a free transfer from the airport which is another added bonus as it can be quite costly.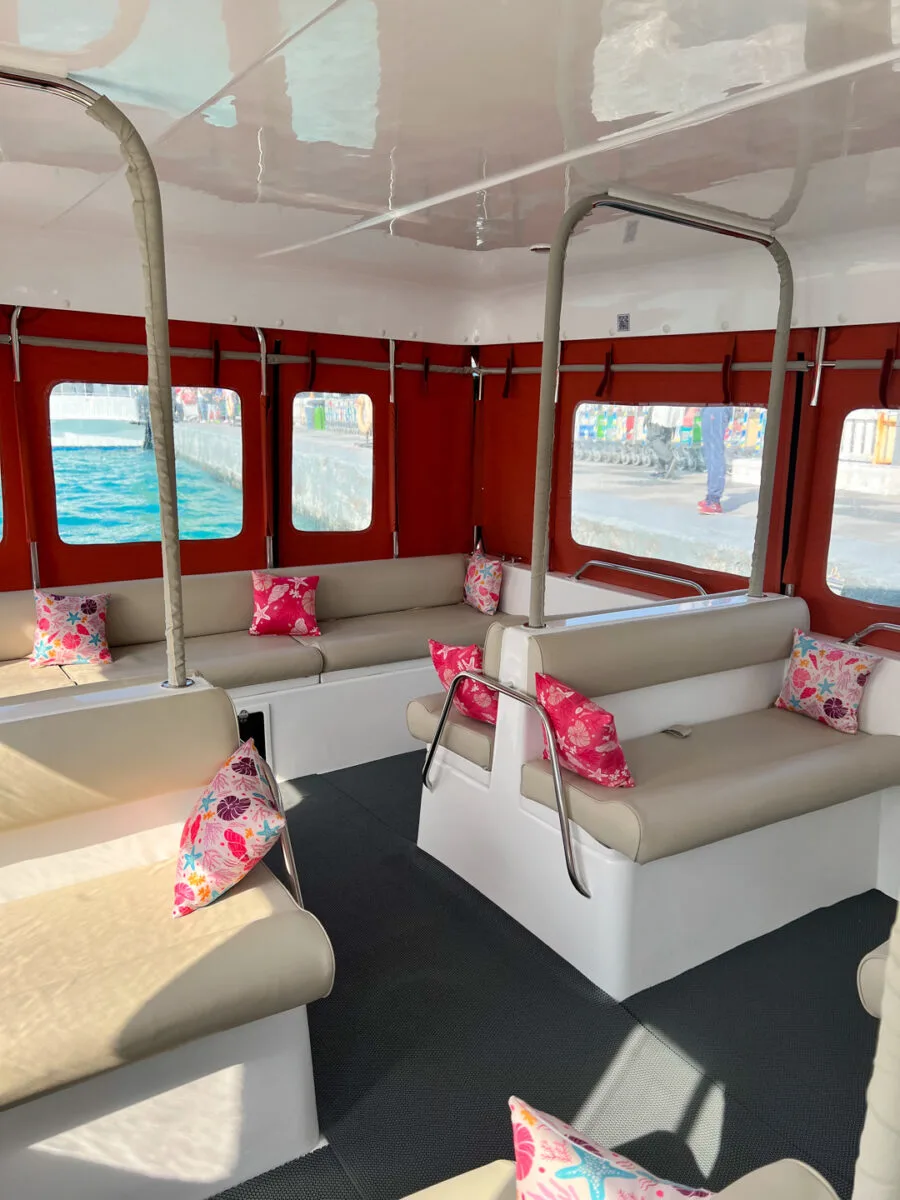 Oblu Fushi Experience is an all-inclusive resort with set meal times at the main restaurant and an open bar throughout the day. There is a schedule of free activities. However, watersports come at an additional price.
In terms of cost, we found it to be one of the more affordable resorts for families. We did travel in high season which is the month of April and booked last minute, so different dates may vary.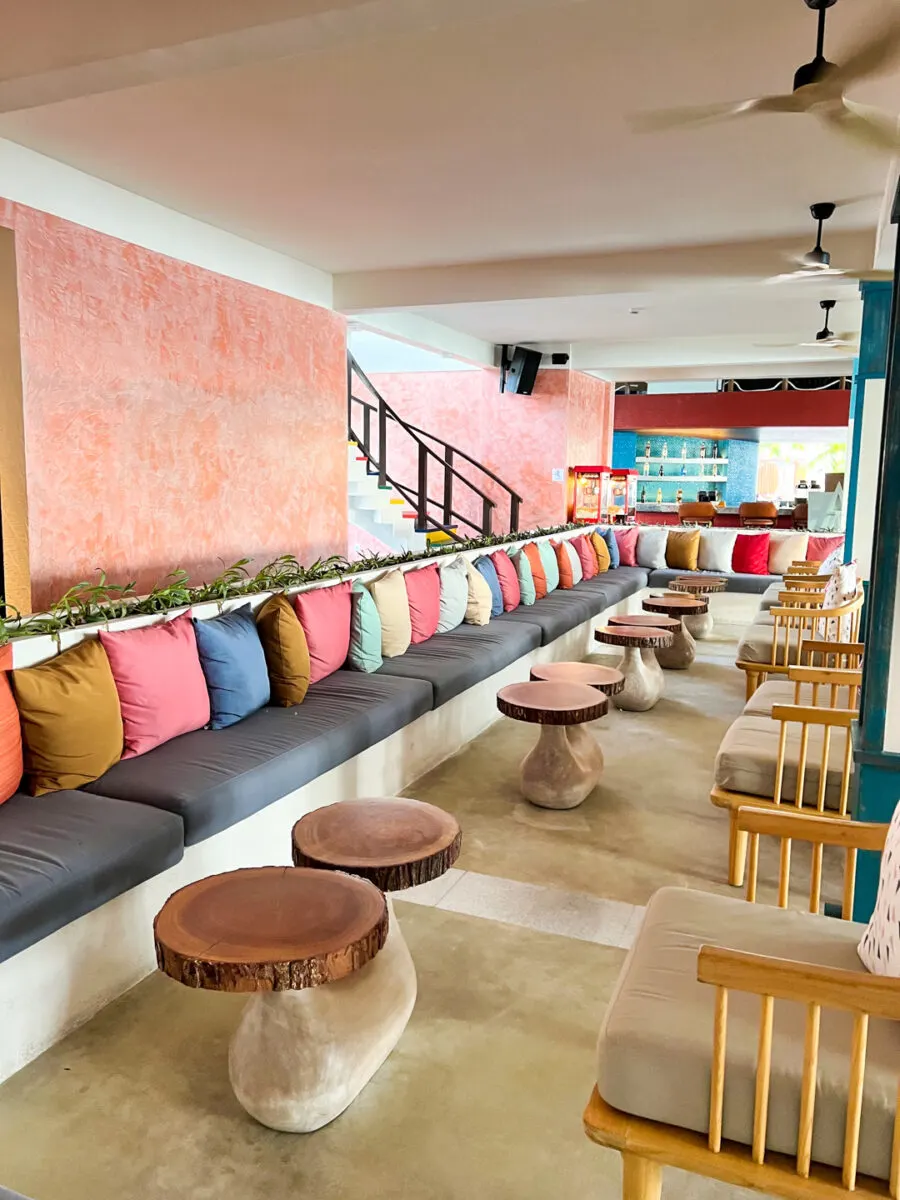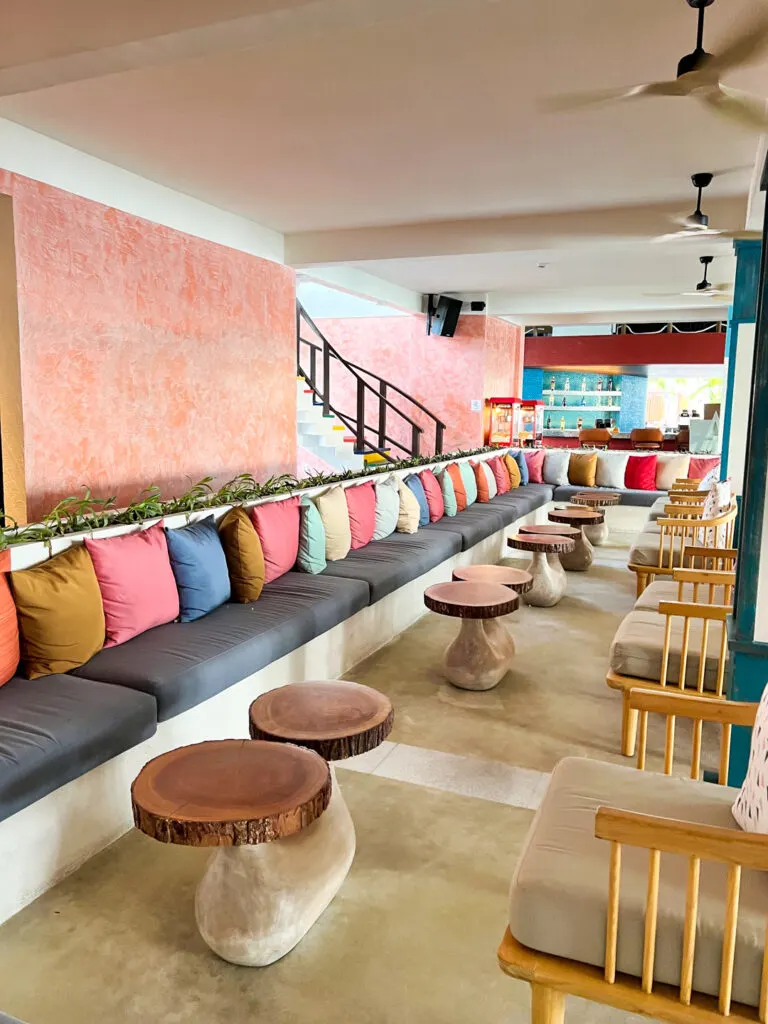 However, we paid $170 USD PPPN for an all-inclusive with a free airport return transfer.
Check out Oblu Experience prices for your dates here.
The Accomodation
There are quite a few accommodation options at Oblu Experience. There are many overwater bungalows which look absolutely incredible. Each has a set of stairs leading into the open water which has insanely good snorkelling opportunities.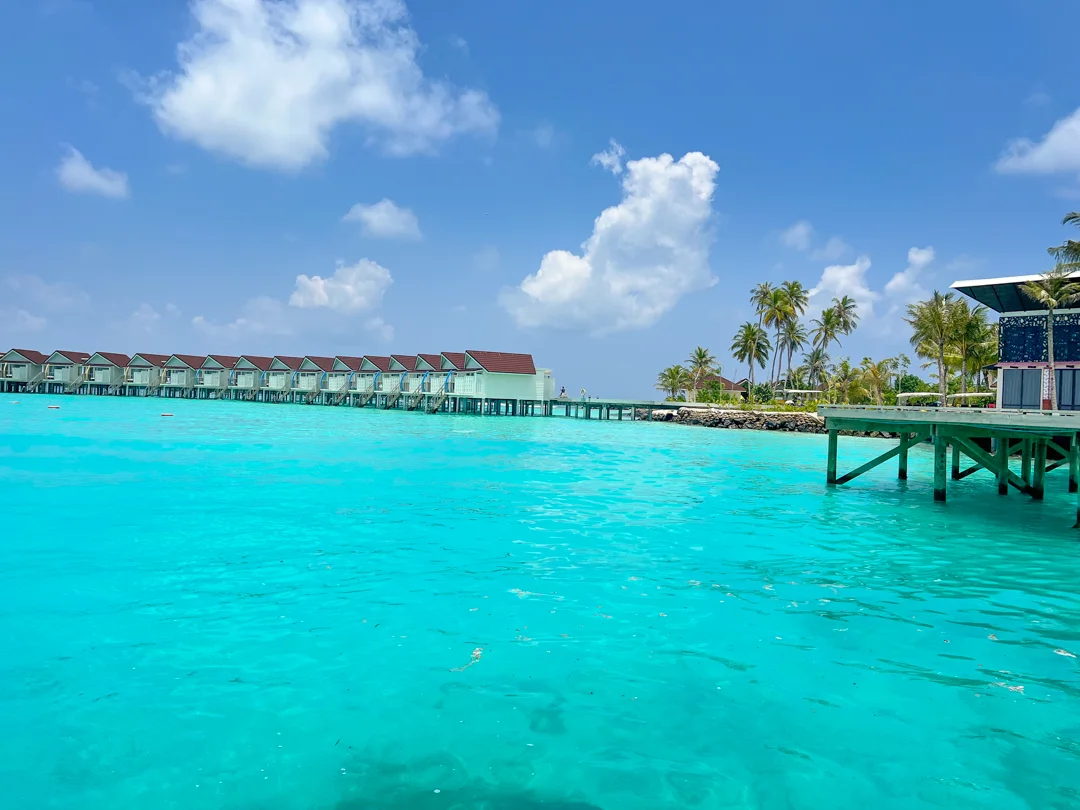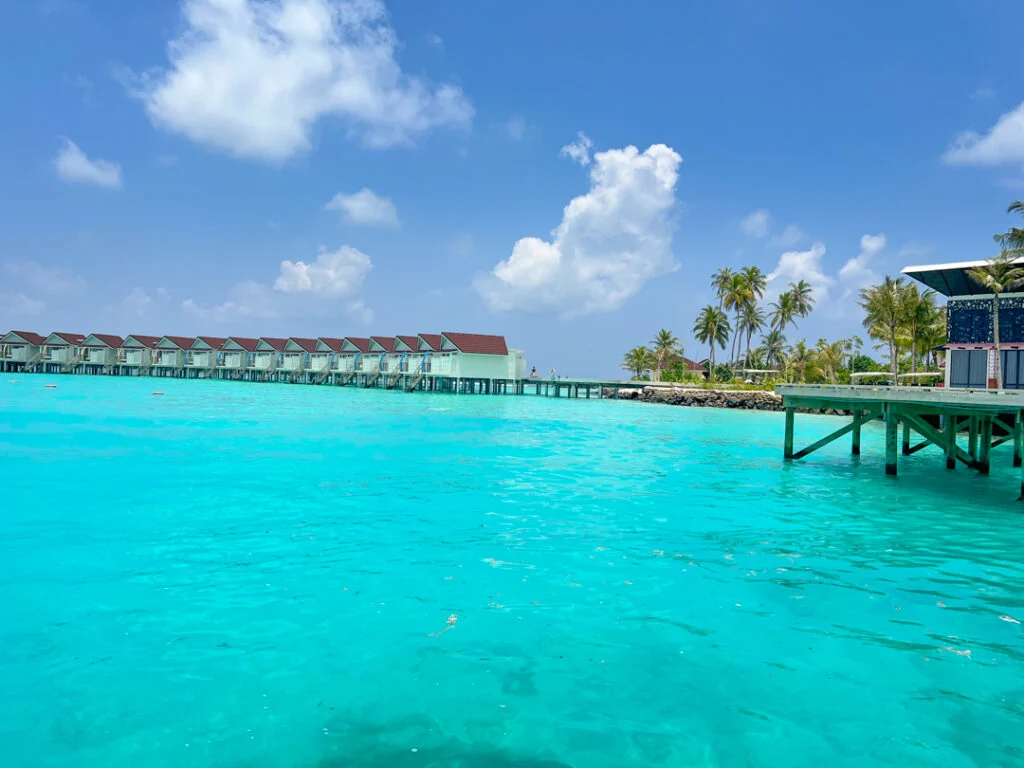 However as we were travelling with twin toddlers, we decided an overwater bungalow was too risky and so we opted for a beachfront family room which was incredible when visiting the Maldives with kids.
The family room featured really snazzy bunk beds with built-in secret drawers in the stairs leading to the upper bunk.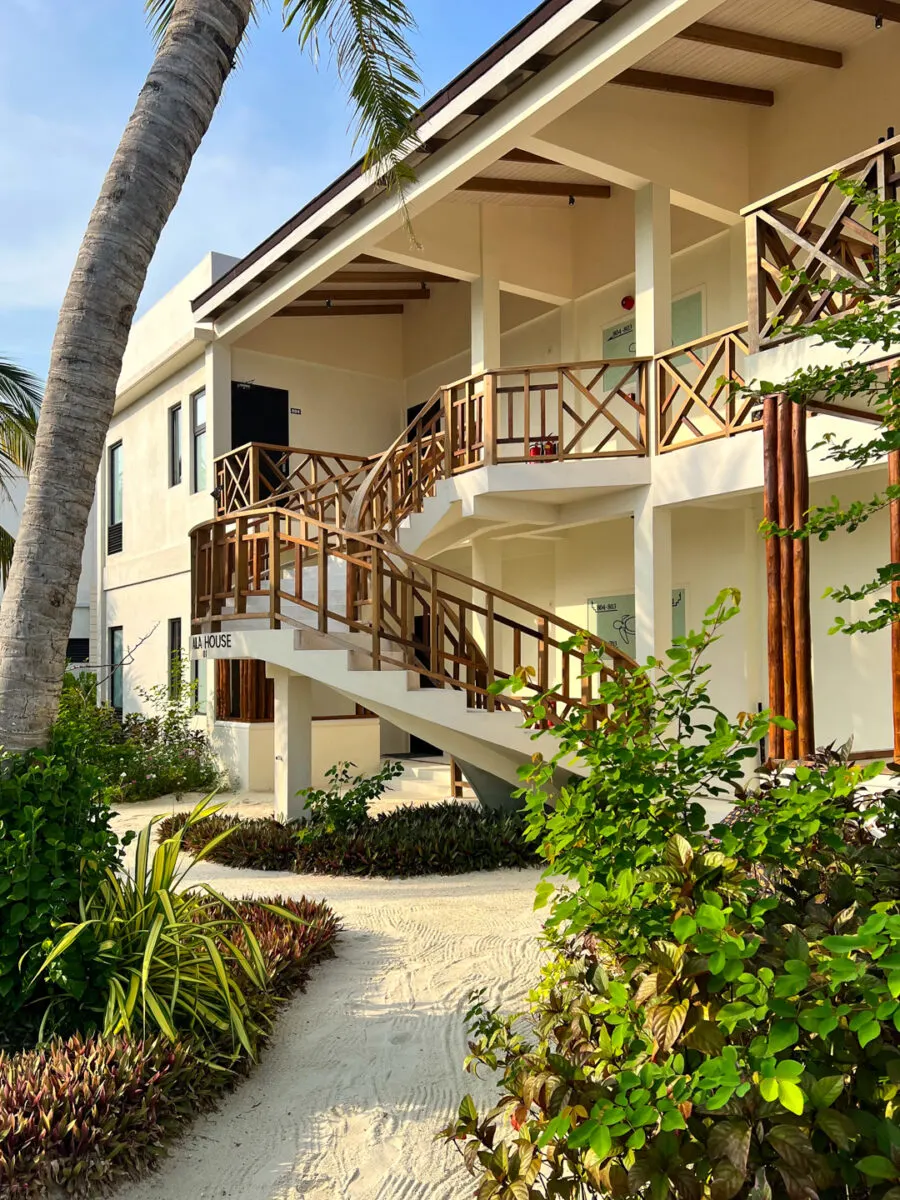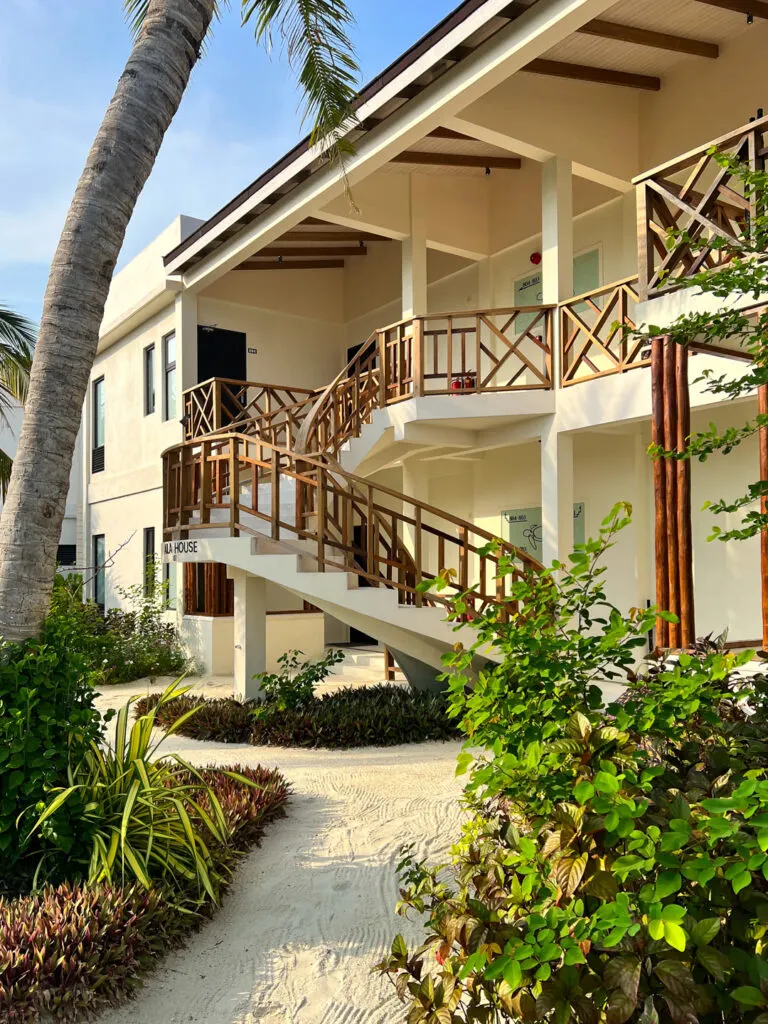 The kids also had their own bathroom. In the main bedroom were an ensuite, walk-in wardrobe and a window seat which also turned into an additional bed allowing the suite to accommodate 5 people!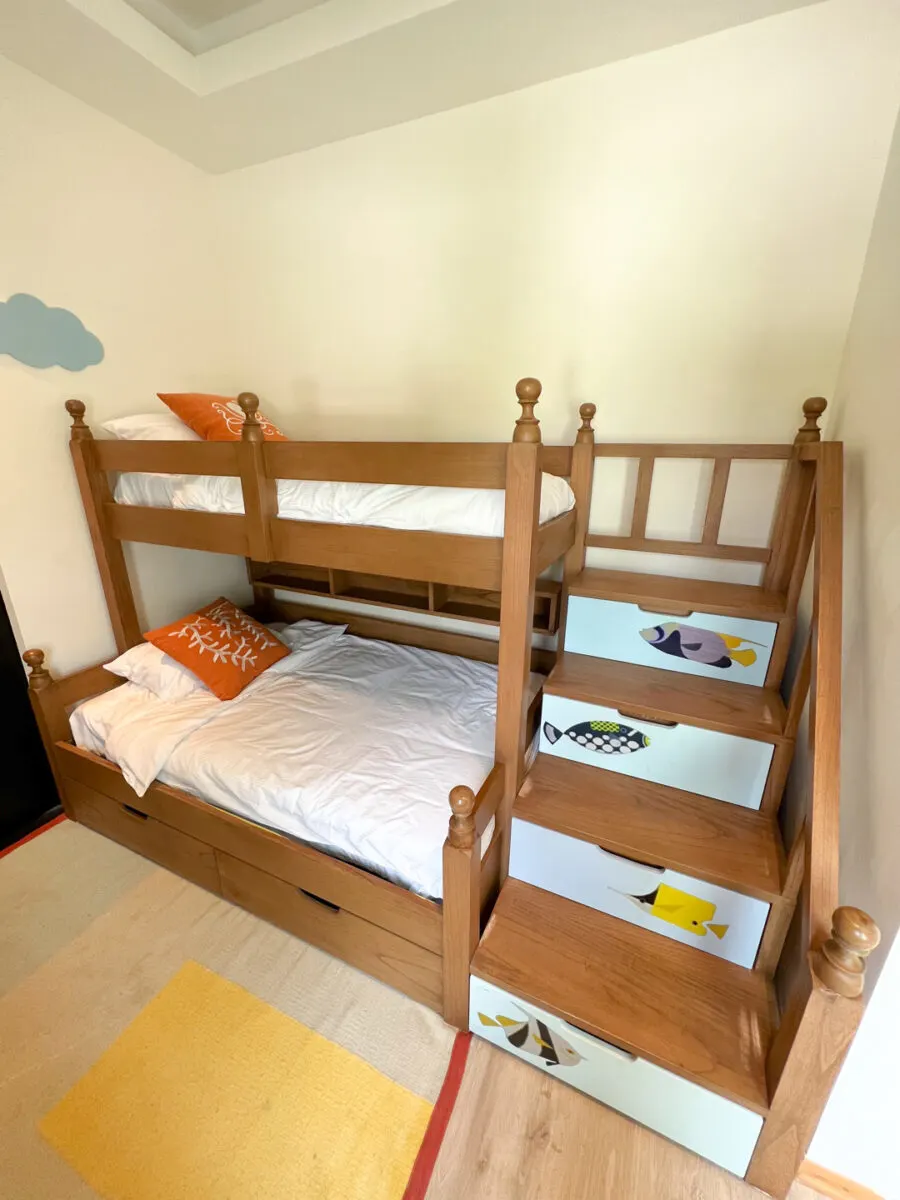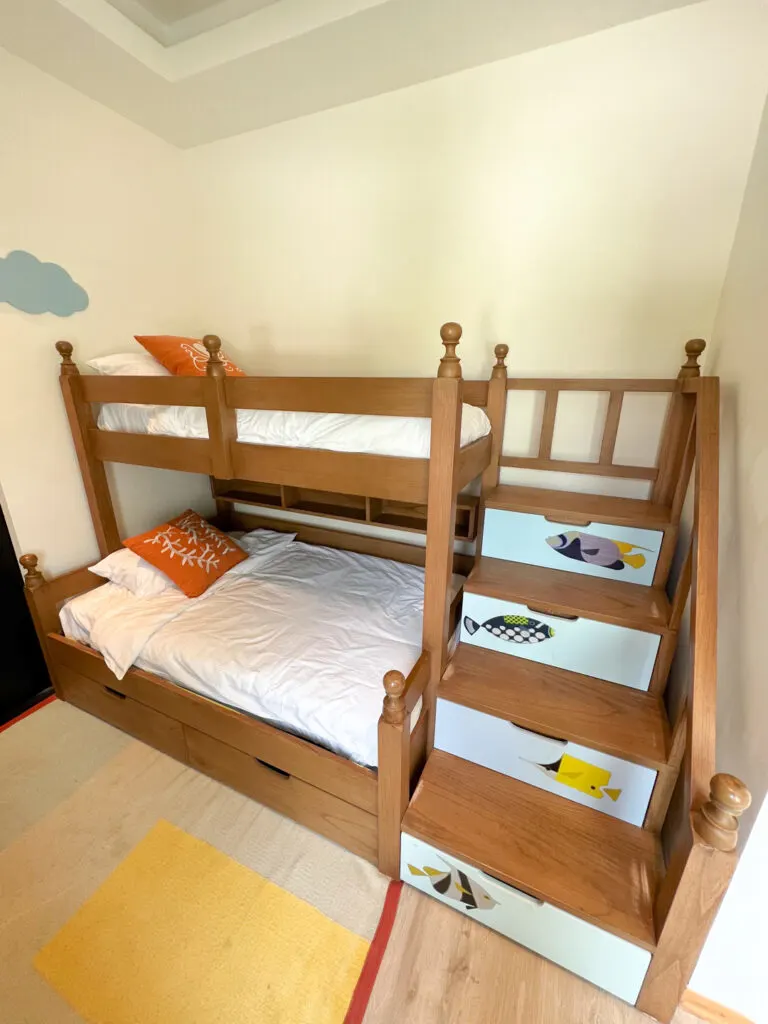 The main room led out onto a small patio surrounded by green foliage for privacy immediately followed by a beautiful beach. It was the ideal spot to hang out and watch the sunset.
My parents were travelling with us when we visited the Maldives with kids and they were staying nearby in a one-bed beach bungalow.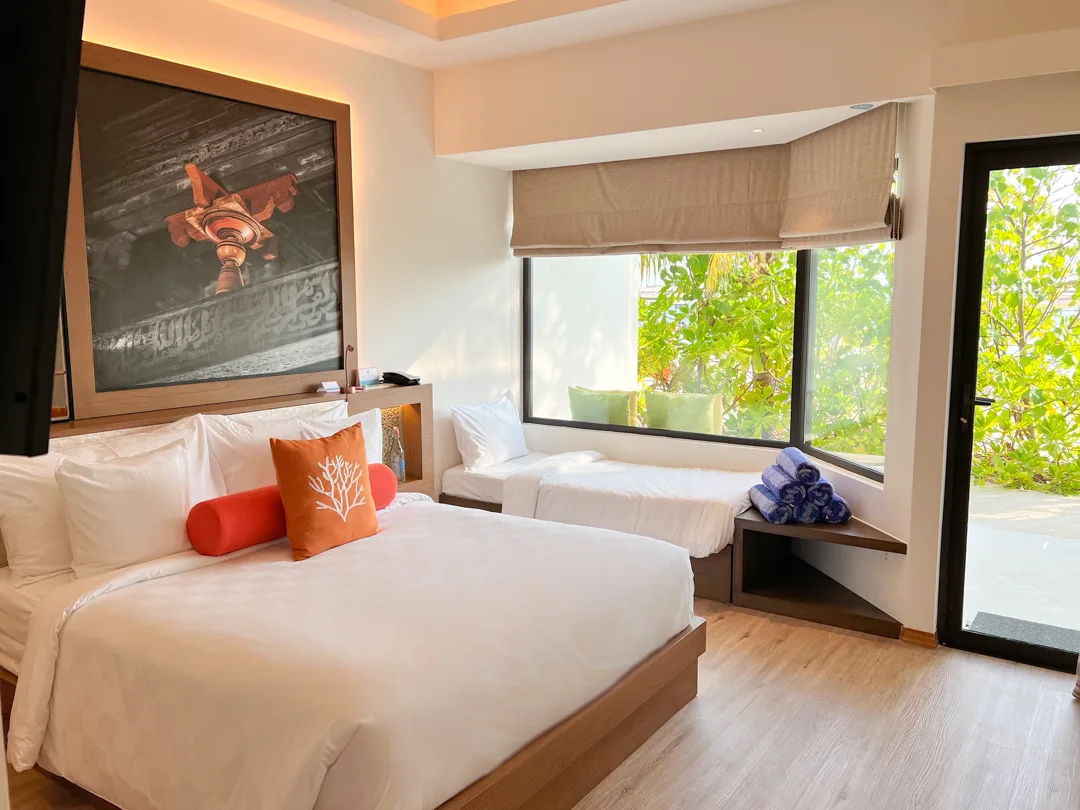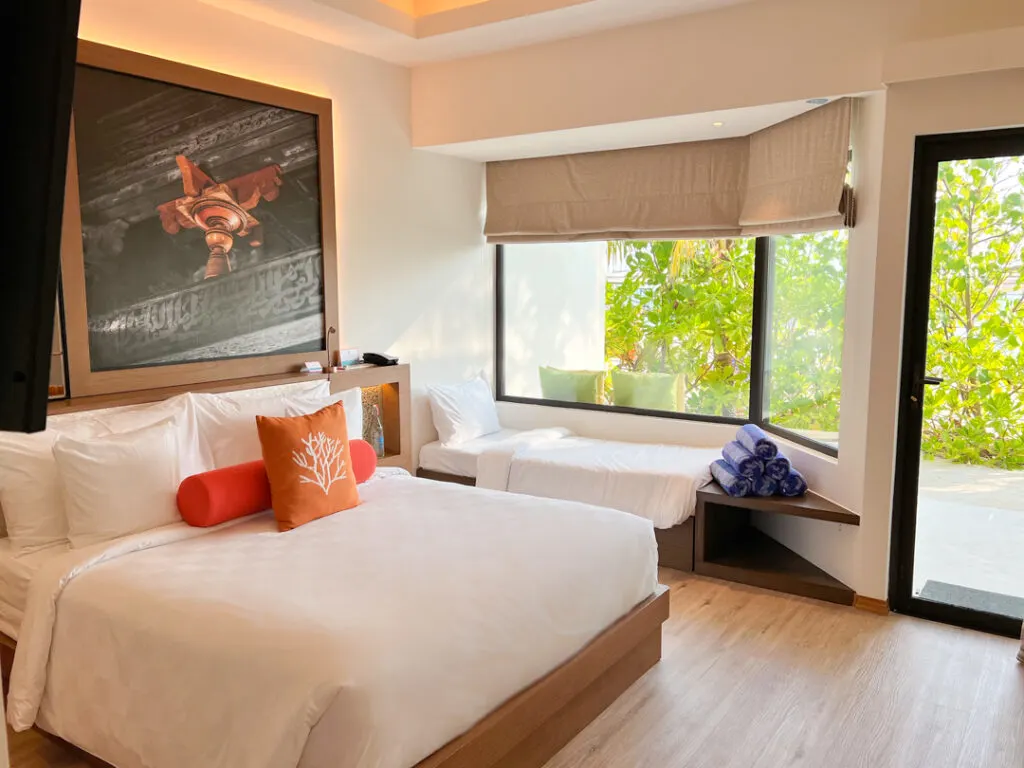 It was a very similar set-up to the family suite minus the en-suite room with bunk beds. It had direct beach access, an outdoor bathroom and a roomy bedroom, also with a relaxing window seat.
The resort is quite long and so the distance from the main restaurant and swimming pool can feel like quite the trek, especially in the heat. There are regular buggy transfers circling the island and bringing guests to and from their rooms.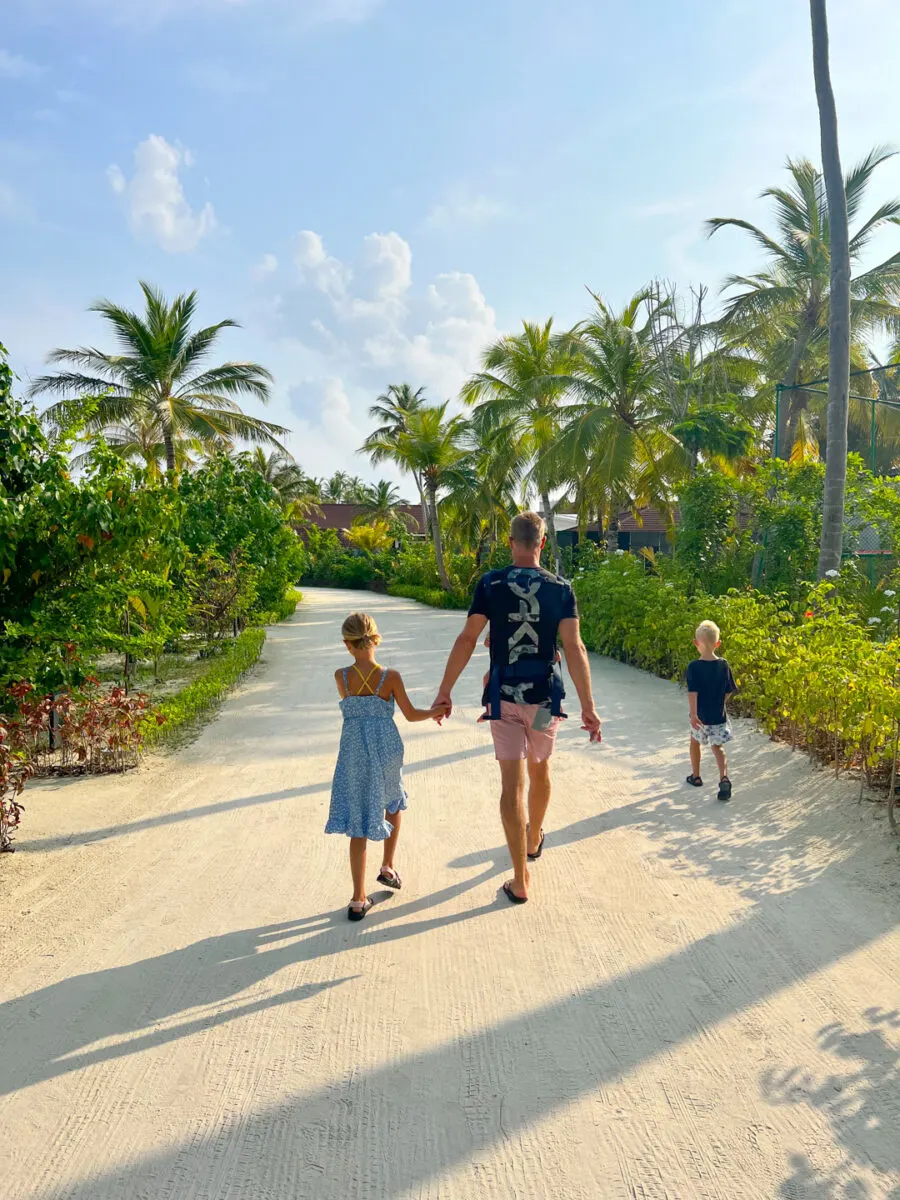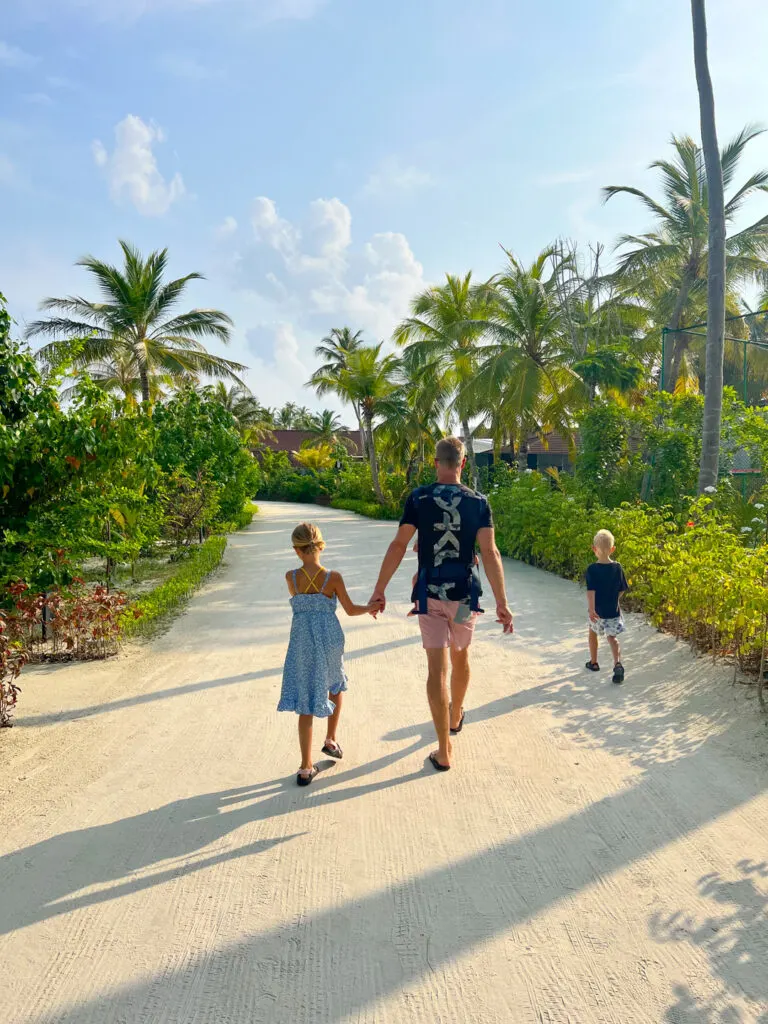 Luckily, umbrellas are provided in each room which makes the walk to different facilities a lot more bearable in the warm weather.
Maldives Resort With Kids Club
The kids club at Oblu Experience is strategically placed quite close to the family suites. It's a beautiful space with shallow pools, astroturfed outdoor areas, and a number of different indoor rooms with various activities.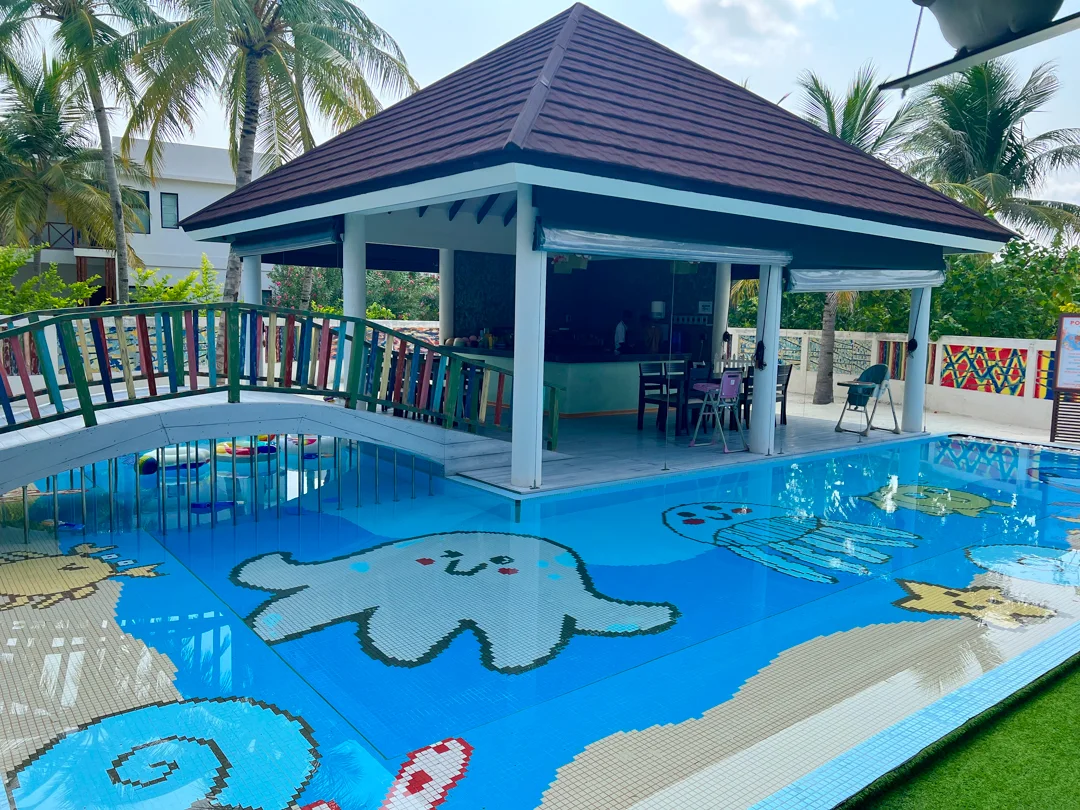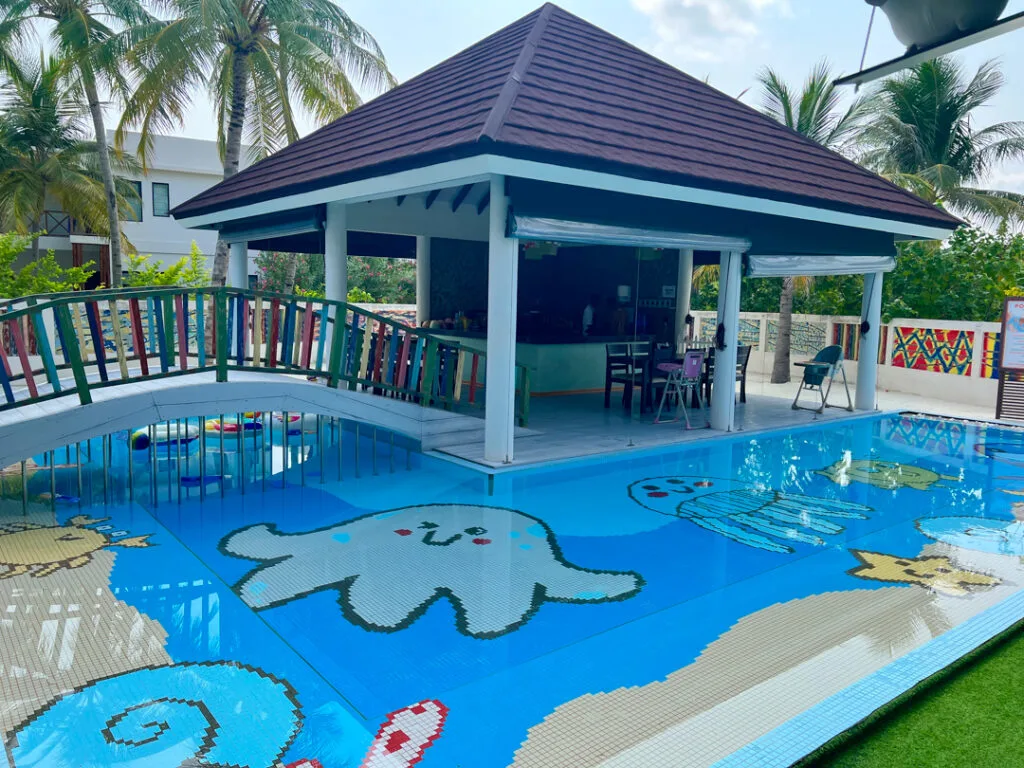 There is a daily schedule of activities suitable for different ages and features everything from cupcake decorating to traditional crafts and dancing to games.
Some of the indoor rooms had activities suitable for toddlers whilst the rooms on the first floor had things for tweens and older children.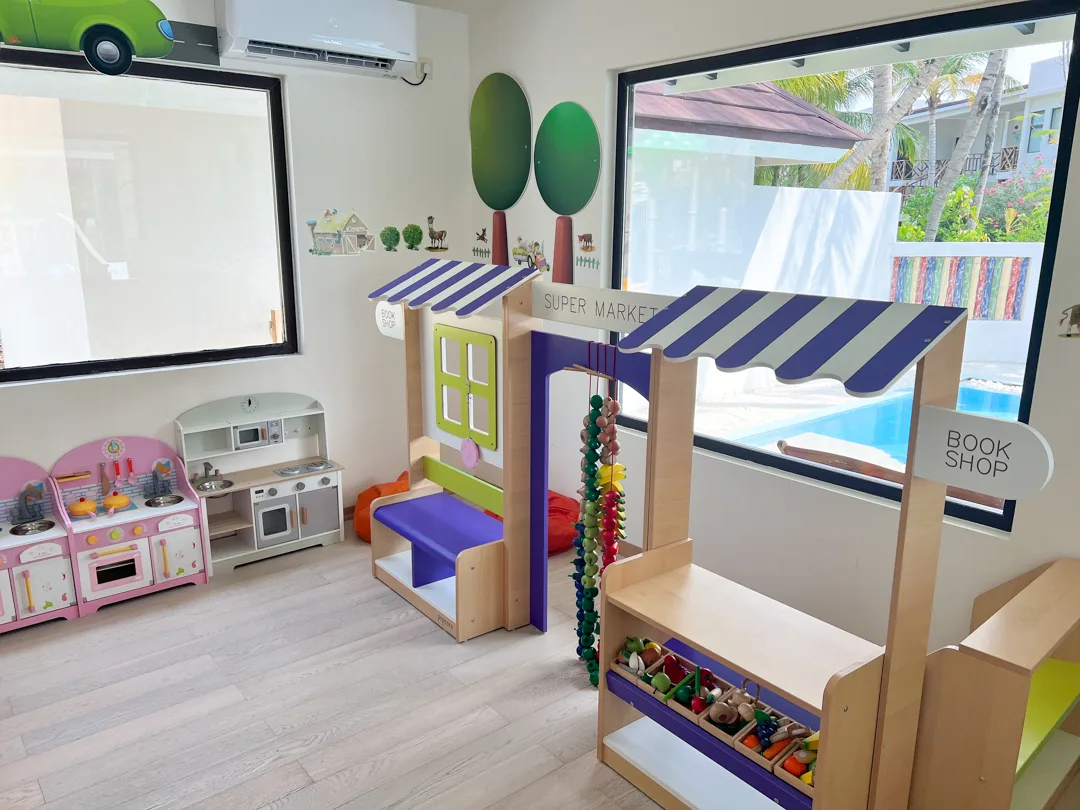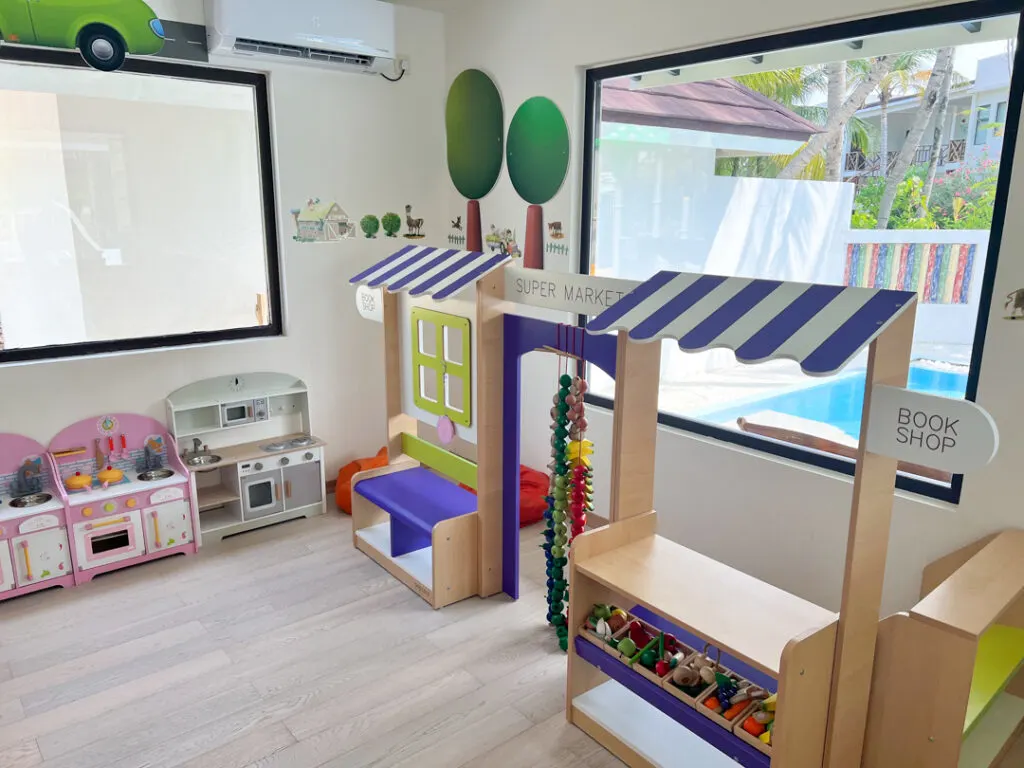 The staff were really lovely with the kids and were accommodating with requests such as vegan options for the cake decorating.
Our daughter loved the traditional Maldivian craft session the most. They made necklaces and decorations from leaves.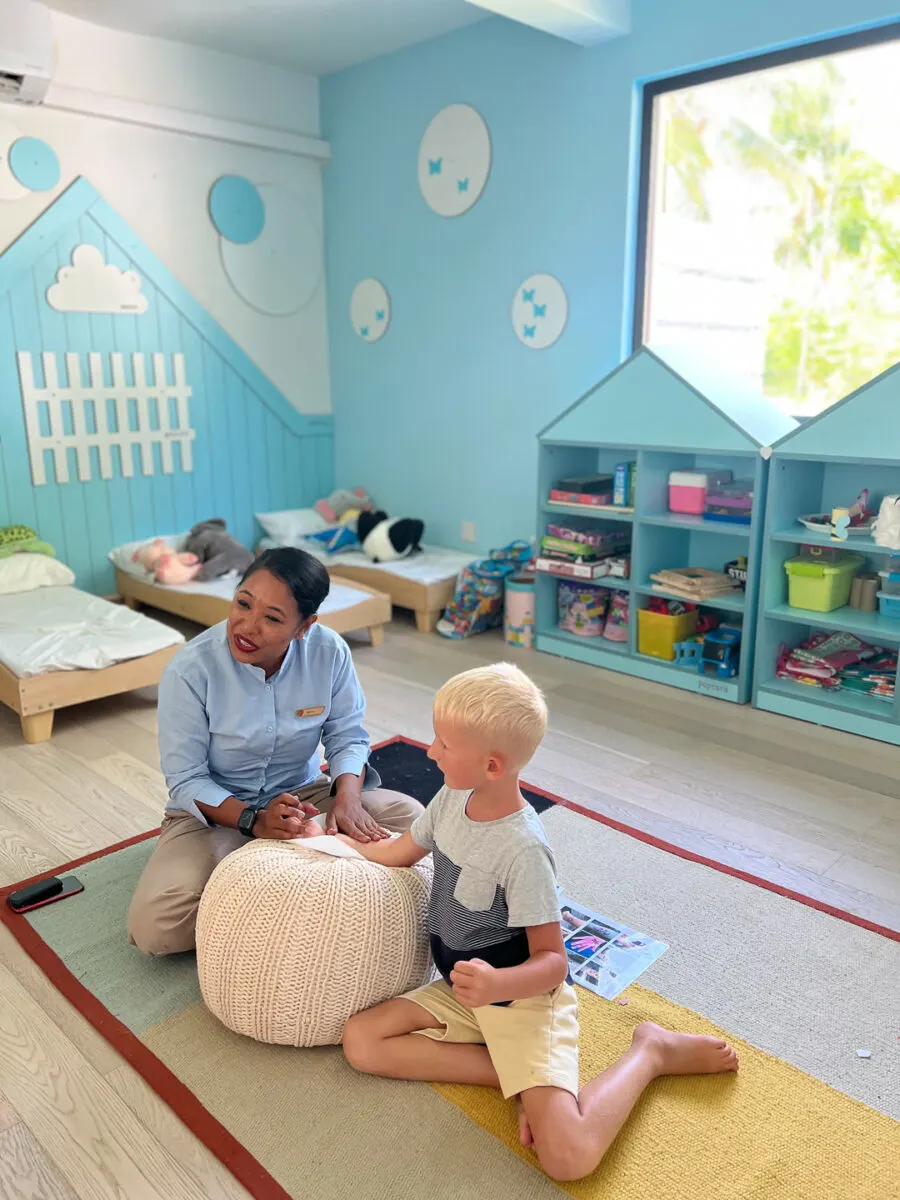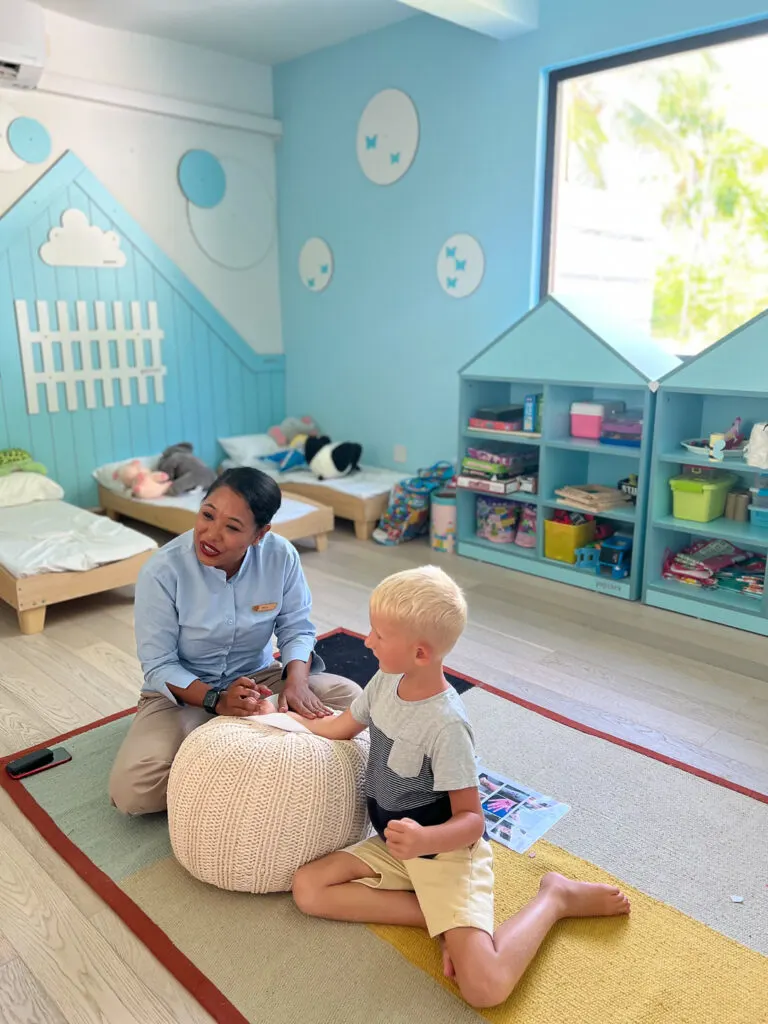 Children over four years old can be signed into the kids club without their parents if they wish. There is a daily complimentary buffet at the club with a variety of child-friendly meals.
The kids club is a welcome afternoon break from the beach when it is particularly hot. The club most certainly makes Oblu Experience one of the best Maldives resorts for kids and families.
The Facilities & Activities
Aside from the kids club, there are tonnes of other facilities and activities to enjoy on the island.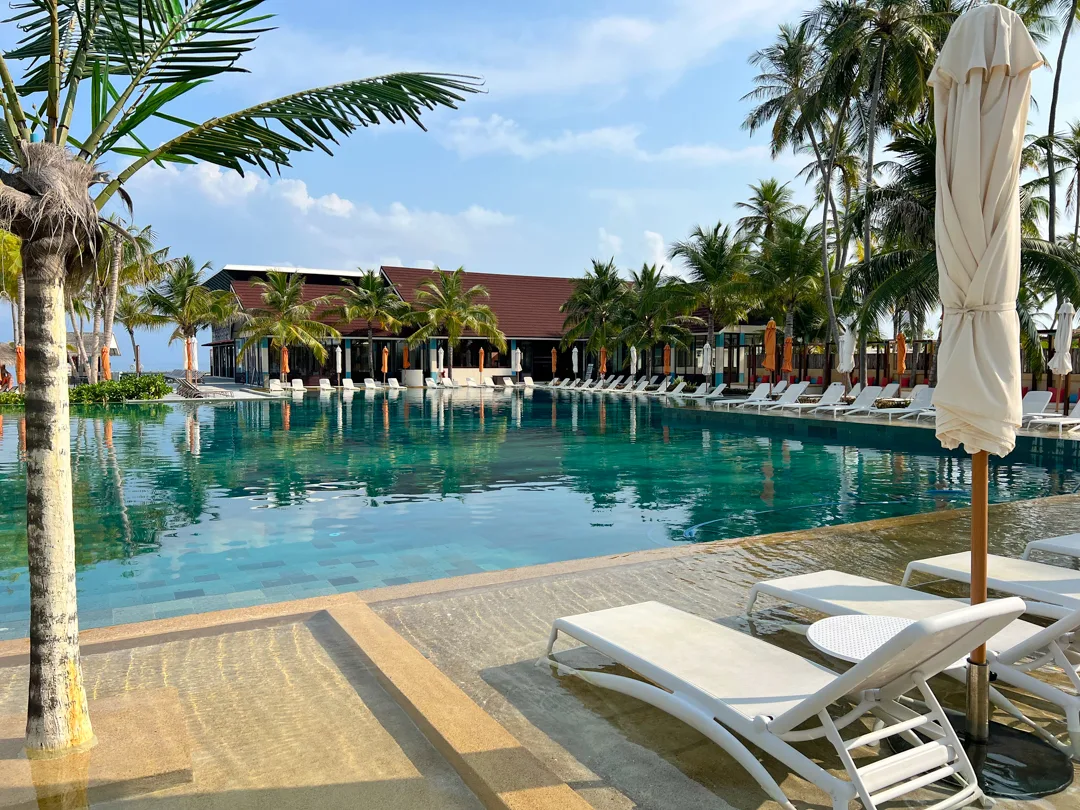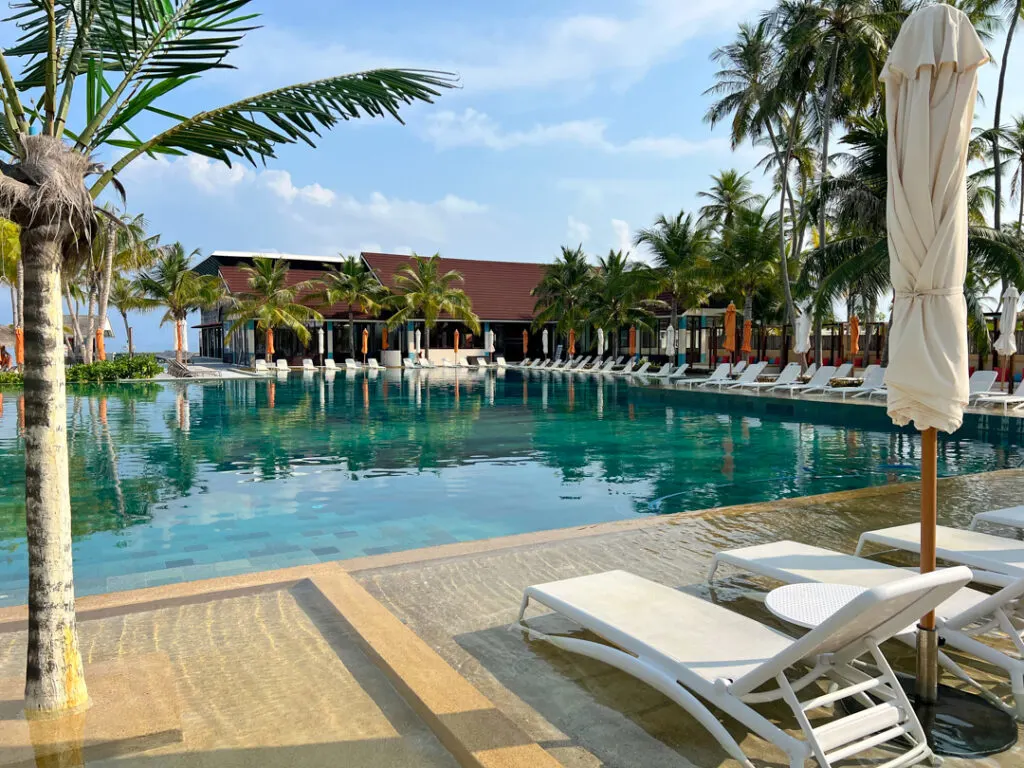 The whole island is surrounded by a beach, however, one particular section close to the main bar and restaurant has many sunbeds, with the water-sports desk nearby making it one of the most attractive areas to hang out.
The Beach
The beach is full of white sand and coral and the water is incredibly clear. In fact, you can see shoals of fish right on the edge of the water with baby sharks chasing them.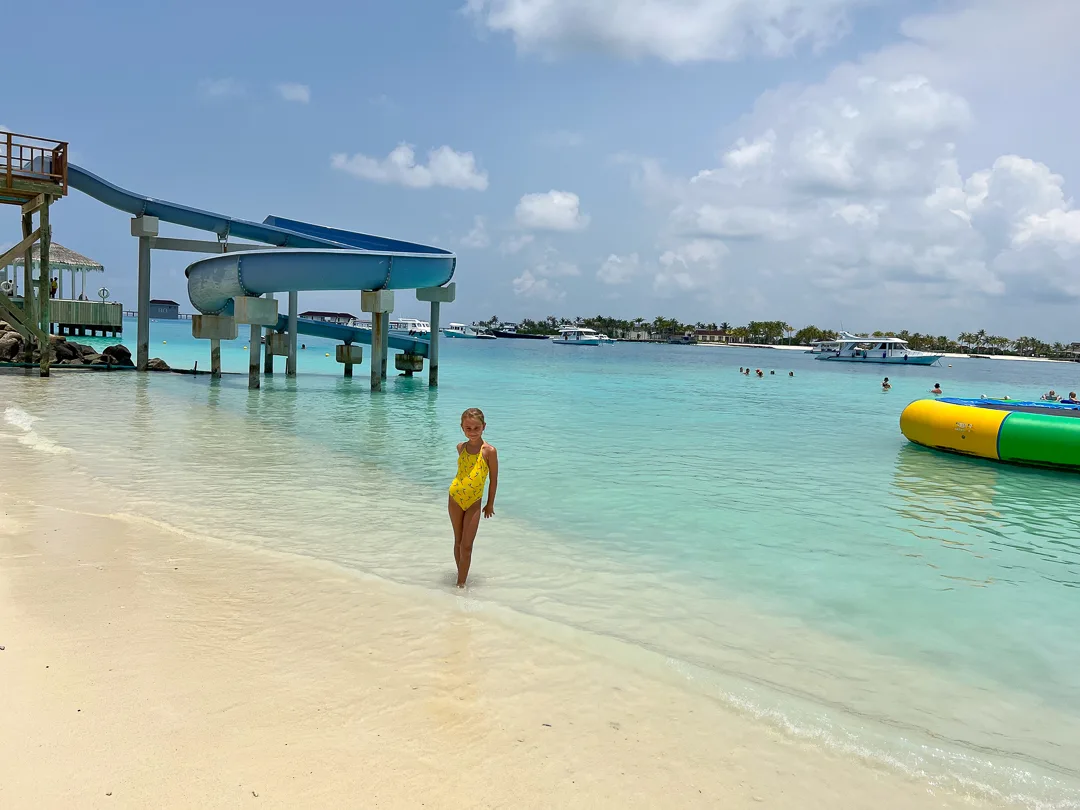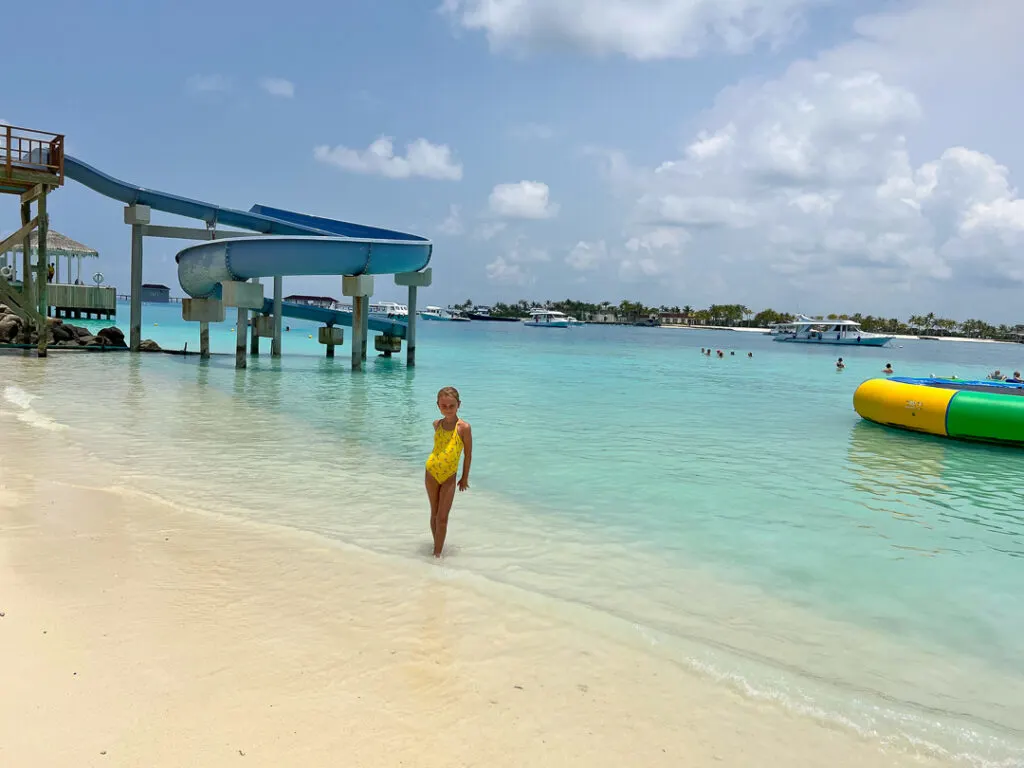 Our kids found some beautiful shells on the beach and had so much fun on the floating trampoline. They spent lots of time diving into the water from the trampoline at high tide, another reason why we found it to be the best resort in Maldives for kids.
The Lagoon
On the other side of the island which is just a short walk from the main area is a beautiful lagoon which is protected by a reef. It is the perfect place for children to snorkel. We saw shoals of fish and baby sharks.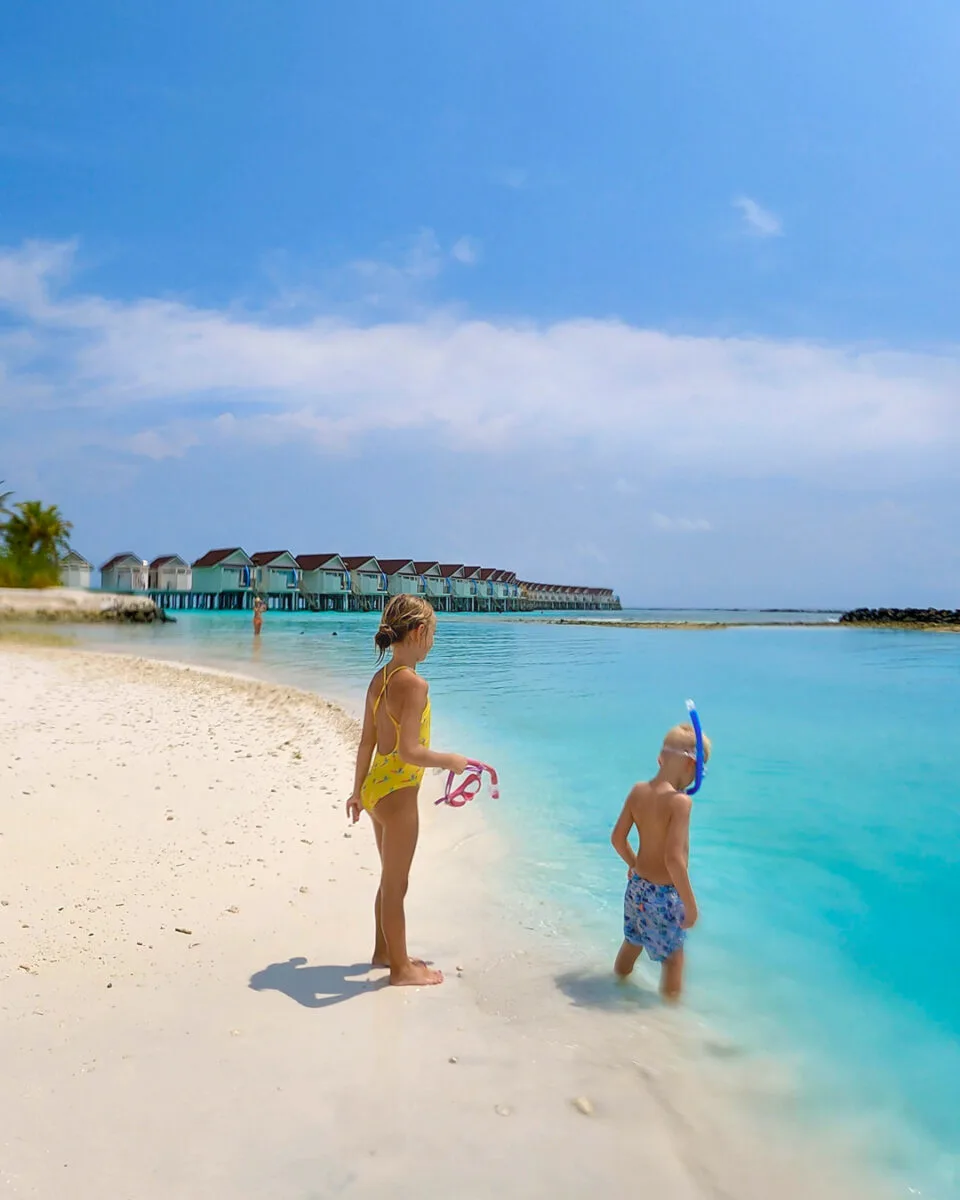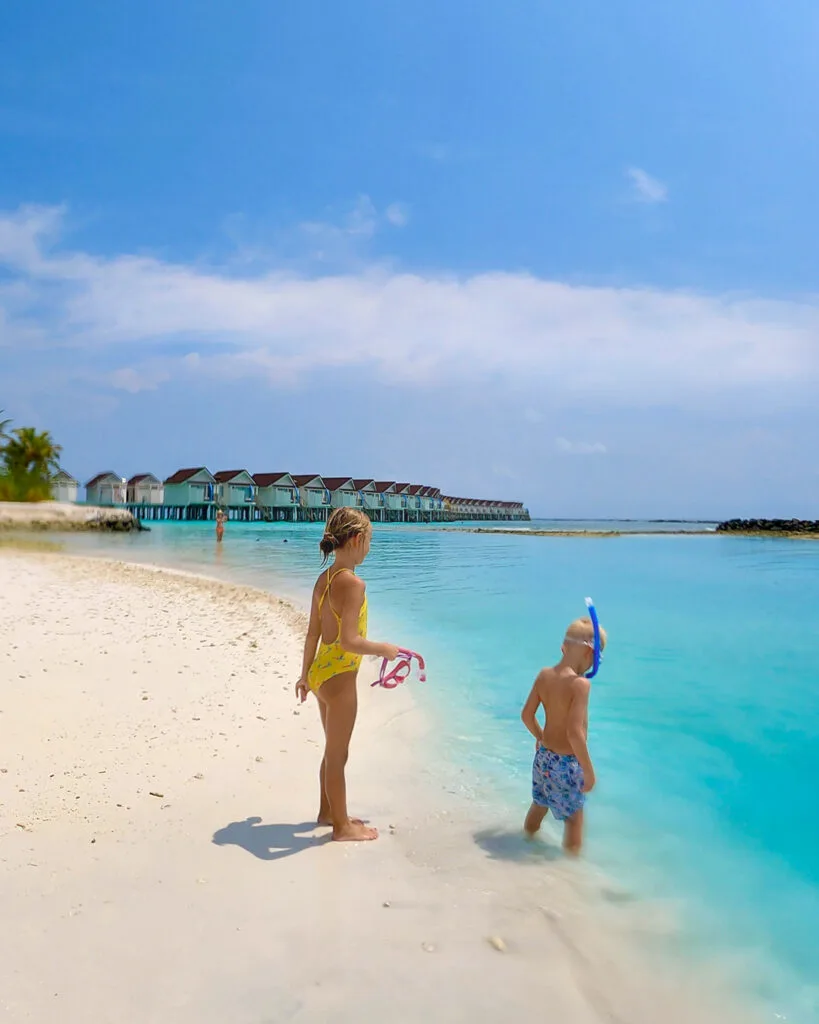 There wasn't any coral inside the lagoon however beyond the rocks there was a more diverse sea bed and more sea life. However, it is really important to pick the correct tide to swim beyond the reef and it may not be suitable for children to do.
To see the more diverse underwater life it is best to stay in an overwater bungalow as it offers direct access.
Underwater Restaurant
Oblu Experience also has one of the largest underwater restaurants in the Maldives. The experience has to be booked in advance and is not included in the all-inclusive package.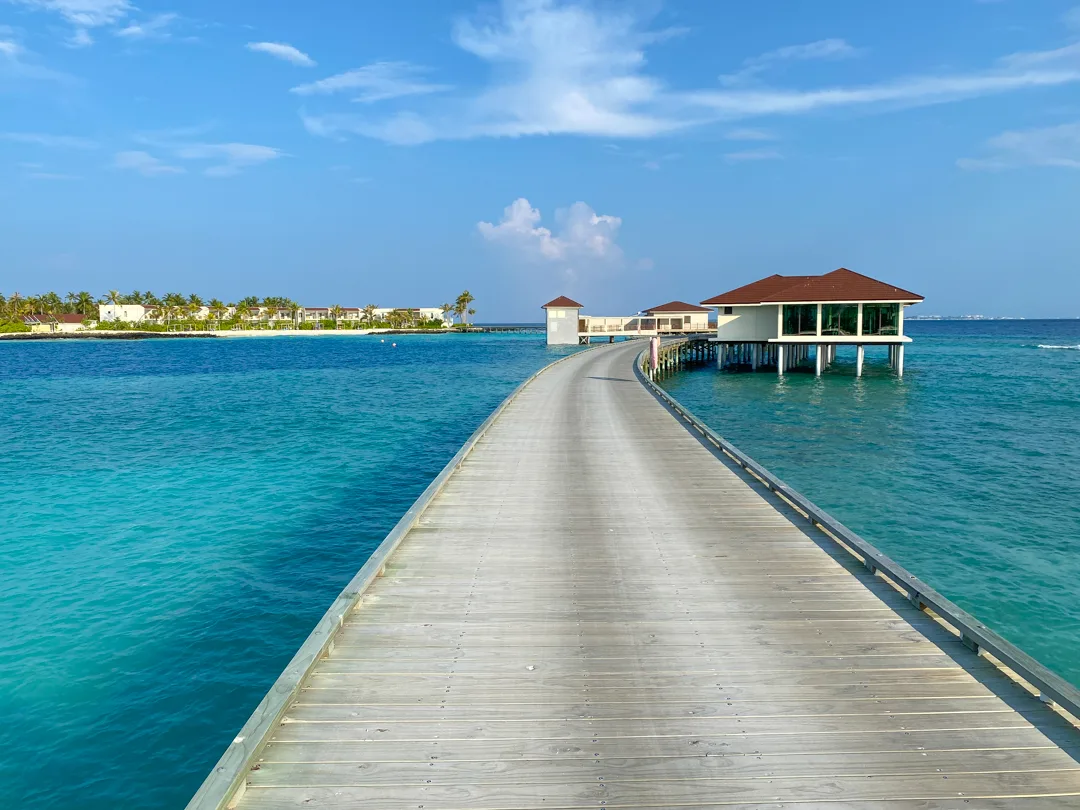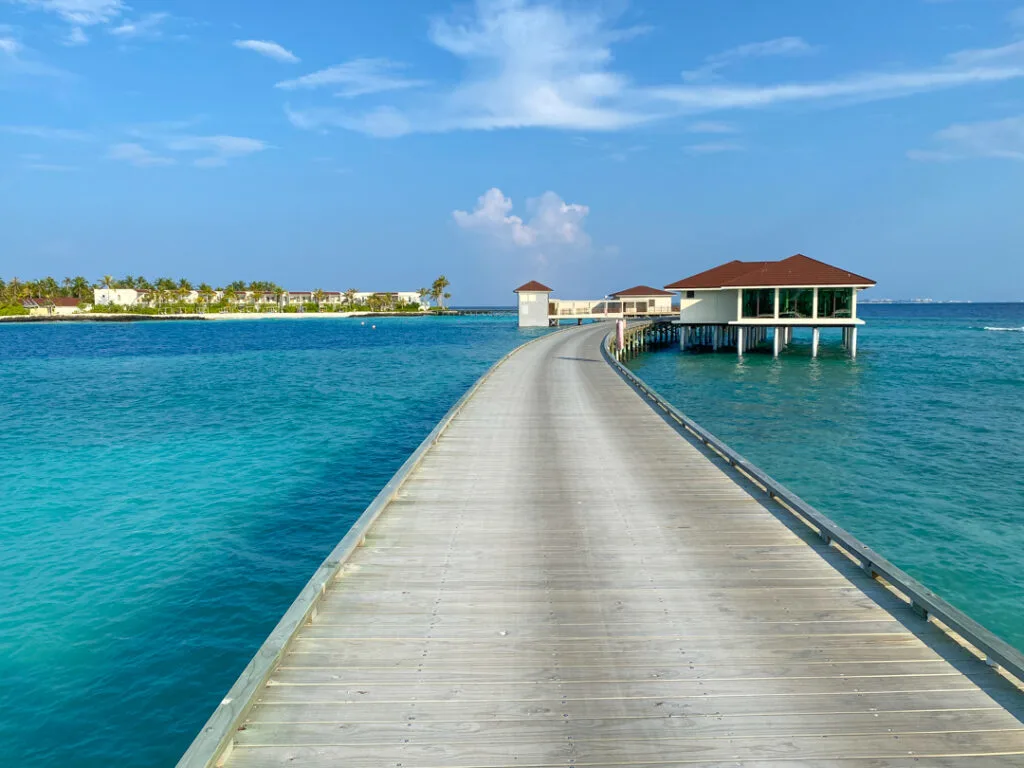 It features large glass windows looking out onto a coral bed with a variety of fish. This is a dress-up event so make sure to bring something nice if you intend to go to the underwater restaurant. The price of a child is significantly less than an adult.
Activities
Much to our son's delight the resort has an astroturf football pitch with games scheduled throughout the week.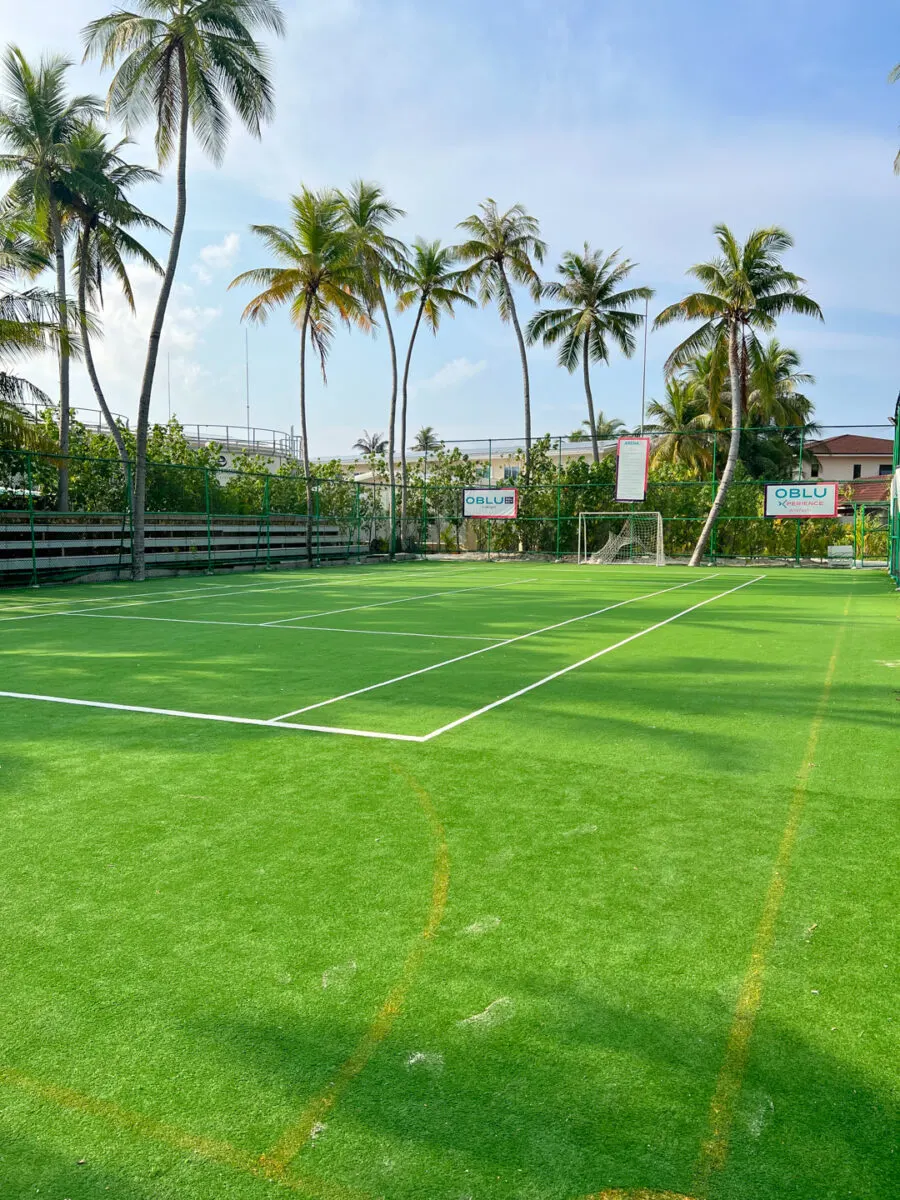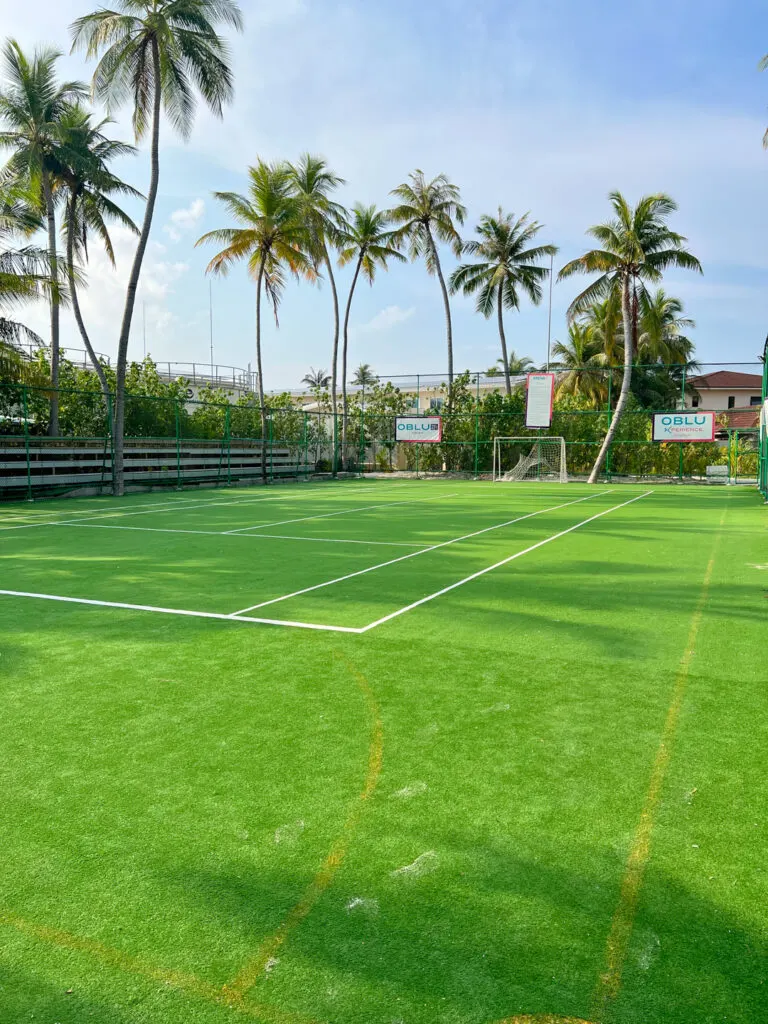 There were a number of other activities including group fitness in the form of aqua aerobics, volleyball, dance classes and walkathons. Not to mention live music, karaoke and themed nights at the restaurant.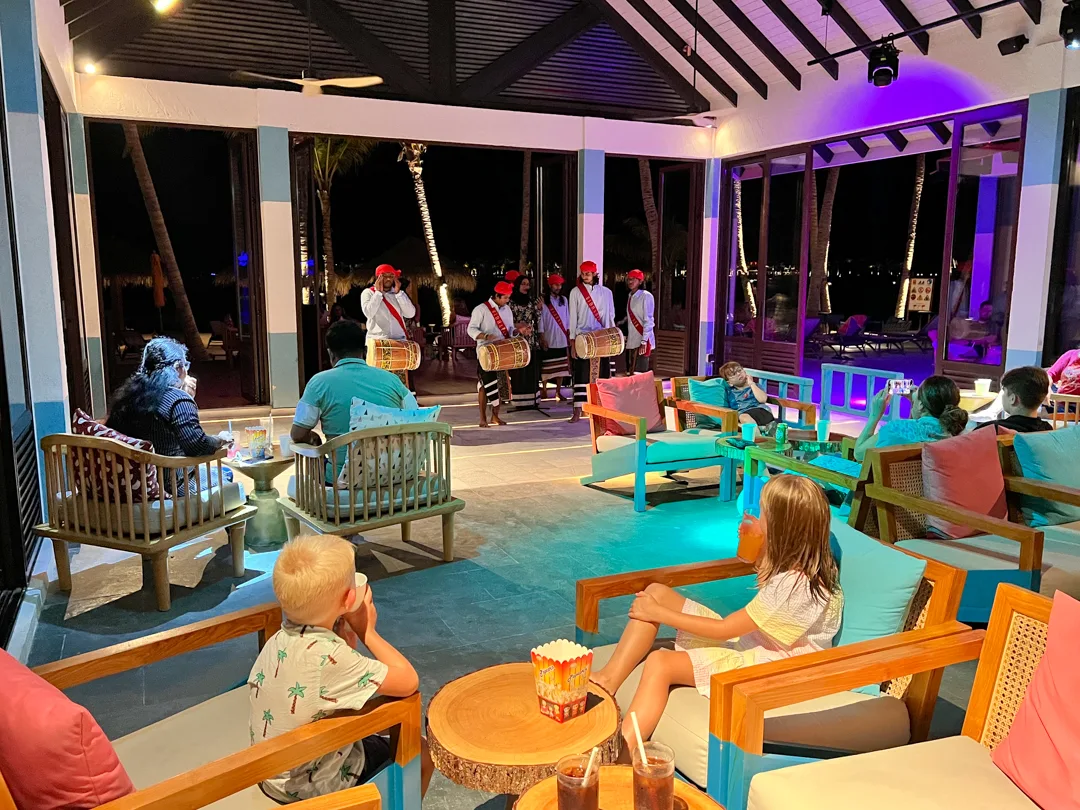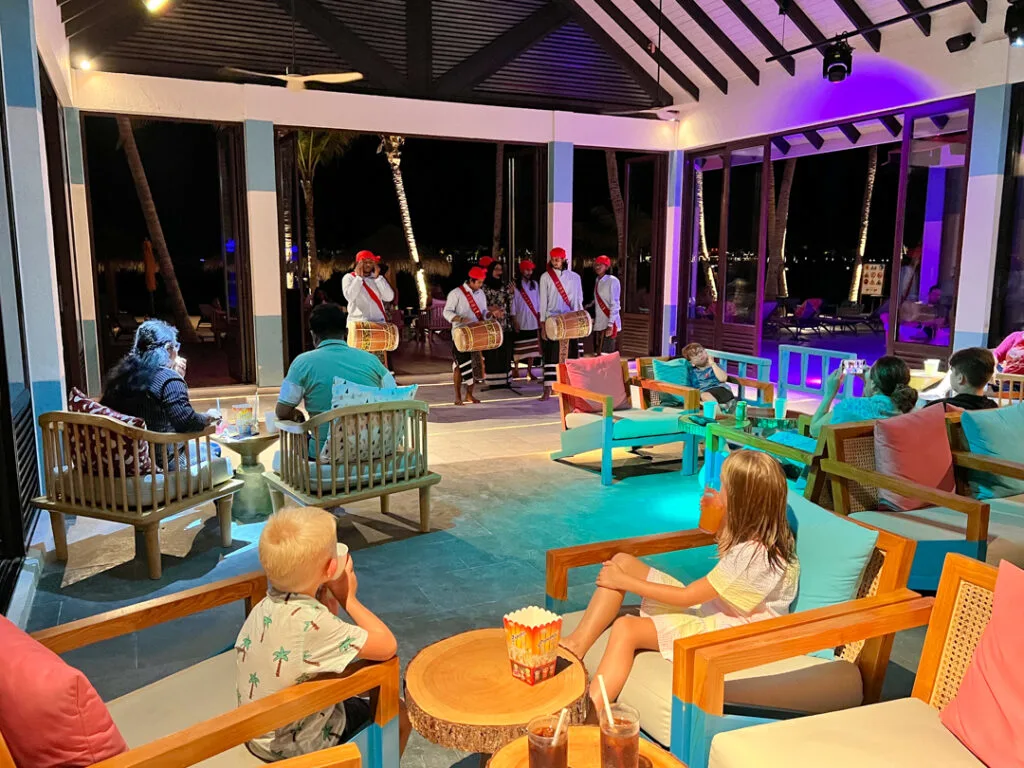 The overwater gym has to be one of the dreamiest places in the world to work out! It was in its very own overwater bungalow. It was well equipped with all the necessary equipment including personal trainers on hand!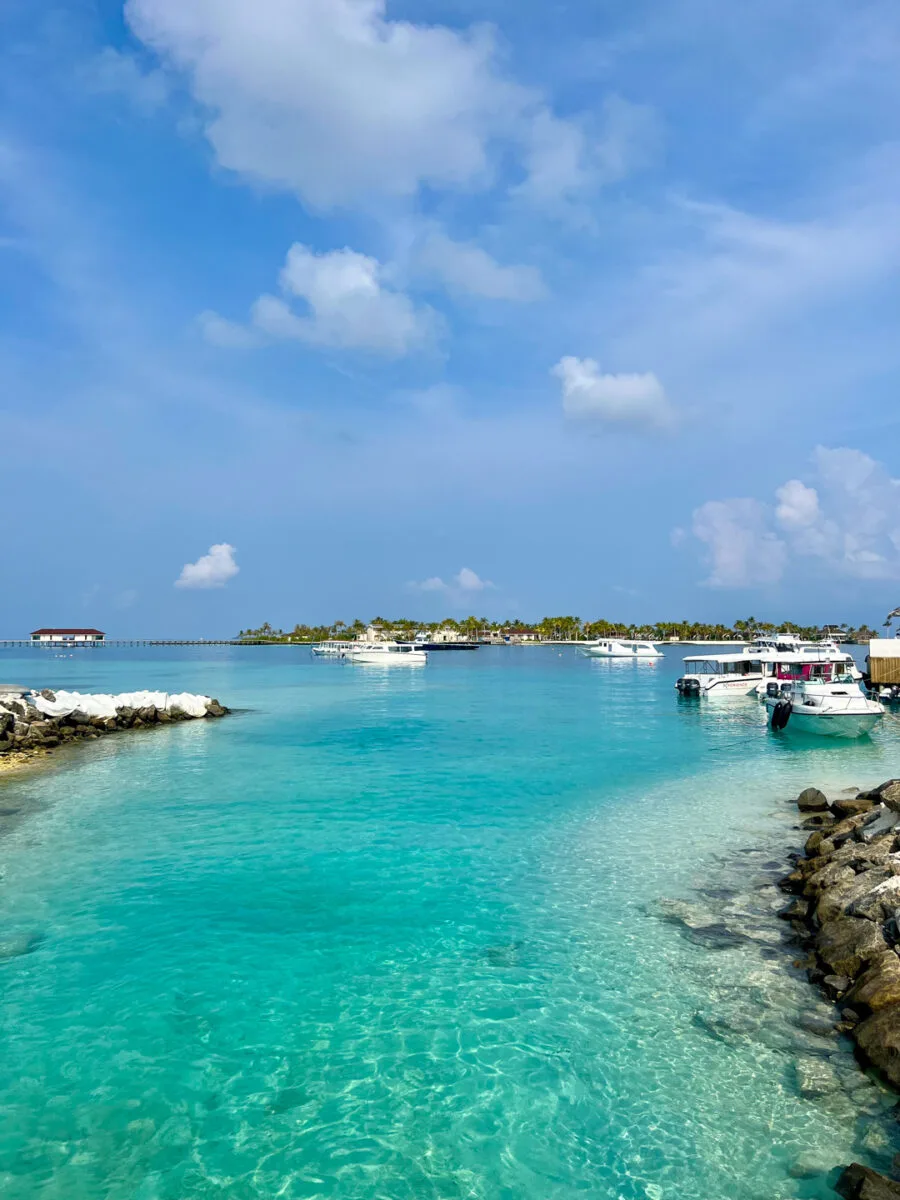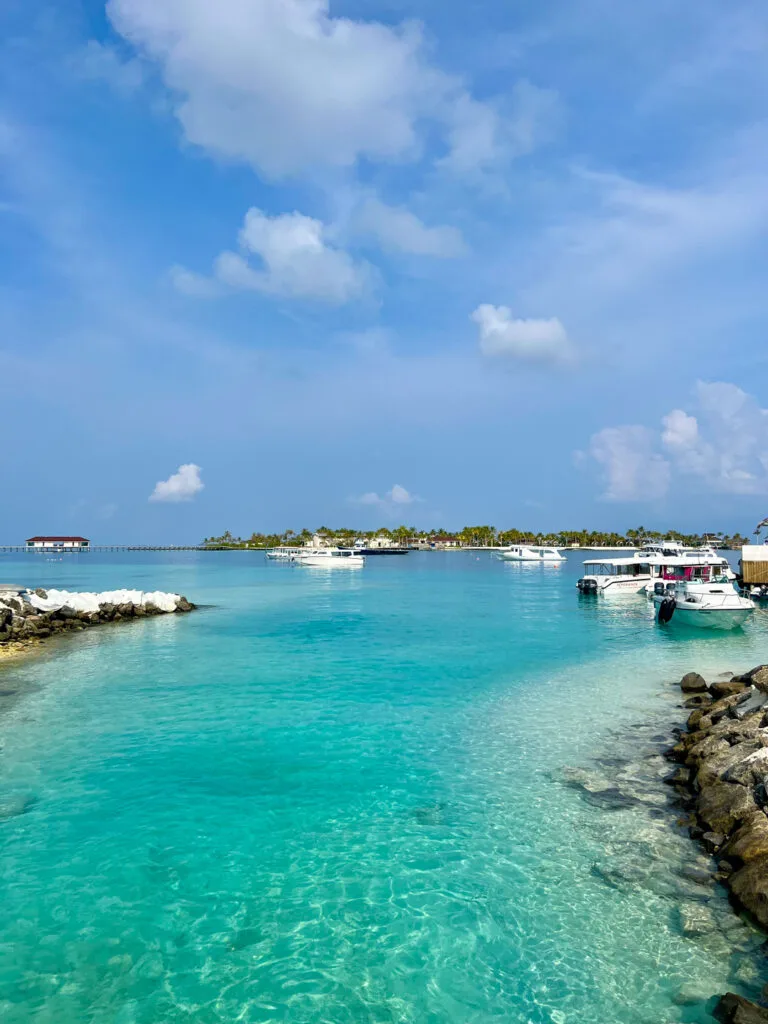 Needless to say, the watersport centre had tonnes of available activities and excursions. From paddle boarding and kayaking at the lower end of the cost spectrum to jet skiing, diving and boat rentals.
The day trips from Oblu Experience were expensive and in some cases quite long. For example, the snorkelling trip was four hours which is fine for adults and older children.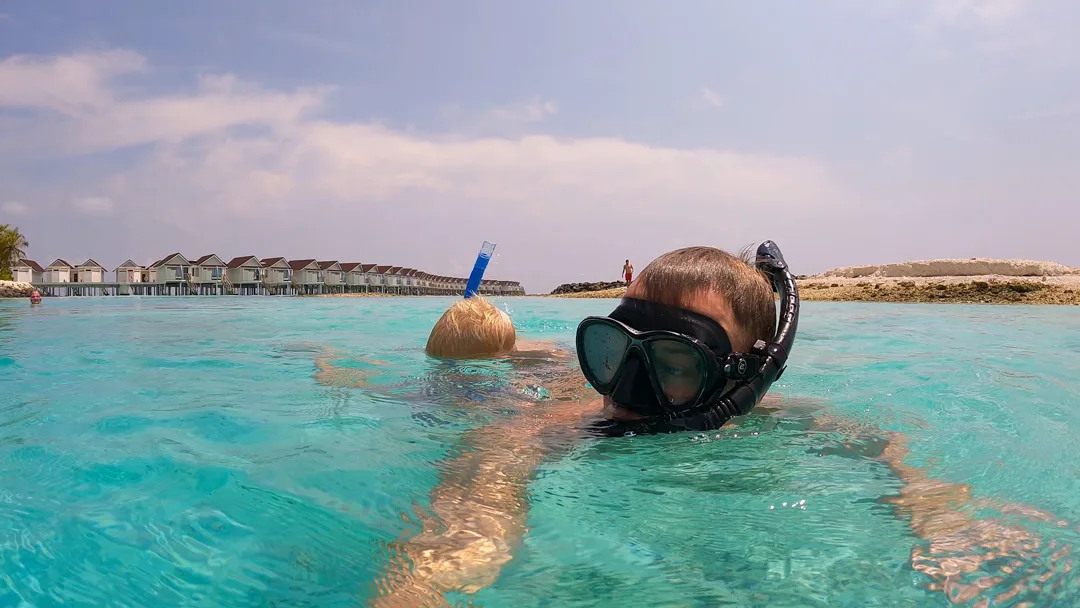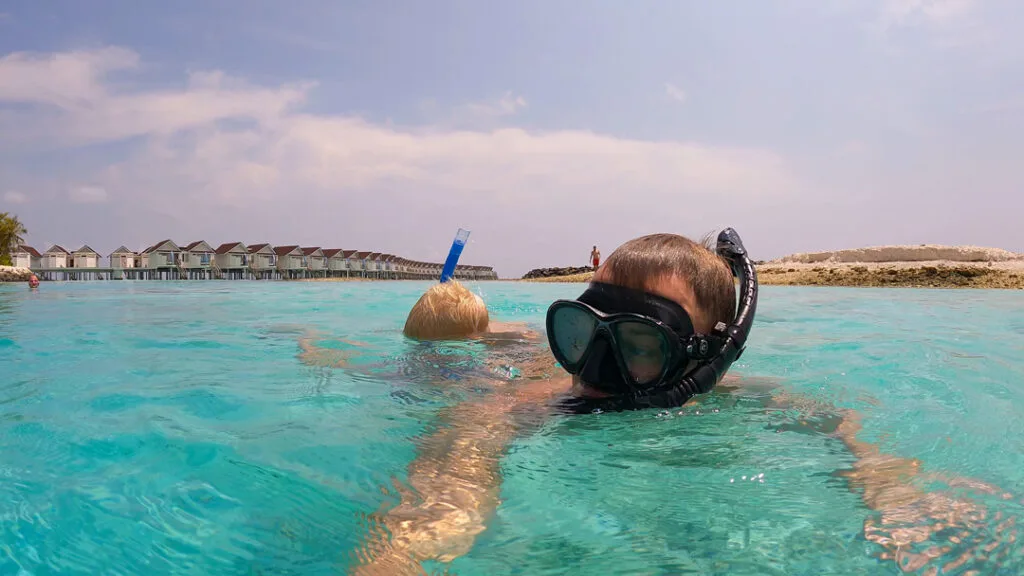 Other day trips included swimming with the manta ray. The trip to see dolphins however was only an hour and a half.
F&B at Oblu Experience
Oblu Experience has a main restaurant area with tonnes of seating and a huge international buffet, salad bar and many desserts through lunch and dinner. As vegans we found plenty of options and personally, I hovered (a lot) in the Indian food section.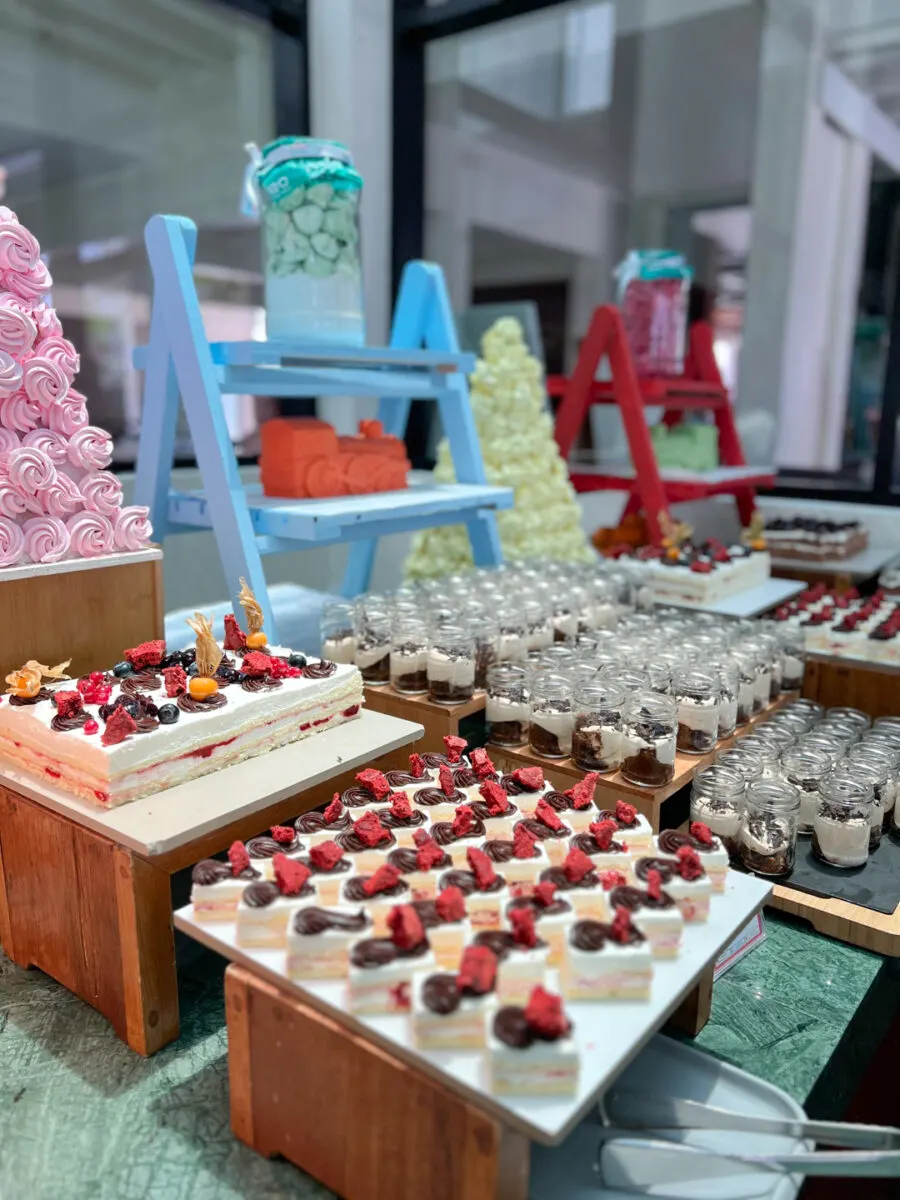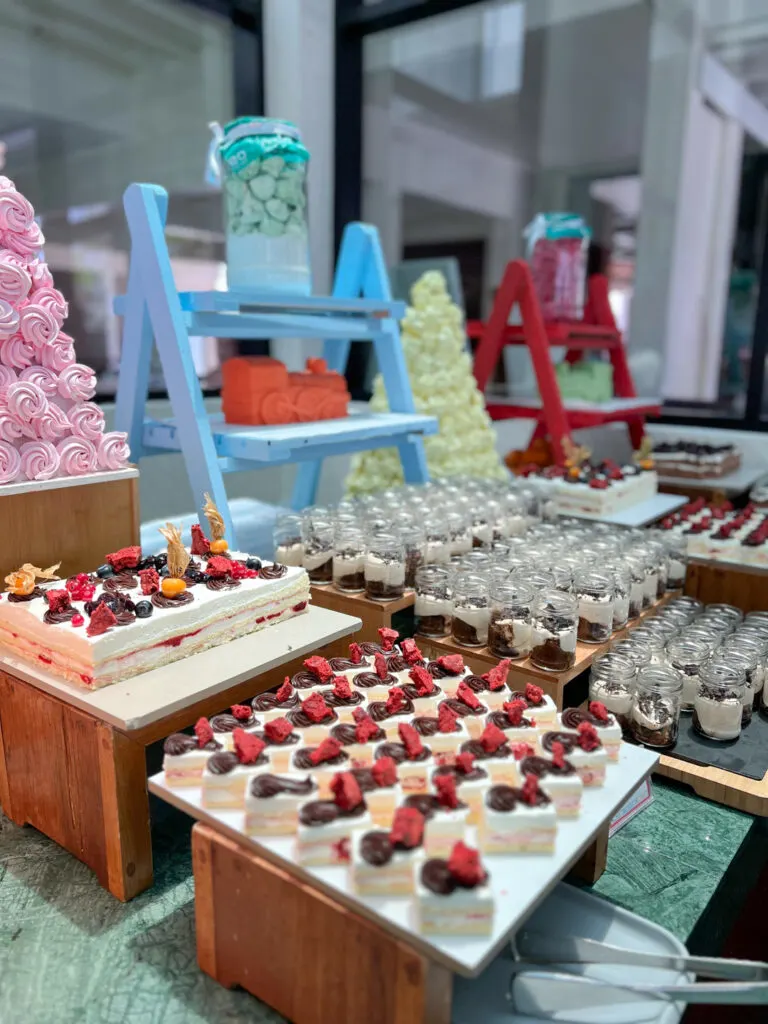 There is a cute coffee shop which serves fancy cakes and has many top-notch wines for sale. It is a beautiful area, however, it is not included in the all-inclusive.
The main bar area served alcoholic and non-alcoholic beverages throughout the day. In the same area were two self-serve popcorn machines which (I swear) my kids visited tens of times a day!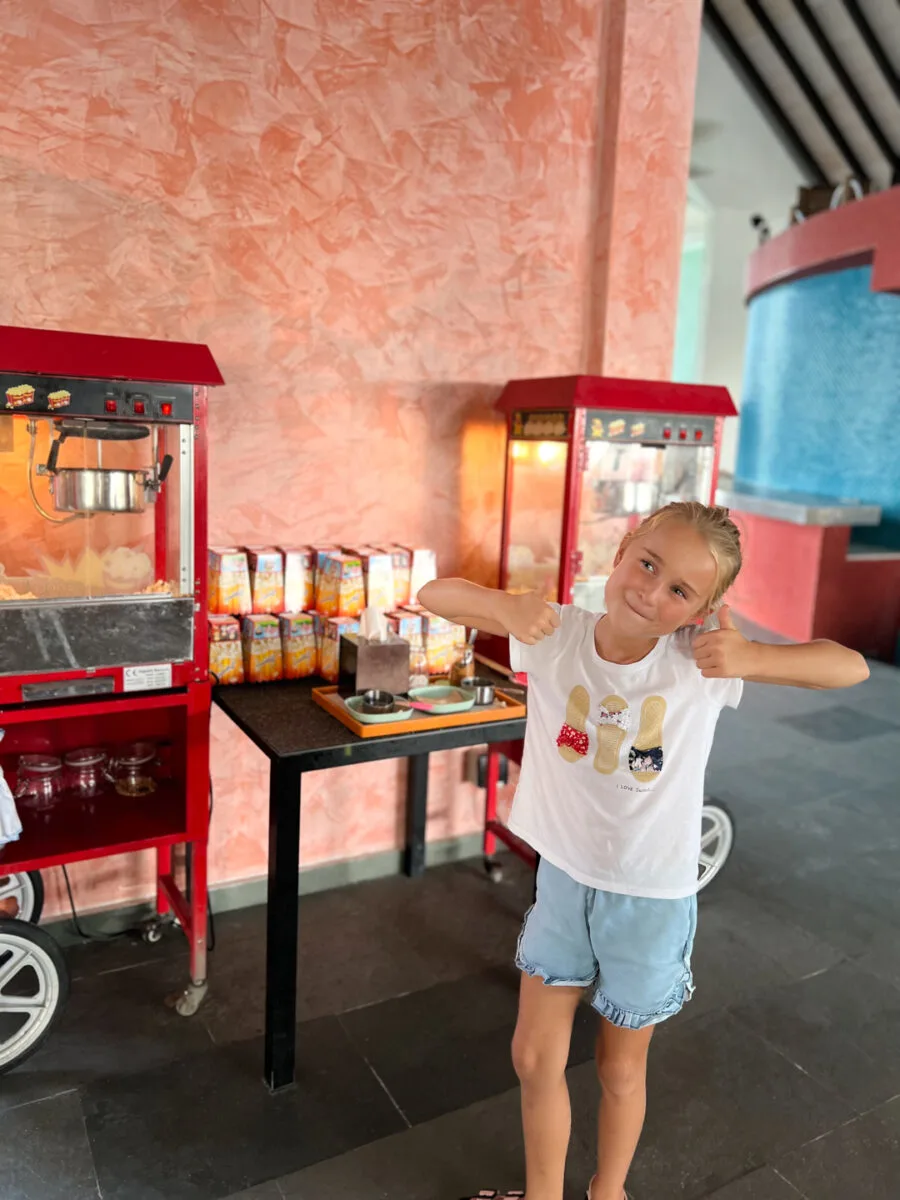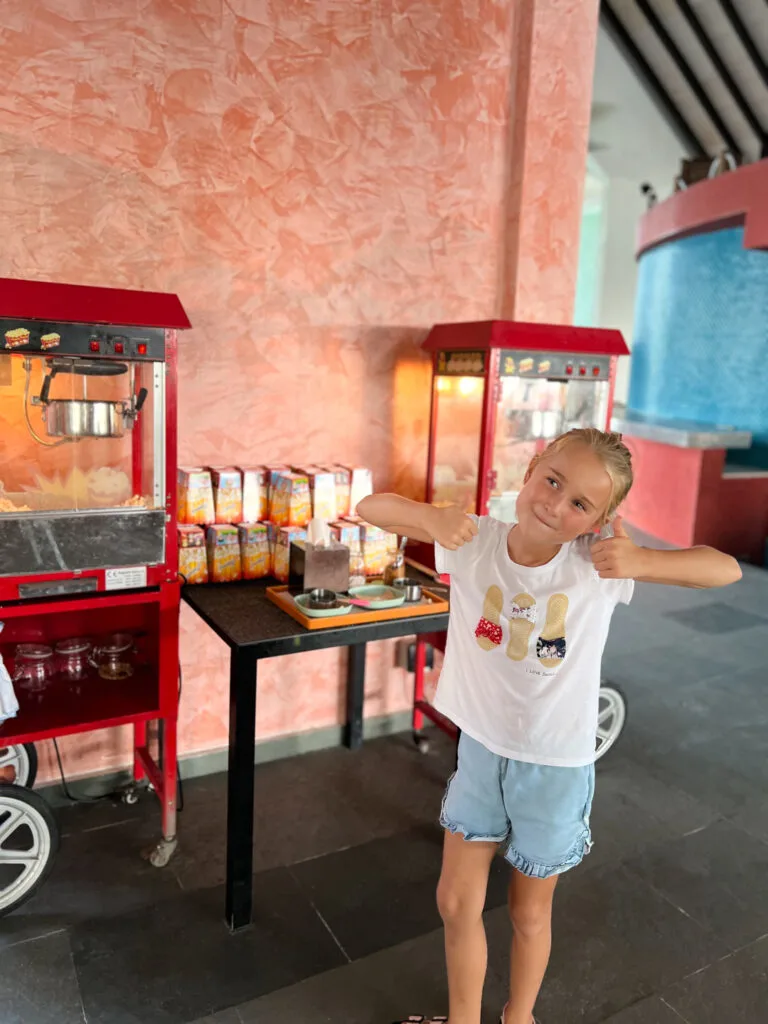 It was the perfect snack between meals and the kids absolutely loved it.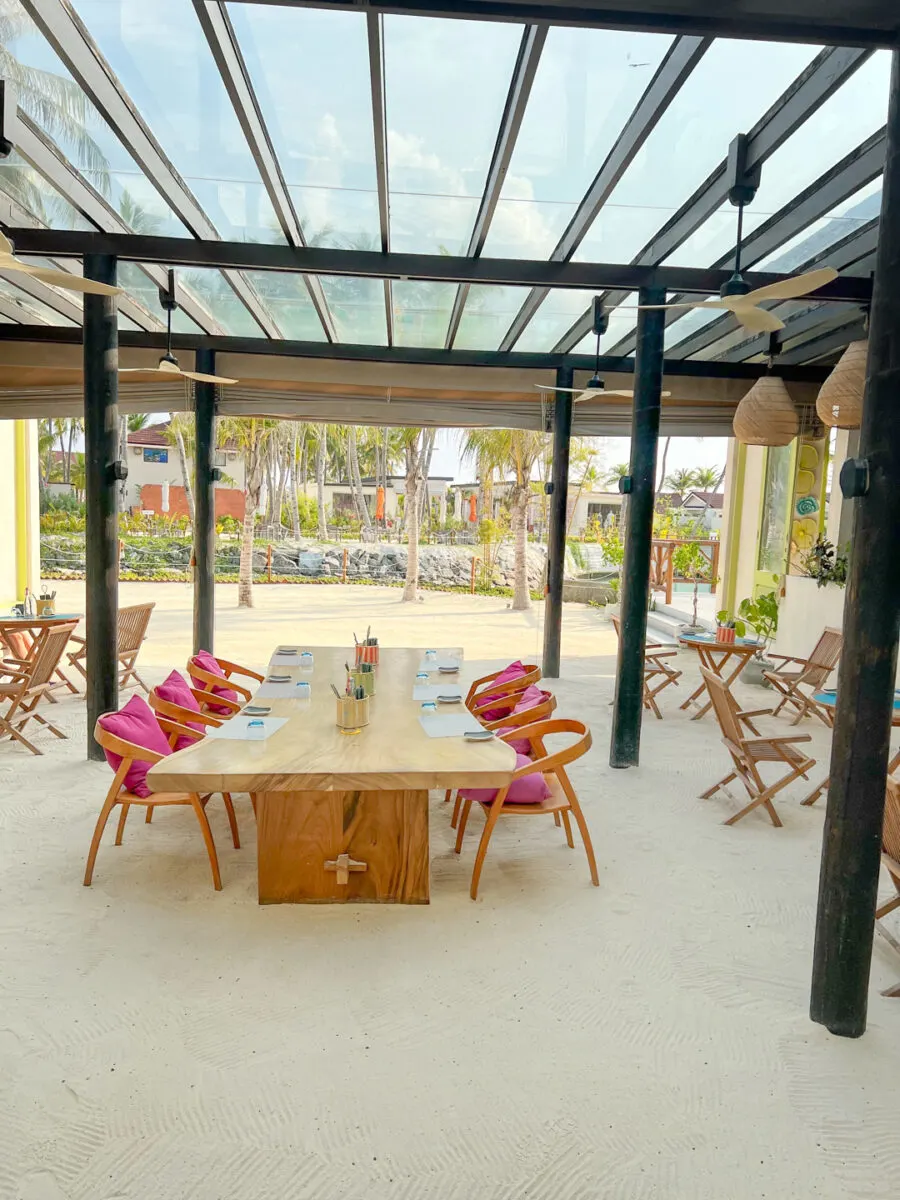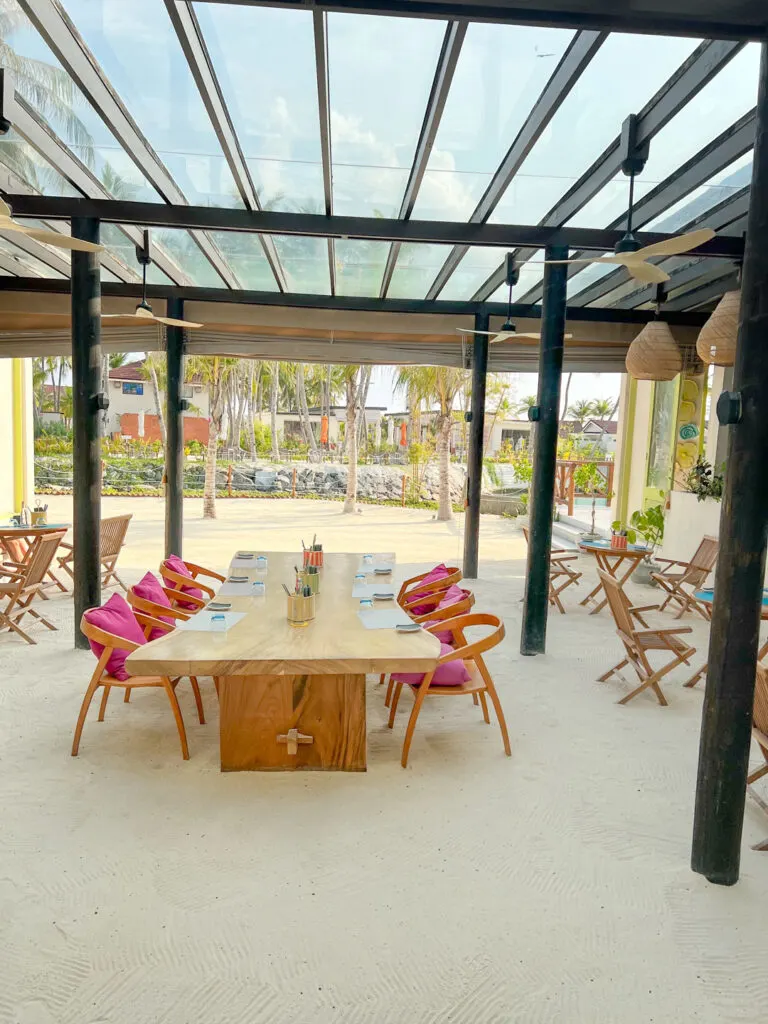 In summary, The Reasons We Chose Oblu Experience
It is only a 15-minute speedboat from the airport which is also included in the price of a stay.
It has incredible family rooms with bunk beds for the older kids.
The kids club is really amazing for kids of all ages.
The reviews were really good online. Some resorts are astronomically priced for families, however, Oblu Experience was a quarter of the price in comparison to some and still appeared on the surface to have similar reviews and facilities to some of the top resorts.
There are so many activities for families both on the water and at the resort. From football to movie nights and snorkelling to arts and crafts.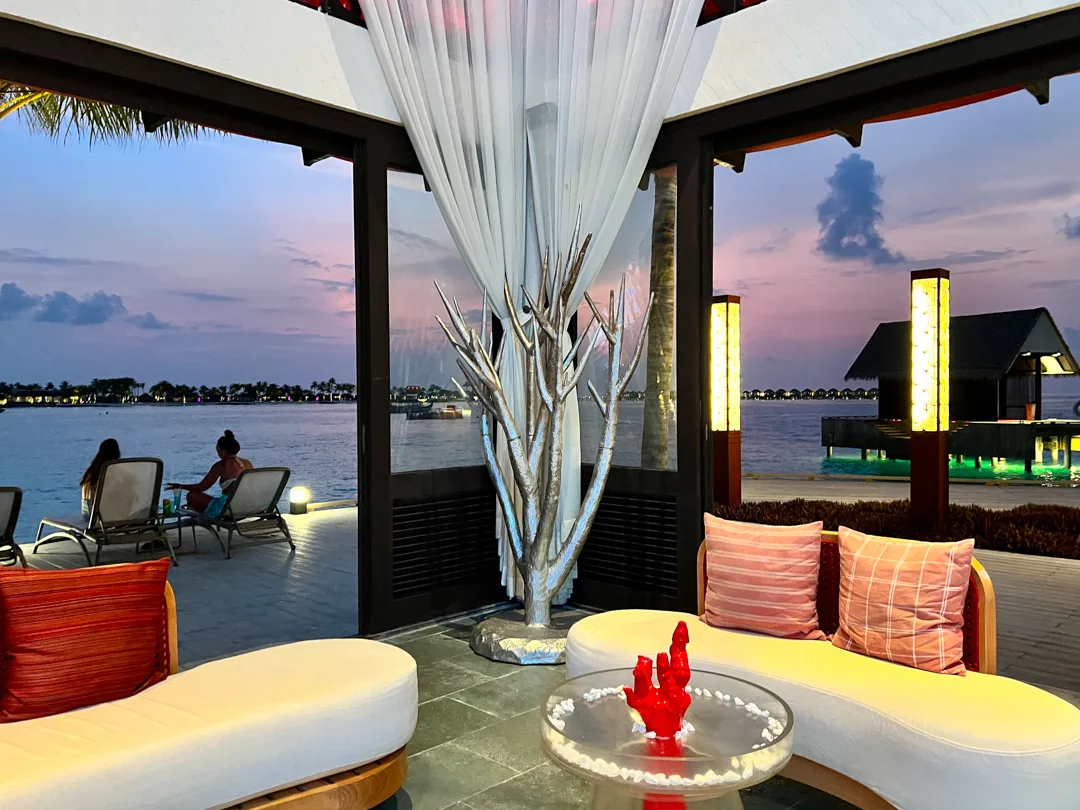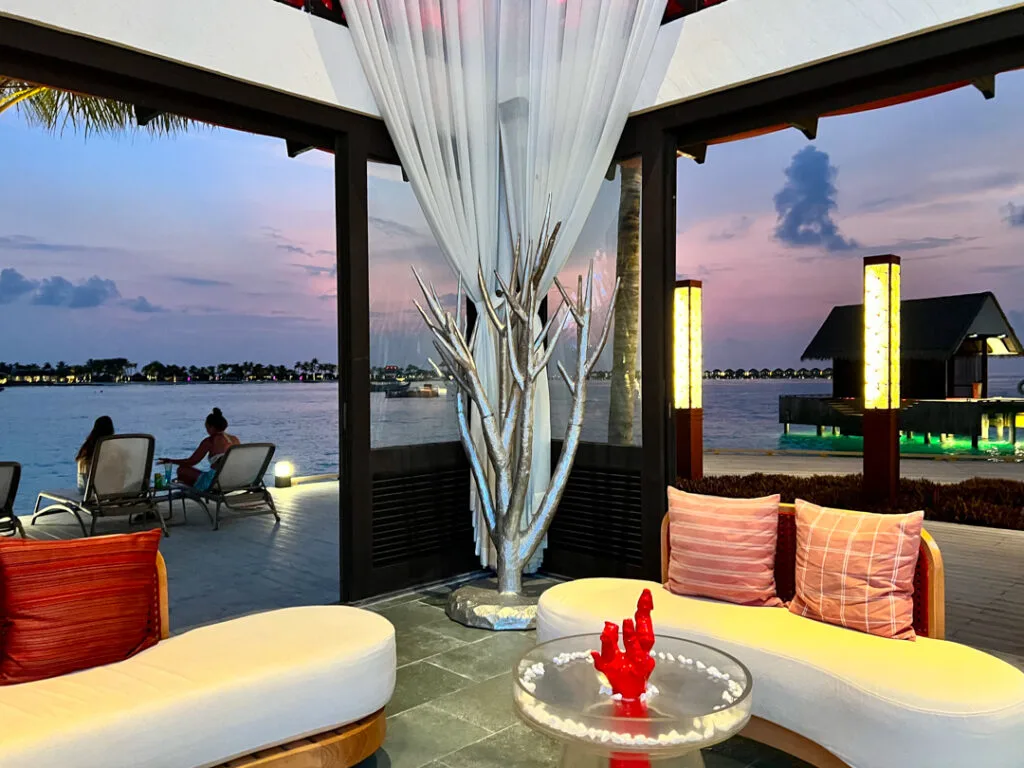 What To Pack For The Maldives With Kids
Many resorts are all-inclusive which is probably a pretty good idea since taxes are insanely high in the Maldives.
It makes everything super expensive. Bring everything you need, be it suncream or a bucket & spade to play on the beach when visiting the Maldives with kids. Here are some things to pack for a trip to the Maldives with kids.
Check out this collapsible bucket for the beach here.
A good fitting snorkel and mask. There are plenty of opportunities to snorkel everywhere!
Check out this top-reviewed snorkel here.
You could take flippers, however, they are quite bulky and it's possible to rent them, you don't necessarily need them to snorkel close to the shore.
Sale
Check out these travel flippers here.
Make sure to bring a large beach bag to hold all of the bits and bobs during the day.
High-factor water-resistant sun cream and after-sun cream are also super important.
Bring 2- 3 pieces of swimwear per person minimum. You are likely to spend most of the day in swimwear.
Buckets & spades cost up to $20 in the Maldives ( I made this mistake), bring some silicone foldable ones from home which you can buy on Amazon.
It never really gets cold in the Maldives. Other than a layer for the aeroplane, you will not need any layers.
Make sure to bring sunhats and sunglasses. The sand is super reflective in the Maldives as it is so white and the days are mostly clear. Make sure to bring something to protect the kid's eyes.
Waterproof shoes are a really good idea for the beach in the Maldives with kids. Many of the beaches look like white powder sand in the photos.
However, many are made up of coral and can be quite sharp to walk on so it's really worth having something to avoid being uncomfortable.
There are going to be lots of opportunities to take photos underwater. Having a good underwater camera is a fantastic thing to have to capture the moment. We use a GoPro and it has been worth the investment, we use it pretty much everywhere, not only in the water.
Sale
We needed a break from the sun by the middle of the day. After lunch each day we ventured back to the room. Some of our kids napped whilst others relaxed and watched movies.
Needless to say, they were all desperate for a rest (even though they didn't realise that themselves). Bring a tablet or something that will help them chill out and take a time out.
This may not be necessary for older kids but we really needed our kiddos to take a rest to make it through to the evening.
We also brought some familiar snacks and smoothie pouches for our babies. The resort was flexible and willing to take requests in advance.
However, as an all-inclusive resort, the times for meals were set with dinner starting at 7 pm which didn't really work for us. It was handy to have a few options in our room. This will vary from property to property.
The Best Time To Visit The Maldives With Kids
The best time to visit the Maldives with kids is during the dry season from November through April. The monsoon season experiences rough seas and stormy days.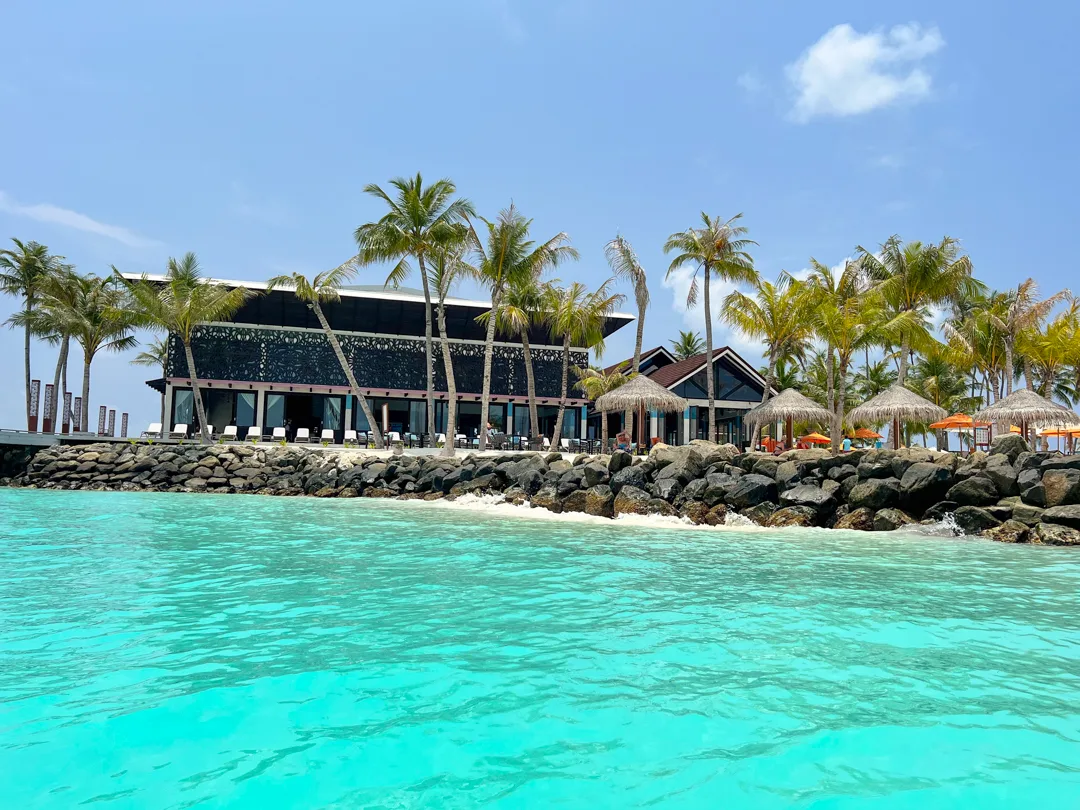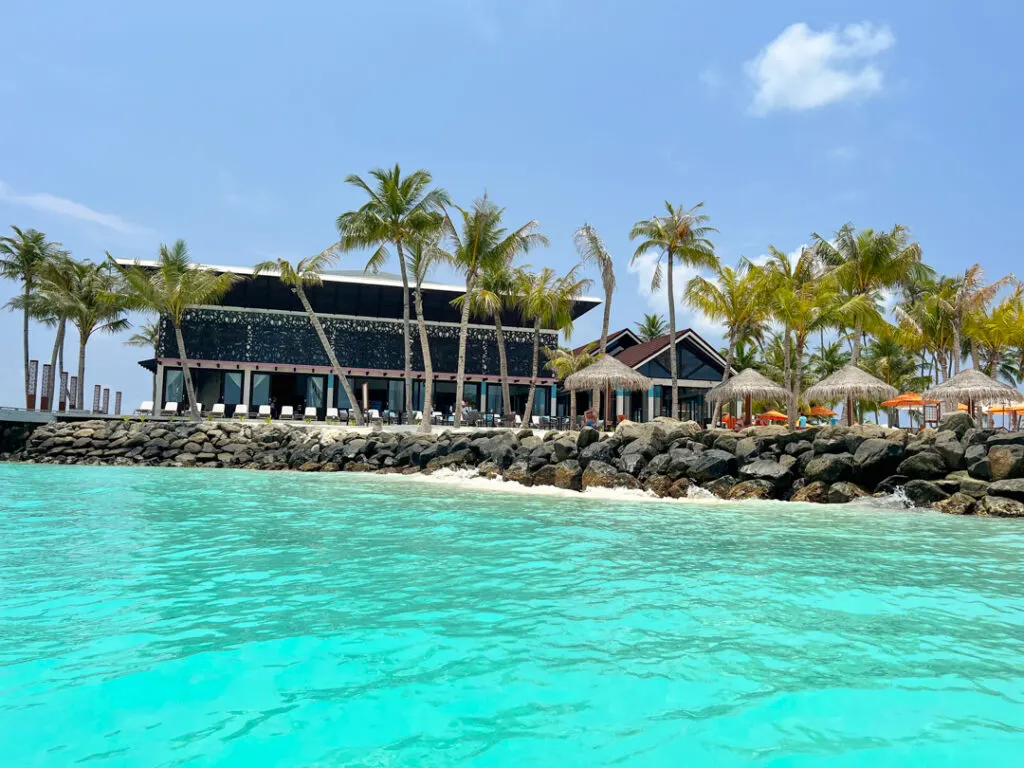 Temperatures range from 24 to 21 degrees Celsius throughout the dry season. However it is important to note, the humidity sits around 80% which can make the weather feel even warmer.
We visited in April and definitely needed midday breaks from the sun. During the dry season, water visibility is incredible reaching 20-30 metres when we went snorkelling in the Maldives with kids.
Things To Consider When Visiting The Maldives
Don't forget to buy travel insurance to travel to the Maldives with kids. There was a small clinic in the resort which covered minor issues. It was a free service, even the prescribed medicines were free of charge.
Hospitals are quite hit-and-miss in the Maldives with varying reviews online so travel insurance is important.
The plugs used are type D and G which is the UK 3-pin rectangular shape. Pick up an adapter here if needed.
Sale
Don't forget to do the landing and departure forms for passengers. Yes, you even have to do the forms to leave the country. It is best to do this in advance, however, if you forget, there are QR codes in departures to do the forms. There is no point approaching immigration until it is complete.
If you have the option to choose a seat en route in or out of the Maldives, make sure to book a window seat to admire the beauty of the islands.
As soon as you arrive in the Maldives the temperatures are full on with limited AC space. Make sure to have appropriate clothing ready to hand for arrival.
If you choose a different resort further afield in the Maldives with kids consider taking sea bands for anyone who gets sea sick in the family.
Sale
Try to choose a flight which arrives in the morning which will give you a full day and make the most of the time.
For babies, make sure to bring wipes, diapers and any formula required.
I hope you enjoyed reading about our trip to the Maldives with kids. Not least, I hope you picked up some tips for your trip! If you visit, please let me know, I love hearing from my readers, leave a comment below and I'll get back to you.
If you are looking for any other family trips, be sure to check out our destinations page full of worldwide itineraries and tips. Not to mention family travel gear reviews and generic travelling with children tips.
If you feel this post has been helpful and you'd like to buy me a virtual coffee, you can do so here – thank you!
Disclaimer: This post about visiting the Maldives with kids contain affiliate links, by using them, will not cost you any extra, and we will receive a small commission to keep us writing.
Last update on 2023-11-30 / Affiliate links / Images from Amazon Product Advertising API