In the current climate free activities are an absolute win to keep little ones entertained! If you are looking for fun free things to do in London with kids we have all the bases covered!
Having lived in London for many years, we've been lucky enough to avail of the incredible free activities London has to offer with our kids.
From amazing museums providing interactive educational experiences, to sky scrapers with free tropical gardens, the options are endless.
London can be so expensive when it comes to accommodation and eating out. So if there is anywhere to save the pennies, it is most certainly with activities!
So whether you are travelling on a budget to London or living locally, check out this comprehensive list of free activities in London for families.
Best Fun Things To Do In London With Kids For Free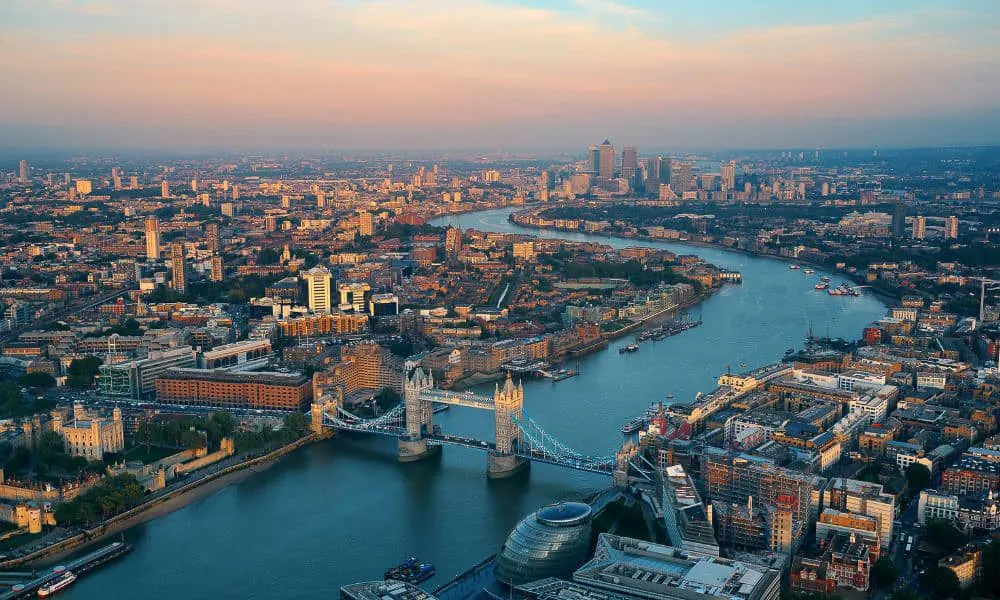 1. The National History Museum
The Natural History Museum has had its fair share of iconic displays. You can find everything from dinosaurs to volcanoes and human evolution to space education. There is something for everyone.
The remains of the dinosaurs found in the museum are super impressive. Carefully pieced together to create a life sized skeleton, the national history museum dinosaurs dwarf everything in site.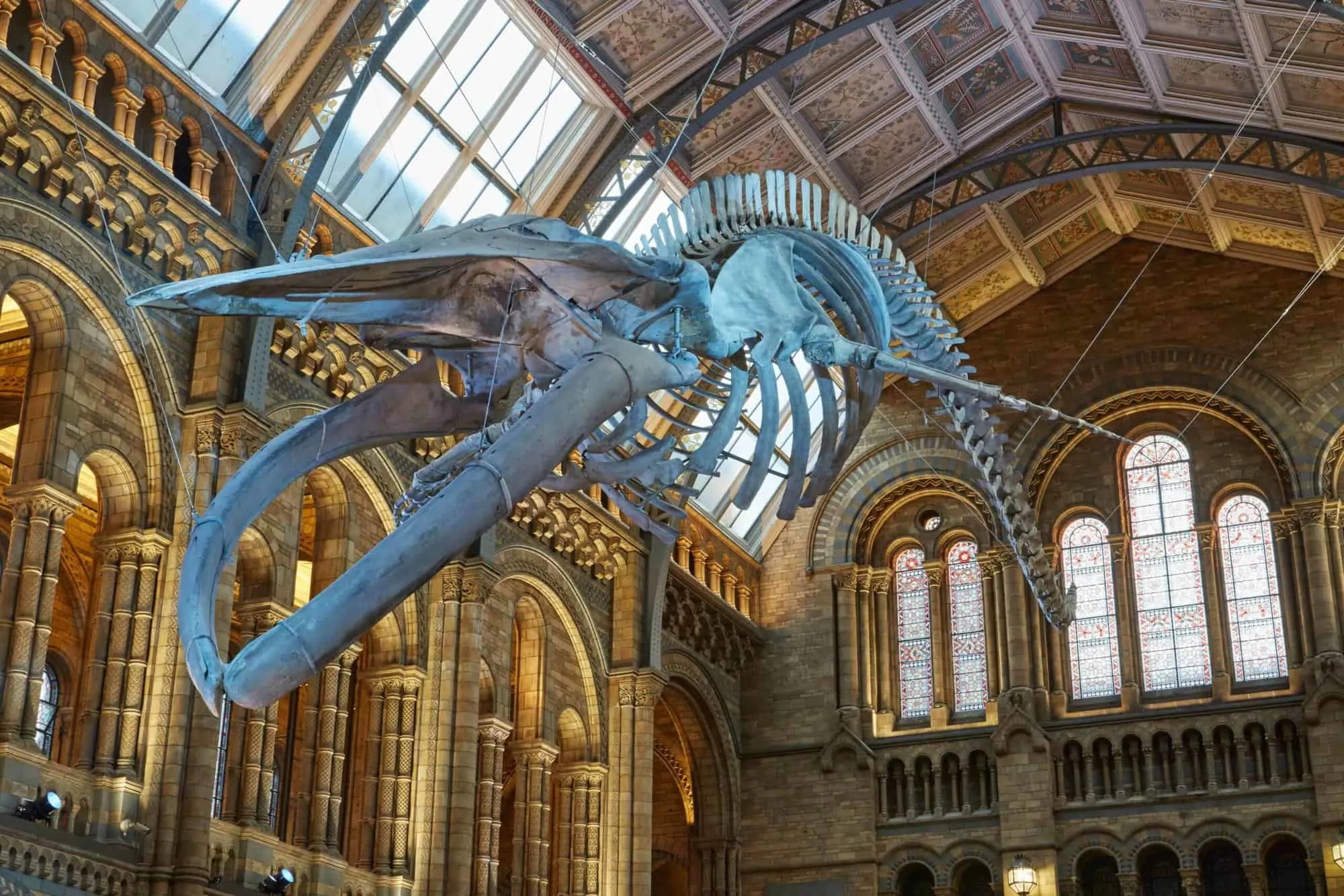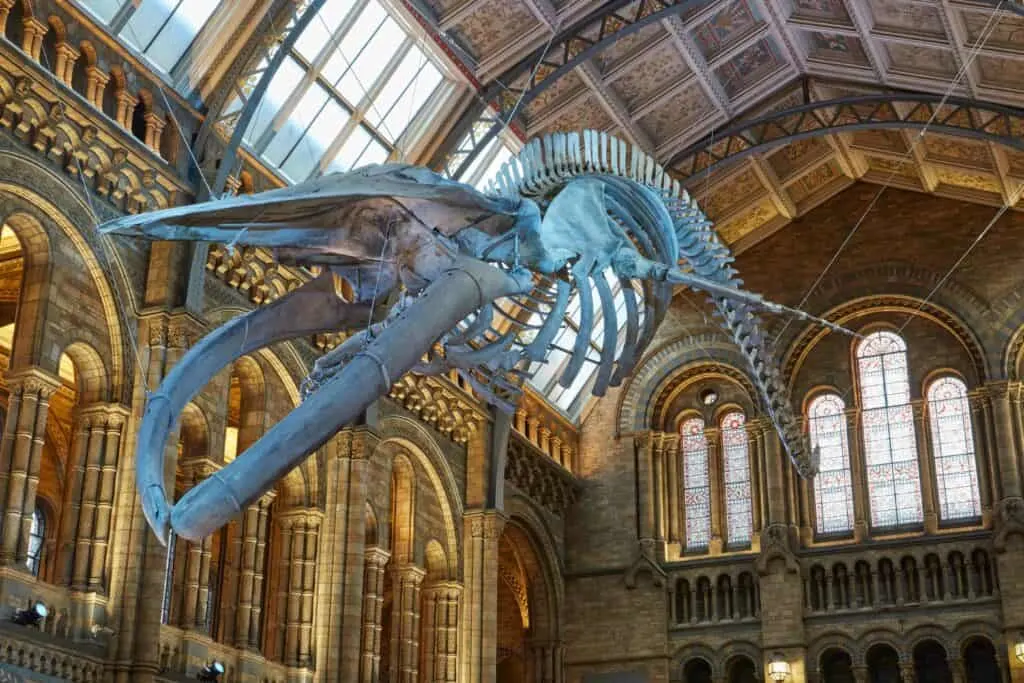 You can do self guided tours at the museum and discover so much! it is in a great part of London to visit nearby Hyde Park after!
2. The Science Museum
Just next door to the National History Museum you will find the Science Museum! you'll get a chance to explore how technology has shaped the modern world through different exhibits.
The museums generally ask for a donation to go towards the upkeep of the exhibits however it is not mandatory.
At the Science museum there is a whole area dedicated to pre-schoolers on the lower ground floor near the garden. It is not that easy to find however you may want to leave it until last as most likely your little one will get wet!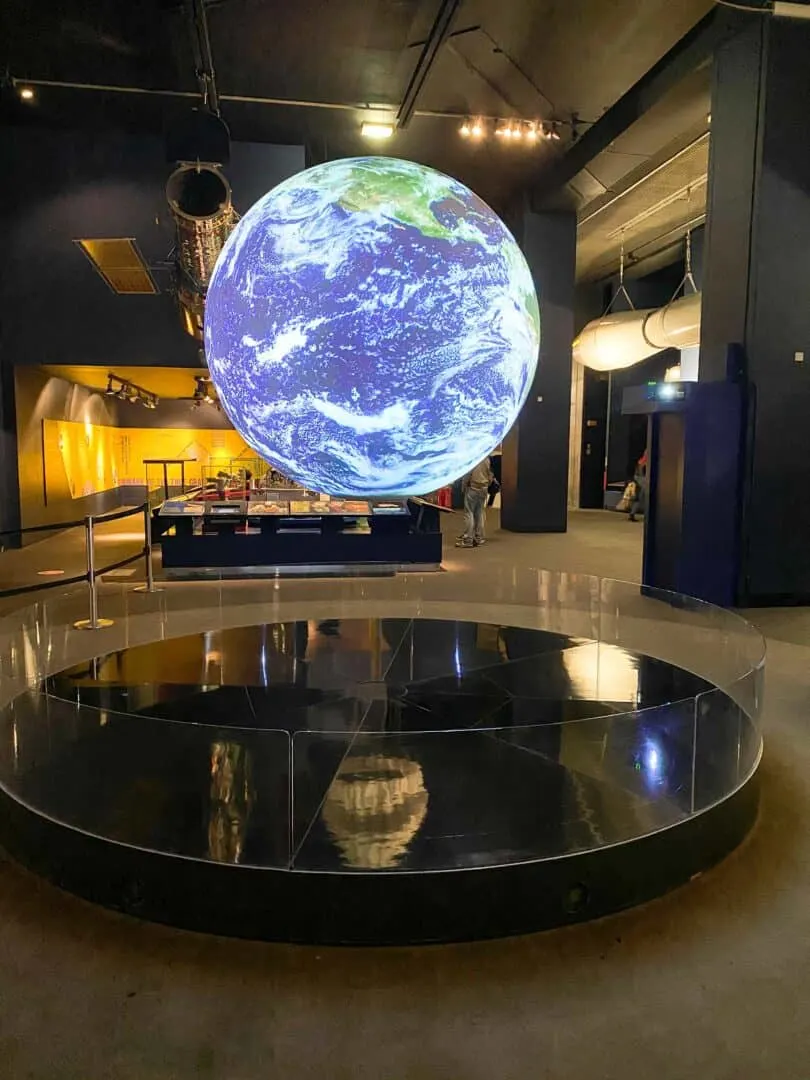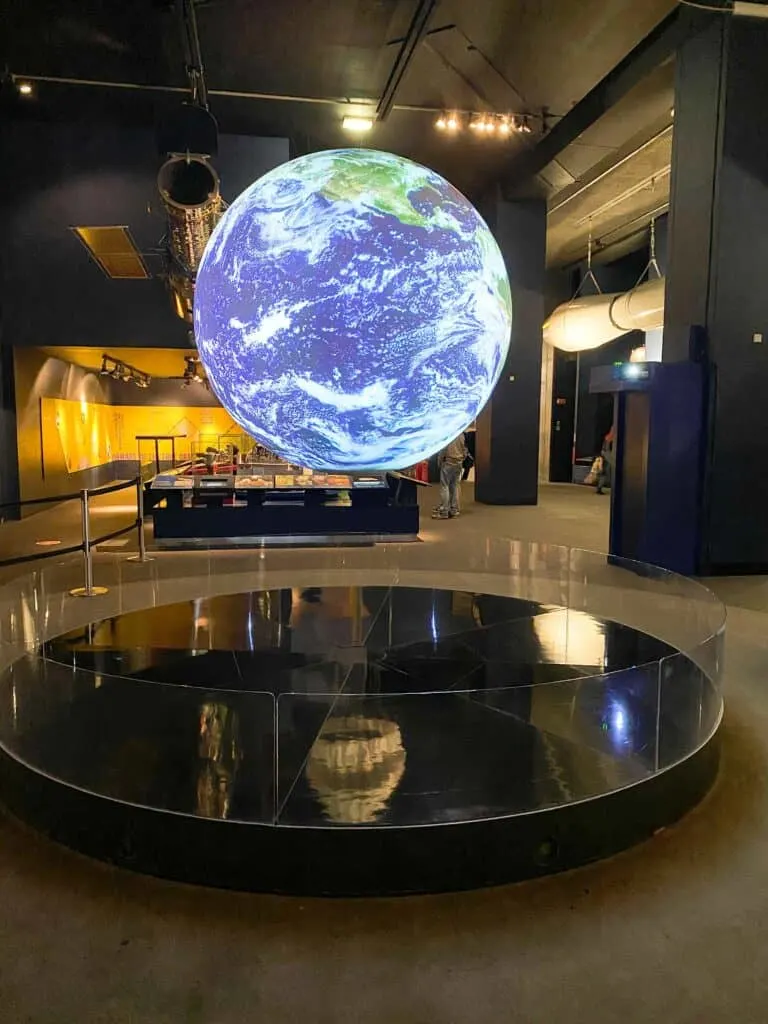 The hands-on play area is a water exhibit where little ones can build dams and do all sorts of experiments. It is worth having a dry set of clothes with you to change into after.
There is also an app available to download created by the museum encouraging kids to delve deep into the installations. It is called 'Treasure Hunters' and definitely worth getting before you go the science museum.
There are some paid parts of the museum! However there is more than enough to see without going to the paid areas.
3. The British Museum
In terms of architecture, the British Museum is stunning. It contains a large collection of art, history and culture. It is one of the most iconic landmarks in London.
In the Great Court, the entrance to the museum, the glass and metal roof creates a beautiful space.
There is no doubt that it is one of the most beautiful museums in all of London. The Ford Centre is located inside the court, where children can participate in educational activities.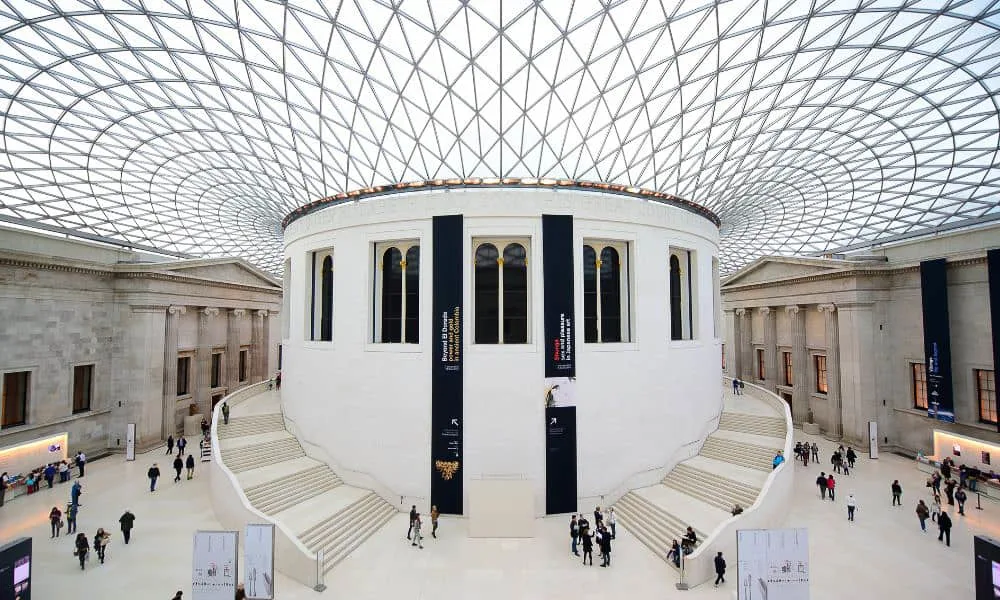 Several interactive trails are available around the museum in addition to the dedicated kids' center. A backpack with activities is also provided.
The full list of family-friendly events at The British Museum can be found here. Events range from mosaic mask workshops, to Egyptian photo booth sessions. They are always interesting and consistently changing.
The British Museum is like a history lesson and one of those free things to do in London with kids.
4. The V & A Museum
The Victoria and Albert Museum, also known as the V&A Museum, is one of the leading museums for art and design in the world.
It sits right next to the Natural History and Science Museums. Similar to the neighbouring museums, some exhibits are free and some are not. However there is more than enough to see without paying.
There are hands-on activities for kids throughout the gallery all year long. In addition to regular activities, there are also weekend and holiday programmes.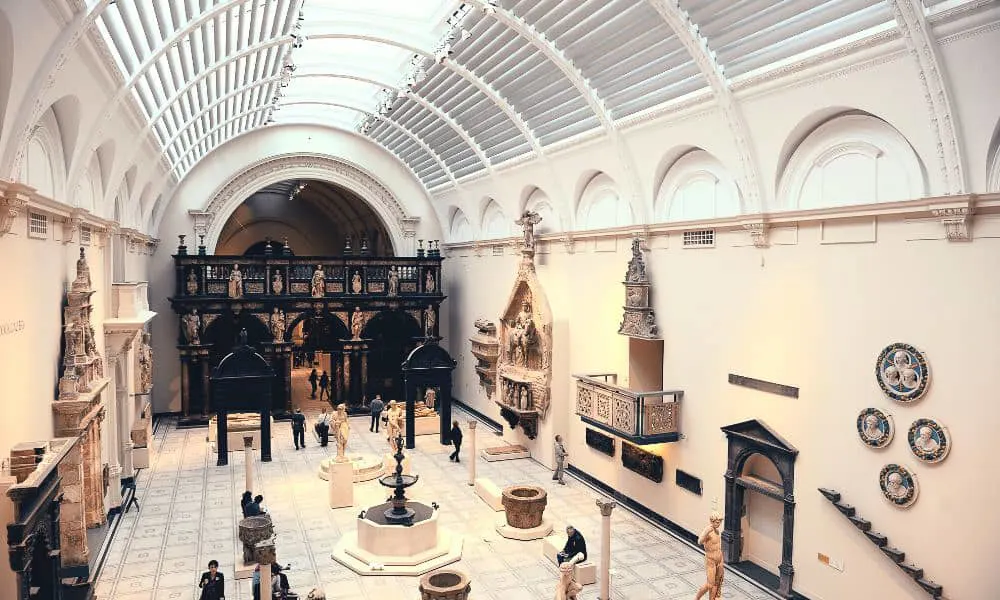 Lots of craft activities are available at the museum, such as 'creating your own coat of arms' as well as some pop-up and "make-it" events, where you work with a practicing artist to create something unique.
Kids' ages 5-12 can work on jigsaws, follow the adventure trail and participate in a series of fun activities at the museum's learning centre.
Trying on different costumes in the theatre collection is a fun experience for kids.
While the museum has a lot to offer, it's still somewhat under the radar compared to some of London's other museums so it doesn't get as crowded.
5. The National Maritime Museum
The National Maritime Museum is a fantastic historical building and forms part of a world heritage site and is completely free to enter.
There are many displays of historical voyages in the museum, including some stunning collections from the 16th and 17th centuries.
Whilst some of the historical pieces might not be so interesting to young children, there is a fantastic play area with lots of interactive games for kids.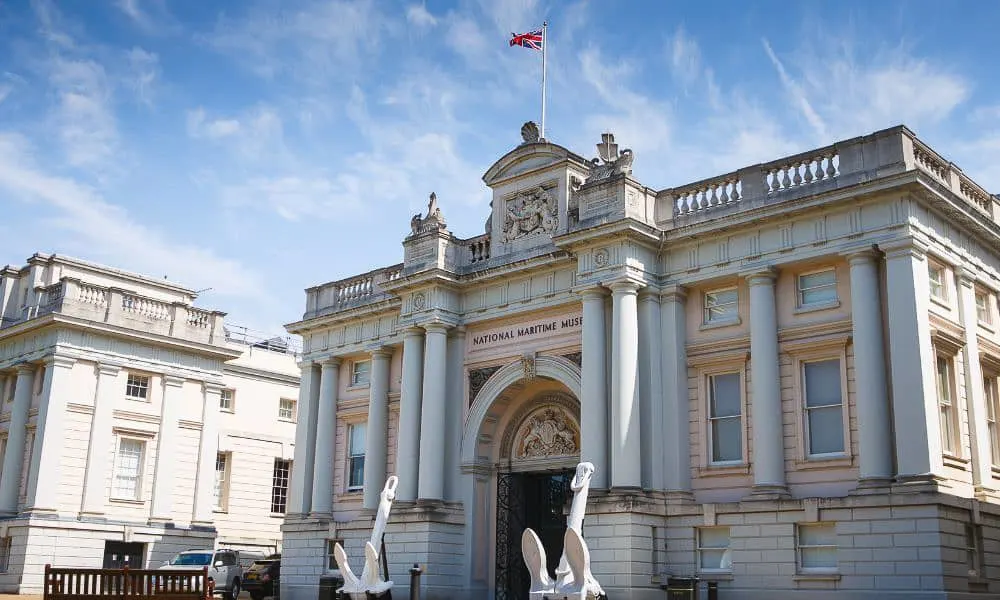 The play area is free during the week and it's just a matter of turning up. However, on weekends the area is only accessible to those who have booked their time in advance and paid a fee.
Kids under 5 are allowed on some boats and sailing around a huge 'iceberg' is something kids enjoy at The Maritime Museum. It might not be real but it sure does seem like it.
There are lots of different things for all ages, including sensory-friendly items for babies. If you fancy a walk after visiting the Maritime Museum, head up to the Royal Observatory Deck. Check out the amazing panoramic views of London!
6. The Tate Modern with Kids
The Tate Modern is another amazing FREE museum! Displaying modern day art and photography it is one of the more quirky London museums.
There is a lot of fun exhibitions to keep little ones entertained, Not to mention it's in a great location on Londons Southbank to stroll along the Thames and see The London Eye, Houses of Parliament and so on.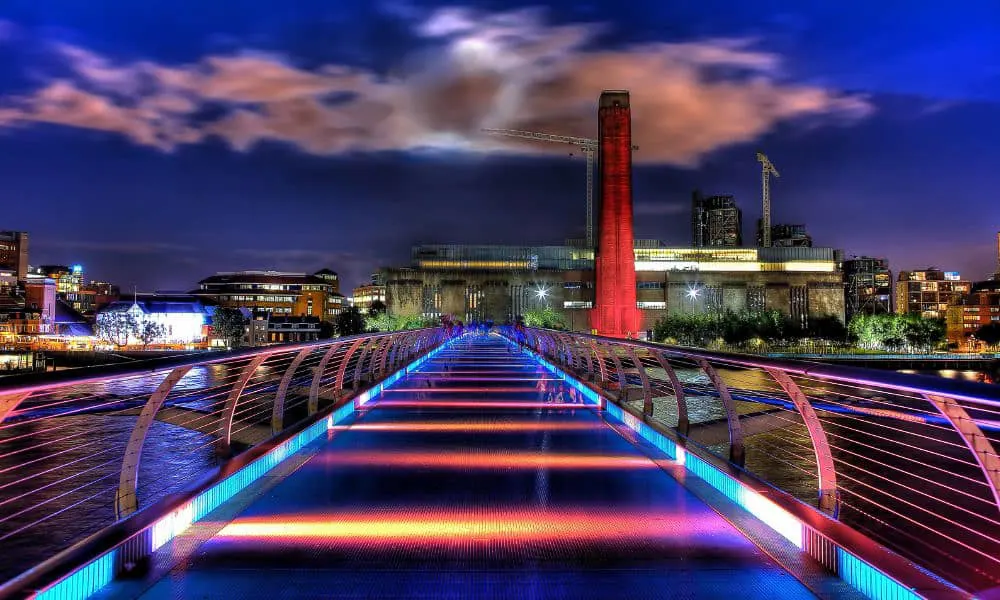 They have a lot of events for families specifically, with interactive large scale art and workshops for children below 5. They organise great events on a regular basis. Kids can create doodles, draw pictures and more.
7. Bank of England Museum
The Bank of England Museum which features lots of hands-on activities and is another fantastic interactive museum.
There is a opportunity to hold a 12 kg bar of gold and take a walk along the gold corridor. It leads to an underground vault containing 40,000 gold bars.
Be sure to take a photo in front of the Bank of England, which appeared in the Mary Poppins Returns movie.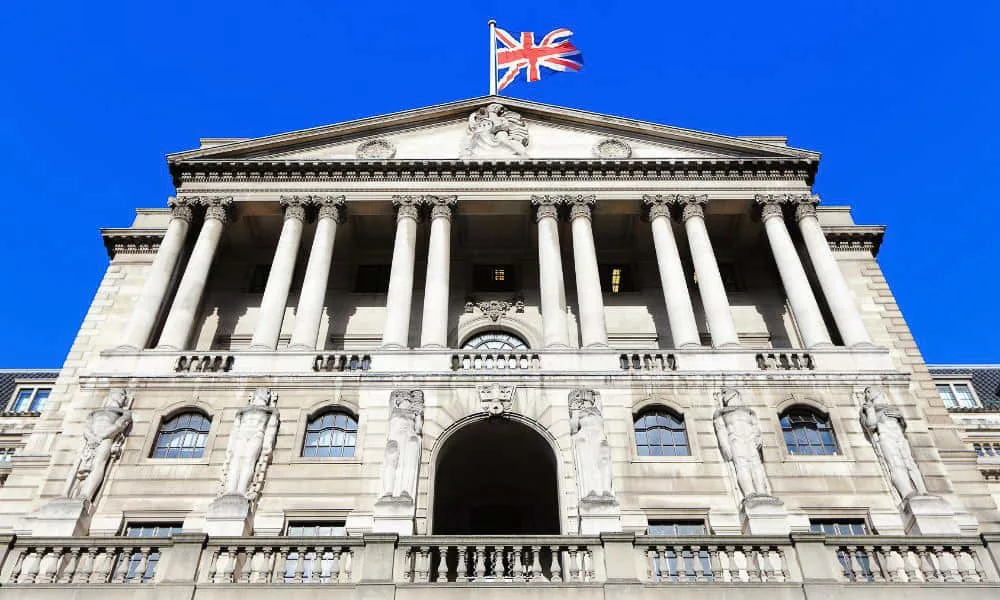 If you fancy exploring the area after visiting the Bank of England Museum, walk to the Monument to the Great Fire of London.
It was designed by Sir Christopher Wren to recall how the city rebounded following the Great Fire. Once you've caught your breath from climbing more than 300 steps, you can take in the breathtaking views of London.
Nearby Leadenhall Market was a beautiful Victorian market and another place to explore whilst in the area.
Formerly a meat, poultry, and game market, it is now a posh shopping and dining area and yet another popular Harry Potter filming location!
8. The Horniman Museum
The Horniman was our most local museum in the South East area of Dulwich. We spent so much time at this museum over the years.
Whilst it has many great areas to explore for free, some of the exhibitions such as the butterfly farm and the aquarium are paid attractions.
There are some stunning gardens surrounding the museum and on a clear day you can get a view of the city from the elevated position. There are giant musical instruments in the garden for kids to play with and plenty of spaces to explore.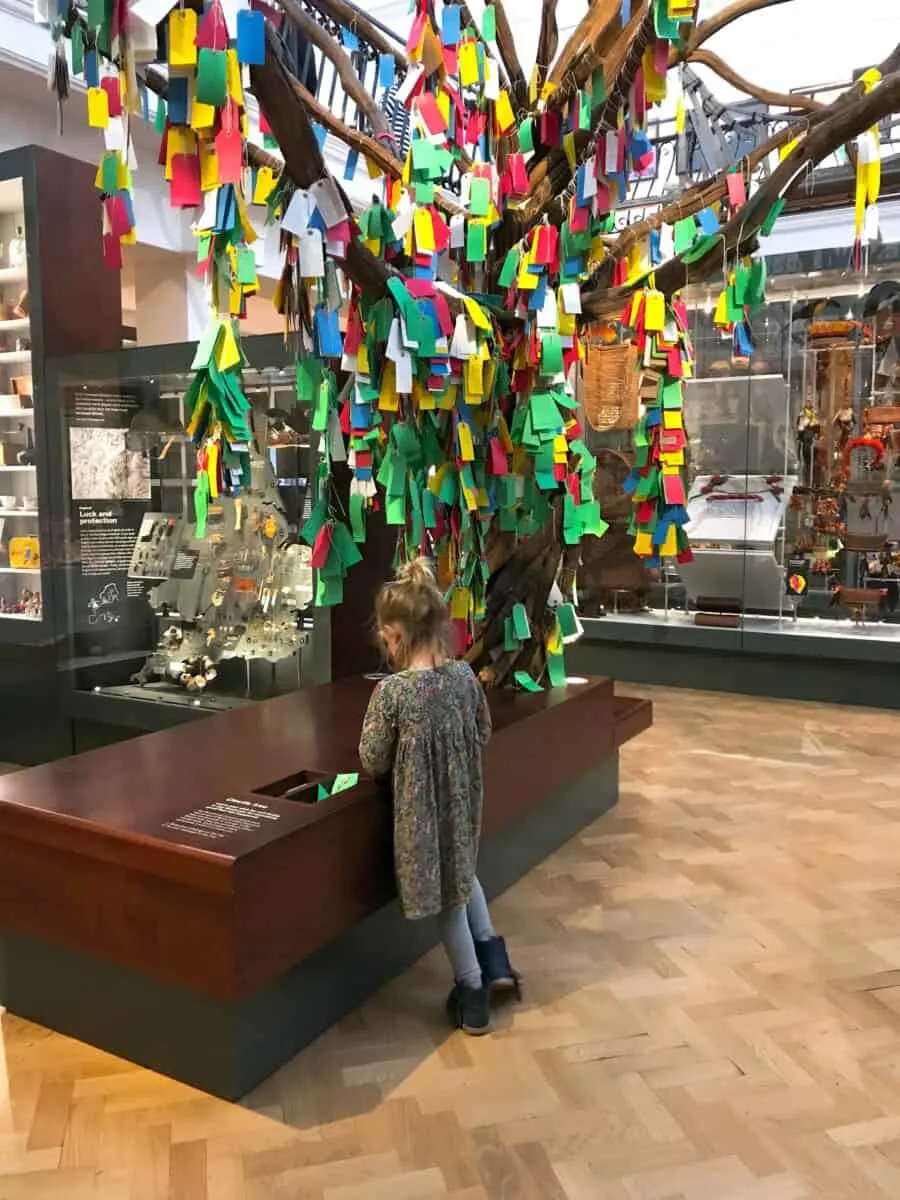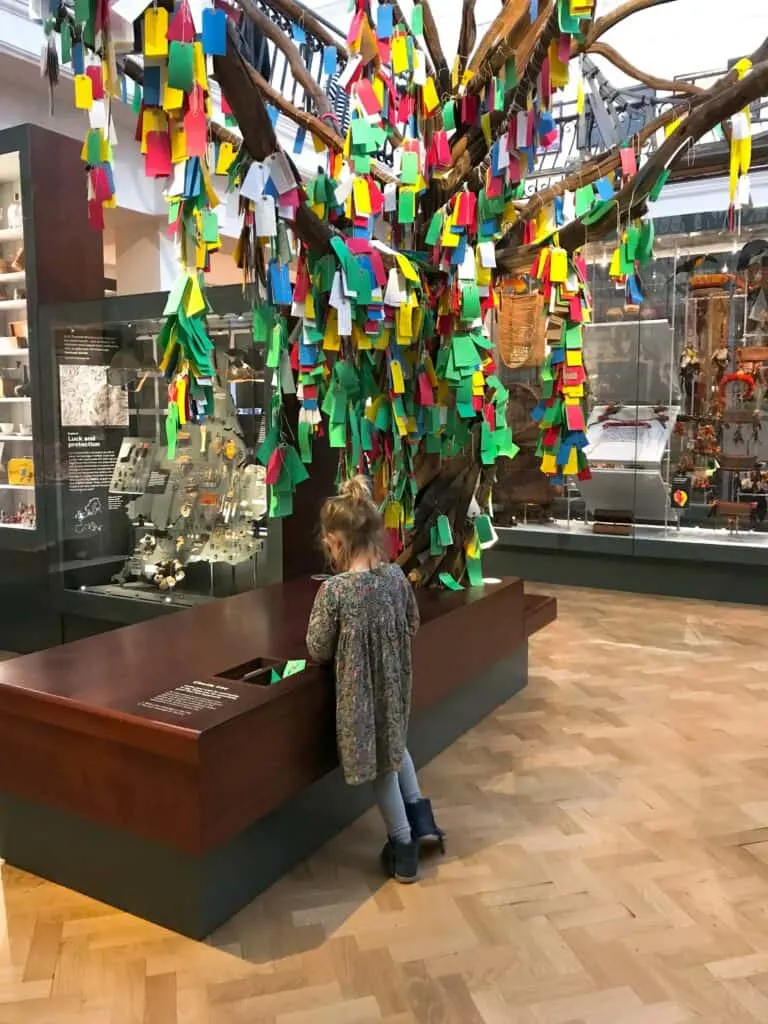 Outside you will also find a farm with resident alpacas, sheep, guinea pigs and rabbits. You can walk around the farm for free during certain hours of the day.
The Horniman is close to Dulwich Park which is another beautiful green space in London. Lots of visitors tend to roller skate and cycle around the park.
There is a cafe in the centre and a great playground if you want to add this to a visit to the Horniman Museum.
The weekend food markets are also lovely to wander around.
9. Sky Garden
The Sky Garden is a tropical oasis high above the City Of London. You will find it at the top of a building known locally as the "Walkie-Talkie" for its shape. It is a true escape from city life!
Even though Sky Garden is free, you'll need to book it in advance. Our favourite part is the indoor rainforest on the top floor!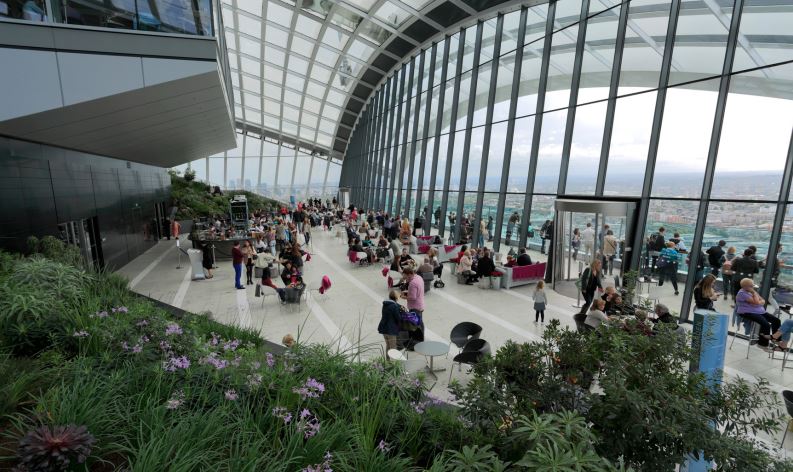 Take in the views of the city below, including The Shard and Tower Bridge once you have finished exploring the gardens.
Book free to Sky Gardens here.
10. Changing of the Guard
If you've been looking for traditional free things to do in London with kids, visiting Buckingham Palace is a great option.
Many visitors who are in London for the first time will have this high on their list of things to do.
The Changing of the Guard is one of the most popular free things to do in London with kids and it's not surprising as it can get quite busy.
The The Changing Guard website has some great advice for visiting with kids.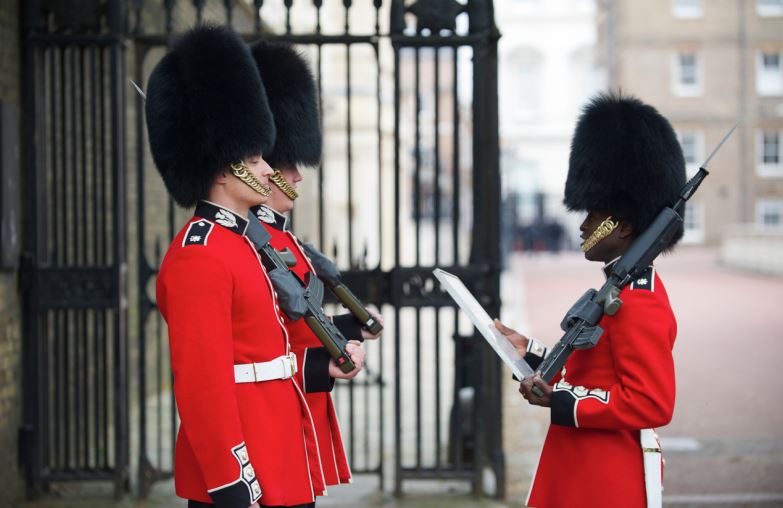 It's worth checking the timetable ahead of time and keeping an eye on the crowds. You can pick an area at The Mall and around 11:10 am on selected days, you'll see the Relief guard march up to change shifts.
Younger children may find standing around tiring so having a stroller or a carrier might be helpful.
Nearby St James Park has a playground and plenty of green space to run around before or after checking out the Changing Of The Guards.
11. Barbican Conservatory
Another hidden gem of London is the delightful, sub-tropical paradise on top of the Barbican Centre. It features all kinds of rare plants, flowers, orchids and hanging vines.
FREE to enter, there is an opportunity to make a donation, however it is not mandatory. It is a very peaceful place with a lot of space to wander around with little ones.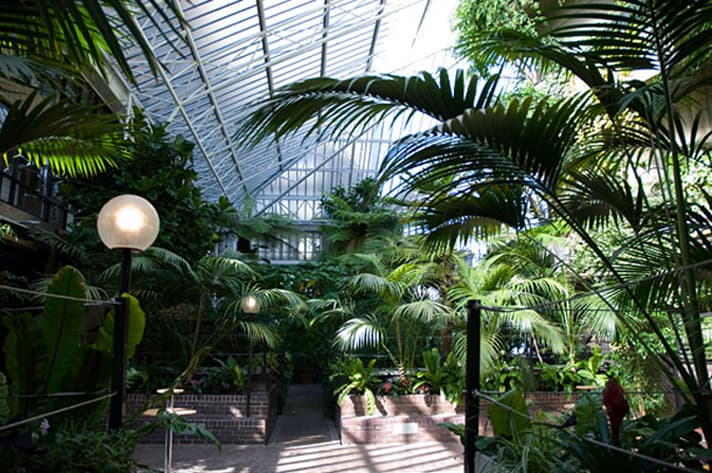 After you're finished looking around you can head to the Barbicans' restaurant where children under the age of 12 can get a free meal for every main dish ordered by an adult.
12. Royal Academy Of Arts
At the Royal Academy of Arts in Piccadilly, you will be able to explore historical sites, find famous galleries and take part in special family activities.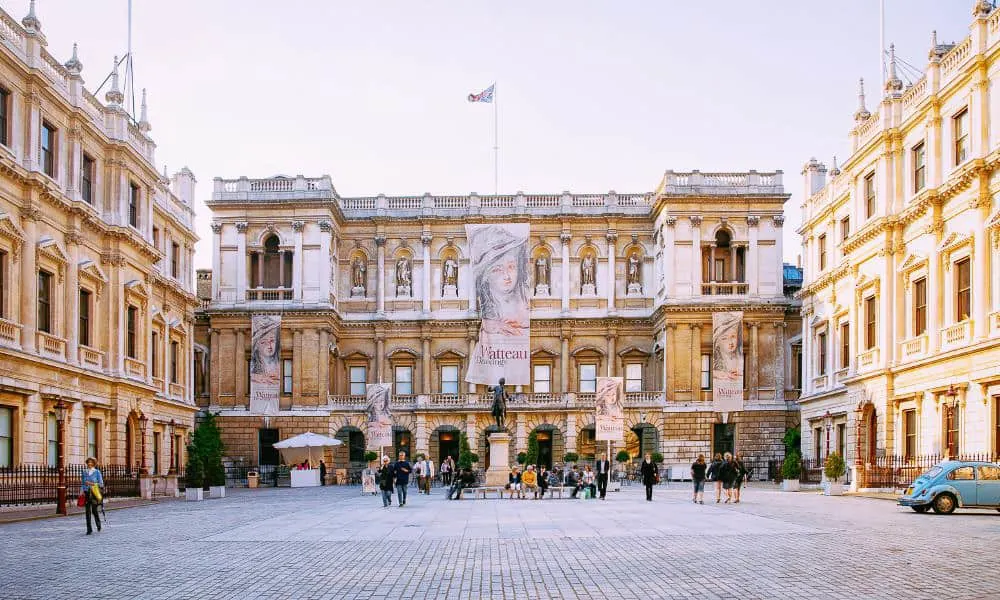 There is no cost to enter the Royal Academy Of Arts. However if there is a specific exhibition there may be a charge. However, children under 16 are free to attend all RA exhibitions.
Free worksheets are available to keep children entertained – tasks include finding pictures in the exhibition, drawing, and creative writing. If your kids are quite artistic, this is a great place to visit.
13. Self Guided Harry Potter Walking Tour
If your kids like Harry Potter, taking them to see some of the famous sites in the movies could be a massive hit and an adventure to say the least.
It would take a couple of hours at least to walk around all of the main spots and could start at Kings Cross Station and end at St Pauls Cathedral.
The first stop is home to the infamous 9 ¾ platform from Harry Potter. In order to prevent visitors from crowding the platforms, King's Cross have installed the "Platform 9 3/4" at the back of the station.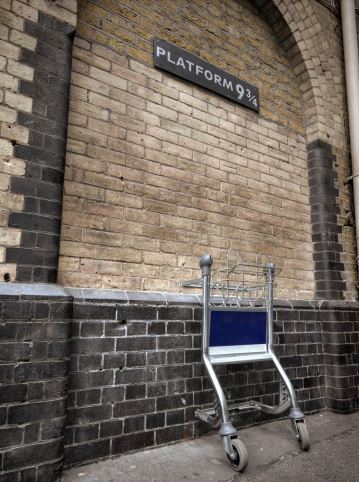 To point you in the exact direction, use this map to find the 9 3/4 platform. Kids can pose in front of the magical wall, as a luggage trolley appears to disappear into the bricks.
It's free to take a picture- just be prepared to wait in line. It is less busy first thing in the morning.
St Pancras Station is actually connected to Kings Cross station and was the scene of the flying car. Pass by for a photo opportunity before heading onto the next stop! It is only a 2 minute walk from the 9 3/4 platform.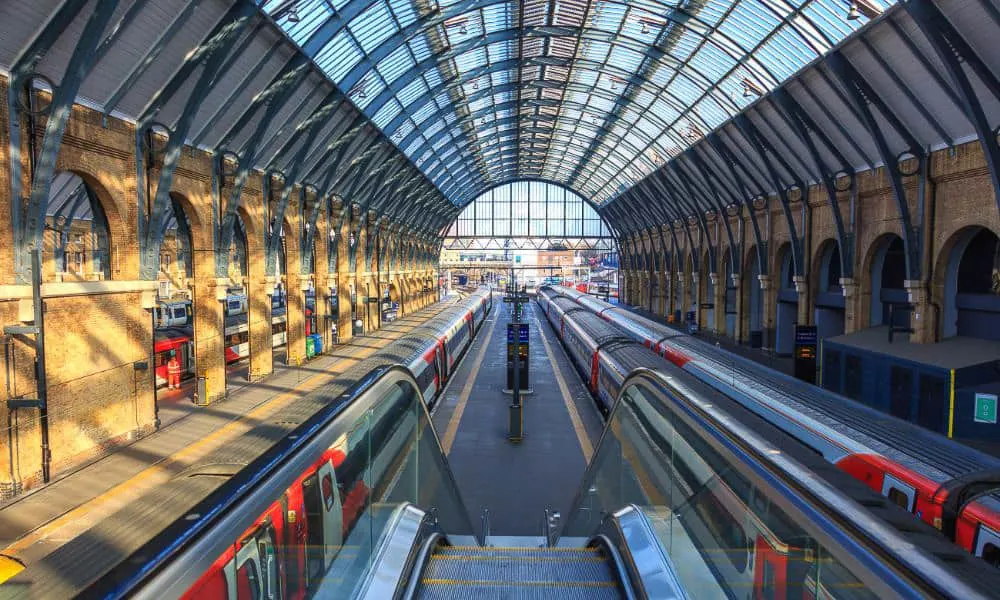 The next stop, Claremont Square is around 19 minutes waiting. It was the scene of The Order Of The Phoenix Headquarters.
Take the 43 bus to Leadenhall Market. It will take approximately 30 minutes depending on the time of day you travel. It was the scene of the Dragon Alley and Leaky Cauldron.
Meander on through the City of London for another 15 minute walk to the Tower Bridge which was the backdrop to the orders flight through London.
Cross the bridge to the other side and walk along Tooley Street, pass London Bridge station to Stoney Street where you will find the entrance to the Leaky cauldron!
Fianlly head towards the Thames River again to walk across The Millennium Bridge where you will be able to get a full view of St Pauls Cathedral. The bridge was the site of the attack by seat eaters and the cathedral was part of Hogwarts.
There are plenty of other Harry Potter scenes around London but this is a pretty big chunk to see in one day.
14. Kings Cross Bird Cage Swing
Also located in the Kings Cross station area is the colourful Bird Cage swing. Kids can play on the swing and is appropriate for children of a younger age.
The bird cage swing is a work of art, technically, a sculpture by Jacques Rival, called IFO (Identified Flying Object), but it is simply known as "the birdcage swing" by locals.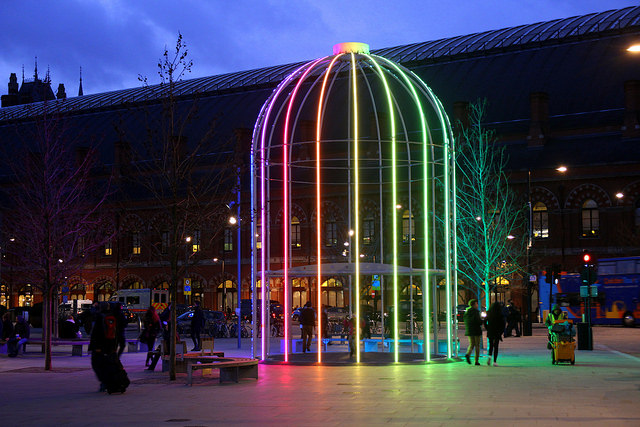 At night, when its bars light up in the colours of the rainbow, the swing is particularly beautiful. You can find it between King's Cross and St Pancras.
This is perfect if you are in town on a winters day and can see it lit up in the later afternoon as it gets dark.
15. Granary Square Fountains, Kings Cross
The fountains at Granary Square are a huge hit with kids during the warmer months. It is a large open space in the London Borough of Camden and is accessible 24 hours a day.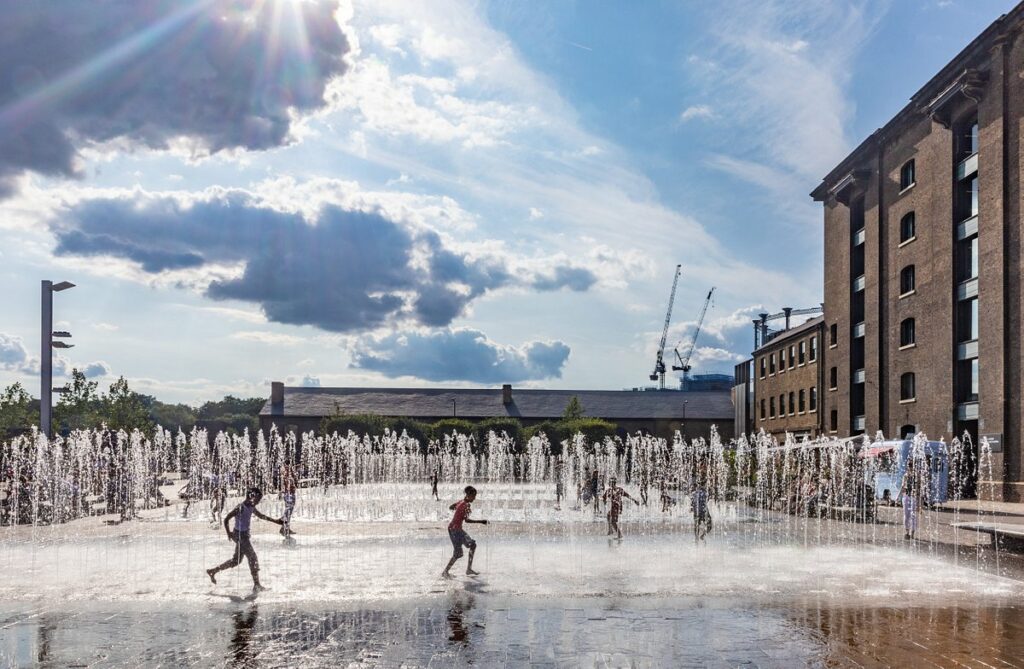 On a hot summers day you will find the fountains full of kids splashing and cooling off. For more than a decade, hundreds of children have soaked themselves in the massive bank of 1080 water jets.
Don't forget to bring a towel and a change of clothes. You can also find splash parks in Stratford QE Park, Southbank and plenty more in all corners of London.
16. Tower Bridge
London's Tower Bridge dominates the London cityscape silhouette and it shouldn't be confused with the London Bridge. It is the only working bascule bridge in London today, opening on average three times a day.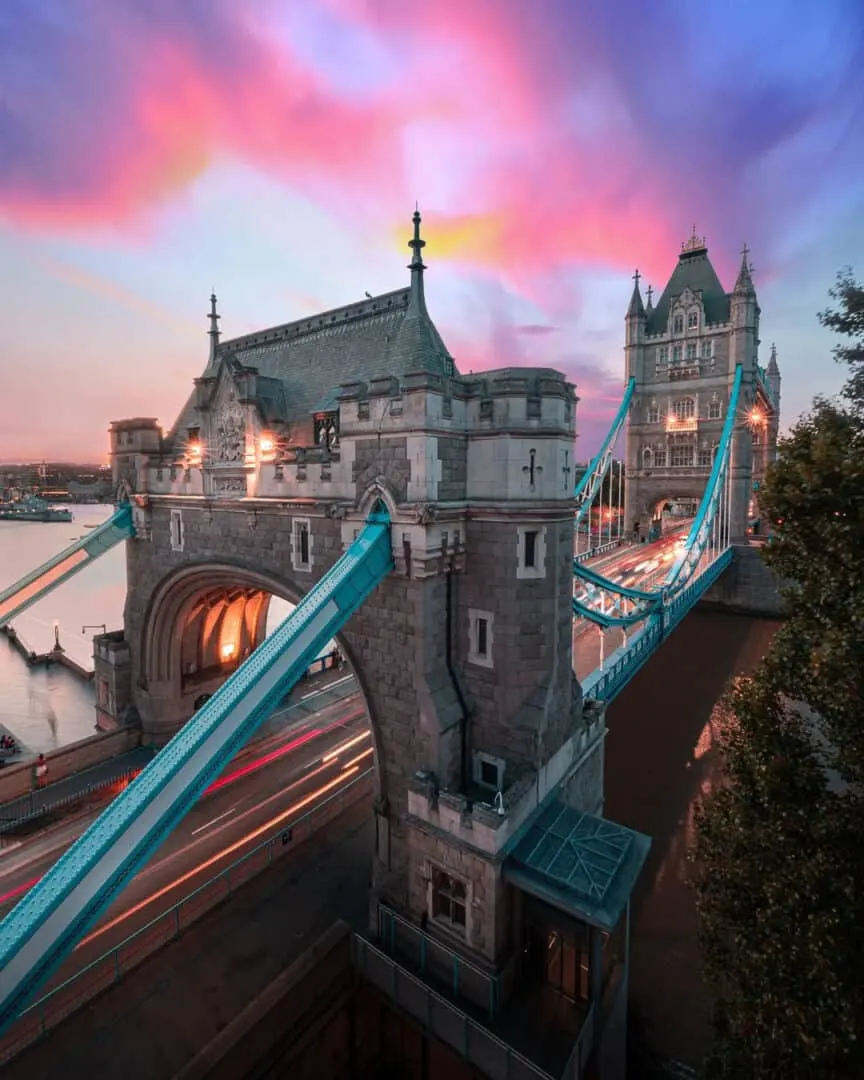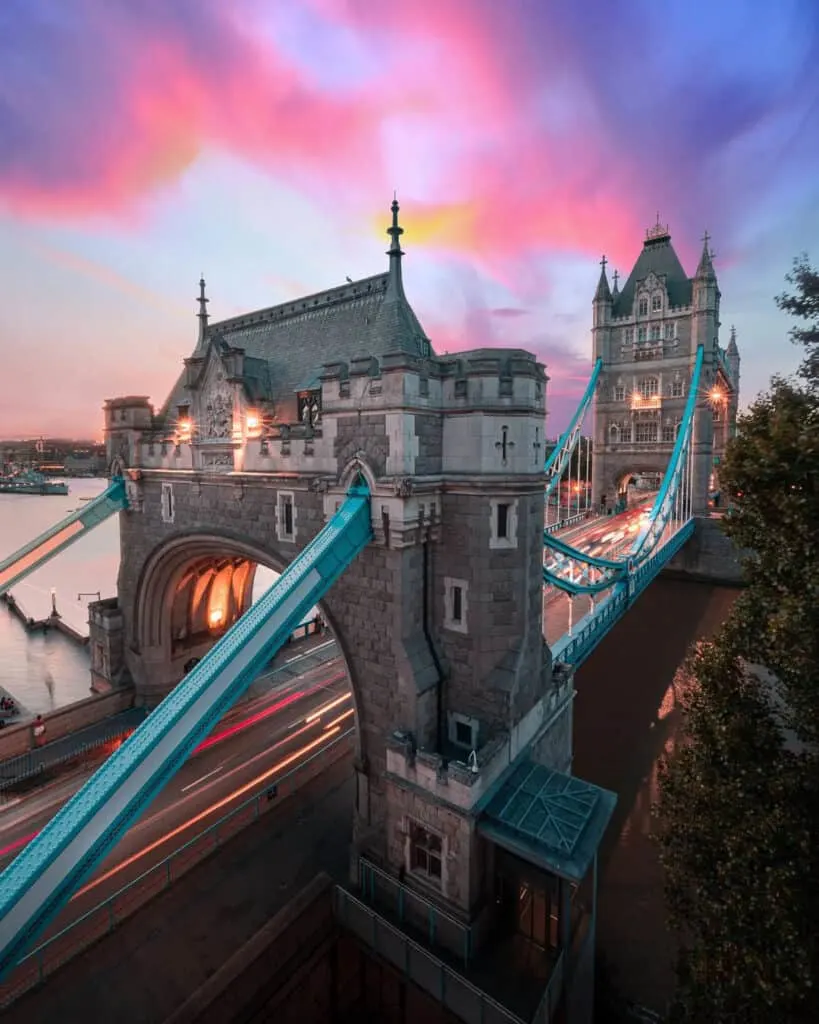 On the south side of the river there is another free splash fountain that kids can run around. Spot the HMS Belfast and meander through Dunstans Church dating back to 1100.
Hays Galleria is another beautiful place to walk through in the local area. Originally a Brewhouse back in the 1600s, there are beautiful sculptures, fountains and a historical glass roof.
Continue along South of the river to see Shakespeare Globe theatre building and mural paintings of Shakespeare himself on some of the back streets.
London Parks
17. Hyde Park Central London
If you are looking to visit one of the many parks in London with kids for free, there is pretty much one in every corner of the city. Although London can look like a concrete jungle on the surface, there is plenty of green spaces to explore.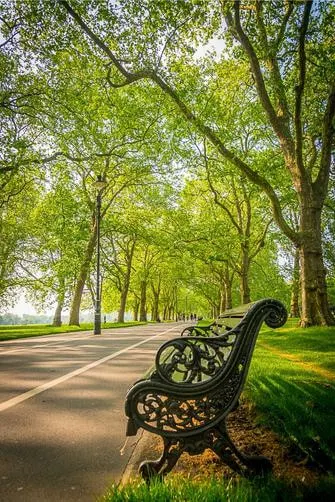 Hyde Park (located at the western end of Oxford Street) is a large, green space with lakes, cafes and a multitude of attractions. There is lots of shade beneath the trees for those warmer days.
In the summer months you'll see people roller skating, cycling and sun bathing. Come the end of the year the infamous Winter Wonderland with its Christmas Markets take over the park.
There is something during every season in Hyde Park.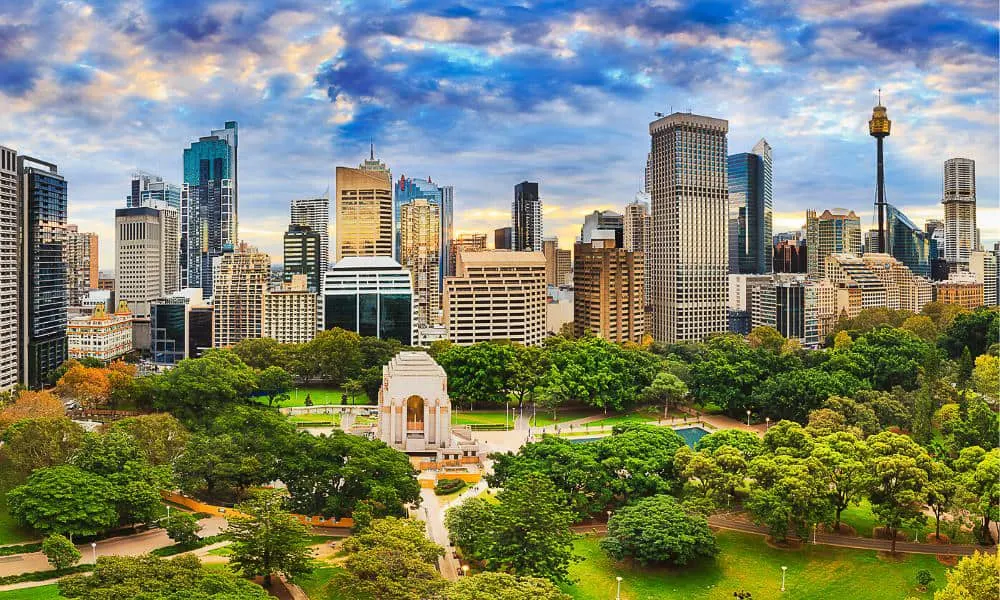 The whole of Hyde Park is a great area for locals and tourists alike. Featuring playgrounds with slides, climbing frames and a lake in the centre, there is plenty to do. It is worth bringing a picnic and making a day of it!
18. Kensington Gardens West London
Kensington Gardens is at the far West of Hyde Park and features one of London's most infamous playgrounds – The Princess Diana Memorial playground!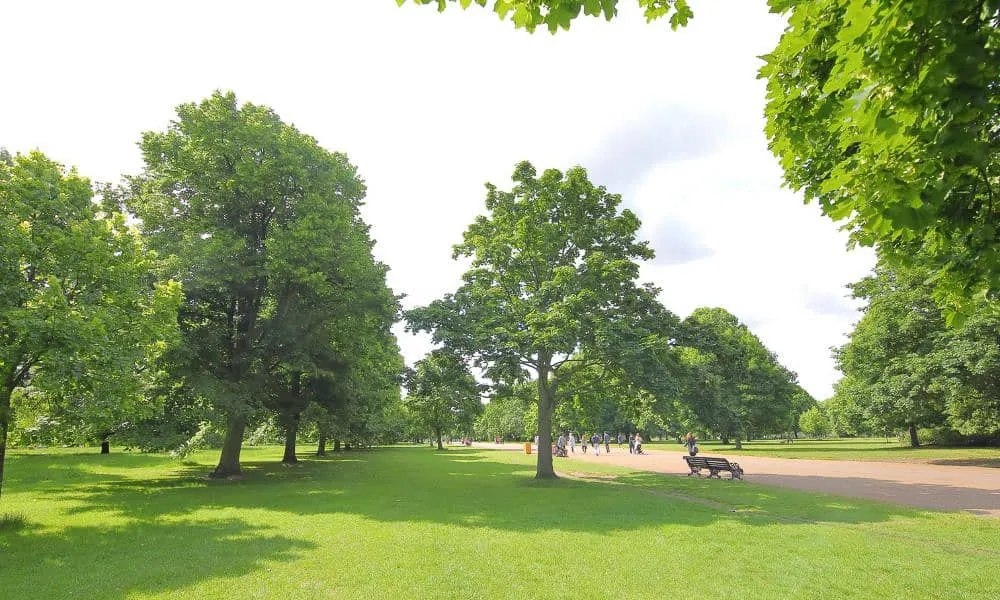 The centre piece of this playground is a pirate ship! It's a beautiful corner of London and was made in honour of Princess Diana. The playground is suitable for disabled children as well as able bodied kids.
19. Richmond Park, South West London
Richmond Park in Southwest London is a lot wilder than other parks around the city. In fact, it's famous for its herds of deer! There are playgrounds and easy scenic walks.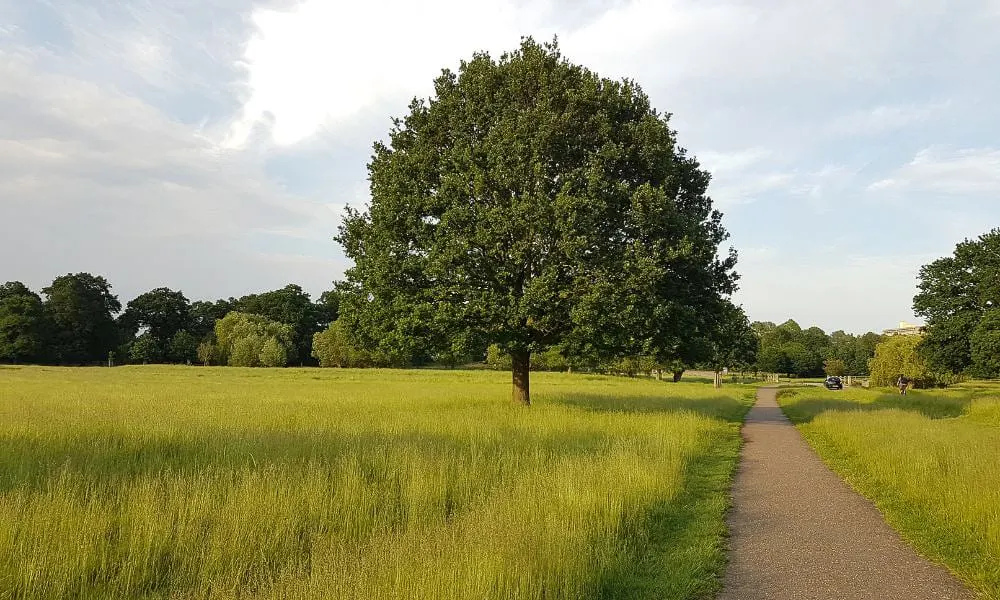 The town of Richmond is full of cafés and restaurants along the river bank. There is also a cafe inside the park. Richmond attracts lots of cyclists so if your little one is small enough to fit into a seat on the back of your bike, you could explore lots of the park.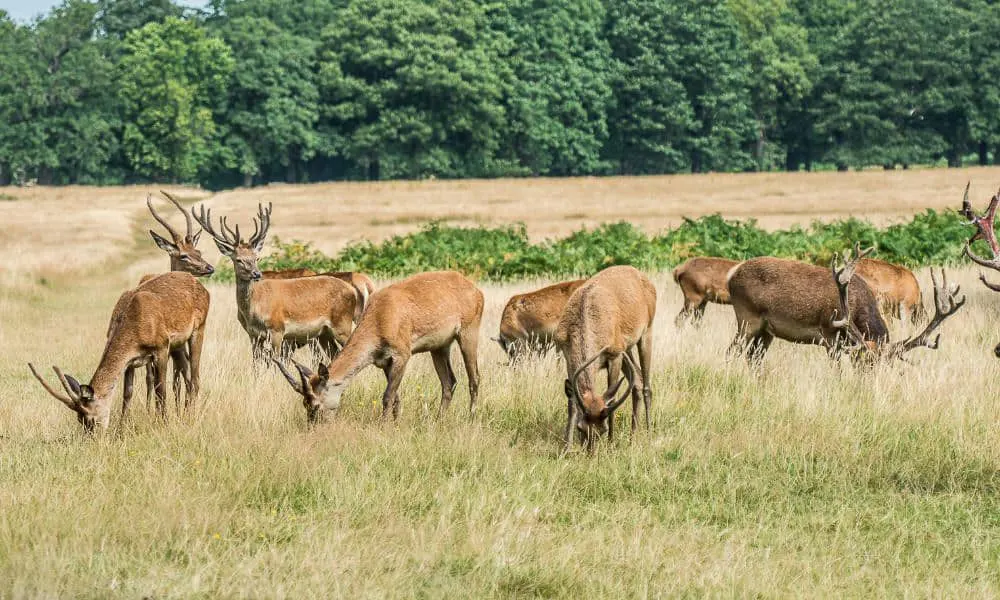 However, the highlight is most certainly seeing the deer! It is another great place to take a picnic and explore for the day.
20. Hampstead Heath North West London
Hampstead Heath is located just four miles from Trafalgar Square and has magnificent views of the city.
Parliament Hill, Golders Hill Park and the Open Air Lido (open 365 days a year) on Hampstead Heath is one of the most popular free attractions in London.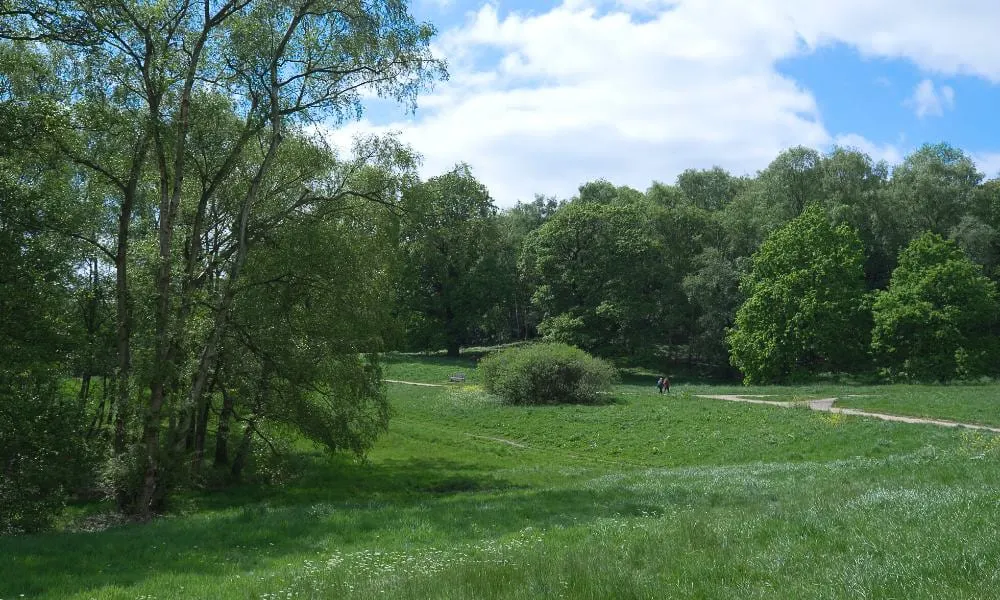 There's also plenty of sports facilities, as well as athletics tracks and playgrounds. The greenery will make you feel like you have escaped the city!
Hampstead Heath has a highly diverse range of habitats including open grassy fields and woodlands.
21. St James Park Central London
St James's Park is located in Central London and visitors can get a chance of to see the filming location of 101 Dalmatians.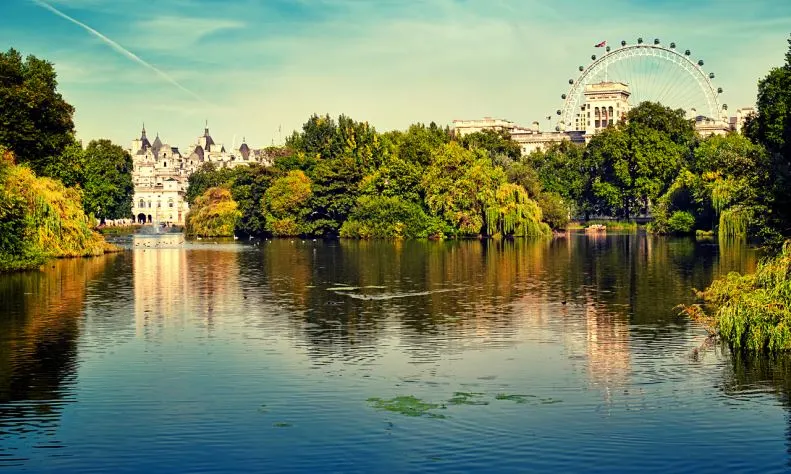 The best thing about this prime location is you do not have to leave the busy city life to enjoy some peace and quiet.
The playground is fantastic and unlike any other park, it is home to many pelicans. Can you believe they were first introduced to the park in the 1600s as a gift from the Russian ambassador?
London has many fantastic attractions to see less than 5 minutes away, such as Buckingham Palace, the Houses of Parliament and Trafalgar Square.
22. Regents Park Central London
Regents Park is just outside Baker Street and is one of the most affluent areas of London.
There is tonnes of activities happening at this picturesque parkland, including a very big playground and occasional open air theatre shows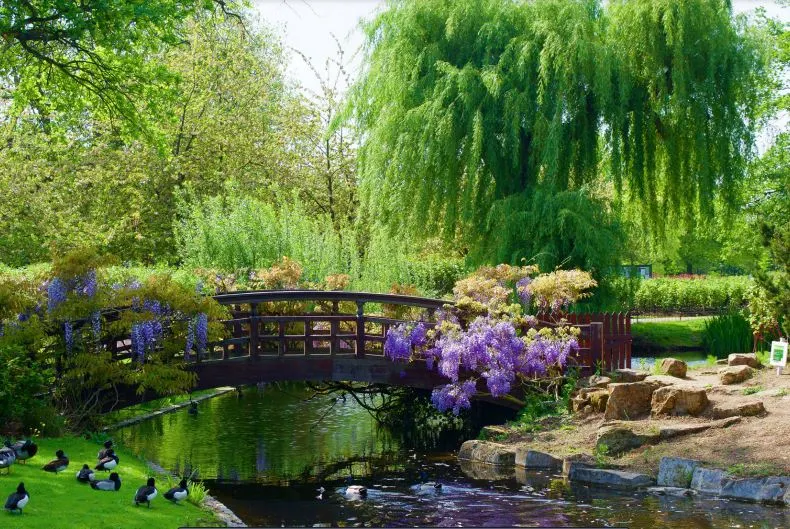 There are lots of beautiful flowers and trees in the park, which makes you feel like you are stepping into another world. With beautiful gardens and tree-lined walks, it's known as one of the prettiest parks in London.
23. Victoria Park East London
Victoria Park is the largest and the most popular green space in East London. There's a lake, and walkway near the canal as well as cafes and plenty of beautiful flower beds.
Other popular attractions at the park include the boating lake, children's playgrounds, and sports facilities for football, cricket, tennis and lawn bowls.
There is also a lovely Farmers Market every Sunday for fresh produce and it's nice to just walk along and see what there is on offer. Victoria Park is also famous for hosting popular events and music festivals.
24. Crystal Palace Park SE London
You have to visit Crystal Palace Park if your little one loves all things dinosaurs. There is no admission to enjoy the park or the Dinosaurs section.
The park is located in South East London. In terms of accessibility, the train station is pretty much inside the park.
It is home to tens of life-size dinosaurs hidden among the vegetation in the middle of the lake. There are plenty of dinosaurs to be found, including Tyrannosaurus Rex and Brontosaurus.
Some of the older statues are in the process of being restored since they date back to the early 1900's.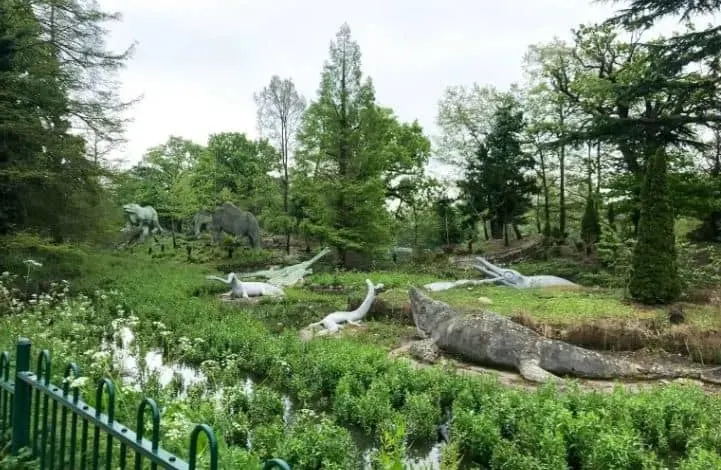 Crystal Palace Park also offers a free farm, weekend markets and a playground. A giant sand pit in the playground has life-sized fossils like dinosaur eggs and bones, which kids love in the summer.
There are some great cafes in the park and nearby town. A local favourite, Green and Browns located in the park has a great menu which is both kid and adult-friendly.
Several indoor and outdoor seating options are available at the vegan-friendly restaurant. This neighbourhood is a little off the usual tourist trail, however you'll get a glimpse of true London life.
25. Queen Elizabeth Olympic Park East London
Located in London's East End of Stratford, Queen Elizabeth Park is a great area for families to visit for FREE every day of the week.
From canal boats, to wetlands, this beautiful park has provided many pleasant summer days.
In the summer, the splash park in London is another awesome way to cool off. There are so many things to do around the area, not to mention East Village and Westfields Shopping Centre.
The wetland tale trail is a favourite activity. There is a downloadable map that tells the story of Hobgrumble Joe of the Waterglades.
An otherwise simple walk was made so much more interesting by our daughter's love for the story.
Download the free map Hobgrumble Joe of the Waterglades.
26. Holland Park West London
Holland Park in Kensington is a great park not far from all the museums. It is located on the grounds of Cope Castle, which now houses the Ecology Centre.
The park has a great kids playground as well as plenty of open green spaces. The Kyoto Gardens and the wildlife roaming around the park makes it extra special.
With beautiful flowers and little waterfalls, the Kyoto Gardens are truly special. Keep an eye out for the peacocks.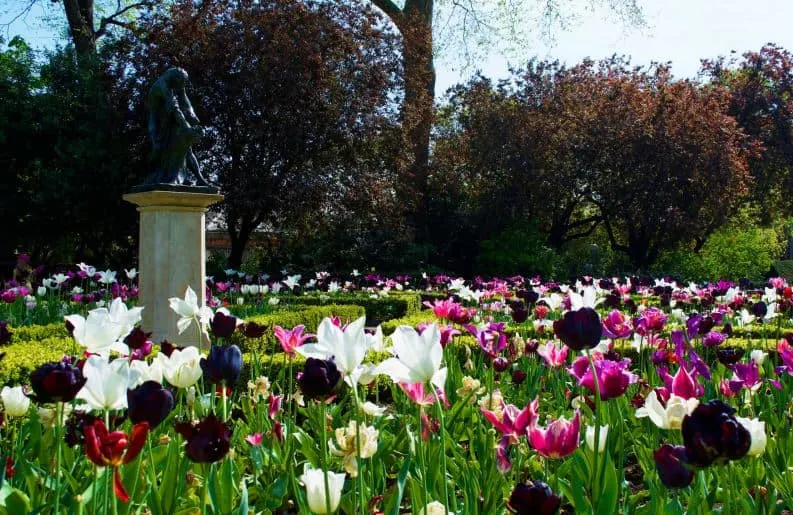 The park appears small initially, however, as you walk through you'll discover it is quite large. Each area has interesting things to see. Whilst there is a cafe, you can also bring a picnic if you prefer!
In the summer, they have performances on the lawn, so check to see if anything fun is going on before you arrive.
27. Battersea Park SW London
Battersea is one of the parks I tend to frequent more often since I live south of the river. Even though it's not as centrally located as Hyde Park, Victoria is just one stop on the train.
The park has some of the best free playgrounds in London and it is a haven for skaters and family cycles.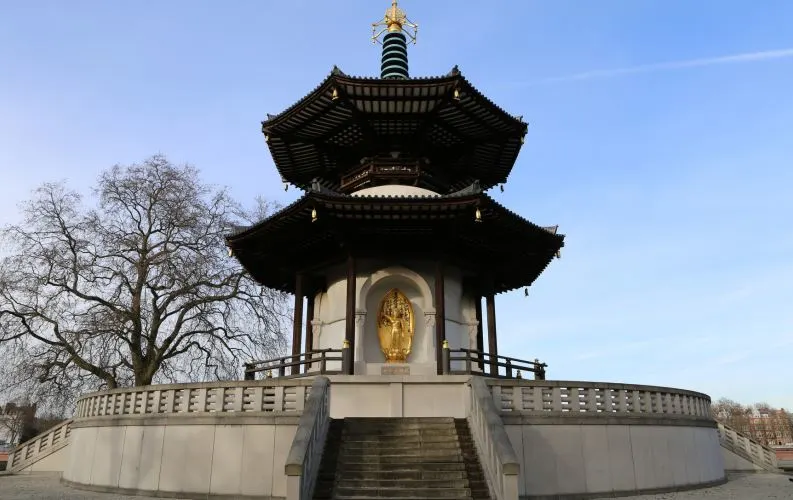 Battersea Park is always the venue for our family gatherings and outdoor birthday parties. It is definitely my favourite park in London.
The walks in Battersea Park provide some stunning views of the Battersea/Albert Bridge due to its proximity to the Thames River.
28. Take A Self Guided Street Art Tour
There are several places to go around the city to explore the street art. Whilst Shoreditch has some of the most famous street art, you will also find some great pieces in Leake Street in Waterloo.
As I use to work in a nearby hospital, I walked through Leake Street Tunnel many times a week for nearly two decades.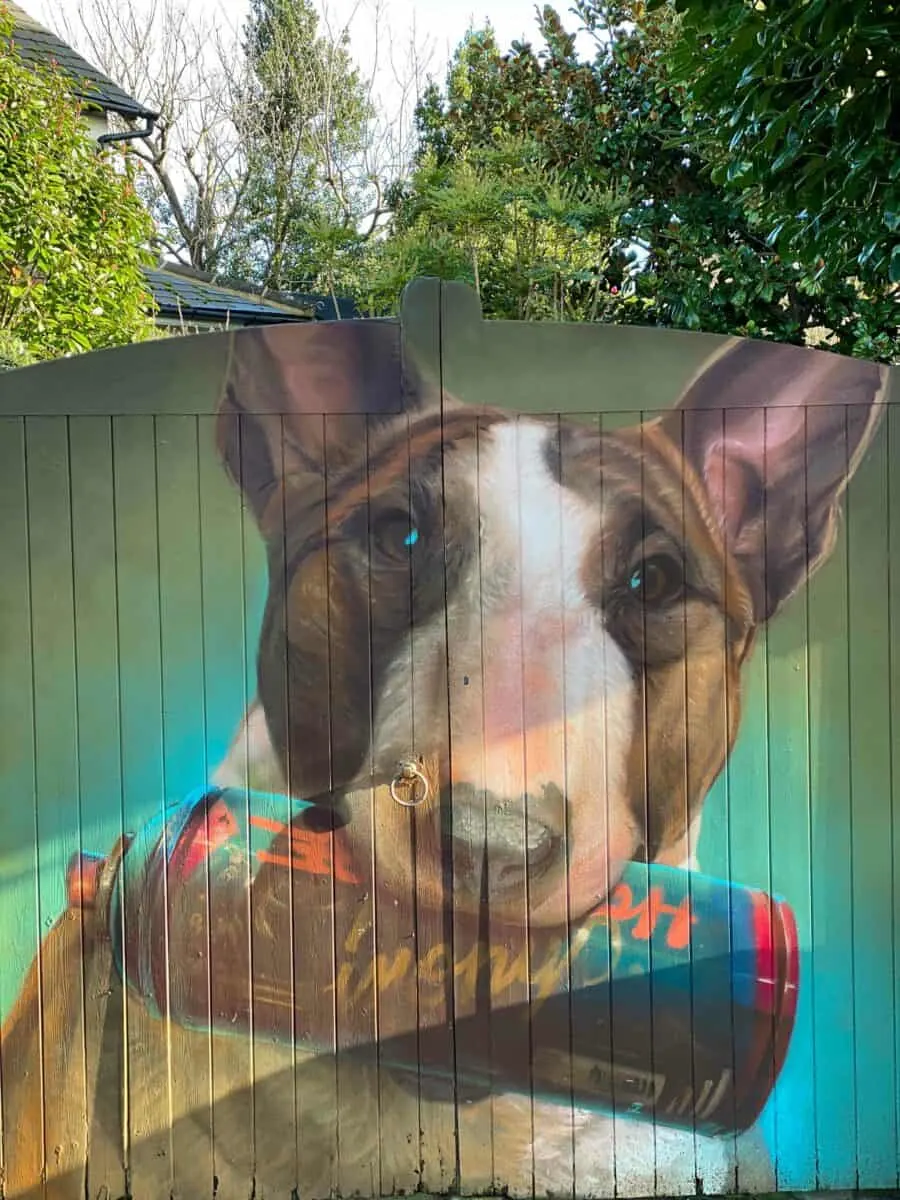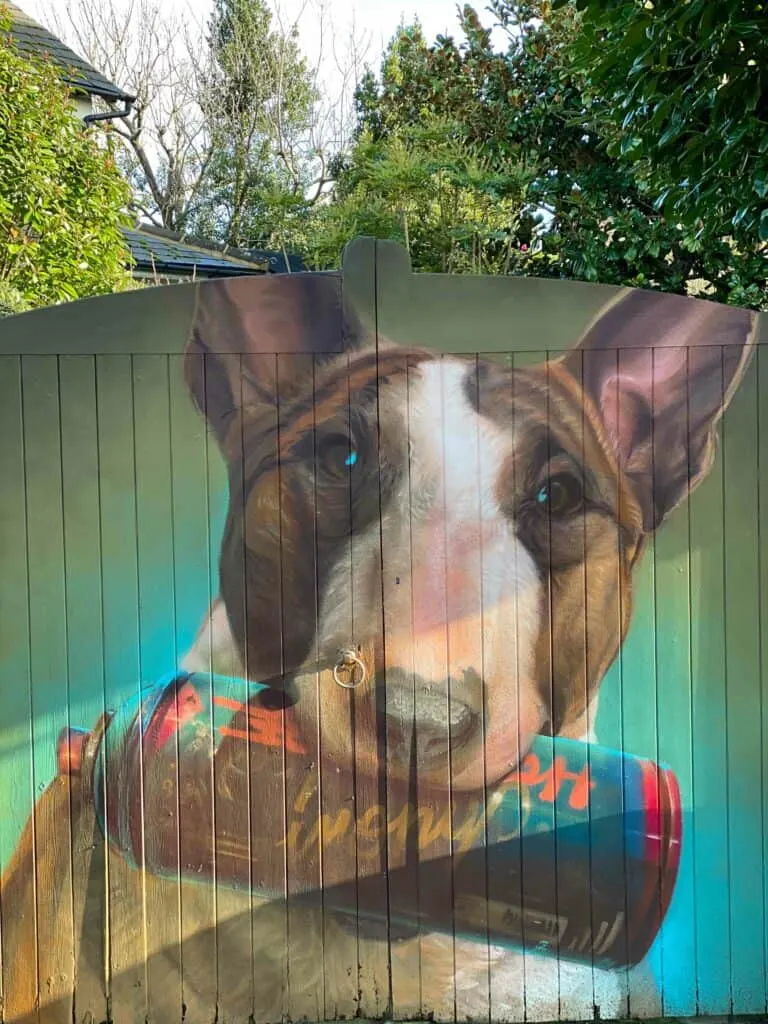 It is more backstreet art and you will always find someone in there with a spray can but there is so much talent in the creations.
Also very much on the up and coming in the street art scene is the South East area of Penge. There are a tonne of incredible pieces around the area and we loved exploring it during covid times as it was near where we lived.
We made it our mission to see every single piece of art on our daily walks. I was surprised to find some pieces on residential homes.
29. Head To Canary Wharf
Being the financial epicentre of the city, you wouldn't necessarily think Canary Wharf has many free things to do with kids.
However the developers of the area are always trying to make it feel residential and attract more visitors.
There are changing installations in winter and summer. In winter you'll find free light tours around the skyscrapers. You will need to wrap up warm and bring a flask of hot chocolate.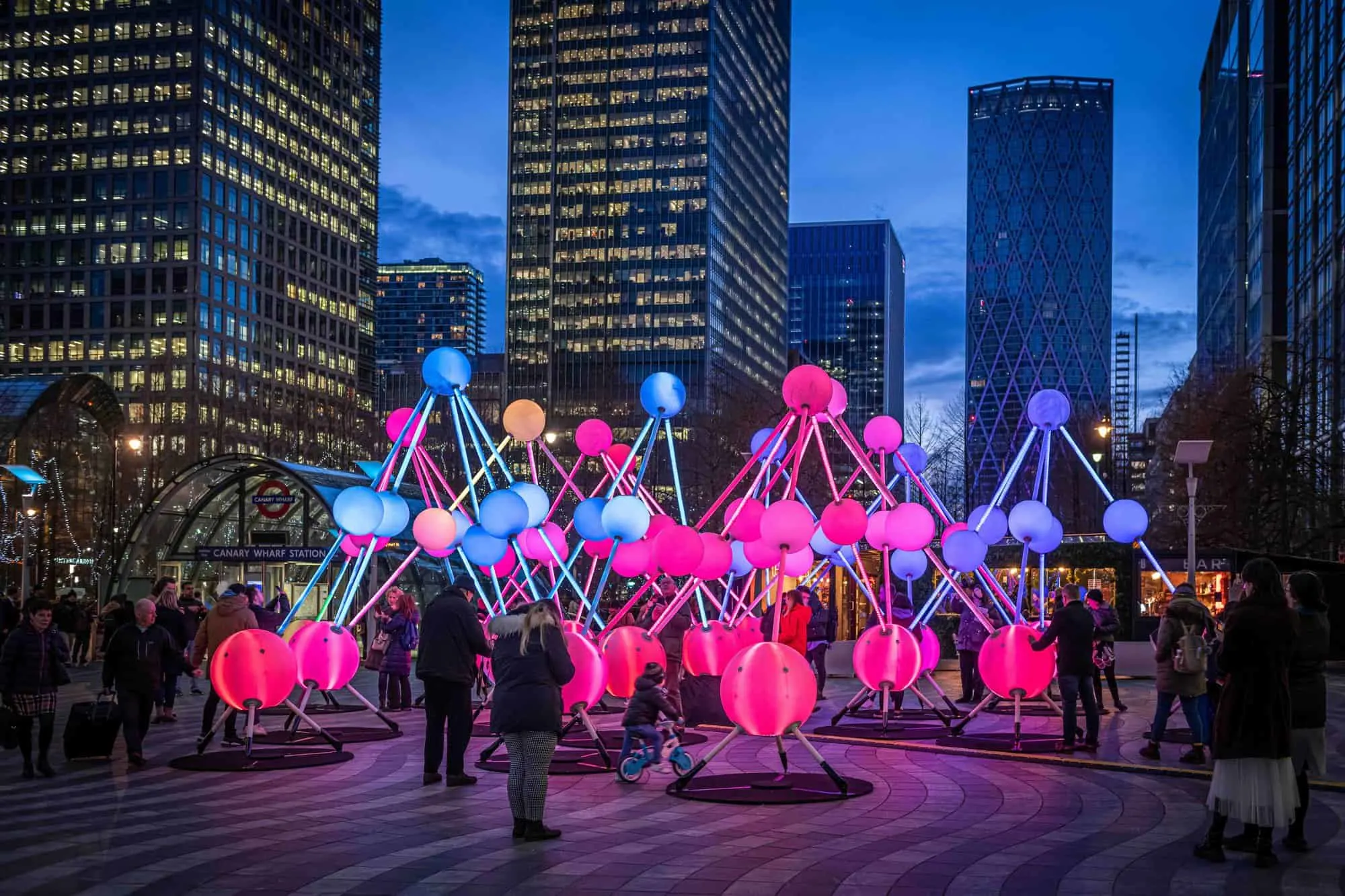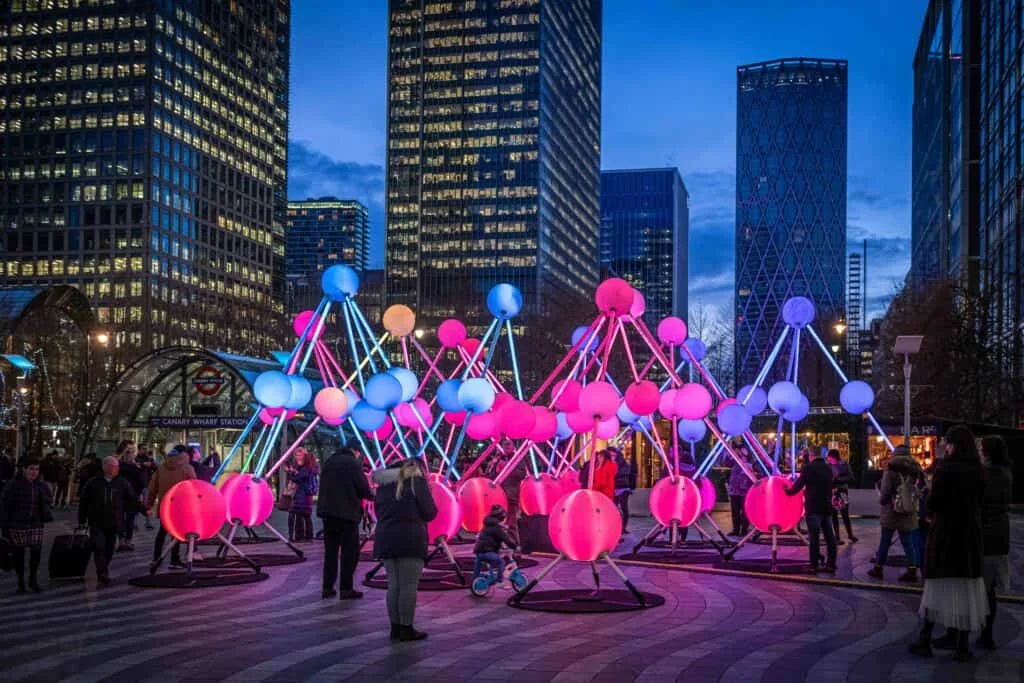 They also have free mini golf and table tennis available. They move it to different locations around the wharf but keep an eye on the Canary Wharf website for where it is if you choose to visit.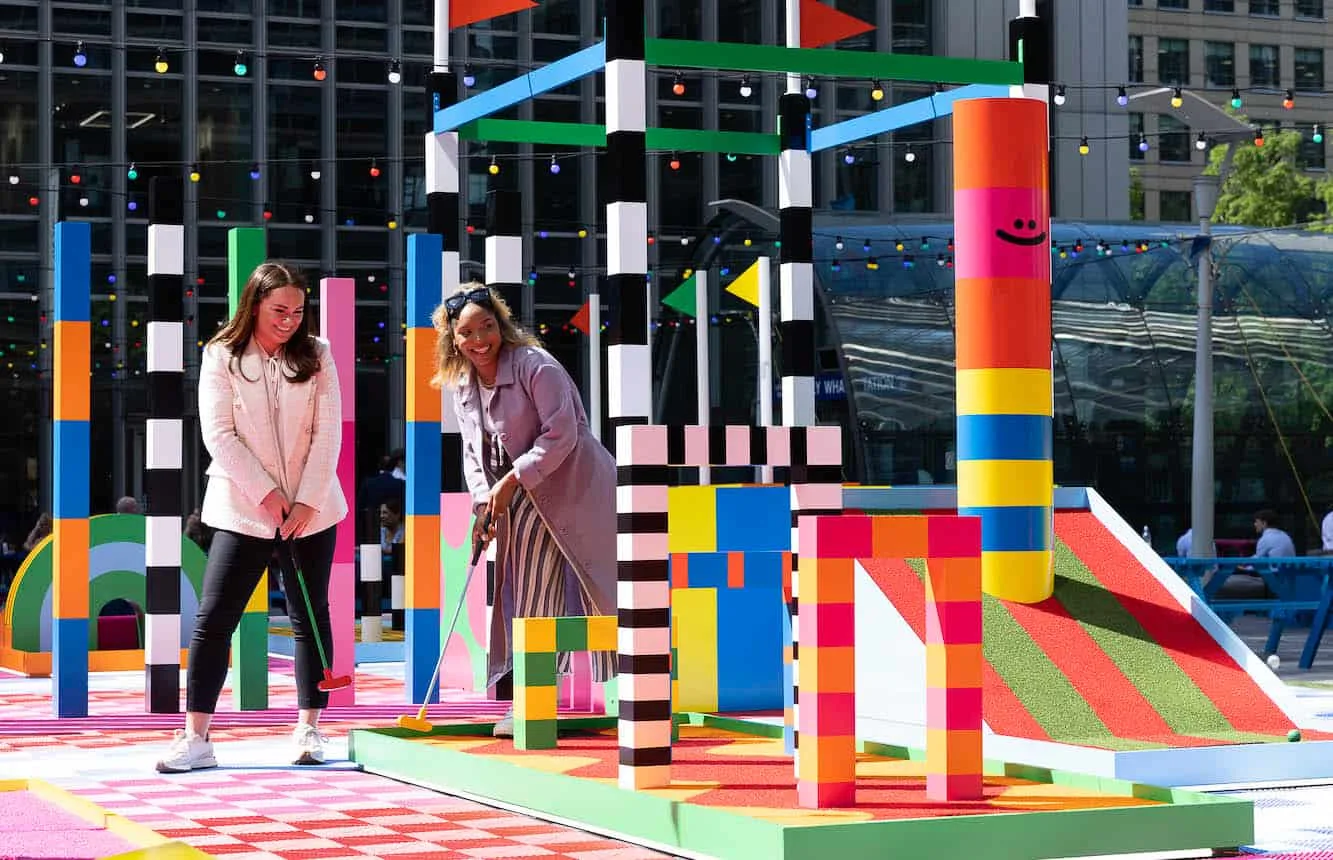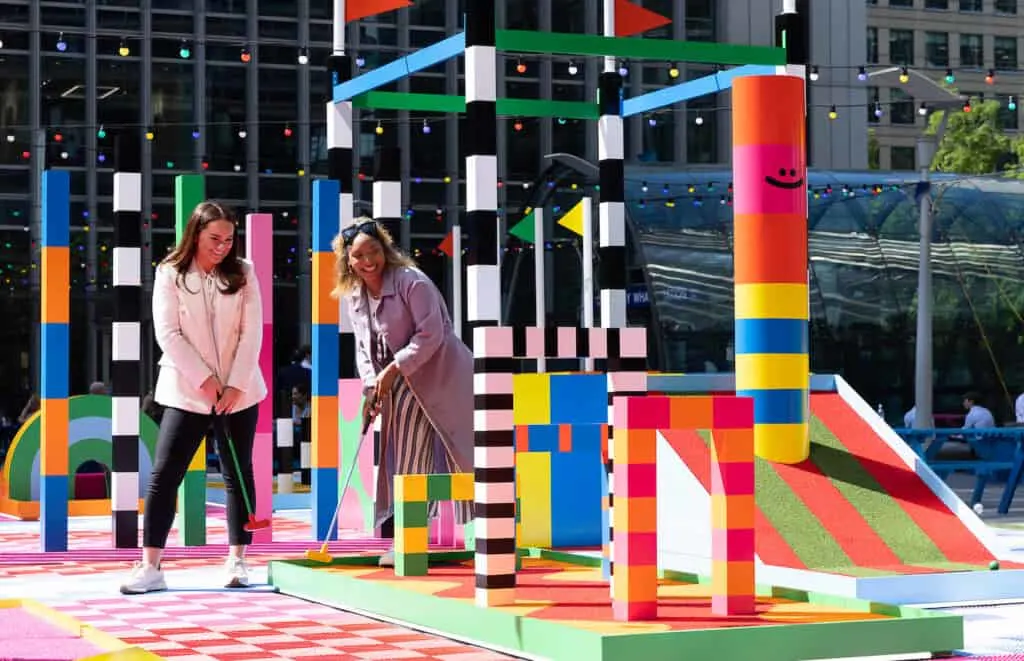 A lovely recent installation is a story printing machine. You can select a genre and length of story. There are a few machines dotted around the area.
The paper and ink cartridges are all eco-friendly so you can sit by the water and read your free story. They were quite popular when they were first introduced in 2019 printing over 1000 stories in the first week.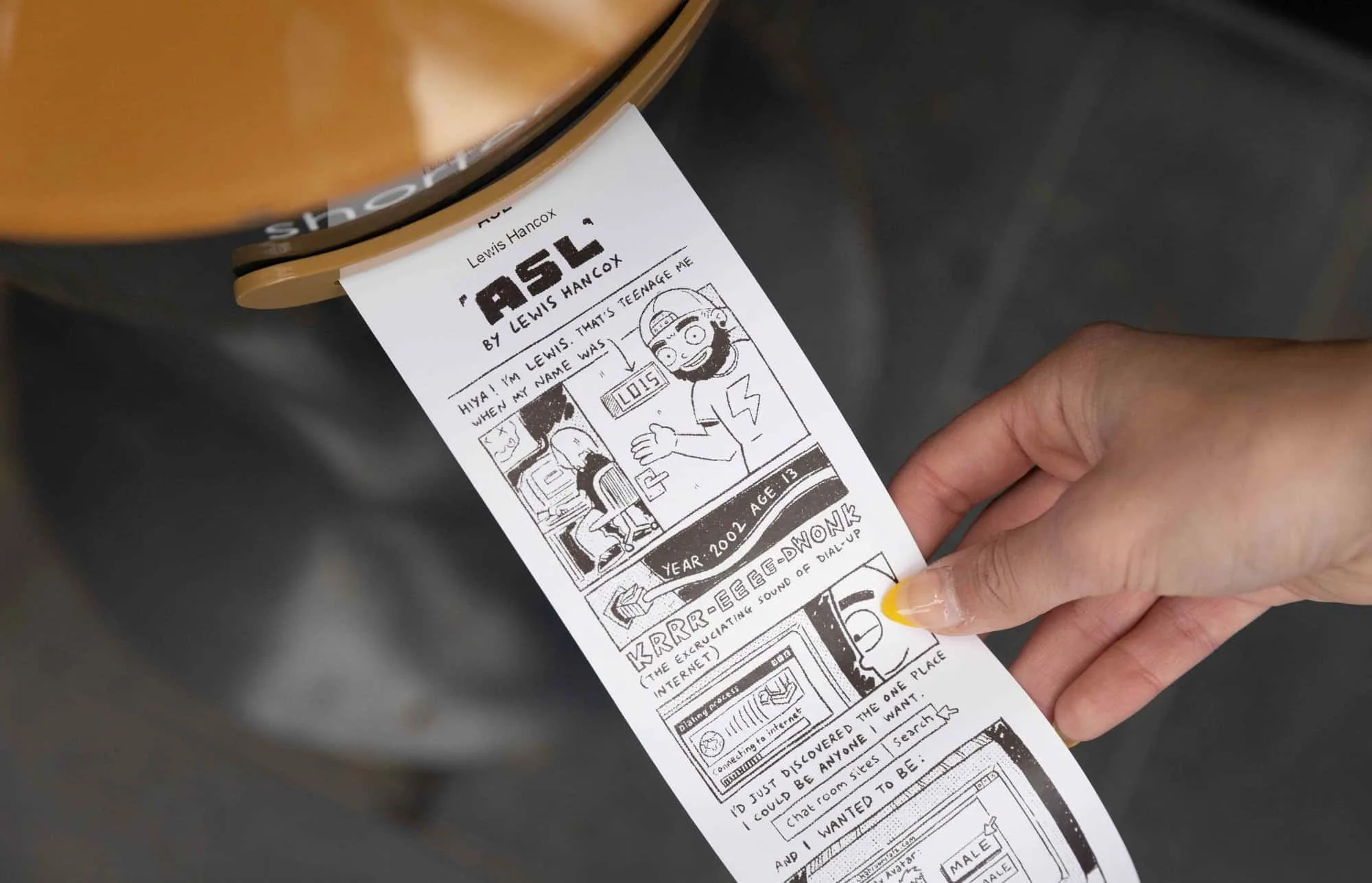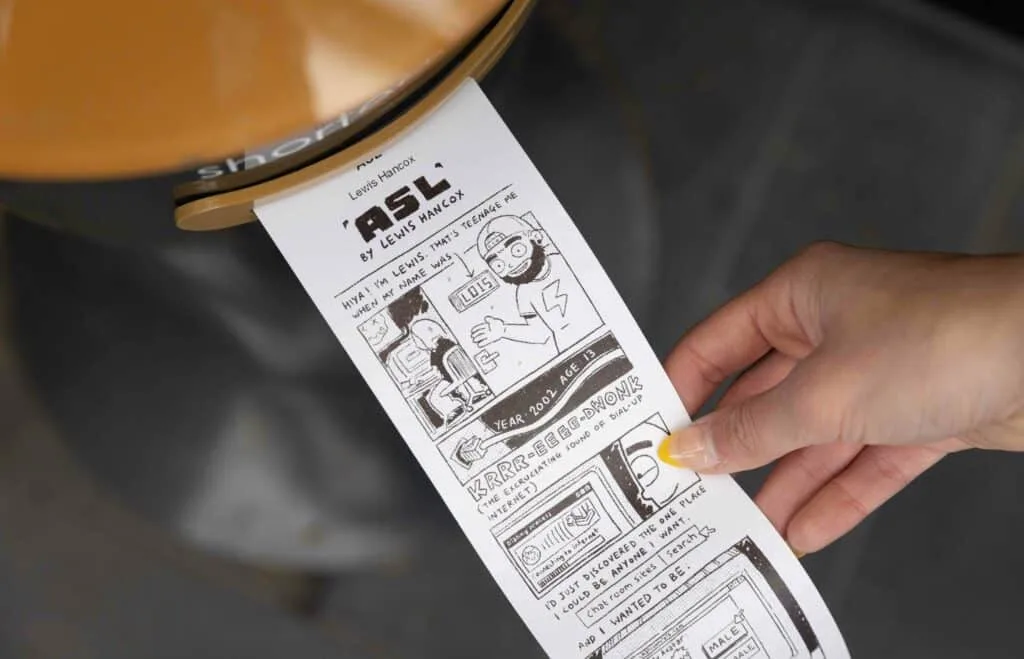 Similar to Barbican, Canary Wharf has its very own roof garden. It has a unique micro climate due to all of the amazing plants at Crossrail Place.
There are occasionally free performances, yoga classes and theatre events held in the gardens.
As mentioned Canary Wharf has winter lights and they also have summer lights. Featuring unique sculptures, artwork which uses light to create colourful pieces, it is a lovely way to explore the area.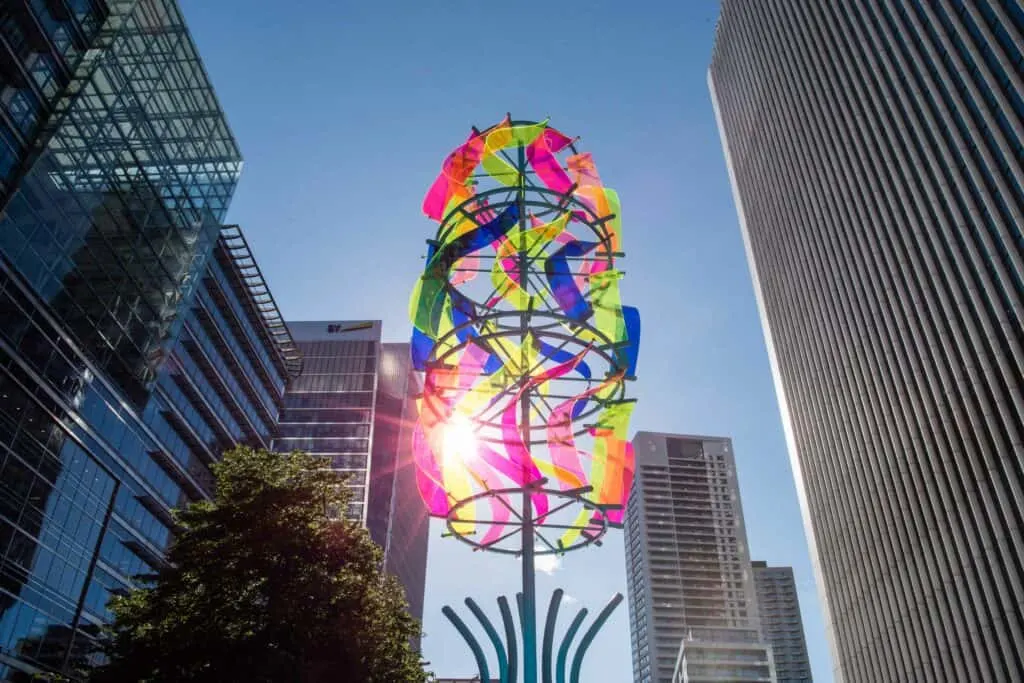 I remember being so cold at the winter event, the summer one was a lot easier to manage with the kids.
30. The British Library
If your little one is a book worm, head to The British Library in Kings Cross to see towering shelves of books in a beautiful historical building.
Aside from the massive collection of children's books, there are quite often family events held at the library. The events feature story telling in spoken English and British Sign Language.
On the last Sunday of every month they have an explore and play event which is free and specifically for families.
Other events often held are 'creating news headlines' and 'dream a city. All of which are free! If you are interested in any of these events, it is best to keep an eye on their online calendar.
Head to their website to find out what's on at The British Library.
31. Apple Workshops
All of the Apple Stores around the city hold free workshops and are fantastic fun as well as educational. They provide iPads for the children who partake.
There are specific classes for children, all you need to do is download the apple store and book one in, it is completely free. They are not generally oversubscribed so sometimes if you turn up you may be able to join in.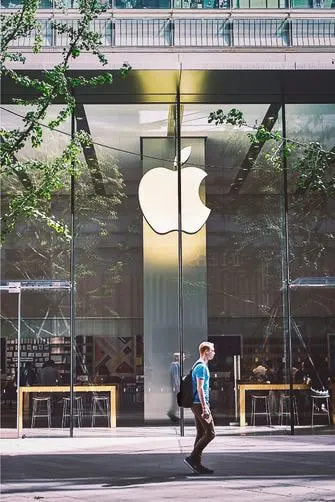 The workshops vary from photography, to creating emojis and video editing, to digital art skills. They are really great and have some longer workshops over school breaks. One we discovered recently was comic making.
You can find Apple Stores in Covent Garden, Regents Street, Brompton Road, Bromley, Stratford City, White City and Brent Cross.
You can view the calendar of workshops for your local store on the app. You may even spot one for yourself as there are both adult and kid friendly sessions.
I have personally helped my kids with the sessions for little ones and learned a lot!
32. Stemettes
Stemettes is an organisation who run free events specifically for girls to inspire them into careers in science, technology, engineering and maths.
They run events around the country, however you can find local events on their website by clicking on the London option. The events are not regular but is one of the (educational) free things to do in London with kids.
The Best Way to Get Around London With Kids
Let me be honest, I HATE London's public transportation system. There is just something about the underground, buses, and trains that I do not like.
The trains are always my first choice because they are above ground and you can still get around London fairly easily without using the underground.
For the zones within which you will travel, you can purchase daily, weekly, or monthly passes.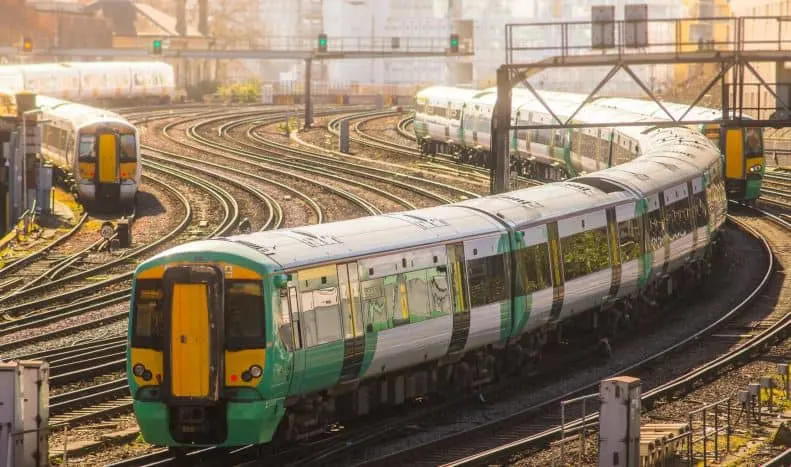 In any case, you can pay as you go. You may find the daily pass is more cost-effective if you plan on moving around a lot in a day.
London is zoned from 1 to 6, the further you travel in London, the more expensive travel becomes.
Be sure to download a map of the London tube or train network so you have it at your fingertips.
In general, trains are better than tubes, especially if you're with a stroller, since not all tube stations have lifts, although more and more do these days.
All London public transport systems, including trains, trams, buses and tubes, accept contactless credit or debit cards. Free rides are also available for children under 5!
It is not recommended to travel with children during rush hour. When possible, try to travel between 10 a.m. and 4 p.m. or after 7 p.m.
Travelling With Kids In London
Essential Items
If you're visiting London with kids and wondering what to pack, it's important to be prepared for all seasons!
Spring, Autumn, and Winter are the seasons when it rains most frequently. Bring a rain jacket and an umbrella with you on your trip.
Make sure to pack lightweight fleeces for layering so they don't bulk up your luggage.
If you are exploring London during summer, it can get very warm although this is not predictable. Pack plenty of water and sunscreen for the warmer days.
Sometimes London experiences some heatwaves in summer when you might want to spend the day at a splash park or lido to keep the kids cool and entertained!
If you are familiar with UK weather, you will know you can have all four season weather in one day!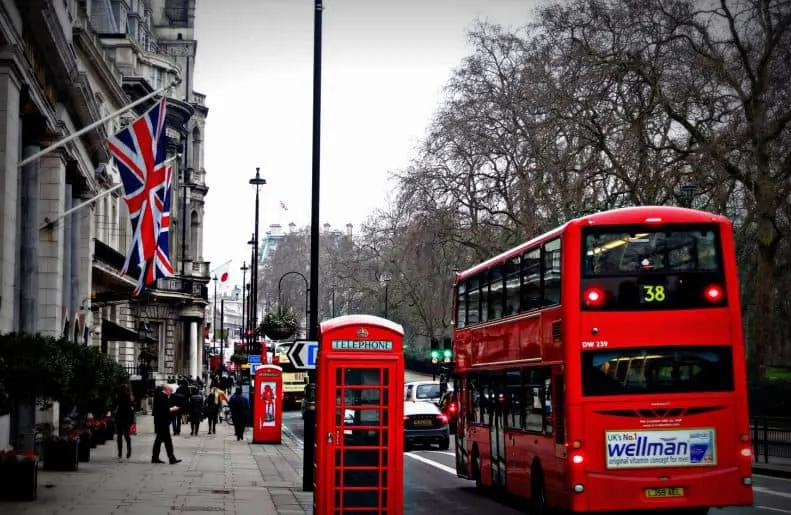 Baby Equipment and Toy Rentals
In case you're visiting the city and don't want to bring too many items with you, there are rental companies that will deliver toys to strollers to your hotel.
I find renting a box of toys to be an excellent solution if you're staying in London for a few days and need some entertainment for the kids .
You may not want to carry car seats and strollers all the way, so this is an ideal way to make your journey easier while still enjoying your home comforts.
London equipment hire can be contacted here.
London Pass
If you are visiting London and would like to see any of the paid attractions the London Pass is a great way to save money.
You will have access to over 80 attractions as part of the pass, from Tower of London tours, to Thames Riverboat cruises.
You can download the pass to your phone so that you can access it instantly. In addition, there are 'add-ons', such as city-wide travel, which saves you from having to buy an Oyster Card.
In order to make the most of the London Pass, it's best to start early in the day. It operates on consecutive days rather than 24-hour periods.
All you need to do is choose the number of consecutive days you wish to book. Passes with longer validity offer greater savings. They are available in one, two, three, six, and ten consecutive days.
The value for money of these is remarkable and many friends who have visited us over the years have used them when in London.
You can find out more about the London Pass by clicking here.
Summary
The London metropolis is a multicultural city with an array of activities to suit all ages. It is a city that will leave an impression on everyone, from toddlers to teens and grownups.
It doesn't matter if your kids love adrenaline-pumping activities, cultural experiences, or science experiments, London will not disappoint.
I hope you have found this post on free things to do in London with kids helpful. If you would like to leave a comment, feel free to do so and we'll get back to you as soon as possible.
You may also like:
30 Family Friendly Restaurants to try this Summer
Best London Easter Activities
40+ Best things to do in London with kids
30 Best family hotels in London
20+ Fun things to do Halloween in London with kids
17+ Places To Go Pumpkin Picking Near London
London during February half term
Heathrow Services
Finding affordable kids days out in London
Disclaimer: This post contains affiliate links, using them does not cost you anything extra, we get a little commission.Thank you in advance for your support.