The weather is getting warm(-ish) again and it's nearly one of our favourite times of year – Easter in London!
We always have so much fun spending a bit more time outdoors and getting involved in London Easter activities with the kids.
Easter in London is a special time of year, filled with springtime festivities and fun activities for all ages.
If you're looking for things to do in London at Easter, you're in luck – there are plenty of options to choose from!
There will be plenty of time for these Easter activities in London over the double bank holiday – we get four whole days off between Good Friday and Easter Monday, so be sure to make the most of it!
Things to do in London at Easter 2023
So, here's my run-down of London Easter activities! From Easter egg hunts to afternoon tea in London, there will be something for everyone to enjoy, no matter the weather.
If you're spending Easter weekend in London, remember to never rely on sunshine! With my list of Easter activities for kids in London, you'll be prepared for fun, come rain or shine.
Whether you're looking for an Easter egg hunt in North London or a delicious Easter brunch in the city centre, there are plenty of things to do in London for Easter.
So grab your Easter bonnet and your bunny ears and get ready for a weekend filled with springtime fun!
Lots of these London Easter activities are also free, which is always a plus!
1. Easter Egg Hunt London
Why not entertain the whole family this Easter Sunday in London with one of the most popular Easter activities – a London Easter egg hunt!
There are so many to choose from. Kids and adults alike can search for hidden Easter eggs all around the city. Many parks and attractions host their own Easter Egg Hunts, including Kew Gardens, Battersea Park, and the London Zoo.
The National Trust offers amazing Easter egg hunts in London, like the one at Rainham Hall and its woodland garden, complete with an egg and spoon race and a wind chime forest.
Kids will receive a trail sheet to help with the mission and Easter bunny ears to wear. Vegan chocolate eggs are also available.
Easter egg hunts in a range of National Trust locations around the country, including in London at Rainham Hall, can be booked for free for under-18s with a new membership. Don't miss out on this amazing offer on London Easter activities!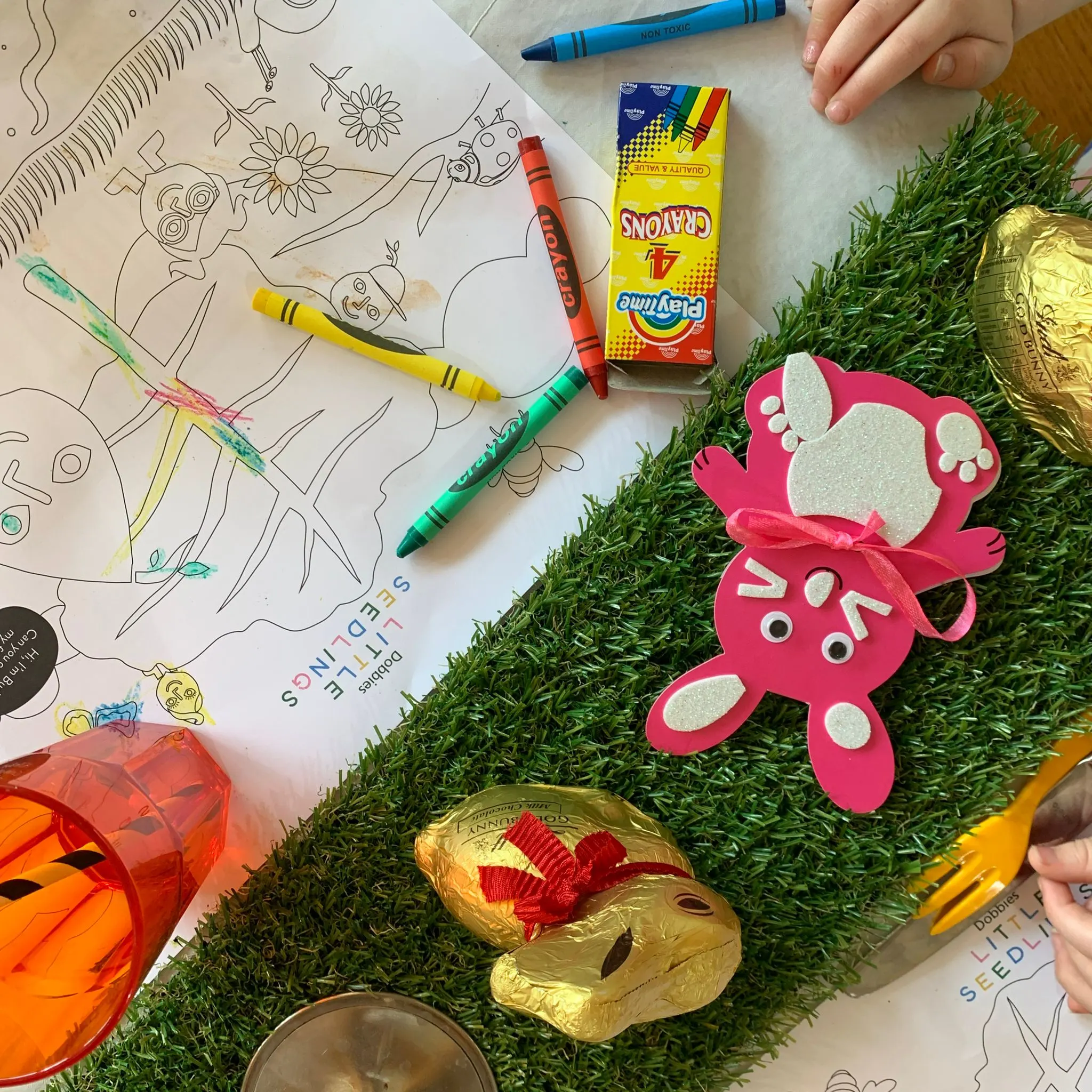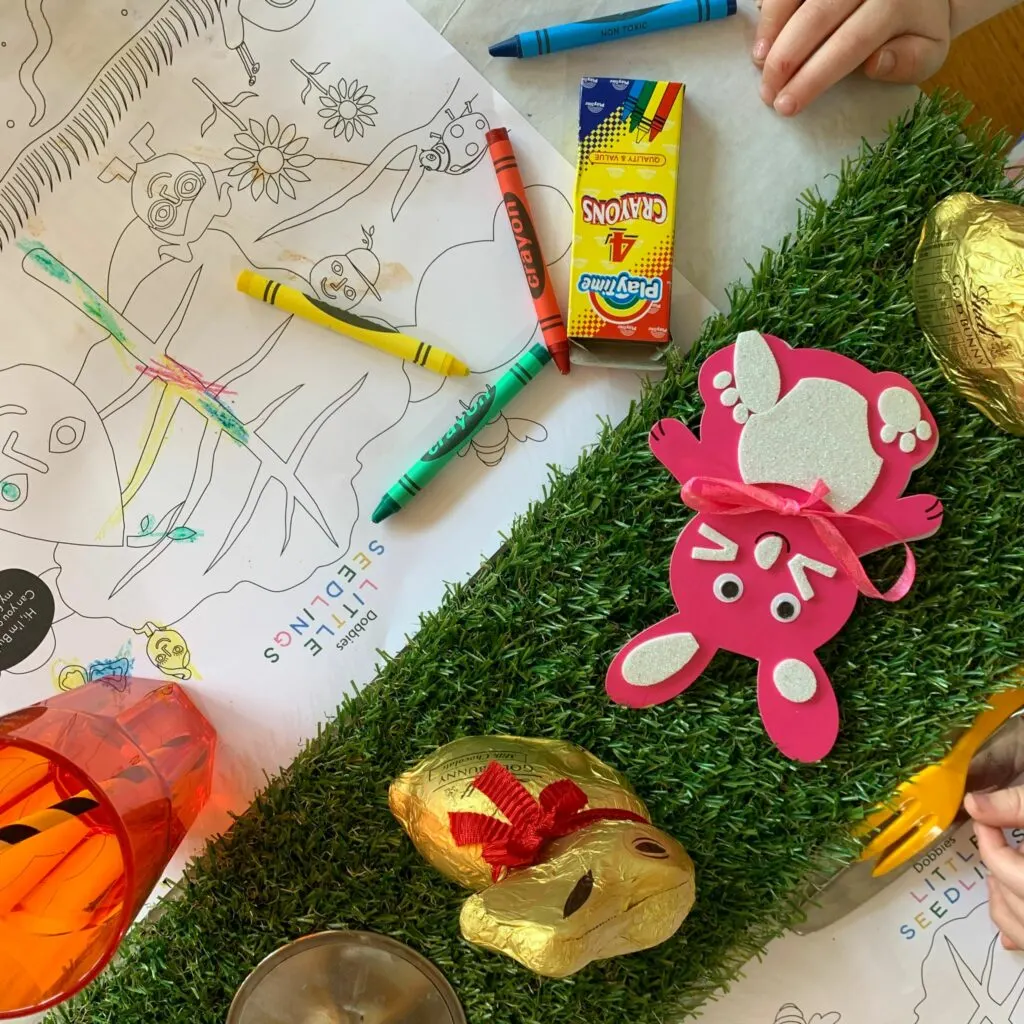 Alternatively, join the famous Lindt Gold Bunny Hunt at Henry VIII's historic Hampton Court Palace and gardens.
This Easter egg hunt in London is best suited to children aged 3-12 years of age and their families and takes 90 minutes to complete.
You'd be hard-pressed to find a more picturesque setting on a beautiful Spring day this Easter weekend in London.
Best of all, end the hunt with a delicious reward – a Lindt Gold Bunny! Non-chocolate rewards are also available.
Easter egg hunts probably come out top of my kids favourite London Easter activities.
2. Easter Parade London
Another fun activity for families is the Easter Parade in London. The annual event is a colourful spectacle of floats, costumes, and music.
The parade usually takes place on Easter Sunday and is a great way to celebrate the holiday with the whole family.
If you're planning on spending Easter weekend in London, there are plenty of London Easter activities to do besides egg hunts and parades.
You could enjoy an Easter afternoon tea in one of the city's many luxury hotels, or take your kids to an Easter camp filled with activities like arts and crafts and outdoor games.
3. Easter Brunch London
Of course, no Easter weekend in London would be complete without a delicious Easter lunch or dinner.
Eating a delicious brunch is essential in my list of London Easter activities for the perfect easter weekend in London.
Many restaurants and traditional pubs offer special Easter menus with delicious roasts.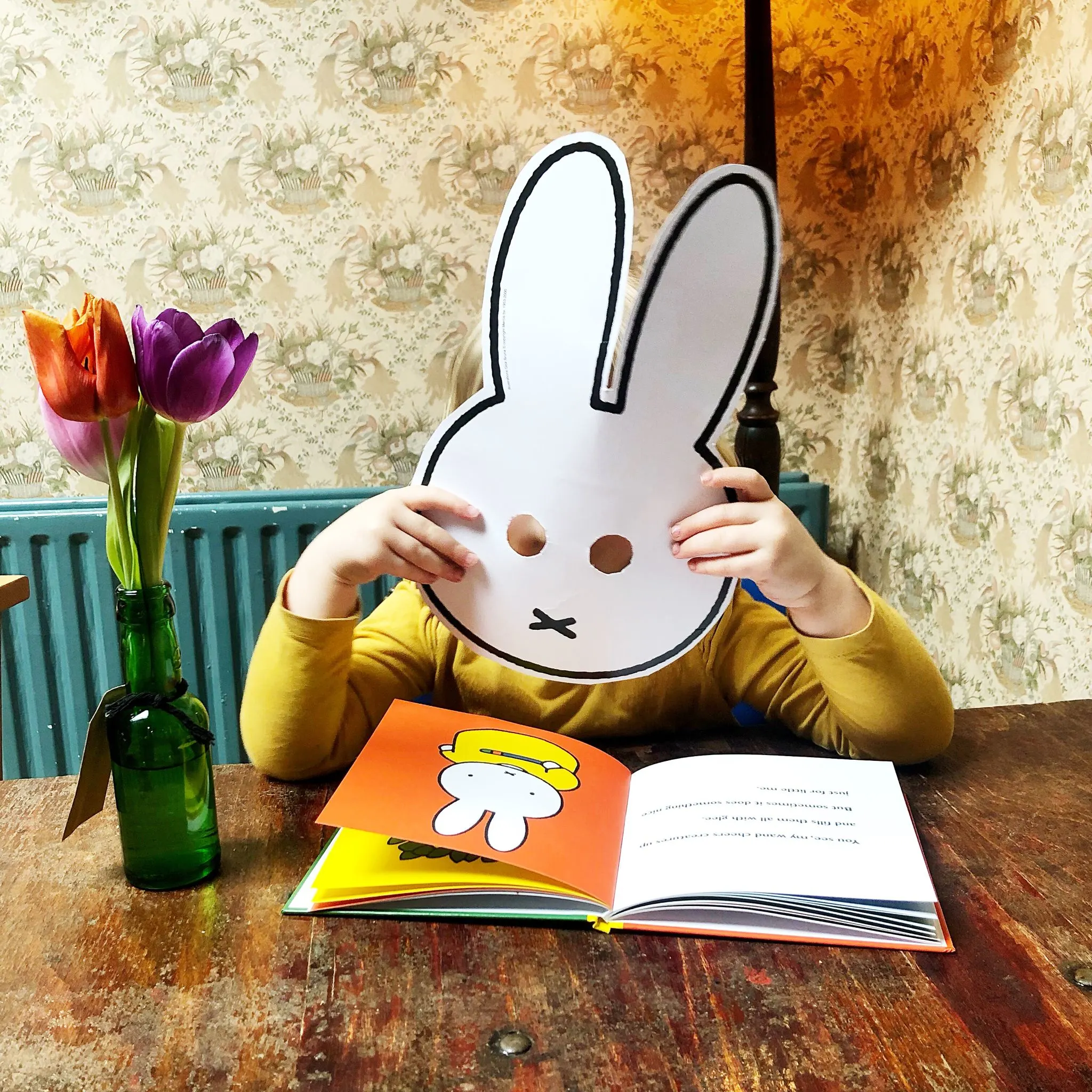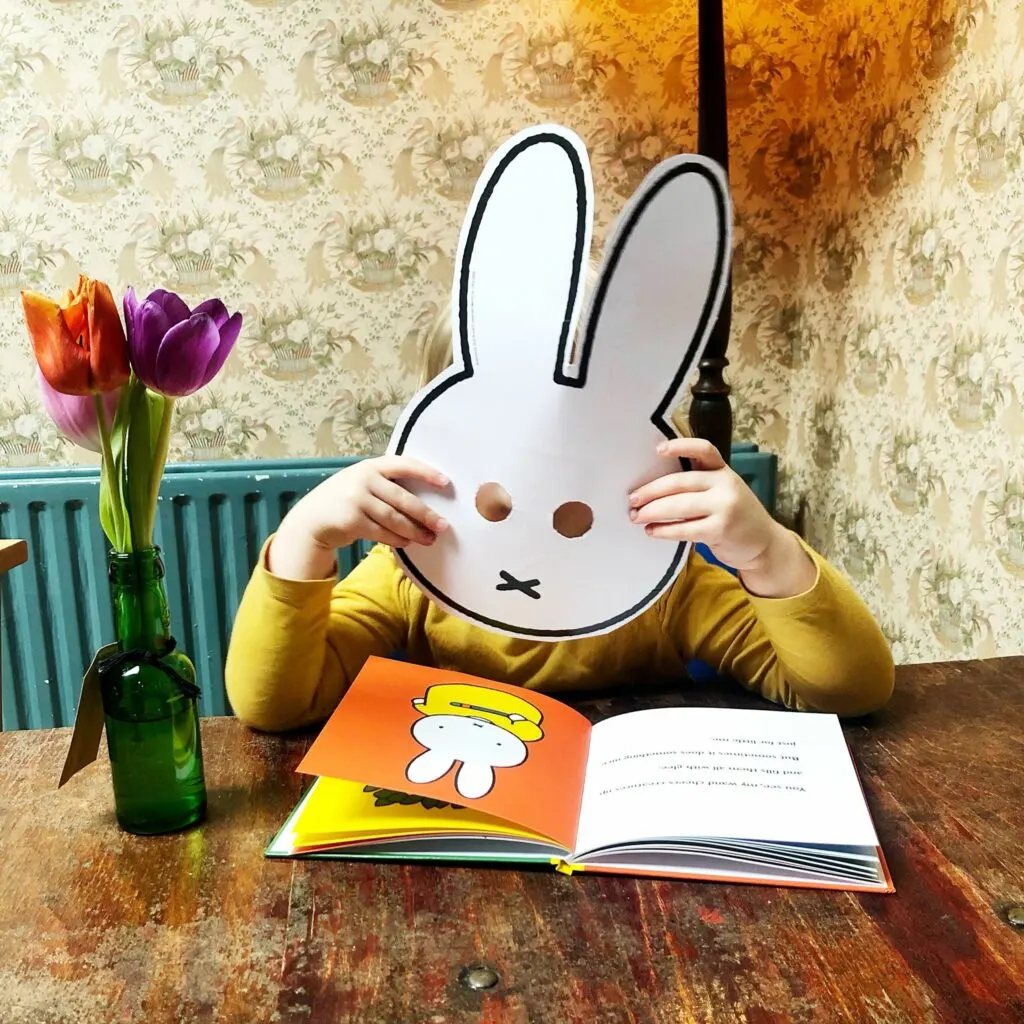 Tucked away in a beautiful green spot in South London, The Wood House, Dulwich, offer a fantastic Sunday roast with a huge kid-friendly garden and some beautiful woods to go exploring in after!
The vegan option at the Wood House on a Sunday is a delicious lentil & beetroot wellington served with oil roasted potatoes, seasonal vegetables, and vegan gravy.
The Yorkshire puddings are vegetarian, not vegan, but the amazing garden and atmosphere of the pub make up for it!
If you're North of the river and you are looking for London Easter activities, there are plenty of cozy gastropubs with beautiful beer gardens to choose from.
If you're vegan, like me, you're in luck. The Spread Eagle in Homerton is London's first fully sustainable, waste-free, and vegan pub.
All their food consists of vegan takes on traditional English pub classics, including of course the traditional Sunday roast which you can enjoy as part of this year's London Easter activities.
I would recommend ordering the walnut & cashew nut roast with a side of creamy leek gratin.
All their roasts, which range from £16-£17 and are served with a side of potatoes, roasted carrots, seasonal greens, a Yorkshire pudding, and gravy. Delish!
Get to Homerton's Spread Eagle on the London Overground (the orange line) via Homerton station which is a 5-minute walk away, or take a 10 minute bus ride from Dalston Junction.
At the Spread Eagle and all of London's gastropubs, I would recommend booking your roast in advance because Sundays can get extremely busy, especially at Easter!
Aim for a table around midday or early afternoon. Pubs often start running out of the favourites around 4 pm, so don't wait. Reservations can be made online or by phone or email.
4. Easter Afternoon Tea London
If you're interested in food-related London Easter activities then an Easter afternoon tea in London is the perfect treat.
There are some fantastic afternoon teas on offer around the city for adults and kids, especially in London's many amazing hotels.
If you're looking for the fancier options for London Easter activities, then look no further. The Conrad St James hotel in Westminster offers an amazing Easter afternoon tea, and children are welcome and well catered-for, too.
The Alice in Wonderland theme makes the setting ideal for a fanciful Easter afternoon tea. Adults can choose from Harney & Sons tea or champagne, and each and every child will be given an Easter goodie to take home.
On Easter Sunday at 2pm there is even an Easter egg hunt in the hotel for the little ones.
The hotel is in a great location right outside St James' Park tube station, which is served by the District and Circle lines.
Change at Victoria if you're travelling into central London from further afield, and take St James' Park is just one stop away on the tube.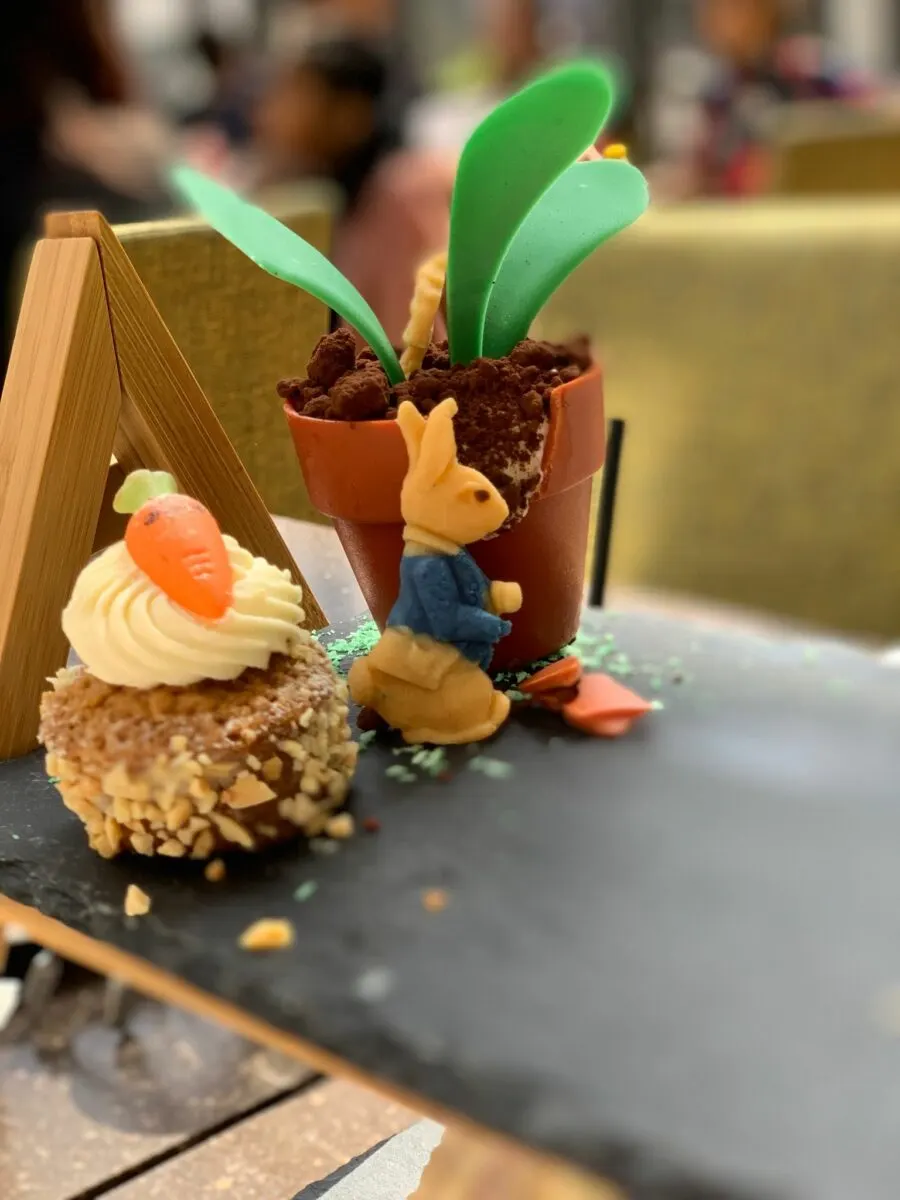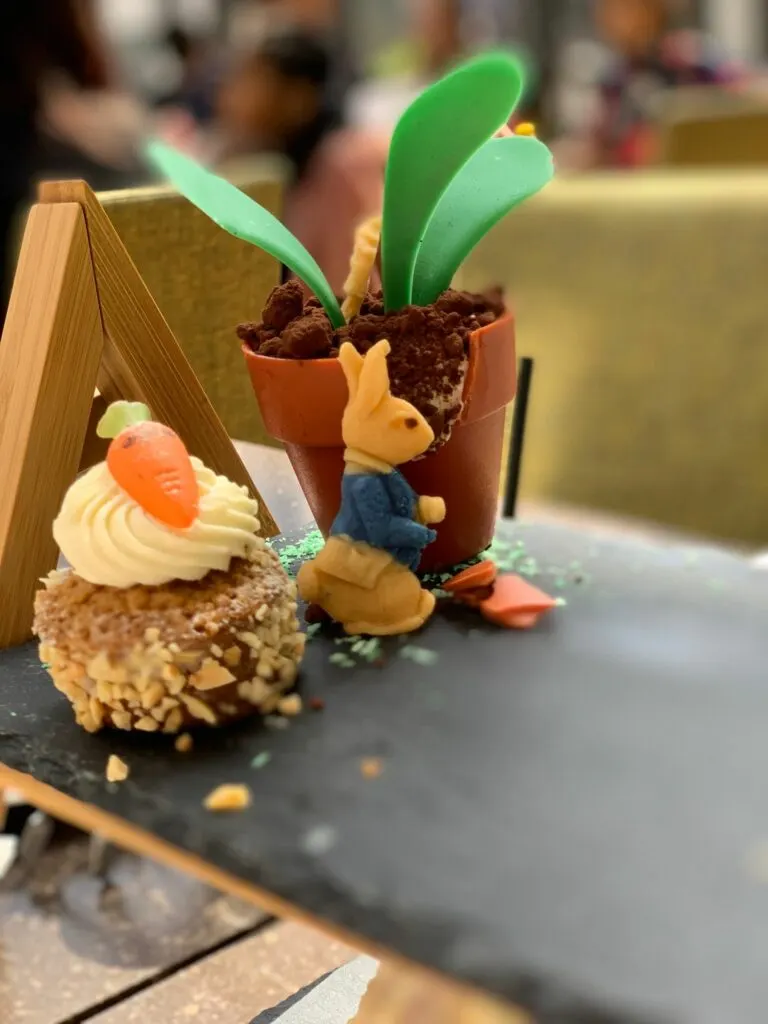 Traditional afternoon tea is a British tradition that typically consists of a of tea, finger sandwiches, scones with clotted cream and jam, and cakes or pastries.
Adults can also opt for champagne or prosecco at most afternoon teas in London.
The sandwiches served at afternoon tea are usually small and delicate, with fillings like cucumber and cream cheese, smoked salmon, and egg mayonnaise.
Scones are a staple of afternoon tea and are usually served warm with clotted cream and jam. The cakes and pastries can vary but might include items like lemon drizzle cake, macarons, or mini fruit tarts.
This very British tradition is often enjoyed in elegant surroundings, such as a hotel or a tea room, and may be served on fine china with silverware.
Dressing up in smart attire is also part of the tradition, although this is not always required. There are lots of afternoon teas available which are also child-friendly.
5. See The Spring Flowers
The next few London Easter activities can be enjoyed by kids and grown-ups, and are perfect for getting outdoors in the Springtime sun!
London in Easter offers the perfect time and (hopefully) nice weather to explore some Spring flowers once they come into bloom.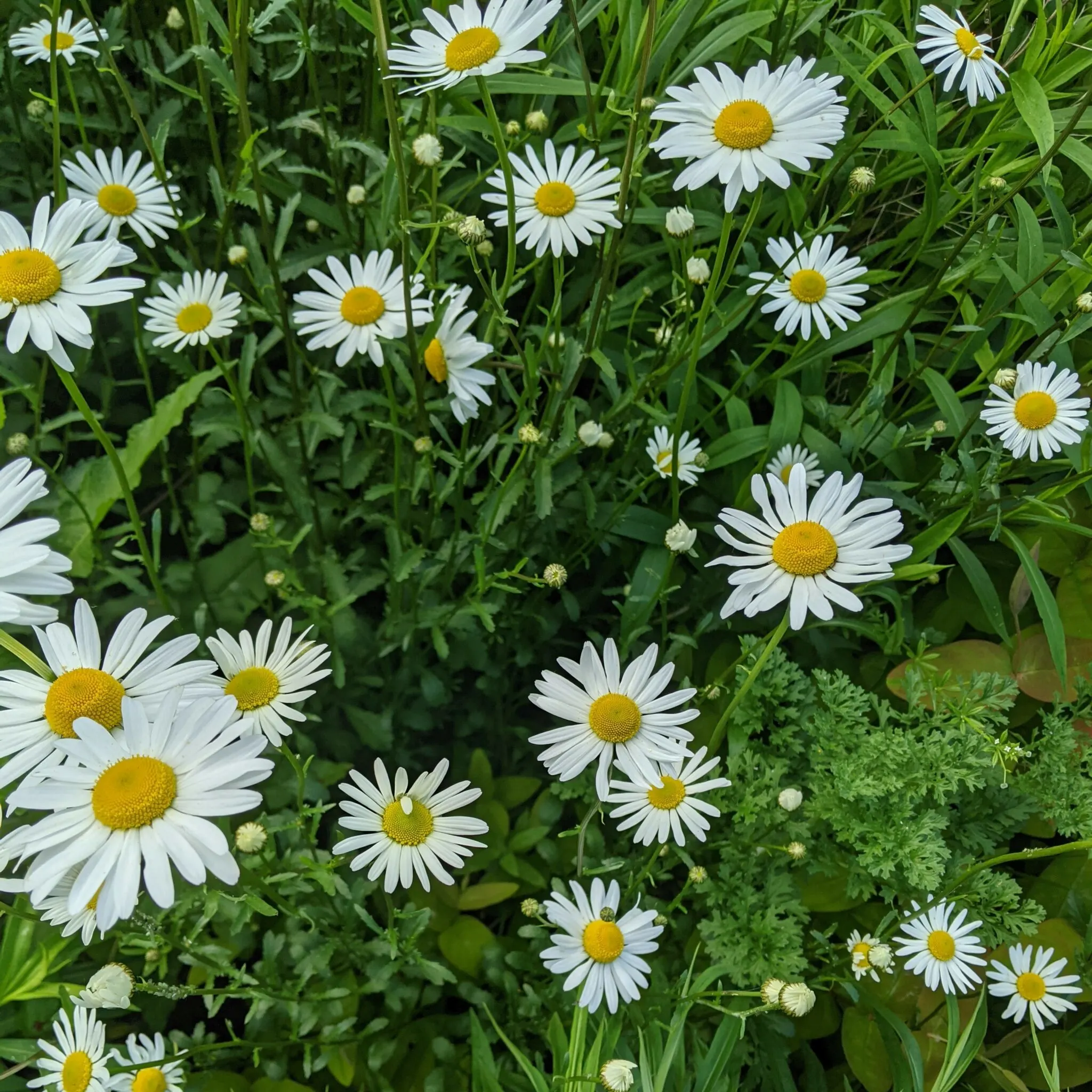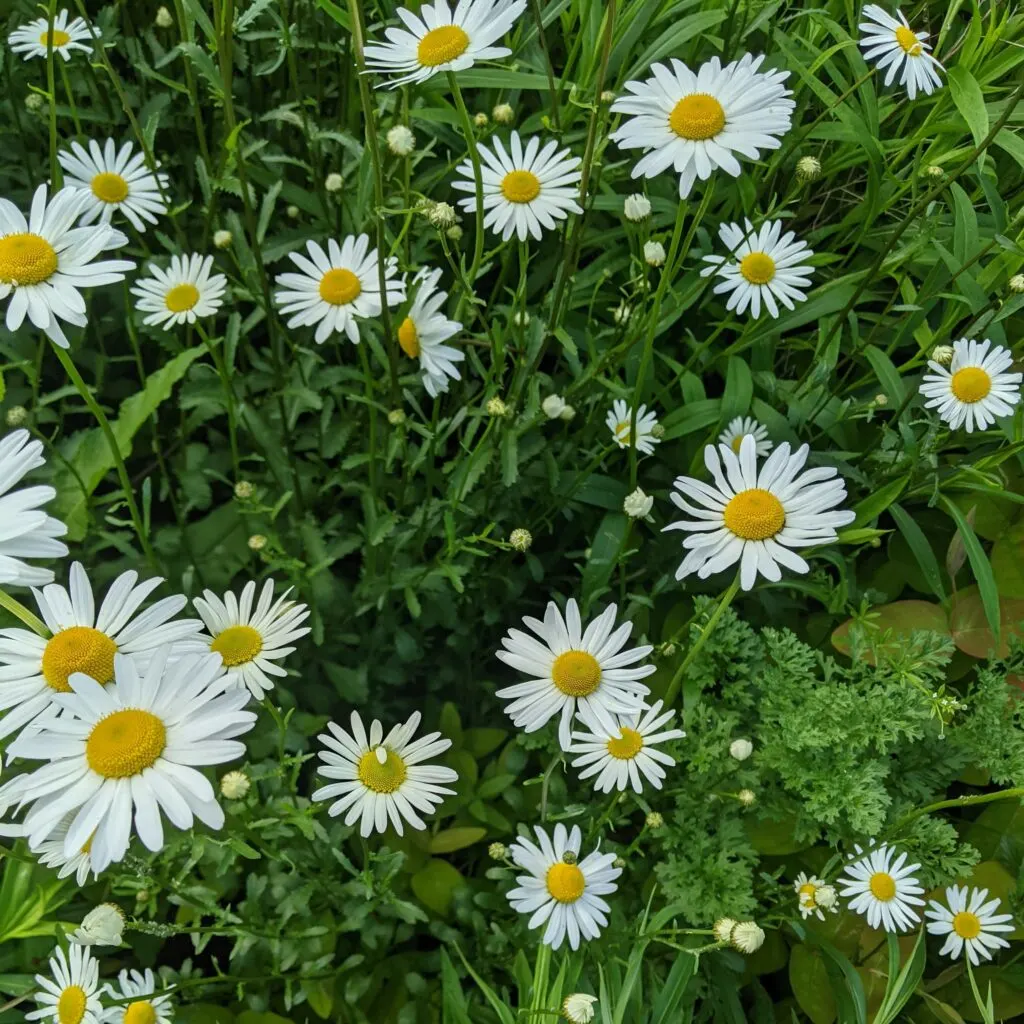 New flower blooming begins in March in the UK, the official beginning of Spring time, although the weather is always a little warmer in April and May.
While the weather is improving and the sun is (hopefully) shining, you will still need to bring some layers out with you for these outdoor London Easter activities.
The weather in London during this time of year can be quite changeable, with a mix of sunny days and rain showers.
Temperatures in London during Easter can vary, but on average, you can expect highs of around 12-15°C (54-59°F) and lows of around 5-8°C (41-46°F) in the early mornings and evenings.
For those less familiar with the weather in London, it's a good idea to pack some light layers and a waterproof jacket if you're planning to visit London during Easter, as the weather can be unpredictable.
It's also worth checking the forecast before you go, as this will give you a better idea of what to expect during your visit.
The classic Easter and Springtime flower is of course the daffodil, a popular Mother's Day flower. You can see fields of daffodils this Easter weekend in London if you head to Green Park, Hampton Court Palace, or St James's Park in Central London.
Green Park has over one million daffodils in bloom in Spring. Head there on the Victoria Line if you're travelling by tube.
6. Kew Garden Spring Bloom
Kew Gardens is a beautiful and expansive botanical garden located in southwest London, and there's plenty to see and do there.
Kew Gardens is famous for its incredible lights at Christmas time, but it is a great activity for the kids over easter too.
Springtime in London is absolutely the best time to visit Kew Gardens and see all the new flowers in full bloom. Kew puts on special Easter activities and exhibitions which both adults and kids will love.
Arrive early, around 10 am, to make the most of your day out. Pick up a coffee at one of the on-site cafes, and then take a stroll through the beautiful gardens and explore the many different plant collections on offer.
Highlights at Easter/Springtime include crocuses and daffodils in the Woodland Garden, the Natural Area and the Great Broad Walk Borders, and the first rare rhododendrons blooming across stunning the vistas of Westwood Valley.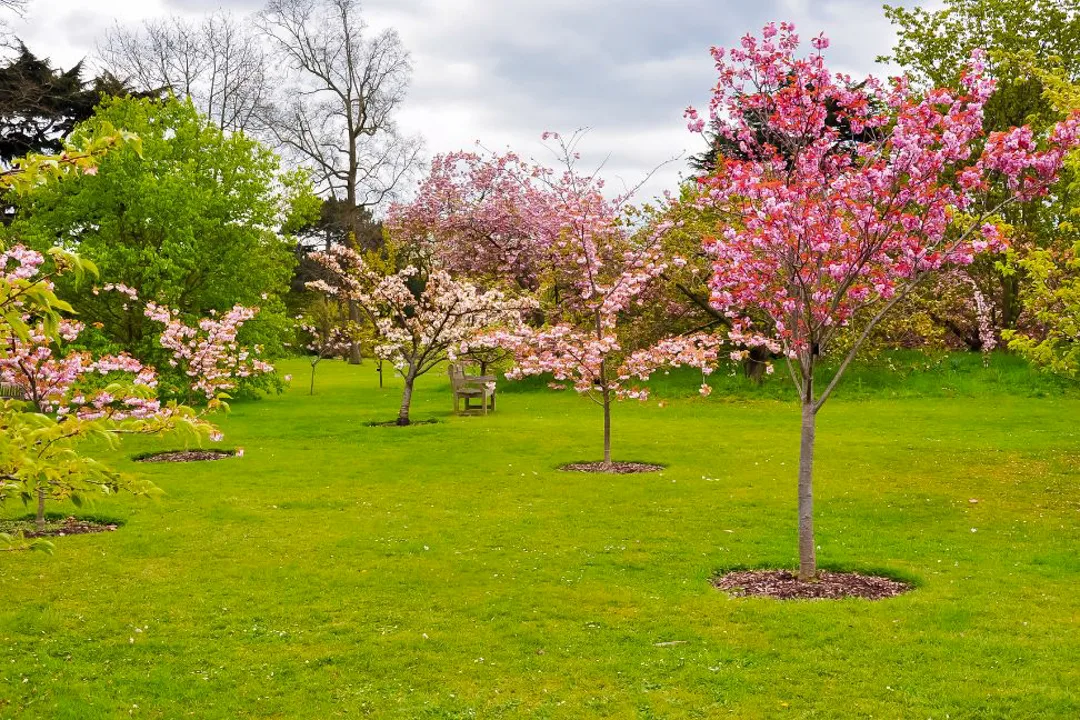 Stop for lunch at one of the cafes or restaurants within the gardens, or you can bring a picnic and enjoy it in one of the many designated picnic areas.
After a bite to eat, be sure to experience the Treetop Walkway. It's a 200-meter-long walkway that takes you through the tree canopy, 18 meters above the ground.
Don't forget to wear comfortable shoes, as there is a lot of walking involved, and perhaps pack a light waterproof or umbrella just in case of April showers!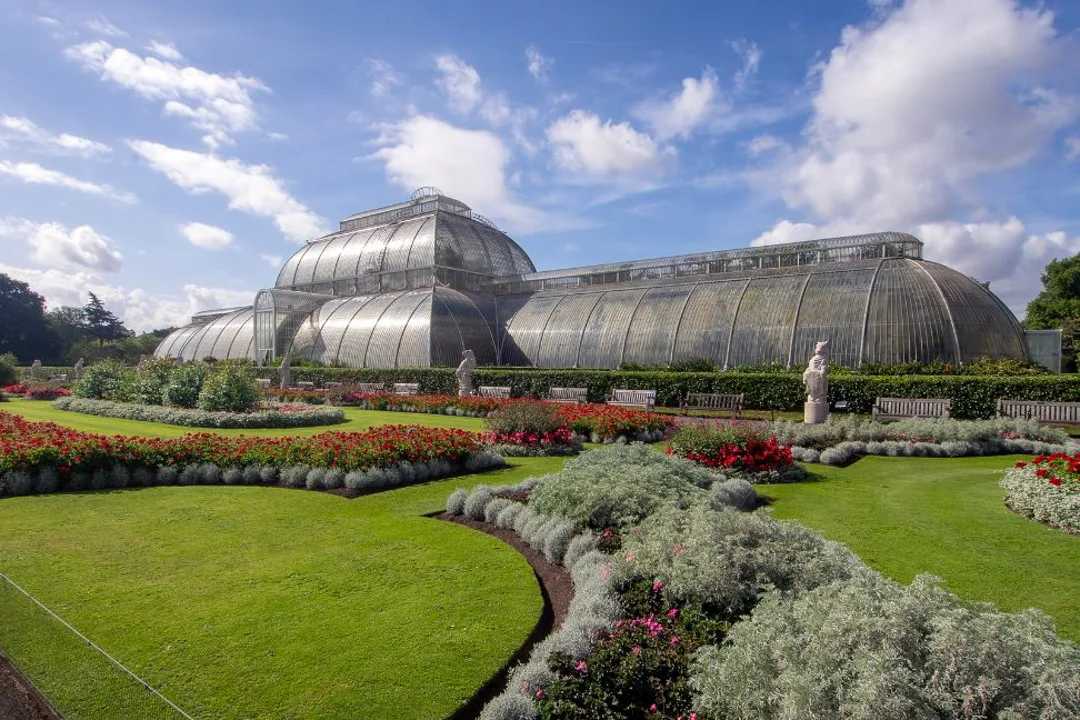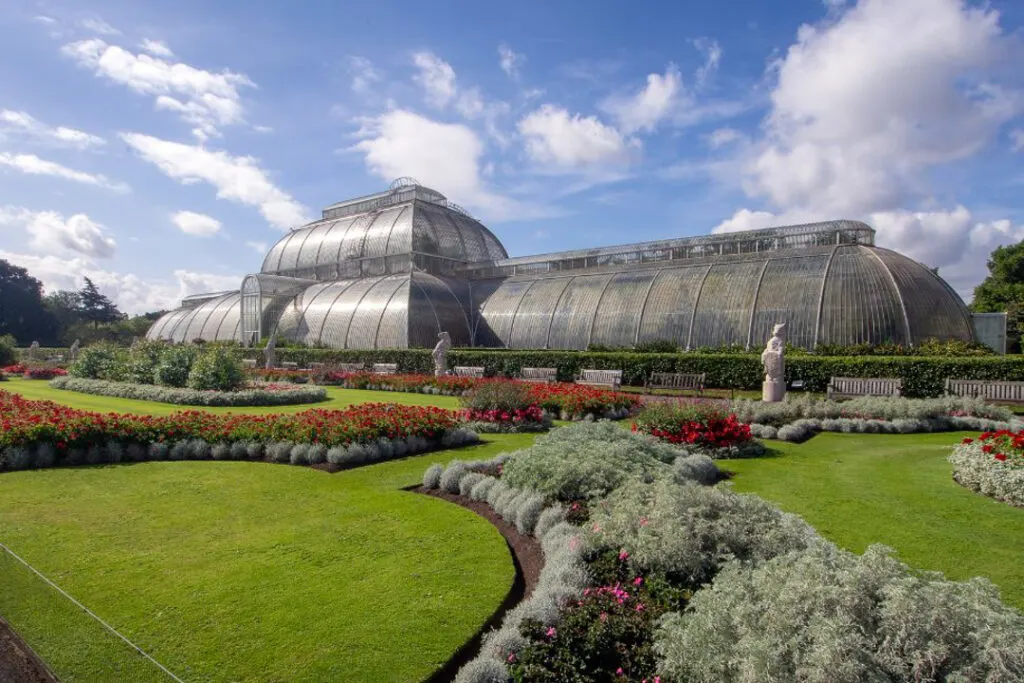 Kew Gardens is located in Richmond in the South West of London and is easily accessible by train from well-served stations such as Clapham Junction and Victoria.
From Victoria, you can also take the District Line straight to the gardens. This option takes about 27 minutes.
I would highly recommend signing up today for a GoCity London Pass to make use of the offers on London Easter activities, especially their discounted tickets for Kew Gardens.
Click here to sign up for a London Pass today – don't miss out!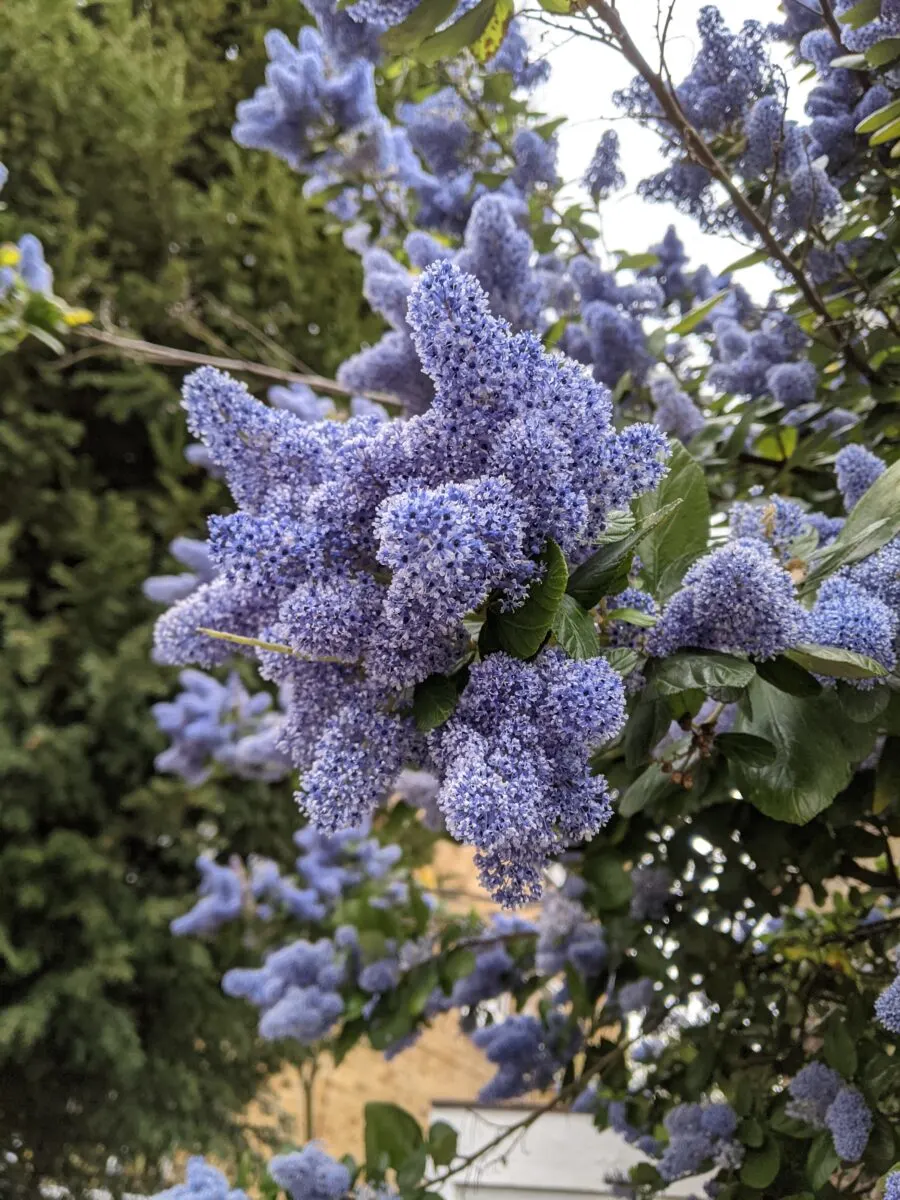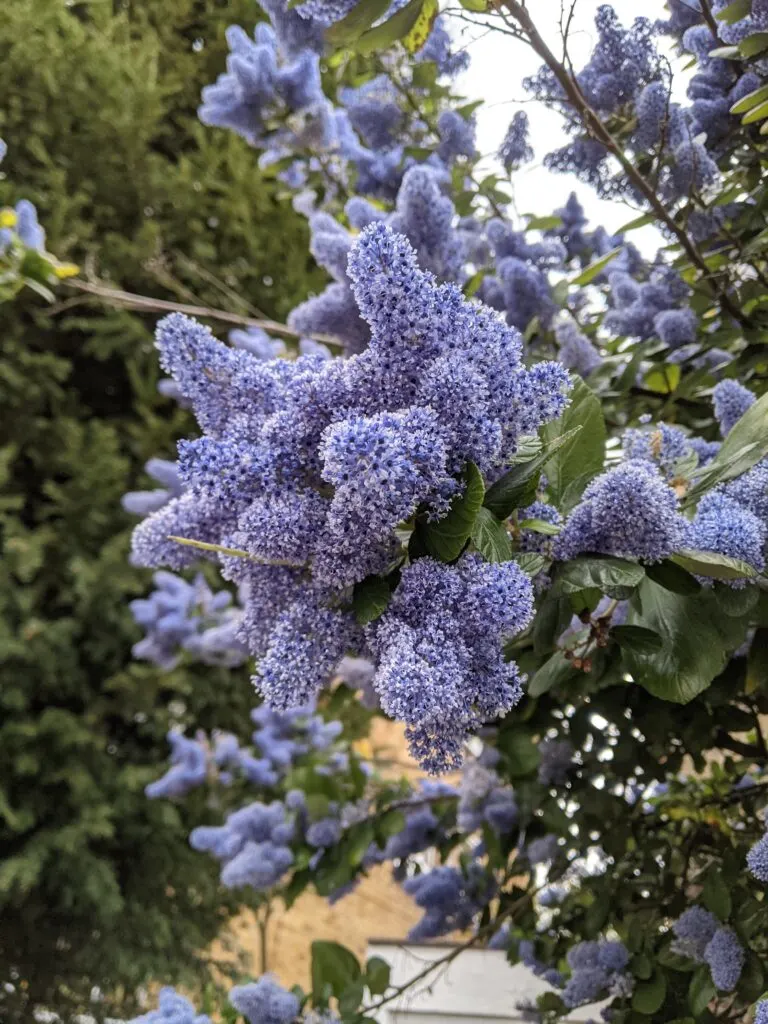 7. Wimbledon Village & Park Spring Bloom
Outdoor London Easter activities are endless. Why not grab the kids bikes or scooters and head to Wimbledon Village to explore the less well-known Cannizaro park this Easter weekend?
There you will find beautiful blooming purple crocuses. My kids loved the aviary at the entrance of the park which is filled with finches, cockatiels and yellow canaries.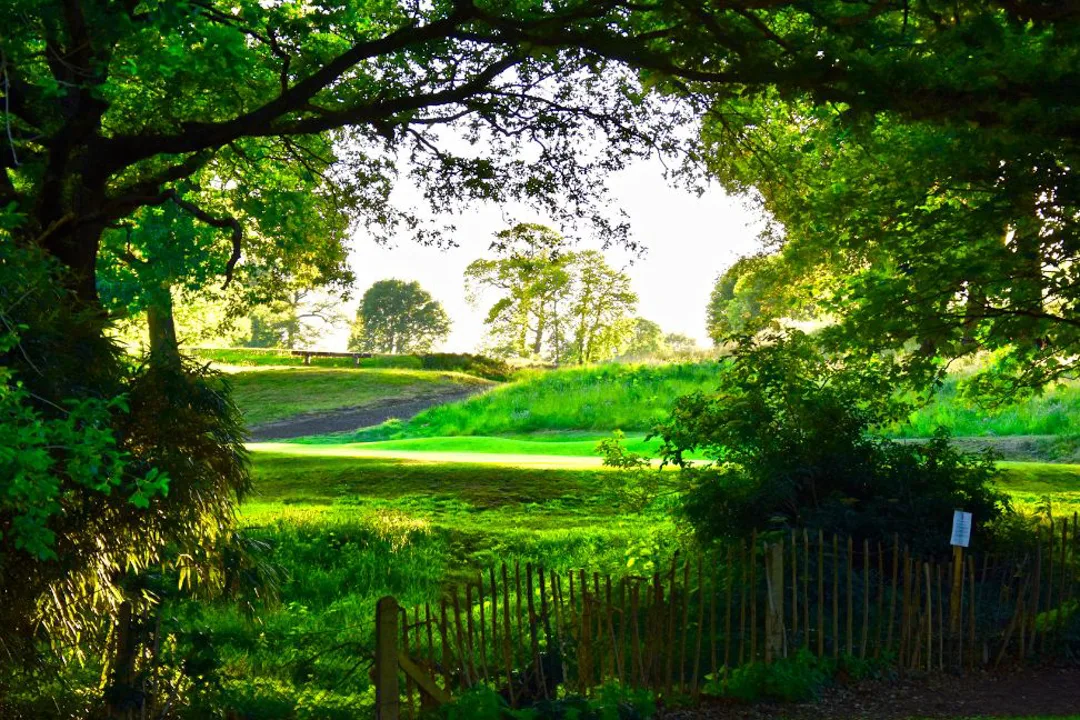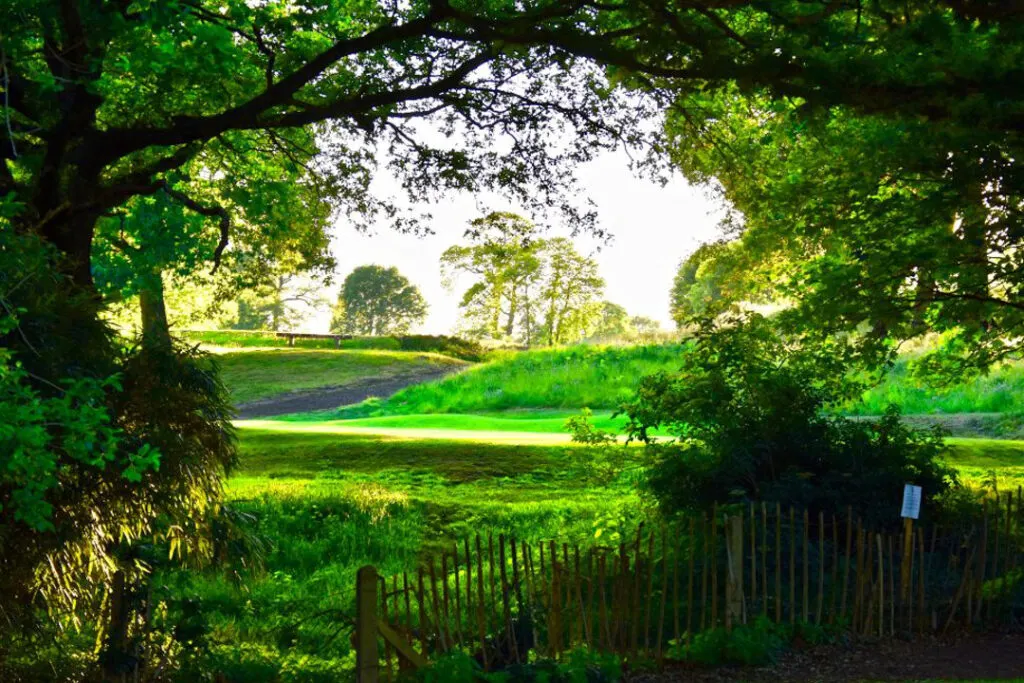 Further into the park, at the top of a hill with an amazing view, you'll find Hotel du Vin Wimbledon which offers amazing afternoon tea if you're looking to treat yourself or the family in London at Easter.
Tourist attractions and historical sites can make for great London Easter activities – it's a great time of year to explore what the city has to offer.
Buckingham Palace looks beautiful in Springtime and on a London Easter Sunday as it's when the Memorial Garden outside the Palace is filled with around 50,000 yellow flowers and red tulips.
Other Easter Activities London
If you're looking for Easter activities for kids in London during the Easter bank holiday weekend, you'll find plenty of options.
Museums and attractions like the Natural History Museum and the Tower of London often put on special events and activities for children during the school break.
Use your London Pass to get access to loads of fun London Easter activities for kids including museums, attractions, and historical sites.
8. Petersham Nurseries Easter Wreath Making
Why not get involved in some Easter arts and crafts this year? Petersham Nurseries in Richmond offer a sustainable and eco-friendly Easter-themed wreath workshop using woodland materials, seasonal British foliage and flowering bulbs.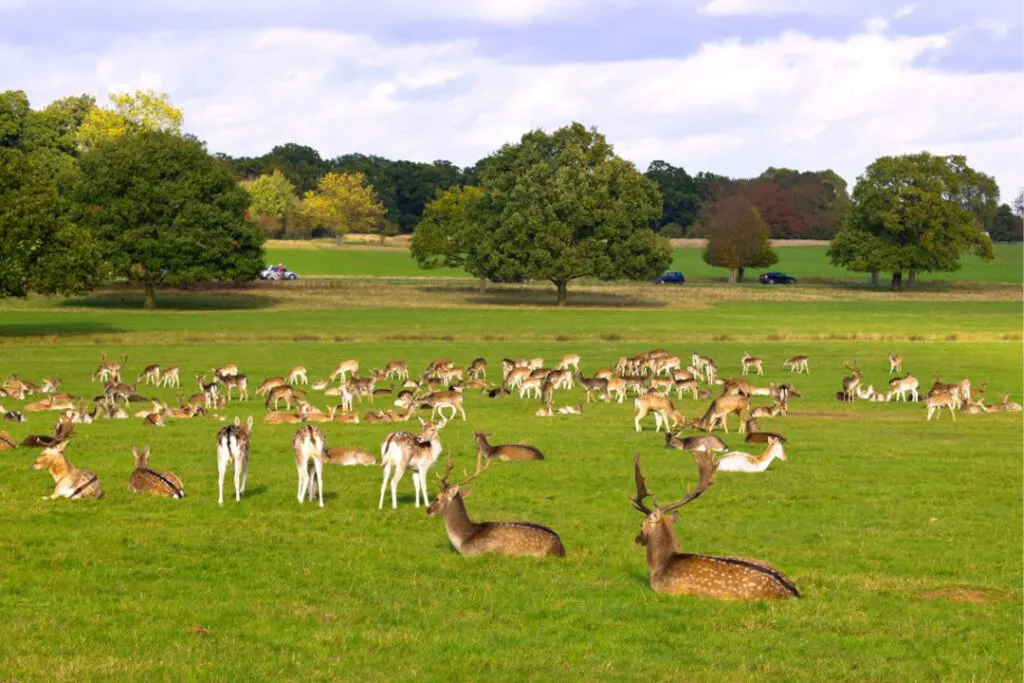 Before making your wreath, don't miss out on the chance to take an Easter Sunday stroll around Richmond park where you can see the amazing wild deer which roam freely in the park.
Please remember they are wild animals and be sure to keep your distance from them. There is some safety advice and guidance available on the Richmond Park website.
9. Kids Easter Art Camp
If you're hoping to keep the family busy, active, and away from huge amounts of chocolate this Easter weekend, there is an Easter arts and crafts workshop for kids.
Kid's Easter Art Camp at Art Play will be running an art camp every day this Easter holiday between 9:30am-12:30pm for kids aged 5-15 years of age.
Activities include graffiti, puppet making and performance, collage, and pottery, to name a few!
This Easter camp in London is a great opportunity for little ones to collaborate and create, as well as promising a sustainability-focused space which aims at introducing young people to sustainability through creativity.
The camp is located near Spitalfields Market, a 7-minute walk away from Shoreditch Highstreet Station on the London Overground.
10. Peter Rabbit Easter Adventure
In Central London, The Peter Rabbit Easter Adventure in Covent Garden offers an amazing range of London Easter activities.
This year includes live performances and puppetry, a mini ROVER obstacle course (for children aged 4 to 9), themed photo opportunities and arts and crafts.
The adventure runs from 21st March-16th April and tickets cost between £23 – £25 per person.
11. Easter Egg Decorating
Another essential in my list of London Easter activities is of course Easter egg decorating. There are many Easter egg decorating workshops and classes held throughout the city during the Easter holiday.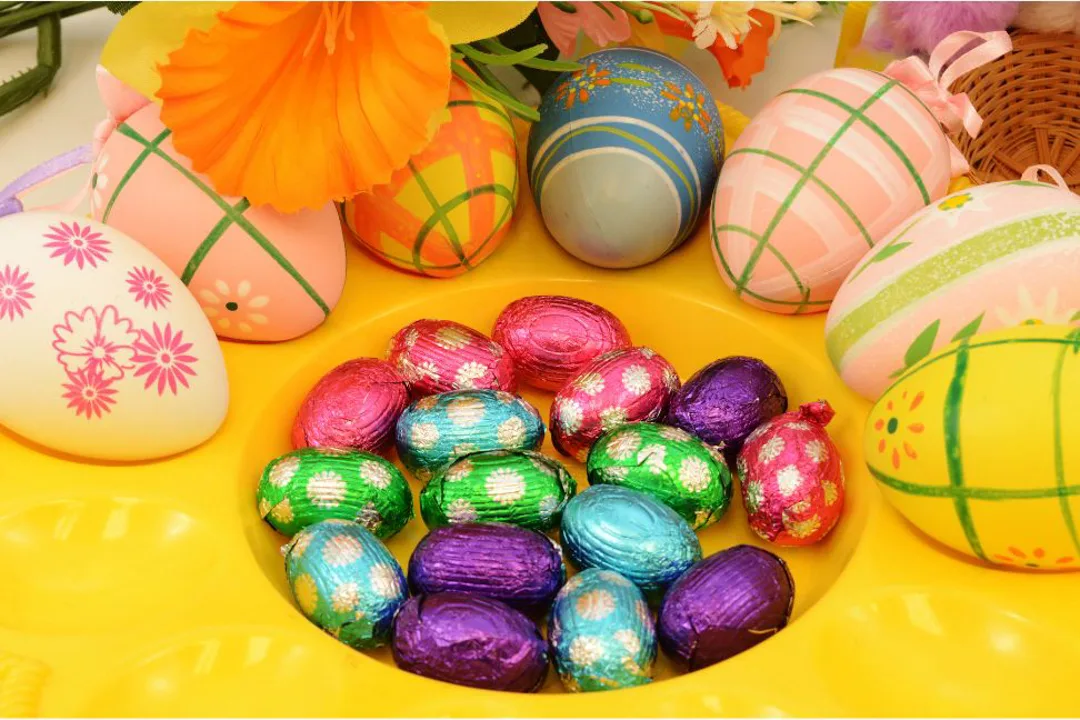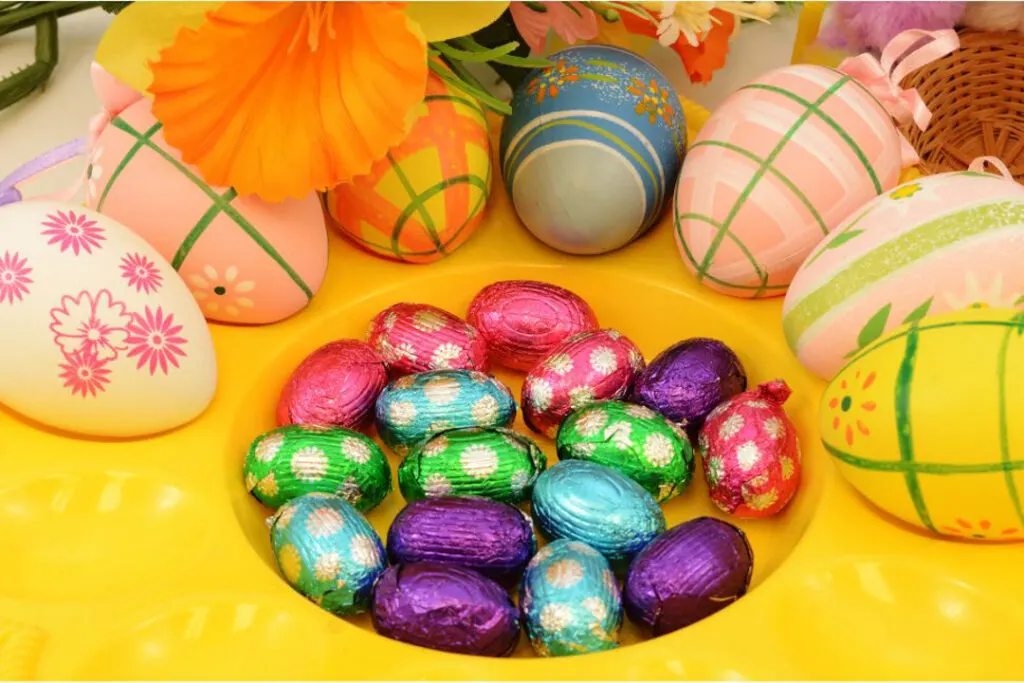 Easter egg decorating is a fun and creative way to spend the Easter bank holiday weekend in London, and it's a great activity for families, friends, or anyone looking to get into the Springtime spirit.
12. JamJar Flowers Easter Class
Head to JamJar Flowers at Peacock Yard in Elephant and Castle, South East London, to join the amazing Easter egg decorating workshop.
The eggs are ceramic and the workshop teaches you to press beautiful flowers and then decorate the Easter eggs with them.
The final products are truly amazing and you will learn all about the art of pressing flowers.
This class is on the more pricy side at £65 per ticket and is less suitable for young children, but would make a really fantastic gift or special occasion treat for a friend or family member this Easter weekend in London.
13. Hogwarths House Easter Bonnet Workshop
If you're looking for some creative London Easter activities which are family-friendly to enjoy with kids, there are plenty to choose from.
Hogarth's House in Hounslow is the original home of the great painter, engraver, and satirist, William Hogarth, built in 1713.
Today, the house is open to the public and is home to a whole range of creative workshops all year round, including printing, wreath-making, and sketching for wellbeing.
You can also attend talks and other events in this beautiful historical home.
The house and gardens make an ideal location for Springtime London Easter activities. This year, you and the family can join in with a whimsical Easter Bonnet workshop followed by an Easter egg hunt in the Mulberry Garden!
For £7.21 all materials, staff assistance, and chocolatey treats will be provided.
Hogarth's House is about a 20 minute walk away from Turnham Green station on the District Line, or 25 minutes walk from Chiswick station, accessible on South West Trains.
Step-free access to the site is available, please check their website for more information on getting there and accessibility.
Please note, this year's Easter activities are happening on Thursday 6th April. The site will be closed on Good Friday and Easter Sunday.
I hope you are excited by this amazing selection of creative London Easter activities for adults and children this Spring!
It's great to have these indoor workshops available just in case we experience some typical April showers this Easter weekend in London.
14. Easter Ideas For Staying Home
My final recommendation for London Easter activities are easy and can be done in the comfort of your own home.
Don't feel too much pressure to pack every day this Easter with outdoor activities. Sometimes the best fun can be had at home with a little bit of creativity.
Why not bake some Easter treats with the little ones at home this Easter half term. A personal favourite is this vegan carrot cake with buttercream icing (see a photo of my attempt below), topped with walnuts and Easter-themed decorations, or rice crispy cupcakes with chicks on top!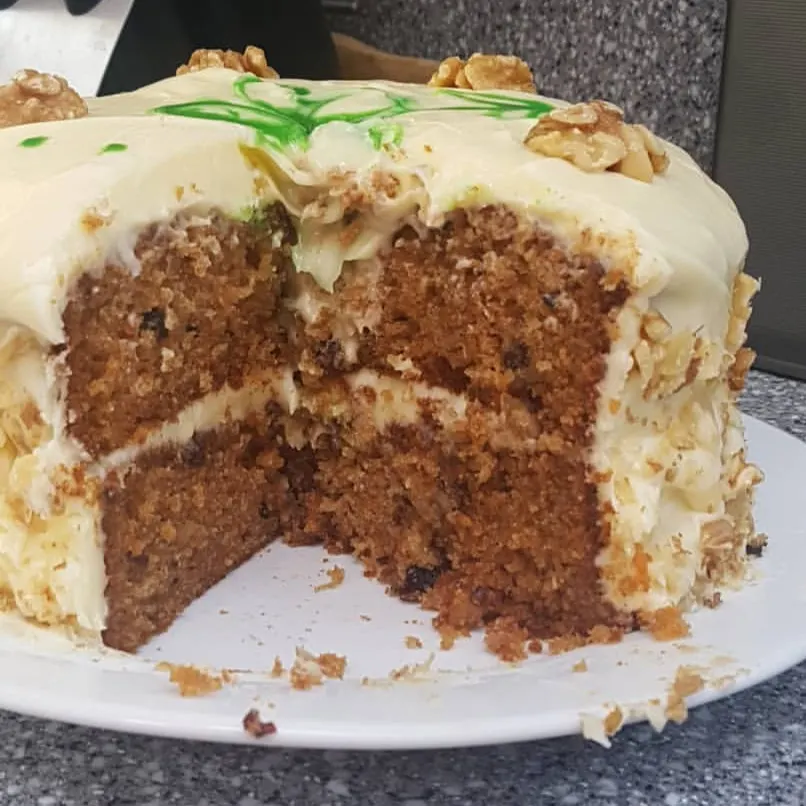 As you can see from my list of London Easter activities, there is no shortage of things to get stuck into with your kids, friends, or family this Springtime. Have a great time with your friends and family.
Happy Easter!
You may also like:
Things to do in London in the rain 2023
16 Things to do in February half term in London 2023
The Best Things To Do In London With Kids 2023
30+ Fun Free Things To Do In London With Kids 2023
30+ Fun Things For Halloween in London with Kids 2023
Disclaimer: This post about London Easter activities contains affiliate links. By using them, it will not cost you any extra, we will receive a small commission to keep us writing.