I have a bit of a love hate relationship with London having been here on and off for the last thirteen years. I detest the colder months and generally crave warmer climates. The days are short with it getting dark at around 4pm.
However, despite all of my qualms with London, there is something so magical and special about Christmas here. This is something I have realised even more having Christmas in London with kids and taking in all the festivities.
From an abundance of markets to Christmas lights, there is so much going on at Christmas in London with kids.
You can find even more things to do in London with Kids all year round here.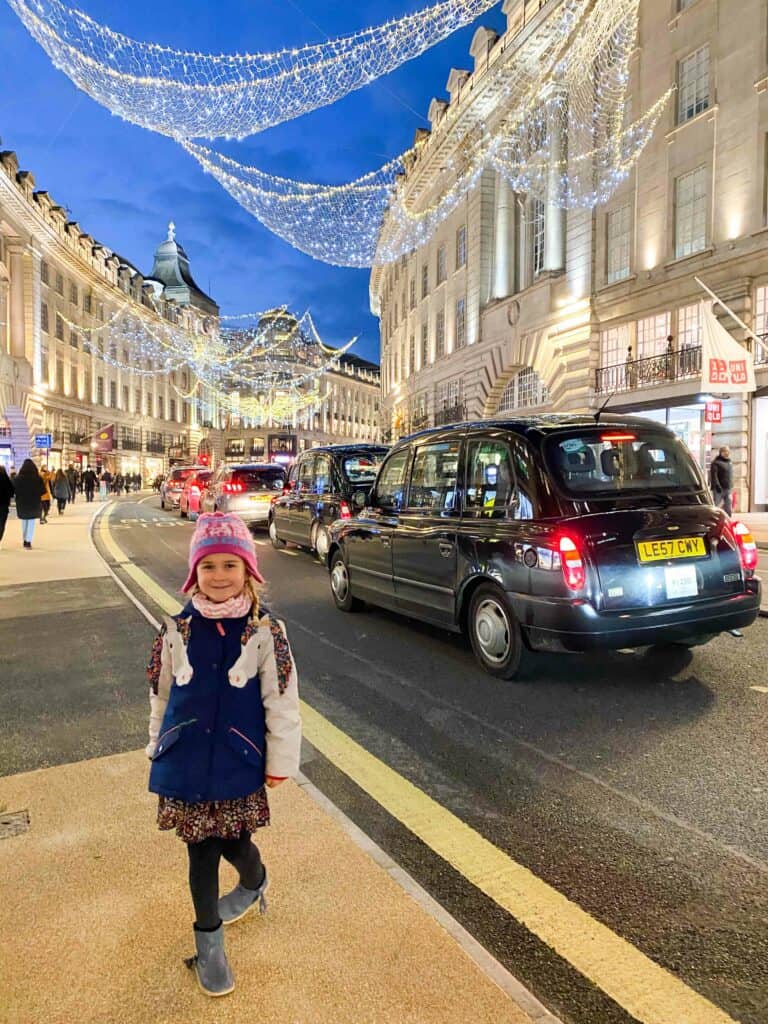 Christmas in London with Kids
Christmas At Kew Gardens
Christmas at Kew is simply phenomenal and has been our top activity for Christmas in London with kids. The hour and a half night time trail around the park is a stunning light display. Every tree is lit up in a variety of stunning colours, not to mention entire cathedrals and cascading waterfalls made of lights!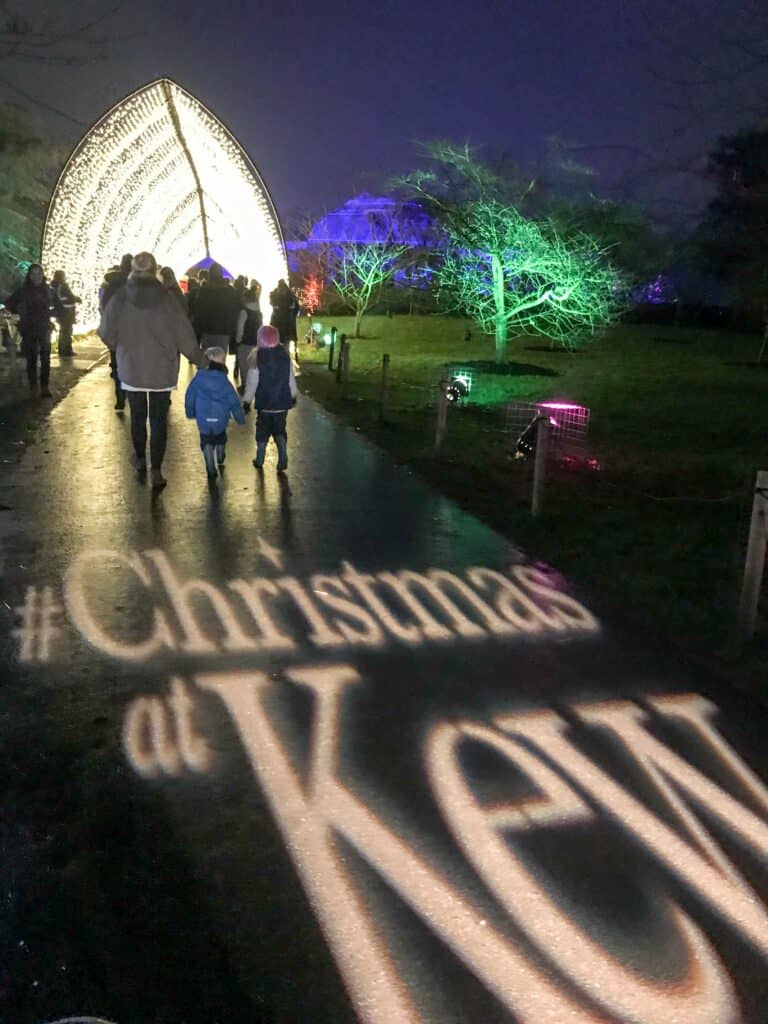 It's the perfect evening out with the children over the festive period. My favourite part is where there is usually a treetop canopy walk, at Christmas, it is turned into the most fantastic display of hanging lights that dance with the beautiful music.
The ground looks like there are roots of a tree cracking through but of course, it's just the amazing light effects! You can get mulled wine and hot apple cocktails along the trail and there is also a kids fun fair area with classical rides. What a fantastic evening out! Tickets need to be purchased well in advance and a booking is required this year.
To find out more information and to buy tickets click here.
Tour the Christmas Lights on Foot
Kids love to look at the Christmas lights. It feels magical to them and us! If you wrap up warm then why not take a walk around London and look at the lights and stunning views.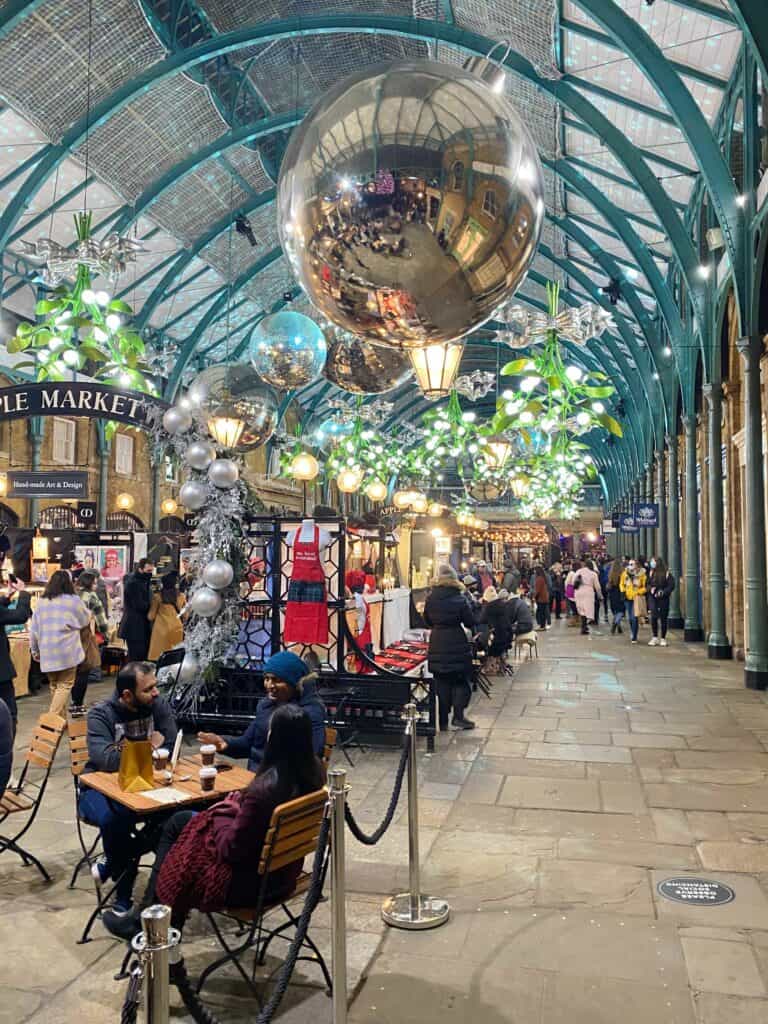 For older kids, you may want a guide to take you to the hidden gems in London. A walking tour is perfect. Explore unique Christmas gems around Covent Garden, the Strand, and Trafalgar Square. It is a great way to get into the swing of things and see some less known about sights. The tour group is small and everyone is required to wear a mask.
Find out more information here.
A Christmas Lights Bike Tour
For those who want a slower-paced tour visit the historic buildings in London on a bike tour. On the three hour tour, guests visit places such as Hyde Park Winter Wonderland, Christmas displays at Sloane Square, Bond Street, Oxford Street, Carnaby Street, Regent Street, Covent Garden and Trafalgar Square.
There is the chance to discover hidden alleyways tourists are unfamiliar with. The tour is great for families with children over the age of eight. All bicycles and helmets are provided and there is a professional guide to show the way. The tours are in groups of ten and sell out quickly.
For more information about a Christmas Lights Bike tour click here.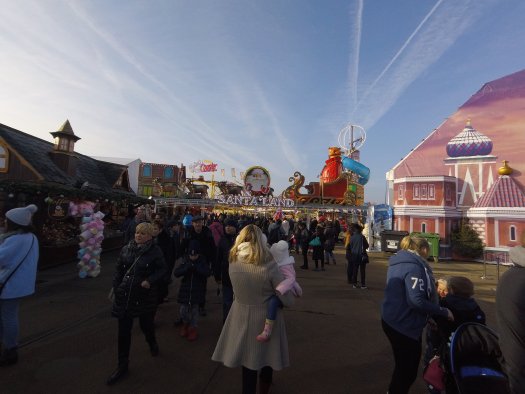 The Palace of Stardust trail
Hampton Court Palace is having a light trail for families from 8th December to 3rd January 2022. The trail starts just as the sun is going down at 4 pm and closes at 8 pm.
Families can discover clocks, moons, planets and sundials as they walk through the historic cobbled courtyards and gardens. There are also mesmerising projections and the famous clock is brought to life.
There are plenty of places to stop and take in all the sights along the way and nibble on some seasonal food and drink.
To find out more information or to book tickets click here.
Light Trail at WWT London
The WWT has created an after-hours unique trail. Families can experience nature after hours with a light show to guide them. There are rainfall lights perfect for dancing under, fireflies, and an immersive light tunnel for kids to play in.
Some other amazing activities include responsive lily pads to hop on and colourful shadow animals. There is fun for all the family. The best thing is the after-dark trail is through habitats of owls, geese and otters. Families can spot illuminations of wetland wildlife in reed beds and lagoons.
As it is a light show it starts at 4pm and runs until 9pm. Visitors can purchase tickets from the website up to 3pm on the day they wish to join.
Check out more details about Illuminature here.
Go ice-skating
During Christmas in London with Kids, you are likely to come across the many ice-skating rinks that open up during the festive period. I love ice-skating! We took Esmé to a skating rink a few years ago. In truth, she was probably too young for it. I think close to three years old is a good age. However, if you like to start them young, many places have penguin helpers for little ones to keep their balance.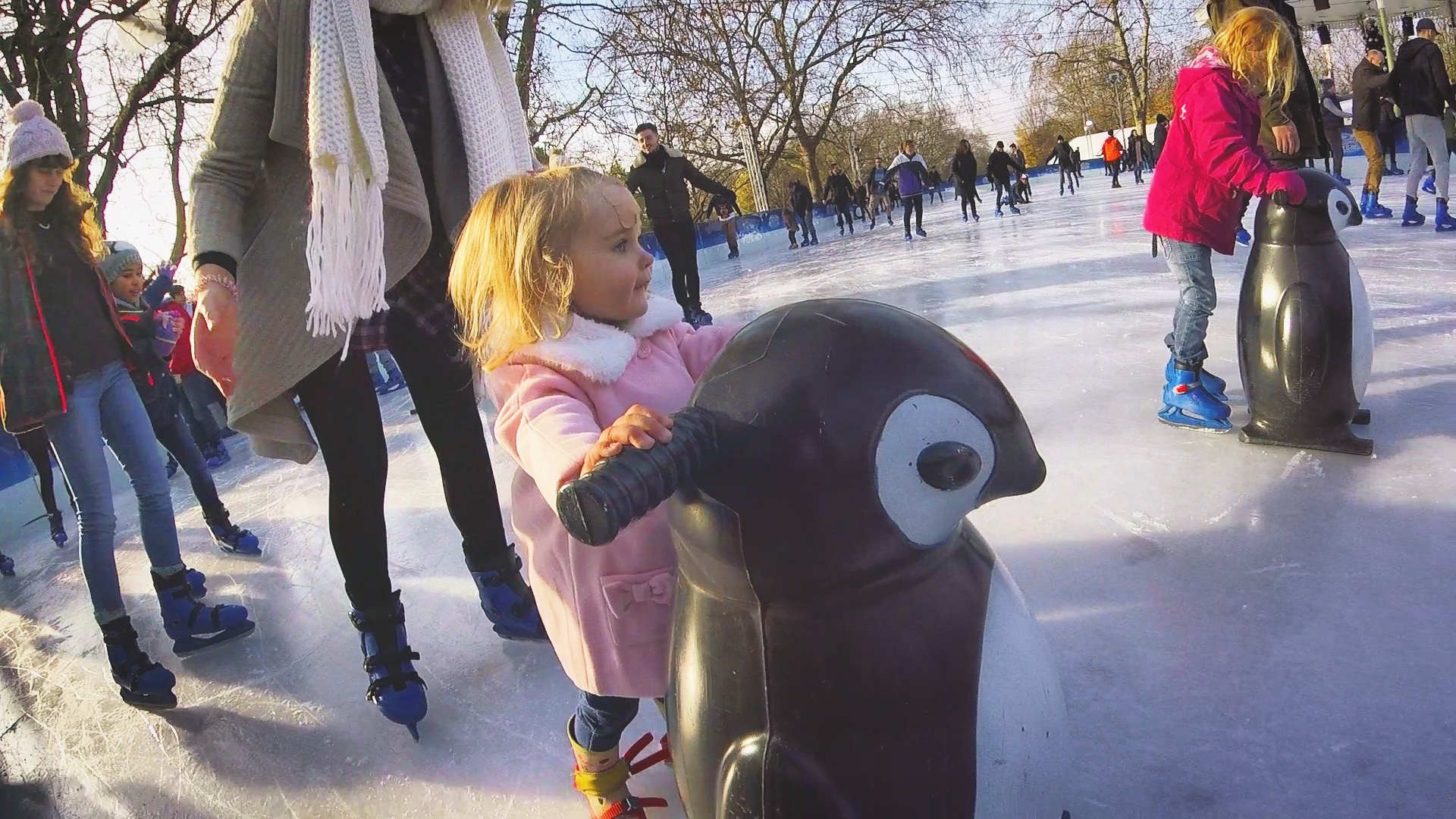 Equally, they do not wear ordinary ice-skating boots. Instead, they wear double blades strapped onto their own shoes. Make sure to check if your rink of choice provides both and book them in advance.
This year there are outdoor ice rinks at Hampton Court Palace, Natural History Museum and Hyde Park.
The Natural History Museum
The Natural History Museum not only has an ice rink during the festive season, it is holding a Dino Snores event for both kids and adults. It is a once and a lifetime opportunity where kids get to explore the museum at night with torches. There are a ton of other educational and fun activities planned.
The event is for children between 7 and 11 years and there is a required number of adults who must attend. If parents are not accompanying their children, a consent form must be signed. As children are sleeping at the museum, they must bring a sleeping bag, a pillow and some other items. all items are listed on their website.
Click here for more information or to book a ticket to Dino Snores.
Go to a Christmas Pantomime or Musical Performance
There are so many Christmas pantomimes and theatre performances happening during London at the moment. The most popular this year seems to be Aladdin.
In our family, growing up, my grandmother took all of the grandchildren to a Christmas pantomime in Dublin where we lived. I loved that tradition and it's something I hope to carry on with Esmé.
A pantomime is a must do when having Christmas in London with kids. A few examples of shows include Potted Panto at the Garrick Theatre and Aladdin at Lyric Theater.
There are many other shows in suburban London which are less expensive and probably easier to secure tickets.
Find the best deals on theatre tickets around London here.
Stick Man at Leicester Square Theatre
On 20th December for one day only, Stick Man has some fun on stage at Leicester Square Theatre. The story is based on the book by Julia Donaldson. The show is less than an hour so great for little ones who can't sit still for long.
As Stick Man tries to find his way home to his family for Christmas there is puppetry, live music, and groovy moves on his adventure. The show has limited availability and is likely to sell out soon.
Check out the dates and times for Stick Man here.
A Christmas Carol Musical in the Painted Hall
A Christmas Carol is well known and Ebenezer Scrooge's story is played out in the Painted Hall this year. The show is an hour-long and there are lots of songs and dances to keep little ones amused. It isn't suitable for under-fives.
There is a team at the entrance to assist if there are any issues. It is advised to arrive early for the musical and there are several dates to choose from. However, like most musicals and shows this time of year they are likely to sell out quickly.
Click here to see dates and times available for a Christmas Carol Musical.
Peppa Pig on Stage
Peppa Pig has the best day ever at the Theatre Royal Haymarket. The show is an hour and twenty minutes and promises to be full of laughter, games and songs. On Peppa's day out she explores castles and caves with Mummy Pig, Daddy Pig and George.
There are dragons and dinosaurs and of course muddy puddles. Many of the other characters including Miss Rabbit, Mr Bull, Suzy Sheep, and Gerald Giraffe make an appearance.
Find out more information about Peppa Pig Best Day Ever here.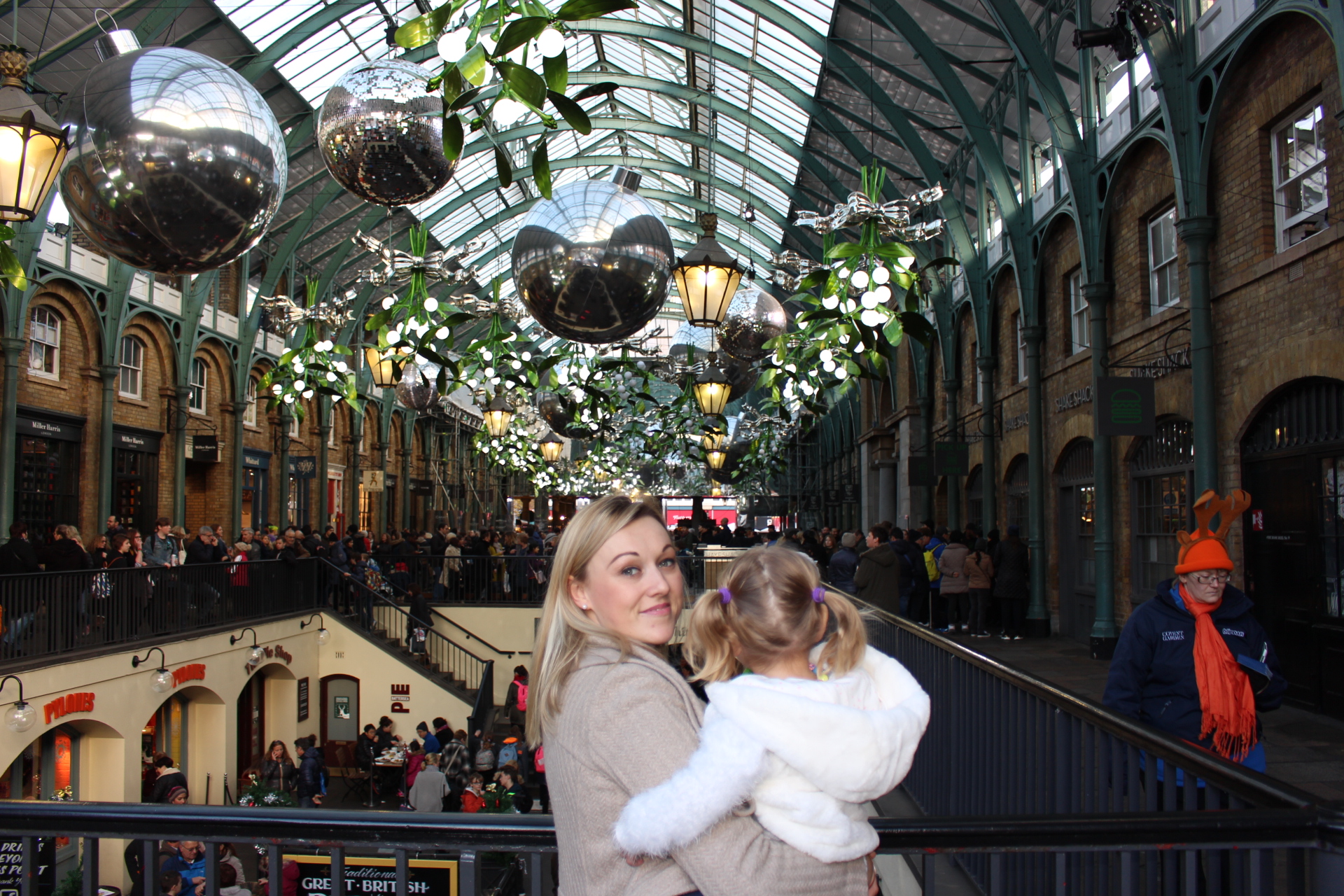 Visit Christmas markets
There are many Christmas markets oozing with festive smells of fir trees, cinnamon, cardamon and mulled wine. Mix it in with a fresh dose of cold air and you have a true Christmas market experience.
I love sipping on the mulled wine as I wander around looking at little handmade gifts, winter woollies and all the festive foods. Esmé enjoys tasting the samples and always seems content taking in the new sites and smells.
There are many Christmas Markets to choose from this year. Some of the best in the city are Southbank Centre Winter Market, Leicester Square Christmas market, Hyde Park and Greenwich Market.
Tour the Christmas Markets
For those who which to tour the most festive parts of the city, a tour of the Christmas markets is perfect. A local guide joins a small group to tour some of the best Christmas markets in the city. No itinerary is the same as it is created around the likes and interests of the guests.
Food and drinks are not included except a hot chocolate or soft drink for kids and mulled wine for parents. Christmas markets are great to get people in the festive spirit and maybe pick up some last-minute gifts for loved ones.
Check out the Christmas Market tour here.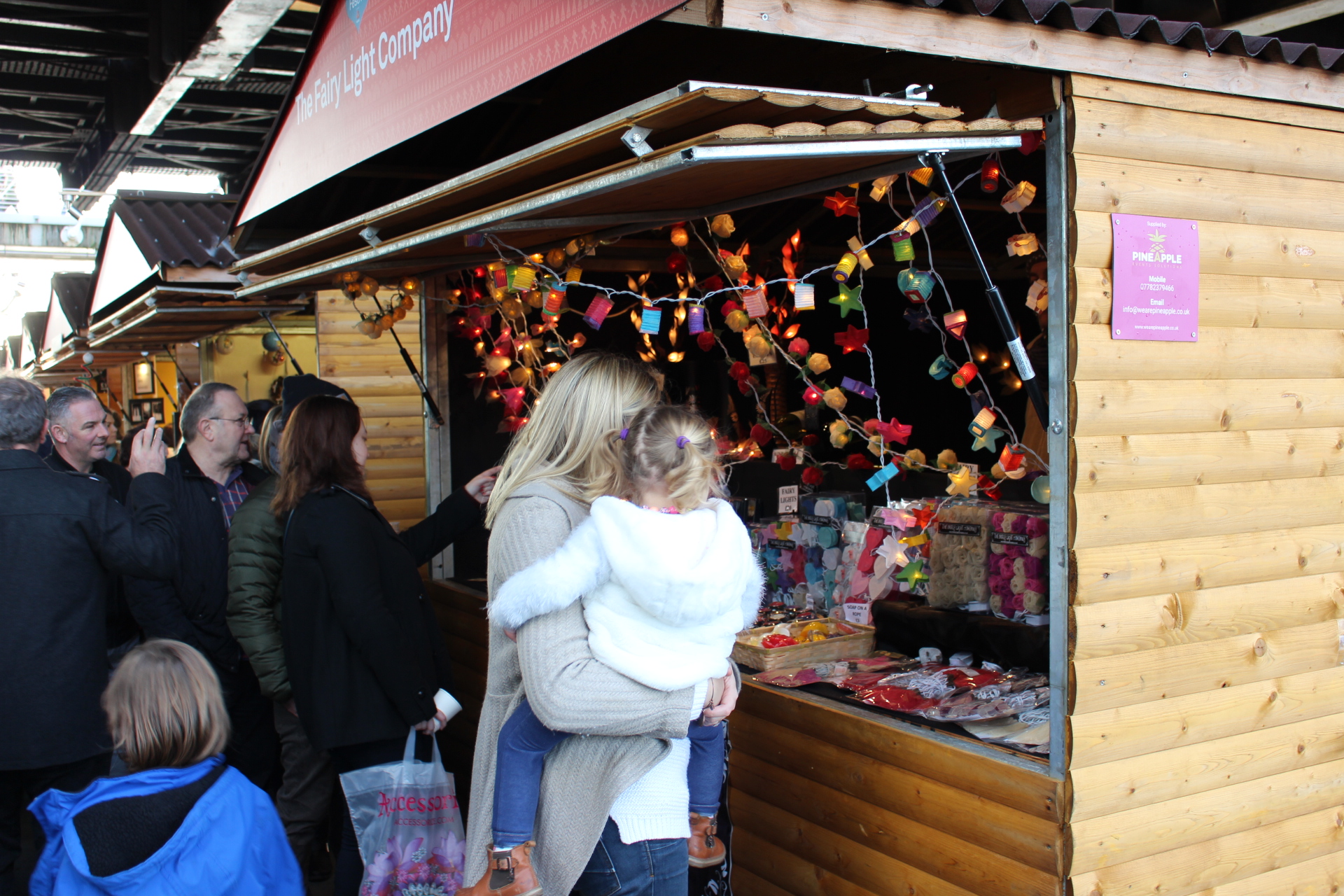 Winter Wonderland
This year Hyde Park is transformed into a Winter Wonderland. This isn't an average Christmas market. The activities being held this year go on and on. Along with ice skating, there is a magical ice kingdom to explore, Santa land with the guest of honour and various other rides for all different ages including a real ice slide.
Older children may enjoy the ice sculpting workshops or circus stunts. Families can enjoy Zippos Christmas Circus. There is plenty to eat and drink and lots of stalls at the Christmas market. It is an all-day event and there are plenty of places to rest while there.
The Fire Pit has many different bands and DJs playing or warm up in the Family Chill Space in Santa Land.
Find out more about Winter Wonderland here.
The Tower of London
This Christmas at the Tower of London, there is an animal theme. Families can expect to see everything from polar bears to elephants and ravens. The animals are illuminated and it is a magical experience for families.
The Tower of London is not known for being kid-friendly. This is due to the height of the displays and it is not pushchair friendly. If families are visiting with little ones, bring a carrier and be prepared to lift young kids up to see the displays.
Buy tickets to the Tower of London here.
Trail Around a Festive Light Display at Kew Gardens
We go to Kew Gardens for Christmas every year and this year we hope to make it too. They are putting on a magical illumination of their gardens after dark with more than a million twinkling lights! Kew Gardens is another favourite activity for Christmas in London with Kids and shouldn't be missed.
Trail around the grounds and see all the beautiful tunnels of lights and lasers dancing over the water. They also have a Santa at the 'North Pole'.
Grab a ticket for Kew Gardens here.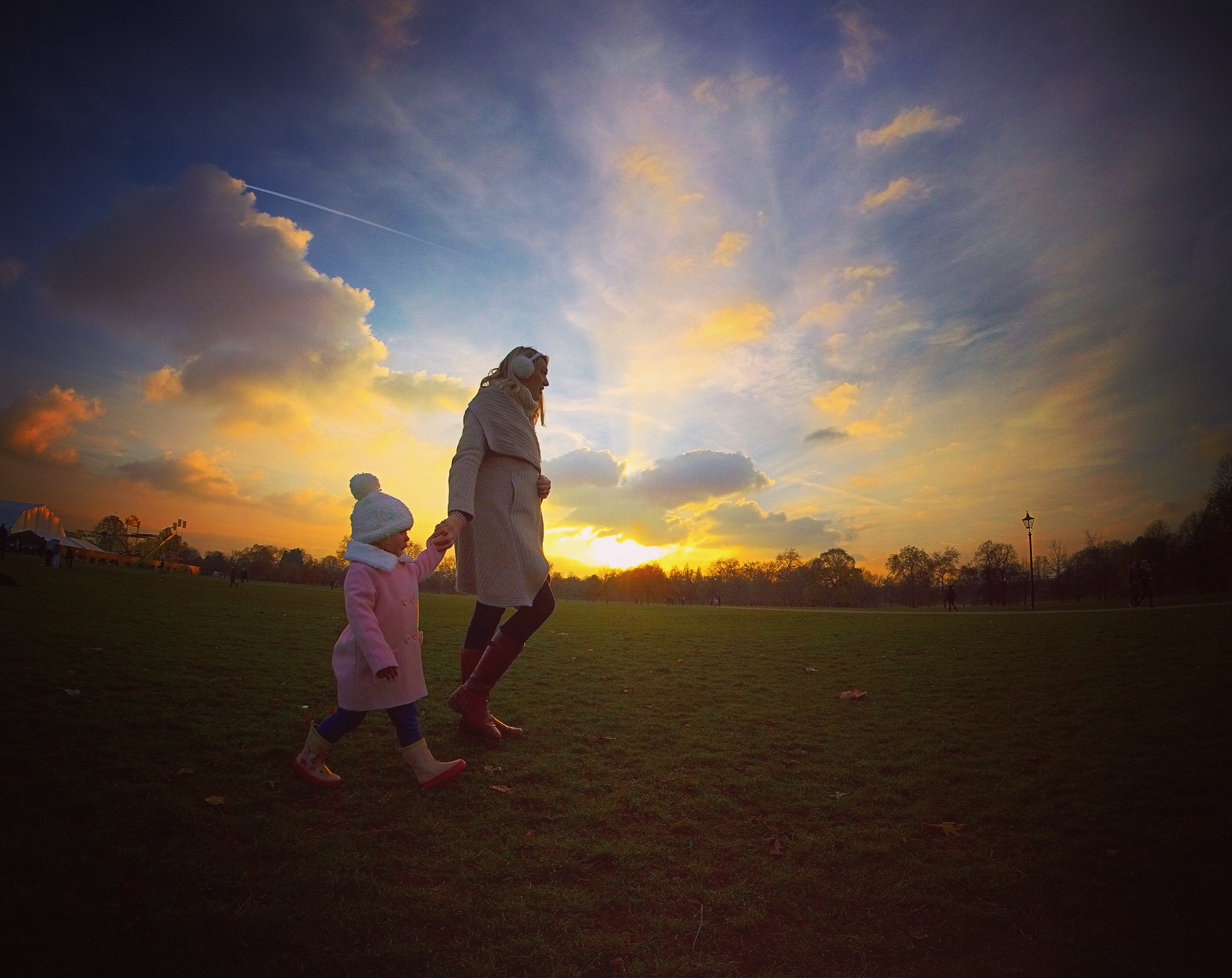 Crystal Palace Light Show
The Great Festival of Light returns to Crystal Palace Park this year. Lightopia is an award-winning light show that brings the history of the park to life. There are interactive displays and a Christmas walk. Kids love the interactive lanterns, colourful lasers and water shows.
It is a light show not to be missed as the famous Crystal Palace Park's dinosaurs are brought to life along with many other magical creatures
Check out the website for more information.
The Museum of London
The Museum of London has many events during school holidays such as half term. They are pulling out all the stops this year with a lineup of events to suit all of the family. For the under 5s there is a free Frost Fair with tons of sensory play. For the over 5s there is a winter tale about the River Thames when it was frozen.
For the family head on a trail to discover what Christmas was like in the Victorian age. This is can be done online and is available to do now. The museum is decorated for Christmas and open late this month.
Check out the website for more information.
Go to KidZania
Head to KidZania London between 1 December 2021 and 31 December 2021 for some festive fun. This year there is a Secret Christmas wonderland. To enter the wonderland, kids and adults must find the clues hidden along the trail. After finding the clues, London's naughtiest elf gives a special password.
There are six new activities inside including Elf School to design the perfect toy for Christmas, Christmas tunes with the sound of Music, Christmas Crafts, writing a letter to Santa, A Nutcracker Parade, and a pre-recorded pantomime performance of Cinderella.
Expect the experience to last around five hours including exploring the rest of the City. If kids are over eight, parents are free to drop them off and go Christmas shopping.
To book a ticket to KidZania click here.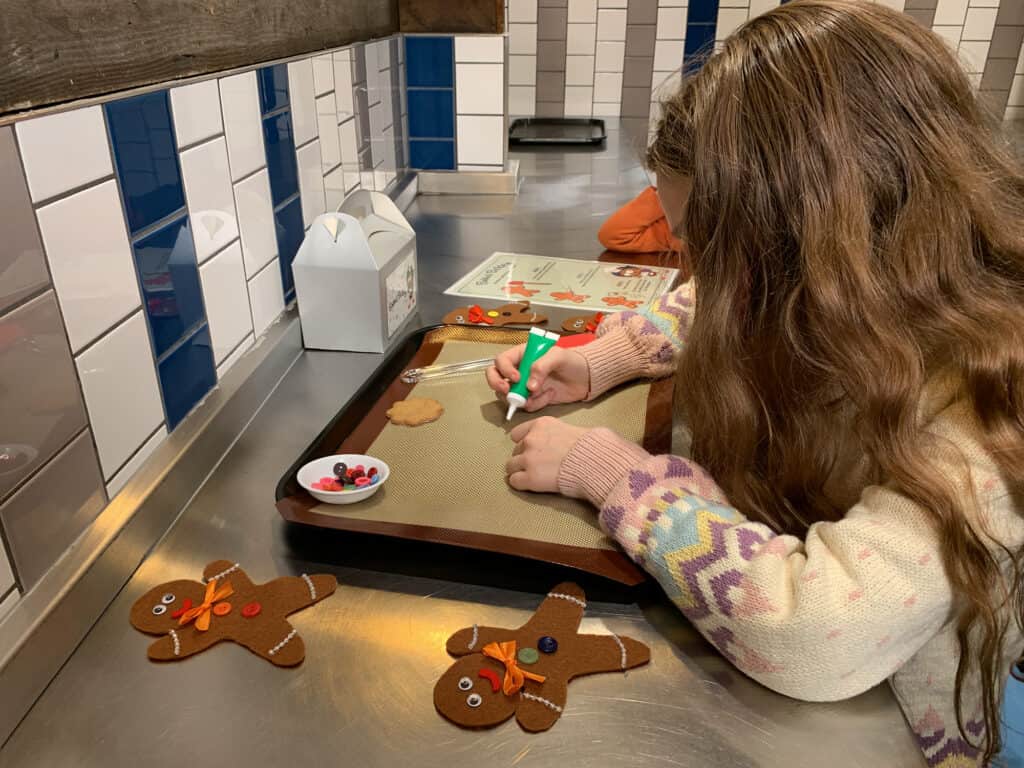 Borealis at Guildhall Yard
Ever wondered what the Northern Lights look like? This year there is no need to travel north to get a feel of what they may look like. At Guildhall Yard there a one-of-a-kind light installation inspired by the Northern Lights which can be found. Entrance is free and it runs from 11 to 22 December, from 5.30 pm until 10 pm with the last entry at 9.30 pm.
The multicoloured lights mimic the movement of the natural Aurora Borealis phenomenon. There is a soundtrack to accompany it. Be prepared to queue for the event as it is bound to be popular.
Find out more about Borealis here.
Visit Santa's Grotto
There are many Santa's Grottos's to be found during Christmas In London with Kids. Esmé has seen Santa every year.
The first was a total disaster because she was incredibly scared. The second she was wary and the third time pictured here she knew she was getting a little present so she was pretty happy.
Some Santa experiences can be extortionately priced. However, this one, which you can see looks quite authentic, was completely free in Covent Garden!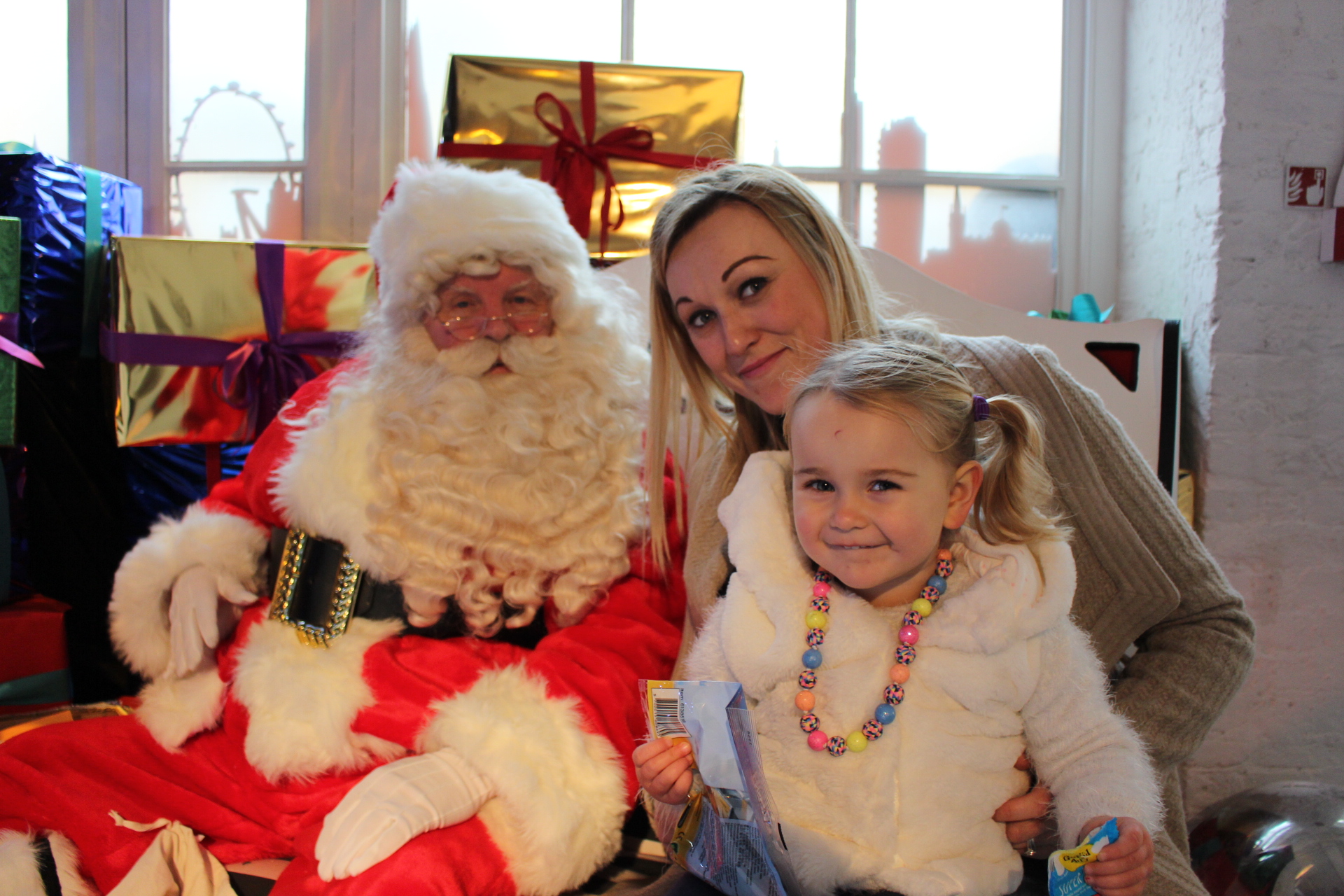 Covent Garden
Covent Garden has lots going on this year. Not only are the iconic decorations returning, but there is also an immersive LEGO installation. Parents can sip on the mulled wine and take a stroll in the traditional Christmas village. It is a great shopping area for designer brands and there are plenty of great restaurants in the area.
The area has been transformed into Arendale as Frozen is playing at the West End. It is free to visit the area and kids can build a snowman or walk along in the Frozen Forest where there are snow flurries every hour from 12 pm to 7 pm.
Find out more information about Covent Garden here.
Shrek's Adventure
Shrek's Adventure in London is popular with little ones. On arrival kids put on 4-D glasses and take a magical tour on a bus. Things are a little different at this time of year as Santa's sleigh has landed in Shrek's swamp. Shrek has also got into the festive spirit and is dressed for the occasion.
Shrek's Adventure is located on Southbank beside the Sea Life aquarium and the London Eye. Including in the ticket price is a candy treat from Santa and a photo with him.
Book your tickets to Shrek's Adventure online here.
Visit Hogwarts
If you or your kids are Harry Potter fans, this will be the ultimate bucket list experience. In December the Harry Potter studio tour decorates for Christmas and opens for special after-hours events including a Christmas dinner in the great hall.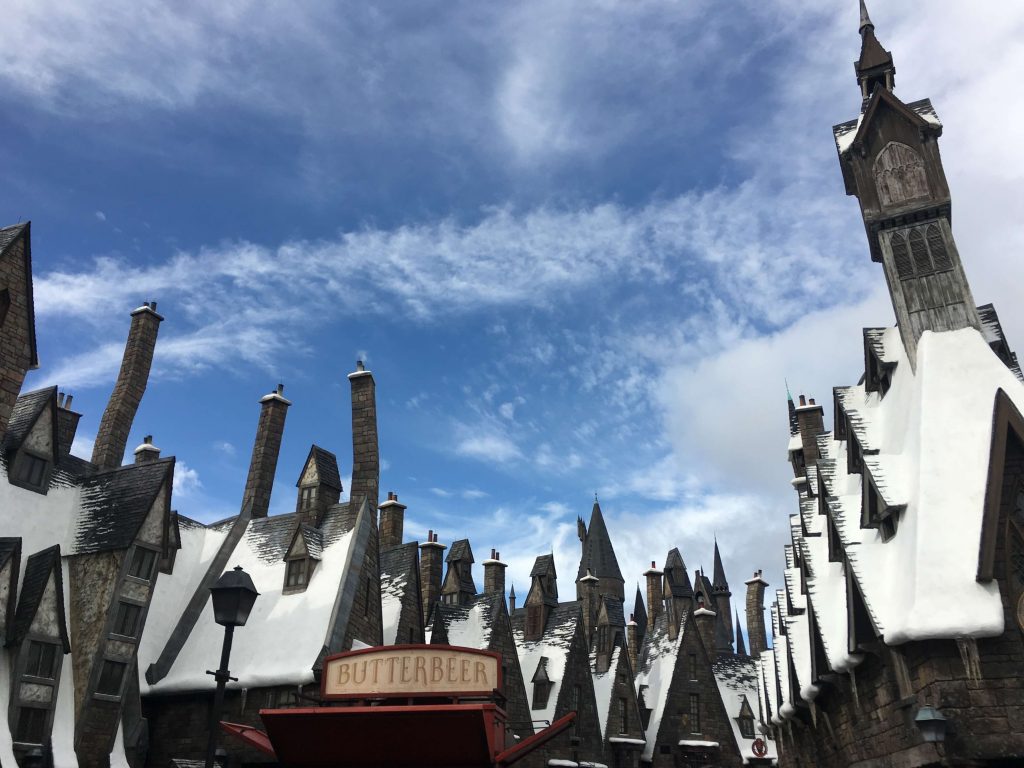 You and you kids will get to experience a two-course Christmas dinner sitting at house tables surrounded by wizarding Christmas decor. When your finished eating you can explore the studio and visit all the spots on the tour. You'll also get to taste a butterbeer and see Hogwarts in the snow!
You can buy tickets for the Harry Potter studio tour here.
See the Lights from a Vinatge Open Top Bus
One of the most iconic experiences during Christmas in London with Kids is a trip on an open-top bus. What better way to combine this experience and travel around the city looking at the lights and displays at Christmas. The bus is decorated for the occasion and a guide is there to crack a few jokes along the way.
The tour is around 75 minutes and guests can expect to see the display at Harrods as the bus drives along Oxford Street. As the bus is open top it is important to wrap up warm. Numbers are limited and booking is required.
Click here to book tickets to see the Christmas lights for a vintage open-top bus.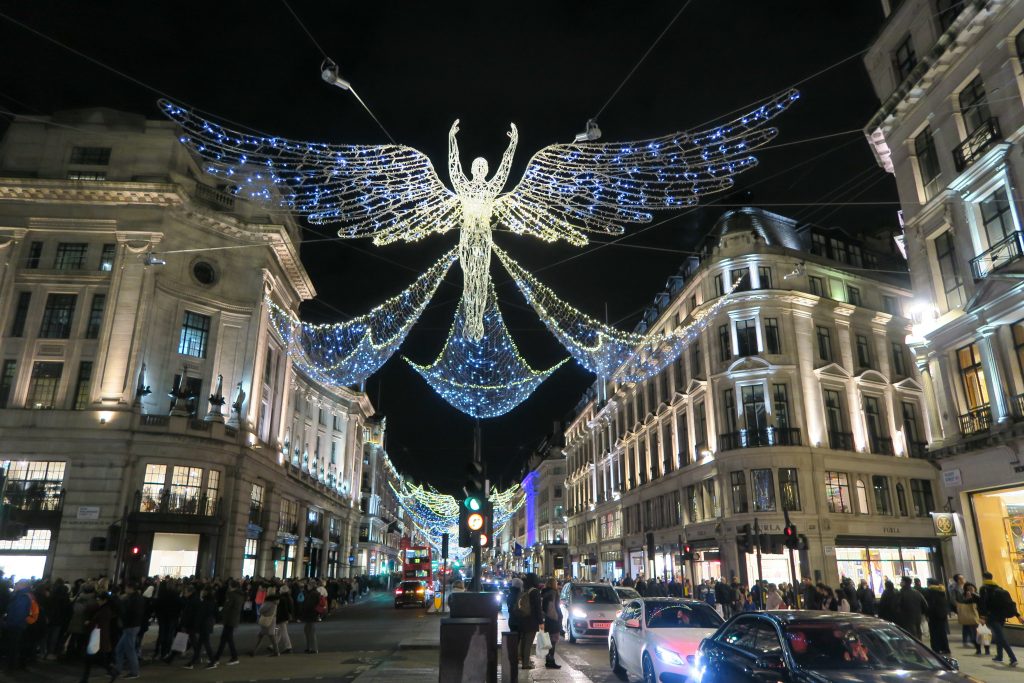 Listen to Christmas Carols at Trafalgar Square
If families are hoping to hear a few Christmas carols there are many places throughout the city. There are churches and cathedrals which have special ceremonies on throughout the season. However, there is nothing better than standing in Trafalgar Square and listening to the choirs under the famous Christmas tree.
In the run-up to Christmas over 40 choirs perform in Trafalgar Square. Dates are yet to be confirmed, however, performances take place between 4 pm and 8 pm on weekdays and 2 pm and 6 pm on weekends. Along with providing Londoners and tourists with festive cheer, the choirs are there to raise money for various charity organisations.
Christmas In London with Kids Treasure Trail
London is a massive city and it can be difficult for little feet to keep up with their parents. A Christmas Scavender Hunt is a great way to keep them engaged while taking in the sights of London. Santa has hidden his presents across London and it is up to families to find them.
As families head to some of the most famous landmarks in London they must solve riddles and answer questions along the way. Families can win prizes or the coveted title of Super Elf. The scavenger hunt is played through an app and families can start from any place on the map and go at their own pace.
Find out more about the Scavenger Hunt here.
Visit Hamleys Toy Shop
Christmas in London with kids would not be complete without a visit to Hamleys! The store has a ton of fun for kids of all ages, all year round. They are sure to have amazing events before unveiling their special Christmas displays.
They also set up a Santa's Grotto with loads of activities for the kids. You can take the opportunity to get your Christmas shopping for your kids while you're there.
Watch a Christmas Movie
As soon as it is December many families put on their favourite Christmas movie. The Floating Film Festival is getting families in the Christmas spirit at St. Katharine Docks. There are plenty of Christmas films to choose from including Home Alone and Elf.
Tickets are £15 for a single deckchair and £30 for a sofa for two (plus booking fees). During the screening, there are mince pies, mulled wine and hot chocolate provided.
Click here to choose a film and book a ticket.
Drive in Cinema Near London
If families want to experience a Christmas film drive in style, there is a drive-in Cinema around an hour from London. Brands Hatch Circuit in Kent is showing films all month and there are plenty to choose from. There are the usual classics Elf and Home Alone and many others.
There are many festive snacks to choose from. If families order the festive box, inside is candy canes, popcorn, mince pies, chocolate coins with mulled wine or hot chocolate. All food and drink can be ordered from the wireless in-car speaker box you receive as part of the Drive-In experience.
Check out the list of films and times here.
Dragons at Tower Bridge
There are many exciting family activities at Tower Bridge throughout the year. On Saturday 18th December, Tower Bridge is inviting families to come along and make their own dragon masks. This is due to the number of dragons found in the architecture of Tower Bridge.
The acitivity is included in the admission price and it is a great add on when visiting Tower Bridge. Walking across the glass walkway and seeing the traffic below is an experience in itself.
To book tickets to Tower Bridge glass walkways click here.
Make Christmas Potions at The Wizard Exploratorium
Between Monday and Thursday at 6 pm and 6.15 pm families are invited to The Wizard Exploratorium in Soho to make magical Christmas potions. The experience lasts for 1 hour and 45 minutes and it includes a magic wand, a unicorn Hot Chocolate on arrival.
Families create two molecular cocktails by using their magic wand. There are many options available including vegan and gluten-free.
For more information about Christmas potions click here.
The same venue is also holding a Christmas afternoon tea for kids of all ages. There are two experiences to choose from. One is for children 11 and older and the other is for under 11s. There is a range of yummy treats available and the whole experience is interactive as kids get to make their own brew.
Find out all about the afternoon tea here.
Christmas Baking
Baking is a fantastic way to get into the Christmas spirit. You could try your hand at cookies or you could even attempt a gingerbread house. There are plenty of sets that you could purchase online, check this one out here, if you don't know where to start.
However, if you have some expert bakers in your home, then you may enjoy The Big London Bake. In fact, no experience is necessary and kids can even tag along. You have 90 minutes to whip something up. Clear instructions are given, but teams are encouraged to use their imagination. The best creation walks away with a prize.
At this time of year, there are Christmas train rides around the London area and the rest of the UK.
All of the events ahead are going ahead, however, things can change in an instant. We will do our best to keep you updated and amend the post as needed.
Where to Stay During Christmas in London with Kids
If families are in London for a few days, they may be looking for the best place to stay. London has hotels in all shapes and sizes and there is something to suit all budgets. Below is just a few of the family-friendly hotels in London.
Luxury Family Hotels in London
Five Star Family Hotels in London
A hotel that comes highly recommended is the Athenaeum Hotel. It is located in Mayfair and overlooks Green Park, Buckingham Palace. It is a short walk from the West End and Oxford Street shops. The 5-star hotel offers luxurious and contemporary rooms, suites and apartments so there is plenty to choose from when spending Christmas in London with kids.
It is a family-run hotel and they take care of the little guests as well as the parents. Some of the services they offer are food for the ducks in the park next door and milk and cookies at bedtime. Parents can enjoy the spa with a range of treatments or take advantage of the childminding service.
The British restaurant is well known, however, there is also a menu to keep little ones happy. There are family rooms available and also apartments that sleep up to ten.
Check out the Athenaeum Hotel here.
Family Hotels on the Thames
The River Thames is stunning to look at and Sea Containers London is located right on the banks. The hotel is close to the London Eye, the Tate Modern and Shakespeare's Globe Theatre. The rooms are modern and some have breathtaking views of London.
On site there is a cinema where families can watch some well-loved films. There is also a spa for parents to enjoy. The hotel is a travel sustainable property and takes many steps to stay environmentally friendly.
Click here for rates and availability at Sea Containers London.
Hotels with Children's Activities in London
Another travel sustainable property in the area is Rubens At The Palace. It is a luxury five-star hotel opposite Buckingham Palace and is in a superb location. The hotel has a director of fun who organises activities for the children staying at the hotel.
If parents are dining at the restaurant, children can eat free from the children's menu. There is a turn down service provided on request and a gift is left for children.
For the best rates at Ruben At The Palace click here.
Mid Range Family Hotels in London
Country Hotels in London
The Georgian House Hotel is a little bit of English countryside in the city. Families love the location as it is 800 m from London Victoria Station and Hyde Park is just 3.2km away. The hotel was built in 1851 and has retained many of its orginal features.
Harry Potter fans can request to stay in the Wizard Chambers. The room is decorated in the style of the bedrooms from the film. Thre are plenty of magical experiences to enjoy at the hotel including potion making and afternoon tea with a twist.
Check out more information about The Georgian House Hotel here.
Four Star Family Hotels in London
Best Western Mornington Hotel is close to many tube stations. One of the closest is Paddington Station. The hotel has 19th-century architecture and it was recently refurbished. For families in town for Winter Wonderland, Hyde Park is close by.
The family rooms at the hotel sleep up to four with a double bed and a sofa bed. The rooms have tea and coffee facilities and onsite there is a fitness centre for sports-minded parents.
Check out availability for Best Western Mornington here.
Hotels near the Museums in London
The Bailey's Hotel London Kensington has several luxurious rooms including luxury family rooms with two double beds. Along with being spacious, the rooms have great views of the city. On-site the restaurant serves dishes from Singapore, China and Malaysia.
Families can explore the museums and will love the location as the Natural History Museum, the Science Museum and the Victoria and Albert Museum are all within a 10-minute walk. Hyde Park and Kensington Gardens are within walking distance and it's a stone's throw from the Gloucester Road Tube Station.
For more information about The Bailey's Hotel click here.
Budget Family Hotels in London
Good Value Family Hotels in London
The Gresham Hotel is for families looking for good value while in a great location. It is just 200m from Paddington Station, perfect for exploring central London. If families want to walk to some attractions, the hotel is 15 minutes from Hyde Park and Oxford Street.
The rooms are simple yet functional and there are rooms that sleep up to four. Some rooms have a mini-fridge and tea and coffee making facilities. One thing to note is the Wi-Fi is only available in communal areas. If kids want to watch Netflix before bed they would need to be downloaded before arriving at the hotel.
To book a room at The Gresham Hotel click here.
Family Hotels in London
The House of Toby is in Camden, 700m from King's Cross Theatre. The decor is modern and while the rooms may be small, they are comfortable. Family rooms sleep three or four and have good views of the city. Breakfast is given in the form of a breakfast pack and contains a carton of orange juice, a muffin, 1 piece of fruit, a yoghurt bar and a mint.
Even though the hotel is close to King's Cross, there are many places guests can walk to. The British Museum is around 1km from the hotel so about a twenty-minute walk.
Find more information about The House of Toby here.
Budget Friendly Family Hotels in London
For a hotel a little away from the centre, The Novotel London Excel is a great choice. It is a 4-star hotel just 150 m from the ExCeL Exhibition Centre and close to the O2 arena, Canary Wharf and London City Airport. The hotel is modern and the restaurant has views of the Royal Victoria Dock and London skyline.
On-site there is a fitness centre and a sauna to relax in after exploring London. The family rooms are a good size and can sleep up to four with a double bed and sofa.
Check out deals for the Novotel London Excel here.
Have you got involved in any other festive activities this year for Christmas in London with kids?
Make sure to share with us all in the comments.
You May Also Like:
The 17 Most Epic Christmas Market Trips You Can Take This Winter
CHRISTMAS MARKETS IN STUGGART &; SURROUNDING AREA
30 Of The Best Family Hotels London
16 Incredible Things to do in February Half Term London 2022
Disclaimer: This post may contain affiliate links. By using them it will not cost you any extra, we will receive a small percentage of the sale.