After a busy travel year so far, we decided we were going to have the month of November off tripping around. That was until I was feeling really festive and started researching French Christmas Markets.
Last year we spent Christmas under a coconut tree in Costa Rica and with not being sure how much longer we are going to be based in Europe, I wanted to make the most of it. So we planned a really simple, but amazing trip to Amiens in France, with P&O Ferries, from Dover to Calais.
We left London early Friday morning in order to make the most of the day. Amiens is only a 1.5hr drive from Calais making it super easy and accessible.
One of the best things was being able to transfer the kids from bed to car and not having to disturb them until we were getting on the ferry, meaning we saved 'travel day' meltdowns. As much as I love flying with my kids, it can be difficult doing the security rigmarole, especially when it's early in the morning.
We had breakfast on board and the kids played in the family area, we didn't have time to do much else as the crossing is so quick. There are two routes to Amiens on arrival, one is a toll road and is about 30 minutes quicker and well worth the 10 Euro in my opinion.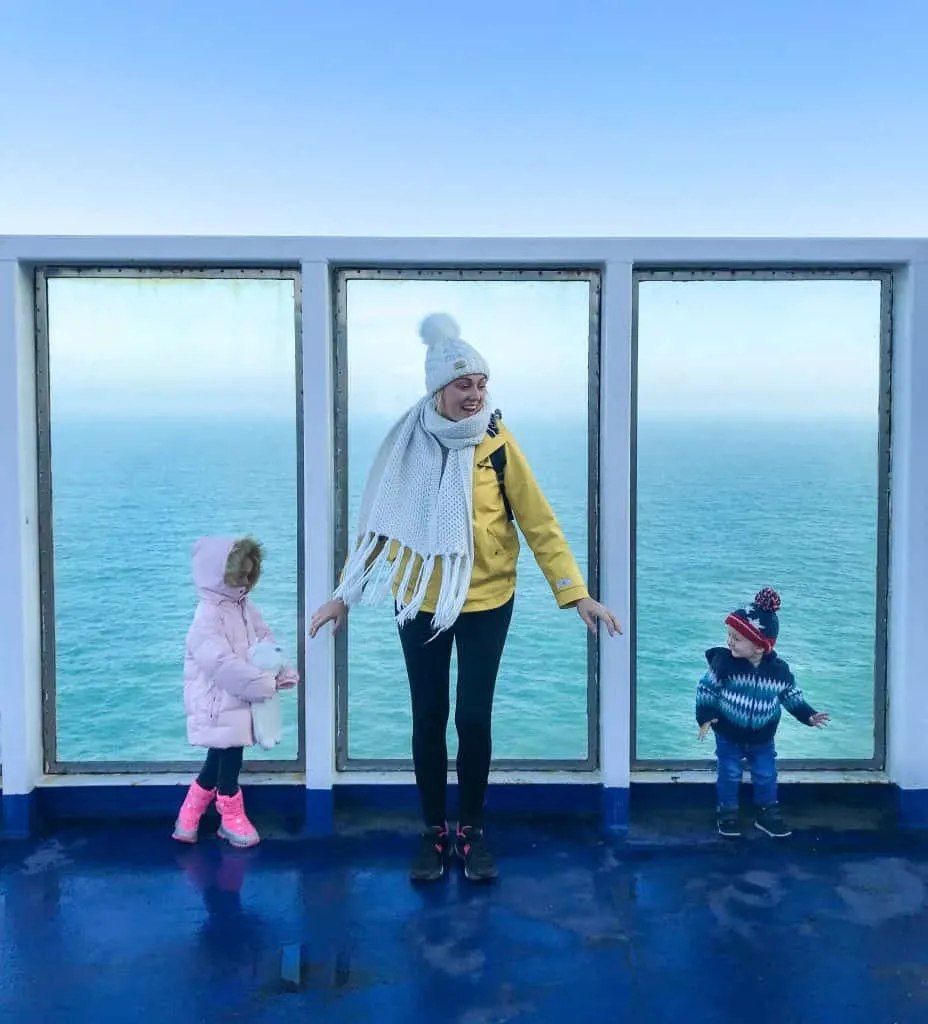 FRENCH CHRISTMAS MARKETS
There are quite a few Christmas Markets on throughout France but Amiens was my first choice because it's not quite as touristy and expensive as other places such as Lille. The town is just as quaint and authentic as others, both during the festive period and the rest of the year.
There are many historical buildings throughout the city with some incredible architecture, especially the pinnacle centrepiece – The Cathedral Basillica. The intricate detail of the building is another level of architecture, brought to life at night with a light show projected onto the building. It happens year round and throughout the French Christmas Markets.
AMIENS CHRISTMAS MARKETS
The Christmas Markets in Amiens are set up towards the end of November, and run until New Year's Eve. Hundreds of rustic huts fill the Main Street, each complete with their own delights. Everything from chestnuts roasting on an open fire, to craft gifts and mulled wine.
Of course, being French, you can only imagine the quality of the food. Can you believe we didn't even go to one restaurant the entire time we were in Amiens? We were constantly grazing as we walked along the street on different foods.
There was so much choice, traditional warming casseroles, warm baguettes, sweet treats such as chocolate, churros and so on.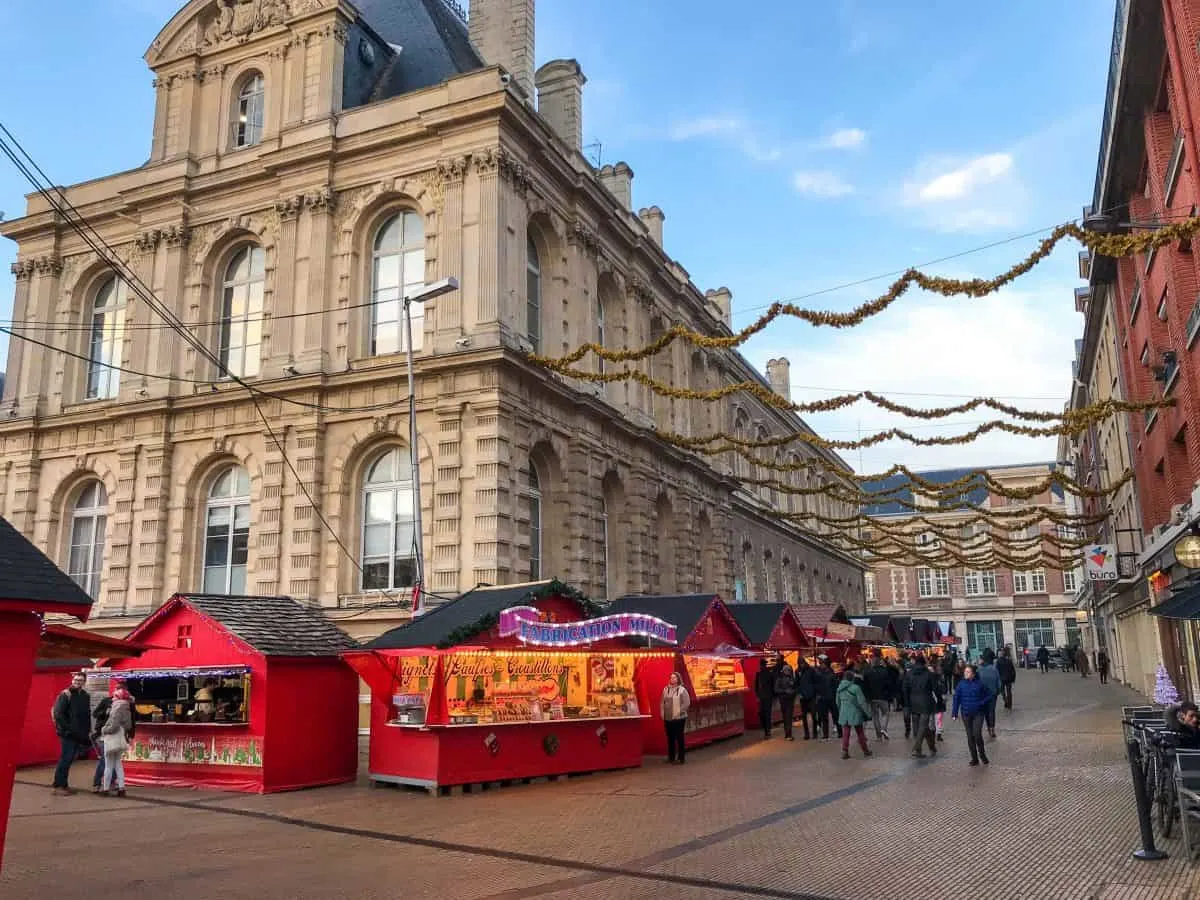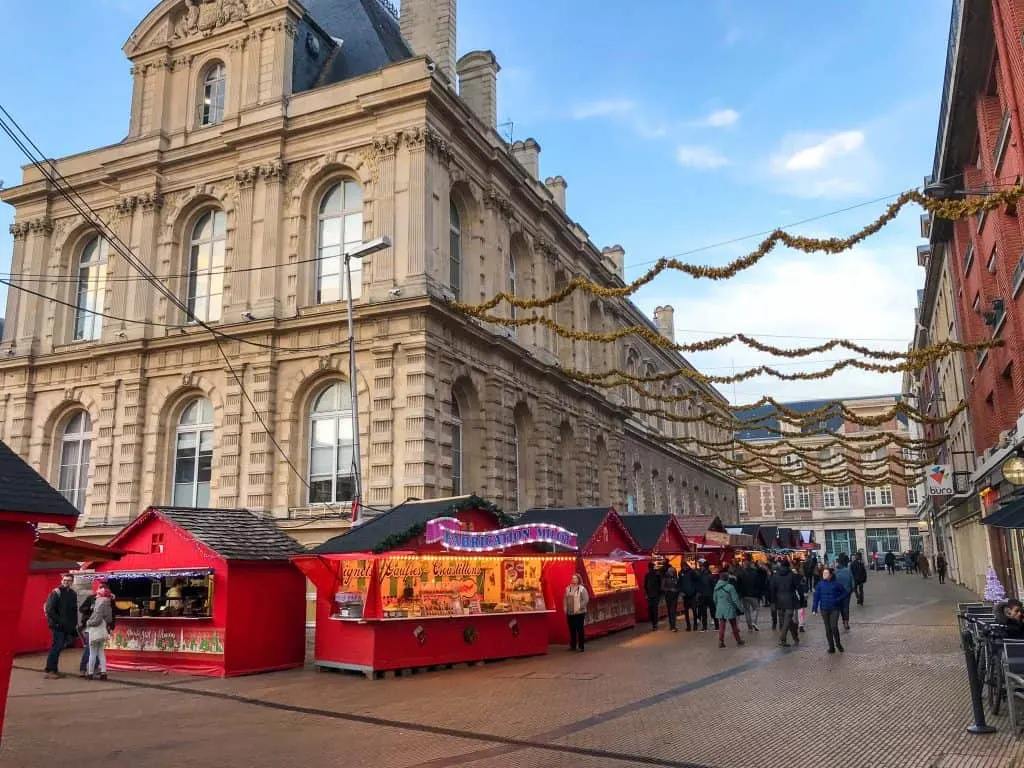 My personal favourite was the festive warm drinks. We loved trying the hot cider and mulled wine. What's more, is on the whole, we found the markets quite eco-friendly. They rent the cup and we got a euro back when we returned it rather than single use plastic.
Whilst the little tipple was keeping me warm, there was equally plenty for the kids to do. Every 100 yards along the road there is a Christmas themed ride. From cute cars filled with pretend Christmas gifts to a tree with gigantic bobbles to ride around on, it was a lot of fun. For older kids there was an ice skating rink and ice zorbing to name a few.
Oh and I must not forget the amazing choir we spotted singing festive songs right next to Santa's grotto, the singing was a real hit with our kids!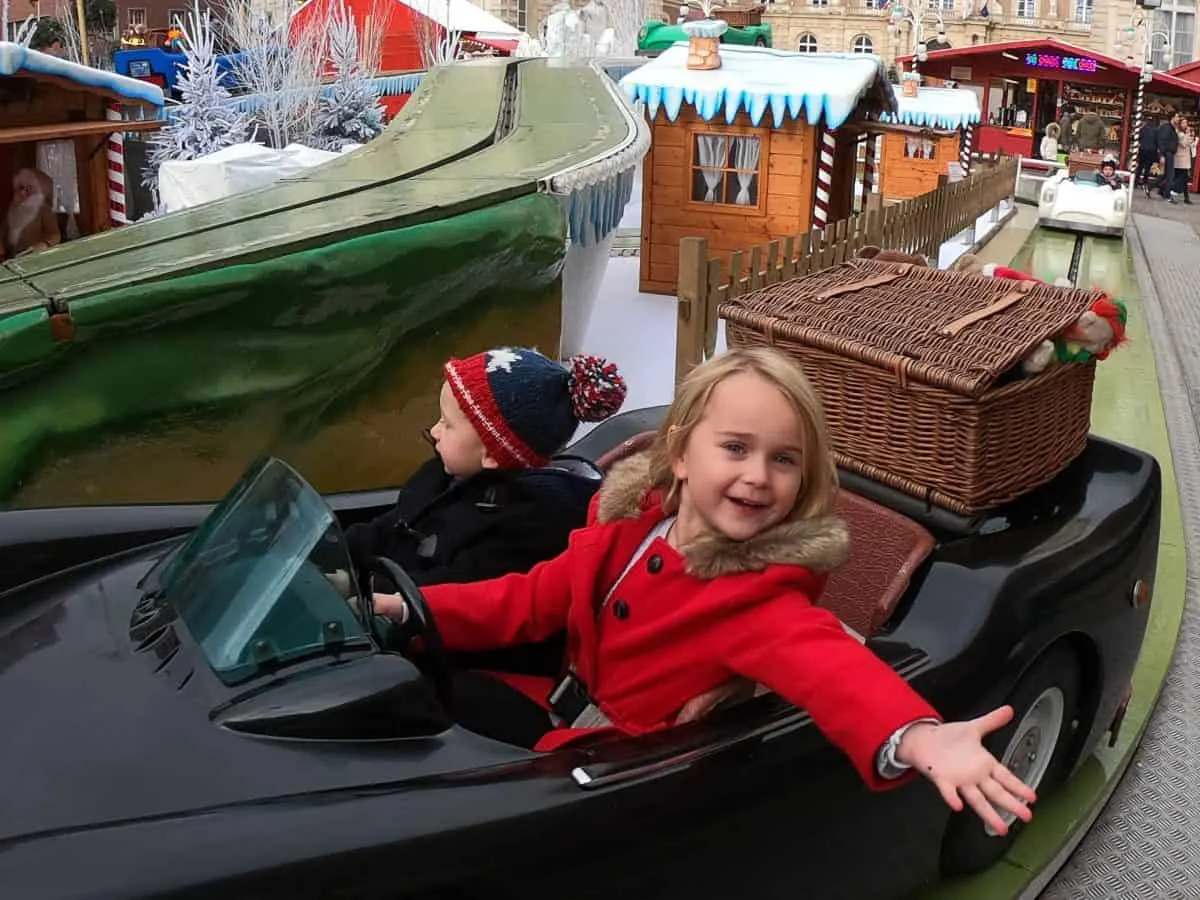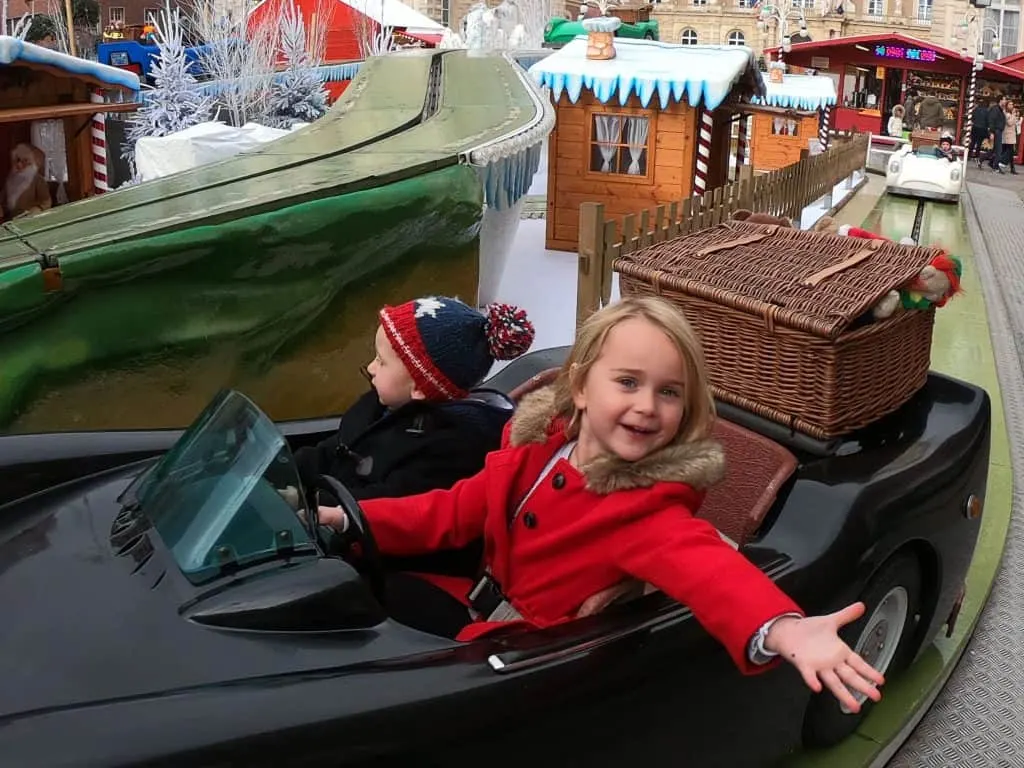 AMIENS
The area surrounding Amiens is stunning with a lot of beautiful parkland and cute villages. We were completely engrossed in the festivities, so I am glad I have been before and didn't feel I missed out on this trip.
There is also an amazing circus theatre that has regular shows, not to mention the puppet show for younger ones. Amiens itself looks like the perfect chocolate box. Tiny ancient Tudor buildings line rivers reflecting in the still water.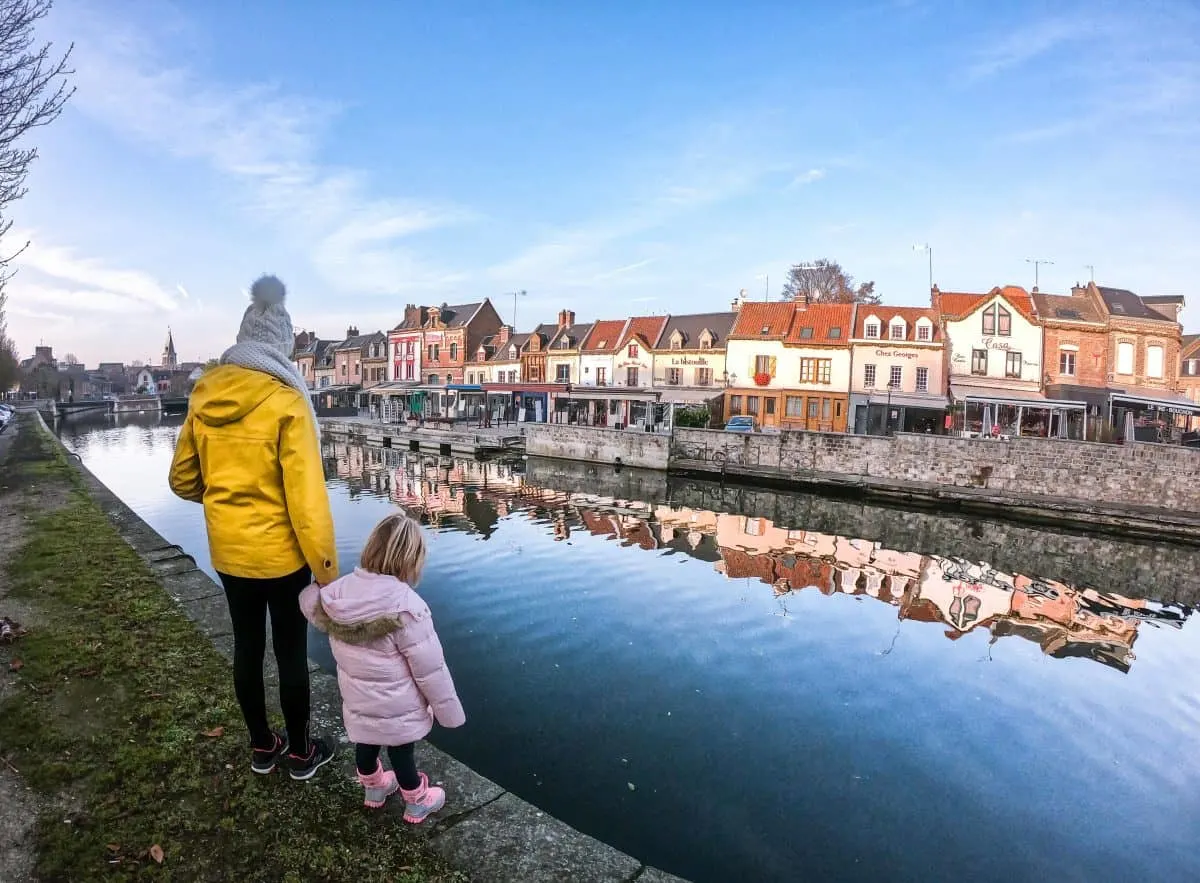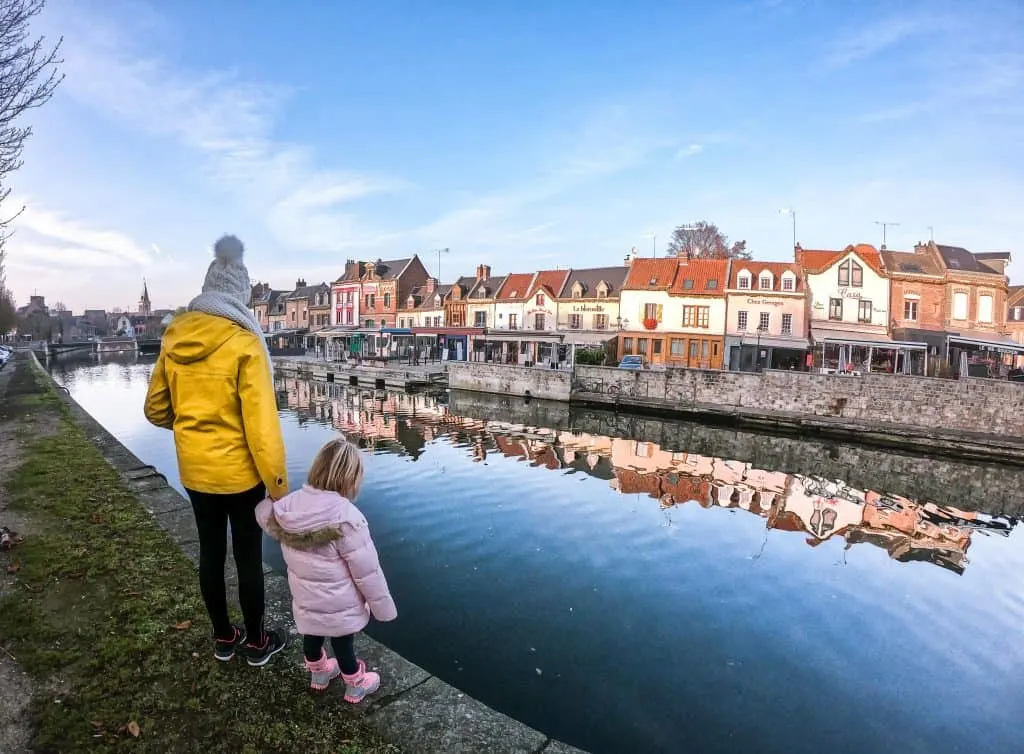 WHERE TO STAY
We preferred to stay a little outside of town for parking reasons and space. I do like staying in hotels but it's also nice to do a homestay in order to have our evenings once the kids are in bed.
We found the perfect house, just ten minutes' drive from Amiens, bookable on both booking.com and AirBnB. The house is gated so perfectly safe for the kids to run around the vast garden space.
The house was so nice with three bedrooms, two bathrooms and open plan living. The owner has a Shetland pony that lives in a nearby field during the day and sleeps in an outhouse at night inside the gated garden. The kids loved it!
Within the garden there was also a BBQ for the warmer weather and a fire pit for the colder months. It's a lovely touch for roasting marshmallows and spending the evening outside.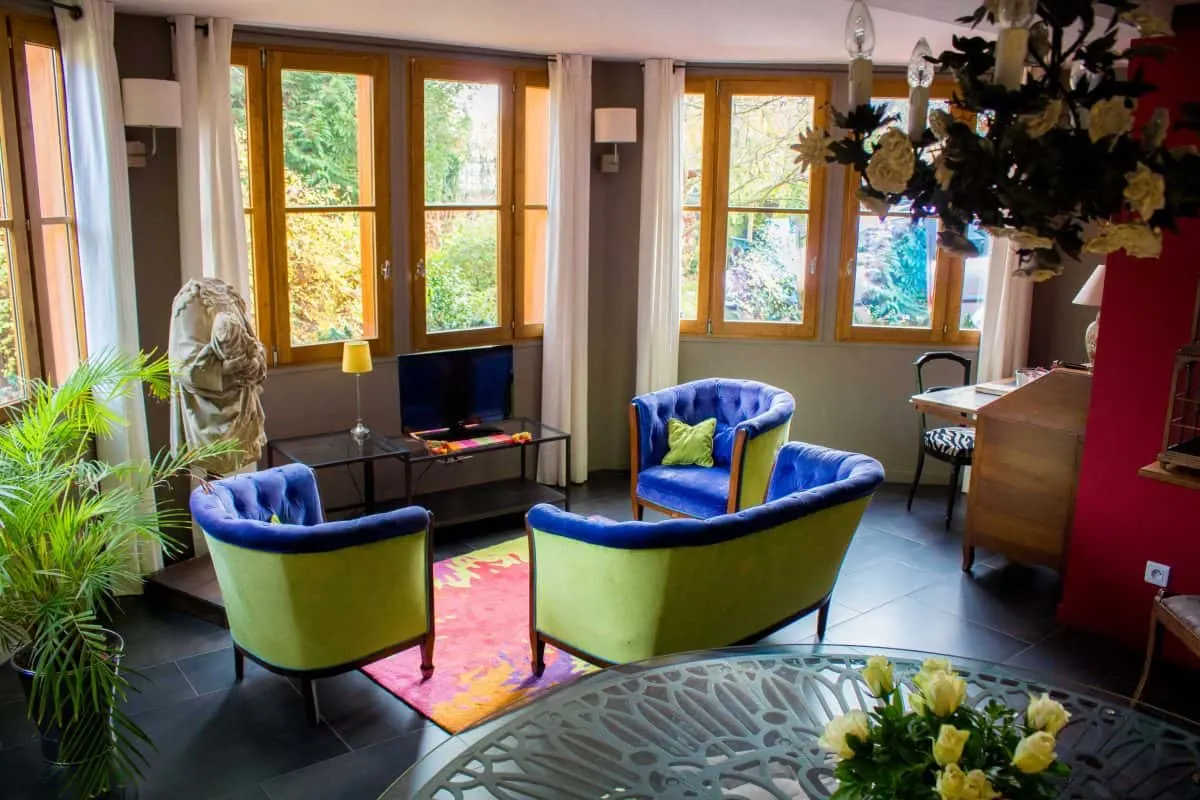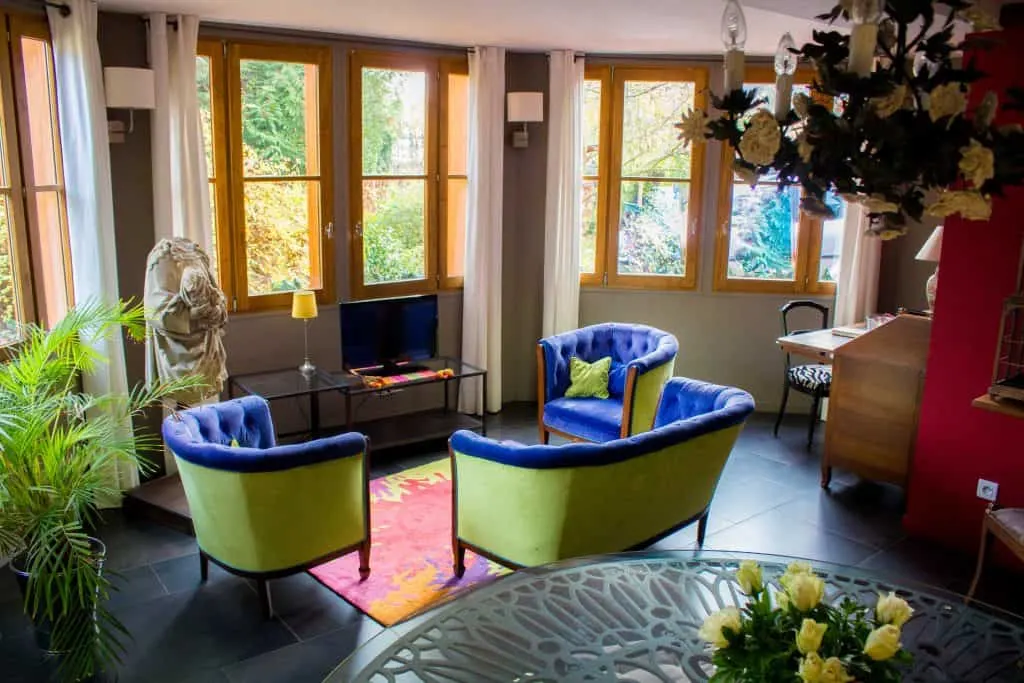 There are many waterways running around the house and the owner has his very own boat. It kind of reminded me of the one of the boats they use for punting. We took it out for a trip and with over 300 hectares to explore, we only covered a small proportion but it was seriously pretty and of course fun for the kids. And if you don't have a house rental with a boat you can always go on an organised trip from the centre of town!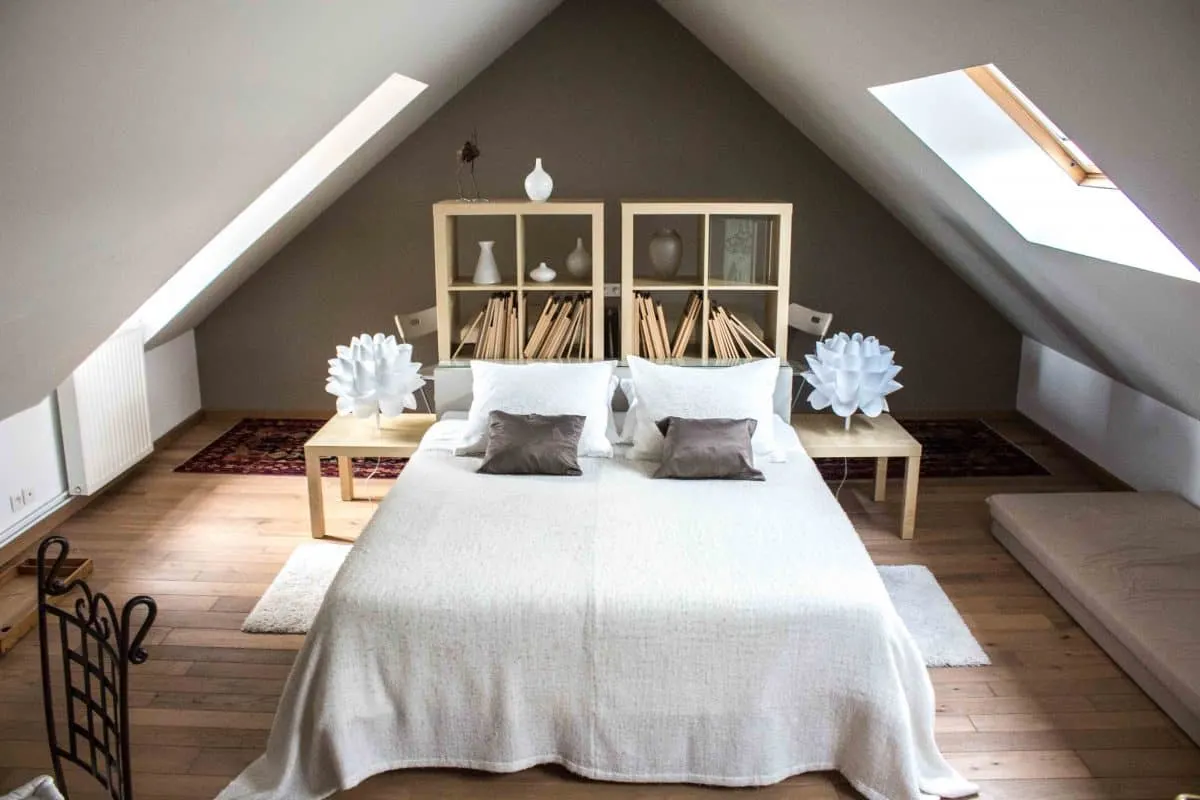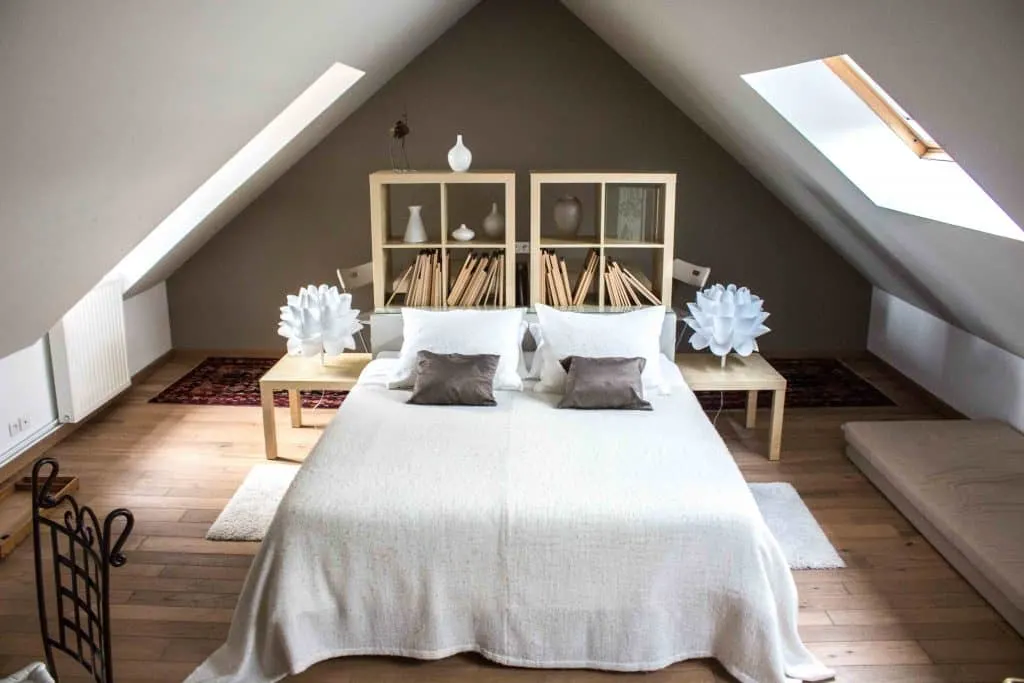 TIP FOR THE TRIP HOME
As we all know French food is some of the best in the world. Close to Calais port there are a number of shops and supermarkets where you can stock up on local delicacies. One of the best things about travelling by ferry is being able to take things home.
We made a stop on the way and did our weekly food shopping and also stocked up on some nice French Wine for our Christmas visitors. We have saved a small fortune stocking up for Christmas on the other side of the Channel!
We hope you enjoyed this post about the French Christmas Markets in Amiens. We LOVE hearing from you so make sure to leave a comment below.
This post is sponsored by P&O Ferries. As always, all views expressed are entirely my own.
You May Also Like:
The Best European Christmas Markets
CHRISTMAS MARKETS IN STUGGART & SURROUNDING AREA