If you are looking to do something festive in Autumn, there are plenty of places to go Pumpkin picking near London.
Aside from the pumpkin picking, so many of the farms have other things to do including playgrounds, corn mazes, treasure hunts to name a few. So it's possible to make a day of it!
With it being October (fingers crossed) the weather won't be too cold to stay out and explore the farm!
It has become quite the craze in London to pick pumpkins in Autum leading up to Halloween over the last few years.
In response to this increasing popularity, pumpkin patches and pick your own farms have been popping up all over the perimeters of London.
if you are looking for other Halloween events in London, check out this comprehensive list of things to do in London for Halloween this year.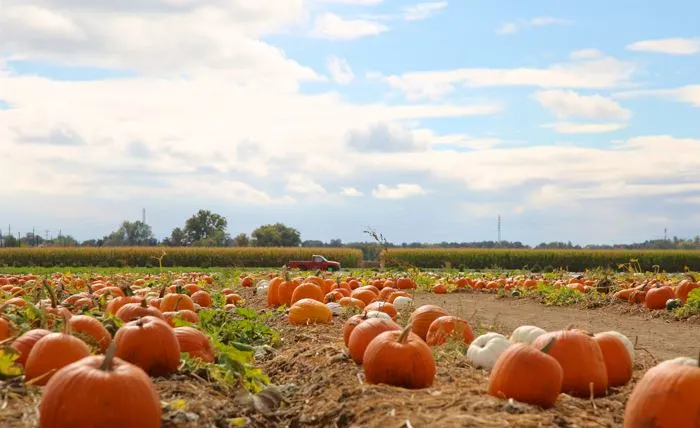 Most of the pumpkin picking near London, are on the far outskirts of Greater London, into places like Surrey, Colchester, Kingston, Kent and St Albans for example.
We have included a map at the end of this post to show you exactly where all of the farms are so you can easily identify your nearest pumpkin patch.
Therefore, wether you live in North, West, South or East London, you shouldn't have to travel to the other side of the city, we have covered all angles and tried to include as much information about getting there as possible. There is a map below to show you exactly where the farms are.
Public transportation out of London can be challenging, since most pumpkin patches are located in the countryside. Driving is the best option or car pooling with friends! Especially as carrying a pumpkin back might be difficult!
If you don't have a car but have a license, I've always found Zipcar a great option for an impromptu day out.
You can pay for the number of hours you use rather than by day and generally speaking they are available nearby, possibly even on your street!
It's a little like Air BnB for cars. Your neighbour might rent their car out on this platform! You don't even need to pick up keys, you can open the car through the app.
The app might take a little while to set up since they have to clarify your driving license & ID so do it a few days in advance.
So without further ado, here are the place you can go pumpkin picking near London.
Pumpkin Patch London
Pumpkin Picking Near London North Area
1. The Patch, Weston
The Patch is another pumpkin destination that is certainly worth a visit for North Londoners. It's a working farm so you can see farm animals and enjoy some refreshments.
There are a variety of outdoor games and activities that are fun for the whole family. During the Patch's growing season, they have a maize maze, so be sure to check it out.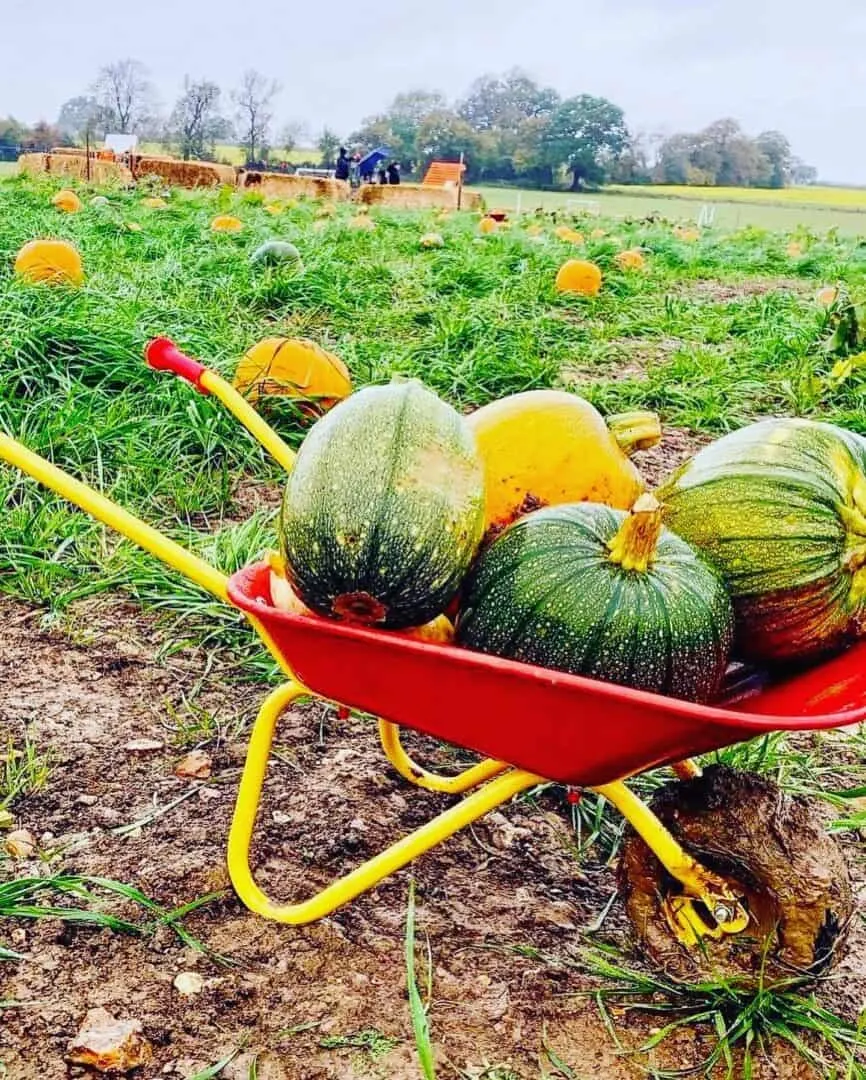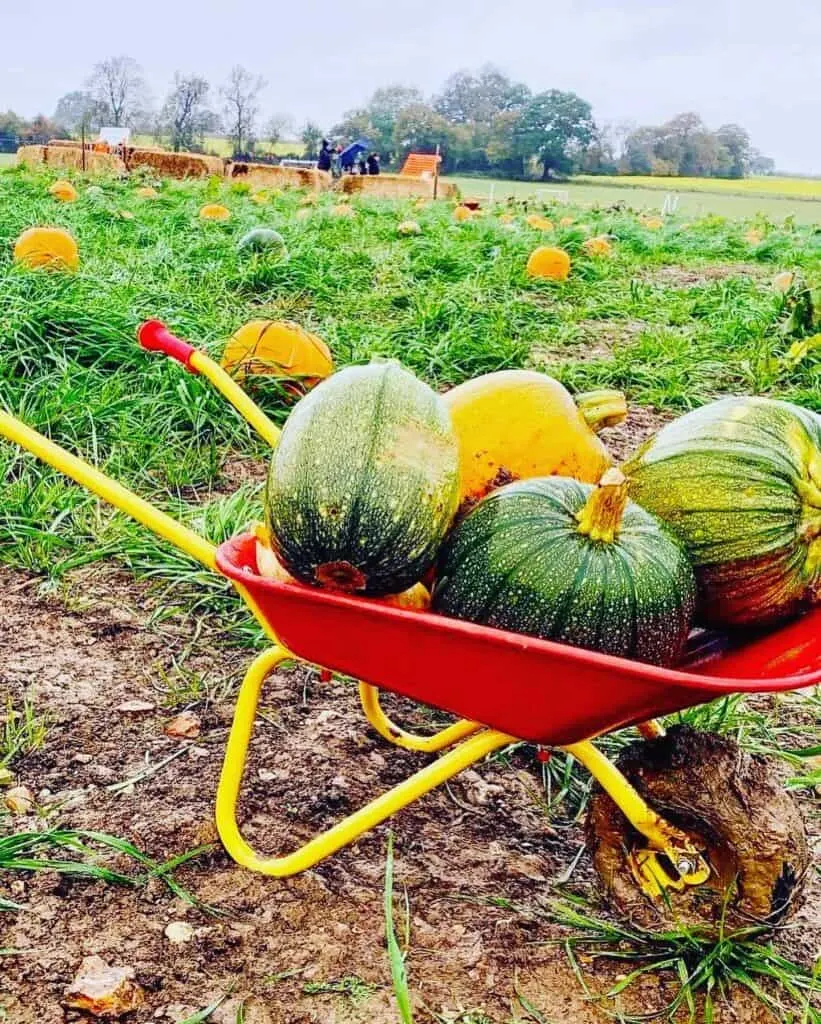 This patch is also pet friendly as long as dogs are on a leash but won't be allowed on the pumpkin patch nor the maize.
Tickets: Adults and children over 2 pay £3.50
Location: Hatch Ln, Weston, Hitchin SG4 7EB, United Kingdom. This farm is just beyond Luton so best for those wo want to go pumpkin picking near London north.
2. Willows Activity Farm
At the pumpkin festival this year, Willows Farm is putting on themed activities, aside from the usual farmyard games.
Kids can choose their perfect pumpkin from thousands at the Willows activity farm and participate in the Pumpkin hunt where there are prizes to be won.
To end your day on a high note, visit Willows Gourds Grotto – and get your Instagram-worthy shots with an array of strange and wonderful gourds, squashes, and pumpkins.
Dates: October 15 – October 31
Tickets: Adults and children over 2 pay £24.50, it is best to book ahead.
The price tag on this one is quite high however the ticket includes fun fair rides, tractor tides, inflatable playgrounds and more. If this one is out of budget, there is plenty more!
Location: Coursers Rd, St Albans AL4 0PF, United Kingdom. The local train station is Park Street Station which is connected with Watford Junction. Perfect for pumpkin near London north region.
Pumpkin Picking Near London, North East Region
3. Cammas Hall Farm
Cammas Hall Farm pumpkin patch can be enjoyed by all ages! With Halloween around the corner, this pumpkin patch has installed interactive spooky characters and a haunted walkway with surprises.
There are slightly spooky and super scary options available depending on age, not to mention plenty of photo opportunities.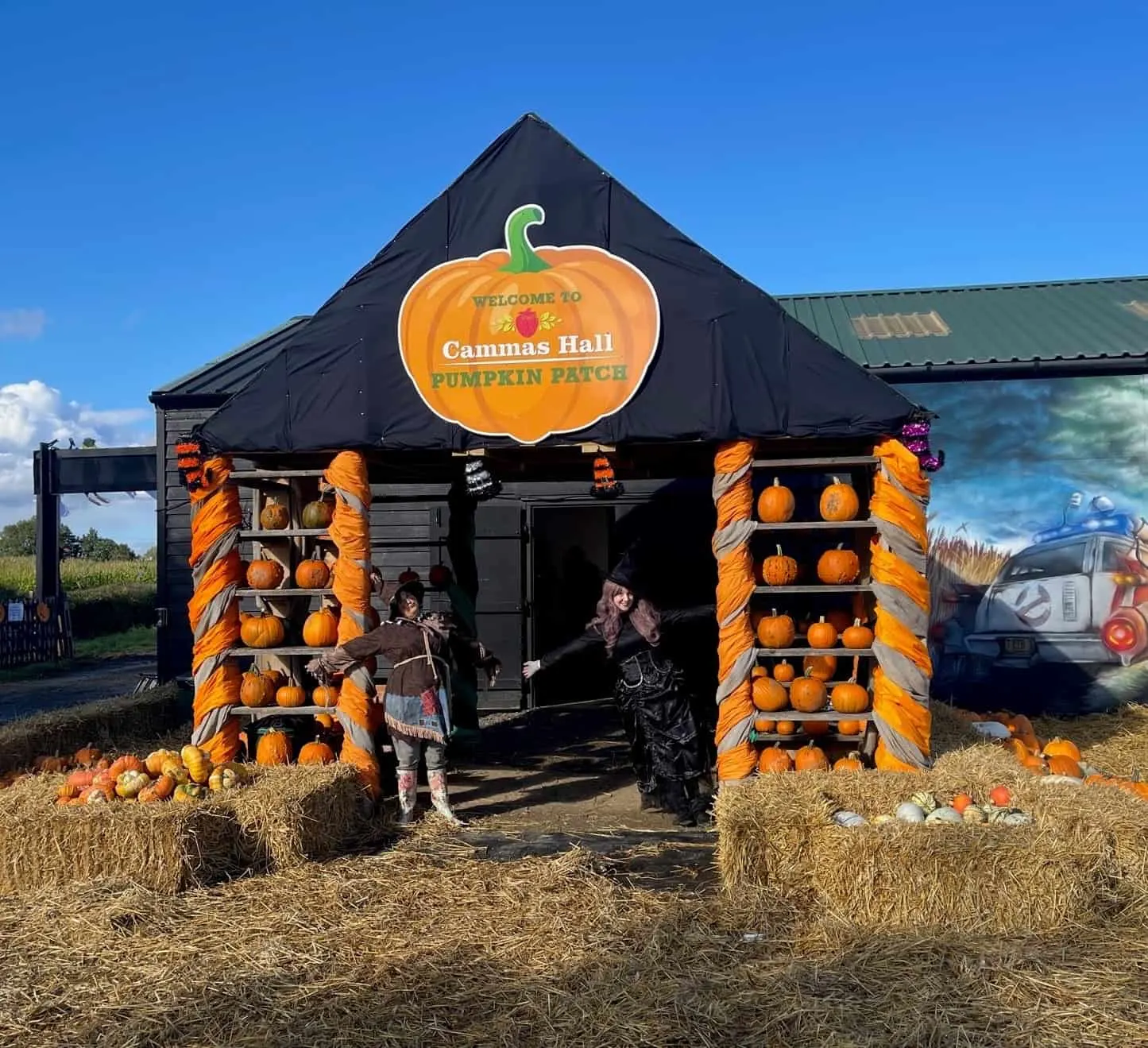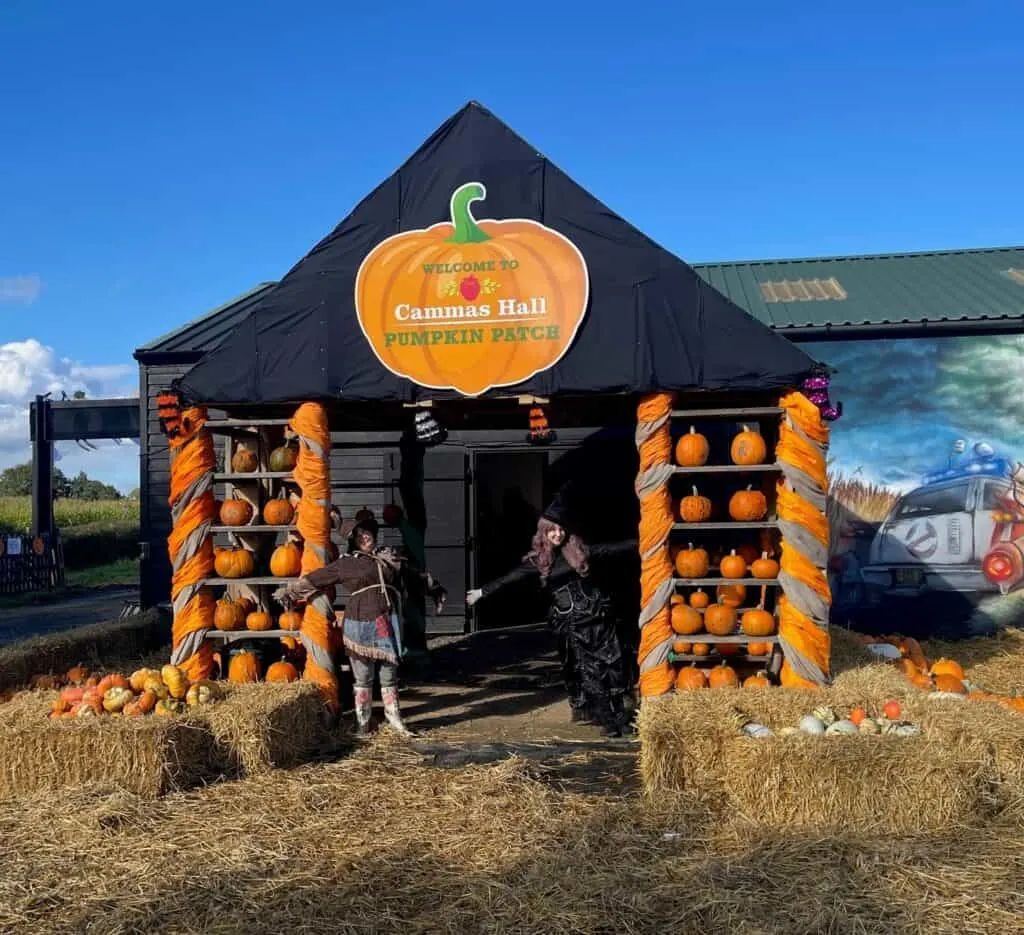 Cammas offers 20% off entry to their Halloween themed Maize Maze, which opens at 10am and closes at 3pm. Maize maze tickets cannot be pre-booked.
Your tickets for the upcoming events at Cammas Hall Farm can be booked here.
Timings: 9am – 5pm
Tickets: £2.00 – £4.00 per person
Location: Cammas Hall Farm Needham Green, Hatfield Broad Oak CM22 7JT, United Kingdom.
The farm is located quite close to Chelmsford and Stansted so ideal for those coming from North East and East London. Train stations are a little further afield from this particular farm.
Perfect for pumpkin picking near London north east region.
4. Hatters Farm
Hatter's Farm is the perfect place to go pumpkin picking near London East since it is based in Essex.
Hatters Farm has more than 50 varieties of pumpkins, whether you're looking for knobbly, giant, tiny or colourful ones. Almost everyone can find one they like.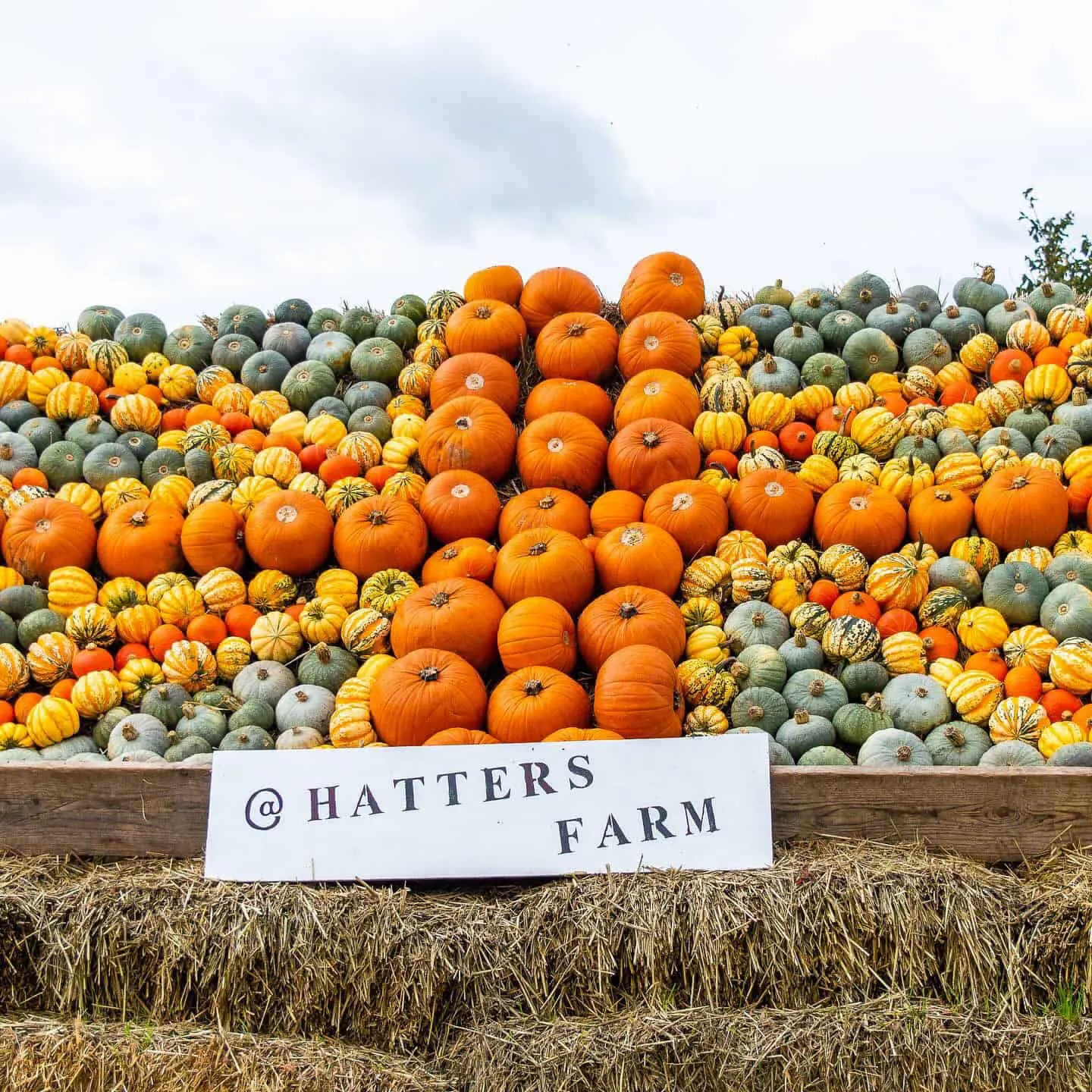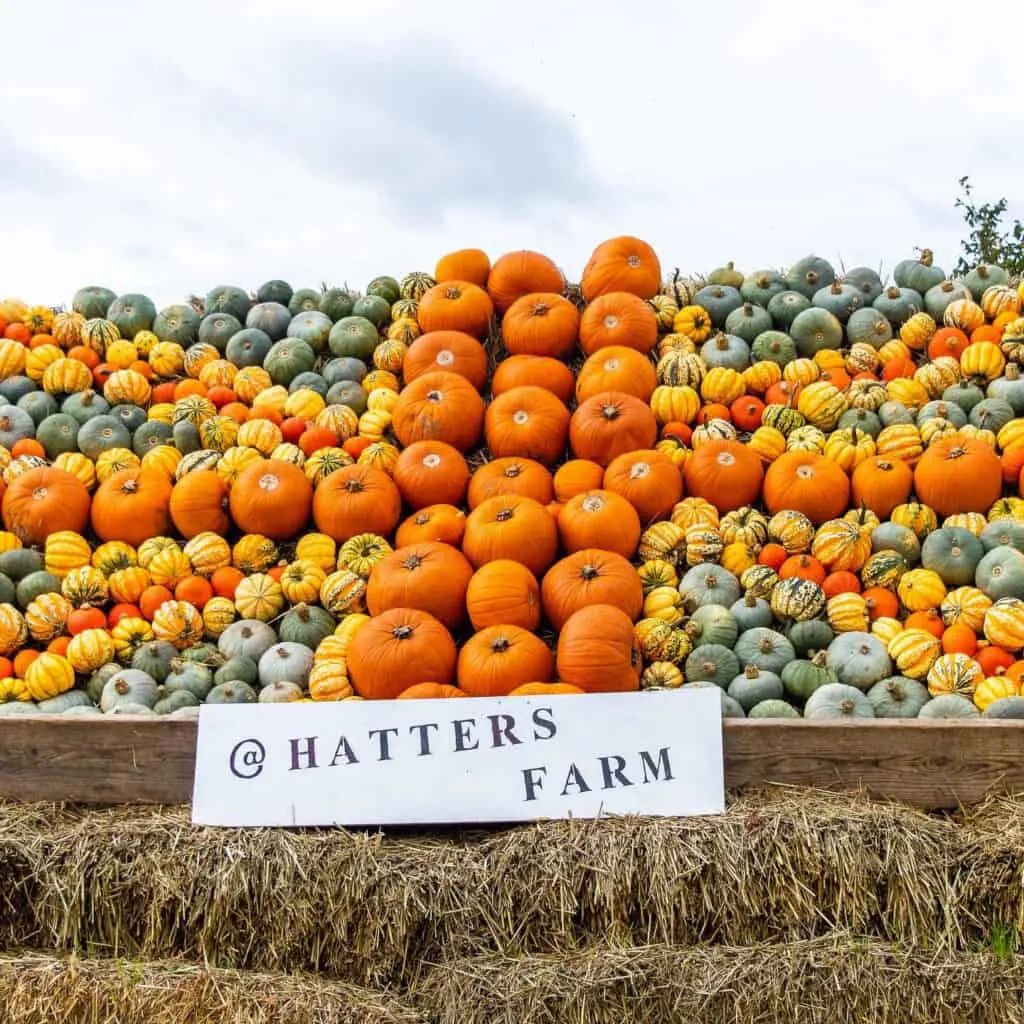 The Pumpkin Cannons and Maize Maze are just two of the many activities lined up for the kids besides pumpkin picking.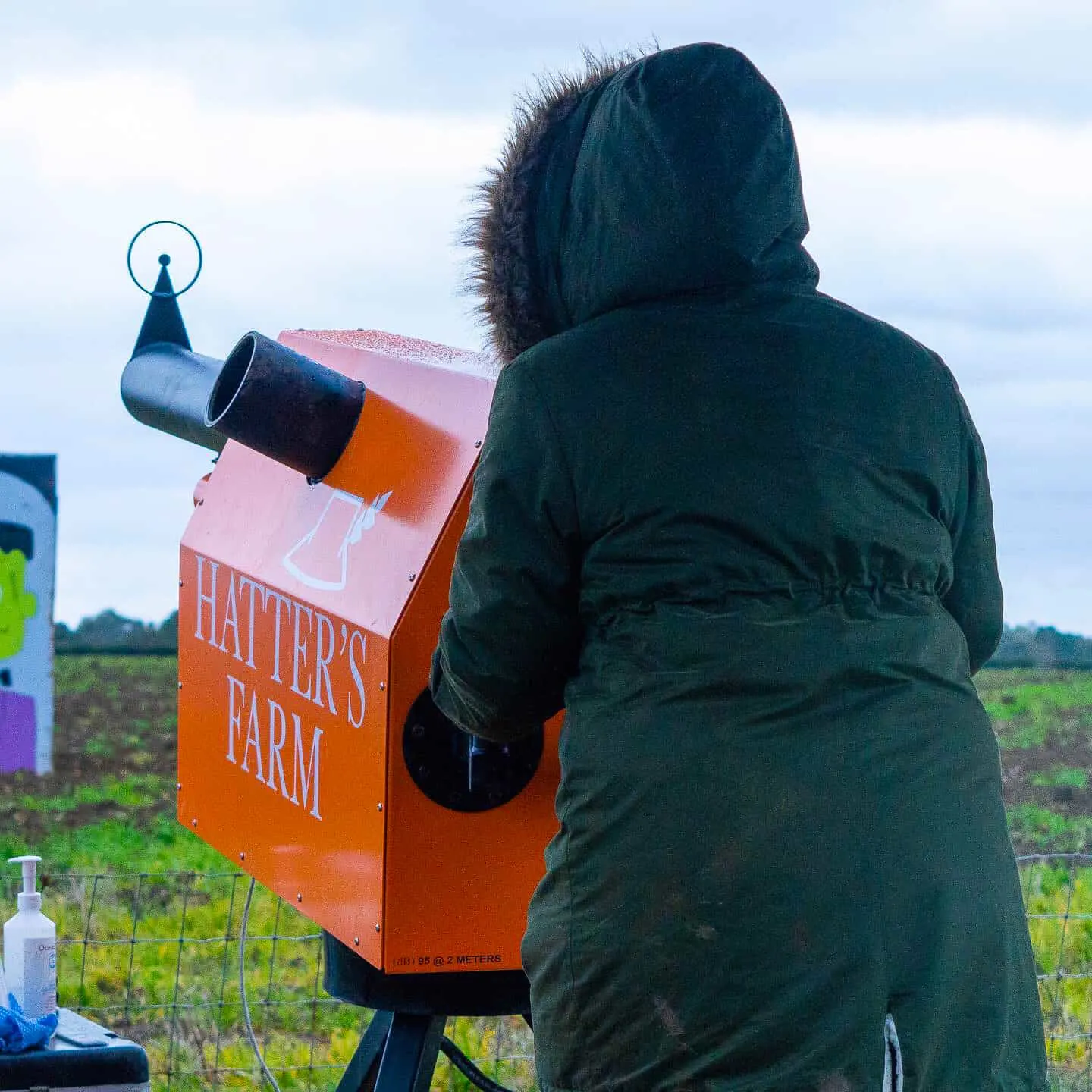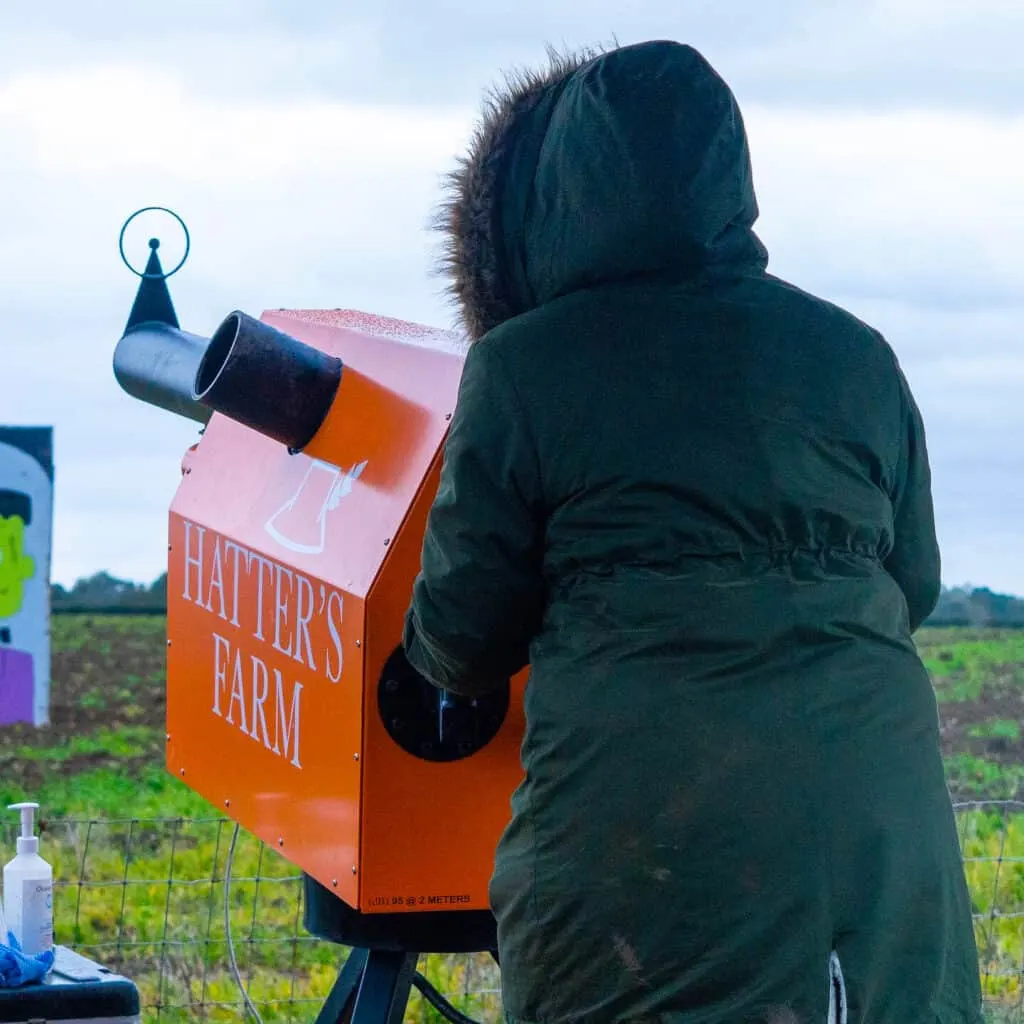 Don't forget to wear your favourite jumpers and join in the for the night time pumpkin picking.
The farm will be open on the 2nd, 8th, 9th, 15th, 16th, 19th, 20th, and 22nd to 30th of October to give you plenty of time for exploring the fields.
The Pumpkin Night event will be held between the 22nd and 24th of October as well as the 27th and 30th of October.
We would suggest visiting the pumpkin patch as soon as possible if you want to get the best pumpkin picking photos!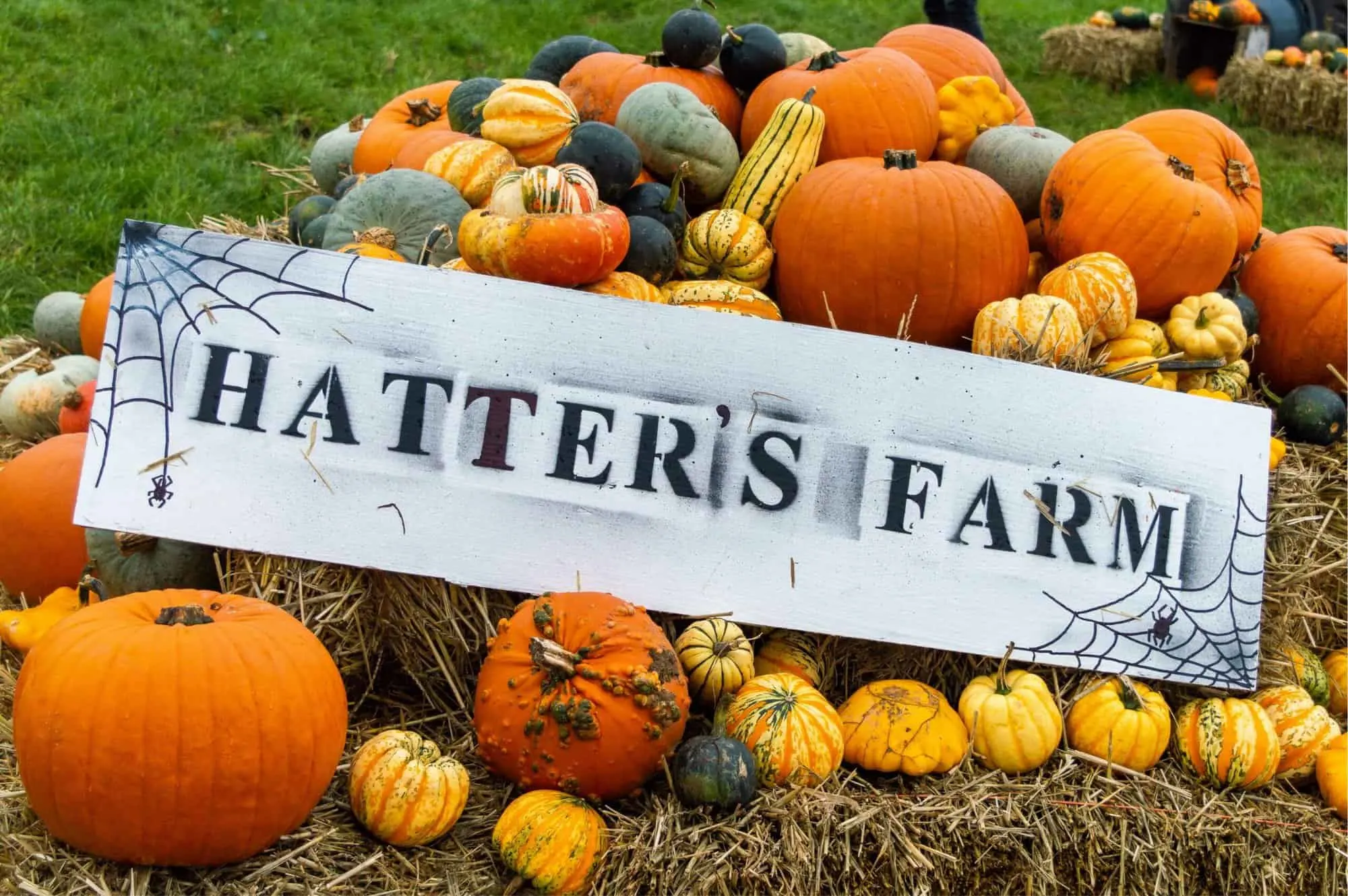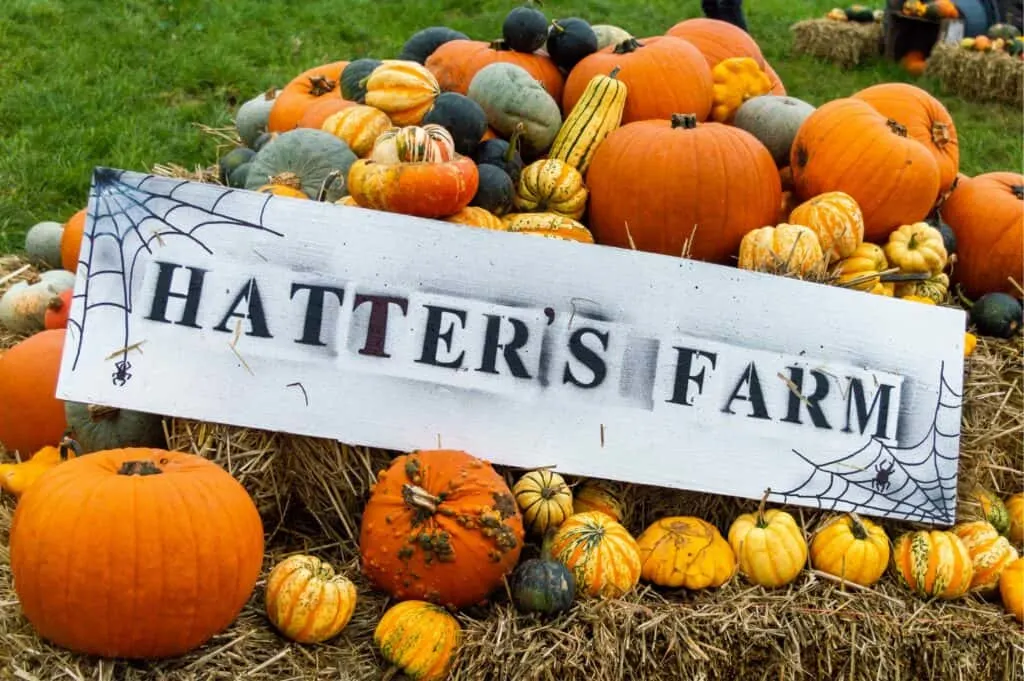 Check out Hatters Farm for more information.
Day/ Night Tickets: £1.10 (all ages)
Location: Hatter's Farm, Takeley, Bishop's Stortford CM22 6NP, United Kingdom. The farm is an 18 minute drive from Bishops Stortford Station. It is connected with Liverpool Street Station and is approx 40 min direct.
Bishop Stortford Taxis: 01279 260792
Perfect for pumpkin picking near London east region.
5. Siam Hall Spooky Pumpkins, Suffolk
If you can't wait to carve up your pumpkins this Autumn, Siam Hall Spooky Pumpkins is the place for you.
It's a pleasant place to stroll the with endless field of pumpkins.
Head over to the pumpkin carving area once you've made your selection. In case you need more than a couple of pumpkins, wheelbarrows are available as well.
This pumpkin patch has a nice pop up cafe that will be serving hot and cold drinks as well as a selection of sweet and savoury snacks.
Dates: 22nd to 30th October
Timing: 10am – 4pm
Tickets: The event is free and does not require advance reservations. This is a bonus place to visit if you have missed out on tickets with other locations. However it is one of the further afield farms.
Location: Siam Hall, Boxford, Sudbury CO10 5LA, United Kingdom
Perfect for pumpkin picking near London east region.
6. Marsh Farm, Pumpkin Picking Village
Known as Essex's premium pumpkin patch, Pumpkin Picking Village offers a large field of pumpkins, a selection of tasty treats as well refreshments for the kids and adults.
Apart from day and night pumpkin picking experience packages, the village also has dog friendly days reserved for fur baby's.
A ticket to the Marsh Farm pumpkin village does not grant you access to the Marsh Farm Animal Adventure Park.
Tickets: £3.99 to £9.99 per person (Free admission for children under 2)
Location: Marsh Farm Rd, Chelmsford CM3 5WP, United Kingdom.
Perfect for pumpkin picking near London east region.
7. Foxes Farm
Foxes Farm is a celebrity favourite, with 2 locations in Colchester and Basildon and hundreds of pumpkins to choose from, it's fun pumpkin picking day.
They have also organised a variety of activities for the kids to keep them on their feet including a Farm Mud Run which is a 1.5 kilometres fun trail through obstacles, bogs, straw bales and lots of mud!
It costs £3.75 to £5 per person to access the pumpkin fields, corn maize trail (Colchester only), food vendors, licensed bar (Colchester), large play area, photo opportunities, and parking.
Tickets sale for the Pumpkin Patch are up for sale now.
Location: Foxes Farm Produce, Aldham, Colchester CO6 3PR, United Kingdom
Perfect for pumpkin picking near London east region.
Pumpkin Picking Near London, North West Region
8. The Pop Farm
A 45-minute drive from Central London lies another place to see award-winning pumpkins, The Pop Farm in Hertfordshire. This farm is best located for those coming from North West London.
You can pick up a wheelbarrow and find the perfect pumpkin. As an added bonus, this pumpkin patch offers an onsite maze as well as festive drinks and snacks for a fun-filled day.
It should be noted admission is not permitted without an advance online purchase of a ticket.
Timings: 9:30am – 4:30pm (call to confirm prior travelling)
Location: M1 Junction 9, Flamstead, St Albans AL3 8HT, United Kingdom.
Perfect for pumpkin picking near London north west region.
9. Nathan's Farm
Spread over 120 acres of land, a seasonal pumpkin farm located in Buckinghamshire, Nathan's Farm.
Nathan's is an ideal Autumn celebration spot, complete with a petting farm, pumpkin picking and carving and a play area for the little ones. It also has a cozy café serving sandwiches & hot drinks.
Nathan's Farm can also accommodate guests in refurbished shepherd's huts that date back 100 years. This is perfect if you want to break up a trip from other parts of London and make a weekend of it!
Tickets: £5 per vehicle
Location: Chalfont Rd, Chalfont Saint Giles HP8 4BT, United Kingdom, perfect for West and North West Londoners.
Perfect for pumpkin picking near London north west region.
Pumpkin Picking Near London, Western Region
10. Cobb's Farm Shop
Another excellent location to pick pumpkins is Cobb's Farm Shop in Berkshire. A first-rate pumpkin picking experience is offered at Cobbs every October, complete with wheelbarrows and carving stations.
In addition, there is a wonderful bus café serving breakfast, lunch, and dinner, plus hot drinks and delectable cakes in Autumn.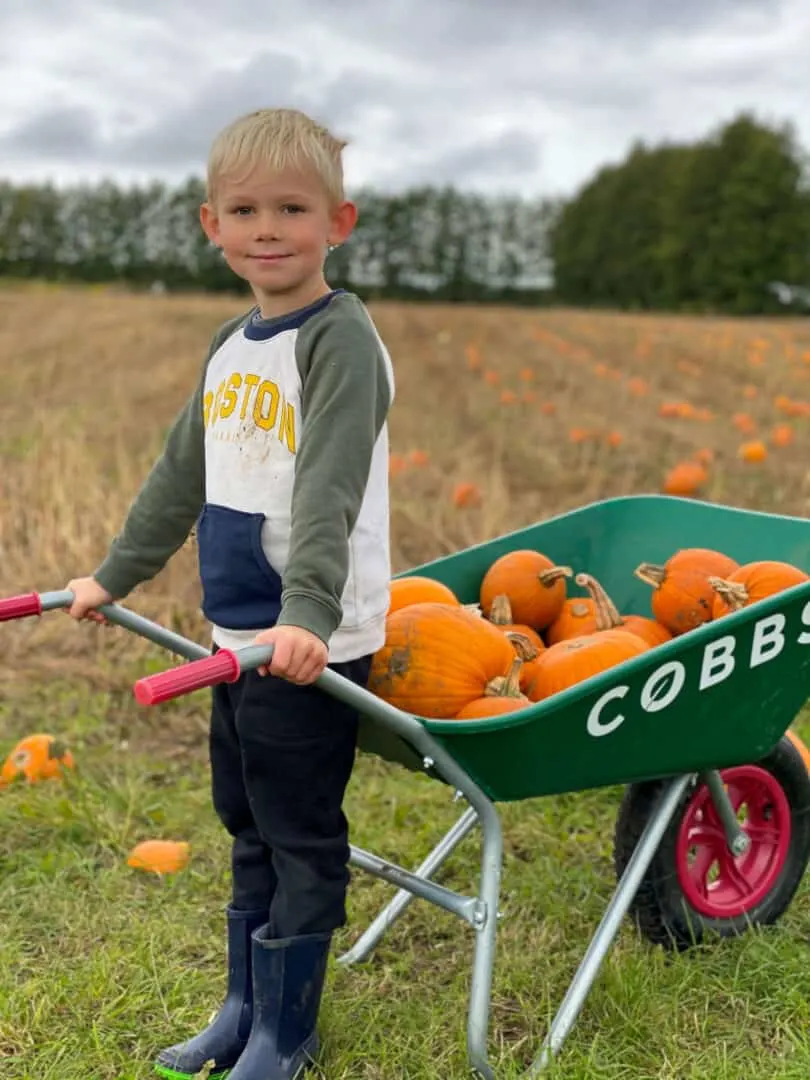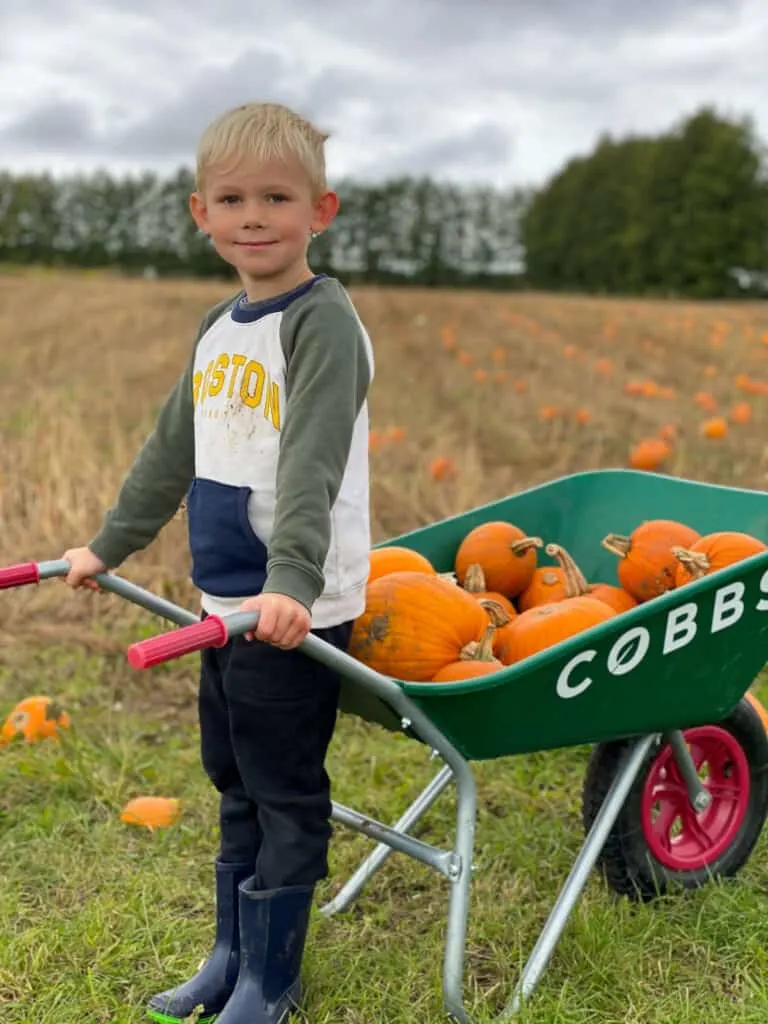 Tickets: For bookings, call 01488 686770 – Ext 1, and if you book a 1-hour slot, entry is free
Location: A4, Hungerford RG17 0SP, United Kingdom.
Perfect for pumpkin picking near London west region.
Pumpkin Picking Near London, South Region
11. The Picking Patch Warlingham
This is the first year the site at Warlingham will be running and they are eager to engage with the local and surrounding communities.
They are hosting a new event that is coming to Warlingham this Autumn, a fun activity for everyone during the colder months to reconnect with nature, get outside and have some Halloween fun.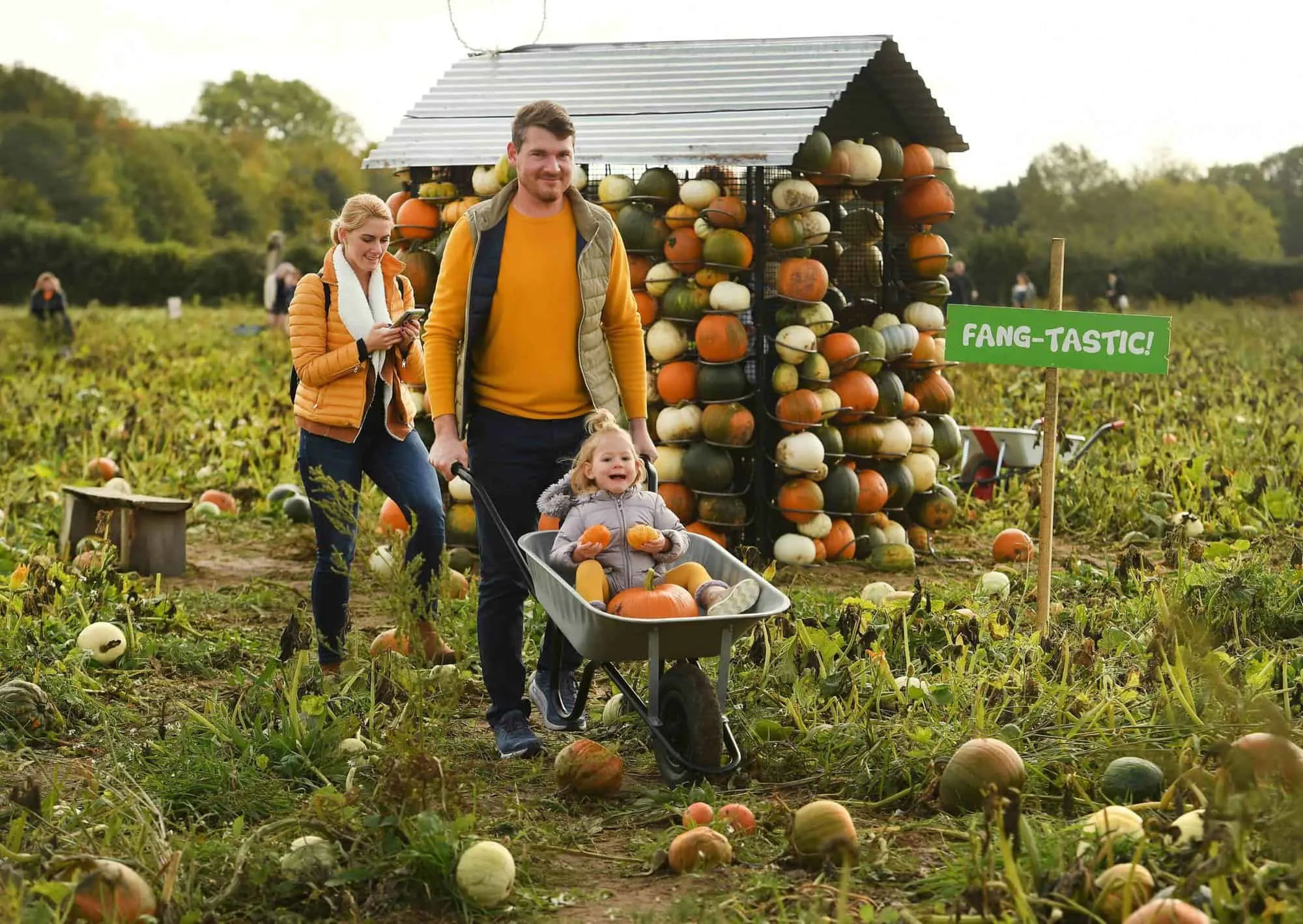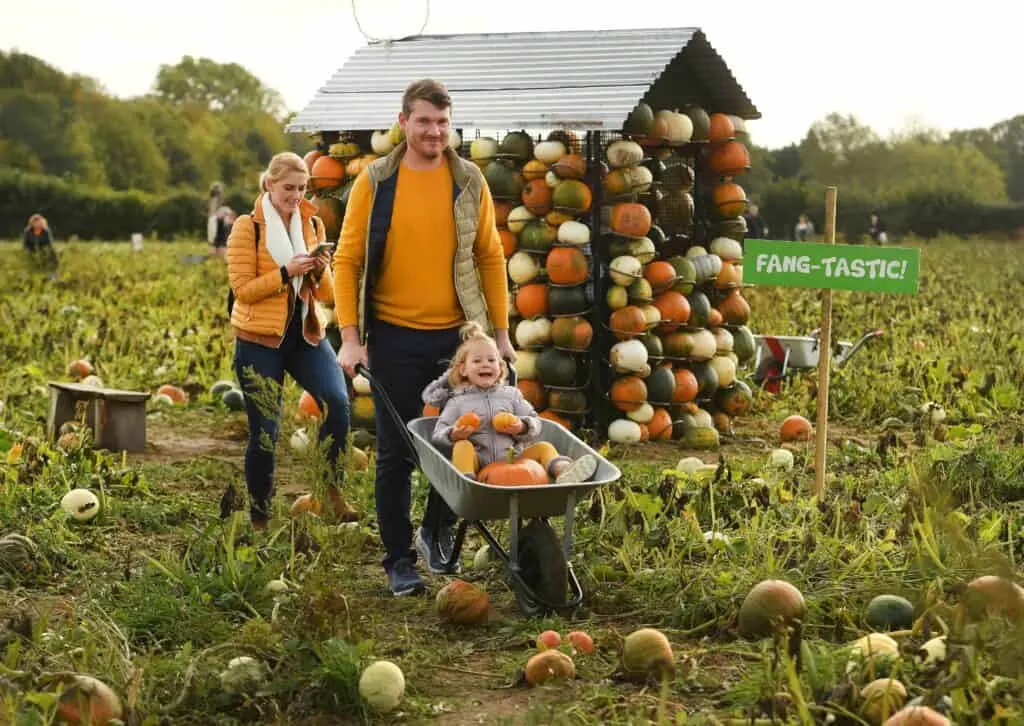 They have a 16 Acre field filled to bursting with 20 varieties of pumpkins and squashes to pick, all plants have been expertly grown by the Picking Patch team and farmers Nick & Babs this year.
Like many farmers in the community have had the trials of the hot weather to contend with this year.
They are also holding a Halloween Maze which will have 5 interactive and creative points of interest to get everyone from toddlers to bigger kids involved and in a spooky Halloween mood!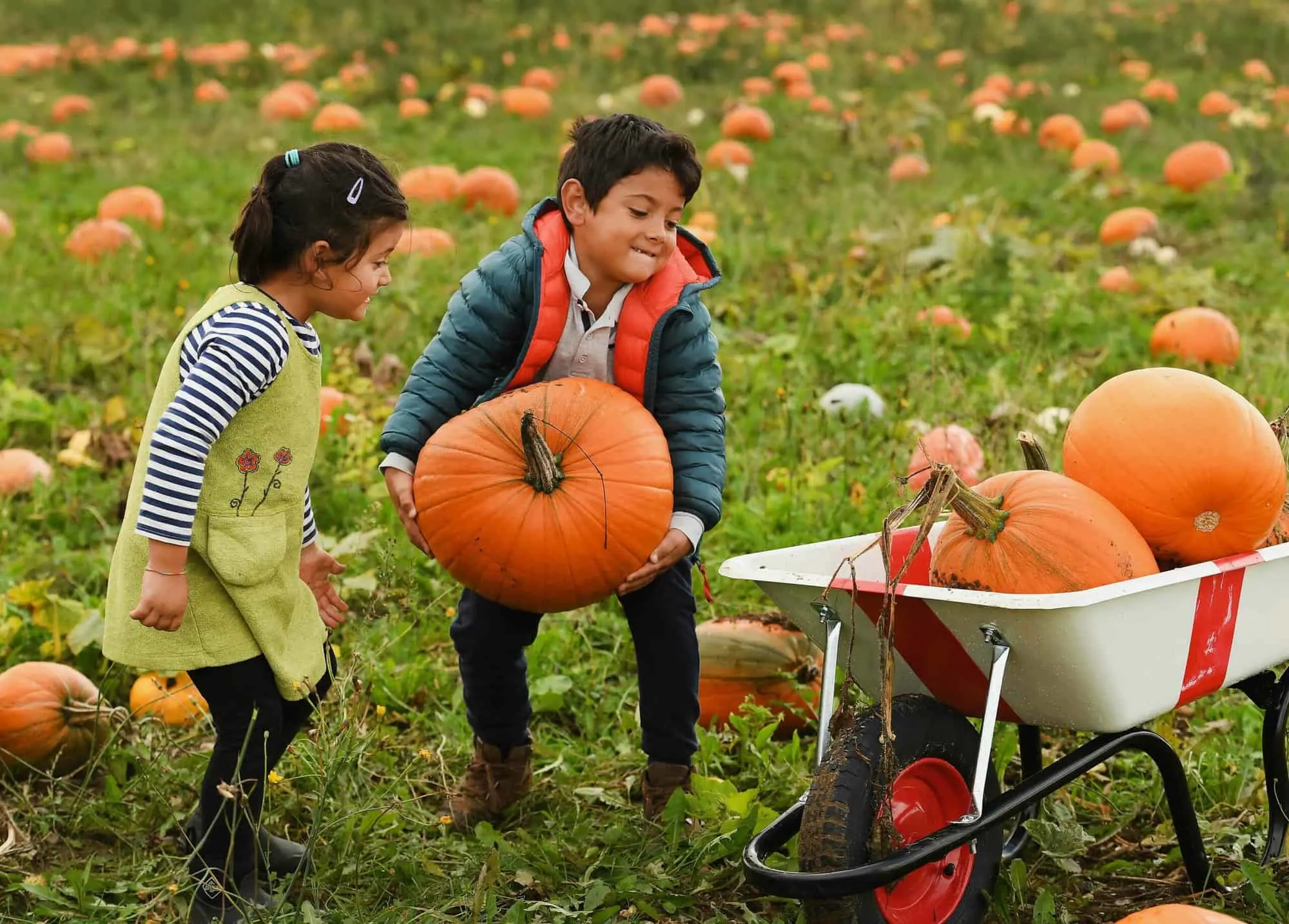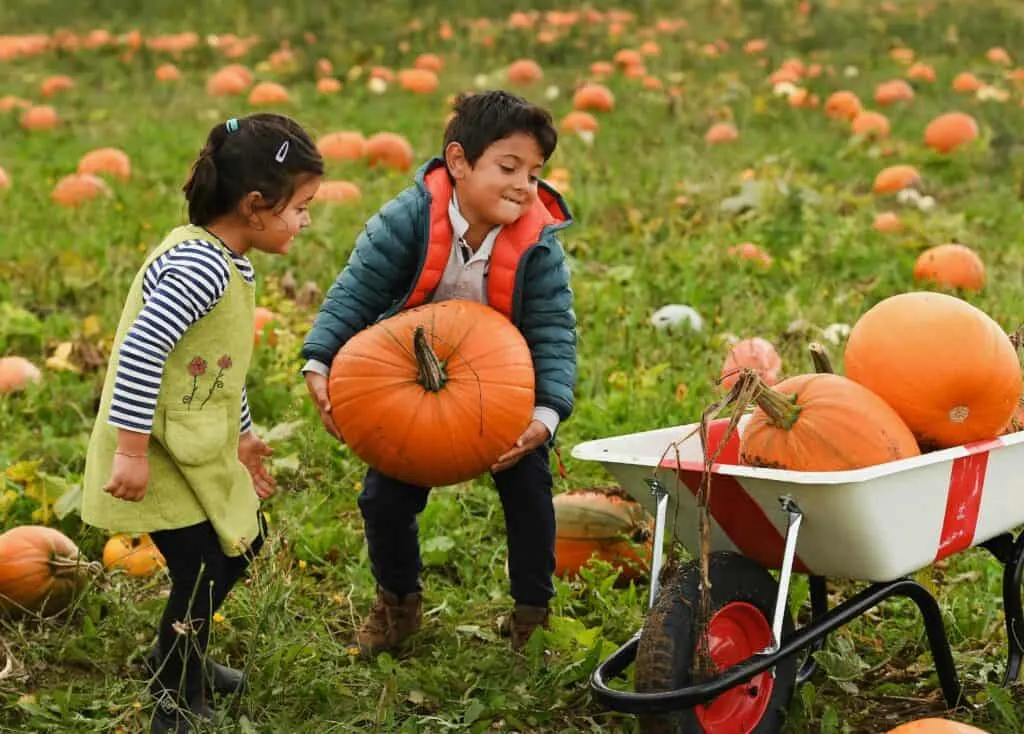 The Halloween Maze is a truly exciting experience with surprises around the twists and turns of the maze bringing screams of laughter and fright to children and parents alike. You can almost hear the witches cackling and feel the ghosts and ghouls hiding in the shadows.
The unique event is a truly entertaining activity connecting with visitors through getting back down to earth in harvesting pumpkins that have been grown through the summer.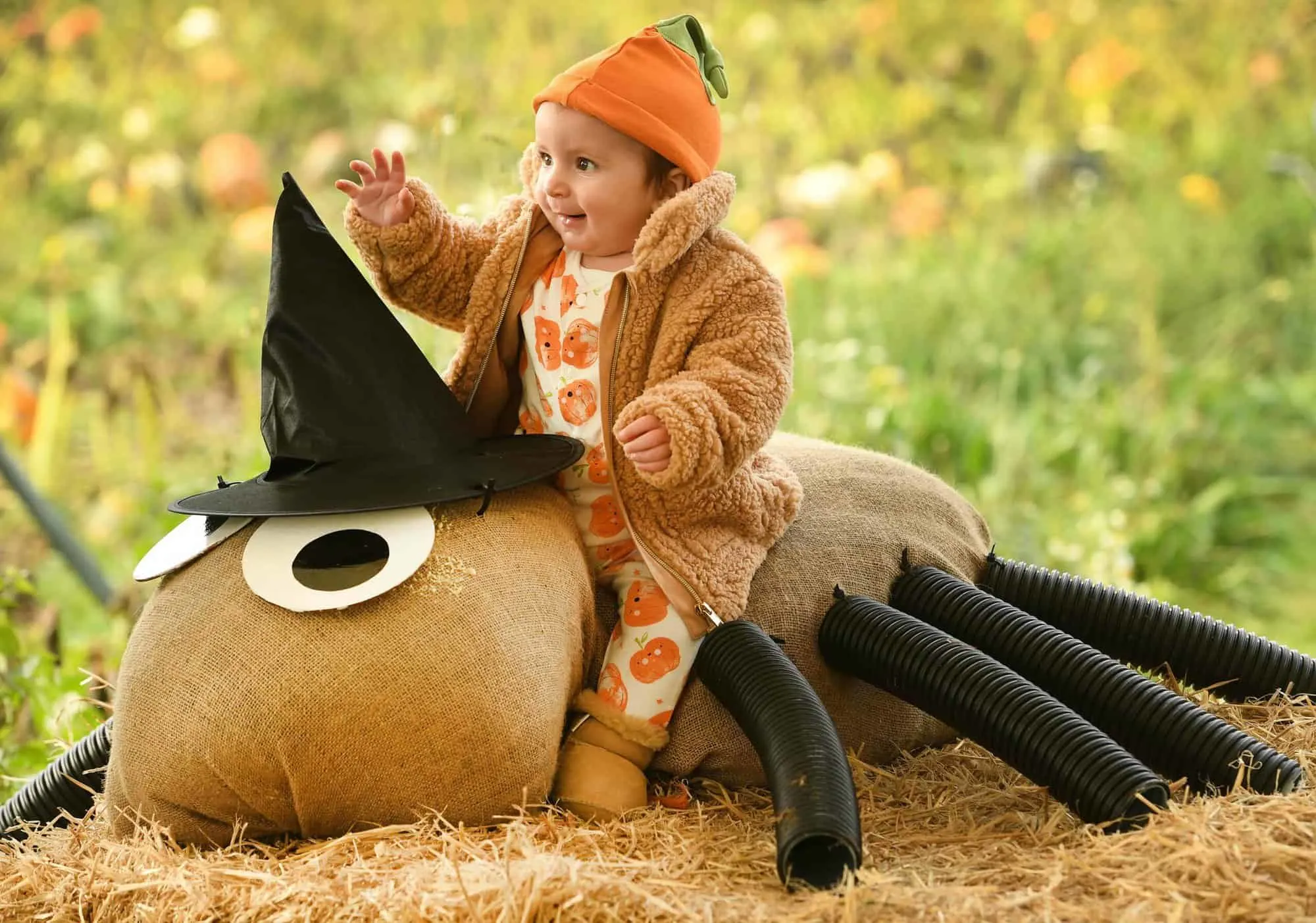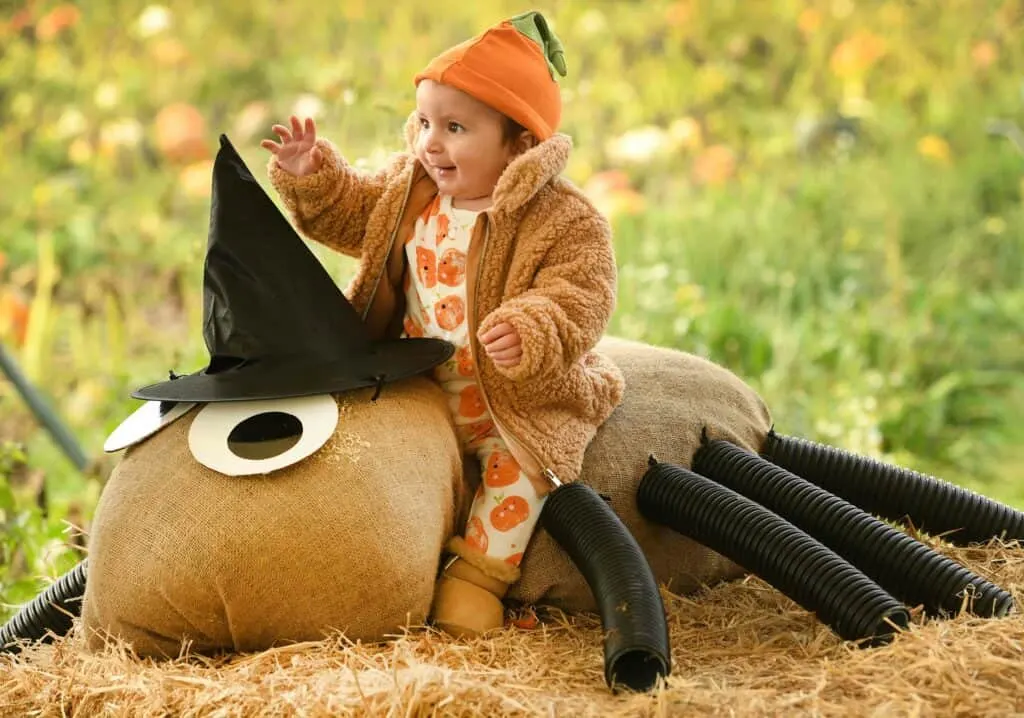 Unlike many pumpkin picking sites they offer free entry, free parking and no need to book.
Why not get competitive with your loved ones and take part in the welly wanging and wheelbarrow competitions, sure to get the blood pumping and some healthy sibling rivalry in the air.
If you are looking for family fun this Autumn, the Picking Patch Warlingham is a great spot to get outside and make memories, opening from the 8th-9th,15th-16th & 21st-30th Octoberbook Halloween Maze online at www.pickingpatch.com
Price – Free
Location: Warlingham
12. Tulleys Pumpkin Farm, Crawley
With over 90-acres of farmland, Tulleys Pumpkins farm is located in the countryside of West Sussex.
In order to go pumpkin picking, they provide you with a complimentary wheelbarrow.
Pumpkins are available in a variety of shapes and sizes, whatever your preference, you can carve a ghostlike face, make a delicious pie or decorate your house with unusual gourds.
We recommend staying for the Moonlit Sky pumpkin picking experience if you plan on spending the entire day or going at sunset.
You can find tons of day and night events and activities for kids, a set for the perfect Instagram photo, and a variety of street food.
More details of dates and timings can be found when you Book your Tulleys pumpkin farm tickets here.
Day event tickets: £4.00 – £7.00
Night event tickets: £6.00 – £10.00
Children under 2 go for free
Timings:
Location: Unit 5, Turners Hill, Crawley RH10 4PD
Tulleys Farm is located around 16 minutes drive from Crawley Train Station. If you are not driving you could get a taxi. Crawley is well connected with Victoria and East Croydon, so perfect for the South East Londoners.
East Croydon to Crawley is only 21 minutes on the train.
Crawley Cabs: +44 7411 726796
Perfect for pumpkin picking near London south region.
13. Priory Farm
This Halloween, take a tractor ride out to Priory Farm Pumpkin Fields and pick out your very own. Home to over 10,000 pumpkins, including giant, small, warty ones, and more.
After picking your own pumpkin, you might want to check out the Halloween trail at Discovery Land. It's a Halloween-themed walk through ancient woodland, green pastures, meadows, and around Priory Farms fishing ponds.
There is plenty to do on this estate and it's totally worth it for quality outdoor time before winter truly sets in!
Grab a slot now while tickets are still available.
Tickets: Pick-Your-Own Pumpkin and Tractor ride : £5 per person, all aged 1+
Halloween trail at Discovery land: £8 per person, all aged 2+
Location: Priory Farm Sandy Lane, South Nutfield, Redhill RH1 4EJ, United Kingdom.
Perfect for pumpkin picking near London south region.
Pumpkin picking near London, South East Region
14. Pumpkin Moon, Kent Locations
Pumpkin Moons has three farms based in Maidstone, Rainham and Bapchild. They are back again this October bringing you over 100 varieties of pumpkin, squash, and gourds.
Including large warty ones, orange ones, and weird wonderful varieties.
Visiting Pumpkin Moon is an annual tradition that doesn't require you to purchase a wheelbarrow, you can simply borrow one and select your favourite one.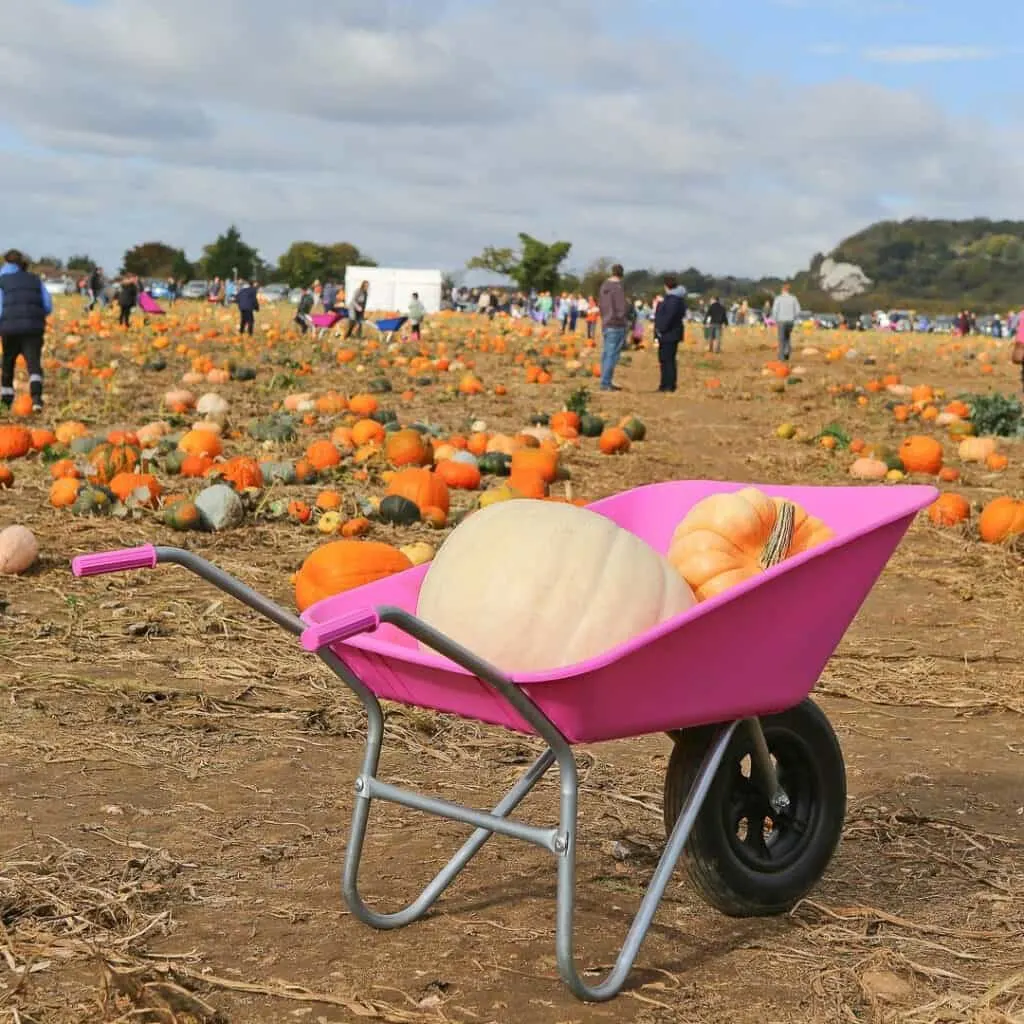 The pumpkin fields also make for instagram worthy photo opportunities as fancy dress is encouraged in keeping with tradition.
Pumpkin Moons 'Pick Your Own Pumpkin' farms have ample parking as well as delicious street food and drinks for visitors.
Please note, It is necessary to make an advance reservation for all locations.
Tickets: £1.50 per person
Free admission for children under 3
Location: Maidstone / Rainham / Bapchild – Kent based locations, connected with London Bridge and Waterloo East.
Perfect for pumpkin picking near London south east region.
15. Stanhill Farm
Stanhill Farms pumpkin picking has been very popular among people living in the area for almost a decade and is one of the longest standing "Pick Your Own" farms near London.
At the pumpkin patch, you'll find a huge selection of pumpkins of varying sizes, you can grab a wheelbarrow and fill it up.
As pumpkins lie about like a sea of Autumnal orange, take advantage of the opportunity to take some incredible festive photos.
There is plenty of free parking available.
Timings: TBA
Tickets: The event is free, but it must be pre-booked.
Location: The Farm House, Birchwood Rd, Dartford DA2 7HD, United Kingdom.
Perfect for pumpkin picking near London south east region.
Pumpkin picking near London, South West Region
16. Crockford Bridge Farm, Surrey
If you'd like to attend the pumpkin festival or the PYO event at Crockford Bridge farm, you'll need to book your tickets well in advance.
Rather than an all-day pass, your Pumpkin Festival ticket is for 2.5 hours. However, attending the Pumpkin market doesn't mandate a booking.
The pumpkins at Crockford are harvested by hand unlike those you pick up at the supermarket which are mass produced.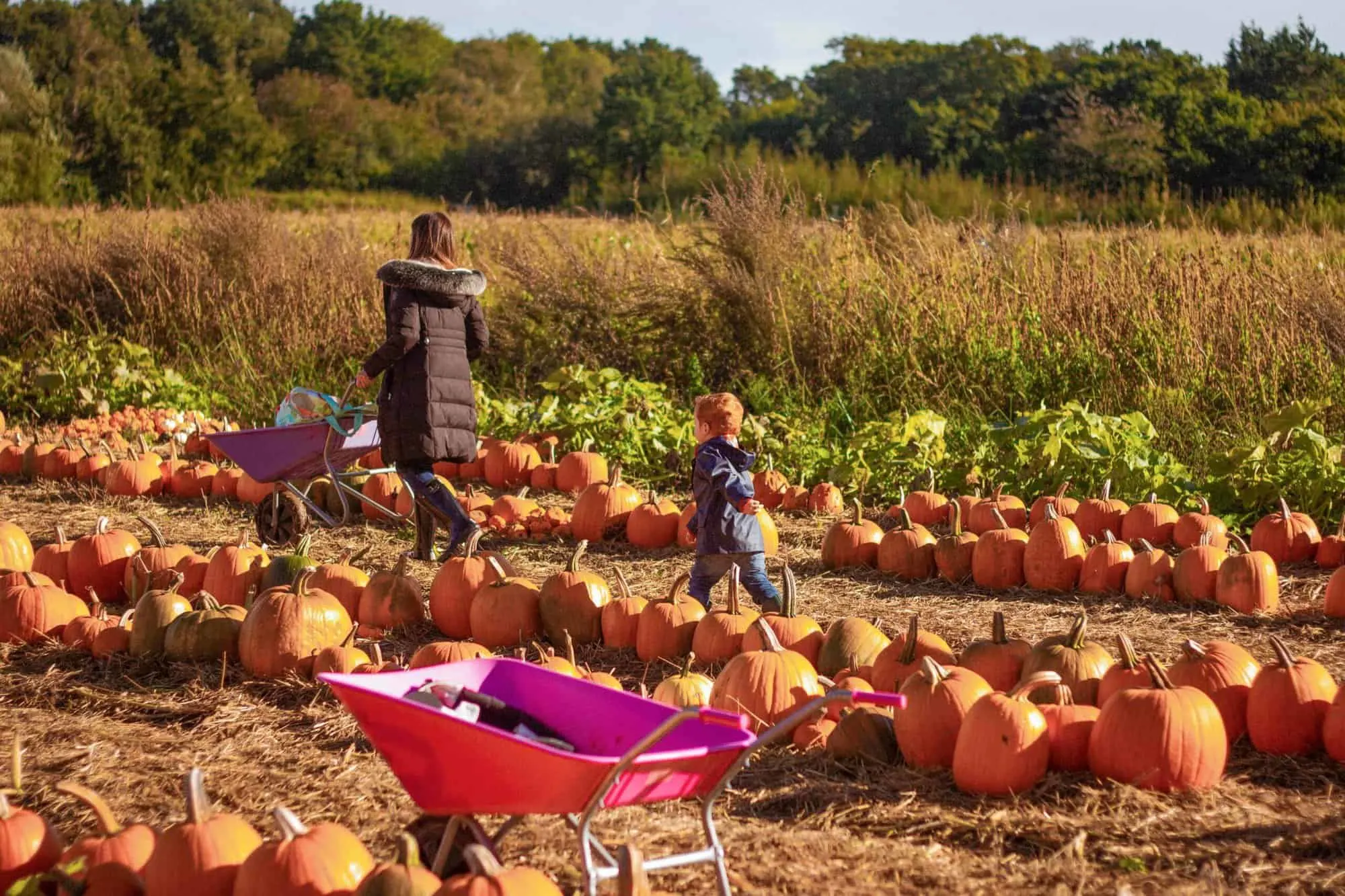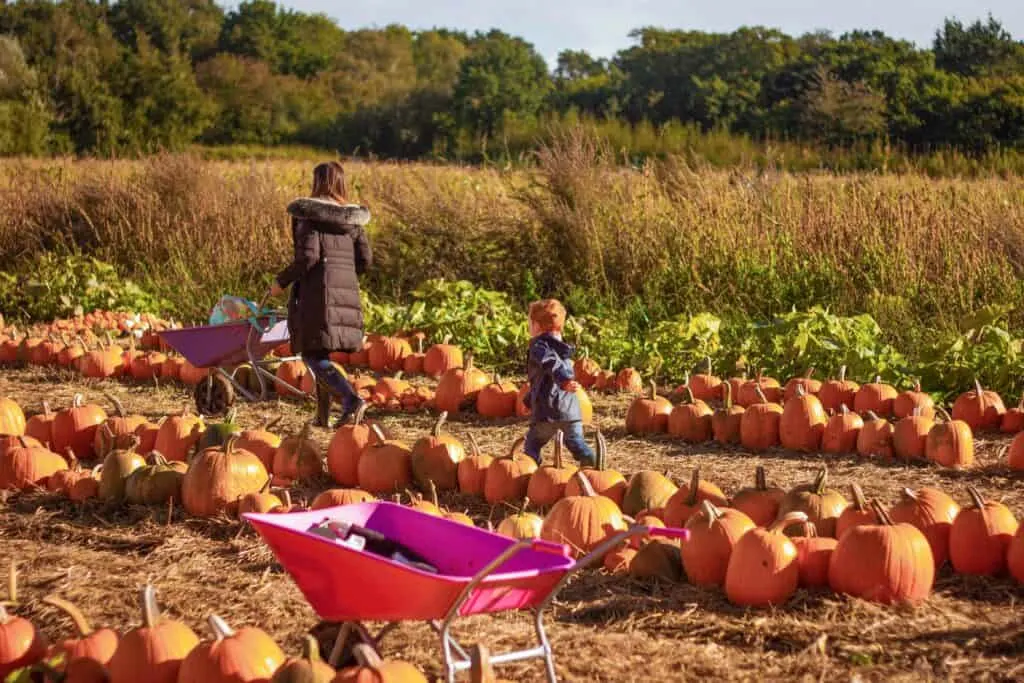 Consequently, your pumpkin will last longer and taste better if you plan on cooking it. The event will be filled with photo opportunities and many visitors dress up.
Aside from pumpkins galore, there is also a tea parlour, as well as food stalls with an assortment of street foods.
Timings: 10am to 5pm (confirm online prior to visiting)
Pumpkin Festival: Free admission (Booking is necessary for all ages)
Pick your Pumpkin Event: £4
Location: New Haw Rd, Weybridge, Addlestone KT15 2BU, United Kingdom
Crockford Bridge Farm is a 3 minute drive from Addlestone Train Station or a 19 minute walk. The station is connected with London Waterloo. Direct trains from Waterloo take 46 minutes. This farm is ideal for those coming from West London.
Perfect for pumpkin picking near London south west region.
17. Garsons of Esher
All visitors are encouraged to drive through the farm, stopping and parking up at each field as you go around.
The farm does grow other fruits throughout the year so be sure to pop back in season for strawberries. Its also fantastic place to pick up a tree at Christmas.
The Garsons Pumpkin Patch occupies 155 acres in Surrey, making it the largest PYO farm in the UK.
It is mandatory for everyone, including children and infants, to have a Farm Pass.
Farm Passes can only be booked online through the ticketing site. It is non-refundable, regardless of whether you cancel, if the weather changes, if the crop is available, or if you miss a time slot.
It is imperative to take this into consideration before making a reservation.
Timings: 9am – 5pm (Sundays @ 10am)
Adult Farm Pass: £4 (14 years and above)
Child Farm Pass: £1
Location: Garson Farm PYO, Winterdown Rd, Esher KT10 8LS, United Kingdom. Garsons Farm is an 8 minute drive from Esher Train Station.
Esher Taxis: +441372 727272
Perfect for pumpkin picking near London south west region.
18. Secretts of Milford
Located in the beautiful county of Surrey over 150 acres of Farmland lies the Secretts of Milford. There is a special pumpkin week at the farm during pumpkin season starting October 22nd through October 29th.
Tickets cost £3 and need to be purchased online in advance. This farm is ideally located for those coming from South West London.
A day full of exciting activities will be waiting for the kids, including biscuit decorating and a fancy dress competition. With an extensive menu featuring the finest ingredients, gourmet food lovers are in for a treat.
Timings: 9am – 4pm
Location: Chapel Ln, Hurst Farm Hurst Farm, Milford GU8 5HU, United Kingdom
Perfect for pumpkin picking near London south west region.
Pumpkin Picking Near London, Central London
19. Wands & Wizard Exploratorium
For those unable to visit a pumpkin patch or experience pumpkin picking near London, you could visit the Spitalfields City Farm for Pumpkin day in London city or the Wands & Wizard Exploratorium, a bit of both worlds.
We highly recommend that you start your pumpkin carving at the Spitalfields City Farm followed by a traditional pumpkin day at Wands & Wizard Exploratorium. adding a bit of magic, mystery, and excitement to your pumpkin picking experience.
Tickets:
Location: 26 Greek St, London W1D 5DE, United Kingdom
Map of Farms To Go Pumpkin Picking Near London
What To Wear Pumpkin Picking?
As you will be trotting around the fields, it is best to wear a pair of welly boots, not to mention a warm jacket. If it is raining you may also want waterproof clothing.
Simple Tips for Pumpkin Picking
A pumpkin with a deep orange color is always the best choice
You should check that a pumpkin is hollow – it is ripe when it sounds hollow
You should make sure the bottom of the pumpkin isn't mushy or soft
Make sure that the pumpkins' stem is secure and firm
Pumpkins that have been bruised should be avoided
Well if you got to this point, thanks so much for reading this article, we hope it was useful. If you visited one of these pumpkin picking farms near London, we'd love to hear how it was, leave us a comment below.
You may also like:
Free things to do in London with kids
Best Things To Do In London With Kids
Disclaimer: This post may contain affiliate links, by using them, it will not cost you any extra, we will receive a small commission at no extra cost.