Santa Teresa is a hip town on the west coast of Costa Rica's, Puntarenas Province. Unlike neighbouring Nicaragua, the area has been welcoming tourists for many years, despite it being a hard to reach destination. The white sand beaches have perfectly formed waves (all year round) and palm trees stretch as far as the eyes can see. The rugged coast attracts surfers and beach lovers alike. Despite a steady flow of tourists and a huge expat community in the area, there are certain things that are 'behind the times' so to speak.
In some ways the area is progressive, with delicious healthy cafes serving up conscious foods and many places on the eco-sustainability wagon. We absolutely loved being in Santa Teresa with kids, but there are two things that drove us nuts. You need cash for everything! That's most restaurants and some hotels. There are only two cash machines in the town and they sometimes run out of money, so go prepared.
The other thing is the road. Its one main long drag about 100 metres back from the beach. Despite having a number of lovely restaurants, boutique shops and cafes all along, its dusty as hell and a little bit dangerous because of pot holes. For that reason, having travel insurance is vital. We always use World Nomads.
I found it incredible that the beach and all of the nature around Santa Teresa is so untouched! Wild beautiful beaches with palm trees and no commercial buildings overlooking them. We have friends living in the area, and like they said, the boutique hotels and independent businesses thrive in Santa Teresa.
We had initially planned to spend three days in Santa Teresa with kids but we ended up staying three weeks! I found it very easy to penetrate the community, so we felt at home, and our little one attended kindergarten as well as the school holiday kids camp. She was so happy, we decided to stay for longer. Besides from the kids camp, there was plenty to do and enjoy. Here is our play, eat and sleep guide to Santa Teresa with kids.
SANTA TERESA, COSTA RICA WITH KIDS
PLAY
Destinations that stick out in my mind are the ones that have something to suit all of our interests, whether it's enjoyed together or individually. Santa Teresa has, dare I say, too much to experience. I found myself writing out a little routine so we could fit it all in. It is a definitete cure for boredom.
SURFING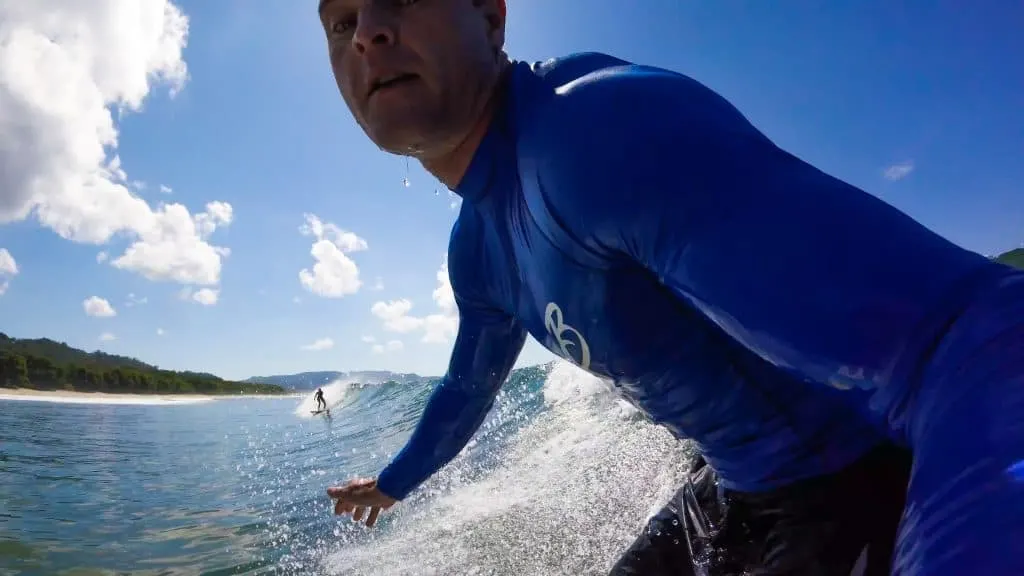 Like I mentioned, the area has some incredible waves for advanced and beginner surfers. At the start of our trip, I had surf lessons with the company called Believe Surf. They were incredible instructors and hubby also had advanced coaching. He is not normally open to that kind of thing, but he got a lot from it.
As always, we took turns when we were out on the water. After our lessons, we rented a surf board for the remainder of our stay. We got a size that suited both of us to keep the cost down. Believe Surf, offer lessons for kids aged 5 and above. Our little one has loved playing in the waves this trip, so we are excited to get her lessons in the future. She used our board to ride the waves in the shallows, so as parents we were feeling super proud of her.
KIDS CAMP
We were in Santa Teresa during the school holidays. There is a wonderful kids camp that runs during the break. Many of the kids attending are locals and expats. They are very welcoming of tourists and it was very easy to arrange. I initially joined the "Santa Teresa Community" Facebook group to ask for advice about children's groups and everyone recommended it.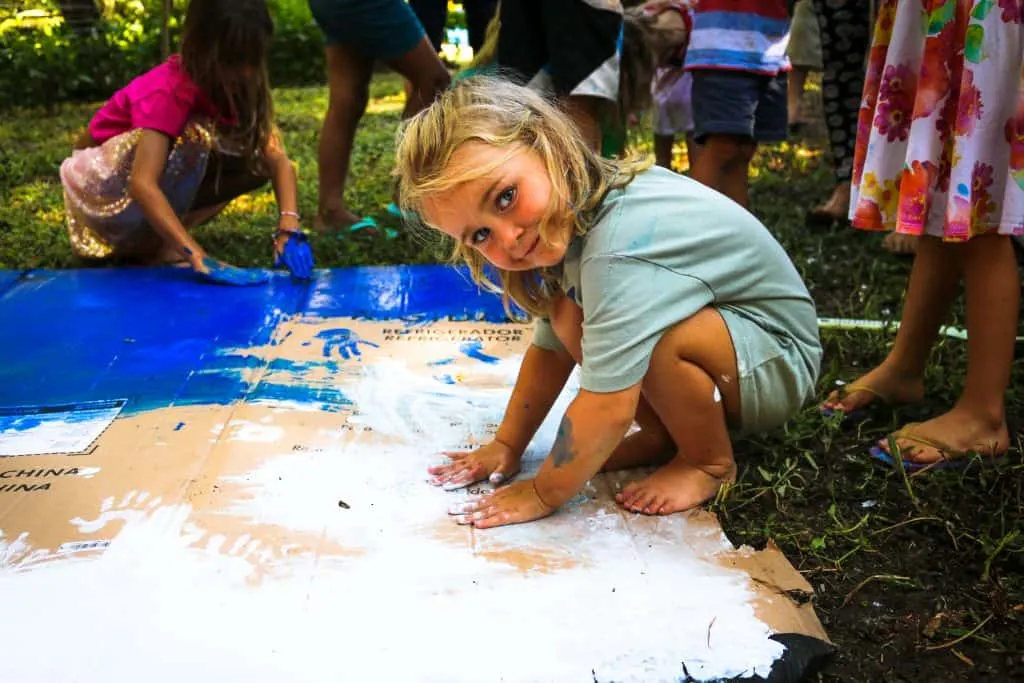 It runs Monday to Friday, 9-2pm. They have a school mini-van that can pick children up, so its very well organised. Esme absolutely loved her time there every day. They had all sorts of interactive activities. Flying fox, art, crafts, messy play, swimming, hiking and games to name a few. Diana who runs the camp also does babysitting. If you want to get in contact with her, you can do so here.
YOGA
Like many surf towns, Santa Teresa has oodles of places to practice yoga. Believe Surf offer yoga as part of their surf and stay package. I took lessons at the Funky Monkey Lodge, they take place morning and evening in a bamboo eco-structure at the back of the property.
It was the perfect spot to take in the sounds of nature, whilst practicing and the teacher Kiki was incredible! That was the first time I have ever had a teacher give me a temple and neck massage in final resting pose. I was super relaxed.
SANTA TERESA, COSTA RICA WITH KIDS
DAY TRIPS
ZIPPING
There are plenty of day trips suitable for families from Santa Teresa. Many tour companies offer a round trip shuttle service, or if you rent a car you can take yourself. Only fifteen minutes away is Canopy Mal Pais. A series of eleven zip lines over the jungle. Its a nice activity for kids aged around 5.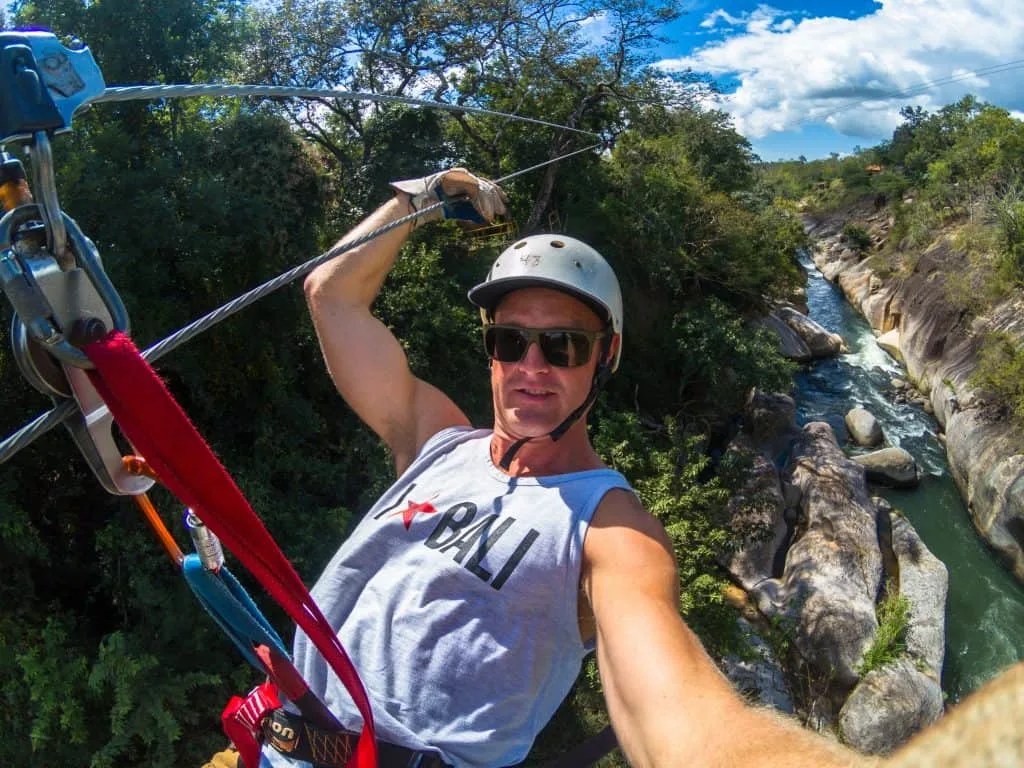 Hubby and I love having a date afternoon every once in a while, Canopy Mal Pais, is perfect for that. We had done some zipping, north in Canon De La Vieje, so we didn't go to the Mal Pais one but we heard good things about it.
MONTEZUMA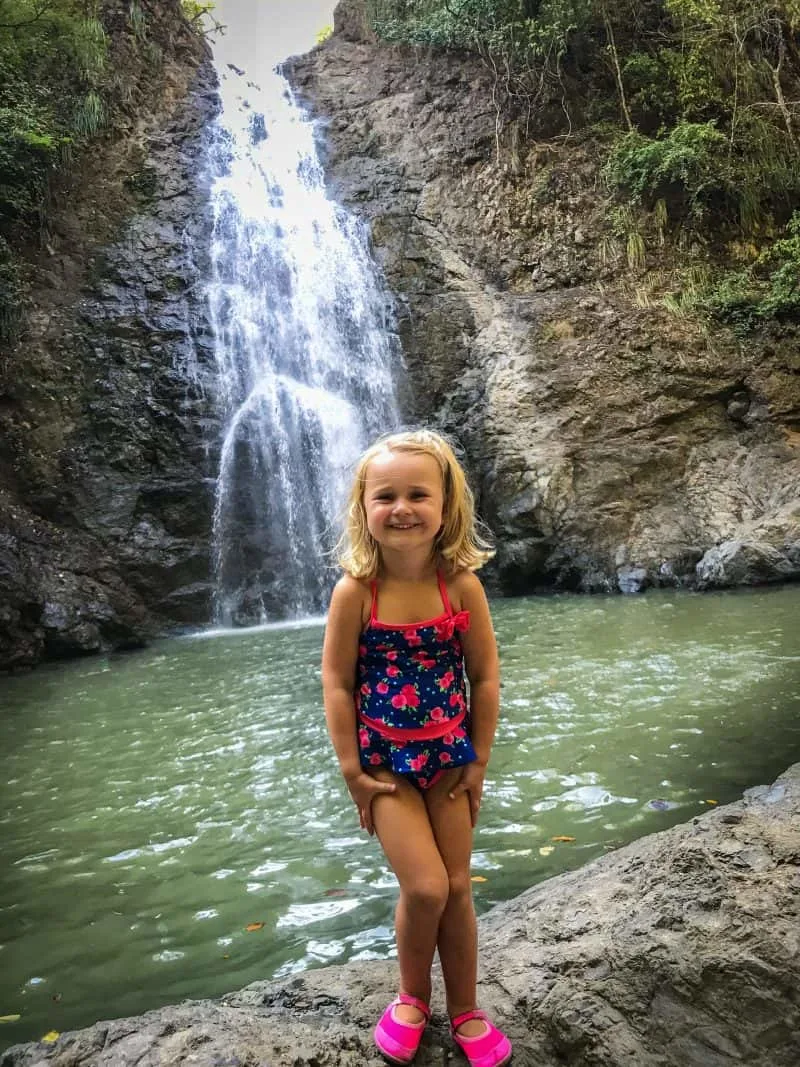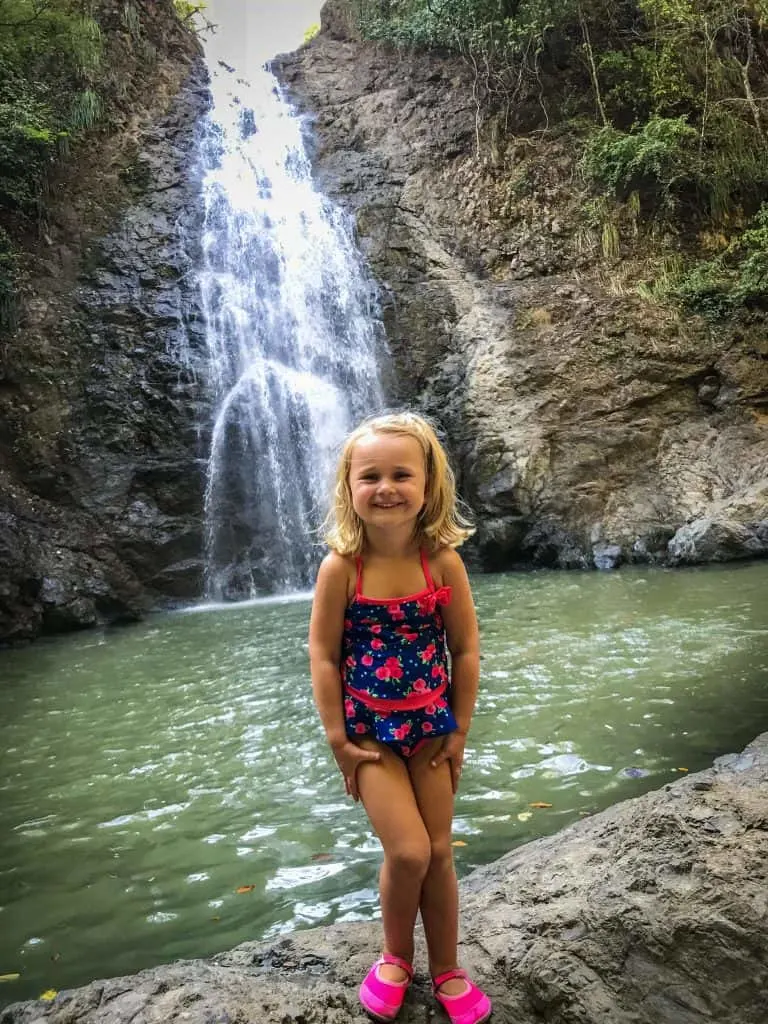 Montezuma is around a one hour rough drive from Santa Teresa. The roads are gravel, so its not the most straightforward journey. However, that doesn't stop tourists from exploring Montezuma. It's definitely a full day trip to fit everything in. There are several beautiful waterfalls featuring dramatic scenery and Tarzan swings.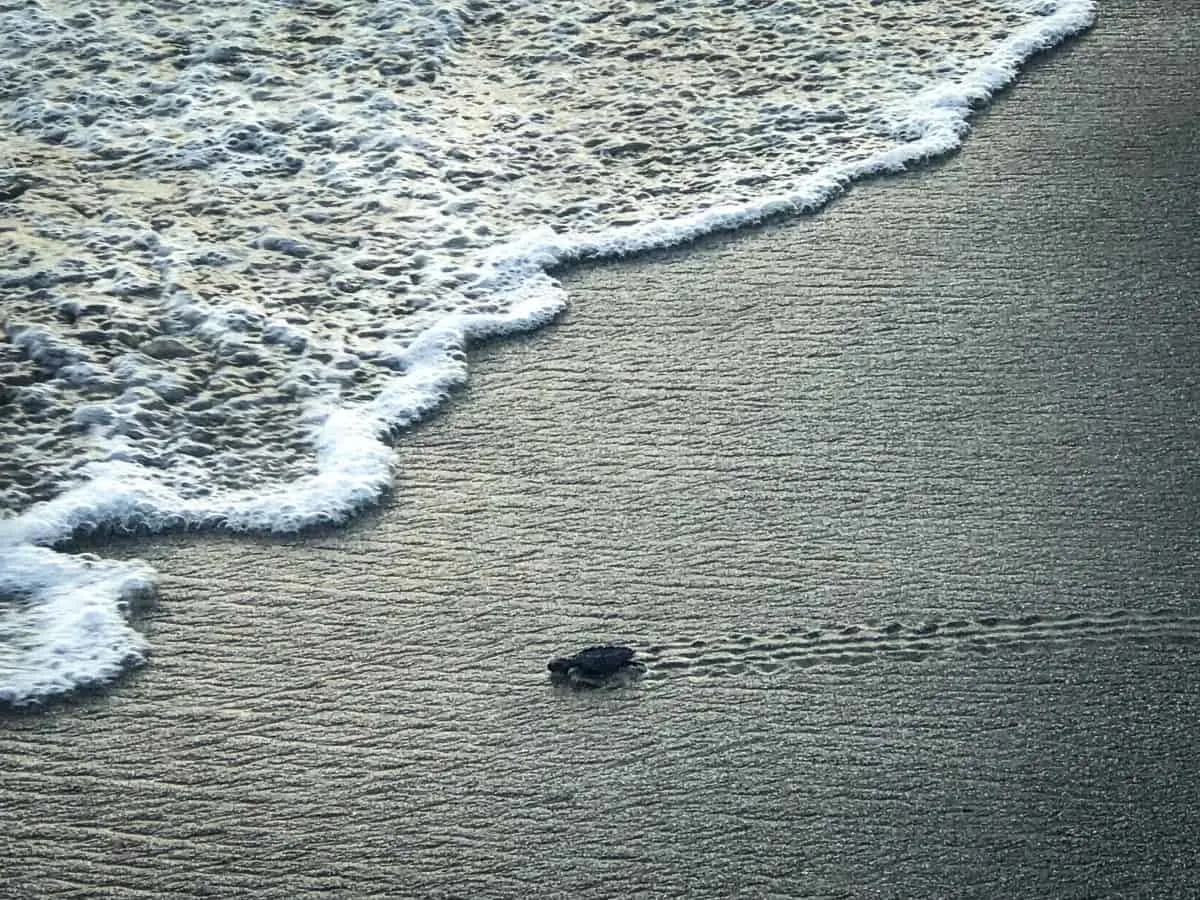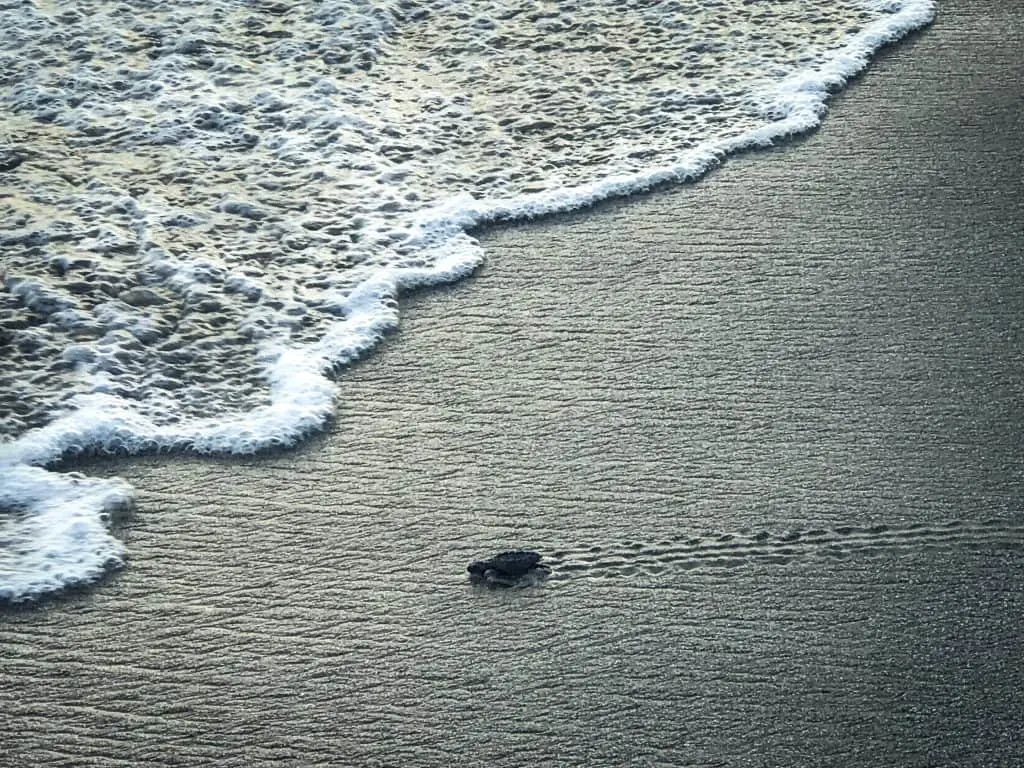 Some of the waterfalls require visitors to hike. I can not recommend highly enough wearing rock shoes. Its a difficult walk, especially if you have to help kids. Whilst you are in the area, make sure to check out the beach, as well as the turtle conservation project.
They release newly hatched turtles in December, if you are lucky enough to be there during that time. There is also a wildlife sanctuary in Montezuma, Wild Sun Rescue that take care of indigenous animals that is worth a visit.
TORTUGA ISLAND
We didn't make it Tortuga Island but we hear it's a nice spot for snorkeling. There are many operators that do a round trip with lunch and snorkel gear included. The island looks like a gorgeous tropical getaway, kind of what you expect in the Caribbean. I'm kind of annoyed with myself for not making the effort to go!
SANTA TERESA, COSTA RICA WITH KIDS
BEACHES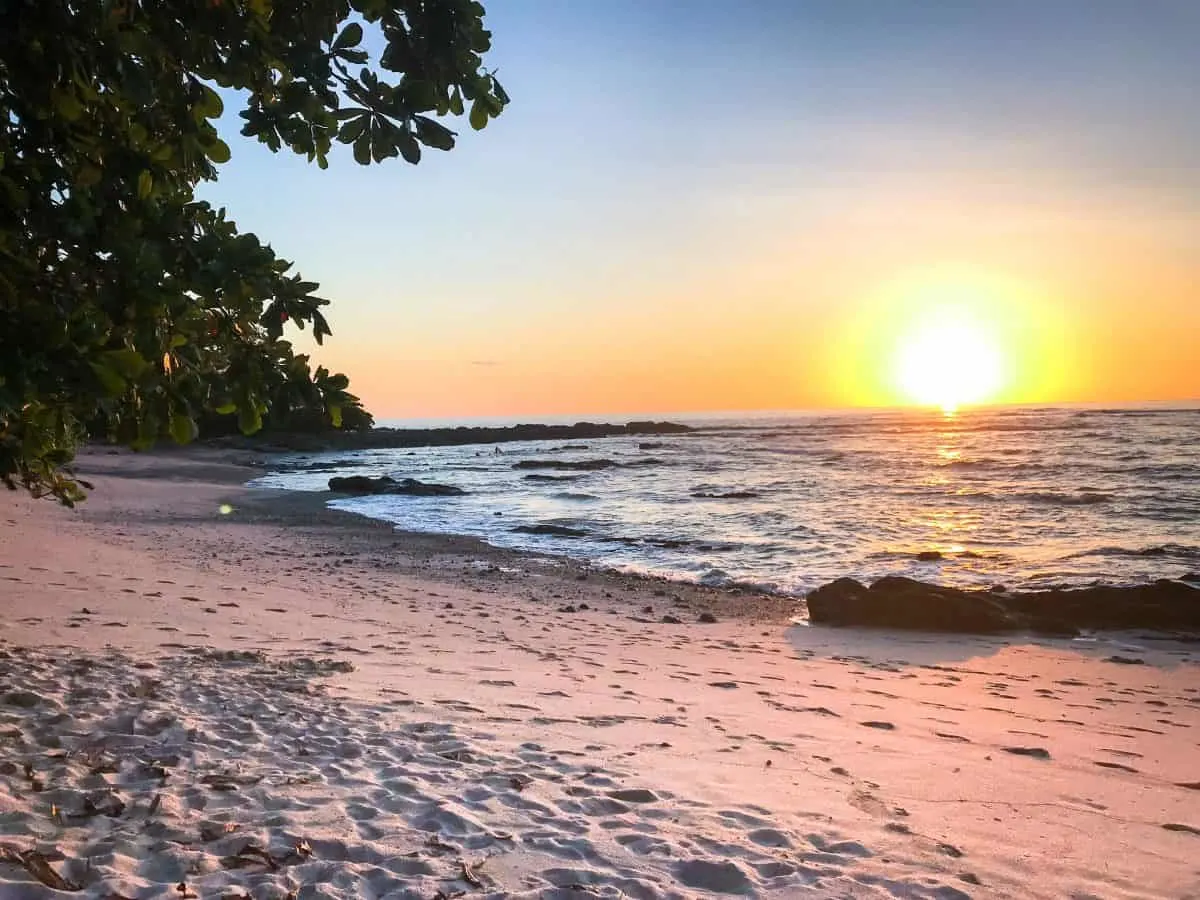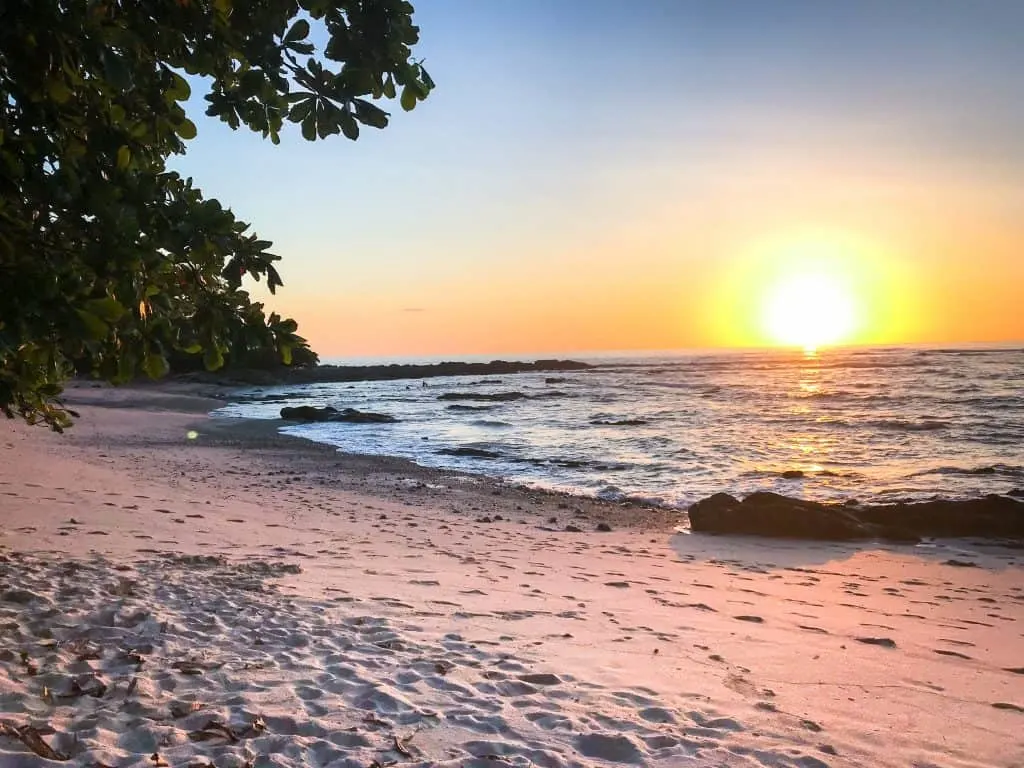 There are no shortage of stunning beaches in the area. I found it difficult to get my head around the different names. However it seems locals are often referring to a part of the beach. The biggest spectacle of all is the sunset. Locals and tourists alike congregate on the beach to soak it all up. Every night is like nature's colour show.
Our friends took us to some hidden beaches further south. It was like an isolated island, so peaceful and beautiful. Playa Suecos, was stunning and was also good for snorkeling. The rock formations around the cliff edge with the back drop of a pink sky was a photographer's haven.
Close to Playa Hermosa, a little north of Santa Teresa there are two massive rock pools when the tide is out. They are ideal for kids and there are plenty of fish in the pools. We saw so many families playing in them every day.
SANTA TERESA, COSTA RICA WITH KIDS
COMMUNITY GET TOGETHERS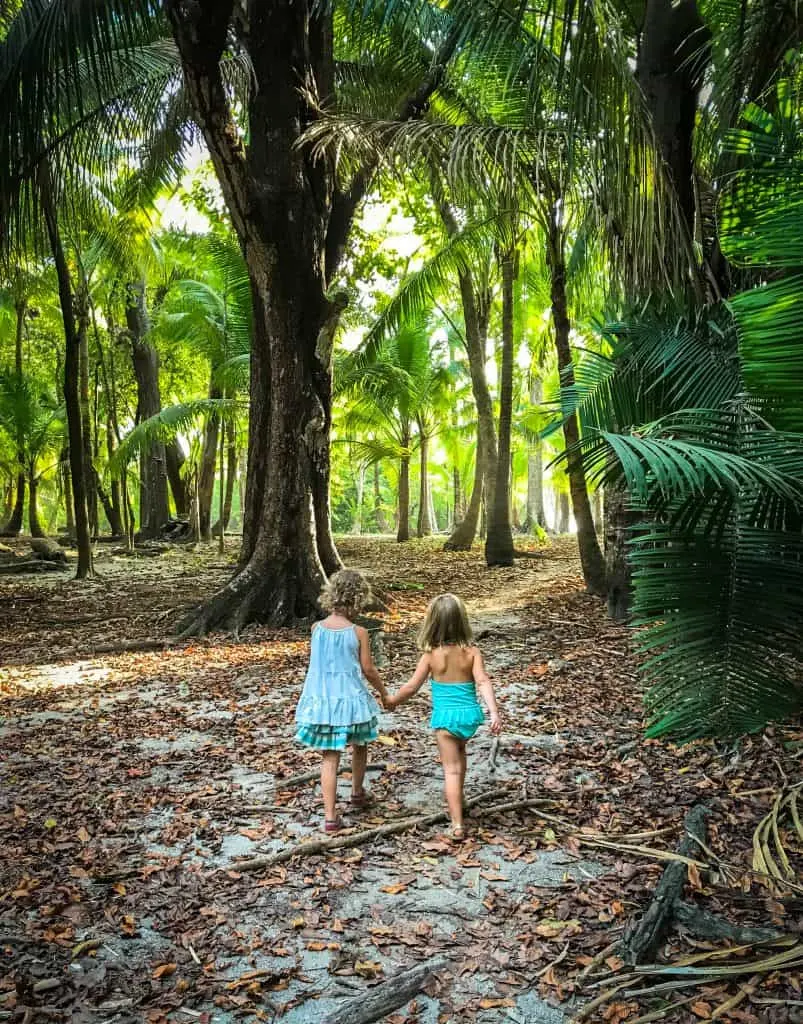 The one amazing thing about hanging around for more than a few days, is getting involved in community gatherings. Its very easy to find out what was going on through the active community Facebook group. People are posting in there all of the time about their business get togethers.
The most popular one with the locals is Rocamar on Sunday afternoon. It's a special family event with entertainment like jugglers, live music and a trampoline. They serve up good food, the kids can play and parents watch the sunset with a cold drink in hand.
KIDS DANCING
Also on Sundays there is a kids dancing get together. I am not sure if it runs all of the time but it seems quite popular and books up quickly. There are sessions on throughout the day for different age groups. It's the perfect afternoon activity for little ones that like to boogie.
WEEKEND ORGANIC FOOD MARKET
On Saturdays, there is a farmers market that takes place. Locals come together to sell their produce grown locally and its a great place to pick up seasonal, delicious fruit and vegetables. Besides from vegetables, there are also local food vendors selling everything from hummus to Thai food. There is a large Israeli community in Santa Teresa, so its not difficult to come across really good middle eastern foods.
SLEEP
SANTA TERESA, COSTA RICA WITH KIDS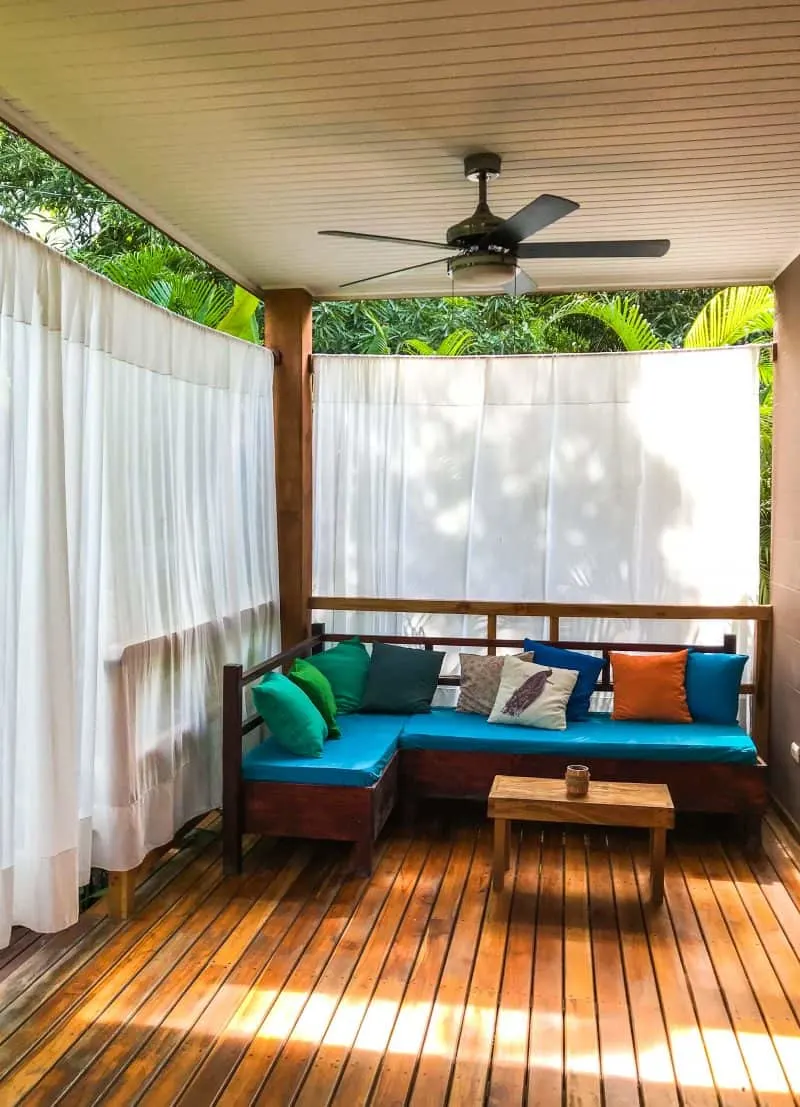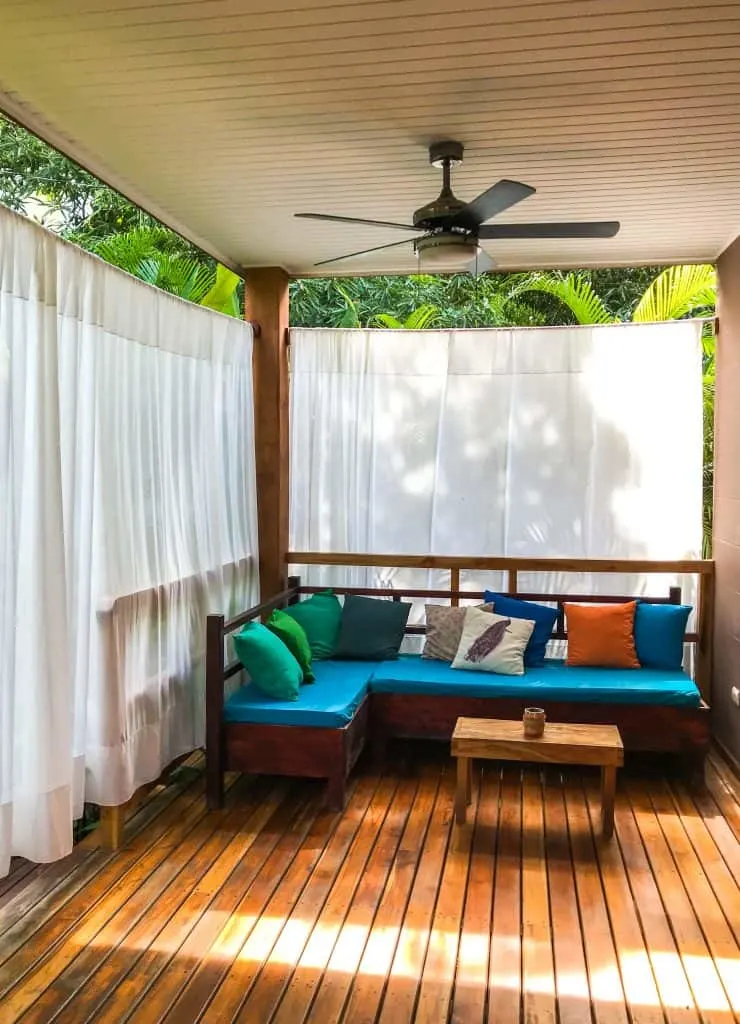 We stayed at several places in Santa Teresa, but the one that stood out the most was Ohana Villas. The villas are located just 200 metres from the beach in a gated quiet area. Its a really peaceful and private space.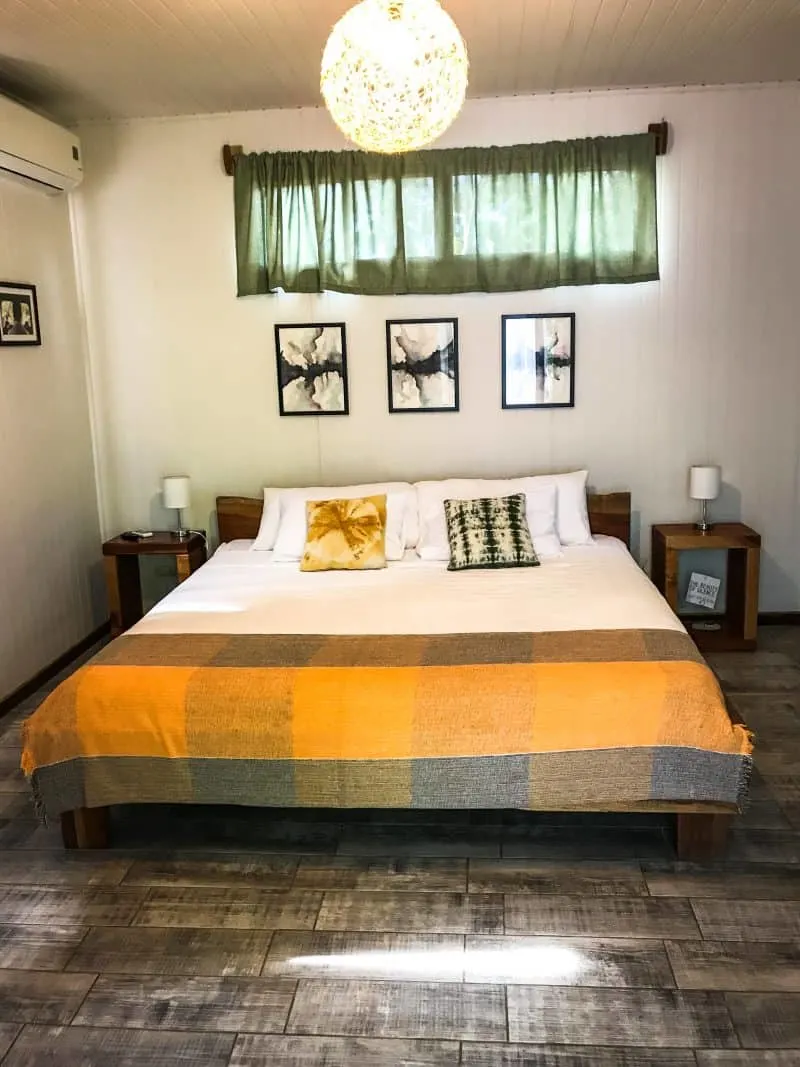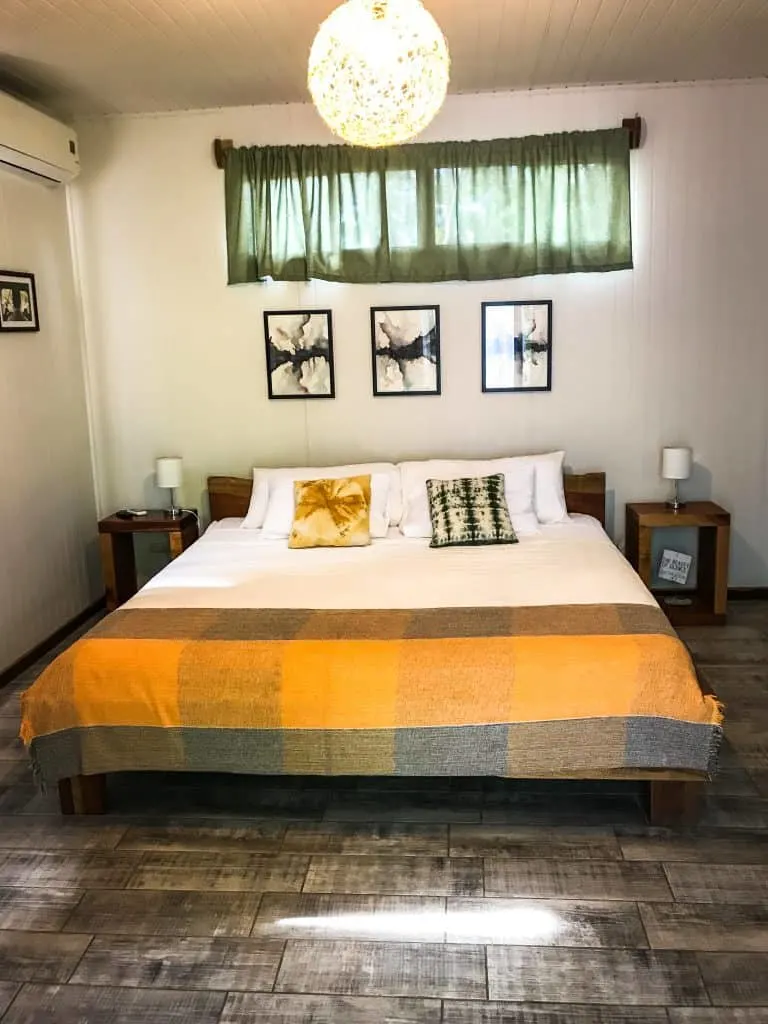 The reason it worked so well for us was because of location. It's so close to the best part of the beach. The self catering facilities were also really handy and we had a secure parking spot. When we are in a hot climate, a swimming pool is a necessity for the kids. The one at Ohana is beautiful.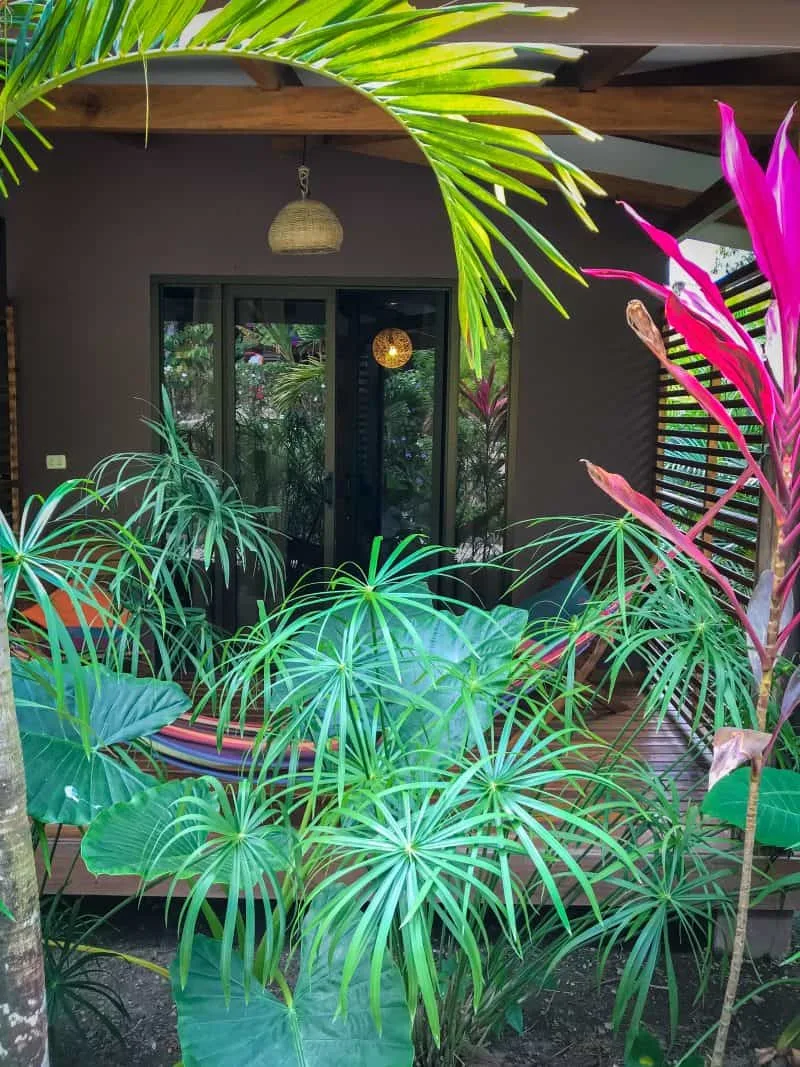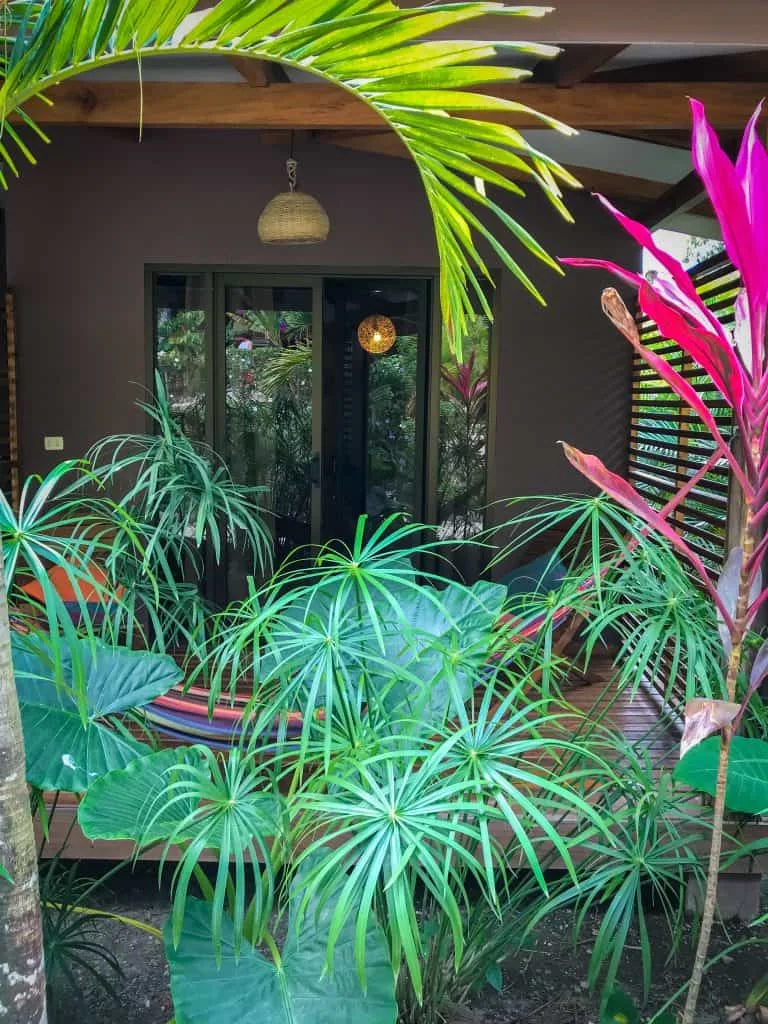 All of the grounds are landscaped with pretty tropical plants. The wall of purple vibrant flowers is my favourite. Monkeys often visited the trees nearby so it was awesome to be able to show our daughter.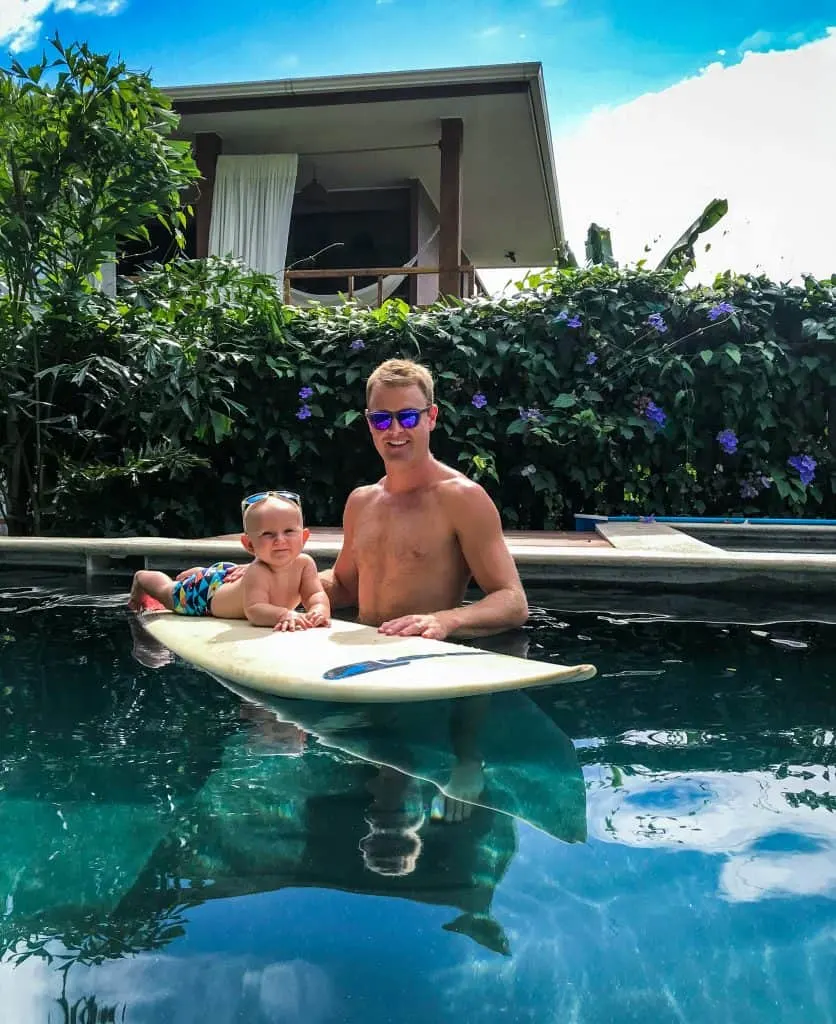 There are a range of options onsite, from two private high end villas to two slightly more communal ones. We stayed in the latter and had a shared kitchen with our neighbour. The rooms are so beautiful and decorated impeccably. White drapes, cream furnishings and beautifully finished wood definitely gave it a luxury beach feel.
Ohana Villas
Owner Lucho, an Argentinian guy who is a keen surfer has lived in Santa Teresa for a number of years, also owns Believe Surf that I mentioned earlier. It's a very different approach to a surfing trip. People are usually grouped together and we've learnt that definitely does not work for families.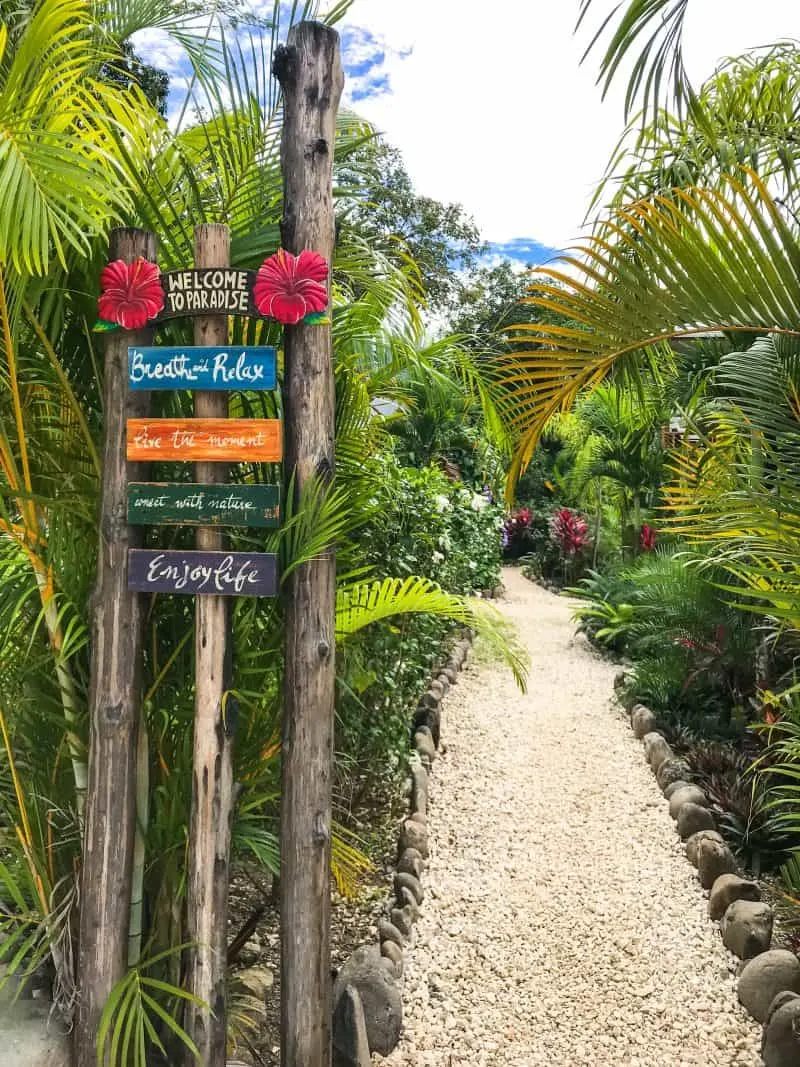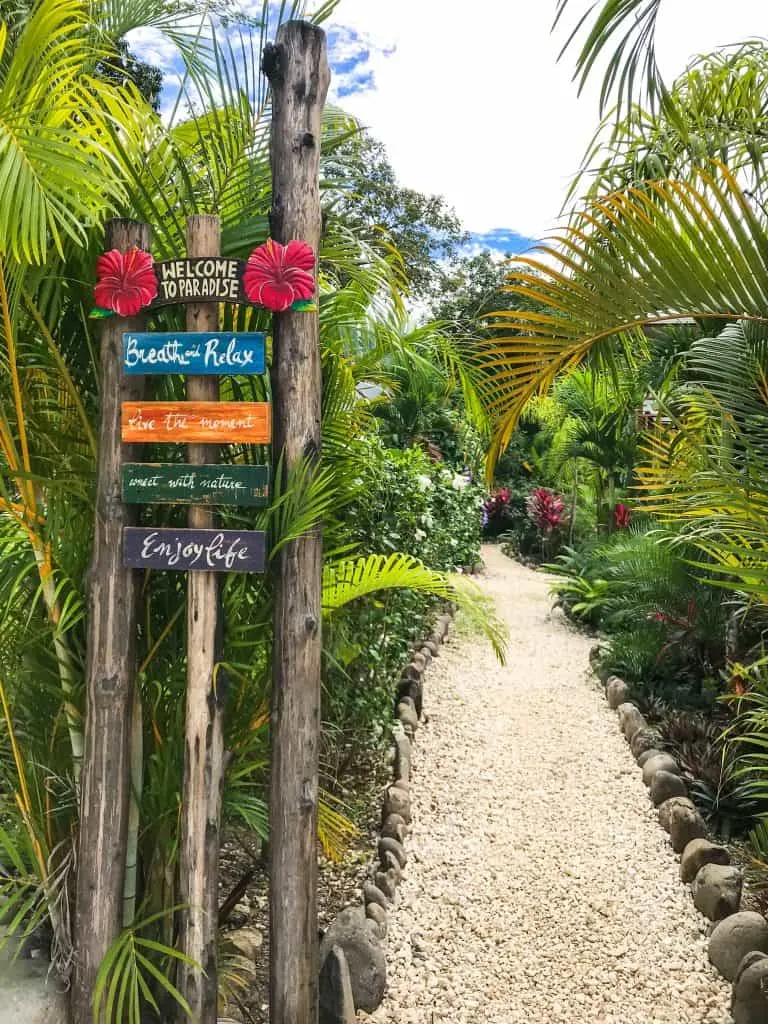 Believe Surf use a range of accommodation options depending on budget and have a host that checks in with all of the guests regularly. The host arranges day tours, surf lessons and was there if we needed any help. Some guests use the service more than others, as they also eat out with younger guests if they fancy.
As a family, we were obviously happy doing our own thing most of the time, but it was nice to be apart of something wider when we were doing things for ourselves as parents.
Ohana Villas is completely designed by the owner who is very hands on and helpful. He was always available on Whatsapp if we needed him and it was a really personal experience which we prefer than big hotels. He knows the area very well having worked as a waiter for many years, so he is a great resource for recommendations and advice.
EAT
SANTA TERESA, COSTA RICA WITH KIDS
Santa Teresa is not short of amazing restaurants, juice bars and grocers. I am not surprised the area is considered one of the worlds 'blue zones' if the food and active lifestyle is anything to go by. I had a few favourites that I have to share.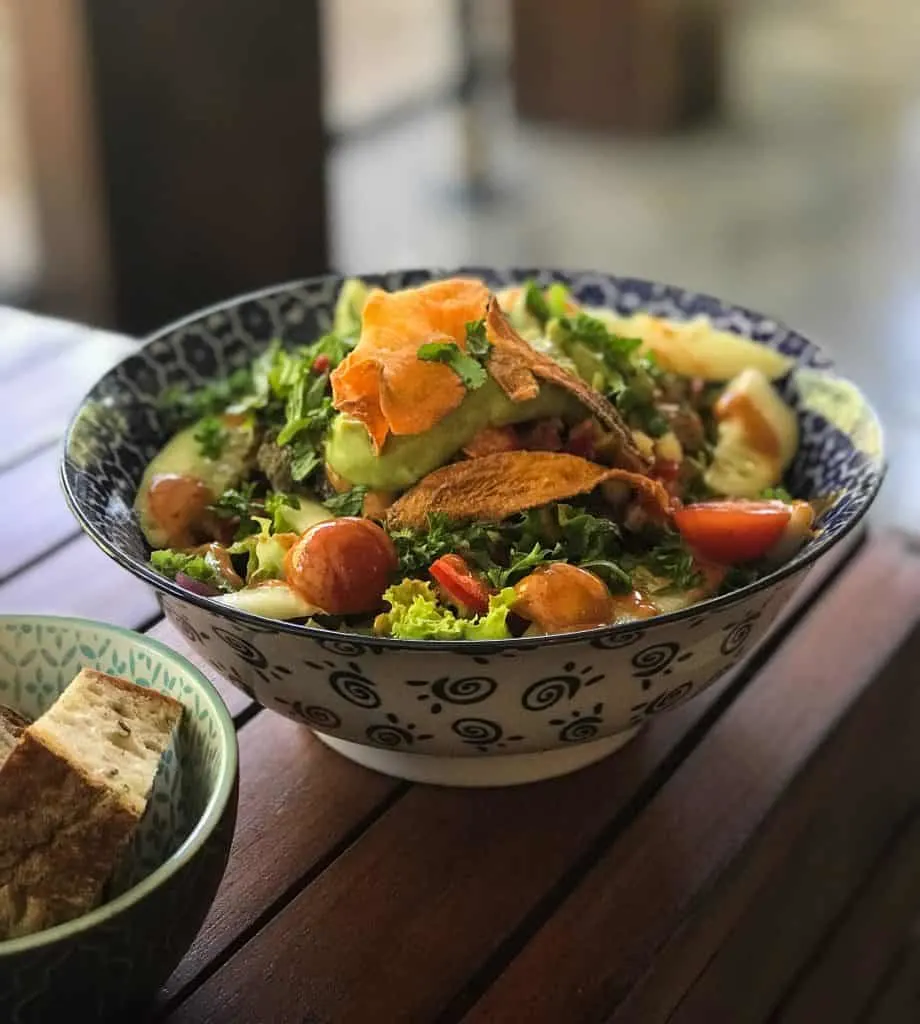 Zwart Cafe
Its a toss up, but I think Zwart Cafe was one of my favourite places to eat. It's owned by an artist who pretty much had a white canvas and created the most beautiful, colourful and vibrant cafe with her artwork all around to admire. She is an absolute babe, kind of looks Swedish but is Canadian and she draws a lot of perky beach bums.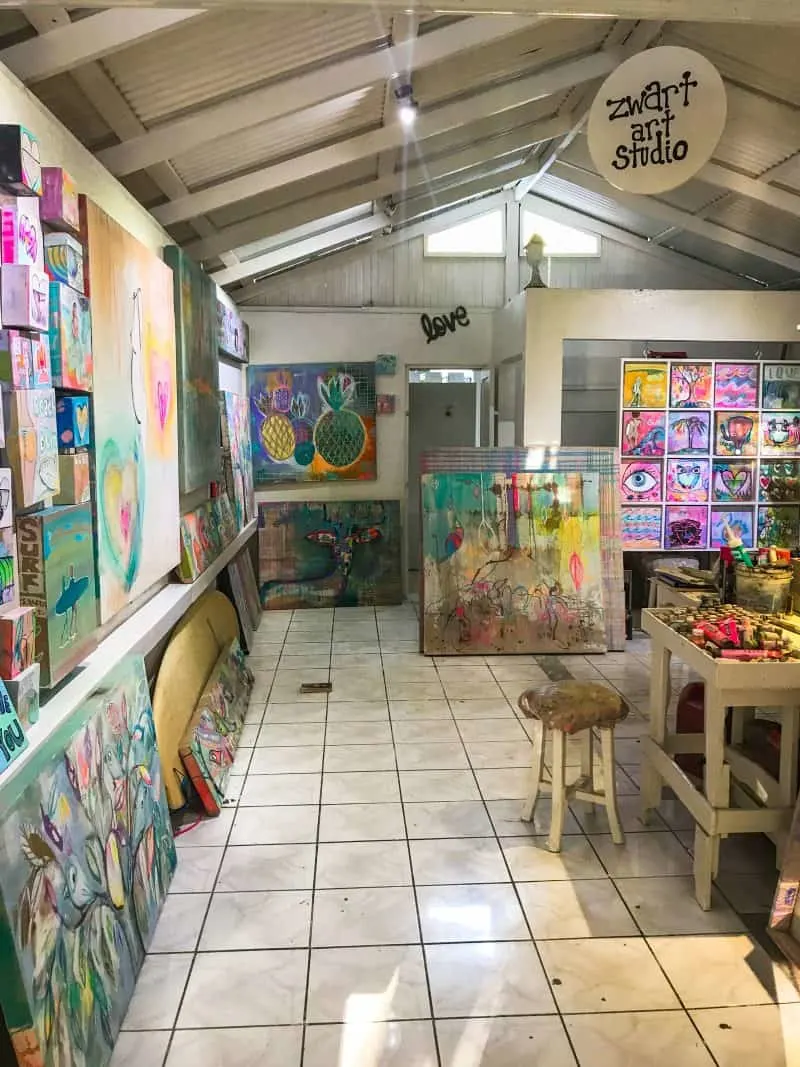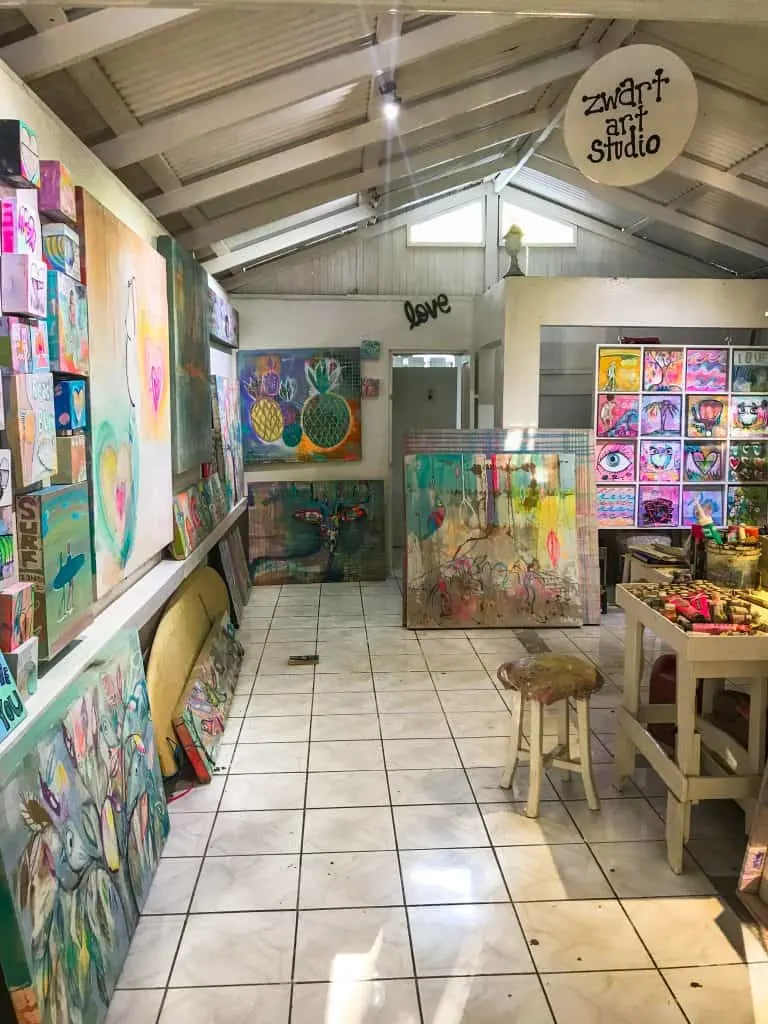 The food is all uber healthy, featuring smoothies, fresh juices, quinoa, salads and of course many vegan options. The food is great and the places is beautiful. I always felt full and healthy leaving Zwart Cafe.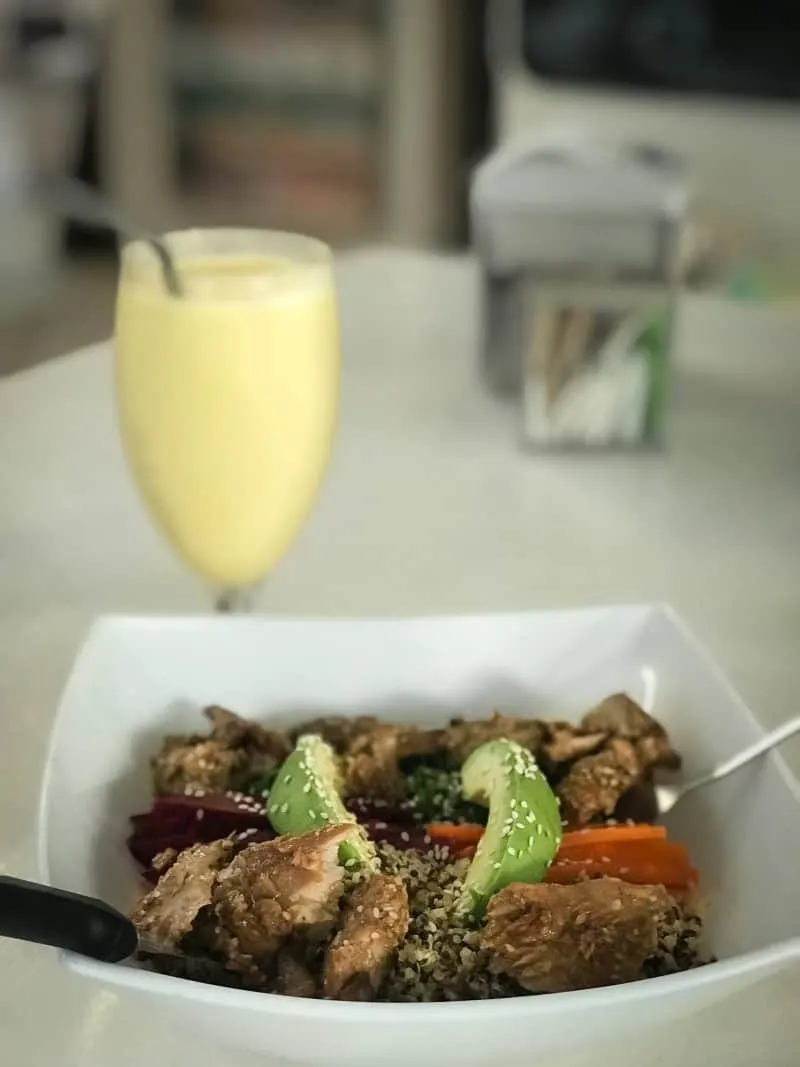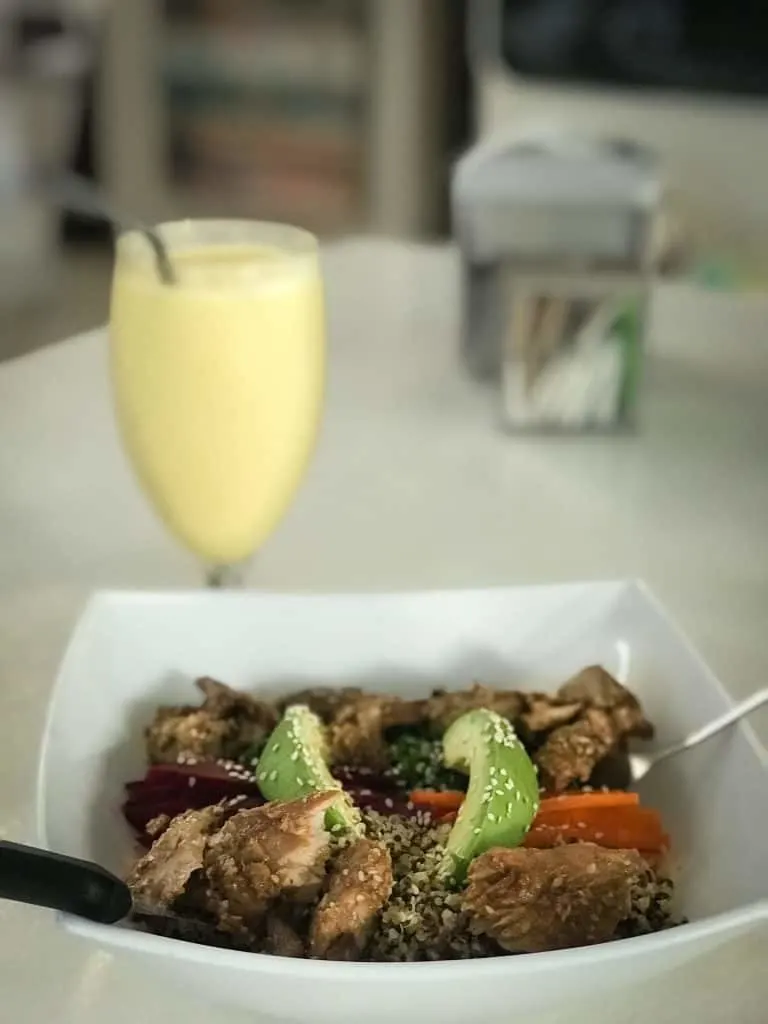 The Bakery
The Bakery is quite a well known and popular restaurant in Santa Teresa. As the name suggests, its famous for its cakes and sweet treats, but they also have a really good breakfast, dinner and lunch menu. The terraced garden is such a nice place to eat. Featuring hanging flowers and quirky painted walls.
The options are varied from pizzas to burgers, and salads to pastries. Its quite a typical menu done really well. Most of the food is served on wooden boards and is presented nicely.
Bali Cafe
When we discovered a local vegan, plant based chef Nico, @conscious_chef, we followed him around like a bad smell. He works in Bali Cafe on Saturday morning and we popped by for some iced coffees, the best sandwiches in town, protein balls and 'unicorn lemonade'. Nico loved showing Esmé his potion.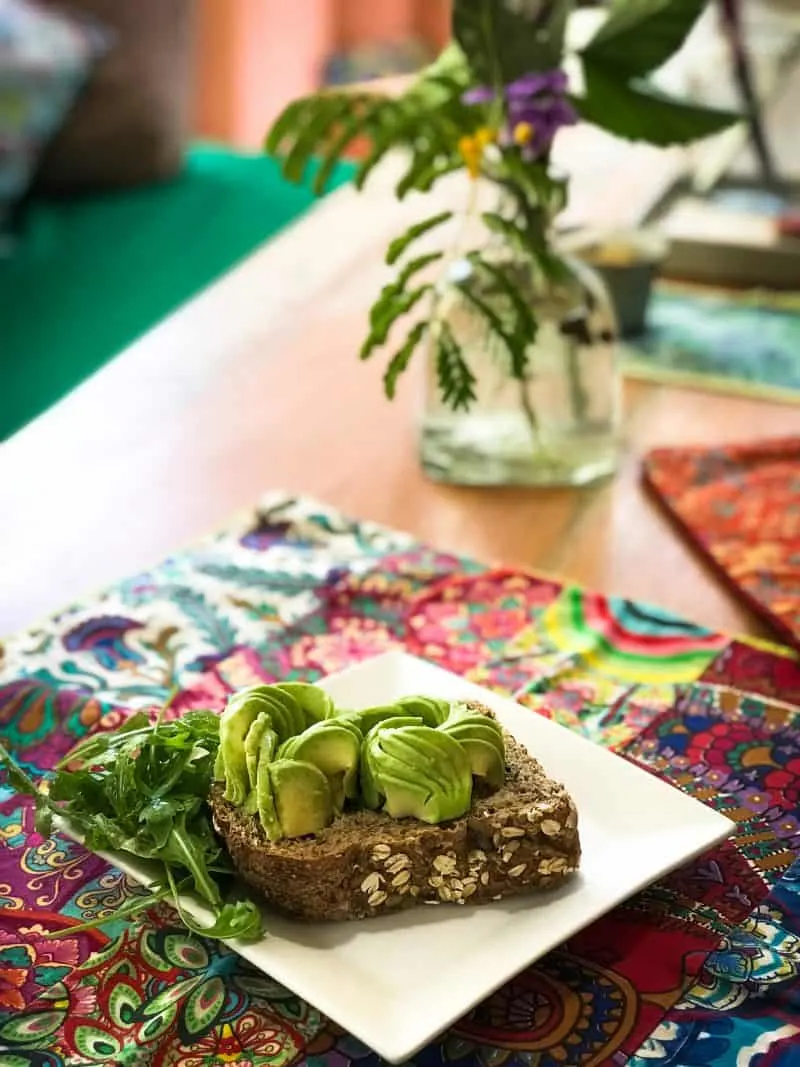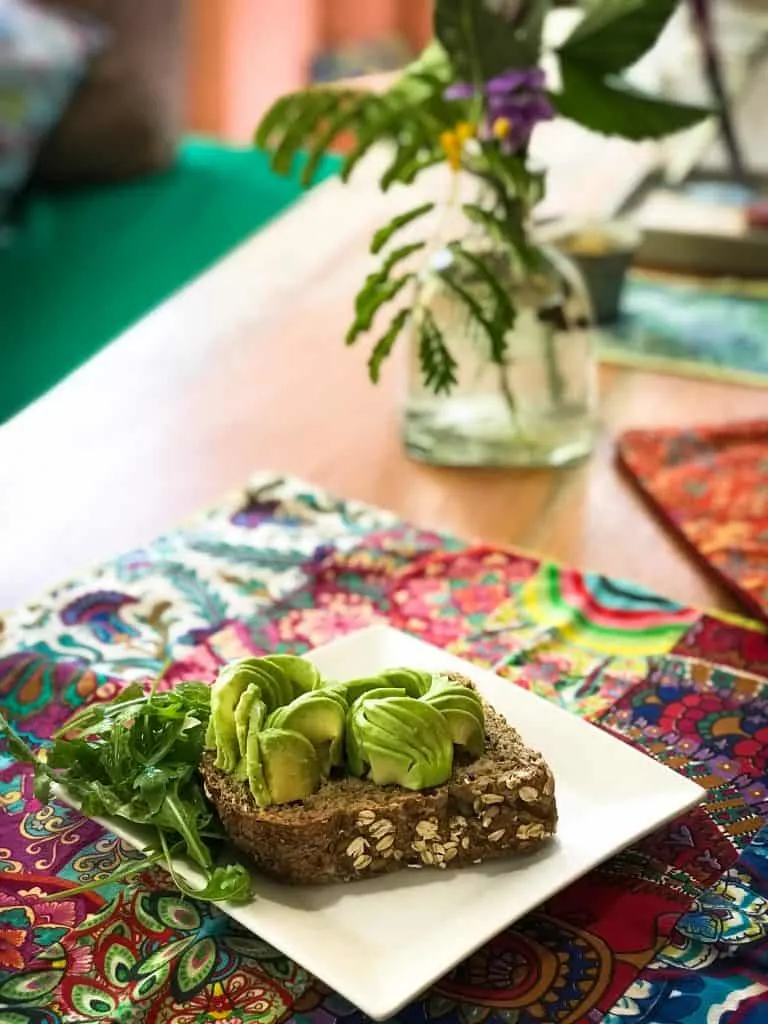 It's a concoction of vitamin rich anti-oxidant drinks. When mixed it turns from blue to purple. He does it for almost everyone and the best thing is it's all natural and healthy. Bali Cafe is a great hangout place for a coffee, its super comfortable with arm chairs and soft furnishings. My avocado ciabatta was delish!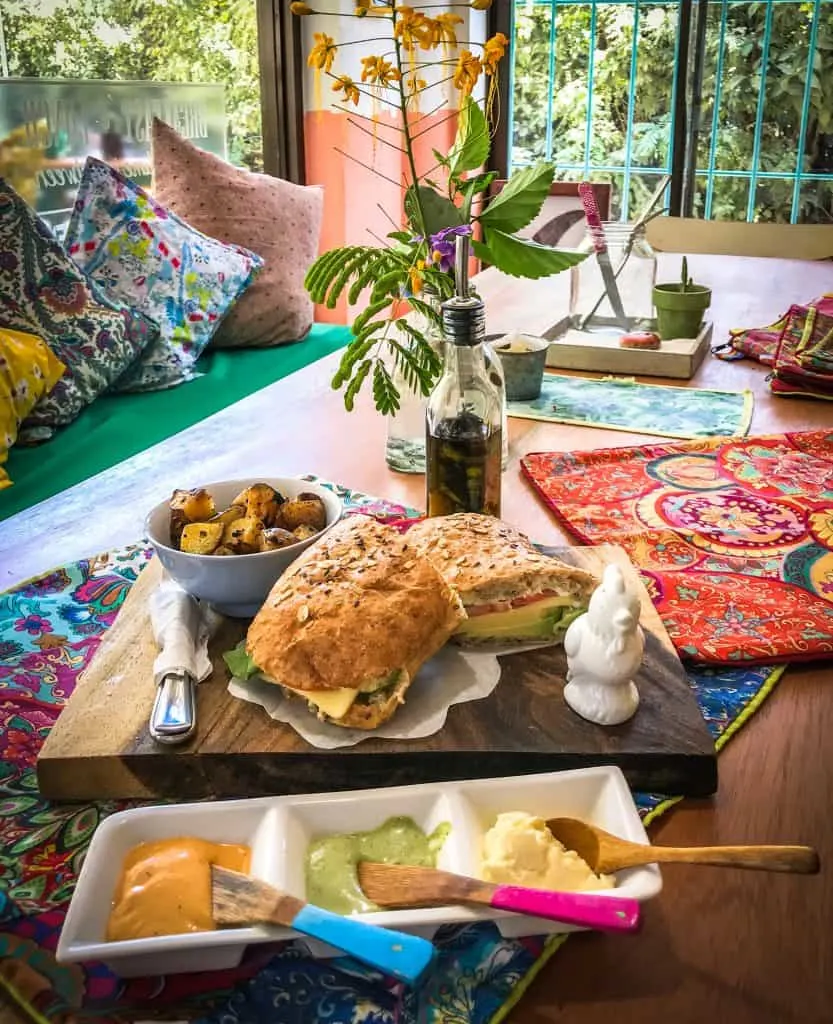 Funky Monkey Lodge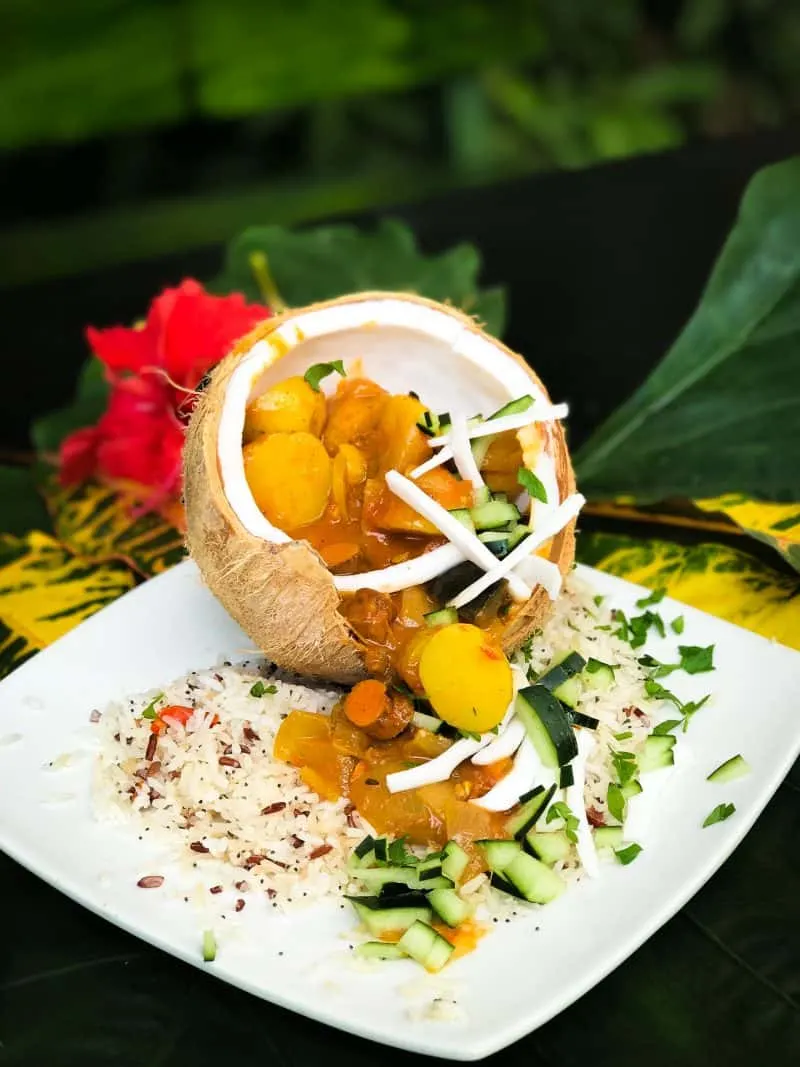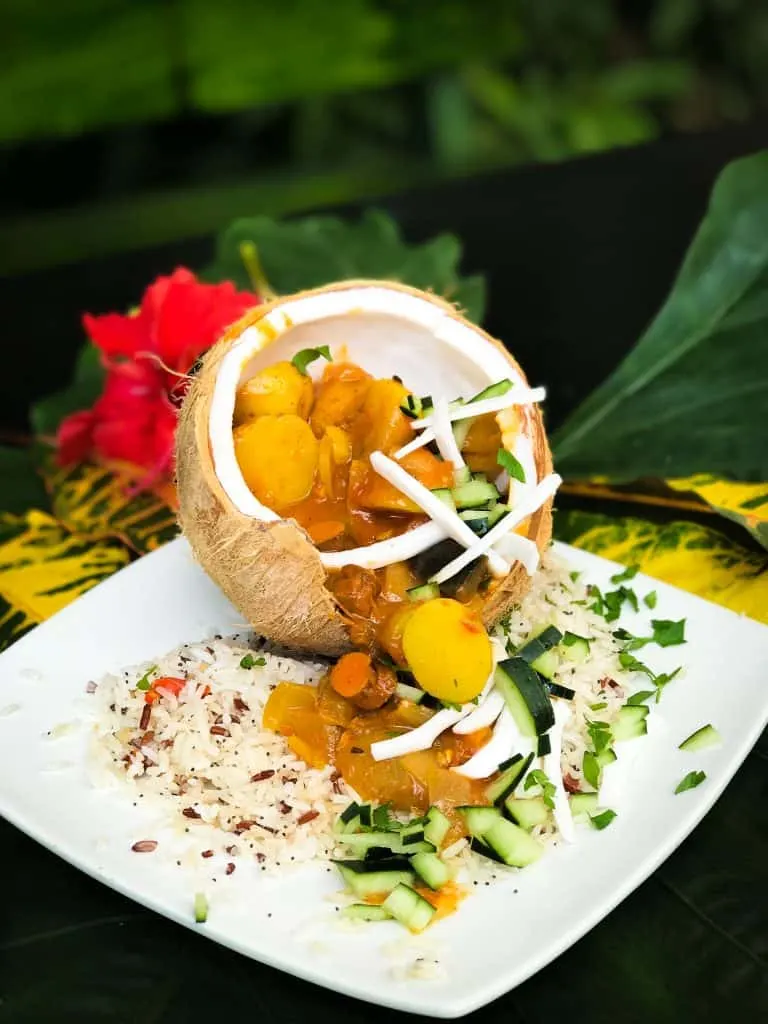 Funky Monkey Lodge has special meal nights throughout the week. Nico is the head chef! They do sushi two nights, tacos one night and vegan on Thursday. Both attract punters wanting something different. The sushi is absolutely perfect, if I didn't know, I would have thought I was in a Japanese restaurant.
The sushi comes in vegan and non-vegan variations. Presentation is far beyond what you would expect. In my opinion, it is fine dining standards and not what you necessarily see in a tucked away surf lodge. The vegan food is to die for!
Imagine this, a fresh coconut, used as a cup to serve a vegan potato curry and wild rice on the side. I was in heaven! The vegan meal is three course and comes at a set price, which in my opinion is an absolute bargain for Santa Teresa.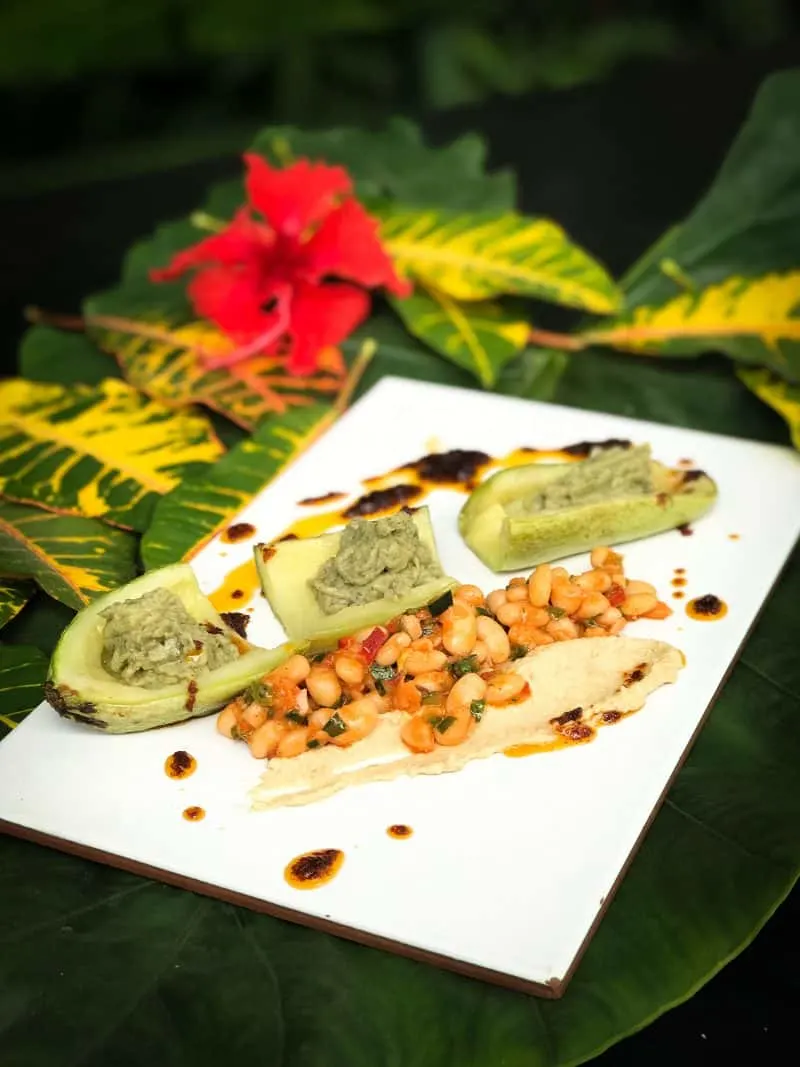 The Taco Shop
When we were running up a bill on food, we often took to the Taco Shop for a cheap burrito. They are really filling and like I say, affordable. I have no pretty pictures of our burritos because they were pretty messy and we often needed a knife and fork but they tasted really good.
Grocery Stores
There are a number of supermarkets throughout Santa Teresa. Ronny's and Super Costa are the most popular. Don't be surprised at the cost of living. Its really expensive. I often dropped a $100 and came away not even sure what I had spent it on. Imported food is the most expensive and considering Santa Teresa's location, its not a surprise.
It has a long way to travel! That said, I was surprised at the variety of available foods. I haven't seen soya and almond milk all that often on our Central America trip. You will find all sorts of things for little ones – nappies, wipes and products, so no need to worry about lugging them to Santa Teresa.
The Green World Store is a really good place for organic fruit and vegetables. We got a big platter of local fruits, such as melon, pineapple, coconuts and papaya. The fruit last for ages and the coconut or 'pipas' are literally the best I have ever had.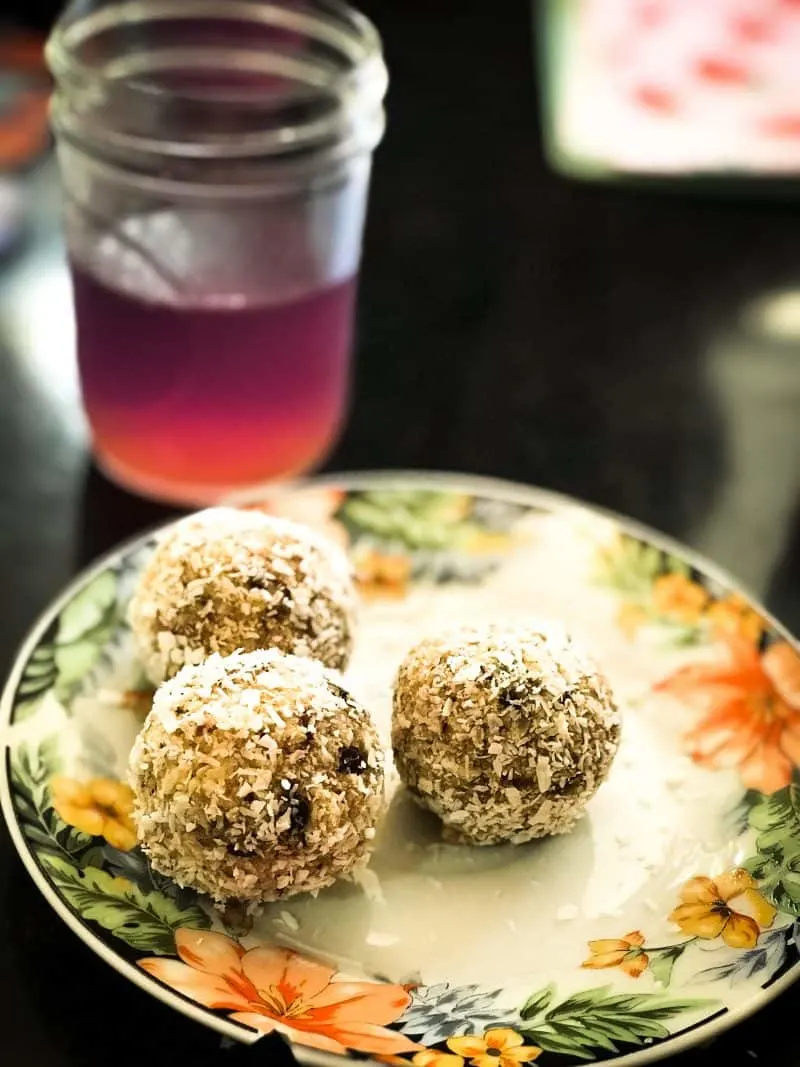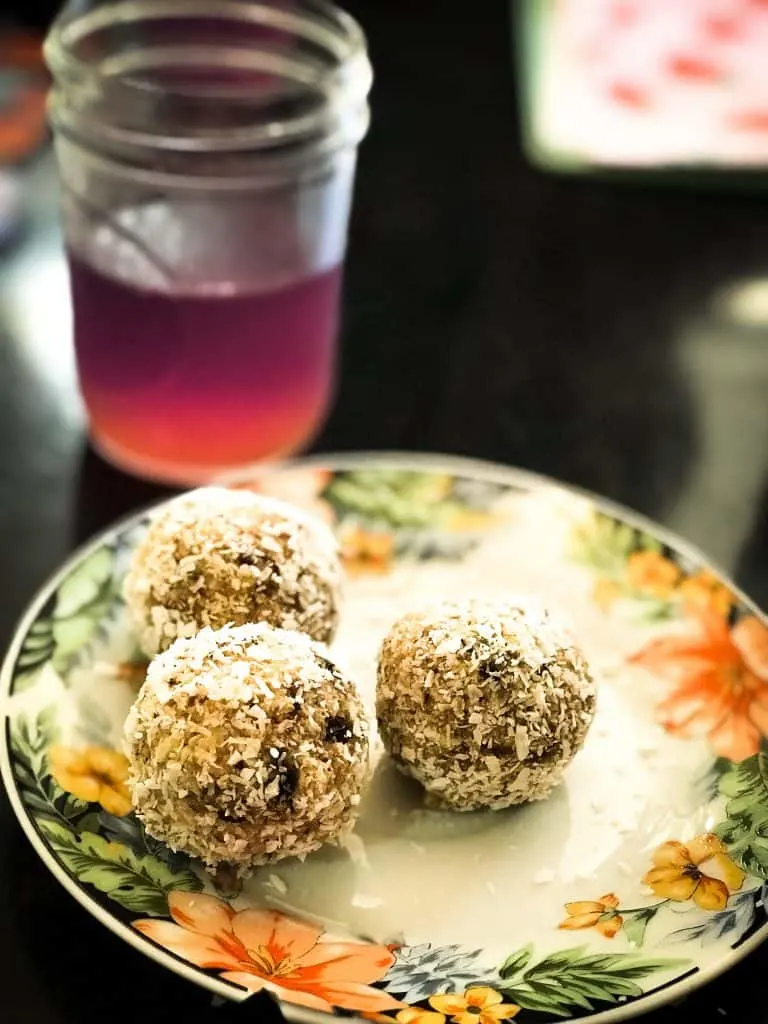 Are you thinking of going to Santa Teresa, Costa Rica with Kids?
Related: Buena Vista Lodge in Rincon de la Vieja Park.
Have you found this information helpful? We would be so grateful if you could give a small token of appreciation by becoming a patron which you can checkout here.
What is a patron you may ask? In this digital age there is a demand for immediate information online. Being a patron is a new-age way of giving back for the information, which takes time to put together with no financial return. It's the very same as Go Fund Me.
Disclaimer: There are affiliate links in this post. Our stay at Ohana Villas was complimentary in return for an honest review, all opinions are, as always, our own.