In this post, we will share our favourite DIY London Christmas lights walking route in the city.
London at Christmas time is a magical place! It's one of my favourite times of year in the city we called home for 16 years!
I've already given my rundown of everything to do in London at Christmas with kids, so be sure to check that out if you're visiting with little ones.
Not to mention, some incredible festive train rides, not only in London and the surrounding area, but also across the country.
Seeing the Christmas lights is one of the most festive activities in London, aside from the Christmas Markets!
Many people gather to watch them being turned on in their local neighbourhoods, and there are considerable displays in Central London to go and see.
I have put together what I think are the best Christmas light displays in London into a walkable tour you can do with your family and friends for free!
If you aren't able to do the whole walk, pick the parts which interest you!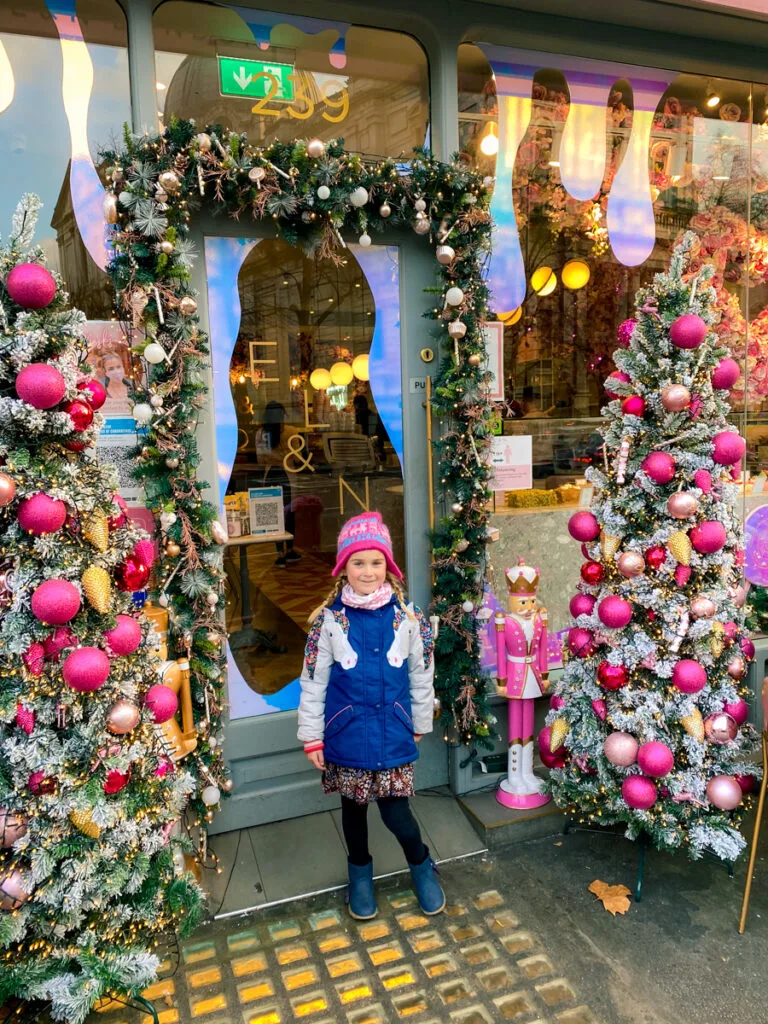 If you are visiting London and want to keep it as easy as possible, check out this official London Christmas Lights walking route tour.
This Christmas lights walking tour also includes mulled wine, ideal for keeping warm in the cold weather.
If you fancy a quick trip to see all of the Christmas light displays, there is also a lovely bike tour and an open bus top tour too!
Read on if you prefer to save your money and do a DIY London Christmas lights walking route, which is just as good, if not better!!
You can wander and pop into shops for hot chocolate at leisure!
Remember it will be quite cold, so you will need a thermal layer underneath your clothes, a waterproof heavy jacket, a hat, scarf and gloves!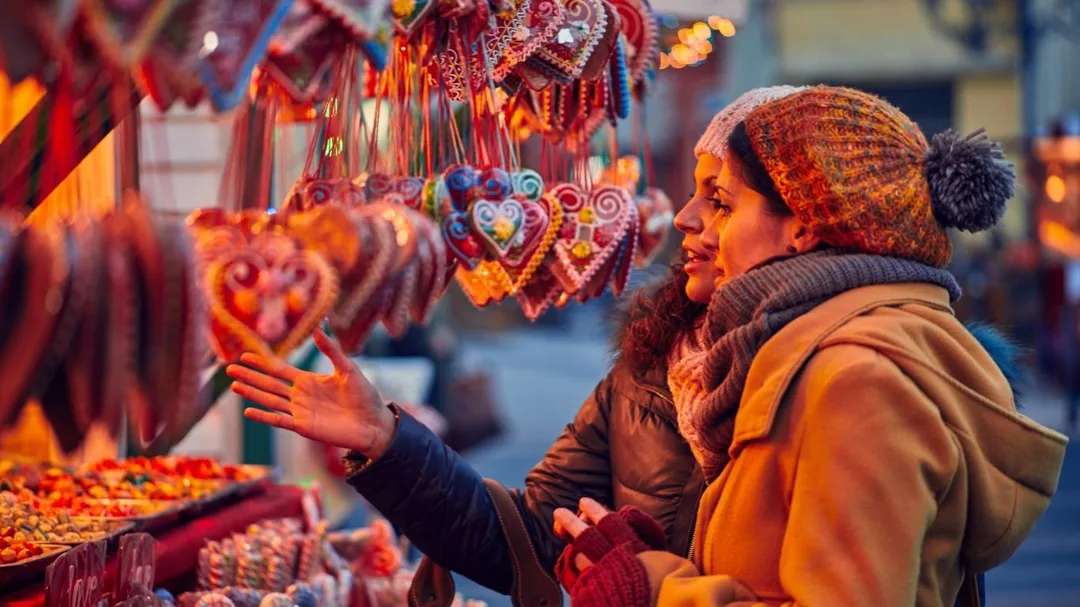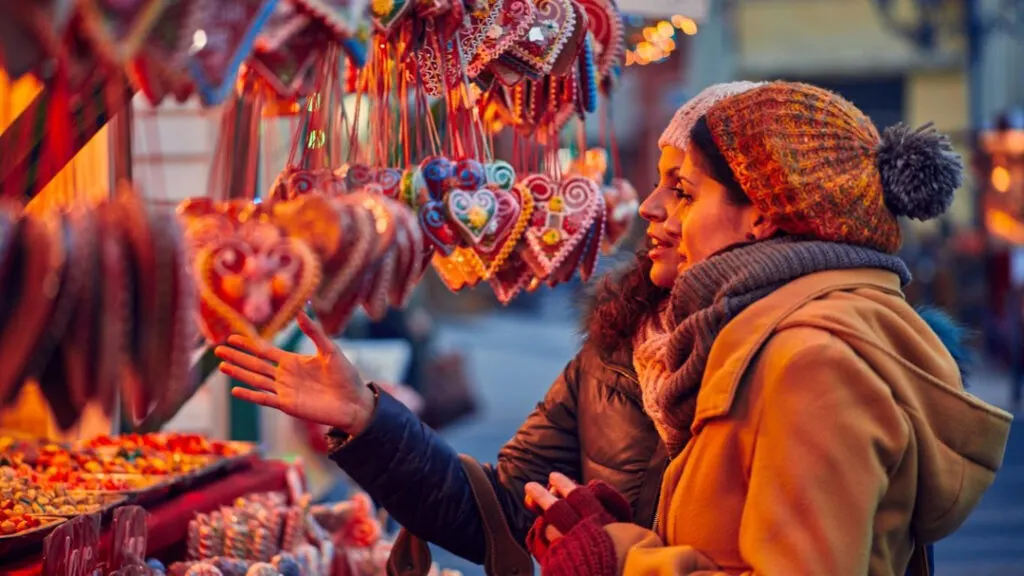 I know this might seem extreme, but I definitely remember my toes being sooo cold walking through London at Christmas time.
Christmas Light Walk London
Must-See Christmas Light Locations in London
Personally, my favourite Christmas lights are usually the displays on Carnaby Street, as they tend to be really creative and quirky.
Previously, there was a colossal planet suspended above the cobbled streets and a red-chested robin.
Oxford Street and Regents Street lights are beautiful and usually have a more classic look. Previously, a special tribute was paid to the late Queen Elizabeth II with twinkling crowns suspended above Oxford Street.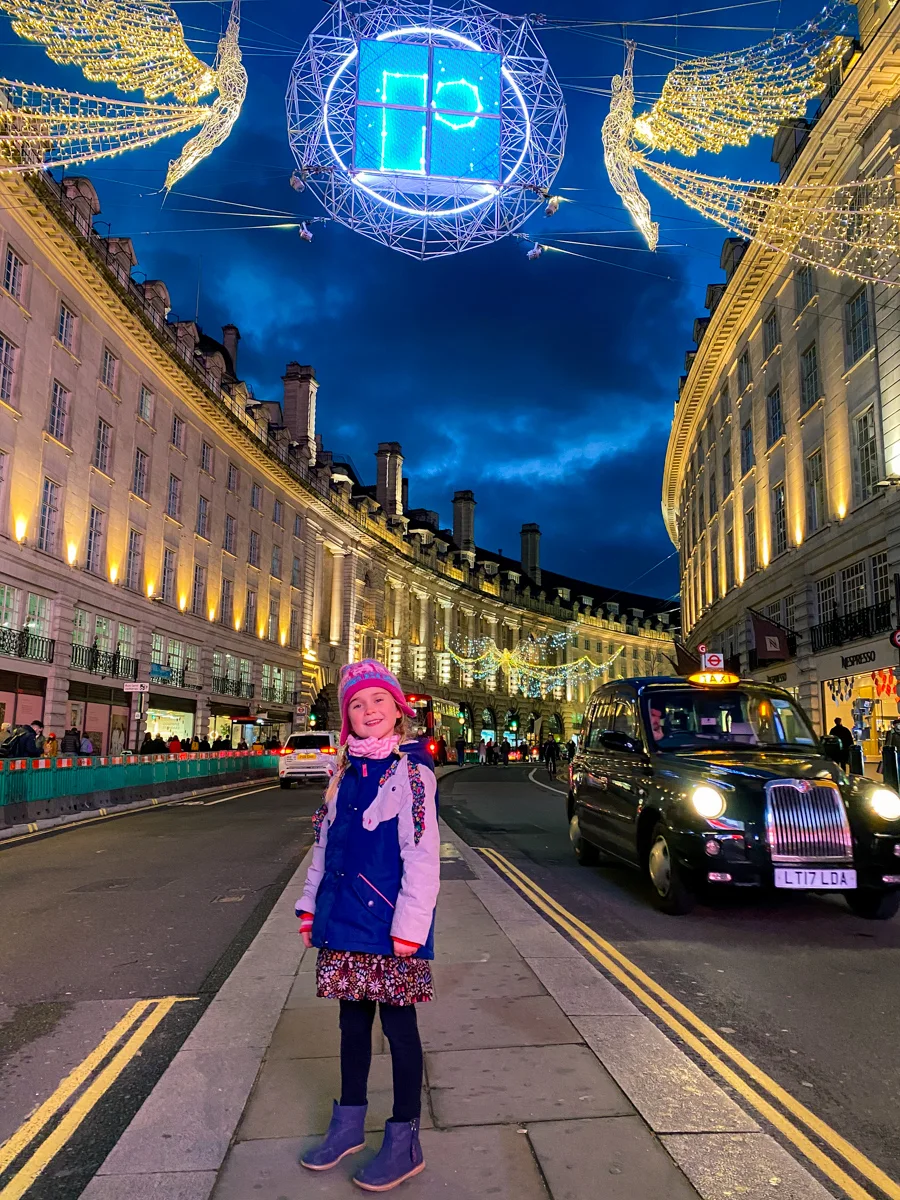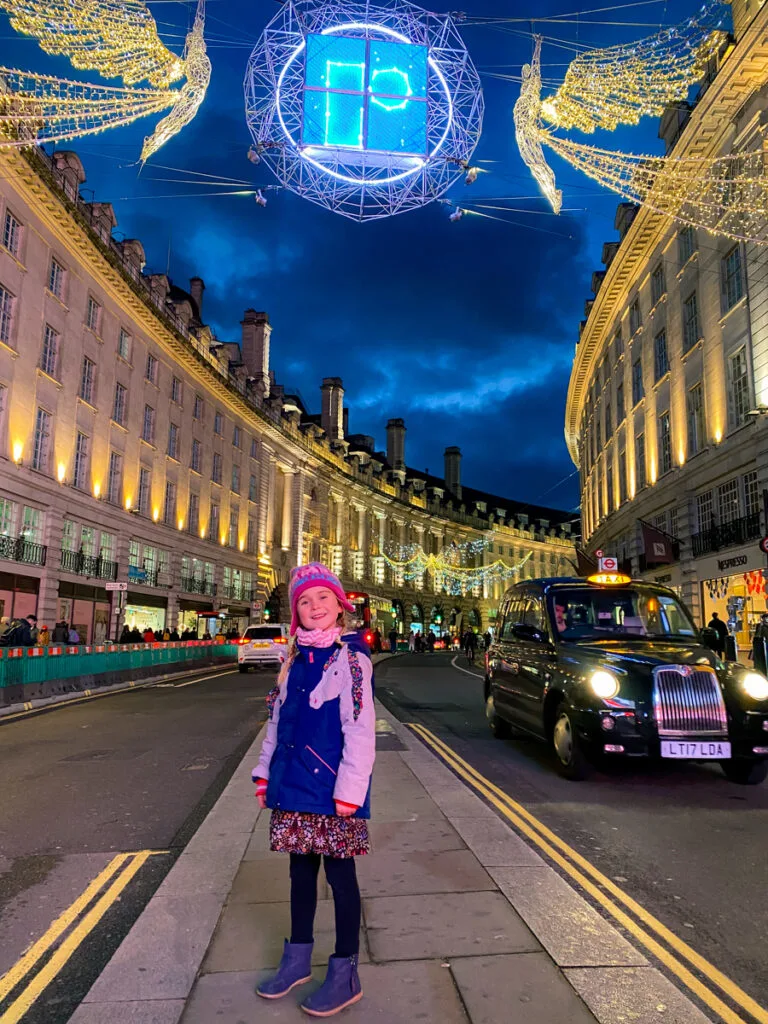 Some other fantastic spots include department stores such as Fortnum & Mason and Harrods. Not to mention, Covent Garden with its iconic Christmas tree and beautiful festive markets.
So, prepare to embark on a delightful walking route that will take you through the city's most iconic locations, which are adorned each year with festive sparkle!
London Christmas Lights Walking Tour Route
Here is my recommended order of Christmas light locations, starting in West London (Knightsbridge) and ending right in the heart of the city in Covent Garden.
Harrods
Mayfair (25 mins walk across Hyde Park) or take the tube for this leg to shorten the trip.
Bond Street (4 mins)
Oxford Street (2 mins)
Carnaby Street ( 2 mins)
Regents Street ( 2 min)
Fortnum & Mason (3 mins )
Leicester Square ( 8 mins)
9. Covent Garden (6 mins)
The entire walk is expected to take around two to three hours, depending on how long you stop at each destination.
Some of the streets will be particularly busy around this time of year as the Christmas lights attract so many visitors.
If you are walking with young children and think two hours might be too long, I suggest starting your walk at Oxford Street to cut the walk in half as the initial leg from Harrods to Mayfair is one of the most extended parts.
Remember, this walking route is designed to be a fun experience, with all locations conveniently accessible via public transport.
So, put on your comfortable walking shoes, and allow yourself to be enchanted by the spectacular Christmas light displays that await you in London.
If you'd like to save some time for shopping or eating (or both), hop on a bus or a tube to save time between locations on this London Christmas lights walking route. I will explain how to do this!
London Christmas Lights Walking Route Map
1. Start At Harrods
We will start this London Christmas lights walking route at one of the most world-famous festive destinations, Harrods.
Head to Knightsbridge tube station on the Piccadilly Line to see the Christmas displays at this renowned luxury department store.
If you want to see the lights and Christmas window displays outside on the storefront, which are incredible by themselves, then begin your walk there at 4:00 PM. By this time, the sun will have set in December in London.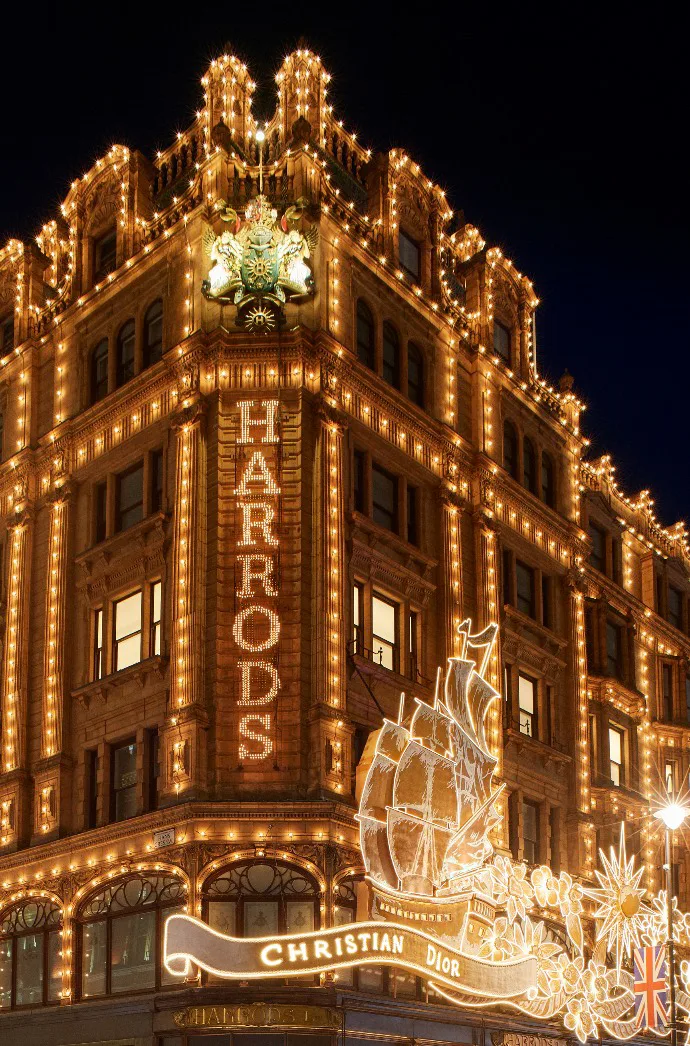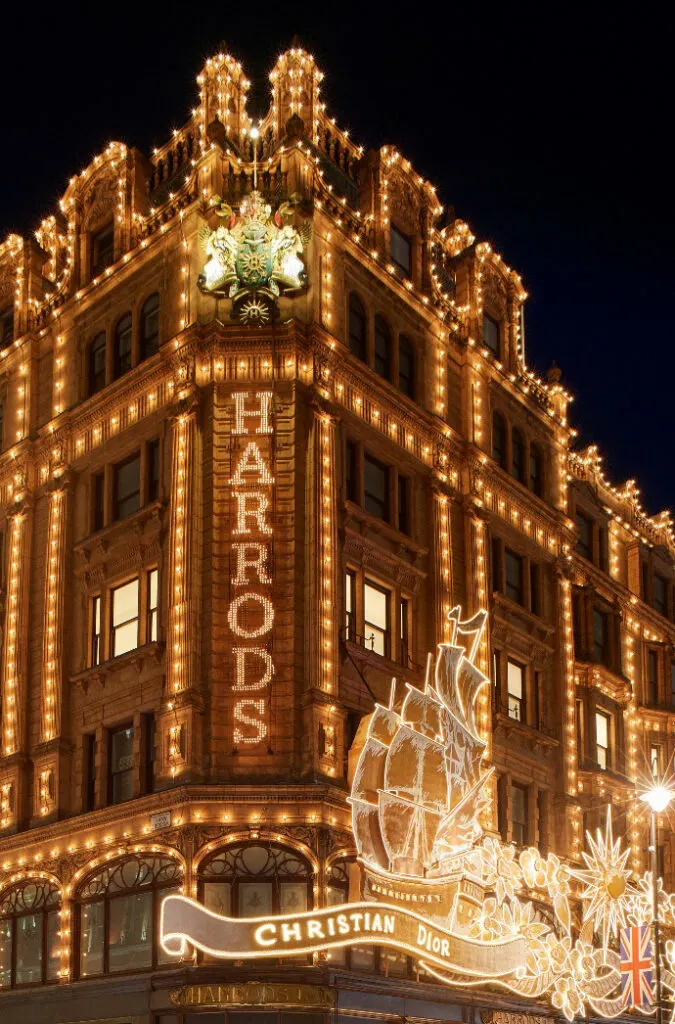 Alternatively, if you start a little earlier on this London Christmas lights walking route, you will have time to go inside the store and browse their luxury Christmas shop and food halls.
I would recommend heading there around 2:00 or 3:00 PM to make time for shopping, as the store is large and busy during the Christmas season.
Harrods is home to over 3000 brands and is one of London's most prominent luxury department stores.
There is a toy shop, a food hall with the most incredible selection of goods, and a Christmas shop opened just for this time of year.
The store is adorned with extravagant festive displays and lights like no other. It really does look like something straight out of the Christmas classic movie, Home Alone.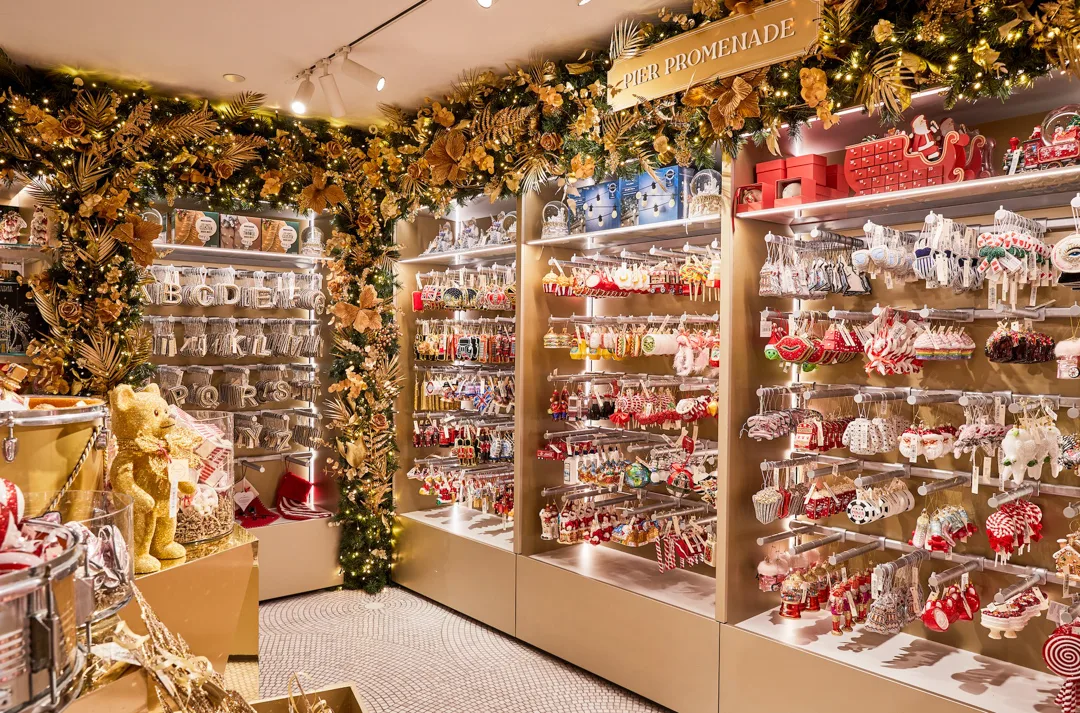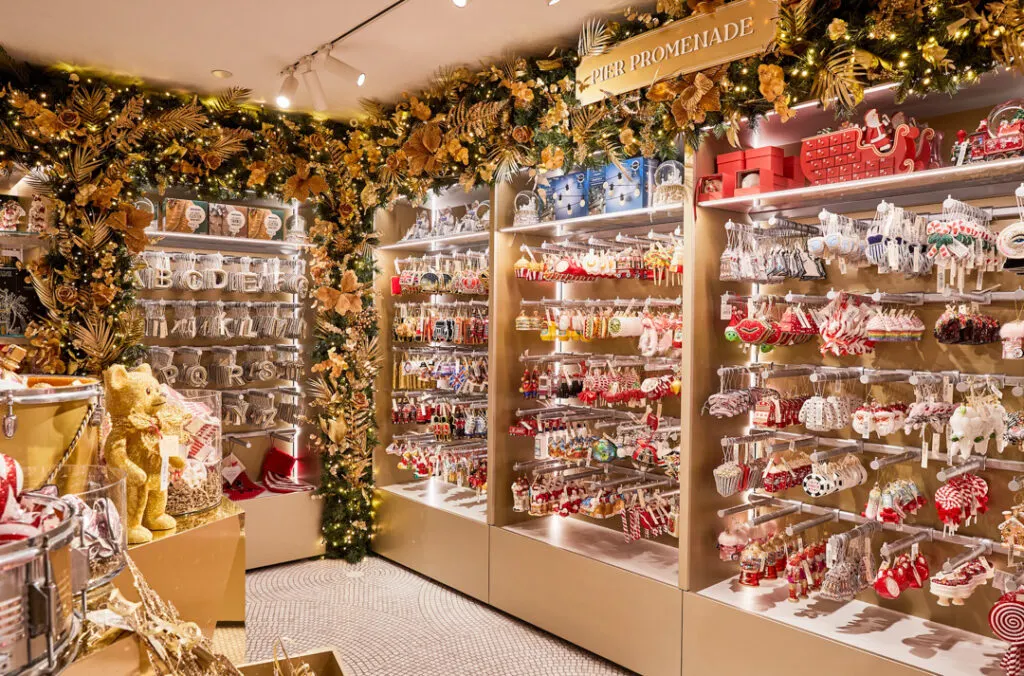 By the time it darkens, head back outside and cross the street to get a full view of Harrods in all its glory. The entire building is draped in fairy lights at Christmas, a sight to behold.
Once you've seen the lights and had your fill of shopping and delicious treats, the London Christmas lights walking route begins. This walk portion would usually take around 25 minutes to arrive in Mayfair.
2. Mayfair
Turn right once you come out of Harrods, heading back towards Knightsbridge station, then cross Knightsbridge Road for Serpentine Walk just behind the tube station.
From here, you will enter Hyde Park, one of London's most beautiful and famous royal parks.
The walk from Harrods to Mayfair is a scenic route through Hyde Park, past the Serpentine River, and the world-famous Winter Wonderland set up in the park every Christmas season.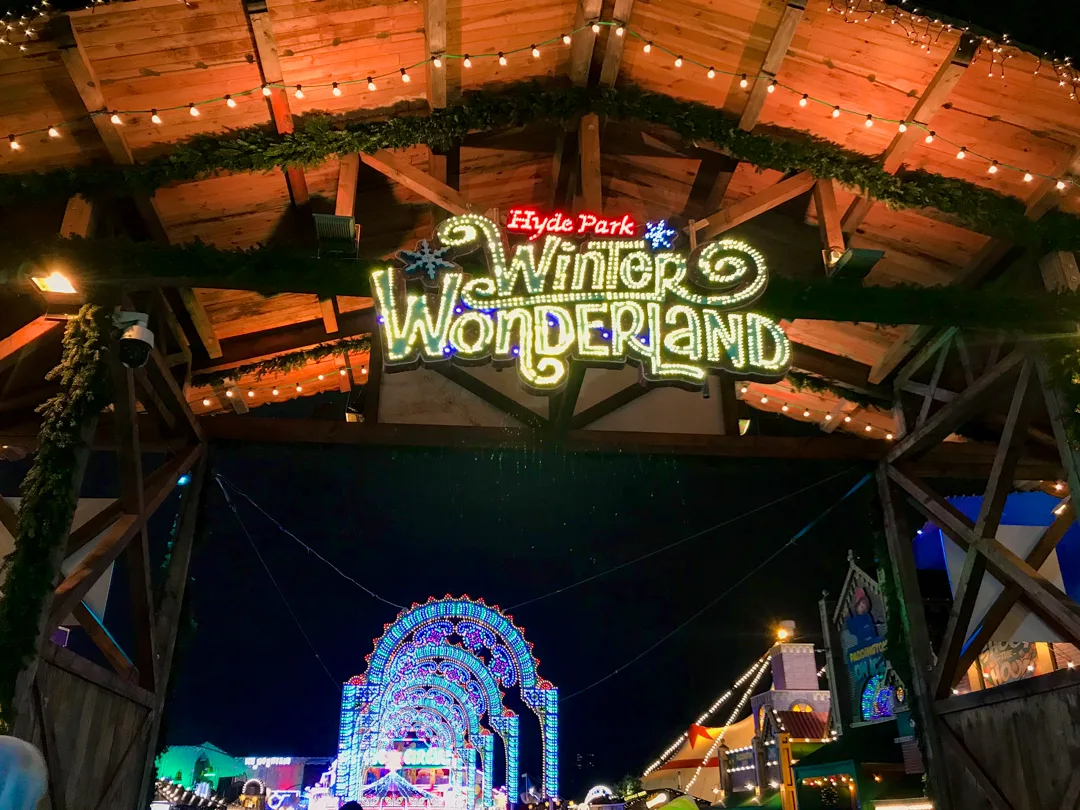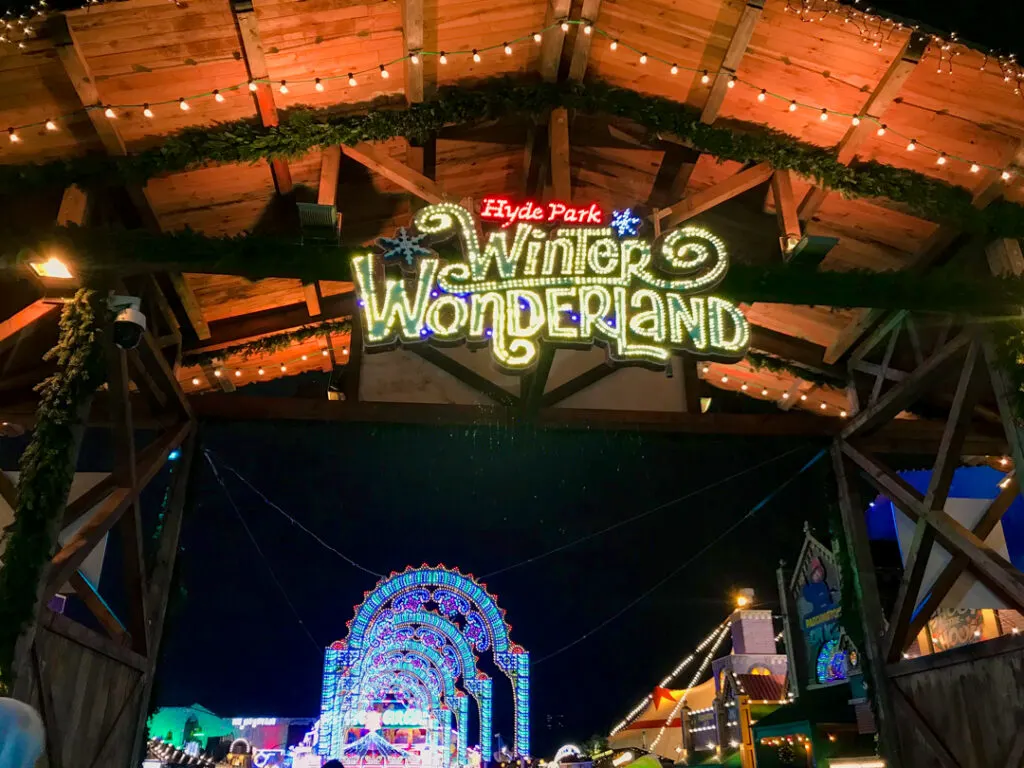 Winter Wonderland is not officially included in this London Christmas lights walking route.
However, it is fantastic way to spend an evening meeting Santa Clause in London, drinking mulled wine or hot chocolate, and going on fun rides. There is also an ice rink inside.
Tickets start at around £5.00 per person, and booking online before your visit is recommended.
Winter Wonderland requires a good bit of time to explore it properly. So, unless you want to split the walk across two evenings, it's best to continue onto Mayfair if you want to stay on track with this London Christmas lights walking route.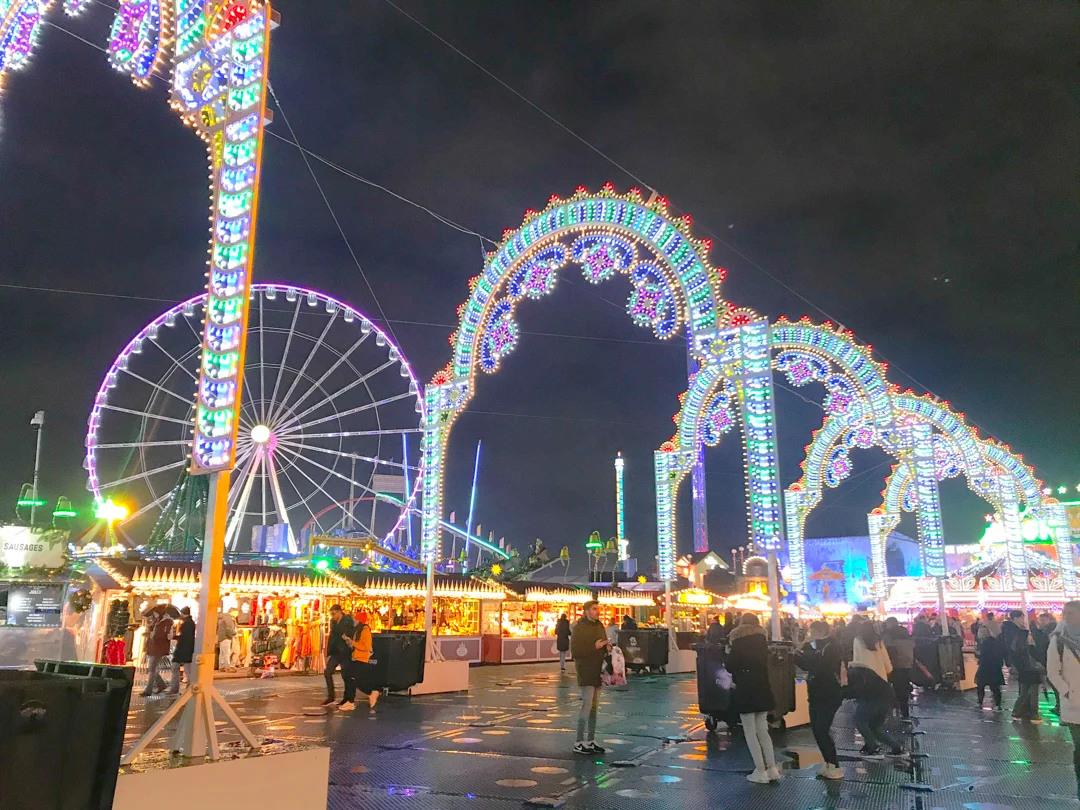 Be aware that due to the large crowds attending Winter Wonderland, it may take slightly longer to make your way through Hyde Park at Christmas time. Enjoy the sights and the smells of Christmas as you wander through the bustling crowds.
Continue Northwards through the park and exit onto Aldford Street. Continue along this street for around four blocks until you get to Mount Street Gardens, which you can cut through if you wish to. Otherwise, continue alongside the gardens.
On your way, you will pass the famous Harry's Bar, a luxurious private members club in London.
At the other end of Mount Street Gardens, exit left onto Carlos Place. Once you hit Grosvenor Street, you are now in the heart of Mayfair!
This is where the elegant streets are adorned with some of the most sophisticated decorations on this London Christmas lights walking route.
Last year, South Molton Street in Mayfair was decorated in a beautiful blue archway of lights for visitors to walk underneath and admire.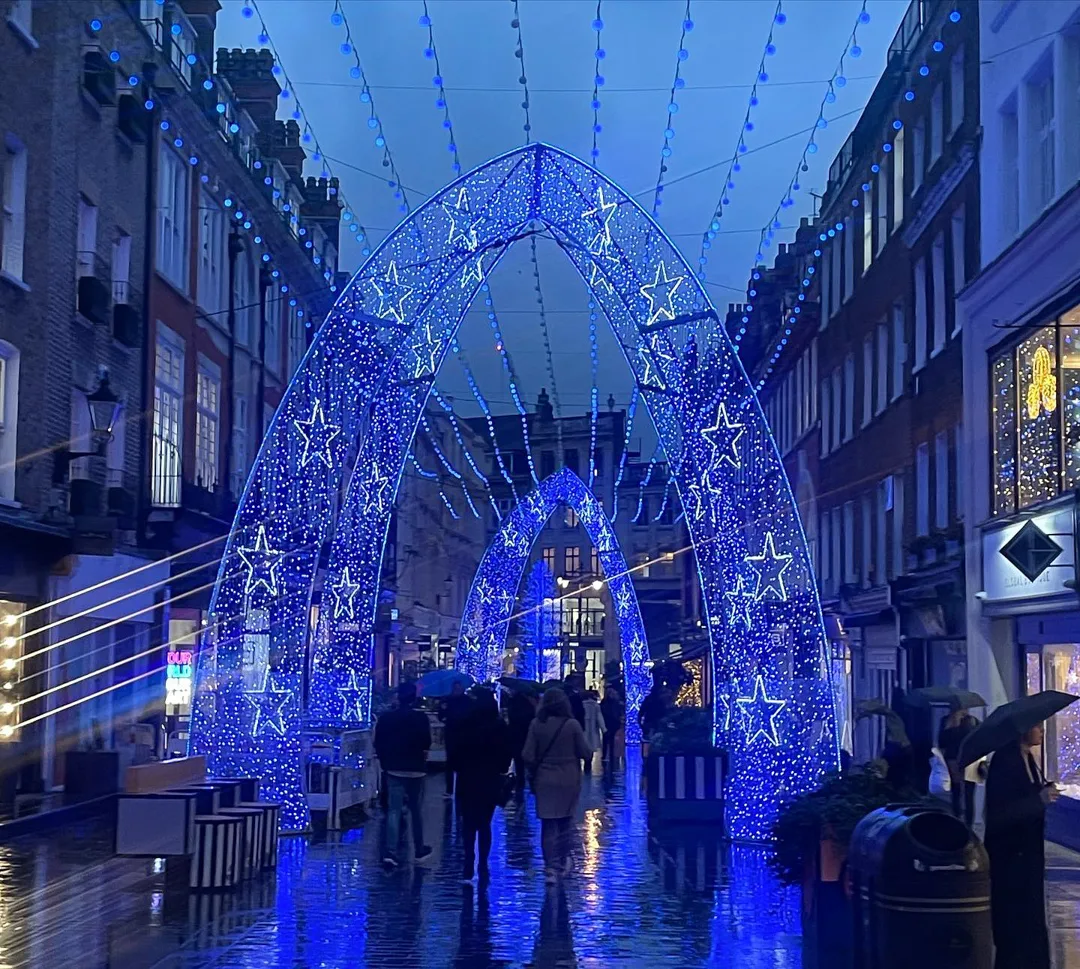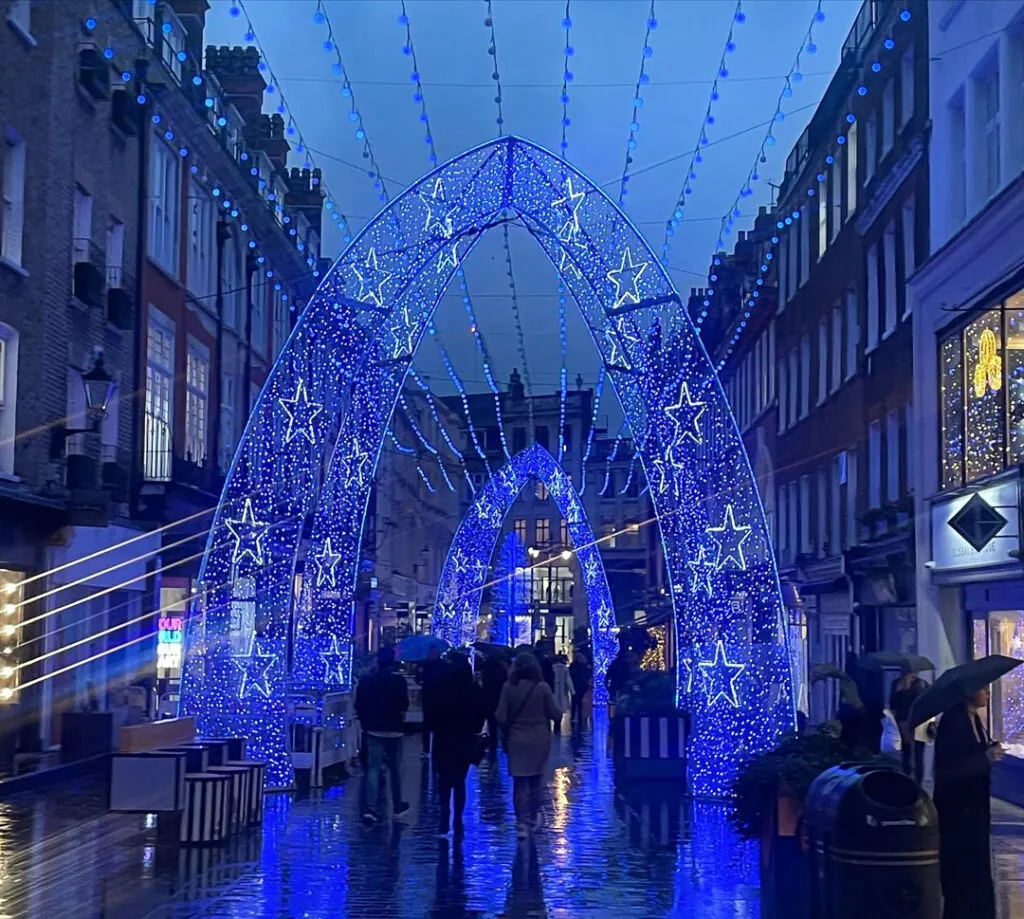 But that's not all! On Mount Street, there was a dazzling display of over 63,000 lights and the iconic Connaught Hotel Christmas tree!
Previously, the Christmas lights in Mayfair were turned on the 2nd of November. Neighbouring Belgravia turned theirs on the 9th November.
These are good dates to go by if you're planning a visit to the UK and intend to follow this London Christmas lights walking route.
Take in the beautiful displays from South Molton Street in Mayfair as you head towards Bond Street for the next stage in this DIY London Christmas lights walking route.
3. Bond St
The next portion of this London Christmas lights walking route will take us on a tour of the city's famous shopping districts, including Oxford Street, Bond Street, Regent's Street, and Carnaby Street.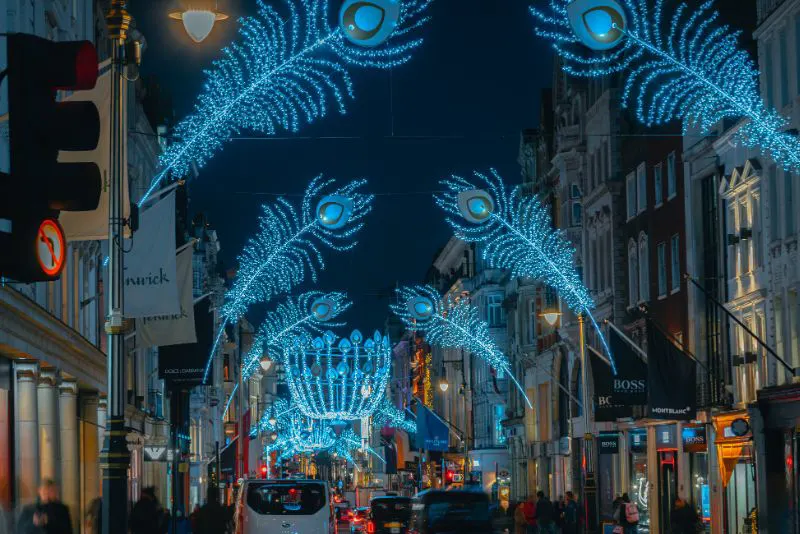 These shopping streets are all very close to each other, and each hosts its display of beautiful Christmas lights with varying themes each year.
Previously, Bond Street suspended four enormous, sparkling crowns above the traffic to commemorate Queen Elizabeth II. Previously, the street had displayed peacock feathers for eight consecutive years.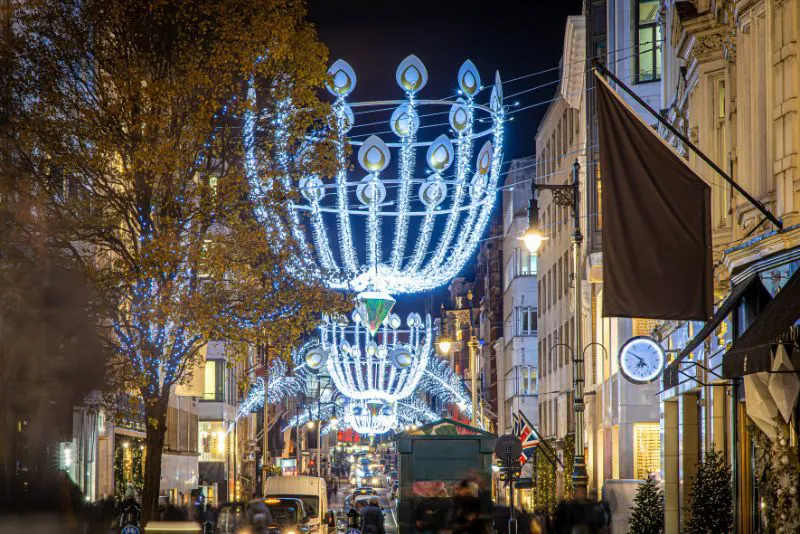 After Bond Street, head along New Bond Street and turn right onto Oxford Street for the next stop on this London Christmas lights walking route.
4. Oxford Street
No London Christmas lights walking route is complete without visiting Oxford Street, which was most certainly the original street to be adorned with decorations.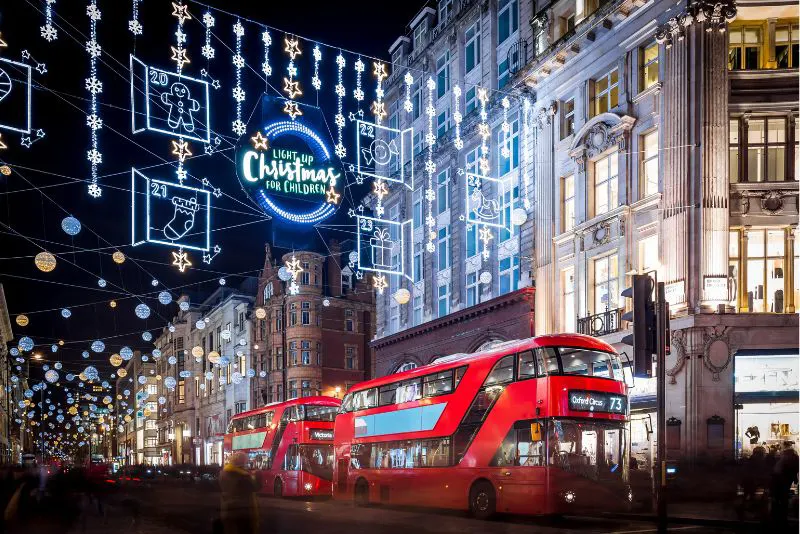 The Christmas displays on Oxford Street are pretty classic but beautiful all the same. Since it is a busy road, it's relatively easy to get that iconic shot in the middle of the street with the old route master red bus and the Christmas lights overhead.
Previously, the lights on Oxford Street were switched on the 2nd November and were on between the times of 13:00-23:00 each day.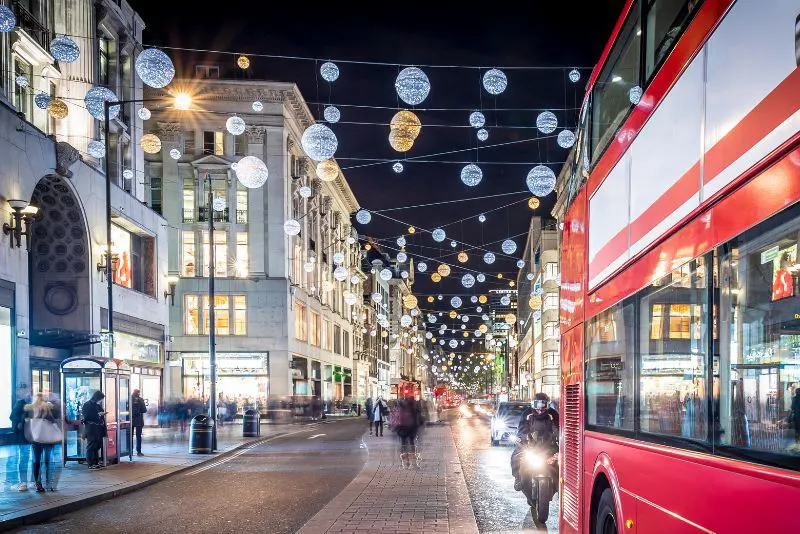 To get to the next spot, cross over Oxford Circus and turn right onto Carnaby Street, just a short distance on the other side of Oxford Street, the next stop on this DIY London Christmas lights walking route.
5. Carnaby Street
As you go to Carnaby Street, be prepared to be transported to a wonderland on this London Christmas lights walking route.
It's known for its trendy shops and unique boutiques, Carnaby Street shines even brighter during the holiday season.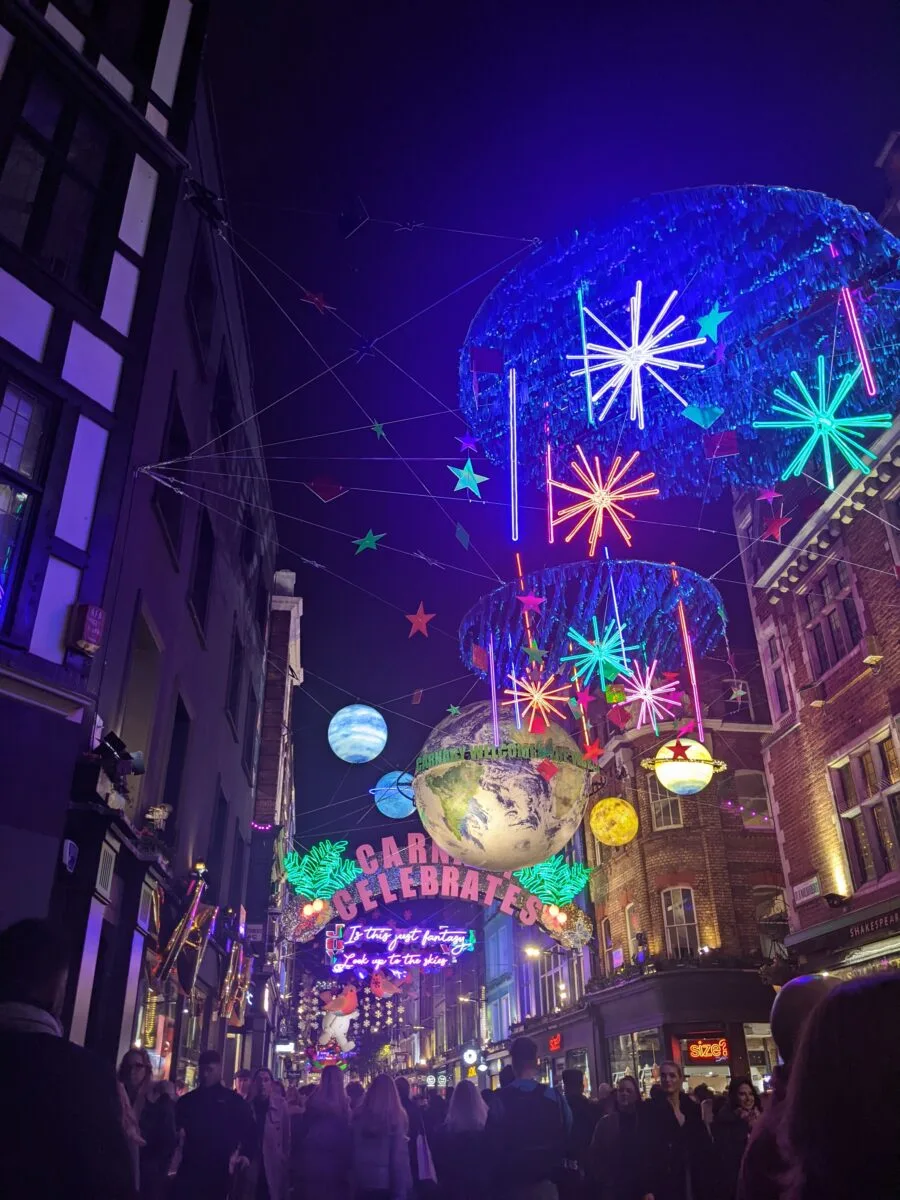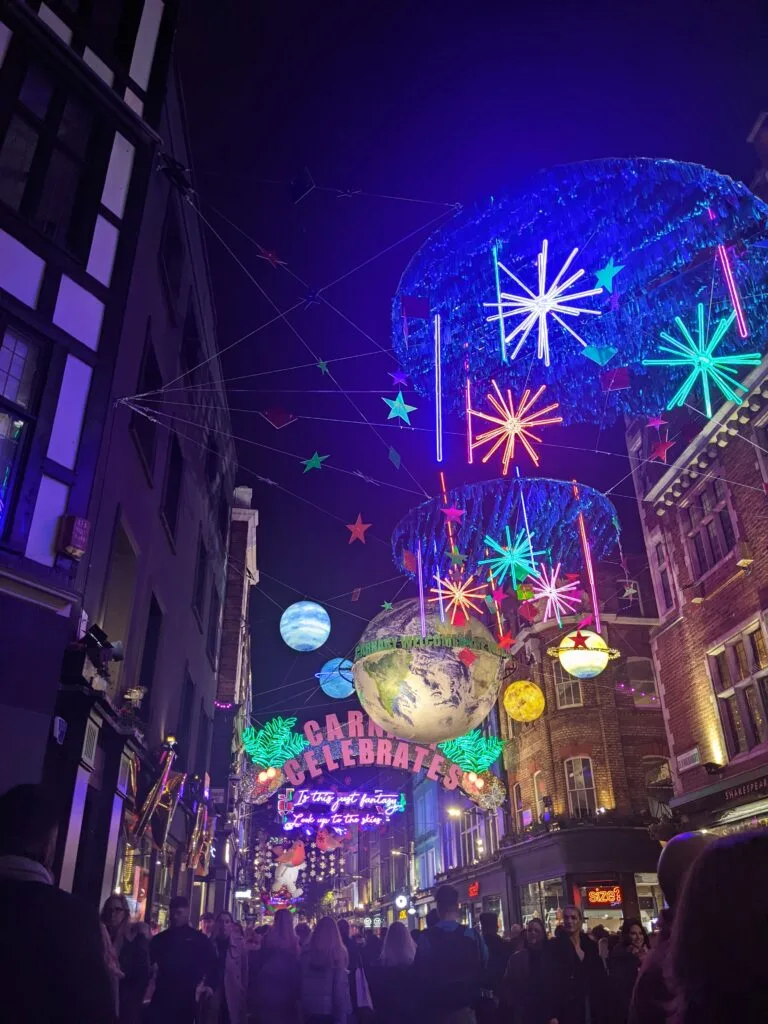 Immerse in the magical atmosphere as you explore the narrow streets adorned with dazzling lights and artistic installations on this London Christmas lights walking route.
I really love the artistry behind the Carnaby Street Christmas displays. There is always something new and unbelievable to surprise you!
Liberty London department store is one of the first places you will see on the street as you turn off Oxford Street. It is one of the most beautiful places to see when it comes to department stores in London at Christmas.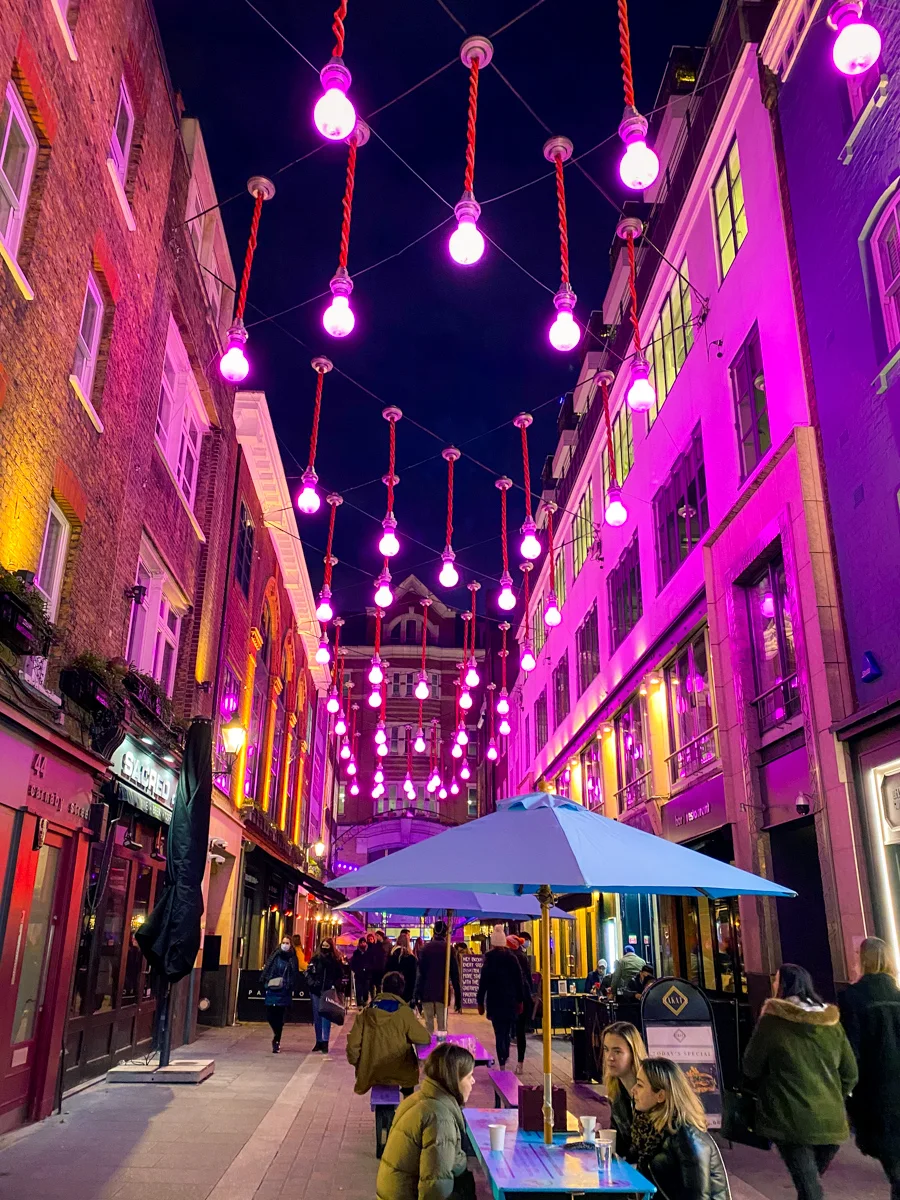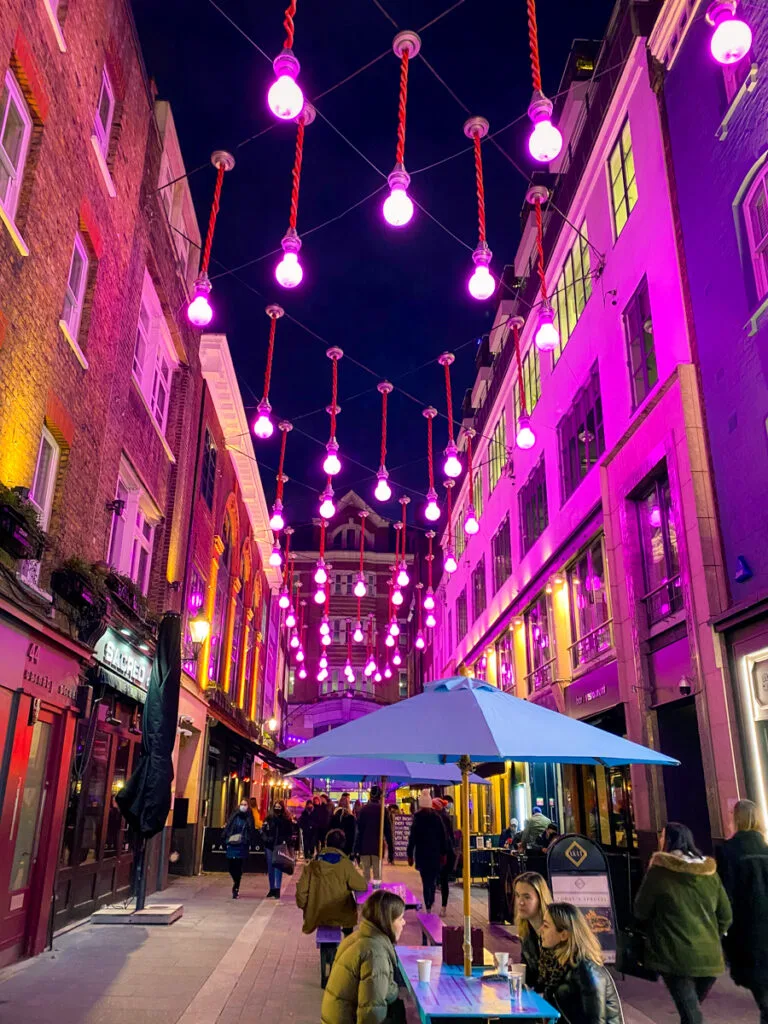 Continue along Carnaby Street before turning right onto Beak Street to join onto Regents Street, possibly one of the most Instagrammed locations on this London Christmas lights walking route.
5. Regents Street
Continue this London Christmas lights walking route to the neighbouring Regents Street, where the streets come alive with an array of stunning light displays.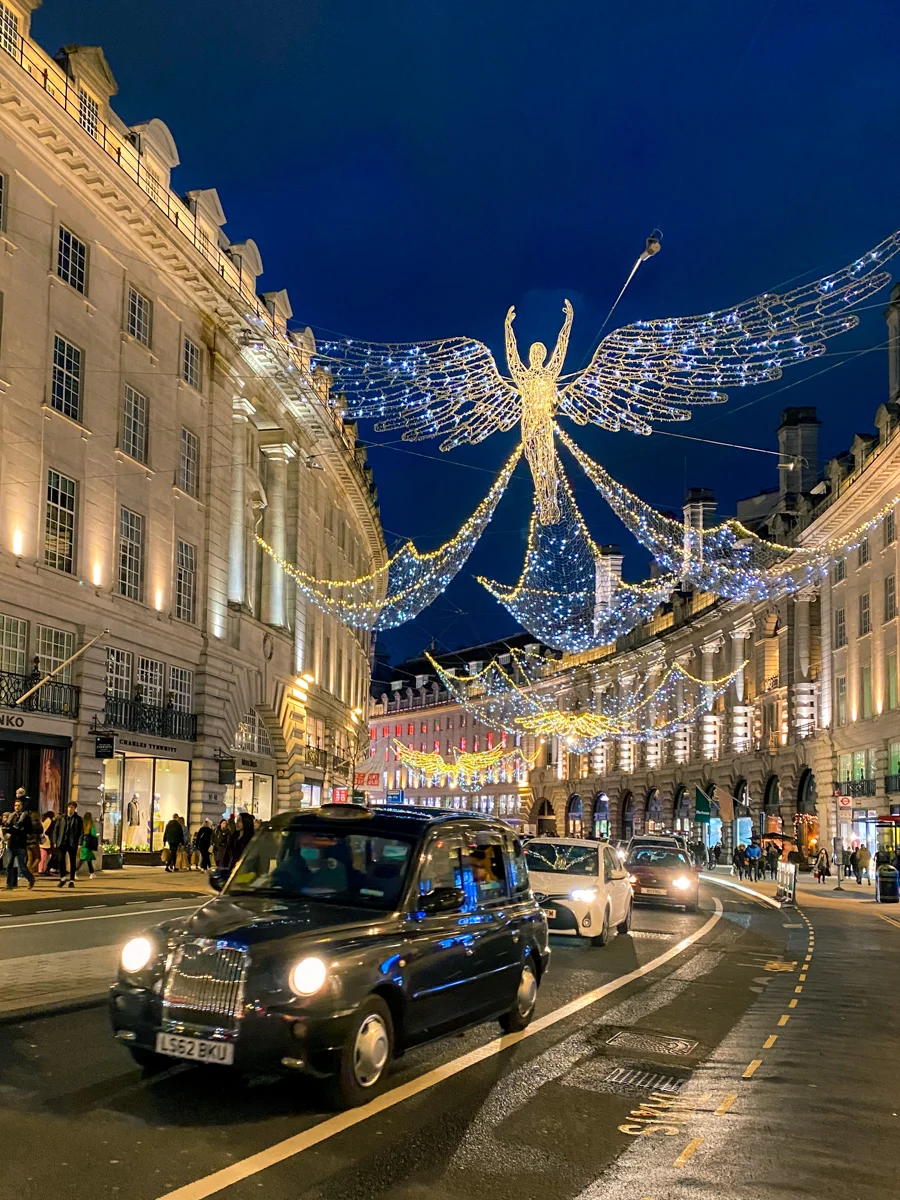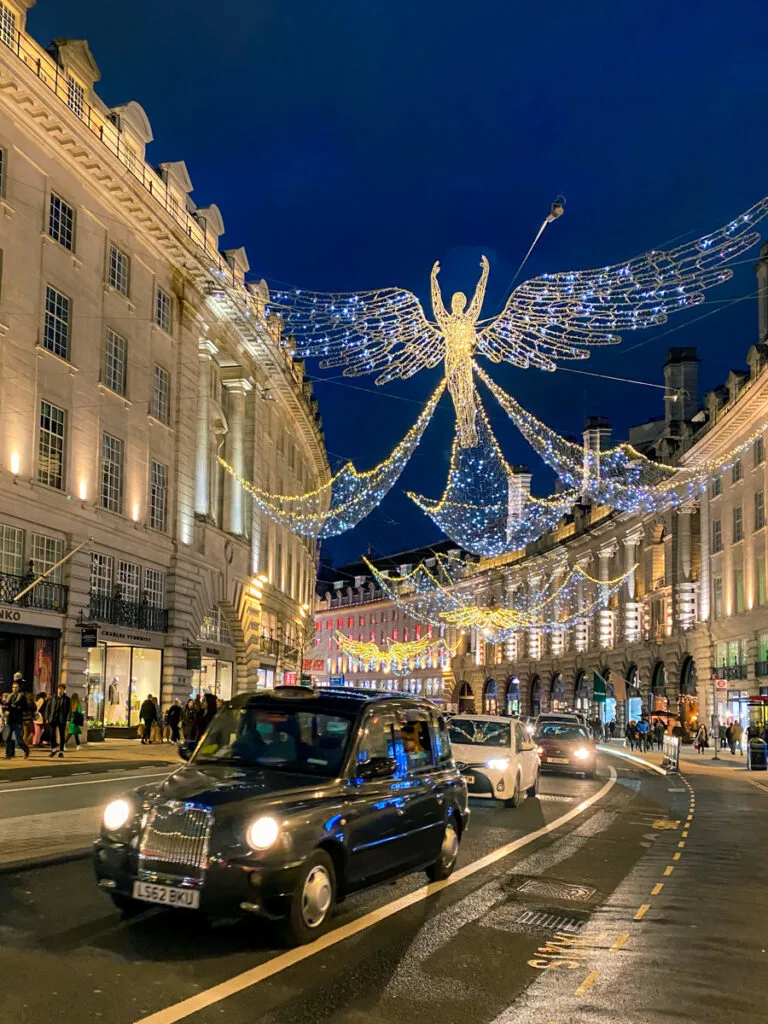 You will notice many other visitors to the city marvelling at the intricate designs and vibrant colours that hang above the road.
Regents Street has some of the most magnificent lights with the backdrop of ancient architecture. I love the curve in the buildings with the buses passing by and the lights above. It really is beautiful.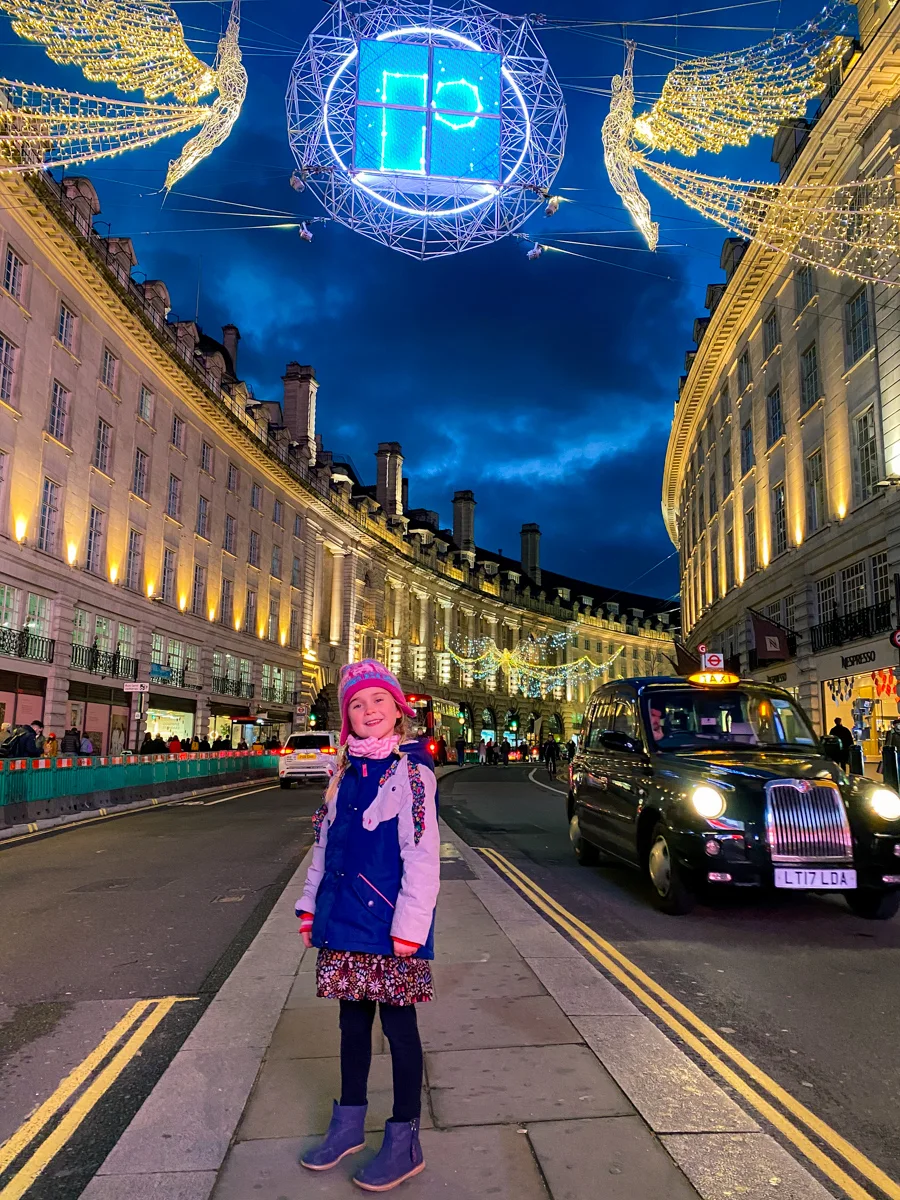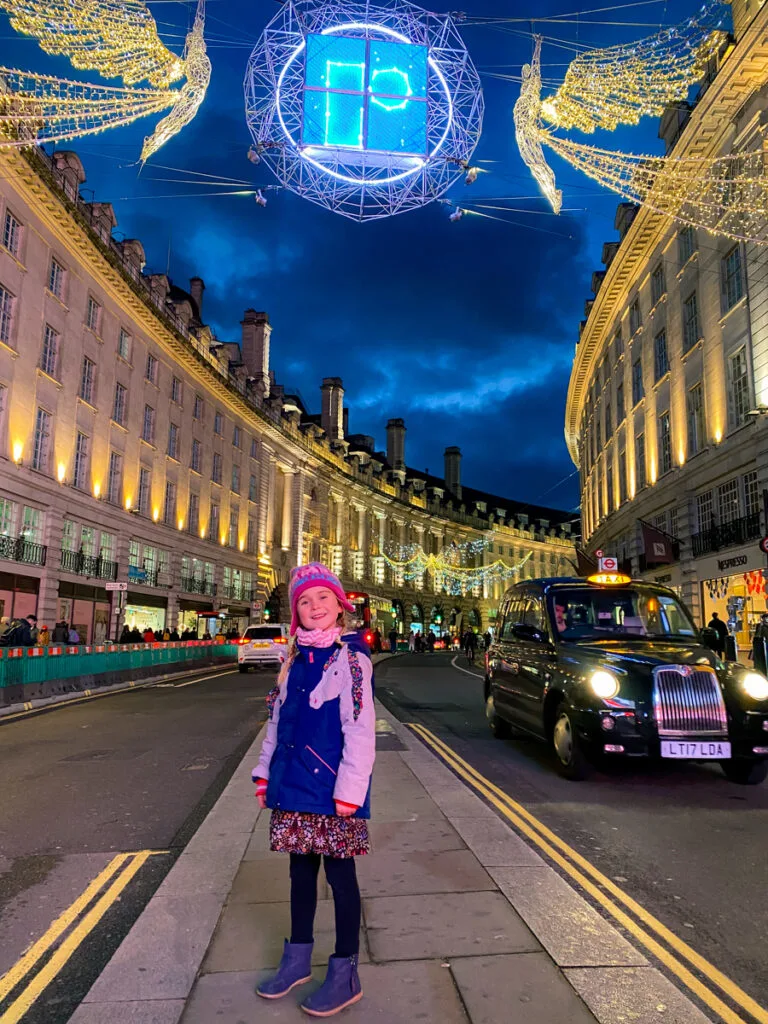 Continue on the road south towards Picadilly Circus and turn right to see the next famous department store, Fortnum & Masons.
7. Fortnum & Masons
The world-renowned Fortnum & Mason store at 118 Piccadilly Street, is just a short distance from the end of Regents Street.
Opening its doors in 1707, Fortnum & Mason are a luxury food store known for their unique hampers, delicious goods, and fantastic luxury gifts. They really are fancy!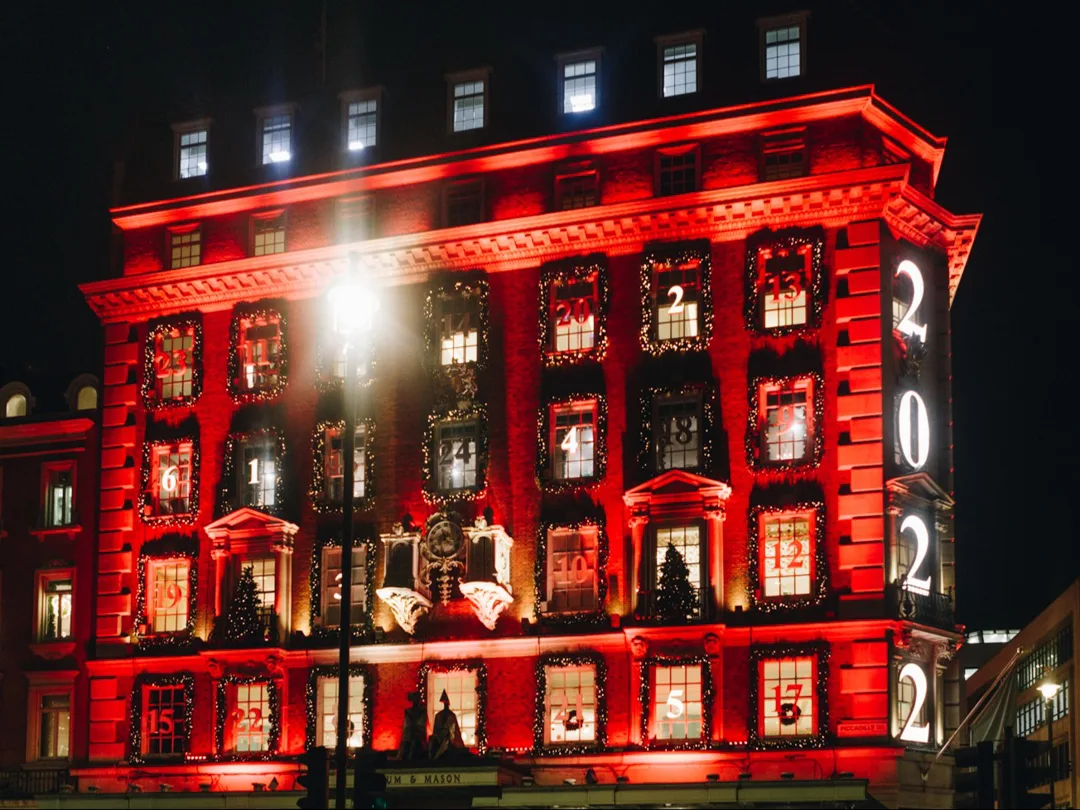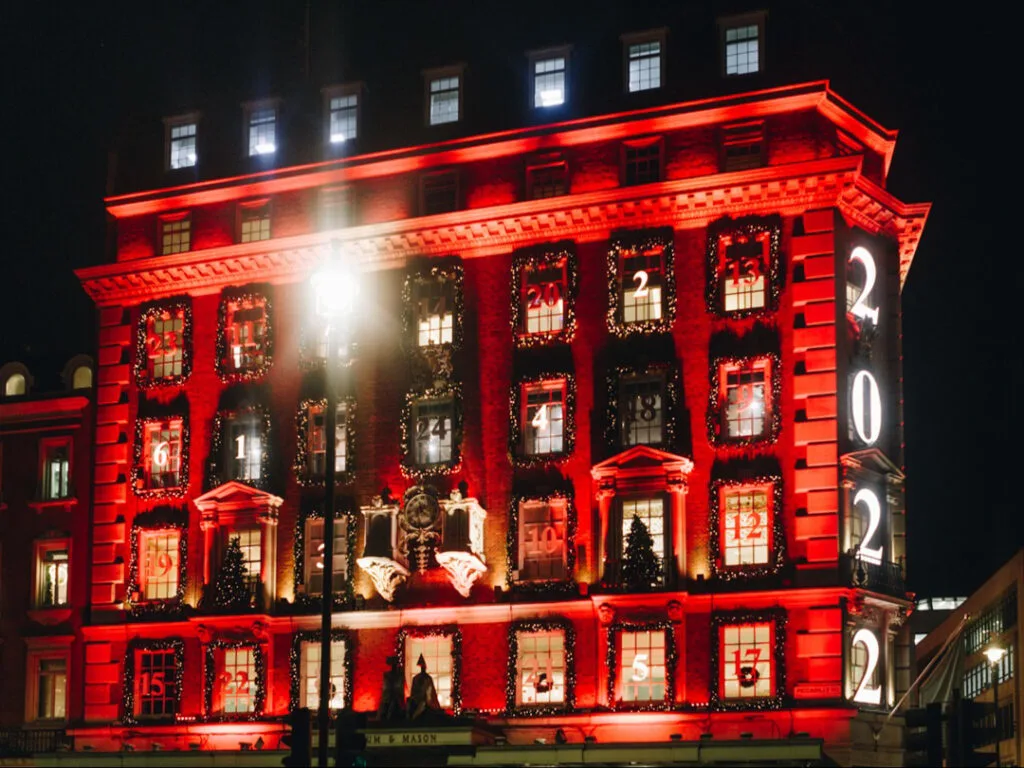 Each year, the shop front is decorated with an extravagant Christmas light display, transforming the store into a giant advent calendar.
This is one of my favourite things to see on this DIY London Christmas lights walking route.
The display is always so impressive and clever, with huge doors opening the shop's façade, baubles and other decorations appearing to fall onto the street.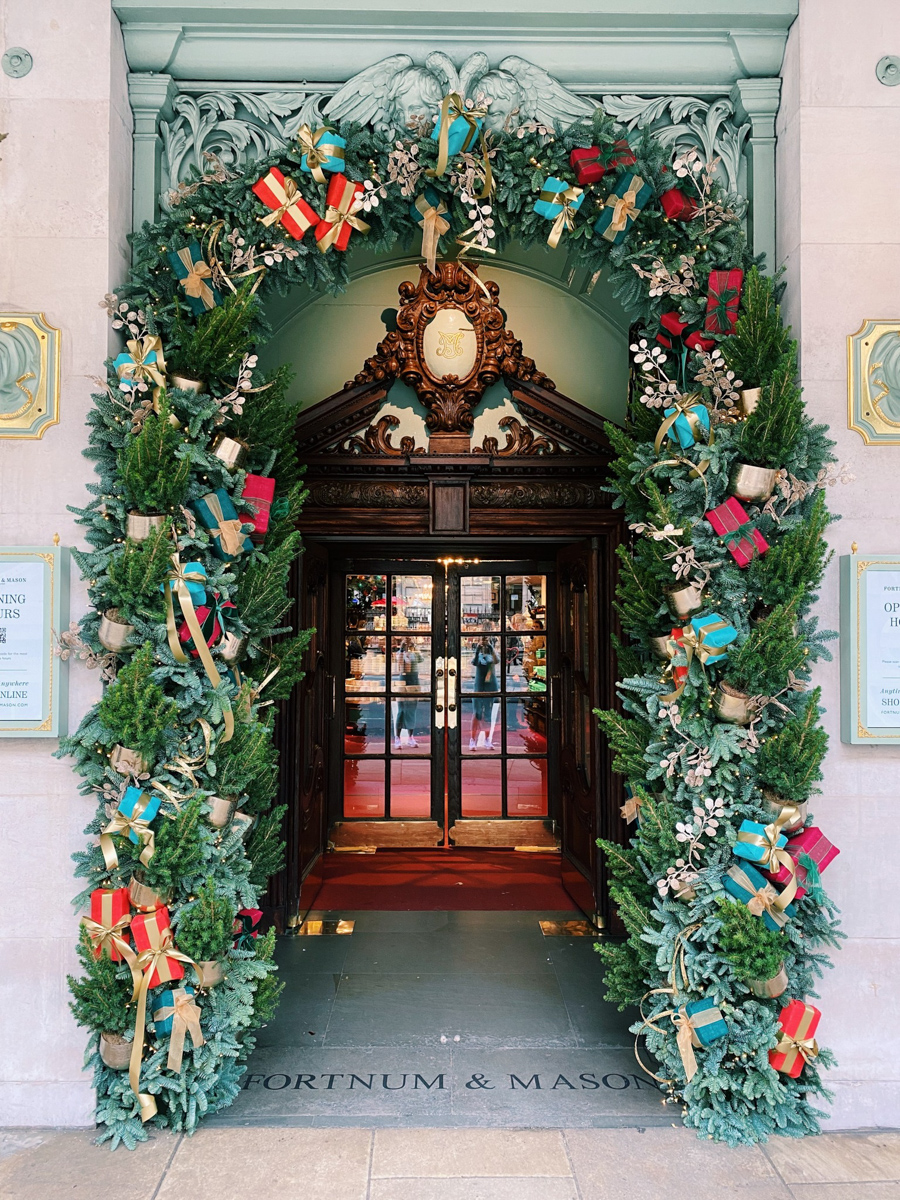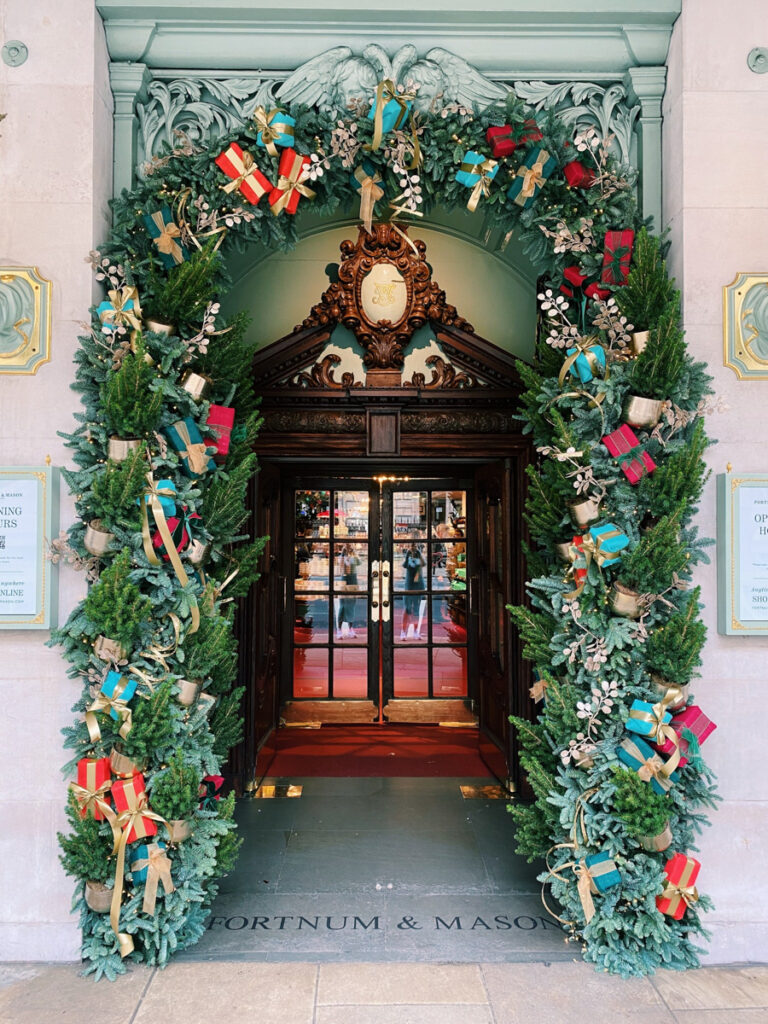 Of course, the store also sells its selection of luxury advent calendars designed with the iconic façade of the store. These go on sale for around £100 – £200.
It is definitely worth having a browse whether you intend to buy something or not. Fortnum & Masons is considered one of the most quintessentially British stores in the country.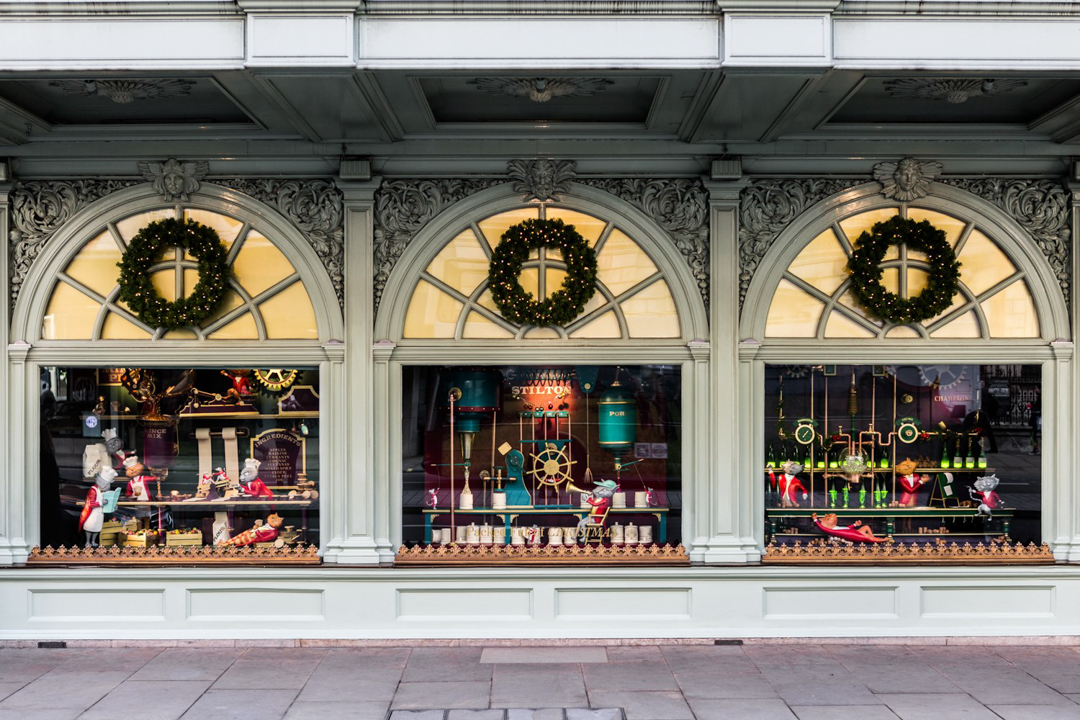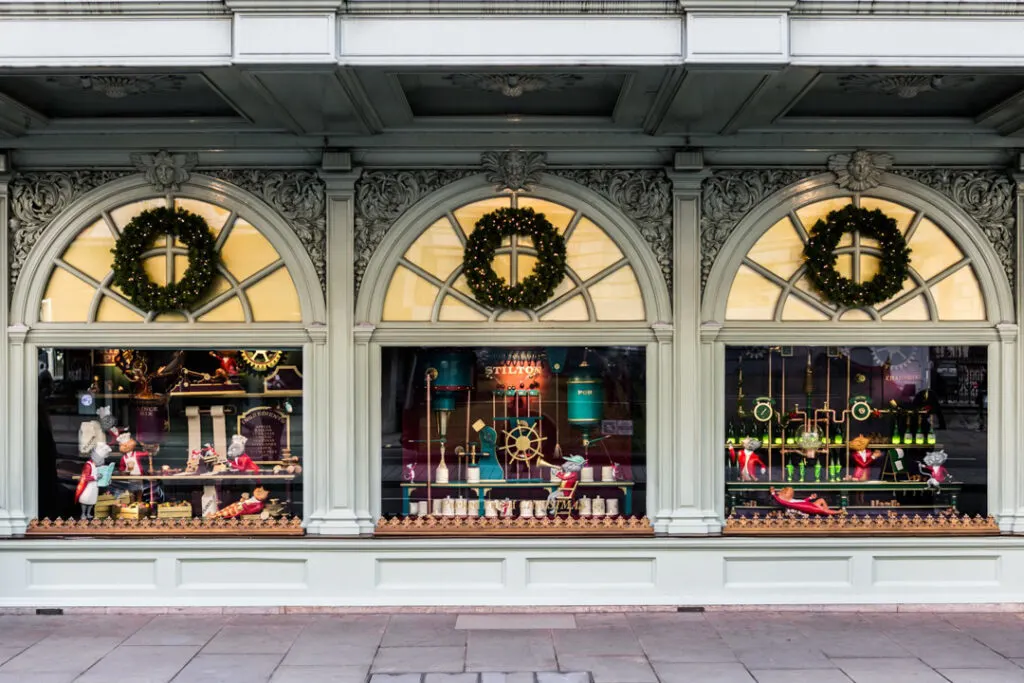 Once you are finished looking at Fortnum & Masons, cross the street and head back towards Picadilly Circus before turning right onto Coventry Street, which has (yes, you guessed it) even more lights!
8. Leicester Square
This leads directly to Leicester Square, which has beautiful Christmas Markets right in the centre, and the buildings around the square are all lit up in Christmas sparkle.
The markets are well worth browsing to see all the delicious treats and Christmassy drinks. Not to mention pop-up stores to pick up Christmas gifts.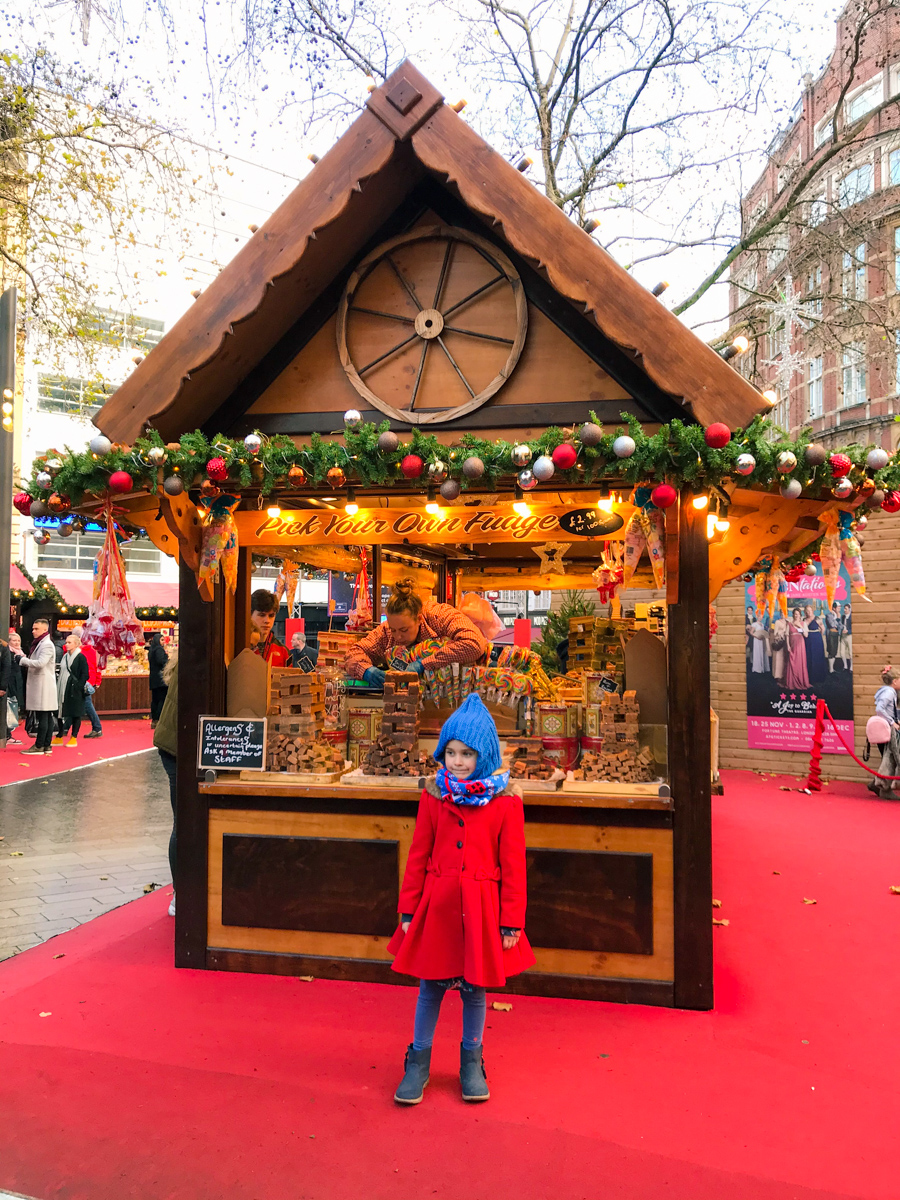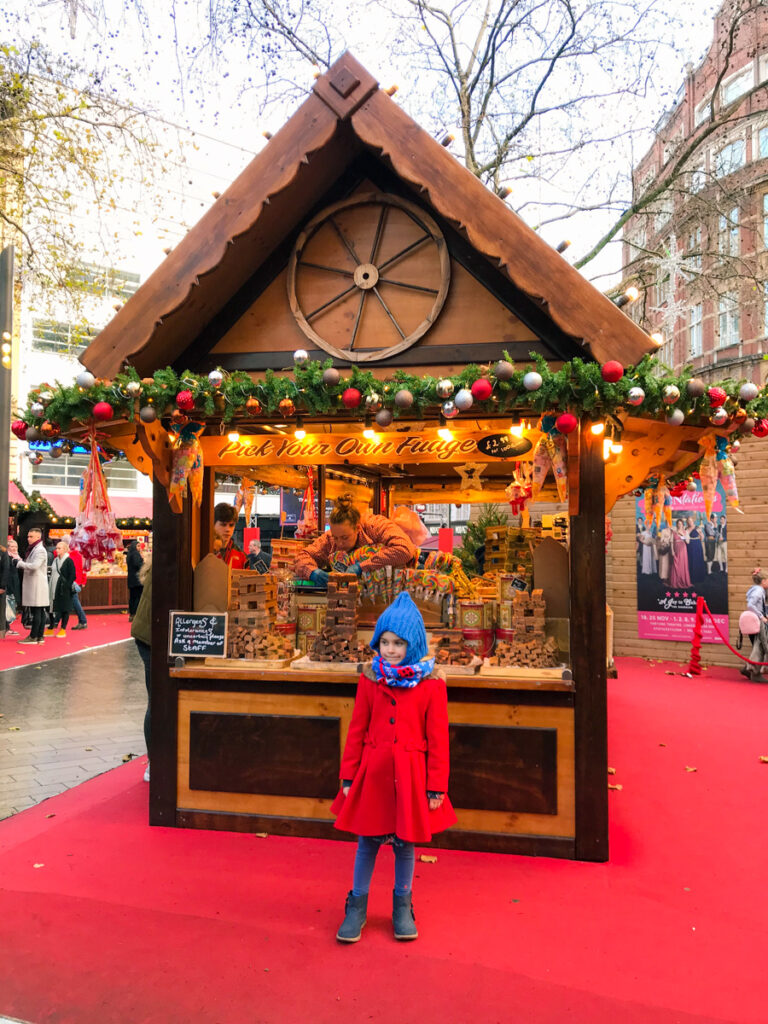 There are many buskers on the street, keeping those passing through entertained. It's an incredibly lively part of town, and it is a vehicle free area, so a particularly lovely place without the hectic London traffic.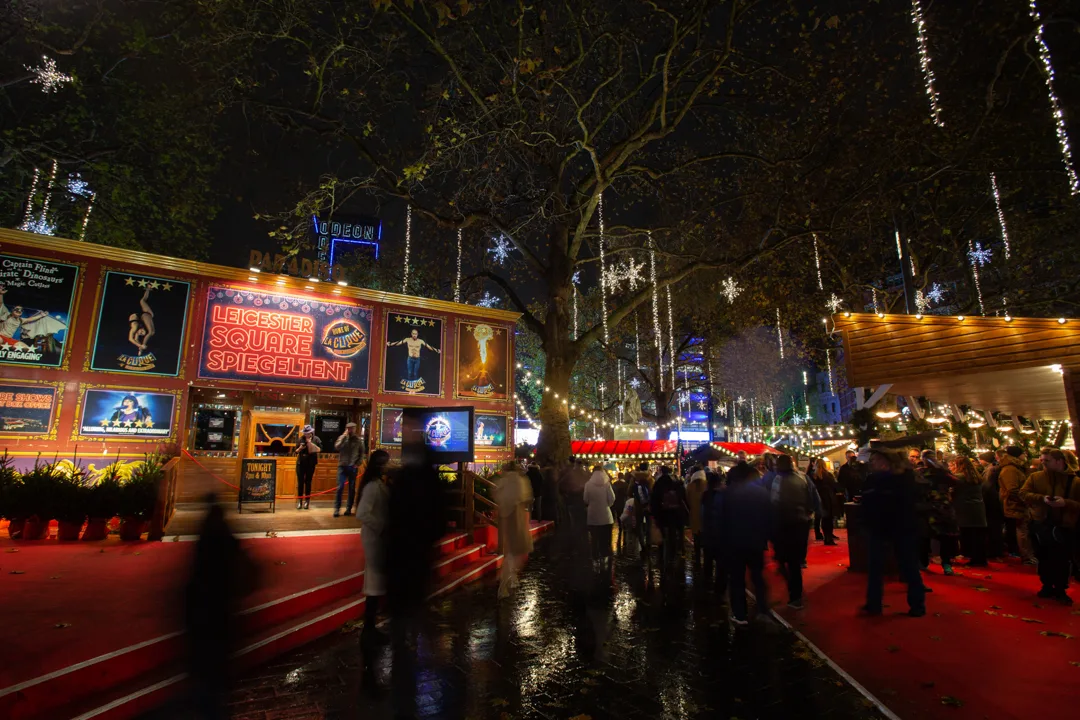 The final stop, Covent Garden, is just a 6-minute walk and is slightly more relaxing than Leicester Square.
Head towards Leicester Square underground station and cross the road to get onto Garrick Street which leads all the way to the main area of Covent Garden!
9. Covent Garden
If you made it all the way, you deserve to sit and relax in one of Covent Garden's many beautiful cafes, restaurants and bars.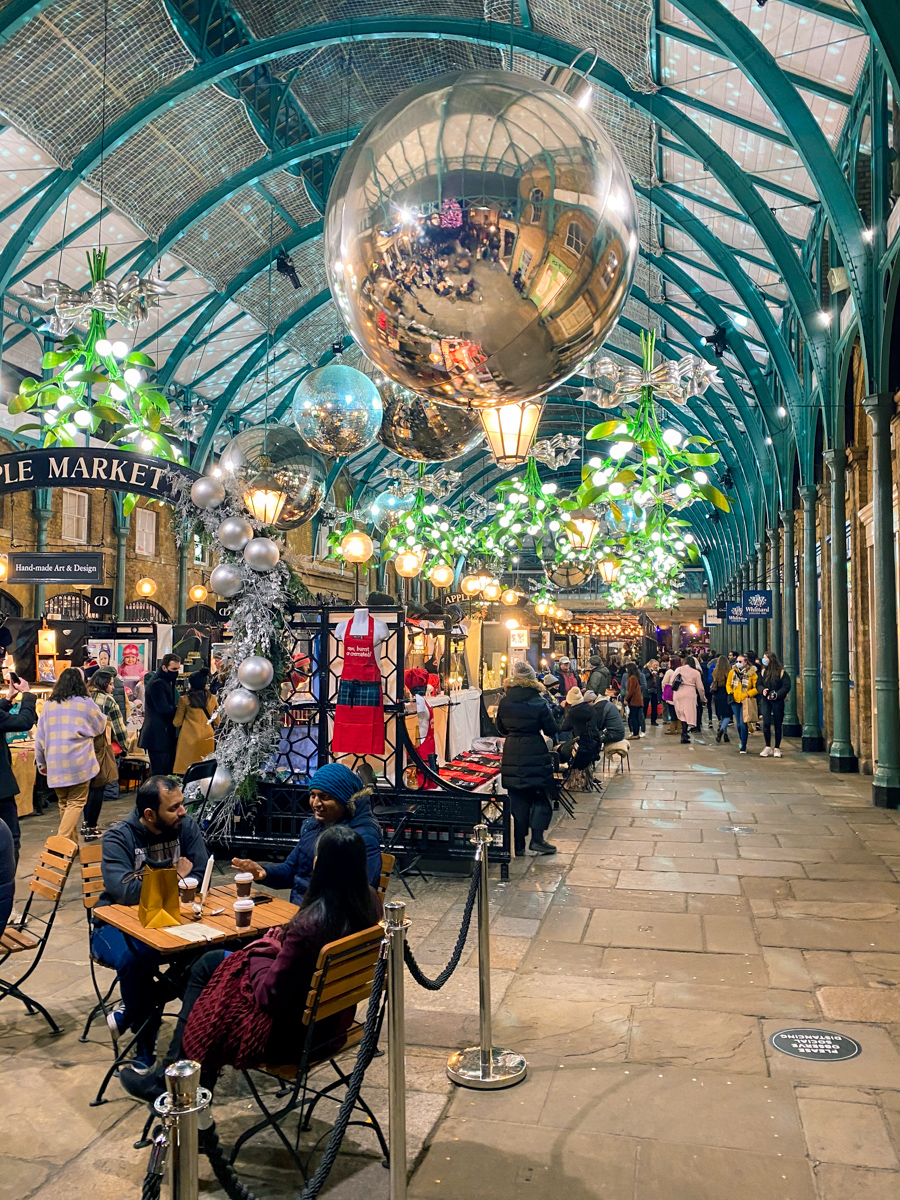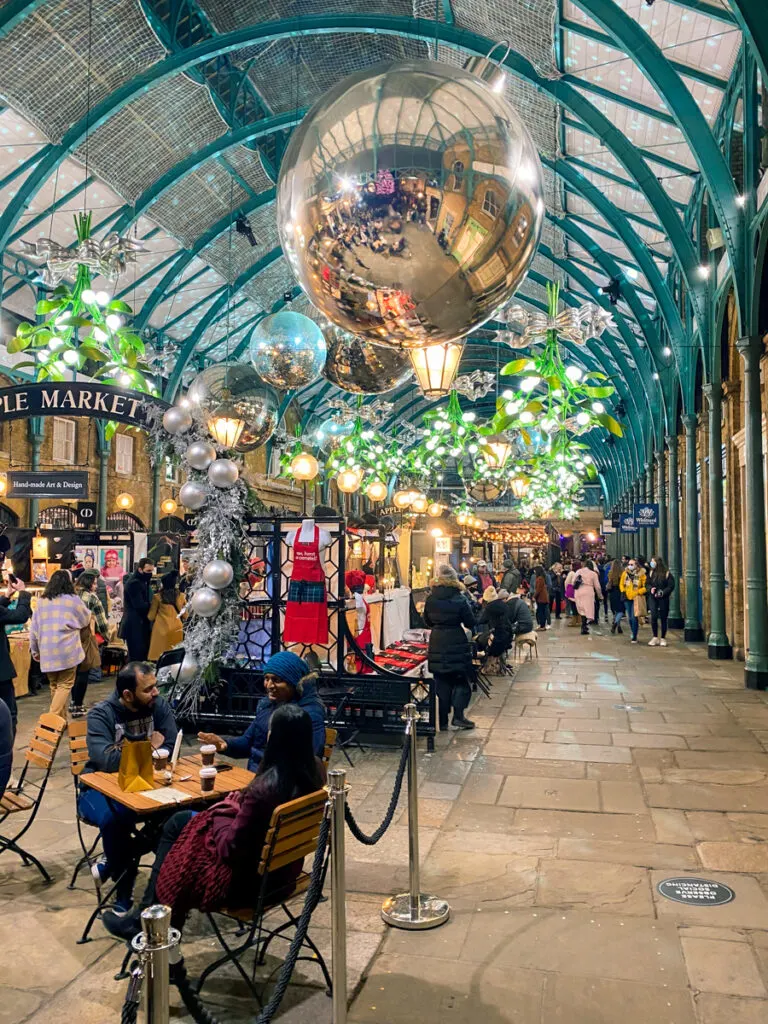 Some in the main square provide blankets, outdoor heaters and warm festive drinks to make it comfortable to be outside during the Christmas period.
Before sitting down, take a quick wander into the market to see the giant Christmas baubles, iconic to the area at Christmas.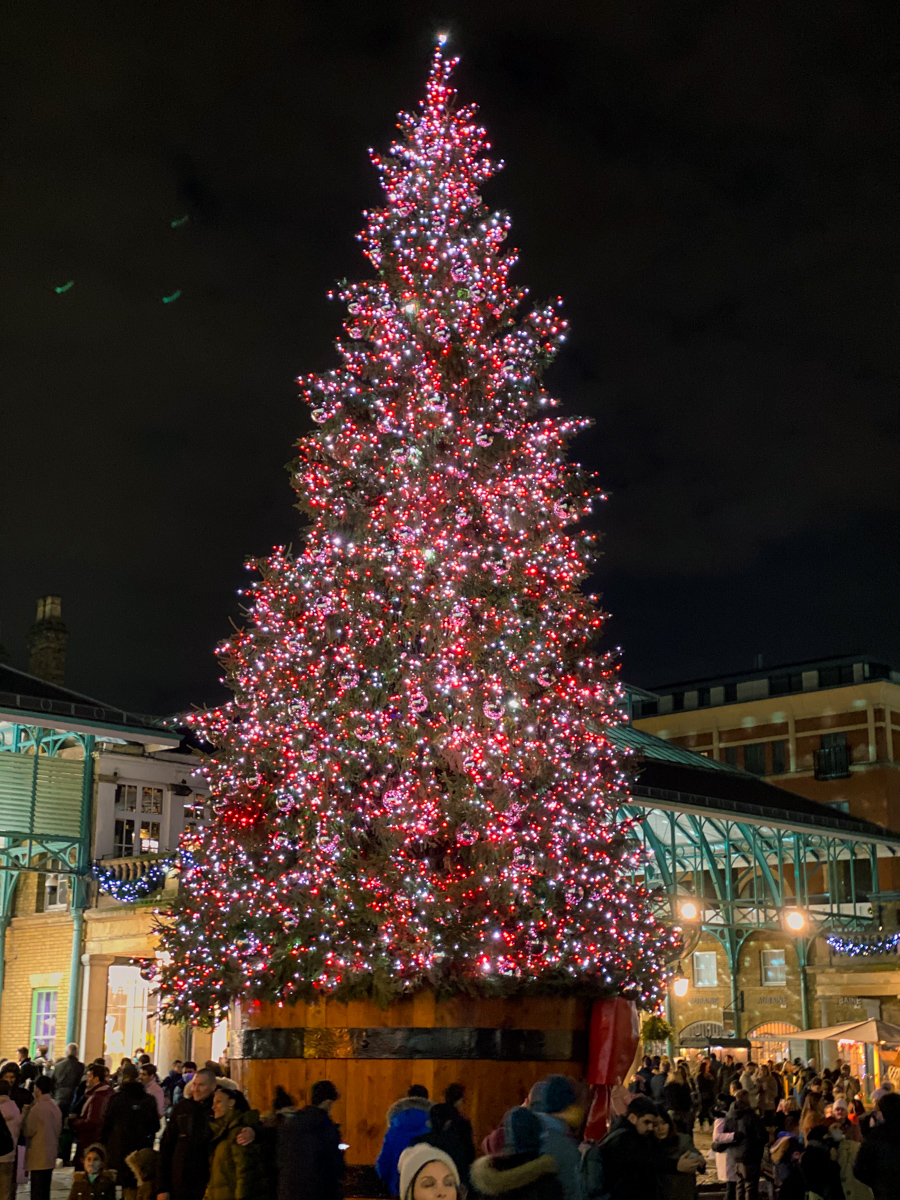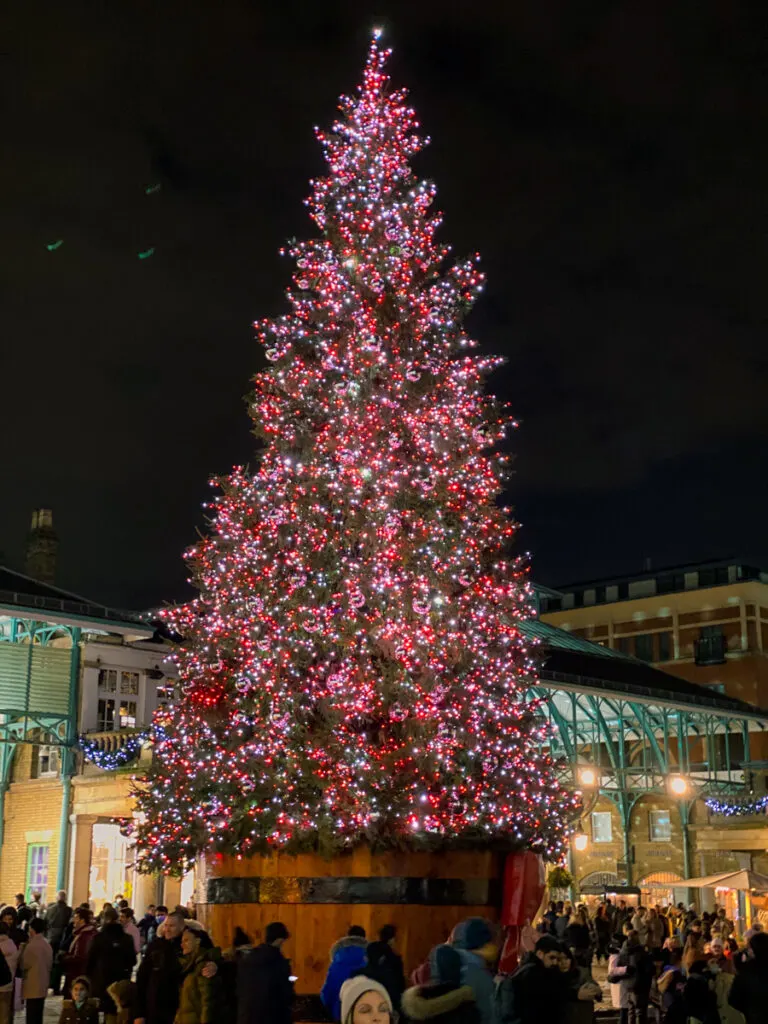 We hope you loved the route and will give it a try! Don't forget you can start at Oxford Street and make your way to Covent Garden to keep it a little shorter if that is more suitable.
If you are travelling with children, bring a stroller, a hot water bottle, and plenty of layers or a carrier which works well with lots of layers. Kids will love eating all the festive snacks along the way.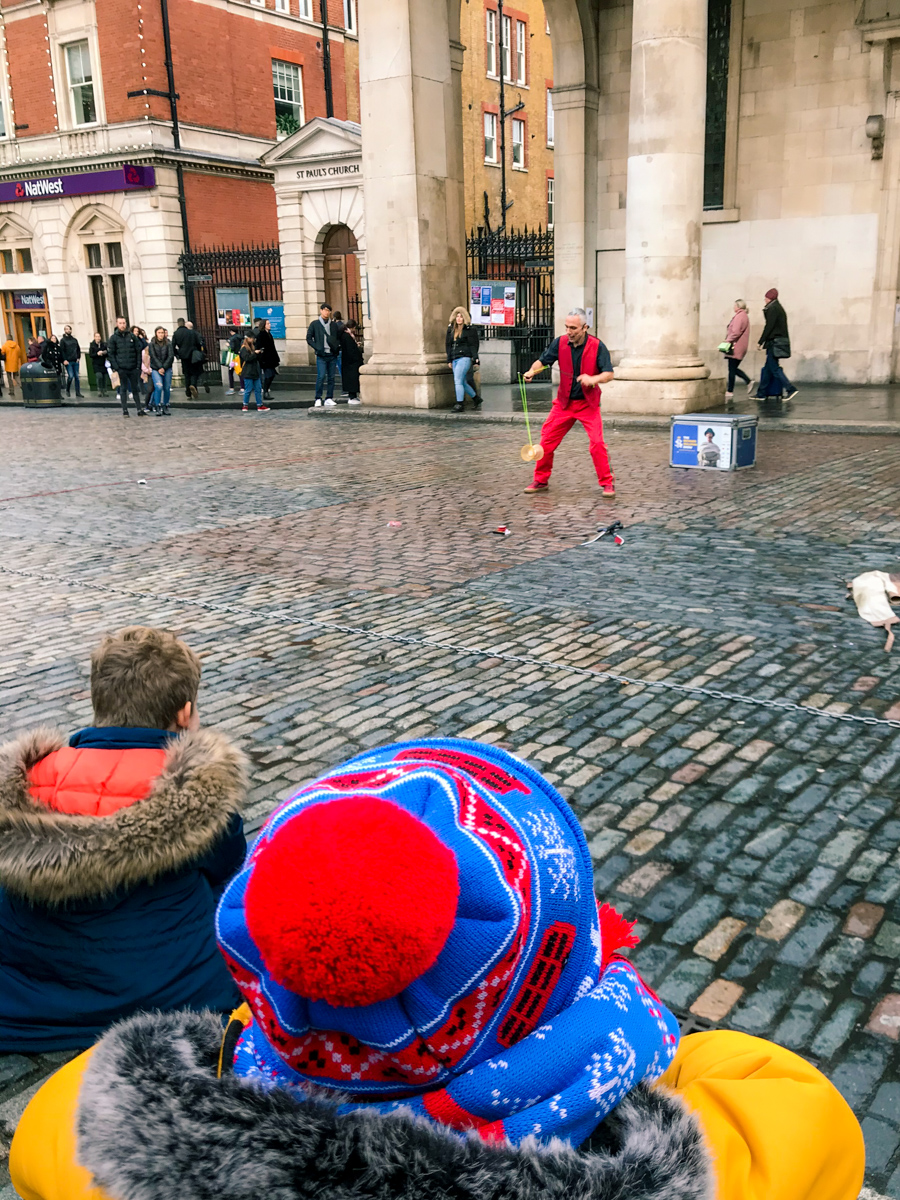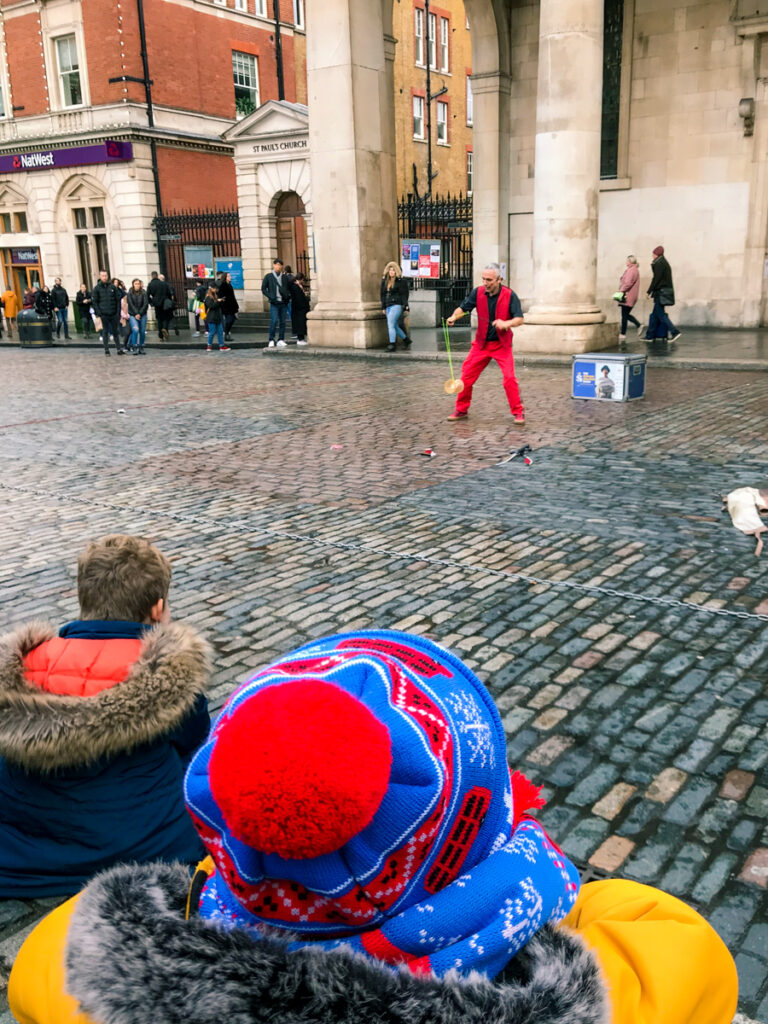 You could make many variations to London Christmas lights walking route. Start at Hays Galleria near London Bridge and come along the South Bank for something a little different.
Before you go, here are some more gems of helpful information.
What time does it get dark in London at Christmas?
I recommend starting your tour late in the afternoon when it gets dark, around 4:00 or 5:00 PM. The sun usually sets just before 4:00 PM in mid-late December in London.
What dates to visit to see London Christmas lights?
Christmas light displays in Central London last year were turned on around 5th November and were turned off around 3rd-7th January. A visit during these dates would certainly be guaranteed a great Christmas light display.
Around this time of year, the weather will be cold, and it's likely to rain, so make sure to wrap up warm and consider bringing an umbrella!
Do the Christmas lights in London cost £ to see?
This is a free day out unless you are tempted by any Christmas shopping and markets nearby!
It doesn't cost any money to walk around London and see the beautiful light displays.
I haven't included Kew Gardens in this London Christmas lights walking route as it's far from Central London.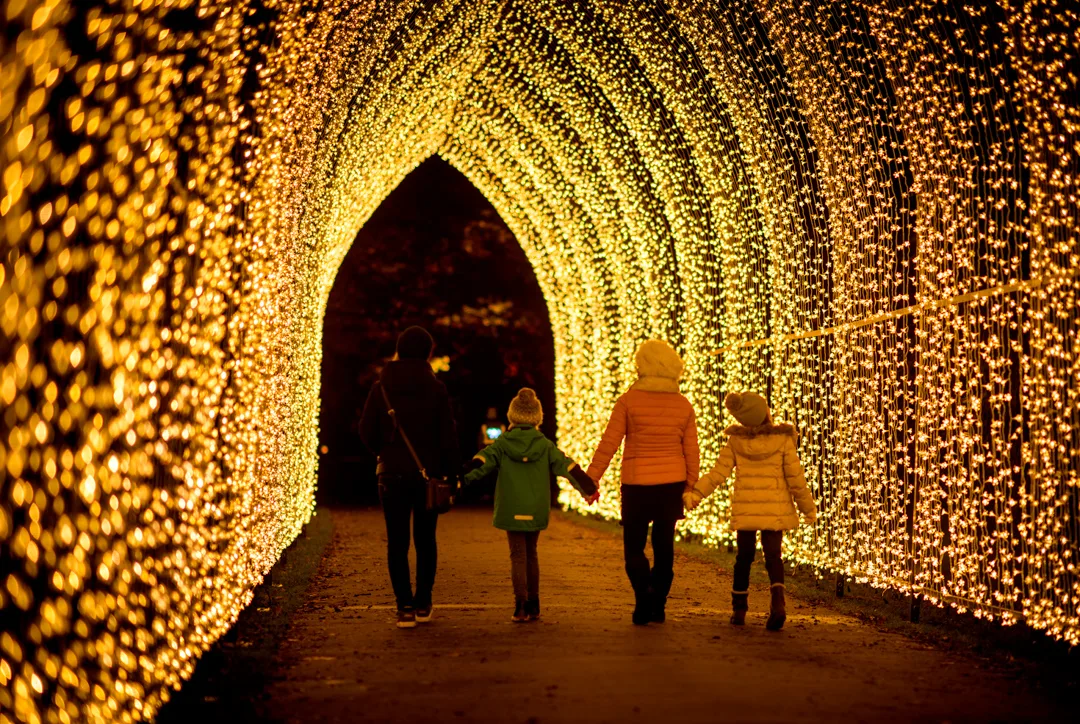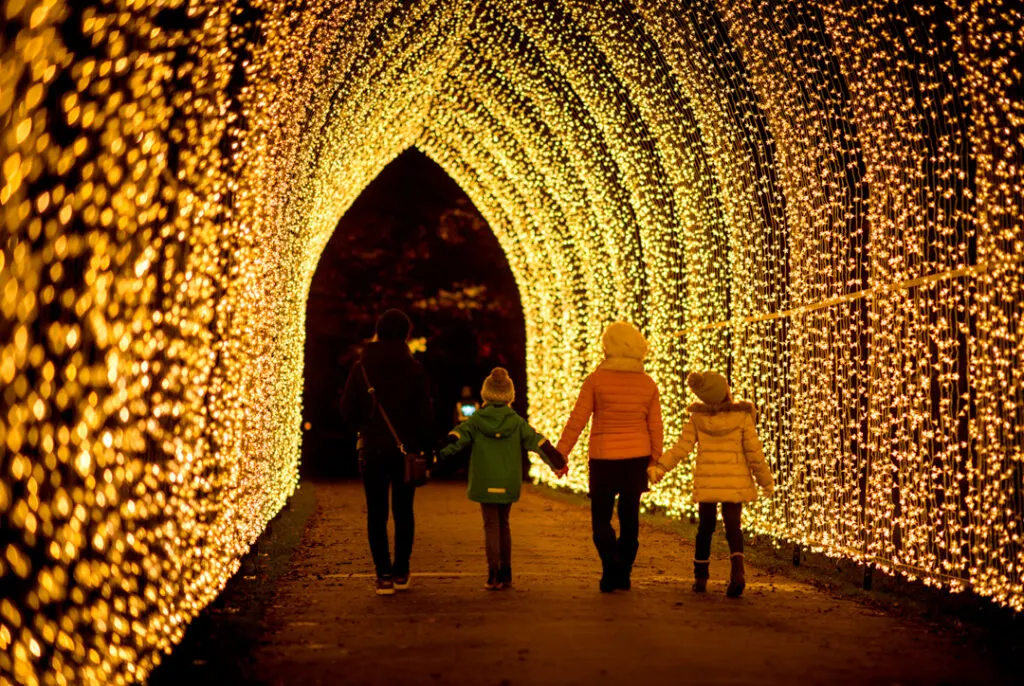 This would be a separate day out if you wanted to see it, and I highly recommend you do it.
After your walk, end your day by visiting one of the many great restaurants in London. You will probably have worked up an appetite!
Public Transport
All of the light displays mentioned on this London Christmas lights walking route is near tube stations or served by London buses, so you can access them on public transport instead of walking if you prefer.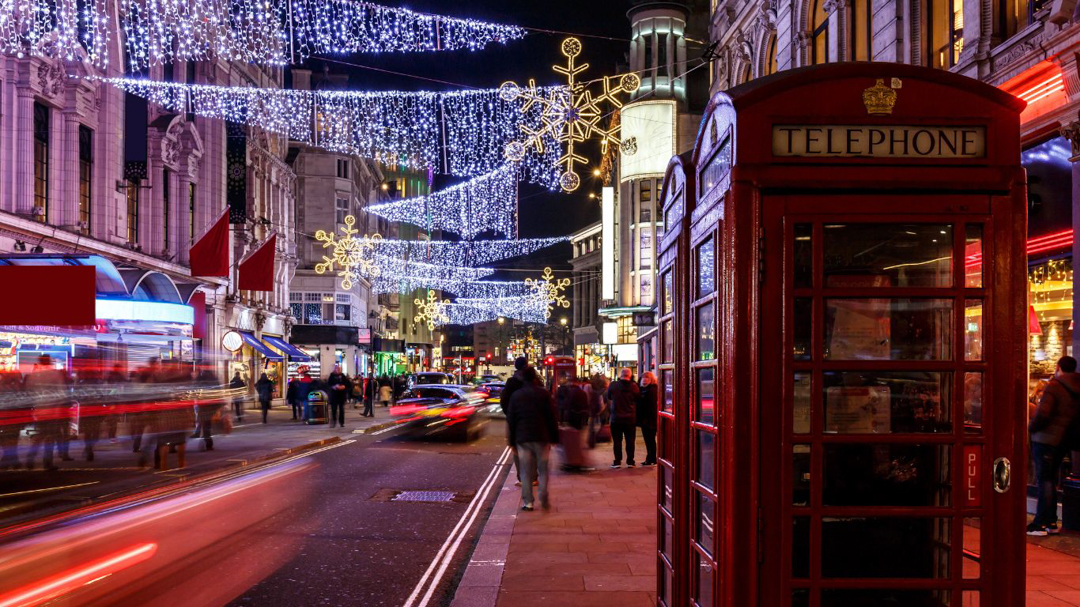 Where To Stay In London At Christmas
If you're visiting London this Christmas season and need to book accommodation, make sure to check out my guide to the best hotels in London before booking.
If you're looking for somewhere to stay nearby this London Christmas lights walking route, look for somewhere in Central London.
Areas such as Covent Garden and the hotels surrounding Hyde Park are ideal locations for the unique Christmas attractions.
Hyde Park and the surrounding area are ideal place to stay, particularly if you plan to visit Winter Wonderland.
Be warned, hotels in London will be jam-packed over Christmas, so it's good to book early. The hotels go all out with decorations and festive cheer.
If you haven't already figured out where you'd like to stay, I recommend you look at my ultimate guide to the best hotels in London.
For somewhere extra special at Christmas, I suggest staying at Claridges which is one of the most incredible places to stay in the city over the festive period.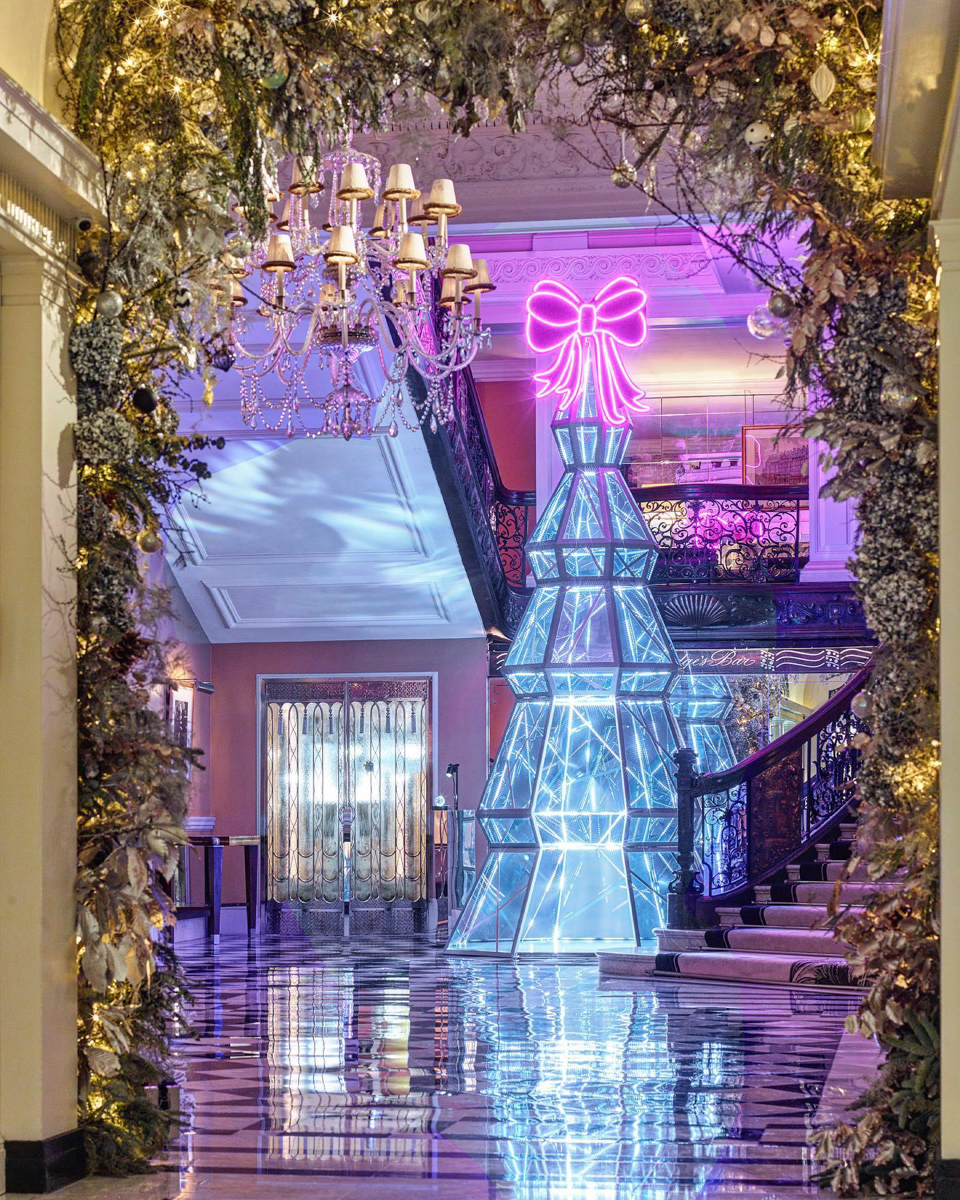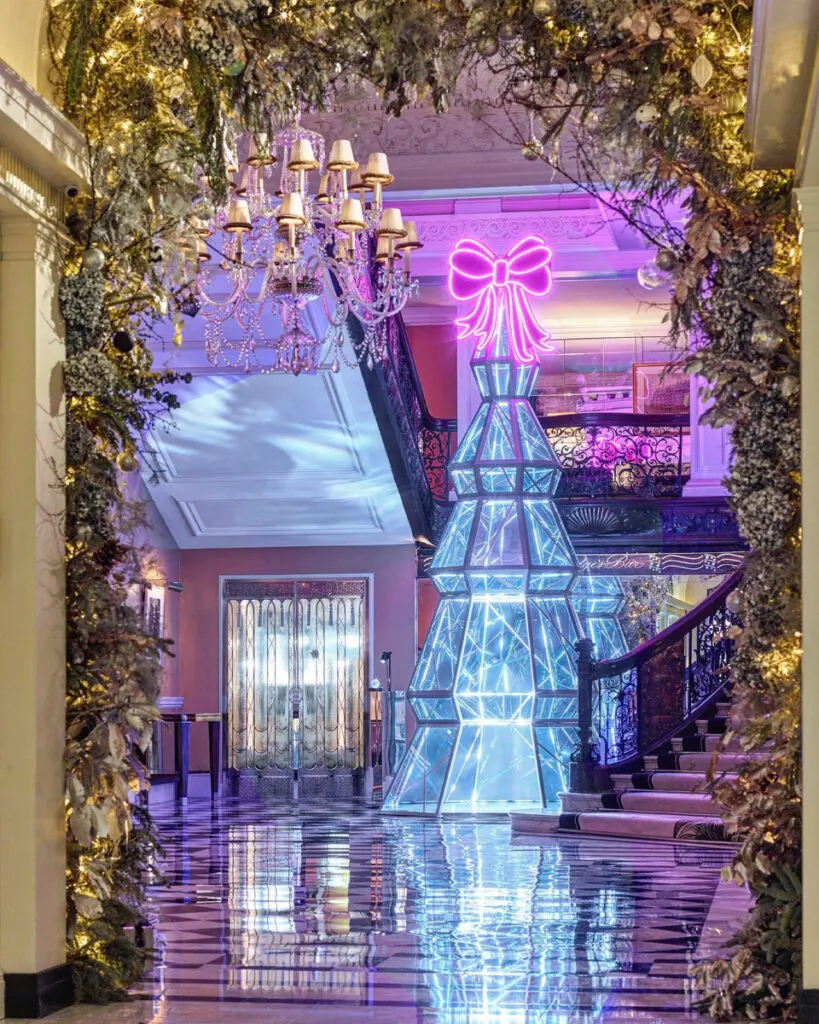 The Christmas tree at this hotel is famous, and the afternoon tea is super special.
Travelodge Covent Garden is a budget hotel located in the vibrant area of Covent Garden.
Travelodge Covent Garden features comfortable and functional rooms designed with simplicity in mind.
The no-frills rooms are equipped with essential facilities and amenities, including a TV and tea or coffee-making facilities.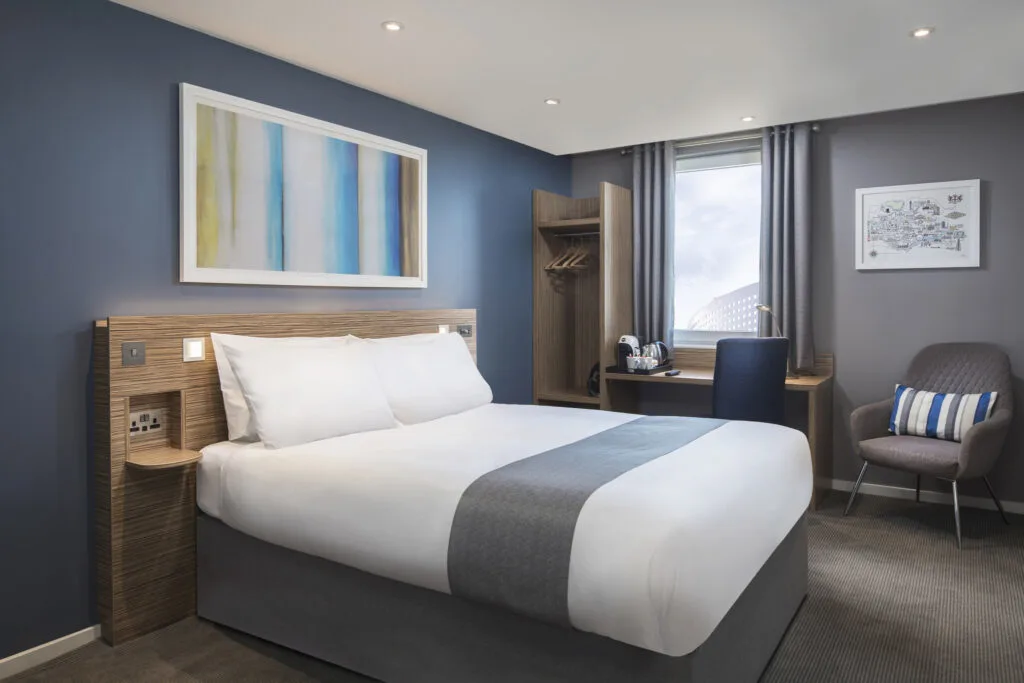 While the decor may be basic, it provides a clean and comfortable environment for a good night's sleep at an affordable rate. One of the main attractions of this hotel is its location.
Travelodge in Covent Garden is in a prime location to enjoy all the Christmas festivities in London. You'll be right in the centre of the Christmas markets and light displays.
The hotel is within walking distance of the West End, making it a convenient choice for many light displays.
The journey back to the accommodation from many top light displays will be a leisurely stroll.
The reception is open 24 hours a day so you can check in and out at any time, depending on your flights. I've found the staff to be amiable and helpful.
As with any budget hotel, this is a no-frills type of accommodation but will offer a clean and comfortable night's sleep in an excellent Central London location!
Please be aware that the Covent Garden is busy late into the night. Noise may be heard in the hotel, so a Central London or West End hotel might be less appropriate for young children or light sleepers.
If you're going to be spending some time in London over the holiday season and you plan on seeing some of the main tourist attractions and historical sites, I would highly recommend getting a Go City London Pass to save a bit of cash (as we know, London is an expensive city).
The London Pass allows you to visit multiple top attractions on just one ticket at a massive discount.
If you find yourself elsewhere or would rather eat closer to where you are staying, check out my guide to the best family-friendly restaurants in London, which includes options all over the city to suit every budget.
Did you give this London Christmas lights walking route a go? Leave a comment, we love to hear from you.
You may also like:
Best Things to do in London in the Rain
Christmas in London with Kids
Disclaimer: This post contains about the best London Christmas lights walking route contains affiliate links. By using them, it does not cost you any extra, we get a teeny commission. Thank you in advance for your support.