London Christmas markets are brimming with festive scents of fir trees, roasting chestnuts, spices and mulled wine. Adding a touch of cold air makes it the ultimate festive experience.
There is nothing quite like Christmas in London. Nearly every street and building in the city is decorated with festive lights and elaborate displays.
There are plenty of Christmas activities in London for kids to enjoy such as polar train rides, tree-lighting ceremonies, festive tours and ice skating. The city transforms almost instantly when Halloween is over.
If you are looking at other European destinations, check out this guide to European Christmas Markets.
Christmas Markets In London
The Christmas markets in London are extensive and exciting. Including the Winter Market at Southbank Centre, the Christmas Market at Leicester Square, the Hyde Park Market and more.
Most London Christmas markets have plenty of activities and mini carnivals to keep little ones entertained.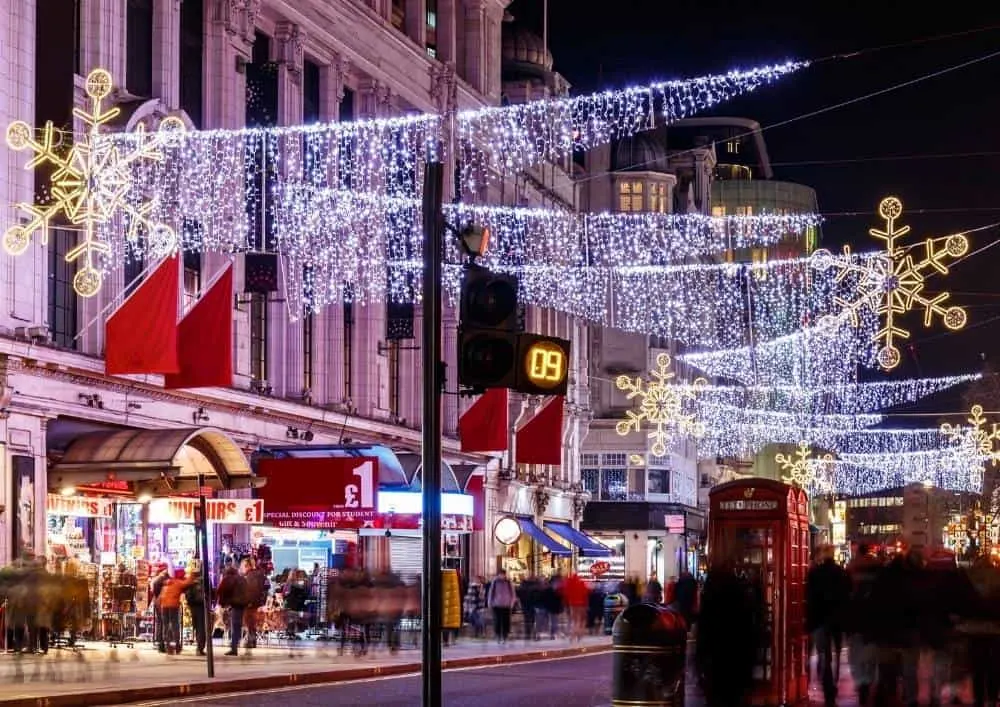 A tour of the London Christmas markets is perfect for those seeking to explore the most festive parts of the city. A local guide leads a small group through some of the city's best Christmas markets.
Check out this fantastic Christmas market tour in London.
1. Southbank Centre Winter Market
Experience a winter wonderland on the South Bank's riverside, where artisan Christmas markets and global cuisine come together for Southbank Centre's Winter Festival.
Walk along the River Thames along the South Bank is one of the best free attractions in the capital, especially at Christmas.
The area is decorated with Christmas lights and traditional wooden chalets selling festive foods like mulled wine, Christmas decorations and delicious food.
Aside from homemade crafts, warm beverages, and German snacks, there are rides and carols to keep everyone entertained.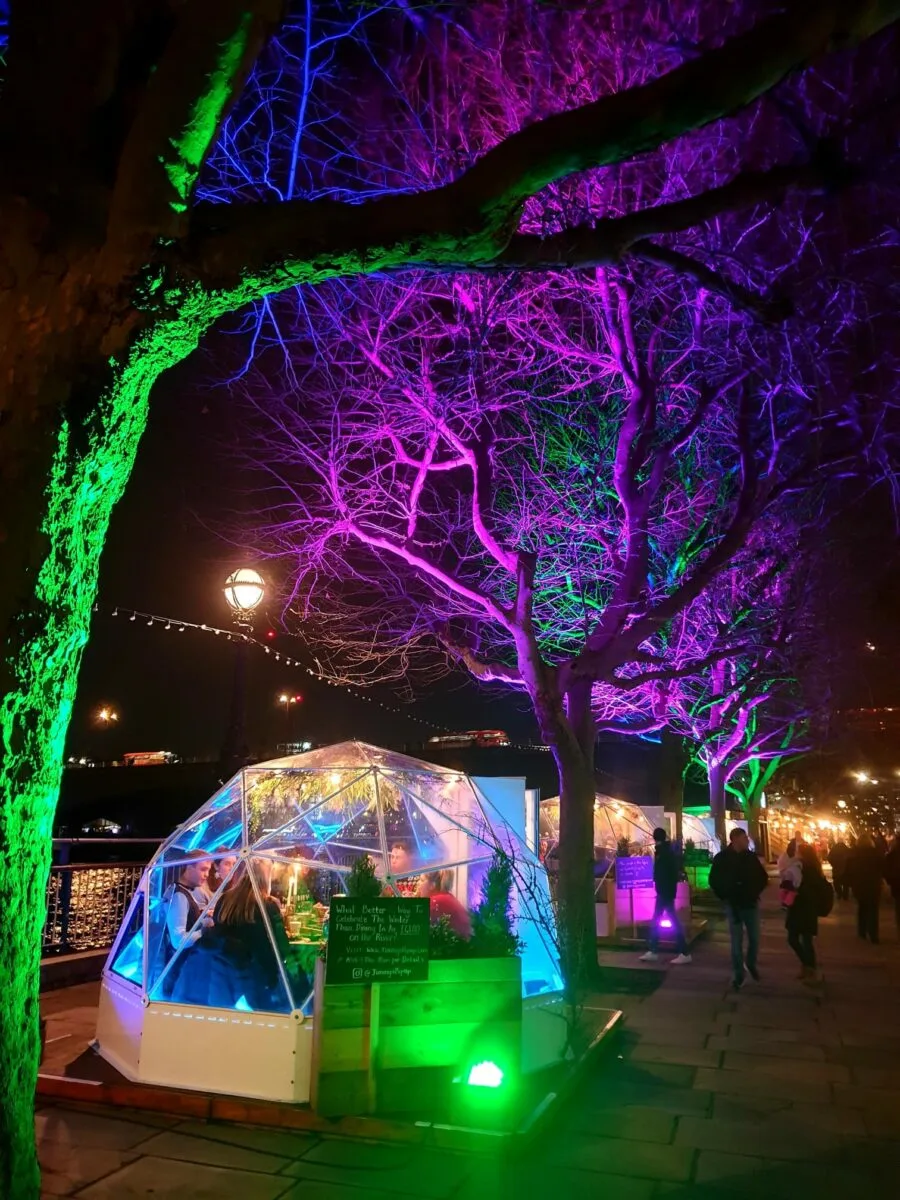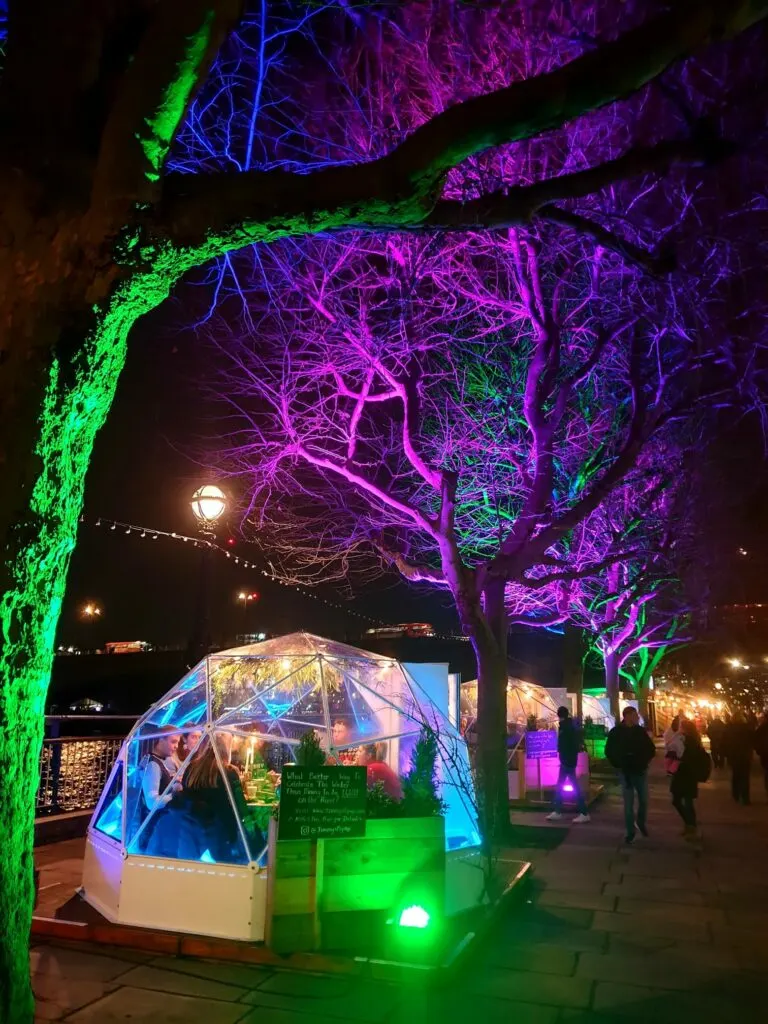 Take the opportunity to walk between the Southbank Centre and Tate Modern Christmas markets – the views along the way are stunning, and each has its distinct festive atmosphere.
It's worth noting, unlike most of the other Christmas markets in London, the one at the Southbank Centre stays open until the beginning of January. The markets are beside The London Eye and have views of Big Ben!
Dates: November 3 to January 8
Entry: Free Admission
Location: The Queen's Walk, London SE1 8XX, United Kingdom
2. Christmas Market At Leicester Square
The bustling Leicester Square is a hub of London's arts and theatre scene, surrounded by cinemas, casinos and cultural spaces in the West End. The area attracts thousands of tourists every day.
With alpine lodges, bars, pop-up theatres and events set up around the fountain, Leicester Square turns into a vibrant European winter wonderland during the holiday season.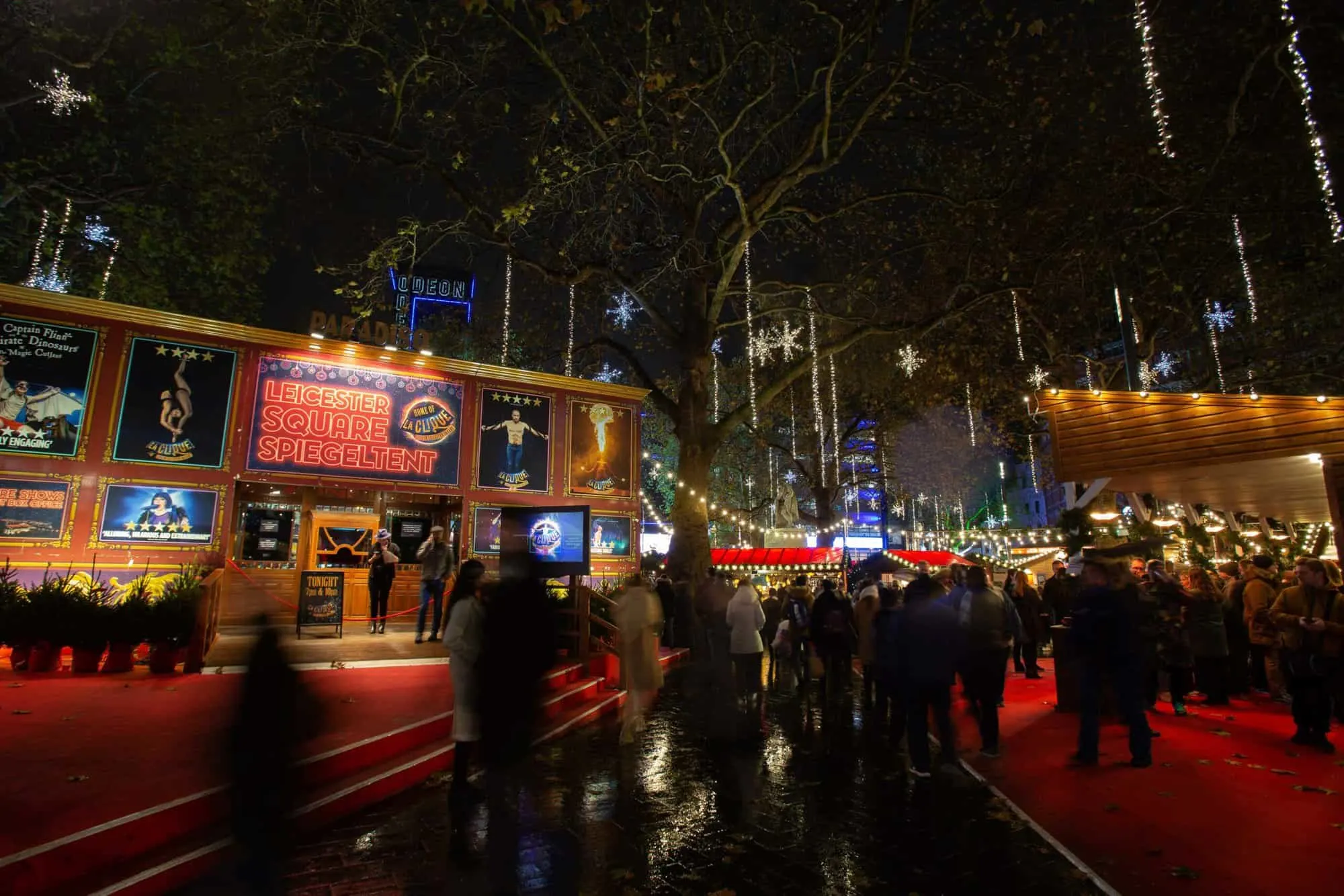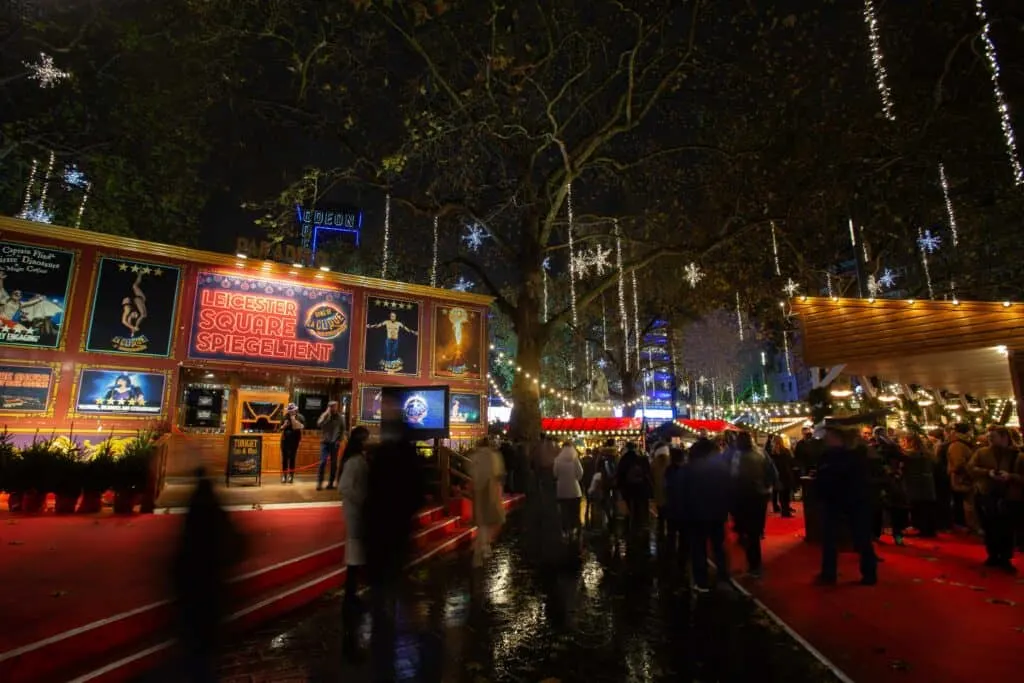 The London Christmas markets at Leicester Square has a wonderful selection of crafts and treats. It's like a festive playground. Not to mention variety shows, musicals or comedy at the Belgian 1920s-styled Spiegeltent afterwards.
Visiting Leicester Square's Christmas markets around sunset is a fantastic time to see the area turn from day to night.
Dates: November 12 to January 9
Entry: Free Admission
Location: Leicester Square, London WC2H 7DE, United Kingdom
3. Hyde Parks Christmas Markets
London has many Christmas markets, but Hyde Park Christmas market and Winter Wonderland are by far the biggest.
Angel Christmas market features over 100 beautifully decorated wooden chalets with unique gifts, handmade Christmas decorations and festive treats. It is most certainly one of the top London Christmas markets.
Other attractions also include:
The UK's largest outdoor ice rink.
A 230-foot observation wheel
A top-notch Winter Wonderland Christmas show.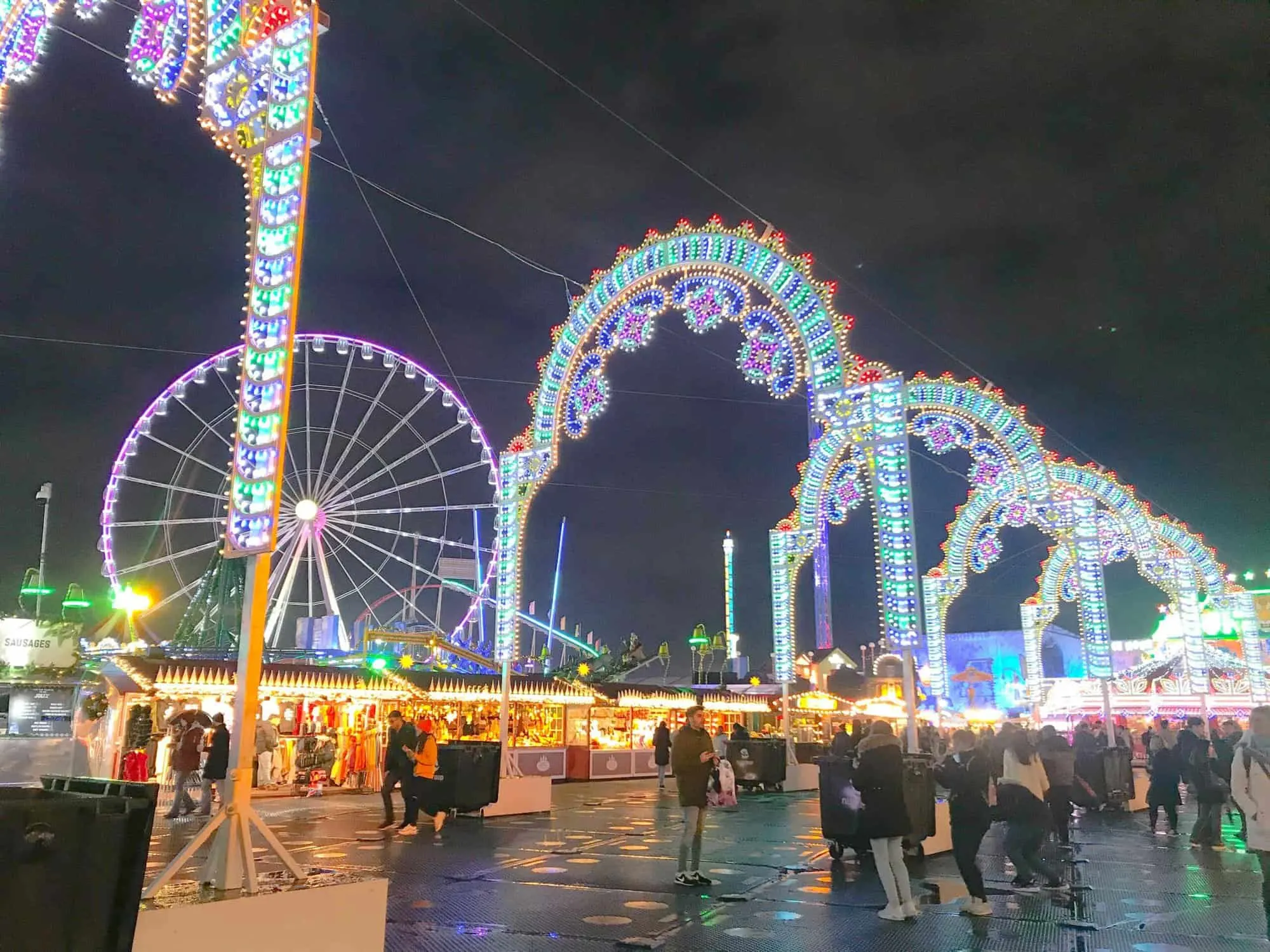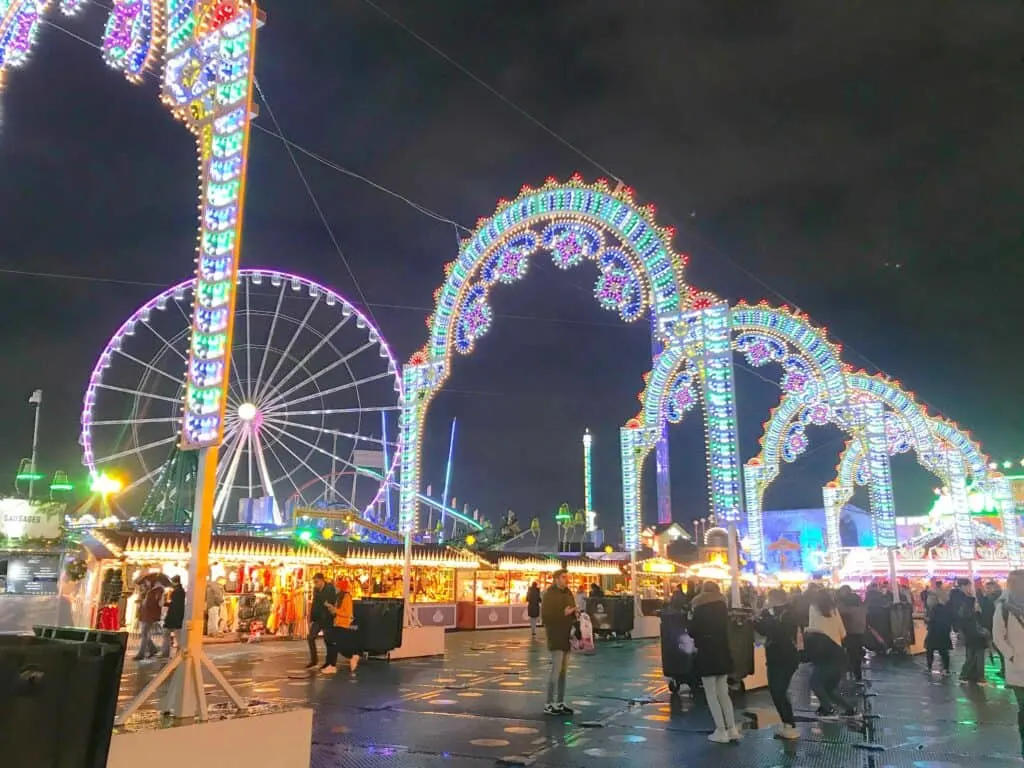 Winter Wonderland is free to enter off-peak. However, tickets are required during peak hours. For a more affordable ticket and less crowded experience, consider visiting early in the day during the week.
For pricing details on attractions
Dates: November 18 to January 2
Off-Peak Entry: Free
Standard ticket: From £5.00
Peak hours Entry: From £7.50
Timings: 10 AM to 10 PM (Monday to Sunday)
Location: London, United Kingdom
4. Greenwich Christmas Market
The Greenwich Market is one of our favourite markets in London. Even though it is open throughout the year, there is something magical about it in December.
Featuring more than 100 stalls with a wide selection of Christmas goodies, artisan food, crafts and delicious treats, it is less touristy than other London Christmas Markets.
Since it is a bit further away from the city, it's easier to navigate the markets as the crowds are smaller.
Taking the Thames Clipper is a lovely way to travel to Greenwich. It leaves Westminster and stops at multiple places along the river. The view of the city from the water is mesmerising.
Particularly cruising under Tower Bridge and past Canary Wharf.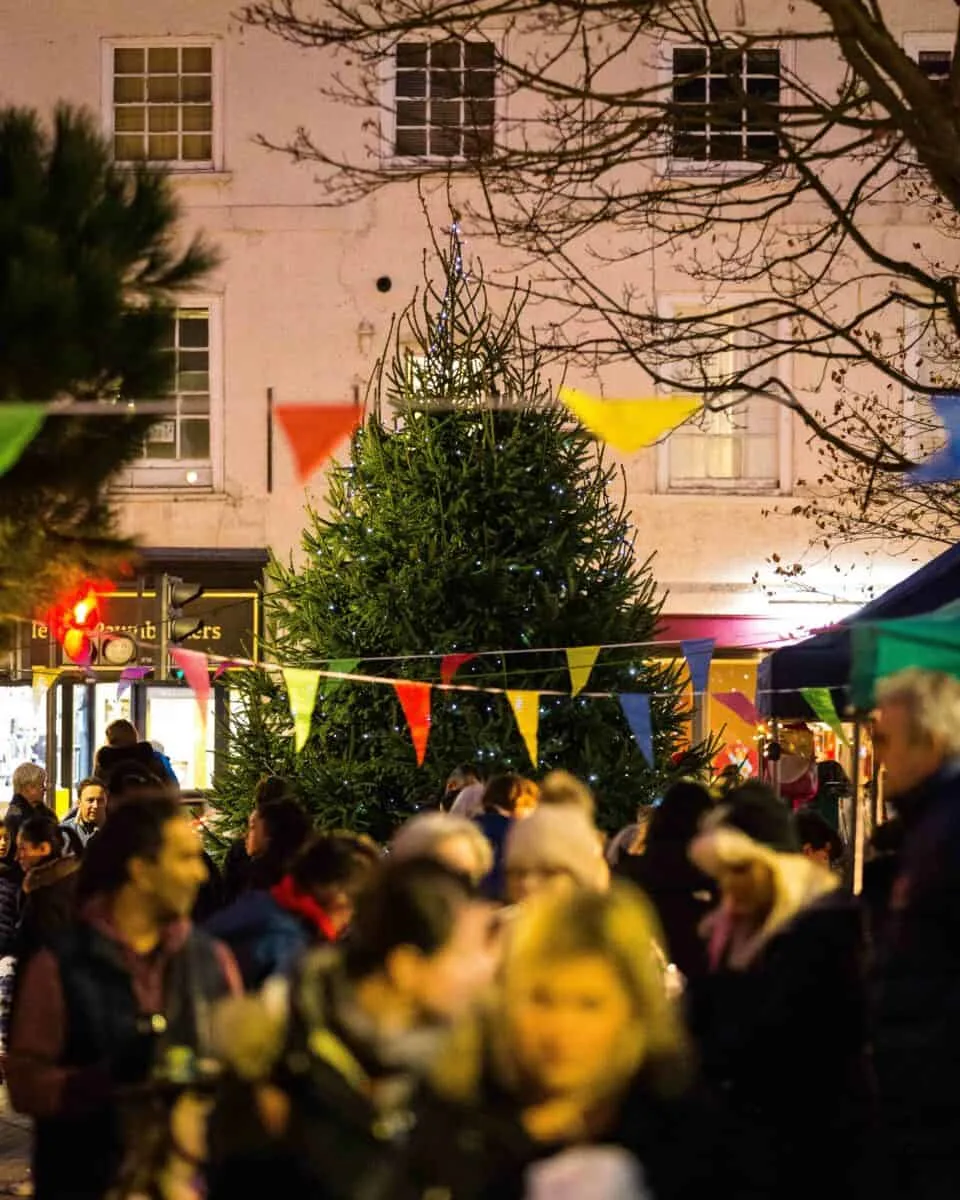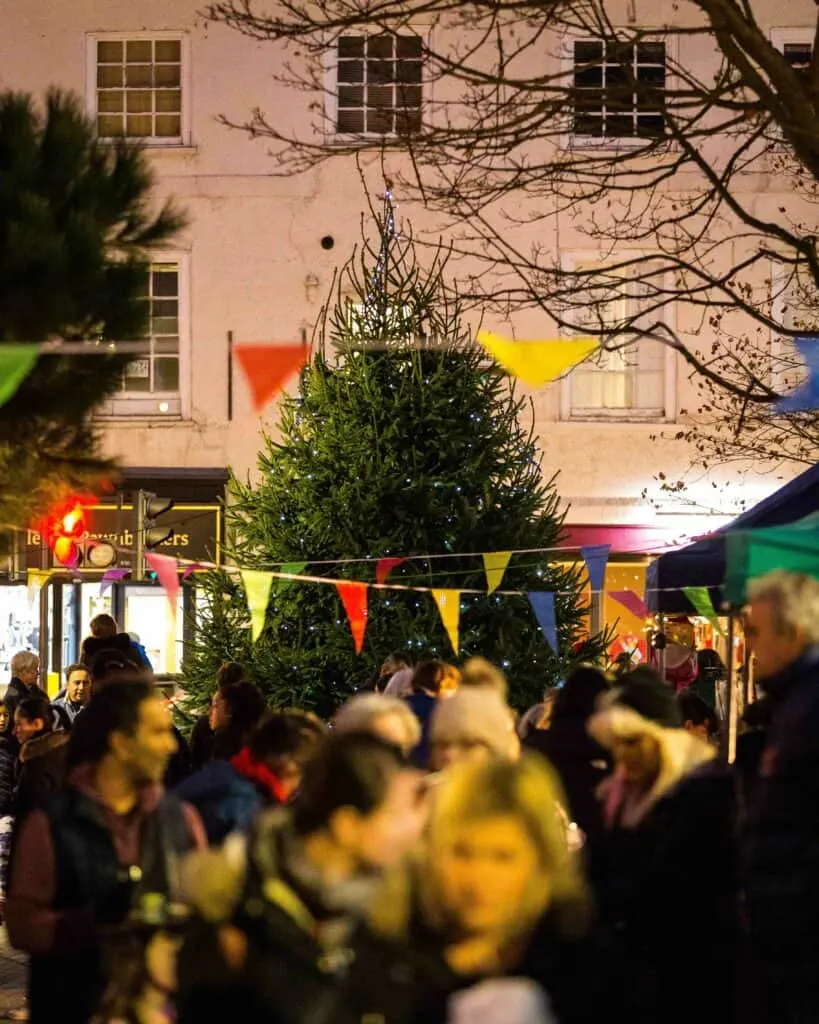 On November 16, a dramatic lantern procession will take place at Greenwich Market.
As part of the big Christmas Countdown and Lights On with a guest artist, children from five local schools will parade colourful lanterns through the ORNC grounds, around Cutty Sark Gardens, and into the market.
There will be performances following the parade. Father Christmas will be available for a visit in his Greenwich Grotto on 22-23 Nelson Road.
It is the perfect place to wander around while sipping hot chocolate or mulled wine, listening to Christmas tunes setting the festive atmosphere.
Entry: Free Admission
Lantern Parade and Christmas Lighting Dates: November 16
Christmas Markets Dates: TBA
Lantern Parade Timings: 4 PM to 6 PM
Location: 5B Greenwich Market, London SE10 9HZ, United Kingdom
5. Kingston Christmas Market
While Kingston's market runs throughout the year, Christmas is a lovely time to visit. With over 40 vendors setting up shop, the festival boasts twinkling fairy lights, mulled wine, and delicious food.
Those visiting get to experience European-style Christmas markets in a traditional British setting, with continental bratwurst to hog roasts and street food from across the globe.
The Kingston Christmas Market takes place in the town's Ancient Market Place, visitors can find a variety of unusual Christmas gifts.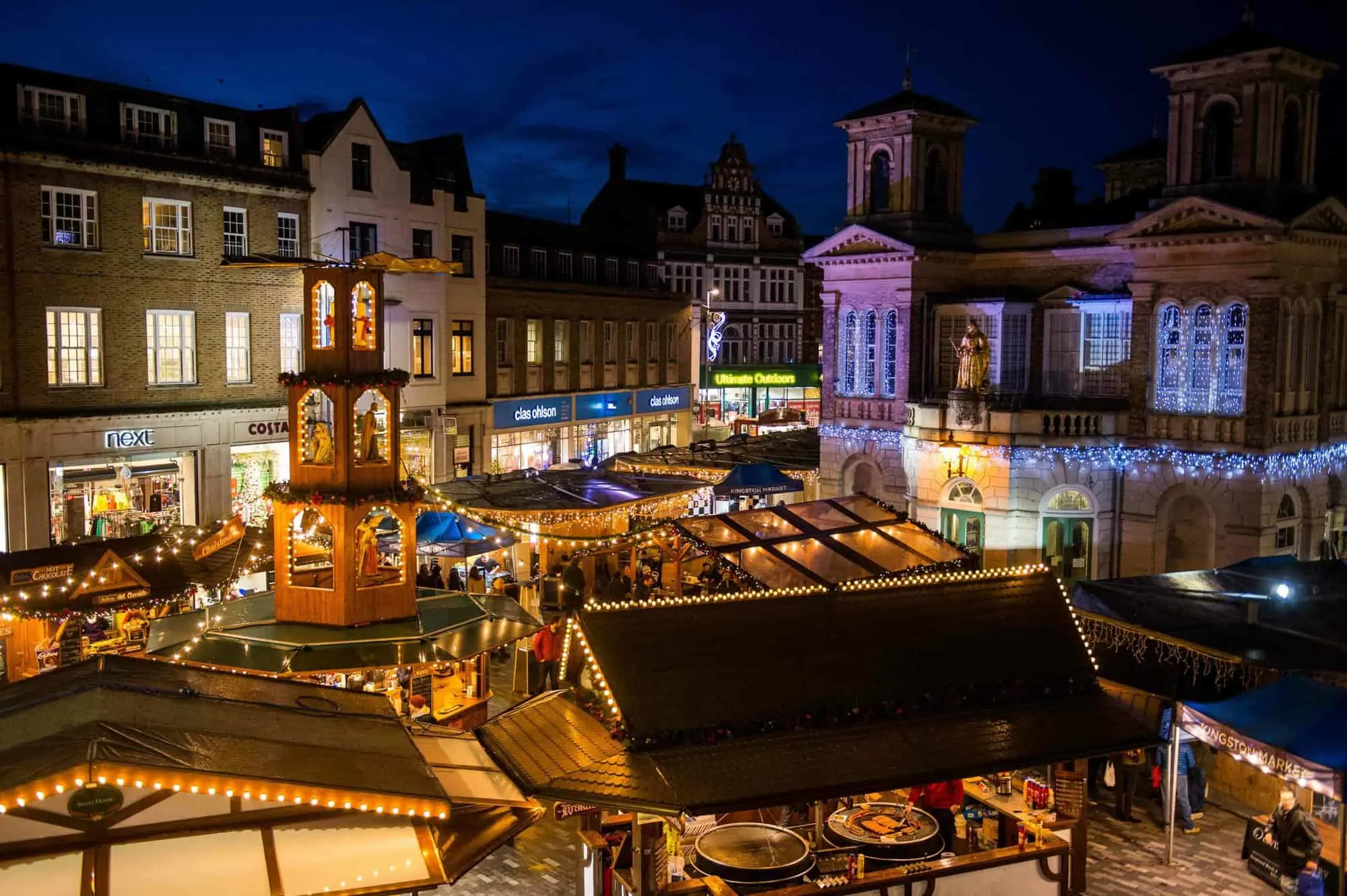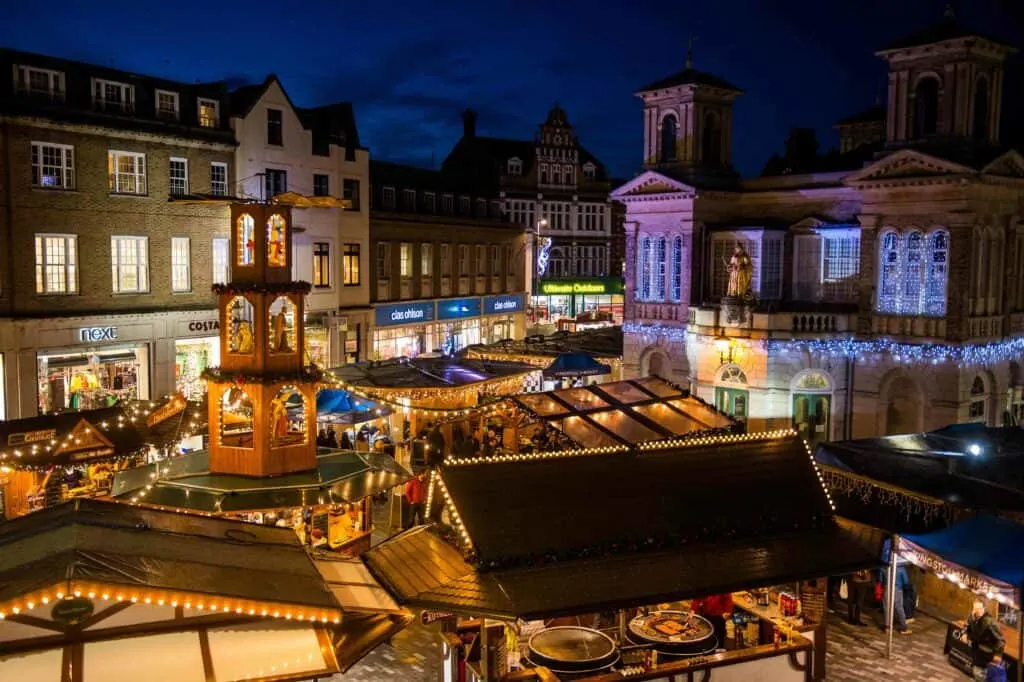 There are fun-fair-styled activities to entertain the little ones. From a carousel to classic Christmas carol singers and live music to keep all ages entertained.
Hampton Court Festive Fayre and Kew Gardens Christmas light trail are not too far away. However, tickets for Kew lights book up months in advance so worth securing them earlier in the year.
Dates: November 10 to December 24
Entry: Free Admission
Location: Market Pl, Kingston upon Thames KT1 1JS, United Kingdom
6. Canopy Christmas Market At King's Cross
Keeping with its name, the King's Cross Canopy market is located under a large roof, so you can visit it no matter the weather.
Visitors can experience Christmas under the canopy through craft workshops. Among the highlights of this Christmas market are stalls, carol singers, food tastings, mulled wine and masterclasses.
Christmas shoppers can browse a line-up of London's best artisan traders, a charming covered market just off Granary Square. A new theme will be unveiled every weekend in December.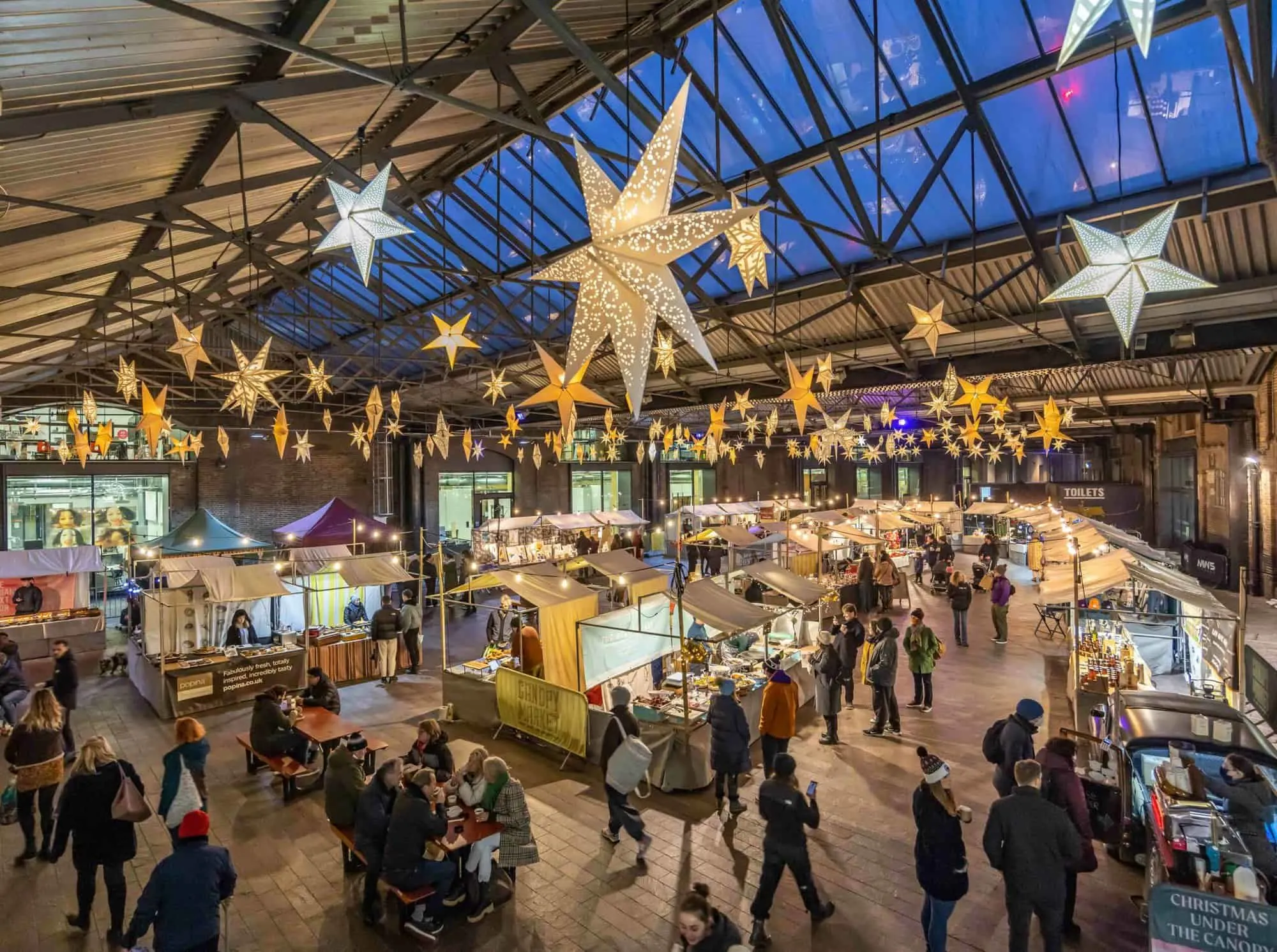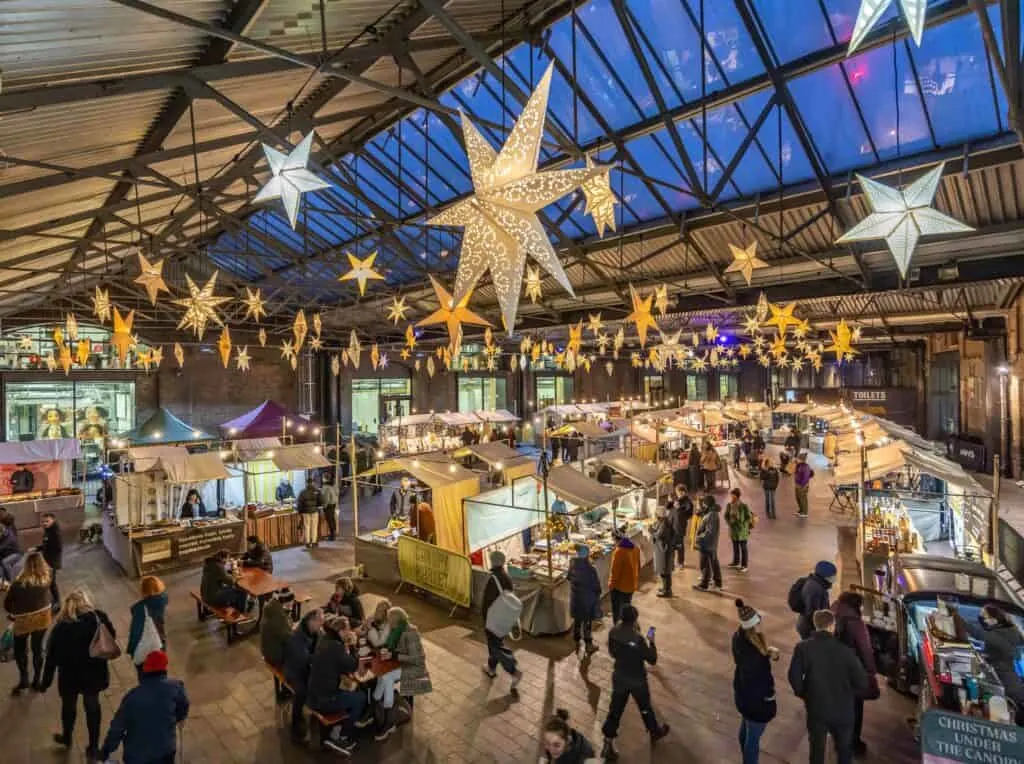 From farm-fresh produce to beer, wine and cheese, exquisite desserts, jewellery, ceramics, accessories and homewares crafted by independent designers, there is plenty of Christmas produce.
With Christmas lights, decor, and festive entertainment, this Christmas market has fantastic festive vibes making it ideal for weekend shopping and a deserving spot on our list of London Christmas markets.
Christmas Markets Dates and Timings: TBA
Dates: Friday to Sunday
Timings: 12 PM to 8 PM (Friday)
11 AM to 6 PM (Saturday)
11 AM to 6 PM (Sunday)
Entry: Free Admission
Location: West Handyside Canopy, 2 Granary Square, London N1C 4BH, United Kingdom
7. Christmas By The River at London Bridge
The Christmas By The River event features spectacular views of the Tower Bridge and Tower of London. Wooden pop-ups adorned with Christmas lights and festive decor with an array of original gifts and handmade crafts.
A total of 60 stalls sell food, drinks, perfect stocking fillers, and unique gifts for friends and family.
In order to retain the title of the nation's best Christmas market, the organisers get creative with their theme every year to entertain visitors.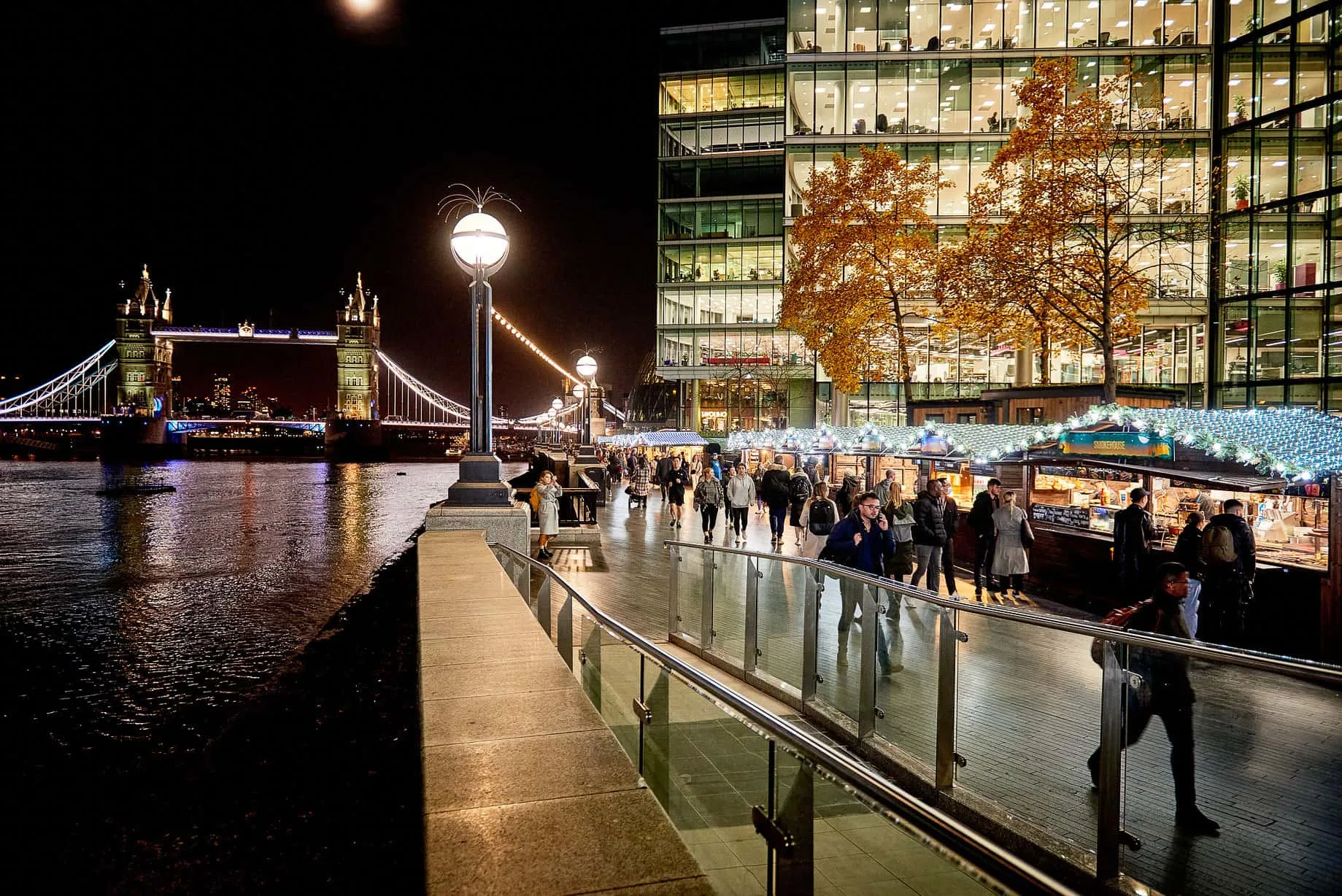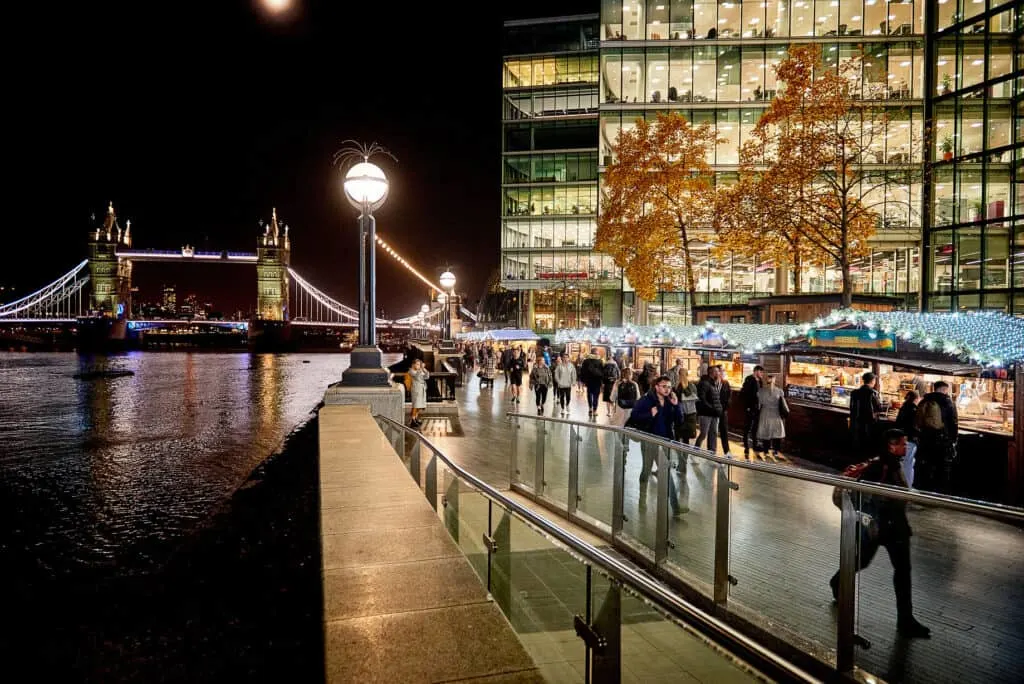 There will be a full line-up of Christmas delicacies from across the globe competing to win over the crowds. A useful tip is to arrive hungry so you can sample everything.
Visitors can enjoy a range of delicious foods and sip mulled wine while taking in one of London's most iconic skylines.
The markets are located between London Bridge and Tower Bridge's southern entrances. A visit to this particular London Christmas market filled with classical music, good food, and the festive holiday spirit is the perfect way to welcome the festivities.
Dates: Mid November to Early January
Entry: Free Admission
Timings: 11 AM to 9 PM (Sunday to Wednesday) and 11 AM to 10 PM (Thursday to Saturday)
Location: London Bridge City, London SE1 2RR, United Kingdom
8. Christmas At Paternoster Square
A new addition to the London Christmas markets scene is the Christmas at Paternoster Square, located right next to the iconic St Paul's Cathedral.
Visitors at the Square can stroll around decked-out cabins and explore what vendors have in store.
Lighting will be installed on each traditional-style Christmas cabin, as well as a stunning tree display in the square.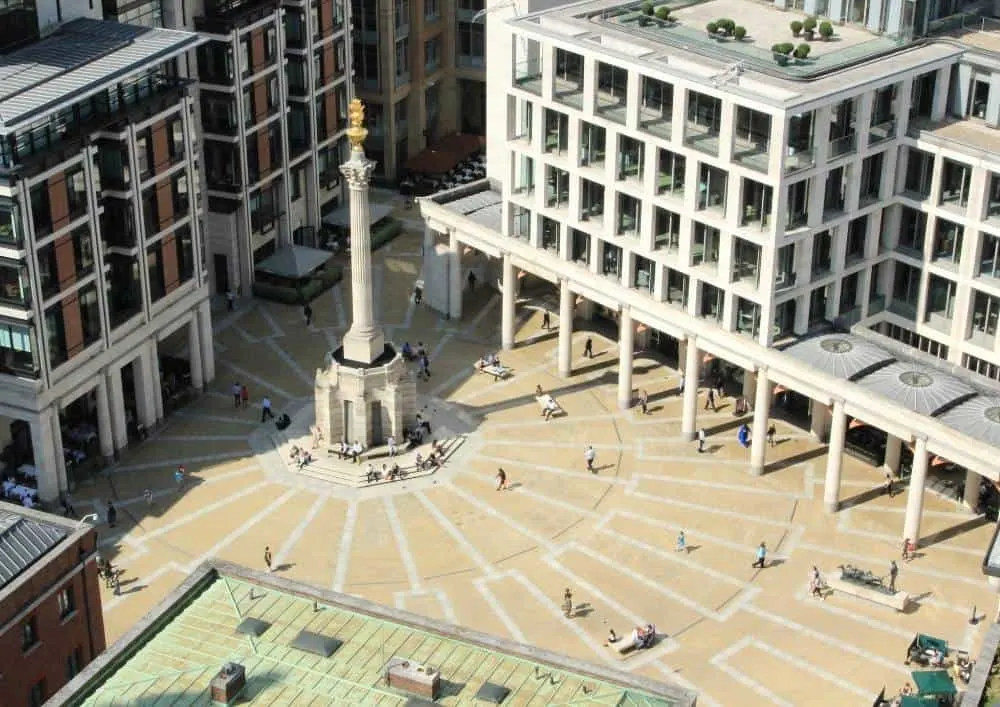 Featuring mulled wine, arts and crafts and a wide range of food options, the Paternoster Square Christmas market is based in a stunning historical location.
Dates: November 8 to December 23
Entry: Free Admission
Timings: 10 AM to 7 PM (Monday to Friday)
Location: London, United Kingdom
9. Trafalgar Square Christmas Market
Besides the huge Christmas tree, Trafalgar Square also has a Christmas Market. The upper tier is lined with around 25 to 30 Christmas market stalls and festive huts, with an outdoor seating area looking over the main square.
Many places throughout the city will be singing Christmas carols during the holiday season. Various special ceremonies occur in churches and cathedrals throughout the festivities.
In Trafalgar Square, however, there is nothing better than listening to a choir singing under the famous Christmas tree.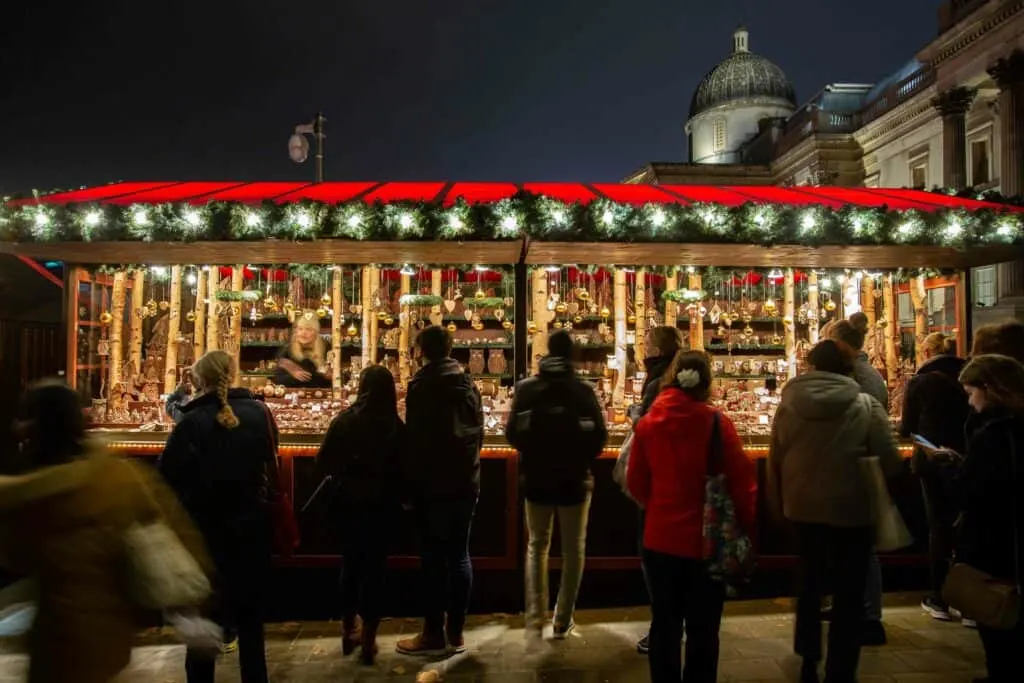 Over 40 choirs perform in Trafalgar Square in the weeks leading up to Christmas. The dates have not yet been confirmed, but performances are scheduled between 4 pm and 8 pm on weekdays and 2 pm and 6 pm on weekends.
This is a welcome addition to Trafalgar Square from the organisers of Underbelly and a nice Christmas place to buy crafty gifts or indulge in holiday fare and drink mulled wine.
Dates: Mid November to December
Entry: Free Admission
Timings: TBA
Location: Trafalgar Sq, London WC2N 5DN, United Kingdom
10. Covent Garden Christmas Market
Visiting Covent Garden Markets at Christmas is truly one of the highlights and a must-visit when exploring London Christmas markets.
A beautiful array of decorations, giant baubles, twinkling lights, and mistletoe chandeliers adorn the covered market and piazza.
Throughout the festivities, seasonal goods are sold, performances are taking place, and festive bites and drinks are plentiful. All in addition to the regular market stalls and shops open throughout the year.
Besides the thousands of lights, giant baubles, and wreaths, Covent Garden is home to other Christmas events that will not disappoint.
In front of the legendary covered market is one of London's tallest Christmas tree, standing at 55 feet and adorned with over 30,000 lights and ornaments.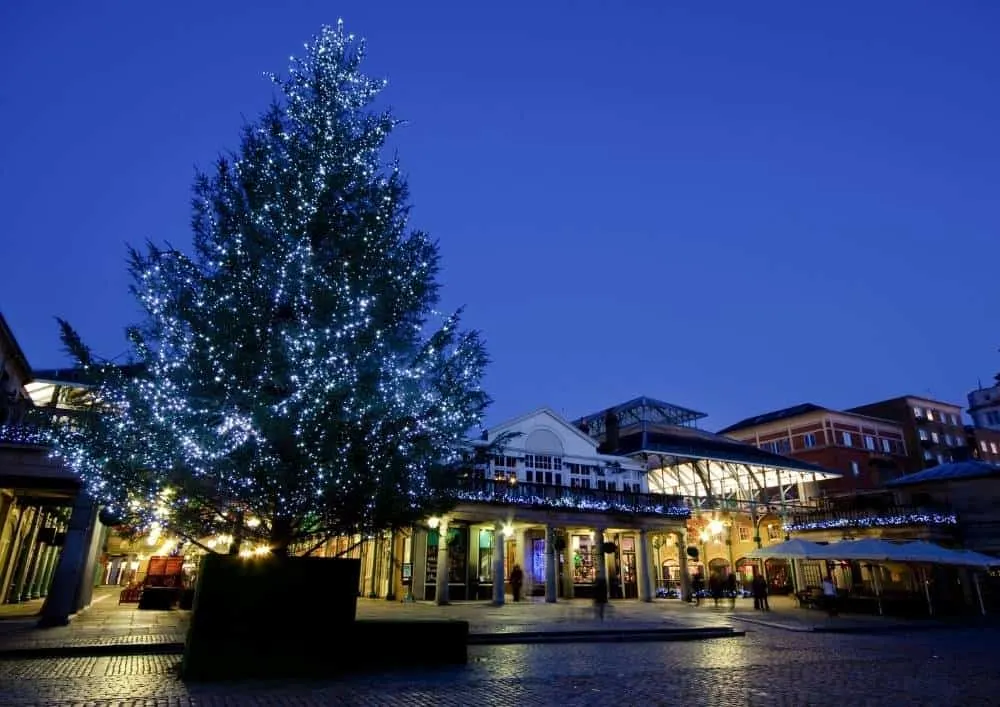 Visitors can explore the traditional winter town, filled with art and craft stalls, fir trees and the Ramsbury Bauble Forest Domes (giant igloos). Guests can dine in luxury for that extra oomph during the holiday season.
Stroll through the Christmas village, savour scrumptious festive delicacies, and sip over 25 varieties of mulled wine while absorbing the holiday spirit.
Christmas Market Dates: From November 8 onwards
The Winter Warmer Festival: November 8 to November 20
Entry: Free admission
Timings: 7 AM to 11 PM Daily
Location: The Management Office 41 The Market Building, London WC2E 8RF, United Kingdom
11. Spirit Of Christmas Fair
Spirit of Christmas Fair will be welcoming shoppers through Olympia London's door after a year of online shopping.
With over 700 boutiques and a wide range of products available, Spirit of Christmas Fair is the true home of Christmas shopping.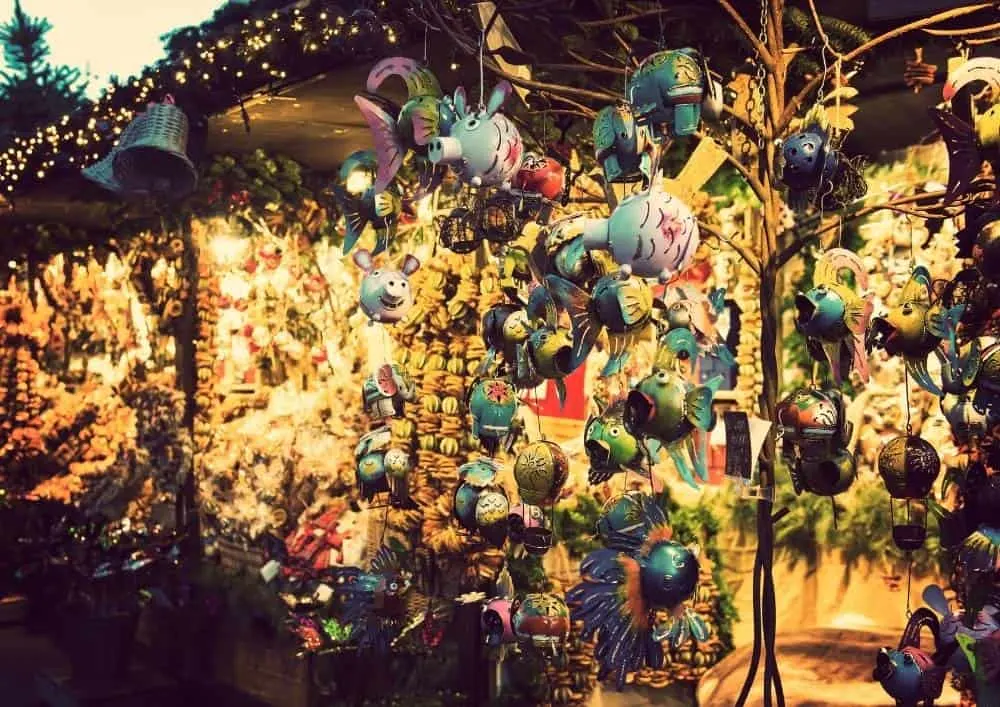 The Spirit of Christmas Fair showcases home grown, environmentally friendly, ethically produced items rarely seen on the retail market.
There is plenty of perfect unique Christmas present for friends and family. Featuring quality and original fashion, decoration, jewellery, toys, games, food and drinks, the expertly curated collection has something for everyone.
Dates: October 31 to November 6
Entry: Day tickets from £23.50
Weekend pass from £28.00
Premium pass from £28.00
Unlimited pass from £31
For information on tickets and admission
Timings: 10 AM to 6 PM (Monday to Saturday), 10 AM to 9 PM late night (Friday) and 10 AM to 5 PM (Sunday)
Location: Hammersmith Rd, London W14 8UX, United Kingdom
12. Borough Market
Explore Borough Market's historical arches decked out with lights and decorations while listening to choirs and buskers singing holiday tunes.
One of the most popular festive events, the Evening of Cheese is held at the market, distinguishing it from the rest of London Christmas markets.
Borough Market has some amazing Christmas treats and drinks. Customers are able to interact with vendors to learn about the produce on sale.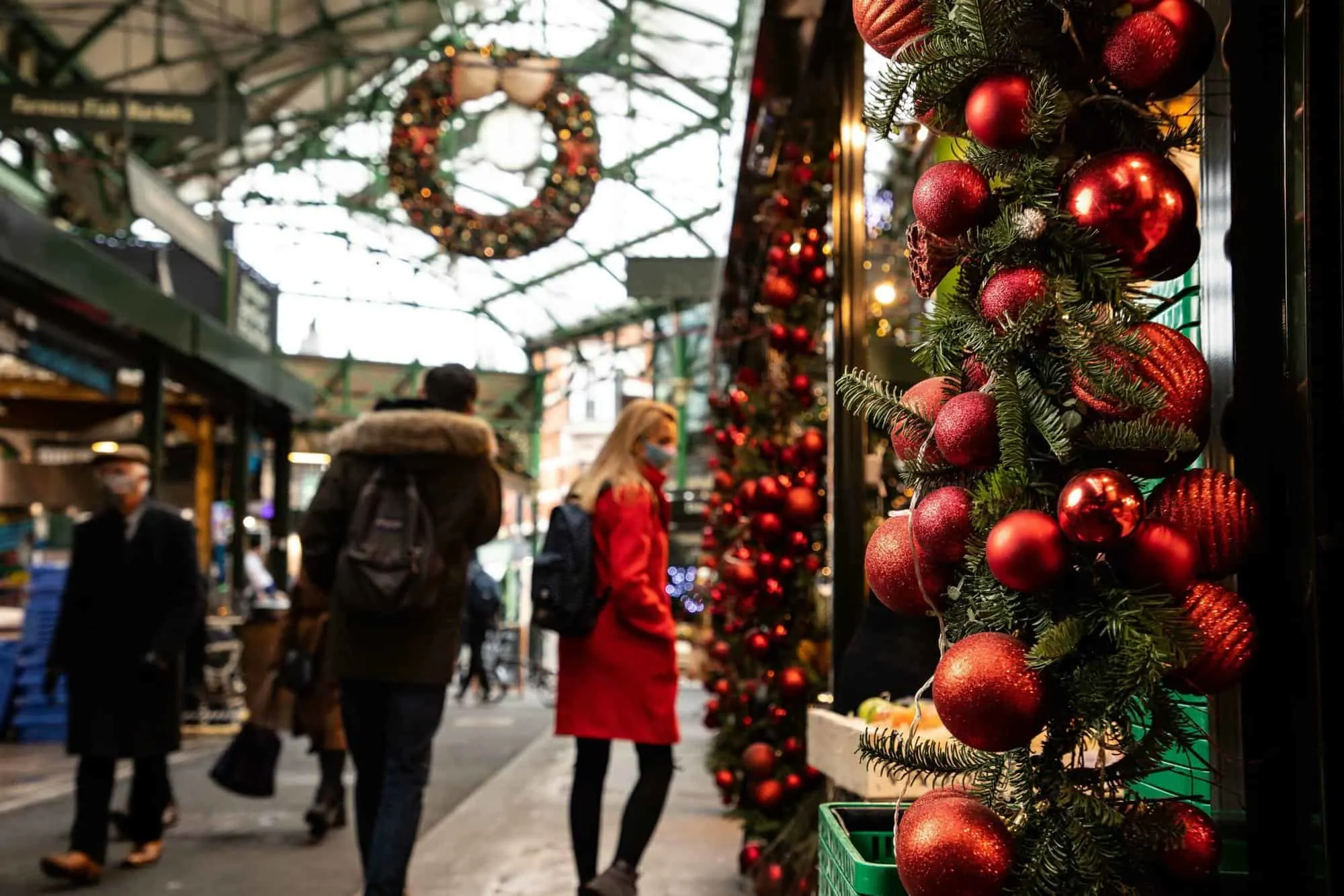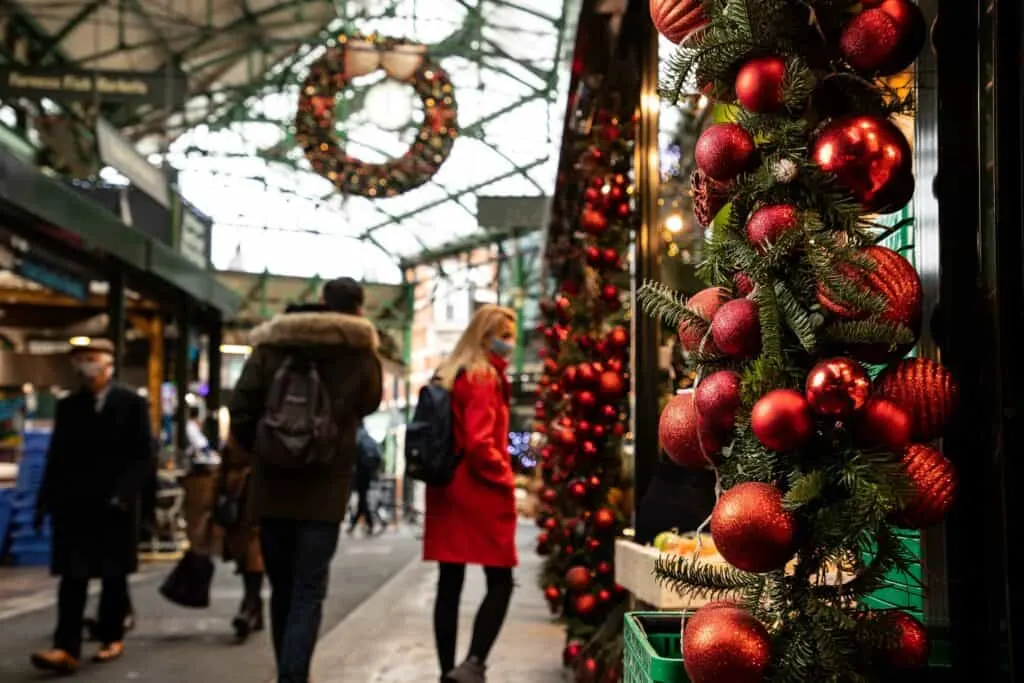 Within a historical setting, sample a variety of international treats as well as festive foods from all over Britain and surrounding regions.
Every item has a story to tell, and the vendors at the markets will gladly fill visitors in with information and facts about what's in store.
Dates: TBA
Entry: Free Admission
Timings: 10 AM to 5 PM (Monday to Friday)
Location: 8 Southwark St, London SE1 1TL, United Kingdom
13. Country Living Christmas Fair
The Country Living Christmas Fair has all the newest trends and styles, hence giving it a spot in the must-visit London Christmas markets list.
There will be an array of local and regional food artisans, distributors, and designers exhibiting and selling their produce. Vendors share secrets through talks, demonstrations, and hands-on workshops held during the show.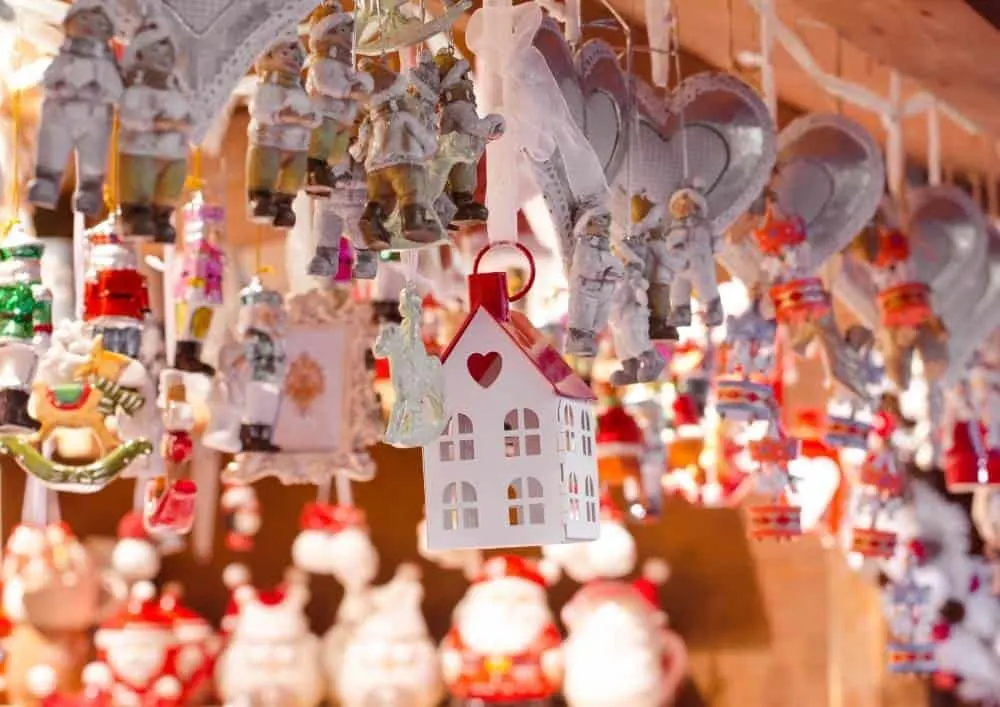 In the Crafting Studio, a variety of activities are available for a fee, including decorating gingerbread, block printing Christmas cards, weaving with sari strips, and many more.
Dates: November 9 to November 13
Entry: Standard Entry for £20
VIP Entry for £75 offering priority entry, a goodies bag worth £25, bottomless proseccos and much more.
Luxe VIP Entry for £200 offering a luxe hamper worth £200, reserved seating in theatres, bottomless proseccos to name a few.
Timings: 10 AM to 5 PM (Wednesday to Sunday)
Location: Business Design Centre, 52 Upper Street, Islington, N1 0QH, United Kingdom
14. Hampton Court Palace Festive Fayre
In the setting of a beautiful palace amidst gardens, the Christmas food festival and market take place. It was once a favourite of Henry VIII.
Take a stroll through the courtyards at Hampton Court Palace Festive Fayre for an afternoon filled with a variety of delicacies, cooking demonstrations, and beautiful carols sung by the artists.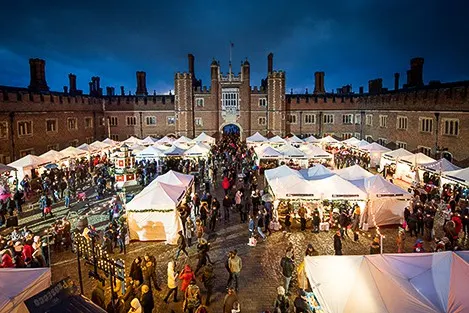 At this amazing festival, enjoy artisan food and drinks, and Christmas shops filled with gifts making the event a stunning London Christmas market.
The East Front bandstand hosts entertainment throughout the festival with spaces to dine, drink and shop
For off-peak arrivals at 3.00pm, visitors can save 50% on tickets.
For ticket details and more information
Dates: December 2 to December 4
Entry: Adult general admission @ £26.10
Concessions for ages over 65, 16-17, Full-Time Student: £20.90
Children ages 5 to 15 years @ £13
Under the age of 5 go for free
Timings: 10 AM to 6 PM
Location: Hampton Ct Way, Molesey, East Molesey KT8 9AU, United Kingdom
15. Winter At Wembley Park
One of Londons newest neighbourhoods Wembley Park is hosting Festive London Christmas Markets this year with over 25 artisan stalls. With vendors selling everything from mince pies to mulled wine, locally hand made gifts and much more.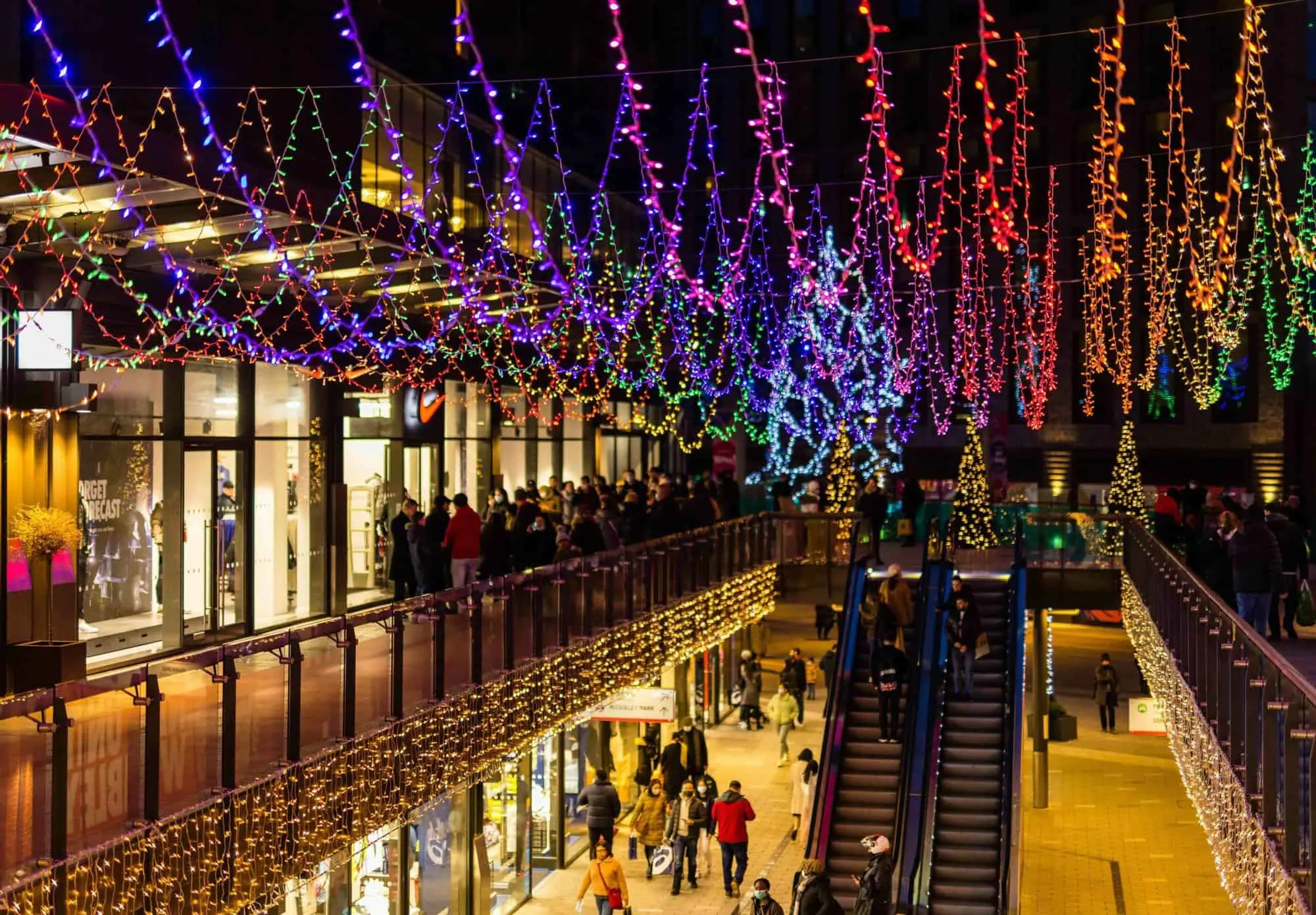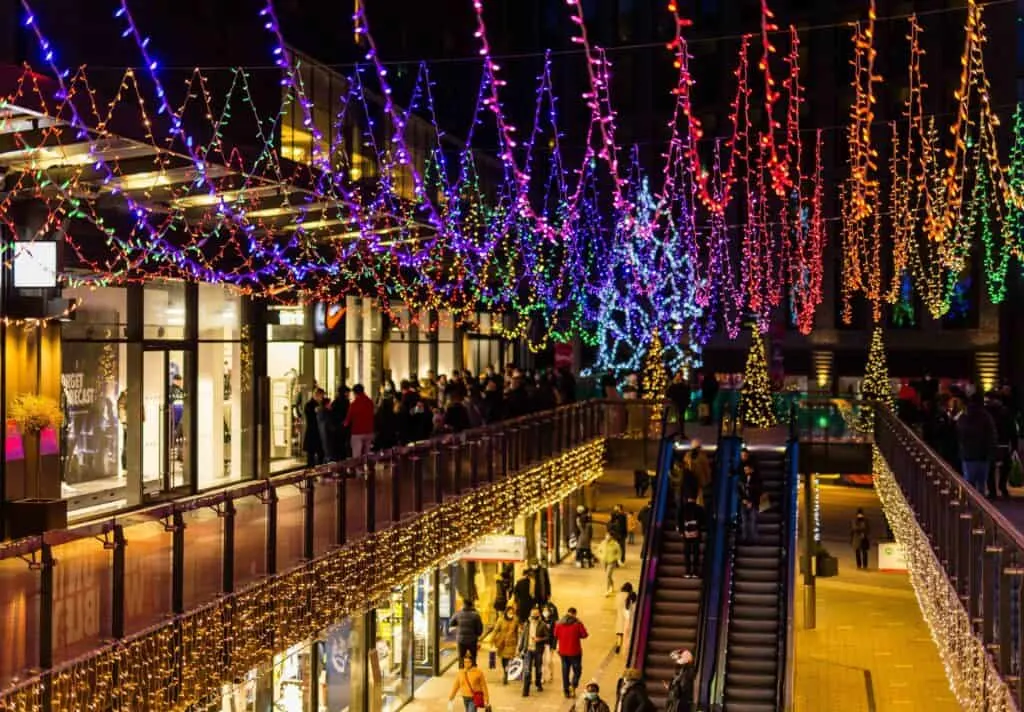 The parks new outdoor stage the 'Sound Shell' will be offering free live music performances starting on the 24th November running through to the 18th December.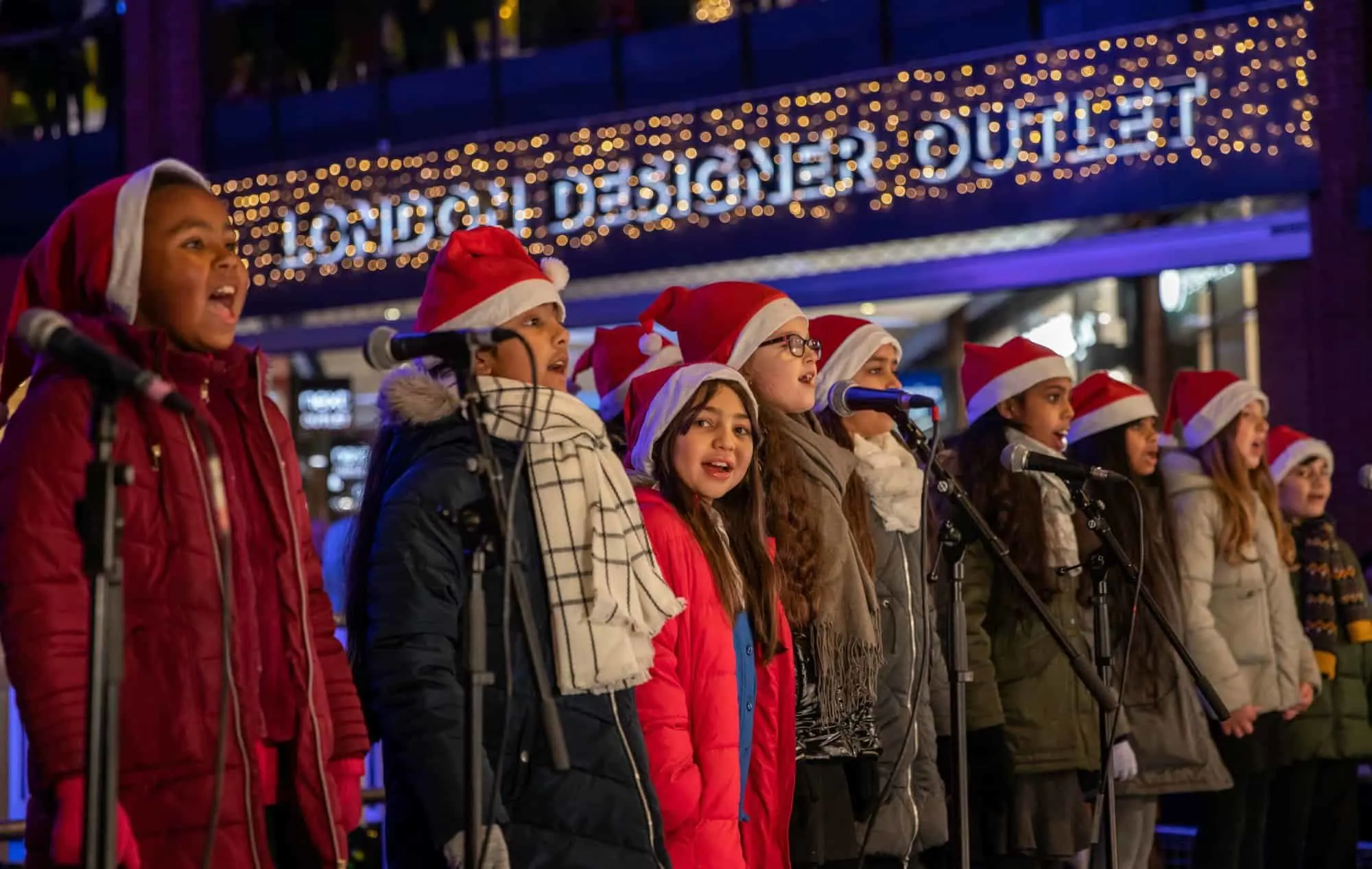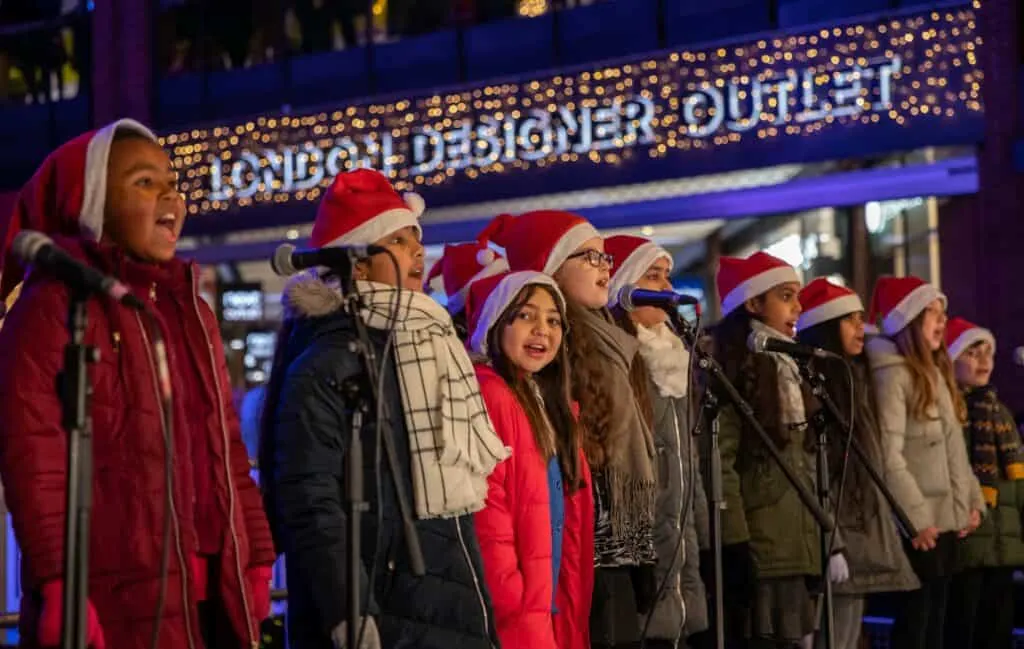 Wembley Park is promising residents and visitors alike the perfect location to get into the Christmas spirit this winter with immersive digital artworks to shopping at the London designer outlet.
16. Rochester Christmas Market
If you don't want to venture into London and live in the Kent area, Rochester Christmas Markets are a great option.
Discover unique gift ideas and unusual stocking fillers among the variety of stalls set in the beautiful surroundings of Rochester Castle Gardens.
Both kids and grown-ups will have a blast wandering the Bavarian food village and hopping on rides at the funfair.
There will be a number of live performers throughout the festival. The cathedral and castle will be beautifully draped in snow and is worth a visit from London.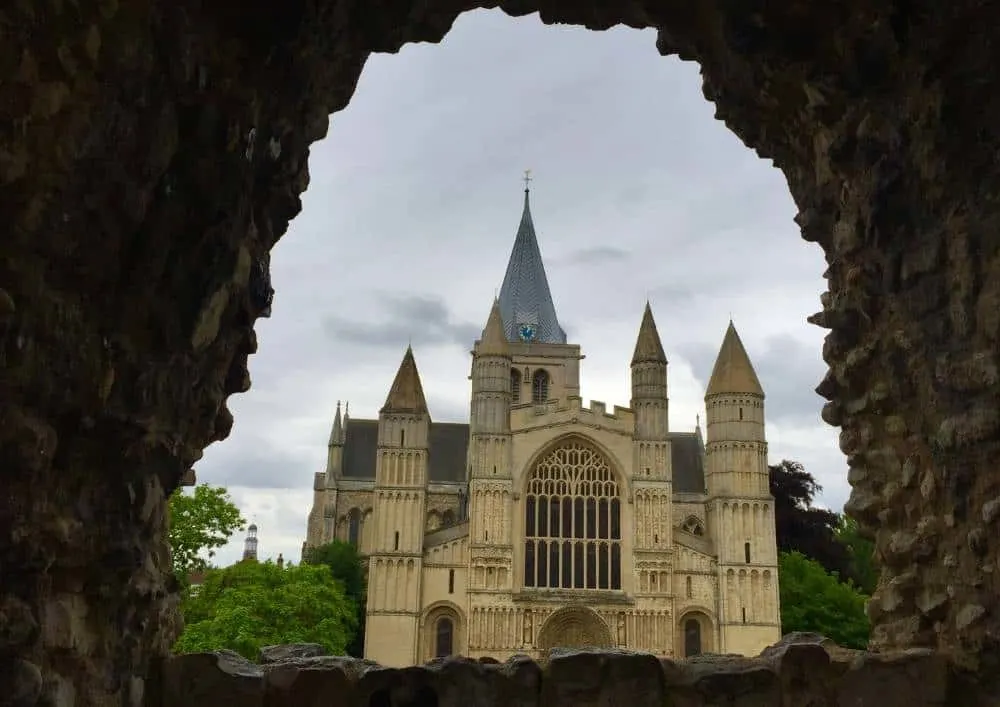 Besides the Christmas market, there is a Dickens Christmas Festival in the town. Everyone dresses up in Victorian outfits and relives old times.
On the high street, there are lots of parades taking place. Keep a lookout for some famous characters during the event. Santa has been known to pay a visit to the town!
Dates: November 26 to December 11
Timings: 12 PM to 8 PM (Friday) and 10 AM to 6 PM (Saturday and Sunday)
Entry: Free Admission
Location: Garth House, The Precinct, Rochester ME1 1SX, United Kingdom
17.Selfridges Christmas Market On The Mews
The Selfridges Christmas Market is perfect for last-minute shopping and sampling festive treats. The marketplace is specifically aimed at attracting foodies with an appetite.
With impeccable taste and the finest ingredients, there's something for everyone.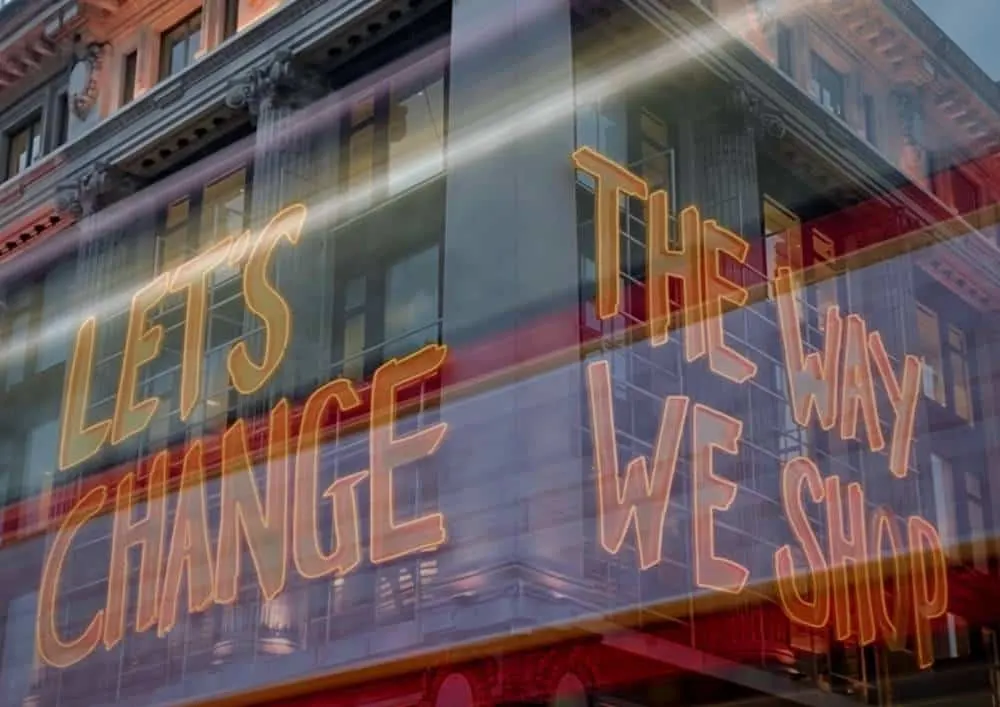 Visitors can stroll inside Selfridges and enjoy the champagne tram, indulgent cheese stall, or savour fine foods and drinks.
Dates: Mid November to Christmas Eve
Entry: Reservations required- TBA
Timings: NOTE – (The Selfridges Christmas Market is not happening this year but will keep you posted for next years event).
Location: Edwards Mews, London W1U 1QS, United Kingdom
To Sum Up London Christmas Markets
There are plenty of London Christmas markets across the city from the suburbs to the centre of town.
Make sure to have a peek at our curated list on how to spend Christmas in London with kids for insider ideas.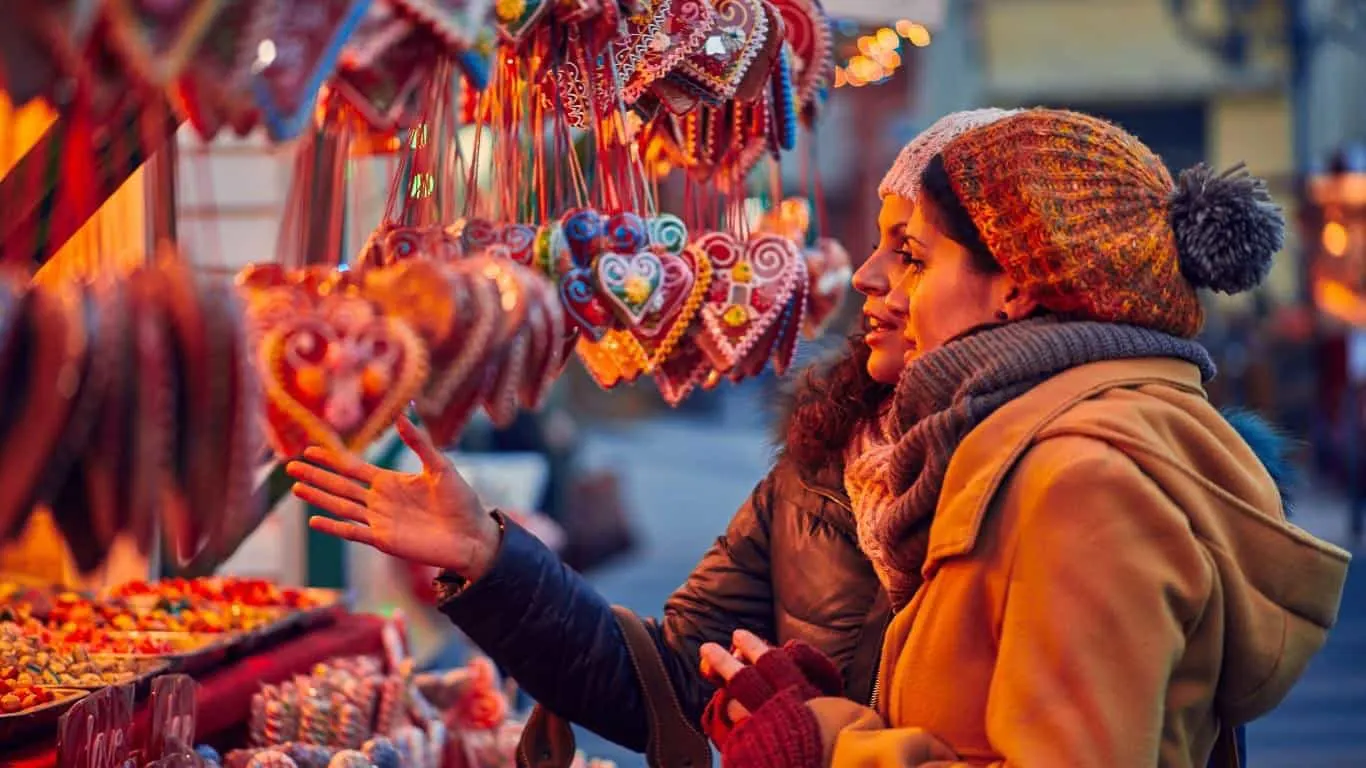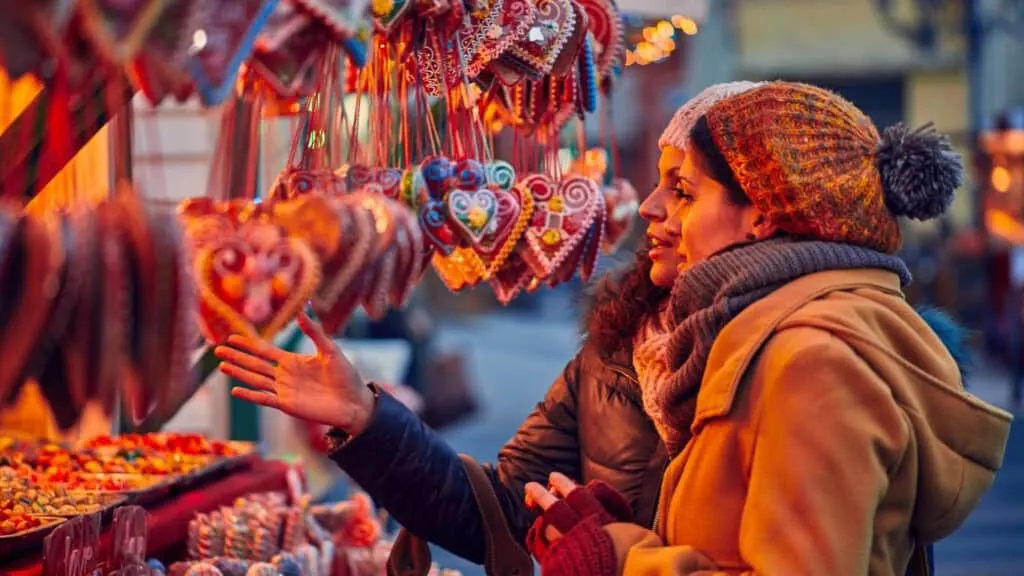 Take a look at the best family hotels. Have you enjoyed this post about London Christmas Markets? Leave a comment in the post, we love to hear from you.
You may also like,
30 Of The Best Family Hotels London
The 17 Most Epic Christmas Market Trips You Can Take This Winter
Disclaimer: This post may contain affiliate links, by using them it will not cost you any extra, we will receive a small proportion of the sale to keep us writing!