As London attractions go, it's pretty iconic. Up there with Big Ben and the Houses of Parliament with all their history, the London Eye is one of the most notable features of the London skyline.
Soaring over all the nearby buildings and hotels, the 360 degree views from the London Eye has made it one of my favourite London attractions for years – whether with kids and without!
What better way to showcase all that London has to offer than a 30 minute ride, admiring the sights of one of the world's most famous cities?
It has become one of the best activities to do during half term, Christmas and Halloween in London.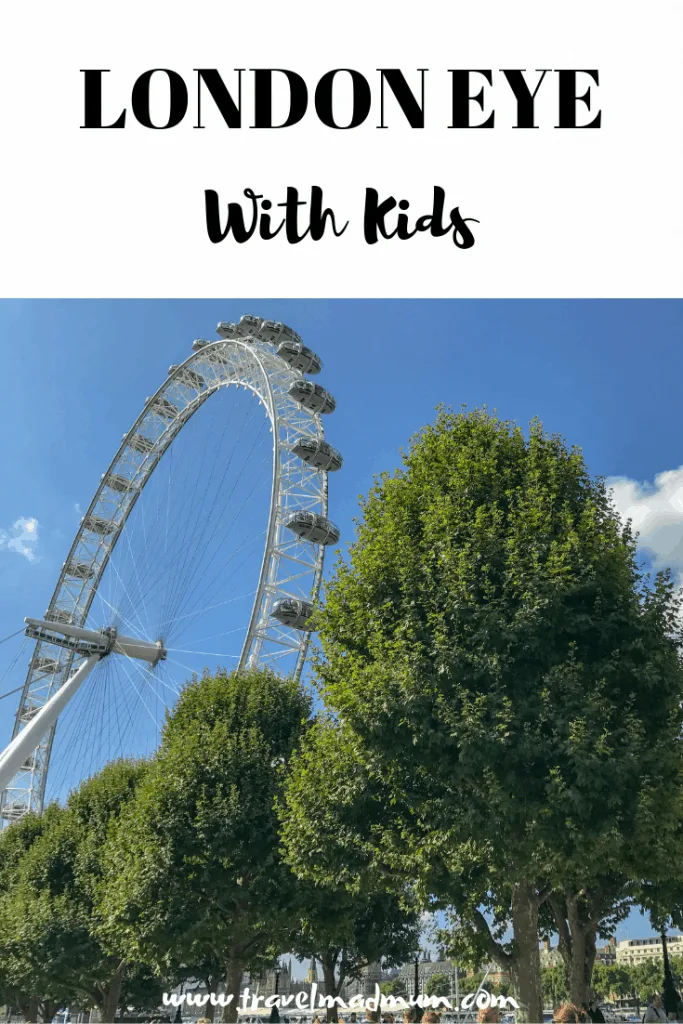 Showing my kids my London home
As expats, my husband and I face one of those problems that most people never have to worry about. How do we give our kids that sense of belonging? How can we show them where they're from… if they've never really lived in the place I call home?
Tourists in our Own city
On one summer trip home, we decided to become tourists in our own city. We stayed in one of the hotels near the London Eye.
We wanted to really show our kids some of the best that our city has to offer… and we didn't even scratch the surface! We hit up attractions like the Natural History and Science Museums and the Aquarium. We walked across the Millennium Bridge and around the Tate Modern.
We've been South West to Hampton Court Palace and East to the Olympic Park. The kids have wandered around Borough Market and we have Camden Market in the planning. But it was the London Eye that really captured their imaginations and has stood the tests of time in their memories.
Iconic Views From the London Eye
From the moment we stepped foot on the London Eye, the kids didn't know where to look first. To begin with, they were just blown away by the slow, methodical rotation of the wheel. It's a very sedate pace – they could hardly tell that they were moving and yet suddenly they found themselves rising high, high above the trees!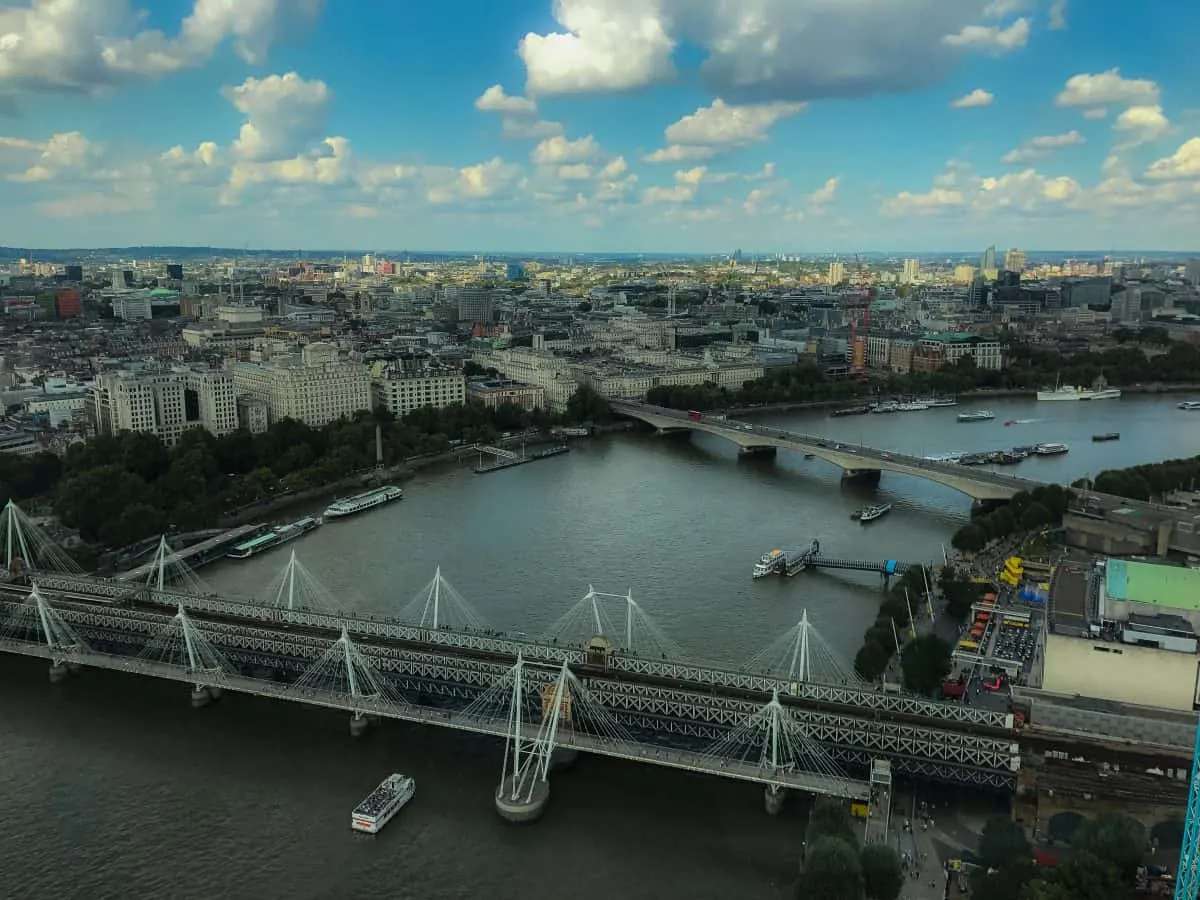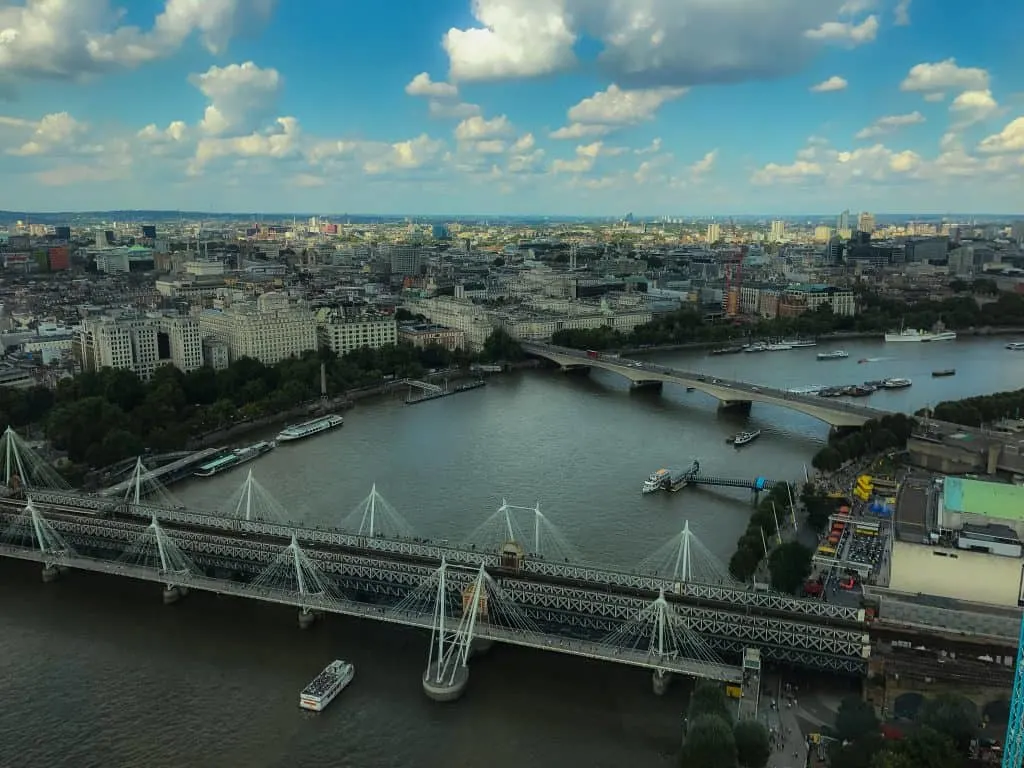 It was amazing showing them the nearby landmarks – Big Ben, the Houses of Parliament, Westminster Abbey. We also spotted buildings like Tower Bridge, St Paul's Cathedral, the Shard and, of course, the Gherkin. ("What's a gherkin mummy?"). We talked about the curve of the River Thames and marveled at the tiny boats floating up and down it as we watched them from the top.
Fun Facts About the London Eye
Built in 1999, the wheel was officially opened on 31 December for the millennium. It then opened to the public in March 2000. At 135 metres tall and with a diameter of 120 metres, the wheel is one of the highest viewing points in London. It has 32 passenger capsules – one for each of the London Boroughs. Each air-conditioned capsule can hold up to 25 people (that's 800 people per rotation!)
It is large enough to walk around inside and there is seating if you need it. It rotates constantly at a speed of around 26 cm (10 in) per second (about 0.9 kph or 0.6 mph). That's slow enough to take on passengers as it turns however, it does stop for disabled and elderly people to give them enough time to get on and off.
A Must-See London Attraction
The numbers speak for themselves. The London Eye is the most popular paid for attraction in London, with more that 3.5m visitors annually. According to the official Coca-Cola London Eye Press pack, that's more than visit the ancient wonders of the world like the Taj Mahal, Stonehenge and even the Great Pyramids of Giza.
It was supposed to be a temporary 5 year attraction, but its success gave the owners and Lambeth Council reason to extend the lease.
The London Eye: Not Just a Ferris Wheel
Actually called a cantilevered observation wheel, there's a lot more to the London Eye than just the wheel itself. Tickets for a "flight" also give you free access to a 4D cinematic experience. Located inside the ticket office, the website says it's the "first live action, 4D attraction film ever produced in the UK and contains the first ever 3D aerial photography over London."
Since the last time we were there, I've also noticed that there are many more featured flights to take. In addition to the private capsules and champagne experiences, there are now lots of even more kid friendly options. From story-telling to a puppet show to a music class, even little kids will love the experience!
Not just that, but the London Eye is part of the Merlin Entertainment Group. They also own other London attractions such as Madame Tussauds London, SEA LIFE London, The London Dungeon and Shrek's Adventure! London.
If you want to explore the city by sea then you can also go on one of the river cruises. Alternatively, jump on a TFL ferry and ride 3-4 stops each way for a similar experience the kids will love. Buying tickets together can get you some huge savings which is always welcome when you're travelling as a family in an expensive city!
London Eye Logistics
Tickets
While you can buy tickets on the day, you can get a 15% discount by booking online. This has the added advantage of allowing you to select a "departure" time to avoid hanging around with impatient little ones.
Not just that but it can get booked up pretty quickly so this is a great way to avoid disappointment. Buying tickets online can also get you those discounts to the other Merlin attractions. Tickets to the London Eye are also included in the London Explorer Pass.
When To Go
To avoid the queues and crowds, going outside of peak seasons and times is clearly going to be a better option. That being said, most people with kids are restricted to school holidays and weekends. We went in the summer and found that the queues, while long, were well managed and kept moving which always helps with bored kids!
We also took it in turns to take the kids off to explore the immediate surrounding area to keep them occupied. Once you get to a certain point in the queue you can't get out again so make sure you've made appropriate toilet stops beforehand!
Check the website for up to date opening times and scheduled closures (usually in January).
Nearby Activities and Food
We really enjoyed playing in the playground at the nearby Jubilee Gardens before we went on the London Eye. Afterwards we had a leisurely stroll along the South Bank and had fun watching the street performers and kids in the skate area.
If you're feeling energetic and have kids with a bit more stamina than a 2 and a 4 year old, the Tate Modern and Shakespeare's Globe aren't that much further along the river. they have great events on all year and special events for school holidays including half term.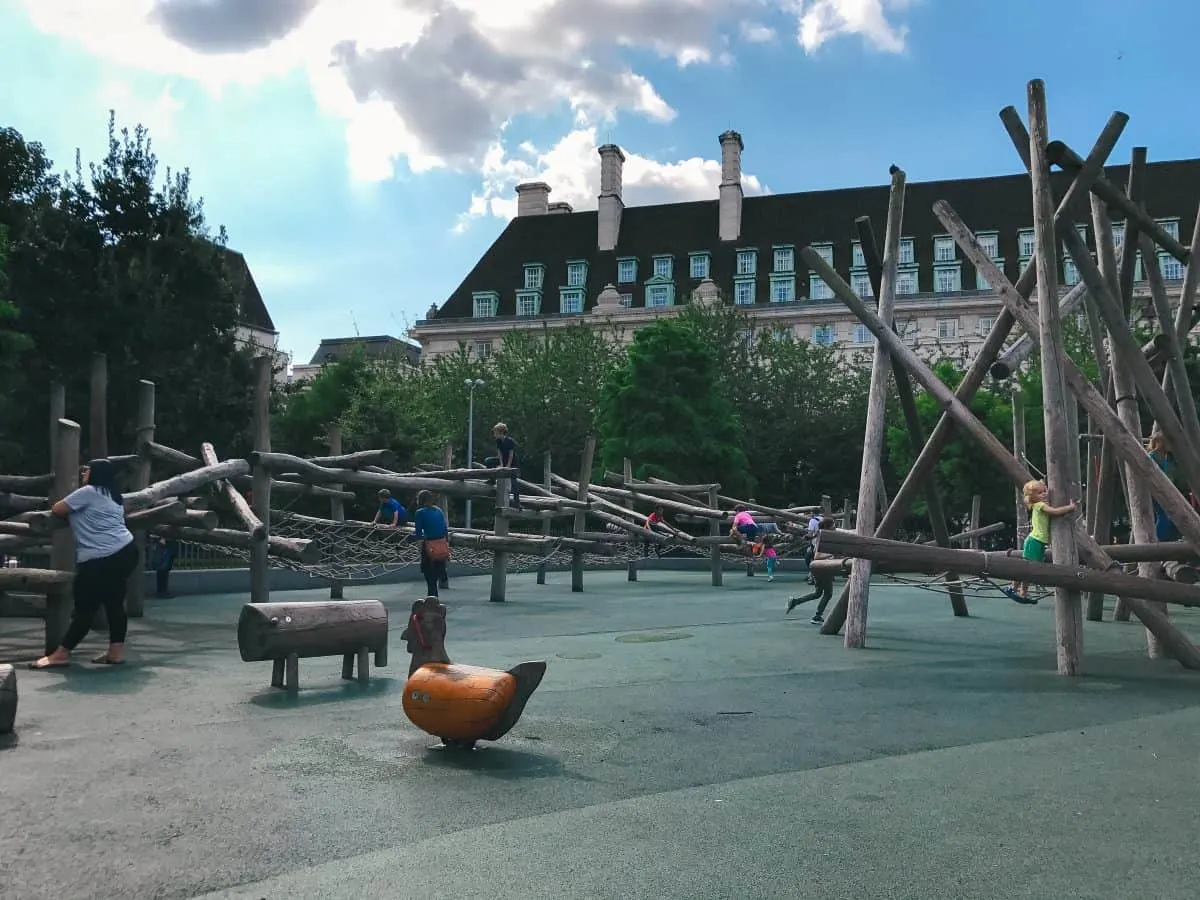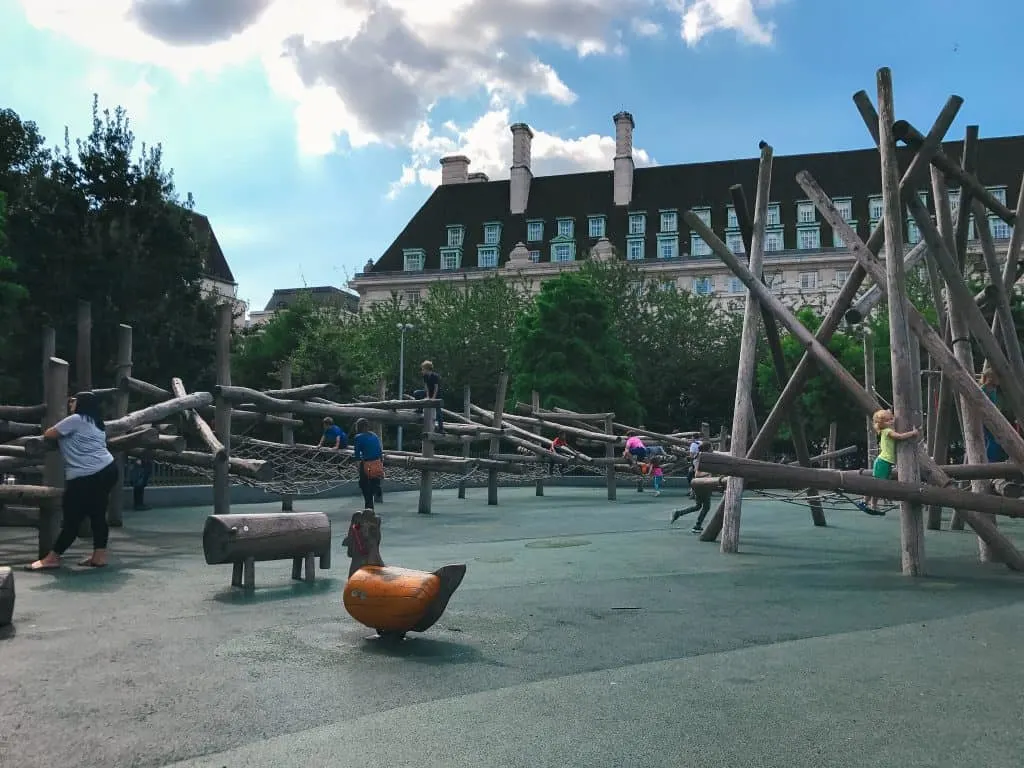 There are loads of kid friendly food options around the South Bank. From the food stalls behind the South Bank Centre to the many cafes and restaurants lined along the river front, there's something for everyone. Not all take reservations but most have a reasonably quick turnaround so wait times aren't too bad.
How to Get There
The nearest London Underground stations are Waterloo (about 5 minutes walking distance), Embankment (10-15 minutes walking distance), Charing Cross (10-15 minutes walking distance) and Westminster (10 minutes walking distance).
The London Eye website has more detailed directions, including up to date bus routes stopping nearby and I'd thoroughly recommend using Journey Planner to plan this and any other journeys you're making in the city.
For more information on the London Eye and for advance ticket purchase, visit www.londoneye.com
With special thanks to Emma for producing this article on visiting the London Eye. Make sure to pay www.wanderlustandwetwipes.com a visit!
You may also like:
Harry Potter Black Cab Tour London
30 Of The Best Family Hotels London
16 Incredible Things to do in February Half Term London