Train rides are a lot of fun, especially if you are a kid, and at Christmas they can bring that extra bit of spirit to the season. One way would be to hop on one of the Christmas train rides in the UK.
Christmas train rides UK offer a unique experience and a great family day out. Kids of all ages can tag along and of course, a visit from Santa is included. Steam train rides are located all over the country, so you are sure to find one near you.
Polar Express Train Ride UK
Polar express train rides UK became popular after the film with the same name. The film was full of magic and a Christmas train ride is sure to offer the magical experience that kids loved in the film.
However, if you haven't read the story or watched the film then now is the perfect time to do it. You can grab a copy here. If you have the book at home, then you could bring it along. Some train rides may even tell the story during your ride.
Steam train rides Yorkshire
For a polar express train in the UK that lets you relive the film, then head to Wensleydale Railway. It is hugely popular and your journey will start at Leaming bus Station, just like the movie.
All of your favourite characters will be there and families are encouraged to wear their PJs. Throughout the journey, the story will be retold by the singing Chefs. Families can watch the events unfold while sipping their hot chocolate and eating their cookie.
Of course, the kids will get to meet the main character from the story, Father Christmas. Each child receives a gift, a Silver Sleigh Bell and if you have purchased the book, Santa may even sign it for you.
On returning back to the station, children get to check if they are on the naughty or nice list. They also get to write their own list to Santa. It is an enchanting experience that families are sure to remember.
Don't worry if you are not in Yorkshire. The Polar Express runs from multiple locations around the UK. Some even offer an overnight stay for you to make the most of it.
Check out all the details here.
Polar Express North Yorkshire
If you are lucky to be in Yorkshire or the surrounding area, then check out Santa Specials at the North Yorkshire Mors Railway. Families can choose to leave from Pickering or Grosmont Station.
Santa Claus and his helpers walk through the heritage carriages. If the children have made the nice list, they hand out special presents. The children get to spend a few moments with Santa before he moves on to the next family. The train ride lasts about an hour from either departure station.
The tickets usually sell out quickly and booking in advance is required.
Click here for more information.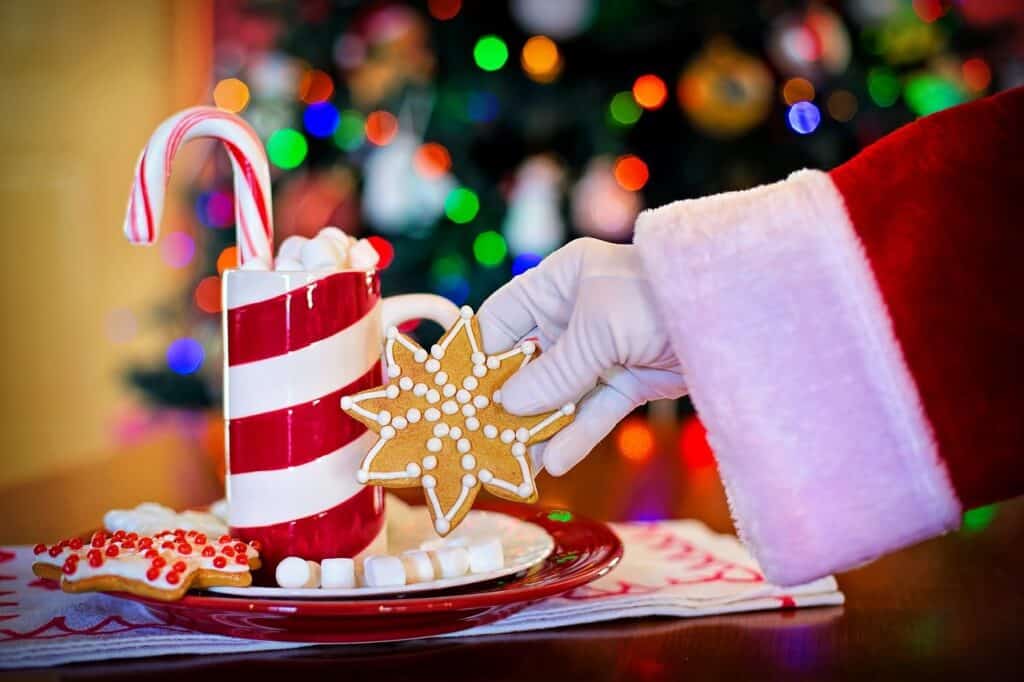 Steam Train Rides, Midlands
Out in the Midlands, there is an award-winning Santa Express. Great Central Railway in Leicestershire is inviting parents and children to board their beautifully restored compartment coaches.
Christmas train rides UK are all about the children so there are sweets and drinks ready at the Quorn and Woodhouse station. Father Christmas makes a surprise visit to families onboard to deliver your child's gift. Unfortualety there are no presents provided, however, families can bring their own to be given out.
Festive refreshments are included in the price but if you are still peckish after the Santa train ride then check out the Butler Henderson Café and nostalgic Tin Shed Shanty bar for some hot food and mulled wine.
The station yard has a Christmas village and plenty of Christmas cheer. Present your ticket and families can enter the yard for free.
For more information click here.
Steam Train Rides, West Midlands
In the West Midlands, this magical journey starts in Staffordshire. Churnet Valley Railway invites families to jump on board the Polar Express and take a journey on the outskirts of the Peak District.
Their Santa Express gets a revamp this year as they follow the lead of many other Christmas Train Rides around the UK. The story is told onboard and children get the chance to see Santa and his helpers.
For more details check out the website here.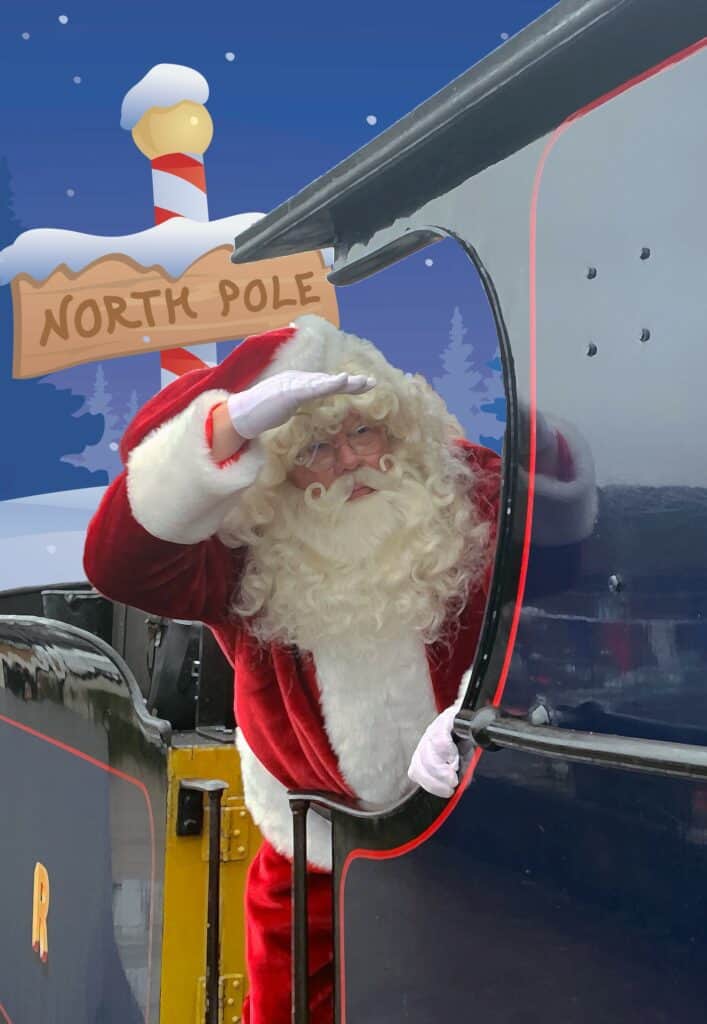 Welsh Steam Train Rides
If you are looking for a polar express experience in the UK then how about a trip to Lapland from Llangollen. Hop aboard Santa's Christmas Special, a two-hour return journey with the Santa visit included.
This like other steam train rides in the UK takes families on a beautiful scenic route through the Dee Valley and stops in Carrog (Lapland). There you can find magic elves to keep the children entertained and a cafe to warm up.
Each child will receive their own special gift. Remember to leave your child's details in the comments section when you check out. While children cannot meet Santa at Lapland, they will be able to wave at Santa in his grotto.
They try to keep families together in open coaches. Howvere, to guarantee a seat family compartments for six to eight people can be reserved. Onboard each passenger receives their own drink and a sweet treat on board.
Check out more information here.
Steam Train Rides in Wales
Santa train rides may have become popular due to the Polar Express film but some families have been catching the train to Santa's grotto for years now. The Brecon Mountain Railway is celebrating its 33rd year.
Guests get to travel from Pant Station to Santa's Grotto in Pontsticill. The Steam Hauled train takes families to receive an age-appropriate gift from Santa. They haven't forgotten about the parents either. Mulled wine and mince pies will be available onboard.
Train rides start from the end of November and like other Christmas train rides UK it is sure to be a popular event and tickets are likely to sell out quickly.
Click here for times and prices.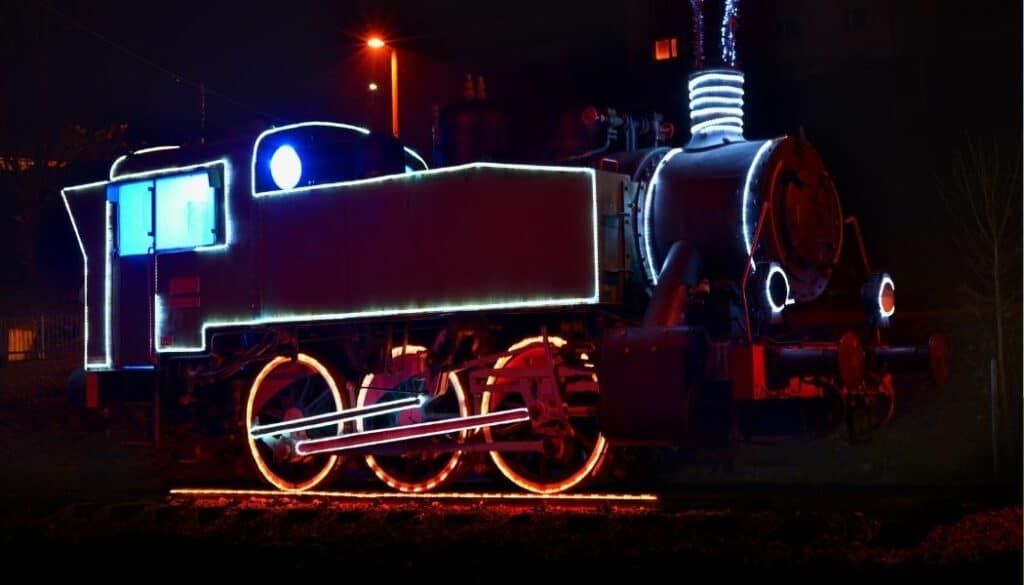 Steam train rides Scotland
Strathspey Railway is having a difficult time with travel restrictions and have decided that Santa cannot visit this year. To compensate for this they are putting on a Festive train ride.
They have promised that drinks and snacks will be provided onboard. Dates haven't been confirmed, so keep checking the website for more details.
Check here for up to date information.
Xmas Train Rides, Scotland
The Santa Steam Train at Bo'Ness and Kinel Railway are hoping that Santa can visit this year as last year's Christmas Train Ride was cancelled. They are still working out the details but they hope to have more information soon.
Check out their website here for more details.
Steam Train Rides, Kent
In Kent, there are many scenic train rides UK. The Santa train does not disappoint as passengers travel through the breathtaking Kent and Sussex countryside from Eridge to Tunbridge Wells.
Spa Valley Railway are also upgrading to the Polar Express this year. It is organised by an outside company and all of the details are on the website.
For more information check the details on the website here.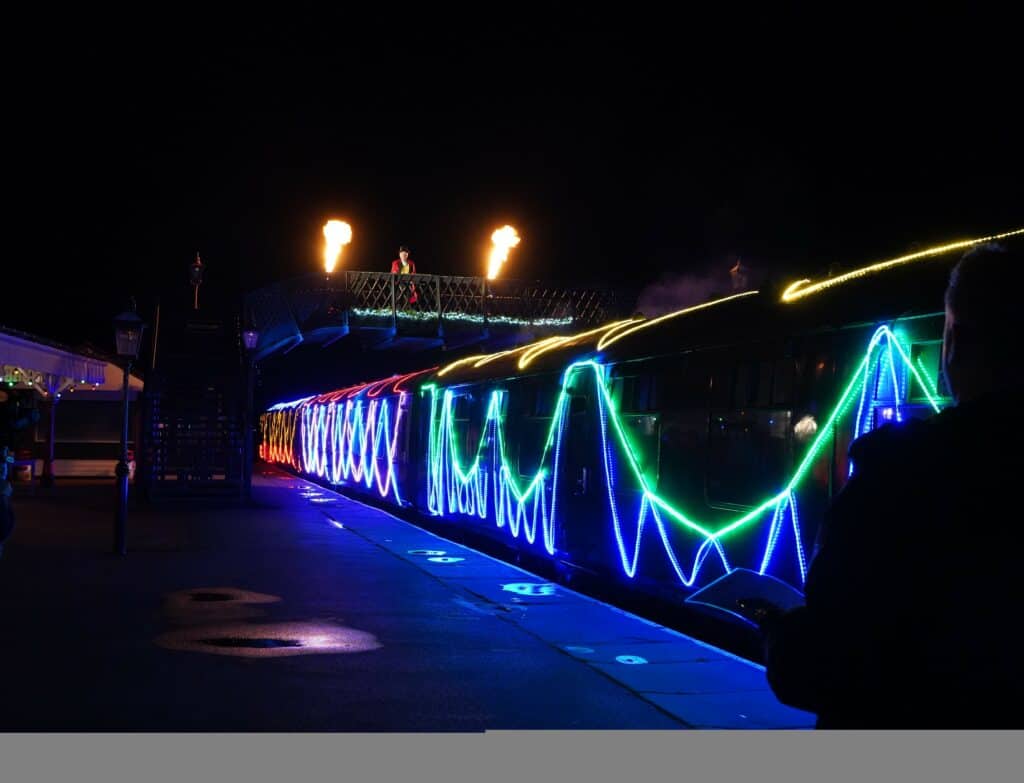 Steam Train Rides Cornwall
It is not surprising to find a Christmas train in Cornwall. Lappa Valley is located in 35 acres of Cornish woodland. It not only has a Santa train, but it has some of the best things to do in Cornwall with kids. In fact, there is plenty to keep little ones busy all day. The journey starts when you board a nostalgic train and ride it through the wooded valley into Lappa.
Kids can collect their presents from Santa in his grotto. There is balloon modelling and music galore. While you are there you can also take advantage of the play areas or go for a woodland walk.
Tickets can be booked online and all bookings are seated together and treated as a social bubble.
Click here to check out more about the Lappa Valley Santa train
Steam Train Rides Devon
Technically this is not a train ride. The Polar Express tram ride sets off from Seaton Tramway in Devon. Families are able to visit Santa's home in the North Pole in one of the decorated tram cars. The journey is around 2.5 hours and there is plenty to do onboard.
You can enjoy a cup of hot chocolate and a special treat. Then take in the lights and speak to Santa as you walk around the North Pole. There Santa himself gives each child their special gift and there Christmas carols will be sung on the journey home.
This Polar Express ride UK runs throughout November and December and tickets online.
Check out the dates and times here.
Steam Train Rides in Essex
Audley End Miniature Railway is nestled in the Estate Woodland. This Christmas you can find a magical winter wonderland there too. The Santa express takes you through the woods, for you and your family to meet Santa Claus and his elves. There you can pick up your gift and watch a special Christmas dance.
The adventure doesn't end there as you are led to the Gingerbread house to hear what mischief the resident fairy and elf have been up to. The kids can burn off some energy at the adventure playground while parents can grab a drink at the cafe.
There are activities set up for kids to make their own reindeer food and write a letter to be sent to Santa at the North pole. Kids don't just get to meet Father Christmas as Mother Christmas is there too with an interactive show of her own.
Like all Christmas train rides UK, tickets need to be booked in advance.
For dates and prices click here.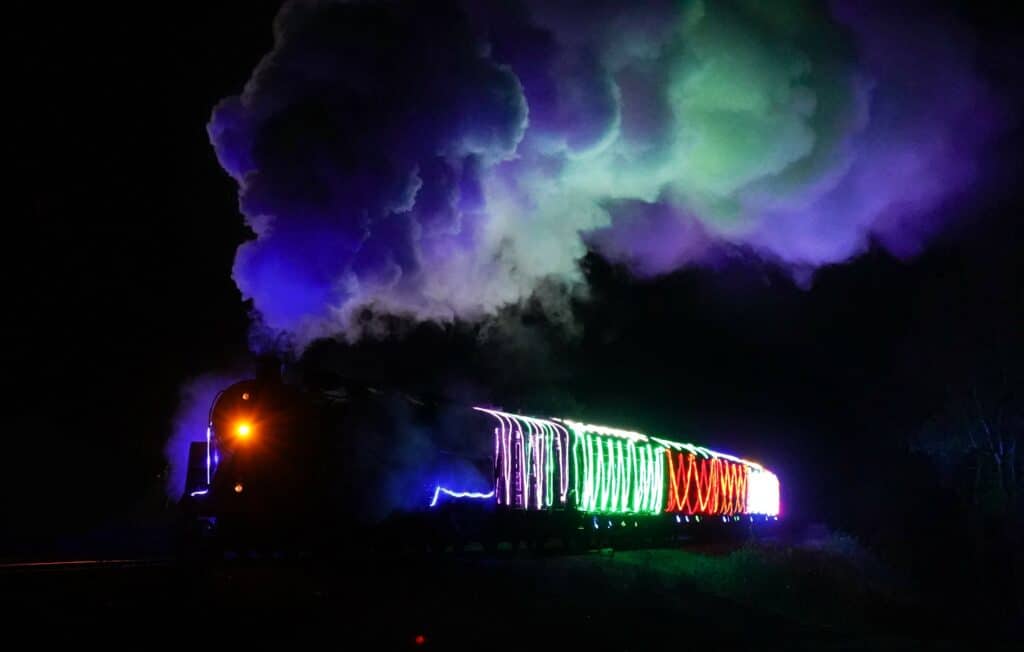 Steam Train Rides, London
At Epping Ongar Railway in London Santa is returning and is onboard and families ride through the Essex countryside. Perfect for those spending Christmas in London with kids or for a quick break in a hotel in London.
Starting from North Weald Station the day is kicked off with some Christmas music from the live brass band. Enjoy some drinks and festive snacks. While families are waiting Santa's helpers will be walking through the crowds looking for the children that made the nice list.
Onboard kids get their presents and are entertained by some of his helpers. There is a chance to write a letter to Santa and enter a drawing competition.
There is hope that children can get a photo with Santa, however, this is dependent on time.
For more information check out the website here.
Check out London Christmas Markets guide here.
Steam Train Rides, Peak District
Peak Rail have taken COVID restrictions seriously and there are sneeze guards up in all departments.
While onboard everyone can enjoy a mince pie and hot chocolate as they wait for Santa to do the rounds.
During your journey on the beautifully decorated coaches, Santa and his elves deliver the gifts. There is some entertainment to keep everyone amused throughout the journey
The return journey to Matlock Platform 2 lasts approximately one hour and both tables and compartments are available online. Families can take in the beautiful views of the Peak District.
Click here for dates and times.
Christmas Steam Train Rides, Norwich
This December Bure Valley Railway has a Festive Express Steam train for families to meet Father Christmas. You need to arrive at Aylsham Station early to pick up your boarding pass and your refreshments.
Families can feel snug in their heated private compartments on a return journey from Aylsham to Brampton. Santa greets the children from his sleigh on your return to Aylsham and boards the train to hand out gifts.
There are several dates and times available throughout December.
For more information click here.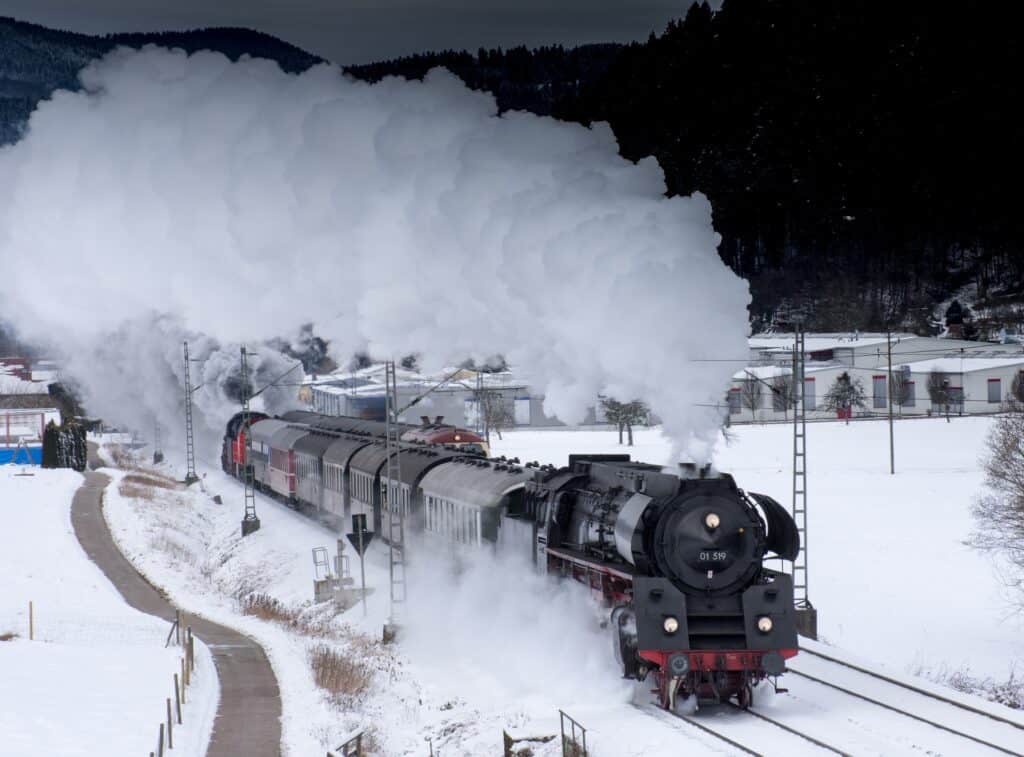 There are plenty of Christmas train rides UK to choose from. We have done our best to ensure the information is accurate. However as things are changing in the blink of an eye, there may be changes or cancellations.
You may also like;
30 Of The Best Family Hotels London
Disclaimer: This post may contain affiliate links. By using them it will not cost you any extra, we will receive a small percentage of the sale.