Looking for the best things to do in Cornwall With Kids? We recently spent three weeks exploring all that is on offer on this beautiful Peninsula. Encompassing stunning beaches, rugged coastline, picture-perfect villages, it is no wonder Cornwall is a place full of attractions perfect for families.
Whether you are wanting to explore all of Cornwalls natural wonders, castles or beautiful beaches, you are sure to find something for all the members of the family. You will want to return again and again!
The history and culture, allow kids to learn more about the area. The coast is beautiful with many secluded beaches perfect for a swim. For those who like to explore, there are plenty of places for adventure and photographs.
Even if you're looking for something a bit more serene and peaceful the inland towns are perfect to visit and spend some time away from the hustle and bustle of everyday life.
Cornwall is located on the South West Coast of England and it has always been one of the most popular destinations for families in the UK. In fact, around four million tourists visit every year. If you are looking for a destination with the perfect mix of activities for children, Cornwall is it!
Things To Do In Cornwall For Kids
First, remember that Cornwall is a county. The Cornish coast stretches 422 miles and while there is only one city , there are several towns and villages. This means that some attractions may be over an hour away. So before you set off, think about what you want to do and choose a base carefully.
While there is public transport, the best way to get around Cornwall is by car. Even if you want to catch the train there, you can easily rent a car nearby to help you get about.
No matter, where you plan on staying, you are spoilt for a choice of things to do. The hardest part of your trip will be trying to squeeze everything in. It doesn't matter how old your kids are there are attractions and activities perfect for kids of all ages.
There are tons of things to do with kids in Cornwall. You can take your kids on an adventure with Cornwall's many places to explore, such as the Minack Theatre or the Eden Project. You can also enjoy activities like surfing and cycling in this beautiful county.
Below is a list of some of the best things to do. There are also the added extras like the best places to stay in Cornwall for families and where to eat. This can help you plan the perfect holiday with your family!
Cornwall is the busiest it has ever been so before you set off make sure you book all of your tickets and accommodation to avoid disappointment.
Discover The Lost Gardens of Heligan
A visit to Cornwall with kids wouldn't be complete with a trip to The Lost Gardens of Heligan. They are among the finest gardens in England. However, this wasn't always the case. It is the story behind the gardens that makes them truly unique.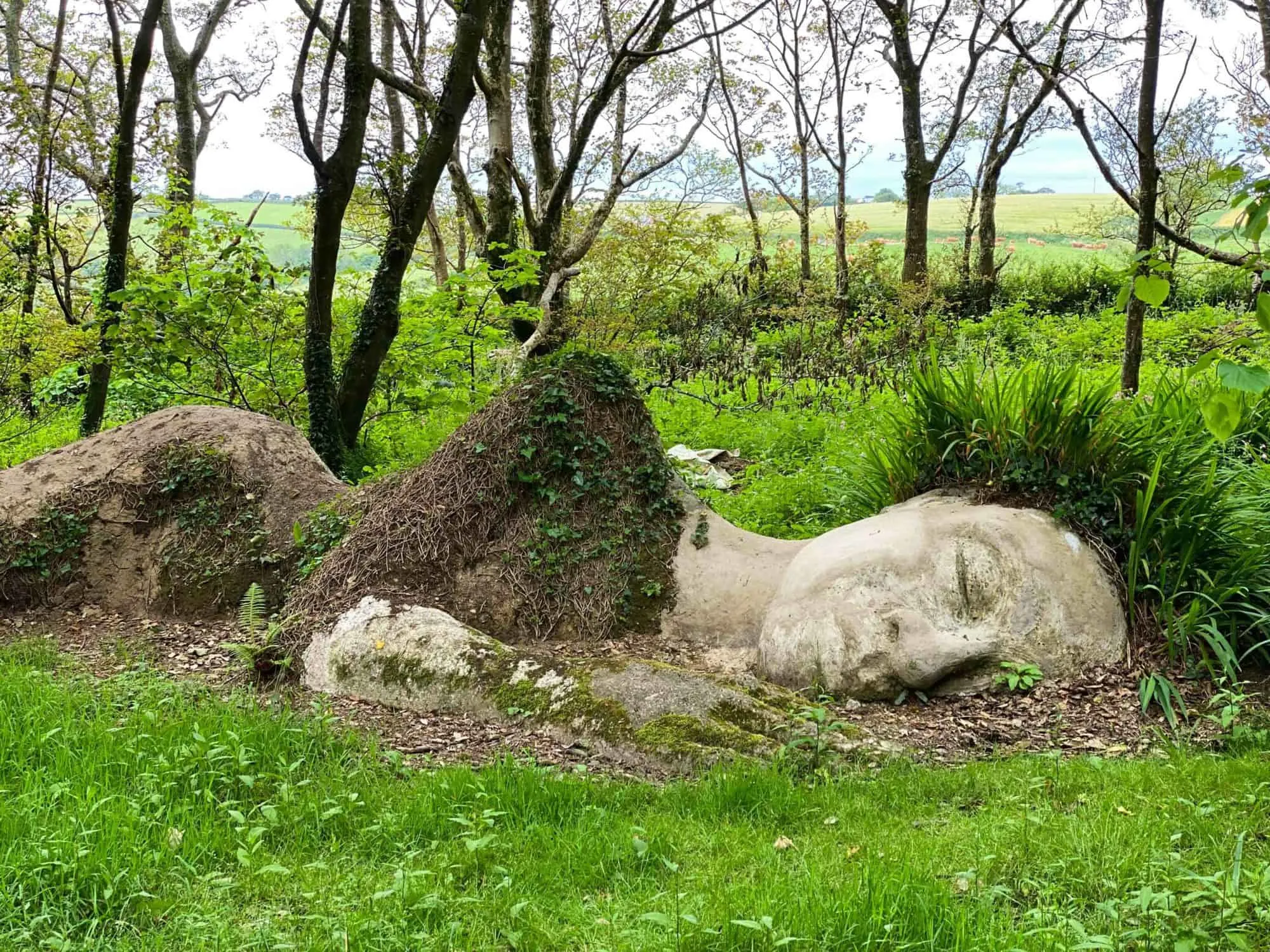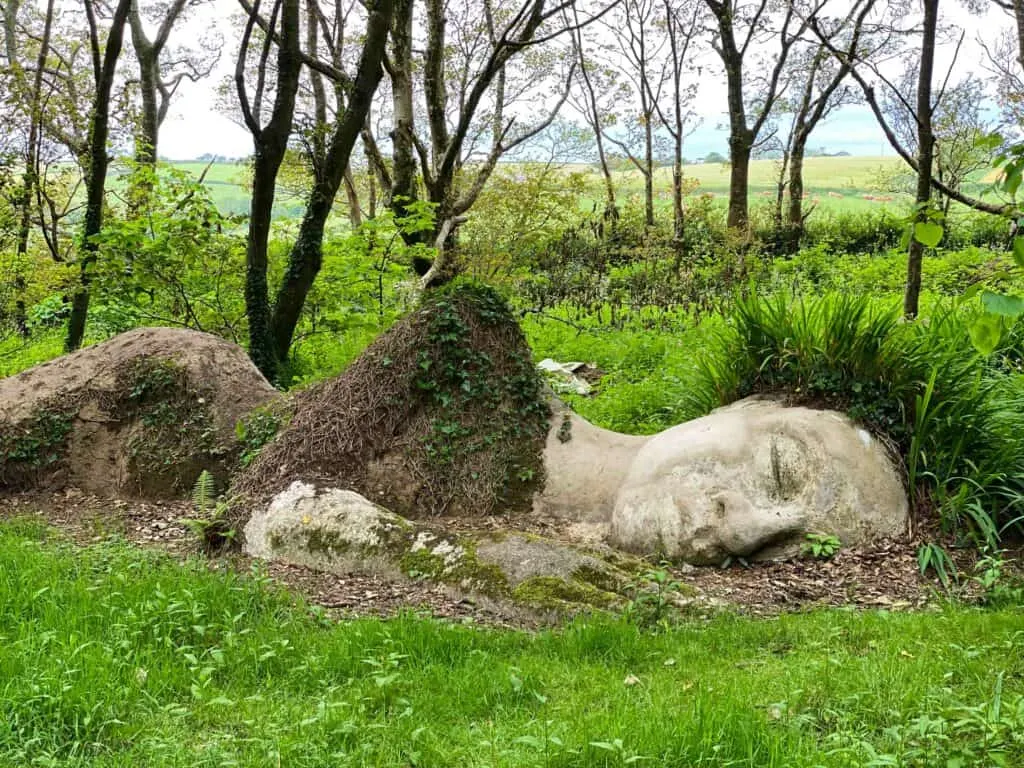 At the start Of WWI, the gardeners that looked after Heligan went off to fight in the war. It was during this time that the bramble and ivy grew and the gardens were forgotten about. In 1990, a hurricane led some workers to discover the secret garden.
Since then it has been restored and has grown into some of the country's most loved gardens. With over 200 acres there is plenty to explore. There are three different gardens, but the jungle is sure to be a hit with kids.
The garden has plants and trees from all over the world. The way the garden is situated makes it five degrees warmer. On your adventure through the jungle lookout for rhubarb, banana plantations and towering bamboo. A boardwalk leads you through the jungle and around the four ponds.
Just when you think the adventure is coming to an end, you are faced with one of the longest Burmese Rope Bridges in Britain. It is 100 feet above the trees and only the bravest cross it.
There are plenty of other things to do in Mevagissey so worth a trip to the area for the day.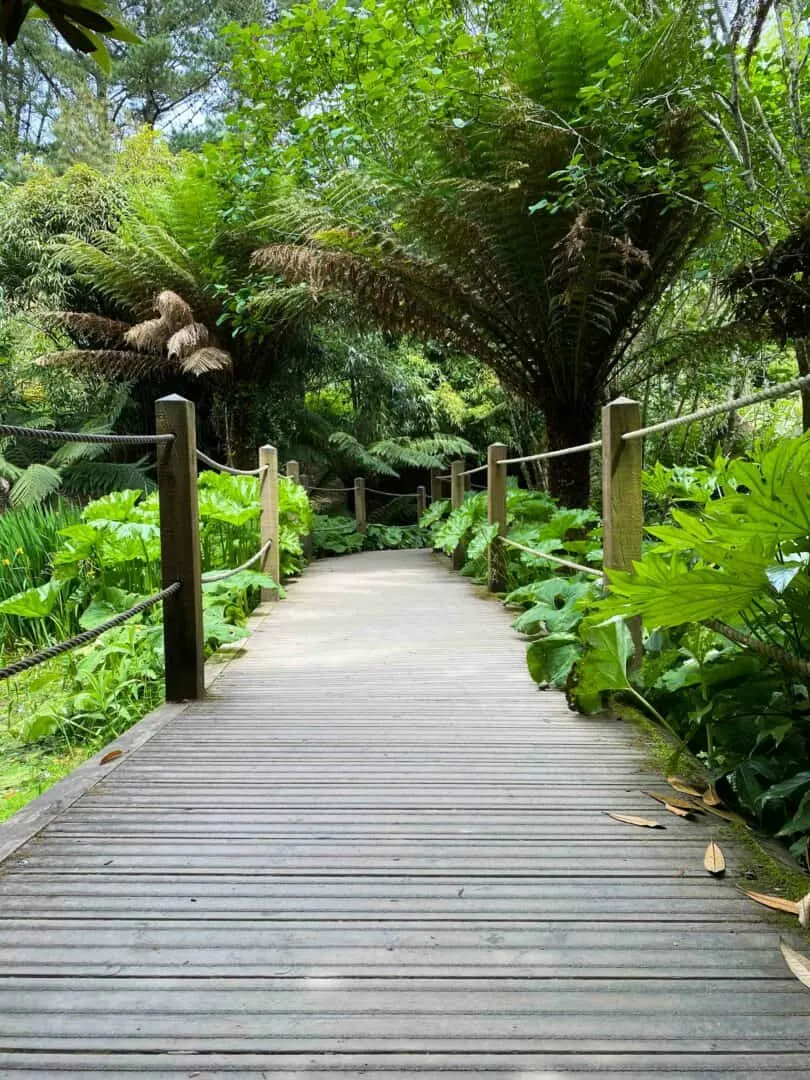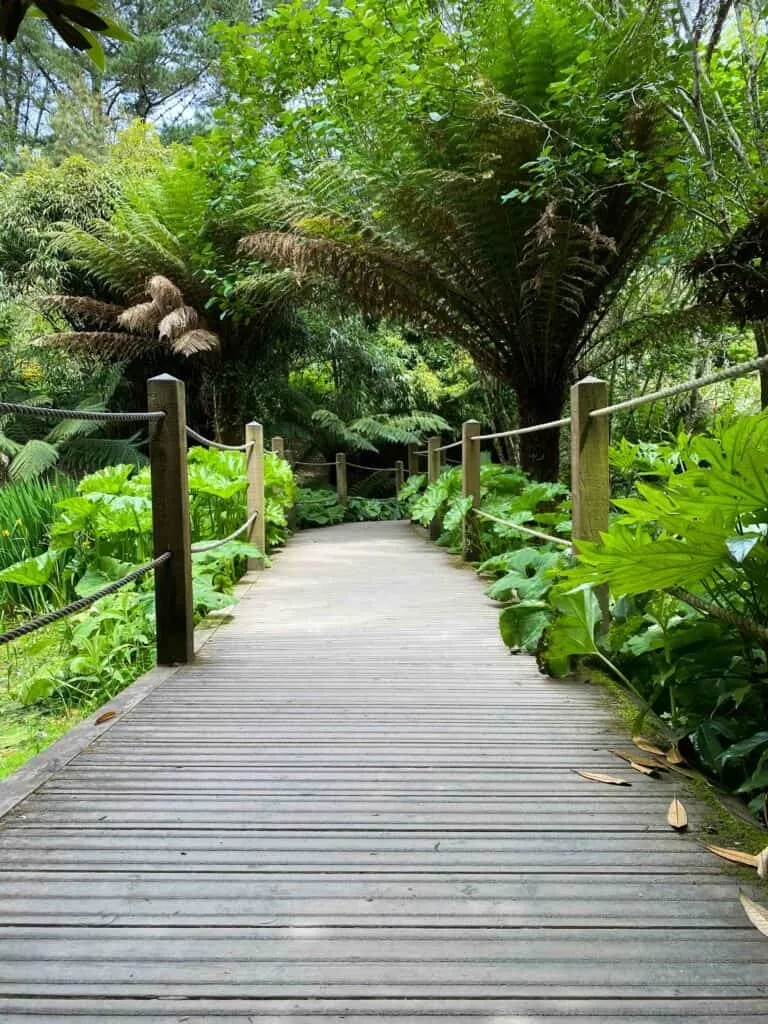 Pick Your Own at Trevaskis Farm
When you think of Cornwall, you may think of Cornish pasties. However, there are plenty of farms in the area growing fruits and vegetables. Trevaskis Farm is one of those and it opens its doors every day for visitors.
If you visit the farm between 10 am and 5 pm then you have the option to pick your own fruits or vegetables. What you can pick depends on when you visit. Choose from loganberries, gooseberries, apples, beans, peas, raspberries, and of course strawberries.
Entrance to the farm is free, you only pay for what you pick. The only problem you may have is reminding little fingers to put the fruit and vegetables in the basket and not their mouths.
Unlike many other places in Cornwall for kids, there is no need to book. Just turn up on the day. If the weather is not great then don't forget your wellies and rain jackets and enjoy jumping in the muddy puddles.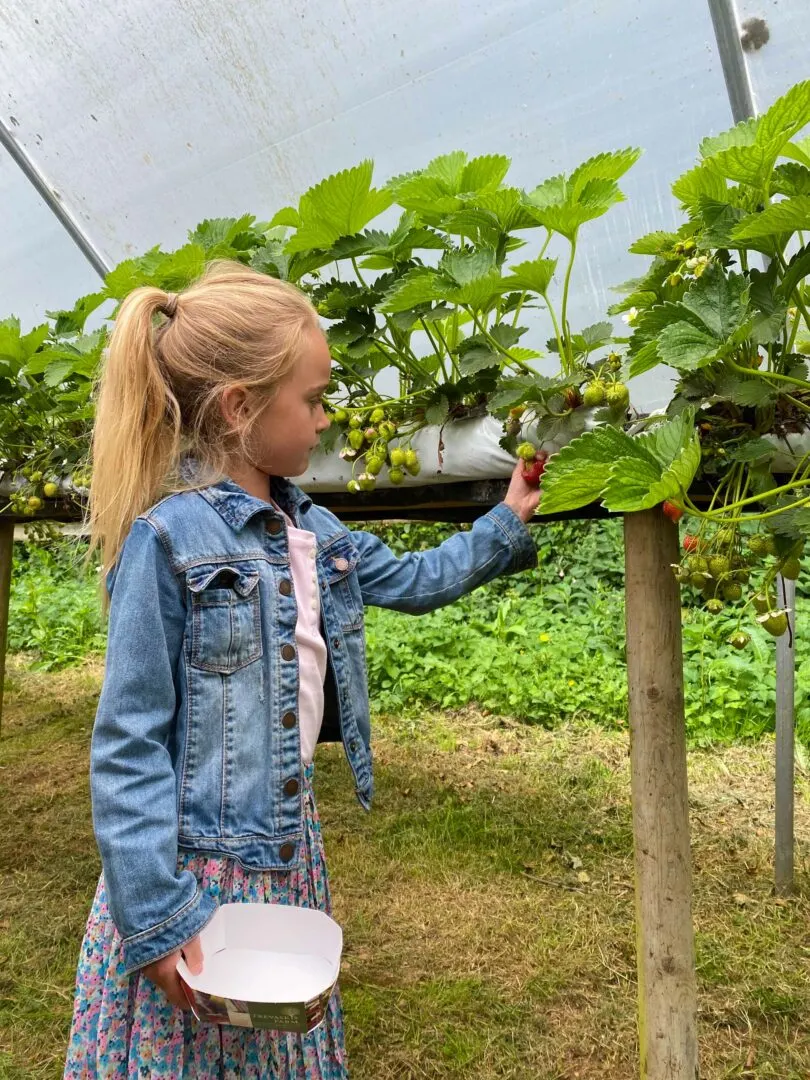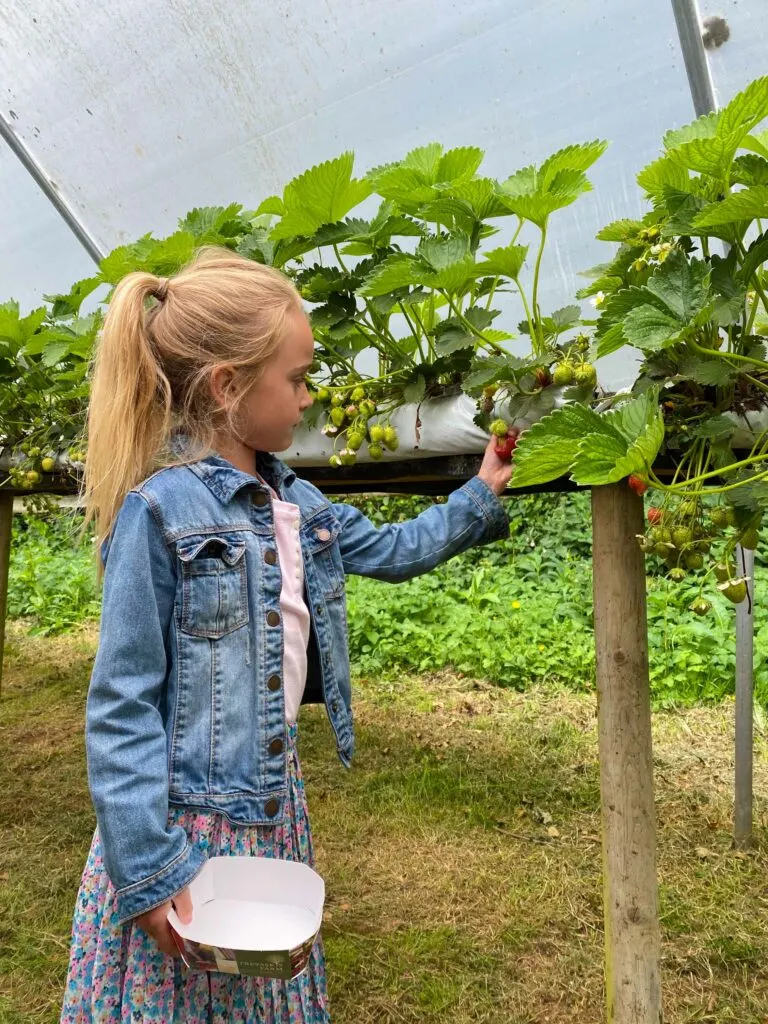 Explore Kennall Vale
Kennall Vale is a densely wooded valley between Redruth and Penryn. In the past, it used to be a gunpowder factory and there is evidence of this as you walk around.
It is largely unexplored and peaceful but it can be a little spooky at times. In fact, it is considered to be haunted but you don't have to tell the kids that part! My kids loved exploring the woodlands.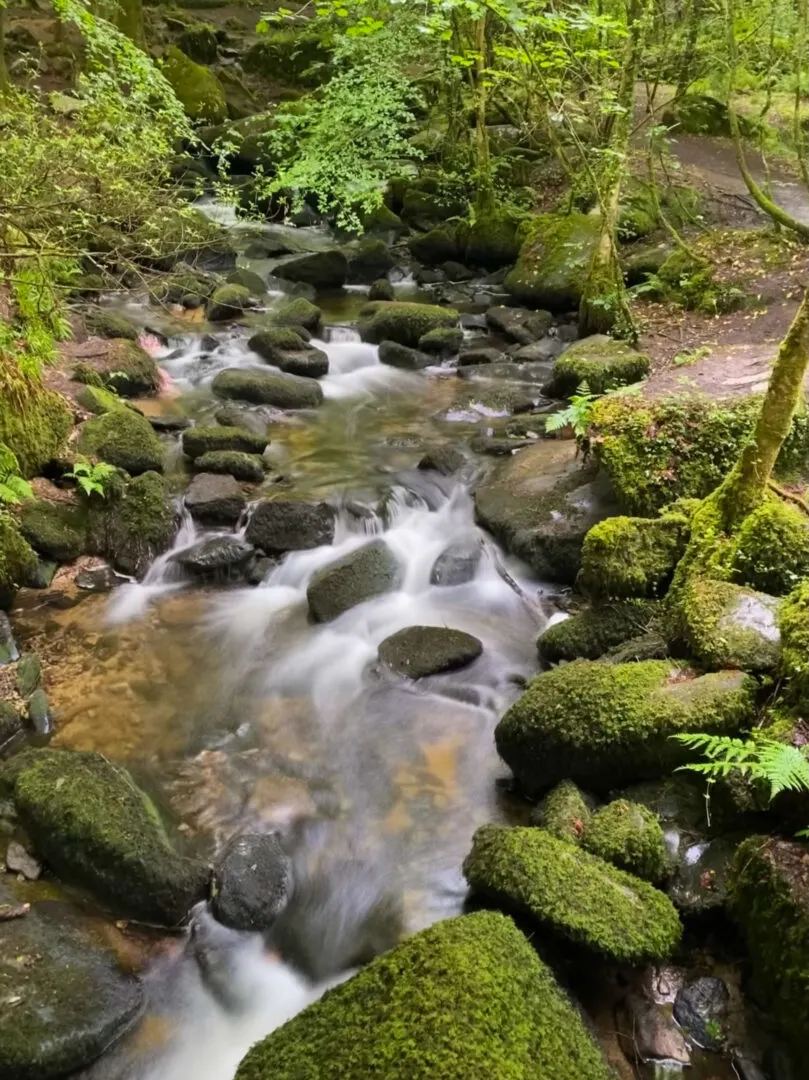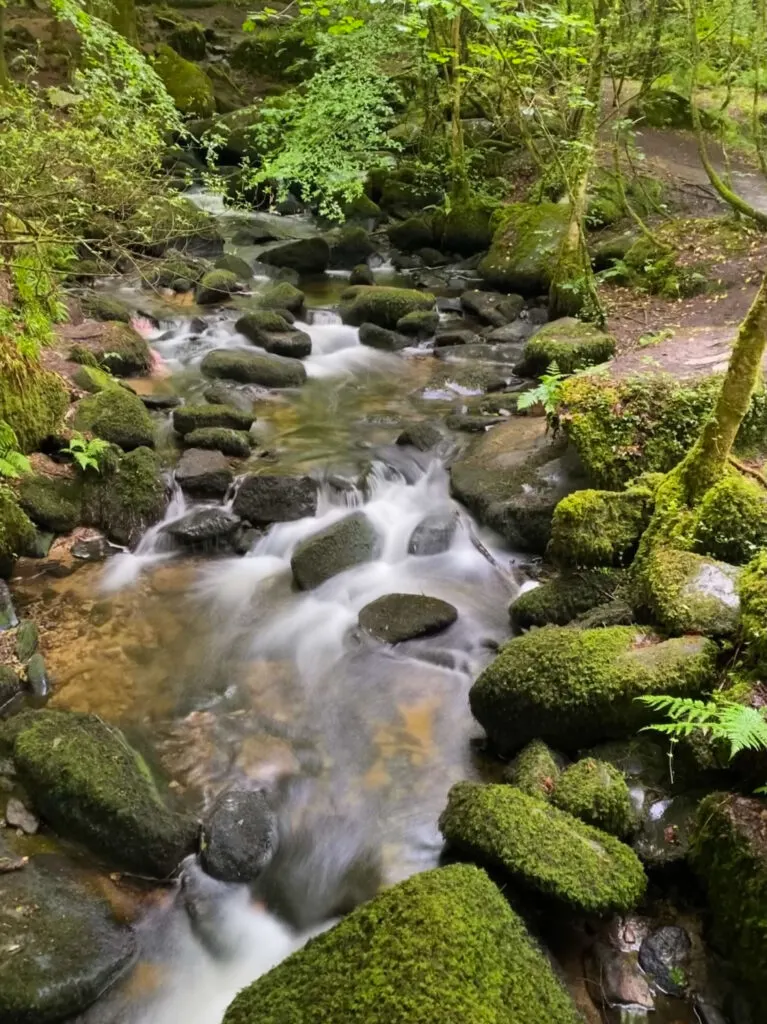 The old stone buildings are covered in green moss and there are streams throughout. It is also home to a very rare creature, the greater horseshoe bat. While it is unlikely that you spot one flying around, you may be lucky enough to see a few dippers.
Entry is free and if you don't mind getting a bit wet then visit when it is raining. The rain causes several places in the valley to flood and there are many waterfalls scattered around.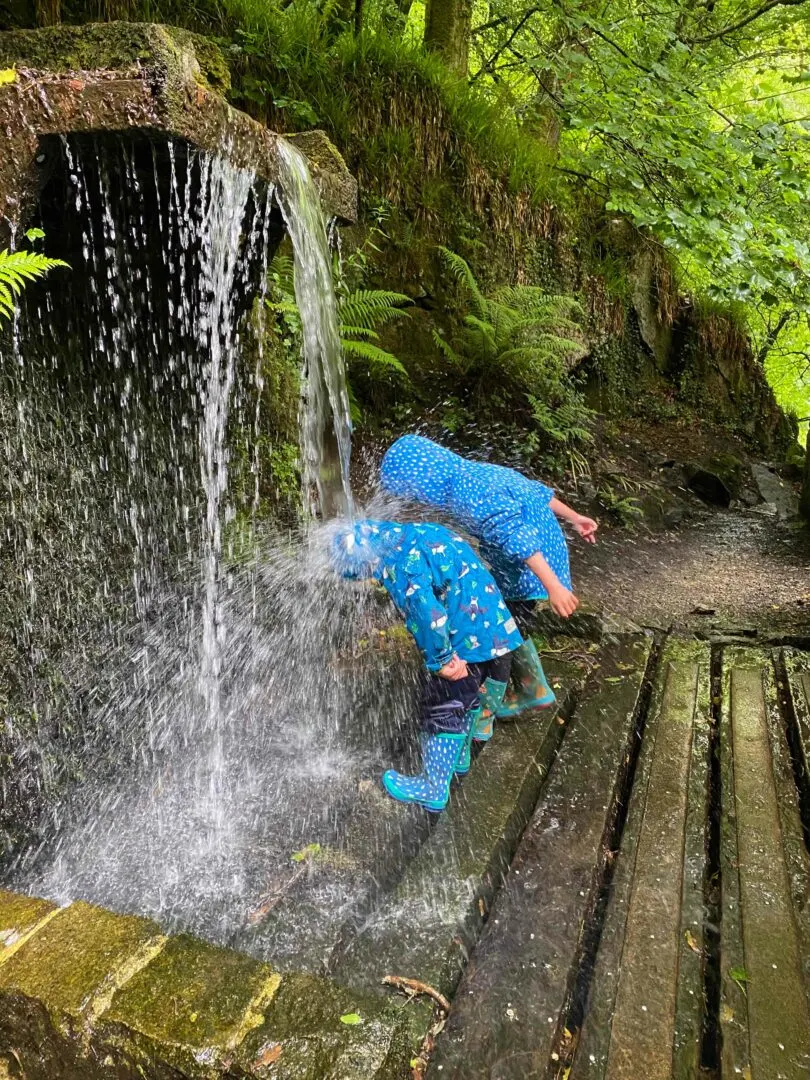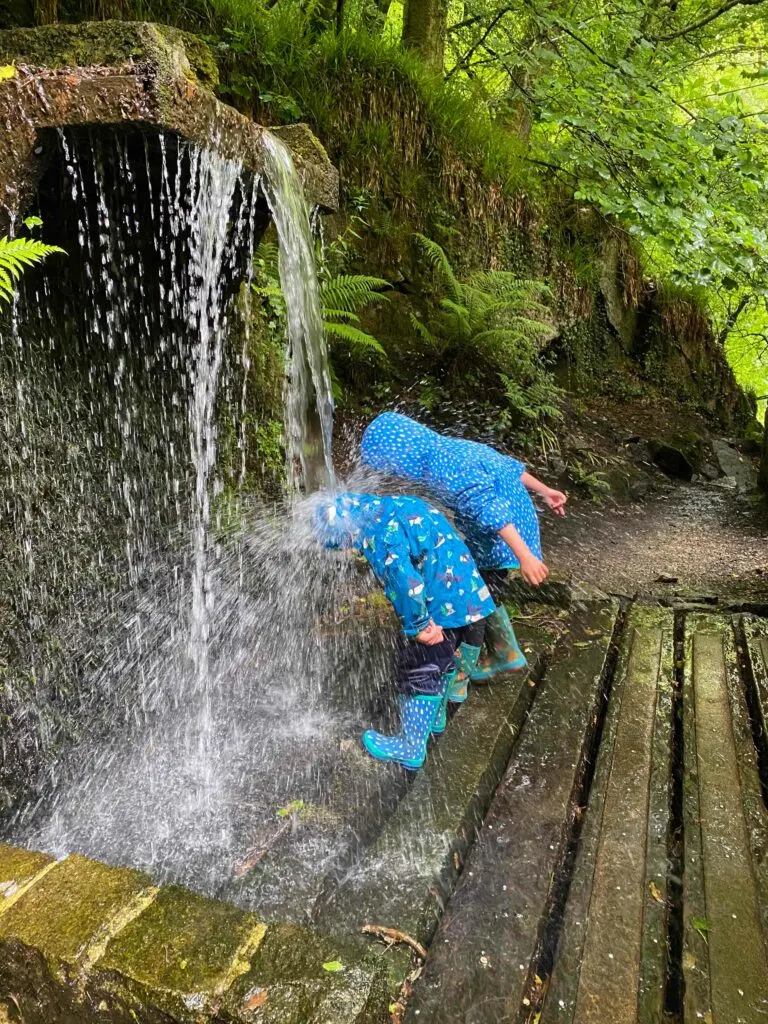 Walk Around The Lavender Fields, Roskorwell Farm
Can you imagine purple hills on the backdrop of the Cornwall countryside? Make sure to check out the lavender farm! The best time to visit is during the flowering season which starts in mid-June and ends at the end of August. It is the perfect stop on an England three week itinerary.
Roskorwell Farm is truly unique and offers a very personalised experience.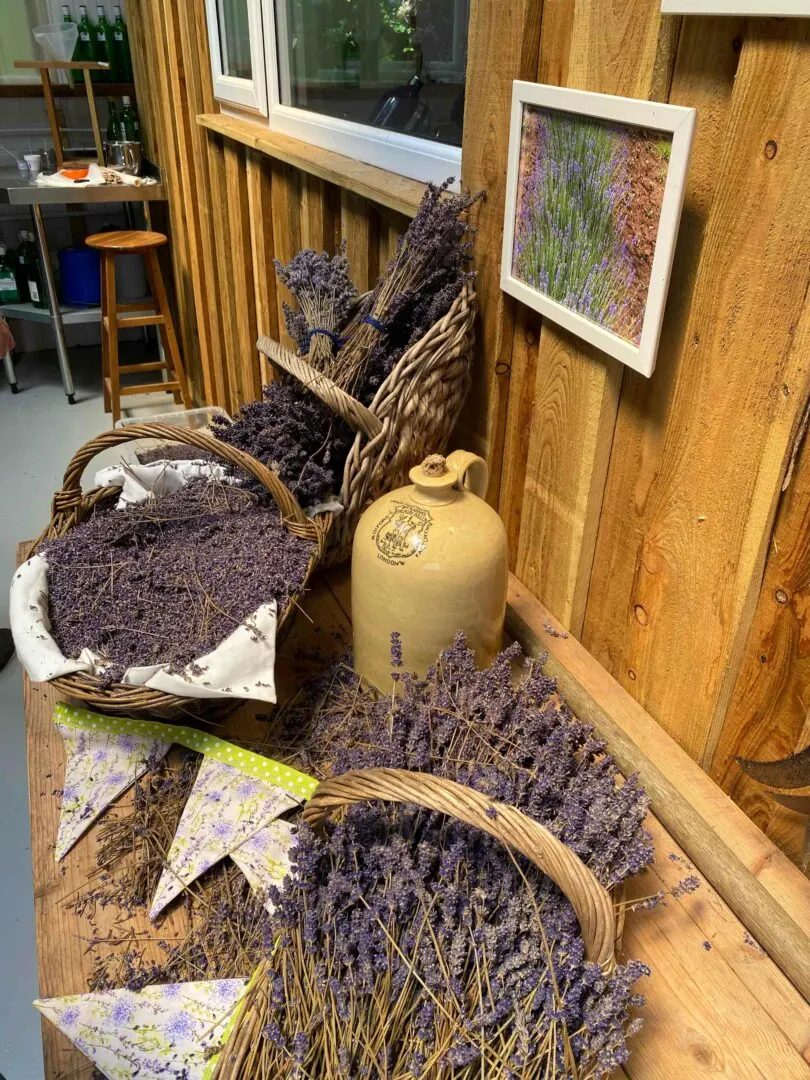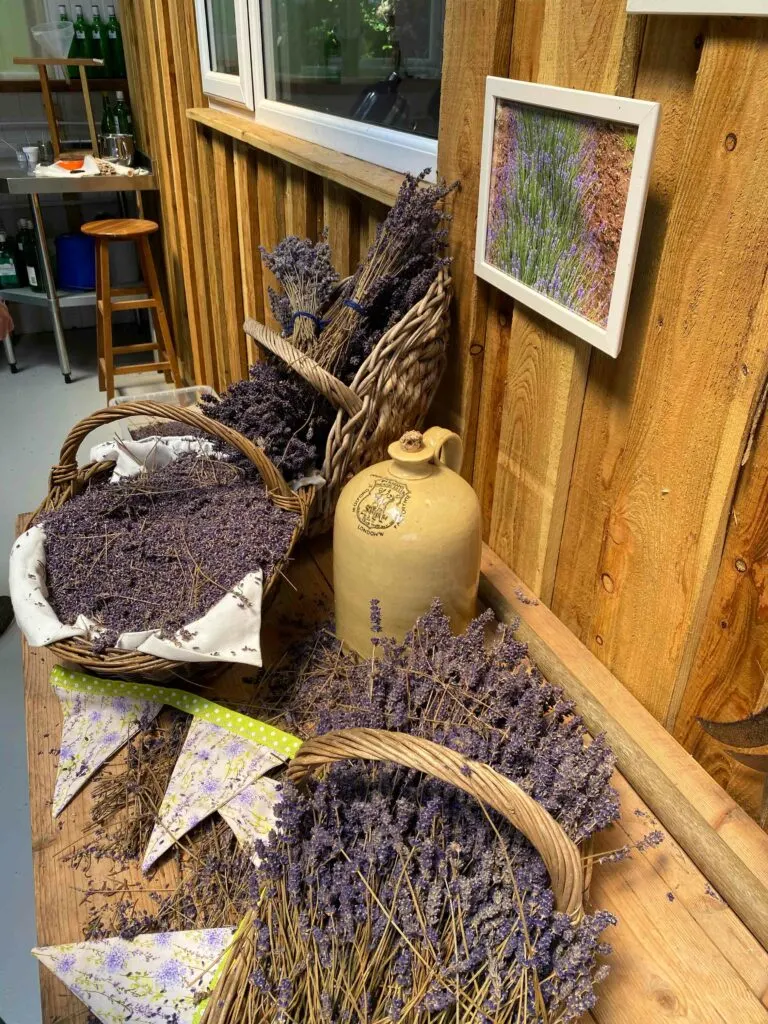 The owner spent time explaining how they made lavender oil and the many uses of the flower in the farms very own factory. At the farm, there are also apples and saffron too. In the fields, you can take the most stunning photos and the views of the purple flowers is breathtaking.
As you walk around the scent from the lavender mixes with the sea air. It is a unique experience and one that should be top of your itinerary in Cornwall family days out.
Make sure to have coffee and cake at the end on the picnic benches outside the main house. The cake is incredible and they have vegan options, all freshly baked on site!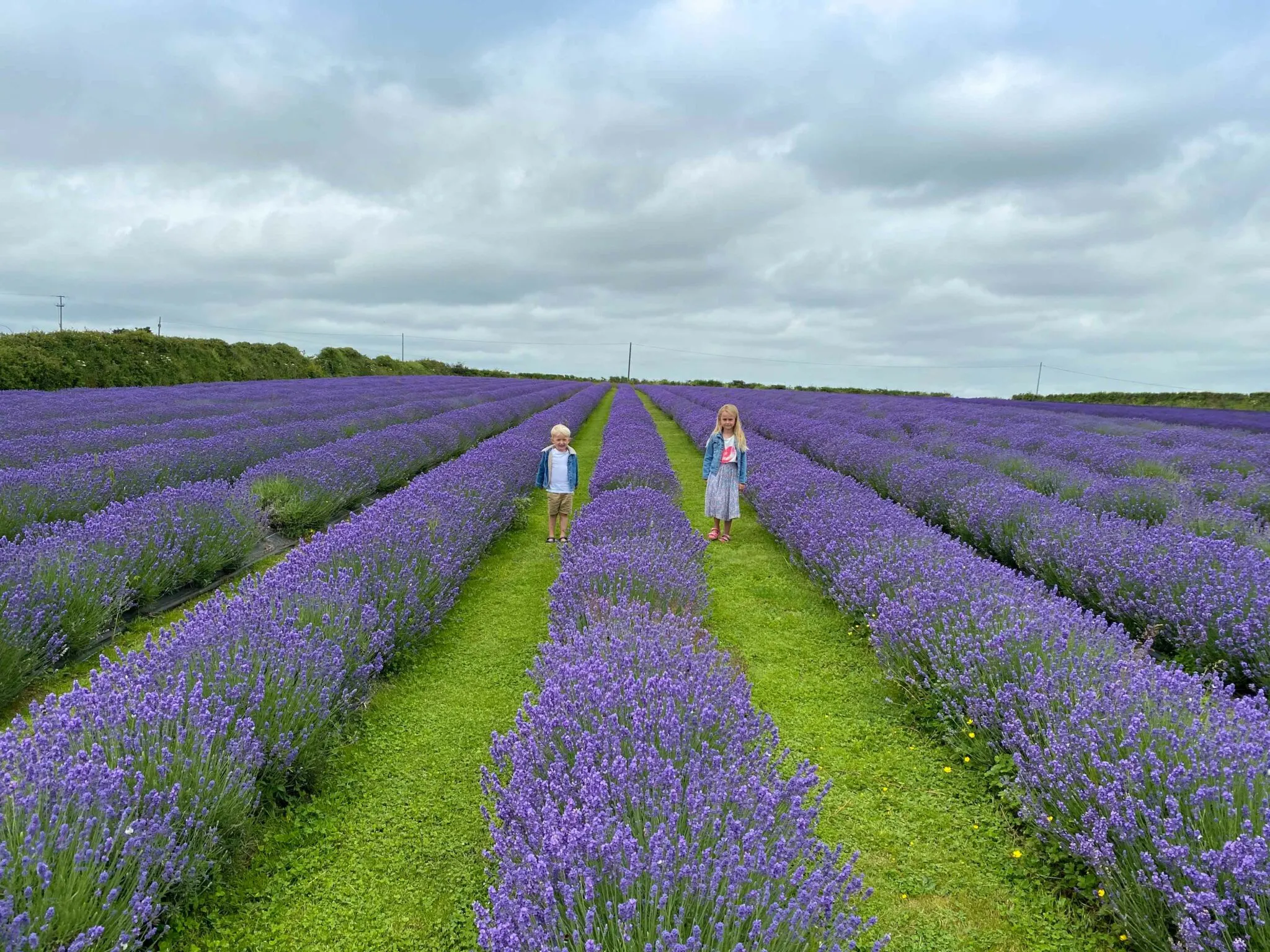 The Best Beaches in Cornwall
No matter the time of year, you can't possibly visit Cornwall and not go to the beach. With over 250 miles of coast, Cornwall has around 300 beaches. Even though they are in the same county, they are different for many reasons.
Some are great for families, some are perfect for surfing and others are dog friendly. Even in the winter, the beaches you find in Cornwall take your breath away.
They should be part of your itinerary even if you are only staying 5 days in Cornwall.
Swim at Kynance Cove
Kynance Cove is a rocky cove on the coast of Cornwall. It is about two miles from Lizard Point and four miles from the village of Mawgan Porth. It is home to a coastal lighthouse and a farm whose history goes back to the 17th century.
The area was designated as a Site of Special Scientific Interest in 1957 as it's home to an important population of vagrant Great Northern Divers who feed there in winter. It truly is one of the best Cornwall family days out.
The cove has become popular with tourists because of its white sand, turquoise sea and rock stacks. It also offers good waves for surfing, and its granite cliffs are attractive for climbing or just relaxing near the water's edge while admiring the views.
In summer the area can be crowded and if you want to park in the car park, you need to be there before 11 am. If you do arrive later then you may find you have to park in a private field a thirty-minute walk from the cove.
There are two ways to get to the beach. The first takes about ten minutes from the National Trust car park. It is quite steep and not suitable if you are using a pushchair. The pushchair route is at the back of the beach and the path is flatter. It takes a little longer, around 15 to 20 minutes.
No matter when you plan to visit, it is also a good idea to check the tides before you go to avoid disappointment. If you visit during high tide the beach may have disappeared.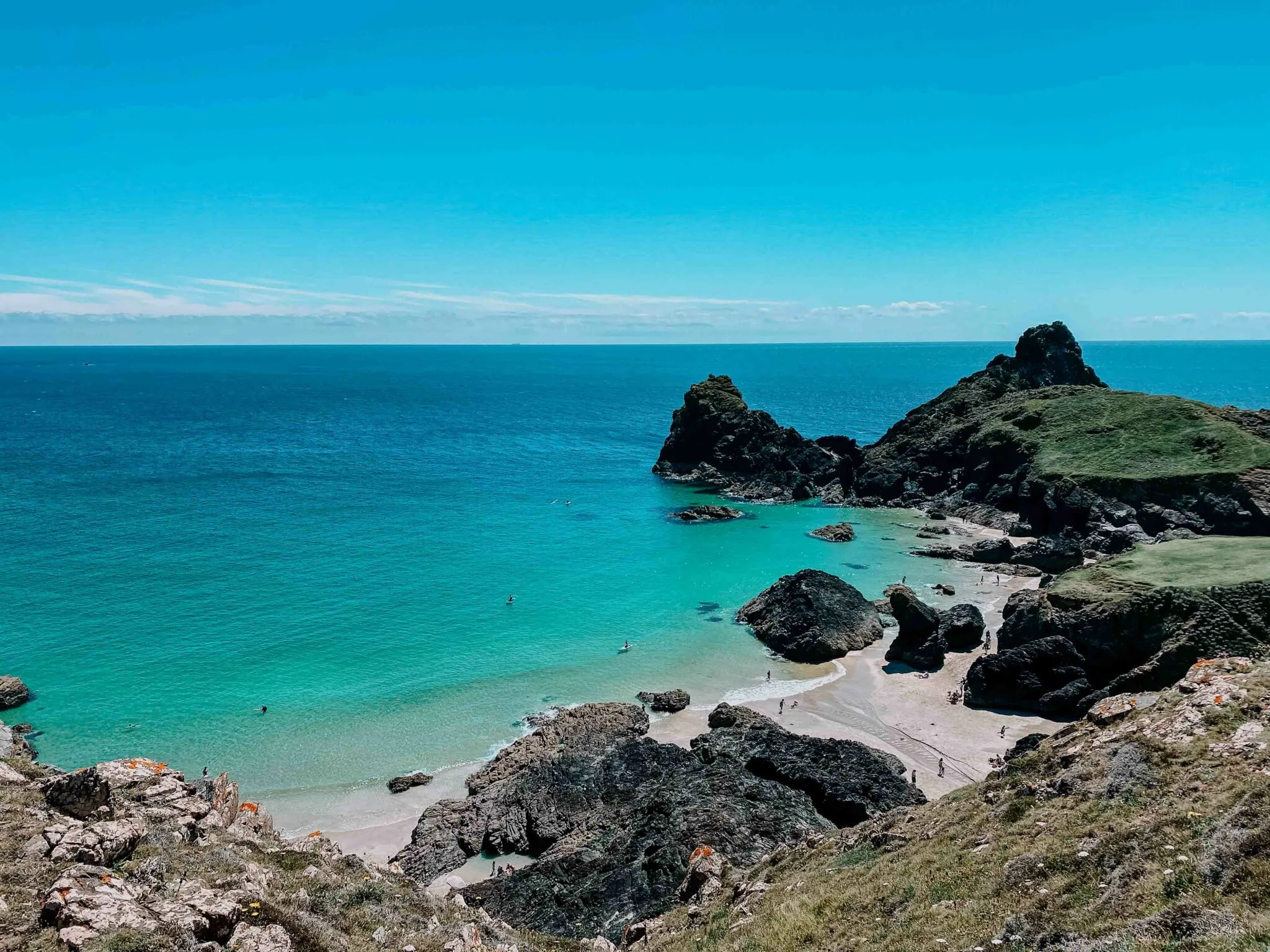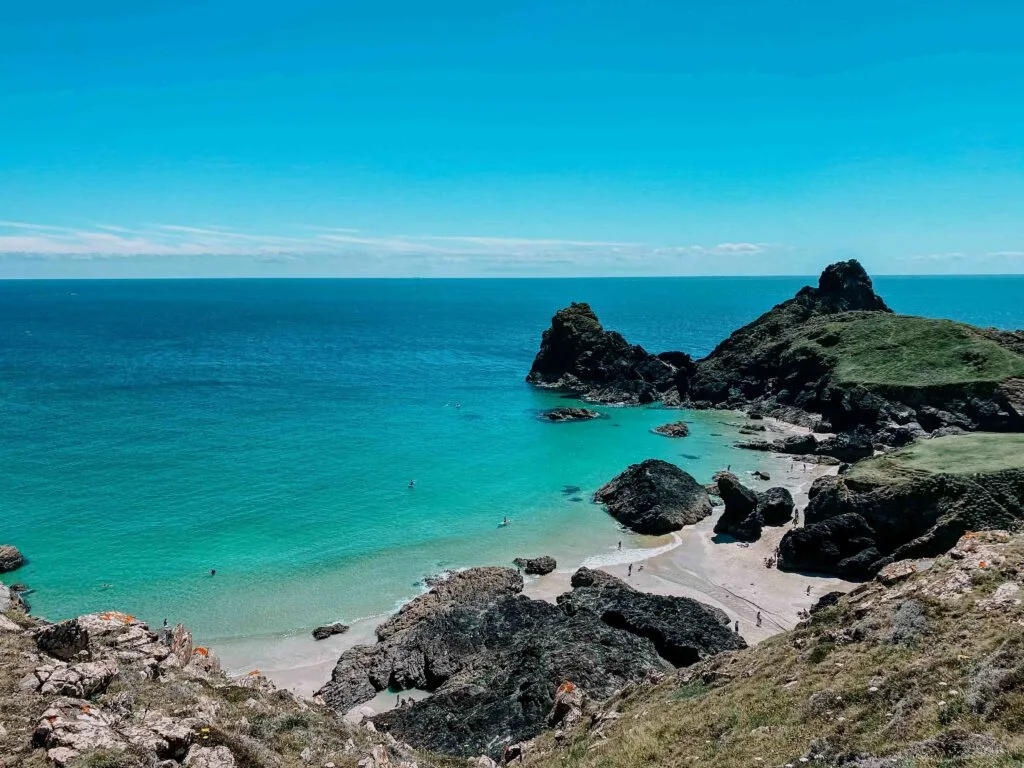 Carbis Bay
Carbis Bay is about a mile from St. Ives and it is a popular beach for families with young kids. The beach doesn't get any swells, which makes it the ideal place to swim. it is quite a small beach at just one mile long, but there is still plenty of space to explore.
Carbis Bay in Cornwall was voted one of the best beaches in the world and when you visit it is easy to see why. The sand is clean and free of pebbles and the sea is a beautiful turquoise colour. You may even forget you are still in the UK.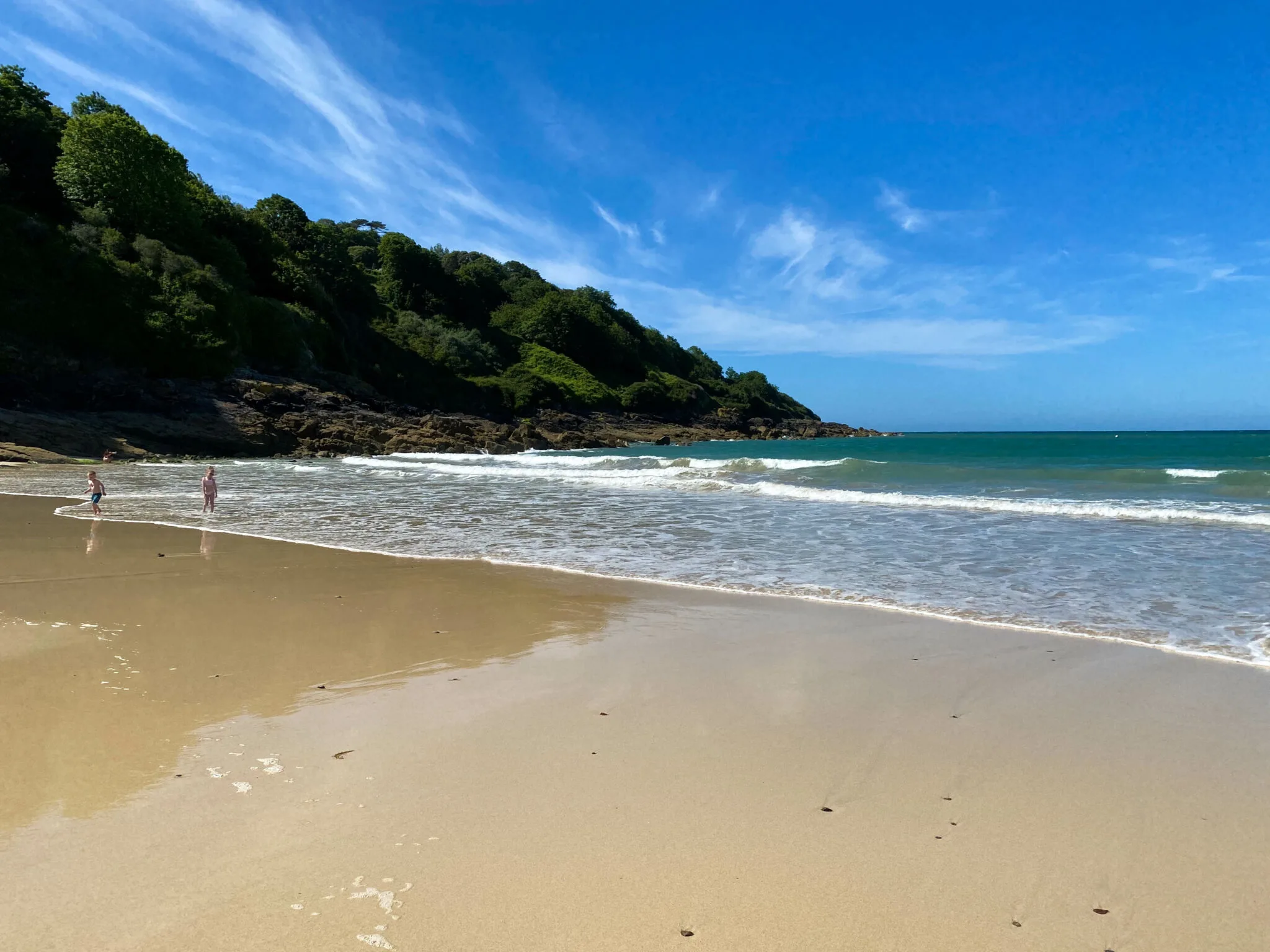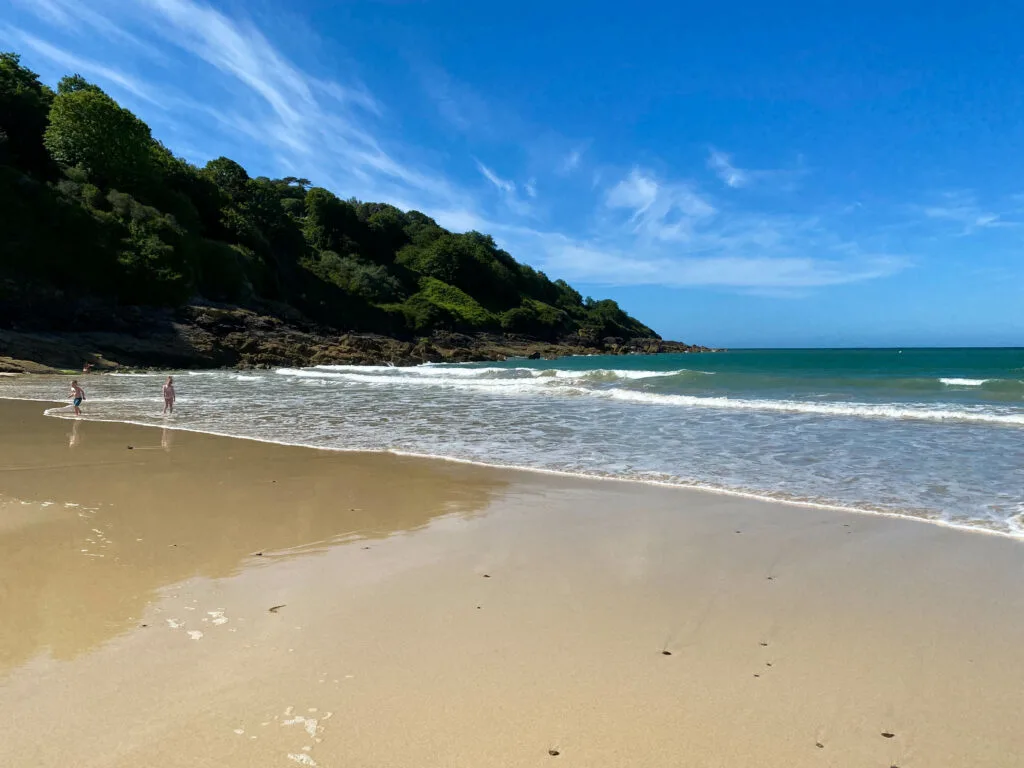 Gwithian Towans Beach
If you are looking for a beach that is away from the crowds, Gwithian is a great place to visit. It is a three-mile beach in Hayle not far from St. Ives. Try to visit when the tide is out as there is a lot more sand to explore. It also uncovers plenty of rock pools that children love to explore.
Don't be surprised if you see many surfers in the water. This beach is one of their favourite spots as there is a swell coming in all year round. You may even spot a few seals here too. There are plenty of restaurants and shops nearby to pick up lunch or a few snacks.
If you plan on taking your dog to the beach, you may want to skip Gwithian Towans Beach in the summer. Unfortunately, dogs are not permitted on this beach in the summer months.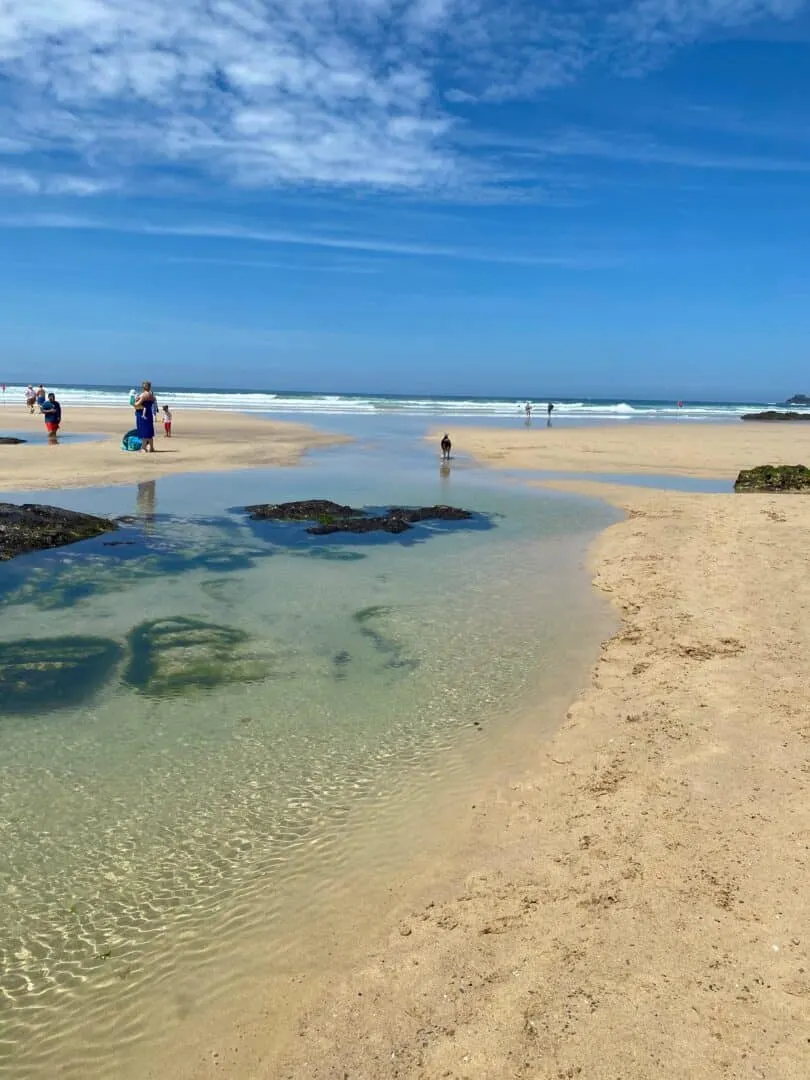 Try Out Surfing Lessons
If you have ever wanted to learn how to surf, then Cornwall is the place to try it. The waves can reach up to 30ft. It only happens a few times a year when the swell conditions are perfect. It happens in Cornwall because it goes right out into the Atlantic Ocean.
There are many places in Cornwall where you can take a few lessons. Don't worry if you are not a strong swimmer. Most of the lessons take place in water that comes up to your waist. Private lessons are great as they can be tailored to suit your needs and all of the equipment is provided.
Click here to see a list of surfing lessons available in Cornwall.
St Michael's Mount
St Micheal's Mount is a small island by the shore in Cornwall, England. There are many myths and legends associated with this place. The top of the island has a historic chapel and a tower that can be seen from miles away. St Micheal's Mount is also known for its rare breed of sheep.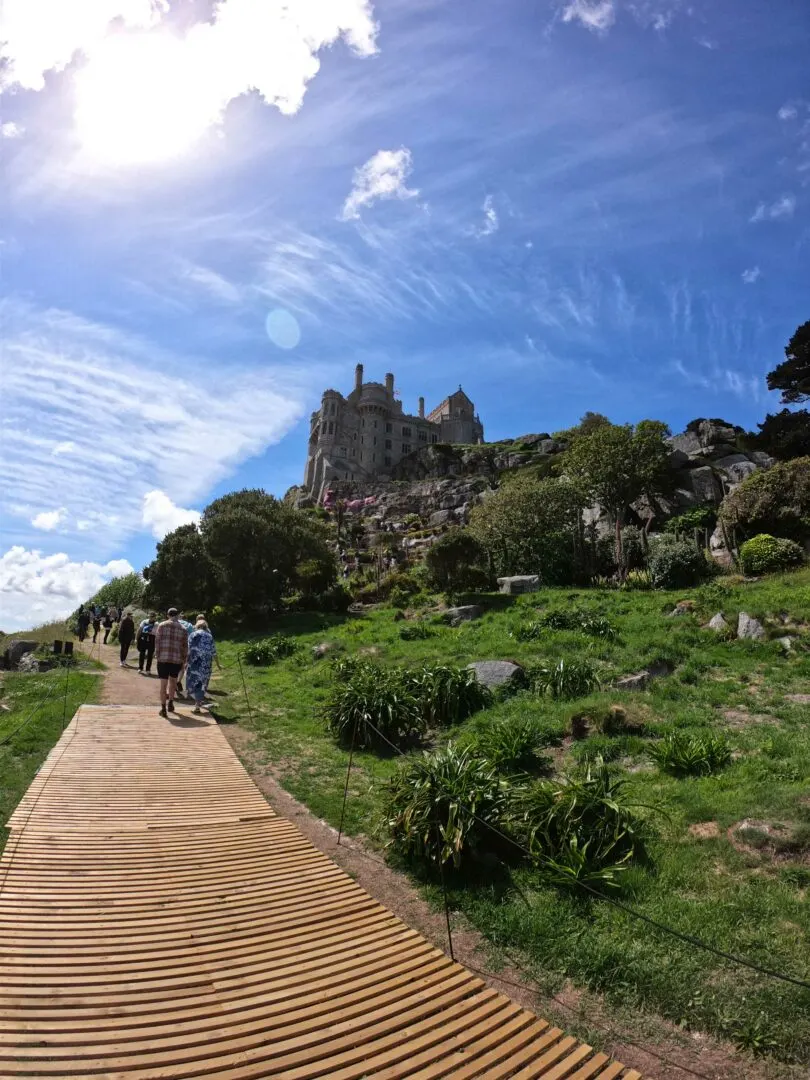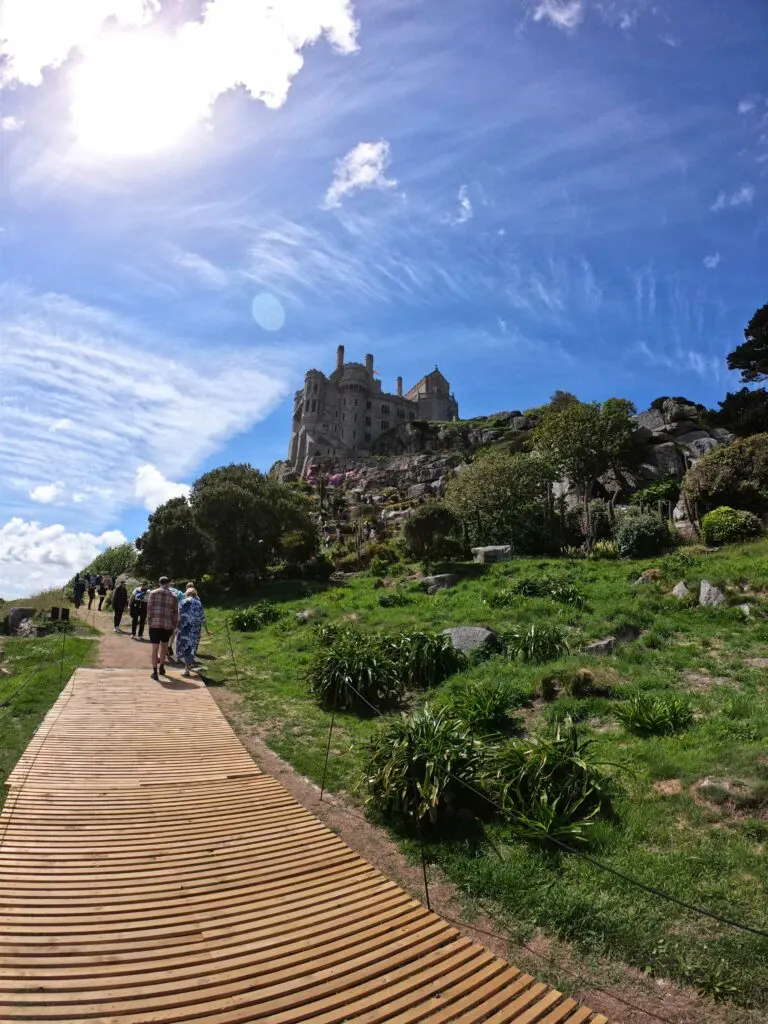 The island's small size means there are not many tourists on it so you can experience it at your own pace. The views from the top of the island will take your breath away and make you feel on top of the world!
When the tide is out you can walk to the island. When the tide is in, you can take a boat. The best way to visit St Micheal's requires you to time your visit with the tide as it is great to experience it both ways.
Book your ride in the boat and arrive one hour before the tide is due to go out. Take your time exploring the island, and the castle. Then make your way back to the mainland using the causeway that is uncovered when the tide is out.
Book your tickets for the boat and St. Michael's Mount well in advance.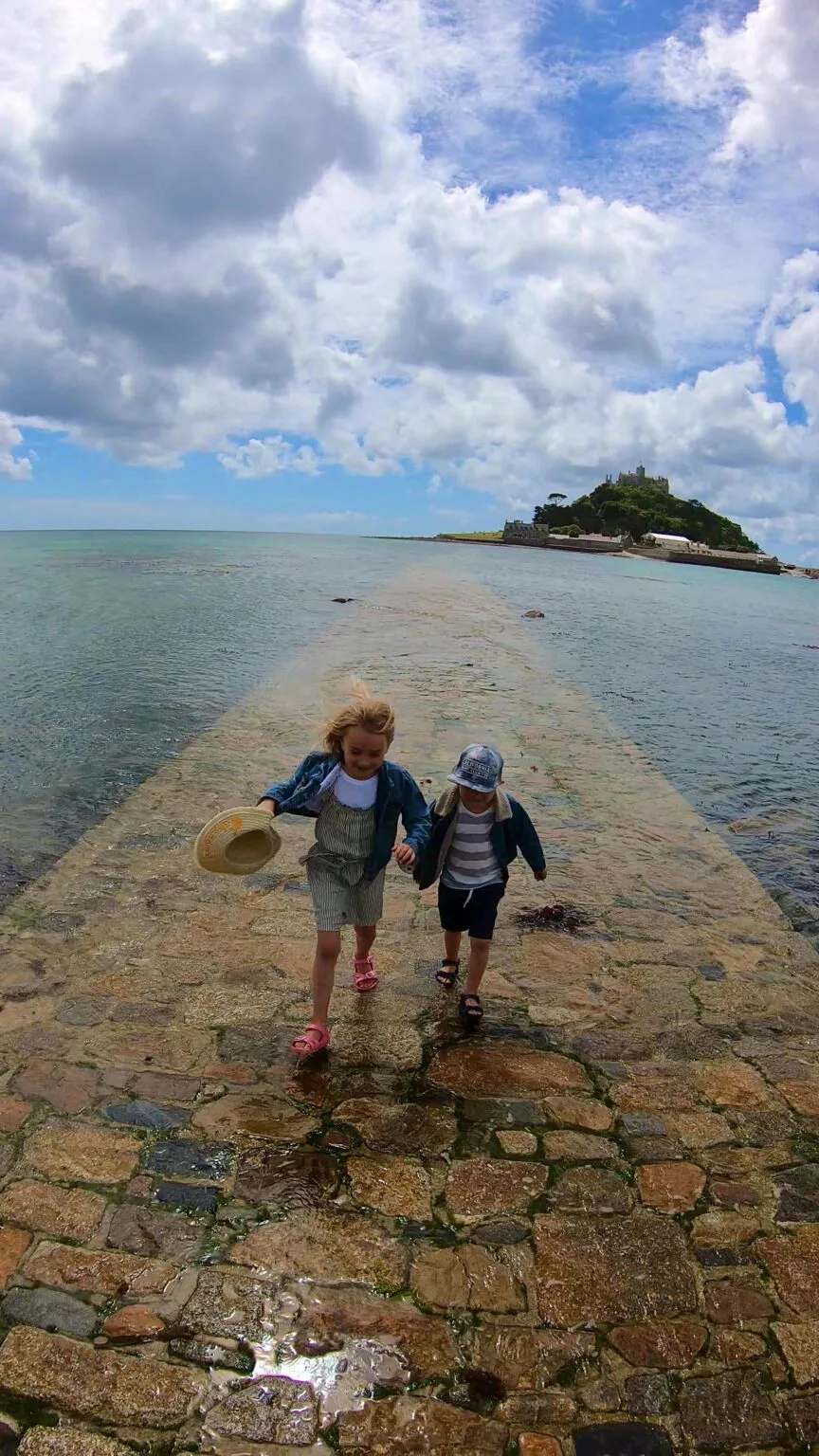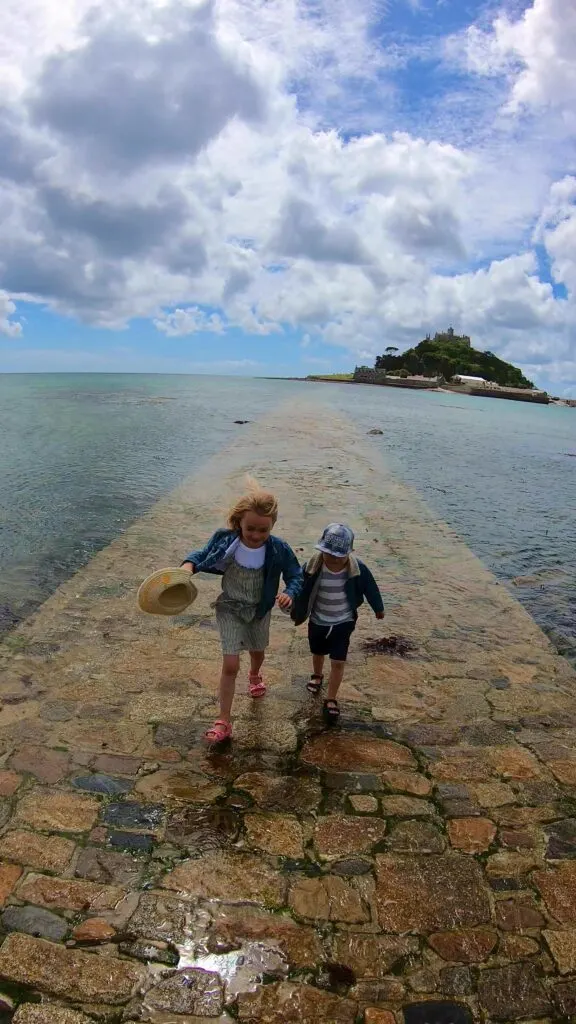 The Eden Project
The Eden Project is a series of giant eco-domes, showcasing different biomes and the plants and animals that live in them. It is a place to explore our relationship with the planet and the universe. It was designed by a team of experts in architecture, ecology, religion and philosophy.
The domes contain biomes like rainforest, desert, mangrove swamp and marine habitats as well as an insect house with a stick insect enclosure. Two giant greenhouses are used for year-round cultivation of fruit and vegetables to feed people working at the project or those coming to visit.
If you don't have time to see it all on your family days out Cornwall then some biomes are sure to impress the little people. The Invisible World and the Rainforest Biome.
The Invisible World is a place that uses all the senses for families to discover how life is shaped by, and shapes, invisible systems. It is also where you can find the Infinity Blue 'breathing' sculpture. This ceramic sculpture is almost as high as the dome building.
The Rainforest Biome is the world's largest indoor rainforest. Kids love the Weather Maker exhibit. There you can shelter from tropical rain, journey into clouds and find out how rainforests cool the Earth. There is also a rope bridge to cross and a stunning waterfall.
Older kids can head to England's longest zip wire or take part in other adventure activities.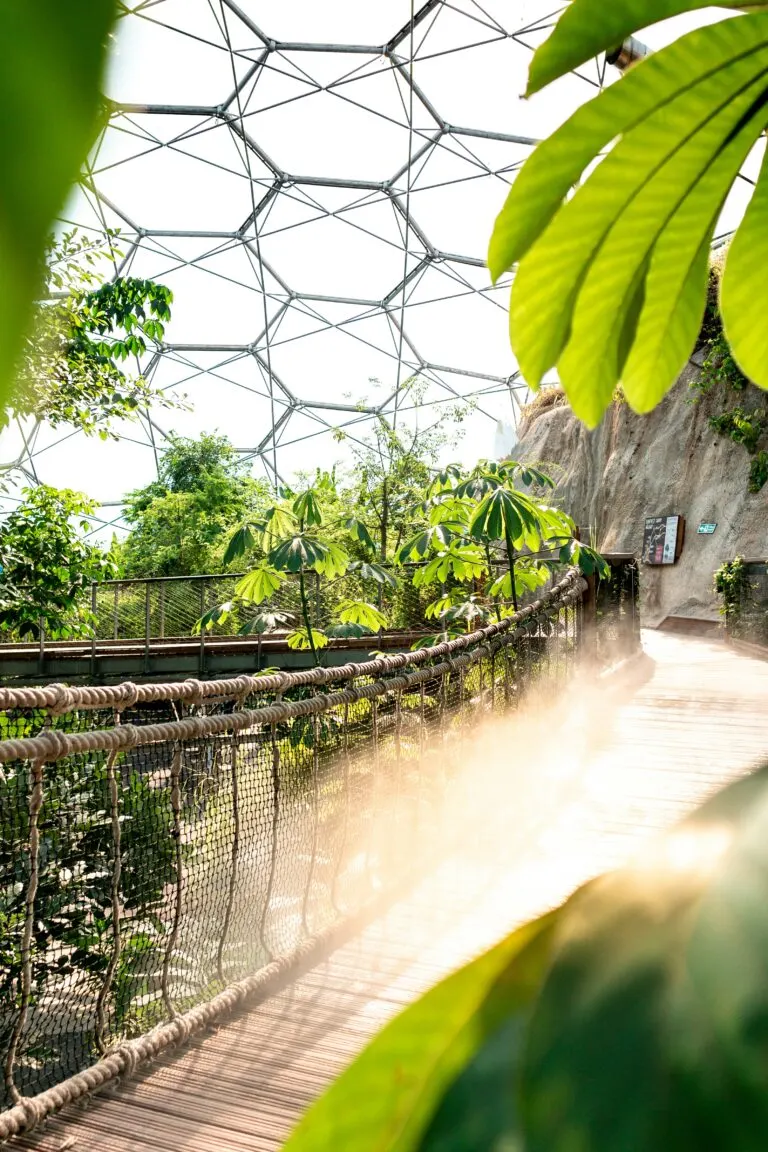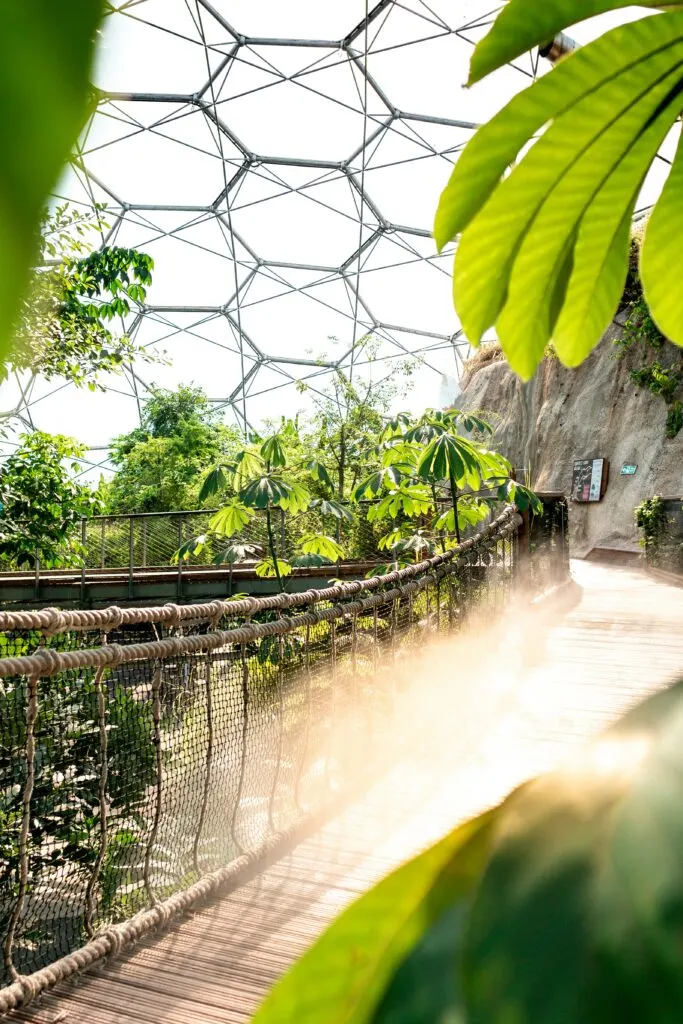 Tintagel Castle
Tintagel Castle is located on a clifftop overlooking the sea, some people claim it to be one of the most beautiful castles in England. Kids can explore the castle and its grounds, and enjoy climbing up to the top of the castle for incredible views.
Start your journey by crossing the footbridge to the island. Once on the island, you can explore the castle and learn more about it from the outdoor displays. You can take a walk around the grounds and admire the works of art.
Below the castle, there is a hidden beach. As well as the usual activities of building sandcastles, kids can explore Melin's Cave if the tide is out. If you are visiting in winter then you can appreciate the waterfall from the cliffs above.
Due to the location, the castle may be closed due to the weather. To avoid putting a dampener on your days out with the kids Cornwall, always check before you set off and remember to book your tickets online.
There is also an option to combine visiting the castle with a trip to Boscastle, and Dartmoor. This two-day tour takes you on a walk among miniature oak trees in Wistmans Woods, to the small church of Brentor and much more.
Click here to book this 2 day King Arthur Tintagel and Boscastle Tour.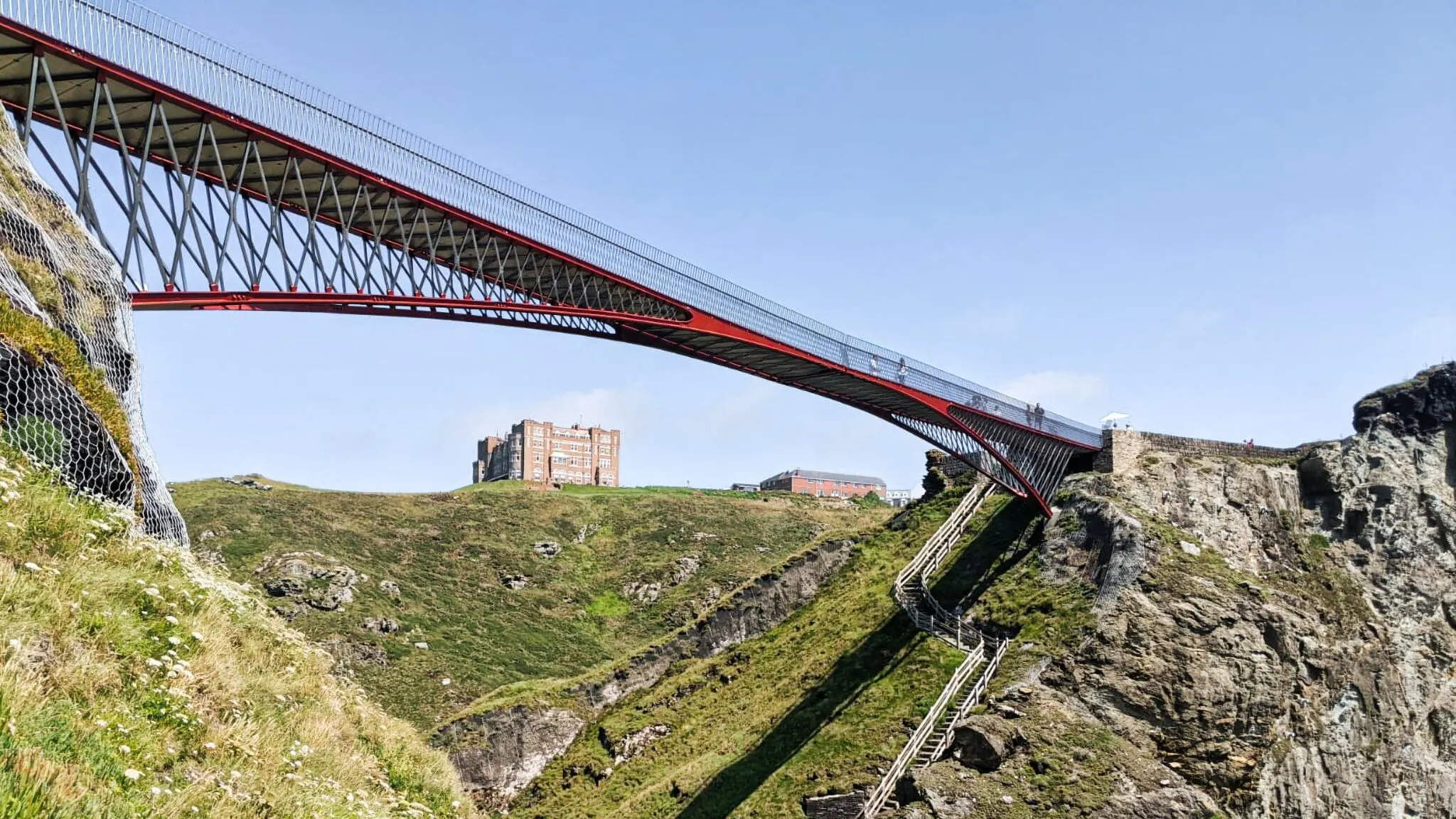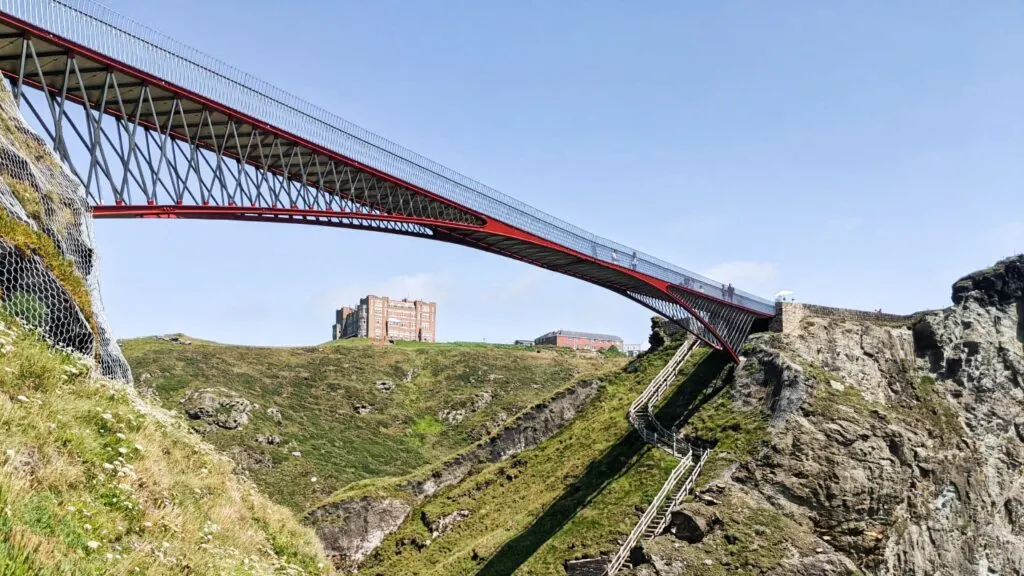 Activities for Kids in Cornwall at Geevor Tin Mine
Geevor Tin Mine is a place in Cornwall that children can visit and learn about the history of tin mining. It was established in 1838 and it was one of the most significant mines for tin extraction.
For many years, it was the number one producer of tin worldwide. Unfortunately, the mine closed down its operations in 1998 as the price for tin drastically reduced.
It might not seem like a place for children but they actually have a lot to do at Geevor Tin Mine. They can explore the underground tunnels and get lost among dark corners of mineshafts. They can even have a go at 'gold' and gem panning in the Mill.
Unfortunately, pushchairs and strollers are not allowed inside, so parents of babies may want to bring a baby carrier with them.
Royal Cornwall Museum
The Royal Cornwall Museum is the main museum in Cornwall and it has lots of space for kids to explore. There are things like interactive exhibits, a family-friendly cafe, and a gift shop. It is one of the most popular family attractions Cornwall.
Children will learn about the natural history of the county. They can also explore other aspects of Cornish life, such as mining or tin streaming at this museum. It is a great place to visit in Cornwall with kids especially as there is no charge for those under 18.
Walk the Camel Trail
The Camel Trail is a designated cycling path that is an old discuses rail track. The track runs from Padstow to Weybridge. It's a fantastic way to explore the county and get to know the beautiful scenery. It takes you through many different landscapes, from sandy beaches and fishing villages to hillsides with views of the coast or inland rivers.
The path is flat and perfectly paved it really was not very taxing to cycle even with a kids trailer.
The name comes from its winding shape which looks like an outline of a camel's back when it's viewed on a map with north at the top. The trail is over 18 miles long! if you haven't brought your bike with you then there are plenty of places to hire one nearby.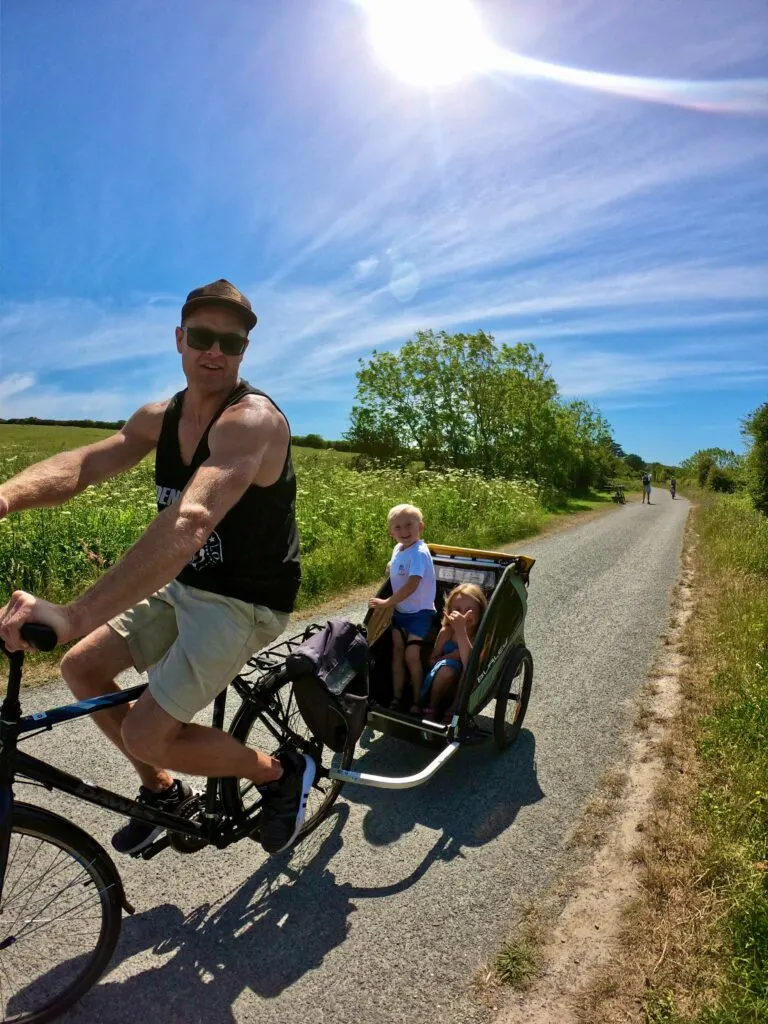 Minack Theatre
Minack Theatre is one of the best places in Cornwall for kids. It is considered one of the most renowned theatres in England.
It was built on a granite cliffside and has fantastic views of Porthcurno Bay. There are a lot of steep steps at the theatre, but there is wheelchair accessibility at the back.
While there are still shows happening at the theatre, you can still book a tour. As it is a popular place to visit, the tickets sell out fast. It is recommended to book your tickets at least three weeks in advance. Or better yet, book tickets for one of the shows.
Coastal Rail
If you want to see Cornwall from a different vantage, point then hopping on a train is the way to do it. One of the most scenic routes is the St. Ives Bay Line. Hop on the train at Lalande. There is free parking at the station.
When you board at Lalande try to nab a seat on the right-hand side of the train as these seats have the best views. The journey to St. Ives is just a short ten minutes. You can hop off at the other station as well and explore the towns or just sit back and enjoy the sea view.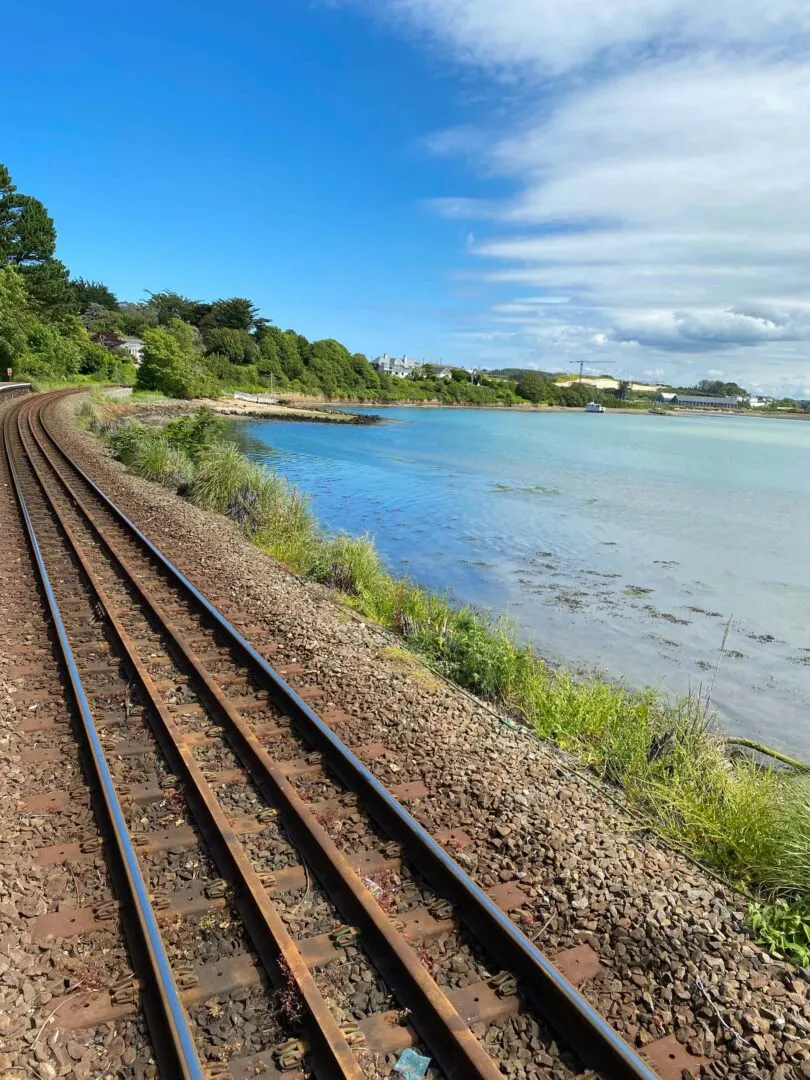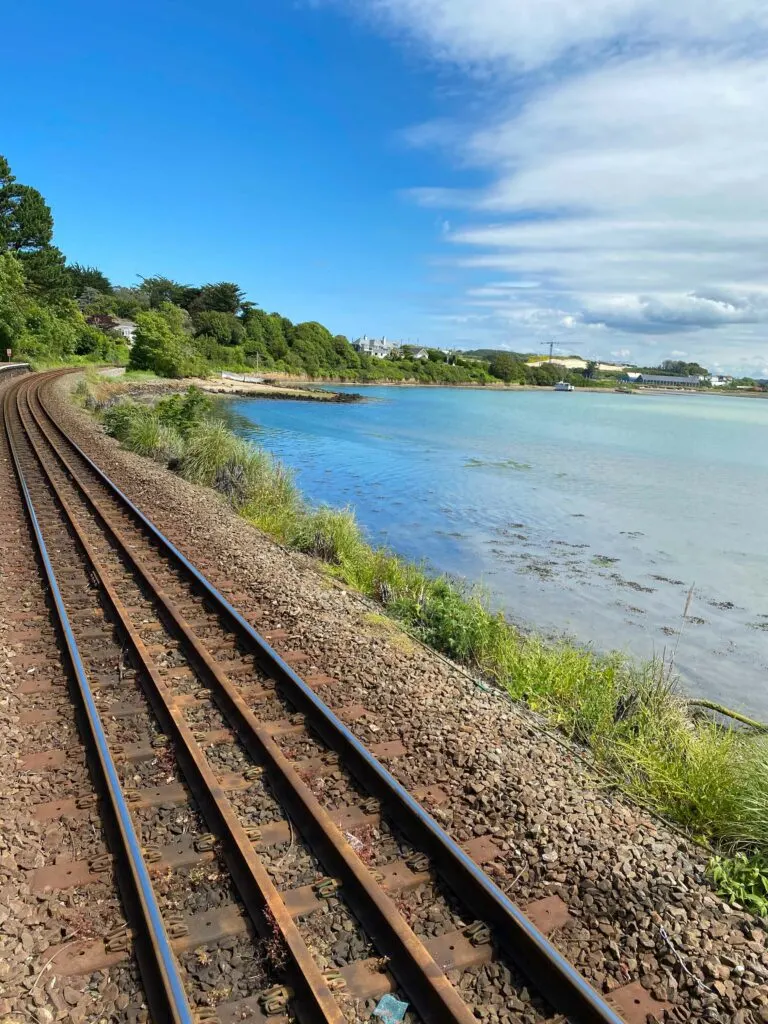 Lappa Valley Steam Railway and Kids Activities Cornwall
Lappa Valley Steam Railway in Cornwall is a restored railway line that showcases the history of the railways in England. It was created to share and celebrate the history of this fascinating mode of transportation.
Visitors are welcome to explore all the stretch of railway has to offer. There is an exhibition, which tells visitors about how trains along this route were used and maintained during the railway's operational days.
Kids can also ride the train through 35 acres of Cornish woodland along with a host of other activities. Families can enjoy the views of the lake while on one of the pedalo swans. There is also the option to play a round of crazy golf or let off some steam in the adventure playground.
Throughout the year there are several other events. If you are visiting in December, then be sure to check out their Christmas Train.
Adrenalin Quarry
Adrenalin Quarry is in Liskeard in Cornwall. It s a great place to visit if you are looking for adventure. This place has been designed for people who are seeking intense and heart-racing activities. It has exhilarating views and can provide you with the best adrenaline rush ever!
There is an Aquapark, Zip, Giant Swing and Karting for the kids. Some adults might want to take their frustrations out and throw a few axes. There is free parking available and entry to the park is free. The activities have to be booked on the website.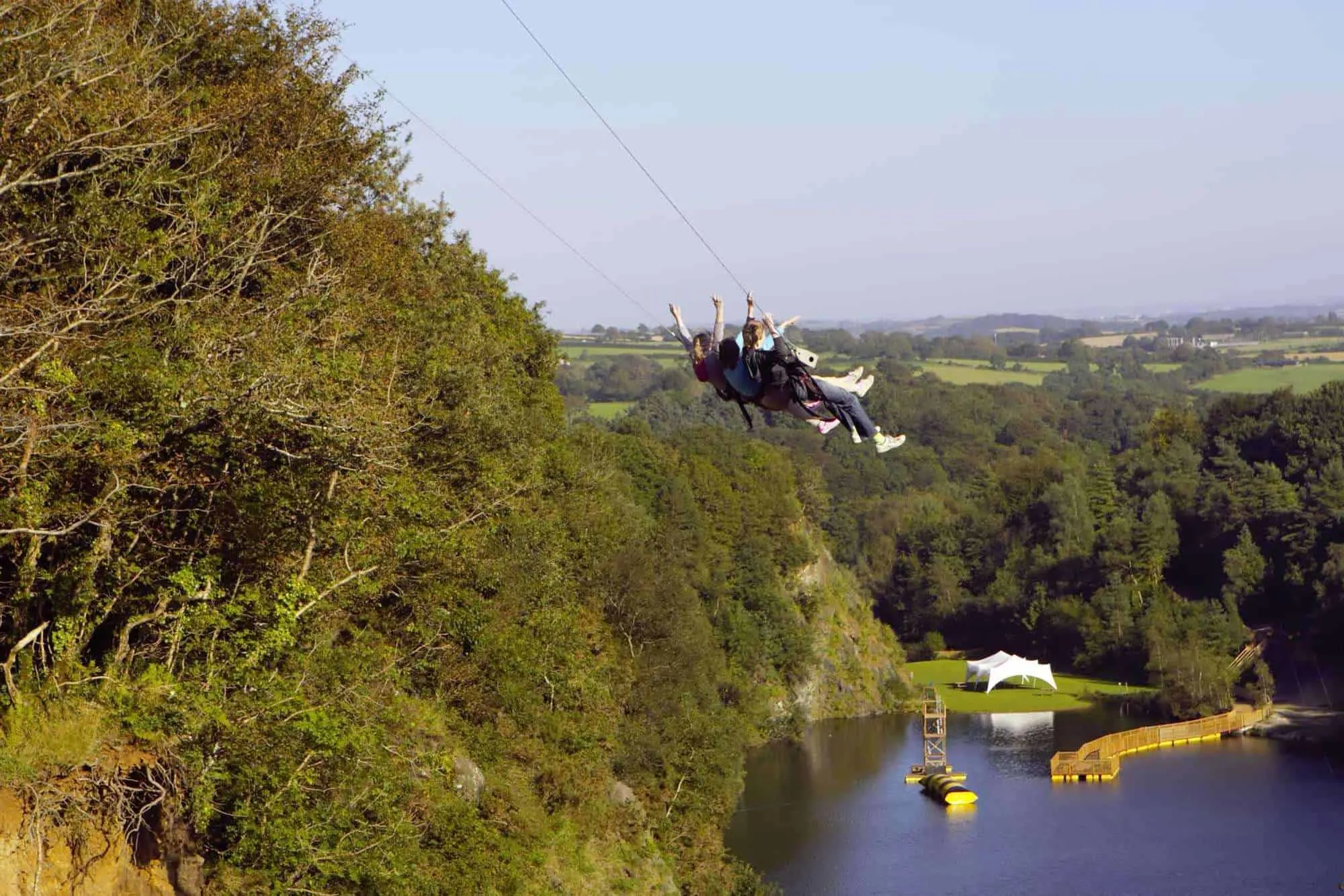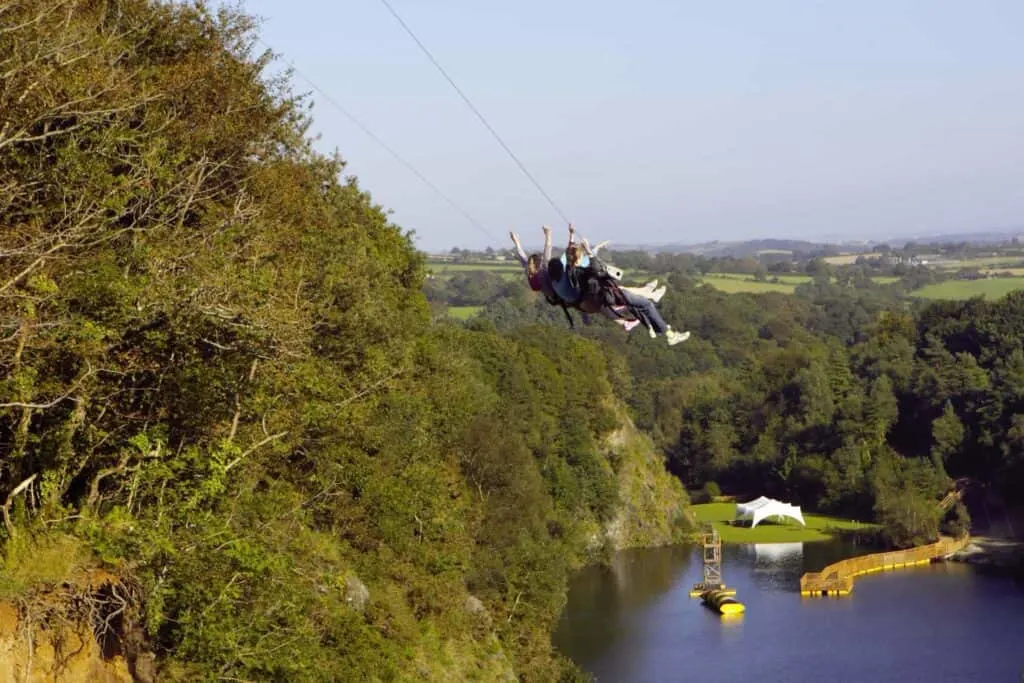 Best Towns and Villages to Visit with Kids in Cornwall
St. Ives
St Ives in Cornwall is a great place to visit with kids because it has a lot of family-friendly attractions. You might not always get blue skies on your trip to Cornwall. This small town has the perfect mix of outdoor and indoor attractions for a family vacation.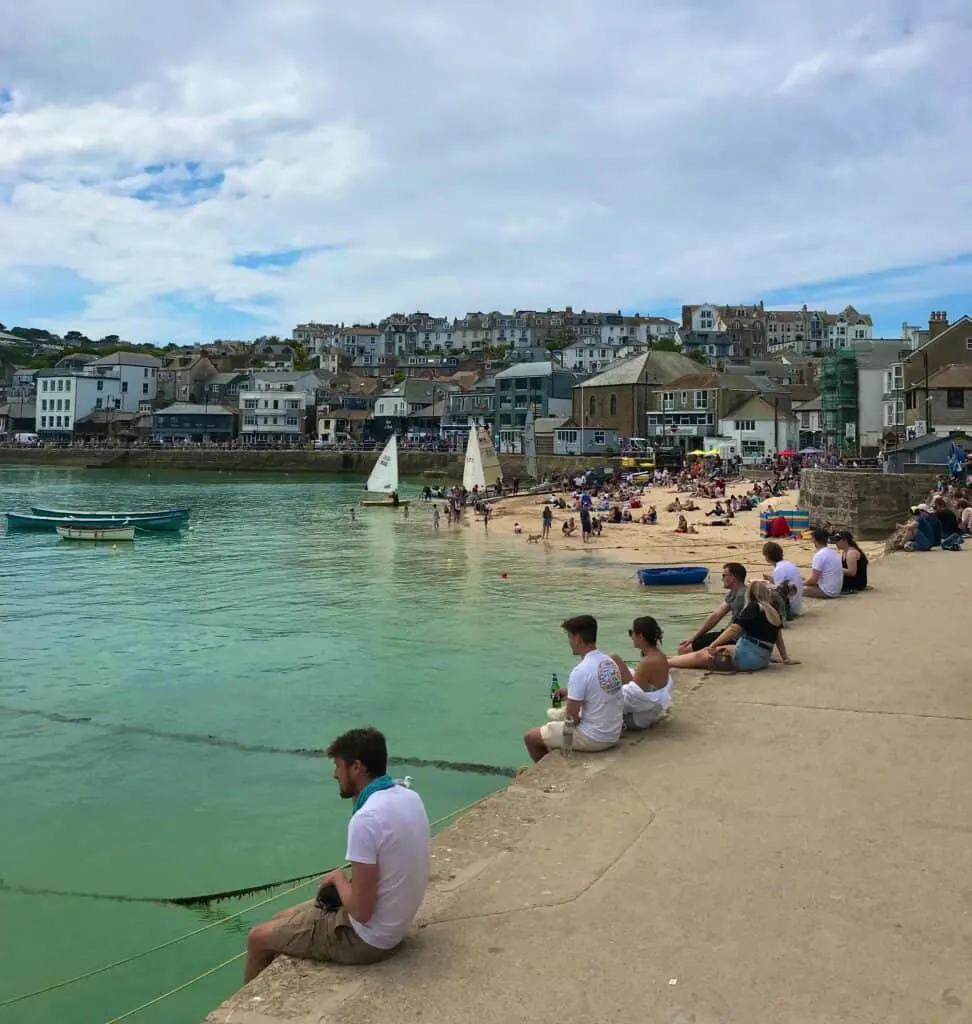 For instance, there are many museums that one can visit. As well as galleries and shops where you could spend hours browsing. On a Thursday you could pick up some local goodies from the indoor farmer's market.
If it is a good day, then head to the port and book a boat trip. St. Ives Bay has been recognised as one of the most beautiful bays in the world. Look out for dolphins, seals, sharks, whales and more.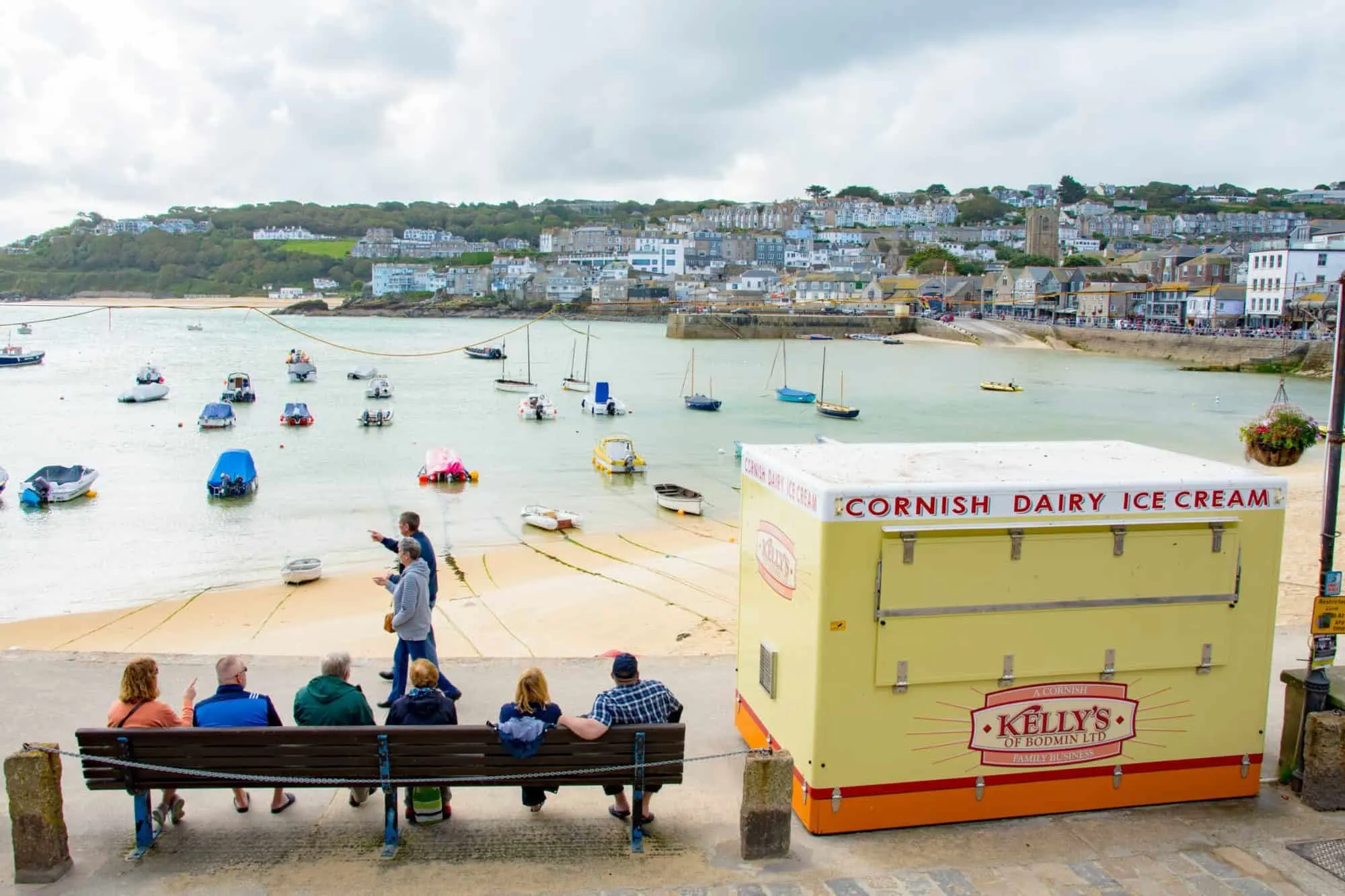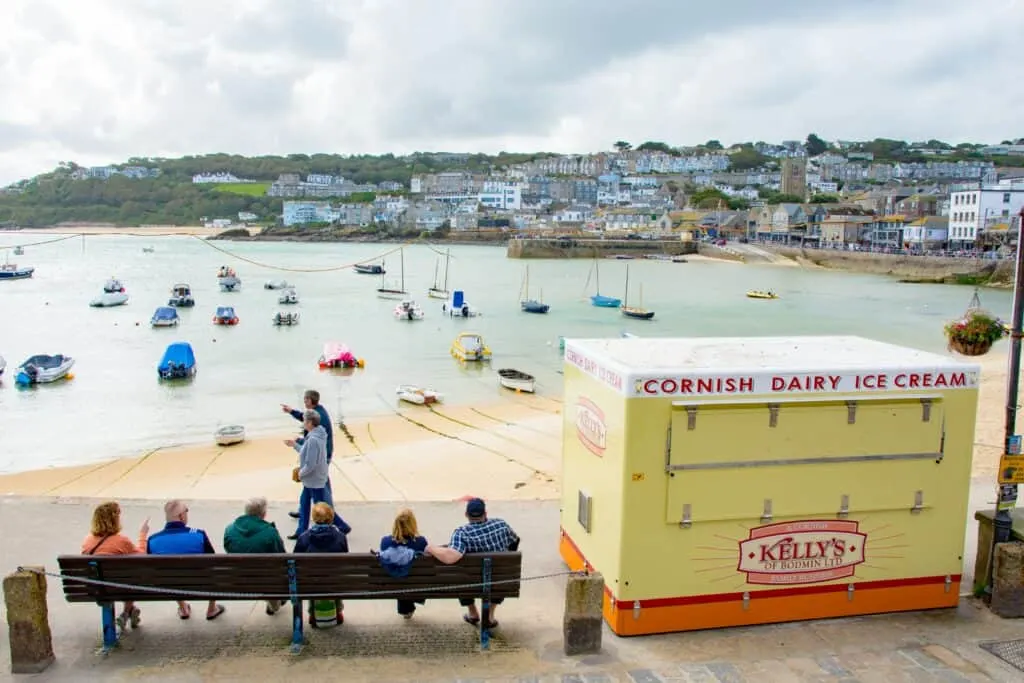 Newquay
Newquay in Cornwall is a great place to visit with kids because of its variety of activities for kids and the beauty of the beach. It is a very popular destination for families. It offers activities such as surfing, sandcastles, exploring rock pools and a lot more.
The children can run around all day and still not get bored. There's also plenty to do in town like an indoor play area, cafes and shops for souvenirs.
There are two different cruises available from Newquay. The area is famous for bottle-nosed dolphins and porpoises. Other amazing sights include Castell Beach, Ynys Lochtyn boasts the tallest cliff in Ceredigion, and bird colonies.
Padstow
Padstow is a great place to visit with kids because there are so many things to do. You can take fun classes like cooking, surfing, and kayaking or you can explore the town and take in the beautiful views of the coast.
There are plenty of coastal walks to choose from and many bike trails too. In fact, this is where the Camel trail begins so it would be great to combine both Padstow and the trail.
Padstow also has boat tours, some up to five hours. This is the place to board if you want to see the seals in the area. You might even spot a few dolphins too along with puffin island.
Helston
Helston is at the northern end of the Lizard Peninsula. It is a small, but friendly town with plenty of things to see and do for people of all ages.
This medieval market town has been a great place to visit for hundreds of years and now it's even better with the added attractions that have sprung up since then.
There are plenty of shops, restaurants, and other amenities that'll make it even easier for visitors to enjoy their stay in this quaint little town on the Cornish coast.
Best Hotel Stays for Holidays in Cornwall with Kids
Many hotels in this region offer special amenities and facilities for children, making it a great place to bring along the whole family.
It is important to keep several things in mind when choosing your family hotel in Cornwall. One of them might be asking yourself if you want some more seclusion or if you prefer to be the beach.
You also need to factor in what you will be doing on your trip. If you only have a few days, then you want to be as close as possible to what you are looking for. You don't want to be travelling for hours in all different directions.
To find a hotel in Cornwall to suit your family click here.
Cottages to Rent Cornwall Holidays with Kids
Holiday cottages are a great alternative to hotels. You get the best of both worlds- the thrill of exploring the mother nature and all the amenities of a hotel at your disposal.
One can rent holiday cottages in Cornwall, that provides complete privacy and seclusion. Some of these holiday homes even offer their guests a private swimming pool or hot tubs.
Check out a range of family cottages to rent in Cornwall here.
Camping in Cornwall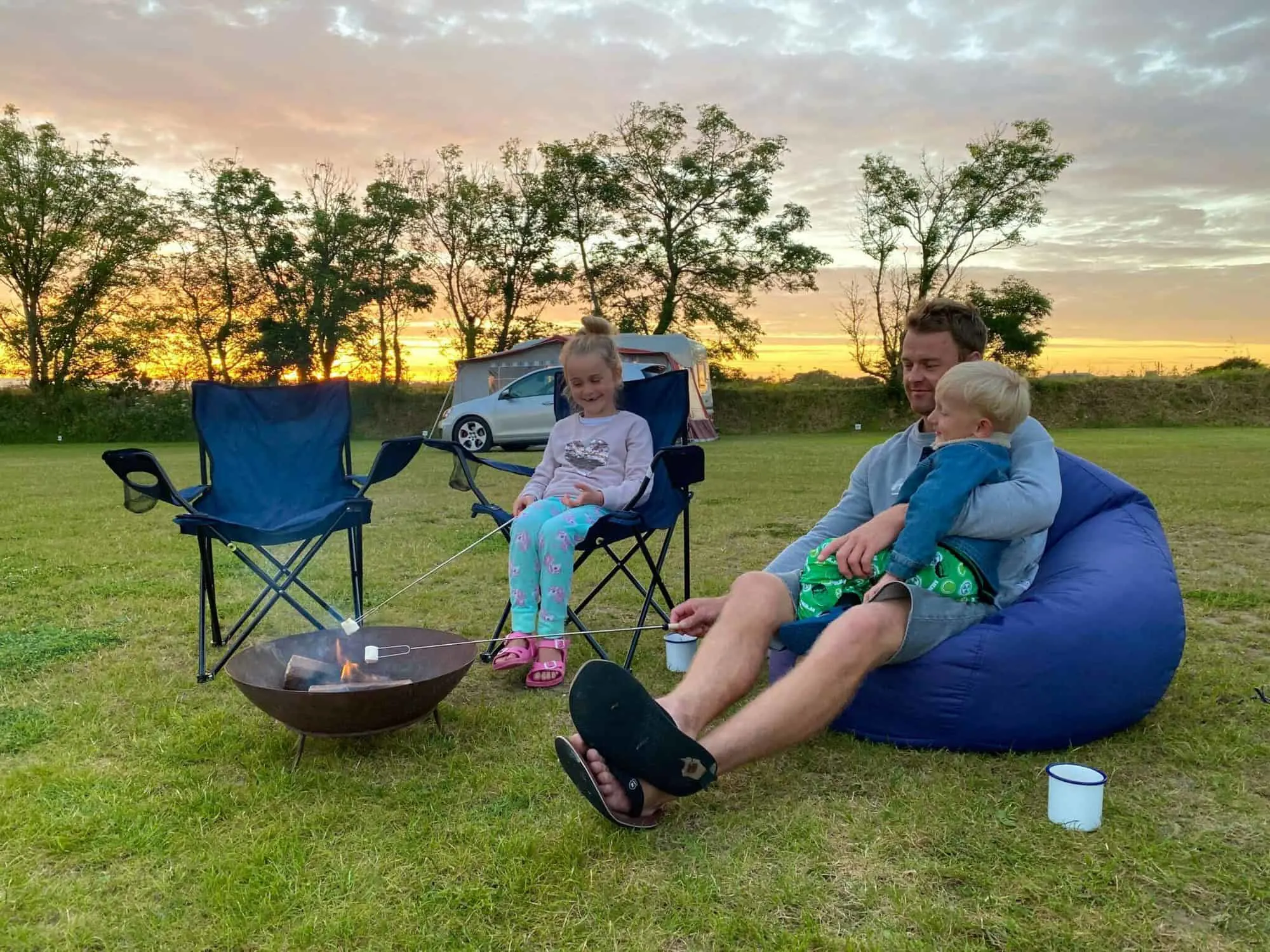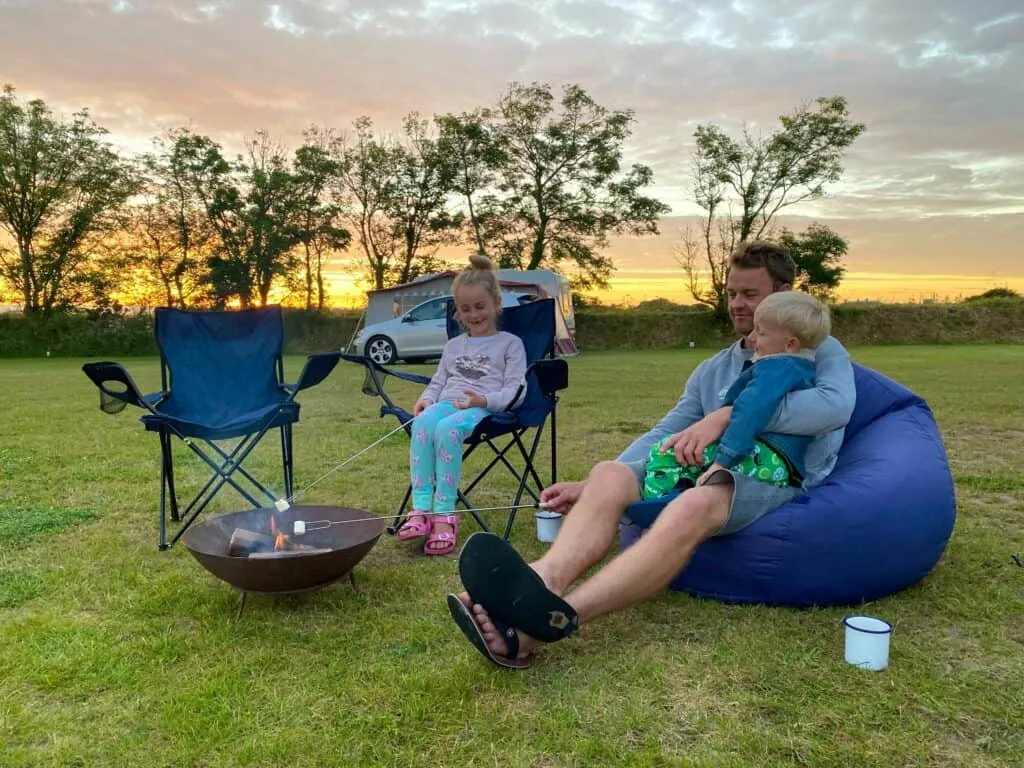 If you are looking for a camping trip near the coast, Cornwall is a place to consider. It is one of the safest places you can visit and it has some of the most beautiful natural landscapes in the UK.
Camping in Cornwall is an adventure unlike any other. It has four different types of coastline and that means there are four different ways to experience this amazing county. You can either camp near the beach, close to a river or a shot distance from St Ives Bay or on Bodmin Moor!
The first place we found was Lizard Point campsite. This campsite has a large main field with plenty of space for tents and caravans. There is also a kids' play area and plenty of parking spaces available for campers to use. They even have their own private beach!
The next campsite on our list is Shorthorn Farm Camping with Caravanning Club Site. This one has a well-kept camping ground, showers, toilets, electric hook-ups and a children's play area too!
Click here to where to camp in Cornwall.
Family Friendly Cornwall Restaurants
When you are out on your holiday, it's always nice to know where you can go for a good meal. If you are looking for some great places to eat with the whole family then we have some recommendations for you!
The Wild Cafe is probably one of the most popular restaurants in the county. Not only does it overlook the sea, but it has a three-course children's menu. The restaurant has an extensive menu that also uses seasonal and local produce.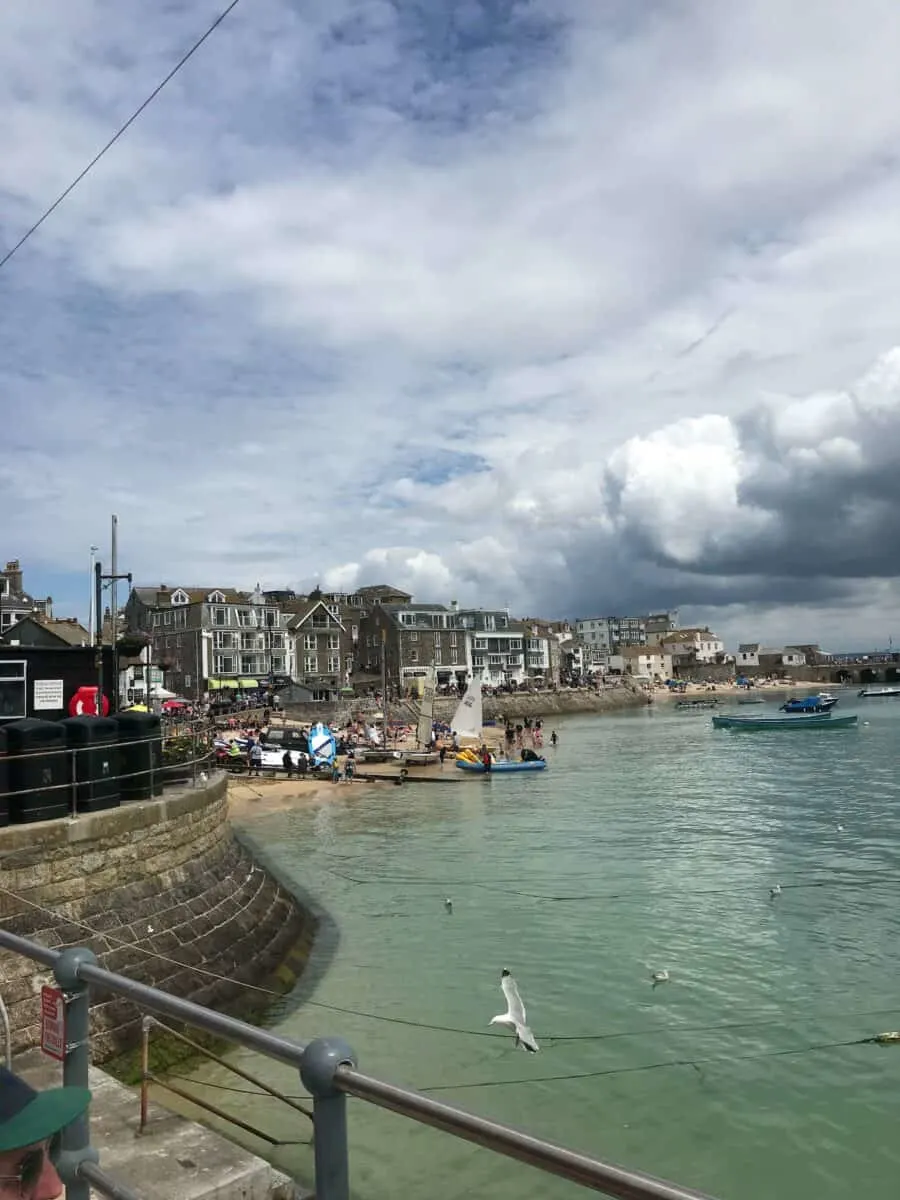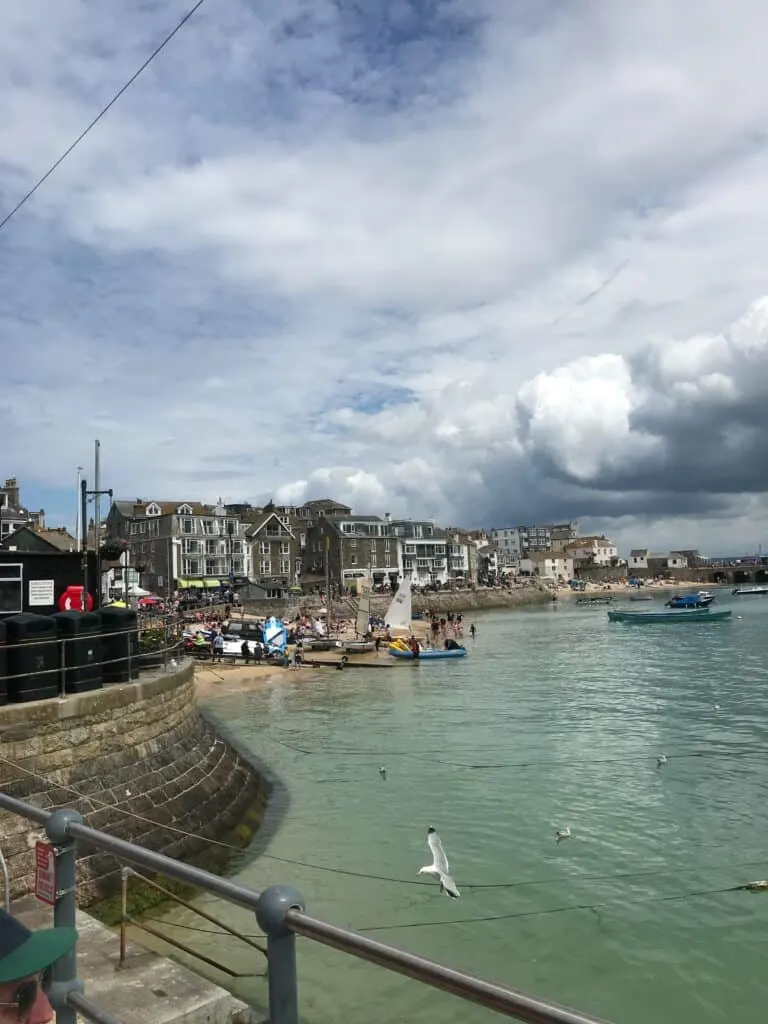 In South Quay, in Hayle, you can find Be Kind The Vegan Coffee Caravan. They have a range of homecooked dishes that of course are all vegan. They also have many cakes and desserts that go perfectly with your speciality coffee to wash them down.
Another little caravan cafe is Ellies Soul Kitchen. The menu is inspired by food around the world. it is based in Lizard and is a great choice for street food, cakes, and both hot and cold drinks. While it isn't a vegan restaurant, it has great vegan options.
Of course, you can't possibly go to Cornwall and not have a cream tea. Cream tea is usually served with scones, fruit jam, clotted cream and a pot of tea. In Portleaven there is a beautiful cafe called Twisted Currant Tea Room. They have various menu options including a vegan cream tea.
You may also like:
Best UK campsites for families
The Best Things to do in New Forest with Kids
The Best Things To Do In London With Kids
Will you be needing travel insurance, flights, reliable internet, rental cars, or hotels for your trip?
Disclaimer: This Best things to do in Cornwall with kids post may contain affiliate links. By using them it will not cost you any extra, we will receive a small percentage of the sale.