Sandwiched between the cities of Sheffield, Manchester and Derby, the Peak District is the UK's oldest National Park.
It's popular with outdoor loving families who come to hike amongst the green rolling hills, or cycle along the miles upon miles of traffic-free cycle paths.
The landscape and grand estates here have been used as the backdrop for Pride and Prejudice adaptations, and it really is one of the most beautiful areas of the UK. Plus, with its central location in England the Peak District with kids is pretty easy to get to and makes for a perfect staycation destination.
As a family, we have travelled all over the world, but the Peak District is the place we call home. We have been living here for two years now and armed with our hiking boots
and a flask of hot chocolate, we love nothing better than a long walk across the dales to a family-friendly pub. Have a look at some of the best Peak District walks.
Psssst… check out our best uk family campsites.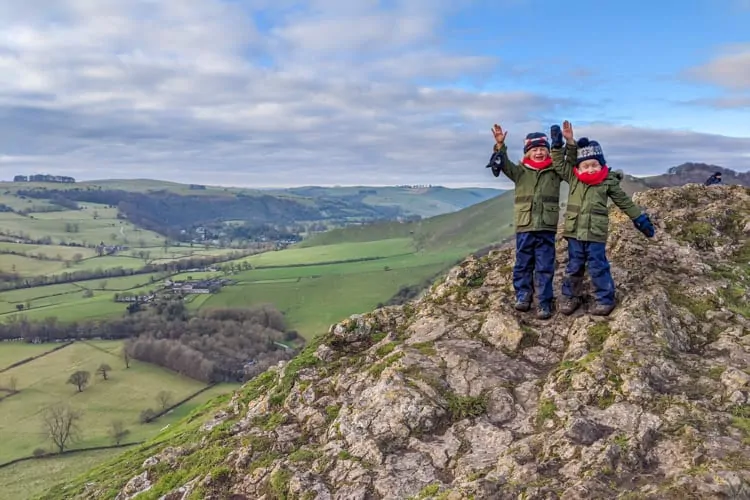 Then there's the caverns to explore, vintage trams to ride, and farm animals to meet. Plus, some pretty epic theme parks just outside the park boundaries.
If you're looking to visit the area for a weekend you may be overwhelmed with all there is to do. I'm here to provide you with a local's insight into how to spend the perfect weekend staycation in the Peak District with kids. The Peak District attractions for families are endless!
But before I launch in to an itinerary, just a heads up. The weather here in the Peak District is unpredictable and it does rain a lot. So be flexible with your plans, and pack a waterproof and layers.
Sale
Peak District With Kids
Day 1
Morning
The number one reason to visit the Peak District is, of course, to enjoy the open countryside. What better way to spend your first morning that on a family walk?
Our favourites are the Nine Ladies Circle through Stanton Moor Peak or the walk along Curbar Edge near Baslow, with spectacular views across the Peak District. Check out our top family walks in the Peak District.
Alternatively, hire some bikes and ride along one of the many old railway tracks criss-crossing the National Park that have been transformed into gravel paths. These are all traffic free! Our favourites are the Monsal Trail and Tissington Trail.
Our boys love riding through the long dark tunnels and making echo sounds as they pedal along. Insider tip: there's an unwritten rule that everyone keeps to the left. If you're on the right, people will know you're a tourist!
Lunch
One of the charms of the Peak District are the old pubs and cosy cafes. They are the perfect place to retreat after a long bike ride or family hike in the hills, to warm up by the fire and enjoy a hearty meal.
One of our favourite pubs with a playground is the Bull Head in Monyash. For a café, head to Matlock Meadows (which has a small indoor play area perfect for toddlers and small pedal tractors to ride) or Hassop Station Café, right next to the Monsal Trail.
Afternoon
Head over to the grand estate that is Chatworth. You can pay to go inside the house, although with little ones in tow you may not feel this worthwhile with all the delicate ornaments and grandeur to be appreciated.
Instead head over to the Farm Park to play with animals and go crazy in the best adventure playground around! Have the puddle suits at the ready as kids will get wet and muddy here!
If you've got time for cake (always?) take the short walk over to the tea rooms at Edensor, perhaps one of the prettiest villages in the UK.
Day 2
Head underground to explore one of the many limestone caverns of the region, and some of the best and biggest in the UK.
These are always a good option for a rainy day as when you're underground, the weather doesn't matter! Although do wrap up warm for the caves and wear footwear with a good tread, as it does get rather chilly down there even in the height of summer.
Depending on where you are situated, I would suggest either visiting the caverns at Matlock (Heights of Abraham in the South East on the Peak District) or Castleton (in the North West). Either option would take up a full day, and I recommend taking a packed lunch.
Option 1 – Heights of Abraham (Matlock)
Your journey starts with a cable car ride across the Derwent Valley and up to a hill top estate. From here your ticket also gives you entry to two caverns where you venture deep underground and learn about the history of lead mining in the area.
There is also tower to climb, fossil hunting, and two adventure playgrounds (one with massive long slides!) It's a fantastic day out and we go a few times a year.
Option 2 – Castleton
The caverns around Castleton are home to Peak Cavern, Speedwell Cavern, Blue John Cavern, and Treak Cliff Cavern.
In the latter two, you will find deposits of the rare Blue John stone. But if you asked us which is the best cavern in Castleton to visit with kids, I'd have to say have to say Speedwell Cavern.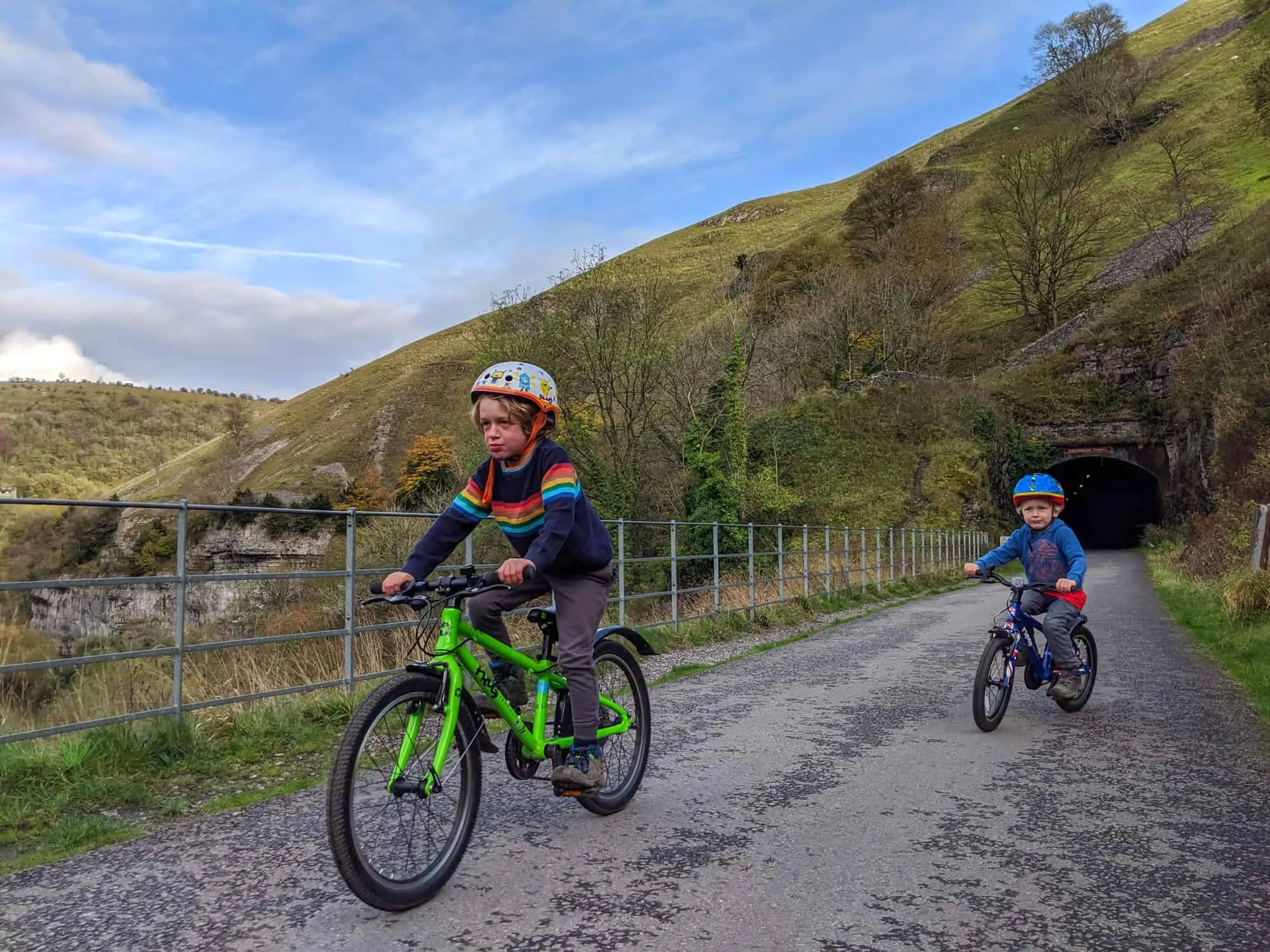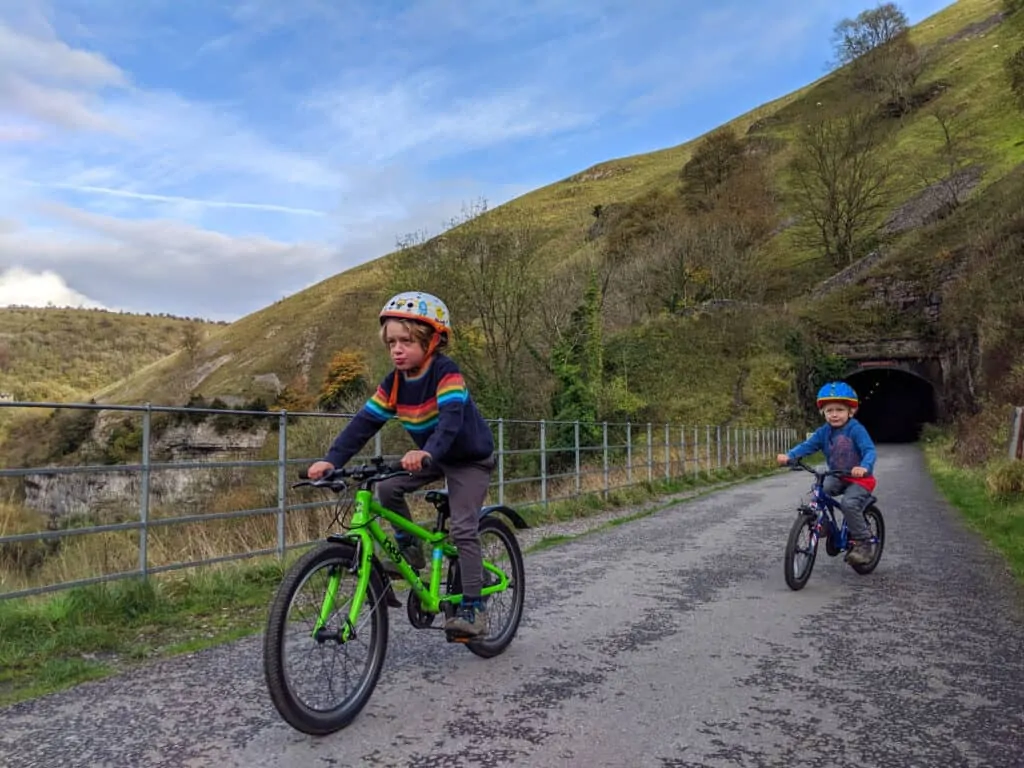 Visitors descend 105 steps from the almost hidden cave entrance, down to an underground canal to board a boat to take you deeper into the cave system. Lots of fun!
If you find yourself doing just one cavern in Castleton, you may want to spend the afternoon walking up to Mam Tor for spectacular views across the Edale Valley. And you must pop for some melt-in-the-mouth fudge from The Real Fudge Company on the main road, who specialise in traditional fudge in over fifty different flavours. Yum.
Ideas for extra days
I could honestly fill my days with hiking and biking every day in the Peak District. If you want to make walking outdoors fun for kids then check out some ideas here. But some other fun family days out in the Peak District include:
Crich Tramway Museum – Enjoy unlimited rides on the electric vintage trams, woodland walks with kid-friendly activities, and an indoor and outdoor playground.
Peak Rail – Ride an old steam train on this preserved railway line between Rowsley South Station and Matlock Platform 2.
Peak Wildlife Park – Come face to face with exotic and endangered animals from across the world at this small and manageable wildlife park just to the south of the Peak District in Staffordshire.
Gulliver's Kingdom – a theme park aimed at children aged 3 to 13 just outside Matlock.
Alton Towers – Just 4 km south of the Peak District boundary is the UK's biggest theme park, Alton Towers.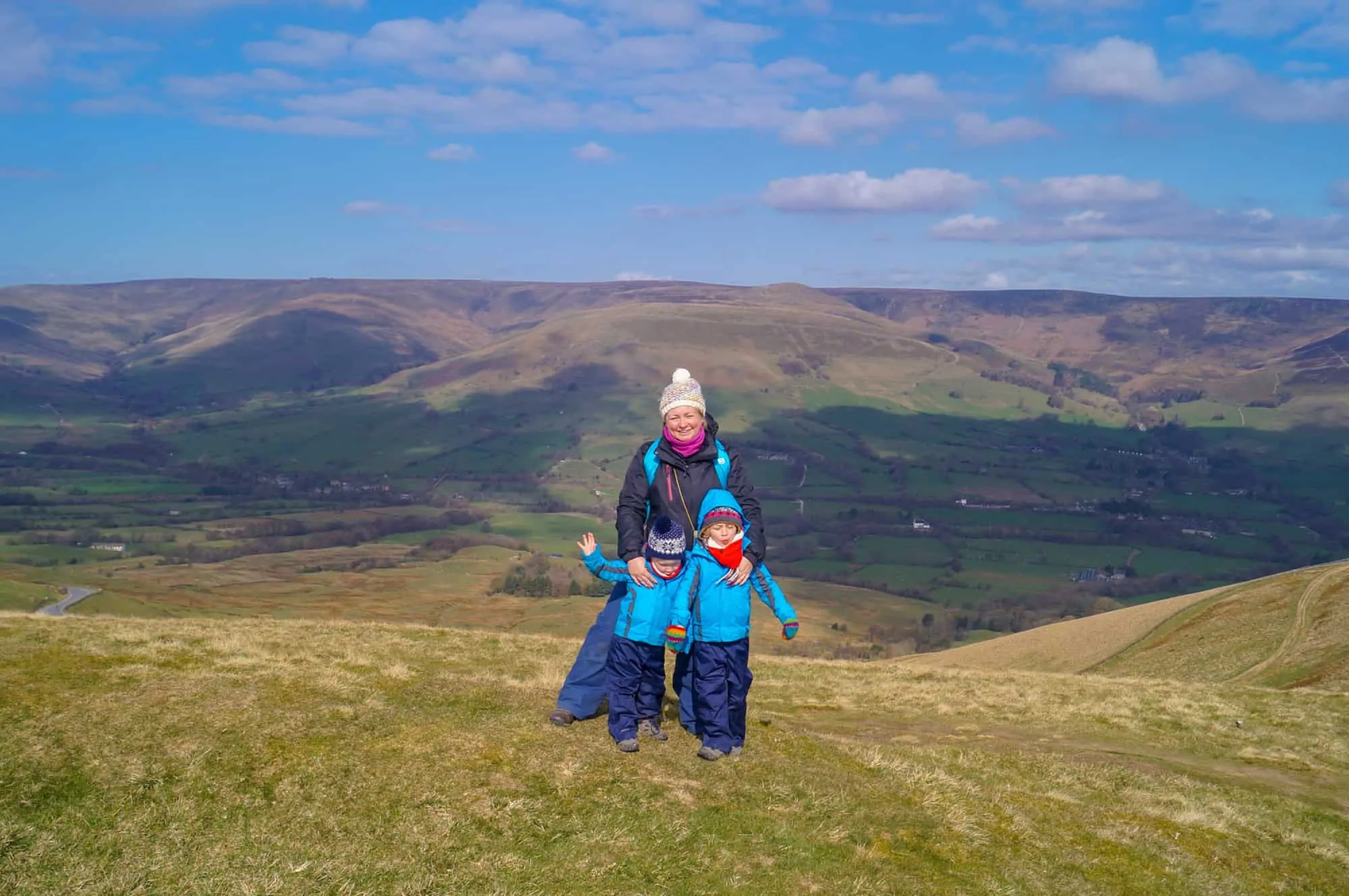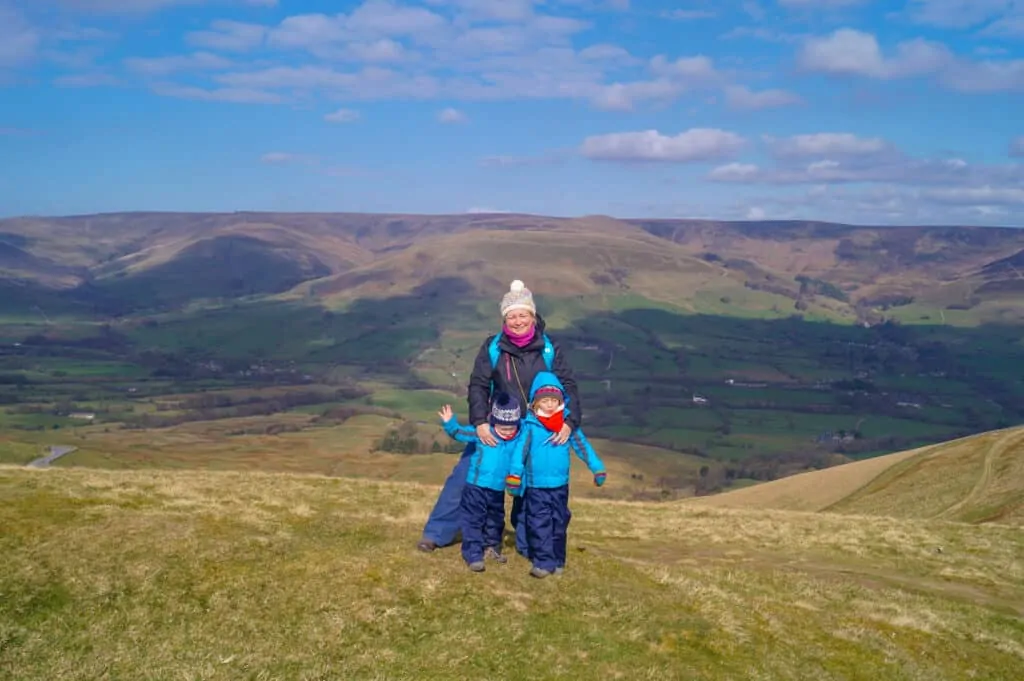 Where to stay
Booking a self-catering holiday cottage makes for a lovely break. Sykes Cottages is a good place to book these online. There are even some where you can stay on a farm. Before we moved to the Peak District, we used to love staying at Bluebird Cottage in Parwich with donkeys and goats to feed each day.
If you are staying just for a weekend and looking for budget accommodation, YHA hostels are a good option. There are a handful dotted around the National Park and they are perfectly geared to families with toys in common areas, family rooms, and breakfast served on site.
But if you are visiting in the warmer months, why not try one of these Peak District family campsites. Some even have playgrounds, and almost all of them are within walking distance of a pub.
How to get around the Peak District
The TransPennine Express connects Manchester to Sheffield with a few stops in the north of the Peak District, including Edale, Grindleford and Hathersage. This is a good option if doing a day trip from one of these cities.
There are buses, but these are extremely infrequent and never go where you want them to.You could always do a guided tour of the area as a day trip from Manchester. We love this Get Your Guide trip.
The best way to experience the Peak District is by car. This gives you the freedom to explore to your own schedule, as well as taking roads away from the main tourist areas of Matlock, Bakewell and Castleton.
Author
Massive thank you to Jenny from Peak District Kids for sharing her experiences and tips in this post. You can find her on the following social channels.
Instagram: https://www.instagram.com/peakdistrictkids/
Facebook: https://www.facebook.com/peakdistrictkidsuk
Twitter: https://twitter.com/travelynnfamily
You may also like
The Best Things to do in New Forest with Kids
15+ Fun Things To Do In Dublin With Kids
Last update on 2023-12-02 / Affiliate links / Images from Amazon Product Advertising API