Whether they're thrill-seekers, budding scientists or animal enthusiasts, there are plenty of things to do in Algarve with kids.
Whilst the Algarve, located in southern Portugal, is known for its incredible beaches, almost year-round great weather and not to mention the stunning rugged, golden cliff and rock formations that line the coast, there is so much more to see, do and explore on an Algarve family holiday.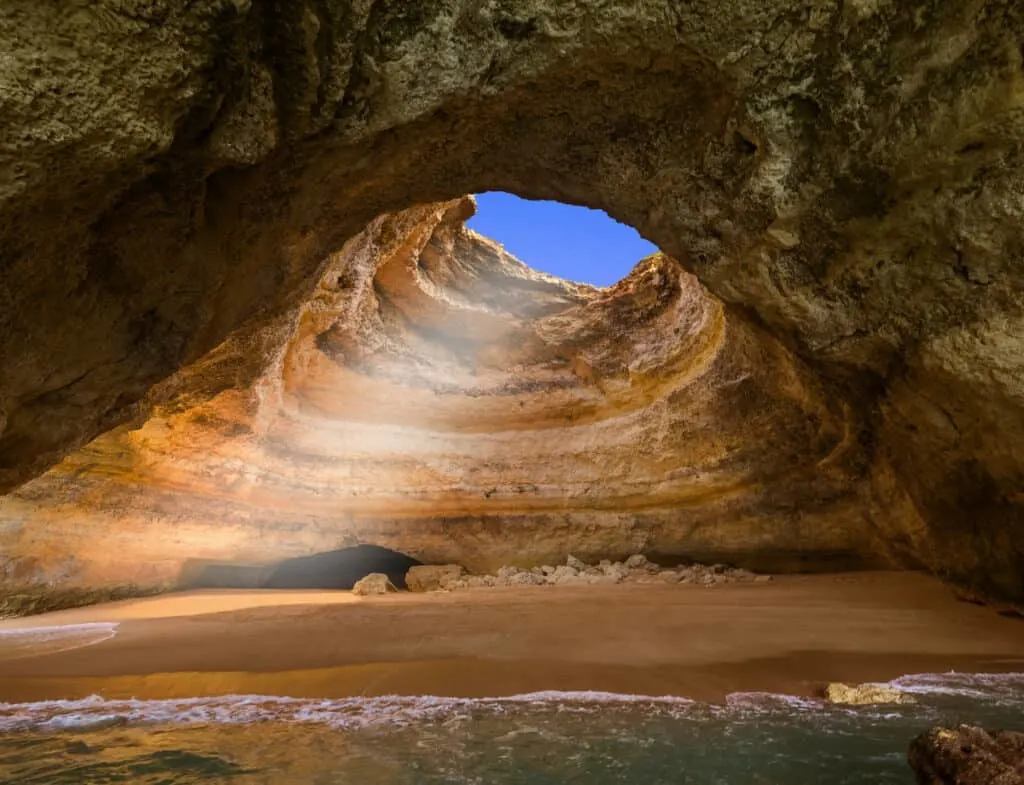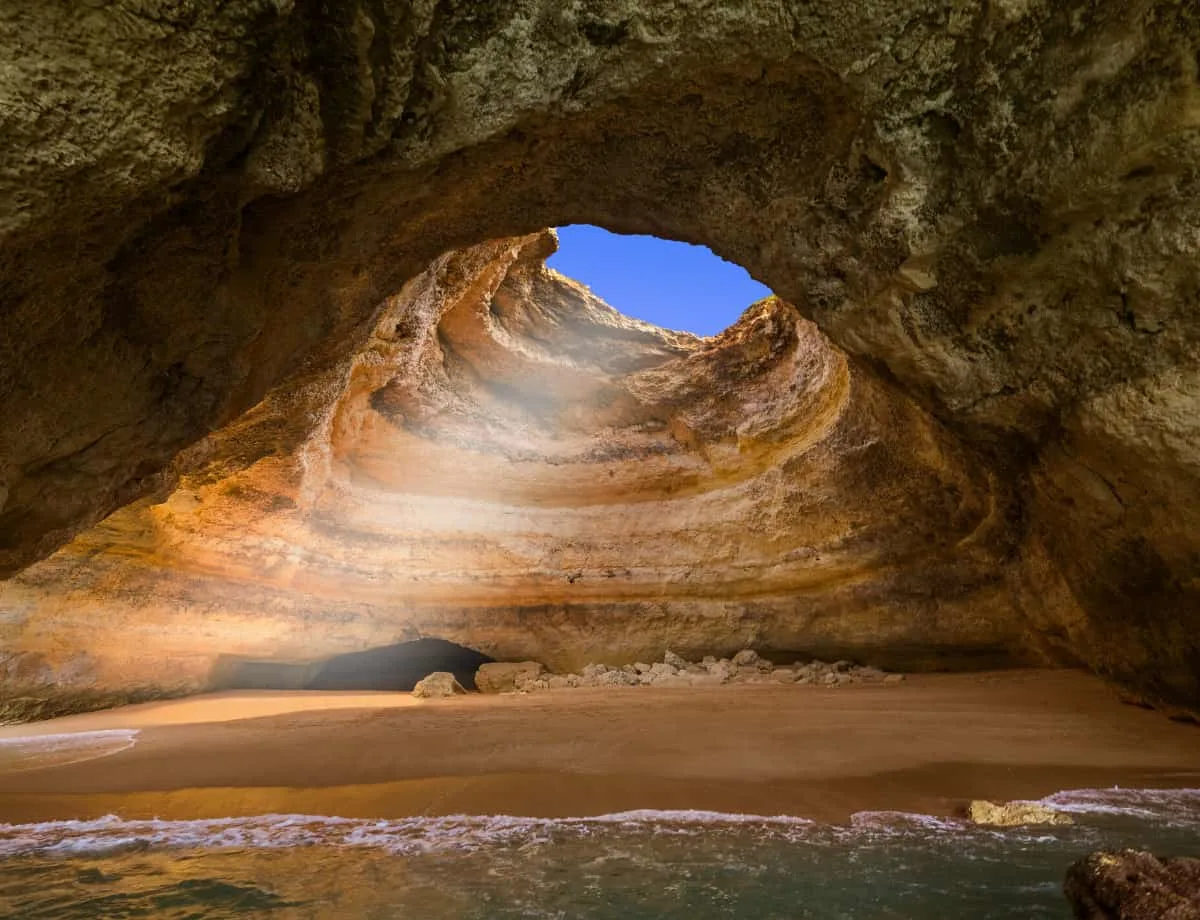 As such, I've decided to go ahead and list my top suggestions for planning the best family-friendly Algarve holiday to make the best of your time in this incredible part of Portugal!
Algarve For Kids
1. Spend A Day At The Beach
Algarve is home to some of Portugal's best beaches. You and your kids will be able to spend the day swimming in the sea and relaxing in the sun. There's also plenty of room for young athletes to show off and get some exercise.
Cove beaches like Praia da Marinha allow for some awesome photo opportunities. And curious minds will love searching for dinosaur footprints on the Salema beach.
Another fun thing to do in Portugal is surfing. The Algarve offers some awesome waves. And there are plenty of surf schools that'll teach you and your kids the art of riding a wave.
With its golden sand and crystal-clear waters, read along as we highlight some top beaches to sit back, relax, surf and make memories when visiting Algarve with kids.
Praia da Marinha
Praia da Marinha is a stunning beach in the Algarve region of Portugal. It is one of the gorgeous beaches in the world, with breathtaking cliffs, crystal clear waters, and white sand.
The beach is a favourite destination for tourists, as it offers a variety of activities, from swimming and sunbathing to kayaking and parasailing.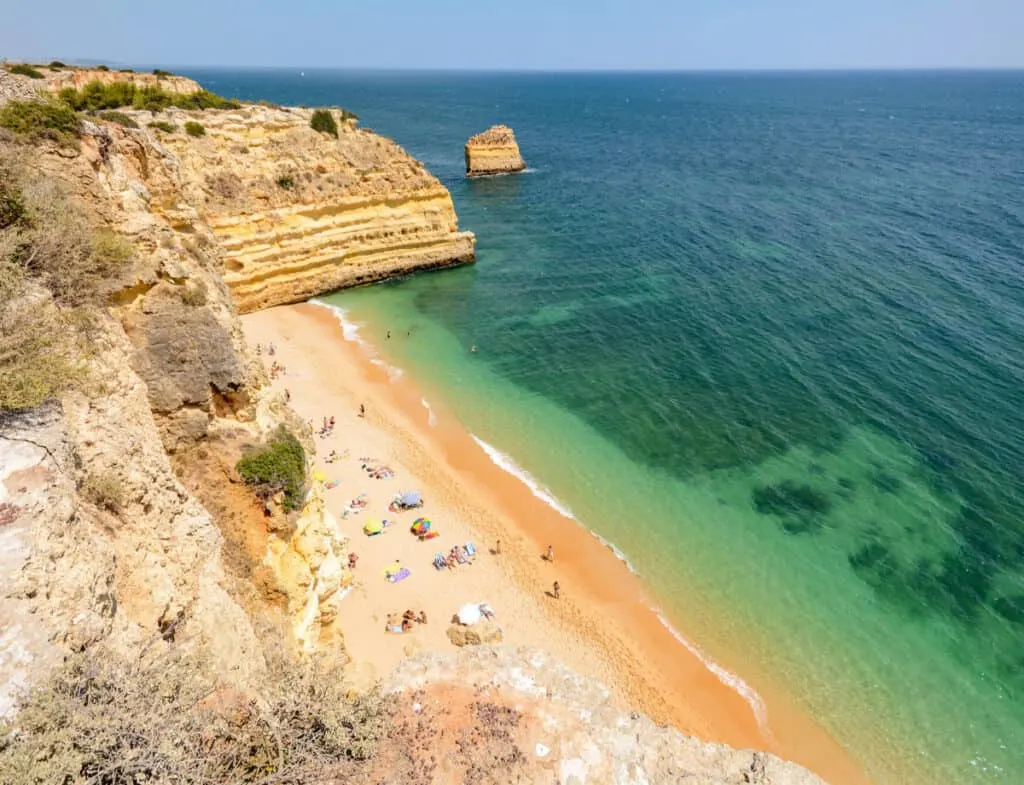 What sets this beach apart is that it is a little further away from major cities and towns and, therefore, only receives a few crowds.
However, during summer (June to September), we suggest getting here earlier in the day and exploring Praia da Marinha via the Seven Hanging Valley Trails.
It's a scenic walk along the clifftops overlooking the vast expanse of the ocean – a fantastic addition to the itinerary when looking for things to do in Algarve with kids.
Location: Praia da marinha, Portimão, Portugal
Praia do Ancão
As a famous family beach in the Algarve, Praia do Ancão is close to Faro and sits just off the edge of the Ria Formosa natural park.
The beach is a favourite of many national and international celebrities. It features top-class restaurants, beachside cafes and bars, and services like nautical sport equipment rentals, aerobics, and football fields—a fun day for larger groups or the whole family.
Location: Almancil, Portugal
Praia da Galé
Praia da Galé manages to strike the right balance between peace and quiet and having a few little cafes and restaurants nearby. The convenience of picking up a snack or a beverage when you want a quick bite or a chilled drink to sip makes for a tranquil afternoon by the sea.
A succession of coves stretches along the coast around Galé, which makes it an excellent spot for swimming.
Walk along the pathway and get an aerial view of the surroundings, and take advantage of the natural formations that provide a barrier between the cove and the rest of the beach.
Despite the path not being stroller friendly, you can still walk with the kids on it without struggling.
Location: R. do Poente, 8200-424 Guia, Portugal
Praia da Falésia
The Praia da Falésia beach is one of the longest and most aesthetically pleasing beaches in the Algarve.
Almost 6 kilometres of golden sand stretch along the beach, offering views of pine trees and cliffs and the vast expanse of the ocean that is visible in the distance.
Swimming, sunbathing, surfing, and hiking along the cliff-top trails are some of the activities that visitors to the beach can enjoy while on the beach.
For beach lovers and families visiting the Algarve with kids, Praia da Falésia is a must-visit destination with stunning scenery and diverse activities.
Location: Praia da Falésia, Aldeia da Falésia, 8200-593 Albufeira, Portugal
Praia da Salema (Salema Beach)
Praia da Salema is one of the best-kept secrets in the western Algarve, tucked away in a beautiful fishing village along the coast close to the town of Salema.
It is a long, golden sand beach, backed by low cliffs and framed by a large rock formation that juts out into the sea. It is also known for its crystal clear waters, which make it suitable for swimming and snorkelling.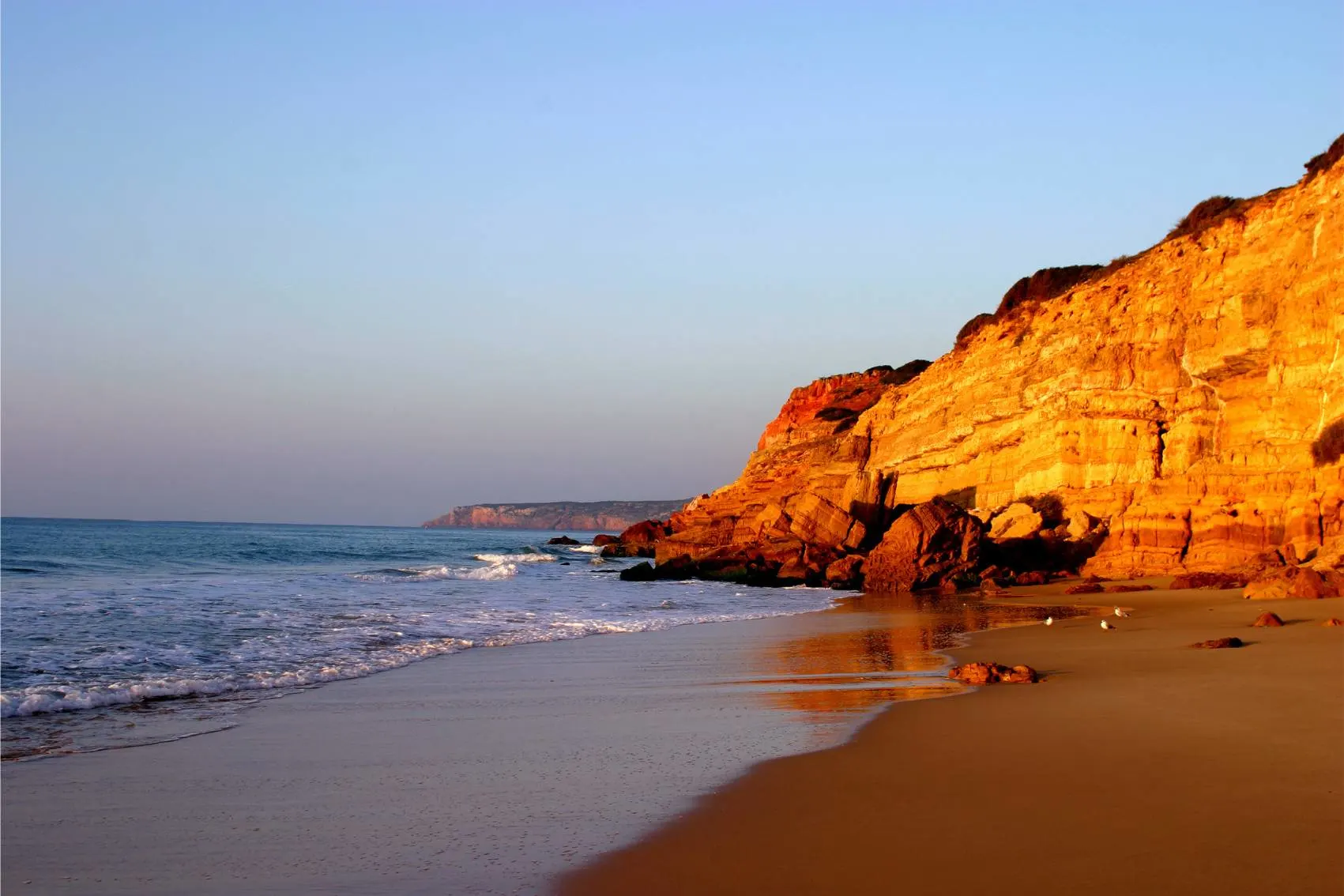 The limestone cliffs that surround the beach also provide an unusual landscape that makes the beach stand out from other beaches in the area.
The fossilised dinosaur footprints add an extra layer of mystery and intrigue, making it a great destination for families.
As a result, it is a popular spot for kids to explore while also enjoying the stunning natural beauty of the beach.
Location: R. dos Pescadores 101, 8650-195 Carvoeiro, Portugal
Praia de Manta Rota
Praia de Manta Rota is known for its warm, gentle waves, golden sands, and calm and peaceful atmosphere.
It is an ideal spot for swimming, sunbathing, taking long walks along the beach and watching the sunset on the horizon.
Many options are available for those who prefer to be active, including water sports activities, as well as the many restaurants, bars, and esplanades for everyone to enjoy, including a park ideal for children.
The wetlands and sand dunes at one end of the beach are home to an array of wildlife, including badgers, otters, and a variety of bird species, making it an ideal place to experience birdwatching.
For a relaxing time in Algarve with kids, bring a picnic lunch and plan a peaceful day surrounded by nature at Praia de Manta Rota.
Location: R. da Praia da Manta Rota, 8900-065 Vila Nova de Cacela, Portugal
2. Explore Gardens In Algarve With Kids
Spend a day or even a few hours visiting and exploring the parks and gardens that pepper Algarve.
Take a break from seeing all the tourist spots, pack a picnic, or relax on one of the park benches. Enjoy the views of lush greenery and colourful flowers while the kids run around the playgrounds.
Parque Municipal de Loulé
In the centre of Loulé, the Parque Municipal de Loulé is a leisure area with extensive trees and gardens.
Family-friendly and well-maintained, the garden space is an ideal place to rest, relax, and connect with nature. The park provides a safe area for exercise and outdoor activities as well.
Timings: Open 24 hours
Location: Avenida 25 de Abril 8100, Loulé
Parque da Alfarrobeira (Alfarrobeira Urban Park)
A pleasant recreation and leisure space in Albufeira, Alfarrobeira urban park has the best playground and game infrastructure, complemented by a bar kiosk.
Children from the ages of 2 to 14 are able to enjoy plenty of amusements in the park's 750 square metres of the play area, which also includes a grassy area for outdoor activities and picnics.
Cycle paths crossing the park provide convenient accessibility, and, in parallel, pedestrian paths serve the park's different areas and peripheral accesses in an orderly fashion.
Timings: Open 24 hours
Location: R. Cândido de Oliveira 1, 8200-047 Albufeira, Portugal
Jardin do Montechoro (Montechoro Gardens)
Jardin do Montechoro is a beautifully landscaped garden with two entrances and a total area of approximately 4000m2, with footpaths and stone benches crossing some points of the park.
Previously known as the "Garden of Weddings", it was a standard backdrop for wedding pictures. However, nowadays, it is a space more for relaxation on hot summer days, where family and friends can gather and have a fun picnic over the weekend or any time of the week.
A fountain at the centre of the garden with a lake home to exotic fish and turtles makes a visit to the park a treat for children.
Timings: Open 24 hours
Location: Jardim Municipal de Albufeira, 8200-291 Albufeira, Portugal
Parque de Vale Faro (Faro Valley Park)
Parks in Algarve are in plenty and offer a perfect escape from the city. The Vale Faro park is another such park occupying an area of about 3 hectares.
At its heart, the park has a large lake creating a water mirror offering pleasant views to visitors who stroll through the numerous paths of Parque de Vale Faro.
Among the park's amenities are a playground for children, a picnic area with tables and benches, a table tennis court and an open circuit for basic exercises.
Timings: Open 24 hours
Location: R. de Dunfermline 22-11, 8200-161 Albufeira, Portugal
3. Play Some Mini Golf
A visit to a golf course is one of the top things to do in Portugal, and Algarve is home to some of the best greens on the planet. Luckily, they have their fair share of kid-friendly courses as well.
Adventure Golf Alvor
It doesn't matter whether your kids are dinosaur enthusiasts; Adventure Golf Alvor is the perfect place for families wanting an exciting family day out in Algarve with kids.
Not only does the park have an 18-hole Jurassic-themed mini golf course, but it also has an enclosed Ten Pin bowling den with kiddie ramps and ball walls for the youngest bowlers.
Take a break and enjoy a drink and relaxation on the sunny terrace of the cafe providing panoramic views of the golf course – an excellent addition to the best things to do in Algarve with kids!
For more information on Adventure Golf Alvor.
Costs: €10 for adults
€6 for children ages 6 to 12
Free access to "Practice Putting Green" and the "Fun Bowling Area"
Timings: 10 AM to 6 PM (Saturday to Tuesday)
Location: Beco da Amoreira 2, 8500-045 Alvor, Portugal
Family Golf Park, Vilamoura – Outdoor Fun In Algarve With Kids
Alternatively, you can experience Ancient Rome or at least a mini-golf replica. The Family Golf Park is one of Vilamoura's best things to do. It's full of fun obstacles, exciting water features and beautiful landscapes.
Take turns competing with family members of all ages armed with humour, strategy, and a bit of skill. It will be a surprise to see how the dynamics work in the family.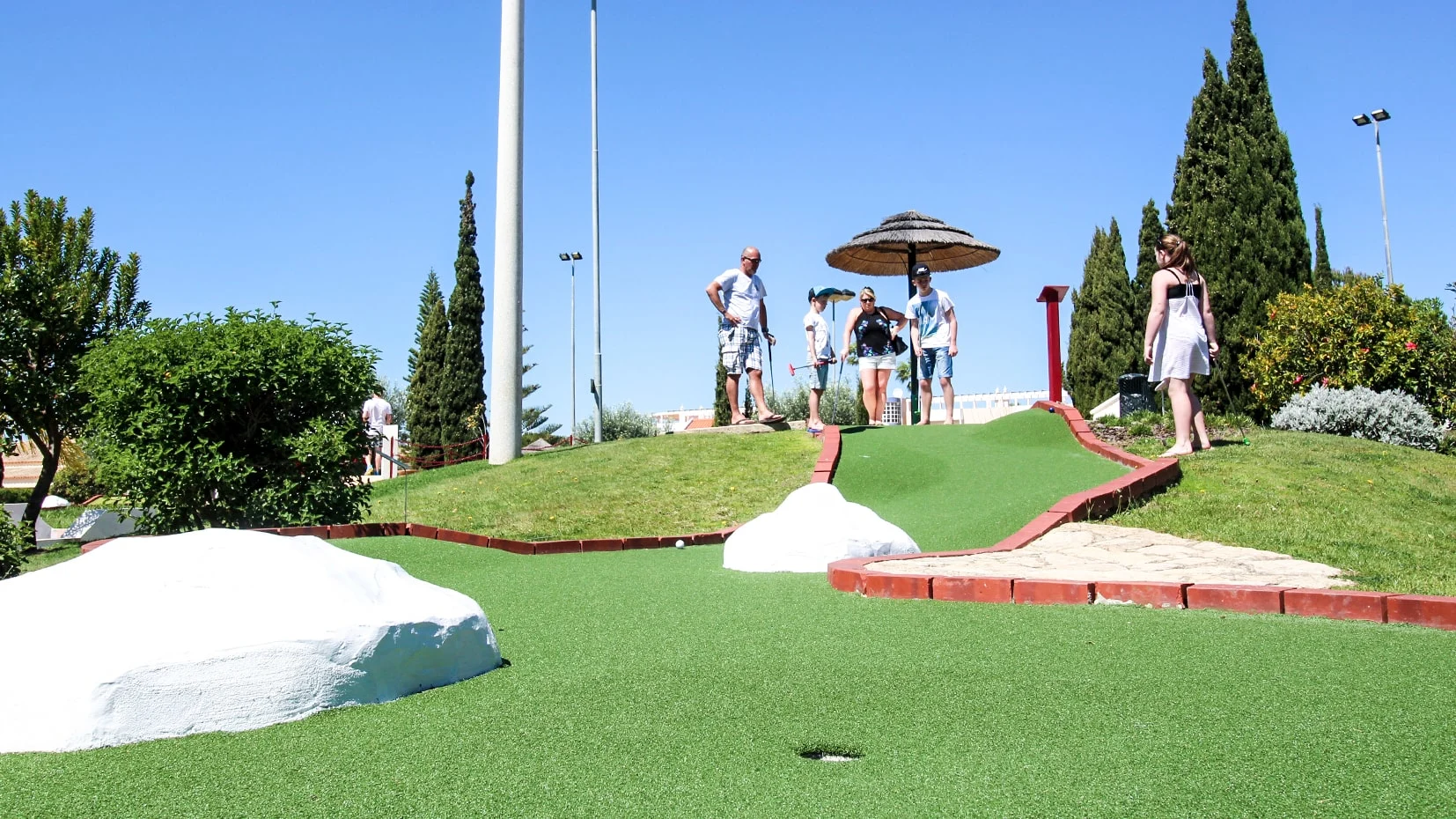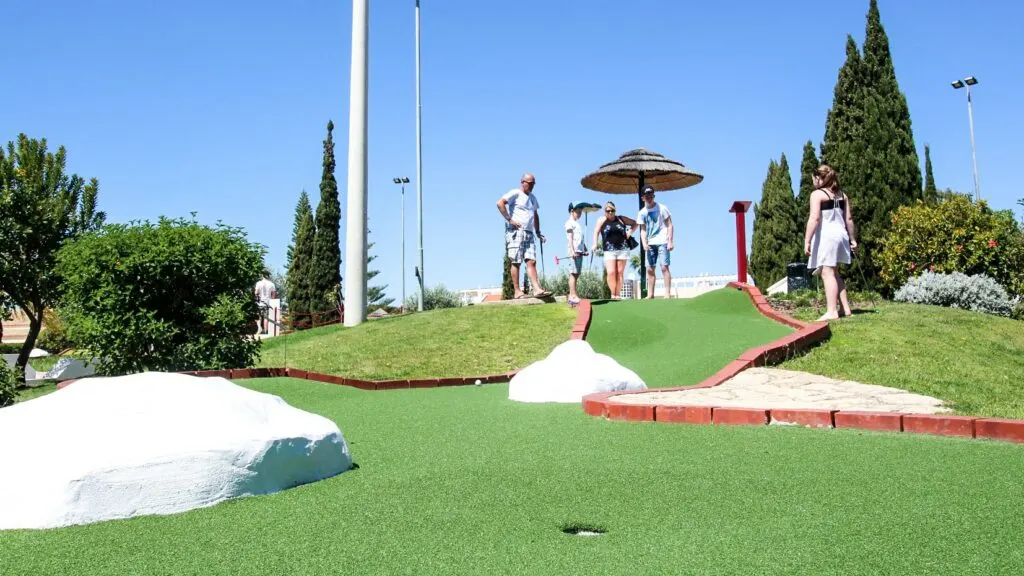 Explore the magnificent gardens featuring more than 200 different types of plants, trees, and bushes and snap away—a beautiful escape when taking a break from golf.
The games room in Family Golf Park's arcade offers basketball, table football, pinball, air hockey, and even a ghost hunter game for older kids and adults.
Planning to spend a bit longer at the golf park?
Consider exploring the Family Kid's Club. It has tonnes of arts and crafts activities for the little ones as well as a dedicated kids' play area while the adults relax on the terrace.
During the summer, the course organizes live music, face painting, and fun activities for the whole family.
For more details on fun experiences at Family Golf Park.
Costs: The adult rate is €17 for one 18-hole course and €19 for two.
A single course costs €12, and a double course costs €15 for children aged 6 to 12.
Children under 5 are free with every adult ticket purchased.
Timings: Open from 10 AM Daily.
Location: Rua dos Marmeleiros 5, 8125-507 Quarteira, Portugal
4. Go On A Boat Trip
Your Portugal family vacation would be incomplete without a boat trip. While sitting still might not be their favourite pastime, most kids love a good excursion out on the water. Especially if it takes them to hidden caves and sandy beaches.
You can tailor your boat trip to your kid's interests. For animal lovers, a dolphin-watching cruise will allow your family to see these mammals in their natural habitat. For kids who like adventure, there are plenty of boat tours that explore the magnificent caves and coves of Algarve.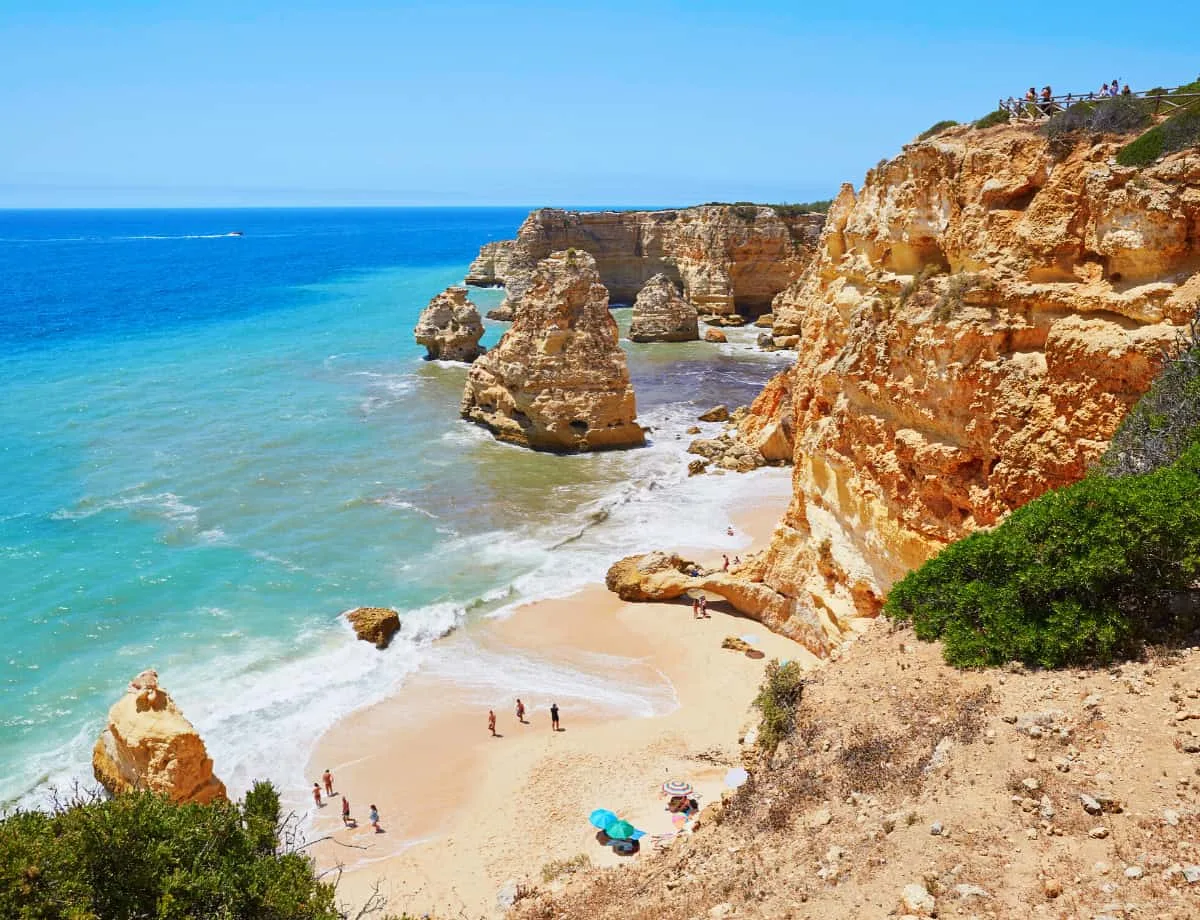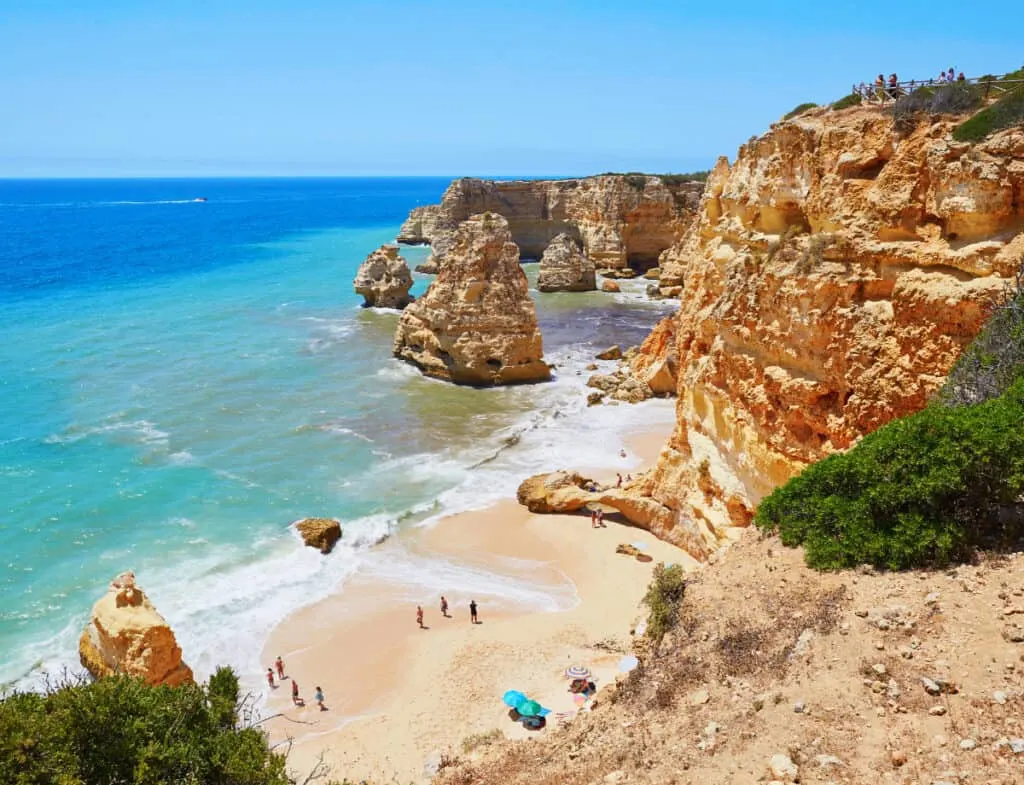 There's something for all kids out on Portugal's waters. Plus, it's the best and most enjoyable way to explore the Algarve coastline.
Kayaking In Secret Algarve Benagil Caves
Embark on a cave system adventure with the family and admire the natural formations of the Benagil caves from a different perspective.
The kayak tour allows you to get up close and personal with the Benagil Caves, paddle right inside the cave and take in the breathtaking views from inside.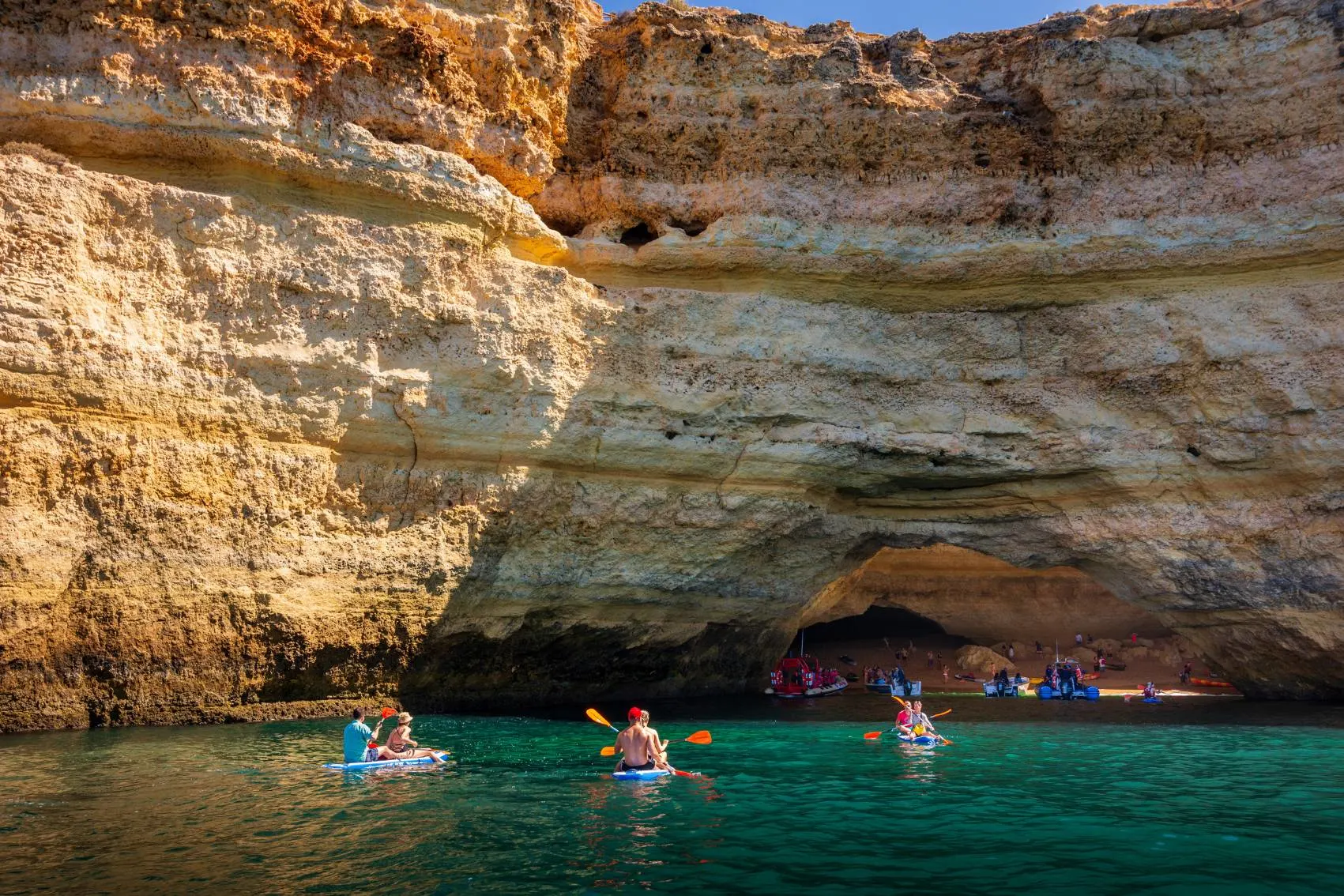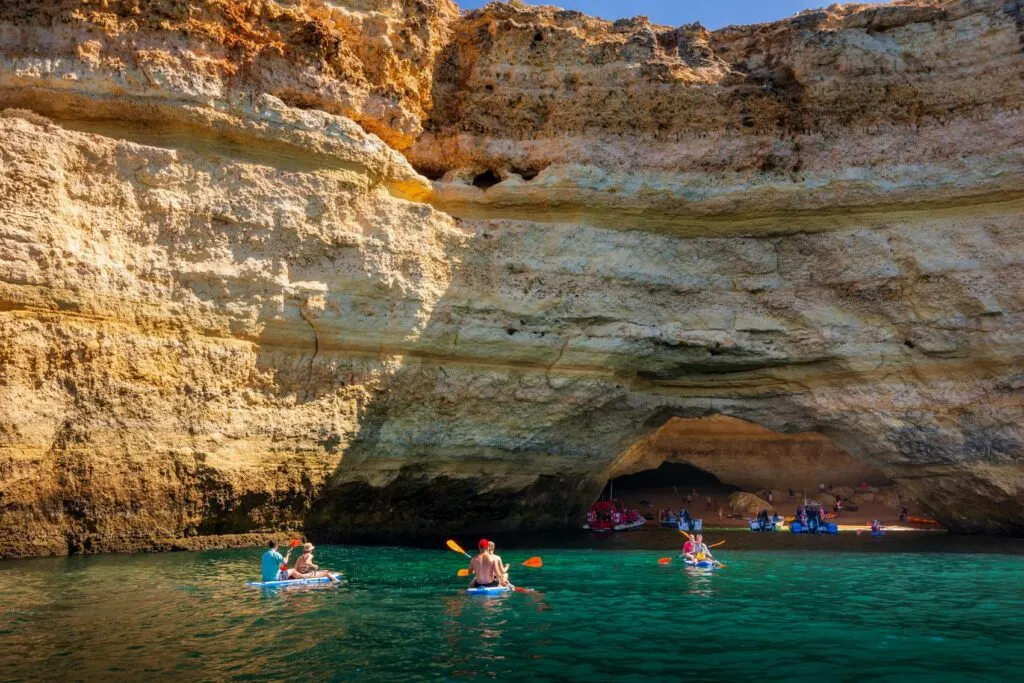 Furthermore, kayaking offers the unique opportunity to step out of the kayak to take pictures of the caves in natural skylight, which is not possible on a boat tour.
For booking a kayaking adventure when visiting Algarve with kids.
Meeting Point: Estr. de Benagil, 8400-400 Carvoeiro, Portugal
Boat Trip to Ponta da Piedade from Lagos
From Lagos, the Boat Trip to Ponta da Piedade is an ideal way to experience the beauty of Lagos with the family and little ones in a short amount of time.
Explore some of the natural rock formations, grottoes, and caves of Ponta da Piedade as well as some of the most popular beaches (Praia do Camilo, Praia Dona Ana) in the Algarve region.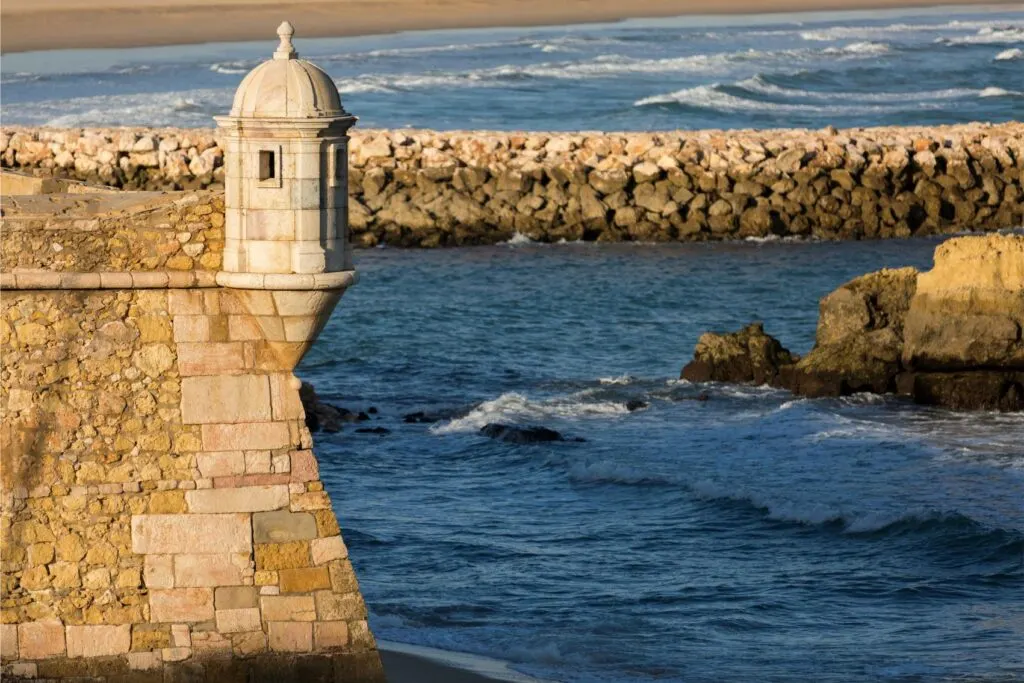 Keep your camera handy when passing Forte da Ponta da Bandeira, where the sea and the beach meet.
With a knowledgeable guide on board, who offers insight into the sites and information about them, the tour makes for an informative experience.
For bookings and more information on the Ponta da Piedade boat tour.
Meeting Point: Lagos Train Station, Estr. de São Roque, 8600-318 Lagos, Portugal
Sunset Dinner Catamaran Cruise With A BBQ On The Beach
In contrast to the usual boat trips around the coast of Algarve, the Sunset Dinner Catamaran Cruise offers a unique experience.
Set sail across Armação de Pêra bay, exploring the sea caves and tranquil coves at dusk while enjoying live entertainment and unlimited drinks on board the catamaran.
The colours of the evening sky reflect off the water, creating a truly breathtaking sight. As the sun sets, the waves become calmer, and the evening breeze adds to the ambience, making it an ideal way to experience the beauty of the Algarve coast.
Pass by the iconic Algar de Benagil (the Benagil caves) before docking at one of the secret beaches along the coast for a barbecue dinner, complete with entertainment.
Families must, however, note that the catamaran experience is only suitable for children three years and older.
For more information on the Sunset Dinner Catamaran Cruise.
Meeting Point: Tasca Portuguesa, R. Marina de Albufeira 3B, 8200-394 Albufeira, Portugal
'Leaozinho' Pirate Ship Cruise from Albufeira
Another twist to the usual boat trip around Algarve is the "Leaozinho" Pirate Ship Cruise. Hop aboard a timeless pirate ship for a two-hour Captain Hook cruise from Albufeira.
The sightseeing cruise offers two options. The first option allows visitors to enjoy a scenic tour of pristine coastal views and swim in the Atlantic Ocean.
On the other hand, those committing to a half-day tour spend the day exploring the caves, accompanied by the beauty of the coastline.
Keep your eyes focused on the waters, as chances of spotting dolphins swimming nearby are high.
Some of the key highlights of the cruise include visits to the Farol da Boa Viagem, the Praia dos Salgados, the Praia do Ancão and the Praia da Falesia.
In addition, there is a stop at the marina at Albufeira, where passengers are welcome to disembark and walk about the city before returning aboard.
For more information and bookings of the Pirate Ship Cruise.
Meeting Point: R. Marina de Albufeira 5B, 8200 Albufeira, Portugal
5. Make a Splash
Aqualand Algarve With Kids
If your kids love a little thrill, then Aqualand Algarve is the place to go. An entrance ticket will give you access to the park's amazing activities, which are suitable for older kids (and adults too).
Older kids will love the range of waterslides that this park has to offer, especially budding adrenaline junkies.
The Hydra slides are perfect for competitive youngsters, challenge them to a race and see who reaches the water first. The wave pool is great for water-confident kids, allowing them plenty of room to splash around. And the whole family can regroup and take a break on the relaxing winding river.
If your kids are a little younger, there's a water playground with mini waterslides and shallow pools.
For older children, keep an eye out for plenty of thrilling rides sure to make your adrenaline pump, as many of the upcoming rides are sure to thrill and excite you.
For further details and enquiries.
Costs: Adult general admission is €30.
For children (ages 5 to 10), the price is €21
For kids ages 4 and under, admission is free.
Timing: From 10 AM onwards (June to September)
Location: Estrada Nacional 125 – Sítio das Areias, 8365-908 Alcantarilha, Portugal
Side And Splash, Lagoa
Slide and Splash is a seasonal waterpark that has a number of impressive attractions catering to visitors of all ages, the old and young.
It features a large lagoon with multiple slides and splash pools, providing visitors with hours of entertainment and excitement.
Other options include wave pools, lazy rivers, and interactive water play areas, ensuring something for everyone.
Highlights include the Disco River, the Big Wave, and the multitude of restaurants and cafes to grab a quick bite while relaxing on one of the grassy lawns.
Furthermore, the park is well-maintained, meaning visitors can enjoy a safe and clean environment.
We suggest bringing towels, umbrellas, or whatever else you may need for your day at the waterpark, as renting them may incur additional fees.
Get in touch with Side and Splash for more information and inquiries.
Costs: €30 for general admission (Ages 11 to 64)
€22 for children up to 10 years and Seniors
Infants (<1 metre tall) enter for FREE
Timings: From 10 AM onwards (April to October)
*Check the website for schedules
Location: Portugal PT, Vale de Deus 125, 8401-901 Estômbar, Portugal
6. Try Some Indoor Karting
Electric Karting Albufeira Marina – Algarve With Kids
Another great thing to do with children in Portugal is underground Electric Karting at Albufeira Marina, perfect for kids with a competitive streak. Hot Wheels Raceway is great fun, but it's definitely better suited for older kids (ages 15+) who can drive their own kart.
The 400m track features 12 tricky corners to test your skills, as well as long stretches that provide the perfect opportunity to overtake other drivers.
With older kids, you can book group races which include practice laps, longer race times and a podium for the winner. After racing, you can celebrate your victory at the bar or head to the bowling rink for even more fun.
For more information on securing a spot on the race track.
Costs: €20 for 10 minutes
€25 for 15 minutes
€30 for 20 minutes
Timings: 11 AM to 6 PM (Thursday to Tuesday)
Closed on Wednesday
Location: R. Marina de Albufeira (Underground Car Park -2 Passeio do Ouro, 8200-371 Albufeira, Portugal
7. Visit The Biggest Park Of Sand Sculptures
SandCity Lagoa – Things To Do In Algarve With Kids
SandCity Lagoa is a seasonal open-air sand sculpture park located in Lagoa. With over 120 sand sculptures, this is one of the largest sand sculpture parks in the world.
Visitors can explore the sculptures, and interactive activities, including sand sculpting workshops- a must-see and a great addition to the itinerary of the list of things to do in Algarve with kids.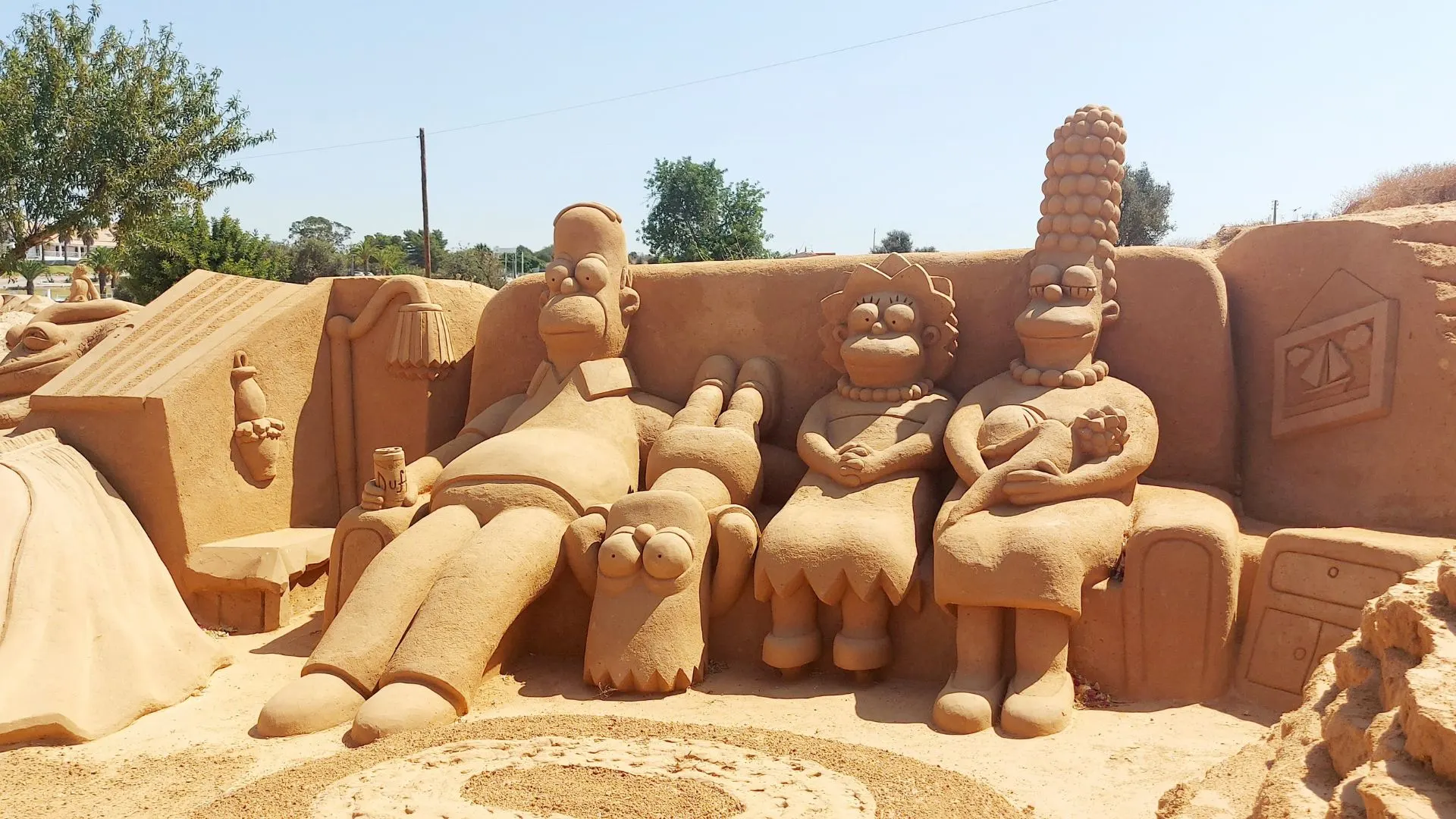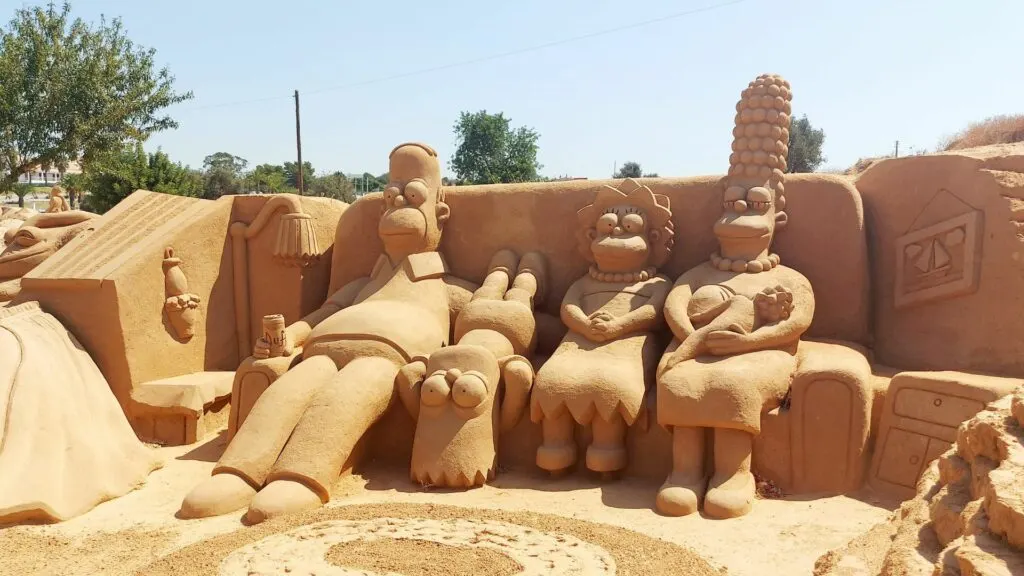 The best time to visit SandCity is right after dusk, when the sculptures and the lighting come to life, bringing a new level of imagination and excitement.
Those who have been adventuring in Algarve all day can rent one of the few buggies to get around and view all the sculptures. Also, see if the little ones can spot familiar characters from their favourite cartoon shows.
For event information and workshop schedules at SandCity.
Costs: €5.90 for general admission
Timings: Check the website for an updated schedule
Location: EN 125, Nº252A, Sítio dos, 8400-395 Lagoa, Portugal
8. Explore the Lagos Ciência Viva Science Centre
Your kids will be fascinated by this educational adventure. The Lagos Ciência Viva Science Centre is perfect for curious children and budding scientists.
You'll be able to unpack the history and science of discoveries and navigation with the main exhibition, entitled "From Astrolabe to GPS". There's even a submarine and pirate ship, just waiting to be explored.
With plenty of displays and interactive activities, the Living Science Centre offers entertaining hands-on learning for the whole family.
For information on current exhibitions and workshops at Lagos Ciência Viva Science Centre.
Costs: €5 for general admission (Ages 17 and above)
€2.50 for ages 6 to 17
€12.50 for Family Ticket (2 adults with children up to 17)
Children under 6 enter for Free
Timings: 10 AM to 6 PM (Tuesday to Sunday)
Closed on Monday
Location: R. Dr. Faria e Silva 34, 8600-734 Lagos, Portugal
9. Visit A Castle In Algarve With Kids
One of the things that make Portugal such a great family travel destination is its enchanting history. And there's no better way to see this than on a trip to a castle.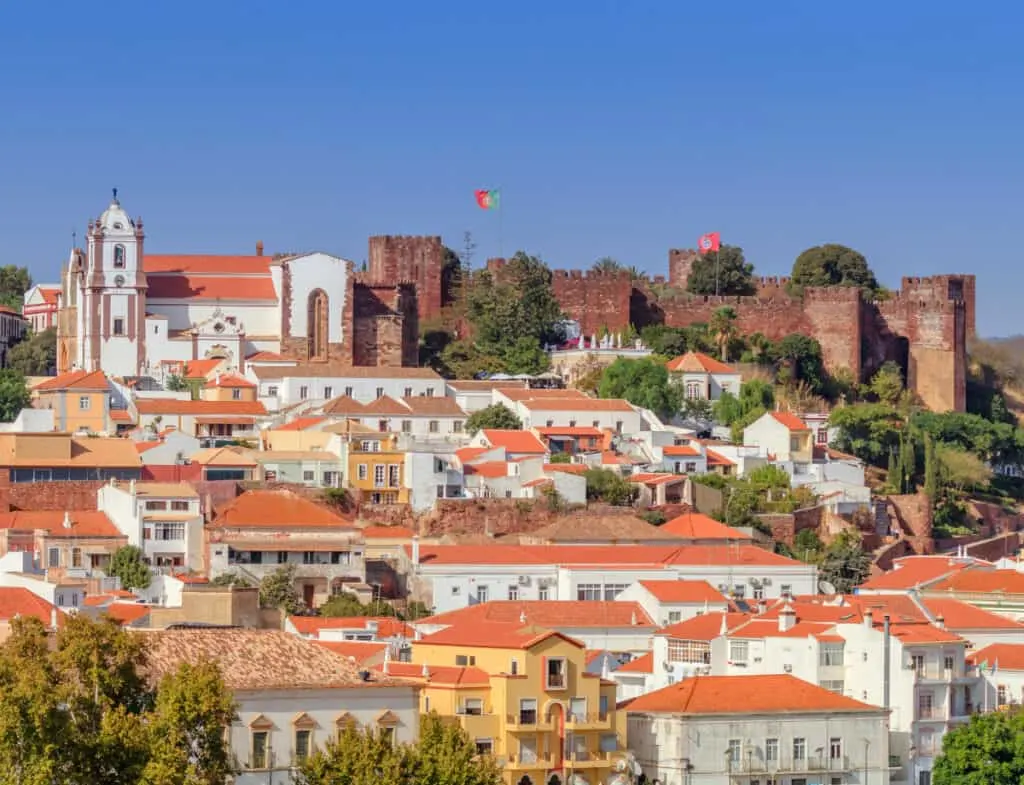 One of the things that make Portugal such a great family travel destination is its enchanting history. And there's no better way to see this than on a trip to a castle.
Your kids will love exploring ancient architecture and imagining themselves as kings and queens.
Algarve's castles are quite impressive and well-preserved. And make a great backdrop for some awesome family photos. Great palaces like the Castle of Silves, Tavira Castle and the Castle of Castro Marim will excite your little ones to no end.
10. Jeep Safari Tour In The Algarve Mountains
Exploring the city on foot is one way of exploring the beautiful Algarve, but taking a half-day tour across the Algarve Mountains on the roads less travelled is another worthwhile option to add to your itinerary of the best things to do in Algarve with kids.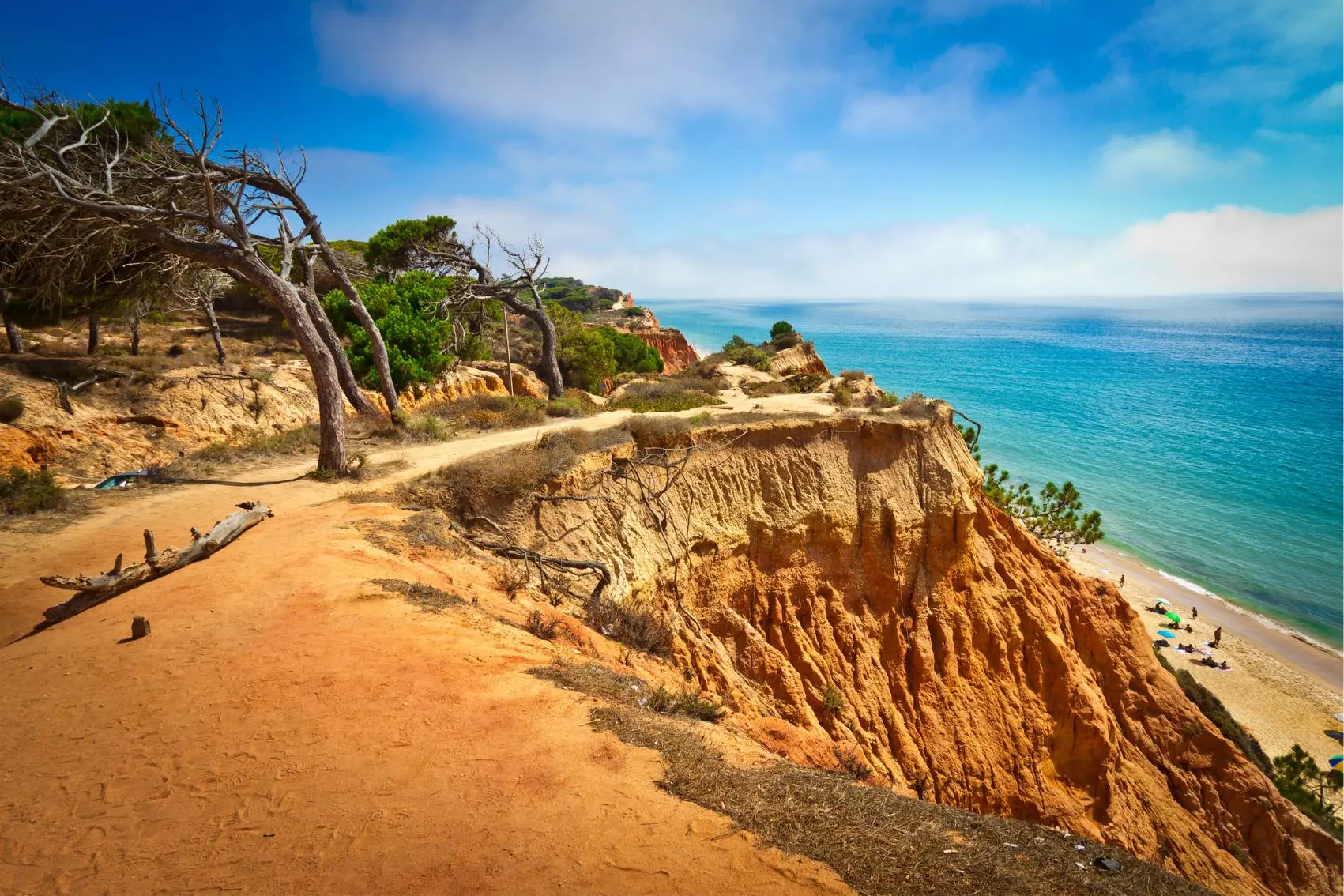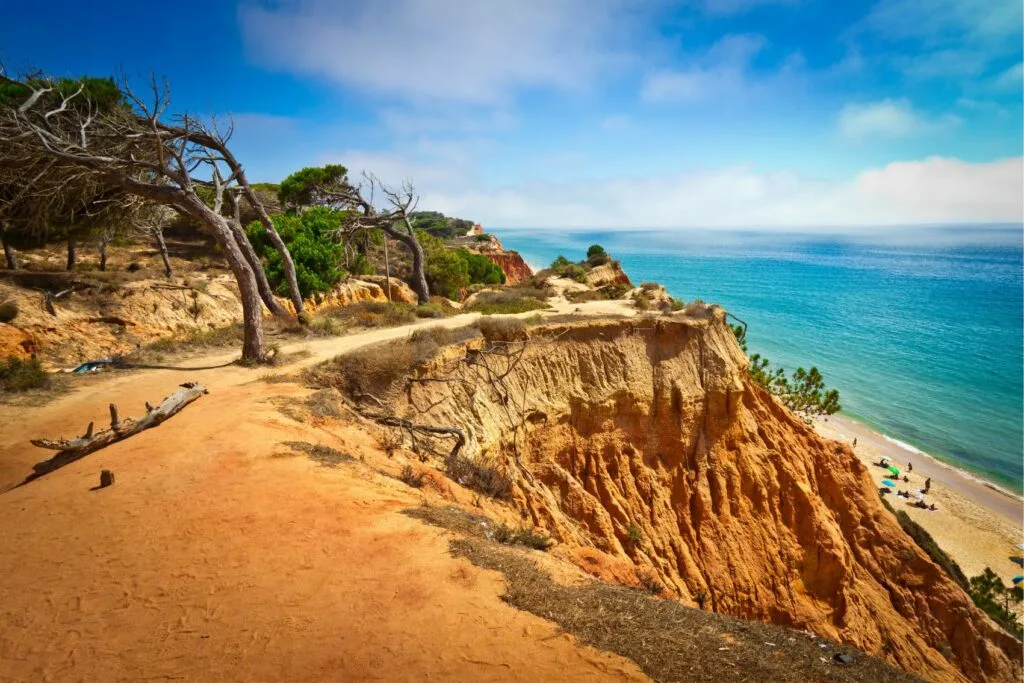 Embark on an open-top Jeep adventure and explore the terrain without getting lost. Soak in the picturesque mountain vistas with cheeky off-road thrills.
There are plenty of fun activities along the route, including a refreshing dip in the river, exploring areas for the best photo ops, tasting food, visiting a medieval castle from the Moorish period and driving through Algarves' traditional village, Paderne.
To book the half-day Jeep Safari Tour in the Algarve Mountains.
Meeting Point: 8200 Albufeira, Portugal, or request pick up.
Where To Stay In Algarve With Kids
Having a comfortable home base makes any trip with kids a lot more enjoyable. Resorts offer plenty of room for kids to get rid of extra energy allowing you to kick back and relax.
Monte Santo Resort, Carvoeiro
Monte Santo Resort features luxurious suites and linked villas with private balconies and panoramic views, located 1 km from Carvoeiro Beach.
Select suites and townhouses offer guests beautiful views of the garden and ocean from their spacious and comfortable accommodations.
The large central pool and children's pool offer children a safe and secure place to splash around and have fun, while the four other pools offer more seclusion for adults looking to relax.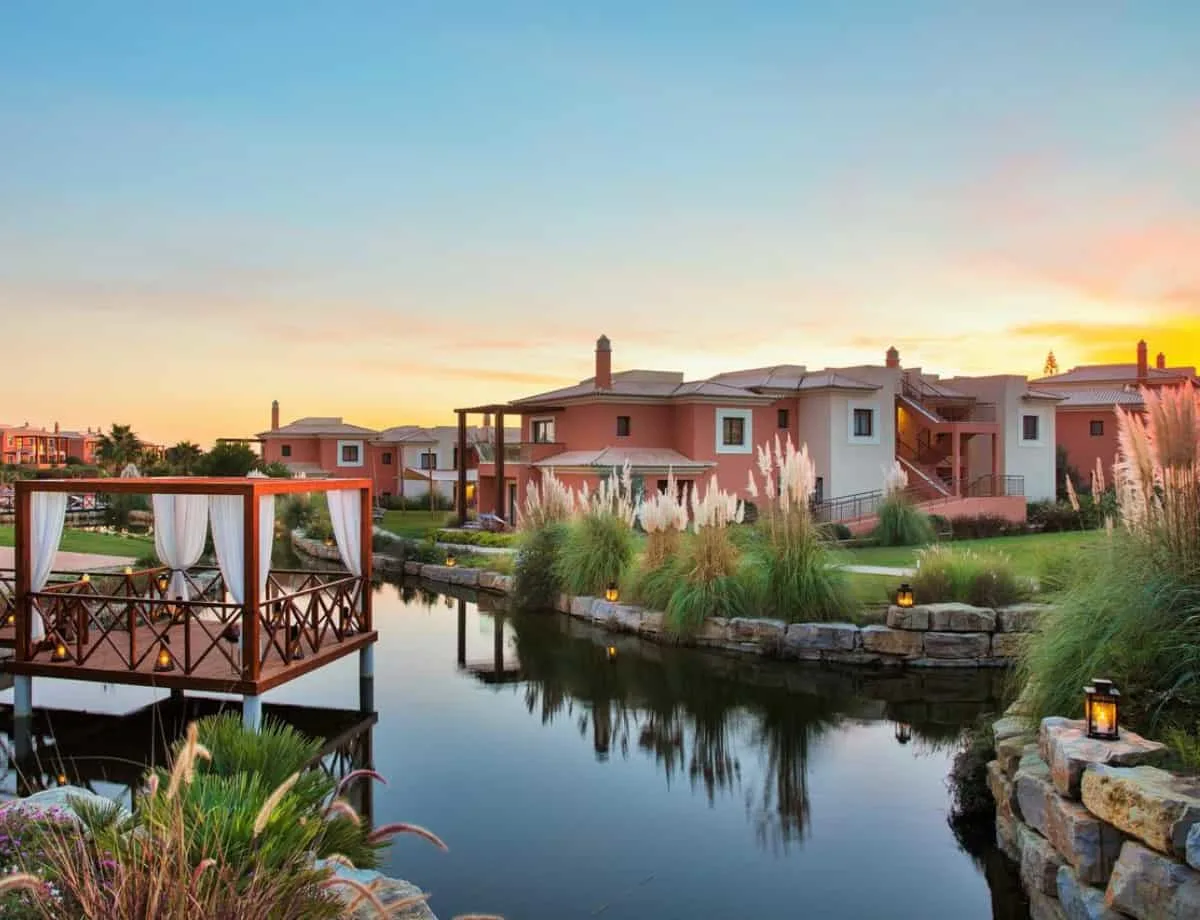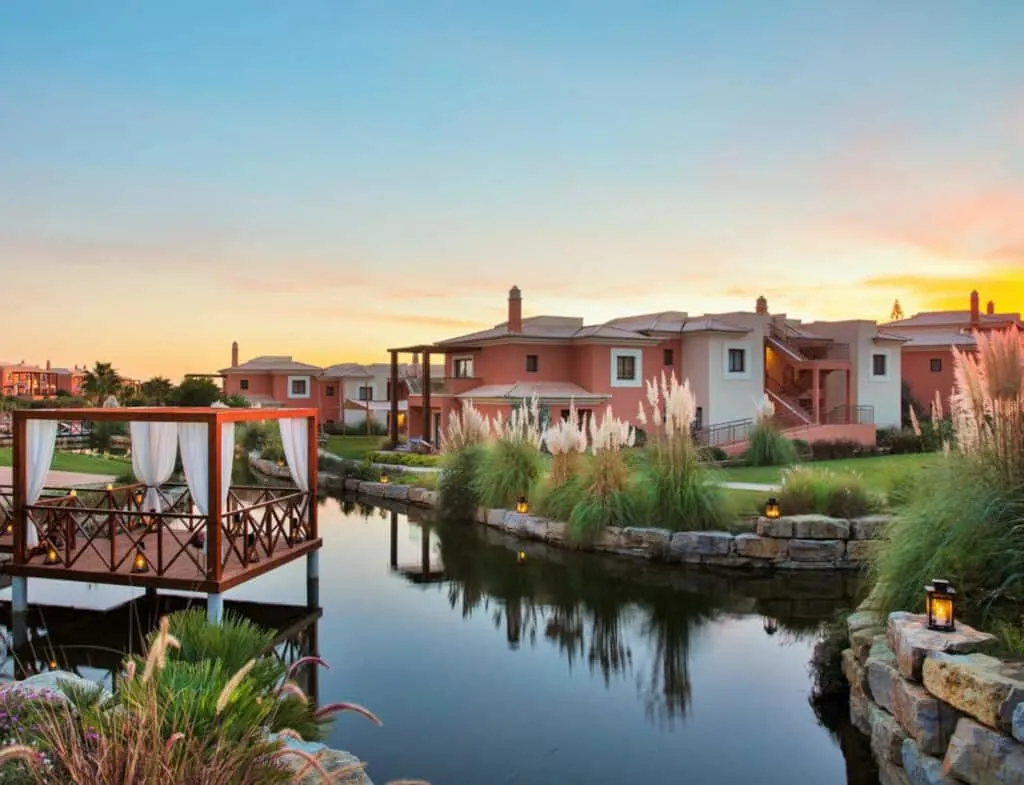 The Kid's Club provides a safe and secure environment for children to enjoy a variety of activities and socialise with other kids.
Looking to treat yourself after a long day exploring Algarve? Make use of the Alma Spa, which features an indoor heated pool, a sauna, a Turkish bath and complimentary access to the in-house gym.
Grab a bite on the outdoor terrace and watch the mesmerising view of the sunset or lay back and sip one of 30 original cocktails from the lounge bar.
Book a family staycation at Monte Santo Resort.
Pestana Palm Gardens, Carvoeiro
The location of the property is ideal for those looking for a peaceful and scenic place to stay.
With ocean views and lush gardens, Pestana Palm Gardens provides a tranquil atmosphere for relaxation and leisure activities.
Stay comfortably in the utmost luxury with natural light streaming in through the glass sliding doors offering generous views of the gardens, patio and the sea. The warm colours of the décor provide a calming and inviting atmosphere.
While staying at the hotel, enjoy the gym, sports court, sauna, and massage services to relax and unwind.
When the weather gets warmer, enjoy a drink at the pool bar while enjoying the pool area's views and the variety of meals and snacks available in the in-house restaurant.
For more information and reservations, please click here.
Rocha Brava Village Resort
Rocha Brava Village Resort is located on a cliff, offering magnificent views.
The grounds of the Rocha Brava Touristic Apartments are well-maintained, giving guests the opportunity to take a stroll through the gardens and enjoy the lush surroundings.
As a hotel with three swimming pools, four tennis courts, and a gym, guests enjoy plenty of outdoor and indoor recreation options.
Guests enjoy basic amenities like a washing machine, dishwasher, microwave, and superior rooms with gorgeous sea views.
With an on-site supermarket, kids will always be delighted to have snacks throughout their stay.
Your kids will have a blast playing Crazy Golf on the course, which is a highlight of the resort. In addition, the resort offers three trips to the beach as part of its daily itinerary.
Book a stay at the Rocha Brava Village Resort.
Best Things To Do In Algarve With Kids – FAQs
Is Algarve a good place to visit with toddlers?
Algarve is a beautiful place for babies and toddlers to enjoy its warm, sunny climate, pristine beaches, and dazzling azure waters of the coast.
Family-friendly and catering to all the family necessities, the city is perfect for anyone travelling with a baby or toddler.
Is English spoken in Algarve?
Almost everyone speaks English in Algarve. However, many locals are multi-lingual and can converse in English, Spanish, and Portuguese.
Can I explore Algarve in a week?
For families, it takes an average of four days to experience all that Algarve has to offer fully.
A week allows enough time to see some of the top tourist destinations, participate in a variety of tours, as well as relax on some of the spectacular beaches around the world.
Author Bio:
Born and raised in South Africa, Marco Santos from Travel-Boo, together with his partner moved to sunny Lisbon over 3 years ago. With an absolute love for Europe, he is on a mission to rediscover his own Portuguese heritage along the way. Marco has set out to blog and share his passion for travelling through and exploring both Portugal, Spain and throughout Europe, through his blog Travel-Boo.
You may also like,
The 12 Best Family Travel Destinations
17 Most Epic Christmas Markets In Europe
The Best All-Inclusive Resorts For Families
Top Tips For Flying With A Toddler
Disclaimer: This post on Best Things To Do In Algarve With Kids contains affiliate links. If you book using the link, you will not be charged more but we will receive a small referral fee for our travel piggy bank. Thank you for your support!