We've been to Portugal with kids twice now. I've said it before and I'll say it again, its one of the most family-friendly countries in Europe, and somewhere I always recommend to people looking for a break. We've been twice now and had some of our best family holidays in Portugal!
On our first trip a couple of years ago, we focused on Central Portugal mixing a Lisbon city break with a relaxing cultural and beach trip to Sintra. Whereas on our most recent family vacation, we explored the Algarve on the southerly coast of the country!
Both visits were quite different and could be combined into a longer road trip around Portugal with kids. Renting a car could be an amazing way to explore on an extended trip, however public transport is also quite good.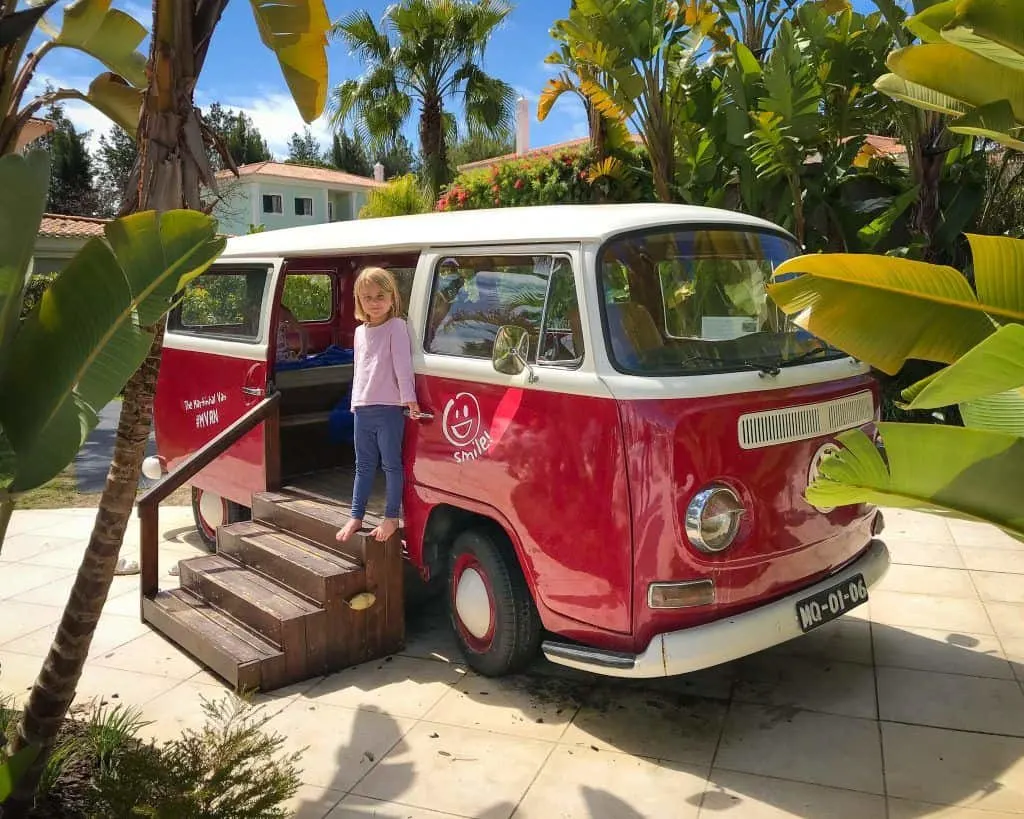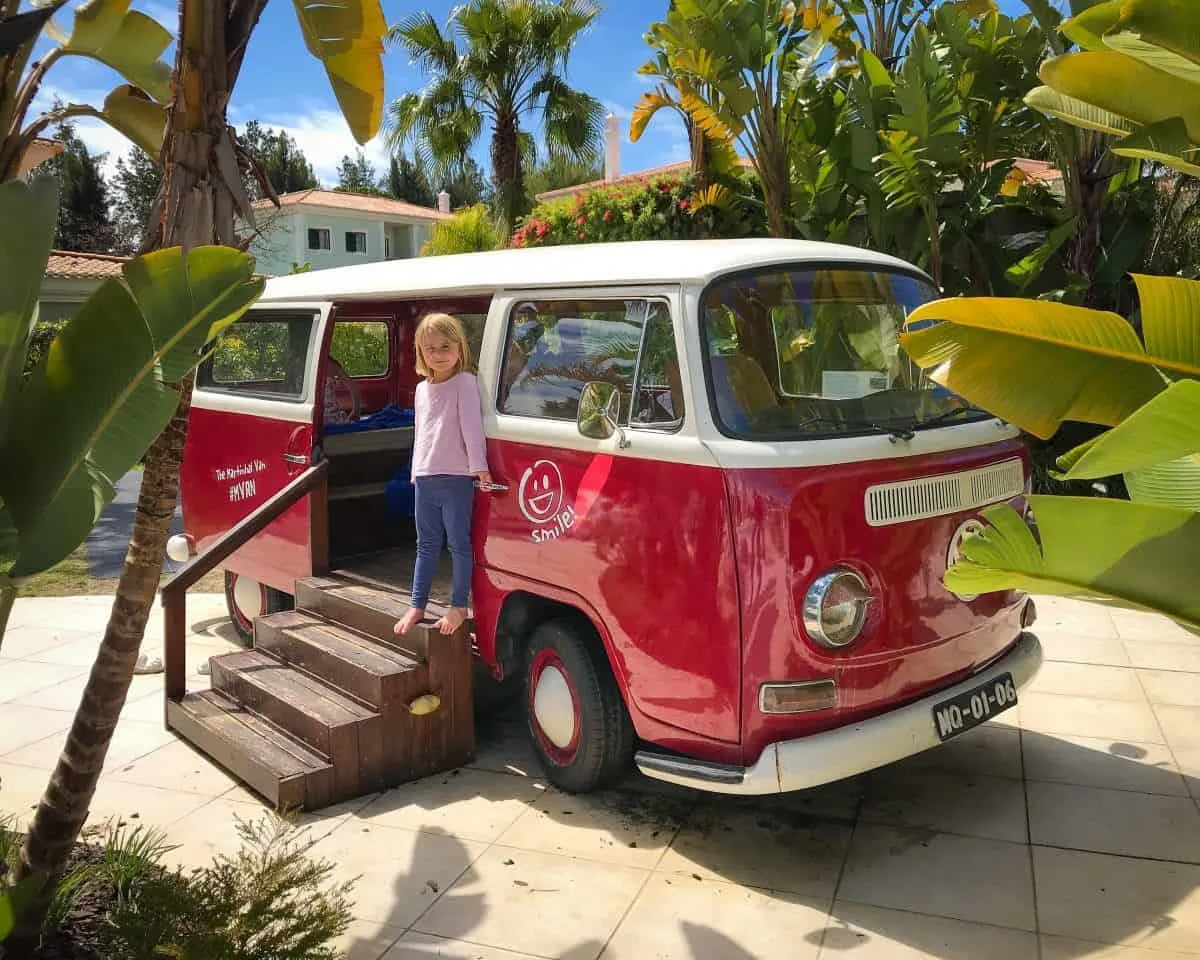 Portugal is between a two to three hour flight time from the UK, making it an easy to reach destination for the whole family to travel. Our kids loved the trip and I personally loved the diverse experiences Portugal offers.
From exploring ancient castles, to wandering the narrow cobbled streets of Lisbon, not to mention the glorious beaches of the Algarve, there is so many things to do for all types of families. If you've got a lot of holiday time you can also combine it with a trip to Azores which is a pretty affordable and short flight from mainland Portugal. You can check available flights here.
By the way, we'd probably pick Lisbon for a family holiday if you're comparing Lisbon vs Porto, because Lisbon is easier to get to and offers more options for everyone.
The Portuguese are incredibly welcoming of tourists and in particular, are great with children from our experience. Nearly every person we met took the time to chat with our kids and interact with them, making the family travel experience so enjoyable.
We've created this guide to Portugal with kids! You can choose to focus on one area you are interested in, or make it into 10 days in Portugal or maybe spend a couple of weeks of exploring. We've got it all covered from the best beach holiday in Portugal to a weekend in Portugal, happy reading!
Things To Do In Portugal With Kids
FARO, ALGARVE WITH KIDS
We started off our recent trip in Faro and stayed in one of the most family-friendly villas in Portugal. At just half an hour drive from the airport, Quinta De Lagos is the perfect place to start a trip off to Portugal with a toddler or young child.
The gated community is an expansive area filled with tree-lined promenades, walking and cycling routes, not to mention access to some completely isolated beaches.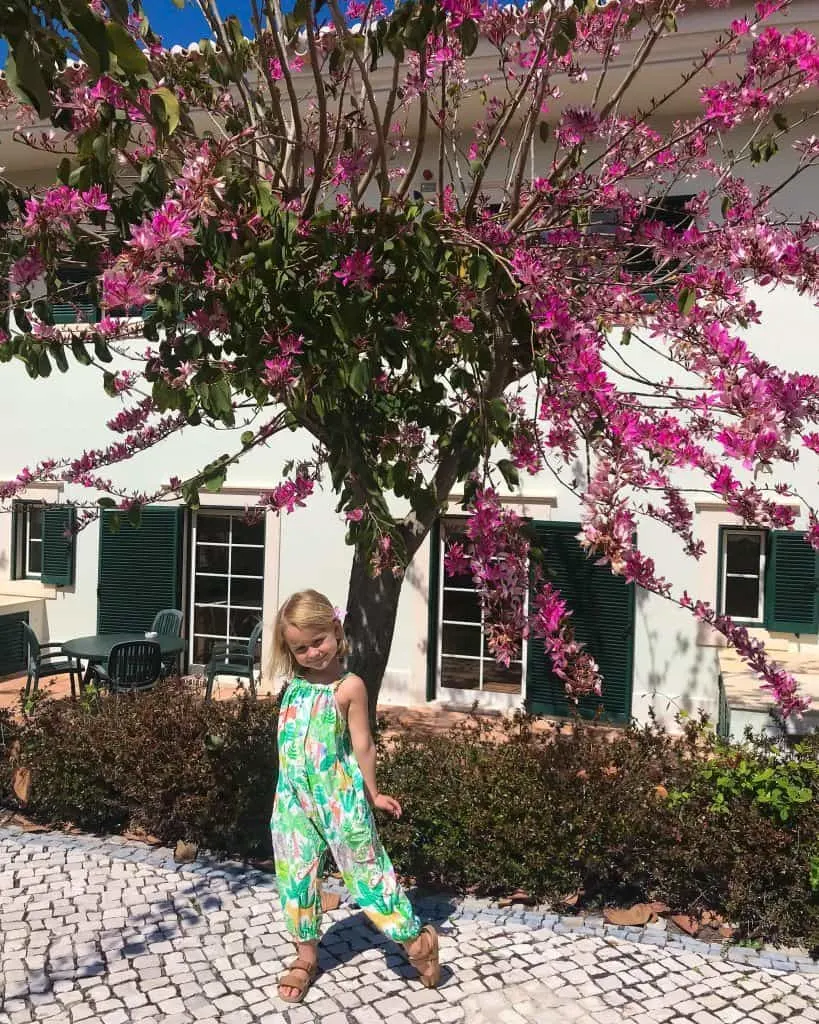 We stayed at Martinhal Quinta, well known for offering some of the most child-friendly holidays in Portugal, in fact, I would happily say in Europe by my experience. The villas inside the complex are privately owned, however they are managed by Martinhal and all have the same facilities and branding.
BEST PLACE FOR A FAMILY HOLIDAY IN PORTUGAL
Martinhal specialise in 'baby's first holiday' and all round making it easy for families. They have a catalogue of items they can have ready and waiting in the villa. From high chairs to potties, nappies and so on. Being at Martinhal Quinta made us feel like both parents and children were catered for. Sometimes the balance can be too much in one or the other way.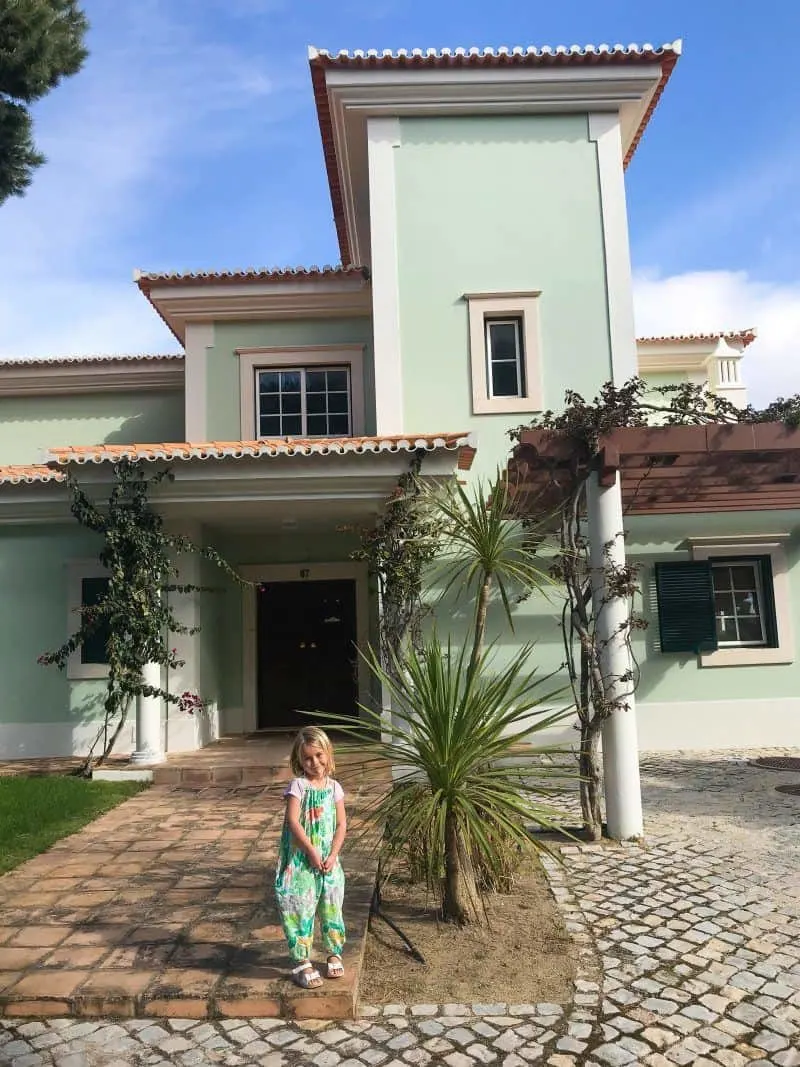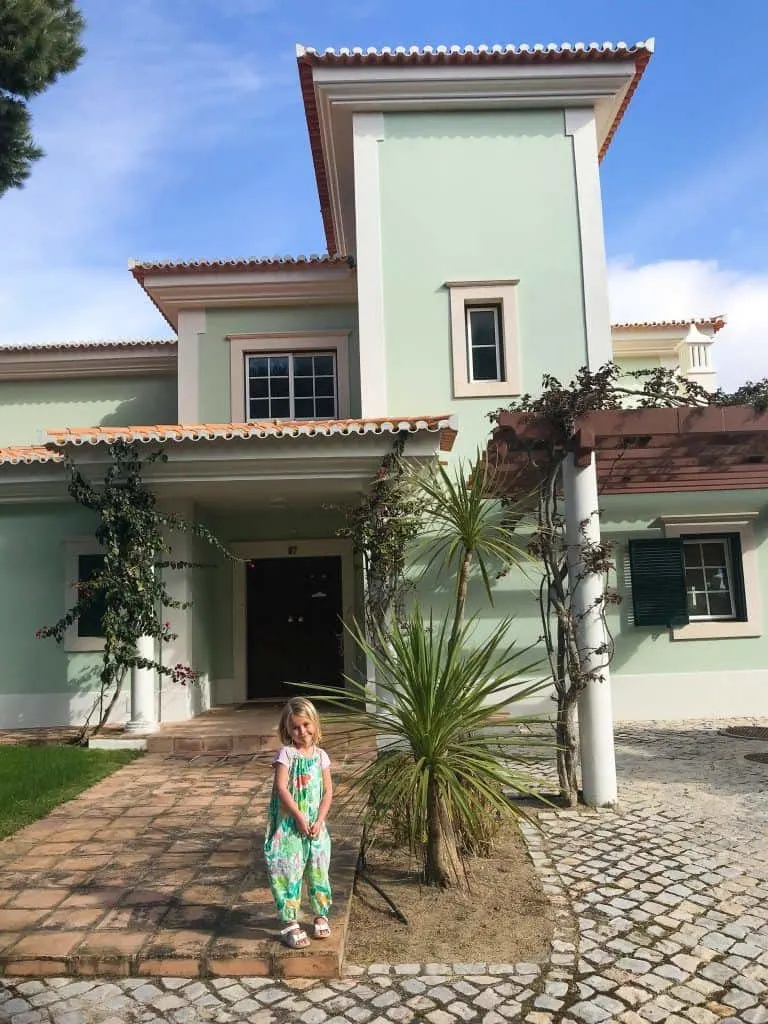 We had everything we needed inside our three bedroom villa. It was a beautiful big property with open plan living, all mod cons kitchen and of course a private swimming pool. The beautiful winding marble stairs was the most eye catching feature of all which ordinarily spells hazard with kids, however Martinhal had a gate at either end to keep little ones safe.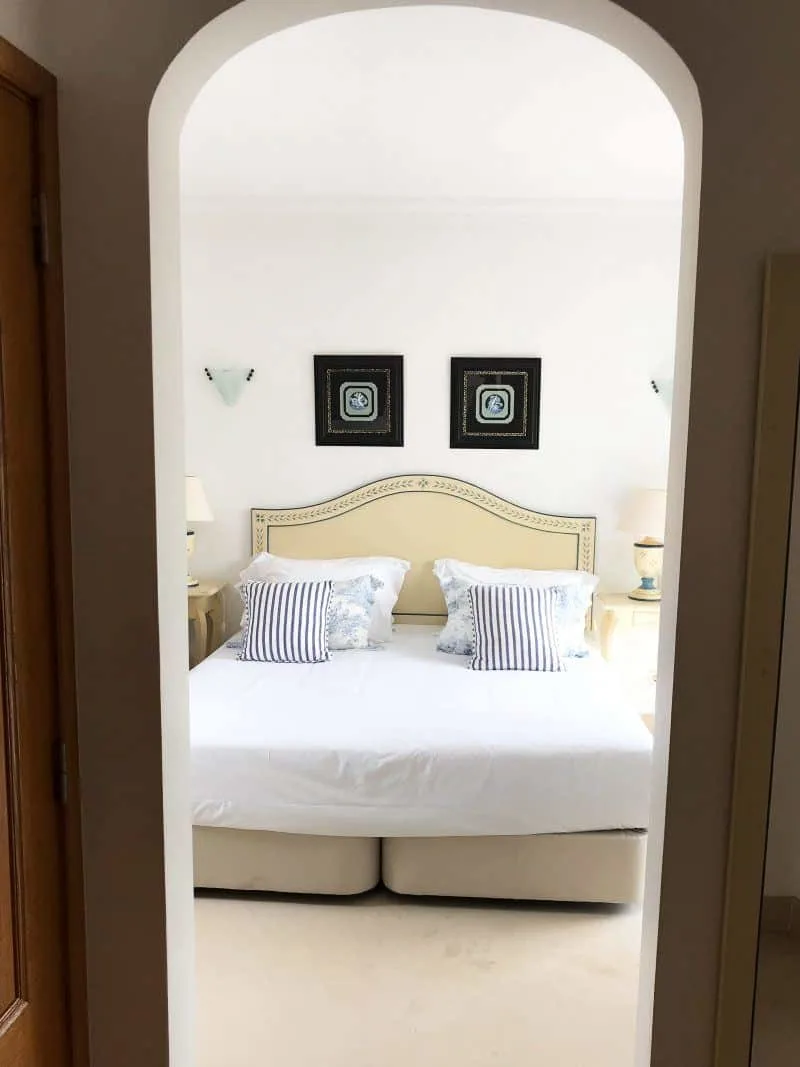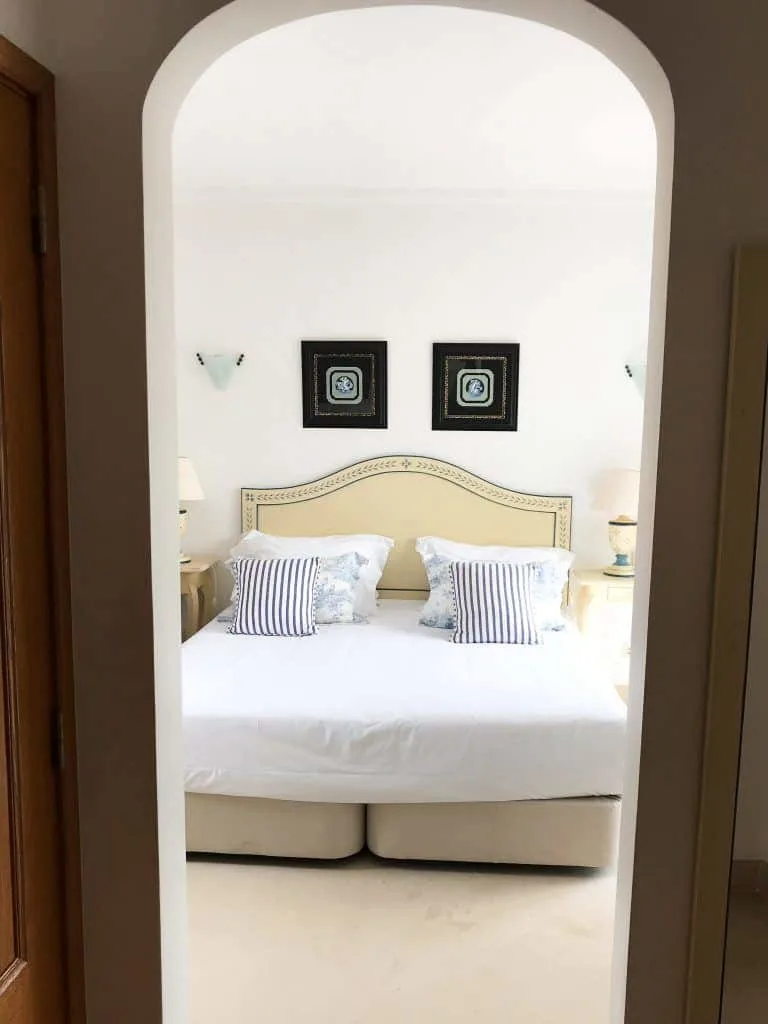 If the villa wasn't enough, we had all the facilities of a regular resort within Martinhal. The area feels residential in some ways, almost like the Portuguese version of Wisteria Lane! Pastel green Mediterranean buildings along cobbled streets with fuchsia pink flowers outside every house.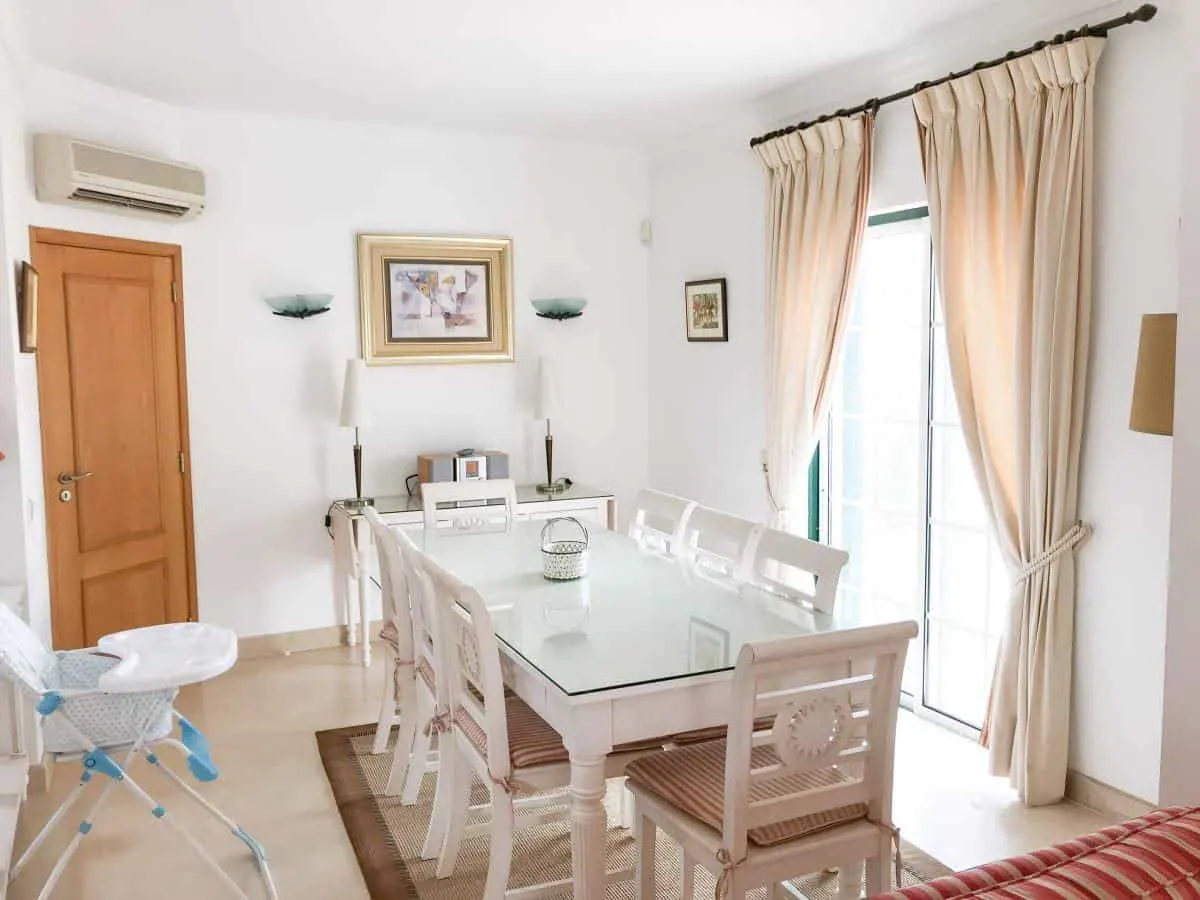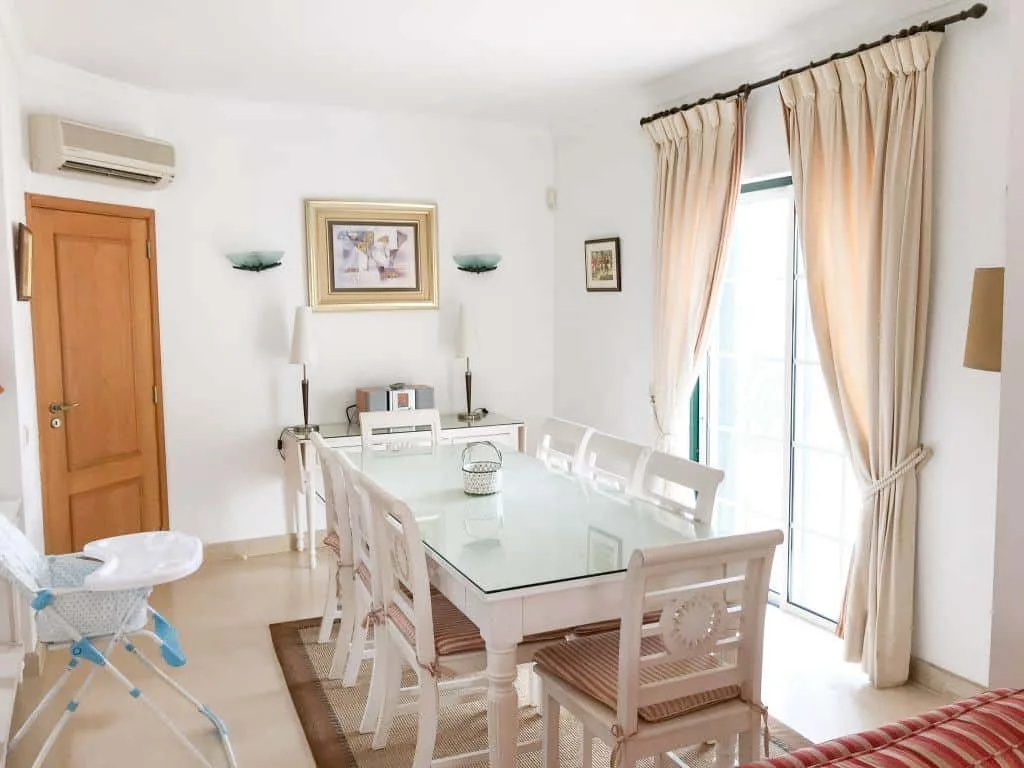 Beyond the villas, Martinhal has a central area where there is a bar / restaurant, heated swimming pool and a trampoline play area for the kids. There is also an indoor heated swimming pool for those cooler days, maybe on a Portugal winter holiday! The kids had hours of fun and we really struggled to get them beyond Martinhal, so it was certainly a relaxed part of our trip.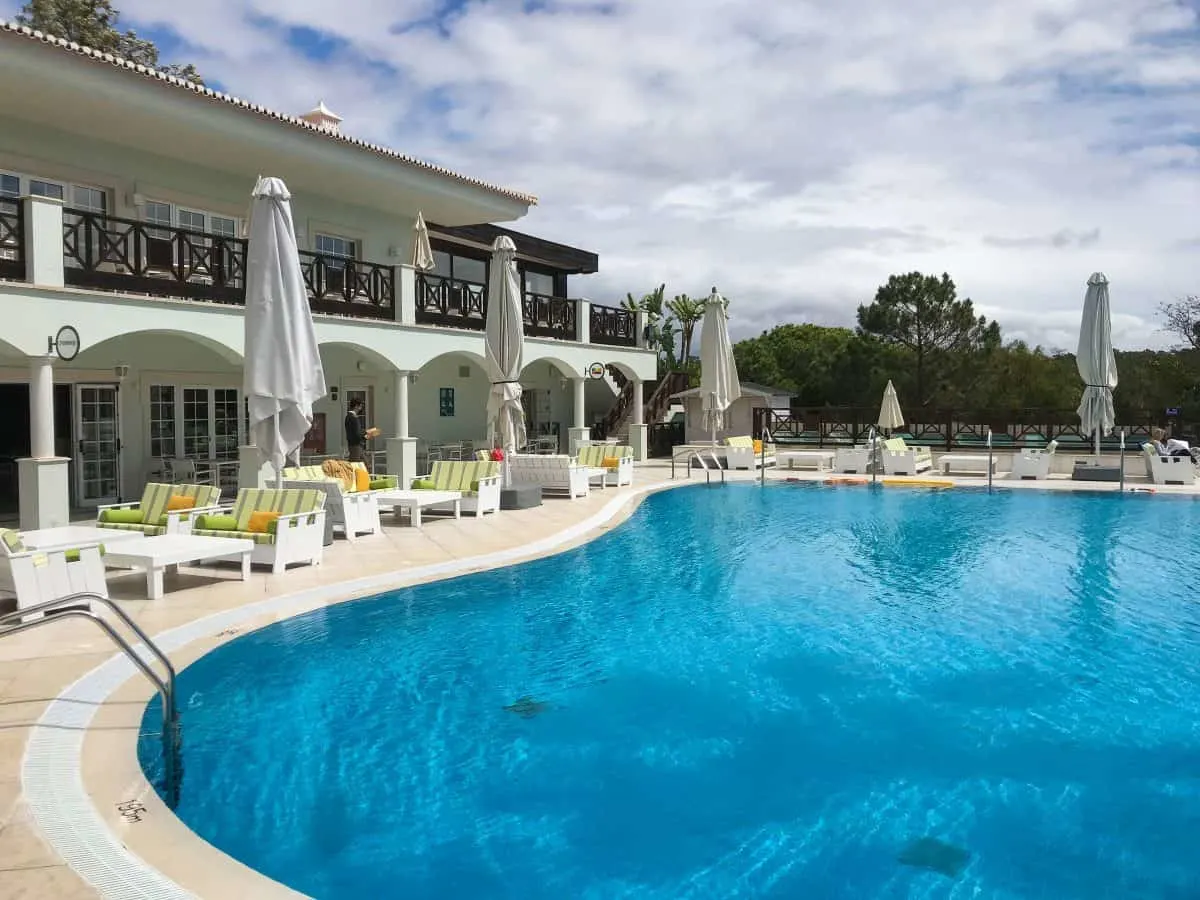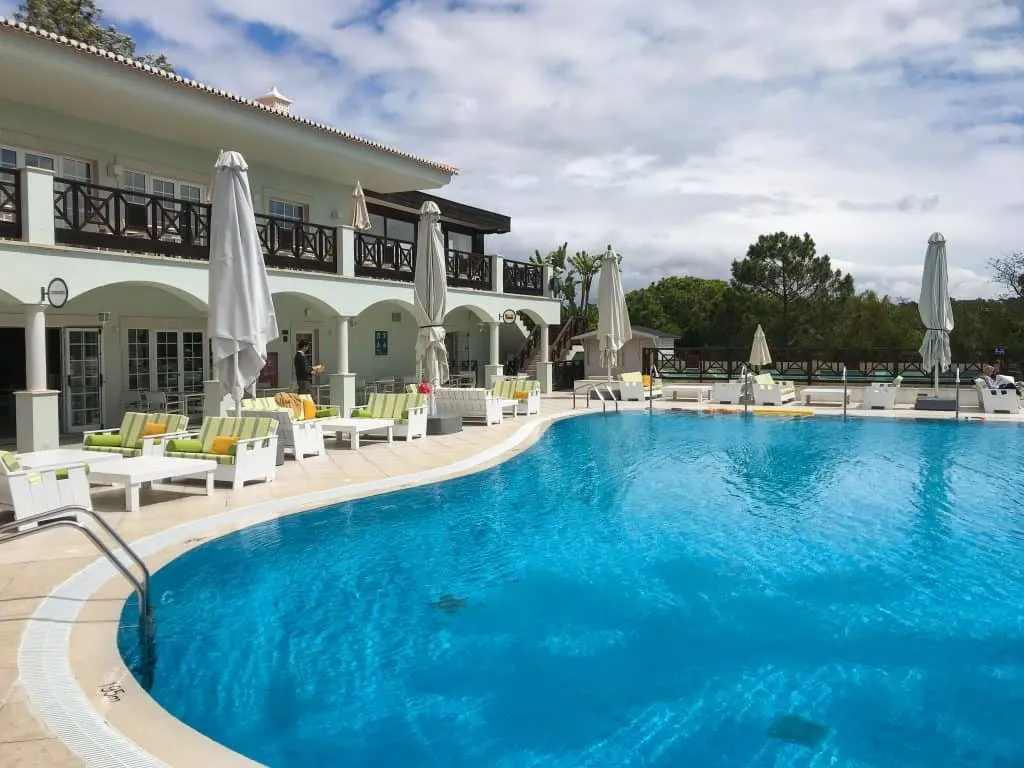 KIDS CLUB PORTUGAL
When we go on holiday we are not the type of parents to palm our kids off whenever possible, but our daughter just loves going to the kids club, especially at Martinhal. They had an amazing programme of activities, from face painting, to arts and crafts. Its such a nice way to get a break as parents, even it its just for lunch or a nice walk on the beach.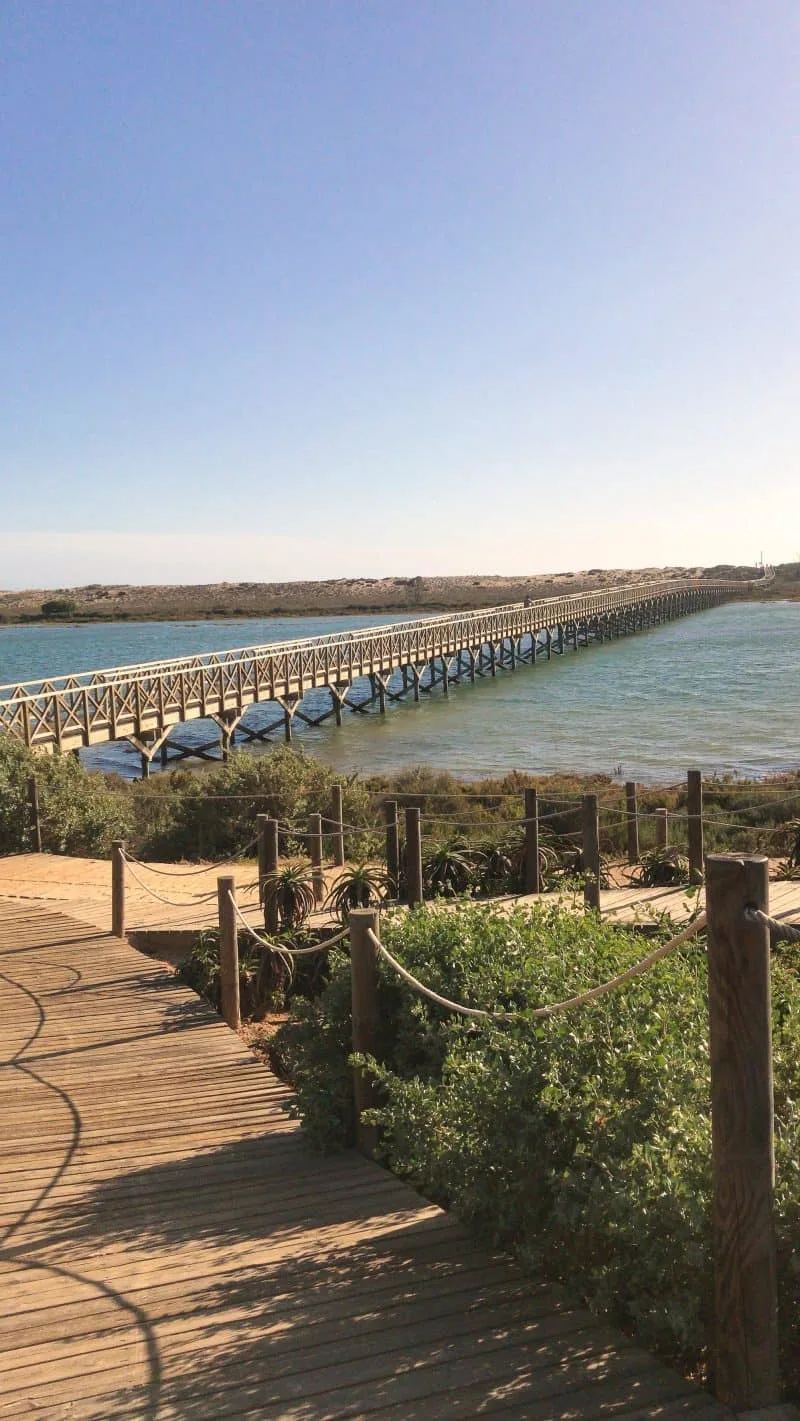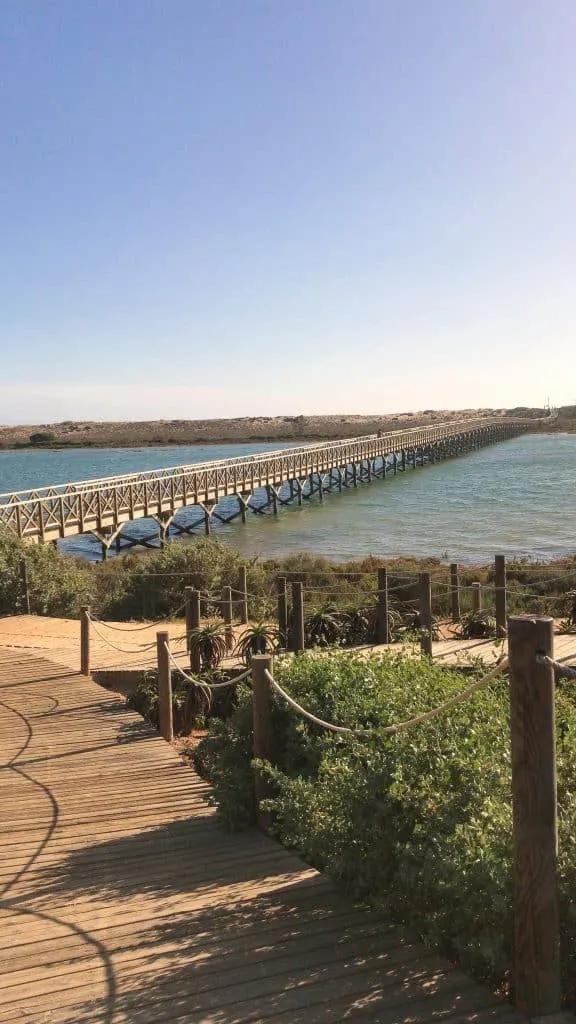 SURROUNDING AREA
We spent our evenings exploring the local walking routes. However, you could also check out the best hiking paths in Portugal. I absolutely loved the long bridge across the estuary onto the beach. So many beaches along the coast in Portugal have board walks, ideal for cycling or pushing a stroller. There were very few people on the beach so it was just stunning wilderness as far as the eye could see.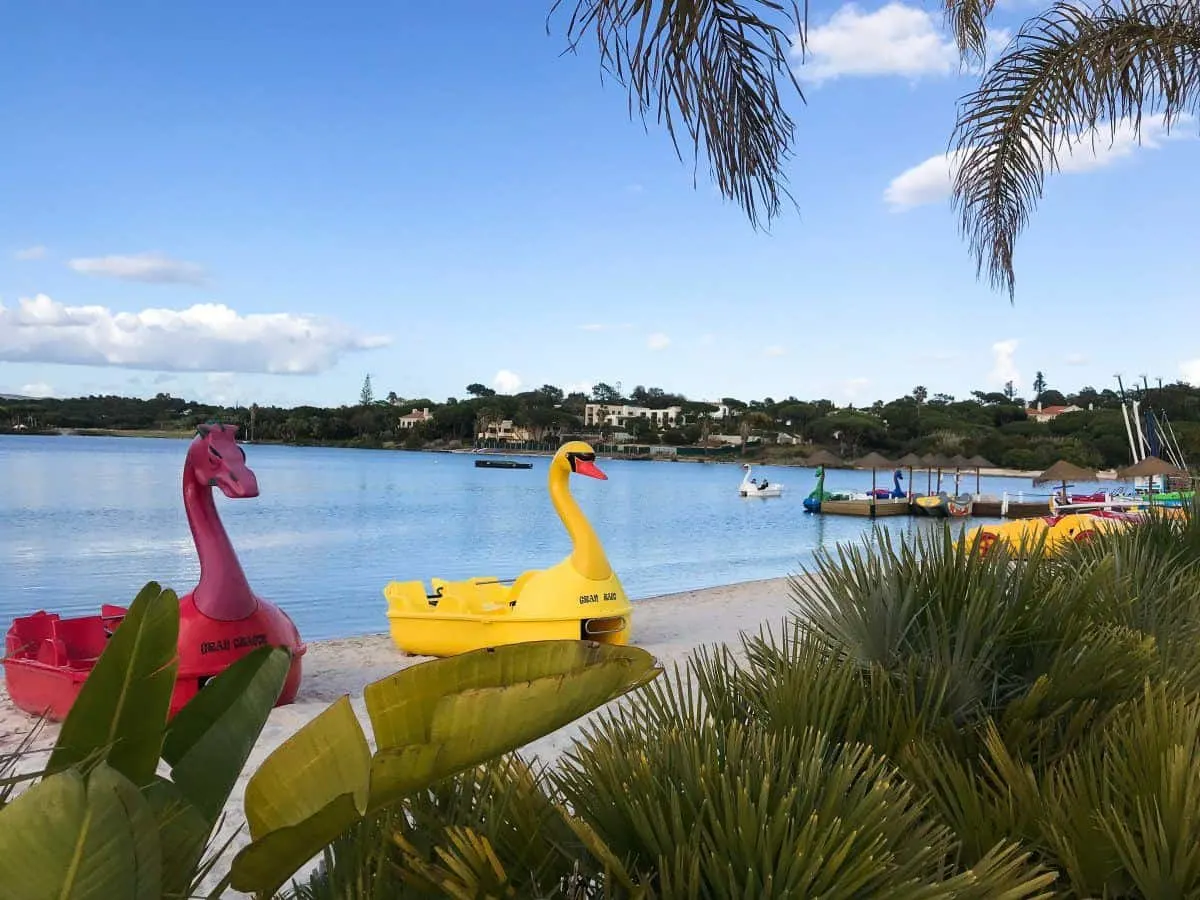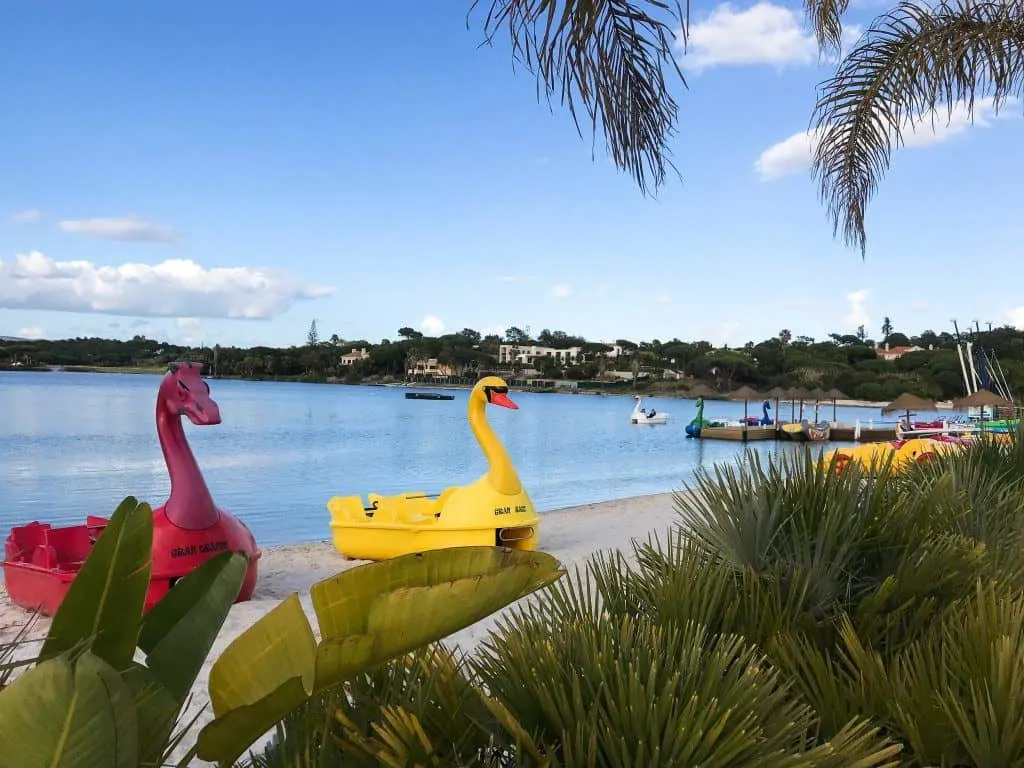 For Martinhal Quinta Family Resorts rates and availability click here.
PORTUGAL FOR FAMILIES
Another favourite spot of ours close to Martinhal Quinta was The Shack, it was also on the Estuary that had a man-made beach. It was such a clean and tidy area and perfect for little kids, instead of the crashing waves of the wild Atlantic. On the little beach outside The Shack were stand up paddle boards and a tonne of peddle boats in all shapes and sizes. From little cars to giant swans, it was certainly attractive to the kids.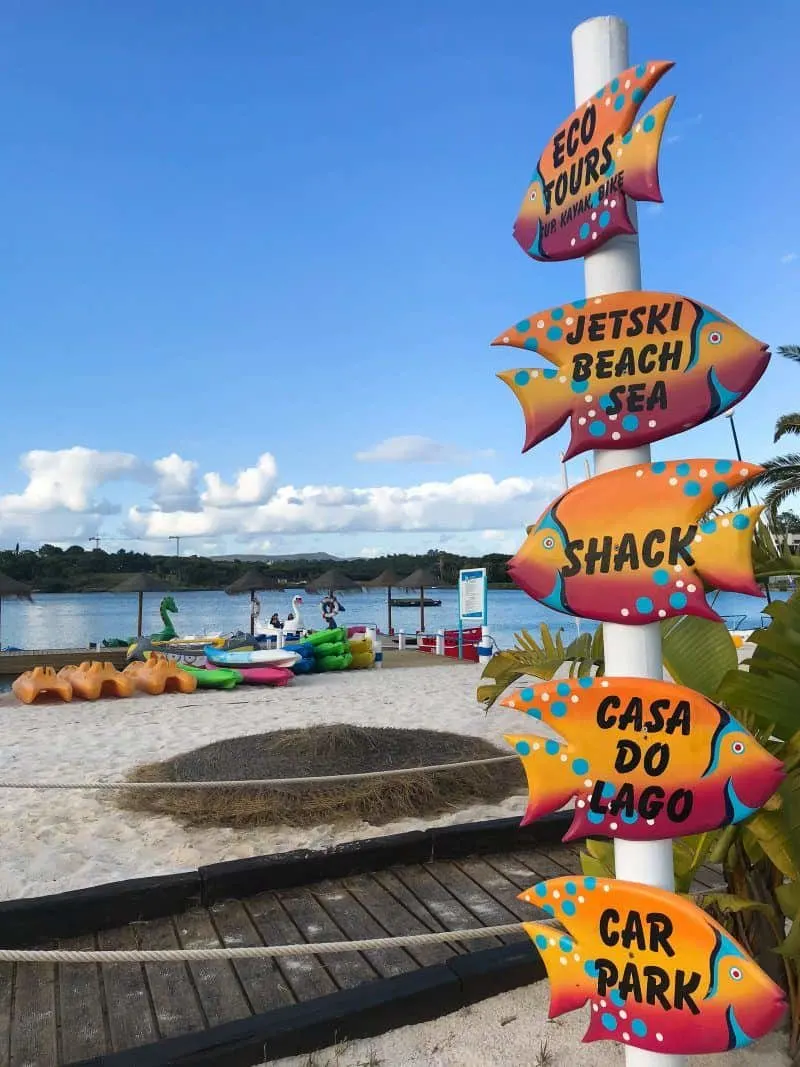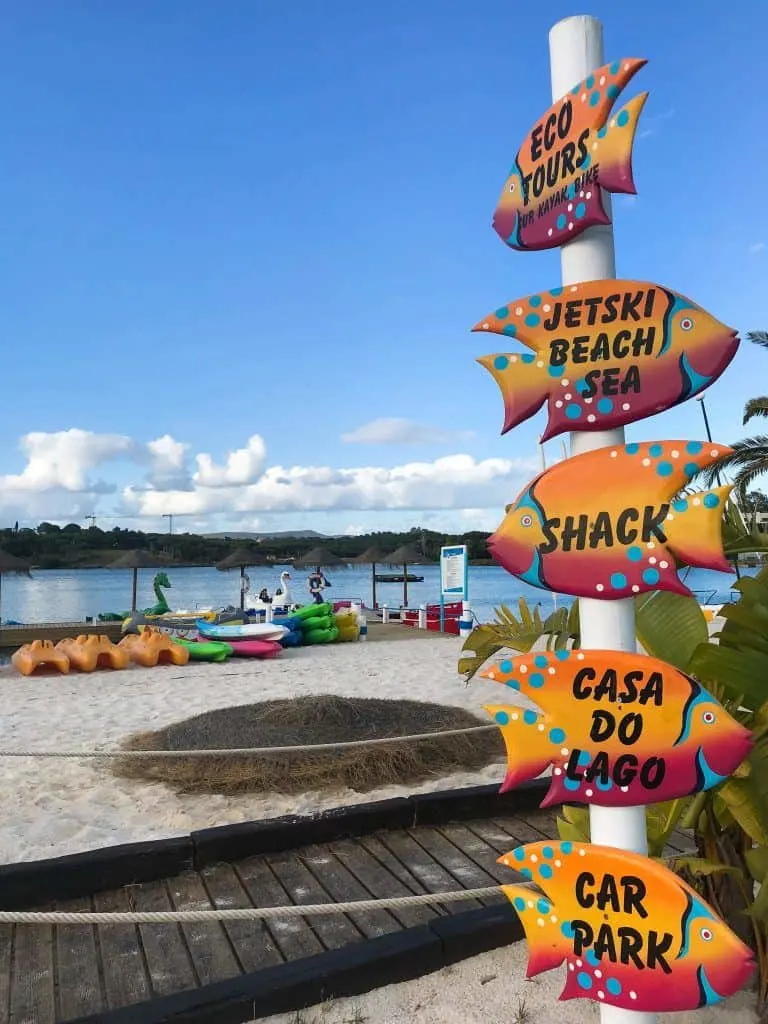 They serve great food at The Shack and I must admit it was so nice sitting there watching the sunset whilst the kids were playing. Food is only served until 7pm, so make sure to get there on time if you plan to visit.
SAGRES, ALGARVE WITH KIDS
For the second leg of our recent Portugal trip, we travelled further into the Algarve. Martinhal arranged our transfer to their other property in Sagres. Although if you are on a road trip around Portugal, its not a long distance to travel. At only 1.5hrs away from Faro airport it's one of the best beach resorts in Portugal.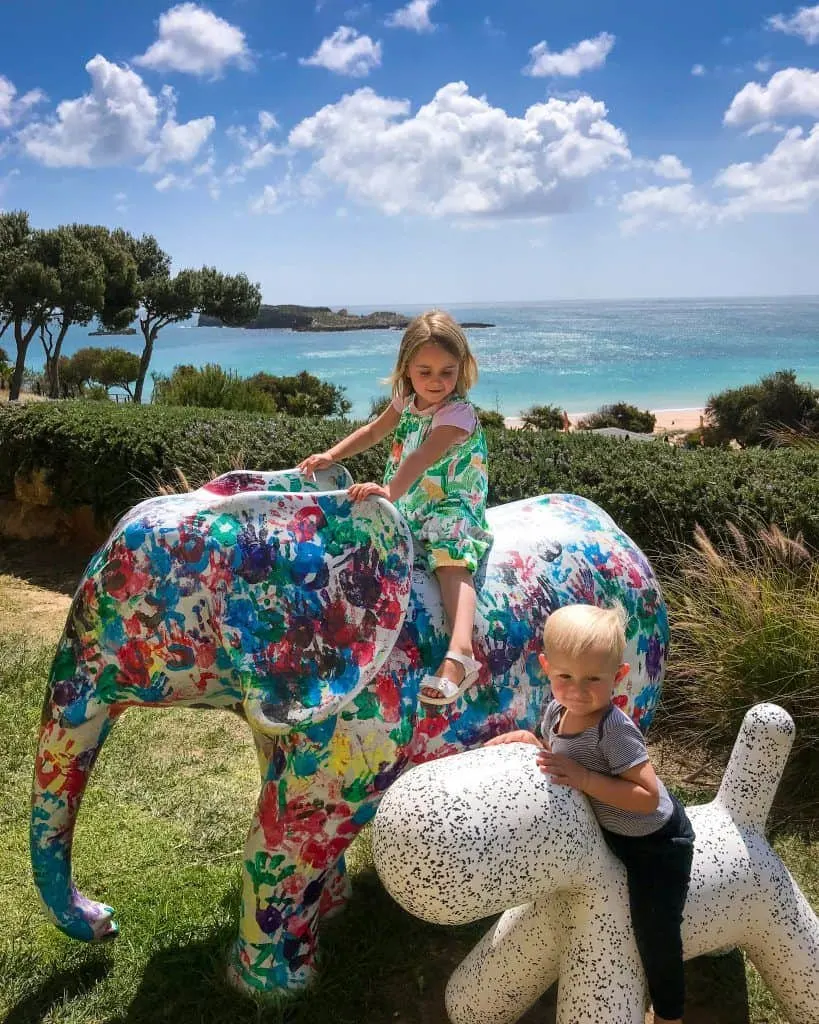 Sagres is on tiny peninsula at the furthest most southerly tip of Portugal. Due to its geography, the area has a mixture of both surf beaches and those a little more calm and better for families. The beach right in front of Martinhal Sagres Beach Resort Hotel is ideal for little ones. The water is calm, the beach is pristine and the views of the island right in front is the centre piece of the show making it perfect for an Algarve Holiday.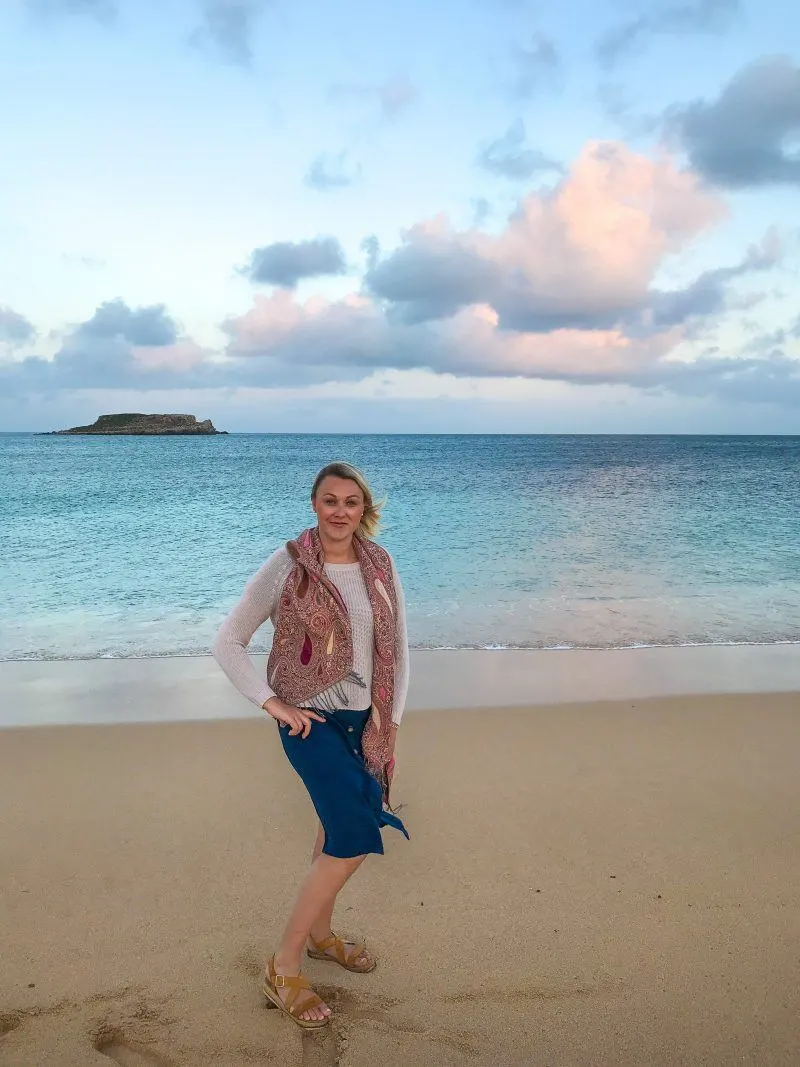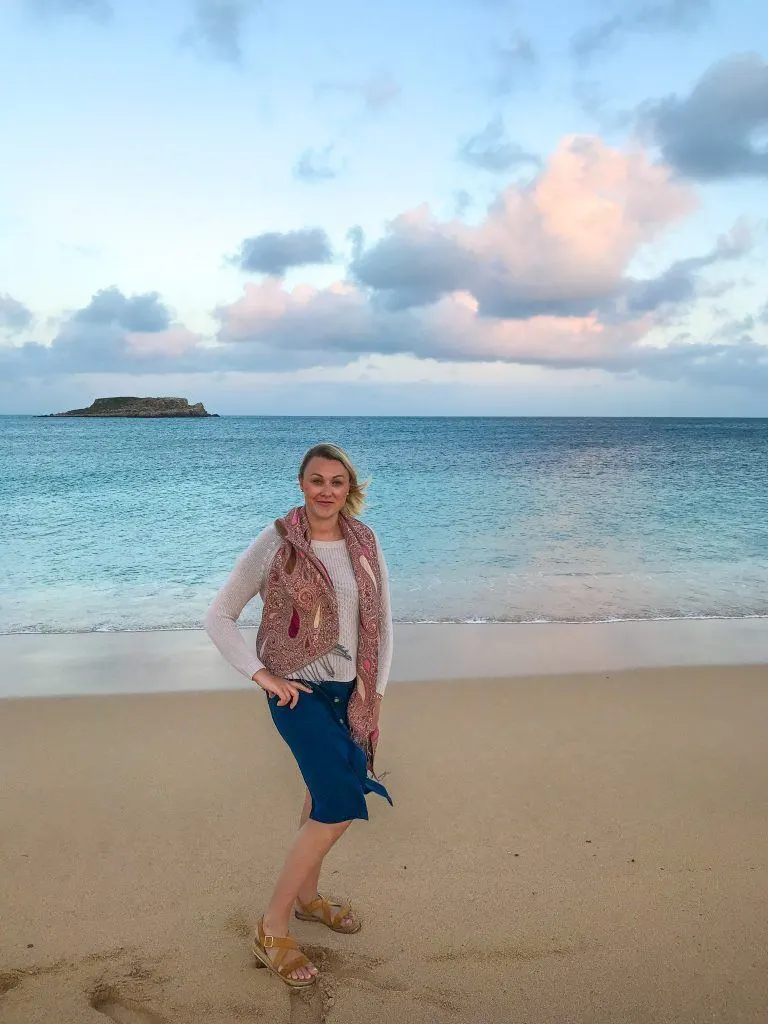 Out of all of the places we've visited, Martinhal Sagres, is one of the best family resorts in Portugal and one of our all time favourite places, probably in the world when it comes to child friendliness. The reason being is it's literally beachfront, meaning we didn't have along walk to get there. Likewise all of the facilities were just perfect for families.
BEST PLACE FOR A FAMILY HOLIDAY IN PORTUGAL
It's a much larger expansive resort than the other Martinhal properties but had everything you could possibly want. We stayed in a villa with two bedrooms. It had stunning ceiling to floor glass sliding doors with a balcony to take in the views. With one side facing East, and the other West, we had our own little haven to catch both sunrise and sunset.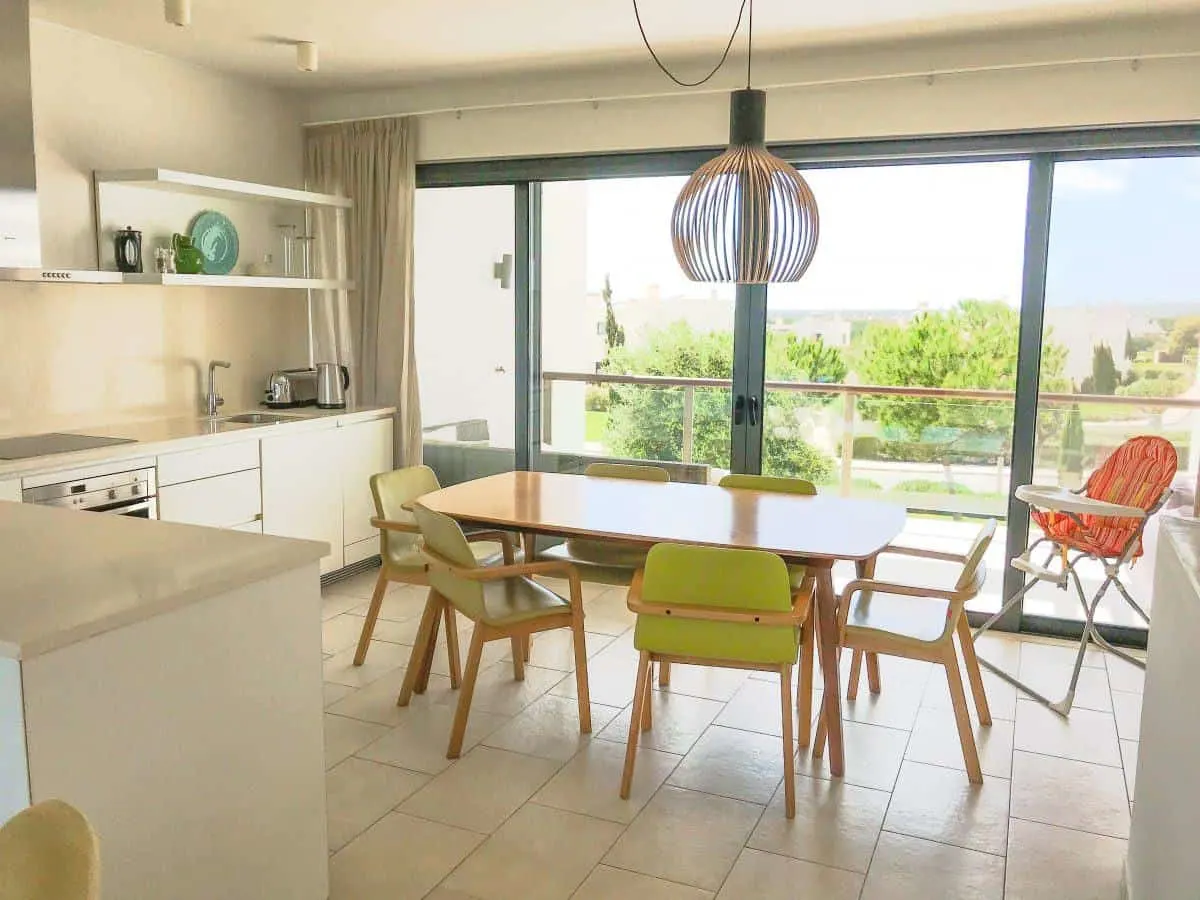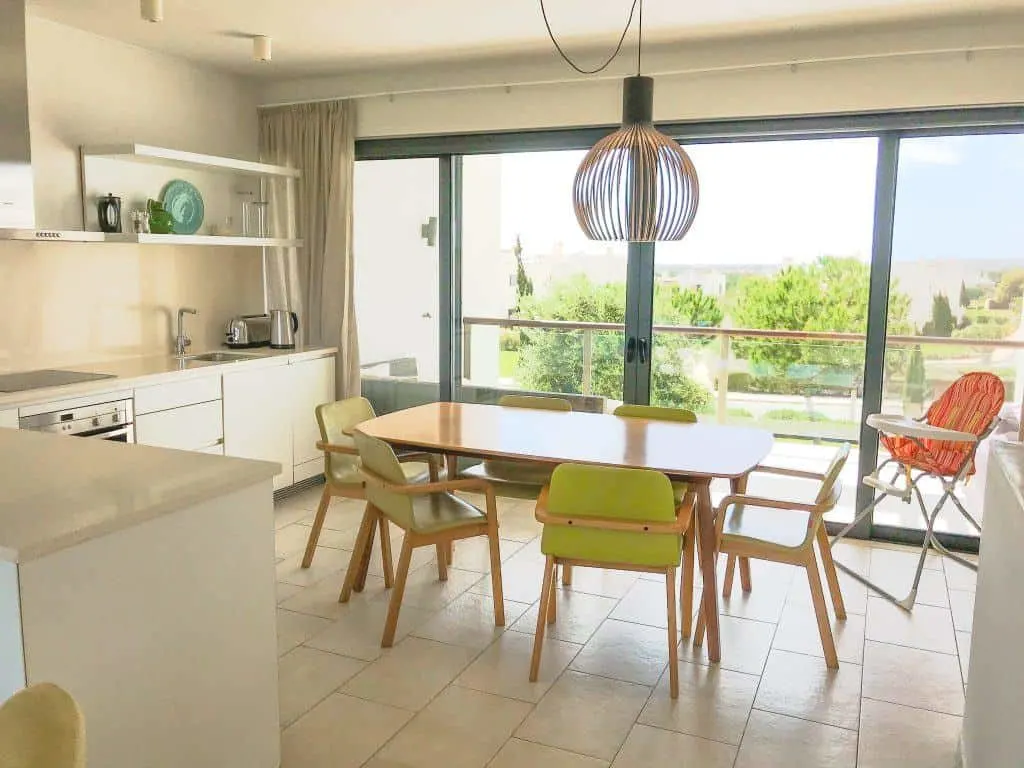 There was also a supermarket on site so we could stock up and make our own meals if we wanted to save a little on eating out. That said, Martinhal Sagres has all the usual benefits of a hotel, with breakfast, half board and an all inclusive family holiday in Portugal as options.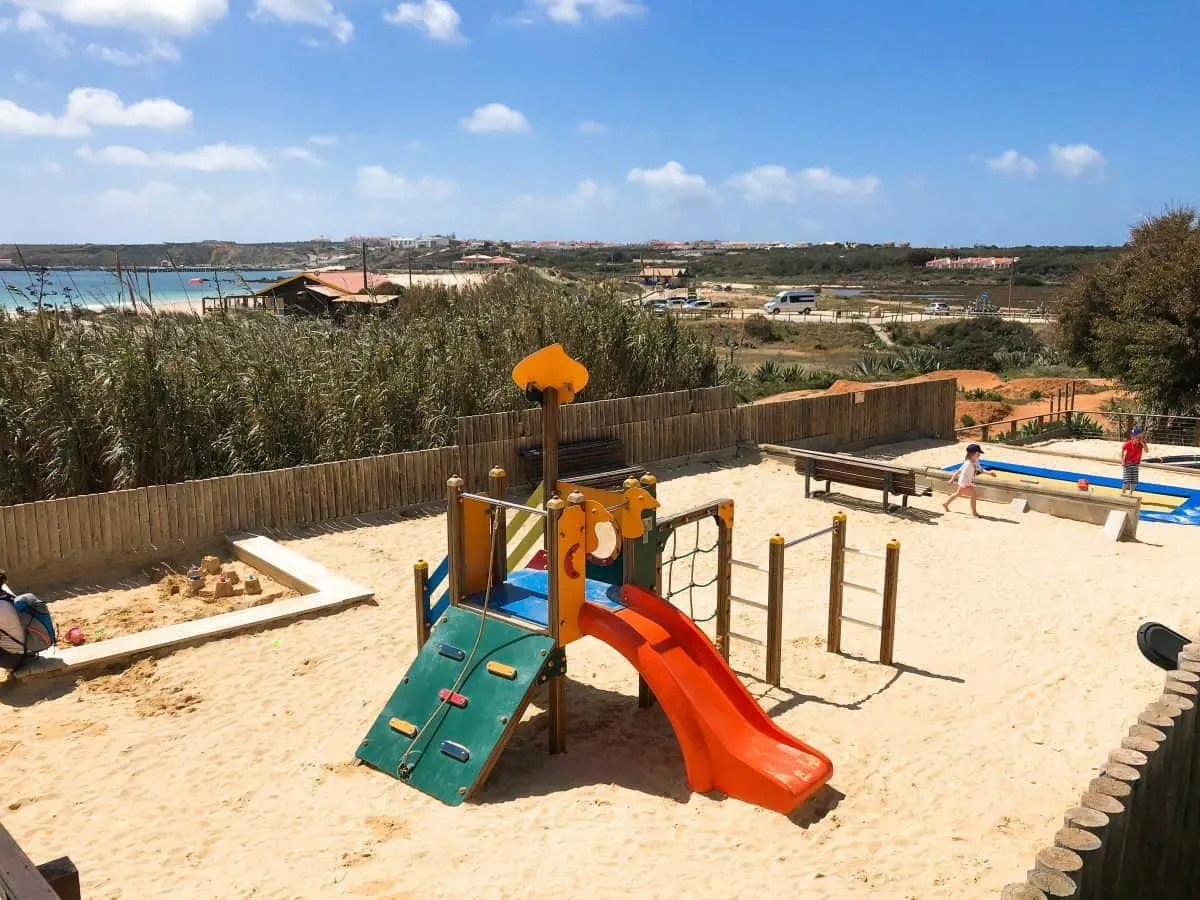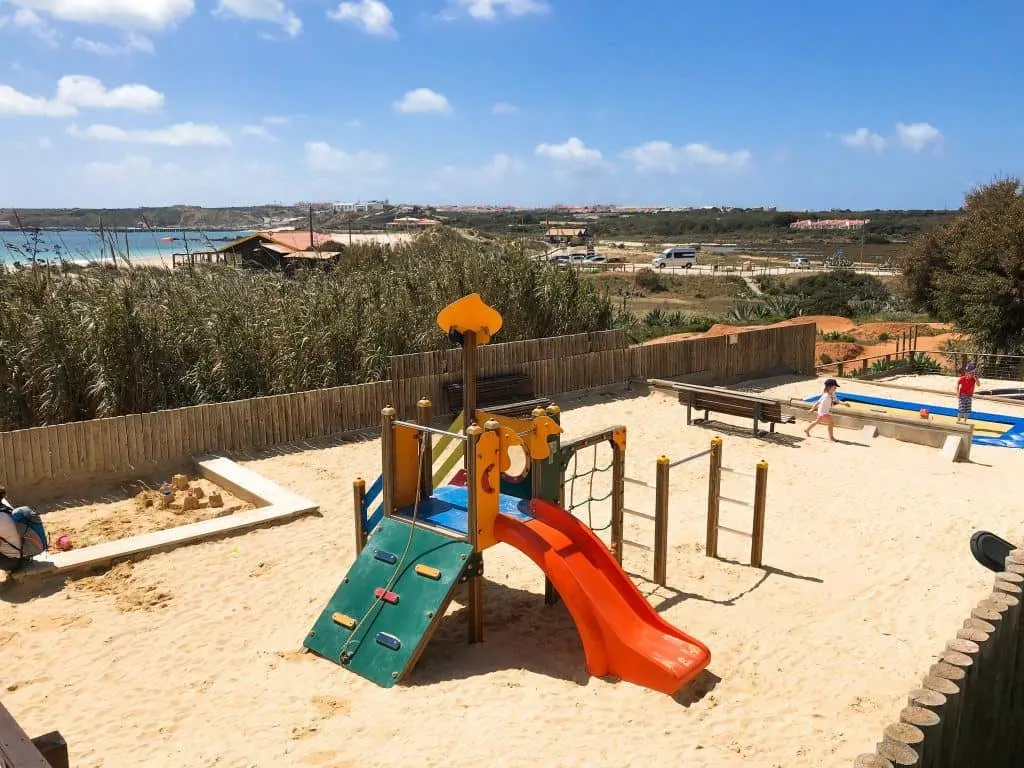 We did half board so it allowed us to go out and explore during the day, returning back in the evenings when the kids were too tired for much else. Every corner of the property has a playground, or a sand pit, not to mention the iconic trampoline.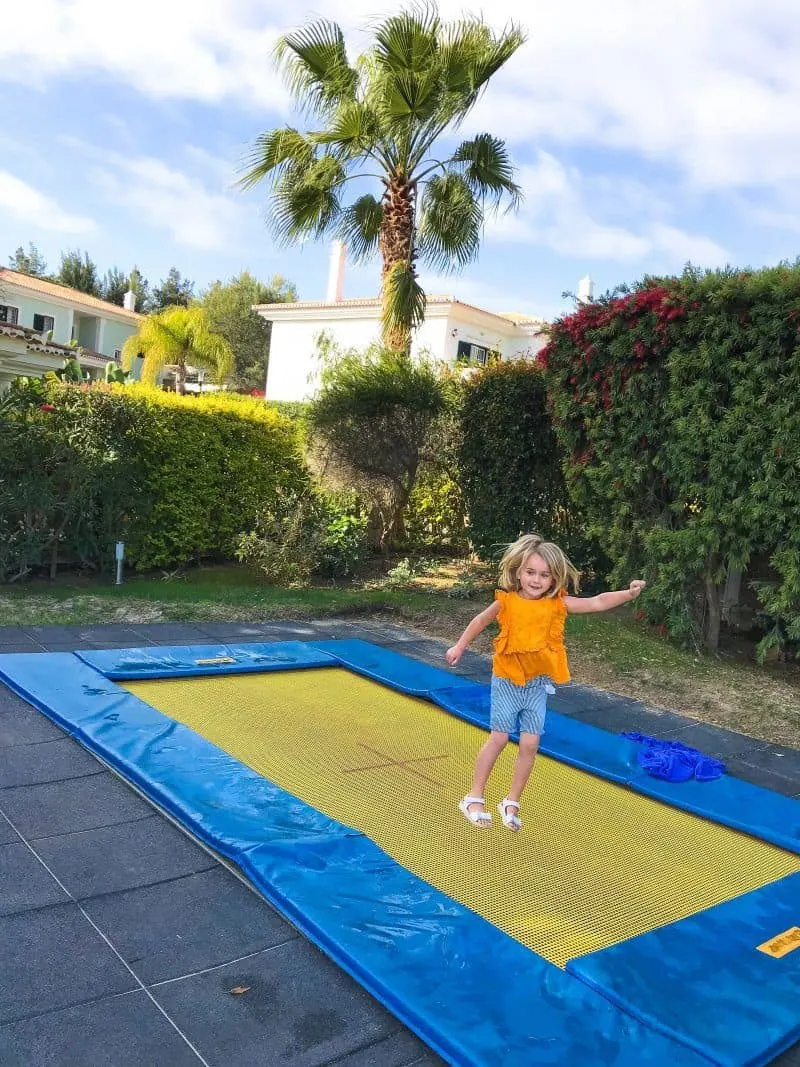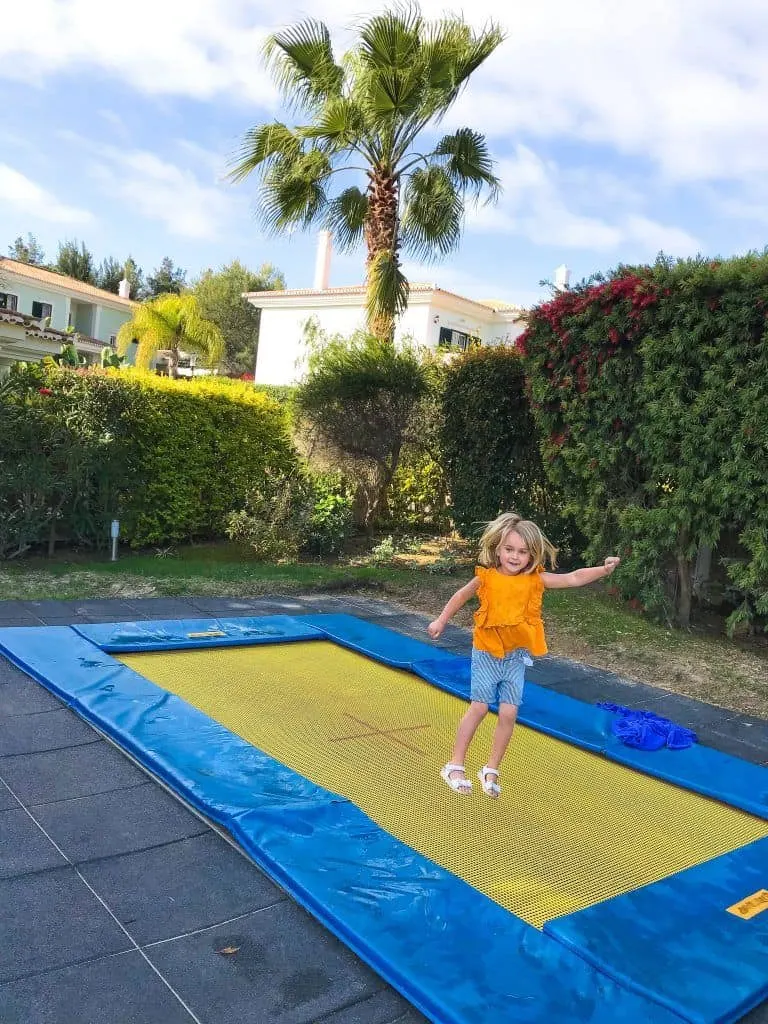 There were a tonne of amazing restaurants, a bar and even a pop up BBQ. For every space in Martinhal Sagres, you will find something for kids. Whether its a playground or an area with someone to supervise the kids whilst you finish your meal, they have thought the place through so well.
For rates and availability at Martinhal Sagres Beach Resort Hotel, click here.
THINGS TO DO AROUND SAGRES
Sagres is a small town that attracts families and surfers. There are many more beaches than just the one in front of Martinhal and a great way to spend a day trip is cycling around the coast. We rented bikes from the store at our hotel. We would have ideally liked a carriage but as we went on holiday to Portugal in April, it was high season and they were all booked out.
We took some child bike seats instead, all up with two adult bikes, the seats for kids, water bottles and helmets, it cost 50 euros for the day. We didn't get very far as we couldn't help but stop every few minutes to take in the stunning views. The Algarve coast is so beautiful with some impressive cliff side views.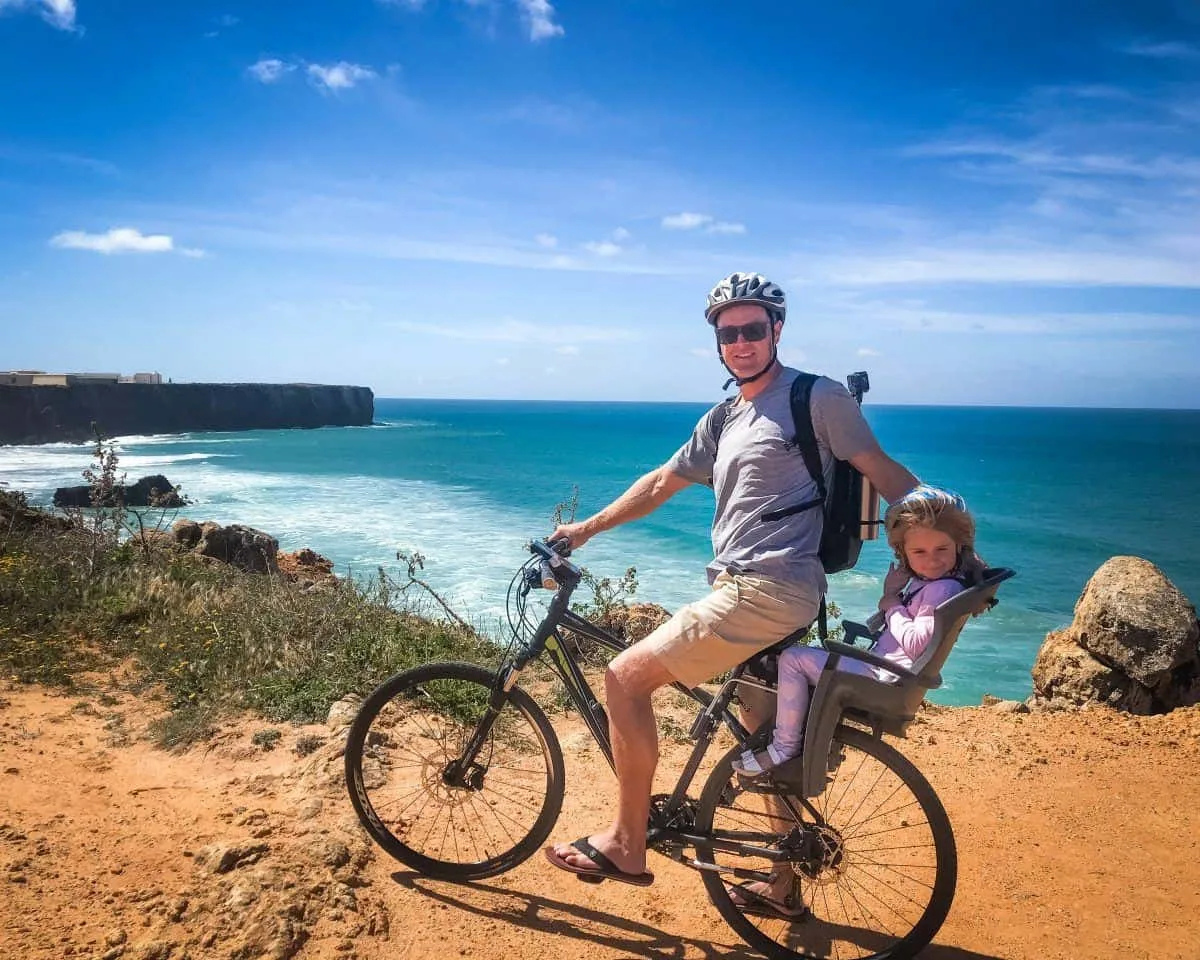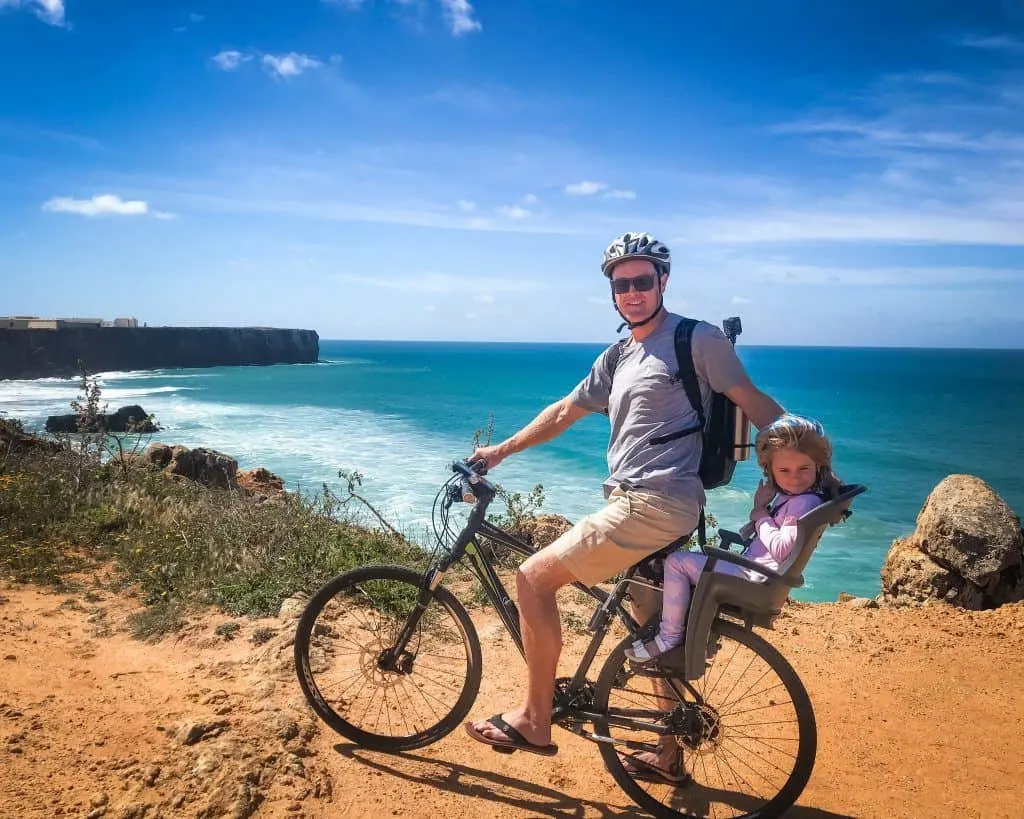 We cycled to the fortress in Sagres and onto Cape St Vincent, the landscape is just stunning and for this reason one of the best holiday destinations in Portugal. It was a little windy which is why I would have preferred a carriage for the kids so if you plan to cycle book one in advance. There is a supermarket and a few cute cafes along the way to pick up a picnic or stop for an ice-cream.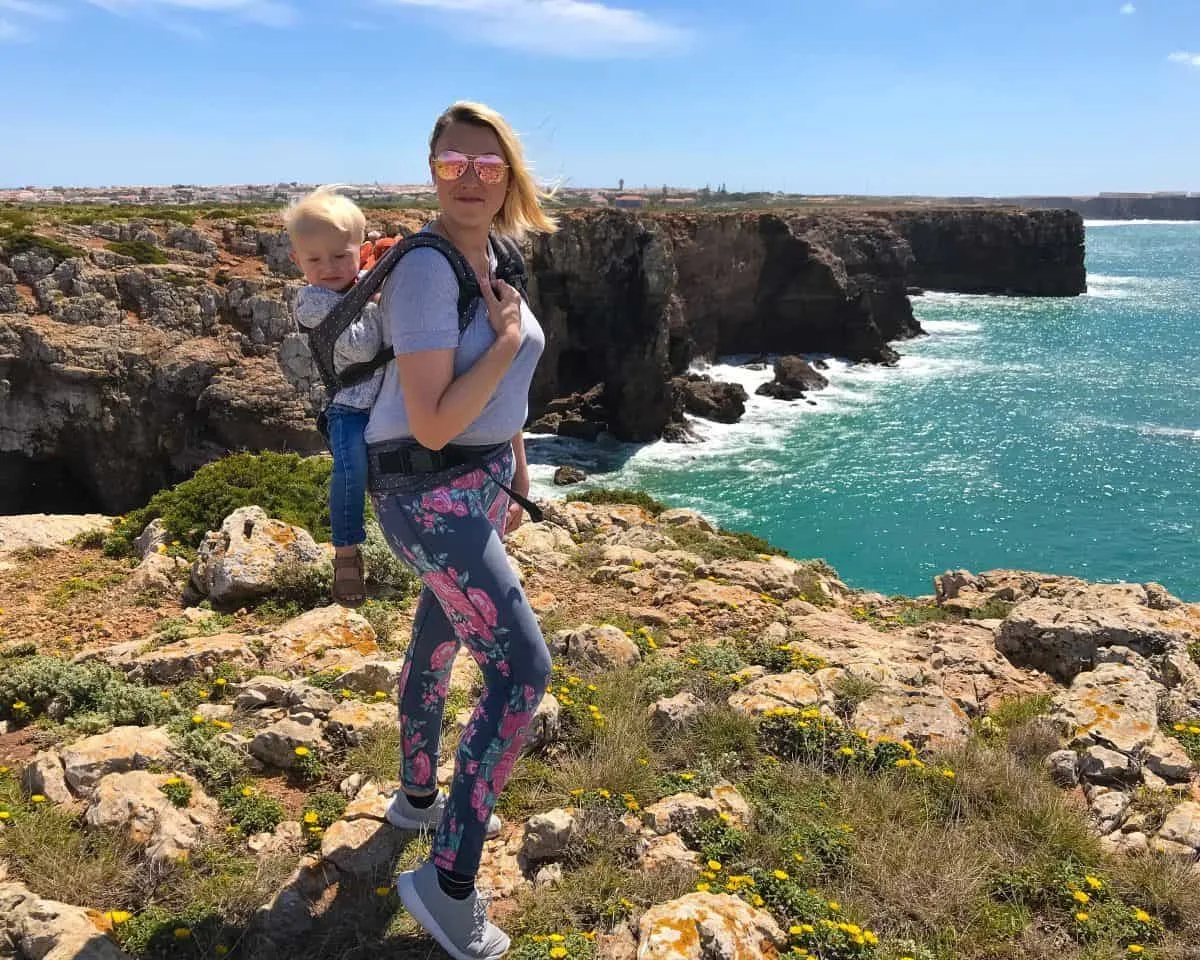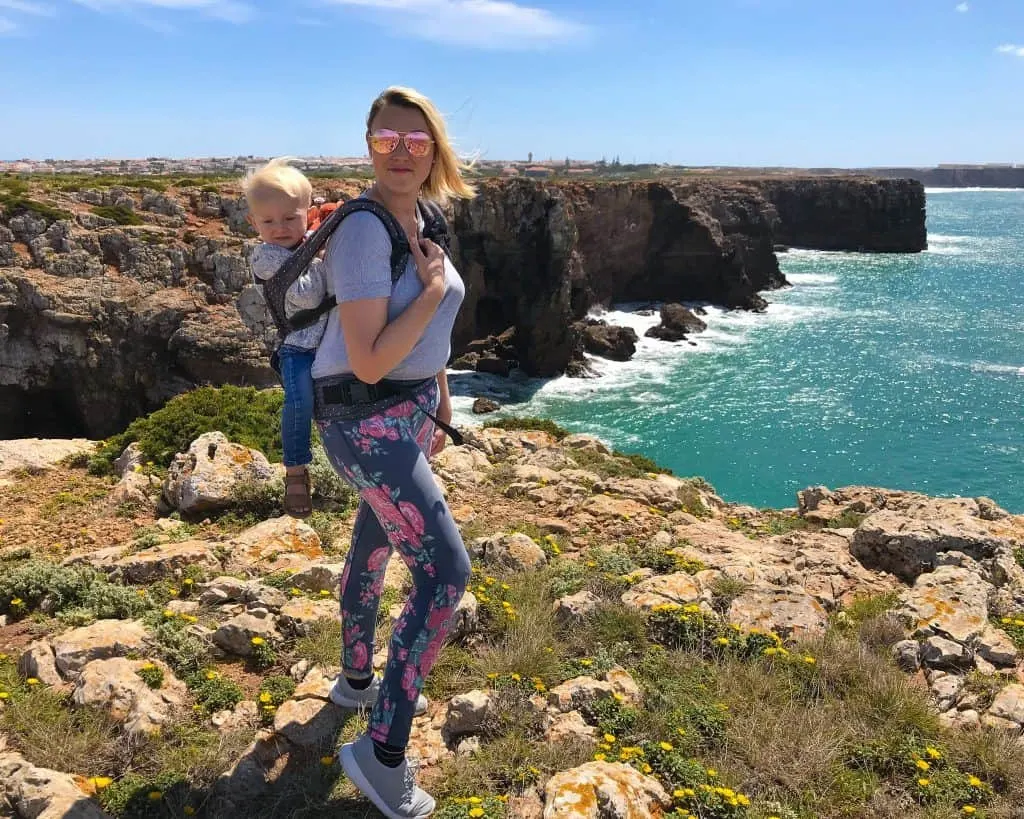 If cycling is not your thing, or maybe you don't intend to rent a car, the hotel also has a free shuttle service to and from the centre of Sagres, making it easy to pick up groceries from the larger supermarket or maybe explore a little more of the local area on foot.
LUXURY FAMILY HOLIDAY IN PORTUGAL
When we weren't exploring the local area, we were generally chilling at Martinhal. As you know they have a kids club and they also have a spa! The perfect combo for getting some nice rest and relaxation in on a family holiday. I had a 50 minute 'relaxation' massage at the Finnestra Spa and it was utter heaven. Similar to our time at Martinhal Quinta, it was hard to pull the kids away from all of the amazing facilities.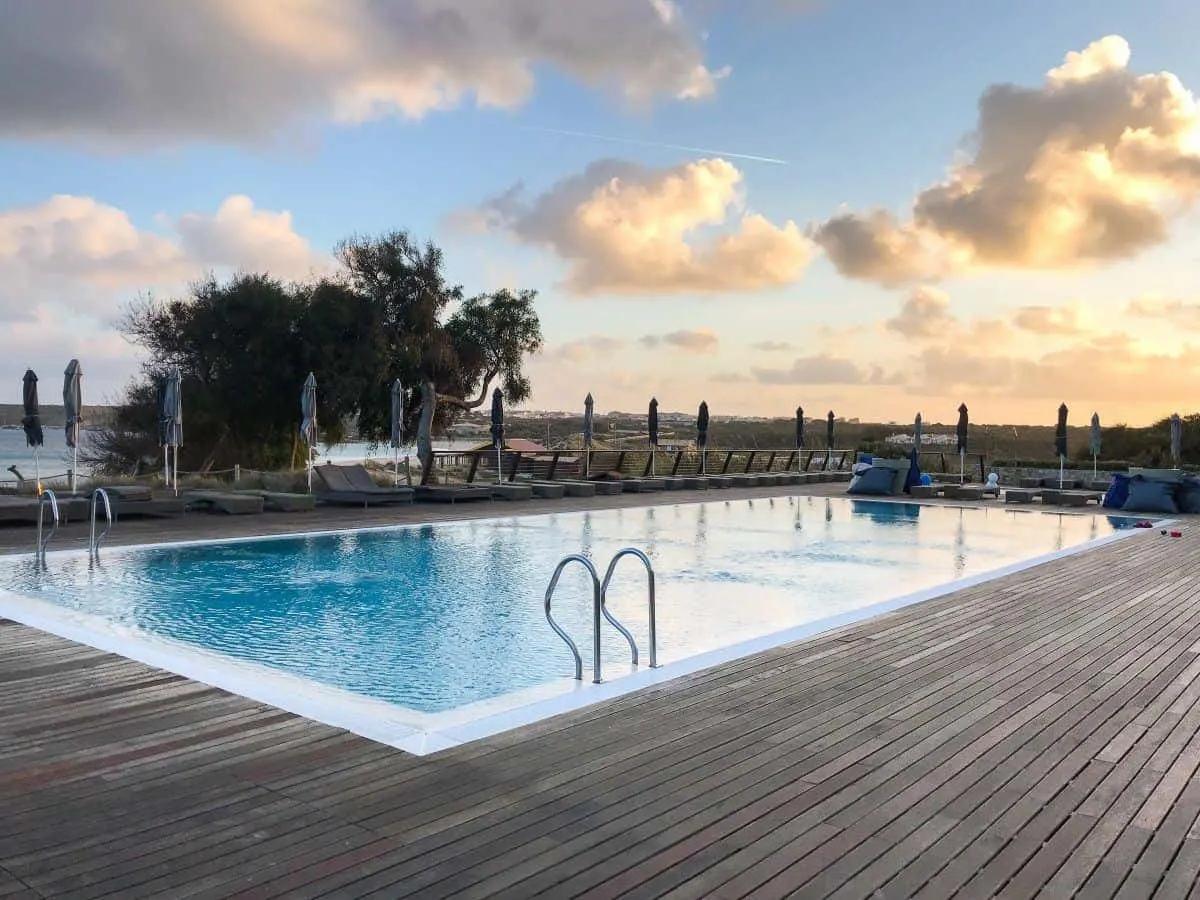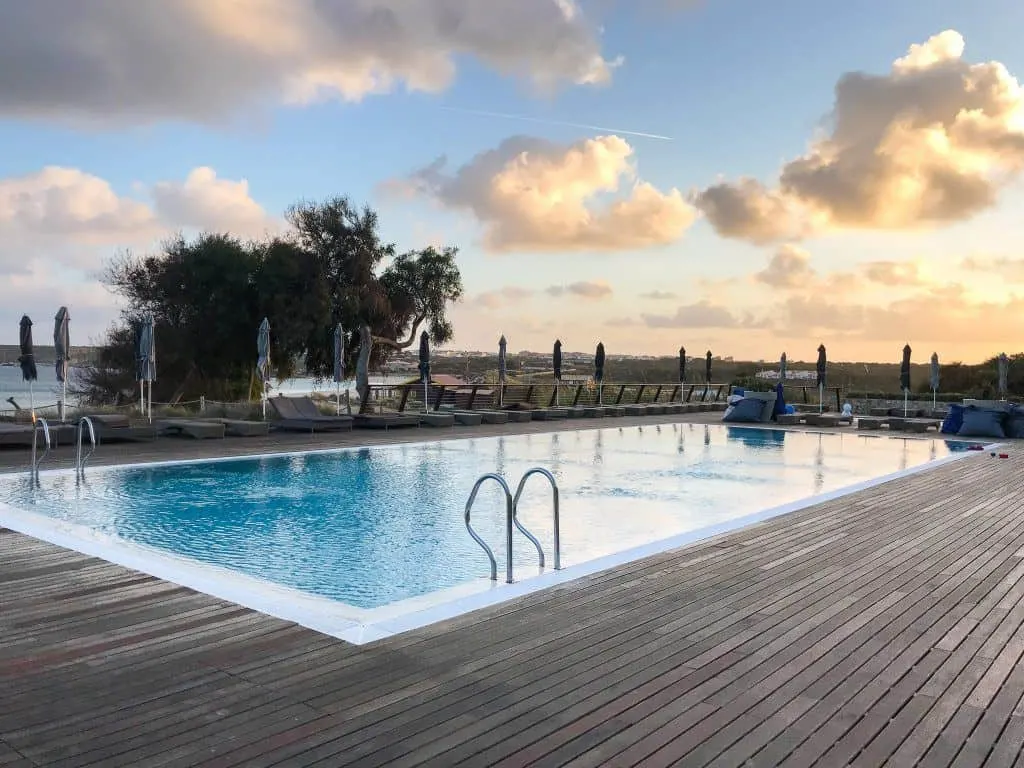 Usually we have to run away from our meals on holiday due to their impatience and excitement or tiredness. One of my favourite things about the trip was always having someone on hand with a game or colouring in so we could finish our meal when the kids were done.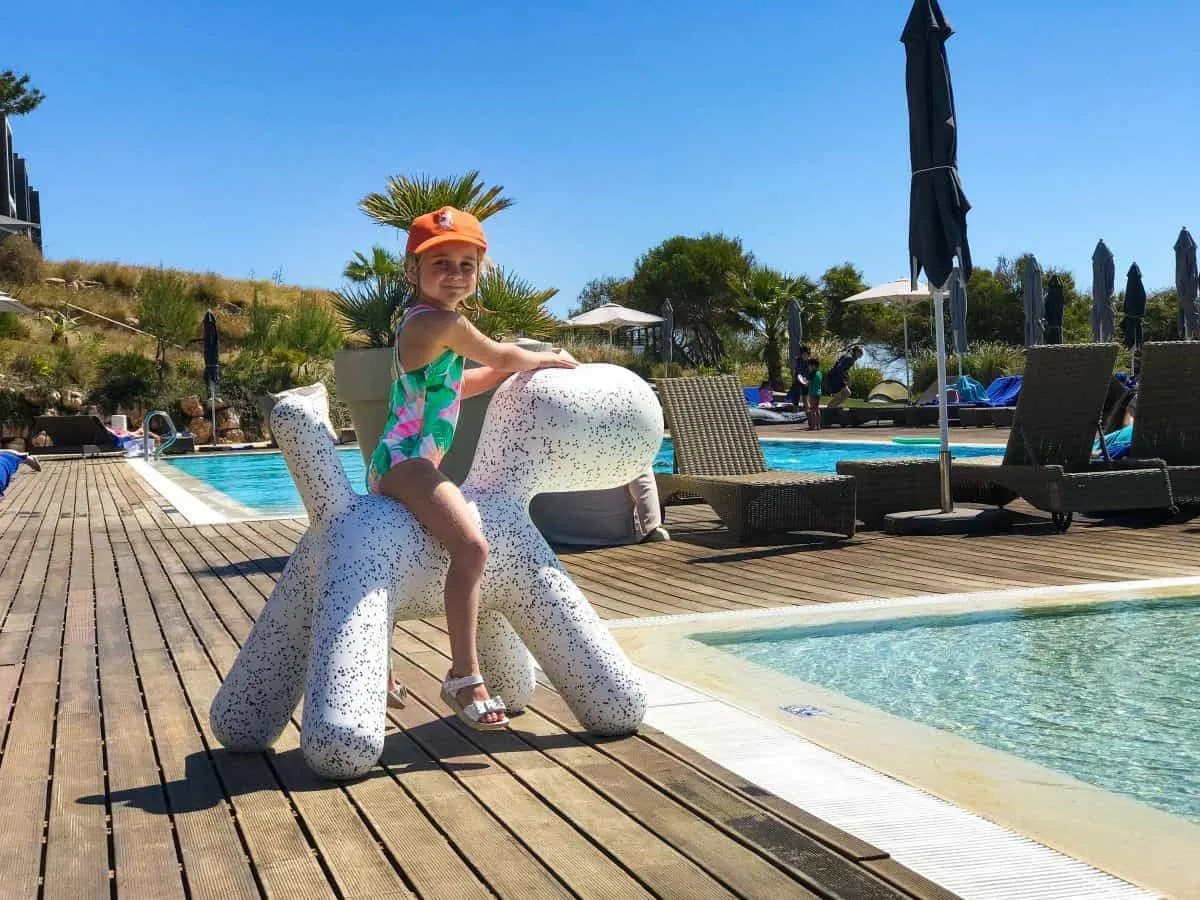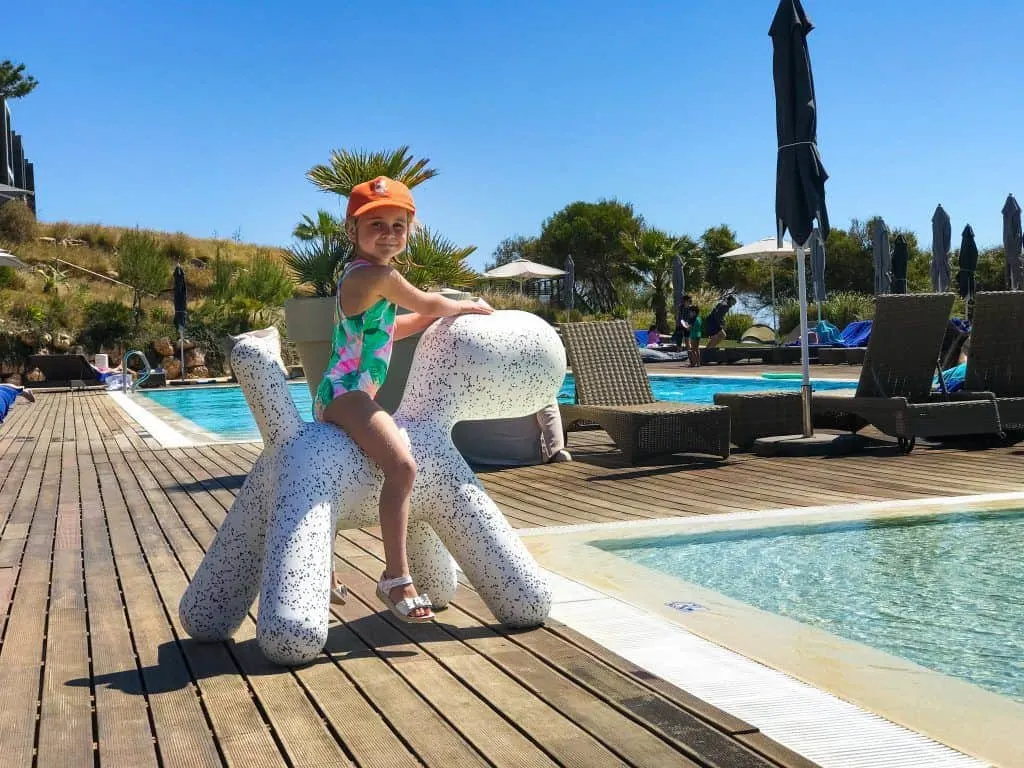 We spent 5 nights exploring Quinta De Lagos and the Sagres area. If you are planning a longer trip to Portugal, maybe your next stop could be Sintra or Lisbon? There is a train from Sagres to Lisbon that takes about three hours and the drive time is similar to the rail journey. When we road trip with kids, three hours is usually manageable.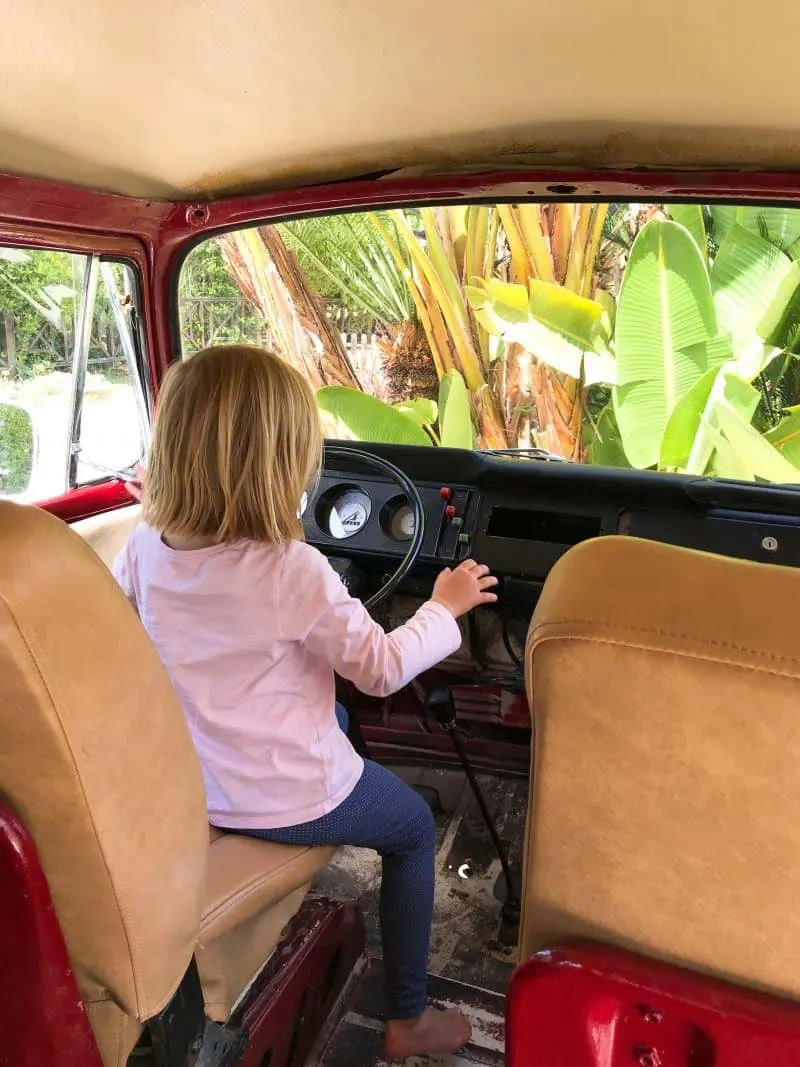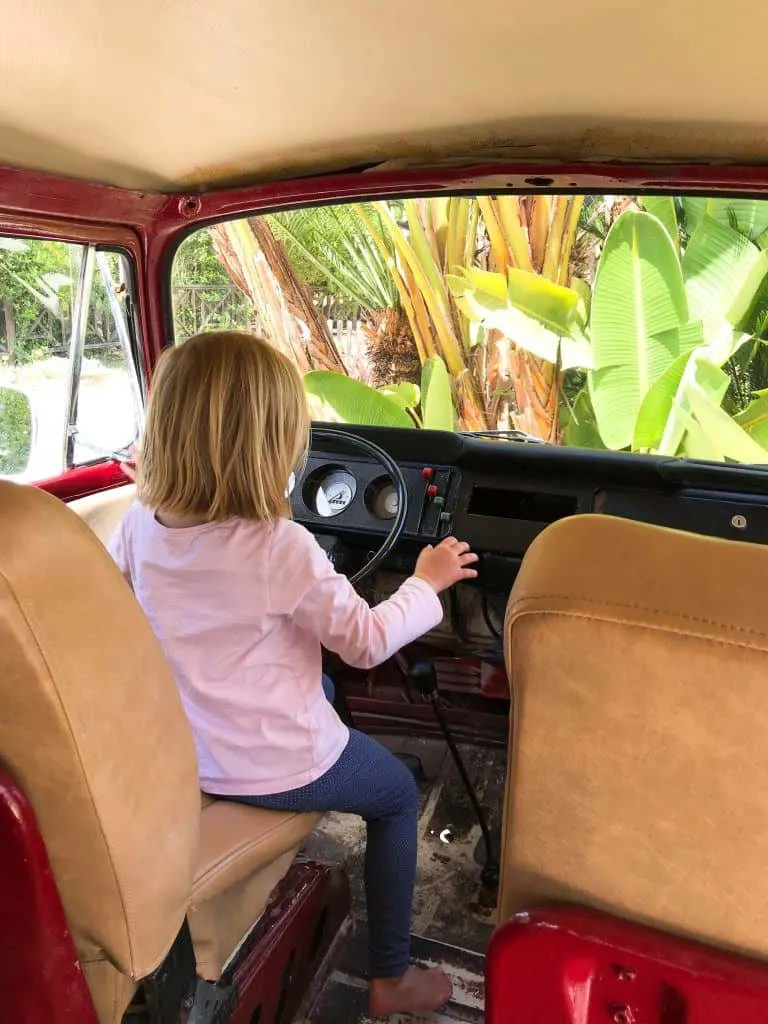 SINTRA WITH KIDS
If you do decide to do all of these destinations in one road trip, I recommend doing Sintra next. The reason being is you won't want to take a car into Lisbon. I feel it would be a pain with parking and traffic.
Sintra is the capital of stunning castles and a place that is easily accessible from Lisbon. It's also coastal meaning you can enjoy the beach, city and some beautiful architectural wonders all rolled into one! Cycling is an ideal way to explore and Pena Palace is a must see in Portugal.
Based on the top of this hill it can be seen from Lisbon on a clear day. The pastil colour painted element of the building and the stone carving around doorways make it look and feel like a real life Disney palace.
In theory it's probably the ideal place to have a guide to really make the most of the history and understand. Get Your Guide are fabulous at tailoring trips to families with kids to make it equally as interesting for them.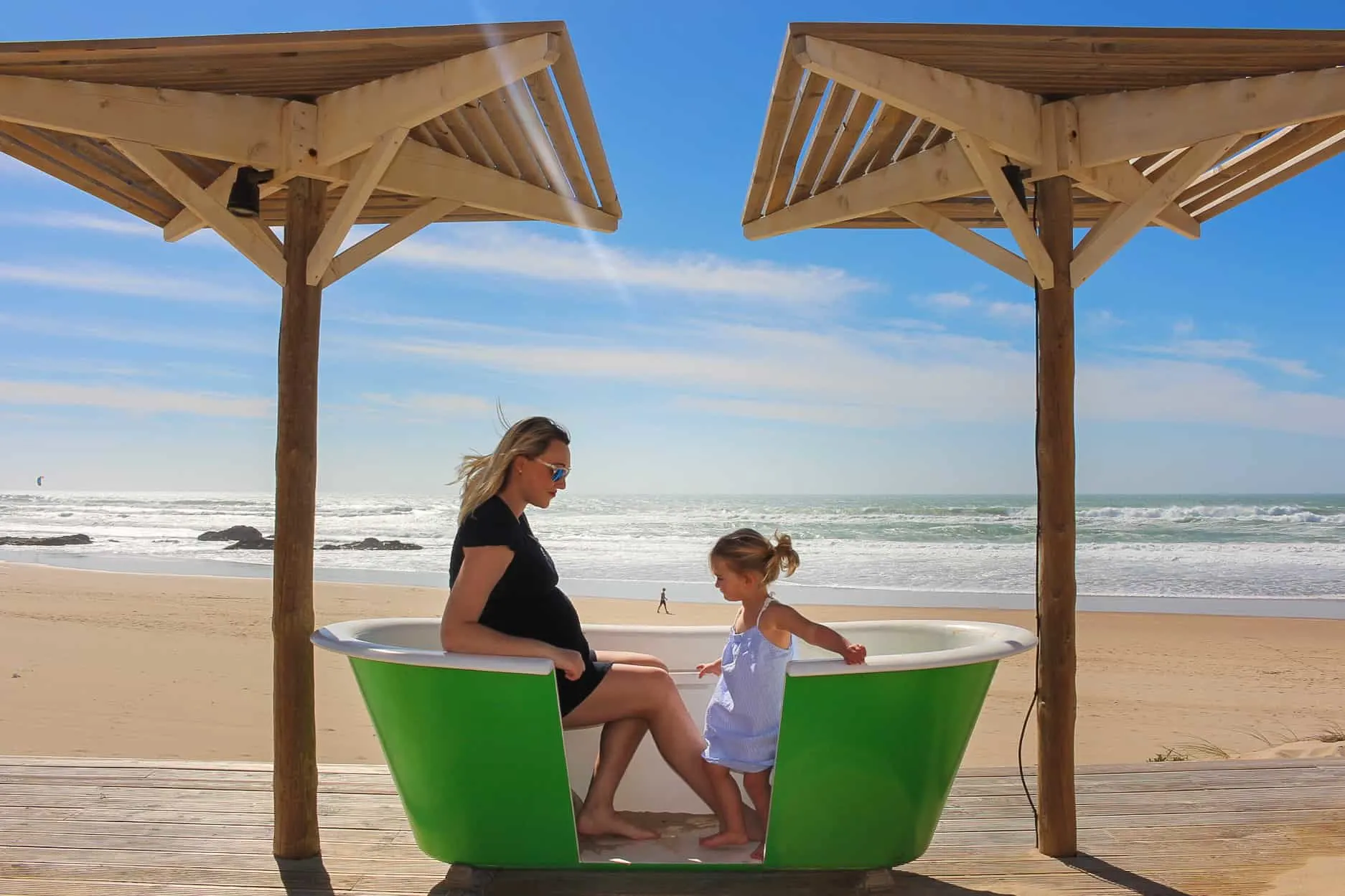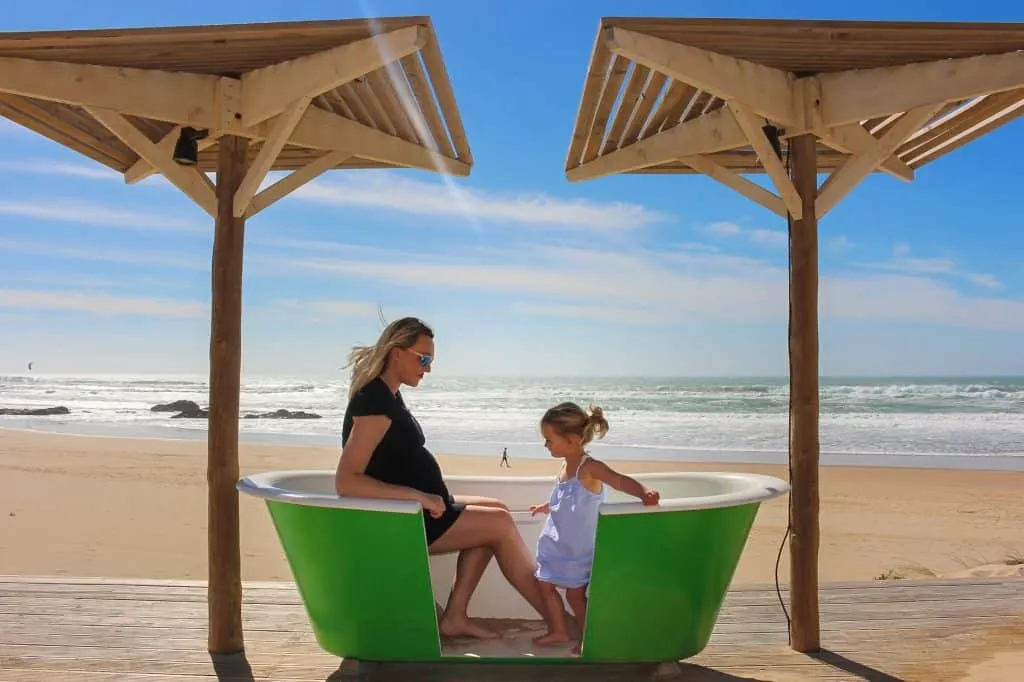 Luckily for us Sintra had yet another one of our favourite family friendly hotels in Portugal. We are a little Martinhal obsessed, I must admit. Martinhal Cascais Resort Hotel is close to Sintra and ideal location to combine a trip with Lisbon. We spent three nights there a couple of years ago and really enjoyed our time.
We explored a local fishing village, the beaches and exploring the castles. The hotel had all the same facilities as the Martinhal above. Kids club, outdoor playgrounds, a spa, restaurants bars and bike hires, yet another luxury Portugal holiday destination with little ones.
For rates and availability at Martinhal Cascais Family Resort Hotel click here.
LISBON WITH KIDS
Last but not least, one of my favourite cities in the world is Lisbon and really should be incorporated into a short break to Portugal with children. There is so much to see and do in this historical city, even with kids. I was so surprised at how much enjoyment we got from visiting with a toddler.
We went to places like the electricity museum, the aquarium and took a ride on the cable car. I was actually heavily pregnant at the time so wandering the streets which are very hilly was a little difficult at times. Lucky for me, there were tuk tuts at the ready, so we did a tour that way.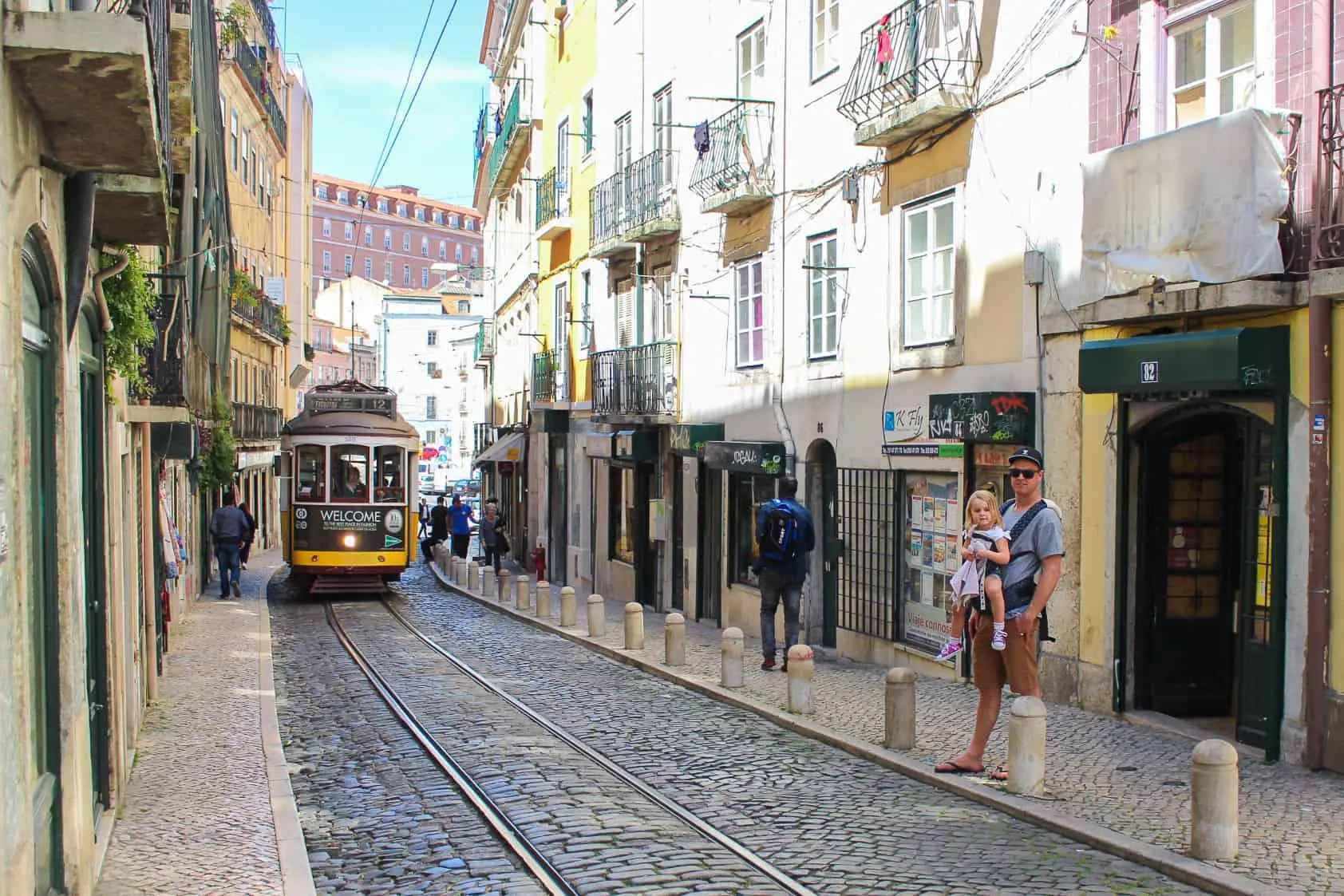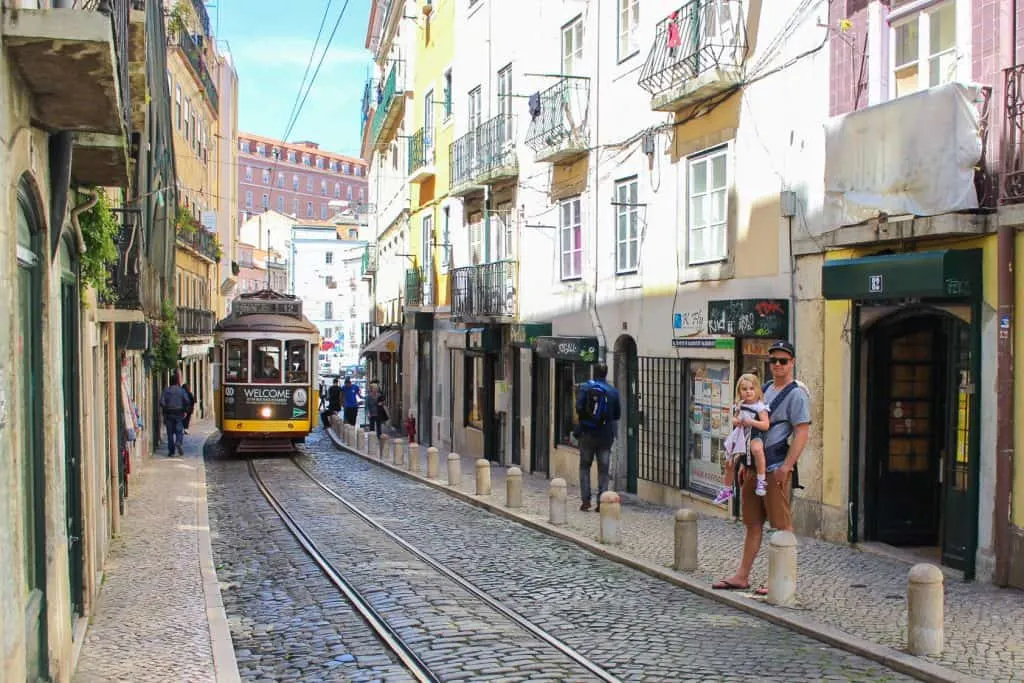 Likewise we took a ride on the iconic route 28 tram that meanders through the streets of Lisbon. It gets a little busy so doing it first thing in the morning is my top tip to make the most of it. The food in Lisbon is great and I just loved the tiled walls, the beautiful colours, not to mention the lookout points from so many positions around the city.
Lisbon is the ideal destination if you only have a weekend in Portugal. Two to three nights is a good amount of time to explore. We stayed at Martinhal Chiado Family Suites in a central location, not too far from the Time Out Food Hall!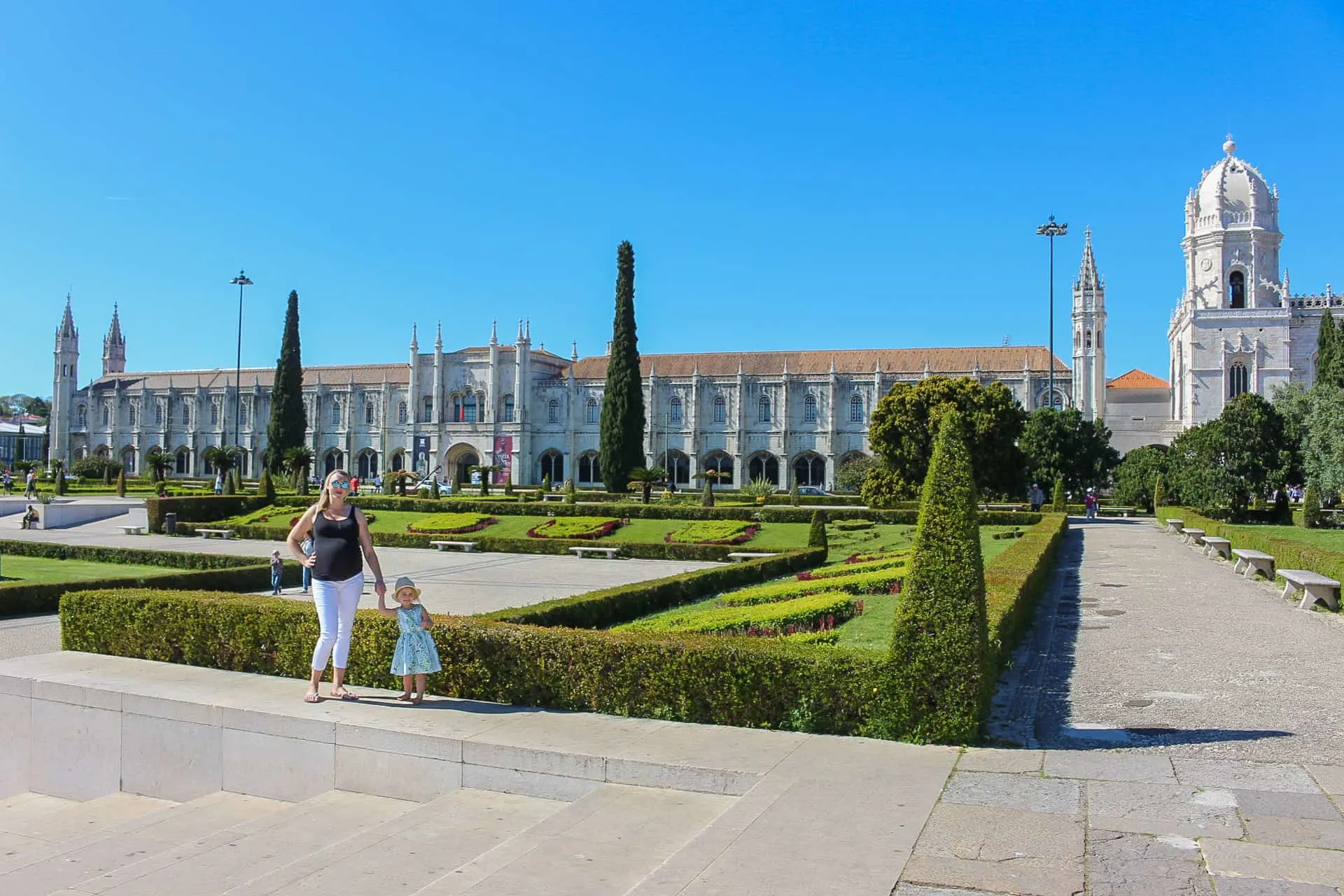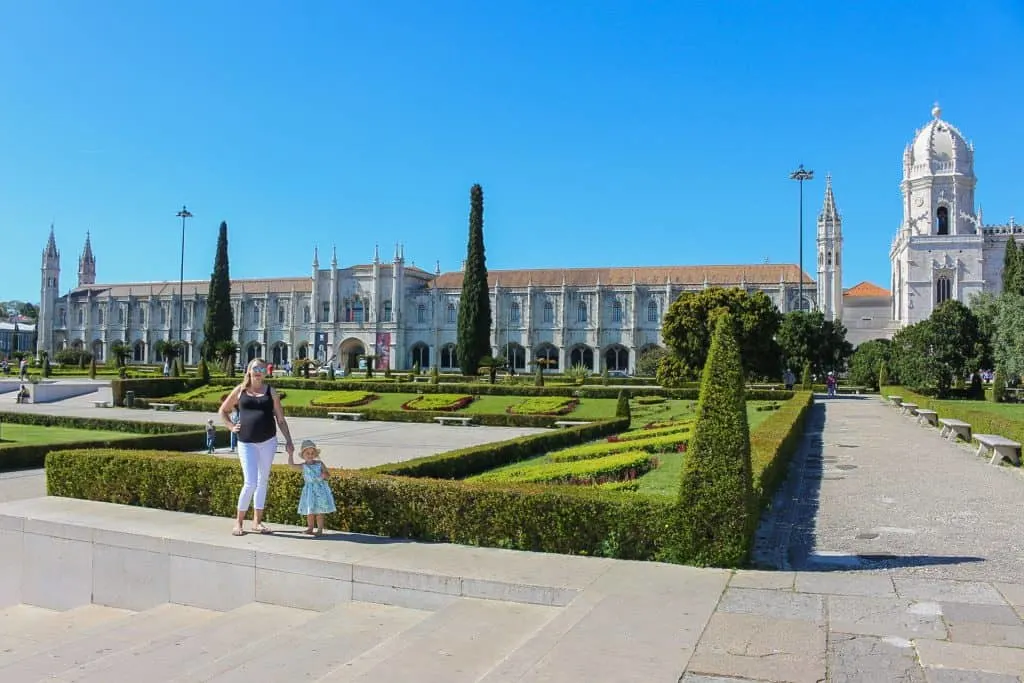 The suites are self catering and have the added benefit of hotel facilities onsite. They of course have a Kids club, well known for their evening PJ parties where they give the kids dinner, play games and watch a movie whilst mum and dad get to enjoy the city for a couple of hours. You couldn't ask for much more on a city break with kids.
For rates and availability at Martinhal Chiado Family Suites in Lisbon click here.
PORTUGAL HOLIDAY DEALS
There are quite often cheap deals to Portugal if you keep an eye on flights. We found groceries quite affordable in Portugal. Martinhal is on the pricier side, however it's a very comfortable and fun choice for the kids. Having the option to be self catering balances the costs out. Don't rule out the less well known areas either, there is plenty to do in Évora, Portugal as well.
I find using the Hopper app a good way of monitoring flights, they send you a notification when the flight is at its lowest predicted price. You can also set reminders up on Kayak and save your extra money for the child friendly resorts in Portugal! Of course if you prefer package holiday to Portugal there are a couple of companies I found online. They offer Martinhal as part of their Portugal family holiday packages.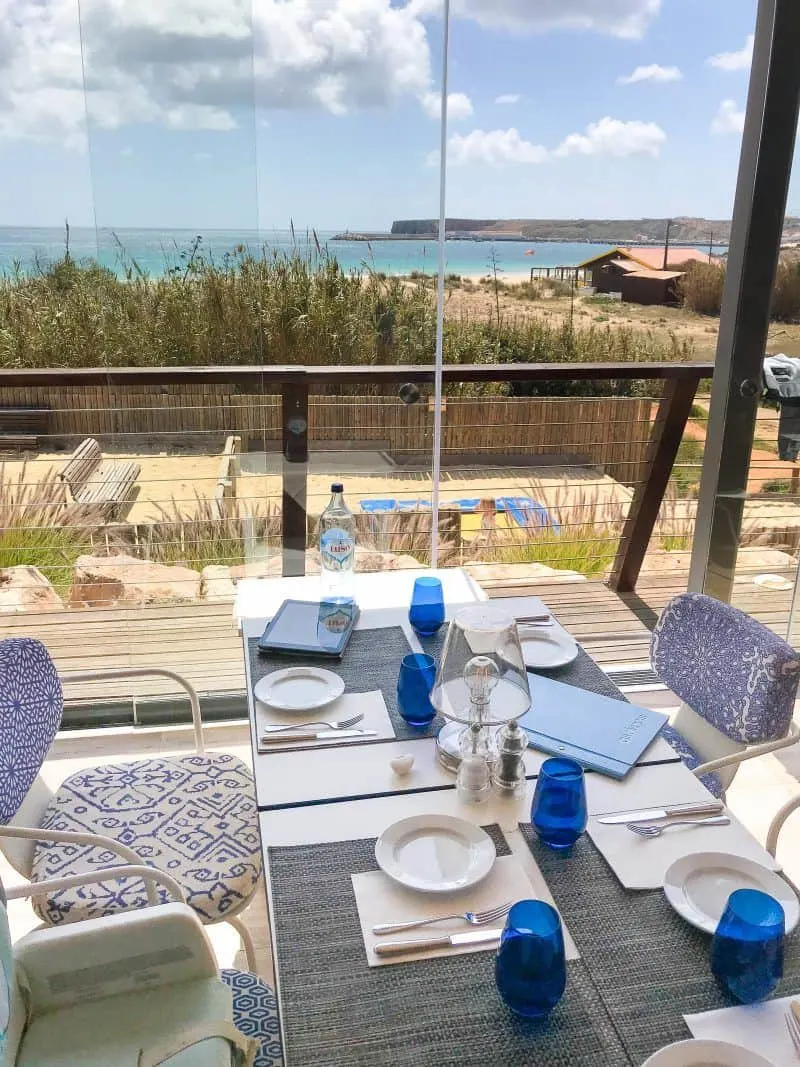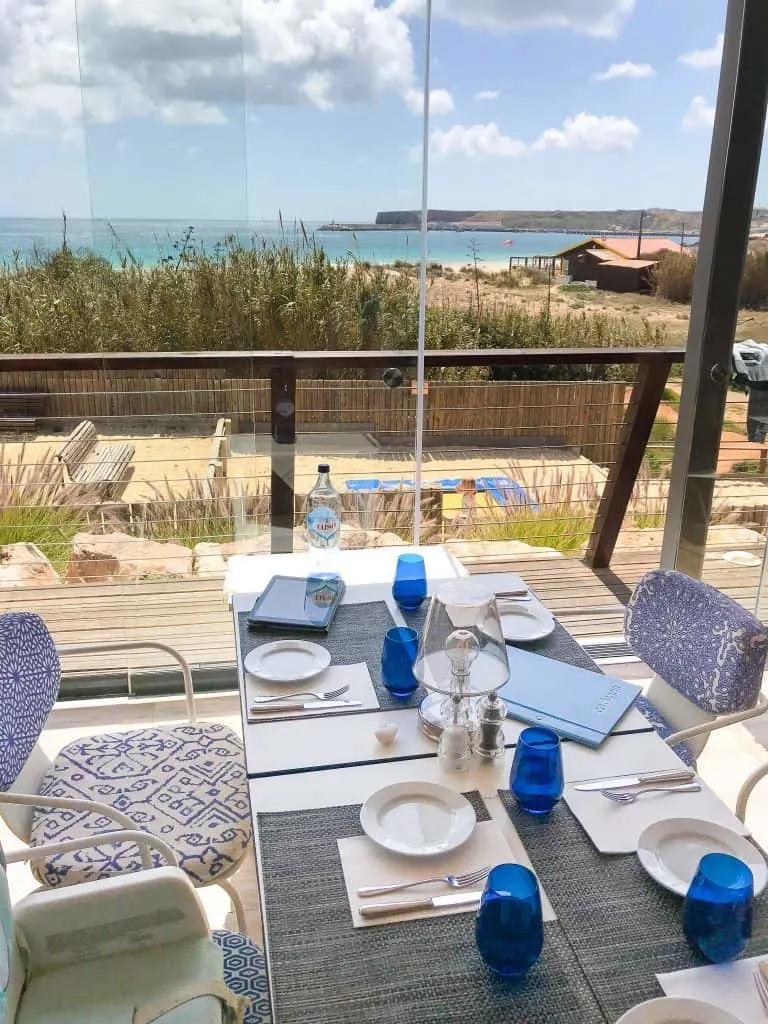 FUN PORTUGAL FACTS FOR KIDS
I thought it would be fun to throw some interesting facts about Portugal with kids into the mix. When I did some research, I loved learning all about Portugal's cultural facts, Portugal's geography and traditional Portuguese practices.
Portugal is one of the oldest countries in Europe. Its border was defined in 1128.
There are 15 UNESCO world heritage sites in Portugal.
Portugal is one of the leaders in the world for renewable energy. This doesn't surprise me considering how many wind farms we saw!
Portuguese is the official language in 9 countries, can you guess them?
Portugal is home to longest bridge in Europe.
Have you got any other fun facts about Portugal? Let me know in the comments!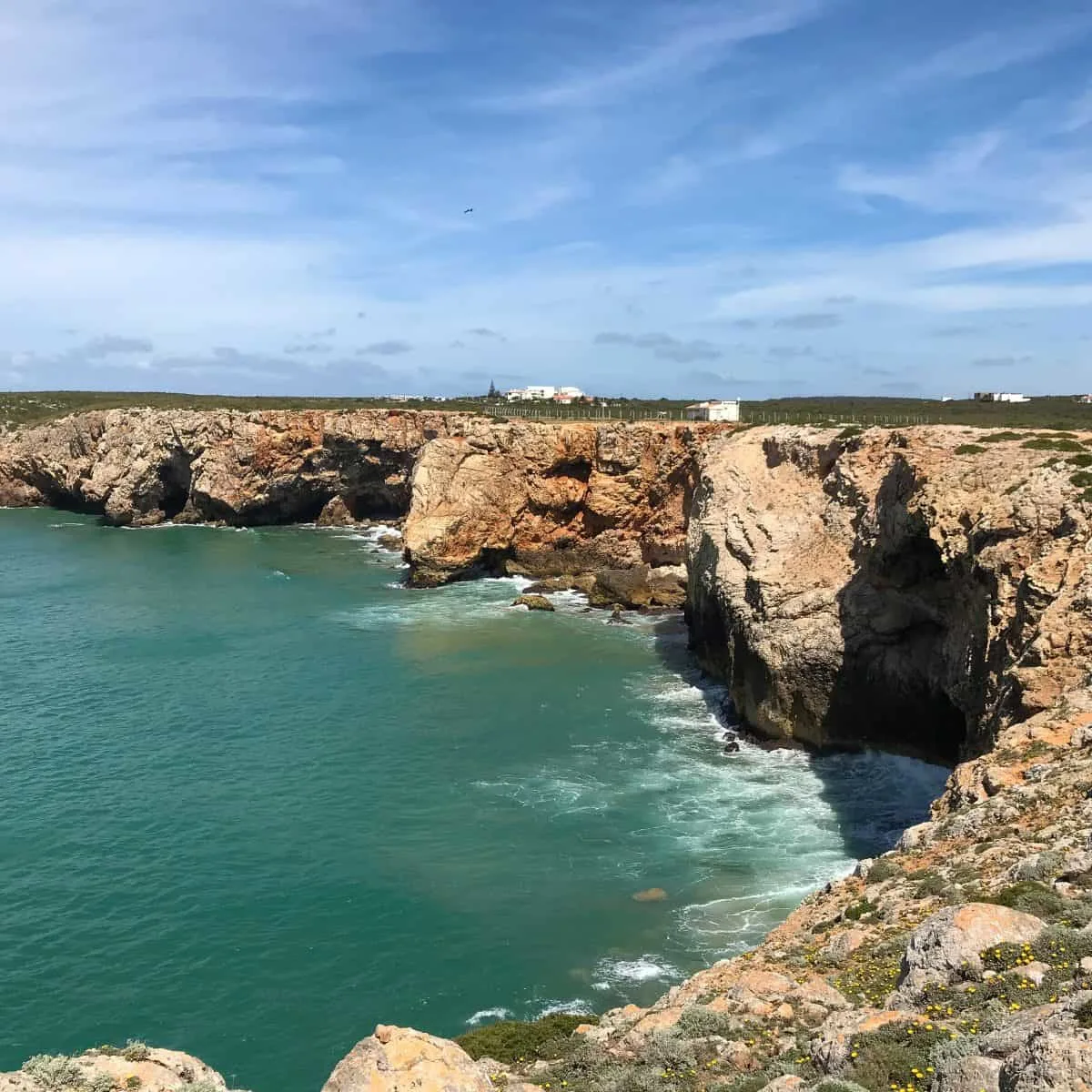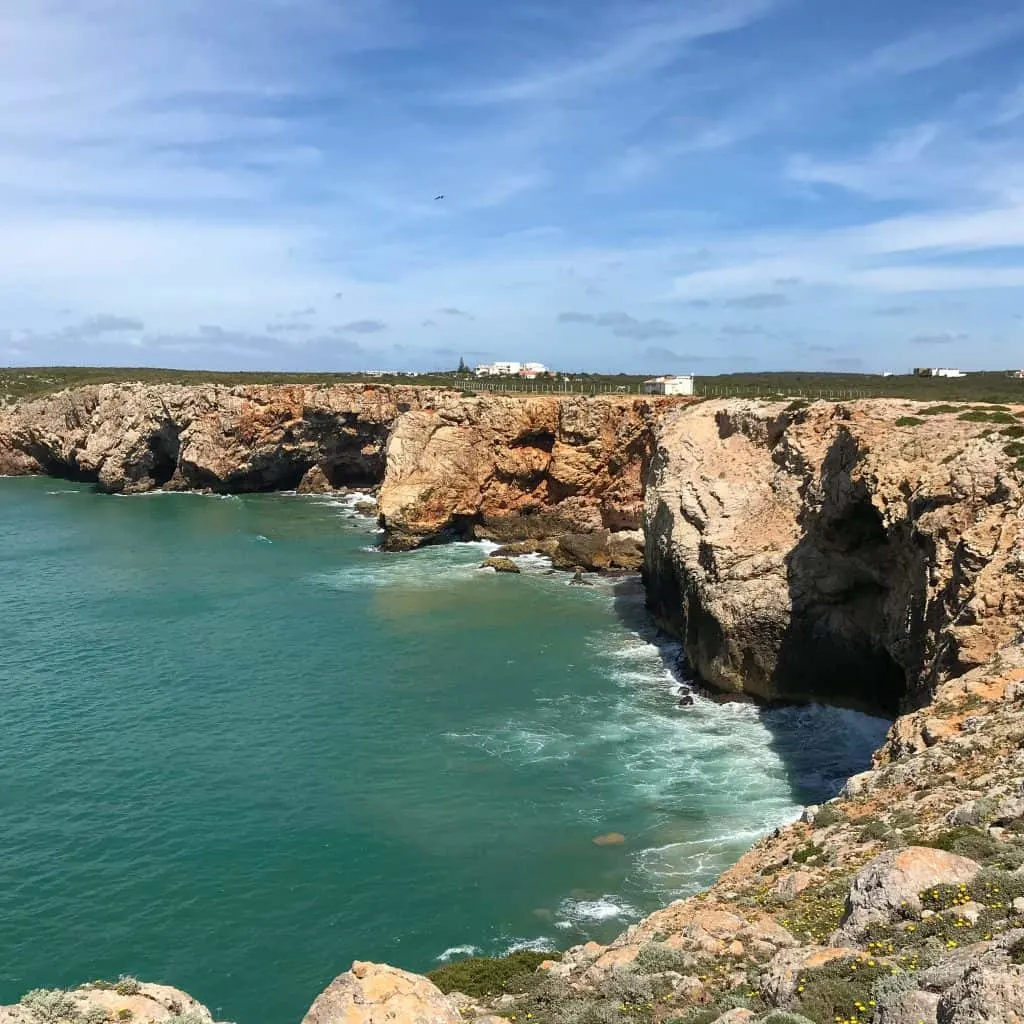 Ready to Book? Don't forget travel insurance!
Disclaimer: Our stay in Martinhal was complimentary in return for an honest review on our Portugal with kids post. As always, all views expressed are entirely my own.
You May Also Like:
Things To Do In Amsterdam With Kids